THE PATH TO
ACADEMIC EXCELLENCE
UNIVERSITY MAGAZINE FALL 2022
Our educators shape the cornerstone of the St. Catherine experience.
CHASE, CAROL LEE. WILLOW AT "SAY THEIR NAMES" CEMETERY (DETAIL). 2021, OIL ON CANVAS, 40"x 33"
EXECUTIVE VICE PRESIDENT OF INSTITUTIONAL ADVANCEMENT
BETH HALLORAN VICE PRESIDENT OF DEVELOPMENT AND ALUMNI RELATIONS
BETH RIEDEL CARNEY '82 DIRECTOR OF COMMUNICATIONS
PHOTOGRAPHERS
ACKERMAN
CALVILLO CERT'23
JENN
GENEVIEVE
LAURA
SARAH VOIGT EDITOR MICHELLE MULLOWNEY '17 REBECCA
CONTRIBUTORS RUTH HAAG BROMBACH '60 BETHANY CATLIN-JOHNSON KARA D eMARIE MLIS'16 MICHELLE HUEG MLIS'13 MELISSA NEILL MOLLY ORTH AMY SHAW ANDY STEINER BRYCE WILDENAUER DESIGNER THE ESC PLAN HEATHER LONGMORE @st.kates @stkate @stkates @St.
CUTSHALL
SLATER '10 TARA SLOANE ADDRESS CHANGES 651-690-6666 ALUMNI@STKATE.EDU mag.stkate.edu
Catherine University
SHAPING A CREATIVE LIFE
This fall at The Catherine G. Murphy Gallery, the exhibition "Shaping a Creative Life" highlighted works by art and art history faculty and staff, inspired by their new course series that "invites students to build their creative lives through inquiry, imagination, and action." In all fields across the University, St. Catherine educators support students in cultivating lives of meaning. View this painting and other pieces from the exhibition at gallery.stkate.edu.
St. Catherine University Magazine is published three times a year by the Office of Communications. No part of this publication may be reprinted without permission.
St. Catherine University was founded by the Sisters of St. Joseph of Carondelet in 1905.
Learn more: stkate.edu/ourhistory
FEATURES
The Next Level of Academic Excellence
In its final year, the campaign continues to advance the impact of St. Catherine education
BY BETHANY CATLIN-JOHNSON
Setting Our Sails, Shaping the Future
St. Kate's exceptional accomplishments, five years into the strategic plan
BY MELISSA NEILL
Pillars of the Academy: Our Faculty
The dynamic, enduring legacy built by St. Kate's educators
BY ANDY STEINER
ABOUT THE COVER
The opening of each academic year provides an opportunity to celebrate, reflect, and come together as a community, recommitting to the St. Catherine charge: preparing students to meet the needs of the time. Read more about the crucial role of St. Kate's educators in this work on page 16.
UNIVERSITY MAGAZINE FALL 2022
16
4 6
FROM THE PRESIDENT BOOKMARK KATIES IN ACTION AROUND CAMPUS CLASS NOTES IN MEMORY KATIE DIARY 2 12 14 23 26 29 32
PHOTO/LAUREN CUTSHALL
2 ST. CATHERINE UNIVERSITY • FALL 2022
ACROSS DECADES AND DISCIPLINES, FACULTY ARE INTEGRAL TO THE IMPACT OF A ST. KATE'S EDUCATION.
PHOTOS/UNIVERSITY ARCHIVES
From the President
It was not until I came to St. Catherine University that I began to discover the words to understand my experiences and build the tools to enact my deepest hopes. In my first year at St. Kate's, The History of Women, taught by Alan Graebner, PhD, introduced me to the concept of women taking control of their own economic destinies, and gave me a deep appreciation for my mother's years of managing the finances for both our family and my father's business. Though she never held an official position or received a paycheck for her efforts, I developed an admiration for the scope of her work and its impact on the trajectory of my life. I also felt a desire to carry out her legacy on a grander scale, to somehow find a way to work my inherited affinity for numbers and my own ambition into a wider community impact.
Professor Graebner's class gave me the first inkling of my future. However, as a first-generation student, I struggled to find a path to my degree, concluding my second year at St. Kate's without a declared major. I cannot imagine I would have made it to graduation without the no-nonsense intervention of St. Kate's faculty and staff. One such staff member, Sister Mary Hicks, pulled me aside, told me it was time to choose a major, and then placed me squarely in the care of Professor Lucille Bettenburg Laughlin '36, the first chair of the St. Kate's business program (read more about her in Katie Diary on page 32). In Professor Laughlin's class, I learned to defend, encourage, and fight for all women leaders, a guiding principle I brought with me to my MBA at Harvard, carried through my career in business and into the nonprofit sector, and cherish as a core value to this day.
At its founding, St. Kate's was inherently radical because it was not a finishing school for girls, but a launchpad for powerful women. The Sisters of St. Joseph of Carondelet made immense sacrifices to provide young women, often from low-income and immigrant families, with the opportunity to create their own futures. This St. Kate's commitment has not changed since our inception, and our standard-bearing faculty and staff remain key to our mission (page 4).
Our academic mission and the trajectory of our students' lives — including mine — would not be the same without the extraordinary contributions of our faculty and staff (page 16). As we look to the future, it is vital that we remember the gifts of the past and the people who made women's empowerment their life's work. We must also continue to advance this impact through the future of St. Kate's (page 4).
As president, one of my great privileges is meeting Katies from all over the world and discovering the individual impact of their St. Kate's education. After several years of building community through virtual events, this year through the Forever St. Catherine Tour we are returning to the cities with the largest populations of alumni and friends across the country. Members of our senior leadership team are visiting our beloved Katies across the U.S. to reconnect with our community, bring the news of St. Kate's, and share stories of Katies following in our alumni's great footsteps. Whether you live in one of the cities on our tour or are visiting yourself, please join us! I can imagine no greater use of our time than spending it with Katies far and wide.
ReBecca Koenig Roloff '76
stkate.edu 3
The Next Level of Academic Excellence
In its final year, the campaign continues to advance the impact of St. Catherine education
BY BETHANY CATLIN-JOHNSON
In any discussion of what makes St. Catherine University so meaningful to so many, the impact of our faculty almost always comes first — as committed educators, trailblazing scholars, and dedicated community members. Not only do they build outstanding curricula and advance their fields with innovations in research, they facilitate students' development long after graduation and throughout their lives.
Our faculty are both a key priority and a motivating factor for the largest campaign in the history of the University, LEAD & INFLUENCE: The Campaign for the Next Level of Excellence. As we look to the future of St. Kate's, the evolving needs of our students and our ongoing commitment to academic excellence call for greater investment in our faculty than ever before.
The campaign seeks to develop our educators by funding robust mentorship for new faculty, additional research opportunities, and interdisciplinary and community partnerships. Additionally, the campaign's foundation of the Center for Innovation and Inclusive Excellence reflects our commitment to fostering an equitable and inclusive working environment to support our current faculty members and attract new faculty from diverse backgrounds.
As of August 2022, we have raised $120 million for the campaign, thanks to the remarkable generosity of over 15,000 members of the St. Catherine community.
Donors have demonstrated resounding support for our faculty, with gifts and grants totaling $40.6 million . Through the campaign, St. Kate's has established two brand-new endowed chair professorships, the Mary Alice Muellerleile Endowed English Chair and the GHR Endowed Chair in Health Education and Research.
As LEAD & INFLUENCE enters the final stretch, we encourage alumni and friends to consider donating to a campaign priority that speaks particularly to you. Just as so many St. Catherine community members made gifts to honor the impact of our faculty in their lives, you too can give back to a campaign priority that is meaningful to you. The campaign helps support all students, faculty, and facilities that together make up the incredible St. Kate's impact. Planned gifts for donors sixty years and older count for the campaign, and we celebrate the generosity of each and every contribution.
Campaign Progress
We have reached the $120 million milestone! Progress continues in our effort to raise $130 million to achieve the Next Level of Excellence. Current as of 8/15/22.
4 ST. CATHERINE UNIVERSITY • FALL 2022
GIFTS TO OUR FACULTY IN ACTION
While the campaign forges ahead, gifts are already building out an expanded foundation for our faculty. Some highlights include:
• GHR Foundation gifted $18 million to advance growth and innovation in healthcare education, including funding of a newly-established endowed chair. The gift honors St. Catherine University alumna and GHR co-founder Henrietta Rauenhorst '49.
• A gift from Brenda Grandstrand Woodson '80, JD, established an endowed chair in honor of Mary Alice Muellerleile '60, her former advisor, English professor, and fellow alumna. Kristen Lillvis, PhD, is the position's first appointee.
• The James J. Hill Center donated $1 million to create a directorial position named for the nonprofit's first board trustee, Mary T. Hill. In 2019, Monica Brown was named the University's first Mary T. Hill Director of Data Science.
• Lilly Endowment awarded a $1 million grant to help establish the St. Catherine University Initiative for Contemplative Discipleship. This initiative, spearheaded by the St. Kate's theology department, works to unite local Christian congregational leaders in understanding and navigating changing social and cultural contexts.
• An anonymous gift further enhanced the Bonnie Jean Kelly and Joan Kelly Distinguished Visiting Scholar Fund, which facilitates the exchange of ideas and expertise by bringing electric new voices to speak on campus. Author Louise Erdrich, 2023 Kelly Visiting Scholar, will speak on International Women's Day (March 8).
stkate.edu 5
LEFT TO RIGHT: REVEREND ADWOA WILSON; REVEREND STUART HIGGINBOTHAM, DM in; AND MODERATOR SUSAN STABILE, JD, SPEAK DURING THE SECOND ANNUAL LILLY ENDOWMENT-FUNDED RETREAT. RETREAT LEADER PHILEENA HEUERTZ IS NOT PICTURED.
LEFT TO RIGHT: BRENDA GRANDSTRAND WOODSON '80, JD; KRISTEN LILLVIS, Ph D; AND MARY ALICE MUELLERLEILE '60.
PHOTO/GENEVIEVE CALVILLO CERT'23
PHOTO/LAUREN CUTSHALL
MONICA BROWN
PHOTO/REBECCA SLATER '10, BY REBECCA STUDIOS
LOUISE ERDRICH
PHOTO/JENN ACKERMAN
Setting Our Sails, Shaping the Future
St. Kate's exceptional accomplishments, five years into the strategic plan
BY MELISSA NEILL
Alook through the history of St. Catherine University shows deep commitment to challenging social norms, shaped by the clarion call of the Sisters of St. Joseph of Cardondelet (CSJs) to love God and neighbor without distinction and to do all of which women are capable. When the Sisters opened St. Mary 's Hospital School in 1900 and began educating the first cohort of future nurses, women's postsecondary education was more of a closed door than a glass ceiling — it was simply not necessary. Yet the CSJs, in their prescient and audacious vision, knew it was.
These moments of challenging the so-called wisdom of the day, in favor of meeting needs of the time, emerge again and again throughout the timeline of the University: proof of St. Kate's adaptability and advocacy for women's leadership.
SHAPING THE FUTURE
In 2017, when the CSJs gifted the physical Minneapolis campus — land they owned for 130 years — to St. Catherine University, they began an integration into "One University." They also furthered the foundational CSJ tradition of community connections; with the Sisters' blessing, the University sold the Minneapolis campus to long-time neighbor and healthcare partner,
Strengthen Academic Excellence
Stake Our Claim Forge Par tnerships
Foster Forever St. Catherine
Drive a Culture of Inclusive Excellence
Build a Strong & Sustainable Foundation
6 ST. CATHERINE UNIVERSITY • FALL 2022
Fairview Health Services. This pivotal generosity set in motion a plan to thoughtfully and strategically continue the legacy of the Sisters while making quick strides to improve equity for women.
The Setting Our Sails strategic plan of 2018 was born, and St. Catherine University committed to accomplishing six strategic priorities over the next 10 years:
1. Strengthen Academic Excellence
2. Stake Our Claim
3. Forge Partnerships
4. Foster Forever St. Catherine
5. Drive a Culture of Inclusive Excellence
6. Build a Strong & Sustainable Foundation
Now in the plan's fifth year, St. Kate's celebrates the remarkable accomplishments of this halfway mark and continues to shape our proactive plan for an enduring future. Today brings new challenges, but St. Catherine University remains on the forefront of navigating change and emboldening women to lead, influence, and pursue lives of purpose.
AT THE HEART: STUDENTS
Students, the center of all we do, continue to face considerable challenges to their success. Since 2010,
college enrollment has declined 9.6% nationwide and 15% across Minnesota.1 Additionally, 24.1% of first-time undergraduates drop out within 12 months of beginning college, and traditionally underserved populations have an even higher dropout rate.2 In the face of these trends, and as part of the University's work to Stake Our Claim, the Board of Trustees approved the Strategic Enrollment Plan in October 2021.
The plan focuses on adjusting marketing approaches to align with how prospective students consume information, but also on optimizing financial aid and funding, meeting the changing needs of programming, and creating pipelines of new students. At a time when enrollment is down significantly nationwide and there is ongoing debate about the value of higher education, numbers at St. Kate's are encouraging. New student enrollment in the College for Adults is up 19% this year compared to fall 2021, and first-time enrollment in the College for Women increased by 6%. Retention of students from their first year into their second year is up nearly 7%.
1Hanson, Melanie. "College Enrollment; Student Demographic Statistics" EducationData.org, July 26, 2022, https://educationdata.org/college-en rollment-statistics
2Hanson, Melanie. "College Dropout Rates" EducationData.org, June 17, 2022, https://educationdata.org/college-dropout-rates
stkate.edu 7
S TRATEGIC PRIORITIES & OBJECTIVES 2017 2018 2019 2020 2021 2022 CAMPUS INTEGRATION STRATEGIC ENROLLMENT PLAN LEAD & INFLUENCE: T he Campaign for the Next Level of Excellence DIVERSITY, EQUITY, & INCLUSION OFFICE AND PLAN ACADEMIC MASTER PLAN COMPASS
AN INTEGRATED APPROACH
Foundational to the Strategic Enrollment Plan are initiatives housed within two other priorities, Strengthen Academic Excellence and Drive a Culture of Inclusive Excellence. As a university, St. Kate's is naturally focused on creating opportunities for students to pursue a degree and coursework, positioning them to enter an ever-evolving job market after graduation. The Academic Master Plan, developed in 2020, includes a blueprint for a reenvisioned program array that holds true to the University's commitment to community, social justice, and leadership while enriching opportunities for career advancement.
What makes St. Kate's unique is the recognition that retention and lifelong fulfillment are influenced by a sense of belonging, a strong support network, opportunities to pursue meaningful experiences, and more.
"Improving graduation rates is our long-term goal," says Anita Thomas, PhD, executive vice president and provost. "But we need to understand what helps students stay and persist in education. We not only look at curricular offerings, but also what students are participating in that's cocurricular or extracurricular and why."
The University's Academic Master Plan has advanced this work by outlining the role of the newly created Office of Scholarly Engagement (OSE) and setting a framework for COMPASS. OSE infuses high-impact practices into student learning experiences at all degree levels, and identifies and reduces barriers to participation. COMPASS integrates a support network — across curriculum, community work, career development, and more — that intentionally and reflectively aligns students' experiences within and outside the classroom, providing a road map of sorts as Katies choose curricular and cocurricular activities.
COMPASS rolled out last fall with first-year undergraduate students. As these students enter their second year, there's added emphasis on a meaningful life that includes a spiritual retreat on and off campus. Mentorship also holds more weight, and new tools launching this school year will support growing these connections.
A STEP FURTHER: THE PURPLE THREAD Research clearly shows that students who feel like they belong in school are more likely to experience positive educational and developmental outcomes. And belonging is more than being part of a group. It's tied tightly to identity, an emphasis on inclusive excellence
that becomes the "purple thread" woven through all St. Kate's strategic priorities.
St. Kate's history is rich with examples of striving for equity for marginalized populations. Throughout the 1900s, the CSJs faced challenges educating women in a patriarchal and sexist society; preserving Catholicism in a Protestant-dominant, anti-Catholic society in the 1920s and 1930s; serving immigrants and the working class in a time of pronounced xenophobia and class oppression; and addressing social and economic injustices through academic experience. The last decades of the 20th century and the first of the 21st have enriched the definition of social justice even further to include more aspects of diversity.
Building on this legacy, the University solidified its commitment to inclusive excellence in 2021 with the Inclusive Excellence Strategic Plan. This plan advances the idea that diversity, equity, and inclusion — "the purple thread" — are catalysts and vital elements for achieving institutional and educational excellence within the context of a women-centered institution.
The plan's strategic priorities were developed with the engagement of 200 community members, and focus on pursuing the necessary infrastructure, awareness, and expertise to support the University as it strives to become an anti-racist and inclusive institution.
"We as an institution are challenged with the same issues prevalent in our broader community," says Pat Pratt-Cook, senior vice president for human resources, equity, and inclusion. "This work is not a destination, it's a journey. Our goal is to continue evolving and to get better by proactively looking at what we need to address systemically."
Since the Inclusive Excellence Strategic Plan's inception, Pratt-Cook and Sandra Mitchell, director of equity and inclusion, have focused much of their time on creating professional development opportunities. The knowledge and experiences gained by faculty and staff determine the overall success of students, from academic to inclusive excellence.
For example, trainings highlight teaching approaches that encourage knowledge of self and others, empathy and curiosity, and verbal and nonverbal communication skills around issues of inclusive excellence. Mitchell, PrattCook, and their team and collaborators have fulfilled many plan objectives, including a University statement on inclusive excellence and a land acknowledgment statement recognizing the Dakota people.
ENGAGING, INVOLVING, SUPPORTING Alumni-student connection is a rich source of support and opportunity for graduating Katies. "It's not only about who you know," says May Thao-Schuck, vice president of career and professional development, "but
8 ST. CATHERINE UNIVERSITY • FALL 2022
Forever St. Catherine Tour
about who knows you when pursuing a career or first job outside of college."
In support of this and of fostering the Katie connection, the University is advancing the Forever St. Catherine line of the Setting Our Sails strategic plan with exciting, more diverse ways for alumni of all three colleges to engage. A new approach creates programs for alumni that are relevant, accessible, and span all colleges within the University. Alums now have access to onetime, short-term, and ongoing opportunities to volunteer, and programming is involving more and more community members.
"With the possibilities provided by virtual and hybrid events, in addition to our traditional in-person, we're now able to invite Katies across the country to alumni programming, not only those in the metro area," says Beth Riedel Carney '82, vice president of development and alumni relations. "And now, with the Forever St. Catherine Tour, we're traveling with University leadership across the country to share more about what's happening with St. Kate's today with our extended community of alums, parents, friends, prospective students, and more."
JOIN US!
CHICAGO, IL Sunday, October 30, 2022
DENVER , CO Wednesday, November 9, 2022
SAN FRANCISCO, CA Saturday, January 7, 2023
LOS ANGELES, CA Sunday, January 8, 2023
PHOENIX , AZ Thursday, February 16, 2023
TUCSON, AZ Friday, February 17, 2023
NAPLES, FL Saturday, March 11, 2023
ST. CLOUD, MN Thursday, April 13, 2023
Partnerships with the broader community are equally as important as alum engagement. Thao-Schuck is working with employers to keep a pulse on job growth trends and prepare students for careers of the future. To date, more than 600 business partners are available to Katies for internships, fieldwork, and clinical trials. Thao-Schuck also continues her work mapping out how the skills used in declining industries can transfer to areas where jobs are growing: education, healthcare, manufacturing, and technology.
Additionally, John Pyle, EdD, senior vice president for enrollment management and athletics, is looking for mutually beneficial ways to forge partnerships that support the Strategic Enrollment Plan. This year the University entered into a partnership with Fontbonne University. Initially, Fontbonne will use space on the St. Kate's campus to deliver its programming, and in the future St. Kate's will do the same at Fontbonne. The partnership at once expands St. Kate's presence outside of Minnesota and also expands financial resources to support other University initiatives.
A CAMPAIGN FOR THE FUTURE
St. Kate's could not make and continue our great strides without financial resources and a clear vision for those resources that integrates strategic initiatives. In 2013, prior to the Setting Our Sails strategic plan, the University embarked on LEAD & INFLUENCE: The Campaign for the Next Level of Excellence to raise $130 million. The strategic plan gave structure to the
stkate.edu 9
THIS SPRING, CONGRESSWOMAN BETTY McCOLLUM '87 (RIGHT) SECURED $800,000 OF FEDERAL FUNDING FOR RENOVATIONS TO MENDEL, THE UNIVERSITY'S HISTORIC SCIENCE BUILDING. TAVIARE HAWKINS, PhD (ABOVE), DIVISION CHAIR FOR MATH AND SCIENCES, PRESENTS THE VISION FOR ENHANCED FACILITIES AND STUDENT DEVELOPMENT IN LEAD & INFLUENCE: THE CAMPAIGN FOR THE NEXT LEVEL OF EXCELLENCE.
campaign and a renewed focus on students, faculty, place, and the Katie Fund.
While the campaign concludes in November 2023, as of August 2022 it just reached more than $120 million in contributions from over 15,000 donors. Work is already underway to renovate the Mendel building to diversify the future of STEM, preserve the historic Our Lady of Victory Chapel, expand need-based financial aid, and fulfill commitments that accomplish the goals of the Setting Our Sails strategic plan.
"We could not be more grateful to the alumni, staff and faculty, students, University partners, and friends who help build a culture of philanthropy at St. Kate's," says Joanne Jirik Mullen '83, co-chair of the Campaign Cabinet.
THE INFRASTRUCTURE: A STABLE FOUNDATION
What often goes unnoticed is the work behind the scenes to make plans come to life and the campus experience flow smoothly. When senior vice president and chief information officer Jean Guezmir joined St. Kate's, she and her team were poised to create a more modern technology infrastructure.
Now, every time someone uses a meeting room, classroom, or lab, or connects to an application, makes a phone call, prints a document, receives IT support, or engages with the website, they are using all-new
resources such as check-out equipment and COMPASS applications, and faculty are better supported with an updated course management platform and standardized high-flex classrooms and labs.
With these foundations established, Guezmir is partnering with the leadership team on building the Student Success application and improving operational processes for students and staff efficiencies.
WHAT'S NEXT?
St. Kate's embarks on the last five years of the Setting Our Sails strategic plan with an even greater commitment to data that helps our teams understand the impact of their work, fulfill current plans, and develop the next iteration of plans to carry initiatives through 2028. Paired with this commitment to data informing the second half of the plan is commitment to academic excellence — student success and educational impact, through initiatives like COMPASS, to put even more wind in our sails to the Next Level of Excellence.
In a tumultuous world, the University's dedication to fulfilling the Setting Our Sails strategic plan has not wavered; though developed before COVID-19 and the seismic shifts the pandemic created in many areas of life, Setting Our Sails had already laid the foundation needed to move through change. In true St. Catherine fashion, the plan is equal parts adaptability and foresight.
10 ST. CATHERINE UNIVERSITY • FALL 2022
PHOTOS/REBECCA SLATER '10, BY REBECCA STUDIOS
THE OPENING OF EACH ACADEMIC YEAR PROVIDES AN OPPORTUNITY TO CELEBRATE, REFLECT, AND COME TOGETHER AS A COMMUNITY, RECOMMITTING TO THE ST. CATHERINE CHARGE: PREPARING STUDENTS TO MEET THE NEEDS OF THE TIME AND BECOME THE LEADERS OUR SOCIETY IS SEEKING. SETTING OUR SAILS, THE UNIVERSITY'S STRATEGIC PLAN, OUTLINES INITIATIVES TO FULFILL THIS VISION, WHILE STRENGTHENING ACADEMIC EXCELLENCE AND OUTCOMES FOR STUDENTS ACROSS ALL DEGREE LEVELS.
stkate.edu 11
TOP) LAUREN CUTSHALL (2) AND REBECCA SLATER '10, BY REBECCA STUDIOS (4)
PHOTOS/(FROM
Bookmark
Selections from 2022–23 events
THE OGRESS AND THE ORPHANS
Kelly Barnhill (2022)
This newest novel by Newbery Awardwinning author Kelly Barnhill '96 introduces us to Stone-in-the-Glen, a once-lovely town that has fallen on hard times. Fires, floods, and other calamities have caused the people to lose their library, their school, their park, and even their neighborliness. Then, when a child goes missing from the Orphan House, it appears the kindly Ogress will be wrongfully blamed.
A tale about the power of generosity and love, and how a community suffers when they disappear, Barnhill's novel is sure to enthrall readers young and old.*
During her keynote remarks at August's Opening Celebration for the 2022–23 academic year, Kelly Barnhill '96 discussed her newest book and what it means to be a neighbor in our confusing, tumultuous world.
THE MAGIC FISH
Trung Le Nguyen (2020)
In this young adult graphic novel, a Vietnamese-American boy named Tién uses fairy tales both to understand himself and to communicate his queer identity to his mother. Writer and illustrator Trung Le Nguyen uses a well-defined color scheme to differentiate between Tién's memory, his present experiences, and his reading of fairy tales. This award-winning 2022 Read Brave Saint Paul pick is a great choice for readers who love young adult literature, fairy tales, coming-of-age stories, or graphic narratives.
St. Kate's Reads Monday, November 7, 2022
This selection is recommended by Kristen Lillvis, PhD, Mary Alice Muellerleile '60 Endowed Chair in English. Join us in November to explore the expanding world of graphic literature with Lillvis.
RSVP and find more details at stkate.edu/books.
12 ST. CATHERINE UNIVERSITY • FALL 2022
COMPANION PIECE
Ali Smith (2022)
COVID-19 quarantines, Middle Ages Black Death plague, caring for one's father in his illness — beautifully knitting all together, Ali Smith blends genuine humor, skillful use of language, and the real-world events impacting us all. She creates a story designed to make us laugh as we rethink responses and reactions. At the start of the novel, Sandy Gray receives a phone call from a college friend, Martina, who enlists Sandy to help solve a puzzling word challenge. In Companion Piece, Ali Smith gives us well-drawn characters, immersed in today's real-world actions.
Conversation With Books Saturday, February 4, 2023
This selection is recommended by Judie Martens Flahavan '60 and Ruth Haag Brombach '60, panelists for this annual event along with Kristen Lillvis, PhD, and Corinne Burrell MLIS'23. Enjoy a lively discussion with alumni and other community members about the best new fiction and nonfiction. A tradition since 1965!
RSVP and find more details at stkate.edu/books.
THE SENTENCE
Louise Erdrich (2021)
In this New York Times bestselling novel, Louise Erdrich creates a wickedly funny ghost story, a tale of passion, of a complex marriage, and of a woman's relentless errors.
In The Sentence, Erdrich's reallife bookstore, Birchbark Books, is — literally — haunted from November 2019 to November 2020 by the store's most annoying customer, Flora. Bookseller Tookie must solve the mystery of this haunting while at the same time try to understand all that occurs in Minneapolis during a year of grief, astonishment, isolation, and furious reckoning.*
Kelly Lecture on International Women's Day Wednesday, March 8, 2023
Louise Erdrich, Pulitzer Prize and National Book Awardwinning author, is the 2023 Bonnie Jean Kelly and Joan Kelly Visiting Scholar.
Stay tuned for more information.
OUR STORIES CARRIED US HERE
edited by Tom Kaczynski, Tea Rozman, and Julie Vang (2021)
This year's One Read for Racial Justice book is an anthology of immigrant and refugee experiences, each told in graphic novel format by a different artist. It is published by Green Card Voices, an organization committed to reducing bias against immigrants and refugees through authentic storytelling.
The One Read for Racial Justice committee chose this book as a catalyst for more inclusive dialogues about immigration and refugee justice issues, and for its capacity to provide windows and mirrors to St. Kate's students — it even features the story of alumna Zaynab Abdi '20, one of the authors.
One Read for Racial Justice 2022–23
One Read for Racial Justice is a collaborative, campuswide initiative that seeks to raise awareness about racial justice issues and foster community dialogue, through a series of events centered on an annual book selection.
*Adapted from the publisher description
Visit library.stkate.edu for updates on ongoing events and resources throughout the academic year!
stkate.edu 13
Katies in Action
2022 Alumni Award Winners
Since 1979, St. Catherine University annually recognizes outstanding graduates who demonstrate excellence in leadership; service to others; an influential role in the home, profession, community, church, or volunteer activities; and the ideals of St. Catherine University. Each award recipient exemplifies the missions of the University and how our graduates foster Forever St. Catherine.
HLEE YANG '18
Public Health Specialist, City of Bloomington
A love for helping others drew Hlee Yang '18 to St. Kate's — originally, she thought that the nursing program was her calling. After getting to know the public health program and meeting program director Mary Hearst, PhD, Yang knew that her path for advocating for improved health among community members was through a public health degree. She credits her St. Kate's experience for recognizing her leadership abilities.
"I knew that if I went to a school dedicated to supporting women in higher education, that would support me to become more advanced in academics and as a leader," Yang says. "I never thought of myself as a leader until I came to St. Kate's."
After receiving her degree in public health in 2018, Yang began her career as a council member for the Tobacco Advisory Group at the Hmong American Partnership. She then joined the Hmong Health Care Professionals Coalition. As a public health specialist with the City of Bloomington, Yang is currently focused on keeping community members connected to their services during the COVID-19 pandemic.
"With the pandemic, I put all the skills that I learned at St. Kate's to use," Yang says. "I'm talking with the community; I'm writing grants that can help programs continue funding for health programs needed in the community."
14 ST. CATHERINE UNIVERSITY • FALL 2022
AUDREY BETCHER '83 Director, Rochester Public Library (retired)
Audrey Betcher '83 describes her career and the impact her team works for as the meeting of "my love of libraries with the importance of social justice." The former Rochester Public Library director, now retired, says that attending St. Kate's had a profound impact on her life. "Growing up in a small town in a very traditional household, it was a shock when I went to St. Kate's, but it was so empowering to see women leaders," she says. "The social justice at St. Kate's also had an impact on my life, trying to build a world that's more fair."
After graduating from St. Kate's in 1983, Betcher worked automating libraries all over the world before returning to Rochester, Minnesota, to run the SELCO automation system and then joining the Rochester Public Library. She served as library director for 21 years, and she and the library have been honored with numerous awards under her leadership. Many of these are for programming — including equity in racial justice, LGBTQ+, pandemic-related needs, and people experiencing homelessness — focused on making the library a welcoming place for all in the community.
Betcher's daughter Nora is a DupliKate, having graduated from St. Kate's in 2020. "To have the tradition of strong women means a lot to me," the 1983 alumna says.
MARNA
ANDERSON MAOL'08
Director, Nonviolent Peaceforce
At Nonviolent Peaceforce, Marna Anderson MAOL'08 leads teams that use nonviolent approaches and unarmed means to reduce conflict and deter violence. Anderson employs the lessons from her Master of Organizational Leadership to lead her teams in successfully applying different models of conflict resolution using empathy, creativity, and commitment.
"The reason I chose St. Kate's was the mission of the University," she says. "Their approach to leadership — looking at leadership much more broadly — and the focus on ethics, I thought, was really, really important."
In leading the U.S. office of Nonviolent Peaceforce, Anderson says the root of her work is "showing up for people in a genuine way … that idea that I learned at St. Kate's and that has continued in my career. I describe it as leading from the heart."
Anderson has embodied this person-first approach at many organizations during her career: Sexual Violence Center, Advocates for Human Rights, Planned Parenthood, WATCH, and the Nature Conservancy of Minnesota.
stkate.edu 15
Pillars of the Academy: Our Faculty
The dynamic, enduring legacy built by St. Kate's educators
BY ANDY STEINER
The first women's colleges in the United States, in the 1800s, were mostly not much more than finishing schools with the goal of turning out graduates to be "good" wives and mothers. But from the very start, that wasn't the case at the College of St. Catherine , where pioneering founder Mother Antonia McHugh decided that her institution would be different: this new school was anything but a finishing school. It would educate women who would one day excel in scholarship and career.
To do that, Mother Antonia figured, she needed to support and cultivate faculty who were nationally recognized experts in their fields. From St. Kate's founding in 1905 through the 40s and 50s, she sent them off to be educated at the top colleges and universities around the world, increasing their scholarship while cementing their — and the college's — reputation.
That commitment continues today at St. Catherine University, where faculty development remains a core value that spreads through the University's ecosystem, according to Anita Thomas, PhD, University executive vice president and provost. While faculty see a direct impact from this support for their scholarship, students also benefit. Mother Antonia's legacy is lasting.
"St. Kate's has attained a level of academic excellence and rigor in the classroom that is enhanced by the vibrant portfolio of teaching, engaged scholarship, and creative activities offered by our faculty," Thomas says. "For me, the synergistic relationship between scholarship, teaching, service to the community, and service to our disciplines and professions only enhances the academic rigor and activities in the classroom."
ADVANCED DEGREES AROUND THE WORLD. PICTURED, THREE CSJS IN ENGLAND IN 1931.
The University's commitment to faculty development is informed by three pillars: teaching and pedagogy, scholarship and research, and service. To demonstrate this in action, three St. Catherine professors explain how the three pillars support and enhance their work on campus today — with students and in the world at large.
16 ST. CATHERINE UNIVERSITY • FALL 2022
PHOTO/UNIVERSITY ARCHIVES
ST. KATE'S TRADITION OF DEDICATED FACULTY DEVELOPMENT REACHES BACK TO ITS FOUNDING, WHEN MOTHER ANTONIA McHUGH BEGAN SENDING SISTERS OF ST. JOSEPH OF CARONDELET TO PURSUE TOP-TIER
TEACHING AND PEDAGOGY
Katie Campbell, PhD, director of collaborative undergraduate research and assistant professor of interprofessional education
One of the first things Katie Campbell, PhD, noticed when she came to St. Catherine University five years ago was a sense of support, a campuswide ethic that held up not just students but also the faculty who educate and mentor them.
This culture of support felt like a self-sustaining ecosystem, with faculty nourished by opportunities to engage in their research while strengthening their teaching muscles, and a student body eager for the chance to learn and participate in research.
At St. Kate's, Campbell explains, "We educate women to lead and influence. That focus on leadership is also there when we think about faculty being supported in their roles so they can support the mentorship of undergraduate students."
As director of collaborative undergraduate research, Campbell heads up Summer Scholars, a unique program where faculty and undergraduate students spend the warmer months of the year collaborating on real-world research projects, an opportunity that is all too rare at many colleges.
"Summer Scholars is broad in terms of its scope," Campbell says, explaining that participants include faculty and students across all of the University's disciplines. Strong donor support for the program means that all participants are paid for their work, she adds. "This year we had 13 teams conduct collaborative research over 10 weeks in the summer."
Summer Scholars deserves its position as a St. Kate's signature program, Campbell says: it feeds the ecosystem and helps keep it strong. "It is a high-impact program that supports faculty in their research and launches students to become leaders into the future."
Another way Campbell's work with students has been supported at St. Kate's is through the University's Office of Sponsored Programs, Research, and External Engagement (SPREE). Campbell explains that SPREE helped her and two colleagues snag a five-year, $1.5 million National Institutes of Health funding for Katies for Aging Research and Equity (KARE), an integrated,
stkate.edu 17
Summer Scholars is a high-impact program that supports faculty in their research and launches students to become leaders into the future."
—Katie Campbell, PhD
"
SLATER '10,
REBECCA STUDIOS
PHOTO/REBECCA
BY
multi-year research education program that supports underrepresented minority students to study, challenge, and reimagine systems to promote healthy aging and longevity.
"SPREE is amazingly high-touch," Campbell says. "They are incredible partners when it comes to grant writing. Compared to the support I got in the past at other institutions, they offer a hands-on, collaborative approach."
Programs like Summer Scholars and KARE feature research and out-of-the classroom mentoring, but time spent in the classroom is also essential to the health and development of the student body, an ever-changing organism that reflects society as a whole.
From St. Kate's very beginnings, it has always been a given that culturally relevant teaching is missioncentral. Mary Unger Henderson '80, EdD, professor of business administration, has a history with the institution that goes beyond her 23 years as faculty. A St. Kate's alumna, she understands that what goes on in the classroom is at the core of the University. "Teaching is at the heart of our institution," Henderson says. "That's our priority."
To keep their teaching fresh and relevant to the student body, St. Catherine faculty receive support through development programs focused on enriching teaching and pedagogy, says Dianne Oliver, PhD, associate provost.
"One of the things that's been important for us as an institution has been trying to work to continue development around diversity, equity, and inclusion issues. Some of that is related to content in courses. Some of it is pedagogy: 'How do I teach in ways that are inclusive?' We are teaching — and learning — what it means to be a faculty member in 2022 and 2023."
PHOTO/TARA SLOANE
18 ST. CATHERINE UNIVERSITY • FALL 2022
NADDI JILLO '23 PRESENTS HER TEAM'S BIOCHEMISTRY RESEARCH PROJECT AT THE 2022 SUMMER SCHOLARS SYMPOSIUM.
The Sister Mona Riley Professorship is a significant way my scholarship has been supported. [Endowed positions] are essential to supporting the academic life of this campus."
—Rachel Neiwert, PhD
"
SCHOLARSHIP AND RESEARCH
Rachel Neiwert, PhD, Sister Mona Riley Endowed Professor in the Humanities and associate professor of history
While academics have a reputation for noses firmly stuck in books, Rachel Neiwert, PhD, knew that wouldn't be the case when she came to St. Kate's. She arrived fully aware of the University's long history of support for women scholars, and she'd heard the stories about Mother Antonia sending her fellow religious sisters to universities around the world for advanced degrees. To Neiwert, these stories cemented the core belief that learning is an active, outward-facing pursuit.
"What I have been cognizant of during my time at St. Kate's is that scholarship is not meant to be something that I am doing by myself in my office," she says. "Scholarship happens out in the world with my students."
A British historian by training, Neiwert understood it would be financially difficult to bring her students to England for hands-on research with primary documents. So she set out to find local history projects, including working with students to research racial housing covenants in the neighborhoods surrounding the University.
In 2019, Neiwert joined fellow professors Kristine West, PhD, and Daniel Williams, PhD, on "Welcoming the Dear Neighbor?", an in-depth research project that reveals the history and impact of racially-based housing discrimination in the Twin Cities.
For months, Neiwert and a host of students across disciplines studied old local newspapers on microfilm, looking for mentions of racially-based housing discrimination. The project has gained attention in the local and national press and praise in academic circles.
This kind of in-depth research takes time and resources. To make these projects available to students, St. Kate's sponsors a number of support programs, including the Assistantship Mentoring Program (AMP) which provides funding for students to engage in research with faculty through the Office of Scholarly Engagement.
This support for students is essential, explains Neiwert. "I have a responsibility to think about how I can provide these kinds of opportunities to my students in a way that
IN JUNE, "WELCOMING THE DEAR NEIGHBOR?" TEAM MEMBERS UNVEILED NEW DATA AND MAPS OF RACIAL COVENANTS IN HISTORIC RAMSEY COUNTY HOUSING DEEDS — INDICATED WITH DARK GREEN.
stkate.edu 19
KRISTINE WEST, PhD, (LEFT) AND DANIEL WILLIAMS, PhD, (RIGHT) PRESENT AT A "WELCOMING THE DEAR NEIGHBOR?" EVENT THIS SUMMER.
COURTESY OF WELCOMING THE DEAR NEIGHBOR
makes the work feasible for them," she says. "AMP allows my students to participate in this program."
Henderson explains that programs like AMP underscore the University's commitment to supporting faculty and students in producing powerful research with social impact. "Scholarship is very important to who we are at St. Kates," she says. "It informs our work as teachers. We bring the content from our scholarship into our classrooms — and we invite students to participate in that scholarship."
Another way that Neiwert's research is supported is through the Sister Mona Riley Endowed Professorship in Humanities. The award comes with funding that makes it financially possible for Neiwert to do her own research — and support her students in theirs. The professorship is one of many endowed positions available to faculty across disciplines.
"The Sister Mona Riley Professorship is a significant way my scholarship has been supported," Neiwert says. "Each of these endowed positions comes with course releases to offer us more time to focus on research and build a community of scholars. They are essential to supporting the academic life of this campus."
SERVICE
Pa Der Vang, PhD, associate professor of social work
Though she knows that her classroom is an essential place for learning and community building, Pa Der Vang, PhD, also has an innate belief that it is important for social work faculty and students to leave the classroom and serve others in the outside world.
Over the course of her career, Vang's scholarship has been focused on leadership development in communities of color. "All of the work I've been doing has centered around developing Hmong leaders in the field of social work," she says. "There are a lot of barriers faced by professionals of color interested in entering licensed professions like social work. My work has been around understanding why that happens and how to influence change."
Vang's interest in supporting equity in the field of social work led her to create the Minnesota Hmong Social Workers' Coalition. "I created the coalition so we could have a collective voice with the Minnesota Board of Social Work," she explains. Within the first year of the group's foundation, Vang was asked to join the Minnesota Board of Social Work's advisory board. She also created an annual conference for Hmong social workers.
PHOTO/REBECCA SLATER '10, BY REBECCA STUDIOS
20 ST. CATHERINE UNIVERSITY • FALL 2022
"St. Kate's opened doors for women. Now we are opening doors for other communities who historically did not have access to education."
—Pa Der Vang, PhD
This level of "outside" service, "not only to the University but also to make a difference nationally and locally," is simply part of being St. Catherine faculty, Vang says.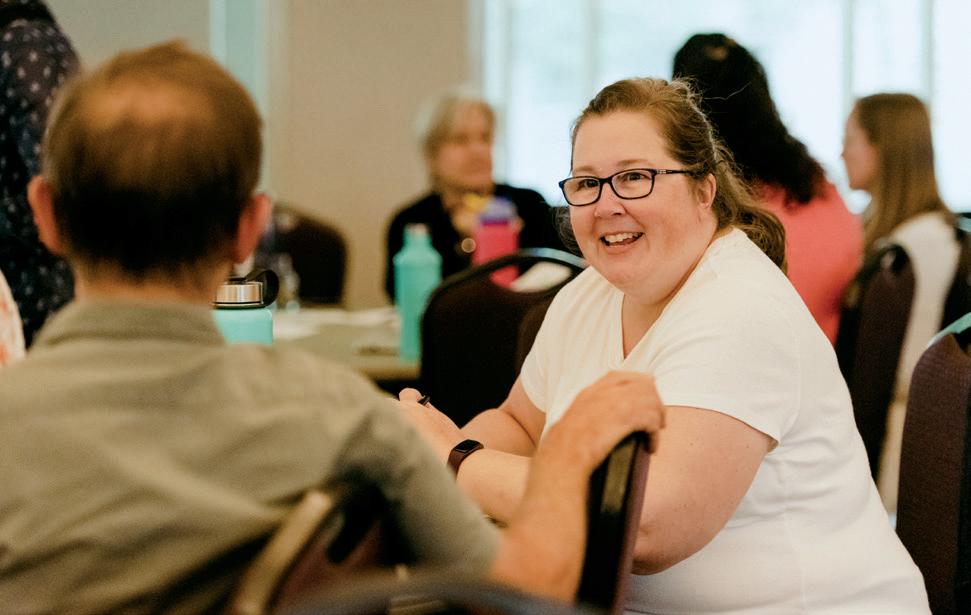 Thomas adds that service to society is seen as service to the University. Work like Vang's is actively encouraged and supported, says the provost: "That synergistic sense of development, engagement, teaching and scholarship, and service to the larger community and the profession all goes back to academic excellence in the classroom."
Because social work is a profession that is very much focused on the larger world, Vang says she believes that activism and service should be required of all faculty and students in the department. She was drawn to the University a little over a decade ago by its focus on developing women in positions of leadership.
At its founding, St. Kate's was "built from that recognition of oppression," Vang says. "We wanted to help a group that was oppressed at the time — that group was women. St. Kate's opened doors for women. Now we are opening doors for other communities who historically did not have access to education."
Because of that history, Vang says her service to students of color and immigrants is very much connected to the ethos of the University.
"I don't think of it as outside my work. It is very in line with my field, and very much in line with who St. Kate's is as a school." Continued work toward diversity, equity, and inclusion is a major focus for the University, and outside service, like her work in the state's social work community, is a key part of that, Vang says: "It's part of who we are as an institution, and one of the things that drew me here."
stkate.edu 21
ACROSS DISCIPLINES AND PROGRAMS, ST. CATHERINE UNIVERSITY EDUCATORS EMBODY THE THREE PILLARS CENTRAL TO BEING FACULTY. PICTURED ARE FACULTY MEMBERS AT THE 2022 OPENING PLENARY AND FACULTYSTAFF INSTITUTE, BOTH ANNUAL OPPORTUNITIES FOR COMMUNITY-BUILDING AND DEVELOPMENT.
PHOTOS/TARA SLOANE
Stephanie Nguyen '23 Kelley Phillips '11 GET INVOLVED: Want to do even more? Sign up at stkate.edu/ambassador to inspire other Katies! All donations on Give to St. Kate's Day also will count toward LEAD & INFLUENCE: The Campaign for the Next Level of Excellence Sydney Anderson '20, MAOL'23 ARE YOU KATIE PROUD? Don't miss St. Kate's biggest day of giving! stkate.edu/gokatiegive
Around Campus
St. Catherine University inaugurated the 2022–23 academic year with traditional Opening Celebration activities on August 29, 2022. Beginning with the Mass of the Holy Spirit in Our Lady of Victory Chapel, students, faculty, staff, and community members then processed to The O'Shaughnessy for Opening Convocation ceremonies.
Following a welcome by University president ReBecca Koenig Roloff '76 and executive vice president and provost Anita Thomas, PhD, Newbery Medalist Kelly Barnhill '96 spoke to an audience of St. Kate's students, faculty, staff, and friends about community and how its power emerged for her in the process of writing her newest book, The Ogress and the Orphans.
"Everything good that you want for yourself, everything that you hope for your life — you have to want that for your neighbor, too," said Barnhill. "In the end, it is our connection that redeems us. It is our care that makes us whole. I think that that's the great lesson of what we've all been through, and that is the lesson that I learned here at St. Kate's so many years ago, the lesson that I hang onto even now."
Barnhill read a chapter from the book and concluded by answering questions from the audience. President Roloff presented Barnhill with a commemorative peace ornament created by the late Peter Lupori, longstanding St. Kate's art professor.
For more St. Kate's news and to read full announcements, visit stkate.edu/news.
stkate.edu 23
KELLY BARNHILL '96 OPENS THE ACADEMIC YEAR WITH THE POWER OF CONNECTION
PHOTO/REBECCA
SLATER
'10, BY REBECCA STUDIOS
ALUMNA SELECTED AS NATIONAL HONOREE FOR WOMAN OF THE YEAR AWARD
Macy Klein '22, one of eight Minnesota Intercollegiate Athletic Conference (MIAC) nominees, was selected as one of 30 National Collegiate Athletic Association (NCAA) honorees for the 2022 NCAA Woman of the Year Award.
Established in 1991, the national award recognizes graduating women student athletes who have distinguished themselves not just athletically, but in the whole of their collegiate careers, including academics, service, and leadership.
Klein competed with the Wildcat Swimming and Diving team beginning in 2018, taking first place in five 2022 MIAC Championship events and resetting her own program record in the 50-yard freestyle. A three-time Scholar All-American, she has volunteered with organizations such as Feed My Starving Children and completed four years of the Air Force Reserve Officer Training Corps (AFROTC). Klein graduated this spring with a degree in exercise science and was the speaker at the 2022 College for Women Commencement. Having completed her time in ROTC, she will be commissioned as a U.S. Air Force Officer for six to ten years.
KATIE AWARDED FULBRIGHT TO TEACH IN THAILAND
St. Catherine University congratulates Erin Tebben '21, who in April was selected for an English Teaching Assistant award through the Fulbright U.S. Student Program. Tebben, an English major with minors in international relations and Teaching English as a Second Language (TESL), began teaching English in Thailand in late September.
Fulbright program advisor Susan Bosher, PhD, English professor and director of the TESL program, supported Tebben throughout the extensive application and interview process. Tebben also received guidance from former Fulbright program advisors Mysee Chang '13 and Allison Adrian, PhD, for her previous application in 2021 for an ETA award in Laos, for which she was selected as an alternate.
After her Fulbright in Thailand, Tebben hopes to pursue higher education and continue studying TESL, perhaps entering international relations or foreign service.
Since 1953, more than 45 Katies have received the highly prestigious Fulbright award. Thousands of students globally compete for the Fulbright U.S. Student Program every year, with only one in five applicants receiving the award.
SANDRA MITCHELL TO PROVIDE MIPS LEADERSHIP
The University recently announced that Sandra Mitchell will lead Multicultural and International Programs and Services (MIPS) and equity and inclusion during the search for the MIPS director position.
Thanks to Mitchell's engagement with students on many levels, and her deep knowledge of the opportunities to broaden access and inclusion on campus, she is uniquely positioned to help the University find and launch programs most valuable to our students. She will help ensure that the work in MIPS — and potentially expanding areas of diversity, equity and inclusion — will align with St. Kate's Inclusive Excellence Strategic Plan that she helped create.
Sandra Mitchell will continue to serve as director of equity and inclusion, where she has led the development and implementation of a University-wide Inclusive Excellence plan. Over the past three years, Mitchell has led the University in designing and implementing an equity framework used to guide institutional decisions, practices, and policies.
24 ST. CATHERINE UNIVERSITY • FALL 2022
NEW LEADERSHIP JOINS UNIVERSITY
Two new leaders began roles at St. Catherine University this summer:
Bindhu Alappat, PhD, (above, left) is the new dean of the School of Humanities, Arts, and Sciences. Alappat, who joined the University in July, brings nearly 20 years of higher education experience to the role. She most recently served as dean at St. Xavier University in Chicago, where she was awarded the College of Arts and Sciences Teacher Scholar Award in 2017 and the faculty mission award in 2020 in recognition of her sustained excellence.
Irene Green (above, right) is the new executive director of The O'Shaughnessy. A 20-year veteran of arts administration, Green was previously the managing director of Northern Stage in White River Junction, Vermont. With her leadership, Northern Stage was the first League of Resident Theatres member theater to reopen after the COVID shutdown.
Upcoming Events
Give to St. Kate's Day November 16, virtual
Feast of Saint Catherine November 17, in person
Reunion 2023
June 9–10, in person
We will celebrate class years ending in 3 and 8 that graduated at least five years ago.
See events at stkate.edu/events
REUNION CELEBRATED IN PERSON
On June 10 and 11, hundreds of St. Catherine University alumni walked through the campus gates to celebrate the first in-person Reunion since 2019.
June 10 and 11 offered a variety of activities for alumni of class years ending in 2 and 7, such as learning spotlights with faculty members and updates on progress in LEAD & INFLUENCE: The Campaign for the Next Level of Excellence. In addition to 1972 and 1997 pinning ceremonies, the University also held several events for the wider St. Kate's community, including Evening With St. Kate's at The O'Shaughnessy. Friday also featured a celebration for BIPOC graduates of all years, and Saturday a celebration for LGBTQ+ graduates of all years.
"We were thrilled to gather once again," says Beth Riedel Carney '82, vice president of development and alumni relations. "Whether we saw our Katies in person or virtually for Reunion weekend, the rich sense of community present makes us grateful, proud — and excited for another year of connecting with our incredible alumni."
Are you receiving all of St. Kate's emails and publications? Update your contact information and preferences: stkate.edu/alumni or 651-690-6666
stkate.edu 25
Class Notes
1950
MARY SARAZIN '59, JD, retired from practicing law after 40 years.
1960
MARY PAT FERRON CANES '67 published a book, Dark Queen of Donegal, with co-author J.R. Foley.
1980
MARY KOLLES '80 published her novel Cyber Nothing
LAURIE MAGNUSON HAMEN '82, JD, was named the CEO of Jean Stoffer Design. For the past two years she served as the interim president of the College of Saint Benedict in Saint Joseph, Minn.
THE REV. MARY KAYE POWELL ASHLEY '86 began serving as interim associate pastor of St. John's Lutheran Church in Kasson, Minn.
JEANNE GOETTL LUTZ '87 published Until the Kingdom Comes, a collection of poetry on farm life.
1970
GINA PEDRO PITERA '75 received her doctor of occupational therapy degree from Mount Mary University in Milwaukee, Wis. in May. She hopes to impact community and population health through family consultation.
LYNN VOLKENANT '78, MAED'95, EdD, was named to the board of directors for the South Carolina Writers Association. She also received her doctorate in education from the University of St. Thomas.
ANNE MCKEIG '89, JD, associate justice of the Minnesota Supreme Court, received the Gwen M. Lerner Award for Excellence in Leadership from the Mitchell Hamline Law Review.
MARCIA MILLER '89, JD, was named a 2022 Minnesota Super Lawyers® honoree by SiebenCarey in July, making this her fifth year to earn this designation.
26 ST. CATHERINE UNIVERSITY • FALL 2022
1990
AMANDA VOIGHT CRAIG '96, PhD, published Who Are You and What Have You Done With My Kid?, a book on raising tweens.
RACHELLE KERSCHBAUM BOZZI '03 published a book of poetry about her experiences as the innkeeper of the historic Aurora Staples Inn of Stillwater, Minn. A Rose in a Teacup and Other Poems is published under her pen name, Rachelle Nevaeh Rose.
LISA ARCHER '09 was named chief nursing officer for Mayo Clinic Health System, Southwest Wisconsin.
LINDSAY BUTTERFIELD WHIPPLE '09 and Chris Whipple welcomed their third child, Matilda Meagen.
MICHELLE FERRARA MECHTEL '99 was named director of Saint Thomas Academy Middle School in Mendota Heights, Minn. in June.
CABRINI JABLON MAOL'06 was named director of admission for on-campus programming and marketing for St. Norbert College.
HANNAH POLASHEK BREHMER '06 married Andrew Brehmer on April 30, 2022, at Our Lady of Victory Chapel.
EMILY COOLEY DOBBINS '07 started a new role as founder and CEO of NOVA Education Consultants in Shakopee, Minn.
2000
ARLETA LITTLE MSW '01, poet, writer, arts administrator, and advocate for racial justice, was named executive director of The Loft Literary Center.
ASHLEY CURTIS JENSEN '09 and Craig Jensen welcomed their baby, Della Rose, on January 20, 2022.
stkate.edu 27
2010LAUREN GILLIAN-MARTIN PETERSON '10, MPAS'14 became the director of the Health and Wellness Clinic at St. Catherine University.
BETHANY PETERSON '14 married Matthew Peterson on January 8, 2022, at Our Lady of Victory Chapel.
GEORGE SLADE MAOL'14 published My Father's Shirts, a collection of photographs and notes from his time as a caregiver for his father, who had Alzheimer's. Slade is also 2022 recipient of a Minnesota State Arts Board fellowship.
KELSEY WILL '14 earned her PhD in educational psychology from the University of Minnesota in May.
NICOLE TRAXLER GREISER '17 married Jonathan Greiser on June 11, 2022, at Our Lady of Victory Chapel.
NICHOLE BERNDT
GUNDERSHAUG '19 married Jacob Gundershaug on June 4, 2022, at Our Lady of Victory Chapel.
ELIZABETH COGAN JOHNSON '19 married Leland Johnson on December 4, 2021, at Our Lady of Victory Chapel.
2020
JORDEN CARLSON '11, MAED'18 and Brooke Benecke welcomed their baby, Hayes Aldys Benson, on November 29, 2021.
COMFORT DONDO '15, founder of nonprofit Phumulani, was named a 2022 Bush Fellow. She plans to continue her work supporting survivors of gender-based abuse and violence in African immigrant communities in Minnesota.
JEREMIAH ELLIS CERT'15 received the 2022 David Stanley Gebhard Award from the Minnesota Chapter of the Society of Architectural Historians for his Ramsey County History Magazine article, "St. Paul's Distinct Leadership Tradition: A Century of the Sterling Club."
CHRIS (CHRISTINE) KRAFT '15 graduated from the University of Virginia Darden School of Business Residential MBA program in May. She began a new position at BCG in Minneapolis, Minn. this summer.
ERIN KIMINSKI '11 earned a master's in special education from the University of Minnesota.
MEGAN DUFFY EDDY '14, MAOT'15 married Michael Eddy on July 23, 2022, at Our Lady of Victory Chapel.
MARIA DANG '17 married Henry Anfang on June 25, 2022, at Our Lady of Victory Chapel.
HILLARY LOR '17 was named to the 2022 cohort of the Creative Community Leadership Institute, a Bush Foundation-funded training program led by Springboard for the Arts and Racing Magpie. Lor also received the 2022 Kao Ly Ilean Her Live Your Best Life Grant from Hnub Tshiab: Hmong Women Achieving Together.
LIZA LEJA MCNAMARA '20 married Thomas Robert McNamara on June 25, 2022, at Our Lady of Victory Chapel.
SUBMIT A CLASS NOTE
CONTACT US
Online: stkate.edu/alumni Phone: 651-690-6666 Email: alumni@stkate.edu
facebook.com/katiealumni St. Catherine University Alumni
28 ST. CATHERINE UNIVERSITY • FALL 2022
OUR LADY OF VICTORY CHAPEL FRIEZE (DETAIL), NORTH DOOR
In Memory w
Our deepest sympathy to the families of the following faculty, staff, and graduates of St. Catherine University.
Margie Muelhaupt, former Office of the Registrar staff w February 8, 2022
Anne Hawkins Johnston '36 w August 18, 2017
Gretchen Webber Lobe '38 w September 12, 2018
Jeannette Barrette Schwietz '42 w July 17, 2022
Rosemary O'Brien Schwary '43 w June 20, 2022
Mary Dickof McIntyre '44 w May 3, 2022
Ann O'Brien Brosious '44 w March 8, 2022
Evelyn Shima Bezdichek '44 w December 21, 2021
Lucille Steinbach Reich '45 w September 19, 2019
Dolores Amann Traxler '46 w April 9, 2022
Jean Speltz Shea '46 w April 22, 2020
Viola Zeller Asgian '46 w January 13, 2022
Florence Bahner Lamb '47 w January 15, 2022
Joan Collins Nugent '47 w November 21, 2020
Joan Hermann Mahoney '47 w November 18, 2020
Mary Jean Mooney Jacobowski '47 w May 2, 2022
Mary Catherine Roach Donohue '47 w May 14, 2022
Marie Sauro Conlin '47 w May 30, 2022
Elizabeth Schwartz McMonigal '47 w March 21, 2022
Elizabeth Crownhart Meehan '48 w June 13, 2022
Ruth Anne Donahoe '48 w May 21, 2022
Virginia Lange Kloos '48 w February 27, 2021
Ritamary Reynolds McGovern '48 w September 18, 2020
Maxine Schultz Musser '48 w February 7, 2022
Marcella Flaten Wartman '49 w January 19, 2022
Philomena Fritz Hesse '49 w July 21, 2022
Donna Kienlen Simonitsch '49 w November 4, 2021
Patricia O'Brien Hol '49 w November 17, 2021
Mary Joan Young Carr '49 w January 6, 2022
Yvonne Carpentier Stenzel '50 w September 1, 2021
Marilyn Dwyer Mangan '50 w December 17, 2021
Elizabeth Glennon McIntire '50 w March 5, 2022
Patricia McHugh '50 w December 13, 2021
Dorothy Reardon Coughlan '50 w May 12, 2022
Kathleen Barrett Kolias '51 w December 26, 2021
Adelaide Bullock '51 w February 18, 2022
Catherine Heinz Quigley '51 w May 20, 2022
Ellen Holl Carlson '51 w July 15, 2022
Margery Marion Eliason '51 w March 24, 2022
Mary Ann Brince Loomis '52 w November 17, 2021
Patricia Dwyer Kuklock '52 w May 8, 2021
Geraldine Marzolf Bodmer '52 w September 23, 2021
Mary Hill Williams, CSJ, '52 w July 31, 2022
Catherine Benda Waters '53 w August 1, 2022
Mary Bigelow Connelly '53 w February 3, 2022
Rita Breimhurst Waters '53 w January 17, 2022
Nadine Chamberlain Marsnik '53 w November 30, 2021
Diane Rooney Turek '53 w December 31, 2021
Marlene Schlitter Kasmirski-Stronge '53 w April 6, 2022
Rita Foster, CSJ, '54 w April 12, 2022
Barbara Houle Gaughan '54 w March 17, 2022
Ramona Mikolajczy Fudro '54 w April 29, 2021
Frances Miller Wittrock '54 w December 12, 2021
Carole Murnane Fleming '54 w November 28, 2021
stkate.edu 29
Jeannette Smith Hunter '54 w June 13, 2022
Mary Ann Goulet Skinner '55 w July 9, 2022
Joan Grams Larson '55 w January 2, 2022
Ann Kilbride Meenan '55 w June 23, 2022
Dolores Mathiowetz Goldberg '55 w November 13, 2021
Nancy McGovern Kopriva '55 w November 7, 2021
Maxine Owen Morgan '55 w July 22, 2022
Marjorie Snodgrass McEllistrem '55 w February 6, 2022
Joann Martinmaas Smith '56 w June 14, 2022
Virginia Roddy Mears '56 w July 22, 2022
Anne Elise Tschida, CSJ, '56 w December 12, 2021
Jean Archer Arend '57 w April 29, 2020
Margaret Busby '57 w July 27, 2021
Mary Kay Hanten Breyer '57 w December 17, 2021
Theresa Mitchell '57 w November 2, 2021
Rosemarie Stockton Smart '57 w May 7, 2020
Mary Schafer Furter '58 w January 26, 2022
Lavonne Schires Mulvehill '58 w May 2, 2022
Monica Bregel McGill '59 w January 31, 2020
Mary Joan Lanctot, CSJ, '59 w December 28, 2021
Anastasia Lohmann Waller '59 w May 1, 2022
Eleanor McGowan Simcoe '59 w February 24, 2022
Margaret Quinn Gross '59 w August 12, 2019
Elisabeth Flinn Gelden '60 w March 8, 2022
Janice O'Keefe '60 w April 6, 2022
Mary B. Pearson Walsh '60 w June 2, 2022
Florine Provencher, CSJ, '60 w May 15, 2022
Harriet Darling Collopy '61 w September 15, 2021
(Mary) Kathleen Gorman Grendahl '61 w March 25, 2020
Joy Morzinski Robbins '61 w April 4, 2022
Dolore Rochon, CSJ, '61 w August 10, 2022
Susan Sercl Longan '61 w January 1, 2019
Betty Wurm, CSJ, '61 w July 22, 2022
George Ann Bohl, CSJ, '62 w June 25, 2021
Kathryn Engel Murphy '62 w December 23, 2021
Mary Ann Krammer Sievers '62 w May 15, 2022
Pauline Lischke McMahon '62 w December 20, 2021
Sharon Mumm Berning '62 w December 7, 2021
Ann Revier Dixon '62 w February 24, 2022
Arzelie Stewart '62 w December 10, 2021
(Phyllis) "Kathy" Puvogel Bitgood '63 w December 20, 2021
Constance Brousseau '64 w August 31, 2021
Diane Lindgren Moore '64 w April 19, 2022
Anita Stewart Thomas '64 w June 3, 2022
Priscilla Herbison '65 w January 28, 2022
Mary Therese McGinn '65 w January 5, 2022
Mary Ann Stoffels '65 w May 9, 2022
Jane Doran '66 w August 21, 2020
Mary Louise Eltgroth, OSF, '66 w March 31, 2022
Clara Mae Kuempel, FSPA, '66 w April 5, 2022
Margaret Elizabeth "Betsy" McMahon Poirier '66 w January 24, 2022
Mary K. Callahan Smith '68 w February 2, 2022
Kathleen Martens Sackrison '68 w April 1, 2022
Patricia Newell Jochim '69 w January 20, 2022
Mary M. Wagner, PhD, '69 w July 7, 2022
Celine Charpentier '70 w August 4, 2022
Mary Eileen Conlin '70 w April 22, 2022
Mary McAllister Shea, EdD, '71 w July 26, 2022
Mary Andresen '72 w November 10, 2021
Patricia Dennehy Korth '72 w January 11, 2022
Marguerite Donnelly Bierbach '72 w December 25, 2020
Deborah Knowlan Worthington '72 w May 7, 2022
Christine Wescott Phipps '72 w January 8, 2022
Marguerite Corcoran, CSJ, '73 w December 26, 2019
Elizabeth Rank Beauchamp '76 w June 6, 2022
Nancy Elizabeth Thornton, PhD, '76 w July 4, 2022
Paula Jean Morphew '77 w December 30, 2021
Genevieve Rutherford Amundson '77 w April 14, 2020
Sharon Maeckelbergh '79 w April 9, 2022
Glenda Guthrie Baldwin '80 w June 27, 2021
Mary Hussian Clark '80 w June 21, 2022
Suzanne Irwin Schroeder '80 w March 14, 2022
Carol Jirik '81 w October 23, 2021
Diane Palmberg Aho '81 w March 1, 2022
Patricia Rarick Seabright '81 w January 24, 2021
Clare Dech Maturen '84 w April 28, 2022
Joyce Veda Abel '85 w March 15, 2022
Peggy Birchler Sjolander '86 w December 10, 2021
Judith Krystofiak Morinville '86 w March 30, 2021
Thomas Gerald "Jerry" Wheatley '86 w December 15, 2019
Wendy Randall MacDougall '87 w March 1, 2022
Karen Weyer Maiden '87 w August 22, 2020
Marilyn Jacobs DeMarais '88 w June 15, 2022
Margaret Novotny Henry '88 w December 25, 2021
Karen Anderson Sundberg '89 w March 31, 2022
Joyce Howard McFarland MAT'90 w May 13, 2022
Sheila Marie Sonnek '92 w August 31, 2021
Georgia Barthol Hammond '93, Cert'95 w June 22, 2022
Ruth Lovaas Kildow MSW'93 w June 9, 2020
Janice Siljander Fredrickson '94 w October 29, 2021
Trudy Olin Harper '95 w March 30, 2022
Susan Wadd Mundale MAT'97 w January 30, 2022
Charles Ronald Williams MSW'98 w December 7, 2021
Michelle Everson '99 w August 8, 2022
Theresa Ann "Terry" Burke Werner '02 w February 18, 2022
Julie Bleninger Erickson '03 w May 1, 2022
Joan Cipala Reed MAOL'05 w June 18, 2022
Jasmine Geschwind '15 w January 24, 2022
30 ST. CATHERINE UNIVERSITY • FALL 2022
MARGARET CONANT
Margaret Conant, professor emerita, passed away on January 15, 2021, at the age of 96.
Conant was born on August 3, 1924, and attended St. John the Evangelist elementary and high schools in Cambridge, Mass. She obtained her bachelor's degree from Regis College and her master's degree from Simmons University.
Conant is remembered for her life of service to God, family, and community. She was a member of VFW Auxiliary Post 5555 and served as chaplain for the Richfield, Minn. chapter of the Military Order of the Purple Heart. In 1957, she started an active ministry in the Annunciation Parent Teacher Organization, and was involved in the Legion of Mary, the Women's Club, and many other liturgical ministries and committees. When the Sisters of St. Joseph of Carondelet opened the opportunity for laypeople to join as consociates, Conant joined as part of the first group of consociates in 1984.
Over the course of her career, Conant was a librarian at Newton College of the Sacred Heart, Cambridge Public Library, and St. Catherine University, where she also taught library science from 1966 until her retirement in 1986. Two of Conant's five children are also St. Kate's graduates: Mariah (Peggy) Conant Forrest '78 and Jeanne Conant '84.
MARY WAGNER '69, PhD
Mary Wagner '69, PhD, professor emerita, passed away on July 7, 2022, of cancer. She was 76 years old.
Wagner grew up in south Minneapolis and in 1969 graduated from St. Catherine University with her bachelor's degree. As a young woman, she took temporary vows and was briefly a Sister of St. Joseph of Carondelet, teaching high school and working at The Bridge. From 1975 to 2012, Wagner served as faculty member, department chair, and program director of the Master of Library and Information Science (MLIS) program at the University, working tirelessly to further library education and presence in Minnesota and beyond. She was instrumental in obtaining full accreditation of the St. Kate's MLIS program by the American Library Association in 2010 and 2011.
In the mid-80s, Wagner taught English in Lesotho in southern Africa, later returning to Lesotho and then Zambia, both times as a Fulbright recipient. She supported the development of the Urban Library Program, a partnership between St. Kate's and the Saint Paul Public Library that encouraged individuals from underrepresented communities in library science careers.
Would you like to make a memorial or tribute gift? Please contact 651-690-6976 or giving@stkate.edu
Contact us to share news of a death: 651-690-6666 | inmemory @stkate.edu
A Fulbright Scholar and supporter of the Urban Library Program, Wagner received the American Library Association's 2012 Beta Phi Mu Award in recognition of her lifelong commitment to meeting the information needs of underserved communities. Wagner was an inspiring library professional, educator, and advocate who impacted generations of library professionals.
stkate.edu 31
Katie Diary
From the opening of Derham's doors in 1905, to the student enrollment boom caused by World War II, to the expansion of women's professional training in the 1960s and 70s — St. Catherine faculty are crucial to starting, shaping, and adapting programs to meet the needs of the time. Join us in honoring some of the faculty members whose vision propelled the enormous growth in volume and range of St. Kate's education over the years.
Mary Thompson, CSJ, '53, PhD, Sister Gertrude 1928–2017
As department chair and Endowed Professor of Science, Mary Thompson, CSJ, '53, PhD, strengthened chemistry at St. Kate's through grant-funded acquisition of modern scientific instrumentation, the inclusion of undergraduate research as an integral part of the curriculum, and American Chemical Society verification of the chemistry major. She challenged students to engage in demanding research and continue their education at the graduate level, setting the stage for St. Kate's increasing commitment to preparing women scientists.
Sister Barbara Ann Mitsch 1892–1992
Business courses in preparation for a "women's career," such as secretarial studies, were offered from the beginning of the college, with the formal department offering a major established in 1927. Sister Barbara Ann Mitsch arrived one year later and, for the next 44 years, led the business department and accounting office with remarkable influence on business students toward the ideals of responsibility, honesty, and workmanship.
Sister Teresita Judd '37, PhD
1908–1998
In addition to her extensive graduate study and teaching, Sister Teresita Judd '37, PhD, was particularly active in nurturing the details that both exemplified the liberal arts and kept life at St. Kate's humming. She ran the printing press for faculty and staff, helped various faculty members correct tests, and created over 100 charts used to teach biology at St. Kate's.
32 ST. CATHERINE UNIVERSITY • FALL 2022
Marguerite Hessian-Gatz, CSJ, '49
Sister Joan Arthur 1925–2019
Over the 30 years Marguerite Hessian-Gatz, CSJ, '49 served as nursing faculty and department chair, and as professor emerita following her retirement in 1988, her farsighted commitment to the department helped grow the nursing program from a diploma program to a full degree.
Genevieve Cummings, CSJ, '49
Sister Miriam Joseph 1927–1994
Genevieve Cummings, CSJ, '49 became chair of the occupational therapy department in 1961, and forged a visionary stance regarding the importance of graduate education in occupational therapy. Thanks to her work spearheading these efforts on a national level, the department continued to expand — and, decades later, graduated the first occupational therapy assistant online students in the U.S.
Lucille Bettenburg Laughlin '36 1914–1977
Lucille Bettenburg Laughlin '36 fostered a period of rapid expansion and remarkable growth in the business program. With initiatives such as evening classes for adult women, she focused on expanding the horizons of women leadership beyond secretarial work. When she became chair in 1972, there were just five seniors majoring in business. By only 1977, there were 44.
Agnes Keenan '31 1910–1979
Sister Immaculata Keenan '31, PhD 1912–2000
Devoted to the liberal arts, Keenan sisters Agnes and Sister Immaculata were both St. Kate's graduates of 1931 and English professors. Agnes, one of the first lay professors at the college, was renowned for her course Catholic Literary Revival — students arranged their schedules for the privilege of taking the class, and student praise led to requests throughout the Twin Cities for lectures based on the course. Sr. Immaculata remained more devoted to classical English writers, including Dante and Shakespeare, and served as executive secretary of the alumni association from 1941 to 1951. Both Keenans were inspiring teachers, trusted advisors, and sources of great knowledge and vision.
stkate.edu 33
PHOTOS/ THE ARCHIVES OF THE SISTERS OF ST. JOSEPH OF CARONDELET, ST. PAUL PROVINCE; AND UNIVERSITY ARCHIVES
Adapted from alumni publications, The Wheel archives, and More Than a Dream: Eighty-five Years at the College of St. Catherine by Rosalie Ryan, CSJ, and John Christine Wolkerstorfer, CSJ.
NONPROFIT ORG. U.S. POSTAGE PAID TWIN CITIES, MN PERMIT NO. 822
4122
CHANGE SERVICE REQUESTED
Communications
St. Catherine University 2004 Ran dolph Avenue St. Paul, MN 55105-1750
PHOTO/REBECCA SLATER '10, BY REBECCA STUDIOS