STANLY RANCH AUBERGE RESORTS COLLECTION NAPA, CALIFORNIA A PRIVATE NAPA RANCH BECKONS
THEFEATURESTHERESORTINTRODUCTIONLIVINGVILLASTEAM p. 2 Stanly Ranch • Auberge Resorts Collection
p72p62p42p20p04 THE VILLAS p. 3
Welcome to Stanly Ranch p. 4 Stanly Ranch • Auberge Resorts Collection
THE VILLAS p. 5
p. 6 Stanly Ranch • Auberge Resorts Collection
A New Destination from Auberge Resorts Collection THE VILLAS p. 7
p. 8 Stanly Ranch • Auberge Resorts Collection
Live Amidst the Vineyards THE VILLAS p. 9
p. 10 Stanly Ranch • Auberge Resorts Collection
THE VILLAS p. 11
A BECKONSNAPAPRIVATERANCH p. 12 Stanly Ranch • Auberge Resorts Collection
Nestled in a region with over 37,000 acres permanently protected from development, awaits a once-in-ageneration ownership opportunity – Stanly Ranch. Just a 50-minute drive from San Francisco, Auberge Resorts Collection's newest destination embraces its 150 year agricultural heritage while elevating Wine Country living with exhilarating adventures and unparalleled amenities.
THE VILLAS p. 13
DAY BREAKS OVER THE LAVENDER POOL p. 14 Stanly Ranch • Auberge Resorts Collection
THE VILLAS p. 15
LAVENDER & EUCALYPTUS SCENTS THE AIR p. 16 Stanly Ranch • Auberge Resorts Collection
THE VILLAS p. 17
70oF 260 50MIN AVERAGE TEMPERATUREANNUAL SUNNY DAYS PER YEAR DRIVE FROM SAN FRANCISCO Be Transported, Without p. 18 Stanly Ranch • Auberge Resorts Collection
8MIN 130 TODOOR-TO-DOORNAPAAIRPORT WITHINWINERIES15 MILES 10MIN DRIVE DOWNTOWNFROM NAPA Without the Distance. THE VILLAS p. 19
LIVINGRESORT p. 20 Stanly Ranch • Auberge Resorts Collection
Stanly Ranch reimagines the Napa lifestyle for a new generation. A multifaceted celebration of curiosity, exploration, and adventure comes alive among 712 heirloom acres of rolling vineyards, eucalyptus trees, longhorn steer, and walking and biking trails.
THE VILLAS p. 21
CONTEMPLATIVE MOMENTS ON INFINITY HILL p. 22 Stanly Ranch • Auberge Resorts Collection
THE VILLAS p. 23
FROM DAY TO NIGHT, THE LAVENDER POOL IS ONE OF MANY RANCH COMMUNAL CENTERS p. 24 Stanly Ranch • Auberge Resorts Collection
THE VILLAS p. 25
Lindsay Pulaski Stanly Ranch ownership elevates your experience from resort guest to community member. With the help of a team of hospitality experts, Stanly Ranch's Director of Residences serves as personal advocate for every aspect of home ownership and community cultivation.
DIRECTOR OF RESIDENCES p. 26 Stanly Ranch • Auberge Resorts Collection
THE VILLAGE IS ALWAYS ALIVE WITH DINING, EVENTS & EXPERIENCES THE VILLAS p. 27
p. 28 Stanly Ranch • Auberge Resorts Collection
EXPERIENCEAGRARIAN
Cultivate
Access Ranch Farms, Culinary Gardens & Greenhouses Grow Food from Seed Learn about Soil Health & Crop Lifecycles Gardening, Farming & Culinary Workshops Harvest Edible Flowers, Herbs & Vegetables THE VILLAS p. 29
Stanly Ranch sows bounty you can touch and feel across a lush resort landscape interwoven with 16-acres of vineyards and culinary gardens, and 8-acres of orchards. a deep connection to the agricultural heritage of our edible landscape while harvesting the bounty that comes with each season.
ELEMENTAL CUISINE
Gavel Whether lingering over coffee at the farmhouse table or grabbing picnic provisions, the cafe community of Gavel is an integral part of life at Stanly. Basin Bar Adjacent to the Lavender Pool, the menu at Basin Bar is plant-forward, with a Provence-style setting making this spot more magical than most.
Bear Stanly Ranch's main restaurant showcases the bounty of Napa Valley with elemental cooking highlighting single ingredients.
The Grange
The Auberge culinary program at Stanly Ranch pays homage to the land. Local farmers work hand in hand with our Chef to highlight the best of what nature has to offer by the season. Ranch Resorts Collection
• Auberge
EXPERIENCES
p. 30 Stanly
An ideal event space for dinner, cocktails or a cooking class space, The Grange is located in the Chef's Garden where herbs and vegetables are harvested directly to your table.
CULINARY
VINICULTURE VINEYARD SOUL Wine is the soul of Stanly Ranch. Vineyards interweave the property, producing Chardonnay and Pinot Noir varietals. Our extensive wine program celebrates local Napa producers along with nods to Old World pioneers. Future HistoricTasingWineryRoomCistern THE VILLAS p. 31
p. 32 Stanly Ranch • Auberge Resorts Collection
THE VILLAS p. 33
Springhouse Focused on restoration and recovery, Springhouse activates the body's natural healing processes by integrating bio-hacking technologies to optimize physical perfor mance. Fieldhouse Fieldhouse is the center's movement studio and fitness club, offering assessments, func tional training, performance coaching, and wellbeing practices.
Halehouse
Halehouse is a healing destination unlike any other. Next-generation facilities, state-ofthe-art technology and world-class practi tioners provide personalized treatments that help to achieve your wellbeing goals.
p. 34 Stanly Ranch • Auberge Resorts Collection
WELLNESSPERFORMANCE-BASED Halehouse, Springhouse and Fieldhouse work in concert to help you reach your full potential through intentional restoration, targeted recovery and performance optimization.
Spa Pool Let the performance-based wellness treat ments truly soak in surrounded by mesmer izing Napa Valley views submerged in the spectacular Spa Pool.
HALEHOUSE
EXPERIENCES PROGRAM EXPERIENCESIMMERSIVE Stanly Ranch offers uniquely curated, bold and heartfelt experiences of an undiscovered Napa filled with boundless access, action packed escape, and one-of-a-kind adventure. Sports & CocktailCulinary,AdventuresOutdoorWine&Tastings Health & Wellbeing Classes Art & Design Workshops Community Cultural Events Agricultural & DemonstrationsFarming THE VILLAS p. 35
LITTLE RANCHERS
CONNECTING KIDS WITH THE LAND
Emphasizing the importance of connection to food, Auberge's curated experiences offer kids at Stanly Ranch the opportunity to experience hands-on farm work as a Little Rancher, helping them understand how vital sustainable agriculture is to health.
p. 36 Stanly Ranch • Auberge Resorts Collection
TOAWAKENAUBERGE
THE VILLAS p. 37
HOSPITALITY
Designed with the comfort of home in mind, the resort environment at Stanly Ranch reflects Auberge's soulful approach to Napa hospitality: thoughtfully designed accommodations, familial community atmosphere, and bespoke itineraries.
INFINITY HILL WELCOMING YOU HOME p. 38 Stanly Ranch • Auberge Resorts Collection
Gordon Huether NAPA ARTIST, INFINITY SCULPTURE Sitting at Stanly Ranch's highest point and visible for miles around, Infinity reminds us of the infinite connection between origin and enjoyment as it welcomes us home. THE VILLAS p. 39
VINEYARDHOMES RESORT 1 3 4 6 10 11 13 14 p. 40 Stanly Ranch • Auberge Resorts Collection
12. FUTURE WINERY
The pool bar features a plant-forward menu.
The ranch's valet and bellhop services.
One day wine will be made here from the ranch's vineyards.
A pool for families with children to enjoy.
13. HALEHOUSE
11. THE GRANGE Chef's Garden for hands-on farming and intimate events.
9. GAVEL Start the day with coffee and curated provisions.
Main reception for access to resort services and experiences.
The communal heart of the ranch is filled with energy, from morning to night.
VILLASTHE
4. RESORT COTTAGES
6. LAVENDER POOL
3. ORCHARDS & GROVES
15. BAY TRAIL CONNECTION
8. BEAR Stanly Ranch's main restaurant, showcasing the bounty of Napa Valley.
A performance-based, world-class spa, restoration, and fitness center.
1. RANCH HOUSE
5. VILLAGE
THE VILLAS p. 41
2 5 7 8 9 12 15
14. INFINITY HILL Napa artist Gordon Huether's 22-foot tall Infinity sculpture.
Extend all the comforts of home when guests come to stay.
Hundreds of miles of trails connecting Napa Valley with the Bay Area.
AMENITIESRESORT
10. BASIN BAR
7. FAMILY POOL
2. RANCH VALET
A sweeping valley of lavender, with the Provence-style pool in the center.
Agricultural lands offer moments of relaxation and discovery.
VILLASTHE
ThoughtfullyLIVINGRESORTAUBERGEcraftedforturnkey
living, The Villas' interiors pay homage to Stanly Ranch history and Napa tannery center provenance through custom furniture and a thoughtful collection of Auberge-curated home goods. Imbued with the energy, convenience and community of the resort, these fully furnished two bedroom homes overlook the resort's Lavender Pool, with views of the Mayacamas Mountains seen beyond the vineyards.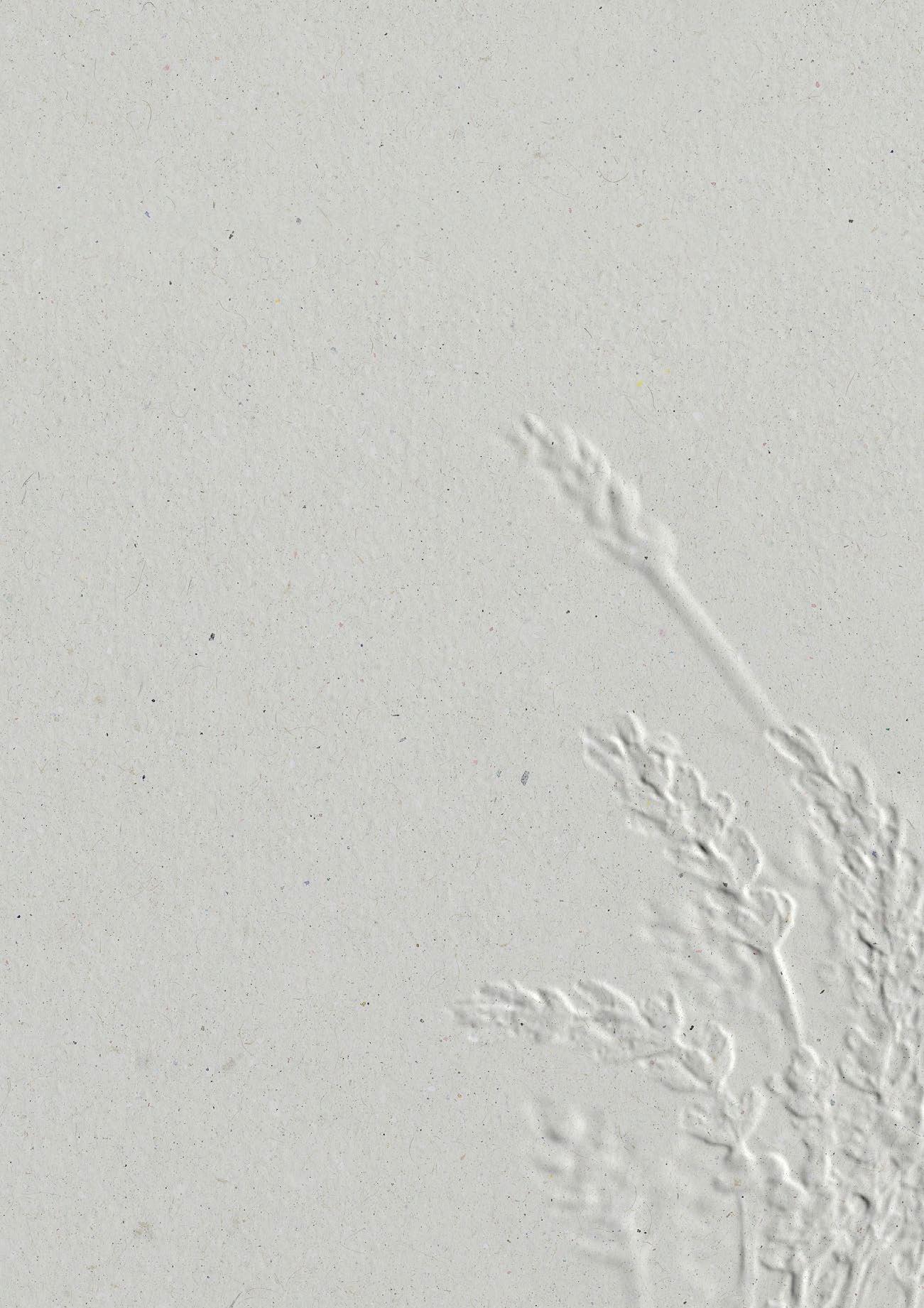 p. 54 Stanly Ranch • Auberge Resorts Collection
THE VILLAS p. 55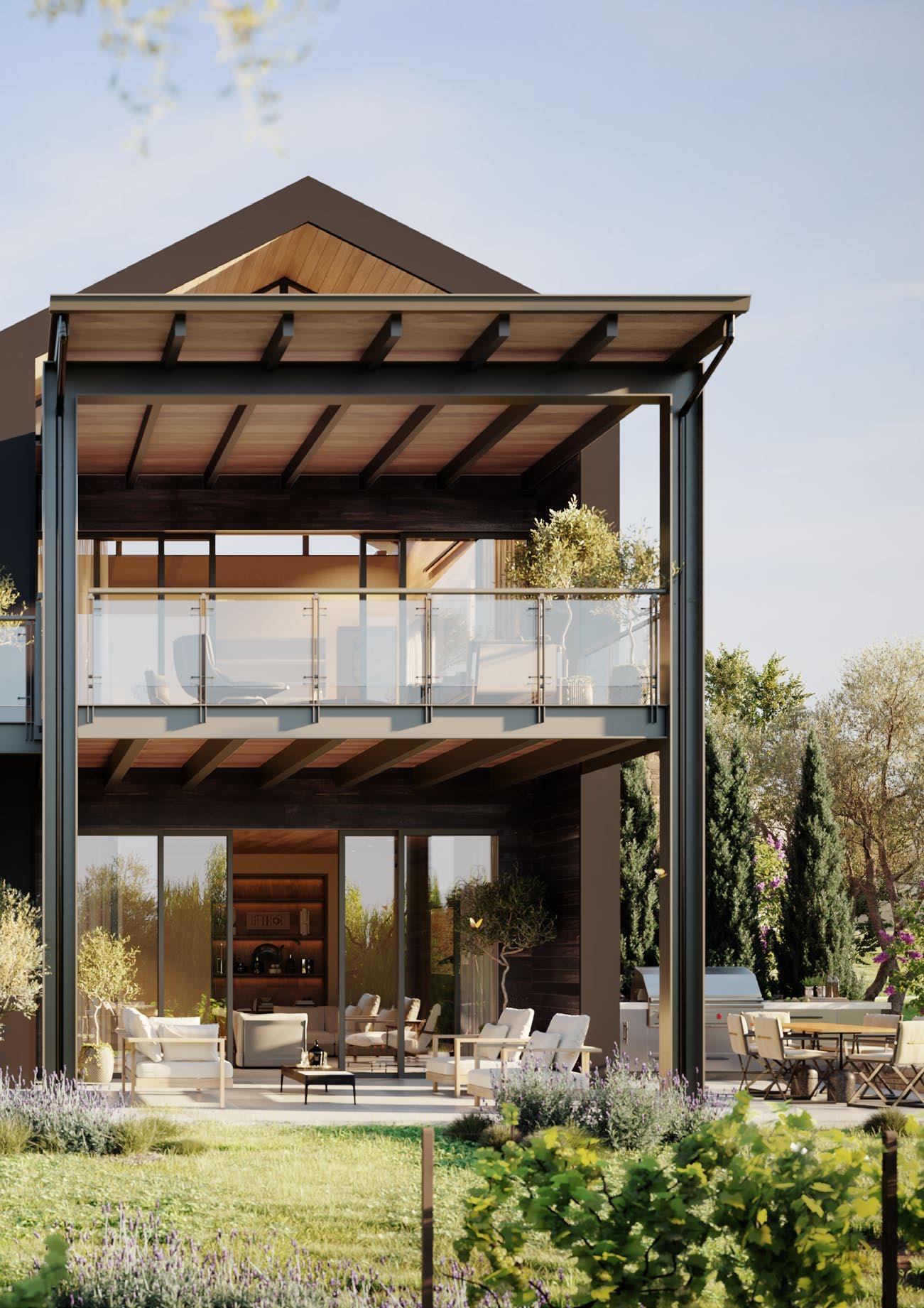 p. 56 Stanly Ranch • Auberge Resorts Collection
CCID CLAUSENINTERIORCOLLABORATIVEDESIGN By paying homage to Napa's historic tannery center provenance with light oak, warm stone and leather, and metal accents, Clausen-Collaborative designed The Villas' interiors including the curation of custom furniture, art and accessories. THE VILLAS p. 57
p. 58 Stanly Ranch • Auberge Resorts Collection
THE VILLAS p. 59
p. 60 Stanly Ranch • Auberge Resorts Collection
THE VILLAS p. 61
FEATURESHOME p. 62 Stanly Ranch • Auberge Resorts Collection
Warm and relaxing, The Villas reflect Napa's laidback lifestyle, enriched by a resort community. ARCHITECTURE BY JZMK PARTNERS WITH INTERIORS BY CCID FULLY FURNISHED TWO BEDROOM, TWO & A HALF BATHROOM RESIDENCES SEAMLESS CONNECTION TO OUTDOOR LIVING SPACES EXPANSIVE PATIO & LOUNGE SEATING WITH OUTDOOR DINING AREA & BBQ CUSTOM FURNITURE, ARTWORK AND HOME DECOR ACCESS TO AUBERGE AMENITIES, SERVICES & EXPERIENCES RESIDENTIAL RENTAL PROGRAM THE VILLAS p. 63
p. 64 Stanly Ranch • Auberge Resorts Collection
KITCHENTHATINTERIORSINSPIRE CUSTOM KITCHEN CABINETRY & ISLAND LIVING SPACES FIREPLACE WITH STONE SURROUND A FRESH MODERN NAPA DESIGN THE VILLAS p. 65
BATHROOMS ENSUITE BATHROOM WITH PRIVATE OUTDOOR SPACE RAIN SHOWER & FREESTANDING TUB p. 66 Stanly Ranch • Auberge Resorts Collection
THE VILLAS p. 67
p. 68 Stanly Ranch • Auberge Resorts Collection
THE VILLAS p. 69
p. 70 Stanly Ranch • Auberge Resorts Collection
Stanly Ranch, Auberge Resorts Collection is a project co-developed by Nichols Partnership and Selby Development Group. The Nichols Partnership is a proven leader in high quality real estate development based in Colorado. They enhance communities with projects that stand the test of time through meaningful and innovative design direction and material choices. Over the last two decades they've developed small to large-scale projects in multi-family, residential, retail, office and hotel. This wide spectrum of real estate types has earned them a reputation for quality and responsible development and established fruitfull long-term partnerships involving complex financial structures, public-private collaboration and significant community involvement.
TOGETHERRARITYCRAFTING
p. 72 Stanly Ranch • Auberge Resorts Collection
A known authority in the Napa Valley, Auberge Resorts Collection grounds top-of-market properties Auberge du Soleil, Calistoga Ranch, and Solage with distinct standards and integrity. Auberge isn't a hotel collection to Bay Area residents and wine country locals; it's part of the fabric of Napa's curated lifestyle celebrating the spirit of enjoyment. Evangelizing local context, culture and lifestyle coupled with a distinct expectation of service, hospitality and quality standards gives each Auberge property its own 'soul."
Stanly Ranch is being built by a seasoned, curated team of developers, hoteliers, architects, designers, and marketers 20 years in the making.
ARCHITECTURE INTERIORS RESORT & LANDSCAPES SALES & MARKETING THE VILLAS p. 73
(707) STANLYRANCHRESIDENCES.COMOWN@STANLYRANCHNAPA.COM224-8000 Contact our Property Specialists today to learn more about our limited residential collection.
These materials are dedicated to Stanly Ranch. Neither Auberge Resorts LLC nor any of its affiliates or related persons (the "Auberge Group") makes any representation, warranty or guarantee, expressed or implied, in respect of any statement or information made or contained in these materials. Neither the Auberge Group nor any of its directors, officers, employees or agents has or will have any responsibility or liability arising out of, or related to, these materials or the transactions contemplated by these materials, including any liability or responsibility for any statement or information made or contained in or the use of these materials. These materials are for informational purposes only and are non-binding and do not constitute an offer or acceptance of an offer. No binding agreement will arise until both the seller and purchaser execute and deliver a separate definitive agreement.
Square footage or floor areas shown in any marketing or other materials is approximate and may be more or less than the actual size. No residence will be offered or sold on the basis of square footage. Renderings, photography, illustrations, floor plans, amenities, finishes and other information described herein are representative only and are not intended to reflect any specific feature, amenity, unit condition or view when built. No representation and warranties are made with regard to the accuracy, completeness or suitability of the information published herein. These materials should not be relied upon as representations,express or implied. The developer reserves the right to make modification in materials, specifications, plans, pricing, designs, scheduling and delivery without prior notice. Maps are not to scale and are an artist's rendering. The layout of Stanly Ranch is subject to change by the developer and there is no assurance that any portion of Stanly Ranch as depicted , including the Auberge Resort, will ever be constructed or made available to the public. Neither Seller nor its agents make any guarantee of the existence of any particular view from any residential unit or other location within the building. Residences are adjacent to Auberge but Buyer has no rights to use Auberge as an owner unless independent agreements are made with Auberge. The photographic images shown are designed to be representative of Stanly Ranch in general, represent only general orientations, and are not in any way intended to represent or guarantee an actual view from any particular unit or location. Photographic images do not represent that any specific existing condition will remain in the future, as such present views may be obstructed or impeded by ongoing and future construction by developer or other entities. Represented by Compass Development Marketing Group DRE #01527235 200 STANLY CROSSROAD, NAPA, CA 94559