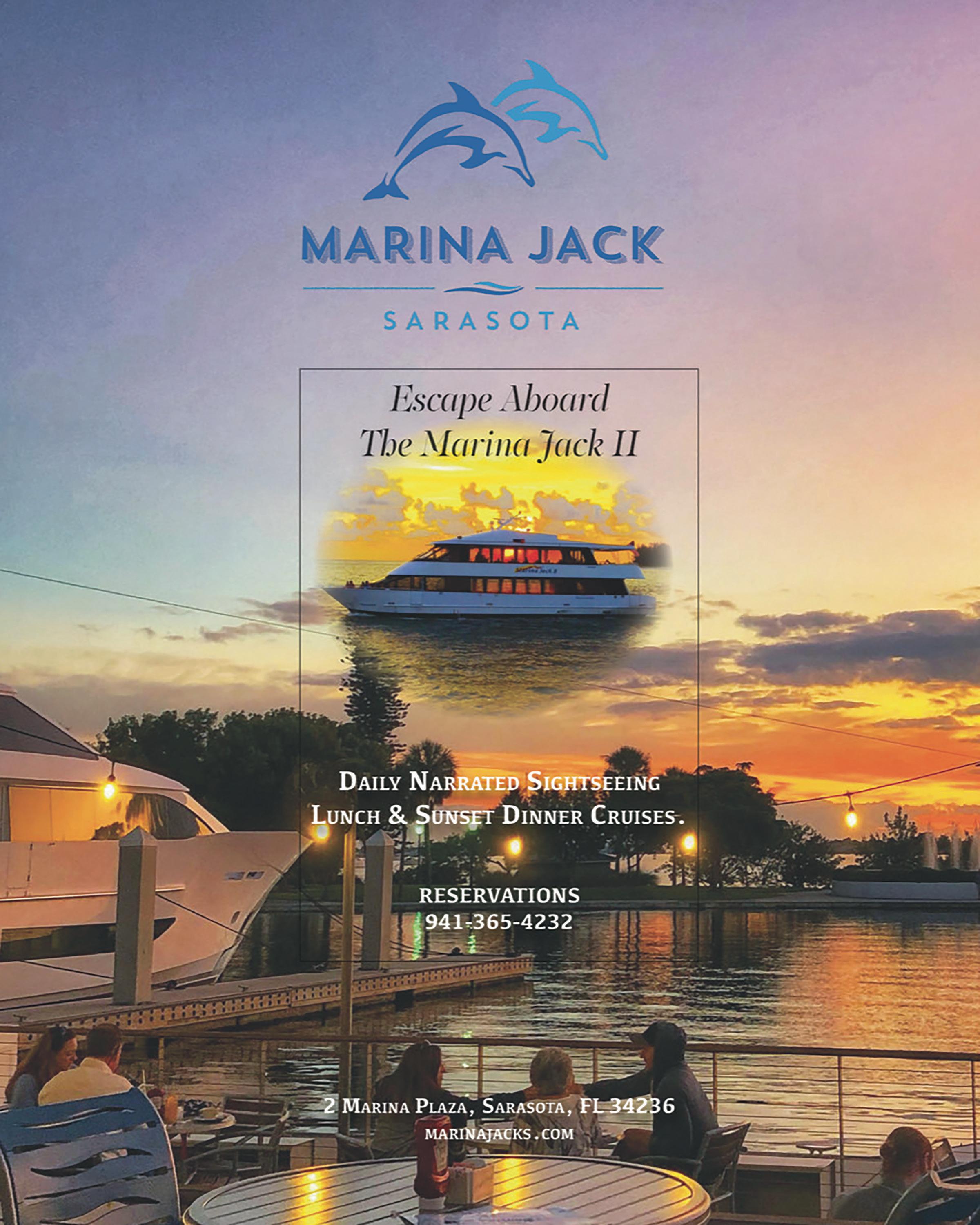 pets we love 27
Our best friends—they give us unconditional love. Whether they've got fur, hair, feathers or scales, we celebrate them every year in the SRQ Pets We Love Competition. Meet the winners of our 5th annual contest. We thoroughly enjoyed reading through all the heartwarming submissions–including purrfect personalities, doggone adorable quirks, naughty habits and impressive tricks. You're in for a treat as we unveil our best of show favorites!
silver screen 49
Happy 25th anniversary to the Sarasota Film Festival. This year's programming brought exciting films and events to the community and to those passionate about the film arts and cinema. From heartwarming documentaries about Mary Tyler Moore and Donna Summer to a thrilling story brought to life by Roma Downey and a revealing look into the lives of Indigo Girls' Amy Ray and Emily Saliers, the festival covered serious ground for its silver anniverasry. Sit back and enjoy our coverage of some of our favorite films and for an interview with Mark Famiglio, the man behind the festival.
may/june
Contents
2023
This page: President and CEO of the Sarasota Film Festival Mark Famiglio, photography by Wyatt Kostygan.
Next page: Al Forno's Chicken Shwarma wrap, photography by Wyatt Kostygan; Peter Rothstein, courtesy of the Asolo Repertory Theatre; and the sculpture of artist Viktor Mitic, courtesy of the artist.
Cover: Alissa Silver shares her greencheeked pineapple conure Cholula in this year's Pets We Love , photography by Wes Roberts
srqist 10
Canadian artist and sculptor Viktor Mitic is capturing the art community's attention from his new Siesta Key beachside studio. The dynamic duo of Frank Imbarlina and Mellissa Louty serve up homemade delicacies at Two Chefs on Hillview. Jlona and Stefan Dobler of Switzerland make toasting more inclusive than ever with Vine Importers' introduction of Rimuss non-alcoholic drinks, perfect for everyone and every occasion. Skepticism and anxiety greeted Richard Corcoran's hire at New College. Can the school's new leader convert his critics?
culture city 41
Peter Rothstein will become the new producing artistic director of the Asolo Repertory Theatre this July. He shares his hopes for the theater's upcoming season. Director Peter Rothstein shares what it takes to reinvigorate Man of La Mancha with a contemporary agency. Elizabeth Goodwill and Barbara Gerdeman at Creative Liberties are blazing a new trail for artists in Sarasota.
cargo 71
Let the good times roll with the hottest summer staples Assunta Swier brings a flair to Sarasota's shopping scene.
forage 79
Turmeric Indian Bar & Grill brings Sarasota's Rosemary District to new heights. At Al Forno Grill, an authentic Lebanese and Mediterranean eatery, a blend of exceptional dishes, attentive customer service and Middle Eastern spices wows diners.
good hero 94
By helping people to help themselves, Jessica Braemer is recognized as a good hero by her colleagues and community. Learn how NewGate School helped a neighbor whose home and business was devastated by Hurricane Ian.
37 ELITE AGENTS SARASOTA GULF COAST HOMES AMERICAN PROPERTY GROUP FINE PROPERTIES 43 REJUVENATE LG HOWARD + COMPANY SIRIUS DAY SPA, SALON & MED SPAS THE BLUE DOOR SPA 85 ROCKETKIDS GUIDE TO PRIVATE AND CHARTER SCHOOLS 98 IN CONVERSATION CHILDREN FIRST AND UNITED WAY SUNCOAST 105 GIVING COAST DONOR'S GUIDE TO GIVING contents
may/june 2023 6 | srq magazine_ MAY/JUNE23 live local
MAY/JUNE 2023
CEO / PRESIDENT / EDITOR IN CHIEF LISL LIANG
EXECUTIVE PUBLISHER WES ROBERTS
SENIOR VICE PRESIDENT, STRATEGIC PARTNERSHIPS AND ENGAGEMENT
Ashley Grant
ACCOUNTS + CLIENT SERVICE AND DEVELOPMENT DIRECTOR
Robinson Valverde
SENIOR SALES AND BUSINESS DEVELOPMENT EXECUTIVE
Suzanne Munroe
SALES AND BUSINESS DEVELOPMENT EXECUTIVE
Nichole Knutson
Rob Wardlaw
VP OF PHOTOGRAPHY + VIDEO
Wyatt Kostygan
MANAGING EDITOR
Barbie Heit
CLIENT MARKETING+ DIGITAL PROGRAMS MANAGER
Gabriella Alfonso
DIGITAL MARKETING + EVENTS MANAGER
Megan Mitchell
CONTRIBUTING ART DIRECTOR + SENIOR DESIGNER
Virginia Jankovsky
EDITORIAL ASSOCIATES
Dylan Campbell
Laura Paquette
CONTRIBUTING EDITORS + ARTISTS
Ariel Chates, Chris Leverett, Jacob Ogles, Kate Wight
SRQ MEDIA ADVERTISING
GROWMYBUSINESS@SRQME.COM
941-365-7702 x1
SUBSCRIPTIONS
SUBSCRIBE@SRQME.COM
941-365-7702 x2
GET SRQ DAILY
The magazine in your hands offers enormous insight into our community, but the most informed in our community follow our constant coverage of Sarasota and the Bradenton Area in SRQ Daily. The electronic newsletter is a must-read in thousands of inboxes. Check our special editions: Monday Business Edition, Tuesday Foodie Edition, Wednesday Philanthropy Edition, Thursday Family and Education Edition, Friday Weekend Edition and the much-discussed Saturday Perspectives Edition, featuring a diverse range of opinions from the region's top pundits and newsmakers. SIGN UP ONLINE AT SRQMAG.COM/SRQDAILY
ORIGINS OF "SRQ"
The "SRQ" in SRQ magazine originates from the designated call letters for the local Sarasota Bradenton International Airport. "SR" was the original abbreviation for the airport before the growth in total number of airports required the use of a three-letter code. Letters like "X" and "Q" were used as filler, thus the original "SR" was revised to "SRQ," much as the Los Angeles airport became "LAX." As a regional publication committed to the residents of and visitors to both Sarasota and Manatee counties, SRQ captures the place that we call home.
LOCAL PUBLISHERS OF SRQ MAGAZINE, LIVING LAKEWOOD, ROCKETKIDS, SRQ TOP DOCTORS MEDICAL RESOURCE GUIDE, SRQ ELITE TOP ATTORNEYS PROGRAM, SRQ HOME & DESIGN, SHE ROARS, LIVING BRADENTON AREA, LOVE LOCAL GUIDEBOOK AND SRQ DAILY.
SUBSCRIBE TO THE PRINT AND DIGITAL EDITION Join our readers in the pleasurable experience of receiving SRQ magazine in your mailbox every month during season and bimonthly during the summer. To reserve your subscription, provide your information and payment online. You can set up multiple addresses, renewals and special instructions directly through your online account. When you subscribe online, your first print issue will arrive in your mailbox in 6-10 weeks. Subscribe online at SRQMAG.COM/SUBSCRIBE. Contact us via email at subscribe@srqme.com
are $4 at area newsstands.
26, Issue 255 Copyright © 2023 SRQ MEDIA. SRQ: Live Local | Love Locall. Sarasota and Bradenton Area is published 10 times a year. IMPORTANT NOTICE: The entire contents of SRQ
copyrighted by Trafalger Communications, Inc. Column and department names are property of Trafalger Communications, Inc. and may not be used or reproduced without express written permission of the publisher. SUBSCRIPTION: Subscriptions to SRQ
$36 for 20 issues. Single copies
Vol.
are
are
331 South Pineapple Ave., Sarasota, FL 34236 | Phone 941-365-7702 SRQMAG.COM /
@SRQMAG
STORIES ABOUT THE LOCAL PEOPLE, PLACES AND EXPERIENCES THAT DEFINE OUR HOMETOWN