SRQ HOME AND DESIGN

H&D
ELEGANT KITCHENS
FOUR DESIGNERS SHARE HOW TO CREATE GLAMOUR AND FUNCTION
FROM THE EDITORS OF SRQ MAGAZINE | FALL 2023
ARCHITECTS PORTFOLIO MHK ARCHITECTURE
CONTENTS H & D
Home design stories, inspiration and thoughtful architecture on the West Coast of Florida—from Anna Maria Island and Lakewood Ranch to Sarasota, Venice and the Barrier Islands.
8 SURFACE TONE
Countertops and floors play crucial roles in defining the overall style and aesthetic of a kitchen.
12
KITCHEN BLING | BLACK+GOLD
While it would be impractical to fully redesign your kitchen every year, you can make small, sustainable changes over time. Updating kitchen fixtures is an easy and effective way to give your space a fresh and modern look without breaking the bank.
18
OLD IS NEW AGAIN
When you look through Damien Blumetti's portfolio, it's clear that modern architecture is his specialty. What isn't immediately obvious is just how much of Blumetti's forward-thinking design sensibility is rooted in the past. In his Siesta Key Bay House project, Blumetti was able to translate midcentury architectural practices into a fresh and contemporary modern home.
22
TIMELESS KITCHEN TRENDS
Kitchens are among the most difficult rooms to design because so many of the features are a big commitment. In a living room, you can buy new furniture and paint the walls if you need a change. Replacing countertops, tilework, fixtures and appliances is a lot more disruptive. Here, four local interior design professionals share insights into some of their latest projects, and how they designed kitchen and dining areas that will stand the test of time even as they employ current trends.
Branded Stories
10 ARCHITECT'S PORTFOLIO
MHK ARCHITECTS' STUDIO DIRECTOR
STEPHEN BALUT
29 IN CONVERSATION WITH CEO DAVID HUNIHAN OF LEE WETHERINGTON HOMES AND FOUNDERPRESIDENT ROBERT MILLIGAN OF PREFERRED SHORE REAL ESTATE
COVER Damien Blumetti Architect Home, photography by Ryan Gamma.THIS PAGE Damien Blumetti Architect Home, photography by Ryan Gamma. Trade Mark Interiors Home, photography by Nicholas Ferris.
4 SRQ MAGAZINE | SRQ HOME&DESIGN FALL 2023 FALL 2023
ask the expert
JENNIFER MASTERS
OWNER & INTERIOR DESIGN DIRECTOR
NCIDQ CERTIFIED, ASID MEMBER & IIDA MEMBER
What key strategies do you employ to find inspiration for your interior design projects?
Drawing inspiration from multiple sources is essential to my design process. Nature, with its organic forms and harmonious palettes, is a constant source of inspiration. For my Florida clientele, integrating the natural environment into interior spaces is crucial. Additionally, haute couture fashion provides a wealth of ideas, enabling me to incorporate rich colors, textures, and create dramatic focal points. Infusing spaces with elements inspired by nature and fashion elevates the design, adding a sense of beauty and allure to each project.
Can you describe measures that ensure your design choices stand the test of time and remain relevant for years to come?
With a degree in architecture and a lifelong passion for the field, architecture plays a significant role in my design approach. I meticulously consider the architectural elements, proportions, and exterior style of a space. My aim is to create a harmonious and complementary interior design that accentuates these features. When selecting materials, I believe in looking to the past to achieve a timeless and classic feel. Materials like marble, terrazzo, and concrete offer a natural and enduring aesthetic. The ultimate goal is to create a cohesive and unified environment that withstands the test of time, without being swayed by passing trends.
How do you personalize design solutions to reflect the unique personality and lifestyle of each client?
Personalizing design solutions is a fundamental aspect of my work. I believe that each client's space should be thoughtfully crafted, akin to a unique timepiece tailored specifically for them, whether it's modern or traditional. By incorporating elements that resonate with their lives, I establish emotional connections and add significant value. Successful examples include sourcing bedding from a beloved vacation spot, incorporating a porch swing reminiscent of cherished childhood memories, designing around a vintage movie poster or commissioned painting that holds personal meaning. These personalized touches enhance the overall design, creating spaces that are truly one-of-a-kind and deeply meaningful to my clients.
& MASTERS SARASOTA OFFICE 630 S. ORANGE AVE - 200D SARASOTA, FL 34236 941-706-3300 WWW.ANDMASTERS.COM
More than design on a page. More than materials used to build. More than a project to complete.
With And Masters , you get exquisite attention to detail, a peerless sense of design, and a passionate partner in creating a space you value & love.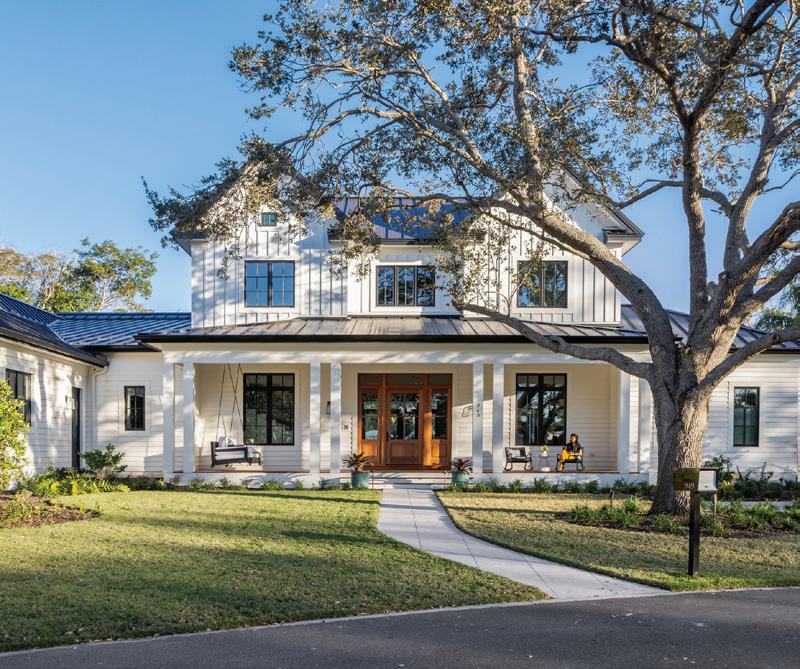 & MASTERS WWW.ANDMASTERS.COM INTERIORS & FINE ART NEW YORK 917-780-2482 SARASOTA 941-706-3300
SURFACE TONE
Wood Vibe
Though hardwood floors have a timeless appeal, they aren't wellsuited for use in kitchens. Hardwood flooring is susceptible to scratches, dents, and stains, and it may even warp due to the excess moisture in a kitchen environment. Lepper sees a lot of demand for flooring that has the look of wood but is designed to withstand the rigors of the kitchen environment. "Luxury vinyl plank (LVP) is a great product for this area because it is waterproof and can easily withstand high humidity," Lepper enthuses. "You could potentially have a flood, remove it, and then put it right back down." LVP is engineered to be highly durable, so it is resistant to scratches, dents and stains. This low-maintenance wood floor alternative is also more budget-friendly than traditional hardwood.
Granite for Good
For the past two decades, quartz has been one of the most preferred materials for kitchen countertops. Though quartz can mimic the luxurious look of a high-end marble, this engineered stone is both more affordable and more durable. With these qualities, it's safe to say that quartz countertops are here to stay. However, Lepper has noticed that an increasing number of homeowners are opting for granite countertops instead. "Granite is a natural stone and it is very unique," Lepper says. "To walk through granite yards and see this beautiful stone that has been mined from the earth is incredible. There's nothing like it. This means that with a granite countertop, you're getting a one-of-a-kind look."
Island Style
When designing a kitchen, it's important to find the right balance between timelessness and trends. The kitchen that's trendy today may feel very dated in a year or or two. Lepper's suggestion is to keep trends localized. "Doing something unique with your kitchen island is a great way to add that splash of individuality or the wow factor to the space," she says. "Then play it safe and do something simpler on the perimeter of the kitchen."
8 SRQ MAGAZINE | SRQ HOME&DESIGN FALL 2023
H & D
COMPILED BY KATE WIGHT
Countertops and floors play crucial roles in defining the overall style and aesthetic of a kitchen.
Amy Lepper from Yoder Homes and Design Works shared her observations on the latest trends in flooring and countertops for the kitchen.
COASTAL CONTEMPORARY
HOMES IN PARADISE
AS STUDIO DIRECTOR AT THE SARASOTA OFFICE OF MHK ARCHITECTURE, Stephen Balut likes to blend indoor and outdoor spaces and focus on breathtaking coastal views, while capturing cross breezes in the local masterpiece homes he designs. "A lot of the homes we work on are legacy homes for families, vacation homes and permanent homes where we focus on a casual, communal atmosphere that is both uplifting and celebratory," says Balut. "It's all about helping our clients enjoy life to the fullest with the people they love."
10
MAGAZINE SRQ
2023
SRQ
HOME+DESIGN | FALL
With a Bachelor of Science degree in Civil Engineering from Virginia Tech and a Master of Architecture degree from the University of Texas at Austin, Balut is uniquely qualified to be involved in multiple phases of new home construction. With an engineering degree combined with construction experience and an architectural license, he holds what he refers to as a 'tri-fold background' making him well-versed in all aspects of new home development. Balut moved to Sarasota a year ago from Virginia, where he ran his own practice for ten years. He was scooped up by MHK Architecture, a firm founded in Naples by Matthew Kragh in 2009, to lead the charge in bringing the firm's reputation and experience
to Sarasota. Currently, MHK has ten offices including the beach communities throughout Florida, the low country to the high country of the Carolinas, and stretching out West to the mountains of Denver and Aspen Colorado— and, they're growing. Last year, the firm expanded from 50 employees to 100. They've designed over 3,000 houses total, with over 300 completed last year alone. While the offices are scattered across the country, Balut shares that they operate like a family, with regular Zoom meetings to collaborate, share stories and exchange knowledge. "I really enjoy the personal side of the business and I've become friends with a lot of my clients over the years. I know very well what it takes to
Opposite page: Gulf Shore Drive, Naples. This page, top: Bird Key Home, Sarasota.
Above left and right; Kingfish Road, Naples
ARCHITECT'S PORTFOLIO
SRQ HOME+DESIGN | FALL 2023 SRQ MAGAZINE 11
"We enjoy what we do. And we really work hard to create these beautiful legacy homes for our clients that will be enjoyed for generations."
Stephen Balut, MHK Architects
build a business word of mouth and that's basically what I've been asked to do here in Sarasota," shares Balut. "MHK is a boutique architecture firm; we're high-end and custom with great experience, efficiency and technical abilities. We focus on solid relationships with our clients, and we build a team that is passionate about what we do. We care about what we do. We enjoy what we do. And we really work hard to create these beautiful legacy homes for our clients that will be enjoyed for generations."

Currently, Balut and his team are working on nine homes in the area; all on waterfronts. Two on Bird Key, two on Sarasota Bay in Harbor Acres, two on Little Sarasota Bay, one on Saint Armand's Key, one on Longboat Key and one on Siesta Key. MHK works in a variety of styles so each home is customized to the client's specific needs,
tastes and desires. Balut went on to share that many of the homes designed by MHK fall into the coastal contemporary style which is a large umbrella that contains a variety of substyles. For example there is the more traditional coastal contemporary style that focuses on symmetry, monumentality, balance and order; there is the cottage style that focuses on breaking the massing down into interesting volumes with unique materials and finely detailed decorative elements, there is the minimal style with a dialogue of volumes, streamlined edges, and a focus on reductive architectural purity.
"The possibilities of architecture are wonderfully immense and no matter the style we seek to find beauty and timelessness for each of our clients" says Balut.
12 SRQ MAGAZINE SRQ HOME+DESIGN | FALL 2023 ARCHITECT'S PORTFOLIO
BIRD KEY ABODE
This house on Bird Key is a paradigm of the coastal contemporary work that MHK is well known for. The elegantly detailed home integrates elements of the Old Florida style–metal roofs with narrow and deep overhangs, simulated lap siding, board and batten siding, brackets and corbels. The mass of the house is broken down into perfectly proportioned volumes to create a more intimate human scale with nooks and unique moments. Natural materials such as wood and stone are incorporated as tasteful accents throughout the house. Lighting design and home automation are state-of-the-art and designed to be upgraded for years into the future. Like all MHK legacy homes, this house is designed for stability, security, precision, and beauty.
"Our work is inspired by Florida Cracker homes in the vernacular context, landscape, and climate. It's about designing homes that provide shade and relief from the harsh sun and celebrating the outdoors while at the same time providing security during intense weather systems. "We design fairly large houses, but we break them up in a way that feels very human-scaled and comfortable. We combine the indoor areas, often about 6,500 SF, with the outdoor area—often about 2,000 SF in a way that feels casually open yet intimate at the same time."
Ordinarily, from the time a contract is signed to the time that the design process is completed typically takes about nine months. And then, depending on the house, it takes about 18 months to build. Throughout the process, Balut works very closely with the general contractor, landscape architect, engineers, interior designer, tech consultants and the client, of course, is very involved throughout each phase. The most important decisions, he says, are made in the first two phases of design– concept and schematic design." These are the two phases that define the quality and integrity of the holistic design and in turn create the future vision for the property. And so these are the most fertile, the most fun and where the most passionate energies are swirling around for us to devise the most beautiful home that we can. Even though we've done over 300 houses last year, each project is unique and we approach it with a fresh perspective and eye on how to make it as beautiful as it can be for that specific site and client," says Balut. "Every single house is a jewel and we treasure the process of making them a reality." H&D
Director,
STEPHEN BALUT Studio
Sarasota MHK Architecture O 941-271-4408, C 941-779-7832, sbalut@mhkarchitecture.com mhkarchitecture.com
This page, top; Bird Key Home, Sarasota. Below: Gulf Shore Drive, Naples.
KITCHEN BLING
Of all the rooms in a house, kitchens are undeniably among the most costly and time-consuming to renovate. While it would be impractical to fully redesign your kitchen every year, you can make small, sustainable changes over time. Updating kitchen fixtures is an easy and effective way to give your space a fresh and modern look without breaking the bank.
Mixing Metals
One of the prominent trends in kitchen design is the artful mixing of metals. In the past, many homeowners felt like they had to strictly adhere to using a single metal finish throughout the kitchen. Now, homeowners are embracing the freedom to create a striking and dynamic look by blending different metallic tones. "No ma er what look you are going for, mixing metals adds visual interest to any kitchen," Lowe says. "I feel the days of every single metal in your home being exactly the same are gone."
Must-Have Fixture
"The new Odin Semi-Professional kitchen faucet brings customization to a whole new level," Lowe says. "Arc and square spouts harmonize with Guyana Teak lever handles in any finish, creating endless combinations and endless appeal."
Le : Odin Smart Touch Pull-Down Kitchen Facuet with Square Spout in Ma e Black. SmartTouch Technology with TempID, tap on/off functionality with temperature indicating LED Light. MagneDock Technology, magnetic wand docking system. Optional voice activation technology available for us with connected home devices. Imagery courtesy of Brizo.
14 SRQ MAGAZINE | SRQ HOME&DESIGN FALL 2023 H & D
Eva Lowe, the showroom manager at Hydrologic Plumbing & Lighting in Sarasota, shares her insights on the latest trends in kitchen fixtures and design.
Workstation Sinks
Aesthetics aren't the only consideration when it comes to interior design. Kitchens are one of the most heavily-used rooms in the house, so it's important that they are as practical as they are visually pleasing. Workstation sinks have become increasingly popular in large part because they strike the perfect balance between form and function. "Workstation sinks have an accessory ledge that allows custom accessories like cutting boards, colanders and rolling mats to integrate seamlessly into the sink," Lowe explains. "These sinks help you maximize your workspace while keeping your counters clutter-free." Though workstation sinks have historically only been available in stainless steel, you can now find versions made from fireclay and composite materials. This innovation in materials makes the workstation sink more appealing to a wider cross-section of consumers.
BLACK+ GOLD
Matte Black and Gold
Kitchen fixtures come in a wide array of colors and finishes, but Lowe notes that the combination of matte black and gold is holding strong right now. Together, matte black and gold offer a striking and sophisticated aesthetic while also exuding a timeless quality that transcends trends. Gold and matte black are versatile colors that can complement a variety of different design styles from modern to industrial, making them an ideal choice for those looking to update their kitchen with a trendsetting twist.
16 SRQ MAGAZINE | SRQ HOME&DESIGN FALL 2023 H & D
WRITTEN BY KATE WIGHT, PHOTOGRAPHY BY RYAN GAMMA
Damien Blumetti blends well-established architectural practices with modern design sensibilities.
OLD IS NEW AGAIN
WHEN YOU LOOK THROUGH DAMIEN BLUMETTI'S PORTFOLIO, it's clear that modern architecture is his specialty. What isn't immediately obvious is just how much of Blumetti's forward-thinking design sensibility is rooted in the past. In his Siesta Key Bay House project, Blumetti was able to translate midcentury architectural practices into a fresh and contemporary modern home. Blumetti received both his undergraduate and graduate degrees at the University of Florida in Gainesville. While still in school he interned with Guy Peterson, a decorated architect, and another University of Florida alumnus. Blumetti would go on to work with Peterson for nearly a decade before opening his own architecture firm in 2017. "Guy has been my mentor, and still is my mentor," Blumetti says. "I really learned how to be an architect under his umbrella."
H & D
SRQ MAGAZINE | SRQ HOME&DESIGN FALL 2023 19
Under Peterson's tutelage, Blumetti became well-versed in a regional style of post-war modern design known as the Sarasota School of Architecture. This movement spanned the years between 1941 and 1966. "It's interesting because it's part of a lineage," Blumetti says. "Guy worked directly for architects who belonged to the Sarasota School of Architecture and then I worked for him. And what I'm doing now, I hope, is carrying the torch a little bit of this really strong legacy we have of architecture in Sarasota. It's really important to me to pay homage to the people who originally paved the way."
While Blumetti has a reverence for the architectural traditions of his predecessors, emulating those principles isn't his only priority. He wants to design buildings that meet his clients' needs and exceed their expectations, while still showcasing his own distinct design style. In the Siesta Key Bay House, he was able to achieve all of these objectives.
"Going back to the Sarasota School, they were always experimenting with new materials including different types of concrete mixtures," Blumetti says. "These clients are from Venezuela, and when I did some research it was very apparent that concrete was prevalent in the native construction of Venezuela. So they weren't scared of the idea of having a concrete house. Actually, they really loved the idea."
Many modern-style homes feature concrete walls, but they tend to have a smooth finish. Blumetti took a novel approach by using boardformed concrete for the Siesta Key Bay House. Board-formed concrete is a construction method where concrete is poured into forms lined with wooden boards. When the concrete dries, it retains the pattern of the wood grain on the surface.
The Siesta Key Bay House is largely constructed of this boardformed concrete, as well as actual cedar, giving it an organic feel that is unusual in modern architecture.
The same boards that were used to create the texture on the concrete were then reused on the house.
"Instead of just throwing them away and using new wood, we were able to recycle them and use them as the wood elements in the house," Blumetti says. Sustainability is always a big priority for Blumetti, and it was also important to the clients for this project. Blumetti blended older techniques and newer technology to make the home as eco-conscious as possible. "In the 1950s, homes didn't have air conditioning," Blumetti explains. "Architects had to use passive design systems like orientation, large overhangs, and lifting buildings off the ground. There were no flood requirements back then, so houses were raised to help circulate air around the house. It was a very forward-thinking idea back then."
Passive design elements are prevalent throughout the Siesta Key Bay House, though adaptations have been made. Instead of installing the jalousie windows that were popu-
H & D
lar in the mid century era, Blumetti used sliding doors to open up the house and create cross-ventilation. Outside, there is a 16-foot overhang on the south side of the house to keep the sun from hitting the abundant windows directly. But Blumetti also sourced heat-absorbing glass to help with the ambient heat.
One of the most compelling features of this house can't be conveyed through photographs. Blumetti wanted every room in the house to have a view of the water, so he folded in some of the walls in order to create sightlines that most people would deem impossible. Blumetti has nothing but praise for his clients, who were very open to his unconventional design ideas.
"They allowed us to explore and push the boundary a lot further in materiality than we would have with different clients," he says. "That freedom is sometimes the thing you need to push you in a different direction and I'm very grateful for that opportunity to push it as far as we did."
It's easy to get sidetracked by Blumetti's deep knowledge of design principles and how they impact the function of a home. But his aesthetic sensibilities are equally remarkable. The Siesta Key Bay House is as visually stunning as it is technically interesting. Even though it's made of imposing materials like glass, concrete and galvanized steel, the exterior appearance of the house is almost ethereal, floating serenely above the landscape. Inside, polished concrete floors provide a textural contrast against the board-formed concrete walls. According to Blumetti, the aesthetic appeal is a byproduct of the materials and techniques used.
"There's a rawness to this building. You can see how it was constructed and you understand it because we're not covering anything up," Blumetti says. "I think there's almost an instant patina to it, which is kind of unique. It's not precious but it is beautiful, and I think that's an interesting duality." SRQH&D
SRQ MAGAZINE | SRQ HOME&DESIGN FALL 2023 21 H & D
Architect: Damien Blumetti Architect Interior Design: Kathy Bush at Home Resource Kitchen Cabinets and Bathroom: B&B Cabinets Carpets and Flooring: BMMI (concrete floors) and Gulf Coast Stucco Photographer: Ryan Gamma Photography
Damien Blumetti Architect, 2131 Hillview Street, Sarasota | damienblumetti.com
WRITTEN BY KATE WIGHT, PHOTOGRAPHY COURTESY OF OF THE DESIGNERS
When interior designers are hired for a new project, they have more factors to consider than many people realize. It's not enough to just design a space that's visually appealing. They need to make sure that the home functions the way the homeowners need it to. And while interior designers stay up to date on the latest styles, they don't just outfit a home with trendy finishes and furnishings and call it a day. Trend-heavy design can quickly become dated and can lack a sense of individuality. The best interior designers are adept at creating spaces that are trendy yet timeless while also reflecting the homeowner's personal style. Kitchens are among the most difficult rooms to design because so many of the features are a big commitment. In a living room, you can buy new furniture and paint the walls if you need a change. Replacing countertops, tilework, fixtures, and appliances is a lot more disruptive. Here, four local interior design professionals share insights into some of their latest projects, and how they designed kitchen and dining areas that will stand the test of time even as they employ current trends.
KITCHEN NOTEBOOK
Four local design professionals share insights from recent kitchen projects.
GRAND LIVING AT THE LAKE CLUB TRADE MARK INTERIORS
THE LAKE CLUB PROJECT IS A FAMILY HOME designed in a breezy, coastal cottage style. Kristen Tolbert is the design director at Trade Mark Interiors and was the lead designer on this project. "Our goal was to create a home that was refined yet comfortable," Tolbert says. The clients for this project have two teenage children living at home as well as adult children who are out of the house. Tolbert needed to create a space that worked for the people who live there full-time, while still being able to accommodate larger family gatherings. She met this need by creating multiple seating areas. Just off the kitch-
en, there is a cozy breakfast nook that is ideal for day-to-day meals. Meanwhile, down the hall, a larger dining table is perfect for holding larger family meals or game nights. Colorful kitchen cabinets are very fashionable as of late, and Tolbert put her own twist on the trend. She steered clear of jewel tones, opting instead for light blue cabinets that fit in with the home's coastal feel. She went for an even bolder blue in the butler's pantry. When designing a coastal home, Tolbert likes to layer in plenty of textures. You can see that throughout this space, from the beaded boho chandeliers to the gnarled wood wall
22 SRQ MAGAZINE | SRQ HOME&DESIGN FALL 2023 H & D
hangings to the rattan-wrapped dining chairs. She was even able to marry this detail with another interior design trend. "Glass front kitchen cabinets are popular right now, but they can smudge easily," Tolbert says. "They're not always practical." Once again, Tolbert was able to include this trendy design Trade Mark Interiors, 941-879-9494 | trademarkinteriors.com — Images courtesy of Trade Mark Interiors.
feature in a way that worked for her client. Select cabinets in the kitchen and pantry feature custom-made textured glass panels so the homeowners can enjoy the look of glass-front cabinets without constantly having to clean them.
H & D Images courtesy of Trade Mark Interiors
MODERN FAMILY AT LEMON BAY DSDG ARCHITECTS
THE LEMON BAY POINTE PROJECT IS A FAMILY HOME designed to have a tropical warm and tropical modern feel. Mark Sultana is the owner and principal architect at DSDG Architects. "The homeowners purchased an amazing lot on a peninsula, so it's surrounded by water on three sides," Sultana says. With such a unique property, making the most of the view was imperative.
While this home looks like a two-story house from the outside, the design is a little more complicated than that. The clients wanted their children to have second-floor bedrooms for privacy, but they also didn't want anything that was massive just for the sake of it. Instead of building a full second story and creating square footage that the clients didn't need, Sultana added a second story only above the garage. In the rest of the house, he raised the roof to be level with the two-story portion.
The extra-high ceilings in the main living areas give this home a light and airy feel. They also provided an opportunity to maximize the view even further by installing more windows above the wall-to-wall glass doors that provide a panoramic
view below. The unconventional ceiling heights also made an impact on the kitchen design. Sultana continued the wood veneer used for the upper and lower kitchen cabinets all the way to the ceiling, so it looks like a massive wall of cabinetry. But while the cabinet wall makes a big stylistic statement, the rest of the kitchen is intentionally minimalistic.
"I've noticed a trend that people want their kitchen to be pretty and uncluttered at all times," Sultana observes. "People want big walk-in pantries to hide the clutter. We've been incorporating large walk-in pantries on almost every new build."
While this home has a pantry, Sultana took the uncluttered kitchen trend to a whole new level. Appliances including the dishwasher, refrigerator and ovens were deliberately hidden away behind the kitchen. The only visible appliance is an induction cooktop that lies virtually flush against the counter. "With this design, the kitchen has that clean aesthetic, but it's still very usable," Sultana says.
H & D 26 SRQ MAGAZINE | SRQ HOME&DESIGN FALL 2023
DSDG Architects, 941-955-5645, dsdgarchitects.com — Images courtesy of DSDG Architects.
2021-Best of SRQ Logo-SilverWinner.indd 1 3/14/21 11:05 AM 2023
REGIONAL TRENDS IN REAL ESTATE AND HOME BUILDING
In Conversation
CEO DAVID HUNIHAN ON LEE WETHERINGTON HOMES: Lee Wetherington Homes has been building throughout Sarasota and Manatee Counties for over 40 years since the 1970s. Headquartered in Sarasota, near Lakewood Ranch—we were one of the first builders to move our headquarters into Lakewood Ranch over 20 years ago. We are a high-end luxury custom home builder. We haven't been that our entire history—that's who we've become and where we are now. Our founder, Lee Wetherington, was originally a drywall contractor who grew up in Jacksonville, Florida and used to vacation here. In the early-mid '70s, he moved here and started a home-building business with a partner. He eventually decided to open his doors around 1981 as Lee Wetherington Homes. When I first started with the company in 1995, they were doing about 32 homes a year—by 2005, he had built over 400 homes. At that time, we were the largest local home builder in Sarasota and Manatee Counties. The landscape has changed a lot since then. The Great Recession hit and that caused the market to collapse. A lot of builders went out of business. Lee Wetherington Homes came through it in 2010-2012 by going back to its roots as a custom builder. We now do about 36 to 50 homes a year on average with an average price of about $2.5 million including a home and home site package. While Lee has turned over the day-to-day operations to the management team, he is still involved in the visioning and direction of the company and the design in many cases for models, I always want him involved in that. There are five shareholders of the company—Lee has the most shares and then there are four of us who also own shares. Part of why I think Lee brought me back (I was with him from 1995 to 2000 and came back about two years ago) is to work on the company's legacy. We're working on setting the company up with the proper standard operating procedures, infrastructure and personnel so that the vision will continue well into the future as something that I like to refer to as the Wetherington way. We'll be able to continue to benefit our customers long after we're gone.
BROKER AND PRESIDENT ROBERT MILLIGAN ON PREFERRED SHORE REAL ESTATE: Originally from Boynton Beach, I relocated to the Sarasota area in 1996 and have been a broker in Sarasota for 19 years. I'm passionate about the lifestyle that we get to enjoy here in Florida. I started Preferred Shore in 2014, and the idea was to become a fresh choice for customers who really appreciate the coastal lifestyle in all of the different market areas that we operate in. It's my pleasure to share insight with customers to help shorten their learning curve for integrating in our community, gaining new social circles and learning how to participate in the different hobbies and activities that our coastal area offers. My associates have worked with me to close over 30,000 transactions that total over $8 billion in sales volume—so that vision has been working really well. We have created some different processes—one of which is to double down on doing a really nice job at digital media by housing that entire process in-house with staff. We're uniquely positioned to get very creative with the marketing campaigns we offer customers. My associates have now earned nearly $250 million in commissions as a result of all of their hard work and the tools we've created to support them. There's a great ripple effect in doing good work and helping people to accomplish their dreams through their career in real estate.
JULY-AUGUST 2023 EDITION ENGAGING READERS THROUGH FEATURED INTERVIEWS
ROBERT MILLIGAN FOUNDER/PRESIDENT, PREFERRED SHORE REAL ESTATE
DAVID HUNIHAN CEO, LEE WETHERINGTON HOMES
JULY/AUGUST 2023 | INTERVIEW BY WES ROBERTS – EDITED BY BARBIE HEIT
ABOUT THE PARTICIPANTS
David Hunihan is the CEO of Lee Wetherington Homes, the Sarasota-based custom home builder with an over 40-year local legacy of providing tailored customer experiences and creating exceptionally-cra ed luxury residences. Hunihan is firmly entrenched in Southwest Florida's building industry – and has been for more than three decades. His extensive career includes a prior stint at Lee Wetherington Homes, working his way up from on-site sales associate to president.
Spanning 1995 to 2000, Hunihan played a pivotal role in growing Lee Wetherington Homes' annual sales volume from $12 million to over $50 million. Hunihan has an intimate knowledge of the Suncoast's housing market, having held operations and senior leadership positions with many of the region's reputable builders, including Neal Communities, M/I Homes, Emerald Homes and Medallion Home. He is also the past president of the ManateeSarasota Building Industry Association and a Lifetime Spike of the National Association of Home Builders. A New Jersey native, Hunihan's experience in marketing, sales, operations, construction and development has led him to oversee a multiaward-winning home builder.
Robert Milligan is founder and president of Preferred SHORE Real Estate, an independent full-service real estate brokerage specializing in both residential and commercial real estate, with corporate offices in Sarasota since 2014. Since becoming a broker/ owner in 2003, Robert has helped his associates earn more than $241 million in commission income on 30,000 transactions, totalling more than $8 billion in sales volume. Robert is credited for assembling a dynamic leadership team that has been a catalyst for the firm's growth throughout the Suncoast region with additional offices in downtown St. Pete and Tampa. The firm aims to expand in affluent communities across Florida as a leading independent luxury brokerage.
WE'RE SEEING UNBELIEVABLE GROWTH IN FLORIDA. HOW IS OUR REGION CHANGING?
HUNIHAN: A builder I used to work for would state that Florida is a retirement destination where maybe 50 or 75% of the boomer population (the people that are going to retire) at least consider spending part of their remaining life in Florida, whether it's as a second home or retiring here and being full-time. It's always been this way, but it's grown. And there are a couple of reasons why. The baby boomer generation was a cohort for about an 18-year span. We're still in the middle of that, maybe towards the tail end of it, but we still have another few years of people that are retiring and will consider moving to Florida. We're still a large vacation place with Disney World, our beaches, golf courses and all the things that people love to come to Florida to do. After the lockdowns, the lifestyle that people had here versus other parts of the country, the fact that if you're going to have to be at home or be outside it's just a better place to do that. All of those demographic trends and things have caused people to want to live here. That has been both a blessing and a curse: a blessing in that business has grown. The curse of course is how do you handle all that additional business when we have a supply chain that's already strained, a labor pool that's already strained and there's only so much land you can develop. So we're dealing with all those things right now.
MILLIGAN: What we're seeing is quite dramatic, I think we knew that baby boomers were going to continue to retire to Florida, and then there might be a tapering of that energy. Instead, we got hit by an unexpected pandemic situation where we had an unbelievable surge of people, that in a lot of ways were demographically di erent than we expected. It's been a very welcome and pleasant surprise for our industry. We can vicariously see that trend through the production of our agents. We have one agent who has been with me for about
three years now. Her name is Carissa Pelczynski, and in 2022, she closed $51 million alone. She's actually closed in just three years, over $100 million dollars. She and her family just moved here from New York themselves just three years ago, so they were part of that migration. She's built this incredible business now and has been enjoying that success. That's one great example of the power behind this trend of people migrating to this area. Another great example is Michelle Ward, an agent who was with a couple other companies a short time before joining me seven years ago. She closed $82 million last year with her team. She's focused on the luxury market which has exponentially been increasing in price and the number of transactions. Of that $82 million, many homes were waterfront, luxury homes. She has a beautiful $10 million home on Siesta Key on the market now and the people who are looking at this home are generally from the northeast. There aren't that many people running around buying $10 million houses, but the people who are looking at it are not typically from Florida–that's what we've been seeing. That property was actually featured on Fox Business's Mansion Global a couple weeks ago. Lots of wonderful things are happening as a result of all of this energy and focus being on our beautiful state here.
HOW DOES OUR LOCAL INFRASTRUCTURE HANDLE THIS GROWTH?
HUNIHAN: I've been in this business in Florida for over 30 years and I could literally, until about three years ago, count on one hand the amount of people from California, Washington or Oregon that we were selling homes to. The people from the Northeast and the Midwest would generally come here. But we have quite a few people that bought homes from us recently coming from Portland, Oregon and California. That really is surprising. And as for the people coming from Ohio, Michigan, Massachusetts, New Jersey, New York, etc., even more of them are coming down here now. I grew up in New Jersey, worked in Manhattan and went to school in
Boston. So if you want to talk tra c, you want to talk crowded, we have not even come anywhere near what 13 lanes of tra c going each way, going over the George Washington bridge or the Garden State Parkway in the morning is compared to what it is here. The big thing for me is how we handle that as a community. That really goes back to good planning and smart growth. Lakewood Ranch has done a great job of that over the years. They started back in the '80s, planning for today. They had a map and a plan for infrastructure and arterial roads, north-south roads, communities, interior retail, industry, o ce space, knowing that they wanted a live/work/play community, a place where people could come and live and work and stay and recreate and not even have to go out, but also that would be able to accommodate growth.
MILLIGAN: The majority of our business is in Tampa, St. Pete and Sarasota and Charlotte Counties. We also operate in Fort Myers, Naples and Miami. So we are really statewide. As far as handling infrastructure, I'm no city planner, but there are pros and cons to everything. As a local, I'm very nostalgic about the way Sarasota was, but on the other side of the coin, there are a lot of great amenities and nicer restaurants and things to do now that we didn't have then. Being a father of three boys, when I was growing up here, mostly everybody my age wanted to get out of here. And now that Sarasota's become such a vibrant destination with more things to do, I'm hopeful that people, such as myself with children that are growing up here, may hope to remain here and stay closer to home and keep the family together.
WHAT CHANGES DO YOU SEE IN LIFESTYLES?
HUNIHAN: The retirees who have planned all their life have this idea of moving to Florida and being on the water or being on a golf course. I think that's changing with the younger generation. What you're seeing is more an overall lifestyle. They're more interested in what they can walk to and where the good co ee shops are, where they can go
SRQ HOME+DESIGN | REGIONAL TRENDS IN REAL ESTATE AND HOME BUILDING :: JULY-AUG 2023
see a good concert and eat out. That's where I see the master-planned communities being attractive. Lakewood Ranch, as an example, opened their newest section of downtown called Waterside. It's a really neat area that was designed on a big lake so that people can sit out by the water and have a variety of choices. They have a Wednesday night market where they have music in the town square and they have food trucks and people can come and hang out and meet their friends. Lakewood Ranch is always big on recreation and fitness, so they have lots of walking and biking trails throughout the community. I think those are the things that this generation is looking more for. Rather than looking for a specific view, they are prioritizing lifestyle.
MILLIGAN: People are preferring lower maintenance in general. One of the big trends that I've seen is that people are just a little bit more ambitious to get out and explore, explore more hobbies, more a nity groups and more social interactions. Concierge service is important to people who have the means to have that convenience, and of course, at the most basic level, pool service, lawn service, those sorts of things. People don't want to personally fuss over their home quite like our parents used to.
WHAT SETS YOU APART?
MILLIGAN: We have been very intentional about developing leaders within our company. And we really double down those e orts with the people who are most productive. It might seem odd to some people initially, but we help the people in our organization who don't need help more than we do with people who do need help. And that might sound mercenary if you're not a student of leadership, but it's really no di erent than, for example, a bank not wanting to lend money to people who need money so much as they want to lend money to people who don't need money. That's really been the philosophy that I've had as a leader–when I recognize somebody in our organization as a great up-and-coming leader, I don't wait for them to ask for support. I
reach out to them and ask, "what more can I do for you to help you gain even more momentum with this success that you've already started to attain on an individual basis?" That's probably the primary secret to our organization's success. From a cultural perspective, we have a very energetic, enthusiastic group of real estate agents who are very well trained and who love the industry. I receive praise from our peers and other brokerages all the time that whenever they see we are on the side of the transaction they're having, they always feel confident that it will be as smooth a process as possible. We want to make sure that our agents are exceptionally competent and really doing a nice job for their customers. We're one of the few, if not only fi rms, that have taken the entire digital media creation process in-house with sta including video production. Literally everything is created from start to fi nish, edited all in-house with our sta . So that has been something that our agents and customers really appreciate. From a branding perspective, we are a luxury brand, but we have positioned ourselves in a way that it feels more like a fresh choice. We're more of a casual, elegant type of vibe. Customers resonate with that. Of course with the "shore" brand, we exude more of an appreciation for coastal lifestyle. That brand has been resonating nicely with customers and I would say that that is one of the ways that we're a bit unique.
HOW DO YOU ENGAGE PHILANTHROPICALLY?
HUNIHAN: We are so blessed to be able to build the American dream and we want to support the communities that we build in. Lee has been doing this for decades—supporting the community in a variety of ways but there are a few specific charities that are near and dear to our heart. Lee's always been a big supporter of the Boys & Girls Club. There are buildings named after him here in town and he's been on their board and continues to support them. We just recently helped build out a building for them and do
an expansion. Lee also started a Lee Wetherington Foundation that the company supports, through which he supports other local charities. We support the Sarasota Medical Pregnancy Center, which helps women in crisis pregnancy. We've also recently joined the Lakewood Ranch Community Fund with their Builders Give Back program.
MILLIGAN: We get behind the individual philanthropic e orts of our agents and we would like to consider Lee Wetherington's type of template where we unify and combine the collective e orts of our real estate agents to support a charity in a more meaningful way. I am personally involved in SYC Cares at the Sarasota Yacht Club where I am serving on the board as the rear commodore.
HOW WOULD YOU DESCRIBE OUR LARGER REGIONAL FOOTPRINT?
MILLIGAN: My analogy, which some fi nd amusing, is that I liken Tampa to Manhattan, St. Pete to Brooklyn and Sarasota to the Hamptons. Sarasota is the vacation spot for the a uent and where people come to play and have fun. St. Pete's a little bit weird in the best possible way, kind of like Brooklyn. And Tampa is more like Manhattan in the sense that there's not quite as much beach and boating and people really seem to go there primarily to work. But as far as the markets go, they're all in pretty good lock step with each other. Average prices are a little bit less in St. Pete than they are in Sarasota, and then even less yet in Tampa. So Tampa would be the most a ordable of the three markets, in general. Right now, more than ever, each little area has its own little micro-market going on. The most choice areas of each of these places are all very hot, very low inventory. But we're seeing property sit on the market longer that is maybe 15, 20 years old and a little bit cosmetically in need of some updates. We have to be more granular than ever to understand the nuances in whichever type of real estate we're dealing with in a very specific geographic location.
WHAT'S NEXT?
HUNIHAN: We have five new models coming out of the ground. One of the things that we've gotten requests for from people more recently is more of a transitional or contemporary modern design. But you're also seeing people who are fi rst-time, Florida buyers that want the traditional Florida open design and want to see what they've been waiting to buy. So how do you mix those things in the same home? Sometimes we do it with materials, sometimes we do it with the design of the floor plan. Sometimes we do it with maybe a specific room that we can showcase. We've now gone to a mixture of materials instead of everything being just tile and stucco and drywall—we've mixed metal and wood and stone and concrete, and then some of the traditional tile and drywall. People are looking for more flexible space in their homes. If somebody's going to have to be in their home, they want to be able to have a place they can relax, a place to work and they want a nice outdoor living area. So what's next? We're going to be going to a community down in the Venice and North Port area called Wellen Park. We'll be opening those models hopefully a little bit less than a year from now in the Everly neighborhood. But we also have some new communities here at Lakewood Ranch. People are now trying to plan technology into their home from the original design standpoint so we have structured wiring included in all of our houses and we try and think about those things from day one. We're building in Wifi so that homeowners have the ability to move around their house with laptops—we even have Wifi boosters out on the lanai.
MILLIGAN: We added Ken and Jason D'Agostino in St. Pete to spearhead our commercial endeavors a couple years ago and merged with their commercial brokerage. That's been going really well. We've got a very robust commercial side of our operations now. And that's very active here around Sarasota, but also St. Pete and Tampa, of course, if not moreso in those more larger metro areas.
SRQ MAGAZINE | SRQ HOME&DESIGN FALL 2023 31
REGIONAL TRENDS IN REAL ESTATE AND HOME BUILDING
BY THE SHORE BLU INTERIORS
THE SHORE PROJECT WAS DESIGNED AS A COASTAL luxe landing spot for part-time Sarasota residents. Chelsea Dunbar, the owner of Blu Interiors, designed this one-of-a-kind space. "These clients had actually lived on their yacht full-time," Dunbar says. "They came to us after they had purchased the guest house of a larger structure on the water and needed a designer to make the home work for their lifestyle."
Interior designers are often involved with new builds in the early planning stages so they can weigh in on aspects of the project including floor plans. Because this home had already been built, Dunbar had to figure out how to make the existing floor plan work for her clients. That can pose a challenge, but luckily that wasn't the case here.
"Our clients enjoy dining out and rarely cook for themselves at home, so they weren't necessarily looking for a big kitchen for entertaining," Dunbar says. This turned out to be a big advantage. Since the kitchen is mostly only used during holiday gatherings, the design choices were mostly cosmetic in nature. Open shelving in kitchens is very trendy right now, but it's not practical for every homeowner. Since these clients didn't require a lot of kitchen storage, open shelving was the perfect choice for the space. And that's not the only trend on display.
"Mixed metals are very popular right now, and our customer was very open to that," Dunbar says. "Using a mixture of stainless steel, gold and brushed bronze in the kitchen added texture and made the space feel more custom."
H & D 32 SRQ MAGAZINE | SRQ HOME&DESIGN FALL 2023
Blu Interiors, 941-500-4563, bluinteriors.com — Images courtesy of Blu Interiors.
THE SEASCAPE PROJECT IS A GLOBALLY-INFLUENCED RETREAT designed in a primarily British West Indies style with a coastal contemporary flair. Ana Santa Maria, the owner and principal interior designer of Studio Santa Maria, brought this project to life. "The clients are world travelers, so it was important to honor that," Santa Maria explains. "So you'll also find a lot of Far East and French Polynesian influences throughout the home." The homeowners on this project love to entertain, so the kitchen and dining areas were incredibly important to them. They requested features like a large kitchen island and an open-concept floor plan that would give guests ample space to move around. A separate wine room was also a must-have. Their other main requirement was for the design team to capitalize on the stunning waterfront view. Santa Maria took all these factors into consideration when designing the space so she could address their needs. Glass sliding doors open to reveal an outdoor kitchen and seating area, adding even more space for entertaining. Instead of opaque building materials, the wine room is encased in glass so the waterfront views remain uninterrupted. The design team even created custom drapery pockets in the beams, so that the roller shades for the windows would be essentially invisible when not in use.
Even as Santa Maria worked to balance multiple interior design influences while also meeting the needs of her clients, she still found a way to integrate a current trend into the design. "One trend I've noticed is that custom hoods are making a comeback," she says. "In contemporary coastal homes, they're often built in and hidden completely." However, the homeowners' flair for entertaining provided a wonderful opportunity to include a custom hood as a design element. "These clients love to entertain and they love to cook," Santa Maria says. "So the fact that we could place the island to have a stove where you're facing people as you're cooking and entertaining, that was important to them. Having the custom hood allowed us to do that."
H
34 SRQ MAGAZINE | SRQ HOME&DESIGN FALL 2023
GLOBAL SEASCAPE STUDIO SANTA MARIA
& D
Studio Santa Maria, 941-957-8187, apex-studio.com — Photography by Mark Borosch Photography.
21ST ANNUAL HOME OF THE YEAR COMPETITION
CALL FOR ENTRIES
THE VISION OF ARCHITECTS, BUILDERS, INTERIOR DESIGNERS AND LANDSCAPE PROFESSIONALS CREATE RESIDENTIAL SPACES WITH STRIKING CHARACTER EVERY YEAR. SRQ MAGAZINE HONORS EXEMPLARY WORK BY BESTOWING THE COVETED SRQ HOME OF THE YEAR PLATINUM, GOLD AND SILVER AWARDS. CONTACT OUR TEAM FOR DETAILS AT HOTY@SRQME.COM
CALL FOR ENTRIES: DECEMBER 8, 2023
AWARD WINNERS WILL BE PUBLISHED IN THE MARCH 2024 EDITION OF SRQ MAGAZINE.
•
SRQMAG.COM/HOTY
2023
2023
2023
2023
2023
PLATINUM OVERALL WINNER $2 MILLION+ SEIBERT ARCHITECTS
BEST INTERIOR DESIGN
BEST KITCHEN
BEST SUSTAINABILITY
BEST REMODEL RENOVATION
PRESENTING PARTNER
SWEET SPARKMAN ARCHITECTURE DSDG ARCHITECTS DSDG ARCHITECTS INTERNI DESIGN CENTER