Athletics ...18
This plan has been established following extensive community consultation with staff, students and
Year
is intended to set out the overall direction of the School for the next five years. We have a rich history with over 100 years in our story. Throughout this time our mission has not changed. With our new Strategic Plan, we remain committed to our Mission: to nurture young people in the Spirit.developmentoftheirMind,BodyandOurStrategicPlanoutlinesourcorevaluesofIntegrity,Respect,ResilienceandService,whichunderpinsourdecisionmakingandareatthecoreofourfoundation.
Headmaster ISSUE NO 10 / 2022 19 September 2022
The
Netball
Deputy/Academic
Chapel Service ….. 9
….. 1
Dean ….. 4 Dean of School ….. 4 Dean of Students ….. 5
6 Canberra Trip ...13
Finals & Awards ...17
parents. It has been developed around a shared vision of all stakeholders. I am grateful for the strong and forthright engagement of all Thecontributors.StrategicPlan
Reunion
NQ
NAIDOC
Program ….. 8
of Junior School …11
Inter
Junior
The Year 6 students were able to attend the 96 gun salute on the forecourt of Parliament House in Canberra on September 9, marking the death of The Queen.
Contents
cigarettes/Vaping ….. 7
Congratulations to all Senior School Debating teams on a successful season. All teams represented the School with pride, with All Souls St Gabriels School finishing in second place overall. Thanks also to Sharna Carmody for organising the season as All Souls St Gabriels School was the host school in 2022.
Inter
Elizabeth II ….. 3 Board Shorts ….. 3
Personal
Media ….. 6
Disco and the list goes on! Not to mention learning and teaching in the Junior and Senior School, the most important part of our daily routine. This is a busy school, a place of great Oneopportunity.ofthebiggest highlights for me has been the development of our Strategic Plan 2023 2027.
Queen
House Academics ...14
Celebrations ...16
the Dorms ...21 Term Dates 2023 ...24
Another term complete and what a big term it has been; from Eisteddfod to Duke of CareerCattle7s,CanberraEdinburgh,toRugbyDebatingtoJudging,Expos,
E
School Rugby Union ….. 7
PNG Martyrs
School Disco …10
Word for Today ….. 8 School Prayers ….. 8
Head
Presentation/Jewellery….. 5
Social
Free
Headmaster
Dress Day ...15
Inter
School Tennis ...19 Visual Arts ...20
From
The plan sets out clear strategies designed to support and deliver on achieving our Vision: Shaping students who seize opportunities andhavetheskills,knowledgeanddesiretocontribute,leadandserve.Ourclearvisionforthefuturewillbeachievedthroughfivestrategicpriorities:1.NurturingtheMindfurtheringstudentpathways2.NurturingtheBodyandSpiritexpandingopportunities3.Enhancingprofessionalcapabilities4.Strengtheningcommunityconnections5.SecuringourfutureFormoredetailonwhatiswithineachofthefivestrategicprioritiespleaseclickheretoviewthefulldocument.Thedeliveryofeachofthesestrategieswillbesupportedbyanannualimprovementagenda,whichIwillreportourprogressontothecommunityannually.IbelievethefutureofourSchoolisbrightandIamexcitedaboutenactingthisplanoverthenext5years.IlookforwardtosharingthiswithyouinmoredetailatourAnnualAwardsDay.
Appointment SamanthaGroves We are pleased to announce (Becket)herClaireendArtspositionKylieArtsasChangeappointment.beginningtothatcommunity,respectedBoardingmonthsSupervisorcurrentlyforpositionSamanthaGroveshasacceptedtheofSeniorBoardingResidentBecketDormitory.SamisaReliefBoardingandbringswithher9ofexperienceintheASSGcontext.SheiswellwithintheboardingandweareconfidentBecketDormitorywillcontinuethriveunderherleadership.SamwillcommencehernewroleattheofTerm4.WewishSamallthebestwithhernewinAppointmentsforTerm4StephenPriceresumeteachingrolewethankStephenforhisroleActingHeadofDepartmentTheduringTerm3.KempsterresumetheHeadofDepartmentTheandActingHeadofHouse(Becket).WelcomebackKylieSuzanneSkirdeonleaveuntiltheofWeek6ofTerm4,enjoyyourwelldeservedbreak.BowleywethankClaireforroleasActingHeadofHouseduringTerm3.ShannonLeePlan 2023 2027
Our Strategic
I hope you all enjoy a restful break with family and friends, and I look forward to seeing you all in Term 4.
Dormitoryyears.doneeffectivetimeResidentfullthatJennyWeUpdateSeniorStaffUpdatesBoardingResident(Becket)JennyCantlewouldliketoinformyouthatMrsCantlehaslettheSchoolknowsheissteppingdownfromhertimepositionasSeniorBoardingandwillmoveintoapartReliefBoardingSupervisorroleTerm4of2022.JennyhasawonderfuljobastheBecketSeniorResidentoverthelastsixWearegratefulforherdedicatedservicetoBecketandknowshewillbemissed.
Our committees (Finance; Building & Grounds; Marketing & Promotions; and Governance) presented reports and discussed various points associated with continuing items for 2022 and planning for 2023.
On Monday we stopped for a time of quiet reflection and a prayer in the All Souls St Gabriels School Chapel while the Chapel bell tolled 96 times in honour of Her Majesty Queen Elizabeth II.
& staff:

Jean Heath (nee Murray) 1942 1944 Jean was one of the St Gabriel's School girls who moved to Richmond.
 James (Jim) Rollinson Feb Nov 1944 Jim was one of the All Souls' School boys who completed schooling at the Race Course.
A moment of silence was shared as a mark of respect for these members of our community and for Her Majesty.
Stuart Wells 1994 1997, Page House Co Music Captain; Seconds Rugby League team; Stuart played the timpani, was part of the marching band, concert band & played for the School musical 'Joseph & the Amazing Technicolour Dream Coat'.
The Board also recognised the passing of Queen Elizabeth II. Queen Elizabeth II lived all of our School values integrity, respect, resilience, and especially service. Servire Regnare: to serve is to reign. The Board acknowledged a life devoted to duty, family faith and service.
Board Shorts
Billee Richardson (nee Rainnie) Day School student, St Gabriels School, in the late 1940s.
Members of the Board attending both meetings spoke about the passing of the following members of our comPastmunity.students
Prudence Alice Clarke OAM 1951 1957, Becket House School Captain in 1957, St Gabriel's School; Prue was a Teacher in Queensland, Port Moseby and Canberra; Principal of Ainslie School and as vice president of the Principals' Association in the ACT; Fellow of the Australian College of Education and Australian Council for Educational Leaders. Prue is also a member of our ASSG Hall of Fame.

Our members attended in person and via Zoom for the meetings held in August and September.


On Sunday, 11 September a number of our students attended the Service of Thanksgiving for the Life and Work of Her Majesty Queen Elizabeth II. Held by the Diocese of North Queensland at the Cathedral Church of St James Townsville, three of our Students were also asked to serve as the Crucifer and Acolytes for the Service.
The 2023 2027 All Souls St Gabriels School Strategic Plan a draft of the final document was presented. The School Community will be receiving the final version by the end of the term.
Remembering Queen Elizabeth II
Details regarding study sessions, short courses and other planned events for Year 12 students have been forwarded to all Year 12 students and families. This letter also included the official QCAA External Exam Schedule for Weeks 4 7 of Term 4. Parents of Year 12 students are encouraged to go through this information with their son / daughter so that all commitments are met during this end to senior schooling.
AcademicDeputy/ Dean
Subject Selection forms need to be completed and returned to the school by 8.15am Wednesday 5 October day one, Term 4. The information provided on these forms is required by the Senior Leadership Team as we continue to develop the 2023 timetable.
A reminder that each Year 8 student received a paper copy of the Year 9 2023 Subject Selection form and the Years 9 & 10 Curriculum Handbook at their Subject Selection Information Meeting in Week 7 of this term. Electronic copies of these documents were also emailed to all Year 8 Yearparents.92023
Ian Dietrich Dean of (Acting)School
What a busy term… Term 3 has come and gone in a bit of a blur for many of us. We have seen our students compete across no less than 7 different sports; show off their talents in the Charters Towers Performing Arts Eisteddfod; debate fiercely in the Inter School Debating competition; complete two adventurous journeys in the Duke of Edinburgh program; attend interactive workshops; go on numerous excursions and manage to complete their learning across our diverse curriculum. It's no wonder our students and staff are all ready to take a break over the holidays. I would like to thank every student, staff member, parent and caregiver who made the many events happen across the term, and I hope our students have enjoyed all of their experiences.
Term 4 will see another busy term with a number of events across different disciplines. Students commence on Wednesday 5 October in the Chapel and are required to be in formal uniform. Next term, students will wear their formal uniform more often than any other time across the year, so I ask that you check all elements of
I'm sure I won't be the only staff member to start an article in this edition of our newsletter with the words We made it! Term 3 is notoriously busy and this one didn't disappoint on that front.
All families of students in Years 7 to 12 will receive an academic report during the first part of this holiday break. It will be a progress report for students in Years 7 to 9. This summarised report contains valuable information and helps to keep the lines of communication open between home and school. Families of students in Year 10 will receive a "full report" as they have completed their studies under the Australian Curriculum and will move to studies following the Queensland Curriculum and Assessment Authority (QCAA) senior syllabus documents in Term 4. Families of students in Years 11 and 12 will also receive a "full report" as they have completed their studies for units under the new Queensland Curriculum and Assessment Authority (QCAA) senior syllabus documents. I encourage families to use these academic reports as a basis for conversations about school. I also encourage parents to contact the School to arrange time for a parent / teacher interview so that these school conversations can include our teaching staff, parents and students.
Years 7 to 11 Term 4 Exam Block
Term 4
As we say farewell to another hectic term, I wish everyone a safe and refreshing break before a short, exciting, and busy Term 4.
Families of students in Years 10 & 11 should have received an electronic copy of the 2023 Stationery List for their next year level of schooling. Whilst the documents are labelled '2023', students in these year levels begin their new studies Units 1 & 3 from the beginning of next term. Families are encouraged to make sure students are equipped for the start of these new units of work.
Term 3 Reports
Stationery Lists
2022 Year 8 into 2023 Year 9
2023 Timetable
Over the past term I have been gathering information and reviewing structures associated with the Years 7 to 12 timetable. The Senior Leadership Team, Heads of Department and senior teachers have added to the detail I need to continue to work on this project. This is a long process that relies upon many factors from many people. Subject selection forms (Year 8 families and new students), enrolment data, external providers (DTTC & QCAA), physical resource structures and current staff movements all impact upon the make
up of the timetable. I will be continuing to work with these groups and developing a draft version of the timetable structure by the end of the first few weeks of the Christmas holiday period. The timetable can only really be finalised once all student and staff information is known, and this won't be until mid January.
A reminder to all families of students in Years 7 to 11 the exam block will run from Wednesday 9 to Tuesday 15 November. There may be a need to schedule some Year 11 exams on Monday 7 and / or the Tuesday 8 November. All students in Years 7 to 11 will have an assessment item to complete on Tuesday 15 November. The block schedule will be distributed as soon as possible in Term 4. Please note these dates when making appointments for your son / Thedaughter.exam block concludes in the week of Awards Day and Valedictory Yearcelebrations.12Term
4 Information Letter
Interviews
 Boys: a plain gold or silver religious cross on a gold, silver or dark leather chain which is less than 2mm thick.
Parent teacher interviews will be held from 12.00 2.00pm on Tuesday 4 October. These interviews are an effective means of getting a formal update of your child's academic progress so far this semester. It is, therefore, strongly encouraged that you attend. Should you wish to make an appointment with one of your child's teachers, please contact Mr Jon Teichmann through the All Souls St Gabriels School office or via email: maketeacherIf(jteichmann@allsouls.qld.edu.au).youareunabletoattendparentinterviewspleasefeelfreetocontactwithyourchild 's
to ensure there is consistent and safe working practice in our School.
teacher via phone through the School office or directly through email. Teaching staff will be taking a well deserved break over the holiday, but will be in contact during the first week of Term 4.
The purpose of this week's article is to remind parents and guardians of the School expectations with regard to jewellery and haircuts, along with some additional guidance and clarification. With the mid term holiday quickly approaching it could be an opportunity for some students to experiment with their fashion choices and get a piercing or haircut they would not ordinarily be able to have at school during term time. As such, parents and students are asked to consider the timings of any new piercings or haircuts carefully in relation to the time required for safe removal, or to have a hairstyle that conforms to School expectations for the start of term. The intention is that by the end of the holiday they will have given themselves enough opportunity to resolve anything that contravenes this guidance and that students return appropriately attired and clear about our expectations at the start of Term 4. These rules apply to all students and are in place
 Students are required to maintain a conservative hairstyle (which is not overtly dyed or streaked) at all times.
Jess Marley
the uniform fit well and are not damaged prior to returning to
Dean of Students
 Boys hair must be short enough to be above the collar of the shirt and must allow a hat to be worn with ease. Faces must be clean shaven.
 Girls whose hair reaches the collar of the uniform must wear it tied up with a plain white ribbon or scrunchie when they are in uniform. A girl's hairstyle must allow a hat to be worn with Jewelleryease.
Parentschool.Teacher
Jewellery and Hairstyles
The All Souls St Gabriels School uniform is an important part of our efforts to develop pride and self esteem in our students and Team ASSG. We always encourage students to wear our uniform correctly and to present themselves in an acceptable way when they are at school and to and from the School. All Souls St Gabriels School holds a unique place in the community and, like any large institution, is often judged by its representatives. We are extremely proud of our School and students and believe that our high expectations in regard to uniform play a critical part in preparing them for the real world after school. Thank you all very much in advance of your anticipated support and understanding. I wish you an enjoyable and well deserved break.
Graham Swinton
 Girls: one pair of plain silver, gold, pearl or stone studs with a maximum diameter of 5mm or plain silver or gold sleepers with a circumference no greater than a 5cent piece and a plain gold or silver religious cross, on a gold, silver or dark leather chain which is less than 2mm thick. Girls may also wear a gold or silver signet ring which adheres to the Jewellery and Accessories Guidelines (available at student reception).
The uniform expectations, as published in the diary, state:
Personal Presentation
The UsuallyBad:without meaning to, teenagers will share information about themselves which enables the less savoury elements of social media take advantage of them.
 Reveal their birthdays and interests,
 Think twice before hitting "enter". Sometimes what teens post can work against them. "Off on holiday" lets potential burglars know the property is vacant. Teens should also think twice before posting the details of a party, nobody wants gatecrashers.
 Received advertising that is age inappropriate,
 Use privacy settings.
Clicking "I Accept" nearly always means you have given up the subject of your post to the owner of the social media platform you are using.
Get involved with charity work and other good causes,
Whilst there are many good aspects of social media there is a plethora of pitfalls which we should try to help our teenagers avoid.
"Friended" someone they don't actually know,

The StudiesUgly:have also shown that the majority of teens have:

It is with this in mind that the School has invited Mr Brett Lee from Internet Safe Education (ISE) to address the students in Term 4, Monday 31st October, with a parent session held in the evening (details to follow). Brett spent 16 years working as a police officer in cyber safety and founded ISE in 2008. He now works with schools to ensure that children are aware of the good, the bad and the ugly of the internet and that they can use it in a safe manner. He also helps educate teachers, parents and caregivers so they can support children online.

 Use the What Would Grandma Say rule. Simply put, don't share anything the future you would like to take back. If Grandma would be embarrassed if she saw it don't post it.
Communicate with other students who are studying the same subjects as they are.
 Don't Friend strangers.
It is commonly accepted that the vast majority of teenagers have some form of a digital social media platform on their devices and will have a profile on a social network. Many of them will visit them multiple times a day, sometimes accruing several hours per day of social media screen time.
Apart from the obvious dangers of cyberbullying and online predators, teenagers need to be aware that photos, videos and comments made online, once posted are virtually impossible to completely delete.
 Enhance their creativity by sharing music, art and ideas. TicTok have made their fortune from this,
Lied about their age to get access to websites and online games. This is a concern as most of our Teens are living in the "now" and aren't always thinking of their future selves. Telecommunication carriers are obliged to store the content of everything that is sent on their platforms, this can become an issue further down the track when a potential employer or University admissions officer does a digital footprint background check.
Here are some tips on what is important to talk over with your children and their social media experience: The SocialGood:media helps kids:
Teenagers are not very responsive to adults looking over their shoulder, its almost genetic, but you can help your teenager make better, more informed choices.I always tell students that when online it is important to:
Meet others with similar interests,


Some simple House Rules can help keep your teens grounded in the real world by putting limits on their usage of their devices. For example, no devices one hour before bed and recharge them in the kitchen. Keep computers in public areas of your house and setting a good example through your own virtual behaviour will go a long way to help keeping your teens using social media safely.
Social Media
 Be Nice. Being mean on purpose is never ok. As Granny says, "If you've got nothing nice to say, better to say nothing at all". Never post deliberately hurtful or embarrassing messages, and always tell someone if you're on the receiving end of such posts.

Stay connected with friends and family it's probably the main reason you got your child a smart phone,


 Post their school name and where they live. This can be an issue, especially if they have "Share my location" activated, or their device automatically tags their photos with a location. Both of these can be switched off in "Settings". This helps make them less likely to become a target for online pests or predators who might mean them harm.
Studies have shown that most teens:
Post photos of themselves with their real names,
Inter-School Rugby 7s Competition
Vapes, whilst they don't contain tobacco, may still contain many of the harmful toxic and cancer causing chemicals found in regular cigarettes. The biggest worry is that the majority of vapes contain the highly addictive chemical nicotine, even when they claim to be nicotine free, plus other flavouring ingredients that whilst they may be safe for use in foodstuffs could be harmful when inhaled. The message from the Australian Government is that vapes are not regarded as safe for children, teenagers, and young adults.
So, I have researched some of what we know so far in Australia.

 It is a common misconception that vaping is safe as you are "just breathing in flavoured air" and that the health dangers of smoking are null and void as there is "no tobacco in them". Essentially the jury is out on that one as there is insufficient evidence to say that vaping is safe. What the National Health and Medical Research Council do know is that there needs to be further research undertaken but the little evidence they do have so far suggests that vaping is harmful to our health.
E cigarettes and Vaping
Health effects we do know about:

 Vapes are considered a poison risk levels of nicotine can be so high that some vapes are considered poisonous.
E cigarettes have become increasingly popular with young people and are a relatively new worry for our parents.
 Vapes seem to encourage the take up of smoking vapes are marketed at teenagers, they come in a variety of designs, are brightly coloured and can even be disguised as items of stationary or clothing. They come in countless flavours like bubble gum or strawberry which masks the harsh taste essentially glamourising smoking as fun and not harmful, facilitating them to become "gateway" products to smoking.
 The bottom line is that vapes that contain nicotine are illegal in Queensland and cannot be commercially supplied to anyone, and the few that are truly nicotine free cannot be sold to, or used, by children under 18 years of age. We simply don't know what we don't know, about the long term health effects of vaping, but, we will continue to educate our students to make safe choices.
 Vape batteries have been known to explode over 200 cases of exploding vapes have been reported that have resulted in serious injury or disability.
Nicotine harms developing brains vapes nearly all contain nicotine, despite being sold as nicotine free. Teenage brains are particularly vulnerable to addiction and nicotine has been found to affect mood, memory, and concentration.
The psalmist wrote, "TheLordwillvindicate me; Your love endures forever." (Psalm 138:8 NIV) There's no situation Satan can devise where God hasn't already made 'the way of escape.' Paul reassures us: "Godis faithful, who will not allow you to be tempted (tested) beyond what you are alsoable,butwiththetemptation(testing)willmakethewayofescape,thatyoumaybeabletobearit.
We pray for the Royal Family as they grieve the loss of Her Majesty Queen Elizabeth II.
" (Genesis 50:20 NIV) But don't confuse 'good' with 'comfortable'. When God corrects or redirects you, it doesn't always feel good. But it is good!
ItNKJV)
's in your times of testing that you discover 'God is faithful'. He will stretch you, but never beyond your breaking point. His plan is for you to come out of this experience stronger and ready for what's next on His agenda.
WeLord,inyourmercy,Hearourprayer.makethisprayerthroughJesusChristourLord,Amen.
The Word for Today
Lordinyourmercy,Hearourprayer.Wepraythatwemighteachknowwhat our next steps are, and that we might work diligently towards achieving them.
Lordinyourmercy,Hearourprayer.WeprayforallmembersofourSchool community that they rest and recoup over the break, ready for a short and busy Term 4.
Chosen by Ella Dietrich Chapel Prefect
" (1 Corinthians 10:13
David said, "Whenyoucorrectedme,itdid me good because it taught me." (Psalm 119:71 CEV) If you're not sure of God's plan, seek Him until He shows it to you. Other things may seem more urgent, but nothing is more important. And if you already know God's plan, know too that no human action can cancel it.
School Prayers
Lord,inyourmercy,Hearourprayer.WeprayforKingCharlesIIIashebegins his reign.
God said, "IamAlphaandOmega,theFirst and the Last, the beginning and the end." (Revelation 22:13 CEV) God determines the end result He wants, then starts at the beginning and works towards it. He 'always does what He plans.' Joseph discovered that even when your family turns against you, God's plan is still in effect. Looking back, he said to the brothers who sold him into slavery, "You forintendedtoharmme,butGodintendeditgood.
Devotion from "The Word for Today, September 19"
PNG Martyrs Chapel Service
Junior School Fluro Disco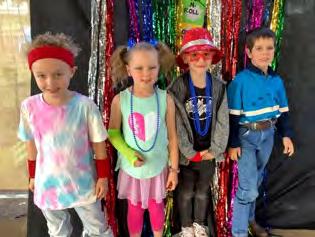 The Australian Government recognises the importance of all young Australians being able to visit the national capital, as part of their Civics and Citizenship education. Under the Parliament and Civics Education Rebate (PACER) program, the Australian Government provides funding of $225 per student to assist in reducing the travel costs for this educational experience. We thank the government for their support, and look forward to receiving the rebate which will be paid directly to the School in the coming weeks.
We have a dedicated staff and a wonderful school community who all share the same core purpose of providing the very best educational opportunities for all our students. There are always engaging learning
Thank you Miss Clarke for preparing the students with the knowledge and understandings that enabled them to answer many of the tour guides' questions and engage in informed discussion. It is very affirming to receive the positive feedback from the tour guides acknowledging how well behaved, courteous and knowledgeable our students are.
It is hard to believe that Term 3 has come and gone already. Before we know it the busyness of Term 4 will have taken hold and the Christmas holidays will be upon us. I would like to thank our students, staff and members of the community for their hard work throughout Term 3. It has been both an action packed and enjoyable term filled with learning and new experiences. As always, it has been an incredible term of all round achievement and success, with students showcasing their skills in the classrooms, in visual and performing arts, and by participating in a variety of sporting events. The Junior School Disco and 'What I want to be when I grow up' free dress days were both a hit and it was great to see students enjoyingthemselves outside of the classroom. I am very proud of each one of our students; their commitment to learning and the respect they have for themselves, their peers, adults and our School.
experiences occurring in the Junior School. Experiences such as the Canberra Trip help stimulate, authenticate and reinforce classroom learning. When students take on personal challenges, strive to meet or exceed them, the sense of accomplishment and pride is well founded and worthy of recognition.
On behalf of the Year 6 families, I would also like to thank the ASSG Parents and Friends Association for their donation of $50 per student, which also helped reduce the overall cost of the trip for families.
Head of Junior School (Acting)
Year 6 Canberra Experience
The Year 6 students are to be commended for representing our School with great pride at the many venues they visited. For many students there were a few firsts, including; flying, travelling interstate and being away from home for an extended period. We were proud of how brave they were at accepting these challenging firsts.
6 students fully embraced all aspects of their Canberra experience and were able to absorb information by listening and talking to guides and observing their surroundings intently. I'm sure all students have a wealth of knowledge, many stories they can share with others, and experiences they will recount as a group for many years to come.
Our students also paused to remember Queen Elizabeth II during a once in a lifetime 96 gun salute at Parliament House on Friday evening. I am sure that this is something they will remember for many years to come, and I was incredibly proud to hear that they were respectful and conducted themselves with pride on this very important occasion.
A busy term
TheSkating.Year
Year 6 students recently travelled to Canberra for an educational tour of our national capital. Students were afforded the opportunity to participate in a variety of educational programs with a focus on Australia's history, culture, heritage and democracy.
There were many highlights for the students (and staff) including visits to the Australian War Memorial, Government House, the old and new Parliament House, the High Court, the National Museum, CSIRO, and Questacon. They also enjoyed their evening activities at the Canberra Reptile Zoo, Rock Climbing and Ice
Junior School newsletter before the holidays, I would like to sincerely thank everyone for your support and understanding as I navigated the change in my role this term and settled into the routines of the Junior School. It has been great to meet with a range of parents and have discussions about how we can continue to enhance your child's learning and development. I hope everyone enjoys a safe and restful break. I look forward to seeing you all in Term 4.
Karen Storey
Parent Teacher Interviews
Thank you Miss Clarke, Mrs Dickson, Mr Turner, and Mr Lee for sharing this experience and taking the responsibility of supervising the students during this trip. I know they all slept well after they returned on Saturday evening.
Many parents have had the opportunity to meet with their child's teachers this week. These meetings were at the request of the teacher and to pass on areas for further development and reinforcement both at home and into Term 4. There is no written report for Term 3. A semester report will be sent home at the end of next term. If you have concerns about any aspect of your child's learning or development, please do not hesitate to make contact with their class teacher.
Junior School Support Group
first couple of weeks of Term 4, followed by the annual Junior School Support Group Shopping Spree in the last week of term. It would be great to see some new parent involvement although there is certainly no compulsion to attend regular meetings or organise whole events; many hands make light work. I look forward to hearing from any parents who are willing to give their time and skills. Thank you in advance for your time and
AsHappyassistance.Holidaysthisisthelast
Earlier this week families received a flyer (sent home with your eldest Junior School child), advertising our wonderful Junior School Support Group. This group is an integral part of our small School and helps our Junior School staff to provide a range of fun events and resources to support our children's learning at School. We are hoping to host a small family fun event in the
Year 6 students outside Parliament House, Canberra
Year 6 Canberra Trip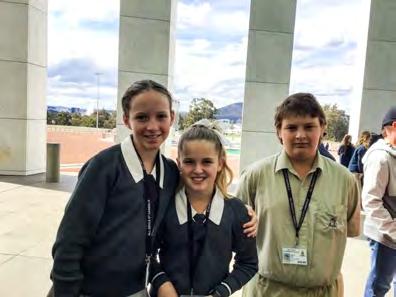 Free Dress Day "When I Grow Up…"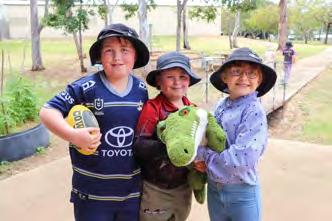 NAIDOC Celebrations
Jacalyn Elliott Jaclyn Bethel
Netball Finals & Awards
Rahani Davidson Kyannah Stafford
Juniors Champions Gabes Flames
Lacey Barnicoat Tianiwa Aroha Lenoy Dru Mossman Gabes Flames Gabes Scorchers Gabes Ignite Gabes Heat Player of the Final Gabes Fire Gabes Inferno Player of the Final & Cadets A Div 2 (Cadets A Div 2) & Cadets A Div 1 (Juniors)
Gabes Moddies
Cadets A Div 2 Champions Gabes Ignite Cadets A Div 2 Runners Up Gabes Heat Cadets A Div 1 Runners Up Gabes Fire A RunnersGradeUpGabesInferno
Congratulations to all Netball teams for the fantastic results that were attained in the Charters Towers Netball Association competition during 2022.
A list of students and their events:
Janey Dickson & Will Urquhart
Luke Keough 800m (3rd)
Lauchlan Butler 400m (3rd), 800m
Hayden Macor Triple Jump (5th)
A number of students won their events on the day, however due to the qualification qualify for the next level.
If you have the chance please congratulate the students.
Billo Wotton 200m (7th), Javelin (1st), Long Jump (5 Georgia Gostelow 200m, Discus (2nd), Triple Jump (5
Joseph Newnham Discus (4th)
Jade Cowan 800m (6th)
Lachlan Gostelow 100m (5th), Long Jump (3rd)
Xavier Lord Discus (5th)
All Souls St Gabriels Senior School students gave their best efforts in Townsville Thursday, 1 September at the North Queensland Athletics Trials. All Souls St Gabriels School had 15 students qualify across the day.
Jack Power tie for 1st High Jump 1.32m and finalist for the 100m Lilyarna Blanchard 2nd High Jump Tessa Goodwin 8th Shot Put
Brooke Jenkins 3rd 800m
The following students represented Charters Towers at the recent 10 Polinelli, Isabell Machin, Helen Walsh, Tessa Goodwin, Jack Power, Brooke Jenkins, and Lilyarna Blanchard.
Darcy Cameron 800m (3rd)
Zai Hopkins & Lachlan Gostelow
Brooke Jenkins & Helen Walsh
All the students who attended the Northern Region Track and Field trials on Tuesday August 30 ran, threw and jumped their personal bests. Fortunately, the weather held making the day cooler due to the overcast sky. Running on the red track was a new experience for some and the level of competition was strong. Specific results for the following students include:
Owen Elliott 800m (3rd)
Zai Hopkins 100m (1st), 200m (1st)
100m (8th), 200m (6th)
Bailey Cowan
A huge congratulations must go to 2 senior students Zai Hopkins (100m and 200m) and Lachlan Gostelow (100m) for qualifying for the NQ Athletics team who will compete in Brisbane next term. Zai qualified the 100m and 200m events.
Name Event
Annie May Johnson Javelin (1st)
Northern Region Track & Field Trials
Jaclyn Bethel Shot Put (2nd)
Helen Walsh 4th 800m
Many Thanks WillCCCBTCASSG13UrquhartYears118113107 15 CTSHSASSGBTCCCCYears126112809 ASSGOpens 120 BTC 119 CCC CTSHS8827 CTSHSASSGCCCBTCOverall34432131836
Thank you to the Charters Towers Tennis Club for organising an excellent tournament and providing a well received BBQ dinner enjoyed by all students and staff. A huge thanks to Mr Power, Mr Gibson and Mrs Hall for assisting with the management of teams during the tournament, especially on a Friday night. It is greatly appreciated by myself and the All Souls St Gabriels School tennis teams. Thank you to Mr John Single who has once again done a fabulous job in training the squad in the lead up to the event.
Inter-School Tennis Tournament
The Inter School Tennis Tournament was held on Friday, 9 September was a successful event which showcased school tennis in Charters Towers. All Souls St Gabriels School had 24 students representing the School across 3 Age Divisions (13 Years, 15 Years and Opens).
We had some standout team performances throughout the event. Both 13 Years and Opens division came down to the final match with All Souls St Gabriels School coming out on top in both of these age groups. The 15 Years age group played some tough opposition and showed glimpses of good tennis throughout the tournament. After winning 2 age divisions narrowly (Opens/13 Years) All Souls St Gabriels School ended up in 3rd place overall.
Kathleen Elisala Year 11 Darnelle Steedman Year 10 Taitum Herring Year 10
Mariza Sailor
Amelia Wearing Year 12
Lianidas Yamashita Year 7
This term has been a busy time in the Art Room. Year 7 completed a unit on portraiture, doing both a realistic self portrait in water colour and ink along with an abstract self portrait using a combination of collage and stenciling. Year 9 and 10 also used stenciling in addition to calligraphy, paste ups and lino printing to produce some beautiful examples of "Words in Art". They also finished the term completing the NAIDOC week table with Indigenous designs from both Australian Aboriginal and Torres Strait Islander cultures. The senior Art in Practice class looked at how to represent the layers of social issues through collage, crimplage, veiling, stenciling and erasure to produce some thought provoking anthropological palimpsests. Finally, the senior Visual Art classes finalised their year long individual projects and worked hard in preparing for their external exams.
Year 7
Visual Arts
Clayne Musk Year 7
Tamzin Finger Year 9
Georgia Dakin Yr 11 Body Image
Year 11 Leadership nominations…
Tennis…
From the Dorms
Our tennis teams have just competed in the Inter School Tennis Competition. Our students returned home with some great personal victories, placing All Souls St Gabriels School in 3rd position for the 2022 competition. True to form, our students did themselves proud. Congratulations Team ASSG!
The Rugby 7s teams trained hard in preparation for the Inter School Carnival held on Tuesday in the last week of school. Well done to all who competed in a great afternoon and evening of sport.
Our Boarding Recreation & Activities Co ordinator, Jess, recently organised another night out at the Tors Drive In for girls boarding. From all accounts it was a great night out with a double movie viewing. The girls had fun despite the cold and the threat of rain.
And just like that, 9 weeks of Term 3 are done!
Tors Drive In…
I'd like to start by thanking everyone our students gave 100% over these past few weeks, despite having all bases loaded, everyone rallied and got over the line. Thank you to all our parents for your continued support and open communication. And a special thanks to all our boarding staff for covering colleagues and doing extra hours this term. I hope everyone gets to enjoy some R & R while on school holidays, ready to return on 4 October for Term 4.
Darren Guldbransen HEAD OF BOARDING
Our Year 11 students have just completed their leadership interviews and will now wait patiently for the results to be announced in Week 3 of Term 4. We wish them all the best and know that our school is in good hands for Rugby2023.
That's a wrap for Term 3. I hope everyone has a well deserved break. Travel safely and we'll see you all soon, ready to tackle Term 4!
7s
Football & Netball Season end… Both Netball and Football (Union & League) have wrapped up for the season. Our students gave 100% and did themselves proud regardless of wins on the board. I know you've heard me say this before, but the team spirit our students displayed this term was, as always, remarkable. Our students give everything and leave it all out on the court and field. Well done!
Boarding news
Until then, take care.
You're stranded on an island, what's the one thing you'd want? My phone.
Jo'Leah is and always has been the most quiet, easy going, lovely, polite, well behaved Chad girl. She never has put a foot wrong, never likes to put anyone out, yet she has the most beautiful presence and we will
Email: vherring@allsouls.qld.edu.au
be in 10 years? First she'll play hooker for the Maroons and then travel overseas. Then she'll be a Sallybeautician. 's favourite one liners? "Who cares, just do it!"
What have you learned from Chloe? How to procrastinate. What is Chloe's best hidden talent? She's really good at driving. Where will Chloe be in 10 years? Living with her parents… still… Chloe' favourites one liners? Lots of bad words…
Email: abarnicoat@allsouls.qld.edu.au
Mobile: 0419 771 433
Memory with Sally? Making cheese toasties after school 24/7. Naughtiest thing Sally has ever done in boarding? We can't say but not doing her Prep.
Mobile: 0439 764 638
Chad highlights… Year 12 Senior Profile Jo'Leah HowYamashitalonghave you been at ASSG? 4 Somethingyears people may not know about you? I like diving and reading What's been your favourite All Souls St Gabriels moment, to date? When seniors used to dress up and come up to the dining hall (toga night) Who has been the greatest influence on your life? My Mum and CompleteGrandparentsthis sentence "When I grow up I want to be just like..." the people in the RAAF Base (security or dog Whathandling)wouldyou never do, no matter what the price? Abandon my family. What is your life motto? Listen to your heart, not your head.
"When I grow up I want to be…" I want to go working for a year, then enrol to become a beautician. What would you never do, no matter what the price? Eat a whole tomato. What is your life motto? Never doubt your first instinct.
You're stranded on an island, what's the one thing you'd want? My dog. And my sisters, so I don't get bored. Favourite ASSG meal? Chicken Chilli
AlbanHouseVanessaHerringSeniorResident
Becket highlights… Year 12 Senior Profile Chloe HowWolfendenlonghave you been at ASSG? 6
Email: jcantle@allsouls.qld.edu.au
What is your life motto? When nothing goes right, go left.
You're stranded on an island, what's the one thing you'd want? A knife Favourite food? Strawberries
And now some thoughts from Jo' Leah' sfriend,Rowena: Jo'Leah's nickname? JoJo, DoDo, Kim, FavouriteLeah
What have you learned from Jo'Leah? The love of reading What is Jo'Leah's best hidden talent? Drawing
What would you never do, no matter what the price? Get into a fight with Reese Wilkinson.
's nicknames? Sal Dog, Frohloff, FavouriteRanga
Favourite food? Sushi.
desires!sheeverythingdeservesasherbestallwishnature.caringcalmmisscertainlyherandIhertheinfutureshe
Chloe's nickname? Chlo Bo. Favourite Memory with Chloe? Pouring a bottle of milk over her when she was in the shower. Naughtiest thing Chloe has ever done in boarding? Best we keep it a secret ;)
Mobile: 0407 142 493
And now thoughtsChloe' s friend, Ella Beth
Memory with Jo'Leah? Playing hide and seek (2019) Naughtiest thing Jo'Leah has ever done in boarding? Chasing people around the dorms
ChadHouseAlisonBarnicoatSeniorResident
What's been your favourite All Souls St Gabriels moment to date?
BecketHouseJennyCantleSeniorResident
Since year 7, so six years.
How long have you been at ASSG?
What have you learned from Sally? To be respectful and honest. To treat others how they treat you. What is Sally's hidden talent? Singing and of course she's got some mad footy Whereskills.willSally
Alban highlights… Year 12 Senior Profile Sally Frohloff
Somethingyears people may not know about you? I have my own business. What's been your favourite All Souls St Gabriels moment, to date? Watching the Becket girls fall over hurdles each year! Who has been the greatest influence on your life? Ella Beth Stretton. "When I grow up I want to be just like..." My mummy.
thoughtssomefromherfriends,Jaimee&Reese.Sally
now
AndStrips!
Something people may not know about you? I'm absolutely terrified of frogs & toads.
Having every class with Jade Stoll. Who has been the greatest influence on your life? Mum and Dad.
Where will Jo'Leah be in 10 years? Working at a RAAF Base
Email: ptwine@allsouls.qld.edu.au
Email: jdiery@allsouls.qld.edu.au
And now some thoughts from NathanandJalenBryson 's nickname? Bry Bry. Naughtiest thing Bryson has done in boarding? Playing cards after lights
FeethamHouseJakeDierySeniorResident
Mobile: 0419 471 433
A word from the House Captain meyouFeethamwouldladsyear.opportunityandsayandhighlightsleadingother'sof30,therewithwithHouselast7Iarrivedherebackin2017asaYearstudentandnowIwritethisasmywordfromthedorm,leavingasaYear12studentandtheFeethamCaptain.Beinginthedormstheboysislikelivinginahouseyourbrothersbutinsteadofbeing2or3ofthemtherearebutamongstallthenoiseandsmallamountofchaosIthinkmostmyselfandtheboysenjoyedeachcompany.IhaveenjoyedtheboysthisyearandafewarewinningtheswimminggoingawaytoConfro.IhavetoithasbeenanenjoyableyearIamverygratefulforthetobeHouseCaptainthisAlsogoodlucktotheYear11thataregoingforleadership.IliketothankalltheboysinDormitoryandabigthanktoallthestaffwhohavehelpedoutoverthelast6years.
Finally I would like to wish everyone an enjoyable break and look forward to seeing you all when you return to finish what has been a year that seems to have flown by.
Riley Easton & Riley Hughes
Whateveryone.is Bryson's hidden talent? Sleeping and running. Where will Bryson be in 10 years? Rainbow gateway. Bryson's favourite one liners? Jurada.
A special mention to Billo Wotton, who finished 4th in the Top Junior Try scorers for 2022 out of 423 players in the Townsville and District Junior Rugby League competition.
Page highlights… Well, we find ourselves at the end of another hectic term, with everyone looking forward to the break. The boys have all done themselves proud especially with the amount of extra curricular activities participated in. This term has seen those new to boarding settle and find their place, while for our Seniors it has been a time to look to the future and the adventure that awaits them.
Email: rbutler@allsouls.qld.edu.au
What would you never do no matter the price? Be on Centrelink. What's your life motto? Live life to the Youfullest.
PageHousePaulTwineSeniorResident
Ramsay highlights… Year 12 Senior Profile Bryson HowRiversleighlonghave you been at ASSG? 2
're stranded on an island what's the one thing you'd want? A book. Favourite food? Curried sausages.
Also, to Zai Hopkins who has qualified the fastest in North Queensland in both the 100m and 200m sprints, due to compete later in the year at the State ChampionshipsAthletics in Brisbane.
RamsayHouseRhettButlerSeniorResident
Somethingyears people might not know about you? I like to sleep a lot.
Whatout. have you learned from Bryson? Keep your mouth shut and observe
Feetham highlights… Term 3 is all over and so is official schooling for some of our Year 12s. The last exams were earlier this week and I know everyone is keen to get home and have some fun and wind down. I would like to thank the boys for a pretty good term and look forward to Term 4. The end of Term 3 means we start to say goodbye to the Year 12 students which is a little sad. They will come back next term for a few days but won't be fully living with us anymore. I would like to thank Riley Easton for doing an outstanding job as Feetham House Captain, and also Riley Hughes for always putting a smile on the faces of the Feetham boys. Best of luck guys. Riley Easton wanted to write a few words so I will hand over to him.
"When I grow up I want to be just like…." My Uncle.
What's been your favourite ASSG moment to date? Playing cards in the Whodorm. has been your greatest influence in life? My Mum.
Billy Elliott has been selected in the U14 Brolgas Rugby schoolcompeteCanberratravellingwillSquadDevelopmentUnionwhichbetotothisholidays.
Mobile: 0400 751 433
Mobile: 0409 071 433
Parent/Student/TeacherReturnInterviews
Boarders' Travel Day Friday 23 June
Boarders' Travel Day Friday 31 March
Term 3 (9 weeks)
Parent/Student/TeacherReturnInterviews Tuesday 03 October
Monday 17 July
Term Dates 2023
First Day of Term 2 8.15am Tuesday 18 April
Term 3 Ends 3.00pm Thursday 14 September
AustraliaDayPublicHoliday Thursday 26January
School Closed for Charters Towers Show Holiday Tuesday 25 July
Term 4 (Year 12) External Exams set by QCAA Mon 24 October to Wed 16 November
Term 1 Ends - 3.00pm Thursday 30 March
Travel Day Boarders Return Monday 30 January
Term 2 (10 weeks)
Monday 1May
First Day of Term 1 8.15am Tuesday 31 January
Parent/Student/TeacherReturnInterviews
Preliminary Prize Giving Thursday 16 November
Travel Day Boarders
First Day of Term 3 8.15am Wednesday 04 October
Awards Day Friday 17 November
Valedictory Dinner Friday 17 November
Boarders' Travel Day Friday 23 June
Monday 17 April
Travel Day Boarders
Term 4 Ends 3.00pm Wednesday 22 November
Travel Day Boarders
First Day of Term 3 8.15am Tuesday 18 July
Exam Dates for remainder of 2022
Term 4 (8 weeks)
Staff Day Friday 24 November
Term 1 (9 weeks)
NormalANZACDayServiceandMarchSchoolDay Tuesday 25April
NormalLabourDayPublicHolidaySchoolDay
Boarders' Travel Day Thursday 23 November
Term 2 Ends 3.00pm Thursday 22 June
Queen's Birthday Public Holiday Monday 02 October
Term 4 (Years 7-11) – Wed 9 November to Tues 15 November