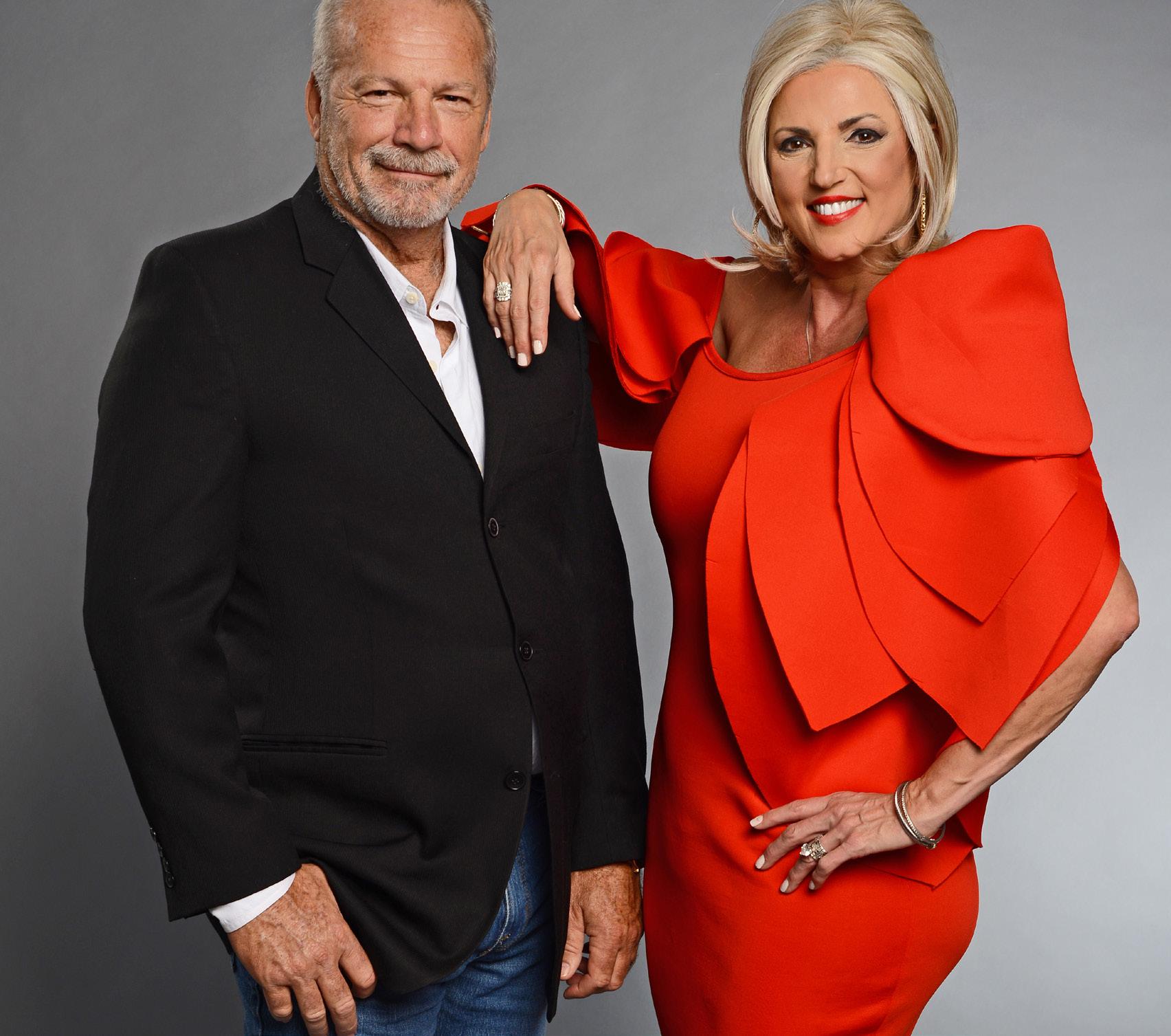 WINTER 2022 / HOUSTON YOUR GUIDE TO "BIG" BUSINESS ACHIEVEMENT RHONDA AND CHARLIE WILLIFORD Rhonda Williford Home Solutions and Williford & Company How SMBs Can Promote Digital Wellness Through Collaborative, Accessible, and Secure Technology 5 Ways Employers Can Improve Employee 10 Do's and Don'ts of Starting Financial Literacy a Destination Business
EVP/Executive Publisher Steve Levine Z"L (Of Blessed Memory)
Publisher's Assistant Jerome Davis
Graphic Design CODEYEA Creative Design Agency
Photographer Gwen Turner Photography
Website Content Management
Zahra Rangwala/K Bizz Solutions
Contributing Writers
Mary J. West Barbara R. Davis
Columnists
Christopher Budd John Collard
Ivona Ercegovic Ed Giaquinto Danielle Hinz
Jillian Kerwin Emily Ketchen
Erin Martin-Serrano Hank Moore Greg Plunkett
Gail Stolzenburg Richard Tatum Eric Yu
Chief Advisor Hank Moore
Publisher's Advisory Board
Denise Adjei Sonia Clayton Donna Cole John Cruise
April Day
Dr. John Demartini
Maya Durnovo
Kathie Edwards
Mila Golovine
Dory Gordon Richard Huebner
Darryl King Wea Lee
Bertrand McHenry Hank Moore
Lisa M. Morton
Leisa Holland Nelson
Cecelia Nowlin Maria Rios
Ingrid Robinson
Rita Santamaria William Sherrill
Gail Stolzenburg
Mayor Sylvester Turner
Jack Warkenthien
Phone: 832-419-1918
E-Mail: SBTMAGAZINEINFO@GMAIL.COM
Or Write: Small Business Today P.O. Box 31186 Houston, TX 77231 See us on the web at SBTMagazine.net
TOUGH TIMES NEVER LAST, BUT TOUGH PEOPLE DO!
"Tough Times Never Last, But Tough People Do" is the title of one of my favorite books written by Dr. Robert H. Schuller that is also part of my own personal library. Since I first met Dr. Schuller many years ago, I have read this book many, many times and it has always inspired me.
There is no question that small business has been hit extremely hard during the past two years of the Pandemic. The financial ramifications of the virus have caused many small business owners to make major cutbacks and/or close up for good. This is true regardless of the product, service, or clientele that they serve. Despite these adverse times, there are some businesses that still seem to flourish and even grow. These are the businesses whose owners believe that they need to play with the cards they are dealt and know that these trying times will not last. They know that yesterday is the past, tomorrow is the future, and today is a gift. That's why it's called the present!
I believe why and how they continue to grow their businesses when others are closing theirs lies in their ATTITUDE, DESIRE, & PURPOSE.
ATTITUDE
These successful entrepreneurs have the attitude that life and business is about possibilities and if their business is to succeed when others are failing, it is up to them to make the necessary changes to adapt to the challenges and overcome them. My wife and I always say, "If it is going to be, it is up to me!" There are always going to be setbacks in life and in business. The only way you are going to bounce back is to be innovative, resourceful, and do everything you can to figure it out.
DESIRE
Depending on how hungry someone is, it is in direct proportion to what they achieve and when they achieve it. No one says that success
in a challenging time is easy, but the successful entrepreneur knows that they must never, ever give up. The only way to fail is to quit!
PURPOSE
The reason why 95% of those business owners give up on their dreams is that they have forgotten "WHY" they wanted their dream in the first place. The successful entrepreneur knows that they must have strong, compelling reasons for their goals and dreams. They know they must have a strong "WHY" to become a success despite the odds against them.
Many of our 150+ cover honorees from Small Business Today, Real Estate Executive, Premier Agent, and Profiles Magazines have been Realtors®. Many of our followers on our website and social media are Realtors®, too. Realtors® are some of the most resourceful and tenacious entrepreneurs that I have ever met.
It has been my pleasure to follow one of those successful entrepreneurs since she was first honored on our Premier Agent Magazine cover in March of 2011 - Rhonda Williford of RE/MAX Compass and Rhonda Williford Home Solutions. Rhonda and her husband, Charlie Williford, who was featured in our Profiles Magazine in March of 2011 as well, have exemplified all three of those attributes, Attitude, Desire, and Purpose, in growing their companies regardless of the drastic changes in our economy and our country. I know you will enjoy reading how Rhonda and Charlie have been innovative and complementary working independently and together in their individual businesses.
Small Business Today Magazine
President/Publisher/Editor/Creative Director Barbara Davis-Levine
2022 EDITION
HOUSTON EXECUTIVE PUBLISHER'S COLUMN
WINTER
/
SMALL BUSINESS TODAY MAGAZINE
Good Reading, Good Sales, & Success to YouSteve Levine Executive Publisher
Steve prophetically wrote in his final Executive Publisher's Column that "Tough Times Never Last But Tough People Do". Who knew that I would be one of those people he was writing about?! Since Steve died of a heart attack in his sleep in August of last year, it has been a struggle for me to get SBT Magazine back on track. It has been a great learning curve in replicating everything Steve did without him leaving me instructions. A special note to those of you who work with your spouse or business partner: Make sure you have your systems and procedures written down about what each of you does and then make sure to give each other a copy!!! To add insult to injury, our website was repeatedly attacked and eventually breached but our IT Team eventually won the battle. Please be patient as I work with them in updating everything on the website pages. If you notice a screw up, just let me know and I will do my best to fix it. Starting with this Winter 2022 Edition, Small Business Today will be published quarterly. If you are interested in being a columnist, an advertiser, or participating in some other capacity, please feel free to email me at SBTMagazineInfo@gmail.com.
I wish to give special thanks to this edition's Cover Honorees - Rhonda and Charlie Williford, Profiles – Bitcoin of America/ Sonny Meraban, Lenovo/Emily Ketchen, Unc B's Seasonings/Bryanal Davis, and RELEVE Brand (formerly Be Pure Naturals)/
Wendy Williams for their patience and understanding during this most difficult time in my life and business. More thanks go out to our new, talented Graphic Design Agency, CODEYEA Creative Design Agency, who has been a blessing for helping me rebuild the magazine from scratch, Amira Mannai, publisher of The Princess Magazine, who graciously referred CODEYEA to me, our brilliant, go-to writer who gets me - Mary J. West, our award-winning and very patient photographer, Gwen Juarez, and our terrific, dedicated IT Team - K Business Solutions/ Zahra & Amir Rangwala for going above and beyond the call of duty in saving our website from evil hackers! I can't leave out thanking James McInvale, Jr. for allowing us to stage some photos for our Cover Story in the lovely showrooms at Gallery Furniture Galleria. Last but not least, I'm sending hugs, kisses, and lots of thanks for all the support I received from my great friends (too innumerable to mention) and my family - Gina & Brad Dennen, Jerome Davis, Tracey Levine, and "adopted" family - John & Shon Cruise.
Steve and I were married for 22 years, and most of that time we worked together in our various publications. We complemented each other in our strengths and each of us did our share of what we excelled in the best. Steve was the detail guy. He was extraordinarily regimented in keeping everything on track and handling the communications between
the clients, the contributing writers, the photographer, the graphic designer, and the IT staff. He handled the sales contracts, the billing and collections, and scheduled the appointments. I edited every written article going into the magazine, interviewed the Cover Honorees and Profile Subjects, worked with our writer, Mary J. West, on the title for the articles and the intro paragraphs, and did the creative staging wi th our photographer, Gwen Juarez, on all the wonderful photos used for the Cover Honorees and Profiles.
I am as tough as they come; I may be down but I will never be out! I have been widowed twice. I was married 22 years to my first husband, Steven Davis, when a drunk driver killed him and I was so critically injured that I was declared brain dead! At that time, we owned Celebrity/24 Hour Travel and were extremely successful. I reinvented myself before, and I am doing it once again; so, you might say this is my "Second Act". Any help you care to offer, especially suggesting advertisers and potential Cover Honorees, will be gratefully appreciated! I give commissions to anyone who refers business to me once the transaction has been completed.
In addition to our in-it-for-the-long-haul, entrepreneurs extraordinaire Cover Honorees, Rhonda and Charlie Williford, who are great partners in life and business (much like my husband Steve and I were), this issue features Profiles on several companies that
WINTER 2022 EDITION / HOUSTON PUBLISHER'S COLUMN
SECOND ACT
TOUGH TIMES NEVER LAST, BUT TOUGH PEOPLE DO!
were started by entrepreneurs with that "can do", never quit spirit. Bitcoin of America, a company started by Sonny Meraban, is taking the US by storm and is growing like gangbusters with their BTMs (like ATMs but for Bitcoin)!
Lenovo has quickly risen to become the largest PC company in the world and one of the largest IT companies. Their focus and solutions are helping businesses stay afloat in these trying times. Emily Ketchen is one of the contributing writers and is a brilliant, dynamic leader at Lenovo.
On a smaller scale but gaining a lot of traction are two great, Houston-based
companies: Unc B's Seasonings and RELEVE Brands (formerly Be Pure Naturals):
Two-term Veteran, Bryanal Davis's allnatural Unc B's Seasonings makes anything you cook become a culinary masterpiece!
Whenever I go out to eat, I take packets of Unc B's General Purpose Seasoning to flavor my food because it is low in salt and free of chemicals and sugar.
Last but not least, is Houston's own Wendy Williams, a single mom and the visionary behind RELEVE Brands (formerly Be Pure Naturals), a company that specializes in great all-natural products for aches & pains, dry skin, insect repellant, and hair growth.
My favorite product of hers is the Healing Balm. I use a little bit on my hands and they stay smooth and soft all week.
After you have read all of the inspiring stories of our Cover Honorees and Profiles featured in this issue, I hope you will show your support by using their products, services, referring them to others, and even dropping them a line that you read about them in Small Business Today Magazine.
Good Reading, Good Sales, & Success to YouBarbara Davis-Levine Publisher
SMALL
BUSINESS TODAY MAGAZINE