DUFFRY HILL, ENNISCORTHY. T: (053) 9234660. Sla ney News Issue 148 – September 2022 KAVANAGH'SGARAGE Auto Maintenance & Repairs Diagnostics Pre-NCT and DOE Tests Clutches, Brakes, etc Breakdown Assistance ISLAND ROAD, ENNISCORTHY 053-9233601, 086-2457664 Pharmaton Vitality 30s €10, 100s €27 Pharmaton Immuno30s€10 29th August 2022: First day in Carraig Briste Early Years for James accompaniedMurphy,byhissisterEmma,andgreetedbyproprietorOrlaghDoyle. Tel: 053 9138992. Mobile: 087 2994988 Email: Computerken@kenscomputerclinic.com&LaptopSales&RepairsITServices&WebsiteDesignHavenKavanagh'sPharmacy
S la Ney a dS la Ney a dS Page 2 - 2nd September 2022
S la Ney a dS 2nd September 2022 - Page 3 Contents of this issue of Slaney News... News page 4 Leisure & Lifestyle page 48 Arts page 79 Food & Drink page 84 Business & Finance page 94 Pets page 104 Motoring page 106 Sport page 108 History & Heritage page 117 Environment page 128 We would be delighted to receive stories and photos from our readers around the county. If you have anything you'd like us to share, please email slaneynews@gmail.com and we will do our best to include as many photos and stories as possible. A family-owned Wexford company providing you with a reliable and quality service since 1988  Ask about our Easy Pay Budget Plan  All Major Credit & Laser Cards Accepted Delivering Kerosene, Diesel, Gas Oil, Agri Diesel to homes, farms and businesses all around Co. Wexford. TEL: 053-9255219 - RATHNURE - ENNISCORTHY PAT MURPHY OIL LTD.

SLANEY NEWS
SLANEY NEWS, CLONHASTON, ENNISCORTHY Tel: 087-2403310 Email: slaneynews@gmail.com www.slaneynews.com Facebook: Slaney News Online: www.issuu.com/slaneynews/docs PUBLISHED in Enniscorthy by Corcoran Print & Design
Following the recent retirement of David Minogue as Co. Secretary of Wexford Co. Council, the Slaney News would like to acknowledge the various roles David has played over many years in the county includ ing town manager for Enniscorthy, New Ross and Gorey, and his most recent position as County Secretary and Head of Communications.
David himself has spoken about how he enjoyed his time in Wexford so much and has thanked all his work colleagues and all the elected members of Wexford Co. Council. Cllr Michael Sheehan was one of many who spoke highly of David saying, "I think he should be very proud of his legacy and achievements here." Cllr Barbara-Anne Murphy spoke of his "hard work and courtesy" and Chief Executive of Wexford Co. Council Tom Enright praised David for his loyalty and commitment to the Council and how his "knowledge and expertise will be a huge loss".
A Clare man by birth, his father served with Clare Co. Council, and David himself started his public service career with Kildare Co. Council in 1983 before moving to Wexford in 1990 and giving over 30 years of service to this county.
If you have any news or photos you'd like us to share in the Slaney News, please email them to slaneynews@gmail.com and we will do our best to include as much as possible. Also, please let us know what you think about our new format. Telephone: 087-2403310, slaneynews@gmail.com or message us through our Facebook page, 'Slaney News', which now has nearly 10,000 Followers. And, of course, if you like our new online format please spread the word so we can grow our online readership. Thank you Frank Corcoran David Minogue
Welcome to the September issue of the online Slaney News.
S la Ney a dS la Ney NewS Page 4 - 2nd September 2022
Disclaimer: Slaney News reserves the right to accept or reject any advertisement submitted for Slaneypublication.News does not attempt to investigate or verify claims made in advertise ments appearing in our publication. The appearance of an advertisement in this publication in no way implies endorsement or approval by us of any advertising claims or of the advertiser, its product, or services. Slaney News disclaims any lia bility whatsoever in connection with advertising appearing in this publication. Every effort has been made to ensure that all articles published in Slaney News are true and accurate but if any errors do occur please let us know and we will gladly rectify them in our next issue. Where details of future events are given in this publication, we recommend that you check these details directly with the organisers as event details may be subject to Slaneychange.News strongly recommends seeking independent professional advice before acting on any financial, medical or other information contained in this publication.
The Slaney News always found David to be most helpful and courteous in our dealings with him and we are certainly sorry to see him go.
Michael Drea has now taken over David's role in the Council, and we wish him well.
To advertise in the Slaney News please087-2403310contact:
comment
My team and I are ready to help you Of昀ce Open Weekdays: 2pm-4pm.10am-12pm, Browne TDMinisterJamesofState at the Department of Justice TD for Wexford Contactme Lower Church Street, Co.Enniscorthy,Wexford0539235046JamesBrowneTD@oir.ie@JamesBrowneTD
S la Ney a dS 2nd September 2022 - Page 5 New Photo Lab now open in Rafter Street, Enniscorthy www.grantspharmacy.ie Check out our Facebook / Instagram page for special offers! www.nrcu.ie Heading to youWe'veCollege?gotcovered.Talktoustoday. €34.79 perweek Only Heading to 3rd Level? Exciting times are ahead! We all know how expensive it can be: fees, living expenses, books and your social life, it all adds up! Our Student Loan is designed to take the stress out of college. With our super low rate of only 5.49%, an NRCU student loan makes sense. Visit our website for more info or contact a member of staff on 051 421143. NRCU's bursary fund is open to students living, working or attending school in our common bond. Students must be starting 1st year of minimum 2 year course. Application forms can be downloaded from our website or collected in any of our three offices. Closing date for receipt of applications is 15th October 2022. AMOUNTBORROWEDTERMINTERESTRATEAPRTOTALINTERESTTOTALREPAYMENT €5,0003YEARS5.49%5.62%€425.71€5,425.71 NRCU is regulated by the Central Bank of Ireland. Loans are subject to approval. T&C's apply. If you do not meet the repayments on your loan, your account will go into arrears. This may affect your credit rating which may limit your ability to access credit in the future.

n
For
S la Ney a dS la Ney NewS Page 6 - 2nd September 2022
Sustainable Enniscorthy will host an Energy Saving Expo on Saturday 1 October from 10am to 2pm in the Seamus Rafter Suite of the Riverside Park Hotel. The Energy Saving Expo will be an opportunity for people to learn how to save energy, save money, and help the environment. Any suppliers of energy effi ciency products or services who are interested in par in the Energy Saving Expo should contact Sustainable Enniscorthy at: sustainableenniscorthy@gmail.com more about this event: https://fb.me/e/o3VRZfzT0
ticipating
Save energy, save money
S la Ney a dS 2nd September 2022 - Page 7 MalcolmSenatorByrneIfIcanhelpinanywaypleaseletmeknow.Tel:085-8245142malcolm.byrne@oireachtas.ie Holding clinics on the last Saturday of every month: Redmond'sBUNCLODY Bar 2.00pm to 2.45pm. FernsFERNSCommunity Centre 3.00pm to 3.30pm. 4.30pmUptonKILMUCKRIDGE3.45pmJack'sCAMOLINTavernto4.15pm.CourtHotelto5.00pm Tel: 053 DIRECTTESTINGDonanore,Email:www.vtnenniscorthy.ie9233593windmillautos@gmail.comEnniscorthy,Co.Wexford,Y21X6V6OpenMondayFriday8.30am5.45pmCalltoday0539233593OFALLCOMMERCIALVEHICLESTACHOGRAPH&PLATINGSTATION......................................................................ENNISCORTHYWINDSCREENCENTREBILLINGTOMOSTINSURANCECOMPANIES Vans & Jeeps Trucks & Trailers Buses & Ambulances Motor caravans TractorsMixed fleets & other vehicle types This size ad can be yours for justTelephone€50+vat.Frankat087-2403310formoredetails.

The plush and spacious seating, with its ambient lighting, com bined with the impressive bar area, creates an inviting and wel coming atmosphere. It has been described by our colleague Maria Nolan as, "Beautifully and stylishly decorated, this lovely new space oozes ambience, relaxation and comfort, and with its delicious and varied menu is certain to be a winner among En niscorthy foodies."
S la Ney a dS la Ney a dv ertorial Page 8 - 2nd September 2022
The Slaney News wishes Biju, Manager Diane Rigley, and all the team every success with this new venture which is a most wel come addition to the town. Check out the Holy Grail Facebook page for more information and updates: https://www.facebook.com/The.holy.grail.enniscorthy n
Tapas and Cocktails –a winning combination at the Holy Grail
A wonderful new addition to the Enniscorthy gastronomic landscape is the Holy Grail Tapas and Cocktail Bar the brainchild of well known restauranteur Biju who has taken the brave step to introduce something new and different to the town. The new venture is situated upstairs in the existing Holy Grail restaurant on Market Square where a launch night was held on 25th August prior to opening fully to the general public the following night. It is now open four nights per week Thursday to Sunday and reservations can be made on 053 9236272.
Above left: The warm and welcoming interior. Above right: The proprietor Biju is looking forward to preparing delicious tapas and cocktails for you. S la Ney a dv ertorial 2nd September 2022 - Page 9 Menu Summary Garlic Bread €4.95 Bruschette Pamadora €5.95 Cheesy Garlic Bread €5.95 Potato Egg Salad served with Prawn €9.95 Holy Grail Cheese Board €11.95 Salad Capri €9.95 Spanish Meat Board €12.95 Spicy Chicken Wings €9.95 Prawn Pil Pil €9.95 Salmon Croquettes €9.95 Calamiri €9.95 Chilli Beef Nachos €9.95 Mini Beef Meat Balls €9.95 Chorizo Smoked Bacon and Bean Casselot €9.95 Tempura Prawns €9.95 Chilli Garlic Chicken €9.95 Crispy Pork Belly €9.95 Wexford Mussels €9.95 Grail Half and Half €9.95 SIDES: Potatoes Bravas  Bowl of Mixed Olives  Salted Almonds Sweet Potato Fries  Sunblushed Tomatoes  Rosemary Fries All €4.95 each SOMETHING SWEET: Chocolate Brownie  Profiteroles Mango and Passionfruit Eton Mess  All €6.95 each. WINE: From €6.50 per glass, and €25 per bottle. COCKTAILS: €9.95 each. FULL BAR SERVICE: Draft and bottled beers, spirits, liqueurs, soft drinks, etc. For full menu check out the Holy Grail Facebook https://www.facebook.com/The.holy.grail.enniscorthypage: Check out more photos on page 93 Above L-R: At your service are Manager Diane Rigley, Belynda Rothwell and Siobhan Hudson. Below L-R: Caius Rostas, Dylan Cloke, and Cocktail Manager Deepak in the beautiful bar area.

All entertainment over the weekend was completely free gratis and courtesy of the Festival and a wondrous spectacle indeed it was to see so many children dance, enjoy, and express themselves freely as though no one was watching. This is what Street Rhythms brings to our streets a freedom of movement, ex pression, and enjoyment in our own town. Well done to the marvellous organising com mittee who with limited resources and small
The beat on the street –Enniscorthy's rhythms festival numbers managed to create a kaleido scope of colour, wonder, and fun at the end of a very successful Enniscorthy summer season which included Wexford Literary Festival & 1922 Commemoration, the Rockin' Food & Fruit Festival and En niscorthy Street Rhythms Festival. And as we move, albeit reluctantly, into Autumn we still have the Blackstairs Blues Festival to look forward to from 9th–11th Sept. Enniscorthy the town that just keeps on giving! Words & Pics by Maria Nolan
See lots more Street Rhythms festival photos on pages 60-61.
S la Ney a dS la Ney NewS Page 10 - 2nd September 2022 With most if not all children returning to school this week, the re-introduction of the Enniscorthy Street Rhythms Festival last weekend is sure to send them back with a bang and lasting, fond memories of Summer 2022. Market Square rocked once again with fun, games, music, magic, and merriment as tots of all ages got into the swing of the Street Rhythms and strutted their stuff joyfully without inhibition or reticence. Fairytales at the Castle included many Dis ney characters like Snow White, Sleeping Beauty, Pluto, Beauty and the Beast, the Queen of Hearts, Mickey and Minnie Mouse, along with many new favourites and created a queue for hours as hundreds of children clamoured to gain access to the en chanted Citadel for their free Fairytale Tour.
S la Ney a dS 2nd September 2022 - Page 11 Up to €100,000 in grant aid available for the development of NEW & EXISTING niche businesses Grant Aid % Up to Maximum MaximumGrant Capital & Marketing 75% €100,000 A&D 75% €30,000 Training 100% €100,000 Funded by the Department of Rural & Community Development The LEADER Transitional Programme Enterprise Grants Available ENNISCORTHY & NEW ROSS DISTRICT Contact: HELENA DEMPSEY 087 1737502 hdempsey@wld.ie WEXFORD & GOREY DISTRICT Contact: TOM BERMINGHAM 085 8239314 tbermingham@wld.ie Priority will be given to: • New & Existing Food & Beverage Enterprises • New & Existing Rural Tourism Enterprises • New & Existing Innovative Enterprises • A particular focus will be on projects that have a capacity to sustain and create jobs, and generate positive economic benefit

3 Slaney Place, Enniscorthy, Y21 W4C9 Tel: 053 92
Facebook:www.doylehearingsolutions.com52111DoyleHearingSolutions
Doyle Hearing Solutions is a new Audiology Clinic located at Slaney Place, Enniscorthy, owned and operated by local woman Yvonne Doyle (daughter of the late Paddy 'Pro' Doyle). The clinic offers a range of ser vices including Hearing Tests and advanced Tympanometry testing, provision of Hearing Aids and micro suction wax removal which is a less invasive method of wax removal than the traditional method of syring ing the ear. The micro suction is already becoming a firm favourite with locals. Direct referral for adults to Beaumont Hospital for private clinical assessment with a view towards Cochlear Implant (where appropriate) can also be arranged. Yvonne brings a wealth of experience to the field of Audiology. This was recognised when Yvonne became the first woman in Ireland to win the independently run Audiologist of the Year competition. Qualified from Queen Margaret University in Scotland and a member of the Irish Society of Hearing Aid Audiologists, Yvonne operates to a high professional stan dard and all client enquiries are dealt with confidentially and in a professional, empathetic Themanner.advances in technology means that hearing aids today are small, discreet, have fantas tic sound and most have Bluetooth compatibility to allow the user to stream content from their television and/or phone directly to the aids, and the use of a smartphone app makes 'fiddling' with the aids a thing of the past. The stigma of wearing hearing aids is thankfully a thing of the past, with most people today more concerned with hearing well and looking after their hearing. n
S la Ney a dS la Ney a dv ertorial Page 12 - 2nd September 2022 Doyle Hearing Solutions making sense of sound
YvonneAudiologistoftheYearDoyleathernewpremisesatSlaneyPlace,Enniscorthy.
The Delightful Dollies club in Enniscorthy had a recent talk on Hearing Aids by Yvonne Doyle of Doyle Hearing Solutions, Slaney Place, Enniscorthy, L-R: Edel Kenny, Yvonne Doyle and Winnie complexMembersOther(Chairperson).O'Connorphotos:oftheDelightfulDolliesattheirweeklymeetinginBellefieldGAAon3rdAugust2022.
Top photo:
S la Ney NewS 2nd September 2022 - Page 13

Vinegar Hill toilet – what a relief!
S la Ney a dS la Ney NewS Page 14 - 2nd September 2022
The lack of toilet facilities on Vinegar Hill has been a source of frustration for many over the years and has been a particular hobby-horse for Cllr Jackser Owens. In June, it was announced by him that temporary toilets would be installed on Vinegar Hill this summer based on in formation received from Senior Environ mental Engineer with Wexford County Council, Gerry Forde, who said that Wexford County Council would be pi loting a new type of temporary toilet unit at Vinegar Hill that would be a more environmentally-friendly type. That unit was installed at the beginning of August much to the delight of Cllr Owens who said: "Delighted to see that for the first time ever a toilet on Vinegar Hill is in place. Fantastic for the local people and for tourists. I've been cam paigning a long time for this." n Cllr Jackser Owens (centre) inspecting the work in progress. Áine Doyle of Enniscorthy Credit Union presenting a gift to Joy Quigley of Ferns to assist in her bid to be the Rose of Tralee 2022. Joy represented Enniscorthy Credit Union as a Strawberry Princess in 2019 and went on to become Strawberry Queen that year.
Enniscorthy Credit Union supporting Joy
n
S la Ney NewS 2nd September 2022 - Page 15 Happy AnniversaryWedding50thtoMary&PatKells
Delightful Dolly Mary Kells celebrated her 50th Wedding Anniversary on 10th August 2022 with her friends in the Enniscorthy Delightful Dollies at their usual Wednesday meeting in Bellefield GAA Complex.
Right: Mary Kells cutting the cake. Below: Mary with some of the Delightful Dollies. The Delightful Dollies Women's Community Group meets every Wednesday at Bellefield GAA Complex, Enniscorthy, from 11am - 12.30pm. All are most welcome. Contact: 087 404 2261 Email: https://www.facebook.com/groups/184557581712997delightfuldollys@gmail.com

Mason Lacey's first day in school with his older friend Sean Coughlan.
Above left: Spending her first day in school at St Aidan's primary school, Enniscorthy, was CaraAbove:Robinson.
la
S Ney a dS la Ney SNapS 2022
Page 16 - 2nd September
Young Aaron Jordan with mam and dad, Myles and Leah, taking him to school on his first Left:day. Colm, Ava O'Flaherty and Mary Sludds. Below left: All smiles on her first day was Myla RoseBelow:Buckley.
Above left: Saorse Doyle was happy Above right: Best friends Tom Below: Busy on their first day in at St were Oscar Reddy, Samuel
First day at S primary31stschool,Augus
S Above left: Friends Maya Tomiczek and Pola Spera. Above right: Cool Dude DylanLeft:Spalding. Fionn and John Howe brought Colleen Howe to St Aidan's for her first day in wasHappyEamonn,BillyRight:school.Fielding.Belowleft:AvaandSarahDoyle.Belowright:togotoschoolLucyDaggwithhermamCarleyandbigsisterEmilyDagg. Billy
St stEnniscorthyAidan's2022 y on her first Day in St Aidan's. Walsh and
la Ney SNapS 2nd September 2022 - Page 17
Fielding. t Aidan's primary school, Enniscorthy, Martins and Ollie Corrigan.


 Murals/public
S la Ney a dS la Ney NewS Page 18 - 2nd September 2022 
Upgrade or restoration of historic / traditional shopfronts.

Provision of street planting, shrub bery, trees and flowers boxes Installation of canopies. artwork."
The overall purpose of the Scheme is to give our towns and villages a facelift and make them more attractive places to live, work or visit.
Enniscorthy is one of the towns chosen to receive €100,000 as part of the government's Streetscape En hancement Initiative for upgrades to building facades, artwork, murals, lighting, street furniture and canopies. Wexford Co. Council will begin advertis ing immediately for local businesses and retailers to apply.
Wexford TD and Minister of State for Law Reform James Browne TD is encour aging Enniscorthy's businesses, property owners and retailers to apply to their local authority to avail of funding. "As a TD for Wexford, I take pride in our county's rural towns and villages. I want them to be as attractive and welcoming as possible. I'm delighted that Ennis corthy will benefit from the streetscape initiative. You may wish to give the front of your shop a new lease of life and re paint it in bright, vibrant colours. Per haps you want to cover your window sills with flowers and plants, or purchase street furniture, canopies for your cus tomers to enjoy. Or maybe you have an even bolder idea. This time round, neighbouring businesses may submit a joint application to their local authority if they have a more ambitious proposal.

"This investment in Enniscorthy's streets capes adds to the government's track record of investment in Enniscorthy, which includes €250,000 for developing a food and community hub in Temple shannon and €174,000 for Slaney Street as part of the Built Heritage Scheme."
Enniscorthy gets funding boost for shopfronts and streetscapes
Paul Kehoe TD has also welcomed the initiative saying, 'The Streetscape En hancement Initiative will provide retail and property owners in Enniscorthy with grants they can use to give their busi ness a facelift. The types of projects that could be supported include:  Strategic collaboration between property owners to paint buildings and/or shopfronts in vibrant colours.
n
Last month we introduced you to Sus tainable Enniscorthy, a voluntary group with a vision to work with stakeholders and communities in En niscorthy to create a thriving, sustain able town. We are raising awareness of sustainability and driving actions to support sustainability and health & wellbeing in Enniscorthy. This month we'd like to introduce you to an area Sustainable Ennis corthy is focusing on Economy. This may be a term you haven't heard of before but moving to a circular economy will deliver better outcomes for the environment and is a big policy focus area for the government. To give you some back ground, our current economy is linear.
To drive a circular economy, a lot of change needs to happen at the product design stage, so manufacturers will play an important role. New eco-design and sustainable product legislation is in preparation which will have an impact in minium cans (to capture more of these very recyclable materials).
S la Ney NewS 2nd September 2022 - Page 19
foronce,usethingstimes(somethingsto'Take-Make-Use-Dispose'Wetakingnaturalresourcesmakeweonlyorashorttime)andalot
What can we do to support the circular economy? Practical actions include re ducing food waste (see https://stop foodwaste.ie for advice), repairing products instead of buying new (which also supports our local repair busi nesses, see https://www.repairmys tuff.ie/ for information), buying from and donating to charity shops for reuse, bringing your reusable water bottle/coffee cup when out and about to reduce consumption of single use products and recycling as best you can (see https://www.my-waste.ie for A-Z of recycling).TheEllen MacAr thur Foundation thurfoundation.orghttps://ellenmacar is a great resource for circular economy information if you'd like to read more. Dame Ellen MacArthur sailed solo around the world, and having to carry everything she needed in her boat gave her insights into the earth's finite resources, and the need to change our systems. She set up the Foundation to accelerate the transition to a circular economy and it has had a global im pact. If you would like to get involved in Sustainable Enniscorthy or keep in formed of our initiatives, please fol low us on Facebook or sustainableenniscorthy@gmail.comemail n
A monthlynewcolumn
Source: EPA
of valuable materials (e.g. metals, glass, plastics) are lost to the production cycle because they are not recycled when disposed. In a 'circular' economy, we use recycled in stead of raw materials to make things, the products we make are sustainable (reusable, durable and repairable) and recycling of waste is maximised. Circular economy also supports climate action, because 45% of greenhouse gas emissions come from how we produce goods and materials.
The Slaney News is delighted to welcome the local Sustainable Enniscorthy group on board with their new monthly column.
EnniscorthySustainable the years ahead. And there is already legislation in place to reduce the impact of single use plastic (SUP) products, be cause of their impact on marine litter. A Circular Economy Act has recently been published in Ireland. In the short-term this will provide for a levy on disposable coffee cups (to discourage use of these single use items) and set up deposit re turn schemes for plastic bottles and alu
"Circular Economy"

Ms. Donohoe worked in Enniscorthy Community College for the past 30 years. There are very few tasks that she didn't turn her hand to, but it is her passion for the SEN (Special Educational Needs) department and supporting inclusion throughout the school that she is synonymous with. In the words of a colleague, "She has gone over and above to support the students, staff and management of ECC and her enthusiasm for education has inspired so many."
In recent months in Enniscorthy Community College, a number of staff have moved on to new adventures and one such lady is Ms. Cate Donohoe (pictured right).
Ms Donohoe, Ms Kinsella and Ms English will be greatly missed by all the students and staff in ECC. n
A fond farewell
Enniscorthy Community College also says a fond farewell to senior Deputy Principal Ms. Margaret Kinsella (pictured above). Ms. Kinsella has worked closely with staff, students and parents in the school and has led a number of initiatives in ECC such as the Power2Progress programme, Check and Connect, and she also worked closely with the Student TheCouncil.school wishes the departing Ms. English (pictured right) all the best in her new adventure. She will be missed in ECC where she inspired so many to follow her passion for all things science. She encouraged a number of initiatives in the laboratory, her most recent being The 3 Alder class re search comparing the water quality of the River Slaney in
S la Ney a dS la Ney NewS Page 20 - 2nd September 2022
Enniscorthy with the air quality. This research is funded by the STEM Research Grant from the WWETB. Ms. English also has a passion for basketball and herself and Ms. Kehoe led the basket ball teams to many victories.
Everyone in ECC wishes Ms. Donohoe a very happy retire ment.
A major interest for Ms. Donohoe is gaelic games. She en couraged football and hurling in ECC and coached a variety of teams herself in the school. Buffers Alley GAA club is very dear to her heart and that club is very fortunate to have Ms. Donohoe as their Chairperson.
Collins has been branded as the elusive director of intelligence for the I.R.A., master of guerrilla warfare arming and dispersing the Flying Columns and the deadly Squadrons but he was much more than that. As a young man he went to London and served as a clerk in a bank. Later he worked for a firm of stockbrokers all the
MICHAEL COLLINS REMEMBERED 100 YEARS ON
WITH KEITH DOYLE
TOWN TALK for a firm in New York before returning to Ireland in 1915. During the 1916 Ris ing he was in the G.P.O. as the aide-decamp for Joseph Plunkett. When captured he was sent to Richmond Bar racks where he managed to avoid being jailed with the leaders and slipped into the lines of prisoners sent by cattle boats to Frongoch in Wales where he began to come to the fore. He became the spokesman on prisoner welfare and the organiser of non-cooperation. Being labelled as one of the hardcore, he was released last in December 1916. In 1919, after breaking de Valera out of jail in England, he was appointed Minister of Finance where he launched national bonds to raise funds to run a self-pro claimed democracy. Those few words above show how di verse Collins was and how valuable he would have been for the nation if he had survived the ambush in Cork. The reason he was there was to meet with influential members of the anti-treaty side to discuss how to end the Onewar.cannot say what would have happened but it is clear he was capable of being in any position to shape and mould the country, whatever that may have looked like. This leads me nicely onto what Michael Collins would think of Ireland of today. I would imagine that he would be somewhat amused as to how it took almost a hundred years for the two sides to inter act. Who knows, if he had lived would it have taken so long. Would Sinn Féin have developed differ ently or more rapidly? With his influence, would we have had a more in clusive and peaceful jour ney. Who knows! n Michael Collins is one of the most well-known figures in Irish history and rightly so. Many books and movies have being made on his life and times and I doubt if I can add much to the subject historically speaking. I am assuming that there is enough water under the bridge to write about a central figure from such a turbulent time in our country without causing more friction. I will deliberately omit the civil war and the treaty and focus on other aspects of Collins' life and Overcharacter.theyears there was a sense of omerta surrounding the subject and many personal stories are now lost for ever. I am in the unique position of having family history within both sides of the divide as my grandfather was in the Irish volunteers and was a prisoner with Collins in Frongoch internment camp, went with Collins on the protreaty side and became a Councillor for Fine Gael. I, on the other hand, was a Fianna Fáil Councillor for 25 years. So I wonder, im partially, what impact he would have made if he sur vived the ambush at Béal na Bláth 100 years ago. I often ponder on what he would think of this country as it developed since then.
S la Ney NewS 2nd September 2022 - Page 21 while studying law in King's College. It was in London where he became a member of the I.R.B. He then worked

Enniscorthy Library events For upcoming Enniscorthy Library events Pleasehttps://www.facebook.com/enniscorthylibrarysee:bookyourplacebycontacting0539236055. n S la Ney a dS la Ney NewS Page 22 - 2nd September 2022 Enniscorthy Credit Union Áine Doyle of Enniscorthy Credit Union discusses the changing face of credit unions. Check it out at: https://player.fm/series/business-matters-with-karl-fitzpatrick/aine-doyle-of-enniscorthy-credit-union-discusses-the-changing-face-of-credit-unions n Enniscorthy Community College Great range of courses available at Enniscorthy Commu nity College. Check them out at: thyccfe.ie/prospectus/mobile/index.htmlhttps://www.enniscor n ENNISCORTHYFÁILTE–WELCOMING UKRAINIAN REFUGEES CONTACT Tel:https://www.facebook.com/enniscorthyfailteDETAILS:Email:enniscorthyfailte@gmail.com0873369907(thisnumberisnotmannedallthetimesopleaseleaveamessageifnobodyanswersstraightaway). County Development Plan The Wexford County Development Plan 2022-2028 was adopted by Wexford County Council on 13th June and came into effect on 25th July 2022. The Plan is available to view here plan-2022-2028coco.ie/en/consultation/wexford-county-development-https://consult.wexfordn Enniscorthy Toastmasters Enniscorthy Toastmasters are back! 129333810455771https://www.facebook.com/Enniscorthy-Toastmasters-Watch:fornewsofSeptembermeetings.n For details of upcoming events keep an eye on: gonedayshouseofstorieshttps://www.facebook.com/by Oulart storytelling house back open Bygone Days Storytelling House in Oulart reopened, after a long closure, on the 11th July. A great welcome awaits all, with good music, songs, stories and plenty of craic, tea and refresh ments served. Eircode: Y25 YP70.
INTERESTING FIGURES
It is inevitable that over the next few months that we will see a significant rise in interest rates. This coming after a long period of low rates will cause consterna tion to many. It's not only households which are hit when interest rates in crease but businesses also suffer. In creases in bank payments on loans and mortgages hit them hard. Therefore, they become less competitive and there is a risk to the future growth of com panies. This reflects itself in layoffs, short-time working and sometimes even closure. Usually, the very people af fected by the layoffs or curtailed work ing hours are the same people who at home are trying to deal with increased mortgage payments and other rising costs. It can be a cruel cycle for many.
S la Ney NewS
LOCKDOWNS
Evidence is emerging in Britain that the covid lockdowns did much more harm that any spread of covid. More deaths, depression, suicides, business destruction and job losses causing more depression and deaths was the result. The conclusion is that the lockdowns caused much more harm that covid itself. Will we have the same type of scrutiny here with re gard to our lockdown policy which resulted in the longest lockdown in the world outside of China, I ask. Will we f***, in the famous
Page
HIGH VISIBILITY
county,CentrefromViewtheAlocalcontributor,basedinthecentreofthelooksatlifetodayinCo.Wexfordandbeyond
ENERGY CRISIS
It is unbelievable that this country has no energy-storage facility whatsoever. We are totally dependent on day-to-day de liveries of gas and oil to keep the country going. It is an indictment of all governments over the past 20 years that no provision was made to deal with an energy crisis. Those of us who are old enough will remember the oil crisis of 1973 when people waited at oil pumps for hours to get a gallon of petrol. De spite this nothing was done in Ireland. We are at the mercy of Britain which supplies 70% of our gas needs, the other 30% comes from Corrib, which wouldn't be there if certain politicians had got their way. Also 50% of our electricity is generated by gas, so no gas no elec tricity. We closed down our turf plants which generated electricity and as from this month it will be illegal to even adver tise turf for sale. So, are we in trouble? Yes, we sure are. While our politicians run around looking for photo opportunities to share on Facebook, the country is in dire need of energy supplies. As Del Boy would say, "What a crowd of plonkers."
words of Michael Bailey to James Go garty of the Mahon Tribunal fame. The only TD in Wexford who questioned the lengthy lockdowns was Verona Murphy. The rest of them enthusiastically sup ported them.
The government expects to spend €97.2b this year. It is expected that ap proximately €70b will come from taxes and the rest will be borrowed. So far the tax take is running at €7b ahead of tar get so the amount to be borrowed will probably be about €20b. Here is how it is being spent: Social Protection €23.4b, Health €22.19b, Edu cation €9.3b, Justice €3.2b, Repaying Loans €13.9b, Trans port €3.4b, Other (which is the accumu lated expenditure by each of the other gov ernment departments) €21.8b. So, there we have it. Are we get ting good value? Well, you can decide that at the next election if you want to. n
INTEREST RATES
2nd September 2022 - 23 FR. DANNY McDONALD Fr. Danny McDonald has recently retired as Parish Priest of Marshalstown and Castledockrell. He served those parishes extremely well during this stewardship over the past 15 years or so and will be missed. He was a brilliant community leader and guided many committees and organisations through many projects during his tenure. His shoes will be big ones to fill. He carries the good wishes of the entire district into his retirement which we hope will be a long and happy one.
As the long, hot Summer eases we are getting into nightfall earlier. This appears to escape some people who walk and cycle on our roads. The number of indi viduals I have witnessed on the road without any high visibility jackets is a cause for concern. It's strange that the message of the importance of being vis ible is not penetrating some people.

I was delighted to attend at Ennis corthy Castle last month for the offi cial opening of the Castle's third exhibition this year titled Writing on the Wall, from Chisel to Spray Can, graffito, graffiti and wall art. A special feature of the exhibition is the Swordsman in the Dungeon a piece of wall art in Enniscorthy Castle thought to be from the 16th century a onemetre-tall figure with sword in hand. 'Funding from the Heritage Council allowed us to complete a digital survey using 3D laser imaging,' Castle Man ager Mico Hassett told the enthralled audience, 'and enabled us to bring the Swordsman out of the Dungeon and into the light, so to speak, where he is now on view as part of our exhibition.' Chairman of Enniscorthy Municipal Dis trict Council Aidan Browne officially opened the exhibition unveiling the iconic Swordsman saying, 'Enniscorthy Castle proudly presents this unique piece of graffiti heritage for all to see and enjoy.'
Above and below: Enniscorthy Castle Manag Municipal District Council Aidan Browne unveil print of the 1m tall figure with sword in hand, incised on the Cas
S la Ney a dS la Ney NewS 2nd September 2022
Lisa Byrne, Visual Arts Manager of The Presentation Arts Centre, spoke of the Enniscorthy Walls Project: 'Graffiti and Wall Art is all about communication and engagement and we are delighted to have the Enniscorthy Murals as part of this fantastic exhibition.' It seems as though our Castle and our town just keeps on giving, constantly providing us with hidden snippets of our past well done to Mico, Eve and Emmett on yet another excellent ex hibition at the Castle which will run until 31st October.
Page 24 -
The writing Enniscorthis
Words and pics by Maria Nolan Castle Manager Mico Hassett and fellow curator deputy manager, Eve Furlong.
Above: Lisa Byrne, Visual Arts Manager of The Presentation Centre, Enniscorthy, speaking at the launch.
er Mico Hassett and Chairman of Enniscorthy ling the exhibition centrepiece a full-sized 3D thought to be from the 16th century, which is tle's dungeon wall.
Below: Catherine McLoughlin, Heritage Officer, Wexford Co. Council, Cllr Barbara-Anne Murphy, Cllr Aidan Browne, Mico Hassett, Enniscorthy Castle Manager, Eve Furlong, Deputy Manager Enniscorthy Castle. See more on page 127.
S la Ney NewS 2nd September 2022 - Page 25
on the wall at hy Castle!
Right: Johnny Mythen TD, Catherine McLoughlin, Heritage Officer, Wexford Co. Council, Cllr Kathleen Codd-Nolan.

S la Ney a dS la Ney a dS Page 26 - 2nd September 2022 A SPOT HERE CAN BE YOURS FROM €20 HILLTOP DuffryCLEANERSDRYHill,Enniscorthy,053-9233893 EXCLUSIVE AGENTS FOR MARLOWE DRY CLEANERS WE HAVE A FULL LAUNDRY SERVICE Easytouse Rent CleanRugDoctortheyourown…   Carpets   Upholstery,   Rugs   Car Interiors Great Value! Clonhaston, Enniscorthy Contact Billy at (087) 2749493 Fresh Chicken  Whole Chickens  Fillets  Kievs Maryland  Mexican Wraps  Turkey Breast PARTY FOOD: Goujons, Wedges, Chips, Cocktail Sausages, Prawns in Filo Pastry, Chicken Drumsticks, Mini Spring Rolls BARBECUE: SteakBurgers, Chicken Kebabs, Sausages And many more items at wholesale prices ✔ Focus on Quality… ✔ Focus on Service… ✔ Focus on Value… FOOD FOCUS Traffic-stopping content...for your business! ★ SEO-optimised website content ★ Unique product descriptions ★ Expert article writing ★ Top quality blog content for your business Discover how Copywriting by Changing Lanes can help bring more traffic to your website and connect you with more customers for your products and services. Professional copywriting and editorial services based in Co. Wexford. Phone: 087-7946277. Email: caroline@changinglanes.ie 086ClaudiaContact:Blaess0752561 Facebook:www.enniscorthycounselling.ieinfo@enniscorthycounselling.ieEnniscorthyCounselling Appointments available: Monday, Tuesday, Thursday evenings, and all day Wednesdays and Saturdays. Offering phone, zoom and in-person sessions. Working with teenagers (from 13 years of age), adults and couples. This size ad can be yours for just €20+vat. Telephone Frank at 087-2403310 for more details. 087 0951019 ECCE SCHEME Naíonra; IrishLanguagePreschool Within:GaelscoilInisCórthaidh,Drumgoold,Enniscorthy. "CúplaFocail"! ECCE & NCS scheme Now taking enrolments for September 2022 Within:GaelscoilInisCórthaidh,Drumgoold,Enniscorthy.
S la Ney a dS 2nd September 2022 - Page 27 +VAT PER ISSUE. CALL 087-2403310. GUTTERS, FASCIA & SOFFIT Cleaned and086-3298522ContactRepairedJohn M emorial C ards available at C&R PRINT Templeshannon Quay, Enniscorthy Call us on 053 9235295 Call us for all your alteration needs No job is too big or small for our expert dressmakers Fabrics, Zips, Interface and Elastic available in store 54 Wafer Click085EnniscorthyStreetY21K0F2Tel:8581526heretofindusonFacebook ● Gates - Railings ● Welding & Repairs ● ● Mild Steel ● Stainless Fabrication ● ● General Engineering ● &ENNISCORTHYENGINEERINGFABRICATION Enniscorthy Engineering & Fabrication Rockview, Ballyorrill, Enniscorthy Phone Mick McGrath: 087 9392624 Email: mickmcgrathjnr@gmail.com ● New website: www.enniscorthyengineering.ie ● ENQUIRIES WELCOME

Caim N.S. – First Day at Caim National School first day for Juniors infants. Above left to right: Nicola and E Below left to right: Mate, Mia and Petra Bodo. Laura Carty had Idena to bring her to her first day in school. Gemma Bourke, Bessie Memdri,
S la Ney a dS la Ney NewS Page 28 - 2nd September 2022
School 30th August 2022
S la Ney NewS 2nd September 2022 - Page 29
Evan Dagg. Sarah and Killian Meuman. Jan Sllas and Motuer Sabina. Gavin Butler. Chloe Snell and Steven Bourke. Little Amilia Petrovic had her first day in Caim NS and she brought along a bunch of flowers for her teacher.

The national flag, the sacred Tricolour of green, white and orange, erected on top of the so-called "Patriot's Pole" in Enniscorthy six years ago, refuses to unfurl and flutter like other flags. It hasn't fluttered proudly or perma nently like other flags in County Wexford or Ireland since it was first hoisted on its steel flagpole or obelisk of about 16 metres high and one metre wide in 2016. It flutters for a while and then it flops dramatically as if whimsically de pending on the weather or the shifting moods of the people of Enniscorthy on the day.
S la Ney a dS la Ney NewS Page 30 - 2nd September 2022
One Scalder thought he saw it rise when he thought he heard Liam Spratt of South East Radio on the portable radio in his hand broadcast that Wexford had scored a point. Mark Tigh, in the Sunday Times, wrote about the flag a few weeks after it was installed. "It's a no-fly zone," he wrote.
The beautifully designed flagpole from which it hangs was built six years ago by Kent Stainless and hoisted into place by J.P.M. Murphy of Barmoney for the 100 years commemoration of the 1916 Ris Theing. big flag, "The Patriots' Flag" hang ing from the top of it, with dimensions of 5 metres by 3 metres, is said to be the largest flag in Ireland. However, it may be too big or too heavy or too long to fly.
County Wexford people carried the flag in a parade that day from the town of Enniscorthy to nearby Vinegar Hill. That same Tricolour of green, orange and white was flown above the GPO in Dublin during the 1916 Rising. Six years later, in 1922 (100 years ago), it was adopted to become the flag of the Irish Free State and ultimately the National Flag or banner.
refuses'PatriotFlagt
In the Freeman's Journal of March 10 1848, is written: "Vinegar Hill had its brow crowned by a brilliant illumination which was visible from Mount Leinster to St George's Channel and was hailed by tens of thousands of true men as an omen of hope. Our town was lighted by bonfires in the Market Square and other quarters and enlivened by the tem perance bands which played through the streets attended by an immense crowd at the head of whom was carried a tricol our flag, the colours green, orange and white, which was frequently saluted by loud and rapturous acclamation."
The Patriots' monument, or Patriots' Flag or "Patriots' Pole" as it's now called lo cally, beside the monument of Seamus Rafter of 1916, in Abbey Square, sym bolises Enniscorthy as the first town to fly the Tricolour on March 7, 1848, the same day that Thomas Meagher flew the flag in defiance in Waterford.
That's bothering everybody else, but not Enniscorthy people. When we asked in the town, they didn't seem to notice or care. Not even a good mutter out of them. They were indifferent to the thought that it was first flown in Ennis Thecorthy.flag is a replica of the tricolour flag flown by the leader of the Young Ire landers, Thomas Francis Meagher, in Waterford City, in defiance of the auth orities there in 1848. A group of French women had presented it to him in Paris in their hope that it would inspire unity between Orange and Green, Protestant and Catholic, the white section symbolis ing truce and togetherness. The Enniscorthy teacher and historian Micheál Tóibín (late father of Colm), wrote that the flag was brought from Paris in 1848 by a deputation sent to convey the greetings of the Irish Confed eration to the new French Republican Government after they overthrew the Hemonarchy.wrotein his wonderful book, Ennis corthy History and Heritage: "Sur mounted by an Irish pike, it was made of the richest French silk, which was most gorgeously trimmed and embroidered. The colours were orange, white and green."
It was noisy and uplifting. However, it caused not much more than a tremble in the new down-falling Patriot's Flag with its reaction of indifference to any sensa
Thomas Francis Meagher and William Smith O'Brien of the Young Irelanders and Irish Confederation presented the flag or Tricolour, to the people of Dublin on April 15, 1848. Whatever the relation ship between Waterford people and En niscorthy people at the time, the Tricolour was displayed in Enniscorthy on March 7 1848, a full six weeks before the presentation by Thomas Meagher and his colleague William Smith O'Brien to the people of Dublin.
Six years ago, there was a hush over the dignitaries and the general crowd in Abbey Square, Enniscorthy, as every eye of about 10,000 people on that sunny day there travelled into the blue sky to watch a fly-past by the Irish Air Corps for the 1916 Commemorations. First, there was complete silence as the event was heralded secretly as a surprise that would happen without notice at any mo ment. There was a hush throughout the crowd. Then came an airborne roar out of nowhere in the sky that transported every soul there heavenwards.
"Wexford County Council is 'monitoring'
Theretion. were only a few instances when the flag might have lifted its skirt like a young girl curtsying before the Queen.
On a wet day, the flag droops limply on the beautifully designed Patriots' pole like a handkerchief or tea towel hung out on a clothesline hoping to dry. A sad sight. Few people have ever seen it fly proudly. While other flags on the new En niscorthy bridge beside it, and even the flags in Oylegate down the road, fly stiffly in a light breeze, the flag flounders
He continued: "Locals say the national flag that was hoisted on a 16m-high steel structure in the town's Abbey Square last month has mainly hung limply ever since. Other flags in the town are flapping normally. Some believe that the structure is too wide and is blocking the wind, while others think the tricolour is too big or the location too sheltered."
According to a Government website: "The National Flag is normally displayed in the open only from sunrise to sunset, except on the occasion of public meet ings, processions or funerals, when it may be displayed for the duration of such function. However, the National Flag may be flown by night as well as by day as long as it is properly illuminated at all times, preferably by spotlight."
A Wexford man said a machine should be installed at the top of the pole like the one used by the Council and hotel iers to blow away leaves in Autumn. It would blow wind underneath the flag to keep it fluttering.
The National Flag or Tricolour in Ennis corthy should be respected and instead of being left there drooping or flopping in a relatively windless Abbey Square, it should be unfurling and flying proudly and continuously in the breeze.
g
ts'onPole'toflutter
For raising of the flag, it might be lifted or lowered by remote control even using a mobile phone. For lowering it to halfmast for the deaths of dignitaries, or for national mourning, it's best left to the Solutionsimagination.suggested to the problem of the flopping flag are varied. One said, do a new flag of lighter material. However, whatever way currents of air move in En niscorthy, even with lighter material, the flag refuses to tremble even on a very windy day as it's shielded by the width of the pole and by the fact that Abbey Square is mostly a sheltered valley in the Yet,town.sometimes, like a Wexford hurling or football team, it can surprise you as it suddenly lifts skyward and unfurls and flutters wildly for a few minutes before it flops and collapses limply beside the pole. You would be cheering "Hoor" as it rises and before you'd get to "-ay", it would have collapsed again.
The town now looks set to convert itself from one of the poorest towns in the country to becoming modestly rich in the near future. Not one person that we have met, has seen the flag either raised or lowered. Contrary to some opinions, the flag can be left hanging permanently as long as there's a spotlight on it at night.
Now that Wexford County Councillors propose major developments for Ennis corthy town, it's an opportunity to fix it. They might extend the Patriot's pole as high as the Athenaeum or Enniscorthy Castle to catch the wind. Or they might install a wind-operated hoist or engine to lift it. Or they might take it down, leaving the beautifully designed pole on its own as an obelisk, a symbol, just as they have in Egypt and in Washington symbolising or commemorating dead kings and gods. They might instead fly the flag from the roof of the Athenaeum which was the headquarters of the 1916 Rising in Wex ford. That would leave only the 100 feet high steel pole standing motionless but, unlike the flag, proudly erect. Or, they might take the flag off the pole and erect it beside the windmill on Vinegar Hill, just as Enniscorthy people are said to have done in 1848 and for the Easter Rising of 1916, 100 years ago.
Councillors and county officials have been scratching their heads since the Pa triot's Pole was erected amidst huge commotion in the town in a night-time operation.
Thankfully, the planners arranged that there be spotlights at its base.
An Enniscorthy native wrote on Boards.ie that the Patriot's Pole "is hid eous". A national celebrity whose opinion we sought said: "That pole must go." A scientist from Johnstown Castle: "If they could fly a flag on the moon, when we landed there in the 60s, why can't they fly it in Enniscorthy?" An En niscorthy Garda said: "It's far better than the feature that was there before it, known as 'bird on the wire'. Another said that instead of a flag, there should be a hologram image of the flag projected onto the flagpole. A supermarket owner said: "Give the flag a course of Viagra. That should lift it."
S la Ney NewS 2nd September 2022 - Page 31 a new €54,000 flag pole in Enniscorthy because its tricolour, first raised on Easter Monday, has failed to fly.
Itlimply.may symbolise Enniscorthy's effort to cope with its past and at the same time try to lift itself up from being one of the poorest towns in Ireland with low dispos able income and lots of other negatives.
Michael Freeman

Lady's Island pilgrimage –
Above left: The Bishop of Ferns discusses hymns with Olga Thompson, Musical Director.
Fr Michael Hore and Sr Julia Doran back from the Missions in Nigeria. The opening day of Our Lady's Island pilgrimage Liz Griffin, Danny and Mary Doyle.
The opening day of Our Lady's Island Aisling, Casidy and Amber Rose Fr Jim Cogley adressing the crowd on opening day of the pilgrimage.
Above right: Patricia Murphy and Helen Pierce.
la Ney
S a dS la Ney SNapS
The Opening Day of Our Lady's Island Pilgrimage, Monday, 15th August. The Bishop of Ferns Ger Nash with local Communion girls from left to right Katie Parle, Carla Cooney, Bishop Ger Nash, Ruby Corish and Ciara Davis.
Page 32 - 2nd September 2022
Coming to the pilgrimage all their lives, and delighted to be there again, Derek Bray, Deirdre Hayes and Joe Hayes. Local singer Paddy Scallan adds his voice to the Hymns on the opening day of the Pilgrimage.
Finola and Pat Whelan.
S la Ney SNapS
Opening Day 15th August 2022
The opening day of Our Lady's Island pilgrimage: Breda and John Foley, Nancy Byrne and Naureen Deloughby.
Above: Two very well known people for different reasons Danny Doyle and Babs Keating.
2nd September 2022 - Page 33 –
pilgrimage,Reilly.
Willie Furlong and Fr Jim Cogley.
Left: Gathering for the the opening day of the pilgrimage.

Both Sally and Celine are studying for a Higher Certificate in Arts in Community Education and Development in the School of Adult & Continuing Education.
event with Bunclody Traveller Women's Group showed the women and children who took part that SETU is a welcoming, accepting and thriving edu cation setting, where the doors are open wide for Travellers. It is very important for all education settings, including third level, to reach out and let minority groups know that they have a right to access to education.
SETU supporting Traveller Women's project
Above: South East Technological University (SETU) Access Office with Bunclody Traveller Women's Group outside the Tourism and Leisure Building on SETU's Waterford campus. Photo by George Goulding.
Right: The Holy Well at Ballinacoola situated between Kilmyshall and Ballindaggin. Pic: Michael Fortune (www.folklore.ie).
Bunclody Traveller Women's Group along with WWETB staff visited South East Technological University (SETU) Waterford to tour the campus and de liver an update on The Holy Well Pro ject. The project, supported by SETU Access Office, involved Traveller women in a community education project, incorpor ating literacy skills and group devel opment.Funding provided through SETU's Dor mant Accounts Fund enabled the group to carry out a research and restoration project on a Holy Well in Ballinacoola, be tween Kilmyshall and Ballindaggin. Over several months, they documented and created a booklet based on the Holy Well highlighting its importance to Traveller culture within the local community. The project was facilitated and delivered by current SETU students Sally Murphy and Celine Cash who gave an update to those in attendance and offered a special thanks to SETU Access Office for ongoing supports.
Speaking at the event, Traveller Educa tion Worker Paul Bennett thanked the group for their fantastic input and on going work on the project. He noted the importance of community projects and such visits to build relationships with SETU and to ensure that access to education is equal and equitable for SETU'sall.
When asked about the event, adult edu cator with WWETB, Anne McDonnell, said; "In our daily lives, we walk or drive by buildings every day. We might wonder about what is happening inside those buildings, or we might think cer tain buildings are not a place for us. This can happen with places of education, sometimes we might think 'that place is not for me'. Not true! Places of educa tion are for everyone. But sometimes, there needs to be a day or event that welcomes everyone in that shows people 'yes, this place is for everyone, this place is for you!'"
Paul went on to thank those who helped create an enjoyable event for all, includ ing WWETB, Novus catering staff, SLL graduate ambassadors and Access Of fice staff. Dr Rebekah Brennan (UCC) who was representing the SOAR Project was also thanked for her contribution to the day's events.
S la Ney a dS la Ney NewS Page 34 - 2nd September 2022
The Holy Well Historical Project cul minated with a celebration and mass de livered by Bishop Ger Nash in Ballincoola on 14 August. n
"I welcome you and wish you every blessing for a long and fruitful ministry here in Wexford for many years to come," he said. He also acknowledged the work, service and friendship of Norman's predecessor, Canon Arthur Minion, and saluted the dedicated ministry of the Reverend Conor O'Reilly, curate, who was particu larly busy during the vacancy.
"Congratulations on being appointed to this place where you will find friendly and welcoming people. I hope it is a most en joyable stage in your ministry," he said.
S la Ney NewS 2nd September 2022 - Page 35 NEW RECTOR OF
Norman was also welcomed by The Rev erend Katherine Kehoe of the Methodist "IChurch.amdelighted to be here this evening to greet you and welcome you and your family to the sunny south-east," she said. "My prayer for you this evening as you set out on a new adventure and journey with God is that the light of hope will fill your heart with peace and love."
Mr McCausland succeeds Canon Arthur Minion who is now Rector of Birr Union of Parishes in County Offaly. The new rector is from Omagh originally and has ministered in many places. Prior to this appointment he was rector of the parish of Raheny and Coolock in the Dio cese of Dublin and Glendalough for nine Ordainedyears. in 1989, Norman has a rich var iety of pastoral and parochial experience and has served on the staff of the Church of Ireland Theological College. He is also known for his interests and qualifications in music, theatre and com munications. He is married to Tara and has three sons Cian 23, Tom 21, and Conor 12.
Pointing out that people, clergy and par ishioners are tired after the difficulties of the pandemic and the human cost of the war in Ukraine and other strife around the world, she also said that it is time to look to the future and to using every one's skills in a parish to develop its min istry, particularly as there are now 'many more boxes to be ticked and forms to be filled' in order to comply with State rules and regulations. "Clergy can't do it all," she said.
He also pointed out the many attractions of Wexford for a person interested in the arts listing the many drama, music and cultural organisations in the area.
"It is an exciting and daunting time for ministry as we try to work out how it is that we go forward," she said.
INSTITUTEDKILSCORANWEXFORDAND
Chair of Wexford County Council, George Lawlor, welcomed him on behalf of the people of Wexford town and county.
The preacher at the service was The Rev erend Canon Gillian Wharton, rector of Mount Merrion parish in Dublin. She welcomed the new rector and his family to Wexford and wished Mr McCausland well in this new chapter of his life.
"I look forward to getting to know you all, to time together when we will meet the challenge of being a Christian in the world today, in a post-Covid era that has taken its toll on our numbers, our congrega tions, on our mental health, in so many different ways," he said.
Theadded.organist at the service was Dr Jeffrey Cox and he was accompanied by trum peter Anthony Nolan. n
'I'm about building and rebuilding community and communities of faith.'
Fr Billy Swan of Wexford parish wel comed Norman on behalf of the Roman Catholic Church and looked forward to continuing the strong ecumenical rela tionship that has been established by clergy of all faith traditions in Wexford.
Completing the greetings, parishioner Anna Skrine also welcomed the newly-in stituted rector to the Union of Parishes that includes nine churches – St Iberius, Wexford, Ardcolm (Castlebridge), St Munn's, Taghmon, St James's, Horetown, Killurin Church, St Enoch's, Killinick, St David's, Mulrankin, St Paul's, Balloughton and St Peter's, Kilscoran. "We hope you will be very happy here," she said.
"I'm about building and rebuilding and the challenge for all of us is to rebuild community and communities of faith," he
The Reverend Norman McCausland was instituted as incumbent of the Church of Ireland's Wexford and Kilscoran Union of Parishes at a special service in St Iberius Church, Wexford, on August 12th 2022. He was instituted by The Venerable Ruth Elmes who is the Archbishop's Commis sary until the consecration of the Dio cese of Cashel, Ferns & Ossory's new Bishop, Adrian Wilkinson, in October.
The Reverend Norman McCausland (centre) with Mayor of Wexford Maura Bell and Cathaoirleach of Wexford County Council George Lawlor.
In reply, the new rector thanked everyone for the warm parish, civic and ecumenical welcome he had received and thanked all those who had organised the service.

Teachta Mythen said: "Today's Daft.ie rent report is deeply troubling. According to the report, rents in Co. Wexford have soared to €1,120. This is an in crease of 14.7% since last year.
"It is clear that Housing Minister Darragh O'Brien and the Gov ernment have lost control of the housing market. After two years in office and almost a year into his housing plan, Darragh O'Brien is presiding over record highs in rents, house prices and home lessness. Meanwhile, social and affordable housing is well behind target and the private rental sector is shrinking. This out-of-touch Government simply don't get how serious this crisis is.
Sinn Féin TD for Co. Wexford Johnny Mythen has warned that the Government has 'lost control of the housing market', as new figures show that rents in Co. Wexford have soared to €1,120. His comments were made after the latest Daft.ie rent report recorded alarming rises in rents across the state, including in Co. Wexford. Across the state, the report records the highest rents to date and the lowest number of rental properties on the market since their records began.
For more information on the "Love Your Lungs" campaign, and the steps you can take, visit www.lunghealth.ie Yours sincerely Dr Marcus Butler Consultant Respiratory Physician
"Workers and families on ordinary incomes here cannot afford to fork out these huge sums for rent every month, when they are al ready struggling with a cost of living crisis that is seeing their bills soar. Every day, people are contacting me looking for help with this crisis, including young families stuck in cramped flats that they're paying through the nose for, and young people living at home with their families while they anxiously watch house prices creep further and further out of their reach.
The key is to take frequent breaks during exercise to catch your breath, then go again. Talk to your GP, nurse or physiotherapist about what level of activity is right for you. Buddy up with a friend – there's strength, and motivation, in numbers.
Dear Editor...
MythenJohnnyTD
Thirdly, avoid poor-quality air. Whether its fumes from traffic, smoking, heating or cleaning materials, or airborne allergens from pets, plants, dust mites and dampness/mould, you can do something about it. Why not think of car-sharing, using protection measures when cleaning, ban ning pets from your bedroom, and having good ventilation in indoor spaces if risky fumes and dusts could be present?
Fourthly, you are what you eat. A diet rich in fruit, vegetables, whole grains, nuts and fish, alongside foods with low-salt, low-fat dairy and healthy polyunsaturated and monounsaturated fats, will reduce the pros pect of ill-health including lung disease.
S la Ney a dS la Ney NewS Page 36 - 2nd September 2022
Finally, shake those hips. Regular physical exercise reduces the risk of chronic conditions. Of course, lung disease makes people breathless much more quickly, but tolerable or mildly uncomfortable breathlessness is really healthy for even badly-diseased lungs. It improves outcomes, in cluding heart outcomes, in people compared with those leading more sedentary lifestyles.
We know from most recent statistics from the Central Statistics Office that the deaths of approximately a quarter of the 33,000 people who died last year were due to lung-related disease. But the good news is that there are steps that each of us can take to minimise our risk of lung problems in the future.
Secondly, try to quit smoking. It's far from easy but smokers can double their chances of success by making a quit plan and reaching out to your local smoking cessation clinic or calling the HSE Quit team on Free phone 1800 201 203. Prescription medication and over-the-counter nic otine replacements can further boost success rates in quitting for good.
Irish Lung Health Alliance 51 Bracken Road Sandyford Business Park Dublin 18
"Rents were already far too high and too many people here in Co. Wexford are trapped by the housing crisis and locked out of owning their own home. This is a very worrying crisis and people cannot afford to continue paying these spiralling costs.
Ahead of World Lung Day on Sunday September 25, I'm writing on be half of a coalition of Irish lung health charities to let readers of the Sla ney News know about five things that they can do to "Love Your Lungs".
Firstly, get vaccinated. There are a range of vaccines/boosters to protect against lung disease. These include the 'flu vaccine, the pneumonia vac cine and the COVID-19 vaccine.
Rents continue to soar in Co. Wexford
"Budget 2023 next month is the Minister's last chance to make the level of change required to fix our deepening housing crisis. We need a dramatic increase in funding to deliver 20,000 social and affordable homes every year for the next decade. We need emergency action to reduce homelessness and slow down the disorderly exit of landlords from the private rental sector.
"The Government's failure to fix the housing crisis is devastating the lives of renters in Co. Wexford who are forced to pay the price for their inaction. Sinn Féin in government would tackle the housing crisis." n
The LIS was reintroduced in September 2017 and over €80 million has been provided for works delivering improvements on over 3,000 roads which in turn benefitted over 13,000 local residents and landowners. The additional funding announced this year will bring that total to over €100 million. n
On 8th August 2022 it was announced that additional Local Improvement Scheme funding of €350,000 had been allocated for Co. Wexford for the upgrade of rural laneways and nonpublic roads improving access to homes, farms and outdoor amenities. The news was warmly welcomed by Minister James Browne, Deputy Paul Kehoe and Senator Malcolm Byrne as it brings the county's total allocation up to €781,027. Prior to the announcement, Wexford County Council was asked to consult with local residents and landowners and identify road and laneway projects where works could start immediately and be completed this year. Confirming the funding increase, Minister Browne explained how "the Local Improvement Scheme gives County Wexford communities the opportunity to secure funding to improve the condition of rural laneways. The scheme is a great benefit to rural families and farmers and my government colleagues and I are delighted to increase the investment."
S la Ney NewS 2nd September 2022 - Page 37
NEW RECTOR OF WEXFORD AND KILSCORAN INSTITUTED
The funding provided by the Department of Rural and Commu nity Development will be complemented by a local financial con tribution from landowners/householders. There is a ceiling of €1,200 on the amount that any individual householder or land owner will be asked to contribute towards the cost. In welcoming the news, Senator Malcolm Byrne said, "The gov ernment announcement is incredibly positive news for many rural dwellers in Wexford who are looking to have their roads re surfaced or upgraded. With a doubling of the allocation for the Local Improvement Scheme to €781,000, a lot more work will be done over the next year. Residents who would like to see their lanes / roads improved should apply in the first instance to Wex ford County Council. I'll be happy to assist anyone who wishes to Alsoapply."welcoming the news, Deputy Kehoe said: "Fine Gael is working to build stronger, safer communities and we want to see more people living, working and raising a family in our rural communities through out the country. We will continue to fight for rural homeowners in Wexford and make the case for further increases in funding."
Funding boost for rural laneways

S la Ney a dS la Ney SNapS Page 38
leavingfor7thRubgyEnniscoCluboAugust20theirnightinTullamor Roisin Scallan and Fionn Walsh. Fio Enniscorthy CBS Grad Right: David Hennebry and Aoibhin Cr Far right: Aoibhin Crean, Amy Murphy, Lucy Keho and Charlie Byrne. Darragh Kehoe andKearns.Michelle Nicky Dempsey and Doyle.Annelies
Orlagh Doyle, Cillian Doyle, Guevara Hughes and Sharon Doyle. - 2nd September 2022
Above: Blanaid O'Leary and Tommy McVeigh. Above right: Jessica Wickham and Cian Murphy. Right: Billy Redmond and Caitlin Larkin.
Left: Tara Somers and James Doyle. Above: Lucy Owens, Kasey Owens and Conor Kelly.
ret022orthyonout onn Doyle and Anna Jevins. d Ball rean.oe,Aoife Codd Joe Doyle and Leah Byrne. John Lyndon and Saoirse Bates. Jude Greene and Ava Walsh. Bartosz Urban and Cayleigh O'Brien.
S la Ney SNapS 2nd September 2022 - Page 39

Cathal Byrne, the Councillor from that area, welcomed the an nouncement last month of €6,600 government funding for the Bree walking trails under the once-off Community Trail Man agement Grant Scheme. "Along with local TD Paul Kehoe, I have supported this project since I was first elected in May 2019 and am delighted to see that this funding has come through which will allow further maintenance works to be carried out to our fantastic local walking trails in Bree in 2022."
WELCOME
FUNDING FOR BREE WALKS
Bree Hill near Enniscorthy is a wonderful amenity with 3 beautiful walk options available – Ballybrittas Walk (red route) 4.6km, Beech Walk (blue route) 10.2km, and Wilton Walk (green route) 8.2km.
"This funding sees €1,000 allocated towards the Bree Trails Ballybrittas Walk, €2,800 to the Bree Trails Beech Walk and a further €2,800 allocated to the Bree Trails Wilton Walk. A full map of the different walking routes is available online at the Wexford Walking Trails website."
S la Ney a dS la Ney NewS Page 40 - 2nd September 2022
Funding for Co. Wexford Trails
"I want to pay tribute to the voluntary committee of Bree Community Development Group for their work with this pro ject and thank the officials in Wexford County Council who
Wexford TD and Minister of State for Law Reform James Browne TD has welcomed funding to support County Wex ford walking trails. Up to 64 County Wexford walking trails may benefit from €122,400 in funding which is is being provided as part of Our Rural Future, the government's policy for rural development. Outlining the funding announcement, Minister Browne noted how "under the initiative, grants of €1,000 - €3,000 will be provided to community groups responsible for managing Sport Ireland registered trails across County Wexford. The groups to receive the funding are known as Community Trail Management Organisations. The groups will be able to use the grant to maintain and improve their local trail and promote its use to visitors. "This new funding scheme is all about keeping these trails in top condition and supporting their use by both County Wex ford residents and holiday-makers. 100% grant funding is being provided. There are 3 levels of grant funding available based on the length of the registered trail. Grant funding of €1,000 is available for trails less than 5km, €2,800 for trails be tween 5km and under 20km and €3,000 for trails over 20km. The grant funding may be used towards to the cost of pur chasing equipment, small scale maintenance and/or market ing/promotion of the registered trail. Own labour costs will not be eligible under the Scheme," Minister Browne commented. An application form will issue to all eligible Community Trail Management Organisations via Sport Ireland. Any trail which is not on the list but is a registered Sport Ireland trail can contact communitytrails@pobal.ie to seek clarification. Senator Malcolm Byrne has also welcomed the funding boost for the county's walking trails. "These are wonderful walking routes that are much appreciated. I make use of many of them myself and know they are great for physical and mental health." Malcolm praised the work of various community de velopment groups who maintain these trails and where these small grants will be put to good use. "We are second only to the much larger county of Cork for the number of trails we have. Walking in Wexford is Wonderful!" The full list of trails in line for this new funding stream can be found on ganisations/once-off-grant-scheme-for-community-trail-management-orhttps://www.gov.ie/en/collection/e0199-list-ofn bought into this project from the beginning. The pandemic showed us the importance of having accessible walking trails and this funding will allow us to add a further attraction for lo cals living in the Bree area and also to tourists visiting Bree "InHill."the meantime, I am delighted that the Minister has allo cated this funding and look forward to the works commencing later this year," concluded Councillor Byrne. n
"I hope that the Enniscorthy Riverside Trail can ultimately progress out as far as Edermine Bridge and create a looped walk incorporating the Borodale Woods.
"The ORIS scheme will be key to enhancing our outdoor amen ities such as our walkways, cycleways, rivers, lakes and beaches. It will also provide a major boost to local economies by attract ing visitors and furthering Ireland's reputation as a destination for adventure tourism... I will continue to work to ensure that Wexford County Council and community projects benefit from Government support," Minister Browne concluded. n
"In the meantime, I am delighted that the Minister has allocated this funding and look forward to the works commenc ing later this year," said Councillor Byrne.
THE CO. WEXFORD PROJECTS TO BENEFIT: n €49,500: Extension to the Enniscorthy Riverside Walk. ■ €30,000: Upgrading the River Slaney banks trail and re routing link to Blackstoops Road. n €26,500: Relocation of a section of the Forge Trail, Car rickbyrne Hill, to improve safety. n €30,000: Resurfacing of the Oldbawn Carpark, Cahore Point. n €20,250: Upgrading trails in Curragh, Kilaneran, New town and Annagh. n €30,000: Installing a range of seating types on the easy graded trails through Wexford. Deputy Kehoe said: "This funding will develop 200 outdoor adventure projects across rural Ireland and will attract visi tors to mountain trails, forest walks, rivers, lakes and beaches. It will also provide a major boost to local econ omies by attracting visitors and furthering our reputation in Wexford as a destination for adventure tourism."
Enniscorthy is main beneficiary of new recreation funding €186,000 has been awarded for outdoor amenities in Co. Wexford in a major funding boost that will enhance recreation tourism. Deputy Paul Kehoe welcomed the news last month from Minister for Rural and Community Development, Heather Humphreys. The funding falls under the Outdoor Recreation Infrastructure Scheme (ORIS), and will be key to enhancing our outdoor amenities such as our walkways, cycleways, rivers, lakes, and beaches. The river walk in Enniscorthy in both directions heading out past the Riverside Park Hotel and heading out to Black stoops, will benefit from almost €80,000 in total funding.
Deputy Kehoe continued, "Outdoor activities in Wexford play a key role in communities and we have seen this throughout the recent pandemic. Recreation tourism is growing internationally and has the potential to have major economic spin-off benefits for our rural towns and villages. "Funding for larger scale projects under Measures 2 and 3 of the scheme will be announced by Minister Humphreys in the coming weeks." Cllr. Cathal Byrne has also welcomed the new funding: "Along with local public representatives, I have being push ing this project for the past three years and am delighted to see that this funding has came through which will allow the project to progress to phase 2 following the announcement of €200,000 in funding in 2021. This specific funding will allow Wexford County Council to also improve the trail at the Blackstoops end of the town."
Minister James Browne TD also expressed his delight that "County Wexford projects will benefit from government funding. The scenic Enniscorthy Riverside Promenade Walk will receive funding to assist the pathway's expansion... I am particularly pleased to see that €30,000 will go towards the upgrading of Enniscorthy's River Slaney Banks trail and rerouting with a link to Blackstoops Road.
S la Ney NewS 2nd September 2022 - Page 41
"I want to thank the officials in the Council who bought into this project from the beginning. The pandemic showed us the importance of having accessible walking trails and this fund ing will allow us to add a further attraction to tourists visiting the town and local people living in the Enniscorthy area."

S la Ney a dS la Ney NewS Page 42 - 2nd September 2022
Wexford TD and Minister of State with responsibility for Youth Justice James Browne paid a visit to Slaney Youth Diversion Project (YDP) in En niscorthy last month. Minister Browne met with the Slaney YDP team to discuss the current re cruitment phase to create two dedi cated Project Worker positions, which will extend the Slaney YDP area to in clude Gorey and Courtown. Earlier this year, Minister Browne confirmed the Department of Justice allocation of €92,990 to support this expansion. Speaking following his visit, Minister Browne commended the "fantastic work being done on the ground by Slaney YDP based in Enniscorthy FDYS. Slaney YDP actively engages with vulnerable young people through a range of supports including educa tion, training and employment sup port, social enterprise initiatives, and personal development supports. It was wonderful to learn about the experi ences of Slaney YDP and their commit ment to working in the community.
Minister Browne pays visit to YDPSlaney
"Slaney YDP works with young people and their families to help them to make positive changes in their lives. My Department's funding will expand Slaney YDP's area to include Gorey and Courtown. This funding decision will help to achieve the aim of my De partmental colleagues and I as we seek to ensure that YDP services are accessible to children nationwide who would benefit from the service within the next two years", Minister Browne concluded. n Pictured above are Kieran Donohoe (FDYS CEO), Pilar Loring (Enniscorthy FDYS), Minister James Browne, Hayley Rochford (Slaney YDP), Terry O'Neill (Slaney YDP).
Enniscorthjy
our
2023!
you"
S la Ney NewS 2nd September 2022 - Page 43 Enniscorthysays:ABigThankYou!
Above: Some of the team behind the successful Enniscorthy Rockin' Food & Fruit Festival 2022.
last month. Roll
Top: Some of the Rock 'n' Roll team behind the successful festival. says a big "thank to all these people for organising such a successful festival for town on

Above right: At Killegney Early Years, Clonroche, proprietor Orlagh Doyle with two new pupils.
Above left: First day at pre-school in Carraig Briste for for James Murphy, who had the company of his
S la Ney a dS la Ney SNapS Page 44 -
Below left: Ned Morrissey in Carraig Briste. Below right: All set for his first day at Killegney was Finn Cahill greeted by Joan Doran.
Above left: Harry Keane and Seamie Ryan at Carraig Br McKiernan in Killegney. Below left: Playing with col Below right: A stroll in the yard in Killegney for Zoe
Top right: First day at pre-school in Killegney Early Years, Clonroche, Fiadh Moloney takes to the hammock.
First day at p Carraig Briste
Early Years 29t
Above left: At Carraig Briste Early Years were Maria Csipak with Oscar Cullen.
"I'm going to be a musician when I get older" says Pippa Doyle.
Top left: First day at pre-school in Carraig Briste Early Years, Davidstown, on 29th August 2022.
2nd September 2022
Above right: First day in Carraig Briste for Toby Kelly as he plays with the toys. Below left: Young Jack Cooney gets dropped off on his first day at Carraig Briste with Carol Boland and his sister Ellie Cooney.
pre-school in and Killegney
- Page 45
Above left: Proprietor Orlagh Doyle in Killegney Early Years, Clonroche, with young builder Alex McDonald and Sonny McKiernan taking it all in.
S la Ney SNapS 2022
2nd September
Below right: At Killegney Early Years, Sam Dunne is greeted by teacher Joan Doran.
th August 2022
Obhran Cullen. Above right: First day in Carraig Briste s sister Emma, greeted by owner Orlagh Doyle. riste. Above right: Proprietor Orlagh Doyle with Sonny loured stones in Carraig Briste was Lucy Crampton. Ryan and Finn Cahill who were taking things easy.
Top right: At Carraig Briste was Paidí and his mam Catherine Barron as he got dropped off on his first day.
Top left: First day at pre-school in Carraig Briste Early Years, Davidstown, for Noah Bolger.

Townlands: Crossabeg, Ballynale, Poplar, Farmhill or Barratober, Crory Middle, Crory Upper, Castlesow, Lacken, Millands, Bleachlands, Monavoddagh, Rahale, Coolamain, Coolakip, Garryvarren, Ballysilla, Clonnasheeoge, Ballylucas, Turkyle, Killelan, Coole, Mullanagower and Kilcorral.
S la Ney a d Page 46 - 2nd September 2022 Comhairle Contae Loch Garman 053 919 customerservice@wexfordcoco.iewww.wexfordcoco.ie6000Carricklawn, Wexford Y35 WY93 Street Lights Broken? Report on www.deadsureapp.com
Road Closures: Common Quay Street (L7509-1) to its junction with Corn Market, North Main Street (L3500-4/5) from its junction with Corn Market to its junction with Anne Street and Anne Street (L7513-1).
Road Closure: Road Nos.: L7009-3 / L7009-4 / L6044-1/ L2043-2 / L20431-1 / L6043-1/ L6040-1 / L2042-2 / L2042-3 / L7007-6.
Sunday 11 September 2022 Stage numbers: 12-15-18. Stage name: Ballymurn. Road Closure Times: 09.40 to 19.19.
Townlands: Tintern, Garrycullen, Saint Kierans, Saltmills, Ballygarrett, Gorteens, Stonehouse, Dungulph, Winningtown, Battlestown and Kilbride.
Alternative Route: Taulaght to Ballyhackbeg to Haggard to Booley to Fethard via L8107, L8108, R733, R737, L4046, L4047 and the L4048.
Section 75 of Roads Act 1993
Alternative Routes: Travelling North Bound on Quay: Common Quay Street to Commercial Quay to Redmond Square to Selskar Street to George Street Lower to Abbey Street to Cornmarket via the R730, L3500, L7505, L7525 and the L7531. Travelling South Bound on the Quay: King Street to Saint Joseph Street to Roches Road to School Street to Rowe Street to Church Lane via the R733, R889, L7534, L7511 and the L7510.
Alternative Route: Crossabeg to Oilgate to Glenbrien to Ballyfarnoge to Castlebridge to Crossabeg via the L3005-1, N11, L6047, L6051, L2040, R741 and the L3005. Alternative routes will be signposted. Please note that it may be possible by prior arrangement with the Wexford Motor Club to facilitate some local access at certain times.
Alternative Route: Aclamon (Five Cross Roads) to Dunmain to Balliniry to Ramsgrange to Curraghmore to Campile to Horeswood to Slaght to The Five Cross Roads via the R734, R733, L4044, L4034, L4035, L4027 and the R734
Road Closures: L4049-3 at Ramstown, Fethard from its junction with the L8119-1 Carnivan Road to its junction with the L8117-1 Lambstown Road.
Planning app. lists available www.wexfordcoco.ie/planningat
Road Closures: Road Nos.: L4042-2 / L40422-1 / L40401-1/ L4040-3 / L4040-2 / L8090-1 / L8090-2 / L8093-3 / L8091-1 / L7031-3 / L8087-1 / L80831-2 / L8083-2 / L8084-1 / 8084-2 / L8084-3. Townlands: Coolroe, Ballycullane, Kinnagh, Ballinruane, Taylorstown, Loughnageer, Ballybrack, Tinnerath, Bryanstown, Ballyliamgow, Coolboy and Newbawn.
Alternative Route: Duraghty Cross Roads to Balliniry to Dunmain to Newbawn to Clongeen to Ballylannan to Curraghmore via the L8103, R734, R735, R736, L3037, R733 and the L4042.
Saturday 10 September 2022 Stage numbers: 3-6-9. Stage name: J.F.K Park. Road Closure Times: 10.07 to 18:55. Road Closures: Road Nos.: L8132-1 / L8133-2 / L4037-2 / L8127-1 / L4036-2 / L8079-1 / L4031-5 / L8075-1 / L8075-2.
Saturday 10 September 2022 Stage numbers: 2-5-8. Stage name: Tintern Abbey. Road Closure Times: 09.36 to 18.31 Road Closures: Road Nos.: L8107-7 / L8107-6 / L8106-2 / L4043-4 / L8110-2 / L40431-1 / L4043-7 / L4043-6 / R734-15 / R734-14 / L8102-4 / L8099-4 / L8099-5 / L8099-6 / L8099-7.
Notice is hereby given that Wexford County Council has decided to close the roads listed hereunder to vehicular traffic during the time window of Tuesday 13 September to Monday 10 October 2022, to facilitate the installation of underground ducts as part of the Greenlink Interconnector Project.
Notice is hereby given that Wexford County Council has decided to close the following roads on Friday 9 September, Saturday 10 September and Sunday 11 September 2022 to public traffic to facilitate the holding of the Wexford Volkswagen Stages Motor Car Rally. Friday 9 September 2022 Ceremonial start to Wexford Volkswagen Stages Motor Car Rally at Common Quay Street and North Main Street, Wexford town.
Townlands: Bolaboy Beg, Garrymore, Coourtclough Upper, Ballybregah, Ballytarsna, Glebe, Meelnagh, Ballingown, Toberlomina, Garraun, Ballyvoodrane, Ballyvoodock, Garryvadden, Ballynellard, Monanarrig and Killeagh.
Townlands: Curraghmore, Monachee, Coole, Drillistown, Killesk, Knockea, Garryduff and Aclamon.
Alternative Route: Killabeg to Scarawalsh to Ferns to The Harrow to Crane via the L2020, R772, L1023, L1036, L2021 and the L2020.
Alternative routes will be signposted. Local access will be facilitated.
Temporary Closing of Roads
Times: 18.00 to 21.30.
Outside office hours call: 053 919 6000 Register on www.mapalerter.com for free text and email alerts about service disruptions in your locality
Saturday 10 September 2022 Stage numbers: 1-4-7. Stage name: Ballycullane. Road Closure Times: 09.06 to 18:00.
Alternative Route: Bolaboy Beg Cross Roads to Ballinvack to Kilmuckridge to Blackwater to Castlellis to Bolaboy Beg Cross roads via the R741, L5125, L1033, R742, R744 and the R741.
Alternative Route: From Ramstown to Fethard to Ralph to Lambstown via the L4049, R734 and the L8117.
Temporary Closing of Roads
Sunday 11 September 2022 Stage numbers: 10-13-16. Stage name: Ferns. Road Closure Times: 08.22 to 17.59 Road Closure: Road Nos.: L6068-2 / L6068-1 / L6069-1 / L2011-1 / L6071-1 / L6070-1 / L2011-2 / L6065-1. Townlands: Killabeg, Clone, Effernoge, Tomsallagh, and Crane.
Section 75 of Roads Act 1993
Sunday 11 September 2022 Stage numbers: 11-14-17. Stage name: Blackwater. Road Closure Times: 09.01 to 18.40 Road Closure: Road Nos.: L60102-1 / L6010-1 / L2026-2/ L20261-1 / L20261-3 / L2027-2 / L20271-1 / L20271-2 / L6008-2 / L6009-1.
Community Employment Scheme
Qualifications, application forms and further particulars for this post are available from our website at www.wexfordcoco.ie
Phone: (053) 9196000 or at www.wexfordcoco.ie
Section 75 of Roads Act 1993
The employment is part-time. However, a firefighter is paid an Annual Retainer to be available for calls at all times. In addition a firefighter is paid an hourly rate for attendance at calls and weekly training. Further information and application forms are available from, Customer Services, Block F, Wexford County Council, Carricklawn, Wexford.
Environmental Worker 4 positions New Ross Community Bus Driver with D Class Licence 1 position New Ross
New Ross Fire Station: 18:30 – 20:30 Tuesday 20th September, 2022
Environmental Worker 4 positions Duncannon Environmental Worker Castlebridge Library HQ / Archives, Carricklawn
Wexford County Council has vacancies in the following areas of our Community Employment Scheme: Duties to include: Environmental Worker General maintenance, cleaning, planting and weeding etc.
Applicants must be at least 18 years of age and not more than 55 years of age on the latest date for receipt of completed application forms. Candidates must reside and work within a reasonable distance of the fire station to enable him/her to respond promptly to all calls. Positions are open to both male and female applicants. Panels may be formed from which future vacancies may be filled.
Library Support Worker 1 position
To apply for positions in Castlebridge, Wexford, Duncannon and New Ross and for further information please contact – Sean O'Neill, CE Supervisor, Wexford County Council on 086 9478001 during office hours 9am – 5pm or email sean.oneill@wexfordcoco.ie
The closing date for the Castlebridge Environmental Worker Application and the Community Bus Driver position is 4.00pm Friday September Please30th.

WANT TO SERVE YOUR COMMUNITY?
Wexford County Council invites applicants for the following post: Assistant Staff Officer
Selection for all posts will be by means of interview and candidates may be shortlisted based on applications submitted. Panels may be formed from which future vacancies may be filled.
S la Ney a d 2nd September 2022 - Page 47 Street Lights Broken? Report on www.deadsureapp.com Outside office hours call: 053 919 6000 Register on www.mapalerter.com for free text and email alerts about service disruptions in your locality Planning app. lists available www.wexfordcoco.ie/planningat Comhairle Contae Loch Garman 053 919 customerservice@wexfordcoco.iewww.wexfordcoco.ie6000Carricklawn, Wexford Y35 WY93
Job Description Location
Wexford County Council are looking for members of our community to join as Retained (part-time) Firefighters in BUNCLODY, GOREY, NEW ROSS & WEXFORD FIRE STATIONS
LIVE IN TOWN?
Closing date for receipt of completed application forms is 5:00pm on Thursday 29th September 2022. Information Nights Please come along to our information nights as follows: Wexford Fire Station: 18:30 – 20:30 Monday 12th September, 2022 Gorey Fire Station: 18:30 – 20:30 Tuesday 13th September, 2022 Bunclody Fire Station: 19:00 – 21:00 Tuesday 13th September, 2022
2 positions Wexford Environmental Worker 1 position
Fire Service staff will be available to answer any queries and explain the position of a retained fire-fighter in more detail.
note that persons applying for these positions must satisfy the Department of Social Protection criteria to participate in the Community Employment Scheme. Wexford County Council is an Equal Opportunities Employer.
Please note all applications for the above post must be Typed and submitted by email only to recruitment@wexfordcoco.ie
Printed hard copies will NOT be accepted for the above post.
Temporary Closing of Roads
Notice is hereby given that Wexford County Council intends to close the road listed hereunder to vehicular traffic from Tuesday 11 October 2022 to Satur day 31 December 2022, to facilitate installation of underground ducts for the new cable as part of the Greenlink Interconnector Project from Greatisland to Bagibun Beach. Road Closure: L4049-4, from its junction with the L8117 (Crossroads in Ramstown) to its junction with the R734 at Graigue Little.
 Library Support Worker – Support Work for Library/Archive Staff –Computer Skills Required. To apply for positions in the Library and for further information please contact - Bernie Lennon, CE Scheme Supervisor, Wexford County Council on 087 6575743 during office hours 9am – 5pm or email: bernie.lennon@wexfordcoco.ie or Niamh.oneill@wexfordcoco.ie
Wexford County Council is an Equal Opportunities Employer.
Closing date for receipt of completed application forms for above post is: 5.00pm on Thursday 8th September 2022.
Wexford County Council is an Equal Opportunities Employer.
The closing date for the Library Support Worker position is 4.00pm Friday September 30th. The closing date for the New Ross/Wexford/Duncannon Environmental Worker Application is 4.00pm Friday Sept 16th.
Alternative Route: From Crossroads in Ramstown to Fethard to Graigue Little via the L4049 and the R734. Alternative routes will be signposted. Local access will be facilitated. Any person wishing to object to the closing of this road should lodge the ob jection in writing via the online portal https://consult.wexfordcoco.ie/ or in hard copy before 12.00 noon on Tuesday 13 September, 2022 to the County Secretary, Wexford County Council, County Hall, Wexford.

adSlaney leiSure & lifeStyle Page 48 - 2nd September80th2022Anniversary
Right: Kay Murphy with cup for best craft in show with Mayor of W Far right: Oliver Brennan with his pr 80th Anniversary
Slaney of Castlebridge Show in the Community Centre, Castlebridge
Left: Gloria Winterlich won the Kit Roche Memorial T Above: Official opening of the Castlebridge Show, L-R: Cathaoirleach (Castlebridge Show), Alan Corcoran who cut the rib
Above left: Tadhg Breen enjoying his candy floss. Above centre: Frances Partner and Mag O'Leary. Above right: Cathaoirleach of Wexford Co. Coun 1st, 2nd, 3rd and 4th place in the Art Section. Below left: Having a cuppa were Sandra, Betty and A
Slaney leiSure & lifeStyle
Cathaoirleach of Wexford Co. Council George Lawlor, Breda Conroy who won two trophies for her soda bread, Jimmy Nolan (Castlebridge Show), Mayor of Wexford Maura Bell. Trophy for best Flower Arrangement. of Wexford Co. Council George Lawlor, Jimmy Nolan bbon, Mayor of Wexford Maura Bell. Wexford Maura Bell and one of her winning items. rize winning onions. Castlebridge show
Page 49
2nd September 2022 -
e, 14th August 2022. cil George Lawlor congratulates Emer Murphy on achieving Ann Ryan. Brendan Maher gets to see one of the little chickens from Blackwater Open Farm with Liam Morris of Blackwater Open Farm.
y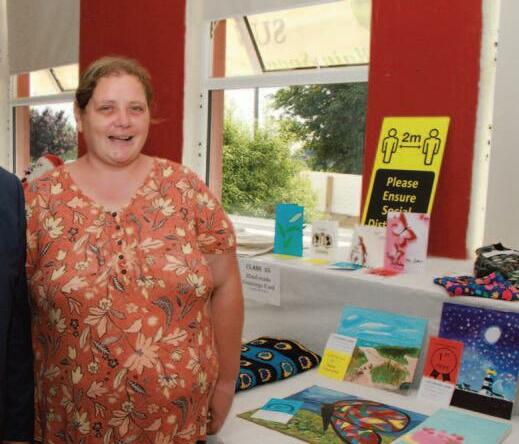 Mary was chosen as Miss Elegance of The World Ireland 2021 and recently repre sented this country at the Miss Elegance of The World final in Blackpool, Eng land, emerging as: ★ Miss Elegance of The World International 1st Runner Up 22/23 ★ Miss Elegance of The World International Princess 22/23 ★ Miss Patriotic 22/23 and ★ International Ambassador 22/23
Mary is chosen internationalasPrincess
The South East Rock 'n' Roll Club is very proud to present a special double bill of incredible local talent on Saturday 8th October here in Enniscorthy Ireland's Rock 'n' Roll Town. Featuring the wonderful BELLEFORDS (pictured below) who will be playing the Rhythm Riot in England just one week later one of the biggest RnR events on the planet. Mary Mullally is originally from Milehouse, Enniscorthy, but now lives in Cork. She commenced modelling and pageantry some years ago after emerg ing from what she calls a "very bad relationship".
Slaney adSlaney leiSure & lifeStyle Page 50 - 2nd September 2022
Mary says: "I want to show that anyone can go through a dark time in their life but still can find light at the end of the tunnel. You can still follow your dreams. Anything is possible in your life. So don't ever gave up. I'm a survivor, and you can be too."
Mary has the opportunity to go back next summer to compete for Ireland again for the overall title and she is determined to take up that opportunity. She wil also be crowning her own Irish successor next year she has recently become the new organiser for the Irish event. And she will continue to help raise funds for charities involved in the area of domestic abuse. The Club is also proud to present the full live performance debut of new rockin' sensation ALAN POWER (pictured below) from Waterford with his new band THE AFTERSHOCKS. That's two incredible local acts that are really going places. This will be a ticket-only event with limited availability and tickets will go on sale soon. Full details to come shortly! n
Double bill of rock 'n' roll on the way
Farsiders will transport you right back to 1980s Enniscorthy, when tensions bubbled between the Shannoners and the Farsiders, conflict often erupting at the drop of a hat or the downing of a pint or two.
New play premieres at Presentation
The language, sarcasm, and wit of the play is pure Enniscorthy and once again Fintan got it exactly right, even the nick names are familiar to all of us.
Pat Corrigan, aka Brendan Robinson, who surprisingly enough isn't given a nickname, when so many would have been appropriate, is the villain of the piece or perhaps a victim of a tragedy he never learned to deal with. Either way, you hate him, a testament to the way he portrayed his character.
Chopper, Hawk and Red work at the local Unemployment Exchange and plan to attend the Rugby Club disco at the Hawkweekend.has his date, whilst Red and Chopper have never plucked up the courage to ask Mary and Jenny.
The characters are portrayed extremely well by all of the actors in this well-cast Theproduction.threegirls play three very different styles of girl of the era, Jane aka Maeve Ennis, confident, good looking, knows exactly what she wants and has gone after it in the very solid, sensible, loyal, and decent Hawk played by Anthony Finn; Mary, aka Bronagh Hogan, on the other hand is waiting patiently for the very unassuming, noble, honest and humble Chopper aka Tim Connaughton to make his move, and the slightly less than the full shilling, Jenny, aka Roisin Barry, makes no bones about how she feels about Red played brilliantly by Podge Dwyer, the tough guy, only from the mouth out.
Farsiders, written and directed by actor, director, and playwright Fintan Kelly, premiered at the Presentation Arts Centre, Enniscorthy, on Tuesday 23rd August in front of a large and very appreciative audience. The play, set in Enniscorthy, centres around the Dole (Unemployment) Office and the Rugby Club weekend disco and has a Martin McDonagh flavour with witty, local humour masking many of the hidden issues of small town 1980s Ire Peerland. pressure, bullying, uncertainty, and harassment are part and parcel of every day life for a group of young people struggling to find themselves and love in a coming-of-age tale with a twist.
Left: Maria Nolan raises a glass in memory of the late Joe Doyle R.I.P.
Slaney leiSure & lifeStyle 2nd September 2022 - Page 51
Red or Podge stole the show for me – he is an exact clone of so many Enniscorthy lads of the 80s, full of bravado but short on courage. Red carries the bulk of the humour of the play, his facial expressions and body language were superb and amazingly accurate to those of us who remember that far back.
Words & Pics by Maria Nolan
Chopper fancies Mary big time but so does his arch enemy Pat Corrigan. All will not be well when the seven come together at the Rugby Club weekend disco, most looking for love and a good time, one looking for trouble and a twisted revenge. Well done to the multitalented Fintan, who I have to say, knows his Enniscorthy people well.
Above L-R: EDG Chairman Liam Doyle, Harry Ryan and Lorraine Kelly with Eddie Kelly in the background.
Fintan Kelly's new play premiered at the Presentation Arts Centre, Enniscorthy, on 23rd August 2022.
The issues that reared their ugly heads from the worm can of rumour and secrets are dealt with compassionately and sen sitively, a tribute to the talent and skill of the Thisplaywright.isamustsee for all in Enniscorthy and beyond and was a most fitting accol ade to the memory of former Enniscorthy Drama Group (EDG) member Joe Doyle who sadly passed during Covid.
EDG Chairman Liam Doyle and play wright Fintan Kelly related many of the humorous stories attributed to Joe as they spoke of his loss to his family, his friends and all at Enniscorthy Drama. All proceeds from the sell-out premiere night at the Presentation Arts Centre went to Cystic Fibrosis, a cause very close to Joe's heart.
Right: Podge Dwyer playing the part of Red with Roisin Barry playing the part of Jenny, and Liam Doyle as the DJ.

Slaney adSlaney leiSure & lifeStyle Page 52 - 2nd September 2022 BrancgoingmemomiereCentrtonewEnnisp27 Farsiders – coming of age in Enniscorthy 'FARSIDERS' PREMIERE NIGHT 23RD AUGUST 2022, ALL PICS COURTESY OF MARIA NOLAN. The talented cast of 'Farsiders' L-R: Brendan Robinson, Anthony Finn, Podge Dwyer, Tim Connaughton, Bronagh Hogan, Roisin Barry, Maeve Ennis, Liam Doyle.
Slaney leiSure & lifeStyle 2nd September 2022 - Page 53
scorthy Drama Group presented its play, Farsiders, which ran from 23rd 7th August in The Presentation re, Enniscorthy, with a special pree night on Tuesday 23rd August in ory of Joe Doyle, with all proceeds g to Cystric Fibrosis Ireland, Wexford ch. n 'Farsiders' writer and director Fintan Kelly (right) with Niall Wall.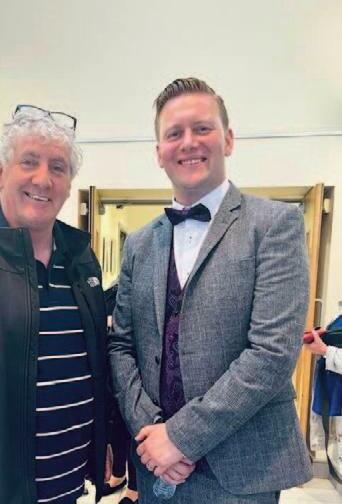 Joy by name and joy by nature, as she was oft times described, was the perfect am bassador for the county and did a most ex cellent job of hosting her sister Roses, as they visited many of the iconic, historic, and picturesque sites of Wexford over their three-day visit from 11th – 13th August.
Slaney adSlaney leiSure & lifeStyle Page 54 - 2nd September 2022 Dunbar of Enniscorthy Historical Re-enact ment Society, as he escorted her into his home Enniscorthy Castle, built by him in the 12th Chairmancentury.ofEnniscorthy Municipal District Council, Aidan Browne, Minister James Browne, Chairman of Wexford County Council George Lawlor, and Councillors Kathleen Codd-Nolan and Jackser Owens, and Tourism Officer Billy Byrne, were on site at 9am to welcome the girls on their whistlestop tour of the county and re-enac tors from Enniscorthy Historical Re-enact ment Society, Castle Manager Mico Hassett and Tour Guide Eve Furlong gave them a flavour of our Norman Wexford heritage as skirmishes broke out in the Castle grounds between Knights and InRoses.thedecorative Castle drawingroom, the Derry Rose, Aine Morrison, took her seat at the piano and entertained everyone with a tranquil air amid the hectic schedule be fore everyone ascended to the ramparts for magnificent views of Vinegar Hill as George Lawlor reduced the emotional Wexford Rose to tears with his poignant version of Boolavogue.
A stop at her home town of Ferns the fol lowing morning was a must for the Wex ford Rose to cheer on the Ferns team in the County Final before being welcomed by Knight, Philip de Prendergast aka Owen
Maria Nolan joins the Roses
Curracloe beach, the location for the Oscar-winning film Saving Private Ryan, was a must-see, on a day when the Sunny South East was certainly living up to its reputation and at the National Heritage Park the Roses were intrigued with stories from our Celtic and Viking past as our own lovely Rose took the opportunity for a Joy ride on a very classy motorbike in the carpark.
It was certainly a joy to be among the 33 Roses of the 2022 Rose of Tralee Festival on their tour of Wexford recently, especially when our own Joy, Joy Quigley, was among them.
I was indeed delighted to join them at the Opening Reception at Johnstown Castle, where they were welcomed by Tourism Of ficer Billy Byrne, who claimed credit for the magnificent weather and Chairman of Wex ford County Council George Lawlor, who arrived not only wearing a purple and gold tie but armed with a purple and gold Stet son to replace the black one being worn by the Texas Rose, and hot favourite with the bookies, Arden Stringer. George set the tone of the visit as he ser enaded the roses with a beautiful rendition of, what else, The Rose of Tralee. Chatting to the lovely Newfoundland Rose Jennifer Mackey, it came to light that I had stayed with her best friend's mam, Joan Power in Trepassey, on a visit to Newfound land in 2015, sure is a small world. Staying at Ashdown Park Hotel, the girls were treated to visits to both Wexford town and Gorey as well as the fragrant Lav ender Farm, with its beautiful café, gift shop and woodland walks, before calling to ogle the baby seals at Seal Rescue Ireland, the only centre of its kind in the country, and then it was on to the elegant 400-yearold Wells House, where fairies, trolls and dragons have made their home along its enchanted walkways.
on their tour of Co. Wexford
The Wexford Rose tour also included a visit to Bunclody Golf Club, Hook Lighthouse, Secret Valley Wildlife, the Dunbrody Famine Ship and the Barrow Princess.
The Westmeath Rose Rachel Duffy was crowned the 2022 Rose of Tralee a week later in Kerry, but Joy Quigley can be extremely proud of her performance on stage at the Dome, and over the three week lead-in, her warm, engaging smile and her readiness to hug endeared her to Daithi Ó Shea, her fel low Roses and all who had the pleasure of meeting her on her joyful, rose-tinted journey. You did us proud Joy, and well done to Jean O`Connell and O`Connell Marketing and Tourism Officer Billy Byrne for making sure that all 33 Roses had a memorable time in Wexford.
Maria Nolan
Slaney leiSure & lifeStyle 2nd September 2022 - Page 55
Above: The Rose of Tralee 2022 contestants with Wexford Co. Council officials and local politicians at Johnstown Castle. Below: James and Aidan Browne are put to the sword by two of the Roses at Enniscorthy Castle. Pics by Maria Nolan.
Ah sure who wouldn't be moved gazing across at the iconic hill a constant rem inder of our historic past. The girls were treated to succulent straw berries and cream at the Wheelock Hub with owners Cyril and Margaret and their sons and granddaughters, Lily and Tess, who were big hits with the Roses.

Slaney adSlaney leiSure & lifeStyle Page 56 - 2nd September 2022 Maria joins Roses o All pics b
leiSure & lifeStyle 2nd September 2022 - Page 57
on tour of Co. Wexford
by Maria Nolan
Slaney


Riverside Park Hotel Wedding Showcase
Sunday 25th September 2022, 2pm-5pm. View the fabulous ballroom overlooking the beautiful River Slaney, which will be all set for a wedding, and sit down with one of the hotel's wedding team who will be delighted to answer any questions you may have. The Penthouse will also be available to view during your visit. Booking an appointment is recommended. For further information and to make an appointment, please contact Liz: Email: liz@riversideparkhotel.com or Call 053 923 7800. n
Wexford Festival Opera Opening Night Friday 21st October 2022 Fireworks from 7pm on Wexford Quayfront. n
Wexford Light Opera Society is de lighted and excited to be returning to Clayton Whites Hotel, Wexford, for its annual Hits from the Musicals show. The 2022 Hits will be held over four nights commencing on Monday 31st October and running until Thursday 3rd November during the Wexford Opera TheFestival.musical playlist incorporates both old and new musical theatre feasts sung by the award-winning chorus of the Wexford Light Opera Society in ad dition to well-known WLOS performers who are delighted to be back on stage with WLOS once again. Under the musical direction of Fintan Cleary and Chorus Mistress Eithne Cor rigan, its promises to be one of the fringe festival highlights once again this year. Your MC for the evening will be the hilarious Catherine "Biddy" Walsh. BOOKING DETAILS: Tickets are on sale on the National Opera House website costing €25 Toeach.book your tickets, please logon to the National Opera House website www.nationaloperahouse.ie and search for the Hits concert. You can also phone the Opera House box office and they will be delighted to assist you. The number is (053) 9122144. n
Hits from the Musicals
Slaney adSlaney leiSure & lifeStyle September 2022
Page 58 - 2nd
n
For details and updates on all happening in Wexford Arts Centre: https://wexfordartscentre.ticketsolve.com/shows n
ENNISCORTHY LIBRARY
Stay in touch
n
What's On Wexford
Opinion You Didn't Ask For Podcast
All roads lead to The Irish National Heritage Park, Ferrycarrig, Wexford on 4th September 2022 for the Trad & Folk Trail. An enjoyable afternoon of folk and traditional music, song and dance, is guaranteed. In association with Wexford Co. Council and Wexford Arts Centre. n
Slaney leiSure & lifeStyle 2nd September 2022 - Page 59
Holohan's Trad & Ballads
Tune in to Jamie and Blayne's podcasts and check https://www.facebook.com/OpinionYouDidntAskFor/out: Craobh Loch Garman CCÉ/Wexford Town Comhaltas
YouTube:@wexlibraries."Wexford Public Libraries" n
A new 'Enniscorthy Women Walking Together' meet-up group has been set up so that no woman who likes to walk has to walk alone, and to help all women to be healthier, happier and fitter. All women are very welcome to join in. Walking alone is not usually much fun so it helps to be among friends who are encouraging and supportive. Walking times, days and duration will be decided by the walkers in the group. A Facebook page ('Enniscorthy Women Walking Together') has been created to help bring women of all ages together to enjoy walking in the company of other like-minded women. n
Lymington Road - Phone: 053 9236055
Wexford Public Libraries Social Media: Wexford Public Libraries on Facebook. Wexford Public Libraries on Instagram Wexford@wexfordlibraries.PublicLibraries on Twitter
Enniscorthy Women Walking Together
https://www.facebook.com/enniscorthylibraryhttps://www.wexfordcoco.ie/librariesenniscorthylib@wexfordcoco.ie
happeningnin-wexford?e=bffb7d288bhttps://mailchi.mp/b8835026ca33/whats-happeforthebestlistingofwhat'salloverCo.Wexford.
Check out
Wexford Arts Centre
Dancing with Declan
Keep up to date with the local dancing scene on: https://www.facebook.com/https://www.facebook.com/DancingwithDecsocialdancingdateswexford
A great trad and ballad session takes place in Holohan's Pub, Enniscorthy, every Wednesday night for the summer months starting around 9pm. And keep an eye on Holohan's Facebook page for other gigs throughout the year: https://www.facebook.com/NiallHolohanPublican n

ENNISCORTH Enniscorthy Street Rhythms Festival, Market Square, 27th August 2022.
Slaney adSlaney leiSure & lifeStyle Page 60 - 2nd September 2022
ENJOYING
Above left: John Reilly with his two gymnast daughters Amber and Jessica. Above: Michael Bentley has a go at one of the stalls on Rafter Street. Right: Disco mania in Market Square. Far right: Circus tricks as Corey Carthy Bryan balances his ostrich feather. Lisa Fortune and Ellie Whel Above: Brendan the Juggler doing circus tricks at Market Square. Below: Young Katelyn Redmond tries an experiment at the Nutty Scientists stand with Lee Kelly. Circus tricks children balancing plates. Kat Clare, Olivia and Koela Kearns. Ivy Rooney and Olivia G
HY'S STREET RHYTHMS take place. lan. Juggling her ball was Marguryta Kavalenko. Sadbh O'Sullivan. Festival organisers Sue and Joe Kavanagh with Maeve Doyle (centre). arry. Adults and children being entertained by magician Jack Wise. Queuing for Fairytales at the Castle.
Slaney leiSure & lifeStyle 2nd September 2022 - Page 61

Slaney adSlaney leiSure & lifeStyle Page 62 - 2nd September 2022 Above: Katie Annesley and Kittie Rea. Right: Sharon and Grace Gill. Below: "We're going that way!"
Left: Niall and Tobie Gibney. Below left: Steffi Wahlang and Emie Maxwell. Below centre: June Hayden and Tina Wallace. Below right: Donna Jacob, Abbey, Luke and William Levingston.
CourtoInaidofGo Courtown Colour Run The Pranic H
Slaney leiSure & lifeStyle 2nd September 2022 - Page 63 Tegan Cuffe, Nora Fortune and Mia Christie. Courtown Colour Run fundraiser for Gorey Hockey Club's astroturf pitch: Ciaran Goodwyn, Laure and Robin Goodwyn. Niall, Sophie and Jean O'Connor and their dog Alfie. Rowan, Shirley, Martha and Holly Manning. own Colour Run orey Hockey Club, 7th August 2022 Courtown Colour Run runners warming up at the start. ealing Group who ran for a dear friend.

Slaney adSlaney leiSure & lifeStyle Page 64 - 2nd September 2022 THE PRESENTATION ARTS CENTRE, WWW.WEXFORDARTSCENTRE.IE/EVENTS/WWW.PRESENTATIONCENTRE.IEENNISCORTHY.FORBOOKINGONALLEVENTS: 2ND SEPTEMBER 2022 AT 8PM TEL: 053 9233000 Beginners Art Classes for Adults by Jamie Sinnott and Edward McGuiness Starting 5th September for 5 weeks at The Presentation Arts Centre, Enniscorthy Creative Writing: One Day Course with Martin Keaveney The Presentation Arts Centre, Enniscorthy Monday 26th September 10am - 5pm
. Weekly modern jive class. No need to come with a partner and only pay as you go! Beginners wel come every week. Admission is €10. n
✦ ✦
A weather widget for the weather forecast in the Sunny South East.
To keep up with all things new and exciting happening around the county, Visit Wexford, with the support of Wex ford County Council, has an App to help locals and visitors explore Wexford with ease.
✦ ✦
✦ ✦
fromcorthy,Centre,PresentationEnnisThursdays8pm
A handy map of County Wexford with all of the points of in terest pinpointed for you.
Slaney leiSure & lifeStyle 2nd September 2022 - Page 65
A gallery of stunning images from around the county to inspire your trip. Push notifications about nearby attrac tions, coupons and more exclusive offers for app users. The Visit Wexford app can be down loaded for free on Apple and Android de vices via the Apple App Store and Google Play DownloadStore. the Visit Wexford app now and start planning your adventure in Wexford today!
Jive Inferno with Lekan in The
VisitWexford.ie n
✦ ✦
✦ ✦
A selection of the top Travel Tuesday blogs and insider guides from VisitWexford.ie
✦ ✦
Make the most of all Co. Wexford has to offer with the Visit Wexford App
Discover County Wexford with a click of a button and get exclus ive notifications, offers and more, directly through the app. It in cludes helpful functions, such as: Directories for accommodation, activities, restaurants, beaches and more across the county. Listings and contact information for tourism and hospitality businesses in Wexford.
The handy pocket guide to Wexford has everything visitors to the county need for a fun and hassle-free trip to the Sunny South East. Wexford is a popular holiday destination for many, so Visit Wexford has made it even easier for you to explore the county all year round! Find all there is to see and do, places to stay and eat, funfilled activities, stunning beaches, terrific trails and much, much more across the county with the help of the Visit Wexford app.
✦ ✦

Slaney adSlaney leiSure & lifeStyle Page 66 - 2nd September 2022
Enniscorthy Gospel Choir – just the WexfordticketWalkingTrailsFestival
Enniscorthy Gospel Choir resumes rehearsals on Wednesday September 7th at 8pm in the IFA Centre, Millpark Road. Why not go along to find out more. No auditions and no ex perience necessary. If you can hold a note, the choir will be very happy to see you there. Contact Pauline 087 1305639 for more details. n
Be sure to mark September 23rd to 25th in your diary for the upcoming Wexford Walking Trails Festival. An exciting schedule of walks is planned and the event promises a fantastic weekend of exploring some of the stunning walking trails we have here in Co. Wexford. Details will be announced shortly so keep an eye on the website https://wexfordwalk ingtrail.ie/ for updates. n
So what are your plans for the Autumn? Take up cycling, swimming, hiking, sky diving…. are none of these for you? Well, what about joining a choir? If so, Enniscorthy Gospel Choir might be just the ticket.
Slaney leiSure & lifeStyle 2nd September 2022 - Page 67
ColourCourtownRun
Above and below: Courtown Colour Run fundraiser on 7th August 2022 for Gorey Hockey Club's astroturf pitch.

Now I know I covered the Rockin' Food & Fruit Festival in Enniscorthy last time, but since then it has emerged that a virtually unknown young man called Alan Power from Waterford is causing quite a few ripples on the scene since his unplanned and chance debut then. He simply has everything in buckets. The looks, the moves, the voice, and his guitar playing. He is now in the process of forming a band called "Alan Power & The Aftershocks". Along with "The Bellefords" Alan is having his first gig in The Bailey, Enniscorthy, on Oct 8th. Expect this to be a sell-out and expect a lot of his future gigs to be the same as this young man is nothing short of a sensation.
New Releases: Derek Ryan has a new song called "Cows On The Hill". It's lively, but not too fast, so great to Jive to and there's a nice little story behind it as a young fan called Oisin wrote to Derek all about his life on his father's farm and asked could he possibly write a song about cows. Derek duly obliged.
Derek Ryan headlines again here with Cliona Hagan and Stuart Moyles taking to the stage beforehand. DJ Lee Healy plays from 1am till late, and I will be kicking off the event with a Country Line Dance class at 6.30 pm. And, as with the Wexford Racecourse event, Julie Dwyer of South East Radio is on the mike. All in all, it's sure to be a fabulous night to take us out of the summer. I will of course be giving you all the run down in the next issue of the Slaney News I had my own dance floor at the Tullow Agricultural Show and Duck etts Grove Vintage Day. Both events were blessed with the sun and we have had more than our fair share of soakings at both those in the past. We dressed up as Cowboys & Indians in Tullow and, for the 3rd year in a row, we won the Best Stand Award along with John Lucas who hosted us.
The Wexford Racecourse was an ideal venue being so central and with ample parking, but ideally, the club really needed the bar to make the event viable. At least if the rain does come, people will head inside for a drink. Hopefully though they will give it another go next year.
Robert Mizzell has a new song called "Poorhouse". Originally a 1990 hit by the Traveling Wilburys I absolutely love this song. Again a lively tempo suitable for Jiving and tells the story of a man about to be taken to the cleaners by his high-maintenance wife, or soon-to-be ex-wife!
If you missed us at those events you can catch us at Pat The Chap's Vin tage Day on Sunday 4th, Rahanna Vintage & Working Day on Sunday the 11th, Tullow Rd. Community Day, Ashgrove, Carlow town, on Satur day the 17th, Carnew Heritage Day on Sunday the 18th, and Castleder mot Vintage Day on Sunday the 25th, all in the month of September.
Welcome to the September issue of the Slaney News where I'll be looking at all that's hot on the dancing scene all around the south east.
Patrick Feeney in the meantime has released his version of P.J. Mur rihy's 2017 song "Drawing Little Men In The Ashes". A tad slower this one, I'd opt for the Bunny Hop or similar line dance or a nice easy Quick step. Here Patrick is advising a neighbour who is down on his luck not to emigrate as he'd miss all the craic at home and far away fields are not al ways greener when you get there. I had a rare night off last Wednesday so a few of us went to Harney's of Ballyedmond to see Olivia Douglas. It was a great night after and any one looking for a midweek place to go, your support would be greatly appreciated at this venue.
Slaney adSlaney leiSure & lifeStyle Page 68 - 2nd September 2022
ARE YOU DANCING?
Oisin DerekinspiredwhoRyan'snewsong.
Patrick Feeney on set with his dad.
On August 7th Derek Ryan headlined the Wexford Country Fest run by the St Fintan's GAA Club. Always a risky business as regards the weather, the Fintans were blessed with sunshine on the day. There was a great turnout and everyone I spoke to said they thoroughly en joyed it and would definitely come again next year. It's hard to know though, as after speaking to some of the organisers afterwards, with so much money being laid out for bands, the stage and lots more besides, it's a small enough margin taking into account the outlay.
The Bree Country Fest on the other hand has its own bar, and with a later start time of 6.30 pm till late it will be used far more than a typi cal 1-7pm event which is more family orientated.
FlanaganDeclanwith
Slaney leiSure & lifeStyle 2nd September 2022 - Page 69
weatherRight:Carlow.Grove,MakingthemostofthegoodinTullow.
We have a very busy September ahead of us and we are even going to squeeze Garth Brooks in after our vintage day in Rahanna. I'll have a few new dance classes starting and there are lots of other dance events around the country that we'll be hitting every chance we get.
Below: Dancing at Ducketts
Other than that, I hope you enjoyed the chit-chat and hopefully see you all here, same time, same place for the October issue of the Slaney News. Declan Flanagan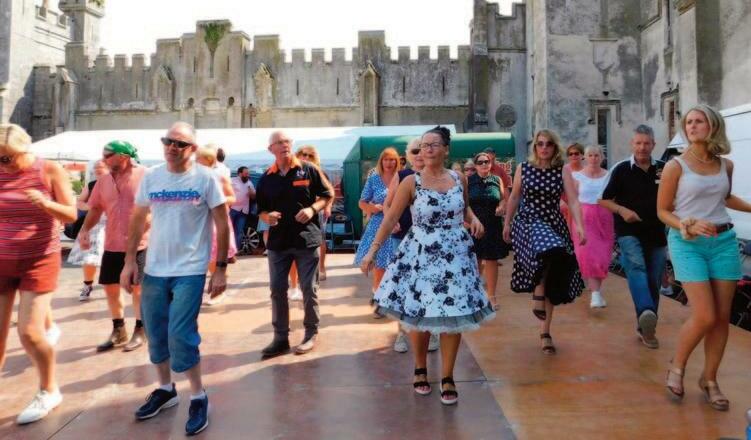 Luke is new Head Ranger at dinosaurKilkenny'spark
Slaney adSlaney leiSure & lifeStyle
Best wishes to Luke O'Connell (pictured above) from Car rowreagh, Wexford, who has just been appointed Head Ranger at Kilkenny's great new Dinosaur Park at the New park Hotel. 'Jurassic Newpark' features an interactive walk-through experi ence with life-sized robotic dinosaurs that move and roar. Pre historic species on display include Tyrannosaurus Rex, Triceratops, Stegosaurus, Brachiosaurus, Velociraptor, and dino saur eggs, making it the ultimate experience for any Dino fan! https://jurassicnewpark.com n
The Courthouse Arts Centre,
Page 70 - 2nd September 2022
Baby & Toddler Time at Enniscorthy Library...
Make sure to check out Wexford Public Libraries' YouTube channel. Catch up with all the events you may have missed or would like to watch again, as well as handy guides and tu torials for accessing Wexford Public Libraries' e-services. You can catch up on these talks on Wexford Public Libraries' YouTube Channel.
Wexford Public Libraries' YouTube Channel...
The New Ross Piano Festival 2022 will take place from Wed nesday 21st to Sunday 25th September 2022. This unique fes tival under the artistic direction of pianist Finghin Collins is bringing some tempting events to the south east. Artists for 2022 include Jonathan Plowright, Tamara Licheli, Finghin Col lins, François-Xavier Poizat, Dmytro Choni, Máire Carroll and The Albion Quartet. Plus the famous American jazz pianist Craig Taborn who will be the star of the Jazz Piano Day. https://www.newrosspianofestival.com n Centre: 053-9123764. Enniscorthy: 053-9233000 Tinahely: (0402) 38529
SUPPORT YOUR LOCAL ARTS CENTRES Wexford Arts
Contact Enniscorthy Library to book a place: Lymington Road, Enniscorthy. Phone: 053 9236055. enniscorthylib@wexfordcoco.ie n
Every Tuesday at 10:30am Enniscorthy Library is delighted to welcome parents and guardians with their little ones for fun rhymes, stories and songs. Suitable for ages 0-4. The relaxed and friendly environment of the library is the perfect setting to make friends and introduce books and reading from an early age. Children must be accompanied and supervised by a par ent or guardian at all times.
Enniscorthy Library
The Presentation Arts Centre,
Basically, a widowed father brings his two daughters to Africa, to go on a safari trip to see some beautiful wildlife. They meet up with a family friend Martin and they head off on their adventure. Along the way they stumble upon a group of dead bodies and their dream holiday becomes a nightmare for them. They realise that there's a maneating lion on the loose and it wants re venge after poachers killed his pride. So, unfortunately for Dr Nate Samuels (Elba) and his daughters, they have just walked in on his environment and the will to survive begins.
The first thing I noticed about the direction by Baltasar for the Beast film is that he does alot of one-take long-shots to add to the tension of the film and it works quite well. The CGI animals are extremely well done. The cinematography is very good too. Elba is good doing the ordinary man in a desperate situation. He has to keep his daughters away from the paws of this lion. The odds are stacked against him or are they?
Slaney
So this is the new release in a cinema near you called Beast, starring Idris Elba, Sharito Copley, and directed by Baltasar Kormakur.
BEAST
2nd September 2022 - Page 71
Movie Review with Kyle Walsh 
The let down to this film is the script, it's woefully bad, it insults the audience's intelli gence. It is written by Ryan Eagle and Jane Sullivan and to be totally honest after this script they should never be alllowed to write Iagain.found Elba's daughters to be quite annoy ing throughout, and they make some very stupid decisions throughout the film. The other thing that annoyed me is how the lion can bite and kill everyone but when it comes to our hero he can't bite him! So this is a film that you have to leave your brain at the door, go in, don't expect a classic and like me you will have some fun with it. It's run time is only 93 mins and that's perfect for a monster movie like this. I give it 2 and a half stars out of 5. n leiSure lifeStyle
&
The opening sequence of this film brought me back to the Savoy Cinema in Dublin in 1993 when I first saw the opening se quence of the great Jurassic Park, it gave me that vibe. So the film starts off really well. The film also reminded me of the great 1980s classic Cujo when a big St. Bernard dog attacks a woman and her child in a car. If no one saw Cujo yet I'd highly recommend you to.

Blackstairs Blues Festival, Enniscorthy, 9th, 10th & 11th September 2022. Now in its 28th year, the 2022 Blackstairs Blues Festival promises to be as exciting as any of its predecessors. Since its be ginning in 1995 it has survived many dif ficulties including the aftermath of the Celtic Tiger and the recent pandemic of Covid-19. Over the years it is remarkable how the Committee managed to organ ise the Festival on such a tight budget. The committee says, "Our appreciation and thanks are due to the participating pubs for their support since the Festival's inception and our sponsors Wexford County Council, Rectory Road Holdings Ltd., AirconMech Ltd., Super Dine Food Factory, Enniscorthy Credit Union, Creane & Creane Ltd., and Global Steel Manufacturing Ltd. Our relationship with our sponsors has endured over the years and without them we just wouldn't have
Blackstairs Blues Festival returns this September
The members of the organising Commit tee, although small in number, have been busy for months to bring together a pro gramme of Blues music they hope will please most followers of the annual event. Eleven bands will perform 19 gigs in 8 different venues. Some 140 bands have played in Enniscorthy since 1995, some more than once. Since its small beginnings, the Festival has now progressed into one of the pre mier Blues Festivals in the country. Its original intention was to attract visitors to Enniscorthy and in particular to in dulge devotees of blues music. It helped that some of the founders of the Festival, being from a disadvantaged area of the county, had a feel for and an understand
Chairman John Murphy Secretary Mairéad Ennis Treasurer Seán Doyle Festival Co-Ordinator Ibar Carty n
ing of the plight of the poor blacks of the Mississippi Delta, where the blues
THE FESTIVAL RUNS 9-11TH SEPT – PUT IT IN YOUR DIARY NOW!
A word of thanks from the Slaney News and from the town as a whole to the hardworking Blackstairs Blues committee for keeping this Enniscorthy institution running for 28 years:
Thisoriginated!year'sFestival was officially launched in the Antique Tavern, Slaney Street, on 25th August where the en thusiastic audience was treated to auth entic blues by the one and only Dermot Byrne. Dermot will be appearing in the festival itself, the full line-up for which is shown on the facing page.
Page 72 - 2nd September 2022 a Blues Festival in Enniscorthy. Last but not least the Enniscorthy Guardian and Slaney News for their excellent coverage of the Festival over many years."
Speeches were kept to a minimum at the launch with Ibar Carty saying a few well chosen words, in particular thanking all the local sponsors of this year's festival, the local publicans who are hosting the various gigs and Eamonn Doyle for providing the sound system for the launch.
Slaney adSlaney leiSure & lifeStyle
Above left: Blackstairs Blues committee members Ibar Carty, John Murphy and Mairéad Ennis. Above right: Ibar, Mairéad and John with four of the publicans supporting the Blues Festival Barry Donohoe (Antique Tavern), Niall Holohan (Holohan's), Elaine Dunbar (Stamps), Hugh Martin (Dawsons).
Below left: Eamonn Doyle and Iain King. Below centre: Ibar Carty. Below right: Dermot Byrne.
LEE MEEHAN & HUGH BUCKLEY Irish Guitarist/Vocalist Lee Meehan hails from Dublins Northside and is best known for his collaborations with renowned Irish and International groups, and musicians including the acclaimed Irish harmonica player/actor Don Baker, Damien Dempsey, Rob Strong Band (The Commitments) Darren Beckett (Lauren Hill, The Killers, Brandon Flowers) Hugh Buckley, Richie Buckley, Tommy Halferty and many more. He is a member of many Irish groups including Sean Maynard Smith Quartet, The Reggulators, Soul Foolishness, Richard Nelson quartet, Gotcha and most recently leading The Lee Meehan Quintet. Hugh Buckley is a Dublin born and based, self-taught guitarist, composer, arranger, educator and author. He has performed throughout Europe, the USA, Argentina and China, working as a sideman and also leading his own groups. He has performed with a wide array of internationally acclaimed artists including James Williams, Peter Bernstein, Sheryl Bailey, Jim Mullen, John Stowell, Georgie Fame, Guy Barker, Lisa Stansfield, Ronnie Drew and Van Morrison.
Austin is a U.S. delta blues singer & slide guitarist with a blues gumbo repertoire that can conjure up the ghosts of highway 61 & the delta blues experience. Austin Walkin' Cane has toured Australia, Nepal, Colombia, France, Germany, England, Wales, and the US, from New Orleans, Louisiana to Juneau, Alaska with only a guitar & suitcase in hand. Austin will be playing three gigs over the Blues weekender, one Solo and two band gigs backed by Scorthys own "The BC Blues Band" DERMOT BYRNE AND DANNY TOBIN Dermot Byrne has built up a steady following over the years performing authentic renditions of classic blues and roots music as well as self-penned material. He has brought his brand of real down-home blues and roots music to venues throughout Europe and the United States. Playing slide guitar and harmonica he is recognised as being one of Ireland's finest interpreters of blues songs. Dermot has opened for or performed with legendary blues artists such as Eric Bibb, Long John Hunter, Steve James, Sam Mitchel, Byther Smyth, Catfish Keith, and has collaborated on T.V. shows with Irish star Don Baker. Dermot will be joined by Danny Tobin, a noted guitarist and vocalist who was once a member of the 'The Business' which was Don Bakers first band.
ROCK THE BAPTIST & THE SINNERMEN "Rock The Baptist & The Sinnermen" is a Wexford and Dublin based trio. Taking it's inspiration out of the old souly sounds of the early and mid-20th century, this act features some classic country and delta blues with a little jazzy rock n' roll twist. Coming together from different walks of life, and through varied musical backgrounds they create a raw, rootsy, soulicious sound. 3 singers; with Barry Donnelly on guitar, Maria Buganska on keys and harmonica, and Colin Howe on the drums "Rock The Baptist & The Sinnermen" is looking forward to their debut appearance at the Blackstairs Blues Festival.
KEITH SCOTT Keith has been playing the Blues out of the Chicago area for over 30 years. He has met and played with some of the Blues greats, which has led to his unique approach to the Chicago sound. Recently returning from Alaska and Canada, Keith is looking forward to appearing at the Blackstairs Blues Festival and his return to Enniscorthy. Keith will play one solo gig and two band gigs which will be backed by the ever versatile "The Scalder City Slicks" BAD BAX The Bad Bax Rhythm & Blues Band feature, Peter Moore on vocals, blues harp and guitar, Rick Smith on lead guitar, Kev Byrne on rhythm guitar, Dave Ormonde on bass and Paddy Mac on drums. Peter has had a highly distinguished musical career in Ireland, from the International Blues Band who even supported the great BB King. Peter met the rest of the band in a local Gorey venue whilst gigging there, the guys started to join in and the Bad Bax Rhythm and Blues Band was born. Playing a mix of originals and their own take on a host of covers from Rory Gallagher to Steve Earle and Tom Waits, The Bad Bax Rhythm & Blues Band are not to be missed.
BRIAN MEAKIN Brian Meakin is a self-taught practitioner of solid honest blues rock guitar playing. With skill, passion and hienergy, Brian delivers a stunning performance in his live shows - ever humble to his roots and influences you might catch him on a great night or a brilliant night. Don't miss this show stopping powerhouse trio who will close this year's Festival.
1The Antique Tavern 3The2Dawson'sHolein the Wall 87Treacy's6Holohans5Alba4RackardsHotelTheCottonTree Café 9Stamps NIGELSPONSORSMOONEY & SCOTT FLANIGAN BBC have hailed Nigel Mooney as the Irish King of the Blues. A self-taught musician, Mooney was influenced by the blues from an early age and his hard-bop style of guitar playing is expressive and melodic with a bluesy groove. He possesses a warm and rich tenor voice and has an almost flawless sense of pitch. He is accompanied by Scott Flanigan, who is one of the foremost keyboard players on the Irish Blues /Jazz scene and has recently performed with such artist as Van Morrison, Larry Coryell and Jim Mullan. This duo of Guitar, vocal and Hammond organ are not to be missed. C&R Print are pleased to support the Blackstairs Blues Festival. crprint.ie 053 92 35295 FRIDAY 9thSEPTEMBER 6pmKeith Scott (solo) Alba 7:30pmLee Meehan & Hugh Buckley Stamps 9:30pmAustin Walkin' Cane. (Band) Rackards 10pmKeith Scott (Band) Holohans 10:30pmBad Bax Treacys Hotel SATURDAY 10thSEPTEMBER 3pmThe BC Blues Band Holohans 4pmJam Session Holohans 6pmAustin Walkin' Cane (Solo) Alba 8pmNigel Mooney & Scott Flanigan Antique Tavern 8:30pmFrank Francone Band Dawsons 9pmDermot Byrne & Danny Tobin Stamps 9:30pmRock the Baptist The Hole in the Wall & the Sinnermen 10pmKeith Scott (band) Rackards 10:30pmAustin Walkin' Cane (band) Holohans 11pmThe ROB STRONG Band Treacys Hotel Sponsored by SUPER DINE SUNDAY 11thSEPTEMBER 5pmFrank Francone Band Holohans 7pmDermot Byrne & Danny Tobin Dawsons 8:30pmNigel Mooney & Scott Flanigan Stamps 9pmRock the Baptist The Antique Tavern & the Sinnermen 10pmBrian Meakin Band Treacys Hotel FRINGE EVENT Sunday - Midday The Cotton Tree Cafe Richard & Eddie TOWN VENUE MAP www.visitwexford.ie Welcome t e BLACKSTAIRS ★ 28th FESTIVAL ★ Sept. 9th, 10th, & ENNISCORTHY11th BLACKSTAIRS BLUES FESTIVAL 2022 Insurance O'CALLAGHAN'S www.visitwexford.ie Blackstairs Blues Festival Blackstairs@BlackstairsBluzBlues Slaney leiSure & lifeStyle 2nd September 2022 - Page 73
AUSTIN WALKIN CANE(Damn fine Blues)
THE BC BLUES BAND The BC Blues band formed 2018 by Enniscorthy locals Senan Carty on bass and Iain King on guitar. Soon augmented by the high energy harp of Graham Moore and soulful vocals of Bryan Steacy. The band plays a mix of old and new classics, all tied together by the groves of drummer Brendan Carthy. This band will help you dance your blues away.
TheROB STRONG Band After the sensational reaction to his concert at the Presentation Arts Centre in July, the legendary Rob Strong brings his band back to Enniscorthy, this time to Treacy's Hotel on Saturday 10th September. As the title of his highly acclaimed biography suggests, Rob is 'STILL GOING STRONG ' Rob Strong is hugely respected in the Irish music industry with RTE's Pat Shortt describing the Derry native as 'world class with an amazing voice'. Paul Brady describes Rob as a major influence on his own career and says 'Rob is one of the true originals'. Colm Wilkinson adds 'Rob Strong is incredibly talented - in my opinion he is the best blues / soul singer to ever come out of Ireland'.
FRANK FRANCONE BAND Frank Francone (guitar and vocals) in his career played and collaborated with several Bands and Artists in France, Italy and Ireland, such as Karl Potter (USA), Cheryl Porter (USA), Dermot Byrne, Don Baker, Jim Finn Band (Australia) and more. His repertoire ranges between traditional rearranged Blues aswell as originals with plenty of Boogie. In the actual line-up of FRANK FRANCONE BAND there's BOB MASALA on Bass (session musician with dozens of international tours and recordings at his active) and PAUL AMES on Drums (regular drummer already with 'The Telling' band).

While one group was sword-fighting at Enniscorthy Castle, tasting Ireland's best 99s at Henry's Ice Cream, Campile, and marvelling at the breathtaking Hook Lighthouse, the other group took golfputting lessons at Bunclody Golf and Pics: Domnick Walsh.
Page 74 -
Joy does Wexford proud on Slaney adSlaney leiSure & lifeStyle 2nd September 2022 County Wexford rolled out the red car pet last month for the 33 Roses taking part in this year's Rose of Tralee International Festival on the Wexford Rose Tour. The Roses were treated to a whirlwind tour of the Sunny South East which truly lived up to its name during their 3-day visit. After checking in at the 4-star Ashdown Park Hotel and meeting their fellow Roses, they arrived to a warm welcome at the Wexford County Council reception at Johnstown Castle including a delicious spread full of local food and drink pro duce provided by Taste Wexford. The town of Gorey was buzzing at their arrival with live music, Irish dancers and Rose-themed displays lining the Main Street to the delight of the Roses. It was truly a spectacular welcome on their first Daynight.2 of the tour saw the Roses stop to smell the lavender at Wexford Lavender Farm, learn all about the rescue and con servation work at Seal Rescue Ireland, enjoy a delicious lunch at Wells House, hang ten with surfing lessons at Curra cloe Beach and step back in time to Vik ing life at the Irish National Heritage Park. After a busy day filled with laughs, smiles and sing-songs, it was time to don the gladrags for the Wexford Rose Tour gala dinner hosted by accommodation partner, the Ashdown Park Hotel, which raised an incredible €12,300 for the North Wexford Hospice on the night. With so much to see and do right across the county, the Roses split into two groups on their final day in Wexford.
n national stage
Fishing Club, sampled famous Wexford strawberries at a Wheelock's Fruits road side hut and got up close and personal with the wonderful animals at Secret Val ley Wildlife Park. After a relaxing sailing along the River Barrow (and, of course, a rendition of 'My Heart Will Go On') aboard the new Barrow Princess River Cruise, the full group were reunited at the Dunbrody Famine Ship where they heard the stories of the people who emigrated on the ship during the famine. It wouldn't be a tour of County Wexford without making a pitstop in Ferns for praise for the Wexford Rose Tour and said that they 'had never experienced such warm hospitality' as they did during their time in Wexford. Wexford County Council Tourism Officer Billy Byrne said, "I believe that the Wexford Rose Tour lifted the county of Wexford and that the Roses left our county with very fond memories that they will cherish for years to Thecome."Roseof Tralee was broadcast live on RTÉ One on Monday 22nd and Tuesday 23rd of August. Wexford Rose Joy Quig ley did Wexford proud and we wish her well for the future. n
Right: Joy with RTE's Marty Morrissey.
Slaney leiSure & lifeStyle 2nd September 2022 - Page 75 Wexford Rose Joy Quigley to pay a visit to her homeplace. She arrived to a rap turous reception in front of the magnifi cent Ferns Castle, welcomed by family, friends and locals wishing her the best of luck for the rest of the exciting tour ahead. She said: "A massive wholehearted thank you to everyone in my local village, town and the whole county for all your support and kindness on my journey so far. Your encouragement and well wishes truly mean the world to me, I hope to do you all proud." CEO of the Rose of Tralee International Festival Anthony O'Gara was full of Below: Ferns native and Wexford Rose Joy Quigley arrived to a rapturous reception in front of the magnificent Ferns Castle, welcomed by family, friends and locals wishing her the best of luck in the Rose of Tralee competition.
Below right: Joy with her parents in Tralee.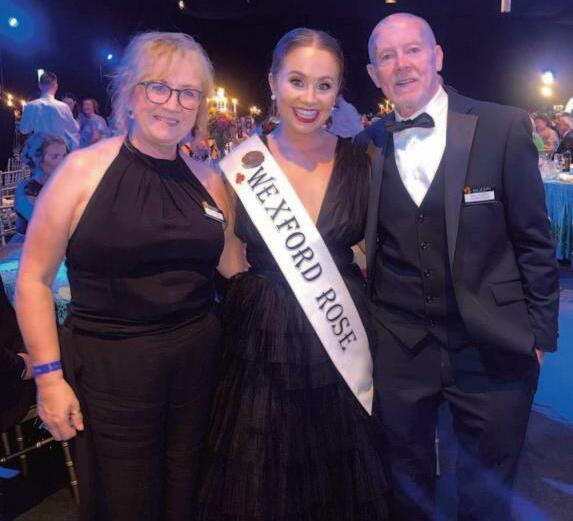 The roar that raised th
More than 500 participants at this year's Dip in the Nip in Rosslare
On a mid-August Sunday morning as the sun crept over the beach near the Burrows at Rosslare, more than 500 women from all over County Wexford and Dublin and elsewhere drove quietly down to the Community and Recreation centre there and almost noiselessly parked their cars. They walked quietly down a laneway and confidently strode out on the beach. All were dressed in bathrobes. They had been arriving since dawn. Men were not allowed see them. They were kept away. The "dip in the nip" as it is called was a women and girls only event. The Gardaí were women. The organisers were women and the only press photographer was a woman. Women clad in yellow vests with the Hope or Cancer logo splashed across them went around collecting money. It was a whispered collection – most people gave fivers and tenners and €20 notes. It's all for the Hope Cancer Support Centre charity based in TheEnniscorthy.nowfamous organiser, Eileen Rowe, with a clicker, checked the numbers of 'dippers' going on the beach. The numbers had increased from 300 in previous years to more than 500 today. Maria Gore, Manager of the Community and Recreation Centre, Val Boggan, Chairperson of the Rosslare Community and Development Association (RCDA) and Anne Crowe Fortune were there helping Eileen with the crowds.
Slaney September 2022
robed and ran naked into the sea. They shouted and they cheered and they splashed as they embraced the water and the freedom and leapt for joy without clothes on in the some times chilly cold and more often warm waves. Their dip in the nip lasted about 15 minutes. The experience was 'pure ecstasy', 'exhilarating', 'uplifting', 'inspirational', 'amazing', a 'never to be forgotten' experience said a group of women who chatted there. It was' highly emotional' said one who said she witnessed women who had cancer at various stages, some of whom had the scars of various surgery operations, but were nevertheless cheerful and optimistic. Tears came to the eyes of some at the Aftersight. the dip, many women sat in the sand on the beach in the morning sunshine for at least an hour and had picnics from flasks of hot water and carefully cellophaned sandwiches and fruit bowls. Bridie Kelly Doyle and Carina Moran from Barntown and Brigid Freeman from Rosslare were among the picnickers. Asked if they would do it again, "We'll be back next year" they shouted. The dip in the nip is expected to raise more than €10,000 for Hope the cancer charity. There were rumours of much more money to come in the weeks ahead. n
adSlaney leiSure & lifeStyle Page 76 - 2nd
housands for Hope
Background photo: Ready for the Dip in the Nip at sunrise in Rosslare on 14th August 2022. Above right: Having breakfast on the beach are Carina Moran, Bridie Kelly-Doyle and Brigid Freeman.
Slaney leiSure & lifeStyle 2nd September 2022 - Page 77

ad
n
leiSure & lifeStyle Page 78 - 2nd September
Charlie McGettigan his new biography will be available from 10th September. It would make an excellent gift coming up to Christmas to either give or receive, and even if you don't read, you can listen to 26 songs within the book and re-listen to your favourite songs over and over again.
The book will be available from September 10th from Battlebridge Press and selected retailers. For retail orders email your name and contact details to: battlebridgepress@yahoo.com or telephone 087-2743513.
SlaneySlaney 2022
Pictured at the launch of 'Write By The Sea' the Kilmore Quay literary festival, on 22nd July, were back row L-R Anne Cousins, Sylvia Kehoe, Anne O'Brien, Derek Burke, Caroline Busher and Elena Winch. Front row L-R: Cllr Lisa McDonald (Chairperson Rosslare Municipal District), Theo Dorgan (who will open the Festival), Lucy Moore (Festival Chairperson) and Cllr George Lawlor (Cathaoirleach Wexford Co. Council).
that one of the key reasons for the success of Write By The Sea is that we annually attract a stimulating mix of local, na tional and international authors. So it's very exciting to have such a strong representation from County Wexford for this year's programme, our first almost fully live event since the ThePandemic."fullprogramme and booking details for Write By The Sea 2022 are available on https://writebythesea.ie n
Write By The Sea 2022 is set to run from Friday, September 23, to Sunday, September 25, and the local representation in cludes Claire Keegan, whose award-winning, Booker-longlisted novel Small Things Like These is set in New Ross, Caroline Busher, Imelda Carroll, AM Cousins, Margaret Galvin, Fintan Murphy, Jan Doran, Fidelis Power, Kathleen Tierney, Simon Bourke, Celestine Murphy and Hazel Percival. They join a galaxy of acclaimed literary figures of the calibre of Roddy Doyle, Lucy Caldwell, Manchan Magan, Peter Cunning ham, Fiona Scarlett, Robert Gogan, Martina Devlin, Hillary Fannin, Ronan Hession, Liz Nugent and Professor Derek Hand. The festival will be officially opened by keynote speaker Pro fessor Kevin Rafter, Chair of The Arts Council, at 6pm on Fri day, September 23.
The programme for the Write By The Sea 2022 Literary Festival in Kilmore Quay will include a strong Wexford presence among an appealing array of national and inter national literary figures.
Strong Wexford presence at Kilmore Quay Literary Festival
Slaney artS 2nd September 2022 - Page 79
Lucy Moore, Chair of Write By The Sea says, "It's been said

Slaney adSlaney artS Page 80 - 2nd September 2022 Art Classes For Beginners at The Presentation Arts Centre with Jamie Sinnott and Edward McGuinness. Starting Monday Sept 5th, and running for 5 weeks, 6:30pm8:30pm, course cost €70. Book now at www.presentationcentre.ie n Enniscorthy Book Club Check out the club's Facebook page for full information and details on when the club meets up. https://www.facebook.com/enniscorthybookclub n At the Writing on the Wall exhibition currently running in Enniscorthy Castle were Essie Morris and Tom Boland.
Exhibitions of shortlisted works in both competitions run at the National Gallery of Ireland between 26 November 2022 and 2 April 2023. n Sean Fitzpatrick 'Constructing Ella'
Young local artist shortlisted for top prize artworks, so I combined them both. I used pencil for this picture.'
A young artist from near Enniscorthy, Sean Fitzpatrick, has been shortlisted for the Zurich Young Portrait Prize competition at the National Gallery of Ireland. Sean is a student at CBS Enniscorthy. From hundreds of entries, the shortlists of this year's Zurich Portrait Prize and Zurich Young Portrait Prize have been announced by the National Gallery of Ireland. 26 artists, working across a var iety of media, have made it through to the final stage of the Zurich Portrait Prize, while 20 young artists aged be tween four and eighteen years old have been shortlisted for the Zurich Young Portrait Prize. Sean Fitzpatrick from Da vidstown, Enniscorthy, has been short listed for the Zurich Young Portrait Prize, for his drawing Constructing Ella. Sean is an 18-year-old portraiture artist whose predominant medium is pencil. Combining a gentle aesthetic with the many strengths and depths of graph item, his aim is always to capture the essence of the subject's personality and demeanour. Sean says about Construc ting Ella, which is done with pencil and charcoal on paper, 'This is a portrait of my sister Ella. I wanted to capture the beginning of a smile, both in her eyes and on her lips. The inclusion of my own hand and arm was inspired by the Dutch artist M.C. Escher. I am fasci nated by hyperrealism and surrealism
2nd September 2022 - Page 81 EnniscorthyLibrary...
'The Cliffhangers' Junior Book Club is back in the Enniscorthy branch for its monthly meetings usually the last Thursday of the month. It's a great way to try new authors and genres and there is no pressure to read aloud. New members are always welcome. If you would like your child to join, please contact 053 9236055 for more informa tion. Suitable for ages 8–12. n On the last Thursday of every month the Slaney Writers Group meets in Ennis corthy Library at 7pm. New members welcome. If you are inter ested in going along please contact En niscorthy library on 053 9236055. n On the third Thursday of every month the Adult Book Club meets in Ennis corthy Library at 7pm. New members welcome. If you are inter ested in going along please contact En niscorthy library on 053 9236055. n
Slaney artS
This year's Zurich Young Portrait Prize judges are: Janet McLean, curator, Na tional Gallery of Ireland; Nick Roche, comic illustrator; Una Sealy RHA, artist.
The Zurich Young Portrait Prize is return ing for its fourth year this year. Five winners (one from each respective age category and an overall winner) will be selected from a shortlist of hundreds of entries from young people aged four to 18 from across the island of Ireland. Winners will receive a bespoke art box and a cash prize. The overall competition winner will be awarded a personalised wooden box of high-quality art materials, specific to their choice of material in their portrait, and a cash prize of €500. All twenty shortlisted entrants will have their artwork professionally framed/prepared.
The winner of the Zurich Portrait Prize will receive a cash prize of €15,000 and will be commissioned to create a work for the national portrait collection, for which they will be awarded a further €5,000. Two additional awards of €1,500 will be given to highly commended works. Judges for the Zurich Portrait Prize are Diana Copperwhite, artist; Anna O'Sullivan, Director of the Butler Gallery, Kilkenny; and Nick Miller, artist.

The ensemble has won a record of 14 in ternational prizes (including Munich, Rome, Berlin, Prague and London) and worked alongside artists of the highest calibre including Emma Johnson, Yuko Inoue, Hugh Tinney, Chen Zimbalista, Jé rôme Pernoo, Peter Donohue and Martin Roscoe. Collaborations with other distin guished quartets have also been a fea ture, such as the Amadeus, Arditti, Vanbrugh, Casals and Endellion.
Programme: Ina Boyle - Quartet in E minor [1934] Jane O'Leary - Strings in the Air, Songs in the Stones [2021] Brahms - Quartet in B flat Op.67 With thanks to the Arts Council, RTÉ Lyric FM and National String Quartet Foundation. n The Courthouse Arts Centre in Ti nahely opens its Autumn 2022 season with The ConTempo Quartet, Ireland's longest established quartet, perform ing two Irish string quartets Ina Boyle's lovely E minor Quartet, written in Enniskerry in 1934, and a new piece by Galway's Jane O'Leary. Brahms' sunny, uplifting B flat major quartet was written in 1875 while he enjoyed a summer holiday in the beautiful German town of Ziegel hausen and it was to become his favourite of his three published quartets. The Contempo Quartet (Bogdan Sofei, Ingrid Nicola, Andreea Banciu and Adrian Mantu) is the resident quartet of the Galway Music Residency and was RTE's Resident Quartet from 2014 until 2019. Praised as a "fabulous foursome"
ConTempo at the Courthouse
Slaney adSlaney artS Page 82 - 2nd September 2022 (Irish Independent) and noted for per formances which are "exceptional" (The Strad) and "full of imaginative daring" (The Irish Times), RTÉ ConTempo Quar tet has forged a unique place in Irish musical life. Since its formation in Bucharest in 1995, the quartet has performed more than 1,800 concerts worldwide in 46 coun tries, including prestigious venues such as Wigmore Hall; Théâtre du Châtelet, Paris; St Martin-in-the-Fields; Berliner Philharmonie; Palazzo del Quirinale, Rome; Carnegie Hall and the Opera House Tel-Aviv. ConTempo have had the honour to meet and play in front of world personalities such as Prince Charles, Nelson Mandela, Pope John Paul II, EU Ministers, President Michael D. Higgins, Hollywood stars and Nobel Prize winners.
Slaney artS 2nd September 2022 - Page 83 Wexford County Council is thinking about arts and culture, what it would like to achieve with Wexford communities, the activities and infrastructure it would like to develop in the five years from 2023-2027. The Council would love to get your input and in vite you to talk to them about what you believe should be included. Wexford has two strategies that help support its work with communities, art ists, arts, culture and creativity – the County Wexford Arts Plan and the Wex ford Culture & Creativity Strategy. WCC believes that implementing these plans over the last few years helped grow con fidence in connecting many communities in Co. Wexford to more arts and cultural activities. These plans fostered more cre ative collaborations and supported more artists as well as local communities to engage in creative activity. In addition, they achieved positive outcomes in many key areas such as placemaking, wellbeing, the creative industries, film and heritage programmes. As part of WCC's work to develop a new Wexford Arts Plan as well as a new Cul ture & Creativity Strategy, it is consider ing arts and creativity's role in everything; from community, youth, art ists' development, the creative indus tries, to heritage, wellbeing, ageing, economic development, placemaking, climate change and the environment. WCC invites you to attend one of the upcoming Focus Groups in person this ThereSeptember.willbe general as well as focused discussion at each Focus Group, so feel free to attend the one closest, most con venient or most relevant to your area of Allinterest.venues are wheelchair accessible. Re freshments will be provided.
FOCUS GROUP 3 – KILMORE QUAY Theme: Social Inclusion, Well-being, Age Friendly Initiatives, Festivals. Date: Mon day 12 September, 3.00pm – 5.00pm. Venue: Stella Maris Centre, Seaview, Kil more Quay, Co. Wexford. This focus group is about promoting so cial inclusion, well-being and belonging in Wexford, and will include discussion of arts and health initiatives, age-friendly in itiatives, arts festivals and other arts in community contexts.
To book a place: coco.ie/bookings/endar/Group3KilmoreQuay@wexfordhttps://outlook.office365.com/owa/cal
FOCUS GROUP 4 - GOREY
Theme: Creative Industries, Screen Wex ford, Crafts and Heritage. Date: Tuesday 13 September, 11.00am - 1.00pm. Venue: Gorey Library, Gorey Civic Square, The Avenue, Gorey, Co. Wex ford, Y25 WK37. This focus group considers how we can activate more opportunities in the cre ative industries, film, craft, heritage sec tor, and all fields working in the culture and the creative economy in Wexford.
FOCUS GROUP 1 - ENNISCORTHY Theme: Social inclusion, Diversity and Equality. Date: Thursday 8 September, 11.00am - 1.00pm. Venue: Presentation Arts Centre, Convent Road, Enniscorthy, Co. Wexford, Y21 X889. This focus group will look at the feeling of belonging in Wexford, equity of op portunity for all ages, abilities, and ident ities in relation to access to the arts and cultural activities. It will include dis cussion about the arts in a wide variety of community contexts, as well as in youth arts.
To book a place: FOCUSey@wexfordcoco.ie/bookings/fice365.com/owa/calendar/Group4Gorhttps://outlook.ofGROUP5-NEWROSS
Theme: Placemaking, Environment, Heri tage, Climate Action. Date: Wednesday 14 September, 6.00pm – 8.00pm. Venue: St Michael's Theatre, South Street, New Ross, Co. Wexford. This focus group will look at what makes Wexford a creative and environmentally aware county to live, work in, and visit, through our natural, built and cultural heritage, public spaces, and considers the environment and climate action.
To book a place: e/bookings/endar/Group5NewRoss@wexfordcoco.ihttps://outlook.office365.com/owa/cal
If you cannot attend any of the focus groups and would like to contribute, an online questionnaire is being circulated and submissions will be accepted until 23rd September 2022. If you have any queries in relation to the above please contact the Arts Depart ment at arts@wexfordcoco.ie or phone 053-9196564/6369. n
The future of the Arts & Culture in Co. Wexford – have your say!
To book a place: coco.ie/bookings/endar/Group1Enniscorthy@wexfordhttps://outlook.office365.com/owa/cal
Theme: Artists, the Arts and Creatives. Date: Thursday 8 September, 6.00pm8.00pm. Venue: Wexford Library, Mallin Street, Wexford town, Co. Wexford, Y35 ThisAY20.focus group will look at the needs of artists and creatives at all stages of their careers. It will include discussion about arts infrastructure, funding and grant structures, workspaces and opportunities for artists and creatives, who work to make Wexford a great creative county and place to live. To book a place: e/bookings/endar/Group2Wexford@wexfordcoco.ihttps://outlook.office365.com/owa/cal
FOCUS GROUP 2 – WEXFORD

Above right: Emer and Martin O'Brien of the Mullichain Café in St Mullins Best Café in Co. Carlow. Pics: Paul Sherwood.
All of the county winners now compete for the Regional and All Ireland Titles, which will be announced at the Irish Restaurant Awards All Ireland Final on Monday 19th September 2022.
Speaking at the Leinster Regional Awards Chief Executive of the Restaurants Association of Ireland, Adrian Cummins, said; "Now in their 13th year, the Irish Restaurant Awards returns after the 2020 Awards were cut short. The Awards are an op portunity to celebrate the existing and up-and-coming talent in the sector and are a reminder that hospitality is nothing without the dedicated and passionate staff in the industry. The Awards continue to showcase the incredible food that is on offer in the cafes, pubs and restaurants of Ireland. With well over 100,000 nominations received from the public this year, the standard for the judging process was higher than ever." Food outlets were nominated under the categories of Local Food Hero, Best Free From, Best Emerging Irish Cuisine, Best Restaurant Manager, Best Wine Experience, Best Café, Best World Cuisine, Best Newcomer, Pub of the Year, Best Casual Dining, Best Hotel & Guesthouse Restaurant, Best Customer Ser vice, Best Gastropub, Best Chef, and Best Restaurant and finally a new award category for 2022 Best Sustainable Practices.
The Leinster Regional Final of Irish Restaurant Awards 2022 took place in the Knightsbrook Hotel, County Meath, on Tuesday 16th August 2022. Over 900 restaurant and hospi tality business owners and staff celebrated their hard work and achievements at the awards event.
Slaney aDSlaney FOOD & DRInK Page 84 - 2nd September 2022
Local winners at Leinster regional restaurant awards 2022
Knightsbrook Hotel, Trim, Co. Meath, 16th August 2022.
Above left: Paula and John O'Connor of Greenacres, Wexford town, with their award for Best Wine Experience in Co. Wexford.
Amy Murray of D'lush Cafe, Wexford Arts Centre, winner of Best Café in Co. Wexford. Pic: Paul Sherwood.
One Hundred Degrees Restaurant & Wine Bar. Best Gastro Pub Sponsored by Worldpay from FIS: Simon Lambert & Sons. Best Chef Sponsored by BWG Foodservice: La Côte Seafood Restaurant, Paul Hynes. Best Restaurant Sponsored by Tindal Wine Merchants: La Côte Seafood Restaurant. n Last month, The Village at Wheelocks, Enniscorthy, installed the Wasp Star sytem – the world's first bio-friendly, non-lethal wasp control system to ensure its restaurant customers and staff can enjoy the best possible dining experience and working conditions. The system is based on providing a particularly attractive food source which entices the wasps away from the tables, bins, strawberry plants, etc on the Wheelock's site. Check out: ockFruitsEnniscorthy/videos/1136475776938347https://www.facebook.com/Wheel
Page 85
Cyril Wheeelock enjoying a cuppa in peace with the Wasp Star tower in the background which wards off wasps and makes outdoor dining in the Village at Wheelocks even more comfortable.
Last month also, Wheelocks featured on John Torode's new series on Food Network UK "John Torode's Ireland" where he showcases the best of Irish food. The visit to Wheelocks is included in episode 3 and can be viewed on Discovery+ n
Warding off the wasps at Wheelocks
2nd September 2022 -
Slaney FOOD & DRInK
THE CO. WEXFORD WINNERS ON THE NIGHT WERE: Local Food Hero Sponsored by The Irish Times: Regan Organic Farm, Mary Regan. Best Sustainable Practices Sponsored by Gas Networks Ireland: Cistín Eile. Best Free From Sponsored by Peroni Nastro Azzurro: Donna Marina. Best Emerging Irish Cuisine Sponsored by FBD: Aldridge Lodge. Best Restaurant Manager Sponsored by AIB Merchant Services: Lobster Pot Seafood Restaurant, Nicola Zammit. Best Wine Experience Sponsored by Bibendum Ireland: Greenacres Restaurant and Wine Store. Best Café Sponsored by Illy: Carlow Mullichain Café. Wexford D'lush Café. Best World Cuisine Sponsored by San Pellegrino: The Red Elephant. Best Newcomer Sponsored by Square: Jasper's Restaurant. Pub of the Year Sponsored by Jameson: The Sky & the Ground. Best Casual Dining Sponsored by Musgrave Marketplace: 10 West Bistro & Cocktail Lounge –Restaurant. Best Hotel & Guesthouse Restaurant Sponsored By Frylite: The Duck Restaurant – Marlfield House. Best Customer Service Dolmen:Restaurant-Insurance.ieSponsoredProvidedby

Work is ongoing behind closed doors at the River Restaur ant premises in Market Square as the new owners, who have an established Chinese restaurant in Galway, are pre paring to open later this month. The new restaurant will be called 'Lime'.
The River Restaurant was previously run by the popular John and Margaret Morrissey for 27 years. They thank their loyal customers over those years and are delighted that the prem ises will continue to be a restaurant serving the people of En niscorthy into the future. n
New Asian Street Food restaurant to open in Enniscorthy town centre
Slaney aDSlaney FOOD & DRInK Page 86 - 2nd September 2022
The recently closed River Restaurant will be reopening later this month as 'Lime' under new management. Above right: Cllr Jackser Owens outside the new restaurant.
Saltees Coast Hotel is situated in the heart of historic Kilmore Quay within walking distance of beaches, walking trails, and the harbour. This family-friendly hotel with its welcoming staff is now under new, local management, and is serving food seven days a week, 8am to 8pm, with great value steak nights on Mondays and Thursdays, and curry nights on Tuesdays. It is also in the wedding business catering for weddings of all kinds. Contact: 053 9148641 for more information. n
Saltees Coast Hotel –fine food wonderfulandweddings
Slaney aD 2nd September 2022 - Page 87 Providing you with a huge choice of sessions throughout the week: Tuesdays @ 6.30pm The Salt n Pepper Pot, Community Workshop Call Tony on 087 1785384 Wednesdays @ 9.30am, 11.00am, 5.30pm and 7.00pm Enniscorthy Rugby Club Call Trish on 087 3607615 Saturdays @ 9.00am and 10.30am The Salt n Pepper Pot, Community Workshop Call Tony on 087 1785384 Your local Slimming World Consultants in Enniscorthy

Slaney 88 - 2nd September 2022
The Enniscorthy Community Allotments (ECA) group was awarded funding in December 2021 and by 11th April 2022 the wonderful allotments facility was open, and growing had commenced on site. The ECA is made up of local people who grow their own fresh produce and aim to encourage biodiversity, organic and sus tainable food growing, promote and encourage the practice and knowledge of horticulture among members and to build community spirit. To date, they have created 64 plots, 20 raised
Enniscorthy allotments
beds, and a polytunnel with 60 growing spaces and approximately 250 people use the allotments on a regular basis. What an incredible success story which has been acknowledged by RTE who filmed there recently and by the ECA group winning a top award in this year's national Energia Get Ireland Growing initiative. Email:https://www.facebook.com/Enniscorthycommunityallotmentshttp://www.enniscorthycommunityallotments.ie/enniscorthyallotments@gmail.com n
Plenty of political support for the Enniscorthy Allotments L-R: Cllr Lisa McDonald, Minister James Browne TD, Cllr Barbara-Anne Murphy, Cllr Jackser Owens, Cllr Aidan Browne (Cathaoirleach Enniscorthy Municipal District), Michael Devereux (Chairman, Enniscorthy Community Allotments), Cllr George Lawlor (Cathaoirleach Wexford County Council), Paul Kehoe TD, Cllr Cathal Byrne, Cllr Kathleen Codd-Nolan.
Above: Cutting the ribbon, L-R: Anna Davis (Treasurer, Enniscorthy Community Allotments), Cllr Lisa McDonald, Chairperson LCDC, Cllr Aidan Browne (Cathaoirleach Enniscorthy Municipal District and committee member of Enniscorthy Community Allotments), Michael Devereux (Chairman, Enniscorthy Community Allotments), Noreen Kehoe (Secretary, Enniscorthy Community Allotments), Cara Daly (guest speaker), Eimear McCauley (committee member, Enniscorthy Community Allotments), Mark Cooke (Vice-Chairperson, Enniscorthy Community Allotments).
aDSlaney FOOD & DRInK Page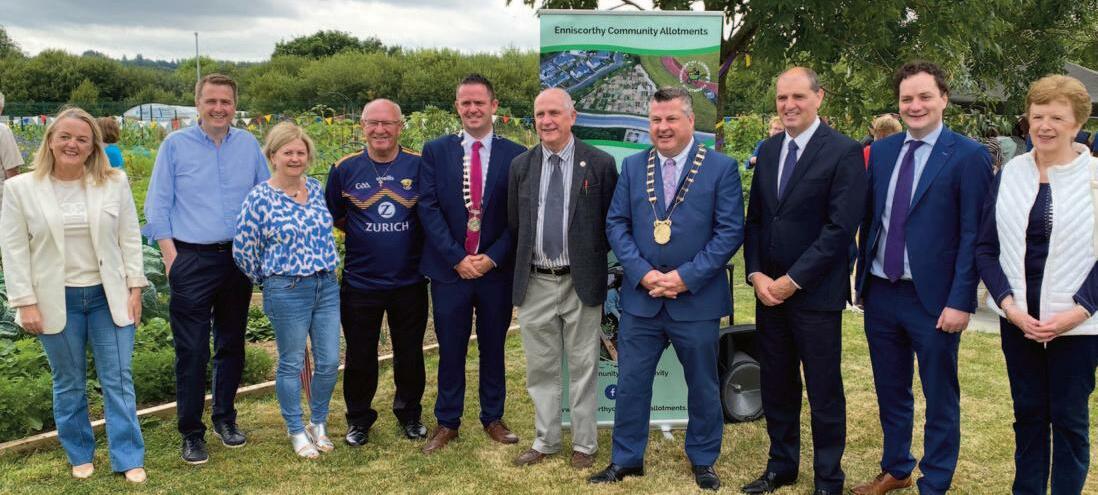 Slaney FOOD & DRInK 2nd September 2022 - Page 89 Killowen Farm, based in Courtnacuddy, Enniscorthy, struck gold yet again at the Great Taste Awards 2022 winning a total of 15 gold stars. Comments from the judges for Killowen Farm Lemon Curd in cluded: "The flavour is stunning lactic tang blending beauti fully with the citrus zestiness and then the cream pulling it all together in a perfectly rounded way. The finish is long and fresh with a clean blossomy feel." And for its Wexford black currant, "What a beautiful aroma of yogurt and sweet yet sharp blackcurrant hit as we delve in deeper... The deep red/black colour of the berries is stunning and sits in perfect harmony with your beautiful Wexford dairy herd."
O'Neills Bacon, based in Enniscorthy, was awarded a total of three stars by the Great Taste Awards 2022 for its Dry Cured Bacon Joint, Dry Cured Back Rashers, Dry Cured Rindless Streaky Rashers. What do these stars mean? Each product that receives a Great Taste Award has been through a rigorous and independent judging process and is deemed to be anything from Simply Delicious to Exquisite. Both companies are proud to be included in this year's awards and say a big thank you to all their customers who continue to support their prizewinning products. n
Enniscorthy Street Rhythms Festival on 27th August in Market Square. It wasn't all song and dance as M&M Butchers had their food stand in operation and Nadia Chizara got to grips with some chicken there.
Caitriona Barron
The Slaney News is delighted to wel come on board well known food blogger and pho tographer Cai triona Barron from Drinagh, alsototionmonth'sappearsfoodCaitriona'sWexford.firstcolumninthisFoodsecsomakesurecheckitoutandsee testedtastedbook.com/triedhttps://www.face onCaitriona_barronandinsta.
TastewinnersEnniscorthyatGreatAwards
Top foodie joins the Slaney News team

Slaney aDSlaney FOOD & DRInK Page 90 - 2nd September 2022
Roses visit Wheelocks outlet
The Rose of Tralee contestants visited one of Wheelocks strawberry outlets near Enniscorthy during their tour of Co. Wexford last month. Pics: Courtesy of Maria Nolan.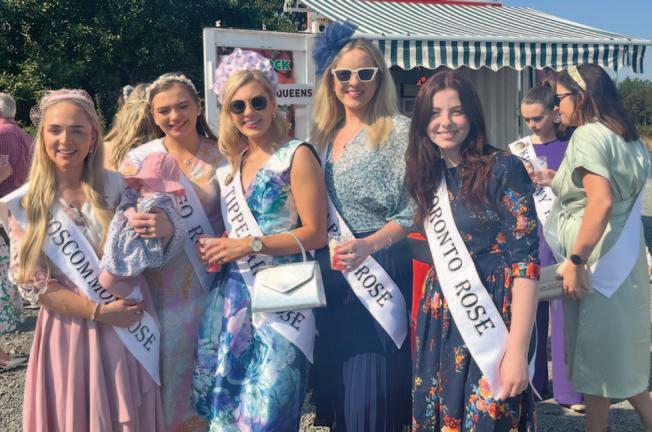 FOOD & DRInK 2nd September 2022 - Page 91
For tickets see kennedysummerschool.ie
Reminiscent of the most famous Irish Tea Party ever hosted the Kennedy Summer School is set to host a Tea Party at the JFK Arboretum at 2.30 pm on Thursday, September 8th, 2022.
The 2022 Summer School will focus on topical issues in Irish and U.S. politics with leading expert speakers from both sides of the Atlantic along with a focus on Russia and Ukraine and a dis cussion on Sustainable Futures and political impact.
The event will be hosted by Sean Connick, Chief Executive of the JFK Trust New Ross, and will feature guest personality Mary Kennedy to talk about her career paths and life after RTÉ.
Mary Kennedy to host Kennedy Summer School Tea Party.
Kennedy Summer School Tea Party
The Kennedy Summer School will celebrate the iconic Presi dential visit of John F Kennedy to New Ross and Dunganstown with a special event of talks, entertainment and afternoon tea.
The afternoon promises to be an interesting, entertaining, lively opportunity for all involved to meet, mingle and chat in that most typical of Irish ways – over a cup of tea.
Slaney
In addition, rare film footage of the visit of President John F Ken nedy captured by the late Peggy Walsh will also be screened. Guests to the event will be treated to an array of pastries and cakes and of course a traditional fruit cake, which is what Presi dent John F. Kennedy along with his sisters Eunice Shriver and Jean Kennedy-Smith were served by his cousin Mary Ryan dur ing his visit in 1963. These delicious treats will be made by the expert members of the Wexford Federation Irish Country Women's Association. During his 1963 visit, the Presi dent cuts a slice of the cake, which he ends up giving to Mary Ryan, his andandbilledofSchoolThenedysdys"Atheandonce-removed.second-cousin-Hethanksherherfriendsfordoingallofcookingandoffersatoast,cupofteatoalltheKennewhowentandalltheKenwhostayed."annualKennedySummerissettohostanumberexpertdiscussionsandisas'AFestivalofIrishAmerican,History,PoliticsCulture.Therewillbeover
40 guest speakers participating with United States Ambassador to Ireland Claire Cronin set to officially open the event. US politician and grandson of Robert Kennedy, Joe Kennedy will join the event remotely plus there are a host of politicians, political commentators and correspondents and leading global academics who will all join in the discussions billed for the annual Kennedy Summer School which is set to take place in New Ross this September 8th to 10th, 2022.
During the event, mezzo-soprano Olga Doroshchuk, a Ukrain ian opera singer and film and theatre actress who came to Ire land in April due to the war in her homeland, will entertain visitors at the event with an operatic performance. Olga has performed many roles in Kyiv including Gertrude in Gounod's 'Roméo et Juliette' with the Kyiv Opera Theatre, Lyubasha in Rimsky-Korsakov's 'The Tsar's Bride', and the title role Carmen in Bizet's 'Carmen'.
The 2022 Kennedy Summer School programme and tickets are now available online at www.kennedysummerschool.ie or call St. Michael's Theatre on 051 421255. n
The most famous Irish tea party is set to be re-enacted at the JFK Arboretum in Co. Wexford during the annual Ken nedy Summer School on the afternoon of Thursday, September 8th, 2022.

"I worked with the family business before leaving to be a stay-at-home mother but soon got bored (lol!) and started taking pics of my food, sharing my recipes on social media. When people started showing interest, I realised this could be a job so I bought myself a camera and threw myself in the deep of it. I love it and I get to work with amazing companies. Seeing my pictures in magazines, in shops, and occasionally on TV is pretty amazing.
450g butternut 300g potatoes 2 leeks cleaned and chopped 2 cloves garlic 700g veg or chicken stock 1 packet of Killowen cream cheese 100g grated cheddar Salt pepper to taste Chop veg, add to a saucepan with stock. Bring to a boil and simmer for 40 mins. Add cream cheese and blend, stir in cheddar, season to taste and serve. We serve it with toasted seeds and pretzels. n
Caitriona Barron
Caitriona Barron from Drinagh, Wexford, grew up on her dad's farm with plentiful homegrown veg and their own meat so "we really knew the value of good food. My mother started a seafood business after meeting my stepfather fisherman, my brother now runs the seafood business so I'm well used to fresh food."
Slaney aDSlaney FOOD & DRInK Page 92 - 2nd September 2022 CREAM CHEESE CHEDDAR AND BUTTERNUT SQUASH SOUP
"I'm a mother of two boys and, yes, juggling it all can be very tough. But I keep it going as it's my passion now and it's very rewarding."
Tried-Tested-Tasted by Caitriona
https://www.facebook.com/triedtestedtasted and Caitriona_barron on insta n
Above:
Proprietor Biju at the launch of his new venture in Market Square, Enniscorthy. Above right: Jorge and Sofia Ova had the distinction of being the first customers to enjoy the new tapas and cocktail bar.
New tapas &
Slaney FOOD & DRInK 2nd September 2022 - Page 93
HolybarcocktailattheGrail
Below: Maria Nolan, Michael Bennett, Helen and Eric Barron, Cristian Dorneanu (Community Garda), Sergeant Sylvia Ryan (Community Garda). Pics: Courtesy of Maria Nolan. See more on pages 8-9.

In addition to Dusty Boy (see above) several other businesses have just opened are are about to open in Enniscorthy.
'DUSTY BOY' TO OPEN THIS MONTH IN ENNISCORTHY...
Other businessesnew Enniscorthy...in
Yvonne Doyle opened her new Doyle Hearing Solutions premises in Slaney Place some weeks ago and is featured on the early pages of this issue.
Justin Campbell at the new Dusty Boy premises at Abbey Square, Enniscorthy
Court Street Tattoo is a large new tattoo parlour now occupy ing two previously vacant shops on Court Street.
Lime is a new Asian Street Food restaurant about to open in the old River Restaurant premises in the Market Square. n
Slaney aDSlaney buSIneSS & FInance Page 94 - 2nd September 2022
Best of luck to Kenneth Murphy with Predator Fitness gym which has opened on Templeshannon Quay.
Dusty Boy is a successful online business founded and oper ated by husband and wife duo Justin Campbell and Kate Rose Crean. Kate from Davidstown, and Justin who is originally from South Africa, have decided to set up a store in Enniscorthy, next door to Enniscorthy Credit Union, in the old Taste Factory premises. The business specialises in wall art, gifts, natural living products and its own clothing range – each piece is 100% organic cotton and vegan approved. And all packaging is completely recyclable, and plastic free. The Enniscorthy store will also cater for takeaway coffees. Our photos show Justin outside the new premises which is being worked on at present. Check out: https://dustyboy.com n
The Agile Innovation Fund is now available for small businesses: Introduced by Enterprise Ireland, the Agile fund will help clients of LEO Wexford respond more quickly to market opportunities and challenges like Brexit. Offering fast-track approval and a streamlined online appli cation process, the new Agile Innovation Fund will allow companies to access up to 45% or 50% in support for product, process or service de velopment projects with a total cost of up to €300,000. For more information click: vation%20Fund/prise.ie/Wexford/Financial-Supports/Agile%20Innohttps://www.localentern
Slaney buSIneSS & FInance
2nd September 2022 - Page 95
Business supports
The maximum Feasibility Study Grant payable shall be 50% of the investment or €15,000 whichever is the lesser. Expenditure may be considered under the following headings: Market Research - Consultancy Costs - Technical Development/Prototype/ Innovation - Salary/Own Labour Research - Miscellaneous Costs Please contact Wexford LEO for an application form for the Feasibility Study Grant. Phone: 053 919 6020. Email: info@leo.wexfordcoco.ie n
Sign up for The Local Enterprise Office Green For Micro programme – help ing your business prepare for the low carbon, more resource efficient econ omy of the future. Book Now: https://bit.ly/3zW6RBn
Green for Micro
Feasibility Study Grants are designed to assist the promoter with research ing market demand for a product or service and examining its sustainability. It includes assistance with innovation including specific consultancy require ments, hiring of expertise from third level colleges, private specialists, de sign and prototype development.
This FREE initiative is available to companies with up to ten employees, and provides the mentorship and technical support your business needs to go green, covering such as resource efficiency, understanding your carbon footprint, reducing costs and implementing an environmental management system. n
Feasibility Study Grants
The Business Expansion Grant is designed to assist a business in its growth phase after the initial 18 month start-up period. Sole traders, partnerships or limited companies that fulfill the following criteria can apply: - Located and operating within the LEO geographic area. - A business, which, on growth, will have the capacity to progress to the Enterprise Ireland portfolio - A business employing up to 10 employees - A manufacturing or internationally traded service business - A domestically traded service business with the potential to trade internationally. For more information and how to apply click here: terprise.ie/Wexford/Financial-Supports/Business-Expansion-Grant/https://www.localen

Pic: Patrick Browne.
SETU's Faculty of Lifelong Learning la of Business in Executive Leadership
"We are delighted to launch our new Master of Business in Executive Leadership programme through the Centre for Insurance, Risk and Data Analytics Studies at SETU. This is a very agile programme which offers flexible entry and exit pathways for the work-based learner. The programme is also innovative as one third of it is focused specifi cally on coaching practice for the workplaces of the future. We rec ognised that sustainable workplaces of the future are based on research, trust in people and respect for individual needs, prefer ences and life situations and here at SETU, we have developed this programme to meet these future skills needs," commented Lindsay Malone, Deputy Head of Faculty of Lifelong Learning at SETU. "AIB are delighted to collaborate with SETU and CIRDAS to host the
L-R: Linda Codoul, Network Ireland President-elect Noreen McKenzie, National President of Network Ir and Aidan Mahon, Lifelon Niamh Farrell, Emma Fox, Claire Harney and Mairéad Sinnott. Pic: Patrick Browne. Emer Colman, Carmel Tennant, Cllr Maura Bell (Mayor of Wexford) and Niamh Tennant. Pic: Patrick Browne.
Slaney aDSlaney buSIneSS & FInance Page 96 - 2nd September 2022
L-R: Christine Doyle, Anne O'Leary, Jennifer Mahon and Faye Rochford.
The Faculty of Lifelong Learning at SETU (South East Tech nological University) has announced a new fully-funded level 9 Master of Business in Executive Leadership via its Centre for Insurance, Risk and Data Analytics Studies (CIRDAS). The new course was launched at the faculty's Women's Networking Event on Thursday, 4 August 2022, co-hosted by AIB, Network Ireland and County Wexford Chamber Skillnet. Held at AIB in Wexford town, the sold-out event featured talks from Deputy Head of Faculty, Lindsay Malone; Damian Rossiter, Development and Programme Manager at CIRDAS; and Linda Codoul, President-elect of Network Ireland. Attendees also heard testimonials from network members of the value of executive leadership and coaching skills.
The focus of the event was the launch of the master's course that enables students to build a comprehensive understanding of stra tegic analysis methods required in executive leadership positions. This strategy includes developing participants' ability to implement strategic plans for appropriate change in an organisation.
t, Damian Rossiter, CIRDAS Development and Programme Manager SETU, reland, Lindsay Malone, Deputy Head of Faculty of Lifelong Learning SETU ng Learning Manager SETU. Pic: Patrick Browne.
2nd September 2022 - 97
buSIneSS & FInance
unches new Master
Pic: Patrick Browne. Dararca Flynn and Sophie Mcdermott. Pic: Patrick Browne.
Pic: Patrick Browne. Lisa O'Shea, Charlotte Cannell and Magda Crehan-Smart. Pic: Patrick Browne. Cllr. Murphy,Barbara-AnneMaryO'Dowd,ClodaghMcCumiskeyandMareeLyng.
Niamh Tennant, Emma Dunphy and Carmel Tennant.
Slaney
Page
launch of the Masters of Business in Executive Leadership (funded) at the Women's Networking event on Thursday 4 August, in our Wexford branch. We were delighted to welcome speakers from Network Ire land, SETU and County Wexford Chamber Skillnet and see so many of our local business women at this exciting and and informative network ing event," commented Maree Lyng, Hub Manager, AIB Wexford. The flexible nature of the programme is demonstrated in the granular mode of delivery where participants can opt to enrol in any one of the modules, the full master's programme or a combination of modules as and when suits their needs, with individual certificates being awarded for each module completed. The programme will have a blended de livery. The Master of Business in Executive Leadership was officially launched at the event with the initial roll out of the Certificate in Execu tive ApplicationsCoaching.are now open. To apply, contact the Damian Rossiter, CIR DAS Development and Programme Manager at Insurance.cw@SETU.ie or contact Faculty of Lifelong Learning at lll.cw@setu.ie n
Kelsey Murphy, Kate Cardiff and Shruti Sharma.
Pic: Patrick Browne.


n
n
This course spans over 7 weeks and is aimed at early stage and scaling digital and tech businesses with global ambition. Venue: Wexford County Council, Carrickilawn, Wexford. Date: 14/09/2022. Time: 09:30 - 13:00. Cost: €100. Trainer: Seamus Murphy, Gateway Consulting. What is this course and who is it suit able for? This course is suitable for companies or promoters who:  Have a product or service that is ca pable of being exported  Are interested in going through an intensive process to validate them selves and their business  Want to get their business onto the right footing or further developed to scale  Are interested in attracting invest ment  Are interested in going through a project focused process in order to enhance their business opportunity  Promoters that have ambitious pro Note:jects/productsBusinessowners or founders will need to attend. It is not suitable for nonkey Ideallypersonnel.thebusiness/company will al ready be trading or formed and seeking to start a period of rapid expansion. However, experienced promoters with early stage ideas can also be considered. Course Outline:  Validating the promoter  Validating the business opportunity  Business models and building a Busi ness Plan  Sales and routes to market  Finance and investment principles  How to build your product  How to market the product/ service  Final pitch to an experienced busi ness panel Application Process:  Read the eligibility criteria above  Register your interest in the course  Final acceptance onto the course may require you being successful in an interview. Book now: https://bit.ly/3d3PR4s
Slaney aDSlaney buSIneSS & FInance Page 98 - 2nd September 2022
LEO Going Global training programme
Book your place now for the Local En terprise Office Wexford (LEO) Going Global training programme, commenc ing 14th September. Book now: https://bit.ly/3d3PR4s
David Sinnott, originally from Wexford town, has been working in Germany for the last ten years for Carl Zeiss Vision International GmbH, where he held the role of Vice President of Product Management. David is to leave his position there to re turn to the south east to take up the role of CEO at the Port of Waterford Com pany following the completion of Frank Ronan's term at the end of September. Prior to David's time in Product Management at Carl Zeiss Vision, he served in several positions for the company in supply chain management. Starting out in materials man agement at their former manufacturing facility in Wexford, David then spent time as Director of European Supply Chain, before taking a role as Director of Business Inte gration. David Sinnott is from Wexford town and was president of Wexford Chamber of Commerce in 2002 and 2003.
Wexford man is new CEO at Waterford Port
The new 'You're the Business' pro gramme aims to accelerate Irish SME growth through digitalisation in the form of a free of charge online training scheme, as well as an SME reward pro gramme. This comes after recent research from Google found that significant gaps in the areas of digital skills and compet ence remain a concern for many SMEs. Through the new 'You're the Business' digital platform, Irish SMEs will have ac cess to a series of live and on-demand training sessions, geared towards suppor ting companies at all stages of their digi talisation journey, including those at early stages right through to those more digi tally-sophisticated businesses who are ready to export globally. The training will consist of three modules that will help businesses understand how they can use digital to get online, grow online and ex pand internationally.
When it comes to training, the research found that 32% of Irish SMEs would like to invest time in digital skills training. This finding is supported by data from Google that confirms an increase of 1,100% in searches for the terms 'IT Course' in Ire land since January 2022. When it comes to technology, the re search shows that more than one in every ten SMEs based in Ireland (11%) are not yet using digital technology in their busi ness - almost half (45%) of SMEs do not have their own website [comparably higher than the EU average of 23%] and 47% do not use social media and video platforms. In addition, almost half (46%) of Irish SMEs feel their employees have either none or few of the skills needed to successfully adopt and use new tech
Slaney buSIneSS & FInance 2nd September 2022 - Page 99
You're the business!
Breege Cosgrave, Acting Head of Enterprise and Economic Development, Local Enterprise Office, Wexford County Council. nologies and less than half (47%) of SMEs in Ireland have invested any time into digital skills training. Taking ten businesses to the next stage: The 'You're the Business' platform and re sources are open to all SMEs, but ten participants that demonstrate a commit ment to digital at different stages of their journey will be awarded with a suite of customised supports, including mentor ship and ad funding. In order to be con sidered as one of the ten firms to receive a package of tailored supports, SMEs will be invited to submit a video [via the You're the Business site] no longer than two minutes in duration detailing what their business means to them, as well as an example of how they have used digital to enhance their business. The ten SMEs selected by a panel of established judges will receive a customised suite of digital supports from Google, which includes a €1,000 Google ads package and expert mentorship across a range of technical areas that will help them to further de velop their business. Padraic McElwee, Chair of the network of Local Enterprise Offices, said; "For many small businesses taking the time to upskill and change processes, especially getting online, can be overwhelming. Over the past two years with Brexit and Covid, small businesses have needed to be reac tive to a very challenging landscape, which has demonstrated the importance of businesses to develop and embrace new skills. The Local Enterprise Offices have been to the fore with a range of supports to enable businesses get online and maximise their online presence with the likes of the Trading Online Voucher. By partnering with Google on this initiat ive we will continue to support all our small businesses as they embrace an ever-changing digital world. For further information on the various training modules as well as the You're the Business competition, please visit: g.co/yourethebusiness n
A recent comprehensive study from Google, developed in partnership with Amárach, found that almost half of SMEs believe they could more than double their turnover (40%) and profitability (45%) with an investment in digital skills. The research also shows that SMEs be lieve that enhancing digital skills could in crease environmental sustainability (21%) and reduce running costs (27%).
Google, Enterprise Ireland and the Local Enterprise Offices are announcing a new partnership, with a focus on supporting Irish businesses to upskill digi tally and enhance their online capabilities.
Pictured at the launch of 'You're the Business' at Google's EMEA HQ in Dublin are: Alistair A Jeje founder of Caribbean takeaway restaurant Socafro Kitchen in Waterford with Damien English TD, Minister of State for Business, Employment and Retail.

Datapac is delivering the platform to a growing number of schools around the country, including Kilrane National School in Co. Wexford, and will continue to roll out the ser vice to more schools and educational institutions nation wide.Karen O' Connor, General Manager ICT Services & Sol utions, Datapac: "It is very important for schools to assess their connectivity needs from an education delivery perspec tive and compare this against what is available with their cur rent infrastructure. The world is becoming more and more digitised and children and young people need to have ac cess to the tools and skills to succeed. Having an effective wireless technology platform in place enables technology to be woven into all aspects of the learning process.
Slaney aDSlaney buSIneSS & FInance Page 100 - 2nd September 2022
half of SME owners reported at least some degree of reliance on cloud storage technologies and almost a quarter use hybrid data storage as their primary model.
expert technical leads work closely with each school to design and implement a bespoke wireless infrastructure plan, taking the unique complexities associated with the layout of school premises into account. Datapac's wireless technol ogy, underpinned by industry-leading HPE Aruba hardware and software, ensures fast and reliable Wi-Fi coverage and strength to all areas. This future-proofed wireless architecture means that both pu pils and teachers can move freely throughout the school while staying securely connected via laptops, tablets or PCs. The sol ution provides a new level of flexibility with the ability to bring digital learning to any classroom, and underpins school cur riculums with increased access to online resources and learn ing portals. In turn, this improves productivity, efficiency, and time management for teachers.
The HPE Aruba software also offers critical built-in security controls, which allow for certain applications and websites to be blocked while providing a full breakdown of network traf fic and bandwidth usage across devices.
Datapac to benefit from IT outsourcing
Karen Division,GeneralO'Connor,Manager,ServiceDeliveryDatapac.
John Mernagh, Assistant Principal, Kilrane National School: "Having a fully modernised wireless infrastructure in place has given us a new level of flexibility, allowing for an in creased level of digital integration into the classroom. The improved speeds, reliability and enhanced school-wide WiFi coverage not only delivers a best-in-class solution for our needs today, it has also helped to future-proof our school for the requirements of tomorrow." n
Enniscorthy's technology solutions and services provider Datapac announced the results last month of a survey which found that 83% of SME owners in Ireland plan to in crease the level of IT services they outsource in the next year. Furthermore, a third of respondents said they will put an outsourced managed backup and business continuity service in place within the same timeframe.
The main reason for outsourcing IT services is a desire to re duce IT spend (39%), followed by the challenge to manage re mote or hybrid working (36%), access to a greater level of knowledge (36%), and challenges with IT skills acquisition and retention Meanwhile,(34%).over
Datapac enables tech-enhanced school learning
The survey of 150 SME business owners in Ireland was carried out by Censuswide in association with Datapac and cyberse curity and backup specialist, Datto. n
Datapac, Ireland's leading technology solutions and ser vices provider, is enabling tech-enhanced learning in Irish schools with its innovative wireless technology platform. The solution integrates highly secure digital technology into the classroom and creates a more immersive learning experience for pupils. Many schools operate on aging wireless infrastructure, which may not be capable of delivering the signal speed or coverage needed to keep pace with the demands of the modern class room. In addition, older infrastructures can lead to slower and more unreliable connections as users move around the prem Datapac'sises.
"It is vital that schools have infrastructure in place which is optimised for the environment. The platform needs to pro vide the connectivity needed for today and be capable of handling future bandwidth requirements, all the while allow ing for nuanced security controls and protocols to keep children safe online."
Page
Survive & Thrive through High Inflation
Blaise Brosnan will address some of the strategies and tactical realignments you need to make in your business and will give you a flavour of the variables you need guidance on.
Venue: Online Date: 06/09/2022 Note: For 1 hour Time: 13:00 - 14:00 Sign up here: High-Inflation-06-09-2022.htmEvents/Online-Bookings/Survive-Thrive-through-https://www.localenterprise.ie/Wexford/Trainingl Read more here: these-inflationary-times.htmlary-times/Survive-and-Thrive-in-business-during-Survive-and-Thrive-in-business-during-these-inflationhttps://www.localenterprise.ie/Wexford/News/Blog/ n Lorcan is hands-on!
Wexford's
buSIneSS & FInance
The deadline for applications for the next New Frontiers is 10th September 2022 –apply online at www.wit.ie/newfrontiers
Slaney
2nd September 2022 - 101
A number of New Frontiers par ticipants in 2022 were recently presented with awards in recogni tion of their progress in advancing their start-up companies. New Frontiers helps early-stage entrepreneurs to take the leap, of fering a supportive environment to help them develop business ideas. It is delivered on behalf of Enterprise Ireland by the Institutes of Technol ogy and Technological Universities. Best business opportunity was awarded to Wexford's Lorcan O'Keeffe for his start-up Hands On BestPerformance.business plan was awarded to Rachel Power from Waterford for Power Privacy. Vikash Kumar from Waterford was awarded most innovative idea for his start-up LiChargiFi. The entrepreneurs who took part in the 2022 New Frontiers programme have developed many solutions in cluding renewable energy technol ogy, specialised equipment to allow people with mobility issues to par ticipate in automotive eSports, soft ware to support GDPR compliance for the financial services. https://www.newfrontiers.ie n

One of Ireland's first mobile home companies is celebrating 50 years in business.
Slaney aDSlaney buSIneSS & FInance Page 102 - 2nd September 2022
Left: Philip Wallace MD of Wallace Mobile Homes. n
Pictured at Wallace Mobile Homes in New Ross is its founder Tony Wallace (right) and his son Philip Wallace MD of Wallace Mobile Homes. The company hosted an 'Open Weekend' on 13th and 14th August as part of its milestone birthday celebrations. https://wallacemobilehomes.com/
Wallace Mobile Homes –celebrating 50 years
One of Ireland's first mobile home companies is celebrating 50 years in business. Wallace Mobile Homes in New Ross has grown dramatically to become one of Ireland's most prominent outlets for quality new and used mobile homes. The business was established by Tony Wallace in the early 1970s at his family home and holiday home park at Duncan non Beach in Co. Wexford. His son Philip grew up in the business and became MD in 2009 growing the Duncannon Beach Holiday Park and also establishing a new showroom base for Wallace Mobile Homes at Marshmeadows in nearby New Ross. Today the showrooms are home to displays of all makes of mobile homes in cluding new models from Swift, Carnaby and Pemberton and a range of secondhand models including Atlas, Willerby, Regal and ABI along with a workshop for the inspection, valeting and refurbishing of mobile homes. The majority of the Wallace mobile homes that are sold are supplied to holi day parks in the South East of Ireland, however, Wallace Mobile Homes are equally at home providing professional advice to individuals requiring a mobile home for private use, and delivering na tionwide.Speaking on the business milestone birthday and how the holiday mobile home business has transformed in that time, Philip says, "We are delighted to begin our celebrations for our 50th year in business. The business of the mobile home holiday market has seen so many changes in that time, from predomi nantly supplying mobile homes to our own holiday park in Duncannon to broadening out that supply to the small number of operators in the south east in the 1970s and growing that largely in the 1980s as the people of Ireland very much holidayed at home. The return of those times is actually in the here and now as we have seen a whole new appreciation for having a bolthole at home and multiple generations of families coming together to purchase a luxury mobile home. We are also seeing a growing number of people purchasing residential spec mobile homes for permanent accom modation and this is growing rapidly due to the national housing crisis." Due to exponential growth over the last couple of years, Wallace Mobile Homes is planning further expansion by moving into the premises adjacent to their showrooms in the heart of New Ross town where they can further present the mobile homes to the best of their potential. This new prem ises is within easy access to the M50 Mo torway and is only 20 mins drive from Waterford city and therefore nestles itself within easy reach of the south east and south west coasts. For further details see https://wallacemobilehomes.com/
Slaney buSIneSS & FInance 2nd September 2022 - Page 103 bels !"#$%!&'($)!*+$,$-(.&/!0+*'!*1.%$/&!*0!.#&!*+,(-$%(.$*-2!3*!-*.!4)$45!)$-5%!*+!*6&-!(..( om they are addressed. Any vie . Although Wexford County DateDayCourseTitleTrainerDurationTimeHoursVenue 1/9/2022ThursdayTradingOnlineVoucherSeminarFionaMcGuire,JointheDotsOnline1Morning10.00-12.302.5Online 6/9/2022Tuesday&ThursdayStartYourOwnBusinessTalentPool8Evenings6.30-9.3024Online 6/9/2022TuesdayBusinessAdviceClinicMichaelO'Donoghue,ODMCConsultancy1Day9.00-5.007Online 6/9/2022TuesdaySurvive&ThriveThroughHighInflationBlaiseBrosnan,MRI1Hour1.00-2.001Online 13/9/2022TuesdayCash-YourLifeblood!BrendanByrne,ChabrenServices1Hour1.00-2.001Online 14/09/2022WednesdayGoingGlobalSeamusMurphy,KilseaLtd.7Mornings9.30-1.0024WexfordCountyCouncil 20/9/2022TuesdaySustainabilityisYourBusinessMarieDoyleHenry,AstrumConsulting1Hour1.00-2.001Online 23/9/2022FridayIntegratedSales&MarketingforSME'sSeamusMurphy,KilseaLtd.2Days9.30-5.0014WexfordCountyCouncil 26/9/2022MondayOwner/ManagerProgrammeBlaiseBrosnan,MRI20Evenings7.00-10.0060WexfordEnterpriseCentre 27/9/2022TuesdayLeanManagement&DigitalTransforationFredJones,Idryll&JimHoey1Hour1.00-2.001Online 29/9/2022ThursdayFacebookforBusiness-BeginnersDeniseWhitmore,TheSocialMediaDepartment1Afternoon1.30-5.003.5WexfordLi 3/10/2022MondayInstagramforBusinessDeniseWhitmore,TheSocialMediaDepartment1Afternoon1.30-5.003.5EnniscorthyLibrary 4/10/2022TuesdayBusinessAdviceClinicEdFlanagan1Day9.00-5.007Online 4/10/2022TuesdayStartYourOwnBusinessSeamusMurphy,KilseaLtd.10Evenings7.00-10.0030WexfordEnterpriseCentre 5/10/2022WednesdaySocialMediaMarketingClinicMuireannFitzmaurice,MarketingCoach1Day9.00-5.007Online 5/10/2022WednesdayFinancefortheNon-FinancialsGeraldineDoyle,GDAccountsTraining4Afternoons2.00-5.0012EnniscorthyEnterpr 5/10/2022Wednesday&FridayStartYourOwnBusinessforUkrainianRefugeesTalentPool6Mornings10.00-12.3015Online 6/10/2022ThursdayTradingOnlineVoucherSeminarFionaMcGuire,JointheDotsOnline1Morning10.00-12.302.5Online 10/10/2022MondayGrowFaster,GoDigitalMichaelKeogh,TheEntrepreneurAcademy2Mornings9.30-1.007Online 13/10/2022ThursdayNationalWomen'sEnterpriseDayJoanneHession, 17/10/2022MondayHowtoCreateChristmasThemedMarketingVideosKenMcHugh,LeftHandProductionsLtd2Afternoons2.00-5.006Onlin 20/10/2022ThursdaySalesClinicKarenSommerville,CallFocus1Day9.00-5.007Online 20/10/2022ThursdayPodcastingforBusinessKenMcHugh,LeftHandProductionsLtd1Afternoon1.30-5.003.5WexfordLibrary 25/10/2022TuesdayWebsiteAdviceClinicJennieFrizelle,ADKCTraining1Day9.00-5.007Online 27/10/2022ThursdayFacebookforBusiness-AdvancedDeniseWhitmore,TheSocialMediaDepartment1Afternoon1.30-5.003.5WexfordLi 28/10/2022FridayQQITrainingDelivery&EvaluationTerryHarmer,NLCTraining4Days9.30-5.0028WexfordCountyCouncil 1/11/2022TuesdayHowtoPriceYourProduct/Budgeting/CostingKeithDarcy,KeithDarcyCoaching1Day9.30-5.007WexfordCountyCou 2/11/2022WednesdayHowtoTenderSuccessfullyRossMcCarthy,KeystoneProcurement1Day9.30-5.007WexfordCountyCouncil 2/11/2022WednesdayWooCommerceFionaMcGuire,JointheDotsOnline1Afternoon1.00-5.004WexfordLibrary 3/11/2022ThursdayTik-TokforBusinessKenMcHugh,LeftHandProductionsLtd1Afternoon1.30-5.003.5WexfordLibrary 7/11/2022MondayIdeation-Creativity&InnovationforSmallBusine 8/11/2022TuesdayBusinessAdviceClinicCareyAnnLordan,REDPR1Day9.30-5.007Online 9/11/2022WednesdayFacebookforBusinessClinicDeniseWhitmore,TheSocialMediaDepartment1Day9.00-5.007Online 10/11/2022ThursdayManual&ComputerisedPayrollGeraldineDoyle, 10/11/2022ThursdayTradingOnlineVoucherSeminarFionaMcGuire,JointheDotsOnline1Morning10.00-12.302.5Online 15/11/2022TuesdayInstagramforBusinessClinicDeniseWhitmore,TheSocialMediaDepartment1Day9.00-5.007Online 16/11/2022WednesdayCanva-APracticalWorkshopHelenMcNulty,TheEntrepreneurAcademy2Afternoons2.00-5.006Online 29/11/2022TuesdayLinkedInforBusinessClinicJennieFrizelle,ADKCTraining1Day9.00-5.007Online 6/12/2022TuesdayBusinessAdviceClinicPeterSheridan1Day9.00-5.007Online
WEXFORD LOCAL ENTERPRISE OFFICE TRAINING AUTUMN/WINTERPROGRAMMES2022

Page 104 - 2nd September 2022
80th Anniversary Castlebridge Show in the Community Centre, Castlebridge, 14th August 2022.
Slaney aDSlaney petS
Dogs on show at Castlebridge
Above left: Sarah and Sinead Ryan with Lord Leroy. Above centre: Aoife O'Keeffe and Chloe Hayes and their dogs Willow and Archie. Above right: Jan O'Keeffe and her pet dog.
The South East Animal Rescue (SEAR) charity shop at 27 Court Street, Enniscorthy, has had a major makeover and is now open for business again. All are invited to call in and grab a bargain. All proceeds go towards kennelling/feeding and vet bills.
SEAR rescues, rehabilitates and rehomes animals in the South East of Ireland. It has a strict no-kill policy and all animals for rehom ing are vaccinated, neutered and spayed when of age, undergo a health check, and are temperament tested, before being re homed into suitably assessed, loving homes. Pics: Peter Myers. https://southeastanimalrescue.com/contact/ southeastanimalrescue@gmail.com n
South East Animal Rescue shop open again after major makeover
Joe
News
It turned out that an older man not too far from where they lived bought a horse and he let her ride it in the evenings after school... She was in her element. But then it turned out that this man had to leave town and now there was going to be no chance of her getting to have access to a horse, so her father and herself gath ered up and scraped the few bob they had which was n't a lot, went down to the man and asked him would he sell the mare which he did for the few bob they had.
with Joe Kavanagh of the Moyne Veterinary Hospital
to address
If like Kavanagh please email Slaney at: slaneynews@gmail.com Dublin (053) 9233187, 9236674. (053) 9236674.
MOYNEHOSPITALVETERINARY Old
Road, Enniscorthy. T:
Slaney petS 2nd September 2022 - Page 105 OPENING HOURS (6 DAYS A WEEK): 9.00am 1.00pm and 2.00pm 6.00pm Small animal clinic (please tel. for appointment): Daily 9.30 10.30am, 2.30 3.30pm, 5.00 6.00pm. 24-hour, on-call, Emergency Service: (053) 9233187. OUR SERVICES INCLUDE: Full blood analysis (haematology, biochemistry) Gas anaesthetic Digital X-rays Ultrasound Bioenergy Dermatological testing Kinesiology Prescription diets Herbal remedies Homeopathy Allergy testing
I spoke to a lady during the week and her story was fascinating... She grew up in a council housing estate, her family were poor enough and she had no real ac cess to animals other than neighbours' ones. She had a huge hankering to learn to ride horses and, as she said herself, nagged and nagged her parents enough until they relented and brought her to a local riding school for horse-riding lessons.
Its amazing how sometimes animals can shape our lives.
The next challenge was where do we keep her? So they walked her back up to their council estate, made a shed out in the back garden, and like something out of the film Into The West, she rode the mare, looked after her and they grew up together with an unbreakable bond. She got lifts to equine events, competed at different levels, and all from a dream and a will to do it. Even her dad went on to learn how to ride and hunted the mare for about 10 years! The bond between father and daughter grew, fos tered from the bond of this mare. This lady went on to college, brought the mare with her on the equestrian course, and now runs an equestrian school that caters for kids and adults alike with learning difficulties... It's termed Equine Assisted Learning where the horses help the Itpeople...isafabulous set-up, very heart based, earthy and genuine. The mare still lives there with them al though is retired and is slowing down but has helped shape her owner's life and those of countless children who have been helped by the magic these wonderful gentle souls bring to us. That story began twenty something years ago and the mare is slowly winding down but her legacy will continue for many years to come. Just goes to show ye, when you follow your dream, beauty unfolds.
you have a topic you'd
E: moynevet@gmail.com
VET DIARY FOR SEPT
F:

CAROLINE GETS MOTORING
Slaney aDSlaney mOtORIng Page 106 - 2nd September 2022
OPEL ASTRA
The Opel Astra returns in 2022 with a new generation of Opel's perennial hatchback. Since we last met the Astra, Opel is now part of the Stellantis Group so this is a real fresh start for the Opel Astra. In Ireland, Opel also has a new distributor. SUVs have put the squeeze on cars like the Opel Astra and key rivals like the Volkswagen Golf, Ford Focus and Toyota Corolla. But before SUVs and crossovers became fashionable, many kids would have grown up in the back of hatchbacks like Thesethis.days hatchbacks like the new Opel Astra look like good value beside a simi larly-sized SUV too. In Ireland the new Opel Astra goes on sale priced from a very attractive €27,995. There are petrol and diesel engines from launch, but a hy brid is expected soon and a full electric Astra by the end of 2023. Since last year's Opel Mokka, Opel seems to have real direction now when it comes to styling. The design language is sharp and sporty, and the new Astra gets the new Opel 'face'. The brand calls it the 'Vizor' face and it's a gamechanger for TheOpel.Astra harks back to some of the great Opels of the past, while being really mod ern too. A black panel stretches across the front of the car with the Opel blitz blacked out for sporty SRI models. There is a sharp charismatic crease in the bon net that brings the front of the car to gether in a perfect V. The 'gill' effect in the C pillar is a nod to the Kadett, the Astra's predecessor. LED lighting front and rear completes the great new look for the Opel Astra. There are three trim levels - SC, SRI and Elite - which all alter the look of the new Astra somewhat. But SRI models (from €31,995) look the best and offer a good compromise between price and equip ment. They come with sporty black 17inch alloy wheels, rear privacy glass, black wing mirror caps and a black contrast roof, as well as that blacked out Opel blitz at the front and rear of the car. Opel Astra
Bunclody native Caroline Kidd brings us reviews of the latest new cars to arrive in Ireland. Caroline is the founder and editor of the online automotive magazine Changing Lanes and a jury member for Irish Car of the Year. Find out more about her editorial and commercial copywriting services at www.changinglanes.ie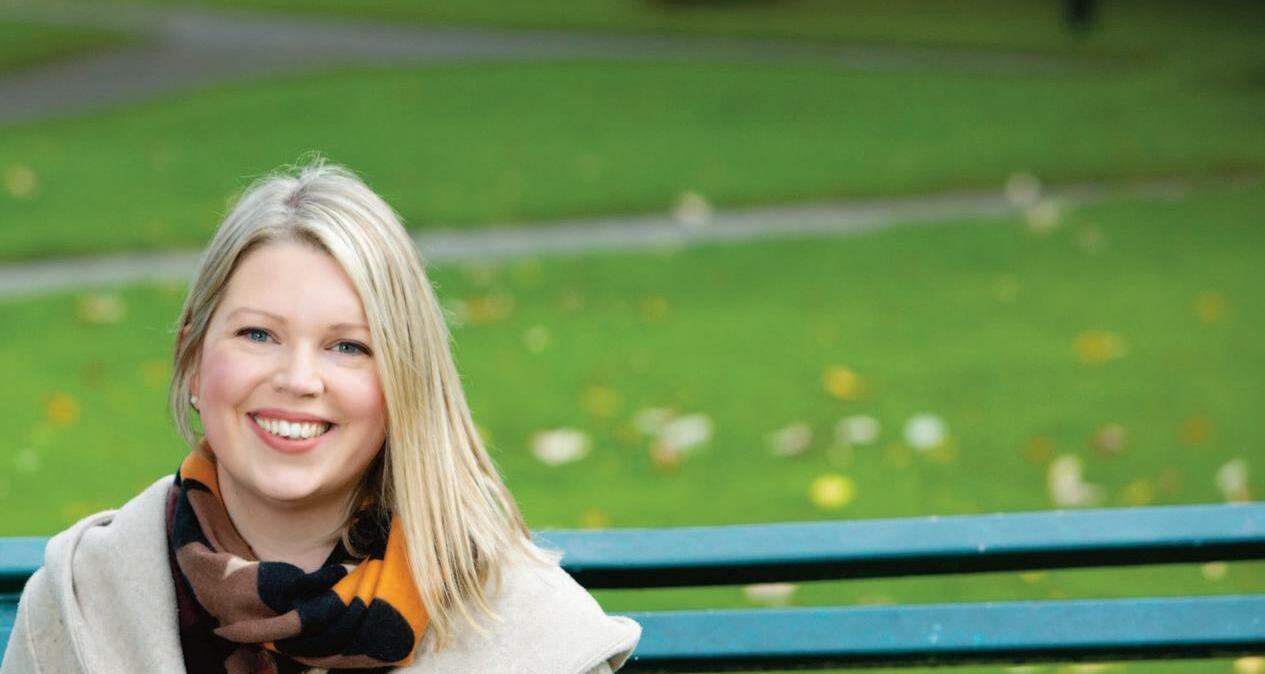 L&M STARTER & REPAIRALTERNATORSERVICE
Motor Tax:
CARS, VANS, 4X4, TRUCKS, WEANDMARINE,TRACTORS,QUADS,LAWNMOWERSGENERATORS.REPAIRALLUNITS.
NCT Preparation Repairs Timing Belts Clutches General Servicing Etc
Tel: 086-8299431 – 053 9233033 – Email: ncrallying@yahoo.ie
Slaney mOtORIng 2nd September 2022 - Page 107
ALL APPLICATIONS CATERED FOR. Island Road, Enniscorthy. T: (053) 9235933. The most affordable entry into the new Astra range is the 1.2-litre turbo petrol engine with 110hp or 130hp, and a 6speed manual gearbox or an 8-speed gearbox (130hp only). The Opel Astra SRI 1.2 petrol with 130hp and a 6speed manual gearbox is a fabulous option for this new Astra, well-priced and offering lively performance and reasonable economy for a petrol hatchback too. Over a week of driving my average fuel consumption was 6.2 litres per 100 kilometres. The handling is sharp and composed and the car grips well through corners. Being an Opel and a German car, it's also 'Autobahnproof' so stays nice and steady on the motorway too. Refinement has been improved over the previous gener ation of the car, and the Astra has excel lent road manners. The interior of the new Astra has also been transformed into a modern, digital cabin. One of the first things that strikes you is just how good the seats are. They are 'AGR' approved, which means they are some of the best you will find in the compact class. Cabin quality is about 'middle of the road'. Everything in your direct line of sight looks good but the fit of some of control, and heated front seats. The Astra will seat five and though some rivals offer a little more head room and legroom in the back, you will be able to sit adults back there and children will be fine. There is Iso fix on the two outer seats and a USBC port for connecting devices. The 422-litre boot is one of the biggest in the class and also has a handy twoposition floor.
ENNISCORTHY the buttons below the infotainment screen and the exposed hard plastics in the door panels seem at odds with how polished this car is in other areas. Still, the Astra interior seems to vibe nicely with this car's modern, sporty sty ling. There's a new steering wheel and new digital instrument cluster for the driver. Combined with the new 10-inch screen for the infotainment and you have an almost widescreen effect that is very fashionable at the moment. There's also a wireless Apple Car Play and Android Auto connection. Standard equipment is good and other features include climate control, cruise control, leather steering wheel, keyless start, and parking sensors. SRI models get a sportier cabin ambience with some red detailing as well as alloy pedals, reversing camera, adaptive cruise
The new Opel Astra is one of the most anticipated new cars of 2022 and it de livers. The Opel brand is really gaining momentum again with new models like the Mokka and now Astra. The new Astra has got the modern update it needed. So if you're looking for a simple hatchback that drives well, looks good and is wellequipped, you really need to check out this new Astra! Model tested: Opel Astra SRI 1.2 Price: Engine:€31,9951.2-litre turbo petrol Power: AccelerationTopTorque:130hp230Nmspeed:210km/h(0-100km/h): 9.7 seconds €200 per year n
Interior
AUTO REPAIR
NCRS, Old Dublin Road, Enniscorthy (opposite Cooney Furlong / Gala)
No job too big or too small

Wexford Handball
Féile Softball
Above: President Dessie Keegan presenting cup to Talbot's Inch, Kilkenny. Left Below left: Taghmon Girls. Below: Clogh (Kilkenny), Moycullen (Galway) and with mentors and GAA Handball President Dessie Keegan (centre b Right: Cian Cassidy, Cllr Jim Codd, Natalie Dunne Sweeney, Helen Doyle, Dessie President), Sharon Murphy and Tony Reid (Wexford Handball Sec Below right: St Mary's Club, Mullingar, presentation to St Mary's Handball Club, Wex the presentation from Cathal Flanagan of the Mullingar clu
Slaney aDSlaney SpORt Page 108 - 2nd September 2022
2022 t: Taghmon Boys team. Taghmon (Wexford), backKeeganrow).(GAA Handball xfordcretary).Mick Flood receiving ub.
The organisers thank the three host clubs for making it a very enjoyable day for everyone, and thanks to the three skills judges and their teams for doing a very good job. Thanks also to GAA Handball President Dessie Keegan for taking the time out to travel to Wexford and visit the three host clubs. n
Wexford's only representatives this time around were Taghmon in Division 2 and both their Boys and Girls teams were based in their home club. They both did their club and county proud with great performances throughout the day, as both reached their respective finals. The Boys (Jack Breen, Barry Foley, Nathan Lawlor and Conor Doyle) had a brilliant win in the final against Kells, Kilkenny, to win the title. The Girls (Mikaela Kav anagh, Zahara Dunne Sweeney, Ellie Murphy and Boo Murphy) also did really well and were in a good posi tion at one stage to win but agonisingly lost out to Kells in a very exciting final. Conor Doyle completed a great day for Taghmon by winning the skills competition, with Conor Deegan (Talbot's Inch) runner-up. In the Girls skills competition the winner was Shauna Hayes (Kells) with Stephanie Walsh (Moycullen) runner-up.
Slaney SpORt
Wexford GAA Handball hosted the 2022 National Softball Féile on 21st August at three venues Castlebridge, St. Mary's and Taghmon. The last time this competition was run was in 2019, also in Wex ford, so it was great for all involved to get back to some normality by hosting this event again.
At the other venues, Castlebridge hosted the Boys and Girls Division 1 teams with Talbots Inch, Kilkenny, tak ing the Boys title, while Loughmacrory, Tyrone, won the Girls Division. In the skills competitions there were wins for Anthony Clifford (Talbots Inch) and Katie Jordan (Kilfane, Kilkenny).
2nd September 2022 - Page 109
The Boys Division 3 was held in St Mary's and four teams competed. After a series of group matches, Bally desmond (Cork) and Cullohill (Laois) qualified for the final with Ballydesmond going on to take the title. Both teams had the winner and runner-up in the skills competition with Ryan Linehan (Ballydesmond) winning and Ethan Lafferty (Cullohill) runner-up.

ClubBasketballEnniscorthynews...
Wexford girls' U-19 success Slaney aDSlaney SpORt Page 110 - 2nd September 2022
Wexford girls' U-19 winners of the All Ireland FAI Inter League Cup.
Enniscorthy Basketball Club coach Jim Byrne has been busy preparing things to start back training this coming Saturday, September 3rd. Jim hopes to see everyone back, and new members welcome too. The venue is still Enniscorthy Community College, and the age groups are as follows: Age 7 -10 from 1-2 pm Age 11-14 from 2-3 pm Age 14 -17 from 3-4 pm Age 17+ from 4-5 pm Everyone is asked to please attend whatever sessions your age corresponds to. Cost still €3 per session. Any ques tions or queries contact Pat Morris on WhatsApp 0876523209. The club is looking forward to seeing everyone Enniscorthyagain. Basketball Club would like to thank Grants Pharmacy, Enniscorthy, for sponsoring the club's new first aid bag and kit. Pictured receiving the kit from Glenn Nolan in Grants are coaches Jim Byrne and Fergal Morris and U-10 players Aisling Byrne and Cathal Morris. n
Below: First of the machines arriving and getting to work on Rapparees/ Starlights new development on the back field, 17th August 2022. Well done to former Moyne Rangers player FESTY EBOSELE who made his debut for Udinese on 13th August in a 4-2 defeat to AC Milan as the new Serie A season in Italy got underway. Coming off the bench in the 83rd minute as a substitute in the San Siro, he be came just the fourth Irishman to play in the Italian Serie A league. The last being Robbie Keane in 2001! n
PRO Maria Nolan says, "We thank all our members and supporters and the people of the town of Enniscorthy and the clubs of the county for their wonderful support over the years and we apologise in ad vance for any inconvenience that may be caused and we ask that you will bear with us and indeed journey with us on this most challenging and innovative in itiative for Bellefield GAA."
Follow the Facebook page 'RappareesStarlights GAA Club' for regular progress reports. n
Above: Maria Nolan at Bellefield.
It was with tremendous excitement that the Committee of Rapparees/Star lights announced that on Monday 15th August 2022 work would begin on the eagerly awaited Development Plan for two new pitches, car park, walking track and hurling wall on the back field, which is now a building site and is closed to all.
samebewillBellefieldnevertheagain
Slaney SpORt 2nd September 2022 - Page 111
Festy makes Serie UdinesedebutAfor
Enniscorthy's Festy Ebosele (right) tackles former Liverpool forward Divock Origi who was playing for AC Milan.

Right: Peter Carney, Linda Ward, Paul McGrath, Audrey Carney and Angela O'Grady.
Page 112 - 2nd September 2022
Above: Patrick Sheridan, Paul McGrath, Liam Sheridan and David Franklin.
The Paul McGrath Golf Class in aid of Acquired Brain Injury Irela
Above left: Paul McGrath and Mary Lee at the Paul McGrath Golf Classic in Rathaspeck Manor golf course, Wexford, in aid of Acquired Brain Inj 20th August 2022. Above: Matt Powell, Paul McGrath and Jonathan Power.
The annual Paul McGrath Golf Classic on 20th August 2022 in Rathaspeck Manor, Wexford, in aid of Acquired Brain Injury Ireland.
Slaney aDSlaney SpORt
The response from the public was amazing with all available spaces selling out weeks in advance of the event.
The annual Paul McGrath Golf Classic took place on 20th August 2022 in Rathaspeck Manor, Wexford, in aid of Acquired Brain Injury Irel
Slaney SpORt and. sicand jury Ireland, Above left: Eoghan Bennis, Nigel Carey, Paul McGrath and Ciaran Carey. Above right: Paul with Philip Murphy. Below: Paul with hard working staff, Tim O'Donnell, Marie Louise Hore, Paul McGrath, Tracy Jennings and Orla O'Donnell.
Bottom: Davy Howlin, Paul McGrath, Alan and Niall Howlin.
2nd September 2022 - Page 113

SpORt
SlaneySlaney
Above: The Limerick team who beat Wexford in the Michael Foley U-16 Hurling Tournament staged at the Ferns Centre of Excellence on 27th August, and below, Waterford, who beat Kildare in the Shield. Pictured right: Terri Foley, wife of Michael, presenting the cup to Limerick's captain with Andrew Egan, Wexford County Board, also in picture.
Limerick's hurling domination continues as they win Michael Foley tournament
aD
The standard of hurling in this year's competition was top drawer with Wexford beating Waterford in the first round by two points, and Kildare in the second to secure their place in the Final against Limerick, who had beaten both Dublin and ItTipperary.wasanuphill battle for Wexford from the get go in the final, battling hard, with many fine individual displays against an awesome Limerick team portraying many of the characteristics of their All Ireland winning senior side, securing the title.
Michael was an all-round sportsman playing gaelic football and rugby, but it was the game of hurling that stole his heart and became the love of his life after his wife Terri and his family Michelle, Ciara, Kevin, Eimear and Meadhbh, and this U-16 tournament has proved to be a most fitting tribute to him.
Cairde Loch Garman Annual Golf Classic
The tournament, in the memory of the late Michael Foley of Rapparees/Starlights, was established in 2008 by group of his close friends and teammates but over the years has grown to become a most prestigious hurling competition now run by Wexford County Board under the auspices of Croke Park.
With approximately fifty-four teams in this year's very popular Cairde Loch Garman Golf Classic, it was staged over a two-day period at the exquisite Bunclody Golf & Fishing Club.
Words and Pics by Maria Nolan Terri Foley, wife of Michael, presenting the Shield cup to the joint Waterford captains.
Well done to Jim Magee and his team who took the title of this year's Cairde Loch Garman Golf Classic winners.
For the first time in three years the Michael Foley U-16 Hurling Tournament was staged at the Ferns Centre of Ex cellence on Saturday 27th August.
A sincere thank you to all who participated and to main spon sors Trinity Motors and Fresh Today who very generously do nated goodie bags for all the golfers.
Words and Pics by Maria Nolan
andMcCormackAngelaRight:MariaAbove:NolanDesCroke
Slaney SpORt 2nd September 2022 - Page 115
Lots to work with from a Wexford point of view with I'll wager many of the stars of the future getting their start here.
The weather couldn't have been more conducive for this won derful event organised by the Cairde Loch Garman Committee under Des Croke, Jim Byrne, and David Doc O'Connor, along with Gavin O`Donovan, CEO, Wexford Park.
The physique and skill of the Limerick champions testament to the tremendous work being done for hurling in the county and most certainly setting the yardstick for the rest of us.
It has treated us to a feast of hurling, glimpses of future stars and moments of greatness over the past years, none better than 2010 when Wexford beat Kilkenny in the final and Kevin Foley, Michael's son and Wexford's captain, lifted the cup to the joy and delight of all.

Shamrocks GAA Check out the club's video featuring committee member Derek Long talking about the major investment the club has made in new facilities fencing, better access paths, new walking track, new floodlights, second pitch devel opment, and there are more plans in the pipeline. 24419927102https://www.facebook.com/103532402110364/videos/5853 n
Slaney aDSlaney SpORt Page 116 - 2nd September 2022
StarsEnniscorthyYoung Well done to Scott O'Connor (above) who was part of the recent Leinster U-18s rugby squad which beat Munster on a scoreline of Congrats36-15. to Ruairi Cooper (left) Boys U-11 All Ireland Cham pion n
Mayor of Wexford Cllr. Maura Bell was at Wexford's O'Hanrahan Station on 17th August to mark 150 years of the railway between Enniscorthy and Wex ford. Mayor Bell was joined by Iarnród Éireann's Director of Safety, and Wexford native, Kay Doyle. A specially crafted bronze plaque was unveiled and music was provided by local Iarnród Éireann driver, Ger Brennan. The line opened exactly 150 years ago on 17th August 1872. Continuing the railway to Wexford was a considerable engineering feat. A 54-metre bridge was constructed over the river Slaney. A number of tunnels were also required, in cluding at Killurin and Ferrycarrig. The line opened with a temporary station at Carcur, with the current station location opening two years later in 1874, a further half mile south. There was an intermedi ate station at Killurin and another at Edermine Ferry opened soon after.
150 years of Enniscorthy to Wexford railway
A specially commissioned plaque was unveiled and commemorative historical booklet about the railways in Wexford, written by Oliver Doyle, was distributed.
Slaney hIStORy & heRItage 2nd September 2022 - Page 117
Today, services to Wexford are busier than ever. With the Dublin to Rosslare line noted as Ireland's most scenic rail way line, the challenge of coastal erosion and climate change impacts this line like no other on the railway. The East Coast Railway Infrastructure Protection Project (ECRIPP) has begun, and it will ensure that the railway to Wexford can be en joyed for many generations to come.
Top: Some of the attendees at the celebration of 150 years. Above: George Lawlor, Cathaoirleach Wexford Co. Council, and Cllr Maura Bell, Mayor of Wexford. Below: Cllr Bell with Kay Doyle of Iarnród Éireann.
The railway to Wexford carried the body of one of Wexford's most famous sons, John Redmond, to his resting place. Dur ing the War of Independence and the Civil War some of the most severe dis ruption that occurred on the railway dur ing these years happened in Wexford.
Today, the railway continues to serve the town and its hinterland and provides safe and sustainable travel for all." n
a
The arrival of the railway to Wexford her alded a new era for the people of the town and changed their economy and their lives for the better. The Star Iron Works and Pierce's were the leading ag ricultural machinery manufacturers in Ire land at the that time and were major users of the new railway.
Iarnród Éireann's Director of Health and Safety and Wexford native Kay Doyle said: "As a Wexford woman it is a very proud day for me to be here marking 150 years of the railway to Wexford. Railways connect communities and that is exactly what the arrival of the railway to Wexford did. It gave people here in my native county the opportunity to travel to work or school in an easier way and gave people the transport option to explore new places.

Above: Looking at the photos, Julie and Declan Sinnott. Above right: Gerard Clery, John Power (organiser), and Sinead Clery. Below left: Nick Cloake and Leo Coy. Right: Cllr Jim Codd and exhibition organiser John Power.
Slaney aDSlaney hIStORy & heRItage Page 118 - 2nd September 2022
Kilmore Lifeboat Exhibition
Above: John Power in middle shows Cllr Ger Carthy (left) one of his father's photos with Tom O'Brien in photo also. Above right: Joe, Ashling and David Busher with John Grace of Kilmore Lifeboat. Below: Looking at the exhibition was Marie Dove. Right: Cllr Jim Codd, Murt Cloney, Cllr Ger Carthy, Jack O'Leary and Brian Cleere. Exhibition in the Stella Maris hall of photos, models of lifeboats and memorabilia of Kilmore Lifeboat over the last 175 years, organised by John Power, 26-28th August 2022.
On Saturday, September 10th, at the Kennedy Summer School in New Ross, Dr Martin O'Donoghue, teacher of modern British and Irish history at the University of Sheffield; Neal Thomp son, journalist and the author of six highly acclaimed nonfiction books, in cluding The First Kennedys, A Curious Man, Driving with the Devil, and Kick flip Boys, who is a former newspaper reporter and has written for The New York Times, The Washington Post, Es quire, Outside, Vanity Fair, and The Wall Street Journal; Associate Profes sor of History at Dublin City University Dr William Murphy; Associate Professor in Modern Irish History in the Depart ment of History and a Fellow of Trinity College Dublin Dr Anne Dolan; and moderator Prof Briona Nic Dhiarmada, native of New Ross and the Thomas J. and Kathleen O'Donnell Professor Emerita of Irish Studies at the Univer sity of Notre Dame in the U.S. and a writer, academic and filmmaker, will form a panel at St Michael's Theatre to discuss Lost Leaders: Michael Collins, Parnell, JFK and Bobby. Speaking of the upcoming event, Di rector of the Summer School Dr Brian Murphy says, "Collins, the Kennedy brothers and Parnell were all men of substantial achievement cut down in their prime. Our panel will discuss their successful but truncated careers, speculate on what they may have achieved had they lived and also assess the impact of public and private grief on the national consciousness in the United States and Ireland.
A host of guests are set to join the Kennedy Summer School this year with United States Ambassador to Ire land Claire Cronin set to officially open the event, the Irish American State Legislators' Caucus will join a panel discussion, and Minister Simon Harris will be present also. US politi cian and grandson of Robert Ken nedy, Joe Kennedy, will join the event remotely plus there are a host of politicians, political commentators and correspondents and leading glo bal academics who will all join in the discussions billed for the annual Ken nedy Summer School which is set to take place in New Ross this Septem ber 8th to 10th.
John F. Kennedy died aged 46, Charles Stewart Parnell aged 45, Robert Ken nedy aged 42, and Michael Collins aged just 31. Each of these young, charismatic political leaders made a profound impact on their respective countries and their premature deaths changed the course of history."
The 2022 Kennedy Summer School programme of events and tickets are now available online at www.kenne dysummerschool.ie or call St. Mi chael's Theatre on 051 421255. n
Slaney hIStORy & heRItage
L-R: Neal Thompson, Dr Anne Dolan, Prof Briona Nic Dhiarmada
2nd September 2022 - Page 119
Kennedy Summer School to discuss lost leaders including Michael Collins
This August marked the centenary of the assassination of Michael Collins and, with this significant anniversary in mind, the Kennedy Summer School has assembled a panel of renowned historians to analyse the contribution of Ireland and America's best-known lost leaders.
The 2022 Summer School will focus on topical issues in Irish and U.S. politics with leading expert speakers from both sides of the Atlantic along with a focus on Russia and Ukraine and a discussion on Sustainable Futures and political im pact. More than 40 guest speakers will participate in debates on a wide range of subjects with the U.S. and Ukraine featuring prominently.

A video about the pilot project, which includes brief introductory messages from Tom En right, Chief Executive, and Cllr. George Lawlor, Cathaoirleach, has been produced which you can view at the link
The Access Section of Wexford County Council has created a pilot project entitled the 'Ad vanced Digital Access Participation Project' (ADAPP), which through virtual tours and QR codes provides alternative access for all to enjoy and explore a selection of heritage sites throughout County Wexford, including Enniscorthy Castle. The project is supported by the Disability Participation & Awareness Fund, an initiative of the Department of Children, Equal ity, Disability, Integration and Youth. The project, through a series of virtual tours and QR codes provides alternative access for all to enjoy and explore a selection of heritage sites throughout the county, including Fethard Castle, Enniscorthy Castle, Tulach a tSolais on Ou lart Hill, St. Patrick's Church in Wexford Town, and St. Mary's Church in Bannow.
https://youtu.be/HItfWlZkpUw Also included (on right) are links to each virtual tour of the five sites, where the wonderful features can be explored and accessed by all. The QR code will be placed on a sign outside the Castle shortly for persons physically visting the site. For persons online, we have reproduced on this page a digital version of the code which links up directly to the Enniscorthy Castle virtual tour.
National Heritage Week took place from the 13th to the 21st August, and the focus this year was on sustainable heritage.
IMPROVING ACCESS FOR ALL TO ENNISCORTHY CASTLE COINCIDING WITH NATIONAL HERITAGE WEEK...
Further Information: 053 9196387, accessoffice@wexfordcoco.ie n
Slaney aDSlaney hIStORy & heRItage Page 120 - 2nd September 2022 Access for all to Enniscorthy Castle
The ADAPP was launched recently at Enniscorthy Castle by the town's Councillors – pictured above L-R: Cathal Byrne, Aidan Browne (Cathaoirleach), Jackser Owens, Barbara-Anne Murphy, and John O'Rourke.
Enniscorthy Castle: ?m=7orJGVGNoUahttps://my.matterport.com/show/ Fethard Castle: ?m=Fz8rHrGqHVEhttps://my.matterport.com/show/ St. Patrick's Church: ?m=6sCVZvMzELKhttps://my.matterport.com/show/ St. Mary's Church: ?m=8QwPbmYuDRUhttps://my.matterport.com/show/ Oulart Hill: ?m=ikjhU33pvb2https://my.matterport.com/show/
Starting this month, Wexford County Council's Historian in Residence Barry Lacey (right) will be hosting a series of walking tours of the towns in Co. Wexford, visiting the sites of incidents from the War of Independence and Civil War. His first tour took place in Enniscorthy on 1st September.
A new ExperienceMedievaldifferentandFerns
Walking tours of Wexford's towns focusing on incidents from the War of
2nd September 2022 - Page 121
Want to try something new and very different? Well, Wexford's newest visitor attraction is now open in Ferns – located at Ferns Community Centre in a specially refurbished area. The Experience tells the fascinating story of Ferns medieval history in an interactive and fun way. Using audiovisual sensory and virtual reality it really gives a great insight into power shifts in the Ancient Capital of Leinster. The Experience is open Wednesday to Saturday from 11am to 5pm.Forenquiries email: perience@fernsvillage.iemedievalfernsex or phone: 089-4946972. Entry fee is €6. Sen iors/Students €5. Children under 12 are free. n
Slaney & heRItage
hIStORy
andIndependenceCivilWar

Above left: Paul Cahill, Kilmore Coast Guard and John Grace, Kilmore Lifeboat, laying wreaths at the Memorial Garden. Above centre: Watching the proceedings Below left: Cllrs Ger Carthy and Jim Moore with John Power and Seamus O'Keeffe. Below centre: Musicans Carmel Keating, Kevin Watty and Kathleen Laughton. John Maddock, Fr Pat Mernagh. Below right: Mary O'Neill says a prayer for those who lost their lives at sea.
The annual Kilmore Quay Memorial Service for those who have lost their lives at sea took place at the Memorial Garden in Kilmore Quay on 28th August 2022.
Slaney aDSlaney hIStORy & heRItage Page 122 - 2nd September 2022 3rd August 2022 - Page 39
Above left: Seamus O'Keeffe, Peggy Stamp and Cllr Ger Carthy. Above right: John Grace, RNLI, and Paul Cahill, Kilmore Coast Guard, laying wreaths in the Memorial Gard Fr Pat Mernagh and committee. Below left: Some of the attendees. Below centre: Fr Pat Mernagh addresses the audience. Below right: M
ServiceMemorialatKilmore
Enniscorthy's Fintan Kelly, supported by Enniscorthy and District Chamber and Wexford County Council, is continuing to run his historic walking tours of Enniscorthy every Monday, Wednesday and Friday at 10am and 2.30pm, until further notice. Places on each tour are limited and each tour will finish with a bus journey to Vin egar Hill. To book, contact Fintan on 087 675 6993.
Fintan Kelly with a group on one of his recent tours of Enniscorthy.
den with members of the Coast Guard and RNLI lifeboat and Members of Kilmore Lifeboat.
Catching up with Fintan Kelly on tour
Slaney hIStORy & heRItage 2nd September 2022 - Page 123
. Above right: Applauding at the Memorial Service. Below centre: Prayers at the Garden Enda Murphy,
A great opportunity to see Enniscorthy in a way you've never seen it before. n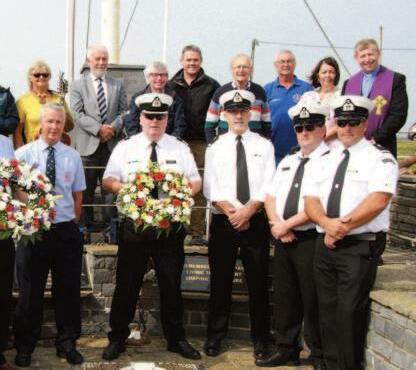 The Commodore John Barry Branch of ONE (Organisation of National Ex-Service personnel) gathering on 14th August 2022 at The Faythe Memorial to the memory of all national ex-service personel, to those who died in Ireland and those who died on United Nations services overseas. n
Wreath laying at the ONE memorial in the Faythe Above: Gathering at the Faythe for the wreath-laying ceremony.
Right: John Fowler of the Commodore John Barry Branch. Below: Anthony Nolan playing the Last Post. Below right: Members of the McCabe Family. Liam McCabe laid a wreath to his late Father Billy McCabe who was a member of Wexford Branch ONE.
Slaney aDSlaney hIStORy & heRItage Page 124 - 2nd September 2022
Slaney hIStORy & heRItage 2nd September 2022 - Page 125
Above: Army pipers. Below: Minister James Browne TD lays a wreath on behalf of the government of Ireland. Bottom: Verona Murphy TD, Town Sergeant Jason Tennant, Wexford Mayor Maura Bell, Cllr George Lawlor, Cathaoirleach Wexford Co. Council, Minister James Browne TD, and Angie Laffan, Wexford Town Manager.

Grainne very much laments that the 1916 Collection had to be removed from the Athenaeum, Enniscorthy, during Covid, due to the risk of damp and mould. 'En niscorthy has the distinction of being the last place to surrender in the Rising and now there is nowhere to commemorate its unique contribution or view its extensive collection of artefacts from the period.'
Grainne also displayed a Minute Book documenting activities of the GAA Board in Ballykinlar Prisoner of War Camp along with correspondence from prisoners to their families and friends during their in carceration in 1921.
Well done to Grainne and her team for the tremendous work they are doing pre serving, documenting, and digitising, but such a dreadful shame that this very im portant and tangible part of our heritage is hidden away, unable to find a suitable home in this proud and historic county of ours.
I asked Grainne about the sporting his tory of the county and if there were many artefacts remembering this aspect of our heritage and again the County Archivist lamented the fact that there was no where in the county to house these items, important to so many.
Photographs of Seamus O`Brien from Morriscastle who was mortally wounded at Rathdrum, Sean and Maire Moran from Lower Church Street, Enniscorthy, both active at the Athenaeum in 1916 and Maire one of the founding members of the Enniscorthy Cumann na mBan branch, Margaret Power of Bridgetown, Sean Etchingham one of the Ennis corthy 1916 leaders, and a very well-pre served photograph of the Enniscorthy Flying Column 1922, were displayed on screen for the library audience.
Grainne's passion for our visual history is admirable, as she collects, catalogues, and is now digitising these artefacts in the fervent hope that if people can't see them in person then at least they will have online access to them.
Slaney aDSlaney hIStORy & heRItage Page 126 - 2nd September 2022
Other items in Grainne's fine display in cluded weaponry, an Enfield Rifle, a Thompson Machine Gun, pistols, bay onets, bullets, and a hand grenade.
She did have an image on screen of a portion of cloth from the billiard table in the National Foresters Hall, Enniscorthy, which is part of the sporting archive housed at Ardcavan. I visited the Archives many years ago and was intrigued to find Minute Books of many sporting clubs in the town includ ing the Enniscorthy Cricket Club, along with the Athenaeum Snooker Cup, and of course a plethora of hurls belonging to many of our most famous GAA sons.
Words & Pics by Maria Nolan
A Wealth of Hidden History
Above left: Wexford County Archivist Grainne Doran with Tina Larkin of Enniscorthy Library. Above right: Grainne Doran.
County Archivist Grainne Doran was at Enniscorthy Library on Thursday 18th August to digitally display many of the items from the 1921-23 period, now stored in the County Wexford Archive at Ardcavan, Wexford.
Below: The exhibition centrepiece a full-sized 3D print of Enniscorthy Castle's dungeon wall art was unveiled last month by Enniscorthy Castle Manager Mico Hassett and Cathaoirleach of Enniscorthy Municipal District Aidan Browne.
Swordsmantheoutofthedungeon
Enniscorthy Castle Manager Mico Hassett explains, "An archaeological report was completed in 2012 on our drawing thanks to Heritage Council funding. They recom mended a full digital survey of the swords man figure. Originally referred to as a Halberdier, the figure is, in fact, a swords man thought to date to the late 16th cen tury. Further funding allowed us to complete the digital survey using 3D laser imaging, 3D photogrammetry and 2D RTI imaging. The data retrieved allows us to showcase the piece across our main floor and will monitor the condition of the art work over time too." The exhibition centrepiece is a full-sized 3D print of the wall art. A video of the sur vey process and the finished 3D print were on display at the launch event on 19th Au gust as part of the Castle's Heritage Week Eveevents.Furlong, deputy manager of Ennis corthy Castle, says, "The 3D print allows us to bring the Swordsman out of the dun geon and into the main exhibition space of the Castle, which creates better accessi bility, opportunities for up-close engage ment and additional educational materials to be Admissionshowcased."totheexhibition is €6 with a family of five for just €15, making it a great value proposition for a tour. Writing on the Wall Chisel to Spray Can: Graffito, Graffiti and Wall Art runs in the castle until Halloween with the full dislay exploring the history of graffiti and wall art from the Neolithic to the present day. The focus on political graffiti, the rise of graffiti in the 80s and the local Enniscorthy Walls Project offers patrons plenty of insight to graffiti art through the ages across the world. n
Bringing
Bottom: Conor Gibson, Lisa Byrne, Larry Dunne of The Presentation Centre, Enniscorthy, at the exhibition launch.
Slaney hIStORy & heRItage 2nd September 2022 - Page 127
Enniscorthy Castle is home to a rare piece of medieval graffito, incised in the dungeon wall a 1m tall figure with sword in hand thought to be from the 16th century. This work of wall art from times past is the centrepiece of the Castle's autumnal exhibition Writing on the Wall.

As sea lovers and sustainability sup porters, Cully and Sully are joining Clean Coasts again and are very excited to be supporting the Big Beach Clean.
Last year in Co. Wexford, volunteers or ganised clean-ups in 19 different loca tions, removing 1.2 tonnes of marine litter. Moreover, that year Clean Coasts joined the Wexford Subaqua Club Clean Coasts group at Kilmore Quay, where volunteers removed additional bags of marine litter, as well as larger items such as ropes and lobster pots.
Sinead McCoy, Coastal Communities Man ager, stated: "We are asking Clean Coasts groups and any other group that would like to join the effort to sign up to partake in the Big Beach Clean, which runs on the 3rd weekend in September each year, and receive a free beach clean kit. Last year we had a boost in clean-ups with loads more areas on the coast, along lakes and river ways and in our town and villages being cleaned up, we are excited to build on this success and get even more volunteers out cleaning. This year you can find your local beach clean or sign up on www.clean Tocoasts.org".registervisit the Clean Coasts website at www.cleancoasts.org
This year, Clean Coasts are calling not only Clean Coasts groups and people who would traditionally be involved in environmental activities to join. Clean Coasts, with the support of Content Cre ators, are asking everybody in the com munity to get involved and find out more about the benefits of taking part in a beach clean and international citizen science project, which go beyond the en vironmental aspect of the initiative.
Clean Coasts launch the 2022 Big Beach Clean, sponsored by Cully and Sully.
The 2021 results have been shared with Ocean Conservancy and, in Ireland and regionally in Wexford, they have been used to shape Clean Coasts campaigns designed both for registered groups and the general public, tackling the top 10 offenders, such as cigarette butts, plastic bottles and food packaging.
In 2021, a record number of over 400 clean-ups were organised by volunteers who removed 42 tonnes of litter across the whole country. This represented a 5% decrease in litter found across Ire land, compared to the previous year campaign, which reflects the incredible work that Irish volunteers do all year round to tackle litter, as well as more conscious behaviours by beach users.
The Big Beach Clean is an annual call to action and this year it will run from 16th to 18th September, as part of the Inter national Coastal Cleanup (ICC), operated internationally by Ocean Conservancy. This call to action invites communities and volunteers around the country to re move litter from around the Irish coast after the end of the bathing season. This initiative is also an opportunity for volun teers to get involved in a worldwide citizen science project, which entails col lecting the amount and types of litter on Irish beaches and filling in Clean Coasts' Marine Litter Data Cards. This will help heighten awareness about the issue of marine litter serving as an indicator of the magnitude of the problem and help shape future policies and campaigns.
Hashtags:LinkedinYouTubeInstagTwittFacebook:@CleanCoastser:@CleanCoastsram:@cleancoasts:CleanCoastsIreland:CleanCoasts#BigBeachClean2022 Coasts n
L-R: Elaine Doyle (Clean Coasts Campaigns Officer), Colum O'Sullivan and Cullen Allen (founders of Cully & Sully). Pic: Cathal Noonan Register now for the Big Beach Clean and receive a free clean-up kit.
Slaney aDSlaney envIROnment Page 128 - 2nd September 2022
The Big Beach Clean initiative is back, and Clean Coasts (the Irish environmental charity), supported by Cully and Sully, are calling people all across Wexford to register to receive cleanup kits and join the world biggest clean-up.
#Clean
Our ocean supports livelihoods and cer tain businesses, from hospitality to tour ism, to fishing, and more, depend on a clean and healthy ocean. People en gaged in water sports, whether in a pro fessional way or as a hobby, should join this call to action to protect their "play ground". Some artists might draw inspi ration from the ocean, and, for this reason, they will want to do something to protect it. Coastal communities take pride in the beauty of the place they live in and want to keep it clean; moreover, a cleaner place to live means having better health and wellbeing. The ocean does a lot for our mental health and wellbeing, and so some participants might want to give something back to it. Finally, in the overall climate emergency, some people want to be an active part of the solution, and by taking part in this citizen science project, they will be able to play a key role in the establishment of future pol icies and Registrationcampaigns.willagain be open to all residents of Ireland, no matter how far from the coast they are based. Statistics show that the number one cause of mar ine litter is litter dropped in towns and cities. Getting involved in the Big Beach Clean is a way for residents of non-coastal counties to help prevent litter entering our waterways and seas by holding a clean-up no matter where they are in the country and tackling the problem at source.
Join the world's biggest beach clean
Slaney envIROnment 2nd September 2022 - Page 129 These six 'R's can save our planet! Refuse single use plastics (bags, cups, etc) Rethink your choices Reuse as much as possible Repair before you replace Recycle all packaging and plastic bottles Rot all your organic stuff and put it back into the soil n
Did you know?
Did you know that people use a plastic bottle for an average of 11 minutes? Meanwhile it takes up to 450 years to de Reusablecompose!bottles are becoming more and more popular and thankfully there are now a number of locations on the streets of En niscorthy where you can fill them with water for free. So if you want to do one thing today for nature, avoid using disposable plastic bottles.
With the generous support of the Environment Department of Wexford County Council, two Mutt Mitts bag dispensers and bins have been installed in Ferns village and also at several locations around Enniscorthy. These dispensers contain easy to use biodegradable bags to dispose of your dog's poo. So no excuses! Bag it and bin it!!
n
No excuses!
n

Attendees at the Sustainable Enniscorthy public meeting on 20th June 2022.
Slaney aDSlaney envIROnment Page 130 - 2nd September 2022
Sustainable Enniscorthy – welcome on board
If you would like to get involved in Sustainable Enniscorthy and to be kept informed about its initiatives, please follow on Facebook: https://www.facebook.com/SustainableEnniscorthy or email: sustainableenniscorthy@gmail.com
The Slaney News is delighted that the Sustainable Enniscorthy group has come on board with a new monthly col umn in our magazine. See their column on page 19.
A full list of planned and potential future activities/projects is in its Strategy document on its website: www.myenniscorthytown.com n
Get involved in Ireland's first Sustainable Development Goals (SDG) week from 20 – 26 September 2022, in conjunction with European Sustainable Development Week. To take part in SDG week, organise an event – however big or small – or highlight an activity or project that promotes sustainable development and join the new annual week of action for the SDGs. More information on sustainable development, SDG week and ideas for taking part and to register your event: https://esdw.eu/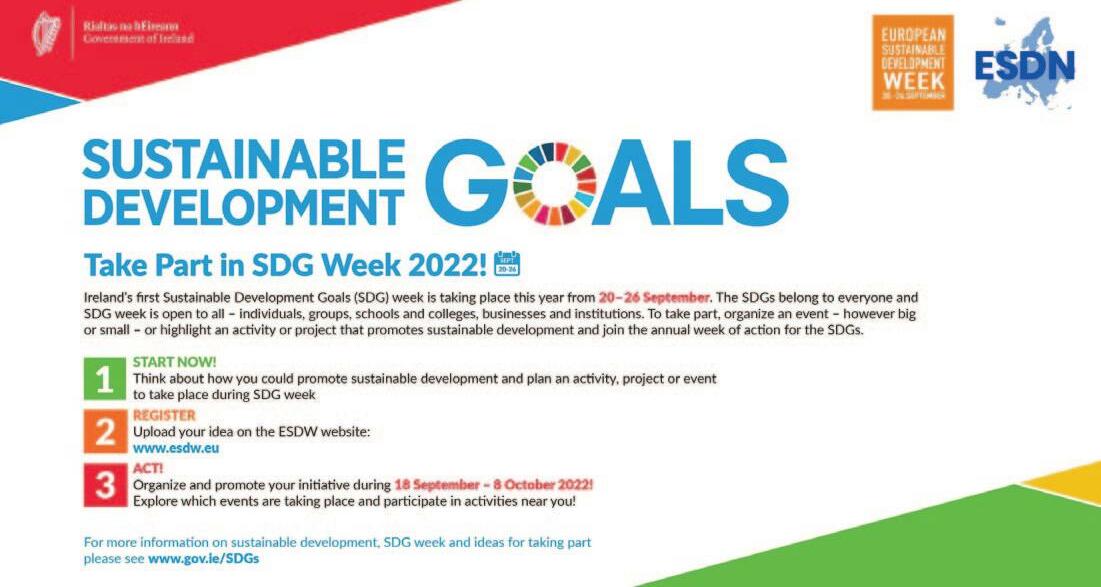 Jo Linehan is a lifestyle and sustainability journalist, co-founder of GAFF Shop, and host of The Futurist Podcast. Jo's work is all about highlighting and celebrating ways we can all live more eco-friendly lives. She is cur rently a columnist with The Sunday Times, and Irish County Magazine and is working on her MSc in Management for Sustainable De velopment at Dublin City University
dang, Papua New Guinea, Matthew took up a 2-year post-doc position at Trinity College Dublin. This work involved the preparation of a revision of the Araliaceae for the Flora of Thailand project.
Kennedy Summer School to host new Sustainable Futures event
Senator Grace O'Sullivan is a mother of three, an ecologist, and an environmental education specialist. She is also a former Greenpeace activist, a former Irish surf champion, and a green entrepreneur. At the age of 21, she took a job with Greenpeace, where she spent the next 20 years of her ca reer travelling the seas and oceans of the world, taking part in actions for peace and climate justice. She was a crew member of the Rainbow Warrior when it was bombed by the French Foreign Intelligence Service in 1985. She continues her work as a peace and environment activist, these days within the political sphere.
In a brand new event, the Kennedy Summer School, which is set to take place in New Ross, this September 8th to 10th, is set to host a panel discussion exploring how we can all work towards a sustainable future, working together for policy and political change in combination with personal responsibility. Opening the Kennedy Summer School events on September 8th at 10.30 am will be panellists Senator Grace O'Sullivan; Dr Matthew Jebb, Director of the National Bo tanic Gardens of Ireland; Michael Kelly, Founder of GIY; Jo Linehan, lifestyle and sustainability journalist, co-founder of GAFF Shop, and host of The Futurist Podcast; Alannah Wrynn and Anabel O'Hora, youth Davidactivists.McCullagh, journalist, RTE news pres enter, historian, and author of many books including, most recently, 'The Great Irish Politics Book' will moderate the panel. Alannah Wrynn is a seventeen-year-old ac tivist, and 5th-year student from Dunman way, West Cork. Growing up on a farm, the natural world has always played an impor tant role in her life. She is an active member of Fridays for Future Cork where she has campaigned for a just transition to more sustainable methods of food production and the protection of Ireland's biodiversity. She serves as Chairperson of Cork County Com hairle na nÓg (Youth Council) which is cur rently working on the topic of Gender Equality and is a delegate to the Irish Na tional Youth Assembly. She has also worked with the YMCA as part of the Future Gener ations Climate Justice Project, which works to capture youth voices and educate them on the United Nations Sustainable Devel opment Goals. Anabel O'Hora is sixteen years old, she was born in Manhattan and moved to Ireland aged six to be closer to family. Anabel is passionate about sustainability, the environ ment, biodiversity and particularly climate action. She is a member of a range of differ ent youth environmental organisations and became involved with ECO UNESCO through the Youth for Sustainable Devel opment programme, she now represents them at the newly founded National Youth Assembly of Ireland. In June 2022, Anabel was a panellist at the National Biodiversity Conference and is a member of the Youth Advisory Group for the Young People's As sembly on Biodiversity Loss.
Senator Grace O'Sullivan, Michael Kelly and Anabel O'Hora.
Slaney envIROnment 2nd September 2022 - Page 131
Dr Matthew Jebb undertook his primary de gree and D.Phil at Oxford University. His PhD looked at the taxonomy and tuber mor phology of the rubiaceous ant-plants. Fol lowing a 5-year appointment as Director of the Christensen Research Institute at Ma
Michael Kelly is the founder of GIY, a social entrepreneur, author, TV presenter and hacker grower. Working with an amazing team of change-makers, he has built GIY into a leading social enterprise and developed a home for the movement GROW HQ in Waterford. He co-presented/produced three series of Grow Cook Eat for RTE which are now watched around the world on Amazon Prime. He is an Ashoka Fellow and a member of The Irish Food Writers Guild.
David McCullagh, an author and journalist with RTÉ, will moderate the panel. His most recent book is The Great Irish Politics Book, a guide to politics for younger readers, which was published in 2021. This event has been created for secondary school students and will be hosted in con junction with the OPW at the JFK Memorial ThePark.Kennedy Summer School programme of events and tickets are now available online at www.kennedysummerschool.ie or call St. Michael's Theatre on 051 421255. n

Slaney aDSlaney envIROnment Page 132 - 2nd September 2022 For further information, please contact the Environment Section, Wexford County Council on 053-9196000 or customerservice@wexfordcoco.ie Wexford County Council Anti-Dumping Initiative 2022 Have you an old mattress to be recycled? Wexford County Council will accept mattresses for recycling from households (no commercial premises) at the 4 Household Recycling Centres on the specified dates as follows: MATTRESS AMN ESTY The opening hours of the 4 Recycling Centres are: 08.15 to 12.00 & 13.00 to 16.00, Tuesday to Friday Holmestown, Wexford Household Recycling Centre New Ross Household Recycling Centre Gorey Household Recycling Centre Enniscorthy Household Recycling Centre - Tuesday 6th Sept. to Friday 9th Sept. - Tuesday 13th Sept. to Friday 16th Sept. - Tuesday 20th Sept. to Friday 23rd Sept. - Tuesday 27th Sept. to Friday 30th Sept. s No mattresses will be accepted on Saturdays. s Mattresses should be clean and dry. s There will be a limit of 3 mattresses per vehicle and 1 visit per vehicle is permitted during the Amnesty Period. s Due to Covid-19 restrictions, staff will not be permitted to handle mattresses. s €2 entry fee applies at all 4 Recycling Facilities.
Slaney envIROnment 2nd September 2022 - Page 133
Spring into action –recycle old mattresses
Read more here: 6efc-4726-61e223cc3060?t=1660293185275land_Air+Quality+Campaign_2022.pdf/4bb1575b-f730-https://www.globe.gov/documents/14322/0/GLOBE_Irequality-campaignhttps://www.globe.gov/web/ireland/home/overview-of-airn
Registration is now open for the autumn GLOBE Air Quality Campaign, kindly supported by EPA Ireland – a fantastic opportunity for teachers to participate in citizen science with their students. The GLOBE Ireland Air Quality Campaign is a citizen-science campaign to assess traffic-related air pollution at schools. This is an educational project designed to raise awareness about air pollution, engage students in the scientific process, promote action around clean air and showcase the potential of citizen science to gather unique datasets and insights into our en vironment. There have been seven campaigns since 2019, with over 600 teachers registering to participate in a campaign. The campaign is a 6-to-8-week inquiry-based learning project where students are encouraged to participate in the scientific process of observing the environment, asking questions, de veloping a hypothesis, planning an investigation, gathering data, analysing, and interpreting data and communicating the scientific results. Students are encouraged to engage with GLOBE Atmosphere protocols to support their air pollution in Eachvestigation.school that registers to participate in a GLOBE Ireland Air Quality campaign will receive three diffusion tubes to measure nitrogen dioxide outside at their school. The diffusion tubes are positioned at three locations at each school, one near a main road, one at a car park/drop off location, and one in a relatively sheltered area and are left up for a 4-week period. n Please get in touch with globe@eeu.antaisce.org for more in formation. Registration for the September 2022 campaign is now open. You can register here: https://arcg.is/1aGi
This year, International World Cleanup Day is taking place on Saturday, 17th of September 2022. To mark the occasion, why not do a 2-minute street clean to show how much you care about keeping your community and world clean. n
World Clean-Up Day
Sustainable Enniscorthy will host an Energy Saving Expo on Saturday 1 October from 10am to 2pm in the Seamus Rafter Suite of the Riverside Park Hotel. The Energy Saving Expo will be an opportunity for people to learn how to save energy, save money, and help the environ ment. Any suppliers of energy efficiency products or services who are interested in participating in the Energy Saving Expo should contact Sustainable Enniscorthy at: sustainableenniscorthy@gmail.com For more about this event: https://fb.me/e/o3VRZfzT0 n
n
Wexford County Council will hold a Mattress Amnesty at its four Household Recycling Centres on the specified dates listed on the opposite page. For further informa tion, please contact Wexford County Council on 053 9196000 or customerservice@wexfordcoco.ie
Energy saving Expo
Calling all primary and secondary School teachers

Right: Ger and Danny Dempsey. Below: Catherine Leacy. Below right: Jack Travers, Pat Murphy and Kayleigh Travers. Below far right: Faye and Edward O'Grady.
Tractor Run in Oulart
Left: Eddie, Ross and Mary O'Grady.
Enjoying the Tractor Run were Monica, Martin and Denis Morton. At the Pat the Chap Vintage Club Tractor Run in Oulart were: Carmel Sinnott, John Dempsey and Ted Sinnott.
Slaney aDSlaney SnapS Page 134 - 2nd September 2022 ON 21ST OF AUGUST 2022, BYGONE DAYS STORYTELLING HOUSE IN OULART JOINED FORCES WITH PAT THE CHAP VINTAGE CLUB AND JOAN AND FRIENDS TO RUN A FUNDRAISING EVENT IN OULART VILLAGE.
2nd September 2022 - Page 135
Slaney SnapS Above: Enjoying his pipe at the Pat the Chap Vintage Club Tractor Run in Oulart was John O'Connor. Below: Shona Laird and Sharon Proctor.