15-16-17-18
Grosspietsch Grosz Hagemann Heckel Hough Joseph KirchnerMcCarthyManfrediniMonetNoldeRodinSpoerri Sep 2022 Flughafen Tempelhof Booth A16
Akim MONET (b. 1968, USA)
Akim Monet Fine Arts, Tel. +41 76 346 1313 (Europe)
Daniel SPOERRI (b. 1930, Romania)
Curt GROSSPIETSCH (1893 – 1980, Germany)
Ernst Ludwig KIRCHNER (1880 – 1938, Germany, Switzerland)
James "Yaya" HOUGH (b. 1974, USA)
Erich HECKEL (1883 – 1970, Germany)
Akim Monet Fine Arts, LLC 2101 Cedar Springs Rd. Suite 1050 Dallas TX 75201
United States of America info@akimmonetfinearts.com www.akimmonetfinearts.com
Mechthild HAGEMANN (b. 1960, Germany)
Giovanni MANFREDINI (b. 1963, Italy)
Paul MCCARTHY (b. 1945, USA)
Cliff JOSEPH (1922 – 2021, USA)
15-16-17-18 Sep 2022 Flughafen Tempelhof Booth A16
George GROSZ (1893 – 1959, Germany)
Tel. +1 424 394 8480 (USA & WhatsApp)
Emil NOLDE (1867 – 1956, Germany)
Auguste RODIN (1840 – 1917, France)
TOTENTANZ springs from a desire to fight back against the prevailing feeling of doom that surrounds us of late: COVID has claimed 6,5 million souls worldwide (1 million in the US alone); the Russian invasion of Ukraine echoes not-so-distant memories of wars that have set Europe on fire and spilled a seemingly endless river of blood; a heavily armed US is plagued with a virulent epidemic of mass shootings, and today's America is reeling from a failed "coup d'état" attempted on January 6, 2021 by an ousted Nevertheless,demagogue.evenaswe humans have the propensity to destroy each other, we also have the uncanny capacity to transform strife into life, to dodge death somehow, and at times we leave to posterity works of art that testify to our will to survive.
Welcome to TOTENTANZ, an exhibition featuring works by: Curt Grosspietsch, George Grosz, Mechthild Hagemann, Erich Heckel, James "Yaya" Hough, Cliff Joseph, Ernst Ludwig Kirchner, Giovanni Manfredini, Paul McCarthy, Akim Monet, Emil Nolde, Auguste Rodin, and Daniel Spoerri.
It is this spirit that Akim Monet Fine Arts chooses to celebrate at the POSITIONS Berlin Art Fair in Tempelhof Airport; one that shies not away from addressing tough questions, one that fights for the oppressed, one that by small victories shows that there is a way forward!
I very much hope to see you in Berlin!
The Lone Star Gallery Dallas, the curatorial arm of Akim Monet Fine Arts, LLC will present the exhibition
Akim Monet August 2022
TOTENTANZ at the POSITIONS Berlin Art Fair from September 15 to 18, 2022.
Facing page (detail): George GROSZ Warfare, 1934 Brush, reed pen and pen and ink on paper 19 x 27 1/16 in. (48,3 x 68,8 cm) Stamped on the reverse "GEORGE GROSZ NACHLASS" and numbered 2-143-2
After a four-year hiatus from Europe, I am absolutely thrilled to exhibit again in Berlin.
Der Tod, n.d.
Death Ink on paper
Signed lower right, titled on reverse
Painter and illustrator Curt Grosspietsch studied at the Dresden Art Academy during which time he developed a friendship with George Grosz and Otto Dix. Loosely following the style of Alfred Kubin, Grosspietsch placed the grotesque, horrible and bizarre at the center of his work.
11 5/8 x 15 9/16 in. (29,5 x 39,5 cm)
Curt GROSSPIETSCH (1893 - 1980)
23 1/4 x 18 1/8 in. (59,1 x 46,1 cm)
So smells defeat, 1937
Signed titled and dated bottom-right "Grosz/so smells defeat/37" and annotated "34 so smells defeat" bottom center.
Reed pen and pen and ink on paper
George GROSZ (1893 - 1959)
Painter, draftsman, printmaker, George Grosz is known for pointed political satire and social criticism. Early work, from about 1914 to 1917, shows influence of Expressionism and Futurism, as well as caricature. Volunteered for war in 1914; discharged in 1915 after a sinus operation. Recalled in January 1917; suffered nervous breakdown, declared unfit for military service. Ran afoul of censorship laws three times in 1920s. Emigrated to New York in 1933. Declared an "enemy of the state" by Nazis, who confiscated his works in German museums; some destroyed. One month before his death in 1959, returned to Berlin.
Starr Figura, German Expressionism: The Graphic Impulse, New York, The Museum of Modern Art, 2011
Warfare, 1934
George GROSZ (1893 - 1959)
Stamped on the reverse "GEORGE GROSZ NACHLASS" and numbered 2-143-2
Brush, reed pen and pen and ink on paper 19 x 27 1/16 in. (48,3 x 68,8 cm)
Acrylic and oil on canvas
Donkey, Death and Tulips
Mechthild HAGEMANN (b. 1960)
53 9/16 x 73 5/8 in. (136 x 187 cm)
Esel, Tod und Tulpen, 2009
Text by Thomas Janzen on the occasion of a 2012 exhibition at the Krefelder Kustverein
The existential experience and mental processing of reality are of central importance in the work of Mechthild Hagemann. In recent years, script has advanced far into the painterly realm and sometimes, especially in the group of paintings entitled "Eselprotokolle" ("Donkey Protocols"), takes on functions that constitute the picture in terms of both content and form. On the one hand, the comic- and cartoon-like quality of her work is thereby emphasized; on the other hand, the written bows and loops are also reminiscent of the banners of medieval painting. Sometimes dizzying whirlpools of meaning are created, which impressively allow seeing and living to merge into one another.
(15,8 x 11,7 on 35,9 x 23,2 cm)
Signed lower right Dube R 115
Etching on firm wove paper
6 1/4 x 4 5/8 on 14 1/8 x 9 1/8 in.
This etching is extremely rare
Dying Pierrot
Erich HECKEL (1883 - 1970)
Sterbender Pierrot, 1913
Dance, Tingeltangel, vaudeville and circus repeatedly inspired the "Brücke" artists. Heckel focused particularly on the circus and especially on its more melancholic aspects. It appears that Heckel was inspired by a silent movie featuring the actress Asta Nielsen.
Untitled (Knives), 2008-2016 Black ball-point pen on reverse of Commonwealth of Pennsylvania Department of Corrections
7 1/8 x 5 3/16 in. (18,1 x 13,18 cm) Signed on the verso
James "Yaya" HOUGH (b. 1974)
"AUTHORIZED VISITORS LIST" application form ("PINK-INMATE" copy)
James "Yaya" Hough, born and raised in Pittsburgh PA, is a contemporary artist and activist. His art interrogates issues of mass incarceration, U.S. history, race, violence, popular culture, and identity. Hough's work was included in Marking Time: Art in the Age of Mass Incarceration, curated by Dr. Nicole R. Fleetwood, at MoMA PS1, Queens, NY; the exhibition travelled to the Abroms-Engel Institute for the Visual Arts, Birmingham, AL. In 2020, his work was featured in Rendering Justice, African American Museum in Philadelphia, Philadelphia, PA. In 2022 his work was included in Assembly: New Acquisitions by Contemporary Black Artists, an exhibition at the Blanton Museum of Art, Austin TX. James "Yaya" Hough's work will be featured in the 2022 Carnegie International, opening in September 2022 in Pittsburgh PA. His work has been featured in Artforum, Dissent Magazine, The New York Times, PBS NewsHour, The Philadelphia Inquirer, and Philadelphia Magazine.
Cliff JOSEPH (1922 - 2021)
Southern Comfort, 1965 Oil on board in original artist's frame 16 x 16 in. (40,64 x 40,64 cm) Signed, dated and titled on the verso
Pen and ink on parchment paper
Ernst Ludwig KIRCHNER (1880 – 1938) Eldorado-Tanzcafé, 1910 Eldorado Dance Café
With the estate stamp with the numbering "B Dre/Bi 18" in ink as well as with the numberings "K 4758" and "C 4421" in pencil on the verso.
9 13/16 x 7 1/16 in. (25 x 18 cm)
Observing dancers in a dance café was among Kirchner's favourite activities. He was particularly interested in the capturing of movement, many of his series being reminiscent of early chronophotographic images of whole sequences of movement. These depictions were often created in various techniques and the same motif would appear in a whole diversity of media – drawing, chalk, pen/brush and ink, woodcut, etching, lithograph and oils –and sometimes as sculptures, tapestries and photographs.
With the estate-stamp and the numbering 'KN-Be/Ba 5' on the verso 23 5/8 x 19 11/16 in. (60 x 50 cm)
Gordon 0415
Porträt Hugo, 1914 Portrait of Hugo Oil on canvas
Ernst Ludwig KIRCHNER (1880 – 1938)
Totentanz der Mary Wigman, 1926/1928
Ernst Ludwig KIRCHNER (1880 – 1938)
Mary Wigman's Dance of Death Oil on canvas
43 5/16 x 58 11/16 in. (110 x 149 cm)
With the estate stamp and numbering "KN-Be/Be 3" on the verso Gordon 0839
Unique
Manfredini created Stabat Mater in memory of his mother who had died that year. The crown of thorns is made of rose branches from his mother's garden. Manfredini had the branches cast in silver, which he then plated in gold. With the title of the installation "Stabat Mater", Manfredini refers to the medieval poem of the same name with the topic of Maria and her grief over her son's death. In 2015, the artist created a "sister-piece" of the crown of thorns and exhibited the work in the Chiesa Madonna dell'Orto during the Venice Biennale. The famous composer Ennio Morricone accompanied the installation with his music.
Stabat Mater, 2014
Giovanni MANFREDINI (b. 1963)
Silver,gold plated, signed Diameter 13 in. (33 cm) 1400 Grams
Source: https://www.christies.com/lotfinder/Lot/paul-mccarthy-b-1945-dead-viking-5495761-details.aspx
12 x 72 x 24 in. (30,4 x 183 x 61 cm)
Dead Viking, a favorite piece of its creator, is a hilarious and uncanny sculpture, fascinating in its combination of childlike humor and eerie, compelling oddities. With the present work, McCarthy has added another truly inventive manifestation both of his fascination with the weird and of his exploration of our theme-park world and manufactured culture. Dead Viking is an expression of the unstable humor that pervades McCarthy's art. It hangs out with its audience, sprawling across surfaces, using its comedic, human physicality to integrate itself into our environment.
Dead Viking, 1992
Acrylic fur, wood, rubber and found costume
Paul McCARTHY (b. 1945)
Paul McCARTHY (b. 1945)
Benjamin WEISSMAN (b. 1957)
Collaborative drawing from a group originally presented in 2014 at The Box, LA under the title "Men in L.A.: Three Generations of Drawings."
Naotaka HIRO (b. 1972)
Nao, I Think This Is Your Beer (Kill the man), 2015 Acrylic, collage, watercolor, graphite on paper Framed size: 26 x 20 in. (66,04 x 50,8 cm)
…what the exhibition accomplish[es] is to gather together twenty-five years of drawings by artists who depict the body in all its grotesquely sexual, scatological, and effluvial glory. Fittingly, the oldest artist in the show is Paul McCarthy, who has been creating all manner of abject and provocative art since the early 1970s. Beginning with simple early performances, McCarthy's oeuvre has come to include sculpture, video, and installation, culminating in recent big-budget cinema spectacles. McCarthy's "signature ingredients: violence, humor, sex, impotence, appetite, degradation, art history, politics, and pop culture are all present here…. The Men in the exhibition title refers not only to the artists, but to their subject matter.
From Holland Cotter's review in the New York Times
Le Catacombe dei Cappuccini, 2010
Paper size: 26 x 40 in. (66,04 x 101,6 cm)
on 100% cotton acid-free watercolor paper
Archival Pigment Print
Photographer Akim Monet tackles the "Capuchin Catacombs of Palermo," the largest collection of mummified remains in Europe, containing some 1,284 mummified and partiallyskeletonized bodies, some exceptionally well-preserved.
Ed. Signed7+3APand numbered in pencil
Akim MONET (b. 1968)
Image size: 23 7/8 x 36 in. (60,62 x 91,44 cm)
Gracious and perfidious, death camouflaged as a young, beautiful, nude dancer with long waving hair is surrounded by a circle of old men who seem unaware of death's skeleton that shines through her delicate body. One can only imagine what will happen when the dance comes to an end.
Der Tod als Tänzerin, 1918 Death as a Dancer
On wove paper. Signed on the lower right, titled on the lower centre and numbered on the lower left "II.9" 8 1/4 x 10 1/4 on 22 7/16 x 18 in. (21 x 26 on 57 x 45,8 cm)
Emil NOLDE (1867 – 1956)
Schiefler-Mosel R 200 II
Etching (line and tone etching)
Inscribed 'A. Rodin', © by Musée Rodin and numbered Ed. 1/8
Punishment
Auguste RODIN (1840 - 1917)
15Bronze3/4x
Châtiment, 1906
One of the eight examples in Arabic numerals, dated and stamped with foundry mark.
11 13/16 x 6 1/8 in. (40 x 30 x 15,5 cm)
Ed. 8 + 4AP
Cast in 2017 by Fonderie de Coubertin, Paris
Châtiment is a particularly complex group composition. 12 molds are required to cast all of the elements of this group. Once assembled, it becomes clear that the work represents a man bent forward, carrying the body of a woman, surrounded by two female figures, who appear suspended in the air. The title "Punishment" would seem to indicate that they are representations of the Greek Erinyes; the role of these deities, known by the Romans as the Furies, was to persecute criminals.
Daniel SPOERRI (b. 1930)
Murder investigations. Multiple stab wounds
23 5/8 x 63 x 9 13/16 in. - 2 x 31 1/2 in. wide with corner hinges (60 x 160 x 25 cm - 2 x 80 cm wide with corner hinges)
Morduntersuchungen. Mehrfache Messerstiche, 1988-1990
Assemblage on screenprint on linen Signed, dated and inscribed "München" on the reverse Cloth signed and dated 1971. A label with the number "12" on the reverse
Born in Galati in Romania in 1930, Daniel Spoerri spent a childhood and youth marked by the full fury of the drama that swept across Europe after 1939. His father, a converted Jew and a Protestant missionary – actually a bookseller by trade – fell victim to a pogrom in Romania in 1941; his Swiss mother succeeded, in autumn 1942, in fleeing to Switzerland with her children. The family surname of Feinstein was dropped in favour of his mother's maiden name of Spoerri.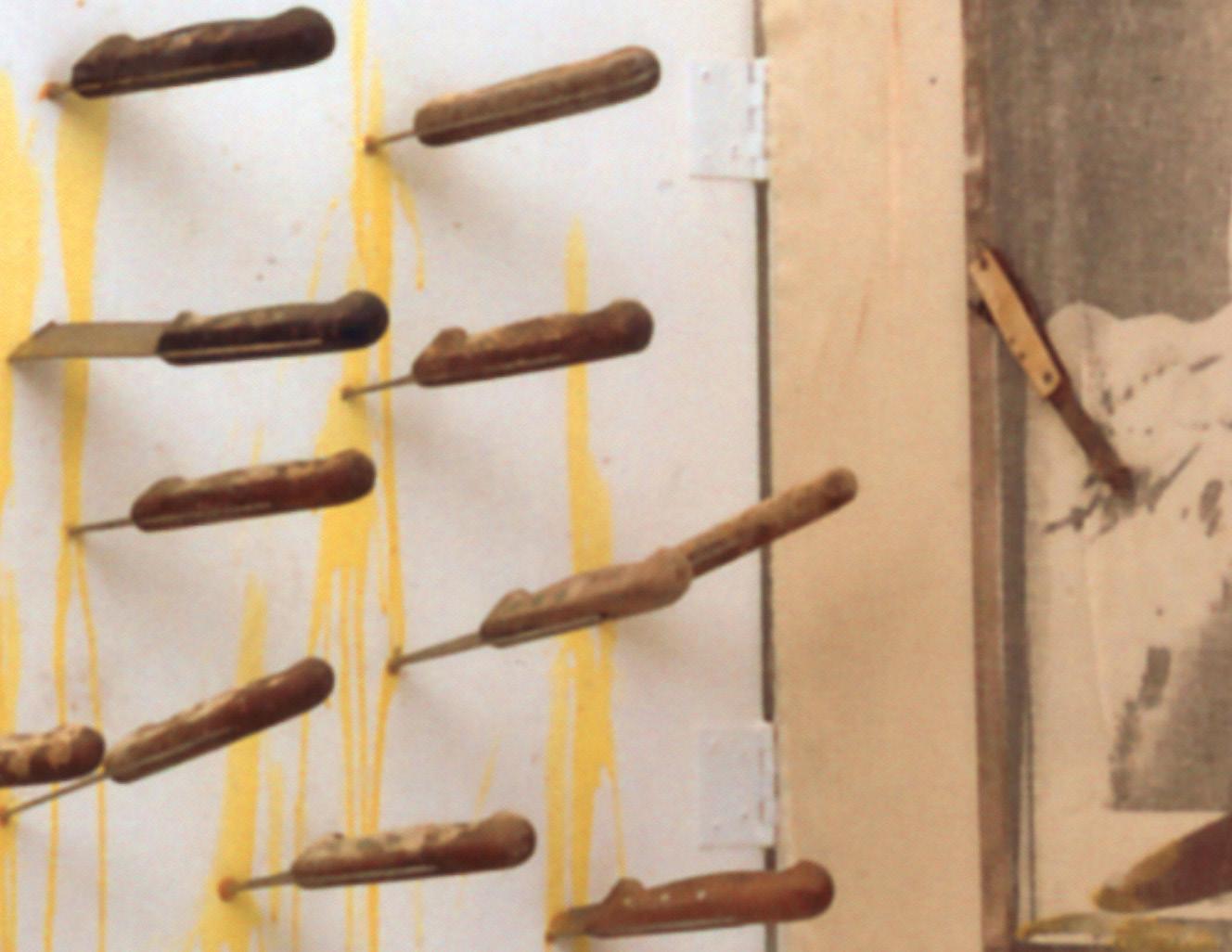 Monet Fine Arts, LLC
1050 Dallas
2101 Cedar Springs Rd. Suite TX 75201
+41 76 346 1313 (EUR) 424 394 8480 (USA)
United States of America
+1
Akim
info@akimmonetfinearts.com www.akimmonetfinearts.com