SEPTEMBER 2022 GUIDEARTSFALLGUIDEARTSFALLINTHISISSUE: FALL DRINKS GUIDE CEDARBURG | PETS FALL WINERIES SPONSORED BY
6216 NEWS08Abortion is on the Ballot in November Even if You Don't See It There 12 Making It In Milwaukee 15 This Modern World 16 The Supreme Court Case That Could Destroy American Democracy — Taking Liberties 18 Dr. Samantha Majhor and Danielle Barrett are Working to Restore Ecosystems and Culture with Wild Rice — Hero of the Month 20 UPAF's Patrick Rath on the Challenges Facing Wisconsin Arts Groups — MKE SPEAKS: Conversations with Milwaukeeans FOOD & DRINK 22 Santino's Little Italy Will Make You Happy to Dine Out Again 24 Celery on Steroids — Flash in the Pan SPECIAL SECTION 26 Fall Drink 26 Kwak Like a Duck — Beverages 28 Tosa Man and UWM Prof Brew Ancient Beers! 30 Milwaukee Oktoberfest Guide 2022 34 Fall Arts Guide 34 'Toil and Triumph' at the Grohmann Museum 60 Day Trips 60 Wineries of Southeast Wisconsin 62 Just North of Milwaukee, Cedarburg is a Daytime Destination 64 Pets 64 Managing the Pandemic-era Pet Boom CULTURE66Bucks Look to Bounce Back in 2022-23 68 Those Old Milwaukee Bronzeville Streets Were Second to None 70 This Month in Milwaukee LIFESTYLE72Feeling Bad Can Be Good — Out of my Mind 75 Khat: Meet the Plant Gunning for Marijuana's Spot — Cannabis HEAR ME OUT 78 Light That Tunnel Yourself — Dear Ruthie 80 Milwaukee's 2022-23 LGBTQ Theater Season–It's There if You Look for It — My LGBTQ POV ART FOR ART'S SAKE 82 From the City that Always Sweeps SPONSORED BY Cover: Max Arthur Cohn (1903-1998), Powerhouse (Edison Plant), 1959, Oil on canvas, 30 x 23 in. From the Shogren-Meyer Collection of American Art. Courtesy of the Grohmann Museum. SHEPHERD EXPRESS MAKES NO REPRESENTATIONS OR WARRANTIES OF ANY KIND, WHETHER EXPRESSED OR IMPLIED, REGARDING ANY ADVERTISING. DUE DILIGENCE IS RECOMMENDED BEFORE ENTERING INTO ANY AGREEMENT WITH AN ADVERTISER.SHEPHERD EXPRESS WILL NOT BE HELD LIABLE FOR ANY DAMAGES OF ANY KIND RELATING TO ANY AD. PLEASE CHECK YOUR AD THE FIRST DAY OF PUBLICATION AND NOTIFY US OF ANY CHANGES. WE ARE NOT RESPONSIBLE FOR ERRORS IN ADVERTISING AFTER THE FIRST DAY. WE RESERVE THE RIGHT TO EDIT, REJECT OR RECLASSIFY ADVERTISEMENTS AT OUR SOLE DISCRETION, WITHOUT NOTICE. WE DO NOT KNOWINGLY ACCEPT ADVERTISEMENTS THAT DISCRIMINATE OR INTEND TO DISCRIMINATE ON ANY ILLEGAL BASIS, OR ARE OTHERWISE ILLEGAL. NO REFUNDS FOR CANCELLATION AFTER DEADLINE, NO COPY CHANGES EXCEPT TO PRICE OR TELEPHONE NUMBER. PUBLISHER & EDITOR-IN-CHIEF: Louis Fortis (ext. 3802) GENERAL MANAGER: Kevin Gardner (ext. 3825) MANAGING EDITOR: David Luhrssen (ext. 3804) BUSINESS MANAGER: Peggy Debnam (ext. 3832) EVENT COORDINATOR: Jan Bruder (ext. 3810) ACCOUNT EXECUTIVES: Bridgette Ard (ext. 3811) Petra Seymore (ext. 3828) Tyler R. Klein (ext. 3815) SALES MANAGER: Jackie Butzler (ext. 3814) BUSINESS DEVELOPMENT MANAGER: Chuck Hill (ext. 3822) IN MEMORY OF DUSTI FERGUSON (OCTOBER 18, 1971 – NOVEMBER 20, 2007) WEBMASTER: Barry Houlehen (ext. 3807) DIGTAL STRATEGIST: Allen Halas (ext. 3803) STAFF WRITER & CIRCULATION COORDINATOR: Blaine Schultz (ext. 3813) EDITORIAL INTERN: Elizabeth Lintonen8230 Distribution: New issues of the Shepherd Express magazine are on the street, on the first Wednesday of each month, free of charge. The Shepherd Express may be distributed only by authorized distributors. No person may, without prior written permission of the Shepherd Express, take more than one copy of each monthly issue. Mail subscriptions are available. No refunds for early cancellations. One year (12 issues) via First Class mail: $100.00. 207 E. Buffalo St., Suite 410, Milwaukee, WI 53202 Phone: 414/276-2222 Fax: 414/276-3312 Advertising Inquiries: jackie@shepex.com e-mail: info@shepex.com URL: shepherdexpress.com FOR MORE SHEPHERDEXPRESS.COM.CONTENT,UNIQUEVISITSCANME SPONSORED BY 6 | SHEPHERD EXPRESS
His opponent, current U.S. Senator Ron Johnson, has taken a strong anti-choice stand on the abortion question. He said that he supported the U.S. Supreme Court's overturning of the 49 years of settled law in Roe v Wade. Johnson supports Wisconsin being governed by that 1849 anti-abortion law that allows an exception under limited circumstances to save the pregnant woman's life, but to be fair, he does support some exceptions for rape and incest.
8 | SHEPHERD EXPRESS
The law targets doctors, not the pregnant woman, and a doctor could face up to six years in prison and up to a $10,000 fine. If the woman is more than 16 weeks into her pregnancy, a doctor could face up to 15 years of imprisonment and up to $50,000 in fines.
You Don't See It There BY LOUIS FORTIS Illustration by Анастасия Фризен/Getty Images. NEWS
In Wisconsin, the polls consistently shows that a strong majority, 65%, of Wisconsin voters believe abortions should be safe and legal with few or no minor restrictions. According to the most recent Marquette Poll, even 79% of Republicans support an exception for rape and incest. Without Gov. Evers' vetoes, Wisconsin would have some on the most extreme legislation of any state in the U.S. or even country in the world.
THE WISCONSIN GOVERNOR'S RACE
To be clear, this 1849 law requires that a woman, who was raped, get victimized a second time by the State of Wisconsin forcing her to give birth to the rapist's baby. This 173-year-old law was obviously passed decades before women were even granted the right to vote.
A
WISCONSIN'S UNITED STATES SENATE RACE
You will not see a binding referendum on the ballot protecting women's rights because Wisconsin does not have binding referenda like other states, often on the coastal states, such as California and Massachusetts. You will probably not see even the word abortion anywhere on the ballot unless you are in a county that has an advisory referendum on a woman's right to choose, but it is a major issue in the future of Wisconsin and the entire country. Wisconsin's governor's election, the attorney general's election and U.S. Senate election will all have a major impact on a Wisconsin woman's right to reproductive choice.
Evers' Republican opponent in the upcoming November election, Tim Michels, has come out very strong on the opposite side of the issue. He proudly stated that Wisconsin's 1849 anti-abortion law is "an exact mirror" of his position on a woman's right to choose. This includes his opposition to any exceptions for rape and incest. He actually goes even further supporting a ban on "emergency contraception." On reproductive choice, Wisconsin, under a Gov. Michels, would mirror states like Mississippi.
The Wisconsin governor's race most directly affects how restrictive and cruel to women of child-bearing age Wisconsin's law will become. As we know, with the U.S. Supreme Court overturning Roe v Wade, Wisconsin may go back to being governed by an 1849 state law that bans abortions unless medically necessary to save a woman's life. According to the 1849 law, a necessary abortion "is performed by a physician; and is necessary, or advised by two other physicians as necessary, to save the life of the mother."
fter the radical rightwing majority on the U.S. Supreme Court essentially took away a woman's right to control who own body and her own future, abortion has become the most important issue in November for many women and the men who love them be it their fathers, brothers or significant others.
Because of Wisconsin's extreme gerrymandered legislative districts, the Republican majorities in both the Assembly and the Senate are far rightwing and strongly anti-choice. Republican legislators have had a variety of extreme anti-choice bills drafted, introduced and many passed in both chambers that would not only prosecute doctors, but also the pregnant woman, people who assist the pregnant woman in getting an abortion and more.
The only reason these extreme bills are not law today is because Gov. Tony Evers has vetoed these bills that are totally out of step with Wisconsin.
In the November U.S. Senate election, voters have a clear choice on the abortion question. The Democratic Senate candidate, Lt. Gov. Mandela Barnes, has a strong history of supporting the right to choose when it comes to a woman's reproductive decisions.
WISCONSIN'S 1849 ANTI-ABORTION LAW
Abortion is on the Ballot in November Even if
As a result, a doctor in a Wisconsin county with an anti-abortion district attorney, especially one seeking to win support from the right, would be totally justified if she or he were reluctant to take too many chances.
After Roe v Wade was overturned by the Supreme Court, Attorney General Kaul filed a lawsuit challenging Wisconsin's 1849 law and trying to prevent it from going into effect. The suit is based on several arguments. One of the main arguments being that after the 1973 Roe decision, there were a number of laws passed in Wisconsin that regulated legal abortions. These more recent laws, post 1973, would be in conflict with the 1849 law if the whole ban came back into effect. So, you would have inconsistent laws and as the lawsuit argues the old law would be unenforceable as a result. If Kaul's lawsuit prevails, the abortion environment in Wisconsin would go back to what it was several months ago prior to the recent Supreme Court overturning what was settled law.
10 | SHEPHERD EXPRESS Beside applauding the overturning of Roe v Wade, Johnson hinted about another very serious issue. He said that he thought the abortion question should be decided at the state level, but if that doesn't seem to work, he would consider a national abortion ban. Right now, as we know, a woman in Wisconsin seeking an abortion can leave the state. In the Milwaukee area, most women are going down to Illinois. For lower income individuals especially those in places like central Wisconsin, hundreds of miles from any state border, this adds additional burdens. There are financial issues to cover travel, hotel rooms and restaurant costs along with childcare issues if she has children at home. This burden is piled on a woman who is already struggling with a very important and emotional issue.
Toney said he would withdraw from that suit on day-one if he is elected Attorney General.
If the 1849 law goes into effect, Kaul also said that he would not use any of the Wisconsin Dept. of Justice's limited resources to investigate or prosecute anyone under the 1849 ban. Eric Toney was very clear that he would enforce the ban, which means prosecuting Wisconsindoctorsvoters have very clear choices in these three major statewide races.
THE WISCONSIN ATTORNEY GENERAL'S RACE Wisconsin Attorney General Josh Kaul, like Gov. Evers and Lt. Gov. Barnes, has a long history of strongly supporting a woman's right to choose. The challenger, Republican candidate Eric Toney, has taken a hard line strongly supporting the anti-abortion position.
Louis Fortis is publisher and editor-in-chief of the Shepherd Express.
Unfortunately, our State Supreme Court has become politicized, so logic and a reasoned interpretation of the state constitution may not prevail.
NEWS
Gehl noted that the main material Kieding uses in its special brand molded-pulp packaging is recycled cardboard. Remaining near a strong paper industry like Wisconsin's was a necessity.
12 | SHEPHERD EXPRESS
Komatsu, which acquired Milwaukee-based mining company Joy Global in 2017, recently completed work on its $285 million office and manufacturing campus in Milwaukee's Harbor District. And Milwaukee Tool, a well-known maker of hand and power tools and related accessories, has embarked on string of expansion projects in recent years, including a 75,000-square-foot manufacturing plant in West Bend and a 207,000-square-foot addition to its headquarters on Lisbon Road.
The Milwaukee Metropolitan Statistical Area—comprised of Milwaukee, Waukesha, Ozaukee and Washington counties— consistently ranks near the top among large U.S. metro for its concentration of manufacturing jobs. According to the Bureau of Labor Statistics, about 111,500 people in the Milwaukee metro area, of a labor force of more than 800,000, were employed in manufacturing in 2021. The pay for many is good. Local tooland-die makers, for instance, make $27.37 an hour on average, or $56,940 a year. That manufacturing should continue to be such a source of employment and prosperity of course has much to do with the Milwaukee's area current advantages. These include proximity to Lake Michigan and other shipping routes, direct links by interstate and rail to both Chicago and the Twin Cities, a ready supply of fresh water and other natural resources, a local population renowned for its steady work habits and a concentration of small producers who help ensure larger manufacturers need not go far for parts and materials. But like so much of what makes any given city stand out in the present day, Milwaukee's advantages derive from its history. It may have been beer that made Milwaukee famous. But in the late 19th and early 20th century, Milwaukee was better known to many as the "Machine Shop of the World."
Making it
"It was basically either Wisconsin or Georgia," he said, "because that's where the paper is made."
Gehl said the biggest influence on him and other company officials was their reluctance to uproot the families of employees who depend on the roughly 80-year-old company for their livelihoods.
Kieding President Michael Gehl said he and his colleagues gave serious consideration to both Dallas and Atlanta. In the end, though, they chose a site a mere 15 miles away, in Menomonee Falls.
EMPLOYMENT AND PROSPERITY
Milwaukee Tool and Komatsu belong at the top of the list of bestknown Wisconsin manufacturers, a distinction they share with the likes of Harley-Davidson, Briggs & Stratton, Rockwell Automation, Rexnord, A.O. Smith, Snap-On and Johnson Controls. These businesses are in turn supported and supplied by a bevy of smaller companies that may lack household names but are no less essential to the region's economy.
MILWAUKEE'S ABIDING APPEAL
Historian John Gurda, in his book The Making of Milwaukee, notes that Milwaukee's transition to being primarily dependent on manufacturing rather than wheat or other agricultural products was well under way in the late 19th century. By 1880, Milwaukee had the sixth highest concentration of residents working in industry, a full 44.6 % of the local labor force.
When Kieding Inc. was starting to grow too big for its Milwaukee factory, top officials at the protective-packaging manufacturer contemplated moving the whole operation to a Southern state.
Far from being an anomaly, Kieding's decision to remain shows the abiding appeal of the greater Milwaukee area to manufacturers after decades in which forces such as globalization and automation turned many other early-mid-20th century powerhouses into relics of the Rust Belt. And Kieding is far from the only manufacturer to double down on its Milwaukee area presence.
But there were also Milwaukee area's long-standing strengths as a manufacturing hub.
Milwaukeein RECENT EXPANSIONS ARE EVIDENCE THAT OUR CITY REMAINS A POWERHOUSEMANUFACTURINGBYDANSHAW Photo by Benkrut/Getty Images. NEWS
Gurda said it's nothing short of amazing that a few blocks around First and Florida streets were destined to become the cradle of a string of companies that would go on to change the face of manufacturing after the Civil War. Among the many still recognizable names of businesses started there are the Allis-Chalmers Company, Nordberg Manufacturing, the Chain Belt Company, A.O. Smith and Allen Bradley.
Paetsch said people used to think he was being slightly ridiculous when he'd point out how well-protected Milwaukee is. Now, though, "they don't laugh anymore."
With machines now doing many of the most repetitive, dangerous and otherwise unappealing tasks, manufacturing is offering more and more opportunities to workers with special training in engineering, problem-solving and similar sorts of work. The increase in technical knowledge often comes with a corresponding rise in pay.
Dan Shaw is an editor and writer with 20 years in the industry. His experience includes jobs at daily newspapers in the U.S. and overseas. Besides his freelance writing, he now edits both a daily construction newspaper and the Wisconsin Law Journal.
When these companies were just starting and still hungry for workers, Gurda said, Milwaukee had yet to shed its frontier-town appeal. It remained a place that the young and entrepreneurial—both native and foreign-born—would flock to in search of "Whereopportunity.elseinthe entire world would you have that kind of capital and talent and engineering expertise?" Gurda said. "We were very much the Silicon Valley of the Midwest in the later 1800s."
Lower wages overseas will of course continue to tempt some manufacturers to offshore their operations. Now though—perhaps for the first time in decades—global events are causing some producers to rethink these calculations.
CLEANER, SAFER, BETTER None of this, of course, means Milwaukee is immune to the global forces that have cost so many Midwestern cities population and manufacturing jobs from the '70s onwards. The Milwaukee metro area went from having 220,200 manufacturing jobs in 1979 to 115,000 in 2009.
INDUSTRY BOOMED IN WALKER'S POINT Beer, in fact, was ranked only once by the federal Census as the city's No. 1 product by value—in 1890. By then, the city's Walker's Point neighborhood had already become the epicenter of its industrial boom.
All that makes Paetsch, Gurda and others confident that Milwaukee's long-standing association with manufacturing is far from over.
"There's such a shortage of people," Paetsch said. "And automation is one way to deal with that."
Many of the industries that were Milwaukee's strengths back then remain formidable today. Allen Bradley, for instance, was an early specialist in industrial controls and Allis-Chalmers and Nordberg were in the vanguard among engine builders. These are the sorts of products that, though much changed in design and means of manufacture, continue to make Milwaukee stand out. Such diversity has helped Milwaukee avoid the fate of Detroit or other cities that were far more dependent on a single industry.
Then there are the region's natural advantages. Lake Michigan of course ensures manufacturers have an almost endless supply of fresh water for use in their processes. Nearly as important to Jim Paetsch, executive director and senior vice president of the MILWAUKEE 7 Regional Economic Development Partnership, is the region's insulation from disaster. With climate change helping to make fires, droughts, hurricanes and tornadoes all too common in other parts of the country, greater Milwaukee and Wisconsin as a whole stand out for being places where manufacturers need not be over-anxious about weather-related calamities.
The war in Ukraine and China's recent crackdowns on independent entrepreneurs have shown anew the risks of doing business in parts of the world with unstable politics or arbitrary legal systems. And COVID-19-related economic shutdowns revealed just how vulnerable global supply chains can be to disruption. Suddenly manufacturers who rely on just-in-time delivery to maintain healthy profit margins might start looking a little closer to home for materials and equipment.
14 | SHEPHERD EXPRESS NEWS
PRODUCT DIVERSITY
When companies are considering either moving to southeast Wisconsin or expanding here, Paetsch said, "I don't have to make up a story about why that's a good idea. I have a more-than100-year-old story that's alive and well today."
Add to these historic advantages the many new assets policymakers have been careful to acquire and cultivate over the years. These include the state's 0.4% tax rate for manufacturing income and an exemption for industrial equipment from the state's personal-property tax. There's also a strong concentration of engineering schools, with the Milwaukee School of Engineering, Milwaukee Area Technical College, UW-Milwaukee and Marquette University all helping to supply the sorts of brainworkers needed for advanced types of manufacturing.
"We have the entire ecosystem," said George Bureau, vice president of consulting at Wisconsin Manufacturing Extension Partnership. "Wood, plastics, metal, wires, machinery—in some fashion, we've got it here, both in Milwaukee and greater Wisconsin."
The good news is that the jobs that have remained are in many ways becoming safer, cleaner and better-paying. Automation is often denigrated as a job-stealer. But manufacturers' long-standing struggles to bring new recruits into the industry in part reveals just how reluctant many people have become to take on the sort of work that had been so desirable to previous generations.
SEPTEMBER 2022 | 15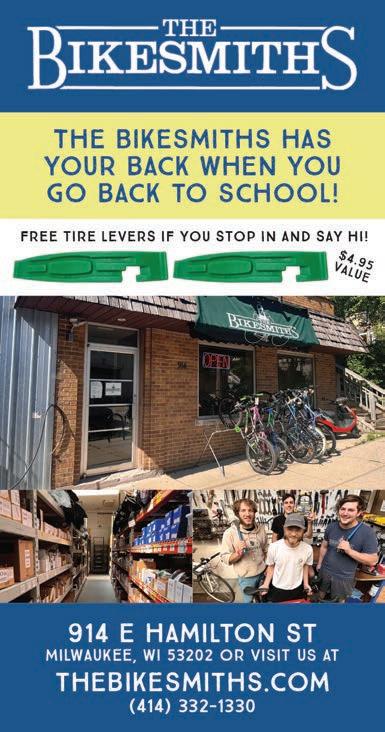 FRINGE LEGAL THEORY Moore v. Harper is seeking to give state legislatures sole authority over election laws in their states. It's based on a fringe rightwing legal theory that has been advocated for years by a small group of extremists. The so-called "independent state legislature theory" is an exaggerated version of "judicial originalism," the euphemism popularized by Justice Antonin Scalia to justify rolling back equal rights in our democracy.
BY JOEL MCNALLY I
PREVIOUSLY.HAVEINTERPRETATIONSRIGHTSANYABOUTABSOLUTELYSUPREMEONMCCONNELLMITCHCREATEDTHECURRENTCOURTHASNOQUALMSWIPINGOUTCONSTITUTIONALORLEGALTHATEVEREXISTED
Their radical rightwing interpretation leaves out the fact that historically the Supreme Court has always interpreted "Legislature" to refer to each state's entire lawmaking process, which also includes
NEWS TAKING LIBERTIES 16 | SHEPHERD EXPRESS
THE SUPREME COURT CASE THAT COULD DESTROY AMERICAN DEMOCRACY
Scalia argued judicial decisions should be rooted in the original language of the Con stitution written by the founding fathers. Since there were no founding mothers, it's well known our founders originally grant ed citizenship rights only to those exactly like themselves—wealthy white males who owned property. It sounds a lot better to call that originalism instead of bigotry and sexism.
A decision by the court siding with Republican legislators in North Carolina could allow state legislatures to ignore presidential election results in their states and award electoral votes to any candidate they want. That's exactly what Trump wanted Republican legislators to do in seven states including Wisconsin that Biden won in 2020. That decision would literally be the end of American democracy. Before anyone dismisses the likelihood that the Su preme Court could destroy democracy, they should know four of the Republican justices voting to overturn Roe v. Wade Samuel Alito, Clarence Thomas, Neil Gorsuch and Brett Kavanaugh — have already expressed support for the dubious legal reasoning behind the latest case.
Here's the original constitutional language rightwing extremists want to use to allow unchecked state legislatures to engage in voter suppression and throw out election results. The elections clause reads: "The Times, Places and Manner of holding Elections for Senators and Representatives shall be prescribed in each State by the Legislature thereof." The presidential electors clause says: "Each State shall appoint, in such Manner as the Legislature thereof may direct, a Number of Electors."
In fact, the radical rightwing court majority has accepted a case for its new session beginning next month that threatens to legalize the failed plot by Donald Trump and his discredited legal advisor John Eastman to overthrow President Biden's election on January 6.
TRUMP AND
IT'S NO SECRET THE SUPERMAJORITYRIGHTWING OF SIX REPUBLICAN JUSTICES
t would be naïve to believe the destruction of democracy by the Trumped-up Supreme Court ended with the abolition of the constitutional right of American women to make their own decisions about their personal lives that was protected for a half-century.
Illustration by Michael Burmesch.
SEPTEMBER 2022 | 17 A DECISION BY THE COURT SIDING WITH CANDIDATEELECTORALTHEIRELECTIONIGNORESTATECAROLINALEGISLATORSREPUBLICANINNORTHCOULDALLOWLEGISLATURESTOPRESIDENTIALRESULTSINSTATESANDAWARDVOTESTOANYTHEYWANT. the veto power of the governor and judicial review of laws by state courts. Similarly, the Constitution's use of the word "Congress" is interpreted to refer to the entire federal lawmaking process including the president's veto power and judicial review of laws by the Supreme Court.
RIGHTWING SUPERMAJORITY But, of course, it's no secret the rightwing supermajority of six Republican justices Trump and Mitch McConnell created on the current Supreme Court has absolutely no qualms about wiping out any constitutional rights or legal interpretations that have ever existed previously.
MOB RULE That's what you get when elected Republicans continue to support their losing president even after he sent an armed mob to violently attack them along with Democrats in Congress to stop them from certifying his election defeat in 2020. The destruction of democracy the former president failed to achieve through bloodshed on January 6 is now continuing in slow motion with Trump's radical Supreme Court searching for new ways to restrict voting rights and destroy free and fair elections. Destroying more of the freedoms we've all taken for granted can only increase public pressure for court reform. Meanwhile we're facing a growing threat of more political violence. Trump and other Republican leaders are intentionally inflaming their most violent anti-government supporters to oppose the investigations by the FBI and Atty. Gen. Merrick Garland into Trump's multiple crimes against democracy. We've already seen where that leads. No legitimate political party in our country should ever encourage the kind of anti-government violence we witnessed on January 6. Silence is complicity. To rejoin America, Republicans have to distance themselves from Trump and rid their party of his violent supporters.
McConnell as Senate majority leader basically stole two Supreme Court seats that Trump filled. McConnell refused to hold a Senate confirmation hearing for a year to prevent President Obama from replacing Scalia who died in February 2020. Then he rushed through confirmation of rightwing Amy Coney Barrett to replace Ruth Bader Ginsberg a week before Trump's defeat.
Joel McNally was a critic and columnist for the Milwaukee Journal for 27 years. He has written the weekly Taking Liberties column for the Shepherd Express since 1996.
It doesn't matter now that the majority of Americans are appalled by the court's extreme decisions that destroy women's rights, increase the proliferation of firearms in an age of mass murder and reduce the ability of the Environmental Protection Agency to fight climate change threatening life on earth.
I sat down with Dr. Samantha Majhor, a faculty advisor for the program and Danielle Barrett, a student who has been working on the project since last year and is President of the Native American Student Association. Majhor is of Dakota and Assiniboine descent, and Barrett comes from the Eastern Band Cherokee Tribes. They share their thoughts and experiences working on the project.
18 | SHEPHERD EXPRESS NEWS HERO OF THE MONTH
"Food is a piece of home that told them where they needed to be," explains Barrett. Because of this deep connection to the plant that has provided food, medicine, and nourishment for centuries, the Native people of this region honor the rice and protect it.
Wild rice, called manoomin in the Algonquin language, has a deep history that is closely tied to the Anishinaabe people who were forced to this region and are based in what is now Minnesota and Wisconsin. "For Indigenous people, wild rice is a relative, it's part of sacred stories," says Majhor. There is a prophecy among these people that says they would find a place where food grows on the water. When they found wild rice, they chose to settle here.
SACRED STORIES
Photo by Erin Bloodgood.
T
he students and faculty working on the Wild Rice Project in Marquette University's Indigeneity Lab are trying to answer the question: Will wild rice grow in Milwaukee's rivers? What may seem like a straight-forward science-based approach, requires relationship building with Indigenous communities and a deep understanding of the connection Native people have with the waters and wild rice.
BY ERIN BLOODGOOD
Danielle Barrett (left) of the Eastern Band Cherokee Tribes and Dr. Sam Majhor (right), of Dakota and Assiniboine descent, standing in front of the mural on Marquette University's campus.
The Indigeneity Lab at Marquette began in 2021 thanks to grant funding for undergraduate research. The university was looking for opportunities to support Indigenous students and improve relationships with Indigenous alumni and communities in the area. The Wild Rice Project is a key piece of this lab in which students are using the scientific method to test the adaptability of the plant and determine the species that is most likely to grow in Milwaukee waterways.
Dr. Samantha Majhor and Danielle Barrett are Working to Restore Ecosystems and Culture with Wild Rice
trust of Indigenous communities to run lab tests with it, the participants have to build relationships with Indigenous tribes and community members—but that takes time. "We have a fraught history here in the United State of settler colonialism and assimilation projects," explains Majhor. "The medical industry—and other industries—are areas where western science and medical projects have done harm and are looked at with suspicion from Native communities."
"If we grow it in the Menominee River, we can grow awareness of the community that we haven't seen before," states Barrett. But even beyond the far-reaching cultural impacts this could hold, the ecological impacts would be tremendous. "If the grain can even grow, it would speak volumes to the water quality and how healthy the environment has become."
This is why it's vital for the Indigeneity Lab to take an approach that looks at the science, culture, and history of the plant. And by doing that, there is the potential to mend relationships with the Indigenous community and potentially reintroduce the plant into the Milwaukee rivers.
Numerous Milwaukee organizations and the local government have been working to clean up the water for years. If wild rice could grow, it would show the success of those efforts. And to take it a step further, the plant has the ability to clean the water it grows in. There are many layers to this project and a deep-seeded history of oppression that needs to be talked about. Marquette history and working to mend relationships with the Indigenous communities in the region. Wild rice is a central part of that process and has the potential to restore ecosystems, repressed Native knowledge, and culture.
Learn more about the Indigeneity Lab at
SCIENCE, CULTURE, HISTORY
SEPTEMBER 2022 | 19
SeeErinstudent-activist-award/edu/2022/05/indigeneity-lab-students-honored-with-today.marquette.BloodgoodisaMilwaukeephotographerandstoryteller.moreofherworkonherwebsiteatbloodgoodfoto.com.
The Milwaukee Public Museum, Milwaukee
When it was founded over half a century ago, the United Performing Arts Fund (UPAF) was focused on the Downtown building now called the Marcus Performing Arts Center. The scope has widened since then to the entire city. In recent years UPAF has allocated more than $8 million annually to its 14 member groups, much of it for Milwaukee Symphony Orchestra, Milwaukee Repertory Theater, Milwaukee Ballet, First Stage, Florentine Opera Company and Skylight Music Theatre. UPAF receives no government funding and depends on contributions from individuals, companies and foundations.
Greendale-born Patrick Rath was named president and CEO of UPAF in October 2020, bringing hands-on experience in performance as well as philanthropy to the position. Were the arts part of your background? I was fortunate to be involved in arts at a young age as I took to the string bass—mainly because I did not need to carry it to school. By age 10, I started playing in the Music for Youth program which is now known as Milwaukee Youth Symphony Orchestra—a founding UPAF Member. Learning an instrument opened up many possibilities for me including lifelong friends, important skills such as collaboration, listening and appreciation of different backgrounds. I was also able to receive a scholarship to attend Northwestern University as a music performance major—having a chance to attend a notable university would not have been possible if I did not have the background and training in the arts. How did your previous work prepare you for your role at UPAF? I have been fortunate to work for pillar non-profit institutions in our community.
UPAF's Patrick Rath on the Challenges Facing Wisconsin Arts Groups
BY DAVID LUHRSSSEN
Background and header image by nekotaro777/Getty Images.
20 | SHEPHERD EXPRESS NEWS MKE SPEAKS: CONVERSATIONS WITH MILWAUKEEANS
UPAF is at a point of change both due to the pandemic as well as changes in donor engagement. The performing arts we have today is due to thousands of donors who annually support what we have. However, for the first time in a generation, we may not have the performing arts sector as we have known. There is a significant challenge to each UPAF Member and Affiliate due to the significant lack of public support in our community.
Wisconsin ranks 49 out of 50 states in terms of public arts funding.
SEPTEMBER 2022 | 21
UPAF Membership has been through an invitation process for the last many years. UPAF originally started with six members who were all tenants of the newly created Performing Arts Center. Over time, our membership has grown as new and emerging arts organizations gained greater community support. Thanks to UPAF, there is an incredibly diverse and vibrant performing arts sector that is engaging well over 700,000 people annually. We also know that beyond our membership there are many more valued arts organizations in our region. UPAF supports these organizations through our Affiliate grant program which last year provided operating funds to 26 regional organizations that add so much to the arts landscape. Even more important, having this broad cultural eco-system ensures that artists can live in Milwaukee and earn a living as an artist. We have nearly 1,200 artists who reside in southeastern Wisconsin and are able to be full-time creative professionals because there are so many opportunities for work. This is not true in most other cities in the country.
David Luhrssen is Managing Editor of the Shepherd Express and was cofounder with Louis Fortis of the Milwaukee International Film Festival.
UPAF Members are continuing to work together to define the issues we continue to face and will offer solutions that can ensure a healthy arts sector for generations to come. It will take significant support, but the benefits for our youth development, business growth, and downtown housing are all directly impacted by the health of the performing arts and has been this way for the last 50 years.
Art Museum and the Milwaukee Symphony Orchestra are all institutions that I have advanced as a development professional. However, it was never me alone. I learned early on the value and importance of volunteers for non-profit organizations.
The Chorus Line is a major effort for us over the next three years to significantly grow this pool of active volunteers. How does a performing arts group qualify for UPAF membership?
For UPAF's part, we will be actively growing our total donor base by engaging more individuals and companies to support and enjoy the performing arts. UPAF is known for its stewardship of funds received and we never take this for granted as all that we have is due to the generosity of the community. As such, we will look to grow our support for our Affiliate program as our Membership support returns to past expectations—all in an effort to continue to retain and attract incredible professional artists from all backgrounds that choose Milwaukee to be their creative home.
UPAF has drawn as much from its relatively small reserves to help during this timeframe. In total, UPAF has invested an additional $1 million for its Members beyond our annually raised funds. We have also been challenged in raising funds as we experienced a drop of $1.5 million of lost revenue as employees were not in the workplace or shifting careers. We have been working to recover this funding but it will take several more years to grow and return to levels that we saw pre-pandemic. However, the need for the performing arts sector has never been greater and we welcome everyone to support the performing arts with a gift—which is easy to do at upaf.org or to your favorite local performing arts group. How successful was this year's Ride for the Arts? Very successful. We were one of the few events during the pandemic to maintain a presence as we worked with the city and county to create safe environments for participants and volunteers. UPAF received more than $450,000 in total support which was $70,000 more than in the previous years. We are appreciative that great sponsors continue to value this event such as Miller Lite. We also were able to bring back great performances by UPAF Members and Affiliates with more than 20 different acts that day throughout the entire course. With 2,700 riders that day, there was something for everyone from the closed "Hoan Loop" course (the only event to offer this experience) to the arts path, which was accessible to all, we are always intent to make this an enjoyable experience for all regardless of your experience riding a bike. With the continuation of our sponsorship support, we intend to host the Ride for the Arts on June 4, 2023. Do you see UPAF changing in the near future, such as adding new member groups or defining its role differently?
I am very appreciative of this, and it is the reason why we initiated UPAF's Chorus Line this year to create a growing and enthusiastic group of volunteers who wish to share their appreciation for the performing arts and encourage greater support.
The closures of theater venues due to the pandemic had an immense and significant impact on the near and long-term outlook of the performing arts. Overall, $38 million in revenue was lost by UPAF Members from the start of the pandemic through this season. This is revenue that is simply lost as it was predominantly unsold tickets because the arts could not open their doors to the public. There was one-time federal support which did help the arts in Milwaukee and across the country. This was helpful to all organizations last year as it made up nearly 25% of their operating revenue. However, this revenue does not exist for the upcoming 2022-23 season and most UPAF Members are facing significant deficit situations.
UPAF Members have combined budgets of nearly $60 million yet there is less than $700,000 in local public funding for all of the arts. The arts cannot continue to be supported by private support alone. We need to fix our broken funding model to be a healthy mix of public, annual and long-term funding.
You came into UPAF during a time of unusual uncertainty caused by COVID. How did UPAF adjust to the pandemic? Did the organization take any special steps to assist its Member groups during this difficult time?
Milwaukee is a wonderful town where people are ready to say "yes" to be of assistance—it may be to assist in the office or to make a call that secures a donation. There is not a single non-profit that can function without active involvement of its volunteers.
Photo by Michael Burmesch.
Santino's features a solid menu of elevated Italian comfort food made with high quality ingredients and, obviously, a great deal of care. Be prepared to make some tough choices when it's time to order but know that any leftovers reheat quite well the next day. A word to the wise: To ensure you get a spot for dinner be sure to call ahead for reservations as they can fill up quickly.
22 | SHEPHERD EXPRESS FOOD & DRINK
kalamata olives—is full of amazing flavor.
O
Santino's Little Italy Will Make You Happy to Dine Out Again
Antipasto lovers will respect Santino's Antipasto Platter ($26) loaded with a variety of cured meats, tasty Italian cheeses, a mix of olives, and some crusty bread warmed from the wood oven.
ff the main drag and down a quiet Bay View side street lays a hidden gem of the Milwaukee dining scene. You will be charmed by the ambiance the moment you enter Santino's Little Italy.
From the welcoming hosts at the door, the simple elegance of the decor, the fantastic food, and the delightful Sofia Loren films playing, silently, on screens throughout the restaurant, you'll begin to feel outside world concerns slip away. Santino's could set the scene for a romantic evening with your sweetheart, just as easily as it could work for a dinner out with friends or family.
WOOD-FIRED PIZZAS
BY SUSAN HARPT GRIMES
The star of the show at Santino's are the Neapolitan style wood-fired pizzas ($16$22). All of the pizzas are 12-inches and made from quality ingredients which shine through with each and every bite. These are thin to medium crust pizzas, and unlike the cracker crisp "Milwaukee style" crust, Santino's are softer with more give, offering a nice change of pace for folks who typically enjoy crispy crust pizzas.
On a recent visit, the Melanzana Fritti ($14), lightly breaded fried eggplant topped with shaved Parmesan and served with the house marinara, was a delicious way to begin a meal. The Bocce Ball ($15)—Santino's signature giant meatball topped with the house marinara, fresh asiago, a scoop of ricotta and some
SANTINO'S LITTLE ITALY 353 E. Stewart Street (414) Handicaped$$-$$$Santinoslittleitaly.com897-7367access:Yes
SEPTEMBER 2022 | 23
There are several creative pizzas included on the menu, like the outstanding Italian Beef Giardiniera ($19) topped with thin and tender Italian beef, zippy giardiniera, and creamy mozzarella. Another inventive offering is the European Chicken Patata pizza ($19) topped with the house garlic sauce, fried thin-sliced red potatoes, grilled chicken and mozzarella. As with most places, if you prefer, you can always create-your-own, selecting from the long list of toppings available (Starting at $15).
The menu is rounded out with salads ($7-$16) and pastas ($18-$20). Standouts include an excellent Mediterranean Salad ($15) tossed with a house-made dressing and loaded with the freshest chopped lettuce, tomatoes, onions and cucumber, feta cheese, kalamata olives and a wonderfully ripe avocado. Another treat is the traditionally prepared Pasta Carbonara ($20) which includes a satisfying amount of Wisconsin favorite wood smoked Nueske's bacon. Make sure you save room for dessert, because Santino's Tiramisu ($8) is incredible with a wonderful coffee flavor suffused throughout and dusted with rich cocoa powder. Even better, enjoy it with an Italian style espresso ($5). An extensive wine list, with most available by glass, quartino, or bottle and fun specialty cocktails are also available to liven your visit.
Susan Harpt Grimes is a veteran food and features writer for the Shepherd Express.
Photo by Michael Burmesch.
Ifirst felt the power of lovage in a box of Rapunzel brand Vegetable Bouillon with Herbs. After my first taste I had to double check the label to make sure that it was, indeed, meat-free.
THE MISSOULIGAN
Along with some familiar suspects—garlic, celery, parsley, dill, basil, turmeric, brewer's yeast, salt and oil—the bouillon contained this crazy little ingredient called lovage. I figured it was the missing link to complete the flavor of this satisfying elixir. I searched the grocery stores around town and found two more brands of vegetarian stock that also contained lovage. These brands also had rich, deeply satisfying flavors.
If you don't have lovage plants of your own, good luck finding any fresh lovage straws. Based on my experience at the herbs store I'd be hesitant to order any lovage products from afar. So this is a gardening column as much as a cooking column. I'd order some seeds right now. If you have any extra after planting, you can chew on them in church to help stay awake, as the early New Englanders did.
Photo by Ari LeVaux.Photo by Andy Roberts/Flickr, commercial allowed.
Celery on Steroids BY ARI LEVAUX
Then I read the fine print to figure out why.
At the local herb store, there was a small jar of dried lovage root hiding behind the lungwort in what appeared to be the Harry Potter section of Butterfly Herbs. It had a smoky, musky flavor that was not what I wanted in food. Probably great for spells and stuff, but not for soup stock.
Finally, with fresh lovage of my own, I sipped Missouligans and messed around with broth making. First, I used the ingredients on the Rapunzel label. It was so good I had to let down my hair. But I also tried a simpler version with just lovage, carrot, onion and celery. After cooking everything together and straining the chunks, I was left with an aromatic broth as hearty as it was thin. I used it to cook a pot of black beans. They turned out savory and meaty—even when I didn't add pork—thanks to that satisfying whiff of lovage.
The Missouligan is a lovage-based drink from Missoula, Montana. It's named after a softball team, and is composed of gin, huckleberry shrub and club soda. You serve it with a lovage straw—aka, the hollow stalk. "Folks who really love lovage can muddle a leaf or two at the bottom of the glass," explained the drink's co-creator, Marc Moss, who has multiple lovage plants in his yard. It's a lovely combination, with the bitter, aromatic lovage harmonizing with the juniper berries of the gin, amidst the earthy sweetness of the huckleberries.
I finally found lovage at the farmers market, in the form of a potted plant for sale. I brought it home, where it became the toughest plant in the yard. Like a weed, lovage thrives on being ignored, but it doesn't spread (maybe it would, if I watered it.)
FOOD & DRINK FLASH IN THE PAN 24 | SHEPHERD EXPRESS
Levisticum officinale was first brought over by European settlers, who used every part of the plant as vegetable, herb or medicine. Obscure yet ubiquitous, the plant now grows wild from Florida to Saskatchewan. Lovage is a tenacious plant, happy to be ignored, with no immediate relatives. Distantly related to celery, parsley and dill, it has the flavor of supercharged celery, and makes your mouth a little numb, like Sichuan pepper. This tingling action, like a low-level electric current, opens up intriguing possibilities for drink mixing.
Every year the lovage grows tall and beautiful, with more flavor than I could enjoy in 10 lifetimes.
The beans take on an extra savory tone, thanks to the lovage. And if you're inclined to add pork, you know that never hurt a pot of Thisbeans.recipe
•3
•½
•¼
•1
Cook the beans until soft, with whatever means you have available. If you have a pressure cooker or instant pot use that. If not, soak the beans overnight and cook them for a few hours until soft. Add the lovage, carrots and celery to a large pot of water. If you have a pasta basket insert, use that, for easier removal of chunks when the time comes.
•1
Ari LeVaux has written about food for The Atlantic Online, Outside Online and Alternet.
leans south-of-the border, deep into bean country. In this context the lovage is a nod to the fragrant epazote, and you can serve with rice and garnish with chopped onions.
In a pan, fry the onions in the olive oil on medium until the onions turn translucent, about five minutes. Turn the heat to low and add the parsley stems and cook until the onions start to brown but not quite burn, about 10 minutes. Add the parsley leaves and stir it around for a moment and turn off the heat. Add the fried onion and parsley to the pasta boiler, along with the dry spices and the vinegar. Let it continue cooking until the liquid has reduced to just below the basket. Then strain the chunks – or remove the pasta basket with the chunks—and add the cooked beans to the stock. If using canned beans, include the liquid. Add the pork if using. Put the pasta cooker and veggies back in, on top of the beans, and simmer for at least an hour, seasoning with salt and pepper as it cooks. Simmer it for hours if you can, all the way down to thick beans. Serve with rice and chopped onion or chives. And minced lovage leaf.
•1
Serves 6 lb. dry black beans, or three 16-ounce cans cup chopped fresh lovage, including leaf, stem and root medium carrots, whole stalks celery, chopped coarsely tablespoons olive oil large onion, chopped bunch parsley, chopped in half, with one green leafy side and one side of mostly stems. cup cider vinegar tablespoon garlic powder tablespoon celery salt tablespoon oregano teaspoon cumin teaspoon coriander pork belly, ham, or bean pork of choice, in large chunks and pepper to taste
•1
•1
•1
•1
•1
SEPTEMBER 2022 | 25
•Salt
LOVAGE BEAN SOUP
•8
•1
•8
LIKEKWAKADUCK
"What's that?"
BY GAETANO MARANGELLI Photo by artJazz/Getty Images.
The story of the beer and its glass departs in the 18th century with Pauwel Kwak, a brewer and the owner of the De Hoorn Inn in Dendermonde, a city in the middle of the triangle of Antwerp, Brussels and Ghent in the north of Belgium. The story says carriages of passengers made daily visits to the De Hoorn Inn. That the passengers would alight at the De Hoorn for refreshments, but that their drivers couldn't leave their coaches or drink with their passengers. And that inspired by the thirst of the carriage drivers and their market for his beer, Pauwel asked smiths to make a special glass with a stand which would allow the drivers to drink his beer without leaving their carriages. That's the story. Pauwel Kwak is alternatively called a Belgian Strong Pale Ale, a Belgian Strong Amber Ale and a Belgian Strong Golden Ale. A Belgian Strong Ale is made with water, spring barley pilsner malt, and adjunct sugar (e.g., cane, corn, beet, occasionally honey), Belgian yeast (obvs) and hops. The color of Kwak is alternatively described as amber, gold, copper and brown. The beer smells and tastes of brioche and caramel, of white pepper and baking spice, of orange, banana and yellow plum. It's sweet, bitter and malty. Its alcohol isn't shy, but it's easy to drink. It's a beer without a definitive style. The history of the beer called Kwak is a story of contemporary advertising. Late in the 20th century, Brouwerij Bosteels introduced Pauwel Kwak and its distinctive novelty glass. The beer honors Pauwel, but the beer called Kwak isn't the beer Pauwel Kwak made. Just the glass is. I like to imagine my fancy diners at that New York City restaurant drinking a beer called Kwak out of a glass and a stand made for carriage drivers who couldn't drink with their fancy passengers. I wonder what our clientele of book publishers and advertising executives would've made of the beer and the glasses and the stands. I'd like to think they're as fool as me for nostalgia and apocrypha.
"It's a beer glass." "No, it isn't." "It's a special kind of beer glass for a special kind of beer." "Which beer?"
26 | SHEPHERD EXPRESS SPECIAL FALL DRINK BEVERAGES
THE BROUWERIJSPECS:BOSTEELSPAUWELKWAK Brewery: Brouwerij Bosteels, Buggenhout, Belgium Style: Belgian Strong Golden Ale— or Belgian Strong Amber Ale— or Belgian Strong Pale Ale. Alcohol by Volume: 8.4% Price: About $14 for a 750-milliliter bottle. About $18 for a four-pack of 11-ounce bottles. Glass: Goblet or Chalice. Glass and Stand: Can be purchased at beer shops and on the web. Prices vary.
As a sommelier, I love introducing diners to beers and wines and spirits they don't know yet. As the sommelier of a New York City restaurant, I was hoping to serve our diners Pauwel Kwak in its distinctive novelty glass—a tall, curvy vessel braced by a wood frame. The general manager of the restaurant didn't go for it.
"That's"That's"Like"Kwak."aduck?"quack."whatyou said." "I said Kwak. The name of the beer is Kwak. The beer we've got on the beverage list. I'd like to serve the beer in these beer glasses."
"These glasses are ridiculous." "Maybe they are, but they're part of the history, the nostalgia, the identity of the beer. Maybe the beer tastes better out of these ridiculous glasses."
Gaetano Marangelli is a sommelier and playwright. He was the managing director of a wine import and distribution company in New York and beverage director for restaurants and retailers in New York and Chicago before moving to Wauwatosa.
"I"No."think our diners would like the glasses as much as they love the beer."
28 | SHEPHERD EXPRESS SPECIAL FALL DRINK
Enders audited one of Arnold's UWM classes, Anthro 212, "The Past on Tap: The Archeology of Fermented Beverages," in 2019. Just prior to the start of the semester, however, he entered "The Unhopped Iron Brewer Challenge," a contest sponsored in conjunction with the class that involved brewing farmhouse ales using ancient ingredients and no hops. Enders brewed a cervoise, a Gallo-Roman saison dating back to 63 A.D. He brewed the beer using barley and other cereals, and bittered and scented it with aromatic herbs, including bog myrtle, wild rosemary, yarrow, rosehips, coriander, sweet woodruff, and locally grown lavender most likely from his own backyard.
Tosa Man and UWM Prof Brew Ancient Beers
Enders' first attempt at ancient brewing involved a spruce beer, with sprigs plucked directly from his backyard tree. The success of his first batch led to several more over the years. "You should only use the fresh spruce tips, called 'candles', which appear in spring," Enders says. "I only brewed it once a year in May when the candles emerged."
Beer is one of the oldest beverages that humankind has produced, with historic evidence confirming a barley-based fermented beverage dating back to the 5th century B.C. Persia. As many brewers know, certain cereals and grains contain the right amount of natural sugars and, with the introduction of wild yeast, can begin their own fermentation process. The collective result was a spontaneous development of beer-like drinks among cultures around the world. Hops, a key ingredient in modern brews, first emerged around the 8th century A.D. when Bavarian Benedictine monks introduced the plant's cones as a preservative and flavoring ingredient in the brewing process. But by then beer in some form already had existed for more than 1,000 years.
For Arnold, actual homebrewing started when she met her husband on a Bavarian dig site and the two discovered they both liked dark wheat beer, a variety that was difficult to find. Returning to the U.S., they started brewing it together.
His turn toward ancient and/or stylized beers happened in 2002, inspired in part by what he read in Stephen Harrod Buhner's Sacred and Herbal Healing Beers: The Secrets of Ancient Fermentation. It's a discipline few home brewers pursue on anything but an anecdotal basis.
Michael Muckian was the banking and finance writer for the Milwaukee Business Journal and is the author of The Complete Idiot's Guide to Financing and Accounting and The One-Day MBA in Finance and Accounting.
Enders was one of seven contestants brewing six different types of beer. He won the competition. "If you're brewing with ingredients you've never used before, you don't really know what the results should be," he says of challenges in the process. "But making ancient beers didn't change the way I brew."
The success of that project led to pumpkin beers, Craisin beers, brewing with cocoa nibs and other unusual ingredients. Historically speaking, the homebrewer was on a roll.
BY MICHAEL MUCKIAN
Downstairs in his Wauwatosa basement, homebrewer Jeff Enders is making history.
"Brewing is something you can make as complicated or as easy as you want," he explains. "As long as your methods are sound, it doesn't matter how old or how new your technique is. In the end, it's still beer."
Enders and Arnold continue to talk beer, in class and out, and have brewed together several times. He also spent one day per week this past summer serving as one of the volunteer "brewers" at Old World Wisconsin, the historical park in Eagle. That process introduced him to brewing over an open flame and doing everything by hand, with temperature control virtually nonexistent. It was easier than he expected.
"This was always my area of interest, especially the social organizations and burial arrangements," she says. "The various tombs yielded supplies the deceased would need in the afterlife, including elaborate drinking cups and vessels. Alcohol was used not only as a social lubricant, but also manipulated by the elite to maintain the power structure. This is something all societies do to a greater or lesser extent."
Bettina Arnold, Professor of Archeology at UW-Milwaukee and self-described "European prehistorian" specializing in the Iron Age, found her way to home brewing via a different, yet complementary route to Enders' path. A native of Würzburg in Germany's Bavaria region, Arnold grew up in both Germany and the U.S. when her father taught at Wesleyan University in Connecticut. She moved here at age 3, then went back and forth between the two countries during her school years. She earned a B.A. in archeology at Yale University, and an M.A. and Ph.D. in anthropology from Harvard. Arnold spent her student summers back in Europe, digging into sites and studying the Celtic Iron Age.
Enders' brewing experience doesn't reach back that far nor run that deep. Enamored since finding a home brewing text in 1971, he didn't brew his first batch until he acquired a cache of castoff equipment from a friend in 1995. Since then, he's brewed a sea of beer and earned a dozen homebrewing awards, mostly from the Wisconsin State Fair, including Best of Class and Best of Show honors. He's been active in the local homebrew scene, is a frequent beer judge, and has served as president of the Beer Barons, one of Milwaukee's homebrew clubs.
Perhaps it's better to say that Enders is remaking history. The Milwaukee native has reached deep into the annals of brewing to forage recipes from ancient civilizations developed long before hops was king to create historic styles that don't always seem like beer, and yet provide the critical building blocks on which the current brewing industry—and civilization, for that matter—stands.
Background photo by nantonov/Getty Images.
"There was a mystique about unhopped beers in the history books," Enders says. "Other cultures brewed with whatever they had available. Some brewers used hops, some herbs, some both."
SEPTEMBER 2022 | 29
Illustrations by Michael Burmesch.
W hen it comes to Oktoberfest celebrations this year, the Milwaukee area has them! Whether you're just up for some beer, brats and polka, or ready for some real Wisconsin German traditions, you'll find music, dance, German beer and cuisine, competitions, history and cultural exhibits all over the Milwaukee area, plus all kinds of fun German words like andlederhosen,Schwabenhof,glockenspiel,gemütlichkeit,hammerschlagen,Hunsrucker,kartoffelsalatspätzle!
Tip: Table space is often at a premium. Reserve yours ahead of time at their website through Eventbrite: Free admission Thursdays and Sundays; admission fee Fridays and Saturdays (discount available through their app).
30 | SHEPHERD EXPRESS SPECIAL FALL DRINK
BAVARIAN BIERHAUS OKTOBERFEST
"Milwaukee's Original Oktoberfest" in Old Heidelberg Park has kept the gemütlichkeit going and the barrels rolling for over 60 years. Formerly the Bavarian Inn and now the Bavarian Bierhaus craft brewery, this German-themed site has the perfect atmosphere for your polka and pretzels experience. Plenty of German beers, ein prosits, endless German music, and lots of food including a Friday fish fry await you.
The Sisters definitely have a sense of humor, and the biergarten at this Oktoberfest will also include root beer on tap and wine. They'll also have live polka music of course, Hammerschlagen, giant Jenga, cornhole, pulled pork, chicken, brats, and more, and it's all for a good cause, supporting several different charities.
Milwaukee Oktoberfest Guide 2022
Thursdays through Sundays Sept. 2-Oct. 1 Thursdays and Fridays, open at 4 p.m. Saturdays and Sundays, open at 11 a.m.
Old Heidelberg Park at the Bavarian Bierhaus 700 W. Lexington Blvd., Glendale bavarianbierhaus.com
SCHOOL SISTERS OF ST. FRANCIS OKTOBERFEST St. Joseph Center 1507 S. Layton Blvd., Milwaukee (29th Street at Orchard St.) sssf.org Sept. 11, 11 a.m.-3 p.m. Beverage options for this fundraiser include two special Lakefront Brewery offerings called Ale Mary and Our Lager!
BY BARRY HOULEHEN
SEPTEMBER 2022 | 31
Our Lady of Lourdes church 3722 S. 58th St, Milwaukee ololmke.org Oct. 7-9 It's a church Oktoberfest that's also an art show and it features live music including polka (with The Squeezettes on Saturday), Friday fish fry, and more.
Wauwatosa Historical Society 7406 Hillcrest Drive, Wauwatosa Sept. 17, 1-8 p.m. If you're looking for Oktoberfest fun and German history, Prosit Tosa is the fest for you. Presented by the Wauwatosa Historical Society, it features the obligatory German style food, live polka music and German and domestic beers, plus a kids area, a Hammerschlagen (nail driving) tournament, stein holding contest, best dirndl and lederhosen contests and German history and culture displays.
OKTOBERFEST AT THE SCHWABENHOF
PROSIT TOSA 2022
The Schwabenhof N56 W14750 Silver Spring Drive, Menomonee Falls theschwabenhof.com Sept. 23, 4–11 p.m. Sept. 24, 5–11 p.m. If there's any place that can give the Bavarian Bierhaus Oktoberfest a run for the money for longevity and tradition, it's got to be the Schwabenhof. It's easy to get to—a straight shot down Silver Spring— and they have a fine biergarten and bar featuring German beers year round. Run by the Milwaukee Donauschwaben Club, a German cultural club started in 1945, their Oktoberfest will feature German music and beer, authentic German cuisine, and their specialty, German dance groups. Free admission
Lots of great German food at this one, including sauerbraten, schnitzel, sausages, and more, plus a selection of Oktoberfest beers and German imports. Don't miss the Glockenspiel cuckoo clock show throughout the day, and there will be contests for best dirndl and lederhosen, a sauerkraut eating competition, stein holding, and even a German spelling bee.
BARKTOBEREST
SAINT AUGUSTINE OKTOBERFEST
Free admission and parking
GERMANTOWN HUNSRUCKER OKTOBERFEST Dheinsville Historical Park Holy Hill Rd, Hwy 145/Fond du Lac Ave. & Maple Road, Germantown germantownhistoricalsociety.org Oct. 24, Noon-11 p.m. Oct. 25, Noon-7 p.m. You'd expect a good Oktoberfest in a place called Germantown, and plenty of German music and dance beckon Oktoberfesters to the Germantown Hunsrucker Oktoberfest. What's a Hunsrucker, you ask? Someone from Hunsruck in southwest Germany, of course! The Dhein family, who settled this part of Germantown in the 1840s, hailed from there. In addition to all the German fun, be sure to catch the Dachshund Dash 3 p.m. Saturday, benefitting the Washington County Humane Society (yes, it's a weiner dog race)! Free admission and parking
Saint Augustine of Hippo church 2350 S. Howell Ave., Milwaukee staugies.org Sept. 25, Noon-8 p.m. A church festival that's also an Oktoberfest? Now that's how we do it in Milwaukee, and St. Augie's certainly knows how to do it right: beef rouladen dinner with spätzle and red cabbage, bratwurst, franks, kartoffelsalat (German potato salad) and Bavarian pretzels, plus live polka music including The Squeezettes, games, stein holding contest and a biergarten!
32 | SHEPHERD EXPRESS SPECIAL FALL DRINK
Estabrook Beer Garden 4600 Estabrook Pkwy, Milwaukee friendsofmadacc.org Sept. 17, noon-5 p.m. This fundraiser for Friends of MADACC (Milwaukee Area Domestic Animal Control Commission) will feature demonstrations, kids' activities, and of course, lots of dogs, all in the pleasant confines of the Estabrook Beer Garden in Estabrook Park. Bring your dog!
OUR LADY OF LOURDES MILWAUKEE OKTOBERFEST
Advance tickets $9 through Eventbrite
CEDARBURG OKTOBERFEST
Photo by Chris Homayouni. Courtesy of Cedarburg Chamber of Commerce.
CEDARBURG OKTOBERFEST US Bank parking lot W63 N641 Washington Ave., Cedarburg cedarburgfestival.org Oct. 1, 11 a.m.-8 p.m. Oct. 2, 10 a.m.-5 p.m.
Photo courtesy of Our Lady of Lourdes Milwaukee.
OUR LADY OF LOURDES MILWAUKEE OKTOBERFEST ARTISAN FAIR
SEPTEMBER 2022 | 33
F or many years, American paintings from the Great Depression were unfashionable among collectors and ill-regarded by art historians whose narrative leapt from John Singer Sargent to Jackson Pollock with scarce regard for the intervening years. When history majors Dan Shogren and Susan Meyer met at college in the '70s, they began to purchase work from that era. Prices were low and fine paintings from the interwar years could had for a bargain at resale shops. They married and continued collecting, amassing an impressive array of paintings and photographs from artists such as Aaron Bohrod, Walker Evans and Dorothea Lange.
FALL ARTS SEPTEMBER-OCTOBERGUIDE2022
Edmund Lewandowski (1914-1998), The Waterfront (Buoy Tenders), 1935, Oil on canvas, 32 x 47 in. From the Shogren-Meyer Collection of American Art. Courtesy of the Grohmann Museum. Background by holwichaikawee/Getty Images. AND TRIUMPH' AT THE GROHMANN MUSEUM BY DAVID LUHRSSEN
SPECIAL FALL ARTS GUIDE | SPONSORED BY MILWAUKEE SYMPHONY ORCHESTRA 'TOIL
Thornton Oakley (1881-1953), The Wonderland of Oil, ca.1942, Pastel and gouache on paper, 30 x 40 in. From the Shogren-Meyer Collection of American Art. Courtesy of the Grohmann Museum.
Background2023.by
The cover of the exhibit's catalog is emblematic. The image, The Waterfront, was painted in 1935 by Milwaukee's Edmund Lewandowski, an instructor at the locally seminal Layton School of Art. The central figure is a heavily muscled buoy tender, manhandling a heavy metal navigation marker into the water against a Lake Michigan backdrop of a lighthouse and a passing laker.
"A Time of Toil and Triumph: Selections from the Shogren-Meyer Collection of American Art," opens with a reception and gallery talk, 6-8 p.m., Sept. 9 at the Grohmann Museum, 1025 N. Broadway. The exhibit will be up through Feb. 26, holwichaikawee/Getty Images. MILWAUKEE SYMPHONY ORCHESTRA
36 | SHEPHERD EXPRESS SPECIAL FALL ARTS GUIDE | SPONSORED BY
The exhibition at the Grohmann Museum, "A Time of Toil and Triumph," will be the first significant display of the Shogren-Meyer collection in Milwaukee. The St. Paul couple visited the Grohmann in 2020 and "we realized that their collection was made for our museum," says Director James Kieselburg.
Kieselburg chose 113 paintings and photographs from the couple's enormous collection. He picked artwork in line with the museum's mission of depicting "productive work," including social realist and heroic regionalist representations of industrial laborers and farmers but also plowed fields, tractors and industrial landscapes. The exhibit, which celebrates the Grohmann's 15th anniversary, will occupy nearly half of the museum's second floor. Shogren and Meyer, like the Grohmann, "have an admiration for the context in which the work was created," Kieselburg says.
SEPTEMBER 2022 | 37
Background by holwichaikawee/Getty Images.38 | SHEPHERD EXPRESS SPECIAL FALL ARTS GUIDE | SPONSORED BY MILWAUKEE SYMPHONY ORCHESTRA ACACIA THEATRE COMPANY acaciatheatre.com ALFONS GALLERY alfonsgallery.org ALL IN PRODUCTIONS allin-mke.com AMERICAN PLAYERS THEATRE (APT) americanplayers.org The Rivals, through Sept. 17 The River Bride, through Sept. 30 The Brothers Size, through Oct. 8 Hamlet, through Oct. 8 A Raisin in the Sun, through Oct. 7 Sense and Sensibility, through Oct. 9 The Moors, through Oct. 9 Love's Labour's Lost, through Oct. 2 Stones in his Pockets, through Nov. 20 APERI ANIMAM aperianimam.com ARTS @ LARGE artsatlargeinc.org AURA THEATRE COLLECTIVE auratheatre.com BACH CHAMBER CHOIR bachchoirmilwaukee.com BEL CANTO CHORUS belcanto.org "The Sacred Veil," Oct. 17 BLACK ARTS MKE marcuscenter.org/series/black-arts-mke BLACK HOLOCAUST MUSEUM abhmuseum.org BOERNER BOTANICAL GARDENS boernerbotanicalgardens.org BOMBSHELL THEATRE CO. bombshelltheatre.org BOULEVARD THEATRE milwaukeeboulevardtheatre.com A Delicate Balance, October BREW CITY OPERA brewcityopera.wixsite.com BRONZEVILLE ARTS ENSEMBLE facebook.com/BronzevilleArtsEnsemble CABARET MILWAUKEE facebook.com/cabmke CARROLL COLLEGE THEATRE carroll.edu CARROLL PLAYERS carrollplayers.weebly.com CARTHAGE COLLEGE THEATRE carthage.edu/fine-arts
FALLS PATIO PLAYERS fallspatioplayers.com The Musical Comedy Murders of 1940, Sept. 23-Oct. 2
Background by holwichaikawee/Getty Images.40 | SHEPHERD EXPRESS SPECIAL FALL ARTS GUIDE | SPONSORED BY MILWAUKEE SYMPHONY ORCHESTRA CATEY OTT DANCE COLLECTIVE cateyott.com "Pressures and Pulls can Alone Control the Whole and INVISIBLE MIND(e)scape along with a Tolkien-themed improvisation," Sept. 25 (Haggerty Museum of Art) In the depths of the pandemic, Milwaukee dance filmmaker Christal Wagner made a many-angled movie of the Catey Ott Dance Company's 2021 work In Good Company (Pandemic Survival and Revival) With the subject-defining parenthetical phrase as title, it won a coveted spot in the Milwaukee Independent Short Film Festival (Sept. 10). A free presentation with the Haggerty Art Museum for Doors Open Milwaukee includes new works which choreographer Catey Ott Thompson describes as a come-back and a shift from abstraction to raw representations of recent internal struggles. There's also a playful improvised response to the Haggerty's exhibit of manuscripts by hobbit-creator H. R. Tolkien. (John Schneider)
Roald Dahl's Matilda The Musical JR, Oct. 21-23
CEDARBURG ART MUSEUM cedarburtartmuseum.org
EARLY MUSIC NOW earlymusicnow.org Tapestry, Oct. 15, St. Paul's Episcopal Church Early Music Now opens its 36th season with "Tapestry: Faces of Women." Tapestry, a Boston-based ensemble of four female singers known for its technical prowess and sensually charged performance presents international works by women composers ranging from the 12th century abbot, St. Hildegard von Bingen, to the 16th century Irish pirate, Grace O'Malley.
"Edward Boerner: Paintings and Prints," through Sept. 11 "Susan Hale, Home & Away," through Sept. 25 "Beauty in Wood: Robert Budecki & Robert Holmes," through Sept. 25 "The American Scene through the Eyes of Gerrit V. Sinclair," Sept. 15-Jan. 8, 2023
Orlando Consort , Nov. 12, (UWM Zelazo Center) Schola Antiqua of Chicago, Dec. 3-4 (St. Joseph Chapel)
The program includes music of troubadours, traditional songs and lullabies sung in Italian, Hebrew, Dutch and English accompanied by medieval string instruments viol and rebec. (Paul Masterson)
davidbarnettgallery.com
FIRST STAGE firststage.org Arthur and Friends Make a Musical, Oct. 7-Nov. 6
"Judith Friebert: Pastel Pastures," Oct. 19-Jan. 8, 2023
CEDARBURG CULTURAL CENTER cedarburgculturalcenter.org Cedarburg Artists Guild's Annual Juried Exhibit , Sept. 2-Oct. 9 Treasures Tour, Sept. 10 CEDARBURG PERFORMING ARTS CENTER cedarburgpac.com Anthony Crivello's Broadway Songbook, Sept. 24 Girl Named Tom , Oct. 15 CHANT CLAIRE CHAMBER CHOIR chantclaire.org CHARLES ALLIS ART MUSEUM charlesallis.org "Ghosts of Segregation: America's Continuing Struggle," through Dec. 4. THE COMPANY OF STRANGERS THEATER thecompanyofstrangerstheater.com THE CONSTRUCTIVISTS theconstructivists.org The Totalitarians, Oct. 15-29 CONCORD CHAMBER ORCHESTRA concordorchestra.org CONCORDIA UNIVERSITY cuw.edu COOPERATIVE PERFORMANCE cooperativeperformance.org COVERED BRIDGE ART STUDIO TOUR cedarburgartistsguild.com Oct. 7-9, various locations in Ozaukee and Washington counties DANCECIRCUS dancecircus.org DANCEWORKS PERFORMANCE MKE danceworksmke.org
FESTIVAL CITY SYMPHONY festivalcitysymphony.org
DAVID BARNETT GALLERY DEAD
MAN'S CARNIVAL facebook.com/Dead-Mans-Carnival
EX FABULA exfabula.org StorySlam: "Good Trouble," Sept. 21 (Arts@Large) StorySlam: "Like Magic," Oct. 13 (Sugar Maple)
SEPTEMBER 2022 | 41
"J.R.R. Tolkien: The Art of the Manuscript," through Dec. 12 The exhibit features more than 120 items created by J.R.R. Tolkien, many previously unexhibited, including manuscripts from The Hobbit and "The Lord of the Rings." Marquette University's long relationship with Tolkien began during the author's lifetime. The Tolkien Collection's curator, William Fliss, credits the university library for acquiring Tolkien manuscripts in the 1950s as part of its project to house the papers of Roman Catholic writers. The author's son Christopher Tolkien fulfilled his father's wishes by delivering additional material to the Marquette library in the 1980s.
IRISH CULTURAL AND HERITAGE CENTER ichc.net JAZZ GALLERY CENTER FOR THE ARTS "jazzgallerycenterforarts.org "Purposeful Visionaries: Delia Wells, Evelyn Terry, Mutope Johnson and Muneer Bahaudden," through Sept. 10 JEWISH MUSEUM MILWAUKEE jewishmuseummilwaukee.org "Beyond Borders: The Art of Siona Benjamin," through Sept. 25 "Jews in Space: Members of the Tribe in Orbit," Oct. 28-Feb.
"Woody De Othello: Hope Omens," through Sept. 25 "Sarah McEneaney and Lydia Ricci: The Extra Ordinary," through Feb. 26, 2023
Background by holwichaikawee/Getty Images.42 | SHEPHERD EXPRESS SPECIAL FALL ARTS GUIDE | SPONSORED BY MILWAUKEE SYMPHONY ORCHESTRA FLORENTINE OPERA florentineopera.org Roméo et Juliette, Oct. 14 & 16 Although spellbound as a child by a performance of Rossini's Otello, Charles Gounod long resisted the temptation to compose in the idiom of arias and prima donnas. Ironically, the French composer is most remembered for his operas, especially Faust (1859) and Roméo et Juliette (1867). His romantic lyricism was well suited for William Shakespeare's archetypal story of doomed young love across society's battlelines. (David Luhrssen) FORTE THEATRE COMPANY fortetheatrecompany.org The Sound of Music, Oct. 7-16, (Saber Center for the Performing Arts, Franklin) FRANK JUAREZ GALLERY fjgmke.com FRANKLY MUSIC franklymusic.org GALLERY 218 gallery218.com GALLERY 2622 gallery2622.com GREENDALE COMMUNITY THEATRE greendaletheatre.org GROHMANN MUSEUM msoe.edu/grohmann-museum "A Time of Toil and Triumph: Selections from the Shogren-Meyer Collection of American Art," Sept. 9-Feb. 26, 2023
KETTLE MORAINE SYMPHONY kmsymphony.org
(David Luhrssen)
KACM THEATRICAL PRODUCTIONS kacmtheatrical.weebly.com
JOHN MICHAEL KOHLER ARTS CENTER jmkac.org/home.html
"Sarah Zapata: A Resilience of Things Not Seen," through March 19, 2023
"Alexander Stewart: Void Vision," through Oct. 2 "Creative Growth," through May 2023 "Sky Hopinka: I'll Remember You as You Were, Not What You'll Become," Oct. 6-Feb. 19, 2023
KETTLE MORAINE PLAYHOUSE kmplayhouse.com Over the River and Through the Woods, Sept. 11, 15-18 The Savannah Sipping, Oct. 14-16, 20-23
HAGGERTY MUSEUM OF ART marquette.edu/haggerty-museum
HARLEY-DAVIDSON MUSEUM harley-davidson.com "Off-Road Harley-Davidson," continuing Building a Milwaukee Icon: HD's Juneau Ave. Factory, continuing Tsunami Motorcycle Display, continuing H. F. JOHNSON GALLERY OF ART carthage.edu/art-gallery HOVER HYPERLOCALCRAFTMKE hyperlocalmke.com INSPIRATION STUDIOS ART GALLERY inspirationstudiosgallery.com "Art on the Plaza," Sept. 9 (West Allis City Hall) "Premiere Cabaret," Sept. 24 Ralph Kerwineo and the Refining Influence of Skirts, Oct. 7-23 "Bernice Valentin: Blooms, Bubbles & Baubles," October 5, 2023
"Archive Dive: Eccentric Machines," through Sept. 25 "In the Adjacent Possible," through March 26, 2023
GROVE GALLERY gallerygrove.com
"Art Links Sheboygan: Never What is Planned," through Sept. 17
MILWAUKEE CHILDREN'S CHOIR milwaukeechildrenschoir.org
MILWAUKEE FESTIVAL BRASS mfbrass.org MILWAUKEE INSTITUTE OF ART & DESIGN miad.edu MILWAUKEE MAKERS MARKET milwaukeemakersmarket.com
MILWAUKEE ENTERTAINMENT GROUP milwaukeeentertainmentgroup.com
Where Did We Sit on the Bus?, Sept. 30-Oct. 23 Misery, Nov. 18-Dec. 18 You may have read the book and you probably saw the movie. Now comes the play. William Goldman adapted Misery from Stephen King's novel, memorably filmed by Rob Reiner in 1990. It's the horror story of a novelist who meets his biggest fan who pulls him from the wreckage of a car crash—and finds ways to prevent him from ever leaving. Artistic Director Brent Hazelton will direct a cast of two, Kelly Doherty and Jonathan Wainwright. (David Luhrssen)
Sept. 18 (Discovery World) Oct. 16 (Ivy House)
"The Ashcan School and the Eight: Creating a National Art," Sept. 23-Feb. 19, 2023 When the National Academy of Design rejected their works, eight renegade painters staged their own 1908 exhibition at a New York art gallery. The Eight reinvigorated American Realism by fearlessly depicting the nation's often decrepit, impoverished urban landscape. Their refusal to whitewash what they saw gained them the name of Ashcan School. "Their break from longstanding tradition to instead portray a more authentic depiction of the American experience forged a new national art that prioritized an unfiltered representation of urban and working-class life," says the Milwaukee Art Museum's curator Brandon Ruud. (David Luhrssen)
MILWAUKEE BALLET milwaukeeballet.org
Background by holwichaikawee/Getty Images.44 | SHEPHERD EXPRESS SPECIAL FALL ARTS GUIDE | SPONSORED BY MILWAUKEE SYMPHONY ORCHESTRA KO-THI DANCE COMPANY ko-thi.org LAKE ARTS PROJECT lakeartsproject.com LATINO ARTS, INC. latinoartsinc.org "The Effects of Time on Memory/I Los Efectos del Tiempo en la Memoria," Sept. 2-Oct. 7 "Day of the Dead Ofrendas," Oct. 20-Nov. 18 Son Rompe Pera, Oct. 28 Brothers Jesús Ángel "Kacho" and Alan "Mongo" Gama were raised near Mexico City and began performing alongside their father as kids. They grew up with marimba music—folk melodies built around the African-originated instrument of that name— but take that tradition to new places with a garage band-punk-hip-hop-ska sensibility. (Frank Grey) LILY PAD GALLERY WEST lilypadgallery.com "Forward," Sept. 2-Oct. 9 LYNDEN SCULPTURE GARDEN lyndensculpturegarden.org "Margaret Muza Pops Up to Make Tintypes," Sept. 17 September Home Craft Market , Sept. 17 MAD ROGUES madrogues.com MARCUS PERFORMING ARTS CENTER marcuscenter.org MARQUETTE UNIVERSITY THEATRE theatre-arts.phpmarquette.edu/communication/ The 25th Annual Putnam County Spelling Bee, Oct. 7-9, Oct. 13-16 MASTER SINGERS OF MILWAUKEE mastersingersofmilwaukee.org MATERIAL STUDIOS + GALLERY materialstudiosandgallery.com MEMORIES DINNER THEATRE memoriesballroom.com MENOMONEE FALLS SYMPHONY MILWAUKEE ART MUSEUM mam.org "Always New: The Posters of Jules Cheret," through Oct. 16
William Glackens (American, 1870–1938), Breezy Day, Tugboats, New York Harbor, ca. 1910. Oil on canvas. Gift of Mr. and Mrs. Donald B. Abert and Mrs. Barbara Abert Tooman M1974.230. Photo by John Nienhuis; Dedra Walls.
MILWAUKEE CHAMBER THEATER milwaukeechambertheatre.org
MILWAUKEE COMEDY milwaukeecomedy.com
SEPTEMBER 2022 | 45
Sings Nat King Cole, Sept. 9-Nov. 6 (Stackner Cabaret) While leading a trio on New York's 52ndnd Street, Nat "King" Cole was a promising young jazz pianist. His mellifluous voice led him into pop music, a string of hits, cameos in Hollywood movies and—startling for '50s America—his own TV show. He was among the most recognized and esteemed Black entertainers—which didn't prevent him from being physically assaulted on stage in Birmingham, Alabama (1956) by racists. Singer John Mark McGaha will lead a jazz combo in a tribute to Cole's repertoire and life story. (David Luhrssen)
Tchaikovsky No. 5 , Oct. 21-22
Tchaikovsky described his four-movement Symphony No. 5 (1888) as "a complete resignation before fate, which is the same as the inscrutable predestination of fate."
Photo courtesy of Artists Lounge Live.
JOHN-MARK MCGHARA
Wife of a Salesman, Sept. 27-Nov. 6 (Stiemke Studio)
MILWAUKEE YOUTH SYMPHONY ORCHESTRA myso.org "Season Premiere Concert," Oct. 19 MILWAUKEE YOUTH THEATRE milwaukeeyouththeatre.org
Also on the program: Coleridge-Taylor's Ballade and Paganini'sViolin Concerto No. 1. Detroit Symphony Orchestra music director Jader Bignamini will conduct. (David Luhrssen)
Unforgettable: John Mark McGaha
Background by holwichaikawee/Getty Images.46 | SHEPHERD EXPRESS SPECIAL FALL ARTS GUIDE | SPONSORED BY MILWAUKEE SYMPHONY ORCHESTRA
BLAKE POULIOT
MILWAUKEE SYMPHONY ORCHESTRA mso.org "Alpine Glory," Sept. 30-Oct. 1 "Aaron Diehl Returns," Oct. 7-9
Photo Courtesy of Milwaukee Symphony Orchestra.
Titanic: The Musical, Sept. 20-Oct. 23 (Quadracci Powerhouse)
Peter Ilyich Tchaikovsky's music was searingly romantic, vulnerable, given to despair, tragedy. His compositions are performed more often in concert halls than any of his Russian contemporaries because—thoroughly Russian as he was— his music speaks to universal emotions.
MILWAUKEE MUSAIK milwaukeemusaik.org
MILWAUKEE REPERTORY THEATER milwaukeerep.com
MILWAUKEE OPERA THEATRE milwaukeeoperatheatre.org Night of the Living Opera, Oct. 28-30 (Broadway Theatre Center Studio) Zombies had been on screen before, but Night of the Living Dead (1968) set the template for future depictions of the unintelligent undead. Director George Romero's much analyzed film has been interpreted as a satire of consumerism or mindless herd mentality. And yes, it was scary and apocalyptic. One imagines Milwaukee Opera Theatre will bring a touch of whimsy to their newly commissioned adaptation "with opera—and zombie puppets" Artistic Director Jill Anna Ponasik promises. Josh Perkins wrote the libretto, Andrew Dewey the music and Angry Young Men Ltd. are bringing the puppets. (David Luhrssen)
SEPTEMBER 2022 | 47
Dad's Season Tickets, through Sept. 3 (Gould Theater)
|
Revolution, September-October MUSEUM OF WISCONSIN ART wisconsinart.org
NŌ STUDIOS nostudios.com NORTH SHORE ACADEMY OF THE ARTS facebook.com/northshoreacademyofthearts NORTHERN SKY THEATER northernskytheater.com
"Tom Jones: Here We Stand," through Oct. 9
Background by holwichaikawee/Getty Images.48 | SHEPHERD EXPRESS SPECIAL FALL ARTS GUIDE | SPONSORED BY MILWAUKEE SYMPHONY ORCHESTRA MORNING STAR PRODUCTIONS morningstarproductions.org
"Tom Antell: Strange Lands," through Oct. 9
DTN (SAINT KATE-THE ARTS HOTEL) MOWA ON THE LAKE (ST. JOHN'S ON THE LAKE) NEXT ACT THEATRE nextact.org Kill Move Paradise, Sept. 22-Oct. 16 Kill Move Paradise premiered in 2017 at the National Black Theatre in Harlem. Four murdered Black men find themselves in an underworld between life and Paradise. They try to understand what happened to them and why. Together with director Marti Gobel, David Cecsarini chose to open his final season as artistic director with this play by James Ijames even before Ijames won this year's Pulitzer Prize for Drama. Gobel compares the play to Greek tragedy, and also emphasizes its truthfulness about the joy embedded in the Black community. The run includes a groundbreaking Black Out Night for Black audiences only. (John Schneider)
If the thought of bacon-wrapped cheese curds makes you salivate, perhaps you'd better get a ticket to Northern Sky's production of Dad's Season Tickets. The tale focuses on the plight of a recent widower, Frank Kosinski (Ray Jivoff). The whitehaired Frank, who lives in Green Bay, is agonizing over which of his three daughters will inherit his Packers tickets when he dies (yes, this is a real thing in Wisconsin). (Frank Grey) Sunflowered, through Oct. 29 (Gould Theater)
MOWA
For photographer Tom Jones, his muse is his Ho-Chunk heritage, and his oeuvre is occupied with telling the story of his people."All my work deals with Native American issues," says Jones, who teaches photography at the University of Wisconsin-Madison. "For me, it's Indian first, and the art comes second." "Here We Stand," the first major retrospective of the Ho-Chunk photographer's work, features 120 photographs from 16 bodies of work spanning 25 years of Jones' career. (Michael Muckian)
SEPTEMBER 2022 | 49
Background by holwichaikawee/Getty Images.50 | SHEPHERD EXPRESS SPECIAL FALL ARTS GUIDE | SPONSORED BY MILWAUKEE SYMPHONY ORCHESTRA OCONOMOWOC ARTS CENTER oasd.k12.wi.us OIL GALLERY MILWAUKEE oilmilwaukee.com OPTIMIST THEATRE optimisttheatre.org OUTSKIRTS THEATRE facebook.com/outskirtstheatre OVER OUR HEAD PLAYERS overourheadplayers.org Moby Dick: The Sketch Comedy Puppet Musical that Herman Melville Would Have Loved but Never Admitted, Oct. 14-16, Oct. 20-23, Oct. 27-30 PENINSULA PLAYERS peninsulaplayers.com I and You, through Sept. 4 Murder for Two, Sept. 7-Oct. 16 PIANOARTS Photopianoarts.orgusedwithpermission by Janus Films. Courtesy of Present Music. LA BELLE ET LA BETE PINK UMBRELLA THEATER pinkumbrellatheater.org PORTRAIT SOCIETY GALLERY portraitsocietygallery.com PRESENT MUSIC presentmusic.org "French Connection," Sept. 11 (Milwaukee Art Museum) Jean Cocteau's Beauty and the Beast (1946) was a slightly surreal, definitely ironic take on the old fairy tale of the ogre who turns out to be a prince. "We're doing the whole thing, with English subtitles to a chamber opera score by Philip Glass," says PM's Co-artistic Director Eric Segnitz. "Not a new piece, but we're doing the first version with expanded orchestration, and collaborating with members of the Philip Glass Ensemble, including the four singers for this production," staged in conjunction with the Art Museum's Jules Chéret exhibition. (David Luhrssen)
Background by holwichaikawee/Getty Images.52 | SHEPHERD EXPRESS SPECIAL FALL ARTS GUIDE | SPONSORED BY MILWAUKEE SYMPHONY ORCHESTRA QUASIMONDO PHYSICAL THEATRE quasimondo.org RACINE ART MUSEUM ramart.org "Precedents: Past Meets Present in Contemporary Glass and Clay," through Sept. 24 "Fool the Eye: Addressing Illusion in Contemporary Art," through Sept. 24 "RAM Showcase: Russell T. Gordon and James Tanner," through Feb. 11, 2023 "RAM Showcase: Focus on Glass," through May 27, 2023 RACINE SYMPHONY ORCHESTRA racinesymphony.org Masterworks—Quiet City, Sept. 23 (First Presbyterian Church) Musical Flights, Oct. 21 (Uncorkt) RACINE THEATRE GUILD racinetheatre.org Native Gardens, Sept. 16-18, Sept. 23-25, Sept. 29-Oct. 2 Swan Princess, Oct. 7-9 Drop Dead! , Oct. 38-30, continues in November RENAISSANCE THEATERWORKS r-t-w.com The How and the Why, Oct. 21-Nov. 13 SAINT KATE - THE ARTS HOTEL saintkatearts.com "Sarah Jane Sutterfield: Bright Sides," through Oct. 2 "Julie VonDerVellen: Together, Through: Woven Tales of Time," through Oct. 16 SACRA NOVA CHORALE sacranovacathedrale.com Te Deum Laudamus, Oct. 23 (St. Josaphat Basilica) SENCHAI A Night in November, Sept. 9-25 (Interchange Theater Co-op) SHARON LYNNE WILSON CENTER FOR THE ARTS wilson-center.com Cold Sweat and The Brew City Horns, Sept. 30 Frank Almond & Emi Ferguson , Oct. 16 Garrison Starr, Oct. 21 Third Coast Percussion , Oct. 28 SHEBOYGAN THEATER COMPANY stcshows.org Sister Act, Sept. 30-Oct. 8
SEPTEMBER 2022 | 53
THEATRICAL TENDENCIES theatricaltendencies.com
SUNSTONE STUDIOS MKE sunstonestudios.mke
THEATRE GIGANTE theatregigante.org
Background by holwichaikawee/Getty Images.54 | SHEPHERD EXPRESS SPECIAL FALL ARTS GUIDE | SPONSORED BY MILWAUKEE SYMPHONY ORCHESTRA SKYLIGHT MUSIC THEATRE skylightmusictheatre.org Mamma Mia! , Sep. 23-Oct. 16 The peppy 1975 ABBA hit inspired British playwright Catherine Johnson to compose a storyline around a string of the Swedish group's Euro-pop hits—"Dancing Queen," "Knowing Me, Knowing You" et. al.—in the jukebox musical that enjoyed one of the longest runs ever on the West End and Broadway. And if Broadway ticket prices make you want to sing "SOS"—and you've seen Meryl Streep several times in the lively 2008 Hollywood adaptation—here's a chance to enjoy the production on stage and close to home. (David Luhrssen) SOUTH PERFORMINGMILWAUKEEARTS CENTER southmilwaukeepac.org Steven Wright , Oct. 7 Yeghishe Manucharyan & Victoria Avetisyan (Metropolitan Opera/Boston Opera), Oct. 8 Linda Ronstadt Experience, Oct. 14 John Denver Musical Tribute, Oct. 16
The Spitfire Grill, Sept. 8-25 Used to be the other way around, but nowadays, movies have become source material for theater. The 1996 film starring Ellen Burstyn was transformed into a musical by a pair of writers with extensive ties to Milwaukee and vicinity, James Valcq ( Zombies from the Beyond ) and the late Fred Alley (Lumberjacks in Love). Their Off-Broadway version of The Spitfire Grill won the Richard Rodgers Production Award in 2001. (David Luhrssen) We Will Rock You, Sept. 19-20 Rock & Roll Royalty, Oct. 13-16 Clue on Stage, Oct. 20-Nov. 6
The Lisbon Traviata, Sept. 9-24 What Was Lost, Oct. 7-22
THIRD AVENUE PLAYHOUSE, STURGEON BAY thirdavenueplayworks.org The Last Five Years, through Sept. 11 Birds of North America, Oct. 5-30
SUNSET PLAYHOUSE sunsetplayhouse.com
A Page of Madness, Oct. 8-9 (Kenilworth 508 Theatre) Kinugasa Teinosuke's A Page of Madness (1925) was an avant-garde silent film, the product of a circle of writers developing a Japanese counterpart to surrealism. During its initial run, the movie was accompanied by a live storyteller. It sounds like a great opener for Theatre Gigante's 35th season, complete with live narration and music on toy instrument performed live by Little Bang Theory. (David Luhrssen)
SEPTEMBER 2022 | 55
sculptures,
art.
of human figures, colored block letters on found book pages, and interactive pieces that
Background by holwichaikawee/Getty Images.56 | SHEPHERD EXPRESS SPECIAL FALL ARTS GUIDE | SPONSORED BY MILWAUKEE SYMPHONY ORCHESTRA THRASHER OPERA HOUSE, GREEN LAKE thrasheroperahouse.com Tim Cavanaugh with Brian Hicks, Sept. 10 Party for the Arts: Margaritaville, Sept. 17 Albert Cummings, Sept. 30 Wild Ponies, Oct. 14 Max Weinberg's Jukebox, Oct. 22 TORY FOLLIARD GALLERY toryfolliard.com "Of Nature," through Sept. 10 UW-PARKSIDE THEATRE uwp.edu/the theatreperformances.cfmrita/ UW-MILWAUKEEPECKSCHOOLOF THE ARTS uwm.edu/arts/events "Continuum 2022: Sitelines 42," Sept. 7, Sept. 22 (INOVA Gallery) Joseph Murphy, Sept. 12 (Music Recital Hall) Woven Images, Sept. 22 (Kenilworth Square East 3rd Floor Gallery) Jazz Ensemble, Sept. 25 (Jan Serr Studio) An Evening of Ethiopian Music with Qwanqua, Sept. 25 (Music Recital Hall) Elena Abend and Matt Michelic Collaborative Recital, Oct. 1 (Music Recital Hall) UWM Symphony Orchestra: Korea Day, Oct. 7 (Helene Zelazo Center) Fall Choral Showcase, Oct. 8 (Helene Zelazo Center) Chorale Fall Concet , Oct. 9 (Helene Zelazo Center) The Mystery of Edwin Drood, Oct. 19 - 23 (Mainstage Theatre) UWM UNION ART GALLERY agallery@studentinvolvement.uwm.edu CROSSMANUW-WHITEWATERGALLERY uww.edu "Music Mosaics: Faculty Showcase," Sept. 24 UW-WHITEWATER THEATRE uww.edu VAR GALLERY & STUDIOS vargallery.com VILLA TERRACE DECORATIVE ARTS MUSEUM villaterrace.org "In the Park with Olmsted: A Vision for Milwaukee," through Sept. 25 VILLAGE PLAYHOUSE villageplayhouse.org VOICES FOUND REPERTORY voicesfoundrep.com
The South African artist's work is vast. The collection features brass taking shape from a certain perspective, drawings create a way view "Doing that in a way that is playful and says Melanie Herzog, curator. "He comes at things sideways and invites to really think about them." (Elizabeth Lintonen)
thoughtful and engages people,"
waterstreetdancemke.com
WALKER'S See through Dec. 16
POINT CENTER FOR THE ARTS wpca-milwaukee.org Member Exhibition: Jeanette Arellano, through Oct. 1 WAREHOUSE ART MUSEUM thewarehousemke.org "William Kentridge:
WATER STREET MILWAUKEE
DANCE
new
to
us
for Yourself,"
SEPTEMBER 2022 | 57
THEATRE waukeshacivictheatre.org Rodgers & Hammerstein's Cinderella, Sept. 9-25 The Play That Goes Wrong, Oct. 28-Nov. 13 WEST ALLIS PLAYERS westallisplayers.org WEST BEND THEATRE COMPANY westbendtheatreco.com Clue on Stage, October WEST PERFORMING ARTS CENTER westpac.cfmnbexcellence.org/community/ WILD SPACE DANCE wildspacedance.org WINDFALL THEATRE windfalltheatre.com
The nonprofit Wisconsin Craft organization helps promote statewide artists through exhibitions and two signature events, the Morning Glory Art Fair and the MKE Fine Craft Studio tour. The latter is a self-guided tour of 15 Milwaukee-area studios showcasing 42 artists. "One of the best perks that comes from membership is the natural networking that happens when artists and supporters get involved and participate in events," said Jean Wells, president of Wisconsin Craft. "This is one of the most important ways we can support current artists, along with the next generation of artisans." (Catherine Jozwik)
WISCONSIN CRAFT - MKE FINE CRAFT STUDIO Wisconsin CIVIC
WISCONSIN LUTHERAN COLLEGECENTER FOR
WISCONSIN CRAFT wisconsincraft.org MKE Fine Craft Studio Tour, Oct. 1-2
ARTS AND PERFORMANCE wlc.edu WISCONSIN MUSEUM OF QUILTS & FIBER ART wiquiltmuseum.com "Wings and Wedges: Abstract Applique with Jane Sassaman," Sept. 24-25 "Counting Threads," through Nov. 13 WISCONSIN PHILHARMONIC wisphil.org "More Classic Broadway," Sept. 29 "A Symphonic Hallowe'en," Oct. 16 "It's a Wonderful Life: An American Christmas," Dec. 1 WOODLAND PATTERN BOOK CENTER woodlandpattern.org WUSTUM MUSEUM OF FINE ARTS ramart.org "Wisconsin Photography 2022," through Nov. 26
Craft. WAUKESHA
Background by holwichaikawee/Getty Images.58 | SHEPHERD EXPRESS SPECIAL FALL ARTS GUIDE | SPONSORED BY MILWAUKEE SYMPHONY ORCHESTRA
TOUR Photo courtesy of
SEPTEMBER 2022 | 59
• Brianna: A white grape that generally produces a sweeter wine.
• Somerset: A seedless grape known for developing a beautiful pink color as it matures on the vine, making it ideal for rosé. Now, where can you try wine made with these grapes? Below are just a few wineries within driving distance from Milwaukee making both dry and sweeter vino that showcases locally grown grapes:
U ntil the last couple of decades, wineries in Wisconsin and the upper Midwest primarily crafted sweet or dessert style wines made with fruit such as apples cranberries, rhubarb or strawberries. Those seeking drier, California style wines had to shop from, well, California, since few local options were available.
YOU DON'T HAVE TO TRAVEL AS FAR AS FRANCE TO VISIT A VINEYARD BY SHEILA JULSON
Wineries of Southeast Wisconsin
• Frontenac: This red grape is used to produce dry, sweet or rosé styles.
•Frontenac blanc: A pale hybrid of Frontenac that produces an acidic, drier white wine.
60 | SHEPHERD EXPRESS SPECIAL DAY TRIPS
• Marquette: The signature University of Minnesota hybrid is a popular choice for Wisconsin winemakers. Known as the grandson of pinot noir, it captures the full yet well-bodied flavor of its ancestor.
Thanks to years of research—particularly the University of Minnesota's cold grape breeding program, which began during the mid '70s—there are several cold-hardy grapes that can withstand a Wisconsin winter and produce wines on par with famous wine growing regions. Here are a few cold-hardy hybrids taking root in the Upper Midwest:
EDWIN BRIX VINEYARD
• Saint-Croix: A red grape hybrid that has an exceptional resistance to cold. It produces wine sometimes compared to burgundy.
• Petite Pearl: A red grape similar to cabernet sauvignon.
•La Crescent: This white grape varietal grows successfully in the Upper Midwest, New York and Oregon.
Photo by Tim Mentuis. Courtesy of Edwin Brix Vineyard.
• Sabrevois: A hearty red wine grape developed by Midwest grape pioneer Elmer Swenson.
•Maréchal Foch: An inter-specific hybrid French red wine grape.
This boutique winery features food pairings with wines from varietals such as Marquette, Foch and their light, dry La Crescent. The tasting room is open Wednesday through Saturday from 11 a.m. to 7 p.m., and Sunday from 11 a.m. to 5 p.m. They also feature a food menu and private event rentals.
Dodge County's first licensed winery offers wines made from the Marquette, Frontenac Blanc or Sabrevois grapes. Edwin Brix earned top 10 wineries in state of Wisconsin by Choicwineries. com. Tasting room is open from 10 a.m. to 4 p.m. Monday through Saturday and noon to 4 p.m. Sunday.
RACINE COUNTY SPIRITS OF NORWAY 22200 W. Six Mile Rd., Town of Norway/Franksville spiritsofnorwayvineyard.com414-430-0128
Photo courtesy of Timber Hill Winery. TIMBER HILL WINERY Photo courtesy of Timber Hill Winery. TIMBER HILL WINERY Photo by HaleyMac Photographs,
This artisan winery uses Marquette, Frontenac, Frontenac Blanc and Marechal Foch and St. Croix to craft red, white and rose wines. Located on a scenic drumlin, the winery and tasting room is open Monday noon to 6 p.m.; closed Tuesday; Wednesday and Thursday noon to 6 p.m.; and Friday through Saturday, 11 a.m. to 7 p.m.; Sunday 11 a.m. to 6 p.m.
ROCK COUNTY TIMBER HILL WINERY
1223 E. Storrs Lake Road, Milton timberhillwinery.com608-247-4615
SPIRTS OF NORWAY VINEYARD SEPTEMBER 2022 | 61
Sheila Julson writes the Eat Drink column for shepherdexpress.com. courtesy of Spirits of Norway Vineyard.
This boutique winery has a full line of wines made with grapes grown in their vineyard, including Brianna, Marquette, Petite Pearl and Frontenac Blanc. Spirits of Norway Vineyard earned top 10 wineries in state of Wisconsin by Choicwineries.com. The Tour N Taste experience includes a guided stroll through the vineyards and winery and concludes with a tasting.
DANE COUNTY DRUMLIN RIDGE WINERY 6000 River Rd., Waunakee drumlinridgewinery.com608-849-9463
DODGE COUNTY EDWIN BRIX VINEYARD N4595 Welsh Road, Juneau edwinbrix.com920-219-4249
BY JACK RICE
CEDAR CREEK WINERY
Photo by Michael Burmesch. CREEK
SETTLEMENT IN FALL
Ashort drive up I-43 from Milwaukee lie the mean streets of Cedarburg, Wisconsin. Okay, they're not that mean. In fact, if Cedarburg were any quainter, Jimmy Stewart would be running down Washington Avenue wishing a hearty, happy holiday to the ol' Building and Loan. Sauk and Potawatomi tribes inhabited the land nestled on the banks of what is now Cedar Creek until surrendering it to the U.S. Government in 1833 as part of the Treaty of Chicago. Europeans, mostly German, arrived shortly thereafter, eventually naming the creek and the community after the many white cedar trees dotting the area, and almost immediately build ing gristmills and woolen mills along the waterway, many of which supplied textiles to the Civil War effort. Just like that, a mill town was born. Two of the larger mills still stand to this day. Cedar Creek Settlement toward the north end of the historic downtown consists of five buildings constructed in the mid-1800s, currently housing an assortment of charming shops, restaurants, and the Cedar Creek Winery. A bit further south just off Washington Avenue stands the five-story Cedarburg Mill, built in 1855, home to Landmark Feed, Seed & Supply and Rebellion Brewing Company. There may not be a better place in town to pass the time of day than Rebellion-era's creekside beer garden, watching the waters flow by with a cold beer in hand and if you're lucky, a little live music in the ears. That said, Cedarburg enjoys plenty of spots for and adult beverage. Bars and taverns, wineries, distilleries and breweries abound, including Chiselled Grape Winery, Sunshine Winery, the Shinery Moonshine Company and the Fermentorium Brewery and Tasting Room north of downtown. If museums and history are more your cup of tea, Cedarburg boasts many. The Cedarburg Art Museum and Cedarburg Cultural Center each host exhibitions throughout the year, including the "Ob jects of Desire Annual Juried Exhibition" (Sept. 29-Jan. 8). The Cedarburg History
Photo by Mark R Bertieri. Courtesy of Cedarburg Chamber of Commerce. MILL
Photo courtesy of Cedarburg Chamber of Commerce. of is a Daytime Destination
62 | SHEPHERD EXPRESS SPECIAL DAY TRIPS Just North
Milwaukee, Cedarburg
CEDAR
CEDARBURG
The fall fun continues with Oktoberfest (Oct. 1–2), featuring Cedarburg's famous Live Glockenspiel Show, hearty German food, and a beer selection to get you in the mood for the classic oompah hits and live polka versions of Neil Diamond tunes.
Museum showcases "Milwaukee Baseball Championship Seasons" and "Hometown Teams" now through Oct. 2. And the hidden treasure Wisconsin Museum of Quilts & Fiber Arts' exhibit "Counting Threads: Math & Textiles" runs through Nov. 13.
PLEIN AIR Photo courtesy of Cedarburg Chamber of Commerce. KUHEFUSS HOUSE Photo courtesy of Cedarburg Chamber of Commerce.
First up is the autumnal counterpart to the ever-popular springtime Strawberry Festival. Cedarburg Wine & Harvest Festival (Sept. 17–18), featuring food and drink, arts and crafts booths, and live entertainment, all delivered with fall ambiance. Do not miss the Giant Pumpkin Charity Regatta—you'll want to be able to tell your descendants that you once witnessed actual hollowed-out, 600-pound floating pumpkins crewed by human beings racing across Cedar Creek.
Maxwell Street Days at Firemen's Park is a flea marketer's paradise, with hundreds of dealers selling antiques, collectibles, crafts and rarities from World War II-era relics to classic video games to kitchenware to auto parts. It's open from 6 a.m. to 2 p.m. four times a year (including Sept. 4 and Oct. 2), and the good stuff goes fast, so get there early to have your pick of the treasures that await. But it's the festivals that really draw in the visitors. The not-for-profit Festivals of Cedarburg hosts five major festivals throughout the year, with some of the biggest occurring shortly—indeed one might argue that there is no better time to visit Cedarburg than the fall.
WINE & HARVEST GRAPE STOMP Photo courtesy of Cedarburg Chamber of Commerce.
Jack Rice is a lifelong Wisconsin resident who has lived in Cedarburg, Madison, Milwaukee and Brookfield.
And when the Spooky Season rolls around, the spirits of Cedarburg really come out to play. Take a day trip to wander downtown in the crisp fall air checking out the holiday wares, grab a caramel apple at Amy's Candy Kitchen, and scare yourself— if you dare! Take a haunted Cedarburg walking downtown/cemetery ghost tour, or book a stay at the Washington House Inn, Stagecoach Inn or other downtown B&Bs and see if any of their purported spectral residents make an appearance.
SEPTEMBER 2022 | 63
Lori Schubert of Beyond Basics Dog Training notes an increase in demand for her services, especially from first time pet owners. She's currently booking two to three weeks out, depending on clients' flexibility in scheduling. Lorri Lunak of Best Buddy Canine Training reports that she's had to hire another trainer to help keep up with new client demand.
Dawn Jacques from Milwaukee Paws Pet Care has noticed not just an increase in demand for services but a change in the problems being presented. "We are seeing more reactive dogs, and dogs with separation anxiety," Jacques says.
BY SHEILA JULSON
HIGH DEMAND FOR PET-RELATED SERVICES
Carol Sumbry of Carol's Canine Training is also seeing a lot of anxiety and fear, along with aggression.
"We've seen an overwhelming increase in demand (for veterinary services)," confirms Karen Selbert, Doctor of Veterinary Medicine at West Allis Animal Hospital.
64 | SHEPHERD EXPRESS SPECIAL PETS
Local veterinarians, dog trainers and groomers can attest to the high demand.
AMay 26, 2021 survey by The American Society for the Prevention of Cruelty to Animals (ASPCA) shows that 23 million American households acquired a pet during the COVID-19 pandemic, and most of them are still in their homes.
Photo by damedeeso/Getty Images.
On a local level, dog and cat adoption demand was very high and remains so, affirms Angela Speed, vice president of communications at Wisconsin Humane Society (WHS), which has five campuses in Milwaukee, Ozaukee, Racine, Door County and Green Bay.
As society reopens and people resume somewhat back-to-normal routines, there are things that pet parents can do to help with the "Socializationtransition.ofpuppies is huge," emphasizes Holly Lewis, owner of Cold Nose Canine training and co-founder of Force Free Trainers of Wisconsin, a membership group of trainers and veterinary professionals that advocate for the physical,
Managing Pandemic-erathePetBoom
HELP FOR FEARFUL FIDOS
"We consider 2020 and 20201 our pandemic years. Adoption demand during the pandemic years was extremely high. People were seeking animals more than ever before," Speed says. She notes that WHS had fewer adoptions during those years compared to 2019 because animal intake was lower; fewer animals were coming into the sheltering system. The WHS gets animals from owner surrenders, communities with which WHS has stray contracts, and by transfers from overcrowded shelters. "Adoption demand was very high, so animals were finding homes faster than ever Fortunately,before."WHS has not seen many of those animals returned. "We've seen reports in some shelters seeing spikes in adoption returns, but at WHS, the good news is that our return rate is flat compared to prior years. We are not seeing that trend at our five shelters," Speed says. "We're keeping up with the animals coming into the sheltering system and they're finding homes quickly."
Sheila Julson is a longtime Shepherd Express contributor and writes the Eat/Drink column for shepherdexpress.com.
The WHS supports those callers by offering dog training classes at their Milwaukee and Ozaukee campuses. Their behavior tip line, 414-431-6173, lets callers speak with a behavior expert.
Lewis advises to start with very gradual absences. "Depending upon the situation, it may even just be a few minutes of alone time and build slowly. Be sure to leave your dog with great enrichment options like a stuffed, frozen Kong, Licki mat or other, assuming you know your dog will enjoy these items." She adds that setting up an inexpensive camera is an effective way to see how your pet responds to being alone.
SEPTEMBER 2022 | 65
Speed says two unique types of calls WHS receives now are from people that adopted during the pandemic and have questions about dog socialization. People are also inquiring about separation anxiety and adjusting as people return to work.
emotional and environmental wellbeing of companion animals. "People have the idea that socialization is hands on and touching. It's so much more. It is about creating positive experiences for your puppy with novel stimuli. All they have to do is see the stimuli from an appropriate distance and it can Jacqueshelp."recommends that people start encouraging their pets to be alone now, before they must return to physical workplaces. "Offer plenty of mental and physical stimulation for your pet to entertain themselves, and start slow," she advises. "Foster independence by starting slow and rewarding the behaviors you would like to see, for example, quietly chewing on a chew toy as you work in a different room."
She notes there are certified separation anxiety trainers (CSAT) specifically skilled to deal with that issue. "True separation anxiety needs special care, and these trainers have spent time and money learning how to help pet parents care for their pets with separation anxiety."
CORE CONSISTENCY
66 | SHEPHERD EXPRESS CULTURE
hen the Milwaukee Bucks take the floor this October, any thoughts of May 15, 2022 can be erased from their collective memory. That's the day Milwaukee was bounced from the Eastern Conference semifinals inside a raucous TD Garden in Boston, to a Celtics team that would ultimately go on to the NBA Finals. For Bucks fans, as well as the core of Milwaukee's starting lineup, the regular season tip-off can't come soon enough. From the outset of the 2021-22 season, it looked like last year's squad might make a return to defend their NBA title. Led by a big three consisting of all stars Giannis Antetokounmpo and Khris Middleton, as well as a snubbed Jrue Holiday, Milwaukee battled through a tough Eastern Conference to finish third last year, in what seemed like a deliberate choice on the season's final day to avoid playing the Brooklyn Nets early in the playoffs. That strategy would ultimately backfire on Milwaukee, as it lined them up with their eliminators, the Celtics, in a series that had the writing on the wall from the beginning. It's a new year, however, and the longest offseason that the NBA has been able to have in the past three years due to the pandemic. That being said, there is a lot to look forward to by the time fall rolls around.
The offseason has been fairly quiet for the Bucks organization, and that is good thing. For starters, there wasn't much that Milwaukee could do in terms of contracts, as Giannis, Middleton and Holiday combine for about 60% of the team's total salary cap space. The Bucks are over the league salary cap right now, utilizing the league's luxury tax rule to pay for the remainder of their roster that is over the threshold. Milwaukee did, however, retain some key components in Pat Connaughton and fanfavorite Bobby Portis, each of whom declined free agency in order to stay in Milwaukee for three and four years, respectively. They also re-signed former Marquette standout Wesley Photo courtesy of Fiserv Forum. Basketball graphic by Devita ayu Silvianingtyas/Getty Images.
RETURNING TO FULL STRENGTH
While Joe Ingles is currently dealing with an injury, a pair of the Bucks' starters will also be able to utilize a full offseason to return to top form. A contributing factor in Milwaukee's early playoff exit last year was losing forward Khris Middleton in their series against the Chicago Bulls due to a sprained MCL, which required surgery. He will likely be able to make his way back to the starting lineup early in the 2022-23 season, after both that injury and having surgery on a torn ligament in his left wrist this past July. He will be a crucial factor for the Bucks' success once again this season, bolstering the offense again as another weapon alongside Giannis and Jrue Holiday.
While not on the injured list anymore, the offseason is beneficial for center Brook Lopez, as well. Lopez spent much of last season on injured reserve with a lower back injury, which ultimately resulted in surgery. He did not return to the Bucks' lineup until March, making 12 regular season appearances and 12 playoff games. With the ability to make space in the paint for Giannis as well as shoot outside three-pointers, Lopez's presence was sorely missed for the majority of last year. A clean slate can prove Brook's effectiveness once again, especially in the rhythm of a hectic regular season.
Matthews, who appeared for the Bucks in 2019-20 and later in last year's campaign. He will stay in Milwaukee for another year. Only one new name comes into play for the Bucks, and that is shooting guard Joe Ingles, acquired from the Utah Jazz this summer. In eight seasons in Utah, Ingles found his rhythm as a three-point shooter, adding some depth to the Bucks' efforts from beyond the arc. While he will be a welcome addition to Milwaukee's perimeter game, fans won't see him until the turn of the calendar year, as he is rehabbing an ACL injury sustained with the Jazz this past January. On his current timetable, he should be expected to join Milwaukee's active roster around the allstar break, which will prove worthy when the team makes a push towards the playoffs once again.
Allen Halas is Digital Strategist of the Shepherd Express and writes the Bucks column for shepherdexpress.com.
SEPTEMBER 2022 | 67
The most exciting part of the Milwaukee Bucks returning to the floor, though, is that they are once again a true contender for an NBA championship. Of course, unforeseen twists and turns will help shape this year's season, but it feels good anytime one of the league's smallest markets has a chance to win its biggest prize. Milwaukee recently had a taste of championship glory, and the city is eager to revisit that pandemonium once again. Be sure to follow along with the 2022-23 NBA season every Monday once it tips off on ShepherdExpress.com, when we'll look at what is in store for the Bucks' week ahead.
BY RICHARD G. CARTER
Those Old Milwaukee Bronzeville Streets Were Second to None
CULTURE
Most of my fondest Milwaukee memories are of a mostly Black area in the 1950s which, along with other inner-city neighborhoods, came to be known as "Bronzeville." It roughly ran on West Walnut Street from North Sixth to North 12th streets. To my late parents—Sanford and Juanita Carter—and my many young Black friends, this part of town was the most to say the least. West Walnut boasted a wide variety of Black-operated businesses. Included was Photo courtesy of Historic Photo Collection / Milwaukee Public Library.
THRIVING BLACK BUSINESSES
W henever I return to Milwaukee for a visit, I am struck by changes in the character of the town where I was born, raised and educated. And most of my memories are pleasant, because good memories have a way of sticking together like the pages of a dog-eared old book. What really sticks in my mind after returning to New York is the disappearance of the Black middle-class near North Side neighborhoods and shopping areas of my Milwaukee youth. They simply are no more—many having given way to urban blight, expressways, white gentrification and a shifting population. Where once stood grocery stores, two-family houses, familiar alleys, recognizable corners, taverns with memorable names and memorable reputations, now there is mostly nothing. And it's a shame. Two churches where I worshipped are no longer there, replaced by empty lots. Two schools I attended are gone or boarded-up, their playgrounds dotted with weeds and crawling with cracks. A notable exception is my alma mater, Lincoln High, which has assumed a wonderful new cultural Barbershops,identity.beauty parlors, restaurants, movie houses, drugstores, supermarkets and department stores (and even trees that were a part of my formative years in town) are extinct. And so are the backyards where I picked crab apples and plucked grapes. And the big brick house where I was born at 117 W. Vine Street has vanished.
68 | SHEPHERD
Background by igoriss/Getty Images.EXPRESS
We later learned the station's Randy Wood—who founded DOT Records—was white, as was his Back-sounding dee-jay, Hoss Allen.
WHEN THIRD STREET
MUSIC AND SPORTS As an older teenager, Walnut also was special for me due to visits by Black celebrities and athletes such as heavyweight champion Joe Louis, Hank Aaron, Marquette basketball players and popular rhythm and blues vocal groups in town to appear on stage at the Colonial movie theater, at 16th and Vliet. The Moonglows, Spaniels, El Dorados and Clovers drew big crowds performing their best-known records a cappella on the sidewalk outside Larry's, famed for its Orange Blossom ice cream concoction.
One such group—the youthful Five Notes of Chess Records—continuously sang their two-sided hit "Show Me the Way" and "Park Your Love" written by white Milwaukee disc jockey, Chuck Dunaway.
Deacon Jones' Chicken Shack, Larry's Frozen Custard, Clara's Restaurant, Colonial Barber Shop, Art's Shine Parlor, O'Bee's Funeral Home, the Bop Shop, Harlem Records, V&V Supermarket, Roosevelt Junior High School, Booker T. Washington YMCA, and my father's Milwaukee Globe newspaper office. Taverns we referred to as "joints," such as the Rose Room, Savoy Lounge, 700 Tap and 711 Bar, are long gone. Each sponsored a softball team in a Sunday morning league at nearby Lapham Park. And, of course, there was the legendary Regal movie theater, at N. Seventh Street, we called "The Flick." Early teens my age would flock to the Regal to pay a cut-rate admission for Friday night second-run movies after 9:30 p.m. and yell our heads off on Saturday night amateur shows and Sunday afternoon shoot-em-up "cowboy pictures."
Then there was blind old A.C., who riveted customers in Mr. Brown's Colonial Barbershop, with personal stories of legendary, controversial heavyweight champion Jack Johnson. I clearly recall a day, A.C. said this of Johnson: "Jack was a very dark man and really liked white women, which got him in a whole lot of trouble."
To read about Bronzeville today, visit Tom Jenz's Central City Stories column at shepherdexpress.com.
SEPTEMBER 2022 | 69
As a journalist, among my favorite Bronzeville memories was that of Dan Travis, affectionately known as "The Bee Man," who hawked copies of a Black newspaper, The Chicago Bee. He often stopped by my father's newspaper office, offering advice and counsel.
The Northside Y's Friday "Canteen Nights" was jammed with Black students from Lincoln and North Division high schools.
In addition to many Saturday night house parties in Bronzeville, the "Y" was where we slow-danced and bopped to the latest doo-wop and Black R&B hit records. The ones most loved and heard were "Baby, It's You" by The Spaniels, "Darling Dear" by The Counts and "White Christmas" by The Drifters. Such streets and neighborhoods of my first 21 years left an indelible impression on me. They gave my Milwaukee its true character, and this native son lasting memories. It was "much good," as we used to call our fabled Bronzeville.
And what a joyous time we had. Luckily for me and my family, Sixth and Walnut was a mere block from our home. This was great for my movie-loving mother, who sometimes took me with her to the Regal at night for Lena Horne features and Cab Calloway "soundies."
On summer nights, Black R&B record hits boomed from car radios with open windows cruising Walnut Street via Randy's Record Shop, on clear channel WLAC in Nashville. These popular sounds never failed to capture the attention of everyone on the crowded, bustling sidewalks.
HAD EVERYTHING Recently driving in one of my old neighborhoods, I passed a steep, winter sled-riding alley of my pre-teens in the shadow of a great Milwaukee brewery that has departed the city of its birth. I stopped, got out and fondly reminisced, recalling where the stately brick house stood. Heading west two blocks, I came to North Third Street (now Martin Luther King Drive) and turned north, passing remnants of what was one of the city's most convenient and varied shopping areas. From the late 1940s-'60s, this part of Third Street seemed to have Thereeverything.wasNissFurniture and Schuster's department store, Kresge's and Woolworth's, W.T. Grant's dime stores and Walgreen's. There was Radio Doctors for buying records and the Gay Garden for eating Chinese. There were the Atlas (Century), Fern and Garfield theaters for movies and Rosenberg's for outer garments of quality. Patti Brothers sold accordions, Bitker-Gerner sold ladies' dresses, Pivar Brothers sold men's apparel and Kinney's sold shoes. Fresh fish were available, as were dogs and cats and many other kinds of pets. The J. Kornely Hardware Co. did a landslide business in nuts and bolts, bigname supermarkets occupied choice corners on Third and nearby North Avenue, and Brills outfitted generations of Black fathers and sons. Other memorable streets, places and names come to mind. Six blocks north of Walnut—on North Avenue—Krambo Supermarket at N. Fourth, an A&P at N. Fifth, the old Northside YMCA at Sixth, Sangor Drugs at Eighth, the Ron De Voo Ballroom at 12th, the Prince Hall Masonic Temple near North Teutonia Avenue and the Roosevelt movie house at N. 14th.
Richard G. Carter was a Milwaukee Sentinel reporter, Milwaukee Journal columnist and local radio commentator, a New York Daily News columnist, and has appeared on "Larry King Live" and "Donahue."
In those days, the family of Al Jarreau— future great jazz vocalist—lived next door to us before they moved to North Fourth and West Reservoir.
SEPTEMBER 9-OCTOBER 29 Sunflowered Northern Sky's Gould Theater, Fish Creek
The history of Milwaukee brewing is inscribed on the city's landscape. Little wonder that the Milwaukee County Historical Society returns to the subject for its latest exhibition. With text panels and touch screens, "Brew City" examines the earliest breweries (established in 1840) and the Big Four (Schlitz, Pabst, Miller and Blatz) and traces the family trees of the beer barons without ignoring the labor that made their wealth possible. "Brew City" is filled with artifacts, including beer bottles, signage, advertisements and trays, many from half-forgotten firms such as Grof's and Gettelman.
SEPTEMBER 9 The Joy Formidable Cactus Club
Beer" Milwaukee County Historical Society
SEPTEMBER 17
SEPTEMBER 17 HOME September Craft Market
Renowned UK-based indie rockers The Joy Formidable have played big shows, including previously touring with Foo Fighters and playing this summer's Riot Fest in Chicago. They'll also make a stop in Bay View at Cactus Club for a show that will likely sell out. The band are touring in support of their fifth studio album, 2021's Into the Blue. Expect the one-night-only anomaly of world-class indie rock in an intimate setting. Presale tickets are available on the Cactus Club website.
THROUGH OCTOBER 2
"Narwhal: Revealing an Arctic Legend" Milwaukee Public Museum
Held as part of a series of events marking this year's World Refugee Day, the outdoor market featuring crafts and other goods from Myanmar, Malaysia, India, Mexico, Ethiopia, Congo, Tanzania, Asia, Latin America and elsewhere along with Native American makers. Food will be available for donation. For more information, visit lyndensculpturegarden.org.
When a young woman faces a life-changing decision, she calls upon her inner circle to gather for an outdoor camping trip. This six-woman ensemble piece bursts with humor and song, joyously exploring the beauty and love found in family and deep friendships. "From the very beginning, before characters, dialogue, lyrics, or even an idea of what this story could be was written down, we knew we wanted to honor the rich, magical, and beautiful bond of women," wrote author Lachrisa Grandberry. When you watch these six women come into the Wisconsin woods, you'll find yourself rooting for all of them, because you'll recognize that they are all of us.
Play Preview with Marie Kohler
"BrewWEDNESDAYS-SATURDAYSCity:TheStoryofMilwaukee
Lynden Sculpture Garden
This Month in Milwaukee 9 THINGS TO DO IN SEPTEMBER BY ALLEN HALAS, ELIZABETH LINTONEN, DAVID LUHRSSEN AND BLAINE SCHULTZ p Image courtesy of Milwaukee Public Museum.
70 | SHEPHERD EXPRESS CULTURE
The big news at the museum concerns the replacement of its '60s modern building, familiar to generations of Milwaukeeans, with a new structure on 6th and Vliet set to open in 2026. Meanwhile, there are still dinosaur and mastodon bones, the Streets of Old Milwaukee and the current exhibition on the one-horned arctic mammal whose habitat is threatened by the warming of the world's oceans. Dominating the exhibit is a life-size narwhal model along with an environment recreating the sights and sounds (but not the temperature) of the animal's habitat.
The perfect complement to the start of chilly air and falling leaves is an evening spent in the cozy Boswell Book Company. The award winning, Milwaukee-based playwright, Marie Kohler, will provide a dramatic reading of her latest play, Boswell. The play, set in the 1950s, follows a graduate student in her journey through the lost journals of James Boswell. This event is a preview of the play's off-Broadway run and is sure to be a delightful reason to spend a Monday night on the East Side.
Boswell Book Company
After much buildup, Milwaukee's Yum Yum Cult are set to release their debut LP, and they'll play a record release show at Cactus Club. The band have made themselves a mainstay of the local indie scene, but they'll dabble in some crossover sounds for the night, with support from dark electro-pop act LUXI and funk-rock dream pop band Moonglow. All three acts are at the top of their games and should look to celebrate the release party in style.
SEPTEMBER 17
SEPTEMBER 24 Northless, Convert, snag., Cryptual X-Ray Arcade
Yum Yum Cult, LUXI, Moonglow Cactus Club
If you're looking for something heavy, Milwaukee metal band Northless are celebrating the release of their new album, A Path Beyond Grief, at X-Ray Arcade. The all-ages show at the Cudahy venue will also feature sets from heavy experimental bands Convert and snag., as well as death metal from Cryptual. All of the bands infuse different sounds to dark music somewhere adjacent to the realm of goth and metal, and the complete package should bring a variety of styles to the stage. All are also sure to test the soundproof measures of X-Ray Arcade in the process.
SEPTEMBER 30 North Warren, Social Cig, Alley Eyes, Fellow Kinsman The Back Room at Colectivo A quartet of young Milwaukee bands will get the chance to showcase their enormous potential with a bill co-headlined by North Warren and Social Cig. They'll be joined by Alley Eyes, who just put out their debut EP, as well as veteran band Fellow Kinsman. While the bands are no strangers to DIY house shows and smaller clubs, they'll get to play a larger venue than normal at The Back Room at Colectivo, located in the coffee chain's Prospect Avenue location.
Research shows that, often, so-called negative emotions can lead to positive outcomes. For example, with the right mental perspective, feeling bad can help us appreciate the blessings in our life, recognize counterproductive or even
POSITIVE OUTCOMES
eeling good is good and feeling bad is bad. That's the conventional wisdom, one the mental health field embraces wholeheartedly. What's more, studies show over 80 percent of Americans hold an optimism bias, meaning they believe you learn and benefit more from positive experiences than negative ones. Unwelcome emotions activate this bias, motivating many to dispel them as quickly as possible, often by using psychotropic drugs, self-help approaches, alcohol and other recreational drugs, as well as psycho therapy, among other "feel better" efforts. I don't recall anyone gracing my office seeking ways to feel worse.
In-your-face cultural messages prodding us to be happy are ubiquitous, insisting that a medication, vacation, consumer goodie, peak experience or lifestyle change will do the trick. The not-so-implicit message is that experiencing emotional discomfort is dysfunctional at best and dangerous at worst, and that we should strive to be one of those bright, smiling faces that populate advertising and social media posts. This disparity between these overtly positive admonitions and the actual lived experience of most people can be huge and, to the individual, unsettling. It can lead to, "What's wrong with me?"
Feeling Bad Can Be GoodBY PHILIP CHARD
Well, there is growing scientific evidence that, within reason, feeling bad can be good for us. That may seem like blasphemy in a culture predicated on the pursuit of happiness, but the data suggest otherwise. For example, research at the University of Chicago shows that avoiding mental and emotional discomfort can cut us off from personal growth. Think about it. Learning something new often pushes us out of our comfort zones, creating stress, awkwardness, insecurities, fears about failure and the like. Yet, interpreting this kind of unease as "bad" undermines the pursuit of personal development necessary for enhancing well-being.
72 | SHEPHERD EXPRESS LIFESTYLE OUT OF MY MIND
F
Illustration by Michael Burmesch.
•Acceptance constitutes self-affir mation ("This is my truth and I have a right to feel this way").
•Acceptance reduces the perceived intensity of the bad feelings by demonstrating we can handle them, that they don't destroy us. Consequently, we feel more agency and less impotence.
Consequently,self-information.seekingtoavoid uncomfortable emotions, while sometimes offering short-term relief, frequently leads to long-term dysfunction. There's plenty of research showing overall well-being flows from experiencing the full range of human feelings, not just the peachy kind. As quoted from Ecclesiastes, "For everything there is a season … a time to cry and a time to laugh … a time to grieve and a time to dance." I'm not suggesting we simply surrender our agency to negative feelings and wallow in passivity or self-pity. As we mental health types say, "It's okay to visit pity city, just don't move there." More often, distressing emotions are a call to action, be that behavior change, introspection or learning. Not always immediate action. Sometimes it's best to accept and sit in painful feelings for a time before engaging with them in a purposeful way. Accepting our distressing feelings is the ticket. Acceptance does not necessitate acting out, such as hurting someone when angry. It means acknowledging and experiencing how we feel rather than denying or avoiding it. How does this help?
•It saves the mental energy we too often expend in a futile effort to snuff out uncomfortable feelings.
The idea isn't to feel good about feeling bad. It's to make some good from the bad. For more, visit philipchard.com.
Philip Chard is a psychotherapist and author with a focus on lasting behavior change, emotional healing and adaptation to health challenges.
risky situations, address vexing personal issues, and motivate us to change, learn and grow. What's the "right mental perspective?" It's generally referred to as a "growth mindset." Folks who inhabit this viewpoint believe all emotions have a purpose, that listening to them helps us learn about ourselves and, often, grow our resilience, behavioral flexibility and well-being. Are there exceptions? Sure, always. Emotions that overwhelm and disable can lead to bad outcomes, but even then, once the crisis is past, they too can supply grist for the learning/growing mill. Emotions, negative and positive, are messages from us to ourselves, constituting a valuable source of
SEPTEMBER 2022 | 73
•It fosters self-awareness, a critical capacity underpinning personal growth and positive behavior change.
MARIJUANA'SKHAT:MEETTHEPLANTGUNNINGFORSPOT
Khat leaves are usually dried and chewed for their stimulant effect. More rarely, they can be sprinkled in food or infused in tea, or even smoked. The traditional chewing method is considered to be the safest method of consumption.
BY JEAN-GABRIEL FERNANDEZ
Photo by HomoCosmicos/Getty Images. SEPTEMBER 2022 | 75
WHAT IS KHAT?
Khat is an evergreen shrub native to Africa and the Middle East. It has a long history of use by local populations, where chewing khat is a longstanding custom, similar to the use of coca leaves in South America.
In the United States, the khat plant itself is technically legal, but the chemical components within khat are banned substances. Cathinone is the one that the U.S. government is concerned about, as it is a Schedule I controlled substance— that is the highest classification of drugs,
Khat, like marijuana, appears to have a very low risk of addiction. It is impossible to assert that khat causes no physical dependence at all, like marijuana, as there is virtually no formal research on the plant, but users and experts agree that khat addiction is only or almost only Withdrawalpsychological.symptoms, even among longtime daily users, are minor inconveniences. Overdoses on khat are rare and usually not deadly, they include difficulty breathing, higher blood pressure and delusions.
The biggest risk of khat use is a possible degradation of the oral mucus and teeth, as well as liver damage, more uncommonly. In that way, khat is not dissimilar to nicotine and alcohol.
There is one plant that rivals marijuana in terms of popularity among black-market transactions: khat. So far in 2022, the plant has been seized by the United States' Customs and Border Protection, at greater rates than marijuana. Just last year, khat was significantly less commonly smuggled into the U.S. than marijuana, and every year before that it was less important for illicit organizations. But as marijuana becomes increasingly legal in the U.S., shrinking the profits of trafficking it, khat has imposed itself as another plant-based alternative.
In a single drug bust, U.S. Coast Guard and Customs and Border Protection seized more than 20,000 pounds of khat in Seattle on Sunday, July 24, 2022. That single shipment contains as much as 10% of all the khat seized in the entire country in all of 2021. The role of khat in the American drug circles has been skyrocketing in the last couple years. It is therefore important to learn about it, like Americans 100 years ago had to learn about the scary new drug flooding its streets, marijuana.
The khat plant is easy to cultivate; it grows in arid environments, requires little water and can be harvested several times a year for its leaves, which contain its psychoactive elements, cathine and cathinone Cathinone has effects comparable to (but much weaker than) amphetamines and cocaine. It is a powerful stimulant that can trigger feelings of euphoria, confidence and motivation. It is consumed in social settings similar to coffee and alcohol in the Western world. It removes inhibitions, eases socialization, increases energy and talkativeness.
WHAT IS KHAT'S LEGAL STATUS?
where you find heroin and, hilariously, marijuana. It means that cathinone has a high potential for abuse and no medical use, according to the Drug Enforcement Administration (DEA). As usual, the DEA is entirely off the mark, as khat has a very low potential for addiction. The legality of khat, and the harshness of punishment for possession, can vary wildly between states. In Wisconsin, there has been at least one case. Liban Moalin, an Ethiopian native, was arrested and sentenced to one year in prison and one year of extended supervision, with the threat of deportation awaiting him at the end of his punishment. Eight years later, the same man was arrested on the same charges in Richmond, Canada. In Wisconsin, at the time of Moalin's sentencing, then-Assistant District Attorney Kenneth Farmer revealed that the offense could carry a sentence of up to six years in prison and a $10,000 fine. That is not to say that khat is illegal everywhere. The World Health Organization (WHO) considers khat to not be enough of a problem to include it in the Single Convention on Narcotic Drugs. The WHO determined that khat is less addictive than tobacco or alcohol and far less dangerous for the health of users.
It comes as no surprise that the plant is legal in many of the countries where it originated: Khat is legal in Ethiopia, Somalia, Kenya, Uganda and also in other nations, particularly in South America. It used to be legal throughout much of Europe, but it was largely banned in the 2000s and 2010s. In Canada, khat is also technically illegal, but Canadian courts have consistently ruled in favor of khat by refusing to dole out punishment to khat users because, the courts say, there is no evidence that khat is harmful.
Yemen is one country with a unique relationship to khat, as well as the source of much of the khat being smuggled through U.S. borders today. Because the cultivation of khat is very profitable to Yemeni farmers, the plant represents a vastly oversized slice of agriculture there.
THE PLACE OF KHAT IN THE U.S. Historically, Americans' drug of choice was alcohol. Then came Mexican immigrants in the early 1900s, who brought with them the habit of smoking the cannabis plant. Marijuana then became America's other favorite drug. Alcohol was temporarily banned, but when Prohibition ended, Prohibition enforcers needed a new banned substance to keep themselves in power. Marijuana was it. When criminal organizations determined how to best milk Americans for all they're worth, marijuana was the obvious choice. Easy to create, as it is literally a plant that grows on its own, easy to harvest and package for wealthy Americans, easy to sell and profit from. Marijuana doesn't kill longtime customers, yet it is illegal, which curtails all competition and guarantees that criminal enterprises can set the price and reap obscene profits.
Starting in 2012, however, U.S. states started to push back against the illogical prohibition of marijuana. In just one decade, most states legalized some form of marijuana, and nearly half legalized recreational marijuana. As a direct consequence, profits from illegal marijuana trafficking plummeted. Even the DEA admitted it after years of compounded data that made it impossible to deny: Marijuana legalization successfully undermines drug trafficking.
Jean-Gabriel Fernandez is a Milwaukee journalist with a Ph.D. from the Sorbonne, France's top university.Photo by mtcurado/Getty Images.
In need of new revenue, these criminal organizations have developed other activities, such as trafficking fentanyl and khat. They are taking advantage of khat's jarring similarities with marijuana: It is a plant, cheap and easy to grow and harvest, it is harmless and under-the-radar while being sought after by a large community of enthusiasts. It is also a Schedule I drug for no good discernible reason.
According to Ghassan Madieh, a UNICEF water specialist in Sana'a, roughly 40% of all the water supply of Yemen goes exclusively to the cultivation of khat. It is the country's biggest cash crop.
76 | SHEPHERD EXPRESS LIFESTYLE CANNABIS
It seems that, until the U.S. gives khat the marijuana treatment and legalizes it through slow grassroots efforts, khat will be a reliable source of income for criminal organizations. Do we really need to go through the same song and dance number again to legalize yet another harmless substance? Only the future votes of Americans can decide that.
It's important to note that if feelings of depression and/or inadequacy become overwhelming, see a professional. They can help you deal with focusing on the current you and all life still has to offer. You got this, Patty. Get your groove back, get out there and start kicking some serious ass. Your best life is yet to come. Stop waiting for the light at the end of the tunnel and ignite that bitch yourself! Ruthie
Turn that frown upside down, Patricia! You don't know when you've peaked because you haven't yet. Life may be a series of ups and downs but live as if you're on a steady climb to your best life yet. Don't compare the past you to the current you. The current you is fabulous. The current you is smarter and more experienced. The current you knows what she wants. Remind yourself of the good that surrounds you. Start a gratitude journal. Each night before bed, jot down a few things you're grateful for, no matter how big or how small.
LIGHT
for Ruthie?
on
XXOO
Have a question Want to an event with her? Contact Ruthie at dearruthie@shepex.com her social media, too!
share
. Follow
Facebook: Dear Ruthie | Instagram: RuthieKeester | Twitter: @DearRuthie
TUNNELTHATYOURSELF
HEAR ME OUT DEAR RUTHIE | SPONSORED BY UW CREDIT UNION 78 | SHEPHERD EXPRESS DEAR RUTHIE, How do you know when you've peaked? I think I peaked shortly after graduate school. I looked good, I felt good and I was at the top of my game. Two failed marriages, two ungrateful daughters and unemployment have me feeling that I'll never recapture the success I had back then. How do I move on, knowing I already hit my personal best?
WISHING FOR MORE, Piły-Parły Pałły DEAR PATTY,
SHREKFEST AT HUMBOLDT PARK (3000 S. HOWELL AVE.): Channel your inner ogre during this change-of-pace party. Join hundreds of Shrek lovers who converge to enjoy live music, beer, costume and onion-eating contests, a screening of the movie and more. See www.shrekfest.com for a preview of the 3-9 p.m. bash.
FESTA ITALIANA AT ITALIAN COMMUNITY CENTER (631 E. CHICAGO ST.):
Bob the Drag Queen and Monet X. Change conquer Cream City in this hilarious 8 p.m. night of lip-synching, costume changing and shade throwing. Are you Team Bob or Team Monet? Cast your vote at the show, but first sashay you way over to www.pabstheatergroup.com for tickets, starting at $35.00.
SEPTEMBER 19
SEPTEMBER 3
SEPTEMBER 8
SEPTEMBER 11
"THE ULTIMATE QUEEN CELEBRATION" AT THE RIVERSIDE THEATER (116 W. WISCONSIN AVE.): Marc Martel takes the stage for this 8 p.m. multimedia show that pays homage to one of the greatest bands of all time. Celebrate the music of Queen when you order tickets (starting at $49.50) at www.pabsttheatergroup.com.
"SIBLING RIVALRY: LIVE" AT THE PABST THEATER (144 E. WELLS ST.):
SEPTEMBER 24
FROMM PETFEST AT HENRY MAIER FESTIVAL PARK (200 N. HARBOR DR.):
OKTOBERFEST AT SAINT JOSEPH CENTER (29TH ST. AT ORCHARD ST.): The School Sisters of Saint Francis team up with Lakefront Brewing Company and the St. Joseph Center to host this nod to all things German. A $15 beverage ticket gets you a commemorative pint glass with $8 refills on beers such as the Ale Mary and Our Lager. Don't miss the polka music, wine, food, German crafts and more by checking out the 11 a.m. to 3 p.m. fest.
JAZZ IN THE PARK AT CATHEDRAL SQUARE (825 N. JEFFERSON ST.): You haven't hit up this outdoor concert event this summer? You better hurry as Jazz in the Park ends September 29. Every Thursday, you can claim your spot between 5-6 p.m. before the free concert starts at 6 p.m. Food and beverages are available for purchase.
Let your fur babies party Milwaukee-style when you take them to the Summerfest grounds for a 10 a.m. to 6 p.m. celebration of four-legged friends. Trot over to www.petfestmke.com for a lineup of events, vendors, performers, contests and other family-friendly highlights you won't want to miss.
SEPTEMBER 24 & 25
Food, family and tradition share the spotlight at Festa! Take in the flavor, art and customs of Italy during one of the most popular fests in Milwaukee. The party starts at 11 a.m. each day but see www.iccmilwaukee.com to learn about the best of the fest.
Ruthie's Social Calendar
DEAR RUTHIE BROUGHT TO YOU BY
SEPTEMBER 15
Skylight Music Theater presents classic popular musicals and a new one. Admit-
Theater2022-23Milwaukee'sLGBTQSeason—It'sThereifYouLookforIt
Mark Bucher's Boulevard Theatre launches its 37th season this fall. It has announced an enhanced reading of Edward Albee's rather witty and clever social comedy, A Delicate Balance. To be sure, the playwright has a checkered gay affiliation seeing himself not as a gay writer but rather as a writer who happens to be gay.
Nevertheless, in A Delicate Balance there's a flirtation with the idea of a gay character. The plot concerns a well-to-do suburban couple visited by friends who ask to stay with them. The stay is longer than anticipated and questions of friendship ensue. In the latter half of the season, the Boulevard plans an enhanced reading of a more recent work, Joshua Harmon's Significant Other, about the travails of a young urban gay male in New York City as his female friends find success in love and marriage. "Part of the Boulevard's evolving mission is to speak to the LGBTQ community as well as, in the case of A Delicate Balance, to seniors while Significant Other addresses a younger generation. These are issues that resonate," Bucher said.
HEAR ME OUT | SPONSORED BY UW CREDIT UNION
Suffice it to say, the heyday of Milwaukee's LGBTQ theater has long since waned. With the closure of the Milwaukee Gay Arts Center in 2014 and Theatrical Tendencies on seemingly permanent hiatus, the local production of queer stage plays is at best sporadic. Obviously, in this city, unless underwritten by LGBTQ philanthropy or a reliable box office draw (usually involving drag queens), the mainstream theatres cannot rationalize the investment.
Still, looking at the current 2022-23 season, there are both intended and unintended queerly relevant offerings on the marquee.
BY PAUL MASTERSON
Photo by MarioLisovski/Getty Images.
Speaking of Bucher's mission, Sunset Playhouse brings a rainbow evening to Elm Grove with two Terrance McNally works, Andre's Mother and Mothers and Sons. Bucher's Boulevard produced a local premiere of Mothers and Sons as a staged reading some years ago, no doubt inspiring this reprise.
While the Milwaukee Chamber Theatre doesn't have an LGBTQ specific play in its upcoming season, it is producing a spectrum of diverse pieces. Included is gay playwright Edward Albee's Who's Afraid of Virginia Woolf which, given its dynamics, may as well be gay (perhaps someday it will be produced with all same-gender cast, male or female, although I heard Albee closed-down a same-sex production somewhere years and years ago).
80 | SHEPHERD EXPRESS
ON THE OUTSKIRTS
LGBTQ dedicated theater is to be found in the city's (and suburban) black box and smaller venues. Quite by coincidence, along with the Chamber's Virginia Woolf, they constitute an inadvertent Edward Albee and Terrance McNally Fest.
tedly, like Albee plays, intentionally or not, Broadway shows are pretty gay unto themselves. The new piece is based on a play and movie of the same name, The Song of Bernadette. If ever there were a miracle in search of a musical, the story of Our Lady of Fatima appearing to a peasant girl and founding a church and subsequent pilgrimage destination for millions, is definitely it. The Skylight is also bringing gay faves Evita and the ABBA tribute show, Mama Mia!
RAINBOW EVENING
Elsewhere, Inspiration Studios, a black box theater and art gallery in West Allis, hosts Chris Holoyda's Emerald Condor Production's staging of Holoyda's original new script, Ralph Kerwineo and the Refining Influence of Skirts, the true story of the title's namesake, a trans man of color who lived in Milwaukee in the early 1900s. Performances run three weekends, October 7-23. Also at Inspiration Studios, Broadway Bound Wisconsin, a newly formed, diversity embracing youth theatre company, presents its "Premiere Cabaret" on September 24.
Inspiration Studio's owner and director, Eric Ortiz, is also a member of the Waukesha Civic Theatre diversity committee and its play advisory committee making recommendations for the season's schedule. He is currently focused on selecting minority writers and themes. "WCT is trying to be more inclusive and produce LGBTQ, BIPOC, and women's relevant works. It's hard to be inclusive of everyone with only five or six selections in a season. However, that conversation takes place for every play considered. We want to make sure that a good percentage of the productions are dedicated to this demographic," Ortiz said. Paul Masterson is an LGBTQ activist and writer and has served on the boards of the Milwaukee Gay Arts Center, Milwaukee Pride, GAMMA and other organizations.
SEPTEMBER 2022 | 81
Also by McNally, Sunstone Studios MKE is producing The Lisbon Traviata. A relatively new theater in town, Sunstone occupies Dale Gutzman's former Off the Wall Theatre space Downtown. An opera queen at heart, McNally sets his work around a bootlegged Maria Callas recording of Verdi's La Traviata and within the world of gay opera aficionados explores the often tragic (or otherwise melodramatic) operatic lives they lead. A critic called it "funny and heart rending." In fact, it's a difficult piece, contemplating relationships, the younger versus older dynamic and, perhaps, our emotionally masochistic inclinations.
the City That Always Sweeps BY ART KUMBALEK
There is one downside to September for me, which is when I hear the words "back to school," to this day I still get the heebie-jeebies. And I'm a guy who hardly went to focking school even when I was going to school back at Our Lady In Pain Because You Kids Are Going Straight To Hell But Not Soon Enough. I believe it's called Back-To-School-Syndrome, and it's not uncommon among veteran survivors of the old-school parochial school system, I kid you not. I've been told that a symptom of the syndrome is an overwhelming urge to skip out of doing something you don't feel like doing. I brought this up to my buddy Little Jimmy Iodine who set me straight and eased my mind. He said, "Artie, I'll bet you a buck two-eighty that this need to skip out of stuff is some kind of misguided attempt to recapture the temporary joy you experienced as a lad whenever you skipped goddamn school. Yes, you were partaking in at-risk behavior, in that you could've been run over by a school bus while attempting to duck the truant officer. But big focking deal. Life is temporary. At least you would've died doing what you loved best—focking off." Thank you, Jimmy.
From
So the young lad finds his father and says, "Dad, guess what? I'm going to be a Packer fan, and I'd really like this Aaron Rodgers jersey for Christmas." The father is so beside himself that he whacks his son on the head and says, "No son of mine is ever going to be seen in THAT piece of crap!"
Speaking of the Packers versus those Bears, the Green/Gold now hold an advantage of 103 victories to the Bears' 95, with six ties, during a rivalry of about a hunnerd years, and so I'm reminded of a little story: So this family of pro football fans from Chicago heads out one Saturday to do their Christmas shopping. While in the sports store, the young son picks up an Aaron Rodgers Green Bay Packers jersey and says to his older sister, "Hey Sis, I've decided to become a Packer fan and I'd really like this for Christmas." She can't believe it, smacks him on the head and says, "You better go talk with mom."
I'm Art Kumbalek and man oh manischewitz what a world, ain'a? It's September, finally, the autumn leaves are about to fall, and as I've said before, for a guy like me that can only mean that the summertime is soon to crumble and about time for crying out loud, what with the heat, humidity/dewpoint, noisy racket and outdoor insects that seem to find their way inside. Can't use it, I kid you not.
So I'm still on hold with the health insurance shysters, so let's wrap up with a little story: Guy goes to see his doctor for a checkup (a "checkup"—those were the days, ain'a?). "So Doc, think I can live to be a hundred?" Doctor says, "Well sir, do you smoke or drink?"
So listen, right now I'm on hold with the billing department of some kind of health insurance outfit. It's been at least about a day and a focking half by now and the hell if I'm going to put the phone down and maybe lose my well-earned place in line; so I'll have to peck away at this essay one-handed. Could take some time, not to mention that the repetitive "hold music" is making me more than a bit queasy. I wonder if they ever tried this tactic with the terrorists down by the Guantanamo. Cripes, at this point I'll confess/accept anything just to bring this ordeal to a close, what the fock.
And off he goes with the Packer jersey in hand and says to his mother, "Hey Mom, I've decided I'm going to be a Packer fan, and I'd really like this jersey for Christmas." The mother is outraged, smacks him on the head and says, "Go see your father."
82 | SHEPHERD EXPRESS
About a half-hour later they're all back in the car heading toward home. The dad turns to the boy and says, "Son, I hope you've learned something today." The son says, "Yes pop, I have. I've only been a Packer fan for about an hour, and already I've learned to hate you Illinois sons-ofbitches." Ba-ding!
"Well sir," doctor says, "why the hell do you want to live to a hundred for? " Okey-doke,Ba-ding!and as the song says, "When the autumn weather turns the leaves to flame," I hope these precious days serve you well, 'cause I'm Art Kumbalek and I told you so.
"Neither done either one," the guy says. The doctor continues, "Do you gamble, drive fast cars, fool around with loose women?" The guy says, "Never done any of those things, either."
ART FOR ART'S SAKE
And September marks the return of the Lord Football and circled on my calendar is Sunday, Sept. 18, when our beloved Green & Gold are scheduled to demolish those Bears out of Chicago, and which just happens to be the late great movie icon Greta Garbo's 117th birthday; so I would bet the under on the Bears gaining more than 117 yards on offense that evening, 7:20pm, NBC, just so you know.
Photo by Khosrork/Getty Images.