APÉRO WE LOVE HIGHLIGHTS INTERVIEWS REBRANDING OUR FIRST ISSUE!
Scout Magazine Dez/2022
All I want for Christmas is...
04 06 10 WWW.SCOUT-MODEL.COM
14 18 20 26 28 30 36 42 46
EDITORIAL SOME WORDS FROM BETTINA SCHAEFER SWISS HIGHLIGHTS OVERVIEW OF OUR SWISS MODEL HIGHLIGHTS NEW SWISS MODELS NEW SIGNINGS OF 2022 NEW INTERNATIONAL MODELS NEW SIGNINGS OF 2022 OUR NEW FACES MEET THE NEXT GENERATION
UP MEET OUR HAND MODELS INTERVIEWS WHAT ABOUT...? MEET SOME OF OUR COMMERCIALS! COMMERCIAL MODELS
HOW OUR TEAM CELEBRATED CHRISTMAS THIS YEAR NEW TEAM MEMBERS HAPPY WELCOME TO THE FAMILY! WE LOVE SOMETHING WE WANT TO SHARE X-MAS APÉRO OUR CLIENT APÉRO WAS A BLAST
HANDS
FONDUE
2022
2023!
Goodbye
—Hello
DEAR ALL, IT HAS BEEN AN AMAZING YEAR FOR OUR MODEL AGENCY, AND WE COULDN'T HAVE DONE IT WITHOUT YOU! YOUR TRUST AND LOYALTY HAVE BEEN INVALUABLE, AND WE THANK YOU FOR THAT.
WE ARE PROUD TO HAVE BEEN PART OF YOUR SUCCESS STORY. YOU HAVE GIVEN US THE OPPORTUNITY TO WORK WITH SOME OF THE BEST IN THE BUSINESS, AND IT HAS BEEN A BIG PLEASURE. YOU HAVE ENABLED US TO CREATE BEAUTIFUL AND MEMORABLE MOMENTS, AND WE ARE GRATEFUL FOR THAT.
WE LOOK FORWARD TO AN EVEN BETTER YEAR AHEAD AND WE LIKE TO SAY THANK YOU WITH OUR FIRST SCOUT MAGAZINE ISSUE. LOOK INSIDE AND ENJOY.
HAVE AN AMAZING CHRISTMAS TIME, SEE YOU SOON IN 2023.
BETTINA SCHAEFER DIRECTOR
05
SWISS Highlights!
Sherine for Annabelle Magazine, Zalando & Swatch
Elion for Style Magazine, YVY & Numéro
Naomy for Maxwell, Esprit, British Vogue, Zalando, Tommy Hilfiger, Bellerose, Swatch
Dami for GINA GRNW
Christopher for Zalando, Armani, Springfield & Valentino
Jade for Vogue Portugal, Gigistudios, Annabelle, Perspective Campaign, Rayon, Grazia & Marie Claire
Claudius for Urban Classics
Morgan for Bertoni, Tagheuer, Strellson, About You, Calida, S. Oliver, Hugo Boss & Zalando
Lea for Unsung Weavers
Marlou for Reserved, Terra Nova, Beldona, On Running, Swatch
Orisha for Adidas
Sabina for Max & Co, Lacoste, L'officiel Magazine, Zalando, MytheresaXGucci, Marie Claire, Grazia &About You
Paola for Breitling, Nile, PKZ, Thyile, Beldona, Volans
Mauritius for Strellson, Zalando, S.Oliver, Givenchy
Daniel for Christ, Nologo, EnSoie, Breitling & On Running
Amos for Encore, Strellson, Qwstion, Kassel Editions, Tom Tailor, Calida
More models to see on our website: www.scout-model.com
SWISS GIRLS
OUR
& YAAO FOR SWATCH
JOHANNA, SHERINE, NAOMY, NAOMI
New SWISS Models!
Julia H. Mauritius L. Olivia R. Joost v.G. Garice S. Zack H. Lea V. Yvon G. Tsedoo M. Sero D. Alanna A. Daniela G. Nino R. Sunna T. Lovis Lena L. Celia P.
More models to see on our website: www.scout-model.com/models#/swiss
11
let it snow let it snow let it snoooow!
OUR SWISS MODELS CHRISTOPHER BA. & AVA T. FOR GIORGIO ARMANI!
New INTERNATIONAL Models!
Anastazja Z. Anna W. Cao Z. Cristiano P. Daniel S. Dee Z. Kim D. Edwing H.. Fynn J. Christoph & Philipp Ro. Hillary D. Kinga K. Kristina V. Alina P. Estian G. Malvina B.
More models to see on our website: www.scout-model.com/models#/international
Naomy for British Vogue
17
SWISS MODEL NAOMY MUANZA SHOT BY DEMARCUS ALLEN IN AN EDITORIAL FOR BRITISH VOGUE
proud of the new generation!
Aurelie C. Ainoa G. Livio M. Liv S. Oscar M. Shafiq L. Yaao J. Jamba SMatteo H. Tharsiha T. Luca B. Tea E. Angelina L. Amelie E. Nino G. Francois S.
More models to see on our website: www.scout-model.com/models#/development
19
— SABINA RUEEGG
Tell us your favorite shoot of 2022!
I would say my most favorite shoots from this year was the Max&Co campaign and my video-editorial for Numero Netherlands. With Max&Co I loved that I could be interactive as a musician and the whole campaign was just super fun. And for Numero Nederland I appreciated that I could make the experience of acting. I never talked/expressed like this before in a project, so it was amazing to learn something new.
What makes you unique?
I think that my uniqueness is that I am able to do a lot of things at the same time. My battery level is somehow never low and that I can practice piano at home for straight 7 hours without recognizing how fast the time went by.
Your hidden talent?
My hidden talent is to make a fire mostly in every nature condition.
If you want to survive, at least with me no one gets cold :D
Luck is..?
… when preparation meets opportunity.
INTERVIEW LET ' S TALK!
WHAT ABOUT...
PHOTOGRAPHY BY KEVIN DRELON HAIR & MAKE UP BY JENNIFER LE CORRE STYLING BY BRITTANY LOVOI
ELIASEK
What do we not know about you? I always sneeze when I look into the sun.
What makes you unique? My Kiwi accent!
A hidden talent..?
I mean, I used to tapdance, does that count as a talent?
A world wish? Peace in the world .
Christmas 2022 is...? … Having my loved ones around me.
— NAOMY MUANZA
What makes you unique? I am able to change almost every situation into the better, and I'm out here spraying love and just positive energy. Giving up is no option always remember don't change the Dream change the plan.
Your hidden talent?
I can dance and secretly sing whenever I really want to LOL.
Love is..?
… Unexpected and not explainable, a feeling that I think everyone should have felt at least once in their life.
What do we not know about you? I'm a sucker for Romance and I write Poems.
— MAURITIUS LOOSLI
Tell us your favorite shoot of 2022! C&A campaigns in Gran Canaria & Lisbon, Givenchy Beauty in Paris and Shaping New Tomorrow in Denmark & Berlin.
Your hidden talent?
Not so sure if I really hide it, but I really like to dance once in a while.
Your current favorite song..? Probably some tunes by Drake!
What do we not know about you? I think I'm pretty candid, so you should know the things you ask for.
—
JADE
MORGAN MESPLE
Your biggest wish for 2023? I want to work more in Scandinavia.
Describe yourself in a few words! I'm from the French part of Switzerland and live in Zurich for 3 years. I like to deal with creative industries, jumping between music, design and fashion.
What makes you unique? The people I'm surrounded by.
Luck is...? … self created!
Love is...? … The final essence.
What do we not know about you? I can't speak Swiss-German!
INTERVIEW LET ' S TALK!
WHAT ABOUT...
—MARLOU BOLG
Tell us your favorite shoot of 2022!
NIVEA, Terranova, Reserved, Beldona, On Running.. I can`t decide!
What makes you unique?
For me it is being able to share emotions through a picture with the world. I can make unique facial grimaces, sing pop-rock-rap-soul-jazz and lassic, play guitar, speak 4 languages fluently, stay underwater for 90 seconds, AND do a belly roll.
Luck is..?
… a gift of live and important to recognize.
Three words which are always in your conversation? Good Energy, Bodypositivity and Food.
NIELS JONCKERS
—
Your favorite shoot in 2022? Stefano Ricci campaign, Brunello Cucinelli lookbook, Riva Yachtshoot.
What makes modeling unique for you? I can express my unique self. Traveling is richdom! Get inspired by new people I meet and work with. I learn everyday because of this..
3 words which are always in your conversations? Good morning, good afternoon, good evening.
Food is... … energy!
Love is...
… making the world everyday a bit more beautiful.
— KATJA
BRANDT
Your favorite shoot of 2022! I was so lucky this year… I loved all of them. Wempe, Korres, Kaffe… But on all jobs I met some very talented and great people.
Where do you feel the most at home..? In the sun, by the beach with pine trees.
Love is..?
… when your heart skips.
Christmas 2022 is...? … gathering, enjoying the sparkling lights & candles, singing Christmas songs, dance lots and not to forget to drink punch & eggnog, not to forget "drei Nüsse für Aschenbrödel & "der kleine Lord" a.s.o.
CARMEN MEIER
Tell us your fav shoot of 2022!
Definitely the Estee Lauder Campaign and I loved rocking this years Mode Suisse Shows.
Your favorite song at the moment?
Til Tomorrow from YELLO!
Christmas 2022 is...?
… a contemplative time with my beloved husband in my old house in the mountains.
Luck is..?
… when you have what you love.
Sport ist...? … nothing for me.
A world wish?
Justice and fairness for everybody.
WHAT ABOUT...
INTERVIEW LET ' S TALK!
—JAMBA
SINGHATEH
Tell us your favorite shoot of 2022! Titolo in Columbia, I adore the Titolo team!
What's your dream for 2023?
Being happy, healthy and being successful at what im doing: music & modeling.
What do we not know about you..?
I am obsessed with true crime podcasts!
Your current favorite song? Escapism from Raye.
Christmas 2022 is...? … coming way to fast. I dont have any gifts for my family ready …
DANIEL KWEKU
—
Tell us your favorite shoot of 2022! I really enjoyed the NoLogo Shoot in Löwenbräu Kunsthalle!
Your current favorite book? Breathe, a book by James Nestor.
Your current fav song..? Changa Tuki got my attention lately. It's an offspring of electronic music out of Caracas, Venezuela. So "Chuma Enga Rmx" by DJ Baba
Luck is...? … not for granted.
—
NINO GHERZI
What' s your biggest with for 2023?
To start living my dream, not just dreaming it.
The best part of modeling is..? Being able to work and play with my own personal expression.
Food is..?
Supercalifragilisticexpialidocious!
Christmas 2022 is...?
… cold and red.
HANDS UP!
Did you know we have a wide range of divers hand models too?
MODELS 29 Actors Curve Dancer Sporty Singer Kids Adults Grannies and Grandpas Sympathic Happy Divers Special Good Looking International Singles Couples Families
COMMERCIAL
NEW TEAM
Johanna Campion
– Booker
The French note of the agency.
Born in Paris, I started working as a model agent almost a decade ago, organizing national castings and managing models around the wide world of fashion. I am a whole and passionate soul driven by the bond with my models and the pleasure to see the images that reveal them. In 2017, I settled in Lausanne to join Square Model Agency and completely fell in love with Switzerland. 5 years later my husband and I moved to the attractive city of Zürich, where I met the amazing Scout family.
—
31
Gabriela Acquaviva Gisler
– Booker
Who I am?
Gabriela or simply Gaby.
Zodiac sign leo what defines my extroverted and courageous nature.
My greatest strength is my ambition, because I never let my goals and dreams down. I started out as a model myself and that' s how I found my way into the world of Fashion. Already done a lot, but where I want to stay is here. Making people smile and pursuing a goal together is what is close to my heart.
I ' m really looking forward to this new chapter as a Junior Booker at Scout Model! And maybe our paths will cross soon!
—
NEW TEAM
33
Justin
Egbo – Intern Art Department
Hey there!
My name is Justin. I ' m the freshman at Scout. I assist the team in graphics & social media. My job is to create, edit, and curate portfolios and to interact, post and edit material for our social media.
Every now and then, I also get behind the camera and snap pictures.
Two things I can't do without: Adobe Photoshop and ginger tea!
—
NEW TEAM
35
Fondue-Time!
We
…
are celebrating X-MAS every year cozy at home with wooden fire, a few glasses of wine and tons of cheese
we like to party party party party
Our Christmas Apéro was a blast!
We celebrated this year with our clients with lots of Champagne from Smith & Smith, Truffel and Salty Popcorn! Thank you all for stepping by and partying with us.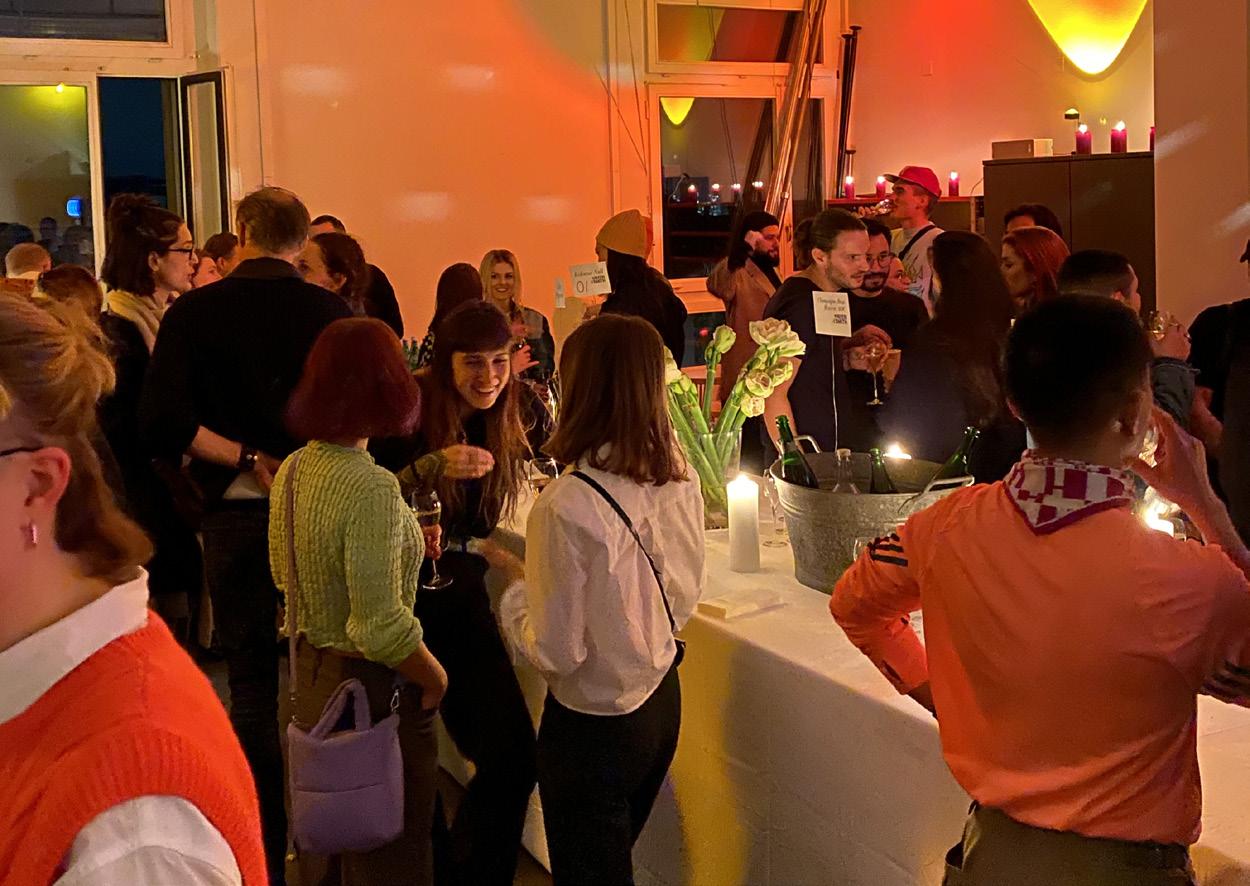 WE LOVE
— SPACE
Studio 6a is our spacious 100 m ² studio in Zurich and available for your photo or video production,casting, event, etc …
—
Lounge and a big dining table
47
WE LOVE
— REBRANDING
Bettina has always big big visions of her agency and rebranding was one of a big thing. Happy to present you the new logo. New website will follow. Say bye bye to our colourful dots and hi to our new logo! Designed by Jule Pramann.
—
for
incredible 2022 – may 2023 be even better!
Thank you all
an
SCOUT MAGAZINE Scout Model Agency GmbH Riedtlistrasse 23, 8006 Zürich, Switzerland +41 44 241 60 60 booking@scout-model.com scout-model.com DIRECTOR Bettina Schaefer, bettina@scout-model.com DESIGN Jule Pramann, design@byjule.com & Noémi Szabo COVER PHOTO Sabina shot by Kevin Drelon
SCOUT-MODEL.COM