Autonomous factory: Software, hardware and other elements need to be connected if industry is to realize the commercial, social, and environmental benefits of fully automated factories
Technology: OEMs can gain a competitive advantage by implementing ultra-high-resolution imagery within their vehicle inspection processes
BEST PRACTICES FOR INDUSTRY LEADERS today
Cyber security: Amid persistent attacks on cyber security, the onus is on critical infrastructure operators to fix routinely exploited vulnerabilities
Issue 203 2022www.manufacturing-today.com
The beauty of metal Manufacturingpackaging
How Stolle, the world's leading supplier of two-piece can and end-making machinery, has created a name synonymous with productivity, reliability, and efficiency
For a factory to be at the level of technology needed for the scenario above, then connectivity and security are obviously of paramount importance and that is covered in our cyber security article. It's easy to think of cyber criminals typing away as they attempt to crack cloud passwords, but what about the 'physical OT environments, [where] there are a myriad of hidden systems, tucked away in a closet or hidden under a desk, that were temporarily installed, promptly forgotten, and left under protected'? IT protection needs to be holistic to determine where weaknesses exist. Is it time for a full survey of where you might be vulnerable?
BEST PRACTICES FOR INDUSTRY LEADERS today
Libbie Hammond EDITOR libbie@schofieldpublishing.com | lhammond@finelight-media.com ON THE COVER www.manufacturing-today.com l 1 Chairman Andrew Schofield Group COO Joe Woolsgrove Editor Libbie Hammond Assistant Editor Mary Floate Staff Writers Daniel Baksi • Alex Caesari • Danielle Champ Editorial Administrator Amy Gilks Managing Art Editor Fleur Daniels Art Editors Paul Gillings • David Howard Charlie Protheroe Artwork Administrator Rochelle Broderick-White Sales Director Alasdair Gamble Business Development Director Philip Monument Head of Global Media Programs Mark Cawston mcawston@schofieldpublishing.com Operations Manager Adam Blanch Research Managers Michelle Fontaine • Natalie Griffiths Jo-Ann Jeffery • Ben Richell • Basil Sharpe Laura Thompson Editorial Researchers Victoria Burke • Mark Cowles Jeff Goldenberg • Dan Harrison Melanie Joyce • James Page • Wendy Russell Richard Saunders • Kieran Shukri Markus Wellington Advertising Sales Johanna Bailey • Mike Berger Jessica Eglington • James Fuller Will Gwyther • Alex Hartley Reid Lingle • Sam Surrell Florida General Manager Ryan Finn Boston General Manager Joy Francesconi Custom Media Sales Dan Bess Subscriptions i.kidd@schofieldpublishing.com Administration Natalie Fletcher • Rory Gallacher Ibby Mundhir Schofield Publishing Ltd Corporate Head Office Cringleford Business Centre, 10 Intwood Road, Cringleford, Norwich, NR4 6AU, UK Tel: (312) 854-0123 Tel: 044 (0)1603 274130 www.manufacturing-today.com Please note: The opinions expressed by contributors and advertisers within this publication do not necessarily coincide with those of the editor and publisher. Every reasonable effort is made to ensure that the information published is accurate, and correct at time of writing, but no legal responsibility for loss occasioned by the use of such information can be accepted by the publisher. All rights reserved. The contents of the magazine are strictly copyright, the property of Schofield Publishing, and may not be copied, stored in a retrieval system, or reproduced without the prior written permission of the publisher. Our cover story this issue visits Stolle – a manufacturer of turnkey systems and solutions for can and end making, and a previous contributor to the magazine. We were keen to speak to Steve Higginson, EVP at Stolle Europe and Asia Pacific, and find out how the business had fared through the pandemic turmoil, supply chain challenges and overall uncertainty of the last three years. Catching up with us, Steve revealed that the company achieved all its targets last year and is moving forward with investments and improvement programs. To read the full interview, turn to page 34. @MfgTodayMag Follow us Manufacturingat: Today Magazine Finelight Media 2240 West Woolbright Road, Suite 402 Boynton Beach, FL 33426, USA Tel: (561) 778-2396 © 2022 Schofield Publishing Ltd Editor's Letter
In this month's feature on Autonomous Factories, author Akira Yamashita describes a future vision of a totally unmanned and automatic facility. It sounds like a scene from I, Robot, but Akira notes that massive strides in the right direction have already been made, which is reassuring. Of course, there are many challenges ahead, but the good news is, that as each step is made towards full autonomy, manufacturers can increase operational efficiency as each new piece of the ultimate solution becomes available. If there are plenty of commercial wins available on this path, is it time to look more closely at this for your own business?
Issue 203
How Stolle, the world's leading supplier of two-piece can and end-making machinery, has created a name synonymous with productivity, reliability, and efficiency Hello and welcome to the August issue of Manufacturing Today.
Autonomous factory: Software, hardware and other elements need to be connected if industry is to realize the commercial, social, and environmental benefits of fully automated factories Technology: OEMs can gain a competitive advantage by implementing ultra-high-resolution imagery within their vehicle inspection processes Cyber security: Amid persistent attacks on cyber security, the onus is on critical infrastructure operators to fix routinely exploited vulnerabilities The beauty of metal Manufacturingpackaging 2022www.manufacturing-today.com
6 Cyber security Manufacturers need to fix any vulnerabilities that could give bad actors access to their vital systems, as ransomware and other cyber-attacks increase in regularity 8 Technology As automotive leaders automate their inspection processes, it is important that peripheral technologies such as imaging equipment are strengthened 12 Autonomous factory Massive strides have already been made towards a world of lights-out production and zero human operators, but there are still many challenges to overcome 14 Onshoring Manufacturers are re-evaluating their business strategies following recent economic disruptions, and considering working with more domestic suppliers 16 Manufacturing news Updates and announcements from the manufacturing arena 2 l www.manufacturing-today.com ContentsINSIDETHIS ISSUEFEATURES 17 Hitchiner Manufacturing Co.,StolleInc2034COVER STORY
www.manufacturing-today.com l 3 COMPANY PROFILES Premier Support ServicesAmfuelGroup OptoSigma Corporation Dorf KetalFuelPerformanceAdditives Sony UK TechnologyWhirlpoolCentre604626 563066
4 l www.manufacturing-today.com ...Contents continued PharmaPac Nord-Lock Tetrosyl Hoosier Racing Tire Johnstons of Elgin ATC Drivetrain Walbro, LLC The Hammock Source 72 80 96 100 114 120 132 136
www.manufacturing-today.com l 5 Epta UK H.E. Williams, Inc. Bundy Refrigeration Circular Computing Creative Composites R&V Buffalo Games Anomatic 84 90 104 110 124 128 140 144
Today's economic background has driven the need for efficiency and resiliency, resulting in massive transformation and an increased reliance on technical automation and connectivity. As illustration, when we consider food production, this is a highly competitive sector where cost is a dominating factor and waste can cripple a business. For the Bernard Montel discusses the growing focus on securing critical infrastructure against cyberattacks
Under threat
infrastructure means that this attack vector is "potentially as harmful as state-sponsored attacks." Of course, it's not just ransomware that poses a threat as highlighted by the Department for Digital, Culture, Media & Sport (DCMS). In its policy paper titled '2022 cyber security incentives and regulation review' it said: 'For every highly sophisticated hostile state attack such as SolarWinds, there are hundreds of low-level phishing, denial of service, and ransomware attacks.'
How can critical infrastructure operators adequately defend themselves from these persistent threats?
Daily headlines evidence that critical national infrastructure organizations face unprecedented cyber challenges, with the last 12 months particularly brutal as cyber defences fell. In February this year KP Foods was forced to cease operations after also falling victim to a ransomware attack. In May this year, agricultural equipment giant AGCO says its business operations had been impacted after falling victim to a ransomware attack. And the organization itself doesn't have to be affected as a cyberattack on a supplier can be just as damaging as Toyota experienced in March this year when it had to stop production following a cyberattack against Kojima Industries that supplies it with plastic parts and electronic components. These incidents are not isolated and the threat is increasing. In fact, speaking at a cybersecurity conference, Infosecurity Europe, at the end of June [2022] Marsha Quallo-Wright, deputy director for critical national infrastructure at the National Cyber Security Centre (NCSC), said that the impact of a ransomware attack to critical
6 l www.manufacturing-today.com
Connectivity introduces risks
Threat actors rely on leveraging unpatched, legacy vulnerabilities across a wide spectrum of software solutions to infiltrate organizations. In the case of ransomware, research from Tenable's Security Response Team determined that over 30 known but unpatched vulnerabilities were leveraged by Conti (a ransomware gang) and its affiliates alone.
Addressing these flaws would dramatically reduce the number of attack paths threat actors can exploit.
To do this requires a holistic view of both IT and OT environments, the interdependencies that exist for critical functionality, and determine where weaknesses and vulnerabilities exist. When it comes to our physical OT environments, there are a myriad of hidden systems, tucked away in a closet or hidden under a desk, that were temporarily installed, promptly forgotten, and left under protected.
The reason advisories and guidance are vital for organizations is it provides strong intelligence about which threats bad actors are actively exploiting.
If organizations fix these flaws, the vast majority of attack paths will be closed off, preventing compromise, malware infiltration and/or exfiltration of data. You can't operate with your eyes closed! v
To enable this evolution requires digital transformation to create new business models and ecosystems, deliver new products and services and operate more efficiently in the digital economy. Critical infrastructure typically relies upon operational technology (OT) used to control physical devices. However these systems are increasingly connected and even controlled by IT systems. Physical devices and systems of all types - from corporate conference systems to power grids - are now network connected and programmable.
New digital compute platforms and development shifts such as cloud, mobile, SaaS and DevOps have made it possible to move from concept to capability on a daily basis. While digital transformation delivers immense benefits, it also hugely expands the attack surface organizations have to defend. And attackers
Addressing attack paths
Cyber security
Knowing where to start can seem insurmountable, but there are a number of resources at hand. The UK's NCSC published a joint cybersecurity advisory (CSA) with key cyber agencies in Australia, Canada, New Zealand and the United States that underscores a key trend regarding the most routinely exploited vulnerabilities.
Once a holistic viewpoint is established, the next step is to identify what would cause theoretical versus practical damage. From this stance steps can be taken to remediate the risks where possible, or monitor the assets related to the risk for deviations, to nullify attacks.
The harsh truth is that the vast majority of attacks are preventable.
automotive industry, the drive to move from fossil fuels to more sustainable and green power is forcing innovation and a redesign of production lines.
Bernard Montel is EMEA security strategist and technical director at Tenable, the Cyber Exposure company. Approximately 40,000 organizations around the globe rely on Tenable to understand and reduce cyber risk. As the creator of Nessus®, Tenable extended its expertise in vulnerabilities to deliver the world's first platform to see and secure any digital asset on any computing platform. Tenable customers include approximately 60 percent of the Fortune 500, approximately 40 percent of the Global 2000, and large government agencies. www.tenable.com Bernard Montel
For a list of the sources used in this article, please contact the editor.
www.manufacturing-today.com l 7 have capitalized on these converged networks to move laterally from one system to another, making the compromise of just one device dangerous with an attack on an IT system rendering OT systems inoperable.
8 l www.manufacturing-today.com
Inspection gadgets www.manufacturing-today.com l 9 Technology Revolutionizing OEM automated vehicle inspections with ultra-high-resolution imagery. By Richard Owen
This is where the role of advanced cameras comes into the picture, as their superior technology can produce ultra-high-resolution images - automatically self-adjusting according to the light levelwithin seconds. The breadth of the imagery ensures a comprehensive and accurate recording of the vehicle's full exterior condition, and the extreme resolution allows OEMs to identify the smallest of defects. The current automotive supply chain landscape demands faster processing, and smart cameras can perform the tasks in the shortest possible time; as such, increased accuracy within less time will positively impact the overall quality assurance and customer experience.
The significance of using appropriate camera technology AI and computer vision can only process defects or details they are able to see within the data. In other words, image quality plays an indispensable role in allowing these technologies to drive accurate results. Usually, OEMs rely on industrial vision cameras that produce five-megapixel images, which can restrict manufacturers from getting detailed information. Moreover, OEMs must detect minor damages during the vehicle inspection to enhance quality and deliver greater customer satisfaction. By using optimal quality cameras that can produce high-quality images, they can detect these minor defects before the vehicle leaves the plant.
In order for technologies like AI and machine learning to deliver optimum results, they must be provided with quality data. Similarly, within an automated vehicle inspection solution, the image quality will determine the accuracy of the analysis results. Standard camera technology is not capable of providing the high resolution and spontaneous adjustment required for automotive vehicle inspections.
T he UK automotive industry is driving significant digital transformation with advanced technologies and as a result, demands appropriate equipment for greater facilitation. From production lines to vehicle inspection booths, different areas are utilizing various technologies, including AI, machine learning, sensors, and computer vision. Automotive leaders such as Toyota and Jaguar Land Rover have already automated their vehicle inspection processes leveraging ultra-high-resolution imagery within their quality checks. To support this automation, it is highly important to also strengthen the peripheral technologies, with imaging equipment that can take these processes to the next level.
10 l www.manufacturing-today.com
In industry 4.0, OEM factories work with fast turnaround times and require live damage detection within seconds. Therefore, due to the long adjustment and processing times, industrial vision cameras cannot be relied upon by OEMs, for the minor details they need to capture within this short time. Relying on outdated camera technology can not only slow the entire inspection process but can also put OEMs at risk of missing out on minor damage due to low-quality images.
https://degould.com
What's more, using high-quality cameras not only facilitates the improved image quality but also allows OEMs to have greater control over the remote adjustment of the cameras. The appropriate camera technology can enable a smoother and more accurate scanning of the vehicles, irrespective of the color of the car. This results in increased accuracy in AI-led damage detection.
www.manufacturing-today.com l 11 Technology
For a list of the sources used in this article, please contact the editor.
Richard Owen is a Computer Vision Engineer at DeGould, a UK-based leading provider of AI technology for automotive vehicle imaging and inspection. The company works with leading global vehicle manufacturers to improve quality assurance and add value at every stage of the vehicle supply chain and has been providing solutions to some exciting automotive leaders including Toyota, Jaguar, Mustang, Land Rover, and a lot more.
How mirrorless DSLRs can enhance the overall quality Mirrorless DSLR cameras that capture ultra-high-resolution, can produce results which provide over 12 times more clarity than standard 5-megapixel industrial vision cameras. By providing the increased megapixel resolution, smart cameras can increase the chances of detecting minor defects. These mirrorless DSLR cameras increase reliability and optimize performance, including transfer speed. Quality and consistency are the enablers of AI success in automated vehicle inspection. For instance, a high-quality camera from Sony that produces a 61-megapixel image allows vehicle inspection companies, like DeGould, to capture the necessary details and deliver the best results for OEMs. A fullframe sensor combined with an imaging engine delivers high-speed processing and unprecedented resolution. On top of that, large format image sensors are able to obtain exceptional low noise images, with relatively little external illumination being necessary. Last but not least,
Richard Owen the advanced software development kit supports these cameras with interfacing to the inspection system and allows OEMs to perform fasterOEMsanalysis.that begin to take advantage of ultra-high-resolution imagery within their automated vehicle inspection today will gain a competitive advantage within industry 4.0 by boosting their product quality. There is no denying that the use of technology to automate operations will only increase - therefore preparing for the upcoming automated era is essential for automakers. Automotive OEMs must combine disruptive technologies with appropriate equipment to avoid being left behind in the rapidly growing industry.
v
Imagine the gates to the factory slowly swing open as the selfdriving truck arrives. It reverses into the unloading bay and a team of robots swing into coordinated action. They remove the contents and load it onto the conveyor belt that recognizes and directs the components in the right direction – ready just in time for the next production run.
communicating with businesses throughout the supply chain as it oversees everything from component ordering, delivery, and allocation to multiple production lines, to quality control, packaging, and shipping to its destination. At the same time, it can instantly adapt to any arising issues, such as changes in demand or manufacturing shortages. But how can we connect and automate each individual element of the production process, from the intake of components, through manufacturing to the product's ultimate destination? This is not a puzzle that can be easily solved. There are many different elements that need to be automated and connected – requiring a combination of many technologies, from hardware, and networked cloud infrastructure to software, all combined with integration and manufacturing expertise.
Seeing the future
Giant strides made but challenges remain The good news is that we have made massive strides towards this future in recent years. The foundation technologies delivering Industry 4.0, such as robotics, AI and its deep learning applications, are the building blocks of this future world. However, we should not expect a flick of switch change overnight. There are still some challenges ahead. Some manufacturers still need to put in place the critical foundation technology infrastructure, such as cloud networks. There are also still Building the vision of the autonomous factory. By Akira Yamashita
The 'intelligent' software drives the operation. Plugged into the factory and the wider supply chain it knows exactly when to order supplies, how to schedule, configure and run different production lines. It adapts based on any arising issues, such as changes in demand or supply problems. It is the brain of the operation.
A world with lights-out production and zero human operators, where the location of the factory is irrelevant, and the manufacturing process is not impacted by the cost of labor, components, or production. Intelligent software will be at the heart of the autonomous factory,
12 l www.manufacturing-today.com
On the other side of the facility, quality checking and packaging takes place. Before loading onto the next available self-driving vehicle, where the goods are transported automatically to the next step in the supply chain.The autonomous factory, at the heart of a connected supply chain, is a long-held vision of what the future of manufacturing should look like.
www.manufacturing-today.com l 13
Already advantages today
So, yes, there are still challenges ahead but the great news is that as we quickly complete each building block towards the autonomous factory, manufacturers are still able to take advantage by increasing operational efficiency as each new piece of the ultimate solution becomes available.
And already today those benefits are significant. As we automate each process and production line, we improve operational equipment efficiency. We reduce costs, we increase productivity and we improve important aspects such as material management and traceability across the supply chain.
Many of the largest organizations have already recognized these benefits and are aggressively implementing to gain competitive advantage. However, some medium and smaller sized manufacturers are still hesitating. They worry that these automated solutions cannot be tailored to their smaller facilities and production lines or the cost of the investment will be too large. My message to those organizations is to look more closely. The move to the autonomous factory will be evolutionary, not revolutionary. It will be modular and can already be tailored to meet individual needs. It may still be 20 years before we reach the point where we have truly reached the autonomous factory and that moment of production equivalency. Even then it may still only be 90 percent automated but the commercial, social and environmental benefits will be immense. In the meantime, there are still plenty of commercial wins available for organizations as they follow the path towards that goal and reap the rewards of taking each new step on the autonomous factory journey. v
Autonomous factory some production challenges to overcome. For example, if we look at electronics production, the Surface Mount Technology (SMT) process is already highly digitalized but the Final Assembly, Test and Packaging (FATP) process is currently still more manual than automated. The challenge of automating the assembly of modules or the placement of the final irregular and odd-shaped components on the circuit board, still has to be resolved. As well as the remaining individual production processes to automate, there is the ongoing challenge of integrating all the different elements into one production management system and embedding this software intelligence into the wider supply chain. Today, organizations like ours are focused on delivering the digital layer which enables different machines and systems currently in silos, to talk to one another. That translates into full visibility and the ability to gather both real time and historical data that can be used to optimize operations.Methods for procurement logistics and production planning are becoming increasingly important, such as the ability to model the entire production process and display it as a digital twin. This makes it possible to improve the capacity utilization of several lines and reduce the set-up times factored into the production schedule. Looking to the near future, the next generation of powerful software management systems are delivering Process Enforcement, Akira Yamashita is Head of Panasonic Factory Solutions Europe. Panasonic Factory Solutions Europe is helping to make smart factories a reality with its wide range of automated solutions including electronics manufacturing solutions, robot and welding systems and software solutions engineering. As part of Panasonic Connect Europe, the business aims to contribute to the success of its customers with innovative products and integrated systems and services – all designed to deliver on Panasonic's vision to Change Work, Advance Society and Connect to Tomorrow.
https://pfse.panasonic.eu Akira Yamashita
Material Management, Asset Performance Maintenance, Product Traceability, Defect Management, Business Intelligence and Station Control. With the associated data transparency, quality can be improved. In addition, costs are reduced and productivity is increased. Plan-result differences can be analyzed automatically and production schedules can be optimized accordingly.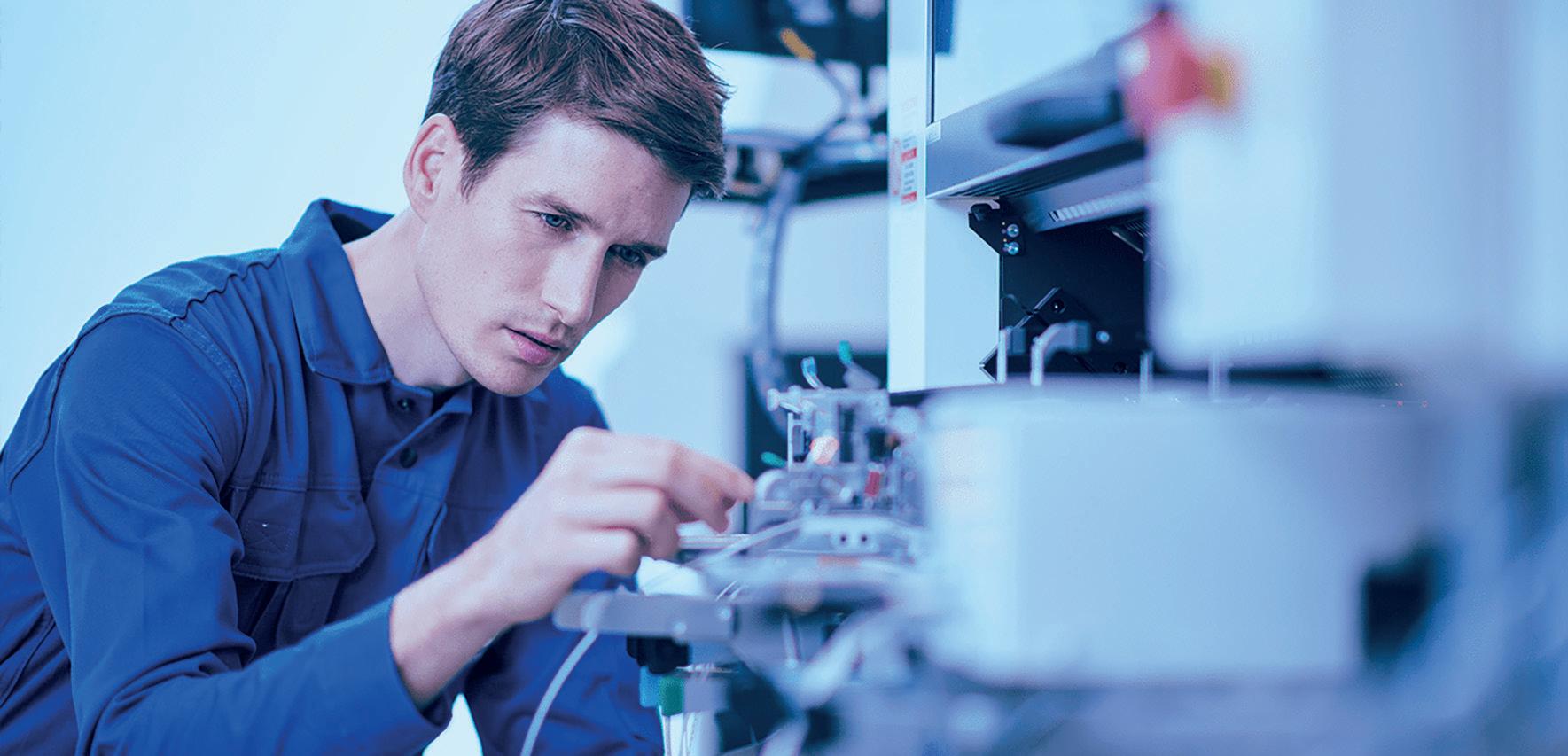 The global disruption over the past 18-24 months has not only caused companies to rethink how they buy, but what they buy. SKU (stock keeping unit) proliferation was a symptom of a bygone age of comparatively easy trading conditions. Today, managing an extensive
On the rise
Extended global lead times gives cause for greater domestic stock holdings. For some this is not a viable option and UK manufacturing is one solution which can significantly reduce lead times, and therefore the need for excessive safety buffer stocks. Leaving less capital tied up in stock, enables business to be more dynamic.
Alex Lee outlines what to consider
communication problems, if you are working with companies on the other side of the world. All these benefits lead to improved service levels and also creates opportunities for manufacturers to invest in improved equipment, labor and processes.
With some overseas companies closing or significantly delaying their work, UK manufacturers are re-evaluating their business strategy. There is a growing trend to reshore manufacturing, by sourcing and producing materials within domestic borders, instead of globally.
This is not something that can be done overnight, as global production has become the norm and most manufacturers rely on products and materials from all over the world. But with mindful steps and strong cooperative trading partnerships with credible suppliers, these changes are possible.
Changing times means manufacturers are re-evaluating their production processes.
There are a number of advantages including shorter production lead times, movement of product becoming less of an obstacle, shipping costs decreased, and a potential to reduce your logistics carbon footprint. It also removes time zone issues, which can create
14 l www.manufacturing-today.com
A ll over the world, manufacturers and their customers are facing numerous challenges, including the impact of Coronavirus, global supply chain disruption, rising oil and gas prices, war in Ukraine and a changing political landscape.
Stock control strategies and quality assurance Procurement managers should be revising their lead time expectation when considering their stock management and procurement strategies.
www.cromwellpolythene.co.uk
Monitoring and reducing our impact on the 'environment' or more specifically, global climate and our local environment, is becoming increasingly important to British business. On-shoring UK manufacturing for domestic supply can help reduce global greenhouse gas (GHG) emissions by reducing global freight of finished product.
www.manufacturing-today.com l 15
of LDPE (low density polyethylene) flexible films with our Polythene Recovery Service (PRS) and in-house recycling plant.
The Plastic Packaging Tax, introduced from 1 April 2022 and Extended Producer Responsibility in a few years' time will be key drivers to reducing excess and unnecessary packaging whilst driving demand for higher recycled content. Organizations should engage with their suppliers to check whether their products are affected by the plastic packaging tax or not. Those products containing less than 30 percent recycled content will see an additional £200.00/ton added to the cost of their materials. v For a list of the sources used in this article, please contact the editor. range of SKUs all of which are variations of a theme, presents unnecessary headaches and can reduce the efficiency, flexibility, and profitability of a company's operations.
Environmental credentials
Alex Lee
Alex Lee is Commercial Director of Cromwell Polythene, an independent, family-run business specializing in the production, supply and distribution of polythene and compostable products. It's UK manufacturing and recycling site, CPR Manufacturing Ltd, has increased the group's capacity to recover and reprocess scrap polythene, furthering its ambitions to stimulate the circular economy of resources.
Onshoring
Cromwell's manufacturing division has signed up to Operation Clean Sweep (OCS), putting measures in place to prevent plastic pollution entering water courses. We have also committed to the British Plastics Federation (BPF) climate pact for which we must find seven percent energy savings year-on-year, driving investment in more energy efficient machinery and processes.
Perhaps more pronounced in the GNFR (goods not for resale) sector, purchasing managers are often more interested in continuity of supply of a reliable quality product with variety and even price being a secondary consideration. To address this issue, Cromwell underwent a comprehensive consolidation exercise across its core stock range. Our efforts have ensured larger quantities of a leaner, market-leading offering are available at competitive pricing. UK manufacturing complements this move by offering those with very specific requirements the option to source smaller quantities of made-to-order product without the extensive lead times now affecting European and far Eastern imports. When sourcing from a UK manufacturer you are supporting local skilled employment and investment in British self-sufficiency. In Cromwell's case it also means boosting the UK's domestic recycling
Working directly with UK manufacturers gives you more control over the environmental impact of the products you buy, not to mention some peace of mind.
We understand the importance of sustainable business practices, which is why we are committed to the supply of mostly recycled packaging film, and sacks for the waste management sectors. No other material can compete with plastics in terms of resource efficiency across the supply chain and product life-cycle. Efforts must be maintained in reducing excessive over-use, re-using plastic where appropriate, and, of course, recycling it once it has served its purpose.
Hot off the press Pitch perfect
"Cross-industry collaboration is critical to making the massive leaps needed to achieve our vision of transforming manufacturing sustainability worldwide", said Tony Wibbeler, Founder & CEO of Bolder Industries. "We're thrilled to formally partner with our friends at Liberty Tire who share in our vision and are right there with us, doing the hard work it takes to shift a massive supply chain toward longterm sustainability that will have positive ripple effects for decades to come."
Amy Brackin,Vice President, Sustainability & Market Development for Liberty Tire with Tony Wibbeler, and Michael Murray of Bolder Industries, touring the Bolder Industries Maryville facility in July 2022
The winners will also have the unique opportunity to be part of Hexagon's open platform for smart manufacturing collaboration.
"With the Ares 400-SUP and the new dual-registration technology, we have instantly expanded our pouch capabilities," said JohnHenry Ruggieri, President, SunDance. "This technology is the result of a true partnership between Hudson-Sharp and our customer," said Scott Romenesko, Director of Sales-Americas, HudsonSharp. "SunDance is an innovative print solutions company with a state-of-the-art manufacturing facility. We're proud to have been a partner on the dual-registration project. We worked together to successfully find a solution to meet the need for more flexibility."
The launch of Hexagon Manufacturing Intelligence Division's second Sixth Sense start-up challenge has been announced. The theme this time around is digital reality and visualization for a sustainable future.
Bolder Industries, Inc., the circular solutions provider for rubber, plastics, and petrochemical supply chains, and Liberty Tire, the largest tire collector and recycler in the US, have completed a formal agreement outlining their North American partnership. This agreement secures feedstock for the Bolder Industries Terre Haute facility, currently in development, which will process over three million End-of-Life (EOL) tires per annum once fully commissioned in 2023. Given the projected increase in demand for BolderBlack® and BolderOil™, the volume of tires processed at Terre Haute could increase up to six million over the next two to four years. For Liberty Tire, CEO Thomas Womble says, "we view this relationship as part of our commitment to provide a core infrastructure for EOL tires for our customers." Ultimately, the environmental savings captured from this partnership will be realized by the customers of both organizations, allowing them to achieve their sustainability mandates and goals.
"SunDance purchased a Hudson-Sharp Ares 400-SUP pouch machine with inserted gusset capabilities," said Thomas Evans, Sales Executive, Hudson-Sharp. "Our customer asked for the capability of dual registration, along with the ability to use two different substrates of varying thickness for the front and back of the pouch. I'm thrilled to say we were able to deliver."
Cross-industry collaboration
"The Ares 400-SUP is a great addition to our company's growing pouch production," added Ruggieri. "With this machine, small but growing brands will be able to take advantage of stand-up pouches to better market their product."
"This agreement furthers our joint commitment to help protect critical infrastructure around the world," explains Nozomi Networks CEO Edgard Capdevielle.
Hexagon launched the Sixth Sense open innovation platform in January 2022 to nurture start-ups in the advanced manufacturing space with Hexagon resources. Its first winners were selected in June and are rapidly scaling with Hexagon's portfolio and impressive customer base. The second cohort will be selected based on a pitching competition in September, after which the platform will fast-track the companies through an intensive 10-week programme. Up to three start-ups will be selected at the final in December and offered the opportunity to scale their business alongside Hexagon.
16 l www.manufacturing-today.com NEWS IN BRIEF
Cybersecurity solutions Emerson and Nozomi Networks have announced they have established an agreement to meet growing demand for OT cybersecurity services and solutions in the specific industries both companies serve. The agreement combines Nozomi Networks' industry-leading OT & IoT security and visibility capabilities with Emerson's DeltaV™ distributed control system (DCS), consulting and professional services. The agreement delivers comprehensive solutions to strengthen cybersecurity and reduce the risk of downtime due to cyberattacks or processNozomianomalies.Networks' OT & IoT threat and anomaly detection and actionable intelligence complement the DeltaV portfolio by helping customers quickly see and respond to cyber threats before they impact process controls.
Hudson-Sharp, part of Barry-Wehmiller's Converting Solutions platform, recently partnered with SunDance, headquartered in Orlando, Florida, to upgrade the functionality of the printer's newest Ares 400-SUP pouch machine to provide perfect registration from the front to the back of pouches, while running separate films for each.
Manufacturing News www.manufacturing-today.com l 17
Proenergy has invested $28.8 million in an advanced manufacturing initiative, starting with the recent acquisition and proven application of a 3D hybrid printing machine. As part of the company's vertically integrated aero-derivative power services, Proenergy is creating a robust supply of critical parts for LM6000 gas turbines. "This initiative enables the company to maintain reduced manufacturing and repair times," says Jeff Canon, Proenergy CEO. "Independently fortifying our parts supply enables us to maintain our 120-day turnarounds for major overhauls, maintain world-class responsiveness, and progress the greater goal of global energy security," he says. "More importantly, these are critical steps in supporting renewable power generation and moving the energy transition forward."
As part of its advanced manufacturing initiative, the company's first major acquisition is a DMG MORI LASERTEC 125 DED hybrid machine. One of only a handful in the world, this technology enables manufacturing industrial-scale parts of any complexity in a small amount of time. Featuring additive and subtractive capabilities, the machine can build and machine new parts without pause.
"Microsoft's multi-year offtake agreement with Climeworks is an important step towards realizing the 'net' in net zero," said Microsoft Chief Environmental Officer Lucas Joppa. "Our experience in purchasing renewable energy shows that long-term agreements can provide an essential foundation for society's race to scale new decarbonization technologies. Paired with Microsoft's Climate Innovation Fund investment in Climeworks' DAC plant, this agreement with Climeworks can help kickstart the commercial and technical progress in a nascent but crucial industry to achieve IPCC targets."
Battery powered
Projected to be one of the largest EV battery manufacturing facilities of its kind in the US, the company has identified a site in De Soto, Kansas, for this potential project, pending approval by Panasonic Holdings Corporation Board of Directors.
"With the increased electrification of the automotive market, expanding battery production in the US is critical to help meet demand," said Kazuo Tadanobu, President, CEO of Panasonic Energy. "Given our leading technology and depth of experience, we aim to continue driving growth of the lithium-ion battery industry and accelerating towards a net-zero emissions future."
The Kansas City region is the third fastest-growing tech market in the US, and is a nucleus of engineering, technology and automotive manufacturing expertise. With a strong talent pipeline and cutting-edge training programs, the Kansas City market employs nearly 21,000 workers who contribute to the $19 billion KC transportation manufacturing industry.
In 2020, Microsoft announced its pioneering commitment to be carbon negative by 2030 and remove all of its historic CO2 emissions by 2050. One year later, Climeworks' carbon dioxide removal was the only Direct Air Capture (DAC) solution selected by Microsoft for its first carbon removal portfolio, after successfully passing an extensive review process. Climeworks is proud to take its collaboration with Microsoft one step further by becoming its first longterm carbon removal supplier. The two companies signed a ten-year carbon removal offtake agreement, where Climeworks will permanently remove 10,000 tons of CO2 emissions from the atmosphere on Microsoft's behalf.
A key component of that undertaking was the enactment of the bipartisan Attracting Powerful Economic Expansion (APEX) Act earlier this year. "Once Governor Kelly signed APEX into law," Toland said, "the state gained the necessary economic development tool to pursue megaprojects that could transform the Kansas economy."
Kansas Governor Laura Kelly has announced that Panasonic Energy Co., Ltd., plans to build a state-of-the-art electric vehicle (EV) battery facility in the Kansas City Region.
Clean air commitment
"Long-term commitments like this multi-year agreement are crucial for scaling the DAC industry because the guaranteed demand catalyzes financing of our infrastructure and consequently accelerates the development of the required ecosystem for scaling DAC," says Christoph Gebald, co-founder and co-CEO of Climeworks.
Lieutenant Governor and Commerce Secretary David Toland noted competition for this milestone project was strong and required a coordinated effort from the state.
"Creating a variable bypass-valve door, for example, would take at least 12 months for a casting process; the Proenergy advanced manufacturing process took less than 90 days," he says. "This machine is just the beginning of our initiative. These steps will not only position Proenergy as the top advanced manufacturing provider for any industry within Missouri, but likely in the Midwest."
The largest economic development project in state history, the Kansas Department of Commerce, the Kansas City Area Development Council (KCADC) and its partners shared that the company's plans could create up to 4000 new jobs and result in an investment of approximately $4 billion.
New dimension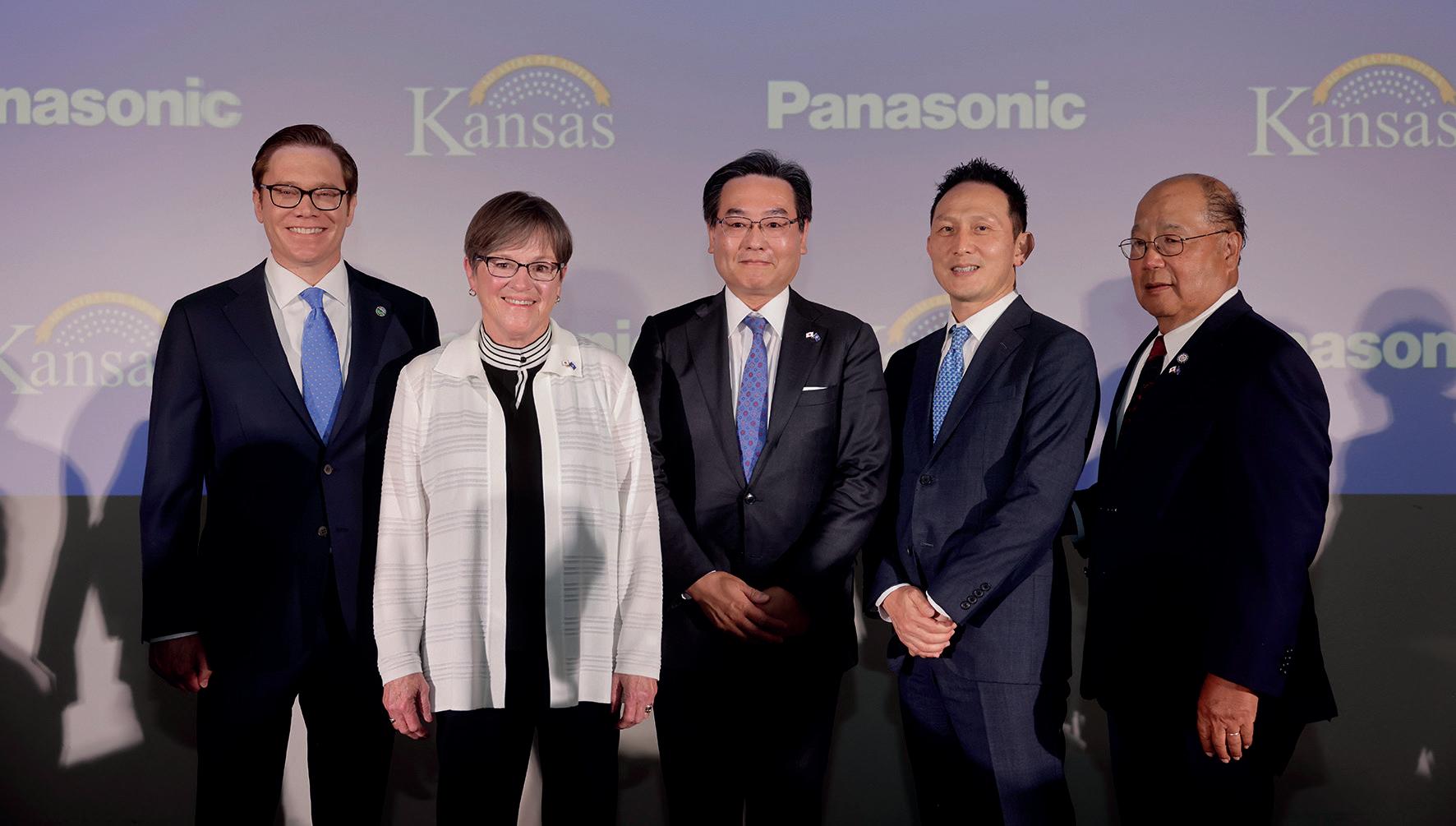 20 l www.manufacturing-today.com
Since its initial development, the basic counter-gravity casting process has been refined, automated and enhanced. Latest investments have resulted in the development of a newly-patented, counter-gravity singlecrystal casting technology, capable of producing directionally-solidified and single-crystal investment castings. With the ability to also produce right-sized, just-in-time heats of certified super-alloys, Hitchiner's numerous technologies now make it unrivalled in the industry.Itsthree, New Hampshire-based facilities in the US specialise in counter-gravity vacuum, inert gas and single-crystal casting technologies respectively. All three facilities can perform any Since 1946, Hitchiner has defined "Imagination in Metallurgy", continuously investing in its business and pushing the boundaries of the investment casting process to deliver ever increasing value to the customer. Historically, Hitchiner's counter-gravity technology has ensured the timely supply of high-quality, cost-effective, equiaxed investment castings that meet the most demanding requirements. Finding ways to do things smarter has been a driving philosophy at Hitchiner for generations and the organization differentiates from its competitors by continually reinvesting in the business; whether in its people, processes or production capabilities.
Hitchiner is the supplier of choice for investment castings and fully-finished investment casting based componentssub-assembliesand
Casting call
Additionally,sub-assemblies.Hitchiner boasts two manufacturing facilities in Mexico. The first, in Santiago Tianguistenco, produces carbon and stainless-steel investment castings. With high-volume capabilities, tens of millions of castings are produced each year. The facility is also capable of performing relevant, valueadded, post-casting operations. The second facility, in San Luis Potosi, focuses on post-cast operations; specifically machining and assembly of casting-based sub-assemblies.
Hitchiner Manufacturing
Significantly, Hitchiner also boasts a whollyowned research and development subsidiary, called Metal Casting Technology. Focusing on process support for operations and development, this research and development facility has extensive metallurgical laboratory capabilities, alongside capacity for prototype development work and equipment fabrication.
relevant, value-added, post-casting operations, including non-destructive testing, heat treating, machining, coating and assembly of castingbased
www.manufacturing-today.com l 21
Dedicated to finding new and better ways to deliver high-quality products to customers, Metal Casting Technology played a significant role in the development of the organization's cutting-edge, single-crystal investment casting facility. A $50 million investment led to the completion of this new 85,000 square foot facility in Milford, New Hampshire in June 2019.
Despite the pandemic, by the middle of 2020, all equipment was installed and qualified; much of it designed, patented and built in-house. Today the facility is fully-operational and producing single-crystal investment castings and certified super-alloys for leading OEMs and their"Hitchinersuppliers.has always focused on improving efficiency. The latest counter-gravity casting technology is a direct result of efforts to make the traditional investment casting process more efficient," explains John Morison, Hitchiner's Executive Vice President and Treasurer. "In the conventional gravity-poured investment
Co., Inc
New facility
In 2020, Hitchiner partnered with ReVision Energy to design and install a 510-kilowatt, groundmounted solar array at one of the Milford manufacturing facilities. On grid since mid-2021, the array is used to directly satisfy around ten percent of that facility's electrical demand, at a fraction of the cost charged by the utility company
On average, only 15 to 20 percent of metal in conventional gravity-poured castings ends up in the product, compared with 60 to 94 percent in counter-gravity casting. This is the kind of thinking we employ whether we are developing a new casting process, designing new equipment or constructing a new building. We are always investing in efficiency."
casting process, the metal in the central sprue channel and gating used to feed the parts solidifies in the mold and must be scrapped or reverted. With the counter-gravity process, this still-molten metal returns directly to the melt to be used in casting the next mold. Only the parts themselves solidify. This drastically reduces the use of material and energy, and results in a substantially higher percentage of the metal going into the parts themselves.
"In 2020, Hitchiner partnered with ReVision Energy to design and install a 510-kilowatt, ground-mounted solar array at one of the Milford manufacturing facilities. On grid since mid-2021, the array is used to directly satisfy around ten percent of that facility's electrical demand, at a fraction of the cost charged by the utility company," shares John. While the array represents the significant capital investment of approximately $1 million, the return is proving to be substantial, both financially and environmentally. New Hampshire's electricity rates are relatively high; making it difficult for energy-intensive industries, like manufacturing, to be competitive. Hitchiner wants to demonstrate that investment in renewable energy technologies, such as solar, is key to ensuring that energy is not only more environmentally sustainable, but also more cost effective.
"This investment was consistent with how we have traditionally reinvested in the business and why we will continue to invest in further efficiency. It's also why we have partnered with organizations, like ReVision Energy and Clean Energy NH, that share the same vision for cost competitive and environmentally sustainable energy in New Hampshire," he adds.
Reduce, reuse and recycle are essential elements of Hitchiner's manufacturing, planning and engineering processes. Dedicated to finding new ways to reduce its carbon footprint, Hitchiner's own counter-gravity investment casting process has a smaller carbon footprint per part than traditional investment casting.
Manufacturing Co., Inc
22 l www.manufacturing-today.com
Further efficiencies
From its employees and stakeholders to customers and suppliers, as an organization, Hitchiner puts people at the heart of
Hitchiner
Delivering Sustainable Innovation in Investment Casting hitchiner.com/green-goals Discover how Hitchiner is innovating with sustainable practices.
24 l www.manufacturing-today.com everything it does. John explains that while "culture is complicated, what makes us successful in keeping all our stakeholders engaged is to keep their central importance top of mind and to reflect it in our behaviour. We don't just say our employees are important, we actually invest in them."
From product inception to delivery, Hitchiner works closely with its customers in demand, the different markets managed to offset each other. Established and strong supplier relationships proved beneficial when navigating the sometimes-challenging supply chain issues, experienced by many in the manufacturing industry as a result of the pandemic. Despite an initial ten-week shutdown of automotive OEM plants, demand has remained strong throughout. John explains, "on the aerospace side, there was a significant decrease in demand early in the pandemic, which began to reverse as travel restrictions loosened and people resumed travelling domestically. More recently, we have begun to see increasing demand resulting from a pickup in international travel, but I think we're still waiting to see a full recovery."Bothmarkets now face headwinds from inflation, particularly in terms of energy prices and so, we will have to face that next challenge as it arises. I think Hitchiner's role in the continued success of these industries to ensure timely delivery of high-quality investment castings. "Part of what enables us to do this is our investment in research and development, alongside our dedicated new product introduction teams who can leverage their world-class expertise in investment casting to ensure a successful product launch for the customer," explains John. Strong relationships With suppliers a critical component of the value stream, Hitchiner works proactively and collaboratively to provide the highest customer value. The company is proud to provide worldclass quality and on-time delivery throughout the product life cycle; making Hitchiner many customers' supplier of choice. As a critical infrastructure supplier, Hitchiner was operational throughout the pandemic. With the safety of employees its primary focus, the business took preventative measures to ensure the health of its workforce. Despite fluctuations
From competitive compensation and benefits packages to qualification attainment and structured opportunities for advancement, Hitchiner works hard to create new ways to invest in its people. A recent introduction is the on-site health clinic that offers all employees and their dependents free primary care. Hitchiner approaches its customers in a similar way to its employees. The business is always looking for ways in which to invest and grow relationships; an approach that's proven to be integral to the organization's track record of successful customer service.
Inc Serviceswww.hitchiner.com : Investment castings and fully finished investment casting based components and sub-assemblies
www.manufacturing-today.com l 25 Hitchiner Manufacturing Co., Inc Hitchiner
v is
business to support its people, processes and production capabilities. Alongside its current portfolio of aerospace, defence and automotive customers, Hitchiner is working hard to explore and penetrate several new markets; delivering consistent value and ever-evolving efficiencies. to continue doing what we did before and through the pandemic; being the supplier of choice for investment castings by investing in our business to provide customers with the best capabilities and value in the industry." Looking forward to a return to industry growth, Hitchiner continues to invest in the Manufacturing Co.,
26 l www.manufacturing-today.com team of specialists offer a diverse range of tailored services, which are available regardless of the type and size of their clients' organization.
Puttingoperation
P remier's expert team has been providing property management solutions to businesses across the UK since 1989. Its dedicated
Premier Support Services Group (Premier) prides itself on quality service and dependable support for both its staff and customers, making it more than just a total facilities management
people first
Premier
www.manufacturing-today.com l 27
Support Services Group
"I think the world is now recognizing again that having a cleaner onsite creates a greater sense of security. This is why we choose to
We pride ourselves on delivering exceptional quality and total flexibility through our bespoke service package to suit the requirements of our customers
In terms of the milestones that the business has undergone over the last few years, one in particular concerns a change in ownership, which happened in 2021. Tom highlights that, following the first buyout in 2016, the company was then taken over by four independent shareholders: Andrew Walker, the Managing Director, Martin Holt, the Group Finance Director, Danielle Parker, who serves as the National Operation's Director, as well as Tom himself. Together, their mission is to transform Premier into a world-class facilities service provider that platforms its people, sustainability, and exemplary service.
"A large part of that is owed to the fact that we are highly experienced in this field, and we train our people to carry that same level of expertise. Our sectors at the moment include areas like aircraft and Formula 1 teams, and there are some quirky environments within those rooms that customers depend on us to take care of whilst we're cleaning them," Tom says.
Rather than turning to additional service providers, Premier has pushed boundaries to increase its catalogue in facilities management services, and now offers every necessary aspect for its customers' facility requirements.
"Some of our strategic partnerships have also played a significant role in our success. We've just signed off a five-year deal with our machine manufacturing partner, and we now have access to some of the leading robotic cleaning machinery in the industry, which are completely autonomous. We have also invested into fantastic software that manages our internal operations and gives customers access to the management reporting suite. This means that we are able to give our clients transparent information and live data," he Furthermore,explains.he shares that many businesses are changing their own approach to the importance of day-time janitors. Throughout Tom's time at Premier, he has witnessed a shift in society's views towards the importance of thorough cleaning practices, and it comes as no surprise that the pandemic served as a catalyst for this approach. "We've seen the re-birth of the daytime cleaning janitor, which was a profession on the brink of collapse prior to the Covid-19 outbreak, when costs out-weighed the luxury of an additional presence beyond scheduled cleaning.
This could range from professional cleaning and workplace sanitation, to security and soft landscaping.Speaking with Tom Chatwin, the company's Group sales director, we learn about the values deeply embedded within the company, and how they have resulted in exemplary quality and leading facility management services. "We pride ourselves on delivering exceptional quality and total flexibility through our bespoke service package to suit the requirements of our customers," he begins.
In the last 12 months, the quartet have worked hard to elevate Premier's name within the manufacturing industry. With specialist customers ranging from Doncasters Group Limited, EniProgetti, Hydro Extrusions UK, Aston Martin Cognizant Formula One Team, Wabtec Corporation and MOOG Aircraft Group, we ask Tom how Premier continues to establish a reputation synonymous with excellence and innovation.
"Every package that we put together is tailormade because we understand the customer and their needs. We then curate a package that suits those requirements," Tom says, adding that Premier works both reactively in its response to customer demands, and also proactively in planning ahead and seeing what they may need in the Addressingfuture.
"We perfectly fit a niche for many of our customers. Clients receive a hands-on, personal service from us. With seven locations across the UK, we have managed to successfully install a local approach to our business. So, if you are a customer in Leeds, you'll work with people from Leeds who understand the recruitment market, the culture and the way things are done. We're very proud to provide a national service, delivered through local and genuine people," Tom shares.
Danni Parker, National Operations Director, explains that to complement the training, the business has also introduced Premier People, which is designed to integrate the company's
28 l www.manufacturing-today.com partner with our customers, so they can witness how we work and why we take on the practices that we do. This means that we achieve better results, better cleaning, and a higher level of safety," he shares.
Although the diversification of the business gives one the impression Premier is a large enterprise, Tom explains that in relation to some of the major players in the market, the company is relatively small, which plays to its advantage.
Discussions of Premier's approach to its customers then steer the conversation towards the topic of its people, to which Andrew Walker, the Managing Director, shares his thoughts. Since the current board took over, Andrew explains that the board has implemented ways in which it can intertwine Premier's core values of passion, dedication, community and professionalism into its company culture, in order to encourage a greater sense of unity and employee welfare. "We've worked hard to enrich our culture dynamic. As a result, we have prioritized the overall wellbeing and development of our people. For example, we now have the Premier Academy, which is our in-house training suite. Here, all our training is done via interactive videos that are available in up to 14 languages. They allow us to equip everyone across the company with the necessary skills for them to complete projects to the best of their ability, which reassures our clients that we can give them consistency," says Andrew.
As one of the largest independently-owned total facilities management companies in the UK, the company works meticulously to craft bespoke solutions for its customer's needs to ensure the job is done correctly and efficiently.
current and future needs is therefore covered by the company's extensive offering of soft service, from commercial cleaning, window cleaning and a variety of specialist cleaning services. "We also have our security division, which supports anything from front-of-house reception, concierge services and mobile patrols, to open and lock services, and waking watch fire services.
"Thirdly, our Building & Maintenance Division, includes planned maintenance, compliance works, reactive repairs, painting, contracting, and full consultative and building surveillance services. Then, there's our Subsidiary Services, where we offer a complete range of washroom services and janitorial supplies, and finally, we have our Landscaping Division, which consists of hard standing services, grass cutting, beds and borders, hedge maintenance, general landscaping and winter services," Tom highlights.
Tom concludes the discussion by sharing that Premier's focus for the next five years will be to hone in on opportunities that make it a safe and comfortable business to partner with for both its staff and clients. "A vast amount of our innovation and technology has been driven by our passion to be better, and for our customers to have proof that their environment is safe and secure with us. If we continue to take full advantage of these avenues, our future is looking remarkably promising," Tom says. v core values across the board. "It also ensures that our staff are well looked after. We have introduced Perkbox as a staff-reward scheme, which essentially includes rewards for our team such as a wellbeing centre, discount codes and freebies. Various other measures have been implemented to offer our Premier People a greater and more prosperous worklife balance, including additional holidays."
Each of the facets are implemented to make Premier an employer of choice, and the company is taking this one step further by incorporating greener, innovative strategies that both improve efficiency and effectiveness within its operation. A few of these, as Tom shares, include an investment in chemical-free cleaning products, as well as electric vehicles for its fleet. There have also been significant improvements in the running of its supply chain through network consolidation, which Tom believes have strengthened relationships and ensured partnership longevity.
We then turn the conversation towards the future. To buttress a few of Tom's key points, Martin Holt, the company's Financial Director, joins our discussion and iterates that the future of Premier is looking great. This Management
www.manufacturing-today.com l 29 Premier Support Services Group Premier Support Services Serviceswww.premiersupportservices.co.ukGroup : Total Facilities
Service
Martin emphasizes this by saying that the cleaning staff in any workplace are one of the most important factors in any building, and this is a fact that should never be forgotten. "If they're not being taken care of, then we are doing something seriously wrong."
is a result of the business's efforts to refine its practices, and ensure that the company remains a strong leader in the manufacturing industry. "Part of these opportunities have been made possible by the implementation of the autonomous machinery, which our staff utilize alongside their work to improve the service to our customers. Additionally, we have become hugely adaptive to the changes within our industry, and that has given us a unique edge. This means that in the future, there will be an increase in revenue from contract wins, and we are going to improve staff retention by looking at ways to further enhance the company culture through reward schemes, and dedication to each of our employees."Tomechoes these sentiments by stating that Premier's ability to pivot to industry demands is a result of listening to its people and collating years of industry knowledge. However, the results have shown the leadership team that there is still more work to be done. "For Premier, the philosophy has always been to engage with employees and customers to make their work place the destination of choice. This is why we have to develop innovative ways to make each environment a space where teams feel safe and well looked after."
Performance fuel additives continue to play a key role in fuel quality enhancement, supporting the global increase in demand driven by the rapid adoption of additives to improve fuel efficiencies and reduced emissions, as well as the technical marketing needs of the oil industry.
The novel combustion improver technology The combustion of a hydrocarbon-based fuel, regardless of its quality, is never 100% complete. In a complete combustion reaction, the key elements of any fuel – carbon, hydrogen, and oxygen – are converted to carbon dioxide (CO2) and water (H2O). When incomplete reactions occur, carbon monoxide (CO), soot (unburned hydrocarbons), and other chemical variants are generated. Such emissions are harmful and are significant contributors to air pollution.
Aileen Valera, Senior Consultant, and Reinaldo Nascimento, Global Marketing Lead, at Dorf Ketal Performance Fuel Additives, discuss game changing and dynamic technology beyond detergency Fuel quality becomes more important as more emphasis is given to improved energy efficiency and better air quality.
Fuel economy and better air quality Fuel economy is becoming one of the most critical measures of fuel performance. This is being driven by greater demand for more tangible benefits from both motorists and other end-users, as well as increasing concerns relating to emissions reduction and their direct impact on climate change. Many countries are already legislating to achieve 'Net Zero Carbon Emissions' by 2050. While improvements have been seen in several parts of the world, global emissions continue to increase. Despite global aspirations to 'leapfrog' to alternative sources of energy that are more carbon-neutral, there are significant costs associated with this transition and timelines will vary enormously from nation to nation. For more than 70 years, the fuel additive industry has focused and relied on DCA to control and improve engine performance. The ability of DCA to remove and control engine deposits has also shown benefits in terms of improved fuel economy, reduced emissions, and better drivability. However, whilst DCA is known to deliver fuel economy, such a benefit is not instantaneous, and is achieved primarily as a result of cleaning up vital engine parts. Furthermore, such fuel economy benefits may not be significant - especially if the engine is new or relatively clean and so, does not have much deposit build-up. To deliver additional and significant benefits, new components are being considered in multifunctional fuel additive package formulations. Climate change is becoming one of the biggest challenges the world faces today and as a result, legislation relating to vehicle and fuel economy are driving OEM advancements on engine technology. As more sophisticated engine designs are introduced, the fuel appetite for the new hardware drives the need for improved fuel quality. Oil refiners are producing fuels with more of the lighter components in the final fuel blends to meet the more stringent fuel quality requirements. However, these new fuels are more expensive to produce and so fuel economy is
Consistent with its commitment to innovation, Dorf Ketal Chemicals continues to develop and improve its line of multi-functional performance fuel additives that are marketed under the milEx® and mph® brand names. These additives are formulated with cutting-edge components (generally referred to as Deposit Control Additives or DCA), that are designed to both cleanup and keep-clean engines and hence protect the entire fuel system against lost performance due to deposit formation.
Driven by innovation
30 l www.manufacturing-today.com becoming even more important to consumers. This is exacerbated further as crude prices continue to rise along with record-high inflation rates.For the additive industry, DCA continues to play a key role to enhance the performance of fuels. In addition to DCA, the additive industry also introduced friction modifiers whereby the friction modifier acts like a film, or lubricating barrier along the chamber walls and internal surfaces that helps reduce the wear of metal components of the engine. As a result, the impact of the use of such friction modifiers can improve fuel economy by reducing the mechanical losses due to the action of the piston assembly. Fuel consumption benefits for fuels containing DCA and friction modifiers are in the range of 0.5 to 1.5%. Apart from controlling deposits/engine cleanliness and friction modification, there have been few, if any, breakthrough technologies developed that have been looked at in these areas of fuel performance. To date, the industry continues to rely on such technologies. However, over the past four years, Dorf Ketal has focused its R&D efforts on combustion efficiency. The novel and unique combustion improver that Dorf Ketal has developed works in synergy with its deposit-control additives to promote the free-radical formation, which is a critical element in the chemistry relating to any fuel oxidation process.
In addition to detergent additives, which have become a standard component of gasoline and diesel fuels, Dorf Ketal also developed a family of novel unique combustion improvers, which deliver benefits when used in both gasoline and diesel engines. This combustion improver, in combination with deposit-control additives, delivers instantaneous and tangible performance benefits such as unsurpassed fuel savings and reductions in particulate emissions (PM2.5 and PM10) that are documented in independent fleet trials in various parts of the world.
www.manufacturing-today.com
The result is the occurrence of a more efficient combustion process that maximizes chemical reaction (1) whilst minimizing chemical reactions (2) and (3), thus releasing more energy, improved efficiencies, and lower fuel consumption. As a direct consequence, by reducing the amount of fuel required to perform a given task, lower emissions of CO2, CO, and unburned hydrocarbons (such as soot) are achieved. Our patented DCA/CI combination technology enhances combustion, thus generating significant fuel economy, and reducing emissions. Furthermore, it achieves these benefits instantaneously.
Component Non-additized Additized % Reduction (emission/100 km) (emission/100 km) CO2 (ton) 0,13369 0,12715 4,89 CO (kg) 0,05121 0,04900 4,33 HC (kg) 0,05337 0,05062 5,16 NOx (kg) 0,35688 0,33974 4,80 SO2 (g) 0,16927 0,16198 4,31 Particulate 0,00593 0,00486 18,06 Fuel Non-additized Additized % Reduction (km/l) (km/l) Diesel B12 2,0 2,09 4,5% Vehicle Non-Additized Additized Fuel VW Virtus GDI Autonomy (km/l) Autonomy (km/l) Economy (%) QXD 4498 13,58 15,25 12,3
The results obtained in VOLVO's Dynafleet® system demonstrate real fuel economy directly impacting emissions reduction. The additized diesel delivered fuel economy of 4.5% and reduced particulate emissions in the order of 18%, which clearly demonstrates that the combustion improver favors chemical reaction (1). For gasoline, tests were conducted in a VW GDI passenger car that ran on E27 gasoline-ethanol blend test fuels. Fig.4 - VW Virtus 200 TSI (Fuel – Gasoline E27)
(1) CH4 + 2O2 g 1CO2(g) + 2H2O(v) + heath H = -802 kJ/mol (2) CH4 + 3/2O2 g 1CO(g) + 2H2O(v) + heatm H = -520 kJ/mol (3) CH4 + 1O2 g 1C(s) + 2H2O(v) + heati H = -408,5 kJ/mol In an internal combustion engine (ICE), these typical reactions occur simultaneously albeit to various degrees depending on the efficiency of the entire system. In a new ICE, where all components are still clean and new, chemical reaction (1) is predominant, and efficient fuel utilization occurs. When engine components begin to foul (form deposits) or wear, chemical reactions (2) and (3) increase their contribution thereby requiring more fuel to perform the same amount of work. As more fuel is consumed, more combustion gases are also emitted, including CO2 which has now become a key concern because of its very significant greenhouse effect, resulting in increased global warming. Other emissions also contribute to the 'Greenhouse Effect' but nowhere near to the same degree as CO2
These are just examples of controlled vehicle tests that were conducted in Brazil. However, more data is available covering comparable trials that have been conducted in other parts of the world.
For diesel, a VOLVO FH460 truck (460 HP), equipped with the Dynafleet® system that measures emissions and fuel consumption was used in the test with a B12 (12% bio-component) test fuel. Results are shown in the table below.
Performance demonstration To demonstrate the performance benefits of our DCA/CI combination technology, real-life tests were conducted in both gasoline and diesel vehicles. Tests were conducted on a controlled track at the RANDON Technology Center located in Brazil.
l 31 Dorf Ketal Performance Fuel Additives
Fig.3 - VOLVO FH460 equipped with Dynafleet® system
Table 1 – Track test under controlled conditions performed by RANDON Technology Center – Brazil
Fig.1 - Complete combustion Fig.2 - Incomplete Combustion Considering a typical methane fuel, the general reactions are shown below:
32 l www.manufacturing-today.com Dorf Ketal Performance Fuel Additives Dorf Ketal Performance Fuel Additives Serviceswww.dorfketal.com : Chemicals manufacture
More basic and fundamental research continues within Dorf Ketal and leading technology institutes around the world to further understand and improve the technology, but the basic mechanism of the DCA/CI combination is a combination of detergency action and freeradical formation that impact the kinetics of combustion reactions.
Second mechanism – Improving Combustion
Fig.5c - Now a cleaned diesel injector Fig.5d - Restored normal combustion
Fig.5b - Detergent cleaning process
The set of benefits demonstrated in this article by milEx® | mph® performance fuel additives technology redefines the concept of 'fuel efficiency' as it considers new functionalities in addition to standard detergency and tribology performance. v Fig.6a - The droplets in blue represent enhanced formation of free radicals that are critical for the completion of a fuel oxidation process
Fig.5a - Dirty diesel injector
First mechanism – Injector Deposits Clean-up
Fig.6b - The presence of the combustion improver enhances fuel burn rate and flame propagation rate to promote a more complete combustion Fig.6c - The result is an efficient use of the calorific power of the fuel, reducing fuel consumption and greenhouse gas emissions
Conclusions Whilst DCA will remain an important and integral component of any multi-functional fuel performance additive in the future, a step-change in performance is being delivered by Dorf Ketal's CI technology.
In real-life fleet tests, consistently positive numbers – as high as 10% depending on the type of fuel and engine technology – are being delivered. These results directly contribute to the reduction of vehicle operating costs and the reduction of regulated emissions that can lead to improved Sustainability and reduced Carbon footprint claims.
The technology is unique and uses novel chemistries, which deliver significant benefits when used in both gasoline and diesel fuels/engines. The combination of Dorf Ketal's DCA and CI chemistries delivers instantaneous and tangible performance benefits such as very significant fuel savings and emission reductions such as CO2 and particulate emissions.
The science behind the differentiated performance of milEx® and mph® In various field tests and fleet trials with our DAC/CI combination technology, several customers have been extremely pleased with the performance benefits as described, that the milEx® and mph® performance fuel additives have delivered. For example, fuel savings of more than 10% are extremely rare and are usually due to some other criteria, however, the science supports the performance and real-life data that are observed when using the milEx® and mph® technology.
34 l www.manufacturing-today.com
The beauty of metal packaging
More than 400 billion aluminum cans are produced every year and the vast majority will have passed through a piece of Stolle equipment – and it stands to reason that such a figure will only increase from here on out
At Manufacturing Today, we've been paying close attention to Stolle's operations since the beginning of the pandemic. As the world's leading supplier of two piece can and endmaking machinery for the canmaking industry, the business holds a unique position in the market, and when we last spoke to Steve Higginson, Executive Vice President at Stolle Europe and Asia Pacific, he described the business as having 'the can making experience and the end making experience. Put simply, there is nobody quite like us.'
Sitting down with us once more, in a time where we are again fighting the coronavirus, Steve is determined to prove that his initial assessment is still accurate. First, however, it would be prudent to further remind ourselves about the company he so proudly leads across its European and Asian territories.Stolle'smachinery division, which was founded in the US under the name Fuchs & Lang in 1870, produces a vast range of high-speed machines. Over the last century and a half, these machines have become – in quite the literal sense – the robust
www.manufacturing-today.com l 35 Stolle
DRT's relationship with Stolle goes back almost as far as the integral rivet invention. When DRT's founder, Ermal Fraze, developed the technology, he knew DRT could not meet the market demand this ground-breaking development created. Fraze licensed the technology to Alcoa, who, several years later, partnered with Stolle to get more conversion systems into the market. Today, Stolle and DRT have a close relationship. DRT supplies Stolle and the open market with OEM tooling packages and spare parts for both Stolle and DRT conversion systems.
"These acquisitions have led us to become a highly diverse operation," Steve told us back in 2019. "There are now many different elements to our business, including the spares, repairs, and aftermarket activities section under Stolle Global Systems, which was worth $1 million in 2006, and has since grown to in excess of $30 million." No doubt, that number has continued to bloom. Under Stolle EMS, the group is responsible for the design and manufacture of myriad thermal products, including a range Stolle creating an international network of partners and customers. North America, Latin America, Europe, China, Asia, the Middle East, and India. Stolle's name is known far and wide – and for good reason. It has facilities strategically located across the globe, enabling the market leader to provide rapid service to customers regardless of where they are located. Stolle in Europe In Europe, the division to which this article turns its attention, Stolle is headquartered in Carlisle, and this location serves as a major hub for genuine Stolle OEM (original equipment manufacturer) parts, field service, and complete technical support for can and end lines. The European team also proudly offers a rapid response service and stocks a large inventory of spares, which are primed and ready to go for customers under the company's impressive 24-hour delivery pledge.
Stolle's management team has a wealth of knowledge, which has been gathered over decades of industry experience across the globe and from various parallel sectors; team members come from diverse backgrounds like management, global relations, technology, and finance. From its humble US beginnings, the company has spread its wings and taken flight – a long one, around the world and back again, Furthermore, by embracing a policy of strategic acquisitions, Stolle Europe has become an impressive collection of businesses. Stolle Global Systems, Stolle EMS, and Stolle Conveyance Systems add to the parent company's array of services, offering not only unrivalled machining and assembly capabilities for customers, but also turnkey manufacturing, upgrade, and process analysis for the can and end manufacturing industry.
www.manufacturing-today.com backbone propping up and facilitating can making operations across the world. The brand is widely recognized for its quality, and its name has since become synonymous with productivity, reliability, and efficiency. As a whole, the company provides complete turnkey solutions at all levels – from the production and supply of individual machines (for instance, the DynaForm and Triton cupping systems) and line modules to the design, build, and commissioning of entire facilities for clients. If there is something that needs to be done, then chances are that Stolle can do it.
36 l
DRT In 1959, DRT invented the integral rivet as the basis of the EOE design that the world knows today. This invention has revolutionized the beverage and food end manufacturing process, and changed what could be packed in aluminum and steel cans. It is this type of innovation that drives DRT to be a market leader in spare parts and conversion systems globally.
From Conversion Systems to Spare Parts, DRT has you covered. Why limit yourself to one? Now produce DRT's Beaded EOE, DRT's New Depress Panel EOE, or both. Innovation: Now available only from DRT, a new design that produces 10% more tabs per ton of aluminum than the next commercially available tab. Contact us today to learn more! From Conversion Systems to Spare Parts, DRT has you covered Discover more at www.drtmfgco.com METAL PACKAGING CAPABILITIES FOOD AND BEVERAGE END CONVERSION SYSTEMS • EASY-OPEN END PRECISION TOOLING PRODUCT DEVELOPMENT AND INNOVATION • SERVICE AND TRAINING • STOLLE OEM TOOLING
But that is where, as the company will endorse, the beauty of metal packaging comes in: aluminum is infinitely recyclable; plastic is not. Just nine percent of the plastic that has been made since 1950 has been recycled, and most has ended up in landfill or in our oceans.
The environmental benefits of metal packaging – the beauty behind the ostensibly ordinary can of soda or tuna – and the rapidly awakening public conscientiousness surrounding our insurmountable levels of waste has, recently, paid dividends for Stolle
38 l www.manufacturing-today.com of Optimus washers and dryers, DecoCure pin ovens, and InterCure internal bake ovens, and operates out of several facilities in Altham, UK and a large plant in Gliwice, Poland. This division is now headed up by Ian Scholey, Chief Technology Officer and member of the Stolle ExecutiveWhereas,Team.for Stolle Conveying Systems, its expert team of industry engineers specializes in conveying and material handling systems – from large, full-service turnkey projects to smaller ventures – and stocks a wide range of mechanical and electrical support parts. It also offers line speed improvement, modifications, retrofits, and machine decommissioning and relocation services.
For over 40 years Moduflow Fan Systems (Moduflow) has designed, manufactured, and supplied industrial fans for OEM industrial, and commercial air movement industries. Moduflow is extremely proud to be associated with Stolle Machinery Europe, and shares both its drive and enthusiasm in offering the highest quality products, utilising the most up-to-date technology available, linked to the highest standards of manufacturing.
As constituent parts of that highly-refined machine called Stolle, the companies work under an overarching group mission statement: to develop and provide customers with the most reliable solutions and innovative technologies to enhance the usefulness and beauty of metal packaging, while, at the same time, spearheading the industry with innovation and always leading with experience.
Like this article began: more than 400 billion aluminum cans are produced every year. With that level of production, one might expect a parallel statistic indicating the colossal waste involved in said production.
The best kept secret in British industrial fan manufacturing
Increasing development
"We consider ourselves very fortunate that our business sector continues to display high levels of activity on a global basis," explains Steve, catching up with us once again, this time
Stolle
The environmental benefits of metal packaging – the beauty behind the ostensibly ordinary can of soda or tuna – and the rapidly awakening public conscientiousness surrounding our insurmountable levels of waste has, recently, paid dividends for Stolle.
Moduflow Fan Systems Ltd
Whereas, according to Stolle, 75 percent of all the aluminum ever made is still in use.
Using the most up-to-date CAD CAM design software, Moduflow makes it easy for you to encompass product designs into your system design programming. Moduflow is happy to discuss your industrial fan or system requirement, and can offer both bespoke or off-the-shelf solutions to any air movement issue.
"Since the pandemic, demand has seen an uplift of around 25 percent," he goes on. "But, of course, that is only one side of the equation. Our investments in research and development have also grown at a time when other industries are cutting back; however, now we are taking on more staff than ever and putting their know-how into the improvement of our products and services. In fact, our recruitment has grown by some 25 percent in just over two years. Consequently, we are match-fit and able to respond effectively to the demands of the business. One example is the development
40 l www.manufacturing-today.com
on the latter end of the perceived pandemic timeline. "The company achieved all its targets last year, and as we move on from Covid-19, we are excited to be travelling again. Yet, our growth throughout that incredibly turbulent time was only made possible by our continued and accelerated investment, recruitment, and manufacturing footprint to ensure that we could keep meeting customer requirements –and those requirements are rising. Indeed, we are fortunate that – in what appears as a perfect storm – a growing pressure was building surrounding plastics so that, when Covid-19 hit, everyone was quick to turn to fully recyclable and disposable packaging, which of course our products and services help to manufacture. As the biggest global supplier of metal packaging solutions, we were building on a very good foundation, and now we are continuing to do so.
www.manufacturing-today.com l 41 Stolle
CME Design Consultant Co Ltd CME Design Consultant Co Ltd (CMEC) has a team of engineers with more than 15 years' experience on designing projects, not only for the metal packaging industry, but also for general manufacturing industry - both locally and internationally. Our engineers use specialized programmes to provide both 2D and 3D drawings, as well as specialized software to calculate the steelwork, pipes and cable requirements. Our detailed designs include specialist equipment foundations, mezzanine platforms, pipework and electrical power distribution. In addition, we have travelled to several international locations to discuss client requirements and provide site supervision. Our goal is always to offer quality products and services, with integrity and expertise, at a reasonable cost, and on-time to meet our customers' schedule.
"One of the biggest challenges during the pandemic was our reduced ability to visit customers face-to-face; however, thanks to the willingness of our staff and despite the travel restrictions, we were still able to get the teams to where they needed to be and home again. Yet, on the other hand, we also learned that you do not always need to jump on a plane to get things done. Instead, we were able to mobilize more local support for our projects and that had the effect of strengthening many existing relationships. Coming together in that way reinforced the worth of our staff and the value system of the business."
"We made sure that we went to great lengths to keep our staff safe, and our crisis management team effectively put all governmental legislation in place," he adds.
That said, some of Stolle's suppliers have been negatively affected by the Covid-19 crisis, and that has since had a knock-on effect on the company's ability to supply products to clients within set timelines. "We are uniquely placed in that we can supply all of the component parts to our customers," notes Steve. "On the flip side of that, for each project we cannot afford to have a single missing piece. So, business is incredibly complex. To account for such contingency, we have made acquisitions, found answers in technology, and – perhaps most importantly – increased our supplier base. The modern world has never experienced anything like the pandemic and, for a business that is traditionally proactive, we found that day-today business instead had to be reactive. As a result, we had to adapt and move forward with care, adjusting our operations and working closely with our suppliers.
of an algorithm that enables differing software programs to talk to one other in order to monitor the complete decoration of a can –all within just 0.025 seconds. The can is then either passed on or rejected: if rejected, the fault is understood, and the machine adjusts accordingly – automatically and at full line speed – to reduce the chances of spoilage. This technology generates more good product produced per unit of energy consumed and also eliminates the need for post-manufacture inspection of the decoration. In turn, these factors will reduce warehouse space and future plants will be able to carry a smaller footprint."
"SPDS is the foundation underpinning our
To ensure business and manufacturing standards are always second-to-none, Stolle has its own proprietary improvement program: SPDS, or the Stolle Product Delivery System. The program is both an ideological and commitment to continuous improvement and to the consistent meeting of evolving customer requirements," he reveals. "In short, it will guide the business forward through the years to come. To be frank for a moment, we have had quality issues in the past and those affected business. But we did not let them get the better of us. We took on board the constructive feedback and, over several years, developed this program and quickly put it in practice at all our operational facilities."Inaddition, the company has invested heavily in all divisions, as well as in new technology and has since increased the global footprint of the business in order to meet growing customer demands," says Steve. "Indeed, across some product lines, we have doubled or even trebled capacity. We pay particular attention to the needs of the industry and understand the necessity for incremental development. To that end, our SATO (Stolle Advanced Technical Operations) team has been bolstered with a new research and development center in Centennial, US to ensure fresh ideas and creative product development continue well into methodological roadmap to the next hundred years of the company; it is, as Steve goes on to express, the binding agent that keeps all of Stolle's working parts aligned and well-oiled, upholding business goals and offering its people the guidelines to work towards such.
42 l www.manufacturing-today.com
Manufacturing improvement programs
terms of our work in Hungary, we had to deliver what we said we would with the client's initial investment. During that project, our relationship and understanding with the client began to develop; they have set exceptionally high standards throughout their business models and that has resulted in double digit growth for them.
"We have excellent customers in South Africa, and both have made robust investments since working with us, with plans to add even more capacity to those plants," details Steve. "In
"We have therefore maintained contact with them and reinforced our relationship in many areas of business – not just in the project itself," he continues. "The second line expansion was completed last year, and we are currently working on the third line to increase their capacity to 3.6 billion cans and ends. As it the future. By training our employees in this way, we will be able to provide all Stolle customers with high-quality, customized training on our full line of two-piece can and end making machinery. In the end, you cannot do anything without people; they are key to our success and, as such, the customer's success. We strive to create an atmosphere where our employees are able to contribute with ideas and feel satisfied in their role; we genuinely want people to enjoy working for Stolle. That way, everyone benefits – and the business continues to grow." And it does. In June, Stolle was awarded a significant new contract, seeing two new production lines in South Africa. More recently, Stolle completed a second line for one Hungarian client, allowing them to become fully operational with a 2.4 billion can making capacity. Following on from the positive experience, that same client has now ordered a third line of equipment as their business continues to expand.
www.manufacturing-today.com l 43 Stolle
As Steve explains: "Our washer, which has been developed over the years to meet customer requirements, now uses 25 percent of the water, chemicals, and effluent than it used to previously. When you consider the volume of water that is typically utilized in can and end increase overall efficiency. While many of our developments remain secret up until the point of IP being granted, we can reveal that we are working on multiple sustainability and energy projects that will stand to benefit our industry for decades to come. The new 32,000-squaremaking processes, this development is a huge win for us and the planet. In addition, we have significantly improved the efficiency of our ovens and driers; the research and development team are always looking at similar energy-saving projects that can, as a result, reduce spoilage and
44 l www.manufacturing-today.com stands, we have many projects underway, and we value all customer investments. We provide a professional service irrespective of complexity and size, and remain engaged with activity in the US, Mexico, South Africa, Europe, Middle East, and Asia. Due to recent, difficult supply chain scenarios, we are also working closely with engineering teams in order to make the necessary changes in procurement to keep our customers manufacturing their products."
Having referred to the green benefits of aluminum previously, it is no surprise that sustainability remains a topic to which Stolle pays great attention. Another recent development reflects the wider group's concentrated efforts to continuously improve in this area. More specifically, the company is finding pioneering solutions to reduce the environmental impact of the wash process.
SPGPrints Austria "SPGPrints Austria has been the laser competence center of SPGPrints group for more than 35 years. Today we supply dedicated DLE and CTP solutions to all major key players in the two-piece beverage can industry. Over the last few years, we have been successfully working on a variety of projects with Stolle Machinery. The most recent two include Kingsley Beverage in South Africa, and American Canning in the US. Working together with partners, such as Stolle Machinery, always inspires us to further develop innovative solutions to meet the growing demand of our customers in the pre-press and pre-print markets," says Michael Tschol, the company's Sales Manager Graphics.
Serviceswww.stollemachinery.comStolle
: Turnkey systems and solutions for can and end making
So, to return to that initial statement from our 2019 interview: "Put simply, there is nobody quite like us." From our latest interview, it remains hard to argue any different. As the leading force within its niche, Stolle is making strides into the future with vigor, commercial backing, and a strategic approach to investment. "From now into the future, we will continue to support the business models of our customers," Steve concludes. "To do that
www.manufacturing-today.com l 45 Stolle
well, we will be making further investments in technology, specifically in relation to the business sector and our fulfilment of projects that we are engaged in. Looking further ahead, then, we do expect to see some tapering off of business by, say, 2026; however, because our installed base has grown significantly and consumer demands have evolved in the wake of the pandemic, we feel that a permanent shift has occurred with regards to our expected level of activity. In response, we will keep strengthening our position as the leading supplier within the metal packaging market, turning once more to increased recruitment and investment in both our people and our technology." v foot facility that we recently built for our SATO team, which has been specifically designed to encourage new developments and is headed by our Chief Technology Officer, Ian Scholey, will no doubt expedite these efforts."
Rising from the ashes
46 l www.manufacturing-today.com
Following a successful buyout in 2018, Amfuel is taking flight once more and manufacturing life-saving fuel cells at triple the speed
www.manufacturing-today.com l 47 Amfuel
Amfuel is one of two companies supplying these rubber ballistic fuel bladders to the US military, and each bladder it manufactures will end up in a helicopter or an airplane – whether
• Monitor status of runs remotely. Access PCS from any trusted, local computer, tablet, or mobile device to view run progress and estimated time remaining, investigate and silence alarms, or begin preparing the next run.
• Produce reports from PCS's suite of included reports. Save or print reports as needed to track parts throughout their production.
PCS + Redundancy + Enterprise Server
By combining both features, run data will be synchronized in real time across three databases, with two run engines to ensure uninterrupted equipment operation. Meeting the needs of Industry 4.0 PCS and Enterprise Server both deliver a user interface via an inbuilt web server. Our software, built on Microsoft's .NET framework, exposes RESTful APIs for reading and writing data and maintain WebSocket connections for live status updates and data streams. All data is stored in on-premise Microsoft SQL Server databases to enable custom integrations with customers' existing data workflow analysis tools.
PCS PCS is a full-featured software, providing tools for every step of the thermal processing workflow.
Overall Equipment Effectiveness (OEE) Components
• Quality % – Measure for how consistently an equipment produces parts that pass quality criteria
48 lIwww.manufacturing-today.com
Amfuel
n 1941, Ernst Eger of the United States Rubber Company developed a patent for a self-sealing fuel tank. As technology advanced, another patent was published six years later by a Goodyear chemist named James Merrill. He sought to refine Eger's original vision, this time incorporating a twolayer system with a rubber compound encased by a metal outer shell. Since the invention was still relatively new, not many fighter planes were fitted with selfsealing tanks. However, during World War II, it became clear that aircraft which were fitted with the new technology could take more punishment than those without. As a result, more planes could return to base and more lives were saved. In the Pacific, moreover, the military noticed that American aircraft with self-sealing tanks could absorb far more damage than lightly armored Japanese planes. Those enemy planes did not have self-sealing tanks. Fast forward more than half a century, and the once nascent technology has become a that is for defense industries, utilized in Sikorsky CH-53K and Bell H-1 helicopters, or in the commercial sector.
PCS + Redundancy Pair PCS with a second complete installation of PCS. If the active instance fails, the second will take over immediately, continuing the run and logging data.
• Reduce human error during the run setup. Validations occur throughout the run setup process, safeguarding against many common losses of parts and time.
• Verify parts were cured according to custom quality specifications. Enforce quality checks at the end of a run with a cure- or part-specific Quality Specification Report. This provides an overall "pass" or "fail" as well as additional detailed results.
• Availability % – Measure equipment availability, providing visibility into production downtime events, such as maintenance or calibration
PCS + Enterprise Server Join several PCS installations to a locally hosted Enterprise Server, and get a single, centralized place for managing all run assets (i.e., users, part, cure, quality specification configurations), running reports, and monitoring live equipment statuses across the whole facility, including Overall Equipment Effectiveness (OEE) scores.
"The purpose of a fuel bladder is to carry and provide fuel to an aircraft," begins Michael Accordino, President at Amfuel. "Fuel bladders
• Performance % – Compare actual production rate to planned production rate, in terms of number of parts per day
• Select or configure run assets. Maintain a catalog of parts, cures, and quality specifications.
• Control equipment to meet specified requirements. Control any temperature, pressure, vacuum, clamping pressure, bladder, or custom process controls to meet precise specifications.
50 l www.manufacturing-today.com are strategically located throughout the frame of an aircraft and are both ballistic and crashworthy, meaning that, in the case of the fuel bladder being punctured by gunfire during a firefight, the allied plane can continue to fight and then eventually get to safety. We also use the same rubber manufacturing process to make other products for military and commercial uses under our Fabritank line; these can, for instance, hold and transport water for fire suppression and other logistical needs. The products move liquid from point A to point B in the safest and most flexible way possible."
The steep learning curve required to go from a manual process to full automation is daunting. However, a strong team effort, coupled with offline programming methods, allowed the Amfuel team to excel, and Thierica Automation is proud to have shared in its success.
"The company's history is very rich and long," explains Michael. "It was once located in Los Angeles, California but moved to Magnolia, Arkansas in 1955. The old company experienced financial and operational stress over many years, eventually leading to filing for bankruptcy in 2017. This is when LB Advisors and JetCapital entered the picture and later purchased assets out of bankruptcy with a commitment to maintain production in Magnolia, and that brings us to where we are now.""We have been in the midst of a dramatic transformation during the last four years, injecting over $50 million of capital, creating 100s of new jobs, tripling production in the Thierica Automation and Equipment Thierica Automation and Equipment worked closely with the Amfuel manufacturing team to provide a robotic solution to transform a 1940s-era manual coating process into a controlled and precise automated material application. Removing variables and creating stable conditions was the key to success. We first evaluated the process through lab trials and testing to determine the focus and validated the new process. These trials kept the team focused on the target, and became the common thread throughout the production launch.
Though the company's history stretches back nearly a century, the latest iteration of Amfuel is still young. What once began as Firestone, and then changed names several times throughout a string of various acquisitions over the ensuing first 12 months, and finally turning a profit for the company," he reveals. "An initial injection of capital gave us life. It provided the basic elements we needed to run the business: raw materials, additional labor, and necessary consumables. Following that, we secured further investment through our partnerships with the US Government and Department of Defense, enabling us to refurbish facilities, and acquire new equipment and manufacturing infrastructure across our operations. These investments assisted to stabilize the business and allowed us to grow in an organic way. For instance, it enabled us to ramp up production of our CH-53K fuel cells, which we are solesourced for; prior to these investments, we produced only one 53K fuel cell per month, but now that number has shot up to six, and Amfuel decades, only became the new Amfuel we now know in 2018.
52 l www.manufacturing-today.com
is soon to increase further. It might not sound like much, but that is a dramatic increase for us, and means we can better serve our clients with critical platforms such as CH-53K." Like the proverbial phoenix, Amfuel has risen from the ashes. From the beneficial position of hindsight, Faith Elliott, Amfuel's Vice President of Operations, emphasizes the impact that the LB Advisors and JetCapital buyout had on the company."Iexperienced the old legacy of the company, and have been here for six years, which is longer than many newcomers," she explains. "Without a doubt, if it was not for the successful acquisition made in 2018, then Amfuel would not be here today. Through multiple generations of ownership, the firm was headed nowhere but bankruptcy; however, the new ownership has proved itself, turning this entire company around and making it a
www.manufacturing-today.com l 53 Amfuel
productive and viable organization once more. Moreover, morale is high once again."
From that valuable vantage point of hindsight, though, the end of 2018 now appears a burdensome time to rekindle the flames of a business. Within just 14 months of the acquisition, the world would be forever changed with the brusque and rude awakening named Covid-19. "When the pandemic hit, it was particularly difficult for us because we were really just hitting our stride after that initial tripling of our output," admits Michael. "In that sense, it was really devastating since it felt like we had just achieved a whole new level of stability. Then the pandemic completely blew it apart! We had to deal with incredible levels of absenteeism – up to 70 percent of our workforce were off at one point – and a death of a team member from Covid-19 had a tremendous impact on all of us."
"But we stayed strong and we moved forward," he adds. "Now, we are having to deal with all the hangover effects of the pandemic, including troubling supply chain issues. We are managing these well but, frankly, we cannot control supply chain delays. In response, the team has done an amazing job to keep production flowing."
54 l www.manufacturing-today.com
As Faith notes, she, Michael and Dr. Adam Garfein, Operational Advisor at Amfuel, rolled up their sleeves and assisted on the factory floor and with engineering to deal with staff shortages during the pandemic. "Amfuel is not like other places," she reveals. "Many of our supervisors joined our manufacturing team
www.manufacturing-today.com l 55 Amfuel Serviceshttps://amfuel.com/Amfuel
"We do our small part for our country and our allies," he concludes. "Our goal is to be the largest and strongest fuel cell manufacturer in the US, which means 100-percent on-time delivery of a highquality product that is reliable in the field. We are also innovating to support the next generation of helicopters and other aerospace applications. Amfuel's future has never been brighter. We are honored to support the warfighter and look forward to doing so for decades to come." v
And that train has kept on rolling. With a commitment to cutting-edge technology and shaping a company culture that maintains employee satisfaction, Amfuel is committed to supporting the Warfighter. "Most people here are either veterans or have family in the services. Military personnel have shared stories about how their lives have been saved thanks to our fuel bladders. We take pride in the work that we do every day and doing our part to support the troops."
"It is quite clear that changes have been made across the company," comments Adam. "All of these massive capital investments that Michael has mentioned did not slow down during the pandemic. As those robust transformations took place, we kept going and expanding our engineering team. We established a significant new research and development laboratory, allowing us to address internal quality issues and accelerate our rate of innovation. Thanks to the new funds that were available, we also acquired new autoclaves, which are used for curing bladders, digital presses for assembly purposes, which help configure the way a bladder is connected to an aircraft, a stateof-the-art robotic spray facility, and a new ERP system. So, in short, we went from a facility designed in 1957 that was built around World War II era technology to a modern Industry 4.0 environment. All of these pieces tie together holistically to improve our production and quality."
: Fuel cells and flexible liquid storage equipment for defense and commercial industries and managed to keep production flowing at a steady rate. Most people here could build a fuel cell if needed – and if you asked me to go out onto the floor and build one right now I could. You do not find that in larger corporations."
exciting
Capturing life's most moments
56 l www.manufacturing-today.com
I n 1973, Sony operations commenced in Wales. The site was opened by HRH Prince Charles, and the manufacturing of color televisions began there in response to the increasing demand for the recently released Sony Trinitron TV across the EU market. The 30,000-square-meter Sony UK Technology Centre (Sony UK TEC) was originally conceived to help fulfill this unprecedented demand, and
Wales' Best Kept Secret: Though the Sony name is instantly recognizable, its UK Technology Centre is less so – our interview discovers what is going on inside the electronic giant's Welsh manufacturing base
the site quickly became one of the largest producers of color televisions. It also set up a design center for its parent company, Sony Europe B.V. In 2000, the manufacturing of broadcast and professional camera and camera systems began following the departure of Sony television manufacturing in Wales. At the same site, a new customer service center opened to offer aftersales assistance to customers.
In 2006, Sony UK TEC started to diversify its operations. Third-party manufacturing was established, and the business brought in new commercial partners. One was Raspberry Pi, which, having moved production of its innovative computer systems from China to Pencoed, secured a contract with Sony to have its products manufactured on-site at UK TEC in 2012. Best-in-class facilities Since then, the Sony-owned facility has produced around 37 million units for Raspberry Pi, including its successful flagship series of small single-board computers – that is equivalent to one unit manufactured every 3.1 seconds!
Currently, the Pencoed-based facility manufactures 30 different camera types and 35 models of peripheral broadcast equipment. Each year, it ships more than 13,000 units to various countries across the world.
Sony UK Technology Centre Services Director at Sony UK TEC. "By utilizing the latest state-of-the-art technology and highly efficient processes, these product solutions combine unrivalled quality, reliability, and choice. From film-making to creating the most captivating television drama and from live sport broadcasts to leading news studios, our range of industry-leading cameras are made to capture life at its most exciting moments."
"Ourway.facility continues to both innovate and continuously invest in the latest technology to support the quality and requirements of our low-, medium-, and high-volume customers.
l 57
"This impressive level of manufacturing output was particularly important during the Covid-19 pandemic, as Raspberry Pi products were used as part of prototypes for ventilators and testing equipment," says Gerald. "Our unique contract manufacturing model enables us to build a bespoke solutions service that can be tailored to specific customer business needs. Our dedicated New Product Introduction (NPI) team also supports client needs and requirements from the concept stage through to the prototype and then onto volume, offering real flexibility and scalability with direct communication every step of the
"The heart of Sony UK TEC's manufacturing operations is centered around the production of market-leading broadcast and professional equipment," says Gerald Kelly, Professional www.manufacturing-today.com
"From an Industrial Internet of Things (IIoT) and factory of the future perspective, Sony UK
With its own on-site incubation center, Sony UK TEC is also home to innovative and flourishing businesses: 18 of them, to be exact.
"Our award for Developing Future Talent has recognized our dedication to promoting diversity, developing talent, building skills among our team, and increasing the knowledge of engineering and manufacturing careers within the community," he goes on. "As a company, we are focused on improving our skills and addressing succession concerns regarding our current team players and the UK skills shortage across science, technology, engineering, mathematics, and creative subjects."
Guiding the next generation Steve Dalton OBE, who serves as Managing Director at Sony UK TEC, echoes this sentiment.
"We are delighted to have had such great success at these prestigious industry award events," he says. "It is incredibly inspiring, and we are proud to be part of such an amazing industry. It is thanks to the passion of our team players that we have made these wins and, going forward, we remain committed to seeking and developing talent to become the next generation of innovators. It has been a pleasure for us to help highlight the invaluable work of Wales' industry-leading manufacturing sector."
"We consider our team members to be our greatest asset, and their knowledge, skill, and expertise are what makes success possible," says Gerald. "As a dynamic, international organization, we pride ourselves on our dedication to employee development and wellbeing; therefore, we have created a pathway system open to all employees and encourage personal growth in every aspect and at every level within the business. The Academy also annually coordinates coveted apprenticeship and graduate schemes, enabling participants to gain qualifications and invaluable work experience at one of the world's most preeminent manufacturing sites."
TEC has delivered an award-winning digital transformation of five production processes to an Industry 4.0 concept in Raspberry Pi, introducing collaborative robotics and in-house automation design, increasing efficiency and capacity by 35 percent," he adds.
In a similar way, Sony UK TEC created a school visits team in 2013, which continues to grow year-on-year and has brought over 20,000 pupils into the factory thus far, encouraging the next generation to dream big about technology. The outreach drive consists of several programs – all linked to school curriculums – and numerous awards and has carved out a strong reputation for manufacturing excellence. Recently, it received the Innovation and Developing Future Talent prizes at the National Make UK Manufacturing Awards. Furthermore, Sony UK TEC has been recognized four times at the Queen's Awards for Enterprise for the categories of Export and Environment and won the prestigious accolade of the UK's Best Factory Award from Cranfield University for Factory of the"WeYear.were completely overjoyed to be recognized at the National Make UK Manufacturing Awards," asserts Gerald. The Innovation Award celebrated the innovations executed through new products, processes, markets, and business models at Sony UK TEC, which have all led to greater productivity, efficiency, and business growth within the last three years. Backing this up, the center is certified to ISO 9001 (quality), ISO 14001
"Networking within Sony UK TEC provides the potential for additional business," details Gerald. "The access to amenities available on-site provides a more efficient model and reduces the need to go off-site".
58 l
Outside of robust investments in equipment, new technology, and innovative solutions, one of Sony UK TEC's most significant areas of development is in the upskilling of its team. Launched on-site in 2012, the Sony Wales Academy attracts, onboards, develops, and engages current and future employees, creating a robust team of experts that will help lead the company towards its clearly defined goals.
From digital technology to renewable energy and from gaming to design, companies housed at the incubation center are offered the unique opportunity to become part of a shared community of like-minded businesses.
www.manufacturing-today.com
In recognition of its best-in-class facilities, the Sony Pencoed-based hub has received (environment), ISO 45001 (health and safety), and ISO 50001 (energy), and is a previous winner of the British Quality Award.
Swan EMS has achieved ISO9001:2015, and the entire work force is trained to IPC 610 and IPC 620.
Sony UK Technology Productswww.sonypencoed.co.ukCentre : Professional and broadcast camera and camera systems
www.manufacturing-today.com l 59
"At Pencoed, there are currently 900 solar panels installed and we have recently received grant approval to install more," comments Gerald. "All other energy purchased is 100 percent green and renewable. None of our waste goes to landfill and we continue to explore new ways to further our reuse of materials; for instance, we are currently repurposing PPE waste from the pandemic to create useable benches for our on-site environmental center.
From our conversation, it is abundantly clear that, as Sony UK TEC gears up for a promising future, it will continue to invest in its people, processes, and best-in-class services, aligning the company with a new plan to explore further opportunities for growth and sustainable innovation. v courses are available both on-site and online, supporting Science, Technology, Engineering, and Mathematics (STEM) learning in the community.
Environmental engagement
"In 2021, we introduced four colonies of bees to the center grounds to increase biodiversity in the area," he concludes.
"Our Corporate Social Responsibility team has taken part in multiple charitable initiatives over the years, including direct donations made within the local community and matched fundraising for events," reveals Gerald. "Yet this drive for positive change also translates to our approach to the environment."
As a socially-aware and community-focused business, moreover, Sony UK TEC also consistently aims to work for the benefit of those in need.
Sony UK Technology Centre
Swan EMS Swan EMS is a dedicated electronics subcontractor manufacturer specializing in cable assemblies, PCB assemblies and box build. By working with customers at the earliest opportunity, Swan EMS offers design consultancy services to support the standard build-to-print service.
"Our team are trained in beekeeping with the help of a local charity, and all materials used to build the beehives are recycled or reused. Our environmental center is used as part of our engagement work with nearby schools and offers an acute focus on sustainability for the next generation."
Based in the Welsh Valleys, Swan EMS employs over 80 local staff operating out of a 25,000-square-foot modern factory. Turnover and number employees have grown every year for the last ten years. Through this growth, the company has gained increased capabilities, new equipment and more advanced projects.
Through the roll-out of green initiatives developed specifically with product development and business protocols in mind, Sony UK TEC is striving to achieve a Net Zero environmental footprint across the life cycle of its products and business activities.
Come Create & WithBuildUs…
A s a leading global manufacturer of optical assemblies,systems,coatings and opto-mechanics, OptoSigma Corporation (OptoSigma) is taking over the manufacturing industry with a diverse range of products for the commercial, semiconductor, medical, telecommunications and aerospace sectors. For the last 20 years, the business has specialized in optics opto-mechanics and optomechanical assemblies, as we learn from Scott Rudder, the company's CEO. "We are a subsidiary of the Sigma Koki Group, a Japanese publicly-traded business. We are well-known for precision opto-mechanical components (specifically our linear stages) and our custom optics and optical coating capabilities that feature high laser damage threshold at affordable pricing," he begins. That is the new 'tagline' for OptoSigma Corporation (a leading Optics and Optomechanics manufacturer and system integrator)
OptoSigma's Manga styled comic book series features emerging technologies and renowned researchers to teach STEM in a new and exciting manner
60 l www.manufacturing-today.com
www.manufacturing-today.com l 61 OptoSigma Corporation
Scott highlights that OptoSigma has done very well over the last few years. A significant aspect to the company's success is its ability to offer additional value to its customers by offering integration and test services and by offering alternative solutions to customers facing supply chain or quality problems with other manufacturers. For Scott, the Covid-19 pandemic appears to have intensified these issues with many customers. "The last two years has highlighted a big risk area across the global supply chain, specifically the risk of supply delays and shortages due to international conflict and pandemic disruption.
As a result, many businesses have begun insourcing and 'on-shoring' the manufacture of components that were previously outsourced. This added on-shore manufacturing capacity has driven significant increases in demand for OptoSigma components since our optics, stages and opto-mechanics are critical components in many manufacturing and test systems. Adding to this, new technologies
"Tying in with this, there are new strategies that we're implementing by teaming up with our partner businesses. One in particular that I believe is really exciting is a oneA sampling of some of the imagery inside Volume 1 of OptoSigma's comic series Project Avatar promotional items intended to help OptoSigma connect with their customers
The business's catalog boasts a wide range of products ranging from simple optics to precision opto-mechanical stages, and from optical tables and microscope objectives to custom coatings and opto-mechanical assemblies; and Scott continues to share that OptoSigma is most renowned for its highquality precision craftsmanship, that leverages its unique manufacturing technologies to provide precise linear motion. "This is one of the reasons why our name is doing so well across the industry. We are passionate about innovation and bringing together the tools needed for optical and opto-mechanical solutions. The OptoSigma USA team, which is the branch I manage, is heavily invested in manufacturing customized component parts for original equipment manufacturers (OEMs). These components are then integrated by our customers into their own equipment and systems for use in commercial, medical, industrial, defense/security, and many other applications. Additionally, we support the research community. The researchers are the innovators that design & develop the next generation of breakthrough products, and we feel that they are a critical part of our business. Because of this, we do our best to offer a complete product line; from optical tables, and mechanical parts that hold and manipulate optical elements, to lens systems, objectives, optical fiber and even design services. And now we are introducing our new Marketplace Partnerships to offer our customers 'one-stopshopping' for photonics."
like additive manufacturing & 3-D printing are facilitating the rapid development of new products, and are adding to the company's growth.
LaserPoint LaserPoint, a leading European manufacturer of laser sensors and measurement instrumentation, and OptoSigma Corporation, a global optics and optomechanical manufacturer, have strengthened their partnership in the US through the establishment of a test and calibration center located at OptoSigma Corporation in Santa Ana, CA. This provides customers in the Americas with access to recalibration services for LaserPoint products, significantly reducing cost and lead time for these periodic required services. LaserPoint and OptoSigma address the needs for industrial, medical, and scientific applications, with a variety of power meters and unique patented sensors specifically developed for Ultrafast Lasers.
LaserPoint s.r.l. is a good example of one of our partners that is based in Italy. The business has a great product called the Blink HS Series, which is designed to measure ultrafast laser pulse duration down to a few femtoseconds. Its capabilities offer the fastest laser power and energy sensor available in the market, and we're really excited about it. We can bundle this product with laser safety products from another partner, Yamamoto-Kogaku, and with our own optics and optomechanics to create a complete solution for our customer with specialized technical support from each of the marketplace partners as needed. stop-shopping solution we call 'Marketplace Partnerships'. This is a unique new distribution approach that allows OptoSigma to partner with other manufacturers to offer bundled business solutions. What we have found is that in our industry, because each company is a niche expert in its field, our customers have to go to numerous businesses to get all of the items that they need to complete a project. This is not only inefficient, it can result in incompatibilities between equipment/ components and rarely results in an optimal system"Whatsolution.we've done is bring together the companies we work with and provide a
62 l www.manufacturing-today.com
complete value chain offering to our customers.
State-of-the-art free-form optics manufacturing equipment at OptoSigma High laser damage threshold thin film coating chamber
www.manufacturing-today.com l 63 OptoSigma Corporation
Another interesting development currently underway is Project Avatar, which, according to Scott, is a multi-dimensional marketing strategy designed to connect OptoSigma to its client base. "We have created a comic book series that we will be publishing periodically each year. Each volume will feature a new technology that highlights some of the novel research our industry luminaries are developing. The idea is to create a fun Optical grinding and polishing equipment Precision metrology equipment is used to validate lens specifications
and exciting way to learn about these new technologies, and we believe this will be a great avenue to interact with our customer base while simultaneously supporting the STEM community with fun educational content."Each comic edition is designed in an anime style that pays tribute to our Japanese heritage. They've been written with a bit of humor, and feature a few Easter eggs as well to keep our readers engaged with the storyline and guessing what might happen next in the story. This project has been in the pipeline for a year and a half now, and we are all very excited that it has finally taken off," Scott shares with us.
The first edition of the comic is currently in circulation and the second is expected to be released in October. In addition to being found at any OptoSigma location and digitally on the company website, the comics will also
64 l www.manufacturing-today.com be distributed at trade shows and through online orders. "The hard copy versions of the comic, and the associated promotional items, are limited in release and are designed to be vintage collectibles. We hope that our customers recognize that the creative nature of the OptoSigma team transcends our marketing and advertising into our engineering and system solutions, and that they decide to 'Come Create and Build with Us!' – which is the company's new slogan." The discussion of platforming OptoSigma's innovation then leads to the topic of the company's R&D department and product development. Scott shares that success in this area is driven by customer feedback and market trends. "We are engaged with both our researchers and original equipment manufacturers to develop precision products and assemblies to suit their specific needs. This approach gives us greater insight into the demands across the market, and helps to grow both our capabilities and product line," he says.
Marketplace Partner – Yamamoto – Laser Safety Eyewear
Marketplace Partner – Laserpoint – Blink HS power meter
Scott is looking forward to improving and refining the company's operation across the board, especially in regard to relationships with its customers. "We have had a spectacular response to our Project Avatar efforts, which is so encouraging. What we want to do is continue connecting with our customers to bring greater awareness to the work that we're doing. We want to be their 'go-to brand' for any optomechanical requirements or components."Theideasthat manifest within the R&D department are then brought to life by the business's impressive manufacturing footprint. OptoSigma boasts an almost 20,000-square-
Marketplace Partner – Yamamoto – Laser Safety Eyewear
v as a global company, it also has locations in France, Germany and Singapore; and its parent company SigmaKoki has multiple locations in Japan and in China. Scott highlights that, despite its state-of-the-art infrastructure, the OptoSigma team intends to implement further expansion plans, and is set to grow significantly over the next few years.
"We also want to grow our online presence so that customers who aren't able to visit our locations can interact with us on a more regular basis. Furthermore, we will be opening a new facility in Costa Mesa, California, in 2024 to provide the needed expansion space to increase optical coating, component manufacturing, optomechanical assembly, and testScottfunctions."thenbrings the conversation to a close with a note of gratitude. He takes a moment to pay tribute to the Chairman of the Board, Guy Ear, who he says is the "architect of the current OptoSigma brand" and who has worked tirelessly to create and sustain a sturdy foundation for the company. "He did a really terrific job at establishing the foundation of the company and enabling future growth, and we now have a fantastic opportunity to continue to build on top of what he put in place. We're creating something here that all of
us are really proud to be part of, and Guy's work has been invaluable in making that happen," says Scott. We look forward to catching up with OptoSigma again in a few years' time to hear more about the various developments that have allowed the business to continue to thrive.
www.manufacturing-today.com l 65 OptoSigma Corporation OptoSigma Serviceswww.optosigma.comCorporation : Optics, Opto-Mechanics, and Optical Assemblies QuickPRO-CUBE-MINI TM TM QuickPro Cube Mini: rapid dual sided QA/PC of molded, aspherical and free form optics Takt time of 1 2 min utes for both surfaces A wide range of fixtures and inserts to accommodate single elements and micro lens arrays Barcode reader integration, and soft ware API for robotic load/unload Of fering unparalleled factory integration for high speed HVM Ultra precision active alignment tools for VIS SWIR MWIR LWIR lens assembly Accessories and modules available for working with large radi, aspheres image quality and beam deviation Laser Alignment Station (LAS ) Opto-mechanical components are like Lego – 'Come Create & Build with Us!'
66 l www.manufacturing-today.com
A positive spin
Improving life at home has been at the heart of Whirlpool's business operations for over 110 years. A comfortable, nurturing home is essential for everyone; a sentiment echoed by Lena, who came onboard in March 2022, keen to join an organization With a strong focus on products, people and the planet, Whirlpool puts a positive spin on purposedriven manufacturing. Lena Henry, Managing Director, UK and Ireland, showcases the company's UK operations and sustainability achievements
www.manufacturing-today.com l 67 Whirlpool
Appliances Limited (Whirlpool) - the business she now leadsforms part of the Europe, Middle East and Africa division of the Whirlpool Corporation. The division employs approximately 19,000 people and operates from 11 manufacturing and technology research centres in five countries. With over 2500 employees in the UK, Whirlpool leverages its broad scale and established reputation to tailor its services to the needs of the UK market.
Interestingly, there are some product categories yet to be exploited by the UK market. For example, less than one in two households owns a dishwasher. The statistics are similar for tumble dryer ownership and as such, there is plenty of room for growth
focused on adding value to the everyday lives of its Whirlpoolcustomers.UK
Whirlpool manufactures domestic appliances; the labor-saving white goods that help to ease the pressure of everyday living and enhance home life. With a rich history in the British marketplace, Whirlpool's portfolio includes the heritage brand, Hotpoint, alongside its well-known and respected value offering, Indesit. At the higher end of the market, the business boasts its namesake range of appliances. Perhaps less-known, it also lays claim to KitchenAid, the premium brand that achieves professional results. As Lena explains, "it's a real strength to have a set of brands that includes a strong value contender, like Indesit, alongside higher-end household names.
Playing the long game
It's a good thing to be able to flex across the market in terms of price point." The domestic appliance market is a large and exciting one. Although competitive, there is plenty of potential. "Interestingly, there are some product categories yet to be exploited by the UK market. For example, less than one in two households owns a dishwasher," expounds Lena. "The statistics are similar for tumble dryer ownership and as such, there is plenty of room for growth.
Customer service is key at each point of contact. The company prioritizes training and encourages its engineers and delivery drivers to deliver the same level of service as its call handlers. "Training is key to what Whirlpool calls its first-time completion rate," emphasizes Lena. "This means a customer reaches out and we aim to visit them within two and a half days; the goal being that any issue is resolved accurately, first time."This correlates hugely with the Trust Pilot rating awarded and the organization is rightly proud of its impressive track record. "Training is essential to ensure that the visiting engineer is armed with a deep understanding of the customer's issue and is appropriately prepared to resolve the problem," Lena elaborates. "With a vast product range, comprehensive training is essential. Our emphasis on quality control is why our engineers are on the payroll.
Indeed, Whirlpool prioritizes the experience of its customers; continually improving its products and services to meet customer requirements. An integral element of this process is customer feedback. The organization systematically asks for feedback to help shape improvements to its processes. As Lena elaborates, "we want to be able to shout about our great service. We don't just sell a machine. If a customer purchases an appliance and is unhappy with the way it's been installed
together mean we visit around seven percent of UK households every year." Through its UK-based call centre, Whirlpool is proud to be the only appliance manufacturer that communicates directly to its customers at every step of their experience. This consumerfacing approach is a successful model that many markets are trying to replicate.
68 l www.manufacturing-today.com
"Our UK operation has the edge over many other Whirlpool markets. Beyond the global brand reputation, our consumer-facing infrastructure helps to set us apart. We interact with our customers a lot. A large proportion of our appliances are delivered and installed in customers' homes by our own employees. With over 1000 service engineers, covering the UK and Ireland, we also directly repair our products. Both of these operations or is disappointed in the aftersales service, we've lost them. We are proud to play the longWhirlpoolgame." endeavours to embed customer service across all operations. Lena highlights how communication has evolved over the last three years. "We have moved on from the straightforward phone call. We now use email and WhatsApp. We're also working on our chatbot. Some people may not be keen on this type of contact, but we're working to improve the service to answer more queries, more accurately and much more quickly."
Commitment to sustainability Lena is based at Whirlpool UK's headquarters in Peterborough. The organization's national call centre, consumer service functions and spare parts distribution centre all operate from this facility. There are also numerous satellite depots across the country that enable swift product supply to meet demand. In terms of UK fabrication, Whirlpool's Bristol-based plant in Yate specializes in the manufacture of tumble dryers for UK consumers. While not the largest facility, production capacity is around half a million units each year. As the market size is currently nudging over the million-mark, Whirlpool's share boasts a significant proportion. Lena goes on, "interestingly, our Peterborough site is instrumental in our efforts towards achieving a circular economy. We have been working consistently to ensure that everything we do is committed to a more sustainable life at home and at work. From recycling packaging and old products,
The company managed to maintain its strong customer-facing function throughout the pandemic. During this unsettling time, home became a haven. It became increasingly important to have a safe, reliable and comfortable space in which to live and work.
"It's important to have your own people. Every single one of them represents your organization. It's taken a shift in culture to reinforce the fact that our people are the face of the company. Every time a home visit takes place, the customer is asked to review the individual's service delivery. This helps us to establish best practice and shape what we do." Lena divulges that recruitment and retention in some areas of the business can be challenging. "There are not enough engineers in this country. As such, we're developing programs to upskill our engineers and provide the opportunity for accreditation. This challenge extends to our call centre staff. Retention is a key competitive lever. On the flip side however, we recently congratulated two employees on their 50 years of service."
Appliance maintenance was an essential service for many people and the team at Whirlpool delivered. While the organization encourages flexible working, in line with the current climate, as a predominantly consumerfacing operation, it isn't always possible.
www.manufacturing-today.com l 69 Whirlpool
GRANT HANDLING
Grant Handling provides and maintains Whirlpool's fleet of over 130 pieces of handling equipment, and has been the sole material handling supplier to Whirlpool's three core operational sites for nearly 30 years. Combining short-term hire trucks with long-term rental and customer-owned machines, all supported under one highly flexible ongoing agreement, Grant enables Whirlpool to operate a dynamic fleet, which is able to scale to meet market demands. Much of the fleet has been customized to optimize on-site handling efficiency, including bespoke clamps and attachments. Grant Handling also maintains a wide variety of supporting industrial equipment for Whirlpool.
Additionally, our recent EcoVadis gold-rating status has validated the quality of Whirlpool's sustainability management system. Moving forward, we're on a journey towards converting 50% of our fleet to electric vehicles by 2025."
World-class manufacturing As part of a global operation, Whirlpool has been able to adapt and operate with resilience. Lena highlights, "the beauty of being a global organization is that we can rely on a worldwide supply of products." Despite constrained supply chains, pandemic-related challenges and supplier disruption, the organization continues to execute strategic agility to source, manufacture, warehouse and deliver products to trade customers and consumers.Lenaelaborates, "we operate world-class manufacturing; a comprehensive methodology for improving productivity and quality, as well as reducing losses in production systems. The implementation of real-time data and analytics, along with artificial intelligence and connectivity among equipment continues to make our manufacturing and distribution network stronger, delivering best-in-class operational excellence. While we are a strong believer that robots can't do it all, they can do some things better." Looking to the future, being part of a global organization has further advantages.
70 l www.manufacturing-today.com
"The Peterborough site is already carbon neutral and boasts a reworks facility. Appliances can be fixed for resale, or scrapped and recycled into spare parts.
"In the UK, we are leading by example. None of the waste we generate ends up in landfill, and all of our sites use renewable energy. We've also started to use biofuel for some of our on-site vehicles. To help both our customers and the planet, we remove and recycle packaging, free of charge, when we deliver a new product to our customers' homes. Removing the hassle of recycling from the customer while providing the reassurance that the packaging will be reused has proven consistently popular and appreciated.
right through to how we run our offices, distribution centres and manufacturing sites, we are part of a global commitment to reach net zero emissions in our plants and operations by 2030.
"When I joined, I was positively surprised by the level of commitment to sustainability. I think the company has been ahead of the curve for some time and has an appetite to go beyond what is merely mandated.
www.manufacturing-today.com
Global Filters Ltd: over 30 years of partnership with Whirlpool UK Appliances Global Filters is a leading manufacturer of bespoke over-moulded plastic filters, and other precision moulded components. Since 1988, Global Filters has worked in close partnership with Whirlpool's Yate site to supply highperformance lint filters for the company's tumble driers. In their most recent collaboration, Global Filters developed new, highly efficient mould tooling and bespoke production automation to supply Whirlpool's latest filters, at a substantial cost-saving compared to previous methods. Supplying parts for a wide range of applications across diverse markets, including domestic appliances, sensors, plumbing, health and hygiene, and automotive, Global Filters is a trusted supplier to OEMs of all sizes around the world.
The expertise and insight of research and development teams can be relied upon for product innovation. Lena continues, "with energy costs rising, there is a window of opportunity surrounding enhanced efficiencies. Consumers are looking for reliable, straightforward solutions; machines offering greater capacity and efficiency but requiring less energy. If an appliance provides a longer lifespan, a step-up in price point is often an acceptable trade-off. In terms of washing machines and dishwashers, this may be an area of focus." Whirlpool is committed to making products with purposeful innovation, without leaving a negative footprint, while focusing on the people who keep the business running as well as those in the communities it serves. v
Serviceswww.whirlpoolworld.co.ukWhirlpool : Manufacturer of home appliances
Whirlpool Peterborough
l 71 Whirlpool
72 l www.manufacturing-today.com
Incorporated in 1996, PharmaPac UK (PharmaPac) is the brainchild of three former directors, all of whom had previously worked together at Bristol
After celebrating 25 years in 2021, PharmaPac is looking to cement its place as a leading global contract manufacturer for healthcare products
Myers Squibb. Joined by yet more ex-colleagues over time, the company has gone from strength-to-strength, building on its history of excellent service, with additional production
units being added, numerous equipment investments, and further staff recruitment. Today, PharmaPac is a Contract Manufacturing Organization (CMO), www.manufacturing-today.com manufacturing and packaging a variety of drug delivery systems for the pharmaceutical, healthcare, and medical services market. The company celebrated its 25th anniversary in 2021. Now in 2022, PharmaPac Managing Director Gareth Lewis sits down with Manufacturing Today, to discuss exactly what it is that allows PharmaPac to stand out.
Strength in the pac
l 73 PharmaPac
74 l www.manufacturing-today.com
"By individually printing each carton, followed by a verification check – a unique 2D code –each consumer unit creates an individual pack," Gareth explains. "This results in an end-toend track and trace process which enables knowledge about the physical location of a particular product within a supply chain at any point in time. It also allows recording of historical data regarding product movement and time spent at each stage, as well as packaging information."
"Whether for liquids, creams, gels, oils, salts or powders, we have decades of experience and technological knowhow in manufacturing packaging for a wide variety of bulk materials in the pharmaceutical sector," Gareth tells us. "It's this that enables us to meet all of our customer and patient needs today, and for the future, in an ever-changing regulatory landscape."
Armed with a broad range of equipment, PharmaPac prides itself on an ability to meet the needs of any customer, and offer a fast, efficient, and cost-effective solution for any packaging needs. As Gareth says: "For customers designing novel medical products, PharmaPac can help create pioneering packing lines by leveraging our extensive experience in pharmaceuticals, consumer healthcare, veterinary and nutraceutical products."
www.manufacturing-today.com l 75 PharmaPac
One recent innovation from PharmaPac is the introduction of serialization across some of the company's lines. The move follows a UK Government directive to prevent the distribution of falsified medicines or counterfeit drugs.
"Our colleagues are an important asset to our business, and their knowledge and experience have been key to the success of PharmaPac over the years," Gareth reflects.
"There is a regular forum where colleagues can discuss items they wish to raise to senior management. A working party group meets regularly to ensure communication remains open. We celebrate success and acknowledge key events, such as the June month of Pride."
It's an attitude that extends to PharmaPac's customers. With a reputation for excellent service and exemplary quality standards, the company has been able to secure new have delivered solutions in a difficult trading climate."
For example, variations on the board grade and product backing material are constantly under consideration.
76 l www.manufacturing-today.com includes blister packaging lines, sachet lines, bottle filling, and more. "All filling is performed within environmentally controlled primary filling areas, which are appropriate to the product or molecule," Gareth confirms. "We take great pride in offering a truly cross-functional approach to our projects, utilizing these operational, engineering, commercial, buying, and quality resources to give our customers a first-class, end-to-end solution."
To celebrate its quarter-century anniversary, PharmaPac awarded each of its 200 employees an extra day's holiday, and closed its site in August for an extended four-day weekend. It's indicative of a company that is recognized for its positive culture.
It's been a tumultuous couple of years for manufacturers, as Covid-19 brought many production lines to a halt. But for Gareth, the pandemic has also shed light on the benefits of CMOs when it comes to the delivery of a continued supply of pharmaceutical goods and services for clients.
"The closer engagement of customers with CMOs has firmly established them as a permanent and essential part of business
Amid a series of stretched supply chains, PharmaPac continues to work with its customers and suppliers to ensure patient needs are met. "We have seen robust growth in the collaborative development of effective substitutions," Gareth goes on. "We are also constantly reviewing packaging base materials that are more readily available and which are potentially suitable to meet the product specifications and needs of the brand owners.
"Supply of materials, especially packaging, continues to require an increased level of management and day-to-day monitoring," he adds. "Lead times and costs are remaining volatile in a market with demand outstripping
inspection cycle," Gareth notes. "Current Good Manufacturing Practice (cGMP) training is provided to all new colleagues when they join PharmaPac and GMP training is repeated annually to all staff at all levels within the business. Our meticulous approach and systems give us the ability to have full traceability from raw materials to finished products at every stage of the process."Allour chosen suppliers are appropriately audited by our team, and we choose only the most trusted partners to give customers and patients the highest level of quality and confidence," he remarks. "All requested testing is performed by our fully-MHRA audited laboratory prior to its next stage in processing."Butquality isn't the only focus for PharmaPac. As a member of Sedex, the company is also committed to improving working conditions throughout global supply chains. "As a key contractor to the pharmaceutical and healthcare markets, it's imperative that we demonstrate our corporate and social responsibility to all our customers," Gareth states. "Therefore, we ensure our procedures and policies are always up-to-date and are regularly audited on site by Sedex. This involves not only an independent paperwork review, and a detailed inspection of our facility, but also interviews with colleagues chosen contracts and retain existing business with significant global companies for upwards of 20 years. "New customers who see the facility, and meet the people, then feel confident that their brand is safe at PharmaPac," Gareth tells us. "They know that their product will be available to patients and consumers at the right time, and at the right cost." Within the pharmaceutical industry, quality is paramount. To that end, PharmaPac has a number of procedures in place to guarantee its exemplary MHRA regulatory compliance record and accreditations.
To find out more about our packaging solution, please visit www.medicapackaging.com, call 01270 253777, or email info@medicapackaging.com
l 77 PharmaPac
"The PharmaPac Quality Management System (QMS) is regularly audited by our customers and the MHRA as per the standard www.manufacturing-today.com Medica Packaging Medica Packaging is the largest independent packaging converter in the UK within the pharmaceutical and healthcare sectors. We have been dedicated to the packaging industry for over 30 years, and have expert knowledge and understanding of the sector and our customer needs. Specialising in providing high-quality and bespoke printed cartons, leaflets (PILS) and booklets to the pharmaceutical, healthcare, and regulated markets, working with some of the world's most recognized leading brands. We manufacture all our packaging at our two sites in the UK, where our experienced team uses state-of-the-art printing equipment and market-leading manufacturing processes to ensure we meet the highest industry standards, and we provide an excellent, bespoke experience for all our customers.
78 l www.manufacturing-today.com by the auditor at random. Following another recent audit by EcoVadis, we've received a bronze award for sustainability – another accreditation of which we're extremely proud."
Looking ahead, there's a bright future for PharmaPac, driven in part by the projected market growth of lateral flow tests, in what is yet another legacy of Covid-19. "The pandemic has generated point-of-care diagnostics and diagnostic testing awareness, and could have long-lasting benefits," Gareth outlines. "The high number of infectious diseases worldwide, rapid growth in the geriatric population, growing demand for point-of-care testing, and rising use of home-based lateral flow assay devices are the major factors driving the growth of this market.
"Availability of lateral flow testing solutions for other disease conditions and purposes ISO Cleanroom ISO Cleanroom has worked with the world's largest brands, as well as SMEs and start-ups, but the service it offers is always the same; the company prides itself on customer service and technical support. As a design lead company, ISO Cleanroom is not afraid of the unusual, having designed cleanrooms on trains, oilrigs, ice sheets and in deserts. Toni Horsfield of ISO Cleanroom says: "We are very excited to see PharmaPac's growth, and be able to help it on its journey. Our customers are everything to us. We spend our time working with them to find the right solution to achieve their project within their budget and timescale."
Yorkshire Packaging Systems (YPS)
YPS: the complete solution. manufacturing organization
Speak to us about shrink-wrapping equipment, including L sealers, side sealers, sleeve sealers, shrink tunnels and dairy systems. Consult our experts about pallet wrapping systems encompassing turntable, rotating ring and rotating arm models. Challenge us to streamline your order fulfilment process with a horizontal or vertical polybagger, and put us to the test for your recyclable shrink or stretch film requirements. We'll exceed your expectations with intelligent, comprehensive packaging solutions.
www.manufacturing-today.com l 79 PharmaPac
"We will be supporting our customers to design new solutions, reduce costs, and increase speed to market for global pharmaceutical, medical device, consumer healthcare, nutraceutical and veterinary companies," Gareth concludes. "Meanwhile, we'll continue to invest in new equipment and processes, and identify projects to ensure that PharmaPac remains at the leading edge of technology and processes." v could boost the growth of this market in the post–Covid-19 era," he goes on. "For example, recent outbreaks of infectious diseases from the spread of viruses (such as Ebola, H1N1, and Zika) have highlighted the need for early detection capabilities, such as lateral flows. As this market evolves and grows, PharmaPac will maintain its existing regulatory medical device approval and will prepare for this growth by ensuring manufacturing footprint, technology and staff are readily available to the industry."
Serviceshttps://pharmapacuk.comPharmaPac : Contract
We are an award-winning, problem-solving, forward-thinking family business, dedicated to all things wrapping, packing, bagging, shrinking, stretching and servicing. In short, we are the UK's expert in automated wrapping systems and flexible films, with over four decades of experience under our belts. So, what makes us stand out from the pack? It's our commitment to integrated, harmonized solutions that provide an end-to-end service for your business. We do of course supply stand-alone packaging machines or films, but our expertise shines through in the delivery of a total solution, whereby YPS becomes your dedicated packaging partner. You'll get the best from your wrapping operation when you pair our world-leading machines with our exceptional films, and back both up with our extensive range of spare parts and technical assistance packages. Plus, the part-exchange proposition we offer at the end of any machine's useful life guarantees a smooth, uninterrupted wrapping upgrade path for your long-term packaging success.
Within the next five years, the ambition of the PharmaPac board and senior management team is to become a significant global contract manufacturer for healthcare products. With a focus on exceptional service, the company hopes to enable its customers' supply chains to operate smarter and more efficiently to create quality products from concept to market.
E stablished in 1982, Nord-Lock Group is now a global leader in engineering and bolting technologies; specializing in washers, hydraulic nuts, and tensioners, as well as a plethora of other industrial bolting solutions. Since inception, the company has absorbed a well-established market share within its own specified niche.
On a mission to safeguard human lives and customer assets, Nord-Lock Group's products bolster and fortify essential public and private infrastructure. While the firm was first established as Nord-Lock in Mattmar, Sweden, it is now a resoundingly global operation: Nord-Lock wedgelocking washers, through strategic acquisition and rich organic growth, has become Nord-Lock
The technologywedge-lockingoriginal
As it celebrates 40 years of business, Nord-Lock Group looks back on its long history and unpicks the nuts and bolts (and washers) of its sustained success
80 l www.manufacturing-today.com
Anders Manfred Graham Souter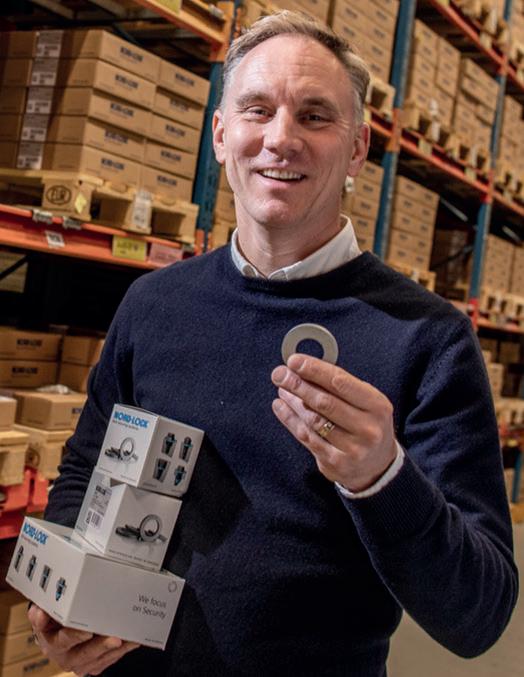 www.manufacturing-today.com l 81 Nord-Lock
In the last two years alone, Nord-Lock's flagship manufacturing facility in Mattmar – the locus of the company's inception – has grown its footprint and number of machines by more than 65 percent to accommodate increasing market demands. "The reason is quite simple," explains Anders Manfred, who serves as Divisional Director at Nord-Lock and manages operations in Sweden. "We needed to upgrade our machine park to raise our facilities to an even higher standard of production. However, it is also a straightforward expansion in that we needed to increase our manufacturing footprint; for example, we have upgraded our research and development laboratory, which will offer us more possibilities to accelerate product innovation – of course, that requires more"Beingspace.based in Sweden, we also have quite stringent regulations that we must follow in terms of sustainability," he continues.
"Therefore, the investments that we are making here in Mattmar are all infused with considerations for the environment and how we can mitigate our impact upon it. To that end, we are incorporating the latest possible technology and trying to upgrade all our existing structures to future-proof the facility. It is certainly a moving target, and we will not get everything right the first-time round, but we will continuously improve our facilities and the operations we conduct within them as we move forward into the future."
In terms of new products, Nord-Lock Group recently channelled its focus into smart technology through a new range of Superbolt load-sensing tensioner (LST) solutions, which the company has billed as the next level of innovation, and will upgrade its Superbolt
Group – an impressive collection of four brands. Within them, 25 individual companies in as many countries work across entire product life cycles, from initial design to manufacturing and, finally, distribution.
"In the early 2000s, we knew that Nord-Lock, while excelling in the wedge-locking washers niche, needed to branch out and diversify its investments," he goes on. "Around that time, we decided to enact a strong buy-and-build strategy, acquiring some of the distributor companies that we were already working with as well as setting up our own versions through the business. From then on, it has been nothing but rapid growth; throughout the last two decades, we have spread across Europe – establishing Nord-Lock in Germany, for instance, which is our single largest European market – and into other territories like China. By acquiring Superbolt, Boltight, and Expander System in a space of just five years, we were able to cement our global footprint and serve new markets with a diverse product range."
"We are incredibly proud to be celebrating our 40th anniversary," says Graham Souter, Regional Sales Director for EMEA at NordLock. "While Nord-Lock was once a familyowned operation based in Sweden, it has for many years been wholly owned by Investment AB Latour (Latour), which is quoted on the Nasdaq OMX Stockholm. Latour have been instrumental in transforming us into a global enterprise, providing all the investment and support we need; and it continues to guide us on our journey today. Global footprint
Those four brands are: Nord-Lock, the flagship business that brought the organization to where it is today, specializing in wedge-locking washer technology that secures bolted joints in place even when they are exposed to severe vibration, weather, and dynamic loads; Superbolt, which creates ground-breaking designs for nuts and bolts by incorporating multi-jackbolt tensioning; Boltight, a specialist of hydraulic bolt tensioning solutions; and Expander System, offering a permanent solution to persistent lug wear problems through innovative replacements for traditional axle pivot pins.
saving on installation time for our customers." Back to the washers, it is no secret that Nord-Lock's products have tightened and secured billions of bolted connections in a multitude of applications all over the globe –often in environmentally testing conditions. So, when asked about the quality control process behind those products, Graham is quick to respond.
82 l www.manufacturing-today.com offering with a new model to be launched later in the year. "Our core Superbolt MT and CY products have been successfully securing bolted connections for many years, but it is time to give them a bit of an upgrade," Anders insists. "It will be easier to assemble and handle and will also be more attractive to look at. We are looking forward to sharing this new development with our customers."
"We are constantly innovating, and we never stop in terms of development," Graham adds. "For instance, most recently, we have been investigating how we can improve our tensioning products and have created ancillary devices such as our new Superbolt Tool, which enables a much quicker and more efficient installation of our Superbolt range. Where there are many tensioners to install this can make a significant
"We can make assertions like that because we always commit to doing everything as well as we possibly can. Attention to details is everything," he concludes. "That means making sure products are not only manufactured to the highest of standards but are also available to our customers when they need them." Reflecting on the last couple of years Graham says: "If Covid-19 has taught us anything, it is one, our biggest asset is our workforce who we must communicate with, protect, and make feel comfortable even in these difficult circumstances at all costs; and two, the supply chain constraints brought on by the pandemic have shown the necessity of strong availability. Good products are no good if they are not available. As we move forward, we will not lose sight of this and we intend to keep things fresh, grow year-on-year, and manufacture the most innovative bolting solutions on the market." v
"We run every kind of test you could possibly imagine," he laughs. "Across all our production steps, we conduct a variety of quality approval processes to ensure finalized products meet our standards – which are no less than perfect. Everything from initial examinations to in-depth corrosion tests, we really put our washers in the toughest of conditions to see how they react."
www.manufacturing-today.com l 83 Nord-Lock Productswww.nord-lock.comNord-Lock : Washers
"We also work with several customers that have extremely high demands due to the nature of their work and the environments they operate in," Anders continues. "In response, we have approved and tailored our production methods to comply with their standards. As a testament to the power of the Nord-Lock brand, we laser mark each washer with the material used and the individual batch number to show our customers that they are buying a genuine Nord-Lock product. Our name means something; through it, we assure our customers that they will always receive a proper solution by coming to us."
"Our rigorous quality tests set us firmly apart from the competition," Graham concurs. "As Anders has said, we put all our products through incredibly stringent tests, and always look at ways we can improve them. However, without a doubt, the most important thing for us is that benchmark of quality. We pride ourselves on the fact that we can guarantee our products. That is not 99 percent; that is 100 percent. and industrial bolting solutions
has long been the bane of efforts within the food retail sector to go green, accounting for approximately 50 percent of the energy consumption of major supermarkets, as theWhen discussing 'efficiency', one word that doesn't immediately spring to mind is 'refrigeration'. The process
Despite the challenge of the pandemic, and amid an everintensifying drive towards carbon Net Zero, Epta UK isn't panicking. Instead, the national leader in commercial refrigeration is cementing its status, with a cutting-edge range of energyefficient cabinets
84 l www.manufacturing-today.com
"Over the course of the last few years, we've optimized a range of cabinets, built in our Bradford facility, that offer these savings. Ideally supplied with doors to capture the full benefit – although doorless versions are also available – we can offer our customers a range of cabinets that maximise available savings whilst displaying their products at the correct temperature."Theheadquarters for Epta UK are situated in Bradford, a site that's also home to the company's research and development and manufacturing facilities, producing its range of refrigerated display cabinets for the food retail sector. A second office, located in Ringwood, Hampshire, houses Epta UK's service and installation contracting teams. Epta sits within the Milan-based Epta S.p.A, a global leader in commercial refrigeration, with annual revenues in excess of €1 billion, 11 manufacturing facilities worldwide, and over 6000 employees serving more than 100 countries.
Certainly, a growing focus on sustainability in recent years has seen more and more supermarkets adopt an ever-broadening suite of energy-saving initiatives. But according to Geoff, some hesitancy around doored cabinets remains.
www.manufacturing-today.com l 85 Epta UK
"We have an environmental duty to produce class-leading products and services that assist our customers in meeting their environmental goals," explains Geoff Mills, Commercial Director at Epta UK, when speaking to Manufacturing Today. As a partner to the majority of the UK's leading food retailers, Epta UK is the country's largest volume producer of refrigerated retail display cabinets. The company offers a complete turnkey package, including system design, installation contracting, refrigeration plant, and cold stores, together with after-sales service and support, delivered by a national network of directly employed refrigeration service and maintenance engineers.AsGeoff explains, when it comes to priorities for major retailers, environmental efficiency hasn't always been top. "Doors are seen as somewhat of a merchandiser evil," he says. "They're viewed as a barrier to sales; when you go shopping in a supermarket, the majority of fridges you encounter will be without them."
"Our cabinets are designed in-house, either in Bradford or within other Group R&D facilities," Geoff reveals. "In Bradford, we have Keeping cool
demand for product-oriented design has seen open – or door-less – cabinets dominate. But one supplier is looking to change that.
"Retailers are constantly seeking efficiency improvements in all their guises, often these are marginal, single figure percentage improvements that can, in combination, be differentiators," he reflects. "That's all well and good, but when you consider the energy savings available are in the tens of percent by specifying doors on cabinets, from a purely engineering and environmental point of view, it seems an obvious decision.
86 l www.manufacturing-today.com three environmentally controlled, accredited test chambers, and a team of mechanical and industrial engineers. Epta Group has heavily invested in our R&D and production facilities to ensure we produce innovative and highly performing products that meet our customers' exacting standards and retail requirements."
Epta UK is pushing the envelope when it comes to innovation. The typical evaporating temperature for a chilled refrigerating cabinet is around minus five degrees; Epta UK's latest Inspired PLC Inspired PLC (Inspired) are a market-leading and technology-enabled UK provider of energy and sustainability advisory services. To enable businesses to respond to the climate emergency, we help them improve their businesses efficiency and reduce their environmental impact, whilst increasing their competitive advantage in their market space and making credible net zero and ESG disclosures.
Inspired continue to help Epta implement its net zero strategy and achieve carbon neutrality.
With class-leading, cost-effective, and energyefficient products, it's no wonder that Epta UK has managed to foster robust partnerships with the industry's leading names. "We have a customer focused approach, and we use our international know-how to collaborate with them to develop products and services that But even adding a door to pre-existing cabinets is a makeshift solution, when compared to specially designed doored cabinets. And it's in the manufacture of these products that Epta UK are true specialists. "It's not just about designing a refrigeration system," Geoff insists. "It's about engineering all aspects of the cabinet – such as the evaporating temperature the refrigeration system operates at, the air flow, fan speed, how the air is ducted throughout the cabinet – to ensure it performs at its optimum."
Epta UK
Refrigerated cabinets rely on an evaporator coil and fan assembly, that circulates air around the cabinet that creates an air curtain, within which the products are displayed. "If you think about the sizing of that system, you require a certain amount of energy to extract heat to maintain the desired temperature," Geoff indicates. "Add a door, and that requirement is vastly reduced." models boast an evaporating temperature between zero and minus 3. "Straight away, we're able to deliver that energy saving by not having to run that refrigeration system quite so low," Geoff emphasizes. "With that, comes a significant reduction in both capital cost, as the refrigeration plant is smaller and operational cost throughout the product's lifespan, as the energy consumption is lower."
Inspired work closely with Epta UK to develop a carbon action program that reduces their greenhouse gas emissions, and supports them on their journey to net zero. Through the development of their carbon balance sheet, they were able to understand their hotspots for emissions within their value chain. We then provided decarbonization site surveys, which provided detailed insight into their individual buildings use and processes. This resulted in the identification of key decarbonization opportunities and significant monetary savings, which will later support future investments into carbon reduction projects, and help mitigate volatile energy market prices.
"The food retail sector is unquestionably a competitive market, but with that comes volume and the resultant ability to diversify," Geoff confirms. "For instance, refrigeration
"As an industry, we've moved from the adoption of CFCs back in the 1980s to HCFCs, then to HFCs, each of which brought improvements in environmental impact," he continues. "CO2 is our natural refrigerant of choice for remote refrigeration and has been for a number of years. At our Bradford Training Centre, we're instructing apprentice engineers in its Traininguse." is important for Epta UK, sitting as it does within an industry that has struggled in recent years to attract fresh talent. "While the refrigeration sector is relatively large given the diverse sectors that it features, the typical demographic of those employed within it – especially at an engineering level –tends to be an aging, male workforce," Geoff points out. "Therefore, investment through apprenticeships and training is essential, and it's something that Epta at group level is taking very
It's an unpredictable time for many industry sectors, as a result of volatile shifts in the price of raw materials, coupled with component
In order to achieve its ambitious goals, Epta UK is investing heavily to bolster its operational efficiency and maximize its sustainability credentials. As an example, the company recently replaced the pre-treatment system at its Bradford site, a move that is set to save approximately 1650 kg of CO2 annually.
"It makes no sense to design and manufacture class leading products if we don't apply the same logic to how we conduct our manufacturing processes," Geoff states. "We publish, at group level, our annual CSR report, which forms a key foundation to our group's strategic planning for the years to come.
"Asseriously.we'vegone through the decades, we've seen how people taking up engineering as a career path is becoming less commonplace," he adds. "That said, it remains a great industry to be in. There will always be refrigeration, and we've seen in the past how when you have periods of recession, people tend to eat at home more, buy more food, and therefore supermarkets prosper. Even during the pandemic, our service and maintenance work was very much considered essential. The need to keep refrigeration and shops operating properly didn't vanish, and we still had 200 engineers – key workers – in vans on the road keeping supermarkets operational."
88 l www.manufacturing-today.com meet their requirements," Geoff tells us. It's a platform that is now helping the company to expand into new markets, including food & beverage, hospitality, and air-conditioning. is closely associated with air conditioning, which in turn is also closely related to heating and ventilation. All those disciplines rely on electrical services and control systems, and they therefore present an attractive opportunity to consider combined solutions."
Epta Serviceswww.epta-uk.co.ukUK Commercial refrigeration
shortages and extended lead times. Epta UK has done well to navigate these challenges, and remains committed to delivering class-leading products at cost-effective prices. As Geoff remarks, it's "nothing short of what you'd expect from a leader in its field.
"The Epta Group has no intention of resting on its laurels," he concludes. "In 2021, mid-way through the pandemic, we had the delight of becoming a €1 billion company, in what was a very proud moment. Our growth won't stop there, nor will our diversity, as we aim to become an undisputed leader in commercial refrigeration across all our geographies." pleased to have provided EPTA with haulage and storage of their commercial refrigeration units for over 20 years. We have a large fleet of Moffetts and skilled operators that allows us to collect EPTA's unique products from the manufacturer, and deliver directly to the customer. We offer a flexible delivery service, which includes next day and weekend delivery - ideal for all major supermarkets. Our customer-focused operations team are dedicated to finding solutions in the most efficient and cost-effective way.
v www.manufacturing-today.com l 89 Epta UK JODA We are
:
Lightinglighting your way
lamp at the World's Fair in 1939, H.E. quickly saw the potential of the new light source and shifted his focus towards the lighting business. Three generations and over 100 years later, the Williams legacy continues. Today, H.E. Williams, Inc. (Williams) designs and manufactures a In 1921, Harold E. Williams founded the H.E. Williams Products Company in Carthage, Missouri. An engineering graduate, H.E. Williams began producing accessories for the home, automotive and electrical sectors. Inspired by the fluorescent With 100 years in the industry, H.E. Williams, Inc. is proud of the work it has spent the last century perfecting. As a result of its efforts, the business has grown to become one of the most trusted names in LED
90 l www.manufacturing-today.com
"Putting customer needs first and staying true to our core values is what has continued to separate us from our competition," begins
www.manufacturing-today.com l 91 H.E. Williams, Inc.
Jenny Brust, the Senior Vice President of Sales & Marketing for Williams. For Jenny, people, quality, reliability, and service form the foundation of the company's success, with the steadfast leadership and vision of the Williams family driving the team forward. "We strive to be thoughtful and methodical in our decision making and align with business partners who understand the value of what we do," she shares. According to Jenny, this is only one of a variety of factors that make Williams
broad portfolio of commercial LED lighting products for educational, corporate, industrial, and healthcare spaces.
92 l www.manufacturing-today.com
To maintain this high level of energyefficient innovation, the company continually invests in its factory - a mission that has recently involved the purchase of several new significant pieces of equipment. "Factors that drive our manufacturing investment decisions are efficiency gains, quality improvements, and production flexibility, while keeping an eye on safety practices. Our recent investments in manufacturing equipment include a new cutting and milling machining center, which has taken a three-operation process to a single automated load and unload operation. This asset has increased throughput and accommodates the demand for product variations and modifications."Werecently added a highly automated SMT line to produce LED modules, which has improved our control over the pipeline of raw materials. We also have the LED changeover capability in-house, which has significantly increased flexibility," Jenny elaborates.
one of the industry's leading names. With its manufacturing operation based in the American Midwest, another unique trait is the fact that its production happens under one roof, allowing the company to deliver its product more efficiently. "We manage quality control for every luminaire produced. Our factory produces over 15,000 discrete product variations over a broad offering of more than 250 families. We manufacture all the major product types needed to complete a newly constructed building or renovation project, including traditional recessed layin troffers, strips, and high bays, as well as architectural linear, downlighting, and outdoor," Jenny expresses. She adds that the business is equipped with its own fleet of over-the-road delivery trucks to ship finished goods, resulting in shorter lead times. When it comes to cutting-edge technologies, Williams is continually launching industryleading lighting solutions that have an impact.
Taking these investments one step further, the business has incorporated upgrades for CNC sheet metal press brakes to enable offline programming advantages that improve
"For instance, our product design engineers developed TrimLock, which is a positive retention reflector system that is used to ensure our downlight trims remain flush with the ceiling plane. This feature differentiates our product by addressing a common downlight issue. We also consider our core manufacturing strengths and supply chain management before we devote engineering and design resources to a new product development project," says Jenny.Our conversation then shifts towards recent jobs, and Jenny shares that the company is participating in a range of projects, from is exactly what we accomplish by installing innovative technologies and advanced control devices in our fixtures during the production process." Jenny explains.
"For the past few decades, we have seen an increasing emphasis in sustainable architectural design, and LEED certification, Title 24, and the WELL Building Standard are examples of published criteria to which lighting specifiers refer during the design phase. It is important that we provide products that achieve a healthy and energy-efficient built environment, which part consistency, accuracy, and safety between machines and operators. Finally, for added quality control of paint finish and thickness, Williams commissioned a new controls program for its state-of-the-art powder coat paintWesystem.thenasked Jenny about what drives product innovation for Williams. In response, she highlights that the company prioritizes ongoing market research. "Collectively, we all keep a pulse on existing trends. We also involve ourselves with industry organizations where we poll customers within the sales channel, and vet out new product ideas with our sales reps. These strategies help us innovate solutions that solve known problems in the marketplace.
and a food hall. The company's flexibility allows it to support the construction and installation schedule of this 27-building complex.
It has representative agreements with over 50 agencies and 80 office locations in North America. "Like with all of our business the renovation of a medical hospital and an international airport to the new construction of an expansive corporate campus. "We worked on a recent healthcare renovation project in Virginia, where we helped convert existing clinical office space into a medical and surgical unit. The project architect took a human-centric lighting design approach throughout the space, and specified innovative product types from Williams to not only enhance the architectural elements but also accommodate patient comfort and healthcare personnel needs," Jenny highlights. Then, by working closely with the specification team during the concept phase of an international airport's new terminal, the company was able to customize a lighting solution to illuminate the one million-squarefoot space that complements its light and airy design. The ability to scale production to meet the project delivery requirements was a substantial consideration for the design team when selecting a manufacturing partner. As the leading fixture supplier for a global corporation's new HQ campus, Williams is providing all interior luminaire types on the specification including the modification to an existing product to satisfy the specifier's design intent. The project consists of office spaces, parking garages, an auditorium, a fitness centre,
www.manufacturing-today.com l 93 H.E. Williams, Inc.
When it comes to projects of this scale, Williams is proud of the fact that businesses choose to partner with it. Jenny then shares more on the relationships that Williams fortifies with its suppliers to ensure a well-connected supply chain. The business's go-to-market strategy utilizes a network of independent sales reps defined by geographical boundaries.
94 l www.manufacturing-today.com
As a made-to-order American manufacturer, fostering trustworthy supplier relationships with dependable, responsive stateside vendors is essential," says Jenny.
partnerships, many of the connections are decades old, while some are relatively new, but it is the strength of our sales relationships that lead to increased market share. From a procurement perspective, we source what raw materials we can domestically, like steel.
Furthermore, the company adheres to a 'made right here' mantra that is fundamental to the its operation. "We build quality products locally that we are proud to put our name on. We provide over 350 American jobs to Carthage and the surrounding community, and because of our ability to quickly respond, we add exceptional value to our customers and sales partners to make doing business with us easier and friendlier," she says.
H.E. Williams, Serviceshttps://hew.com/Inc.lighting manufacturer
: LED
will enable us to best meet customer needs. Most importantly, we will continue to build on our 100-year heritage and reputation," she highlights.Toconclude, it is evident that Williams understands what it means to be in the manufacturing business, and what it takes to be a dependable supplier to the commercial lighting industry. From what Manufacturing Today has seen, the company takes its responsibility very seriously, and will continue to make the investments needed to best serve its customers.
www.manufacturing-today.com l 95 H.E. Williams, Inc.
"Market conditions change rapidly in the lighting industry, but what you will see from Williams is our continued commitment to excellence in lighting. We will introduce new lighting products to the market that are made right here. We will also invest in manufacturing and process improvements, seek out opportunities to vertically integrate, and we will strengthen strategic partnerships that
v
Now, as the company looks toward the future, Jenny shares that Williams has every intention of maintaining its locally made values. Over the next six months, the business will concentrate on fulfilling orders for several highprofile, large-scale projects, as well as countless day-to-day discretionary business. It expects to launch new products within the downlight collection, as well as expand on human-centric integrated technologies and a controls offering across its interior line.
96 l www.manufacturing-today.com
"Since 1954, which was when we were established, we have continued to grow into different categories, and work with a range of customer segments that vary from wholesale distributors to national clients and most leading retailers. We have also been fortunate to expand internationally," begins Wayne. Invest for success Today, Tetrosyl exports to approximately 100 countries, with a predicted turnover of £300 million across the group's seven businesses.
www.manufacturing-today.com l 97 Tetrosyl
Once the company began investing in plant and equipment technology, it then took to producing engine and gear oils, which only accelerated its success.
Manufacturing Today sits with Wayne Stevens, the Group Managing Director for Sales, and Ian Tench, the Group Managing Director for Operations, to learn more about the specialisms that help set Tetrosyl apart from its competition.
Tetrosyl's first product was T-Cut (Tetrosyl cutting oil), the original restorer, which quickly became renowned for its ability to remove any scratches and restore vehicle paintwork.
Since the product's launch in 1958, the business has continued to expand through innovation and passion for diversification across the lubricant manufacturing industry.
"We have our own laboratory here in Rochdale, which consists of five qualified technologists who provide us with leading expertise and technology know-how to create innovative products. Our screen wash is a good example of this. When our competitors were using methanol, we were the first to incorporate ethanol into the product, and we have many other similar patented technologies within our offering. For me, that demonstrates the level of innovation and technology that we are investing into our products," Ian highlights. For him, one of the reasons why the business continues to succeed is owed to the investment it circulates back into its infrastructure. "Doing so has allowed us to widen our manufacturing scope. In just 18 months, we have invested in 15 lines within the Tetrosyl plant, and another 13 within the JBL plant. Furthermore, we have invested heavily in increasing our capacity, while ensuring we improve efficiencies right across the board," Ian Improvementexpresses.isdeeply embedded within Tetrosyl's values, and both Wayne and Ian have challenged their team to continually strengthen their practices, particularly when it comes Vehicles need to be well looked after in order to perform with excellence, which is why
Tetrosyl takes pride in being a dependable name for the car care manufacturing industry
Innovation takes the lead
Although Tetrosyl is determined to implement measures that continually improve its operation, the business is also investigating ways in which it can do so while decreasing its carbon footprint. As a result, there have been many developments that have allowed it to refine its sustainability efforts. "We have been looking at how we work with our suppliers to make sure our materials are reliably and responsibly sourced. In terms of our impact on the environment, one of the things we have invested in over the last six or seven months is a pigging system for our lubricants plant, which effectively cleans the pipes used for filling our lubricants. We are determined to ensure we are minimizing waste, and we are looking at all the options available to help support this," Ian elaborates.
98 l www.manufacturing-today.com to technology. "In that sector, we are taking measures onboard to refine our performance, as well as our supply chain relations," Wayne explains. "We have set ourselves challenging KPI targets for improvement across the differing manufacturing disciplines, challenging targets that we are achieving and, in some cases, exceeding."
In terms of plastic reduction, Wayne shares that almost all of Tetrosyl's bottle content has been converted to Post-Consumer Recycled (PCR) material. Prior to this year, the majority of the company's bottles were virgin material. However, within the last 12 months, this practice has taken an exciting turn. "Now, over 30 percent of all our content is recycled. We are also implementing a sleeving production line in the next month at our Newbridge location that will allow us to use a reduced bottle portfolio, enabling us to reduce stocks and complexity on site. The move to sleeving should be completed around September of this year, 2022.
"The move to sleeving not only reduces our bottle count, but also reduces our plastic usage. At the moment, we are exploring whether this will be a mono-plastic solution and therefore fully recyclable or a PCR solution. Either way, each of these solutions relates back to our desire to take care of the environment, and support the manufacturing industry in its journey towards a sustainable future," Wayne elaborates. Following our discussion of the company's approach to sustainability, Ian highlights that the business's people are equally important to the overall operation of the business. This is why both gentlemen believe that garnering a strong and united culture is paramount to Tetrosyl's
Long-term growth
• Saica Zero - Collaborating with our clients to minimise environmental impacts from production utilising waste hierarchy principles.
result, it encourages input from everyone in order to make improvements that will benefit each person within the business. "We make sure that we are all accessible, so that no one feels neglected or unable to reach out to us; even the owner is on-site every day and very approachable," Ian shares. The conversation then steers towards plans for the future, and, as both Wayne and Ian share their thoughts on the coming years, they believe that the ultimate goal will be to grow the business. "A big focus for us is increasing our international footprint into emerging markets such as India and China. We don't have a presence in North America, Canada or Mexico, and so we're looking into those territories. We are also determined to move towards ecommerce, and we are very excited that our products will be able to reach a wider network of clients," Wayne says. In bringing our discussion to a close, Wayne expresses that among Tetrosyl's plans to expand, he wants to see the organization push boundaries regarding how the company tackles market obstacles. "We're challenging ourselves to provide different solutions for our customers. By this I mean that we want to offer products that are better for our clients and better for the environment. To achieve this, we will be bringing in new technology and relying on our fantastic team to keep Tetrosyl a leader in this market sector," Ian concludes. v success. "I'd like to think that you can tell we're looking after our team by the tenure of our employees, as well as their progression within the company. Some within the organization started on the factory floor, and are now sitting on the senior leadership team, and for me that is something to be proud of. I don't think ten years is an uncommon length of service here and that speaks volumes about the culture we work hard to create for our people."
• Saica Efficiency – Maximising customers' waste recovery through operational efficiencies to achieve competitive cost savings.
Productswww.tetrosyl.comTetrosyl
: Manufacturer of car care products
Taking this one step further, Tetrosyl's management team ensures that its leadership is driven by listening to its team, and as a
Tetrosyl www.saica.com
• Saica Circular - Keeping valuable resources within the circular economy, through connecting waste resource producers with innovative opportunities.
We're proud to collaborate with brands like Tetrosyl to achieve their environmental goals. Exceptional service has been achieved through an embedded account management function that provides a full range of waste services. Through diagnostic and improvement plans, Tetrosyl continues to drive efficiency benefits and sustainability in its waste management solutions.
• Saica Material – Maximising value and traceability for our customers' waste, utilising the Saica network, market knowledge and technology.
www.manufacturing-today.com 99 customerservice.natur@saica.com 144 Manchester Road, Carrington, Manchester M31 4QN
At Saica Natur, we're committed to the circular economy. We work to deliver world class service, maximising our clients recycling and eliminating waste through innovative solutions.
Our work with Tetrosyl embodies circular economy values. Waste cardboard collected from Tetrosyl's manufacturing facilities is processed at the Saica Paper mill in Manchester. This then feeds the Saica Pack packaging manufacture that, in turn, provides Tetrosyl with its packaging needs.
Saica Natur Saica Natur, part of the Saica Paper, Pack and Flex Group, provides waste management and environmental services to its customers; utilizing Saica's unique position in the circular economy to achieve zero-waste, and maximize waste management efficiency.
l
100 l www.manufacturing-today.com
about
Hoosier Racing Tire is on a mission to produce tires that clients can depend on. Although it comes from humble beginnings, the company has grown to become the largest tire manufacturer in the world, and there are no chances of slowing down all it
Menting, "and Robert and Joyce, his wife, decided to mortgage everything they had, and build what became our first tire plant," he says. Paul, who serves as Hoosier's VP of Sales and Marketing, gives us a closer look into the world of racing - more specifically, the wheels that keep it turning. "We started with four presses in Plymouth, Indiana, and since then, we have continued to grow."
The founder of Hoosier Racing Tire (Hoosier), Robert Newton, was an avid racer. His passion for fast cars drove him to a career in the automotive sector, and he subsequently struck up a partnership with a company in Ohio that specialized in recapping tires. "Unfortunately, it went out of business in 1977," begins Paul
Speednow
"We understand what it takes to be a racer and compete in the world of motorsports. We've become vertically integrated within our manufacturing process to help us control as much as we can. This has given us a unique edge, as we have been able to establish our own mixing and calendaring processes," he says.
Then, in 2016, Continental purchased Hoosier. According to Paul, the multinational automotive parts manufacturing company shares the same DNA as Hoosier in terms
Hoosier Racing Tire
Paul continues to share that Hoosier has invested significantly in its Z-calendar, in order to control the quality and input of its materials. This subsequently led the business to invest further into its manufacturing facility, which has exponentially increased the company's value.
While Hoosier specializes in racing tires, the business also offers manufacturing capabilities such as calendaring, fabric, and rubber mixing to other operations.
www.manufacturing-today.com l 101
In terms of additional diversification avenues, he divulges that the company is now looking into the utility task vehicle (UTV) sector. "We have three sizes of UTV tires, which will be introduced in the fall of 2022, and that is a very exciting market for us. However, we will certainly be focusing on motorsports first, because that is our comfort zone. Following the sturdy establishment of that sector, we will then branch into recreation," Paul shares.
"These services add to our diversification abilities quite nicely, but the majority of our focus is producing tires for motorsports-driven competition use," shares Paul.
"We also have a line of strip to street tires, and we are going to be introducing our first sizes in that area later this year as well. There's also another line coming to the circuit, with similarities to strip to street. We call it the 'Track A' Pro-line, which is a semi-slick range of tires capable of being utilized on the street. All of these lines will be coming out in the fourth quarter of this year, and early 2023," he highlights.
Paul is immensely proud of the reputation that Hoosier has garnered for itself. For him, the reason as to why the business is so successful is because it continues to imbibe Robert's passion for quality racing. Furthermore, this passion ensures the company kicks into gear when it comes to best practices.
102 l www.manufacturing-today.com of its company culture and approach to motorsports. As a result, the transition into the business's portfolio has been smooth and very exciting for the Hoosier team. "Continental recognizes the value of continuing to invest in our vision, and the acquisition has been a massive catapult for our success in recent years." Taking into consideration the company's history, it comes as no surprise that the culture at Hoosier is one that is heavily rooted in family values. "We are a closelythose values are reflected onto the supply chain. Paul discusses how Hoosier has had to work efficiently to ensure customers receive their orders. "Having close relationships and very good communication with our vendors and suppliers has been key, and we're lucky to have that. It has enabled us to not have any substantial production stoppages due to lack of supply of raw materials. Of course, this has been difficult, and the company has had several close calls in terms of not making deliveries on time, but our relationships with our suppliers have been critical to ensure we continue to "Consideringoperate.that Covid-19 brought the racing industry to a complete stop for two months, everyone at Hoosier did a sterling job. During that time, although we had to furlough some of our people and cut our operations slightly, we did not stop manufacturing, which was so important to us. Now, we are trying to bring our folks back, and navigate the subsequent challenges of the pandemic," he explains.
As the manufacturing industry continues to battle labor and supply shortages, Hoosier is looking for more innovative ways to overcome these obstacles. "We have been unable to get our production to where we want it to be. As a result, we are seeing quite a few shortages in our race tire inventory, which has been challenging for our customers and our distributors. Then when you throw in the changes that have occurred in logistics in both availability and cost, it has been an overwhelming tsunami when it comes to supplying and manufacturing for everyone in this industry. However, we are doing all we can. We have navigated it to the best of our ability, and I believe that, with a bit of time and patience, we will be able to get ahead of these difficulties."
Our distributors are independently-owned and operated, and many have been partners of ours for over 30 years. They are also family-owned businesses, and so it makes for a seamless process between manufacturing, sales and distribution."
It goes without saying that having a united and dedicated company culture has served many manufacturing businesses well over the last two years, especially in the instance when
Paul shares that, at the moment, the business has four major projects taking place to assist with its manufacturing efficiencies, which he believes will be concluded in the fourth quarter of 2022. "We have our eye on a major expansion that includes a curing and tire building capability. Although it hasn't yet been finalized, we hopefully, will be launching it in 2023, and that will be one of the most significant investments we have ever made into our operation," Paul divulges. For the rest of the year, Hoosier is determined to focus on growth. Paul is hopeful that the business will get back to hiring more people again, and finally return to the operating capacity it boasted before the pandemic struck. "Our supply is as stable knit team here, not only at Lakeville and Plymouth, but across our entire network.
as it can be, and we are able to produce more tires than we did last year, so the outlook is promising and positive. A longterm effort will be required to solve these issues, but we are determined to wait out the worst of Aboveit." all, Paul would like to see Hoosier continue to uphold Robert's values, and remain the business he envisioned it to be all those years ago. If the company can maintain that family ethos, he is sure that expansion will be an organic result of its exemplary practices. "There is a really exciting future for the business in the next five years, and I look forward to seeing us take advantage of all the opportunities that lay ahead," he concludes.
v www.manufacturing-today.com l 103 Hoosier Racing Tire Hoosier Racing Serviceswww.hoosiertire.comTire : Tire manufacturer
104 l www.manufacturing-today.com
www.manufacturing-today.com l 105 Bundy Refrigeration
Most recently, Bundy opened a new plant in Turkey, in 2020, to meet increasing global demands for the company's preeminent refrigeration products. The facility, which is located in Manisa, has a production footprint of 11,000 square meters and its own tube line. Built with the future in mind, the space can be adapted to include a second line as demand increases. In addition to skin condensers and wire-on-tube condensers, Bundy's latest plant manufactures door warmer assemblies; a specialty product that circulates warm refrigerant around the cabinet door flange to cut condensation around freezer and fridgefreezer door frames, improving the energyefficiency of refrigeration products.
"The sales process drives new business and helps us meet growing demand; production fulfils orders and identifies gaps in capacity, alerting the sales team of voids they must fill," he goes on. "Strategic procurement also plays a huge part in the timely supply of goods; building robust relationships with suppliers through procurement means that any supply
Serving prominent manufacturers like Samsung, Electrolux, Liebherr, Whirlpool, and B/S/H with premium parts and cooling solutions for six decades, Bundy Refrigeration (Bundy) is involved in the design, manufacture, and supply of heat transfer and fluid carrying components for domestic and commercial refrigeration appliances. As a result, the company has become revered for its holistic approach to the rising demands of the industry. The market leader is committed to driving technical innovation forward and cultivating engineering expertise across its global team.
Operating throughout Europe and Brazil, Bundy Refrigeration has been manufacturing best-in-class cooling system components for over 60 years. In that time, the company has established itself as a global leader in the refrigeration industry – and, despite the Covid-19 crisis, it shows no signs of slowing down
spread across five countries: Brazil, Germany, Hungary, Italy, and Turkey. Bundy Brazil has facilities in Curitiba, Pinda, and Maracanaú: Bundy Curitiba has a dedicated tube line and manufactures wire-on-tube condensers, door warmers, wrap-around evaporators, helical condensers, forced-draft condensers, and skin condensers; Bundy Pinda creates roll bond evaporators and semiautomated no-frost lines; and the Maracanaú plant is dedicated to the bending process utilized in the construction of door warmers and skin Acrosscondensers.Europe,the company operates from three hubs: Bundy Germany, a fully-automated facility specializing in high-volume manufacturing of heat exchangers, evaporators, door warmers, condensers, and the development of new heat exchanger technology; Bundy Hungary, which leads the manufacturing of refrigeration components for a major global brand that is handily located less than 20 kilometers away, as well as providing general components to an array of other customers; and Bundy Italy, a specialist unit that manufactures high-end steelcoated tubes via four tube lines, and operates as the center for calorimeter and energy consumption tests as part of the company's research and development efforts.
Coupling unrivalled product quality with comprehensive customer support has proved a successful strategy; Bundy has carved out a name for itself with manufacturing plants
"Our success stems from Bundy's robust global model; that is, having semi-autonomous business units operating in multiple countries with a large home market for domestic white goods," details Chris McGeehan, Group CEO at Bundy. "As a company, we have successfully aligned our production with customers that require a large degree of local assembly and essential customer support. Sales and production are key to customer service and satisfaction, and much work has been done to align these disciplines in each of our geographical locations.
A globalmodel
Voestalpine Fontargen Brazing: In-depth know-how As a manufacturer of soldering and brazing consumables, we offer proven solutions based on 60 years of industrial experience, tested processes and methods, made in Germany. This in-depth know-how makes us the internationally preferred partner to solve your soldering and brazing challenges through innovative solutions. The result is what we promise: innovation based on in-depth know-how. Fontargen Brazing is the international partner for these main industries:
Though growing now, prior to the 2018 buyout by Grandholm Production Services Limited, Bundy was operating at a loss and customer confidence was not what it was. Fortunately, however, Chris and his apppointed executive team were poised and willing to take the helm, steering the company back to profitability and restoring relationships with both suppliers and customers. in corporate overheads, improved relationships with supply chains and customers, and the integration of a more streamlined approach driven by results – all with no additional borrowing."EnterCovid-19.
106 l www.manufacturing-today.com chain issues can be resolved with minimum risk in less time. Integration and collaboration between the variously located business units have been key to maintaining operational consistency; senior management in each plant work side-by-side with other units instead of in silos to ensure sales and production meet the demands of our customers."
Just as all that hard work started to come to fruition, the company was thrust into the middle of an unprecedented global health crisis. Though throughout the course of the pandemic (and its aftermath) Bundy increased stock levels to try and mitigate rising prices brought on by supply chain disruptions, it has not been immune to the prolonged challenges of Covid-19. Thankfully, however, because of the hard work that went into restructuring the company before the arrival of the pandemic,
• HVAC&R – bare and coated silver rods and wires, fluxes, copper-phosphorus rods and wires and preforms for the brazing of components.
• Automotive – copper wires for MIG- and laser brazing on the car body and copper and nickel pastes as well as copper preforms for brazing on the powertrain for applications such as torque converters for modern gear boxes, new EGR-cooler systems and high-pressure fuel-direct systems.
• Other Segments like Tooling/ Power Generation – brazing pastes (dosable), highly active fluxes and silver-based foils.
"Solving the more immediate challenges included a complete overhaul of cash management," he reveals. "We then set about building confidence in the management team and formed a program to communicate effectively with our diverse customer base. Efficiencies continued to be made, and investment in new plant machinery improved productivity. Moreover, a reorganization of management and sales better aligned our business units with the manufacturing bases of our key customers. This included investing in the executive team, namely bringing in additional expertise with proven experience in asset and fiscal management. Since 2018, we have seen a return to profit, the retention of key management staff, a 25 percent reduction
Bundy Refrigeration
"Steel is our main material and factories have struggled to keep up with demand since Covid-19 restrictions have lifted – and those
108 l www.manufacturing-today.com
"Our global standing and international operations meant that manufacturing plants were able to support each other and cover any gaps and anomalies when other units were unable to function at full capacity," says Chris. "In turn, this meant that key customer accounts were not compromised, and orders were consistently fulfilled. Another benefit of challenges persist," he explains. "Just as we thought the world was getting back on its feet, the conflict in Ukraine placed further pressure on steel-producing nations, raising prices as supply was once more squeezed. When you factor in skyrocketing transport and fuel costs, it really is a perfect storm: prices are only going one way. The work we carried out before the pandemic – aligning sales, production, and procurement – has lessened the impact being split over numerous countries was that we could better anticipate the Covid-19 waves; what we learned from the outbreak in Italy, for instance, enabled us to prepare in other countries more appropriately. As a result, we could stay ahead of the curve by establishing contingency plans that kept production moving.
Bundy was able to withstand the full force of the crisis and keep cool under pressure.
viable for tomorrow's problems.
"Ultimately, we want to be seen as a worldclass technology business and the supplier of choice for leading refrigeration brands," he concludes. "To achieve this, we will look to expand into emerging markets where our customers have manufacturing operations and promote our corporate culture of continuous improvement – all the while maintaining our reputation for superior engineering and industry-leading solutions. While profit and cash flow are crucial, turnover is not. We do not aspire to be the largest component manufacturer in the market, but we do expect to be the best."
"Continuous product development will be central to our operations going forward," asserts Chris. "Investment in new plant machinery has already reduced our overall energy usage, and we are now focusing on innovative technology that will address heat transfer efficiency and therefore, improve energy consumption at a time when costs are exponentially rising. The development has since attracted interest from appliance manufacturers seeking to improve fridge-freezer energy efficiency, and we expect to publish test results in the next few weeks."
Bundy also recognizes the importance of reducing direct emissions of fluorocarbons through better containment of refrigerants and by reducing energy usage across its network. To that end, it set up Bundy Green in 2019 to address environmental concerns within the company."Aspart of that initiative, we recently began a group-wide program to reduce the impact of our operations in anticipation of future climate change regulations," details Chris. "We are working with CDP, an international global disclosure expert to gather detailed information on the environmental impacts of our energy use, emissions, and waste. We are also working with an external consultancy to assess all our operations and put in place a sustainability policy that will dictate how we can comply with environmental legislation.
v of all these pressures; however, as with every business, we face cost increases as supply chains continue to be affected by the volatility of markets and the instability of geopolitics. We are grateful that our customers understand these challenges and continue to collaborate with us in such tough times."
Despite the current climate, the company is gearing up for a promising future. Yet Bundy recognizes that today's solutions will not be
: components manufacturer
The company is determined to develop new products and processes in-house by forming synergistic partnerships with other companies.
www.manufacturing-today.com l 109 Bundy Refrigeration Bundy Serviceswww.bundyrefrigeration.comRefrigeration
Refrigeration
In fact, the amount of carbon dioxide produced throughout computer manufacturing is surprisingly staggering. Fortunately, though, one carbon-neutral with phosphorescence, and the scratch-free aluminum casing seems to glisten in the light. However, buying a new laptop has a bigger carbon footprint than you might think.
Decarbonizingmission the IT world
usedtheKitemarkfirst-of-its-kindlandmark,BSIapprovalforremanufacturingofcomputerslastyear,
110 l
Following a Circular Computing is proudly disrupting upgrade culture with its robust, innovative, and yet decidedly simple sustainability
Wwww.manufacturing-today.com ho doesn't love a new laptop? The keys clack with a resounding freshness, the screen appears to sparkle
www.manufacturing-today.com l 111 Circular Computing
pioneer, Circular Computing, is on a mission to change that. Before diving into its decarbonization drive, let's pause and reflect on the figures involved in laptop production. To manufacture the necessary components in one laptop, more than 1200 kilograms of material resources are mined and consumed. Furthermore, over 190,000 liters of water are used for extraction, refining, and production purposes. That's enough drinking water to keep the average US citizen going for 700 years.
"It's important to understand the context of the laptop market," explains Daniel. "Our company was born in the 1990s, and at that time we were simply taking second-hand IT and selling it on for a small margin. These were often relatively new computers no longer wanted in developed countries like the US and UK, which we would then sell to developing countries, where there was demand for that technology and typically it may be used for an extended period of time. However, as computers are now advancing more slowly, there is much less reason to upgrade – unless something goes terribly wrong.
In Circular Computing's 360-point remanufacturing process, around 99 percent of the laptop and its components are recycled. The remaining one percent is then turned saves around 316 kilograms of CO2 emissions per laptop, and once it has carried out that process for 1000 items, the amount of CO2 saved is equal to taking 80 cars off the road for an entire year. Furthermore, for every computer sold, the company plants five trees in areas and communities that stand to benefit from reforestation. So far, it has helped to plant nearly 300,000 trees in Africa, India, and the US.
112 l www.manufacturing-today.com
"In our culture, though, there's still this pervasive and habitual inclination to upgrade," he continues. "The impact of that behavior on the environment is colossal: the vast majority of computers end up in landfill somewhere very far from home. So, in the mid-2010s, we seriously started looking at the viability of the remanufacturing model, turning used items with a residual value into something that performs like new. We built and opened the world's first dedicated remanufacturing facility and that state-of-the-art space and our development efforts have since enabled us to achieve a BSI Kitemark, categorically stating that our laptops are equal to or better than the OEM item. These laptops, which are taken from inspection and disassembly to remediation and testing in our new facility, don't just cost less, they're also significantly more sustainable."
One laptop. When a medium- or largesized business begins to procure thousands of computers in bulk, these figures start to swell and surge. Yet the answer to this unsung waste disaster, as Daniel Ward-Murphy, Marketing Director at Circular Computing, informs us, is simple: remanufacturing. For those unaware, remanufacturing is the process in which a used or second-hand Original Equipment Manufacturer (OEM) product is returned to a performance standard that is either equal to or greater than the initial item, as well as being guaranteed with a warranty that matches that of the OEM. From a consumer point of view then, individuals shouldn't be able to notice any differences between a remanufactured laptop and a new one. Apart from delivering equal if not better quality, the process also critically prevents the consumption of additional resources in new manufacturing and averts large amounts of e-waste from going to landfill every single day. As Daniel asserts, Circular Computing's extensive 360-point remanufacturing process
"Ultimately, we're just a small company with a bold mission," he goes on. "There are only about 200 of us, but we still have a Head of Sustainability, and countless others who are passionate about our cause. In non-core hours, for instance, we engage with panels and interviews, and work with institutions like Cranfield University, who are currently investigating the environmental and financial equation of the remanufacturing model. Though we're a small company, our mission is part of a much larger one – and it doesn't concern products. It's about perception. It's about changing behaviors that threaten our planet. It's about people doing something different than what they did yesterday. In the next five years or so, we hope to see more people, companies, and organizations make this small change, and our purpose-built facility will be there – ready and waiting – for it to be adopted at scale." v into plastic pallets, beginning a new life for the materials once more. As Daniel aptly points out, unlike in other areas, where consumers often pay a premium for a sustainable solution or item, the remanufacturing model means people can expect to pay up to 40 percent less. "We're on a sustainability journey, but we're also on a product journey," he reflects. "We've worked with some big companies, including Balfour Beatty, as well as numerous schools and councils that not only want to save money, but also want to promote more sustainable behavior."
www.manufacturing-today.com l 113 Circular Computing Circular Productshttps://circularcomputing.comComputing : Remanufactured computers
In the UK, for instance, Circular Computing recently partnered with Bristol City Council to procure and supply remanufactured laptops as part of its sustainable IT infrastructure overhaul. The council wanted to maintain operational efficiency and output levels while adhering to its green guidelines. Needless to say, Circular Computing delivered – and the numbers speak volumes.
"The further away from the public sector we attempt to go, the less uptake we're seeing," reveals Daniel. "Though private companies can significantly decarbonize their IT operations with our help, there's just not as much incentivization in that sphere. In governments, councils, and educational institutions, leaders have to follow set strategies and guidance; whereas, many private businesses are not part of that environmental journey. Yet, as a species, we're simply overusing the resources we have, and something needs to change.
In all, the council recycled and thus diverted 1,440,000 kilograms of e-waste from going to landfill – and that's just one example. However, due to deeply ingrained habits cultivated by organizations that stand to benefit from upgrade culture, there's still a discernible resistance to remanufactured computers.
By bringing Circular Computing on board and refusing to replace existing IT infrastructure with new OEM equipment, Bristol City Council prevented the emission of 456,000 kilograms of CO2 equivalent greenhouse gases, sequestered a further 720,000 kilograms more, and saved 228,000,000 liters of water from being used during the production of new materials.
114 l www.manufacturing-today.com
Centuries in the making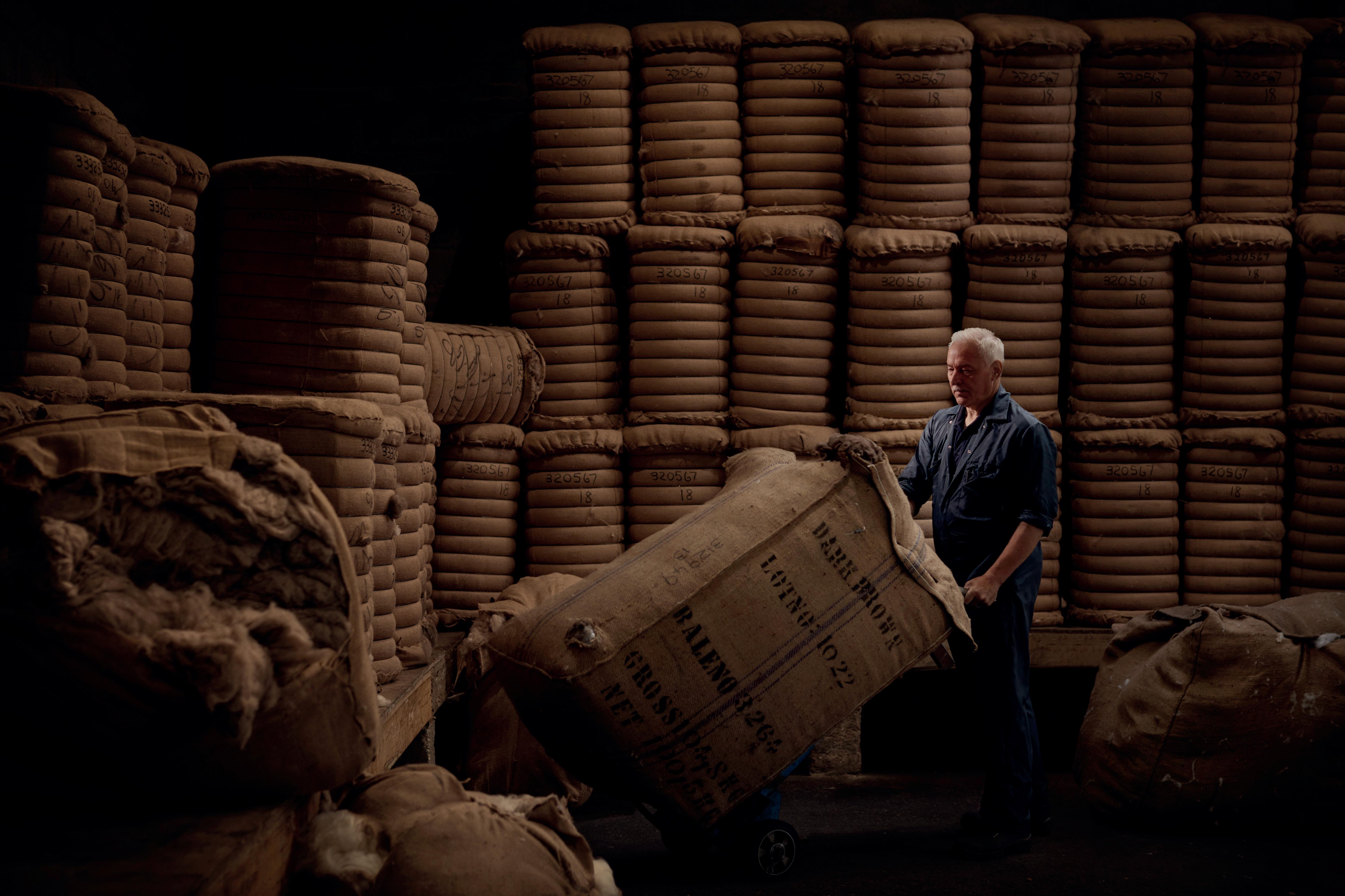 Johnstons of Elgin
www.manufacturing-today.com l 115
Blessed with a more than two-hundred-year heritage, Johnstons of Elgin is looking to cement its name among the top luxury British brands in wool and cashmere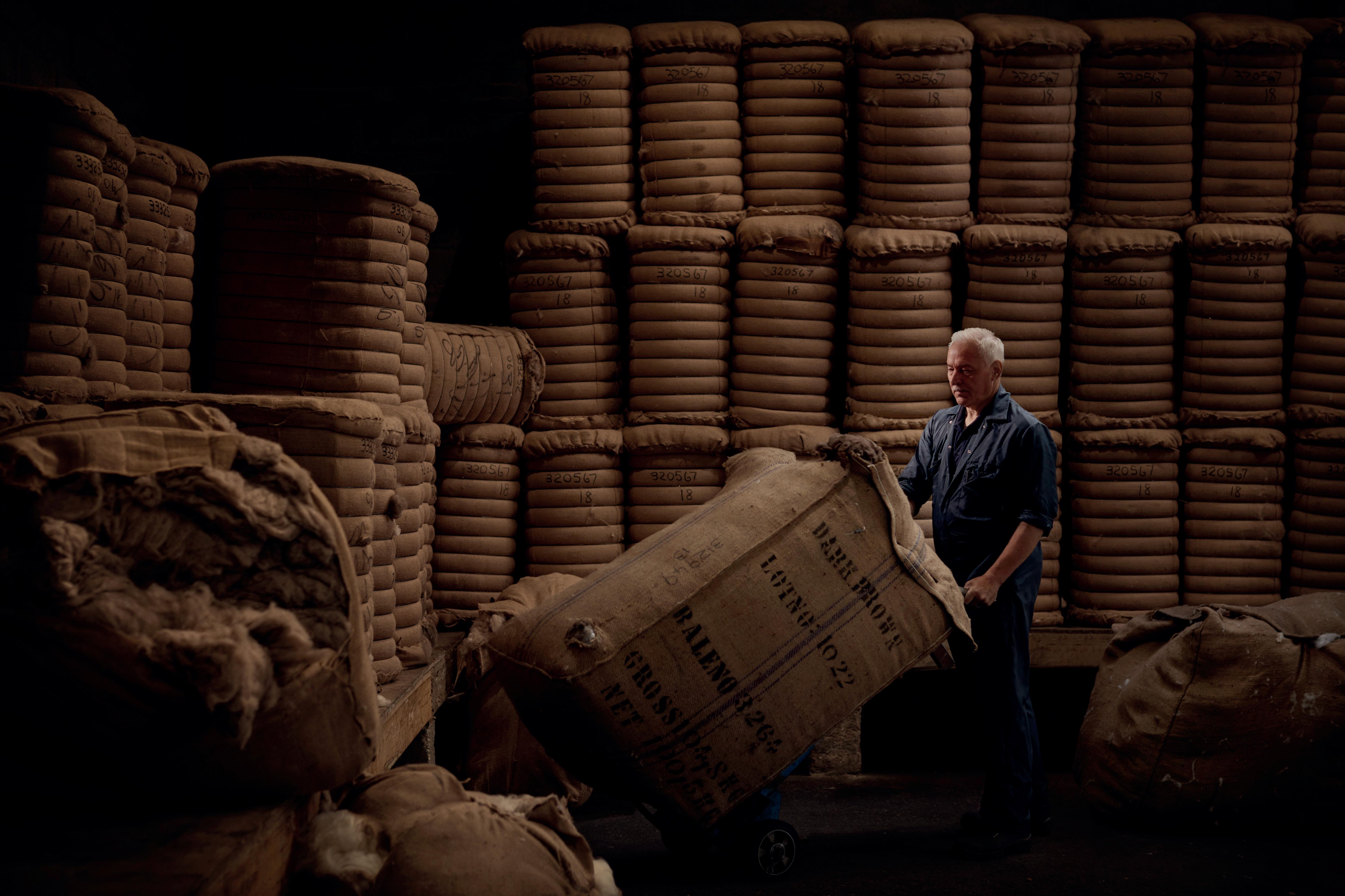 "Perhaps the most distinctive part of our operation is that we are fully vertically integrated," says Chris Gaffney, CEO of Johnstons, when speaking to Manufacturing
116 l
It's a business that's profited in recent years, as demand for shorter supply chains and authentic, sustainable manufacturing stories has encouraged brands and consumers away from overseas alternatives, and back to the UK.
Iwww.manufacturing-today.com majestically amid the Scottish countryside on the banks of the river Lossie. In doing so, he displayed the entrepreneurialism and innovation so characteristic of the early industrial revolution, and launched a legacy of high-quality textile manufacturing that continues more than 200 years later. Today, Johnstons of Elgin (Johnstons) is a global leader in cashmere and woolens, dyeing, through yarn manufacture, weaving, finishing, and sewing, all in our mills in Scotland." As direct purchasers of the raw fiber, Johnstons is unrivalled when it comes to the quality control of its inputs. "We can also follow that quality through our mill processes and quickly feedback any issues," Chris adds. It's this that allows the company to carefully manage its environmental and social footprint – a
www.manufacturing-today.com l 117
When it comes to product development, Chris is keen to emphasize the work of the company's expert design team, who collaborate closely with private label customers to deliver luxury results. "It all starts with our designers," he confirms. "Some customers might come with fully formed ideas, but for the most part, it's about marrying our designers' technical and aesthetic skills with the customer's vision for their brand.
"Our two mills in Elgin (weaving) and Hawick (knitting) have very close partnerships with key equipment vendors," he tells us. "Our knitting machines, for example, are manufactured by Shima Seiki in Japan. We're very proud to be one of their key partners in "We recently opened a new research and development center at our Hawick knitting mill," Chris goes on. "In doing so, we've been able to move our creative and technical teams into the same space, allowing them to work more closely than ever in finding innovative ways to create beautiful knitwear, in the most efficient way. In our Elgin mill, we've also been investing in up-to-date weaving technology, and in lighter weights and jacquards that allow us to do more with pattern and branding."
valuable asset when appealing to private label
of Elgin
Despite its history, Johnstons is no stranger to innovation. As is typical of luxury fashion manufacturers, approximately half of the company's products are new each year. As a result, Chris says, "there's always something happening," with new blends of fiber, recycled fiber, and new construction techniques consistently brought on board to deliver new and improved textures, or alter hand-feel. But to push the boundaries demands cutting-edge technology.
Johnstons
"At the same time, I think our teams take a lot of intrinsic motivation from seeing the output of their craft, the brands that we sell to, and the quality of our Johnstons products, and they are rightly proud of what we do," Chris insists. "We have a lot of people with long service, and there is a sense of camaraderie in our teams that comes from working with your friends and long-time colleagues, solving problems together, passing on your skills, and making beautiful things."
Business has largely returned to normal postpandemic, but it's not all plain sailing. As demand for products soared throughout 2021, supply chains stretched to breaking point. To navigate the impending delays and extortionate lead times, Johnstons has relied upon a set of robust supplier relationships.
As Chris's comments suggest, it's a milestone that would never have been achieved were it not for the hard work and dedication of the company's employees. "We are a craft business, so everything depends on the skills of our people," he confirms. "As a family business, we also feel a deep responsibility and care for our teams. Training and development are really important, particularly given the historical decline in textile skills within the UK. We therefore award our own apprenticeship qualifications, certified by the Scottish Qualifications Authority (SQA), and we pay the living wage as a minimum.
Johnstons celebrates its 225th year in 2022.
In 2020, the retail sector was hit hard by the arrival of Covid-19, and Johnstons was no exception. Nevertheless, these same teams responded to the challenge of the pandemic, helping the company to bounce back with an impressive performance in 2021.
"Whether it was enforcing social distance, mask wearing and hand hygiene in our mills, or working from home, our people showed the willingness and resolve to do what was needed," Chris reflects. "Our sales dropped significantly in 2020, but we recovered well, and now have more people and higher sales than pre-pandemic. We've learned that we can work in a different way in some areas, though flexible or home working clearly has its limits in a manufacturing environment."
"For our own line, we of course have free rein to experiment, and we find that the combination of private label and Johnstons brand generates a multitude of creative ideas," Chris continues. "Of course, these designs have to be converted into commercial pieces, and our creatives work very closely with operations and technical to make sure that we can reproduce the ideas generated in our mills."
118 l www.manufacturing-today.com
"Whilst we are vertically integrated, there are times that capacity constraints or bottlenecks mean that we work with other UK or EU mills to support us," Chris admits. "Where we do so, we need to know that the quality and other standards are up to the mark, so we try to build long-term relationships. The UK textile industry is having a bit of a renaissance and we're very proud to work with some great companies that survived the period of contraction. Outside of the textile industry, we also have great relationships with various companies in the nearby area. As a fairly large local employer, we know how important it is to source from our community wherever possible." With textiles once again on the rise, the hope for Johnstons is that the good times will continue. "We have room to grow, and I'd like to see that growth come alongside creating more quality jobs at our mills in Elgin and Hawick, with high levels of training, and adding real value to our products." Chris concludes. "Our brand is still a bit of a sleeping giant, but we already produce goods for many of the top tier luxury brands. We have everything it takes to become one of them in the years ahead."
v Johnstons of Productswww.johnstonsofelgin.comElgin : Luxury cashmere and woolen textiles
www.manufacturing-today.com l 119 Johnstons of Elgin
www.manufacturing-today.com
As a specialist in OEM service, ATC is the remanufacturer of choice for a number of blue-chip automakers, incorporating the latest designs to deliver enhanced performance the original manufactured product, using a combination of reused, repaired, and new parts.
The go-to partner for blue-chip automakers, ATC Drivetrain, discusses the important rise of electric vehicles, and its strategy for becoming power-supply agnostic
The remanufacturer of choice
"We take every incoming assembly, whether it is an engine, a transmission or battery pack, down to the base level components," explains George Kostopoulos, Vice President of Global Sales & Marketing at ATC. "We completely disassemble it, inspect each part, clean and reassemble, replacing any components
necessary with new parts. Our objective is to reuse and recycle as much as possible within the process while still achieving current OEM standards and specifications."
At 84 years old, few businesses have the experience of ATC Drivetrain (ATC). The largest independent Original Equipment Supplier (OES) remanufacturer in the world, the company leads the way in the production of 'like-new' automotive powertrains and drivetrains for internal combustion engines and electric-powered vehicles. It's a process that reduces both the amount of waste material and the expense of warranty fulfillment, resulting in elevated environmental standards, higher customer profits, and lower costs for consumers.Theremanufacturing process refers to rebuilding a product to the specifications of 120 l
The opening of the Knoxville facility is yet another step in ATC's long-term pivot towards EVs. It follows the announcement, in April 2022, of the company's acquisition of UK-based Treharne Automotive Engineering, a specialist in EV battery lifecycle management. That same month, ATC also announced the opening of a new lab at its Oklahoma City facility, complete with remanufacturing capabilities for EV systems."Four years ago, we recognized that the industry was evolving toward electrification as automakers began making announcements detailing their long-term EV strategies," George reflects. "While we continued to enhance our business supporting internal combustion engines and transmissions, we initiated our plans to establish the competencies and capabilities to remanufacture batteries and drives for EV components."
products. "OEMs need to continue to support their customers' aging vehicles that are outside the normal warranty period," George confirms. "This is where ATC can support and reliably convert new or used inventory into the products that will keep their branded vehicles on the road even though the needed components have long-since ceased production."
"We're very excited about the new facility in Tennessee," George admits. "While the factory will initially allow for an increased capacity to support our transmission customers' growing demands, we expect to leverage its proximity to the Electrification Corridor being developed in that region and introduce EV recycling in the near future. Being located within the region will allow us to support these customers more responsibly and effectively."
www.manufacturing-today.com l 121 ATC Drivetrain
Since then, ATC has pursued a simple strategy: to be agnostic when it comes to the vehicle power supply. "Our goal is to support our customers' needs for remanufactured components regardless of powertrain, anywhere in the world," George insists. "Our acquisition of Treharne and others, combined with our established foundation, has us very well-positioned at the forefront of EV vehicle remanufacturing. Building upon our
As an international brand, ATC boasts 13 facilities around the world, including one in China, five in the UK, and the remaining locations in the US, along with the company headquarters. Among these is the company's newly opened facility in Knoxville, Tennessee. An $8 million investment, it's set to create more than 250 jobs over the next five years.
ATC prides itself on returning a betterquality transmission to its customers than the one it receives. To achieve these high standards, the company undertakes an extensive testing process of each component and sub-component, including valve-testing, pump-testing, and defect detection, all to OEM specifications. "We're not satisfied with reduced performance," says Al Victoria, Vice President of Engineering & Quality at ATC. "Our remanufactured parts must perform at or better than the exact same standards as brand-new parts. If not, they don't pass."
"We are only beginning to identify the potential for second-life applications of EV batteries." George goes on. "Used Battery modules that may not have the capacity for an electric vehicle could still have years of valuable life in another application, such as an energy storage system. Alternatively, when it can no longer be used, the module can be recycled, extracting the black mass and reusing it to produce new battery cells, rather than requiring the generation of more raw materials. It is new territory, and it's
122 l www.manufacturing-today.com extensive knowledge of EV testing processes and tool development, in addition to our remanufacturing experience, ATC is uniquely positioned to offer EV batteries for seconduse or second-life applications from our state-of-the-art facilities.
"Electrification requires a high level of investment, including converting our skillset," Al adds. "Our recent acquisitions have helped to deliver this. In particular, the team at Treharne has innovated ways to store and recycle batteries for second use cases, so it was a significant opportunity to work together and grow our capabilities as one."
It's been a difficult couple of years throughout automotive and manufacturing, as the initial disruption gave way to supply chain delays and extensive lead times. But despite the difficulties, ATC continued to operate with a reduced workforce.
"There are a lot of sub-components that go into a transmission," George comments. "If we are missing one part, we can't build. Navigating supply chain disruptions and sourcing parts was a major challenge, made even more difficult by the incredible demand we were experiencing. The reduced availability of new vehicles, driven partly by the chip shortage, forced more drivers and fleet managers to spend money to keep their existing vehicles running longer than they normally would. We needed to ramp up production to meet that incremental demand.""Atthe same time, it's no secret that the industry as a whole is in need of more people," George continues. "The main lesson we have learned is that we need to exciting to build innovative opportunities to support our customers, the end consumers, as well as, the circular economy, at the same time."
ATC Serviceshttps://atcdrivetrain.comDrivetrain : Powertrain and Drivetrain remanufacturing
www.manufacturing-today.com
remain flexible in our solutions and how we implement them. This helps us to better react to unforeseen impacts on our business."
Endural Endural is a supplier of plastic thermoformed products. Its products include transportation cases, electronic and medical totes, as well as containers for a major fast food chain. It has been a proud supplier of engine, transmission, and hybrid battery cases to ATC Drivetrain since 2011. The Endural team is thankful for the relationships, both personal and professional, that it has developed with the ATC Drivetrain team. Over the last ten years, ATC Drivetrain's commitment to Endural has helped fuel the company's growth. Looking to the future, as ATC Drivetrain grows and expands its business, Endural will be there to support it the best way possible.
Turning to the future, ATC continues to expand its footprint internationally to pursue its vision to be the global partner of choice for remanufacturing solutions. "In everything we do, we ask if it will help us to achieve this vision while allowing us to maintain our corporate values, " George emphasizes.
"Short term, we're focusing on integrating the companies we've recently acquired, with a view to continuing the growth of our electrification business and capabilities," Al concludes. "Our customers are looking for solutions for EVs when it comes to service. It's our responsibility to ensure we have the capability to deliver those solutions." v
l 123 ATC Drivetrain
"In the last 12 months, we have experienced some recovery from the pandemic," begins Jonathan Holmes, Managing Director at Creative Composites.
"Then, of course, that upswing was somewhat stalled by the disruptions brought on by the RussiaUkraine situation. Needless to say, the road has been long and some important sectors have been quite start-stop in terms of an overall recovery.
W hen we last featured Creative Composites in Manufacturing Today, the company was grappling with the latest surge in Covid-19 cases. Fortunately, more than a year later, we are now able to speak with the composites leader from a place of relative stability.
Breakingmore the mould
124 l www.manufacturing-today.com
Serving clients in the UK, North and South America, and mainland Europe, Creative Composites manufactures some of the most complex composite components in the automotive industry – and, now on the precipice of an electric vehicle revolution, it is hungry for
One of the advantages of composite materials is that they are both strong and very lightweight, and as such they can be utilized by our customers to reduce the carbon emissions of their products
"To combat these issues, we have been working with customers and suppliers in equal measure. We have maintained good relationships with our customers and we have reacted to increased lead times by placing orders further in advance and stocking up on any raw materials we need. Fundamentally, it is about balancing our business to meet the needs of customers with suppliers and our internal manufacturing capacity, and that is what we have been doing."
There have been some significant highlights. Projects that were delayed due to the pandemic have started to move ahead once more, and Creative Composites has been successfully nominated for several key projects that will come into production in the coming months
"Global disruptions impact us on two levels," he continues. "Firstly, our customers have faced challenges and, as a result, that has had a knockon impact on us. Secondly, directly with ourselves; we have seen extended lead times for several raw materials that are key to our manufacturing processes, and that is something we have had to manage with our existing supply base.
www.manufacturing-today.com l 125 Creative Composites
Complete service
"Finally, our range of components is unrivalled; the components we produce are often very complex and able to withstand demanding requirements. Our ethos is Better Design, Better Manufacturing, and Better Service. To fulfil that, we seek to offer a wide range of skills that make our products truly stand out, as well as providing the customer with a complete service – from the formation of a concept to post-production care. Exceeding customer expectations will always remain our number one goal, and our approach to creating composite components is something our customers really value."
"Amongst some of the short-term disruption, then, we have certainly seen some good wins in terms of future projects," reflects Jonathan. "Though we have carved out a strong position in well-established sectors, we are also now keen to actively pursue additional sectors that will benefit the company in the long-term. In some aspects, our business has changed due to the pandemic; but the fundamentals have remained consistent.
As an industry specialist in compression moulding, Creative Composites possesses two of the largest compression moulding presses in the UK. Newly installed, the cutting-edge machinery can generate a whopping 3,000 tons of pressure each. Operationally, moreover, the presses have an advanced system of active parallel control, which means they can consistently produce high-quality parts to incredibly precise specifications. It should be noted that this kind of capability is not available anywhere else in the UK. Such advancement means that, while the company has historically focused on, say, glass-reinforced composites, it now finds itself in a position to investigate the
"The second thing is our people. We have experts in composites processes; they are highly trained and experienced engineers who know how to work closely with customers and help them develop products. Quite often, a customer will have a concept in mind but there is still quite a lot of work that must be done before it can be detailed, designed, and made ready for production. Our team can optimize and develop these components prior to manufacturing, which is totally unique to us.
126 l www.manufacturing-today.com and through into the next two years. More specifically, the company has been awarded contracts for automotive exterior body panels, semi-structural parts, and battery enclosures for electric vehicles. However, Creative Composites has also been successful with projects outside of the automotive industry; for instance, the firm is currently developing projects that have applications in the renewable energy, transport, marine and defence sectors.
"What set us apart before Covid-19 still sets us apart now" he asserts. "Firstly, our facility. The site was purpose-built for composites processes, and we invested heavily in our equipment prior to the pandemic. As a result, we had the capacity to produce a greater range of components and, consequently, can investigate several new sectors.
innovations company, to create components for a zero emissions workboat. A world first, the design takes advantage of a revolutionary electric eFoiler Propulsion System, for which Creative Composites will manufacture several critical components.
"We truly value the benefits of research," comments Jonathan. "Our research engineer is working on new materials which will give components with even higher levels of performance. Artemis is conducting pioneering work in the marine sector; it is critical – now more than ever – that we create products benefitting the environment.
"We have also recently invested in a new conveyor spray line, which has helped us win some Class A automotive projects. We can now paint different sized parts with solvent- and water-based paints, depending on the requirements of the customer," explains Jonathan. "It enables us to always achieve a Class A surface finish; however, we have not stopped there. We have also upgraded our assembly area to complement these developments, enabling us to put together complex products with not only a high level of care and attention to detail, but a consistent repeatability that offers assurance to our"Atcustomers.theend of the day, a complete service to our customers is the bedrock of our business –and we need to be able to offer our clients that performance standard time and time again," he adds. "We have been recognized with the IATF 16949 quality management standard, which is specifically applied to the automotive sector, for about ten years. That means we excel from the design process through to production."
www.manufacturing-today.com l 127 Creative Composites Creative Serviceswww.creativecomposites.co.ukComposites : Composite components
"Where will we be in three-to-five years' time?" Jonathan ponders. "It is important for the business to continue to evolve given some of the unexpected conditions we have overcome during the last two years. What I can say, though, is that we want to maintain and enhance our position as the UK's most advanced composites manufacturer. To do that, the range of products we manufacture will be slightly different as we look towards opportunities in further sectors." v efficacy of new materials like carbon reinforced materials, which can be processed by virtue of its state-of-the-art machinery.
Since the pandemic, Creative Composites has entered an exciting partnership with Artemis Technologies (Artemis), the world's leading high-performance maritime design and applied
The company had continued to adapt it's unique position within the composites sector to have a new road – one that is fresh, inspiring, and full of potential. For Creative Composites, the long-term strategy is to remain in composites and focus on compression moulding, studying a range of highly advanced materials and complex components, and to continue exceeding customer expectations.
"One of the advantages of composite materials is that they are both strong and very lightweight, and as such they can be utilized by our customers to reduce the carbon emissions of their products" he reveals. "For instance, we are seeing a growing demand for composites in electric vehicles and, more specifically, the battery enclosures they require. The improved strength, fire retardancy, and versatility that composites offer will benefit the final product in terms of both safety and performance."
128 l www.manufacturing-today.com that could appropriately house the latest CNC machining technology available, thereby allowing R&V to meet increasing market demands.
Building with Rooms and Views
Today, the company operates with over 40,000 square feet of manufacturing space across north and south Wales. A key part of generating that footprint was R&V's astute acquisition of a second site in Tredegar, Blaenau Gwent in 2016, which saw around £1.2 million worth of cutting-edge machinery installed across the premises. Within a few months, the facility had been fully accredited and kicked into top production gear. Prior to that expansion, Kevin notes, R&V was achieving a turnover of around £8 million; however, since then, that figure has more than doubled to over £17 million.
efore rebranding as the R&V Group in 2011, R&V went by its expanded name: Rooms & Views – and that is precisely what it creates.
B
"The reason behind R&V's success is simple: "We have a very strong, experienced senior
Though nominally streamlined, the leading UK manufacturer of PVCu windows and doors still manufactures the same high-end products that transform houses into homes by bringing the outside in and creating rooms (rather than spaces between walls) and views (rather than unframed landscapes). Yet with that kind of reputation comes high demand. As Kevin McClure, Group Managing Director at R&V, tells us, such demand encouraged the company to extend its flagship north Wales-based factory in 2015. The expansion was carried out to establish a comprehensive preparation and cutting center Manufacturing more than 60,000 quality PVCu frames per annum for the new build, commercial, trade, and retail sectors, R&V has built a strong reputation for wellcrafted products that last
management team; they are able to work effectively together and independently – but one thing that unites both of these modes of working is a shared desire for success. With that motivator – that fear of failure – we are better able to utilize the breadth of industry knowledge and expertise our management team has and drive the company forward towards a profitable future."
www.manufacturing-today.com l 129 R&V
Originally set up in 2001, R&V has grown year-on-year, battling its way through numerous economic recessions and, most recently, the Covid-19 pandemic. By investing in technology and state-of-the-art machinery, though, the popular manufacturer has been able to continually refine its production methodology and, in turn, its end product: award-winning
"The CNC machines with which we manufacture our products are truly at the cutting-edge," asserts Kevin. "In addition, we have CNC corner cleaners, which accurately and efficiently trim the sprue from the frames when they are being manufactured through a computer-controlled process; and then, once the ...in the next six months, we are going to look at new ways to invest and increase our manufacturing output. In fact, we have just set up a composite door factory in Buckley, which is all ready to go
PVCu casement windows, French doors, tilt and turn windows, residential doors, flush sash windows, and Modlok bifold doors – all of which are widely accredited and thus incredibly resistant to warping, discoloration, severe weather, and security threats.
130 l www.manufacturing-today.com
product has passed inspection there, it moves onto our man-powered procedures.
"Ultimately, machinery can only take you so far in manufacturing frames – eventually you have to revert back to a bench and a hard-working, knowledgeable individual to, for example, hang sashes," he adds. "After a network of depots located across Wales and the West Midlands; and, finally, direct installation, where our in-house design team will work directly with homeowners to build bespoke products that stand the test of time."
As a result, R&V has been able to maintain its place at the forefront of the industry and carve out a strong reputation based upon three pillars – personable service, reliability, and competitive pricing. In March 2020, though, the firm was forced to close its doors and furlough 137 employees. The Covid-19 pandemic had arrived.
"While things ostensibly ground to a halt, we kept our estimating services going because we were still receiving an abundance of quotation enquiries," says Kevin. "As we came out of the lockdown, we followed all the government safety guidance and put a one-way system in place across both our factory sites. We also repurposed our offices to accommodate those working in them. Initially, we brought back a skeleton staff to facilitate manufacturing, but it very quickly became apparent that things were going to be moving at quite a pace. Although trade counters could not fit frames due to the manufacturing, products are sold to one of our three core markets: new builds, where we work with more than 40 blue chip house builders, including Redrow Homes, Persimmon Homes, Bloor Homes, Taylor Wimpey, Anwyl Homes and Bellway; trade counters, where we directly supply companies with windows and doors via
As it moves past the pandemic, Kevin insists that R&V will continue to remain ahead of the curve and making a profit – if it can keep up with the scale that the market is demanding. "We are held back in terms only of our limited capacity," he concludes. "So, in the next six
months, we are going to look at new ways to invest and increase our manufacturing output. In fact, we have just set up a composite door factory in Buckley, which is all ready to go. Otherwise, we have a very healthy order book and our sister company, Europlas, is performing incredibly well. Foresight Group has been great in supporting our endeavors since it acquired a majority stake in the company earlier this year; we both know there is room for growth, and we both know that we have the ability to capitalize on that – to transform it into one with a brilliant view of a bright and prosperous future." v pandemic, that did not mean they had to stop selling"Whenthem.we came back from our pandemicinduced hiatus, we found a mammoth backlog of orders," he goes on. "In the three or so months of lockdown, the trade counters had been selling relentlessly; everybody wanted frames and we were forced to quickly pivot and mobilize our staff once more. On its own, that was tricky. However, another challenge we faced from this unexpected surge in sales was that we temporarily had a limited capacity: we had preemptively sent out a number of machines for maintenance because we expected a very gradual return to normal. In fact, it was a monumental climb! Once more, we had to act quickly and competently, tracking the status of machines and getting them back into our factories to resume manufacturing as quickly as possible."
Another problem that forced companies to become professional problem solvers was the disruption that the pandemic thrust upon global supply chains. Yet, as Kevin observes, R&V fared much better than many of its competitors: "We have always worked incredibly hard to create and maintain close, professional, and respectful commercial relationships with suppliers. Consequently, and even prior to the pandemic, we have established ourselves as a preferred partner with many industry contacts. So, when Covid-19 eventually hit, we could keep manufacturing to schedule. For example, we have a preferred status with an extrusion firm we procure plastic from – and that dates back several years. When the pandemic threatened to wreak havoc, we were assured right away that we were high up on the list of the supplier's preferential customers. "On its own, that would have been a tremendous help," he continues. "But we had also managed to establish ourselves as a preferred partner with our glass and hardware suppliers as well. Of course, another challenge that we faced was pricing; costs of raw materials steadily increased towards the end of 2020. Within a few months, they were skyrocketing on a monthly basis, which was especially problematic as we were in contracts with fixed prices for at least 12 months. The pandemic proved that who you do business with can really make or break a company. As a network of businesses, we got through it together and remained profitable in the process."
www.manufacturing-today.com l 131 R&V QUALITY FASTENERS WINDOWS, & CONSERVATORIES CONSUMABLES, WINDOW & HARDWARE PRODUCTS Consumables&Hardware Productswww.roomsandviews.co.ukR&V : uPVC windows and doors
Ewww.manufacturing-today.com
stablished over 70 years ago, Walbro LLC (Walbro) began in Fenton, Michigan, as a specialist in carburetors for mobile engines. The company's continued success allowed for expansions into Mexico and Arizona, and, following this, a joint venture was then formed with a company in Japan, which served as a passage for the business to move across international borders. Now, Walbro operates globally from its headquarters in Tucson, with additional manufacturing locations in Thailand and China. Throughout these expansions, the business has become an expert in manufacturing carburetors, electronic fuel injection systems, ignition systems, fuel tanks and pumps, valves spare parts," he shares. Although its primary focus is Powersports, the company provides fuel systems to just about any customer in the industry.Walbro has established a reputation built on trust and reliability, which has garnered it a client base that ranges from Husqvarna to Suzuki. However, according to Mike, what has truly driven Walbro's success is its team's effort of combining superior quality and technical expertise in the field. "Our team are always looking to the future to see what is around the corner, and make sure we keep ahead of the curve to offer our customers industry-leading solutions. At present, we are in the middle of a significant shift in our market, as the use of and fuel storage, and distribution systems, as well as offering value-added machining, electronics and assembly capabilities.
Manufacturing Today speaks with Mike Coyle, Walbro's Fuel Systems President, as well as Chris Quick and David Fuelleman, who serve as the EVP and General Manager respectively, about Walbro's recent developments, and its plans for continuous improvement. "We have the company organized into three business units to service an array of customers," begins Mike. "First, we have the engine management business unit, which makes carburetors and coils for small engines. Then we have the fuel systems business, and finally, we have our Aftermarket products, through which we sell A Leader in the Powersports, Marine, and Lawn and Garden markets, Walbro LLC, expands once more with a determination to remain a manufacturing front-runner for the engine management and fuel systems
132 l
Drivingsector global expansion
gasoline applications continues to decrease. We started about ten years ago on some of our smaller products, such as the handheld lawn and garden tools, but we have made some significant developments to expand this range that I am very excited about," shares Mike.
www.manufacturing-today.com l 133 Walbro, LLC
To complement its technological investments, the business also places a massive emphasis on its people, and while Walbro is proud to be a leader in manufacturing, it takes great pride in developing strong partnerships with its customers and employees. "What I think is really unique about us is our customer partnerships and their associated global footprints, and they are continuously expanding. Quite often, this feeds directly into the innovation of our product ranges, and allows us to take our products and move
Another noteworthy development was the launch of the company's latest state-of-the-art multilayer blow molding machine, whereby it can supply larger capacity fuel systems. In May 2022, the business hosted a ribbon cutting ceremony to unveil the latest expansion in its Cass City, Michigan manufacturing facility. The location is now home to the largest investment of automated lines that Walbro has made for its fuel systems business to date.
All three gentlemen agree that Walbro is particularly excited about the next generation of employees coming into the company, and the wealth of knowledge and expertise they will bring with them. This intake of new engineering minds, will drive innovation in the future. "We have a culture that values employee growth and contribution. For this reason, employees stay with us for a long time and we don't see the turnover common in other industries", says Mike. "In fact, I just saw someone the other day celebrating 52 years with us, which is absolutely amazing," says Chris. Prior to the pandemic, one aspect of Chris's job that he thoroughly enjoyed was being able to travel between the company's various locations, and meet with the teams that make up the Walbro business. "Each step in our global footprint is distinctly unique. The culture in our Thailand plant couldn't be more different from Michigan's. Although one might think that having a network this locations with our capabilities. This has been a big win for us, and the growth opportunities available with this added customer as a partner are endless, and we are very excited about that," says Chris. David shares that with partnerships like this, the team is ready to take their capabilities to the next level. "We are looking at our next generation of fuel systems that will replace the current outdated ones, and positioning our core competencies and abilities to make
134 l www.manufacturing-today.com with them, which has opened up a selection of opportunities for us," shares Chris. Tying in with this, Chris elaborates on an example in which the partnership with an internationally recognized customer has recently provided exciting opportunities for Walbro. "We have recently launched a full fuel assembly production line with a world leading motorcycle company, and they are using those designs both in the US and in Thailand. We can support and supply our customer in all sure we have a sustainable future. We are also advancing technology developments, so we can go to customers with presentations on how to keep up with regulations, and what we will be offering to help overcome any of their challenges," says David.
"Beyond that, we are looking at where we can provide the best value in a full range of alternative energy solutions that will include hydrogen combustion, hydrogen fuel cells, and electronic controls. There is a lot of potential in that regard to stay ahead of the transition, and make sure we are there for our customers when they need us," says Mike. There is no
doubt that new and exciting opportunities lie ahead for Walbro, and all three gentlemen concur that massive achievements will follow suit. With its strong, resilient and motivated team, continued success is definitely on the horizon. v wide is challenging, the diversity is actually incredibly rewarding. "We have worked through so many supply chain challenges, and our team deserves huge praise for the way they have navigated the last two years according to their region. They pivoted in excellent time to find alternative materials and suppliers, and this speaks into why a global operation has worked in our favor. We can lean on other regions to grab materials and learn about international solutions and how we can apply them to the rest of the world," shares Chris. David continues sharing his sentiments on the company culture. He says that Walbro feels like working in a small family-owned company, and that is true regardless of where an office or manufacturing plant is located. "Everybody knows everyone, and our people are so focused. As the leadership team, we want to give people the opportunity to expand with in experience, and move up in their careers. For example, one of my superintendents started as an operator, then he became a mold technician, then a senior technician and now he holds a highly respected title. We have loads of stories like that in which we help the team push themselves, and I think that is a neat culture to workOurin."conversation then draws to a close on plans for the future. Although the business has already come so far, neither of the three leaders intend on slowing down. Mike has instigated a strategic ten-year plan that will include an array of technologies being introduced into Walbro's operations, as well as further expansions. "What will sustain us into the future is our traditional markets, but we are very keen to innovate solutions for fuel injection to reduce emissions, and extend operating time. It's no surprise that fuel injection has been used in cars since the mid-80s, but it is so expensive and it is not viable for smaller engines.
"The Walbro engineers have developed a solution for those small engines that is basically the same cost as a carburetor. We can put that on a small engine, and achieve the same benefit as fuel injection, so that has been in the works for probably about five years now, and we are keen to see that take off as a bridge towards more sustainable options.
www.manufacturing-today.com l 135 Walbro, LLC Walbro, Serviceshttps://www.walbro.comLLC : Engine management and fuel systems manufacturer
"Today, the company imports and manufactures hammocks alongside a range of other products. We make goods and sell them to retailers through our catalogs, and we also do our own retail business. Since the early 2000's, we have diversified our product offering to include other outdoor furnishings, including F or over 50 years, The Hammock Source (Hammock Source) has produced exceptional quality, handwoven hammocks for customers all across the world. As a leading producer of outdoor leisure furnishings, the company now offers its customers everything from chic patio furniture, to recycled plastic tables and chairs.
"Following the acquisition, Hatteras Hammocks became The Hammock Source. In 2004, we bought another hammock company called Nags Head Hammocks, which was on the outer banks of North Carolina. It had several brick-and-mortar stores, and an established website, which helped step up The Hammock Source in terms of infrastructure.
Redefiningmadesustainablyproducts relaxation Photography credit: Michele Garcia
Starting out as a family company, The Hammock Source has grown over five decades and two generations into the global operation it is today. As Chief Executive Officer, Walter Perkins III, reveals: "The business began with my father. He was a buyer for the American Tobacco Company in the early 1970's, and his job took him all over the country. Before one of his trips to South Carolina, my grandparents asked him to go down to Pawley Island to get a hammock for the beach house, and my father did as they asked. On his way, he realized how far he needed to travel just to get their hammock, and so he bought two, one for the beach house, and one to take apart, so he could learn how to make them.
"After that, he started making and selling hammocks out of the back of his car while he traveled around buying tobacco. He would stay in hotels, work all day, and peddle hammocks in the evenings. He named the company Hatteras Hammocks, and picked up his first major customer a few years later. LL Bean was a large catalogue retailer, and it gave him his first step into the world of national commerce. He learned how to work with big businesses, and in 1997 he was doing so well that he was able to buy the Pawleys Island Hammock Company.
Using its tried and tested blend of traditional and modern manufacturing methods, Hammock Source now sees organic growth, and ongoing success in a range of international markets.
136 l www.manufacturing-today.com
The world's leading manufacturer of hammocks and outdoor furniture, The Hammock Source, sees enduring success with a new range of innovative,
a range of garden and camping furniture, and outdoor rugs."
l 137 The Hammock Source
"Our catalog now includes a range of outdoor furniture products alongside our core range of hammocks. We have a variety of hammock stands, pillows, single and double swings, wood, metal and additional moving parts. Recently, we ventured into High Density Polyethylene (HDPE) products, including Adirondack chairs and bar stools.
"Materials are a big focus, so we use really high-quality fabrics and rope for our swing seats, and we also have a lot of textiles in our portfolio that can be used for outdoor curtains and other enclosures. We have also innovated with traditional products to create something original of our own, for example, Hammock www.manufacturing-today.com Source's tufted hammocks are very unique. They are heavy tufted like a mattress for additional comfort, and our customers absolutely love them."The authentic, hand-woven feel of the company's hammocks and textile furnishings are an important part of Hammock Source's enduring brand. As Walter enthuses: "People associate hammocks with luxury and peacefulness, which makes them a powerful cultural symbol. We have used that allure as part of our brand, and it has been well-received.
"We offer people a product that provides them with ultimate relaxation in a variety of contexts. For example, we produce camping and travel hammocks for customers across North
Cultural symbol Throughout its long history, Hammock Source has earned a reputation for exceptional quality and hands-on manufacturing. As Walter explains: "Culturally we have always been a manufacturer first and a retailer second. My father started out making his own hammocks, and we have kept that tradition alive. We also really enjoy branching out and making new products.
America, as well as more permanent fixtures for holiday homes or people living in sunnier regions. We also offer our products at an entry level price point, so people can access the luxury world of hammocks without the cost that usually comes with it."
Creative development
"There is also a seasonal element to the way we manufacture. A lot of the hand-woven products are done in advance, due to the extra time they take to complete. In the off-season, mostly the winter months, we continue to
"That's where the sustainability drive came from. Our HDPE line is made from recycled materials, and can be recycled at the end of its lifecycle. It's also incredibly durable, and comes with a lifetime warranty, which reduces waste," explainsMixingWalter.authentic, hand-weaving manufacturing practices with the efficient use of cutting-edge technology means that Hammock Source's facilities are both sustainable and effective. "Our current footprint is about 300,000-square-feet. We have a facility in Greenville, North Carolina, that does all of our manufacturing and warehousing. The hammock manufacturing operation is very low-tech and manual. All of our hammocks are hand-woven, using a very simple loom that's made of two pieces of vertically standing pipe. For the stands, we have welders and electrostatic powder finishing systems in-house; the end-product is a nice blend of traditional and modern manufacturing methods that draws on the best of both.
138 l www.manufacturing-today.com
All of The Hammock Source's furnishings are designed to fit seamlessly into outdoor environments. Similarly, the company's manufacturing process is all about being ecoconscious and sustainably driven. "When my father started this business, he didn't have any money, so everything was saved and reused where possible. We were very strict about reducing waste, and saved everything, I even climbed in dumpsters for cardboard and packaging that we could re-purpose. Those experiences really instilled environmental consciousness and minimal waste as important values within the business.
"We use more cutting-edge technology to produce our HDPE products. For those, we use CNC machines, automatic chop saws and robotic assembly. We also use advanced IT systems to run all of this equipment. Our IT team is really great, they've been able to keep everything running smoothly as the company has grown into more sophisticated manufacturing over the years.
www.manufacturing-today.com l 139
The Hammock
The Hammock Productswww.thehammocksource.comSource
Source
For those who need a combination of strength, durability and aesthetics, Tangent delivers unrivalled performance in alternative materials that are made to live on.
v
manufacture and store those for sale in the spring and summer months. We sell a lot of products through major retailers in the US, that we import from our international partners in Asia and India, who we have really strong, long-standing relationships with," Walter discusses.Today,the people behind Hammock Source are hard at work designing and prototyping exciting new products for next year's spring and summer seasons. As Walter concludes: "We are now coming into our off-season for the rest of 2022, which means we will shift into creative development gear ready for 2023. People have been investing more into their private outdoor spaces since the pandemic, so we will continue to grow our HDPE line, as well as our other product ranges, to meet the increased demand. We see ourselves moving more into the recycled plastic category, with lots of big things in the future."
Tangent Technologies LLC Since 2003, Tangent Technologies LLC (Tangent) has been recognized as the most experienced and reliable manufacturers in the recycled plastic lumber industry. With a passionate commitment to innovation and sustainability, we constantly develop new ways to transform recycled material into durable, weather-resistant, environmentally-conscious products for markets such as marine, park and recreation, agriculture, outdoor living and many more. Our engineers continue to push the boundaries of what's possible for alternative materials seen in our patented woodgrain and custom-engineered solutions
: Hammocks and outdoor furnishings
reputation synonymous with quality to create the perfect puzzle. "Our board supply partners are world renowned for the quality of puzzle board they produce. Equally important are the proprietary specifications we have for our die cutting tools. The puzzle cutting dies we use rely on artisans that combine the specific and proprietary cutting rule specs we require with the skill to shape that cutting rule to the designs we have. Our dies are internationally sourced
manufacturercustomers.entertainmentengagingforitsByimplementingbestpracticesintoitsoperation,thisjigsawpuzzlehasbecomeanindustryleaderintheUSThe bigger
F or any jigsaw enthusiast, one of the best aspects about puzzle-building is the tactile sensation of fitting two pieces together; an experience often referred to as 'the perfect snap'. For Buffalo Games, the US-based jigsaw manufacturer, the foundation of any great puzzle starts with the quality of the board. As we hear from David Rice, the Vice President of Manufacturing at Buffalo Games, the company has built a Buffalo Games is proud to provide hours of picture
140 l www.manufacturing-today.com
chain advantages as a domestic manufacturer, we still compete globally, and embrace a continuous improvement mindset across all our labour and material management processes," David explains.
www.manufacturing-today.com l 141 Buffalo Games
With two factories in Buffalo, New York and Holyoke, Massachusetts, the business has the capacity to domestically produce over 30 million jigsaw puzzles per year. "We invest significantly in modern manufacturing equipment, and partner with local integrators to implement robotic solutions, and other various manufacturing automation projects. While we do have a supply
Diverse workforce Another area in which the company's capabilities has excelled is through the incorporation of data analytics focused on retail sell through data. With over 1000 active puzzle images, and an aggressive schedule that introduces new images, Buffalo Games can monitor point of sales data daily across North America to spot trends and growing popularity in images. "This data then triggers real-time adjustments to production schedules, so that the business maintains product availability that drives retail shelf turnover. The timeline for this Read and React process leverages our domestic manufacturing footprint, enabling us to deliver the right puzzles to our retail partners shelf quickly," shares David. These measures stood the company in good stead when, during the peak of the Covid-19 pandemic, the company witnessed an impressive increase in demand for its products. This was driven by customers being forced to stay home, and needing activities to keep the whole family busy. "Although we were able to meet those demands, there were real risks to the continuity of our manufacturing operations. We endured a short-term government mandated shutdown, and depended on our available inventories to fulfil orders. This time was used to adapt to the changing requirements of the workplace, allowing us to quickly come back on line," David highlights. Stricter health protocols also called for changes within the company's factories, which resulted in the redesign of workstations to enhance social distancing, modified work shift schedules, alongside implementing enhanced safety and health checks for all employees. Despite the difficult circumstances, David Our puzzle and packaging boards are made with 100 percent recycled materials, and our bagless packaging process saves 88 tons of plastics annually. On top of that, we use FSC-certified paper that is made from ten percent recycled materials
from suppliers that are vigorously vetted, and the quality of tooling is directly aligned with the quality of the puzzle pieces we produce."
Over 30 years ago, Buffalo Games was founded primarily as a puzzle company, but later expanded into family board games. In the last decade, the management team has also pushed for growth by partnering with major retail partners such as Walmart, Target and Amazon. Today, the business employs an expert creative team to drive expansion in the wider puzzles and games categories.
142 l www.manufacturing-today.com
Another important element to Buffalo Games' successful company culture is the diversity of its personnel. "Recently, we counted that 15 different nationalities are represented in our workforce, and these are folks are from all over the world. This results in a variety of perspectives, which enhances our training programs, and requires us to develop processes that are more robust and inclusive."
"Our puzzle and packaging boards are made with 100 percent recycled materials, and our bagless packaging process saves 88 tons of plastics annually. On top of that, we use FSCcertified paper that is made from ten percent recycled materials. Our inks are 80 percent veggie-based, and 20 percent water-based, and our glue formula is made from 100 percent nontoxic recyclable and biodegradable materials," he of which he is especially proud. The project involves a character from the Mandalorian Series known to many fans as Baby Yoda. "It's an example of where our supply chain strengths were called upon. The popularity of the series and the characters skyrocketed quickly, and the challenge was to get more Baby Yoda products out to our retail partners fast. We put a taskforce together to prioritize the development of artwork, and expedite the printing of more Baby Yoda images with our print suppliers.
We modified production schedules, and in a matter of a week-and-a-half, we were shipping increased volumes of new Baby Yoda character puzzles to our retail partners."
Discussing the business's efforts to remain successful despite market challenges, then leads David onto the topic of the people that make Buffalo Games the company it is. For him, executing a project successfully can be seen in
shares that the real credit goes to the business's factory team, who adapted to the challenges admirably. "Everyone understood the situation and worked together to chart a course forward. Manufacturing efficiencies were not impacted and our output grew to meet the rising demand."Withthe pandemic winding down, an interesting find for the business was the degree in which new repeat customers were born.
"Our customer focused research indicates that a number of folks that tried a puzzle during the peak of the pandemic while stuck inside, really enjoyed the experience. They have noted that they will continue to be puzzlers post Covid." This note on the popularity of jigsaw puzzles is in sync with the trends for the product category's growth prior to the pandemic. While in the midst of production through the pandemic, David then shares details of a project how departments across the organization align with the company's mission to design, develop, build and deliver products that consumers enjoy. In order to achieve this, he highlights that effective communication is paramount. "No one is left in the dark, wondering why we do what we do. Departments always keep the lines of communication with each other open. When everyone pulls in the same direction, great things can be accomplished. Furthermore, our growth has presented opportunities for everyone to share in the company's success. Whether this is celebrating an industry award for a given product, or the successful launch of a new product, or a record setting production month –we acknowledge every achievement."
Finally, David shares that as long as the business remains dedicated to excellence in manufacturing, it will remain equally as passionate about minimizing its carbon footprint.
Future expansions
He shares similar sentiments when it comes to the company's relationships with its supply chain, which is where the quality of the business's products stems from. "Our suppliers know what our expectations are, and they are committed to meeting them. This is true for sourcing the puzzle boards we use, and for our local printing suppliers. Our printing partners know our products and are an active part of our new product development processes; for example, when we look at new coatings and printing techniques to produce a new unique puzzle experience for our customers. Additionally, as an important part of our supply chain, our printing partners understand the lead time and delivery pressures that require us to be responsive for our customers, as we are able to chase those hot titles and replenish retail shelves expeditiously."
v
and entry into new product categories, or the expansion of our distribution capabilities; our commitment to delivering results for our retail partners and delivering fun, entertaining products to our customers will continue." says. For David, these will be measures that the company continues to strengthen going forward. Our discussion then comes to a close on the topic of the future, and David looks forward to supporting 2022's holiday demand, as it is traditionally a very busy time. He divulges that the company is opening an additional distribution centre in Buffalo this year to support the business's growing product line, and it is also expanding its distribution methods. "We know our industry well and are uniquely situated for continued growth and success. Be it our dedication to manufacturing the highest quality puzzles, the development of new products
www.manufacturing-today.com l 143 Buffalo Games
Freight Right Buffalo Games has been working with Freight Right for many years. With operations shut down in New York during the pandemic, the business needed a partner that could quickly ramp up distribution on the West coast. Over the last two years, nearly every company followed suit. Companies (like Buffalo Games) that had reliable partners ready to roll, also had a huge first mover advantage as warehousing and trucking capacity on the West coast quickly filled up. As a result of our solutions, we designed and executed for Buffalo Games, and millions of families received sorely needed puzzles and games throughout the lockdowns. Our bespoke solutions include imports by air and ocean, distribution on both coasts, trucking, and much more.
:
Jigsaw puzzle manufacturer
Buffalo Serviceshttps://buffalogames.comGames
"Our metal stamping sees us take aluminum in strip form, drawing the aluminum utilizing F ounded in 1965, Anomatic has come a long way since it began as a provider of anodizing services to the beauty packaging sector. From there, they added metal stamping in 2000, built a complete greenfield facility in China in 2007 and new headquarters in New Albany, Ohio, in 2011 along with a state-ofthe-art tooling center in Naugatuck, Connecticut and rounding out their five locations, is an injection molding plant in Blacklick, OH.
again and again
144 l www.manufacturing-today.com
As a global leader in anodized aluminum, Anomatic is making strides following achieving EcoVadis Gold Status by pioneering new approaches to the development of fully recyclable
Aluminum,componentspackaging
Today, Anomatic's service offering encompasses tooling design and development, metal stamping, anodizing, injection molding, decorating, assembly, and metallization. As Damien Dossin, President & CEO at Anomatic explains, we are a "one-stop-shop" for beauty packaging, focused primarily on skin care, personal care, and fragrance closures.
"Added to that, we assure supply continuity by having multiple sites performing the same processes allowing us to run uninterrupted."
The most recent addition to Anomatic's footprint came in 2019, with the acquisition of an injection molding facility in Blacklick, OH – its third in the Columbus metropolitan area. As Damien explains, this enabled Anomatic to provide a clear vision to the market by
www.manufacturing-today.com l 145 Anomatic
the desired custom color, followed by treatments to seal, protect and prepare the component for downstream steps like decoration to assembly, which marries the anodized component to another part. Assembled parts come in a wide range of shapes, sizes and functionality used for beauty and personal care products. In doing so, Anomatic optimizes its anodizing and stamping capacity, which is the largest in North America, at 1.5 billion parts per year in stamping, and 2.5 billion parts in anodizing," Damien confirms.
carbide tooling, which is built at our Tooling Center of Excellence, to its desired form ensuring a cosmetic finish within very precise tolerances," Damien explains. "From there our proprietary anodizing system carries components through a series of steps to yield the customer's desired finish ranging from matte to satin to high gloss. The component is then anodized, which by definition is the electrochemical oxidation of aluminum. This introduces
Productswww.anomatic.comAnomatic : Anodized aluminium and metallized components and packaging
integrating all manufacturing processes to drive future growth and do what they do best: Design. Manufacture. Finish. "Typically, we buy a lot of plastic subcomponents and assemble them to our metal parts," he states. "Our customers asked us to add plastic molding to unluck the benefits of responsiveness, quality control and pricing. This allows our customers to purchase a finished product directly from us, rather than engaging two suppliers with two development lead
Similarly, Anomatic places a strong emphasis on long term supplier relationships. "Our suppliers are essential to us, especially our aluminum suppliers, because it's such a significant part of what we do," Damien indicates. "We collaborate regularly with them, to ensure our supply, and to maintain an ecosystem in which we can team up on product development."
146 l www.manufacturing-today.com
"We are already a manufacturer of recyclable aluminum packaging but have now developed PCR aluminum-based products using at least 60 percent recycled content with full lifecycle traceability."Damienis very optimistic about the future, and Anomatic is already back to pre-Covid revenues and volumes, even though the sector was deeply impacted by the pandemic, requiring the company to streamline its operations. "We are back to 2019 levels and the lesson we took from that was to not to put all our eggs in one basket. We are targeting the acquisition of new business while also servicing our existing customers, to achieve a diversified portfolio."
Another example is adding more automation to deliver greater consistency, output, and price competitiveness."Oneparticular area of focus for Anomatic is sustainability. By earning the EcoVadis Gold Rating in 2021, the company has taken significant steps to improve its environmental credentials, in line with a burgeoning industry-wide trend. "It's a topic at the forefront of every conversation we have with our customers," Damien reflects.
Anomatic times and the complexity of managing multiple components."Notonlyis the Blacklick acquisition confirmation of Anomatic's commitment to service and quality, but it also underlines the company's willingness to work more closely with their customers to better meet their needs for the future. "We have strong relationships with major brands," Damien insists. "We work closely with them to plan how best to improve or expand our capacity to better meet their needs.
Turning to 2022 and beyond, Anomatic is focused on growing its business with its current customers and adding a few high potential clients.
"My strategy is to continue doing what we do well and get further up the value chain with our customers, rather than expand into categories or areas that we've never explored before," Damien concludes. "We are focused on doing things better, and continuing to hone our skills in the areas we already have proven expertise." v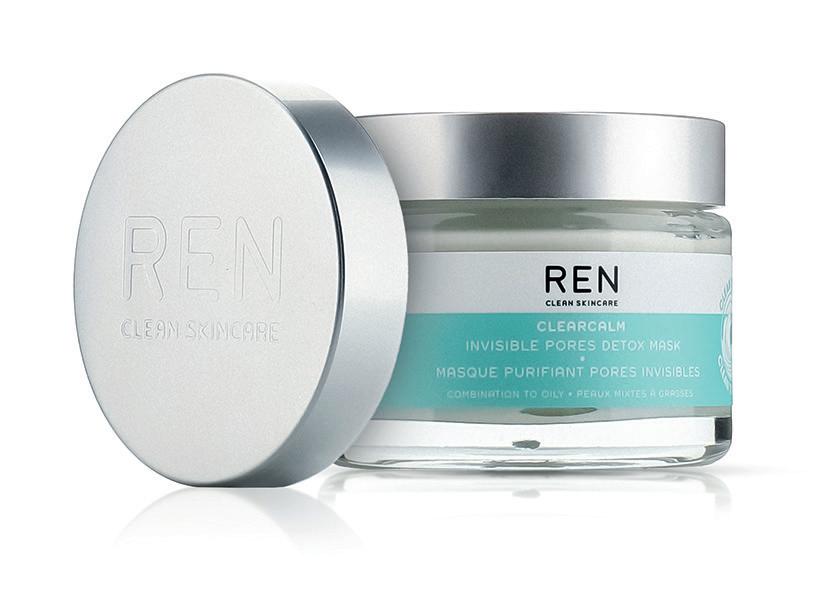 Further value can be added through the creation of printed, hard-copy brochures, a digital flip book (provided as a link for you to share) PLUS the Exclusive Feature as both High and Low resolution PDF files and an e-blast to the magazine's digital subscriber database. Your Exclusive Feature will be automatically included on the magazine's website, with the option of a top of the screen leader board ad for your company that links directly back to your own site, guiding the readership to your company information. Increase your visibility with a Bespoke Exclusive Feature Prepared by our in-house writing & design teams, the Exclusive Feature will appear in the digital and printed version of the magazine. You can also create your own on your website that connects directly to the story, making it easier for you to share the article online, and reach customers across the globe via online search and advertising opportunities. Bespoke article written for you – PLUS options for online advertising, printed brochures, digital flip book, high/low resolution PDF, and e-blasts to approx. 319,000 digital subscribers. For more information please contact Alasdair Gamble at: agamble@schofieldpublishing.com or call +1 312 625 8723 / +44 (0)1603 274144 Manufacturing BEST PRACTICES FOR INDUSTRY LEADERS today advanced data center cooling