15 minute read
BADEN-WÜRTTEMBERG – THE SUNNY SIDE OF GERMANY
Lake Contance. Photo: State Tourist Board Baden-Württemberg/Denger
SPECIAL THEME: BADEN-WÜRTTEMBERG - GERMANY'S SUNNY SIDE A Land of enduring traditions and modern fun
From castles and palaces to ancient taverns and half-timbered houses, the state of Baden-Württemberg matches anywhere in Europe for heritage. But Germany's sunniest region is no museum: everyone is welcome to join in the festivals and traditions that date back centuries and are still part of everyday life in cities, towns and villages.
TEXT: NANE STEINHOFF, TOURISMUS MARKETING GMBH BADEN-WÜRTTEMBERG
Karlsruhe. Photo: State Tourist Board Baden-Württemberg/Mende
Photo: State Tourist Board Baden-Württemberg/Lengler
Dance in the street; bake a Black Forest gateau; see how the world's best-loved teddy bear is made; taste award-winning local wines. You can even drive your car round a world-famous motor racing circuit. Here are a few of our favourite things that can be enjoyed in Baden-Württemberg – the sunny side of Germany.
1. FASNACHT
Fasnacht is the equivalent of 'carnival' or Mardi Gras. So, expect elaborate costumes, ghoulish masks, parades, music, a party atmosphere and a last fling of jollity before Lent begins. Wrap up warmly and enjoy the party! Rottweil, for example, is famous for staging three rip-roaring carnival parades. If you miss Fasnacht itself, you can see the masks in museums, such as the Narrenschopf in Bad Dürrheim.
2. HEIDELBERG: ROMANTIC MEMORIES
Heidelberg is rated as one of the world's most romantic cities for its ruined castle and its picturesque old town, where the Heiliggeistkirche, the Church of the Holy Spirit, is on the Marktplatz. With its serenity and soaring arches, this is the city's best-loved church. It was built in the 14th century by Ruprecht III, King of Germany, who is buried here, along with his wife. On wedding days, couples often leave flowers on their grave, but visitors, too, are inspired to make similar romantic gestures.
3. WINE: A TRADITION SINCE ROMAN TIMES
Baden-Württemberg has two major wine-making regions; both offer lovely countryside and wines worth discovering. The Baden vineyards lie on the eastern bank of the River Rhine. Follow the 100-mile-long (160-km) Baden Wine Road from Baden-Baden to Weil am Rhein. Württemberg, to the north and south of Stuttgart, is the only German region where red wine is the speciality. Drive all or part of the 318-mile-long (511 km) Württemberg Wine Road from Weikersheim to Heilbronn, Stuttgart and Metzingen. Throughout Southwest Germany, try award-winning wines: Tauberfranken Müller-Thurgau, Lake Constance Pinot Noir, Hohenlohe Trollinger and Rems Riesling.
4. BEER: TASTE SENSATIONS
For variety and quality, Southwest Germany is a beer lover's paradise. From thirst-quenching Pils to refreshing wheat beer and strong export beer, some 1,000 different beers are brewed in the region. Countless small, family-owned breweries still use centuries-old traditional methods. Check out 'Brauer mit Leib und Seele', an association of ten family-owned and run breweries; visit Ehingen, the Beer Culture City, whose 8,000 residents can choose from four breweries, brewing 43 different beers.
5. THE BLACK FOREST: BOLLENHUT HAT
With its 11 bright red pompoms, the traditional Bollenhut hat symbolises the Black Forest. But these hats are much more than a fashion of long ago. The red pompoms signify that a woman is single; black pompoms indicate that the wearer is married. In fact, the Bollenhut hat is special to just three Black Forest communities (Gutach, Hornberg-Reichenbach and Wolfach-Kirnbach), where they are worn with pride for weddings and festivals.
For more information on what to do and see, read the following special theme.
NACHHALTIGER URLAUB IN DER NATUR
DES SCHWARZWALDS TEXT: SILKE HENKELE I FOTOS: HILSERHOF
Neu und nachhaltig sind die Hilser-Holz-Chalets der Familie Wernet im BadenWürttembergischen Triberg.
Im mittleren Schwarzwald gelegen, verbringen Gäste auf dem 400 Jahre alten Schwarzwaldhof eine perfekte Auszeit. "Unser Schwarzwald ist so ein einzigartiger Ort. Da wollten wir mit unseren besonderen Chalets Räume schaffen, die sich nahtlos in unser Naturkonzept einfügen", erklärt die Gastgeberin Barbara Bruker Wernet. Und so laden die mit Moos, Holz, Lehmputz und Grasdach perfekt designten Holzhäuser mit ihren weitläufigen ser kleiner Hofladen mit eigenen und regionalen Produkte begeistern unsere Gäste immer wieder aufs Neue", so Vermieterin Barbara.
Terrassen, duftenden Zirben- und Heubetten, riesigen Panoramafenstern und einer spektakulären Aussicht Familien, Freunde und Paare auf eine wohltuende Auszeit ein.
Ein besonderes Highlight ist das auf Rollen befestigte Himmelbett, in dem man eine unvergessliche Nacht unter den Sternen verbringen kann. Die Panorama-Fasssauna und der Focuskamin - sie garantieren ein unvergessliches Urlaubserlebnis. Eine Fußbodenheizung, die vollausgestattete Küche mit Raclettegrill und das moderne Bad runden den perfekten Urlaub ab. Und das zu jeder Jahreszeit.
Und wenn die Unterkunft so unvergesslich ist, dürfen Kulinarik und Freizeitgestaltung nicht zu kurz kommen. "Ein tolles Familienprogramm, Wiesenwellness, viele Tiere und unwww.hilserhof.de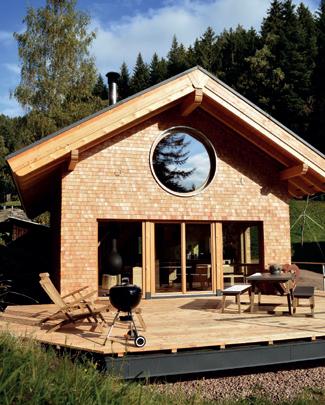 ROYAL RELAXATION
Experience the Kur-Royal Day Spa within the historic walls of the great Kaiser-Wilhelms-Bad in Bad Homburg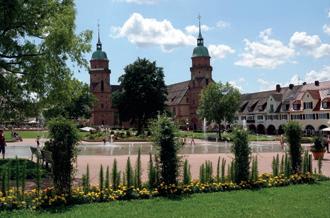 WELCOME TO FREUDENSTADT IN THE BLACK FOREST WILLKOMMEN IN FREUDENSTADT IM SCHWARZWALD
Right in the northern part of the Black Forest is Freudenstadt, the secret capital of the iconic Black Forest region. Here, nature adventures meet urban vibes – the perfect destination for any traveller.
The Black Forest's Freudenstadt is a versatile location and primarily known for its beautiful market square – the largest in Germany. Thanks to over 200 shops, the city is not just popular amongst its 23,500 residents.
The culture programme is equally noteworthy: musicals, concerts, theatre performances and a new series of events called 'Kulturgarten' (culture garden) ensure great entertainment for all ages, throughout the year.
Those who rather spend time in the wild don't need to venture far, either. Just outside Freudenstadt, picturesque views and the untouched nature of the national park region invite visitors to linger and relax. The various cosy hiking lodges and pubs serve outstanding food and complete the essential experience.
The Black Forest Plus Card (which is included when you stay two nights or more at a Black Forest Plus host) allows guests to enjoy over 80 attractions such as paragliding, golf or swimming, for free. Inmitten des Nordschwarzwalds liegt Freudenstadt, die heimliche Hauptstadt des herrlichen Schwarzwalds. Sie verbindet Naturabenteuer mit Stadterlebnis und bietet für jeden Besucher genau das Richtige.
Freudenstadt im Schwarzwald hat viele Gesichter und ist vor allem für seinen wunderschönen Marktplatz bekannt - der größte in Deutschland. Mit über 200 Geschäften bietet die Stadt zahlreiche Einkaufsmöglichkeiten und begeistert nicht nur die 23.500 Einwohner mit großartigen Angeboten.
Auch das Kulturprogramm kann sich sehen lassen: Musicals, Konzerte, Theateraufführungen und die neue Veranstaltungsreihe 'Kulturgarten' liefern das ganze Jahr vielfältige Unterhaltung für Jung und Alt.
Wen es lieber in ins Grüne zieht, findet rund um Freudenstadt jede Menge Natur. Malerische Ausblicke und die Wildheit der Nationalparkregion laden zum Verweilen und Durchatmen ein. Die zahlreichen, urigen Wander- und Vesperhütten sorgen mit ausgezeichneter Küche für das leibliche Wohl.
Mit der Schwarzwald Plus Karte (welche es bei mindestens zwei Übernachtungen bei Schwarzwald Plus-Gastgebern gibt) können Gäste über 80 Attraktionen wie Gleitschirmspringen, Golfen oder Schwimmen gratis genießen.
Friedrichsbad in Baden-Baden. Photo: Baden-Baden Kur & Tourismus GmbH
TIME TRAVEL IN SOUTHWEST GERMANY
The Black Forest, Lake Constance with the famous Mainau Island, and the Swabian Alb all contribute to making SouthWest Germany a paradise for nature lovers. Above all that, the region, with its rich prehistoric findings, counts as one of the birthplaces of humanity and captivates visitors with more than 2,000 years of building history, bathing culture and culinary delight.
Rich green forests, ravines and waterfalls –the Black Forest combines outstanding nature with long-standing traditions and worldrenowned specialties. About 100 kilometres to the east, on the Swabian Alb, the so-called 'Blautopf', a deep spring lake glistens between the trees. Legend says it is possible to walk on water on the Alb, because over time the water has washed subterranean streams and caves into the stone.
40,000 YEARS OF HUMAN CULTURE
This takes us directly onto the oldest history of Baden-Württemberg. 40,000 years ago, the first humans lived in the six World Heritage caves in the Lone- and Achtal valley. Here, archaeologists found the oldest evidence of figurative art, among them the 'Venus vom Hohle to 26 monuments of the State Palaces and Gardens of Baden-Württemberg, among them Heidelberg Castle, the Mannheim Baroque Palace and the Ludwigsburg Residential Palace. SouthWest Germany was once the centre of the German Baroque; the Upper Swabian Baroque Road, for example, combines about 55 monuments.
Fels', which can be seen at the Prehistoric Museum Blaubeuren. The Baden State Museum starts its journey into history as far back as 650,000 years ago. Upon request, visitors can even touch some objects under supervision.
EXPERIENCE 1,000 YEARS OF BUILDING HISTORY
Barely any other land is as rich in castles as SouthWest Germany. "Fans of medieval fortresses and Baroque residences will enjoy the cycling route along the 'Burgenstraße', between Mannheim and Kirchberg," says Anna Wagner from the State Tourist Board SouthWest Germany.
With the Schlosscard, people who want to visit more than one historic castle can get access
BATHING LIKE THE OLD ROMANS
On top of this, Baden-Württemberg is wellknown for its bathing culture. "Since Roman times, thermal springs, medical mud and gases with their healing properties have been used for various treatments," says Wagner. Today the country has 56 therapeutic baths and spa towns, among them the 1877 erected Friedrichsbad in Baden-Baden. "You lose track of time within ten minutes and track of the world within 20", Mark Twain once wrote about the bath. Therefore, SouthWest Germany as a holiday destination really does have something to offer for everyone: history, art, nature and great bathing culture.
AUF ZEITREISE IM SÜDEN DEUTSCHLANDS
Mit dem Schwarzwald, dem Bodensee mit der berühmten Insel Mainau und der Schwäbischen Alb ist Baden-Württemberg ein Paradies für Naturliebhaber. Darüber hinaus gilt die Region mit seinen reichen prähistorischen Funden als eine 'Wiege der Menschheit' und überzeugt mit über 2.000 Jahren Baugeschichte, Badekultur, Kunst und Kulinarik.
Tiefe, sattgrüne Wälder, Schluchten und Wasserfälle – der Schwarzwald verbindet eine außergewöhnliche Naturlandschaft mit reichem traditionellen Brauchtum und weltbekannten Spezialitäten. Etwa 100 Kilometer weiter östlich glänzt auf der Schwäbischen Alb der Blautopf, ein Quellsee, in tiefem Türkis zwischen den Blättern des umgebenden Waldes. Es heißt, man könne auf der Alb auf Wasser laufen, denn im porösen Kalkstein hat das Wasser mit der Zeit unterirdische Läufe und Höhlen ausgewaschen.
40.000 JAHRE MENSCHLICHE KULTUR
Das führt in die älteste Geschichte BadenWürttembergs: In den sechs zum Welterbe zählenden Höhlen im Lone- und im Achtal lebten bereits vor 40.000 Jahren die ersten Menschen. Archäologen fanden hier die ältesten Zeugnisse figürlicher Kunst, unter anderem die weltbekannte 'Venus vom Hohle Fels', die im Urgeschichtlichen Museum Blaubeuren zu sehen ist. Das Badische Landesmuseum beginnt die Reise in die Frühgeschichte noch früher – vor 650.000 Jahren. Auf Wunsch kann man ausgewählte Originalobjekte sogar in die Hand nehmen.
MEHR ALS 1.000 JAHRE BAUGESCHICHTE HAUTNAH ERLEBEN
Kaum ein anderes Bundesland ist so reich an Burgen und Schlössern wie Baden-Württemberg. "Fans von mittelalterlichen Ritterdomizilen und barocken Herrschersitzen kommen auf dem 'Radweg Burgenstraße' zwischen Mannheim und Kirchberg an der Jagst auf ihre Kosten", sagt Anna Wagner von der Tourismus Marketing GmbH BadenWürttemberg.
Wer mehr als nur ein historisches Schloss besuchen möchte, für den lohnt sich die Schlosscard, die den Eintrittspreis zu 26 Monumenten der Staatlichen Schlösser und Gärten Baden-Württembergs enthält, darunter das Heidelberger Schloss, das Barockschloss Mannheim und das Residenzschloss Ludwigsburg. Baden-Württemberg war einst Zentrum des deutschen Barocks, die Oberschwäbische Barockstraße zum Beispiel verbindet rund 55 barocke Sehenswürdigkeiten.
BADEN WIE DIE ALTEN RÖMER
Darüber hinaus ist Baden-Württemberg bekannt für seine Badekultur. "Schon seit der Römerzeit entfalten Thermalquellen, Moor, Lehm, Fango und Heilgase bei verschiedensten Anwendungen ihre wohltuende und heilende Wirkung", sagt Wagner. Heute gibt es ganze 56 Heilbäder und Kurorte. Zu den bekanntesten gehören das 1877 errichtete Friedrichsbad in Baden-Baden. "Nach 10 Minuten vergessen Sie die Zeit und nach 20 Minuten die Welt", schrieb Mark Twain. Damit hat Baden-Württemberg als Urlaubsland für alle etwas zu bieten: Geschichte, Kunst, Natur und Badekultur.
Wellness in Baden-Württemberg.
Der Blautopf in Blaubeuren. Mannheimer Barockschloss. Foto: Stadtmarketing Mannheim GmbH, Achim Mende
Vorne die Weinberge, im Hintergrund des Sees das Alpenpanorama. Foto: DBT/ Florian Trykowski
DIE EINZIGARTIGKEIT DES BODENSEES ENTDECKEN
Historische Schlösser und atemberaubendes Bergpanorama, Segelboote auf blauglänzendem Wasser und attraktive Städte und Städtchen – der Bodensee im Vierländereck zwischen Deutschland, Österreich, der Schweiz und dem Fürstentum Lichtenstein ist der ideale Urlaubsort für Menschen, die neben Erholung auch Abwechslung suchen.
Das bereits im Frühling sehr milde Klima bietet ideale Voraussetzungen, um die Natur rund um den See zu Fuß oder mit dem Fahrrad zu erkunden. "Der Bodenseeradweg durchquert auf seinen rund 260 Kilometern gleich drei Länder, zwischendurch gibt es tolle Ausblicke auf den See und das dahinter liegende Alpenpanorama", sagt Jennifer Frahm, Leiterin Marketing der Deutsche Bodensee Tourismus GmbH. Darüber hinaus gibt es in der Region zahlreiche zertifizierte Premiumwanderwege, vor allem im Umland, aber auch direkt am Ufer des Sees. "Und auf dem See genießt man die Ruhe am besten im Kanu, auf dem SUP-Board, im Segelboot oder auch auf dem Tretboot."
10.000 JAHRE GESCHICHTE AUF ENGSTEM RAUM.
Die Region um Deutschlands flächengrößten und tiefsten See hat zudem kulturell viel zu bieten. "Wir haben eine hohe Dichte an Museen jeglicher Ausrichtung", sagt Jennifer Frahm über die Kulturlandschaft, zum Beispiel das Zeppelin Museum und das Dornier Museum für Luft- und Raumfahrt in Friedrichshafen. Neben Galerien, Schlössern und Burgen gibt es gleich mehrere UNESCO-Welterbestätten, darunter die neun archäologischen Funde von Pfahlbauten entlang des Bodensees. Das Pfahlbaumuseum in Unteruhldingen macht diese Geschichte erlebbar: Idyllisch in einem
Naturschutzgebiet gelegen, rekonstruiert das Freilichtmuseum die ersten menschlichen Siedlungen am Bodensee und lädt Besucher auf eine spannende Zeitreise durch 10.000 Jahre Geschichte ein – von Steinzeitdörfern am Strand des Sees bis zu den befestigten Siedlungen der Bronzezeit auf dem Wasser.
KULINARISCHER HOCHGENUSS IN ATEMBERAUBENDER LANDSCHAFT
Die Landschaft um den See ist heute geprägt von Obstbäumen und Weinreben, die ebenso typisch für den Bodensee sind, wie das umgebende Bergpanorama. Tatsächlich kommt jeder dritte deutsche Apfel vom Bodensee. Jennifer Frahm hat ihren persönlichen Lieblingsort mit der Hinteren Insel in Lindau gefunden. "Dort hat letztes Jahr eine Gartenschau stattgefunden und es sind dafür wunderschöne neue Flächen entstanden. Von den Stufen am See sieht man toll den Sonnenuntergang bei einem leckeren Glas Bodenseewein."
Ein Glas Wein oder Bier aus dem weltberühmten Tettnanger Hopfen passen auch perfekt zu einer der fangfrischen Fischspezialitäten aus dem See, denn am Bodensee gibt es noch immer einige "echte" Fischerinnen und Fischer, die die Restaurants täglich frisch beliefern. Kenner der feinen Küche kommen also ebenfalls auf ihre Kosten.
Gut mit dem Rad zu umrunden - in entspannten Tagesetappen. Foto: DBT/ Florian Trykowski
Das Pfahlbaumuseum in Unteruhldingen macht Geschichte erlebbar. Foto: DBT/ Florian Trykowski
Picknick im Grünen. Foto: DBT/ Dietmar Denger Foto: Frederick Sams
Bad Wimpfen's landmark, the Blue Tower, will re-open its gates in 2022.
FEEL THE PAST AND ENJOY THE PRESENT VERGANGENHEIT FÜHLEN UND DIE GEGENWART GENIESSEN
Idyllically located by the Neckar River, Bad Wimpfen opens the gates to a world that many had believed was a thing of the past.
It is above all else the picturesque Old Town that most likely attracts the many visitors of the former imperial palace on the Castle Road between Heilbronn and Heidelberg. Charming timbered houses, winding alleys, mystic symbols, secret sites and playful gardens provide the perfect backdrop for travel dreams and new adventures. Or, for an immersion in times long gone, as Marion Humm from the Tourism Marketing team confirms: "An imperial palace was a base for the emperor and his entourage when they were in progress. Such a place, correspondingly, was always lavishly equipped. This status is still noticeable today. Which is why our guests can become part of this past, but at the same time can enjoy it in a modern way, on a guided tour or a leisurely stroll."
2022 is a very special year for Bad Wimpfen, as its trademark, the Blue Tower, will re-open after five years of renovations. "The Blue Tower dominates Bad Wimpfen's silhouette," says Humm. "And it's not only our warder Bianca Knodel who is already looking forward to reviving Germany's oldest warder tradition high above the rooftops of the old town!" Idyllisch und direkt am Neckar gelegen, öffnet Bad Wimpfen die Tür zu einer längst vergangen geglaubten Welt.
Vor allem die malerische Altstadt ist es, die es den zahlreichen Gästen der an der Burgenstraße zwischen Heilbronn und Heidelberg gelegenen ehemaligen Kaiserpfalz angetan hat. Malerische Fachwerkhäuser, verwinkelte Gässchen, mystische Symbole, geheimnisvolle Orte und verspielte Gärtchen laden zum Erleben und Träumen ein. Und zum Eintauchen in längst vergangene Zeiten, wie Marion Humm vom Tourismus-Marketing-Team bestätigt. "Eine Kaiserpfalz war ein Stützpunkt für den durch die Lande ziehenden Kaiser und sein Gefolge. Dementsprechend prächtig ausgestattet war solch eine Pfalz: Diesen besonderen Status merkt man dem Ort noch heute an. Und so kommt es, dass unsere Gäste Teil der Vergangenheit werden und diese gleichzeitig in der Moderne bei einer Stadtführung oder einem gemütlichen Bummel genießen können."
2022 ist für Bad Wimpfen ein ganz besonderes Jahr, denn der Blaue Turm, das Wahrzeichen der Stadt, öffnet nach fünfjährigen Sanierungsarbeiten wieder seine Tore. "Der Blaue Turm prägt die Silhouette Bad Wimpfens", so Humm. "Und nicht nur unsere Türmerin Blanca Knodel freut sich schon jetzt darauf, hoch über den Dächern der Altstadt die längste Türmertradition Deutschlands wieder aufleben lassen zu können."