Can engagement?driveNFLbetting A TRUE JUGGERNAUT fraudFightingin metaversethe HEAVY META Taking slots mobile A GAME OF PHONES CSR is at the heart of Parimatch Tech Katerina Biloruska ISSUE 22 • SEPTEMBER 2022
DESIGNED & DELIVERED BY Better Mags (bettermags.co.uk)
• Jacqui Gatt: an entertainment-first approach to social gaming
All material is strictly copyrighted and all rights are reserved. No part of this publication may be reproduced in whole or in part without the written permission of Sports Betting Community Ltd. Although every effort has been made to ensure the accuracy of the information contained in this publication, Sports Betting Community Ltd cannot be held responsible for any errors it may contain. Sports Betting Community Ltd cannot be held responsible for the loss or damage of any material, solicited or unsolicited. The views in the publication are not necessarily the views of Sports Betting Community Ltd or those of the advertisers.
• IGT PlaySports: Game-on for sports betting 69-89 Gaming • Reinventing the classic slots
• Chile: creating the perfect scenario for land-based and online to co-exist
REGISTERED ADDRESS: SBC, Riverbank House, 1 Putney Bridge Approach, London, SW6 3JD TEL.: +44 (0) 161 367 1250 EMAIL: sales@sbcgaming.com WEB: www.sbcgaming.com sbcleaders.com
Produced and published by Sports Betting Community Ltd
• Viena Wroblewska, APlus Translations: making localisation a priority 50-68 North America • Social media: a valuable marketing tool?
3
• Stuart Godfree: establishing mkodo as a leading geolocation solutions provider
• BoyleSports' Lee Otter on the key to retail success
• David Mann, Swintt: a game of phones 90-95 Lottery
• Sophie Wood, Lottoland: leading the way on diversity and inclusion 96-105 Payments
• Lotteries: securing a place at the innovation table
• The role of NFTs in preventing ticketing fraud
• Assessing the potential impacts of crypto regulation in the UK 106-112 Marketing
• Are there lessons that Europe can learn from Latin America?
SEPTEMBER 2022
• David Highhill: NFL will 'remain thoughtful' on relationship with sports betting
CONTENTS
• Katerina Biloruska: CSR is at the heart of Parimatch Tech 11-49 Sports Betting
6-10 Spotlight
• Gordon Moody: breaking down barriers to problem gambling treatment
• Bombay Club: a touch of luxury for live casino
• Shelley Suter-Hadad: assessing the need for retention-based acquisition 113-122 Latin America
The SBC Leaders Magazine is brought to you by SBC - Sports Betting Community: EDITORIAL TEAM: Erin Gallagher, Andrew McCarron, Craig Davies, Ted Menmuir, Joe Streeter, Chris Murphy, James Ross, Lucia Mouriño, Conor Porter, Charlie Horner, Jessie Sale, Mollie Chapman, Fernando Noodt Molins, Callum Williams, Viktor Kayed, Martyn Elliott, Nick Ware, Lucia Gando, Jessica Welman, Ted Orme-Claye, Danny Lee SALES TEAM: Rasmus Sojmark, Alyona Gromova, Conall McCabe, Jan Kowalczyk, Richard Deacon, Bob McFarland, Craig Brown, Juan Ospina, John Lederer
Well, for Issue 22 of SBC Leaders Magazine, we've virtually written a whole book on a host of issues around gaming, sports betting, lottery, payments and marketing. And it's safe to say that it's no secret that this industry continues to innovate at a frantic pace. Now you're probably wondering why we chose to start this welcome letter with a quote from Azaña. But if you didn't know already, this issue of our magazine will be heading over to Barcelona in a few weeks' time - so we thought adding a slight Spanish flourish would be apt. Kicking off with the SBC Championships at the RCDE Stadium and rounded off with the SBC Awards at the Palau Nacional, this conference week will undoubtedly be one of our biggest and best. So it was obvious that Issue 22 required some of the biggest names in our industry to offer their insights on all things betting and gaming.
INTROErinGallagher SBC LeadersEditor IT'S NO SECRET THAT THIS INNOVATECONTINUESINDUSTRYTOATAFRANTICPACE
David Highhill, Vice President and General Manager of Sports Betting at the NFL, took time out of his new job to speak to us about the league's perspective on the potential future direction of its relationship with sports betting. IGT PlaySport's Joe Asher and Tony DiTommaso look ahead to this year's NFL season and the reasons why the league is a "true juggernaut" for betting engagement across the US. Sophie Wood teaches us about the LottoLand way when it comes to diversity and inclusion, reflecting on the challenging journey that led her to become a leading figure within the lottery space. And for Shelly Suter-Hadad, former CEO of Casumo, the tides are changing as she discusses the most pressing leadership challenges that companies are facing in 2022 - and more importantly, the ways to address these obstacles.Theseare just a handful of the topics that are discussed - there is a whole load more content to sink your teeth into in the pages that follow!
As I sit in our Manchester office on a sunny Friday afternoon thinking about how to round off this welcome letter, one thing keeps playing on my mind. The distribution of this magazine at our upcoming SBC Summit Barcelona event has inspired me to brush up on my Spanish skills, and expand my horizons beyond being able to ask for "un vino blanco, por favor". So on behalf of the entire SBC team, if we don't see you before then we look forward to seeing you at the exhibition at Fira Barcelona Montjuïc for a few cervezas and a catch up! •
Jdigital's General Manager Jorge Hinojosa puts Spain in the spotlight as he discusses the impact of highly stringent advertising restrictions in 2021 on the country's licensed market. From the sounds of it, there are storms ahead.
4 SBC LEADERS • SEPTEMBER 2022 W elcome to Issue 22 of SBC Leaders Magazine! As Manuel Azaña once said: "In Spain, the best way to keep a secret is to write a book."
Parimatch Tech's Co-Founder Katerina Biloruska begins her interview by discussing her company's evolution from a retail-based betting estate to the global conglomerate that incorporates a technology brand, as well as a CSRfocused Parimatch Foundation. Social responsibility is a major focal point for Biloruska's interview, as she shares her views on the conflict in Ukraine and the work that this industry can do to support those impacted by the war.
We're not positioning ourselves as a gambling company - we are now a technology company. That is a massive transformation in itself. When I started at this company, there were only a handful of IT people - I'd say no more than five. Now, Parimatch Tech has nine R&D centres around the world in which more than 1,000 IT specialists cover the development and infrastructure support of the Parimatch platform entirely.
KB: So, you have probably looked at my CV and thought, 'how strange? Every position has been different, and she has worked in every part of the business!'.
At that time, the company was already operational in other countries - mainly within the CIS region - but Ukraine was still a huge market, presenting a considerable difficulty when the ban was imposed.
SBC: Thanks for speaking with SBC Leaders Magazine! Can you begin by telling us a bit about your career - you started off as a journalist? KB: That's right. I studied journalism for five years. However, I never actually worked as a journalist! I studied journalism because it seemed like a very interesting, somewhat romantic profession, and I was good at writing during my school years. But as I studied more, I realised that journalism wasn't forInme.Ukraine, being a journalist isn't a very straightforward path - most of the articles you write are ordered by someone. This wasn't something that appealed to me. Working with a good news outlet is also a very long, convoluted process - so that was when I decided that it wasn't for me. But during my studies I learned a lot about communication processes, which is the knowledge that can be applied across any industry and is something that I draw upon a lot in my current role. Despite journalism not being the career I wanted to pursue, I was lucky enough to have the opportunity to work within the family business, so I embarked on a new challenge.
Leading through adversity 6 SBC LEADERS • SEPTEMBER 2022
If we look at the challenges I faced, I think we need to start when the company was first created. Parimatch was born in Ukraine in 1994. At that time we were a traditional betting company with a significant retail presence. But one big problem was the ban on betting in Ukraine.
When I joined, the next big challenge was transforming the company from a retail-first to an online-only operator. This was not something that many other companies were doing at the time, so as you can imagine, it was quite tricky.
SBC: You have held a number of positions at Parimatch Tech, including Co-Founder, Account Manager, Project Manager, CBDO and Head of Corporate Development. What would you say have been the biggest challenges that you have faced during your career?
Then, more recently, we transformed from an online operator into a technology company.
BY ERIN GALLAGHER
We have come up against plenty of challenges in recent years, but I think that our primary success is that we have created something new and innovative. I would say that Parimatch was a startup when I first joined, and now we have grown into an ambitious player in a worldwide gambling market driven by technologies and in-depth industry expertise.
PARIMATCH TECH'S CO-FOUNDER and Chairwoman of the Parimatch Foundation shines a spotlight on some of the company's corporate social responsibility initiatives and the need for wider industry collaboration in the face of adversity WE'RE NOT POSITIONING OURSELVES AS A GAMBLING COMPANY - WE ARE NOW A TECHNOLOGY COMPANY
INUKRAINEBILORUSKA:KATERINAISOURDNA
And you're not wrong. Parimatch is my family business. When I joined the company, I had the opportunity to have any job title that I wanted. But I doubted that was a great idea in the long run. I started as an Account Manager in a very junior role, working with different countries, collecting information and creating analysis reports. Then, I gradually moved to another position in an entirely different part of the business. That was interesting because the company was going through a period of transformation. Those first few years of my working at the company were like we were living in a time of constant transformation, development and change. That was why it was so crucial for me to work in different sectors of the company - I was not just an employee, but this was also my family business.
SPOTLIGHT sbcleaders.com 7 THOSE FIRST FEW YEARS OF MY WORKING AT THE COMPANY WERE LIKE WE WERE LIVING IN A TIME OF TRANSFORMATIONCONSTANT
KB: So, I would say that the Foundation's life can be divided into two partsbefore the war and after. When the Foundation was created, the main mission was to provide a happy future for children, and sport was a very powerful tool to do that. So by involving children in the sports programme we organised, we wanted to teach them skills like leadership, teamwork, communication - all of which can be incredibly important for YOU HAVE TO HAVE THAT CONFIDENCE IN YOURSELF TO SUCCEED IN BUSINESS. THAT IS VERY IMPORTANT
Leading through adversity 8 SBC LEADERS • SEPTEMBER 2022
Another pillar is also developing selfconfidence. It is not necessarily easy for a woman in this industry - especially in the gambling and technology spaces. Over the last few years, female representation has improved; there are many more women now, and it's becoming easier for them to progress. But still, when you're in a meeting room, and you're one of the few women, there are times when you begin to question whether you deserve to be there. But you need to remember that you earned your place in that meeting, you know what you're talking about, and you have the authority to discuss that subject matter. You have to have that confidence in yourself to succeed in business. That is very important. Without that, female representation will not change within the technology and gambling industry. That is incredibly important to understand and champion as a leader.
SBC: Among other things, you serve as the Chairwoman of the Parimatch Foundation. For those that don't know, what are the Foundation's core aims?
SBC: So more specifically, how has working across several divisions of the company shaped your leadership style?
KB: I have mostly fashioned my leadership style on three main pillars. I think most of the knowledge I learned about this industry, and Parimatch in particular, is from my experience working within different roles. Likewise, I do not have any specific education in this field - admittedly, before I came into this company, I wasn't very knowledgeable about how this industry worked. That has all been learnt on the job. During that time I learnt a lot, both about the company but also about management and establishing relationships. I am continuing to learn, grow and adapt to the company. This has been particularly apparent when we face difficult situations - such as when the war started in Ukraine. This created a lot of problems for us, but also some new opportunities for things we have not done before. It also brings a lot of new knowledge, and I think it is essential to learn from each situation you face in your career.
something.Wealsowork
sbcleaders.com 9
THE
SBC: You placed a heavy emphasis on the aid that you are providing. From a wider perspective, how important has industry collaboration been when it comes to supporting causes such as providing humanitarian aid across KB:Ukraine? I want to give credit to some of our partners. When the war started, we realised that we needed to help Ukraine, and we also needed to ensure that the Foundation had enough funds to support the requests for help that it was receiving. We could not cover that with just the funds that Parimatch Tech provides.Parimatch Tech has a huge network of partners. We started calling them to explain the situation that we were facing. In fact, at the time, the employees at Parimatch Tech were volunteers - everyone began phoning their partners to ask for whatever help they could. We received much support from football clubs, sports organisation agencies we work with, our ambassadors, and providers. We managed to collect some funds for Ukraine - but we also received some humanitarian help that has been sent to Ukraine. For example, some football clubs we work with helped us. It required a lot of organisation to collect this, but we did it, and I am pleased that we have been able to SPOTLIGHT
Our brand was born in Ukraine, and many of our management and employees are Ukrainian. I am from Ukraine. So, we must make a stand and help our country. That has always been a core principle of the Parimatch Foundation and is more so than ever. We are uniting businesses, governments and NGOs to address social problems. Through that collaboration, we can resolve problems. I think businesses have to support their country and people more than ever.
them in the future. We work with children with disabilities and are allowed to participate in sports. The Foundation mostly works in Ukraine, but we have programmes in Cyprus too. In both countries, we found that there was minimal infrastructure in place to enable children with disabilities to take part in sporting activities. We wanted to train coaches who can then work with these children and create sessions that everyone can take part in. Sports have been shown to have very positive effects on physical and mental healthbeing a part of a team can help provide that emotional boost because it makes the children feel like they are a part of with children from low-income families to give them the opportunity to access sports programmes. The Foundation is working with schools and PE teachers to create a number of educational programmes for these children. But since the war started, we have had to change our thought process because we now understand that education and sports programmes aren't necessarily the first things children in Ukraine need. That's why we have begun working with local authorities, regional military administrations in Ukraine and the volunteer groups to help families evacuate and help accommodate them somewhere that is much safer. We have been working with hubs in Western Ukraine, providing temporary shelter for families with children. The Foundation has been trying to help make sure they have everything they need - from food, clothes, medicine and aid. Since the war started, we have been focusing much more on basic things for children. A few months back, we realised that it was important to restart our sports programmes because there is a war, but children still need to develop. People want to feel like they are returning to normal. We are still providing humanitarian support to those that still need it in Ukraine. As well as our sports initiatives, we have launched a programme to support mental health. We have been working with psychological specialists, as well as the Israel Trauma Coalition, on how to work with children that have been suffering from trauma due to the war. This has been a hugely traumatic experience for both adults and children.
The specialists we are working with have been working alongside teachers to educate them on how we discuss the war with children and how we begin to unpack what they have been going through. These are incredibly difficult topics to discuss, so we wanted to provide that specialist help. On top of that, we have been carrying out some fundraising activities to raise money for Ukraine. Of course, many children left Ukraine and came to Cyprus - we are trying to help these children and give them what they need.
OUR BRAND WAS BORN IN UKRAINE, AND MANY OF OUR MANAGEMENT AND EMPLOYEES ARE UKRAINIAN. I AM FROM UKRAINE. SO, WE MUST MAKE A STAND AND HELP OUR COUNTRY FOUNDATION'S LIFE CAN BE DIVIDED INTO TWO PARTS - BEFORE THE WAR AND AFTER
10 SBC LEADERS • SEPTEMBER 2022 Leading through adversity support Ukraine in the way we have.
KB: So for Parimatch Tech, we are continuing with our transformations. As the surrounding situation continues to change, so must we. We are carrying out some substantial internal changes within the company. When we decided to pull out of two different markets, we have been searching for new opportunities in Europe and Africa. We also shifted more towards B2B. We have never done that before, but we feel like we're at the point where we can offer some great products to other players in the market.
SBC: What can we expect from Parimatch Tech and Parimatch Foundation over the next 12 months?
Even if we are not collecting huge amounts of money or humanitarian aid - we are at least trying to play our part. We are also raising awareness of the situation; informational support is critical now.For example, when we had the Stand for Ukraine LED boards displayed during the Chelsea match, that was very important for us. It is the small things like that which are helping us fight an informational war and tell our story. We are really very thankful for all our partners who were so kind in helping us. Everyone has been very open and understood the problem that we are facing.Ithink it is also essential to address the work of the gambling industry and how they reacted. I believe that it was very important that we, a Ukrainian company, stop our operations in Russia and Belarus and that other gambling companies do the same thing. That has been a huge support for Ukraine. Plenty of companies pulled out of the Russian and Belarusian markets - bet365, PokerStars and DraftKings, to name a few. We appreciate that way of support.
As I mentioned, we are no longer a betting operator, but a marketing and technology solutions developer for the industry. We have our own in-house product, nominated for SBC Awards 2022. These are some main changes for thisAsyear.for the Parimatch Foundation, we launched that new programme with mental health, and I think we will be mostly focused on this now. We need to seek further expertise in this area and get moving on that rapidly so that we can continue to support the children across Ukraine. We will continue our sports programme because we understand how important this is for children'sSomethingdevelopment.Iwouldlike to share is that when the war started, our global workforce at Parimatch Tech and volunteers were very helpful. They organised by themselves and tried to help in several ways - whether providing medication or aid, they were accommodating.Keepingthose volunteering levels high is a challenge that Parimatch Foundation faces - this is part of the CSR commitment for Parimatch Tech, and we are trying to involve our employees in these social causes. That is what we will be working on over the next few months. • AS THE SITUATIONSURROUNDINGCONTINUES TO CHANGE, SO MUST WE
SPOTLIGHT
Let your strategy drive our technology We collaborate with global operators to assemble their ultimate, curated sports betting and iGaming experiences.sales@fsbtech.comwww.fsbtech.com Curate The Win
E
What the punter wants
"We want to give customers what they want and build up trust," he began, breaking down the BoyleSports retail strategy. "That goes right across the board, whether that's from a trading perspective or from a physical perspective, starting with the comfort and layout of the shops.
BY TED ORME-CLAYE ntain now operates the UK's largest combined suite of retail holdings via its Ladbrokes and Coral properties. Flutter Entertainment has hinted at a brick-and-mortar rollout, while Betfred remains a familiar name throughout town centres and 888 has now acquired a substantial number of shops via its takeover of William Hill. Targeting its own expansion in the UK is BoyleSports - John Boyle's Dundalk-based business is the largest independent betting operator in both Great Britain and Ireland, and its plans for growth in the former are no secret.
GIVING CUSTOMERS WHAT THEY WANT - BOYLESPORTS' LEE ON THE KEYS TO RETAIL SUCCESS
OTTER
WE WANT TO GIVE CUSTOMERS WHAT THEY WANT AND BUILD UP TRUST
"Our concession packages are innovative, relevant and change daily, so they provide IN THE EYES OF MANY, retail as the number one means of betting - but the industry's big stakeholders still maintain a keen focus on their high-street operations
Discussing BoyleSports' expansion over much-needed lattes in Manchester's Deansgate district, the company's Director of Property and Development, Lee Otter, highlighted some of the key considerations for success in retail betting.
A safe bet 12 SBC LEADERS • SEPTEMBER 2022
PEOPLE CHOOSE BETTING SHOPS BECAUSE OF CONVENIENCE - NOT JUST BECAUSE OF ODDS OR OFFERS
A key question facing many industries as lockdowns ease is whether the city centre, the traditional focal point for retail business, will be able to Hybridrebound.working has also contributed to consumers' changing retail preferences. Instead of heading to a busy city centre many now prefer a localExplainingoption. this paradigm shift in the context of retail betting, Otter added: "City centres and towns are different in terms of business. Ideally you want a SPORTS sbcleaders.com
BETTING
On the topic of locality, Otter stressed that this could not be a more important factor to acknowledge when developing a retailBoyleSportsoffering. has opened six new shops in the past three months in locations such as Ellesmere Port in North West England and Darlaston in the West Midlands, and has also extended a pre-existing venue."The business mix and punter profiles are different, but what is consistent is the fit, quality and facilities," Otter commented on BoyleSports' geographic diversity. "The quality is the same in every shop, and that's important to the brand - there are no halfmeasures, the experience has to be right in every location. "We take a handson approach to the design of the shops and refine things as we go. For example, we tried to squeeze too much marketing material in the windows of one new shop, which made it look cramped, so we reviewed and made changes. "Making sure things are fit for purpose is also important - we like to pay attention to detail and show a willingness to invest in what others perhaps wouldn't, due to onward maintenance concerns, to make sure it's giving customers an enjoyable place to be and a comfortable place to bet." In Otter's view, the pandemic has led to change in consumer habits which has seen localised purchases becoming the norm for many customers, as people made more effort to avoid densely populated areas."There has been a behavioural shift which has redistributed the betting market, and lockdowns accelerated this," he "Peoplecontinued.choosebetting shops because of convenience - not just because of odds, offers, the staff, the size etc - it's all about the location. If you're expanding your retail holdings and evaluating where to open a new shop, it is paramount you make sure it is in the right area."
Location, location, location
gain market share in any location - by giving the customer what they want."
13
"The service we provide lends itself to knowing our customers and having a strong community feel. It's all about building the brand and customer trust.
Content is king Location is obviously a key factor to consider when laying out the blueprints for retail growth, but the BoyleSports Director also placed a heavy emphasis on one additional component. Whilst customers will look for convenience and comfort when placing an in-person bet, the content on offer in a store is also an eyecatching element bettors will consider.
"For example, our shop has the full eight-over-eight gantry, and is trading against both William Hill and Coral, but provides a comfortable environment and gives the customers all the content they BoyleSports'want."shop displays often feature 50-55 inch TV screens spread across six-over-six, seven-over-seven or eight-over-eight curved gantries, which Otter likened to a betting equivalent of the cinema experience. Meanwhile, the company has also signed contracts with the likes of Sky Sports, TRP and SIS (Sports Information Services), to incorporate a diverse selection of sports and betting markets for its customers.
"It comes down to 'what is the content on what screen? Where is the screen located?' This is the detail that's important," he emphasised.
"We've got absolutely everything that the customer could ever want," Otter added. "Sky is in every shop, as well as TRP and SIS, and virtual racing has its own dedicated screens.
For the Irish bookmaker, this has involved setting up 'the best gantry on the market' - in Otter's view - featuring racing and live sports content across a wide range of events.
"All of the latest odds and offers are all there. We use the Promote system to square the content dynamically, and you can effectively promote different markets in different locations, should we choose to."
In an increasingly digitised age YOU MIGHT GET BETTER VALUE ONLINE, BUT IN RETAIL YOU HAVE PERSONAL CONTACT, OFTEN WITH A FAMILIAR FACE AND THAT ALL IMPORTANT SOCIAL INTERACTION
"You might get better value online, but in retail you have personal contact, often with a familiar face and that all important social interaction - which also supports responsible gaming."
A safe bet 14 SBC LEADERS • SEPTEMBER 2022 good mix of race-to-race, early morning and football, but there is more of a transient nature to city centre locations which is where footfall impacts.
Responsible gambling interactions are also different in town centres and local areas because of that local customer knowledge and relationship building, which can be harder to develop, or needs to be applied differently, in a city centre, due to its often more transient nature.
Central to achieving this in BoyleSports' plans is the firm's BoyleXtra account. The BoyleXtra card enables the customer to bet however and whenever it suits them; online, inshop using their online balance, on the app or over the phone. In addition, every BoyleSports betting shop features self-service betting terminals, which Otter maintained 'are a step towards online via an electronic means of betting', providing punters with a bridge to, and a familiar feel for, those more accustomed to online wagering.
"We focus on the SSBTs because the younger generation relate to that electronic style of betting. You can use the terminals to readily give them the vast information they are used to online, which in turn brings on new customers."Providing such diverse content does not of course come without its challenges, as Otter noted that media rights fees are an important consideration when sizing up the costs for a new retail venture.
Moving forward - why bet on retail? Retail has understandably taken a major hit in recent years, from the rise of online betting to the FOBT stake limit in 2019 and the COVID-19 outbreak the following year. Otter has witnessed all of these developments first-hand during his 10-year and 15-year tenures at Ladbrokes and William Hill respectively, and in his ongoing role at BoyleSports. Despite these hurdles, retail still remains a safe bet for operators, he reiterated, due to the aforementioned community aspect that the local highstreet offers to punters, enhanced with rich content and a comfortable experience.
and with online betting ever more prominent, the ultimate 'utopia' for operators offering both verticals is a strong omnichannel offering.
"In some areas where rent isn't much of an issue, media rights exceed that. The capital required is often significant, and basic commercial sense says for every penny you need to make a penny and half. Rights are a huge contributory factor to costs and you have to include it in any viability study when opening a new shop."
"I have absolute confidence in a continued loyal retail customer base," he"Itconcluded.allgoesdown to the fundamental premise that online is very different to retail. The two have co-existed for over 15 years now, and in many ways complement each other rather than compete or detract.
THE ULTIMATE 'UTOPIA' FOR OPERATORS OFFERING BOTH VERTICALS IS A STRONG OMNICHANNEL OFFERING
• SPORTS BETTING
15
"Retail will always offer a comfortable social environment and have the draw of social interaction and placing a bet around like-minded people." sbcleaders.com WE FOCUS ON THE SSBTS BECAUSE THE YOUNGER GENERATION RELATE TO THAT ELECTRONIC STYLE OF BETTING

SBC: First off, how did the deal between IMG ARENA and the MLS come together? What makes the two organisations such a great match?
SBC: Let's talk about how you can tailor soccer to a US audience. US bettors are more focused on individual props and see sports through a fantasy lens. How can data be used to help build up micro betting markets that will cater to a US FL:audience? The power of data is its ability to help audiences further understand and connect with the game in a digestible format. Our award-winning Event Centres – already successfully implemented in golf and MMA –offer a unique data-driven front-end solution that visualises data in a way that informs and engages the fan. Critical information, including the latest team form guides and insight on how star players are performing, will enable sports fans and bettors to become more comfortable in placing bets on upcoming MLS matches. When you couple that with recent innovations and deals across US sbcleaders.com
BETTING
Data day BY CHRIS MURPHY
HAVING SECURED A MONUMENTAL DEAL with Major League Soccer (MLS), IMG ARENA President Freddie Longe shares how the two organisations will work together to revolutionise the fan experience and extend the reach of rights holders in an era that's becoming increasingly dominated by the power of data
17
IMG
FL: The MLS is one of the most forward-thinking organisations in world sport. It has been a constant and meaningful innovator since its inception, making it a standardbearer for the integration of new technologies. We are committed to helping rights holders grow their reach in the data age of sport and to be part of the MLS journey is a great honour. As with any deal of this size and scope, it was a long time in the making, featuring an extensive RFP process. It is a revolutionisesmulti-facetedtechnology-ledground-breaking,agreementwithadeliverythatcompletelythefanexperience.
THE MLS IS ONE OF THE MOST FORWARD-THINKING ORGANISATIONS IN WORLD SPORT. IT HAS BEEN A CONSTANT AND MEANINGFUL INNOVATOR SINCE ITS INCEPTION, MAKING IT A STANDARD-BEARER FOR THE INTEGRATION OF NEW TECHNOLOGIES ARENA: GROWING RIGHTS HOLDERS' REACH IN THE DATA AGE OF SPORT SPORTS
SBC: How will you tailor your data collection and fan engagement approach to MLS, which is structured differently to traditional leagues?
Data is a vital piece of the jigsaw puzzle to ensure more fans engage with soccer betting markets and ultimately leads to more informed wagering decisions.
FL: IMG ARENA is committed to only using 100% official data. Content creation underpins our universe. Built upon our ground-breaking golf data collection methodology, our configurable scoring applications are designed to collect the fastest, most accurate and reliable data.
Data day 18 SBC LEADERS • SEPTEMBER 2022 soccer, then data really comes into its own. For example, Apple and the MLS recently announced a 10-year, $2.5bn global broadcast partnership that will shake up how soccer fans and sports bettors immerse themselves in live matches. This unique deal means that for the first time, all MLS matches will be available directly through the streaming platform via a subscription model.Crucially, the MLS is set to introduce an NFL-inspired RedZone service for viewers, delivering an elevated in-play experience on game days across a multitude of matches. For sportsbooks, this creates more betting opportunities and heightens the appeal to soccer fans and Despitebettors.soccer growing to become one of the most popular sports in the US outside the big four, engagement from a betting perspective has historically been relatively low. However, the next four years provides US sportsbooks with a major opportunity to attract and convert soccer fans into depositing betting customers.Withthe US, Canada and Mexico national teams all qualifying for the 2022 World Cup in Qatar, sportsbook operators are in a prime position to lean on this hype and promote soccer betting markets throughout the month-long tournament. And as North America prepares to host the event in 2026, this is a pivotal period for soccer's future growth.
DESPITE SOCCER GROWING TO BECOME ONE OF THE MOST POPULAR SPORTS IN THE US OUTSIDE THE BIG FOUR, ENGAGEMENT FROM A BETTING PERSPECTIVE HAS HISTORICALLY BEEN RELATIVELY LOW
The real point of difference comes in creating a connective tissue between data feeds. Currently there is a separation between data collection methods. This has limited the potential growth of soccer data, analytics and insights.FastPath, Event and Tracking data have largely existed as independent data streams and the synergies between them haven't been unlocked. Via the convergence of human and automated data collection we can provide MLS with fast and accurate data and powerful new data sets. It then comes down to how you use that data and present it to fans. The
FL: The US market has some of the most sophisticated consumers in the world. It is a completely blank canvas, so we are seeing a lot more creative thinking and convergence between rights holders, sports betting and sports media. Our view is that we must develop our productised technology and layer in content and experiences across all touch points to keep fans immersed throughout the value chain. The growth of in-play betting and the importance of data here cannot be underestimated. There is also growth in demand for content outside of the big four. Recent analysis we commissioned with H2 Gambling Capital suggests that North America will see notable rises in market share of GGR for the following sports: volleyball (15.5% global share in 2021 up to 27.1% in 2026); table tennis (21.3% up to 35.6%); MMA (43.0% up to 60.8%); and golf (45.1% up to 61.9%). We have some exciting plans in the works across all these verticals, building on the pedigree we have built in golf, MMA and tennis. • sbcleaders.com BETTING DATA IS A VITAL PIECE OF THE JIGSAW PUZZLE TO ENSURE MORE FANS ENGAGE WITH SOCCER BETTING MARKETS AND ULTIMATELY LEADS TO MORE WAGERINGINFORMEDDECISIONS
new MLS Event Centre will play a key role in this by delivering innovative, data-driven content for soccer fans and bettors. It will combine MLS data feeds and live streaming, and present live and historical event statistics, data visualisations, and ultra-responsive markets via 2D and 3D interfaces.
SBC: Beyond data collection/ distribution, how will this partnership benefit the MLS digital assets of MLSsoccer.com, the MLS App, and related club Sites?
THE US MARKET HAS SOME OF THE MOST SOPHISTICATED CONSUMERS IN THE WORLD. IT IS A COMPLETELY BLANK CANVAS, SO WE ARE SEEING A LOT MORE CREATIVE THINKING AND CONVERGENCE BETWEEN RIGHTS HOLDERS, SPORTS BETTING AND SPORTS MEDIA
19 SPORTS
FL: MLS and IMG ARENA will launch a suite of new digital products enabling the league, its teams and partners to use data, graphics and insights to enhance the game and further engage the digital MLS audience on MLSsoccer.com, the MLS App and all MLS club sites. The multi-year, global partnership will focus on the growth of the MLS fan base, with IMG ARENA delivering programmatic marketing and ad tech to assist MLS in building its audience share among the 3.5 billion global soccer fans. SBC: Data plays an increasingly large role in how bettors decide on what to bet. What trends and types of data are you seeing bettors tending towards, especially when it comes to US bettors and soccer?
BY TED ORME-CLAYE B etting and gaming has become increasingly digitised and multinational in the 21st century, with high profile firms cruising their way across international borders via online operations.Acommon factor both the new webbased betting scene and its older, brick-and-mortar counterpart share is the need for a strong technological foundation. For online sportsbook Kwiff, this is paramount. Reflecting on the development of Kwiff's tech stack, Founder and CEO Charles Lee highlighted the increasingly complex nature of modern betting products and the company's international outlook. Transatlantic ambitions - or lack thereof?
KWIFF:
The rapid growth of the US betting and igaming market has been phenomenal over the past two years, with 18 states - at the time of writingopen to online wagering, whilst more than half now accept other forms of gambling.Arecent report found that should the 42 states of the union that currently allow either land-based casinos or online sportsbooks (or a combination of both) open their markets to online casino products, a potential annual turnover of $6.35bn would result.
With this in mind, it is unsurprising that many operators are prioritising North American expansion. Kwiff, however, is "biding its time".
"When the opportunity is right and when it presents itself, we'll know," Lee said. "We've held back a little IN THE HIGHLY DIGITAL and multinational betting industry of today, maintaining a firm grasp on technological development is a key skill for any operator to learn WE'RE POISED FOR FURTHER EXPANSION, BUT THE US IS NOT THE CURRENT FOCUS
Biding time 20 SBC LEADERS • SEPTEMBER 2022
"We're continually pushing ourselves as a technology outfit to challenge the normal and explore different emerging technologies and methodologies and push the boundaries of being on the edge of technology development."
For the many firms who have decided to make the trek out West and seek their fortunes in the New World, however, Lee did have one piece of advice - get the tech stack right. "We've seen businesses slow a lot recently and you can see that in the share price, but when the time is right the US presents itself as an enormous opportunity," he explained. "I'm sure their share prices will bounce back and strong businesses will prove resilient at the end of the day. They also need to make sure that they can control all of the elements of their product, and the tech stack is vital to that. If they're not owning their own tech stack, then being on a really strong third-party provider is going to be important as well."
bit, although we've got the tech built that will handle a multi-jurisdictional territory like the US, but the current climate is not right for us at the moment."Thecost of entry is a prohibitive factor, and I also think the marketing spend of other operators in the territory is a bit restrictive as well. However, I see that coming down significantly, certainly this year and into next year. So 2023 is going to be a really interesting year." Lee detailed that Kwiff's focus is instead on its current markets, namely in Europe and Africa where the Maltabased operator has built up a strong presence since its inception in 2015.
Kwiff's six-year development of its in-house tech has more than paid off, he asserted, with the company now capable of taking on "any jurisdiction, any guidance or restrictions".
IF THEY'RE NOT OWNING THEIR OWN TECH STACK, THEN BEING ON A REALLY STRONG TOPROVIDERTHIRD-PARTYISGOINGBEIMPORTANT
WE'RE PRETTY CONFIDENT THAT WHEN THE TIME IS RIGHT, OUR TECHNOLOGY WILL STAND THE TEST OF THE US AND ALSO OTHER MARKETS
In Kwiff's case, the CEO explained that "no expense has been spared" by the bookmaker, such as utilising "best in class developers" and native technologies.Thishasresulted in the development of a "seamless cross-sell experience", including a sportsbook, casino and bonus engine - a product which the company believes will succeed across any market.
"The user won't really experience anything different apart from those restrictions, so it's vitally important for the UX and the UI of the product," he said. "We can employ servers within different territories, be it physical servers or use the cloud - we have the flexibility to use either.
Betting on technology Lee observed that, as gambling products are becoming increasingly complex, features are commonly 'stacked on top of one another'.
"We're pretty confident that when the time's right, our technology will stand the test of the US and also other markets. Actually, I don't think the US SPORTS
BETTING sbcleaders.com 21
Charles CEOFounderLee,andofKwiff
In the CEO's view, it is vital that this complexity is not "passed on to the customer", adding that at Kwiff the avoidance of this practice is the company's mantra.
22 SBC LEADERS • SEPTEMBER 2022
It would be hard to argue that the shift from retail and brick-and-mortar betting to online gambling is one of the most significant trends to take place within the industry over the course of this century. It is a trend that has not only been driven by technological developments, but also by changes in consumer behaviour. Customers are now pretty savvy, Lee noted. They understand the degree of seamlessness required to execute an enjoyable betting experience and whether or not friction is being encountered. This requires greater personalisation than at sports betting specifically, giving a round of experiences is key, and for us that starts with personalisation," he said. "As a B2C operator, there's more and more content out there for us to deliver to customers, whether we're providing it within the product or we're taking it from elsewhere and then feeding it to the customer.
before."Looking
Trends and challenges
Biding time is the most complex market that we could be in - there are other markets that offer more challenges."
Building on a tech base - what's on the horizon for Kwiff?
While Kwiff may be playing a waiting game on any US moves, the firm is still eyeing international growth.
"The customer is not always going to want all of that content. What we need to be able to do is look at the data that the customer is providing us from their betting patterns and feed them the relevant content that we know is going to engage them. "This is going to lead to bettor stimulation and increase the loyalty of the customer and give them the relevant information. An operator that can do that will really have success towards the end of this year, next year and beyond."
According to Lee, the rollout of personalised products is the next key objective.Kwiffwill be taking that experience to its international customers in different territories, working to personalise its products on a regional basis for bettors across jurisdictions. "It's not just languages or prioritising different sports over others depending on where you are, it's the full offering that needs to be personalised, and the amount of data we can pull from our platform is incredible. "We haven't even touched the surface of what we can do. We want to offer them a personalised and unique sports and gaming experience, but also within a safe and secure environment." • WE WANT TO OFFER THEM A PERSONALISED AND UNIQUE SPORTS AND GAMING EXPERIENCE, BUT ALSO WITHIN A SAFE AND SECURE ENVIRONMENT THIS IS GOING TO LEAD TO BETTOR STIMULATION AND INCREASE THE LOYALTY OF THE CUSTOMER AND GIVE THEM THE RELEVANT INFORMATION
D
Oren DelasportShwartz,CohenCEO
BY ERIN GALLAGHER elasport, a global leader and a provider of sports betting, PAM and casino solutions, has entered eight new markets in 2022, pushing boundaries and elevating player experiences through personalisation, engagement tools, intuitive UX and flawless player journeys. We talk to Oren Cohen Shwartz, CEO of Delasport, to find out more about how global expansion, player personalisation, content and service localisation, and managed services are a crucial combo for ambitious operators. SBC: What is Delasport's strategy that allows your partners to thrive? OCS: To boundariesmarkets,toneedsWeourlevelgetmakeFirsttoworksneedsuccessfully,competeourpartnersatrustypartnerthatcloselywiththemsettherightstrategy.andforemost,wesureourpartnersthehighestofserviceandfullattention.listentotheirandexpandmoreandmorepushingto AS MORE REGULATED AND EMERGING MARKETS come into play, operators are finding themselves in a familiar quandary: how can they increase revenues and compete successfully in existing and new markets?
WHAT OPERATORS NEED TO SUCCEED IN TODAY'S INTERNATIONAL IGAMING LANDSCAPE WE ATTENTIONOURSERVICELEVELHIGHESTGETPARTNERSSUREMAKEOURTHEOFANDFULL
A trusted partner SPORTS BETTING sbcleaders.com 23
CHANCE
A trusted partner 24 SBC LEADERS • SEPTEMBER 2022 bring innovative betting options and player engagement tools, focusing on personalisation and content localisation.
OCS: Our partners compete in markets where all operators have the access to the same content and are therefore striving to differentiate themselves. To facilitate this, we make sure that player betting experiences will be at the highest level possible in several different and unique ways. At Delasport, we take a playercentric approach to perfect the user interface with single-playerpersonalisation capabilities and maximum service, with minimum friction. We have one of the most advanced casino and sports betting interfaces in the industry and our mobile UX allows smooth player navigation to elevate their experiences through the many sports events and markets, together with intelligent categorisation, automation and personalisation.Wearepresenting sports events upon past activities and by geolocation; for example, the second league sports event will get the top UX position for players who live near the participating team. The player's minimum and maximum bet size can
SBC: Can you tell us about Delasport's latest entry to the UK market and market entries in general?
OCS: We are expanding worldwide to accommodate our partners' expansion strategy, and to attract new local and international partners. Operators understand that to thrive, they need to expand their business to more and more markets. Entering emerging markets on time gives us a better chance of gaining a foothold early on. Over the past 12 months, we have entered nine new markets, the latest of which is the UK. For us, being able to take part in Europe's most desired igaming market is a huge opportunity that we have worked hard for, and look forward to growing in. SBC: What are Delasport's player personalisation mechanisms; what do they bring to the table?
ENTERING EMERGING MARKETS ON TIME GIVES
FOOTHOLD
WE HAVE AN ONGOING GOAL TO CREATE A BETTER PRODUCT BY CONTINUOUSLY LEARNING ABOUT THE PLAYER'S ACTIVITIES US A BETTER OF GAINING A EARLY ON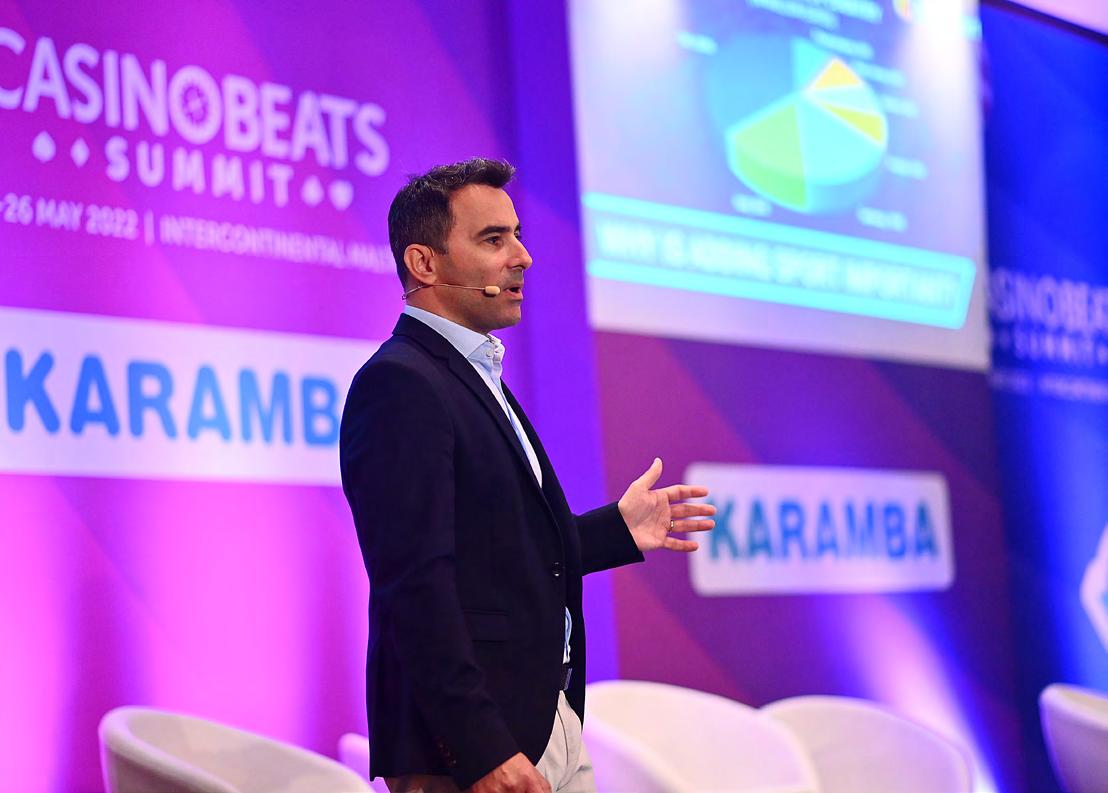 be adjusted accordingly to the player's VIP level and ife time value. We have an ongoing goal to create a better product by continuously learning about the player's activities. We also analyse their sessions and betting activities to reveal deep insights into their behaviour and offer personalised betting opportunities based on what we find.
OCS: I would say that trust, level of expertise, localisation and transparency are the main aspects to look for. Whether the operator chooses fully managed services, or only a few elements, the partnership is based on trust. The operator invests in creating a strong brand and the B2B supplier personally represents the brand for the brand owner.The operator should also look at qualifications, years of experience, processes, procedures, best practices, and customer support languages. Also important is a payment team that holds market-specific know-how, compliance operations of KYC, AML, GDPRDelasportetc. is a trusted managed service partner that provides operators with a tailor-made suite of igaming services, where the partnership is based on mutual interests. And, with our presence in so many markets, it's never been a better time to work with us.
SBC: What should an operator look at when choosing the right supplier for managed services?
SBC: How do managed services fit into the overall strategy?
SPORTS BETTING
OCS: Managed services are an essential suite of igaming operational services that B2B suppliers manage for operators. The services include customer relationship management, cashier management, payout, KYC, responsible gaming, cross-sale, anti-fraud, customer journeys, player engagement tools, sports and casino management, VIP, customer service and other such areas. Without them, partner operators will have to supply a lot of manpower to keep their business at a high level in an incredibly complex and competitive environment. This is especially challenging in markets that are new to them.
SBC: Can you elaborate on Delasport's player engagement tools? OCS: Keeping today's sports betting and casino players engaged is a real challenge. With the high cost of player acquisition, retaining the player and increasing lifetime value become crucial. To meet this challenge, we offer an array of engagement tools like tournaments, missions, spin-wheel-towin and many more. Our engagement suite is unique in the industry as it includes crossproduct engagement, allowing operators to run specific tournaments for casino and sports bettors, simultaneously or individually.
SBC: Why would an operator choose to take managed services?
• sbcleaders.com BETTING AND CASINO PLAYERS ENGAGED IS A REAL CHALLENGE
OCS: It depends on the operation's type, size and strategy. An operator that likes to focus on online marketing alone will take a full managed services solution from his B2B partner. In this scenario, the operator will enjoy access to highly professional experts and a faster time to market, especially if it's a newly regulated one. With managed services, the operator removes the hustle of expert recruitment, operation processes and procedures, compliance know-how, the need to let a bigger office, training and retaining employees, and other day-to-day operational headaches. When an operator takes on a fully managed service, it's common that they'll also ask to run on the B2C licence of the B2B supplier. This scenario is also known as a white label operation, and in some cases, a white-label brand can be launched within a few weeks. Again, this is crucial for an operator who wants to enter certain regulated markets but doesn't want to go through the difficult and timeconsuming process of getting a licence. Instead, they just use that of their supplier.
25 KEEPING TODAY'S SPORTS
DELASPORT IS A TRUSTED MANAGED SERVICES PARTNER WITH OUR PRESENCE IN SO MANY MARKETS, IT'S NEVER BEEN A BETTER TIME TO WORK WITH US
27
ANTON
SBC ADVISORY'S FOUNDER AND MANAGING DIRECTOR shares his expertise on the world of emerging technologies and the key ingredients for success that start-ups should consider when looking to make a mark on the sports betting and igaming space
SPORTS
SBC: What would be your advice to startups looking to make a mark in the sports betting and igaming industry? Are there any key ingredients for success? BETTING sbcleaders.com
PROBLEMARTSTARTUPSKASZUBOWSKI:ANDTHEOFPERPETUALSOLVING
Embracing emerging technologies
need solved or the ways in which you can improve their experience and then you have a good basis for an idea. Then it comes down to having a team that can execute a strategy in times of adversity and is always looking to follow success with improvement. In my experience, business - and especially the business of start-upsis an exercise in perpetual problem solving, whether it be fixing an issue, or seeing an opportunity and making good on that. Practical intelligence and a strong work ethic is key in this respect.Then, of course, there is a large dose AK: Build an expert team that intimately understands the market that you are addressing with your product or service. That will give you the highest probability of gaining traction with the business. Understand your customers and what problems they
BY ERIN GALLAGHER
IT IS CRYSTAL CLEAR THAT THESE TECHNOLOGIES WILL HAVE SIGNIFICANT IMPACTS ON THE FUTURE OF SOCIETY
Embracing emerging technologies
28 SBC LEADERS • SEPTEMBER 2022 of luck and timing in success. Almost anyone who tells you differently has an over inflated opinion of themselves! So I think the key ingredients to success are actually pretty straightforward, but it's incredibly difficult to have all of them come together at once.
SBC: At this early stage in the development of emerging technologies such as the metaverse, is any investment purely speculative? AK: I don't think that in conceptual or real terms, emerging technologies like AR/VR and metaverse are speculative at all. It is crystal clear that these technologies will have significant impacts on the future of society and therefore will create lots of opportunities for new types and models of However,businesses.untilthemarkets are well developed, being able to pick what will be the most successful applications, products or services within those technologies is clearly an act of speculation. You can transpose certain types of existing businesses and business models to these emerging technologies, for example video gaming into VR, but the opportunity for new types of application are even greater. So not all ideas will be totally speculative.However, timing is also a major factor. You can have the best idea in the world but if the market is not developed enough in terms of hardware and addressable customers, you may well fail. The adoption of VR for example has been slower than many people predicted. Consumer adoption has been quite slow as devices have not been cheap or super user-friendly.Weareclearly still waiting for VR and AR to have an 'iPhone moment' where the tipping point of mass adoption is crossed, which then releases potential for the growth of many new applications – it is obvious and simple if you think about it in terms of the growth of the App Store. Industrial, medical and military uses have actually been far more useful and wide ranging for VR.
SBC: What areas do you think are going to be a key focus when it comes to investment and acquisition within the emerging tech space? AK: I think the most important developments and deepest changes
The increasing use of blockchain to manage information and transactions is also an obvious area that will continue to transform the way people transact and do business.
HAVE
AK: Leaders should increasingly embrace emerging tech and treat having a long-term strategy of innovation as an area where they can build a clear competitive advantage. We are now increasingly seeing this happen with larger companies developing innovation labs or developing VC style functions in-house.
SBC: In your opinion, how should the leaders of this industry be responding to emerging tech and blockchain, the continued growth of esports and a virulent VC market?
SBC: When looking to invest in areas of emerging tech, because futures are far from clear, how can you tell the difference between unicorns and those which may not take off?
AK: I've invested in successful companies but no unicorns, so I am not the best person to ask! However, the clearest factor is picking businesses that have a very large addressable market that they can scale into or have a very high value niche market. It also helps if you are early to a trend. First mover advantage is definitely real, if not always a winning factor. A team with a proven track record of success can give you some comfort, and experience definitely counts. But no entrepreneur gets success right every time.
29 WE ARE CLEARLY
I was a mentor in William Hill's Innovation Lab competition in 2016. While it was a commendable endeavor that created a lot of good PR, it never felt like a long-term commitment to embracing innovation. The fact that it was a one-off suggests that feeling to be accurate. Across the board, however, I do think that attitudes have changed as a result of the increased focus from early stage and also now later stage investors on early stage tech companies during the pandemic, creating many unicorns. This trend has started to be reflected by companies in the gambling sector also taking the view that both financial value and strategic competitive advantage can be created through having a stronger focus on investing into innovation. In the gambling sector, this trend has also been driven by the quick development of the US market. The highly developed investor ecosystem, larger appetite for risk and enormous amounts of funds available means that an early stage investment community of professional investors and funds focused on betting and igaming has developed. This never really happened in Europe despite myself and several other even more prominent and successful individuals trying to create funds focused on innovation in the sector. • SPORTS BETTING sbcleaders.com STILL WAITING FOR AR TO AN 'IPHONE MOMENT'
VR AND
to the industry will be driven by AI and machine learning technologies that will eventually replace or improve a lot of the functions that are key to running a successful sports betting or gaming business. I am not saying that all human roles will be replaced - but some certainly will - and increasingly humans will be working alongside and complementing AI-driven processes.
FIRST MOVER ADVANTAGE IS DEFINITELY REAL, IF NOT ALWAYS A WINNING FACTOR
BY JAMES ROSS
e'd be surprised if you managed to miss the bitterly ConservativefoughtParty leadership contest following Boris Johnson's ousting in July. But whilst Tory members were taking to the polls to decide who would head up the party, gambling industry stakeholders were eagerly awaiting a date as to when the White Paper on gambling reforms would be released. With a number of Ministers and Secretaries of State having haunted the halls of Whitehall with the Gambling Act review in their briefcases, it is unclear as to whether we will see any findings in 2022. Gordon Moody CEO Matthew Hickey noted that this delay was "causing a great deal of uncertainty" in many areas of the industry. He commented: "From our perspective as a treatment provider, we have been
MATTHEW HICKEY discusses the growing demand for problem gambling treatment across the UK and the ways in which operators and suppliers can best support companies such as Gordon Moody
GORDON MOODY: WHITE PAPER DELAY CAUSING 'GREAT DEAL OF UNCERTAINTY'
W
Navigating challenges 30 SBC LEADERS • SEPTEMBER 2022
Though the review process is still not finalised and released, this delay should not result in gambling companies sitting on their hands waiting for it to drop on their desk.
However, where there is time to reflect, there is time to ponder what could be when, or rather if, the White Paper lands on the desks of companies throughout the gambling sector. One issue that Hickey would like to resolve from the revised Gambling Act is clarity on how the funding of research, education and treatment of gambling harm is made available and governed. "We strive to provide the very highest standards of care for our residents and therefore it is important that a robust funding model is in place to ensure we continue to provide the effective treatment that helps people reclaim and rebuild their lives free from gambling addiction," Gordon Moody's CEO stated. "We have seen from the changing needs of our service users that innovation in this space is important and it is essential that there are opportunities for the sector to develop. Gambling addiction has not had the recognition that other issues such as substance abuse has had, yet the effects of this addiction being untreated can be devastating for the individual and their families. "The Gambling Act review is an opportunity for more funding to be made available to the sector so that we can continue to tackle gambling addiction together."
When asked what more firms can do in the industry, Hickey stated that everyone involved in problem gambling is "on a steep learning curve".
31
impacted by this uncertainty as it threatens to undermine the good work we have done collaboratively with the sector to provide treatment to those who need it "Throughoutmost.the pandemic, we were supported by our stakeholders which meant we were able to navigate the challenges presented and meet the growing need of those who needed our"Newhelp.wrap around services and a women's residential programme were created during this time and we have significantly increased our bedspace to meet the growing demand. "The delay of the white paper and the uncertainty that this brings, especially around the issue of funding, could impact on this continued work and have an impact on access to treatment for those most in need. Treatment that for many is lifesaving."
He explained: "I feel that all of us, treatment providers and industry alike, are on a steep learning curve about how we interact, engage and treat SPORTS BETTING sbcleaders.com WE HAVE BEEN IMPACTED BY THIS UNCERTAINTY AS IT THREATENS TO UNDERMINE THE GOOD WORK WE HAVE DONE COLLABORATIVELY WITH THE SECTOR WE HAVE SEEN FROM THE CHANGING NEEDS OF OUR SERVICE USERS THAT INNOVATION IN THIS SPACE IS IMPORTANT
One way that Gordon Moody has continued to break down barriers and provide a place for people to feel comfortable coming forward is via its clinics. Recently, the charity opened a hub in the city of Manchester, a development Hickey stated that the organisation was immensely proud of, whilst stressing that demand for bed space has increased since the pandemic. He added: "Gordon Moody provides a unique treatment offer through residential and retreat programmes where our service users can break the cycle of addiction in a safe, supported environment."Our14-week residential programme designed for those severely affected by gambling harm provides unrivalled outcomes, with many who access the service going on to enjoy a sustained recovery free from gambling. Our unique women's residential service has been created to meet the needs of women severely impacted by gambling harm, many of whom need to escape an environment which is further impacting on their issues. "Whilst for many the opportunity to spend time being able to focus on themselves in a residential setting is fundamental to their treatment, for some it is not possible. So our retreat and counselling programmes have been designed to offer a hybrid of short stay retreats and online therapy which have helped hundreds of people on the road to recovery." With demand for bed space rising, Hickey noted that gambling addiction is serious, with many accessing Gordon Moody's treatment as a "last chance to try and beat the addiction". He concluded: "The vast majority of our service users have previously accessed some form of treatment for their gambling but have relapsed, felt it was not for them or have not received the required level of support. Gordon Moody was set up in 1971 for that very reason."The Reverend Gordon Moody brought gamblers anonymous groups to the UK in the 1960s and became an honorary member. After sitting in on the groups he realised that for many the issues caused by gambling were so severe that they had led to the loss of work, the breakup of families and for some the loss of their home. This led to Gordon Moody opening Gordon House in 1971 as a hostel for single men left homeless by gambling. "Whilst the treatment programme has changed over the 50 years and our services have expanded to meet the needs of women as well as men, the ethos of Gordon Moody is very much the same and our vision is to be the UK's benchmark for successfully treating people with the most severe gambling addictions." •
I FEEL THAT ALL OF US ARE ON A STEEP LEARNING CURVE ABOUT HOW WE INTERACT, ENGAGE AND TREAT THOSE THAT NEED SUPPORT WE MUST COLLABORATIVELYWORK AS AN INDUSTRY TO BREAK DOWN THESE BARRIERS
Navigating challenges 32 SBC LEADERS • SEPTEMBER 2022 those that need support. It's paramount that we work collaboratively to provide the right assistance at the right time in the right place.
"There is a real opportunity to share experience, data and innovation so that the customer experience for problem gamblers is consistent across all operators and treatment providers. The major concern for us as a treatment provider is when someone affected by harm makes the courageous decision to reach out for help and come forward, but then disappears."Thisiscommon at this vulnerable time with some not reaching out again for a long period of time, if not at all. We cannot let that happen anymore. We must work collaboratively as an industry to break down these barriers, reduce stigma and find a way of helping those people when they first come forward."
THE POLITICIANS sbcleaders.com 33 HUDDLESTONNIGEL UNDER-SECRETARYPARLIAMENTARY Department for Digital, Culture, Media and Sport 13 February 2020 - Present WHITTINGDALEJOHN MINISTER OF STATE Department for Culture, Media and Sport 14 February 2020 - 16 September 2021 COLLINSDAMIAN UNDER-SECRETARYPARLIAMENTARY Department for Digital, Culture, Media and Sport 8 July 2022 - Present DORRIESNADINE SECRETARY OF STATE Department for Digital, Culture, Media and Sport 15 September 2021 - Present CHRIS PHILP UNDER-SECRETARYPARLIAMENTARY Department for Digital, Culture, Media and Sport 16 September 2021 - 7 July 2022DOWDENOLIVER SECRETARY OF STATE Department for Digital, Culture, Media and Sport 13 February 2020 - 15 September 2021
Pain in Spain 34 SBC LEADERS • SEPTEMBER 2022 AS SPAIN'S MINISTRY OF CONSUMER AFFAIRS works on further changes to gambling regulation, Jorge Hinojosa, General Manager of Jdigital (Asociación Española de Juego Online) details the impact that the implementation of advertising restrictions last year has had on the country's licensed online gambling operators THE VERY REGULATIONOVERLY-RESTRICTIVEDOWNSIDESREALOF
LABRADORPLAZAPABLOPHOTO:
BY JORGE HINOJOSA
I t has been around 10 years since the online market was regulated in Spain. Since then, three key moments have marked the evolution of the industry in the country. First of all, the day it became a regulated market, back in 2012. This represented an important milestone to help establish this activity and guarantee a safe, secure practice to its users, who have since then been protected and able to bet in a reliable environment.Secondly,November 2019, the moment when the sector itself agreed to modify its Code of Conduct in terms of advertising, to self-impose additional restrictions and rules to make commercial communications more responsible and protective to vulnerable users.Finally, November 2020, when the Spanish Government approved the Royal Decree on Advertising of Gambling Activities (RDCC). This marked a before and after to online gambling in our country. Not only did it have a huge impact on the business strategies of legal operators, but it also made unlicensed operators more accessible to gamblers, thus leaving them unprotected in front of potentially unregulated and irresponsible activities. The entry into force of the RDCC has been a very hard blow for all licensed operators and for the Spanish online gambling sector as a whole. From the third quarter of 2021, coinciding with the full application of all of its measures, especially the most restrictive ones, the situation has been worsening and the future prospects are not positive.
In addition to this, the drop of investment in marketing has been significant. According to DGOJ, marketing budgets in Q1 2022 fell by 27.7% year-on-year. Advertising budgets barely exceeded €34m January to March 2022, 52% less than a year ago, and investment in sponsorship was limited to €630,000, 93.25% less than in the first quarter of 2021. As a result '.es' operators can no longer advertise their products as they used to and they report losses in their annual results, which, in turn, have an impact on tax collection which dropped by 31.6% in Q1 2022 compared to Q1 2021. Unfortunately, these restrictions not only harm operators, but also the media, advertising companies and SPORTS BETTING sbcleaders.com
35
NOT ONLY DID IT HAVE A HUGE IMPACT ON THE BUSINESS STRATEGIES OF LEGAL OPERATORS, BUT IT ALSO MADE UNLICENSED OPERATORS MORE ACCESSIBLE TO GAMBLERS
The reality is that, since 1 September 2021, online gambling in Spain is experiencing a stagnation and a recession that casts doubt on the continuity of many operators in our country. The online gambling ecosystem is unstable and tends towards chronification. Furthermore, the industry is now immersed in economic and legal uncertainty that makes it even more unappealing.It'snotaquestion of sensations or opinions - the figures support our position. As reported by DGOJ (Dirección General de Ordenación del Juego, the Spanish regulator), the GGR decreased by 4.17% in 2021, compared to 2020, a year marked by the plummeting of sports bets due to the pandemic. Similarly, all online gambling categories, except casino, experienced year-on-year declines in 2021, demonstrating a downward trend in this ecosystem. And the average of new accounts fell by 9.85%.
BEEN KEY IN DEVELOPING AND OBJECTIVESRESPONSIBLEACHIEVINGGAMBLINGINSPAIN
LABRADORPLAZAPABLOPHOTO:online gambling markets in Europe. Thus, we remain committed to a fluid dialogue with the Ministry of Consumer Affairs through the DGOJ, to working for equitable and fair regulation, to guaranteeing the rights of consumers and at the same time making them compatible with a better development of the online gambling market. This is an innovative, modern, wealthgenerating industry, committed to the values of responsible, safe gambling and we want to continue to be so for many years to come. HAS
I would like to highlight that, at all times, the commitment of the sector, represented by Jdigital, has been key in developing and achieving responsible gambling objectives in Spain, which to this day remains one of the safest
• SPORTS BETTING THE COMMITMENT OF THE SECTOR
36 SBC LEADERS • SEPTEMBER 2022 Pain in Spain agencies, which see a reduction in their activity and, logically, in their profits. Proof of this is the marketing expenditure, which in one year has gone from €148.37m (Q1 2021) to €107.88m in the first quarter of 2022. Furthermore, and what's even more important, operators also point out that users can be losing protection and security, since advertising is an essential tool to channel users to legal gambling and this situation is generating a proliferation of illegal portals in our country. As a matter of fact, and according to data from a study conducted by SigmaDos and Kantar for Jdigital, 53% of Spanish online gamblers declare to play in .es and .com domains indistinctly. And all of this is happening while other forms of advertising for new products related to cryptocurrencies, tokens and other financial assets are now occupying the places previously used by gambling operators. Who knows whether these products, in an unprotected, unregulated framework, will have detrimental consequences for a good number of people? Now, months after the full application of the advertising restrictions, the Ministry of Consumer Affairs is working on a modification of the Gambling Law that regulates this activity in Spain. The text is currently under review and, even though the industry will alwaysand has always - supported legislation that improves the security and protection of consumers, the proposed modification includes measures that are very challenging to implement and do not necessarily protect consumers, but complicate operations instead.
MKODO'S
GEOLOCATION SOLUTIONS PROVIDER MKODO has been making some big strides in the igaming and lottery sectors, notably in the recently legalised Ontario market. Playing an integral role in that progression, as Managing Director Stuart Godfree explains, is the firm's tried and tested GeoLocs platform
SBC: For those readers less familiar with the mkodo brand, can you give us some background into the company and what it does?
BY CHRIS MURPHY
Location, location, location… 38 SBC LEADERS • SEPTEMBER 2022
SG: mkodo is an award-winning B2B supplier of mobile and front-end technology to igaming and lottery operators across lottery, casino, sportsbook and bingo. With over 20 years of expertise, we deliver bespoke mobile-first solutions, creating the best mobile apps, websites and digital user experience in the igaming and lottery industryIn2020 we were acquired by global lottery leader, Pollard Banknote. This acquisition has reinforced our position in the market as leading experts in mobile app delivery. We do everything from designing and developing mobile apps and websites to offering a curated suite of products dedicated to the igaming and lottery industry, including our certified geolocation service, GeoLocs.
SG: For us at mkodo, the biggest
STUART GODFREE: PERFECTING THE ART OF GEOLOCATION
SBC: With the industry still getting back into gear after COVID, how has 2022 shaped up for the firm so far?
topic on the 2022 agenda so far has been the continued opening of the North American market. These exciting developments have seen us continue to promote and develop our suite of products including our proven geolocation platform, GeoLocs, which has been in the market for over 10 years and is built exclusively for igaming and lottery.
SBC: Can you talk more generally about GeoLocs - where is it currently in SG:operation?
AMERICALANDSCAPEOFWITHEXPERIENCEGREATINDEALINGTHECHALLENGESTHEEVER-EVOLVINGANDNORTHOPENINGUP
SG: We created GeoLocs in 2009, when we delivered our first igaming app, as we had to have a geolocation compliance plan as part of Apple's App Store submission requirements. Just over three years ago, we knew that we had a valuable product that we should productise and offer to operators. So, that's what we've done; we've taken the product effectively out of our portfolio, rebranded it, converted it into a very simple Software Development Kit, and we are now selling it as a standalone solution that all igaming and lottery operators can implement and benefit from. The service is a location validation and regulatory platform. It works by taking the location information that we get from a device and testing it for validity (whether the information we believe is truthful). The service then uses that information to determine whether the device is in a regulated region. If the user is not in a regulated region, GeoLocs will deny access to the service.
39 WE HAVE
SPORTS
We've been busy building new networks and spreading the name and brand of mkodo and GeoLocs. A focus this year, as well as promoting GeoLocs, has been to continue to deliver the best custom content for the operators that we work with in different jurisdictions including the Rank Group's Grosvenor Casino and Mecca Bingo brands; the Ontario Lottery and Gaming Corporation (OLG); Western Canada Lottery Corporation (WCLC); British Columbia Lottery Corporation (BCLC); and some exciting new partnerships in North America, which will be revealed later this year. We've been supplying Canadian operators with apps and websites for over 10 years now, so we have great experience in dealing with the challenges of the ever-evolving landscape and North America opening up.
A FOCUS THIS YEAR HAS BEEN TO CONTINUE TO DELIVER THE BEST CUSTOM CONTENT FOR THE OPERATORS THAT WE WORK WITH IN DIFFERENT JURISDICTIONS
SBC: You're taking your geolocation product, GeoLocs, to SBC Summit Barcelona. Can you tell us more about what GeoLocs is and how it works?
The most exciting market for GeoLocs right now is Ontario. We've been working with Ontario Lottery Group (OLG) providing their geolocation platform, both for their apps and their web products, for over two and a half years now. Since then, we've effectively been the only geolocation platform provider in Ontario.Nowthat the market has opened up, it's a very exciting time for us, because not only do we have a solid reputation with our partners at OLG, but we understand the market and the AGCO's guidelines extremely well. We have a fully ratified platform that has been tested with tens of thousands of location requests an hour. So, not only BETTING sbcleaders.com

SBC: What are the big geolocation challenges currently, and do you think the industry is doing enough to address them?
SBC: What are some of the key features GeoLocs delivers?
SG: When it comes to geolocation, there are a few challenges I can think of that the industry is currently facing. One being that there has only really been one supplier in the market, meaning there hasn't been much choice for operators. With the introduction of GeoLocs, and other competitors in the market, operators are starting to have more choice around who they want to partner with and what's important to them from a geolocation supplier.
WE'RE CONTINUING TO GROW AT A RAPID RATE, OFFERING ALL OUR PRODUCTS AND SERVICES TO THE IGAMING AND LOTTERY INDUSTRY FROM GEOLOCATION TO BESPOKE APPS BUILT ON A WHITE LABEL FRAMEWORK
SG: GeoLocs has had an evolution and development cycle that now spans over 12 years. So, it's a very mature product. One of the main fundamentals of GeoLocs has always been that the product is incredibly self-serviceable. Operators can manage the product successfully without mkodo's intervention. They can do a lot of the work that they need to do, including managing and creating geoboundaries, entirely for themselves. And that is, I think, one of its key attributes. Another significant key attribute is that we have worked in, and approached, the product very much from the app world (geolocation is essential for igaming and lottery operators who are running apps). We have a whole set of proven tooling that helps operators to validate and test when they're deploying this technology into the app space. It's a genuinely seamless integration - and that's one of its main crucial benefits. The seamless nature of GeoLocs doesn't end there. With the service, there's no need for users to download a companion app in order to verify location. This makes for a much smoother user experience on both mobile apps and web. Also, the fact that it is a platform that's now clouded, we operate it across multiple jurisdictions, multiple states across the planet, making it highly available. GeoLocs has such a high availability because we run it on both Azure and AWS Amazon Services, which gives us a great amount of flexibility and performance. It really is a great platform. It's very easy to use. And it is without a lot of constraints and legacy that many other geolocation vendors, with whom we compete, carry. I think many of our customers and future customers will be delighted to be working with GeoLocs.
Location, location, location… 40 SBC LEADERS • SEPTEMBER 2022
do we know that we have a product that can deal with the amount of traffic and load that a sizeable place like Ontario has, but we can also deal with all the regulatory compliance that applies in Ontario as well. We've also been taking on new clients across North America, which we will announce later this year. But effectively all our clients across multiple jurisdictions are using GeoLocs in some shape or form.
41
WITH THE INTRODUCTION OF GEOLOCS, OPERATORS ARE STARTING TO HAVE MORE CHOICE AROUND WHAT'S IMPORTANT TO THEM FROM A GEOLOCATION SUPPLIER
We're continuing to grow at a rapid rate, offering all our products and services to the igaming and lottery industry from geolocation to bespoke apps built on a white label framework. There's a continued focus on our core offering of delivering the best-in-class, customised casino, sports betting and lottery apps. We're also working with a number of new clients who are big names in the industry. Not only that, but we've also seen an increase in the number of operators interested in our consultancy services. We have been providing our expert insight on everything, from app store guidelines to improved user experience and interface.
• BETTING sbcleaders.com
SPORTS
Since GeoLocs is dedicated to the igaming and lottery sector, we truly understand the needs of operators when it comes to geolocation in terms of the various regulations and jurisdictions. This is important when looking for a geolocation provider as the different frameworks within various regulations and jurisdictions can be complicated to manage. So working with a partner who is dedicated to the industry and understands the market is invaluable. SBC: What are the biggest changes you've seen in geolocation technology recently and how are they benefitting both operators and the end user? SG: Some of the biggest changes we've seen in geolocation more recently is how the technology can (and is) being used, not just for compliance, but for customer engagement and targeted marketingGeolocationtoo. technology, such as what we use for GeoLocs, can also be used by operators for locationbased marketing. This works by targeting players in a specified region with promotional offers and marketing comms. For example, if a player happens to be in or near an operator's shop or casino, geolocation technology can be used to send notifications about offers. This helps to increase overall engagement of players. And players benefit by learning about marketing information that's personalised and relevant to them. SBC: Geolocation aside, what other areas of the mkodo business can we look to for new developments and SG:innovations?
450 SPEAKERS 300 EXHIBITORS 10,000 DELEGATES THE GLOBAL BETTING & SHOWiGAMING FOR MORE INFORMATION PLEASE VISIT SBCEVENTS.COM 19-21 SEPT 2023 FIRA DE BARCELONA MONTJUÏC
VIENA WROBLEWSKA: LET ME TAKE YOU BEHIND
BY VIENA WROBLEWSKA
WRITING FOR SBC LEADERS, the Owner of APlus Translations gives her tips for finding a truly localised translation service, explaining how a good translation can translate into more players THE SCENES OF LANGUAGE
Translating to more players
LOCALISATION
C all me weird, but I hate long weekends. I dislike those three-day breaks because it means no, or certainly fewer, emails from folks around the world that we collaborate with. Working with over 100 linguists and dozens of clients from literally every little corner of this planet is exhilarating. It makes me feel connected.Andso,when it comes to language localisation, I know my stuff. This year, my company APlus Translations celebrated its 20th anniversary. I will always know how old my company is, as I launched it the same year my son was born. The company, too, is like my baby.Istarted out in my mid-20s, as a polyglot and translator myself. I had studied three foreign languages, which along with my native Polish, and then English of my adopted country Canada, took my language count to five. Languages and foreign cultures have been an absolute passion throughout my life and so, I got my ducks in a row and by the time I was 27, APlus Translations was born. It felt like a natural progression. And it's been an exciting ride. My team of project
SPORTS BETTING sbcleaders.com 43
Speaking of machine translation, at times use with caution, other times, avoid! What I mean by that is that machine translation technology can be useful at times. For some type of content, it is quite adequate, but definitely NOT for in-game texts. When you craft - because it is crafting and not just MAKE SURE YOU HIRE A SERVICE THAT USES HUMAN TRANSLATORS. IT WILL BE PRICIER BUT REALLY PAYS OFF
Translating to more players 44 SBC LEADERS • SEPTEMBER 2022 managers and I have seen companies grow from concepts to gazillion-dollar sales.We have accompanied sports betting, poker and slots companies on their journeys into one new territory after the next, as they conquer new markets. It's been gratifying to see them succeed, and obviously, succeed withButthem.this article is not just about my company.Indeed, I want to share some of my expertise and give you guidance in case you are or will be, one day, contemplating localisation for your product. Or, perhaps, you already work with a localisation partner and want to know what the heck goes on behind the scenes with your content. Maybe you never understood why it carries the price tag that it does. Or you could be confused by CAT tools, translation memories and machine translation. Well, let me take you by the hand and give you a little tour, explain a few things about localisation (which is a more sophisticated cousin of language translation).
First, you've got to treat localisation as an elemental part of your development. Too often, localisation is an afterthought. But you need to program your game in such a way, using folks with localisation engineering experience, as to accommodate the idiosyncrasies of foreign languages. English, in my opinion, is quite simple in its grammatical structure. But this is not true for dozens of other languages, including several European ones. So, do your due diligence. Get the coding right from the get-go. It will really save time and sweat down the line. When selecting a localisation partner, be concerned about cost, but please, please, don't ride the cheapest car! Trust me. I've been in this business for over 20 years now. I've seen what the low-end of the language service spectrum means. I know that good translators, the folks whom you really want for your precious content, who know the right terminology and know how to craft YOUR message in their language, they value themselves enough to demand a fair rate.
Let me tell you, if a localisation agency comes to you with a rate significantly lower than others, I guarantee, you are getting a mix of machine translation/substandard translator + proof-reader. Or no proofreader at all. Period. There is no other way around this. I know what good translators demand for their work.
Mainly, the provider is accumulating a database of all translations done for you in what's called a translation memory (aka TM). The more work you do with them, the more leverage you get cost-wise and consistency-wise.
TRY TO GIVE PROPERCONTENTREQUESTASLOCALISATIONYOURPARTNERMUCHTIMEASTHEYTORUNYOURTHROUGHAQUALITYPROCESS
Just as a little example of how long a translation can take. Years back, when I was working as a translator myself, some slogans came across my desk. One of our clients was rebranding and needed to translate some catchy phrases. If I recall correctly, it was about four slogans that I needed to take care of, and it took me the better half of a day to do it! That is a bit extreme, but it really happens, so if your provider is asking for a minimum fee to translate a piece of creative text, it's a good sign. It means they are really aiming to do a proper job. A word in one language doesn't say the same thing in another language. Language localisers have to create.
WORD IN ONE LANGUAGE DOESN'T SAY THE SAME THING IN ANOTHER HAVELANGUAGELANGUAGE.LOCALISERSTOCREATE
They need to take a leap from the text they are presented with to render the meaning in their native language, using the same catchy fashion. It isn't easy. And again, it takes time.
Try to stick with the same localisation partner for the long-term Unless your experience with a provider has been riddled with issues, errors, and oversights of all types, allow them to iron out minor wrinkles as they come up and stick with the same provider. There are a couple of good reasons for that.
Having said this, a Translation Memory, this DB holding all that multilingual content, is typically considered the client's intellectual property, unless you signed those rights away. That means you can move to a new localisation provider and demand that the old provider you are moving away from give you the TM for each language you paid them for. It should be a seamless process. And one hopes that the new provider will be willing to work with theSecondly,TM. if you are going to stay with a provider, another good reason for that is that you get the consistency of linguists. What I mean is that an agency may be using the same translator for your content over and over again, which is a good thing. You want that uniformity of style and voice. Before I sign off, I want to stress again that quality really is everything when it comes to localisation. It's your image. Good translation translates to more players. So, it's worth a good investment.Toengage with us on any question related to translation, localisation or even language-learning (my count is now seven!), I invite you to connect with me at viena@aplustranslations.com.
• APlus Translations is based in Vancouver, Canada, but has offices in Europe and Peru. We localise in over 40 languages and have worked in the igaming space for over 13 years. We excel at game texts, marketing and regulatory documentation within this industry. SPORTS BETTING sbcleaders.com 45
writing - your game text, you want to be engaging, right? You want players to choose your platform and to keep using your platform. You want that for your English-speaking audience, and you should want it for your nonAnglophone audience. Automated or machine translation gives results that are stilted. They won't engage and entertain. Make sure you hire a service that uses human translators. It will be pricier but really pays off. And do not rush it! Ok, sometimes you run into trouble and need a last-minute job. That's fine. But try to give your localisation partner as much time as they request to run your content through a proper quality process. We all know that quality takes time, so consult with your localisation provider to find out how much time they need to do their top job. From my experience at APlus, every single piece of content, big or small, is reviewed by three pairs of eyes. First, the translator needs to spend a solid amount of time to properly translate the text. That translation is then reviewed by a proof-reader, who may have some back and forth between the translator and themself. Once the two have agreed on their "final" version, it is then checked by your dedicated project manager at our company.
A
Consider that all these people might be in different time zones around the world, which means more time added to the process.
Robert Willis, Partner and M&A advisor at CMS Law, appears to agree, warning "that a careful reflection is needed in those hedonistic times".
Previously, this M&A spree was described with words such as frantic, frenzied and feverish. But as we progress through 2022 this has shifted slightly - with cautiousness and constraint becoming much more apt as economic consensus points to a longterm global recession.
Of significance, Willis stated that the appetite for M&A has indeed been subdued across all markets. He disclosedthat six months on from the pandemic, business and investors must now "factor in inflation, raising interest SPORTS BETTING sbcleaders.com
"It was recognised that there would be a slowdown in 2022, but M&A dynamics have now completely changed."
47
OVER THE LAST FEW YEARS, the gambling industry has significantly ramped up its M&A activity with big names vying for greater market share. But as a post-COVID recovery period takes hold, can investors throw caution to the wind and continue on this acquisition spree, or is a more conservative approach required?
M&AOFSHAKE-UPGAMBLING'SSTRATEGY
A CAREFUL REFLECTION IS NEEDED ON THOSE HEDONISTIC TIMES
We're now beginning to see the hangover from 2020 and 2021 take hold - two pandemic years in which the unscarred online gambling PLCs announced record results, inflated their corporate valuations and consequently deepened their cash balances.
An appetite for acquisition
I n the space of 12 months, the lexicon associated with gambling's merger and acquisition strategy has been turned on its head as the reality of a global economic slowdown dawns upon all business sectors.
Something tells me that a paracetamol and a litre bottle of Lucozade won't quite do the trick in easing the headache to come.
"Gambling was part of the most active global M&A stand ever seen," Willis recalled. "This was a period that saw 60,000 public and private deals announced across all business sectors, with total transactions valued at approximately £5tn.
BY TED MENMUIR
A
48 SBC LEADERS • SEPTEMBER 2022
GenuityCanaccordAdvisory,HeadFleet,Georgeof
PLAYTECH'S
TAKEOVER HAS NOT BEEN PLAIN SAILING EITHER
THIS HAS SEEN MANY INVESTORS
An appetite for acquisition rates, combined with lower stock prices, a market-wide tech sell-off and complex geo-political affairs involving Ukraine and Russia". Focusing on the gambling industry in particular, the sector's investor deck of private equity, venture capital, hedge funds, SPACs and private owners has been forced to revise investment strategies.Thishas seen many investors picking companies that they believe can maintain growth amid a multitude of economic headwinds. These last eight months alone have seen anxieties over a global economic downturn impacting gambling M&A activities. One of the most significant examples can be seen in the financing of the acquisition of William Hill's nonUS assets by 888 Holdings Plc and the failed takeover of Playtech Plc by Asian investor TTB AnnouncedPartners.inthesummer of 2021 as a transformative deal for 888, one that significantly enlarges its UK and European business, the FTSE250 firm's takeover of William Hill offcuts soon turned into an arduous affair. This required the initial deal to be revised after underwriters JP Morgan and Morgan Stanley failed to convince investors to guarantee 888's £1bn debt bond - the figure required to finance thePlaytech'stransaction.takeover has not been plain sailing either. In a high-profile drama that would rival any UK soap opera, the firm announced that Hong Kong investment fund TTB Partners had failed to meet its deal deadline, citing that it could not raise capital due to "challenging underlying market conditions". ECONOMICAMAINTAINCOMPANIESPICKINGTHATCANGROWTHAMIDMULTITUDEOFHEADWINDS
CMSadvisorandPartnerWillis,RobertM&AatLaw
"In a difficult market, with hard to predict outcomes, shareholders will likely want flexibility on deals that PE and hedge funds can provide, over strategic party's standard takeout and incentives on creating a new business."
• SPORTS BETTING sbcleaders.com 49
Meanwhile, there is still a good pool of entrepreneurs that want to sell their businesses."WhilstPLC shareholders might have previously favoured strategic likefor-like M&As focused on synergy creation and business enlargement, Fleet suggests that economic realities will see private equity funds dominate deal proceedings as shareholders continue to take the view that "cash has become king".
TTB's rejection placed a significant strain on Playtech's board and investor relations, as shareholders had been advised to reject a previous £2.2bn deal offered by Aristocrat Leisure.
Having observed how both deals played out, George Fleet, Head of Advisory at Canaccord Genuity, believes that 888 and Playtech's laborious M&A hardships clearly signify "the current blockages in the market". He explained: "The transactions that are underway will most likely get done. There is still an appetite to acquire better businesses, even if credit is moreLookingexpensive."atthe deal-making side of each agreement, Fleet noted that operators, shareholders, capital sponsors and potential buyers would face a certain impasse on corporate valuations of gambling enterprises.
"The challenge will be as they start to look forward. The key blockage is that there is a clear mismatch between buyers and sellers," he added. "Sellers will still be locked into pricings that are six to 12 months older than what they could have had, whilst buyers are looking at current valuations and current multiples against what is happening now." Whilst a stand-off on corporate valuations will slow down the industry's competitor buyouts and further SPAC deals, Fleet shared the view that conditions now favour large private equity and hedge funds. These, he said, include the likes of Blackstone and CVC Capital "who have large gun powder reserves" to expand their gambling portfolios.
Fleet also predicted that the wider gambling industry should prepare for a change in the makeup of its dealmakers. He explained that regardless of regulatory judgements across multiple jurisdictions, "gambling holds traction with the community of private equity and hedge fund sponsors". He said: "Invariably, gambling has strong cash generation and has demonstrated good growth as a sector.
"The large private equities won't struggle with cash, the challenge for them will be securing credit lines from banks, which have become more expensive," he reflected.
THE LARGE PRIVATE EQUITIES WON'T STRUGGLE WITH CASH, THE CHALLENGE FOR THEM WILL BE SECURING CREDIT LINES FROM BANKS SHAREHOLDERS WILL LIKELY WANT FLEXIBILITY ON DEALS THAT PE AND HEDGE FUNDS CAN PROVIDE
BY JESSICA WELMAN
A new form of engagement 50 SBC LEADERS • SEPTEMBER 2022
Pat McAfee, Dave Portnoy and now Jake Paul draw headlines for bringing sports betting brands to their massive social media audiences. Measuring social media success in sports betting though is less about who posted first or how many likes a post got, or even how many impressions a post gets. When social media experts within the field of sports betting discuss success, the focus is on brand awareness, community building and, of course, costs per acquisition.
What they also say is that you can't think of social as just an auxiliary channel or an augmentation of your product's marketing campaign.
YOU
henever a major sports news story breaks, it is inevitable. You open up Twitter or TikTok and are bombarded with sports betting social media accounts posting memes, fresh odds and the latest big bets and hot picks related to the headline.
"Know who you are as a personality and double down the relationship WE LIVE IN A WORLD where social media has become commonplace in our daily lives. But can these platforms, which were once used as a means of staying in touch with friends, form an important part of a brand's marketing strategy? CAN'T THINK OF SOCIAL AS JUST AN AUXILIARY CHANNEL OR AN AUGMENTATION OF YOUR MARKETINGPRODUCT'SCAMPAIGN
Sisca Concannon is currently the CoFounder and Chief Marketing Officer of Affiliated Sports Fans. Prior to that, she spent almost two years as Vice President of Marketing at Penn Interactive, overseeing the launch and growth of the Barstool Sportsbook brand. Speaking at SBC Summit North America earlier this year, Concannon cautioned marketers about treating social media as an afterthought. "This is part of your relationship marketing strategy," she explained. "If you see it purely as a way to put up your ads for your risk-free bet to sign up and that's it, then you're missing the mark. You don't know who your personality is as a brand.
W
BRANDOWNYOURTOUTINGTHANMOREABOUTMEDIASOCIALIS
Defining your niche in sports betting social media is something many operators and influencers alike are struggling with. Everyone on the SBC Summit North America panel seemed to agree that part of the problem is that the actual sports betting products in the US are not materially different. There are a few different markets and the colour schemes vary.
51 IF
NORTH AMERICA sbcleaders.com YOU DO NOT HAVE A SOCIAL CUSTOMER SERVICE STRATEGY, UNFORTUNATELY, YOU'RE NOT GOING TO BE IN THE MIX IN FIVE YEARS' TIME
A major part of this relationship building is the less glamorous world of customer service. In order to appeal to the generation of sports fans living on social, you have to be able to address their problems on socials. "You'll find if you do not have a social customer service strategy, unfortunately, you're not going to be in the mix in five years' time. It's a critical, critical part of your social strategy to extend your customer service into a social platform," Concannon said. Being able to swiftly discover and solve customer issues on social both helps retention and fosters a sense of community. It is certainly not the only way to do so. In fact, community building often requires more resources than people realise.
Troy Paul, Founder and CEO of Sports Gambling Guides, an affiliate group focused on social media, works extensively at building followings with thousands of influencers. Speaking on the same panel, he warned that if you can't walk the tightrope of commerce and community, it is often a problem you can't come back from. He said: "It's extremely important as you're building a social media channel that you're focused on what your demographic is looking for. What is your niche looking to find? What type of content are they looking to see, and focus primarily on that.
marketing aspect. Yes, sign up, but you're not just signing up to get my risk-free bet, you're signing up for a lot more value add. What is your value add? And I think once you understand building loyalty and building a relationship with your audience, that's the strength of social. It's not about ads. It's about developing a content marketing strategy that engages and builds a relationship and loyalty."
"It's really finding this balancing act because you do want to get your ads out there, you do want to drive your customers to whatever your product is, but it's finding that fine line of not doing it too much to the point where you start to alienate your following. Because once you do that, then whatever channel that is, it's really hard to bring it back."
Internal research indicated 60% of sports fans had an SI cover on their wall to begin with. Giving away something so tied to a brand not only engendered goodwill from its customer base, it gave them a means to literally put the brand up on the wall where they would never forget about it. Working with an established brand like SI is much different to smaller brands or sports betting influencers trying to build a community. One of the most popular ways these brands and personalities aim to gain traction is with touting their picks across social media channels, including TikTok, which currently has a ban on gambling content.
While touting is en vogue, many experts agree this is not a long-term strategy for social relevance. David Woodley, President and Chief Revenue Officer of Playmaker, concedes some of these methods may be good for shortterm results. For Playmaker's media arm, those wins are not worth the long-term losses they could create.
Playmakersaid.has a no-pick policy and tells its influencers as much from the jump."We don't do any picks and we have a lot of athletes that work for us. So we just say no picks and I think that's because I think we're honest with people and we say, 'you're taking a pick from anyone, you're not going to be profitable long-term'," Woodley added. "And that said, if anyone could actually pick at 60%, they wouldn't be frickin' hustling on social media for a $30 Discord or Patreon. Then beyond that, I think if you make a pick, you're gonna piss off your audience 50% of theConcannontime." has seen picks work for groups like Barstool, but with a caveat. You have to create unique content around the pick, not just throw out a number with a meme and post it.
"You can develop incredible content around picks that doesn't have to be the stale kind of 'these are my picks for the week'," she explained.
"We'll never do anything that hurts our audience. We've built a lot of trust with them over the years, and they are young. If we give them bad advice, they will not cancel us, but we'll hear about it and it will make my life awful," Woodley
52 SBC LEADERS • SEPTEMBER 2022
SOCIAL MEDIA IS A LONG PROCESS, AND ONE THAT INVOLVES SO MUCH MORE THAN BEING FIRST WITH A MEME
Social media is fast-paced, but in order to succeed over time, it is a long process and one that involves so much more than being first with a meme. You have to build a brand while building community, entertain while providing service, and companies and influencers have to think beyond what is working now to build a brand that will work for years to come. •
WHILE TOUTING IS EN VOGUE, MANY EXPERTS AGREE THIS IS NOT A LONG-TERM STRATEGY FOR SOCIAL RELEVANCE YOU
Nonetheless they are all going after the same audience with mostly the same offering.Noam Klivitzky, VP of US Marketing for 888 Holdings, knows he can't compete that way. "Just repeating the news all the time in your social feed is not going to create any differentiation to any brand. Because these are exactly the kinds of things customers can acquire in 10 other places, so there is no reason they won't do that on social media," he said."One of the things we've been trying to do is get them a much more unique experience that when they think about it in the future, they will always remember what brand is offering it to them." Klivitzky used a campaign SI Sportsbook did where the company's social channels gave away popular covers of Sports Illustrated magazine.
A new form of engagement
THEMYOFTHEHAVETHATAROUNDCONTENTINCREDIBLEDEVELOPCANPICKSDOESN'TTOBESTALEKIND'THESEAREPICKSFORWEEK'
DAVID HIGHHILL: NFL WILL 'REMAIN THOUGHTFUL' ON RELATIONSHIP WITH SPORTS BETTING
S
Last year, the NFL agreed a number of collaborations with sportsbook operators, including appointing Caesars Entertainment, DraftKings and FanDuel as its Official Sports Betting Partners. This summer, the league appointed its first executive to direct its sports wagering strategy, naming David Highhill as Vice President and General Manager of Sports Betting. For the past decade, Highhill has been working for the NFL in several different roles, including the Vice President of Strategy and Analytics, Director of Consumer Products Strategy, and Director of Corporate Development.
A new direction BY CONOR PORTER
ince the repeal of PASPA in 2018, the NFL has become more ingrained in the world of sports betting as each season has passed. Many of the league's teams have partnerships with gambling operators, and some are even looking to open sportsbooks inside their stadiums.
SBC: Congratulations on your appointment as the NFL's Vice President and General Manager of Sports Betting. What will you be responsible for in this role? DH: Thank you! It is very exciting to be able to work with such a talented team across the NFL and our partners. I've been lucky enough to work at the NORTH AMERICA sbcleaders.com
53
AHEAD OF THE 2022 NFL SEASON, David Highhill discusses the responsibilities in his new role, why the league has decided to focus more on sports wagering this season and the NFL's perspective on the potential future direction of its relationship with sports betting
It is critical to pair these initiatives with a robust platform supporting responsible betting, as well as avoiding oversaturation of betting messaging across our platforms. We continue to monitor our fan behaviours and attitudes in this space and we will evolve our approach as the research informs us.
SBC: Sports betting adverts were aired for the first time during NFL games last season. What has been the League's evaluation of this development in its relationship with sports wagering? DH: Our approach to sports betting has been deeply informed by data to understand our fan perceptions and to serve those who are interested in betting while not disrupting the experiences of our fans who are not interested.Werelyon our blue-chip partners to deliver incremental experiences to our betting-interested fans - this includes an array of shoulder programming, data, statistics and second screen experiences like free-to-play games.
SBC: Several NFL teams have already secured partnerships with sports betting brands. What limitations has the NFL set for teams regarding these deals? Is it just market access or can they go beyond that?
SPORTS REPRESENTSBETTINGOUR MOST INTERCONNECTED OPPORTUNITYCROSS-FUNCTIONALANDACROSS OUR GAME, FANS AND PARTNERS
SBC: With your new role, why has the League decided to focus more on sports betting this upcoming season?
A new direction 54 SBC LEADERS • SEPTEMBER 2022 League Office across a variety of areas, including strategic planning, esports, and club services group. However, sports betting represents our most interconnected and cross-functional opportunity across our game, fans and partners.Myrole is to help coordinate the League's strategy in our key sports betting pillars - driving fan engagement, advancing our brand and protecting the integrity of our games. This includes coordination with the League Office, our clubs and our partners. It's a wide remit, and one of the most exciting opportunities to drive fan engagement in sports.
DH: There has been a cross-functional team at the NFL that has been laserfocused on sports betting for several years. We've benefited greatly from the expertise and dedication of this team, and I've enjoyed working with them to develop and advance our plans over the past seasons. As the scope of sports betting continues to expand across so many disparate areas of our business, it was time to have a dedicated unit to manage this increasingly complex initiative.
55
SBC: In the future, will the NFL allow advertisements on their jerseys? If so, will sports betting operators be allowed to advertise?
DH: The NFL does not have any plans to allow sponsor branding on game jerseys. Broadly, we want to remain thoughtful about how sports betting shows up in and around our games, and to ensure that we are targeted in our approach.
Our policies do not allow for clubs to operate a sports betting business. We think it is in our collective best interests to serve our fans the ways we know best through live experiences and content, and have no plans to operate a sportsbook.
SBC: For both NFL fans, players and staff, what is the League doing to protect the integrity of the game as sports betting becomes a larger part of its ecosystem? DH: The integrity of the game has always been a central point of focus for the League and our clubs - well before the repeal of PASPA, and of course afterwards. We have a multifaceted approach in this space. We have a comprehensive integrity and compliance program that focuses on education and training modules related to our gambling policies. We also have robust integrity monitoring software and services, which include in-house resources and external providers. We continue to advocate for key integrity provisions in legislation, including know your customer, anti-money laundering, and information sharing. We continue to identify and assess integrity risks across the League and clubs to evaluate and enhance our integrity and compliance programs.
SBC: Will the NFL ever operate its own sportsbook or allow teams to do so separately from their current DH:partnerships?
As mentioned, the integrity of the game has been and will always be a top priority. We have a comprehensive integrity and compliance program that focuses on education and training of our gambling policies. Calvin Ridley's situation is just a reminder of why that program is vitally important. Our vast network of monitoring services also helps us quickly detect policy violations, which helps enable us to address them early.
SBC: Atlanta Falcons WR Calvin Ridley has been suspended indefinitely through at least the conclusion of the 2022 season for betting on games. What has the NFL learned from this DH:incident?
SBC: Last year the NFL pledged funding and efforts to a responsible gambling initiative. We saw a couple of ads run in the US last season, what can we expect in the 2022 season on this front? DH: Last year, we launched a responsible betting campaign in collaboration with the National Council on Problem Gambling (NCPG). This partnership came with a $6.2m grant that funds problem gambling resources (all found at responsibleplay.org). This funding also supports NCPG's Agility Grants – a platform that funds other non-profits focused on problem gambling prevention programs. Our platform was supported and amplified by our clubs and our corporate partners. We will continue to be a leader in this space. Expect to see additional fan-facing communications, PSAs and support from our partners. Responsible betting is an area that is critically important to us.
• NORTH AMERICA sbcleaders.com
CLUBS HAVE BEEN EXCITED ABOUT THE OPPORTUNITY TO SERVE THEIR FANS WITH NEW CONTENT AND TO ENHANCE THE IN-STADIUM EXPERIENCE
DH: Our Clubs can sign their own sports betting partnerships, which are separate from our League partnerships. Clubs have been excited about the opportunity to serve their fans with new content and to enhance the in-stadium experience. We've seen a variety of innovative activations from clubs, including sportsbook credits with ticket purchases or renewals, unique hospitality and access, in-stadium sports betting lounges, free-to-play games and a range of digital and TV content. Our clubs and their partners have been creative in their approach, and our research shows fans have been receptive to these activations. Several clubs are also located in states that provide sportsbook operators market access benefits if they partner with a professional sports team. With these arrangements, the partner operates all elements of the sports betting business.
We represent the industry in all major policy discussions on sports betting and integrity and work with our members to promote the availability of betting markets globally. Many regulatory authorities require licenced operators to be part of a monitoring body like IBIA – e.g. the Netherlands, Ontario, some US states etc.
THREE REASONS TO JOIN IBIA Join www.ibia.betIBIAFollowuson
IBIA is the leading global voice on integrity for the licensed betting industry. Only our members have access to our bespoke monitoring & alert platform designed to combat betting corruption and protect our members' businesses.
321
In a discussion with SBC Leaders Magazine, Asher described the NFL as at its "zenith" in terms of ratings, revenue, distribution and insatiable fandom. He is right. The 2021 NFL regular season averaged 17.1 million viewers – the highest regular season average since 2015 and up more than 10% from 2020. NFL games ranked 48 of the top 50 telecasts on TV in 2021, making up the entire top 16. On an individual game NORTH AMERICA sbcleaders.com AS THE WORLD GETS READY for a new NFL season, IGT PlaySports' Joe Asher and Tony DiTommaso discuss why the NFL is a true juggernaut for betting engagement across the US PLAYSPORTS: READY FOR GRIDIRON GLORY
THE LEAD UP TO THE NFL SEASON IS OF THE MOST EXCITING TIMES OF THE YEAR IN THE SPORTS BETTING INDUSTRY
57
IGT
ONE
Game-on for sports betting
BY ERIN GALLAGHER W hile NFL teams were busy at training camps all summer, top-tier sports betting supplier IGT was in an intense ramp up period of its "Theown.lead up to the NFL season is one of the most exciting times of the year in the sports betting industry," noted Joe Asher, a sports betting industry veteran and IGT PlaySports President of Sports Betting. "During the summer months, most of our customers are gearing up for football season, thinking of ways to enhance their sports betting offering for the upcoming season."
THE NFL IS THE TRUE JUGGERNAUT IN TERMS OF ACCELERATING HANDLE, ENGAGING BETTORS AND INCREASING SPORTSBOOK VISITATION NATIONWIDE PRE-NFL PREPARATION FOR SUPPLIERS IS MORE THAN JUST A NUMBERS GAME
DiTommaso, who boasts nearly 40 years' experience in the industry, labelled himself as "old school" when it comes to certain aspects of his bookmaking process, including maintaining certain notes with a TradingDiTommaso,TonyDirectorofatIGTJoe Asher, IGT SportsPresidentPlaySportsofBetting
"The US sports betting market is driven by fan engagement across all of the sports, but the NFL is the true juggernaut in terms of accelerating handle, engaging bettors and increasing sportsbook visitation nationwide," added Asher. "Sports betting makes the NFL more popular and drives fan engagement. And, the NFL continues to occupy an ever-increasing prominence in American culture." So, what does a blue chip sports betting supplier do to ramp up for this demand? According to Asher and his Director of Trading, Tony DiTommaso, they do a lot. "As a B2B supplier, IGT is committed to our customers' success and that definition of 'success' can vary quite a bit from one customer to the next. For example, the Rhode Island Lottery and the Oneida Nation, both the sole sports betting operators in their respective jurisdictions, will have drastically different market conditions than say a FanDuel Sportsbook, a casino on the Las Vegas Strip or a rural tribal casino," explained Asher.
Game-on for sports betting 58 SBC LEADERS • SEPTEMBER 2022 level, the Las Vegas Raiders game against the Dallas Cowboys racked up 40.8 million viewers.
"The great thing about IGT and our scalable PlaySports solution is that we're uniquely capable of servicing all of these customers." The moment the Super Bowl champ is crowned is the very moment oddsmakers such as DiTommaso turn the page and look toward the next season.Hesaid: "IGT is currently providing trading advisory services to nearly 20 retail and online sportsbooks across the US. Through the summer months and into the fall, I work very closely with our customers to help manage liability based on their individual appetite for risk. "For example, having the Green Bay Packers in the Super Bowl, conference and division future pools would create additional fan engagement and thus requires significant attention from IGT and our great customer Oneida Casino in Green Bay."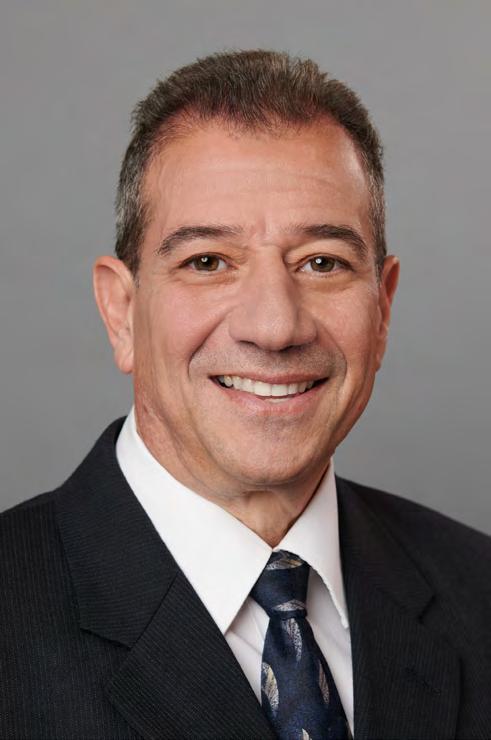 Although the industry may not agree on who will lift the Lombardi Trophy come February, or which quarterback will throw the most touchdown passes this season, all will concur that the start of a new NFL season signals game-on for sports betting. NFL SEASON SHOULD ONCE AGAIN VALIDATE THE FACT THAT PLAYERS ARE EMBRACING THE LEGAL SPORTS BETTING MARKET THERE IS STILL SO MUCH OPPORTUNITY FOR GROWTH, BOTH IN TERMS OF GEOGRAPHY AND PRODUCT MATURITY THE START OF A NEW NFL SEASON MEANS GAME-ON FOR SPORTS BETTING
• NORTH AMERICA sbcleaders.com 59 THE
clipboard and pencil. He also emphasised the passion and talent of the trading advisory services team, and the company's state-of-the art facility in Las Vegas. "The PlaySports team is engaged around the clock, armed with the industry's most respected data resources and skilled at quickly identifying opportunities and threats." Pre-NFL preparation for suppliers is more than just a numbers game. Asher and his team invest many hours implementing systems upgrades, submitting products for regulatory approvals and providing counsel on a range of topics.
"Given the collective tenure of the IGT PlaySports team, we find ourselves helping our customers gear up for NFL season in practically any way that you can think of. I've been asked by customers for my perspective on topics ranging from TV viewing angles, sportsbook menus and responsible gaming policies, to user experiences, kiosk functionality and everything in between," shared Asher. In terms of betting behaviour, both Asher and DiTommaso agree that the NFL season should once again validate the fact that players are embracing the legal sports betting market, and illuminate the aspects of the US industry that are still in their infancy. "At IGT, and as an industry, we have accomplished a lot in the four short years since the Supreme Court overturned PASPA. But despite that explosive expansion and market penetration, there is still so much opportunity for growth, both in terms of geography and product maturity.
"In the US, we're just skimming the surface of high-engagement inplay products and menus. We at IGT PlaySports are future-focused." Asher's sentiments are supported by IGT's trailblazing demeanour. In the coming months, the company is due to release its highly popular PeakBarTop video poker cabinet with sports betting and its award-winning CrystalFlex betting terminal, which is a one-of-a-kind VIP terminal that allows players to enjoy casino games and bet on sports at the same station and with the same wallet.
HOW
S
"So all these things added together end up creating an experience that retains the players. I think ultimately you're gonna see a big shift happen from marketing to try to establish market share and bonus players a tremendous amount to get to a position where you have to retain the customers through treating them well, and having all little things working the way they should."
"If you don't have the retention mechanics built the right way, you're going to lose a lot of those players and be very inefficient," he continued.
Prevost's first observation was that companies must firstly get the basics right. He said: "Frankly, bet placement and how it works across the various jurisdictions is absolutely vital. For us, specifically with MGM Resorts, we spent a lot of time trying to work through the integration between MGM Resorts and the whole omnichannel experience and our digital platform. "I think that's a place where we want to continue to differentiate - taking that set of customers and working with them across both channels." Schwartz agreed that differentiation is critical - stating that from day one at Rush Street, the firm has recognised that it "should not be about marketing acquisition, because you can get a lot of players in the funnel".
peaking at the SBC Summit North America in July, Marina Bogard, Managing Director of Betsson North America; Bobby Soper, CEO of Sun Gaming & Hospitality; Matt Prevost, Chief Revenue Officer of BetMGM and Richard Schwartz, CEO of Rush Street Interactive spoke to host Cathryn Lai, CCO at OpenBet, about the use of technologies and innovations for individual growth.
Innovation 2.0 60 SBC LEADERS • SEPTEMBER 2022
In response, Bogard noted that Betsson has long maintained an extensive international presence in multiple markets, but agreed with Prevost and Schwartz that user expectations among US consumers are high."But
I do think from a retention THE GROWTH OF COMPETITION in the US market, made up of the many veterans and new entries, means there is now an even greater demand for differentiation IF YOU DON'T HAVE THE RETENTION MECHANICS BUILT THE RIGHT WAY, YOU'RE GOING TO LOSE A LOT OF THOSE PLAYERS AND BE VERY INEFFICIENT CAN OFIGAMINGCRACKPROSPECTORSUSTHE'POTGOLD'?
BY JESSIE SALE
For Betsson, the Swedish company could be considered 'late to the market' after only entering Colorado this calendar year. Lai asked Bogard to discuss the firm's strategies and if there is a bridge from what the operator has been doing elsewhere.
"So the goal, I think, for success is to create a great user experience, earn the trust of the players, make sure they realise when they play with you. "You're doing the little things for them that make a difference, including automating a lot of functions - and maybe things that some other operators don't do - to show the player that you care about their time, that you respect them and that you're being transparent with them.
standpoint, the innovation then has to kick in; we really have to take a look as an industry," the MD replied. "What's currently happening right now from an acquisition standpoint is just not sustainable. No one is making money.
WHAT'S NOTSTANDPOINTFROMHAPPENINGCURRENTLYRIGHTNOWANACQUISITIONISJUSTSUSTAINABLE
"Everyone's in the red and over the long term it doesn't build loyalty either. So really kind of finding those niche areas - that is important. To a specific company to really take their brand and and take the value of that brand to create that stickiness is what I think is going to be important for a lot of the B2CLookingplayers."at the current US legislation, although sports betting has been widely accepted, less than a handful of states have regulated igaming. This, according to Soper, is somewhat frustrating for operators, given that the nascent igaming sector represents the real 'pot of gold'. He noted: "I think a lot of people have said, look, let's start with online sports wagering and hopefully it catalyses and morphs into igaming eventually, and I sort of view it that way.
61
"I think that's going to be the real opportunity in the United States when, NORTH AMERICA sbcleaders.com
In terms of the next wave of innovation, the panel discussed how the US naturally lends itself to micro markets, and how there will be an increased focus on parlay products as firms try to increase their margins.
• I
MORE
Schwartz added: "You have to have the ability to actually know what to build, take the insights from the gamblers, make sure you understand what they're looking"Sometimesfor. the players can't tell you what they're looking for, you have to anticipate it and build something that you think, based on your knowledge and insights, is going to resonate with that player base.
I HAVEN'T REALLY SEEN STREAMING PRESENTED IN A WAY THAT IS COMPARABLE TO , CEO of HospitalityGamingSun&Schwartz,Richard CEO of Rush InteractiveStreet
"I haven't really seen streaming presented in a way that is comparable to Europe, some of that is just due to the cost of rights," Prevost noted, while underlining how exchanges, NFTs and blockchain are not a focus for his firm. "We think that our core business is much more important than NFTs."When the time comes to be truly innovative, having the ability to implement new ideas, recruiting a strong engineering team and probing emerging technology could be vital.
EMBRACED
MORE OPERATORS
ultimately, igaming comes online."
BobbyEUROPESoper
On this point, Schwartz added: "People often don't realise that in the states where both sports betting and icasino have both been legalised. Typically you'll see two thirds of the revenues or more generated from the icasino."Clearly, I think there's this focus on sports initially, but as the opportunities arise to cross sell and to grow the industry, I think the focus on icasino is going to be embraced by more and moreMovingoperators."forward, based on player segmentation data, there has been a notable crossover with sports betting players and vice versa. Prevost highlighted how his firm has experienced this on a 'tremendous' scale.
"But I think there's a lot of opportunity to build some promotional capabilities and engines that will bring some fun to the players, in addition to the bet slips that might be unified in a way that the players can differentiate between a promotion and a bet." THINK THE FOCUS ON IS GOING TO BE BY AND WITH ALL DUE RESPECT, SPORTS BETTING IS MUCH BIGGER THAN POKER
ICASINO
Even without a retail establishment, she argued, bringing igaming as another avenue for players to wager will create a bigger share of a wallet.
62 SBC LEADERS • SEPTEMBER 2022 Innovation 2.0
The CRO said: "A lot of our customer journeys that we inherit from Europe are all very focused on making that transition as seamless as possible. With all due respect, sports betting is much bigger than poker is - much, much bigger."And I think it can absolutely be a profitable business in its own right in a given state with the right tax - very importantly with the right tax setup." Bogard added that she thinks it is important for sportsbook providers to incorporate an omnichannel approach, asserting that this is where the success and the margins will come in.
TP: To give you some background on SGG Media - we're all about social media! We're the top social mediabased marketing company in the sports gambling space. Our brand has partnerships with 1,176 sports content creators with a combined social media following of 24,756,430 followers. We've been in the space for three years and conduct branding and player acquisition campaigns for our clients. Our vastly experienced team of 17 creates custom graphics, implements campaign design and distributes to our network of 25 million followers. We have partnerships with BetMGM, DraftKings, Fanatics, FanDuel, Fliff, Prizepicks and a number of others. When it comes to social media marketing, SGG Media has created a turnkey marketing/ media team that runs between 20 and 30 campaigns a day.
BY ERIN GALLAGHER
sbcleaders.com 63 IN
U tilising a network of more than a thousand microinfluencers, SGG Media is able to deliver relevant content and advertising to fans of individual sports, leagues and teams, allowing them to provide highly-focused posts that are far more likely to generate user engagement.WiththeCEO believing this to be the most targeted and cost effective form of marketing currently available to companies, we picked his brains on the do's and don'ts of using social media effectively and how the idea behind SGG Media first came about.
ARE
I SAW HOW SYNONYMOUS SOCIAL MEDIA HAD BECOME WITH THE ACT OF WATCHING MY FAVOURITE TEAMS
SBC: At 24 years old, you've already made a name for yourself as President of your own company. Can you tell us more about your roots and the journey to creating SGG Media? AMERICA A CHAT WITH SBC LEADERS, Troy Paul, SGG Media President and Co-Founder, discusses how his companyup-and-cominghasdisrupted the traditional affiliate marketing space by harnessing the power of social media
NORTH
TROY MICRO-INFLUENCERSPAUL: THE FOR BETTING MARKETING
SPORTS
Finding a niche
SBC: Thanks for taking the time to talk with us! For those that might not know you yet, can you give us your elevator pitch on SGG Media - who are you and what do you do?
FUTURE
YOU NEED TO REMEMBER THAT THE SOCIAL MEDIA LANDSCAPE IS CONSTANTLY CHANGING – PERHAPS MORE SO THAN IN ANY OTHER MEDIUM
SBC: What tips would you offer to those looking to explore the world of social media? Are there any platforms you'd recommend or is it more important to have a range of channels working for you?
TP: My journey to SGG Media all began during my university years at NYU. As an avid sports fan, I saw how synonymous social media had become with the act of watching my favourite teams. I noticed during NFL RedZone Sundays that my friends were no longer just watching the games – they also all had their phones out and were logged into Twitter and Instagram the entireThingstime.like injury news, line changes and score updates were all being viewed instantaneously through social media – which led me to the idea that the future of cost effective sports marketing was going to come from social media platforms. Once I discovered the magnitude of microinfluencers in the sports space, I knew there was a business to be formed connecting B2C companies with sports social media fans.
Finding a niche 64 SBC LEADERS • SEPTEMBER 2022
There's a lot that goes into utilising social media marketing effectively, but there are definitely two major mistakes that I see other businesses make virtually every week. The first is companies not focusing on the specific niche within their content. The market is already saturated with talented accounts that are regularly posting picks and general sports news. So in my opinion, every company needs to find their own audience and focus the majority of their content around catering for their specific tastes and preferences. The second is investing too much of their advertising spend on the big-name influencers. The majority of celebrities and ex-athletes charge a significant premium for postings made on their social accounts purely based on the strength of their brand name. Many companies buy into this logic because of the reputation of the influencer they're advertising with. But in doing so, they overlook the amount of engagement the posts themselves actually receive. As such, they often end up paying 5x-10x the cost of what using a 'micro influencer' network would be just to have a name attached to their brand, regardless of its actual impact.
ONE BIG MISTAKE IS INVESTING TOO MUCH OF THEIR ADVERTISING SPEND ON THE BIG-NAME INFLUENCERS
SBC: What would you say are the biggest mistakes that other companies make when it comes to harnessing the power of social media as a marketing TP:tool?
SBC: Are micro-influencers the future when it comes to sports and betting marketing or do traditional channels such as affiliation, billboards, TV advertising and so on still have an important role to play?
SBC: You recently received a $2m cash injection from Astralis Capital and other experienced investors in your previous round of funding – how will this help SGG Media further expand its reach within the sports marketing TP:world?Astralis Capital was one of our most significant contributors in our last fundraising round. This capital, along with the expertise they bring in the gaming space, will help SGG Media continue to expand our partnerships with over 1,000 sports content creators and counting – enabling us to provide an even further-reaching network that can supply highly focused sports and betting content to many more fans. We're also planning to make a push into podcasting and short form social media video content in the coming months, and now having over $3m in total funding – this will be important for the continued growth of SGG Media. It's certainly an exciting period for us and we're very much looking forward to helping businesses connect with countless more sports fans in the future.
MICRO-INFLUENCERS ARE 100% THE FUTURE WHEN IT COMES TO SMART SPORTS AND BETTING MARKETING
SOCIAL MEDIA WILL CONTINUE TO DOMINATE SCREEN TIME WITH SPORTS FANS FOR YEARS TO COME
TP: I think one of the most important things is to keep an eye on the competition to see what they're doing and then find ways that you can improve on them. As a first step, I'd recommend doing research into the other successful social media accounts in your field, because discovering things like posting schedules, content ideas and platform distribution is extremely important when you launch your own socialBeyondmedia.that, you need to remember that the social media landscape is constantly changing – perhaps more so than in any other medium – and that keeping up with where its heading is really important to long-term success. What worked for you one month may no longer be viable the next month as things like technology and social media habits evolve, so you have to keep upto-date with the latest developments.
TP: In my opinion, micro-influencers are 100% the future when it comes to smart sports and betting marketing. The amount of targeted engagement that a micro-influencer network can generate for the costs associated with it is truly game-changing. It goes back to one of my previous answers – would you rather spend hundreds of thousands of dollars on posts that generate little to no engagement from a big-name influencer's account or use a targeted network of micro-influencers who can post laser-focused league or team-specific content for a fraction of the cost? I really think that with the sports gambling industry trending towards profitability becoming a priority, the answer is a total no-brainer. There's simply no more cost effective way to advertise currently. On top of that, I also believe social media will continue to dominate screen time with sports fans for years to come. This gives it the longevity that sports and betting companies are looking for, as finding the marketing platform of tomorrow is even more key than looking for shortterm marketing methods today.
• NORTH AMERICA sbcleaders.com 65
WILL
he multitude of flaws within this statement are seemingly as clear as the difference between night and day, but how much of a role does remaining the same play among the endless efforts made to be different and push the industry forward on all fronts? Despite what may seem to be confusion with that previous sentence, reinvention through additions to a slot series or continuation of a specific theme or IP are commonplace. The importance of offering something familiar while simultaneously presenting a new game to entice players is a challenge that is, and will continue to be, endured by many.
T
The answer to many may not necessarily be as straightforward as a simple yes or no, with a number of components, both internal and external, having to be factored in when venturing down that well trodden development avenue.
Jo Purvis, Director of Key Accounts and Marketing UK at Blueprint Gaming, cites the importance of the player in this conundrum, with the necessity of building upon a solid foundation in a bid to engender a sense of familiarity a key"Blueprintcomponent.Gaming has a focus on giving players what they want and listening to the market, rather than dictating to it. If a release proves particularly popular then we'll consider it for a follow-up," she elaborated upon being quizzed on the studio's rich history of reinventing either games or themes.
BY CRAIG DAVIES
As generations come and go, one thing remains the same - that is a love for the classics. However, will such games continue to be reinvented to meet the needs of a user base that is constantly evolving?
"IF YOU'VE PLAYED ONE SLOT, YOU'VE PLAYED THEM ALL." Not a quote that can be attributed to any specific person but one that is nonetheless repeated by many, particularly when they learn what you do for a living TOTHEMESCLASSICCONTINUEBEREINVENTED?
The allure of familiarity 68 SBC LEADERS • SEPTEMBER 2022
"That said, our game families and player-favourite IPs aren't necessarily direct follow ups, which is something we try to shy away from. We try to evolve a brand by introducing proven mechanics such as our Jackpot King progressive pot system, Megaways or our other creations like Prize Lines and Fortune Play. "The trick in developing from a proven foundation successfully is making sure the key components that drove the original remain, avoiding losing the core fundamentals that made the game successful in the first place. It's about offering something familiar but giving players a reason to play the new version."
From Space Invaders to Wheel of Fortune, the numerous Book of entrants to the Indiana Jones influences scattered across the space, with Play'n Go's Rich Wilde making frequent appearances, and many many more,
THE TRICK IN DEVELOPING FROM A THECOMPONENTSISFOUNDATIONPROVENSUCCESSFULLYMAKINGSURETHEKEYTHATDROVEORIGINALREMAIN
Jo AccountsDirectorPurvis,ofKeyandMarketingUKatBlueprintGaming
StudiosArmadilloCOOStoveld,Davidof
GAMING sbcleaders.com 69
It could also be argued that comments from the CasinoBeats Summit earlier this year remain as relevant to this discussion as they did during the 'can you really make your game stand out from the crowd' session from which they were heard. "The quality? Of course you can, especially when starting off, to enhance the quality you need to get your name remembered… with so many competitors out there that, as a player they have too many choices," David Stoveld, COO of Armadillo Studios, said to kick-off day one. "They'll maybe give a five minute spin on a game and if they don't like it they'll try another one. But I think after three or four, they're going to recognise the brand and quality is going to suffer for the company as well as the actual games."
Despite addressing the key theme of proliferation, this idea of instant recognition with either a familiar or successful theme, character, television show, movie etc…could be crucial in ensuring player uptake and potentially the ultimate difference between success and failure. Be it that of fishing, leprechauns, an array of move franchises, bursting stars, or even the 22 sealed boxes that were once the prized possession of a former Mr Blobby-loving host, in the UK at least, reinvention is scattered across the igaming ecosystem for all to see.
GAMING
70 SBC LEADERS • SEPTEMBER 2022 The allure of familiarity refreshes and/or resuscitations are seemingly everywhere.
Igaming juggernaut Evolution even detailed a move reminiscent of crafting its own MCU earlier this year, with influences from across verticals and studios noted as the group looked to ramp up the entertainment factor further still. One prime example to this end is Red Tiger sprinkling its expertise on a sequel to NetEnt's Narcos.With it often argued, or joked, that the increasing number of games is outpacing that of players, it can be of little surprise that this forms such a key component for developers, be that via a fresh slot title or themes spread across numerous verticals, with live the chief example in this domain. Blueprint is certainly no stranger here, with The Goonies, Fishin' Frenzy, Top Cat, Ted, Rick & Morty and the previously alluded to Deal or no Deal all examples of themes revisited at one point or another by the developer. "Perhaps our most renowned example of this is our beloved Fishin' Frenzy franchise. In one iteration, The Big Catch, the core element of the game remained but we introduced a new bonus game with a different way of achieving big wins," Purvis continued."Ifwedeviated far from that, we'd run the risk of losing the appeal and the reason it was successful in the first place. We stick to the core elements and then consider which new features or mechanics so that we can still appeal to existing as well as new players. "In terms of benefits, we as a company get to work on themes, characters and mechanics that we know inside out. We also use the experience gained having done similar work before to hone whichever game we're working on so that it's not only a natural evolution but also an improved version of what came before.
IT'S ABOUT SOMETHINGOFFERINGFAMILIAR BUT GIVING PLAYERS A REASON TO PLAY THE NEW VERSION
"Players then benefit as they've got a new version of a comfortable and familiar favourite but there are new ways to interact with them and have fun. There's also the incentive to go back to older versions in the buildup to the release of the newer ones, so we and our operators gain there too." So, it would seem that remaining the same can indeed represent a key component of innovating and driving forward. •
ADAPTING TO A NEW NORMALABOVEENTERTAINMENTEMPHASISESBEYONDPLAYALL
AS SOCIAL GAMING CONTINUES to grow in popularity, BeyondPlay's Jacqui Gatt looks at the role of technology in bringing communities of players together
Community experience 72 SBC LEADERS • SEPTEMBER 2022
BY JAMES ROSS C ast your mind back to early 2020. Pub quizzes, work meetings, even just good old catch-up calls with friends - all were taking place over Zoom. And oh how we longed for that human interaction. But hear me out when I say this. I strongly believe that those six months of near isolation actually made the human population a more sociable beast.While some would have envisaged hermit-like behaviour during the period that shall not be named, society as a whole embraced the confinements of living and utilising modern day technology in the digital age - realising that walls don't create barriers anymore.Thecasino sector was no different in that regard. The popularity of social gaming over the last two years
The more renowned streamers have thousands of followers, and their communities keep on growing. The industry understands that streamers will continue to play an important role in their acquisition and product discovery strategy. SBC: What impact have streamers had in attracting a newer/younger JG:audience?
THERE MARKET FOR SINGLE PLAYER GAMES, SOCIAL GAMING SHOWS NO SIGNS OF SLOWING DOWN
grew exponentially, and continues to grow. And then came the streamers, who have cemented themselves as an integral foundation of the slot community.JoiningSBC Leaders to delve into the realms of social gaming, streamers, skill and arcade games, and gamification is Jacqui Gatt, Chief Operations Officer at BeyondPlay, who believes millennials are "looking for more online entertainment value". SBC: We're witnessing a bigger impact of streamers within the igaming sector, just how big of a role will they have with the industry moving forward?
SBC: Multiplayer titles are becoming more frequent in the sector. Is this the key to attracting a new audience to igaming and what role will multiplayer titles play in advancing the sector?
73
BUT
JG: With online entertainment trends indicating that more and more viewers are looking for shared experiences when it comes to social gaming, video streaming and music sharing, streamers will continue to play a big part in attracting new demographics to igaming and retaining existing players.
As we are already witnessing, streamers are having a significant impact on attracting new players and viewers. The younger generation resonate well with streamers since most are accustomed to watching streamers and influencers playing social games on video streaming platforms such as YouTube and Twitch. Millennials are looking for more online entertainment value, and these channels allow them to have easy access to new content, as well as serving as a communication platform for thousands of people.
JG: As in any other industry, igaming needs to not only adapt its products to new technologies and audiences, but also ensure that it continues to offer a high level of engagement and entertainment to existing customers. Multiplayer games will not be appealing to all players - there will always be a market for single player games, but social gaming shows GAMING sbcleaders.com
WILL ALWAYS BE A
GAMING
Middle layers like BeyondPlay come into play here, with a sole focus of building innovative products and enabling operators to continue to adopt new trends, attract new players and retain existing ones with minimal effort from their end.
Another factor to consider is that historic data and performance stats to support and validate such concepts is very limited. The business needs to commit to spending significant amounts of time researching trends, building new products and, ultimately, take a leap of faith and commit their efforts and budget to bring such products to life. However, as we have witnessed in recent years, innovation is paying off greatly if we look at the various new gamification systems on the market, as well as new game types.
JG: Unfortunately, not enough. However, I believe that this is not necessarily down to a lack of ideas, but rather a matter of time and resources to execute. Implementing and bringing new concepts to life typically means that there is heavy research, technical development, UX and project planning work involved, not to mention regulatory requirements.
SBC: What does the future hold for igaming regarding social gaming?
SBC: Community is a big part of the social gaming experience. What is the sector doing to enhance this JG:experience? We are seeing some products being built with a community element in mind – some on a more competitive level, like real time tournaments and community (shared) jackpots. Others focus more on peer-to-peer entertainment and interactions. However, community experiences are not completely new to the industry. Online live casino and bingo products have been inspired by land-based casinos and bingo halls, and over the years suppliers have been working to replicate these experiences.Chatfunctionalities, game hosts and live streaming are recreating the level of human interaction found in brickand-mortar entertainment venues through phones and computer screens.
SBC: The term gamification has been thrown around over the last 12 or so months, but do companies actually innovate in this sector?
74 SBC LEADERS • SEPTEMBER 2022
Community experience no signs of slowing down. If the industry wants to remain relevant to the younger generation, offering multiplayer content within its product portfolio is a must.
JG: Our industry is young and dynamic - we will continue to implement new technologies and innovate when it comes to real money casino games and products.Weare also seeing streaming giants such as Netflix and Amazon Prime creating social games, so it will be interesting to see how this will develop and impact the igaming industry in the future. •
INNOVATION IS PAYING OFF GREATLY IF WE LOOK AT THE VARIOUS NEW GAMIFICATION SYSTEMS ON THE MARKET
Alex Kornilov, CEO of Betegy: Who you choose to represent your brand will very much differentiate your message, with this decision heavily dependent on the market you are running the campaign in. Let's look at the US for example; it has a wide range of popular sports with each localised state varying in preference – essentially you need the right tool for the right job in the same way you need the right influencer for the right market. If you've got the right tools, you can easily see who's following what – an NBA influencer isn't going to bring in NHL fans, for example. Getting your data right and segmenting your targets is of course key to that.
INFLUENCER MARKETING: AN ENGAGEMENTEFFECTIVE STRATEGY?
SBC: How can influencer marketing be used to cater to different audiences and build communities?
Marija Hammon, Head of Marketing at Relax Gaming: Aside from the perceived entertainment value, streamers also offer audiences live real-time engagement and interaction, creating a unique product promo environment which adds an additional sense of connectivity to both the influencer and game in discussion. Some promos are done for monetary gain, whilst others stem from a true connection and passion for the brand or company being discussed. The same applies to influencer marketing across other industries. In a nutshell, selfdriven vs. sponsored content creation. Influencers have different communities, both in terms of size and demographic, therefore companies always need to assess who they are trying to reach, and which influencers would be able to support that connection. This is assessed on a general scale (who we collaborate with for influencer partnerships overall) and micro-level per individual game promo. Anticipated success of a game launch also affects strategy and considerations in this regard.
Alex Kornilov, CEO of Betegy
Building communities 76 SBC LEADERS • SEPTEMBER 2022
BY MOLLIE CHAPMAN
Brandon Walker, Head of Business Development at Amelco: In South Africa, it all starts with a retail presence. Harnessing influencers to IN A ROUNDTABLE on the changing role of influencers, we asked whether this relatively new form of marketing can help engage new audiences and, more importantly, retain audiences within the online casino space
build a community around the retail experience who, in turn, can provide a channel for online, is the best way forward.
Establishing communication as a part of brand strategy helps to create a marketing campaign that stands out in a heavily competitive industry. The influencer campaign for our lottery products in South Africa last year did exactly that. We selected three categories of influencers in the region; macro, medium and micro, incorporating influencers of various occupations who represented different communities and interests. The campaign was very well received across South Africa and generated a mass of positive comments and conversations with influencers. Indeed, the launch of the product was such a success in South Africa with the tailored message we spread among different communities which ensured trust in both the brand, and our new lottery products.
DevelopmentBusinessBrandonWalker,HeadofatAmelco
Influencer marketing really comes into play here as it solves the big challenge of converting local players to multi-channel. Retail is popular here because it is tangible, and therefore has a lot more trust.
The online space has taken a long time to earn players' trust, especially when it comes to depositing and not withdrawing winnings instantly.
Influencer marketing can go a long way towards changing this and give players a far stronger feeling of comfort.
RelaxMarketingHammon,MarijaHeadofatGaming
Yanina Kaplya, Head of Marketing at BetGames: I don't believe in a one size fits all approach – it's much better to tailor your message to your players and that starts with understanding the audience, their lifestyle, conversations and interests. This further enhances the consumer experience of your product.
77 WORKING
SBC: With influencers generally targeting a younger audience, how GAMING sbcleaders.com INFLUENCERSWITHCAN INCREASE INTEREST DRAMATICALLY WITH BRANDS UTILISING THIS IN BOTH SPORTS BETTING AND CASINO CONTENT
•
Lastly, the social media providerTikTok is a good example of this. With its usage increasing dramatically, it will no doubt become a popular channel to market on. However, you need to ensure that such a channel can provide these safeguards before we even start, effectively a third responsible party in the process. It should not be a conflict of interest between the three, generating an opportunity to have a uniform approach that is in line with the values and integrities of each. Take Facebook and MGM, they work together with regulators to ensure they can create a project that works for everyone. We need to remember betting is all about entertaining and establishing trust – get that right with your influencer campaign and you're onto a winner.
In most cases, influencers know the audience details through social media analytics tools, which works perfectly with brands targeting specific geo, genders, age and interests.
As the industry continues to grow, with technology evolving along with it, the responsibility lies with everyone operating within it to try to ensure ethical practices. This includes immediately opting out of collaborations if anything otherwise is ever suspected. YK: All forms of advertising need to be carried out responsibly and ethically. At BetGames we believe that it is essential to meet the advertising standards and requirements set in our certified markets, and continuously follow the advice of our B2C partners that communicate with players directly.
78 SBC LEADERS • SEPTEMBER 2022
MH: There has been (understandable) media controversy on this topic, as the level of control is limited. Ultimately, influencers can put disclaimers and cautionary messages on their own content, along with the platforms they feature on having their own age-gating in place to try to ensure adult-only audiences. It is then the operators' responsibility to ensure no underage gambling occurs on their sites, especially if viewers watching influencer content actually end up playing themselves.
GAMING atMarketingHeadKaplya,YaninaofBetGames
WE NEED TO REMEMBER BETTING IS ALL ABOUT ENTERTAINING AND ESTABLISHING TRUST THE RESPONSIBILITY LIES WITH EVERYONE IN THE INDUSTRY TO TRY TO ENSURE ETHICAL PRACTICES
Building communities can we ensure responsibility when it comes to using this form of marketing within the gambling industry?
AK: There are responsibilities on three sides. The first is the regulator. There needs to be a clear set of rules in place with a uniform approach that makes everything level and ensures protection of stakeholders throughout the process. Take Sweden as an example of how not to do that. Effectively you had the majority of rules created on the hoof and then enforced retrospectively which really destroyed trust.The second is the operator; they need to ensure they are not targeting incorrect (or indeed underage) demographics and the responsibility is to target the right channels ethically.
STRATEGYINNOVATIONDEVELOPMENT,iGAMING&21-23MARCH 2023 INTERCONTINENTAL MALTA #CASINOBEATSSUMMIT 2,000 DELEGATES 40 SPEAKERS 160 EXHIBITORS SBCEVENTS.COM
BY ERIN GALLAGHER
FUNFAIR
An innovative approach 80 SBC LEADERS • SEPTEMBER 2022
MM: I like the challenge that lies ahead of us which, in my opinion, is to create a new wave of games for a new generation of players whilst not forgetting about our existing player base. We often talk about the next generation of gamblers, but I think it's important not to forget the large audience of players today. When comparing the expectations of this new demographic to the previous generation, you'll see that they're quite contrasting. Therefore, we need to keep an open mind and not be afraid to step outside the norm and free ourselves to try new things. The challenge ahead excites me and this was a big reason as to why I moved away from the more traditional side of the industry and entered into this new fast emerging space.
SBC: Given FunFair Games' next-gen vision – would you argue that player demand has evolved far beyond what we've seen from the last 10 years? What direction do you see the industry taking when it comes to gameplay?
We're really looking forward to attending this year's SBC Summit in Barcelona. This will be our fourth
AHEAD OF SBC SUMMIT BARCELONA, we caught up with FunFair Games CEO Mark McGinley to explore more about the studio's presence at the much anticipated conference WE NEED TO KEEP AN OPEN MIND AND NOT BE AFRAID TO STEP OUTSIDE THE NORM MARK MCGINLEY: GAMES IS STEPPING OUTSIDE OF THE NORM
SBC: As FunFair Games returns to SBC Summit Barcelona, talk us through your plans for the show – what do you have planned for this year's MM:conference?
GAMING
THERE'S A OPPORTUNITYHUGEAHEAD OF US AND IT'S ONE WE PLAN TO GRAB WITH BOTH HANDS
SBC: Looking at the shortlist for this year's SBC Awards – there's plenty of talent competing to be named Rising Star in Casino Innovation. What makes FunFair Games stand out as a true differentiator in the casino space?
This year, we'll be showcasing our upcoming title Hugo: Up & Away, as well as recent release Dig It and of course our entire catalogue of fan favourites. We always look forward to attending these events, and the SBC Summit Barcelona is a great event, offering an agenda of thoughtprovoking panels and high-level presentations from peers. We've had a very busy year so far and with a packed Q4 schedule ahead of us, it doesn't look like things will be slowing down anytime soon. That being said it's been a very informative, positive and productive period for us with several exciting new business opportunities now reaching final stages - so watch this space.
MM: True innovation in the real money casino space is hard to come by. At FunFair Games we seek to establish ourselves as a pioneer with our unique and diverse portfolio, consisting of non-traditional and arcade-style content such as our suite of multiplayer crash games. sbcleaders.com NOW IT'S TIME FOR US TO APPLY THOSE NEXTACCORDINGLYLEARNINGSINTOTHELEGOFTHEJOURNEY
industry event in five months, so it's been a very busy period for us. With the Covid-19 pandemic impacting the industry's event calendar in recent times, it's great to be on the road again, networking and meeting delegates face to face. It's easy to forget just how important meeting people in person is as I believe it allows for more effective communication and helps build strong relationships. It's also a great opportunity for us to share our views and expertise with industry colleagues, whilst also learning more about the latest trends and developments.
81
MM: I'm thrilled to say that we've covered a huge amount of ground in a very short period of time, during which we've learnt a lot. Now it's time for us to apply those learnings accordingly into the next leg of the journey. We're currently in the process of evolving and expanding our business, so this is a hugely exciting time for everyone at the company. We're a very ambitious group and we have big plans to take our business to the next level. There's a huge opportunity ahead of us and it's one we plan to grab with both hands. I'm confident that the industry will see a very different FunFair Games in 2023.
SBC: Given your appointment as CEO and your vision for the company – what makes this year special for FunFair Games to attend? Can we expect any exciting announcements?
The team are now busy cooking up the next wave of new and exciting games which will see us expand our portfolio even further, with a unique assortment of features, mechanics and a diverse suite of game types that we firmly believe will be a big hit with players in 2023.
It's definitely an exciting time for FunFair Games, with a lot going on and plenty more to come in the weeks and months ahead. But for now, our focus is on the forthcoming event in Barcelona. So if anyone would like to know more about FunFair Games or arrange a meeting, then please don't hesitate to reach out. Alternatively, you can drop by and say hello to the team and I at stand G9 in the Casino & Gaming Zone. • Mark McGinley, CEO of FunFair Games, and his team will be present at this year's SBC Summit in Barcelona, where the innovative game studio will be showcasing its latest up and coming game Hugo: Up & Away, whilst hoping to take home the Rising Star in Casino Innovation/Software award, having made the shortlist in July.
TRUE INNOVATION IN THE REAL MONEY CASINO SPACE IS HARD TO COME BY
82 SBC LEADERS • SEPTEMBER 2022
SBC: Are there any exciting releases we can expect in 2022 and beyond? MM: We have just released the aforementioned Dig It, which is another creative take on the thrilling crash mechanic we've explored previously, but this time it will be presented in a very different visual format. To continue this successful output, we'll be releasing Hugo: Up & Away on the w/c 26th of September as part of our recently announced partnership with 5th Planet Games.
An innovative approach
This is still a new and emerging gaming vertical in the real money casino space, and one we're constantly learning more about. Our target audience has a different set of requirements and expectations. Therefore we try our best to fulfil their preferences and plan to continue doing so, with a growing portfolio of diverse features, mechanics and game types.What makes us stand out is our games' appeal, due to the high level of craftsmanship that goes into all of our products which build on strong technical foundations. Real-time multiplayer crash games aren't easy to produce, and often the simplicity of the game can undermine the technical challenges involved in developing such games. I like to think that we've taken the crash-game mechanic and added our own twist to it, giving our titles a strong identity. Like any good studio we listen, learn and adapt. I'm excited to see the studio grow and evolve further in 2023.
Building on the successful mechanics seen in our hit title, AstroBoomers: To The Moon! players can rest assured that we've taken what we know and have looked to enhance the player experience accordingly. The star of the show this time is the iconic Scandinavian cartoon character, Hugo from Danish 5th Planet Games' hit interactive live TV game show from the 90s, which was aired in more than 40 countries. Delivering a fantastic communal experience, bringing players together as the adorable troll navigates the stormy sky and avoids the fatal lightning which can put a stop to his journey, this captivating title promises a high-octane, yet simple-to-play gaming experience.
GAMING
of games for a new generation of gamblers RELEASE September 29th RTP 88 / 92 / 94 GAME TYPE Crash A real-time, multiplayer, crash game with sky-high wins up to €250,000!
SBC: What have been the biggest changes you've made to ensure Swintt's games are compatible across mobile devices?
DM: I would say it comes down to a combination of more people having mobile devices and software developers generally becoming more savvy about the best ways to implement mobile technology. These days, the number of people that own a smartphone worldwide is around 6.64 billion, with this figure accounting for roughly 83.37% of the global population. When you consider that back in 2016 the global smartphone penetration rate only accounted for roughly 50% of people worldwide, that's a huge amount of growth in a relatively short space of time. This means there's already a huge mobile audience out there that software developers need to be aware of, and it's very important to keep up with the latest technology trends to make sure they're accounted for. When you look at apps like Facebook and Instagram, we're seeing improvements for mobile being made on an almost daily basis and users are constantly having to update their device to ensure they get the best experience. For game developers like Swintt, the challenge is no different. We need to be aware of exactly what the latest technology is capable of and how player preferences are evolving as smartphone usage becomes more common. By doing so, we can better understand the needs of mobile players and tailor our products to keep up with the market.
DAVID MANN: STAYING AHEAD OF THE CURVE ON MOBILE-FIRST TITLES HUGE TODEVELOPERSTHATAUDIENCEMOBILEOUTTHERESOFTWARENEEDBEAWAREOF
DM: Funnily enough, the outlook at Swintt hasn't really changed all that much since the company was founded in 2019. Mobile has always been a major focus for us and that's as true today as it was back then. When WITH AROUND 80% OF ALL ONLINE CASINO GAMING now being conducted via smartphone or tablet, SBC Leaders sat down with David Mann, Chief Executive Officer at Swintt, to discover how they've managed to stay ahead of the curve without alienating the conventional desktop player
BY ERIN GALLAGHER
THERE'S ALREADY A
Game of phones 84 SBC LEADERS • SEPTEMBER 2022
SBC: Why do you think we've seen such an increase in mobile gaming? Is it due to more people having mobile devices, improvements in technology or a combination of both?
games, we always ensure they can adapt to fill the whole screen on most mobile devices and we also place a strong emphasis on the user experience to allow for things like onehanded play. One of the big challenges in this respect is that we in the gaming industry mainly work on desktops.
We're sat in front of our screens and laptops every day for almost 40 hours a week, but we always have to keep in mind that this isn't necessarily how the end user experiences our product. Testing our games on mobile is therefore very important as we need to understand how they look and play on these devices.
DM: According to a 2020 study by the European Business Review, as much as 70% of annual online betting revenue on the continent came from mobile gambling.
Two years later, that figure is now thought to be closer to 80% – and we definitely see these trends reflected in how players use Swintt products in certain markets.
It's vital that we don't assume players consume our games in the same way that we develop them, so getting into this mobile-first headspace allows us to put ourselves in their shoes and create a product that really works for the smartphone market.
85
MOBILE HAS ALWAYS BEEN A MAJOR FOCUS FOR US AND THAT'S AS TRUE TODAY AS IT WAS BACK THEN
SBC: Does this present any challenges when it comes to localisation of DM:content? Yes, because obviously smartphone penetration varies a lot by region. In some emerging markets where online casino is relatively new, there's a greater tendency for players to gravitate towards desktop usage, either because the mobile technology isn't yet there or the service is unreliable. This isn't always the case, however, and the Latin America region makes for a very interesting case study. Despite it still being an emerging market, smartphone usage there is actually very high at around 69%presumably because of the affordability and availability of smartphone devices compared to regular home PCs – so we have to be aware that players in this region already have the technology available to them and will naturally be GAMING sbcleaders.com
This is true for both live casino games and slots, with the former actually seeing a slightly higher proportion of players accessing them from smartphones or tablets. With this in mind, we've ensured that all SwinttLive games feature fast and reliable mobile-optimised streaming and seamless, high-definition gameplay that's completely free from lag. The user interface, meanwhile, is also developed with mobile players in mind and offers a range of settings and touch screen betting options that make it perfect for one-handed play. The same can also be said for slots in our Premium and Select ranges, which boast all of the functionality of the desktop versions in an enhanced mobile package. Featuring reactive displays that adapt to fill every inch of the screen, players are able to enjoy a fully immersive experience that utilises cutting-edge graphics and sound to push current smartphone technology to its limits.
SBC: How much of a portion does mobile gaming make up in the Swintt offering?
86 SBC LEADERS • SEPTEMBER 2022
• GAMING ANOTHER MAJOR FOCUS AREA FOR US WILL BE THE CONTINUED DEVELOPMENT OF OUR GAMIFICATION TOOL, SWINTTGAMIFY
I think that people on mobile mainly use one hand in anything they do, so all applications – including those outside of gambling – need to be created with this in mind. As such, it's very important to make sure onehanded play is possible in our games, just as we have done for our SwinttLive titles and many of our slots too. We're currently looking into ways to make this more feasible, such as including options that enable users to switch games into one-handed play mode. Another aspect of the mobile-first approach is looking at how our games are actually laid out. Our Candy Gold slot is a good recent example of this, because for that title we adjusted the reel configuration to ensure the game was more mobile friendly. While a lot of our slots use a 5x3 reel matrix – which is perfect for the 16:9 screen ratio – we switched it up in Candy Gold to create a layout that worked better on vertical displays and it proved a popular release with mobile players.
SBC: We're seeing more companies venture into the world of mobile gaming. Does this mean that desktop should be taking a back-seat or does this vertical still have relevance for DM:players?
DM: We plan to continue our mobilefirst approach to game development by rolling out a number of exciting new releases that are designed with smartphone users in mind. Having been shortlisted for the Innovation in Mobile category at the SBC Awards 2022, we're really investing a lot in this area and hope our efforts will be recognised by the judges when they see what we're working on. Another major focus area for us will be the continued development of our gamification tool, SwinttGamify.
Although already optimised to work across all smartphones and tablets, we're planning a number of improvements for the tool to make it even more intuitive for mobile players, with enhanced one-handed navigation allowing them to easily continue their challenge progress.
Game of phones pretty receptive to our mobile-first products.Nevertheless, when creating localised content we always have to keep the current state of each market in mind. While the global trends suggest that mobile play will continue to dominate online casino gaming in future, some countries may not be there quite yet and we have to put equal care into our desktop offering to ensure a wide cross-section of players is catered for in all our markets.
As I touched on in my previous answer, at Swintt we always do our best to cater for the whole market. We think it's important that our games satisfy as wide a cross section of players as possible, so it's essential we continue developing for desktop even as mobile usage increases.
If you consider that 80% of online casino gaming is now conducted on mobile, that still leaves 20% of users who are currently playing via desktop. That's a large percentage. So while we believe player preferences are leaning towards mobile, we'll continue delivering for desktop users too.
SBC: What can we expect from Swintt over the next few months?
SBC: Given that the mobile-first approach is becoming an increasingly important strategy for slot developers, how big of an appeal does onehanded play have on mobile slot DM:gaming?
Finally, having been preparing to offer Swintt products at UKGC-licensed online casinos, we're looking forward to establishing our brand in what is an incredibly important new market for us. Over the coming months, we hope to be able to bring you further updates on a few of the partnerships we have in our pipeline plus news on some exciting UK-focused releases.
1-3 NOV 2022 SEMINOLE HARD ROCK HOTEL & CASINO HOLLYWOOD, FLORIDA LATINCONNECTINGAMERICA'S SPORTS BETTING AND IGAMING MARKETS FOR MORE INFORMATION PLEASE VISIT SBCEVENTS.COM #SBCSUMMIT LATAM 1,000 DELEGATES 100 SPEAKERS 50 EXHIBITORS PARIS SMITH CEO Pinnacle GONZALO PEREZ CEO Apuesta Total JONAS CEDERHOLM Group CEO & Co- Founder Game Lounge JD DUARTE CEO Betcris SETH SCHORR CEO BettorView XABIER MARIBONA CEO Grupo Retabet ZENO OSSKO CEO BetWarrior MARC PEDERSEN CEO – US Better Collective MICHAEL DALY CEO Catena Media EVAN CONCHA SOTO CTO Estelar Bet FEDERICO MAQUES Marketing Director Boca Juniors JULIO LANSAC Integrity Director Conmebol SPEAKER PREVIEW
Reels: 5x3 RTP: 95.51% Volatility: Medium - High Key Features: Disco balls respin mode with increasing multipliers and retriggering free spins
BGaming Miss FruitsCherry
GAMING
Lady Luck Games
Slot Picks 88 SBC LEADERS • SEPTEMBER 2022
Valholl HammersWild Mads Jørgensen, Co-Founder and Chief Executive Officer of LL Lucky Games, said: "We're extremely proud to introduce the world to Valholl Wild Hammers, a game that's been high on our list of priorities for some time following the incredible success of Valholl Hall of the Slain. "The original boasted a whole host of much-loved features and mechanics, this time we've gone even further by making them bigger, better and more lucrative. Something we know will go down incredibly well with players as they tackle this wonderful Norse adventure." Reels: 6x4 RTP: 94.3% Volatility: High Key Features: Wild lightning feature with expanding wilds and free spin modes with sticky wilds.
Kate Puteiko, Product Marketing Lead at BGaming, commented: "Our Miss Cherry Fruits has won the hearts of players worldwide and is ready to bring them even more luck. "Hold&Win games have become very popular among slot lovers of all types, and I believe our new title will strike a chord with fans of traditional games and those who prefer modern releases."
Basic Info: Get ready for the return of the Vikings as Lady Luck Games traverses the Nordic seas in Valholl Wild Hammers. With 20 paylines and a maximum win of up to x17,000 the player's stake, this title sees two hammers placed at the top of random reels at the start of every round. Depending on their position, they can trigger one of three bonus features - a wild lightning feature, free spins or sticky wilds. Low-value symbols in the game are represented by red, brown, yellow, blue and white shields. These symbols can offer between x0.2 and x1.25 the player's stake. High-value symbols come in the form of different characters' faces via a blonde woman, young viking, red haired male and older viking. If the right amount of matching combinations land on a single turn then these symbols can offer between x1 and x5 the player's stake.
Basic Info: It's watermelons and cherries galore in this fruity slot title as BGaming brings the party with Miss Cherry Fruits Jackpot Party. Adorned with disco ball respins, wilds and free spins, this 5×3 reel slot includes 25-paylines and bonus features - with symbols represented by lemons, plums, grapes and… you guessed it, Duringcherries.the disco balls respin mode, players get three free spins and the chance to win an increasing number of multipliers depending on the amount of additional disco balls that land on the reels after the six initial balls have triggered the feature. In the bonus star free spins feature, only medium and high value symbols can drop onto the reels. An additional eight free spins will be added to the initial free spins if a further three bonus stars drop onto the reels. The number of retriggers has potential to be limitless.
HOW LOTTERIES ARE FOREXPERIENCESPRODUCTSIMPROVINGANDTHE2020s
the lottery industry? There are, of course, plenty of lottery operators and suppliers working incredibly hard behind the scenes to offer lottery ticket buyers the best ways of playing the lottery and using the newest, cutting-edge technology to do so. But it goes under the radar in comparison to sports betting and igaming which appear to be growing rapidly around theYet,world.according to a YouGov report on international gambling in 2021, lotteries were revealed to be the most popular form of gambling, with 42% of all respondents claiming they had played any form of lottery online within the last 12 months, outperforming sports betting (36%), online casinos (13%) and bingoWhilst(11%).this is unsurprising, given that lotteries are largely legal and regulated around the world, little is made of the technological advancements that underpin the popularity of lotteries. After all, that same report cited that participants of the YouGov surveys and crypto-based products dominate the minds of some of the industry's startups and heavyweights. Even mobile sportsbooks and online casinos are relatively new phenomena, which have exploded in popularity due to the convenience they offer consumers. But what about innovation in BUT WHAT LOTTERYINNOVATIONABOUTINTHEINDUSTRY?
LOTTERIES ARE SOMETIMES EXCLUDED from conversations around innovation, but this sector is making considerable headway in improving the user experience for players
Lottery innovation 90 SBC LEADERS • SEPTEMBER 2022 BY CHARLIE HORNER W e are in an industry where change is necessary. It feels almost impossible to avoid products and theories on new technological changes. Web3, metaverse
Innovation for player
In Ethiopia, the National Lottery Administration has partnered with Ethio telecom, a telecommunications firm, to launch a digital lottery service that works via SMS. This not only reduces the costs of printing tickets, but uses technological advancements to cater to consumer demands rather than a technique that has worked elsewhere, showing that a one size fits all approach to innovation does not work. Meanwhile, El Salvador has agreed to launch a national electronic lottery, which will be operated jointly with Canada. The new electronic lottery is part of a "modernisation process that the institution had been promoting".
WORK
preferred to play lotteries due to the options of buying a lottery ticket online, buying an instant win lottery ticket online and buying a lucky draw ticket for an expensive prize. With online lottery play becoming more popular - Camelot has noted that the UK National Lottery has experienced record digital sales since the pandemic - operators must utilise technology to acquire new customers, but also to retain those players amid a raft of fierce online competition. Not just from other lottery operators, but from other forms of gambling, which seem less hesitant to embrace technological change.
Innovation for product One obvious way in which lotteries are innovating is through product development and access to those products. Lotteries have had a duty of responsibility to their retail partners throughout the last few decades, yet the migration of lottery products to an online platform is essential for growth, as is evidenced around the world.
LOTTERY sbcleaders.com 91 OPERATORS
AI is becoming an increasingly important tool to protect customers from gambling-related harms. Innovating with a social purpose can also help to market to Millennial and Gen Z players, who often have a strong socialLotteriesconscience.havebeen setting up partnerships with data science firms throughout this year to ensure that player protection measures are easier MUST UTILISE TECHNOLOGY TO ACQUIRE NEW CUSTOMERS, BUT ALSO TO RETAIN THOSE PLAYERS SIZE FITS ALL APPROACH TO INNOVATION DOES NOT
As is often theorised in business and political circles alike, technology and innovation can help to solve the world's biggest issues. This rings true in the gambling industry.
Partnering with specialist ilottery firms is a sure fast way for a lottery to supercharge its digital journey, with expertise in creating engaging content for players at the core of their remit. Loteria Mineira enlisted the help of NeoGames to power its digital output, providing its NeoSphere platform, a selection of instant games from its NeoGames Studio tailored for a Brazilian audience and a range of services related to ilottery. Explaining the rationale behind the deal, Intralot do Brasil CEO & Owner Sérgio Alvarenga noted: "We are delighted to join forces with NeoGames in a partnership that is intended to provide our players with a comprehensive digital program that will expand and enhance our content and services offerings in Minas Gerais to new and exciting areas. "The new modalities and investments in technology are part of the expansion plan for new states and federal licences." With operators in both mature and new markets committing to digital offerings, it is clear that the technological shift is not limited to just sports betting and igaming firms, but that lotteries are keeping up in the metaphorical arms race.
A ONE
This year, Lotto Hessen, Lotto NZ and Atlantic Lottery have all teamed up with Austrian firm Neccton to utilise its 'mentor' behaviour analysis tool that alerts the operator and can contact players who display alarming gambling activity, with regards to their deposit frequencies and amounts. Dr. Michael Auer, Director of Neccton, commented: "We already work with so many of the world's biggest gambling companies because they recognise that our approach and our expertise is unique."Customers who are looked after this way are proven to be customers for longer, with much greater overall value to the operator, without falling prey to the dangerous behaviours of gambling addiction."Similarly, ZEAL in Germany has added an innovative AI player protection mechanism, partnering with Mindway AI, which uses its GameScanner technology to detect gamblers at risk of gambling addiction at an early stage and act as a 'virtual psychologist'.
Helmut Becker, CEO of ZEAL, stressed that technology should be used in such a way: "It is of utmost importance for us to apply proven technologies and methods to protect players, regardless of legal requirements."Asessential as technology is to expanding the user experience and developing better products, those same innovations can be integral to keeping problem gambling rates low. Whilst lotteries are often cited as lower-risk forms of gambling, they can lead to more risky bets being placed on online slots. Innovation for ESG Whilst innovation is largely aiming to improve business operations and solve problems for consumers, many firms are bolstering their ESG policies and are developing innovative methods of promoting diversity and inclusion. Notably Allwyn, named the preferred candidate for the fourth National Lottery licence earlier this year, has developed a 'changemakers plan' whereby it is promoting innovative practices across the business but is allowing women to take centre-stage in developing the policies.
Allwyn has developed technology for both online and in retail which has driven lottery participation rates of adults in Austria, Czechia, Greece and Italy to an average above 70%. Yet, arguably, the more impressive and laudable innovation is the 'balance' it has created in its decision-making process for the National Lottery licence bid.
As Lucy Buckley, Portfolio Lead at Allwyn UK summarised: "Whilst this statistic shouldn't really need to be pointed out, it is a frustratingly rare thing to find in the lottery industry, a sector that has traditionally struggled to diversify and evolve.
92 SBC LEADERS • SEPTEMBER 2022 Lottery innovation to implement and that problematic gambling behaviour is easier to spot.
• OVER 50% OF THE TEAM THAT WORKED ON THE BID FOR THE FOURTH NATIONAL LOTTERY LICENCE WERE WOMEN
"This isn't to say that experience and wise minds don't matter, but so many organisations struggle to innovate because they don't have the right balance of new ideas and perspectives to challenge old ways of doing things."
In fact, over 50% of the team that worked on the bid for the fourth National Lottery licence were women.
SOPHIE WOOD: LEADING THE LOTTOLAND WAY ON DIVERSITY & INCLUSION
"In my life I have learned that one of the biggest challenges to being out and trans is other people's ignorance, prejudice, fear and hatred,'' Wood told SBC"TheLeaders.trans population is very small so not many people actually meet or know us. Many people get their views on the trans population from mainstream media and social media. "This is problematic in countries such as the UK, Poland, Russia and Hungary in particular, where such ignorance is weaponised by a right-leaning media to distract from pejorative and LOTTERY sbcleaders.com
Intrinsic values BY NICK WARE P
AFTER SEVEN YEARS IN THE INDUSTRY and over a year in her current role as Learning & Development Partner at Lottoland, Sophie Wood reflects on a challenging journey in life that has led her to becoming a lottery leader on diversity and inclusion
rofit and loss statements, balance sheets and customer service are three elements that have always been at the forefront of any organisation's mind. But the importance of sharing essential intrinsic values, standing up for rights and the mental health of employees have all become much more evident in recent times.
At Lottoland, Sophie Wood is responsible for all three of those latter components in a job she became well prepared for after her own experiences as a trans woman.
93
THIS IS THE ESSENCE OF THE FICTIONAL 'CULTURE WARS' THAT DON'T MANIFEST IN REAL LIFE FOR MOST PEOPLE
Intrinsic values 94 SBC LEADERS • SEPTEMBER 2022 pernicious policies such as those under the 'austerity' banner. "This is the essence of the fictional 'culture wars' that don't manifest in real life for most people." Before entering the gaming industry in 2015, Wood worked in UK law enforcement for 12 years as a trainer in information and intelligence systems for theDuringpolice.this time, she recounts a generally positive experience with colleagues who accepted her for who she was. That feeling transferred itself to the gaming industry where Wood noticed a similar pattern with those in her immediate vicinity.
"When you start celebrating and showing your diverse people you value them, that is what success or 'belonging' looks like."
Wood has a short and simple message for companies seeking to create and improve an inclusive culture: "Focus on your culture and the stats will follow."
"Career progression, either upwards in the hierarchy or sideways into other departments, has been very challenging," she said. "Truthfully, the industry has a long way to go. But progress is being made. Education and awareness is key, as ignorance is killed by knowledge. At its essence, diversity and inclusion is very simple."Ialways say in my diversity and inclusion training - 'I am a human being and that is all you are too'. When you accept this premise, all you have to judge people by is knowledge, understanding, skills, attitudes and behaviour. That is equality.
Wood's time in the gaming industry
According to Wood, that prejudice has manifested itself on two separate occasions in job rejections for a managerial role. Despite amassing the highest interview scores and being the preferred candidate of the hiring manager and HR department, she was overlooked by those in the upper echelons of organisations.
"The ignorance, the fear, the hatred, has tended to disappear as soon as a human connection is made. Because colleagues saw me and worked with me everyday, they knew that I was just like any other human being at work. Other people in the wider organisations I worked for tended to be less "Withinso.the industry I have enjoyed great working relationships with people who know me, and mostly prejudice from those who don't."
I HAVE LEARNED THAT ONE OF THE BIGGEST CHALLENGES TO BEING OUT AND TRANS IS OTHER PEOPLE'S IGNORANCE, PREJUDICE, FEAR AND HATRED
"When you then use your empathy to understand the challenges faced by minority groups and you remove the barriers that they face to enable their success, that is equity. This, in turn, will help create an inclusive culture which will result in the realisation of the benefits of diversity in your workplace.
The list doesn't end there. "We have introduced a joint parental leave policy as well as private health benefits for the symptoms of menopause and gender dysphoria along with a strong focus on supporting the mental health and wellbeing of our Lottolanders," she continued. "More recently, we have introduced a 10% reduction in our working hours for the summer months contributing to a better work life balance."Allof this has been achieved from the empowerment and trust from my boss (Chief People Officer Leah Carnegie) and her C-suite colleagues, and the active involvement of my codiversity and inclusion lead (Head of Product, Christina Marie Giuffre) and our excellent company ambassadors." Despite only being in the role for just over a year, Wood has achieved plenty. However, she pinpoints Lottoland's response to Russia's invasion of Ukraine as her proudest accomplishment. "The way in which our C-suite and Project Management Office team leapt into action to protect as many friends and family of our Ukrainian colleagues… I was genuinely awestruck by the organisation and team work in play," she"That,said.more than anything else, made me proud to be a Lottolander." • sbcleaders.com
95
has seen her gain experience and impart her wisdom in various roles at Coral, 888 Holdings and Entain. But in June 2021, she was named Learning & Development Partner at Lottoland, the Gibraltar-based firm offering online bets on the results of lottery draws. There, Wood - who is also a Mental Health First Aid Instructor - was handed an all-encompassing role to shape the organisation's strategy on diversity, inclusion and much more. "My remit covers all learning at Lottoland including management training, values training, managing our Learning Experience Platform & Compliance Training," she explained. "I also head up our Company Ambassador Group, who volunteer to help drive our employer brand and diversity and inclusion activities. "I lead on diversity and inclusion and on mental health support and wellbeing, while I also manage our operational training team and our Resilience Coaches." Her passage to the destination may have been an arduous one, but Wood's efforts have been rewarded in a role that have allowed her ideas to flourish and Lottoland to develop as an organisation."Workingat Lottoland has been by far my best experience in this industry," she said. "In my first year we have reached out to Lottolanders to get their feelings and wishes for a more inclusive culture and have enjoyed some brilliant, honest feedback."Ihavemainstreamed our diversity and inclusive initiatives, education and celebrations into our Company Ambassador Group and we have produced some great outputs, such as International Women's Day and International Men's Day. "We have created a family-friendly guide for activities in both Gibraltar and Andalucia, and created and hosted a Gibraltar-wide conference on Menopause Awareness. This is the first of its kind in Gibraltar. "We led the sponsorship of the first ever Gibraltar Pride and helped the Mayor celebrate the multinational population of Gibraltar for Diwali, and also headline-sponsored Manilva Pride in Spain which unites the local Spanish and immigrant communities, LGBTQ and straight and cis gender people. "The next big celebration for us is in September when we launch our 'Festival of Nations' - there, we intend to celebrate, educate and elevate the stories from our 35 and rising different nationalities working at Lottoland."
WE HAVE INTRODUCED A 10% REDUCTION IN OUR WORKING HOURS FOR THE SUMMER MONTHS, CONTRIBUTING TO A BETTER WORK LIFE BALANCE WORKING
LOTTERY
THISEXPERIENCEFAR,HASLOTTOLANDATBEEN,BYMYBESTININDUSTRY
ART NFTS BROUGHT THIS TECHNOLOGY TO THE PUBLIC HEADLINE-GRABBINGPARTICULARLYCONSCIOUSNESS,THEIRSALES
JOSH KATZ:
JK: YellowHeart is a global marketplace for NFT tickets and music. Our primary focus is to connect artists and sports teams more intimately by cutting out the middle man and getting out of the way. Over the past few years, we've collaborated with world-renowned artists, such as Kings of Leon, Maroon 5 and Julian Lennon. We're currently applying our technology to the ticketing industry to combat fraud, scalping and forgery through immutable NFT tickets. The chaotic scenes witnessed at the
Cool Katz 96 SBC LEADERS • SEPTEMBER 2022
HOW NFTS CAN BE A KEY TOOL IN TICKETINGPREVENTINGFRAUD
T he role of NFTs within the sporting experience has evolved dramatically in recent years. However, the digital assets could be about to take on a new venture and tap into the ticketing process.Speaking to SBC Leaders, Josh Katz, Founder and CEO at YellowHeart, discussed his belief that they can be key within the ticketing journey, not only elevating the value of tickets but also acting as a key tool to prevent fraud.
BY JOE STREETER
SBC: To kick us off, can you tell us more about YellowHeart and your role in the industry?
YELLOWHEART'S FOUNDER AND CEO sat down with SBC Leaders to share his belief that NFTs and digital assets aren't being maximised within the sporting experience, as he outlined the role they can play in fraud prevention
SBC: How has the role of NFTs evolved in recent years to beyond just digital JK:artwork? Art NFTs brought this technology to the public consciousness, particularly their headline-grabbing sales. But beyond all the noise about vapid profile pictures and NFT drops that are one and done, numerous projects are working behind the scenes that add genuine utility to NFT tech.
theirandwereshowrecentMGMattendeestraditionalticketscannot.Forexample,ofResorts'JabbawockeezinLasVegasairdroppedfooddrinkcreditsthroughNFTticketthatweprovided.NFTticketscanevenbeprogrammedtounlockaccesstouniqueperkssuchasmeet-and-greetopportunities,giveaways,andmementoswhichiswhyanumberofsportsteamsarestartingtolookintothem.
We've seen NFTs being applied to sectors like real estate, trade finance, carbon markets, ticketing and other industries to disrupt and streamline legacy processes. Because of their immutable nature and the fact that NFTs permit digital ownership and record transaction data, we believe applying them to the donatedofframes.released,hisplethoraLittleforcombinedutility.usesaypieces.mereawayofexcellentNFTsuse-casesmostoneindustryticketingisofthepromisingforandisanexampletheirevolutionfrombeingspeculativeartButthisisn'ttothattheartisticofNFTsiswithoutOnlylastyear,weutilitywithartJerryGarcia's'AnOddPlace,'inwhichaofNFTsspanningearly90sportfoliowereredeemableasNFTOntopofthis,aportiontheauctionproceedsweretocharity.Wealso
SBC: NFTs can obviously be useful tools to boost fan engagement, but what role can they play in adding security to the matchday ticket JK:experience?
NFT matchday tickets can eliminate ticket scalping and forgery since all transaction data is stored within the metadata of the NFT on an immutable blockchain. Our blockchain analytics can tell when someone from a single tickets but doesn't redeem them — a typical sign that they're planning to resell them on unauthorised secondary markets.
At numerous major events in recent years, ticketing fraud has been a significant risk, how could NFTs have helped combat this? As mentioned, NFTs contain all of the prerequisite data needed to ensure they are legitimate. Pieces of paper can and will always be forged. It's been estimated that 70% of the tickets were PAYMENTS CONTINUE UTILITY
sbcleaders.com 97 THIS ISN'T TO SAY THAT THE ARTISTIC USE OF NFTS IS WITHOUT UTILITY ART-BASED NFTS CAN
YellowHeart recently rolled out NFT ticketing pilots with two of the biggest hospitality companies in the world, MGM Resorts and Tao Group Hospitality, where NFTs were used as entry tickets to live events.
It's also possible to program verified NFT tickets to be sold via authorised channels only or limit the number of tickets permitted per person to sidestep potential scalpers and scalping bots. When NFT tickets are issued, they come with a unique identifier that will forever be associated with the person who buys them. This makes it impossible for someone to create a forged NFT ticket since it wouldn't be recognised during the event checkin and would therefore be flagged immediately as a fake. These are just some of the reasons why talk of digitising and tokenizing tickets to avoid counterfeiting is on the rise, particularly following the chaos of the UEFA Champions League final game in Paris. With the 2024 Paris Olympics gearing up to issue NFT tickets, we could soon witness the application of NFT tickets at large. Beyond tackling fraud, NFT tickets can also carry dynamic utility that
TO PROVIDE
LONG AFTER THE INITIAL DROP
UEFA Champions League final in Paris demonstrated a need for events to evolve beyond legacy ticketing, which can be exploited by bad actors.
recently airdropped token holders two new photos from legendary rock photographer Jay Blakesberg to celebrate Jerry Garcia's 80th birthday. Our Jerry drop is a perfect example showing that art-based NFTs can continue to provide utility long after the initial drop.
JK: Absolutely. As we demonstrated during our collaboration with MGM Resorts, NFTs can be programmed so they dynamically react to ongoing usage. Once an NFT ticket is redeemed at a match, it can be updated to deliver food and drink credits, in-game seat upgrades, and even enter holders into a meet-and-greet and field access sweepstakes.Moreover,following redemption, tickets can become digital momentos. Ultimately, we strive to emphasise that the value and utility of NFT tickets don't have to end following the entrance to an event — instead of dying, they actually come to life.
•
Aside from general convenience, this also provides a more personal connection between the team and their fans and even opens up the possibility for fans to be granted exclusive access to perks for having purchased tickets previously (think meet-and-greets, seat upgrades, early access to merchandise, etc.). As for buying NFTs, an overwhelming majority of our users take advantage of the ability to pay using a credit card. By offering this payment method, we're essentially seeking to bridge the gap between blockchain and those with limited knowledge of the tech.
98 SBC LEADERS • SEPTEMBER 2022 Cool Katz fake at the recent 2022 Champions League Final in Paris. NFTs could have prevented this problem entirely.
SBC: Can you tell us if there are any obstacles that are potentially hindering the entry of NFTs to the ticketing process?
JK: NFT ticketing is remediating the pain points of the legacy ticketing system, particularly for sports events and concerts where illicit ticket sales and scalping are rife. But as with any kind of development, there are inevitably unique challenges. Contrary to popular opinion, it's not a lack of adoption presenting a challenge; it's about coming out on top over competitors that already have exclusive partnerships in place. It is a battle between the nuances of NFT ticketing technology and the endorsement of such.
WE'RE SEEKINGESSENTIALLYTOBRIDGE THE GAP BETWEEN BLOCKCHAIN AND THOSE WITH LIMITED KNOWLEDGE OF THE TECH
SBC: Generally speaking, what role could NFTs have when it comes to growing the payment journey?
JK: When fans buy NFT tickets to sporting events, for example, the NFTs will forever be associated with their designated wallet. Any future purchases from the fan could be handled directly through the existing NFT, as opposed to them having to re-input their information.
SBC: Do you believe that NFTs could add value to matchday tickets?
WE
BOOM OR BUST: HOW WILL CRYPTO REGULATION IMPACT THE MARKET? BELIEVE IT IS TOO EARLY TO SAY WHAT THE POTENTIAL IMPACT WILL BE
Impending regulation BY CALLUM WILLIAMS L ast April, former Chancellor of the Exchequer Rishi Sunak declared that he and the Treasury aim to make the UK a 'global hub for cryptocurrencies', with plans to form a regulatory framework on stablecoins whilst building jobs for the 'businesses of tomorrow'. Whilst Sunak may no longer hold the UK's purse strings, and the country exists amid a cost of living crisis, progress is ongoing, with the first proposed crypto legislation unveiled in Parliament last July under a planned reform of the UK Market bill. Yet, the acceleration of this crypto bill, despite intentions from the Treasury of its plans, begs the question, why is the UK government keen to regulate crypto currencies now? Why form a regulatory framework of digital assets during a 'crypto winter'? How will this alter the population's understanding of cryptocurrencies as its own currency in the"Wefuture?believe it is too early to say what the potential impact will be given the very early stages of this bill. We will strive to engage collaboratively with the regulators to ensure revisions are made to protect the UK and crypto businesses operating here from legislation that may stifle innovation, trigger potential job losses and have a negative impact on the UK economy for businesses operating fairly within this sector." Su Carpenter will have a better understanding than most of the intricate hurdles and obstacles that come with building a regulatory framework surrounding digital assets. CryptoUK's Director of Operations has worked for the crypto trade association alongside UK lawmakers such as the crypto asset taskforce, and the Financial Conduct Authority. Tasks include building definitions for digital assets, anti-money laundering methods and guiding lawmakers in PAYMENTS sbcleaders.com 99 SINCE THEIR INCEPTION IN THE LATE 2000S, in the furthest corners of Web2.0, cryptocurrencies have taken on a life of their own. But as the age-old question of crypto regulation seems to be more of a realisation than a cliched talking point, how willingly will people adopt crypto as the future of currency as it is so often coined to be?
But no matter how much exposure forces the uninitiated person to cave into investing into crypto, not only is education of the market required, but education into trusted and secure crypto tokens and platforms is just as paramount.AsCarter explained: "Investors need to be alert to rogue actors and the news that is more often reported is around losses and scams. Investors need to know how to do their own research and due diligence on an organisation before choosing to invest, arming themselves with the knowledge to know exactly what they are investing in. "You wouldn't purchase shares in an organisation without knowing who they were or what they do and the same should apply to crypto and digital assets. A better understanding of the sector is crucial and should play a part in a broader programme of financial education for all to allow for inclusivity and financial accessibility across all forms of assets and currencies." But whilst MPs discuss and debate the proposed crypto legislation, the elephant in Parliament's room is the present state of the crypto market itself.Currently, the market is undergoing a 'crypto winter' as, at the time of writing, Bitcoin (-34.8%), Ethereum (-43.1%), and DOGE (-59%) all suffered drastic losses in value over the last several months.
Impending regulation 100 SBC LEADERS • SEPTEMBER 2022 best practices for cryptocurrency adoption.NowCryptoUK sees itself again working with UK regulatory bodies, but this time its efforts may push towards the country's first defined crypto regulation framework.
One of the biggest deterrents for potential crypto investors is not fully understanding how the market works.
Our eyes have also never had more exposure to different cryptocurrencies and exchange platforms, whether it be Bitcoin and Ethereum investors taking over your Twitter feeds, or high-profile businesses and sports teams like Manchester City joining forces with crypto platform OKX as its official training kit partner.
ONE
The crypto crash was partially kickstarted by the collapse of the TerraLuna and USD tokens which caused investors to lose huge amounts of money as the cryptocurrency ceased to exist. Terra's collapse and the current economic climate of the market will no doubt cause concerns for potential investors, regulated or unregulated."Aswithall investments, crypto can be volatile, any downturn in the market is a cause for concern," expressed Carpenter. But Carpenter was quick to assuage current investors, advising that due to current economic conditions of soaring inflation and a cost of living crisis, the sentiment from CryptoUK would be of OF THE BIGGEST DETERRENTS FOR POTENTIAL CRYPTO INVESTORS IS NOT FULLY UNDERSTANDING HOW THE MARKET WORKS ONLY IS EDUCATION OF THE MARKET REQUIRED, BUT EDUCATION INTO TRUSTED AND SECURE CRYPTO TOKENS AND PLATFORMS IS JUST AS PARAMOUNT SuOperationsDirectorCarpenter,of-CryptoUK
"CryptoUK has had regular dialogue with Her Majesty's Treasury on a number of technical issues surrounding policy, especially with regards to stablecoins since the initial consultation in March 2020.
Education, Carpenter mentioned, is a fundamental aspect of the crypto market, having to constantly seek out new information due to its volatility.
"We regularly speak with the key UK regulatory bodies, sharing our concerns and those of our members, and ensuring we are seen as an educational resource to inform their decision making based on the feedback of our members and the wider crypto community."
"Whilst this is still in the early stages and a second reading date has not yet been confirmed, we are currently looking at the specific areas of the bill, including the sections on crypto assets and stablecoins, to agree which areas we think are critical for an intervention," said Carpenter.
NOT
Working in dialogue with UK lawmakers, Carpenter echoed Sunak's previous sentiment that the UK is becoming a 'global hub for cryptocurrency' through innovation to establish the country as 'world leaders in technology'. She noted: "The UK Government has proposed to encourage innovation through sandbox environments into real, scalable solutions that will drive change and prove that the UK is embracing this sector as well-established world leaders in technology."
The SEC has already opened investigations into Coinbase regarding the trading of unregistered tokens on its platform, and is currently embroiled in a legal battle with Ripple Labs with similar claims regarding its XRP cryptocurrency.USSenatorsare even inviting Apple and Google CEOs to engage in discussions on how the tech giants operate a framework to identify which crypto apps are secure or not.
• PAYMENTS sbcleaders.com 101 THE
Whilst the UK hasn't displayed the same aggressiveness to crypto platforms, the introduction of the crypto legislation in the UK Markets bill suggests Parliament has become more vigilant.
Crypto regulation may not birth an immediate boom, nor may it become the 'future leader' as Bank of England chief Jon Cunliffe depicts it to be. But it does signal the country's intent to become one of very few jurisdictions that are actively looking to transform their economic strategy. Whether it will bring about a future crypto revolution, remains to be seen. ELEPHANT IN PARLIAMENT'S ROOM IS THE PRESENT STATE OF THE CRYPTO MARKET ITSELF CRYPTO CAN
FORINVOLATILE—ANYBEDOWNTURNTHEMARKETISACAUSECONCERN
And whilst the government shares much of that responsibility, lawmakers are actively seeking to envisage a future outside of these current economic challenges with the introduction of the crypto bill.
greater surprise had crypto not been impacted at this precise moment. She said: "We have seen downturns and recovery in the past and we cannot predict what will happen on the global stage and to the economy as a whole, but all investments carry a risk and crypto is no different.
Sophisticated investors see crypto as a long term investment and we are not necessarily seeing huge amounts of offloading of crypto assets." The current crypto winter has clearly not deterred UK policy makers to attempt to form a legislation of digital assets, but if we take a brief trip across the Atlantic to the United States, the Securities and Exchange Commission has been rigorous in its attempt to gain a stranglehold on unregistered crypto asset service providers who they deem to be 'securities'.
Rishi offormerSunak,ChancellortheExchequer
The last thing the UK general public will be worried about right now is how much money they can invest into crypto, with gas and electric fees soaring and a looming recession.
FOR FINANCIAL CRIME EXPERT PEKKA DARE, Vice President of the International Compliance Association, the metaverse could bring people closer than ever before. However, the space is also highly susceptible to money laundering. In this SBC Leaders exclusive, Dare explains why that is the case and what can be done about it
THE STATE OF EVOLUTION OF AML REGULATIONS IN THE METAVERSE
PAYMENTS sbcleaders.com 103
BY VIKTOR KAYED L et's set the scene. For several years now, betting and gaming operators have been coming up with new and innovative ways to combat money laundering. Task forces, new technologies, you name it and they've done it. So how does the metaverse change this? The Web3 phenomenon is a whole new beast and arguably requires a whole new approach to AML and KYC practices.PekkaDare is the Vice President of the International Compliance Association, a global professional and membership body that delivers professional qualifications and accredited in-company training in governance, risk and compliance and financial crime prevention. Providing guidance with new technologies for risk mitigation, Dare is no stranger to participating in discussions about the general safety of the Web3 environment. In the metaverse particularly, Dare
Keeping up with the times
Another hurdle to introducing a centralised regulatory body is the fact that the metaverse is not a single space, but a series of online virtual worlds. This requires an intergovernmental body approach, according to Dare, not only to mitigate financial crime but to also address wider issues such as consumer protection and child safety.
This is being led by the FATF with the goal of setting international standards under which all cryptocurrency providers and repositories of crypto assets are liable for regulation. However, Dare says that while such rules are rolling out, "the technology is moving so fast that regulations can't keep up with it". "All countries need to decide how to regulate individually. That's where they struggle - how do they regulate when there isn't necessarily one central organisation running a system? "Yes, there are rules out there for buying and selling cryptocurrencies, but the rules are not being universally adopted and we're in a state of evolution with those."
sees "huge potential" when it comes to money laundering. This can be boiled down to the high-cost transactions that have become synonymous with the space."We've got a real problem around the growth of the metaverse with the real value of transactions coming in. You can create assets yourself and sell them. You can easily put money into the metaverse to buy virtual assets and then convert them back into real assets, moving that around," he explained."It'salso been well documented that the estimated value of prime virtual real estate is soaring. So, I think the growth in the volume of virtual assets being sold means that it makes it easier to conceal money laundering.
With so many uncertainties present, how does one prepare an entry into the metaverse? Dare says that it's actually quite similar to what a business would do in real life - a good, old fashioned risk assessment.
As the technology becomes more immersive, government-level coordination is necessary, which "unfortunately never moves quickly enough", Dare added.
"What type of products are you going to offer in the metaverse, what type of customers are you going to do business with, decide where are the risks with these and evaluate what
Keeping up with the times 104 SBC LEADERS • SEPTEMBER 2022
WE'VE GOT A REAL PROBLEM AROUND THE GROWTH OF THE METAVERSE WITH THE REAL VALUE OF TRANSACTIONS COMING IN IF YOU ARE REGULATED FOR FINANCIAL SERVICES, ARE YOU GOING TO JUST USE THE METAVERSE AS A MARKETING TOOL OR YOU ACTUALLY GOING TO TRY AND SELL PRODUCTS?
There's just so much growth in terms of the value of transactions in the metaverse." This growth has so far been completely autonomous, lacking any kind of supervision. No regulator exists to control who or what this growth is being driven by. According to Dare, the lack of regulation, mixed with the fact that every interaction is facilitated by digital currencies, makes it really difficult to detect and monitor money laundering.Currently, some attempts are being made to try to regulate virtual assets. Around a dozen countries are enforcing and supervising the Financial Action Task Force's 'travel rule' that ensures crypto asset firms monitor who their customers are, and who they are doing business with.
are the controls you need to put in place," he said. "If you are regulated for financial services, are you going to just use the metaverse as a marketing tool or you're actually going to try and sell products?"Allofthis needs to be considered because effectively, you're just using another channel - like having a physical branch or an online presence. So, definitely the first thing is to do a risk assessment." Definitely something to plan carefully, as Dare believes that the responsibility of ensuring AML standards are met should fall on the companies providing services."Ifyou're selling virtual assets, like running an online casino for example, I would suggest that just like in the physical world, the responsibility to make sure you're not dealing with criminals is with the firm providing the service."And then, there should also be some overarching central standard that regulates. It may be that we adapt to give new powers to existing regulators such as the Financial Conduct Authority in the UK. Only time will tell." With more pronounced AML and KYC metaverse checks in the pipeline, there is also the possibility of making them too stringent for the consumer. Dare's idea of how to avoid this is to introduce a one-time approval of the user's digital wallet, granting them unphased access to the rest of the metaverse. "Take online gambling in the metaverse for example. We could get some kind of a joined up approach, so that if you're using your digital wallet to gamble, and there's a joined up recognition that it's compliant to AML standards, the metaverse is open to you and you're free to move," he suggested."Thiswould remove the need to constantly go through checks every time a different virtual store or a community is visited. For me, the thing that matters most is making sure digital wallets are regulated in a consistent way." But, at the end of the day, the metaverse is always undergoing a metamorphosis, drastically changing at a very rapid rate. What Dare has gleaned from all of his metaverse conversations is that "everyone is still learning". Constantly learning about new technologies that "they would have never dreamed of a month ago". As exciting as it may be to see the space evolve so quickly, Dare agrees that this is also one of the main reasons that regulators might clamp down on it that much harder. ME, THE THING THAT MATTERS MOST IS MAKING SURE DIGITAL WALLETS ARE REGULATED IN A CONSISTENT WAY HOW DO REGULATETHEYWHEN THERE ISN'T NECESSARILY ONE CENTRAL ORGANISATION RUNNING A SYSTEM?
• PAYMENTS sbcleaders.com 105 FOR
THE FOCUS SINCE THE BEGINNING HAS BEEN PUTTING THE CUSTOMER AT THE VERY CENTRE OF THE UNIVERSE
BY ERIN GALLAGHER
CHRISTINE LEWIS, CEO of Yolo Group's Bombay Group division, speaks to SBC Leaders about the next generation of live casino products, bringing the online and offline worlds together and how to create a truly premium experience for players
NOW EXPERIENCESCUSTOMERUNIQUETOFURTHERTHINGSCANWAYSFINDINGWE'REWEPUSHCREATE
SBC: Live casino feels like one of the most exciting corners of gaming right now. Why is that, and how do you plan to continue pushing the vertical CL:forwards? Live casino is nothing new, but the way people enjoy it has been evolving for several years now, and that process only accelerated during the pandemic, when visiting a real casino wasn't possible for most and live casino was the closest to that experience they could get. The space had been growing very quickly, even prior to the pandemic, but it was dominated by a handful of suppliers. The barriers to entry for a live casino supplier are considerably higher than for a slots studio, and we felt there was room for innovation. Just because a vertical is growing quickly, doesn't mean there isn't more that can be done with it. With Bombay Live, the focus since the beginning has been putting the customer at the very centre of the universe. As we're a part of Yolo Group, which operates two extremely popular brands in Bitcasino and Sportsbet.io, it gives us an insight into the customer that some more
Blending offline with online 106 SBC LEADERS • SEPTEMBER 2022
A INOFTOUCHLUXURYLIVECASINO
CL: For many years the focus for product innovation and development in live casino was on production quality. Obviously that is still important, but great production alone isn't enough to stand apart from competition anymore. Now we're finding ways we can push things further to create unique customer experiences. One great example is green screen technology. It's used widely across the space, but we've recently built games where the green screen reacts to the outcome on the tables. It is a way of turning a previously static feature into something that adds to the overall experience of the games.
SBC: Beyond live casino, what is Bombay Group excited about right CL:now?
MARKETING
SBC: From a product perspective, what innovations are Bombay Group bringing to the live casino segment?
Another area that's really exciting us at the moment is game shows. Live casino has historically been dominated by baccarat, roulette and blackjack because the focus was on recreating the familiar landbased experience. But when you take a step back, there's actually endless possibilities with this combination of a physical studio and online play. We currently offer a widerange of variations on the classics, including speed, VIP and dedicated high-roller tables. But at the same time, we're building out our offering into other games such as Andar Bahar and Teen Patti, which are popular in South Asia. We're also building our first game show concept at the moment, as well as drawing upon game show motifs to add depth to other titles. One new title that's launching in October, Dragon Tiger, is a simple two card game similar in many respects to Baccarat. But we've added two unique sidebets with in-game animations which add a little of the game show glamour to proceedings.
I'D SAY WE NOW HAVE A PORTFOLIO OF TITLES THAT CAN STAND TOE-TO-TOE WITH ANY OTHER STUDIO
107 WE
SBC: What are you most looking forward to at SBC Summit Barcelona?
Our premium mobile games developer, OneTouch, continues to go from strength to strength. We've always focused on delivering the very best mobile games on the market, initially focusing on table games but more recently transitioning to slots. It has taken some time, but I'd say we now have a portfolio of titles that can stand toe-to-toe with any other studio. One new and exciting area we are looking at with OneTouch is a new games development kit we'll be launching called The Wrapper. We can't share too many details just yet, but it's going to change the game when it comes to empowering smaller studios and independent developers to create world-class content. Hub88, our content aggregator, also continues to grow far faster than the wider market. We've focused on innovations that make the entire product easier for casino managers, like a dedicated mobile app where they can check real-time performance data and analytics. We're also building a new wallet for Hub88 which will seamlessly integrate with operators so they can offer a wide range of payment options to their customers.
• sbcleaders.com CURRENTLY OFFER A WIDE-RANGE OF VARIATIONS ON THE CLASSICS, INCLUDING SPEED, VIP AND DEDICATED HIGH-ROLLER TABLES
CL: Bombay Group is the headline sponsor of Molly's Barcelona Game poker tournament, which is going to be a blast. Obviously Molly Bloom needs no introduction, and many of our team cut their teeth in the poker world, so we couldn't be more excited to be sponsoring the tournament. With a €10,000 prize fund that the winner can contribute to their preferred GiveWell organisation, it's fantastic to be able to give back a little as well. Anyone who's read Molly's book or seen the Hollywood adaptation will know that the success of the game was because she understood how to create great experiences for the players. They always came first. That's really our approach too at Bombay Group. There's so many options these days, both within the online gaming world and across the broader entertainment space, that we can't take our customers for granted. We need to offer products and experiences that can stand up against the very best, and if we don't the players will simply walk away.
conventional suppliers might lack. This has always trained everyone on the team to be thinking from that customer point of view with everything we do. It's enabled us to build what I feel is the best premium live casino product on the market right now.
It's the same with businesses that grow. The way a business operates in its start-up phase is unlikely to scale efficiently and effectively as the company grows in volumes and complexity.Finally,our rising millennial talent is another hot topic that I hear rumbling amongst my colleagues across industries. This generation comes with a different style and set of expectations on everything from a business' purpose to its leadership and work environment.
How do we motivate and lead the talent of the future? I do not have all the answers for these, but these are areas that I am actively exploring.
SHELLY SUTER-HADAD, transformational leader and industry veteran, takes a pause after 10 years in executive roles to reflect on the biggest challenges that companies face today and what she sees on the horizon for future-facing leadership
SSH: On top of the well-known topics of compliance and the increasing regulation standards that have been occupying industry leaders and professionals the past years, the industry has become more and more saturated. Margins are tougher than ever and all eyes are on marketing spend and overhead. While this has been the norm in other industries for decades, the gaming industry's regulatory and competitive landscapes were only built within the past 10 years, leaving operators to respond. Optimising marketing spend and adopting a stronger ROI culture have become key success factors — and for some, the way to survive.
Tides of change 110 SBC LEADERS • SEPTEMBER 2022
SBC: What are the most urgent topics in the industry today?
OUR RISING MILLENNIAL TALENT IS ANOTHER HOT TOPIC THAT I HEAR RUMBLING AMONGST MY COLLEAGUES ACROSS INDUSTRIES
TIMES ARE CHANGING: ASSESSING THE NEED FOR ACQUISITIONRETENTION-BASED
SBC: What prompted you to take a pause between positions?
BY ERIN GALLAGHER
SSH: After spending more than 13 years on the B2C side of gaming and sports betting, I wanted to consciously take the opportunity to pause and reflect. We often leap from one high-speed position to the next, without a time for transition. Yet, it's in the transition that we are able to reflect and build upon learnings. So I am doing just that and using this time of transition to share my reflections, learnings and methods with other leaders and operators as well.
SBC: How can a company begin to optimise its marketing spend? SSH: Start by getting your data in order. This is no easy feat, but a requirement for becoming a KPI-driven company that is able to set realistic goals and make smart projections. Leverage the data to perform rapid reviews and optimisation of campaigns, ensuring every dollar spent will deliver value in the end. Multi-touch attribution models are very
SBC: What is behind the big focus on marketing spend and performance? SSH: In most industries, the optimisation of marketing budgets and overhead is the holy grail. It delivers more value and profit without the need of pumping in additional investment or resources. In general, the gaming industry was a little late to realise and adapt to this, which is why we see companies struggling today. However, some companies did step up their game and optimised across the board, especially after the US closure in 2006 and the rapid growth of regulated markets in the past five to sevenOveryears.thelast few years, many factors have brought this topic higher on the agenda. Increased regulation and compliance requirements have impacted headcount as companies had to invest in new competencies. Restrictions have taken a toll on customer value across most territories. Meanwhile, we've seen splashy spends on marketing efforts that haven't delivered impact or return. Add in the fierce competition and we have a perfect storm hitting margins and making profitability more challenging than ever before.
Another urgent topic is the transition from start-up mode to scaling mode as businesses grow. It often requires adopting new ways of working, which suit a larger organisation with greater volumes of employees, revenues and customers - in other words, more complexity. For example, if you run a 25 person event versus a 500 person event, your planning and level of requirements will be very different. With 25 invitees, the RSVP list could be done manually, but a list of 500 guests would need to be supported by software.
SBC: To transform marketing, do companies need to shift internal SSH:competencies?
Firstly, every brand or product is unique, so there's no one-size-fits-all approach, but there are some general principles:1)Have the entire journey and experience in mind from the start. We tend to separate the acquiring-thecustomer part from the winning-hearts part. The latter happens when you onboard a customer and engage with him throughout his relationship with your business.
2) Use learnings from the data of your existing customer base to understand the demographics and behaviours of your most loyal customers; then target and acquire an audience that is most likely to stay loyal. With the right tracking in place, you can learn so much from your customers - this alone can change a whole marketing strategy.
SSH: The brand plays a huge role; it exists at the core of your product and your customer journey. It's the glue that holds it all together and when we're talking about a customer journey with seemingly infinite paths and touchpoints, brand clarity and consistency is key. After all, in an industry filled with sameness, it's the brand that is often the unique differentiator between the standout challengers and all the other operators.
111
SBC: What role does the brand play?
SBC: Let's dig deeper into this idea of retention-based acquisition. Tell us SSH:more.
3) Ensure the product experience is engaging and smooth; you don't want to give a new customer any reason to go someplace else. For example, look at how social gaming keeps players engaged. You don't need to see ads reminding you to play the game. Instead, you know there's always something new waiting for you in the app and you want to go back and check. Aim for real-time integrations that track user behaviours and deliver engaging experiences while keeping players safe.
Yes, this is where companies fall behind because they do not recognise the need for such a shift. As a company transitions from startup to scale-up phase, or from big above-the-line campaigns to highly efficient, performance marketing, it requires a team that is experienced and specialised in that phase. Without the MARKETING sbcleaders.com
helpful in making the right decisions about the impact of marketing channels and the budgets for each. Shift towards a retention-based acquisition mindset. In other words, when planning a big campaign or market entry, design the full experience of a new customer as part of the acquisition flow. The onboarding experience gives us a chance to ensure the customer will stick around for more than just one session. Look at the consistency between messages and visuals throughout the entire acquisition and onboarding journey. Don't stop there, build deeper into the journey by mapping the lifetime engagement strategy of a customer. The success metric isn't the acquisition, it's the value generated month after month.
THE SHORT-TERM
The post-pandemic paradigm shift is driving the evolution of what will be the future organisation. From the purpose of office spaces to the outlook on employment, the tides of change are clear. Millennials are climbing the ranks of leadership and Gen Z are entering the workforce with new sets of expectations on their employers. This is a great time for future-facing leaders to pause, reflect and recalibrate. • Joining SBC Barcelona? Hear more from Shelly and other leaders around the topic of managing marketing performance and the biggest opportunities for reducing spend and increasing value at the "Retention-based acquisitionfuelling the bottom line" panel on 22 September.
SSH: Yes, it could be across the entire organisation or just a part of it. Compliance, for example, was an area that was taking the focus of most gaming B2C and B2B operators these past five years and consuming more tech and operational resources. As a result, service delivery and product life cycle management became areas that were strong candidates for scaling, to accommodate the increasing demands for product compliance and innovation. Both reflect the need for making the most return on resources and overhead.
112 SBC LEADERS • SEPTEMBER 2022
SBC: Sounds like a transition that many companies need to go through. Does it reach beyond marketing?
SSH: Leading a change is not a onewo/man show, there need to be change agents or ambassadors across all business areas. A key phase is competency evaluation; in most cases, the people that built the business may not be the best fit for navigating the next step into the scaling stage.
MARKETING DON'T BE AFRAID TO MAKE BOLD DECISIONS, EVEN IF IT MEANS YOU WON'T BE THE POPULAR LEADER IN
MOST
THIS IS A GREAT TIME FOR FUTURE-FACING LEADERS TO PAUSE, REFLECT AND RECALIBRATE
Don't be afraid to make bold decisions, even if it means you won't be the most popular leader in the short-term; in the end, when the success comes, you will get your glory. And maybe above all, it all starts with the "why", the purpose of change. Communication is key. Use storytelling and make the change relatable. The more transparent you can be, the more the organisation will understand the transition and step up to help.
SBC: What else do you see on the SSH:horizon?
It's important to keep a good balance between the big picture and the specifics. When navigating such a transition, you are required to be both the pilot and oversee the course, as well as to roll up your sleeves and get things done when turbulence hits. The key is to balance between the two and not get consumed by the turbulence.
SBC: How can leaders best navigate their organisations through change?
Tides of change right competencies onboard, whether internal or external, the process will take considerably more time and investment and is less likely to succeed.
BY LUCÍA MOURIÑO T he gambling industry in Chile is on the verge of introducing new regulations for sports betting and online gamblingtwo activities that have been operating in the shadows for quite a while without any contributions to the state. As a result, sponsorships between sports clubs and sportsbooks may suffer from a total ban if new rules don't come into effect Speakingsoon.toSBC Leaders, Juan Francisco Muñoz, the Former President of the Chilean Association of Gaming Casinos, explained why an online gambling regulatory framework is needed and called for casino operators to have priority once the process to obtain a permit opens.
CHILE: CREATING THE PERFECT SCENARIO FOR LAND-BASED AND ONLINE TO CO-EXIST
SBC: What does the ACCJ expect from the online industry in Chile? Do you anticipate it to be operational in 2022?
AS CHILE PREPARES NEW REGULATIONS for sports betting and online gambling, Former ACCJ President Juan Francisco Muñoz discusses the changing landscape across the country and the importance of harmonising the landbased and online sectors
JF: We must be very clear in pointing out that currently, online betting in Chile takes place outside of the regulatory framework, meaning that the activity is illegal. In this regard, this raises concerns for the industry, since black market operators represent dishonest competition, but also a greater risk for society.Indeed, the law and regulation in Chile explicitly authorises this business if it's subject to a series of procedures that ensure the quality of the game, to control access to minors, problem gambling, money laundering or other illegal activities, and to supervise the payment of the respective taxes which benefit Chile at a national, regional and communal level. None of this exists in the current online operations. Thus, it's essential to move towards a regulatory framework for online gambling.However, legalising online gambling is not one of the legislative priorities of the current administration. As an association, we will seek to contribute LATIN AMERICA sbcleaders.com
113
A changing landscape
JF: Authorised casinos have adhered to the law. That is, we have not participated in the business, as we're waiting for an online regulatory framework. In Chile, games of chance - physical or onlineare only allowed by specific provisions such as Polla Chilena de Beneficencia, Lotería de Concepción, some racetracks and casinos under Law 19,995. Any other activity is expressly prohibited by the Civil Code (article 1466) and the Penal Code (articles 275 et seq.). Undoubtedly, the situation of online platforms that have started operations illegally is one of the issues that the law should clarify.
JF: Given the proliferation of online betting platforms that operate illegally in Chile, having a regulatory framework that offers security and guarantees to providers and users is urgent. Illegal gambling means less protection for users, less taxes, a greater risk of money laundering and represents unfair competition since the illegal operator doesn't assume any of the costs required from authorised companies.
It's necessary and urgent to provide the regulator, the Superintendency of Gambling Casinos (SCJ) with greater powers so that it can effectively prosecute all illegal gambling operations. Mechanisms must be established to fight money laundering, as the Financial Analysis Unit (UAF) currently does with regulated casinos. We also believe that there should be a moratorium on the granting of licences to those who have engaged in illegal practices, as has happened in other countries. A priority of the new regulation will be to adopt measures to ensure responsible gambling practices in controlled and safe environments, especially when it comes to protecting minors and vulnerable people. In regards to benefits, the tax rate should be set at a level that doesn't represent hurdles when trying to formalise a permit.
A changing landscape 114 SBC LEADERS • SEPTEMBER 2022 in the legislative debate. We hope that the legislators are interested in moving forward with the regulation as soon as possible, especially given the growing increase in online betting in our country and the aforementioned risks. Additionally, we're interested in supporting the competent authority to prosecute the current operators that violate the law, even through advertising.
SBC: Are you interested in current licensed casinos being prioritised when it comes to obtaining a permit to operate online?
SBC: Since 2021, the local gambling regulator has filed over 20 complaints with the Public Ministry about illegal operations. How do you think the current case would affect the industry if the companies involved are largely the ones that would apply for a licence in the future?
SBC: What initiatives will be proposed at a legislative level to establish a fair and legal competitive framework for online gambling?
ILLEGAL GAMBLING MEANS LESS PROTECTION FOR USERS, LESS TAXES AND A GREATER RISK OF MONEY LAUNDERING
JF: We think that's reasonable; these are companies that have been established in Chile, subject to close supervision and that make a great contribution to the territories where they're located. And when I say contribution, what I mean is the payment of a specific tax that has represented the delivery of $895m to municipalities and regional governments between 2008 and 2021. This is in addition to the promotion of tourism, job creation, culture, gastronomy, music and shows generating a range of services associated with the promotion of the regions and therefore with decentralisation.Casinoshavemade a real contribution to decentralisation and regional development for the past 18 years, fulfilling the obligations established in the law and generating $267m annually in Totaxes.me, licensed casino operators seem like the most appropriate place to start for the legal exploitation of online gambling. They already comply with all the regulations, control and inspection processes, and they also know their clients. In this sense, they can ensure that the controls that regulate the external negative threats around gambling are well controlled from the very first day of operations. It would be wise and fair to have the priority to obtain permits to operate online.
CASINOS HAVE MADE A REAL CONTRIBUTION TO DECENTRALISATION AND REGIONAL DEVELOPMENT FOR THE PAST 18 YEARS
AS A ILLEGALWHICHONLINEINCREASEDUECHALLENGEAWEASSOCIATION,TRADEHAVEGREATTOTHEINBETTING,ISSTILL
JF: We took a big hit from the pandemic. Casinos closed on March 18, 2020, and partially reopened in November following a plan called "Step by Step". GGR fell 75% in 2020. The pandemic continued to limit operations in 2021 and revenues were down by 25% when compared to 2019. Due to the health restrictions, some casinos were closed for 17 months - a period that represents 10% of the validity of a concession. They were unable to offer remote gambling, despite a proposal being made to the authority in 2019, because their licences do not include online platforms - but the illegal operators did. As a regulated casino industry, we were able to improve in 2021, mainly in the second half of the year when sanitary restrictions were relaxed. Then, the figures looked similar to those of 2019, which still showed a slight 5% drop when compared to 2018. According to SCJ's figures, a total of $98.2m in taxes were contributed throughoutFurthermore,2021.the tax contribution in 2021 saw $45.2m paid to the communes and regional governments where the physical casinos regulated by the SCJ are located. None of this is reported by current online operators.
SBC: What will be the main goals of Juan Francisco Muñoz as head of the JF:ACCJ?
The first goal will be to collaborate with the authorities and partners to keep the industry active and continue the recovery trend. We are the only national industry that contributes with taxes directly to the territorial development of the cities and towns where we're located, which is why it is key to continue with the recovery. At the same time, as a trade association, we have a great challenge due to the increase in online betting, which today is illegal. A regulatory system that establishes a framework that provides security and guarantees to both providers and users is urgently required. The ACCJ will seek to be a contributor in the legislative debate, so that a fair and legal competition framework for online gambling is established, as well as in support of the regulator's oversight work.
SBC: After a turbulent period, due to the global pandemic, how do you see the casino industry today? How has the recovery process been? When do you think they will be able to exceed pre-pandemic levels of trade?
SBC: Does the ACCJ intend to confirm Muñoz as President, or will there be a new process to find another JF:executive?
The ACCJ is currently carrying out a process to choose the best candidate for the presidency. I'm working on an interim basis and my permanent position is Corporate General Manager of Marina del Sol. • LATIN AMERICA sbcleaders.com 115
#CANADIAN
SBC is excited and proud to be bringing a reinvigorated Canadian Gaming Summit to Toronto in 2023 GAMINGSUMMIT
13-15 JUNE 2023
Toronto Metro Convention Center
The long-established CGS is already Canada's premier annual conference and trade show for land-based and iGaming professionals, and SBC will be working in partnership with the Canadian Gaming Association to build on the event's status and ensure it continues to support the growth of the industry. SBC's first involvement as organiser of the CGS comes as Canada's gambling sector goes through a major transformation driven by the opening of single event betting, which has created multiple opportunities for operators, affiliates and suppliers. CGS 2023 will reflect the changing face of the industry, with a conference agenda and exhibitors that encompass both the newer sports betting sector and the more established casino gaming and lottery verticals, making it a mustattend for every company keen to do business in one of the world's most exciting gambling markets.
THE
FROM LATIN AMERICA RETAbetGrupoCEOMaribona,Xabierof
Xabier Maribona, CEO of Grupo RETAbet, will be one of the speakers taking part in the "Local partnerships across Spain and LatAm - building the right market strategy" panel at the upcoming SBC Summit Barcelona, which takes place from 20-22 September at Fira Barcelona Montjuïc. Maribona will share the complete experience of the group in this transition from Spain to Latin America, highlighting the influence that the European country is having on the new regional regulations, considering the effect that the latest trends in Spain can have on the development of the industry, especially when it comes to advertising.JoiningMaribona on the panel will be David Plumi, Managing Director for LATIN AMERICA sbcleaders.com MORE COMPANIES SET THEIR EYES ON Latin American expansion, are there key learnings that can be taken from Europe on what to do, and more importantly, not what to do? SPOTLIGHT ON LATIN AMERICA IS BRIGHTER AND BRIGHTER A CHANGE PERSPECTIVE:OF WHAT EUROPE CAN LEARN
BY LUCÍA GANDO T he development of the Latin American gambling industry has arrived a bit late to the party, but that doesn't mean it isn't making its presence known. So it came as no surprise that some of the most successful and ambitious companies have turned their focus to the continent to expand their international footprint and provide a welcome boost to their businesses which may be already established in otherWithregions.Argentina, Brazil and Colombia all joining the roster of countries introducing a legalised betting framework, the spotlight on Latin America is becoming brighter and brighter. But currently, there are only a handful of companies reaping the benefits of a Latin American presence. Such is the case of Grupo RETAbet, which began its journey as a landbased betting brand in Spain in 2002 - and currently has over 63 shops in operations. It also began its online journey in the Spanish market, and anticipating the interest that the region would generate around this vertical, it expanded to Peru in 2019, becoming one of the most established groups.
New horizons
BECOMING
117 AS
JD Duarte, CEO of Betcris; Zeno Ossko, CEO of Betwarrior; Gonzalo Pérez, CEO of Apuesta Total; and Gonzalo Rossell, CEO of La Tinka will also take part in the panel discussion, while Karen Sierra-Hughes, VP of Latin America & Caribbean at GLI, will be on moderating duties. The road to regulation in Latin America As the global pandemic fuelled a shift towards the online space, many Latin American jurisdictions rushed to regulate the markets, taking advantage of the potential economic revenues offered by the digital entertainment space.Both Plumi and Maribona agreed that regulators in the region have shown a more open dialogue than their counterparts in Spain. "I think that on a general level, administrations need to see us as a client that generates jobs and investments," said the CEO of RETAbet.Plumiadded: "We see that the dialogue is very open with the regulators, where, for example in Colombia, their proactivity and constant work to improve is appreciated.""InSpain,many things have been lost, the rules have been changed and continue to change, which leads to instability. This also means that companies that could be starting in Spain refrain from doing so, and decide to invest in other regions where regulations are less volatile." This is exactly why PressEnter has set its eyes firmly on Latin America, especially after the approval of the Spanish Royal Decree which bans sports sponsorships and advertising in all Spainmedia.is not the only European country cracking down on the presence of gambling advertisements, with the Netherlands introducing similar, while regulation is also expected to be introduced in the United Kingdom. But as European markets continue to tighten legislation, this means that emerging markets are beginning to look more attractive.
New horizons 118 SBC LEADERS • SEPTEMBER 2022 Spain and LatAm at PressEnter Group. Ahead of the event, Plumi advised those considering Latin American expansion to consider their audience.
He said: "The most valuable advice is to know your audience and the country where you are going to carry out the operation. Each country is independent, even if they are all in Latin America. This may seem very basic to us, but it is where European companies fail the most."
For Plumi, it's not about "easing" or cancelling the regulations, but "being more stable and persecuting those illegal operators that don't comply with them," so that the gambling industry can continue to make economic contributions - whether that be through employment or taxes. "The Spanish regulator should be more protective of regulated operators, increase the persecution of illegal operators, which is where the problem really lies, and stop applying changes and new excessive restrictions," he said.The obvious consequences of excessive regulation, for Maribona, will be seen even later. He warned: "Many restrictions have been placed because they sound good as headlines in the newspapers or to the public that does EACH COUNTRY IS INDEPENDENT, EVEN IF THEY ARE ALL IN LATIN AMERICA
This year, the online casino operator is venturing into Latin America for the first time with its UltraCasino.com brand and is on the cusp of launching a new sports betting company which it believes is "very different from the rest and with some important qualities."
WE SEE THAT THE DIALOGUE IS VERY OPEN WITH THE REGULATORS
ON A GENERAL ADMINISTRATIONSLEVEL,NEED TO SEE US AS A CLIENT THAT GENERATES JOBS AND INVESTMENTS
David GroupPressEnterLatAmSpainDirectorManagingPlumi,forandat
not know the sector, but I think that in most cases what is being done is not going to have a direct effect on what they're trying to protect."
MORE FROM LATIN THANVERSATILITYAMERICA'SANDEXPERIENCEISEXPECTED WE
• LATIN AMERICA sbcleaders.com 119 EUROPE WILL
Both speakers agreed that competition in the region is becoming increasingly fierce, so it is important to stop underestimating the knowledge of each"Trustmarket.and a good product is what sets us apart, but you have to know how to understand the market, the country's retail and the payment methods," Maribona said. Plumi concluded: "Latin America is boiling and it is time to attract groups that invest and enrich the market. There are still opportunities: the markets continue to grow, banking is higher every day, and so is the digital impact. The pandemic was a trigger for this, but society continues to tend to become more digital, and now it's happening even faster." END UP LEARNING MUCH MUST BEAR IN MIND THAT TO MAKE AN ACQUISITION THERE IS A LONG PROCESS INVOLVED
The synergies between the old and the new As the Europeans arrive in the region, "the big companies will continue acquiring the local champions who give them a chance to succeed," said Maribona. He acknowledged that "the smaller companies know how to operate, have profitability and much better results." The Grupo RETAbet CEO believes that these operating models are "logically a win-win situation" for the market and can emulate the M&A strategy that is being seen on the continent "with economies with tremendous potential and where companies can scale their platforms, marketing, acquisitions and more". Plumi explained that even though it is true that "it is a very attractive option, we must bear in mind that to make an acquisition there is a long process involved and that daily operations must be maintained, absorbing the know-how very quickly." That's why he considers the agreements with a "key" local partner as the preferred strategies: "If you're clear about your shortcomings and find a partner that contributes and to whom you can also support, success is guaranteed.""Especially when the partner is knowledgeable about the market and you can make technology available to them, which is undoubtedly one of the most important legs of the business," he clarified. Maribona also deviated from what may be considered a traditional attitude and shared that Europe will end up learning much more from Latin America's versatility and experience than is "Fintechexpected.companies in Latin America are going to provide many solutions to the sector that, due to necessity and less banking, can be an example in Europe," he said.
BY FERNANDO NOODT MOLINS
A
THE REGULATIONS ARE A STEP IN THE RIGHT DIRECTION, BUT WITH CRITICAL ISSUES YET TO IMPROVE
THE PERUVIAN GOVERNMENT has made headway with the introduction of a new regulatory framework for sports betting and igaming. But local operators argue it falls short of the finished article thanks to a tax regime that fails to levy overseas firms
Agambling industry has been established in Peru for many years despite a lack of clear regulation for the sector, allowing the development of a mature market. However, policy makers have recently set out a new regulatory framework and approved a fresh piece of legislation to set the ground rules.
A new benchmark 120 SBC LEADERS • SEPTEMBER 2022
Having passed Bill 2070, the Executive Branch was unable to see it enacted in its original form due to a lack of political consensus, which ultimately led to earlier Bills 1923, 168 and 2206 being integrated into the final version of the text.
POTENTIALIDENTIFYINGPERU:IN ENVIRONMENTREGULATORYTUMULTUOUS
The Substitute Text of PL 168, 1923, 2206/2021 and 2070/2021 finally received 91 votes in favour, seven abstentions and no negative votes to establish the legal framework for remote gaming and sports betting. It will enter into force 60 days after its publication in the Official Gazette.
In addition, it incorporates measures to safeguard the protection of vulnerable sectors, banning minors and self-excluded players from betting online.Italso establishes a minimum walking distance of 150 metres between landbased betting shops and temples or schools.Although the Bill was approved in July, its publication and regulations are still pending before it comes into force, by which time operators hope that those much-needed modifications will have been made.
Consequently, Peruvian operators are not entirely satisfied with these new regulations according to Gonzalo Rosell, CEO of La Tinka, who described the measures as "a step in the right direction, but with critical issues yet to improve".Inhisassessment, he referred to the most controversial point of the new law: the tax on remote gaming and remote sports betting.
"This affects the industry as it does not generate tax equality before the regulator. It can also affect local employment and investment that will most likely choose to migrate to operate from abroad," he explained.
Operators must be registered in the Single Taxpayer Registry (RUC), have a legal representative in the country and have the ".pe" web domain on their platform to receive a licence. In addition, they will be subject to a tax of 12% of the tax base (monthly net income minus platform maintenance costs, whose value is set at 2% of monthly net income).
THE REGULATOR FOREIGN AND LOCAL INVESTMENT SHOULD BE ENCOURAGED ON EQUAL TERMS
The tax will be imposed on companies located in Peru, either with a physical presence or only with a locally established representative.
LaGonzaloRosell,CEOofTinka
THIS AFFECTS
Rossell has welcomed a 20% reduction in the tax base, as originally proposed, to just 12% and the removal of a potential tax on bettors. However, he argues that only national operators and foreign companies with branches in Peru will be liable for tax, while offshore businesses will be able to work free of tax burdens.
LATIN AMERICA sbcleaders.com 121
The regulations declare the Ministry of Foreign Trade and Tourism (MINCETUR) as the regulatory authority for the sector. It will have responsibility for enforcing the law and regulator control once it is published, with a maximum term of 120 days to do so.
Apuesta Total CEO Gonzalo Pérez is at odds with having different conditions within the same sector, explaining that if there is no equal treatment for local and foreign companies, "tax neutrality would be violated"."Foreign and local investment should be encouraged on equal terms," he explained. "Otherwise, a distortion is generated in the market, with benefits for some companies over others."
Rosell and Pérez are also President THE INDUSTRY AS IT DOES NOT GENERATE TAX EQUALITY BEFORE
What sayslegislationapprovedthe
Peru approved the bill that regulates sports betting and online gaming on 15 July. To do so, the legislators of the different political sectors first reached a consensus which involved a combination of different proposals introduced earlier in the Congress.
LATIN AMERICA PERU HAS MANY ASPECTS IN ITS FAVOUR TO BECOME A SOLID MARKET AND A BENCHMARK FOR THE ENTIRE REGION BUREAUCRATIC BARRIERS AND TAX DISPARITY WILL NEED TO BE ELIMINATED
Apuesta Total's CEO mirrored Portugal's sentiment, adding that it is vital to reach out to specialists and industry actors in order to draft a proper bill, although he stressed that a new regulatory framework "will give bettors greater confidence" in the segment.Inaddition, Pérez highlighted the increase in internet accessibility, with the number of affected households growing to 56.9% in the first quarter of 2022, compared with only 46.8% a year earlier, and highlighted the "significant potential" of the Peruvian market. His colleague at La Tinka offered a similar assessment, highlighting the potential of the Peruvian industry to earn a place behind Brazil and Mexico in gaming's Latin American pecking order. But bureaucratic barriers and tax disparity will need to be eliminated, he said, for the market to reach that potential.
Carlos Portugal, Operations Manager at Inkabet, also weighed in and agreed that "at no time was the voice of the operators included in the drafting of the law" and that there is "little understanding of how the business works in terms of profitability". He pointed out that the bill, as it is set, can make "the investment of new capital and the development of the already existing industry unfeasible in theAccordingcountry". to Portugal, the impact of regulating the sector in the same year as the World Cup in Qatar could be very positive "if the necessary points are"Perucorrected".hasmany aspects in its favour to become a solid market and a benchmark for the entire region in terms of the gaming industry," he said, noting that local operators have always worked with transparency in terms of responsible gaming, safety controls and concern for customers.
•
A benchmark and Vice President, respectively, of the Peruvian Sports Betting Association (Apadela), a group created to defend the nation's operators and fight for the best market conditions.
Both agreed on the difficulties inherent in regulating a market amid a possible scenario without clear rules. Nonetheless, both have remained focused on defending the industry, promoting investment and competition. "Apadela believes that regulation is very important because, even as we can legally operate in Peru at the moment, there must be clear rules that allow us to continue investing and developing the industry," Pérez explained."Thismeans that requirements must be established that allow operators to compete fairly and that also provide greater protection to the player."
Rosell also emphasised the need to protect the 275,000 jobs generated by the sector, which has been operating for more than 10 years in the country.
122 SBC LEADERS • SEPTEMBER 2022
new
Gonzalo Pérez, Apuesta Total CEO
SBCAdvisory Partners sbcadvisory.com The Power of Connection