perfectly paired. Locally Crafted Wines | Exceptional Menu | French-Inspired W San Franciso St, Santa Fe | 505.795.7075 | hervewinebar.com So Local She has a Zia tattoo St. Clair, she's authentically New Mexican. stclairwine.com
1 for menus & reservations CompoundRestaurant.com 653505.982.4353CanyonRoadSantaFe lunch • dinner • bar
Weston Ludeke NewChef-OwnerMarkKiffinwelcomesExecutiveChef
photo: Gabriella Marks
Your Investments Should Age as Well as Your Wine
Thornburg is a global investment management firm delivering on strategy for institutions, financial professionals and investors worldwide.
thornburg.com
Thornburg is proud to support The Santa Fe Wine & Chile Fiesta.
13613310789784133322318146917346784117121134 SFW&C Fiesta Board of Directors Introduction & Welcome Featured Artist Kevin Red Star Winery of the Year Frank Family Vineyards Charitable Giving Schedule of SponsorsAdvertisersWineWineNewGrandGrandAnthonyRichGuestGuestWineryParticipatingParticipatingEventsWineriesRestaurantsDinnersChefsSommeliersandLeslieFrankInterviewLynchInterviewTastingWineriesTastingRestaurantsEventFeatureChileFriday&ChileRecipes&ChileTeam
BANKING BUILT FOR COMMUNITY.OUR 505.995.1200
MyCenturyBank.com |
At Century Bank, we believe in community first. For over 135 years, this belief has been the foundation on which we're built. Our communities inspire us to remain connected as we offer support with the best in local banking.
GERONIM O www.geronimorestaurant.com9821500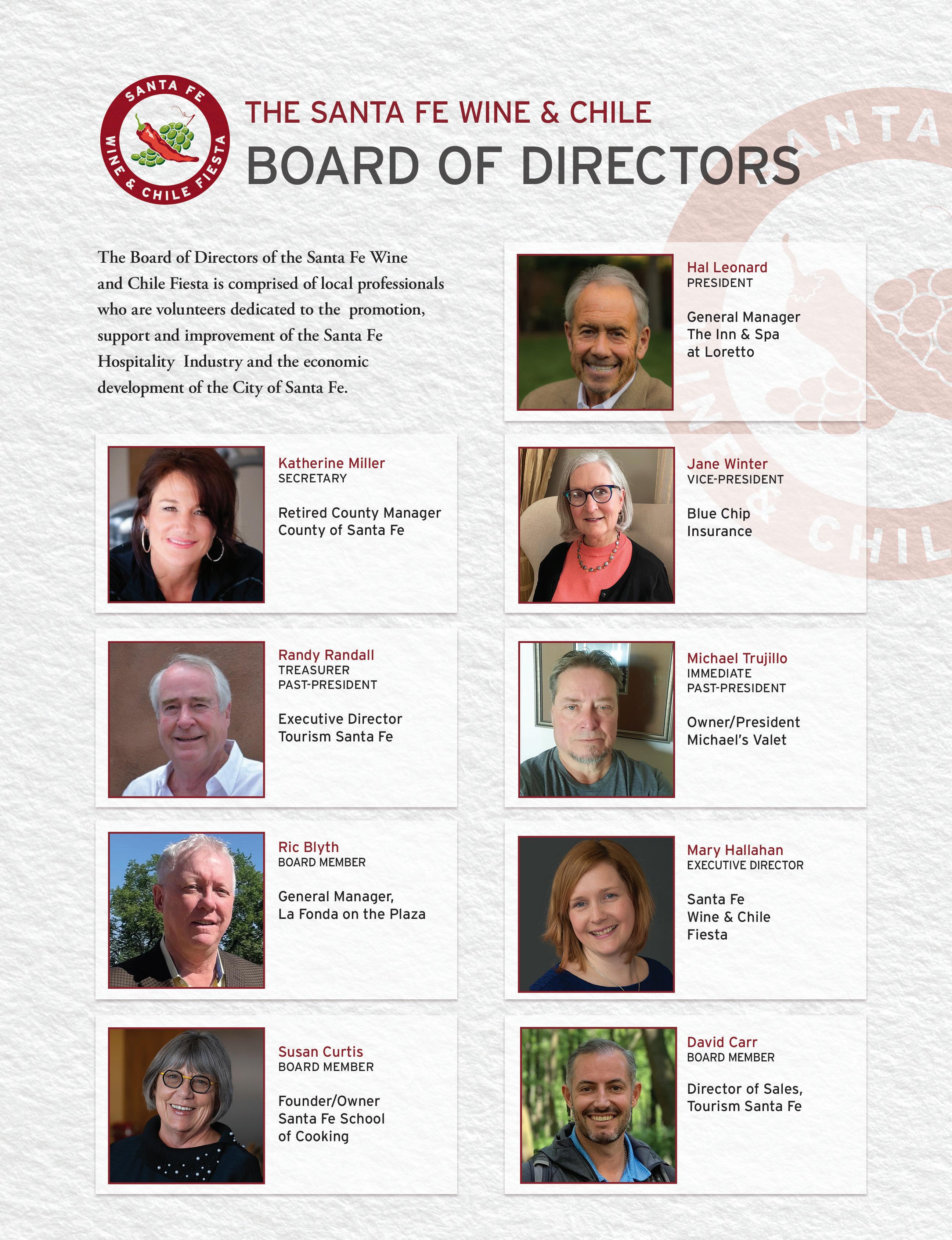 SANTASHOP FE FROM HOME.
Treat yourself to something different when you shop the Santa Fe Marketplace. Browse dozens of retailers, all offering unique products ranging from beautiful apparel to breathtaking works of art. It's the perfect way to support Santa Fe artisans while shopping from the comfort of your home.
Shop The City Different at SantaFeMarketplace.com
thrilled to be able to host our signature event in downtown Sant Fe once again. The historic venue offers plenty of beautiful grassy space, outdoor views of the clear New Mexico blue sky and easy walking distance to the downtown area.
On behalf of our Board of Directors, the Santa Fe Restaurants, our Participating Wineries, Sponsors and Partners it is with great pleasure that we welcome you to the 31st Annual Santa Fe Wine & Chile Fiesta!
We continue to see unprecedented times in our industry, and we are grateful for the incredible turnout we saw last year as it was our first live event since the pandemic began in 2020. The success of last year's events motivated us to put together some of our most robust programming to-date. We thank you, our guests who continue to support our restaurant community, wineries, and local businesses all-year long.
Your favorite programming will continue all week with Wine Seminars, Cooking Demos, Guest Chef Luncheons, our annual Reserve Tasting, Live Auction, and nightly winery dinners hosted at participating Santa Fe restaurants. Sunday events include the Gruet Golf Classic, Rosé All Day at Bishop's Lodge and the ever-popular Champagne & Dirty Boots Brunch hosted at the Four Seasons Resort Rancho Encantado where you will celebrate with our Champagne of the year, Champagne Lanson. For the adventurous, don't miss out on our first ever Santa Fe Wine & Chile Fiesta Gravel Ride on Sunday!
For our second year in a row, the Santa Fe Wine & Chile Fiesta Grand Tasting will be downtown on the grassy lawn of Magers Field at Fort Marcy Park. We are back to our one-day format for "The Big Event" ... the Saturday Grand Tasting will again feature over 90 world-class wineries and more than 50 Santa Fe restaurants serving samples of their signature cuisine. As an event whose mission it is to market the Santa Fe restaurant community as a world-class destination, we are
We hope you will join us as we raise a glass to our 31st Annual Santa Fe Wine & Chile Fiesta!
WELCOMEICHILE&WINE 9
The strength of the greater Santa Fe community continues to impress me as I begin just my second year in the Southwest. Our Wine & Chile team remains strong as we see the festival space evolve and I'd like to thank our year-round team including Greg O'Byrne, Production Director and John Bradbury, Office Manager as well as our Board of Directors and Committees, all who work tirelessly to bring the Fiesta together each year.
WELCOME TO THE 31ST ANNUAL SANTA FE WINE & CHILE FIESTA
Our Venture into a Friday afternoon event last year was so well received that we have created a new event this year, Chile Friday: A Celebration of Chile in New Mexico. This event will also take place at Fort Marcy Park and will be a walk-around style event featuring those who know Chile best! You'll taste bites from over twenty great Santa Fe restaurants and food outlets while experiencing the aroma and taste of fresh roasted chiles from local farmers, all the while savoring tastes of margaritas made from Patrón Tequila as featured on the Margarita Trail and beers from several local craft breweries. There will be live music and local artisans along with educational demos from some of New Mexico's experts on Chile. You won't want to miss our inaugural Chile Friday!
Hometown chef favorites joining us this year include Tony Beck and Jean-Paul Bulow of Beck & Bulow, Jessica Brewer of Paloma, Kathleen Crook of Market Steer Steakhouse, Jose Fernandez of Terra at the Four Seasons Resort Rancho Encantado, Jeffrey Kaplan of Rowley Farmhouse Ales, Hue-Chan Karels and Erica Tai of Open Kitchen, Mark Kiffin of The Compound, Fernando Olea of Sazón, Pablo Peñalosa of Bishop's Lodge, Cristian Pontiggia of Sassella, Paddy Rawal of Zaika and Raaga-Go, Martín Rios of Restaurant Martín, David Sellers of Horno, Tony Smith of Luminaria and Dakota Weiss of Coyote Cafe. We welcome our visiting chefs and talent including Matthew Accarrino of SPQR in San Francisco, Charleen Badman of FnB in Scottsdale, Laura Crucet of Pig + Fig Café in White Rock, NM and Jennifer Jasinski of Rioja in Denver.
In addition to your favorite chefs and restaurants, we have an incredible line-up of wineries from all over the world joining us at this year's Fiesta. We'd like to thank Frank Family Vineyards, our Honorary Winery of the Year and Rich and Leslie Frank, co-founders and owners, who will be sharing stories from one of Napa's most beloved vineyards.
TABLEMAGAZINE.COM ENJOY THE BEAUTY AND DELIVEREDDELICIOUSNESSQUARTERLYTOYOURHOMEANDWEEKLYTOYOURINBOX. SUBSCRIBE AT MAGAZINE NEW MEXICO
Trunk Show: 9/21-9/25 | 10:00am - 5:30pm
61 Old Santa Fe Trail, Santa Fe, NM 87501 505-983-9241 maloufontheplaza.com Online Shopping Available Trunk Show: 9/21-9/25 | 10:00am - 5:30pm
61 Old Santa Fe Trail, Santa Fe, NM 87501 505-983-9241 maloufontheplaza.com Online Shopping Available Trunk Show: 9/21-9/25 | 10:00am - 5:30pm
SFW&C FIESTA
FEATURED ARTIST 2022
KEVIN RED STAR
"Indian culture has in the past been ignored to a great extent. It is for me . . . a rich source of creative expression. An intertwining of my Indian culture with contemporary art expression has given me a greater insight concerning my art."
Sorrel Sky Gallery 125 W. Palace Ave. | Santa Fe, NM 87501 | 828505.501.6555MainAve. | Durango, CO 81301 | 970.247.3555 www.SorrelSky.com WINE & CHILE I FEATURED ARTIST ON THE COVER: "Chili, Grapes & Wine" By Kevin Red Star SFW&C Fiesta Featured Artist 2022, 24" X 18" – Acrylic on Canvas 14
In the decades that followed, Red Star continued to paint. Through difficulty and triumph, grief and joy, with an increasing clarity and complexity in his painting, he has created an indelible expression of his tribal legacy. Known for his attention to historical detail, each element has a specific meaning and significance within the context of tradition; whether depicting warriors, women, ceremonies, costumes, or tepees. Through color and composition, the subject springs vividly to life, reflecting the mastery of style and technique he has gained over the course of the years. Throughout the world, in museums and private collections, he is equally respected for the content of his unique imagery, for his artistic productivity, and for the intrinsic value of his work.
Kevin Red Star's art is honored throughout Native America for its authenticity. It presents a shining vision of centuries-old Crow (Absaroke) culture through the eyes of a thoroughly contemporary consciousness. Red Star grew up on the Crow reservation in southern Montana, a member of a highly creative family. Chosen to be in the first group of students at the Institute of American Indian Arts in Santa Fe in the late sixties, the school provided him with a learning environment of tribal traditions, world art history, and current trends. Red Star and his fellow students mined their ancient customs for content and then created exciting new forms to provide current relevance. Along with other members of his graduating class, Red Star continued his studies at the San Francisco Art Institute.
– Kevin Red Star
TeneeEstelleTradingCo.com NEW MEXICO Tradition reimagined.
Rich and Leslie Frank fell in love with Napa Valley separately, and fell in love here together. Rich founded Frank Family Vineyards in 1992 after first purchasing a home in the heart of Rutherford, on what would later become Winston Hill—also where he later proposed to Leslie.
17
"Our philosophy is we don't have customers; we have guests. And the idea is that our guests have a great time."
Rich's love of wine first stemmed from his extensive travel via his global career as the former President of Disney Studios. Prior to his tenure at Disney, Rich was President of the Paramount Television Group, President of Chris Craft Television, one of the founders of the USA Network and served on their board. Under Rich's leadership, television and movie properties such as Cheers, Entertainment Tonight, Golden Girls, Ellen, Dead Poet's Society, Pretty Woman, Aladdin, and The Lion King achieved phenomenal success. Rich was the longest serving President of The Academy of Television Arts and Sciences (Emmys). He is currently Vice Chairman and Executive Board Member of the American Film Institute.
RICH FRANK
Leslie's natural curiosity led her to an Emmy Awardwinning career in journalism and allowed her to see the world, sparking her own interest in wine. She spent more than 25 years covering many major stories, and the last nine years of her TV news career reporting and anchoring at the numberone-rated station, KABC in Los Angeles. Prior to Los Angeles, Leslie was the main anchor at KCPQ, the FOX affiliate in Seattle, where she helped launch its 10 pm newscast, taking it to number one in its time slot and clinching an Emmy for Outstanding News Anchor.
HONORARY | WINERY OF THE YEAR
Leslie has been integral in the marketing, branding, and communications efforts of Frank Family Vineyards. She also coordinates Frank Family's robust charitable giving initiatives, including the #FrankForACause campaigns. Sharing in guests' stories is what brings her the most joy. Both Rich and Leslie are often found sharing a glass of wine with tasting room guests, where their passion for the historical winery is fostered by the familial
"Ourcommunity.passion for Napa Valley is reflected in the handcrafted wines we produce every vintage. Quality wine requires constant love and attention, and making great wine is our labor of love."
LESLIE FRANK
The Vineyard's story began with the purchase of a home. Frank Family's story began with a patriarch who laid the foundation for three generations to become a part of a historical winery. Throughout our every day, our every guest interaction, and our every vintage, we hope to carry this story forward, and pass it down through more generations to come.
As we look forward to this year's Fiesta, we are pleased to continue to support educational wine and food classes and certifications for Santa Fe students and our restaurant industry as well as Santa Fe's Cooking with Kids organization. Proceeds are raised at our Guest Chef and Live Auction Luncheon that takes places at the Eldorado Hotel Thursday during Wine & Chile. This year's live auction luncheon will feature a Champagne reception by Champagne Lanson, our Champagne of the Year, and Canapes from Hue-Chan Karels and Erica Tai of Open Kitchen in Santa Fe. This will be followed by a four-course meal by Chefs Charleen Badman of FnB in
Scottsdale, Jennifer Jasinski of Rioja in Denver, Dakota Weiss of Coyote Café and Host Chef Cristina Martinez of Heritage Hotel & Resort's Taos property, El Monte Sagrado. Our winery of the year, Frank Family Vineyards will provide the wines for the event with Rich and Leslie Frank in attendance. By reinvesting resources and education into the Santa Fe restaurant scene, the SFW&C Fiesta auction helps serve the mission of the Santa Fe Wine & Chile Fiesta - keeping Santa Fe on the map as a worldclass culinary destination. We'd like to acknowledge all of the sponsors, local restaurants, wineries, donors and bidders who help to make this happen.
CHARITABLE GIVING: BY THE NUMBERS
Since its inception in 1991, the mission of Sant Fe Wine & Chile Fiesta has been to promote Santa Fe as a world-class culinary destination and to market the Santa Fe restaurant community. As a non-profit, we can continuously support our community and industry throughout the year with several initiatives ranging from auction donations and fundraising to educational programs and financial contributions.
Since 2010, Santa Fe Wine & Chile has invested time and resources into furthering the education of the local restaurant community through Wine 101 courses and funding certifications through the Court of Master Sommeliers. To-date, over 200 students have participated in these programs with over $110K spent on certifications and education. As we get back to inperson classes and training we look forward to re-engaging these programs and our community.
Over the last 11 years, Santa Fe Wine & Chile's Live Auction has raised more than $245,000 for Santa Fe's Cooking with Kids organization. Cooking with Kids educates and empowers children and families to make healthy food choices through hands-on nutrition education with fresh, affordable foods. For more than ten years, Santa Fe's world-class chefs have been rolling up their sleeves as volunteer Superchefs for Cooking with Kids, teaching Santa Fe public schoolkids about the joys of cooking—and eating—real food. Now with more than 30 participating local chefs, the Superchefs program has become an integral part of Cooking with Kids, a local non-profit that, since 1995, has nurtured generations of students through rich, unique hands-on nutrition education.
WINE & CHILE I CHARITABLE GIVING
MISSION: To promote Santa Fe as a world-class culinary destination and to educate people about Santa Fe restaurants and wine, to support the food, wine and service education of Santa Fe restaurant staff and the food education of local children (by SF chefs) in serving, cooking, and eating healthy foods so these groups have the chance to become future culinary leaders.
Over the last decade, Santa Fe Wine & Chile has supported dozens of other non-profits in their fundraising efforts by donating tickets to Fiesta events to be used in silent and live auctions. A few of the organizations we have supported this year include the American Heart Association, New Mexico Children's Foundation, Santa Fe Texas Exes, Children's Cancer Foundation of New Mexico, and Girls Inc. of Santa Fe.
Advertisement
"This program is an awesome way to bring awareness to kids about the benefits of healthy eating. We have enjoyed watching our child bloom in this area of her life!
"
Cooking with Kids educates and empowers children and families to make healthy food choices through hands-on learning with fresh, affordable foods.
Cooking with Kids, Inc.
19 Together, we are creating a healthy future. A special thanks to Santa Fe Wine & Chile Fiesta! Your support helps thousands of children in Northern New Mexico each year.
Cooking with Kids, Inc. is a 501(c)(3) non-profit organization. sponsored by Sommer Karnes & Associates, LLP.
cookingwithkids.org
Cooking with Kids teaches public school kids the joys of healthy cooking and eating.
—Parent, Española Public Schools
20 7511 Cerrillos Rd, Santa Fe, NM 87507 505 471 www.Subaruofsantafe.com7007
21
CHILE CAPITAL OF THE WORLD
22
WINE & CHILE I EVENTS
This five-day Fiesta has evolved over the last three decades and now boasts more than 25 events annually.
BOTH SIDES OF THE POND: A COMPARISON OF NEW WORLD CHARDONNAY AND WHITE BURGUNDY
GUEST CHEF LUNCHEON AND SOMMELIER THROWDOWN!
WINE SEMINAR
SEPTEMBER 21
WINE SEMINAR BLIND WINE: A TASTING OF PINOT NOIRS
9:30am to 11:00am | Santa Fe School of Cooking (60 ppl) | $100
Join chefs Cristian Pontiggia of Sassella, Martín Rios of Restaurant Martín, David Sellers of Horno and Jessica Brewer of Paloma as they match wine and food pairing-wits against our Sommelier team— Thomas Price, MS, Joe Spellman, MS, Gillian Balance, MS and Marika Vida-Arnold. This year's Importer of the Year, Kermit Lynch Wine Merchant, will be opening their NM portfolio for selection to the chefs and sommeliers. Each of the four chefs chooses a wine to pair with their course as does one of the Sommeliers. Not knowing who picked which wine, it's up to the guests to vote and decide on the best pairing for each of the four rounds.
FRESH FLAVORS REDEFINED
2:15pm to 3:15pm | SF Community Convention Center (75 ppl) | $100
GUEST CHEF LUNCHEON AT ARTIST STAR YORK'S STUDIO
Kathleen Crook of Market Steer Steakhouse, Santa Fe Executive Chef and Owner of Market Steer Steakhouse, Kathleen Crook is a New Mexico native with her own brand of joie de vivre. During her demo, she will share her knowledge of beef, respect for fresh foods and where it all comes from. Join Chef Kathleen for her cooking demo featuring wines from Stags' Leap Winery, presented by Gillian Ballance, MS, and find out firsthand what the buzz is all about.
Laura Crucet, Pig +Fig Cafe, White Rock
9:30am to 11:00am | Santa Fe School of Cooking (60 ppl) | $100 (bus DEPARTS from SF Community Convention Center at 10:00am)
Join "global virtual wine experience guru" as dubbed by The Wall Street Journal in 2020, Belinda Chang along with this year's panel of Master Sommeliers as they showcase two flights of Pinot Noir from around the world. The first four Pinots are tasted open by both the Sommeliers and Guests, with the Sommeliers teaching you how to identify the regional characteristics of Pinot Noir from California, Oregon, Burgundy and New Zealand. The second flight of Pinot Noir is tasted blind and features a different Pinot Noir from each of the same four regions. Using your new-found deductive tasting abilities, guests are invited to predict the region of each wine.
With a panel led by David Ramey, Winemaker of Ramey Wine Cellars, William Davis, Director of Education with Wilson Daniels and Sien Brown from North Berkeley imports, you will be guided through the nuances of Chardonnay growing and winemaking in California, Burgundy and Oregon. The panel will lead you through an educational tasting of four Chardonnays from each side of the Atlantic — with Chardonnays from Ramey Wine Cellars in Sonoma, Hyde de Villaine in Carneros, Bergstrom in Willamette Valley and one wine from each of these four Domaines in Burgundy: Domaine Laroche in Chablis, Roc de Boutires in Pouilly-Fuissé, Domaine Bouard-Bonnefoy in Chassagne Montrachet and Domaine Sarrazin in Givry.
GUEST CHEF DEMO & TASTING
WEDNESDAY
10:00am to 3:00pm (40 ppl) | $185 (bus DEPARTS from SF Community Convention Center at 10:00am and returns at approximately 3:00pm)
THURSDAY SEPTEMBER 22
GUEST CHEF DEMO & TASTING
11:30am to 2:00pm | La Terraza at La Fonda (100 ppl) | $175
Experience the beautiful Northern New Mexico landscape and artwork of Star York at her ranch studio followed by an al fresco fourcourse luncheon served by Chef and Owner Laura Crucet from Pig + Fig Cafe in White Rock, New Mexico. Enjoy American and Spanishvarietal wines from VARA Winery & Distillery right here in New Mexico, presented by winemaker, Laurent Gruet.
Paddy Rawal, Zaika and Raaga-Go, Santa Fe Paddy Rawal, Chef and Owner of Raaga-Go and recent concept Zaika is a native of Mumbai, India, who has been in the Hospitality and Restaurant business for more than three decades. Join Chef Paddy for an intimate demonstration and tasting of three of his signature dishes which he defines as Gourmet Indian with a stunning and contemporary twist. These dishes will be paired with Rhône varietal wines from Tablas Creek presented by Darren Delmore, National Sales Manager for the brand.
4:30pm to 5:30pm | SF Community Convention Center (75 ppl) | $100
RIEDELSEMINARCRYSTAL OF AMERICA VELOCE TASTING
RESERVE WINE TASTING & SILENT AUCTION
WINE AROUNDSEMINARTHEVINE IN OREGON
60 years ago, Ridge made its first Monte Bello, and two years later its first zinfandel. Since that time, Ridge has championed singlevineyard winemaking, searching California for those rare and exceptional vineyards where climate, soil, and variety are ideally matched. In the spirit of our 60th anniversary, Ridge invites you to a special seminar featuring library wines from their cellar. Enjoy a vertical tasting of Monte Bello from 1992, 2012, and 2019, alongside a comparative tasting of Lytton Springs from 2017 and 2020. We look forward to sharing these historic wines with you! 10:30am to 11:30am | SF Community Convention Center (75 ppl) | $125
From Chardonnay to White Pinot Noir and from tirage to wholecluster fermentation, experience the diverse grapes grown across Willamette Valley as well as the distinctive winemaking styles from the mid-1800s to today's modern era. Hear from those vineyards at the forefront of Oregon winemaking including Julie Harris of Willamette Valley Vineyards, Todd Stewart of Elk Cove Vineyards, Jared Myers of DV Wine Partners representing Argyle and Crawford Malone of Evans Malone representing Soléna.
LIVE AUCTION & GUEST CHEF'S LUNCHEON
Join James Beard Award winner and storyteller extraordinaire, Belinda Chang as your host for this Tour de Force of female chefs. Charleen Badman of FnB in Scottsdale, Jennifer Jasinski of Rioja in Denver, Hue-Chan Karels and Erica Tai of Open Kitchen in Santa Fe and Dakota Weiss of Coyote Café in Santa Fe — join together for a five-course luncheon paired with our Winery of the Year, Frank Family Vineyards. On hand to introduce these spectacular wines are Honorees, Rich and Leslie Frank. A reception hosted by this year's SFWC Fiesta Champagne of the Year, Champagne Lanson, is followed by the Live Auction with Charitable auctioneer Greg Quiroga who will auction 30 wine lots to benefit Santa Fe Wine & Chile Fiesta's culinary arts and educational programs. 11:30am to 2:00pm | Eldorado Hotel (150 ppl) | $165
WINE
Riedel Crystal of America's Expert, Mari Beth Baumberger, leads you through this sensory workshop with a unique and fascinating wine glass tasting demonstrating the relationship between the shape of a glass and our perception and enjoyment of wine. The fourglass Riedel Crystal Veloce Tasting set includes a glass designed for Cabernet/Merlot, Pinot Noir, Sauvignon Blanc and Chardonnay. Gillian Ballance, MS joins the panel discussion with wines from Treasury Wine Estates and you will taste and discover how well Beringer, Luminus Chardonnay, Matua Sauvignon Blanc, Etude Pinot Noir and Beaulieu Vineyard Cabernet Sauvignon perform in these Riedel glasses and take home the Tasting Set as a souvenir (a retail value of $150).
3:30pm to 4:30pm | SF Community Convention Center (75 ppl) | $125
Experience some of the finest wines of the week from over 90 participating wineries at this elevated walk-around tasting event. Enjoy artisan cheeses and small bites as you take in our silent auction, boasting dozens of rare wine lots. Auction proceeds will benefit Santa Fe Wine & Chile Fiesta's educational programs and partners. This is the perfect event to attend before dinner at your favorite Santa Fe Therestaurant.GoldPass (limited to only 150 guests) gets you into the Reserve Wine Tasting a half-hour early (3:30 PM) for an intimate and exclusive tasting with all of the wineries.
Gold Pass 3:30pm to 6:00pm $175 | Reserve Pass 4:00pm to 6:00pm $125 | SF Community Convention Center
1:00pm to 2:00pm | SF Community Convention Center (75 ppl) | $100
WINE RIDGESEMINAR60YEAR ANNIVERSARY
10:30am to 11:30am | SF Community Convention Center (75 ppl) | $100
New Mexico Chile has a long history in the state and has significantly shaped our culture and food scene to what it is today. Enjoy this walk-around style event featuring those who know Chile best! You'll taste bites from over twenty great Santa Fe restaurants and food outlets while experiencing the aroma and taste of fresh roasted chiles from local farmers, all the while savoring tastes of margaritas made from Patron Tequila as featured on the Margarita Trail and beers from several local craft breweries. There will be live music and local artisans along with educational demos from some of New Mexico's experts on Chile. You won't want to miss our inaugural Chile Friday!
Join Santa Fe Wine & Chile Fiesta's Artist of the Year, Kevin Red Star for an afternoon of artwork and wine. Hosted by our partners at Sorrel Sky, this year's Wine & Chile poster will be available for purchase and Kevin Red Star will be on-hand to sign your copy and speak about his art.
WINE FRANKSEMINARFAMILY VINEYARDS "GREAT WINE HAPPENS EVERY DAY"
AFTERNOON WITH THE ARTIST
A celebration of Frank Family Vineyards' philosophy and approach to winemaking, join Rich & Leslie Frank and Director of Hospitality Liam Gearity to experience the myriad of ways Frank Family approaches Napa Valley's two leading wine varietals: Chardonnay and Cabernet Sauvignon. Enjoy hand crafted Estate Sparkling Wine, our flagship Classic Chardonnay and Cabernet, as well as the exclusive Estate Chardonnay, Cabernet & Winston Hill wines.
Join host, Marika Vida-Arnold, of Vida et Fils Wine Consulting also known as the "themomsomm" to her Instagram followers, in an exploration of the history of women winemakers and the feminine perspective in contemporary winemaking. We'll hear from a panel of experts while sampling some incredible wines that reflect the shifting paradigm in conventional winemaking as the greater influence of women in wine impacts and influences the cultivation, harvest, fermentation, varietal specificity, and bottling in today's wine industry.
4:30pm to 6:30pm | Sorrel Sky Gallery
WINE CHAMPAGNE,SEMINARAN EXPLORATION OF STYLES
11:00am 12:00pm | SF Community Convention Center (50 ppl) | $100
What began in 1972 with a bit of gumption and thirty-five cases of wine stacked on a floor, is still alive and well 50 years later. Join Kermit Lynch Wine Merchant as our SFWCF inaugural Importer of the Year as we help them celebrate this incredible milestone of bringing you the best wines France and Italy have to offer. To honor this anniversary, Anthony Lynch is joining us for a KLWM trip down memory lane and pouring some of the greatest hits from the estates that he and his father, Kermit, have grown fond of over the years. Wines featured will include a collection of "classic" producers as well as the "new guard" that they are excited to share. Cheers to the next fifty years!
FRIDAY SEPTEMBER 23
12:00pm to 3:00pm | Magers Field at Fort Marcy Park | $100
WINE PHENOMENALSEMINARFEMMES: AGENTS OF CHANGE
WINE KERMITSEMINARLYNCH WINE MERCHANT 50 YEARS – ADVENTURES ON THE WINE ROUTE WITH ANTHONY LYNCH
CHILE FRIDAY: A CELEBRATION OF NEW MEXICO CHILE
1:00pm to 2:00pm | SF Community Convention Center (75 ppl) | $100
2:30pm to 3:30pm | SF Community Convention Center (40 ppl) | $100
Taste nine unique Champagnes from Champagne Delamotte and Skurnik Imports. Three essential styles of champagne Brut, Blanc de Blancs and Rosé will be explored with three wines in each flight. Discover how the grapes of Champagne – Chardonnay, Pinot Noir and Pinot Menuier – perform as a single varietal expression and then how they harmonize when blended together as a cuvée or "assemblage". The three flights will include Champagne Delamotte Brut, in addition to Gaston Chiquet Brut Tradition and PehuSimonet Face Nord Brut. The Cuvée Prestige selections consist of Champagne Delamotte Blanc de Blancs along with Chiquet Blanc de Blancs d'Ay and Pehu-Simonet Blanc de Blancs "Fin Lieux #6" 2014. The Rosé cuvées include Champagne Delamotte Rosé with Chiquet Rosé and Pehu-Simonet Face Nord Rosé.
The Ultimate Grazing Board featuring Caviar and Tartare Join Beck & Bulow for a one-of-a-kind interactive workshop. Learn how to create a meat and seafood grazing board for the ultimate entertainment experience. From world-class caviar to bison tartare, we'll have fun and get creative with these gourmet foods. Fine imported European cheeses and wild Alaskan seafood will also be included. Take your skills to the next level and bring a taste of luxury into your home, a party, or any special occasion. Experience artisanal wines from Spain and Portugal presented by Chris Austin of Olé & Obrigado. You'll easily be able to recreate this demo on your own after learning from the experts!
GUEST CHEF DEMO & TASTING
3:00pm to 4:30pm | Santa Fe School of Cooking (60 ppl) | $100
GUEST CHEF DEMO & TASTING
12:00pm to 3:00pm | Magers Field at Fort Marcy Park | $185
3:30pm to 4:30am | SF Community Convention Center (75 ppl) | $100
9:30am to 11:30am | Santa Fe School of Cooking (60 ppl) | $100
WINE SEMINAR
This friendly 33-mile Gravel Bike Ride starts at the Four Seasons Resort Rancho Encantado Santa Fe with breakfast from Chef Jose Fernandez. Guest Chef cyclist Matthew Accarrino from SPQR in San Francisco will lead us out and up to Pacheco Canyon Road where the gravel and the fun begin. After 11 miles of gravel and 3,000 feet of vertical gain stop at Hyde Memorial State Park for a quick refreshment from Guest Chef rider Mark Kiffin of the Compound Restaurant. Then it's an 11-mile coast downhill on Hyde Park Road to a quick right on Bishop's Lodge Road that then takes you 11 miles back to finish your ride at the Four Seasons Rancho Encantado. Upon arrival you will celebrate with Chef Accarrino's signature Michelin-Star pastas and bites from SPQR. Refresh your thirsty whistle with sips of chilled Champagne Lanson and ice-cold beer.
GRUET GOLF CLASSIC
THE SANTA FE WINE AND CHILE FIESTA GRAND TASTING
If a Sunday in Santa Fe Sounds like a Rosé kind of day, this is the ticket for you! Enjoy bites from our featured chefs including Host Chef Pablo Peñalosa of Skyfire at Bishop's Lodge, Charleen Badman of FnB in Scottsdale, Jefferey Kaplan of Rowley Farmhouse Ales, Tony Beck and Jean-Paul Bulow of Beck & Bulow and Tony Smith of Crafted Cafe. These small plates will be seen through rosé-colored glasses… along with an around the world selection of rosé wines. 11:00am to 1:00pm | Bishop's Lodge | $165
Enjoy wines from Gruet Winery and Precept Brands along with tastes from SFW&C top restaurants and golf at the scenic Towa Golf Course to make for a perfect end to your weekend. Towa's 27 golf course is northern New Mexico's finest and home to the Gruet Golf Classic, now in its 28th year. The format is a four person scramble over 18 holes with food from Santa Fe's top chefs served with a wine pairing every third hole. Green fee, cart, range balls, prizes for the winners, goodie bags and the dramatic vistas of the Pojoaque Valley included. 10:00am to 3:00pm | Towa Golf Club | $130
Simple to prepare and ultimately versatile, granitas are the star of the cocktail, crudo and oyster offerings at Stoic & Genuine, Chef Jen's paean to fresh seafood in Denver's historic Union Station. Whether crafted into a delicious gin cocktail or cradled alongside icy cold fresh hamachi, the varied characters of granitas are the perfect flavor accompaniment. Chef Jen will demonstrate three of her favorite granita recipes and put them to work with crudo and seafood. These show-stopping dishes will be paired by some of our favorite sparklers from Wilson Daniels. William Davis, their Director of Education, will showcase the Bisol Crede Prosecco Superiore and Pierre Sparr Cremant Rose.
11:00am to 3:00pm | Magers Field at Fort Marcy Park | $375
Returning to downtown Santa Fe this year, our signature event, The Grand Tasting will take place once again on the beautiful grassy lawn at Magers Field. During this walk-around event, you'll enjoy over 90 world-class wineries and featured tastes from more than 50 of Santa Fe's finest restaurants. You'll spend a glorious fall afternoon in the heart of Santa Fe enjoying the best of what The City Different has to offer.
Jennifer Jasinski, Stoic & Genuine in Denver
SUNDAY SEPTEMBER 25
CHAMPAGNE AND DIRTY BOOTS BRUNCH
SATURDAY SEPTEMBER 24
VISTA PASS GRAND TASTING
ROSÉ ALL DAY
Add a little VIP access to your day at the Grand Tasting by arriving at the exclusive entrance to the Vista Tent with complimentary valet parking. Relax and savor a selection of reserve wines and gourmet foods in your reserved seat beginning at 11:00 AM. Enjoy early (11:30 AM) access to the Grand Tasting tents and return to your reserved seat at your leisure throughout the afternoon. A swag bag and a signed 2022 Wine & Chile Fiesta poster are included with your ticket.
Join us for the conclusion of our events at the SFW&C Champagne & Dirty Boots Brunch at Terra Restaurant at the Four Seasons Resort Rancho Encantado where we will tantalize your tastebuds with savory cuisine from Chef Jose Fernandez paired with Champagne Lanson and gorgeous views from the Monte Vista Terrace. 12:00pm to 2:00pm | Four Seasons Resort Rancho Encantado | $175
NEW WORLD, OLD VINES
THE 1ST ANNUAL SANTA FE WINE & CHILE FIESTA GRAVEL BIKE RIDE
This is a friendly ride, not a race. All riders are expected to follow the rules of the road. We will stay off and out of the downtown streets for safety. Sponsored and supported by The Compound Restaurant Santa Fe, Tourism Santa Fe and Mellow Velo Santa Fe. 7:30am to 12:00pm | Four Seasons Resort Rancho Encantado | $100
Join Bartholomew Broadbent, a true pioneer in importing wines from lesser-known corners of the globe as he explores the surprising history of viticulture in the new world. Joining him from Australia are Cameron and Jules Ashmead of the iconic Elderton Estate in the Barossa Valley and Andrew Moody of the Hunter Valley's legendary Tyrrell's Estate. We will compare and contrast wines from old, gnarly vineyards in Australia to those from Chile and South Africa. In this seminar you will be enchanted by wines that set the benchmark in categories and gain a perspective that the New World is a lot older than you think.
Chile is no longer all that's green, PNM is going green too!
Learn more at pnm.com/environment
Working Together for North-Central New Mexico
providers across multiple specialties have sought
29 CHRISTUS ST. VINCENT AND MAYO CLINIC www.stvin.org 3 Years Counting!and
World Class Care for Santa Fe inception CHRISTUS St. Vincent Mayo Clinic expertise of
Since the
mind. The highest medical practice users of Mayo Clinic Care Network services have been: Cancer Services Pulmonary Medicine 175 Expert Opinions • 30 Consulting hours 45 Expert Opinions • 1 Consulting hour Neurological Sciences Rheumatology 90 Expert Opinions • 73.5 Consulting hours 40 Expert Opinions Gastroenterology & Hepatology Cardiovascular Disease 40 Expert Opinions • 1 Consulting hour 31 Expert Opinions • 36 Consulting hours
As a member of the Mayo Clinic Care Network for more than three years, CHRISTUS St. Vincent continues to access the vast experience and knowledge of Mayo Clinic. This clinically meaningful relationship supports our ongoing efforts to ensure that access to exceptional care is always close to home for the people of North-Central New Mexico.
to positively impact patient outcomes and provide peace
of our membership in the Mayo Clinic Care Network,
30
31 Located in Eldorado Hotel & Spa 309 W. San Francisco St., Santa Fe | 505.988.4455 | EldoradoHotel.com Located at Inn and Spa at Loretto 211 Old Santa Fe Trail, Santa Fe | 505.988.5531 | HotelLoretto.com
ALPHA OMEGA COLLECTIVE AQUITAINEANCIANO WINE COMPANY
NORTH COAST WINE CO.
NEYERS VINEYARDS
DRY CREEK
SPIRITS
JUSTINJARAMILLOJ.HOUSEHOURGLASSHESSHAHNGRUETGODELIAGLOBALFROG'SFRENCHFRANKFOXENFITFERRARIEVANS-MALONEEUROPVINEMERITUSELKE&JDUCKHORNVINEYARDSPORTFOLIOGALLOWINERYCOVEVINEYARDSVINEYARDSUSAFINEWINECARANOVINEWINEVINEYARD&WINERYFAMILYVINEYARDSLIBATIONINC.LEAPWINERYVINEYARDIMPORTERSBODEGAYVIÑEDOSWINERYFAMILYWINESPERSSONESTATESWINERYOFSMITHLOHRVINEYARDS&WINESVINEYARDSVINEYARD&WINERY
KENDALL-JACKSON WINERY KENWOOD VINEYARDS
MICHAEL DAVID WINERY MONTICELLO VINEYARDS MORGAN WINERY
NORTH BERKELEY IMPORTS
OLÉ & PACIFICOBRIGADOHIGHWAY WINES
RAMEY WINE CELLARS
PALM BAY IMPORTS
NOISY WATER WINERY
RIDGE VINEYARDS
ROBERT MONDAVI WINERY RODNEY STRONG WINE ESTATES ROMBAUER VINEYARDS ROUND POND ESTATE RUTHERFORD WINE COMPANY SCHEID FAMILY WINES SHEEHAN WINERY SKURNIK WINES & SPIRITS TABLAS CREEK VINEYARD TERLATO WINE GROUP THE WINE
32
WXWINESELLERSWINEBOWWINEBOWWILSONWILLAMETTEWELLVIVÁCVINTUSVINEYARDVARATRANSCENDENTGROUPWINESWINERY&DISTILLERYBRANDSWINERYOILEDWINECO.VALLEYVINEYARDSDANIELSIMPORTS-HERITAGEIMPORTS-PIONEERLTD.BRANDS
LE CHEMIN DU ROI CHAMPAGNE LESCOMBES FAMILY VINEYARDS M MAISONIMPORTSMARQUES & DOMAINES
PREMIUM PORT WINES INC.
NOTRE VUE ESTATE
ARGYLE DEUSTCHDEMEINEDELILLEDELICATODEDAOUCOPPERCLINECHAMPAGNECAYMUSCAMBRIAC.CAMPOBROWNEBROADBENTBOOKERBANFIBAILEYANAWINERYWINERYVINTNERSWINERYSELECTIONSFAMILYVINEYARDSVIEJOMONDAVI&FAMILYWINERYVINEYARDSLANSONFAMILYCELLARSCANEFAMILYESTATESGRAZIAIMPORTSFAMILYWINESCELLARSESTATESFAMILYWINEAND
PARTICIPATING WINERIES
7CELLARSACHAVAL FERRER
KERMIT LYNCH WINE MERCHANT KOBRAND WINE & SPIRITS KOSTA BROWNE
RIO GRANDE WINERY
DONNACHADH FAMILY WINES
COYOTE
DR.DELCRAFTEDCAFECAFECHARROFIELDGOODS
KITCHEN
ROOFTOP PIZZERIA ROWLEY FARMHOUSE ALES RUSTICA FRESH ITALIAN KITCHEN SABOR SANTASANTACAFÉPERUANOFESCHOOL OF COOKING SKYFIRESYSCOTHESAZÓNSASSELLASHEDAT
KINGSTONJOSEPH'SIZANAMIRESTAURANTCULINARYPUBRESIDENCEOF
BISHOP'S LODGE
HERVÉ WINE BAR
GRILL
LA CASA SENA
HORNO
HIDDEN MOUNTAIN BREWING COMPANY
EL SABOR @ THE ALLEY GOODGERONIMOTIMES
SALOON & EATING HOUSE
TERRA @ FOUR SEASONS RESORT RANCHO ENCANTADO TERRACOTTA WINE BISTRO TESUQUE VILLAGE MARKET TORTILLA ZACATLÁNVINAIGRETTEFLATS
AGAVE RESTAURANT & LOUNGE AT THE ELDORADO HOTEL ANASAZI RESTAURANT, BAR & LOUNGE ATRISCOANDIAMO!CAFÉ & BAR
SANTA FE
LOYAL HOUND PUB
BANG BITE FILLING STATION BECK & BULOW BLUE WINDOW BISTRO BOURBON GRILL BUENO CHEFCAFECITOFOODSNATH'SKHMER
315 RESTAURANT & WINE BAR
PARTICIPATING RESTAURANTS & CULINARY PARTNERS
LA PLAZUELA AT LA FONDA LE LEGALPOMMIERTENDER
CUISINE
LA BOCA
LINO'S TRATTORIA & PIZZERIA LUMINARIA RESTAURANT & PATIO MARKETMARIA'S STEER STEAKHOUSE MARKET STREET OPEN KITCHEN SANTA FE OSTERIA D'ASSISI PALACE PRIME - STEAK + SEAFOOD RESTAURANTREALRAAGAPLAZAPALOMACAFEGOBURGER
MARTÍN
EL NIDO
RIO CHAMA PRIME STEAKHOUSE
Great Wines of Italy Lunch
TERRA @ FOUR SEASONS RESORT RANCHO ENCANTADO Maisons Marques & Domaines
The Santa Fe Wine & Chile Fiesta is proud to promote the following schedule of Santa Fe restaurant wine dinners. At each wine dinner a spokesperson will be present to introduce all wines to guests at a set time with a special wine pairing menu. Please call the host restaurant for time, price and reservations.
WEDNESDAY SEPTEMBER 21
PALACE PRIME Wilson Daniels (505) 919-9935
315 RESTAURANT & WINE BAR LUNCH North Berkeley Imports (505) 986-9190
BISHOP'S LODGE
ANASAZI RESTAURANT (505)Duckhorn988-3236
THURSDAY SEPTEMBER 22
Louis M. Martini (505) 954-1272
Frank Family Vineyards
VARA Winery & Distillery (505) 390-2323
EL NIDO
LA PLAZUELA AT LA FONDA 505-995-2234Ridge
PALACE PRIME Kermit Lynch Wine Merchant
WINERY I DINNERS
SKYFIRE AT BISHOP'S LODGE
TUESDAY SEPTEMBER 20
RESTAURANT MARTÍN
ANASAZI RESTAURANT (505)Hourglass988-3236
315 RESTAURANT & WINE BAR LUNCH Domaine Faiveley (505) 986-9190
Tanaro River Imports (505) 919-9935
FRIDAY SEPTEMBER 23
OSTERIA D'ASSISI (505)Antinori986-5858
DINNERSIWINERY
Restaurants featuring wine specials and menus from a Featured Winery of the Week
RIO CHAMA (505)Ramey955-0765
SASSELLA Great Wines of Italy Lunch (505) 982-6734
PALACE PRIME
LA CASA SENA
Tablas Creek Kermit Lynch Wine Merchants (505) 988-9232
FEATURED WINERY OF THE WEEK
36 Stifel, Nicolaus & Company, Incorporated | Member SIPC & NYSE | www.stifel.com Mary E. Macukas, CFP®, CPWA® First ViceBranchPresident/InvestmentsManager Terry Warrington Client Service Associate John A. Macukas, CFP® Senior Vice President/Investments Angelica Martinez Client Service Associate (505) 303-4850 | (800) 323-6172 toll-free | www.macukaswmg.com 130 Lincoln Avenue, Suite I | Santa Fe, New Mexico 87501 Macukas Wealth Management Group is proud to sponsor the Santa Fe Wine & Chile Fiesta Macukas ManagementWealthGroup
WINE & santafenewmexican.com/subscribeFIESTACHILESANTAFE Congratulations
New Mexico Celebrating the perfect pairing FOOD, CULTURE AND COMMUNITY Proud sponsor of the 2022 Santa Fe Wine & Chile Fiesta sysco.com | facebook.com/SyscoNewMexico
The Santa Fe Wine Chile Fiesta features over 50 great Santa Fe Chefs participating in our events and several visiting chefs from across the country.
WINE & CHILE | GUEST CHEFS
Born in the Midwest and raised on the east coast, he moved west to California in 2007. His unique culinary style draws inspiration from his Italian heritage, personal experiences and classical training with some of America's best chefs. Coupled with the embrace of the bounty of opportunities California ingredients present and a strong belief in direct sourcing, producing, even playing a role in the creation of his own ingredients, the results have been an intensely personal cuisine that is both technically polished and soulful.
ACCARRINO
Accarrino has been nominated three consecutive times by the James Beard Foundation as a semi-finalist for "Best Chef: West." Food & Wine Magazine named him "People's Best Chef California" in 2013 and editorially selected him for the prestigious "Best New Chef" award in 2014. He is also the coauthor of SPQR: Modern Italian Food and Wine.
It's a cuisine that has garnered praise from publications such as Food & Wine, Bon Appetit, Saveur, The Wall Street Journal, Food Arts, Plate, The New York Times, The San Francisco Chronicle, 7X7 and SF UnderMagazine.hisdirection,
Nationally recognized as the chef of the renowned SPQR in San Francisco, California, (a Michelin-starred restaurant from 2013 through 2015), Matthew Accarrino has been a semifinalist for the James Beard Foundation Awards Best Chef: West and Food & Wine's Best New Chef of 2014.
MATTHEWEXECUTIVECHEFSPQRSAN FRANSISCO
SPQR was recognized with a Michelin star in the 2013 and 2014 guides. Since his arrival there, Accarrino has been named Star Chefs "2010 Rising Star" for his "innovative vision, finesse, and deeply satisfying cuisine," and in 2011 he took top honors at San Francisco's Cochon 555 competition.
42
43
EXECUTIVE CHEF
BADMANCHARLEEN
FnB have won numerous awards, including a "Best New Restaurant" designation by every major Phoenix news media outlet in 2010. That same year, Food & Wine magazine selected Badman's braised leeks topped with mozzarella, mustard, breadcrumbs and a sunny-side up egg as a "Top Ten Dish." In 2013, Charleen and coowner Pavle Milic were inducted into the Arizona Culinary Hall Fame as "Best Restaurateurs." Prior to opening FnB in late 2009, Charleen was the sous chef at Café Terra Cotta in Scottsdale, the chef de cuisine at the famed Lobster Club in New York City and the chef/co-owner of the Greenwich Village restaurant, Inside. Charleen is a past President of the Phoenix Chapter of Les Dames d'Escoffier, an international organization of women culinary leaders, an alumnus of the James Beard Boot Camp for Policy and Change and the founder of Blue Watermelon, a Slow Food Phoenix coalition of local chefs and activists focused on improving school lunches. & SCOTTSDALEFNBCO-OWNER
Charleenfarmers.and
As chef and co-owner of the award-winning FnB restaurant in Scottsdale, Charleen Badman is one of Arizona's most celebrated chefs. A James Beard winner for Best Chef of the Southwest 2019, Charleen is known as the "veggie whisperer" for her ability to coax the very best flavor out of locally grown vegetables, which are featured prominently – although not exclusively – on the FnB menu. Her unfussy, yet boldly flavored menu changes seasonally, and sometimes even week-to-week with tweaks based on what's currently available from local
FE
BECK&BULOWTONY
JEAN-PAULPOPRIETORSBECK&BULOWSANTA
Tony Beck and John-Paul Bulow began their journey selling buffalo meat in 2018 at Farmers Markets in New Mexico, building relationships with the community and sharing their passion for homegrown, high quality meat. Their love for the buffalo comes from a deeply rooted respect for the earth and the ancient ways that people have lived on this land for millennia. Tony and JP had no idea how far their small stand at the farmers market would take them, and how much growth would take place in such a short period of time. Beck & Bulow now offers a wide selection of meats, poultry and wildcaught seafood. After just a few fleeting years, the company has a thriving Santa Fe butcher shop, is a favorite choice for the best chefs in the region and offers nationwide shipping for online meat and seafood delivery.
44
BREWER JESSICA
Jessica Brewer has been cooking since she was a child. Born and raised in Sacramento, California, she is from a long lineage of female chefs. Jessica moved to Santa Fe where she began her career in professional kitchens, gaining popularity after becoming one of the youngest pastry chefs in the state at only 20 years old. Jessica is passionate about making all of her pastries from locally sourced and sustainable products, and always from scratch- admiring the bright colors, flavors, and techniques of Mexican cuisine and culture.
45
PASTRY PALOMACHEFSANTA FE
After high school, she was awarded a College Rodeo Scholarship. She traveled the circuit for three years, ultimately winning the prestigious World Champion Breakaway Roper. But in 1997, she felt a tug back to the land and back to food. She hung up her spurs for good and reached for a chef's knife.
has always found joy in food and felt a deep respect for where it comes from. In her hometown of Artesia, NM, nightly supper is akin to worship, with folks in the small-town community eating only what comes from the land. Growing up in Artesia, farm to table was more than a fancy marketing term, it was a way of life. When she wasn't in school, she was working her Daddy's farm and her Mama's steers, or working alongside her Granny Jackie, who ran a local catering business known every bit as much for fun as food.
In 2018, Chef Crook returned to her native state of New Mexico as owner and executive chef of Market Steer Steakhouse. Here she will share her knowledge of beef, respect for fresh foods, and her own particular brand of joie de vivre with the Santa Fe foodie community.
In 2010, Crook was drawn back to the west, and moved Aspen, CO to open Steakhouse 316. While in Aspen, she received national recognition as one of the Best Chef's in America and was featured on Season 2 of Cooking Channel's "Chuck's Eat the Street."
EXECUTIVE CHEF AND OWNER MARKET STEER STEAKHOUSE SANTA FE
Everywhere you find Chef Kathleen Crook, big laughter and good food Cheffollows.Crook
She whizzed her way through the curriculum at Scottsdale Culinary Institute Le Cordon Bleu, and burst onto the Dallas food scene in 2003. She honed her artistry under culinary masters like Tom Fleming of Central 214, Mickie Crockett of Front Burner Restaurants, Gilbert Garza of Suze, and Marc Cassel of 20 Feet Seafood Joint.
CROOKKATHLEEN
46
47
2021 Best Chef in Greater New Mexico (Edible Magazine)
CHEFSGUESTICHILE&WINE
Best2021Restaurant in Los Alamos (Los Alamos Chamber of Commerce)
Since 1998, Chef Crucet has taught hundreds of cooking classes at Sur La Table, Brennan's and culinary schools throughout the Southwest. Most importantly, she taught classes at the Holthouse Boys and
15 Best Small Town Restaurants Across the U.S. (Travel Awaits)
EXECUTIVE CHEF + FIG WHITE ROCK LAURA
execution of hundreds of wine dinners, wedding receptions, banquets and special events. In 2004, she helped launch the Vic & Anthony's steakhouse concept, and as Executive Pastry Chef, created another award-
Award-winning Chef Laura Crucet is a Texas native whose culinary career spans over 25 years and two continents. She is a graduate of the worldfamous Le Cordon Bleu in Paris, France, an acclaimed cooking instructor and owner of a gourmet comfort food restaurant.
2019, 2020, 2022 Best Woman Owned Business (Los Alamos Chamber of Commerce)
PIG
CRUCET
After graduating from Le Cordon Bleu Paris in 2001 where she studied cuisine, pastry, bakery, wine and restaurant operations, Chef Crucet worked at Houston's acclaimed Rainbow Lodge where she was nominated three times for Best Pastry Chef in Houston. During her tenure at Rainbow Lodge, Crucet assisted in the successful
winning menu and was once again nominated for Best Pastry Chef in Houston.
Girls Club in Houston where she volunteered with underserved inner city youth, teaching them to cook nutritious meals for themselves using limited resources.After
moving to Los Alamos, New Mexico, in 2009, Crucet decided to take a short break to spend time with her young children. Then in 2012, she joined Pajarito Brewpub and Grill where she enjoyed creating both sweet and savory dishes. In January of 2016, Crucet opened Pig + Fig Cafe in White Rock where she is combining her passion for gourmet comfort food with her love and appreciation of wine. Since opening Pig + Fig, Crucet has continued to receive numerous awards including:
Before graduating from Le Cordon Bleu in Paris, Crucet began her culinary career at Brennan's of Houston in the late 90's where she worked her way through the traditional brigade system and two years later was promoted to sous chef at the Gulf Coast landmark Zagat calls a "peerless Creole classic." While there, she worked on two cookbooks and was on the opening team for Commander's Palace in Las Vegas, Nevada.
Prior to that, Fernandez held various culinary positions over the years, perfecting his craft at top dining and hospitality establishments, including Peninsula Hotels and Ritz-Carlton Hotels & Resorts, in different regions across the country.
EXECUTIVE CHEF TERRA AT FOUR SEASONS RESORT RANCHO ENCANTADO SANTA FE
Chef Jose Fernandez brings his creativity and extensive expertise to the table to lead the culinary program & talented team at Terra Restaurant, located at Four Seasons Resort Rancho Encantado in Santa Fe.
48
to be a part of Santa Fe's thriving culinary scene and community of talented chefs from around the world. He looks forward to pursuing his passions, exploring Santa Fe's expansive Farmers Markets and working with local purveyors. When he's not in the kitchen, Fernandez can be found spending time with his family and enjoying the outdoors, hiking & cycling around the region's diverse, stunning terrain.
Originally from Barcelona, Spain, Chef Fernandez spent his formative years working in Michelin-starred restaurants throughout his native country. It was these early experiences, along with memories from his own family's kitchen, which inspired his culinary philosophy - to use fresh and seasonal ingredients, with an emphasis on local, organic and sustainable whole foods wherever possible. Fernandez is passionate about incorporating tastes of the local culture & regionally grown ingredients into his flavorful dishes; and fusing traditional methods with progressive techniques and global influences to create inventive, evolving menus that will bring something new to the dining Fernandezexperience.isexcited
With over 20 years of experience, Fernandez joined Terra Restaurant from Four Seasons Hotel Westlake Village in Los Angeles, where he was executive chef for over 3 years at the popular restaurant Coin & Candor.
FERNANDEZ JOSE
Ever the over-achiever, Jasinski then took her training to the next level at the Culinary Institute of America, making the dean's list and unsettling more than a few teachers by challenging their principals or techniques. After graduation, Jasinski worked at the Rainbow Room under renowned restaurateur Joe Baum and Chef André Rene, which gave her the real foundation of her training. The turning point in her career came from a chance meeting with a guest at the restaurant – Wolfgang Puck. In polite, casual conversation, he mentioned she should "look him up" when she was in Los Angeles. So she did.
49
EXECUTIVE CHEF AND CO-OWNER RIOJA DENVER
JASINSKI JENNIFER
decided to simplify her life and settle down in Denver, one of the stops she fell in love with on the Wolfgang Puck tour. She became Executive Chef at Panzano, where profiles and reviews in local and national publications put Jasinski at the head of her class. Not only was she wildly successful, but she had the opportunity to work with future business partner Beth Gruitch. In 2003, Jasinski and Gruitch decided to leave their posts to begin their first venture into restaurant ownership. The following year they opened Rioja, a restaurant in Denver's Larimer Square with a contemporary design and Mediterranean menu influenced by local and seasonal Rocky Mountain ingredients. Having designed over 10 kitchen models during her tenure with Puck, Jasinski had no qualms about doing the same for her own.
2013 was a very good year for Chef Jen. She became the first Denver chef to win The James Beard Foundation Best Chef Southwest award in a ceremony in New York City on May 6th. She was a finalist on Bravo's Top Chef Masters Season 5 with other notable chefs Brian Voltaggio, David Burke, Douglas Keane and Sang Yoon and won the Princess of Porc title at the Denver tour stop of Cochon 555 in 2014. In 2016 she was named a semi-finalist for the James Beard Foundation Outstanding Chef award. 2020 brought another semi-finalist nod from the Beard Foundation as Crafted Concepts joined some of the nation's best operators in the Outstanding Restaurateur category. She was also named one of Nation's Restaurant News' 50 Most Influential Women in Foodservice in In2020.April
2006, Jasinski and Gruitch made the decision to purchase Bistro Vendôme, a classic French bistro located across the street from Rioja. The pair opened Euclid Hall Bar and Kitchen on 8/9/10 at 11:12:13 a.m., their third restaurant just around the corner from Rioja.v
Weary of the crazy, fast paced lifestyle in New York City, Jasinski was drawn back to sunny Southern California with a bold strategy: to apply for a job at the top ten restaurants in Los Angeles, one of which was Puck's Spago. She landed a job at the prestigious Hotel Bel Air, where she had the opportunity to re-acquaint herself with Puck, a consultant at the time for the hotel's restaurant.
When their paths crossed this time, Puck took more than a passing interest, referring her to Jody Denton, of Mansion on Turtle Creek fame, who was in the process of training a kitchen team for a new restaurant opening. Jasinski started as lead line cook at Eureka, a Los Angeles brewery restaurant, and within one year was promoted to sous chef. From there, Jasinski's fate was inexorably linked to Puck's.
include sous chef at Postrio, San Francisco; café chef at Spago, Las Vegas; executive sous chef at Granita, Malibu; executive sous chef at Spago, Chicago; and corporate chef at Wolfgang Puck Food Company. With Puck's support and encouragement, she even did a stint in Paris at Ledoyan, a Michelin two-star Inrestaurant.2000,Jasinski
Cooking started at a young age out of necessity for Jasinski. Growing up in a single-parent household with two siblings who all took turns cooking, Jasinski developed a knack for following recipes and creating her own, until eventually, it was always her turn to cook. In a high school occupational program for aspiring chefs, Jasinski made the decision to leave her other passion – music – behind, and dedicate her studies to cooking, permanently trading the melodic sounds of her clarinet, oboe and flute for the cacophony of clanging pots and pans. At the time, the best cooking school in the state of California was right in her own backyard, Santa Barbara City College, where she not only refined her cooking skills, but got a taste of restaurant management and front-of-the-house experience.
Their creative and fruitful 10-year relationship took Jasinski around the country, with her helping to develop and open restaurants, create menus, train and manage staff, and, of course, wear her chef's hat for restaurant concepts ranging from fine dining to café cuisine. Her impressive restaurant credits
KAPLAN JEFFREY
Jeffrey has worked in the hospitality industry for over 20 years. He holds a culinary degree from The California Culinary Academy and a BA in hospitality and tourism management. During that time period, he has held every position within a restaurant. He has been instrumental in the successful opening of six restaurants. Jeffrey has worked in many different types of facilities that range from smaller, independent restaurants to larger, corporate restaurants and hotels.
50
ROWLEY FARMHOUSE ALES SANTA FE
EXECUTIVE CHEF
51
HUE-CHAN
KARELS
CHEF AND OWNER OPEN KITCHEN SANTA FE
Hue-Chan Karels is Chef-Owner of Open Kitchen, a unique culinary concept conceived in Washington DC Metro and reimagined in Santa Fe, NM. We are joy makers who believe in the magic of culinary experiences. Our passion is to create and curate inspired, original, unforgettable gatherings for the joyful celebration of human connection wherever they can be imagined.
Mark Kiffin, celebrated Chef/Owner and author of The Compound Restaurant, won the prestigious James Beard Foundation Award as Best Chef of the Southwest 2005. The Compound is Santa Fe's premier restaurant with Chef Kiffin's acclaimed seasonal contemporary American cuisine derived from Santa Fe's rich heritage of regional and Mediterranean
Theinfluences.New
EXECUTIVE CHEF & OWNER THE COMPOUND SANTA FE
MARK
York Times, Gourmet Magazine, Wall Street Journal and Wine Spectator have all selected the Compound as Santa Fe's favorite. Chef Kiffin reopened The Compound, a long-time beloved culinary presence located in the heart of Santa Fe's cultural Mecca, Canyon Road, on May 30th, 2000. The restaurant celebrates his 50th anniversary this year with Kiffin owning it for the most recent 15 years. Through Chef Kiffin's diligence and dedication, the
restaurant has been reinvigorated, has reclaimed its original stature as a leading destination and is currently one of the very finest restaurants in the Aregion.recognized
52
KIFFIN
leader in Southwestern cuisine, Kiffin has developed a unique and exciting signature contemporary American menu, focusing his seasonally-evolving menu on true regional ingredients and New World influences deftly combined with the culinary style and flavors of the Mediterranean. Kiffin opened Zacatecas Tacos & Tequila in Albuquerque in 2013 and it was a James Beard Semi-Finalist for Best New Restaurant.
53
As a young chef originated from Taiwan, who's lived in Hawaii and now New Mexico, Erica has been nourished by rich cultural landscapes and talented mentors. With a great passion in food and culinary arts, Erica has also achieved a Registered Dietitian License in 2020 and now pursuing a Master of Science in Nutrition at the University of New Mexico. Open Kitchen is proud to have this talented chef with expertise in nutrition and culinary arts to create delicious and healthy meals for our guests!
EXECUTIVE CHEF OPEN SANTAKITCHENFE ERICA
TAI
Sazón, a fine dining restaurant with an awardwinning wine list and one of the largest tequila and mezcal selections in the country, continues to be recognized for its outstanding service, unique ambience and creative menu providing for a dining experience like none other. Located in a historic building in the heart of Santa Fe's downtown Plaza area, they have been awarded the prestigious. AAA 4 Diamond award and ranked fourth in the country for fine dining by Trip Advisor. This year, Chef Olea is honored to be have won the 2022 James Beard Awards, Best Chef: Southwest category.
54
Originally from Mexico City, Chef Fernando Olea, formerly Chef/Owner of Epazote Restaurant and Bert's La Taqueria, has been enthralling diners in Santa Fe since 1991. Chef Olea creates sophisticated flavors using Old Mexico's indigenous and culinary traditions alongside ingredients from around the world. His menu is deliberately small, featuring fresh and locally sourced produce and meats when possible.
FERNANDO
Chef Olea is well known for his exquisite moles, a sauce of complex flavors that usually includes toasted and ground spices, seeds, nuts, chocolate and chile. Many mole recipes contain more than thirty ingredients, and some recipes have five varieties of chile alone. Chef Olea welcomes you to experience his New World cuisine at Sazón. Bienvenidos!
EXECUTIVE CHEF & OWNER SAZÓN SANTA FE OLEA
EXECUTIVE CHEF SKYFIRE AT BISHOP'S LODGE SANTA FE
55 Chef Pablo Peñalosa presents a global perspective at SkyFire that ties in the techniques and flavors discovered during his time working in renowned kitchens in Mexico and Spain, while nurturing and honoring the connection between the New Mexican land, ingredients, makers and farmers in a purposeful way. Chef Peñalosa brings a fresh and reimagined interpretation to a new culinary chapter for Bishop's Lodge.
PEÑALOSA PABLO
In addition to working at two Michelin Star awarded restaurants in Europe, Chef Pontiggia has received awards for cooking and wine knowledge from the Chaine des Routisseurs, and the American Culinary Federation. He is also a Superchef for Cooking with Kids. The Italian government recognizes him as a Master Chef and he holds a culinary degree that certifies him as a Doctor of Enogastronomy. This restaurant provides a unique stage to highlight Chef Pontiggia's culinary artistry. We invite you to experience the merging of new world cuisine with old world traditions in his signature style.
56
Chef Cristian Pontiggia hails from this region and this culture. He brings the underlying tradition of fine Italian dining into contemporary world cuisine, producing
Sassella is derived from the Italian word for 'rock'. The village prides itself in vineyards planted on terraces cut into the side of its rocky slopes. Surrounded by high snow-capped mountains and set among the vineyards is the Santuario Madonna della Sassella, a tenth century chapel that looks out over the meandering river Adda and the ancient town of Sondrio. It is these historic vineyards that produce a distinctive grape called Chiavennasca from which the Sassella wines are Executivecrafted.
innovative dishes that are a delight to the eye as well as the palette.
EXECUTIVE CHEF SASSELLA SANTA FE
PONTIGGIA CRISTIAN
57
EXECUTIVE CHEF & OWNER RAAGA-GO AND ZAIKA SANTA FE
RAWAL PADDY
he competed on "Beat Bobby flay" show and beat the king of flavors. His recent venture, Raaga Go is the talk of the town and looking to open satellite units in and around New Mexico. In addition, he is looking to branch out into packaging his own brand of sauces.
They received positive reviews in local and national publications and online sites, and they were a regular participant in community events and local fundraisers such as Dining with the Masters, Santa Fe Wine & Chile Fiesta, the ARTfeast, the Santa Fe Film Festival, Edible Art Tour which benefits art programs in Santa Fe Public Schools, The Santa Fe Conservation Trust and the Souper Bowl soup competition which raises funds for The Food Depot.
In 2014 Paddy released his first cookbook, The Raaga Cookbook: Modern Indian Cuisine. A year later, he wrote another internationally acclaimed cookbook,
Raaga-Go opened in winter 2018. One of his favorite aspects of the culinary scene in Santa Fe Rawal said in an interview with The New Mexican is "the diversity of the diners and the awareness the locals have about various ethnic cuisines. Because patrons are so welltraveled, Paddy is able to be more experimental with his menu, adding a contemporary flair to traditional Indian Recentlycuisine.lastyear,
"Curry Korma & Kebab": A Culinary Journey of India. Paddy appeared as a contestant on the Food Network show, "Chopped". He received a shout out on live TV by daytime talkshow host Kelly Ripa, who vacationed in Santa Fe with her husband Mark Consuelos and enjoyed a meal at Raaga. The following week, Kelly Ripa raved about Paddy, his cookbook, and their experience at Raaga.
Paddy Rawal, a native of Mumbai, India, who migrated to the U.S. in 2001, has been in the Hospitality, Restaurant, Quick Service, and Food Service Management business for more than three decades. A qualified and experienced Manager and Chef with knowledge of six international cuisines. He started Bombay Grill and Mumbai in Michigan, before venturing into RaagaGo in Santa Fe, and OM in Los Ranchos, New Mexico, in 2011. The current Takeaway concept, Raaga-Go is up and running.
EXECUTIVE CHEF RESTAURANT MARTÍN SANTA FE
With a commitment to locality, Martín volunteers for Cooking with Kids.
RIOSMARTÍN
Chef Rios, a native of Guadalajara, grew up in Santa Fe, starting in the restaurant business as a 17-year-old dishwasher, eventually working his way up to Executive Chef at several restaurants and hotels. Chef Rios received his formal training at the Culinary Institute of America and supplemented that with experience and training in some of the world's most honored restaurants and with well-known culinary masters.
58 Restaurant Martín is the embodiment of a of a 20-year dream to create the perfect balance of refined and comfortable. Chef Martín Rios and his wife, Jennifer, envisioned a certain ambiance where people from the community as well as Santa Fe's many visitors could enjoy Chef Rios' award-winning progressive American cuisine. Martín and Jennifer are long-time Santa Fean's with a commitment to locality – Martín volunteers for Cooking With Kids, and Jennifer is president of The Horse Shelter. This familyowned restaurant caters not only to well-heeled tourists, but to their friends and family.
been a top priority for Dave. He has traveled extensively in both Europe and the Far East researching local cuisines.
SELLERSDAVID
Dave launched the Street Food Institute in 2014, a non-profit culinary entrepreneurshiptraining program. Since its inception this social enterprise model has enjoyed the success of twenty five small, food based business start as a result of the teaching and support of the Street Food Institute. The Street Food Institute currently runs three food trucks in Santa Fe and Albuquerque and has most recently started a café in Albuquerque in September of 2017. In 2021 Dave and his wife Heather started a new venture, Horno Restaurant. A gastropub concept one block off the plaza in Santa Fe.
Dave began his culinary career twenty years ago, while living in New Hampshire and completing a B.A in Philosophy from Plymouth State University. Dave started as a baker in an all-organic bakery where he developed a deep appreciation for sustainable, local, from-scratch cooking. These pillars became the basis of his cooking philosophy.
59
Dave moved on to cook in San Francisco and then Santa Fe, where he spent ten years as chef of the venerable Santacafé. Dave then opened his own restaurant, Amavi, to critical acclaim, where both the cuisine and the wine focused on the Mediterranean region. Most recently Dave turned his culinary exploration to New England where he spent four years as the chef of Maxfish, delving deeply into the world of fish and farm-to-table dining. Regional cuisine and teaching have always
EXECUTIVE CHEF & OWNER HORNO SANTA FE
Tony became Executive Chef of the Inn and Spa at Loretto in April 2021 but has cooked professionally for over 16 years. What originally started as a job to make money as a kid, eventually turned into the clear and obvious career choice given his love for food and cooking. During his time in Santa Fe, he has studied under Chef Jerry Dakan at SFCC and spent 4 years at the Four Seasons Rancho Encantado, under Chef Andrew Cooper. He was also the sous chef at other notable Santa Fe favorites like Market Steer Steakhouse and was the sous chef under Italian Master Chef, Cristian Pontiggia at Sassella. Blending modern American and Mediterranean traditions, while incorporating local ingredients and flavors, Chef Tony looks to bring his globally influenced take on cuisine, to make his own mark on Santa Fe's already stellar culinary scene.
60
Tony is a native New Yorker who has been in the land of enchantment for almost 10 years. Some of his earliest memories involve food or cooking in the kitchen with his mom, dad, or Sicilian grandmother. To this day, there is still debate over who the best cook in the family is. This strong foundation gave him his love of food and helped him to develop his style of food today. During his career he has taken home two best in category titles at the Santa Fe Souper Bowl for the Four Seasons and was most recently awarded the "People's Choice" for best burger at the 2021 Green Chile Cheeseburger Smackdown.
EXECUTIVE CHEF LUMINARIA RESTAURANT SANTA FE
SMITH TONY
After three years at Coyote Cafe, Weiss went on to work at the Mansion on Turtle Creek in Dallas, under Chef Dean Fearing. She next went on to Atlanta, which eventually brought her to Chef Bruno Menard, at the 5-stars and 5-diamonds Dining Room at the Ritz Carlton Buckhead in Atlanta, Georgia. Eventually, Weiss was promoted to executive chef at Jerne at the Ritz-Carlton, Marina Del Rey. There, she was named "Best New Chef" by Angeleno magazine in 2006. Weiss became a tour-deforce in the Los Angeles' culinary Incommunity.2011,Dakota appeared on Bravo's "Top Chef Texas," while
inspired Hawaiian soul food that opened in April of 2015 in Santa Monica. Their rapid expansion of twelve locations across Southern California, including San Diego, makes Weiss one of the most commercially successful womenowned restaurateurs in Southern California.When not in a kitchen, Weiss has been involved in many charitable organizations, including No Kid Hungry which works to end childhood hunger in America, She served as Chef Co-Chair at Taste of the Nation for No Kid Hungry in Los Angeles in 2017 and 2018. Weiss's culinary career that started at Coyote Cafe in 1997, brought her to prestigious positions in noted restaurants from Dallas, Atlanta, Philadelphia, Sarasota, Shanghai, and Los Angeles. She's learned the art of cuisine from star chefs and restaurateurs. She has cooked side by side with culinary legends such as Jose Andres, Eric Ripert, Dominique Crenn, Nancy Silverton to name just a few. When asked why she has returned to Santa Fe after 24 years of exploring the culinary arts of this nation, she said, "Not only does my family remain in Santa Fe, I'm honored to both return to my Coyote Cafe roots, and take on the role of executive chef at this iconic restaurant."
DAKOTA
61
Upon graduating from Scottsdale Culinary Institute in 1997, Chef Dakota Weiss began her career at Coyote Cafe working the Garde Manger & Hot Apps. A Santa Fean since her family moved to Santa Fe in 1988, Weiss attended Alameda Junior High and Santa Fe High School. She went on to study international business at New Mexico State University, Las Cruces — a turning point in her career options. While working part time at a Las Cruces coffee shop, she realized what she really wanted to study was culinary arts.
WEISS
EXECUTIVE CHEF COYOTE CAFE SANTA FE
Weiss is the Executive chef and part owner of Sweetfin Poke, a fastcasual concept serving California-
that same year she joined the W Los Angeles as Executive Chef. In 2013 she opened Dakota's POP Parlor, her own brand of innovative gourmet popcorn—recognized by Food Network as one of the "Top 30 Popcorns to Try in America" and CBS Los Angeles as "Best Popcorn in LA." Weiss opened Estrella, which served up some of the best food on Sunset Blvd. including the famed "Rolling Stone" Weiss successfully ran that restaurant for two years before passing along the chef's position to a colleague so she could focus on Sweetfin.
62 HoHappymes,HappyGuests.CENTRALLYLOCATEDSELFCHECK-INFULLKITCHENSGROCERYSTOCKINGAVAILABLESUITABLEFORLARGEGROUPSRESPONSIVEHOSTINGBYALOCAL FAMILY RUN BUSINESS OVER TWO HUNDRED 5 REVIEWS SANTA FE VACATION RENTALS W W W C A S A D E H U E R T O C O M

63 Since 2008 Thank you Chefs of Santa Fe! Proud Sponsor of Santa Fe Wine & Chile Fiesta Since SantaThank2008YouFeChefs • Managed IT Services • Data Center & Cloud Solutions • Cybersecurity • IT Hardware & Software • Networking • 5301 Beverly Hills Ave. NE • Albuquerque, NM 87113 • 1-888-ABBATECH • www.abbatech.com • Proud Sponsor of the 2022 Santa Fe Wine & Chile Fiesta
The Food Depot – Northern New Mexico's food bank thefooddepot.org505.471-1633
64
NORTHERN NEW MEXICO'S FOOD BANK
The Food Depot is incredibly grateful to all who support their hunger-relief work.
Help us continue our passion for creating food security for all Northern New Mexicans.
65
GUADALUPE & PASEO DE PERALTA MarketStreetUnited.com EVERYDAYMAKE Extraordinary OUR TOP 3 REASONS TO See What's In-Store GOURMETON-THE-GOEATSARTISAN CHEESE SHOP WITH OVER 200 DIFFERENT CHEESES GLOBALLY CURATED CRAFT BEER AND WINE SELECTION
WINE & CHILE | GUEST SOMMELIERS
Each year our Guest Sommeliers including several Master Sommeliers lead our fun and educational wine seminars exploring wine regions from all over the world.
MASTER SOMMELIER GILLIAN BALLANCE
68 GUEST I SOMMELIERS
Gillian Ballance MS, DWS has spent the last 20 years working in the best fine dining restaurants in the United MSStates.Ballance
began her career at The Rainbow Room, one of the most beloved restaurants in New York City, and worked under Andrea Immer Robinson. While there, Ballance's thirst for knowledge and passion for wine became evident, so when Andrea became the Beverage Director at the Windows of the World Restaurant, she took Gillian with her.
Exposed to a cellar with over 100,000 bottles was the best education a passionate wine enthusiast could have and Ballance's career soared. Her career includes opening up Cello in NYC, Wine and Beverage Director at Bacara Resort in Santa Barbara, Plumpjack Group's Wine Director, Wine Consultant and Sommelier for Bottega Restaurant in Napa Valley, Wine Director at the luxurious Cavallo Point. Currently Ballance is the National Education Manager at Treasury Wine Estates. Ballance has been featured in numerous publications like Wine Spectator, Food and Wine Magazine and an abundance of Trade publications. She has also judged at several wine competitions and conducts wine seminars and lectures across the United States.
In 2012 Ballance passed the esteemed Master Sommelier Diploma Exam through the Court of Master Sommeliers, representing one of 30 women in the world. She received her Higher Certificate of Distinction as well as her Diploma in Wines & Spirits from the British Wine and Spirits Education Trust. In 2016, Ballance became an Approved Education Provider for the WSET Wine and Spirit courses.
69 SOMMELIERSIGUEST
Beginning in 2020, with her virtual production company, studio 8h productions, Chang and
her team created and produced over 250 virtual experiences for 100 Fortune 500 companies and delivered bespoke experience boxes to 12 countries. Chang has created and produces some of the wine and food world's buzziest irl and virtual events — the who's who annual James Beard Awards Pre-Prom, which is dedicated to empowering and pampering women in the restaurant industry; the splashy Aspen Classic Pool Party and Virtual Boozy Brunch to support furloughed service people and small business owners during the pandemic. And Belinda continues to innovate and work to connect, comfort, engage and create moments and memories on screen an in person for global audiences.
expert and lifestyle maven. Prior to entering the life of a small business owner, Belinda managed the legendary 26,000 bottle cellar at Charlie Trotter's, the wine lists at Laurent Gras' The Fifth Floor, and Danny Meyer's The Modern. While at The Modern, she was honored with the James Beard Award for "Outstanding Wine Service" in 2011. Belinda returned to Chicago in 2015 to serve as Managing Partner and Wine Director of the splashy steakhouse Maple and Ash before setting off on her own to find her own boot strap, startup: Belinda Chang, in 2017.
Dubbed the "global virtual wine experience guru" by The Wall Street Journal in 2020, Belinda Chang is the only bipoc woman to win a James Beard award in a drinks category, an experiential storyteller and lifestyle expert. Belinda specializes in making epic moments everyday occurrences for everyone. From your first glass of Champagne to final fist bump of caviar, Belinda Chang warmly invites you into her circle of andluxuryapproachableathomeabroad,irlandvirtually.Overthecourseofherlaudedtwenty-yearcareerinfood,wineandrestaurants,Belindahasmadeanameforherselfasasought-afterwine
She is a regular fixture in media outlets like The New York Times, The Chicago Tribune, Food and Wine, The Wall Street Journal and NPR among many others. Belinda is also a published wine writer and has written about wine in cookbooks, newspapers and magazines (Ten Speed Press, Random House, Gourmet Special Editions, The Atlantic). Chang has appeared as a drinks expert on CNBC, Bloomberg TV, Fox 32, Chicago, WCIU The Jam, WGN News and Radio and more.
SOMMELIER AND FOUNDER STUDIO 8H PRODUCTIONS BELINDA CHANG
GUEST I
70 Master Sommelier Craig Collins first became enamored with wine while working at a Texas winery as an undergrad, an interest that led him to study abroad in Italy during his senior year at Texas A&M. He spent the next 20 years immersed in the beverage industry, from wineries to distribution and importing to restaurants. In 2011, Collins passed the esteemed Master Sommelier Exam, a feat mastered by just 200 people worldwide at that time. He now represents some of the most pedigreed wines from around the world as the Sales Manager at VINTUS, one of the premiere import companies in the country. Collins frequently participates as a speaker and judge at wine and food festivals across the country.
MASTER SOMMELIER CRAIG COLLINS SOMMELIERS
William Davis started in restaurants at the tender age of 15 in the Dallas-Ft. Worth area. A career in economics was not as fun as working the floor, so he stayed in the hospitality industry both in Texas and Denver, Colorado. He realized that wine and spirits was his passion, and when he sat for his Introductory Exam and Course with the Court of Master Sommeliers over 15 years ago, his 'wine bug' was set in stone. In 2004, he decided that a full-time career with Charmer-Sunbelt in Colorado was necessary to pursue a greater understanding of the grape, and received the Certified Specialist of Wine, the Certified Specialist of Spirits, and the highest certification from the Society of Wine Educators, the title of Certified Wine Educator (CWE). Restaurants were still 'in his blood', and the dedication that sommeliers give to their craft is a vital part of bringing wine to the consumer, so he passed the Certified and Advanced Sommelier exams in 2007 and 2008 (on his first try) and is working to achieve his MS with the Court of Master Sommeliers. The academic approach to wine and spirits also interests him, and he obtained the Advanced Certification with the Wine and Spirits Education Trust in 2010 and is
71
led seminars and moderated events across the country, including Santa Fe Wine and Chile, Taste of Vail, the Denver International Wine Festival, the James Beard Foundations' Cruise Series, and the Park City Food and Wine Classic. Sitting with winemakers and traveling the wine world is essential to his continued growth. After all, having a glass of vino with the most interesting people on earth doesn't hurt!
SOMMELIERSIGUEST
studying for the WSET Diploma. If that isn't enough, he is a member of the Guild of Sommeliers, and was the 2-time Regional Champion in the Central (2012) and Central-Great Lakes (2013) of TopSOMM, a competition to find the best sommelier in the United States. As a co-host of WineGuysRadio and TV from 2008 to 2012, he decided to focus on the consumer in late 2012 by UnitedandandofforDirectorCurrentlythesommeliers,retailindustryeducate,TerroirRadiotointroducingteach,andmentorfolkincludingbuyersandandshareloveofwinetoall.heistheofEducationWilsonDaniels,onetheleadingimportersmarketersofwinesspiritsintheStates.Hehas
SOMMELIER WILLIAM DAVIS
I
Over his 30-plus year career, Tim has taught thousands of students in wines and spirits classes at every level as well as developing wine education programs for restaurants, winery schools and wine distributors. He has experience in all phases of the wine industry: online, wholesale, retail, winery, and Timrestaurants.haswritten for a number of publications including Fine Cooking Magazine and the Somm Journal and also writes for numerous wine and spirits clients. He has served as the author and lead judge for the Best Young Sommelier Competition and the Top Somm Competition. His new book, "Message in a Bottle: A Guide to Tasting Wine," will be published in 2022.
MASTER SOMMELIER TIM GAISER
Tim Gaiser is an internationally renowned wine expert and lecturer. He is one of only 269 individuals worldwide to ever attain the elite Master Sommelier title. He is the former Director of Education and Education chair for the Court of Master Sommeliers, Americas, and instructor for the Napa Valley Wine Academy.
72
Prior to developing his wine expertise, Tim received an M.A. in Classical Music. He played classical trumpet as a freelance professional and as an extra with the San Francisco Opera Orchestra.
GUEST SOMMELIERS
He now carries the title "Le Meilleuer Sommelier du Monde en Vines et Spiritueux de France," only the second American to ever achieve this distinction. Joseph's accomplishments notwithstanding, he still believes quite simply that most wines go with most foods, that a half-full bottle is better than a half-empty glass and that it takes a lot of beer to make good wine.
A sought-after speaker nationally, The Santa Fe Wine & Chile Fiesta is pleased to celebrate Joe's sixteenth anniversary of hosting our Santa Fe Wine & Chile Fiesta Seminars.
73
SOMMELIERSIGUEST
Master Sommelier Joseph Spellman has been a steady presence in the Chicago dining scene since 1979, as professional sommelier, restaurant manager, wine writer and educator.
MASTER SOMMELIER JOE SPELLMAN
In 1996 Joe successfully completed all three stages of the prestigious and difficult Master Sommelier Diploma. In 1997, representing the United States, Spellman finished first of 24 national champion European, Asian and North American sommeliers when he won the International Grand Prix SOPEAX du Sommelier, the most recognized sommelier competition in the world.
GUEST I
74
Over the past two decades, Marika VidaArnold has served as the Wine Director of the Ritz-Carlton Central Park, New York, Sommelier of the top-rated Laurent Tourondel Bistro, BLT Market and Sommelier for the Philadelphia RitzCarlton with 'Top Chef' winner Kevin Sbraga. She developed the opening wine program at 10Arts with Chef Eric Ripert and Chef Jennifer Carroll. Her most recent project is the critically acclaimed Phenomenal Femmes Program, which focuses on female winemakers from around the globe. It has been featured in Bloomberg, Forbes, Haute Living, Gotham, The Somm Journal and The Wine Enthusiast. She holds titles of Certified Sommelier with the Court of Master Sommeliers and the American Sommelier Association. She is a Certified Specialist of Wine with the Society of Wine Educators and holds the Advanced Certificate for the Wine and Spirits Education Trust. Marika has been a Wine Educator for the famed Argentine Winery Catena Zapata and she is a member of the Full Circle Sommelier Network, working with Master Sommelier Evan Goldstein. She is a presenter for Wine Australia and the Australian Women in Wine Awards. Under the auspices of her own company Vida et Fils Marika works with corporate clients, presenting for special events. Clients include Glaxo-Smith-Kline, NYSE, Prologis, IMG, R.R. Donnelley, Acuris among many notable others. She is currently a Wine Educator for the International Law Firm Milbank Tweed Hadley & McCoy. She has served on Eric Asimov's Tasting Panel for the New York Times and been featured on Barrons.com for romantic wine picks. She is a freelance wine writer and a presenter at the Nantucket, Newport, Charleston and Destin Food and Wine Festivals. Additionally, in our challenged year of 2020, Marika created a very successful LIVE series on Instagram with her trademarked name TheMomSomm as well as moderating virtual events with Geodesy, Marques de Caceres, Domaine des Lambrey and Taittinger.
SOMMELIER MARIKA VIDA-ARNOLD SOMMELIERS
RIEDEL.COM CHEERS! PINOT NOIR/NEBBIOLO
LOCAL CONFIDENCE800.983.7328 | SECUNM.ORG
We're from the same place you are.
From the Santa Fe Plaza, to the Bosque of Valencia County, along historic Route 66 just outside of Las Vegas, to the Sandia views of Albuquerque and Rio Rancho: We serve the heart of New Mexico. Discover rewarding accounts, affordable loans, fewer fees, and a personal approach to your finances – discover the State ECU difference.
We had the pleasure of catching up with Rich and Leslie last month and learning about their history with the winery and their passion for Napa Valley.
Rich and Leslie Frank fell in love with Napa Valley separately and fell in love here together. Rich founded Frank Family Vineyards in 1992 after first purchasing a home in the heart of Rutherford, on what would later become Winston Hill—also where he later proposed to Leslie.
RICH AND LESLIE FRANK OF FRANK FAMILY VINEYARDS SFW&C FIESTA HONOREE OF THE YEAR
SFWC: You both have a historic background in television and media, so what triggered your interest in owning a vineyard and producing wine?
RICH FRANK: While I was President of Disney Studios, I had the opportunity to travel for business and I was exposed to some of the best wines in the world. I quickly developed a palate for the Bordeaux varieties, and that's what initially drew me to Napa Valley. I loved spending time in wine country, and it was close enough to Los Angeles that it made for the perfect weekend escape from the hustle and bustle of Hollywood. In 1990, I decided to purchase a home in the Rutherford AVA, which happens to sit on 107 acres of hillside vineyard property. I named the property Winston Hill after
Today, Leslie oversees the Marketing and Branding at Frank Family Vineyards. She travels extensively with Rich to promote their Napa Valley wines domestically and internationally. Leslie also coordinates Frank Family's charitable giving initiatives and is very active in the Napa Valley community. Rich is actively involved in all aspects of the winery – from vineyard purchases to sales and marketing to hosting VIP groups at the beloved tasting room on Larkmead Lane.
BY MARY HALLAHAN & CHILE I STORIES
78 WINE
Rich's love of wine first stemmed from his extensive travel via his global career as the former President of Disney Studios. Prior to his tenure at Disney, Rich was President of the Paramount Television Group, President of Chris Craft Television, one of the founders of the USA Network and served on their board. Under Rich's leadership, television and movie properties such as Cheers, Entertainment Tonight, Golden Girls, Ellen, Dead Poet's Society, Pretty Woman, Aladdin, and The Lion King achieved phenomenal success. Rich was the longest serving President of The Academy of Television Arts and Sciences (Emmys). He is currently Vice Chairman and Executive Board Member of the American Film Institute.
It's a story about love of family and love of wine going back to the early 1990's in Napa Valley. The SFW&C Fiesta is honored to have Rich and Leslie Frank as this year's representatives of our Winery of the Year, Frank Family Vineyards.
WINE & CHILE I STORIES
LESLIE FRANK: I spent 27 years covering major news stories across the country, including nine years anchoring and reporting at the number one rated station KABC in Los Angeles where I covered everything from politics, crime, weather, and calamities to the biggest stars in Hollywood on the red carpet. After spending several grueling months reporting inside the courtroom at the Michael Jackson trial, I needed a short break from it all, and Napa Valley was just the ticket.
The decision was easy from there. We picked up our lives and moved to Napa Valley full time, dedicating our time fully to our thriving wine business. Napa has such a high quality of life, and the wine and food scene is unparalleled – we've never looked back!
On that trip, I met and shared my first bottle of wine with my now husband and Frank Family Vineyards Founder, Rich Frank. Several years later we were married and still living in LA and would come up to Napa on the weekends to check on the winery. I remember as we were stuck in LA rush hour traffic on our way back from one of our last trips, Rich and I both looked at each other and asked, 'why are we still doing this'.
SFWC: Are there any symmetries between the media industry and the wine industry in your opinion?
SFWC: Frank Family Vineyards is known as one of the most beloved wines in Napa. What draws people in?
my black and white springer spaniel who loved to run and explore in the vineyard. Soon after I started getting calls from neighbors wanting to purchase my grapes. I quickly realized I had something special. Then, in 1992 the old Hanns Kornell Champagne Cellars went up for sale. My winemaking friends urged me to keep my day job, but I thought I'd make a bid on the property anyway. The following summer I opened the winery under the Frank Family name, and now we are about to enter our 30th year in the wine business.
SFWC: Napa Valley in the 1990s compared to now, what are the biggest changes you have observed?
RICH AND LESLIE: The rule is the same in the wine business as it is in the entertainment business, hire the best people and let them do what they do best. For example, Todd Graff is an outstanding winemaker with a creative vision, and we have learned to just stay out of the way to allow him to excel at his craft. We have also learned that in order to make great wine, you must invest in prime vineyard land specific to each varietal, as well as state of
the art equipment, facilities, and barrels to produce the best wine possible. And lastly, make an effort to retain your top employees through acknowledgment, appreciation, and incentives.
SFWC: What are some of your favorite Napa Valley producers?
RICH AND LESLIE: Napa Valley is a very competitive place, and over the last 30 years, the quality of Napa Valley wines has become just outstanding! We know from living here that wine lovers would be hard-pressed to find a more consistent region producing outstanding Cabernet Sauvignon year after Anotheryear.big change is the number of visitors and how they want to taste. Today our guests are more interested in unique and memorable experiences; they want to feel connected with the winery. We have always valued making our guests feel at home when they visit Frank Family and over the last decade have made changes to enhance the experience. We redesigned our tasting room in partnership with designer Erin Martin to decrease the number of guests we host and increase the time they spend at the winery to give them a more personalized experience. We also have a very active and robust wine club, which has become one of the most popular memberships to join in Napa Valley.
RICH AND LESLIE: We fell in love over a bottle of Pinot Noir from Flowers winery in Sonoma, so while not from Napa, that will always be a favorite. In Napa, we love what Alpha Omega, Cliff Lede, Darioush and Chappellet are producing. We also love everything Beckstoffer farms and source quite a bit of his fruit for Frank Family Vineyards. Recently, we've been enjoying the renaissance of Beaulieu Vineyard --one of Napa Valley's most historic producers is now making wines now better than ever and getting 100-point scores.
SFWC: country and especially California, what impacts does that have on the evolution of Frank Family Vineyards?
SFWC: makes is so special?
LESLIE: that is rooted in our winery's promise of making every guest experience the best – whether that's leading a tasting at our winery or sharing our wines with fans in Santa Fe. It's about slowing down and enjoying the best things in life: family, fine wine, and being present.
RICH AND LESLIE: ways to make great wines amidst a changing climate. We are Napa Green Certified in both vineyard and winery, and we continuously explore better ways to farm, and to save energy and water in the process of making wines. Our winery also recently enrolled in MCE Clean Energy and are now sourcing 100% renewable electricity to help us significantly reduce our energy-related greenhouse emissions.
SFWC: come from as your mantra?
1. We have always over-delivered on the quality of our wines. We've done this by controlling our farming and sources—we really control the quality from grape to glass and have had secured the consistency of quality and style because of our long-time winemaker Todd Graff. We are extremely lucky to have someone as skilled as Todd as our winemaker. This year he celebrates his 20th anniversary at Frank Family Vineyards.
2. We have a great understanding of hospitality, and our guests always feel welcome. From his experience at Disney, Rich adopted the philosophy that we do not have customers, but rather we have guests. This has been our guiding principle since day one.
SFWC: Vineyards produces?
RICH: small, that bring people together. Our wines are equally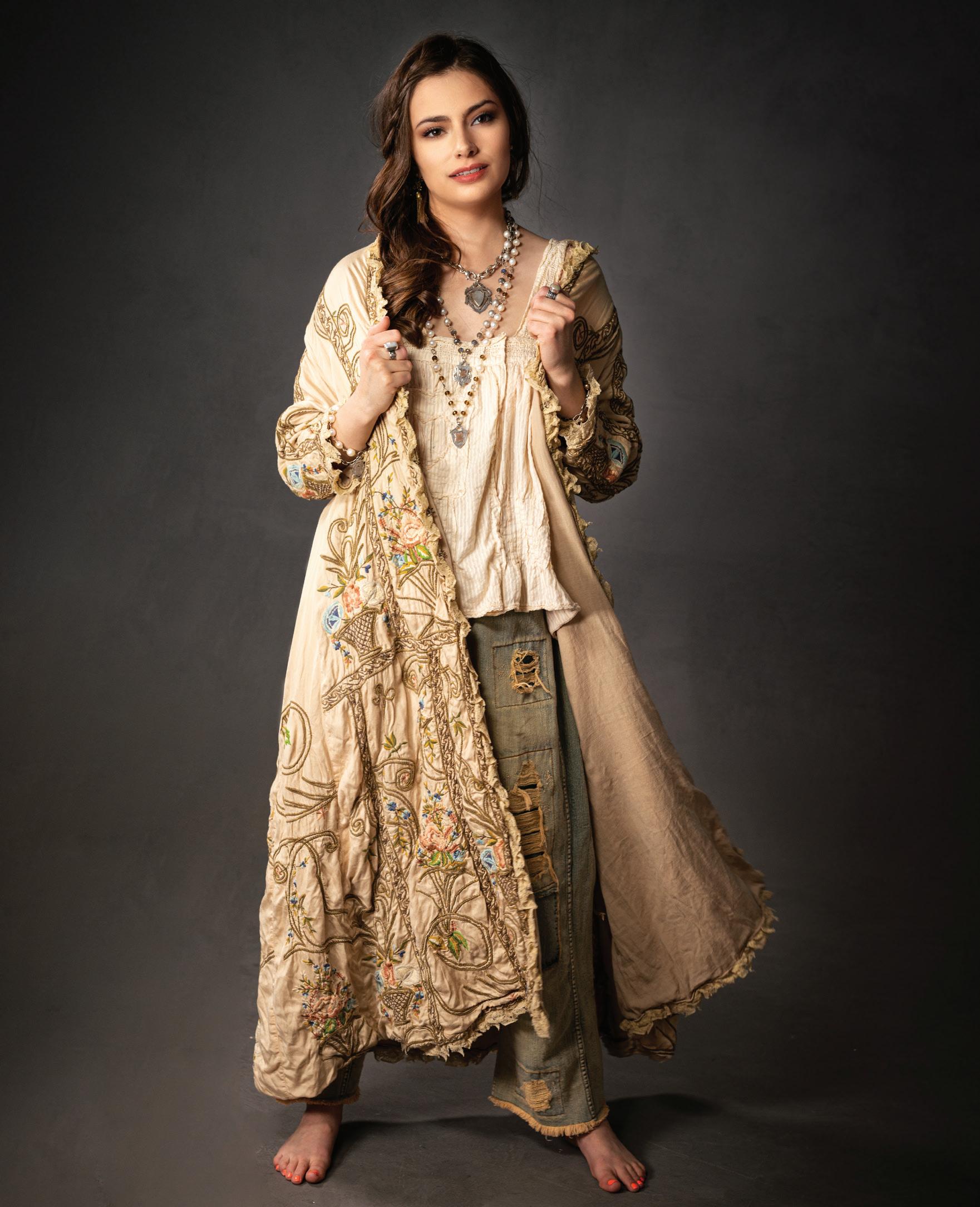 RICH AND LESLIE: welcoming atmosphere, historic winery juxtaposed by a sophisticatedly elegant style.
LESLIE:
WINE & CHILE
LESLIE FRANK: a fan-favorite and has developed quite the following over the years, but if you ask Rich he would say, "Cabernet any day!"
656 Canyon Road (across from the Compound Restaurant) 505-983-8870 • karinaoncanyon.com Chic Clothing • Leather Outerwear ® ®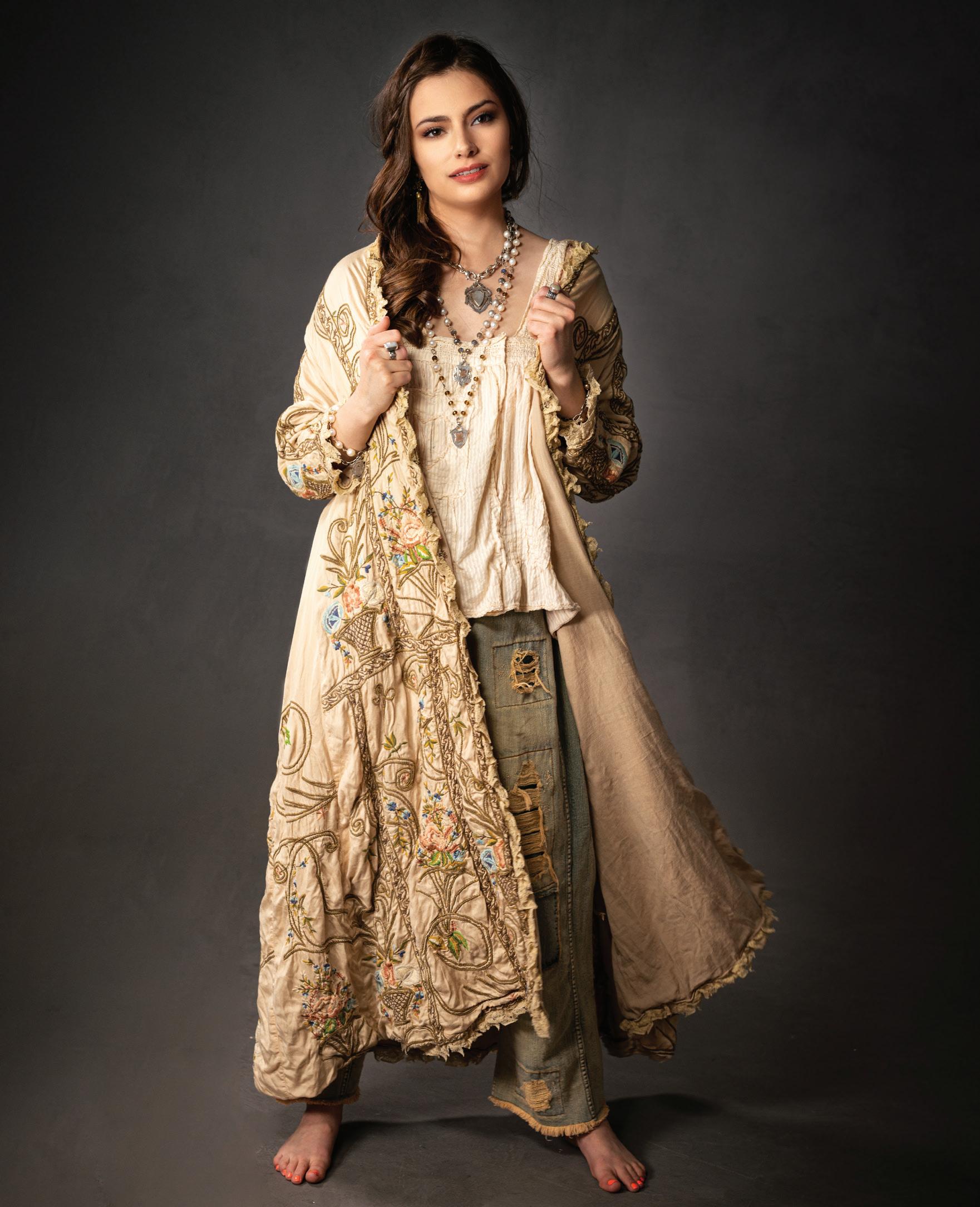 Dynamic Presence JenkinsGavin, Inc. is a development management firm specializing in planning, facilitation & management of development & construction projects. Innovative Design T 505.820.7444 | 130 Grant Avenue, Suite 101 | Santa Fe, NM 87501 | jenkinsgavin.com Consistent Results THE LEGENDARY Emmylou Harris Live in concert at THE SANTA FE OPERA in celebration of KITCHEN ANGELS and 30 years of Cooking Up Care! Friday, September 23, 2022 Tickets on sale at ampconcerts.org Premier Sponsors Visit KitchenAngels.org to learn more about our free meal program serving Santa Fe.
SFWC: What does your day-to-day look like?
AL: No! It was neither implied nor expected. I learned in the field at our French office about logistics and then in our retail location in Berkeley. My interest evolved as I worked my way up from the bottom- unpacking boxes and sweeping the floors.
ANTHONY LYNCH OF KERMIT LYNCH WINE MERCHANT SFW&C INAUGURAL IMPORTER OF THE YEAR
SFWC: You are currently based on the West Coast, correct? What's your current travel schedule look like?
AL: When I'm not in Berkeley supporting the retail location, I'm working on our marketing and communications and traveling to visit producers and promote the company. I'm one of five contributing writers to the monthly newsletter.
SFWC: Was it assumed you would end up in the wine industry?
AL: Yes, I currently spend a lot of time in Berkeley and now that travel has picked back up, I'll began to visit our producers again and generally I travel 3 to 4 months out of the year.
AL: The newsletter was crucial when my dad first started the company as it was the only way to sell wines that Americans had never heard of. Nowadays, I think people still enjoy
Santa Fe Wine & Chile Fiesta is excited to announce it's first ever Importer of the Year for 2022, Kermit Lynch Wine Merchant. We caught up with Anthony Lunch last month to get to know him a little better in advance of his first trip to the Fiesta.
SFWC: We are honored to have you!
WINE & CHILE I STORIES
AL: Well pre-pandemic we used to visit all of our producers once a year and taste their wines, this was a critical step in our process. We couldn't visit with our producers for almost two years so that really changed the way we do business but doing tastings over zoom isn't the same thing! We missed the ability to be able to taste alongside our winery partners and have conversations on the spot about the why or the how. This really changed our interaction with our consumers as well as we weren't doing in-person tastings or events.
SFWC: Your newsletter is very well-known both in the industry and to consumers. How important is this to the company?
SFWC: Your business model is very relationship forward, how have you managed that during the pandemic?
SFWC: The name Kermit Lynch is so well-known, tell us a little about your upbringing?
Anthony Lynch is an importer of French and Italian wines with Kermit Lynch Wine Merchant, the Berkeley, CA-based company founded by his father, Kermit Lynch, in 1972. Raised in both Provence and California, Anthony is passionate about traditionally produced wines from the great terroirs of France and Italy. When he is not overseas tasting, selecting, and blending cuvées for the KLWM portfolio, he can be found promoting his wines throughout the U.S. or writing about them from the company's Berkeley headquarters.
AL: To start at the beginning, my dad was traveling to France so much to see clients that my parents bought a house there. I spent my childhood split between France and California and Summers in France were amazing. My interest developed naturally after an internship when I was 18 which really opened my eyes to the industry.
AL: Santa Fe Wine & Chile Fiesta will be my first time doing an event since 2019!
SFWC: Put us on the invite list!
SFWC: Kermit Lynch Wine Merchant is the Fiesta's first Importer of the Year which nicely coincides with your 50 years of being in business. We are delighted to be celebrating KLWM. Are there a lot of other celebrations planned?
having something in their hands to read. My mom is a photographer and it's always her artwork on the cover.
AL: Many of our rosés are hitting the market a little later than usual due to shipping delays and international demand. So I'm
AL: I'm excited to see a different part of the country and explore the culture and cuisine of New Mexico.
AL: Funny you should ask. We are planning a big event at the Berkeley store later this fall. Details are still TBD but there will be lots of great food and great wines.
SFWC: What are some of your favorite summer wines that you are drinking right now?
SFWC: What excites you most about coming to Santa Fe Wine & Chile Fiesta next month?
SFWC: Cheers to that!
enjoying those right now along with some great Island wines from Corsica and Sicily. I have a soft spot for the sunniness and saltiness of wines from the Mediterranean
86 © Wendy McEahern 505.982.7768 | @zacharyandsonsZacharyAndSons.com Celebrating Thirty Years of Distinguished Homes in Santa Fe Six Generations of Homebuilding
87 Financial security, independence & long-term sustainability… we'll help get you there. Long-term financial strategies for families, individuals, business owners and charitable organizations Founded in 1987, our advisory business has continually designed a custom approach for clients' specialized needs and goals As a fiduciary, TRG puts clients' best interests first –communicating openly and collaborating frequently, with your values top of mind WE WOULD LOVE TO LEARN HOW WE CAN HELP YOU 2218 OLD ARROYO CHAMISO, SANTA FE (505) 989-3581 • RIKOONGROUP.COM Securities offered through Hightower Securities, LLC member FINRA/SIPC. Hightower Advisors, LLC is a SEC registered investment advisor.
88

WINERIES
The Grand Tasting features over 90 world-class wineries and importers representing wine regions from all over the globe. TASTING I
GRAND
Anciano No. 5 Rioja Crianza 2018 Anciano No. 10 Rioja Gran Reserva 2012
Tyrrell's HV Chardonnay 2021
Tyrrell's HV Shiraz 2019 Elderton E Series "Cab / Shiraz" 2019
Tyrrell's Rufus Stone Cabernet 2019 Elderton E Series Chardonnay 2021
EldertonBROADBENT.COMEstateShiraz2018
Argyle Extended Tirage Brut 2010 Argyle Nuthouse Pinot Noir 2019 Argyle Willamette Valley Pinot Noir 2020 Argyle Pinot Noir Rosé 2021
RosaBANFIWINES.COMRegaleSparklingWhite 2021 Centine Rosso 2019
AncianoWELLOILEDWINECO.COMNo.3RiojaNV
7Cellars Elway's Reserve Cabernet Sauvignon 2020
ANCIANO / WELL OILED WINE CO. SPAIN
Castello Banfi 'San Angelo' Pinot Grigio 2021 Banfi Chianti Classico 2020 Natura Carmenere 2020 Castello Banfi 'BelnerO' Proprietor's Reserve 2017
7Cellars Elway's Reserve Chardonnay 2021
7Cellars Farm Cab 2020
90 WINERIESITASTINGGRAND
7Cellars Farm Pinot Noir 2020
7Cellars7CELLARS.COMFarmChard 2020
ACHAVAL FERRER WINERY ARGENTINA, MENDOZA AchavalAchavalACHAVAL-FERRER.COM/ENG/#FerrerQuimeraRedBlend2018FerrerFincaBellaVista2018
AlphaALPHAOMEGACOLLECTIVENAPA.COM/WINESOmegaCabernetSauvignon2019Tolosa1772Chardonnay 2019
AQUITAINE WINE COMPANY FRANCE AQUITAINEWINE.COM ARGYLE WINERY OREGON ArgyleDVWINEPARTNERS.COMVintageBrut2017
7CELLARS CALIFORNIA, RUTHERFORD
Anciano No. 7 Rioja Reserva 2018
ALPHA OMEGA COLLECTIVE / TOLOSA WINERY SPAIN
Alpha Omega Proprietary Red 2019 Tolosa 1772 Pinot Noir 2018 Perinet 2016
Argyle Reserve Pinot Noir 2019
BANFI VINTNERS ITALY
BROADBENT SELECTIONS AUSTRALIA
TheCBRANDS.COMPrisonerCabernet Sauvignon 2019 Booker Winery My Favorite Neighbor 2019
The Prisoner Pinot Noir 2019 Robert Mondavi Napa Chardonnay 2018
CLINE FAMILY CELLARS CALIFORNIA, SONOMA ClineCLINECELLARS.COMAncientVinesZinfandel 2020 Cline Cabernet 2020
91 WINERIESITASTINGGRAND
Booker Winery Harvey & Harriett 2019 Robert Mondavi Napa Cabernet Sauvignon 2019
DAOU FAMILY ESTATES CALIFORNIA, PASO ROBLES
DAOU Rose 2021
Caymus-Suisun Grand Durif 2019 Conundrum White 2020 Bonanza Cabernet Lot 5 Caymus Napa Cabernet 2020
Cline Sauvignon Blanc 2021 Cline Pinot Noir 2020
CAMBRIA WINERY CALIFORNIA, SANTA MARIA CAMBRIAWINES.COM
DAOU Chardonnay 2021 Pessimist Red 2020
DAOU Sauvignon Blanc 2021 Bodyguard Red 2020
Tenuta Le Collone Bolgheri Red 2018
DAOUDAOUVINEYARDS.COMCabernet2020
Caymus-SuisunWAGNERFAMILYOFWINE.COMTheWalkingFool2020
BROWN FAMILY VINEYARDS WASHINGTON, WALLA WALLA BROWNEFAMILYVINEYARDS.COM
COPPER CANE CALIFORNIA COPPERCANE.COM
Flat Top Hills Chardonnay 2020 French Blue Bordeaux Rosé 2021
Sea Sun Chardonnay 2020
CAYMUS VINEYARDS CALIFORNIA, NAPA
CONSTELLATION BRANDS WINERIES
DE GRAZIA IMPORTS IMPORTER
DievoleMARCDEGRAZIA.COM/USChiantiClassicoRiservaNovecento 2015
Cline Viognier 2021 Cline Cashmere 2020
C. MONDAVI & FAMILY CALIFORNIA, NAPA CharlesWWW.CHARLESKRUG.COMKrugNapaValleyCabernetSauvignon 2018
DELICATO FAMILY WINES CALIFORNIA CoppolaDELICATO.COMDiamondProsecco
DELILLE CELLARS WASHINGTON, COLUMBIA VALLEY FourD2ChaleurDELILLECELLARS.COMBlanc20212019Flags2019
DONNACHADH VINEYARD CALIFORNIA, LOMPOC DonnachadhDONNACHADH.COMEstateChardonnay 2019 Donnachadh Estate Pinot Noir 2019 Donnachadh Estate Syrah 2019
THE DUCKHORN PORTFOLIO CALIFORNIA, NAPA DecoyDUCKHORN.COMBrutCuvée
2021 Dry Creek Vineyard Cabernet 2019 Dry Creek Vineyard Sauvignon Blanc 2021 Dry Creek Vineyard The Mariner 2018 Dry Creek Vineyard Heritage Zinfandel 2019
DEUTSCH FAMILY WINE AND SPIRITS IMPORTER TheDEUTSCHFAMILY.COMCrossingsSauvignonBlanc
2021 Josh Cellars Bourbon Barrel Cabernet Josh Cellars Buttery Chardonnay RSV Clos De Los Siete 2018 Fleurs De Prairie Rosé 2021 Joseph Carr Cabernet Paso Robles 2018
Black Stallion Los Carneros Pinot Noir 2020 Coppola Diamond Sauvignon Blanc Three Finger Jack Red Blend NV Coppola Diamond Paso Cabernet Sauvignon 2019 1924 Bourbon Barrel Cabernet Sauvignon NV
DEMEINE ESTATES CALIFORNIA, NAPA HeitzDEMEINEESTATES.COMCabernetSauvignon,Napa Valley 2017 Burgess Cellars Contadina Cabernet Sauvignon 2016
DRY CREEK VINEYARD CALIFORNIA, SONOMA DryDRYCREEKVINEYARD.COMCreekVineyardDryCheninBlanc
Duckhorn Sauvignon Blanc 2021 Paraduxx Red Blend 2019 Duckhorn Merlot 2019
Postmark Paso Cabernet 2019
92 WINERIESITASTINGGRAND
E&J GALLO WINERY CALIFORNIA GALLO.COM
Pinot Noir 2019 Zinfandel 2018 Pinot Grigio 2020 Sauvignon Blanc 2020
Red Blend 2018
FuméFERRARI-CARANO.COMBlanc2020
EMERITUS VINEYARDS CALIFORNIA, SONOMA EMERITUSVINEYARDS.COM
Chardonnay 2020 Sienna Red Blend 2018 Merlot 2017 Rosé 2020
GLOBAL VINEYARD IMPORTERS SOUTH AMERICA
ELK COVE VINEYARDS OREGON ELKCOVE.COM
WINERIESITASTINGGRAND
FrenchFRENCHLIBATION.COMPoolToyRoséToteNV
Calcu Cabernet Franc 2018 Gillmore Mariposa Pais 2019 Aniello Malbec 2020 Aniello Pinot Noir 2019 Maquis Cabernet Sauvignon 2018
93
CalcuGLOBALVINEYARD.COMRosé2021
EVANS MALONE CALIFORNIA, NAPA FessEVANSMALONE.COMParkerChardonnaySanta Barbara County 2021 Frog's Leap Sauvignon Blanc 2021 Fess Parker Pinot Noir Santa Rita Hills 2020 Solena Estate Pinot Gris 2020 Frog's Leap Zinfandel 2020 Solena Estate Pinot Noir Grand Cuvée 2020
FIT VINE WINE CALIFORNIA, LODI CabernetFITVINEWINE.COMSauvignon2018
Pinot Noir Santa Maria Valley 2018 Chardonnay, Block UU, Bien Nacido Vineyard 2019 Pinot Noir, Block 8, Bien Nacido Vineyard 2017
Zinfandel 2019 Merlot 2018 Napa Cabernet 2018
FRENCH LIBATION FRANCE
Cabernet Sauvignon 2018
Domaine Les Pins Bourgueil l'Instant Rosé 2021 Vrai Caillou Bordeaux Nature Red 2019 Vetriccie Il de Beauté Rouge 2020 Vrai Caillou Entre Deux Mers Blanc 2020
FRANK FAMILY VINEYARDS CALIFORNIA, NAPA CarnerosFRANKFAMILYVINEYARDS.COMChardonnay2020
FERRARI CARANO CALIFORNIA, SONOMA
FOXEN VINEYARD & WINERY CALIFORNIA, SANTA MARIA CheninFOXENVINEYARD.COMBlanc2020
Viallet Savoie Blanc 2020
Riesling 2021 J. Lohr Estates Los Osos Merlot 2019
Substance Sauvignon Blanc 2020
JUSTIN Cabernet Sauvignon 2019 Landmark Overlook Pinot Noir 2018
GODELIA SPAIN, MENCIA
HOUSE OF SMITH WASHINGTON, WALLA WALLA
HOURGLASS WINERY CALIFORNIA, ST. HELENA
Hess Select Pinot Noir 2019 Mt. Veeder Cabernet 2019 Hess Select Cab 2018 Hess Collection Chardonnay 2019
GRUET WINERY NEW MEXICO GRUETWINERY.COM
HourglassHOURGLASSWINES.COMHGIIIRedWine2019
J. Lohr Estates Riverstone Chardonnay 2020
Allomi Cabernet Sauvignon 2019
Hourglass Rosé 2021
Hahn Founder's Pinot Noir 2020
VINOHOUSEOFSMITH.COMPinotGrigio2020
Substance Sauvignon Blanc 2020
Hahn Founder's GSM 2020
HessHESSPERSSONESTATES.COMSelectSauvignonBlanc2021
VINO Rosé of Sangiovese 2021
Smith & Hook Paso Reserve Cabernet 2019
Substance Cabernet 2019
JUSTINJUSTINWINE.COMSauvignonBlanc 2021
Godelia Viernes 2020
JARAMILLO VINEYARDS NEW MEXICO
JUSTIN VINEYARDS & WINERY CALIFORNIA, PASO ROBLES
J. Lohr Estates Flume Crossing Sauvignon Blanc 2021 J. Lohr Estates Seven Oaks Cabernet Sauvignon 2019
Smith & Hook Central Coast Cabernet 2019
JARAMILLOVINEYARDS.COM
HESS PERSSON ESTATES CALIFORNIA, NAPA
94 WINERIESITASTINGGRAND
JUSTIN Rosé 2021
Godelia Blanco 2020
HAHN FAMILY WINES CALIFORNIA, MONTEREY HahnHAHNWINES.COMFounder'sPinotGris2020
Smith & Hook Proprietary Red Blend 2019
Godelia Mencia 2020
Landmark Overlook Chardonnay 2019
VINO Rosso 2018
Hourglass Sauvignon Blanc 2021
GodeliaEUROPVINUSA.COMRosado2021
JUSTIN Isosceles 2018
J. LOHR VINEYARDS & WINES CALIFORNIA
J.JLOHR.COMLohrBayMist
ChanteleuserieKERMITLYNCH.COMBourgueilRosé
Champagne Lanson Père & Fils
LeLeSIRESPIRITS.COMCheminduRoiBrutNVCheminduRoiBrutRosé NV
AIXKOBRANDWINEANDSPIRITS.COMRosé
do
Domaine Anderson Valley Pinot Noir 2018 Scharffenberger Mendocino Brut NV Merry Edwards Sauvignon Blanc 2020
CHAMPAGNE LANSON FRANCE, CHAMPAGNE
KOBRAND WINE AND SPIRITS IMPORTER
St Francis Merlot
Le Chemin du Roi Brut Luminous NV
2020 Campriano Chianti Classico 2016 Catherine de Goeuil Côtes du Rhone 2018 Kermit Lynch Côtes du Rhone 2019 Castagnoli Toscana Rosato 2019 Lambert de Seyssel Petit Royal NV
Follador
MAISONS MARQUES + DOMAINES CALIFORNIA, ANDERSON VALLEY
95 WINERIESITASTINGGRAND
St Francis Zinfandel
Gap'sRussianOneKOSTABROWNE.COMSixteenChardonnay2020RiverValleyPinotNoir2020CrownVineyardPinotNoir2018
KOSTA BROWNE CALIFORNIA, SONOMA
Norton Reserva Malbec
KENDALL-JACKSON WINERY CALIFORNIA KJ.COM
KERMIT LYNCH WINE MERCHANT IMPORTER
Prosecco 2021 Periquita Red Setubal 2021 Laelia Rose Brut 2021 Quinta Portal Mural Reserva Douro 2019 Lancers Rosé NV Quinta do Portal Colheita Tinto Douro 2019
LESCOMBES FAMILY VINEYARDS NEW MEXICO LESCOMBESWINERY.COM
Prosecco
Sequioa Grove Cabernet
FolladorMIMPORTSUSAXzeroExtraBrut
Jadot Mâcon Villages
M IMPORTS IMPORTER
LE CHEMIN DU ROI CHAMPAGNE FRANCE, CHAMPAGNE
DomaineMMDUSA.NETAndersonValley Chardonnay 2018 Roederer Estate Anderson Valley Rosé MV
Liquid Geography Rosado 2021 Carro Tinto 2019 Nortico Alvarinho 2021
NOTRE VUE ESTATE CALIFORNIA, SONOMA NOTREVUEESTATE.COM
Petite Petit 2020 Earthquake Cabernet 2019 Lust Zinfandel 2019 Earthquake Zinfandel 2019
Monticello Estate Pinot Noir 2018 Monticello Jefferson Cuvee Cab 2019 Monticello Estate Merlot 2018 CORLEY Napa Cabernet Sauvignon 2018
Sage Canyon Red 2019 Carneros Chardonnay 2019 Left Bank Red 2019
Outerbound Russian River Pinot Noir 2019 Outerbound Reserve AV Cabernet Sauvignon 20193
96 WINERIESITASTINGGRAND
Metallico Chardonnay 2020 Cotes Du Crow's 2019 Highland Chardonnay 2020 G17 Syrah 2019
NORTH COAST WINE CO. CALIFORNIA, SONOMA
OLÉ & OBRIGADO SPAIN & PORTUGAL AplantaOLEOBRIGADO.COMTinto2019
NEYERS VINEYARDS CALIFORNIA, NAPA 304NEYERSVINEYARDS.COMChardonnay2019
NOISY WATER WINERY NEW MEXICO NOISYWATERWINERY.COM NORTH BERKELEY IMPORTS IMPORTER ChampagneNORTHBERKELEYIMPORTS.COMJeanVesselleBrutRéserveNV
MONTICELLO VINEYARDS
Livera Côtes de Nuits - Villages VV Réserve 2019 Michel Sarrazin Givry, Les Grognots Blanc 2020 Murgo Brut Rosé NV
Monticello Jefferson Cuvee Cab 2019
Columna Albariño 2021
MORGAN WINERY CALIFORNIA, MONTEREY SauvignonMORGANWINERY.COMBlanc2021
30 30 Years Years 1992 2022 1992 2022 Font = LHFStanfordScript1
OuterboundNORTHCOASTWINE.COMSonomaCoastChardonnay 2020 Outerbound Alexander Valley Cabernet Sauvignon 2019
Twelve Clones Pinot Noir 2019
MICHAEL DAVID WINERY CALIFORNIA, LODI FreakshowMICHAELDAVIDWINDERY.COMCabernet2020
CORLEY FAMILY NAPA VALLEY CALIFORNIA, NAPA MonticelloCORLEYFAMILYNAPAVALLEY.COMEstateChardonnay2019
Sixth Sense 2020
Ladera Sagrada "Papa" Godello 2020
River Valley 2019 Ramey Claret, North Coast 2018 Ramey Pinot Noir, Russian River Valley 2018 Ramey Syrah, Rodgers Creek Vineyard, Petaluma Gap - Sonoma Coast 2015
PACIFIC HIGHWAY WINES IMPORTER StarmontPACIFIC-HWY.COMChardonnay2020
PERNOD RICARD CampoPERNOD-RICARD-USA.COMIMPORTERViejoBlanco2021
ROMBAUER VINEYARDS CALIFORNIA, NAPA RombauerROMBAUER.COMSauvignonBlanc 2021
Rodney Strong Red Blend 2019 Upshot White 2018
Port Dow's Vale do Bomfim Douro Red Graham's Six Grapes Reserve Port Dow's Vale do Bomfim Douro White Dow's 10-Year-Old Tawny Port Blandy's 10-Year-Old Bual Madeira
RODNEY STRONG WINE ESTATES CALIFORNIA, SONOMA RodneyRODNEYSTRONG.COMStrongRosé2021
Rodney Strong Alex Valley Cab 2018 Upshot Red 2018
PREMIUM PORT WINE PORTUGAL, OPORTO Graham'sPREMIUMPORT.COM20-Year-OldTawny
Faustino V Reserva 2020 Starmont Cabernet Sauvignon 2019 Starmont Sauvignon Blanc 2020 Giesen Estate Sauvignon Blanc 2022 Garzon Reserva Tannat 2019
97
RIDGE VINEYARDS CALIFORNIA, SANTA CRUZ RIDGEWINE.COM
WINERIESITASTINGGRAND
Kenwood Monterey Pinot Noir 2020
RIO GRANDE WINERY NEW MEXICO RIOGRANDEWINERY.COM
Campo Viejo Reserva 2016 Mumm Napa Rosé Kenwood Jack London Cabernet Sauvignon 2018 Mumm Napa Brut
Rombauer Napa Valley Cabernet Sauvignon 2019 Rombauer Carneros Chardonnay 2021 Rombauer Zinfandel 2019 Rombauer Napa Valley Merlot 2018
Rodney Strong Chalk Hill Chard 2019
RAMEY WINE CELLARS CALIFORNIA, SONOMA RameyRAMEYWINE.COMChardonnay,Russian
PALM BAY IMPORTS IMPORTER PALMBAY.COM
Chloe Pinot Grigio 2020 Imagery Chardonnay 2020 Tribute Cabernet Sauvignon 2018 Chloe Prosecco
Diora "La Splendeur du Soliel" Chardonnay 2019 Director's Cut Zinfandel 2018
TERLATO WINE GROUP IMPORTER ChampagneTERLATO.COMLanson Père et Fils
Director's Cut Cabernet Sauvignon 2018
Les Sarrins Rosé Côtes de Provence 2021
Predator Cabernet 2020
Scott Family Chardonnay 2018
98 WINERIESITASTINGGRAND
Heidi Schröck & Söhne 'Tour de Rosé, 2021 von Winning Pinot Noir Rosé 2020 Schloss Gobelsburg Rosé 'Cistercien' 2021
DioraTRANSCENDENTWINES.COM"LeBelleFete"RoseofPinotNoir2019
SHEEHAN WINERY NEW MEXICO CinsaultSHEEHANWINERY.COMRosé2021
Benziger Sauvignon Blanc 2019
Federalist Cabernet Sauvignon 2017 Terlato Pinot Grigio Friuli 2021 Hanna Sauvignon Blanc 2021 Riondo Prosecco
The Pinot Project Rosé France 2021
Blanc 2021
Scott Family Pinot Noir 2019
SCHEID FAMILY WINES CALIFORNIA, MONTEREY ScheidSCHEIDVINEYARDS.COMSauvignonBlanc2021
ImageryTHEWINEGROUP.COMPinotNoir2019
Diora "La Petie Grace" Pinot Noir 2019
TABLAS CREEK VINEYARD CALIFORNIA, PASO ROBLES PatelinTABLASCREEK.COMdeTablasRosé2021
RUTHERFORD WINE COMPANY CALIFORNIA, NAPA PredatorRUTHERFORDWINE.COMZinfandel2020
La Bernarde Côtes de Provence Rosé, Les Hauts du Luc, 2021
ROUND POND ESTATE CALIFORNIA, NAPA RoundROUNDPOND.COMPondEstateSauvignon
Sunny With A Chance of Flowers Pinot Noir 2020 District 7 Pinot Noir 2020 Ghost Hull Cabernet Sauvignon 2020
Grand Reserve Cabernet 2018 Pinot Noir 2019 Gruner Veltiner 2020 Sauvignon Blanc 2019
Round Pond Kith & Kin Cab 2019
Round Pond Estate Cabernet Sauvignon 2019
SKURNIK WINES & SPIRITS IMPORTER ConquillaSKURNIK.COMCavaRosé NV
Esprit de Tablas Blanc 2020 Patelin de Tablas Blanc 2021 Esprit de Tablas Rouge 2019 Patelin de Tablas Rouge 2021
THE WINE GROUP IMPORTER
Malbec 2018
TRANSCENDENT WINES IMPORTER
Torbreck "Woodcutters" Shiraz 2020
Round Pond Bovet Reserve Cabernet Sauvignon 2019
Sunny With A Chance of Flowers Rosé 2021 Aristotle Petite Sirah 2020
Rutherford Ranch Cabernet 2018
Rutherford Ranch Chardonnay 2018
RoséVIVACWINERY.COMofSangiovese2021
Tempranillo 2020 Riesling 2021 Cabernet Sauvignon 2019 Sangiovese 2020
WINEBOW IMPORTS IMPORTER
VillaWINEBOW.COMMariaSauvignon Blanc 2021 Borsao Garnacha 2020 Catena Malbec 2019 Tramin Pinot Grigio 2021 Jansz Rosé Simonet Blanc de Blanc NV
Marietta Cellars Roman Zinfandel 2020 Marietta Cellars OVR Rosé 2021 Marietta Cellars Arme Cabernet Sauvignon 2019
BaileyanaWXBRANDS.COMFirepeakChardonnay 2018 Chonic Cellars Purple Paradise Red Blend 2020 Baileyana Firepeak Pinot Noir 2019 Tangent Albariño 2020 Bread & Butter Pinot Noir 2020 True Myth Cabernet Sauvignon 2019
WINERIESITASTINGGRAND
VINEYARD BRANDS IMPORTER
TortoiseWINESELLERSLTD.COMCreekChardonnay2019
VINTUS CALIFORNIA, SONOMA
WILSON DANIELS IMPORTER
TorresWILSONDANIELS.COMCelesteCrianzaRiberadel Duero 2019 RouteStock Chardonnay 2020 Jeio DOC Brut 750ML MV Royal Tokaji Late Harvest 2018 Torres Pazos da Bruxas, Albariño 2020 Peyrassol La Criox Rosé 2021
WINESELLERS LTD. IMPORTER
MariettaVINTUS.COMCellarsOVR
Le Charmel Syrah-Grenache 2016
Garnacha Lot #0321 2019 Silverhead Brut Rosado NV Tempranillo (Gold Label) 2020 Malvasia 2020
Marietta Cellars Christo Red Blend 2019
Tortoise Creek Cabernet Sauvignon 2018 Prosper Maufoux Rosé NV Le Charmel Pinot Noir 2019 Prodigo Nero d'Avola 2019
WX BRANDS IMPORTER
VARA WINERY & DISTILLERY NEW MEXICO
99
SilverheadVARAWINES.COMBrutSparkling NV
Lot 73 NV
ChâteauVINEYARDBRANDS.COMMiravalSTUDIObyMiraval 2021 La Vieille Ferme Sparkling Brut NV Marqués de Cáceres Rosato 2020 Marqués de Cáceres Cava NV Miguel Torres Chile Las Mulas Rosé 2021 Miguel Torres Chile Estelado NV
WILLAMETTE VALLEY VINEYARDS ORGEON, WILLAMETTE VALLEY
VIVÁC WINERY NEW MEXICO
PinotWVV.COMGris2021
Whole Cluster Pinot Noir 2021 Whole Cluster Rosé 2021 Estate Pinot Noir 2021
As a
THERE'S
Visit us online at ENTERPRISEBANK.COM ENTEPRISE BANK & TRUST IS PROUD TO SUPPORT THE SANTA FE WINE AND CHILE FIESTA.
partner of the
Fe Wine and Chile Fiesta, Enterprise is proud to provide continued support to efforts that enrich and better the Santa Fe community. Joe's Tequila Bar Santa Fe, New Mexico tequila, tacos, & tapas Located in the Inn on the Alameda 303 E Alameda St | Phone: 505-946-0525 !Mmm!
TOGETHER, NO STOPPING YOU. historical Santa
101
102 an art design and culture magazine in print that's worth reading trendmagazineglobal.com
103 15 off% your entire purchase*NOWACT 10 % seniors & militaryoff 5 % to first 50 offcallers** AND FINANCING THAT FITS YOUR BUDGET! 1 Keep your gutters clog-free and protect your home from overflow! No matter where you live, LeafFilter keeps all types of debris out of your gutters. Over 1,000,000 LeafFilter customers agree: While there are many different forms of gutter protection to choose from, there is only one product that can truly be gutter protection perfection, and that's LeafFilter! Snow & Ice | Insects | Leaves | Twigs | Moss | Spinners | Pine Needles 1Subject to credit approval. Call for details 2The leading consumer reporting agency conducted a 16 month outdoor test of gutter guards in 2010 and recognized LeafFilter as the "#1 rated professionally installed gutter guard system in America. See Representative for full warranty details. *One coupon per household. No obligation estimate valid for 1 year. **Offer Valid at the time of estimate only. 1-844-440-9814 LeafFilter.com/15off | Promo: 99CALL US TODAY FOR A FREE ESTIMATE 1-844-440-9814 15 off% your entire purchase*NOWACT 10 % seniors & militaryoff 5 % to first 50 offcallers** AND FINANCING THAT FITS YOUR BUDGET! 1 Keep your gutters clog-free and protect your home from overflow! No matter where you live, LeafFilter keeps all types of debris out of your gutters. Over 1,000,000 LeafFilter customers agree: While there are many different forms of gutter protection to choose from, there is only one product that can truly be gutter protection perfection, and that's LeafFilter! Snow & Ice | Insects | Leaves | Twigs | Moss | Spinners | Pine Needles THE PERMANENT SOLUTION TO CLOGGED GUTTERS CALL US TODAY F OR YOUR FRE E E STIMATE 1Subject to credit approval. Call for details 2The leading consumer reporting agency conducted a 16 month outdoor test of gutter guards in 2010 and recognized LeafFilter as the "#1 rated professionally installed gutter guard system in America. See Representative for full warranty details. *One coupon per household. No obligation estimate valid for 1 year. **Offer Valid at the time of estimate only. 1-844-440-9814 LeafFilter.com/15off | Promo: 99CALL US TODAY FOR A FREE ESTIMATE
Never take a guest's late-night phone call again—our Customer Experience team has it covered.
Dedicated local teams
Effective marketing
Discover what our local teams can do for your vacation home Vacasa.com/property-management
Tech that works for you
24/7 guest support
505-317-3969carey.carnahan@vacasa.com
We make your home shine with an eye-catching listing, and market it to millions using Vacasa-exclusive tools.
Carey Carnahan Homeowner Consultant
Vacasa makes owning a vacation rental home both profitable and effortless. Our full-service vacation rental management team makes owning a vacation home worry-free with 24/7 local support, vacation rental marketing experts, and cutting-edge technology like our mobile Homeowner App.
Become our partner, we'll take care of everything.
CJ Johnson, Principal Broker | Vacasa New Mexico LLC. | 575-339-6351 This content is not intended to solicit the breach of any exclusive agreement for rental property management. If you do not wish to receive future marketing communications from Vacasa New Mexico LLC, please visit Vacasa.com/donotmail
Stay connected with a digital revenue dashboard, booking notifications, our new Homeowner app, and more.
Our local pros constantly look out for your home, keeping it safe, stocked, and sparkling clean.
104
Real Estate Lic #REC-2022-0143
505-471-2400 | 2400 legacy court, santa fe Take a Virtual Tour scan with phone camera Santa Fe's Highest Rated Senior CommunityLiving4.4starsongoogle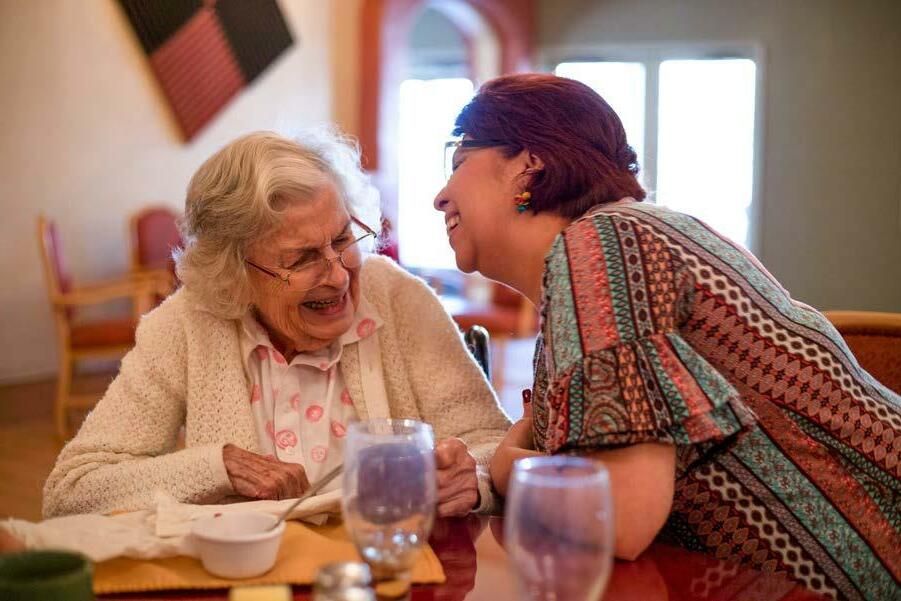 PARTICIPATING RESTAURANTS
The Santa Fe Wine & Chile Fiesta Grand Tasting features over 50 Great Santa Fe restaurants all serving at one place.
Andiamo was founded in 1995 on the idea of serving local ingredients whenever possible.
THE ANASAZI RESTAURANT, BAR & LOUNGE
The Blue Window Bistro has been serving Los Alamos for over 40 years.
Chef-owned and operated for more than two decades, 315 is dedicated to serving both modern and contemporary French cuisine
315 OLD SANTA FE TRAIL, SANTA FE | 505-986-9190 315SANTAFE.COM
BLUE WINDOW BISTRO
1934 CERRILLOS RD., SANTA FE | 505-428-6827 BECKANDBULOW.COM
108 RESTAURANTSITASTINGGRAND
309 W. SAN FRANCISCO ST., SANTA FE | 505-364-7113 ELDORADOHOTEL.COM/EAT_DRINK/AGAVE_LOUNGE
Beck & Bulow carefully sources premium products. We choose what to offer based on farming practices, life quality and taste.
Enter a world of celebrated culinary delight - with the best Happy Hour in Santa Fe-in a casual, hip setting
AT THE ELDORADO HOTEL
BECK & BULOW
ANASAZI-RESTAURANTROSEWOODHOTELS.COM/EN/INN-OF-THE-ANASAZI-SANTA-FE/DINING/
1789 CENTRAL AVE., LOS ALAMOS | 505-695-5114 LABLUEWINDOWBISTRO.COM
ANDIAMO!
315 RESTAURANT & WINE BAR
AGAVE RESTAURANT & LOUNGE
322 GARFIELD ST., SANTA FE | 505-699-7420 ANDIAMOSANTAFE.COM
The Anasazi Restaurant, Bar & Lounge is inspired by Santa Fe's rich cultural and culinary history.
113 WASHINGTON AVE., SANTA FE | 505-946-4118
Bourbon Grill Santa Fe is a restaurant & bar serving a broad selection of old favorites.
101 WEST ALAMEDA ST., SANTA FE | 505-954-0336 DELCHARRO.COM
EL NIDO
CAFECITO
COYOTE CAFE
RESTAURANTSITASTINGGRAND 109
505 CERRILLOS RD. #B101, SANTA FE | 505-699-5974 CHEFNATH.COM
104 OLD LAS VEGAS HWY., SANTA FE | 505-984-8000 BOURBONGRILLSANTAFE.COM
CHEF NATH'S KHMER CUISINE
132 WATER ST., SANTA FE | 505-983-1615 COYOTECAFE.COM
BOURBON GRILL
922 SHOOFLY ST., SANTA FE | 505-690-2871 CAFECITOSANTAFE.COM
2860 CERRILLOS RD., SANTA FE | 505-471-0043 DRFIELDGOODS.COM
Cafecito is a family-owned business blending the cultures of Argentina, Armenia, and Italy.
Laid-back destination for creative, sustainable New Mexican cuisine & local brews on tap.
Rustic, Western-themed watering hole serving Tex Mex grub, margaritas & cocktails.
Elegant eatery featuring local cuisine with Southwestern flair, cocktails & a rooftop bar.
DEL CHARRO
DR. FIELD GOODS KITCHEN
Royal Khmer cuisine was refined in the palaces of Cambodia over centuries.
1577 BISHOPS LODGE RD., SANTA FE | 505-954-1272 ELDNIDOSANTAFE.COM
Less than 10 minutes from the Santa Fe Plaza, El Nido is an iconic restaurant tucked cozily in the village of Tesuque.
With a comfortable lounge and dining area, Hervé Wine Bar is one of the best places to enjoy Santa Fe.
724 CANYON RD., SANTA FE | 505-982-1500 GERONIMORESTAURANT.COM
Upscale izakaya at Ten Thousand Waves offering Japanese bar bites, artisanal sake & craft beer.
HERVÉ WINE BAR
The third incarnation of Wrede's Joseph's Table 20 years ago, for which he is well known and loved within the region and beyond.
21 TEN THOUSAND WAVES WAY, SANTA FE | 505-428-6394 TENTHOUSANDWAVES.COM
RESTAURANTSITASTINGGRAND
HORNO RESTAURANT 95 W MARCY ST., SANTA FE | 505-310-1065 HORNORESTAURANT.COM
For more than 20 years, Executive Chef Ever Paz has honed his skills crafting recipes and preparing food that combines world flavors.
GERONIMO
153 PASEO DE PERALTA, SANTA FE | 505-457-3578 THEALLEYSANTAFE.COM
139 W. SAN FRANCISCO ST., SANTA FE | 505-795-7075 HERVEWINEBAR.COM
HIDDEN MOUNTAIN BREWING COMPANY
4056 CERRILLOS RD., SANTA FE | 505-920-6752 HIDDENMOUNTAINBREWING.COM Award-winning expertise both in our brewery and our kitchen.
Fine dining in a 1756 adobe home. New Mexico's only Mobil 4 Star, AAA 4 Diamond restaurant.
JOSEPH'S CULINARY PUB
FOOD FOR THE PEOPLE. a gastropub where street food meets indoor dining. IZANAMI
EL SABOR @ THE ALLEY
428 AGUA FRIA ST., SANTA FE | 505-660-3721 JOSEPHSOFSANTAFE.COM
110
LA CASA SENA
The Legal Tender Saloon at the Lamy History Museum is post-civil war era treasure in the authentic western railroad town of Lamy, NM.
SANTA-FEKINGSTONHEALTHCARE.COM/COMMUNITIES/KINGSTON-RESIDENCE-OF-
Nestled in the heart of La Fonda on the Plaza, is the most intimate among restaurants in Santa Fe.
Renowned Chef Alain Jorand creates authentic French cuisine in a beautiful setting that is sure to transport you to France.
LEGAL TENDER SALOON & EATING HOUSE
111
LA PLAZUELA AT LA FONDA
730 ST MICHAELS DR., SANTA FE | 505-471-0440 LOYALHOUNDPUB.COM
La Casa Sena feels like a hidden gem nestled in the heart of the Santa Fe Plaza.
Live comfortably in Santa's Fe's most spacious assisted living and memory care community.
72 WEST MARCY ST., SANTA FE | 505-577-8052 LABOCASANTAFE.COM
LE POMMIER
151 OLD LAMY TRAIL, SANTA FE | 505-379-6958 LEGALTENDERLAMY.COM
KINGSTON RESIDENCE OF SANTA FE
LOYAL HOUND PUB
LA BOCA
7 CALIENTE ROAD, SANTA FE | 505-466-3235 LEPOMMIERBISTRO.COM
RESTAURANTSITASTINGGRAND
2400 LEGACY COURT., SANTA FE | 505-303-9141
La Boca has the feel of a lively European wine bar, featuring an extensive selection of carefully chosen Spanish wines and Sherries.
A Santa Fe locals' establishment that is friendly, professional, polite that serves good "stick to your ribs" home style food.
100 E. SAN FRANCISCO ST., SANTA FE | 505-995-2316 LAFONDASANTAFE.COM/LA-PLAZUELA?CHEBS=LOCAL-LAFONDA-LA-PLAZUELA
125 E. PALACE AVE., SANTA FE | 505-310-1032 LACASASENA.COM
LUMINARIA RESTAURANT & PATIO
MARKET STEER STEAKHOUSE
OPEN KITCHEN SANTA FE
Prime steaks & chops, plus seafood entrees, presented in a rustic-chic venue with a courtyard.
PALOMA
401 S. GUADALUPE ST., SANTA FE | 505-310-3973 PALOMASANTAFE.COM
58 S. FEDERAL PLACE, SANTA FE | 505-986-5858 OSTERIADASSISI.COM
211 OLD SANTA FE TRAIL, SANTA FE | 505-984-7915 HOTELLORETTO.COM/EAT_DRINK/LUMINARIA-RESTAURANT-PATIO
Osteria d'Assisi is Santa Fe's premier Italian Restaurant and is home to a wide range of authentic Italian dishes you're sure to love.
Upmarket Mexican cuisine & creative cocktails showcased in a rustic-chic space with an intimate bar.
526 GALESTEO ST., SANTA FE | 505-820-0919 RESTAURANTMARTIN.COM
112
227 DON GASPAR AVE., SANTA FE | 202-285-9840 OPENKITCHENEVENTS.COM
RESTAURANT MARTÍN
OSTERIA D'ASSISI
Refined New American dishes served in a contemporary space with a garden-lined patio.
142 WEST PALACE AVE., SANTA FE | 505-730-0239 PALACEPRIMESF.COM
Luminaria Restaurant and Patio is recognized by locals and visitors alike for its tranquil, inviting setting & inventive, globally inspired menu.
RESTAURANTSITASTINGGRAND
210 DON GASPAR, SANTA FE | 505-992-6354 MARKETSTEERSTEAKHOUSE.COM
Food and community in a new way when you share in all that Chef Hue-Chan Karels offers.
PALACE PRIME - STEAK + SEAFOOD
A Santa Fe tradition reborn featuring steaks and fresh seafood.
Modern Italian cuisine including pizza, antipasti & wine in a sleek, top-floor space with patio.
ROOFTOP PIZZERIA
RIO CHAMA PRIME STEAKHOUSE
163 PASEO DE PERALTA, SANTA FE | 505-577-5096 SABORPERUANOSF.COM
231 WASHINGTON AVE., SANTA FE | 505-984-1788 SANTACAFE.COM
Upscale New American eatery & bar serving regional fare in an 1850s house with a courtyard.
Sophisticated yet casual. Rustica serves fresh, homemade Italian food.
225 JOHNSON ST., SANTA FE | 505-721-0199 SASSELLASANTAFE.COM
Exceptional Cuisine, Finest Italian Wines, Stunning Ambience … The name "Sassella" comes from an Italian hamlet of 60 residents known for its vineyards.
RESTAURANTSITASTINGGRAND
Sabor Peruano Restaurant offers delicious Peruvian cuisine and atmosphere inside the DeVargas mall.
SASSELLA
Elevated Latin American cuisine & specialty cocktails served in an enticing Mexican-themed space.
SAZÓN
1405 MACLOVIA ST., SANTA FE | 505-428-0719 ROWLEYFARMHOUSE.COM
SANTACAFÉ
221 SHELBY ST., SANTA FE | 505-983-8604 SAZONSANTAFE.COM
Acclaimed taproom & gastropub featuring a spacious, dog-friendly patio & gourmet comfort food.
113
ROWLEY FARMHOUSE ALES
RUSTICA FRESH ITALIAN KITCHEN
SABOR PERUANO
2571 CRISTOS RD., SANTA FE | 505-660-0621 RUSTICASANTAFE.COM
60 E SAN FRANCISCO ST., SANTA FE | 505-310-1032 ROOFTOPPIZZERIA.COM
414 OLD SANTA FE TRAIL, SANTA FE | 505-310-1032 RIOCHAMASANTAFE.COM
Refined ranch space known for prime rib & filet mignon along with a popular bar & happy hour.
Compact destination featuring Mexican cuisine for brunch & dinner, plus a terrace.
3139 CERRILLOS RD., SANTA FE | 505-471-8685 TORTILLAFLATS.NET
113 1/2 PALACE AVE., SANTA FE | 505-577-8170 SFSHED.COM
Local go-to for classic Southwestern fare housed in a circa-1692 hacienda with a cantina-style bar.
TERRA @ FOUR SEASONS RANCHO ENCANTADO
ZACATLÁN
317 AZTEC ST., SANTA FE | 505-780-5174 ZACATLANRESTAURANT.COM
198 STATE RD. 592, SANTA FE | 505-946-5810 FOURSEASONS.COM/SANTAFE/DINING
SKYFIRE AT BISHOP'S LODGE
1297 BISHOP'S LODGE ROAD, SANTA FE | 505-660-9727 AUBERGERESORTS.COM/BISHOPSLODGE/DINE Nestled at the base of the Sangre de Cristo mountains, SkyFire draws inspiration from the diverse, rich ingredients.
TERRACOTTA WINE BISTRO
VINAIGRETTEONLINE.COM
304 JOHNSON ST., SANTA FE | 505-577-3851 TERRACOTTAWINEBISTRO.COM
TORTILLA FLATS
RESTAURANTSITASTINGGRAND
114
138 TESUQUE VILLAGE RD., SANTA FE | 505-988-8848 TESUQUEVILLAGEMARKET.COM Funky chic roadhouse where down home is upscale.
TerraCotta Wine Bistro is a smart casual food & wine restaurant located in the historic district of downtown Santa Fe.
VINAIGRETTE
Nationally Acclaimed New Mexican Cuisine ... "The food has always been excellent and the service exceptionally fast and friendly."
Upscale, contemporary American restaurant at the Four Seasons Hotel known for desert views.
TESUQUE VILLAGE MARKET
709 DON CUBERO ALY., SANTA FE | 505-690-5510
THE SHED
Vinaigrette is a chic and green Santa Fe bistro that raises the "salad bar" with bold and delicious entrée salads.
Get your soul pack at the Bueno Foods' booth or order online at buenofoods.com.
115
Salsas For The Soul.
Enjoy this one-of-a-kind margarita experience to taste more than 40 of the best margaritas in the world! Along the Santa Fe Margarita Trail , you'll not only savor signature margaritas, each with stories of their own, but you'll come to know some of the most popular restaurants and bars in The City Different. Please enjoy the Margarita Trail responsibly! SantaFeMargaritaTrail.com Your Margarita Adventure BEGINS HERE! Grab a Paper Passport or Download the App Now!
LearnImmerseEXPERIENCESAVOREXPLORETASTEyourselfinourculture…thetechniquesofourmasterchefswhileyousampletheflavorsofourlandandtradition.Experiencethepassionatesoundsofjazzwithadelectablemeal. Hands-on and Demo Classes Fabulous Market • Food Tours Dave's Jazz Bistro Special Events and more 125 N. Guadalupe santafeschoolofcooking.com505.983.4511Street.JUDGEJENBYPHOTOGRAPH
WINE & CHILE I RECIPES
Santa Fe is blessed with more restaurants per capita than any American City and we are excited to share recipes from a few of them with you!
122 RECIPESICHILE&WINE
Mix all the ingredients except the wings, in a mixing bowl. Chill in refrigerator for 30 minutes.
1 Tsp. cumin powder
ANCHO AMCHUR TANDOORI WINGS From Raaga-Go by Paddy Rawal
2 Tbsp. ginger garlic paste
3 Tbsp. mustard oil
INSTRUCTIONS
2 Tbsp. dry fenugreek leaves
Using a blender, add all the ingredients except the yogurt and blend until smooth and liquid. Add the yogurt and the mixture in a mixing bowl, lightly stir together and serve chilled.
Salt to season
INGREDIENTS
DIP
Cook for approximately one hour, constantly rotating the wings on the sides every 15 minutes, until brown and coo
Pre heat the oven at 425 and hold. Thoroughly mix the wings in the marinade. Lay out the wings, skin side down on an oven proof sheet pan.
2 lbs. of whole milk yogurt, whipped. 1 bunch fresh mint, 1 bunch of fresh cilantro, 1 Tsp. chopped ginger, 1 Tsp chopped garlic, 1 Tsp salt, 1 Tbsp. sugar.
3 Tbsp. ancho seasoning
2 Tbsp. dehydrated mango powder [Amchur]
1 Tbsp. garam masala
2 Cups Greek yogurt
4 lbs. wings, halved at joint, wingtips discarded
2 to 3 Tsp. minced garlic: 2 Tbsp. all-purpose flour
123
freshly ground coriander seed to taste, optional
INSTRUCTIONS
Yields: Makes about 2-1/2 cups
1-1/2 Cup chicken stock salt to taste
INSTRUCTIONS
2/3 Cup mild roasted, peeled, chopped New Mexico green chile
2 to 3 Tsp. minced garlic, to taste
2/3 Cup hot roasted, peeled, chopped New Mexico green chile
Yields: Makes about 2-1/2 cups
1/2 Cup finely diced onion
1 to 2 Tbsp. flour
Heat the oil in a medium saucepan and sauté the onion for 3 to 4 minutes, until softened. Add the garlic and sauté 2 minutes more. Stir in the flour, the chile and slowly add the water, whisking to break up any lumps in the chile. Add the oregano and the cumin, and bring to a boil. Reduce the heat and simmer for about 20 minutes, or until the mixture has thickened slightly. Season with salt to taste.
Heat the oil in a medium saucepan and sauté the onion until softened, about 3 to 4 minutes. Add the garlic and sauté 2 minutes more. Stir in the flour. Add the green chile, coriander seed (optional) and slowly stir in the chicken stock. Bring the mixture to a boil, reduce the heat and simmer for about 15 minutes. Season with salt to taste.
GREEN CHILE SAUCE
These simple but tasty New Mexican classic sauces will spice up any dish from enchiladas, burritos or use them on top of eggs or on a hamburger. They will bring you back to the tastes of Santa Fe!
1 Tsp. dried Mexican oregano
INGREDIENTS
1 Cup chopped onion
1/2 Tsp. freshly ground cumin seed salt to taste
NEW MEXICO RED AND GREEN CHILE SAUCE From Santa Fe School of Cooking
RED CHILE SAUCE
1/4 Cup vegetable oil
1/2 Cup pure ground medium Chimayo red chile 2-1/2 Cup water
INGREDIENTS
RECIPESICHILE&WINE
1/4 Cup vegetable oil
Red, Green or Christmas?
2 Tbsp. minced onion
1 Cup mayonnaise
SMOKED TUNA DIP From Texas Q by Cheryl Alters Jamison
1. Prepare the smoker for barbecuing, bringing the temperature to 200°F to 225°F. If you are smoking at a slightly higher temperature, in a stovetop smoker or covered grill for example, just subtract a few minutes from the cooking time.
1 Minced pickled jalapeño
F OUR-TIME JAMES BEARD AWARD-WINNER
© 2020 Cheryl Alters Jamison
2. Sprinkle the tuna evenly with the salt on both sides. Transfer to the smoker as far from the heat as possible. Cook the tuna for about 45 minutes. When done, it will be firm and no longer pink.
¼ Tsp. ground white pepper
DIP
Makes about 2 cups
INSTRUCTIONS
2 Tbsp. minced parsley
8- to 10-ounce tuna steak, preferably cut about ½ inch thick Kosher salt or coarse sea salt
½ Tsp. soy sauce
Cucumber or zucchini rounds, radishes, lavash, or other crackers.
INGREDIENTS
124 RECIPESICHILE&WINE
3. Cool the tuna briefly. Chop the tuna finely, with a chef's knife rather than a food processor. You want a bit of texture. Transfer to a bowl and stir in the dip ingredients. Refrigerate for at least 1 hour for the flavors to mingle. Serve with vegetables or crackers or both.
3 Tbsp. pure cane or palm sugar
Juice of 2 limes
2 ½ Lbs boneless beef tenderloin cut into 1 1/2-inch cubes
Transfer beef to bed of greens, tomatoes, and cucumber.
BÒ LÚC LAC ~ "SHAKING BEEF"
1 Cucumber, thinly sliced
1 Tsp. ground black pepper
Repeat this with the second batch of meat using the remainder of the oil.
Serve with lime dipping sauce.
1 ¼ Tbsp. oyster sauce
For the marinade, in a bowl, combine beef, garlic, Maggi or soy sauce, oyster sauce, brown sugar, salt and black. Marinade at room temperature for 30 minutes to 1 hour. For the vinaigrette. combine rice vinegar with salt, black pepper, and sugar. Set aside.
For Vinaigrette
1 ½ Tsp. sea salt
For Salad/Garnish
1 Cup rice vinegar
1 Medium red onion, thinly sliced
Heat a large wok or pan over high heat. When very hot add 1/2 tbsp oil and when it begins to smoke, add an even layer of beef (half) and allow to sear for about 2 minutes, before "shaking" to sear the opposite sides for about another 1-2 minute more to brown all the sides.
1 ¼ Tbsp. Maggi seasoning or soy sauce
Drizzle remainder of the vinaigrette over the beef and greens and top with pickled red onions.
Make dipping sauce by squeezing lime juice over salt and pepper in a small ramekin and set aside.
1 ¼ Tbsp. brown sugar
1 Tsp. ground pepper
1/2 Tsp. pure cane or palm sugar
Fresh herbs (cilantro, mint)
2 Tomatoes, thinly sliced
From Open Kitchen by Hue-Chan Karels
Prepare bed of greens with tomatoes and cucumber in a serving platter and set aside.
10 Garlic cloves, minced
1 ½ Tsp. sea salt
5 Cups watercress
2 Tbsp. canola oil
INSTRUCTIONS
For Sautéeing:
For Lime Dipping Sauce
2 Tsp. ground black pepper
3 Tsp. sea salt
Thinly slice the red onion and use about 1/4 cup of the vinaigrette to pickle and set aside covered in fridge for about 10 minutes.
ForINGREDIENTSthemarinade
125 RECIPESICHILE&WINE
Mix everything together. Plate with garnish and egg yolk.
8 sprigs parsley, finely chopped
1 Tbsp. red wine vinegar
1 Tsp. salt (more to taste)
SIGNATURE BISON TARTARE
We love making it with our bison filet mignon. This tartare recipe can also be made with Wagyu beef or elk tenderloin. It's the red meat equivalent of eating raw sashimi grade fish. Making tartare is sure to impress your date or guests and is a delicious way to enjoy our amazing steaks. And it's easier than you might think!
Whisk Together: 3 Tbsp. olive oil
From Beck & Bulow by Tony Beck and Jean-Paul Bulow
1 shallot, minced ½ Tsp. anchovy paste
1 Tsp. black pepper (more to taste)
Have you tried tartare before?
Finely Chop: 8-10oz bison tenderloin, finely diced ¼ Cup capers
126 RECIPESICHILE&WINE
INGREDIENTS
1 egg yolk
127
2 Dried chipotle chiles
¼ Cup sherry vinegar
INSTRUCTIONS
1 Tbsp. very finely sliced Green Onion
Spread avocado on the tostada. Top with tuna mixture.
Leftover salsa macha is good on almost anything! Try it on poached eggs or roasted chicken.
4 oz. Sushi Grade Ahi Tuna, cleaneddicedand
1 Freshly Fried Corn Tostada (either homemade or store bought)
INSTRUCTIONS
2 Tbsp. white sesame seeds 2 Tbsp. pepitas
1 Tsp. fresh oregano
Gently mix tuna with 2 Tbsp. salsa macha (recipe follows)
6 New Mexico Red Chile pods, seeded, and torn in smaller pieces
1 Tbsp. Sea salt
1 Cup olive oil
Peel and smash avocado with lime, green onion, and salt to taste.
Garnish with fresh cilantro if desired
Put all ingredients in a heavy bottomed saucepan and bring to a simmer, stirring occasionally, for one minute. Turn off heat and allow to cool slightly. Blend Chile and nut mixture in a blender using gentle pulses until mixture has the consistency of a thick pesto.
TUNA TOSTADAS WITH NEW MEXICO SALSA MACHA
From Paloma by Chef Nathan Meyes
1 Medium Avocado1Lime
4 Tbsp. New Mexico pecans
RECIPESICHILE&WINE
INGREDIENTS
3 Cloves of peeled garlic
Fresh cilantro and/or cilantro flowers
NEW MEXICO SALSAINGREDIENTSMACHA
128 New Mexico Bank & Trust is MEMBER FDIC and EQUAL HOUSING LENDER For the moments that matter. Local Bank. Trusted Answers. Proud to Support Santa Fe Wine & Chile Fiesta. nmb-t.com Reserveyourwinestorage unitTODAY! * ourCONTROLLED,TEMPERATUREunitskeepyour wine at the recommended 55 degrees *HUMIDITY CONTROLLED, we keep the humidity at the correct level for your wine I-Space 4x3 units are your small storage solution! Store your: ◊GOLF CLUBS ◊SPORTING GOODS ◊TRAVEL GEAR 2 Emblem Rd, Santa Fe, NM 87507 505-471-6901
129
Simply put, we know that our success depends upon your success. Our focus on planning and production delivers a high-quality service that meets our customer's high expectations.
THE PERFECT EVENT NEVER JUST HAPPENS.
DIAMONDEVENT.COM | 1 (888) 844 - 4001
Because Diamond Event & Tent has been delivering tent and temporary structure solutions for over 30 years, we understand that successful events are always built the same way: on a foundation of professionalism, experience and commitment to customer service.
Every major event is sta ed with a proven team of account managers, production managers and crew leaders. Our commitment to quality products, as well as significant investments in state-of-the-art maintenance and installation equipment, is reflected in every event that we produce.
131 SANTA FE'S UNIQUE SHOP FOR PETS AND THEIR PEOPLE Open Daily 10-5 Sunday 12-5 tecatu.com 165 Paseo de Peralta, Santa Fe, NM • 505.982.9374 SANTA FE'S UNIQUE SHOP FOR PETS AND THEIR PEOPLE Open Daily 10-5 Sunday 12-5 tecatu.com DeVargas Center 165 Paseo de Peralta, Santa Fe, NM • 505.982.9374 Brynda Gonzalez, Agent 3545 Zafarano Drive Suite A10-3 Santa Fe, NM 87507 Bus: brynda@bryndagonzalez.com505-629-1046 State Farm Life Insurance Company (Not licensed in MA, NY or WI) State Farm Life and Accident Assurance Company (Licensed in NY and WI) Bloomington, IL 2001573 Protection for your pride and joy For the family you'd do anything for, life insurance could mean everything. I can help you find easy, affordable ways to protect their future. Call me today. Like a good neighbor, State Farm is there.® SANTA FE'S UNIQUE SHOP FOR PETS AND THEIR PEOPLE Open Daily 10-5 Sunday 12-5 tecatu.comMcEahernWendy DeVargas Center • 165 Paseo de Peralta, Santa Fe, NM • 505.982.9374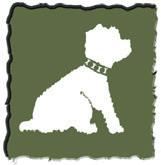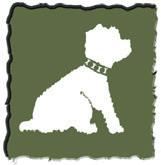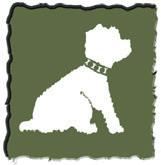 A Brighter Day is Just a Phone Call Away! CALL US 505-577-4979TODAY! WeDoWindowsSantaFe.com • Locally Owned Since 2009 • Licensed Insured and Safety Trained • We also offer Pressure Cleaning, High Dusting and Scratch Removal! SANTATHECELEBRATINGBESTOFFECUISINE Experience inventive culinary excellence curated at the home for modern dining and genuine hospitality. For reservations please contact: Introducing Executive Chef José Fernandez at Four Seasons Rancho Encantado Santa Fe. Terra Restaurant at Four Seasons Resort Rancho Encantado, Santa Fe 198 State Road 592 Santa Fe, NM 87506 | United States P: (505) fourseasons.com/santafe946-5800
MARY HALLAHAN EXECUTIVE DIRECTOR
WINE & CHILE I PRODUCTION TEAM
133 OFFICE SUPPORT ERIKA THANKSTUARTPRODUCTIONBAUTISTACREWBETSYADLERJOSHBACAAMYCURRENSHANNAHCLOEPFILGOODFELLOWSETHGRAVESKENJOSEPHKENKUHNEREBECCALENNONKYLIEO'BYRNELORENARASCONBYRONRUDOLPHPETERSCANLANJOEYSHOLDRAMARIETHOMSONKATHARINEWRIGHTHERNANZAPATAYOUTO OUR 2022 WINE & CHILE PRODUCTION TEAM!
GREG O'BYRNE PRODUCTION DIRECTOR
JOHN BRADBURY OFFICE MANAGER
STATE FARM- BRYNDA GONZALEZ 131
ECOLAB 129
KITCHEN ANGELS 83 KWIAT 11
RIEDEL 77
LEAFFILTER GUTTER PROTECTION 103
MARGARITA TRAIL 118
SANTA FE MARKETPLACE 8
SANTA FE SCHOOL OF COOKING 120
SOTHEBY'S 21
HOTEL SANTA FE 82
SORREL SKY GALLERY
SOUTHWESTERN TITLE & INSURANCE 102
ABBA TECHNOLOGIES 63
CENTURY BANK 4
GERONIMO 5
PNM
SYSCO 40
BISHOP'S LODGE BACK COVER BLUE CHIP INSURANCE INSIDE BACK BREWER OIL 105
REPUBLIC28
CHRISTUS ST. VINCENT 29 COOKING WITH KIDS 19
MINI U STORAGE 128
BECK & BULOW 62
STIFEL SUBARU36SANTA FE 20
DIAMOND EVENTS 130
GURHAN 13
MARKET STREET 66 MEIKLE FINE ART 39
EDIBLE NEW MEXICO 76
KINGSTON HEALTHCARE 105
TENÉE ESTELLE TRADING CO 16 THE COMPOUND 1 THE GOLDEN EYE 87 THE RIKOON GROUP 87 THORNBURG INVESTMENTS 2 TREND MAGAZINE 102 VACASA 104 WE DO WINDOWS 132 ZACHARY & SONS HOMES 86
GABRIELLA MARKS DOUG DANIELBRANDONKATEDANIELMERRIAMNADELBACHRUSSELLSODERQUAT
ENTERPRISE BANK 100 FOOD DEPOT 64
CHAMPAGNE LANSON 30
We are grateful to our Santa Fe community including our advertisers, sponsors, and restaurants.
NEW MEXICO TOURISM DEPT. 22
WINE & CHILE I ADVERTISERS
TABLE MAGAZINE 10 TECA TU 131
SOUTHER GLAZER'S WINE & SPIRITS 99
PHOTOGRAPHY CREDITS:
SANTA FE MAGAZINE 65
ICELANDIC WATER 38 INN ON THE ALAMEDA 100 JENKINS GAVIN 83 KARINA ON CANYON 81
CASAS DE HUERTO 62 CASAS DE SANTA FE 129
ARMENTA 12
ABOVE SEA LEVEL 63
LA FONDA ON THE PLAZA 106
FOUR SEASONS RESORT 132
NATIONAL DISTRIBUTING 101
NEW MEXICO BANK AND TRUST 128
HERITAGE HOTELS 31 HERVÉ WINE BAR INSIDE FRONT
PATRÓN 119
BUENO FOODS 115
STATE EMPLOYEES CREDIT UNION 75
SANTA FE NEW MEXICAN 37
RED CHILE SPONSORS
GREEN CHILE SPONSORS & CHILE I SPONSORS
GOLD CHILE SPONSORS
SILVER CHILE SPONSORS
WINE
1040 Don Diego Avenue, Suite 1 • Santa Fe, NM 87505 • 505-988-4425 • BlueChipNM.com1040 Don Diego Avenue, Suite 1 • Santa Fe, NM 87505 • 505-988-4425 • BlueChipNM.com