Publications Mail Reg. No. 40045521 Printed in Canada SUMMERReflections
LIVE THE DREAM with your horses in your own backyard! 21+ usable acres including waterfront. 12 acre hay field specially seeded for horses, huge runout paddocks with gates to grazing areas and an area cleared and levelled for Olympic sized outdoor dressage arena. Watching over this 22 acres are Beanie and Legs. They've been happy to wander the fully fenced small farm weaving in and out of the horse friendly playground. From the home, the humans spend precious time on extensive decks and drink in the view of the usable land that also borders Phillips Lake. Renovated recently to merge a minimal style with a historic vintage, the kitchen is the heart of life on the farm. Have farm fresh eggs at the chicken coop, organic veggies, catch of the day from the serene lake, raise a calf or two. The shop offers plenty of area for maintenance and repair while the barn houses implements and feed. A special sanctuary guest cabin for retreat to simpler life has views of this idyllic valley and fields that produce hay for the horses. Set against a rugged mountain there is a calling to hike or ride into natural beauty.
|
For a family needing to make changes in their life, there is no life like this. Turtle Valley has a long history of friendly neighbours with a special attraction to the great outdoors. Easy drive to Chase and Salmon Arm.
8661 Skimikin Road, Chase BC $1,449,000 Home
3 Bed | 2 Bath |
2 • SEPTEMBER 2022 SADDLEUP.CA Move Beyond Your Expectations LYNN EWART & JESSICA KIRBY COME TO VIEW AND STAY FOREVER
Hilliam Mountain stands watch over from a Nature Conservancy Canada designation as an ecologically significant paradise. Approximately 5 acres bordering Phillips Lake includes a parking area to launch your fishing day in style. Pump house location offers a secret area for birders and paddle board storage. Water license and irrigation to support your growing needs.
1,615 sq. ft. SOTHEBYSREALTY.CA LYNN EWART lewart@sothebysrealty.ca250.318.0717 JESSICA KIRBY jessica.kirby@sothebysrealty.ca250.833.6372
3SEPTEMBER 2022 SADDLEUP.CA •
Publications Mail Reg. No. 40045521 GST Reg. No. 865839567 ISSN No. 1701-6002 © All Rights Reserved DEADLINE 5TH OF EVERY MONTH SUBSCRIPTIONS $24.00 CDN plus tax per year or $42 US per year. (11 issues) Reproduction of any materials without written permission from the editor is prohibited. Opinions and statements expressed in this publication are not necessarily those of the editor. ALSO AVAILABLE DIGITALLY HCBC 2010 Business of The Year 2014 A/S Chamber President's Choice Award MAILING ADDRESS Saddle Up magazine PO Box 371 Armstrong, BC, Canada V0E 1B0 MAIN OFFICE TOLL FREE nancyroman@saddleup.ca250-546-99221-866-546-9922www.saddleup.ca EPublishing produced by in Armstrong, 250-546-6477BC OKANAGAN PRINTING a division of Printed In Canada Publisher/Editor Nancy Roman 4 • SEPTEMBER 2022 SADDLEUP.CA OUR REGULARS Top Dog! 2 2 KIDS 24 Horse Council BC 2 5 What's This? 27 Back Country Horsemen of BC 32 Clubs/Associations 33 What's Happening? Let's Go! 3 4 Rural Roots (Real Estate) 35 Business Services 36 On the Market (photo ads) 38 Stallions/Breeders 38 Shop & Swap 39 FEATURES Fall Photo Contest 5 Voice For The Horse Fundraiser 6 A Leader Worth Following 8 Safari in the Saddle 10 BC Summer Games Wrap-up 12 Then and Now, Diamond H Tack 13 55+ BC Games Around the Corner 15 The Trouble With Being Comfortable 16 The Spirit of Horse Archery 18 Survey on Equine Ethics 19 Getting into the Right Frame of Mind 20 ON THE COVER: Old Baldy Ranch, northernhorse.com/oldbaldy CONTRIBUTORS: Jocelyn Adams, Yvonne Allen, Archer Peters, Glenn Stewart, Patricia E. Skinner, Elisha Bradburn, Elisa Marocchi, Dr. Thomas Ritter, Russ Shandro OFFICIAL VOICE FOR: The Back Country Horsemen of BC MEDIA PARTNER WITH HORSE COUNCIL BC From the Editor… T his summer has just whipped by… and what did I do on my summer vacation? I was able to get away for a couple of days to schmooze with ELVIS in Merritt at the Canadian Blue Moon Elvis Festival… hunka hunka!!! Such a great time!We've got some great reading in this issue, a bit about a safari… a camping outing… training articles to get you thinking, and some upcoming events you might be interested in. So sit a spell and read on. I enjoy hearing from the different clubs about their events… sometimes their news can give you ideas to bring to your club. Share the knowledge! Our Photo Contest returns for 3 months, with a winner each month, courtesy of The Finn & Fletcher Co. We encourage stables/equestrian centres to take part! So check out what we've got going on in this issue! And check out our Facebook page for some of those contest entries! Photo by Reinbeau Images
5SEPTEMBER 2022 SADDLEUP.CA • Saddle Up's Facebook Running from September to November – 3 winners. One per month! Supplying Your Pets with NEW and Unique Products! https://finnandfletcher.comFall Photo Contest WHAT WE ARE LOOKING FOR IS… SEND US A PHOTO OF YOUR CLEAN STABLE / EQUESTRIAN CENTRE! On Saddle Up's Facebook page post your photo, name your stable/equestrian centre, and what city/province it is in. You can enter a new photo as often as you'd like over the 3 months. This can be your stable/equestrian centre, or where you board at! Don't do Facebook? You can email directly to nancyroman@saddleup.ca. A winner will be announced on October 1, November 1 and December 1 – that's right 3 WINNERS! CONTEST IS OVER NOVEMBER 30TH, 2022. What Do You Win? Our (valuecomessponsor,generousTheFinn&FletcherCo.,hasthefollowingprizesforthewinner:TheNEW(Ontariomade)RAKE&SHAKESTABLEFORK,ina6-pack(6forkstosharewithyourstable)of$240.00)eachmonth!GOOD LUCK! Contest is open/shipping to Canadian residents only. Stable/Equestrian Centre can only win once over the three month contest. COVER FEATURE A W A W Breeding for substance, disposition, and wrapped up in colour for 30+ years! THANK YOU for helping us make our passion a success! Our babiesStallions:forsale:AWBlueFireNTe / AQHA Blue Roan Black Colt Grulla Roan Filly Blue Roan Filly Axels N Steel Dust / AQHA NFQH 98% Grullo AW Poco Kintaro / AQHA NFQH 98% Palomino with dun dilution Aaron & Colleen Wangler • 250-843-7337 Dawson Creek BC • E-mail: oldbaldy@hotmail.ca • northernhorse.com/oldbaldy
T his year's run will be through the beautiful Vedder Rotary Trails in Chilliwack BC. We invite you to follow us on our Facebook Page to stay up-to-date for event details. Funds generated to be directed to Second Chance Cheekye Ranch here... canadahelps.org/en/charities/second-chance-cheekye-ranchsociety/"Covid
Visit our website to view our previous Run With You fundraising initiatives: 2020 Fundraising Initiative ~ Pacific Riding for Developing Abilities; and 2021 Fundraising Initiative ~ MusiCounts Canada's Music Charity!
6 • SEPTEMBER 2022 SADDLEUP.CA FUNDRAISER Voice For The Horse Cheekye SEPTEMBER 17, 2022
A big thank you to all of our previous sponsors over the past decade, plus, your support enabled us to come as far as we have today. We hope you will join up with us once again on our Facebook Event Page!"
19 was not enough to stop me from doing something to support those in need special to my heart; horses, children and music which binds Voice For The Horse Canada together as a society. This is my 3rd run (the first two I did 2020 and 2021 during Covid). I was training for Vancouver Full Marathon 2020 when Covid hit, end of story. With much time invested in my training I elected to not waste time invested and put in the effort to run for other charities. This is the third and final one.
- Yvonne Allen, Founder of Voice For The VoiceForTheHorse.orgHorse
It is my true wish with this final Half Marathon Challenge we will not only create more awareness for rescue horses but that also of our VFTH Signature Program, " Leading The Change Music Project " for kids. See our video at youtu.be/de4ml3TKSY4
This year, Founder of Voice For The Horse (VFTH) (VFTH), Yvonne Allen will run her 3rd Annual Half Marathon Challenge on September 17th with the recipient charity of choice "Second Chance Cheekye Ranch, Horse Rescue" in Squamish BC, where all proceeds will be directed.
7SEPTEMBER 2022 SADDLEUP.CA • SALE Sale runs September 6 - October 1 WHILE SUPPLIES LAST 10' panel with 4' Walk-Thru gate 10' x 4' Multi-use panels REG $239 $195 $149 REG $169 10% OFF TuffTanksStuff 12' x Shelterlogic12' (does not include panels) Heavy Duty Gates & Panels in stock $359 REG $395 3 LOCATIONS TO SERVE YOU ALL GATES AND PANELS EXCL. SALE ITEMS 10% Chilliwack 604-847-3737 7669 Evans Road Open Mon to Sat 9am-5pm Armstrong 250-546-9174 3155 Pleasant Valley Road Open Mon to Sat 9am–5pm Nanaimo 250-912-0095 3501 Aqua Terra Road Open Thurs to Sat 10am-4pm countrywestsupply.com
8 • SEPTEMBER 2022 SADDLEUP.CA A Leader Worth Following
W hile flexibility or fitness is awesome, all the mental, physical and emotional fitness will yield little fruit if we cannot effectively communicate. Learning to communicate our ideas to our horses is a process that starts with listening with our whole being to what the horse is saying through his body language, so that we can then respond accordingly. We need to get to the point where our diagnosing precision as to what is being said by the horse, without words, is so accurate that we aren't just throwing communications at the wall, like noodles, and seeing what sticks. Imagine if someone did that to you. You kept saying the answer you thought they wanted, and they just kept saying the same question louder! Talk about wires crossing. We need to eventually hone the skills of reading horses to get good. If we pursue this skill with some passion, we can get to the point where we see the things that are going to happen, before they
Was there a teacher in your life as a student that left a lasting impression on you in a good way? A teacher who inspired you to be your best, reach your highest potential, and all the while made learning fun?
By Elisha Bradburn
Perhaps you even thought to yourself, I'd like to be like Mr. or Mrs. so-and-so one day. They were not just teachers, but true leaders in our lives.
A g ood leader always has a plan about how they are going to go about something. The key here with plans, especially with horses, is you are equal part planner, and plan abandoning rebel! This equates to flexibility. Flexibility to think of a new plan, on the fly, based on what our horse needs in that moment to understand the step in our plan that will lead us to the next level. Often times we aspire to do a certain exercise with our horses, take a flying lead change for example, but discover some holes in our foundation along the way that would impede us reaching our goal for the day. We need the flexibility to abandon flying lead changes for now, and address being able to move different body parts, at all three gaits instead, so we can put in place the pieces necessary to get the flying lead change another day. This flexibility that is so important as a leader is mental, to change plans, and also emotional. We must be emotionally flexible, or fit, enough to feel our feelings, but not let them run us. When we allow our emotions to run out of control we can end up reacting, rather than responding, which rarely produces desirable results. A good leader remains calm and thoughtful, even in adversity. This flexibility also has a physical aspect. If we are expecting athleticism of our horses to perform different maneuvers, it is highly beneficial to ourselves have the fitness needed to be effective, both for riding and even groundwork. This physical fitness helps our balance, evenness, precision, and endurance.
A good leader is aware of the horse's preferences. Hefner enjoys touch as a reward and to affirm he did the right thing. One of my other horses does not enjoy touch, and would prefer you leave him alone as a reward.
W e can be that leader for our horses, the one that inspires them to try for us, and leaves them liking us in the end, while respecting our leadership and guidance. So what are the qualities that could allow us to be this fun, cool, and yet highly effective leader with our horses?
A respectful leader would read the horse as she mounts, and responds accordingly. Allowing the process the time it takes to ensure the horse's confidence is preserved and built, especially while doing a colt start like I am here.
Jerry Geen PREC & Elya Byrne PREC Shaun Everest MBA 250-878-6545 / sales@geenbyrne.com OkanaganFarms.com
Allowing Soda to experience the rope in many ways on the ground before I rope off his back is how a good leader would prepare the horse for success.
Ideal equestrian property backing onto miles of park and exceptional riding. Impressive paddocks, riding ring, round pen, pasture and outbuildings all carefully designed by an industry leading horse trainer. Stunning views out to scenic Canyon Park and Gallagher's Canyon. Serene but central setting. 3 bedroom home. MLS® $1,775,000 Beautiful 10 acre hay farm with stunning tree-lined driveway to the back of the property and home sites. In quiet Willowbrook, just 10 minutes to Oliver and right in front of White Lake Grasslands Park with miles of protected riding area. Near new carriage home and pristine 2 bed park model. Zoning allows for large new home if the park model is removed - infrastructure in place. Large detached shop. High production well. MLS® $1,890,000 10 Acres near Oliver, South Okanagan 5.5 Acres in Southeast Kelowna
9SEPTEMBER 2022 SADDLEUP.CA •
NEWPRICE! actually do, and save ourselves and our horses a lot of trouble. Finally, there is probably the most overlooked ingredient, and yet maybe the most important one of good leadership. The ability to inspire!
H orseman Martin Black gives a terrific illustration of this "rewarding the try" concept to his students. He asks them to write the letter "A" on a paper. He then looks at it and asks them again, to write the letter "A" on their paper, and again and again he asks them to write the letter "A" on their papers. Some students eventually get mad, some quit, some keep trying different ways of writing "A," capital, small, cursive, block letters. The point of this exercise is to shed light on what we sometimes do when teaching our horses. They give us the correct answer, similar to the student who jots down an "A" when Martin requests it, and instead of rewarding them for doing what we asked, and leaving them alone, we ask again and again. This leaves the horse wondering what it is you truly want. Whereas if we reward them with a release for the correct response, even if it is just for a minute or two, they get the message that this was what we wanted.Similar to the situation in a herd when a dominant horse is applying pressure, when that dominant horse stops applying pressure, the less dominant horse understands they did what the dominant horse wanted, and it is over. So, we as horsemen and women need to truly work on our awareness, so we can detect a try, reward it, and thereby inspire our pupils, the horses to hunt the right answer. This allows them to feel a sense of relief, satisfaction, purpose and dignity. And these are the gems of horsemanship we all greatly desire!God bless, I hope this was helpful even just as a review of what you already knew about good leadership. I pray we all aspire to be leaders worth following.
Inspiration seems a bit airy fairy, and yet it really isn't with horses. We don't need to be able to give a good motivational speech to inspire our horses, though it couldn't hurt! We just need to be able to slow ourselves down, apply our focus solely on our horses and the task at hand, and release when we get the slightest try in the right direction. This try may look like the horse's slightest shift in weight or flick of an ear.
Elisha Bradburn and her husband, Clay, own Faithful Farm, an equestrian center in the Fraser Valley. Elisha's passion with horses lies in psychology based horsemanship, with a strong consideration for the horse's point of view. Elisha is available for clinics, expos, demonstrations and speaking engagements and can be followed on her Legacy Horsemanship pages on Facebook and Instagram or e-mailed at legacyhorsemanship@shaw.ca.
(See her listing in our Business Services section under TRAINERS)
Safari in the Saddle
Our guide, Philip, whispered a hushed order to Joanne. "Slowly, quietly… move back to the road and take the rest with you."
Drakensberg Mountains provided a spectacular backdrop to our rides
A mix of Shire crosses, Friesian crosses, Warmbloods, Thoroughbreds and Boerperd crosses, the string of 30 mounts ranged from 15h-17h and with one exception, were all geldings. New horses to WAL spend anywhere from a few months to several years being schooled by Gerti, a grand prix level dressage rider, and by the guides out on the trails before being used by guests. They are comfortable with the wildlife while remaining responsive and lively to ride. The schooling they have in lateral work such as leg yields proved to be very handy as we navigated our way through the very thorny acacia bushes that dot the landscape and line the trails. Many rides took us through the local river and all of the horses readily waded in, often after they had navigated through the very heavy reeds and tall grasses lining the shores. During our stay, Joanne and I each rode 3 different horses. With rides lasting up to 3 hours or more, with many brisk gallops on each ride, a new mount was provided for morning and afternoon rides. Each of our horses had distinct personalities and always felt forward and happy to be on the trail. Since we had only one horse each with us at the out camps, rides there were held in the morning with the second outing in a game truck, led by Claudia, a very knowledgeable and charming guide. The horses at WAL receive the best of care. When not on a ride, they enjoy group turnout in large paddocks while spending each night in spacious, clean stalls in the secure barn (needed to fend off predators). Each horse has his own dedicated tack which is cleaned after every ride and a saddle fitter attends several times a year to ensure the tack is always comfortable. Saddles were top-quality Stubben or Bates, and bits were matched to each horse's needs. After every ride, the horses are bathed, checked closely for any injuries, soreness or tack lesions. Shoeing is on a strict 5 week rotation and routine vaccination and deworming programs are followed.Seeingthe South African wildlife from horseback was the perfect way to enjoy this trip of a lifetime – we're looking forward to returning one day soon!
Groups are kept to a maximum of 7 guests. WAL requires that riders must be comfortable maintaining a two-point position for several minutes during the controlled gallops on dirt roads and open trails. At times, the horses, while very well-schooled, did shy or offer an exuberant buck therefore an independent seat is essential. Upon arrival, Joe delivered a very thorough safety briefing on the expectations and procedures during rides, then we were taken for an afternoon outing where our riding ability was confirmed. These processes and requirements all ensure the riders, horses and wildlife stay safe –something the staff at WAL take very seriously. Our group consisted of two eventers from the US, two experienced riders from France and a seasoned rider from the UK. Aside from the wildlife, the stars of the show at WAL are the horses.
Close encounter with a rhino
Joanne on Peroni and Elisa on Coopers
"Staring us down"
Located on a 35,000 hectare reserve, WAL offers several safari options. All rides start at the WAL base facility, a well-maintained, comfortable site. There, we were housed in spacious raised wall tents equipped with wood floors, full bathrooms and comfortable beds. The facility includes an in-ground pool, massage studio, two dining areas and a fully stocked bar. For our ride, the "Big 5 Ride & Dine," we stayed 4 nights at base, then rode to 2 different private estates where we spent 2 nights at each before returning to base for 1 more night. At all the facilities, we were treated to 3-course meals. We ate VERY well during the safari and were served several local specialties such as boboti (similar to shephard's pie) and Malva pudding (a pudding cake). We also had the opportunity to sample several game meats during our stay.
O ur group of seven guests, plus our "tail guide" Madison walked our mounts back to the dirt road, about 15 metres away. The regal lioness watched us intently from where she lay in the bush grass below the acacias, her tail twitching a warning to us. This encounter was but one of many stunning interactions with the wildlife at "Wait a Little Big Five Horse Safari "(WAL) near Hoedspruit, South Africa, where my friend Joanne and I spent 10 days riding this spring. During our stay, we often found ourselves galloping by zebras, giraffes, wildebeest, kudus, nyalas and impalas. With Philip or Joe (both talented game trackers) guiding us, we found ourselves in close proximity to elephants, hippos, white rhinos, lions, hyenas, crocodiles, warthogs, jackals and Cape buffalo. A vast variety of birdlife was also present.WAL, owned by Philip and Gerti Kusseler, specializes in horseback safaris for experienced riders. Great care is taken to ensure guests are kept safe while the wildlife is approached in a respectful manner. The owners also pride themselves in the fact that most of their employees have been with them for as long as 20 years – a testament to the relationship they have with their support staff.
By Elisa Marocchi
10 • SEPTEMBER 2022 SADDLEUP.CA
11SEPTEMBER 2022 SADDLEUP.CA • 250.717.2214 DaveDomeij.com Jason DomeijDave Domeij Personal Real CorporationEstate South East Kelowna Luxury Acreage with Lake, City and Valley Views set up for Horses! Beautiful country setting on 9.56 acres in South East Kelowna! Ideal for the horse enthusiast, with several paddocks and loafing sheds. There's a new 4 car detached garage with horse washing stations and a flex area above. Fully renovated home featuring volume ceilings, hardwood flooring, walls of windows and a contemporary kitchen with quartz counters open to the dining area. Nothing has been missed here! 5,448 Sq Ft | 4 BR | 5 BA | 9.56 Acre | $4,295,000 2375 Grantham Road, Kelowna BC | MLS® Create your Exclusive Equestrian Centre with Miles of Trails close at hand! Dream big with this 39 acre property! Easy access to crown land trails. Build your Dream Estate residence featuring spectacular building sites with valley, city and lake views nestled on the rolling hillside of the sunny south Okanagan, Wine Capital of Canada. A drilled well is in place. Only 10 minutes NW of downtown Oliver with southeast exposure. Near AREA 27 Race Track, famous in North America. Bring your vision and make it a reality! 39.04 Acre | Lot 1 Wilson Mountain Road, Oliver BC | $2,975,000 | MLS® thetheWatchvideoonourwebsite!Watchvideoonourwebsite!
"Congratulations to all BC Summer Games participants and support people, and especially to our Zone 2 equestrian team with coach Ashley Sudds, myself (Brandy Saunders) and athletes, Katie Thielman, Hannah Robbins, Avery Wilkinson, and Brook Forai. We were able to win gold for overall medals won. The BC Summer Games was a reflection of the importance of teamwork, and this was demonstrated on so many levels throughout our whole equestrian community, not just our zone teams. Coaches and athletes came together to support all teams and disciplines (over and over). This included celebrating each other's success, and supporting in times of challenge. Seeing old friends and meeting new ones brought our BC equestrian community together. Within just a few days, teams became very close and connected, resulting in great pride and confidence. As an eventing coach, it was very exciting to be there for the introduction of Eventing into the Summer Games. We had a strong contingent of support from our BC Eventing Association http:// bceventing.ca/. This included volunteers, officials, coaches, riders, and an eager audience! It was awesome to see and feel that kind of support!! you for the memories and the experience!!" to all our athletes on their amazing accomplishments! BC Summer Games in Ridge, 1821st
As Sunday wrapped up, Zone 2 was awarded the gold medal for Overall Zone. Four gold medals, one silver and one bronze, lead this tiny but tough team to win the overall points award and take home the Zone award.
Congratulations
amazinghostandVaultingEventingCourseJumperDressageOFFICIALSJumpingVaultingEventingParaDressageSportProvincialOFFICIALSforAgames-results/hcbc.ca/competitions/bc-summer-games/2022-bc-summer-HUGETHANKYOUtoourhard-workingsportteamandamazingjudgesalltheirhardwork.ANDDISCIPLINECHAIRSAdvisorforEquestrian:LyndaRamsay,KelownaChair:StevenDubas,PrinceGeorgeDisciplineChair:JodieKennedy,PrinceGeorgeDressageDisciplineChair:StellaFrench, VictoriaDisciplineChair:JulieJohannson,OliverDisciplineChair:MarijeanMaher,AldergroveDisciplineChair:MaeganFriess,PrinceGeorge andParaDressageJudge:BurgiRommel,LangleyJudge:KatyOstberg,PrinceGeorge Designer:CatArmitage,LoneButteGroundJury:BonnieKennedy,PrinceGeorgeJudge:LynnWallden,ChilliwackThankyoutoalltheamazingcoaches,athletes,parents,volunteerssport'schairsthatmadethegamespossible.ThankyoutoThePrinceGeorgeHorseSocietyforbeinganincrediblevenueandtheBCGamesforincludingequestriansportinthisevent!
Zone Two Equestrian Golden at the BC SUMMER GAMES BY JOCELYN ADAMS, HORSE COUNCIL BC That's a wrap on the 2022 BC Summer Games held July 21-24 in Prince George! With four jam-packed days of competition with athletes from all over the province competing in Dressage, Para-Dressage, Jumping, Vaulting, and for the first time Eventing. Zone 2 team wins Gold Zone 2 Coach Brandy and Zone 2 Eventer Hannah Robbins Zone 1 Coach Maeve Drew and Zone 2 Coach Brandy Saunders
Thank
Forty-eight athletes representing 8 zones throughout the province made the trip to the games, working as zone teams with accumulative points from all days of competition.
We look forward to the next
Zone 2 Coach Brandy Saunders speaks about her experience:
Maple
Overall2024.Dressage Winners (awarded Sunday): Gold - Ella Parker / Zone 3 Silver - Amelia Mosuumgaard / Zone 7 Bronze - Mia Lambert / Zone 6 Overall Para Dressage (awarded Sunday) Gold - Avery Wilkinson / Zone 2 Silver - Leila Corntassel / Zone 6 Bronze - Claire Hendrix / Zone 6 Overall Jumping (awarded Sunday) Gold - Katie Thielman / Zone 2 Silver - Hannah Askew / Zone 5 Bronze - Melodie Kopiyka / Zone 6 Overall Eventing (awarded Sunday) Gold - Jacob Sovio / Zone 3 Silver - Ella Ficociello / Zone 4 Bronze - Hannah Robbins / Zone 2 Overall Vaulting (Awarded Sunday) Gold - Emma Mindel / Zone 3 Silver - Maklaine Rogers / Zone 3 Bronze - Sophia Kahil / Zone 6 Full results from the weekend and daily medal break down can be viewed at:
12 • SEPTEMBER 2022 SADDLEUP.CA
July
The Opening.scissors)cuttingperforming'Heathers'theribbon(hencetheattheirGrand
O
Educating their customers in saddle fit is also a very important and integral part of their daily routine, ensuring that the horse is kept as comfortable as possible in the many disciplines that are demanded of them. When the pandemic hit in March of 2020, they ventured into creating a shopping website for everyone to browse their most popular items (diamondhtack.ca ), which has been one of the most challenging projects.
In October of 1995, Diamond H Tack Inc. the "One Stop Shop," opened their doors at 1953 Kirschner Road in Kelowna BC - all 600 square feet of it! They are now celebrating their 27th Anniversary on September 9-10, 2022.
They have developed Diamond H Tack into a thriving, well-stocked tack, feed, supplements, equipment and repair store for all disciplines of riders, trainers, coaches, farriers, and shopping for their friends and family.
ver the years, business partners (and friends) Heather Moffat and Heather Robson - hence the "H" in Diamond H Tack - have renovated and expanded their store five times thanks to the ongoing support of their landlords Lambert and Paul. Their most recent expansion was in February 2017, increasing the store to 3,200 square feet.
13SEPTEMBER 2022 SADDLEUP.CA •
The two young ladies (then in their late 20's) have worked very hard to create what you see today, thanks to the community and their customer support. Both Heathers have had horses since their childhood, giving them hands on knowledge and experience of the overall needs of horses, which aids in helping with the wide variety of customer concerns.
<
They have an amazing team, Tracey, Ashley, Megan and Maddie, now working at their side helping folks – young and old, beginners to professionals – with all their needs and wants. If you drive by their store, you will see their other partner "HARRY," the hairless horse (who was recently stolen), standing proudly out front (once again thanks to our community support). Harry has participated and traveled to parades, special events and even weddings over the years, and is currently retired to his home base at Diamond H Tack, letting everyone know when they are open!
Our OctoberOpeningGrandon1995 The Expansion2017 NOW MoffatRobson,HeatherHeatherandHarry THEN and NOW... Diamond H Tack
Send Saddle Up one or two photos and your memoirs (up to 250 words maximum please). Memoirs will be printed as space allows each month. Please include your phone number and location for our files and verification if needed. We would like to print your name (or initials) and location with your submission. You are welcome to send one or more in the months ahead as well. This will be a regular monthly feature... So start looking through those photo albums and share your stories with us. Photos will only be returned if you provide a self-addressed stamped envelope. See page 4 for contact information. We want you to look back, reflect, recollect, and share your photos and memories with us. This is not a contest - it is your moment to share with our readers anything from days gone by. The older the story (and photo), the more fascinating. Could be from 20 years ago, 50 years, or a story your grandfather shared with you. Tails to be Told . . .A treasure chest of memories . 14 • SEPTEMBER 2022 SADDLEUP.CA READERSTellusstories!
September 13-17, 2022
15SEPTEMBER 2022 SADDLEUP.CA • ENGINEERED FABRIC BUILDINGS We DEVELOPBUILDCREATE Solutions Stabl Shelters sales@stabl.ca1-877-774-7573Inc.MapleRidge
Additionally, it's the first major multi-sport event the capital city is hosting since the 1997 North American Indigenous Games.
"Everyone who takes part - as a participant, volunteer, sponsor, or spectator - will be proud of what our city has accomplished," said Michael O'Connor, president of the Host City board of directors for the 2022 55+ BC Games.
ADMISSION IS FREE to watch the Games at all venues. The schedule is forthcoming and will be posted at 55plusbcgames.org. Volunteers are still being actively recruited.
BC Saddle Up and upon purchase of a 50' wide or larger building, receive your choice of a $2,000 value structure"accessory 40', 50' wide models in stock 60', 70' and 80' wide can be ordered BC Games - For Life, Sport and Friends Victoria
More than 2,500 competitors will participate over five days in 22 sports and activities including hockey, tennis, track & field, horseshoes, cribbage, and of course equestrian.
stabl.capermitsforavailablesealedstampedengineeranddrawingsbuilding 55+ BC
These Games in Greater Victoria mark the return of the 55+ BC Games, sidelined for two years due to the pandemic. It's a significant milestone for the capital region too, as this is the first time Greater Victoria has hosted the Games in the event's 36-year history.
Equestrian Events to watch include: Arena Driving Trial; Judge Cat Armitage Dressage and Western Dressage; Judge Cara Whitham Working Hunter; Judge Phyllis Attril Working Equitation; Judge Kim Voss
" This fabulous, province-wide event was championed by Destination Greater Victoria," he continued. "The team there dared to dream to bring this event to the capital city, and individuals, organizations, businesses, municipalities and the Province of BC have brought it to life, working together to make this a memorable celebration for competitors and community."
V enues across the CRD are preparing to welcome participants and their families from across the province. Events will be held in the cities of Langford, Saanich and Victoria, the District of Oak Bay, and the Township of Esquimalt.
"Mention
Greater
Perks for participants and officials travelling to Vancouver Island to attend the Games are eligible for several offers and discounts to tourist attractions and restaurants thanks to the Sports VIP Program, presented by the Greater Victoria Sport Tourism Commission. Those eligible should present their Sport VIP Program decal at the venues.
If move ourselves and our horses out of comfort zones periodically, there would be much more progress and improvement.
National Distributor: Canadian Centurion • 1-800-361-3860 • Local: Janian Imports (604)
E-Mail: intbiosys@shaw.ca • www.integratedbiosys.com One might think being comfortable would be a good thing and it is, however, when it comes to improving yourself and your horses, always doing what is comfortable doesn't move things forward. Being comfortable keeps us avoiding specific issues and causes us to worry about things or situations for years. withTroubleThe
our
If you want to get fit, for example, it is hard to do while comfortably lying on the couch. You have to get up and sweat, run on the treadmill for a mile or two. It will be uncomfortable to begin with but soon two miles will be something you look forward to. If you want to go to university and get a career in something, you are going to have to stay in your dorm room and study, play very little and hit the books. I like to reinterpret being uncomfortable as building, progressing, learning and developing.
ComfortableBeing
we
Internationally recognized Horse Trainer, Clinician and Rider, as well as founder/ trainer of the world famous Calgary Stampede Drill Team: Jill Barron says: "As a professional horse trainer, Dynamint Equine Leg & Muscle Rub is an important aspect of my program. Dynamint is a natural product that has a cooling effect, it calms tired, sore muscles and rejuvenates horses keeping them feeling their best. I use Dynamint on my horses and myself. The results I have experienced have not been matched by any other product in the market. For long hauls and after hard workouts Dynamint is the only product I use on horse's legs. If you are looking for a product that is safe on skin and delivers results, trust Dynamint Equine Leg & Muscle Rub. Your horse will thank you!" 462-9238 1-877-501-5003
By Glenn Stewart
The more often we are stretching, reaching, experiencing and exposing ourselves and our horses to new things, the faster we grow and the bigger our comfort zone becomes.
16 • SEPTEMBER 2022 SADDLEUP.CA Dynamint Equine ALL NATURAL SOOTHING LOTION for SORE or STRAINED MUSCLES & JOINTS Available in 1L Spray bottle for easy and quick application to larger areas, or a 500 ml rub bottle. A soothing combination of natural essential oils in a gentle cream base. specially formulated with natural ingredients to assist in the relief of leg, muscle and joint strain.
A while back I facilitated a Corporate Leadership Development with a group of executives from Calgary. Just being out in the woods away from their normal daily routine brought many of them outside of their comfort zones. I brought a student with me and this is what she had to say about her experience: "On the second day of the Corporate Leadership Development, a Mantracker session was organized. Glenn was on horseback and the teams of executives got a head start and tackled the course with the hopes of not getting caught by Glenn. They were supplied with maps and specific check-in points, we weren't provided with anything. I was actually not scheduled to participate but the president of the company had gotten a helmet camera to capture some of the action and needed someone to wear it.  I was super excited to be a part of this adventure and of course nervous of the unexpected. After the teams had a nice head start it was our time to go, so we entered the field and immediately there was a very steep mountain. Okay, most people would call it a hill but being from Florida, to me it was a mountain, and it was steep! So, of course, Glenn decided to start heading down it. I thought, there is no way in hell that is going to happen and I opted to take the long, not so steep way, all the while thinking, I am not off to a good start here! As
Manufactured for: Integrated Bio Systems Inc. • Abbotsford, BC • Phone:
– Glenn Stewart
17SEPTEMBER 2022 SADDLEUP.CA • I turned back to look where he might be, I noticed him back up on the top of the myselfsometeams. Thistracksweniceoverhill,atteams. Onceforhisgallopingmountain/hill,aroundonhorseAz,lookingtracksandforthewemetthebottomoftheGlennledthewaylevelgroundatatrotorcanteraswerehotontheofoneofthegavemetimetopulltogetherand start enjoying the adventure. The views were just amazing as we were in God's country and all around us, in every direction, all you could see was nature, big open green fields, creeks, rivers, mountains, forests - oh the trees were magical, with golden fall leaves, and added to the day was the wildlife. I was riding Tara who was a super star, very willing to join in on the fun but also right with me the entire day. We went from trotting and cantering around the open fields to coming to complete stops when we had to hide, while Glenn investigated things or when we waited for teams to cross our paths. As we were hiding in the trees Tara would show some of her nerves, sometimes it was hard to keep her feet still. Once we established the importance of her not moving around in the bush, she started popping her lower lip over and over. Now if you do not know Tara, she is a 1400 pound white horse, kind of hard to "hide" and the added noise was not helping our tactics. I gave her a couple of reassuring rubs and she started relaxing in this new environment and blowing out over and over and over.  Not really anything I could do here, just happy she was relaxing. We tracked the teams for several hours. We had captured one team earlier in the day and then we found the last checkpoint where we were informed that one team had made it past the finish line and the other had not checked in yet. Glenn made a strategic move to hide in the trees and wait for them. Little did we know they had watched us walk up to the checkpoint. As the team grew tired of waiting for us, one of the members crawled on his belly to get the required card from the checkpoint without us even seeing him. When Glenn figured it out we were off like lightning and trust me, Glenn was not waiting for anyone, he was going to capture this team! One could seriously get lost up in this area so without hesitation, I just took off after him. As we were galloping up the mountain, jumping the fallen trees that were scattered on the path, I was all fired up in the moment, I had my reins in my left hand as my right hand was turning on the different buttons on my helmet cam to capture the adventure. Yes, to be clear here, we were galloping up the side of the mountain, jumping fallen trees and ducking under branches. Imagine that just hours before I was too unconfident to venture down the steep hill at a walk and now confidently galloping up the mountain. We took the team by surprise as Glenn got in front of them and cut them off as they were hiking up the mountain.
One of the general themes of our time with this company was the importance of getting outside of your comfort zone. So many of us live our lives, day in and day out, being comfortable and it is hard to learn and grow if we do not challenge ourselves to do and to be more. This was a great example of being outside my comfort zone and tackling things I was not sure I could tackle. Now my horse and I are more prepared for the unexpected and we have raised the bar for our horsemanship." - Donna Blem
Glenn Stewart travels extensively conducting clinics, demonstrations, and colt starting sessions, and also offers Camps and a 3 month Horsemanship Course at his home The Horse Ranch, as well as the Horsemanship Learning Adventure Series; two completely different experiences, High & Wild in the Northern BC Rockies, and Working Equitation with Lusitanos in Brazil. He rides 30-60 client horses per year, including young horses, restarts, challenging horses, and foundation training. For more information visit thehorseranch.com.
Often I see people that are very uncomfortable being uncomfortable. I noticed over the years that the more uncomfortable I was, the more I was learning, which is a good thing. However, some common sense has to prevail because getting too far out there could mean the learning curve is too steep for where we are at that moment.
(See his listing in our Business Services section under TRAINERS)
The horsemanship students that improve the quickest are the ones that welcome being out of their comfort zone. Everything should be done gradually, though, because the goal is to expose and expand, not explode and rebuild. If you are in a learning environment and feel uncomfortable and a little stretched, that would be a very good thing. The key to practice is to reach. If you try your hardest, what can you almost do? Reach beyond what your current abilities are. I read one time that when it comes to building talent, struggle is not an option, it is a biological necessity. Getcomfortable being uncomfortable
Mobile Warrior: The Spirit of Horse
T he style of archery practiced by horse archers is unique. By its certain mechanics, it imparts many strong advantages to its practitioner.Observing a typical, static traditional archer will reveal a certain method of shooting which is not conducive to mobility, as the archer must be stationary to fire accurately. The style of archery practiced at Okanagan Khanate Mounted Archery is based on ancient war manuals and techniques practiced by a variety of different cultures, with some key differences. The core two differences are the thumb draw, and the opposite side arrow principle. The arrow is loaded on the far side of the bow. The thumb hook and drawing hand in unison with the bow hand create and reinforce a frame by which the weapon is controlled, and the arrow is held secure during dynamic movement. Through a combination of these two primary methods (and there are many more) the archer can maintain constant control of the bow and the arrow. This simple principle opens up the door for an extremely balanced style of archery which has a unique and strong ability: mobility. This leads us from base mechanics, to what makes this practice a martial art. K hatra – the art of archery. This technique is essentially "predisposing the bow to move away from the arrow's path," and while this may sound inconsequential, it all but entirely eliminates one of the oldest problems of the bow and arrow: the Archer's Paradox.
t started out at the age of four, when I could first draw a bow. Back then, I was hunting the cardboard set up at the compost pile. Later in life, tasty critters in wild places. Now, it's the lifestyle of the Horse Archer. An ancient discipline made up of great martial skill, focus, and horsemanship. I first learned about horse archery from a series of books – The Traditional Bowyers Bibles. There it told a story of the Scythians, a nomadic tribe of horse archers, and their war against the Persian army of King Darius in 512 BCE. This remains one of the largest military operations to date, with the Persians bringing a force of 72,000 against the vastly outnumbered Scythians, estimated to be 10-15,000 in total. At the time, Persia was the most powerful nation on the planet, but there was one great tribe they could not conquer. Through the usage of guerilla tactics, and their great skill with the horse and bow, eventually the most powerful nation in the world was forced to retreat, defeated, being unable to conquer the indomitable tribe of horse warriors. Since I read this account, I have been inspired to follow the footsteps of one of the greatest warrior archetypes ever known.Archery may be seen as a sport, but I see it as much more than that. Archery has almost always been a core part of the human experience – something primal that tugs at some deeply latent, forgotten chord of our being. A way to procure food and carry on the species by defending oneself from attackers, whether a great bear, or a malevolent invader. It is a lifelong journey, always with a lesson for you, and a new skill set to learn, and refine - growth through adversity makes us better in all aspects of life.
By Archer Peters
My name is Archer. As my namesake implies, I have been an archer for as long as I can remember. The witchery of archery, the graceful curve of a bow, the whisper of the feathers through the air, and its deadly impact; it's magic to me, and always will be.
Archery, it's Art, Mechanicsand I
18 • SEPTEMBER 2022 SADDLEUP.CA
T he main characteristic of horse archers that has given them such great success is mobility; in their style of archery, their horsemanship, and by extension their nomadic lifestyle. The Horse Archer would not be complete without his or her mount; which is a useful tool for fighting, hunting, living, (in our case, also practicing a martial art/ sport in modern times) and most importantly, a beloved companion. Horsemanship and archery is the way of life, and the way of war.
In short, the paradox is as follows: the force applied to the arrow from the string causes it to bend around the bow before travelling straight, corrected by the fletching. Khatra allows an archer skilled in its practice to use any arrow they please, all the while giving greater speed and accuracy, eliminating the paradox entirely. Shoot from any angle, shoot at a gallop, and have fun. The Obstacle is the Way.
The Commission has initiated two surveys to help with their work. The equestrian stakeholder survey, available in English, French and Spanish, and will draw on the views of FEI Athletes, Officials, Owners, Organizing Committees, Grooms, National Federations and related associations (MOUs), as well as the wider equestrian sector stakeholders. There will also be a public opinion survey that will be translated into several languages and conducted in 14 key global markets, using a specialist market research and data company.
More information on the work and composition of the Equine Ethics and Wellbeing Commission can be found here: inside.fei.org/fei/ about-fei/structure/ad-hoc-commissions
" We cannot assume there is general acceptance of horse use in sport, and it's important that we – the global governing bodyproactively seek input from the community to gauge and to address any concerns they may have. Equestrian sport depends on the wellbeing of its horses, and the FEI has a duty to ensure high standards of welfare for the horses competing in each of our disciplines, and also to consider the impact that our sporting activities have on the environment."
O
" We believe that this is the first time an international survey has been carried out to understand the perception of welfare standards in relation to the use of horses in sport," FEI President Ingmar De Vos said.
Survey on Equine Ethics and Wellbeing
The results of both surveys will be analyzed, and the data considered alongside information from focus groups, the latest research in the area of equine wellbeing, and input from related industry bodies. These insights will help inform a 'framework' to guide the development of FEI regulations, policies and practices in the future, including but not limited to education initiatives, standard setting, engagement and enforcement.
ver 4,500 equestrian stakeholders have participated in a survey designed to take the pulse of the community on topics relating to horse welfare and wellbeing, as well as specific concerns regarding the use of horses in sport.
The Commission will work together over an initial period of 18-months, with an interim report to be presented at the FEI General Assembly in November 2022 in Cape Town (RSA), followed by a second report at the FEI Sports Forum in April 2023 and a final report/ framework to be submitted for approval at the FEI General Assembly 2023 in Mexico.
19SEPTEMBER 2022 SADDLEUP.CA •
Early survey results were discussed during the first in-person meeting of the newly formed Equine Ethics and Wellbeing Commission at the Federation Equestre Internationale (FEI) Headquarters in Lausanne (SUI) on August 3-4.
Elicits Significant Global Response | fei.org
I also need a certain energy level and intensity that is neither too high nor too low. The right energy level is different for each horse, depending on their personality and current frame of mind.
Observe the parameters of the gait: the line of travel and the alignment of the horse's body. The rhythm and tempo of the footfall. Is it regular or uneven? Is the tempo too fast or too slow, or just right? Listen to the sound of the footfall. Are all four feet touching down with the same intensity, or is one foot louder than the others? Pay attention to the energy level. Is it suitable for what you are trying to do, or do you need to raise it or lower it?
Connect with the horse's heart and mind. Find out what he is thinking and feeling. Is he paying attention to you and the work, or is he distracted? Is he calm and relaxed, or nervous and tense? Can you anticipate what he is going to do in the next minute or two?
Riding is really an exercise in mindfulness. Try to be completely present with the horse and tune in to him with all your senses, including your sixth sense of intuition.
Are you riding the actual horse that you are sitting on? Or are you trying to ride the horse you would like to have?
Zoom in to observe a certain part of the body without losing sight of the whole. Zoom out to observe how all the different areas of the body interact with each other and influence each other. Does any specific joint, limb, or muscle group stand out because it is moving oddly? Can you see or feel where this anomaly is coming from? When a problem arises, can you take a step back and look at the situation from all angles to find a different, better approach? Be careful not to fall into the trap of digging in, working harder, and applying stronger, more forceful aids, when something isn't working. Try to find a smarter solution by explaining things better or differently to the horse.
Observe which training issues come up. Observe your inner responses to these issues. Is there an unhelpful inner commentary inside your head whenever a mistake happens? Are you getting upset or frustrated? Or can you notice mistakes or training problems without an emotional reaction, and focus on a practical solution, rather than swimming in negative emotion?
More and more, I realized that I had to be in the right frame of mind, and the horse had to be in the right frame of mind in order to be able to do productive work. Otherwise, I would rather not ride the horse. This frame of mind is not so easy to describe. It's something that evolved slowly over many years for me. I need to feel grounded, at peace, with a sense of inner calm, so that I can focus on the horse without being distracted by thoughts about other things. If I am upset or angry, it's not a good time to ride.
- Dr. Thomas artisticdressage.comRitter
When I was a teenager, I had no problem getting on any horse, anytime, anywhere. Riding a horse was a little bit like riding a bike. Simply get on and go. Over the years, this changed considerably.
The workspace, i.e. the barn and the arena needs to have a quiet, peaceful atmosphere as well. When the energy in the barn and arena is stressful and toxic, it's very difficult to do good work, because it compromises the sense of mental and emotional well-being of both the horse and the rider.
20 • SEPTEMBER 2022 SADDLEUP.CA
Always remember what you did with the horse during the last few training sessions because each session leaves traces, like footprints in the snow. Changes don't usually happen overnight, even if it sometimes appears that way. They are usually longer-term developments that start very small, almost imperceptible, and gain momentum over time. Take a step back regularly to reflect on how far you have come during the time you have been working with the horse because we often take success and progress for granted and become unhappy about all the things that are still missing from the training, even if we have progressed quite far during the time we have had with the horse.
Watch for signs of fatigue in the horse. Is your horse responding and behaving the way you expect? Is he responding the way the theory predicts? Or is reality different from your mental image or the theory in the books today?
The horse needs to be calm, present, grounded, and peaceful as well. If you try to ride a horse that is nervous, tense, or distracted, it's almost impossible to have a productive ride - and the risk of an accident increases dramatically. This is one of the reasons why I like to longe or do work in hand for a few minutes with most horses before riding them. It helps to create a certain mental and physical balance and to tune in to each other before getting on so that the experience in the saddle is more pleasant for both of us. Longeing or work in hand can become a kind of ritual that helps both horse and rider to connect and to get into the right frame of mind together.
Observe the horse's muscle tone. The feel of his back and hind legs. The mobility of his hips, shoulders, rib cage, and spine. Can you feel the hind legs in your reins? Can your weight flow through each of the four legs into the ground? Can you reach all areas of the horse's body with your aids, or are there areas that you can't feel or influence?
There are fans who are living the past
The Alberta Cowboy Poetry Association was formed to preserve the history and lifestyle of the cowboy and the rural way of life through both the written word and oral presentation. The Association fosters the development of new writers and encourages participation in Cowboy Poetry Events.
THE GATHERING  By Wendy Vaughan Cowboy Poetry
There are young sprouts who want to be cowboys And cowboys who want it to last. They all meet at Trail's End in High River Each fall there's a Gathering there Striving to capture the essence Of the West and its Romantic Affair With a near mythical figure – The Cowboy A man of legend and grace Who slides easily into his saddle The bronc about to lose face.
You'll hear poets rhyming true stories About the ranching and cowboy lifestyle That will bring tears to your eyes, or deep laughter, Depending on your view of the pile!
You'll experience true Western Tradition And we invite you to come if you can!
A Gathering of cowboys, ranchers and fans
The songs are pure and authentic Traditionally true to the West They're written and sung from the heart By the cowboy living his quest. Please remember Trail's End in High River
21SEPTEMBER 2022 SADDLEUP.CA •
O ur annual event returns after a Covid two year absence. Come on out and join us at Trail's End 2022 to be held September 9-11, 2022 at High River Gospel Church in High River Alberta. Enjoy a weekend of authentic cowboy poetry and western music by some of North America's top performers.
Alberta Cowboy AssociationPoetry albertacowboypoetry.com
There are poets and pickers and singers
There are day and night shows available, plus a Cowboy Stew Supper Saturday night, and the popular Cowboy Church on Sunday. Advance tickets available at Walker's Country & Western Wear. For more info email cowboy.poets@gmail.com.
Phyllis Rathwell, president of the Alberta Cowboy Poetry Association, says they welcome anyone who wants to come and listen — but for the musicians and poets, an understanding of the west is important. According to Rathwell, the cowboy culture they hope to preserve isn't so far away, even with modernization and the passage of time."If you go not very far from here, you'll find lots of ranches, ranchers, cowboys, rodeo people," Rothwell said. "We all have a connection to the Old West. And there might be several centuries of change and innovation, but there's a connection."
 Normal dog temperature is 101-102.5 (38.339.2C). Metabolic physical meltdown happens when temperature rises to 105 degrees F (40.C).
22 • SEPTEMBER 2022 SADDLEUP.CA HOW
Damp towels in walking areas to keep pads cool and moist Ventilation by AC or a fan to move air (using ice blocks in front of a fan helps)
(Courtesy of Harmony Farm Kennel & Lamb)
Suggestions to help your dog beat the heat: Remember dark coloured dogs and thick undercoats make a dog more vulnerable to overheating – groom and thin their coats as much as possible (consult a vet before shearing which can sometimes be a negative option). Never take dogs in a vehicle (or back of your truck - ever), never walk them on the scorching pavement or burning sand... or anywhere you wouldn't walk barefoot! Their pads will actually burn causing unreal pain and taking months to heal!

B ut what about your dog? If you were to give him a choice of colour in a ball or toy, would he have a favourite colour?
Humans are drawn to colours. We choose our clothing and interior design based on our favourite hues and what we think looks best.
If you see any of these signs call your vet asap!
Patricia provides personal care, attention and daily exercise for ALL dog types, breeds and doganalities! She also offers one-on-one dog-owner training, helping individuals to create healthy happy relationships with their dogs. Here she shares her vast array of experience with a beneficial monthly tip for you and your pooch to enjoy! (See her listing under Pet Central) YOUR DOG SEES COLOUR Courtesy of spca.bc.ca

The popular notion that dogs can only see black, white, and various shades of gray is incorrect. The truth is, while dogs can't see the same colours as humans do, they can still see some colours. Here's why. Both humans and dogs are able to see thanks to two main types of cells in the retina – rods, which detect light levels and motion, and cones that helps us to differentiate colours. Human eyes have three different types of cones, which allows us to identify combinations of red, blue, and green. Dogs, on the other hand, have only two types of cones, which means they can only discern blue and yellow. As a result, dogs are red-green colour blind. How does a dog's vision compare to a human's?
Specific dog facts and overheating symptoms to closely watch for:
 Dogs sweat by panting, 10-30 rpm is normal. With extreme stress, panting can increase to 400 pants per minute! (Keep in mind that flat faced dogs overheat quicker due to inability to pant as much as required.) Watch for loss of appetite, depression, anxiety, excessive frantic panting, extreme salivation, bright-red gum membranes, weakness, instability or labored breathing... all clear warning signs that your dog is overheating!
Tip of the Month - Summer HOT Dog Buster!
Hose down grassy areas or rest areas that your dog frequents outside in the shade  Frozen dog popsicle treats or ice blocks work great to encourage and help to keep dogs hydrated and entertained! (freeze treats or toys inside an ice cream pail of water for easy fun dog Here'spopsicles!)toa beautiful summer and a cool, healthy dog to enjoy it!



Neck cooling bandana
TOP DOG! A DIVISION OF CENTURION SUPPLY Supplying Your Pets with NEW and Unique Products! https://finnandfletcher.com
Simply, dogs sweat through their paws. Panting helps them release their heat but can also lead to a number 1 danger – dehydration. Dehydration is serious and can quickly lead to organ damage and even death in overheated dogs, so please, pay attention to your dog's clear signs of overheating!

While humans have more cones, allowing us to see all the colours of the rainbow in their brightest form, dogs have a higher amount of rods, which helps them to see things better in low light or identify moving objects at a faster pace than you. This is why your dog might get distracted by a bird flying 40 metres away that you didn't even notice or will bark at night at a small animal that you're unable to see!

Patricia Skinner-Porter is the owner/operator of Harmony Farm Kennel & Lamb at Monte Lake BC. Offering custom care boarding (non-dog park style)
W ell, it's nowhere near as hot as last summer in the Okanagan but tell your overheating dog that! Would you recognize if your dog started overheating? Hopefully, you will be able to intervene before your dog's wellbeing is compromised trying to manage the heat.

Allow your dogs to relax and stay cool inside during the heat of the day, exercise only during cool hours, preferably on grass. Provide 24/7 access to cool, clean water to keep airways moist (large ice cubes are helpful)
So if you're wondering which colour of toy to buy your furry friend, your dog will enjoy toys that are blue and yellow over any other colour.
23SEPTEMBER 2022 SADDLEUP.CA • Send us a photo of your favourite pooch! Tell us the dog's name, breed, and up to 50 words about him/her. We will print your first name (or initials) and your city/province. E-mail to nancyroman@saddleup.ca and put in subject line: TOP DOG OF THE MONTH. Photos will be printed on a first come first serve basis. TOP DOG! OF THE MONTH TOP DOG! A DIVISION OF CENTURION SUPPLY Supplying Your Pets with NEW and Unique Products! https://finnandfletcher.com Canine Capers SPONSORED BY EVERYTHING PETS (Princeton BC) 250-295-7381 Quality Foods & Supplies for all your Pets! See us on Facebook. 10/22 Pet Central For more information on any of these events go to canuckdogs.com unless another website is provided Farm, Fencing & Horse Supplies Pet and Livestock Feeds Pemberton604-894-6740BC 5/19 Your one-stoP Pet shoP 11/22 Do you have a WORKING DOG event coming up? Let us know! Call 1-866-546-9922 or email nancyroman@saddleup.ca HARMONY FARM KENNEL AND LAMB.COM, Monte Lake BC, 250-375-2528. "Custom Care" boarding welcomes ALL dogs! 12/22 Do you offer a dog service or training business? Sell pet feeds and supplies? You can advertise here! Prices start at only $250 per year (11 issues). Call 1-866-546-9922 or e-mail nancyroman@saddleup.ca SEPTEMBER 2-5 SHOWS, OBEDIENCE & RALLY TRIALS, Summerland BC 3-4 CKC RETRIEVER HUNT TEST, Black Creek BC 9 LYLE BROWN TRIAL, Kelowna BC, codac.ca 9 UKI AGILITY TRIAL, Abbotsford BC 9-11 CKC AGILITY TRIALS, Qualicum Beach BC 9-11 AAC AGILITY TRIAL, Kelowna BC, codac.ca 10 CKC URBAN TRACKING TEST, Comox Valley BC 10-11 CKC SCENT DETECTION TRIALS, Lake Country BC 10-11 CKC RETRIEVER HUNT TEST, Abbotsford BC 10-11 STOCKDOG CLINIC & ARENA TRIALS, Burns Lake BC, bcstockdogassociation.ca 11 AGILITY FUN MATCH, Aldergrove BC 15-18 SHOWS, OBEDIENCE & RALLY TRIALS, Chilliwack BC 16-18 AAC AGILITY TRIAL, Lumby BC, dogopogoclub.wixsite.com/ 16-18 AAC AGILITY TRIAL, Pitt Meadows BC 17-18 CKC AGILITY TRIALS, Castlegar BC 17-18 WATER RESCUE TESTS for Newfoundland Dogs, Tappen BC 23-25 SHOWS, OBEDIENCE & RALLY TRIALS, Chilliwack BC 23-25 AAC AGILITY TRIAL, Abbotsford BC 24 CKC FIELD DOG TEST, Duncan BC 24-25 CKC OBEDIENCE TRIALS, Union Bay BC 24-25 CKC SCENT DETECTION TRIALS, Cobble Hill BC 24-25 CKC LURE FIELD TRIALS for Sighthounds, Harrison Mills BC 24-26 CKC RETRIEVER FIELD TRIAL, Black Creek BC 30-Oct 2 CKC RETRIEVER FIELD TRIAL, Langley BC OCTOBER 1 CKC URBAN TRACKING TEST, Victoria BC 1-2 FIELD TRIAL, Kitscoty AB, bcstockdogassociation.ca Hi, I'm Tia! I live with my family in Kelowna BC, and I'm a Border Collie, Australian Shepard, Bernese Mountain Dog cross. I love taking swims in Okanagan Lake when it's hot out and I'm looking forward to doing so this summer. I also love playing Chuck It at the dog park. Please pick me for Top Dog of the Month!!-from owner Stella C., Kelowna BC Because dogs have less cones in their eyes, when it comes to distinguishing colour, your dog can't see the same spectrum of colours that we can see nor can they see them as brightly as we do. When a person is red-green colour blind, it means exactly that: they can't discern between those two colours. The same is true for your dog. For example, red appears as a dark brownish gray hue or even as black to a dog. Additionally, shades of yellow, orange, and green all appear as a type of yellowish shade to your canine friend. What colour is best for your dog's favourite toy? The colour that stands out most for your dog is blue! (Although purple looks blue to him, too). Which is why when playing a game of fetch with a ball, your dog might have a hard time telling the difference between a red or green ball on the green grass since it all looks the same to him. However, he will be able to discern the blue toy over the rest, which makes playing more fun!
Grab a blue ball when headed outside so your dog is more likely to see the toy against the contrast of the green grass. If playing indoors, you can essentially choose any colour of toy that your dog can see – like blue, yellow, or purple. Now you know the answer to the question of "what is your dog's favourite colour?" — it's blue!
24 • SEPTEMBER 2022 SADDLEUP.CA UP Kids... What Are You Doing With Your Horse? It's your turn to tell us about YOU! This Could Be You!! Send in ONE photo with a caption (no more than 40 words). Include your first name, age, city/province. Photos will be printed on a space availability basis. Email to nancyroman@saddleup.ca with the subject line "KIDS" It'saboutallthekids! This is my 3-year-old gelding Titan, he is a Gypsy Vanner. He loves to eat grass. We got him about 2 months ago. My name is Emma and I am 10. - Emma, age 10, Mission BC 24 • SEPTEMBER 2022 SADDLEUP.CA
Contact coaching@hcbc.ca for more information or go to the HCBC Store to order a package.
PROGRAM COST & PACKAGE INFO
PARENTS & COACHES
PONY TAILS KIDS CLUB… WHAT IS PONY TAILS? Pony Tails Kids Club is FREE and open to all kids! Join Pony Tails today! Alice the Pony will send you lots of horsey fun and help you learn about the awesome world of horses and ponies! JOIN PONY TAILS CLUB TO RECEIVE: • Official Pony Tails Kids Club members certificate • Pony Tails Kids Club member card • Pony Tails Kids Club Passport • Pony Tails Passport • Ribbons • Buttons • Colouring pages • Fun games and activities • Special discounts • Invitations • Cool Contests • Information on horse events and programs in your area • E-mails and blog from Alice the Pony Alice the Pony has all sorts of fun information, games and contests for you to take part in. You do not have to be a Horse Council BC Member to join the Pony Tails Club, but we would love to have you join us one day. Join online at hcbc.ca English Rider Levels Rider 1 & 2 = 2 Grade 10 Credits Rider 3 - 6 = 4 Grade 11 Credits Rider 7 & 8 = 4 Grade 12 Credits
Credits
HIGH
Parents and coaches are invited to use this entertaining and educational presentation that is ideal for horse lovers. It can also be used to prepare and support activities offered at riding camps and as preparation to begin the English or Western Learn to Ride levels.
SCHOOL CREDITS
The Occupational Credentials Program gives students in grade 10, 11, and 12 the opportunity to earn graduation credits for sport learning through approved industrial and occupational courses.
Western
Each exam is $20.00 plus GST ($21.00) payable to Horse Council BC for both English and Western. Students must be members of HCBC at the time of testing. Testing coaches must be considered "current" when they administer exams. For a list of Equestrian Canada Certified Coaches and Instructors, please go to the Directory section of HCBC's website at: https://hcbc. online/Find-a-Coach.Manualsrequired for study are available from the Horse Council BC Bookstore and can be purchased online (store.hcbc.ca), over the phone or in person. Summer Games: BC Summer Games
25SEPTEMBER 2022 SADDLEUP.CA • Horse Council BC - Notes from the Office Horse Council BC • How to Reach Us Office hours: Monday to Friday, 8:30 a.m. to 4:30 p.m. • Address: 27336 Fraser Highway, Aldergrove, BC V4W 3N5 604-856-4304 or Toll Free 1-800-345-8055 • Fax: 604-856-4302 • hcbc.ca
P'tit Trot is an exciting program for children who love horses and want to learn about riding English or Western and caring for horses.
Students who have been certified in one or more of the following Equestrian Canada programs are eligible to receive graduation credits.
The P'tit Trot book is fully illustrated throughout and introduces children 5 and over to the basics of English or Western Riding and learning how to care for a horse or pony.  The colourful drawings and the amusing antics of P'tit Trot (the name of the mascot pony), help the child discover and teach themselves the ABC's of riding and how to care for their horse or pony.
Rider 1 = 2 Grade 10 Credits Rider 2 = 2 Grade 10 Credits Rider 3 = 4 Grade 11 Credits Rider 4 = 4 Grade
BC
Note: Students who have been certified in the approved courses before they reach grade 10 can receive credit for their past learning by providing the certificate of course completion to their high school counselor. Equestrian Canada Rider Levels: These programs are self-paced, student-directed and coach-driven. Riders are taught the skills and knowledge for each level by an Equestrian Canada Certified and current coach. Once the student is ready, they will be tested for each level for riding skills, written knowledge and stable management skills. Each level is progressively difficult. Riders may not bypass any levels when using either program for high school credits. The student is issued a certificate by HCBC for each level. This certificate is taken to the high school and credits are awarded for the level obtained. Rider Levels 12
The complete program is available from Horse Council BC's bookstore for $30.00 plus postage and GST. Included in the program package is a colorfully illustrated manual and certificates for each level. The children will also enjoy the Game Book that accompanies the manual.Each of the chapters – Bronze Horseshoe, Silver Horseshoe, Gold Horseshoe and Platinum Horseshoe – cover specific topics on horse care and riding.Coaches, parents, camp operators and teachers can use P'tit Trot in their programs as a teaching tool.
Athletes will receive 4 Grade 10 External Sport credits for participation on a Zone Team. Learn more: hcbc.ca/programseducation/programs/high-schoolcredits/ Other educational programs for kids: P'TIT TROT RIDING PROGRAM FOR KIDS… WHAT IS IT?
Did you know there are ways to earn High School Credits through riding?
The Ministry of Education is responsible for the External Credentials program and the review of the programs are monitored by the Sport Branch of the Ministry of Tourism, Arts & Culture.
EC
Canada (EC) is pleased to announce the 2021 National Award recipients, recognized for their impressive achievements and contributions to the growth and success of the Canadian equestrian community.
26 • SEPTEMBER 2022 SADDLEUP.CA Equestrian
2021 National Award Recipients
Canada Equestre, equestrian.ca C ongratulations to the 2021 Equestrian Canada National Award Recipients!Equestrian
Lifetime Achievement Award Claudia Cojocar Volunteer of the Year Sue Foell Equestrian of the Year –The Dr. George Jacobsen Trophy Lauren Barwick Photo courtesy of FEI Junior Equestrian of the Year –The Gillian Wilson Trophy Eric Krawitt Photo credit: Cealy Tetley Horse of the Year All In Owner: Brittany Fraser-Beaulieu Photo credit: Susan J. Stickle Owner of the Year MarBill Hill Farm Photo credit: Cara HorseSport.comGrimshaw, Canadian Bred Horse of the Year Beneficial Owner: Alicia Gadban-Lewis Breeder: Paula Leweke Photo credit: Amanda Ubell Photography Canadian Breeder of the Year, Presented by John Deere John Carey Photo Canadianthoroughbred.comcredit:
EC would like to thank everyone who participated in the 2021 EC National Awards, including the many individuals who submitted nominations to support deserving individuals. Across the board, the quality of the nominations was extremely high, which is a testament to the world-class athletes, owners, officials, organizations, volunteers and supporters within the Canadian equestrian industry.
EC would also like to thank the Awards Committee for their time and effort in selecting the recipients, with support and input from EC stakeholders and experts. The 2021 EC Awards Committee is comprised of Peggy Hambly (Chair), Jennifer Anstey, Julie Brewster, Alison Martin, and Taylor McRae. The EC National Awards are presented annually to celebrate the impressive achievements of individuals, equines and organizations who have contributed to the growth and success of the equestrian community. For more information, visit equestrian.ca/about/nationalawards.
I hauled my horse and my wife, Nicky (our beautiful treasurer who acted as secretary for this one) along with Deb Murray (another director) and her horse and all our camping and riding gear and we arrived at the Zirnhelt's ranch just in time to see our fearless president Christine perform the not well understood neck dismount. This happens when the cow and horse change direction while the rider does not.
It'll take a bit of canvassing to see if this is something that the club wants to do again, though I'm sure everyone that attended would vote yes. Perhaps the Zirnhelt Annual or Classic? I'll let you know as soon as I do!
Carol Schepp and DFL Hickadixie Chick
Sue and Deb Christine presenting to Brianne on George Norm Majeau on San Tule Blue
By Peter Sinnott | Robert Magrath Photos
Emily Bennet
27SEPTEMBER 2022 SADDLEUP.CA • BC Ranch Cutting Horse Association 
At 6:30 our gracious hosts put on an awesome beef in a bun supper off their back porch with spectacular views; with the beef donated by Ron Keeley at Kam Lake View Meats, and some great side salads and treats brought along by various competitors, pot luck style. Sunday was more of the same. Some great scores awarded by our judge Kaylen Eek who unfortunately spotted all my errors. Carol Schepp and DFL Hickadixie Chick scored the high score on Saturday with a 73 while on Sunday, Norm Majeau scored the high score of the weekend with an amazing 74 on San Tule Blue in the $15,000 Amateur class. Bob McGrath took a couple of minutes off his announcing gig to earn a 73 on Cats Inheritance in the same class. Kevin and Emily Bennet made father and daughter matching 73s in their respective classes on Sindicats Smart Angel and Bet On A True Cat. All winners walking off with a bag of Harmony Hi Fat Pellet and a BCRCHA logoed back pack!
Kevin Bennet
The show started at a very casual 9 am and the afternoon was done by 3:30 even including the half hour lunch break with a concession serving up burgers and dogs which I hear went down very well. Pictures were taken with the class winners who each earned a stylish BCRCHA back pack and a bag of Hi Fat Pellet from the Harmony line of horse feeds, made (and supplied thanks very much) by Ritchie Smith Feeds in Abbotsford.
It couldn't have happened without the help of so many. Turn back and corner riders put in many hours in the saddle and the announcers Bob, Cambell and Allie, did a magnificent job and Allie even got my name right! Great venue, great people, great weather. What an awesome weekend!
T he BCRHCA, normally based in the Fraser valley went on a weekend getaway to Kamloops July 16-17. The best rational for taking this adventurous leap into the unknown was, after much brow beating and pointed discussion was really "well why not?" Nonetheless, we got enough entries, it was a great place to hold the event thanks to Bob and Mary Lynn Zirnhelt, and we had the cattle and hay to feed them, and someone (thanks Billy) to haul them. I should pause for those who don't know anything about the sport of cutting and just say that if you watched Yellowstone on TV you will have seen cameos from some of the best horses and most famous trainers around and I personally have been mistaken for Kevin Costner on numerous occasions but the real sport is much more exciting and nobody gets murdered!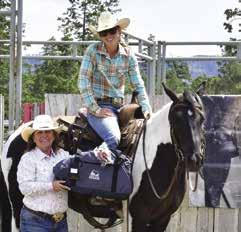 The scientific paper can be found at: Effects of Intravenous Antimicrobial Drugs on the Equine Fecal Liepman,MicrobiomeR.S.; Swink, J.M.; Habing, G.G.; Boyaka, P.N.; Caddey, B.; Costa, M.; Gomez, D.E.; Toribio, R.E. Effects of Intravenous Antimicrobial Drugs on the Equine Fecal Microbiome. Animals 2022, 12, 1013. https://doi. Moreorg/10.3390/ani12081013onpreventingresistance to antimicrobial drugs can be found on the Canadian Animal Health Surveillance System (CAHSS) maud-de-lagarde-animal-health-insights-ep-8-aug-7-2021/https://cahss.podbean.com/e/racing-against-resistance-with-dr-website:
- Upcoming Short Courses Horse Behaviour & Safety for Youth On-Demand (self-paced) Equine Business 101 On-Demand (self-paced) One year access! The Senior Horse - Sept 19 - 30 Horse Care & Welfare - Oct 3 - 14 Sickness Prevention in Horses - Oct 17 - 28 Equine First Aid - Nov 7 - 14 Fire & Emergency Preparedness - Nov 21 – 28 Horse Behaviour & Safety - Dec 5 – 16
Gomez noted in a future study it would be good to have another sample of 60 days to track longer term changes. When using antibiotics some clinicians have proposed the use of probiotics or prebiotics to minimize the changes in the bacterial populations after administration of antimicrobial drugs but currently there is only anecdotal testimonies rather than scientific evidence supporting their use, Gomez mentioned. In 2021, another study began looking at the impact of oral antibiotics. Gomez explains, early analysis of the data reveals some antimicrobials produce major changes in the bacterial communities of the intestine while others do not, and therefore some antibiotics are more likely to cause diarrhea. Stay tuned for more to come on this study.Gomez finishes by stressing the importance of seeking advice from your veterinarian before administering antimicrobials to horses.
"We need to be responsible when we are administering and deciding to administer antimicrobials to horses, not only because it may predispose the horse to disease, diarrhea specifically, but also because of the emergence of antimicrobial resistant bacteria that can lead to difficulties treating infection in humans and horses."
28 • SEPTEMBER 2022 SADDLEUP.CA EQUINE GUELPH helping horses for lifeTM
T
Praise for Practical Online Learning on TheHorsePortal.ca
he thinking on how we use antibiotics is changing in the world of medicine especially as we learn more about their impact on the inhabitants of the gut. Ontario Veterinary College researcher, Dr. Diego Gomez, took part in a collaborative study with researchers across North America to study the effects of intravenous antimicrobials on the equine gut. They collected fecal samples after 3, 5 and 30 days after the administration of antimicrobials commonly used in veterinary practice including Ceftiofur, Oxytetracycline and Enrofloxacin. What they found was that the bacterial population started to change by day three and in some horses, depending on the antimicrobial administered, changes can last up to 30 days. Certain gut bacteria that are responsible for metabolizing nutrients in hay and forage were shown to still be reduced from day 3 up to the 30-day point in the study. The results suggest that use of antimicrobials can predispose the horse to diarrhea, colitis or metabolic diseases by altering the bacterial communities of the gut.
W hether you are brushing up on Emergency Preparedness with a course in equine first aid or other stable management priorities like learning what's in your forage; TheHorsePortal.ca has been helping equestrians advance their knowledge with one and two-week online courses that are easy to fit into busy schedules.
L aunched in January 2017, Equine Guelph partnered with ten English-speaking provincial equestrian federations across Canada to offer their members equine training and education with two courses on the national standards for caring for equines and how to implement best practices for biosecurity.
The Impact of Antibiotics on the Equine Gut (video available at thehorseportal.ca)
" The partner list has grown as quickly as the course offerings and now over 2,800 students from North America and around the world have been praising TheHorsePortal.ca for delivering practical training that can be used on a daily basis," says Gayle Ecker, director of Equine Guelph. "We have also offered, and continue to develop, specialized and customized training programs for the equine industry."
TheHorsePortal.ca
Thirteen short courses on hot topics give students the evidencebased micro-credentials they are looking for. The global learning community boasts highly qualified instructors, including veterinarians and top experts in their fields, sharing a wealth of knowledge in the discussion forums.
Hayden Thompson, Dallas FeragenForbes, Megan Mckay, Kinsley LewisRider draw prizes Stick Horse race Stick Horse race helpers
Peewee Highpoint: Kinsley Lewis
By Nancy Roman
T he Chilliwack Riding Club has had a busy few months hosting monthly Gymkhanas and preparing for our part at the 150th Annual Chilliwack Fair (August 5-7). We were pleased to host the Fair's Gymkhana again on Friday. The weather was fantastic and we were so pleased to see member and non-member participants out to compete. Several riders wowed the crowd by competing in dual events, running side by side, putting on a great show for the spectators.
29SEPTEMBER 2022 SADDLEUP.CA • BC Interior Morgan Horse Club 
Intermediate Highpoint: Safira Everitt Intermediate Runner Up: Megan Du Toit Senior Highpoint: Dallas Feragen-Forbes Senior Runner Up: Megan Mckay We were also so pleased to host the Stick-Horse Race for kids just before the rodeo began on Saturday evening. We had a record number of kids participate with all their wild creativity in naming their little horses. Well done kiddos!

Cost is $20 per person and includes 1 poker hand. Extra hands can be purchased at $5 each. We have some great prizes! Trails are wellmarked and maps are given out too. Our TRT hostess with the mostess Darlene is also available to cook lunch for you… just order and pay during your morning registration. There is lots of parking, and corrals are available, camping and cabins too – contact Darlene directly 250-309-3544 to reserve. Anyone needing ride information… please call Nancy 250-546-9922. No need to pre-register… just come on out and join us! For club information, see our Facebook page for news and updates.
MeganTanyaGrampaSherriCherylSkyBarbColleenHelenFraserBevChampionPureFormCJWesternPowellOutfittersBrookesEquineSupplementsHorseBlanketsandBruceMartinValleyBuildingSuppliesMcGarrigle-MortonKocsisBodholdtHighRanchVernonWilliamsonKenIncThompsonMckay
Peewee Runner Up: Hayden Thompson
Of course we couldn't put on these types events without the tireless efforts from our volunteers and the generosity of our sponsors. Thank you so much to Barb Bodholdt for sourcing and organizing the rider draws; every rider who came out to participate on Friday was able to take home some beautiful gifts and prizes. Thank you to Anita Lem for judging, Penny Boldt and Corinne Kriegl for arranging our CRC display at the Fair, Ken Bodholt, Tanya and Lee Thompson, Simone Lewis, Megan Mckay, Jen and Lori Kabernick, Riesa Kyne, Niki Freeman, and all of our other valued volunteers for their hard work in manning gates, moving equipment, and harrowing the arena. And finally, thank you to our dedicated and most generous sponsors. You always come through for us and we couldn't do it all without you!
Congratulations to the WINNERS of the day:
Chilliwack Riding Club By Riesa Kyne Y AY… we are having our fundraising "Find the Golden Horseshoe Poker Ride" this year!! It will be held on Sunday, September 25th at Timber Ridge Trails in Lumby BC. Everyone is welcome to come out and ride the trails! Registration will be open from 10 am to 11:30 am. But remember, you have to keep an eye out for the Golden Horsehoe along the trail!!! Find it, bring it back to the registration table, and there is a special prize just for you! All riders MUST be back by 3 pm for awards and prizes.
Leadline Highpoint: Callen Everitt
Cindy
From the July issue
READERS – What's your guess? Discuss this item with your friends and send your guess usedandunique2018@gmail.comto
Congratulations (so far) to: Lyle Verquin, Lacombe AB Lynda Norris, Spallumcheen BC Patrick Manderson, Haight AB Hans Leuenberger, Houston BC We're going to give you more time to figure this one out! Found in a mode of product.anduniquetransportation;toDodgeChrysler
Next month I will have August's results as well as the results from the Finals and the Challenge Year-End. Have fun riding in the fall.
Alana and George recovered well by closing the gate and gained partial points, but did loose partial points by moving too far away on the closing. It seems easy to open a gate, but the overall task involves a lot of elements all at the same time, and requires constant and consistent communication between the rider and horse.
As Alana is about to close the gate she does not take her right leg off of George and he continues on past closed (photo #3). You can see that Alana is attempting to hold George from going too far with her hand, but the leg is telling George to keep on moving, and he is doing what her leg is requesting.
July 24 results: SS: Bailey Black riding Jazzy. Y: Anthony Judge riding Boots. OTD: 1-Janet Goltz riding Mr Red Pines; 2-Greg Paranich riding Sonny. N: 1-Bailey Black riding Jazzy; 2-Lynn Dalton riding Gayla Lil Roo. R: 1-Karen LeVoir riding Shadow; 2-Faye Paranich riding Lenny. NP: 1-Murray Buxton riding Ross; 2-April Hall riding Badger. O: 1-Janet Goltz riding Mr Red Pines; 2-Murray Buxton riding Ross. BC: 1-Leane Buxton riding Captain; 2-Denton Keith riding Bender.The Challenge season is coming to an end and plans are in place for the CCC Finals and Year-End Banquet. The date has been set for September 24, 2022 at the Stettler Agriculture Arena in Stettler Alberta. The Finals will be held during the day with the Year-End Banquet held in the early evening. The top riders in each division need to qualify during the Challenge season to ride in the Final's Challenge.Awards will be given out at the banquet for the Finals. Year-End awards will also be awarded at this time with Buckles given in each division for Champion; Reserve Champion receives a CCC vest; and third place receives a CCC hat. Past Finals and Banquets have been well-attended and everyone enjoys themselves and it is a good way to end the Challenge season. This month I want to address going through the gate. The gate presented is a wooden gate with Alana and George going through (with permission). The course design is to pass through the gate Aforwards.lana'sapproach is great (on video) as she rides up to the gate facing the latch side and must then stop and have George's hindquarters at the hinge side. Alana stops in position at the latch end, guiding the front end with the reins, and positions the hindquarters with her leg. As a result, Alana and George are square with the gate (photo #1) and in perfect form.
I t is hard to believe that it is September already. Our August results were not available at this time so I can only give you July's results. The YKnott Double Header in Alberta was held on July 23 and 24 and both days were judged by Al Bignell.
A &inrestaurantsfoundequipmentpiececommonofinthe60s,70s80s.
As Alana is opening and going through the gate, she slides her hand up the gate support for control of opening the gate (photo #2). So far Alana has guided George up to and through the gate with a steady hand and direction from her leg.
30 • SEPTEMBER 2022 SADDLEUP.CA
Canadian Cowboy Challenge By Hans Kollewyn
Do include your city and province please. Saddle Up will print names (and location) of those with the correct answer in a future issue.
GOOD LUCK! If you or your company would like to sponsor this monthly brain teaser, do call 1-866-546-9922 or email nancyroman@ saddleup.ca for details.
July 23 results: Shoutin' Sprouts (SS): Bailey Black riding Jazzy. Youth (Y): Anthony Judge riding Boots. Older Than Dirt (OTD): 1-Janet Goltz riding Mr Red Pines; 2-Alana Eaton riding George. Novice (N): 1-Bailey Black riding Jazzy; 2-Lynn Dalton riding Gayla Lil Roo. Rookie (R): 1-April Hall riding Badger; 2-Karen LeVoir riding Shadow. Non Pro (NP): 1-Koren LeVoir riding Shadow; 2-Murray Buxton riding Ross. Open (O): 1-Janet Goltz riding Mr Red Pines; 2-Kelsey Seller riding Ferb. Buckin' Crazies (BC): Leane Buxton riding Captain; 2-Denton Keith riding Bender.
This was a Viewmaster. The round disc with the same thumbnail sized pictures placed 180 degrees opposite each other is placed in the slot. When viewed through the eyepieces, a clear crisp picture is viewed. Pictures were cartoon, movie themes and pictures of interest from around of the world. Congratulations also to: Harrold & Lynda Norris, Spallumcheen BC Ester Brittain, Penticton BC Karin MacCarthy, Spruce Grove AB Susan Leuenberger, Houston BC Patrick Manderson, Haight AB Shirley Dudla, Onoway AB Jim Schenk, Rocky Mtn House AB Sheridan Wood, Nanaimo BC Mark Savage Jerry Zbytnuik, Coldstream BC Cherie Kramer, Abbotsford BC Colleen Ross, Merritt BC
Vernon District Riding Club
S ending out a HUGE CONGRATULATIONS to our lovely Champions and Reserve Champions from the July 9-10 Jump Into Summer show. We are so thrilled with the amazing turnout of 60+ riders from all across the Okanagan Valley! Judge Bill Ulmer was an amazing positive energy for our Sport, and we are excited to have him back at the end of this month for our Youth Clinic and Rally! We want to THANK our Show Division sponsors who provided beautiful well-earned prizes! Okanagan Spirits Craft Distillery, Strictly Golf Vernon, Training House, On Stride Equestrian, Mike V's Automotive, Stride Away Thoroughbreds; as well as door prize and Sportsmanship sponsor Rusty Spur Tack and Feed!
Up dates for September: Due to the heat dome, the Bill Ulmer Youth Rally Clinic will now be held on September 10-11. The VDRC Summer Show has now been rescheduled to become the VDRC Fall Show set for October 8-9. On September 2-4 Cheryl Keith will be giving a Hunter/Jumper Clinic. O ctober is the last month the club will be open. We welcome all participants and observers to VDRC. More information is available for events and bios on our clinicians at our website and Facebook page.
Alyssa Keyton, Saphira Forsythe, Keelly Gordon, Holly Keyton, Quinn Puhlmann, Ellie Rayner
Sadie Mazur Champion Cross Pole Hunter Ella Hawthorne with Reserve Champion Poles on the Ground Hunter
By Keelly Gordon of On Stride Equestrian Rusty Spurs 4-H Club Abbotsford  By Madeline
31SEPTEMBER 2022 SADDLEUP.CA •
News 
T he Rusty Spurs 4-H Horse Club has had a busy year post-Covid restrictions. For starters, our club speech contest took place on April 1st. Representing the club at the district competition were Madeline for seniors and Summer for juniors. At the end of April Club President, Brooklyn and Madeline took part in the regional demonstration competition. We have also been busy with our horses! We kicked the year off with a showmanship clinic on April 30th with Jodie Moore. Next up, at the end of May, was the combined Rusty Spurs and Behind the Bit (Chilli wack) show. We were grateful to be judged by Alyssa Brannlund who provided us with lots of useful com ments. We rounded off the day with some fun games. ost recently, we were fortunate to attend a Mountain Trail clinic led by Debbie Hughes at her farm. It was a full day of challenges and learning for us and our horses in the sun! The club attended the Chilliwack Fair in August for the 150th anniversary and we thank our fellow horse enthusiasts for coming out to support us. f you are interested in joining a 4-H horse club or know someone who may be interested, feel free to contact us for more information at rustyspurs horse4h@gmail.com.
Laura, Summer, Alyssa, Brooklyn, Madeline and Jennah Rusty Spurs horse club and Behind the Bit horse club Madeline and Brooklyn Mountain Trail clinic
A s always a HUGE THANK YOU to the annual sponsors of our beautiful facility and club, keeping this venue accessible for all riders… Riders Tack, Nata Farms, Priscilla and Company Re-Max, Lavington Pellet, Boulder Designs and Capri Insurance.
32 • SEPTEMBER 2022 SADDLEUP.CA
Putting the finishing touch on the 'Sit-on-it Sandwich'!
We had all winter to think about when and where we would like to go. After factoring in all considerations — weather, fires, floods, vacation time, etc. — we agreed on a fall trip. After all, the best time to experience the wonders of a wall tent is when you may need protection from the elements!
We arrived at Fishtrap Camp, which is maintained by BCHBC North Thompson Chapter, just as dusk descended and got our horses settled in their spacious corrals. We were treated to a scrumptious fish dinner and a relaxing evening in the cook tent. Diane and I chose to take advantage of the 'true wall tent experience' and got the entire 'bedroom' wall tent to ourselves. (The others had brought campers.) Scott had fired up the woodstove in our tent ahead of time, so we were cozy as ticks! Morning brought a bit of a chill, but it didn't take long to chase that away with another roaring fire. After coffee and a belly-warming breakfast, discussion ensued about which trail we should start with. (If you're using the HCBC Avenza maps in the Barriere area, download the Skull Mountain trail system.) Our first day out took us a long way up – far enough to get lost, but that just added to the adventure! However, it meant a longer day than expected in the saddle, especially seeing the same landmarks more than once.O verall, the riding was terrific, with lots of variety in the terrain and trails. One of our gracious hosts, Rose, took on the cooking chores as she couldn't ride that weekend and wow – she is a master at the art of Dutch oven cookery. Breakfast, dinner, even dessert! My personal favourite was the chicken pot pie. We were introduced to a new trail favourite — the "Siton-it" sandwich. (See photos). Keep an eye on the BCHBC Provincial FB page and/or website for details on the annual online auction in December - maybe YOU'LL be fortunate to be the winner of an experience like this for 2023!
Check out our beautiful website at bchorsemen.org / Questions? Contact info@bchorsemen.org BCHBC respectfully acknowledges that our members are privileged to recreate on the unceded traditional lands of First Nations people of British Columbia.
Story by Verna Houghtaling, Prince George Chapter member & Provincial Membership Coordinator Online Auction 'Adventure' was a Trip to Remember! Wall Tent Campout at Fishtrap Camp, Barriere BC H ave you ever wished you could head out to ride different territory and get to know some other BCHBC members? Not have to concern yourself with packing a camper, tent, and all your gear?
Back Country Horsemen of BC – serving BC trail riding enthusiasts since 1989!
Enjoy a hearty breakfast each morning before heading out for a day on the trail? My friends and I were the happy winners of the 'Wall Tent Experience for Four' offered at the annual BCHBC Online Auction (December 2020) and this is exactly what we got!
It was a sunny Friday morning in late September (2021) when Diane Pickering and I finished loading up our horses and headed south to meet up with Troy and Nadine Cape, our traveling partners in this adventure. We had the entire glorious day ahead of us. Our gracious hosts, Scott Walker (Okanagan Chapter) and Rose Schroeder (Shuswap Chapter), weren't expecting us at the Recreation Sites & Trails BC Fishtrap Creek Camp until dinner time, so we decided to stop at Spruce Hills Resort at 108 Mile. BCHBC's South Cariboo Chapter maintains a good number of horsefriendly campsites at this private resort and we wanted to explore the scenic trails and allow the horses to stretch their legs. We still had lots of time to meander on through to Little Fort, where we replenished our road snacks and beverages, then on to our destination!
Rose Schroeder (left) ensured that all camp guests were well fed. A 'wall tent' was home sweet home for the weekend
The Back Country Horsemen of BC
33SEPTEMBER 2022 SADDLEUP.CA • Clubs & Associations INTERIOR CUTTING HORSE ASSOCIATION www.ichacutting.com New cutters always welcome. Lee Poncelet 250-938-2034 9/23 11/22 10/22 Want to enjoy miles of beautiful new trails with your equine partner in BC? Try Endurance Riding! Info on clinics and events at www.erabc.com We welcome all levels of riders and all breeds of equines. 6/162/2312/22 Join the Canadian Quarter Horse Association Membership is FREE! The CQHA is the Canadian affiliate of the American Quarter Horse Association (AQHA), and representative of the largest breed population within the Canadian herd. Visit us at www.cqha.ca. 12/22 CHILLIWACK RIDING CLUB, Drill Team, Horse Shows (Heritage Qualifiers), Gymkhana, Trail Rides, Clinics, Open Ride, Socials, www.crchorse.ca 12 /22 11/22 ARMSTRONG ENDERBY RIDING CLUB S chooling Shows (Eng/West/Games), Armstrong Fairgrounds, April to Sept. www.armstrongenderbyridingclub.ca 10/22 BC CARRIAGE DRIVING SOCIETY, Pres: Ellen Hockley 250-572-7516, Pleasure, C ombined, Recreation from Minis to Drafts, www.bccarriagedriving.com 6/23 BC INTERIOR ARABIAN HORSE ASSOC. P res: Wally Goertz 250-546-6004 11/22 asmarawg@telus.net, clinics, Recreational riding programs, Awards/Social Activ. BC EQUINE ARENA 2 TRAIL ASSOCIATION (on FB), Clinics & Coaching Building your & your equine's confidence, bcearena2trail.com 4/23 BC INTERIOR MORGAN HORSE CLUB see our FB page. Pres: Michelle Kozyn e-mail: akylles3_kozyn@hotmail.com, Trail Rides, Pot O Gold Show, Poker Ride 5/23 BC PAINT HORSE CLUB www.bcphc.com, Open Show & Competition Program, award sponsorships for local clubs, youth scholarship. cathyglover@telus.net 3/23 BC QUARTER HORSE ASSOCIATION, www.bcqha.com Contact Carolyn Farris, email cfarris@telus.net 8/22 BC WELSH PONY & COB ASSOC. (see FB) Pres: Rosanne 604-302-7650, bcwelshponyandcob@gmail.com. Breed promotion program throughout the province. 4/23 BOUCHIE LAKE GYMKHANA CLUB (Quesnel BC). May to September. All info on our Facebook Page: B LAKE Gymkhana CLUB. Tel: 250-249-9667 11/22 BOUNDARY HORSE ASSOCIATION (Grand Forks BC), Offering shows, gymkhanas, clinics & more. See us on Facebook, 250-443-3191, kmespenhain@telus.net 4/23 2/23 Team Cattle Penning is a race against the clock to have 3 riders pen 3 of 30 numbered head of cattle. Each rider is rated to their current abilities and the three riders on a team make up the maximum allowed number for the division they are riding. Example: a 10 Class is made of a 4-rated rider and two 3-rated riders. The herd is on one end of the arena and the foul line is usually 1/3. DON'T BLOW OUT!! YEE HAW!! Visit our website at: bctcpa.ca 3/23 5th of each monthDEADLINE Alberta Donkey and Mule Club Play Days • Clinics • Shows • Trail Rides • Community Events • Knowledge Sharing High Point in Competitive and Recreational albertadonkeyandmule.caCategories 6/23 Canadian Cowboy Challenge A SPORT for the whole Family! Seven Divisions to accommodate all! For more info please call 403-828-2044 or visit www.canadiancowboychallenge.com12/22 A charitable equine organization funding veterinary colleges and students, and other worthy equine causes.Bob Watson, President • cbwatson@cciwireless.ca403-378-4323 equinefoundationofcanada.com WELCOMEDDONATIONS THE EQUINE FOUNDATION OF CANADA PEOPLE HELPING PEOPLE HELPING HORSES4/23 BC ANIMAL OWNERS ASSOC. Mission is to get 'legal' access to non-vet practices to support our companion/farm animals. bcanimalownersassociation.ca 6/234/23 LOWER MAINLAND QUARTER HORSE ASSOC. Pres: Tamara Jameson, tamarajameson@hotmail.com, http://bcqha.com/index.php/LMQHA 12/22 LANGLEY RIDERS SOCIETY, www.langleyriders.com. English/Western, Games, Jumping, Drill Team, Rodeo. 604-530-5981 11/22

34 • SEPTEMBER 2022 SADDLEUP.CA Clubs & Associations VINTAGE RIDERS EQUESTRIAN CLUB (Fraser Valley BC), English/Western, lectures, clinics, socials, safe and fun, vintageriders@shaw.ca, on Facebook 4/23 PEACHLAND RIDING CLUB, Pres: Kevin Froese (Kevin.leroy.froese@gmail.com). Info, Gymkhana dates & events atpeachlandridingclub.com 6/23 SOUTH CENTRAL QUARTER HORSE ASSOC., Host of April Fuzzy Horse Show and September AQHA Circuit Show, http://bcqha.com/index.php/scqha 12/22 WILD ROSE DRAFT HORSE ASSOCIATION, www.wrdha.com. Barb Stephenson (Secretary) phone 403-933-5765 (8:00 am to 8:00 pm) 6/23 OKANAGAN POLO CLUB (Kelowna BC), new members welcome, weekly gatherings, annual tournament, and fun! okanaganpoloclub.com 9/22 NORTH OK THERAPEUTIC RIDING ASSOC. 250-549-0105 www.notra.info Providing therapeutic horseback riding for children and adults with disabilities 9 /22 100 Mile & District Outriders Promoting equine activities and knowledge in the south Cariboo with Shows, Clinics, Gymkhanas and more. President: Mike Kidston E-mail: info@outriders.com ~ www.100mileoutriders.com7/18 11/22 Adam Harvey Peruvian Horse Club of BC Smooth • Versatile • www.phac.ca/BC/index.htmlIntelligent 9/22 Clubs - you could be listed here! Non-profit rates start at only $100 per year and includes a FREE web link for one year! RUSTY SPURS 4-H HORSE CLUB (Abbotsford BC) Open to Youth 6-19, Rustyspurshorse4h@gmail.com & Find us on Facebook! 12/22 What's Happening? Let's Go! 2022 Events? LET US KNOW – THIS IS A FREE SERVICE FOR NON-PROFIT EVENTS. REQUIRED FORMAT FOR EACH DATE: Jan 1-3 OPEN HORSE SHOW, Smith Arena, Smithsville, BC, John 604-123-4567 johnsmith@smith.net, smithshow.com VERNON DISTRICT RIDING CLUB (Vernon BC), check out our website at vernonridingclub.com or visit our Facebook & Instagram pages 2/23 AUGUST 24-Sep 5 PACIFIC SPIRIT HORSE SHOW at the PNE, Vancouver BC, pne.ca 31-Sep 4 INTERIOR PROVINCIAL EXHIBITION & STAMPEDE, Armstrong BC, armstrongipe.com SEPTEMBER 6-Oct 1 COUNTRY WEST SUPPLY SEPTEMBER SALE, 3 locations, countrywestsupply.com 9-10 27th ANNIVERSARY CELEBRATION SALE, Diamond H Tack, Kelowna BC, 25 0-762-5631, www.diamondhtack.ca 9-11 SALMON ARM FALL FAIR, Salmon Arm BC, salmonarmfair.com 9-11 TRAIL'S END 2022 Cowboy Poetry & Western Music, High River AB, email cowboy.poets@gmail.com, albertacowboypoetry.com 10-11 COLT STARTING CHALLENGE & SALE, Rocking Heart Ranch, Water ton Lakes National Park AB, rockingheartranchltd.com 11 BASIC FEED & NUTRITION CLINIC, 10 to 2, April Acres, Chilliwack BC, Ann Turner 604-302-8229, annpturner@shaw.ca 13-15 ARENA 2 TRAIL WORKSHOP (Beg. to Adv.) w/Dawn Ferster, Timber Ridge Trails, Lumby BC, dawnferster@gmail.com 13-17 55+ BC GAMES, Victoria BC, https://55plusbcgames.org 16 ALBERTA THOROUGHBRED SALE, Westerner Park, Red Deer AB, cthsalta.com 16-18 CHRISTILOT BOYLEN MASTER CLASS, The Barn Equestrian Center, Kelowna BC, Sarah Skogland sarahdskogland@gmail.com 17 RANCH HORSE REVOLUTION SHOW, Judge: Jodie Moore, Falkland BC, ranchhorserevolution@gmail.com or see page on Facebook 17 VFTH CHARITY FUNDRAISER w/Yvonne Allen, Chilliwack BC, VoiceForTheHorse.org and on Facebook 18 AERC HORSE SHOW, Fairgrounds, Armstrong BC, armstrongenderbyridingclub.ca 18 NOTRA OPEN HOUSE / BBQ FUNDRAISER, 6102 Star Road, Vernon BC, notra1984.ca 23-25 HORSEMANSHIP CLINIC w/Dustin Drader, Grassland Grazers Ranch, Beaverdell BC, elcentroequine.com 23-26 BC AGRICULTURAL EXPO (4-H), Agriplex, Barriere BC, bcagexpo.ca 24-25 LITTLE BRITCHES RODEO (Rodeo for kids 15 & Under), Peachland BC, 25 0-718-2761, peachlandridingclub.com 25 FIND THE GOLDEN HORSESHOE POKER RIDE, Timber Ridge Trails, Lumby BC, BC Interior Morgan Horse Club (on F B), 250-546-9922, nancyroman@telus.net 28-30 ARENA 2 TRAIL WORKSHOP (Beg. to Adv.) w/Dawn Ferster, Timber Ridge Trails, Lumby BC, dawnferster@gmail.com 30- Oct 1 FALL HORSE SALE, Perlich Bros. Auction Market, Lethbridge AB, perlich.auction or 403-329-3101 30-Oct 2 OKMA 'Turkey Shoot' Skills Clinic & Potluck in Vernon BC, okanagan.khanate@gmail.com, okkma.ca, 250-899-4344 OKANAGAN KHANATE MOUNTED ARCHERY Join us in this incredible sport of Horseback Archery in the Okanagan Valley, BC Intro Clinics • Skills Clinics • Family Clinics • Practices • Competitions • Community 'The Obstacle Is The Way' Contact: FB & IG • okanagan.khanate@gmail.com • okkma.ca • 250-899-43445/23
DECEMBER
13-23 HORSE DEVELOPMENT w/Glenn Stewart, The Horse Ranch, Baldonnel BC, 250789-3072, sandy@thehorseranch.com 3725 Davidson Road, Merritt, BC $1,350,000 JORDYN CHENIER 250-280-2353 or 250-378-6941 RE/MAX Legacy, jordynchenier@remax.netMerritt
35SEPTEMBER 2022 SADDLEUP.CA • What's Happening? Let's Go! MORE DATES AT SADDLEUP.CA Rural Roots STARTINGSHOULDREALTORS,YOURADBEHERE1/9PAGEATJUST$90 1-866-546-9922formoreinfo 30-Oct 2 CLASSICAL HORSEMANSHIP & COWGIRL YOGA CLINIC, Janet 780-897-7986 prosperous4women@gmail.com OCTOBER 1-2 ARENA 2 TRAIL COMPETITION (2 of 2) w/Dawn Ferster, Timber Ridge Trails, Lumby BC, dawnferster@gmail.com 8-9 INTRO TO MOUNTED ARCHERY CLINIC, Grand Forks BC, okanagan.khanate@gmail.com, okkma.ca, 250-899-4344 13-16 HOOF TRIMMING CLINIC, Saskatoon SK, Francine 204-771-5335, hoofgeeks.ca 15-16 PRC BUCKLE SERIES BARREL RACE & GYMKHANA, Peachland BC, 250-718-2761, peachlandridingclub.com 21-22 STAGE 1 HORSEMANSHIP CLINIC w/Glenn Stewart, Mission Acres Arena, Cochrane AB, 25 0-789-3072, sandy@thehorseranch.com 23-24 STAGE 2+ HORSEMANSHIP WORKSHOP w/Glenn Stewart, Mission Acres Arena, Cochrane AB, 25 0-789-3072, sandy@thehorseranch.com 31-Nov 11 HORSE DEVELOPMENT w/Glenn Stewart, The Horse Ranch, Baldonnel BC, 25 0-789-3072, sandy@thehorseranch.com
29-Dec 10 HORSE DEVELOPMENT w/Glenn Stewart, The Horse Ranch, Baldonnel BC, 25 0-789-3072, sandy@thehorseranch.com
rancher home with 3 bedrooms, 1.5 baths and open concept kitchendining-living room, a 5-bay carport with attached, heated workshop, approximately 10 acres of fenced pasture/hay land, a 100' x 200' riding arena, hay barn, 2-stall stable, numerous walk-in shelters, water rights and irrigation system. A HORSE LOVER'S HEAVEN Do you have your 2023 dates yet? Let us know! Send them in (required format only, as above) – our readers want to know! Remember, we can only fit so many in the magazine, but we print them ALL on our website! Contact Todd Armstrong 250-689-9600 or Allan Taylor 250-498-9886 EXP Realty, Penticton BC ~ allantaylor.ca Beautiful 2,300 sq. ft. 4 bedroom, 3 bathroom country home on 11.41 acres of flat land, fully functioning HORSE RANCH in the Heart of Wine Country! Fenced and cross-fenced, riding arena, paddocks, many outbuildings and pasture for hay. 205 Greasewood Avenue, Oliver BC $3,950,000 MLS® 194606 11 ACRE HORSE RANCH 5th montheachof DEADLINE
18 HORSEY LADIES FUNDRAISING BANQUET, Spallumcheen Golf Club, Vernon BC, Nanc y 250-546-9922, nancyroman@telus.net
This well-maintained, 57 acre country property is located 25 minutes west of Merritt on a very quiet road. It features an 1,800 sq. ft.
NOVEMBER 5 WEANLING CHALLENGE, Rocking Heart Ranch, Waterton Lakes National Park AB, rockingheartranchltd.com 14-25 HORSE DEVELOPMENT w/Glenn Stewart, The Horse Ranch, Baldonnel BC, 25 0-789-3072, sandy@thehorseranch.com
36 • SEPTEMBER 2022 SADDLEUP.CA Business Services ARENAACCOMMODATIONSMAINTENANCE WWW.REIMERSFARMSERVICE.COM (BC Interior) 1-855-737-0110 or 250-838-0111. Bulk & Bagged Shavings, 4x4x4 Totes, Sawdust, Bark Mulch 12/22 BEDDING, HOG FUEL, EDUCATIONSHAVINGS 3/23 FARM FACILITYSUPPLIESRENTALSEQUINEHEALTH 2/23 8/19www.chilcotinholidays.com Guide on Guest Ranch / Horse pack trips Wanted Wranglers / Trail Guides 11/22 FARRIERS & SUPPLIES 11/22 FEED DEALERS ASHCROFT HOME BUILDING CENTRE (Ashcroft) 250-453-2281 Otter Co-op Dealer & Pet Foods. You can find us on Facebook 11/22 VALLEY FARRIER SERVICES, Bob Johnston 250-546-8254 Certified Journeyman serving North Okanagan & Shuswap area 10/22 FENCING DAWSON CO-OP HOME & AGRO CENTRE, 250-782-3371 10020 Parkhill Drive, Dawson Creek BC, www.dawsonco-op.crs 12/22 1-877-847-3735CHILLIWACK countrywestsupply.comPANELSWHOLESALE&GATES 250-546-9174ARMSTRONG 250-912-0095NANAIMO 12/22 GUEST RANCHES 5/23 9/227/23 5th of each month DEADLINE RED DEER3/23 • Horse Shavings • Hog Fuel • Bark Mulch • Compost Ph: 250-503-7432 NATA FARMS Serving BC's Interior including South Okanagan5/235/23 LESSON PROGRAMS WWW.FOOTNOTEFARM.COM (Langley BC) 778-822-3276 Certified instructors, safe & sound horses, curriculum followed, privates for beginners. 5/23
37SEPTEMBER 2022 SADDLEUP.CA • 5th of each month DEADLINE Business Services LEE PONCELET TRAINING STABLES (Vernon, BC) 250-938-2034 Starting Colts. Training all levels. Specializing in Cutting/Cowhorse. lpperformancehorses.com 8 /23 SANDY LANG HORSEMANSHIP (Abbotsford BC) 778-344-3804, Foundation Focus Working Equitation, Natural Horsemanship, www.sandylanghorsemanship.com 9/22 DIAMOND H TACK INC. (Kelowna BC) 877-762-5631 English & Western Saddlery, Clothes, Farrier, Feed, Blanket & Leather Repairs 10/22 TACK/CLOTHING SHOPS TRAILER REPAIRS PETERSEN TRAILERS LTD. (Langley) 604-533-4209 Service and Repairs. All makes www.petersentrailers.ca 7/23 REALTORS KITT EQUIPMENT TRAILER SALES, (Chilliwack & Aldergrove), 1-877-823-7199, Horse ~ Stock ~ Utility ~ Dump ~ Flatdecks, Kittequipment.com 4/23 TRAILER TRAINERS/COACHESSALES TRAINERS/COACHES BIRGIT STUTZ, Irwin Insights Master Level 6 Cert. Trainer, www.fallingstarranch. ca, Training/lessons/clinics/student programs, Dunster BC, 250-968-6801 10/22 DAWN FERSTER (Kelowna BC) Coaching all levels using obstacles, in-hand, equitation. Clinician, IMTCA and GP judge. See Damarhe Training on FB. 250-808-0738 3/23 ELISA MAROCCHI (100 Mile House BC), EC Licensed Driving Coach 250-706-2824 Clinics, Lessons, Training on/off farm, www.wildwoodfarm.ca 5/23 International Clinician and Horseman 1-877-728-8987 www.thehorseranch.com 10/22 VETERINARIANS ANIMAL CARE HOSPITAL Williams Lake 250-392-5510 / Quesnel 250-747-3053 Drs. Magnowski, Scheidt, Thompson, Jordan, Deitrick 4/23 INTERIOR VETERINARY HEALTH SERVICES (Okanagan) 250-769-4217, Mobile WALES EQUINE VETERINARY SERVICES (Okanagan) 250-258-2299 Drs. Alex Wales and Dr. Susan Wales, www.walesequine.com 9/22 YOUR BUSINESS SHOULD BE HERE! LISTINGS START AT ONLY $250 PER YEAR (FOR 11 ISSUES); PLUS WE CAN ADD A WEB LINK FOR JUST $50 PER YEAR. SEE PAGE 4 FOR CONTACT INFO. KAMLOOPS LARGE ANIMAL VETERINARY CLINIC 9/22 WILDHORSE VENTURES AT MERSTON CREEK RANCH (Quesnel BC) 250-249-9613, Horse Training & Clinics, Horses & Cariboo Mountain Dogs for sale. See us on FB 12/22 BC's Leader in Agricultural Real bcfarmandranch.comEstate 604-852-1180 • info@bcfarmandranch.com2/23 Elisha Bradburn is available for Clinics & Events Based out of Faithful Farm in Langley, BC Follow Legacy Horsemanship on Facebook and Instagram E-mail inquiries to legacyhorsemanship@shaw.ca HORSE FIRST HORSEMANSHIP Build Something Lasting7/23
38 • SEPTEMBER 2022 SADDLEUP.CA On The Market (Private Sale) Stallions & Breeders APPALOOSACENTRE.COM 250-963-9779 Real Appaloosas for Today and the Future! 9/22 BREEDERS PHOTO ADS ONLY $60 OR SEPTEMBERDEADLINENEXTLESS 5 YOUR BECOULDADHERE! AW Poco Kintaro | AQHA/NFQH 98% Palomino with dun dilution Axels N Steel Dust | AQHA/NFQH 98% Grullo Aaron & Colleen Wangler 250-843-7337 (Dawson Creek BC) www.northernhorse.com/oldbaldyoldbaldy@hotmail.ca AW Blue Fire N Te AQHA Blue Roan Looking to the future with: 12/22 If you're looking for your "Heart Horse" look no further! We breed and train GYPSY COBS AND VANNERS Aimee & Luc Beauchamp 250-438-1066 (Princeton ponderosaridgeranch@outlook.comBC)PonderosaRidgeRanch.ca 11/22 5 Panel Negative AQHA Stallion Standing at: Charles Rance Equine, Ashcroft BC and (owners) Circle M Farm, Qualicum Beach BC For breeding inquiries cdsdualtwist@gmail.comemail4/23 FOOTNOTE FARM FJORDS (Langley BC) 778-822-3276. Registered & imported breeding stock. Bred for performance and built to last. footnotefarm.com 5/23 OLD BALDY RANCH (Dawson Creek) 250-843-7337 SS: Breeding AQHA/NFQH Grullo & Blue Roan, northernhorse.com/oldbaldy 12/22 SUNSET VIEW RANCH (West Kelowna BC) 250-707-7271. Top Performance AQHA/APHA bloodlines, Breeding & Sales, on Facebook.com/sunsetviewranch 3/23 URGENT... HERD DISPERSAL Selling due to health reasons. Special provisions offered to entire herd purchase. Selling only BCAC ranch raised and trained family friendly Appaloosas For more information call 250-963-9779 or visit appaloosacentre.com
he most unlikely friendships are sometimes the strongest. Autism doesn't stop Kira Anderson from being a top rider at Three Sisters Farm. Horses she understands; it's people that don't always make sense. Especially the secretive new groom who has just been hired. But when a damaged project horse falls into her lap, Kira has no choice but to push out of her comfort zone to help him. Enlisting the skills of the people around her might be the only way both she and the challenging gelding can survive.
ASIN: Publisher:ISBN-13:ISBN-10:B09QD5NVT41990702015978-1990702013StonePonyStudios (June 30 2022) 332 pages Dimensions: 13.34 x 2.13 x 20.32 cm Kindle edition $6.43 Paperback $16.75 amazon.ca
About Genevieve Mckay
T
39SEPTEMBER 2022 SADDLEUP.CA • HORSE BLANKET LAUNDRY & REPAIRS MISCELLANEOUS HORSE BLANKET & SADDLE PAD WASHING & Repairs. Clean used Blankets for sale. Town Centre Dry Cleaners, Town Centre Mall. 250-546-0104 (Armstrong BC) 10/22 Shop & Swap! Leather & Stitches The Leather Lady Custom Sewing Leather Hats, Holsters,MoccasinsBelts,KnifeSheathsUpholsteryWork&manyRepairs Sherri DeBoer Boxtheleatherlady95@gmail.com250.838.077862GrindrodBC,V0E1Y012/22 DEEP CREEK GENERAL STORE thatGENERALARMSTRONG'SSTOREhasalittlebitofeverything250-546-39553455PleasantValleyRd.Armstrong,BCDealerforPetFood&SuppliesWoodShavingsandMORE WWW.ULTRA-KELP.COM 1-888-848-9988 Complete Balanced Bioavailable Source Of Essential MACRO and MICRO nutrients for HEALTHY HORSES Contact: Brigitte MacKenzie, 604-768-9558 (cell/text) Certified Level 2 CHA Coach Riding Lessons and Training Equine Sports Massage Therapist Certified by Equissage Seminars and clinics available P. ANN TURNER wisdomoftheherd.com604-302-822911/22 Odd One Out (Three Sisters Farm Book Two)
By Genevieve McKay LOOKING FOR A GOOD READ?
Meanwhile…LenaDavis has two goals this summer; work her way toward becoming a professional groom and make enough money to pay for rent and groceries. Oh, and avoid her mother's increasingly volatile mood swings. She doesn't need other people and she certainly doesn't intend to make friends with the snotty rich girls she grooms for. But when her carefully constructed world begins to crumble, Lena will have to decide if her life at Three Sisters is worth fighting for.
Genevieve Mckay is a novelist living on the wild West Coast with her two- and four-legged family. When she isn't busy creating new worlds she enjoys farming, horses, and nature... oh, and food, she really likes food. ;)