Publications Mail Reg. No. 40045521 Printed in Canada BDS Doménico 2023 Canadian National Champion of Champions Peruvian Horse
of Canada
Association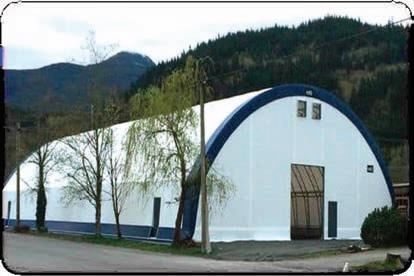 3 OCTOBER 2023 SADDLEUP.CA • SpanMaster guarantees our year -round crews will provide the highest quality workmanship without compromise! Our quality structures are custom designed for your site's exact snow and wind loads, to exceed local codes, and to reliably protect your family, your livestock and your equipment from the elements. www.SpanMaster.ca Proudly Serving Western Canada Since 1998 We Cover-All Your Building Needs! Discover the SpanMaster experience today! Call or email for your quote 1.866.935.4888 info@spanmaster.ca Apex Open Air Riding Arena Livestock Barn Dairy Barn Crop Storage Equipment Storage Got an existing building in need of a new Cover? Atlas STRUCTURES LTD. Easy Access
HCBC 2010 Business of The Year
2014 A/S Chamber
President's Choice Award
Publisher/Editor
Nancy Roman
MAIN OFFICE
TOLL FREE 1-866-546-9922
250-546-9922
nancyroman@saddleup.ca www.saddleup.ca
MAILING ADDRESS
Saddle Up magazine
PO Box 371
Armstrong, BC, Canada V0E 1B0
Ihad fun volunteering at the 55+ BC Games in Maple Ridge, was a nice little getaway. It was also good to see some familiar faces from down that way and meet some new ones. What a happy 55+ crowd!
We've got quite a few show reports and results in this issue, with LOTS of photos! It's always nice to see folks out and about with their horses.
I also volunteered at our Interior Provincial Exhibition (IPE) here in Armstrong – gotta love our communityinvolved fair… it does take a village! One hundred and twenty-two years strong. I love the hustle and bustle for 5 days.
Was sad to hear of the passing of Sandy McDowell down in Chilliwack. Am sure many of you would recognize her from being in the light horse office at the IPE for many years. Condolences to her partner David and families. (See page 5) Only two more issues to go… November and December… and that's it for 2023! AND… that will be it for Saddle Up magazine if a buyer is not in place to take over for the February 2024 issue. Crossing my fingers.
If you have a passion for horses and 'community'…
I'll pass the reins,
Publications Mail Reg. No. 40045521
GST Reg. No. 865839567
ISSN No. 1701-6002
© All Rights Reserved
DEADLINE 5TH OF EVERY MONTH SUBSCRIPTIONS
$24.00 CDN plus tax per year or $42 US per year. (11 issues)
Saddle Up Magazine BUSINESS IS FOR SALE
Please contact Nancy directly GREAT OPPORTUNITY!
ON THE COVER: Paradise Ranch, www.paradisehorses.com
CONTRIBUTORS: Jocelyn Adams, Melody Garner-Skiba, Brooke Tonkin, Jackie Evans, Marijke van de Water, BJ Davidson, Jaime Cameron, Tracy Gurney, Danika McGuinness, Katie Bogaert, Patricia E. Skinner VOICE FOR: The Back Country Horsemen of BC MEDIA PARTNER WITH HORSE COUNCIL BC
4 • OCTOBER 2023 SADDLEUP.CA
AVAILABLE DIGITALLY
Reproduction of any materials without written permission from the editor is prohibited. Opinions and statements expressed in this publication are not necessarily those of the editor. ALSO
EPublishing
PRINTING a division of Printed In Canada
produced by in Armstrong, BC 250-546-6477 OKANAGAN
4 • OCTOBER 2023 SADDLEUP.CA
OUR REGULARS KIDS 22 Top Dog! 2 3 Horse Council BC 26 Back Country Horsemen of BC 33 Clubs & Associations 3 4 What's Happening? Let's Go! 35 Business Services 36 On The Market (Private Sale) 38 Rural Roots (Real Estate) 38 Shop & Swap! 39 Stallions & Breeders 39 FEATURES 55+ BC Games Results 6 Rocking Heart Ranch Rendezvous 8 Bone Formation… Foals 10 Cdn Nat'l Peruvian Horse Show 12 The Equine Microbiome 14 Thoroughbred Mixed Sale 16 Teamsters at Bridge Lake Fair 17 IPE Light Horse Awards 18 Clinic with Sarah Southwell 20 Cost of Riding Lessons… 21
From the Editor…
Gotta cram in some more riding before the snow flies! Photo by Dawn Ferster.