Inside...
Inside...
Payson
Payson
Star Valley
Star Valley
Forest Lakes
Forest Lakes
Pine / Strawberry
Pine / Strawberry
Heber - Overgaard
Heber - Overgaard
Christopher Creek
Christopher Creek
Young / Pleasant Valley
Young / Pleasant Valley
Happy Jack / Clints Well
Happy Jack / Clints Well
Tonto Basin - Roosevelt Lake
Tonto Basin - Roosevelt Lake
FREE
COVER HOME PRESENTED BY Suzy Tubbs, REALTOR® ERA Young Realty & Investment Payson Office ~ See Page 3 ~
Real Estate & More 29 YEARS SCAN THIS VOL. XXXIX, NO. 5 VOL. XXXIX, NO. 6
Rim Country REVIEW
Master BR has a full bath, double vanity, and a walk-in closet. The second BR is perfect for family or friends, and there's a guest bath with step-in shower. Plus, there's a huge laundry room with washer, dryer and cabinets.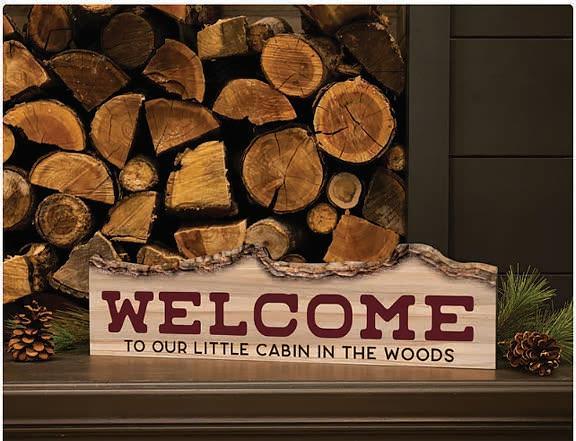 Kitchen and laundry appliances are just three years old, and there's central forced air propane heat and evaporative cooling for yearround comfort. Recently painted inside and out, new carpet in 10/22. Detached 2-car garage has workbench, woodshed, and attic storage. Separate "bunk house" with electric, perfect for extra guests or home office. Double-gated circular drive, new septic system installed 09/22. Covered front porch for casual country relaxation.
Property's extensive and consistent rental history is available to serious buyers upon request. Partially furnished or unfurnished, this is truly the perfect cabin in the foothills of Strawberry! Owner will carry below market rate with 20% down for qualified buyer.
$449,000 (87658)
All Properties on the Internet at www.RimCountry.Com CRS, GRI, REALTOR ® www.PaysonAZProperties.com Call (928) 478-2000 2BR, 2 BATH, 1364 SF RANCH-STYLE CABIN on a level, nicelytreed and fully-fenced 0.64-acre parcel. Features include a spacious living room w/ woodstove, breakfast nook, and a separate dining room with large windows that
out into the forest.
look
4820 N. Rim View Loop Strawberry 4820 N. Rim View Loop Strawberry
Below Market Rate Seller Financing See
on Page
LIVING ROOM KITCHEN MASTER MASTER BATH GARAGE BUNKHOUSE DINING ROOM BUNKHOUSE 602 West Main Street | Payson, Arizona 85541 Deborah Rose
OWC
More
31
3 View On-Line at RimCountryReview.Com Tour on the Web at www.SuzyTubbs.Com Suzy Tubbs, REALTOR® Young Realty & Investment, Payson Office (928) 978-3256 • (928) 474-4554 On The Cover The Rim Golf Club | Payson ERA REAL ESTATE SM EACH ERA® OFFICE INDEPENDENTLY OWNED AND OPERATED © 19932023 The Onyx Group • V (928) 476-4333 • M (928) 951-2602 • POB 2262 • Payson AZ 85547-2262 • eMail: RimCountryReview@gmail.com • Web: www.RimCountryReview.com News • Weather • Sports • Local Events Real Estate • Shopping • Lodging • Fun by TOG (The Onyx Group) • 928-476-4333 • admin@rimcountry.com SEE WHAT YOU'RE MISSING! The Regional Website for Central Arizona's Mountain Resort Communities RimCountry.Com Time Lapse Videos Every Day The Last 15 Minutes or the Last 24 Hours STRAWBERRY WEATHERCAM See More Inside on Page 20 2800 E RIM CLUB DRIVE: Truly magnificent! 4BRs, 6 baths, 6400+sf, 3-car garage, all on 1.45 acres in a gated golf community. Custom home w/ only the finest fixtures & finishes. Chef's kitchen w/ Subzero & Viking appliances, breakfast nook, deck with outdoor kitchen. Vaulted greatroom w/ breathtaking mountain views. Lower-level family room w/ kitchenette and outdoor access to fire pit & spa. Golf membership & cart included! Lease / Purchase option considered. $2,295,000 (87603) (928) 978-1003 Kim@KimRoss1.com ARIZONA TERRITORY Let us help you. 25 years' experience in the Rim Country. Kim Ross Team See more on S Page 5 P BEST OF THE RIM NOMINEE for 2022 Cindy nanty realtor® deborah miller realtor®
4 Visit the Rim Country on the Internet at RimCountry.Com Holly Sanders Matthew J Burlando Matthew J Burlando Certified Residential Real Estate Appraiser #21941 Litigation, Expert Witness, Luxury Custom Estate and Complex Valuation (928) 978-1092 MLBAppraisalandAssociates@gmail.com www.MLBAppraisal.com (928) 978-1092 MLBAppraisalandAssociates@gmail.com www.MLBAppraisal.com Servicing Arizona Statewide Servicing Arizona Statewide And Associates Certified Residential Real Estate Appraiser #21941 Litigation, Expert Witness, Luxury Custom Estate and Complex Valuation MLB Appraisal And Associates MLB Appraisal MLB Appraisal SpecializingintheRimCountry