CHICAGO WEST & FAR WEST SUBURBS Proudly Presented By: Timeless Masterpiece On 2.7+ acres backing to forest preserve. See Back Cover LindaHossHomes.com 6 30-606-7362 call/text Scan for a Video Tour of this Home Photography by Creative Light Studios
Follow us on: The Right Realtor® Makes A Difference. Top 20 Realtor in Illinois for 25 Consecutive Years! To View Photos and Listing Details Text the Property Listing Code to 52187 How Much Is Your Home Worth? Scan this code or visit FoxValleyHomeValues.com. It is automated, FREE and no need to speak to an Agent. ST. CHARLES | $499,501 PRIVATE CUL-DE-SAC! Text RBJFSZP to 52187 BATAVIA | $539,000 CUSTOM BUILT BEAUTY! Text RBJFTWH to 52187 ST. CHARLES | $449,000 PRIVATE WOODED LOT! Text RBJDFKR to 52187 BATAVIA | $323,900 TWO PRIMARY BEDROOMS! Text RBJDPWM to 52187 ELBURN | $1,350,000 PRIVATE WOODED RETREAT! Text RBJBSXY to 52187 ST. CHARLES | $575,000 BETTER THAN NEW! Text RBJGTHN to 52187 WEST CHICAGO | $345,000 PRETTY AS A PICTURE! Call 630-513-7-1771 For More Info ST. CHARLES | $489,000 PRIVATE WOODED CUL-DE-SAC! Text RBJGLMC to 52187 GENEVA | $367,500 ABSOLUTELY GORGEOUS TURNKEY TOWNHOME! Call 630-513-1771 For More Info WE HAVE MORE! Call us today about our Private Listings! The Rullo Team 630.513.1771
630-513-1771 rullos@rullos.com www.TheRulloTeam.com Alex, Vicky & Adam Rullo To View Photos and Listing Details Text the Property Listing Code to 52187 All Pro St. Charles, IL SOUTH ELGIN | $619,000 ST. CHARLES SCHOOLS! Text RBJCZQX to 52187 NORTH AURORA | $315,000 BEAUTIFUL RANCH DUPLEX! Text RBJGZJK to 52187
Home to a Better Mortgage Experience. Skip Brown 630-836-2529 phone 630-836-2579 fax skipbrown@compmort.com Compass Mortgage NMLS# 21808 IL#MB.5795 Skip Brown NMLS#139581 Lic#031.0001568 27755 Diehl Rd, Suite 300 Warrenville, IL 60555 Illinois residential mortgage licensee Wheaton, IL PREMIERE LISLE - BEAUTIFUL CUSTOM HOME $699,000 | 4 BDR/3.1 BA | Paula 630-251-5155 Gourmet Kitchen, Family Rm Fireplace, Bsmnt Text RBJFNZQ to 52187 For Photos RIVER FOREST - GREAT OPPORTUNITY $89,900 | 1 BDR/1 BA | Call Becky or Eric Walk Downtown, Fully Furnished Text RBJGTKF to 52187 For Photos GLEN ELLYN - HARD TO COME BY $189,900 | Call Becky or Eric Amazing Walk-out Lots, Developed Cul-de-sac Text RBJFWLP to 52187 For Photos WINFIELD - ALMOST 1 ACRE $400,000 | 4 BDR/1.1 BA | Paula 630-251-5155 Charm, Character, Updated Kitchen & Baths Text RBJHCFT to 52187 For Photos WHEATON - RARELY AVAILABLE $329,900 | 2 BDR/2.1 BA | Gary 630-653-7782 Expansive Floorplan, 1759 SqFt Text RBJFXKX to 52187 For Photos WHEATON - QUALITY CRAFTSMANSHIP $474,900 | 3 BDR/2 BA | Call Becky or Eric Highly Desirable North Wheaton Text RBJFNZP to 52187 For Photos WHEATON - COMING SOON! $325,000 | 3 BDR/3 BA | Paula 630-251-5155 End Unit Ranch With Basement Text RBHYXPQ to 52187 For Photos WINFIELD - COMPLETELY RENOVATED GEORGIAN 1+ Acre In The Woods Of Cantigny Text RBJCVJN to 52187 For Photos WHEATON - SOON TO BE COMPLETE Add Your Finishing Touches Text RBHWPVP to 52187 For Photos ST. CHARLES - COMING SOON! $285,000 | 3 BDR/2.1 BA | Paula 630-251-5155 Spacious, New Carpet & Paint, 2 Car Gar Text RBJFZBP to 52187 For Photos ADDISON - GREAT OPPORTUNITY $800/month | Call Diane 630-254-4226 High Visibility Office Building, Lots Of Parking Text RBHYSYR to 52187 For Photos WHEATON - LOT FOR SALE Call For Price | Call Becky or Eric Build Your Dream Home Text RBJGZPJ to 52187 For Photos Page 4 - Vol. 7, No. 11
Radka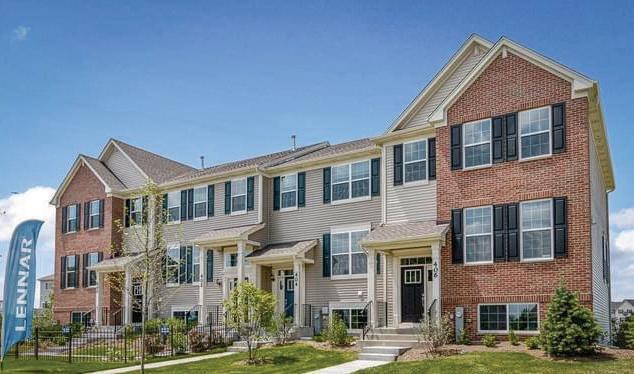 630-202-5940 www.TimBinning.com Broker/Owner Remodeled Kitchen, Family Room Fireplace & Wet Bar. Superb Master Suite. Vast, Renovated 4 Season Room. Many Recent Updates. D303 Schools. Stunning Custom Home SOUTH ELGIN | 4 BDR/2.1 BA | $650,000 Beautiful Kitchen. Generous Owners Suite. Finished Flex Space In Lower Level. Wi-Fi Certified Home With 10 Year Structural Warranty. Move In January 2023 BATAVIA | 3 BDR/2.1 BA | $354,650 Large Kitchen With Granite, Generous Owner Suite With Private Bath, 2nd Floor Laundry, Finished Basement, Big Balcony, 2 Car Garage. Commuter's Dream BARTLETT | 2 BDR/2.1 BA | $299,900 Rental - Clubhouse Community Urban Luxury Living! Great Location! Contrary to what some people think, the market is still HOT for sellers!!! 630-202-5940 Timbinningteam@gmail.com If you ' re interested in making a move, call The Tim Binning Team W d 4 Joe Cantu Branch Manager, Sr Loan Officer (312)513 5334 joe cantu@mottomortgage com NMLS #272224 Radka Adam Mortgage Loan Officer (847)857 0399 radka adam@mottomortgage com NMLS #2053652 GAGE NOW ependently owned & operated e B, St Charles IL 60174 Don't lose another home due to multiple offers GET PRE-APPROVED NOW! Joe Cantu Branch Manager, Sr. Loan Officer (312)513 5334 joe cantu@mottomortgage com NMLS #272224 Radka Adam Mortgage Loan Officer (847)857 0399 radka adam@mottomortgage com NMLS #2053652 MOTTO MORTGAGE NOW NMLS #2114465 Each office ndependently owned & operated 505 W Main Street Ste B, St Charles IL 60174 Don't lose another home due to multiple offers GET PRE APPROVED NOW! Joe Cantu Branch Manager, Sr Loan Officer (312)513 5334 joe cantu@mottomortgage com NMLS #272224 Radka Adam Mortgage Loan Officer (847)857 0399 radka adam@mottomortgage com NMLS #2053652 MOTTO MORTGAGE NOW NMLS #2114465 Each office independent y owned & operated 505 W Main Street, Ste B St Charles IL 60174 Don't lose another home due to multiple offers GET PRE-APPROVED NOW! Joe Cantu Branch Manager, Sr Loan Officer (312)513 5334 joe cantu@mottomortgage com NMLS #272224
Adam Mortgage Loan Officer (847)857 0399 radka adam@mottomortgage com NMLS #2053652 MOTTO MORTGAGE NOW NMLS #2114465 Each office independent y owned & operated 505 W Main Street, Ste B St Charles IL 60174 Don't lose another home due to multiple offers GET PRE-APPROVED NOW! Don't lose another home due to multiple offers • GET PRE-APPROVED NOW! Vol. 7, No. 11 - Page 5
Let's Discuss Strategies to get the HIGHEST PRICE for your home! Patricia Provides A Multi-Media Marketing Campaign To Sell Your Home! Local Print • Online • Direct Mail • Mobile Text Codes • Social Media • Digital Marketing Professional Photography • Aeriel Photography • Videography • Custom Brochures 630-927-1207 PatriciaRomke.com Patricia Romke JUST SOLD - OVER LIST PRICE! Aurora, IL 07.06RomkeHalf.indd 1 9/13/22 4:17 PM To Advertise Contact Rita McNatt 630-464-2245 trebsales@gmail.com "All real estate advertised herein is subject to the Federal Fair Actwhichmakesitillegaltoadvertiseanypreference,limitations,Housing or discriminationbasedonrace,color,religion,sex,handicap, familial status, ornationalorigin,or intention tomakeanysuch preferences, limitation, or discrimination. We will notknowingly accept any advertising for real estate whichisin violation ofthe law. Allpersonsareherebyinformedthat all dwellings advertised are available on an equal opportunity basis." Ad Submission Date for Next Issue Monday, Oct 31st Multimedia Marketing Exposure Complete Volume Issue OUTDOOR ENTERTAINING AREA, HOME THEATER & 8 CAR GARAGE See Page 10 Incredible Custom Home RE/MAX All Pro 630-336-5962 29 Ways It Pays LOCAL PRINT MOBILE DIRECT MAIL ONLINE PARTNERS Page 6 - Vol. 7, No. 11
NAPERVILLE - DUPLEX $254,900
Spacious ranch duplex. Living room fireplace. Large kitchen with appls. Master with private bath. Garage with crawlspace. Great yard for with 2 paver patios.
Townhome In Great Location
AURORA - WOW FACTOR $254,900
Spacious kitchen with appliances. Dining room open to patio, family room with fireplace. Updated baths. Flexible loft space.
Private Wooded Oasis
AURORA - COMING SOON $257,500
2nd floor ranch, Living room opens to dining room. Beautiful kitchen. Family room fireplace. Remodeled master bath. Attached garage with crawlspace storage. 2 BDR/2 BA
NAPERVILLE - SPACIOUS $265,000
2 story foyer, Cathedral ceilings in living room. Great kitchen with all appliances, dining room opens to the private deck. 2nd floor laundry. Crawlspace storage. 2 BDR/1.1
AURORA - RANCH $295,000
Sprawling ranch home featuring hardwood floors, beamed ceiling, 2 fireplaces and a partially finished basement. 3 season porch, deck, garden. Half acre lot. 2 BDR/2 BA
AURORA - DISTRICT 204 $369,900
Front flex room could be office.
Spacious family room with backyard views. Kitchen with appliances. Large master suite. Partially finished basement. 4 BDR/2.1 BA
Jerry Hill 630.336.5963 Erin Hill 630.336.5962 Powers 630.863.8638 Calling Us Will Be Your Best Move 630.336.5962 ErinAndJerryHill.com Jerry Hill 630.336.5963 Erin Hill 630.336.5962 Powers 630.863.8638 Calling Us Will Be Your Best Move 630.336.5962 ErinAndJerryHill.com Our Heros Rebate Program gives back to our U.S Military Veterans and First Responder clients. Visit www.OurHerosRebate.com For Complete Details and Other Benefits Available. ©2019 Coldwell Banker Real Estate LLC. All Rights Reserved. Coldwell Banker® and the Coldwell Banker Logo are registered service marks owned by Coldwell Banker Real Estate LLC. Coldwell Banker Real Estate LLC fully supports the principles of the Fair Housing Act and the Equal Opportunity Act. Each office is independently owned and operated. If your property is listed with a real estate broker, please disregard. It is not our intention to solicit the offerings of other real estate brokers. We are happy to work with them and cooperate fully. An Equal Opportunity Company. Equal Housing Opportunity. Coldwell Banker Real Estate Group, 1242 N. Eola, Aurora, IL Jerry Hill 630.336.5963 Erin Hill 630.336.5962 Powers 630.863.8638 Calling Us Will Be Your Best Move 630.336.5962 ErinAndJerryHill.com Jerry Hill 630.336.5963 Erin Hill 630.336.5962 Calling Us Will Be Your Best Move 630.336.5962 ErinAndJerryHill.comJerry Hill 630.336.5963 Erin Hill 630.336.5962 Dawn Powers 630.863.8638 Calling Us Will Be Your Best Move 630.336.5962 ErinAndJerryHill.com
3 BDR/2 BA 1st Home or Investment
Commuter's dream. HUGE LOFT + 2 BDR/1.1 BA Simply Stunning Home
Style & Elegance Throughout
BA
Beautiful Home In Great Location
Vol. 7, No. 11 - Page 7