April 14 - 16, 2023 Piedmont Park dogwood.org atla nta APRIL 2023 | A SPECIAL SECTION
Atlanta Dogwood Festival returns to Piedmont Park for 87th year
By Isadora Pennington
From April 14-16, the Atlanta Dogwood Festival will transform Piedmont Park into a fine art showcase featuring the works of 260 artists, live music performances, kids' village, VIP experiences, and a 5K qualifying event for the Peachtree Road Race.
Executive Director Brian Hill spared a few minutes to share his excitement about the 2023 festival as well as the challenges that they are facing in a post-Covid world.
"This is a shared multigenerational experience," Hill said. The Atlanta Dogwood Festival is the third oldest fine art festival in Atlanta, and Hill recalled how many people began attending the
festival as children with their grandparents and are now parents or grandparents themselves. Beyond offering an incredible selection of art to purchase, the event is a beloved tradition for families across the region, he said.
Hill has been working with the Atlanta Dogwood Festival since 2008 when he "jumped in with both feet" at the height of the recession. That year there was an additional challenge due to a historic drought which necessitated that the festival be moved from the shaded park to a parking lot at Lenox Square.
Ironically enough, all three days of the festival brought torrential rain. Hill said the year away from Piedmont Park gave organizers time to reimagine the way the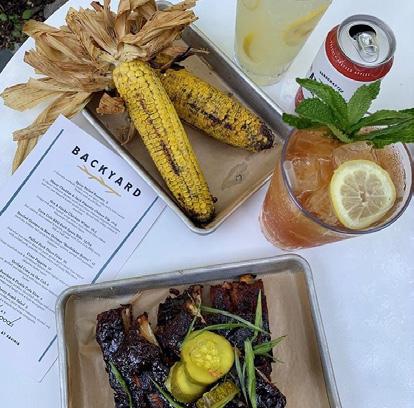 scholarships, and prizes from the Atlanta Dogwood Festival each year.
In recent years, and particularly during the pandemic, free art festivals have struggled to contend with rising costs and evolving logistical concerns. One significant change this year is that there will not be two stages, and instead, one performance space will transform from the International Stage to the CocaCola stage later in the evening. In brighter news, 2023 marks the return of midway rides such as the Whirligig and Ferris Wheel.
As for Hill's favorite part of the festival, it's the performances. "It's really energetic," said Hill. "When everybody is in a great mood it's a really great place to be."
festival operated. "It was sort of like a new beginning," he stated.
Another element that sets the festival apart is the high school art exhibition. It has been a feature of the festival for many years and highlights budding artists from more than 70 metro Atlanta schools.
"Many of the students who have participated in that exhibition have gone on to become professional artists," Hill remarked. "The quality of the high school art seems to be getting better and better. They aren't doing it for commercial reasons, they are doing it as self-expression. It always amazes me."
The Atlanta High School Art Exhibition asks students to compete in much the same way as the professional artists. Of 600-some entries, there are only around 180 that are chosen for the exhibit. "It's a real awakening for these young artists," said Hill. "For them to get out there and be able to display their art the way that professional artists do, you see their pride." Winning student artists receive over $40,000 of supplies,
This year's lineup includes Burlesque, Irish, Flamenco, Chinese, Indian, Cuban, Bulgarian, Polynesian, Mexican, and Turkish dance. Live music performances slated for the festival include Jessie Albright, Rae and the Ragdolls, and the Deja Bluegrass Band, among others.
The Atlanta Dogwood Festival is, as always, free and open to the public. Find out more at dogwood.org.
For even more festivals and events, be sure to visit HowDoYouAtlanta.com.
ROUGHDRAFTATLANTA.COM S2 | APRIL 2023
The Artist Market
Featuring more than 260 booths, the juried fine art Artist Market welcomes art lovers to peruse and purchase. With artists working in 12 mediums, including glass, jewelry, metal, oils, photography, sculpture and more, the hundreds of booths offer visitors the chance to see the work and talk with the artists themselves about their inspiration.
Participating artists have been selected by a jury of esteemed professionals from more than 1,000 entries. You'll find top local artists, as well as those from throughout the United States. As one of the first arts festivals of the spring season each year, the Atlanta Dogwood Festival gives visitors a first look at their most recent work.
ROUGHDRAFTATLANTA.COM APRIL 2023 | S3
Of course, we can help you with your daily needs. But did you know you will also have options for fitness, activities, healthy fine dining, and more? And assisted living services are tailored to you, so you'll get just the right amount of help you need, when you request it. No matter if you need a little help or a lot, you'll be amazed by the difference.
LUNCH LEARN
Thursday, April 13th • 11:30am
Join us for an informative presentation on the benefits of senior living. Afterwards, take a tour and enjoy a delicious lunch prepared by our culinary team.
To RSVP, please call 404.381.1743
Things To See & Do
Be sure to stop by the award-winning Atlanta High School Art Exhibition at the festival. You'll find it in the Community Center near the 12th Street entrance to the park, and you're sure to be astounded at the creativity and skill of the young artists featured in the show. While you are visiting the exhibition, cast your vote for the People's Choice Award — it will be a difficult decision!
You'll also want to put the Art Throwdown on your schedule. Held on festival Sunday from noon to 3:30 p.m., the Art Throwdown is a live art competition that pits teams of high school students against each other in a friendly but fierce fight for artistic dominance. The competition takes place on the lawn in front of the Community Center.
Young visitors will find plenty to do in our Kids Village presented by Visit Tallahassee! Families, be sure to head to Oak Hill inside the 12th Street entrance, adjacent to the Atlanta High School Art Exhibition. Stop by and add your own special flair to the Visit Tallahassee mural and creative hands-on arts and crafts projects. Kids can also kick back and relax with a bit of face painting or a Little Princess glam manicure before taking in a puppet show from Peter Hart, engaging in bubble fun, thrilling on the spider jump or just jumping around on the inflatables. The youngest festival visitors won't want to miss the Teddy Bear Hospital or fun with Circus Camp. In the Meadow, the rides are back! The whole family can enjoy this year's range of amusement park rides from the tame to the breathtaking. Ticket booths near the rides will offer a variety of packages.
Atlanta runners, walkers, rollers and strollers can celebrate spring at the Atlanta Dogwood Festival Mimosa 5K, taking place festival Saturday at 8 a.m. Featuring a scenic course through the streets of historic Midtown, the 5K culminates with a refreshing mimosa made with Cupcake Vineyards bubbly (for runners 21+). This race is an AJC Peachtree Road Race Qualifier, and top finishers will be awarded in a variety of age groups. Post-race, runners of all ages can stay and enjoy the 87th Annual Atlanta Dogwood Festival, which opens at 10 a.m.
ROUGHDRAFTATLANTA.COM S4 | APRIL 2023
AN SRG SENIOR LIVING COMMUNITY EQUAL HOUSING OPPORTUNITY 650 Phipps Boulevard NE • Atlanta, GA www.ThePiedmontatBuckhead.com • 404.381.1743 CARF-ACCREDITED INDEPENDENT & ASSISTED LIVING IN BUCKHEAD ONSITE REHABILITATIVE SERVICES AVAILABLE
Our assisted living is about the whole family and the whole YOU.
Atlanta PARENT
Looking for a fun family road trip idea? Just a short drive south to Florida's Capital City you'll find miles of outdoor trails, family-friendly events, museums, proudly supports the Atlanta Dogwood Festival 6.185 Inches In Your Community
learn about AARP's programs for the 50+ while you enjoy our fun activities for everyone at the 2023 Atlanta Dogwood Festival, April 14-16
Come
Entertainment
Throughout the weekend, the festival offers a variety of live music and entertainment on the Coca-Cola Main Stage, where you'll find local bands, dance troupes, international performers, children's choirs and more. Each day kicks off with a range of performances representing the many international communities that call Atlanta home, as part of our award-winning International Stage. Mid-afternoon, local and well-known bands take the stage, bringing attendees live music in genres from bluegrass to indie rock and from pop to R&B with a few party bands in between. Get ready to find your next favorite musical artist! And while the Coca-Cola Main Stage doesn't stop all weekend, adults can take a break and kick back in the nearby Corona Beer Garden.
Friday, April 14 Coca-Cola Main Stage
6-6:45 p.m. Desmond Myers
7:30-9 p.m. ATL School of Burlesque
Saturday, April 15 International Stage
11-11:05 a.m. Amruta Girl
11:15-11:45 a.m. Atlanta Fusion Dance
11:55-12:15
MAY
A fundraiser for the nonsectarian Zimmerman-Horowitz Independent Living Program, supporting adults with intellectual and developmental disabilities.
Purchase tickets at thetasting.org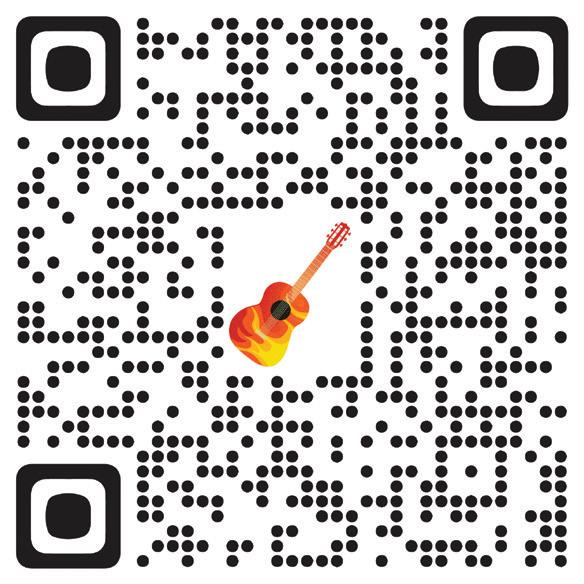 ROUGHDRAFTATLANTA.COM S6 | APRIL 2023
4,
2023 | 7 PM – 10 PM
CELEBRATING THE LEGACY OF JERRY HOROWITZ, PHILANTHROPIST AND VISIONARY
p.m. Bulgarian American Cultural Association "Rosa" Atlanta 12:25-12:55 p.m. Atlanta Irish Dance 1:05-1:25 p.m. Calo Gitano Flamenco Dance Company 1:35-2:05 p.m. Chinese American Cultural Performing Group 2:15-2:25 p.m. Magic Eastern Ensemble 2:35-2:45 p.m. Sanam Studios 2:50-3:20 p.m. SALSAtlanta Scan the QR code for more information Coca-Cola Main Stage 3:45-4:20 p.m. Rae and the Ragdolls 4:40-5:40 p.m. School of Rock Metro Atlanta 6-7 p.m. Jessie Albright Band 7:30-9 p.m. Band X Sunday, April 16 International Stage 11-11:10 a.m. Munting Tining "Small Voices" Filipino American Children's Choir 11:20-11:40 a.m. Mahealani's Polynesian Entertainment 11:50-12:20 p.m. Moksha Dance 12:30-12:50 p.m. Ballet Mexicano de Lupita Sosa 1-1:20 p.m. Grupo Euzkal, Oaxacan Dancers 1:30-2 p.m. Turkish Music Group 2:10-2:25 p.m. Egun Omode Performing Arts Collective Coca-Cola Main Stage 2:35-3:30 p.m. WCLK Presents Ragan Whiteside 3:45-4:30 p.m. Deja Bluegrass Band 5- 6 p.m. Chops Experience
Band X
Jessie Albright Band
Ballet Mexicano de Lupita Sosa
Chops Experience
Know When You Go

About the Festival
The city's longest-running festival and the third-oldest fine arts festival in the country, the Atlanta Dogwood Festival is a nonprofit organization dedicated to supporting the arts and presenting the popular annual springtime event. Through its community programs, including the Atlanta High School Art Exhibition, the festival provides art supplies and scholarships to high school art teachers and students in the metro area.
Donations
Did you know the Atlanta Dogwood Festival is a 501(c)3 nonprofit organization? Please consider donating to the festival today. With the changes necessitated by the COVID-19 pandemic, the cost to produce this event has increased by 30%-$40%. The event is still free to visitors, however it will take attendee support, in any amount, to maintain this annual springtime tradition. The festival is requesting a $5 donation at the door, or you may choose to make an online donation at www.Dogwood.org. Thank you!
Parking
If you drive to the Atlanta Dogwood Festival, you can reserve a guaranteed parking space in advance with SpotHero. The best way to get to the Atlanta Dogwood Festival is by taking MARTA! Exit at the Arts Center or Midtown station and walk a few blocks to Piedmont Park.
City Ordinances
There is a lot you can do at the Atlanta Dogwood Festival, but you can't smoke. The City of Atlanta ban on smoking at outdoor facilities includes Piedmont Park. No tobacco products of any type are permitted anywhere in the park during the festival. You also can't bring your dog (or other pet) to the festival, as per another city ordinance. The Off Leash Dog Park will be open during the event with access via the Park Drive entrance only. One more rule, and then on to the fun — NO outside food or beverages may be brought into Piedmont Park during the festival. Small chairs are allowed. No tents or coolers are allowed.
Thank you for your cooperation!
You can see a festival map and get more information by scanning this QR code.
SATURDAY,
APRIL 15 & SUNDAY, APRIL 16
12pm – 4pm
Level up your festival experience with tickets to Party in the Park, taking place during the Atlanta Dogwood Festival. You will enjoy a variety of craft beers and wines to sample, along with comfortable seating, a private bathroom trailer with real sinks and access to a discounted cash bar.
Tickets start at $40 in advance/$50 at the door, if available. VIP Upgrade tickets include lunch from the Loaded Taco/Loaded Burger food truck and are $60 in advance/$65 at the door, if available. For $75, Platinum VIP Access with Lunch also includes four drink tickets for the cash bar. You can also get a reserved table for six to eight of your friends — available in advance only.
The Party in the Park VIP Tent overlooks the Coca-Cola Main Stage, so at any ticket level, you'll get a perfect view of the live music and entertainment.
2023 PARTICIPATING BREWERIES AND WINERIES
LUNCH PROVIDED BY OFFICIAL VIP MEDIA PARTNER
FOR TICKETS VISIT
ROUGHDRAFTATLANTA.COM APRIL 2023 | S7
ROUGHDRAFTATLANTA.COM VISIT THE WEBSITE TO LEARN MORE! ARTISTMARKET.WESLEYANSCHOOL.ORG
FREE ADMISSION! OPEN TO THE PUBLIC HELD AT WESLEYAN SCHOOL
APRIL 29 10 A.M. – 3 P.M.
WESLEYAN MARKET
SATURDAY,