top f
under
WE CALGARYavenuecalgary.com 11.22 / $6.50
orty
forty Sportscaster Harnarayan Singh and the rest of the Class of 2022 The business lunch is officially back and we know just where to go LET'S DO LUNCH AGAIN FAMILY STYLE A unique inner-city property with two homes for two generations WINTER IS COMING How to make the most of the snowiest season in the mountains
Mahogany - SW Calgary
RIVERWALK PROUDLY
LOCATED IN CALGARY'S #1 COMMUNITY FOR SENIORS
The latest luxury retirement community from Verve Senior Living, located in "Calgary's #1 Community for Seniors," is a state-of-the-art urban gem where active retirees, as well as those with higher care needs, can have it all. Located in the heart of Mission and Cliff Bungalow neighbourhoods, Riverwalk Retirement Residence offers a unique standard of design, energy, and community advantages you won't find anywhere else. This new seniors' concept is generating unprecedented buzz for combining luxury suites and amenities with an exciting and active community and unique neighbouring shops and restaurants.
THE PERFECT LOCATION
Just steps from the Elbow River, pathways, parks and the many trendy shops, restaurants, and essential services of 4th St. S.W., Riverwalk eschews the tradition of retirement communities being located in far-flung suburbs, far away from the things that make life exciting.
"It's really beneficial for the active senior to be able to just walk out their door, not have to worry about a car, and have easy access to the huge variety of services and retail options that are available in the community," says JoLynn Whidden, Riverwalk's General Manager. "Even something as simple as taking a stroll along the beautiful Elbow River pathway is something our residents can easily enjoy on a daily basis, with no need for transportation."
EVERYTHING YOU NEED
While its location is a prime draw for Riverwalk, it's the breadth of amenities that make it difficult to leave. Multiple dining options, including a cocktail lounge, bistro, formal dining room and a private dining room for family gatherings, are helmed by in-house Red Seal chefs who take great pride in their creations, seasonal menus, and Riverwalk's 'LivingLoving-Local' Farm to Table culinary program. Luxury amenities include a spa, beauty salon, movie theatre, games room, lounges for relaxing and socializing, a fitness centre providing a variety of activity programs, outdoor amenity spaces, and a Life Enrichment team to work with residents to develop the customized programs that are a cornerstone of Verve's resident-focused philosophy. Live entertainment, guest speakers, performers and vendors all make regular visits. "I like to equate it to an all-inclusive vacation resort," says Whidden.
Riverwalk's offsite Presentation Centre and Show Suite is located one block east of the Residence, at 2424 4th St. S.W.
one of the trendiest parts of Calgary, the entire property has been designed with an elegant, modern aesthetic, with spaces that are expansive, bright and airy: think luxury boutique hotel and you get the idea! Incredible river, mountain, and city views are all available, and residents may choose from a range of suite sizes and designs – from minimalist to generously sized two-bed and two-bathroom plans.
PERSONALIZED TO YOUR NEEDS
EXCEPTIONAL VIEWS AND DESIGN
Riverwalk is a new build, utilizing cutting-edge technology and engineering. Being located in
At Riverwalk, every resident receives personalized service and care, whether they are independent or require more advanced assisted or memory care. Importantly, this range of care means residents won't have to leave Riverwalk if their needs change, and, wherever possible, Riverwalk will work to keep couples together, should their care needs differ.
Learn more at verveseniorliving.com/riverwalk or call 403.271.7244 or email info@riverwalkretirement.com for information or to book a "Discovery Tour."
ADVERTISING FEATURE

Top 40 under 40, you're already crushing your goals. So what's next? From promotions to deals, research and patents, new ventures or Series A, the possibilities are endless. Calgary is the place where bright minds and big ideas like yours come together with an unmatched spirit to help solve global challenges. Get inspired at livetechlovelife.com YOUR NEXT STARTS HERE.
Visit calgaryzoo.com/ZOOLIGHTS for more details.
It's like a U of A reunion in here.
Congratulations to the University of Alberta alumni
Avenue Magazine's Top 40 Under
list. We can't help but be inspired by the solutions they generate to make our world healthier, safer, stronger and more just.
We salute you all for leading with purpose in our
beyond.
Know
U
on
40
communities and
Brett Colvin '12 BCom, '15 JD Shannon Doram '11 MSc Shaun Crawford '15 BEd Simone Elizabeth Saunders '06 BFA Jordan Raugust '09 MD
We have top honours of our own, too.
more
of A alumni leading with purpose? Nominate them for the University of Alberta's Alumni Awards.
Garden Loft is a prefabricated age in place backyard suite that enables seniors and their families to live together with a customized blend of independence, togetherness, safety, and support.
With Garden Loft's family focused aging in place, seniors live with their family as a neighbor rather than a roommate, with their own independent backyard living unit linked by a common deck or garden to the main house. Families decide as a group when they spend time together and apart, how to share the responsibilities of daily life, and where to bring in additional services as needed. This powerful combination of independence, togetherness, safety, and support enables high quality aging in place and benefits all members of the family – old, young, and in-between.
Garden Loft helps seniors avoid a premature move to a care facility while still ensuring the peace of mind that comes from having a safe living environment that supports differing needs and abilities. It enables families to provide the kind of care and support their loved one deserves in a manner that is convenient enough to be managed over the long term and that doesn't disrupt the lives of the rest of their family.
FAMILY FOCUSED AGING IN PLACE www.gardenloft.ca
Book a virtual or in-person tour of our Show Suite Housebrand, celebrating 25 years of residential design-build in Calgary
garden loft
Photography by Michael Grondin
Above: GL 480 one bedroom unit installed in SW Calgary. Below: GL 380 interior
TICKETS ON SALE NOW WWW.MYSTIQUENYE.COM 5 ROOMS | 3 DJS | FULL ACCESS | PERFORMERS PREPARE TO LOSE YOUR INHIBITIONS AND A HINT OF MYSTERY AS THE CLOCK STRIKES 12 Tom McCaslin performs John Williams 5 November Jack Singer Concert Hall Mahler's Fifth Symphony 11 + 12 November Jack Singer Concert Hall Tynomi Banks: Queen of the Orchestra 18 November Jack Singer Concert Hall Stravinsky's Firebird 26 November Jack Singer Concert Hall Symphony Sundays for Kids: Firebird for the Family 27 November Jack Singer Concert Hall Your Phil this November Explore our full Season at calgaryphil.com
oo ut et
Look out internet. Here we come.
From telling you where every dollar you spend on oxio internet goes, to keeping you informed about everything internet related, we've got nothing to hide. t de
say hi at
Come
avenue.oxio.ca
YOU ARE A JOB CREATOR. > Share your success story through the Alberta Top Job Creators Awards. > Learn more and apply for free today to have your organization's accomplishments celebrated. You are an opportunity provider. A growth builder. You make the future of Alberta's economy possible. And that is worth celebrating. TopJobCreators.com OPENING NOVEMBER 2022 FOLLOW US AT @THEBARBARELLABAR OR VISIT BARBARELLABAR.CA ANOTHER HOSPITALITY EXPERIENCE BY
WAKE UP TO OUR MOUNTAIN PARADISE. Book your stay at Sunshine Mountain Lodge today. sunshinemountainlodge.com
calgaryphil.com | 403.571.0849 Congratulations to our Associate Conductor Karl Hirzer on being named one of Avenue Calgary's Top 40 Under 40 See Karl conduct the Calgary Philharmonic Orchestra at these concerts this Season: Tom McCaslin performs John Williams / 5 November Stravinsky's Firebird / 26 November Firebird for the Family / 27 November Traditional Christmas / 13 + 14 December Late Night at The GRAND: Professor Bad Trip / 3 + 4 March Brass Transit: The Music of Chicago / 14 + 15 April Divorce isn't easy, but it's a path to a new beginning. CALGARY ALBERTA Compassionate, Guidance Through All Areas of Divorce. Suite 1900, 639 5th Ave. S.W., Calgary, AB T2P 0M9 | Phone (587) 356-4342 | info@wellsfamilylaw.com | www.wellsfamilylaw.com
The Streams of Lake Mahogany by Jayman BUILT
J ayman BUILT's newest luxury devel opment brings the appeal of resort community living as it stretches around Mahogany Lake, the largest in the city, combining 84 acres of beach and waterfront fun. Centred around the idea that "vacation doesn't have to end," The Streams of Lake Mahogany is Calgary's first and only lake side, maintenance-free, luxury condo and villa bungalow community.
"Everything about this neighbourhood is designed to recreate that 'holiday feeling,'" says Jordan D'Haese, sales manager, Jayman BUILT multi-family, where residents have no worries, no stress and can enjoy beautiful views and plenty of activities. "The concept of resort living is some thing Jayman is pioneering in Calgary. It's taken to the next level with The Streams, where resort living is four-seasons living."
The layout and design of The Streams further capture the look of resort living. The central gathering spaces, communal firepit and pergola, barbecue areas and tables welcome residents to relax, meet neighbours and visit with friends and family. In addition to full access to Calgary's largest lake, which offers swimming in the sum mer and skating and ice fishing in the winter, the community's namesake is a real feature found in the tumbling streams nestled within the green spaces of The Streams.
When choosing a home to fit your lifestyle, The Streams offers five different villa bungalow
models, as well as park and lake-facing Reflection Estate Condominiums. Three brand new villa bungalow show homes opened this year, with pos session dates available this Fall and Spring of 2023.
"We believe single-level, maintenance-free living is ideal for our residents. However, the quality, sustainability and energy efficiency you have come to expect from Jayman BUILT remains unchanged at the Streams," says D'Haese.
Villa bungalows at The Stream feature solar panels, tankless water heaters, triple pane win dows and more, all helping homeowners save more money annually (up to $700) on their energy bills. Smart Home technology solutions are also included, and are all voice or app controlled by Amazon Alexa for added simplicity in your new resort lifestyle. Residents can choose from five different villa bungalow models, including the newly released Parker model. Or choose the park or lake-facing Reflection Estate Condominium models modeled after Jayman's award-winning Westman Village located next to The Streams. Residents can further personalize their homes with a professionally certified interior designer from the Jayman styleMagic™ centre.
With retail options just a short walk away in Westman Village, the location of The Streams of Lake Mahogany is equally unmatched. Residents can enjoy dinner at Chairman's Steakhouse, take in some smooth jazz sounds at Alvin's Jazz Club or get a retail fix at the Urban Village and Village Market.
For more information on The Streams at Lake Mahogany, visit jayman.com/thestreams
Enjoy resort living in a community where neighbours become friends
ADVERTISING FEATURE
" Everything about this neighbourhood is designed to recreate that 'holiday feeling "
•
•
•
full
money on
Performance, including


panels, high
UNVEILING CALGARY'S FIRST & ONLY LAKESIDE VILLA BUNGALOWS • Exclusive enclave with Alpine Contemporary architecture and cobblestone streets • Water features and meandering streams with immaculate landscaping throughout • Outdoor living spaces including firepits, BBQs, and seating areas, all overlooking the lake or streams • South lake views – every home has lake access VISIT OUR PRESENTATION CENTRE AT WESTMAN VILLAGE: 1955 Mahogany BLVD SE | 587.350.0237 ResortLiving@jayman.com Mon. – Thur. 2PM – 8PM | Fri. CLOSED Saturday, Sunday & Holidays: 2PM – 5PM
Fenced backyards with maintenance free living
A
day with a professional Interior Designer to personalize your home with unlimited interior finishings
Save
your energy bills with Jayman's Core
solar
efficiency furnace, triple pane windows Imagine a destination where you're surrounded by like-minded people. Socializing with friends and neighbours as you're barbecuing in a shared space, enjoying a vibrant nightlife with nearby restaurant hotspots or are simply taking it easy lakeside. JAYMAN.COM /THESTREAMS VILLA BUNGALOWS 1,060 – 1,402 SQ. FT. DOUBLE & SINGLE CAR GARAGES OPTIONAL BASEMENT DEVELOPMENTS REFLECTION ESTATE CONDOMINIUMS ON THE PARK: 1,705 – 1,747 SQ. FT. ON THE LAKE: 1,705 – 2,053 SQ. FT. ENJOY THAT VACATION FEELING ALL YEAR LONG. Join us for the Made in Alberta marketplaces MadeInAlbertaAwards.ca MARKET HOST Bow Valley Square NOVEMBER 23 & 24, 2022 ILLUSTRATION BY JARETT SITTER
on the cover
Harnarayan Singh: host and play-by-play commentator for Sportsnet, bestselling author and member of the Top 40 Under 40 Class of 2022.
Photo by Steve Collins
Editor's Note
114 Work of Art
FEATURESDEPARTMENTS
27 Detours
Puck drop: three longtime Calgary Flames season ticket-holders share stories and memories from their seats in Section 120 at the Scotiabank Saddledome. Speaking of domes, there's a new one over the outdoor courts at the Osten & Victor Alberta Tennis Centre — bring on the year-round playing. Plus, we're getting into the holiday spirit with markets, lights and treats; diving into George Canyon's memoir; and toasting the fall season with a crisp pear cocktail.
90 Dining
The business lunch is back, and it's better than ever at these top spots in the downtown core.
98 Decor
A unique property in Bridgeland designed by Studio North features two separate residences for two generations of couples, with a space for everyone to meet in the middle.
34 The Top 40 Under 40 Class of 2022 Class in session: we're celebrating this year's list of 40 individuals (and duos) achieving remarkable success and making Calgary a better place, all before they reach their 40th years.
By Tsering Asha, Kendall Bistretzan, Elizabeth Chorney-Booth, Gabrielle Cleveland, Jennifer Dorozio, Valerie Fortney, Christina Frangou, Colin Gallant, Stephanie Joe, Nathan Kunz, Jacqueline Louie, Michelle McIvor, Amber McLinden, Jaelyn Molyneux and Colleen Seto
103 Guide to Winter in the Mountains
How to enjoy the snowiest season in Banff and beyond, with a roundup of rec reational Nordic ski races, a visitor's guide to Field, B.C., plus gondolas, galleries, food fests, winter-warmer cocktails and more!
By Gabrielle Cleveland, Dominique Lamberton, Jacqueline Louie, Jody Robbins and Lynda Sea
november 202220 TOP 40
PHOTO BY STEVE COLLINS; FOOD PHOTO BY JARED SYCH; MOUNTAIN PHOTO BY NOEL HENDRICKSON
22
contents 34 90 103 11.22
AS A TOP 40 ALUM, ELLEN PARKER continues to elevate a variety of local and national charity and for-profit brands through PARKER PR's thoughtful public relations strategies and skilled team. The pandemic brought challenges as a majority of PARKER PR's client work pre-pandemic was boutique events and grander scale community events. During this time, Ellen's innovation led her to take risks, hiring film producers and videographers and launching PARKER Media. Most recently, Ellen formed a strategic partnership with RedPoint Media and will now produce all of RedPoint's video digital marketing ads through PARKER Media. Passionate about building community and inspiring the next generation of thought leaders, Ellen volunteers on a number of boards and committees and is a volunteer guest speaker for the PR program at Mount Royal University.
Ellen Parker's business was founded in November 2015, modelled after a PR firm she worked for in New York City. Her dream was to create a platform to generate awareness for charity organizations near and dear to her heart and businesses doing good work in the community. Growing up in a musical family in Calgary's inner-city and volunteering since she was 11 years old (serving food to families in need and helping with the Wearable Art program at ACAD), Ellen has fostered a deep love for music, arts, fashion and helping others. Ellen is grateful to bring people together and to be a voice for those who need it most. Outside of PARKER PR, Ellen enjoys spending time with her geologist husband Erik and two boys, Oliver and Henry, visiting art galleries, hiking, camping, eating sushi and most recently sailing.
your
with Smoke's
are the perfect gifts for the modern bartender. Upgrade the Old Fashioned, Margarita and Negroni with the taste, aroma and texture of smoke. Happy hour will never be the same
THANK YOU TO OUR SPONSORS Never Drink Ordinary www.spiritswithsmoke.com Release
inner bartender! Spirits
smoking boards and kits
The Top 40 Under 40 project, presented in association with connectFirst Credit Union and the University of Calgary, is one of the most exciting projects we work on here at Avenue. The issue you're reading right now is the culmination of a year-long effort that starts with the opening of nominations for the upcoming year on the day we release the Top 40 issue for the cur rent year. (That's right, nominations for 2023 are now open at top40under40.com.)
We receive hundreds of nominations, which go on to be sorted, vetted, shortlisted and judged. It's a lengthy and involved pro cess that requires a meeting of many minds — those within our organization and, in the case of our volunteer panel of judges (read more about them on Page 84), outside of it as well.
But ultimately, all that effort is well worth it, because what we end up with is a snapshot of a Calgary that is brimming with potential. The Top 40 Under 40 Class of 2022 represents success at a young age, but also hard work, grit, innovation, hope and passion for making a difference. As our cover star, Hockey Night In Canada broadcaster Harnarayan Singh, said: "I knew my career dream was a long shot, but I still wanted to keep going." And because he kept going, a national pastime
SHELLEY ARNUSCH EDITOR IN CHIEF sarnusch@redpointmedia.ca
and
opened up to a huge swath of the popula tion that thought they would never be part of Canada's game.
Of course, the field of broadcasting is just one of many represented in the Class of 2022. This year's honourees come from a diverse range of sectors — everything from finance to cleantech, to medicine, social welfare and the arts. And while early career success is a common thread, another is the desire to create opportunity and space for others to succeed, to lift others up and make the world a better and more accepting and accessible place for all.
It's an honour and a privilege to celebrate these young visionaries, to find out who they are and what makes them tick and why they choose to do what they do, and then intro duce them to you.
Another year, another Top 40 project.
It never gets old.
UPDATE
Last month's feature article about the effect of the COVID-19 pandemic on those escap ing domestic violence included information about the Calgary Women's Emergency Shelter (CWES). On Sept. 28, CWES announced its new name and identity, Fear Is Not Love. The CWES will continue to operate within this larger organization, which also includes nonshelter programming and services as part of the movement to end domestic violence.
PHOTO BY HEATHER SAITZ; CLOTHING STYLING BY GRAVITYPOPE
October 202222
EDITOR'S NOTE
Guts
Glory Last month, we announced the winners and runners-up of our annual Made In Alberta Awards. This month, shop our Made in Alberta Markets on Nov. 23 and 24 at Bow Valley Square. Congratulations to alumni Vicki Van Chau (BFA '08, Media Arts) and Simone Elizabeth Saunders (BFA '20, Fibre) on being named Top 40 Under 40! AUArts.ca
Innovate, disrupt, collaborate, inspire Congratulations to this year's Top 40 Under 40 Whatever path you're leading, Oxford has the space for you #oxworxyyc flexible office solutions Bow Valley Square | Centennial Place Devon Tower | Eau Claire Tower
RedPoint Media Group
1721 29 Ave. S.W., Suite 375
Calgary, Alberta T2T 6T7 (letter mail only)
Phone 403-240-9055
Toll Free 1-877-963-9333 x0 Fax 403-240-9059 info@redpointmedia.ca AvenueCalgary.com
Facebook Avenue Magazine — Calgary Twitter @AvenueMagazine Instagram @AvenueMagazine
Subscriptions
(Prices do not include 5% GST)
3 issues: $18
1 year: $36
2 years: $60 3 years: $80
1 year (USA): $52 US
To subscribe, visit redpoint-media.com subscriptions@redpointmedia.ca
Advertising Inquiries
Phone 403-240-9055 x0
Toll Free 1-877-963-9333 x0 advertising@avenuecalgary.com AvenueCalgary.com
Published 11 times a year by RedPoint Media Group. Copyright (2022) by RedPoint Media Group. No part of this publication may be reproduced without the written consent of the publisher.
Canadian Publications Mail Agreement No. 40030911.
Editor in Chief Shelley Arnusch, sarnusch@redpointmedia.ca
Design Director Steve Collins, scollins@redpointmedia.ca
Managing Editor Dominique Lamberton, dlamberton@redpointmedia.ca
Senior Digital Editor Alana Willerton, awillerton@redpointmedia.ca
Digital Engagement Editor Alyssa Quirico, aquirico@redpointmedia.ca
Special Projects Editor Tsering Asha, tleba@redpointmedia.ca
Contributing Editors Meredith Bailey, Derek Clouthier, Jill Foran, Jennifer Hamilton
Editorial Assistant Michaela Ream
Digital Editorial Assistant Chris Landry
Staff Photographer Jared Sych
Special Projects Intern Kendall Bistretzan
Design Intern Sofia Velasquez
Contributors Valerie Berenyi, Alexandra Burroughs, Elizabeth Chorney-Booth, Gabrielle Cleveland, Jennifer Dorozio, Valerie Fortney, Christina Frangou, Colin Gallant, Stephanie Joe, Nathan Kunz, Jacqueline Louie, Michelle McIvor, Amber McLinden, Jaelyn Molyneux, Jody Robbins, Lynda Sea, Colleen Seto, Katherine Ylitalo
Contributing Fact-Checkers Gabrielle Cleveland, Conchita Galvez, Samantha Gryba, Amber McLinden
Proofreader Alex Frazer-Harrison
Land Acknowledgement Advisors Elder Edmee Comstock, Elder Reg Crowshoe, Elder Rose Crowshoe
Print/Digital Production Manager Mike Matovich
Senior Production Coordinator Erin Starchuk
Digital Producer Paula Martínez
Sales Support Managers Robin Sangster (on leave), Kristen Thompson
Account Executives Michaela Brownlee, Jocelyn Erhardt
Printing Transcontinental LGM
Distribution City Print Distribution Inc.; NextHome
REDPOINT MEDIA GROUP INC.
CEO Pete Graves, pgraves@redpointmedia.ca
President Käthe Lemon, klemon@redpointmedia.ca
CFO Roger Jewett
Custom Projects Manager Meredith Bailey, mbailey@redpointmedia.ca
Accountant Jeanette Vanderveen, jvanderveen@redpointmedia.ca
Administrative and HR Manager Tara Brand, tbrand@redpointmedia.ca
We acknowledge the financial support of the Government of Canada and the Government of Alberta.
Avenue is a proud member of the Alberta Magazine Publishers Association, Magazines Canada and the International Regional Magazine Association, and abides by the editorial standards of these organizations.
Avenue has partnered with TreeEra to plant 1,425 trees, replacing all the trees used to print the magazine this year.
We acknowledge the traditional territories and the value of the traditional and current oral practices of the Blackfoot Confederacy, the Tsuut'ina and Stoney Nakoda Nations, the Métis Nation (Region 3), and all people who make their homes in the Treaty 7 region of Southern Alberta
Are We a Winter City?
A closer look at Calgary's Winter City Strategy and how it's helping us own our cold weather.
Holiday Gift Guide
From lil' stocking stuffers to the most extravagant statement items, there's something for everyone in our roundup of locally sourced gifts.
Best Bars and Lounges
Classic hangouts, secret speakeasies and more of the best places to sip cocktails this season.
by Nov. 2 to get the December issue to your door. Three-issue subscription $18, one-year $36. redpoint-media.com
24 avenue
December NEXT ISSUE
SUBSCRIBE
PHOTO BY NEIL ZELLER / CHINOOK BLAST
avenuecalgary.com 25 ymcacalgary.org/youth-programs Congratulations to the Top 40s. We love celebrating community leaders – because we're driven to develop them. Our programs are where Calgary's youth find belonging and learn the skills and confidence they'll need to build up their communities. Tells us about the parks, recreation centres, shopping areas and other parts of the city you love to visit in our Best Neighbourhoods Survey. ONLINE SURVEY WE WANT TO KNOW YOUR FAVOURITE PLACES AND SPACES! avenuecalgary.com/NeighbourhoodSurvey NOVEMBER 14 TO DECEMBER 31 2022
Ready to Build?
Since 1974, Labbe-Leech has been the trusted advisor to professional firms across Calgary looking to open, relocate or renovate interior medical and office space. Labbe-Leech's footprint can be seen throughout the city, with an expertise that includes medical offices, professional services, financial institutions, and security sensitive facilities, to name a few.
Recognizing that every successful project starts with a vision, Labbe-Leech works to make its clients' project a reality. Whether it's site selection, assisting with choosing a consultant group, pre-construction assistance, space planning and budgeting, Labbe-Leech is there to manage your project with the expertise and professionalism your facility deserves.
Labbe-Leech's specialized knowledge is evident in its recent projects in the medical field. The company's professional construction management group understands the unique challenges a medical facility faces, and guides its clients through these complexities. This expertise allows its clients to focus on their business knowing their project is being completed above industry standards.
Every aspect, from building codes, specialty finishes, complex integration of cooling and ventilation systems, structural considerations and specialty infrastructure such as emergency backup power, is taken into consideration.
The assortment of medical diagnostic and non-diagnostic facilities Labbe-Leech has created for its clients is limitless, and include MRI and CT suites, ultrasound, mammography and x-ray rooms, nuclear medicine and general practitioner offices.
In addition to the medical field, LabbeLeech has long been the trusted advisor for the commercial and industrial construction sectors, having completed such projects as Heartland Generation, a 41,000-sq. ft. two-floor renovation on the commercial side, and the industrial venture Tetra Tech, a lab testing facility and office renovation that spanned 47,000 sq. ft.
Safety is also a top priority for the Labbe-
PROJECT HIGHLIGHTS
BEAM RADIOLOGY (10,000 s.f.)
RESOLVE MEDICINE (7,000 s.f.)
ALBERTA
(1,600 s.f.)
s.f.)
VIVO CURA HEALTH (15,000 s.f.)
Leech team, which holds COR Certification, ISNetworld, Contractor Check and ComplyWorks.
Labbe-Leech puts its clients' needs and the well-being of its community at the heart of everything it does, and offers ongoing support for local charities, including the Brown Bagging for Calgary Kids Society and Animal Rescue Foundation.
To bring your vision to life, visit labbeleech.com and see how Labbe-Leech can make it all possible.
November 2022
ADVERTISING FEATURE MEDICAL
• diagnostic and surgery
• internal medicine
NEUROLOGIC CENTRE
• neurological SUMMIT CARDIOLOGY (2,000
• cardiology
• diagnostic and imaging Labbe-Leech
Interiors Ltd., brings confidence to Calgary's finest firms with expert construction
management
and
interior renovation services.
Detours
FANNING THE FLAMES
ast season, the Calgary Flames won a firstround playoff series (only their second time doing so in 17 years), which led to a thrilling Battle of Alberta faceoff. It was the Flames' first playoff encounter with the Edmonton Oilers since 1991. According to longtime friends Marilyn Sheftel, Walter Moscovitz and Chuck Mendelman, who have some of the best seats in the Scotiabank Saddledome, the Flames
played some "very good hockey" — and they would know. The three have been season ticket-holders for more than 40 years.
In that time, Sheftel, Moscovitz and Mendelman have witnessed star players like Al MacInnis, Jarome Iginla and Johnny Gaudreau compete and cheered on the Flames from their seats when the team won the Stanley Cup in 1989. For the past 34 years, Sheftel, Moscovitz and Mendelman have called Section 120 at the Dome their second
home, and, for the eight years prior, it was row 2, behind the penalty box, at the Stampede Corral.
Sheftel has fond memories of the Corral: "I think fans were less intimidated. We didn't worry about acting crazy because there were no lights in the crowd while the game was being played. The only light was on the ice." When the Saddledome opened in 1983 and became the Flames' new home, it trumped the Corral with its nearly 20,000-seat capacity. Having
PHOTO BY JARED SYCH
27avenuecalgary.com
[ A NOTEBOOK OF THE CITY ] L FOR THESE LONGTIME CALGARY FLAMES
SEASON TICKETHOLDERS, LASTING FANDOM AND FRIENDSHIP HAS BEEN FORGED WHILE CHEERING TOGETHER FROM THEIR SEATS.
Cheers to great seats: Chuck Mendelman (left) and Walter Moscovitz at the Scotiabank Saddledome. (Not pictured: Marilyn Sheftel.)
priority picks on seats when the Dome opened, Sheftel, Moscovitz and Mendelman moved to rows 6 and 7 in Section 120, right at centre ice. One of their highlights was when Sheftel won a 50/50 prize of $41,000 in 2006. Concession snacks at the Dome have remained consistent for years, the trio says, and they continue to order malts, popcorn, nachos and "Dome foam" at games.
Snacks, winnings and great hockey aside, they've enjoyed watching their children and grandchildren grow up going to games in their seats. "My daughter would come to games and bring her babies on her lap," Sheftel says. "Now, when Walter can't go to a game, I buy his tickets and take my grandchildren." However, their children often tell them that it's time for a new arena: "The young kids say we need all these amenities," says Mendelman.
"We just want good hockey."
While it's the second-oldest arena in the NHL (after Madison Square Garden in New York), the trio say it has aged gracefully and has great sightlines. "The Saddledome is a great hockey arena," says Moscovitz. It's a place where three friends have four decades of memories.
Gabrielle Cleveland
News You Can Use
TENNIS BUBBLES UP
Thanks to Canadian powerhouses like Leylah Fernandez, Bianca Andreescu and Félix AugerAliassime, tennis is more popular than ever, and Calgarians now have a new option to play (and watch) tennis through the winter months.
The Osten & Victor Alberta Tennis Centre (ATC) in Acadia has served as the city's premier tennis facility since it opened in 2016, providing eight indoor and five outdoor courts. As of this fall, the outdoor courts have been converted to year-round playing areas with the installation of a 40-foot-tall insulated and fully lit bubble dome that will keep both players and spectators comfortable through any kind of weather.
Funding for the bubble covering came from several partners, including Tennis Canada, which is strategically helping to winterize courts across the country to make the sport more accessible and affordable for all Canadians. The ATC, which runs as a not-for-profit, guides about 1,200 adults and kids through its formalized programming every 12 weeks, and the expansion of its indoor program means even more Calgarians can develop a love for the sport.
"Tennis is one of the best sports you can play at any age — you can start at three and play until you're 90," says Danny Da Costa, ATC's CEO. "There are a lot of studies on the health benefits of tennis that have found it's one of the best cardiovascular sports you can play."
The new coverings will make it easier for ATC to host events like the Calgary National Bank Challenger, a professional tournament held Nov. 5 to 13. For the first time, the event will include a women's competition, which, like the men's event, allows the ATC to host some of the world's best up-and-coming players. With the newly winterized courts, Calgarians can root for the next crop of tennis phenoms, while maybe even producing a few of our own.
—Elizabeth Chorney-Booth
BY JARED SYCH
November 202228
THE OSTEN & VICTOR ALBERTA TENNIS CENTRE'S NEW DOME OPENS UP MORE YEAR-ROUND COURTS.
Detours
PHOTOS
"Tennis is one of the best sports you can play at any age."
DANNY DA COSTA, CEO, OSTEN & VICTOR ALBERTA TENNIS CENTRE
KICKSTART YOUR HOLIDAY SPIRIT
Hop On the Market Circuit
The popular indoor/outdoor Millarville Christmas Market, held just outside of the city at the Millarville Racetrack, runs over the first two weekends of this month. You'll find locally made goods, as well as food trucks, real reindeer, photo ops with Santa and a kids-only shop. For more edge-of-the-city fun, the Spruce Meadows International Christmas Market follows the Millarville market, taking place the last two weekends of November and the first week end of December. millarvilleracetrack.com sprucemeadows.com
Wander Among Festive Lights The Wilder Institute/Calgary Zoo's annual outdoor light display is the perfect way to enjoy some holiday pizzazz. This year's Zoolights, presented by Olympia Trust Company, kicks off on Nov. 18 and runs to Jan. 8. While strolling through the light displays is the epitome of wholesome family fun, there are also three ticketed events for ages 18 and older through out the season for those look ing for a more sophisticated Zoolights experience, complete with cocktails.
calgaryzoo.com
A Holiday Lights Installer
Professional holiday lighting installation is becoming big business in Calgary. Stella Lights' Ben Richardson shares some stories from his end of the ladder.
1Is November too early to put up your lights? This year, we started our installs in the second week of September. People don't need to turn their lights on right away, so we take advantage of the good weather in the earlier months.
2Do you get people asking for National Lampoon's Christmas Vacation-level displays? We do trees up to 35 feet tall and some of those get pretty elaborate. We have also put lights up for people participating in local community competitions, and we know that some houses have won a couple of competitions with lights we've installed.
Indulge in Christmas Goodies It's never too early to start on the treats. Many local bakeries unveil holiday menus and offer ings in November, such as the gingerbread house decorat ing kits from Pretty Sweet Bakeshop and a festive lineup from Pie Junkie (turkey dinner pie, anyone?). Be sure to pop into the Ship & Anchor Pub for a glass of its famous Shipnog or grab a bottle to go: $5 from each glass and $10 from each bottle is donated to local charities. —E.C.B. prettysweetco.com piejunkie.ca shipandanchor.com
3
Is there anything you won't put a string of lights on? We say on our website that we'll even decorate your dog, so there's not much we won't do. The only thing we turn down are trees that are too big or are so close to houses that they're unsafe. —E.C.B.
ILLUSTRATIONS BY JARETT SITTER; PHOTO COURTESY OF WILDER INSTITUTE/CALGARY ZOO 29avenuecalgary.com Detours
How to
3 questions FOr...
IT MAY ONLY BE NOVEMBER, BUT THE HOLIDAY SEASON WILL SOON BE IN FULL SWING. HERE'S HOW TO GET FESTIVE BEFORE THE CALENDAR EVEN FLIPS TO DECEMBER.
Drink of the season
SWEATER WEATHER
MY COUNTRY
George Canyon, the awardwinning country musician, actor, Juvenile Diabetes Research Foundation spokesperson and official national anthem singer for the Calgary Flames, can now add author to his resumé. This month, Simon and Schuster Canada is releasing My Country, Canyon's memoir, which details his early days growing up in Nova Scotia, all the way to his current life as an established star living in rural Alberta, with stints in Nashville and on tour buses along the way.
While Canyon seems like he's always had it made, what with his chiselled good looks and smooth, deep voice, he has overcome adversity in his life. This book details his struggles as well as his climb to musical success with humour and homespun wisdom. —E.C.B.
$25, simonandschuster.ca
London Richard, a mixologist at Eau Claire Distillery in Turner Valley, was inspired when he saw a cocktail featuring pear, a fresh fall ingredient. "Most people gravitate to pumpkin spice and apples, but there are so many rich flavour palates to play with this season," he says. Hence, Sweater Weather, which he's crafted just for us, is a warming, yet refreshing pear-infused cocktail — reminiscent of a crisp fall day.
"The flavour of Eau Claire whisky is high lighted beautifully with pear juice and a touch of honey," he says. "The rye gets a boost of spice from the sumac and orange liqueur, while  Licor 43 helps bring out the rich caramel notes in the whisky and adds warm vanilla and spice." —Dominique Lamberton
20
(more
double-strain
a coupe
flute glass.
wild flower and pear
with an
GEORGE CANYON
PHOTO
BY ALKAN EMIN PHOTOGRAPHY; COCKTAIL
PHOTO BY JARED SYCH
November 202230 Detours Local book Spotlight
THIS COCKTAIL FEATURING EAU CLAIRE DISTILLERY'S RUPERT'S WHISKY IS IDEAL FOR BRISK FALL AFTERNOONS.
R ecipe 1.5 oz. Eau Claire Distillery Rupert's Whisky 0.5 oz. Legend Distilling Manitou Orange & Sumac Liqueur (or Grand Marnier or another orange liqueur) 0.25 oz. Licor 43 (or Galliano or another vanilla liqueur) 0.75 oz. pear juice 0.5 oz. freshly squeezed lemon juice 1 bar spoon wildflower honey Pour all ingredients into a shaker with ice. Shake vigorously for at least
seconds
if desired!) and
into
or
Garnish
edible
slice.
avenuecalgary.com Not only a Top 40 Under 40 recipient but also a cancer survivor, Katie Smith-Parent is passionate about raising funds for the Calgary Cancer Centre's $250 million campaign, OWN.CANCER. The centre is anticipated to open in 2023 and will bring the world's best cancer treatment, research and patient supports to Calgary. OWN.CANCER with us. Donate Today. OWNCANCER.CA KATIE SMITH-PARENT, Top 40 Under 40 recipient, cancer survivor and OWN.CANCER campaign cabinet member. Join me and we can OWN.CANCER together. GLOBE CINEMA NOV. 23-27 Tickets & Info at CALGARYUNDERGROUNDFILM.ORG DOCUMENTARY FILM F Need a Restaurant or Brewery Permit or Licence? We'll help get you there faster. Business Experience Representatives help make it faster and easier to get your restaurant or brewery business open. Get the help you need to open your doors. 21-0017220: ADV-13808 Visit calgary.ca/ber to learn more.
num

Banks
.
under
november 202234 forty
forty TOP
class of 2022
It's time, once again, to reveal our annual list of 40 individuals (and duos) who have made waves in their respective fields, industries and sectors before their 40th birthdays. Avenue's Top 40 Under 40, presented in association with connectFirst Credit Union and the University of Calgary, is, in essence, a celebration of early career success, but also of the brains, guts and grit it takes to make change, to innovate, to lift others up, and, in doing so, create a better city and world for all of us. So settle in and get ready to be inspired, as we introduce to you the amazing Top 40 Under 40 Class of 2022.
BY TSERING ASHA , KENDALL BISTRETZAN
CHORNEY-BOOTH
JENNIFER DOROZIO
GABRIELLE CLEVELAND
VALERIE FORTNEY
CHRISTINA FRANGOU
COLIN GALLANT STEPHANIE JOE NATHAN KUNZ JACQUELINE LOUIE
MICHELLE MCIVOR , AMBER MCLINDEN , JAELYN MOLYNEUX AND COLLEEN SETO
PHOTOGRAPHY BY STEVE COLLINS AND JARED SYCH
avenuecalgary.com 35
, ELIZABETH
,
,
,
,
,
,
Tomi Ajele
in
Tomi Ajele grew up in what she describes as "very white spaces," where she struggled to express experiences her peers didn't share. As she grew into adolescence, she became more confident naming her experience and being her au thentic self. Still, she wanted to find more connection with other Black Calgarians.
In 2020, Ajele became active with Afros In Tha City (AITC), a community group known for DJ events, workshops and talks. On AITC's Discord server, Ajele and a group of fellow soon-to-be editors created a media arm for the group that focused on telling personal stories in vivid detail.
"The value of personal stories is that they offer something that I think is rarely offered in stories that feature marginalized folks, and that is nu ance," Ajele says.
Since AITC has a horizontal organizational structure, Ajele is quick to acknowledge the proj ect as a team effort, but it was clear from the out set that she was fulfilling the role of editor in chief. Ajele managed the Black Futures collaboration with local media organization The Sprawl and has fielded requests from Global TV and HGTV Canada about interviewing Black leads for new programming. During her tenure, AITC has grown its audience and paying membership, and has participated in revenue-growth programs with Indiegraf, resulting in a $9,000 mix of grants and donations, and a $5,000 grant from the Canadian Association of Black Journalists.
Ajele is also an in-demand speaker and, outside of her work with AITC, she has a full-time job with Apathy is Boring, a charitable organiza tion that encourages democratic participation by youth in Canada. In all these things, she brings her authentic self and a passion for a better world.
"Being able to live in alignment with your be liefs and your values and your convictions — that, to me, is success," she says. —C.G.
36 november 2022
"
BY THE NATURE OF BEING INVESTED IN FINDING A PLACE, YOU END UP BUILDING A PLACE FOR OTHERS AND END UP BUILDING SOMETHING THAT OTHERWISE DIDN'T EXIST. "
WHY SHE'S A TOP 40 BY HELPING BLACK CALGARIANS SHARE THEIR STORIES, TOMI AJELE HAS BUILT A NATIONALLY RECOGNIZED MEDIA BRAND.
Editor
Chief, Afros In Tha City Age 28
PHOTO BY STEVE COLLINS
BY STEVE
Nagwan Al-Guneid
If you ask Nagwan Al-Guneid for advice on the best way to a greener future, she'll tell you there's no singular solution. "I like to say that we don't have a silver bullet to lower emissions and achieve our environ mental, social and governance initiatives," she says. "We need many tools and tech nologies."
Al-Guneid is the director of Business Renew ables Centre-Canada (BRCC), an initiative of the Pembina Institute. BRCC is an educational platform that provides guidance and resources to corporations and public institutions looking to buy renewable energy through power purchase agreements (PPAs).
With a PPA, a corporation or public institution can buy directly from a wind or solar developer with no utility company in the middle, producing a long-time stable rate. Al-Guneid and her team provide educational tools and resources to help public institutions and corporations in Alberta learn about PPAs. Under her guidance, BRCC has grown and diversified its community of renew able energy buyers across sectors, with corpora tions such as Starbucks, Telus, TC Energy, RBC and Amazon on board. By 2023, the PPA market in Alberta will contribute $3.75 billion in renewable construction, bringing 4,500 jobs.
But PPAs are only one facet of Al-Guneid's ap proach. Prior to joining BRCC in 2021, she worked as a manager in policy innovation and govern ment relations at Energy Futures Lab and, while there, grew to recognize that we need government policies to provide solutions to create a net-zero future. Now, through BRCC, she is working to find ways for government policies to be seen as path ways, not barriers, to zero-emission solutions.
"We'll always need energy, and now [is the time] to move the dial and scale up our efforts to lower emissions," she says. "But we need to zoom out and start seeing the energy system as a whole, not just one side of it." —M.R.
avenuecalgary.com 37 " AS
OUR WORLD MOVES TOWARD BEING MORE CLIMATE-CONSCIOUS, IT'S NOT AN EITHER, OR. WE CAN ADVANCE A PROSPEROUS ENERGY SECTOR AND ENJOY ECONOMIC BENEFITS WHILE ADDRESSING CLIMATE. "
WHY SHE'S A TOP 40 NAGWAN AL-GUNEID HELPS SIMPLIFY AND ACCELERATE LARGE-SCALE RENEWABLE ENERGY USE BY PROVIDING RESOURCES AND EDUCATIONAL TOOLS.
Director, Business Renewables Centre Canada Age 37
PHOTO
COLLINS
R.J. Bailot
As executive director and co-founder of the Canadian Animal Task Force (CATF), R.J. Bailot's days are spent in service of animal welfare.
Bailot incorporated CATF in 2007 and it became a registered charity in 2008. Recognizing that there was a great need for services in remote rural areas, CATF provides on-site veterinarian care, such as spay-neuter clinics and surgeries, for First Nations communities and oth er underserved regions. In addition to providing population control and other veterinary services, CATF also assists in disaster recovery of animals and pets and aids in relinquishment cases.
"We're seeing an increase in the surrender of animals because [the owner is] not able to afford a veterinarian bill. In those cases, we try to help them when funds are available," Bailot says.
CATF started out as a team of three and has grown to a network of more than 2,200 active volunteers. Since 2010, it has completed nearly 70 on-site clinics and examined, spayed, neutered, vaccinated and dewormed more than 21,000 companion animals. Additionally, CAFT has placed more than 7,500 surrendered animals with partner rescue groups. "We don't go into a situa tion with an enforcement role; our role is to help people when they reach out for help," Bailot says.
The organization's hard work has not gone unnoticed. In 2008, Bailot was given an award for outstanding personal achievement by the Inter national Fund for Animal Welfare. And, in 2021, the R.J. Bailot Bursary for Volunteerism in Animal Health Technology scholarship was created in his honour by the key donors behind the Carla Cum ming Sojonky Adoption Centre. The scholarship recognizes the impact Bailot has had on the lives of animals and people. "We can't just care about animals and not people, or vice versa," Bailot says. "We need to look at this in a full-circle way to see the long-term impact." —G.C.
BY JARED SYCH
38 november 2022
" IT'S REALLY IMPORTANT THAT I'M STILL DOING WHAT INSPIRED ME TO DO THIS IN THE FIRST PLACE BECAUSE IT KEEPS ME MOTIVATED. "
WHY HE'S A TOP 40 R.J. BAILOT'S INTERNATIONALLY RECOGNIZED CHARITY PROVIDES ANIMAL-WELFARE SERVICES IN UNDERSERVED COMMUNITIES.
Executive Director and Co-founder, Canadian Animal Task Force Age 36
PHOTO
BY JARED SYCH
Gursh Bal | Kai Fahrion
Electricians Gursh Bal and Kai Fahrion want to reduce humanity's impact on the environment, one home at a time. In 2015, the duo created residential solar solutions provider Zeno Renew ables, offering a turnkey approach by directly employing the designers, engineers, project managers, electri cians, marketers and sales specialists it takes to add solar power to a home. Clients have one point of contact to access all that expertise. "We want to make the barrier to renewable energy so low that adopting solar energy is an easy choice," says Bal. Zeno completed only two installations in its first two years, but Bal and Fahrion persevered, honed their message and built momentum. In 2022, its seventh year, Zeno Renewables com pleted 750 installations and hit the milestone of 1,000 residential-system installations. Those systems will result in approximately $36 million in energy bill savings over the next 25 years and yield carbon offsets equal to 2.3 million trees planted.
In 2021, Bal and Fahrion shifted their roles from director of business development and direc tor of operations to co-CEOs to make way for new managers. Since those changes, Zeno has grown its number of employees from 25 to 85, and is now expanding outside of the province. "We intro duced processes, structure and the entrepreneur ial mindset of what we had to do to push forward," Fahrion says. "We attached a goal to a vision and that made it tangible and allowed everyone to be part of it." That ultimate goal is installing solar in 1 million homes by 2040.
Zeno Renewables also started #CityCleanUp — an initiative that selects a community each year and spends several Saturdays cleaning it up. And, through Strides for Sustainability, a marathonrunning fundraiser, the Zeno team raises money for students in financial need. "If you have the opportunity to makes someone's life better, why wouldn't you?" says Bal. —J.M.
avenuecalgary.com 39
" WE'RE REALLY GOOD AT HITTING THINGS HEAD-ON TOGETHER. IT'S BEEN A BIG PART OF OUR SUCCESS. " – KAI FAHRION
WHY THEY ARE TOP 40S GURSH BAL AND KAI FAHRION ARE MAKING IT EASIER FOR RESIDENCES TO ADOPT SOLAR ENERGY WITH AN INNOVATIVE TURNKEY APPROACH.
Co-CEOs, Zeno Renewables
Age 34 | 30
PHOTO
Kai Fahrion (sitting) and Gursh Bal.
Kerry Black
In the simplest of terms, engineering is defined as the merging of scientific and mathematical principles to solve real-world problems. But, for Kerry Black, a civil engi neer who works with Indigenous commu nities to tackle the underlying challenges around access to clean water, the role of an engineer is so much more.
As Canada Research Chair in Integrated Knowledge, Engineering and Sustainable Com munities, Black has secured more than $6 million in research funding, and believes the best way to address serious infrastructure challenges is by embracing a transdisciplinary approach. "It's about bringing all kinds of different players to the table with all different kinds of knowledge and value systems to help address problems in a bet ter way," she says.
Black understands there are entrenched histor ical, colonial and patriarchal systems that contrib ute to the water and sanitation issues Indigenous communities face. As a non-Indigenous person committed to walking a path of reconciliation, she works with Nations and communities toward selfdetermination, ensuring community voice is a key part of decision-making around water.
Seeing a crucial need to bridge the gap between scientific solutions and social and geographi cal realities, Black facilitates a process in which members of a community are able to steward, advise and guide research directions; and codevelop and collaborate to develop tools, plans, training opportunities and other approaches that address their specific needs and unique context. This, Black believes, is the best and only way to ensure improved access to safe drinking water and sanitation, and to build healthy, resilient communities.
"Being an engineer is not just about figuring out the mechanics of the technology," Black says. "It's about solving problems in a bigger way than the narrow view we've had of engineering in the past."
K.B.
40 november 2022
" I'M DRAWN TO ISSUES OF INEQUALITY AND INEQUITY, AND WHEN IT COMES TO ENGINEERING, WE DON'T OFTEN LOOK THROUGH THAT LENS. "
—
WHY SHE'S A TOP 40 KERRY BLACK HELPS DEVELOP SOLUTIONS FOR INFRASTRUCTURE-RELATED CHALLENGES IN INDIGENOUS COMMUNITIES.
Assistant
Professor
and
Canada
Research
Chair, Department
of Civil
Engineering, University of Calgary
Age 37
PHOTO BY STEVE COLLINS
BY JARED SYCH
Mark Blackwell
After cutting his teeth in Silicon Valley, Mark Blackwell is now building a stronger tech ecosystem in Calgary as an investor.
In 2014, Blackwell began moon lighting for GNS3 Technologies, a Calgary startup with technology to replace physical network hardware when designing and simulating a network. The Canadian Technology Accelerator program spon sored Blackwell's move to Silicon Valley to receive mentorship and scale the business through the international business accelerator Plug and Play. As chief operating officer, Blackwell led the rebrand of GNS3, launched its online community and managed 2 million users from more than 60 countries. In October 2015, GNS3 sold for $32 million to a publicly traded U.S. company.
Blackwell returned to Calgary and is now building the tech ecosystem here through his work with international venture fund Builders VC. In December 2021, Builders launched a $250-million fund that is backing strong Calgary startups, including Veerum and Provision.
Blackwell is also board chair for the $100-mil lion Opportunity Calgary Investment Fund cre ated under former Mayor Naheed Nenshi to build capacity in the city for tech entrepreneurs. As part of that, Blackwell funded more than $80 million of training initiatives with SAIT and the University of Calgary's Life Sciences Innovation Hub to Plug and Play Ventures on the company accelerator and venture funds side. He also mentors at UCal gary through the Hunter Hub for Entrepreneurial Thinking, CDL (Creative Destruction Lab)-Rock ies and UCeed, a philanthropic fund that supports startups as they transition to commercialization.
"I can genuinely look small businesses in the eye and say, there's no reason for you to have to go to Seattle, New York, Toronto or Vancouver, because we have all the infrastructure in Calgary now," Blackwell says. —J.D.
avenuecalgary.com 41
" I ALWAYS FELT LIKE I HAD ENTREPRENEURIAL DRIVE — EVEN AS A KID. "
WHY HE'S A TOP 40 MARK BLACKWELL IS MOVING THE TECH ECONOMY IN CALGARY FORWARD BY INVESTING IN STARTUPS AND CREATING A STRONGER TECH ECOSYSTEM.
General Partner, Builders VC
Age 34
PHOTO
Doug Brown
With a PhD in materials chemistry from the Univer sity of Calgary, Doug Brown is setting out to become a global force in sustain able solutions to combat climate change. "I became concerned about things like resource exhaustion back in high school. I targeted chemistry as a foundational level for how I could make an impact," Brown says.
His company, ZS2 Technologies, which he cofounded with two partners, is primarily focused on developing net-negative carbon footprint cements. This first-of-its-kind product, based on repurposing waste brines from the oil-and-gas sector into carbon-storage cements, translates into highly resilient, more sustainable building options than conventional cement, one of the most carbon-intensive materials around. One of the uses for ZS2's cement will be rebuilding com munities devastated from extreme climate events.
Such pioneering work has caught the world's attention. Brown and the ZS2 team are currently competing for the US $100-million XPRIZE, the biggest competition in history around carbon removal, funded by Elon Musk.
In just 2.5 years, ZS2 has gone from four to 50 employees and has been recognized by the Alber ta Cleantech Investment Summit and named by Foresight Canada as one of the 50 most-investible cleantech companies in the country. ZS2 is also finalizing B Corp certification, which measures a company's social and environmental impact.
Brown, who mentors new graduate students at UCalgary in his little bit of spare time, says using his PhD in such an entrepreneurial way is his dream career. For the foreseeable future, the passionate scientist is focusing on the green-tech ecosystem.
"Then, maybe I can start thinking of finding a work-life balance," he says. —V.F.
42 november 2022
" MY HOPE IS THAT MY COMPANY AND I CAN PUT CALGARY ON THE MAP WHEN IT COMES TO PROVIDING SOLUTIONS FOR THE NEXT INDUSTRIAL REVOLUTION. "
WHY HE'S A TOP 40 DOUG BROWN IS A MATERIALS SCIENTIST WHO HAS DEVELOPED A FIRST-OF-ITSKIND CEMENT THAT IS IN CONTENTION FOR THE $100-MILLION XPRIZE.
Chief
Technology Officer and Co-founder, ZS2 Technologies Age 37
PHOTO BY STEVE COLLINS
BY STEVE
Iman Bukhari
At age 19, Iman Bukhari founded the grassroots not-for-profit Cana dian Cultural Mosaic Foundation (CCMF) because she was deter mined to create a more equitable, more understanding Calgary.
Originally from Pakistan, Bukhari and her family came to Calgary in 2000 when she was 11 years old. She recalls being the target of racism while growing up here, particularly in the wake of 9/11. "When I came to this city as an immigrant, I saw a lot of racism, and I see it's gradually decreasing now," Bukhari says. "That gives you hope that we as a society are evolving."
The CCMF is doing its part to help that evolu tion. Since 2009, the Calgary-based, volunteerrun organization has been delivering education, technology, arts and policy initiatives and has won more than 12 community advocacy awards. It produced an award-winning documentary, YYC Colours; launched the inclusive language app, Language Decoded; and created Culture Com mons, an online resource hub for kindergarten to Grade 12 teachers. The CCMF also spearheaded a petition in 2020 that led to the City of Calgary declaring systemic racism a concern and pledging to create systemic change. "The work I do is about human dignity,"Bukhari says. "I want to make sure all Calgarians have a life filled with dignity."
Bukhari, who holds a master's degree in multi media communications, says the most important thing she has learned in her CCMF journey is how to talk to people. "Having a conversation about racism is uncomfortable for a lot of people," she says. "How can you say it in a way they need to hear it?"
On top of leading the CCMF, Bukhari works full-time for the City of Calgary and is the mother of two young children. When asked what advice she might give her younger self, "I would tell my self, 'Do more; do a lot more,'" Bukhari says. —J.L.
avenuecalgary.com 43
" TO CREATE CHANGE, YOU HAVE TO MAKE IT AS EASY AS POSSIBLE FOR PEOPLE TO GET ON BOARD. "
WHY SHE'S A TOP 40 IMAN BUKHARI'S NON-PROFIT ORGANIZATION IS HELPING TO ADDRESS RACISM AND PROMOTE A MORE INCLUSIVE SOCIETY.
CEO, Canadian Cultural Mosaic Foundation
Age 33
PHOTO
COLLINS
David Campbell
midway through his undergraduate studies, David Campbell moved to Florida to volunteer with a mission set in a poor community of mostly immigrants. He stayed two years, and the experience changed the rest of his life. "It led me down a road of being interested in advocating for those who are not well-served by the medical system," he says.
Campbell obtained degrees in kinesiology and medical anthropology, followed by an MD, a PhD in health services research, and fellowships in endocrinology and inner-city health research. Today, his work focuses on metabolic diseases, particularly diabetes, and how these conditions are affected by social disparities.
Diabetes is difficult to manage, requiring medi cations, a strict diet, regular exercise, monitoring of blood sugar levels and access to a health-care team. But it's especially challenging for those who do not have access to drug insurance, healthy food or a home. Cambell developed a screening program for people with complications of dia betes at Calgary's Drop-In Centre and a diabetes outreach program at the Mustard Seed Wellness Program in conjunction with the University of Calgary's student-run clinic.
In addition to his work as an endocrinologist, Campbell leads research designed to improve health among socially disadvantaged communi ties. Since returning to Calgary in 2019, he has received more than $28 million in funding and authored 35 papers in peer-reviewed journals (78 papers since 2010).
Campbell credits his wife, a policy analyst, for sparking his interest in working with the vulner ably housed. "What motivates me is [reducing] the impact of inequities in our society, specifi cally by making health care more accessible and acceptable to people who face various forms of social disadvantage," he says. —C.F.
PHOTO BY JARED SYCH
44
" I THINK THAT EVERYBODY HAS A RIGHT TO THE BEST KIND OF HEALTH CARE AND ACCESS TO ALL THE THINGS PEOPLE NEED TO BE HEALTHY. "
WHY HE'S A TOP 40 PHYSICIAN-RESEARCHER DAVID CAMPBELL DESIGNS PROGRAMS TO IMPROVE DIABETES CARE AMONG SOCIALLY DISADVANTAGED POPULATIONS.
Assistant Professor of Medicine, University of Calgary
Age 37
Andrew Chau
Three years ago, Andrew Chau had an idea to challenge centuries of banking practices, such as ac count fees, physical locations and in-person appointments. Today, his financial-technology startup, Neo Financial, serves more than 1 million customers across Canada from inside an app, with no monthly fees.
Neo recently achieved the status of a unicorn company (a private startup valued at $1 billion or more), and is backed by the co-founder of PayPal. "At the end of the day, we're trying to build a gen erational company to serve millions of Canadians and add value to their lives," Chau says.
It's not the first time Chau has been at the helm of a tech company that has disrupted an estab lished sector. His first startup, SkipTheDishes, was part of a wave of app-based technologies that had a huge impact on the hospitality industry by revolutionizing how people order and deliver restaurant food. Based out of Winnipeg, that com pany sold for $200 million in 2016.
Chau says growing up he was never exposed to tech entrepreneurship — he was simply interested in developing solutions to everyday problems. To date, Neo Financial has raised more than $300 million in funding and employs more than 650 people, mostly in Calgary and Winni peg. In January of this year, the company leased more than 110,000 square feet of office space in downtown Calgary over two buildings — one be ing a formerly empty converted retail floor in the historic Hudson's Bay building — contributing to the revitalization of downtown. "I think, to date, one of the biggest impacts we have had is just showing people that, yes, it can be done here in Calgary," Chau says. "There's nothing stopping us — and, when I say 'us,' I mean entrepreneurs and others — from building massive companies here, and that we can attract talent, capital and build it all right here at home." —T.A.
avenuecalgary.com 45
WHY HE'S A TOP 40 ANDREW CHAU IS AT THE HELM OF A UNICORN COMPANY THAT IS CHANGING THE FACE OF CONSUMER BANKING.
Co-founder and CEO, Neo Financial
Age 35
PHOTO BY STEVE COLLINS
" WHAT
YOU SEE ON THE OUTSIDE IS ONLY FIVE PER CENT OF THE ACTUAL WORK THAT GETS DONE.
"
Vicki Van Chau
Vicki Van Chau is a natural director.
In 2011, as the program director of Emmedia Gallery and Production Society, she led the organization out of a financial crisis that almost shut its doors, with the help of a newly elected board of directors and staff hires. In 2012, she helped launch the annual Particle + Wave Media Arts Fes tival, which showcases exhibits, screenings, and performances by local and national media artists, and is the only festival of its kind in Alberta.
Chau is also a director (and producer and screenwriter) of films that tell stories from her perspective of a second-generation Canadian.
"I am Chinese-Vietnamese, but I was born in Calgary, so I'm very different from people who were born in Asia," Chau says. "I always wanted to make that distinction in my work, that the Asian diaspora in Canada is its own culture."
In her award-winning films, Chau focuses on global themes through a local lens and highlights underrepresented stories. In Pulled Strings, a father teaches his daughter the art of hand-pulling noodles. In Off to the Races, Chau collaborated with the Calgary Chinese Orchestra to feature a contemporary arrangement of a traditional Chinese song, performed by 72 international mu sicians. "There can be stories told from a different perspective that's not part of the Western genre and can include voices that are underrepresented here," Chau says.
Her portfolio of films has earned Chau nu merous accolades and awards — including the Lieutenant-Governor of Alberta's Emerging Artist Award — for her efforts to promote cultural ap preciation of Asian diaspora communities in the Prairies. "My films are often rooted in the Asian diaspora story which sometimes includes the immigrant story," Chau says. "I want to provide a platform for those types of stories not normally heard."
T.A.
november 202246
" BEING A BIPOC FEMALE ARTIST IS ALREADY A VERY POLITICAL STATEMENT, SO I [DON'T] FEEL LIKE I NEED TO MAKE A HUGE POLITICAL STATEMENT IN MY WORK. "
—
WHY SHE'S A TOP 40 VICKI VAN CHAU IS A CHAMPION FOR THE ARTS COMMUNITY WHOSE AWARDWINNING FILMS EXPLORE ASIANCANADIAN STORIES FROM THE PRAIRIES.
Filmmaker
and Arts Administrator Age 36
PHOTO BY STEVE COLLINS
Congratulations to an inspiring group of MRU alumni for making this year's Top 40 under 40. Here's to you, your accomplishments and all that's still to come. We can't wait to see what's next. You always belong here. mru.ca/Alumni Change makers, ground breakers, status-quo shakers. Our alumni do it all.
Brett Colvin
With aspirations of playing professional soccer, Brett Colvin attended the Univer sity of Alberta on an athletic scholarship, where he com pleted graduate studies and applied to law school on a whim. After finishing his law degree in 2015, Colvin worked at a corporate firm, where he was nicknamed "Mr. Ideas" due to his enthusiasm for brainstorming creative solutions. During that time, he also volunteered as vice-president of the Calgary Women's Soccer Association, where he put his law expertise to work by helping draft new bylaws.
In 2019, Mr. Ideas put his money where his mouth is, leaving behind corporate law to co-found and serve as CEO for the tech startup Goodlawyer. "The final straw for me was when one of the seniors at the firm told me to keep coming up with ideas — but to keep them to my self. It just became so clear that if I wanted to re ally make a difference [in the legal industry], I was going to have to try it on my own," Colvin says.
Named Startup Calgary's Alumni Choice for 2020, Goodlawyer is a legal marketplace connecting Canadian businesses, startups and entrepreneurs with specialized lawyers. Colvin says Goodlawyer puts an emphasis on transpar ency by including fixed upfront fees, which make legal services more affordable and accessible. "We build solutions that are faster, cheaper and fit the needs of startups, specifically," Colvin says.
Goodlawyer's first marketing campaign was a product of timing: the Goodlawyer team gave customers free legal advice on the ever-changing mandates associated with the COVID-19 pan demic with the promo code #washyourhands Goodlawyer has since expanded from just a few employees working at home to a staff of more than 25 with a downtown office. In 2021, it sold $1.2 million in legal services and is on track to sell more than $3.5 million by the end of 2022. —G.C.
PHOTO BY JARED SYCH
48 november 2022
" IF YOU WANT TO BUILD A STARTUP, YOU HAVE TO REALLY LOVE THE PROBLEM YOU'RE SOLVING. "
WHY HE'S A TOP 40 BRETT COLVIN CO-FOUNDED A TECH STARTUP THAT MAKES LEGAL SERVICES MORE ACCESSIBLE AND AFFORDABLE.
Co-founder and CEO, Goodlaywer
Age 33
BY JARED
Jonathan M. Cornish
Over nine seasons with the Calgary Stampeders, Jon Cornish (who uses they/their pronouns) broke multiple rushing records and, in 2013, was the recipient of the Lou Marsh Trophy as Canada's Top Athlete. Cornish was inducted into the Canadian Football Hall of Fame in 2019 and continues to be an ambassador for the Stampeders.
But their legacy in our city goes beyond sport. In 2019, Cornish, who works as an investment ad visor with RBC Dominion Securities, founded the Calgary Black Chambers. The non-profit organi zation addresses issues related to systemic racism and supports BIPOC (Black, Indigenous, People of Colour) young professionals and students with mentorship and career-skills training by partner ing with numerous groups and organizations. The Chambers has raised more than $150,000 and given out $75,000 in scholarships to more than 30 recipients. "I'm trying to help people build their lives [to] the place they want them to be, because I've been blessed with the opportunity to build my own life the way I want it to be," Cornish says.
The Chambers also advocates for BIPOC repre sentation on boards. "A direct result of our advo cacy work has been Alberta's first Black bencher on the Alberta Law Society," Cornish says. "The ef forts in terms of diversifying our boards in Alberta and Calgary have been very successful."
This past April, Cornish was appointed the 15th chancellor of the University of Calgary, making them the youngest-ever chancellor in Canadian university history. In the new position, they will continue to embody the Calgary Black Chambers' core values of mentorship, scholarship, fellowship and advocacy. "In this life, I've been lucky enough to have the opportunity to help many people," Cornish says. "And I see myself continuing that over the next four years as chancellor of the University of Calgary." —T.A.
avenuecalgary.com 49
" FOR ME, THE DEFINITION OF SUCCESS IS HOW MUCH YOU CAN ELEVATE THOSE AROUND YOU. "
WHY THEY'RE A TOP 40 JON CORNISH IS THE YOUNGESTEVER CHANCELLOR OF A CANADIAN UNIVERSITY AND FOUNDER OF A NONPROFIT ORGANIZATION TO SUPPORT AND UPLIFT YOUNG BIPOC PROFESSIONALS.
Chancellor of the University of Calgary and President Emeritus, Calgary Black Chambers
Age 37
PHOTO
SYCH
Amber Craig
In the initial months following the legaliza tion of cannabis in Canada, Amber Craig says customers at FOUR20 Premium Mar ket often refused branded bags, opting to hide their purchases in backpacks or pock ets. Now, four years in, the vibe has drasti cally changed. "Not only are people not ashamed to talk about cannabis use, they're proud of it," says Craig. "People will come in with their co-workers or their mom or grandma."
Craig hasn't just witnessed this change in public opinion, she's helped facilitate it. On legalization day in 2018, Craig assisted in opening FOUR20's first Calgary-based store — one of just two cannabis shops in the city at the time. Since then, she's played a major role in expanding FOUR20 to more than 30 Alberta stores, winning two Best of Calgary awards and a Hashtag Award for email marketing along the way.
While there are strict regulations around the marketing of cannabis, Craig has helped strength en the FOUR20 brand by prioritizing customer connections and partnering with Calgary institu tions. In 2019, she brought Canada's first cannabis consumption area to the Calgary Folk Music Festival. That same year, she developed and began teaching Canada's first cannabis retail marketing course at Mount Royal University.
Craig's community connection reaches beyond cannabis. As a co-founder and board member of the Breaking Free Foundation (BFF), she supports trauma survivors in Alberta. Since 2016, BFF has hosted 85 free support meetings and provided 146 therapy grants. BFF's annual Victor Walk tour raises awareness for child sexual abuse — a topic Craig covered in a 2020 children's book she authored, Victor the Frog. Profits from the sale of the book go to the foundation.
In her work with both BFF and FOUR20, Craig prioritizes real connection. "There's just immense pride when something you've worked so hard at is welcomed with open arms," she says. —N.K.
PHOTO BY JARED SYCH
50 november 2022
" THERE'S ALWAYS SOMETHING YOU CAN DO FIRST OR BETTER OR DIFFERENT. "
WHY SHE'S A TOP 40 AMBER CRAIG HAS HELPED PIONEER LEGAL CANNABIS USE IN ALBERTA, FINDING CREATIVE WAYS FOR THE INDUSTRY TO FLOURISH.
Chief Merchandising Officer, FOUR20 Age 34
PHOTO BY STEVE COLLINS
Shaun Crawford
Shaun Crawford had a career in social services when the opportunity to pursue creative work came knock ing. While working for the Calgary Drop-In Centre, he connected with the media company Mammoth XR (short for "extended reality," a term that encompasses virtual reality, augmented reality, mixed-reality and other forms of interactive media) on a client project. "I came to the conclusion that maybe the best way I could contribute to building a better world was through storytelling," Crawford says.
Crawford began freelancing with Mammoth XR in 2016, and is now the company's full-time Creative Captain, a position with duties ranging from writing to directing to producing. He has been an integral part of 360-degree videos made for National Geographic; the Sammy the Snow man interactive video-animation installation at Southcentre Mall; and a new VR game called Jordan Jones Dies in Space.
A prolific screenwriter, Crawford has also written 26 feature-length scripts. His first two produced screenplays A Miracle on Christmas Lake (2016) and Everfall (2017, co-written with John Kissack), were significant achievements on a commercial level, though what he calls his biggest creative achievement to date is his directorial debut, Here & After (2021). Made on a near-im possible shoestring budget, it follows a significant encounter of a man on a day pass from rehab and draws from Crawford's real-life experiences.
"The best thing about my job at Mammoth XR and as an independent filmmaker is having the opportunity to make a contribution to the eternal conversation," Crawford says. "That's what I talk about art as being: eternal conversation about a human experience. I get really excited about having an opportunity to play even a small part in that." — C.G.
avenuecalgary.com 51
" IF I COULD GIVE ANY ADVICE TO MY YOUNGER SELF, IT WOULD JUST BE THAT IT'S POSSIBLE. I SPENT WAY TOO MUCH OF MY LIFE NOT BELIEVING THAT I COULD DO THE THINGS THAT I'M DOING NOW. "
WHY HE'S A TOP 40 SHAUN CRAWFORD IS HELPING RAISE THE PROFILE OF CALGARY AS A FILM AND MEDIA CENTRE THROUGH HIS WORK CREATING XR CONTENT AND HIS OWN FILMMAKING PROJECTS.
Creative Captain, Mammoth XR
Age 38
Sean Crump
Sean Crump believes universal design is only the beginning of what makes a business inclusive. His firm, Included By Design, helps organizations achieve globally recognized industry standards for accessibility, which Crump has aggregated into a singular process. Those standards include automatic doors, entry ramps, and dictation or screen-reading software. Crump, a quadriplegic, says research shows that most businesses can support a unique need for an employee for less than $500. "There's a much bigger return on in vestment than I think people assume," he says.
He also shows organizations how inclusively designed operating practices can increase the number and diversity of employees and custom ers who can access their space. At his own com pany, almost half of the long-term employees are living with a disability. "For people with disabili ties, if they find a place where they're properly supported, their commitment to that place is equal to the support they're shown," he says.
Evidence of Crump's success can be seen throughout Calgary. Included By Design's client list includes major organizations such as Glenbow and WinSport, as well as businesses like Dandy Brewing Company.
Crump is also behind Krooshl, a virtual map of certified-accessible and inclusive businesses in the city vetted by Included By Design. In 2021, he launched the beta version of Krooshl and, within a few months, 50 businesses — ranging from res taurants and coffee shops to conference centres — signed on to go through the vetting process and be added to the map.
"As one of the last provinces to accept a pro vincial legislation around disability inclusion or accessibility, I think a lot of the work I've done has really helped Calgary progress forward and be more accountable to disability inclusion," he says. —T.A.
PHOTO BY STEVE COLLINS
52 november 2022 "
EQUITY HAS ALMOST BECOME OUTCOME-BASED, WHEREAS, I THINK EQUITY, REALLY, IS ABOUT OPPORTUNITY.
"
WHY HE'S A TOP 40 SEAN CRUMP MAKES CALGARY A MORE INCLUSIVE CITY BY CONNECTING PEOPLE WITH DISABILITIES WITH CERTIFIED-ACCESSIBLE BUSINESSES.
Head Chair and CEO, Included By Design
Age 37
bowmore.com A MASTERPIECE SCULPTED BY TIME. THE ART OF TIME, SINCE 1779. Bowmore® Scotch Whisky, 40% alc/vol. ©2022 Beam Suntory, Inc. Chicago, IL.
november 202254
BY JARED
Connor Curran|Dustin Paisley
Local Laundry started out in 2015 with $100 and a Google search of "how to make a T-shirt company." It has gone on to earn $1 million in annual revenues. But, for co-founders Connor Curran and Dustin Paisley, success is more than money; rather, it's about creating a purposeful product that supports the community.
As of 2020, less than five per cent of all clothing purchased in Canada is made in Canada. Curran and Paisley seek to change that by working exclu sively with domestic manufacturers and designers with high standards and regulations. That way, every penny goes back into the local economy and environmental impact is greatly reduced.
Paisley says that, due to their effective brand ing, Local Laundry is often mistaken for a "big business." Don't be fooled: with just three full-time employees, Local Laundry is small, but mighty. Along with their dedication to local production, Curran and Paisley aim to donate $1 million to local charities and community startups by 2030 through Local Laundry and personal ini tiatives. They have already contributed more than $175,000, with Curran recently raising $9,000 for Pacekids, an organization that supports children with special needs.
Beyond Local Laundry, Paisley helped launch the Trico Changemakers Studio at Mount Royal University and Curran serves on the Calgary Chamber of Commerce, as well as several other boards. Together, they spearheaded a local meet up event to help foster community and connec tion among Calgary's small-business community.
"There's no other clothing company in Canada that is our size doing as much as we are doing for the community," Paisley says.
"We're not millionaires driving fancy cars, but we built something out of nothing and turned it into a living," says Curran. "At the end of the day, it's about the legacy we're leaving behind." — K.B.
avenuecalgary.com 55
" CALGARY IS ONE OF THE GREATEST CITIES IN THE WORLD, AND I THINK IT'S PRETTY SPECIAL THAT WE GET TO RUN A BUSINESS THAT CELEBRATES THAT. " –DUSTIN PAISLEY
WHY THEY ARE TOP 40S CONNOR CURRAN AND DUSTIN PAISLEY'S SUSTAINABLE CLOTHING COMPANY AIMS TO DONATE $1 MILLION TO COMMUNITY ORGANIZATIONS BY 2030.
Co-founder and CEO (Curran); Co-founder and COO (Paisley), Local Laundry
PHOTO
SYCH Age 32 | 32
Connor Curran (standing) and Dustin Paisley.
Shannon Doram
Shannon Doram's two main motiva tors are healthy people and healthy communities. Nowhere is that confluence more apparent than at YMCA Calgary, an organization that Doram has been a key part of since 2011 and has led as president and CEO since 2017, a job she took on at the age of 33.
A sports enthusiast since childhood, Doram worked in the public-health sector after she graduated from university. "When I decided to go down the path of being in public health, my goal was fairly simple: I wanted to help people lead their best lives," she says. She yearned for an opportunity to work directly with the public in a way that would allow her to see the results of her work. When she had the chance to help open the Y at the South Health Campus in 2012, she knew she had found her dream job.
Doram has now overseen the openings of the two biggest YMCAs in the world (Shane Homes YMCA in Rocky Ridge and Brookfield Residential YMCA in Seton), all while managing 1,100 staff and 1,300 volunteers.
About 14 months after opening those bright and shiny facilities, COVID-19 hit and Doram had to manage the difficult task of temporarily closing them. Now, she is overseeing the planned revital ization of the Y's Camp Chief Hector, and working with volunteers on a fundraising campaign with a goal of $14 million. Additionally, she hosted a conference that brought together the leaders of the 70 largest YMCAs in North America, and is supporting and fundraising for humanitarian efforts in Ukraine.
"This is an organization that attracts and shows the best of Calgary," Doram says. "I get to work with great people and see them engage with the community. It restores my faith in all of our potential." — E.C.B.
PHOTO BY JARED SYCH
56 november 2022
" I THRIVE ON CHALLENGE. THE LAST FEW YEARS HAVE BEEN A RIDE, BUT I CAN'T SEE MYSELF DOING THINGS ANY OTHER WAY. "
WHY SHE'S A TOP 40 SHANNON DORAM RUNS ONE OF THE CITY'S BIGGEST CHARITABLE ORGANIZATIONS, HELPING CALGARIANS ACHIEVE THE BEST VERSIONS OF THEMSELVES.
President and CEO, YMCA Calgary
Age 38
BY STEVE COLLINS
Sam Effah
Sam Effah's dad used to say that if success was easy then everybody would do it. "He always talked about the hard work it took to get there," Effah says.
The born-and-bred Calgarian took that advice to heart in his athletic ca reer and later, as a marketing profes sional and volunteer. Able to cross the 100-metre finish line in 10.06 seconds on his better days, and competing against the likes of the legendary Usain Bolt, Effah proudly represented Canada at three World Athletics Championships, two Common wealth Games and, in 2021, was inducted into the Canada West Hall of Fame. He also gained nation wide celebrity in 2019 competing on The Amazing Race Canada, coming in second place.
When he speaks to youth in his work with Right to Play and Classroom Champions, though, Effah often highlights the lows, like the race in 2014 where a broken starting block resulted in major labral tears in both hips and surgery on the left. "Success isn't just about making it to the finish line," he says. "It's also being able to rise from an unfavourable situation, to be resilient."
Effah has gone from representing Canada on the track to representing Canada as Co-Chef de Mission of the 2022 Commonwealth Games, held this past summer. He also helps identify future Olympians through the RBC Training Ground program, which provides resources to help prom ising contenders reach their podium dreams. He continues to hone his skills as a public speaker for people of all ages on topics such as his personal experiences as an African living in Canada.
Whatever he's doing, the sage advice of his father — a proud Canadian citizen originally from Ghana and Effah's first, best coach — is always there. "Winning is more than just winning," he says. "It's about using your platform to create tan gible, positive change in your community." —V.F.
avenuecalgary.com 57
" I FIND THE MOST INSPIRING PEOPLE ARE THOSE WHO HAVE BEEN ABLE TO RISE UP FROM UNFAVOURABLE SITUATIONS. "
WHY HE'S A TOP 40 TWICE CROWNED CANADA'S FASTEST MAN, SAM EFFAH HAS GONE ON TO REPRESENT OUR COUNTRY ON THE GLOBAL STAGE AS CO-CHEF DE MISSION OF THE 2022 COMMONWEALTH GAMES.
Manager, Brand Marketing, Sponsorship and Brand Strategy,
RBC Age 34
PHOTO
CONGR TUL TIONS
TOP 40 UNDER 40
From the Top 750 Under 20.
What you call Top 40 under 40, we call Imaginal Leaders. Imaginal Leaders see, learn from, and create the future. They are the artists, innovators, researchers, inventors and outliers who transform their world.
At Master's Academy & College, we prepare our students to become Imaginal Leaders and change the world.
Congratulations Top 40 Under 40–the world needs more people like you ... And we're up to the challenge!
www.masters.ab.ca ADVERTISEMENT
BY JARED SYCH
Jessie Fiddler-Kiss
Through strong ties to her Métis lineage, Jessie Fiddler-Kiss has long felt the call to serve her com munity. "I know where my family comes from and what they've been through," she says. "To be in a space to give back feels right. It feels necessary."
This outlook informs The Moss Bag Project (TMBP), a non-profit organization Fiddler-Kiss founded in 2014. TMBP provides support for Indigenous mothers and Two-Spirit parents by focusing on community love, reciprocity, birthing and child-rearing education; and the creation of moss bags (waspisonak in Cree), a way of physi cally wrapping up babies and sharing teachings.
The idea to start TMBP solidified when her own father passed away around the time Fiddler-Kiss welcomed her second baby. "All of these aunties came out to support me [after my dad's death], and they gave me a moss bag," she says. "I just re member thinking that all Indigenous parents and aunties should have this … a safe space to focus on loving their children and healing."
Fiddler-Kiss says her work balances two paradigms that don't always align. "[With TMBP], we're trying to centre Indigenous teachings while decolonizing charity and community work," she says. "We don't always check the right boxes according to colonial systems of approval, which means funding organizations don't always recog nize the work that we do."
Despite this challenge, TMBP continues to raise money for scholarships (five have been awarded to Indigenous parents to date); make, sell and gift hundreds of moss bags to Indigenous families; and share moss bag teachings in order to reclaim traditional parenting skills. "Birth is a beautiful place to begin healing," says Fiddler-Kiss. "There's a postpartum openness, so, if you provide support at that time, it can have a great effect on healing communities." —C.S.
39
avenuecalgary.com 59
" THE WAY OUR GROUP GATHERS IS ALWAYS IN HUMILITY AND RECIPROCITY. IT'S NOT TRANSACTIONAL. WE'RE TRYING TO CREATE A DIFFERENT KIND OF SPACE. "
WHY SHE'S A TOP 40 JESSIE FIDDLER-KISS FOUNDED A NONPROFIT ORGANIZATION TO SUPPORT INDIGENOUS MOTHERS AND TWO-SPIRIT PARENTS WITH HEALTH AND HEALING.
Indigenous
Education and Organizational Consultant; Founder, The Moss Bag Project Age
PHOTO
Kenneth Fuh
By 5:30 a.m., Kenneth Fuh is often awake, trying to catch colleagues in Europe before their day ends. It's all part of his dream to bring Syantra DX, a made-in-Calgary blood test to detect breast cancer, to women around the world.
His philosophy? "If you're deter mined, you can do it," he says.
Fuh grew up in Cameroon. When he was 21, he won a prestigious Commonwealth Scholarship to do his master's degree in biotechnology at the University of Manchester — an experience he describes as the biggest challenge of his life. After graduating, he came to Canada to do his PhD, focusing on the molecular mechanisms of breastcancer progression.
His research helped lead to the development of Syantra DX, an assay that uses a unique set of biomarkers to detect breast cancer from a blood sample. "This test represents a major innovation in breast cancer detection," Fuh says. The tool can pick up breast cancer at an early stage when it may be easier to treat. It may be especially helpful for younger women who are not recommended for screening, but account for 18 per cent of breast cancer diagnoses.
Syantra DX is currently available to patients across Canada, and Fuh and colleagues are working toward making it available to patients in Europe. Getting the test to patients is only one goal. Eventually, he hopes that his work will help identify drug targets for difficult-to-treat breast cancers. Beyond that, he believes the company will be able to offer similar testing for other can cers. "If we could put all these together within the next five years, I would be very happy," he says.
But there's more to his day than work, and that's the secret ingredient. "When I get home, I shut everything down and spend time with my family," he says. —C.F.
PHOTO BY JARED SYCH
60 november 2022
" I HAVE A SINCERE DEDICATION TO HARD WORK. "
WHY HE'S A TOP 40 KENNETH FUH'S PHD RESEARCH HELPED DEVELOP A NEW BLOOD TEST TO DETECT BREAST CANCER. NOW, HE AIMS TO BRING THE TEST TO PATIENTS AROUND THE WORLD.
Co-founder
and
Director
of Product Development, Syantra Inc. Age 34
Jiami Guo
ebel probably isn't the description you'd expect for an accomplished cell biologist. But it's fitting for Jiami Guo. "I don't like to be told what to do," she says.
This scientist with a specialty in cilia — tiny antennae-like structures in most cells — was a self-described "mediocre student" throughout her high school and university degrees in China. She struggled
to get a scholarship to study in North America, but lucked out when another student passed up a spot at Ohio's Kent State University. Guo went on to complete her PhD at Kent State. She didn't have a single publication during that time, but an advisor in North Carolina took her on as a postdoctoral fellow — a move that changed her life.
Guo has always been inspired by her father, a writer in China. He encouraged her to remain an independent thinker. "I'm very curious. I want to constantly explore the unknown things," she says.
That's how she ended up in an emerging field: Cilia used to be considered evolutionary rem nants of little significance, but, in the last decade, scientists learned that mutations in cilia-related genes lead to serious disorders. Guo, who moved
to Calgary four years ago, discovered that cilia instruct the development and connection of net works in the brain, suggesting that cilia play a role in neurological disorders.
Her work has attracted more than $3.5 million in grants, and, in 2020, she was the first person in Canada to receive the New York Stem Cell Foundation's prestigious Robertson Neuroscience Investigator Award, a program that identifies and supports promising early career scientists whose cutting-edge research shows potential for treat ments and cures. Guo has now co-authored 12 publications in major journals, including four that significantly advanced understanding of cilia.
"For things that I love, I pour 100 per cent of myself into it," she says. —C.F.
avenuecalgary.com 61 PHOTO BY STEVE COLLINS
INTRO TKTK IS AN AWARD-WINNING DIVERSITY, EQUITY AND INCLUSION STRATEGIST AND FOUNDER OF SHEMEETS, A WOMEN-OF-COLOUR ENTREPRENEURSHIP RESOURCE GROUP TKTK.
Assistant Professor of Cell Biology and Anatomy, University of Calgary; and NYSCF - Robertson Investigator
Age 39
R
WHY SHE'S A TOP 40 JIAMI GUO'S RESEARCH INTO THE ROLE OF CILIA IN BRAIN DEVELOPMENT HAS EARNED INTERNATIONAL ACCLAIM FROM THE NEW YORK STEM CELL FOUNDATION.
" I'M A
VERY CURIOUS PERSON.
I
NEED TO FEEL
CHALLENGED. "
Karl Hirzer
If you're not convinced classical music is exciting, catch a show conducted by Karl Hirzer. The associate conductor for the Calgary Philharmonic Orchestra shares his passion for music with audiences of all ages. "The variety of sound worlds and the dramatic narrative that you can weave with orchestral music is amazing," he says.
Hirzer moved to Calgary in 2016 to take on the role of Calgary Phil's resident conductor and was promoted to associate conductor in 2018. He has since led more than 150 performances in Calgary and performed as a guest conductor with orches tras across the country and internationally.
In addition to his performance work, Hirzer is actively involved in the PhilKids education and outreach programs, leading the Education Series concerts, where elementary students are bused to Jack Singer Concert Hall. "Kids often have no preconceived notion of what kind of experi ence they're going to have," he says. "There's an opportunity for them to be completely shocked. You can feel that reaction when you're performing for a roomful of elementary school kids. You can feel them all listening super-intently because the music has grabbed their attention."
When the COVID-19 pandemic prevented inperson events, Hirzer spearheaded a web series called An Orchestra Adventure (with Maestro Karl and Friends). Since 2020, the series has amassed over 100,000 views on YouTube and was recently picked up by PBS and several school districts in the U.S.
To Hirzer, live music is more than just a form of entertainment — it is a means of connection.
"Music can be understood by anyone, regard less of what language they speak, what age they are or where they come from," he says. "Music has an incredible and extremely mysterious way of reaching straight into your soul, and I really do feel like we're all in it together." —K.B.
PHOTO BY JARED SYCH
62 november 2022
WHY HE'S A TOP 40 UNDER 40 ALONG WITH CONDUCTING A MAJOR NORTH AMERICAN METROPOLITAN ORCHESTRA, KARL HIRZER IS COMMITTED TO FOSTERING EDUCATION AND OUTREACH INITIATIVES FOR YOUTH.
Associate Conductor, Calgary Philharmonic Orchestra
Age 33
" I ALWAYS WANTED TO BE A CONDUCTOR. I CAN'T REMEMBER A TIME WHEN I DIDN'T THINK THAT WOULD BE COOL. "
avenuecalgary.com 63 AMBER CRAIG THE ENTIRE FOUR20 FAMILY CONGRATULATES AMBER FOR ACHIEVING TOP 40 UNDER 40. WE ARE SO PROUD OF YOU! redpointmedia.ca RedPoint Media connects communities and engages audiences through trusted storytelling. Your passion inspires ours. Talk to us today to take your message further. CONNECT THE THOUGHTS Get Made in Alberta Award-winning treats UPROOTFOODSTORE.CA delivered to your door by Uproot Food Collective
Since February 2022, more than 20,000 infants in Alberta have been screened for spinal muscular atro phy (SMA). This is thanks to Jessica Janzen Olstad, who once swore that no family would endure what hers went through with her son, Lewiston. "I don't want a mother to have to sit holding her baby wondering, 'Is this your last breath?,'" she says.
Lewiston was born in May 2016. Two months later, he fell sick. His mother was convinced he had SMA, a rare disorder that can lead to muscle weakness, motor delays and death. But it took two and a half months to get Lewiston tested. By the time his positive results came back, he had de teriorated beyond the point of survival. Lewiston died just before his six-month milestone.
His parents felt that, if he'd been tested earlier, he would have had earlier access to treatment and might still be alive. Janzen Olstad, with her hus band, Ronnie Olstad, poured her heartbreak into raising awareness and funds through the Love for Lewiston Foundation. The foundation has raised nearly $2 million to support families with SMA.
Janzen Olstad also advocated with the province for SMA testing to be included as part of standard screening for newborns. "This was a no-brainer. It's already being done in other countries. It's not like we're trying to build a rocket ship," she says. The newborn screening program launched last winter, supported in part by $270,000 from the Love for Lewiston Foundation.
A mother of three children ("two earth-side, one up in heaven"), Janzen Olstad works as a speaker and executive coach, encouraging people to find joy, even in difficult circumstances. In 2020, she wrote a book, Bring The Joy, which is available in bookstores and online. "I've learned that you can be mad and that's okay. You can healthily channel that energy into rocket fuel to continue to create change," she says. —C.F.
Janzen Olstad
JARED
november 202264 "
GET CURIOUS. BE KIND. DO THE HARD WORK AND STAY CONSISTENT.
"
WHY SHE'S A TOP 40 JESSICA JANZEN OLSTAD IS HELPING FAMILIES AFFECTED BY SPINAL MUSCULAR ATROPHY BY ADVOCATING FOR STANDARD SCREENINGS FOR NEWBORNS.
Executive Director, Love for Lewiston Foundation Age 38Jessica
PHOTO BY
SYCH
Alex Kingcott
The first encounter with show busi ness Alex Kingcott had was at her parents' floral shop. "Mr. Dressup came in to buy balloons," she re calls, "and I nearly lost my mind."
As a child, she briefly aspired to a life on stage, but the Broadway show tunes-fanatic eventually found her place behind the scenes. "It came as a revelation that I could be devoted to the theatre community, but I didn't have to be on stage to do it," she says.
With a portfolio that includes the Calgary Expo, Broadway Across Canada, Wordfest, High Performance Rodeo and Calgary Opera, Kingcott has, in less than a decade, established her PR firm Shareworthy as the go-to for telling the stories of Alberta's arts and culture sector.
Helping her clients craft their community engagement and communications strategies, then bring those plans to fruition (she also advocates for artists and arts organizations) requires a mix of solid business skill and creativity. That's something Kingcott displayed when the CO VID-19 pandemic hit in spring of 2020. She not only helped her panicked clients pivot; many even managed to thrive, such as Wordfest, which increased its online audience by 60 per cent through its Imagine on Air program.
Kingcott keeps busy in her spare time volun teering with organizations such as the Calgary Stampede and the Immigrant Council for Arts Innovation.
While these days she's rubbing shoulders with Comic Expo guests like William Shatner, it's clear her childhood encounter with the late Ernie Coombs (a.k.a. Mr. Dressup), a protégé of Fred Rogers, who counted kindness and humility as life's most important values — left an indelible impression. "If you do good work and you're a kind person, people will notice the spark," says Kingcott. "And they'll want to fan it." —V.F.
avenuecalgary.com 65
" THERE IS SERIOUS VALUE IN ACKNOWLEDGING THE JOYS OF HUMANITY, AND THE WORK OF ARTISTS. "
WHY SHE'S A TOP 40 ALEX KINGCOTT HELPS MAJOR CULTURAL ORGANIZATIONS TELL THEIR UNIQUE STORIES AND BUILD AUTHENTIC RELATIONSHIPS WITH THEIR AUDIENCES.
Founder and President, Shareworthy PR and Communications Age 34
PHOTO BY JARED SYCH
Kerry Black, P.Eng., PhD.,
your achievement as a
40 award recipient!
As assistant professor with the Department of Civil Engineering at the University of Calgary, Kerry is dedicated to developing innovative, clean-water solutions for communities.
The Association of Professional Engineers and Geoscientists of Alberta has regulated the practices of engineering and geoscience in our province for more than a century.
As the largest association of self-regulated professionals in Western Canada, our members work in diverse industries, contributing significantly to Alberta's economic success and enhancing the quality of life Albertans enjoy.
Together, we are driving Alberta forward through courage and innovation.
CONGRATULATIONS apega.ca
on
Top 40 Under
Evan Legate
in 2015, Evan Legate was a healthy 27-yearold who didn't know anything about epilepsy. Then he began having seizures. He was diagnosed with epilepsy that year — the same week his son was born — and suddenly found himself coping with a brain disorder and a newborn. It was a lot, and he was terrified. Doctors helped manage the medical side of his epilepsy, but social supports for the new father and his family were scarce.
Now, he's board chair of the Epilepsy Associa tion of Calgary (EAC), leading an aggressive, fiveyear revitalization plan. His goal is to make sure that the 30,000 southern Albertans of all ages and demographics living with epilepsy have access to community support.
To hit that goal, Legate grew the EAC board and re-staffed. The expanded team introduced and re vived programs, including multi-week sessions to help newly diagnosed epileptics adjust to life with active seizures, sessions addressing depression and mental wellness, and programs that teach coping methods for cognitive issues like memory and attention. Group and one-on-one peer sup ports were brought back, as were programs for parents and spouses. The EAC embedded itself
with the Calgary Comprehensive Epilepsy Pro gram making it easier for medical professionals to refer their patients for social supports.
Tapping into the skills he applies to his day job as partner at Longview Communications & Public Affairs, Legate is engaged in ongoing lob bying efforts to secure funding from the Alberta government for the EAC to provide increased community supports and education, and launch ing awareness campaigns to reduce the stigma associated with epilepsy. In 2022, the EAC held its inaugural Purple Day by Night Gala, which raised $40,000.
"Our goal is to become the leading epilepsy association in Canada and we're well on our way to getting there," Legate says. —J.M.
avenuecalgary.com 67 PHOTO BY JARED SYCH
INTRO TKTK IS AN AWARD-WINNING DIVERSITY, EQUITY AND INCLUSION STRATEGIST AND FOUNDER OF SHEMEETS, A WOMEN-OF-COLOUR ENTREPRENEURSHIP RESOURCE GROUP TKTK.
Board Chair, Epilepsy Association of Calgary; Partner, Longview Communications & Public Affairs Age 34
WHY HE'S A TOP 40 EVAN LEGATE LED THE REVITALIZATION OF THE EPILEPSY ASSOCIATION OF CALGARY TO PROVIDE SERVICES FOR MORE THAN 30,000 ALBERTANS.
" I HAD GREAT HEALTH CARE, BUT I FELL THROUGH THE CRACKS ON THE SOCIAL SERVICES SIDE. MY GOAL IS FOR NO ONE TO FALL THROUGH THE CRACKS. "
David Leinster
David Leinster's grandmother in stilled in him an appreciation for the visual arts and the value of living a creative life. As CEO of Contempo rary Calgary, Leinster combines his Nana's teachings with his experience in the world of branding and adver tising to run one of the city's premier arts facilities.
Leinster utilizes his business and marketing skills in overseeing almost every aspect of the gallery. He admits leaving corporate life — he was previously manager, enterprise brand and creative services at Enbridge — to work in the arts was a big risk. "I remember being really intrigued and excited and also absolutely terrified … I felt like that discomfort was something that needed to be leaned into," he says.
His history with the gallery extends to its formative years: an Enbridge colleague, who was Chair of the Institute of Modern and Contempo rary Art, was galvanizing support from other arts organizations and individuals to create a joint re sponse to the City's Expression of Interest process for the former Centennial Planetarium building. Leinster volunteered to be the project manager for the submission, which was ultimately success ful. In 2018, Contemporary Calgary reached an agreement with the City to lease the building and opened officially in January 2020.
Contemporary Calgary has since hosted shows by international art stars like Yoko Ono and Omar Ba, building an audience of more than 2,000 annual membership holders. Leinster has been a fundraising machine, securing a $30-million com mitment from the federal government and drum ming up private money through the annual LOOK Gala, one of the hottest social tickets in town.
"This building has always served the people of Calgary as a place they go to be inspired," he says. "I feel like we've given something that was lost back to the city." —E.C.B.
39
PHOTO BY JARED SYCH
68 november 2022
" MANY PEOPLE IN THE COMMUNITY HAVE HAD A VISION FOR THIS GALLERY FOR A LONG TIME. IT'S MY PRIVILEGE TO BE ONE OF THE PEOPLE THAT HELPED SEE IT THROUGH. "
WHY HE'S A TOP 40 DAVID LEINSTER HELPED TRANSFORM AN ICONIC CALGARY LANDMARK INTO A PLACE WHERE EVERYONE CAN ENJOY THE WONDERS OF CONTEMPORARY ART.
CEO, Contemporary Calgary
Age
BY STEVE COLLINS
Brendan MacArthur-Stevens
In his formative years, Brendan MacArthurStevens watched landmark legal decisions for LGBTQ2S+ people unfold. Same-sex couples gained the right to get married, adopt and have visitation rights with hos pitalized partners. Behind each of those cases was a lawyer, fighting for justice.
Today, MacArthur-Stevens is that law yer. When he isn't resolving legal disputes for cli ents like WestJet or Canadian Pacific Railway, he's taking on pro bono cases for queer organizations in Alberta. In 2018, when a faith-based group of schools challenged the Province's protections for gay-straight alliances (GSAs), MacArthur-Stevens assisted the Centre for Sexuality with compiling and submitting evidence that GSAs are pivotal to the well-being of LGBTQ2S+ youth. Both the Court of Queen's Bench and the Court of Appeal sided with their position.
A member of the gay community, MacArthurStevens says there is a personal aspect to his pro bono work that makes it both challenging and rewarding. He is a co-founder of the Calgary Trans Legal Clinic, in partnership with Skipping Stone and the University of Calgary, which has helped more than 500 transgender and genderdiverse individuals with issues such as changing their names and gender markers on identification documents. Recently, the clinic has begun assist ing clients with legal advice on issues pertaining to employment, family law and human rights.
MacArthur-Stevens plays a pivotal role in mak ing his own workplace more inclusive, too. Since 2016, he has organized more than 100 employees at his firm to march in the Calgary Pride parade, and he is a current executive member of an ally ship network to provide guidance and mentorship to junior associates. "I have benefited so much from allyship — my straight colleagues being there for me to make sure I can succeed," he says. "I feel compelled to pay that forward to other members of the LGBTQ community." — A.M.
avenuecalgary.com 69
" IT'S IMPORTANT THAT THE RIGHTS AND INTERESTS OF MINORITY POPULATIONS LIKE LGBTQ YOUTH ARE GIVEN A VOICE IN LEGAL PROCEEDINGS THAT WILL OFTEN OVERLOOK THEM UNLESS SOMEONE IS THERE TO SPEAK UP. "
WHY HE'S A TOP 40 BRENDAN MACARTHUR-STEVENS ADVOCATES FOR INCLUSIVITY IN THE LEGAL PROFESSION, FIGHTING FOR THE RIGHTS OF LGBTQ2S+ PEOPLE IN COURT.
Litigation
and Dispute Resolution Associate,
Blake, Cassels
&
Graydon
LLP Age 33
PHOTO
Madeleine MacDonald
Anegroni on a cocktail menu might not raise eyebrows these days, but, when Madeleine MacDonald first joined the hospitality industry in Calgary nearly two decades ago, it was a novelty. After getting her start mixing cocktails at Model Milk, MacDonald helped open two other Concorde Group spots: Pigeonhole and Model Citizen. She has also created cocktail menus for Calcutta Cricket Club and the recently reopened Plaza Theatre in Kensington.
MacDonald learned bartending through a mix of mentorship, personal study (she was the only Canadian to be accepted into the Drink Factory Summer Stade Program in London, England) and by trusting her gut. "I really love working with gin and bourbon, but I have been known to dabble in more of a savoury, weird vegetal area," she says.
As an instructor at SAIT's School of Hospitality and Tourism, she helped overhaul the Hospitality and Tourism Management Diploma and designed the school's new beverage lab.
MacDonald is also working toward making the hospitality industry safer and more inclusive. In 2017, she partnered with the Centre for Sexual ity in Calgary to host a workshop on address ing sexual harassment within the industry. She brought that same training to her SAIT students this year. MacDonald further worked to empower women in the industry by hosting an all-female speed bartending competition in Alberta that raised more than $10,000 for breast cancer chari ties over two years. During the pandemic, through the national Bartenders Benevolent Fund, she helped fundraise and administer nearly $120,000 to service workers from Alberta, Saskatchewan and Manitoba, whose labour was impacted by restaurant closures.
As for her favourite cocktail to make these days? Fittingly, it's "The Last Word." —J.D.
70 november 2022
" MY BIGGEST ADVICE, 100 PER CENT, IS JUST TO BE KIND...IT'S SUCH AN UNDERVALUED THING. "
WHY SHE'S A TOP 40 MADELEINE MACDONALD HAS BEEN A KEY FIGURE IN EVOLVING CALGARY'S COCKTAIL CULTURE AND NOW TEACHES THE NEXT GENERATION OF MIXOLOGISTS HOW TO STIR UP THE INDUSTRY.
Instructor,
School of Hospitality and Tourism,
SAIT
Polytechnic
Age 33
PHOTO BY STEVE COLLINS
BY STEVE COLLINS
Maximilian Michalowski
At the age of 23, Max Michalowski had completed four years and eight months in the Canadian military, where he gained expertise as a Naval diver and weapons techni cian and was a recipient of a Bravo Zulu award. Fast-forward 10 years, and the gregarious Calgarian is now a major force in the fast-growing cannabismanufacturing industry.
Divergent might be an understatement in describing those career paths, but Michalowski sees many similarities. "Leadership was my No. 1 lesson [in the military] along with always taking responsibility," he says. "I also learned a lot about the importance of camaraderie in the workplace."
Those lessons have served Michalowski well as an entrepreneur. At the age of 25, he entered the natural health and wellness field, the busi ness of his Polish immigrant father, and helped grocery titans Safeway and Sobeys greatly expand their product offerings. The initiative helped the grocery chains, in a short time, increase sales of health and wellness products by $350 million.
Along with starting two other companies, in 2018, Michalowski and two partners formed Emprise Canada. The company has two fully licensed micro-processing facilities with more than 60 federally approved products that provide both medical and recreational cannabis across the country.
A proud Calgarian, Michalowski gives back to the local community through membership in the Rotary Club of Calgary Centennial. Though he realized early on that a decades-long career in the hierarchical military didn't suit his driven, entrepreneurial spirit, he has no regrets about the years he spent in the service.
"My military time taught me that you have to show up every day," he says. "If you don't, no one's going to show up for you." — V.F.
avenuecalgary.com 71
" BEING BROUGHT UP IN AN IMMIGRANT FAMILY, I WATCHED MY FATHER WORK DAY AND NIGHT. IT'S IN MY BLOOD TO JUST DO EVERYTHING THE BEST I CAN. "
WHY HE'S A TOP 40 ENTREPRENEUR MAX MICHALOWSKI FIRST MADE WAVES IN CANADA'S HEALTH AND WELLNESS RETAIL SECTOR AND IS NOW A DRIVING FORCE IN CANNABIS MANUFACTURING.
Co-Founder,
Vice President, Emprise Canada
Age 32
PHOTO
Sabrina Mueller
Sabrina Mueller will apply for a halfmillion-dollar grant in the morning and fix an old toilet in the afternoon. Just another day in the life of the production and operations manager of Pumphouse Theatres Society, where Mueller, who joined the orga nization in 2009 and has been in her current role since 2019, wears many hats, from managing the society's finances to working with clients to bring their shows to fruition.
The live-performance arts sector was hit hard during the pandemic. Even so, Mueller was able to turn Pumphouse's multi-year deficits into regu lar surpluses while still maintaining affordable costs for users and patrons.
From 2020 to 2021, while Pumphouse was un able to operate 90 per cent of its typical revenuegenerating activities, Mueller focused on running the educational programs for kids, while applying for as many grants as possible. Her efforts paid off.
"I'm either really good at grant writing, or they feel really bad for us," she says, laughing. Thanks to her ability to leave no stone unturned, she secured enough funding to overcome the deficit and reintroduced the Pumphouse Theatre Festival Season. "Everyone deserves exposure to arts, culture and theatre," Mueller says. "That's how we grow as a society. That's how we tell our stories. And, if we don't keep it going and keep it afford able, those opportunities are going to be lost."
Going forward, Mueller hopes to maintain the momentum she has established with the help and hard work of the Pumphouse team. But, no matter what happens, she knows that just being able to keep the doors open is an important accomplish ment. "Success isn't always meeting your goals," she says. "It's making sure the communities you're serving are happy with what you've given them." —K.B.
PHOTO BY JARED SYCH
72 november 2022
" I'M A VERY HANDS-ON PERSON WHO LIKES TO LOOK WAY BEYOND THE NUMBERS AND THE PAPERWORK. "
WHY SHE'S A TOP 40 IN HER TIME MANAGING PUMPHOUSE THEATRES SOCIETY, SABRINA MUELLER DID AWAY WITH THE ORGANIZATION'S FINANCIAL DEFICIT AND CONTINUES TO MAKE LIVE THEATRE AFFORDABLE AND ACCESSIBLE.
Production and Operations
Manager,
Pumphouse Theatres Society Age 37
JP Pedhirney
BY JARED SYCH
Restaurants can be famously dramatic workplaces, full of big personalities, creative tensions and more than a bit of ego. As VP of Culinary Opera tions for the Concorde Entertain ment Group, JP Pedhirney is the visionary force guiding some of the city's best restaurants and is working to create a healthier restaurant culture for his staff.
Anyone who has sat down at any one of Concorde's more than 20 locations — be it Major Tom, Surfy Surfy Bar, or the new Barbarella Bar in Stephen Avenue Place — has had a literal taste of Pedhirney's work. He joined Concorde in 2015 and quickly became the executive chef at Bridgette Bar, taking Concorde's top chef job in 2020 to oversee restaurant and menu develop ment. Not only have the latest crop of Concorde restaurants topped local and national best-of lists — most significantly Major Tom's Best New Res taurant and 12th Best Overall Restaurant honours in this year's Canada's 100 Best rankings — but Pedhirney and his team have mastered the art of both understanding and challenging Calgarians' palates, with the company's revenues growing significantly since he signed on.
"We like to stay very approachable, trying not to cross into something customers don't under stand," Pedhirney says.
A big part of his job has been nurturing chefs who work their way up to running new restau rants within the company, or taking on leadership positions as culinary directors. Pedhirney doesn't get much of a chance to actually cook in the restaurants these days (something he does miss), but it's even more rewarding to see his staff create delicious things. "It is important for me not to take all of the credit for the work that has been done" he says. "My role is about being able to lead and inspire others to become more than what they think they're even capable of." —E.C.B.
avenuecalgary.com 73
" AS LONG AS PEOPLE ARE GROWING AND ABLE TO HAVE FAMILIES AND HAVE A GOOD CAREER THROUGH CONCORDE, I'M HAPPY TO DO WHAT I'M DOING. "
WHY HE'S A TOP 40 OVERSEEING OVER A DOZEN OF CALGARY'S MOST CELEBRATED RESTAURANTS, CHEF JP PEDHIRNEY IS HELPING TURN CALGARY INTO A MAJOR DINING DESTINATION.
VP Culinary Operations/Corporate Executive Chef, Concorde Entertainment Group Age 38
PHOTO
Ali Pormohammad
In 2019, Ali Pormohammad, a microbiolo gist by training, was living in a basement apartment in Calgary, worrying about how to make ends meet. He was working in a restaurant at night and volunteering in a lab during the day. His post-doc funding was frozen; his visa was running out. Friends in Iran encouraged him to return home, where he would inherit his family's restaurant. "But I came here to do science," he'd tell them.
He sent more than 300 emails to academics across Canada, hoping someone would give him a chance. Then, R. J. Turner, one of the global lead ers in metal-based antimicrobials at the Universi ty of Calgary, opened the door to Pormohammad, and it has been full speed ahead ever since.
Pormohammad developed a novel antimicro bial that has been shown to increase effectiveness but decrease side effects, compared to current antibiotics. This work led to more than 50 publica tions in prestigious journals, numerous awards for excellence in research, and much-needed fund ing and scholarships.
This year, Pormohammad and colleagues formed MHCombiotic Inc. to bring antibacterial and antibiofilm products to health-care, veteri nary and agriculture industries. He hopes their materials will make a difference in a world where antimicrobial resistance is a growing problem. Drug-resistant infections were directly responsi ble for 1.27 million deaths worldwide in 2019 and associated with another 5 million deaths that year.
Pormohammad is looking to secure more fund ing to continue his research and to grow the com pany into a global leader in antibiotics. He hopes to accomplish this from Calgary. He credits his friends, colleagues and mentors for helping him through tough times. "If you have good people around you, they're going to give you motivation and support you to grow," he says. These days, he lives by a lesson he learned in the toughest days of 2019: "Never lose your hope." — C.F.
BY JARED SYCH
" IF YOU WANT TO HAVE REALLY BIG GOALS, YOU HAVE TO TAKE A RISK. "
WHY HE'S A TOP 40 ALI PORMOHAMMAD DEVELOPED A NOVEL ANTIMICROBIAL, AND HE'S ON HIS WAY TO BRINGING NEW PRODUCTS TO MARKET.
President and CEO, MHCombiotic Inc.; Medical Microbiologist and Postdoctoral Research Fellow, UCalgary Age 33
PHOTO
november 202274
PROGRAMS & RENTALS
outdoor-centre.ucalgary.ca
REIMAGINE WHAT IT MEANS TO GO BACK TO SCHOOL.
SAIT
SAIT
avenuecalgary.com 75
congratulates its alumni being recognized on this year's Top 40 list, including Amber Craig, Gursh Bal, Kai Fahrion, Iman Bukhari, JP Pedhirney and Madeleine MacDonald.
has a history of creating the future for over 100 years. We challenge tradition with the power of applied research, work-integrated learning and hands-on education to reimagine the world of work. Our focus on tech will continue to drive new industries and shape the future economy. It's why our students learn a better way and graduate career-ready with in-demand skills — and why our alumni go on to lead change. LEARN A BETTER WAY. sait.ca/LearnBetter Get out and enjoy the snow.
Robert Price
As the founder and CEO of B0de, Robert Price is modernizing the real estate industry and changing how people buy and sell housing across Canada.
The born-and-raised Calgarian says he was always driven to start his own company and find in novative ways to solve problems. In late 2019, he founded Bode, a fully online marketplace where buyers can buy, sell and list real estate. The plat form includes access to housing research, listings, marketing, viewings and transferring of titles, all in one digital space. "All the innovation that's hap pened [in real estate] has created selling services or technologies for agents, but nobody focuses on the customer," Price says. "It's really building and modernizing and creating a simple and easy process for people that want to take control."
Bode is currently pending approval as a certi fied B Corp — a global designation that identifies corporations dedicated to creating an inclusive, equitable and regenerative economy. Since its inception, Bode has created 400 real estate transactions representing more than $175 million of property. Home listings sell for 1.3 per cent more, while users can save almost 50 per cent on realtor commission. Between 2020 and 2021, the platform added more than 8,300 customers, representing 500 per cent growth.
Prior to Bode, Price was part of the team that led the growth organization of the international fibre-optics company Axia FibreNet to $1.5 bil lion, while introducing Canada's first true gigabit services to communities across Alberta. He was also a ground-floor investor in local startup suc cess story Symend, and continues to serve as an advisor to co-founder and CEO Hanif Joshaghani.
"Success is really about relationships," Price says. "Making the world a better place is a big pursuit, but it really is about who you surround yourself with and what relationships you have with other people." — M.R.
PHOTO BY JARED SYCH
76 november 2022
" THE BEST THING IS LEAVING A LEGACY, MAKING THIS PART OF PEOPLE'S LIVES, THEIR EXPERIENCE AND LIVELIHOOD, BETTER. "
WHY HE'S A TOP 40 ROBERT PRICE FOUNDED A FULLY ONLINE REAL ESTATE MARKETPLACE, CHANGING HOW WE BUY AND SELL HOMES.
Founder and CEO, Bōde Age 37
Jordan Raugust
BY STEVE COLLINS
Physiatry is a specialty that few physicians go into and few patients understand. So, Jordan Raugust has his job description stencilled on the wall at Kinesis Medical Centre for all to see: a nerve, muscle and bone expert who treats injuries or illnesses that affect how you move. "We often see patients at their lowest and then we get to help them find a way out," Raugust explains.
Kinesis Medical Centre is Calgary's first groupbased physiatry clinic. Raugust started out in practice with his close friend and fellow physician Vishal Tulsi in 2015. They were astonished by the need. They brought in three other doctors and, together, launched Kinesis Medical Centre the fol lowing year. Over the past six years, physicians at Kinesis have cared for more than 50,000 patients. With 23 examination rooms, the clinic is currently the largest of its kind in Canada.
Raugust works closely with physiotherapists and other health providers to develop personal ized plans so patients can improve their function and quality of life. Most of the patients at Kinesis Medical Centre have complex conditions that affect the brain, nerves, muscles and joints. "We help patients make the most of their lives, despite their illness or injury," Raugust says.
"I try to approach things with a lot of joy, and I hope that's contagious."
A married father of three, Raugust is passionate about movement — whether it's running over the trails on Nose Hill Park with a friend or encourag ing his patients to take another step. He was in spired to go into physiatry by his younger brother, who has a developmental disability. People often failed to recognize what his brother could accom plish, and Raugust set out to change that.
"I've always thought that we need to do a better job as a society at helping people maximize their potential," he says. — C.F.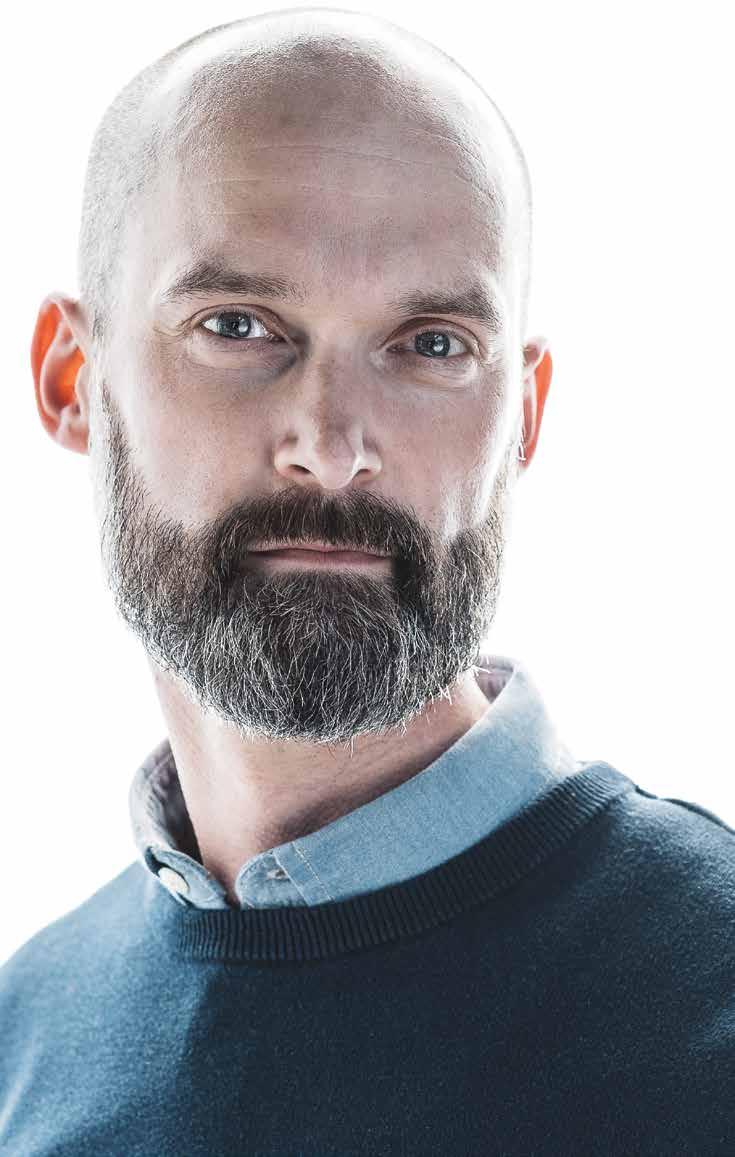 avenuecalgary.com 77
" YOU SHOULD CHOOSE SOMETHING THAT YOU LOVE TO DO, IN A PLACE WHERE YOU LOVE TO BE, WITH SOMEONE YOU LOVE TO BE WITH. "
WHY HE'S A TOP 40 JORDAN RAUGUST CO-FOUNDED THE CITY'S FIRST GROUP-BASED PHYSIATRY CLINIC AND HAS SINCE HELPED GROW IT INTO THE LARGEST IN THE COUNTRY.
Physiatrist and President, Kinesis Medical Centre
Age 38
PHOTO
Alex Sarian
Alex Sarian previously held an executive leadership role at Lincoln Center for the Performing Arts in New York and took on the role of president and CEO of Arts Com mons in May 2020. While the last two years have been tumultuous, he has forged ahead with ambitious plans to expand and modernize the buildings and make key institutional changes.
Among those changes has been the imple mentation of an Indigenous strategy created in consultation with Treaty 7 Elders Reg and Rose Crowshoe. "The Indigenous strategy is essentially taking two years' worth of storytelling and teach ings and turning it into a blueprint that provides us with a direction to move forward," Sarian says.
He is also overseeing the Arts Commons Trans formation (ACT) project, which includes a new 190,000-square-foot structure and full renovation to the existing buildings. Sarian has raised $240 million of the required $450 million for ACT so far and has engaged the Indigenous architecture firm Tawaw to consult on the design. "It's not just a physical transformation, but also a transforma tion of what it means to be an arts organization in the 21st century — one that prioritizes its civic duty over its artistic responsibility," Sarian says.
Sarian also works to make the programming of Arts Commons more accessible through initia tives such as the Seasons of Gratitude campaign that provided complimentary tickets to essential workers, and the TD Incubator, which provides BIPOC artists facility access and support to create and present new work.
He represents Calgary and Arts Commons internationally on numerous governing boards, including SXSW, The New Group, Museo de Arte Moderno de Buenos Aires, and the Global Teach er Prize. Naturally, he's also a board member for the Calgary Downtown Association — champion ing his adopted city both at home and away. —S.J.
PHOTO BY STEVE COLLINS
78 november 2022
" SUCCESS IS FINDING THE BALANCE OF BEING IN SERVICE TO OTHERS IN A WAY THAT REPLENISHES YOU. "
WHY HE'S A TOP 40 ALEX SARIAN IS TRANSFORMING ARTS COMMONS WITH MORE INCLUSIVE PROGRAMMING AND A PLAN TO EXPAND AND UPGRADE THE PHYSICAL SPACES.
President/CEO, Arts Commons
Age 39
BY JARED SYCH
Simone Elizabeth Saunders
Around the time she was pursu ing her fine arts degree at Alberta University of the Arts, Simone Elizabeth Saunders discovered the tufting gun. She taught herself to use it and began creating intricate weaving designs based off her own fine-art drawings.
She fell in love with the medium and began creating large-scale textile artworks in a style she calls "Black nouveau," a reference to the art nou veau style of the late 19th century, characterized by free-flowing lines and organic forms. "Black voices were completely erased in that part of his tory," Saunders says. "So, I take from those styles and bring them into a contemporary lens, putting the Black body within."
In 2020, Saunders graduated with distinction and was the national winner of the BMO 1st Art! competition. That same year, she was offered ex clusive representation by the Claire Oliver Gallery in New York, which is staging a solo exhibition of her work in March 2023. Her individual pieces now sell for as much as US $28,000 and are in the collections of museums and individuals across North America, including the Minneapolis Insti tute of Art and 21c Museum Hotel Chicago.
Saunders has also seen success at home: her 2021/2022 solo exhibition at Contemporary Calgary had some of the gallery's highest rates of attendance. But the true mark of success for her was how many people — particularly, young Black girls — she saw engaging with her work. "It, unfortunately, took the Black Lives Matter move ment to put the Black community at the forefront and for art centres and institutions to turn their gaze toward Black artists and people of colour," Saunders says. "I'm creating these portraitures to find narratives that uplift Black joy, Black woman hood, and our strength, and our perseverance, and our resilience."—K.B.
" TAP INTO WHAT INSPIRES YOU — NOT NECESSARILY WHAT YOU THINK OTHER PEOPLE WANT TO SEE, BUT WHAT YOU WANT TO SEE. "
WHY SHE'S A TOP 40 SIMONE ELIZABETH SAUNDERS IS MAKING WAVES IN THE INTERNATIONAL ART WORLD WITH HER TEXTILE PIECES THAT HONOUR FEMININITY AND THE STRENGTH AND JOY OF BLACK LIVES.
Artist
Age 39
PHOTO
avenuecalgary.com 79
Harnarayan Singh
As a kid growing up in Brooks, Alta., Harnarayan Singh was a walking encyclopedia of the sport of hockey. "I was the only kid wearing a turban," Singh says. "Knowing so much about the game helped me break the ice with classmates."
Though Singh idolized Wayne Gretzky, he knew early on that he really wanted to be a broadcaster, having honed his announc ing chops using a Fisher-Price toy microphone. Despite his precocious abilities, Singh understood that becoming the next great hockey commenta tor would be a long shot. Though many of his classmates and friends at his high school were rooting for him, some of adults he encountered vocally tried to steer him away from his dream. They should have saved their breath. Today, Singh, who broke ground as the first to call an NHL game in Punjabi, the language of his im migrant parents and many of the 1.5 million or so other Indo-Canadians, is a host and play-by-play commentator with Sportsnet and CBC Sports; a bestselling author; and a winner of numerous awards and accolades like the Canadian Screen Award for "best sports play-by-play announcer" and a Meritorious Service Medal by the Governor General of Canada for his contributions to Cana dian Society. He's also a community leader who speaks to young people across the country about everything from following your dreams to racism and discrimination in hockey.
For Singh, who used to sleep in airports in order to commute from his job in Calgary as a local CBC reporter to Toronto to call the Pun jabi games, having emotional support along the journey has been key to his success. "I couldn't have done this without my family," says the hap pily married father of two. "My parents taught me that whatever you commit to, commit to it 100 per cent." — V.F.
80 november 2022
" I KNEW THAT MY CAREER DREAM WAS A LONG SHOT. BUT I STILL WANTED TO KEEP GOING. "
WHY HE'S A TOP 40 AN AWARD-WINNING BROADCASTER FOR HOCKEY NIGHT IN CANADA , HARNARAYAN SINGH IS ALSO A BESTSELLING AUTHOR WHO HELPS MAKE CANADA'S GAME MORE INCLUSIVE.
Host and Play-by-Play Commentator, Sportsnet Age 37
PHOTO BY STEVE COLLINS
Leslie Skeith
Leslie Skeith was inspired to go into medicine by her mom, a physician who died from cancer when Skeith was a child.
Now a physician herself, Skeith has dedicated her career to finding answers for people who are at risk or develop life-threatening blood clots during or after pregnancy. "We want to identify who's at risk, what can we do to prevent it and, if they have a complication, what is the best treat ment," she says.
Skeith is leading three large international research studies to help answer these questions, including a major trial that may establish whether Aspirin can prevent blood clots in people who have recently delivered. People who are pregnant have traditionally been excluded from clinical tri als. As a result, there's not enough understanding of how to care for people in pregnancy who have blood clots or require medications, she says.
In the four years since she finished her train ing, Skeith has received more than $1.75 million in funding. Her efforts are paying off, as her other work has shown that low-molecular weight heparin, a commonly prescribed blood-thinner, does not reduce pregnancy loss in people with inherited blood-clotting conditions (but can cause side-effects).
In 2021, Skeith received the Cumming School of Medicine Distinguished Achievement Award for excellence in research. She says collabora tion is the key to her success. "We, together as a research community, have made big strides," she says. Skeith also co-founded a dedicated thrombosis clinic and a specialized clinic for patients with antiphospholipid syndrome, an autoimmune condition that causes blood clots and pregnancy complications.
A mother of two daughters, Skeith hopes to be a positive role model for her children, "similar to what my mom was for me," she says. — C.F.
avenuecalgary.com 81 PHOTO BY STEVE COLLINS
" [IN RESEARCH,] YOU BRING PEOPLE TOGETHER, DIVIDE THE WORK AND IT'S EXCITING TO BE PART OF IT. "
WHY SHE'S A TOP 40 PHYSICIAN AND RESEARCHER LESLIE SKEITH COLLABORATES LOCALLY AND GLOBALLY TO IMPROVE CARE FOR PEOPLE WHO ARE PREGNANT.
Hematologist, Alberta Health Services and University of Calgary
Age 37
Katie Smith-Parent
There are two things Katie SmithParent is "super-passionate" about: energy and diversity. At Spartan Controls, an industrial automa tion company, she's focused on both. Smith-Parent is respon sible for marketing, branding and relationship-building to support the company's emerging industries. Being part of the energy transformation excites her. "I love the diversification of Calgary," she says. "And we're making some serious progress."
Promoting diversity of another kind is at the forefront of her volunteer work. The born-andraised Calgarian is executive director of Young Women in Energy (YWE) and a co-founder and board director of Axis Connects — organizations both dedicated to championing women.
Since taking the reins at YWE in 2015, she has added more than 3,000 members, launched a podcast and handed out more than 80 awards celebrating the next generation of energy leaders.
Axis Connects, meanwhile, helps women from all sectors advance their careers, with the goal of putting more women in decision-making roles. Smith-Parent and her co-founders started the non-profit in 2019. In 2020, they launched the Calgary Influential Women in Business Awards, an event honouring five female leaders and one male ally not only for their successes, but also for their dedication to uplifting others.
In 2021 Smith-Parent was named Young Resource Leader by the Alberta Chamber of Resources. Having recently beaten breast cancer, she has now joined the OWN.CANCER campaign in support of the new Calgary Cancer Centre and says her next focus will be oncofertility — helping women facing cancer treatment pay for fertilitypreserving options. "When I'm on my deathbed, I would love if someone said, 'Wow, Katie had such a positive influence on my life.' That, to me, would be success," she says. — M.M.
PHOTO BY JARED SYCH
82 november 2022 " I GET SO ENERGIZED BY BIG, HAIRY, AUDACIOUS GOALS. "
WHY SHE'S A TOP 40 KATIE SMITH-PARENT CHAMPIONS WOMEN AND PROMOTES INCLUSION ACROSS ALL OF CALGARY'S SECTORS, BUT ESPECIALLY IN ENERGY.
Business Development, Industry Diversification, Spartan Controls Ltd.; Co-founder, Axis Connects Age 34
Ask a Lawyer
The team at SVR
in
has a wealth of


understand that every situation
unique and tailor our approach to your
From everyone at SVR Family Lawyers, congratulations to this year's Top 40 under 40!
Separation and divorce can be a daunting experience filled with uncertainty. Meeting with a lawyer before, or shortly after separation, can help

to understand how relevant legal principles
interact with the circumstances of your family.
What will I discuss with my lawyer?
first step is to identify the applicable legal issues, which may include parenting, child and/ or spousal/partner support, property division, or other issues particular to your circumstances. You will also discuss various process options, which may include litigation, mediation, arbitration, and other resolution processes.
What documents do I need to give my lawyer? Be prepared to share financial disclosure documents with your lawyer to identify potential financial claims, calculate child and/or spousal support, and assess the overall division of family property. You and your spouse each have the right to see financial disclosure from each other, which includes income tax returns, paystubs, bank statements, investments, and other sources of income.
You won't be required to provide these documents at your first meeting, but we recommend gathering this information ahead of time.
To find out more about your rights and obligations, please visit familylaw.svrlawyers.com.

avenuecalgary.com 83 Our people do amazing things, every day. Thank you to all our staff, physicians and volunteers for all you do to keep Albertans healthy and safe. Your dedication to our patients and each other is an inspiration to us all. Congratulations to the AHS Winners of the 2022 Top 40 Under 40 award Dr. David Campbell Dr. David Campbell, Assistant Professor, Division of Endocrinology & Metabolism, Department of Medicine, University of Calgary Dr. Leslie Skeith Associate Professor, Division of Hematology and Hematological Malignancies, Department of Medicine, University of Calgary ahs.ca It's time to celebrate life's special days together again. Join Venue 308, The Brownstone and Avenue to experience this celebration of celebrations. A celebration of celebrations february 25 TICKETS AND INFORMATION AT AvenueCalgary.com/celebrate avenue
you
will
The
Family Lawyers
experience
all aspects of divorce and family law matters. We
is
individual needs. Stacey Lee, Partner 403.231.3460 s.lee@svrlawyers.com Abram Averbach, Partner 403.231.3453 a.averbach@svrlawyers.com @svrfamilylaw
Judges
SHELLEY ARNUSCH
Avenue's Editor in Chief has two decades of experience working in magazines and 12 years of experience working on Top 40 Under 40 projects. Prior to Avenue, she held editorial roles at the Calgary Herald's Swerve magazine and at Pique Newsmagazine in Whistler, B.C. She has won numerous awards from the Alberta Magazine Publishers Association and the International Regional Media Asso ciation for her work as an editor, and a National Magazine Award for her writing.
CHARLES BUCHANAN
Charles Buchanan is the founder of Technology Helps, a social enterprise focused on solving technology poverty.
He spent nearly three decades in corporate technology leadership, management consulting and entrepreneurship with senior roles at Suncor Energy, Deloitte, Oracle, MNP, and Royal LePage, and has started and worked with nu merous technology companies in areas that span online games, to fintech and environment protection. He is a founding board member of the Calgary Black Chambers; a member of the GAIN Team at United Way of Calgary and Area; grant committee at Calgary Foundation; entre preneur mentor at Venture Mentoring Service of Alberta; and founder and advisory board member of UpRising Academy, helping at-risk youth in Jamaica in STEM and sports. He holds an MBA from Queen's University and a B.Sc. (Hons.) in electrical and computer engineering.
PATTI DIBSKI
Patti Dibski (Top 40 Under 40 Class of 2009) is the owner of Calgary art gallery Gibson Fine Art. She holds an MBA from the University of Calgary and has more than 17 years of experience in the art and design industries. Dibski served for six years on the board of Calgary Arts Development, is the current Vice-Chair of the Alberta University of the Arts Board of Governors and is on various local arts and culture committees.
MONTY GHOSH
Dr. Monty Ghosh (Top 40 Under 40 Class of 2021) is an internist, disaster medicine and addiction specialist, who works with multiple community-based not-forprofit organizations to provide support for marginal ized populations. Dr. Ghosh has addiction certification through the International Society of Addiction Medicine and a Master's of Public Health from Harvard University. He is an assistant professor at the University of Alberta
and the University of Calgary, is heavily involved with provincial policy building in Alberta, and is the nominated principal recipient of grants from Health Canada, Alberta Innovates, Alberta Health and the Canadian Institute of Health Research. He is also a member of the University of Alberta's Neuroscience and Mental Health Institute, and the University of Calgary's Hotchkiss Brain Institute and the O'Brien Institute of Public Health.
HYDER HASSAN
Hyder Hassan (Top 40 Under 40 Class of 2018) is CEO of Immigrant Services Calgary and before that spent more than 10 years in the financial industry. He has 15 years of experience serving in civil society, the private sector, finance and government sectors as a transformational and visionary leader. Hassan co-founded FullSoul.ca, a not-for-profit that provides Ugandan health facilities with medical supplies for safer childbirth. He holds a Master's in Innovation and Entrepreneurship from HEC Montréal, a B.A. in management studies from the University of Waterloo and maintains several financial designations. In 2019, he was named one of the Calgary Herald's Compelling Calgarians, and was awarded the Immigrants of Distinction Award (Under 35).
WELLINGTON HOLBROOK
Wellington Holbrook is the former CEO of connectFirst Credit Union. He holds an MBA from the University of Oxford and a B.Comm. (Hons.) from the University of Manitoba. Prior to connectFirst, Holbrook spent 15 years with BDC Business Development Bank of Canada, and just under a decade with ATB Financial. He has served as a board member of the Calgary Chamber of Commerce and as Chair of the Calgary Convention Centre Authority.
JOSEPH LOUGHEED
Joe Lougheed (Top 40 Under 40 Class of 2002) is a corporate lawyer at the global law firm Dentons Canada LLP. An active community volunteer, Lougheed is cur rently board chair at Calgary Economic Development and also serves as the Honorary Consul to Sweden in Southern Alberta.
84 november 2022
ARNUSCH
PHOTO BY HEATHER SAITZ; ALL OTHER PHOTOS SUBMITTED BY JUDGES
THE TOP 40 UNDER 40 PROJECT WOULD NOT BE POSSIBLE WITHOUT THE JUDGES WHO VOLUNTEERED THEIR TIME AND PROVIDED THEIR INSIGHT AND EXPERTISE TO HELP DETERMINE THIS YEAR ' S CLASS. A TOAST TO THEM!
congratulations to Dr. Kenneth Fuh
As our Co-founder and Director of Product Development, Dr. Fuh has been instrumental in the development of the Syantra DX™ Breast Cancer blood test for breast cancer detection. The precision medicine test provides a molecular approach that can identify breast cancer at early stages, when it may be easier to treat.
86 november 2022 MORNING PERSON / NIGHT PERSON SUMMER /WINTER TIME / MONEY MINI-DONUTS / DEEP-FRIED OREOS AVERAGE NUMBER OF HOURS OF SLEEP PER NIGHTDOGS / CATS INSTAGRAM / TIKTOK / NEITHER PREFER WORKING SOLO / PREFER WORKING WITH A TEAM The Top 40 Class of 34 36 38 3836 23 19 8 6 23 154 4 HOURS 46 5 6 7 8 1 2 3 4 5 6 7 8 9 10 11 12 13 14 15 16 17
avenuecalgary.com 87 ANNUAL INCOME BEFORE TAXES METHOD OF TRANSPORTATION TYPICALLY USED TO GET TO WORK NUMBER OF DAYS OF VACATION TAKEN IN THE PAST 12 MONTHS 2022 by the Numbers Introverts 20 Extroverts 22 0 1 2 3 4 5 6 7 8 9 10 2 5 31 1 3 500,001 - 1M 45,001 - 60,000 60,001 - 80,000 80,001 - 100,000 100,001 - 150,000 250,001 - 500,000 30,000 - 45,000 150,001 - 250,000 28 30 35 40 60 0 2 5 6 7 10 14 15 18 20 AVERAGE NUMBER OF HOURS OF EXERCISE PER WEEK HOURS 0 1 2 3 4 5 6 7 8 9 10 15 2 2 3 3 1 1 1 3 5 96 6
The Class of 2022 Would Like to Thank
Tomi Ajele "Grace, Jenny and Danny; my family, with a special shout-out to my parents, Moji and Dele; my friends, for the absurd amount of support and hype they bring to my life. Dooshima, for creating the beautiful community that is Afros In Tha City and empowering me to lead it; and Ado, Aurora, oualie, Jaysi and Chris for building Afros In Tha City Media. Nagwan Al-Guneid "My mother, my father, and my partner for all their love and unconditional support they give me." R.J. Bailot "All my friends and family who have supported me and the work we do in helping animals." Gursh Bal "My wife, Janet, for always pushing me to be a better person; my children, Emma-Olivia, Nolan and Kendrick; my mother and father, for raising me with love and care; my sisters, for always being there for me; my business partner, Kai Fahrion, for helping bring our dreams to life; my extended family and friends, for surrounding me with support and patience; and the amazing team at Zeno, who have continued to raise the bar over the years and make the world a better place." Kerry Black "My parents, extended family and friends who have always been supportive; my colleagues, faculty and the University for their continued encouragement; my partner Adam, and my boys, who keep me happy, grounded and feeling loved." Mark Blackwell "My lifelong mentor Dick Haskayne, my amazingly supportive parents, and my wife and son who make me the hap piest man in the world." Doug Brown "My mom and dad, who ingrained in me an entrepreneurial spirit and supported me through my studies and career. I would also like to thank one of my mentors, Scott Jenkins, who continually inspires me with his vision, business acumen and positivity. Finally, I would like to thank all of my friends who I have shared ideas, laughs and purpose for change with over the years." Iman Bukhari "My father, for his selflessness, that brought me to where I am today." David Campbell "Rachel Campbell, Stew Campbell, Kim Campbell, Braden Manns, Brenda Hemmelgarn, Cello Tonelli, Kathy King-Shier, Gillian Booth, Stephen Hwang, Johannes van Leenen, Noel and Sydney Reynolds, Chuck McMann, Paul Kerber, my team, trainees, co-researchers and collaborators." Andrew Chau "My family, who have been extremely supportive, and the entire Neo team who are the driving force behind Neo." Vicki Van Chau "Phil Bowen, my family, EMMEDIA and the Calgary arts community." Brett Colvin "Mum, Sean and Gran for their relentless support, and the Goodlawyer Army for believing that we can change the world, together." Jonathan M. Cornish "My community." Amber Craig "My company, and the support they provide to help me grow." Shaun Crawford "My wife and kids. The wooligans. MAMMOTH XR and our partners. The cast and crew of any film I've worked on." Sean Crump "My incredibly supportive partner Christine (and son Jameson), my awesome and hard-working team at work, as well as my amazing friends and family!" Connor Curran "My wife Erin Curran, my parents Anne and Gerard Curran, my business partner Dustin Paisley, my team member Kathleen Smiley, and friends and extended family who have supported us along the way." Shannon Doram "My husband Allan, the person who makes me better every day; my parents, who taught me to work hard, be kind, and to take care of others; my family, who grounds me, makes me laugh, and reminds me what really matters; my best friend Ann, with whom I've travelled many miles with, on bikes and in hiking boots; my YMCA family — I learn so much from you every day; my incred ible friends and colleagues: Kate, Dean, Brian, Jeff, Jan, Norma-Jean, Catherine, Cynthia, Pat, Kathi, Sarah, Danielle, Lourdes and so many more. Keep shining!" Sam Effah "My wife, my mom, God." Kai Fahrion "My family and my girlfriend, Chante, for always supporting my entrepreneurial journey." Jessie Fiddler-Kiss "My parents, my brother, my grandparents, my nieces, my husband and my children for all the unconditional love; and to the Moss Bag Project Aunties, to Elise, and to the network of women and ancestors that has held me in this lifetime, kinanaskomatin." Kenneth Fuh "My beautiful wife and lovely kids, thank you for your constant love and for always being there for me; and thank you to my parents, siblings, friends, mentors, colleagues (past and present) and classmates for shaping different aspects of my life." Jiami Guo "My families." Karl Hirzer "Everyone who I have had the great pleasure of working with in Calgary; above all, I would like to thank the extraordinary musicians of the Calgary Philharmonic." Jessica Janzen Olstad "The LFL board and our partners, past and present; my dear friends (you know who you are); my family, thank you for seeing me through my wild ride and grief journey, thank you for always honouring Lewiston's Legacy, show ing up and doing the hard work with me; my Heavenly Father: thank you for the breath in my lungs and a beating heart; to my partner and teammate for life, Hot Ronnie: thank you for always being there, cheering me on, asking me the hard questions and ensuring I don't quit. I love you." Alex Kingcott "My parents. My teachers. My teammates. Anyone who's ever told me a good story." Evan Legate "EAC board members and staff, the Calgary Comprehensive Epilepsy Program, my amazing wife Jenn, and everyone who taught me the importance of being an active member in your community." David Leinster "My wife Colleen and my incredible children: Redmond, Quinn, Jude and Matilda!" Brendan MacArthur-Stevens "My husband, Jacob; my parents, Pam and Brad; my sibling, J; my friend, Jamie-Lynn; two of my mentors, David Tupper and Mike Dixon; my work mom, Arlene; and the entire Blakes team." Madeleine MacDonald "My parents, Jack and Lisa MacDonald; my brother Wilson MacDonald and his partner Joanna Skrajny, and my dear friends Sarah Shalagan and Makina Labrecque for their unending support of each of my endeavours; to Stephen Phipps and Justin Leboe for mentoring me throughout my career, and to the rest of my friends, family and colleagues for being my cheerleaders over the years." Max Michalowski "Ryszard (Rich) Michalowski, for always being my biggest supporter, driving me to be my best version of myself; my fiancée, Melissa Price, for being there for me since the day we met, showing me what true love is and supporting my goals and aspirations." Sabrina Mueller "My wonderful family and friends; my mentors: Matt LaBrie, Scott McTavish, Frank Hackett; and a few key people who help me make sure that we are always ready by opening night: Thomas Hall, Troy Couillard, Kelly Malcolm, Breezy Manning, Ajay Badoni, Jamie Ripley. I couldn't do what I do without any of you!" Dustin Paisley "My wife for being my biggest supporter and cheerleader, my business partner for going on this journey with me, my parents for providing me with opportunities, and my daughters for inspiring me to be better, and do better for them."
JP Pedhirney "My wife Heather Pedhirney; my mom and dad, John and Lauretta; my sister and brother-in-law, Jessica and Chad; the Wighton family; ALL my kitchen crew and the 1,000+ employees at Concorde Entertainment Group who make every day an amazing day; Victor Choy, Brad Morrison, Ryan Magee and Chris Mckerrall, and all the industry mentors I've had along my career."
Ali Pormohammad "My parents, family members and my mentors. This accomplishment was impossible without the support of Prof. RJ Turner and CCrest Laboratories Inc." Robert Price "My parents Art and Debra, my fiancée Holly, and numerous loved ones who have been incredibly generous with their time and encouragement in my life and career." Jordan Raugust "My wife Heather, my kids (Ben, Hannah and Halle), my parents and my colleagues at Kinesis Medical Centre." Alex Sarian "My wife, my colleagues and my board of directors." Simone Elizabeth Saunders "My partner and my dogs for keeping me grounded, my family for endless support, my gallerist for amplifying my voice, and to everyone who takes the time to see my artwork, so they may be seen." Harnarayan Singh "Waheguru (The Creator), my ultra-supportive and loving family; my Hockey Night Punjabi colleagues; Kelly Hrudey, Ron Maclean, Joel Darling, Ed Hall, Rob Corte, Deidra Dionne, Bob Babinski, Jeff Jacobson, Jeff Lohnes, Marc Chikinda, Scott Dippel, Kevin Hodgson, Harbans Gill, Dr. Onkar Singh, Atamjot Dosanjh, Gurpreet Gill, and to the Sikh community in Canada and beyond who has supported me with their love and blessings from day one!" Leslie Skeith "My husband Adam McLean, my father Rick Skeith, my sister Lauren Campbell, and my extended family and friends for their unwavering support. I am grateful to learn from my research mentors, Marc Rodger and Gregoire Le Gal, and work with amazing colleagues in Calgary and around the world." Katie Smith-Parent "My friends, my family, my colleagues, fellow volunteers and mentors."
88 november 2022
avenuecalgary.com 89 Tanyaeklundgroup.ca Direct (403) 863-7434 Each o ce is independently owned and operated. HERITAGE POINTE A2000995 176 HERITAGE ISLE 5 Bedrooms | 4.5 Bathrooms $1,649,900 RICHMOND A1258257 2005 22 AVENUE SW 4 Bedrooms | 3.5 Bathrooms $1,299,900 STRATHCONA PARK A2002268 125 STRADDOCK CRESCENT SW 3 Bedrooms | 2.5 Bathrooms $1,150,000 COACH HILL A2002030 311 COACH LIGHT BAY SW 6 Bedrooms | 4.5 Bathrooms $949,900 C D L S o u t h ( 4 0 3 ) 2 5 5 1 8 1 1 7 2 6 5 1 1 S t r e e t S E C a l g a r y , A B T 2 H 2 S 1 C D L N o r t h ( 4 0 3 ) 2 7 5 3 3 0 4 1 1 7 5 2 S a r c e e T r a i l N W C a l g a r y , A B T 3 R 0 A 1 C D L I n v e r m e r e ( 2 5 0 ) 3 4 2 1 5 9 2 4 B 4 9 2 A r r o w R o a d I n v e r m e r e , B C V 0 A 1 K 2 C O R E T E C + H D | N E W T O N O A K @cdlcarpetandflooring www.cdlflooring.ca
( Back) Out to Lunch
Long thought to have peaked with the three-martini boom days of pre-2015 Calgary, the business lunch is back — and experiencing a renaissance. Today's midday affairs, which have resumed after two-plus years of COVID-19 restric tions and work-from-home advisories, are all about thoughtful shared plates, playfully curated wine lists and an appreciation of the time we lost.
"There is a strong desire to be together," says Shannon Wray of Lawson Lundell LLP, who regularly steps out for lunch from her office at Brookfield Place. "Both on the client front and with our team, we have recognized the benefit of in-person communication and collaboration."
When Alberta dropped its remaining restrictions this past spring, offices began to refill — and restaurants followed. While the rest of the country lingered over protocols, it seems workers in downtown Calgary showed up to capitalize on a new normal. Data collected by reservation platform OpenTable reveals Calgary and Edmonton led the country with the most weekday seated diners in May and June.
"[Corporate Calgary] can see they have the chance to beat other companies to the deal — and they are taking it," says Stephen Deere, owner of Modern Steak, who sees the impact of in-person client lunches every day. "A lot of Calgary-based, energy-driven companies are in the game right now. People are going out, people are spending money."
Despite staff shortages and a slowing economy, the proof is on the street just before noon on weekdays, as Stephen Avenue fills with people heading to a reservation or running to secure a table before the rush. Abbreviated lunch menus are still on offer, but many diners are opting for main menus that include all the celebratory fixings available at dinner.
Sommeliers, who discovered new varietals over the last two years, are high lighting boutique bottles from smaller wine regions around the world; and local ranchers, farmers and suppliers, who also survived closures, are invested in the kitchens of chefs who are finding new ways to impress creativity on the plate.
For corporate Calgary ready to recon nect, the timing couldn't be better.
90
AFTER MONTHS OF EMPTY EATERIES AND OFFICE TOWERS, THE BUSINESS LUNCH CROWD IS BACK — AND DOWNTOWN RESTAURANTS HAVE GREETED THEM WITH TRIUMPHANT RETURNS OF THEIR OWN.
Lunch hour at Cucina.
PHOTO BY CHRIS LANDRY
BY JARED SYCH, KLEIN/HARRIS
PHOTOS
Stepping off Stephen Avenue during the lunch rush and into the cozy and chic atmosphere at Klein / Harris is the perfect way to take the edge off a stressful day. Co-owners and life partners Christina Mah and chef James Waters are there to greet diners, working away in their "from-scratch" kitchen in this homey, yet upscale space featur ing shelves of cookbooks, preserves and a variety of seating options so guests can relax and linger longer. K/H prides itself on being an independent restaurant inspired by a range of Canadian dishes from coast to coast, from grilled Humboldt squid to a parmesan crusted grilled cheese with Oka, smoked Gouda, caramelized onions and green tomatoes. Of course, you can't go wrong with the
with its checkered tile floors and open kitchen, Cucina has the warm, welcoming energy of an authentic Italian bistro.
An antique wooden ladder found by Italian-born owner Dario Berloni in the 1980s, and a print of Portrait of a Star, a piece depicting his late wife, Valentina, by Calgary visual artist Chris Cran (the original hangs in sister restaurant Teatro), offer character that is often missing from chain restaurants in the core. "These small touches give the space a personal feel," says Mia Berloni, director of operations for the Teatro Group and daughter of Dario Berloni. Like many of the city's best restaurants, Cucina's menu evolves seasonally — currently, it includes a grilled chicken dish with chickpea ragout, roasted cauliflower, fried kale and salsa verde, and gnocchi with braised pork. Just like at Teatro, highquality ingredients are the stars here,
from sustainably sourced octopus to fresh focaccia baked daily at Alforno Bakery & Café, another Teatro Group restaurant. The wine list, curated by Taylor Simpson, offers gems like a 2018 Viognier from Bench 1775 in B.C.'s Naramata Bench, as well as Tuscan classics like a 2018 Ornellaia Le Volte, a perfect pairing for the charcuterie selection from Calgarybased micro-salumeria Saltcraft Meat Co. Diners looking to share can graze on Nonna's veal, beef and pork meatballs, marinated olives, and mushroom bruschetta. And, if engag ing with your fellow diners is the top priority, opting for one of the daily features, which might include grilled branzino with creamed potatoes or fresh haddock risotto served with broccolini and olive tapenade, means you don't even have to look down at your menu.
515 8 Ave. S.W., 587-353-6565, eatcucina.com
K/H burger, made of prime Alberta chuck and brined brisket — it's one of the best in the city. For those looking for a quick bite, The One Punch Lunch deal at $18 offers a daily feature sandwich with a choice of a garden salad, fresh chips or the daily soup, as well as a mini sour cream-crusted butter tart filled with maple. The meal also comes with coffee or the daily zero-proof or low-ABV cocktail. "Zero-proof cocktails are a delicious op tion for those who aren't having a regular cocktail, especially during our lunch service," says Mah. The list includes Clove & Cola, a sparkling Italian soda mixed with a reduction of cloves, vanilla and citrus peels, and the Harris Swizzle, with fresh orange, mint and lime juice topped with ginger beer. After lunch, some diners are known to make their way to the couches in the back corner of the restaurant, an ideal spot for another beverage, like a French 75 topped with Veuve Clicquot or a classic Caesar with K/H's own clam and celery broth laced with tomatoes, pickled celery and carrots.
110 8 Ave. S.W., 403-262-8100, kleinharris.com
avenuecalgary.com 91 DiningBY ALEXANDRA BURROUGHS
OPEN 7 A.M., MONDAY TO FRIDAY BEST FOR WORK BESTIES CELEBRATING AN OFFICE VICTORY CUCINA
KLEIN / HARRIS OPEN 11:30 A.M., TUESDAY TO FRIDAY; CLOSED MONDAY BEST FOR LONGTIME COLLEAGUES CATCHING UP OVER THE LUNCH SPECIAL
Cucina's spaghettini carbonara and grilled chicken with chickpea ragout.
The Clove & Cola zero-proof cocktail at Klein / Harris.
CUCINA
Perched 40 storeys above the bustle of Stephen Avenue, Major Tom continues to be one of Calgary's most talked-about new restaurants. Warm golds and emerald greens exude a sense of uptown glam and offer a sleek mid-century foreground to the impres sive backdrop of concrete and glass office towers.
For a high-stakes client lunch, you've picked the perfect setting. Major Tom first greeted diners in July 2021, but it was a few more months before daytime dining was available to the business crowd. In October of that year, lunch service debuted, but with only half the space and tables available. "There was so much demand for lunch right off the bat," says Concorde Entertainment Group regional manager Brittany Thompson, who is also opening
MODERN STEAK
Modern Steak and its owner, Stephen Deere, are at the heart of the city's daytime dining scene. The Calgaryborn proprietor has had a restaurant in the core since 2002 and has survived every bust since. "When COVID closures happened and I laid everyone off, I closed the office door and had a good, hard cry," says Deere. "I take my responsibilities seriously: my ranchers, my suppliers, my staff — this is how they pay their bills and feed their families." He turned around three days later and started Modern Burger, selling 10,000 takeout burg ers in less than three months, which enabled him to hire back some staff, work with suppliers and show up for his loyal customer base.
Today, it's back to bricks-andmortar business as usual inside the Stephen Avenue restaurant that offers a contemporary take on a steak house, complete with exposed sandstone
walls, light leather upholstery and a lunch menu full of quick, but substan tial plates. The beloved Alberta beef burger is as delicious as it is wellpriced at $19, while a quintessential wedge salad, enlivened with feta, crispy pickled onions and everything bagel spice, sneaks in under $15. Seri ous diners can go for the main menu featuring a selection of A5 Wagyu beef, tomahawk steaks and a seafood platter packed with king crab legs and lobster tails. Deere says the wine list has been increasingly popular in this back-from-COVID period; from a light 2019 Joseph Drouhin for $62 to a full-bodied 2005 Château Margaux for $3,548, there's something for every lunch scenario. "People are spending a little more time together and a little more money on the wine," says Deere. "We're seeing the connections being made again."
100 8 Ave. S.E., 403-244-3600, modernsteak.ca
Barbarella Bar on the main floor of the same build ing this month. "It was just a matter of building our team." As the staff and waitlist grew, so did the capacity. Today, the whole restaurant is typically packed for lunch, serving more than 200 people. The all-day menu offers classic plates, including baked Pacific halibut and steak frites, but its real strength is in creating a sense of celebration with a family meal. Here's how we'd do it: begin with a dozen oysters, followed by a single crispy hen egg hors d'oeuvres for each diner. Next, glazed snow peas with chili, parmesan and garlic offer a fresh, full-flavoured burst, before moving onto plates of bone-in striploin, Marsala mushrooms and fries with garlic aioli. Be sure to peruse the wine selec tion: Sommelier Brad Royale's list is one of this city's most enjoyable reads. The description for the 2020 Elena Walch Lagrein, for example: "Warm blueberry muffins with a cold can of root beer. It's like you're eight years old again."
40th Floor, Stephen Avenue Place, 700 2 St. S.W., majortombar.ca
november 202292 BURGER PHOTO
COURTESY OF MODERN STEAK, MAJOR TOM PHOTO BY JARED SYCH
The Steakhouse Burger with fries at Modern Steak.
OPEN 11
A.M.,
TUESDAY TO FRIDAY; CLOSED
MONDAY
BEST
FOR WOWING OUT-OF-TOWN CLIENTS
MAJOR TOM OPEN 11:30 A.M., TUESDAY TO FRIDAY; CLOSED MONDAY BEST FOR CLOSING THE NEXT BIG DEAL Dining
avenuecalgary.com 93 220 - 42 avenue s.e. | 403 287 9255 @alloyrestaurant | events@alloydining.com alloydining.com Book your holiday party with alloy. 14 1 21 2 28 9 10 1 16 7 8 19 23 2 25 26 2 JEANS. ALL DAY. EVERYDAY. 29 30 31 Calgary's favourite denim shop.
COCKTAIL
the hustle of Stephen Avenue moves quickly past Hy's picture windows, while, inside the dining room, dark walls, high ceilings and service staff in boxy jackets offer a sophisticated familiarity — this is one of the city's most beloved steak houses. Established by Alberta's own Hy Aisenstat in 1955, Hy's has been around so long that the staff are intimately acquainted with many of the city's key players. "They are like family to us," says general man ager Barb Steen. "We are seeing a lot more of our regulars — not just for special occasions, but once or twice a week." Longtime employees enable Hy's to make special accommodations for its regular clientele, Steen says, while also making first-timers feel equally welcome. "If we see [a regular's] name on the lunch books and we know they prefer the
lounge, they get the lounge; whatever they like, we make it work." Daytime diners settle into their reserved-in-advance spots for the classics, includ ing jumbo shrimp cocktail, baked French onion soup and escargot, available on both the lunch and dinner menus. Favourite lunch-only plates include the pan-fried chicken salad and creamy, tender beef stroganoff. And there are new vegetarian offerings, too, including the organic vegan bowl with tender pieces of eggplant, okra and yam served in a rich coconut cream sauce topped with crisp lotus chips and mango chutney. No matter what you order as a main, there's one dish that's a must: regulars claim some of the more important deals in the city have been finalized over Hy's famous cheese toast, which has been on the menu since the beginning.
At The Core, 8th Avenue and 3rd Street S.W., 403-663-3363, hyssteakhouse.com
5 MORE LUNCH SPOTS WE LOVE
CACTUS CLUB CAFE
Open at 11 a.m., Monday to Friday
You'd be hard pressed to find someone in the downtown core who hasn't been for lunch at Cactus Club. Guests appreciate the upscale chain restaurant for its consis tency and upbeat atmosphere; flavourful dishes such as ceviche, truffle fries and chef Rob Feenie's tuna stack don't hurt either.
178, 317 7 Ave. S.W., 403-454-9399, cactusclubcafe.com
SUKIYAKI HOUSE
Open for lunch 11 a.m. to 2 p.m., Monday to Friday Sukiyaki House serves some of the city's best sushi. Reservations are a must as diners flock for the lunchtime bento box featuring spicy prawns, vegetable tempura, and a fresh assortment of sushi and makimono rolls. If you're imbibing, check out the impressive sake selection or go for an ume negroni or yuzu gimlet.
130, 207 9 Ave. S.W., 403-263-3003, sukiyakihouse.com
ROSE GARDEN THAI RESTAURANT
Open for lunch 11 a.m. to 2 p.m., Tuesday to Friday A staple on Stephen Avenue for more than 15 years, Rose Garden's lunch buffet is filled with all the favourites: crispy fried spring rolls, shrimp salad rolls with fresh mint, a myriad of creamy, colourful curries with crunchy vegetables and, of course, Pad Thai. Lunch service is packed, so it's best to get there early.
112 8 Ave. S.W., 403-264-1988, rosegardenthai.ca
U & ME
Open at 9 a.m., Monday to Friday
Just a block from The Bow tower sits one of Calgary's most infamous late-night Chinese food restaurants (IYKYK). During the week, daytime diners can enjoy dim sum deals like the lunch for four: seven dishes for $48, with steamed shrimp dumplings, garlic spareribs and steamed BBQ pork buns all on offer.
201, 233 Centre St. S.W., 403-264-5988, uandme-restaurant.com
FIRST STREET MARKET
Open at 7 a.m., Monday to Friday
Trading reservations for variety and a more relaxed atmosphere, this food hall in the Beltline entices the corporate set out of the core with options that include Actually Pretty Good pizza, Indian street food by Saffron Street and tacos from Moose and Poncho, which was formerly hidden away in a small space in Chinatown.
1327 1 St. S.W., fsmyyc.com
PHOTO BY JARED SYCH
november 202294
HY'S STEAKHOUSE AND
BAR OPEN 11 A.M., MONDAY TO FRIDAY BEST FOR TOASTING A HARD-EARNED DEAL
Pan-fried chicken salad with beurre blanc (front) and beef stroganoff at Hy's.
avenuecalgary.com 95 * Canadian Digestive Health Foundation, 2022 SAME GREAT CHEESE YOUR CUSTOMERS LOVE WITHOUT THE DISCOMFORT! More than 7 Million Canadians are Lactose Intolerant * Something on the Menu for Everyone! All trademarks owned or used under license by Lactalis Canada, Toronto, ON M9C 5J1. All rights reserved ©2022 Lactalis Canada WWW.LACTALISFOODSERVICE.CA @LACTALISCANADAFOODSERVICE Let's connect NEW
november 202296 PHOTOGRAPH BY TK TK TK
avenuecalgary.com 97 PHOTOGRAPH BY TK TK TK Dining
room
for
T
T WO COUPLES AT TWO DIFFERENT STAGES IN LIFE .
Dort, Jr., and his partner, Tanya Puka.
Named the "Sr/Jr House" by Studio North, the Calgary design/build firm that took the project from initial sketches to final finishes, the pair of houses is intended to fit the current, very active lifestyles of two genera tions, and then adapt to whatever comes next.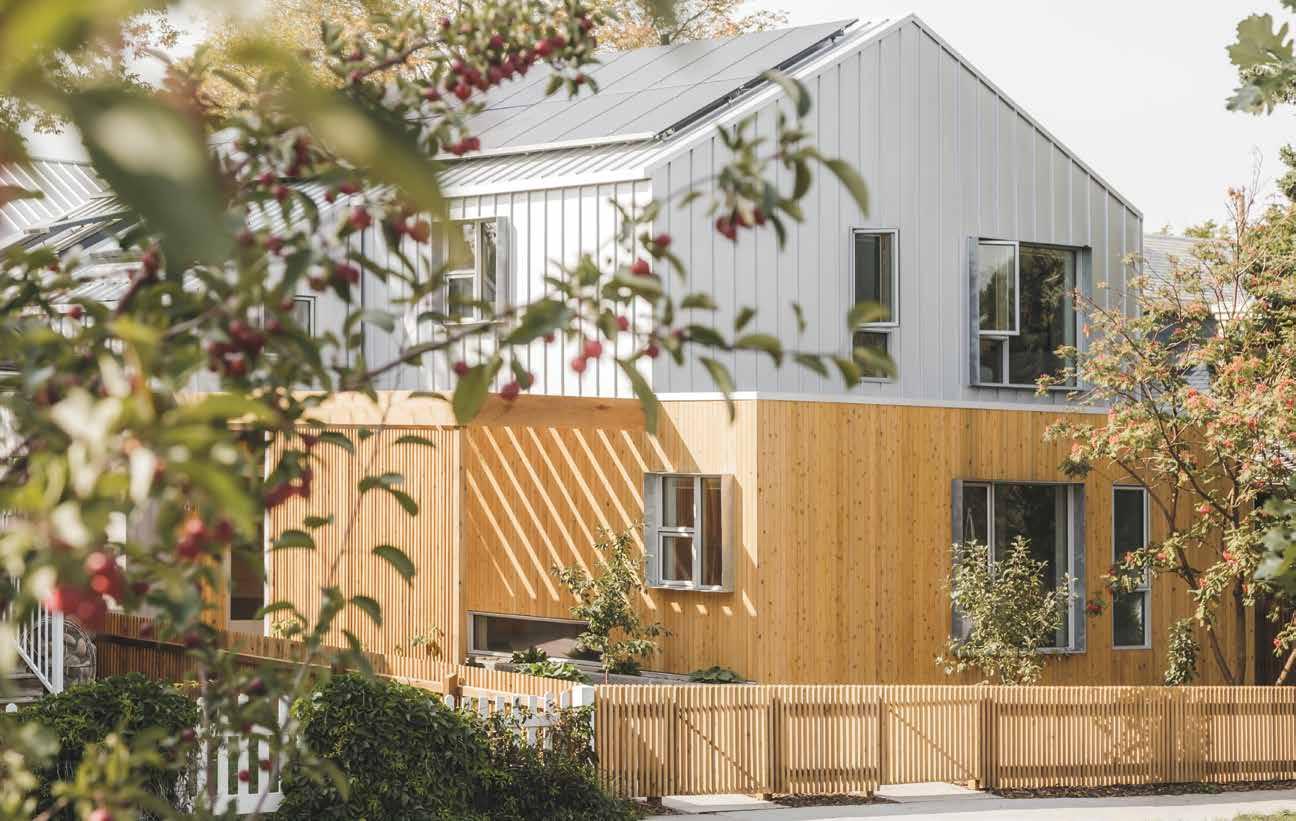 magine a house that transitions with you as you age.
In this house, there's no need to downsize as your space requirements shrink. You simply stay on the main floor where everything is easily accessible. Should you need help, part of the house becomes a suite for a caregiver. Family members live right behind you for additional support.
The house is beautiful, flooded with natural light — helpful for aging eyes — with spots to display life's mementos and lots of plants. Cork flooring is easy on tender feet and joints. The doors and hallways are wide enough for walking aids,
and a gently sloping front walkway accommodates wheelchairs and strollers, alike.
This is no soft-focus fantasy of aging. It's the fully realized, modern, 3,000-square-foot, three-bedroom, three-and-a-half-bathroom house that Dr. Joseph Dort, Sr., and Dr. Leslie Dort had built in Bridgeland — along with an 800-square-foot, one-bed room, one-bathroom laneway house owned and occupied by their son, Joe
"The [senior] house is flexible for when their bodies might not be," says Damon Hayes Couture, Studio North's creative director and lead designer on the innovative project.
The "senior" Dorts recently retired after long careers as respected medi cal professionals; Leslie as a dentist and researcher who focused on sleepdisordered breathing, and Joseph as a head and neck surgeon. The couple owned a house in West Hillhurst, but were contemplating how they might live in the future. They drew inspira
DECOR november 202298 BY VALERIE BERENYI PHOTOGRAPHY BY HAYDEN PATTULLO AND DAMON HAYES COUTURE AN INNOVATIVE INNER-CITY BUILD PROVIDES
WO HOMES FOR
two
OPPOSITE PAGE
Grain elevator meets coastal cabin: The exterior of the senior house fea tures steel and cedar.
CLOCKWISE
FROM TOP LEFT
In the senior house, exposed fir beams overhead add warmth and intimacy in the entryway and kitchen.
The senior house's solari um, adjacent to the dining room, captures sunshine to provide passive heating in the winter months.
The junior laneway house has given this Bridgeland back alley a major glow up.
tion from watching Leslie's parents successfully age in place — moving from a rambling two-storey into a single-level home.
"We were also excited by the op portunity to do something creative with Joe and Tanya and to move into an inner-city neighbourhood close to our other son, daughter-in-law and grandsons," Joseph says. "It's a pretty sweet combination, and Bridgeland is a fun, interesting and walkable place to live."
Around the same time, Joe and Tanya, the 30-something "junior" couple, were outgrowing their rental apartment in Mission. But
Joe, a trained chef and now regional manager of Calgary restaurants Model Milk, Pigeonhole and Major Tom; and Tanya, a brand strategist who runs her own company, Marrow Studio; couldn't find anything to buy within
their budget that would give them more space or a better quality of life. So, when Joseph and Leslie nabbed an old house in Bridgeland, and con tacted Studio North about building a new age-in-place home on the prop erty, and the studio suggested putting a small laneway house on the same lot, Joe and Tanya were intrigued.
"We're unconventional, not whitepicket-fence people," says Tanya, referring to herself, Joe and their dog (they currently have no plans for kids). Here was an opportunity to cre ate a smartly designed place of their own and make their housing dollars go further by splitting costs with Joe's parents. It required having many frank conversations about caring for aging parents, as well as seeking legal guid ance around what happens if, say, a couple splits up, which led to signing a co-habitation agreement because a
avenuecalgary.com 99
THIS PAGE (SR HOUSE)
Clockwise from top: The light-filled kitchen and dining area is a hosting haven; in the ensuite bathroom, the vanity is adaptable to provide wheelchair
clearance; a custom bed with filleted corners eliminates sharp edges in the main bedroom.
OPPOSITE (JR HOUSE)
Clockwise from top left: A spa
cious, well-equipped kitchen is the heart of the laneway house; the second-level solarium is a year-round hangout space; func tional millwork creates a canvas for the homeowners' belongings in the living room.
Calgary lot cannot be subdivided.
Agreements in place, demolition of the old Bridgeland house and construction of the new ones began at the end of 2019. By the spring of 2021, both houses were move-in ready.
Both houses look inviting from the street, their exteriors a mix of prairie grain elevator and West Coast cabin. Joseph and Leslie, originally from Ontario, moved to Calgary in the early 1990s and spent lots of time on Vancouver Island. The new houses reflect both regions, says Joseph, with open space and the use of simple and natural materials, including galva nized steel on the roof and upper siding, and cedar on the lower.
Inside the senior house, a generous entry has a built-in bench and clutterbusting cupboards, all custom Baltic birch millwork. The pale millwork, white penny tile, white perforated screen and muted colours — punc tuated by colourful art — are used throughout. Aging in place doesn't have to mean living in a sterile or hospital-like setting, Hayes Couture says: "You need to feel alive and good about where you live; it's great when it's elegant and beautiful."
Sunlight streams into the vaulted dining and living areas while exposed structural fir beams lend a cozy, inti mate feeling to the expansive kitchen and its massive island. Large cabinet pulls allow easy grabbing, bright fin ishes create high contrast for declin
ing vision and extra width allows for future wheelchair mobility.
Behind the kitchen, the main bedroom, ensuite bathroom, closets and laundry area are seamlessly integrated for aging in place. The bed frame, custom-made by Studio North, has rounded corners to eliminate sharp edges. A water closet and separate shower with folding seat are wheelchair accessible, while a cabinet under the vanity can be removed to allow wheelchair clearance.
There's provision for an elevator should their mobility decrease, but Leslie and Joseph are currently enjoy ing the entire house. The upper floor has two offices — hers on a perforated floor above the entrance, with views all round — plus another bedroom for guests, or future caregiver quarters.
The lower level is an open music space where the couple indulges their love of flamenco; Joseph plays guitar, while Leslie sings and dances. There's a small gym that both households use, and a utility room with a large battery for the home's solar system. Both the senior and junior houses are energy efficient, with passive ventilation and particular attention paid to insulation and waterproofing the basement.
One of the most life-giving features is an external solarium, as Leslie is a passionate gardener. "I want to grow as much as possible to sustain us," she says. "There are figs, limes, herbs and bay leaves, with more to come."
november 2022100
The junior house also has a solari um, with a restrained riot of thriving plants. Joe and Tanya use the space for reading, doing yoga and being sur rounded by green year-round.
Their laneway home is a marvel of light, space and efficiency. The front entrance has banks of sleek storage, with doors hiding the laundry, heat ing and cooling machinery. Open stairs lead up to Tanya's office, a tidy, airy perch. Up from there, the main level has a spacious, chef-worthy kitchen — all Baltic birch cabinetry, no pulls — with an island that can be extended to seat nine people. It's great for entertaining, but Tanya has hosted clients and run training sessions there, too.
The adjoining living area, which Joe describes as an "opium-den crashpad," features a low-slung Togo velvet sectional, a curated display wall of albums, plants and art, and a ladder to the vaulted listening loft that holds Joe's extensive record collection and sound system.
A tranquil inner courtyard — dubbed the "Dortyard" by Hayes Couture — separates the two houses and provides more opportunities for tending native plants and fruit trees. Here, the senior and junior Dorts can be alone, casually bump into one an other or get together for barbecues. Here, their lives will increasingly intertwine, as they put down roots and age in place.
HOW TO AGE IN PLACE
Damon Hayes Couture, Studio North's creative director, offers 10 strategies to future-proof a home, all from the Bridgeland senior house.
Create comfort Recycled cork flooring is a soft, comfortable material that absorbs impact, "great for the joints as you age," says Hayes Couture.
Add places for rest Place a bench at the entrance where you can put on and take off shoes and coats; and one outside as a spot to rest briefly.
Build in adaptability The cabinet in the main bathroom's vanity can be removed to allow a wheelchair to roll up to the countertop and sink.
Think about accessibility A gentle entryway ramp allows access for wheelchairs or other mobility aids.
Make way Four-foot-wide hallways and three-foot-wide doors through out allow for easy movement.
Green it up Solariums provide space for plants to grow year-round and are a buffer between inside and outside.
Plan for hobbies Have a space to "ex plore what makes you, you" — in the senior house, this translates as a music area and flamenco stage.
Display memories Millwork shelves and niches display collectibles. "It's important to remind yourself where you've been," Hayes Couture says.
Light the way Ample light every where, including hallways, helps with declining vision.
Celebrate family A central courtyard provides a gathering space where the family can spend time together.
DECOR avenuecalgary.com 101
the Okanagan's
us for Western Canada's
winter carnival.
november 2022102 #ExploreVernon Discover
winter playground Join
largest
vernonwintercarnival.com
GUIDE TO IN THE WINTER
OUNTAINS
Don't
CARTER
With clean lines and vivid colours, Indigenous artist Jason Carter's paintings are iconic throughout the Bow Valley — and beyond. Originally from Little Red River Cree Nation on Treaty 8 land, Carter now owns and operates the Carter-Ryan Gallery in Canmore and Banff with partner and frequent artistic collaborator Bridget Ryan, a theatre artist, who uses the Canmore space as a performance venue. Carter is also known for creating sculptures in soapstone, alabaster and chlorite, and for his public-art installations in the region. "What I hope people get from the work is a sense of joy, a sense of place and a sense of wonder," he says. "Where I draw a lot of my inspiration from is the beauty of the Bow Valley. Surrounding yourself with beauty and inspiration is paramount to your creativity." —Jacqueline Louie
The Carter-Ryan Gallery is at 705 Main St. in Canmore and 229 Bear St. in Banff. For winter operating hours and event information, visit carter-ryan.com
avenuecalgary.com 103 IMAGE COURTESY OF CARTER-RYAN GALLERY
huddle at home this winter. Instead, head for the hills and embark on an amazing adventure. Here are just some of the many ways to enjoy the snowiest season in our beautiful backyard. MOUNTAINS
M
J ASON
the art of A
Mother's
Love at Nightfall,
giclée by Jason Carter.
The Skinnyon Nordic Skiing
During the pandemic, as socialdistancing mandates resulted in the closure of most ski resorts, the popularity of cross-country skiing skyrocketed. Less expensive than al pine resort skiing, cross-country (a.k.a., XC, Nordic) skiing proved to be a cohort-friendly and socially distanced activity that's also a great workout. Even with resorts open, XC converts are continuing to hit the trails. Kit Richmond, owner of LifeSport, a local retailer of cross-country ski equipment and apparel, has watched Nordic skiing spike in popularity since 2020 — by the end of last November, LifeSport had sold out of all its entry-level cross-country ski gear. He expects that popularity will continue to rise.
There are trails for all levels of Nordic skier in the mountains near Calgary, particularly through out Kananaskis Country, Bragg Creek and at the
Canmore Nordic Centre Provincial Park. You'll also find track-set (machine-made) trails in many of Calgary's urban parks and green spaces, including North Glenmore Park, Confederation Park and at the Shaganappi Point Golf Course.
THREE LOCAL XC SKI CLUBS
A cross-country skiing club is a great way to meet new people and learn about new trails. Here are a few Calgary-based clubs to consider joining. Incorporated in 1964, Foothills Nordic Ski Club is a full-service, not-for-profit club that delivers programs for all ages and performance levels. Pro grams include ski fitness training, adult learn-to-ski and skill-improvement, and a program for women aged 55-plus; while memberships perks include discounted rates at mountain lodges, waxing clinics, club events and more.
Proclaimed an effective treatment for "cabin fever and winter woes," Calgary Ski Club is the city's oldest outdoor recreational club, providing year-round activities and programs for all ages and performance levels. The club offers single-day carpool trips to the mountains and bus trips to re sorts for cross-country skiing adventures, as well as pub nights and other social events. The Calgary Ski Club also runs the Calgary New and Used Ski Sale, Canada's largest ski and gear sale.
Calgary Nordic Training Group has been around since 2008 and offers family-oriented train ing programs, as well as adult ski fitness classes. There are individual annual memberships as well as family memberships with prices based on the number of kids in the family. This group has a focus on training while encouraging participation in ski loppets (recreational races).
BY ROAM CREATIVE/TRAVEL ALBERTA
november 2022104 PHOTO
BY GABRIELLE CLEVELAND Why this classic winter pastime is more popular than ever.
Cross-country ski trails in Bragg Creek, Alta.
LOPPETS TO TRY
BC
1Nipika Toby Creek Nordic Loppet
Run in partnership with the Toby Creek Nordic Ski Club in Invermere, B.C., this loppet has skate-ski and classic-ski categories. Classic distances start at 1.5 km and extend up to 30 km, while skate-ski races range from 1.5 km to 20 km. The races take place at Nipika Mountain Resort (pictured above) near Radium, B.C. Jan. 28 and 29, 2023 nipika.com/loppet
2Canadian Birkebeiner Ski Festival
The "Birkie" is Western Canada's premier Nordic ski event. Spanning three days in February, this festival hosts competitive and recreational crosscountry ski races in a range of distances, including the namesake Birkebeiner, which has origins in Norwegian lore. Legend has it that, in the year 1206, with the kingdom embroiled in civil war, two warriors skied the infant prince of Norway approximately 55 km to safety. Modern Birkebeiner racers ski the same distance with a 5.5-kilogram pack to symbolize the weight of the child. The first Canadian Birkebeiner took place in 1985 and it has been staged annually ever since at Cooking Lake-Blackfoot Provincial Recreation Area near Edmonton. Feb. 10 to 12, 2023 canadianbirkie.com
Mtnbites
3Huckleberry Loppet
Offering distances up to 30 km, the Huckleberry Loppet weekend is the Golden Nordic Ski Club's biggest event of the season, with classic races on the Saturday and skate-ski races on Sunday. Feb. 11 and 12, 2023 goldennordicclub.ca/events
4The Cookie Race
Foothills Nordic Ski Club hosts Alberta's second-longest-running loppet, which takes place annually at the end of February at Peter Lougheed Provincial Park. Racers get cookies at stations throughout, while kid racers get candy bags after crossing the finish line. Distances start at 0.5 km and extend up to a marathon 42 km. Participants five and up can register online at the Foothills Nordic website. Feb. 25, 2023 foothillsnordic.ca/races/cookierace
5Lake Louise to Banff Loppet and Relay This event dates back to 1929 and has 9.7-km and 20.3-km solo races, plus 36-km and 72-km races that can be done solo or as a relay team. The 72-km distance goes from Lake Louise to Castle Junction and back. Registration for the 2023 event opens Dec. 1, 2022. loppet.ca
S NOWBOARDERS WELCOME
IN THE 1980S, BANFF SUNSHINE VILLAGE WAS THE FIRST RESORT IN CANADA TO ALLOW SNOWBOARDING — THANKS, IN PART, TO CALGARIANS NEIL DAFFERN AND KEN ACHENBACH, WHO WERE PIONEERS OF THE SPORT.
C ABIN FEVER
WITH MORE THAN 400 INDIVIDUAL LODGINGS AVAILABLE TO RENT, THE TOWN OF JASPER IS THE SELF-DECLARED CABIN CAPITAL OF CANADA.
SKATE AWAY
IN 2014, GUINNESS WORLD RECORDS DECLARED THE 34-KM-LONG WHITEWAY ON LAKE WINDERMERE THE "WORLD'S LONGEST SKATING TRAIL."
HOT STUFF
JASPER'S MIETTE HOT SPRINGS ARE THE HOTTEST IN THE CANADIAN ROCKIES: NATURALLY 54°C (129°F), THE WATER IS COOLED TO A MORE PLEASANT 40°C (104°F) AS IT FLOWS INTO THE POOL.
LONG MAY YOU RUN
AT MORE THAN 15 KM, REVELSTOKE MOUNTAIN RESORT'S THE LAST SPIKE IS THE LONGEST SKI RUN IN NORTH AMERICA.
avenuecalgary.com 105 MOUNTAINS BIRKEBEINER PHOTO COURTESY OF THE GOVERNMENT OF ALBERTA; NIPIKA PHOTO BY KARI MEDIG/ DESTINATION
IF YOU WANT TO TAKE THINGS TO THE NEXT LEVEL AND EXPERIENCE THE EXCITEMENT AND COMPETITIVE SPIRIT OF A CROSS-COUNTRY SKI RACE, THESE FIVE ARE WORTH THE DRIVE.
F IVE
suchgreatheights
Lake Louise Sightseeing Gondola Lake Louise Ski Resort
Lake Louise's gondola experience is a 14-minute cruise up to 6,850 feet, where you can gaze out at soaring peaks and the stunning Victoria Glacier. Note that there are no dining, lodge or washroom facilities at the top during the winter season. skilouise.com/activities/winter-fun/ sightseeing-gondola
Golden Eagle Express Gondola Kicking Horse Mountain Resort
This six-passenger gondola at Kicking Horse Mountain Resort in Golden, B.C., transports riders to the summit in 12 minutes. At 7,700 feet atop the Purcell Mountains, you can see views of five national parks and visit the Eagle's Eye Restaurant, a stunning chalet-style room with an incredible view. Eagle's Eye is open daily in the winter for lunch and après-ski, and for dinner on Friday and Saturday evenings. There are also two bookable luxury suites that include a private chef, butler and, for skiers and snowboarders, an instructor-guide to show you around. kickinghorseresort.com/purchase/ winter-activities
The Banff Gondola zips you to the top of Sulphur Mountain in eight minutes in four-person cars. At 7,486 feet, you'll find a multi-level complex with grab-and-go, casual sit-down and "elevated" dining options, as well as an interpretive centre and theatre and 360-degree rooftop observation deck with warming firepits.
From the summit complex, take the Sulphur Mountain Boardwalk to the Cosmic Ray Station, a former weather-reporting station, now a National Historic Site of Canada, perched atop neighbouring Sanson's Peak.
The immersive multimedia Nightrise experience is returning this winter and is a unique way to take in the summit after sunset. Created by Montreal-
based studio Moment Factory in participation with the Stoney Nakoda Nation, Nightrise's original soundscapes blending voices, music and spoken word linger in the mountain air and highlight the Stoney language.
Other seasonal happenings include the Gondola's annual transformation on Nov. 20 into the Elf Express, a winter wonderland where you can enjoy photos with Santa, a holiday cocktail bar, ice sculptures and more.
The Banff Gondola is wheelchair accessible, with all levels within the summit complex accessible by elevator. The gondola cars can accommodate most standard-sized manual and motorized wheelchairs, walking frames and assistance devices. banffjaspercollection.com/attractions/banff-gondola
Jasper SkyTram
The Jasper SkyTram whisks guests up Whistlers Mountain to a height of 7,425 feet. From there, take the Summit Trail for 360-degree views of stunning Mount Robson, the highest peak in the Canadian Rockies. The SkyTram is not open during the winter, but you can experience winterlike conditions when it opens in the spring of 2023 by snowshoeing at the summit. Guest can rent snowshoes at the upper station retail store for $15.75 per pair.
jasperskytram.com/things-do/ snowshoeing
NOEL HENDRICKSON
november 2022106 MOUNTAINS PHOTO BY
Gondolas provide a way for everyone to enjoy the splendour of the mountains. Here are four key experiences in the regional mountain areas.
M OUNTAIN G ONDOL A A DVENTURES B ANFF GONDOLA
SANSON'S PEAK IN BANFF NATIONAL PARK IS NAMED FOR NORMAN SANSON, WHO, FOR 30 YEARS, HIKED UP WEEKLY TO REPORT ON THE WEATHER UNTIL RETIRING IN 1945 AT THE AGE OF 84.
2 1 3 BY LYNDA SEA three more
PHOTO BY MIKE HESLA
Surrounded by the towering peaks of Yoho National Park, Field, B.C., is a popular pitstop for travellers on the Trans-Canada Highway. But many don't realize that there is a quaint town (technically, an unincorporated community) beyond the rest stop that is worth a longer stay.
BC; TRUFFLE PIGS
With less than 200 residents, Field is a close-knit community, home to ski bums and nature-lovers who are drawn there from all across Canada. Since childhood, I have been visiting Field with my family and some of our closest friends for an annual winter holiday and, over the years, have come to appreciate it as a true skier's paradise.
PHOTO BY KARI MEDIG/DESTINATION
Just a 20-minute drive from Lake Louise Ski Resort, Field is an ideal base camp for those wanting to avoid the crowds in Banff and Canmore. The primary lodgings and restaurant in town is the Truffle Pigs Bistro & Lodge (motto: "Dig in! Pig out"). The bistro is open year-round and offers a hearty menu that includes the Big Rig Burger (a 7-oz. patty of ground Angus
beef, topped with bacon, onion rings and blueberry barbecue sauce), P.E.I. mussels, and the "Hard to Handle" bison donair. When done pigging out at the bistro, the bar and lounge are a relaxed environment to enjoy B.C. craft beers, shafts and Caesars.
On the other side of the highway from the Field townsite is the luxuri ous Emerald Lake Lodge. Part of the Canadian Rocky Mountain Resorts portfolio, this idyllic, chalet-style property is located on the shores of
Emerald Lake, where you can find great cross-country ski trails during the winter season.
The area around Field is also wellknown for its backcountry skiing. Mount Field in the Little Yoho Valley is a popular touring area for moderateto-expert-level big-mountain skiers, with 1,500 metres elevation gain from parking lot to summit. Along with a lovely, long ski descent, Little Yoho offers a beautiful 360-degree view of surrounding mountains (though poor
visibility and strong winds on Mount Field are common occurances). Ross Lake is another popular backcountry circuit in the area. The descent from the summit to the Great Divide (an old highway that is now a groomed trail) is a smooth path suitable for ski touring beginners.
If skiing is not your thing, Field also has family-friendly hikes and trails nearby, including the stunning Wapta Falls trail, open for snowshoeing and sightseeing throughout the winter.
avenuecalgary.com 107 MOUNTAINS
MAIN
Emerald Lake.
BY GABRIELLE CLEVELAND
Just
across the Alberta-B.C. border in Yoho National Park, the community of Field flies under the radar, but for intrepid winter adventurers, it's pretty close to paradise.
FieldDays
Truffle Pigs Bistro.
Smoked Apricot Toddy from Rundle Bar at Fairmont Banff Springs
Bourbon's classic notes dance with the bright flavours of apricot liqueur in this hot toddy adaptation. A base of Lapsang Souchong tea is cut by a citrusy bite of lemon, while a few dashes of peach bitters tie this luxurious libation together.
405 Spray Ave., Banff, fairmont.com/banff-springs
Winter Warmers
Afterburner from The Chimney Corner at Banff Sunshine Village
Après-ski gets amped up with this hot sipper named after the notorious mogul-riddled black diamond run on Goat's Eye Mountain. This herbaceous hot chocolate throws it back to the Alps, with the addition of green chartreuse and Fernet-Branca, an aperitif originally marketed as an Italian medicinal product. Paired with the sweet and comforting nature of cocoa, it'll kick you into high gear. skibanff.com
Wild Blackberry Mule from Wild Life Distillery in Canmore
The perfect pick-me-up on a frosty day, this more-ish mule is best thrown back during a fresh snowfall. Juniper and spice have made everything nice in this winter warmer splashed with Wild Life's seasonal pink blackberry gin. Plum notes from the gin are highlighted by fresh ginger and a zingy mule syrup.
Its lip-smacking teeter-totter of spicy and sweet is sure to keep your taste buds tingling. 160, 105 Bow Meadows Cres., Canmore, wildlifedistillery.ca
Chili Chai Hot Chocolate from Nourish Bistro in Banff
Those looking for a buzz without the blurry lines of alcohol will find it along Banff and Lake Louise's Hot Chocolate Trail. Infused with dark-chocolate almond milk, cinnamon, nutmeg, vanilla and chili-chai tea, Nourish Bistro's Chili Chai Hot Chocolate is a virtuous vegan concoction, polished off with coconut whipped cream and dark chocolate shavings. 110, 211 Bear St., Banff, nourishbistro.com
Silent Sister from Bluebird Restaurant and Lobby Bar in Banff
Though low in alcohol, Silent Sister's flavour profile reads like a classic Old Fashioned. Caramel rooibos tea from Jolene's Tea House and the drink's single spirit, Clynelish 14, a Highland single malt whisky, are further enhanced by chocolate bitters, oleo saccharum (a sugared oil made with oranges) and garnishes of sage and nutmeg. 218 Lynx St., Banff, banffcollective.com/ bluebird-restaurant
Becky With the Good Hair from 4296 in Canmore
There's nothing basic about this drink inspired by Beyonce's self-empowerment single "Sorry." A tableside hot infusion brewed before your eyes, Becky With the Good Hair tastes as good as she looks, morphing into a pretty periwinkle shade thanks to the addition of butterfly pea flowers. Spiked with the mellowing effects of honeyed Poli Miele (a grappa-based liqueur) and Park Distillery Glacier Rye, you'll be in a more forgiving mood after imbibing, trust 626 8 St., Unit 3, Canmore, fourtwoninesix.ca
Three Sisters from Lake Louise Ski Resort
Carefully layered in three parts, this riff on an Irish coffee pays homage to the iconic peaks it's named after. The smoky undertone from Eau Claire Distillery's rye whisky and a shot of espresso highlights the sweetness of maple syrup and rich cream floating atop the boozy beverage. It's a creamy creation that'll give you the courage to brave the frosty elements.
skilouise.com
november 2022108 MOUNTAINS
PHOTOS COURTESY OF FAIRMONT BANFF SPRINGS; MARYN SIMRAK; NOURISH BISTRO
There's no need to hibernate this season, not when the cocktail scene in the nearby mountains is so spirited. These cozy concoctions will ensure you warm up to winter.
BY JODY ROBBINS
PHOTO BY NOEL HENDRICKSON
Food,Film,Fun
At Devour! The Canadian Rockies Food Film Festival, held at Fairmont Jasper Park Lodge (JPL), the eat ing begins shortly after check ing in and continues through the entire weekend, with short films, workshops and self-guided mountain pursuits along the way.
The festival, one of the JPL's signature events, is an offshoot of Wolfville, Nova Scotia's Devour! The Food Film Fest, an event founded by chef Michael Howell and Lia Rinaldo in 2009. That festival is held annually in October, however, throughout the year, Devour! hosts satel lite events around the world to promote the Nova Scotia festival, connect a community of chefs and, ultimately, change the way people look at the world of food through film.
Devour! The Canadian Rockies is the largest of these satellite events. The 2022 edition kicked off with a Cabin Crawl, taking festivalgoers inside a selection of the JPL's Signature Cabins, from the rustic Viewpoint Cabin to the sleeker Stanley Thompson Cabin. Inside each, participating guest chefs cooked up an exclu sive menu, such as a Bahamian feast with snow crab claws and conch fritters by Howell (on top of running Devour!, he's the consulting executive chef at The Green Turtle Club in Abaco, Bahamas).
The following day brought the annual Chili Smackdown (a Rocky Mountain twist on the Nova Scotia festival's signature Chowder Smackdown), where guests taste iterations of the com fort dish made by the chefs and vote on their favourite.
The star event is the Devour! Gala Dinner — a multi-course meal where each is paired with a short, food-related film. All chefs select a film ahead of the festival and must create a dish that con nects to it in some way. At the 2022 festival, the dessert course by Andrea Ouellet and Tricia Sullivan from Edmonton's Duchess Bake Shop was a snowball-inspired meringue with a walnut crumb base and birch cream cheese mousse filling, to go along with the film Gustav, The Snow Chef, an eccentric parody about a chef who cooks with snow. In addition to resembling Gustav's beloved ingredient, the dish also mirrored the layer of snow and ice still covering Lac Beauvert in mid-March.
That's the thing: Just don't forget to look up, and get out, in between all the devouring.
Taste for Adventure, Banff Oct. 28 to Nov. 13, 2022
Enjoy exclusive menus at 20+ restaurants in Banff, including eight that have opened since 2020, like Lupo Italian Ristorante and sushi spot Hello Sunshine. banfflakelouise.com/tasteforadventure
Cornucopia, Whistler
Nov. 4 to 27, 2022
Whistler's annual food and drink festival celebrates 25 years with a month-long slate of events, from intimate dinners and drink seminars to its marquee Crush Grand Tasting, a gala event with sampling stations from wineries in B.C. and beyond. whistlercornucopia.com
Banff Craft Beer Festival, Banff
Nov. 24 to 26, 2022
The Cave and Basin National Historic Site — where Banff National Park was established — is taken over by dozens of craft breweries and distillers, as well as local food vendors, for a weekend of sipping and sampling.
albertabeerfestivals.com
avenuecalgary.com 109 MOUNTAINS DEVOUR! PHOTO COURTESY OF FAIRMONT JASPER PARK LODGE; BANFF CRAFT BEER FESTIVAL
BY DOMINIQUE LAMBERTON
M OUNTAIN F OOD A ND DRINK F ESTIVALS 2 1 3 three more
Taking in the Devour! festival at Fairmont Jasper Park Lodge. MARK YOUR CALENDAR (AND SAVE ROOM) FOR THE NEXT EDITION OF DEVOUR! THE CANADIAN ROCKIES, TAKING PLACE MARCH 31 TO APRIL 2, 2023.
SPOTLIGHT ON AVENUE'S TOP 40 UNDER 40 ALUMNI
These three inspiring alumni continue to make our communities great in Calgary and beyond
When Calgarians are recognized as one of Avenue's Top 40 Under 40, their achievements don't stop. Their expertise, hard work and determination drive new passions and inspire new projects.
We check in with three inspiring Top 40 alumni, including one who donates her time and expertise to support crisis and disaster relief, one who educates people about how to healthily address trauma and another working to make meaningful change and fight racism.
ADVERTISING FEATURE 110 avenue November 22
SHAILAZ DHALLA
In addition to honing her legal craft in the regulatory field, this dedicated Top 40 Under 40 alumna gives back to her community any way she can.
Shailaz Dhalla is part of the Top 40 Under 40 class of 2009, a recognition she earned in part for her work as legal counsel with the Alberta Utilities
Commission — representing the AUC at hearings and using her negotiation skills to balance the needs of industry with those of Albertans. She coupled her demanding career with volunteerism, spending up to 30 hours a week giving back and supporting groups like the Ismaili Muslim Con ciliation and Arbitration Board, Alberta's Kinship Care Program, the Calgary Bridge Foundation and various immigrant and refugee aid initiatives. Since 2009, Shailaz's professional and volunteer work has seen further success.
In 2013, Dhalla made the shift from public to
private practice when she accepted an associate position with the law firm Lawson Lundell LLP, working her way up to partner in 2019. As a regulatory expert with the firm, Dhalla focuses on energy, environmental, utility and Indigenous law. She helps her clients navigate high stakes and complex legal issues, with a goal to obtain major project approvals that contribute significantly to advancing the Alberta and Canadian economies.
Dhalla represents major players in the oil and gas industry in her day-to-day work. In equal measure, she remains passionate about giving back wherever she can. This includes involvement with student recruitment and mentoring new lawyers who are moving up through the ranks. "At Lawson Lundell, we strongly support men torship initiatives that actively empower young lawyers by building capacity and creating oppor tunities that will nurture and advance their legal skills in an environment that promotes teamwork and inclusivity," says Dhalla.
Dhalla volunteers her time as a member of FOCUS Humanitarian Assistance's Board of Directors, an international agency dedicated to saving lives through crisis response, disaster risk management and enabling sustainable communi ties. The group provides relief in Canada, as well as Europe, the Middle East and Asia.
"Due to the range of challenges faced by global non-profit agencies, legal acumen is highly sought after," says Dhalla. "When you're fortunate enough to cultivate a certain set of skills — for me, those are legal skills — it's important to utilize your skill set to improve the quality of life of others where you can."
The driving factor behind all Dhalla has ac complished is her strong belief in the importance of family, volunteerism and community. In 2009, Dhalla said to Avenue, "The two things that have enabled me to succeed personally and profes sionally are my family and the Ismaili Muslim community, of which I am a part. Both of these elements serve to ground me; they also provide the motivation for me to continue to seek greater growth and success despite any challenges along the way."
In the 13 years since Dhalla's Top 40 recogni tion, her outlook remains the same. And, at the heart of Dhalla's impressive achievements, is the pull to look beyond herself.
"I am grateful to be a part of so many strong and supportive communities," says Dhalla. "Whether it's the legal community, the Ismai li Muslim community or the greater global community, enduring resilience and success can only be measured by what is achieved as a collective whole."
ADVERTISING FEATURE PHOTOGRAPH BY JARED SYCH
"I AM GRATEFUL TO BE A PART OF SO MANY STRONG AND SUPPORTIVE COMMUNITIES. ENDURING RESILIENCE AND SUCCESS CAN ONLY BE MEASURED BY WHAT IS ACHIEVED AS A COLLECTIVE WHOLE."
This Top 40 Under 40 alumnus has continued his work in bettering Indigenous communities while also expanding his focus on social justice and racial equity efforts.
When Tim Fox joined the Top 40 Under 40 class of 2019, he described seeing his role with the Calgary Foundation as a "systems changer." Fox was recognized as a Top 40 Under 40 for his dedicated work with the Calgary Foundation in helping better its efforts with Indigenous
communities and finding ways to mobilize the work of Truth and Reconciliation. Today, Fox continues eliminating barriers as a systems changer for Indigenous communities internally and in the broader community as the Calgary Foundation's vice-president of Indigenous relations and racial equity.
"I believe the work of reconciliation is for all people, but the demographic that's really influenced the Truth and Reconciliation movement has been the Indigenous population," says Fox. "We're trying to reach out and expand that scope to include more racialized communities to work towards equitable practice."
Since his Top 40 recognition, Fox has continued this work while also expanding and evolving his focus on social justice and, more
recently, on racial equity. Shortly into 2021, the Calgary Foundation conducted a racial equity audit with the intention to identify areas within the organization that could be problematic, or harmful toward racialized people and communities. Using the audit as a guiding framework, Fox is helping the Foundation work towards equitable practice. "Moving forward, we must address those recommendations and incorporate them into how we operate as an organization so that we are truly trying to address any systemic racism that may occur or exist," says Fox.
Along the way, Fox has seen a shift in other sectors that are now finding ways to mobilize similar work. It's a shift Fox relates to realities society is now witnessing. In 2021, a mass grave of Indigenous children was found on the grounds of a former residential school, a discovery that rocked the world. Then in 2022, Pope Francis visited Canada and gave a historic apology for the role of the Catholic Church in residential schools. Fox says that as society comes face to face with this reality, we're finally paying attention.
"We still have much work to do. If we want real, significant cultural change, we're talking about a cultural shift that has to happen — not only within our organization but in society overall. So, these experiences that we're designing and facilitating are ongoing. They should be ongoing for everyone," says Fox.
While Fox intends to continue his work with the Calgary Foundation — and finds hope and motivation that society will experience the significant changes needed for reconciliation, equality, decolonization and healing — he also acknowledges his efforts are generational.
"I'm very hopeful that there's a new kind of leadership emerging in the young generation who has no patience for the status quo and is ready for change. We just can't be naïve to think that we'll experience it in our lifetime. This is generational work," says Fox.
Moving forward, Fox remains humbled and grateful to be given the opportunity to facilitate his work with the Calgary Foundation. Still, he also hopes to see other organizations realize that shifting systems and infrastructure requires a huge cultural and organizational shift.
"I believe that one of the ways to change a system is when you shift attitudes and beliefs. Right now, there are harmful attitudes and beliefs that exist, not only for Indigenous Peoples, but for all racialized groups. I'm happy the Calgary Foundation is giving me the opportunity and role to help facilitate a systems change approach to reconciliation and racial equity."
ADVERTISING FEATURE PHOTOGRAPH BY THUNDER BOY PHOTOGRAPHY INC.
TIM FOX
"I BELIEVE THAT ONE OF THE WAYS TO CHANGE A SYSTEM IS WHEN YOU SHIFT ATTITUDES AND BELIEFS."
CHRISTINE GIBSON
Training in 2022, which helps professionals like teachers, doctors and entire companies recognize the stress and trauma around them. The organization works to create traumainformed spaces and offers modules on nonviolent communication, psychological first aid and diversity.
In 2011, Dr. Christine Gibson joined Avenue's Top 40 Under 40 class because of her effort to eliminate the gaps in global health care and her non-profit work with Global Familymed Foundation, which provides scholarships to family medicine residents in Uganda. Gibson has since shifted her focus to local endeavours in the community, where she quickly learned that trauma was the underlying cause of most mental and physical health issues.
"I think my recognition of issues around global health and equity have made me recognize that trauma is something that needs to be addressed within individuals, companies, communities and globally," says Gibson.
Knowing that systems were so affected by mental health, Gibson co-founded Safer Spaces
"The pandemic has been recognized as a collective trauma, but so is the climate emergency and inequity," says Gibson. "Being in health care makes it evident that it touches all of us."
Near the beginning of the COVID-19 pandemic, Gibson began creating social media content, "@tiktoktraumadoc," where she shares information about mental health matters. The messages resonated enough to get Gibson a book deal, and The Modern Trauma Toolkit will be out in spring 2023. The book provides an accessible and solution-focused look at trauma with both an individual and system-focused lens. "It was a dream come true to marry systems thinking, my work in trauma and writing," she says. Gibson is currently working toward completing a doctorate at Middlesex University London to further her passion and work on the link between systems design and trauma.
To learn more, visit linktr.ee/cgibsonmd
forty under forty
THANK YOU TO OUR SPONSORS
T op 40 Under 40 .com
TOP
ADVERTISING FEATURE PHOTOGRAPH BY LORI ANDREWS
"IT WAS A DREAM COME TRUE TO MARRY SYSTEMS THINKING, MY WORK IN TRAUMA AND WRITING."
This Top 40 Under 40 alumna is focused on the role of trauma in mental health and providing the necessary supports to address it.
Mosaic (Base for Foucault's Pendulum)
Crescents of soft, natural colour circulate around a bright blue Earth in subtly shimmering tile. Designed and created by Helena Hadala to be the base of Foucault's pendulum at the Centennial Planetarium, the mosaic now has a second life as a floor installation within the raw concrete architecture of Contemporary Calgary, the public art gallery that took over the planetarium building in 2018.
In 1975, when she became the plan etarium's resident artist, Hadala was a recent graduate of the University of Calgary art department, where she had studied with outstanding artists like Ron Spickett, Harry Kiyooka, John Will and Noboru Sawai. Her first task was to paint murals of galaxies.
After breaking for an art tour across Europe, Hadala returned to her second as signment. The planetarium was planning a display of Foucault's pendulum — a device
to demonstrate the Earth's rotation on its axis — which required a calibrated floor to mark time. Based on Calgary's latitude, a chromed steel bob would complete a cycle every 36 hours. Hadala placed 72 small red tiles around the circumference of the globe with Calgary at the central pivot point to indicate the passage of each half hour and confirm to visitors that we live on a planet rotating in space. Surrounding the Earth, she visualized a cross-section view of Van Allen belts, the doughnut-shaped bands of energized par ticles that ring and protect our atmosphere.
Inspired by the organic ceramic mosaics of Catalan architect Antoni Gaudí, she chose mosaic for the floor, despite the fact that the medium was new to her. After scour ing bathroom and kitchen tile showrooms across town for square tiles in popular 1970s earthy tones (ruby-red, rusts, browns, harvest gold, avocado-green, lime, sandy-beige and off-white), she smashed them in a bag with a hammer to make irregular shapes.
TITLE
Mosaic (Base for Foucault's Pendulum)
DATE 1979
ARTIST
Helena Hadala
MEDIA
Commercial ceramic tiles, mortar, grout on concrete.
SIZE
47 square metres.
LOCATION
Contemporary Calgary, 701 11 St. S.W. (Gallery requires admission; access to view Mosaic is free.)
NOTES
Mosaic is part of the City of Calgary Public Art Collection. Also in the collection is the Hadala print Counter (1982), which will be displayed in the bus shelter along the BRT Orange Line at 16th Avenue and Uxbridge Drive N.W.
Placement of the tiles took a year and a half, with Hadala moving out from the centre on her hands and knees. She signed off with "H. HADALA" along the outside wall. For the finishing touch, she defined the tiles and in tegrated the tones of colours with grey grout.
Hadala is now a revered senior artist who continues to make beautiful work. This early mosaic is a fascinating prelude to the paintings, drawings and prints for which she is well-known: abstract compositions that suggest fields of gentle energy, tinged with ethereal soft colours.
TAMAYO
november 2022114 PHOTO BY JESSE
WORK OF ART
CURATED BY KATHERINE YLITALO
Full-Day French Preschool to Grade 12. Individual attention with small class sizes. Bilingual learning and study abroad opportunities. CALGARY'S PRIVATE FRENCH SCHOOL A PASSPORT TO THE WORLD LYCÉE INTERNATIONAL DE CALGARY Register to join us for our Winter Open Houses LEARN MORE LYCEE.CA/VISIT
january 2022116 3:15 PM Family enters tree cover; enco Child appears delighted. 4:00 PM Parent s s 3:00 PM Leave dwelling to participate in "hiking." Wolf Willow Local Species B h v ur The child is only 2 years old. She uses play to grow strong and independent. The abundance of greenspace in their habitat helps keep the entire family healthy and happy. oung family of Sapiens Hikerium is on the prowl ld is 2 years old She uses to grow stron Daily Habits of ] the Sapiens Hikeri HOMES FROM THE MID $200S L v A W fW w.