WE CALGARYavenuecalgary.com 09.22 / $6.50 10 things that will affect Calgary real estate in the next 10 years THE REAL DEAL How local arts groups evolved when stages were shuttered OUT OF DARKNESS OVEN FRESH A toast to the city's best bakers and the breads we love showtime GO ALL OUT THIS SEASON WITH FASHION THAT STEALS SPOTLIGHTTHE
1-888-408-9856 | merit-kitchens.com/cabinet-confidential Combining standard and customized cabinetry sizes and features will help create your dream kitchen while optimizing your investment. Peace of mind comes standard. Warranty included. MERIT KITCHENS PRESENTS CABINET CONFIDENTIAL Your Tailored Kitchen Awaits
Customization in double duty cabinetry. Tucking away the TV in a custom cabinet maintains clean lines while adding functionality for many lifestyles.
Organization is the theme of this kitchen. The homeowner used cabinetry inserts to add function and beauty throughout.
Beauty on the inside. And out.
To help provide a light and airy feel a classic shaker door in Snow White combined with the same style in glass was selected.
Creating a flow into the dining room was achieved using the same glass and solid cabinet combination. A tailored touch was added with the customized banquette.
www.LiveinAwe.ca Featuring beautiful executive homes, breathtaking views, walking and biking paths, and west Calgary's premier shopping destination Aspen Landing Shopping Centre. S C H O O L FREE INDOOR PARKING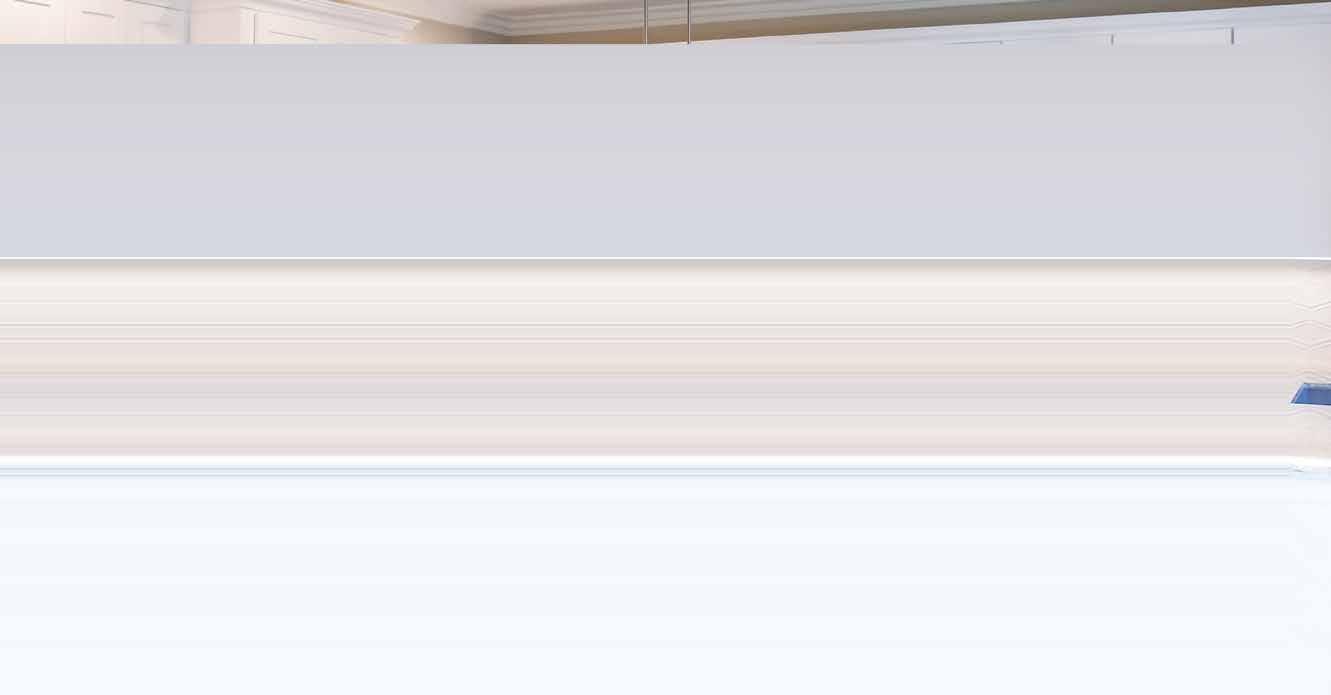 We e owntown ADV-1485122-0021631 EAUDOWNTOWNCLAIREBELTLINECOREDOWNTOWNWEST EAST VILLAGE CHINATOWN 17th Avenue Street14th There is no average Calgarian, and Downtown is no average community. A thriving downtown means a thriving city, and The City of Calgary offers programs and services to help businesses get back on track. Hear some of our stories at calgary.ca/respond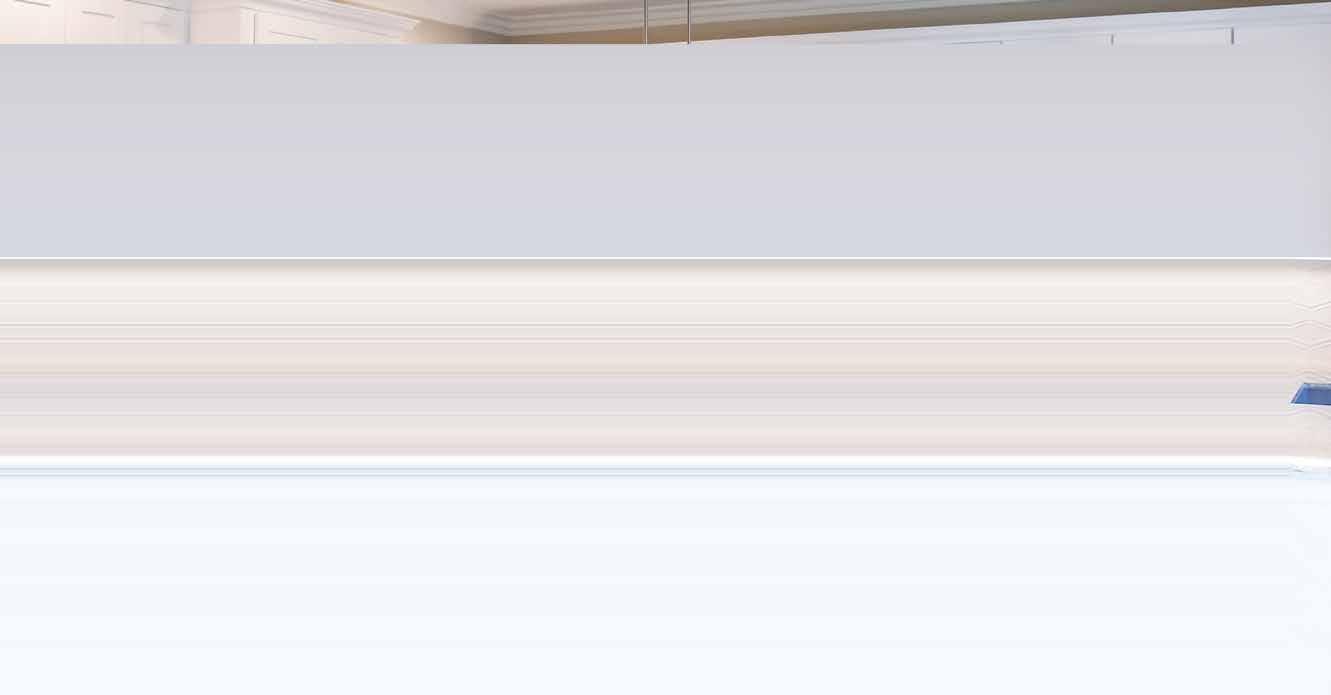 Your Family Home We know Calgarians have choices when buying a home. That's why we've built a company that builds so much more than quality houses. Trico offers new and unique home designs with all types of families in mind, in Calgary's most desirable communities. We'll help guide you through the decisions that will match the perfect home to your individual needs. We do more than build quality homes. We help create the place you call home. One Of Life's Most Important Comforts The Heart of Homebuilding® BUILDING IN 24 COMMUNITIES: FRONT-GARAGE HOMES | LANED HOMES | DUPLEXES | TOWNHOMES Find out more at tricohomes.com 2004 - 2022 Best For The FourWorldTime Honoree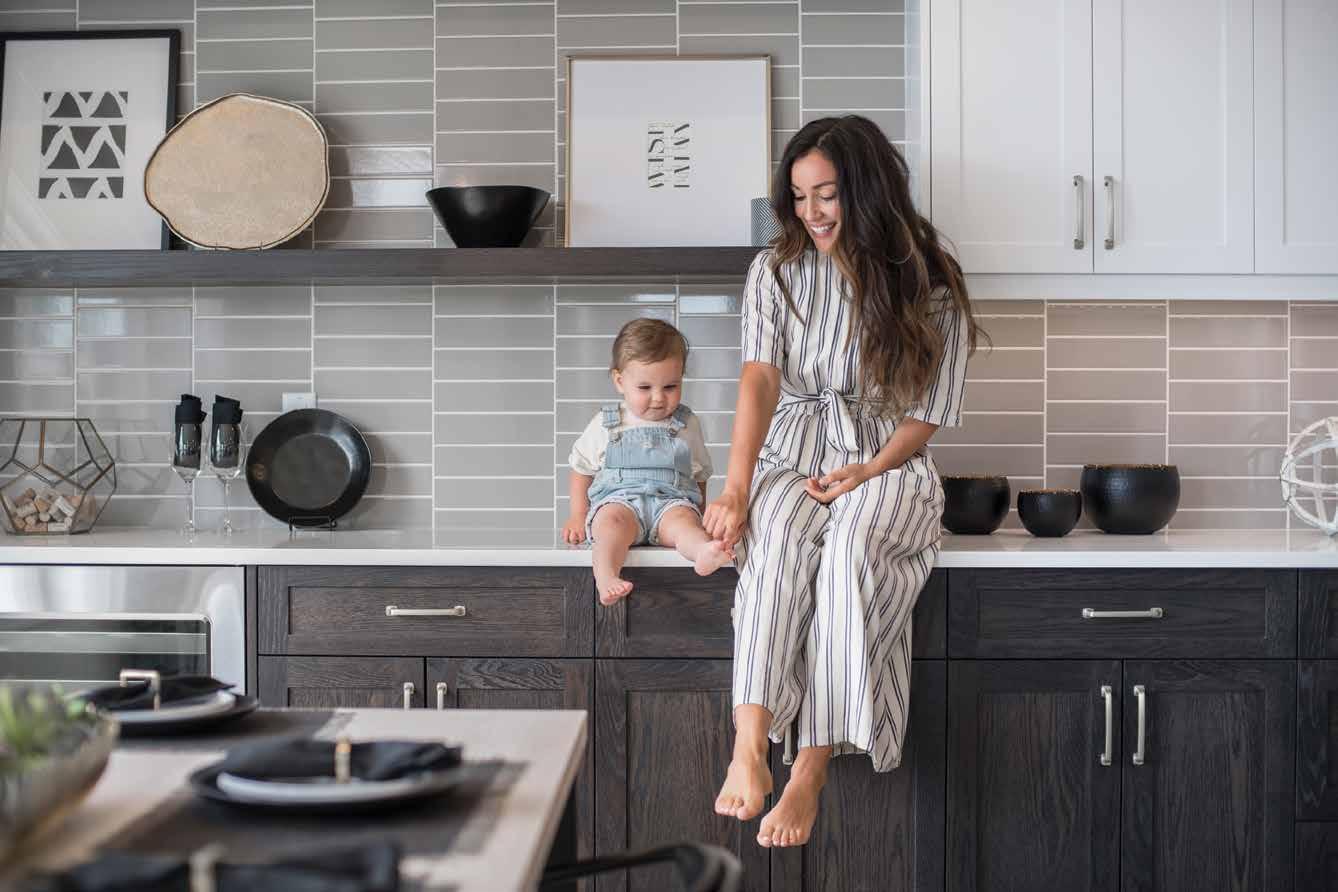 Whether it's through the Good Lives Here initiative, showcasing special moments of Trico homeowners, or through the ongoing support of local charities that include Kids Cancer Care Alberta, Trico Centre for Family Wellness, Women in Need and the Chiu School of Business, Trico Homes endeavours to do well as a company and good in its community."Eachyear, we sponsor and donate to several selected initiatives and organizations dedicated to solving social, cultural or environmental issues that impact our community," says Brown.
CELEBRATING 30 YEARS
"From our supply chain and raw materials to our charitable giving and employee benefits, the B Corp certification validates our business is meeting the highest standards of verified performance," says Brown.
"This collection of anniversary homes was curated through years of experience, innovation and continuous improvement," says Anna MacLean, Trico Homes director of sales. "For our 30th anniversary legacy homes, we've taken some of the most popular features from our most popular models and created a design that's really captured the spirit of ourTricolegacy."will also give 10 lucky customers who purchase a new home $3,000 toward either a design centre upgrade, Westjet gift card or a home option.
CELEBRATESHOMES30 YEARS
"With every home we've built — with every relationship we've entered — we've learned," says Trico Homes president Mike Brown. "We've applied the lessons and knowledge we've gained to develop a best practice, socially responsible approach that applies to all aspects of our business."
"In those many years since Trico built its first home, our city has grown and so has our love for it," says Brown. "Along the way, we've become one of Calgary's top builders."
To mark its 30th birthday, Trico Homes has unveiled two anniversary homes — the Bravo landed home (1,600 sq. ft.) and the Encore front garage (2,309 sq. ft.).
BUILDING A BETTER BUSINESS Trico Homes has forged ahead by embracing the idea of being corporate leaders, champions of innovation and valuable contributors to the betterment of the communities it serves. Through its efforts, Trico Homes has become the first and only homebuilder in Western Canada to be a certified B Corporation (B Corp) — and a four-time best worldwide. This designation shows a business is meeting high standards of social and environmental performance and transparency and has made a legal commitment to changing its corporate governance structure to be accountable to all its stakeholders.
"It is with a deep sense of pride, responsibility and care for our community and the legacy we have built over the past 30 years," says Brown. "It is in our innovatively designed family homes that we hope you will continue our journey into the next 30 years."
DOING WELL BY DOING GOOD Trico Homes shows a commitment to its communities and makes an impact by giving back.
TRICO
Building a better business and doing well by doing good helps Trico Homes enjoy three decades of success To find your dream home and become part of the Trico Homes legacy, visit tricohomes.com.
Founded by mechanical engineer Wayne Chiu, his vision was to create a "different kind of homebuilding company," that would bring positive change to its community.
The Wynwood
Marking its 30th anniversary in 2022, Trico Homes knows its commitment to "doing things right" has been the key to its continued success. Since its beginnings in 1992, Trico has built more than 11,000 single- and multi-family homes where residents of Calgary, Cochrane, Airdrie, Chestermere, Okotoks and DeWinton live, work and play.
ADVERTISING FEATURE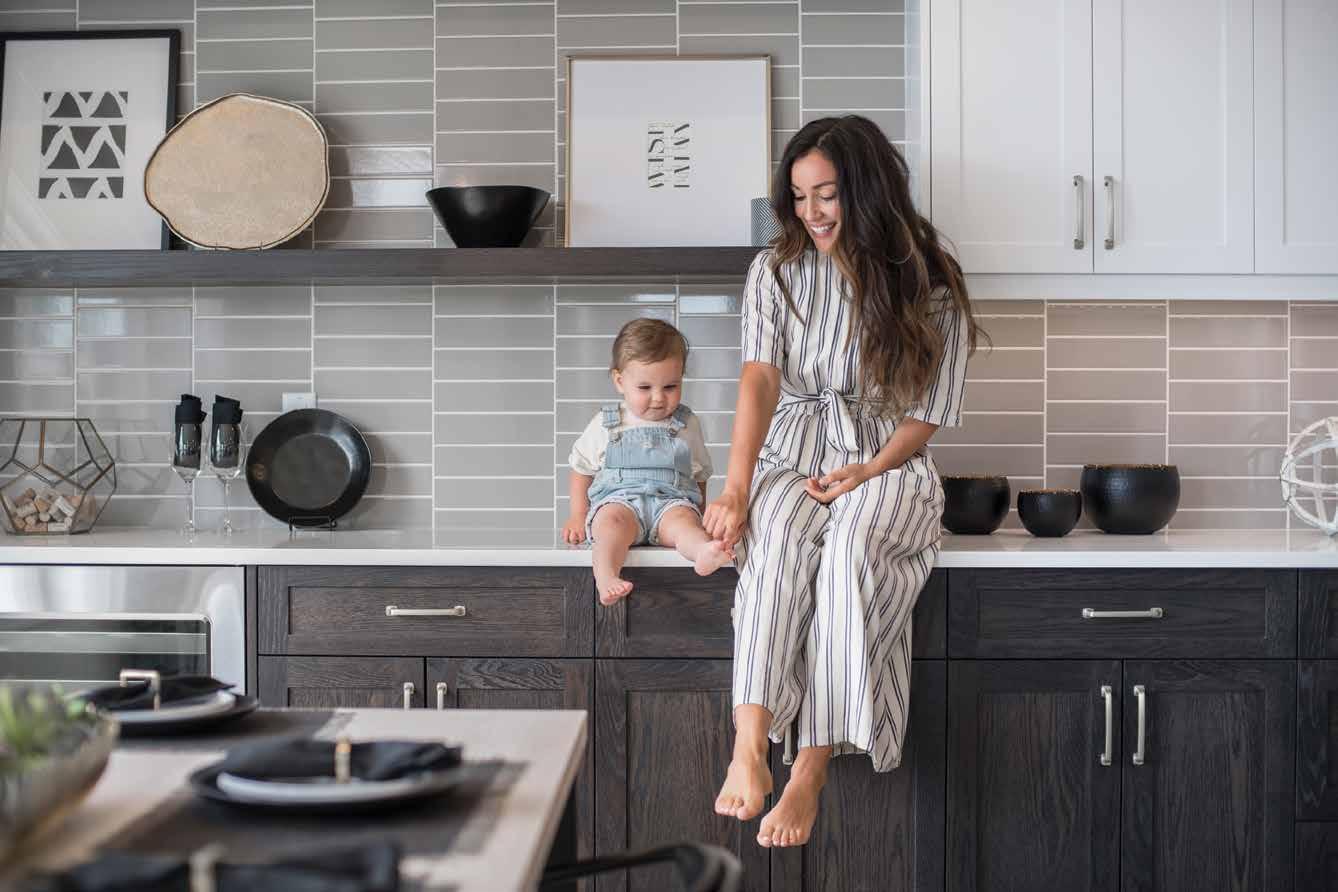 FEATURESDEPARTMENTS
How some local arts groups pivoted during the pandemic, and how they're faring now. By Zoltan Varadi 46 Board Room Cousins Skateboard Community is empowering youth in First Nations communities, one ollie at a time. By Dylan Leeder 72 Showtime! Take inspiration from the bold looks modelled by Decidedly Jazz Danceworks company dancers, and dress to the max.
80 Mountains The village of Radium, known for its eponymous hot springs, is at its peak in the fall. Here's where to eat, stay (yurts!) and what to do in the area. 84 Decor A tired and awkward split-level home in Varsity is transformed into a beautiful and functional family retreat.
40 Out of the Darkness
66 Dining We're looking back at the history of bread in Calgary, and toasting a handful of today's breadmakers, who are baking loaves, flatbreads and buns of beauty.
Dallas and Blade Hart, sons of Bret "Hitman" Hart, have launched a wrestling promotion company, featuring a new generation of wrestlers like Mo Jabari a.k.a. "Kid Chocolate." Cyclist-author Lori Beattie shares four fall bike rides to tackle this season, and we take a look at an all-women tattoo studio working to make the industry more inclusive and safe. Plus, you'll want to add Shahzia Noorally's pod cast, The Colour Gap, to your must-listen list. And, with the Calgary International Film Festival kicking off this month, we've got eight of executive director Steve Schroeder's favourite spots in the city.
27 10 Things That Will Affect Calgary Real Estate in the Next 10 Years
Local experts forecast the future of the Calgary market, considering every thing from interest rates and inflation to climate change. By Jessica Barrett 36 Now & Then Our managing editor compared her recent Calgary house purchase with that of her aunt and uncle's in 1969 — and found some similarities. By Dominique Lamberton on the cover NATASHA KORNEY Decidedly Jazz Danceworks company dancer, in clothing by Kate Hewko, photographed at the DJD Dance Centre.
Photograph by Jared Sych contents
72 19 66 09.22
september 202212 14 Editor's Note 90 Work of Art 19 Detours
Féret.ThierrybyarrangementFloweronly.purposesadvertisingforQuiniou,LeBaptisteGibert,MichelbyPhotoConditionsapply,contactstorefordetails.
Hyago. Large 3-seat sofa and lounge chair, designed by Antoine Fritsch & Vivien Durisotti. Paris Paname. Cocktail table and console, designed by Bruno Moinard. Vivienne. Armchairs, designed by Pierre Dubois & Aimé Cécil. Negresco. Floor lamps, designed by Pierre Dubois & Aimé Cécil. Made in Europe.
There are few topics Calgarians will discuss more fervently than real estate. This is true whether you rent a home, own a home, own several homes or are shut out of the hous ing market altogether. What homes sell for, who is buying them, where they are buy ing them and how they are buying them are conversational talking points bound to arise in any number of social situations. Here at Avenue, we sustain an ongoing interest in Calgary real estate through online features such as "Property of the Week," but a long-held tradition is a deep dive into the local real estate market in the September issue. This year, writer Jessica Barrett talked to a host of local experts — economists, realtors and City officials among them — to create a list of 10 things that will affect Calgary real estate in the next 10 years. From economic trends to social and demographic factors, Barrett lays out some of the major elements that will impact how people in this city own or rent their homes in the upcoming decade. The story is chock-full of the facts and figures that those who like to be in the know will appreciate.
In Lamberton's case, her Calgary home purchase earlier this year had interesting parallels to that of her aunt and uncle, who also left Toronto to purchase their first Calgary home more than five decades ago. You can sarnusch@redpointmedia.caCHIEF
EDITOR'S NOTE
CORRECTION In last month's "Best Neighbourhoods" fea ture, we mistakenly identified the community of Saddle Ridge as Saddletowne, which is the name of the CTrain station in Saddle Ridge. We also incorrectly identified the neighbour hoods of the Triwood Community Association. They are Charleswood, Collingwood and Brentwood.
Real Talk Show some love for your favourite Calgary restaurants! Our online Best Restaurants ballot is open for voting until September 16. JOIN US IN CELEBRATING ON OCTOBER 26 AT EAU CLAIRE TOWER T op40Under40.comBUYTICKETSNOW SPONSORS CLASS OF 2022
The real estate discussion in this issue extends to another story, written by our managing editor Dominique Lamberton, who represents a certain demographic of home buyers who are migrating away from Canada's biggest and most expensive cities to get into more affordable housing markets.
While dressing down will always be part of the Calgary fashion ethos, this season, we're feeling more inclined to go all out when we go out and wear that thing that we never get to wear. Because really, what are we waiting for? There's no time like the present.
GRAVITYPOPEBYSTYLINGCLOTHINGSAITZ;HEATHERBYPHOTO
read up on how these two homebuying experi ences compared (and what the City was like when Lake Bonavista was considered a far-out suburb) starting on Page 36. Of course, as compelling as real estate is, that's not all there is in this issue. As another arts season launches, we look back at how a number of arts groups in our city faced the challenges of the pandemic by initiating new programming that, in essence, changed their organizational DNA. We also celebrate the return to in-person artistic programming with a fashion feature, in which Decidedly Jazz Danceworks company dancers model spotlight-grabbing ensembles.
SHELLEY ARNUSCH EDITOR IN
september 202214
september 202216 SYCHJAREDBYPHOTO avenue Made In Alberta Awards The big reveal of the winning products across 10 categories, plus the Best Overall and Readers' Choice winners for 2022. Power of the Perogy How this simple dish unites the Ukranian community in times of crisis, and where to find the best perogies for your own table. Cozy Home Decor Fireplace design advice and other tips for making your home a haven. October NEXT ISSUE by Sept. 7 to get the October issue to your door. Three-issue subscription $18, one-year $36. redpoint-media.com SUBSCRIBE RedPoint Media & Marketing Solutions 1721 29 Ave. S.W., Suite 375 Calgary, Alberta T2T 6T7 (letter mail only) Phone 403-240-9055 Toll Free 1-877-963-9333 x0 Fax AvenueCalgary.cominfo@redpointmedia.ca403-240-9059 Facebook Avenue Magazine — Calgary Twitter @AvenueMagazine Instagram @AvenueMagazine Subscriptions (Prices do not include 5% GST) 3 issues: $18 1 year: $36 2 years: $60 3 years: $80 1 year (USA): $52 US To subscribe, visit subscriptions@redpointmedia.caredpoint-media.com Advertising Inquiries Phone 403-240-9055 x0 Toll Free 1-877-963-9333 Solutions.(2022)MediaPublishedAvenueCalgary.comadvertising@avenuecalgary.comx011timesayearbyRedPoint&MarketingSolutions.CopyrightbyRedPointMedia&MarketingNopartofthispublicationmay be reproduced without the written consent of the We40030911.MailCanadianpublisher.PublicationsAgreementNo.acknowledgethe traditional territories and the value of the traditional and current oral practices of the Blackfoot Confederacy, the Tsuut'ina and Stoney Nakoda Nations, the Métis Nation (Region 3), and all people who make their homes in the Treaty 7 region of Southern Alberta Editor in Chief Shelley Arnusch, sarnusch@redpointmedia.ca Design Director Steve Collins, scollins@redpointmedia.ca Managing Editor Dominique Lamberton, dlamberton@redpointmedia.ca Senior Digital Editor Alana Willerton, awillerton@redpointmedia.ca Digital Engagement Editor Alyssa Quirico, aquirico@redpointmedia.ca Assistant Editor Tsering Asha, tleba@redpointmedia.ca Contributing Editors Jill Foran, Jennifer Hamilton Digital Editorial Assistant Chris Landry Staff Photographer Jared Sych Editorial Intern Gabrielle Cleveland Special Projects Intern Kendall Bistretzan Design Intern Prakriti Goyal Contributors Jessica Barrett, Valerie Berenyi, Arielle Bergeron, Gust of Wind Studio, Dylan Leeder, PARK, Michaela Ream, Lynda Sea, Zoltan Varadi, Nickol Walkemeyer, Katherine Ylitalo Contributing Fact-Checker Amber McLinden Proofreader Alex Frazer-Harrison Land Acknowledgement Advisors Elder Edmee Comstock, Elder Reg Crowshoe, Elder Rose Crowshoe Print/Digital Production Manager Mike Matovich Senior Production Coordinator Erin Starchuk Digital Producer Paula Martínez Sales Support Managers Robin Sangster (on leave), Kristen Thompson Account Executives Michaela Brownlee, Jocelyn Erhardt Printing Transcontinental LGM Distribution City Print Distribution Inc.; NextHome REDPOINT MEDIA GROUP INC. CEO Pete Graves, pgraves@redpointmedia.ca President Käthe Lemon, klemon@redpointmedia.ca CFO Roger Jewett Custom Projects Manager Meredith Bailey, mbailey@redpointmedia.ca Accountant Jeanette Vanderveen, jvanderveen@redpointmedia.ca Administrative Assistant Tara Brand, tbrand@redpointmedia.ca We acknowledge the financial support of the Government of Canada and the Government of Alberta. Avenue is a proud member of the Alberta Magazine Publishers Association, Magazines Canada and the International Regional Magazine Association, and abides by the editorial standards of these organizations. Avenue has partnered with TreeEra to plant 1,425 trees, replacing all the trees used to print the magazine this year.
ExperienceLivingston.com Welcome to Livingston, Calgary's New North. You will find the ideal home, great neighbours, schools, services, and a community created to inspire healthy and active living. At the heart of it all is The Hub – Brookfield's largest Homeowners Association – with indoor and outdoor amenities that include parks and green spaces, a gym, outdoor rink, tennis courts, and splash park. Live where life comes together. Condos | Townhomes | Duplexes Single-Family Homes | Estate Homes WHERE LIFE COMES TOGETHER
25
Avenue Ad 25 anniversary Campaign.indd 1 7/28/2022 3:15:25
FATFILLERSOTOXDISSOLVE
September 202218 HOW MANY YEARS OF FAMILY HOMELESSNESS IS ENOUGH?
MASSAGE
otox injections are known for their ability to reduce wrinkles and treat conditions such as neck spasms, excessive sweating, and chronic migraines. Our certified and experienced RN can help you look and feel your best. 3125-380 Canyon Meadows Dr SE Calgary, AB T2J7C3
A quarter of a century. Two and a half decades. Nine thousand, one-hundred and thirty-one nights. That's how long Inn from the Cold has been here to support Calgary families experiencing homelessness —in short, 25 years too many. And 25 years is enough. Enough nights of mothers struggling to find a safe space to tuck in their little ones. Enough frustration from parents forced to choose between providing shelter or something to eat. Enough thinking that homelessness is a problem that we will never be able to EndHomelessness.casolve. or text "FAMILY" to 20222 to donate PM
We can be one step closer to saying enough is enough to family homelessness. WILL YOU DONATE TODAY? YEARS IS ENOUGH!
Massage has been proven to reduce stress, increase relaxation, reduce pain, and improve energy. Our therapists are trained for relaxation, therapeutic, deep tissue, hot stone, cupping, prenatal, and sports massage. Acupuncture is known for its healing power by stimulating the body's various systems, and can help relieve pain, improve sleep, and can enhance the functionality of cardiovascular and digestive systems. ACUPUNCTURE
—
DALLAS AND BLADE HART OF THOSE HARTS ARE PROMOTING A NEW GENERATION OF WRESTLERS CALGARY
19avenuecalgary.com
[
WELCOME TO THE DUNGEON o Jabari pulls no Intowhenpunchesitcomeswrestling.theringhe's "Kid Chocolate," a technical wres tler known for performing "the flying elbow" (a jump from the ropes, elbow-first, landing on his opponent). Off the ropes, Jabari is a key member of Dungeon Wrestling, Calgary's newest wrestling promotion company, founded by his long-time friends Dallas and Blade Hart — sons of iconic Calgary-born wrestler Bret "Hitman" Hart. The trio soft-launched Dungeon Wrestling in April with a showcase at Tool Shed Brewing Co. for the brewery's 10-year anniversary; "Showdown at the Arbor," at the Gordon Yellow Fly Memorial Arbour on Siksika Nation, fol lowed in May. At the Showdown, Jabari, who has a flair for brightly coloured attire, donned what he calls his "Bret Hart tribute gear": pink socks with the Hitman's face on the front and black and pink shorts to match. The idea came to him after years of watching play ers in his other favourite sport, basketball, imitate their idols on the court. "Bret Hart is one of A NOTEBOOK OF THE CITY
Detours
]
Two wrestlers face off at Dungeon Wrestling's "Showdown at the Arbor."
M my favourite wrestlers ever. So, I made that gear and I wear it for my special shows," says Jabari. Both events were held in the lead-up to the official debut of Dungeon Wrestling: the Romero Rumble, which took place in July. The event, held at Romero Distilling Co., included a sixmatch card, plus food trucks, live music and meet-and-greets with the Hitman himself, in honour of his recent induction into Canada's Walk of Fame. You can't talk about wrestling without talking about the Harts, a family synonymous with decades of international wrestling fame — and diehard wrestling fans will undoubtedly recognize nods to Stu Hart, Dallas and Blade's grandfather and the founder of Calgary-based Stampede Wrestling, in Dungeon Wrestling's branding. "We want it to feel like it's Stampede Wrestling, but we want it to feel like it's our own, too," says Dallas Hart. "Dungeon" references Stu's private "training facility" in the basement of the Hart mansion — a place where both newbies and pros were invited to spar with the legend himself. Stu's famed Stampede Wrestling routinely
IN
— YES,
TKTKTKBYPHOTOGRAPH SYCHJAREDBYPHOTO
Calgary's Best Bike Rides: 50 Urban Cycle Tours and Pathway Pedals (May 2022, Fit Frog Adventures), $32, fitfrog.ca; find more bike rides from Lori Beattie at aveuecalgary.com. Mo Jabari a.k.a. "Kid Chocolate."
This craft beer tour takes you along the 12th Street S.E. cycle track, through Ramsay and on the 42nd Avenue pathway. Taste-test at 15-plus breweries before looping back past Stanley Park and the Elbow River Pathway. Distance: 18 km featured "Terrible Ted," a bear that Stu would perform acts with — as such, Dungeon Wrestling's logo features a man fighting a bear in the ring. But Dungeon Wrestling isn't a tribute to the glory days of wrestling gone by. Unlike the traditional, larger-thanlife characters that wrestlers were known to adopt — Hulk Hogan and "Stone Cold" Steve Austin, for example — "Kid Chocolate" is an extension of Jabari's everyday personality, with a few jumps and flips thrown in. "I never see myself as a character guy … I'm just going to be myself," he says.
Paved pathway riding, a stunning reservoir, Rockies vistas and wilderness immersion make this one of Calgary's most popular leisure rides. Views are immediate and constant as you follow the path at the top of the bluffs in North Glenmore Park into the Weaselhead wilderness and back up to South Glenmore Park. Distance: 16 km
As Dungeon Wrestling, the Harts and Jabari hope to showcase a new genera tion of high-quality wrestling performances and attract the best up-and-coming talent. For them, that can only be done in Calgary. "[Stampede Wrestling] had such respect, and some of the greatest wres tlers ever came from Calgary," says Jabari. "There are a lot of wrestling fans in Calgary and in Alberta who still remember and cherish those moments and those wrestlers that came from here."
—
Tsering Asha
GLENMORE RESERVOIR CIRCUMNAVIGATION
Views begin immediately as you follow the paved pathway onto the Nose Hill plateau. Choose to stay high on the pla teau, or drop down and climb back up. Highlights include the Siksikaitsitapi Medicine Wheel, the golden aspen groves and the stunning grasslands. Distance: 9 to 16 km
RESERVOIRGLENMOREBEATTIE;LORIOFCOURTESYPHOTOSHILLNOSEANDBEACHSANDYSYCH;JAREDBYPHOTOJABARIMO
September 202220 Detours LORI BEATTIE, AUTHOR OF CALGARY'S BEST BIKE RIDES: 50 URBAN CYCLE TOURS AND PATHWAY PEDALS , SHARES SOME FAVOURITE AUTUMNAL JOURNEYS TO TAKE ON TWO WHEELS Fall for Cycling
NOSE HILL PARK LOOP
SANDY BEACH – JACK & JEAN LESLIE RIVERWALK –
LEONBENJAMINBYPHOTOCO.)BREWING(DANDYBELTBARLEYSTUART;CODYBYPHOTO
SCOTSMAN'S HILL – ELBOW PARK Cycle from Sandy Beach to River Park, connect to Riverdale Avenue S.W. and then pass Stanley Park, cycling through the neighbourhood of Rideau Park. For the longer route, contin ue towards Scotsman's Hill before descending to RiverWalk and the Bow River Pathway. Distance: 7.5 to 20 km
BARLEY BELT (RAMSAY – HIGHFIELD –ELBOW RIVER PATHWAY)
THE ALL-WOMEN TEAM BEHIND HEMLOCK TATTOO IS ON A MISSION TO MAKE THE INDUSTRY MORE INCLUSIVE AND SAFE
SYCHJAREDBYPHOTOSCOTTJANEEN 21avenuecalgary.com
Detours LocalSpotlightPodcast
There's no "one-size-fits-all" approach to career advice, especially for women of colour. That's what Shahzia Noorally explores in The Colour Gap More than 10 years of experi ence in HR and recruitment has taught her to question the norm when it comes to things like championing hustle culture, adhering to a long-term career plan and basing your worth on achieving company milestones. She dives into topics that aren't discussed openly, such as work place trauma, the immigrant experience and embracing the uniqueness (and correct pronunciation) of your name, to pinpoint how they can affect career trajectories — and what to do about it. The Colour Gap is part of the Alberta Podcast Network, which builds audiences for Albertan-made podcasts. —T.A.
"We don't have all the answers. We're just doing our best," says Scott. "We want to see positive change in the industry, and we want to partici pate in it." —Kendall Bistretzan I "We want to see positive change in the industry, and we want to participate in it."
Janeen Scott You can listen to The Colour Gap on Apple Podcasts and Google Podcasts.
Janeen Scott at Hemlock Tattoo.
COLOURTHEGAP n 2020, after being sexually harassed by an older colleague during her appren ticeship, Janeen Scott and three of her female colleagues — Taylor Hudson, Geneva Haley and Marlee Watts — opened their own studio, Hemlock Tattoo. While Scott's harasser was eventually fired, she says the experience revealed gaps in communication, safety (beyond hy giene) and consent between artists, clients and colleagues that need ad dressing in the industry. At Hemlock, they're aiming to do just that. Since opening, the team has implemented policies to shift what Scott describes as a power imbalance between artists and clients. "You're the one touching [the client's] body… inflicting a certain amount of pain… [and] marking their body perma nently," she says. "You're the one that holds their health in your hands." All of Hemlock's policies, including using safe words or ges tures during a session, confirming pronouns and providing acces sible parking, are steps towards being a "safer" studio. "Only the person coming into our space can deem it safe for them, so we would never want to come across [like] we figured it all out and that our space is the safest for every person," says Scott. Hemlock also provides clients with access to an ombudsman — a third-party rela tionship and sexual-health educa tor who can step in to respond to client and employee complaints of inappropriate conduct.
PERMANENT CHANGES
When it comes to tackling racism and colourism in the industry, Scott acknowledges that both technical training and community outreach are required. According to Scott, proper technique and colour theory is often left out when white staff are train ing white apprentices, a knowledge gap she says "is a result of privilege." Hemlock's all-white staff completed a workshop with Ink the Diaspora, an organization that works to eradicate colourism in the tattoo industry by teaching artists best practices for tattooing all skin types — like the importance of producing flash sheets (pre-drawn tattoo designs) with a variety of skin tones. Hemlock also offers services at half-price for clients with richly melanated skin.
SUCRE PATISSERIE & CAFE
September 202222
"If there was no other store in Calgary except Lukes, you could still get 99.9 per cent of everything you need. It's so meat and potatoes — you can literally get meat and potatoes there. At the same time, you can get cool vinyl records, a soft serve, a great mocha and you can fill a prescription and mail a parcel."
TOM CAMPBELL'S HILL
EDDYKINGMARKET;STREETTOKYOOFCOURTESYPHOTOMARKETSTREETTOKYOSYCH;JAREDBYPHOTOSCHROEDERSTEVE
DetoursS
"This is one of my favourite live music venues and a great place to have a happy hour beer. I saw Amos Garrett there with my family right before the pandemic."
LUKES DRUG MART
"Going to Tokyo Street Market feels like I've been transported somewhere that's not quite Calgary. Katsu chicken curry is one of my favourite Japanese dishes and it's so hot and fresh there — and I love that I can supplement whatever I order with a couple pieces of fresh sushi."
"If you want a chocolate croissant, you're not going to find anything better than Sucre, which is kitty corner from the CIFF office on 8th Street S.W. Its soups and sandwiches are also tasty; the sirloin steak baguette is one of my favourite lunchtime indulgences."
TOKYO STREET MARKET
—Gabby Cleveland CIFF 2022 runs September 22 to October 2; ciffcalgary.ca
"We have an embarrassment of riches in Calgary in terms of locally brewed craft beers. Citizen is one of the best and most consistent. I love the outdoor patio, the nachos and the North West Pale Ale."
CITIZEN BREWING COMPANY
The
List STEVE SCHROEDER
THE KING EDDY
COMPANYBREWINGCITIZENOFCOURTESYPHOTOCOMPANYBREWINGCITIZENBUZZALINO;SEBASTIANBYPHOTO teve togetherbringmoviesknowsSchroederthepowerhavetopeople— Calgarians, especially. Since 2012, his job has been to "engage and entertain audiences" in his role as executive director of the Calgary International Film Festival (CIFF) — an event that, he says, unites people, regardless of their backgrounds. "It's hard to find someone who doesn't have some form of passion and connection to the movies," Schroeder says. Launched in 2000, the first festival took place over six days and hosted 8,000 people. Today, CIFF is an 11-day extravaganza that screens more than 175 multi-genre films for upwards of 35,000 attendees. While connec tion proved more difficult over the past two years, when COVID-19 restrictions brought changes to the standard festival format, Schroeder is looking forward to returning to an open and collab orative experience this year. Along with his passion for film, Schroeder loves Calgary (he's lived here most of his life), especially the locals' openness and the city's acceptance of new ideas. Here are some of the spots he frequents when he's not in festival mode.
"From Tom Campbell's Hill, you can see the mountains, as well as where the prairies and the foothills come together."
SKI CELLAR SNOWBOARD ON 17TH AVENUE S.W. "I'm passionate about downhill skiing and Ski Cellar Snowboard has always been my go-to for [gear]. Every time I'm there, I feel like I'm around people who live, breathe and eat skiing, and I leave with a deeper understanding of the equipment."
GLOBE CINEMA
"It seems like independent cinemas are an endangered species, but great cities find a way to keep them. I've had so many fantastic social and movie experiences at the Globe."
AGING REDESIGNED
garden loft Book a virtual or in-person tour of our Show Suite Housebrand, celebrating 25 years of residential design-build in Calgary
Will Garden Loft work for my aging parent? Garden Loft is ideal for someone who needs assistance to remain independent and has a family who is willing to help. The unit's supportive interior has 25 features that make life easier and safer, such as adjustable height countertops that allow you to sit down to cook and clean up. The family's backyard location is only steps away if help is needed but separate enough to maintain everyone's privacy. The result is convenience and peace of mind for you - companionship and continued independence for your parent.
Join Dr. John Brown for a webinar exploring how older adults and their families can use Garden Loft to create a high-quality, independent, age-in-place future.
www.gardenloft.ca
Wednesday September 28, 6:00 - 7:00pm Reserve at www.gardenloft.ca
Photography by Michael Grondin
2
Overhaul your cleansing routine with Stunn Collective's AM + PM Oil Cleanser Set ($50). This small-batch skin care line is 100-per cent plant-based, incorporating organic oils like sacha inchi to hydrate, prickly pear to brighten and moringa seed to lock in moisture. Available at four locations in the Calgary area and at stunnco.com
Tamping — tightly compressing loose coffee grounds into a puck-like shape — is an important step when making a quality espresso, but it's not always easy to get right. That's where the Cinoart PT2 Auto Tamper ($780) comes in: The barista-approved electronic machine automates the process to evenly tamper with the same pressure each time.
E ight Ounce
Kaelyn Kennedy noticed a gap in the equestrian fashion market for stylish and functional pieces that you can wear both in and out of the saddle. So, in 2017, the long-time rider founded TKEQ, which offers outerwear, athletic pieces, accessories and sweaters, like the new Knit Sweater ($115). The design features extra length in the body for maximum comfort and flexibility, whether you're riding or not around the stables at all. Available at two locations in the Calgary area and at tkeqtheshop.com Cof fee
LOCAL PRODUCTS, LAUNCHES AND OPENINGS YOU NEED TO KNOW ABOUT NEW & NOTEWORTHY
S tunn C ollective A M + P M O il C leanser se t
H
If you've been on the hunt for plantbased bacon that tastes like the real thing, look no further: Hooray Foods' bacon strips ($10) are minimally processed, with just eight ingredients.
BrewingTailgunnerCompanynewBrewery
T KE Q The Shop Knit Swe ater ooray lant-Based "Bacon"
September 202224 Detours
Foods P
The bacon flavour comes from umami seasoning, salt and liquid smoke, with maple syrup adding a hint of sweet. Available at multiple locations across Calgary; hoorayfoods.com
2040 – 2600 Portland St. S.E., 403-457-9844, eightouncecoffee.ca
Cinoar t PT Au to Tamper
The latest addition to Calgary's craft beer scene opened the doors to its Sunalta beer hall in April. Pop in for a Lint Stephenson Czech Pilsner — named for the WWII tail gunner, and grandfather of co-founder Mike MacLeod, who inspired the brewery — and a snack, like chipotle onion dip with kettle chips. 1602 10 Ave S.W., tailgunnerbrewing.ca825-407-8599,
PHOTOGRAPHYSAUNDERSQUINNOFCOURTESYPHOTOSHOPTHETKEQRETAILERS;RESPECTIVEOFCOURTESYPHOTOSPRODUCT BY MICHAELA REAM
september 202226 Divorce isn't easy, but it's a path to a new beginning. CALGARY ALBERTA Trust our experience, expertise and strength to guide you to the life you deserve. Suite 1900, 639 5th Ave. S.W., Calgary, AB T2P 0M9 | Phone (587) 356-4342 | info@wellsfamilylaw.com | www.wellsfamilylaw.com avenue Reconnect WITH YOUR City SUBSCRIBE TO THE avenue WEEKENDER avenuecalgary.com/newsletters 1, 4640 MANHATTAN RD SE CALGARY, AB Create a distinct look, with a piece of history. Scandinavian Antiques freyia.ca
f the last few years have taught us any thing, it's how unpredictable life can be. That goes double for the housing market. Who would have thought at the onset of the pandemic that a global crisis that threatened to derail the world's economy would ultimately result in a run on real estate the likes of which this city hasn't seen in nearly a decade? Indeed, after home prices bottomed out in the spring of 2020, when people were hoarding toilet paper and fumbling with remote work, the residential market in Calgary surged upward, reaching a benchmark detached home price of $648,500 in May 2022, a 16.6-per cent increase over the previous year. That's much higher than the kind of price gains the city saw in the seller's market of 2012 and 2013, when oil prices were last booming. So, what other forces are at play that could affect how and where we live in this city over the next 10 years? Sadly, we don't have a crystal ball (if we did, we'd be on a yacht somewhere living off early 2000s Apple stocks). So, we sought out the next best thing: local experts to weigh in on the major factors likely to impact Calgary real estate over the next decade.
The bad news is buying a home here is likely to get more expensive. Whether you're looking to get into the market, or looking to make a move, here are 10 fac tors that could impact Calgary real estate in the next 10 years.
avenuecalgary.com 27
Things That Will Affect Calgary Real Estate in the Next 10 Years
The good news is Calgary's livability, relative affordability and increasingly diversified economy should keep us headed in a positive trajectory — and relatively sheltered from any other global shocks that could be waiting in the wings.
BY JESSICA BARRETT ILLUSTRATIONS BY GUST OF WIND STUDIO
Record low interest rates during the pandemic, combined with early signs of economic recovery, and the desire for more space as people were stuck at home, finally led people who had been contemplating a move to take the plunge. The result was a big jump in demand for our relatively stable housing inventory, which was down to just 1.4 months of supply in April. But Lurie says she doesn't expect that to become the norm.
Ann-Marie Lurie, chief economist at the Calgary Real Estate Board: "Right now, the market has been a little bit crazy and the issue has been supply." However, she notes the price gains we've seen over the past two years actually signal a recovery in Calgary's housing market that was longAfteroverdue.energy prices crashed in 2014, demand dropped in Calgary as the financial shock to the region prompted many people to stay put and avoid the added expense of upgrading their housing, says Lurie.
A major advantage Calgary has over other large Canadian cities is the ability to add more housing because we aren't hemmed in by physical barriers like Vancouver or sandwiched up against other dense municipalities à la Toronto. "We do have the ability to add on supply, it just is going to take some time," Lurie says. Just how much time it takes — and what happens to demand in the meantime — will play a major role in determining future costs of housing.
Yes, it's really that simple. The foun dational principle of high school eco nomics is the primary driving force in real estate markets throughout North America, and Calgary is no exception. The price of homes, and whether they rise or fall, essentially comes down to how many are on the market at any given time — and how many people wantOurthem.recent rise in prices, particularly for detached houses, comes down to pent-up demand and a lack of housing stock, says
(andSupplydemand)
AffordabilityandInflationRates,Interest
Of course, there's what people are willing to pay for housing and what they're able to pay. With inflation and interest rates on the rise, the amount of money people can save and borrow to finance their homes is about to take a hit. Since last spring, the Bank of Canada has made a series of hikes to interest rates as part of its strategy to quell inflation and cool the red-hot housing markets in many Canadian cities. That's expected to continue.
"We are moving into a higher interest rate environment that is going to take some of the wind out of the sails of housing prices and housing demand," says ATB chief economist Todd Hirsch. While that may help to slow price growth and maintain the relative affordability Calgary enjoys compared to other regions in Canada, its impacts won't be evenly distributed.
The Rise of Rental and the "Missing Middle" including more condos, townhouses and duplexes in new suburbs. It's not just growing families and young renters that need a diversity of housing types to fill the gap between detached houses and tiny high-rise condos, Devani says. A wave of aging baby boomers may also increase demand for smaller, lower-maintenance housing forms that allow older residents to stay in their communities as they age.
It's a vision supported by current City policies, such as dense residential development near transit nodes, the downtown conversion of office towers to residential, and its 50/50 growth strategy, which aims for 50-per cent growth in existing communi ties and 50-per cent in new communities by 2069. It remains to be seen how well Calgarians will accept these "missing middle" homes, which could substantially change the shape of our communities.
But Devani is optimistic this city can succeed where many others have failed. "We have this incredible opportunity to get this right."
First-time buyers will feel the pinch the most as it gets harder to qualify for financing, as well as pass the federal government's mortgage "stress test" that requires borrowers to prove they can afford to make payments two per cent higher than their lender's quoted rate, or the government benchmark of 5.25 per cent — whichever is higher. "That will make it tougher for some potential buyers to get into the market," Hirsch says. That, in turn, may lead to changes in the types of homes Calgary builds. With more people expected to be locked out of the housing market, or contending with less purchas ing power, we're likely to see a growing demand for types of housing we haven't seen much of in Calgary: low-rise rental, three-bedroom apartments suitable for families; connected row and townhous es; and "cottage clusters." According to developer Alkarim Devani of RNDSQR, Calgary could become a leader in developing these so-called "missing middle" housing forms — if it plays its cards right.
"We have to look at other ways to provide affordable, accessible housing in desirable communities," Devani says. That could take many forms, from the family-focused rentals RNDSQR is developing in established communities, to
The draw for new residents isn't the same as it was in previous generations, says Wellington Holbrook, CEO of ConnectFirst Credit Union. Looking back to the '80s and '90s, "people came here to make their fortune, often with a plan to go back home," he says, noting the city's population ebbed and flowed with the prospects of the oil and gas industry. The city's amenities, proximity to the mountains, relative affordability and the freedoms of remote work, as well as the rise of new industries, are drawing residents who want to put down roots, Holbrook says. That comes with challenges as well as opportunities. Calgary may find itself with more of an aging population in the future as fewer people go back "home" to retire. And an influx of people used to paying a premium for real estate in larger markets may exert upward pressure on home prices. Leading to our next point…
Loosely put, speculation is the practice of treating real estate like the stock market: buying when the market is low, intending to sell (and make a profit) when the market is high, without making any substantial changes to the property. It's a high-risk, poten tially high-reward practice that many experts believe has played a role in the extreme price gains some Canadian markets saw over the last decade. A 2021 report on the Canadian Housing market from business and land registry solutions provider Teranet found that multi-property investors in Ontario grew from 16 per cent
Projections from the provincial gov ernment show that Alberta is on track to reach 6.4 million people by 2046, up 2 million from our population in 2021. That likely means adding tens of thousands of new residents to Calgary each year, the majority of which will be new Canadians and migrants from other regions of the country.
Healthy population growth is vital to maintaining a healthy real estate market. At 0.08 per cent, Alberta leads the country in terms of its "natural" growth rate — the number of births minus deaths. But we won't need to rely on existing residents to procre ate in order to boost our population.
DemographicsShiftingMigrationImmigration,and
Speculation
ChangeClimate may be retrofitted with heat pumps, tankless hot water systems and solar panels. However, the biggest strides toward greening our housing stock may be found in the suburbs.
Ian Meredith, senior director of development for Dream Unlimited, the developer behind Alpine Park in the southwest, says he has also noticed more out-of-town buyers attracted to Calgary for the promise of affordable real estate investment.
"The word is that a lot of them have … been priced out of the markets in Toronto or Vancouver, and they're thinking that this is the next market to go."
From the 2013 flood and the 2020 hail storm to last year's sizzling heat dome and waves of wildfire smoke, Calgar ians are already feeling the impact of climate change. Mayor Jyoti Gondek's declaration of a climate emergency shortly after taking office in 2021 en abled the city to accelerate action on climate change, with residential build ings and transportation key targets in curbing the city's carbon footprint. To that end, a new program set to be introduced this fall will offer homeowners financial incentives to implement energy upgrades, meaning more homes in existing communities
Jared Chamberlain, realtor at Chamberlain Group, says he has noticed an influx of buyers "who made a lot of money in Toronto and Vancouver" enter the Calgary market in the past year. "What has happened is not just condos, but whole condo projects are being sold to these investors," he says. "It's this very speculative way of investing."
Both Holbrook and Lurie say they have no indication specula tion is playing a substantial role in Calgary's real estate market right now, but those on the ground say there are signs the prac tice could be on the rise.
"The truth is, our new communi ties are among the densest new com munities probably in North America," says Matthew Sheldrake, acting manager, growth and change strategy for City of Calgary. In addition to smaller lots and tighter spacing, more developers are preparing for a lowcarbon future by orienting homes toward the south so they capture more sunlight, putting in electricvehicle charging stations and solar panels, and designing communities to encourage walking and wheeling to amenities, he says. While there is ample room for City policies to shape climate action in the residential sec tor, Sheldrake adds that there may be potential for stronger partnerships with developers to hasten the pace of change. "We need to almost get into a virtuous cycle of innovation."
But, in the absence of qualitative data (we don't tend to track why people buy real estate in Canada), any predictions about whether this trend will continue to gain steam in the coming decade are, well, speculative at best.
to more than 25 per cent of the market between 2011 and 2021, outpacing first-time buyers. Why should Calgary care? Because speculators looking for new, more affordable areas of the country in which to invest may soon set their sights on this city.
"When you look at the number of deals being funded for technology companies in the city of Calgary, it's actually becoming quite impressive," says Holbrook. While he notes tech isn't the only industry fuelling a diverse economic recovery — manufacturing and professional services are also in a growth phase — the publicity netted by those tech deals is helping attract new, educated talent to the city. But, a downtown full of highly paid tech workers isn't the only force with the potential to shape the city. Technology itself may play an even bigger role.
Technology — and not just the startup kind
Meanwhile, Calgary-based tech companies had a record year for investment in 2021, netting $322.2 million in funding.
"Who could have, five years ago, anticipated that e-scooters would be such a thing?" says Josh White, the City of Calgary's director of city and regional planning, noting the ubiquitous smart vehicles have changed how the city plans for transportation downtown. And with futuristic concepts like selfdriving cars getting closer to the mainstream, the City might be in for more mobility-related upheav als. Even the rise of e-commerce during the pan demic showed how relatively mundane technology can change how people function in our city, and how we determine the best use of our land. "Maybe more of our growth strategies are centred around accommodating industrial land in order to facilitate that booming sector of our economy," White says. "Those are the types of things we're thinking about.
Calgary rose six points on CBRE's annual scoring of tech talent last year to No. 28 on the list, indicating the city is gaining prominence and appeal among tech employers and workers.
After years of work to attract startups to the city — and specifically to fill some of that vacant down town office space — Calgary's attempts to woo tech companies is finally bearing fruit.
The Cost of Building
The same forces that have many of us feeling the pinch at the grocery store checkout are hitting the housing sector. Supply-chain issues stem ming from the pandemic, the rising cost of fuel for shipping and inflation have all put developers in a squeeze. Meredith says, despite the fact home prices have gone up, the increasing cost of supplies means "nobody is making more money than they wereTherebefore."areonly two ways out of this problem: charge homebuyers more at a time when prices are already go ing up, or adapt to bring costs down. "It sounds stupid, but do you really need your front yard? Or, can we reduce your front-yard setback to the minimum possible, such that your lot is 15-per cent smaller, such that the price becomes 15-per cent less," says Meredith.Andit's not just supply-chain issues that are contributing to rising costs. All those energy-efficient build ing materials and climate-friendly design decisions add up. "With our goals of energy efficiency come a higher cost profile for all the homes we're building," says Meredith, noting a new federal building code to be in troduced this year will mandate more energy efficiency going forward, meaning building costs will continue to rise."So, paradoxically, the things that we all strive for end up deteriorating affordability," he says. The result? Smaller lots and homes could become the new normal.
Tickets start at $25. Explore our full Season at calgaryphil.com. Your Phil this Fall Tribute to The Beatles: Classical Mystery Tour 23 + 24 September / 7:30PM Jack Singer Concert Hall Tom McCaslin performs John Williams 5 November / 7:30PM Jack Singer Concert Hall Beethoven's Ode to Joy 10 September / 7:30PM Jack Singer Concert Hall Tynomi Banks: Queen of the Orchestra 18 November / 7:30PM Jack Singer Concert Hall Disney in Concert: Frozen 7 October / 7:30PM 8 October / 2:30PM + 7:30PM Jubilee Auditorium I Rise Presented in partnership with Pink Flamingo 1 October / 7:30PM Jack Singer Concert Hall Presentation licensed by Disney Concerts © All rights reserved ConductorDunner,B.Leslie©MattBarnes
september 202234 DirectTanyaeklundgroup.ca(403)863-7434 Each office is independently owned and operated. 3005 SIGNAL HILL DRIVE SW 3 Bathroom | 2.5 Bathrooms $899,900 2005 22 AVENUE SW 4 Bedrooms | 3.3 Bathrooms $1,399,900 1114 JAMIESON AVENUE NE 5 Bedrooms | 2.5 Bathrooms $1,199,900 Friday, November 4, 2022 Jack Singer Concert Hall, Arts Commons Join Mayor Jyoti Gondek and Calgary's arts and business leaders at the 2022 Celebration for the Arts! G cada.at/3QYPYOf PRESENTED BY VENUE PARTNER AND AFTER PARTY SPONSOR
Calgarians know this city is more than the oil and gas industry or its cycles of boom and bust. We've got a thriving arts and culture scene, great restau rants, the largest urban network of bike and walking trails in North America and a diverse population reflected in our mayor and council. Plus, we're a stone's throw from the mountains.
The StoryChangingofCalgary
"I don't think everyone wants to be out on an acreage," he says. "We want com munity, but we just might need more space." With space likely to come at a premium in Calgary, this could draw more people to surrounding cities like Airdrie, Cochrane and Okotoks, where they can find it for less.
FromWorkingHome Will they, or won't they? The question of whether workers will be drawn (or forced) back into the office postpandemic has been central to virtually every city's future planning. With Cal gary already facing an excess of office vacancies downtown, a permanent shift in the way people work could drastically change our commut ing habits, what we want out of our homes and how we use the city core.
Chamberlain says trends among his buyers indicate working from home has already become a permanent fixture for many Calgarians. Among his out-of-town buyers, Chamberlain has noticed a common scenario: "One of them would keep their work-athome job, and the other one was going to find a job here." The steady stream of income from a work-fromhome job makes people more open to moving across the country, he adds. In this situation, if the outside-thehome job-seeker ends up working downtown, it could mean more people commuting into offices. However, if more families require one, or even two home offices going forward, it could also increase de mand for larger homes in established communities. Chamberlain says that while there was a sense early in the pandemic that people were taking advantage of remote work to move to more rural communities, it looks like most people are opting to stay in urban centres, even if they no longer need to be close to work.
Getting better at telling that story is key to attracting people to Calgary and ensuring a strong housing market for years to come, says Hirsch. "In the 21st century, young people — especially young, educated people — will move to the city that they want to live in, and then they'll figure out the job and their career and everything else after that," he says. While economists, planners and politicians have traditionally focused on hard facts like business growth and tax rates to promote Calgary to outsiders, Hirsch says it's our values that will attract people in the future. Investments like the Green Line LRT, upgrades to Arts Commons and Glenbow and more residential options downtown are important not just to improve life for local residents but to signal that Calgary is a progressive city that believes in connectivity and culture.
While the oil and gas sector will continue to be part of our economy, Hirsch says, we need to talk more about the other industries growing here that are better aligned with the priorities of environmentally conscious generations.
"It's no longer tax rates and the price of oil that are going to draw and attract and retain people," he says. "We have to pay attention in Calgary to: what kind of city are we? What kind of values are we conveying?"Whenitcomes to the city's housing sector, while we don't have control over some determining fac tors — such as interest rates, shifting demograph ics, or an influx of new residents with different values and expectations around housing — we do have a choice in how we respond. Where and how we build homes can help us meet our sustainability goals and adapt to changes in the way we work and navigate our city. Building new forms of housing can help meet the needs of an increasingly diverse population and maintain affordability for future generations. We may not know what Calgary will look like 10 years from now, but one thing's for sure: the only constant is change.
NOW&
Across the country, first-time homebuy ers today face an increasingly higher cost of entry to the housing market. According to data from the Canadian Real Estate As sociation and Statistics Canada, in 2021, the average national home price was more than seven times the average household income.
september 202236 n a sunny, Septemberearlydayin 2021, a rental minivan jampacked with four house plants, a large Tupperware containing a sizeable spice collection, three guitars, and multiple suitcases and duffle bags rolled into Calgary from the east. Up front, my husband and I — two Calgary expats who'd spent the last 14 years living in Toronto — anxiously and excitedly spotted the city sky line peeking out beyond the rolling prairie.
While Toronto's and Vancouver's markets are in leagues of their own, housing markets across Canada exploded soon after the pan demic began, driven by low interest rates and little supply. In September 2021, the
month we arrived, prices had eased from the benchmark highs the city had experi enced just a few months earlier, but were still well above average levels. Supply was low for detached homes, and demand was high. So, what to do? Wait, and hope things cool off? Or wait, and possibly miss out?
HE
ALLSOPPBETTYANDHAROLDOFCOURTESYPHOTOPAGEOPPOSITESYCH;JAREDBYPHOTO
"Welcome to Calgary," the red highway sign beamed. After six days of driving, we had made it — and we were home, for good. My husband Mike and I are two of the tens of thousands of people who have left Canada's largest city, relocating to smaller cities, towns or rural areas, since the begin ning of the COVID-19 pandemic. From mid-2020 to mid-2021, Statistics Canada estimated that more than 64,000 people left Toronto for other parts of Ontario, with another 6,600 moving out of province. And it's not just Toronto: In what's been coined the "urban exodus," more and more people have ditched major cities around the world over the last two years to take advantage of remote-work situations and get into more affordable housing markets. And while we left Canada's largest metropolis for its fourth largest — not a cabin in the woods — one of our main motivators was in line with the trend: We wanted to buy a house. We wasted no time in commencing our hunt. Just over a week after arriving, we met with our realtor to view our first house. Pretty soon, we were up to 10. By Thanks giving, we'd seen 30. Part of the reason for our high-volume search was that we didn't have one preferred area — we were keen to explore different neighbourhoods, in every quadrant, after being away from the city for so long. But another reason is that we were still getting comfortable with the fact that we'd be buying in a red-hot housing market.
B UT, F OR AVENUE 'S M ANAGING E DITOR, LOOKING T O THE P AST PROVIDED S OME P ERSPEC T IVE (AND A FFIRMATION ) FOR HER OWN CALGARY HOME PURCHASE.
BY DOMINIQUE LAMBERTON T H EN
T FIRST-TIME HOME-BUYING E XPERIENCE IS MUCH D IF F ERENT T HAN I T W AS A G ENERATION, OR T WO, AGO.
"It was $33,000 and change," Harold says, which he estimates was double their combined annual income at the time. "We had to mortgage $23,000 at nine-and-a-half per cent." My aunt adds that this was a lot of money (with a much higher interest rate than my husband and I locked in at, too), but, buying a home from a developer meant no competition with other buyers. The housing market then wasn't as frenzied as it is today, says Harold: "It's crazy what's developed in two generations in terms of real estate being part of our economy in Canada — it's heavily built around real estate now." (When adjusted for inflation, $33,000 in 1969 would be roughly $256,127 today; year-to-date data from the Calgary Real Estate Board at the end of April put the average price for a detached home in Lake Bonavista at $715,308.)
Originally from Saskatchewan, my uncle and aunt, Harold and Betty Allsopp, had lived in both Calgary and Vancouver for a few years after getting married, but moved to Toronto in 1967 for a job opportunity of my uncle's. After two-and-a-half years, they were ready to return to the West, purchase a home and start a family. My uncle was
Dominique Lamberton and her husband, Mike, at their home, purchased earlier this year.
OPPOSITE
Before they knew it, they were back on a plane to Toronto, wondering what, exactly, they'd just bought. When they returned to Calgary in September, just over three months after the purchase, the house was complete — and it looked lovely, says Betty. "We were right next to Burns pasture and the cows woke us every morning." They built a fence around their yard and planted trees; young families came in and the schools filled up — the neighbour hood matured very quickly. "It was fun, because we were all young, everyone who transferring to his company's Calgary of fice. My aunt, a teacher, would finish up the school year in Toronto, and, after their summertime move, be in place to start at a Calgary school in September.
"Then, the day before our flight back to Toronto, our friend told us about a new development called Lake Bonavista," says Harold. They decided to check it out. There was a sales office, and some houses were under construction. "Maybe one or two streets' worth," says Harold. The lake was there, too — it was the first community built around a man-made lake in Canada.
THIS PAGE
In the sales office, they were shown a variety of floor plans. "I'd say there were a dozen floor plans, with four arrange ments of each," recalls Harold. After looking through them all, they were drawn to a four-bedroom bungalow called the Mayfair. Then, they were shown a map of available lots, and, after selecting one, were taken to see it. "Only the basement had been poured; there was mud everywhere," says Harold. Everything about the house, from architectural details, to colours and finishes, was pre-determined by the developer, so there weren't many additional decisions to make. They had heard about Keith Homes through word of mouth and knew the devel oper had a reputation for building quality houses. Plus, living in a lake community — a concept that E.V. Keith had brought north from the U.S. — was a novelty, and a draw. They went for it.
avenuecalgary.com 37
Unlike Mike and I, who moved to Calgary and then started our house search (all thanks to both sets of our parents, who put us up for months while we looked), Aunty Betty and Uncle Harold needed to travel to Calgary for a long weekend to search and, ideally, make a purchase on the spot. The Calgary they arrived in (population 369,025) looked very different than it does today. "There wasn't much supply when we came," says Harold. Suburban Calgary was still being established, albeit rapidly, and builder-developers, such as E.V. Keith, were purchasing large tracts of land to build entire communities. They looked at the pre-owned home supply in established neighbourhoods all over the city and didn't find anything.
The author's aunt and uncle, Betty and Harold Allsopp, in front of their home in Lake Bonavista, purchased in 1969. My husband and I are extremely privi leged to be a situation where we can buy a house — and moving to Calgary, where housing is relatively more affordable, helped a lot. But we were still getting ready to make a purchase up to five-times greater than our combined annual income. On top of that, the competitive seller's market made bidding wars and competing offers, which would drive up already high prices, an even greater likelihood. I was curious what it was like for previ ous generations in Calgary — real people, beyond the statistics. So, I went to my aunt and uncle, who purchased their first home in 1969, in Lake Bonavista, when it was a brand-new neighbourhood at the edge of the city. Our stories have some similarities: they, too, moved from Toronto to purchase their first home. But mostly, they provide an interesting "then and now" comparison of first-time home-buying in Calgary, 50 years apart, in two different housing markets.
W ho wa s E.V. Keith?
Arguably most known for creating the neigh bourhoods of Lake Bonavista — the country's first lake community — and Willow Park, Ellis V. Keith built homes and developed subdivisions across Calgary. The son of a missionary, Keith was born in the Samoan Islands in 1917, before his family moved to Cardston, Alta. in 1920. In the early 1940s, while working in the land titles office in Calgary, Keith built his first home himself. When he sold it in 1944, his official housebuilding journey began: With the profits, he hired a team of carpenters and launched his construction company, acting as fore man, bookkeeper and salesperson. By 1950, he incorporated as Keith Construction Company Limited. In 1953, in collaboration with other local parties, he established the land development partnership Kelwood. Now, he was building Keith Homes on Kelwood lots around the city. By 1958, he had built 900 houses in Haysboro alone. He es tablished Willow Park, Calgary's first golf course community, in 1965, and Lake Bonavista followed in 1968.
HAROLD ALLSOPP, ON
GENSTAROFCOURTESYADVERTISEMENTHOMESKEITHALLSOPP;BETTYANDHAROLDOFCOURTESYPHOTO
"For a long time, they were definitely the most popular, and [had] a good reputation — you rarely heard anyone bash a Keith Home." In 1972, Genstar purchased Keith Construction and Kelwood — by this point, large corporate developers were the major players on the scene. But the legacy of Keith Homes lives on in Calgary, and the houses endure. —D.L.
Calgary Real Estate Board chair Lorna Hamm, a realtor for 35 years, says until about 10 years ago, it was common for her clients to request Keith Homes: "At the beginning of my career, people asked for Keith Homes. I've still got a whole cupboard of floor plans."Hamm's own first house, purchased with her husband in 1971, was a pre-owned Keith Home in Acadia, and later, they bought a new Keith Home in Parkland, where they lived for 21 years.
In January, after looking at more than 50 houses and bidding, unsuccessfully, on two, we put an offer on a home in the southwest. There was a competing offer, but, thanks to a letter we wrote expressing how much we loved the home (a tip we picked up from our homebuying friends in Toronto), ours was accepted.
Reproduced with permission of copyright owner. Further reproduction prohibited without permission. moved in," says Betty. (Between 1969 and 1980, Calgary's population increased nearly 50 per cent, thanks to the booming oil and gas industry.) In the summer, they would frequent the lake; in the winter, there were tobogganing hills and skating trails. It was an exciting time to be in Calgary, says Betty, and they were thrilled to be here. "Calgary was a city where you could have everything you wanted," she says. Mike and I are feeling that now, too. And we're not the only ones: In 2021, Alberta recorded the strongest population growth in nearly seven years, with an estimated 22,013 people moving to the province from across Canada between July and Septem ber, according to Statistics Canada. In June, Calgary ranked third (tied with Zurich) in the Economist Intelligence Unit's annual list of
38
TO MORTGAGE
september 2022
"WE HAD $23,000 AT NINE-AND-A-HALF PER CENT." HIS 1969 LAKE BONAVISTA HOME PURCHASE
the world's most livable cities (beat out only by Vienna and Copenhagen).
On a recent trip to Toronto to promote Calgary's burgeoning tech and innovation opportunities, Mayor Jyoti Gondek said, "We rank consistently as a livable city, we have a lot of great amenities to offer, and it's a place where you can build a home and a life." Buy ing in a hot market, we decided, is a gamble we're willing to take to be part of Calgary right now.
"FOR A LONG TIME, [KEITH HOMES] WERE DEFINITELY THE MOST POPULAR." LORNA Realtor/CREBHAMMChair
Oh, and it's a Keith Home, too.
september 202240 BY ZOLTAN VARADI PHOTOGRAPHY BY JARED DarknessTheofOutSYCH
Many local arts groups found a way to survive during pandemic lockdowns by creating new initiatives that fit with the new reality. But, do these events and programs still have a place in a doors-open-again world?
Wordfest, whose very existence depended on live author appearances and other in-person literary programming, needed to pivot exclusively online, so Youngblut used SNL as a kind of benchmark. It didn't necessarily matter that her staff had littleto-no video-production experience — the sudden Zoomification of everyday existence rendered such details a moot point. "It reminded me of punk, in that nobody knew anything," says Youngblut, speaking from experience as the founding editor of CJSW's often-anarchic print publication, Vox, in the 1980s. "Suddenly, it didn't matter that you were from Calgary and that you've never done it. Nobody else had, either. "[I said,] if we can do as well or better than SNL, we keep going." They could and they did. Which is where this story veers from the online tours and webinars of many other institutions. You see, Wordfest, a heretofore modestly successful regional literary arts festival, effectively created a new brand, Imagine On Air, a streaming service that brought them a global audience. Quickly shedding Zoom, Youngblut and Co. switched to higher-quality playback software, vMix, and began turning out conversations with a litany of lit's varied characters — from Roddy Doyle to Tegan and Sara, Yaa Gyasi to Charlie Kaufman. And they did so in relatively short order. "We started on March 29, 2020 — two weeks after everything shut down," Youngblut says. "We did 79 shows our first year, and we did another hundred our second year."
avenuecalgary.com hen the world as we knew it ground to an abrupt halt in March 2020, Wordfest CEO & Creative Ringleader Shelley Youngblut instructed her team to take in some episodes of Saturday Night Live Her dictum wasn't for morale-boosting purposes, though. With its cast and crew unable to congregate on set due to the pandemic, SNL had temporarily rebranded as Saturday Night Live At Home and, much like the rest of us, found itself awkwardly attempting to communicate with the outside world from a myriad of Zoom boxes.
It may have been the tide of tech democratiza tion sweeping aside all the existing rules, or just the sudden quiet that allowed creators space to refocus,
IT REMINDED ME OF PUNK, IN THAT NOBODY KNEW SHELLEYANYTHING.YOUNGBLUT
Even now, Burgener says he doesn't anticipate demand for the service to wane as performance spaces reopen, saying that, as magical as the vibes may be in any given licensed venue, the experience is far from accessible for all. With Curbside, he has performed in front of a special-needs facility whose occupants had severely limited mobility. "Culture can be consumed and enjoyed outside of traditional culture venues," he says. "There is space for artists to work professionally in a variety of settings."
Burgener, who has spent the entirety of his adult life in the guise of his stage name, Matt Masters, says when the venues where he plied his trade shut down, he seriously considered putting in applications for grocery-store security positions, having little other professional background to fall back upon. Then he and his wife, Amanda Burgener, hatched an alternative plan: Curbside Concerts. You may have even seen Burgener/ Masters on the evening news or even in your own neighbourhood on the back of a flatbed, delivering a safe, socially distanced outdoor set on demand. What sounds like a clever stopgap to keep the honky tonk, er, "tonking" during the darkest days of the pandemic has since transitioned into a successful going concern with a growing roster of more than 145 artists available for bookings across eight provinces. Business is booming for the Burgeners thanks, in part, to guidance from the Reverb: Music Tech Accelerator program, a venture developed by the National Music Centre and Platform Calgary to help music tech startups.
(Thanks to a propitious funding opportunity discovered by a French Platform staffer when she went to renew her passport, the Consulate General of France in Vancouver was brought in as a third partner in the initiative, which launched in 2021.)
september 202242 but Wordfest was not alone among Calgary arts and culture institutions, groups and individuals that found ways to not only weather the pandemic storm, but to ride its unpredictable waves to new, creative destinations.
Naturally, performers weren't the only ones to
"One hundred per cent it is: Alberta is the place you get 'er done," says country musician and onetime provincial NDP candidate Matt Burgener. "You just pick up your boots and do it yourself."
CULTURECANBECONSUMEDANDENJOYEDOUTSIDEOFTRADITIONALCULTUREVENUES.MATTMASTERS
Or maybe it was just a regional thing?
F ORMED IN DARKNESS CALGARY MUSICAL
Also taking inspiration from the somnolent side of the imagination, but with a touch of shoegaze, are Summer Bruises, whose lineup consists of indie rock vets from the likes of Hot Little Rocket, High Parade and others. The band came together a month or so before the first public health order limited their ability to play to the outside world, but they put the interim to good use, crafting their spring 2022 debut, Light to Waste ACTS THAT STARTED DURING THE PANDEMIC
avenuecalgary.com take a hit when the stage lights darkened. Sebastian Buzzalino describes his career as having been "built at the front row of shows at Broken City," with only a smidgen of hyperbole. An accomplished music photographer, the former BeatRoute editor has shot album artwork for the likes of Daniel Romano, Mariel Buckley and others, and served as tour pho tographer for several Calgary acts. When his calendar suddenly cleared, Buzzalino says he didn't mind that much, welcoming a break from his hectic schedule. Nonetheless, he was receptive to a call put forth on Instagram by fellow veteran photog Heather Saitz, who was looking to set up a new shooting space, having been forced to give up her previous arrangement after she and her studio mates lost work due to the initial shutdown.
Initially called Sans Fuccs, an underground art collective for young, racialized Calgarians that hosted pre-pandemic pop-up art and music
43
Saitz says it was another history-making event in 2020 that steered their course as much as the pandemic — the wave of action and advocacy in the wake of George Floyd's murder by police in late May of that year. "I just felt motivated and inspired to do something," Saitz says. "Maybe there's something more important here, or something a little bit bigger that we can do to give back to our community." Part-affordable studio-share, part-gallery, Idle Eyes' space in the burgeoning Greenview Industrial BIA became a refuge of sorts for a crew of emerging and established photographers. The membership includes Lionel Migrino, a self-described "ordinary guy living with a disability called cerebral palsy," who aims to put a lens on promoting inclusivity; and Michaela Neuman, a multi-disciplinary LGBTQA+ artist inspired by high fashion and lowbrow horror. During periods of relaxed restrictions, Idle Eyes also managed to pull off a couple of inperson events, including Buzzalino's Little Deaths photography exhibit and the Moonlit Market, a vintage market organized by Saitz. The Idle Eyes crew wasn't the only group of artists in town galvanized by the summer of unrest, action and advocacy triggered by the Black Lives Matter movement. "COVID was one thing, but that was wild," says Contra, a member of the group FOREIGNERZ, speaking of the often-tempestuous online discourse that took place during those hotto-the-touch summer months in 2020.
The pair had already loosely discussed putting a project together to showcase independent photography in the city prior to the pandemic. Now, with seemingly all the time in the world on their hands, those inchoate thoughts took form as Idle Eyes, a collective with a focus on diversity.
Holding a band practice over Zoom likely leaves a lot to be desired, never mind starting a new group from scratch. But, if you happen to already be cohabitating? Such was the case with what was, arguably, the first Calgary musical act to emerge during the ini tial wave of COVID, Self-Cut Bangs Comprised of Dark Time's Cayley O'Neill and Napalmpom's Shawn Petsche, the duo make guitar-driven rock 'n' roll with a pure pop heart.
There were other pandemic newcomers finding time between quarantines to make some noise. If you're all about embracing the isola tion and uncertainty of the plague years, you'd be hard pressed to find a better soundtrack than that provided by Da'at, with skronking no wave-ish saxophone punctuating an icy, postpunk soundscape. Similarly infused with nervous energy is Stucco, whose members describe themselves as "a rhythmic exploration into the angularity of music. The wicked, crumbling metropolis of our prairie city turned corporate theme park is our backdrop." Somewhat sweeter, but still a little dark, is self-described "dream pop despondents" Cardio grams, who emerged with fittingly medical song titles such as "Dope-IMean" and "Cardiac Arrested."
R ECORDED IN DARKNESS MUSIC PRODUCED AND RELEASED IN CALGARY DURING THE PANDEMIC
IT WAS A LITTLE BIT OF SURVIVAL OF THE FITTEST, BECAUSE EVERYTHING WAS UP IN THE AIR. CONTRA
ith the 2020 edition of its annual music festival cancelled, Sled Island turned to its considerable contact list and appealed to Calgary's music community to contribute new tracks to the two-volume Sled Island Lemonade Stand — so called because they intended to "squeeze every ounce of goodness from the bag of lemons we were given."
september 202244w
CJSW Station Manager Adam Kamis (who plays in the band Liquor Mountain, which appears on the collection) deems Lemonade Stand "a very good snapshot" of the Calgary scene circaWhile2020."the flow of local releases may have slowed somewhat due to the pandemic, by no means did the taps run completely dry. Other notable thirst-quenchers included Sargent x Comrade's sophomore release, The Elephant in the Room (December 2021). Indie dream rockers Crystal Eyes also released their second album this past spring, The Sweetness Restored (April 2022), which features guest appearances by Basia Bulat and Preoccupations' Scott Munro. Hip-hop represented with the 2020 debut of newcomer Lyrique, Poetry is My Pleasure (October 2020), while elder statesmen and CBC Key of A host Tarik Robinson put out Rotations (November 2021) as a solo artist and Banff Avenue (March 2020) with his long-running outfit, Dragon Fli Empire. Not to be outdone, psychinfused post punks Sun Glaciers released the singles "Lung" (June 2020) and "Draw Me In" (October 2021). And singer-songwriter Samantha Savage Smith returned in fine form on the beautiful slab of wax Fake Nice (April 2022).
avenuecalgary.com 45 events, the group relaunched as FOREIGNERZ in early 2020, as they broadened their vision to become a full-service art and production house. In doing so, they engaged a broader swath of the public with film and public art projects, including a role in Chinatown's Black Lives Matter mural, painted that summer by founding member Jae Sterling. Organized through Pink Flamingo, a group that does QTBIPOC events as well as anti-racism training and facilitations, the project launched FOREIGNERZ into the public art world, says Contra, and opened their eyes to "what spaces are hostlie to art from certain people" (referring to controversy over the mural's original agreed-upon location on the former CUPS building). Prior to the pandemic, things had been going great for Contra, who performs as one half of the hip-hop group Cartel Madras, alongside her sister, Eboshi. The pair had been touring with Los Angelesbased musician Sudan Archives in support of their EP, Age of the Goonda, which had been released by the venerable Seattle indie label, Sub Pop. Then all went dark. Contra recalls their agent predicting that, because of the pandemic, a lot of acts would simply "disap pear." Contra and her fellow travellers in FOREIGN ERZ decided that wasn't an option. "It was a little bit of survival of the fittest, because everything was up in the air, no one knew what the f*** was going on," she says. "You just had to figure out how to be seen." They've done a pretty good job, individually and collectively, producing multiple film projects, in cluding Dispatches from the Calgary Underground, a documentary series about this city's unsung cre atives, released earlier this year in association with Sled Island. Other initiatives include showcasing the work of 17 artists at two exhibition spaces this past spring, and, in Contra's case, resuming recording of new Cartel Madras material. "When you go to New York or a big art city, you see the creatives there are very multidisciplinary," Contra says. "You have people who are rappers curating fashion lines, you have people who are chefs and designers and musi cians being a part of an exhibition at the Met. "That's something we always saw for Calgary — we always wanted that to be a thing here. Specifi cally, this is kind of the first time, I think, Calgary or Alberta, is going to see such a huge population of BIPOC, immigrant, young adults be like, 'Oh, I'm actually an artist.' Our parents did not think that way when they immigrated here. This is the first wave of immigrant kids who are thinking 'I'm a creative.'"
FOREIGNERZ's multidisciplinary mindset and diverse membership made it a natural fit for yet another post-COVID initiative, Arts Commons' TD
So, the Incubator was conceived to provide a staging ground for such shapeshifting creatives, giv ing them a space to find likeminded souls and start conversations about how to bring different kinds of practices together. As they geared up to launch in 2021, Dalledonne says his team realized they were putting into place a potentially powerful tool for artists to turn to once the pandemic began to wane. "They're going to need to come together, reconnect and find their collaborators," he says.
Incubator, a project for which Contra and Sterling were the inaugural curators. Not unlike Reverb: Ac celerator, the program assists emerging artists with guidance in areas not necessarily included under the art school umbrella: networking, professional development and mentorship, while also staging performances and exhibitions. Like many other initiatives, seeds of the Incu bator project were sown before the pandemic.
Joshua Dalledonne, who serves as Arts Commons' associate director of social impact, says he'd often find himself in meetings with Sanja Lukac, who programs Arts Commons' galleries, discussing an artist she had booked for the space, but who had other facets to their practice that didn't fit within the constraints of a conventional exhibition — a visual artist who was also a musician, a photographerslash-dancer and so forth. "It happened over and over and, more often than not, these artists were coming from equity-seeking communities," recalls Dalledonne. "What we began noticing was that there was a wholesale shift in artistic practices."
Indeed, Incubator is continuing with vocalistproducer duo Yolanda Sargeant and Evgeniy Byk ovets (Sargeant x Comrade) on board as fellows and curators for the 2022-23 arts season.
Saitz and Buzzalino say they're navigating that terrain now, balancing the idealism behind Idle Eyes with professional commitments as their ser vices once again are in demand. Saitz says that, with the return of semi-normal life comes questions like, "What shape and form does the studio take as we come out of the other side of the pandemic?"
"It's going to exist for a while," says Buzzalino. "It kind of runs itself. We have a good crew of people. We don't make any money off this; it's just a space for everyone to come in and have good, affordable access to the studio. So, where it goes, I don't know. We'll kind of take it month by month."
"WHAT WE BEGAN NOTICING IS THAT THERE WAS A WHOLESALE SHIFT IN ARTISTIC PRACTICES." JOSHUA DALLEDONNE
As we creep back towards something resembling normalcy, though, reconnecting is proving to be the least of concerns for some artists and organizations. The slate wiped clean in March 2020 wound up being a canvas on which much of Calgary's creative community experimented and redefined what it meant to be an artist. But, with the world reopening, some are finding it a challenge to integrate a vision developed under those highly unusual circum stances with a return to business as almost usual.
Wordfest, too, has had to make some adjust ments. But, true to form, they've spun those into new opportunities. With a captive audience desper ate for diversions early in the pandemic, Imagine On Air's viewership numbers were very, very good. But as recent headlines about Netflix's subscriber woes can attest, nothing lasts forever. Youngblut says Imagine On Air will continue to create programming, but they're also looking at finding third-party content providers to distribute it on their channels. "It's not going away, but it's no longer the idea that we are going to be our own Netflix," Youngblut says. "One of the great things about Calgary is we actually thought we could be. Of course, we couldn't be, but it was it was kind of a fun dream to have." In the meantime, Youngblut says she's excited about applying what they've learned to new audi ences. "We have been working on what youth en gagement looks like online. I think teenagers are the most interesting audience in terms of who we can activate," she says. "This particular generation wants to change things. They want to get things done. They are not going to sit by passively, and they need ideas — they need people to talk to them as agents of change, so, we have the world's best authors talking directly to teens." Fittingly, the tagline of Wordfest's new youth channel, which launches this month, could serve as the motto for all of the artists who found ways to wring light out of the darkness that threatened consume them these past two-and-ahalf years: "Question everything."
september 202246 Stuart Young captures local skaters utilizing the mobile skatepark his organization, Cousins, won from the City of Calgary. Here, the ramp is set up in the parking lot of local skateboard and snowboard shop, The Source, during a launch of their collabora tive deck designed by local artist Sikapinakii.
avenue calgary.com 47 WORDS AND PHOTOGRAPHY BY DYLAN ROOMLEEDERBOARD aoneNationsforopportunitiescreatingCommunitySkateboardCousinsisFirstyouth,ollieattime
september 202248
find an adequate piece of concrete. Cousins Skateboard Community has made it its mission to partner with communities to bring skateboard parks to reserves and empower youth to build communities around them.
The name, Cousins, hints at the values of the group. "From an Indigenous perspective, 'cousin' is a term of endearment. People will say, 'What's up, cousin?' and it basically means you're more than a friend, that you're family. That's how we see our crew," says Stuart Young, one of the Community's co-founders.
ityouthspot.theasurbanskateboarderslocationsforcreativitydeterminationtakesand—even,some,justtofindtoskate.Forlivingincentres,itcanbeeasyasskatingdownblocktothenearestBut,forIndigenouslivingonreserves,canbechallengingto
kateboarding
Their proposal won, and, after receiving their mobile skatepark in March 2021, the Cousins Skateboard Community was born. With the momentum from securing the mobile skatepark, they next focused their attention on program funding. In addition to the support they continue to receive from
PEOPLE WILL SAY, 'WHAT'S UP, COUSIN?' AND IT BASICALLY MEANS YOU'RE MORE THAN A FRIEND, THAT YOU'RE FAMILY. THAT'S HOW WE SEE OUR CREW." STUART YOUNG
By 2020, Cutter had gotten a start by building ramps and hosting contests in Siksika Nation, where he grew up, but he wasn't sure how to take his work further. Then he and Young received a message in October 2020, linking them to a news article about the City of Calgary selling off mobile skateboard parks and inviting the greater community to submit proposals for their projects. Young had previous experience with similar applications through his time at university and working for various energy companies, and, supported by friends familiar with the non-profit industry, he spent a month completing the application.
"FROM AN INDIGENOUS PERSPECTIVE, 'COUSIN' IS A TERM OF ENDEARMENT.
Young and fellow co-founder C.J. Cutter grew up as skateboarders on different reserves, and, as adults, they became friends, or "cousins," long before they formed the organization. In sharing the struggles of being skateboarders on reserves, they bonded over a hope to provide today's youth with the access to skateboarding that they didn't have.
Stuart Young (left) and C.J Cutter (right), co-founders of Cousins Skateboard Community.
PROUDLY SERVING ALBERTA CALGARY 403.254.5315 CANMORE 403.707.8048 EDMONTON 780.918.2635 LETHBRIDGE 403.308.3308 Sotheby's International Realty Canada, Brokerage, Real estate agency. Independently Owned & Operated. E & O.E: This information is from sources which we deem reliable, but must be verified by prospective Purchasers and may be subject to change or withdrawal. 1628 49 AVENUE SW MLS: A1235278 1804 BAY SHORE ROAD SW MLS: A1239808 We'll find what you want in a home. And what you never knew you could have. Local Expertise, Global Connections What if your real estate agent was not merely an agent? What if your realtor was your partner? A partner who knew your taste, knew the market, and cultivated connections like no other. What if selling your home wasn't about simply getting it on the market, but about getting your home the attention and sale price it deserves? What if the service you receive as a buyer could calm your mind as you explore homes that quicken your pulse? Let's Chat! $2,200,000$2,400,000 Service yourelevatedasasstandards. SOTHEBYSREALTY.CA 5 BED 4 BATH 3,417 SQFT 6 BED 6 BATH 4,718 SQFT 67 BEL-AIRE PLACE SW MLS: A1201317 920 CRESCENT BOULEVARD SW MLS: A1206930 $3,100,000 $2,999,996 5 BED 6 BATH 5,977 SQFT 6 BED 5 BATH 4,249 SQFT Chucks Okafor SALES REPRESENTATIVE 587.432.0682 cokafor@sothebysrealty.ca GLOBAL REAL ESTATE ADVISOR MAHAOGANY ISLAND Artfully Uniting Exceptional People with Extraordinary Properties. Corinne Poffenroth SENIOR VICE PRESIDENT, SALES GLOBAL REAL ESTATE ADVISOR CERTIFIED LUXURY HOME MARKETING SPECIALISTTM BCOMM 403.804.2444 cpoffenroth@sothebysrealty.ca 44 ASPEN RIDGE HEIGHTS SW MLS: A1195078 134 6 AVENUE NW MLS: A1210878 8 BED 8 BATH 9,578 SQFT 6 BED 7 BATH 5,018 SQFT Vivienne Huisman SENIOR VICE PRESIDENT, SALES GLOBAL REAL ESTATE ADVISOR CERTIFIED LUXURY HOME MARKETING SPECIALISTTM 403.689.8722 vhuisman@sothebysrealty.ca
While getting the mobile skateboard park from the City provided the space for the program, Young and Cutter are quick to point out it's not the literal skatepark that's important; it's the access to a facility that becomes the catalyst for building community.
A skatepark is just concrete and angled cement that facilitates an activity. For us, the skatepark provides an opportunity to engage and em power the youth using skateboarding. It's more about building a culture and community. The skatepark is secondary," says Young. The Cousins team has worked with approx imately 500 youth already and their approach is now well established and has proven effec tive. One of their key tools to building these communities is providing weekly programs when the Cousins team visits various First Nation reserves and skates with youth at their local skateparks. They bring lessons, gear, and general support, but perhaps most significant ly, they provide local kids with something they can look forward to — a potential distraction from what might be going on in their lives.
september 2022
"We believe youth require access to skate parks, but skateparks alone are not the answer.
50 local skateboard stores, they partnered with Canadian Tire Jumpstart Charities through its community development grant program.
"It's not generosity for the sake of it. It's about making sure we always have shoes on hand in case we see a kid that needs them. That feeling of getting a new pair of shoes as a skater, it's better than anything. It's about more than the shoes," says Young. Like most things Cousins does, it's not about the surface value of what they might be work ing with. It's ultimately about the support and empowerment of the Indigenous youth — kids who happen to also like skateboarding.
"It's not like basketball where you can just run dribbling drills; teaching skateboarding, is more about overcoming mental challenges," says Young. "It's a really neat way to connect with the youth. While they're skateboarding, they don't have to worry about an upcoming math test, or what's going on at home. They are just truly enjoying the practice of skateboarding and that's a beautiful thing."
For the second year, Cousins is hosting an annual skate shoe drive that coincides with the National Day for Truth and Reconciliation on September 30. Skaters love and need shoes, but the drive has larger symbolism, as well, because shoes have been used as a represen tation, or a memorial, of those lost from the impacts of residential schools.
Darrell Healy clears a burning barrel at an event held at Shaw Millennium Skatepark celebrating both Go Skateboarding Day and National Indigenous Peoples Day. The Cousins Skateboard Community crew holding flags from each of their home Nations.
To support the Cousins Skateboard Community shoe drive, visit a local skateboard shop like Ninetimes or The Source in Calgary, or the Shredz Shop in Cochrane, buy your favourite pair of shoes of any size and style, and put them in the provided collection bins.
ILLUSTRATIONS: STOCKCOURTESYSI-GAL,i COWANVERONICAAND ADVERTISING FEATURE From the inner-city to amenity-rich suburbs, discover some of Calgary's exciting new communities you may just want to call home. WELCOME HOME
"Come home to calm in the Cobblestone Creek community. Located on Airdrie's west side just south on 24th Street off Yankee Valley Boulevard, Cobblestone is Airdrie's newest community focused on simple, serene living. Kilometres of planned pathways and boardwalks along the creek promote an active lifestyle and a connection to nature."
The Pinnacle
TOURISMCOCHRANECOURTESYLEFT)(TOPPHOTOGRAPH:
"It's a really exciting community that offers a great starting price point of $700K to $1M+, with the opportunity for more space in a rural community," says Price. For more information, inquireyyc@melcor.caemail
MORE TO LOVE In 2023, Melcor will celebrate 100 years in the business of building communities designed to enrich Calgarian's quality of life. Even in its established communities, Melcor continues to be dedicated to advancing neighbourhoods and boosting living experiences. Here, Melcor's Ruth Price shares more about some of the new projects the developer is working on:
PRISTINE VIEWS AT THE PINNACLE ESTATES IN SUNSET RIDGE
Since 1923, Melcor has remained committed to building master planned communities where people of all ages and stages in life can live, work, shop and play. With Melcor's two newest communities, you can enjoy estate living with unbeatable views or rural living in a community with a naturefocused design.
ADVERTISING FEATURE
The Pinnacle Estates is a new community in Cochrane that offers countless reasons to call it home, starting with the incredible views. "These are estate lots with unobstructed mountain and valley views that are absolutely gorgeous," says Ruth Price, project coordinator with Melcor. The views aren't just at a distance either; bordered by an environmental reserve, residents can step out of their front doors and be greeted with sweepingNestledgreenery.intheestablished community of Sunset Ridge, The Pinnacle Estates also provide all of the amenities and community-connection residents could need or want. With more than five kilometres of scenic paths, various parks and a six-acre park, it's easy to get outside and get active with family and friends. A new community centre is also planned for Sunset Ridge, which, subject to market conditions, is tentatively scheduled to be constructed in 2025. The community centre will provide even more ways to be social and get active. Outdoor amenities of a new skating rink, playground, outdoor seating areas and more are tentatively scheduled to be constructed in 2024. With sun-drenched mountains and amber skies, find out more about making The Pinnacle Estates home at thepinnacleestates.com.
PRAIRIE ESTATE LIVING Melcor's second new community, located west of Balzac, brings all the appeal of prairie-estate living with a focus on naturalized design. The soon-to-be-named community will feature connected cul-de-sacs, sizeable lots and a walkable pathway system designed to build connection between neighbours. Spacious estate lots in this community offer ample opportunity for customization, offering residents the chance to build a home with all the features they dream of. As an added feature, the homes will offer options for net-zero living with solar panel options and energy-efficient features so you can enjoy greener living inside and out. Living here will offer residents the sweeping outdoor space they crave within close proximity to the city and all its amenities.
"Our Greenwich community offers New York-style living in northwest Calgary. This community features condos and townhomes within walking distance of the Calgary Farmers' Market West that is set to open in August 2022."
"Live big and set your roots down in Lanark Landing. Located on Airdrie's east side just south of King's Heights, Lanark will feature a September opening of Airdrie's first pump track."
LUXURY LIVING DESIGNED FOR YOU
Nose Hill Park Park innacl reek Lanark Greenwich NORTH EAST NORTH west Airdrie CocHrane SOUTH Sunset Ridge NEW Community COMING 2. 3. 4. 5. Our Calgary & Area Communities In a Melcor Community, life feels easy, effortless, and accessible because it was intentionally designed to feel that way. Each of our master-planned neighbourhoods start with a vision of a lifestyle for that community, and then this vision is built to the highest of standards, bringing you the amenities and conveniences you look for when purchasing a home. Visit our websites to learn more about each of our communities located in the greater Calgary area! 766 1A 201 567 1 1 2 2 Beautiful new homes in master-planned communities.
Learn more about Currie at currielife.ca
ADVERTISING FEATURE
Over the past few years, Canadians have been rethinking how they use their homes. Even before the pandemic accelerated these trends, more people have been working from home, living with multiple generations of family, renting out portions of their house for extra income, and co-buying with friends and extended family. With the definition of both "home" and "family" evolving, the innovation of neighbourhoods is changing too.
RETHINKING HOME
"I tell people to ask themselves what they need and dream of from the design of their home today and beyond," Goldstein says. "When buying a home, the design elements are captivating, but savvy consumers are looking beyond the granite counters or the height of the ceiling and rethinking how their life will evolve in the Thehome."homeofferings in Currie give families the flexibility to evolve.
"The needs of people's homes have changed. The pandemic has taught us that the home needs to serve as a workplace, a school, and everything else, often with many generations living together," says Teresa Goldstein, senior director of real estate for Canada Lands Company. "Families coming into Currie want their homes to work harder for them."
Currie's flexibility also makes it appealing to many people from Calgary and across Canada.
Currie is a southwest inner-city community built on the historic Currie Barracks, a former Canadian Armed Forces Base. Master-planned by Canada Lands Company, Currie keeps the history vibrant and alive while offering a community with solutions for households.
Calgary's reasonable housing prices (especially in comparison to markets like Toronto and Vancouver) and reputation for comfortable liveability are already key draws for newcomers to Currie. Currie's proximity to downtown, schools, Mount Royal University, recreation spaces and the mountains attract residents looking for a better quality of life. The community also offers lifestyle perks, such as plenty of green space and shared outdoor space, walking trails, access to Calgary's bike trail network and the possibility of not needing to own a car.
Currie uses a broad range of municipal land uses that allow for flexible home configurations so families can envision living spaces that work for their unique circumstances. Buyers can run a home business out of the house, build a laneway or secondary suite for rent or provide housing for family and create multi-generational options to keep loved ones nearby. Currie is about giving families homes that fit and adapt to their lifestyles.
Currie's flexible housing options offer solutions for the changing family.
LIFEDISCOVERINCURRIESOUTHWESTCALGARY'SVIBRANTINNER-CITYCOMMUNITY It's a Great Time DiscoverLifeInCurrie.caTo
As with any Jayman home, owners get access to the best-of-the-best when it comes to interior design and high-end estate-level finishings. Both home styles come fitted with smart home technology, making Les Jardins living even smoother.LesJardins also represents Jayman BUILT's commitment to moving towards net-zero living, with solar panels on both the townhomes and the condo building. Garages are also fitted with optional outlets specifically calibrated for electric vehicle chargers so that homeowners will be ready if they drive an electric vehicle now or plan to switch to one for their next purchase.
Townhome owners have already moved into Les Jardins, and there are units available for relatively quick possessions. The townhome units start in the mid $400s plus GST. Construction is underway on the condos, with those homes starting in the high $200s plus GST.
Les Jardins is a quick commute from downtown (with no need to use Deerfoot to get to the city's core). It's also within walking distance to many shops and services and close to not only Quarry Park and the Bow River, but also Carburn and Fish Creek Parks. Despite its accessible location, Les Jardins feels like a peaceful refuge in the heart of the city.
Imagine waking up in Calgary and looking out at a classically styled French garden every morning. That fantasy is now a reality for homeowners at Les Jardins, a distinctive new townhome and condo development from Jayman BUILT. Located minutes from beautiful Quarry Park, residents in this southeast community can enjoy the best of inner-city living and serene outdoor amenities. With its unique layout, Les Jardins features 120 townhomes encircling a two-acre Frenchinspired garden, complete with impeccably maintained hedges, quiet pergola-covered seating areas, community gardens, separate dog-friendly spaces, and a majestic grand central fountain. One end of the development will soon include a 103-unit condo building, complete with a fitness facility and other amenities to be enjoyed by both townhome and condo owners.
ADVERTISING FEATURE
A NATURAL REFUGE IN THE HEART OF THE CITY
"Whether it's our single-family homes or multi-family projects, Jayman is always striving towards that path of net zero," D'Haese says. "When it comes to energy efficiency, we don't just meet the building codes — we exceed them."
"Jayman always envisions its communities by looking at the amenities first and building out from there," says sales manager Jordan D'Haese.
Jayman BUILT's Les Jardins offers inner-city living in a beautiful garden setting
"The garden is the biggest outdoor feature within Les Jardins, but there is also access to the other parks and plenty of walkability. The location is something you don't often get with this size of development."Thehomesare just as impressive as the outdoor features and amenities. Les Jardins' townhomes are available in a range of floorplans, with two- to three-bedroom units. Each townhome has a private yard, driveway, and a one- or two-car heated garage. The condos come in one- or two-bedroom configurations, some with the option of a den, all with spacious balconies and patios. The diversity of options makes Les Jardins a popular choice for downsizers, young families, and single professionals looking for maintenance-free living and a healthy work-life balance.
For more information, visit the Les Jardins sales centre at 10808 18th Street SE or jayman.com/lesjardins.
635 SQ. FT. - 1,035 SQ. FT. | 5 FLOORPLANS TO CHOOSE FROM 1,288 SQ. FT. - 1,645 SQ. FT. | 5 FLOORPLANS TO CHOOSE FROM TOWNHOMES CONDOS &SHOWHOMES4NOWOPEN Jayman.com/LesJardins4SHOWHOMESNOWOPEN*Pricessubjecttochangewithoutnotice.E.&O.E. See Sales Centre for exact details. y LesJardins@jayman.com | 403.316.2832 70,000 SQ FT. CENTRAL GARDENS | 20 MINS TO DOWNTOWN | NEXT TO QUARRY PARK DRIVE LESS, WALK MORE • Minutes from Calgary's Pathway system • Community garden plots and dog park • Walking distance to the shops, restaurants and services of Quarry Park SMART SUSTAINABLE& • Smart home technology included on all suites • Solar panels on townhomes & condos • Underground, heated parkade with electric vehicle charging stations • Highest interior specifications with professionally curated colour palettes • Onsite fitness centre $450s* TOWNHOMESfromstartingthe + GST $270s* fromstartingtheCONDOS + GST STYLEINNER-CITYLIVING Monday – Thursday 2 - 8pm Saturday & Sunday 12 - 5pm SHOWHOME HOURS

"With these bungalows, we've taken an approach that matches and mirrors our singlefamily products where the purchasers meet with our professionally designated interior designers to make their selections, everything from flooring to countertops, cabinets and paint colours," D'Haese says. "Customers have the ability to personalize their home further by choosing a flex room option, to have extra bedrooms in the basement, add a wet bar or anything else they may be looking for in their basement development."
Jayman BUILT has a reputation for its high-end design-savvy interiors, and bungalow homeowners at The Streams can personalize their homes to an unprecedented level with full access to the Jayman styleMagicTM Centre. Both the bungalows and Reflections buildings are also fitted with solar panels and electric vehicleready charging outlets as part of Jayman's commitment to moving towards net-zero living. The homes also feature a full suite of Smart Home technology.
New showhomes at The Streams of Lake Mahogany are coming soon, and bungalow units are available to move into as early as this fall. The bungalows start in the $695,000s, with the lakeside reflection units starting in the $903,000s.
ADVERTISING FEATURE
Discover year-round resort living at The Streams of Lake Mahogany by Jayman BUILT
"The inspiration for The Streams is that we want residents to feel like they're on vacation even when they're at home," says sales manager Jordan D'Haese. "The Streams feels like a resort within a lake community. The owners are a tight-knit group, with full access to everything Mahogany has to offer with the lake, the beach clubhouse and all the shops."
Calgarians already know that Lake Mahogany, with its recreational amenities and close proximity to shops and restaurants, is a great place to live.
Jayman BUILT's latest luxury development, The Streams of Lake Mahogany, gives potential homeowners a new option for relaxed lakeside living, with the added benefit of some of the most beautiful maintenance-free landscaping in the entire city. The Streams is a "neighbourhood within a neighbourhood" in the Mahogany Lake community. The development is designed to look and feel like an exclusive resort and consists of 80 villa-style duplex bungalow homes as well as nine lakeside "Reflection" estate condominium buildings, each featuring six single-level stacked condo units. The unique configuration of homes is perfect for anyone who doesn't want to worry about constantly going up and down stairs while also allowing easy access to The Streams' enviable outdoor amenities. The community's namesake streams are a literal feature. In addition to full access to beautiful Mahogany Lake, homeowners at The Streams can enjoy four distinct green spaces with cascading streams weaving throughout the grounds. Pergola-covered seating areas, outdoor fire pits, additional water features, and communal barbecue facilities sit just steps away from each home, allowing residents to wander out for some outdoor solitude or to enjoy coffee and conversation with neighbours. The Streams is also a short walk away from Westman Village, where residents can browse retailers and services or indulge at restaurants like Chairman's Steakhouse or Alvin's Jazz Club.
Both the bungalows and Reflection homes are more than worthy of their retreat-like surroundings. With multiple floorplans to choose from, the bungalows come with one bedroom upstairs and the option to develop the basement, with one- or two-car garages available. The Reflection units all come in two-bed/two-bath configurations, with private garages and elevator access to the units on the upper levels.
LUXURIOUS LAKESIDE LIVING
For more information, visit The Streams of Lake Mahogany presentation centre at 188 Mahogany Gardens SE or jayman.com/thestreams.
ENJOY THAT VACATION FEELING ALL YEAR LONG LEARN MORE AT THE WESTMAN VILLAGE PRESENTATION CENTRE: 188 Mahogany Gardens SE | 587.350.0237 Mon.ResortLiving@jayman.com-Thur.2PM-8PM|Fri. CLOSED Sat., Sun. & Holidays NOON - 5PM JAYMAN.COM/THESTREAMS ESDVLBYNAMAHOGESTEERTS25 PRESENTATION CENTRE VILLAGEWESTMAN MAHOGANY GATE SE MAHOGANY GARDENS SE VILLAGEMAHOGANYMARKET N WESTMAHOGANYBEACH BEACHMAHOGANYCLUB CALGARY'S ONLY RESORT LIVING LAKESIDE COMMUNITY. REFLECTION ESTATE CONDOMINIUMS STARTING FROM $900's VILLA BUNGALOWS STARTING FROM CHOOSE FROM THREE 1 BED + 1.5 BATH MODELS, WITH BASEMENT DEVELOPMENT OPTIONS. 1,161-1,402 SQ. FT HOMES AVAILABLE Single & double attached heated garage. LAKEFRONT WALKOUTS OR STACKED BUNGALOW-STYLE ESTATE CONDOMINUMS WITH DOUBLE ATTACHED GARAGES. 1,705-2,053 SQ. FT. HOMES AVAILABLE $640's &HOME,INCLUDING&HOME,INCLUDINGLOTGSTLOTGST HOMESPOSSESSIONQUICKAVAILABLE FEATURES • Exclusive enclave with Alpine Contemporary architecture with cobblestone streets • Water features and meandering streams with immaculate landscaping throughout • Outdoor living spaces including firepits, BBQs, and seating areas, all overlooking the lake or streams • South lake views – every home has lake access • Private backyards with maintenance free living • A full day with a professional Interior Designer to personalize your home with unlimited interior finishings • Jayman's Core Performance Energy Efficient features, including solar panels, high efficiency furnace, active heat recovery ventilator, triple pane windows and more
After all, the best measure of a successful, vibrant community is seeing its residents actively engaging with it — enjoying its amenities, visiting with one another and building meaningful connections that can last a lifetime.
Since our inception in 1991, Genesis Land has created seven residential communities in Calgary and four in Airdrie — each with its own vibe and style. In envisioning, planning and ultimately building each new community, we make it a priority to honour the environmental features of a yet-to-be-developed parcel of land, finding the area's sweet spots and making them shine. This principle has led to some of the things we're most proud of in our neighbourhoods, from the extensive canal system that winds through our Airdrie communities to the way we've embraced the rolling topography of Sage Meadows or Sage Hill Crest (northwest Calgary) in order to showcase the all-natural spaces nearby.
COMMITTED TO COMMUNITY
GENESIS EXPERIENCE.TOACOMMUNITYLANDISPLACETOLIVE,BEANDTO OUR COMMUNITY LIST COMPLETED Huxley,TheatSherwood,Taravista,COMMUNITIESCALGARYTaralake,Saddlestone,SageMeadows,TheRidgeSageMeadowsCOMPLETEDAIRDRIECOMMUNITIESCanals,Pier11NEWCOMMUNITIESTHATARESTILLGROWINGCALGARY:SageHillCrestAIRDRIE:Bayside,BayviewCOMINGSOONTOCALGARYLewiston,LoganLanding Visit genesisland.com to learn more.
At Genesis Land, we believe in the importance of building up our communities long after we've built them. We put our heart and soul into every place we create, honouring our surroundings, encouraging connection, and thinking — always — about how to improve, enhance and enrich the lives of our residents. No matter what kind of home you're looking for or what lifestyle goals you want to attain, you'll find everything you need — and more — in a Genesis Land community.
GUIDED BY MOTHER NATURE
ADVERTISING FEATURE
Of course, a community doesn't thrive on its natural environment alone. At Genesis Land, we know that communities will only truly prosper if the people within them feel engaged and supported. That's why we actively create initiatives and donate to causes that aim to make a difference in and around our neighbourhoods.
For more than 30 years, Genesis Land has been developing innovative, award-winning communities designed to complement a diverse range of lifestyles, so that people from all walks of life, and at all stages of life, can flourish in the neighbourhood they choose to call home. We are passionate about creating inspired, welcoming places where modern conveniences and natural surroundings exist in perfect balance. Places where people can make the most of things like ample green space, expansive trail networks and scenic water features while also having close access to shops and services.
A
Spread across 200 acres of mixed-use offerings, U/D provides everything from residential options, retail, office and green space, lively events and more, all maximizing what urban living is about. Designed with multi-mode travel in mind, residents can walk, scooter, or bike across 40 acres of green space and 12 kilometres of interconnected pathways, while easily accessing the University of Calgary, Foothills Medical Centre and Trans-Canada Highway.
See what else U/D has to offer by visiting myuniversitydistrict.ca.
University District is excited to announce Dean's Landing, a new residential project by Rohit Communities. Meet the builder and experience their presentation centre to learn more about housing opportunities in our award-winning community.
FIND COMMUNITY AND CONNECTION IN UNIVERSITY DISTRICT
Much like a home is made up of many different parts, each supporting one another, a good community is a collaboration of people from all walks of life. In University District (U/D), you'll find that community and connection are ingrained in every aspect.
Right in the heart of the community is the Retail Main Street, which alongside popular brands, offers more than 25 unique retailers, including The Alley Bubble Tea, Village Ice Cream and Calgary's first premium dive bar, The Banquet. Set to open in Fall 2022, Central Commons Park will offer up year-round seasonal fun spread across three acres with picnic spots, splash pad, ice skating in the winter, concerts andAndmore.it's not just the community that is full of life; the people of U/D add vibrancy to the community. Since welcoming its first residents in 2018, U/D has only continued to grow with over 2,000 residents ranging from downsizers, young professionals and seniors. Combining its people, unique design and variety of offerings, U/D is a community designed to be a place where people can thrive.
CONDOSSTACKED TOWNHOMES
September 17, between 12-5 p.m. University District Discovery Centre 4410 University Avenue NW A NEW BUILDER IS TOCOMINGU/D
For more information visit myuniversitydistrict.ca
ADVERTISING FEATURE
Settle into an award-winning Calgary community designed to help you thrive in all walks of life
Balance is a key aspect of everyday living, from hobbies like bike riding, maintaining a healthy diet or balancing work and fun. So, when it comes to finding balance in your home, settle into a community designed to bring harmony to your"Whatlife. sets Harmony apart is the feeling of arrival. The immediate feeling of connection to the vision of a community filled with amenities and space to gather and the strong sense of community," says Laurel Campbell, marketing manager for Bordeaux Developments.
From leisurely strolls on the more than 12 kilometres of pathways, sunny days spent on the beach or year-round fun at the Adventure Park, Rocky View County's Harmony is balanced around preserving community spirit and bringing people together. Year-round, residentcentric events include Movie in the Park during the summer months and Santa Skate around Christmas. Future amenities in the growing community include a vibrant village centre with restaurants, retail, schools, a beach club and muchThemore.dynamic vibrancy of Harmony is also reflected across its diverse housing options, including townhomes starting from the $500s, front-drive and rear-laned homes from the high $700s, and estate homes from $1.2 million, with lakeside living from $1.3 million. For families, young couples or retirees, Harmony has a home for"Aseveryone.developers, we have designed a beautiful place to live, but the residents have made it a welcoming and supportive home," says Campbell.
BRING 'HARMONY' BACK INTO YOUR LIFE A place to relax, unwind and explore; Harmony is a place to find balance in your home
THE
The Only New Lake Community on Calgary's West Side
ADVERTISING FEATURE
For more information, visit liveinharmony.ca/community.
SHOW HOMES OPEN from the $500s - $1.3M+ Find a gallery, show home hours, maps & more at LiveInHarmony.ca
MUCHWITHCOMMUNITYLAKESOMOREmickelson national Golf Club 4-Season adventure park 25 Km of pathways & trails
Just minutes west of Calgary in Springbank, the better life in Harmony includes your own lake, golf, parks, extensive trails, a climbing wall, skating ribbon, beautiful homes, mountain views and so much more.
Interested phase three buyers can now buy by reaching out to the builders at liveindawnsonslanding.ca/contact.
ADVERTISING FEATURE
Located just north of Evanston, Ambleton residents enjoy both easy access to ample retail amenities and schools alongside open green spaces with over seven kilometres of pathways and five parks planned for Ambleton.
"Dawson's Landing is similar to Ambleton in a way that it has everything you could ever imagine," says Nina Wulder, marketing and communications coordinator at Qualico Communities Calgary. "There's Chestermere Lake, a golf course, skate park, shopping plaza, school sites and, of course, the community itself."
BUILDING A MODERN HOME AND LIFESTYLELASTING Family-focused living in Ambleton
Dawson's Landing is also welcoming phase three, which will add a second Stormwater Kidney system™ along with a new playground and outdoor space boasting connected pathways, added seating for get-togethers and much more. New showhomes open in late fall, including duplex, laned and front garage homes.
SMALL CITY LIVING IN DAWSON'S LANDING
Since opening in June 2021, Ambleton has continued to grow as a Calgary community that offers new, modern living options in a neighbourhood that feels well-established.
Thanks to its ever-growing popularity, Qualico Communities has launched phase three lots earlier than expected, with new lots offering laned, duplexes and front garage homes. Work is underway on new community hubs, including a storm pond and park area with a large playground, open spaces and a pop-up Owner Association-operated skating rink for winter fun. Visit liveinambleton.com for more information.
Spread across 276 acres in West Chestermere, Dawson's Landing offers all the appeal of city living but without the hustle and bustle.
* Canadian Digestive Health Foundation, 2022 SAME WITHOUTCUSTOMERSCHEESEGREATYOURLOVETHEDISCOMFORT! More than 7 Million Canadians are Lactose Intolerant * Something on the Menu for Everyone! All trademarks owned or used under license by Lactalis Canada, Toronto, ON M9C 5J1. All rights reserved ©2022 Lactalis Canada WWW.LACTALISFOODSERVICE.CA @LACTALISCANADAFOODSERVICE Let's connect NEW
September 2022A66DINING
BY CHRIS LANDRY PHOTOGRAPHY BY JARED SYCH THIS PAGE All ryes:
TOAST TO BREAD
Alberta produces more than 8 million tonnes of wheat annually — and, where there's an abundance of wheat, there's bound to be some mighty fine bread. From veteran bakers to newbies on the rise, we're celebrating a handful of Calgary's top breadmakers who are creating everything from rye sourdough to tandoor-baked naan, and, in the process, re-establishing bread as a pillar of our community. fresh tourte de seigle (rye sourdough) at Bread Culture.
Erin Benedictson is the associate curator at Lougheed House, and, earlier this year, co-curated its YYC Bread Stories exhibit — a collection of artifacts and accounts looking at the history and diversity of bread in Calgary. She describes the city's early bakeries as the cornerstone of the community: "When you'd go [to the bakery], you'd be able to say hello to your neighbours and that community based around bread."
t the beginning of the COVID-19 pandemic, bread flew off shelves. People were reaching for comfort and familiarity, and loaves of all shapes and sizes were the answer. Soon, yeast and flour became impossible to find as home bakers used their downtime to experiment in the kitchen, acquiring sour dough starter, making noknead loaves and decorating focaccia with garden scenes. Through the simple act of baking bread, we were able to connect to one another, despite physical distancing. As it turns out, bread has long had this kind of impact in our city.
Today, thanks to an increased awareness of ingredients and a renewed emphasis on supporting local businesses, artisan bread featuring heritage flour varieties and naturally cultivated yeasts is experiencing a resurgence. And this approach is being applied to everything from baguettes to naan.
Much like Calgary's early days, bread has become central to community once more, Benedictson says: "When everyone was making sourdough, even though we were isolated in our homes, it still brought [us] together." Whether you bake your own, or buy from local bakeries, bread is a vital aspect of Calgary life. Here are some of the bakeries and restaurants giving rise to our daily bread.
A
In the early 1900s, the rich soils, easy transportation by way of the recently constructed Canadian Pacific Railway, and the creation of heartier varieties of wheat that could withstand the cold temperatures made Alberta one of the greatest wheat-growing areas in the world. By 1912, there were at least 13 bakeries dotting Calgary (a significant number, despite a population of only 60,000), each serving not only as a supplier of food, but a communal hub. But, as the city continued to grow, demand increased and mom-and-pop bakeries began to peter out as mass production and the use of chemically bleached flours increased.
Sunny acknowledges that the tourte de seigle (rye sourdough) and other loaves made with specialty flours are not their most popular items, which is why they're only baked once or twice a week — but the Parks continue to offer them, hoping to introduce customers to something new. Bread Culture's philosophy is that good bread should be for everybody. "The good stuff can be expensive," says Sunny. "Before we started the business, we had asked, 'why?'" To keep costs down, the Parks source local flours where they can, and put in many hours at the bakery themselves: On any given morning, you'll find Sunny and Thomas in the kitchen, pumping out bread and pastries. Since opening, a devoted customer base has formed around Bread Culture. If there's something in particular you're after, check the availability on the website (tourte de seigle is sold on Fridays and Saturdays). Otherwise, you'll just have to wait in line for a loaf before they're gone.
Bread goodphilosophyCulture'sisthatbreadshouldbeforeverybody.
At the centre of this petite French-style bakery in the Beltline are Sunny and Thomas Park. The couple, originally from South Korea, fostered their love for baking when they came to Canada in 2014, with the two of them working in various pastry shops and bakeries in Toronto. After learning all they could about the art of bread, the Parks moved to Calgary in 2018, and, in June 2020, opened Bread Culture.
The pair offer an array of breads like baguettes, sourdough and brioche, but the real magic of Bread Culture lies in the loaves they bake with specialty flours, including rye — a variety that's notoriously difficult to manage. Rye flour requires a deft hand to shape its much stickier dough, and, because it doesn't contain gluten, blending it with the right amount of all-purpose flour is important for the correct structure.
THIS PAGE Thomas Park prepares loaves of tourte de seigle at Bread Culture. OPPOSITE Scenes from an alwayson Glamorgan Bakery.
1502 14 St. S.W., breadculture.ca
September 202268
CULTUREBREAD
3919 Richmond Rd. S.W., glamorganbakery.com
avenuecalgary.com DINING69
ery little has changed since this Dutchinspired bakery opened its doors in 1977 — even with a recent change in ownership. In 2021, Philip and Corrin Brouwer took over from Don and Jannette Nauta, who built the longstanding institution that's known to have lineups out the door. But, thanks to ongoing background help from the Nautas, the Brouwers are working to ensure it remains the same Glamorgan Bakery Calgarians know and love.
GLAMORGAN BAKERY
V
"Philip was in oil field engineering and needed a change," Corrin says. "He always loved Glamorgan Bakery, so, when the opportunity came, we jumped on it." Philip started working at the bakery in 2019, and he and Corrin took ownership two years later. "It's such a staple in the community, we couldn't possibly change anything," Corrin says. That's espe cially true when it comes to the oven — the rotating behemoth is like a walk-in closet for bread and has been used in the space since the Nautas opened Glamorgan Bakery 45 years ago. The most popular items to come out of that vintage oven are the cheese buns — Glamorgan Bakery is Calgary-famous for these mounds of melt-in-your-mouth dough loaded with shreds of local aged cheddar. They are baked early and sell out quick. The oven also churns out loaves, such as classic white, whole wheat, whole grain, cheese, fruit and French baguettes, too.
Part of the reason Glamorgan Bakery has lasted so many years is due to the consistency of the products and the use of top-quality, locally sourced ingredients. The grains used are harvested from within 150 km of Calgary and are locally milled, and the butter comes from Foothills Creamery. The Brouwers have made it a family business — their daughter and two sons now help out, too — ensuring the legacy of Glamorgan Bakery, and the cheese buns, continue.
CORRIN BROUWER
"Glamorgan Bakery is such a staple in the community, we couldn't possibly change anything."
THE SIDEWALKCURRYERCITIZEN
TOP Hot naan is removed from The tandoorCurryer'soven.
BOTTOM Aviv Fried gets started on some sourdough.
"Alberta has lots of wheat, and really good wheat. It was interesting to see that it was not really [being] celebrated here," says Fried. "We found one guy who grew Red Fife, which was novel then. We were his first customer — he didn't even have a way to package it, so he brought it to me in a Ziploc bag."
70
All over Pakistan and India, you'll find tandoors, unbelievably hot standing ovens used to make that most quintes sential of South Asian breads: naan. Baking naan requires reaching deep inside the conical oven to stick the dough to the wall inside. The flatbread is part of nearly every meal and serves a dual purpose, acting as both delicious sustenance and a food-delivery utensil.
The self-taught baker began in 2009, making his bread at home and delivering it to friends, and, later, inner-city customers on his bike. Today, Sidewalk Citizen's sourdough is still made with the same natural starter Fried used for his first loaves.
Since the original bakery opened in Sunnyside in 2013, Sidewalk Citizen has added two more locations: one inside the Simmons Building, plus the restaurant Park by Sidewalk Citizen in Central Memorial Park. Still, a love of sourdough and a commitment to supporting local producers remains at the heart of it all.
550 11 Ave. S.W., thecurryer.ca
I n the more than 12 years since its con ception, Sidewalk Citizen, helmed by Aviv Fried and his partner, Michal Lavi, has become the place for artisan sour dough. After finishing a master's in bio medical engineering at the University of Calgary, Fried left the field to pursue his passion for baking. "I was in university for a long time, and, when I finished, I wanted to do something more tangible," Fried says. Growing up in Israel, Fried would buy bread every day: "It wasn't anything spectacular, but it was fresh bread. The soft bread in a bag that we get [in Canada] was not something that I wanted to do." Fried wanted to apply the farm-to-table philoso phy, which was just taking off in Calgary, to breadmaking. And for him, the way to do that was through organic, artisan sourdough.
In Calgary, some of the best naan is found at The Curryer. The food truck-turned-Beltline restau rant is a way for Cameron and Naghma Slade, and Mubina Chaudhry, Naghma's mom (or Ammi Jaan), to share Chaudhry's Pakistani recipes. As a food truck, The Curryer earned a following for its "naanwiches" — similar to shawarma wraps, they see fresh naan filled with kabab and veggies. It takes just a few slaps of the naan dough to flatten it, readying it for the tandoor — the entire process, from dough ball to finished product, takes less than a minute. The naan at The Curryer is vegan, unlike other recipes that use yogurt, and contains Alberta rye flour for extra flavour. It's best enjoyed alongside the national dish of Pakistan, nihari, which, at The Curryer, is made with either beef or lamb shank.
338 10 St. N.W. (Sunnyside); 618 Confluence Way S.E. (Simmons); 340 13 Ave. S.W. (Park), sidewalkcitizenbakery.com
avenuecalgary.com 71 220 - 42 avenue s.e. | 403 287 9255 @alloyrestaurant | events@alloydining.com alloydining.com Come enjoy theseason with us! Book your holiday party with alloy. m o on
september 202272 KATE HEWKO TWO-PIECE SET, $186, FROM KATE HEWKO; STEVE MADDEN SHOES, $170, FROM STEVE MADDEN; AU+C EARRINGS, $50, CUFF RING, $90, AND DOME RING, $75, ALL FROM AU+C; KURT GEIGER LONDON NECKLACE, $328, AND BAND RING, $88, BOTH FROM NORDSTROM.
avenuecalgary.com 73 THE ARTS SEASON IS A GO, SO WHY NOT GO ALL OUT? DECIDEDLY JAZZ DANCEWORKS COMPANY DANCERS MODEL MAJOR LOOKS THAT, LIKE THEM, ARE SURE TO ATTRACT THE SPOTLIGHT. BYPH0TOGRAPHY SYCHJARED BYSTYLED PARK BYDIRECTIONART COLLINSSTEVE BYMAKEUPANDHAIR WALKEMEYERNICKOL MODELS BOWERMANCASSANDRA , KORNEYNATASHA , F.GALEOSOWINJASON ATLOCATIONONSHOT CENTREDANCEDJD TECHNICIANLIGHTING BERGERONARIELLE
september 202274 NEIL BARRETT T-SHIRT, $375, AND CONVERSE SHOES, $100, BOTH FROM SIMONS; KATE HEWKO BUTTON-UP SHIRT, $89, FROM KATE HEWKO; STONE ISLAND PANTS, $518, FROM LESS 17.
KATE HEWKO DRESS, $175, AND BLAZER, $149, BOTH FROM KATE HEWKO; EARRINGS, $30, FROM ZARA; AU+C STATEMENT RING, $75, WHITE GOLD DOME RING, $75, AND YELLOW GOLD DOME RING, $75, ALL FROM AU+C; OVERSIZED TWIST OPEN RING, $99, FROM SIMONS; ALDO SHOES, $160, FROM ALDO.
september 202276 GANNI DRESS, $575, FROM LEO BOUTIQUE; SHOES, $100, FROM ZARA; KURT GEIGER LONDON BAND RING, $88, FROM NORDSTROM; AU+C SCULPTURE RING, $68, DOME RING, $75, AND EARRINGS, $60, ALL FROM AU+C.
avenuecalgary.com 77 AMI TOP, $775, FROM SIMONS; ISSEY MIYAKE PANTS, $815, AND GOOD AMERICAN BODYSUIT, $100, BOTH FROM HOLT RENFREW; PAUL HARDY SKIRT, $1,395 FROM PAUL HARDY (SPECIAL ORDER); AU+C EARRINGS, $65, FROM AU+C.
september 202278
FASHION SO U RCE Aldo Four locations in the Calgary area, aldoshoes.com AU+C auplusc.com Holt Renfrew The Core Shopping Centre, 403-269-7341, holtrenfrew.com
Homomilk Estudyo homomilk.ca
Kate Hewko 908 17 Ave. S.W., katehewko.com Leo Boutique 810B 16 Ave. S.W., 403 410-9236, leoboutique.com Less 17 930 17 Ave. S.W., 403-228-9199, lessoneseven.com Nordstrom CF Chinook Centre, 587-291-2000, nordstrom.ca Paul Hardy 3638 Manchester Rd. S.E., 403-966-2268, paulhardydesign.com Simons The Core Shopping Centre, 403-697-1840, simons.ca Steve Madden Two Calgary locations, stevemadden.ca Zara Two Calgary locations, zara.com
HOMOMILK ESTUDYO DRESS, $1,300, FROM HOMOMILK ESTUDYO; GOOD AMERICAN BODYSUIT, $100, AND GANNI SHOES, $429, BOTH FROM HOLT RENFREW; AU+C EARRINGS, $58, CAGE RING, $65, OVERLAP RING, $50, AND STATEMENT RING, $55, ALL FROM AU+C; HAT, HOMOMILK ESTUDYO'S OWN.
avenuecalgary.com 79 YOURCLOSET ISAPIECEOF PRIMEREALESTATE. WEMAKESURE YOU'REGETTINGTHE MOSTOUTOFIT. espyexperience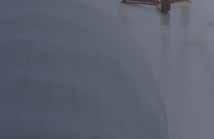 Located just outside the southern entrance to Kootenay National Park, the Village of Radium Hot Springs is best known for its titular mineral pools, though the area has more to offer visitors than just a relaxing soak. With a population that falls just short of 1,400 residents, Radium has yearround appeal, but fall is the best time to enjoy its abundant wildlife, alpine charm and spectacular mountain setting.
WHY FALL IS HIGH SEASON IN THIS ALPINE AREA
REVISITING
Upper Welsh Lake in the Purcell Mountains near Radium Hot Springs.
RADIUM 80 MEDIGKARIBYPHOTO
G ETTING TH ERE With the Rocky Mountains to the east and the Purcell Mountains to the west, Radium has always been an important junction and gateway between Kootenay National Park and the Columbia Valley. On the three-hour drive from Calgary to Radium, allot time for stops in Koote nay National Park along Highway 93. Marvel at Marble Canyon's seven bridges over deep chasms carved by the gushing waterfalls. Then, pull over at Numa Falls, a turquoise cascade that flows as part of the Vermilion River. As you get closer to Radium, keep your eyes out for the emerald pool of Olive Lake at a blink-and-you'll-miss-it turnoff.
W HAT TO DO IN RADIUM When larch-mania hits the Bow Valley in September each year, crowds from Calgary flock to Banff and Kananaskis for a glimpse of the golden and yellow conifers. The Kootenay region boasts its own display but with barely any crowds. Typically found at higher elevations, the larch tree needles turn from green to yellow during an all-too brief window from late September into mid-November, making them an ephemeral experience that many viewers seek to capture in photos.
Two of Radium's best hikes to see larch trees in their full golden glory are Diana Lake and Welsh Lake. Diana Lake has epic views of the Brisco Range, as well as a teahouse that veers from the standard scone offerings with "back country nachos" (highly recommended). As you near the backcountry lodge and teahouse, rolling meadows open to reveal larch trees as far as the eye can see. Welsh Lake requires a lengthy drive down an ac tive logging road just to reach the trailhead. The remote location means you'll hardly en counter other hikers on the four-kilometre climb to the lake. On a blue-sky day, you'll be rewarded with a breathtaking view of bright yellow trees reflecting in the mirrorlikeRadiumwater. also provides direct access to the Columbia Wetlands, one of the largest intact wetlands in North America. The wet lands are home to 216 animal species and more than 260 recorded bird species. Rent a canoe or kayak from Far Out Gear Rentals and take in the pristine, protected waters of the Columbia River at eye level — you might just spot a blue heron, see beaver dams, osprey nests or soaring bald eagles above.
BY LYNDA SEA
The approach into Radium is a narrow and winding road cut through Sinclair Canyon's red limestone rockface. Tucked up against the side of the canyon on the eastern side of the highway are the famous hot springs. Development of the hot springs began in 1911, while construction of the Banff-Windermere Highway — the first highway to cross the Central Canadian Rockies — was com pleted in 1923. Many early Radium residents were European families from Poland, Switzerland and Holland who met the resulting tourism boom by opening and running many of the vintage motels in town which have distinctly Euro-alpine styling.
If you prefer a more adrenaline-pumping paddling adventure, Kootenay River Run ners offers guided whitewater rafting trips of Class II and Class III rapids. For a different vantage of the wetlands, go exploring on two wheels. Mountain bik ers can take the nine-km-long Old Coach Trail through the winding benchlands above the mighty Columbia River, or ven ture down Settler's Road off Highway 93 to Nipika Mountain Resort, which co-man ages 50-plus kms of multi-use trails in the Cross River Canyon recreation site. Don't miss the waterfalls and slot canyon at the
avenuecalgary.com
MOUNTAINS81
Natural Bridge and Cross River Canyon. Bighorn sheep are such a common sight in Radium Hot Springs Village, they've become literal symbols. In 2021, the municipality unveiled a sculpture of two giant ram horns named Bighorns at the new roundabout. There was even a Headbanger Festival at one time, with workshops, talks and interpretive hikes to celebrate the rut ting season in early November. Though this festival is no longer happening, visitors to the area can still experience the sound of rams crashing their horns together as they battle for dominance, a sound that echoes throughout the valley like a thunderclap. Of course, no trip to Radium would be complete without a soak in the healing mineral waters at one of Canada's largest hot springs. The family-friendly facility has a large hot pool as well as a cooler pool for swimming. The waters here are famous for being both odourless and clear. Settle in, and you'll understand why these hot springs at the base of Redstreak Moun tain have drawn people from all over for centuries. Radium Hot Springs. Bighorn sheep.
RUNNERSRIVERKOOTENAYOFCOURTESYPHOTORAFTINGRADIUM,TOURISMOFCOURTESYPHOTOSBIGHORNSPRINGS,HOT Kootenay River Runners.
This foodie-paradise boutique grocery and café operation in nearby Spillamacheen is well worth the 30-minute drive from downtown Radium. The market stocks fresh seasonal honeys, preserves, gourmet goods, pantry items, local wines and mead, and more. Enjoy a fresh-made panini and coffee on the porch and make sure to bring a cooler for all the food items you'll want to bring back with you. 976 BC-95, Spillamacheen, 250-346-3306, beeland.ca
Bighorn Café. Old Salzburg Restaurant.
W HERE TO STAY Radius Retreat
10 Bighorn Blvd., bighornmeadows.com Avenue's writers and editors are occasionally invited to experience dining or adventure activi ties as a guest, including some of the experiences in this story. Neither complimentary experiences nor advertising are required for coverage in Avenue. Neither companies that advertise, nor those that provide other incentives, are promised editorial coverage, nor do they have the opportunity to review or approve stories before publication.
Bighorn Café Locals and tourists, alike, get their morning jolt of java at this warm and inviting cof fee shop. Whether you're coming for the 49th Parallel coffee, the famous breakfast burrito, fresh baked goods or local food products from the valley, linger on the large outdoor deck or at the many tables inside to enjoy your sips and bites.
RETREAT;RADIUSOFCOURTESYPHOTORETREATRADIUSRADIUM,TOURISMOFCOURTESYPHOTORESORTMEADOWSBIGHORN CAMPBELLCARLEENBYPHOTOCAFÉBIGHORNRESTAURANT;SALZBURGOLDOFCOURTESYPHOTORESTAURANTSALZBURGOLD
Bighorn Meadows Resort. Radius Retreat.
September 202282
W HERE TO EAT Old Salzburg Restaurant
This wilderness retreat just north of town provides a backcountry camping experience in 10 spacious yurts spread across 1,000 forested acres. The operation is set up to align with the philosophy of friluftsliv (a Nordic concept that translates as "open-air living"). The hike-in ac commodations feature composting toilets, solarpowered lighting and pre-chopped firewood for the wood-burning stoves and firepits. Guests can stargaze at night and forest-bathe by wandering more than 12 km of trails.
Beeland Market and Coffee Bar
The Snack Bar by Street Avenue Food At this open-air outpost by two Québécois entrepreneurs, you'll find a menu centred around, what else? Poutine. Made from Ken nebec potatoes, the base fries are doubleblanched for optimum crispness and cheese curds are imported fresh twice weekly. You can also order fish and chips, Montreal smoked-meat sandwiches and their own take on the midway classic blooming onion. 7535 Main St. W., 250-409-5172
7058 Hwy. 95, radiusretreat.com Bighorn Meadows Resort Situated on the ninth fairway of Radium's Springs Golf Course, Bighorn Meadows Resort boasts well-appointed and spacious condo suites, with all the comforts of home. Snooze on pillowtop beds, grill your meals on the balcony barbecues or take advantage of the resort's personalized grocery- delivery service. Wake to views of pristine golf greens framed by mountains, then lounge around the heated pool or rent a mountain bike to cruise around the village, and beyond.
This iconic Radium restaurant run by longtime owner Franz Schwabl is the place to go for authentic Austrian cuisine. Order the jaegerschnitzel — a plate of breaded pork topped with bacon, ham, mushrooms, onions and cranberry-red wine demi-glace with a side of spätzle — and be sure to save room for the made-from-scratch apple strudel. 4943 BC-93, oldsalzburgrestaurant.com250-347-6553,
7527 Main St. W., 778-527-5005, bighorncafe.net
Register to join us for our Fall Open Houses
TIRED, AWKWARD 1973
Varsity New A S I NTO A WARM, CONTEMPORARY HOME
After buying the house in 2014 and living in it for nearly five years, the family had had enough of the outdated configura tion and inadequate storage. Russ, a product manager for a tech fter Vancouver-based couple Vreni and Russ made the perma nent move to Calgary in 2013, they began searching for the per fect house that would help them plant deep roots. Vreni, born in Vancouver, and Russ, originally from the U.S. and a resident of Vancouver since 1999, first moved to Calgary in 2005, then back to Vancouver in 2011. But, when work brought them again to Calgary, they decided to stay for good. They saw Calgary as an affordable place to raise their two children, and they'd fallen in love with the city's parks, great sense of community and proximity to the mountains.
PLIT L EVEL
Unable to find their perfect home right away, the family rented until friends told them about a 1970s-era split-level house com ing up for sale on their street — a quiet loop in Varsity, close to Bowmont Park and its many opportunities to walk, cycle and be in nature. "It was a purchase not so much for the house, but for the location," says Vreni, a physician, who describes the original siding as "ugly and butter-coloured."
A CALGARY FAMILY TRANSFORMED
.
september 202284
"We wanted to bring it into the 21st century, freshen it up and make it practical for how their life is going to be in the next 10 years while their kids are growing up," says Falkenberg.
DECOR
The collaborative design process took 18 months.
Falken Reynolds is known for its clean lines, qual ity materials and a focus on creating homes shaped by the lives and experiences of its clients — mostly young, active families. Renovations comprise 70 per cent of its work.
avenuecalgary.com 85 BY VALERIE BERENYI PHOTOGRAPHY BY EMA PETER THIS PAGE
The multipurpose "think room" can be closed off from the living area with sliding doors. OPPOSITE The sun-drenched living and dining area is a natural gathering spot. company, says they grappled with how to reconfig ure the cramped kitchen, sunken family room and too-big living room. Then they spotted an Instagram post by Vancou ver interior design studio Falken Reynolds Interiors, featuring a beautiful, yet highly functional mud room: a bench for kids to put on their shoes, closed cabinets to tuck away mess and a lighted key drop. The details made Vreni think, "Okay, these are the people for me."
Chad Falkenberg, co-owner with Kelly Reynolds, says they weren't fazed when Vreni and Russ contacted the studio about redesigning their Calgary house. "We'd already worked remotely with clients on a few projects outside Vancouver," saysVreniFalkenberg.andRuss toured two completed Falken Reynolds projects in Vancouver, while Reynolds flew to Calgary to see the home and observe its "pinch points." He documented Russ and Vreni's extensive collection of art and vintage furniture, asked many questions and coaxed stories from the family about how they live in order to frame a home around their lives, now and in future.
The subsequent renovation began in March 2020, with Byron Brooks of Alair Homes Calgary acting as general contractor. Brooks' team was gutting the interior at the onset of COVID-19, and the pan demic paused construction for a week. Thereafter, the Alair team communicated with the homeown ers and designers online, sharing photos and video of their progress. The house was stripped to the studs, the plumbing and electrical redone. Only the foundation, exterior framing and (reinforced) roof are original, says Russ. The renovation wrapped in spring 2021. Eight years after moving to Calgary, the quest for a perfect home had been realized with a warm, highly per sonalized modern space inspired by nature. The home's new exterior is striking: black boardand-batten siding above, with natural black slate cladding below. A wide walkway flanked by native
"We wanted to bring it into the 21st Century, freshen it up and make it practical"
In the sunken kitchen, a wellused perch on one countertop keeps kitchen visitors out of the cooks' way.
"Fantastic" is Vreni's word for her reimagined home. "It allows us to live the way we like to live," she says. "It's an open, calm space.
CHAD FALKENBERG, DESIGNER
Whitewashed ash millwork hides cables, while niches display collectibles. A bench sits beside the living area's freestanding gas stove, and the oak floor below is warmed by a Swedish felted rug. Part of the design considerations were quiet places for the kids to read or play games while still being part of what's happening around them, says Falkenberg.
"It's our forever home."
The "think room" — a multipurpose corner of the living area that can be closed off with sliding doors — contains a piano, computers and reading nook.
perennials leads to an expansive glass door. Inside, a large metal pinecone by Ontario sculp tor Floyd Elzinga sets a playful tone in the foyer, and natural light floods the open-plan dining and living areas.
The family's cherished antique cabinets — one Japanese, one Italian — hold pride of place, with large picture windows designed around them.
The sunken kitchen — replacing the old family room and now closer to the front-drive garage — connects to the backyard via a bank of sliding glass doors. Caesarstone quartz flows down the side of the island for maximum durability, while full-height ash cabinets conceal drawers, appliances and clut ter. There is a place for everything, says Vreni.
A freestanding gas stove warms a corner of the living room with its tiled and pillowed bench seating and U-turn chair by Bensen. Shaded by an old spruce tree in the front yard, the think room's window seat-cum-bookcase makes for a well-loved reading nook. Instruments and col lectibles are on display, while millwork hides cables, a printer and other home essentials.
In the ensuite bathroom, Bocci pendant lights, with copper mesh inside soft pink glass, glow prettily at night. "They look like fishnets," says homeowner Vreni. Art and books are everywhere in the house, including in the primary bedroom. "We all love to read," says Vreni.
FROMCLOCKWISETOPLEFT
The mud room/pantry mixes open shelving for cookbooks with closed cabinets for clutter, and its handwashing sink, designed pre-COVID, is a prescient and practical feature. A home gym in the basement incorporates a climbing wall, a barre and bikes on cycling trainers.
Glass pendant lights by Bocci in green, tan and glacial blue hang above a Bensen dining table.
september 202286
avenuecalgary.com 87 C D L S o u t h ( 4 0 3 ) 2 5 5 1 8 1 1 7 2 6 5 1 1 S t r e e t S E C a l g a r y , A B T 2 H 2 S 1 C D L N o r t h ( 4 0 3 ) 2 7 5 3 3 0 4 1 1 7 5 2 S a r c e e T r a i l N W C a l g a r y , A B T 3 R 0 A 1 C D L I n v e r m e r e ( 2 5 0 ) 3 4 2 1 5 9 2 4 B 4 9 2 A r r o w R o a d I n v e r m e r e , B C V 0 A 1 K 2 C O R E T E C + H D | N E W T O N O A K @cdlcarpetandflooring www.cdlflooring.ca Calling all Alberta makers MADE IN ALBERTA CONFERENCE THANK YOU TO OUR SPONSORS central library - OCTOBER 12, 2022 MadeInAlbertaAwards.ca/conference-events/
Mud Rooms Count Falkenberg says many clients ap preciate his studio's focus on the "less-sexy rooms" (like the mud room). These important spaces have to perform well. "High-traffic areas need the same attention to detail as a kitchen so that all the little things are figured out and there's enough storage," he says.
HOW TO BUILD BACK BETTER Designer Chad Falkenberg offers three suggestions to get the most from a home renovation. Change the Things You Can "In the design process, there are things that can't change and some that can," Falkenberg says. "With the Varsity house, we put the antique cabinets in the drawings first and then figured out how large the windows should be so the cabinets looked their best. People often put in windows where they think they should be. Instead, put the furniture you want to keep in first, then design the windows around it. It doesn't change the cost of the windows or the construction."
FROMCLOCKWISETOP A home gym in the basement incorporates a climbing wall and a barre for the kids and bikes on cycling trainers for the parents. One wall in the basement family room is beautifully curated with books, board games and collectibles displayed on Vitose modular shelving. The bathrooms feature stunning Italian tile by Mutina: Anglesey Puzzle tile in the kids' shower (shown here), and "Tex" blue tile in the ensuite shower.
Relaxing vs. Entertaining A good home redesign has to under stand the difference between how people relax at home versus how they entertain, Falkenberg says. At the Varsity house, the many little nooks are ideal for studying and reading when the family is at home. The house also works well for enter taining because the kitchen connects to the dining and living rooms and the backyard, allowing people to flow inside and outside, sit on the wide stairs and chat.
DECOR september 202288
For sourcing information on the items and services used in the design of this home visit avenuecalgary.com/varsityhome/
213
avenuecalgary.com 89 Experience Inspired Retirement Living Steps away from parks & river pathways, seconds from unique dining & shopping experiences and brimming with 5-star amenities, Riverwalk Retirement Residence is where lifestyle meets life. We offer options that include Independent Living, Assisted Living and Memory Care, all with an individualized approach so that you can live your way, each and every day. Come experience your opportunity to be a part of this vibrant community in the heart of the Cliff Bungalow-Mission district today. For more information, or to request an appointment, call (403)271-7244 or visit verveseniorliving.com/riverwalk 528 25 Avenue SW, Calgary VISIT THE PRESENTATION CENTRE TODAY! 2424 4th Street SW, Calgary RESERVEYOURSUITETHISSUMMER Join us for the Made in Alberta marketplaces MadeInAlbertaAwards.ca MARKET HOST Bow Valley Square NOVEMBER 23–24, 2022 VOTING OPEN AUGUST 22 –SEPTEMBER 16 avenuecalgary.com/ best-restaurants-ballot ballot CALGARY'S restaurantsvote
Nikki and Julie he work of the late Canadian artist John Brocke is best encapsulated by the words of Jon Kabat-Zinn, American pro ponent of mindfulness: "The little things? The little moments? They aren't little."
of a winged lion, symbol of St. Mark the Evangelist, and a pelican feeding her young with blood from her own breast, an allegory of altruism and charity found in early Chris tian iconography and medieval cathedrals. References to a spiritual world became more pronounced in the enigmatic imagery of Brocke's later work. Here, the fictive wallpa per creates an extraordinary atmosphere for an apparently ordinary moment. In his lifetime, Brocke completed just under 30 paintings, each of them beautifully crafted and deeply thoughtful. Tragically, he died in a car accident in 2009, at the age of 55, three years after he and his wife relocated to the Annapolis Valley in Nova Scotia. Today, Brocke's work can be found in public, corporate and private collections across Canada, many of which Glenbow drew from for its significant retrospective exhibition in 2015.
SEPTEMBER 202290 TILLERJAREDBYPHOTO WORK OF ART
DATE
plywood.ash-veneered
Gallery
CURATED BY KATHERINE YLITALO TITLE Nikki
A grant from the Elizabeth Greenshields Foundation in 1982 provided Brocke with support to create several paintings, includ ing Nikki and Julie. Using the photographs, he worked out the painting's composition in a black and white collaged maquette, adding colour in the process of painting. The expanse of metallic wallpaper above the girls' heads becomes an ethereal third character. Its pattern is Brocke's invention — squares of thin silver reveal the rippling wood grain of the ash veneer beneath. Between the squares are print-like versions and Julie 1982 ARTIST John Brocke (1953 to 2009) MEDIA Oil on SIZE 48 inches high by 42 inches wide. LOCATION 1958 (lobby of TC Energy), 450 1 St. S.W. NOTES Nikki and Julie is in the Collection of TC Energy. Another Brocke work, the masterful Epoch, is currently on temporary display on the fourth floor of Bow Valley Col lege's South Campus.
In Nikki and Julie, Brocke pinpoints a mo ment in the lives of two young sisters, while also revealing a reverence for light, life and mystery. From the glints of reflected colour on the rungs of the spindle-back bench, to the careful perimeter spacing of tiny finish ing nails that hold the wood veneer in place, his focus is meticulous. Born in Edmonton, Brocke moved with his family to Dawson Creek, B.C., when he was eight. In 1979, the Alberta College of Art (now Alberta University of the Arts) admitted him directly into second-year studies because of his outstanding talent. As a student, he won the Province of Alberta Prize and the Talens Canadian Agencies Scholarship. Upon graduation in 1981, he wasted no time setting up his studio. The process of creating Nikki and Julie began with a photo session, in which the titular sisters, friends of the family, posed, one at a time, on the bench. Each wore a party dress that could have come from the 1980 Sears Christmas catalogue, vaguely Victorian lace-trimmed frocks of a size they could grow into.
january 202292 TKTKTKBYPHOTOGRAPH WORK OF ART SHANE HOMES, THE BETTER WAY TO BUILD. SHANEHOMES.COM Affordable customization. You don't need to settle on a home that doesn't capture what's important to you and your family. With our Love it or Customize it philosophy we will work within your budget to build the home you've dreamt of. BUILD A NEW HOME FROM THE $490's * * Pricing includes house, lot and GST for a home in Midtown in AIrdrie. Subject to change without notice. Conditions Apply. See Area Manager for details.