The daring raid on the Gestapo's Danish lair
Typhoons in Pole position
l See page 28
TYPHOONS HAVE deployed to Poland to practise dogfighting ahead of a crucial summit where Britain will call on Allies to keep up the pressure on Russia.
Four jets supported by 50 RAF personnel are launching combat drills close to the border with Ukraine ahead of the Warsaw Security Forum.
The fighters will join Allied aircraft from Poland, Spain and Italy to practise targeting beyond visual range and to simulate combat scenarios.
Defence Minister James Heappey is expected to visit the Typhoon Force and British troops deployed in eastern Poland to operate the Sky Sabre missile system.
He will join Foreign, Commonwealth & Development Office ministers AnneMarie Trevelyan and Lord Ahmad at the Warsaw Security Forum to stress the need to maintain support for Ukraine as it continues to repel Vladimir Putin's illegal invasion.
The two-week deployment is one of many joint exercises with Polish forces, including the permanent deployment of hundreds of British soldiers in the country as part of Nato's Operation Cabrit.
Earlier this year, UK and Polish foreign secretaries and Defence ministers signed a strategic partnership underlining both countries' commitment to European security and Nato.
leg service win
Loriners
l See page 29
October 6, 2023 No. 1569 £1.20
Equestrian
are spot on RAF stars at WXV event
See page 31 l See R'n'R page 5 l See page 21 The story of Bomber Command Mustang: raw horse power The Forces' favourite paper
Friday,
Football Rugby
Coningsby
l
pages 16-17 Win! Win!
Win new book about RAF Mosquito and audacious attack on the Nazis' Copenhagen base
See
l
NATO ALLIES: UK Typhoons arrive in Poland ahead of Alliance training. Inset above, Polish crews check out RAF jet
First E-7A Sqn CO, Wg Cdr Sarah McDonnell on qualifying in Australia
See page 10
Shapps Ukraine mission
A TOP-LEVEL delegation has returned from Ukraine to see what lessons the UK's military can learn from the war against Russia.
As part of the fact-finding mission new Defence Secretary Grant Shapps visited ISTAR intelligence-gathering crews at Waddington during his first tour of Service bases since getting the top Defence post.
He was accompanied to Kyiv by Chief of the Defence Staff Admiral Sir Tony Radakin to discuss Britain's ongoing support to the country's counteroffensive against Putin's forces.
RAF News Room 68
Lancaster Building
HQ Air Command High Wycombe Buckinghamshire HP14 4UE
Editor: Simon Williams
Email: editor@rafnews.co.uk
Features Editor: Tracey Allen
Email: tracey.allen@rafnews.co.uk
News Editor: Simon Mander
Sports: Daniel Abrahams
Email: sports@rafnews.co.uk
All advertising: Edwin Rodrigues
Tel: 07482 571535
Email: edwin.rodrigues@ rafnews.co.uk
Subscriptions and distribution: RAF News Subscriptions
c/o Intermedia, Unit 6 e Enterprise Centre, Kelvin Lane, Crawley RH10 9PE Tel: 01293 312191
Email: rafnewssubs@ subscriptionhelpline.co.uk
Adm Sir Tony said: "I am pleased the Secretary of State has had an opportunity to see how the Armed Forces are adapting to the lessons from the war in Ukraine, and to a world of stateon-state competition.
"An Army that is benefitting from a £40 billion investment programme to become even more lethal and even stronger within Nato.
"A Royal Air Force which is transitioning from fourthgeneration aircraft to fifthgeneration aircraft, more capacity to transport people and cargoes,
and is improving our ability to both use and defend in space.
"A Royal Navy that is a carrier force once again with an enhanced global presence and an ongoing renewal of our nuclear deterrent.
"All our Services are striving to
This Week In History
1956 Atomic Valiant
A 49 SQN Valiant makes the first UK atomic weapons drop over a target in Maralinga in Australia
make more use of technology and data, both to provide the winning edge."
At Waddington Mr Shapps, accompanied by Chief of the Air Staff ACM Sir Rich Knighton, met 51 and XIII Sqn personnel who fly Rivet Joint and Reaper aircraft.
He also spent time with the Royal Navy in Portsmouth touring Type 45 destroyer HMS Defender and on Salisbury Plain, where he met British soldiers who have helped train more than 26,500 Ukrainian recruits to date.
Royal Air Force News Friday, October 6, 2023 P2 1992 Helicopter female first
Wellington debut
1938
FLT LT Vicky Smith graduates from RAF Shawbury to become the RAF's first female helicopter pilot. Extracts from The Royal Air Force Day By Day by Air Cdre Graham Pitchfork (The History Press)
VICKERS-BUILT
THE
twinengine Wellington bomber enters service with 99 Sqn at RAF Mildenhall.
"We can't wait to start flying our own Wedgetail AEW1
"My career is a novel and I have just entered the most exciting chapter
Soul queen Beverley Knight on her new album and tour R'n'R p4
rugby event will be a great way to start the season
FACT FINDING: Defence Secretary Grant Shapps
Allied Warriors launch twice as many sorties in NATO Exercise
The flight of the kiwi
CHINOOKS ferried Gurkhas and New Zealand Armed Forces personnel on a mission to restore an historic monument on Salisbury Plain.
The 130m-tall chalk bird, affectionately termed The Bulford Kiwi was carved into Beacon Hill in 1919 by ANZAC troops waiting to return home at the end of World War I.
The soldiers carved their national emblem into the chalk to commemorate their achievements in the Battle of Messines in Belgium in 1917.
As custodians of the monument, 249 Gurkha Signal Sqn soldiers called in an RAF 18 Sqn Chinook from Odiham to help refresh the monument,
Cobra ramps up in invasion drill
Simon Mander
FIGHTER JETS flew round-theclock missions to simulate an air campaign in support of a fictional country battling to regain sovereign territory.
recognised as an important archaeological site.
The battlefield workhorses used their underslung load capability to airlift 12 loads of chalk and drop it on to the hill, near Stonehenge, where it was spread over the Kiwi carving to restore it to its former splendour.
Veterans' fund remobilised
CASH grants to help wounded exmilitary personnel move on with their lives have been restored by the Government.
A reinstated £2.52 million Veterans' Mobility Fund has been set up with Help for Heroes and limbless charity Blesma to buy health aids not available through the NHS, such as specialist wheelchairs and scooters, splints and braces.
Veterans Minister Johnny Mercer said: "I've met so many inspiring veterans who have told me how the previous fund helped them regain their independence and zest for life.
"If you have mobility needs linked to your time in service,
please get in touch with Help for Heroes to find out more."
Help for Heroes CEO James Needham said: "The announcement is a result of a two-year campaign and wounded veterans will be pleased the Government has listened and reinstated this life-changing fund.
"We are now working to open it to eligible veterans by March 2024."
Former soldier Paul Colling said: "Being able to access the previous fund meant I was able to receive a specialist leg brace –something I couldn't afford on my own – which prevented me from going through a leg amputation and enabled me to walk again."
More than 50 aircraft from six Allied nations launched double the usual number of sorties during the latest Exercise Cobra Warrior at Waddington.
The training took place across the UK in the air, at sea, on land and in space, with RAF Lightnings flying from HMS Queen Elizabeth on missions with Norwegian and American F-35s.
An A400M Atlas delivered a 25-tonne Multiple Launch Rocket System to a Temporary Landing Zone to test its targeting, before loading it back on and leaving a remote location within minutes.
51 Sqn RAF Regiment Gunners were given air support from US Air Force 56th Rescue Sqn Pave Hawk helicopters to secure a simulated crash site and rescue injured crew, and later received air cover from British Army Apache and Wildcat helicopters to intercept and capture an enemy commander.
Waddington became a temporary home to Exercise newcomers Canadian F-18 Hornets supported by air-to-air refuelling from their CC150 Polaris tankers at Lossiemouth, in north Scotland.
The Lincolnshire station also hosted NATO E-3A AWACS aircraft to provide surveillance and communications.
Royal Air Force News Friday, October 6, 2023 P3 News
ANZAC MONUMENT: The NZ Kiwi was restored with help from Chinook, inset PHOTOS: AS2 MARK DOLLARD & CPL CONNER TIERNEY
BUZZING: Royal Canadian Air Force F-18 Hornets arrive at Waddington for Exercise Cobra Warrior PHOTOS: SGT NICHOLAS HOWE RAF
SENTRY DUTY: NATO crew member prepares E-3A AWACS for a sortie, above, and RCAF Hornet pilot, inset left
JOINT FORCE: 12 Regt Royal Artillery defend their position from Apache helicopters and the RAF Regt at RAF Spadeadam in Northumberland
PHOTO: SGT PETER GEORGE
Hero hound turned my life around
Tracey Allen
A NAVY veteran who founded charity Hounds for Heroes after a dog helped him turn his life around following a serious head injury in the wake of the Gulf War paid tribute to the RAF's flying medics at Brize Norton.
Allen Parton and his latest assistance dog ET (Endal the Third) met with Tactical Medical wing crews at the Oxfordshire station to showcase his support dog's skills.
Severely injured in a car accident in the aftermath of the Gulf War in 1991, Allen lost all memory of his wife Sandra and their children, his ability to feel emotion and was unable to talk. His moving story of how a chance
End of the Piers show
RAF PRINCIPAL Director of Music Wg Cdr Piers Morrell has retired after a 26-year Forces career. He took part in the state funerals of Queen Elizabeth II, Prince Philip and The Queen Mother, the Platinum Jubilee and the centenary anniversary of the Royal Air Force.
Wg Cdr Morrell joined the Band of the RAF Regiment in 1997. He received the MVO from King Charles III, being recognised for support to the Queen's funeral. He said: "To have it presented by His Majesty the King alongside all the RAF nominees was a highlight of my career."
meeting with a puppy called Endal, who became his first assistance dog and helped him communicate again, is told in the TV show The Secret Life of Dogs, and is currently being adapted for the screen.
Allen said: "Endal trotted across, picked something up by my wheelchair, put it into my lap and wanted the impossible. He wanted a reaction."
The dog continued to bring more objects until Allen eventually smiled – something he hadn't done for years.
Allen, known as 'Dolly' by his pals, learned to communicate with Endal through sign language and the dog helped him rebuild his relationship with Sandra and the children. Endal was 'best man'
when the couple remarried in 2002.
Allen added: "Through my own experience of how life-changing an assistance dog was to me and my family, I wanted others to experience the same life-enhancing partnership and that is why Hounds for Heroes was set up."
The charity funds specially trained assistance dogs for disabled Armed Forces and emergency services personnel.
Allen and Sandra have written a book about their story and how Endal helped them, which is being adapted for a film.
The Navy veteran said: "The film people won't tell me who is playing us as they know I can't keep a secret."
He added: "The RAF has been so supportive, they seem to have taken us to their hearts. I miss the military life.
"I loved being back in the fold, in that family. Nobody sees my disability, they all take the mick out of me and I need that."
Gunners launch bio-war drill
Simon Mander
GUNNERS JOINED Air Force counter chemical, biological, radiological and nuclear (CBRN) experts from 18 nations on Nato training in Belgium.
RAF Regiment personnel came together on Exercise Toxic Trip at Koksijde Air Base, led by Honington's Air Counter-CBRN Team.
Team leader Flt Lt Cris Bond said: "Training in this realistic environment, alongside our international partners, shows how serious we are in preparing against those who may seek to harm us with CBRN weapons.
"The wider experience and development offered, particularly to our younger people, is also enormously valuable."
All team members have extensive C-CBRN experience and many deployed on Operation Morlop, the RAF's response to the 2018 Salisbury Novichok nerve agent attack on Sergei and Yulia Skripal by Russian agents.
Nato Air Force teams were also joined by Austrian, Swedish and Korean military, under Partnershipfor-Peace arrangements, seeking to rehearse and integrate their
C-CBRN Defence procedures. Cpl Tanya White, Air Force Medical Services, said: "We've had to deal with a wide range of aircrew equipment, that means staying
flexible, trouble-shooting and adapting, minute to minute."
Gunner AS1 Cameron Bailey, 18, the youngest detachment member said: "The training has
taught me so much more about CBRN, and as the youngest Brit here it was a proud moment to carry the Union Flag at the Opening Ceremony."
News Royal Air Force News Friday, October 6, 2023 P5
DOGGED DETERMINATION: Allen and Endal III take part in a digital conference for his charity Hounds for Heroes; inset right, duo join Tactical Medical Wing at RAF Brize Norton
In Brief
Liberator day
A REMEMBRANCE service is to take place in Poland at a memorial stone to the crew of an RAF Liberator bomber shot down on a mission to support the Warsaw Uprising against the Nazis.
The monument to the six crew of the 178 Sqn aircraft who perished in 1944 in Skaryszewski Park is the site of one of a series of UK and Commonwealth Services of Remembrance to take place in November.
Other services commemorating those who gave their lives in two world wars and in the Polish Armed Forces will be held at Commonwealth War Cemeteries at Malbork, Lidzbark Warmiński and Kraków.
Duke reigns on Cranwell parade
Help for vets on the cards
Staff Reporter
PRINCE EDWARD visited Cranwell for the first time since being bestowed his late father's title of Duke of Edinburgh by King Charles earlier this year.
He was Reviewing Officer for the latest graduating officers and saw the commissioning of the first Jewish chaplain in the RAF since the end of World War II, Rabbi Samuel de Beck Spitzer
AVM Phil Lester, the most senior serving Jewish officer in Defence, said: "Rabbi Samuel's story is of immense interest to the small, yet very active, military Jewish community and his commissioning coincided with the Jewish New Year [Rosh Hashanah] and Yom Kippur."
College Commandant Air Cdre
Andrew Dickens escorted Prince Edward to take the Royal Salute as two Coningsby-based Typhoons roared overhead.
The Sovereign's Review comprised 82 officer cadets from Initial Officer Training Course 22
and Reserve Officers Course 70.
A GROUP of Forces veterans have received the first of the government-backed ID cards from Forces Minister Johnny Mercer. The cards are designed to give former military personnel better access to the NHS, local authorities and welfare groups.
Speaking on social media channels, the Veterans' Minister said: "This is a huge moment for veterans as we deliver the first Veterans ID cards to those who left before 2018.
"I made a promise. I've kept it. Now to ramp up production. More details to follow on how you can apply for yours. Great to see how happy it made the first to receive theirs."
News In Brief
Royal Air Force News Friday, October 6, 2023 P7
ROYAL DEBUT: Prince Edward made his first visit to the Lincolnshire station since becoming the Duke of Edinburgh
HANDOVER: Defence minister Johnny Mercer presents the first veterans with their ID cards
617 (DAMBUSTERS) Sqn pilots have been flying night sorties from the Royal Navy's flagship as they seek carrier qualifications ahead of their latest mission. UK crews from Marham joined 900 sailors on the deployment to the Baltic alongside Nato and Joint Expeditionary Force Allies in the North Atlantic.
PHOTO: L/PHOT CHRIS SELLARS
Photo of the week
After inspecting graduates and The King's Squadron, Prince Edward presented prizes to top cadets.
Prince Edward met families in College Hall Officers' Mess before planting a lime tree on Queen's Avenue in front of personnel and children from Cranwell Primary
School and the RAFA's Kidz nursery. The Central Band of the Royal Air Force College provided musical accompaniment, under its new director of music Sqn Ldr Richard Murray.
Road Warriors
F-35 and Typhoon go off grid for NATO combat drill
Chiefs sign ACE pact
Staff Reporter
UK AND US air chiefs are to collaborate on the development of Agile Combat Employment to combat the threat of enemy attacks on air bases.
The move will see the two nations work together on techniques and training to ensure combat jets can operate from dispersed locations to avoid detection and attack from enemy missiles.
RAF Air and Space Commander Air Marshal Harv Smyth signed an agreement with his US counterpart Lieutenant General Jim Slife in Washington this month.
AM Smyth said: "This continues and reinforces our exciting journey towards an even more agile, interoperable and interchangeable future for air operations.
"We are committed to maximising our combined strengths, learning from one another and pioneering new approaches to ensure air superiority in an ever-evolving security landscape."
Lt Gen Slife added: "Effective ground-up interoperability between our Air Forces as allies is a linchpin of the ACE vision.
"While historically combined force tactics to deliver airpower are well-established, ACE demands a higher degree of interoperability across various critical activities."
TYPHOONS TURNED roads into runways during Nato training in Finland.
A pair of Coningsby-based 41 Sqn jets hit the road in Tervo municipality on Exercise Baana, turning the remote single-lane carriageway into an emergency landing strip.
The tactic is part of the RAF's Agile Combat Employment strategy to outmanoeuvre an enemy and survive an attack by dispersing fighters to remote locations to continue
operating with minimal support.
The Officer Commanding 41 Sqn was one of the two pilots conducting the manoeuvres. He said: "The Finnish have worked hard for decades on disparate operations should they be attacked and need to disperse their aircraft.
"Once we landed on the strip we stopped to refuel before taking off again. I couldn't help but look around and think 'I am sitting in a jet on a road in the middle of a forest in Finland'. That was pretty crazy and definitely a first."
Air Force signs off at St Athan
Simon Mander
THE RAF has left St Athan after 85 years at the Welsh station which played vital roles during WWII and the Falklands conflict.
To mark the end of an era a final parade was conducted through Llantwit Major, followed by a closure ceremony. Opened in September 1938 during WWII it was Britain's largest air base with 14,000 personnel.
From mid-1942, every Allied Flight Engineer, apart from Canadians and Americans, passed through its gates to learn how to maintain Stirling, Halifax, Lancaster, Sunderland, Liberator and Catalina aircraft.
At its peak in 1943, RAF St Athan was training around 5,000 ground crew at any one time, with 500 passing out each week.
The station's west camp was the RAF's most important maintenance unit working on Lancaster, Spitfire, Hurricane and Blenheim aircraft and in 1941 received 114 Hurricanes and dispatched 104 to squadrons in March alone.
Flying units were stationed there throughout the war with 11 Group Fighter Conversion Unit specialising in training Hurricane pilots.
During the 1960s it became a driving school with RAF Police and others training on a fleet of Morris Minors. By 1970 more than 3,000 learners were
passing their test each year. Perhaps the station's finest hour came in 1982 when it played a vital role in the Falklands War by fitting in-flight refuelling systems to the tanker and bomber aircraft involved in Operation Black Buck.
St Athan was the major maintenance base for Vulcan, Victor, Buccaneer, Phantom, Harrier, Tornado, Jaguar, Hawk and VC10.
Station Commander Wg Cdr Gavin Wedlake said: "St Athan has played a significant role in enabling air operations over the last 85 years.
"Its contribution has ensured the RAF has been prepared for the countless challenges it has faced."
A small number of personnel were on the ground to refuel and maintain the aircraft.
The RAF operated from roads and fields during the Cold War to make aircraft harder for adversaries to find. But this is the first time the RAF has conducted this Exercise with Nato's newest member and F-35A jets of the Norwegian Air Force.
The UK and Finland are Nato and Joint Expeditionary Force allies, and Finnish troops collaborate with British instructors to train Ukrainian recruits in the UK.
News Royal Air Force News Friday, October 6, 2023 P9
AGREEMENT: Lt Gen Slife and AM Smyth in Washington
Simon Mander
ROAD TEST: Norwegian F-35s launch from public roads in Finland as part of the RAF's Agile Combat Employment training. The tactic enables fast jets to operate from remote areas to avoid enemy missile attacks
PHOTOS: AS1 TOMAS BARNARD
PARADE: St Athan personnel
Sara
s W ah' pl geled
Sarah's Wedge pledge
Simon Mander
THE FIRST Wedgetail squadron boss has qualified on the RAF's new airborne early warning and control aircraft after passing with flying colours Down Under.
CO set for E-7 delivery
Wg Cdr Sarah McDonnell, who will command 8 Sqn, graduated from a Royal Australian Air Force and Boeing-run course of simulator and live flying training which culminated with the E-7A exercising with an F-35 Lightning. She said: "This is another milestone in my journey towards commanding 8 Sqn and a real privilege.
Flood aid launch
e o urs n co raining g t n htheE-7A gLightnin
owards y t e eal a r nd hfrom fr muc remelyext teamofUK loperators. ntotheUK
"I have learned so much from the RAAF team. I am extremely proud to be joining the team of UK qualified E-7 Wedgetail operators. We cannot wait to return to the UK and start flying our own Wedgetail AEW1."
e j proudtob etaidE-7Wedg We lifie fi qua Wecannotwaittoretur We
o r t t t wa e c own our tflying fl star and oncD dr M C s p continuetoworka n p SeedCor sRAF' echn ws t llo h a whic crewstotrainwiththe tilthear , un AirForce outossiem t L et a le s f fl 'UK
e UK o t n t etailnWedg We ill l w nel artofthe ramme,rog nd s a anici eAustralian rivalofthe h
Wg Cdr McDonnell will continue to work as part of the RAF's Seed Corn programme, which allows UK technicians and crews to train with the Australian Air Force, until the arrival of the UK's fleet at Lossiemouth.
nges
Withitslong-ra Wi ancoveradartheE-7Ac
veillance sur rmorethan
With its long-range surveillance radar the E-7A can cover more than
fourmillionsqu fo astandardmis efuelling fu r loymen e dep rang TheRAFh
four million square kilometres on a standard mission and in-flight refuelling gives it unlimited longrange deployment.
The RAF has ordered three
arekilometreson lightsionandin-ffl g- nl o tedunlimi it nt. hasorderedthree
ft,aircraft enE-3DS t W d a base efir fi ofth ear ext y n
lacethewhichwillrep ceformerly fo Csfor fo WA y A AW ntr andover e h n Th Waaddingto ectedlate s exp ftirstaircraft .
aircraft, which will replace the E-3D Sentry AWACs force formerly based at Waddington. The handover of the first aircraft is expected late next year.
N A e ranspor ithUKaidsupp t w scrambledtoLibya ft 11,00 e t l ds tha floo fl ing. nd 9,000 miss deada asrton-bTheBrizeNort ghaziengh r B o f f fo f ff k o too lletscontainingall n p ve evesev ightincluding gh re ffre fr o ts as p i it ne k ki ygie yg nd h hy a nita it rnationalhuma at inte Twodamswere Tw
acke r p lieswas fo eople 0 p edA400M rrying ry a i c onnes 15 t ltershelt el s n f a t o r art arianaid
AN ATLAS transporter packed with UK aid supplies was scrambled to Libya following floods that left 11,000 people dead and 9,000 missing.
The Brize Norton-based A400M took off for Benghazi carrying seven pallets containing 15 tonnes of freight including shelters and hygiene kits as part of an international humanitarian aid mission.
Two dams were breached as Storm Daniel hit the North African coast, sending a wall of water through the city of Derna.
Two weeks on, rescuers were still searching for bodies and combing the Mediterranean for corpses swept away in the floods.
ms w o d lhitt t asStormDanie ending , s fricancoastAfr y o t ty h the ci oug r thr wate esc n, re Twoweekso Tw orbo g f fo rchin c stillsea editerra g M combin y th corpsessweptawaay tbyl uilt il reberemswer we a Thedam y in n ompany n c ctiotructconstr co f fl romfro fr tyit the ct tectrotepro to x , e ex d intained, rly ma oo t p u but
rth t theNo llof a wa erna. f D o uerswere diesand or n f fo nea loods. he f fl av lav laugos y a Y Yu n the 1970s floods fl lash la y. ay.rtssayxpert
The dams were built by a Yugoslav construction company in the 1970s to protect the city from flash floods but poorly maintained, experts say.
Royal Air Force News Friday, October 6, 2023 P10 News
FLOOD RELIEF: RAF crews load up an Atlas transporter at Brize Norton
AIR FORCE FIRST: Wg Cdr Sarah McDonnell will be the UK's first E-7 Wedgetail commander at Waddington
yalAirForceNewsoyaR wsNe
er 6, 2023 ctob , O y ay,id Fr
ander imon M S FIRST THE taiWedge We lifiedon fi ua oss has q b rly wa a rne e oirb w a ne r p controlaircraftafte oloursDownU g c flyin fl ocD h M ra dr Sa C willcommand8Sqn, lAustfromaRoya fr i dB F lsquadron 's theRAF's nd g a rnin ith g w assin r. nder. o h, w nnell ralianAir f O set
E-7
au d l d ai
ELIEF: FLOODR AFcrewslo R to or e N iz r t B er a t anspor s tr Atla AS NATL AT A t t ch unch p an oadu n d k ung-roein d B n ce a or eflyi fl simulatorandliv whichculminatedwith -35 n Fha it g w ercisinex This " ourn y j milestoneinmmy a Sqn 8 gcommandin eprivileg avelearnedsom"Ihav m m. I a ea AAF t e R th he g t oinin
f C p or
deli fo ery ryivve
Floo
S E OFIRRC IR F A McDonnellwillbe omma tail c Wedge We
T: arah g S W sfirstE-7 fi eUK' K' eth ton adding t W er a and
Downton's Hugh salutes The Few
DOWNTON STAR Hugh Bonneville
(above) and TV veteran Michael Aspel will lead tributes to The Few at a starstudded fundraiser for the Battle of Britain Memorial Trust.
The royal charity gala Stars in Salute, to honour the men who turned back the Nazi air assault in WWII, will take place in the presence of HRH Prince Michael of Kent at the national Memorial venue in Capel-le-Ferne, Kent, on Sunday, October 8.
The event will feature songs, scenes, poems and personal memories and will be followed by a post-show reception. l Tickets are limited to just 100 and available on 01732 870809.
Invictus warrior books calendar date
AN AIR Force veteran who took up photography to help with his rehabilitation after suffering a brain injury fighting in Afghanistan will have his work featured in a fundraising calendar.
Paul Case served for 12 years before a 15ft fall on duty in 2011 left him with traumatic head injury. He battled back to fitness supported by Help For Heroes and taught himself photography, alongside taking up rowing and archery.
He has just returned from the Invictus Games in Düsseldorf where he set a personal best in both events to find his stunning shot of St Michael's Mount near Penzance in Cornwall will be featured in the charity's 2024 calendar.
He said: "I was shocked and incredibly proud when my picture was selected. Photography helps me to relax and enjoy my surroundings. Don't think you're being brave by carrying on as usual. It's braver to step up and ask for help."
Rank rights ditched in housing reforms
MILITARY PERSONNEL are to be housed based on need not rank and whether they are married or not under what has been billed as the biggest change to Forces accommodation for a generation.
The move is designed to end the on-going problem of empty and poorquality Forces quarters across the UK.
From March, Servicemen and women in long-term relationships will be entitled to the same properties as those who are married or in a civil partnership.
Parents of children with a main home elsewhere will also qualify for family accommodation if the children visit for more than 80 nights a year.
The shake-up, dubbed the New Accommodation Offer, also pledges to improve the standard of Single Living Accommodation and update overseas living quarters.
It follows engagement with Service personnel and their families, including a three-year pilot.
Minister for Defence, People, Veterans and Service Families, Andrew Murrison, said: "This announcement will ensure that our Defence Accommodation policy continues to meet the needs of today's Armed Forces community, offering greater flexibility for those who serve."
Following a successful pilot, the changes include: needs-based accommodation based on family size not rank and flexibility for personnel to request homes – even if they do not have a partner or children – above or below their entitlement. Also under consideration is a minimum standard for Single Living Accommodation across the estate.
The offer also provides further support for Service first-time buyers by refunding up to £1,500 of their legal expenses. And weekly commuters maintaining a primary home elsewhere will also get financial support irrespective of their age or marital status.
Where Service Family Accommodation is near capacity, personnel may be given the choice, or asked, to use the local private
rental sector. Those placed into this route will be given payments to cover the costs of renting and, in some cases, a private rental property may be provided for them.
The Ministry of Defence is looking at how to implement the changes overseas but both systems will be kept separate to account for the importance of air conditioning abroad as opposed to insulation at home.
LOCKED OUT: MP Robert Courts has campaigned for military personnel to be included in housing report
Forces voices 'silenced' – MP
FORCES HOUSING chiefs have come under fire for failing to include the views of military personnel during the inquiry into Service accommodation.
MP Robert Courts, whose West Oxfordshire constituency includes RAF Brize Norton, branded the decision not to consult personnel as 'fundamentally wrong'.
Mr Courts, who is the chairman of the Defence subcommittee which scrutinised the findings, said: "It is extremely disappointing that the Secretary of State decided not to allow serving personnel to contribute.
"It is fundamentally wrong. Service accommodation is a personal experience that personnel should be allowed to share with the Committee.
"Stifling those voices hinders thorough parliamentary scrutiny.
"It is concerning that the MOD has cited other routes through which personnel can give feedback as a reason to block them from contributing to this inquiry."
News
Royal Air Force News Friday, October 6, 2023 P13
Simon Mander
Qatar salute
AIR FORCE personnel were joined by the top-ranking German officer serving in Qatar to commemorate the 83rd anniversary of the Battle of Britain.
A sunset ceremony held at the British enclave on Al Udeid airbase was followed by an allranks commemorative dinner at Churchill's – the UK welfare facility.
Attending were Coalition Combined Air Operations Centre commander Brigadier General Paul Doyle of the Royal Canadian Air Force and American Colonel Sean Hall, who has flown with all three USAF units formed in WWII as RAF Eagle squadrons. The evening ended with a speech from German Lt Col Marco Kiesel reflecting that the enemies of yesterday are the friends and Allies of today but should always remember the battle.
Reds get an Eiffel
THE RED Arrows soared over the Eiffel Tower alongside their French counterparts, Les Patrouille acrobatique de France, during HM King Charles III's state visit to Paris.
The Royal couple later met Navy crews on board HMS Iron Duke as they visited Bordeaux during the three-day trip.
Aces high
WWI medals haul starts
£18,000
bidding war
COMBAT PIONEER:
DFC and Bar is among medals awarded to Capt Joseph expected to fetch more than £15,000 at auction later this month
ANNIVERSARY: ACM Sir Richard Knighton with US Space commander Gen James Dickinson at Fylingdales
Space date
US SPACE chief Gen James Dickinson joined Chief of the Air Staff ACM Sir Richard Knighton at Fylingdales to mark the 60th anniversary of the UK's northern early warning radar site.
Opened in 1963 to guard the UK from nuclear attack, the joint UK and US-run facility has expanded its role to monitor thousands of satellites and space vehicles in lowearth orbit and is home to more than 300 military personnel and Defence contractors.
Simon Mander
MEDALS WON by the highestscoring Jewish ace of the Great War are to go under the auctioneer's hammer later this month.
Scarce decorations, including a DFC and bar, awarded to Sopwith Camel fighter ace Capt Solomon Clifford Joseph, are expected to fetch between £15,000-18,000.
Noonans' medal specialist Mark Quayle said: "Joseph was a gung-ho pilot whose aggressive flying style and skill accounted for at least 13 aerial victories over the Western Front between May to October 1918.
"He was no stranger to taking
risks and was wounded in aerial combat and nearly shot down on many occasions."
Around 66 DFCs and Bars were awarded during World War I.
After his first decoration a report in the London Gazette of September 21, 1918 described Capt Joseph as: "A gallant pilot who has accounted for eight enemy aircraft within the past four months.
On many occasions the enemy were numerically superior to his patrol, but this did not prevent his attaining success."
For his DFC Second Award Bar, less than two months later, on November 2, 1918 it said he was: "A
very gallant and skilful officer. He led his formation under a large force of enemy aircraft with a view to inducing them to descend to attack him."
Born in Birmingham in April 1893, the son of a fine art dealer, Joseph joined the Royal Naval Air Service in August 1917.
He trained on the Caudron Biplane at the British Flying School, Vendome, France, and trained at Cranwell and Manston, before being posted to Dunkerque.
Posted as a pilot for operational flying to 210 Sqn in March 1918, he transferred with the unit into the newlyformed RAF the following month.
Flying Sopwith Camels from
bases in France, Joseph remained with the Sqn until November 28, 1918 becoming a Flight Commander, initially on groundattack duties to stop the German Spring Offensive, then offensive patrols and bomber escort missions over Belgium.
Returning home after the war he enjoyed a prosperous manufacturing career forming the Clifford Group of companies covering Birmingham, Coventry, and Farnborough.
Capt Joseph died in the Queen Elizabeth Hospital, Birmingham in March 1966, and is buried at Witton Jewish Cemetery.
News In Brief
Royal Air Force News Friday, October 6, 2023 P15
ALLIED TRIBUTE: From left, USAF's L/Col Hall, FAF Col Resplady and Germany's L/Col Keisel in Qatar
PHOTOS: NOONANS
PHOTO: CPL PHIL DYE
KNOWN AFFECTIONATELY as the 'Wooden Wonder' the remarkable Mosquito aircraft, one of the most iconic of World War II, is celebrated for its amazing versatility. It excelled as a spy plane, night-fighter and pathfinder for Bomber Command's heavy aircraft and its reputation was cemented by a series of daredevil bombing raids across occupied Europe, including on Berlin.
Bestselling writer Rowland White said: "I was amazed that compared to the volume of recent publishing on the Spitfire, Hurricane and Lancaster, the incredible Mosquito seemed to have been strangely neglected. And yet in some ways it's the best story of them all."
White's new book Mosquito, The RAF's Legendary Wooden Wonder and its Most Extraordinary Mission is out on October 12 (£20.00, Bantam Press, penguin.co.uk). It tells the story of the legendary aircraft through one impossible mission, Operation Carthage. When Churchill's top-secret Special Operations Executive needed to destroy the Gestapo HQ in the centre of Copenhagen to prevent a devastating Nazi last stand that might prolong the war for many months, the Mosquito was the only machine for the job.
Carried out on March 21, 1945, Operation Carthage targeted the Shellhus, the Gestapo HQ that housed the records used to hunt down the Danish Resistance. Facing oblivion, the Danes begged the RAF for help despite knowing that a raid on the building would surely kill their colleagues imprisoned in the attic, said White. The request was initially turned down by the RAF because a low-level attack in a crowded city centre was considered too risky. But the situation was desperate.
Bombing Gestapo in Denmark
that as many as 300 civilians could lose their lives. He insisted that the decision to go ahead had to be made by Danes on the ground, but the stakes were so high that they practically begged the RAF to save them. It was such a difficult and complex mission that it must have taken a special kind of courage to take it on when the consequences of anything going wrong were so well understood."
He added: "I met a remarkable man in Copenhagen who had been dug out of the rubble as a young boy. We visited the memorial to those who died – some of whom he had known –and, talking about the RAF aircrews, he said quietly that 'they were heroes'. I hope I've been able to do justice to that.
"Op Carthage ensured the survival of the Resistance providing the Allies with a measure of influence and control that helped keep Denmark stable and secure through to its liberation."
After careful planning, the attacking force of Mosquitos from No 140 Wing, comprising 21 Sqn RAF, 464 Sqn RAAF and 487 Sqn RNZAF, took off from RAF Fersfield in Norfolk. At rooftop height over Copenhagen, one of the first wave of bombers hit a lighting pylon, was badly damaged and crashed next to the Jeanne d'Arc School a mile and a half away from the Shellhus. Tragically, the fire that resulted caused some of the crews that followed to mistake it for their target and attack.
Despite the resulting 125 civilian deaths, including those of 86 schoolchildren, Operation Carthage was considered a success.
White explained: "The mission succeeded in achieving its military objective of completely destroying the target: the Gestapo HQ. To have achieved this with the technology available to the crews was remarkable. At the same time everyone involved felt the tragic loss of life that stemmed from the crash of one of the Mosquitos acutely.
"The mission had been so challenging that AVM Basil Embry, the AOC responsible, predicted
The author revealed that researching and writing the book has given him huge respect and admiration for the operation's main personnel – including Embry, Ted Sismore and Bob Bateson. Sismore was the lead navigator in the Mosquito flown by Bateson, the raid leader.
White said: "Embry's career was extraordinary. If you made him up, readers probably wouldn't believe you. By the end of 1940 he'd already led a Blenheim squadron in the Norwegian campaign and the Battle of France, then endured an epic two-month long escape through occupied France after he was shot down on his last mission as CO, before he took command of a nightfighter wing at the end of the Battle of Britain. And his war had barely even got started.
Navigator
"By the end of the war, Sismore was the most decorated navigator in the RAF, but he was still only 23. And Bateson, after fighting in North Africa – where he was temporarily blinded by a booby trap – led a Blenheim squadron in Sumatra
before earning the nickname 'Pinpoint' for leading a low-level Mosquito raid that destroyed a single building in The Hague.
"It's impossible to spend so much time in the company of airmen like these without becoming slightly in awe of their skill, courage and accomplishments. And there were plenty of others too. Nor should we forget the unbelievably brave men and women of the Special
Operations Executive and Danish Resistance."
What was it about the Mosquito that made it so versatile?
White said: "It offered a perfect combination of size and performance. From the moment it first flew until the arrival of the early jets, the Mosquito was one of the fastest aircraft of the war. And yet at the same time it could carry a similar weight of bombs to Berlin as a four-engined B-17 Flying Fortress.
it twice in a single
Royal Air Force News Friday, October 6, 2023 P16
Carthage and the Mosquito
Feature Operation
Resistance saved by Mosquitos and brave men who flew them
"The Danes had practically begged the RAF to save them"
But it could do
night.
"It makes me furious when I see the Mosquito. I turn green and yellow with envy" GOERING
TOP TEAM: Sqn Ldr Reggie Reynolds (right) and his navigator Pilot Officer went on to become the most decorated navigator of the war
LEGENDARY AIRMAN: Basil Embry was a hero in the RAF with a price on his head after killing his guards to escape captivity after being shot down over France in 1940
BOB BATESON: Nicknamed 'Pinpoint' after leading a raid against a Gestapo building in The Hague for which he was awarded the DSO and the Netherlands DFC
by Tracey Allen
Bombing of HQ Denmark
"As far as I can tell, the Mosquito was the only machine in history to be a fighter, bomber, spy plane and, in operating in civilian colours for BOAC flying passengers, cargo and mail between Scotland and Sweden, airliner. In Christopher Nolan's recent movie Oppenheimer, [Danish physicist] Niels Bohr, played by Kenneth Branagh, joked that 'the British pilots put me in the bomb bay'. Bohr was smuggled out of Stockholm in a BOAC Mosquito."
White added: "But perhaps the most powerful evidence for just what an extraordinary machine the Mosquito was comes from the man who found himself on the receiving end: Herman Goering. After a carefully timed Mosquito raid on Berlin interrupted a speech on the tenth anniversary of the Nazis taking power, he raged that 'it makes me furious when I see the Mosquito. I turn green and yellow with envy'.
"One of the things that seemed to irritate Goering most was that the Mosquito was made of wood and could be assembled in furniture and piano factories throughout the country. Made in barns behind a stately home out of plywood and glue and unwanted by the RAF it looked like a machine doomed to fail. But what emerged was a masterpiece that could outpace the Spitfire and penetrate enemy defences with near impunity."
Royal Air Force News Friday, October 6, 2023 P17
WE HAVE copies of Mosquito, The RAF's Legendary Wooden Wonder and its Most Extraordinary Mission by Rowland White up for grabs. To be in with a chance of winning one, tell us: What was the date of Operation Carthage? Email your answer, marked Mosquito book competition, to: tracey.allen@rafnews. co.uk or post it to: RAF News, Room 68, HQ Air Command, High Wycombe, HP14 4UE, to arrive by October 22.
Win!
WOODEN WONDER: Along with other aircraft manufacturers de Havilland's Mosquito was also built by furniture companies and piano builders around the country
DEVASTATION: The burnt-out ruins of the Shellhus after 140 Wing's attack
HONING IN: 464 Sqn's Flt Lt Arch Smith and Flt Sgt Les Green circle low over Copenhagen's Gammel Strand before making their attack on the Shellhus
EN ROUTE: After taking off from RAF Fersfield, bound for the Shellhus, the 140 Wing Mosquitos flew low across the North Sea, led by Bob Bateson and Ted Sismore
Officer Ted Sismore. Sismore
ESCAPE: A remarkable photograph of Resistance prisoners trapped in the Shellhus by the bombing climbing down the outside of the building
Specialists in Orders, Decorations and Medals
, Decorations in Orderss, and Medals
Suppliers of replacement and miniature medals. Medal mounting in Court and Ordinary Style Medals framed for display.
M
Forallyourmedalrelat
Medal mou of tedneedsincludingthesu edals framed for displ nting in Court and Ord and minia upplyofribbonsstorage ay dinary ature medals.
56 Broad Stre Worce Wo B ca
upply of ribbons, storage
For all your medal related needs including the supply of ribbons, storage cases and other related items.
Bespoke Medal Manufacture
Worcestershire Medal Service Ltd

For all your medal relat : sales@wo 5375 email
e Serv stershir espoke Manufactu ases item
, Bromsgr r et, Sidemoo
el: 01527 835 T w
m ove, B61 8LL ice re s.
56 Broad Street, Sidemoor, Bromsgrove, B61 8LL www.worcmedals.com
Tel: 01527 835375 email: sales@worcmedals.com
ted needs the su rcmedals.com
By
to Her
The
Worcestershire
Appointment
Majesty
Queen Medallists
Medal Service Ltd Bromsgrove
WorcestershireMedalServiceLtd The Her to
Please note letters must be a MAXIMUM of 300 words and any accompanying pictures sent as attached, hi-res JPEG files
Landing on streets was commonplace in Cold War period
AN RAF Typhoon pilot, all fired up and full of the old gung-ho, is extolling the fact that he's recently been using a standard vehicle highway while on exercise in Finland as an alternative runway. He suggests this is the first time that the
RAuxAF story reminder of pal
I WAS interested to read the article on the Royal Auxiliary Air Force in RAF News 1567 (September 8), for several reasons: it made for a fascinating read; it reminded me of a pal who died in 2018. Having completed 22 years regular service as aircrew, he continued on to age 55 in the reserves [RIP]; and my son is currently serving in the RAuxAF.
Dr J Stewart Via email
RAF has used this alternative as a means of getting airborne on austere operational detachments.
Might I suggest that said pilot gets his nose into a good book on the history of the Royal Air Force –the above was common practice on exercises held in the former West Germany in the Cold War during the 1970s-1980s. The Harrier jump jet operated from holes in the forest, from farmyards and often from West German highways, the Jaguar low-level attack fighter often operated from those same highways, as did the German Luftwaffe F-104 Starfighter.
I was an armourer during the Cold War, which included eight years stationed at the former RAF Gütersloh, the closest operational airfield to the East/West German border, a couple of minutes by fast jet from said border. I was one of many RAF personnel who camped in the forest with a Harrier for company, at the same time wearing
that piece of sartorial elegance known as an NBC (nuclear, biological, chemical) suit and toting my trusty SLR rifle. The conditions were certainly austere, especially in the middle of winter. However, just to redress things a little my wife Lesley (former air traffic branch WRAF) and I have been thoroughly enjoying the Channel 4 series Top Guns: Inside the RAF and the exploits of the Typhoon pilots at RAF Lossiemouth. The airborne photography from the RAF fighters is first class.
Back in the day, the QRA photos brought back by the English Electric Lightning crews flying from RAF Leuchars were just as good, but taken using handheld 35mm wet film cameras. Per Ardua, Alan Mudge. King's Lynn, Norfolk l See p9 for Typhoon turned roads into runways story.
Dream day at Duxford show
I WOULD like to express my thanks to the organisers of the Duxford Battle of Britain Air Show, B-17 Preservation, and the Battle of Britain Memorial Flight for the unique opportunity of witnessing B-17 Sally B and the Lancaster in formation during the recent flying display.
I have attended air shows throughout my adult life and seen both aircraft many times, but never before flown together. I gather this was previously done 28 years ago, and I doubt it is likely to be done
again, at least in my lifetime. Regrettably the unseasonal bright, sunny conditions on September 16 made photography very challenging with the aircraft only seen in silhouette for most of their display but please see the photo I took in black and white, above
As I only learned of this unique formation in the air show preview featured in RAF News, my thanks also go to you for bringing it to my notice.
Mick Britton, Rotherham
P-51 Mustang, a true thoroughbred
THE P-51 Mustang was designed and produced by North American Aviation in response to a British order for aircraft in 1940. It went on to become one of the most successful in World War II and beyond.
In his new book, P-51 Mustang (amberley-books.com) aircraft expert David Oliver tells the story of the innovative and adaptable fighter, from early versions used by the RAF for low-level reconnaissance to the long-range USAAF fighters that accompanied US daylight bombers over Germany.
He explained: "Early versions quickly demonstrated their superior performance over contemporary fighter aircraft and when later Mustangs were fitted with a Rolls-Royce Merlin engine the Allies had one of the truly great fighters of the 20th century.
"Apart from being the most successful aircraft of its type, the
Mustang illustrates the close cooperation between the USA and the UK. The Americans produced one of the best fighter airframes in the world and when matched to the superb British Rolls-Royce Merlin aero-engine a thoroughbred was born."
A total of 14,819 Mustangs of all types were built in the United States during WWII.
Oliver added: "The P-51 Mustang was one of the few fighter aircraft that fought in the Second World War to be designed after that conflict began. It was a private venture by a company that was less than a decade old, and was able to complete its design with incredible speed for a foreign customer. When it was given the British engine and an even greater fuel capacity, the P-51 flew missions far longer than any fighter aircraft had ever flown."
Oliver notes that the P-51 flew for the first time on October 25,
1940 and it remained in service with the Allied air forces during the Korean War and for foreign military air arms well into the 1980s.
We have copies of P-51 Mustang by David Oliver to win. For your
chance to own one, answer this question correctly: On what date did the P-51 fly for the first time?
Email your answer, marked Mustang book competition, to:
tracey.allen@rafnews.co.uk or post it
RAF
, Room 68, Lancaster Building, HQ Air Command, High Wycombe, HP14 4UE, to arrive by October 22. Please include your full postal address with your entry.
Royal Air Force News Friday, October 6, 2023 P21 Email: editor@rafnews.co.uk Post: RAF News, Room 68, Lancaster Building, HQ Air Command, High Wycombe, Bucks, HP14 4UE Letters
to:
News
JOINT ENTERPRISE: RAF and USAAF ground crew work on Mustang I AG411 at the USAAF Base Air Depot 1 at RAF Burtonwood
Win!
MUSTANG I AG351: Used as a trials aircraft with the Air Fighting Development Unit (AFDU) at Boscombe Down in early 1942
ASTRA STARS
RAF innovators honoured
INNOVATORS WHOSE ingenuity is transforming the Air Force have been honoured in the latest Astra Awards.
Pioneers whose inventions have revolutionised air traffic control, taught Gunners to fly nano drones and improved the accuracy of air drops were among the winners gathered in the RAF Museum's Sunderland Hall.
They included:
l Core Team Award Winner Project ARTEMIS, which has so far trained 50 members of II Sqn RAF Regiment to operate nano drones at speeds of up to 70mph with high accuracy providing a tactical advantage for the RAF.
l CAS's Creativity Award,
presented by ACM Sir Rich Knighton, went to Cpl Cushing who replaced paper processes at Brize Norton with a remote digital system so air traffic controllers can brief from any location.
l The Ambitious and Imaginative Award was won by Sqn Ldr Kennedy for his handheld wind calculator for precision air drops and his work on an AirScribe cockpit voice-to-text transcription tool.
l The People's Choice Award Winner was Halton-based Sgt Sibley for using Virtual Reality platforms in Phase One training.
The Contribution to Operations Award was won by Sgt Gager for his Air Wing Performance Dashboard that enables more than 200 Air Mobility operational tasking personnel to access accurate information and communicate collaboratively.
Two Astra Innovation Awards were won by:
l Sgt Baxendale, whose cloudbased AirLoader cargo logistics application automates calculations in weight and balance management for aircraft, increasing efficiency, accuracy and safety.
l WO Rowbotham, whose Project IMMERSIVE virtual Joint
Operations Centre is underpinned by artificial intelligence and is now being shared with international allies.
Other honours included the Ecosystem Award won by Fylingdales, the Sustainability Award, which went to Sqn Ldr
Sweeney for his work on the Defence Aviation Net Zero Strategy, the Ambassador Award winner was AS1 Carpenter for simplifying complex clothing orders during Op Pitting, and the Rising Star Award winner was AS1 Cottrell.
Honington grads a force to be reckoned with
FAMILIES GATHERED at Honington to see the 12 latest Gunners graduate as members of Meiktila Flight.
The newbies paraded to music from the Band of the RAF College with the King's Colour for the RAF Regiment.
Reviewing Officer Deputy Commandant General RAF Regiment, Gp Capt Jason Sutton said: "It is a tremendous privilege to share with these fantastic new Gunners and their families a momentous day in their lives.
"The course will have challenged them all and they will have needed strength, determination, fighting spirit and teamwork to succeed – qualities they now take forward to their service on the front line."
The graduates will now be posted to RAF Regiment Squadrons at Honington, Brize Norton, Marham, Lossiemouth or Northolt to get mission specific training for contingency operations.
They include the following prize winners:
l Frank Sylvester Trophy: AS(2) Osborn as the best all-round trainee on the course.
l RAF Regt Association Trophy for Drill and Deportment: AS(2) Osborn
l Physical Development Cup: AS(2) Toussaint.
l LAC Beard Recruits' Trophy: AS(2) Charman, voted by his peers as the most inspirational and supportive member of the Flight.
l SAC Luders Champion Shot Trophy: AS(2) Charman
Cpl James Stretch, winner of the Cpl Bradfield Award for the NCO Instructor who has set an exemplary standard for recruits to follow, said: "Twenty weeks of rigorous training have culminated to this day.
"A highlight during the course was Ex Alpha, a true test of steel in the Welsh mountains. I've seen many individuals become confident and competent Gunners. Those who have passed today and earned their mudguards should be incredibly proud of themselves.''
Royal Air Force News Friday, October 6, 2023 P22 News
ECO WINNERS: Fylingdales
HAPPY OCCASION: Families joined the new Gunners after the parade, above right PHOTOS: AS1 HARRIS WILLIAMS
CAS AWARD: Cpl Cushing PEOPLE'S CHOICE: VR champion Sgt Sibley
RISING STAR: AS1 Cottrell
PROJECT ARTEMIS: Teaching Gunners how to operate nano drones
Honington
International flavour to Shawbury parade
RAF wings for German rotary pilots
A PARADE has been held at RAF Shawbury to celebrate the graduation of 22 aircrew from No.1 Flying Training School.
The completion of training, which included the award of the flying badge ('wings') to those eligible, represents a significant step in the careers of trainees who will now proceed to operational conversion (OCU) training on frontline helicopter types.
The trainees, 18 pilots and four rearcrew, included 11 from the German Armed Forces, who received RAF wings, German wings and their German flying licences.
The Reviewing Officer for the parade was Rear Admiral Anthony Rimington, Director of Strategy and Policy and Assistant Chief of the Naval Staff and a former Lynx helicopter pilot.
He said: "All who graduate today can be justifiably proud of completing a course which has demanded application, dedication, and hard work. They leave Shawbury to rejoin their respective Services safe in the knowledge they have bright and exciting careers ahead of them and I wish them every success in their future endeavours."
Brigadier General Dr Volker Bauersachs, Commanding General Army Helicopter Command and Brigadier General Frank Best, Director Flying Operations, Air Force Forces Command, were also present.
RAF Shawbury Station Commander, Gp Capt Andy Baron, said: "Operating military helicopters requires not only a high degree of individual skill, but it also requires an innate understanding between pilot and crew.
"Here on 1 FTS we pride ourselves on delivering the best training in the world to ensure our trainees graduate with this rounded ability.
"In the current complex European security environment, the understanding and friendships developed here at RAF Shawbury between our German partners and ourselves can only strengthen our steadfast approach to international security."
RAF Shawbury is home to 1 FTS (formerly the Defence Helicopter Flying School) which delivers the
Rotary
On
Royal Air Force News Friday, October 6, 2023 P23 Graduations
ALLIES: German aircrew at the ceremony at RAF Shawbury (top) and RAF and Royal Navy graduates (above)
PHOTOS: AS1 JASON RUSSELL
Wing UK Military Flying Training System (UKMFTS). In addition to a fleet of Juno and Jupiter helicopters the station boasts a range of state-of-the-art synthetics and training devices.
"Trainees from the air arms of partners and allies do not displace those of our own. International Defence Training is offered when irreducible spare capacity exists," added Gp Capt Baron.
Flt Lt Downes won the Captain Albert Ball VC Trophy for trainee achieving the best overall performance.
different courses which graduated on the same day Flt
Lt Jones was awarded The Scarf Trophy for trainee pilot achieving the highest marks within the tactical phase and Flt Lt Salinger was presented with The Scarf Trophy.
Shawbury
V-Force pilot Macey went on to be chief of Cranwell College
AVM flew almost 60 aircraft types and logged 2,000 hours on Vulcan
AIR VICE-MARSHAL Eric
Macey, who has died aged 87, began his RAF career as a fighter pilot before spending most of his flying career in the V-Force. After a series of senior appointments, he was appointed to be the AOC and Commandant of the RAF College Cranwell in 1985.
After leaving school he spent a period as a civilian flight test observer at the aeroplane and Armament Experimental Establishment (A&AEE) at Boscombe Down before joining the RAF in 1954 to train as a pilot. He converted to the Hunter and flew with 263 and 1 Squadrons. Following the revolution in Iraq in 1958, No 1 Sqn flew to Cyprus. The EOKA crisis had also developed and Macey flew top cover patrols for military road convoys in the south west of the island.
Like many other young fighter pilots, Macey's career took a dramatic change as a result of the infamous Sandy's defence White Paper of 1957, which saw the disbandment of many fighter squadrons.
At the time, the RAF's V-Force was expanding rapidly and in early 1959 Macey found himself as a copilot flying the Valiant with 214 Sqn.
Under the leadership of its commanding officer, the then Wg Cdr Michael Beetham, the squadron was developing air-toair refuelling and Macey flew on a number of long-range proving flights.
On May 25, 1960 he was the co-pilot of the Valiant which made the first non-stop UK to Singapore flight. Covering a distance of 8,100 miles (13,053 km) in 15hrs 35mins,
the aircraft was refuelled over Cyprus and Karachi, Pakistan.
With the demise of the Valiant, Macey converted to the Vulcan –heralding a long association with the aircraft. He first served as a captain on 101 Sqn at Waddington. He served as the squadron training officer and then as flight commander.
Following his attendance at the RAF Staff College and a tour in the Operational Requirements Division in MOD, he returned to Lincolnshire to assume command of 101 Squadron in 1970. By this time, the Vulcan force had started to adopt operations at low-level.
Macey's career on the Vulcan continued when he became the chief instructor of the OCU at Scampton, a tour which led to the award of the OBE.
Following a period with the Chiefs of Staff Secretariat in MOD, he returned once again to Waddington, this time as Station Commander.
He served on the personal staff of the Chief of Defence Staff, MRAF Sir Neil Cameron, before being promoted to Air Cdre and taking up the post of Senior Air Staff Officer in RAF Germany. This thrust him into a new environment dominated by the fast jet community and he flew in the Phantom, Jaguar and Harrier when possible.
After attending RCDS in 1983, Macey became the AOC and Commandant at the RAF College. At the time, the College undertook all Initial Officer Training and was the home of the Department of Air Warfare.
He also had responsibility for the 16 University Air Squadrons, a particular aspect that he enjoyed greatly, visiting the various units
whenever possible.
The College also hosted many Inter-Service and NATO events and Macey and his wife Brenda were popular and generous hosts.
He took up his final appointment as Director General of Training (RAF) in February 1989, which allowed him to take the number of aircraft he had
flown to almost 60. He had logged almost 2,000 hours flying the Vulcan.
In retirement, Macey was a Vice-President of the Bomber Command Association, the Vulcan Crew Chiefs Association, and of the 101 and 214 Sqn Associations. He was also a Vice-President of the Salisbury RFC and a staunch
worker in his local community near Salisbury.
He was a superb piano player and he will be long remembered for his late-night renditions in various social outlets, not least his spontaneous renderings in German Gasthauses which attracted wide acclaim and shouts for numerous encores.
Royal Air Force News Friday, October 6, 2023 P24 Obituary AVM Eric Macey OBE
PIANIST: Eric Macey was a talented musician and would often play at social gatherings and in German taverns
The Porsche limo that thinks it's a sports car
A DECADE ago Porsche made the bold decision to create a luxury sports limo. It was a good effort but, at the time I said it didn't quite hit the mark. I now stand corrected.
Turning a sports car into a limousine is a bit like trying to find a bodybuilder who can come in a close second in an Olympic sprint race. Unicorns are easier to discover.
The Panamera has evolved however and the 2023 version is genuinely engaging to drive. Sure, your rear seat passengers can still kick back in epic fashion and enjoy the feeling of 691 broken horses propelling them at light speed towards their school prom or the board meeting but it's now a driver's car too, in a way that the old Panamera could only dream. It's not a supercar, it's a superlimo and, in E-Hybrid form, one that may even save a dolphin or two.
Exterior
Our test car was the Sport Turismo estate, which costs roughly £3,000 more than the standard Panamera. It looks good, ruddy good. Porsche has even sorted out the Panamera's slightly saggy butt.
The redesigned front bumper, massive air intakes, sleek, sloping wings and neater wheel arches all help to emphasise its sports car credentials, while its sheer length and the limo-style blinds on the
Pros
l Stonkingly quick
l Limo-style interior
l E-Hybrid silent and cheap to run around town
Cons
l Heavy
l Expensive to buy
l Menu controls are fiddly to navigate
Verdict
Porsche once posted a Nurburgring lap time of less than 7m 30s in the Panamera
rear door windows take the fight to brands like Mercedes.
If you asked a team of designers to come up with a supercar limo for a science fiction film, this is what they would draw.
Interior
The cabin is seriously impressive. Everything feels like it's been put together with care and precision. If you have deep enough pockets, you can get virtually every surface finished in leather, Alcantara or some other premium material. Our car didn't sport any Hippogriff hide but it wouldn't surprise me if it's on the options list somewhere. Quality is exemplary.
The driver's seating position is bang on. The pedals and steering
Turbo S, setting an 'executive car' lap record. This car is seriously quick and, in my book, one of the sharpesthandling fat cat luxury saloons around. The V8 versions are extremely fast, sound amazing and will leave you grinning from ear to ear. Overkill perhaps, but this is a Porsche superlimo... Never miss an opportunity to make an entrance!
wheel line up well and the low seat is perfect for sports car driving. The steering wheel is now similar to the 911's in design, small and chunky. It's a joy to cling on to as you navigate through tight bends with precision.
Unlike many competitors, the Panamera still has actual buttons on the dashboard. Don't be fooled however, these aren't as simple as you might think. They are, in fact, haptic-feedback touchscreens that feel like real buttons.
There's a multi-display screen each side of the central rev counter and a widescreen display in the centre of the dash, but everything still somehow feels pleasingly analogue. There are even useful
shortcut buttons by the gear lever. Hightech, with a traditional sports car twist. Space wise, it's no family wagon. Even the Sport Turismo isn't geared that way. This is a superlimo, with sports seats that are shaped for two in the back, no more. At 467 litres, the boot is practical, with a wide opening for ease of loading, but there's not much height for bulky loads. Let's be honest though, if you're using it for a rubbish run to the refuse site something's gone a bit squiffy!
On The Road
The Panamera is seriously rapid and provides a level of luxury that fools the senses. Creating a superlimo is an odd concept however and, for that reason, the Panamera has no real direct rivals. It's almost as rewarding to drive through the bends as a supercar, certainly as engaging as a supersaloon, but it's also as comfortable on the autobahn as a Merc S-Class. Staggering!
0–62mph in the Panamera V8 Hybrid is just 3.2 seconds, with a top end of 185mph, where not electronically limited. That's easily enough to blow away a BMW M5. Nuff said really.
Having driven an early Panamera, it's easy to see that the front end is now more precise and progressive. It's sharper through the bends, with perfectly weighted steering. This is partly because the Panamera now shares the same steering control system found in the 911.
The e-Hybrid is a bit of a paradox. It's silent around town, will cover 33 miles on electric only and can recharge its battery from the V8 on the move. On the other hand, its launch control is one of the best examples in the world of how you can slingshot a large exec into orbit. Flat out the V8 will return just 16mpg and leave you clinging on for dear life. It's a mind-melting combo of eco-responsibility and dribbling lunacy.
The Panamera is now the car that Porsche always envisaged it could be.
Motoring Royal Air Force News Friday, October 6, 2023 P26
Tim Morris Porsche Panamera Turbo S E-Hybrid (£140,000)
Porsche Panamera
HORSEPOWER: Panamera is perfect for fat cats with a taste for speed
FOOTBALL
Daniel Abrahams
UKAF'S FOOTBALLER will not face the dreaded penalties for their double-header of Remembrance games versus the German Armed Forces.
The sporting rivalry that rekindles 1966 makes for an extra special event for the Services men's and women's teams against the Bundeswehr (German Armed Forces) – a first for this fixture and only the second time ever they have met.
The games consist of a double header, with a match against the Irish Defence Forces having already been played.
National League Aldershot Town's EBB Stadium will host the fixture.
UKAF men's head coach Cpl Daryl White said: "The game will be a draw if things are level after 90 minutes, so no penalties.
"I have not had much chance to see the Germans but they will be professional and organised, it will be a tough test."
The teams will meet for a training camp at the National League team's training facilities before a match against Portsmouth Academy, after which White will select the 18-person squad for the clash.
"We are building for the Kentish Cup later in the year, but as Service
It's Germany and no chance of the dreaded penalties
personnel Remembrance games are hugely important to us.
"Football wise, every English lad grew up wanting to win against Germany so there is a great rivalry that makes these games extra special.
"The last time we played Germany was five years ago and we won. It was, you could say, a utopia moment for most of the lads. We want to repeat that. This will only be the second time we will have played them. What better way to fire the lads up? We are wearing our red shirts with the poppy emblem. We always represent the military and the fallen, and this will be no different.
"To have the ladies playing on the same day is another hugely
important moment, their game is growing massively, since FS Karl Milgate (head coach for the UKAF women's team) has taken over things have grown and it is amazing to have them playing on the same night.
"It was the same for the Irish fixture and it allowed us to support the girls. We will be able to do the same against the Germans. The buzz around the team and the standards being set during UKAF matches are on the rise – it's amazing to be around.
"This is the highest level of military football, so it is only right things are improving every step of the way. Things fall apart if you stand still, we want to keep moving forward."
Growing Astra League is reaching for the stars
THE RAF Astra League's second season has kicked off in style, with TG5 and Dynamo MT leading the pack after the opening series of games.
The Service's newest footballing project was won last season by the RAF Regiment, who beat Sparks FC 2-0 at Oxford City's RAW Charging Stadium.
Astra now sees a new format of 11 teams split into two leagues – Bader and Churchill – with the top two from each playing a semi-final then final match.
The opening games saw Dynamo win 2-0 against RAF PTIs, while TG5 beat Scribes FC 5-2.
FS Dave Jennings, chairman of the league, said: "So far, it's been a really encouraging start to the season with excellent football played. The main issue for teams in the Astra League is getting players available for fixtures due to ongoing work commitments, but the drive for it is exceptional.
"The league was designed to bridge the gap in playing standards between the RAF Station league and the RAF Representative sides. Trade (branch) teams are made up of players whose job role is specific to their discipline. The league is open to all serving regular and reserve personnel.
"More trade groups are interested in setting up teams and joining the league
next season and we have had four new ones this time around, so things are growing.
"Hopefully we will see some players and coaches advancing into the RAF Representative sides and even the UKAF set-up.
"This season's fixtures are being played monthly at various RAF stations, while some teams are hosting games at neutral locations like Carterton FC [Oxon] and Walsham Le Willows [Suffolk]."
The teams
Churchill Division
RAF Police
RAF Intelligence
Aries FC (Air & Space Ops)
Scribes FC (RAF Admin)
Dynamo MT (RAF MT TG6)
Logs Lions FC (RAF Movers)
Bader Division:
RAF Regiment FC
RAF PTIs
Sparks FC (TG4)
ICARUS FC (RAF Officers)
TG5 (RAF general techs)
Follow us @rafnewssport Would you like to see your sport featured in RAF News? Send a short report (max 300 words) and a couple of photographs (attached jpegs) to: Sports@rafnews.co.uk 5 pages of the best of RAF Sports action Email: sports@rafnews.co.uk Royal Air Force News Friday, October 6, 2023 P27
ANNUAL FIXTURE: Action from last year's Remembrance game against the Irish
GUNNING FOR THE TOP AGAIN: RAF Regt are hoping to win the league, like they did last season
PHOTOS: AS1
IAIN CURLETT
RAF stars play at inaugural WXV women's tournament
Service players head abroad for internationals
A SERIES of bumper international fixtures are set for Service rugby union stars Flying Officers Amy Cokayne, Carys Williams-Morris and Sarah Bonar this month.
Welsh star Williams-Morris celebrated the news of her squad selection for the WXV tournament with the announcement of an extension to her full-time professional Welsh Rugby Union contract.
She said: "I'm extremely grateful to continue my time with Welsh Rugby with the support of the RAF and now my fulltime contract from the WRU. We travel to New Zealand soon to play against Canada, New Zealand and Australia, which is a great challenge and opportunity for us as a squad.
"I believe our development and growth since turning professional 18 months ago has been huge and I can't wait to see how we go against some of the best teams in the world. WXV will be a great way to start the 23/24 season before coming back to Premiership and RAF duties."
The WXV 2023 rugby union tournament is being launched by World Rugby, and jointly hosted in South Africa and New Zealand. The tournament is a three-tier annual global 15s competition, designed to provide a pathway to an expanded 16-team World Cup in 2025.
Scottish international Bonar was also named in her country's 30-player squad that will head to South Africa.
She said: "We have a test match against Spain coming up, which will be a good opportunity to put the work of pre-season together ahead of flying out to South Africa. We have three big matches against South Africa, USA and Japan, which could go either way, but there is a real opportunity to come away with success.
"I'm excited to be back with the team after a spell on the sidelines through injury. I cannot thank RAF sport and my profession, RAF Police, enough for their continued support."
Cokayne and her England teammates face Australia on
October 20, before playing Canada and then New Zealand. Scotland, who will compete in the second tier of the competition, WXV 2, have been drawn in Pool A and will face South Africa on October 13, USA on October 20 and Japan on October 27.
Win against Kiwis a tribute to tragic Navy man
"TO BEAT a strong New Zealand side and win a medal is a huge positive", UKAF head coach FS Justin Coleman said after his side's third place International Defence Rugby Competition finish.
In a thrilling final contest at Vannes' Stade de la Rabine, the 24-12 win ends what Coleman described as 'a very tough time' for his squad, adding: "It has been difficult to pick the lads up after the week we had.
"We wanted to build them up and do Steff (Able Seaman Steffan Rees) justice."
The Navy UKAF player tragically died during the competition after a cliff plunge on a rest day.
The final clash was a battle royale at the 11,000-seater
stadium in Vannes, with UKAF leading 17-7 at the break before running out 12-point winners.
Coleman added: "On the rugby side it was a great venue and a great day. We were disappointed that we weren't in the main final, but we wanted to leave the shirt in a better place for the next IDRC, which I think we did, and we did ourselves justice on the pitch.
"To finish as strong as we did, the lads are happy with that, it's nice to finish off with that victory."
Having lost their semi-final clash 41-29 to Fiji, UKAF were out of the blocks well and following a frantic start to the game drew first blood through a RAF one-two.
AS1(T) Jamie Roberts touched down with Cpl Mark
Williams adding the extras. Vice-captain Cpl Joe Parkin ran in next, with Williams again converting.
Losing Parkin to a knee injury was a blow, with New Zealand getting on the scoreboard in the closing moments of the half.
The Kiwi charge continued after the break, reducing the score to 17-12 before a try from Spr Cam McDonald, converted by Williams, restored a suitable gap between the sides, with UKAF showing discipline to hold firm despite some intense NZ pressure.
Coleman and tournament team captain Fg Off Dave Manning will now turn their attentions to all things RAF rugby union and the 2024 Inter-Service championships.
Royal Air Force News Friday, October 6, 2023 P28 Follow us @rafnewssport Sport Email: sports@rafnews.co.uk
RUGBY UNION
BONAR: Scotland squad place
WALES STAR: Fg
Off Carys WilliamsMorris trains with the national squad
Wales women face the USA at Stadium CSM in Colwyn Bay on September 30 before heading out to New Zealand for the tournament, where they play Canada on October 21. l Go to world.rugby/tournaments/wxv to follow the new competition.
FARROW & BALL
CONINGSBY AND Shawbury triumphed in the final and plate respectively of this year's eight-team Women's Festival of Football at Shrewsbury Town's Croud Meadow ground.
Personnel from 11 stations took part in the annual event, with some excellent matches played out in the opening rounds before the sides were split into the plate and final events.
Local favourites Shawbury comfortably beat Digby 3-0 to take home the plate honours, but it was the main trophy final that provided the most excitement.
Having battled out a hard-fought game, Coningsby and a strong Cosford team couldn't be separated and it took a penalty shoot-out to decide the outcome – with Coningsby retaining the trophy they won in 2022.
Festival organiser Sgt Jenny Whatton said: "Events like this are crucial in the development of women's football and are a key factor in unearthing and developing players for the Women's Representative Team as well as further increasing participation at every level. Many thanks to all those who made the event possible. We look forward to an even bigger and better festival next year."
RAF WOMEN'S football star AS1(T) Lucy Farrow is hoping to inspire the next generation of female players, as the women's game continues to rise in profile at Service, national and international level.
The Women's Representative Team player, 23, said: "Women's football as a collective continues to grow and progress within the RAF and nationally. The great success of the Lionesses recently has been a large contributing factor to its development, having won the Euros and going on to be World Cup finalists it has positively raised interest in the sport and the RAF is now seeing the benefits of this increased visibility."
The football-obsessed winger initially played grassroots football before progressing to star in the FA Women's National League in her late teens for Lincoln City Women.
She added: "My advice to anyone is get involved in as much as you can. There are many station teams, tournaments and matches to be a part of all over the UK and further afield. Ask for feedback if you are looking to progress your game as there are some amazing coaches very willing to help. Overall, just enjoy it and take all the opportunities that come your way."
Lucy paints picture of ever-increasing popularity of women's game Coningsby keep cup after penalties
Just a short while after her first posting to RAF Coningsby, Farrow became captain of the station team and following some strong performances was invited onto the WRT, where she is about to start her third season with the current IS champions.
She said: "I have been fortunate to be part of the WRT set-up for two seasons. Being part of the RAF football team has presented me with many opportunities, such as meeting the England squad in the coming weeks and having training camps both abroad in Alicante and across the UK. All of which I did not believe would be available prior to joining.
"There has been an increase in female tournaments across the Service, including the Shrewsbury 5-a-side, Cyprus 7-a-side, Station 9-a-side and development camps.
"These have been great ways of ensuring greater participation in the game. As women's football continues to evolve it would be wonderful to see further opportunities, for example, playing at larger stadiums during IS fixtures like the men's team, and having more social media coverage.
"I greatly appreciate the opportunities available and the ongoing growth of women's football, however further development is still required. I am excited to see the sport evolve further."
Royal Air Force News Friday, October 6, 2023 P29 Follow us @rafnewssport Sport Email: sports@rafnews.co.uk
FOOTBALL
Daniel Abrahams
l Follow the WRT on Instagram @ raffootballladies.
ON THE BALL: AS1(T) Lucy Farrow
SPOT ON: Coningsby score another penalty in final victory against Cosford
SHAW THING: Team from the Shropshire station (in red) took the plate
PHOTOS: CPL REYNOLDS
It's Lift Off for novices
THE RAF Powerlifting Association got itself winter-proofed with its annual Lift Off novice event at Cosford.
The two-day camp, which drew a bumper attendance of more than 50 lifters, saw World and European Powerlifting record holder AS1 Lucy Robinson assisting with the coaching.
She said: "It is great to give back to the Service and share my knowledge from my years of experience to help give new athletes a headstart on their powerlifting journey."
The competition featured point scoring for back squat, bench press and deadlift – with the highest total winning.
The top three female lifters were AS1 Emma Perry (Coningsby), Cpl Fiona MacGregor (TSW) and Fg Off Ruofei Du (RAF Coningsby), with AS1 Connor Poole (Honington) winning in the men's contest, with Sgt James Greenwood (Waddington) runner-up and AR Ben Nicholson (DSCIS) third.
The event's project officer, Flt Lt Joshua Davies, said: "This has been the largest turnout for the
camp, which created an electric atmosphere. I look forward to seeing the athletes again at our Intermediates camp and Winter Lift Off in December.
"We hold multiple targeted levels of training camps through the year. Powerlifting is a sport that requires technique, mental resilience and strength.
"For those who wanted to start on their powerlifting journey, the novice camp was a perfect introduction." l Follow RAF Powerlifting on Instagram: @rafpowerlifting.
IS runners-up spot
IT WAS a hard-fought runners-up spot for the Service's glider pilots at this year's Inter-Service championships at Keevil Airfield, hosted by RAFGSA Bannerdown Gliding Club.
There were early podium finishes for the RAF team of Gp Capt Neill Atkins (manager), Gp Capt Carl Peters, Sqn Ldr Mark Williams, Flt Lt Martyn Pike, Sgt Ross Craney and Sgt Paul McClean over the eight days of action.
Pilots from all three Services do battle as teams or individuals across a series of daily aerial races typically dictated by weather conditions. Points are accrued each day.
Gliders are split into two classes: Waco and Horsa. Waco is for high-performance aircraft. The names are in homage to old WWII gliders.

Things started brightly for the RAF on the opening day in the Waco class with Pike in 2nd, Gp Atkins in 2nd and Williams in 4th.
It was a challenging day with lots of showers which resulted in many gliders having to land out in fields.
Atkins was flying R2 and ended up landing near Exeter. Weather played a big part in the competition, with some days being hindered by poor conditions and flying cancelled.
The following day Pike produced another first, after a very good flight, but despite the early podium finishes for the RAF, the Army team scored consistently throughout the competition and amassed the most points – winning by 64 points, totalling 251, to the airmen's 187, while the Royal Navy came home third with 161.
The mantle of RAFGSA Team Captain was held by Atkins for the final time during the championship event, with Craney being the new skipper from 2024 onwards. l Follow RAF gliding and soaring association on Facebook at: rafgsa.
AS1(T) DAVE TODD entered the IS championships at Keevel as part of his progression in the sport.
He told RAF News: "It was a great opportunity for me, the experience was the next step on from having taken up the sport in December last year through the Go Solo scheme.
"The scheme allowed me to achieve my first solo flight in early May and now I am progressing towards my bronze endorsement."
l RAFGSA runs the Go Solo flying scheme which allows JNCO and Junior Rank personnel to apply for a scholarship to enable them to try the sport at various RAFGSA clubs across the country and is provided by the Malcolm Fund. For further information visit: rafgsa.org/ solo-application.
Royal Air Force News Friday, October 6, 2023 P30 Follow us @rafnewssport Sport Email: sports@rafnews.co.uk Would you like to see your sport featured in RAF News? Send a short report (max 300 words) and a couple of photographs (attached jpegs) to : Sports@rafnews.co.uk GLIDING
NOVICE: Dave (left) with instructor
GOOD FORM: Deadlift competitor shows how it's done during the event
POWERLIFTING
pages of the best of RAF Sports action
Loriners leg victory Hat-trick of scoring wins for RAF riders
Aussies give out lessons
RAF ACES and Saints ice hockey teams put their Australian Defence Force opponents through two tough and well-fought games to kick off the visitors' UK sporting tour.
A tough 13-1 defeat for the Saints was a good learning opportunity for the airmen as the team, designed to 'provide opportunities for growth and development' for the RAF's ice hockey stars took on the ADF at Telford in what proved to be a fast-paced and well-structured game.
RAFIHA Development Pillar Lead (Saints), FS Matt Cryer, said: "This was a great opportunity for the development programme of the RAFIHA to host the ADF team in their opening tour fixture.
"The Saints team included blended skill levels of players selected from three of the regional and station-level clubs."
The RAF Aces used the game as part of their build up to next season. It was the first time they had skated together competitively since this year's Inter-Services.
It was a blistering first period with goal chances for both sides.
The ADF managed to create a breakthrough, taking a 2-0 lead into the second period, before the Aces staged a comeback with a stunning effort from AS1 Phil Woolf, making it 2-1 and all to play for.
The tourists kept their composure and nicked a third as the period came to a close. Coming out the blocks brilliantly the Aces created several chances, but chasing the game slightly as the period went on the wily Australians netted twice more for a 5-1 final score.
RAF Aces head coach Fg Off Adam Rosbottom said: "This training camp and fixture against the ADF has provided our players more exposure and learning points to focus on through the season leading up to Sheffield next year. It was our pleasure to host the ADF and we'd like to thank their whole squad for being a great group of people, who we hope to see again soon."
Daniel Abrahams
THERE WAS a hat-trick of victories for equine stars Flt Lt Nat Morrell, WO Keeley Martin and Cpl Nikki Thackray representing the RAF in the final Loriners Cup leg of the season.
The Combined Training event at the UK Armed Forces Equitation Championships at Addington, in Buckinghamshire, saw the RAF riders complete a dressage test and a round of show jumps to come home with the lowest number of penalties against the Royal Navy and Army.
Keeley, who was overall Top Rider on her mount, Lily, said: "It was a super achievement for the whole team to win the Loriners leg. I was very happy with our performance. Lily and I were a last-minute addition to the team, so to come away with the top combination win was marvellous."
Alongside the Cup, the wider event was the first time that Flt Lt Mandy Meikle had represented the RAF on her horse, Faside Sir Derry. Meikle, who is usually on the ground support as the senior team manager, took the Top Dressage Rider award.
And Sqn Ldr Sam Martin won the 105cm Show Jump on Cruise, the duo have been stalwarts for many years and represented the RAF on numerous occasions, with Cruise now 20 years old.
RAF Equitation chair Wg Cdr Haley Norris also got the rare chance to ride at the event, taking the win in Novice 37A.
AS1 Holly Croall was placed in every show jump and dressage class that she entered. She took the win on the Monday in the Medium/Advanced Medium Dressage to Music class with FS Mel Day taking second.
AS1 Charlotte Barmby was second in her Preliminary Dressage class.
Royal Air Force News Friday, October 6, 2023 P31 Follow us @rafnewssport
EQUITATION
5
UNLUCKY 13: Saints were overrun by Australian Defence Force trishthompsonphotography.com
WINNING TEAM: WO Keeley Martin, Cpl Nikki Thackray and Flt Lt Nat Morrell
JUMP
Sqn Ldr
RAF Aces 1 Australian Defence Force 5 RAF Saints 1 Australian Defence Force 13
TOP DRESSAGE: Flt Lt Mandy Meikle
CHAMP:
Sam Martin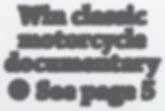 Royal Air Force News Friday, October 6, 2023 R'n'R 1 Announcements l p6-7 Puzzles l p8 R'n'R Back on stage: Conley's touring and in panto p4 Win classic motorcycle documentary l See page 5 Win!
The Great Escaper (12A)
Final adventure for vet Bernard
Caine and Jackson reunite
WHEN 89-YEAR-OLD
World War II veteran Bernard Jordan left his care home on the South coast in 2014 to join the commemorations in Normandy for the 70th anniversary of the D-Day Landings, he had no idea his 'great escape' would make headlines around the world.
The former Royal Navy officer died six months later, aged 90, and his beloved wife of 60 years, Rene, a week after him.
Now their story is told, with some dramatic licence, in The Great Escaper, starring two British acting giants – Michael Caine (coming out of retirement for this role) as Bernie and Glenda Jackson, in her final role, as Rene.
Written by William Ivory (Made In Dagenham) and directed by Oliver Parker (The Importance Of Being Earnest, Dad's Army) it's a moving, thought-provoking film and a fitting tribute to our
military heroes, with superb acting, particularly by the two main leads.
Caine and Jackson are reunited on the big screen for the first time since 1975's The Romantic Englishwoman and play superbly against each other, with the story taking place over 48 hours.
On the ferry to Normandy, Bernie meets Bomber Command veteran Arthur (John Standing) and the two men team up, bonding over their shared history of wartime military service. But they both have their demons to deal with and painful D-Day secrets they have kept private for the past 70 years that they need to confront.
Parker presents the wartime flashbacks of young Bernie (Will Fletcher) and Rene's (Laura Marcus) burgeoning romance with sensitivity and unflinchingly shows us the raw horror of war when Bernie, returning to the beach at Normandy, remembers how, as a Leading Seaman on one of the
Competition
Bagpuss The Complete
landing craft transporting tanks to the beaches, he tries to comfort and reassure one of the tank crew –the very young and scared Douglas (Elliott Norman).
Danielle Vitalis as carer Adele is extremely watchable and her increasingly warm relationship with Rene while Bernie is missing (although only Rene knows
Win!
Relive charming tales of the old fat furry cat-puss
BAGPUSS WAS first seen on British television in February 1974. Only 13 episodes were ever made, but the programme has remained popular down the generations and was voted the all-time favourite children's programme in 1999.
This charming children's stop motion animation was made by Oliver Postgate and Peter Firmin, starring the 'saggy old cloth cat' Bagpuss. Postgate and Firmin's production company Smallfilms created some of the most-loved children's programmes from 1959 until the 80s, working from a disused cowshed at Firmin's home, near Canterbury. They also made the other children's classics – Pogle's Wood, The Clangers, Ivor the Engine and Noggin the Nog Bagpuss wasn't meant to be such a bright pink. Firmin said: "It should have been a ginger marmalade cat but the company in Folkestone dyeing the material made a mistake and it turned out pink and cream. It was the best thing that ever happened."
Bagpuss lives in a 'shop' belonging to a girl called Emily where nothing is for sale. Emily brings home broken or lost toys
Gabriel Croaker (of the 'Tea Time Toads'), Madeleine the rag doll and the musical mice on their magical mouse organ.
In 2007, Postgate and Firmin were jointly presented with the Action for Children's Arts J.M. Barrie Award 'for a lifetime's achievement in delighting children'. They were awarded honorary degrees by the University of Kent in 1987. In his speech, Postgate stated that the degree was really intended for Bagpuss, who was subsequently displayed in academic dress.
We have copies of the complete series of Bagpuss, now fully restored in high definition, to win. For your chance to win one, answer this question correctly:
What was Postgate and Firmin's production company called?
where he is), is touching.
Although it could easily have become so, the film resists being twee and sentimental and, though undoubtedly tear-jerking, it has plenty of humour, even some laugh-out-loud moments, and is a heartwarming watch.
4 out of 5 roundels
Review by Tracey Allen
Top Trumps for tots with Windy thrillers
THE
TIMELESS children's
classics Camberwick Green, Trumpton and Chigley make up the Trumptonshire Trilogy, featuring all 39 original episodes fully restored from the original negatives.
Starting in 1966 with Camberwick Green, then Trumpton in 1967 and finally Chigley in 1969, this iconic British animation trilogy was aired repeatedly on the BBC until 1985 and later broadcast on Channel 4 and NickleOdeon Jnr.
According to writer and producer Gordon Murray, the three title communities are based on real undisclosed locations – said to be near Lewes, East Sussex – one-anda-half miles apart on an equilateral triangle.
which she puts in the window of her shop where Bagpuss sleeps. When Emily leaves, Bagpuss awakes along with his friends Professor Yaffle,
Email your answer, marked Bagpuss competition, and stating if you prefer Blu-ray or DVD, to: tracey.allen@rafnews.co.uk or post it to: RAF News, Room 68, Lancaster Building, HQ Air Command, High Wycombe, HP14 4UE, to arrive by October 22.
Narrator Brian Cant said: "My favourite character was Windy Miller. He used to like a bit of cider, and plod his way through the spinning arms of the windmill."
Extras include an exclusive interview with creator Gordon Murray, filmed on his 90th birthday in 2011.
For your chance to win The
Complete Trumptonshire Trilogy on DVD (rrp £59.99), tell us: Who was the narrator for Camberwick Green, Trumpton and Chigley?
Email your answer, marked Trumptonshire Trilogy, to: tracey. allen@rafnews.co.uk or post it to: RAF News, Room 68, Lancaster Building, HQ Air Command, High Wycombe, HP14 4UE, to arrive by October 22.
Royal Air Force News Friday, October 6, 2023 R'n'R 3 R'n'R
Competition
Trilogy (U) On Blu-ray and DVD (Fabulous Films/Fremantle Media) Film Review
In cinemas now
Series (U) On Blu-ray and DVD from October 9 (Fabulous Films Ltd/Fremantle Media Enterprises)
Trumptonshire
BACK AT SEA: Caine as Royal Navy veteran Bernard Jordan and with Jackson, below right
Fabulous
Win!
Fabulous
Beverley
A new chapter begins for soul queen Knight
QUEEN OF British Soul Beverley Knight has just released her new studio album, The Fifth Chapter and starts a nationwide tour on October 17.
An Olivier award-winning star of the West End stage, Saturday night TV regular on the latest series of Starstruck, and singer with a prolific music career, she finds herself, aged 50, bigger than ever.
Beverley's first collection of new music in seven years is a journey through the inspirations that have defined her career.
The Wolverhampton-born artist has forged a parallel career in theatre. Her West End debut was the starring role in Bodyguard followed by leading the Tony-winning The Musical. At the request of Lord Andrew Lloyd Webber she joined the cast of Cats, playing the role of Grizabella. 2021 saw Beverley lead The Drifters Girl at the Garrick Theatre as the formidable manager of soul group The Drifters, which was Oliviernominated for Best New Musical, and Beverley for Best Actress.
Starring as Emmeline Pankhurst in Sylvia at The Old Vic, Beverley won Best Actress in a Supporting Role in a Musical at the
Theatre
Brian Conley
Olivier Awards in April. She is now taking on her biggest ever UK tour, performing 20 headline dates throughout October and November, with her live band.
"I feel as though I am about to step into a whole new level of wonder because I have come into my power," she said. "My career is not a big, shiny billboard poster that gets replaced with the next star in waiting. Mine is a novel, and I just entered the fifth and most exciting chapter of it."
l Go to: beverleyknight.com for more
DeadPan comedy a touch of
THE HIT comedy Peter Pan Goes Wrong from Mischief Theatre is now on a UK tour, currently at Aylesbury's Waterside Theatre then moving to venues including Liverpool, Glasgow, Birmingham and Manchester.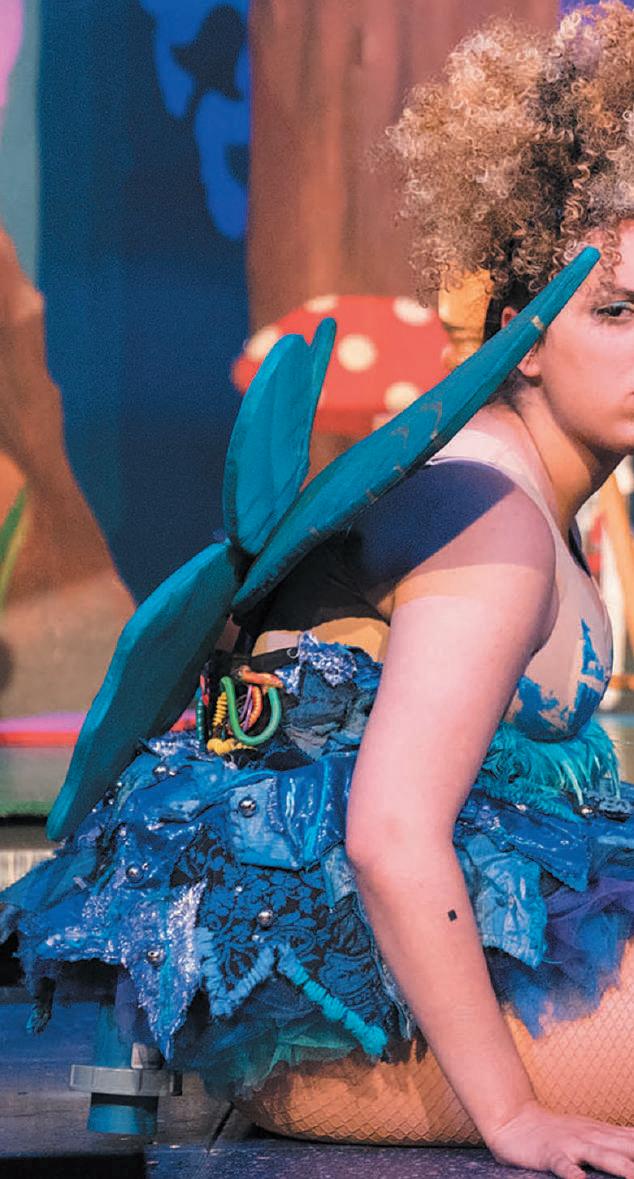 When talking to the team that turned mishap into a fine art, there's a question that inevitably comes up: has anything ever actually gone wrong?
Jonathan Sayer, Henry Shields and Henry Lewis, Mischief's core creative team, have been causing mayhem for more than a decade. Their success started with The Play That Goes Wrong, which grew from a short run in a pub theatre in 2012, where they had to lean against the set to stop it from accidentally falling over, to conquering the West End. Now this global sensation has been seen by more than 3.5 million people.
They've also had huge success with The Comedy About a Bank Robbery, Magic Goes Wrong, two series of The Goes Wrong Show on TV, countless improv nights, a podcast and, of course, Peter Pan Goes Wrong, in which the hopeless Cornley Drama Society attempt to stage a production of J.M. Barrie's classic.
The (hectic) life of Brian
BRIAN CONLEY'S a busy man – the actor, comedian, TV and musical theatre star has just embarked on a national tour, running into 2024 – and he'll be starring in panto at Milton Keynes Theatre from December 9 to January 14, as Buttons in Cinderella
He said: "Panto is a truly magical experience every year, and I can't wait for the magic of Cinderella to begin this Christmas. I loved being in panto in Milton Keynes in 2017 and can't wait to be back on the stage there."
In a career spanning five decades Brian has appeared in award-winning West End musicals and television sitcoms, presented his own chat show and completed numerous sell-out tours of the
UK. He also proudly appeared a record eight times on The Royal Variety Performance. Most recently, he's been on our screens as Rocky in BBC's EastEnders
He's starred in TV sitcoms including Time After Time, The Life And Times Of Vivienne Vile and The Grimleys and on stage has played lead roles in musicals including Me and My Girl, Chitty Chitty Bang Bang, Hairspray, Oliver!, The Music Man, Barnum, 9 to 5, and Jolson –for which he was nominated for a prestigious Laurence Olivier Award.
For tour details go to: socomedy.co.uk/artist/brianconley and go to: miltonkeynestheatre.co.uk for panto information.
Their shows are full of slapstick humour and carefully choreographed disasters, but so many shows over such a long time has inevitably meant that there have been occasional unscripted accidents, too.
The team remembered one particularly funny moment: "At the end of act one there's a moment when Pan falls from the sky because his wire has snapped," said Lewis. "The way we do it is that the actor flies out, then a dummy dressed in the same clothes falls down to create the illusion. During one performance, they were doing a scene in the nursery where Pan is talking to Wendy and suddenly the dummy dropped. Pan said the immortal line, 'ignore that, that's not me. That's the other, dead Pan.'"
As well as the UK tour, which kicked off last month, the trio have just been performing the show on Broadway – where it was nominated for eight awards – and are now in Los Angeles.
Shields and Sayer were watching a grainy recording they made of
the show's very first run in a tiny theatre in London in 2013. "That was a really stark reminder of how far we've come," said Shields. "There are lots of bits in the recording that are in the show now on Broadway, but there's also so much that's changed and evolved over time."
Their Broadway run marked the first time the three of them had done anything together in a
Sayer agreed. "A big part of my personality is that I really like sport and community events, so it's been good to find a home for that."
The home he's referring to is his unexpected side hustle as cochairman of semi-professional football club Ashton FC. He's just written a book, Nowhere To Run, about what it's like to run the Greater Manchester-based team and, by the
Royal Air Force News Friday, October 6, 2023 R'n'R 4 R'n'R
Music
UK tour
Knight New album and
PANTO: Brian as Buttons
Uk tour and panto at Milton Keynes
comedy & of Mischief
Production is so wrong it's right!
Edited by Tracey Allen
whereas before people would have just thought 'that's nice'. Right now, people could really do with some total nonsense, silliness and joyousness for a couple of hours."
Peter Pan Goes Wrong is touring the UK until April 24, 2024 including a Christmas season in the West End at the Lyric Theatre from November 23 to January 14, 2024. Go to: peterpangoeswronglive.com for
BOOKS
Bomber Command
amberley-books.com
Bomber Command story
BOMBER COMMAND, Men, Machines and Missions 193668, by Gordon A.A. Wilson, is a richly-illustrated account of the RAF organisation from its inception before World War II in 1936 to its final years during the Cold War.
The book covers the reasons for Bomber Command and the personnel that guided its formation, and the philosophy and politics of the change from strategic bombing to area bombing, and the ensuing controversy.
The Bomber Command organisation and how it functioned is traced, from Headquarters to the various Groups and the many squadrons. Famous and specialised squadrons and the honours awarded to them are explored.
Wilson also covers the social impact of this huge organisation: a bomber base had a large impact on the local economy and many lasting wartime bonds were established. The operational aircraft that spearheaded the might of Bomber Command and brought the bombs
DVDs
to the enemy's shores included famous machines such as the Lancaster, Handley Page Halifax and the unique fighter-bomber, the de Havilland Mosquito. The author analyses their construction and performance. Major target raids and the aircraft and squadrons taking part are described.
The transition to the Cold War and nuclear deterrence confronted Bomber Command with an entirely rewritten role and saw the introduction of a new generation of V-Force jet bombers. We have copies of the book, in paperback, published by Amberley (amberley-books.com) up for grabs. To be in with a chance of winning one, tell us: What was one of Bomber Command's best-known aircraft?
Email your answer, marked Bomber Command book competition, to: tracey.allen@ rafnews.co.uk or post it to: RAF News, Room 68, Lancaster Building, HQ Air Command, High Wycombe, HP14 4UE, to arrive by October 22.
Speed is Expensive: The Philip Vincent Story (PG)
Out now on digital and DVD (Strike Media Ltd)
Forgotten king of speed
ANEW documentary telling one of the most dramatic stories in automotive history – the rise and fall of designer Philip Vincent – is out now, and you could win a copy, that comes with an exclusive 24-page booklet.
Narrated by Ewan McGregor Speed is Expensive: The Philip Vincent Story includes interviews with Jay Leno, Paul Simonon (The Clash) and the late John Surtees, motorcycle road racer and Formula One driver.
Win!
Rollie Free prone and wearing a bathing suit while breaking the American motorcycle land speed record in 1948 on the Bonneville Salt Flats, Utah, has been described as the most famous picture in motorcycling. Some Vincent models now sell for more than £1 million and owners include Brat Pitt and Ryan Reynolds.
Yet when Vincent died in 1979 he was largely unrecognised, penniless and living in council housing in West London.
Vincent's motorcycles set more speed records during the 1940s and 1950s than any other manufacturer. The black and white picture below of motorcycle racer
For your chance to own the documentary on DVD, just answer this question correctly:
What is the name of a Hollywood star who owns a Vincent motorcycle?
Email your answer, marked Speed DVD competition, to: tracey.allen@rafnews. co.uk or post it to: RAF News, Room 68, Lancaster Building, HQ Air Command, High Wycombe, HP14 4UE, to arrive by October 22, and include your address.
Royal Air Force News Friday, October 6, 2023 R'n'R 5
C-IN-C: Bomber Harris
Win!
BROUGHT BACK DOWN TO EARTH: Tinker Bell is temporarily grounded
WACKY BUNCH: Peter Pan Goes Wrong cast
Your Announcements
You can email photos for announcements on this page to: tracey.allen@rafnews.co.uk
In Memoriam
MUTTITT. In loving memory of my dear wife Pamela who died September 15, 1981. So sadly missed. Mick (MAeOP) and family.
Seeking
SEEKING Tony Sanders re: Flt Lt GB Thornalley. In a previous RAF News Tony made an appeal for information about Flt Lt Thornalley's family and the proposed erection of a memorial to him. I have tried to trace Tony as I am the daughter of GB Thornalley but I have had no success. I would be grateful if Tony could get in touch with me at: paddymoir@aol.com.
Reunions
THE Association of RAF Women Officers (ARAFWO) Annual
Reunion Lunch will take place on Saturday, October 28 at the RAF Club from 11am. Our speaker is Flt Lt Colin Bell DFC AE FRIC IRRV RAF Ret'd who is 102 years old. A most amusing and engaging speaker, he will talk about his experiences as a Mosquito Bomber Pilot. For tickets, please contact Hilary Davidson on: hdavidson399@gmail. com. All will be made very welcome. For further information about the Reunion and ARAFWO visit: arafwo.co.uk.
THE RAF and Defence Fire Service reunion will take place from Friday, November 3 to Sunday, November 5 at the Sketchley Grange Hotel and Spa, Sketchley Lane, Hinkley, Leicestershire, LE10 3HU. Visit: rafanddfsa.co.uk/ reunions or email Don Pape: donaldpape252@yahoo.com or Mike Clapton, email: fire.
How to use our service
bucket@btinternet.com. We welcome new members.
Associations
THE Association of RAF Women Officers (ARAFWO) was formed in 1955 to provide a medium through which serving and former serving women officers could maintain contact with the Royal Air Force and with each other.
Your Association is a lively, friendly, worldwide networking group. Membership is exclusive to all serving and former serving women officers of the RAF, RAuxAF, RAFVR(T), WRAF, PMRAFNS, WAAF, WRAuxAF and WRAFVR who hold a Queens' or King's Commission.
Visit our website: arafwo. co.uk and discover the benefits of membership, plus see what activities and events we offer all over the world.
RAF Armourers past and present. Do you know that the RAF Association has an Armourers Branch? Its aim is to provide welfare support and comradeship for all who have served or currently serve as an RAF Armourer. See: rafaarmourers.co.uk or contact the committee via: plumbersrest@outlook.com.
For sale
SERGEANTS' Mess Dress uniform. Jacket was bought from and tailored by 'Supplyline' to fit a 28" (63.5 cm) chest, and the trousers a 30" (76 cm) waist, inside leg 31" (78.5 cm). I no longer have the associated cummerbund, however. The recipient would have to collect the uniform from me in Tadley, Hampshire and make an appropriate donation to RAF Benevolent Fund in lieu of my taking payment. Contact: dave.e.wright227@gmail. com or tel: 0118 9812580.
Vets and cadets mark BoB Day
A GROUP of the last remaining World War II veterans gathered for an afternoon at Biggin Hill last month to mark Battle of Britain Day.
The meet was cofacilitated by the RAF Benevolent Fund and the Biggin Hill Airport team, who welcomed the veterans to walk around the Strongest Link Garden, designed by John Everiss, originally showcased at the Chelsea Flower Show in 2022, and catch up with each other over tea and cake.
September 15, 1940 was officially named Battle of Britain Day as it was the day when RAF Fighter Command claimed what proved to be a decisive victory over the Luftwaffe.
George Pritchard, 100,
There is no charge for conventionally-worded birth, engagement, marriage, anniversary, death,in memoriam seeking and reunion notices. For commercial small ads contact Edwin Rodrigues on: 07482 571535. We cannot, under any circumstances, take announcements over the telephone. They can be sent by email to: tracey.allen@rafnews.co.uk. Please note that due to the coronavirus pandemic we are currently unable to accept notices submitted by post.
Important Notice
The publishers of RAF News cannot accept responsibility for the quality, safe delivery or operation of any products advertised or mentioned in this publication.
Reasonable precautions are taken before advertisements are accepted but such acceptance does not imply any form of approval or recommendation. Advertisements (or other inserted material) are accepted subject to the approval of the publishers and their current terms and conditions. The publishers will accept an advertisement or other inserted material only on the condition that the advertiser warrants that such advertisement does not in any way contravene the provisions of the Trade Descriptions Act. All copy is subject to the approval of the publishers, who reserve the right to refuse, amend, withdraw or otherwise deal with advertisements submitted to them at their absolute discretion and without explanation. All advertisements must comply with the British Code of Advertising Practice. Mail order advertisers are required to state in advertisements their true surname or full company name, together with an address from which the business is managed.
remembered the friends he lost during the war. He said: "I worked in a factory making cardboard ammunition boxes at Croydon Airport. Because I was under 18, I couldn't work overtime, so I was sent home by the foreman.
"When I got home, I was sat in the garden with a cup of tea overlooking the airfield and that was then bombed. I went down to see and the factory I was working in had been bombed – all the staff, all my friends, had been killed. This determined me at 17 to join the RAF."
Bob Greig, beneficiary, and Fund ambassador, said: "Battle of Britain Day is a day to pay our respects to those who paid the ultimate price to ensure a better society, one that we are all living today."
During Battle of Britain week, the Beccles branch of the RAF Association held a Wings Appeal collection, with 759 (Beccles) Squadron and 467 Lowestoft Squadron cadets taking part, writes RAFA Beccles and Southwold Area branch president Brian Vousden.
A RAFA Battle of Britain parade through Beccles was
supported by veterans, the Royal British Legion and 759 (Beccles) Sqn cadets, all with their Standards, and led by the City of Norwich Pipe Band (pictured below). There was also a Remembrance Service. The Service Salute was taken by AVM The Hon David Murray, Deputy Lord Lieutenant of Suffolk.
New network is launched
CHIEF OF the Air Staff
ACM Sir Richard Knighton has praised the new Veterans in Defence (Air) Network which officially launched last month.
CAS called the Network 'a fantastic initiative, which promises to benefit not just the RAF but Defence as a whole; now, in the future.'
Chair Angus Murray (pictured second right) said the Network has been created to unite, support and inform
INITIATIVE: CAS, second left, attends the launch
former Service personnel. He added: "It also provides a voice to elevate matters our veterans are experiencing, while championing veterans' issues."
Royal Air Force News Friday, October 6, 2023 R'n'R 6 R'n'R
MEMORABLE DAY: From left: Reg Lawrence, 91, Sybil Piper, 96, David Curd, 92, Alice Judge, 86 and Bob Greig, 63, at Biggin Hill Airport for a Battle of Britain veterans gathering with the RAF Benevolent Fund
PHOTO: OLIVER DIXON
You Yo
ur Ann
ounceme
nts
Your Announcements
You can email photos for announcements on this page to: tracey.allen@rafnews.co.uk
osforannouncement fo hot ail p em y.allen@rafnews.co.uk y.
arti rt W Wa
ime plot
o er hon t tte tt
d on ure re d
n 102n thdabirrt y ay
Wartime plotter honoured on 102nd birthday
OF ONE ing w liv e the f fe mWorld Wo nsfro fr vetera atedher10IIcelebrat it tly w ecen y r a nfromthe fr resentatio e p nearCard home her at l tW iW F it
ONE OF the few living RAF veterans from World War II celebrated her 102nd birthday recently with a presentation from the RAF at her home near Cardigan in West Wales, writes Flt Lt Martin Wade.
es, a t W Wa es in W We se rw nWade. Wa ti Mar Ma PaulineP ro d f fr ve ser to1945workin er, r, lott s a p a he f t e o on kedwomentaske withtracking ft ircraft y a enemmy g hin ac o r p p a theBritishcoas ight gsoRAFffi e t
RAF Wa 02nd th a RAF digan ltLt
t Lt ershire, louces in G
on en w e s b t' d i n AF a R ke drWalke Wa e C tose ithcolleagues y w a "quadron. s s hi heW g t oinin er j ft Aft tInns g a andtrainin hi t iGl
fulderfu erhere rom s f fr
RAF and it's been wonderful to see Wg Cdr Walker here today with colleagues from his squadron."
WAAF WA sworth l C
g m 194 en
AF f o R bescra
Pauline Penrose served from 1942 to 1945 working as a plotter, one of the women tasked with tracking enemy aircraft approaching the British coast so RAF fighters could be scrambled to attack them.
toattackthem. an y h nl f o e o n s o e i Sh
ofWWIIRAFveteran rese s p inWales.Shewa Wa dr y Wg C s b lower h f fl wit (Co 614 of O , C kerWalke Wa quad n) S ofGlamorga ves eser AF R y R nl e o th oine s j inWales.Hewa Wa o embers mb m two
m dful fu sleft ft ented lly r O unty dron, t s uni dby f
She is one of only a handful of WWII RAF veterans left in Wales. She was presented with flowers by Wg Cdr Olly Walker, CO of 614 (County of Glamorgan) Squadron, the only RAF Reserves unit in Wales. He was joined by two other members of the squadron.
Pauline's son Rod said: "Mum has many fond memories of her time in the
Penrosewasoriginally rnchurch tatio er s t sexatthe ftheaird ondo f L o theSouth ofEngland e s Sh ith11Gp earheaded tforsupr fo h p w
o s h Ho pl ybased he h, t n in o eheart fe nd n a h-East ved ser which dthe emacy
After joining the WAAF and training at Innsworth in Gloucestershire, Cpl Penrose was originally based at Hornchurch, the fighter station in Essex at the heart of the air defence of London and the South-East of England. She served with 11 Gp which spearheaded the fight for supremacy in the air during the Battle of Britain and beyond. She often had to dodge enemy air attacks and, while on leave at her home nearby, narrowly missed injury in an air raid on her street which destroyed houses, killing her neighbours.
r s t f irdurin BattleofBritainandbe o ad t en h ft e o Sh and, attacks air emy y en onleaveatherhomen y jur d innj sse y mi narrowl airraidonherstreet illin es, k destroyedhous eforesheen fo B kedPaulinehadworke nd n a ughtswoma g dra
ea
y he g t n yond. yo hile , w y, n y a er g h n nlisted, asa fteraft emaps n d o
heRAFher g t joinin sh nisedandrecog was tin h h t it d w k ke t
talent was e b g j
Before she enlisted, Pauline had worked as a draughtswoman and after joining the RAF her talent was recognised and she was tasked with the exacting job
helarge g t ofdrawin glan n En outher f s o
ableu g t lottin e p th showthelocationof ft. ft ir
of drawing the large maps of southern England on the plotting table used to show the location of enemy aircraft.
Such was her skill she later created enormous maps of the North Sea, English Channel and UK coast for Air Sea Rescue
operations which would enable downed aircrew to be picked up.
Suchwashers d en eate er cr lat killshe normous which operations irc d a wne le do enab would e o b w t cre
usedto emy y fen ftheNor ps o ma EnglishChannela S ir r A f fo t thSea, andUK R up drWalk Wa Wg C l h s b "It' keersaid: d Weowehersuc We udefor fo ratit f g o " ice
Wg Cdr Walker said: "It's been a real honour and
absolute privilege to see Pauline on her special day. We owe her such a debt of gratitude for her RAF service."
rivilege e p absolut p er s n h e o Paulin etosee y. ay. l d ecia Pauline'ssonRod ny "Mumhasmany eim er t f h ies o fond fo h n t
chadebt herRAF
Royal Air Force News Friday, October 6, 2023 R'n'R 7 R'n'R
during WWII
Youcan Yo trace yalAirForcoyaR eNews er 6, 202 ctob , O y ay,id Fr R'n R' 23 R'n'R7 n'R
ge his pa sont
Across
Crossword No. 348
Solve the crossword, then rearrange the six letters in yellow squares to find an RAF word
6. Repair your old well (7)
7. Female makes one instrument into another (5)
9. Sounds like Top Gun Tom's RAF personnel (5)
10 Fail to catch Number One's return operation (7)
12. Paths sprang around new Defence Secretary (5,6)
14. Original pic altered RAF duties (3,8)
18. See 3 Down
19. Trample good man with a member (5)
21. Without a valise producing layers (5)
22. Some pomade Iranian brought to island (7) Down
1. Winnie-the-Pooh originally disguised facial hair (5)
2. Blossom on Thames, say (6)
3. And 18 Across, 20 Down. Maybe they shred data on August 18, 1940 (3,7,3)
4. Sadly heartless Kenyatta in a state (6)
5. In pig-pen prop up pig-headed (7)
8. Nauseous feeling pilots prefer to avoid (7)
11. His glen destroyed by Sassenachs (7)
13. Keep endlessly delicate, maybe (7)
15. First people - under duress - duly leave English pool (6)
16. Spice almond for Margaret (6)
17. A mother in centre of April's air base (5)
20. See 3 Down
Name
Address...............................................................................................................
RAF word:......................................................................
Theatre
How We Fish
Book and UK tour
The winners of our Prize Crossword and Prize Su Doku puzzles will receive a recent top aviation title – please send your entries to the address printed in the adjacent Su Doku panel, to arrive by October 22.
Prize Crossword No. 346 winner is: Mrs L Barnes, Lincoln.
Prize Su Doku No. 358
Fill in all the squares in the grid so that each row, each column and each 3x3 square contains all the digits from 1 to 9.
Solutions should be sent in a sealed envelope marked 'Su Doku' with the number in the top left-hand corner to RAF News, Room 68, Lancaster Building, HQ Air Command, High Wycombe, Bucks, HP14 4UE, to arrive by October 22.
The winner of Su Doku No: 356 is: Mr G.J.T Bean, Gloucester.
Crossword No. 348
Film Review
Bolan's Shoes (15)
In cinemas now
Jimmy still Bangs a Gong for childhood hero Bolan
THE MUSIC of Mark Bolan becomes a beacon and a bond for two people who have both experienced childhood trauma in Bolan's Shoes
Gone Fishing sole mates
PAUL WHITEHOUSE and Mortimer & Whitehouse: Gone Fishing consultant John Bailey have been devout fishermen for longer than they care to remember.
Now the pair are going on tour to mark the publication of their new book How We Fish – The Love, Life and Joy of the Riverbank
Beginning on November 1 at Southampton's O2 Guildhall, they will then travel the country visiting Cambridge, Liverpool, Guildford, Basingstoke, Leeds, Birmingham and London. Each ticket to the tour includes a copy of the book, published by HarperCollins.
Paul is a multi-award-winning
comedian, actor and co-star of the BBC show Mortimer & Whitehouse: Gone Fishing, alongside his old friend Bob Mortimer. Behind the scenes, John has been the fishing consultant on the show since it first aired in 2018, and is a respected fishing writer, as well as TV broadcaster, photographer and campaigner.
Paul and John will take to the stage to celebrate the rich tapestry that is fishing – from mentors to memories; from philosophy to modern jargon and from watercraft to becoming self-styled 'Fishing Detectives'. l Go to: howwefish.live for full tour details.
Back in 70s Liverpool, a group of glitter-faced kids are taken on a day trip from the children's home to a T-Rex concert. Meek young Jimmy (Isaac Lancel-Watkinson) is bullied by the other kids, unless his fearless young sister Sadie (Amelia Rose Smith) is around, willing to scrap with anyone to keep him safe. But on the coach back from the gig, Sadie is sitting with her best friend Penny (Eden Beach) revelling in the glam-rock legends they had just witnessed, when the bullies force Jimmy to start a fire in the back, causing a crash that will injure many and be fatal to others.
The film picks up years later when Penny (Leanne Best), now married to a priest (Mark Lewis Jones) and with a life in Wales, takes a road trip to the site of the crash where Mark Bolan had died in 1977. On what would have been his 75th birthday, this is an event that draws many fans of the icon, including one
dishevelled 'Bubble Man' who makes large soap bubbles for the crowd and strives to look after the shrine – this is Jimmy (Timothy Spall).
Intended to keep the audience wrong-footed, the masked details of what actually happened to these characters as children, and their relationship, is initially frustrating.
Explanations will come, but their shock value may not make up for the confusion
that is caused in the lead-up. Although it seems that Penny has her life together, and Jimmy continues on a path of victimisation with people still taking advantage of him, revelations will show that both have been affected in ways the other couldn't possibly imagine.
The pumping T-Rex soundtrack adds some energy to what is otherwise a rather dreary affair with twists that are buried in a disjointed narrative.
Two out of five roundels
Review by Sam Cooney
Royal Air Force News Friday, October 6, 2023 R'n'R 8 R'n'R
Solution to Crossword No 347: Across – 7. Asides 8. Bow Out 10. Da Vinci 11. Naked 12. Over 13. Aspic 17. Board 18. Mach 22. Often 23. Kitchen 24. Kowtow 25. Kimono Down – 1. Baldoon 2. Civvies 3. Beano 4. Johnnie 5. Wokka 6. Study 9. Air Strike 14. Johnson 15. Fashion 16. Chinook 19. Wokka 20. Stews
Solution to Su Doku No: 357
21. Strip RAF plane – Harrier
BOB WHO? Paul Whitehouse escapes sidekick Mortimer to team up with expert John Bailey, right
It On
Get
BUBBLE MAN: Jimmy entertains crowds at Bolan memorial