$5.00 MARCH 2012
questmag.com THE SPRING STYLE ISSUE BEST-DRESSEDLIST2012
AERIN LAUDER ZINTERHOFER
RALPH LAUREN Collection
RALPH
Collection R ALPHLAURENCOLLECTION.COM View the Runway Show and go behind the scenes with the Ralph Lauren application on your iPhone® or visit 888 MADISON AVENUE NEW YORK 300 WORTH AVENUE PALM BEACH
LAUREN
ITALIAN CASHMERE BY
INTRODUCING THE CASHMERE SHOP AT JCREW.COM
ESSENTIAL LUXURY ENTIRELY YOURS SPRING BREAK SPECIAL Per Person, Per Night ALL INCLUSIVE IN DOUBLE OCCUPANCY $295
Once you've encountered 7,000 acres of tropical natural beauty, three private beaches, 63 holes of championship golf, 15 restaurants and the breathtaking Altos de Chavon, you'll wonder how you ever did without the pleasures of the Caribbean's Most Complete Resort. Make Casa de Campo Yours.
CALL YOUR
PROFESSIONAL OR
WWW.CASADECAMPO.COM.DO
TRAVEL
1.800.877.3643 • 809.523.8698 •
The Right Broker Makes All the Difference.
Over the past 30 years, Stribling brokers have successfully represented the world's most discerning clients, offering an exceptional level of service, integrity and sophistication coupled with an in-depth understanding of the ever-changing real estate market. Stribling professionals embrace a wide range of tastes and styles, ensuring that each client is matched with the broker who can best assist them in buying or selling their home.
Brand New Exclusives...
Outdoor Lovers: UES 4BR, 3.5 Bth Jewel Triple mint renov 2882 sf condo designed by Pol Theis. 1575 sf wrap terrace with exceptional views & 3 expos. $4.995M. Web #1290317. J.Boulan 212-585-4576
Splendid 7 with Park Views on 5th Ave Large LR & MBR. Incredible architectural detail. Low monthlies. White glove building. $4.7M. Web #1288722. J.Stockwell 646-613-2615
Mint Architect Renov East 72nd Co-op Grac 9 rm. 37' LR w 5 S-facing wndws, 2 WBFPs. 4BRs. EIK. W/D. Perf family living. Sep maid's, stor rms. Grdn. $4.5M. Web# 1289341. V.Ghilaga 212-452-4392
Sophisticated Six on E 52nd & the E River Impeccable 6 rm in most distinguished co-op. 2BR, 2 bth, pvt elev landing, LR w river vus, FDR, staff rm/ bth. $3.8M. Web #1290864. C.Eland 212-452-4384
Park Avenue 7 Rm Beauty at 62nd Street
Renov home boasts 2BRs w ensuite bths, step-down LR, library. All filled w natural light from lrg windows. $3.7M. Web #1291206. E.Lorenzo 212-452-4411
Unique Sutton 3BR w Panoramic E.River Vus
Huge, renov combo of 2 apts. Sunny open floor plan. 3 fbths, MBR suite, offc, laundry. Full service w gym & gar. $2.495M. Web #1289331. J.Sacks 212-585-4539
Pristine Renov 3BR, 3 Bath on East 72nd St Spac hm w seamless layout, grmt kit, mrbl bths, cust detail, W/D, CAC. FS bldg, gar, gym, pets ok. $2.45M. Web #1290622. L.Basilice-Hoerrner 212-452-4435
Excell
Web #1291621. R.Parachini 917-478-4630
Carnegie Hill
Classic 6 Streamingsun+openvuswWBFP,libr,2MBRs+maid's. FS co-op allows 75%fin + pets. $1.4M. Web #1291204. A.Hall 212-452-4421/C.Van Amburg 646-613-2683
Stunning Park Views with Private Balcony Spacious 6 room apt in a full service CPS building. Amazing opportunity to create your dream home! $3.25M. Web #1292018. T.Golding 212-452-4394
Prewar
Dramatic Views from UWS Luxury Condo Renov crnr 3BR, currently a 2BR w libr. O'sized wall of wndws face S & W. FS Lincoln Cntr bldg, blocks fr CP. $3.495M. Web #1290088. A.Black 212-585-4578
Mint Prewar 2BR/2 Bath on East 57th Gracious foyer, S-facing LR w WBFP & MBR w bth. Thru-wall AC. Renov kit. White glv bldg w gym, grdn. $1.095M. Web #1258445. C.Layland 212-452-4410
Light & Views Atop Historic Dist Co-op 73rd/Lexprwrrenov6into5.LR/DRwWBFP&cityvus. EIK, 2BRs, 2 bths + maid's w bth, butler's pntry, thru-wall AC. $2.1M.
A SAVILLS INTERNATIONAL ASSOCIATE · EQUAL HOUSING OPPORTUNITY · STRIBLING.COM
Essex House Masterpiece at the Park Wake up w the serenity of CP. Every season will offer color&beauty.Triplemintcondo-hotel1650sf.2MBR,2 fbth.$4.35M.Web#1289441.C.Serrano212-585-4571
Tribeca PH - Hotel Living at Smyth
2BR/2 bth, skyline vus, glass stair, roof terr. All hotel amens. 421A tax abate. $4.995M. Web #1286222. S.Turner 646-613-2619/A.Lambert 212-452-4408
6000 Square Foot, 5 Bedroom, 5.5 Bath Co-op on Central Park West
A rare combination of the park-facing north line & large west line apartments in one of CPW's most prestigious buildings. Beautifully decorated, it features enormous windows & very high ceilings. Gracious entertaining space & 30x20 foot family rm. Wonderful views of CP. $22M. Web #1290156. K.Henckels 212-452-4402
Amazing Single Family with Elevator
4000 sf Italianate on East 35th w stunning detail, winter garden & WBFPs. $4.495M. Web #1288546. T.Desmond 212-452-4380/L.Melnick 212-452-4425
The most fabulous downtown pad designed by the acclaimedRoman&Williams.$2.9M.Web#1290701. M.Cashman 646-613-2616/S.Turner 646-613-2619
Madison Square Park North
5th Ave. The WOW factor. Glorious views. 45th floor 2BR, 2.5 bth condo offers 5 star lux living w spa, pool & gar. $2.35M. Web #1286221. J.Perlin 212-452-4373
Upper triplex, garden apartment. Lovely detail, excellent condition. Delivered vacant. Garage available. $3.45M. Web #1291211. C.Stimpson 917-991-9549
Vintage Modern at 211 Elizabeth
Park Slope Brownstone, 4300'
UPTOWN 924 MADISON AVENUE 212 570 2440 · CHELSEA 340 WEST 23RD STREET 212 243 4000 · TRIBECA 32 AVENUE OF THE AMERICAS 212 941 8420
Virtually Staged
CONTENTS
T HE S PRING S TYLE I SSUE
104
108
116
122
130
136 QUEST
144
122 94 116 108 130
94 THE SUBSTANCE OF STYLE True style is more than skin-deep, as we make clear in this portfolio of eight remarkable women of substance. BY G EORGINA S CHAEFFER , PHOTOGRAPHED BY J ACK D EUTSCH AND L UCIEN C APEHART P HOTOGRAPHY
SHIRT SO GOOD Turbull & Asser reopens on 57th Street. BY C HRISTIAN C HENSVOLD
OUR LEADING LADY Carolina Herrera is America's ambassador of high fashion—and the enduring ideal of what every woman wants to be. BY D ANIEL C APPELLO
MADE IN THE U.S.A. Heading to the Museum at FIT for a preview of the new exhibit honoring the most influential American designers. BY G EORGINA S CHAEFFER
DRESSED FOR ART Jean-Philippe Delhomme's art for fashion. BY D ANIEL C APPELLO
THE LADY AND THE LIST The story of Eleanor Lambert. BY D AVID P ATRICK C OLUMBIA
BEST DRESSED: THE LIST Who's on our third annual best-dressed list?
AMERICAN BEAUTIES Claiborne Swanson Frank's inspired portraits come together in American Beauty, her new book published by Assouline. BY E LIZBAETH Q UINN B ROWN
66 C OLUMNS 20 SOCIAL DIARY Champagne-filled P ATRICK C OLUMBIA 64 SOCIAL CALENDAR Our guide to the best benefits and balls, from New York to Palm Beach. 66 HARRY BENSON A trip to Paris leads to a monumental moment at Yves Saint Laurent's fashion show. 68 OBSERVATIONS Thoughts on the stripping of knighthoods past and present. BY TAKI THEODORACOPULOS 70 FRESH FINDS March is perfect for freshening up your closet. BY DANIEL CAPPELLO AND ELIZABETH 74 QUEST ARCHIVES We look back at one of our favorite articles about Madame Grès and Chessy Rayner. 76 THE WAY IT USED TO BE A fond farewell to Time Inc.'s Julian Bach and the old ways of publishing. 152 WHAT THE CHAIRS WEAR The Museum of the
of New
Ball. BY K AREN K 154 APPEARANCES Our society editor hits up the best literary parties and more this month. BY HILARY 156 YOUNG & THE GUEST LIST Our reporter
BY E
B 160 SNAPSHOT Style icon
BY
CONTENTS
G
the 160 70 70
City
York's Winter
parties with the junior set.
LIZABETH Q UINN
Anne Slater has always blazed forth in a pair of blue sunglasses.
DANIEL
show. ULOS M
PPELLO
Capturing The Light Of
Dawn
TIFFANY INTRODUCES RUBEDO™ METAL, GLOWING WITH THE ROSE LUMINESCENCE OF A SUNRISE.
In honor of the 175th anniversary of our founding, RUBEDO™debuts in a limited-edition series of Tiffany 1837™ designs hallmarked with founder Charles Lewis Tiffany's signature.
©T&CO. 2012 800 843 3269 TIFFANY.COM
EDITOR-IN-CHI EF DAVI D PATRICK C OLUMBIA CRE ATIV E DIR EC TOR JAMES STOFFEL EX EC UTIV E E DITOR GEORGINA SCHAEFFER FA S HION E DITOR D ANIEL CA PPELLO A SS OC IAT E ART DIR EC TOR VALERIA FOX ASS OC IAT E E DITOR E LIZABETH QUINN B ROWN SO CIE TY E DITOR H ILARY G EARY CONTRIBUTING E DITOR CHRISTIAN CHE N SVOL D INT E RN S SAVANNAH SYSKA CONTRIBUTING WRIT ERS HARRY BENSON K AREN K LOPP JAMES MACGUIRE ELIZABETH MEIGHER LIZ SMITH TAKI T HEO D ORACO P ULOS ED WAR D U LMANN CONTRIBUTING PHOTOGRAPH ERS H ARRY B ENSON L UCIEN CAP EHART P HOTOGRA P HY BILLY FARRELL AGENCY J ACK DEUTSCH JEFF HIRSCH MARY HILLIAR D CUTTY MCGILL PATRICK MCM ULLAN JOE SCHIL D HORN BEN FINK SHA P IRO ALEXIS THEO D ORACO P ULOS HANNAH THOMSON ANN WATT questmag.com
1stOPERATOR OFTHEYEAR www.klemmrentals.com www.klemmrealestate.com KLEMM REAL ESTATE Inc Litchfield County's Premier Brokers Litchfield Hills, CT - Less Than 2 Hours From NYC #1 FOR SELLING & RENTING FINE COUNTRY PROPERTIES! JOIN OUR MAILING LIST Text "klemm" to 22828 $950.000 $1.395.000 $40.000/SUMMER 2012 $100.000/SUMMER 2012 LITCHFIELD, CT WASHINGTON, CT WASHINGTON, CT KENT, CT Antique Saltbox. Pool. Magical Location. Wendy Westcott. 860.868.7313. Shingle-style Home. Pool. 7.65± Acres. Gael Hammer. 860.868.7313. Ehrick Rossiter Designed Shingle-style. Pool. Carolyn Klemm. 860.868.7313. Direct Waterfront Estate on Spectacle Lake. Peter Klemm. 860.868.7313. CHAIRMAN AND C.E. O. S. C HRISTO P HER M EIGHER III M ARK E TING S E RVICES R OXANNE U NRATH EXT 106 ASS IS TANT TO TH E C.E. O. K ATHLEEN S HERI D AN A CCOUNTING MANAG ER ARLENE LEFKOE PALM B EACH LIN DA LANE SO P ER 612.308.4159 GREENWI CH CHRISTIAN CHENSVOL D 646.840.3404 EXT 110 C HI C AGO TIMOTHY D ERR 847.615.1921 DETROIT K AREN T EEGAR D EN 248.642.1773 H ONG K ONG B INA GUP TA 852.2868.1555 M ILAN E MILIO Z ERBONI 011.39.031.267.797 B OARD OF A DVI S OR S B RUCIE B OALT ED WAR D L EE C AVE JE D H. GARFIEL D C LARK H ALSTEA D PAMELA LIEBMAN HOWAR D LORBER E LIZABETH S TRIBLING R OGER W. T UCKERMAN P ETER TURINO W ILLIAM L IE Z ECKEN D ORF © QUEST MEDIA, LLC 2012. All rights reserved. Vol. 26, No. 3. QUEST—New York From The Inside is published monthly, 12 times a year. Yearly subscription rate: $96.00. QUEST, 420 Madison Avenue, Penthouse, 16th floor, New York, NY 10017. 646.840.3404 fax 646.840.3408. Postmaster: Send address changes to: QUEST—New York From The Inside, 420 Madison Avenue, Penthouse, 16th floor, New York, NY 10017. For article reprints, contact Wright's Media: 877.652.5295 S UBSCRIPTION I NQUIRI ES Call 646.840.3404, ext. 106 Email: subscriptions@questmag.com questmag.com
WHEN I WAS 16 YEARS OLD, I was sent down to intern at the family firm on Wall Street because, as my mother said, "We were never allowed to..." The "we" was women—specifically the women of her generation, who were sent to finishing schools instead of college, who learned cooking instead of chemistry. My mother taught me I could be whatever I wanted to be when I grew up. Now, the idea that I couldn't do something just because I'm a woman is simply something that has never occured to me. This idea was reinforced at Chapin and every other school I went to. If one of my friends has decided to become a housewife and mother, it's by her choice, not by social mandate. And I'm pretty confident there will be a Madame President in my lifetime. It's hard for me to imagine that only 50 years ago Gloria Steinhem was leading the women's liberation movement and 100 years ago women were still fighting for the right to vote. For all our recession-induced nostalgia, it's not a bad time to be an American woman.
Which leads me to our two biggest features this issue: one, our "Substance of Style" shoot, which I produced, and the other, our cover story by Lizzie Brown about Claiborne Swanson Frank's new book, American Beauty. Looking at the full-page portraits in both stories, I see something as bright and shiny as a new penny—it's good old-fashioned American gumption. I can hear my grandmother's voice when I look at the editorial wall. She would pull up all her Irish Catholic fire and say, "She's got real guts, Georgina." She held this kind of woman in the highest regard as someone who had strength of character and fought for what she believed in. Here, wearing white shirts, are women who roll up their sleeves and get stuff done. Whether fighting for our veterans, founding a school, or lobbying for women's reproductive rights or gay marriage, they embody the phrase "When the going gets tough, the tough get going." These are the women you want in the foxhole with you.
Elsewhere in the issue, there are loads of style stories—and distinctly American ones, at that. Daniel Cappello profiles
Carolina Herrera, while I take a trip to FIT to see the new CFDA show. We revisit a story on Eleanor Lambert written by David Patrick Columbia and release our own third annual Best-Dressed List. Even Christian Chensvold's story on British shirt-maker Turnbull & Asser ends on an American note.
Claiborne's book was brought in as a story by Elizabeth Meigher and it doesn't suprise me that in ended up on the cover (Claiborne herself was our cover girl in May 2009). There's a corporate-creative streak in the women Claiborne profiles, from Aerin Lauder to Jenna Lyons. But it's Lauder's quote that stands out in the end. She says, "I was always surrounded by strong, passionate women—they taught me how to follow a dream and the importance of dedication." All I can say is, "Amen to that." You can keep your cool, icy Parisians and your uptight British aristos. Give me an American girl full of spirit and spunk any day of the week and twice on Sundays. u

Georgina Schaeffer
ON THE COVER:
Aerin Lauder Zinterhofer sits on her father's Ford T hunderbird. Photographed by C laiborne Swanson Frank for her new book written by Genevieve Bahrenburg, American Beauty, published this month by Assouline. Story written by E lizabeth Quinn Brown.
EDITOR'S LETTER
18 QUES T
From left: Once the subject of one of our covers, Claiborne Swanson Frank's photography now graces our cover; Genevieve Clark, who, along with the suffragettes, fought for the 19th amendment, photographed in 1913; Lucien Capehart, society photographer and dear friend.
one our covers, Claiborne Swanson Frank's now
Editors' Note: We would like to dedicate this issue to our esteemed contributor, colleague, and friend, photographer Lucien Capehart.
graces our cover; Genevieve Clark, who, and dear
BEVERLY HILLS DALLAS ATLANTA PALO ALTO NEWPORT BEACH SAN DIEGO CHICAGO HOUSTON SAN ANTONIO SAN FRANCISCO PALM BEACH BAL HARBOUR WHITE PLAINS www.MarinaB.coM • Marina B showrooM: 212.644.1155 ® L egendary chic O riginal designs by M arina b ulgari
David Patrick Columbia NEW YORK SO CIAL DIARY
IN NEW YORK, March definitely did not come in like a lion but, instead, gave New Yorkers a treat of a taste of Spring just around the corner.
New York—then and now. We've been having a scandal running in the papers about a woman named Anna
Gristina, accused of running a prostitution business. You didn't know there was such a thing in New York?
There's something kind of ancient about this story, considering that nowadays ordinary people advertise themselves in public on the
internet leaving nothing to the imagination of the viewer, including stating their sexual preferences (and it ain't Proust). I don't think that's illegal…
Whether they charge for an in-person experience or not, I don't know. But nothing
should surprise us. A center of commerce is a center of commerce. This is now ordinary behavior in our society, and available to anyone. I recall the first time I channel surfed into porn star Robin Byrd one night when I first moved back to New York.
20 QUEST
D AV ID PAT RICK COLUMBIA
LUCIEN CAPEHART
THE FOUR ARTS CONTEMPORARIES HOSTED A "STUDIO 54" EVENT IN PALM BEACH
Marshall and Morgan Whalen
Talbott Maxey, Darlene Jordan and Heather Henry
Chris and Binkie Orthwein
Pepe and Lourdes Fanjul
Whitney Taylor, Chris Leidy and Amanda Boalt
Shaun and Jessica McGruder
Linda and Jared Soper
I was shocked since I didn't know about this kind of stuff on TV. My first thought was that there were probably kids up watching these mostly if not entirely naked men and women dancing around showing their goods. Curious, I later asked the son of a friend of mine who'd grown up in the city if he ever watched The Robin Byrd Show when he was a kid. "Oh, yeah" was his answer (he was all of 12 at the time he watched). And "What did you think?" was my next question. "I thought it was funny," he said. New York
kids have always been more sophisticated about the ways and wares of the night.
Editor's note: I've since learned that one of the girls landed a bachelor millionaire of an advanced age here in Manhattan, who had seen her on the show, called a number shown on the TV, and introduced himself. He was a guy in his 70s, never married. Rich, solo. About a year later, he married her, subsequently dying and leaving her a pile of dough to support the boyfriend she'd been keeping in style in a nearby East Side luxury hotel.
Many of us are hypocrites when it comes to sex, yet the Internet is still driven by pornography. "Prostitution" is always called the world's oldest profession. This all presumes that Anna Gristina is guilty of what she's been accused of, which is basically being involved in the commerce of selling sex. "Connecting" people is how it's termed. She's in the slammer because they're afraid she's going to skip town and run off to Canada. Evidently, she's got a lot of money. Millions, maybe. She
paid her taxes, no? I hope so.
It's too bad it's come to this. This sort of legal thing always seems like such a charade, all things considered. Of course there are a lot of powerful, rich men who pay for sex. Even some girls, too, or so I've been told. And even a lot of poor guys if they think they can dig up the scratch. Others, of course, don't; don't want to, don't feel like it, have a headache, etc.
When I lived out in L.A., around the bend and just up the hill on Doheny Drive, there lived a lady known (I later
22 QUEST
DAVID PATRICK COLUMBIA
D AV ID PAT RICK COLUMBIA
MICHAEL MCCARTY WAS HONORED BY C-CAP AT PIER SIXTY
Danny Divella and Steve Millington
Richard Grausman
Diane Carrasquillo and Kasi Shelton
Carol Austell and her son Michael McCarty
Stanley Zabar and Tracey Zabar
Bette Midler and Kim McCarty with Michael McCarty
NIKKI FIELD www.nikki eld.com 995 FIFTH AVENUE FULL FLOOR RESIDENCE | $30,000,000 NIKKI FIELD Senior Vice President, Associate Broker | T 212.606.7669 | nikki eld.com SOTHEBY'S INTERNATIONAL REALTY | EAST SIDE MANHATTAN BROKERAGE 38 East 61st Street, New York, NY 10065 | sothebyshomes.com/nyc Operated by Sotheby's International Realty, Inc. Sotheby's International Realty® is a registered trademark.
found out) as Madam Alex I'd lived there for quite some time when she moved in to her hillside house overlooking the canyon.
I had no idea who she was. I sometimes saw her outside her house when I was walking my dogs up the road. A stout and uninterested-looking woman with dark hair pinned up around her skull; probably in her early 60s, cotton housecoat covering her, old fluffy, blue slippers on her feet. She sort of shuffled when she walked, and
I could tell by her manner that she wasn't friendly, at least in a neighborly sense.
Occasionally, I'd also see a good-looking man in his mid30s and a very good-looking California blonde of about the same age in the driveway next to the house. I wondered if they were brother and sister because they kind of looked alike. And were they the offspring of the shuffling, disinterested lady in the housecoat? I never found out.
Almost every day following
as I did that regimen of mine with the dogs because there was a sidewalk on that section of the road, I'd see really beautiful young women drive up to the house, park, and go in. A few minutes later, they'd be gone. Brunettes mainly, real knockouts; Jacqueline Smith types. They all seemed to drive black BMWs.
Once there was a blond all got up in a white leather cowgirl suit with lots of long fringe and boots and a hat. I happened to be walking by as
she was arriving. In a white BMW. She ran up to the doorway as if late for a very important date. Banging on the doorbell. I could see she was anxious; and I wondered if there was retribution for tardiness awaiting our platinum cowgirl on the other side of the door. I got that feeling.
But I continued my walk up the hill with the dogs and when I came back down a few minutes later she had disappeared into the house.
24 QUEST PATRICK MCMULLAN
D AV ID PAT RICK COLUMBIA
KATHY AND BILLY RAYNER TOASTED I'D RATHER BE IN CHARGE BY CHARLOTTE BEERS
Fiona Waterstreet, John Alexander and Steve Kroft
James Steinmeyer and Sydney Shuman
Joan Clark and Christopher Mason
Adele Chatfield-Taylor, Marie D'Origny and Amanda Foreman
Norma Dana and David Easton
Kathy Rayner, Charlotte Beers and Billy Rayner
For over 100 years Elizabeth Arden Red Door Spa has called Fi h Avenue home. Our new salon and spa at 663 Fi h Avenue sets the standard as one of New York's most exciting destinations for wellness and beauty. To make reservations now, visit us online at reddoorspas.com or call 212 546 0200.
A Fi h Avenue icon has a new address. 663 Fifth Avenue (between 52nd & 53rd Streets)
Her car was still there when I made the same walk by the next day. I never learned what the story was with her.
I first learned of Madam Alex by her nickname from her gardener who also worked for a neighbor across the road from me. He said he loved working for her because she paid him in cash and sometimes he worked no more than 15 minutes when she'd come out onto her terrace and tell him he could go. Then she would throw some bills off the terrace and they'd float to the ground as he picked them up. Once there were eight
one-hundred-dollar bills. I learned then who she was, as well as who all those beautiful, luscious looking brunettes in the dark BMWs (and that one platinum missile) were.
And so it was until one night around 9 or so, when Madam Alex was having dinner on trays in front of the TV (as the story was later reported to me) with a friend—a well-known Hollywood persona who had known the lady for quite some time—when suddenly the neighborhood was inundated with helicopters, police cars, and unmarked cars, all pulling up in front of Madam Alex's
house. Then emerged a SWAT team armed and ready for business.
The whole neighborhood was suddenly aware of the hullabaloo. Then it was quiet and, not very much later, they took her away in a LAPD squad car and threw her in the clink. She was arraigned with a million dollar bail set on her. The New York papers called her the "Mayflower Madam" of the West Coast. Her legal name was Elizabeth Adams. It was soon out on the gossip vine that her clientele were some of the biggest names in Hollywood. I'm sure none of
their friends and associates were surprised.
By now, all kinds of people could probably tell me who Madam Alex's clients were. The famous ones, anyway. We soon learned the name Heidi Fleiss and that she and Madam Alex were on the same page.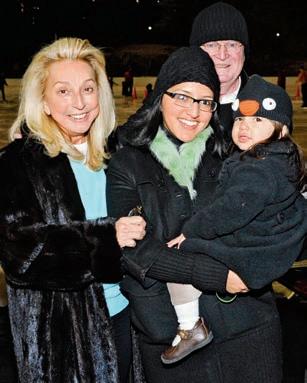 Back in the Gilded Age, before there was porn on the Web or pole dancing in strip clubs, and Society was Society, there were houses of ill repute, to put it politely, in New York (and every other town across America).
The best of them in New York were located in the
26 QUEST BILLY FARRELL AGENCY
D AV ID PAT RICK COLUMBIA
THE C ENTRAL P ARK C ONSERVANCY'S ICE- S KATING P ARTY AT WOLLMAN RINK
Eleanor Kennedy, Anna Safir and Michael Kennedy with Eva
Adelina Wong Ettelson with her son
Paige Hardy and Kamie Lightburn with their children
Anne Harrison
Robert Moran and David O'Shaughnessy
Sheri Babbio with Lucas
Gillian and Sylvester Miniter with Serena and Quint
TE
for the Palm Beach Lifestyle 256 Worth Avenue • Gucci Courtyard • Palm Beach (561) 820-2407 332 South County Road • Palm Beach (561) 820-2402 charlottekellogg@aol.com
CHARLOT
KELLOGG
Murray Hill area of the city. In 1910, John Pierpont Morgan had Horace Trumbauer design and build a townhouse that still stands right on the edge of Murray Hill for his mistress Adelaide Douglas of Douglaston. The house was also conveniently around the corner from his own house, where he resided with his wife on Madison Avenue and 36th Street, so he could be there or be home in a jiffy.
Now, Mrs. Douglas was quite married, but she and her Mr. had long led separate lives. Before J.P., she had had more than one affair—carried out discreetly, of course. Like today, though, there were few secrets among the neighbors.
She had known old Jack for years when he settled his eyes on her. He was 16 years her senior but she wasn't getting any younger. The Douglas couple was not rich by any means, and everybody thinks about their futures as they age.
When J.P. Morgan died three years later, he left Mrs. Douglas a half-million-dollar trust fund (approximately $45 million in today's currency). She, of course, was never under suspicion of anything but perfect goodness, and certainly wasn't working in a den of prostitution. The fact that he built a mansion (with a back entrance where he could come and go discreetly) didn't
seem out of the ordinary. He wanted to, what could she say? Besides, everybody liked her. Same with her mentor, who even kept her husband in comfort. Just like Louis XIV used to do. Everybody liked him for it too. Or rather, feared him. So, anything goes.
By the 1890s, many a swell gent spent many an hour after office or even before partaking of the delights of those houses on Murray Hill, where a boy could always stop in on his way home for dinner with the missus in the mansion on Fifth Avenue. I don't know if the wives knew, obviously, but we can assume some did and many didn't.
So if it's true that Anna
Gristina is guilty of that for which she is being accused, you can see how much better off she would have been in those days. The only cuffs she'd be wearing would be diamonds. Gifts of one of those "perps" like J.P. Morgan, for instance, or one of his ilk.
February just passed, and it was another very mild winter It was almost June in January. As is the fashion now with the social sets, there were book signings galore. One night at Doubles for George Gurley, the son of Katherine Bryan, and his new book, his first, called George & Hilly: The Anatomy of a Relationship, as perceived in the context of couples therapy. Hilly, not so
28 QUEST
PATRICK MCMULLAN
D AV ID PAT RICK COLUMBIA
CELEBRATING FULL SERVICE BY SCOTTY BOWERS AT CHATEAU MARMONT IN CALIFORNIA
Dana Delany
Holland Taylior
Gore Vidal
Sammy Williams
Marin Hopper
Scotty Bowers and Kevin Thompson
Griffin Dunne
Angela Janklow and Andre Balazs
New York • Hamptons • Palm Beach
incidentally, is George's better half, although they have not yet been officially married.
George is a 30-something guy but already a seasoned journalist in New York. He's one of the best interviewers I've ever met, because he's interested. That doesn't sound like much but it's rare and it's everything.
He's got a quirky kind of Midwestern style, farm-boy hayseed, and is sharp as a tack. It's not the kind of book (title-wise, anyway) that would interest me in the least. First of all, I've been there, and done that. So long ago it's a distant memory and I'm happy to leave it at that.
In my younger days, I had quite a bit of psychotherapy. By the mid-1960s it had become something like a rite of passage for a lot of us. I liked it for what it delivered.
There was "group," which was confrontational therapy started by Daniel Casriel , the doctor who started Daytop Village.
Dr. Casriel published a book in 1972 called Scream Away From Happiness. I learned a lot from Casriel's therapy. Then there was Lucia Radl, a tiny little Czech immigrant— older, probably 70s to my 30s, an Adlerian psychiatrist.
There was Barbara Sher, who'd been a group therapist
for Casriel who was excellent in getting you to set things straight in your head. And Werner Ehrhard. No matter what they say, you could leave the EST training with some self-knowledge that made a difference. And beyond that, there was Al-Anon, the 12step program for relatives/ whatever of alcoholics. AlAnon, in my opinion, was the best of them, but then, I'd had all that prep. I even went to a relationship therapy session. Once. We were divorced after that; there was no reason to go back.
So now you know about me and how I feel about George's book. Except, I like George.
I met him about 12 years ago when he did a piece on me for the New York Observer George was working at the paper writing features. He'd go around to parties with a little recorder in his hand and ask you dumb questions about the party. Dumb, yes, but funny. George is funny with a dry humor. A literary descendent of the great humorists from the earlier part of the 20th century. Finley Peter Dunne, who wrote a highly popular column that was a political screed (in a dialect); Fred Allen, a very famous humorist on the radio in the '30s and '40s who died young; Robert Benchley, another man of his
30 QUEST PATRICK MCMULLAN
D AV ID PAT RICK COLUMBIA
A BOOK SIGNING FOR GEORGE AND HILLY BY G EORGE GURLEY AT DOUBLES
Peter Feld and Dana Vachon
Tiffany Dubin, Ivana Lowell and Vicky Ward
Katherine Bryan, George Gurley, George Gurley, Sr. and Tracy Westmoreland
Christopher Mason
George Gurley reproposing to Hilly Heard
Jackie Rogers and Michael Shnayerson
time who was sophisticated, witty, and a bit of a tipsy-dipsy, but warm and likeable and sometimes wise. George isn't exactly like any of the above but still similar to all of them in his common sense way of looking at the absurdities of civilized life.
He and Hilly (Hilary Heard) have been together for several years. She is in the P.R. business and one of those women who is cheerful and friendly and impossible not to get along with. George started this book as a column a few years ago in the Observer
about the two of them going to couples therapy. So, I figured George had found a way to capitalize on his relationship with Hilly. After all, a writer writes about what he or she knows.
The party started at 5:30 and I got there a little after 7. Wendy Carduner, Doubles' directrice, was at the door. She told me George had just proposed to Hilly on bended knee (surrounded by photographers). This was no accident, of course; this was New York playing itself in the world of authors and artists
and actors and such... They've been together for so long now that we'll have to concur that Hilly is a partner on this voyage. Full partner.
George's father was there. Katherine, George's mother, told me that they hadn't seen each other in 25 years. "He's a very cool guy," she said of George's father. I never got to talk with Mr. Gurley but you could see it was a pleasure to see his son on this occasion at this so-New-York party, a book party.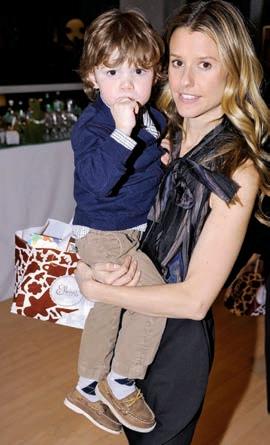 On a very warm February 2, many celebrated the
89th birthday of Liz Smith Broadway's natural blond. She got off the bus here from Texas in 1949 when she was about 26. Little did she know one day she'd own the town. Hardly could she have imagined that 63 years later she would still be working it daily on wowOwow.com and in papers across the nation.
I've been a fan of hers since before I knew I was reading her. It was when she was writing Cholly Knickerbocker column in the Daily Journal-American, one of the two Hearst papers here in New York. The "real"
THE SOCIETY OF MSKCC HOSTED THE BUNNY HOP AT FAO SCHWARZ
Jill Kargman
Heather Leeds and Courtney Arnot
Natalie Leventhal
Children playing on the oversized piano
Kelly Rutherford
Eleanor Ylvisaker
32 QUEST
Shabnam Henry
AV ID PAT
D
RICK COLUMBIA
PATRICK MCMULLAN
SHERLEWAGNER.COM OR CALL 212.758.3300
Cholly who had the byline was Igor "Ghighi" Cassini (brother of Oleg Cassini). The column we read on a daily basis was cooked up and laid out by La Liz, then still sort of a new kid in town but already toiling away in the big time.
During the 1960s, she wrote a lot for Cosmopolitan and other magazines. But when she started her own column in the Daily News, she succeeded the fabled columnists we— including Liz—were all weaned on: Walter Winchell, Dorothy Kilgallen, Earl Wilson, Leonard Lyons, Ed Sullivan, and then some.
If you mention any of those names to anyone under 40 (or even 50), no one knows to whom you're referring. Nevertheless, Walter Winchell had 30 million readers a day when the country had half the population it has now. 20 percent of the population in the U.S. read this one man every day. That's 150 million sets of eyeballs a week. 600 million a month. You think the Web's numbers are so amazing?
Then there were 20 million more on Sunday night radio. He was Mr. New York. To say he was powerful was an
understatement. Hollywood made a movie about this phenomenon called Sweet Smell of Success, starring Burt Lancaster and Tony Curtis.
Winchell's power was so great he couldn't help flaunting it. His ego fell victim to it one too many times. If he didn't like someone, he'd harass in print. He did it to Jack Paar, then the sensation of nighttime television and The Tonight Show. Paar went on TV and pled his case with sufficient melodrama and made Winchell look like a bully and a paper tiger. TV and Jack Paar killed him.
Kilgallen, in addition to her daily column in the DailyJournal American, had a morning talk show on WOR Radio with her husband, Richard Kollmar, called "Breakfast with Dorothy and Dick." It was live from the breakfast nook at their East 68th Street townhouse, talking about what had gone on in New York the night before. Dorothy loved a good scoop and could be a bitch in print. Frank Sinatra hated her (and he wasn't alone). He called her Miss No-Chin. "Everybody in New York is here tonight," he said
34 QUEST LUCIEN CAPEHART
D AV ID PAT RICK COLUMBIA
THE PRESERVATION FOUNDATION'S DINNER DANCE AT THE BREAKERS
Jamee and Peter Gregory
James Walsh, Lesly Smith, Danielle Hickox and Kelly Moore
Darlene Jordan and John Mashek
Tim and Susan Malloy
Alexander Ives and Elizabeth Hamilton Rudy and Judith Giuliani
Mark and Mary Freitas
Emilia and Pepe Fanjul
Abigail Kuklis and Scott Snyder
For More Information Visit www.BotteroCollector.com Daniel Bottero The Love of The Poet TIME WARNER CENTER NEW YORK Opening April 4, 2012
to his audience at his opening night at the Copacabana. "Except Dorothy Kilgallen. She's out somewhere looking for her chin."
But Kilgallen was a Broadway baby, a charmer in her own way. She held forth at lunchtime at a big round table in PJ Clarke's. The world came to have burgers and fries with her. She went out at night in evening gowns and furs. Not pretty but with a pen that could draw blood or plant poison, she was the star reporter at murder trials all
over the nation.
Two years after the Kennedy assassination, she wrote in one of her columns that she knew who killed J.F.K. (not Oswald) and was soon going to reveal it publicly. People took Dorothy Kilgallen seriously. Many believed if anyone knew the secrets and had guts to put it out there, it was Kilgallen. However, she died a few days later in bed, of what was said to be a fatal mixture of pills and booze, late night. For years after there were not a few who found her death mysterious.
Leonard Lyons and Earl Wilson covered nightlife in the New York Post with anecdotes and plugs, but they weren't feared or risky. There were many other popular columnists in the New York dailies. Louis Sobel, Nancy Randolph, Lee Mortimer, John McClain, Lucius Beebe By the mid- to late-50s, Eugenia Sheppard came to the forefront and Aileen Mehle as "Suzy" with Joe Dever in the Telegram. There were lots of sports columnists and social commentators, too, like
Some New Yorkers read five or six papers a day. A little here, a little there. To the "average" New Yorker, this was his connection to the great big world of Society and the Great White Way. Oh, and Hollywood, too.
Liz Smith's brilliant career has had a longer run than almost anyone who came before her. When she had her 80th, she asked readers and friends who might be
36 QUEST PATRICK MCMULLAN
D AV ID PAT RICK COLUMBIA
Damon Runyon, who was succeeded by Jimmy Breslin in the Herald-Tribune.
G IORGIO A RMANI CELEBRATED THE MUSEUM OF THE CITY OF NEW YORK'S WINTER BALL
Kate Allen, Paige Hardy and Jennifer Oken Nina Griscom and Dennis Basso Eric Javits and Edmundo Huerta
Allison and Peter Rockefeller
Chappy and Melissa Morris Valesca Hermes Graziano de Boni and Gigi Mortimer
ere is a unique gifting opportunity in effect right now that allows you to transfer significant assets to your heirs tax free. But it expires at the end of 2012. So now is the time to sit down with Wilmington Trust. Our trusted advisors have been helping families sustain wealth for generations. Let us help you ensure your legacy lives on. Call Larry Gore at 212.415.0520 or visit wilmingtontrust.com/gift.
CALIFORNIA | DELAWARE | FLORIDA | GEORGIA | MARYLAND | MASSACHUSETTS | NEW JERSEY | NEW YORK | PENNSYLVANIA | VIRGINIA | WASHINGTON, D.C. ©2012
Wilmington Trust Corporation, an affiliate of M&T Bank. WEALTH ADVISORY SERVICES
TAX-FREE GIFTING
Your legacy can last forever. Unfortunately, this opportunity won't.
thinking of sending her a gift to send any money to the city for the Mayor's Fund to help the citizens of New York. The fund received more than $250,000.
She was so surprised by the outpouring of generosity that she realized she should do that more often and do more good. Her charitable support has been frequent and widely distributed: Literacy Partners, which Liz founded with Parker Ladd and Arnold Scaasi, and the New York Landmarks Conservancy, which has an annual tribute to New York Living Landmarks at a dinner emceed by Liz. Liz, of course, is one of the greatest Living Landmarks in New York today!
At the end of her ninth decade, she manages to see all the shows, all the films, a lot of the concerts, many of T.V. shows. She reads all of the papers, and the magazines— often writing pieces. Also, she reads many of the latest books while also conducting interviews, emceeing lunches and gala benefit dinners, spending weekends in Connecticut, dining out almost nightly with all kinds of friends of all ages and stripes, and writing letters and emails. Whew! Happy Birthday, dear Liz, and Thank You!
Dinner parties. Early last month, February 3. I had two dinners. First, at Swifty's with Mitch and Sarah Rosenthal, Linda Fairstein, and Joe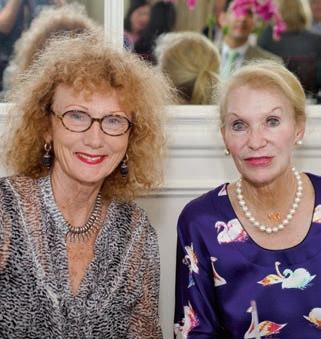 Armstrong. After dinner, about quarter to 10, I hurried on down the avenue to Shirley Lord Rosenthal's, where she was hosting a dinner for author Ron Suskind, who has been named the 2012 A.M. Rosenthal Writer-in-Residence for the Shorenstein Center at the Kennedy School of Press and Public Policy at Harvard University. Abe Rosenthal was Shirley's husband and one of the most important editors in the history of the New York Times. His reputation among and influence upon his colleagues and newsroom are legendary.
The Chair at Harvard is a tribute to Abe's memory. Mr. Suskind is only the second writer to hold the
position—the first was Tracy Kidder The New York Shorensteins were there: Stewart and Dr. Janice along with their daughter Marissa Shorenstein , who has just been named President of AT&T in New York and is expecting her first child in April.
Also among the guests: Barbara Walters, Mort Zuckerman, Mrs. James Wolfensohn, HRH Prince Alexander and HRH Princess Catherine of Yugoslavia, Jill Abramson, (executive editor of the Times), Abe's son Andy Rosenthal (editorial page editor of the Times), Annette Tapert, Nina Rosenwald, Jonathan Burnham of HarperCollins, Suskind's publisher of his
38 QUEST LUCIEN CAPEHART
D AV ID PAT RICK COLUMBIA
A LUNCHEON TO BENEFIT THE AMERICAN FRIENDS OF BRITISH ART IN PALM BEACH
Dabney Coors, William Eubanks and Mariana Pasternak
Lord Townshend and Michael Ridgdill
James Berwind, Terri Mersentes and Kevin Clark
Jennifer Garrigues and Dora Frost
Molly Stringer, Scott Moses and Katherine Lande
Daniel and Shanna Kahan
Penelope and Keith Williams
Pre-K2 – 9th Grade | 561-832-8815 | www.pbday.org
Challenged Today, Prepared for Tomorrow
With tradition behind us, we see the world ahead.
latest book Confidence Men, Larry and Carol Saper, Pat and John Rosenwald, Annette de la Renta, Spiro Milonas, Ken and Ann Bialkin, Jason Wright of the James Beard Foundation, and artist Peter Heywood
I got there in time to hear Ron Suskind talk about his first days working at the Times under Abe Rosenthal. He has since authored four books and won a Pulitzer Prize in 1995 for feature writing. His works include A Hope in the Unseen, about the struggle of inner-city honor students in
Washington, D.C., and, as mentioned, Confidence Men: Wall Street, Washington, and the Education of a President
Another sunny and mild winter's day; yesterday in New York. I was reading a financial blog called "Jesse's Café Américain" (jessescrossroadscafe. blogspot.com). Jesse often reminds us of history and the historic. On this day, he wrote:
Every gun that is made, every warship launched, every rocket fired signifies, in the final sense, a theft from those who hunger
00 QUEST BILLY FARRELL AGENCY D AV ID PAT RICK COLUMBIA
SALVATORE FERRAGAMO HOSTE D THE SOCIETY OF MSKCC'S ASSOCIATES COMMITTEE
Amy Griffin Palmer O'Sullivan and Shoshanna Gruss 9.75" 19 E.
212.366.5423 142 E.
212.447.5883
212.317.8649
212.452.1000 252
219 W.
JFK AIRPORT 718.533.8607 718.632.8300 LAGUARDIA AIRPORT 888.826.6890 NEW YORK, NATIONAL HAS YOU COVERED Go National. Go Like a Pro. NATIONAL CAR RENTAL NEW YORK AREA LOCATIONS:
Ferebee Taube and Olivia Chantecaille Maggie Betts
12th Street
31st Street
138-146 E. 50th Street
305 E. 80th Street
W. 40th Street 212.575.5400
77th Street 646.981.1920
YOU ARE A BUSINESS PRO ©2012 National Car Rental. All other marks are property of their respective owners. *At participating locations and subject to availability and other restrictions. Requires enrollment in the complimentary Emerald Club. And business pros rent from National. Because only National lets you choose any car in the Aisle and go.* No trips to the counter. No asking for keys. No hassles. In the Aisle you can choose any car and pay the mid-size price, even if it's a full-size or above. Take control. Go National. Go Like a Pro. nationalcar.com
and are not fed, those who are cold and are not clothed. This world in arms is not spending money alone. It is spending the sweat of its laborers, the genius of its scientists, the hopes of its children. —Dwight D. Eisenhower
Eisenhower was President when I was hitting adolescence. They called him "Ike," and the GOP's slogan was "I Like Ike." That was enough. He
was already famous as a fivestar general who won the war in Europe. The first time I saw a televised inauguration of a President was before Ike's first term. It might have been the first nationwide T.V. hookup.
Richard Nixon was his vice president, completing the quintessential "good cop/bad cop" success team. Those of us who lived in Republican families heard no criticism of
him. Those of us who were in Democratic families called him "The Great Golfer" and regarded him as non-dynamic at best and a buffoon at worst.
It was a good time to be an American. Solid. Hardship was not unknown to a lot of Americans who clearly remembered the Depression. Work was abundant. And Ike was President. Radical changes were just around
the corner, but I'm speaking with the advantage of hindsight. At the time, few had a clue.
I think of Ike often these days, especially with the campaigns heating up. Now, an ancient to two generations, it turned out he was one of our greatest leaders, more than a man of his time. And still unheeded by those who decide u
42 QUEST PATRICK MCMULLAN
D AV ID PAT RICK COLUMBIA
PATRICK MCMULLAN'S KISS KISS BENEFITING THE COALITION FOR THE HOMELESS
Lauren Fuschillo, Joanne Pepe and Mary Fuschillo
Katherine Emlock and Maggie Amrhein
Anthony and Eileen Antonucci
Adrienne Wood and Joyce Diamond
Rebecca Lituchy and Barbara Lituchy
Brittany Salese
Patrick McMullan
PALM BEACH BROKERAGE | sothebyshomes.com/palmbeach 340 ROYAL POINCIANA WAY, SUITE 337, PALM BEACH, FL 33480 T 561.659.3555 F 561.655.2359 CRISTINA CONDON T 561.301.2211 | www.cristinacondon.com Sotheby's International Realty, Inc. is owned and operated by Sotheby's International Realty, LLC. Sotheby's International Realty® is a registered trademark. CRISTINA CONDON BREAKERS ROW $3,200,000 3 Bedrooms, 3.5 Baths 3,013± sq. . WEB: 0075092 ISLAND DRIVE GEORGIAN $11,900,000 6 Bedrooms, 6 Baths, 3 Half Baths 8,665± sq. . WEB: 0075516 ONE WATERMARK $2,900,000 4 Bedrooms, 3.5 Baths 4,035 ± sq. . WEB: 0075636 DISTINCTIvE PALM BEACH PROPERTIES LAKEFRONT MEDITERRANEAN $38,000,000 7 Bedrooms, 8 Baths, 5 Half Baths 17,113 ± sq. . WEB: 0075170 LAKEFRONT REGENCY $14,250,000 5 Bedrooms, 7 Baths, 2 Half Baths 8,900 ± sq. . WEB: 0075676 CLARKE AVENUE ESTATE $11,200,000 5 Bedrooms, 6 Baths, 3 Half Baths 9,316± sq. . WEB: 0075514 EXQUISITE CANTERBURY LANE $8,495,000 5 Bedrooms, 6 Baths, 3 Half Baths 8,432± sq. . WEB: 0075437 NORTH LAKE WAY $9,450,000 5 Bedrooms, 5.5 Baths 6,579± sq. . WEB: 0075474 BANYAN ROAD ESTATE $7,995,000 6 Bedrooms, 7.5 Baths 7,581± sq. . WEB: 0075442 BEARS CLUB $4,995,000 5 Bedrooms, 7.5 Baths 11,070± sq. . WEB: 0075689 CHARMING BAHAMA LANE $2,350,000 3 Bedrooms, 3.5 Baths plus 2 Sta & bath 4,375 ± sq. . WEB: 0075662
D AV ID PAT RICK COLUMBIA 44 QUEST
ANN WATT
THE FRENCH HERI T AGE SOCIE TY KICKED OFF I TS SEASON AT T HE MARLBORO AND S T EINI TZ GALLERIES
Michael and Tanya Polsky
Hans Apostel and Mariam Azarm
Imssy Klebe and Michel Longchampt
Ann Sonet and Lou Hammond
Anna Bulgari and Jackie Schneider
Baroness Veronique Bich
Montgomery Frazier and Lynette Dallas Trip Dorkey
Frederic de Narp and Odile de Schiétère-Longchampt
Be Able
other
Will I
To Read? This is the question someone diagnosed with macular degeneration, glaucoma, diabetic retinopathy or
eye diseases always asks. If you or someone you know would like to learn more, the Lighthouse provides information, help and hope. lighthouse.org/learnmore • (800) 829-0500 Dedicated to Helping People of All Ages Overcome the Challenges of Vision Loss 111 East 59th Street, New York, NY 10022-1202
D AV ID PAT RICK COLUMBIA 46 QUEST
PATRICK MCMULLAN
THE NEW YORK BOTANICAL GARDEN'S ORCHID DINNER AT THE MANDARIN ORIENTAL
Mary and Marvin Davidson
Guy Robinson and Fernanda Kellogg
Will Jacob
Patty Fast, Henry Johnson and Danielle Granath
Jane Carrol with Eliot and Roly Nolen and Eliot Stewart
Jeanine Getz, Nathalie Kaplan and Sharon Jacob
Katie Elder
Jennifer Rominiecki and Dan Dahl
Frederica Biggs and Peter Jones
Anne and Russell Byers
Duane Phillips and Caroline Wamser
Maureen Chilton and Jeanne Jones
Pat and James Tappan
HARBOR VIEWS One of Nantucket's premier properties, "Long Hill," is perched majestically at the crest of historic upper Orange Street and enjoys expansive, panoramic views of the Harbor, Coatue and town. The beautifully-landscaped grounds include a formal English garden with brick walkway rimmed by manicured boxwood, lovely rose gardens, specimen trees, a two-car garage and a towering privet hedge which surrounds the entire estate. $20,000,000.
37 Main Street • Nantucket, MA 02554 • maurypeople.com Each Office is Independently Owned and Operated.
GAry WINN, BrOkEr gary@maurypeople.com • 508.330.3069 NANTuCkET ISLANd
NANTUCKET COMMANDING
D AV ID PAT RICK COLUMBIA 48 QUEST
PATRICK MCMULLAN
QUEST CELEBRATED VALENTINE'S DAY WITH MARINA B
Dick Cooke and Toni Lubetsky
Jay Gunther and Sharon Hoge
Mark Gilbertson and Geoffrey Bradfield Seton Bitterly, Richard Nieves and Louise Masano
Nicole Mellon, Lisa Simonsen, Christine Schott and Matthew Mellon
Barbara de Portago and John Glass
Brooks Huston and Roric Tobin
Jack and Buttons Goodrich
Thierry Chaunu and Jane Holzer
Gordon Stewart, Alex Polkinghorn, Elizabeth Brown and Tripp Potter
Grace Meigher and Paul Lubetsky
Jim Mitchell and Martha Glass
Licensed by NYC T&LC Base# B00256 #1 Service in N.Y.C. for over 25 years! Car & Limousine Service NEED A RIDE? To LaGuardia............................................$33 To JFK........................................................$48 To Newark.................................................$47 Sedan Rates, Tolls and gratuities not included. Based upon availability. Prices subject to change without notice. or 1-866-666-6666 Book online and earn airline miles! www.CarmelLimo.com Carmel WillTakeYou Anywhere, Anytime! NowWorldwide! To Airport? Limo? In Town? Luxury Sedan? Out of Town? Passenger Van? ... Just Call Carmel! We'll Be There For You!
D AV ID PAT RICK COLUMBIA 50 QUEST
PATRICK MCMULLAN
A RECEPTION FOR N EW Y ORK, N EW YORK AT DOUBLES
Cornelia and Marty Bregman
Neal Fox, Barbara Cirkva and John Schumacher
Jamie
Peter Marino and Juan Carlos
Karen and Richard LeFrak
Ed and Pat Ney
Clelia and Tom Zacharias
Scarlett and Bill Robertson
Mario Buatta and Gigi Benson
Dolly and Jack Geary
Nancy and Henry Kissinger
Wilbur Ross and Hilary Geary
Holly Anderson
THE MELLON ESTATE AT MILL REEF HALF MOON BAY, ANTIGUA
Commanding more than 27 verdant acres on Half Moon Bay, this magnificent estate is ideally situated in a private area at Mill Reef Club. A main residence, three-bedroom guest house, staff house, music house, and multiple outbuildings each display classic British Colonial style, while affording refined living amid tropical luxury. The custom-designed primary home beautifully blends indoor and outdoor spaces for unparalleled entertaining, and includes two master bedroom suites featuring bay views. A pool, poolhouse, two greenhouses, four staff cottages, and full irrigation are other outstanding amenities, as are the expansive lawns that slope toward the water and lead to one of the most secluded and stunning beaches in the Caribbean. Price upon request. Christie's International Real Estate JHR Caribbean Real Estate Rick Moeser • +1 561 805 7327 Adam Barrett • +1 268 562 6042 rmoeser@christies.com adam@jhrcaribbean.com
52 QUEST
AV ID PAT
PATRICK MCMULLAN
D
RICK COLUMBIA
AFTER-PARTY FOR THE L'WREN SCOTT SHOW AT THE GRAMERCY PARK HOTEL
A LEX HITZ'S OSCAR PARTY IN LOS ANGELES
Olivier Zahm, Mick Jagger, L'Wren Scott, Daphne Guinness and Rachel Feinstein
Pablo Frisk and Danielle Schriffen
Kathleen Bily and Sloane Angell
Sophie Steinmann and Pierce Cunningly
Savanna Hoge and Kane Manera
Kennon Earle
and Bronson Van Wyck
Alex Bloomingdale and Liz Netto
Carly Steel and Brooke Davenport
Tim Neville and Hermione Joye
Joan Collins, Barbara Davis and Simon Reuben
Kathy Hilton and Alex Hitz
Maggie Bult
Ellen Barkin
Tom Ditmer and Frances Schultz
Switch to IDB© and find the Private Banker you've been looking for, offering you a level of personal attention you can't find anywhere else. Call Jim LoGatto at 212-551-8508 or visit www.BetterPrivateBanking.com to discover the IDB© difference.
Banking
Banking
YOUR QUEST ENDS HERE. Private
CommerCial
IDB Bank® is a registered service mark of Israel Discount Bank of New York. Member FDIC
THE VANITY FAIR OSCAR PARTY
Rachel Zoe Kate Beckinsale
Irina Shayk
Lisset Gutierrez and Demian Bichir
Jean Dujardin
Michael Polish and Kate Bosworth
54 QUEST
Ellie Kemper
AV
CUTTY MCGILL; PATRICK MCMULLAN
D
ID PAT RICK COLUMBIA
THE ANNUAL VALENTINE'S DAY PARTY FOR "LITTLE PEOPLE" AT DOUBLES
Sharon Jacob and Sarah Machiels
Wendy Hoh
Melissa Liss
Lee Klausner
Muffie Potter Aston
Jacqueline Chinney
Margot Takian
D AV ID PAT RICK COLUMBIA 56 QUEST
JULIE SKARRATT PHOTOGRAPHY; PATRICK MCMULLAN
THE ANNUAL FOOD ALLERGY BALL AT THE WALDORF=ASTORIA
Simone Levinson, Stephanie Winston Wolkoff and Nina Davidson
Cornelia and Martin Bregman
Sharyn and Stephen Mann with Tamara Tweel
Julia Niccolini, Sirio Maccioni, Alfred Portale, Daniel Boulud and Drew Nieporent
Roslyn and Elliot Jaffe
Abbey and Steven Braverman
Amie and Stephen McKenna
Helen Jaffe and Aryan Shayegani
Samara and Douglas Braunstein
Peter Slotkin with Judy and Todd Slotkin
Leslie Cornfeld and Bill Etkin
MEERA GANDHI'S GIVING BACK BOOK WITH FOREWORD BY CHERIE BLAIR. $50 HARDCOVER AVAILABLE AT Chartwell Booksellers • t he Corner Bookstore • Crawford d oyle Booksellers r izzoli Bookstore • s t. Mark's Bookshop www.aM azon. CoM • www. t heGivin G Ba Ckf oundation.net Book l aun C h t o B e h eld on May 9, 2012 the Museu M of a rts and d esi G n at Colu MBus C ir C le, n ew y ork.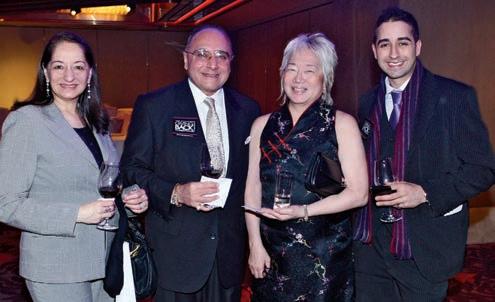 58 QUEST LUCIEN CAPEHART D AV ID PAT RICK COLUMBIA
MEERA GANDHI LAUNCHED HER BOOK G IVING B ACK IN HONG KONG
Chitra Chellaram, Manolo Chellaram, Linda Gras and Manoj Chellaram
Shahneela Faruqui and Bhagwanti Mohan Nicole and Lawrence Gray
Bronwen Booth and Meera Gandhi
Preeti Makhija, Mahnaz Lee and Malti Dialdas Reyna Harilela and Simran Bhajwani
AN EXHIBITION OF PAINTINGS BY JESSICA ROSS BROWN IN PALM BEACH
Jenny Popp and Cynthia Gibbons
Britty Bardes and Darcy Gould
Suzanne and Michael Ainslie
Charles and Carol Hickman Maria Floyd, WIlbur Ross and Donna Acquavella
Jessica Ross Brown
Sunny Marlborough and Tina Fanjul
garage, 2 pools, & gym. $1,495,000
Over 3,000 total sf. S.W. corner 3br/4 ba with eat-in kitchen and family room. Boutique 15 unit full-service bldg. with tunnel to the beach and private oceanfront cabana. $1,595,000
ESPERANTÉ
Traditional 3br/3ba
crown
Buying, Selling or Leasing in Palm Beach? Contact us for Experience you can Trust! OVERSIZED SOUTH EXPOSURE TROPICAL PARADISE Renovated 2-Story 5br/4.5ba with gourmet kitchen, impact windows & doors, generator, & glorious pool area on exclusive Eden Road. Just perfect! $2,995,000 PRESTIGIOUS S. FLAGLER DRIVE 26,000+SF LOT Build your dream home on the last large corner lot available on South Flagler Drive with 121' water frontage & riparian rights for a dock. Smith & Moore plans available. $1,950,000 ENCHANTING MEDITERRANEAN COMPOUND
charming 3br/3.5ba with old world elegance. Featuring fireplace, Juliet balconies, gourmet kitchen, pecky cypress ceilings, guest house, pool and
gardens. $1,850,000
AVENUE  WINTHROP HOUSE #702
quality renovated 2br/2ba w/ ocean & town views.
the line kitchen
floors.
pets! $1,595,000 INTOWN  SUN & SURF #609 Fabulous southeast exposure 2br/2.5ba with ocean views. Walk the beach from this full-service direct oceanfront building w/ doorman, valet,
Established 1989 "Representing Palm Beach's Finest Residences from PiedsàTerre to Oceanfront Estates" • Linda@LindaOlsson.com (561) 820-9195 www.LindaOlsson.com • NEW YORK • PALM BEACH • GREENWICH NEW PRICE NEW PRICE NEWLISTING NEWLISTING NEWLISTING
In-town
magical
WORTH
High
Light and bright with top of
& baths, hurricane windows, & hardwood
Full service bldg—accepts
NEW PRICE

SOUTHEAST CORNER PENTHOUSE

with
molding and hardwood floors on 3-levels w/ panoramic ocean, Intracoastal, & Palm Beach views. Total privacy, outstanding security, 2-car private garage. Unique opportunity! $995,000 TRUMP PLAZA
ELEGANT TOWNHOUSE

Classic 2-story 4,300 total sf. 3br/3.5ba w/ lovely Intracoastal views.Glorious 600 sf terrace perfect for entertaining. Full-service, pet friendly building. $1,795,000 INTOWN
ONE NORTH OCEAN
CURVE  OUTSTANDING PENTHOUSE
w/ 500 sf balcony. Unobstructed 180° ocean &
views from this luxurious penthouse w/ high ceilings, limestone floors, limed oak
&
SLOANS
Flawless 3br/3.5ba
Intracoastal
woodwork,
gourmet kitchen. $3,288,000
D AV ID PAT RICK COLUMBIA 60 QUEST
LUCIEN CAPEHART
LIGHTHOUSE INTERNATIONAL'S "POSH PALM BEACH" AT CLUB COLETTE
Marck Ackermann and Jonathan Farkas
Carla and George Mann
Tom McCarter and Frances Scaife
Mandy and Mary Ourisman
Rand and Jesse Araskog
Kim Campbell
Rod and Jackie Drake
Arlene Dahl and Marc Rosen
Jeffrey Thomas and Sharon Sondes
Mary Lou Whitney and John Hendrickson
D AV ID PAT RICK COLUMBIA 62 QUEST A NN
WATT; CUTTY MCGILL
THE AMERICAN CANCER SOCIETY'S LUNCHEON AT THE PLAZA
Jordana Jacobson, Louise Evins and Pam Gallin
Heather Randall, Hiede Merjian and Peggy Klugman
Donna Karan, Robert De Niro and Jane Rosenthal
Brenda Johnson, Claudia Rohm and Sharon Baum
Emily Sonnenblick and Anna Offit
Don Distasio and Maria Cole
Cynthia Lufkin and Somers Farkas
David Patrick Columbia and Paula Zahn
Aude Bronson-Howard and Susan Bloomberg
Diana and Richard Feldman
ROBERTA.McCAFFREYREALTY Garrison•ColdSpring,NY•60MinsNYC 143MainStreet,ColdSpring,NY10516 Tel:845.265.4113•www.mccaffreyrealty.com info@mccaffreyrealty.com Westchester,Putnam,DutchessMLS MemberofWestchester/Putnam,MLS•Mid-HudsonMLS(DutchessCounty)GreaterHudsonValleyMLS•(Orange,Rockland,Ulster,SullivanCounties) Formoreinformationontheseandotherlistings,manywithfullbrochuresandfloorplans,visitourwebsite:www.mccaffreyrealty.com EASTFISHKILL,DutchessCounty,NYtifulestateon17.6acres,includesthe7000squarefootGeorgianstylemainhousefeaturing bedrooms,gleamingwoodfloors,multiplefireplaces,perioddetailsand kitchen.Additionalfeaturesincludea100'x30'barnwitha2bedroomapartment,paddock,pool,andtenniscourt. GARRISON,NY SpaciousandopencountryhomewithfabulousHUDSONRIVER VIEWStothewestandnorthtoStormKingMtandNewburghBay.Thelivingroomfeatures cathedralceilingandstonefireplace,andalllivingareasenjoytheviewsandaccesstostoneterraces.4bedroomsand2½baths,includeshugemastersuiteprivatelylocatedonitsownlevel. Thein-groundpoolandcabanafurtherenhancethe5.6acreproperty. Offeredat$1,995,000 COLDSPRING,NY Masterfully designedcontemporaryoffers massive two story entry,livingroomanddiningroomsharingagrandfloortoceilingstonefireplace,large chef'skitchenand4bedrooms.WallsofFrenchdoorsleadtodeckcantileveredoverrushingmountainstream.Delightfuldetailsandhighqualitymaterialsareevidentthroughout thehomewhichissitedonalmost5acres. Offeredat$1,875,000 ROBERTA.McCAFFREYREALTY Garrison•ColdSpring,NY•60MinsNYC 143MainStreet,ColdSpring,NY10516 Tel:845.265.4113•www.mccaffreyrealty.com info@mccaffreyrealty.com Westchester,Putnam,DutchessMLS MemberofWestchester/Putnam,MLS•Mid-HudsonMLS(DutchessCounty)GreaterHudsonValleyMLS•(Orange,Rockland,Ulster,SullivanCounties) Formoreinformationontheseandotherlistings,manywithfullbrochuresandfloorplans,visitourwebsite:www.mccaffreyrealty.com EASTFISHKILL,DutchessCounty,NY- Circa1894,thisbeautifulestateon17.6acres,includesthe7000squarefootGeorgianstylemainhousefeaturing bedrooms,gleamingwoodfloors,multiplefireplaces,perioddetailsand gourmet kitchen.Additionalfeaturesincludea100'x30'barnwitha2bedroomapartment,paddock,pool,andtenniscourt. GARRISON,NY SpaciousandopencountryhomewithfabulousHUDSONRIVER VIEWStothewestandnorthtoStormKingMtandNewburghBay.Thelivingroomfeatures cathedralceilingandstonefireplace,andalllivingareasenjoytheviewsandaccesstostoneterraces.4bedroomsand2½baths,includeshugemastersuiteprivatelylocatedonitsownlevel. Thein-groundpoolandcabanafurtherenhancethe5.6acreproperty. Offeredat$1,995,000 COLDSPRING,NY Masterfully designedcontemporaryoffers massive two story entry,livingroomanddiningroomsharingagrandfloortoceilingstonefireplace,large chef'skitchenand4bedrooms.WallsofFrenchdoorsleadtodeckcantileveredoverrushingmountainstream.Delightfuldetailsandhighqualitymaterialsareevidentthroughout thehomewhichissitedonalmost5acres. Offeredat$1,875,000 atenniscourtandgunitepool. Offeredat$1,650,000 Lovelycountryretreatonalmost5acres.ThisC.1935homeoffers 4356squarefeet,5bedrooms,4½baths,2workingfireplaces,hardwoodfloors,andnumerous windowseats,nooksandcranniesforaddedcharacter.ThegloriousbackyardfeaturesaninThepropertyalsoincludesaformerdairybarnandpond. Offeredat$1,300,000 Garrison Mystery Point is a gracious country home at the gateway to the Hudson Highlands. The structure was intentionally sited to take full advantage of the river and mountain views by its original owner, Edward Livingston. A shaded road winding downhill leads to a spacious lawn fronting the impressive mansion, on 18 acres with direct riverfront. Formal rooms include inviting center hall, double parlors, formal dining room and multiple fireplaces. Numerous bedrooms and baths provide accommodations for family and guests. Price upon request.
1
MIND OVER MATTER
UNCF's "A Mind Is A Terrible Thing
To Waste" gala will take place at the Marriott in New York. For more information, call 212.843.1751.
MOTHER'S DAY
The American Cancer Society will
MARCH
honor its "Mothers Of The Year" at 11:45 a.m. at The Plaza in New York. For more information, call 212.237.3832.
C'EST LA VIE
The American Friends of Blerancourt will host a reception at 6 p.m. at Wally Findlay Galleries in
Palm Beach. For more information, call 212.725.5380.
2
BOYS WILL BE BOYS
The Boys' Club of New York's luncheon will be at 11:30 a.m. at Club Colette in Palm Beach. For more information, call 212.677.1105.
GIVE ME A BREAK
The Preservation Foundation of Palm Beach will hold a dinner at The Breakers in Palm Beach. For more information, call 561.832.0731.
3
WINTER WONDERLAND
The New York Junior League Winter Ball will take place at The Pierre in New York. For more information, call 573.356.6267.
4
WISH UPON A STAR
The Make-A-Wish Foundation of Southern Florida will host a picnic at 12 p.m. at The Mar-a-Lago Club in Palm Beach. For more information, call 954.967.9474.
KNOWN BY ASSOCIATION
The Palm Beach Civic Association will hold a dinner at 7 p.m. at a Palm Beach residence. For more information, call 561.655.0820.
5
ALL THE WORLD'S A STAGE
The School of American Ballet's Winter Ball will take place at 7 p.m. at the David H. Koch Theater at Lincoln Center in New York. For more information, call 212.769.6610.
6
SUNNY SIDE UP
The Fountain House will host a breakfast at 9 a.m. at Armani Ristorante. For more information, call 212.874.5457.
LIFE'S A BEACH
The Hospice of Palm Beach County will hold a reception at 6 p.m. at Wally Findlay Galleries in Palm Beach. For more information, call 561.848.5200.
HOP TO IT
The Associates Committee of the Society of Memorial Sloan-Kettering Cancer Center's "Bunny Hop" will take place at 6 p.m. at FAO Schwarz in New York. For more information, call 212.639.7389.
8
HAVE A BALL
The Museum of the City of New York's Winter Ball will take place at The Plaza in New York. For more information, call 917.492.3326.
NIGHT AT THE MUSEUM
The American Museum of Natural History's Museum Dance, sponsored
64 QUEST CALENDAR
On March 22, the Belle Epoque Ball will honor the upcoming exhibition at The Frick Collection: Renoir, Impressionism, and Full-Length Painting Sponsored by Donna Karan New York, the event will support the Frick Art Reference Library and the organization's education program. For more information, call 212.547.0706.
by Saks Fifth Avenue, will take place at 7 p.m. in New York. For more information, call 212.496.3495.
10
I ONLY HAVE EYES FOR YOU
The Bascom Palmer Eye Institute will celebrate its fiftieth anniversary at The Breakers in Palm Beach. For more information, call 305.326.6000.
12
DISCOVERY CHANNEL
The Dana-Farber Cancer Institute will host the Discovery Celebration at 6:30 p.m. at the Traverse residence in Palm Beach. For more information, call 617.632.3000.
13
STARS AND STRIPES
The Daughters of the American Revolution's Flagler Chapter's luncheon will be at 12:30 p.m. at The Chesterfield in Palm Beach. For more information, call 772.460.0223.
14
TOP SHELF
The Yorkville Common Pantry's benefit will take place at 6 p.m. at Guastavino's in New York. For more information, call 917.720.9708.
HIGH NOTE
The Palm Beach Opera will host a luncheon at 11 a.m. at The Breakers in Palm Beach. For more information, call 561.835.7569.
15
GO FOR A SPIN
Career Transition for Dancers' "Heart And Soul" luncheon will be at Club
Colette in Palm Beach. For more information, call 561.232.8244.
17
TAKE ME TO THE RIVER
The Pier Antiques Show will open at 10 a.m. on Saturday at Pier 94 in New York. For more information, call 973.808.5015.
19
WORKING FOR THE WEEK
The Asia Society will celebrate Asia Week with a benefit at 6:30 p.m. at The Plaza in New York. For more information, call 212.327.9335.
22
TALK TO ME
The English-Speaking Union
will host a lecture at 12 p.m. at the Beach Club in Palm Beach. For more information, call 212.818.1200.
LA BELLE EPOQUE
The Frick Collection will host its ball with a Belle Epoque theme at 8:30 p.m. in New York. For more information, call 212.547.0706.
25
SUPPER TIME
Daniel Boulud will hold a "Sunday Supper" to benefit Citymeals-onWheels at 5:30 p.m. at Daniel in New York. For more information, call 212.575.4545.
27
JENNY FROM THE BLOCK
The Bronx Museum of the Arts will host its Spring Gala at Three Sixty in New York. For more information, call 212.868.8450.
30
IT'S A SCIENCE
The South Florida Science Musuem will hold its gala at The Breakers in Palm Beach. For more information, call 561.370.7740.
31
BEACHY KEEN
The Boys & Girls Club of Palm Beach County will host "Barefoot on the Beach" at 7:30 p.m. at The Breakers in Palm Beach. For more information, call 561.994.7551.
APRIL
2
MELT THE ICE
Figure Skating in Harlem's "Skating With The Stars" event will take place at 5:30 p.m. at Wollman Rink in Central Park in New York. For more information, call 917.699.2939.
HIGH SOCIETY
The Town of Palm Beach United Way's Alexis de Tocqueville Society will hold a dinner at Club Colette in Palm Beach. For more information, call 561.655.1919.
3
LEAD THE WAY
The United Way of New York City's women's leadership council will celebrate its tenth anniversary with a luncheon at 11:30 a.m. at The Plaza in New York. For more information, call 914.235.1490.
4
LIFE IMITATES ART
Quest will host "The Art of Daniel Bottero" with the artist at 5:30 p.m. at the Time Warner Center in New York. For more information, call 917.543.4334.
12
FOR THE CHILDREN
New York Society for the Prevention of Cruelty to Children will hold a lunchon at 12:30 p.m. at The Pierre. For more information, call 212.233.5500.
MARCH 2012 65
CALENDAR
On March 6, the "Bunny Hop" will take place at FAO Schwarz, hosted by the Associates Committee of the Society of Memorial Sloan-Kettering Cancer Center. Sponsored by Tiffany & Co., the event will support the Pediatric Family Housing Endowment, which has pledged to raise $2 million in five years. For more information, call 212.639.7389.
On April 4, the exhibition entitled "The Art of Daniel Bottero" will be presented at the Time Warner Center, with an opening reception for the artist hosted by Quest For more information, call 917.543.4334.
66 QUEST
IT SEEMS LIKE YESTER DAY
THE FASHION EDITOR I was working with while covering the Paris collections for Vogue Paris was a friend of Yves Saint Laurent. She knew him well. The day before the photography, she took me to meet him at his cabine, as he called his atelier. When we arrived he was drinking coffee with his favorite muse, LouLou de la Falaise. Although he was known to be very shy, we had a conversation—mostly in French—during which I just smiled, French not being my forte. Backstage is where the drama lies, especially during the Paris collections. Whatever can go wrong seems to at the last minute, yet miraculously all is solved as the curtain goes up.
In this 1977 photograph, LouLou de la Falaise is at the far left while Alexandre, a hairdresser, stands ready behind Saint Laurent. "La Vie en Rose," one of my favorite songs, began the show. It was very intense backstage. Saint Laurent didn't care what I was doing. He was totally engrossed with the show and would get upset if a model appeared not exactly as he had planned. He would rewrap scarves, add jewelry—whatever it took. Tension was high. I was surprised at how serious and how strong Saint Laurent was as he rewrapped, shifted, and rearranged the clothes at a furious pace as each model stepped up to the plate. He meant business and every minute counted as model after model streamed out before the expectant audience.
It was several years before we met again, but Saint Laurent remembered me. And it was a pleasure to photograph, once again, the man who will always be a legend in the fashion world. u
HARRY BENSON
MARCH 2012 67
CREDIT GOE S HERE
Yves Saint Laurent with LouLou de la Falaise and Alexandre in Paris, 1977.
PHOTO
NIGHTS OF KNIGHTS
AS IF THEY HAD nothing better to do, British newspaper and T.V. reporters have been busy commenting on the stripping of Fred Goodwin's knighthood because of his role in the near collapse of the Royal Bank of Scotland in 2008. Goodwin ran the RBS into the ground following the signals from that other phony, Alan Greenspan, who was also given an honorary knighthood by the Brits. Last month, Goodwin was stripped of his knighthood. Knighthoods are strippable—unlike peerages, which are for life, even if the holder subsequently commits murder. Here are a
few examples of men who have had their knighthoods rescinded:
At 10 minutes past 4 in the afternoon on April 28, 1945, a plumber by the name of Moretti shot and killed a prematurely aged man and a youngish woman who was not wearing any underwear in front of the Villa Belmonte near Lake Como. Next to Moretti, who was later tried for theft and other misdeeds, was Colonel Valerio, whose submachine gun had jammed while trying to shoot the defenseless couple. Millions of words have been written about the last moments
of Benito Mussolini and Clara Petacci but, until now, not a single historian or biographer had managed to correctly discover Benito's last words to Clara. This is a Quest exclusive: Mussolini's very last words, alas words that I am not at liberty to reveal how I came to discover (a hint—the Churchill family), were translated, verbatim: "What shit (merda) this honors forfeiture committee is. Can you imagine the shitty (merda) Brits have stripped me of my knighthood." As everyone knows, Valerio left the corpses of the assassinated couple lying on the road, to
TAKI 68 QUEST
The British media outlets have been chronicling the story of the stripping of Fred Goodwin's title following the near collapse of the Royal Bank of Scotland.
be later transported to Piazzale Loreto, in Milan, where they were hanged upsidedown from the girders of the roof over a petrol station. The cheering mob even had the courtesy to tie a rope to Petacci's skirt to hide her nakedness. But no one until now has ever managed to find out what Mussolini was so depressed about on that horribly rainy day when he was shot like a mad dog. The forfeiture of his knighthood by faceless British mandarins had haunted him throughout the war and had left him a broken man.
Mussolini's knighthood had been awarded to him in 1923 and rescinded
were visibly embarrassed. The impotent strongman was still trying when the couple was dragged out and shot at dawn.
Anthony Blunt's case was even more horrible. (Blunt was the Queen's art historian and advisor.) He never managed to have sex with rent boys once Lady Thatcher lifted his knighthood for being a Russian spy. He continued to pay male prostitutes, but was unable to perform. A world-famous psychiatrist I spoke to, professor Wulfshlagger of Berne University, explained to me that wielding the axe where knighthoods are concerned is like chopping off a man's penis. "The beta
British decided to strip him of his knighthood, his sexual drive left him completely and forever. It was as if he had been emasculated with a scalpel, a rare medical phenomenon known as 'knighttration.' It's all in the mind, of course."
Professor Wulfschlagger told me that the reason Mussolini had advertised his womanizing after the outbreak of the war in 1940 was typical of those suffering from knighttration. Mussolini, Mugabe, Ceausescu, Blunt—none of them ever got it up again after they lost their knighthood. Sure, said the good prof, they pretended, but never had sex again. Hitler,
in 1940. He stayed angry and depressed thinking about it day and night, which made him impotent. I hate to think what poor Fred Goodwin is going through. As irony would have it, exactly the same thing happened to Romanian dictator Ceausescu on his last night on earth, having had his knighthood revoked by the faceless British committee the night before his execution in 1989. The Romanian dictator wanted to have one last you-know-what with his wife but both were too upset over the loss of the British honor to perform. Their guards
amyloid plaques of the brain interconnect with the decision to strip a man of his knighthood as if his manhood was being chopped off," said the prof. He went on to say when Robert Mugabe's knighthood had been revoked, the Zimbabwean monster became impotent overnight. Professor Wulfshlagger was only indiscreet in the name of science. He had been flown to Salisbury, or whatever name that once-beautiful city is now called, in a special jet by a desperate Mugabe. "But there was little I could do for him," said the professor. "Since 2008, when the
on the other hand, did have it off with Eva Braun twice before committing suicide. But the Führer was never given a knighthood. So he had not a worry in the world on the night of April 29, 1945, a night of incredible lust.
Anyway, enough of sex, or the lack of it, once a knighthood has been stripped. The best way to keep a healthy sex life is never to accept an honor from the likes of the British, but do accept a peerage anytime. Peerages are forever, like sex. u
For more Taki, visit takimag.com.
MA RC H 2012 69
Benito Mussolini (left), Anthony Blunt (middle, above), and Robert Mugabe (middle, below) were stripped of their titles. Alan Greenspan remains a knight.
QUEST Fresh Finds
BY DANIEL CAPPELLO AND ELI ZABE TH M EI GH ER
MARCH IS THE MONTH for launching into a new season of fashion, and the finds on our pages are a testament to that. From established designers like Ralph Lauren to up-and-coming labels like Amarra, we've found some stunning choices for day and evening. To help you get into shape this spring, we love Eric Javits's fashionable tote for your yoga mat. If all you need is a new necklace or earrings to freshen up your wardrobe, we've got that covered, too.
Sequin's natural agate, crystal, turquoise, freshwater pearl, casted shells, and suede cord necklace. $360. Sequin: 219 Worth Ave., Palm Beach, 561.328.8405, or sequin-nyc.com.
Keep it white with Wempe's Zeitmeister quartz watch in gold-plated stainless steel. $1,095. Wempe: 700 Fifth Ave. or 212.397.9000.
Shimmy all night in this blush tulle beaded long dress from Ralph Lauren Collection. $18,000. Ralph Lauren Collection: 888 Madison Ave. or ralphlaurencollection.com.
Cap off the perfect look with Stuart Weitzman's patent cap-toe Mary Jane pump. $375. Stuart Weitzman: 675 Fifth Ave. or 212.759.1570.
You'll be a star in Montblanc's Cobochon de Montblanc stud earrings in rose quartz and sterling silver. $335. Montblanc: 800.995.4810 or montblanc.com.
Paper chic: Set of 10 hand-letterpressed pink gift enclosures with a handpainted white border and envelopes. $25 for a set of 10. Pickett's Press: 1016 Lexington Ave. or pickettspress.com.
The hand-printed, hand-stitched Savannah Decorative Pillow Collection is coveted by women everywhere.
$110-190. Gracious Home: 1220 Third Ave. or gracioushome.com.
Budding fashion sensation Ammara offers the stylishly savvy Madison tweed and leather-piped jacket ($695) and skirt ($525). Ammara: ammaranyc.com.
The Mikimoto Twist Collection white cultured South Sea pearl and diamond ring set in 18-kt. white gold. $4,850. Mikimoto: 730 Fifth Ave., 212.457.4600, or mikimotoamerica.com.
Stay limber the fashionable way with the Om yoga mat carrying case from Eric Javits in Squishee with coated Italian microfiber. $450. Eric Javits: ericjavits.com.
The Oyster Perpetual Datejust Special Edition in 18-kt. white gold, with a bezel set with 116 diamonds and diamond Arabesque dial. $73,000. Rolex: 800.36.ROLEX or rolex.com.
MARCH 2012 71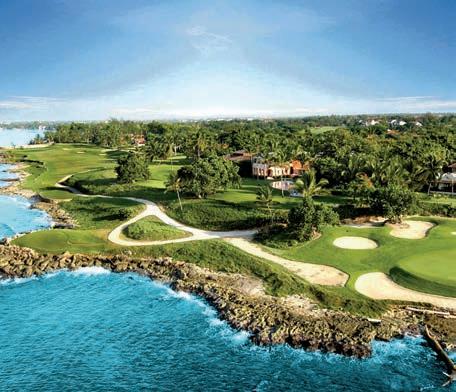 72 QUEST
Finds He'll look right in Brunello Cucinelli: safari jacket ($2,045), slim-fit jeans ($575), and suede wing-tip shoes ($995). Brunello
683
A simple, clean, and sophisticated way to keep your toiletries is in Asprey's men's wash bag, in cinnamon ascot calf. $520. Asprey: 853
or 212.688.1811.
options
Fresh
Cucinelli:
Madison Ave. or 212.813.0900. Daniel Bottero's "Sweet Dreams of Love" (mixed media on canvas, 52" x 62") is one of the many beautiful offerings from the artist's show at the Time Warner Center this April. $20,000. Daniel Bottero: botterocollector.com. Golfers: Take off in March or April to Casa de Campo for your greatest adventure— fourth night free including golf! Casa de Campo: 800.877.3643 or casadecampo.com.do. The Plaza Food Hall by Todd English (One West 59th St., 212.986.9260) is offering St. Patrick's Day specials this year, so why not stop by for some beer-braised bangers or shaved corned beef? Let Sherle Wagner's malachite flower door pulls pop up in your home after the winter's storms. Sherle Wagner: 212.758.3300 or sherlewagner.com.
Madison Ave.
Belgian Shoes offers sleek, ever-stylish
for both men and women, like the men's Mr. Casual in brown lizard calf with black trim. $375. Belgian Shoes: 212.755.7372 or belgianshoes.com.
High-quality craftsmanship is a signature of Paola Quadretti's finely tailored clothes, including this satin dress from her current collection. $1,700. Paola Quadretti: By appointment at 111 E. 61st St. or 212.355.4440.

The TOUPIES ear pendants from Marina B dazzle in yellow gold, diamonds, blue sapphires, blue topaz, citrine, and onyx. Marina B: By appointment at 589 Fifth Ave. or 212.644.1155.
MARCH 2012 73
JOSH HASKIN FOR TIFFANY & CO.
David Yurman's latest eyewear collection includes these irresistible Chicklet sunglasses in green Diopside with sterling silver and gold vermeil. $895. David Yurman Townhouse: 712 Madison Ave. or 212.752.4255.
Elsa Peretti's Urumi lacquer sphere necklace on a black silk cord. $1,875. Tiffany & Co.: tiffany.com.
Get your heels on with Manolo Blahnik's BBPerf shoe—sure to put a colorful spring in your step. $765. Manolo Blahnik: Available at Bergdorf Goodman, 212.753.7300.
For the serious art collector, Emmanuel Victor Auguste Marie de la Villeon's "Verger en Fleur" (1896) is available through Wally Findlay Galleries: 124 E. 57th St. or 212.421.5390.
Be sure to visit legendary stationer Mrs. John L. Strong for your next order of bespoke stationery. Price upon request. Please call 212.838.3775 to make an appointment or for more information.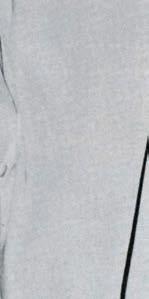 QUEST, JUNE 1996 CELE BRA TING 25 Y E AR S OF QUEST FROM THE A R CHIVES 74 QUEST
IN MEMORIAM
LUCIEN HENRY CAPEHART, JR., the esteemed photographer and Quest contributor, who covered Palm Beach society, died Monday, February 27, at the age of 65 of pulmonary fibrosis. Born on June 20, 1946, in Tennessee, the son of Lucien Henry Capehart, Sr., and Evelyn Gibson Capehart, Lucien graduated from University of Texas in 1970 and settled in Palm Beach shortly thereafter in 1973. He married Dina Gasiunasen, sister of island art dealer Arij Gasiunasen in May 1995, with whom he had one daughter, Lily, who is now 16.
Over the past several decades, Lucien captured not only the Palm Beach social set out on the town, but also the milestone moments—from annual Christmas cards to weddings—for generations of Palm Beach residents. He was honored in December by the Historical Society of Palm Beach County at its annual Archival Evening retrospective of five photographers.
Memorial donations may be made to the Peggy Adams Animal Rescue League or to the Lillian A. Capehart "In Memory of Dad" supplemental education fund at Wells Fargo, account 8507536012.
LESLY SMITH
I first met L ucien when he first arrived in P alm Beach in the 1980s. Since then, L ucien has been the star of P alm
Beach. E verywhere—there he was with a big smile and the omnipresent twinkle in his eye. A warm, loving gentleman and friend to all, especially the ladies. He gave tirelessly of his time to my charities, whether it be photographing the atrisk babies at the day care center in South Bay or the dogs and cats at the P eggy A dams A nimal R escue L eague. I will always remember and miss him.
RODNEY J. DILLARD
Lucien did a wonderful job taking photographs of The Coconuts New Year's Eve party every year; he was such a professional and a very likeable person. As the Palm Beach Daily News reported "Lucien Capehart made a lot of people look good with his ability to photograph so well."
HILLIE MAHONEY
Lucien was a true gentleman—a gentle, kind man—who loved his family as well as his work, and who cared deeply for his staff. It showed in all he did, especially when photographing Lily's little lizards. Nothing was ever too much for him and he always found a way of solving a photographic problem. Every year he would photograph my entire family for our annual Christmas card, until the year the little ones had grown up and I could no longer gather them all together for a family group photo. "No problem," he assured me, "send me the missing grandchildren's photos and I'll just photoshop them in!" Which is exactly what he did and miraculously even I, who knew, couldn't tell. He leaves a legacy of fabulous photographs—taken during his 40 years of covering every type of event—in which he consistently made us look good! It's hard to imagine that we'll never see him again, but I know he will live on in our hearts and minds.
DAN PONTON
Over the last 30 years we grew up and grew older together. We celebrated many happy occasions and parties, but his proudest moments were talking about his love for his daughter, L ily. He was the finest of friends and truest of gentlemen.
ALYNE MASSEY
L ucien was so much a part of the P alm Beach I know and love. In fact, in this party town, it won't seem like a party without him there. E ven when I thought (and knew) I looked awful, L ucien's camera would make me look better. I send my most heartfelt condolences to his family and to anyone who ever knew L ucien.
LILLY PULITZER
Because we loved him so much, he became part of our life. He captured forever our parties, weddings, and our private moments. We all loved him and miss him.
KIT PANNILL
Lucien's smiling, friendly face will be missed by everyone who knew him. He put people at ease when he was doing a portrait photo and made you laugh and smile for candid shot. u
THE WAY IT USE D TO BE
NOT SO MANY YEARS AGO, there was a world called publishing that never heard of eBooks, Amazon.com, or iPads. I spent my early years at Time Inc., which, in addition to magazines like Time, Life, Fortune, and Sports Illustrated, had bookpublishing subsidiaries like Time-Life Books and Little, Brown & Co. Time's founder, Henry Luce, believed in hiring bright young people and in the power of cross-fertilization. He thought it was perfectly logical for colleagues, if they were not lunching with advertisers, agents, or authors, to take each other out on the company dime to come up with new creative and marketing ideas. There were a dozen moderately priced French restaurants that survived off Time's largesse in this way. When taking out potential advertisers, no expense was spared and longstanding bonds were formed. For many years, the head of the Sports Illustrated Detroit sales office would call on his friend Henry Ford II with the next year's multimillion dollar proposed advertising schedule. Henry would glance at the schedule for two minutes and say, "Looks good, pal. Now let's go to lunch."
And the parties! Ringling Brothers and Barnum & Bailey Circus was brought inside the Time & Life building, as were celebrated athletes, movie stars, theater icons, and even a president or two.
Mr. Luce believed in giving you what you needed when going after a story or a business deal. When Winston Churchill died, Life chartered an entire airplane and outfitted it with typewriters and a dark room so that it could rush copy and
Remembering long-time publishing executive and friend Julian Bach (1914-2011).
A UD AX
photos back to the States ahead of the competition. "Bloody Fridays" at HBO screened horror movies with Bloody Marys. On the magazine side, in order to keep the editorial staff focused on Friday night closings, bartenders pushed bar carts around the editorial floors and waitresses passed hors d'oeuvres.
I was reminded of these days last fall at the memorial service for Julian Bach who died at the age of 97. A fter attending Choate and Harvard and serving honorably in World War II, he was an early editor of Life and, later, a
one time he pitched me a book, it was a new biography of Stravinsky. We passed in the end, but that lunch sure was fun.
Pat Conroy, author of The Lords of Discipline, The Water is Wide, The Great Santini, and The Prince of Tides, among other works, came up from South Carolina to speak at his funeral: "I had my manuscript typed by 11 different ladies in Beaufort, some of it on onion skin, some of it on personal stationery, and none of it paginated. The letter I got back from Mr. Bach said, 'The girls in our office think it's the cutest thing they've ever seen, so
ing me mister and sir every two seconds. Tell him to stop it.'"
"'Stop it,' Mr. Scribner said."
"'Yes, sir.'"
"That night Julian took me to the opera to hear Otello. I was awestruck at my introduction to New York culture, amazed that the audience all seemed to be mouthing the words of the arias as they were being sung, and, even though I didn't understand a word, after a while I got the sense it wasn't going too well for Desdemona. That was my introduction to New York. It was 1973. I had three
distinguished literary agent.
His granddaughters spoke of how much he loved his family, books, opera, racing, backgammon, and hating the Yankees. One of them continued, "Grandpa loved publishing too, but I think he really loved the way publishing used to be. When I got my first job as an editorial assistant at Harper Collins, he sat me down and asked, 'Tell me where do you take the agents for lunch these days—Grenouille?
21? The Four Seasons?'"
"No, it's not like that anymore."
"It's not? Then tell me this, what do you drink at lunch?"
"We don't go to lunch very often, and when we do, nobody drinks."
"They don't? Why I never would even consider discussing business until we'd finished the third martini."
That was more or less how I remembered him: a handsome and gregarious German-Jewish Our Crowd aristocrat. The
you'd better come in.' I took the bus up the next week and walked into his literary agency. He sat me down and talked to me and kept telling me not to call him mister or sir. 'Yes, sir,' I answered. Then he asked me what hotel I was staying in, and I said, 'The YMCA.'"
"'Oh my God, you could get a disease there. Let me see your wallet.' I gave him my wallet and he emptied it. There were eight one-dollar bills. 'It's worse than I thought,' Julian said."
"Julian rented his office in the old Scribner building on Fifth Avenue, and when I mentioned that my hero was Thomas Wolfe he said, 'Well, then come with me.' He took me into the Scribner offices and into the office of Maxwell Perkins, the legendary editor of Wolfe, Hemingway, and Fitzgerald. I was overcome. On the way out he introduced me to the publisher of Scribner's, and added, 'Charlie, this kid is driving me crazy call-
children under the age of five, I'd lost my job as a school teacher, and would never teach again, and I had just about given up as a writer, too. I was just a redneck from the South—and a failed one at that—but Julian believed in me and became the father I had never had. Over the following decades we did very well by each other, became close friends, never had a disagreement, never even raised our voices. In addition to my trips here he came to visit me in Beaufort and enjoyed himself hugely. He gave me a life when I thought I was losing it, and all I can say to his family and friends today is thank you, thank you, thank you."
There wasn't a dry eye in Campbell's when Conroy finished and limped back to his seat, no spring chicken himself. Rabbi Posner said, "I've been conducting services here for 35 years, and it doesn't get any better than this." Then we sang "America the Beautiful." u
NAME MARCH 2012 77
From left: Henry Ford II; JFK visits Henry Luce in the Time & Life Building; Luce outfitted a plane with typewriters to cover Churchill's funeral.
A UD AX
MONEY MATTERS
PETER E. "TONY" GUERNSEY, JR. Chief Client Advocate Wilmington Trust, N.A.
PART ONE: THE SOFTER ISSUES OF WEALTH MANAGMENT
WHEN I STARTED out in the wealth management industry back in the early 1970s, the landscape was much different than it is today. Back then, the business was very narrowly defined and transactional in nature, basically an adaptation of the corporate banking model.
We've come a long way in the industry, with "personal banking" becoming "private banking," then morphing into "private client services" and finally evolving into "wealth management." Today's holistic and multidisciplinary approach to managing client affairs is about so much more than facilitating a client's investing, borrowing, and trust needs. In addition to those "necessary" services, clients also need help managing some real "life" issues. As a good wealth manager, if you don't offer it internally, you need to know where to get it externally. There are many categories to choose from when it comes to these softer issues, so I'll just focus on one or two of the more commonly requested, starting with services for valuable collectibles:
Valuable collectibles can cover many things, including art, jewelry, furniture, real estate, automobiles, yachts, wine— the possibilities are endless. But many don't realize the responsibility that comes
with owning such property, and the services that are required to buy it, maintain it, preserve it, and eventually pass it on or sell it. Here are some of the services
I've secured over the years to help clients manage their collectibles:
• Hired professional appraisers and nego tiated commissions with auction galleries
• Assisted in getting a priceless collection into a renowned gallery
• Negotiated with an antique framer for art pieces sold at auction for $45 million
• Represented clients when confidentially purchasing a specific model Bugatti, one of six remaining in the world
• Located a family jeweler to obtain a custom engagement ring for a client, and then, subsequently, to sell the ring after dissolvement of the marriage
• Hired a gold broker and custodian for physical custody of precious metals and managed secure delivery
• Purchased $1 million in gold for client and arranged custody in eight different countries
• Obtained access to a high-security stor age facility in Boyers, Pennsylvania
• Located a secure, temperature-con trolled wine storage facility for a large collection
• Identified and negotiated a catalog
of large safety deposit boxes that are available
• Negotiated aircraft sales and leases and identified pilots and flight attendants for hire
One of the key themes in managing collectibles is the issue of security. Fortune seekers have been know n to rummage through window curtains donated to thrift shops in New York City, looking for jewelry that had been hidden by matriarchs in the hems! Purchasing a reasonably sized safe for your home is always a good idea and alleviates the need to remember where you've hidden your valuables.
The importance of security also comes into play throughout other areas of a client's personal life. The following includes just a few services I've delivered:
• Oversaw a credit investigation for the hiring of a "family office president" to replace a former CFO who had embezzled from the family
• Provided a list of reputable private detectives for a family looking to find their runaway 19-year-old daughter who had been missing for 17 months
• Secured an agency to perform back ground checks on domestic help
• Obtained computer and technology training for client for online security
• Provided list of reputable, confidential plastic surgeons to assist client with reconstructive surgery after a mastectomy
The last item transcends the topic of security into health care, which has a myriad of ancillary services and concerns.
In the next Quest "Financial Forum," I will cover soft issues that surround the topic of health care, along with some situations I've faced when helping clients deal with real estate matters.
For more information, call 212.415.0510 or email tguernsey@wilmingtontrust.com.
78 Q UEST
INVESTMENTS FI NANCE R ET I REMENT C URRENT E VENTS I NSURANCE STOCKS INVESTMENTS FI NANCE R ET
I REMENT C URRENT E VENTS I NSURANCE STOCKS INVESTMENTS FI NANCE R ET I REMENT C URRENT E VENTS INVESTMENTS FI NANCE R ET I REMENT C URRENT E VENTS I NSURANCE STOCKS INVESTMENTS FI NANCE R ET
The bottle collection of W. Edwin Priest.
MONEY MATTERS
MOST INVESTORS are well aware of the perks offered by the Roth Individual Retirement Account (IRA): qualified withdrawals after age 59½ are taxfree; the absence of required minimum distributions provides flexibility on how and when you tap the account; and those who inherit a Roth IRA can enjoy tax-free income.
A lesser-known feature of the Roth IRA is that, should the market fall significantly after you've converted a traditional IRA or 401(k) plan account to a Roth IRA—or if you've simply changed your mind, you have the right, within a given time, to undo the transaction without tax repercussions. The reversal, known as a recharacterization, offers an escape hatch should conditions shift so that the original conversion no longer makes sense.
For the first 12 years after the Roth IRA was created with the Taxpayer Relief
izations remained untouched. Thus, if the market nosedives after the conversion, triggering a tax bill due on funds that no longer exist, the individual can reverse the conversion and keep the money originally earmarked for the tax bill.
Here's how the process could look:
M ARY A NN SISCO Senior Vice President Northern Trust
I.R.A.S AND TAXES: WHEN TO CONSIDER RECHARACTERIZING A ROTH I.R.A.
Act of 1997, only individuals who made $100,000 or less could convert traditional IRAs and retirement accounts into new Roth accounts. The conversion required only the payment of taxes on the converted amounts, since Roth IRAs are funded with after-tax contributions.
In 2010, revised conversion rules abolished the income threshold, allowing any individual to convert existing retirement account assets into Roth IRA accounts. However, rules allowing for recharacter-
1. An individual in the 35 percent tax bracket converts $500,000 from a traditional IRA to a Roth IRA in early 2012.
2. The $500,000 is added to the individual's adjusted gross income for 2012, resulting in an extra tax liability of $175,000.
3. If the assets grow following the conversion, the tax bill on the conversion remains the same.
4. If the assets lose value significantly after the conversion, the individual has the option to recharacterize the Roth IRA
back into a traditional IRA. 5. The recharacterization may be completed as late as October 15, 2013, if the tax filing is extended beyond the April 15, 2013, due date.
Any discussion around Roth IRA conversions and recharacterizations hinges on taxes. A Roth conversion front-loads the taxes due, but there are other considerations to weigh. An individual should only make a conversion if he or she can pay the resulting tax bill out of taxable accounts while leaving enough to live on.
Roth IRA conversion decisions fall into two camps: tactical and strategic. Tactical converters generally are responding to a specific situation. Strategic conversion are rooted in comprehensive planning and forecasting. The typical candidate for strategic conversions believes taxes will rise in the future and wishes to position his or her estate now to make it easier for the heirs.
The decision to convert to a Roth IRA or recharacterize a converted account back to a traditional IRA rarely is a doit-yourself activity. Instead, any individual considering such maneuvers should discuss the pros and cons with tax professionals and financial advisors. But the decision has added significance this year as on January 1, 2013, the extended Bush tax cuts will expire. The top income tax rate in the U.S. is scheduled to jump from 35 to 39.6 percent, the 33 percent rate will jump to 36 percent, and the 28 percent bracket will jump to 31 percent.
Ultimately, we have to deal with the tax laws as they stand in front of us. Given that, the opportunity to convert existing retirement accounts to Roth IRAs offers great benefits. In many cases, it's best to take advantage of those benefits. In addition, with the ability to recharacterize a conversion, it offers an out should conditions change.
For more information, please call 312.444.7768 or email ms289@ntrs.com.
80 Q UEST INVESTMENTS FI NANCE R ET I REMENT C URRENT E VENTS I NSURANCE STOCKS INVESTMENTS FI NANCE R ET
A clerk at the House of Representatives reviews a new tax bill, 1938.
DIRECTORS AND OFFICERS ("D&O") liability insurance coverage is essential when managing a privately held company in today's litigious environment. Lawsuits naming directors and officers alleging mismanagement affect companies of all sizes, but directors and officers of private companies are the most vulnerable to personal liability if they haven't undertaken a thorough risk assessment.
In many instances, executives of privately held businesses are involved in all aspects of day-to-day operations and decisions of the company. Those individual directors and officers are more likely to be named in lawsuits initiated by any number of sources, including employees, customers, creditors, and government regulatory agencies. Moreover, in closely held companies, the owners' personal net worth may be tied to the financial health of the firm making costly management liability claims all the more devastating.
Many believe the directors and officers of some private companies are more exposed than those at publicly held companies due to the fact that they have fewer resources available to them. Directors and officers of privately held companies possess the same duties and fiduciary obligations to investors and limited partners as do their counterparts. Given the level of risk assumed it is increasingly important that D&O insurance is procured to protect the interests of the individual directors and officers.
Not all entities share this belief and may learn a costly lesson when directors and officers are forced to use corporate assets to pay defense costs or settlement amounts as well as respond to judgments associated with litigation; or, in a worst-case scenario, directors and officers may be forced to use their own personal assets to defend themselves. Even if the company indemnifies the directors and officers, the individuals may still be exposed if the company becomes insolvent.
The Towers Watson "Directors and Officers Liability: 2010
BR I AN DUN P HY
Managing Director Frank Crystal
INSURING MANAGEMENT EXPOSURES FOR PRIVATE COMPANIES
Survey of Insurance Purchasing Trends" reported that 26 percent of private companies had a D&O claim of some kind in the last 10 years. This number has doubled since 2008. Unlike public companies where the most common source of lawsuits are shareholder- or investor-related, D&O liability claims made against private company boards have a wide variety of sources. A private company D&O lawsuit is expensive regardless of who brings the litigation. Legal costs accrue quickly during the lifetime of a claim. Among the companies participating in a 2010 Chubb survey of private organizations, one in eight experienced claims against its D&O insurance policy in the last 10 years. Of those companies that experienced a D&O liability lawsuit in the past five years, the average
loss—including settlement, judgment, and legal costs—was around $225,000.
During the last several years, many respected and financially sound insurers have placed an added focus on and dedicated significant resources toward underwriting D&O insurance for privately held companies. This landscape has created additional competition within the insurance marketplace and generated favorable results for policyholders with respect to all aspects of the placement including cost, self-insured retention levels, and policy wording. Today's D&O arena for private companies includes more than 25 insurers. This has generated an unparalleled availability in the insurance marketplace for clients of all risk profiles.
Privately held companies are susceptible to a range of different allegations brought by a variety of sources, making the risk of a lawsuit that could be covered by a D&O policy greater than ever. As the legislative landscape continues to evolve and legal costs continue to explode, we recommend transferring your management liability risk to a qualified insurer to best protect the interests of the company and its directors and officers. The policy premiums have never been more competitive and policy language continues to expand.
For more information, please call Frank Crystal at 212.344.2444 or visit frankcrystal.com
I REMENT C URRENT E VENTS I NSURANCE STOCKS INVESTMENTS FI NANCE R ET I REMENT C URRENT E VENTS MAR CH 2012 81
MONEY MATTERS
K AR L W E LLNER President & CEO Papamarkou Wellner Asset Managment, Inc.
INVESTING DURING VOLATILE TIMES
Markets trend cyclically and pulling out can psychologically feel safe. However, selling after a downdraft crystallizes a loss and invariably leads to the investor missing the early returns of a forthcoming bounce. Indeed missing just a few stout days of a directional market swing can dramatically affect one's long-term performance.
MANY INVESTORS feel battered having endured another turbulent year of financial markets. Economic concerns, political turmoil, and even Japan's natural disaster shook investor confidence which contributed to severe market volatility.
Positive fundamentals including stronger corporate earnings and revenues and a host of record-high company profits went largely ignored. A general nervousness among investors kept heaps of cash on the sidelines searching for clarity and direction. These are unsettling times.
We've observed a pattern with retail investors lacking (or ignoring) professional advice. They consistently yank their money out of the market, and then pile it in back at precisely the wrong time!
A quick study of the last 15 years suggests that levels of uninvested cash were at all-time highs in 2002 and 2008, causing investors to miss participating in the powerful bull markets that followed those years. Equally punishing, invested equity levels were at their highest and uninvested cash at its lowest, towards the close of 1999 and the close of 2007, before the painful bear markets.
Paradoxically, the stock market appears the rare store where people race for the exit at the sight of discounted prices— when everything's on sale. Moreover, it seems popular for the retail investor to run into the store looking to purchase as prices approach their highs.
Popular media doesn't help, blasting headlines and highlighting runs in the market with sensationalist drama. While staying the course and maintaining a long-
term vision can be difficult to do when markets get tested, history has shown that steadfast investors heap rewards.
Conservatively managed portfolios should demonstrate diversification across asset classes that display low correlations to one another. Allocations of high-quality, dividend-paying stocks and investment-grade fixed income are sound core investments for a portfolio.
Additionally, an assembly of wellresearched alternative strategies with low or no historical correlation to equity market swings can mute portfolio volatility and bolster returns. A few examples include: non-directional credit, real assets (i.e., gold, oil, or farmland), global macro strategies, and niche private equity.
Like the professional traders who thrive on volatility, it makes consummate sense to look for relative bargains in tough environments. Embrace an element of contrarianism in your investment philosophy; the vast majority of the world's great fortunes were not built in sunny times!
T he portfolio construction process should be adaptive and flexible to client objectives and market conditions, which constantly evolve. Communication should be proactive, offering timely insights and perspective. M ake sure the advise you are given is neutral and not self-serving— intuition remains a powerful guide.
As we look ahead, we maintain our conservative posture, bracing for turbulence and looking for opportunities.
For more information, call Karl Wellner at 212.223.2020 or email Thorne Perkin at tperkin@papamarkou.com.
82 Q UEST INVESTMENTS FI NANCE R ET I REMENT C URRENT E VENTS I NSURANCE STOCKS INVESTMENTS FI NANCE R ET
Wall Street during the great financial panic of 1873.
RECENTLY BEN BERNANKE, chairman of the Federal Reserve, expressed his desire to keep long-term interest rates low through the year 2014. Coupled with a prolonged low-rate environment, whipsaw market volatility, and global credit concerns, it is only natural that the savers among us are ready to throw up their hands in frustration.
What's the answer when banks are barely offering 1 percent on 5-year certificates of deposit and yields on 10-year U.S. Treasury Notes are sitting close to 1.95 percent? How do savers confront the reality that their portfolios have not been keeping pace with inflation?
Begin with an assessment of your risk tolerance and investment objectives. You should only take on the amount of risk that will allow you to sleep at night. When this is not possible, investors are left with two choices: resetting their financial goals (extending their planned retirement date, postponing, refraining from making large purchases) or increasing their level of risk (lower credit quality, greater volatility, longer maturity).
If you're willing to accept additional risk to increase the rate of return, here are some ideas to consider as alternatives to bank deposits and government securities: An alternative to investing in Treasury Bills, Treasury Notes, and Treasury Bonds, investment-grade corporate bonds typically pay a higher interest rate than treasury securities. "Investment-grade" is defined as having a credit rating of BBB or higher from Standard & Poors or Baa or higher from Moody's. Investment-grade bonds pay a higher interest rate to investors because they carry a higher default risk. A diversified portfolio of corporate bonds can potentially reduce some of the risks associated with these bonds.
T he main advantage of investing in municipal securities is the interest income is exempt from federal income taxes and may be exempt from state and local taxes. This may produce a higher rate of return on a tax equivalent basis when compared to taxable alternatives. Individual tax brackets need to be considered when comparing munici-
pal bonds to taxable bonds. Municipal bonds generally include the same risks as taxable bonds. Payment of interest and return of principal is dependent on the municipality's credit strength. Municipal bonds credit range from investmentgrade, to below investment-grade, to not rated at all, so its important to research and understand each security and evalu-
MATTHE W ROZZ I
ties. Investors should understand that investing in stocks is not risk-free and it's important to understand that you investment can lose some or all of its value. A diversified portfolio of investments properly allocated across a broad spectrum to sectors, market capitalization, asset classes can help reduce volatility with the hope of limiting losses.
PORTFOLIO ADVICE FOR THE CONSERVATIVE INVESTOR
ate the risk associated with each. Finally, dividend paying stocks offer a combination of income and growth potential. Given historically low interest rates and better than expected corporate profits, many investors have sought better returns in high-quality, income-generating stocks. When selecting income generating stocks investors should focus on mature companies with predictable income streams and products and services that consumers will demand even if the economy falters, such as household goods, utilities, and other necessi-
This information is intended to assist investors. The information does not constitute investment advice or an offer to invest or to provide management services. Prior to making any investment, a prospective investor should consult with its own investment, accounting, legal, and tax advisers to evaluate independently the risks, consequences, and suitability of that investment.
For more information, please call IDB Capital at 212.551.8252 or email mrozzi@idbbank.com.
President, IDB Capital Corp. A Subsidiary of IDB Bank
I REMENT C URRENT E VENTS I NSURANCE STOCKS INVESTMENTS FI NANCE R ET I REMENT C URRENT E VENTS
A view of the "new" Federal Reserve Building, photographed from the Munitions Building, 1937.
MAR CH 2012 83
COWBOY CHUCK'S HOME ON THE RANGE
BY ELIZA B ETH QUINN B ROWN PHOTOGRAPHED BY G ARY L ANKFORD
EVERY OCTOBER, Chuck Pfeifer leads a group of friends from the Sun West Ranch in Cameron, Montana, to the Circle C Ranch in Lewistown, Montana, to the Double C Ranch in Mobridge, South Dakota. The trip, which takes a week or longer, spans hundreds of miles where the men indulge in shooting, as well as fly fishing.
When Meriwether Lewis and William Clark explored the area for Thomas Jefferson in the 1800s, they visited both the ranch in Lewistown—named for Lewis—and the ranch in Mobridge. They also crossed the Judith River, named for Lewis' wife-to-be. u
84 Q UEST
SP ORT
This page: The trip across from Montana to South Dakota begins at the Wakan Tanka Lodge in Cameron, Montana—"Wakan Tanka" means "The Great Spirit" in Sioux (above); a buffalo spotted among the wildlife at Yellowstone National Park, which is accessible from the Sun West Ranch in Cameron, Montana (below). Opposite page: Dressed in an orange vest, Phil Silvestri takes aim at a bird flying from out of the brush in Lewistown, Montana.
This page: Scott Gibney reels in a catch while fly fishing on the Madison River, which is abundant in trout (above); some hunting at the Double C Ranch in Mobridge, South Dakota (below). Opposite page, clockwise from top left: A hunting dog assists with shooting in Mobridge, South Dakota; the lodge at the Circle C Ranch, the porch of which is decorated with birds, located in Lewistown, Montana—an area known for its Hungarian Partridge and Sharp-tailed Grouse; Shawn Madison of the Department of Game, Fish, and Parks checks a license; trout—it's what's for dinner; the lodge at the Double C Ranch in Mobridge, South Dakota; a photograph of Lewistown, Montana, after a sprinkling of snow; Chuck Pfeifer leads his buddies on trips out west every October.
SP ORT 86 Q UEST
HOUSE HISTORY
BY THE LATE 1890s, the retail chain of Frank Woolworth was rapidly expanding. Mr. Woolworth engaged Charles Pierpont Henry Gilbert, the famed architect of mansions in the French Gothic style who had just completed a prime example at Fifth Avenue and East 79th Street (known today as the Ukrainian Institute), to design one for him at 80th and Fifth Avenue. In 1910, Woolworth went downtown to build his skyscraper, but at the same time (from 1911 to 1915) he engaged Gilbert again to design houses for his daughters: 2 East 80 for Mrs. Franklyn Hutton; 4 East 80 for Mrs. Charles McCann and 6 East 80 for Mrs. James Donahue. All three townhouses remain intact today. Flanked by its two 25-feet-wide sister buildings, the middle mansion, 4 East 80 Street, is an astounding 35 feet wide, and is now offered for sale with Brown Harris Stevens. While the other great mansions that have come on the market in New York have required total renovation, this is the only mansion available that has been fully renovated in a traditional prewar style. Never before could one acquire such a magnificent building in this condition—truly a rare opportunity not to be missed. u
For more information, please contact Paula Del Nunzio at 212.906.9207 or pdelnunzio@bhsusa.com.
OPEN HOUSE 88 QUEST
This spread, clockwise from top left: the imposing limestone facade of the Woolworth mansion; the beautiful front parlor; the formal dining room seats 50 and the breakfast nook; the entry with the grand staircase landing; the wood-paneled library.
TOP 10 AGENTS - MANHATTAN #2 Melanie Lazenby #3 Barbara Lockwood #6 Jessica Levine #9 Leslie Mason #10 Sonia Stock #5 Diane Johnson #8 Brett Forman #7 Rocio Docal Neumann #4 Kym Spiegel #1Joan Swift CAMERA SHY
(BY TRANSACTIONS) # 1 Robert Nicoletti # 2 Gabriele Sewtz # 3 Madeline Williamson # 4 Armanda Squadrilli # 5 Uri Hanoch # 6 Carolyn Cedar # 7 Jessica Levine # 8 Rezwan Sharif # 9 Simona Stanica # 10 Gregory Williamson ©2012. Prudential Financial, Inc. and its related entities. An independently owned and operated broker member of Prudential Real Estate Affiliates, Inc., a Prudential Financial company. Prudential, the Prudential logo and the Rock symbol are service marks of Prudential Financial, Inc. and its related entities, registered in many jurisdictions worldwide. Used under license. Equal Housing Opportunity. CONGRATULATIONS TO ELLIMAN AWARD WINNERS ON THEIR EXTRAORDINARY SUCCESS IN 2011 TOP 10 TEAMS - MANHATTAN #2 The Leonard Steinberg Group #5 The Holly Parker Team #6 The Ann Cutbill Lenane Team #9 The Andrew Anderson Team #4 The Daniela Kunen Team #3 The Janice Chang Team #8 The EklundGomes Group #7 The Jacky Teplitzky Team #10 The Lisa Simonsen Team #1 The De Niro Group
(BY TRANSACTIONS) #1 The Joyce Kafati-Batarse Team #2 The Andrew Anderson Team #3 The Hoffman-Meier Group #4 The Leonard Steinberg Group #5 The De
#6 The Buchin
#7 The Ann
#8 The Tavivian
#9 The Jessica
Team #10 The Jacky Teplitzky Team (BY GROSS COMMISSIONS) (BY GROSS COMMISSIONS)
TOP 10 AGENTS
TOP 10 TEAMS
Niro Group
Raida Team
Cutbill Lenane Team
Sporn Group
Cohen
The
Turn-of-the-Century - Wonderful Katonah Compound. Seven Bedroom Colonial with wrap-around porch currently divided into three apartments. Each apartment has private entrance. Could easily be con verted back to single family residence. Separate Two Bedroom Cottage. One Car Garage and Carport. Fabulous location in the heart of Katonah within walking distance to shops, restaurants and train. $999,000
Circa 1930 - Beautiful Country House with wideboard oors, French doors and nicely scaled rooms. Spacious Living Room with Fireplace and window seat. Formal Dining Room with Fireplace. Cozy Den with builtins. Country Kitchen with honed stone and stainless. Family Room with vaulted ceiling. Den. Master Suite with Bath. ree additional Bedrooms. Over one acre on quiet country road. Pool and Pool House. $850,000
Mid 19th Century - Charming Side Hall Colonial with oor-toceiling windows and hardwood oors. Living Room with stone Fireplace. Sun Porch. Formal Dining Room. Kitchen with vintage cabinetry. ree Bedrooms. Two quiet acres with frontage on a private lake. Ancient Hick ory and Maple, beautiful gardens and old Hydrangea. Stone walkways to old boathouse overlooking the water. Quiet country road. $799,000
Colonial Perfection - Absolutely turn-key Center Hall Colonial with sun- lled living space. Elegant Entrance Hall. Beautiful Living Room with Fireplace. Formal Dining Room. Country Kitchen open to Family Room with Fireplace. Library. Four Bedrooms. Spacious Bonus and Recreation Rooms. Wonderful Deck with Spa. Over one landscaped acre in desirable neighborhood of country homes. Moments to shopping, restaurants and the Ward Pound Ridge Reservation. $1,100,000
Sophisticated Country Estate - Overlooking the gorgeous grounds of the Waccabuc golf course. Long drive through pastoral meadows to four estate acres. Impressive and opulent Shingle Country House rich in detail: oak millwork, rich, wideboard Butternut oors and plaster walls. Dra matic Living Room with cupola, massive hand crafted beams and oor-to ceiling stone replace. Formal Dining Room with Fireplace. Chef's Kitchen. Two Bedroom Guest Cottage. Swimming Pool. Greenhouse. $5,995,000 (914) 234-9234 493 BEDFORD CENTER RD, BEDFORD HILLS, NY WWW.GINNEL.COM SPECIALIZING IN THE UNUSUAL FOR OVER 60 YEARS
Stephen Gilbert Homestead - Historic 1815 Colonial ex tensively renovated and updated. Original leaded glass windows, beautiful cherry banister and wide plank Chestnut ooring. True Center Entrance Hall. Nearly three exceptional acres with majestic two-hundred year old Sugar Maples, tow ering Evergreens, ancient Oak and Apple trees and a fabulous Weeping Cherry. Remarkable Mid-19th Century Barn with skylit Artist's Studio. $1,350,000
GREENWICHFINEPROPERTIES Exclusive GreenwichAffiliate of ClassicProperties International 80 MASONSTREET GREENWICH,CONNECTICUT 06830 GREENWICHFINEPROPERTIES.COM 203.661.9200 KATHYADAMS.JENNIFERBENEDICT.LISABILHUBER.BERDIEBRADY.ANNBRESNAN.BONNIECAIE.LESLIECARLOTTI.LINDACASTRIOTA.JULIECHURCH.BARBARACIOFFARI.JOSIANECOLLAZO PATRICIACOUGHLIN.JEFFREYCRUMBINE.MAUREENCRUMBINE.EVANGELADALI.BLAKEDELANY.CANDYDURNIAK.JACKIEEKHOLM.SCOTTELWELL.LEEFLEISCHMAN.JOYCEFOWLER JANIEGALBREATH.KATHERINEGEORGAS.JANEGOSDEN.MARYANNGRABEL.SARAHOLDCROFT.JEANNEHOWELL.ROBINKENCEL.SHARONKINNEY.ELIZABETHKOLDYKE-BOOLBOL.GILALEWIS SALLYMALONEY.VILMAMATTEIS.DEBBIEMCGARRITY.CINDYMEEKER.JIMMEEKER.ERINMOODY.ELLENMOSHER.LAURENMUSE.LIZOBERNESSER.MARGARETRYDZIK.MARIANNESCIPIONE FIFISHERIDAN.LAURIESMITH.DOUGLASSTEVENS.LYNSTEVENS.TORYTHORMAN.TYLERTINSWORTH.BEVERLEYTOEPKE.JOEWILLIAMS.MIHAZAJEC LAUREL HILL $8,750,000 Pleasevisit:www.majesticlaurelhill.com Exclusive Agent: Lyn Stevens SUNSET FARM $4,995,000 Pleasevisit:www.212bedfordrd.com Exclusive Agents: Jane Gosden / BeverleyToepke ELEGANT FRENCH PROVINCIAL STYLE IN BELLE HAVEN $3,900,000 Pleasevisit:www.primebellehaven.com Exclusive Agents:JosephWilliams / BlakeDelany ELEGANT MID-COUNTRY SECLUSION $3,495,000 Pleasevisit:www.9rockwoodlanespur.com Exclusive Agent: Ellen Mosher BACKCOUNTRY TRANQUILITY $2,350,000 Pleasevisit:www.195bedford.com Exclusive Agent: SallyMaloney PRIVATE SETTING CLOSE TO TOWN $2,350,000 Pleasevisit:www.charmingonglenville.com Exclusive Agents:JosephWilliams / BlakeDelany
GREENWICHFINEPROPERTIES Exclusive GreenwichAffiliate of ClassicProperties International SOPHISTICATED CLASSIC IN PRIVATE ENCLAVE $4,845,000 Pleasevisit:www.21northstreet.com Exclusive Agents: Ellen Mosher / Lyn Stevens MID-COUNTRY DESIGNER SHOWCASE $4,195,000 Pleasevisit:www.chicsophistication.com Exclusive Agent: SallyMaloney 2011STANWICH AREA COLONIAL $3,300,000 Pleasevisit:www.42bote.com Exclusive Agent:Scott Elwell NORTH STREET CLASSIC $2,795,000 Pleasevisit:www.midcountryclassic.com Exclusive Agent: Ellen Mosher CHARM ON BEDFORD $2,345,000 Pleasevisit:www.charmonbedford.com Exclusive Agent: SallyMaloney PRIVATE WEEKEND RETREAT $2,195,000 Pleasevisit:www.hycliffretreat.com Exclusive Agent: Liz Obernesser 80 MASONSTREET GREENWICH,CONNECTICUT 06830 GREENWICHFINEPROPERTIES.COM 203.661.9200 KATHYADAMS.JENNIFERBENEDICT.LISABILHUBER.BERDIEBRADY.ANNBRESNAN.BONNIECAIE.LESLIECARLOTTI.LINDACASTRIOTA.JULIECHURCH.BARBARACIOFFARI.JOSIANECOLLAZO PATRICIACOUGHLIN.JEFFREYCRUMBINE.MAUREENCRUMBINE.EVANGELADALI.BLAKEDELANY.CANDYDURNIAK.JACKIEEKHOLM.SCOTTELWELL.LEEFLEISCHMAN.JOYCEFOWLER JANIEGALBREATH.KATHERINEGEORGAS.JANE GOSDEN.MARYANNGRABEL.SARAHOLDCROFT.JEANNEHOWELL.ROBINKENCEL.SHARONKINNEY.ELIZABETHKOLDYKE-BOOLBOL.GILALEWIS SALLYMALONEY.VILMAMATTEIS.DEBBIEMCGARRITY.CINDYMEEKER.JIMMEEKER.ERINMOODY.ELLENMOSHER.LAURENMUSE.LIZOBERNESSER.MARGARETRYDZIK.MARIANNESCIPIONE FIFISHERIDAN.LAURIESMITH.DOUGLASSTEVENS.LYNSTEVENS.TORYTHORMAN.TYLERTINSWORTH.BEVERLEYTOEPKE.JOEWILLIAMS.MIHAZAJEC
The Substance of Style
BY GEORGINA SCHAEFFER PHOTOGRAPHED BY JACK DEUTSCH AND LUCIEN CAPEHART PHOTOGRAPHY
Beautiful and brave; inquisitive and independent; glamorous and gutsy. These are just a few of the adjectives that describe the eight outstanding women in this portfolio. In April 2009, we produced our first "The Substance of Style" story in what we believed was an overdue tribute to the women who tirelessly fight to change the lives of others.This year, we return to the studio, again photographing women in simple white shirts to illustrate that it's what's on the inside that truly counts.
94 QUEST
Nancy Kissinger
Animal Medical Center
"The reason I am interested in domestic pets is that I believe they are an extremely important part of people's lives. We see now with returning veterans how animals help not only in physical, but emotional ways," begins Kissinger. The former aid to Nelson Rockefeller, Kissinger continues her work for Rockefeller University, in addition to sitting on the board of the Animal Medical Center. "The Animal Medical Center is more than a hospital. Their research and education is in the forefront of how animals improve our lives in all ways. On a very physical level, dogs make us get out and walk. Dogs work when they are needed, either as sled dogs, guard dogs, bomb dogs, or rescue dogs, but they are also just important as a part of our lives—either at work or at play."
J ACK DE UT SCH
"It is an amazing privilege to have this spectacular green space in the middle of one of the most dynamic cities in the world," begins Harrison, the current president of the Women's Committee. "But the city only pays 15 percent of the 43 million-dollar yearly budget for Central Park. It's up to us as citizens to take care of it. The Women's Committee seeks to educate, engage, and heighten people's awareness of the conservancy's mission. The park attracts 37 million visitors a year and has never looked more beautiful than it does today."
Anne Harrison
Women's Committee of the Central Park Conservancy
Emilia Fanjul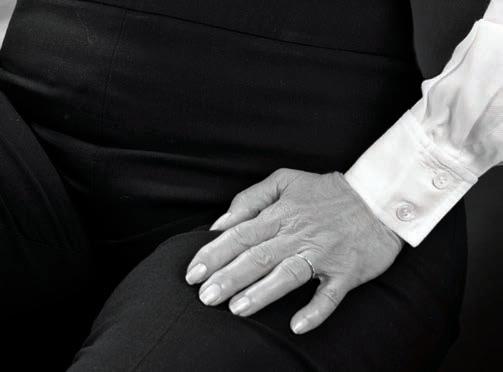 Everglades Preparatory Academy and Glades Academy Elementary Charter Schools
"Having left Cuba at a young age, my mother taught me that education can take you anywhere and you can take education anywhere," begins Fanjul. Located in Pahokee, the two charter schools that she helped establish over ten years ago are designated for at-risk children. This past August, 114 elementary school students moved into their new schoolhouse. "Glades Academy was the only school in Palm Beach County to be designated an 'A' school and one of the 10 percent of schools to achieve AYP (Annual Yearly Progress), so we are very proud."
MARCH 2012 97 LU CEIN CAPEHA RT PH OTOGR APHY
Louise Grunwald
Lighthouse International
"Vision impairment is rising to epidemic proportions," begins Grunwald. "More and more people are facing vision loss from macular disease, diabetes, and other health issues. My husband, Henry, suffered from macular degeneration, and Lighthouse International provided him an educational resource and a vital sense of kinship." Grunwald has hosted the Lighthouse's annual Henry A. Grunwald Award for Public Service Luncheon since 2001. "I think Henry put it best in [his memoir] Twilight ," she says: "'It is part of the fundamental impulse in all living things to reach for light, part of the indomitable will to see.'"
98 QUEST JA CK DEUT SCH
Sasha Heinz
Planned Parenthood
"For the past 5 years, it has been my great honor to serve on the national board of Planned Parenthood under the leadership of the preternaturally brilliant and unflappable Cecile Richards—a woman I would follow into battle any day," begins Heinz. "My commitment to Planned Parenthood is galvanized daily by my work on adolescent risk and resilience. Providing high-quality reproductive education and healthcare, Planned Parenthood protects young women—particularly those in low-income and medically underserved areas—from the risk of early and unintended pregnancy," she continues. "Sex education and accessible contraception is a small investment that can and does dramatically change the trajectory of a young woman's life."
AND MAKEU P
RT
HAIR
BY ROBE
HU ITR ON
Sydney Shuman
Women & Science, Rockefeller University
"Women & Science was established to create a community of women who embrace science as a passionate and philanthropic interest," begins Sydney Shuman, a co-founder of Women & Science (W&S) and Rockefeller University trustee. "This founding vision has met with great success—creating a forum to learn from women scientists and a unique resource for information on scientific advancements in women's health." Now celebrating its 15th anniversary, W&S has become a robust program of support for women scientists at Rockefeller, raising more than $15 million to help fund postdoctoral and graduate fellowships and research in such areas as cancer biology and neuroscience.
JACK DE UTS CH
Emma Bloomberg
"Children born into poverty are relegated to a life of poverty because they simply aren't given access to a great education. Families go hungry. People who want to work don't have the skills they need to get and maintain a job. Robin Hood wants to change all that, one life at a time," begins Emma Bloomberg. Daughter of the mayor, Bloomberg is making her own contributions to the city as the senior manager of planning for Robin Hood. "We're trying to become the first city in the country to end street homelessness for veterans," she continues. "I've always loved New York—it's my home—but working at Robin Hood I have the opportunity to make it better, and that's a real honor."
Robin Hood
J ill K argman American Foundation for Equal Rights
"Our nation's character of freedom is founded upon the principle that all A mericans are entitled to be treated equally by their government," begins Kargman, whose tenth book, Rock Star in 3A, comes out this May. "Since 1888, the U.S. Supreme Court has repeatedly reiterated that marriage is a basic civil right, including their landmark decision that struck down bans on interracial marriage more than 30 years ago," she continues. "I am proud to fight for gay marriage so that my grandchildren are born one day into a country where any two adults are permitted to wed freely, without red tape, and guaranteed the same thousand-plus rights."
102 QUEST
JACK DEUTSCH
The women from our April 2009 "The Substance of Style" shoot. Top row: Susan Burden, New Yorkers for Children; Lauren Bush, FEED; Lorna Graev, Fountain House. Second row: Nancy Paduano, Central Park Conservancy; Susan Fales-Hill, American Ballet Theatre; Blaine Trump, God's Love We Deliver; Cynthia Lufkin, Memorial Sloan-Kettering Cancer Center. Third row: Elizabeth Stribling, French Heritage Foundation. Bottom row: Liz Smith, Literacy Partners; Diana Taylor, New York Women's Foundation; the late Evelyn Lauder, The Breast Cancer Research Foundation.
104 QUEST
SHIRT SO GOOD
BY CHRISTIAN CHENSVOLD
WI TH THE IR BOLD patterns, intrepid colors, and superlative quality, Turnbull & Asser shirts are gorgeous enough to make women weep. These are the shirts, after all, that Daisy Buchanan soaks with tears, sobbing "I've never seen such beautiful shirts before," in the 1974 film adaptation of The Great Gatsby Founded in 1885 and headquartered on London's Jermyn Street, which is to men's shirts what Savile Row is to men's suits, Turnbull & Asser offers shirts that belong on that very short list (the one that includes hats by Locke, shoes by Lobb, and pipes by Dunhill) of masculine accoutrements that are quintessential expressions of English taste. In 1981, when Prince Charles was given the power to grant royal warrants, he bestowed the first upon his shirtmaker. Turnbull & Asser continues to proudly display this ultimate in product endorsements: "By
This page: Founders Reginald Turnbull (a hosier) and Ernest Asser (a salesman) partnered in 1885, creating what would become one of England's greatest purveyors of gentlemen's clothing. The original shop was on Church Place, a busy alleyway that joined Piccadilly and Jermyn Street. Opposite page: 1989 marketing material showing fabric swatches and shirtmaking patterns.
MA RCH 2012 105 TUR NBULL & ASSER
Appointment to HRH The Prince of Wales Shirtmakers."
In 1997 the firm opened shop in New York and, last month, Turnbull celebrated the grand opening of its new store at 50 East 57th Street, a mere cufflink's throw from its former location. Though sleeker in design, the new store prominently plays up the brand's storied heritage. Curio cabinets brim with archival pattern books, old silk top hats, and large clams holed-out like Swiss cheese, their shells used for mother-of-pearl buttons, an intregal part of the Turnbull & Asser shirt.
Though it has always offered a range of wares (during World War I the firm outfitted British soldiers with raincoats that doubled as sleeping bags), the Turnbull & Asser name will always be synonymous with fine shirts. Bespoke shirtings start at $375 and reach $550 for a rare two-fold, 200-threadcount Sea Island cotton. Measurements are dispatched to Gloucester, where Turnbull & Asser is the last remaining English shirtmaker to operate its own factory. In addition to hundreds of fabrics to choose from, a myriad of collar and cuff choices are possible including the "James Bond cuff," which
doubles over but fastens with a button instead of a cufflink.
In addition to the cinematic spy, Turnbull's celebrated customers span a dizzyingly diverse range of 20th-century luminaries, from statesmen and gentry to sultans, artists, and tycoons. Many of their photos—Churchill, Picasso, Sinatra— line the store's staircase.
With three floors and 3,800 square feet, the new store has everything a man needs to ape an English gentleman. "Unlike our London customers, who think of us primiarly for shirts and ties," says director James Fayed, "New York men want everything under one roof and they want it yesterday." But good things come to those who commission, and while the store is full of sumptuous ready-made goods, Turnbull's real distinction lies in its variety of bespoke services, which span all product categories. Pick the length and pattern of your umbrella, for example, and choose from 20 handle materials. "We're increasingly appealing to younger guys who want things that are personal and made to last," says Fayed. "We're 125 years in the U.K., but our future is definitely in the U.S." u
106 QUEST
This page: A 1930s pattern book. Opposite page, clockwise from top left: The loungewear department at the New York store with pajamas and robes; shirt collars come in 11 styles; photographs of noted customers line the staircase, which ascends behind a table of cashmere ties; silk robes, printed and brocade; the front of the London store on Jermyn Street; entrance at the New York store; a dressing gown in front of wall decorated with 18,000 mother-of-pearl buttons.
This page: Canary yellow silk gazar gown with silk organza band appliqué. Opposite page: Red silk seersucker cloque gown with black and white geometric embroidery; a black-and-white portrait of Carolina Herrera, America's Venezuelan-born ambassador of high fashion (inset).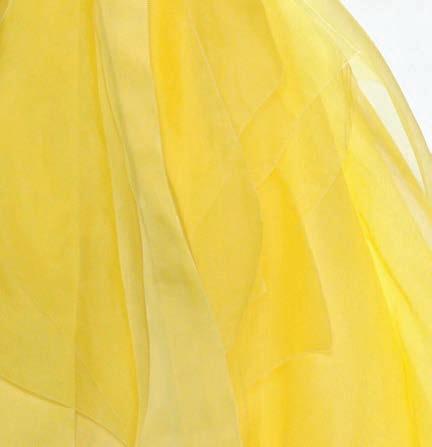 108 QUEST
OUR LEADING LADY
BY DANIEL CAPPELLO
WHEN FLORA COLLINS, the daughter of style authority Amy Fine Collins, needed a dress for her coming out last November at the legendary Bal des Débutantes de Paris, there was no question as to which designer she would wear. Collins knew assuredly that it would be Carolina Herrera. The Crillon Ball, as it's known, is a decidedly high-stakes moment not only for the young women who are invited to participate, but also for the designers whose labels make that magical entrance onto the world stage. As such, it's no surprise that usually only the official couture houses are represented: Chanel, Dior, Givenchy (the ball was once even dubbed "Le Bal de la Haute Couture"). But when a designer
ARTH UR ELG ORT (PORTRA IT ); D AN LE CCA (SP R ING-SUMME R 2012 R UNW A Y)
This page, from left: Red seersucker silk cloque dress; Carolina Herrera with her daughter Carolina Herrera Baez. Opposite page, from left: Canary yellow, greige, and taupe dot prink silk chiffon gown; off-white, black, and sepia cotton shirt dress with red patent-leather belt.
reaches that couture-like status, he or she is also invited to the ball. So it's no surprise that Carolina Herrera—a standard-bearer for ultimate quality and elegance—was a rightful choice for the young Collins, who also happened to grow up knowing Herrera personally.
In the months leading up to the ball, Herrera picked out ten dresses for Collins to choose from. On the day she made her decision, Collins walked into the showroom to find Herrera's selections on display in their full glory. She immediately gravitated toward one, and that was it: a twotone strapless blush tulle gown with a consummate ballgown skirt fit for a fairytale princess. "I knew that would be the one," Herrera admitted, even though she didn't direct Flora's decision. That, according to longtime fan Amy Fine Collins, is one of Herrera's gifts as a designer: she knows exactly what her clients want, and unfailingly delivers what they need. Her omniscience, in this respect, is one of the many reasons she is so beloved.
Her gift to fashion and to women, as the story of Collins mère and fille illustrates, is that she resonates with every generation—and manages to suit them all. Every girl who wants to feel like a woman looks to Carolina Herrera; so does every woman who wants to feel like a lady. The Venezuelan-born, New York-based designer has always represented the epitome of a certain kind of grace and gracefulness: she is a semi-mythic combination
110 QUEST A LEXI LU BOMI RS KI ( BEH IND-THE-SCENE S ); D AN LE CCA ( SPR INGS UMME R 2012 R UNW A Y)
of glamour, beauty, worldliness, and culture, and her clothing has always reflected that. Carolina Herrera New York, the luxury label that she launched in 1980, has consistently summoned an instant sense of sophistication, but without ever being dull.
This spring, her collection showcases Carolina Herrera at its best, with a vibrant palette ranging from spring greens and yellows to sober reds and reassuring silvers and neutrals—all with signature modern takes on classic form. The feminine is always at home with Carolina Herrera, but never overly precious; somehow, sparrow prints in Herrera's hands manage to stay winningly charming, without any cloying cutesiness.
Herrera consistently honors the female form, and this season is no exception. Interestingly, she introduces geometric shapes to contrast the natural, fluid, and curvy shapes of a woman's body. For instance, a form-hugging red silk seersucker gown is offset by geometric embroidery running up and down like a print motif; a yellow silk gazar gown fit for the ballroom is broken up by rectangular appliqué bands. And black-and-white shirt dresses show off this blocky geometry as only monochromatic tones can. Her risk-taking always reaches a certain limit and remains knowingly in step. This might be due to the fact that Herrera is a master of both propriety and proportion. As Amy Fine Collins puts it: "Carolina has an eye for proportion like no one else," which can be something of a "neglected art" in fashion today.
This page, from left: Canary yellow and greige silk and cotton jacquard strapless gown; Mini Matryoshka bag by CH Carolina Herrera. Opposite page: Greige silk organza layered top with embroidery, and the off-white, taupe, and sepia dot print silk chiffon skirt; Carolina Herrera with Jacqueline De Ribes at the Metropolitan Museum of Art Costume Institue, 1978 (inset).
DA N LE CCA (SPRI NG -SUMM ER 2012 R UNW A Y)
MARCH 2012 113
In a nod to the multigenerational appeal that is Carolina Herrera New York, the spring runway featured models carrying the Mini Matryoshka bag, which was designed by her daughter Carolina Herrera Baez. Baez (known affectionately as "Carolina, Jr.") shares her mother's intangible style savvy and has been consulting for her on the lifestyle brand CH. Baez's bags for this season, which are really bucket totes made of color-blocked Goya leather, marked a seamless yet very apparent bridge between not just two labels, but two women and two generations.
Carolina Herrera, like her collections themselves, is an alluring combination of contrasts. With her iconic short-cropped, swooped-to-one-side hairstyle and crisp, constructed white shirts, she is a modern woman with her sleeves rolled up, ready for business. Spotted at the opera or the ballet in evening gowns of her own design, she is a stunning and perpetually reincarnated version of a regal, international lady of another time. Carolina— as both her close friends and anonymous fans alike feel free to call her—speaks endlessly to a certain kind of ideal: the timeless yet modern figure whom every woman aspires to be. u
This page: A portrait of Carolina Herrera in one of the white shirts that has become her signature; the designer has always had a bold sense of fashion (inset). Opposite page, from left: Cornflower silk faille gown with asymmetrical fold detail, and patent-leather double-wrap belt; geometric devore gown with cornflower organza insert; Carolina Herrera and Carolina Herrera Baez (inset).
ALEXI LU BOMI RS KI (IN SET, O PPOS ITE P A GE); A RTH UR E LG ORT (PORTRA IT ); DA N LE CCA (SP R ING-SUMME R 2012 R UNW A Y); PA UL J AS MIN (IN SET, TH IS P A GE)
MADE IN THE U.S.A.
BY GEORGINA SCHAEFFER
INSTITUTE OF TECHNOLOGY
FASHION
T his page: A view of some of the clothing on display at the Fashion Insitute of Technology's new exhibit "IMPACT: 50 Years of the CFDA." Opposite: A detail of the Traina-Norell evening set, circa 1958, which was a gift to the museum from Lauren Bacall.
THE FIRST PIECES TO ARRIVE at the Museum of the Fashion Institute of Technology (MFIT) for their collaborative exhibition with the Council of Fashion Designers of America (CFDA) were Thom Browne's suit, a fantasy of feather and flannel, and Norma Kamali's bold black gown featuring sky-
high feathers in its turban. MFIT's deputy director, Patricia Mears, wondered what themes might emerge for the new show "IMPACT: 50 Years of the CFDA," which opened last month.
Born from an idea of CFDA's current president, Diane von Furstenberg, the exhibition is a celebration of American fashion.
MAR CH 2012 117
118 Q UEST FASHION INSTITUTE OF TECHNOLOGY
Featuring the work of CFDA members from its inception in 1962 by Eleanor Lambert through today, the show was constructed by asking designers to choose "a single object or ensemble that they feel best represents their individual impact on the fashion world," and the result is a once-in-a-lifetime collaboration. From the cheeky men's wear of John Weitz to the elegant evening wear of Bill Blass, from the cutting-edge ensembles of Marc Jacobs to the simple dresses of Donald Brooks, the exhibit and accompanying book, published by Abrams with the same title, encompasses the exceptional vitality of American fashion design.
One of the pieces on view is a remarkable Norell evening set owned by Lauren Bacall that is called "the subway dress." Under a simple cashmere coat is a fantastic sequined sheath dress. The coat is lined with matching handsewn sequins. It was designed in 1958 for a modern woman who would take the subway to a fashionable dinner party. Because the exhibition is organized thematically, on the same wall is a Michael Kors ensemble from
This page: Norma Kamali's black parachute cloth and feather jacket, skirt, and turban, 2011. Insets, from top: Geoffrey Beene's rayon and silk gown with metallic trim, Spring 1990; Michael Kors's cashmere sweatshirt with hemp crystal beaded pajama pant, leather belt, and platform sandal, Spring 2011. Opposite: Pauline Trigère's black and white cotton cloque dress and coat, circa 1964.
This page: The pieces on view were selected by the designers themselves. Opposite: Oscar de la Renta's ball gown of silk tafetta black guipure lace bodice, Spring 2012. Insets, from top: The dress worn by Michelle O bama in 2008 for election night, from Narciso Rodriguez, Spring 2009; choices by O livier T heyskens and Zac Posen; I sabel Toledo's selection.
2011 featuring a cashmere sweater with sequined evening pants. The Kors selection references the Norell ensemble with similar textures and tones, but also illustrates the continuing theme of modernity in American fashion—it, too, was created for the modern woman, just one who lives 50 years later.
Certain pieces highlight the evolving role of women, from Diane von Furstenberg's iconic 1970s wrap-dress, favored by girls headed to the office, to Liz Claiborne's skirt suit from the 1980s, when women entered the boardroom. There are iconic pieces, like the dress Michelle Obama wore on the night of the 2008 election. Men's wear is not ignored, and is a great surprise. Instead of one of his dresses, Koos Van Den Akker submitted a
sweater worn by Bill Cosby for his groundbreaking T.V. show The Cosby Show. Taken together, these pieces end up speaking to the changing role of African Americans in our culture.
Born in a small room on Seventh Avenue, the CFDA has grown to include over 400 members and raises millions of dollars for scholarships and charities. Still, it remains committed to its original mission of advancing American fashion designers. As this exhibit proves, American women have borne an influence on these designers. Kasper, for one, is quoted in the book as saying, "It's the confident spirit of this kind of woman that inspires me most." Modern, vivacious, confident: these are all ways to describe this show, and how worthy they are of celebration. u
120 Q UEST FASHION INSTITUTE OF TECHNOLOGY


Jean-Philippe Delhomme is one of today's most influential fashion artist-illustrators, whose work regularly graces the pages of Vogue , W, GQ , and The Los Angeles Times , among others. His gently satirical renderings of the hip and the fabulous are recognized the world over. Now, in "Dressed for Art," a witty collection of over fifty of his colorful fashion paintings and drawings, the Gallery of the French Institute Alliance Française (FIAF) in New York celebrates Delhomme's signature style. From runways to photo shoots, from Paris to New York, "Dressed for Art" is a singular chronicle of the fashion world from a peerless point of view.
The painter and fashion illustrator Jean-Philippe Delhomme's take on a couture fitting at Valentino in Paris, 2004.
BY JEAN-PHILIPPE
WITH AN INTRODUCTION BY
MARCH 2012 123
ILLUSTRATED
DELHOMME
DANIEL CAPPELLO
The artist's take on one look from Alexander McQueen's Autumn-Winter 2008 show in Paris. Opposite: At the Zero+Maria Cornejo show in New York, 2010.
93.67794612063666%
"It's not so much the fashion itself as it is the situation [at hand]," Delhomme says of his interest in the fashion world. There are other variables at play: "The set, the allure, the light, the faces of the models... It has to be like a theater stage, or an art installation—a performance."
MARCH 2012 125
Delhomme points out that fashion is not necessarily the focus of his drawings and paintings: "It's interesting to draw if there is something a bit in excess: drama, humor."
Vogue Japan Editor at Large (and "fashion maniac," as Helmut Newton once described her) Anna Dello Russo performing at Carine Roitfeld's Karaoke Party in New York, 2011. Opposite: A fitting at threeASFOUR in New York, 2010. MARCH 2012 127
"I like when you sense that a designer has an opinion," Delhomme says. "When he is saying something else—not simply about clothes."
MONTH
PHOTO CREDIT GOES
This page and opposite: Delhomme's renderings from Alexander McQueen's AutumnWinter 2008 show in Paris.
QUEST 130 QUEST
APRILREVISITSQUEST 1997
QUESTREVISITS
APRIL1997 132 QUEST
MONTH PHOTO CREDIT GOES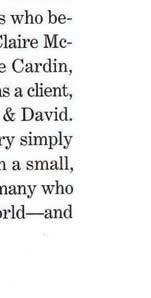 00 QUEST 134 QUEST
APRILREVISITSQUEST 1997
QUEST BEST DRESSED: THE LIST 2012
Jacqueline Kennedy once explained: "I like terribly simple, covered-up clothes." Whether she's simple or elaborate, each of the women on Quest 's third annual best-dressed list has an admirable style all her own.
"Why change? Everyone has his own style," Audrey Hepburn (opposite, top right) once said. "When you have found it, you should stick to it." Hepburn certainly stuck to her own simple and effortless sense of chic—from the little black dress to the skinny black pant—and became a fashion icon for the ages.
PHOTO CREDIT GOES
PHOTO CREDIT GOES 2008
1 4 2 5 8 6 9 7 3 10
There are those who are well dressed, and those who are best dressed. To be best dressed, a woman must have a sense of style that transcends mere fashion and speaks to who she is—from the way she dresses to the manner in which she lives her life. We care about her as much for what she's wearing as for what cause or business she's working on in life. Yves Saint Laurent once remarked, "Over the years I have learned that what is important in a dress is the woman who is wearing it."
invite you to follow in these pages the women on our third annual best-dressed list (in no particular order).
DRESSE D: TH
2012
QUEST BES T
E L IST
1. Amy Fine Collins 2. Julia Koch 3. Blair Husain 4. Carol Mack 5. Blaine Trump 6. Aerin Lauder Zinterhofer 7. Amanda Burden 8. Candace Beinecke 9. Audrey Gruss 10. Amanda Brooks 11. Hilary Geary Ross MA R CH 2012 139 11 P ATRICK MCM U LLA N
We
QUEST BES T DRESSE D: TH E L IST 2012 "The only real elegance is in the mind; if you've got that, the rest really comes from it." —Diana Vreeland 1. Iris Apfel 2. Joanne de Guardiola 3. Cristina de Caraman 4. Hilary Dick 5. Carolina Herrera 6. Dylan Lauren 7. Eleanor Lembo Ylvisaker 8. Kick Kennedy 9. Cornelia Guest 10. Diana Taylor 11. Cynthia Lufkin 12. Emilia Saint-Amand 140 Q UES T 1
2 4 5 10 7 8 9 11 12 3 6 P ATRICK MCM U LLA N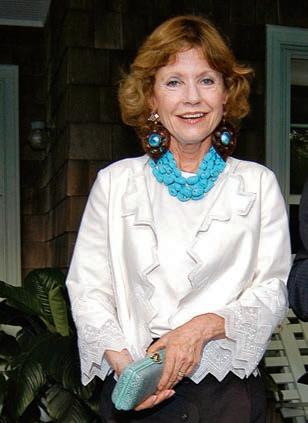 1 8 3 4 7 9 10 2 5 6
11
ATRICK
U LLA N QUEST BES T DRESSE D: TH E L IST 2012 "Fashions fade; style is eternal." —Yves Saint Laurent "Don't be into trends. Don't make fashion own you, but you decide what you are— what you want to express by the way you dress and the way you live." —Gianni Versace 1. Christine Schwarzman 2. Jamee Gregory 3. Susan Fales-Hill 4. Lee Radziwill 5. Kathy Rayner 6. Lauren Santo Domingo 7. Marjorie Gubelmann 8. Nicole Mellon 9. Somers Farkas 10. Meredith Melling 11. Lauren Bush MA R CH 2012 143
P
MCM
AMERICAN BEAUT IE S
BY ELIZA B ETH QUINN B ROWN
"I TELL EVERYONE TO BREATHE. I think the most beautiful portaits happen on the exhale," says Claiborne Swanson Frank, who photographed 110 women for her first book, American Beauty (Assouline). The work, written and co-produced by Claiborne's friend Genevieve Bahrenburg, features females who are redefining the American dream by exuding a "gutsy courage to cultivate themselves," says Claiborne.
American Beauty commemorates women who have, through a variety of ambitions, contributed to different worlds in different ways. Before shooting, Claiborne met with her subjects to create a marriage Aerin Lauder, on her father's Thunderbird, says, "I was always surrounded by strong, passionate women—they taught me how to follow a dream and the importance of dedication."
A SSOU LI NE
146 QUE ST A SSOU LI NE
O
This page: Amanda Hearst, great-granddaughter of William Randolph Hearst, in Long Island.
pposite page: Lauren Bush Lauren started FEED Projects in 2006 after working for the UN Food Hunger Program. Today, FEED Projects provides 60 mil lion meals worldwide.
148 QUE ST
This page: Jenna Lyons, president of J.Crew, at her Brooklyn home. Her style is, she says, "a touch tomboy mixed with grandma—something tailored, always paired with something sparkly."
Opposite page: Kick Kennedy, grandaughter of Robert F. Kennedy.
ASS OUL INE
This page: Asia Baker, a friend of Claiborne Swanson Frank, was the subject of one of the photographer's first portraits. Opposite page, inset: the cover of American Beauty by Claiborne Swanson Frank, co-produced with her friend Genevieve Bahrenburg.
between setting and styling that would resonate with the individual. Kick Kennedy and Lauren Santo Domingo are pictured in nature with bare feet, while Harper's Bazaar 's Joanna Hillman and Moda Operandi's Taylor Tomasi Hill are pictured against urban backdrops. Some pose with cigarettes, others pose with old Toyota Land Cruisers or Porsches; Lily Aldridge decorates the cover draped in the star-spangled banner.
"Shooting the cover, half of the sky was gray and half of the sky was colored with yellows and pinks. Lily Aldridge against the sky, it really has a 'Lady Liberty' feel to it. After I
got the shot, we jumped up and down. Ten minutes later, it poured rain," says Claiborne. Each image is, at once, sensational and sultry—an inspiring comingling of female empowerment and vintage Americana. The pages are punctuated with quotations, including Bret Easton Ellis's "The better you look, the more you see." Perhaps, the more you do, the better you look—as is realized in every one of Claiborne's American beauties. u
All photography by Claiborne Swanson Frank. Visit assouline.com or claiborneswansonfrank.com.
ASSOULINE
WHAT THE CHAIRS WEAR
Karen Klopp, founder of What2WearWhere.com, created an ethereal ensemble to wear to The Plaza on March 8 for the Winter Ball, an event hosted by the director's council of the Museum of the City of New York and sponsored by Giorgio Armani.

YEAR AFTER YEAR AFTER YEAR, the director's council of the Musuem of the City New York's Winter Ball is one of the chicest soirées in town. And, with this year's fête being sponsored by the design legend Giorgio Armani, we're in for a treat! The evening will be anything but frosty as the fashionable set breezes into The Plaza for an evening of cocktails, dinner, and dancing into the wee hours. The chairmen— Mark Gilbertson, P hoebe Gubelmann, Celerie Kemble, Nicole Mellon, Calvert Moore, Heather Mnuchin, Allison Rockefeller, Shafi Roepers, Andrew Roosevelt, and Burwell Schorr—are devoted as ever to creating one of the most glittering parties of the season in support of the Museum of the City of New York's exhibitions and programs that offer important and intriguing perspectives on the people, places,
and issues that have defined New York over time.
The Museum of the City of New York celebrates and interprets the city, educating the public about its distinctive character, especially its heritage of diversity, opportunity, and perpetual transformation. Founded in 1923, the Museum of the City of New York connects the past, present, and future of New York. It serves the people of New York and visitors from around the world through exhibitions, school and public programs, publications, and collections. Current exhibitions include everything from "The Greatest Grid: The Master Plan of Manhattan, 18112011" to "Cecil Beaton: The New York Years." u
For more information, please contact Stephen Diefenderfer at 917.492.3326 or sdiefenderfer@mcny.org.
152 QUEST PATRICK MCMULLAN
KLOPP
For such an elegant evening, we chose a gorgeous Giorgio A rmani gown, from the designer's "Nacrée" collection (2), imbued with the sheen of mother of pearl and reflecting the light in its delicate cascading crystals like a thousand stars in the wintery night sky.
To complement, we accessorized with the Giorgio Armani nude sandals (5) and beaded clutch (1). The stunning jewelry continues the dazzling effect with Asprey earrings (3) and bracelet (4). C ould there be a more luminous look for a chance to rewrite your very own personal history of the city of N ew York?
M AR CH 2012 153 1
4 5
3 2
MOR E FOR MARCH
BY HIL ARY GEARY
COME JANUARY, New York City seems a tad quiet—but only for a nanosecond—and then you turn a page in your calendar or look at your BlackBerry and you realize that the city never, ever sleeps. One of the highlights of the month was the New York Philharmonic's celebration of the Chinese New Year chaired by Angela Chen, Anla Cheng, Lady Linda Wong Davies, Lizabeth and Frank Newman, Gary Parr, Oscar Tang,
Ansso Wang, and Shirley Young with Karen LeFrak as special events chair. The evening's dazzling program kicked off with a "dragon" dancing on stage by the Nai-Ni Chen Dance Company with music conducted by Long Yu, followed by the Quintessenso Children's Choir of Mongolia. These beautiful little children with voices of angels—so poised in enchanting costumes—stole the audience's heart when they sang "God Bless
America." There was not a dry eye in the house! Liang Wang, Jundiai Tang, and the great Lang Lang at the piano followed and certainly did not disappoint! To honor the occasion a lot of the gals wore Chinese red: Karen LeFrak in Ralph Lauren, Joanne de Guardiola in Ralph Rucci, Jamee Gregory in Jeannie McQueeney, and so on. Also attending were Wilbur Ross, Richard LeFrak, Roberto de Guardiola, Peter Gregory,
154 QUEST PATRICK MCMULLAN (DOUBLES/RAYNERS) L UCIEN CAPEHART (RED
APP E ARANCES
CROSS BALL)
From left: A very Fisher H all, home to the N ew York P hilharmonic; Wendy C arduner and others leaf through New York, New York at D oubles.
Wendi Murdoch , Deborah Norville and Karl Wellner, Gillian and Sylvester Miniter, Jamie Figg, Audrey Gruss, Liz Peek, and more.
The women's board of the Boys' Club of New York held a winter luncheon at the Metropolitan Club with a lecture by Andrew Ferguson , author of Crazy U: One Dad's Crash Course in Getting His Kid into College This delightfully humorous book is a mustread for anyone guiding their child through the daunting process. All of the yummy mummies showed up including co-chairs Karen Klopp, Tania Higgins , and Hannah Buchan plus guests Calvert Moore , Cosby George , Cynthia van Eck , Tiffany Moller , Carolyn Reece , Ritchey Howe , Shabnam Henry , Brooke Harlow , Alexia Hamm Ryan , Alexandra Kotur , Amy Griffin , Carol Mack , Aerin Lauder Zinterhofer ,
Dean , Rachel Hovnanian , Alison Pappas , Betsy Pitts , Marina Purcell , Victoria Vargas D'Agostino , Danielle Ganek , Ros L'Esperance , Burwell Schorr , Mary Snow , Kathy Thomas , Maria Villalba , Silvia Zoullas , Gigi Mortimer , Shafi Roepers , Sara Ayres , and many others.
Kathy and Billy Rayner opened the doors to their dazzling Peter Marino decorated abode in order to toast Charlotte Beers. The brilliant, charming, and beautiful former CEO of Ogilvy & Mather, chairman of JWT, under secretary of state for public diplomacy and public affairs to Colin Powell, has just written a how-to book, I'd Rather Be In Charge. A big group turned up to applaud her including her husband Billy Beadleston, Sydney and Stanley Schuman, Christopher Mason, Virginia Coleman and Peter Duchin, Amanda
were thrilled to greet many of our pals who were featured such as Kip Forbes, Nancy and Henry Kissinger , Charlie Rose , Wendy Carduner , Deborah Norville and Karl Wellner, Allison and Leonard Stern , Mike Meehan , Blaine Trump , Jamie Niven, Lally Weymouth, Amanda Haynes-Dale , Rachel Hovnanian , Peggy Siegal, Mark Gilbertson, Daisy Soros, Kimberly and Steven Rockefeller, Jamee and Peter Gregory, Lauren and John Veronis, Francine LeFrak and Rick Friedburg, Chris Meigher, Mario Buatta, Scarlett and Bill Robertson, Dr. Holly Anderson, Peter Marino, Cornelia and Marty Bregman, Pat and Ed Ney, Amy Fine Collins, John Loring, Dailey and Gordon Pattee, Gillian and Sylvester Miniter, and more.
Down in Palm Beach, a big group 400strong turned out for the Red Cross Ball with ambassador Mary Ourisman at the
Samantha Boardman Rosen , Claude
Wasserstein, Renee Rockefeller, Simone Mailman , Gabrielle Bacon , Melissa Bradley , Bettina Zilkha , Mary Van Pelt , Nicole Perry , Wendy McCarthy , Debra Peltz , Alexandra Rose , Allison Aston , Cristina Cuomo , Nathalie Kaplan , Alison Brokaw , Pamela Camacho , Ellen Niven Deery , Lisa McCarthy , Kathryn Tyree , Alice Ross , Jessica Zirinis , Tara Rockefeller , Maria Hackley , Caroline
Foreman, Gail Gilbert, Martha Stewart, Saz Borghese , Susan Braddock , Jay Fielden, Memrie Lewis, Norma Dana, Jennet Conant and Steve Kroft, Cathie Black and Tom Harvey, Paula Zahn, Darren Walker, Somers and Jonathan Farkas, and lots, lots more.
Speaking of book parties, my friends Karen and Richard LeFrak gave a very festive one at Doubles for Harry Benson and my book, New York, New York We
helm as chairman. Guests flew in from all over to support this worthy cause and to dine and dance at Mar-a-Lago. Mary was joined by co-chairs, the honorable Mary Mochary and Susan Keenan and Michele Kessler, who was this year's honorary chair receiving this year's "Lifetime Achievement award. The night after the party, Mary hosted a cocktail party at her oceanfront abode to fete the many out-of -towners that flew in for the ball. u
MARCH 2012 155
From left: S omers Farkas at the R ayners'; H oward and M ichele Kessler with B onnie McE lveen- H unter at the Red C ross B all; author A ndrew Ferguson.
YGL
THE YOUNG & THE GUEST LIST
Twirling around the city—from Doubles at the Sherry Netherland to the Cut 25 store to Rouge Tomate to Terminal 5— and around the rink at The Standard, our columnist chronicles her adventures in the wonderland that is nightime in New York.
BY ELIZAB E TH QUINN B ROWN
Brady Keeshan at Winterfest.
BROWN
These four were among the one thousand twentysomethings at Winterfest.
EDITH HEAD SAID that a dress "should be tight enough to show you're a woman and loose enough to show you're a lady." So, something to keep in mind when party-hopping...
On January 21, Sumeria Group's Winterfest attracted one thousand twentysomethings to party with DJ Earworm and DJ Tasser at Terminal 5, raising $50,000 for St. Joseph School. Founded by Alex Widen, Sumeria Group is a network of volunteers who endeavor to support the education of underpriveleged students through different efforts. With initiatives in Boston in New York, the organization is expanding to Pennsylvania, San Francisco, and Washington, D.C. At the event, Steph Apstein, Kate Bryan, Lizzie Craft, Jenny Cuminale, Charles Darling, Briggs Fraser,
Joe Malarney, Rhoden Monrose, Kristina Weekley, and Trip Wray were among the people mixing and mingling to the mashups. Terminal 5, you ask? Well, remember Ikon? And clubbing? I do. New Year's Eve 2004 with Paul van Dyk, baby!
On the 25th, Veuve Clicquot hosted A Midwinter Night's Skate Party—a Clicquot in the Snow event—at the rink at The Standard. After doing a lap before committing to a location, I sipped champagne alongside Margot Robbie and Christine Teigan as Sasha Cohen and Johnny Weir performed a routine.
On the 31st, I toasted George & Hilly; The Anatomy of a Relationship by George Gurley at Doubles at The Sherry Netherland. When I arrived, the author was outside, smoking, and we talked
PATRICK MACLEOD (WWW.PATRICKMACLEOD.COM); P ATRICK MCM ULLAN MARCH 2012 157
Euan Rellie and Chris Wilson celebrating George Gurley and his book at Doubles at the Sherry Netherland.
George Gurley, author of George and H illy; T he A natomy Of A Relationship , with Hilly Heard at Doubles.
Brett Shisler, Alex Widen, Noah Feder, and Simon Hammer, representing Sumeria Group.
John Sides, Tom Connor, James Clark, Betsy Hamilton, and Nick Simmons at Terminal 5.
Dancing on stage with the deejays at Winterfest, hosted by Sumeria Group.
A couple of girls supporting St. Joseph School at Winterfest at Terminal 5.
John Reynolds, Colin Ford, Daisy Melamed, Julia Merrill, and Matt Himler.
YGL
about imposters on Twitter. Imi-tweet-ion as a form of flattery? Everyone who's anyone in media was there: Amy Fine Collins, Nick Denton, Elizabeth Spiers, Dana Vachon, and Vicky Ward. Even C.S. Ledbetter III! After a kiss for Jack Bryan, from whom I inherited the column, and a conversation with Peter Smith about what journalists are supposed to look like, I was off to meet Sean Hotchkiss and Juliet Izon
On February 2, Yigal Azrouël, Hayley Bloomingdale, Valerie Boster, Jamie Johnson, and Zelda Williams opened the Cut25 store at 129 Grand Street, celebrating Yigal Azrouël's line. Catch Leandra Medine a.k.a The Man Repeller this season? She's been styling everything with a Cut25 convertible anorak. So, now you know. Yigal. So hot right now. Yigal.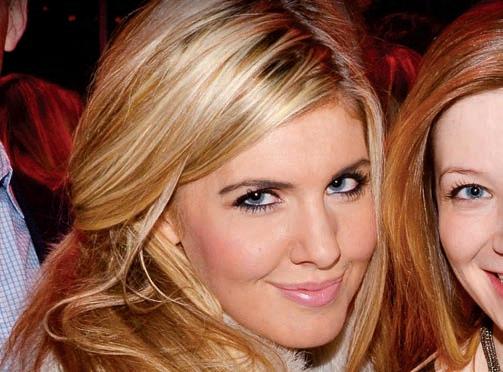 On the 6th, the Cinema Society hosted a screening of Thin
Ice with Grey Goose at the Tribeca Grand, with an after-party at the Soho Grand. There, Meredith Melling and Amy Sacco enjoyed enjoyed the evening over vodka cocktails.
On the 8th, Salvatore Ferragamo and the associates committee of the Society of Memorial Sloan-Kettering Cancer Center along with Nina Garcia, Gretchen Fenton, Eugenie Goodman, and Emilia Pfiefler hosted a luncheon at Rouge Tomate to honor Nina Pickett of the department of pediatrics. The event benefited the Pediatric Family Housing Endowment, helping familes with children who are commuting to receive treatment. What's on my dance card? The American Museum of Natural History's Museum Dance and "La Belle Époque" at the Frick Collection to celebrate the full-length Renoir paintings! u
Coco Rocha and, behind her, a member of the paprazzi? (above); Caroline Evans, Suzanne Evans, and Kate Evans at The Standard (below).
BILLY FARRELL AGENCY; PATRICK MCMULLAN
MARCH 2012 159
Anthony Batista deejayed at the after-party for the Cinema Society screening of Thin Ice at the SoHo Grand.
Bettina Prentice and Maggie Betts toasting Yigal Azrouel at the opening of Cut25, located at 129 Grand Street.
Lea Thompson, who enjoys a role in Thin Ice, attends the film's Cinema Society screening and after-party.
Valerie Bolster, Yiga Azrouel, and Hayley Bloomingdale at the opening of Cut25.
Lauren Remington Platt and Lily Kwong at an event at Rouge Tomate.
Daisy Prince and Bronson van Wyck at a luncheon benefiting MSKCC at Rouge Tomate.
Nina Garcia, Gretchen Fenton, Eugenie Goodman, and Emilia Pfeifler supporting MSKCC.
Several looks from Salvatore Ferragamo's Resort 2012 collection at Rouge Tomate.
BLACK AND WHITE AND BLUE ALL OVER
FOR JACKIE, it was oversize dark rounds. For Sophia Loren, smokey, somewhat circular frames. And Diane Keaton seems stuck on her tinted rimless rectangulars. Ladies looking for a definitive style take note: eyewear can make the woman.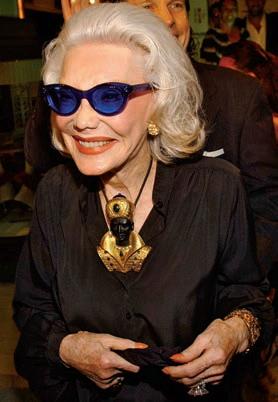 And so it has been for New York's beloved Anne Slater. Over 50 years ago, Slater settled on a look for herself—based on big, brushed-back hair and a pair of punctuating cobalt blue glasses—which has remained so consistent ever since that it's become a comfort (and a beacon) to those of us who see her socially, be it front row at a fashion show or at a luncheon
for the ballet at the Metropolitan Opera House. Even as the world changes, Anne, we trust, will always be the same.
Her singular shades are hers and hers alone, not just because she purchased 36 of them, but because the Lucite frames were discontinued when found to be flammable. Fire warnings be damned; Anne's a blazing star of her own. —Daniel Cappello
Clockwise from top left: Anne Slater pictured in her iconic cobalt blue eyeglasses from 2000 to 2009. Inset: Quest featured 10 years of an "unchanging" Slater (1988-1996) in its September 1997 issue.
160 QUEST
S NAPSHO T
DESIGN AND DECORATION
CONSTRUCTION MANAGEMENT
STYLE
RESIDENTIAL DESIGN ~ INTERIOR
~
(203) 966-0048 ~ WADIAASSOCIATES.COM A CLASSIC SHINGLE
HOME DESIGNED BY WADIA ASSOCIATES
699 madison avenue new york, new york 10065 (212) 838-3775 www.mrsstrong.com