For many, the lure to kitesurfing was one thing. Air. We were mesmerized by riders soaring to the sky with just a board attached to their feet, powered by nothing more than the natural element of wind. Boundaries were broken and a whole new generation started. Flat water, waves, strong wind, light wind, everywhere became a playground for people taking to the sky.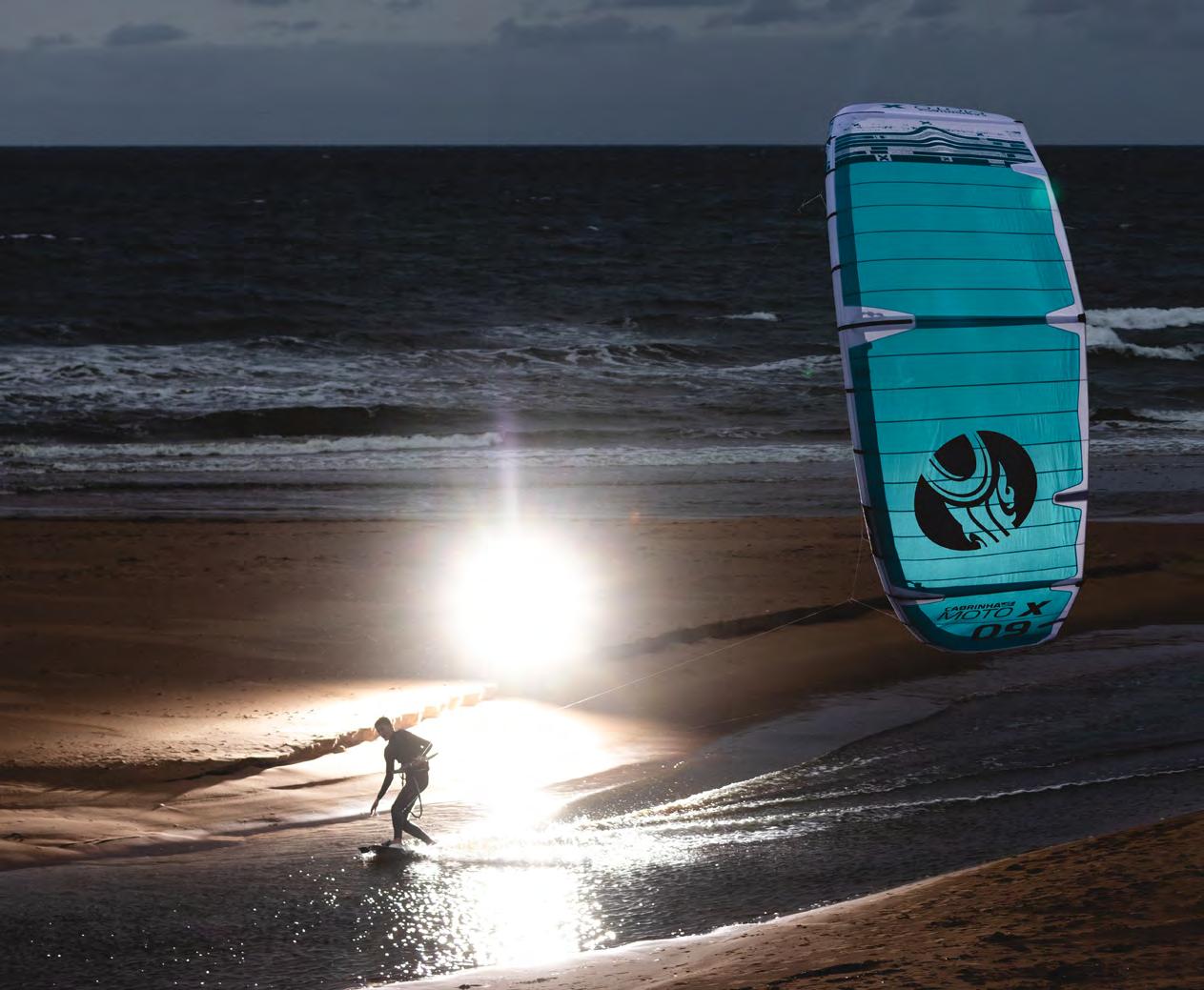 Over two decades later, we are back to where we all began with a desire to not only continually experience flight ourselves, but also see others pushing the boundaries of what is possible, both on kites and wings.
Water is our playground whether it's in a liquid or frozen state. Kiting or winging, we relish the time we get on the water, it's a break from the everyday, it's an escape to an incredible world where we are able to bend the laws of physics. A place where it's you, the elements, and your friends. We push each other, we are competitive, but one thing is always the same. Smiles are infectious, and the person having the most fun is always the winner.
CONTENTS
KITES Kite Overview Kite Tech Nitro Switchblade Moto X Drifter FX2 Contra Aether Contra CONTROL SYSTEMS Control System Overview Control System Tech C.O.S. Overdrive w/ TrimLite WINGS Wing Overview Wing Tech Vision Mantis V3 Mantis Apex TWIN TIP BOARDS Twin Tip Overview Twin Tip Tech Xcal Carbon Xcal Wood Ace Hybrid Ace Wood XO Spectrum CBL Stylus FOILS Foil Overview Foil Tech X-Series MKII & H-Series MKII Wings H-Series Wings & V-Series Stabilizers Carbon & Alloy Masts Fuselages & Mast Plates 2 - 3 4 - 7 8 9 10 11 12 13 14 16 17 18 - 19 20 -21 22 - 23 24 25 26 28 - 29 30 - 31 32 33 34 35 36 37 38 39 40 - 41 42 - 43 44 45 46 47 48 - 49 50 - 51 52 53 54 56 57 58 59 60 62 63 64 65 - 66 67 - 68 69 - 70 71 72 73 74 75 76 77 SURF & FOIL BOARDS Board Overview Board Tech Flare Phantom Method Logic Link Code V2 Macro Air Special Agent BINDINGS & STRAPS Source & H3 Ultralight Straps / Helmet ACCESSORIES Luggage Branding SPARE PARTS Kites Control Systems Boards Foils Wings PRODUCT OVERVIEW Kite & CS Overview Wing & Foil Overview Surf & Foil Board Overview Twin Tip & Binding Overview
v
03
KITE OVERVIEW
We all kite for a reason. A way to keep fit, a way to escape normal life, a way to challenge ourselves, but above all we kite because we love it.
Big air, cruising, riding waves, freestyle, hydro-foiling. There are more ways to enjoy this amazing sport than ever before, and you need the right equipment to maximize this.
New designs, and all new materials all combine into the most complete range of kite products we have ever created. Whatever your style, we have the right product to make you smile on the water.
CONTRA AETHER
SWITCHBLADE NITRO FX2 MOTO
X CONTRA
DRIFTER PERFORMANCE BIG AIR PERFORMANCE FREERIDE VERSATILE FREERIDE / CROSSOVER SURF / FREESTYLE SURF FREESTYLE / CROSSOVER PERFORMANCE LIGHTWIND / FREERIDE PERFORMANCE LIGHTWIND / FREERIDE
FREERIDE CROSSOVER BIG AIR FREESTYLE SURF SWITCH BLADE MOTO X LIGHTWIND CONTRA CONTRA AETHER DRIFTER NITRO FX2 RANGE OF USE KITES 2 3