THE
Gardener's IDEAS BOOK
THE GARDENER'S IDEAS BOOK
PLANTS TO INSPIRE YOU
2
WELCOME TO A COLOURFUL WORLD OF GARDENING IDEAS
Gardens to love
3 www.provenwinners.eu
GARDEN PLANTS
Great choice
DISCOVER THE WIDE RANGE OF HIGH - QUALITY OUTDOOR PLANTS BY PROVEN WINNERS ®
We are a global network of enthusiastic growers who breed and trial new plants, always looking for those varieties with the best and most unique characteristics for your garden. Plants from Proven Winners® guarantee impressive performance because they are:
extremely floriferous & colourful easy to care for
healthy and resistant to disease proven and tested award winners
Get more detailed information and useful tips by visiting: www.provenwinners.eu
4
DID YOU KNOW… Proven Winners® varieties are trialled and tested in various climates around the globe.
Only the very best varieties are worthy and chosen to become a Proven Winners® plant.
5 www.provenwinners.eu
SNOW PRINCESS LOBULARIA + DIAMOND FROST EUPHORBIA + SUPERBELLS UNIQUE WHITE CALIBRACHOA + FLAMINGO SNOW GAURA
Get inspired by our colourful plants
A BEAUTIFUL OUTDOOR SPACE
Discover your favourite Proven Winners® plants and turn your garden into a triumph of green and... any colour you like. From perennials to annuals, we have plants and shrubs for every season, every garden and every balcony.
6
HEART TO HEART ® CALADIUM
GARDEN
FLAIR & FLAVOURS ® BLUE SPRINKLES HYDRANGEA
IDEAS
MISS SERIES BUDDLEJA
ROCKIN SERIES SALVIA
7 www.provenwinners.eu
TRUFFULA PINK GOMPHRENA
SUPERLOPHUS CALYLOPHUS
BEYOND MIDNIGHT ® CARYOPTERIS
GARDENING
FOR BEGINNERS As easy as it gets
From its early lime green phase all the way through autumn's red and pink tones.
8
SUMMERWINGS
SERIES BEGONIA
LIME LIGHT PRIME ® HYDRANGEA TRIOMIO
POESIA CALIBRACHOA
®
Lime Light Prime®
A PRACTICAL TIP:
Whatever your idea of a perfect garden, always start by looking at what you have. Consider the aspect, type of soil and weather conditions and choose your plants accordingly. If it's your first time, better start small – a flower bed is a great way to hit your stride. Size up the space available, prepare the soil, plant and water your Proven Winners® and… stand by to be amazed!
9 www.provenwinners.eu
DIAMOND FROST EUPHORBIA
SUNNY BOULEVARD HYPERICUM
ROCKETSTAR ® SERIES BUDDLEJA
FIRE LIGHT HYDRANGEA
THE BEST FLOWERING PLANTS FOR
Spring
With its wide colour palette, frost resistance and beautiful flowering, nemesia is the perfect spring flower for balcony boxes, pots and flower beds.
10
FAIRY KISSES NEMESIA
SNOW PRINCESS LOBULARIA
The show-stopping spring garden you've always wanted? Now it's the time to plant the beds… Here are our top spring picks for gardens, terraces and balconies. Choose flowers that blossom early, so your garden will look dashing as soon as spring comes.
11 www.provenwinners.eu
WAIKIKI PINK DIANTHUS
YUKI CHERRY BLOSSOM ® DEUTZIA
MANGO STORM ® CHAENOMELES
REVONTULI ® SERIES ARONIA
A LEAF FROM OUR BOOK, FOR YOUR GARDEN
Foliage
Caladium Heart to Heart® prefers a warm, semishaded spot in the garden with some wind protection and good moisture. With its bright, colourful foliage and fine veining, our Caladium Heart to Heart® adds an impressive flair to any combinations, whether on the terrace or in the garden.
DID YOU KNOW…
The name Heart to Heart® derives from its heart-shaped leaves.
12
HEART TO HEART ® SERIES CALADIUM
Double Play® Big Bang
Double Play® Big Bang is a droughtresistant, compact shrub and a true colour explosion! In spring, the foliage emerges with beautiful bright orange-pink hues that gradually turn yellow-green.
Double Play® varieties all have a combination of colourful leaves and flowers.
13 www.provenwinners.eu
DOUBLE PLAY ® BIG BANG SPIRAEA
DOUBLE PLAY ® BLUE KAZOO SPIRAEA
DOUBLE PLAY ® DOOZIE ® SPIRAEA
DOUBLE PLAY ® ARTIST SPIRAEA
FOR YOUR FLOWER BED TOP Performers
Petunia Vista® is the best choice for baskets, pots and containers. So easy to care for!
VISTA ® BUBBLEGUM Candyfloss bell-shaped flowers, highlighted by vibrant magenta veins. It looks beautiful on its own and spectacular when mixed with other petunias.
14
VISTA ® SERIES PETUNIA
With Strong Annabelle® you can create a woweffect border
15 www.provenwinners.eu
VERTIGO PENNISETUM
GOLD MEDAL TAGETES
SEÑORITA ROSALITA CLEOME
STRONG ANNABELLE ® HYDRANGEA
DOUBLE PLAY ® DOOZIE ® SPIRAEA
PINKACHU ® HYDRANGEA
Lantana: loves sunshine, gorgeous in any arrangement
Salvia Rockin: bee-friendly, plant of the year
www.provenwinners.eu
Petunia Vista® easy to care for, impressive display
Strong Annabelle® a jewel in your garden, even after rain or wind
Truffula Pink: hot-pink flowers, drought-resistant
Gembux® evergreen boxwood alternative
EVERGREEN
All year round
Evergreen shrubs are great to give depth and add colour to gardens, flowerbeds and terraces all year round!
18
SHINY DANCER ® VIBURNUM
STRONGBUX ® ILEX
Pinky Bells Abelia Bollywood® Rhododendron
SCENTLOVE ® ITEA
DROUGHT RESISTANT
Blue Diddley Vitex
Double Play® series Spiraea
Kodiak® series Diervilla
Truffula Pink Gomphrena
Gold Medal Tagetes
Vertigo Pennisetum
Bracteantha Sunbrella
Sweet Caroline Ipomoea
Lancelot Pineapple Splash Coleus
Rocking Series Salvia
Gold Medal Tagetes
In summer, you can still enjoy your green space! You just need to choose heat and drought-resistant plants – especially for balconies or terraces that are very exposed to sun.
19 www.provenwinners.eu
SUGAR TIP HIBISCUS
BEYOND MIDNIGHT ® CARYOPTERIS
ROCKETSTAR ® INDIGO BUDDLEJA
SUMMERWINGS DARK ELEGANCE BEGONIA
BLUE MY MIND XL EVOLVULUS
SOLE D'ORO HELIOPSIS
CALIPPO VINTAGE LANTANA
FLAMINGO PINK GAURA
Smart PLANTS FOR SMALL GARDENS
You don't need a big garden to reap the joy of gardening. In fact, some of the most creative and impressive gardens are found in small spaces, where the choice is focused and the plants offer more than one interesting feature.
20
GOLDBINI SANVITALIA
BELLARAGAZZA ® SERIES HYDRANGEA
Buddleja Chip® series butterfly bushes are long-flowering, non-invasive and small sized. The deliciously fragrant flowers are a daily treat all summer long! Available in a range of colours from blue to purple, pink and white.
21 www.provenwinners.eu
GOLD NUGGET MECARDONIA BOLLYWOOD ® RHODODENDRON
BUDDLEJA CHIP ® SERIES BUDDLEJA
FLAMINGO SNOW GAURA
POLLINATORS IN THE GARDEN
THE BEST PLANTS FOR A BEE - FRIENDLY GARDEN
Pollinators are our friends, and a vital part of our ecosystem. The plants you choose can make a world of difference to them. Welcoming these tiny, lovely creatures into your green space and watching them interact with your plants is one of the most fascinating and rewarding aspects of gardening.
Rocking Salvia series
Superbells Calibrachoa series
Truffula® Pink Gomphrena
Superbena Verbena series
Snow Princess® Lobularia
22
Being cold-blooded creatures, pollinators tend to favour spots that are in the sun at least six hours a day. More sunshine equals more vital energy!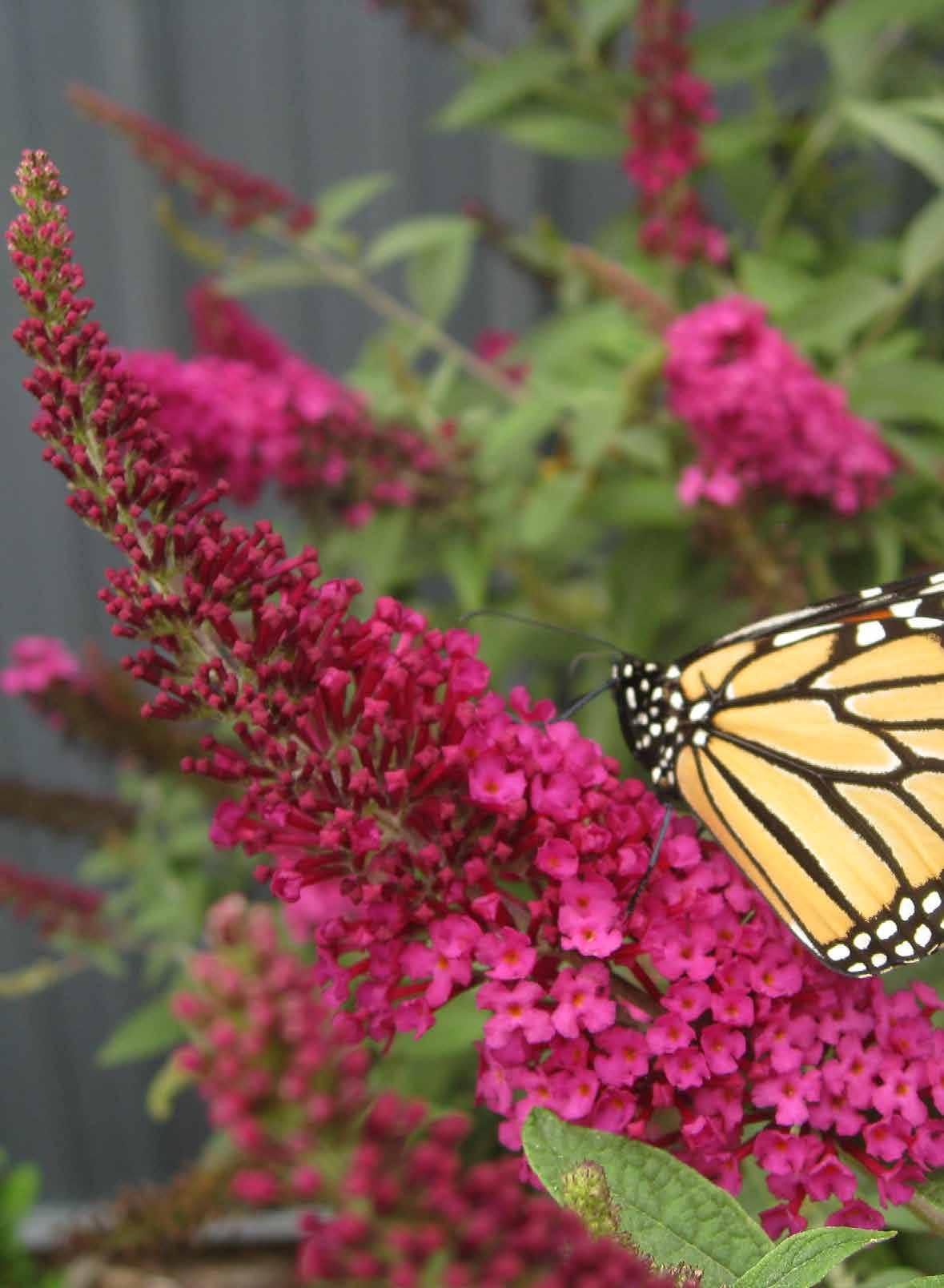 Miss series Buddleja
Sweet Emotion® Abelia
Gatsby® series Hydrangea
Kodiak® series Diervilla
Temple Of Bloom®
Heptacodium
Bloomerang® Tiny Purple Syringa
23 www.provenwinners.eu
MISS SERIES BUDDLEJA
GATSBY ® SERIES HYDRANGEA
SWEET EMOTION ® ABELIA
MUST HAVES
ARBORESCENS SERIES HYDRANGEA
PANICULATA SERIES HYDRANGEA
TRIOMIO ROCKSTAR BIDENS
MUST HAVES
MUST HAVES
DOUBLE PLAY ® SERIES SPIRAEA
YUKI SERIES DEUTZIA
24
WAIKIKI PINK DIANTHUS
TINY WINE ® SERIES PHYSOCARPUS
BUDDLEJA CHIP ® SERIES BUDDLEJA
GOLD NUGGET MECARDONIA
PROVEN WINNERS ®
Highlights
Not sure what to plant this year? Here is a selection of annual plants and shrubs you can use to create fantastic displays for your garden, balcony or terrace. We have picked our top performers for you, so you can get the best gardening experience.
25 www.provenwinners.eu
SWEET LOVE CALIBRACHOA
DIAMOND FROST EUPHORBIA
ROCKIN SERIES SALVIA
RASPBERRY STAR PETUNIA
HEART TO HEART ® SERIES CALADIUM
SEÑORITA ROSALITA CLEOME
TRIOMIO UNIQUE POESIA CALIBRACHOA
GOLDBINI SANVITALIA
MUST HAVES
MUST HAVES
MUST HAVES
A BETTER GARDEN STARTS WITH A BETTER PLANT
A WORLD OF GARDENING IDEAS
Always looking for new ideas and great plants for your garden? Our varieties can be found at many quality garden centres and retailers. Visit our website for more information and inspiration, and to find your nearest retailer.
26
FIND MORE COMBINATION IDEAS ON WWW.PROVENWINNERS.EU
Diamond Frost - Euphorbia, Picasso In Pink - Petunia Superbells Unique Lavender - Calibrachoa
HOW TO RECOGNISE AN ORIGINAL PW PLANT! JUST LOOK FOR THE PROVEN WINNERS® LABEL & WHITE POT TO KNOW YOU ARE GETTING AN ORIGINAL PROVEN WINNERS® PRODUCT.
27 www.provenwinners.eu
WWW.PROVENWINNERS.EU