1 REGIONTHETOGUIDEFREEYOUR 04 2022/23summer&spring| MARGARET RIVER • BUSSELTON • DUNSBOROUGH • AUGUSTA
TALES & TRAILS | margaretriver.com RESTAURANT | PIZZA BAR | LIVE MUSIC WA SURF & SPORTS CAR GALLERY PLAYGROUND | BEER TAPHOUSE SPECTACULAR WEDDINGS OPEN DAILY 11AM - 5PM | 61 THORNTON RD | YALLINGUP | WA | (08) 9750 1111
3 W W W . A R A V I N A E S T A T E . C O M THE PLACE TO BE SEEN THIS SUMMER
birak / December - January
This is the hottest part of the year with little or no rain. Hot easterly winds continue with a cooling breeze most afternoons if you are close to the coast. Traditionally this was, and still is, a great time for living and fishing by the coast, rivers and estuaries. Freshwater foods and seafood made up a major part of the diet of the Wadandi people at this time. Learnmoreatundalup.com
Cally Browning, Sophie Mathewson, Lizzy Pepper, Tom De Souza, Tim Campbell, Sarah Robinson, Dianne Bortoletto, Fergal Gleeson, Taya Reid, Janine Pittaway, Kate Jones, Sharnae Watson, Kat Rischbieth. Cover Image: A Nuytsia Tree (or Christmas Tree). Image: Ryan Murphy.
ABORIGINAL SEASONS
Tales and Trails is proudly brought to you by the Margaret River Busselton Tourism Association, Premium Publishers and Vanguard Press. For advertising enquiries contact Natalie Du Preez: natalie@premiumpublishers.com.au
Groper, abalone, and crab are plentiful in the seas. The kaarak (red tailed cockatoos) are chewing away, dropping marri maada (honky nuts) from the trees.
Pibulmun Wadandi Yunungjarli Elder Wayne WADANDIWebb
The sun shines hotter and the days are longer. With calmer, warmer waters, the larger djiljit (fish) species come closer.
BOODJA
4
The Wadandi people follow a six-season calendar. This spring and summer you'll experience Kambarang, Birak and Bunuru
The Wadandi people are the traditional custodians of the South West of Western Australia. Wadandi Boodja means Saltwater People's Country.
Thank you to all our contributors
No material published in this magazine may be reproduced in whole or in part without the permission from the publisher. The views expressed in Tales and Trails are those of the retrospective contributors and every endeavour is made to ensure information is correct at time of print but may change afterwards. Please visit margaretriver.com for the most up to date information.
Birak is characterised by arid easterly or north easterly winds in the mornings and a coastal sea breeze in the afternoon. The wanajet (peppy flowers) have fallen, letting us know the rains are easing up.
TALES & TRAILS | margaretriver.com
Kambarang / October - November
Kambarang is known as wildflower season (the season of birth). The rain starts to ease and Boodja (Country) is warming. Acacias, banksias and other delicate flowing plants including the kangaroo paw and orchids come to life. One of the most striking displays of flowers will be the Mooja (Christmas tree or Nuytsia). The bright orange and yellow flowers of this tree signal that heat is on its way. Animals will awaken from hibernation at this time too, and birdlife will abound.
bunuru / February - March
'Whilst living, travelling, visiting and holidaying on Wadandi Boodja, we ask that you respect the area and walk softly on the country taking time to listen to Boodja (Country) as she Wongi (talks) of the season, and leave nothing but footprints.'
Our Capes Foundation Division provides visitor experiences at Ngilgi, Mammoth, Lake and Jewel caves; Cape Naturaliste and Cape Leeuwin lighthouses; Forest Adventures; and Eagles Heritage. It also invests in projects throughout the region which grow economic, environmental, social and cultural outcomes for our community through tourism.
TALES + TRAILS ...
Yallingup-Dunsborough
Yallingup-Dunsborough WinterEstateGralyn
5 ...home of Australia's Best Chardonnay Halliday Wine Companion 2023 Cellar Door | Open Daily | 10am to 5pm BYO picnic + wine by the glass stellabella.com.au || 9757 6377 205 Rosa Brook Road, Margaret River
Our magazine is very proudly brought to you by the Margaret River Busselton Tourism Association (MRBTA). We're Australia's largest Local Tourism Organisation (LTO) and have over 50 years' experience in supporting the Margaret River Region to thrive through tourism. It is our vision that tourism in the Margaret River Region will be an experience which delights visitors, stimulates the regional economy, contributes to rich social and environmental values, and supports a vibrant Aboriginal culture.
arewewho
For more information visit mrbta.com or capesfoundation.org.au
Our Tourism Division supports 650+ member businesses, undertakes destination marketing and provides visitor information.
Poolside Penache: Luxury Summer Accommodation 49
MARGARET RIVER 86
AUGUSTA 92 Map & Things to Do 93 Augusta Caves & Coastline Trail 94
Photo Essay: Sweet Summer Nostalgia 38
For the Love of Chardonnay: Summer Food & Wine Pairing 42
Best Camping Spots Along the Coast 62
20 Bucket List Experiences 14
WHAT'S INSIDE
WHAT'S ON PAGE 12
The Spectacular (and somewhat secret) Wadandi Track 18
The Spiritual Significance of the Nuytsia Tree 36
Back on the Saddle: Horsing Around the Region 54
BUSSELTON 66 Map & Things to Do 67 Busselton Jetty Across the Decades 68 Culinary Couple Bring Innovation to Busselton 72
WHAT'S NEW PAGE 8
Plates with Mates: Lunch with a Group 58
A Brief History of Yahoo Surfboards 26
A Guide to Open Vineyards: Accessing the Inaccessible 22
A Welcoming Itinerary for LGBT+ Travellers 46
DUNSBOROUGH 76 Map & Things to Do 77 Dunsborough Graze & Bathe Trail 78 Hidden Treasures of Dunsborough 83
Map & Things to Do 87 Tasting World Flavours in Margaret River 88
Ale Tales: Craft Beer Embraces Sustainable Practices 32
GETTING AROUND 102
TALES & TRAILS | margaretriver.com6
For over 60,000 years the Margaret River Region has supported one of the world's longest, unbroken human occupations, resulting in an immensely deep cultural knowledge and connection to the land.
Telephone: (08) 9780 5911
The Margaret River Region is a living and breathing embodiment of ancient geography and Wadandi song lines. Natural beauty, abundance of space, fine wine and fresh coastal air make a holiday here the remedy to modern life.
Explore everything this region has to offer with our latest model vehicle, and wide range – including people movers and SUVs. Plus, ask about our one-way rentals with unlimited kilometers. Bun B ury | Busselton | Busselton-Margaret r iver a irport avis.co M .au | 1800 679 880
ON WADANDI BOODJA the southwest with Avis.
It is the traditional land of the Wadandi (Saltwater) People.
7
MAP Discover
Email: welcome@margaretriver.com Web: margaretriver.com
BODHI Spa are completing a new 12 bed luxury wellness retreat as we go to print, and it's set to open in August 2022. Moving from Injidup, the new spa and wellness retreat is located at Lake
// TOURS & EXPERIENCES
// GUILT-FREE TRAVEL
Sublime seafood cruises, ecoaccredited adventures in nature and bubbly brunches – there's plenty of new experiences to revel in this summer. Here's our wrap up of must-try new (or newly reopened) stuff to get around.
WORDS | LIZZY PEPPER
WHAT'SNew
Discover Deadly's new 'Reptile Keeper for a day' offering is perfect if you love slinky, slithering snakes. It's an opportunity for budding reptile appreciators to learn to feed lizards and snakes, clean out their cages and even cuddle a (non-venomous) python.
TALES & TRAILS | margaretriver.com8
Choose an Eco Accredited experience for your next visit from one of these newly accredited nature-based operators; Blackwood River Houseboats, Fair Harvest Permaculture, Tanah Marah, and Margaret River Discovery Company.
VisitGunyulgup.oneof
Margaret River's premium galleries, Jahroc this spring, with their Australia In Colour: Diamonds & Jewellery exhibition from October 28th. From December 27th – January 16th, the gallery will display Ken Rasmussen's colourful and contemporary paintings. Seejahroc.com.aufordetails
The Shire of Augusta Margaret River is officially a certified ECO Destination – the first in Western Australia. It's no secret that the Margaret River Region is one of the most pristine and biodiverse environments in the world, and with this comes a responsibility to preserve and protect it for generations to come.
West Winds Tavern & Distillery is set to open in Cowaramup by summer. With uniquely Australian gins offered in a great location, the tavern is set to be a local success. The new construction is a reflection of the region's landscape, made from local stone and old timber and will incorporate recycled rainwater to reduce their carbon
Xanadu have a new head chef, Aaron Lim, who is steering their restaurant in an exciting new direction. The menu showcases his creative flair for Modern Australian cuisine accented with influences from his Southeast Asian heritage.
Millman Tennis' new Tennis Winery Tours feature games at three stunning locations, winery visits, plus a charcuterie lunch or Cape Lodge dinner, depending on whether you opt for the day or evening package. They follow the success of Brad Millman's tennis weekenders, where accommodation options have been carefully picked for their tennis courts, of course!
footprint.Left:
Passel Estate will hold their Lunar New Year Jazz in the Vineyard event on their beautiful grounds again this summer. Enjoy a welcome glass of wine and a serve of dumplings to celebrate the occasion. Gotopasselestate.comfortickets
Gralyn Estate's new premium experiences are a chance to sample some rare older wines or fortified wines. The revamped space now features a circular wine rack that holds their entire back catalogue. You'll have a 'hero' museum bottle opened for your tasting pleasure, which will be sealed and recorked to take home.
Origins Market bring culinary flavours from around the world with new food and flight pairings. A bargain at $20 each, choose from 'flights' such as Southern Forest Honey wine and mead tastings matched with tasty Vietnamese treats, a Jilyara wine flight with pizza, or a flight to Japan featuring Core Cider and sushi. Bookings online at Origins Market.
// DRINKS & DINING
Experience Bubbles & Brunch at Fermoy Estate
// WINE PARADISE
9
Alberta's Busselton must be Busselton's most anticipated opening of 2022; a cosy neighbourhood kitchen/coffee shop by Noma alumni Kirsty Marchant and Ben Ing. Simplicity at its best; visit early for coffee, a delectable whisky baba or beautiful broth.
Amato Vino opened their Urban Cellar in the restored Darnell's Trader in Witchcliffe. The heritage-listed space lined with original timber and pressed tin is the perfect backdrop to taste superb Teroldego, Sangiovese and Nebbiolo wines.
Providore just launched their Ultimate Margaret River Experience, an immersive halfday coffee, wine and chocolate experience on a picturesque working farm. Providore team up with The Margaret River Chocolate Company, newcomer Margaret River Coffee Company and Coward & Black Vineyards to share their yummiest jams, condiments, coffee, chocolate liqueur and wine followed by a light lunch.
Fermoy Estate brings back their Bubbles and Brunch – a delightful combination of Fermoy's sparkling wine, Rosé and French-inspired surrounds, and Margaret River Bakery's freshly baked sweets and pastries. Returning in spring/ summer, it promises to be an excellent way to kick-start the day.
Claudio Bakehouse opened in Abbey, and you'll have to line up with the locals for the superb croissants, coffee, cannoli and Pinsa. The Pinsa is like a gourmet toasted focaccia, stuffed with fresh prosciutto, Stracciatella and other lovely goodies.
Newly opened Springwood Homestead in Metricup offers four spacious ensuited bedrooms with a sweeping view of lush gardens, native forest and a dam from wide verandas.
// ART & SHOPPING
TALES & TRAILS | margaretriver.com10
Sunflowers Animal Farm reopened in Ludlow, just 10 minutes from Busselton with beautiful new enclosures. Feed and pat friendly farm and a few native animals, including ducks, sheep, guinea pigs, ponies and a Scottish Highland cow. There's the opportunity to bottle feed baby animals twice a day, check the website for details.
Stoke the Morso wood fire, crack a bottle of red wine, watch kangaroos and birdlife from your private deck.
Above: Left:Market.OriginsBinaMaya have added another Villa. More reason to book this strikingly accommodation.Scandi
reopened with brand new boardwalks and steps following the Calgardup bushfire last summer. Join a fascinating onehour guided tour and see how beautifully the bush is regenerating as you descend into the subterranean wonderland.
Yallingup Galleries has new owners and new exhibitions, and they're working on a new sculpture trail and reopening the coffee shop. One of the first fine art galleries in the region, Yallingup represents many West Australian and Australian artists. Maki Horanai and Roslyn Hamdorf, Chris Martin and Larry Mitchell and Leanne Pearson exhibit in spring, summer and autumn respectively. VisitYallingupGalleriesor see their website for more details.
just added a brand-new Villa 2 to their award-winning Yallingup property.
Top: Book a tour at Lake Cave which has reopened after the Calgardup fires
John Miller has new works being exhibited for Open Studios at Christian Fletcher Gallery
John has created a sizeable sheet of silver
Cape Leeuwin Lighthouse reopened in spring after a major restoration. Climb the working lighthouse for breathtaking views of the place where two oceans meet and visit the heritage award-winning Interpretive Centre for a fascinating view into life on the cape 100+ years ago. Lighthouse tour bookings recommended.
// BinaSTAYMaya
with hand-carved interpretations of Christian Fletcher's photographs. The work captures nature in a highly unique way. Visit the John Miller Design studio in Yallingup or Margaret River shopfront for a closer look at his other works.
// LakeATTRACTIONSCave
Featuring their signature Scandi style, it's identical to the original villa albeit with extra flourishes such as an outdoor bath. Stoke the Morso wood fire, crack a bottle of red wine, watch kangaroos and birdlife from your private deck.
11
Visit JahRoc Galleries today and find out why all that do leave inspired.
JahRoc Furniture (est.1987) have forged a reputation as Western Australia's leading furniture designer/makers with Gary Bennett and David Paris working together producing bespoke fine furniture pieces that have been acquired by collectors around the globe. With over 50 industry awards, the JahRoc design team are by far the most highly awarded furniture makers in Australia. Using ethically sourced local hardwoods, JahRoc's Furniture is often described as "functional art".
JahRoc's unique collaborative approach with contemporary Australian Artists offers the viewer an opportunity to observe a crossing of genres and throughout their expansive gallery spaces, to visualize how furniture and art pieces might work together in their own home or office.
JahRoc Galleries is widely known for its diverse art representation and its cutting edge furniture designs. Situated in the heart of Margaret River, it is a one stop gallery destination that is home to their own line of JahRoc Fine Furniture and also exhibits an inspiring collection of Fine Art, Paintings, Art Glass, Sculpture, Ceramic, Fine Jewellery & Argyle Diamonds.
WatchDavidGiles,LivVardyandLauren RuddcreatingatJahrocGalleriesduringOpen Studios.Checkwww.jahroc.com.aufortimes.
83 Bussell Highway, Margaret River (08) 9758 7200 info@jahroc.com.au Open daily 10am - 5pm www.jahroc.com.au
CAPE TO CAPE MTB // Oct 20th– 23rd
IRONMAN WA // Dec 4th
september
Artists open their studio doors for 16 days, delivering a unique experience for art lovers to meet the creators of the work, peruse and purchase originals. mropenstudio.com.au
From Cape Leeuwin to Cape Naturaliste, this epic ride takes you along the coast, through forest and farmland and finishes each day at the region's epic breweries and wineries. capetocapemtb.com
A festival for guitar players, makers and enthusiasts, staged over three days. Showcasing the magic of strings through live music, exhibitions and stringsattachedfestival.com.auworkshops.
WA's biggest Jazz Festival brings world-class performers to some of the region's best venues with a series of FREE and ticketed perthjazzfest.com/on-tour-in-the-south-westevents.
November
FINE VINES FESTIVAL // Oct 14th – 23h
YALLINGUP MALIBU CLASSIC // Dec 3rd – 4th Marg's might have the Pro, but Yall's is home to the iconic Yallingup Malibu-Longboard Classic, WA's premier longboarding contest.
Click on QR code for more events:
GOOD DAY SUNSHINE MUSIC FESTIVAL
With music that makes your soul sing, this annual music festival delivers a great time on the Busselton gooddaysunshinefest.comForeshore.
A world class event popular with athletes and spectators. Smaller events also run over the ironman.com/im-western-australiaweekend.
The ultimate off-road adventure race which starts and finishes at Eagle Bay Brewery. Courses for every age and eaglebayepic.rapidascent.com.auability.
A FREE music festival celebrating youth – of all cultures and abilities – and the importance of mental www.rtvfestival.comwellbeing.
TALES & TRAILS | margaretriver.com12
October STRINGS ATTACHED - THE WA GUITAR FESTIVAL
MARGARET RIVER REGION OPEN STUDIOS // Sept 10th to 25th
IMAGE Scott Bauer Photography
PERTH INTERNATIONAL JAZZ FESTIVALON TOUR // Nov 12th - 13th
EAGLE BAY ADVENTURE RACE // Nov 5th- 6th
Spring and Summer is prime party time across the Margaret River Region. Book festival tickets (and beds) in advance. Sign up to the monthly What's On blaster for the most up-todate event information.
// Sept 24th
WHAT'S
A calendar of wine experiences including tastings, five course dinners and educational masterclasses over 10 glorious spring days. finevinesfestival.com.au
December
RAISING THE VIBE // Oct 22nd
on
// Oct 7th - 9th
A programme packed full of free family events and activities in the Busselton CBD and foreshore. festivalofbusselton.com.au
BUSSELTON JETTY SWIM // Feb 11th - 12th
An excuse to sip and savour craft beers, taste enticing cuisine and hear local music on the Busselton foreshore. swbeerfest.com.au
WA; left, Karnidale Circus OppositeFestival. left, Cape to Cape; right, Flametree
DUNSBOROUGH ARTS FESTIVAL
March
// Mar 3rd to 5th
January
IMAGE Elements Margaret River
KARNIDALE CIRCUS FESTIVAL // Jan 13th – 14th
A WA premier sporting event open to novice, professionals and swimmers with disabilities. busseltonjettyswim.org.au
A weird & wonderful line-up of circus, comedy and magic, with live music, bars & onsite camping. lunarcircus.com/the-festival
An annual celebration of free evening concerts and art markets plus the much-loved Sculptures by the Above,Bay.Ironman
Rose Event.
SOUTH WEST CRAFT BEER FESTIVAL // Feb 25th
13 jewellery designed and handmade in Margaret River
AUGUSTA RIVER FESTIVAL // TBC
Margaret River's acclaimed outdoor cinema "Movies at Cape Mentelle" run throughout the summer months with programming suited to children and capementelle.com.auadults.
www.payetgallery.com.auinfo@payetgallery.com.au6885designsin nature
FESTIVAL OF BUSSELTON // All Jan
Held each year on the labour day long weekend. Includes the Blackwood regatta, fireworks, market stalls and live entertainment.
Mon - Sat, 10am - 4pm 611 Boodjidup Road 08 9757
February
Outdoor Movies
5 Holiday with a light footprint
One of the greatest walks in Australia, the Cape to Cape Track connects sandy beaches, clifftop walking tracks and national park. Pressed for time? Choose a short section and marvel at the ancient granite and aquamarine bays.
2 Explore with a local
WORDS | LIZZY PEPPER
The Margaret River Region is BIG; think Melbourne to Mornington, or Sydney to Wollongong, packed with incredible food, wine and scenic stops. Check out DriveYourStory.com for 5 inspirational road trips.
TALES & TRAILS | margaretriver.com14
From rolling vineyards, fairyland forests and pristine beaches, here's 20 ways to experience the best of this beautiful region. Grab your camera and enjoy the adventures.
1 Plan your road trip
3 Climb a lighthouse
Welcome to the Margaret River Region, where there's so much to explore, you'll need to plan a return.
Walk the nearly 2km Busselton Jetty or take a train ride to the end, where you'll find an underwater observatory with a view of the coral, sponges and fishes that call it home.
You see so much more with a local showing you around, and there's some fantastic nature eco tours on offer. There's twilight woylie tours, wildflower and orchid experiences, kayaking, scenic helicopter flights and more. Check out margaretriver.com for alternative tours and inspiration.
completed.AFIRST
Bucket ExperiencesList
4 Stroll the jetty
TIMER'S GUIDE TO RIVERMARGARETTHEREGION
Augusta Margaret River Shire is celebrating its recent ECO Destination certification, and you'll find a community of tourism operators committed to sustainable practices. Pick quality nature-based experiences and accommodation to reduce your impact.
6 Walk the Cape to Cape Track
Climb Cape Leeuwin Lighthouse to see where two oceans meet, and discover the minimuseum for a glimpse into life on the cape 100+ years ago. Tower tours will recommence midspring after restoration work on the lighthouse is
WWW.FORESTRISE.COM.AU WWW.FORESTRISE.COM.AU
Explore cellar doors
Centrally located in the world-class wine region of Margaret River, Forest Rise Chalets & Lodge has earned its place as an award-winning escape for those seeking the very best in secluded accommodation.
REST, RELAX, RECONNECT
Romantic, secluded couples' retreat in self-contained chalets with candlelit sky-view spas, kingsized beds and tranquil forest outlooks, on 240 acres of natural beauty
It's one of life's pleasures, lunch overlooking picture-perfect vineyards. There's plenty of choice; from the family friendly with woodfired pizzas, to the wine-serious degustations and sustainable wineries raising their own animals and vegetables.
Dine with a view
Secluded, quiet, and peaceful, the crucial ingredients for your next well-deserved getaway. Book Direct and enjoy our Spring Special.
7 Descend into Crystal Caves
8 Find beauty in the Boranup Forest
Beneath the coast lies over 100 limestone caves, each decorated with amazing crystal formations. Four are open to explore. Ngilgi Cave is adventurous. Mammoth and Lake Cave are set in breathtaking forest. Jewel Cave is the largest and most decorated of all.
Rest - Relax - Reconnect this Spring at Forest Rise
Surrounded by ocean on three sides, you'll find your new favourite beaches and aquatic adventures here. Find a safe swimming beach, book a surfing lesson or charter a yacht for an afternoon.
Discover a breathtaking karri forest where glowing trunks tower 80 metres high. Experience Boranup or the incredible Wadandi Track on a mountain bike tour, e-bike wine tour or eco quad bike adventure.
9 Wonder at whales
We have the longest whale watching season in the world, running June to December. Jump on a charter boat, or keep an eye out in Augusta, Point Piquet and along the Cape Track for the migrating mammals.
Indulge in experiencesimmersive
Relax on the river
Kayak the Margaret River on a discovery tour or hire a houseboat in Augusta where the Scott and Blackwood Rivers meet. Marvel at the bird life and dolphins and try your hand at fishing.
Dive deep into fine wine, with immersive experiences spanning guided vineyard walks to tutored tastings, degustation lunches and trust-the-chef dinners. Be sure to visit a mix of celebrated estates and smaller gems.
Lunch at a restaurantwinery
Adventure in an aquatic playground
Whether you're gazing over the ocean or picnicking by the river, there's plenty of places to dine with a view. Try a seafood and sunset cruise in Geographe Bay, brekkie at a beach café or a winery or brewery lunch perched above a lush valley.
Margaret River has more 5-star wineries than any other region in the Halliday Wine Companion 2023. Cabernet and Chardonnay are king, but you'll also find winemakers doing wonders with lesser-known varietals and lo-fi techniques.
Mark your diary
There's a wealth of artistic talent in the region. Find handmade rings with pearls and coral at Payet Gallery, or look to John Miller Design with uniquely carved statement pieces. Local paintings, sculptures, and furniture can also be discovered in the region's many galleries.
Relax at a boutique brewery or distillery
With a thriving craft brewing and distilling scene, and new venues in Busselton, you're spoilt for choice where to grab a frothy or cocktail.
Above: Educate yourself about Country on a guided experience with Koomal Dreaming.
Top: Exploring the Cape to Cape Track can be a simple half day hike, or a full 6-day guided experience.
These pubs pack a triple punch; awesome wine lists, great food and the best touring bands. Also keep an eye out for winery concerts, as watching your fav Aussie artists under a twinkling sky can't be beat.
Catch a gig at The River, Clancy's or Settlers Tav
Arts lovers, pop CinefestOZ and Margaret River Region Open Studios in your calendar, for a dose of indie film and a private peek into the studios of local artists and creatives. Sports enthusiasts be sure to get along the the Busselton Jetty Swim or the Cape to Cape MTB.
Discover 60,000 years of Wadandi history
TALES & TRAILS | margaretriver.com16Clairault Streicker Wines
This is Wadandi Boodja, land of the Wadandi (Saltwater) People. Walk softly, take the time to listen to and care for Boodja (Country). Join Wadandi cultural custodian Josh Whiteland as he shares stories and history.
browse local jewellers
17 BREWERY| DISTILLERY | RESTAURANT | PLAYGROUND Come and spend the day with us. Black Brewing Co and Dune Distilling Co guarantee to give you a quintessential taste of the South West region. We offer uncompromising craft beers brewed inhouse, our Gold Medal Dune Distilling Gins and some of Margaret Rivers best wine varietals all served alongside a delicious lunch menu made from locally sourced ingredients. Open daily from 11am to 5pm For Weddings, Corporate and Special Event enquiries please contactevents@blackbrewingco.com.au 3517 Caves Road, Wilyabrup WA 6280 08 9755 www.blackbrewingco.com.au6500 F blackbrewingcoI dunedistilling SCAN TO BOOK A TABLE www.dunedistillingco.c om.au Weddings & Events
Track
TALES & TRAILS | margaretriver.com18
THE SPECTACULAR (AND SOMEWHAT SECRET)
Named for the traditional owners of the land, the Wadandi Track meanders through karri and marri eucalypts, farmland and vineyards. The track traverses approximately 110km from Busselton to Augusta, although recreational areas are located from Busselton to Vasse, and Cowaramup to Forest Grove. These accessible parts of the track are popular with locals but are somewhat of a hidden treasure for visitors.
Wadandi
WORDS | SOPHIE MATHEWSON
but it was actually quite a small train."
For a long time after that, the rail lines sat disused. Farmers would pull up the sleepers and use the tracks as fencing for their cattle, but there was no access for recreational walking for a number of years. In the early 2000s, local and state governments financed the development of what was then called the 'Rails to Trails'. Since then, regular funding and a significant input from local volunteers, has seen the track progress year on year. In 2015, the 'Rails to Trails' was formally renamed the Wadandi Track – a name that recognises the region's traditional custodians of the land, the Wadandi (Saltwater) people - who are one of the world's longest and unbroken human occupations.
The Wadandi Track itself is quite flat, as the original Railway train loaded with timber
19 Open daily from 10:00am - 5:00 pm 422 Harmans Mill Road Wilyabru p Ph: 08 9755 6726 Email: cellardoor@fishbonewines.com.au A unique wine experience, Japanese inspired dining, Located in the heart of Margaret River wine region ww w.fishbonewin e s.com.au
he Wadandi Track takes you through postcard views that share a rich history of the land. And along the way excellent dining options abound. You can stop at a number of quality cafes and restaurants for coffee, local produce, craft beer or a glass of chardonnay.
T
Experiencing the Wadandi Track
The Wadandi Track was originally a Railway line, built in the 1880s by prominent businessman Maurice Coleman Davies. Rail lines would take timber from local mills to jetties in Hamelin and Flinders Bay in Augusta for export. Augusta Margaret River Shire Councillor (and biking enthusiast), Ian Earl, grew up in Cowaramup and remembers seeing the last train leave town in 1956 when he was just three years old. "I remember seeing it heading north, covered in branches and bunting. It seemed very big to me,
A Brief History
be a bit muddy and steeper along here but with the new bridges in this section, it's a great ride in the warmer months." Around Carters Road, another popular track, the Compartment 10, targets more intermediate and advanced riders, but Brookes says the Wadandi Track really is the more "achievable for everyone" option.
Not only do you connect with nature, but you're exposed to the region's timber, farming and winemaking industries, and parts of cultural history that you might otherwise miss.
Want more information?
Visit trailswa.com.au to find out detailed access
Despite urban expansion happening across the region, the Wadandi Track is a remarkable resource that exists in such a way that you can travel from town to town without seeing a car. Continued efforts from dedicated notfor-profits, volunteers and government bodies will eventually see the whole route converted into accessible cycling tracks, allowing visitors to bike from Busselton all the way to Augusta. Keep that one on your bucket list!
Brookes says that the Wadandi Track shows visitors a real behind-the-scenes version of the Margaret River Region. "Not only do you connect with nature, but you're exposed to the region's timber, farming and winemaking industries, and parts of cultural history that you might otherwise miss."
Bike Tours or you can block out half a day and include lunch and a cave tour. At time of press, he had just taken some visitors on a ride through the forest, stopped for lunch at the Margaret River Brewhouse, then finished with a tour at Mammoth Cave.
The Wadandi Track itself is really the highlight of these tours, offering glimpses of the region's history. Old sleepers and rail lines can be
Brookes recommends reserving around two hours for a tour with Margaret River Mountain
spotted, and the Men's Shed in Cowaramup rebuilt the original station house – so evidence of the Railway infrastructure can still be found. With some parts of the track now leased to adjoining landowners, you can also encounter farm animals or locally grown plantations.
MargaretCowaramuppointsfortheWadandiTrackinBusselton,andMargaretRiver.OrcontactRiverMountainBikeTourstobookatour.
TALES & TRAILS | margaretriver.com20
The Busselton Jetty has long been one of the best places in the South West to watch a sunset. Now we can do you one better, with a Shelter Sunset Cruise. Cruise the Bay in golden hour, catch a glorious sunset then return to Shelter for dinner and more drinks.
SCAN TO BOOK SUNSET CRUISES
21
OR HEAD TO SHELTERBREWING.COM.AU
Moss MargaretWood-River Royalty
FERGAL GLEESON
TALES & TRAILS | margaretriver.com22
Accessing Inaccessiblethe
VINEYARDS:OPENWORDS|
"You will taste wine from barrel and tank and visit the museum where you will view back vintages of Moss Wood wines.
Contact Moss Wood for appointments. An $80 per group visit fee is redeemable on any purchase made at the conclusion of the visit.
But as Hugh Mugford, Assistant Winemaker tells me "At Moss Wood our visits are the privilege of our wineclub and are by appointment only. Anyone can become a Moss Wood member by visiting our website and there is no charge to join."
When wineries are oddly resistant to trading seven days a week, their ambivalence can be somewhat seductive. This is your guide to accessing the inaccessible and gaining entry to three of the region's more private cellar door experiences. TO
Moss Wood are one of Margaret River's greatest wineries. They are considered one of the 'founding four' wineries in the region and Moss Wood Cabernet has been recognised over decades as one of Australia's greatest. Their Chardonnay, Ribbon Vale Merlot and Cabernet and Elsa Sauvignon Blanc are also benchmarks. Value hunters look out for Moss Wood Semillon and Amy's Cabernet blend.
"Our visits are guided by knowledgeable and experienced personnel through the winery and you will be introduced to our history, philosophy, vineyards and wines," Hugh says.
A GUIDE
Fast forward to today, they have welcomed a new cellar door – which is open Wednesday to Sunday from 10.30am – 4pm and by appointment Mondays and Tuesdays. Visitors can expect a tasting experience that shares Mick and Debi's personal winemaking journey. They'll take you through the design of the label and discuss the process of producing certified organic wines.
openedSpencer-SmithattherecentlyDevaleskiCellarDoor.
Amato Vino – The Wild Side
The Amato Vino range includes the eclectic 'Wilds' label made from rare and emerging varieties such as Marsanne, Savagnin, Teroldego and Nebbiolo. The 'Mantra' label covers Margaret River classics. Finally, there's the 'Fuso' label- Fuso Bianco, Rosso and Tramanto are made for easy and early drinking.
Amato Vino have opened a new urban Tasting Bar three days a week in the historic Darnell's TradingFounderPost.and
Winemaker Brad Wehr is excited "We're located in a beautifully restored heritage-listed building in the small hamlet of Witchcliffe. It's an intimate experience, a personal trip through a selection of our wines and our story. Visitors may choose to join us around the 'kitchen bench' in the tasting room, or outside in the courtyard and terrace area. We offer seated tastings, rotating samples of 5 wines each week."
23 OPEN 7 DAYS 10:00am - 5:00pm 248 Tom Cullity www.bettenaysmargaretrier.com.auCowaramupDrive,0897555539 PREMIUM TASTINGS FROM BETTENAY' S SINGLE VINEYARD WINERY. PLUS HOME TO MARGARET RIVER NOUGAT AND LIQUEURS
Brad says that while there are no firm favourites with consumers "there is usually considerable interest in some of the more obscure varieties and where they originated from!"
Devaleski is located along the iconic Caves Road – which exhibits all the showy charms of Yallingup; undulating hills and expanses of vineyards stretching out left and right.
Owners, Mick and Debi Spencer-Smith made
Devaleski –Organic Intimacy
a tree change (or vine change) to the region in 2015, when they purchased the vineyard. They leased the vines back to previous owner, Ben Gould from Blind Corner, for a few years and then set themselves the challenge of producing organic wines. Their first vintage being in 2020.
Debi
"Visitors can also pre-book a tutored tasting in advance where myself or my co-winemaker," Brad tells me. Wine flights are offered with small food accompaniment in the warmer months. "By summer the main rooms will house a gallery and café/wine-bar," Brad says. "The entire building is actually a work of art, inside and out!"
The tasting room was custom-built by owner Mick, who is a marine engineer by trade but who fosters a strong passion for woodwork. Visitors can browse contemporary photography and challenging furniture pieces which are available for purchase. Debi says "The contemporary gallery concept was initially for Mick to show his bespoke furniture pieces and platters made out of old barrels. We also wanted to use the space to share artistic works from new and old artists in the area. This concept is one that will evolve as time passes".
When it comes to the wine – Debi says, "Our philosophy is based around leaving the smallest footprint on the earth which we are able to do for our children and grandchildren's future."
Tastings are $10, which is redeemable upon purchase of a bottle of wine. Look out for foot crushing experiences during vintage and enquire about their 'make your own wine' workshops too!
TALES & TRAILS | margaretriver.com24
Above, Fine Vines Left,Festivities.BradWehr at Amato Vino.
It's an intimate space – with Mick and Debi's appreciation for culture at the forefront. There is even a baby grand piano - a representation of Debi's love for jazz (she majored in music at University) - and they encourage budding players to have a tinkle.
The Fine Vines Festival brings together a curated selection of more than 30 unique events showcasing the quality and depth of the Margaret River Region's premium wine
Aimedoffering.ata
broad church from fine wine lovers to novices, Fine Vines invites you to explore all aspects of the Margaret River Wine Region through exclusive museum tastings, tours, dining experiences, masterclasses, garden parties and more.
intimate space –
BEERSCHEEKYONGETTHECAVESROADBREWPUB 4259 CAVES RD, WILYABRUP Cheeky Beers AIBA: BEST AUSTRALIAN-STYLED PALE 2022 PERTH ROYAL: BEST PALE ALE 2022
Fine Vines FestivalA Feast for the Senses
Over 10 days you'll get insider access to the vines, experts and wines from over 80 local producers, many who do not have Cellar doors, that have shaped the Margaret River Region over the past 50+ years. More at www.finevinesfestival.com.au
It's an with and appreciation for culture at the forefront
Another way to access some incredible bespoke wine experiences is by attending events at the Fine Vines Festival which will be held in Margaret River from the 14th – 23rd October 2022. The inaugural 2021 was a roaring success and this year promises to be even better.
Debi's
Mick
TALES & TRAILS | margaretriver.com26 A BRIEF HISTORY OF SurfboardsYahoo WORDS | TOM DE SOUZA
Most of these surfboards are the lifeblood of one of this town's most well-respected surfboard shapers, Mark Ogram. Oggy, as he is known, began making surfboards in Dunsborough in 1990. His boards were originally markedly different from the conventions of that era but his vision and foresight were prescient.
ne of the first buildings you pass in Dunsborough's Light Industrial Area is the Yahoo surfboard store. On the shaded veranda out front there are stands of second-hand boards. Inside it smells of surf wax and fresh neoprene and there are rows of glistening, new surfboards.
O
"It was the Kelly Slater era then. Boards were getting narrower and longer and thinner. They were geared towards high performance and it
Getting there is half the fun Kick back, relax and explore the scenic Margaret River region on one of our luxury road coaches. Western Australia's South West is rich in history, culture and stunning natural landscapes. Our five-star road coaches are fully accessible and air conditioned, with on board entertainment, including on demand entertainment streaming services to your own device, USB ports and toilet facilities. We travel between Margaret River and Perth 12 times a week and offer a variety of concessional discounts. Unwind and enjoy the scenery while we do the driving. Plan your journey by visiting transwa.wa.gov.au or call 1300 662 205.
27 Trans WA
"The old man, he was a mad keen fisherman. He was never a professional boat builder but everyone just built their own boats in those days. So I sort of soaked that up and obviously had the love for boats and the ocean right from then."
was interesting to see, but they weren't right for everyone," says Oggy.
industry progress and embrace that."
"I guess that just transferred into the love of surfing. There was a natural interest in the boards and how they were made and designed. And yeah, that was me. That just ticked the box."
TALES & TRAILS | margaretriver.com28
When he finished school in 1978, Oggy's parents pushed him to study engineering but Oggy spent more time at the beach than in his lectures. It was a chance encounter one day at
Oggy's journey here began when he was a child living on the east coast of New Zealand's North Island in the 1960s. Although he lived a few hours inland his family were coastal people. Every free moment was spent at the coast - fishing, swimming, or surfing. At home, Oggy's dad built his own wooden fishing boats, which helped instil an interest in watercraft design in Oggy.
In recent years, popular surfboard design has conformed with Oggy's vision - with shorter, wider, and fuller shapes becoming popular, even among professional and highperformance surfers, says Oggy. "We were really on our own a bit there. It's a lot more open now. Everyone has sort of woken up to the fact that you can have a board with a bit more volume in the nose. It's good to see the
"Through that period, I saw a lot of guys drop out of surfing. They couldn't keep up or ride those boards and they thought they were past it, and that sort of bugged me a bit.
"I guess all my design stuff has come from my own needs because I'm an average surfer myself. And to me, those boards weren't working. So I moved into that middle zone between short boards and long boards that really suited the recreational surfer, the older surfer, who needs a bit more foam and volume."
But the long New Zealand winters began to wear Oggy down, and in 1988 he and his wife, Sherylle and 10-month-old son, Jed, set off in search of a warmer climate. They landed in Fremantle in the middle of a 10-day heatwave.
WINNER OF BEST VALUE WINERY Halliday Wine Companion 2023
a beachside car park that pulled him towards a career in surfboard shaping.
WINNER OF BEST CABERNET SAUVIGNON Halliday Wine Companion 2020, 99 points
While many of Oggy's shapes were originally dismissed by some of the more high-performance surfers, Oggy has remained true to his original vision, and expanded his range to create a collection of surfboards that are accessible to everyone.
"All the designs have changed and been refined a bit, but really it's just been about adding to the range and that versatility. Really, what it's all about is making sure we've got something for everyone."
After beginning in a small unit on Clark Street, he moved to his Naturaliste Street shop in 2012. He's also bequeathed his passion and talent for riding waves and shaping surfboards to his son Zak, who shapes under his own Z-Shapes label in the same building. His eldest son, Jed, is a talented tattoo artist. Both the boys have inherited their love of the ocean from their father and Grandfather and after both having time out of Dunsborough after leaving school, they have returned to raise their own young families.
"In the beginning there were the hardcore guys who rode the high-performance stuff, and wrote them off as being too boaty or whatever. But I wasn't worried about that part of the market. I was out for the older guys that embraced it, just making boards for guys like myself," he says.
Bob ran the business with three other partners, but after a few years he and Oggy found themselves heading off in a different direction and left to pursue their own label. They set up Lipsticks surfboards and began shaping in a shed beneath the avocado trees on Bob's rural property.
Again, luck was on Oggy's side, and he landed in Perth just as major surf brand Rusty were moving their operation from Dunsborough to Perth - and he got a job shaping at their factory.
WORLD'S BEST CABERNET Decanter World Wine Awards 2022
WINEMAKER OF THE YEAR Halliday Wine Companion 2019
A very young Ogram family at Eagle Bay in 1992.
"I hadn't been to WA, but I had a couple of mates had and they raved about how good and consistent the surf was. When we got to Fremantle, I had never had heat like that. It was just awesome. I remember touching the buildings and they would still be warm at night, and going, 'I'm never leaving here,'" he recalls.
MAX SCHUBERT TROPHY x 2 Most Outstanding Red Wine of Show, Reserve Cabernet Sauvignon
889 Commonage Road, Yallingup
While Oggy learned a lot about shaping boards in large-scale production, he missed the creative investment that came with creating a board from start to finish. After two years at the Rusty factory it was time for a change. He packed up the family in the old HG wagon and headed south to Dunsborough in 1990.
Consistently Awarded. Highly Regarded.
JIMMY WATSON TROPHY WINNER Best Young Red Wine, Reserve Cabernet Sauvignon
"I had made a few boards in the backyard and had just decided I wanted to have a crack at doing it properly, and I sort of just bumped into Bob Davie, who was the guru of shaping in New Zealand at the time. We hit it off and he offered me a job in his factory."
WA 6282 DEEPWOODS.WINE
Oggy began fixing dings, before moving onto glassing, sanding, then shaping under the guidance of Bob in his Saltwater Surfboards factory.
Eagle Bay Brewing Co is a family owned and operated brewery, open 7 days a week, 11am –Bookings5pm.can be made online or you can contact us on (08) 9755 3554. Limited space for walk ins available. 252 Eagle Bay Rd, Eagle Bay WA 6281. DO YOUKOLSCH?YOUREARN
We are all about celebrating all things Eagle Bay and beyond. Working and playing in WA's epic outdoor backyard. Chasing that feeling of knocking off after a long day in the sun and bonding over good food, good wine and good beer with friends.
eaglebaybrewingco@eaglebaybrewingcoeaglebaybrewing.com.au#earnyourkolsch
HOW
31
TALES & TRAILS | margaretriver.com32 Tales:Ale CRAFT BEER COMPANIES EMBRACE PRACTICESSUSTAINABLE WORDS | KAT RISCHBIETH
doing everything we can to reduce it. Us brewers are in it together. It's a no-brainer for us to join forces so we can overcome these problems."
The switch to renewable energy is widespread in the brewing industry. Some breweries, like Rocky Ridge, are completely powered by solar. On a visit to Beerfarm or Black Brewing, you will see the rooftops covered in solar panels. And a number of the breweries are implementing wastewater plans to reduce water consumption during the brewing process.
T
Fuelled by this challenge, Claire Parker from Cowaramup Brewing Company is actively changing the way that brewery waste is managed.
Tackling food waste
One of the greatest economic and environmental problems our planet is facing is food waste. This is having a huge stain on global food supply causing a rise in food hunger.
Anyone that has worked with the brewing industry (though perhaps more widely it is a hospitality and services trade trait) knows how supportive your industry peers are when you're in a pickle. And this is how Warrick and the SWBA members are approaching the climate crisis, as a community. "We are very aware of the footprint made by the brewing industry and are
33 www.privateproperties.com.au Aperfecthome foreveryholiday ALBANYAUGUSTABUNKERBAY BUSSELTONDENMARKDUNSBOROUGH EAGLEBAYMANDURAHMARGARETRIVER PEPPERMINTGROVEBEACHSWANVALLEY WALPOLEYALLINGUP
hey call themselves the South West Brewers Alliance (SWBA). Together the breweries are overcoming common challenges faced by the industry. But more than this, they share a common goal of reducing their impact on the climate.
But the SWBA have even more ambitious goals. Members of the groups are innovative and forward thinking. They enjoy the challenge of finding solutions that will reduce the impact of the brewing industry. As Warrick attests, "We are surrounded by beautiful nature and so taking care of the environment is top of mind for us in the south west. It is in our DNA."
Parker estimates that to produce a 50L keg
Late in 2021, eleven independent breweries came together over a love of craft beer and a desire to make a difference in the local community.
SWBA came about after a suggestion to collaborate on these challenges was made by the Department of Primary Industries and Regional Development. This was all the encouragement needed for Keith Warrick, General Manager at Eagle Bay Brewing, and Iliya Hastings, Director of Margaret River Brewhouse. The pair took the lead and formed the Alliance. Joining them are nine other brewers in the south west eager to work together for the greater good of the planet. Warrick says that sustainability is at the essence of each of the individual businesses; "It plays a pivotal role in how our businesses are run, so naturally, it is a core value of the Alliance."
of beer results in about 12kg of spent grain. While many breweries in the south west are working farms that give this spent grain to their cows, or neighbouring farmers, this is not the case everywhere.
TALES & TRAILS | margaretriver.com34
There has been a huge shift in the brewing industry to use aluminium cans, as opposed to glass bottles. The advantage of cans is that they are lighter, resulting in less greenhouse gases emitted during transport.
Top right: Eagle Bay Brewing Co use fresh rainwater to handcraft their small batch brews.
For the past two years Parker has been researching and learning about Black Soldier Flies. When farmed – yes farmed!these flies present a solution to the global food supply problem. With the help of the fly larvae, organic waste is saved from landfill and transformed into valuable by-products, effectively 'closing the loop' of the circular economy.Regional funding has allowed Parker to start her own Black Soldier Fly farm in the south west. Housed in shipping containers, the fit out will start in July on the Cowaramup Brewery site. After approvals have been granted the farm will be relocated to Busselton.
Rethinking packaging
Another challenge is packaging. Living and working near the coast, SWBA members know first-hand of the plastic pollution in our oceans. The innovative members are collecting and cleaning can clips so that they can be reused by the breweries, as well as looking at reusable wraps to use on the pallets to reduce the amount of plastic waste created.
Top left: Solar panels adorn the rooftops at Beerfarm.
This leads to one of the other streams of challenges addressed, Export and Logistics. Reducing the supply chain is a challenge when you are located three hours south of the major retail outlets and distribution centres. High costs of refrigerated transport and the associated carbon miles sparked the move by
Includes scrumptious canapes
Departing Quindalup Beach at 2:00pm, sailing between Meelup Beach & Eagle Bay for the afternoon.
CRUISE OPTIONS
Includes delicious morning tea
Approx 3 hours sailing
You can support the SWBA and their initiatives. Look for their beers on tap when you are in the city and when you are in the Margaret River Region visit the venues and purchase their products. The more support and voices that are added to the conversation the better the outcome. After all, we all want a sustainable planet.
BUSSELTON MORNING CRUISE
Approx 4 hours sailing
DUNSBOROUGH AFTERNOON SAIL
DOWN SOUTH BOOK TODAY Cruising
Depart Busselton Jetty at 9:00am and sail one way across Geographe Bay to Quindalup Beach. Return to Busselton Jetty by coach.
SWBA to consider shared loads. The breweries now share the freight loads when possible and ensure that the trucks go up to the city full.
Coach transfers from Busselton Jetty & selected hotels are available. Thursday to Monday
Community Revegetation
Collaborative brews between members of SWBA and not-for-profit organisations have been effective in raising awareness in the community. The Rising Brew collab between Rocky Ridge and Line in the Sand raised almost $20k to revegetate an area of the foreshore at Toby's Inlet with 1,250 seedlings.
ALSO AVAILABLE FOR PRIVATE CHARTERS (08) 9358 7799 • www.williecruises.com.au/booking
What can you do?
Friday, Saturday & Sunday
THE SPIRITUAL SIGNIFICANCE OF THE
TreeNuytsia
• Look out for the tree on Wadandi Boodja (country) around Kambarang (October / November) and Birak (December / January)
• Farm animals like horses and cattle eat at the trunks, and their hooves compact the ground around which can slowly kill the trees so it is advised to fence the Moodja off from any farm animals
T
WORDS | Wadandi Pibulmun WRITER | Sharnae Watson
across the country, through the caves and over the ocean where the sunsets for our final resting place.
• The flowers produce a large amount of pollen and nectar, making them a good source of food for birds and insects
Some facts about the Moodja tree:
We are open seven days a week, have live music and cater for not only, breakfast lunch and dinner, but also cater for your personalized wedding or function either indoors or in our enchanted gardens of which there are 4 different levels.
when on Wadandi Boodja (Country) to respect and care for country by leaving nothing but footprints and country will care for you in return.
Its vibrant colouring is seen to resemble a sunset, which too is significant to us Wadandi people as it is believed that our spirits travel
There is no better place in W.A. to enjoy "Romantic Getaways," acres of heritage listed gardens, G & T's on the Terrace, High Teas, and of course exceptional weddings, not to mention the 15 minute walk to famous Yallingup Beach than at Caves House Hotel Yallingup.
What is the significance of the Nuytsia or Moodja tree?
WEDDINGS • ROMANTIC GETAWAYS
How should visitors interact with the tree?
The Moodja tree is significant to the us Wadandi people as it is known as a spirit tree. It's believed that each flower represents the spirit of a person that has passed on as quite often, if a person was feeling unwell, they would sit under the Moodja to pass away and have it take their spirit - adding another flower.
Functions Manager (functions@ychh.com.au) 18 Yallingup Beach Rd, Yallingup PH: 9750 1888 E: reception@ychh.com.au
Because of the Moodja tree's flowers being such a vibrant yellowy orange colour, it makes it tempting to want to pick them, however this is something that is not allowed because of its spiritual significance.
The Nuytsia Floribunda Tree, known to many West Australians as the 'Christmas Tree' for its intensely flowering displays in the summer, is referred to as Moodja by the region's First Nations people – the Wadandi (Saltwater) People.
• The Moodja tree is native to south west Western Australia
• The trees were once commonly seen around Perth but have been largely cleared since colonisation They can grow up to 10 metres in height
37 GOOD TIME • LONG LUNCHES • FUNCTIONS
The weight of the flowers and leaves of the Moodja tree can cause its branches to break off, and it is said not to stand under the tree for prolonged periods - as it is believed that if you hear a branch break someone you know will passRememberon.
he Nuytsia or Moodja tree is easily recognisable, as it displays vibrant yellowy orange flowers. Flowering in summer, particularly in December (known as Birak by the Wadandi people), this is what gives it the more commonly used name the Christmas Tree.
TALES & TRAILS | margaretriver.com38
nostalgiasummersweet
IMAGES | LEWIS FRENCH & RYAN MURPHY
This photo essay is a snapshot of what summer holidays mean to our cultural identity as Australians. You can almost hear the cackle of kids, smell the salty chips and feel the beat of the hot sun.
A
ustralians have fond memories of summer holidays. For children, they mean six weeks off from school playing down at the beach with mates. For mums and dads, it's time to pack the esky, entertain the kids, and capture some happy snaps for the photo album.
andincludingPhotostakenatlocationsacrosstheregionBusselton,Yallingup,GracetownAugusta
39
You can almost hear the cackle of kids, smell the salty chips and feel the beat of the hot sun.
TALES & TRAILS | margaretriver.com40
T
harmoniously within the same glass of blondegoldThisgoodness.isthecomplex thing about being a chardy drinker; the scope of styles you could possibly taste and love, or not, is broad and exciting, but sometimes misunderstood or at least misconstrued. There are those who proclaim to drink anything but chardonnay (ABCs) but will be converted after twenty years by a single tasting session at a particular vineyard. Others are staunch 1990s melted butter fiends or malolactic fermentation fans and lament the finer, fruit driven styles. So, what can we expect from our
WORDS & IMAGES | TAYA REID
TALES & TRAILS | margaretriver.com42
he Margaret River Region kicks out like a little button on the south-west of the state. A terroir cradled on three sides by ocean and boasting the maritime breezes, gravelly soils and long, gentle growing seasons that chardonnay loves. Naturally, we have come to love it in return. The winemakers I spoke to on this very taxing assignment concurred that the chardonnay they want to make is balanced, with no one element outshining or diluting another. Whether it's fruit, oak, texture, creamy softness, or acidic structure, it should all exist
HOW TO PAIR THISFOODYOUR&WINESUMMER
ChardonnayFortheLoveof
Margaret River Region Chardonnay and how should we be enjoying it?
0451Bywww.victorypointwines.comwine@victorypointwines.comAppointment:344803/0417945655
that as winemakers it's about understanding a process similar to taking an ingredient into the kitchen as a chef would, nurturing the product through the winery to achieve that elusive beautiful balance and affinity with other produce of the region. She says this is particularly exciting as improvements in agricultural practices develop and sustainability is reinforced from year to year.
Planted by the Berson family 25 years ago, the never-irrigated vineyard is located on a picturesque site in the Margaret River wine region. The vineyard is certified by Sustainable Winegrowing Australia and produces small batch award-winning wines including Gold Medal Chardonnay (IWC 2022), Pinot Noir (95 Points Halliday Wine Companion 2023), Petit Verdot and a dry rose (Ray Jordan's Best In The West 2021).
43
Cellar Door Open for Tastings: 92 Holben Road, Cowarampup
E:
Of the vegetarian persuasion, Charlotte fancies her chardonnay with a fresh seasonal vegetable tart and a local cheese.
At the Whicher Ridge wine sensory garden, you can wander from the cellar door through the fruit trees, herbs and specially curated affinity beds to find textural and flavour driven matches for your vino of choice. Under the quince tree, Cathy Howard contemplates food matches for Whicher's Henry Road chardonnay. She leans towards a butter and cream-based dish with French tarragon, orange thyme
Above left: Cathy Howard with pooch Polly at Whicher Ridge.
Opposite: Robert Gherardi at Mr Barval.
Wed - Sun 11am - 4pm January Daily 11am - 4pm
Top right: Bruce Dukes sampling chardonnay at Domaine Naturaliste.
or marjoram to play off the soft mouthfeel, cashew and elegant stone fruit of the wine. Cathy takes the minimal additions and no fining pathway with her winemaking. Hazy grape juice is transferred straight into new and used French oak barrels for fermentation, with the watchful kelpie Polly supervising closely.
exclusive attention and a feast of local cheese, condiments and charcuterie to accompany your wines which include both a chardonnay and a chablis. Enjoy your bottle of Grace Farm or Xanadu with king prawn risotto or a sweet crab bun at Lagoon Yallingup, pair a lobster profiterole & a glass of chardonnay at Rustico Hay Shed Hill, or pop to Barnyard 1978 for their delicate, handmade, chardonnay-friendly pasta dishes.
Now where to enjoy the results of the attention and love our local winemakers give our grapes? At Howard Park you can waltz through for a seated tasting or linger in the wine chapel with
Bruce Dukes of Domaine Naturaliste says it's a joy to be a chardonnay winemaker in this part of the world, entrusted to gently guide and protect the naturally occurring strong agricultural produce through to a uniquely flavoured wine with minimal interference. In his various chardonnays, Dukes is focused on crafting culturally relevant wines that speak to our current values, habits, lifestyle, and tastes. He believes in the co-evolution of the region's coastal foods and flourishing vines, and the marriage of flavours that the climate and conditions provide. While Bruce heartily recommends a share table of local seafood or a whole roast chook with the queen of white varietals, he is quick to admit the best food match for chardonnay is often fresh air and a Yallingup view.
HONOURING THE GRAPES
TALES & TRAILS | margaretriver.com44
CHOOSING A VENUE
You get the sense these winemakers can see what's buzzing beneath the soil and secreted among the rows with their super viticulture vision. That from the beginning, they are considering and paying tribute to the fruit's very inception, in order to handle it gently and wisely enough to make it to our tables with its origin intact.
Mr. Barval is actually Robert Gherardi, the label name being a nod to three influential regions in Gherardi's life, Margaret River, Barolo and his own family's Valtellina heritage. As he conducts careful bâtonnage for the chardonnay currently under his care, Gherardi reiterates the sentiment of minimal intervention, honouring the quality of the produce. He identified chardonnay early as an enduring Margaret River stalwart and has cultivated relationships and vines alike, sourcing a select variety of fruit to create a true Margaret River regional chardonnay, showcased unfiltered. On food, Gherardi says, "Our dream chardonnay meal is probably summertime panko crumbed abalone and barbecued crayfish with a garden salad. We're fortunate to be able to free dive and fish that local produce right here."
Above left: Mr Barval (aka Robert Gheradi) at work in the barrel room.
@SWINGSYALLINGUP
ItineraryTravelWelcomingLGBT+
CURATED BY | MICHAEL & CHARLIE FROM HUSBANDS THAT TRAVEL
harlie and Michael recently travelled through the Margaret River Region and were overwhelmed with the welcoming response they had from accommodation providers and tour operators. "Insomeplaces ourourselvesMargaretgohandsinruralAustralia,wemightnotfeelsafetoholdinpublic,oronepersonmightneedtoandcheckintotheaccommodationwhiletheotherwaitsinthecar,"saysCharlie."IntheRiverRegion,weneverhesitatedtobeorfeltanxiousornervousexpressingfeelings."Formanypeople,thefreedomtobeyourselfinpublicissomethingtakenforgranted.Mosttravellerscankiss,hugorshowaffectiontoalovedonewithease.ButforLGBT+travellers,thesearetheratherunnervingbutdeeplyrealdiscussionsthatneedtobehadwhenchoosingatraveldestination.CharlieandMichaelaredeterminedtochangethescore.TomakeLBGT+travellersmorevisible,andtoshinealightontheirownpositiveexperiencesandthegenerousfolkstheyhavemetalongtheway.Theiradvocacyisbold,brave,vulnerable–andabsolutelynecessary.WehopewithCharlieandMichael'sguide,youcanfeelthesamesenseoffreedomhere,astheydid.
C
When Charlie Douty and Michael Kabourakis set up their Instagram page @husbandsthattravel in 2021, it was based more on their own vigour for travel than an exercise in advocacy. But as their followers swelled in numbers to upwards of 40k people, the couple realised that there was an urgent need for LGBT+ visibility in travel media.
TALES & TRAILS | margaretriver.com46
For lunch, we recommend a picnic on the Busselton Foreshore (you can pick up supplies from Origins Market in Busselton's CBD). You could equally grab a pint and a meal at Shelter Brewing Co. The venue takes in the gorgeous bay and views of theWejetty.had dinner at Tonic By the Bay, which is LGBT+ owned. It's a beautiful spot to finish the day and watch the sun go down with a cocktail.
Sugarloaf Rock is quite spectacular at sunset
47 135 Puzey Road, Wilyabrup WA | Ph. (08) 9755 6111 www.vassevirgin.com.au Open daily (bookings essential for workshops) DISCOVER THE ULTIMATE OLIVE OIL EXPERIENCE SOAP | GOURMET FOOD | SKIN CARE | WORKSHOPS SOAP FACTORY & WORKSHOPS
Like most mornings, Michael and I start our day with a walk. In Yallingup, the stretch of the Cape to Cape track from Smiths Beach to Canal Rocks was one of our most memorable hikes. We were lucky to have a flawless blue-sky morning and found rock pools to swim in along the way.
Busselton, a popular seaside holiday destination, is a good place to start your itinerary (in part due to the new Melbourne to Busselton Jetstar flights which might have you arriving here first). Michael and I recommend a morning stroll along the Busselton Jetty - which is a roughly 2km timber pile jetty that brings together local fishermen, families with kids, and marine enthusiasts.Wethenventured a little inland, where Busselton is also blessed geographically with the majestic Ludlow Tuart forest. Michael and I challenged ourselves with a ziplining adventure at Forest Adventures South West where some of the 300 year-old trees grow up to 33m in height with girths of 10m!
DAY Yallingup2
DAY Busselton1:
For lunch around Yallingup, our favourite place was Swings
We strongly suggest starting your day in Margaret River with a mountain bike tour. Brookesy, from Margaret River Mountain Bike Tours, knows the trails that traverse Margaret River intimately. You wouldn't be able to see these hidden secrets without him. But the biking banter with Brookesy was also terrific. Everything from bike advice to life advice was covered. He felt like a very supportive ally on our travels.
you're building your own itinerary), then check out Redgate beach. There are striking granite boulders here and a nice little walk to get from the carpark to the beach cove where you can spot black cockatoos and lizards (but watch out for snakes too). It's a popular beach with surfers if you want to have a go at catching a wave.
Margaret River Guest House – The vibe at the Margaret River Guesthouse was like a big warm hug. With the simple act of gathering everyone together, our host Lisa created a very homely feeling. The accommodation itself is very much quintessential Margaret River in vibe – with farmhouse wrap around verandas.
For dinner we recommend La Scapetta, an Italian run and LGBT+ owned restaurant along Margaret River's main street. It has a standout food and wine menu and feels special and secluded.
To fill the afternoon, Michael and I recommend a stop past Gabriel's Chocolate Their artful, innovative and downright delicious creations leave Cadbury in the dust (sorry Cadbury). And we 100% need to mention the chocolate chip cookies here.
Bina Maya for guests travelling in groups. There's a lot of room to spread out in this luxury setting, and our host Sarah made us feel very welcomed. She even added photos of us onto the Bina Maya Instagram account which we felt was a genuine act of inclusiveness.
AccommodationSuggested
DAY Margaret3 River
In the afternoon, grab a coffee at the White Elephant Beach Café in Gnarabup before it closes (you could also go here for breakfast if
margaretriver.comThisarticlewasoriginallypublishedonandhasbeenadaptedforprint.Top:CharlieandMichaelenjoyatastingpaddleatMargaretRiverBrewhouse.
Bina Maya Yallingup Escape – Who would know that Scandinavian architecture surrounded by Western Australian bush would work so seamlessly. We highly recommend
Sunset we spent at Sugarloaf Rock. It's remarkably rugged landscape and unsurprisingly very popular with photographers so pack the camera.
TALES & TRAILS | margaretriver.com48
Best place for lunch to follow the bike ride, is the Margaret River Brewhouse. Make sure you order the squid salad. We'd heard that people travel the 2.5 hour distance from Perth for this salad and we won't lie – both of us will be coming back for this dish too. It was light and full of vegies and crispy squid, and with the perfect dressing. We met Brewhouse owner Ilya, who was very welcoming too.
and Roundabouts. There seems to be a bit of an Italian bent throughout the menu and in the interactions we had with the staff. If not Italian – the pizza definitely had a style all of its own, with the woodfired crust, thin base and a raft of simple and delicious toppings.
ut what's not to love about having a choice of pool and beach? You're winning the summer holiday jackpot by dipping into both in the same day from your luxury holiday accommodation.
In the interests of having it all, here are our favourite Margaret River Region luxury accommodation options with stunning swimming pools.
From Pullman Bunker Bay's 25 metre infinity
WORDS | JANINE PITTAWAY
edge swimming pool you can enjoy ocean views, plus cocktails from the pool bar. For days when it's too fresh for a beach swim, the pool is heated to a comfortable 26 degrees. Dine alfresco on the outdoor terrace or enjoy an indulgent treatment from Pullman's Vie Day Spa. With one, two, and three bedroom villa options, Pullman Bunker Bay is both family and couple-friendly. Look out for spring and summer accommodation packages with
Poolside PAnache:
With miles of magnificent coastline and breathtaking beaches, you'd be forgiven for not having 'swimming pool' on top of your Margaret River Region accommodation checklist.
LUXURY SUMMER ACCOMMODATION
WORDS | JANINE PITTAWAY
breakfast, bubbles and restaurant offers.
B
Smiths Beach Resort offers barefoot understated luxury, nestled into nature by the unspoilt white sandy beach, with a range of accommodation options and a stunning 15 metre infinity-edge heated swimming pool. Marketing Manager Gemma O'Loughlin said the pool provided guests with the perfect finish to a day's hiking on the nearby Cape to Cape Track or beach walk. "People choose Smiths
TALES & TRAILS | margaretriver.com50
breezes, views and the sound of the waves. Guests love the fact that they can be in their villa, enjoy their plunge pool and forget there are other people around," she said. Plus, there's the stunning guest day spa.
The Sebel offers guests a choice of indoor and outdoor swimming pools, a jacuzzi, and paddling pool for kids. It includes a tennis court, squash courts and gym – an enticing mix of
For lovers of privacy, Injidup Spa Retreat provides the perfect poolside package. Each of the Retreat's 10 villas features a private heated plunge pool and ocean views. Manager Rachel Dobson said the Villas were beautifully designed. "They talk direct to the ocean and provide the best of coastal living – ocean
Busselton has always been ideal for family getaways and those looking for a bit of luxury have a terrific selection in The Sebel Busselton, AQUA Resort Busselton and Abbey Beach Resort – all on the beachfront with stunning swimming pools.
Above, Jahangir House at Private Properties has ultimate wow-factor
Beach Resort because everything's here," she said. "Our Ocean View Villas look over both the pool and the beach and we have beautiful outdoor furniture and BBQs to make the most of the warmer months." Smiths Beach Resort guests have the added bonus of Lamonts Restaurant on site, a tennis court, and a children's wading pool.
Opposite, Aqua Resort is privately screened by coastal bushland, but sits right behind the white sandy beach of Geographe Bay
Left, Pool, tennis courts, and restaurant are all on-site at Smiths Beach Resort
Abbey Beach Resort is the largest of the region's resorts so there are plenty of amenties for guests. Two outdoor swimming pools, a 25-metre indoor heated swimming pool and children's wading pool are complimented by two restaurants, gym and sauna.
DeakinMattImage:
51 ESCAPE UNDER THE STARS OF CAPE MOVIESMENTELLEWINERYBYDAYOUTDOORCINEMABYNIGHT331WALLCLIFFERD,MARGARETRIVER–5KMFROMTOWNVISITCAPEMENTELLE.COM.AU/MOVIESFORTICKETS&DETAILSBOOKNOW16thDEC2022–31stJAN2023NIGHTLYEACHFRIDAYTOTUESDAY
Further south, Margaret's Beach Resort is just 500 metres from Gnarabup Beach and has a guest swimming pool heated from October through to April.
relaxation and recreation.
The region offers a swathe of luxury holiday homes with stunning swimming pools. For inspiration visit Private Properties Holiday Homes and check out their wow factor properties sleeping between 8 and 12 guests: Jahangir (resort infinity pool, sauna and spa), Songbird (pool and spa with breathtaking forest views), Wilderness Rise (lap pool outdoor spa and sauna), Serene Shores (panoramic views across Eagle Bay from the pool), and Villa Gris (12.5m lap pool).
Aqua Resort Busselton's 25 metre infinity lap pool is just metres from the beach and guests also enjoy an outdoor spa and steam room. A range of beach house options provide space and luxury and the ability to find the perfect accommodation to suit your travelling style and company. Some have their own private heated plunge pools. It's a swimmers' paradise!
19 November to 18 December 2022
21 January to 4 February 2023
These two artists are masters of painting the WA landscape with uniquely different styles. Both focus their painting on the beauty of West Australia's environment, its preservation and our place within it.
Chris Martin
28 December 2022 to 15 January 2023
This exhibition will bring together the works of Maki Horanai and Roslyn Hamdorf – showcasing the combination of East and West, renaissance and abstract, dreams and reality and the strength both woman have to their work.
Meet the owners
DPS Yallingup Gallery
Summer days
Experience the rawness of nature in all of its beauty through Chris Martin's artwork. Chris reveals his deep understanding of colour, light and texture as he creates paintings that are reflective of his passion for this land and its oceans.
Emma herself is an international award-winning artist. She developed her distinctive style during her time living in the UAE and also has significant experience working with galleries, artists and collectors.Thegallery was a perfect fit for the family, with the themes of nature and wildlife that run through the gallery a key part
"This gallery is set in beautiful natural surroundings. The art is impressive, and the artefacts and jewellery are quite beautiful. Definitely worth a visit."
Brendon Darby & Ian Dickinson
Emma and Matthew moved to Busselton early in 2022, after falling in love with the area during an almost eight-month road trip around Australia.
Yallingup Galleries owners
At Yallingup Galleries you'll find stunning pieces by more than 100 artists on display. With three exciting exhibitions this summer, it's the perfect time to visit us and immerse yourself in our diverse array of exceptional Australian art.
After 17 years living in the UK and the UAE, the trip allowed Emma, Matthew and their three children to fully experience the natural beauty of the outback and its wildlife.
of the reason why Emma and Matthew made the decision to carry on the business Rob and Robin Malcolm had developed and grown for more than 30Emma,years. Matthew and the team would love to show you around, so please visit us and experience the work of the wonderfully talented artists showcased at the gallery for yourself!
TALES & TRAILS | margaretriver.com
Upcoming exhibitions
Maki Horanai & Roslyn Hamdorf
Yallingup
Galleries A friendly and welcoming fine art gallery, nestled in a natural bush setting at the gateway to the Margaret River region. Art Gallery – Coffee Shop (opening October 2022) Fine Art | Prints | Sculpture | Jewellery | Ceramics | Glassware | Furniture | Wood Turn | Books Open 7 days, 10am to 4pm Corner Caves Road & Gunyulgup Valley Drive, Yallingup 08 9755 2372 | yallingupgalleries.com.aucontact@yallingupgalleries.com.au
53
ClaireRachelImage:
Saddle
There's nothing quite like taking in the natural beauty of the Margaret River Region by horseback.
"Jesters Flat caters for riders of all experience levels, from the first timer to the very accomplished equestrienne," she says. "The overwhelming common thread is a desire to be
Owners Fiona Flugge and Paul Brennan offer bush rides, and other special activities, for tourists and locals who want to explore the incredible bushland surrounding the farm. Flugge detailed what riders can expect from their horse riding adventures.
WORDS | SARAH ROBINSON
HORSING
A
nd there are plenty of places to do just that. Take Jesters Flat; a working farm and boutique vineyard in Rosa Brook, an easy 18 minutes east of Margaret River.
Back in the AROUND THE MARGARET RIVER REGION
out in nature on the back of our mighty steeds."
Kids over 10 and adults are welcome to ride, and private tours are available on request. When the adventure is over, celebrate with a Sauvignon Blanc or Chardonnay at the farm's cellarRightdoor.onthe edge of the state forest, about 23 kilometres from town, is another incredible
"Our guests are always blown away by the beautiful surrounds at the property," she says.
A typical introductory ride at Jesters Flat takes beginner riders through the basics of riding a horse safely. Then, under the expert guidance of an instructor, riders head out to explore the stunning native bushland just beyond the farm.
Most of the horses at Jesters Flat are Australian Stockhorses; known for their endurance and good nature. Flugge says visitors are generally drawn to the farm for the "fabulous horses, and their knowledgeable and caring tour guides".
Image: Jinna Yang
"It's not a riding school, but a chance to experience the region from the back of a horse."
www.cullenwines.com.au SustainabilityIntegrityQuality Open 7 days for tastings 1oam - 4.3opm. Open Friday - Tuesday for lunch. E: tastingsandsales@cullenwines.com.au Telepho ne: 9755 5277 4323 Caves Road, Wilyabrup Western Australia 628o
Jesters Flat also offers multi-day treks, which include rides through the iconic Boranup Karri Forest, beach rides in the pristine waters of Geographe Bay, as well as rides through the Rapids Conservation Park and State Forest areas.
that surround the working farm.
"All our horses are well-trained and all the rides at The Horse Resort are coached and escorted by our professional guides."
Instructors at the Horse Resort make sure beginner riders understand the basics in the safety of an arena, before heading out to explore the rolling paddocks, creeks and forest
If you'd like to see the Margaret River Region by horseback, book a ride with the legends at Jesters Flat, The Horse Resort, or any of the other topnotch riding establishments in the region.
Riders can practice groundwork, liberty training, dressage, show jumping, trick riding and other horsemanship with the farm's trainers. But if you're in Margaret River for a short time, a bush ride is where it's at.
TALES & TRAILS | margaretriver.com56
Watson says The Horse Resort is the perfect experience for families, couples and friends, who want to see the beautiful Margaret River Region from the best seat in town.
spot to saddle up. The Horse Resort is a 321acre farm, with a wide range of activities for riders of every level. Manager Brent Watson gave us the lowdown.
Above, Wine and cheese platters can be enjoyed after a trot at Jesters Flat Top right, Jesters Flat have a very unique vintage vibe to their property
"Our guides will take you on a tour of our working farm, where you will ride down treelined laneways, around paddocks and through bush areas filled with birdsong," he says.
57 Cellar Door & Vineyard Kitchen wine tasting - lunch - wine blending experience - vineyard picnic 3277 Caves Road, Wilyabrup 08 9755 6225 | www.clairaultstreicker.com.aubookings@clairaultstreicker.com.au
WORDS | KATE JONES
WHERE TO BOOK LUNCH WITH A GROUP
TALES & TRAILS | margaretriver.com58
After a winery lunch with an ocean view? Wise Wine in Eagle Bay is perched on a hill overlooking the Meelup Regional Park and turquoise waters of Geographe Bay, the only winery in the region with ocean vistas. Wise Wine produces gin as well as wine, utilising their own grapes for the spirit base. Visit the Tasting Room for a relaxed, seated tasting and marvel at the shiraz gin, mandarin gin, pisco or award-
The Margaret River Region is spoilt for choice when it comes to lunchtime fare. Best enjoyed with friends and family, we handpicked the top places to enjoy lunch while visiting with a group. Just remember to check each venue's opening hours and ensure you book ahead.
PlateswithMates:
long the scenic Caves Road and just out of Yallingup is Swings & Roundabouts winery. The spacious cellar door leads out to a huge lawn, where you will find plenty of shaded tables, two nature playgrounds and an ice-cream kiosk, all set to a backdrop of an undulating vineyard and lake. Live music is hosted every Sunday year-round, and in summer a pop-up Kombi Corner bar on the lawn will serve beer from Busselton's Rocky Ridge on tap. We recommend sampling Swings & Roundabouts' wine range at the cellar door before ordering an antipasto board and mouth-watering woodfired pizzas to share. Dogs are warmly welcomed.
A
59
discoverthenewseasonalmenuatxanadu
Celebrating head chef Aaron Lim and his formidable marriage of food and wine from the
xanaduwines.comsouthwest.
winning pinot grigio (bookings essential for groups of six or more).
Colonial Brewing Co. is a large brewery in the heart of the Margaret River Region and ticks all the boxes when looking for a group lunch affair, especially with kids and dogs in tow. It is home to a large playground and golf driving range, keeping the kids entertained for hours while you enjoy craft beers and live music. If you have been to Colonial, another iconic and family friendly brewery in the region to try is Cheeky Monkey Brewing Co, fit with a playground and lakeside views.
Clancy's Fish Pub, just out of Dunsborough's town centre, is a great option if you have an appetite for fresh seafood platters, chilli mussels or zesty fish tacos. If you like spicy dishes, try their popular 'fried mice' entréedeep-fried jalapenos stuffed with capsicum cream cheese. At the rear of the venue is a grassed area for the kids to run wild and shaded outdoor tables suitable for wellbehaved pooches. Visit on a Sunday afternoon to enjoy free, live music, and check upcoming gigs and concerts on their website.
By the calm waters of Geographe Bay and a stone's throw from the iconic Busselton Jetty is Shelter Brewing Co. The massive family, dog, and wheelchair friendly venue dishes up woodfired pizzas from their Italian pizza oven (think prawn with nduja or pumpkin with feta), burgers and large share plates of whole fish, beef brisket and pork knuckle. Sip on a spritz, a local wine or a cold beer after a dip at the foreshore or come later in the afternoon to see the sunset over the bay.
For seafood-loving groups who want to explore the very best of Dunsborough's nighttime food scene, look no further than Blue Manna Bistro. With its surrounding coastline being the great Indian Ocean and the calmer waters of Geographe Bay, Blue Manna was always primed to become a central hub of maritime cuisine. They strive to serve all their seafood from local and sustainable sources and the quality ingredients wash down well with a glass of wine. Perfect booking for a group birthday celebration that deserves good food.
with fresh seasonal salads, roasted potatoes and condiments. Wild Hop's beer range is batch brewed, so like the food menu, the tap list is always changing. The deck area is on one level, making it accessible for prams and wheelchairs.
This image, Swings & Roundabouts. Below, Generous pub-portions will leave your group content at the Augusta Hotel.
At the southern tip of the region is the Augusta Hotel, set on the banks of the Hardy Inlet in the quaint town of Augusta. The outdoor tables and grassed area look out towards the meeting point of the Blackwood River and Southern Ocean, and inside the hotel are pool
Set in the Yallingup hills is the family and dog friendly Wild Hop Brewing Company
Easily catering for groups up to 20, their menu is 'family style' and ideal for groups to try a mixture of dishes. Unlike nearby breweries, you won't find pizzas or burgers on the menu. Instead, they offer an ever-changing menu inspired by a wood rotisserie oven. A whole rotisserie chicken (brined for 48 hours and slow roasted over coals) is a menu staple, paired
TALES & TRAILS | margaretriver.com60
Left, Wise Winery; below, Brewery.Colonial the art of sparkling at our
tables and regular live music gigs. The menu has classic pub favourites, such as chicken parmigiana, fish and chips and steak sandwiches, paired with a list of local wines and beers. Dog and kid friendly, it's a relaxed spot to fuel up after a morning in the water or after a visit to Cape Leeuwin Lighthouse.
Not far down the road is Black Brewing Co A slightly more casual affair, the huge space caters for kids and adults and has a menu to support a range of tastebuds. Enjoy woodfired pizzas or shared plates on the expansive deck or in the beer garden.
www.howardparkwines.com.au Discover
61
Aravina Estate in Yallingup offers a wining and dining experience for everyone, with a cellar door, a fine dining à la carte restaurant, a casual pizza bar and a new craft beer taphouse. The property is picture-perfect, with a lush lawn, towering trees and views over the lake and vineyard. The restaurant serves the finest local seafood, meats and cheeses of the region, but for a more casual lunchtime option, order pizzas from the Riviera Pizza Bar and sip on an Aperol spritz or Pimms in the sunshine. Live music is often hosted on the lawn during summer.
Towards Yallingup, Clairault Streicker's Vineyard Kitchen is a gorgeous place to sit
down with family for a special occassion. Picnic blankets are available in the summer to spread out in the gardens and indulge in a long, lazy lunch with a group.
AwardCellarWinningDoor.
C amping is one of the best ways to immerse yourself in the rugged beauty of the Margaret River Region. It's all about slowing down, switching off your devices, and appreciating the simple things in life. And the region offers plenty of excellent camp sites where you can switch off and soak it all in. Whether it's by the Blackwood River, bush camping on the coast, or somewhere with all the comforts of a caravan park – here are some of the region's best camp spots to get back to nature.
The Yallingup Beach Holiday Park is about as close as you can get to the Indian Ocean. There are a range of options with powered and unpowered sites, and the picturesque communal barbeque area makes the ultimate picnic, particularly when accompanied with local produce and wine.
Yallingup
A large caravan park beside the historic Caves House hotel, the Caves House caravan park is right beside all the facilities you need in Yallingup. It's a quick walk across the road to the hotel or the general store, and you can cut through the stunning gardens for a 500m walk to the main beach. The spectacular Ngilgi Cave is also not far, and it's just a short drive to many of the region's renowned wineries.
Best
WORDS | TOM DE SOUZA
CampingAlongSpotstheCoast
Tasman Holiday Parks - Yallingup Beach
Tasman Holiday Parks - Yallingup Caves
The beachside hamlet of Yallingup, voted by Australian Traveller in 2019 as Australia's top town, offers two options for campers.
Below, Yallingup stunning the town's campgrounds.
The Prevelly Caravan Park was the original establishment in Prevelly. English-born Australian soldier, Geoffrey Edwards established the park in the 1950s when he and his family purchased the oceanside plot 10km west of Margaret River. He named it Preveli as a memorial to the Preveli monastery, where monks provided a safe haven for him during the Battle of Crete in WWII. He carved a small settlement, clearing a plot with the help of a local building crew.
is such a
coast to access from
Sometimes it's nice to change the scenery get away from the coast for a while, and in the Margaret River Region's beautiful Blackwood Valley there are plenty of options.
MARGARET RIVER'S FOUNDING WINE ESTATE TASTING BAR - WINE LOUNGE - RESTAURANT - MUSEUM - ART GALLERY - TOURS Caves Road (Cnr Tom Cullity Drive), Cowaramup WA 6284 Phone 9756 5000 Restaurant Reservations 9756 5050 OPEN DAILY 10AM - 5PM EST. MARGARET1967RIVER
63 Vasse Felix 1/2 H
Prevelly Caravan Park
Prevelly
The park still continues today, and is as picturesque as it ever was. It is one of the premier beachside camping destinations in the Margaret River Region, and offers all kinds of camping options, from unpowered sites to chalets and cabins. For an extra special experience, book a Wild Goose Camping tent to set up at the campsite for you. The glamping tents are like a hotel room in nature!
Blackwood River
top
The sites are private, shady and grassed, offering a relaxing retreat for the whole family. Dogs are welcome on leads and there are BBQs, three amenity blocks, a fish cleaning area, and direct access to the Flinders Bay boat ramp, foreshore, and playground.
Try camping on the banks of the Blackwood at Sues or Alexandra Bridge, where you can launch a boat and head up or downstream, paddleboard, kayak, fish, or engage in any other water activities the river has to offer.
TALES & TRAILS | margaretriver.com64
Further upstream, Sues Bridge offers 25 sites, an undercover camp kitchen, gas barbecues, toilets, cold water taps, dishwashing sinks and picnic tables. Of the 25 individual camp sites, nine are suitable for regular size camper trailers or caravans. The other 16 can accommodate tents and regular size campervans in an adjacent parking space.
Flinders Bay
Above right and top right, Flinders Bay caravan park has is beloved by loyal families who book year on year Above, cool off at Alexandra Bridge campsite.
Geographe Bay Holiday Park is another affordable option. With a cycle way that leads to Busselton's town centre, you have the beach, shops and restaurants all within a stone's throw.
The Flinders Bay caravan park is positioned right on the beachfront, and still close enough to town to nip in for supplies. During the spring and early summer months you can watch humpback whales cruising past this old whaling settlement, not far from where the Indian and Southern Oceans meet at Cape Leeuwin.
There are 21 beautiful shady sites at Alexandra Bridge, all of which are managed by the Department of Conservation, Biodiversity and Attractions, and are available on a first come, first serve basis.
Boranup Forest
There are limited facilities here, with only a long-drop toilet and fire rings. Fires are permitted but only in the fire rings and usually between April and November. During the summer months, total fire bans are enforced to prevent bushfires.
The magical Boranup Forest is natural bushland of towering Karri trees, some of which are up to
60m tall. In the heart of the forest is a small but stunning and shady campsite nestled beneath the peppermint trees. From here it's only a short drive to the Boranup lookout, or take the four-wheel-drive tracks down to the beach picturesque Boranup Beach.
Busselton has some great camping spots right on the coastline. Try Sandy Bay Holiday Park, located only 50 metres from the Geographe Bay waters. It's a quiet, shady, beachfront holiday park with unique rammed earth and Swiss style chalets as well as camping and caravan sites.
Busselton
65 wa.gov.au/rsc 80% of Fatigue related crashes are on country roads. Take a break every 2 hours and swap drivers regularly. DON'T IGNORE THE YAWNING SIGNS
ArtGeo Cultural Complex: This is where Busselton's art and heritage meet; experience historical tours, witness working artists' studios and wander galleries and exhibitions.
Busselton's city precinct and foreshore offers the perfect fusion of coastal and city life. Spend the morning perusing quality shops, cafes and pubs along Queen Street, then, find perfect views of the famous jetty and of breaching whales along the foreshore where playgrounds, skateparks, and eateries abound.
67
Crafty Pints: Busselton is the unoffcial home of craft beer in the south west, with urban, seaside and bush-block breweries - all of which welcome the whole family - offering up a taste of the region's best.
Geographe Bay: The seclusion and safety of Geographe Bay defines holidays in Busselton. From exploring rock pools and sand-castlemaking, to long walks with the dog. Fishing, crabbing and boating are shared through the generations. And if you don't catch anything, there's always fish and chips on the foreshore!
Eating Out: Busselton's cuisine is a constantly evolving smorgasbord of distinctly local flavours. From the delicious tasting bars, street food vendors and take-home meals at Origins Market, to soul warming cafes and brew-pubs, there is a sumptuous mix of options to choose from.
BUSSELTON
Busselton Jetty: Built in 1865, the Busselton Jetty has always been the centre of activity in this vibrant beach town. Along its 1.8 kilometre timber piling and in the waters beneath, locals and holiday-makers alike walk, fish, swim and snorkel.
HIGHLIGHTS
Free Events: The event capital of Western Australia, Busselton has a calendar packed full of arts, cultural and sporting events. Don't miss the Festival of Busselton, the Busselton Jetty Swim and the South West Craft Beer Fest this summer!
TOWN MAP Visitors CaféRestaurantCentreGallerySupermarketPedestrian/cycle path Bar Dining/shopping precinct Gift Shop Green Space MARINE JETTYBUSSELTONTCESIGNALPARK CinemaOranaHilzeesSubculture AvisRentalCar BUSSELTON FORESHORE SkateParkComplexArtGeoPlayground BUSSELL HWY GalleryArtGeoWeld TheatreBistro Breton Hillzeez Down South Surf ShopCookdigsEsplanade Hotel RestaurantEquinoxandBar The FoodGoslingTrailerShelterBrewing CoBusselton Books WoodturnersMuseumBusselton MarketOrigins BusseltonShoppingCentralCentre FusionPhilJewellersHollett Gallery Villa TravelCarlotta Jetty Train Tours Dive Busselton Jetty Merenj Boodja (bush food garden) To Perth QUEENST 20 1.4minkm To Dunsborough
WORDS | TAYA REID
TALES & TRAILS | margaretriver.com6868 | Tales & Trails / margaretriver.com
What is it about a jetty that we love so much? It's the proximity it gives us to the water, a playground of exploration, and it's the romance of the structure, its vastness, partly submerged in briny mystery, the weathering it endures. Old jetties are particularly alluring, steeped in history and the tales of communities well into the past.
Busselton Jetty AcrossDecadesthe
69Tales & Trails / 69
As industry and tourism flourished, a further 603m was added to the length of the jetty, and the harbour underwent intensive dredging, allowing width and depth for large ships to berth. A social pavilion was constructed on the jetty for live music and other recreation and a designated bathing area was secured against sharks. Punters could change in peace in the dressing rooms and swim safely in the created sanctuary, and a reputation for jetty side at the bay as the finest swimming spot was soon earned.
In its early years, the working jetty serviced exports and trade for industries of the region including crops of wheat, barley and oats, various livestock, whaling and the Quindalup timber mills. "The Tub", a DIY lighthouse of sorts, was added in 1863 to guide the increasing traffic's navigation needs. From there to today's recreational jetty, of train tours, an underwater observatory and interpretive centre museum, many stories have unfolded.
In October of 1907, the strength of the jetty was tested for railway traffic suitability, but was deemed too weak for such. In 1909, the government approved a strengthened "skeleton jetty" rail link to replace the current method of horse and cart transport of goods. The rail link was constructed in 1911 and ran 166m east of the existing jetty, where steam trains could haul timber and other items for export.
1960
BAY EXPERIENCE PULLMANYOURTIMEACTIVEOFFDISCOVERNEXTESCAPEPACKAGEATBUNKERBAYRESORTOURWORLDISYOURPLAYGROUND BUNKER BAY ROAD, CAPE NATURALISTE WA. 08 9756 9100 BUNKER BAY RESOR T MARGARET RIVER REGION PULLMANHOTELS.COM – ALL.COM
usselton's picturesque Geographe Bay hosts the southern hemisphere's longest timber piled jetty. Now at 1.84km long, the heritage listed beauty has been extended nine times since its initial build by Henry Yelverton, completed in 1865, when it measured "only" 176 metres in length. Adjustments since have been made to account for miscalculations, growing demand and to improve its integrity.
BUNKER
The Busselton Jetty train was installed in 1995
1900
The final 16m extension occurred in 1960, bringing the jetty to its current length. Bunbury Port was by then dominating the trade workload and in 1971 the Busselton Jetty was closed as a shipping port after servicing 5000
During the 1880s, tourism began to take hold, and by 1906 and the jetty became part of the itinerary for passenger ships cruising the area. Busselton responded with facilities fit for entertaining and accommodating its new guests, and launched into life as a tourist town. Holiday makers quickly discovered the allure of Busselton's beaches and natural attractions, bathing in the bay and wandering the length of the jetty blissfully, a theme that remains to this day.
B
CredaroJason
To support fundraising, the 'Busselton Jetty Preservation Committee' (now known as the Busselton Jetty Environment and Conservation Association or BJECA) was formed.In1979,
TALES & TRAILS | margaretriver.com70
ships over 100 years. When the government proposed to destroy the icon, the community rallied, holding public meetings which would eventually form the "Save our Jetty" group.
In October of 1976, a meeting of the group resolved that Busselton Shire council would seek ownership of the Busselton Jetty from the state government's Public Works Department. It was around this period that the Underwater Observatory idea was raised. On surveying residents, the vast majority of ratepayers endorsed any project aimed at restoring and protecting their jetty. Demolition was off the table and instead the Shire was awarded $500,000 towards a rebuild.
Busselton pioneer descendant John Bussell completed the up and back jetty walk 151 times over 14 days. His long walk of of 580km raised $3500.
IMAGE
In 2001 a learning centre at the jetty's shore end was completed. The Interpretive Centre provides an inclusive environment for visitors to discover the jetty's rich history and exquisite marine life and purchase memorabilia to fund jetty maintenance. Simultaneously, construction began on the long planned underwater observatory. At 13m deep and 8.5m wide, the tank-like structure boasts 11
A village style hub of fine food, marine education and diving facilities at 1.7km out to sea, with predicted completion in June 2023. We can fairly guarantee the Busselton Jetty will be around for as long as people are here to enjoy it, and the Geographe Bay sunset wouldn't be the same without it.
After a two-year shutdown and overhaul from 2009-2011, the jetty reopened to thrive in its contemporary state. Following 150th birthday celebrations in 2015 and a new electric train service in 2017, the jetty continues to provide world class facilities for visitors and locals alike. Diving and snorkeling around the jetty is said to be some of the best in the world, and as a piece of shoreline eye candy, it's a breathtaking sight.
1990
Diving and snorkeling around the jetty is said to be some of the best in the world, and as a piece of shoreline eye candy, it's a breathtaking sight.
Major reconstruction of the jetty took place in 1990, funded partially by the introduction of entrance fees and money originally allocated to the jetty's demolition. By 1995, a small train service resumed on the old cargo line. Inclusive for the mobility impaired, up to 40 passengers could travel up the line to the end of the jetty and back, a paid attraction with broad appeal.
A project is now in the works for the Busselton Jetty Marine Discovery Centre.
Today
Fire engulfed the jetty in 1999, destroying around 70m of timber. Responders struggled to contain the blaze but eventually had to chainsaw away the burning area, allowing it to collapse into the ocean to subside, isolating the last 150m of the jetty. While unresolved, it's widely believed the fire was sparked by a cigarette butt.
viewing windows made of concrete and steel. By 2003 the observatory was completed and sunk, where viewers can now mingle with over 300 known marine species.
Couple
Bring Innovation to Busselton
TALES & TRAILS | margaretriver.com72
Culinary
10am H AY S HED H ILL W INES MARGARET RIVER Fun and educational Private Wine Experiences: Wine Blending ... release your inner winemaker Vineyard Tour... find out where it all begins Chocolate + Wine Pairing... indulge the senses
"We funded, designed and sourced everything together. We did as much as we could ourselves but called in help from professionals when it came to anything that was structural or health and safety related," says Ing.
White beamed ceilings and natural wood features bring a European feel to Busselton.
511 Harmans Mill Road, Wilyabrup WA 6284 Ph: +61 8 9755 www.hayshedhill.com.au6046
WORDS | DIANNE BORTOLETTO IMAGES | JOSH BALL
counter and messmate tables and chairs. Walking in, it feels very Scandi in style.
Alberta's is an intimate, 32-seat kitchen shop tucked down an alley on Queen Street. The shop, originally a black smith that was built over 100 years ago, has high ceilings and old brick walls. It's now renovated, light and bright, with crisp white walls, white beamed ceilings, natural wood features around the
73
I
The hottest food news in Western Australia is coming out of Busselton with the opening of Alberta's by Noma Copenhagen alumni Ben Ing and Kirsty Marchant.
ng was head chef at Noma, a threeMichelin starred Nordic restaurant, which has won best restaurant in the world in the 'World's Top 50', a staggering five times. And Perth-born Marchant was Noma's head gardener.
Their vision for Alberta's is to grow sustainably and do each part of the business to the best of their abilities. It's open for breakfast Thursday to Sunday and the blackboard menu has a select number of dishes.
Seated Cellar Door days from
Tasting | 7
baba, classic tarte Tatin, Streusel cake, lime bars or cookies to satisfy the sweet tooth.
Marchant says that they are going to play around with services and opening hours throughout the year. "The current plan is to add a lunch or two into our week as well as use the space for special or private events."
The couple who moved to Yallingup in late 2020, have taken their time to get to know farmers and local producers before they decided on their next move. When they found the shop in Busselton, it was the proximity to the producers in the region, that led them to signing the lease.
On any given visit, there could be whisky
"Delicious single origin coffees, vibrant thoughtful teas, cups of broth and good quality cheese, butter and bread are things we hang out for in the mornings," says Marchant.
The menu changes with the seasons and celebrates local ingredients from around the region.
Each dish is produce-driven and Canadianborn Ing says he's impressed with the farmers in the region. "The soil, the cold weather, and care that goes into the ground produces unbelievable produce coming out. And that goes for animals as well, if they eat well, we eat well," says the chef.
"The morning bun and the broths are on the menu each day, but we do make changes to ingredients, so they also could be different each visit," says Marchant. "Everything else comes and goes and we tend to sell out of quite regularly, so I think our guests understand that what we have each day or the changes that we make are around the season we are in and what is good now."
It's not your typical breakfast menu at Alberta's, rather the changing menu reflects what the couple like to eat in the mornings.
"The dishes are smaller so we can highlight the produce well - if people are hungry, they can then eat everything and if not, then they can have a snack. We don't leave space for any dishes that aren't amazing," says Marchant. "We have some staples that we keep on the menu like the morning bun which Ben bakes in house each morning and our cups of broths which our guests have really embraced.
So why Busselton and why Alberta's?
Keep an eye on Alberta's social media for opening days and times.
We don't leave space for any dishes that aren't amazing.
TALES & TRAILS | margaretriver.com74
"Alberta's is a name that we both loved and also a province in Canada - we wanted to keep the space human so we gave it a human name that we love," says Marchant.
An important consideration for Ing and Marchant is to grow at a pace that works for them and their guests, changing with the seasons, with their lifestyle, and maintaining a work-life balance for everyone in the small team of five.
They use WA's Five Senses single origin coffee, Ripple Effect Tea from Cowaramup, Cambray Cheese from Nannup, and source fresh produce from a number of local growers. "We then have sweeter dishes that are based around produce too and are all full of flavour," Marchant says.
75
Intimate Moments: Intimacy takes on new meaning here – whether you're travelling solo or as a couple, family or friends, there's a sense of seclusion and natural indulgence in Dunsborough that draws you closer to what's important.
BEACHDUNSBOROUGH PARKLIONS PARKSEYMOUR CAVES RDDUNN BAY NATURALISTERDTCE GEOGRAPHBAYRD To Margaret River To Cape LighthouseNaturaliste PARKCENTENNIAL To BoatQuindalupRamp CAPENATURALISTERD ShoeBeDoo CelDunsboroughlarsSquidLipsFish&Chips JewelleryNina's BlueDBikeMannaBistroShedunsboroughMERefund SurfboardsYahooBungalowSocialYarri DunsboroughBakery HillzeezOccy's Bay ResortVillage&Spa NaturalisteCharters 10 0.6minkm TOWN MAP Pedestrian/cycleSupermarketAccommodationGalleryGiftBarCaféRestaurantShop path Dining/shopping precinct Green Space
Cape Naturaliste Lighthouse: A casual 59 steps to the top of this working lighthouse rewards visitors with panoramic views of the Indian Ocean and Meelup Regional Park. Bookings recommended.
Ngilgi Cave: An ancient and sacred place, Ngilgi Cave is the site of an Aboriginal creation story that's shared with visitors by Traditional Owner Josh Whiteland (Koomal Dreaming). The resonating silence and intricacy inside the cave leaves its mark on all who bear witness.
DUNSBOROUGHHIGHLIGHTS
Boutique Shopping: From handmade wares and art to clothing and jewellery, shopping here isn't an exercise in excess but a way of getting into the rhythm of Dunsborough's alluring lifestyle.
Picturesque Drinking & Dining: Elevated casual is Dunsborough's definition of meal time – restaurants, wineries and breweries offer a taste of the region's best, with nature's beauty the backdrop.
Dunsborough town centre is a coastal community located within walking distance from Geographe Bay but with a distinctly different vibe offered at the shopping district than at the casual beachfront. The town is bursting with bakeries, bars and fashion boutiques while the beach is perfect for a bike ride and a splash in the turquoise waters.
Yallingup: Yallingup is surrounded by the ruggedly beautiful Leeuwin-Naturaliste National Park. Here the calm waters of Geographe Bay give way to a dramatic coastline, famous for its surf breaks. So good are the waves here, pro surfer Taj Burrow calls it home.
77
WORDS | EMILY KURYS-ROMER
TALES & TRAILS | margaretriver.com78
Highlights
Welcome to the 'Cape Naturaliste' bubble – your own private island in the south west. This tiny corner of the world is flanked by the turquoise waters of secluded, lagoon-like bays on one side and dramatic, granite-lined surf-breaks on the other.
Graze & TrailBathe DUNSBOROUGH
Eagle Bay Brewing Co: A prime classy-yet-casual establishment, where its slick limestone and concrete architecture – overlooking farmland and the Indian Ocean – belies a world of fun. Eagle Bay Brewing Co is a microbrewery, restaurant and vineyard tucked away on a family farm, where the proprietors (thirdgeneration farming siblings) have a passion for
Ngilgi Cave: Ngilgi Cave lies in the pristine coastal corner of Yallingup, surrounded by peppermint and eucalyptus trees. Extensive boardwalks lead through the large chambers of this underground wonderland, impressively decorated by nature. There is a junior explorer's tunnel for the little ones, and the rare opportunity to handle cave crystals at the touch table.
Gabriel Chocolate: To visit Gabriel Chocolate is to travel the world one cacao bean at a time. The chocolate is taken seriously (being Western Australia's first bean-to-bar choc makers) and
Bunkers Beach House
Image CampbellTim
79BUNKERSBEACHHOUSE.COM.AU | 08 9756 8284 FARM BREAK LANE, BUNKER BAY, WA 6281 VISIT BUNKERSBEACHHOUSE.COM.AU FOR TIMES AND MENU OFFERINGS. Book now at
A modern beachfront dining experience
sharing their love of handcrafted brews and local produce. Enjoy lunch or late afternoon drinks in a vibrant atmosphere, with six handcrafted brews to choose from.
Below, views at Wills Domain take in the entire Gunyulgup Valley.
Wild Hop Brewing Co: Wild Hop caters happily to the whole family, with grown-up brews, a modern casual setting overlooking epic views for the parents, a nature playground for the kids and even welcoming well-behaved pooches on leads. Its share-style menu centres around the wood fire, with signatures including the rotisserie chicken and tomahawk steak. There's plenty of outside seating or lawn lazing for those sunny afternoons.
Koomal Dreaming: Join Wadandi custodian Josh 'Koomal' Whiteland for an introduction to one of the world's oldest living cultures with his authentic, personal interpretation. Be moved by the skill and intensity of Josh's didgeridoo playing and fire-making, taste native foods, and discover bush medicine. Private Twilight Didgeridoo Cave Tours currently available for a truly unique experience, privately accessing
Lagoon Yallingup: Relaxing, all white interiors and two-storeys of seafood-focused restaurant goodness metres from the sand at Yallingup. This makes Lagoon a no-fail combo for locals and visitors. Inside, the self-described 'refined casual' dining runs for breakfast and lunch (with limited edition seasonal dinners). The lunch menu especially is a celebration of local and native produce, where seafood is king. Wash it down with a prime selection of local vinos or a cocktail. If you're doing a quick stop, Lagoon has a kiosk overlooking the Yallingup foreshore park and playground, serving breakfast, lunch and takeaway hot food.
Windows Estate: Owned and run by multigenerational farmers who understand the importance of organics, Windows Estate is a beautiful rural property and award-winning cellar door set near native forest. The winery was awarded Best Small Cellar Door in Margaret River by Gourmet Traveller WINE magazine for several years running, and offers picnics, organic vineyard tours and cheese and wine pairings.
Wills Domain: When dining alfresco at Wills Domain, one of the finest views in the Margaret River region is delivered, atop a hill overlooking the entire Gunyulgup Valley. As well as that vista, Wills Domain has a renowned restaurant, which works in perfect harmony with its awardwinning wines. The restaurant is consistently one of the best-awarded in Western Australia – now helmed by acclaimed chef Jed Gerrard. Bookings are essential.
Marri Wood Park Biodynamic Vineyard: A boutique family-run and owned winery in Yallingup, located on Caves Road, a stone's throw from Smiths Beach. Marri Wood Park utilises sustainable and chemical free practices when crafting the wine. The winery has recently opened a cellar door set among natural bush, where visitors can pop in to try the wines.
Commonage Pottery: Commonage is a working pottery studio, art gallery and workshop space within Happs winery. You will often find resident potters at work, or teaching workshops for both pottery initiates and dedicated students. Take a wander through the gallery where you'll discover a showcase of beautiful creations including paintings, sculptures and stunning jewellery all handcrafted by local artists.
Image Tim Campbell
Happs Wines: A family-owned winery that has been operating for more than 40 years. Perfect for the wine-curious and adventurous – discover varieties, styles and flavours in the region's only outdoor, self-serve wine-tasting venue that is free to everyone. The cellar door sits elevated on a hill of native forest, with beautiful grounds and lawn area where you can enjoy your favourite bottle of Happs with a delicious build-your-own gourmet picnic hamper.
TALES & TRAILS | margaretriver.com80
Local Guides
is a tad more grown up – single-origin sourcing is a staple here. Sit inside at the café or the outside veranda with Gabriel's award-winning chocolate creations, famous hot chocolate, decadent chocolate chunk cookie, chocolate inspired gelato or a choice of loaded coffee.
Yallingup Cheese Company: Cheese – from ooey, gooey to sometimes stinky (in the best way!) Yallingup Cheese Company definitely satisfies that craving. The hand-crafted artisanal cheese producer is inspired by authentic French cheese and runs a showroom inside Abbey Vale Wines. Pick a cheese (or three), buy a grazing box and enjoy the picturesque grounds with your newly-foraged picnic.
Swings & Roundabouts Yallingup: Swings & Roundabouts is much-desired for a casual lunch and linger, often abuzz with its magnificent lawn, views and playground. The building itself is full of an artful timber interior, designed to mimic the feel of a wine barrel! Expect a friendly atmosphere, good music, open fires and cosy corners. Outside – sit at a picnic table, spread a blanket or take a spot at one of the most photo-worthy tables in the region, complete with actual swings for seats! The wines are plentiful and Mediterranean in style; the food is simple, flavourful and rustic to match.
Ngilgi Cave after it is closed to the public.
TALES & TRAILS | margaretriver.com82
Private Properties: Beautiful architecture, jawdropping locations and creature comforts are essential features of Private Properties Holiday Homes. Offering 100-plus options, Private Properties has inspirational accommodation for unforgettable holidays all covered.
just around the corner from the Cape to Cape Track and Injidup Bay. The Wyadup Brook flows through the middle of this 100 hectare property complete with chooks, cows, wildlife and wildflowers.
Smiths Beach Resort: The ultimate beachside escape. Relax in spacious, stylish accommodation ideally situated in the heart of Western Australia's Margaret River Region. Savour understated style and receive individual attention at this Small Luxury Hotel of the World.
South West Eco Discoveries: To scratch below the surface of the region and tap into the nature, the wildlife, the produce, then who better to guide you than two brothers, born and bred third generation locals? Sustainable nature and wildlife tours is the game at South West Eco Discoveries, have three different tours on offer where you can see the sights of Geographe Bay, taste local produce, and visit two stunning and contrasting wineries.
Josh Whiteland from Koomal Dreaming takes you on a mind blowing journey of ancient storytelling and gives a thorough appreciation of the land.
Stay
Pullman Bunker Bay Resort: One of the most exclusive resorts in the region, Pullman Bunker Bay Resort lies right on the shores of Bunker Bay and surrounded by national park. The five-star luxury accommodation is 12 minutes from Dunsborough, but feels a world away with its access to hidden beaches and natural landscapes.
Wyadup Brook Cottages: Experience a dose of rural farm life at Wyadup Brook Cottages,
onThisarticlewasoriginallypublishedmargaretriver.comandadaptedforprint.Formoredrivetrailsvisitdriveyourstory.com
Image RiverMargaretElements
treasure
83
ewellers are often fossickers themselves – keen searchers for gems, rocks and opals. But hunting for your own special jewellery item can be a treasure hunt of sorts as well. The dedicated search for an investment piece that speaks of the place in which it was made, goes against the mindset of fast-fashion. And it can mean the value in investing in a piece of jewellery that lasts well beyond a season.
Textures of our region's landscape can be found emulated in wearable art forms as local jewellery designers recreate their environment. hunting
J
IN ANDDUNSBOROUGHYALLINGUP
NINA'S JEWELLERY
Yallingup Galleries have many strings to their bow. As well as stocking local ceramics, fine art, furniture and woodwork, they also have a very prized selection of jewellery. Gallery owner and director, Emma Skinner says; "We talk about great investments in fine art but jewellery is often overlooked. A carefully curated, diverse collection can be a great source of value, both financial and sentimental." Emma says that jewellery wearing is truly universal, spanning
YALLINGUP GALLERIES
Talented jewellery designer John Miller has been making stunning, original pieces in WA since 1973. He started off working in Cottesloe when silver jewellery was hot property and has continued in the field pretty much ever since; forging a successful acting and singing career in his spare time.
Nina's ethos is pretty simple. They want to make pieces for their customers that will quite simply take their breath away. And they want their customers to feel like part of the family.
ThisarticlewrittenbyBeverlyLigmanandhasbeenupdatedandadaptedforTales&Trails
John has a studio in Yallingup where he works with the finest metals and gemstones available and is renowned for his handcarved sterling silver and gold pieces which depict parts of the local landscape including vineyards, ocean and wildlife.
The range of jewellery at Yallingup Gallery suits all budgets and styles. You'll find ocean inspired pieces by Keiko Uno and Kim Christian, sustainable works using recycled materials by Grace Hummerstrum, and investment jewellery featuring diamonds, pearls and gemstones by Stuart Penny.
"For inspiration, I always look to the ancient and tribal or primitive metal ork. The Egyptians, Mayans, Incas and Celts for instance all had a
very sophisticated aesthetic and traditional techniques," he says. "I feel that making one-off pieces gives them a real artistic value and this is what makes them exciting for me. "It's about the artistic journey and not going back over the same ground all the time. "We send things all over Australia and the world. It's not unusual to get a request from customers in London, Auckland or Beijing."
Owner Steve Turner says Nina's is passionate about what they do. "When someone buys a piece of jewellery from us, we want them to be happy, we want to see them again," he says. "They really become part of the Nina's family. We're passionate about what we do and that shows in our service and attention to detail."TheNina's story began in Kununnura in 1965 with a vision of creating unique designs infused with the brilliance of pearls from the Broome region, diamonds and Western Australia's own pureStevegold.says; "Our inspiration comes from the sea, from the landscapes and in the south west, the tall forests and nature, the beautiful colours and rugged nature of the natural environment and Indigenous paintings and culture."
"It has the ability to carry meaning, reflect personalities, change mood, inspire others, convey social status, provide protection and express faith."
centuries, cultures, beliefs and traditions.
Left: John Miller is exhibiting at this year's Open Studios event in a collaboration event at Christian Fletcher Gallery.
JOHN MILLER DESIGN
Miller is not afraid to think outside the box and says he is often inspired by history and the amazing landscape where he lives. The jeweller works with diamonds, rubies and sapphires creating pieces for both men and women to treasure for a lifetime.
Far left & below: The range of pieces at Yallingup Gallery celebrates the natural environment.
TALES & TRAILS | margaretriver.com84
Your approach to holidays is 'go big or stay home'. They don't happen often enough, so you try and squeeze in as much fun as possible. After a morning of exploring rockpools at Redgate and learning the difference between stalagmites and stalactites as you toured the caves, it's time for a pitstop. Then it's on to the maze, and if there's any energy left in those little legs, a walk up the lighthouse. For catching your second wind, there's no place like Dôme.
Albany, Bunbury, Busselton, Dunsborough, Esperance, Geraldton, Kalgoorlie, Katanning, Margaret River, Newman, Northam, Port Rottnest.
bcells48834 domecoffees.com 11:30am sunday. a big day out.
85
Hedland,
TALES & TRAILS | margaretriver.com86
87
Surfers Point: Generations of professional and amateur surfers alike have flocked here to surf the region's famous point break - and it's a good spot to eat fish and chips at sunset, too.
It comes as a surprise to some visitors that Margaret River's bustling town centre sits roughly 8km from the coast. But the main street never disappoints. There is an indelible buzz to the town centre with a mix of artisan stores and galleries, public street art, diverse drinking options and a good selection of retail shops.
Margaret River: The lifeblood of the town's fertile environment, the Margaret River flows through here and culminates at Rivermouth.
MARGARETRIVER To Augusta Farmer'sMarket ROTARY PARK ToBUSSELLCowaramupHWYWALCLIFFE RD FORREST RD CARTERSRD River Walk To Prevelly & BeachesGnarabup Margaret River Fudge Factory Margaret River Wellness Centre Miki's Open Kitchen SquidlipsRiversmithFish'n'ChipsHillzeezSubcultureSettlersTavern TheHotelRiver Sidekick Café Margaret River Liquor Merchants Hillzeez Down South SurfSwingsShop Jah&TheMargaretRoundaboutsandRiverLocalCafeMosaicRocGalleries La ScarpettaTrattoriaArc ofBurgerIris DriftVasseBabyVirginCafé Margaret River HEART The Village at MargsArtful Ink Tattoo StudioMargs Margaret River SocietyHistorical CompanyRiverMargaretDistilling Margaret BrewhouseRiver Hairy Marron CafeJohn Miller Design Morries Life CycleBikes Blue Ginger Fine Foods The BasketGarden OrganicGarden 45 2.4minkm SkatePark MARGARETHIGHLIGHTSRIVER TOWN MAP Visitors CaféRestaurantCentreGallerySupermarketPedestrian/cycle path Bar Dining/shopping precinct Gift Shop Green Space
Mammoth Cave: The ancient cave system that exists within Margaret River's costal limestone ridge gives insight to Wadandi and natural history, and the true fertility and wonder of this land.
Cowaramup's Arts Scene: Inspired by the landscape, local artists have put their stamp on Cowaramup. Explore artisan stores, galleries and studios in this unexpectedly creative little town.
Wineries & Gourmet Dining: Margaret River's fertile environment gives way to some of the world's finest wines and produce that good chefs dream of.
Mountain Biking Trails: Margaret River, with it's rich biodiversity and abundance of space, has garnered attention worldwide as an outdoor recreation mecca particularly for MTB enthusiasts.
FlavoursWorldTasting RIMARGARETINVER
The pasta at La Scarpetta is freshly made every day for mouth-watering dishes including gnocchi gorgonzola with pear, porcini tortelli, and tagliatelle alla Bolognese. There's a great selection of antipasti and they make a perfect Aperol spritz. My tip, save room for dolce, the tiramisu and cannoli are worthy. Downstairs at Pizzica, you'll feel like you've stepped into an underground pizzeria in Puglia. The woodfired pizzas are thin and crisp. To start, order olive ascolane – deep-fried, meat-filled olivesyou're welcome.
Italy
Margaret River is a melting pot of cultures with cuisines to match. Abandon your diet and dive into everything from premium Japanese to Americana steam-shrouded BBQs and the most authentic Italian south of the equator.
TALES & TRAILS | margaretriver.com88
WORDS | DIANNE BORTOLETTO
Swings and Roundabouts Margaret River is a lovely spot to sit and watch Margies life while devouring a woodfired pizza. There's also woodfired rosemary focaccia, olives, croquettes, chorizo and a selection of mains. Swings and Roundabouts wines are on tap and takeaway wine is available at cellar door prices.
Miki'sJapanOpen
Kitchen is an experience no foodie should miss. The tiny kitchen creates delectable dishes with flavour combinations that are truly unique. Chef Miki Nagai takes local produce and executes dishes with Japanese techniques resulting in an impressive dining experience. Dishes change daily on both the 'trust the chef' degustation, and the Miki's complete sevencourse menu. To watch the kitchen theatre, opt for a seat around the kitchen bench when you book (which should be done well in advance).
India
If you follow the locals, they'll often lead you to unassuming family-run establishments. In Margaret River's main street - Teddi's Big Spoon is a hidden gem that packs a punch with authentic and tasty Korean dishes. Find dumplings, kimmari fried seaweed rolls, kimchi rice and hot pots, and a Korean BBQ to cook yourself! A surprising find.
Right & below, KitchenMiki'shas
89 WINE, CHEESE AND CHOCOLATE PAIRING $25 PER PERSON Enjoy a seasonal guided tasting of four premium wines matched with artisan cheese and a chocolate bonbon. We invite you to join us for a tasting, among some of the oldest vines in Margaret River, at our famous Redbrook vineyard. OPEN EVERY DAY 10.30AM — 5.00PM CORNER CAVES & METRICUP ROADS WILYABRUP, MARGARET RIVER, WA WINE & CHEESE MARGARETENJOYPHONEEVANSANDTATE.WINE0897556244SCANTOBOOKATASTEOFRIVER'SFINEST
Indo night at The Sea Garden Cafe in Prevelly. There are just two dishes to choose from, a meat and a vegetarian special but both equal hearty comfort food. The lamb curry I devoured was spicy but not too hot and the meat was so tender I could've cut it with a spoon. Each dish comes with an oozy egg to sauce up the side serve of nasi goreng.
a cult-like following and if you can manage to book, you'll discover why.
Korea
Indonesia
Mark your diaries. Every Thursday night is
The best dahl and roti I've ever had is from Spice Odysee Food Van, parked up at Margaret
Opposite, Italian pastries at the Margaret River Farmers' Market.
Mexican and Tex Mex styles influence the menu at The Common in Gnarabup. There's tempting tapas plates of jalepeño poppers or carnitas pork tacos, as well as flavoursome fish tacos. Grab a cold one, take in the ocean views from the deck and dig into some well executed Mexicano pub grub. There's happy hour every day 5-6pm. Vamos!
eye and T-bone steaks, as well as local fish. In a nod to Spanish origins, there's also good value seafood paella and patatas bravas.
Mexico
Largely servicing 'take-away' customers who feel the urge for a Pad Thai in the comfort of their accommodation, patrons can also sit down for a curry in the relaxed restaurant.
At time of press a new Indian restaurant was set to open at the top of town in the old 'Arc of Iris' premises called Khana Khazana
You can also get a taste of Thailand at Morries, at the top of Margaret River's main street. The sesame pork belly is so popular it's now a fixture on the menu (frequently ordered alongside the bao bun duck with Thai chilli jam). If that's not enough – their famous drinks list boasts Asian flavours of basil, coconut and lime too.
River Rotary Park every Wednesday and Friday evening. It's a great place to meet the locals and combine dinner at the same time. Using regionally sourced ingredients, the curry van offers samosas, beef vindaloo, lamb rogan josh and the crowd favourite - butter chicken. Spice Odysee also has a restaurant in Busselton if you're north of the region.
In the centre of Margaret River's main street is the iconic Settlers Tavern. The pub has a proper 'low and slow' American Yoder smoker that's fired up daily at dawn. 'The Tav' serves a taste of the US-of-A with 'Texas Smokehouse' beef brisket, slow cooked lamb ribs, and four different burgers. Secure a table on the outside patio for great people-watching with your Texas beef and beer.
Burgers are deserving of their own category
ChangThailandThai
Burgers
America
TALES & TRAILS | margaretriver.com90
South America
Kitchen is a laid-back joint on Station Road in the Light Industrial Area, serving authentic Thai food at good prices.
El Toro has a loyal clientele of carnivores who keep this well-hidden haunt ticking. Located off the main street opposite Memorial Park, the South American themed steakhouse specialises in cooking over coals, namely locally sourced rib
Left & opposite, Reserve Happy Hour at Morries for a range of Asian infused cocktails.
Below, Authentic North American burgers from Normal Van.
Asian ingredients, as well as bulk foods from nuts to brown rice to spelt flour. The adjoining Australian-style café is a great place for a coffee and a bite too.
Normal Van serves epic burgers from a range of Margaret River locations. Owner and chef, Robert Webster, is Canadian born and bred – and felt there was a lack of true North American food done right in Margaret River. What he might consider a 'normal' burger – is another thing for the locals. The simple menu offers burgers that are a perfect mix of messy, cheesy deliciousness. It's criminal not to have a side of triple cooked chips with any order. Keep an eye on social media for locations and menu specials.
Supplies
Margaret River Farmers' Markets
The Farmers' Market is a smorgasbord of global flavours. For a taste of Italy, try Mario's Garden homemade arancini, Claudio Biscotti pastries, or fresh pasta at Pick & Gather. Stock up on European inspired cheese at Cambray Cheese and gut-boosting Korean style kimchi at Margaret River Kimchi. If it's just a taste of Australia you're chasing, settle for a reliable egg and bacon roll.
A tasty cornucopia of regional produce is heralded in a little gourmet shop called Charcuterie, along the main street. Perfect for gathering picnic supplies, they have a range of cured German and Spanish meats and Australian specialities such as crocodile and lemon myrtle chorizo, cold smoked emu, and kangaroo salami. There's also a great selection of cheese from dairies local and afar.
This deli on Station Road is the place to go to stock up on world foods including locally made Indian spices, speciality European and
and when you wrap your hands around the lip-smacking burgers in Margaret River, you'll soon agree.
Charcuterie
[Morries'] famous drinks list boasts Asian flavours of basil, coconut and lime too.
Burger Baby's aptly named 'burger of dreams' is a good place to start. Located up behind Toastface Grillah on the main street (which does excellent toasties), Burger Baby makes eight kinds of burgers along with gluten free, vegetarian, pescatarian and vegan options – my go to is the 'everything burger', that has, er, everything.
Blue Ginger
At the Margaret River Brewhouse, they offer an alternative cousin to the humble burger. The cheeseburger roti with beef, American cheese, mustard and pickles will leave you fighting for the last morsel if you've opted to share.
Boranup Forest: Witness the sheer beauty of the karri trees as winter rain brings fertility to the forest.
Augusta town centre often flies under the radar but those in the know love its quirk and charm. Take a stroll down the street and you'll find eclectic vintage shops and cafes, an old school bus turned pizza bar, and a pub with arguably the best view in WA. The Augusta folk are a chatty bunch too and it's the local pearls of wisdom offered along the way that can make a visitor instantly smitten with the place.
AUGUSTAHIGHLIGHTS
Augusta Historical Museum Blue Ocean Fish & HotelAugustaChipsMotel
Eat Abalone: Forget the trims of fine dining; sink your teeth into a piece of locally farmed abalone at The Colourpatch seafood restaurant or at Glenarty Road winery.
Whale Watching: Flinders Bay becomes a nursery for the next generation of Southern Right Whales and Humpbacks from MayAugust, and whales can be seen in all their glory from boat, beach and lookout.
Blackwood River: Fish, swim or soak in the serenity to your heart's content along the Blackwood River, the region's most significant water source and the longest river in the south west.
Hamelin Bay: Share an intimate moment with a stingray in pristine Hamelin Bay.
93 Cape Leeuwin Lighthouse: Maritime legend abounds at the tallest lighthouse on mainland Australia, situated at the most south-westerly point of Australia where the Southern and Indian Oceans meet.
CIVICAUGUSTAPARK ALLNUTTCE HARDYINLET HILLVIEWRD Boat Ramp MargaretToRiver To CapeLighthouseLeeuwin 10 1.1minkm PARKLIONS MemorialPioneer War Memorial ParkCaravanTurner AugustaEscapeDeckchairCaféBPAugusta NewspowerAugusta SkatePark AugustaCentennialHallCRC Blackwood HouseboatsRiver Augusta R iver Tours The ColouCaferpatch&Bar BLACKWOODAVE TOWN MAP Information HubAccommodation Restaurant Supermarket Café Pedestrian/cycle path Bar Dining/shopping precinct Gift Shop Green Space Gallery
Walking Trails: A network of walking trails connects river, bush and sea in and around Augusta, forming pathways into the town's unique history, flora and fauna.
Augusta Cave & Coastline Trail
Blackwood River: The Blackwood River is Augusta's playground, but at some 400-kilometres long, it offers many hidden water holes and camping spots throughout Margaret River's hinterland. The river is the longest in Australia's South West, commencing right up in the Wheatbelt. Running through State and National Forest, there are many picnic, swimming and camping spots to explore along its length, as well as three notable bridges. In Augusta, the river makes up the vast Hardy Inlet, popular for boating, fishing, canoeing, swimming (and even house boating!). There are beautiful walks along the river's banks and much birdlife to discover.
cliffs. The sheltered bay is great for swimming, snorkelling and fishing, and divers can explore the nearby shipwreck. The wild Eagle Rays that call this sanctuary zone home are a protected species so remember to look but don't touch.
EcoAdventures Margaret River: Combining innovation with forest exploration on their tours (where the environmental impact is top-ofmind) to give a unique trail experience suitable for everyone aged four to 94. All that's needed is a current driver's licence (but if you don't have one, join a friend as a passenger). The tour is the only one of its kind to hit the Forest Grove trail area, complete with untouched forest, shaded laneways, open paddocks, lakes and hidden paths. It's 18 kilometres of trail in 90 minutes, aboard an all-electric and environmentally-sensitive EcoBike, designed and built just for EcoAdventures.
Glenarty Road Winery: A true wine and food experience stripped back to its essential basics and crafted by a multi-generational farming family. Everything at Glenarty Road feels genuine, from the farmhouse to the roving animals and the rustic tin sheds. The property houses a sheep farm, a vineyard and a vegetable garden. Expect crafted wines, grassfed meats, seasonal produce, house-made charcuterie and a farm-to-table style feast.
Opposite: Views from Cape Leeuwin Lighthouse are worth all 176 steps.
reserve your table online at www.rusticohayshedhill.com.au
Augusta marks one of the rugged points of Australia; a final landmark before a vast southern unknown, and a Cape where two oceans collide.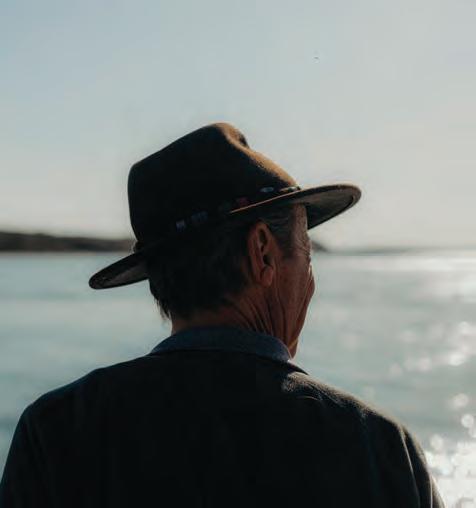 WORDS | EMILY KURYS-ROMER
Hamelin Bay: The idyllic coastal haven of Hamelin Bay offers a vast expanse of bright white sand, sparkling turquoise waters filled with marine life, and spectacular limestone
Flinders Bay: The most accessible way to take a dip in the Southern Ocean is at Flinders Bay, south of Augusta's town centre. It's here that the wild south begins. One of its more scenic and tranquil spots is Granny's Pool, located at the old Flinders Bay Settlement. There's a park right on the water with picnic tables, a shipstyle playground and barbecues.
Highlights
Top, Jewel Cave is an underground wonder.
Above, Flinders Bay acts as a private pool for swimming enthusiasts year round. Opposite, The majestic blackwood river carves into town to support the thriving boating and fishing community.
The Colourpatch Café, Bar & Takeaway: An iconic venue that has dominated generations of family holidays on the Blackwood River foreshore of Augusta. The Colour Patch Café has recently undergone an exciting and modern iteration, but still has one of the best waterside dining views in the entire region. The new Café and Bar is open for a breakfast, lunch and dinner, a casual drink or a takeaway meal. interior gives a nod to the maritime heritage of the area, especially the ten metre, fully restored 1960s yacht.
TALES & TRAILS | margaretriver.com96
Cape Leeuwin Lighthouse: A visit to Cape Leeuwin Lighthouse comes with the rush of the open wild; it's one of the four geographical
Jewel Cave: Caves Road is so-called for its many ancient limestone caves, but Jewel Cave is arguably the best show-piece of them all. It's Western Australia's biggest show cave, with three massive chambers of incredible beauty. A fully guided one-hour tour takes in all its wondrous formations, like one of the longest "straw" stalactites in Australia, beautiful flowstone, cave coral and more. Learn about Tasmanian Tiger activity here thousands of years ago. Opt for a self-guided walk through the Karri forest or pop into the adjoining café during your visit.
'corners' of Australia and the place where the Indian and Southern Oceans meet. This is the tallest lighthouse on mainland Australia (and one that's still working – vital for seafarers navigating around the treacherous Cape). A new Interpretive Centre, housed in an original lighthouse keepers' cottage, holds an interactive experience about the history and life of the building since its construction in 1895. Otherwise, visit to spot whales from May to September, or pop into the café.
97 $319PP FROM Experience the stunning South West and Margaret River wine region from the air with our range of spectacular scenic helicopter flights, winery lunches, custom charters and VIP transfers to local accommodation and venues. Scenic Flights • Winery Lunches Accommodation Transfers Busselton Airport, Neville Hyder Drive, Yalyalup WA 6280 0429 988007 • bookings@kashelicopters.comkashelicopters.com.au
Where to Stay
margaretriver.comThisarticlewasoriginallypublishedonandadaptedforprint.Formoredrivetrailsvisitdriveyourstory.com
Experience Augusta: The locally-owned and run authority on accommodation in scenic Augusta, with well over 30 different holiday homes in its portfolio, from humble units to modern main street townhouses and architectural beachside homes. The company is more than just a booking service, with an intimate knowledge of the region to help with any holiday planning, activity or day trip advice. The team can arrange hire services, beauty and wellness treatments, breakfast provisions and hampers and more. Experience Augusta prides itself on personal service.
Sunflowers Animal Farm is home to hundreds of animals that you can pat, feed and cuddle. Come and meet our cows, pigs, donkeys, horses, ponies, goats, llama, deer, guinea pigs, alpaca, emu, ostrich, chickens, ducks, turkey, guinea fowl, geese and many colourful and/ or talking birds.
www.sunflowersfarm.comfarmerjones@sunflowersfarm.com
TRADITIONALTRADITIONALCRAFTBEERCRAFTBEER Book your table 08 9755 5822 229 Treeton COWARAMUPRoadWA 6284@cowaramupbrewingcowaramupbrewing.com.au
5561 Caves Road, near Margaret River
•
Ph: 0400 585 060 E:
Wander through the Animal Farm, with over 350 very friendly (mainly) farm animals, at any time during your stay. Sip local wines while admiring our stunning views: wild kangaroos grazing on rolling hills covered in beautiful wildflowers.
Ph: (08) 9757 3343
You will also see many pet and wild birds and bunnies wandering around the farm and playing in the wetlands.
Sunflowers Farmstay is ideal for big groups of friends or families (max 28 people).
TALES & TRAILS | margaretriver.com98 MRB799 Trails & Tales Directory ad-ART-2.pdf 1 8/2/22 T&T DIRECTORY/ JOHN STREATER FINE FURNITURE AND ART GALLERY JOHN STREATER FINE FURNITURE 105 Blythe road, Yallingup Siding 6282 WA Open daily 10am to 4pm Ph 08 9755 1211 www.streaterfinefurniture.com Nestled by the forest in the centre of Margaret River @margaretsforest Phone: 08 9758 7188  Email: stay@margaretsforest.com.au MARGARETS  FORESTAPARTMENTS ASK US ABOUT OUR SPECIALS! Professionally guided HORSE RIDING TOURS, suitable for all abilities. From forest treks to beach rides, we have a horse riding adventure just for you. JESTERS FLAT 1549 Rosa Brook Rd, Margaret River Ph 08 97574 www.jestersflat.combookings@jestersflat.com562/JestersFlat WINE TOURS OF DISTINCTION MARGARET RIVER'S ORIGINAL AND BEST WINERY TOURS Half Day and Full Day Gourmet Wine & Dine Tours We visit a selection of the following wineries; Leeuwin Estate, Xanadu, Voyager Estate, McHenry Hohnen and Brown Hill. Full Day tours include lunch at Xanadu. All tours include tasting fees at cellar doors, vineyard plate, and samples of smallgoods & chocolate Ph: 0419 917 www.margaretrivertours.cominfo@margaretrivertours.com166 stockerpreston.com.au STOCKERRESTON My place. Your place. Our place. Stocker Preston spans across the Southwest in four beautiful locations. Combining over 100 years of Real Estate Property experience, our team of over 50, each share an undeniable passion for the region's spectacular landscapes, environmental assets, unique creatures and soulful communities. We offer farmstay accommodation in 4 fully self contained units, sleeping between 5 and 9 people, near Margaret River in the South West of Western Australia.
Entry is $14.50 per person (babies under 2 are free). Feed the animals for only $3.50 per bucket. Open to the public from 9am to 5pm every day except Christmas Day. Help bottle feed the orphan babies at 10am and 4pm every day. No bookings required.
129 Ludlow-Hithergreen Rd, Ludlow (Cnr Bussell Highway, 10 minutes north of Busselton)
www.sunflowersfarm.comfarmerjones@sunflowersfarm.com
BIG VALLEY CAMPSITE
our Cellar Door and Wine S ensory G arden for a wine tasting experience like no other with the winemaker herself, C athy.
Book
tasting of our small batch wines in
Set on a beautiful bay and taking in the picturesque South West coastline between Cape Naturaliste and Cape Leeuwin, the Holiday Park is 15kms north of Augusta and 30kms south of Margaret River. Choose from well appointed camp sites, caravan sites, cottages and cabins.
Drop for a traditional seated the Cellar
AMONGST THE HILLS OF OUR FAMILY OWNED WORKING SHEEP FARM, JUST TEN MINUTES SOUTH EAST OF MARGARET RIVER.
Visit
NESTLED
OFFERING UNIQUE BEACHSIDE ACCOMMODATION IN A RELAXED NATIONAL PARK SETTING.
HAMELIN BAY HOLIDAY PARK
a Pick + Sip Experience, an evening soirée, or a tour of the Garden.
Door. Open 5 days a week, Thursday to Monday Garden Tours and Pick & Sip experiences from 10am Tastings in Cellar Door from 12pm To learn more and book, visit whicherridge.com.au or call 0448 531 399 Scan code to Book
farm encompasses a beautiful secret valley secluded from the outside world by natural forest. Bring your Caravan, Motorhome or Tent to relax and enjoy the open space, amazing nights skies, friendly farm animals and the family friendly atmosphere. Pet friendly. Ph 08 9757 bigvalleymargaretriver.com.au5020 Dunsborough Beach Cottages is situated on the pristine waters of Geographe Bay just 2.5 hours south of Perth. We offer beautifully appointed self-contained 2 & 3 bedroom resort style cottages, including our adults only beachfront cottages. From here you can walk to the Dunsborough town centre or within a short distance you can experience a range of award winning wineries, galleries and restaurants, making ABSOLUTE BEACHFRONT ON THE SHORES OF GEOGRAPHE BAY DUNSBOROUGH BEACH COTTAGES Ph 08 9756 info@dunsboroughbeachcottages.com.au8885
99
in
www.hamelinbayholidaypark.com.auPhbookings@hamelinbayholidaypark.com.au0897585540 Drift Café 1/72 Willmott Avenue, Margaret River Open 8am 2pm weekdays | 7:30am 2pm weekends www.driftcafe.com.au | Socials @driftcafe.mr Made here by us for you
The
Beach Cottages the ideal choice for families, couples or anyone looking to enjoy a beachfront escape in the Margaret River region. Be sure to visit our website for the latest offers and rates.
Dunsborough
TALES & TRAILS | margaretriver.com100 cellar door | Open 7 days from 10am-5pm restaurant | Open Wednesday to Sunday xanaduwines.com T&T DIRECTORY/ Origins Market, Shop 5, 86 West Street, West www.subzerogelato.com.auBusselton Opening hours: Thursday & Sunday 10am - 6pm Friday & Saturday 10am - 9pm Whalers Cove Villa a fabulous beachfront location with 16 self-catering villas, only a short stroll to Dunsborough's stylish shops and cafes. Make this your base for exploring the Margaret River Region.3(08)whalerscove.com.au97553699LecailleCt,DunsboroughWHALERSCOVE VILLAS REST, RELAX, EXPLORE. WISTERIA COTTAGE 31 Dekkers, Rd Deepdene WA 6290 M 0407 084 wisteriacottageaugusta@gmail.com086 Whether you are here for rest and relaxation or to explore our amazing atttractions we hope you enjoy the peace and tranquility that is Wisteria Cottage. A one bedroom self contained cottage. Wisteria Cottage Truly natural, chemical-free skincare made on-site in Dunsborough. Come visit our cute li le shop and factory. We also sell essential oil soaps, mud masks, moisturisers and interesting gi s too.
While the Margaret River Region is well-known for a love of brunches and long lunches, night time dining is just as exciting with a growing feast of places to dine after dark.
From family friendly events in the school holidays, to indulgent food and wine festivals, adventure races and live music, you are guaranteed to find something exciting going on at any time of the year.
Local Favourites
A Guide to Dog-Friendly Touring
You'll also find listings for local markets and outdoor movies.
It's easy to see why the Margaret River Region is a top wedding destination when you check
All of the region's events can be found online.
Night Time Dining
Hot tips from the region's locals on best beaches, top food experiences, wine and craft beer recommendations, and insider knowledge you won't find anywhere else.
101
Online?What's
Want to know how to tour the region with your pooch in tow? This comprehensive guide covers where you can eat, stay and play where your dog will be warmly welcomed.
Upcoming Events
Head over to margaretriver.com for more great articles including
out this article. Whether you're after sweeping views, a cosy and quaint farmhouse property, or a luxurious winery wedding, you're sure to find your ultimate wedding venue.
The Ultimate Guide to Margaret River Region Wedding Venues
Catch the express coach service connecting Perth, Perth Domestic and Perth International Airport terminals with Busselton, Dunsborough, Margaret southwestcoachlines.com.auRiver.
BY CAR
IN STYLE
South West Luxury Transport
TALES & TRAILS | margaretriver.com102
South West Coach Lines
TRANS WA
To see the best of the region, hire a car or people mover from Margaret River – all you need is a driver's licence, even if it's an interstate or international margaretriverrentacar.com.auone.
BY COACH
Busselton & South West Rent a Car
Avis Southwest Car Hire
McLeod Tours
Explore the beautiful Margaret River region at your own pace with a rental from Avis Southwest Car Hire in Busselton. One-way rentals are available back to Perth. avis.com.au
Take in Margaret River's scenery and attractions with local expert and award-winning guide Neil McLeod. The three-day Escape tour provides pick-up from your Perth hotel or Perth train station, comfortable bus transport, three days touring with a dedicated tour guide, delicious food and wine, and an exciting itinerary. mcleodtours.com.au
Westward Aviation Charter Services
Depart from Jandakot Airport as the sun rises and enjoy stunning views of the Swan River, Fremantle Harbour, Rockingham, Mandurah, the Peel Inlet and Bunbury then on to either Busselton or Margaret River. Westward Aviation will transfer you from the airport to the city and take you back at no extra cost. Your return journey will be just as spectacular with the sun setting over the Indian Ocean and the night lights of the City of Perth. westwardaviation.com.au
VIRTUALLY
Margaretriver.comThenumberonetravel authority in the region, margaretiver.com is full of inspiration and practical information on how to navigate your way around the region. Pop up webchat and telephone enquiries will also answer any of your more curly questions. at Bunbury, Busselton Busselton-Margaret River Airport.
and
Trans WA19 travels from Perth to Margaret River every Monday, Wednesday and Friday, with optional drop-offs along the way and returns to Perth the same day. Keep hold of your ticket and return to Perth at a later wa-getaway.com.audate.
Locally owned and operated by ex-Qantas pilot, Andrew and local artist Rebekah, the team at South West Luxury Transport bring a culmination of skills to ensure the most premium of experiences. Now offering private transfers from the Busselton Airport. southwestluxurytransport.com.au
GETTINGAROUND Discover the withsouthwestAvis. 1800 679 880 | avis.com.au With our locations
Hertz Busselton
Located in Busselton and offering an extensive range of vehicles at a good rate. northsiderentals.com.au
Hertz has a great range of cars, people movers, buses and 4WD vehicles to suit all requirements whilst holidaying in the Margaret River Region. hertz.com.au
Offering delivery and pick-up throughout the south west, Busselton & South West Rent a Car is a local, family-owned car rental busseltonswrentacar.com.aucompany.
Northside Rentals
Margaret River Rent a Car
1/16 Cyrillean WWW.BLUEMANNABISTRO.COM.AUTel:DunsboroughWay(08)97865051