MAKE $20 MILLION IN LESS THAN TWO MINUTES AT THE SAUDI CUP
HOW DO HORSES SEE THEMSELVES?
RIHANNA
THE SUN AMONGST
THE STARS
THE WORLD'S NEXT BIG DELICACY IN LIMITED SUPPLY
THE MULTI-FACETED EDUCATION & ECLECTIC PREPARATION THAT CROWNED PHARRELL WILLIAMS KING OF LOUIS VUITTON
AMAZON HAS NOTHING TO SMILE ABOUT
PACK YOUR STILETTOS CHRISTIAN LOUBOUTIN IS OPENING A HOTEL
BLUE, GOLD AND BLACK RULE THE RUNWAYS OF MILAN
WINE TASTING ONE-ON-ONE WITH ANGELINA MONDAVI
UNDERSTANDING THE RELATIONSHIP BETWEEN THOUGHTS AND BEHAVIOR
VOLUME VII / ISSUE III / MARCH 2023
THE BROADMOOR WINTER POLO CLASSIC THE SAUDI CUP · ST-MORITZ SNOW POLO THE GAUNTLET OF POLO C.V. WHITNEY CUP
$32.95 USD
Ambassador Claude-Alix Bertrand Publisher
Joshua Jakobitz Editor-in-Chief
William Smith Copy Editor & Philanthropy Contributor
Claire Barrett Head of Photography
Dana Romita Luxury Real Estate Contributor
Amritlal Singh Spirituality Contributor
Cezar Kusik Wine Contributor
Polo Photographers
Katerina Morgan
Justine Jacquemot
Irina Kazaridi
Helen Cruden
Dillon Driscoll
Nick Tininenko
Michael J. Snell Lifestyles & Luxury Automobile Contributor
Joey Velez Wellness Contributor
Justin "Goliath" Johnson Wellness Contributor
Raphael K. Dapaah Art Contributor Brand Representatives
Michael J. Snell - NYC
Stanley Pierre-Etienne - West Indies
Jessica Foret Wax - Santa Fe
Justin Johnson - Atlanta
Contributing Photographers
Xavier Merchet-Thau
Aubrey Chandler
Eric Carré
Eva Espresso
Tony Ramirez
Rob Miskowitch Paat Kelly
Polo Lifestyles is a publication of HT Polo Publishing Co. 995 Detroit Avenue, Suite A Concord, CA 94518
Cover photo of Rihanna by Gray Sorrenti
Content Copyright © Polo Lifestyles 2023 All Rights Reserved.
For information or to advertise Contact marketing@pololifestyles.com Read online at www.pololifestyles.com
On Instagram & Facebook @pololifestyles
A proud partner of Issuu & The Impression
NATIONAL POLO CENTERWELLINGTON
The Gauntlet of Polo
- C.V. Whitney Cup
- USPA Gold Cup
- U.S. Open Polo Championship
USPA Junior Open Final
U.S. Open Women's Polo Championship
Florida Circuit 16-Goal Series
GRAND CHAMPIONS
POLO CLUB
USPA North American Cup
USPA National 20 Goal
Legends of Polo
Carlos Gracida Memorial
International Cup
MIAMI BEACH
Miami Beach World Championship
WWW POLOLIFESTYLES COM page 17
ST-MORITZ SNOW POLO
POLO LIFESTYLES EDITORS &
Joey Velez Wellness Columnist Velez Mental Performance @velezmentalhealth
Eva Espresso Photographer Eva Espresso Photography @Eva.espresso
Amritlal Singh Spirituality Contributor Monarch Visionary @monarch_visionary
Cezar Kusik Wine Contributor Polo Lifestyles @cezartastesearth
VOLUME VII / ISSUE III / MARCH 2023 page 20
Dana Romita Real Estate Contributor Douglas Elliman @danaromita
CONTRIBUTORS
William Smith Philanthropy Contributor May & Stanley Smith Charitable Trust @willismith_2000
Justin Johnson Wellness Contributor Goliath Coaches @goliathcoaches
PHOTOS FROM WINTER WONDERLAND
58
Page
Ambassador Claude-Alix Bertrand Publisher Polo Lifestyles @haiti_polo_captain
Josh Jakobitz Editor-in-Chief Polo Lifestyles @joshuajakobitz
Michael J. Snell Lifestyles & Automobiles Contributor @agnello_1
Eric Carré Photographer EC Photography @ti_carre
Claire Barrett Head of Photography Claire Barrett Photography @clairebarrettphoto
Raphael K. Dapaah Art Contributor Dapaah Gallery @dapaahgallery
& COCKTAILS
Katerina Morgan Polo Photographer Horse Polo Art Gallery @horsepoloartgallery
SCOREBOARDS
RIHANNA SHINES BRIGHER THAN THE SUN
Forget stilettos, Louboutin opens a hotel, page 101
page 21 WWW POLOLIFESTYLES COM
How Pharrell got the top job at Louis Vuitton, page 83
Sea cucumbers - the next big delicacy, page 96
How to make $20 million in 2 minutes, page 72
PAGE 106
THERE'S SNOW ON THE PEAKS OF MOUNT DIABLO, VISIBLE FROM THE CONFERENCE ROOM WINDOWS AT POLO LIFESTYLES. NOT LIKE A LITTLE SNOW, BUT SNOWSNOW… MASSES AND MASSES OF SNOW. IT'S OUR SNOWIEST, RAINIEST, WETTEST WINTER IN MEMORY HERE IN NORTHERN CALIFORNIA. BY THE END OF FEBRUARY, WE'RE ACCUSTOMED TO WARM RAIN AND GREEN GRASS, BUT THIS YEAR, I'M STILL WEARING MY WINTER PARKA AND TRUSTY RAIN BOOTS.
Luckily for polo patrons, players and spectators in West Palm Beach, no rain gear has been required for the winter season there. The C.V. Whitney Cup final – the first in the series of three Cups in the Gauntlet of Polo – was played to a capacity crowd at the USPA National Polo Center on Sunday in an outstanding match up between Valiente and Pilot. With Adolfo Cambiaso back on Valiente's lineup and Facundo Pieres on team Pilot, it was a dream match up with Valiente coming out on top at the end.
Meanwhile, in Colorado Springs, The Broadmoor Hotel brought polo back to the region with the debut of their Winter Polo Classic played before 800 spectators on Saturday afternoon under sunny skies. Being part of the debut event was a special treat for us at Polo Lifestyles and we sent our own William Smith up from Santa Fe, N.M., to represent us at The Broadmoor. The local Sports Corps and hoteliers took great care of him and other journalists, players and fans. Smith left Colorado Springs enthused about the future of polo in the region.
The future seemed to be on our cover model's mind as she performed on arguably the world's biggest stage in January at the American Super Bowl. Rihanna, who teased that someone would be joining her performance, took the opportunity to announce her second pregnancy to the world as she balanced on a glass platform suspended 60 feet in the air performing some of her greatest hits while wearing Loewe and Alaia couture designs. Nothing could be more Polo Lifestyles. This pop icon, proud islander, mom, entrepreneur and fashionista lit up debates about her performance from Twitter to Timbuktu. It was a complete and triumphant return. Rihanna is nominated for an Oscar for her contribution to Wakanda's Lift Me Up, which she will perform in March during the awards show. We can't wait.
Best,
Josh Jakobitz josh@pololifestyles.com
ST-MORITZ SNOW POLO
INNOVATION EXISTS PURELY TO SERVE YOUR COMFORT, SAFETY AND CONVENIENCE VIA MULTIPLE SENSES. A VIRTUAL VOICE ASSISTANT LISTENS TO SERVE YOU.
LIGHTING AND FRAGRANCE SUBTLY SOOTHE YOU.
MBUSA.COM
Beyond first class is a class of one.
Ready to ride with a best friend on a cold, sunny day
co_gazette
Getting your head in the game before you get your boday into the game in Colorado Springs
condenastetraveller
jacobandco
Thinking about adding this extraordinary timepiece to the collection
luxury_listings
The most-expensive real estate in the Caribbean comes in at a whopping $200,000,000 in Mustique
louisvuitton
The House of LVMH announced that @pharrell has been appointed creative director of menswear
badgalriri
said, "I am enough"
thesaudicup
After winning the $20.5 million Saudi Cup, Panthalassan deserved this quiet morning-after time
telegraph
Turkish citizens are placing balloons on sites known to be places were children were lost in the earthquake
VOLUME VII / ISSUE III / MARCH 2023 26
Christian Louboutin gives a sneak peak into his new hotel project in Portugal
Dressed in custom Loewe and Alaia, Rihanna's performance at the Super Bowl
chloecarabasi
Click and comment on our choices... Tag @pololifestyles . We will share noteworthy comments with you next month.
eq_luxe
Get ready for spring with runwayinspired neutral tone pieces and accessories
When you share breakfast with your best friend, there's always room for two
globalpolo
Valiente overcame Pilot in the final of the C.V. Whitney Cup part of the Gauntlet of Polo series
princeandprincessofwales
The royal couple's looks were onpoint for the 2023 BAFTA awards
It says California, it says cool, it says refined... it must be Ralph Lauren
robbreport
Specialty chocolate creations popped up at Louis Vuitton boutiques in time for Valentine's shoppers
alhabtoorpoloclub
willismith_2000
Wine tasting with the one and only Angelina Mondavi in Napa Valley for Polo Lifestyles
taittinger
When we say we want our champagne on ice, this is what we mean
page 27 WWW POLOLIFESTYLES COM
cultgaia
ralphlauren
A win for the Dubai Wolves as part of the Dubai Gold Cup series
THE GAUNTLET OF POLO C.V. WHITNEY CUP FINAL VALIENTE 10-9 PILOT
VOLUME VII / ISSUE III / MARCH 2023 30
PHOTOS BY DAVID LOMINSKA & IRINA KAZARIDI
VALIENTE HAS WON THE FIRST LEG OF THE GAUNTLET OF POLO! THEY DEFEATED PILOT 10-9.
After Pilot's initial momentum created an early advantage, Valiente battled back into contention to take the lead in the second chukker. As the two teams entered the final chukker tied, a goal from Mariano "Peke" Gonzalez Jr. helped Valiente edge out Pilot for the win.
MVP: Mariano "Peke" Gonzalez Jr.
Best Playing Pony: Carpacho, owned and played by Mariano "Peke" Gonzalez Jr.
page 31 WWW POLOLIFESTYLES COM
C.V. WHITNEY CUP THE GAUNTLET OF POLO
VOLUME VII / ISSUE III / MARCH 2023 32 PHOTOS BY DAVID LOMINSKA & IRINA KAZARIDI
page 33 WWW POLOLIFESTYLES COM
C.V. WHITNEY CUP
THE GAUNTLET OF POLO
VOLUME VII / ISSUE III / MARCH 2023 34 PHOTOS BY DAVID LOMINSKA & IRINA KAZARIDI
page 35 WWW POLOLIFESTYLES COM
VOLUME VII / ISSUE III / MARCH 2023 36 PHOTOS BY DAVID LOMINSKA & IRINA KAZARIDI
C.V. WHITNEY CUP THE GAUNTLET OF POLO
page 37 WWW POLOLIFESTYLES COM
C.V. WHITNEY CUP
THE GAUNTLET OF POLO
VOLUME VII / ISSUE III / MARCH 2023 38
PHOTOS
BY DAVID LOMINSKA & IRINA KAZARIDI
page 39 WWW POLOLIFESTYLES COM
C.V. WHITNEY CUP
THE GAUNTLET OF POLO
VOLUME VII / ISSUE III / MARCH 2023 40
PHOTOS
BY DAVID LOMINSKA & IRINA KAZARIDI
page 41 WWW POLOLIFESTYLES COM
THE BROADMOOR WINTER
POLO CLASSIC DEBUTS IN COLORADO SPRINGS
VOLUME VII / ISSUE III / MARCH 2023 44 ALL IMAGES COURTESY COLORADO SPRINGS SPORTS CORP
page 45 WWW POLOLIFESTYLES COM
VOLUME VII / ISSUE III / MARCH 2023 46 PHOTOGRAPHS BY ROB MISKOWITCH AND PAAT KELLY
THE BROADMOOR WINTER POLO CLASSIC
page 47 WWW POLOLIFESTYLES COM
THE BROADMOOR WINTER POLO CLASSIC
VOLUME VII / ISSUE III / MARCH 2023 48
PHOTOGRAPHS BY ROB MISKOWITCH AND PAAT KELLY
POLO RETURNS TO COLORADO SPRINGS WITH THE 2023 BROADMOOR WINTER POLO CLASSIC
ON FEBRUARY 23, IN A PARTNERSHIP BETWEEN THE COLORADO SPRINGS
SPORTS CORPORATION AND THE ICONIC BROADMOOR, POLO RETURNED TO COLORADO SPRINGS FOR THE FIRST TIME SINCE THE 1930S.
At one point in time, the luxurious Broadmoor had no fewer than four polo fields on the grounds of the opulent resort, as well as stables for over 400 horses where guests could rent a pony and play polo to their hearts' content. The resort's founder, Spencer Penrose, was an active player in the early 1900s and, along with fellow polo aficionados in the Pikes Peak area, eventually formed The Broadmoor Polo Association and The Penrose Polo Park.
Then came both the Great Depression and the Second World War and with them, an abrupt end to America's Gilded Age. Eventually, the polo fields and facilities were cleared for additional development at the Broadmoor. Yet, the return of polo for the Broadmoor is clearly a historic moment and one of great pride. The property's President and CEO, Jack Damioli, was on hand for the entire day's play and had the honor of the first throw in to inaugurate what is hoped to be an annual event.
The Broadmoor also created the Winter Polo Package for the event that provided two nights' accommodations, priority seating for the match, transportation to and from venue, and a commemorative gift of stunning Sterling
page 49 WWW POLOLIFESTYLES COM STORY BY WILLIAM SMITH / POLO LIFESTYLES
THE BROADMOOR WINTER POLO CLASSIC
crystal
etched with the event's logo. And of course, access to all the splendor and luxury available at the resort.
Much credit for the event and the return of polo to the area goes to Nicholas Francoeur, who also played
in the event. A graduate of the U.S. Air Force Academy in Colorado Springs and an avid player, he said, "I wanted to bring polo back to the area because it is a sport that honors the history of Colorado Springs, but can now be played by all regardless of status."
Francoeur and the Broadmoor are clearly onto something – over 800 attendees turned out for the inaugural event.
The day's exhibition play took place on the dirt arena of the Norris Penrose Event Center to a sunny and warm
page 51
rocks glasses
THE BROADMOOR WINTER POLO CLASSIC
VOLUME VII / ISSUE III / MARCH 2023 52 PHOTOGRAPHS BY ROB MISKOWITCH AND PAAT KELLY
day. Just four days earlier, it would have been a snow polo event with attendees fully bundled up in 16 degree Fahrenheit weather. A VIP area provided access to an elevated indoor area overlooking the match, with delicious provisions, including signature whiskey-inspired cocktails from Distillery 291, one of the event's sponsors.
Emerald Valley Polo Team faced off against Penrose Polo Team. Players for Emerald Valley were Hannah Stock, Andrew Wildermuth, Alex Kokesh, and Peggy Christensen serving as the replacement player. On team Penrose were Brian Salmon, Nicholas Francoeur, Erica Gandomcar-Sachs and Mitchel Francoeur as the replacement.
After four chukkers, Emerald Valley emerged victorious 12-9, taking home the Spencer Penrose Polo Park Cup. All the horses were provided by the National Championship program at Colorado State University, whose club president, Hannah Stock, was on the winning Emerald Valley Polo Team.
Despite his own team not being victorious, Nicholas remarked, "I'm feeling really good, excited for next year, and grateful for a strong kickoff to a 2023 season in Colorado."
See you in 2024.
WILLIAM SMITH COPY EDITOR POLO LIFESTYLES 2023
page 53 WWW POLOLIFESTYLES COM
VOLUME VII / ISSUE III / MARCH 2023 54 PHOTOGRAPHS BY ROB MISKOWITCH AND PAAT KELLY
THE BROADMOOR WINTER POLO CLASSIC
page 55 WWW POLOLIFESTYLES COM
ST-MORITZ SNOW POLO
VOLUME VII / ISSUE III / MARCH 2023 58
PHOTOGRAPHY BY EVA ESPRESSO AND DILLON DRISCOLL
ST-MORITZ SNOW POLO FINAL: AZERBAIJAN 6-5 ST- MORITZ
ST-MORITZ, SWITZERLAND - It was finally time for the hotly anticipated finale to the three-day polo spectacular, as a skilled and on-form St. Moritz team faced last year's winners – the welldrilled Azerbaijan Land of Fire team, in front of capacity crowds. Sparkling sunshine, music pumping out courtesy
of DJ Mr Mike and 'on tap' Perrier Jouët champagne meant the fur clad, uber glam spectators were in high spirits as the first ball was thrown in.
The pressure was on for Azerbaijan Land of Fire to deliver the goods for the second year and they were on full power from the first throw in. Their lineup had also seen a tactical change of players to allow the Final to take place between teams of even handicaps. So
the talented Tito Gaudenzi who plays off 2 goals and had played in the team's two winning matches was replaced by Tarlan Gurbanaliyev for the Final.
Azerbaijan Land of Fire were determined to bag the Trophy for a second year running, whilst St. Moritz players Max Charlton and Nacho Gonzalez were both planning a sixth victory in the prestigious tournament. As expected from the first throw in, the
page 59 WWW POLOLIFESTYLES COM
VOLUME VII / ISSUE III / MARCH 2023 60 PHOTOGRAPHY BY EVA ESPRESSO AND DILLON DRISCOLL
action was fast-paced and passionate with fast, flowing attacking play matched with skilled, strong defence from both teams.
Azerbaijan Land of Fire played from the outset with their usual veuve and enthusiasm, which was equally matched by team St. Moritz with alacrity. With little dividing the teams, it was too close to call at half-time, with the scores at 3-2 to Azerbaijan Land of Fire. At the start of the fourth chukka, the scores were even and despite both teams playing off all cylinders, the result was still tied at five goals apiece at the end of the chukka. Play then went into extra time for only the second occasion in the last 15 years of the tournament's history. Despite valiant efforts from team St. Moritz, Adrian Laplacette Jr of the Azerbaijan team converted a penalty in the golden goal period to claim the Trophy for the second year running.
ST-MORITZ SNOW POLO
page 61 WWW POLOLIFESTYLES COM
ST-MORITZ SNOW POLO
VOLUME VII / ISSUE III / MARCH 2023 62
PHOTOGRAPHY BY EVA ESPRESSO AND DILLON DRISCOLL
page 63 WWW POLOLIFESTYLES COM
ST-MORITZ SNOW POLO
VOLUME VII / ISSUE III / MARCH 2023 64 PHOTOGRAPHY BY EVA ESPRESSO AND DILLON DRISCOLL
page 65 WWW POLOLIFESTYLES COM
ST-MORITZ SNOW POLO
VOLUME VII / ISSUE III / MARCH 2023 66 PHOTOGRAPHY BY EVA ESPRESSO AND DILLON DRISCOLL
page 67 WWW POLOLIFESTYLES COM
ST-MORITZ SNOW POLO
VOLUME VII / ISSUE III / MARCH 2023 68 PHOTOGRAPHY BY EVA ESPRESSO AND DILLON DRISCOLL
page 69 WWW POLOLIFESTYLES COM
THE SAUDI CUP
THE WORLD'S MOST-VALUABLE HORSE RACE
JAPANESE VICTORY AT THE SAUDI CUP
PANTHALASSA CLAIMS THE TOP SPOT
THE FOURTH RUNNING OF THE US $20,000,000 SAUDI CUP WENT THE WAY OF JAPAN FOR THE FIRST TIME COURTESY OF THE YOSHITO YAHAGITRAINED PANTHALASSA AS HE SAW OFF ALL CHALLENGERS FOR A HISTORIC WIRETO-WIRE VICTORY.
It was an evening for the powerful racing nation to rejoice, with Panthalassa's all-the-way success under veteran jockey Yutaka Yoshida meaning that Bob Baffert's American raider Country Grammer had to once again settle for the runner-up place in Riyadh.
Over the last four years, victory in The Saudi Cup has gone to four different nations with the Japanese winner becoming the latest to win the world's most valuable race, now proving his capability on both dirt and turf.
Yahagi was among the winning trainers last year when Japanese-trained runners claimed four races on the card and the strength of horse racing in the country was confirmed once again on Saturday with three more in front of an appreciative crowd at King Abdulaziz Racecourse.
For the globally popular trainer Yahagi, it was a second winner of the evening, following up from Bathrat Leon's win in the 1351 Turf Sprint presented by stc. It was also an unforgettable night for
owners Hiroo Race Co Ltd, who owned both Yahagi's winners.
Momentarily in the latter stages it appeared that Japanese runners would fill the first three places, but Country Grammer finished with a flourish down the outside to claim second, half a length adrift, from Cafe Pharoah (JPN) in third with Geoglyph (JPN) and Crown Pride (JPN), both also trained in Japan, finishing fourth and fifth respectively.
Last year's winner Emblem Road (USA) was sixth and the best of the four locally-trained runners. Panthalassa's winning time was 1:50.80.
page 73 WWW POLOLIFESTYLES COM
IMAGES COURTESY THE SAUDI CUP
THE SAUDI CUP
THE WORLD'S MOST-VALUABLE HORSE RACE
VOLUME VII / ISSUE III / MARCH 2023 74
page 75 WWW POLOLIFESTYLES COM IMAGES COURTESY THE SAUDI CUP
THE SAUDI CUP
THE WORLD'S MOST-VALUABLE HORSE RACE
VOLUME VII / ISSUE III / MARCH 2023 76
page 77 WWW POLOLIFESTYLES COM IMAGES COURTESY THE SAUDI CUP
THE SAUDI CUP
THE WORLD'S MOST-VALUABLE HORSE RACE
VOLUME VII / ISSUE III / MARCH 2023 78
page 79 WWW POLOLIFESTYLES COM IMAGES COURTESY THE SAUDI CUP
THE MULTI-FACETED EDUCATION & ECLECTIC PREPARATION THAT CROWNED PHARRELL WILLIAMS
KING OF LOUIS VUITTON
THE YEAR IS 2017 AND I'M SITTING INSIDE A BLACK BOX IN SHANGHAI WITH PHARRELL WILLIAMS, WHO IS DESPAIRING OF HIS IPHONE.
"[Technology has] accelerated and expanded at a speed we can't even begin to fathom. But there are no general settings for real life," he pronounces, Dalai Lama-like. It's some high-minded theorising, but then I'm here to talk to him about a typically conceptual record launch – an artistic collaboration with Louis XIII cognac. Later that evening he'll debut the record, played one time only within said sealed box, and then the record will be buried within the Louis XIII estate. In 100 years, if climate change hasn't destroyed the terrain, the record will be unearthed.
I could point out the irony of flying the media to Shanghai to underline this message. But Williams – for all his soft spoken geniality – doesn't seem like a man to be trifled with and boy is he a details man; it takes four attempts to play the record because he's got concerns about the needle.
Before our encounter and ever since Pharrell has traversed so many mediums. And now he has landed the top menswear design job at Louis Vuitton. On Tuesday it was announced that 49-yearold Williams will take over as men's creative director, following in the substantial footsteps of the late Virgil Abloh.
It's a job that's been hotly contested, with young London designer names like Grace Wales Bonner being mooted, as well as streetwear designer Colm Dillane, who co-designed the latest Louise Vuitton menswear collection. There were also revelations that Kanye West was jealous of the late Abloh and may have fancied the gig for himself.
Instead, it's gone to the boy from Virginia who got his break playing in his high school band.
Pharrell has got fashion credentials in spades but almost no design experience. He's the original multi-hyphenated polymath, before it became a term for social media influencers who do a
bit of this, a bit of that. He started his career in music after forming The Neptunes with his high school friend and began producing albums for pop stars; Britney Spears helped put him on the map in 2001. He progressed to win 13 Grammys and, as Louis Vuitton will be acutely aware of, has 14.3 million followers on Instagram.
The ascent in the world of music almost ran aground in 2013 thanks to his involvement with Robin Thicke's misogynistic Blurred Lines (since denounced as one of the biggest misfires in music history), with Thicke's lyrics alluding to coercive date rape  –  "I know you want it" – and the model Emily Ratajkowski gyrating naked, later alleging that Thicke
groped her. Thicke was reported to have "sheepishly apologised for the alleged assault".
Williams was curiously immune to the scandal, thanks to fortuitous timing; later in the same year he debuted Get Lucky in collaboration with Daft Punk and released the contagious Happy, the multi-million selling Despicable Me 2 theme song. His image as a family man was reestablished, the world moved on.
His resilience in the entertainment industry is partly thanks to his constant evolution – he puts on many new hats (figurative, as well as literal) including singer, record producer, film producer, restaurateur, hotelier,
page 83 WWW POLOLIFESTYLES COM
STEPHEN DOIG / SPECIAL TO POLO LIFESTYLES
sculptor, skateboarder … "The motivation for me was them telling me what I could not be," Williams once said of the expectations placed on him by society, and how he sought to defy them.
Recently he became interested and invested in a host of new tech projects – the London-based music startup Roli in 2017, in 2022 he was named chief brand officer of NFT platform Doodle, and last year he debuted GODA (the Gallery of Digital Assets) alongside artist Nina Chanel Abney. He also runs a skincare range, Humanrace; a new online auction platform, Joopiter; and two not-forprofit educational platforms, Yellow and Black Ambition.
Have you got all that?
In the "other interests" section on his bulging CV, he might detail that he also kick starts each day at 5am with 500 crunches followed by a boiling hot bath and then a
freezing shower. Keep up if you can.
The fashion industry noticed his renegade sense of style on the red carpet in the 1990s. His first dabbles with design came via cult Japanese label Nigo, followed by the launch of his own brand Billionaire Boys Club and a foray into jewellery design at Louis Vuitton (how foretelling), trainers with Adidas and coats with Moncler.
But it was Chanel that cemented his place in the upper echelons; having sketched the brand's signature CC logo onto trainers for himself, in 2017 the Paris house made it official and anointed him one of the few male celebrity ambassadors, creating a "Chanel Pharrell" collection two years later and draping him in its signature boucle tweeds and pearls along the way.
He was very much within Louis Vuitton's orbit (photographed with the Arnault family, and a front row favou-
rite) but the awarded role of creative director has come as a surprise. Louis Vuitton, the 169-year-old luggage-purveyor-turned-luxury-monolith, doesn't tend to do shock tactics like the rest of the fashion world. It is interesting to note that this is happening as rival brand Balenciaga, has sacrificed its luxury cachet in its eagerness to attract a young Insta-crowd with garish logos and chunky trainers.
Louis Vuitton is the jewel in the LVMH conglomerate crown, owned by France's richest man, Bernard Arnault.
Williams is set to make his debut next June during Paris men's fashion week. Pietro Beccari, Louis Vuitton's CEO, explained that his "creative vision beyond fashion" was the reason he was hired. It's a contrast with Gucci's new creative director, Sabato De Sarno, who is only known in fashion circles, having worked at Valentino.
Certainly Williams knows
what makes a standout catwalk collection, but he has no formal training as a designer. Does that matter in today's market? He has been hired, surely, for his eye. Louis Vuitton wants him to direct them on what's cool, and that he certainly can do. Pharrell's predecessor Abloh's appointment was a curveball itself back in 2018, when he took over from British designer Kim Jones.
Abloh had been a streetwear icon thanks to his Off-White label, as well as a sometime DJ and furniture maker. He had never had experience at a luxury house, but his collections were consistently being expressive, vividly colourful and exciting catwalk spectacles.
Abloh was always true to his conviction and his appointment was important; he was one of the few black men "to get a seat at the table", as Naomi Campbell told me the day after his death was announced.
VOLUME VII / ISSUE III / MARCH 2023 84
RESEARCH CONFIRMS EARLIER FINDINGS SUGGESTING THAT HORSES HAVE COGNITIVE SELF-AWARENESS, WHICH ENABLES THEM TO RECOGNIZE THEIR OWN REFLECTIONS.
HOW DO HORSES SEE THEMSELVES?
WHY WOULD A HORSE STARE INTO AN ARENA MIRROR?
RECENT RESEARCH FROM ITALY SUGGESTS THAT HE'S TRYING TO GET A GOOD LOOK AT HIMSELF.
The new study, conducted by a group of researchers at the University of Pisa, confirms earlier speculation that horses do, in fact, recognize themselves in a mirror. Many species, including elephants and dolphins, are presumed to also possess this ability, but cognitive self-awareness is difficult to test and until now had only been validated in some primates.
In 2017, the Italian group devised a pilot study in which horses were given the mirror self-recognition (MSR) test, considered the "gold standard" for determining if a subject is self-aware. For the test, colored marks were placed on the cheeks of horses that were visible to them only when they were in front of a mirror. If a horse attempted to rub the mark from his face after seeing his reflection, this was considered a sign of self-recognition.
The findings suggested that the subject horses could indeed recognize themselves, but the limited size of the trial and the questions about its methodology kept the researchers from
BY CHRISTINE BARAKAT FOR POLO LIFESTYLES PHOTOGRAPHY BY MOHAMMED HABIB
drawing a definitive conclusion.
Now, however, the same group— Paolo Baragli, DVM, PhD, Chiara Scopa, Veronica Maglieri and Elisabetta Palagi, PhD—has repeated the experiment using more horses and slightly different methodology and the results confirm the earlier findings.
For the study, 14 horses were individually confined in an enclosure for 30 minutes under four different scenarios, one per study day: First, a mirror was placed in the enclosure to acclimate the horse to its presence, but it was positioned so the reflective surface was not visible to him. In the next stage, the mirror was shifted so
page 87 WWW POLOLIFESTYLES COM
the horse could see his reflection. In the third stage, an "invisible mark" was made with clear gel on the horse's cheeks before he was returned to the space with the uncovered mirror—this was to ensure the horses reacted to the sight of the marks rather than the sensation of the gel on their skin. In the final stage, colored marks, made with odorless yellow or blue paint, were placed on the horse's cheeks in locations visible to him only in the mirror, before he was returned to the space with an uncovered mirror.
The researchers monitored the horses during each phase, looking for behav-
iors such as moving in an out of the sight of the mirror—what the researchers termed "peek-a-boo"—or sticking out their tongue to confirm that their movements were being reflected.
"Both peek-a-boo and tongue protrusion are contingency behaviors, along with looking behind the mirror and performing head movements in front of the reflective surface," the researchers explain, noting that prior to the experiment none of the horses has been exposed to mirrors. "These are highly repetitive or unusual movements performed only when animals are in front of the mirror, probably to
verify if the movements of the image in the mirror match their own movements. Individuals belonging to species which successfully passed the mark test performed these kinds of behaviors."
The researchers then noted whether the horses tried to remove the colored markings by rubbing their faces against their legs when they saw their reflections in the mirror. Doing so would indicate the horses knew that the marks, which were visible only in the reflection, were on their own faces. The data showed that nine of the 11 horses attempted to rub the colored marks off their cheeks after looking into the mir-
BY CHRISTINE BARAKAT FOR POLO LIFESTYLES PHOTOGRAPHY BY MOHAMMED HABIB
VOLUME VII / ISSUE III / MARCH 2023 88
ror, while only five out of the 11 horses attempted to rub the invisible marks from their faces. Horses spent more time rubbing their faces and less time scratching other areas of their bodies when the colored marks were present. What's more, the study horses who rubbed the colored marks also performed at least one of the "contingency behaviors" such as peek-a-boo. All of this, the researchers conclude, suggests the horses possessed cognitive self-recognition.
They emphasize, however, that this finding isn't surprising, given the highly developed social and emotional lives
of horses. "Mirror self-recognition, which is considered a building-block of self-awareness, provides information about the cognitive and emotional skills that are necessary to develop complex social relationships and to engage in behaviors relying on different levels of empathy," the researchers explain.
"Horses are able to integrate different sensory systems to individually recognize both other horses and humans as well; they also can combine different facial cues of other horses to gather information on the environment," they add. "Moreover, horses can communicate
their emotions and understand facial expressions of both horses and humans. Finally, they reconcile after conflicts and engage in triadic post-conflict reunion to maintain the social balance. Taken together, these findings are indicative that horses, like other highly cognitive social animals, show some degree of awareness, which implies the ability to assess the significance of a situation according to both the social environment and the self."
BY CHRISTINE BARAKAT FOR POLO LIFESTYLES
PHOTOGRAPHY BY MOHAMMED HABIB
VOLUME VII / ISSUE III / MARCH 2023 90
LUXURY REPORT: THE NEXT BIG DELICACY SEA CUCUMBERS
VOLUME VII / ISSUE III / MARCH 2023 96 BY ALICE PARK SPECIAL TO POLO LIFESTYLES
IF YOU'RE TUNED IN TO THE HEALTH AND WELLNESS SPACE, YOU'VE PROBABLY HEARD THE BUZZ ABOUT SEA CUCUMBER. THIS LUXURY FOOD HAS BEEN LONG APPRECIATED IN CHINESE MEDICINE AND CUISINE FOR ITS NOURISHING PROPERTIES.
More recently, sea cucumber is gaining popularity as a supplement thanks to new scientific research showing antioxidant effects and possible immune-boosting benefits.
But sea cucumber comes with a premium price tag – in fact, as a food it is so pricey that it's typically only accessible to the wealthy!
How expensive is sea cucumber? A quick Internet search of Chinese e-commerce websites like tmall.com shows the price of sea cucumber ranging between 10,000 to 20,000 Yuan per 500 g. That's equivalent to about $2000 to $4000 Canadian dollars! And the price continues to increase. Between 2011 and 2016 alone, the average market price for sea cucumber in China grew by 16.6%.
For context, sea cucumber fetches a higher price per weight than other luxury foods like caviar, saffron, and truffles!
A BRIEF HISTORY OF SEA CUCUMBER
If you've ever observed a sea cucumber in its natural habitat, you might have noticed it looks more like a mobile plant than animal. But they are animals. Sea cucumbers belong to a group called echinoderms, marine invertebrates related to starfish and sand dollars. They have a unique tube-like shape that allows them to move along the sea floor.
Why sea cucumbers are a luxury today can be traced back as early as 1800 years ago in China.  Records show they were eaten as a delicacy since the Ming Dynasty. It was believed that sea cucumber could treat many ailments from arthritis to cancer and help with overall
health maintenance.
For these reasons, sea cucumber was long prescribed to help with everything from wound healing to illness recovery. It was noted that sea cucumber contained many of the same healing properties as the coveted ginseng plant, leading it to be called "ginseng of the sea."
SEA CUCUMBER: A DELICACY FOR THE RICH
Sea cucumber quickly became a symbol of affluence and luxury typically reserved for celebrations like weddings and Chinese New Year. During the Qing dynasty, it was prominently featured in one of the grandest meals ever documented in Chinese cuisine. The Manchu Han Imperial Feast, lasting three days across six banquets, consisted of at least 108 unique sea cucumber dishes intended for the elite. Now that's a meal fit for an emperor!
Modern Consumption & Health Benefits of Sea Cucumber
Today, sea cucumber is still enjoyed by the wealthy in many Asian cultures as a nourishing source of protein and protective nutrients. It is even packaged in luxurious boxes and gifted on the most special occasions.
Sea cucumbers are still consumed in the traditional dried method as well as more recent preparations such as freezedried, salted, canned, high pressure processing, braised, stewed, and friend, to name a few. Recipes include stir-fries, soups, salads, and more. Many enjoy sea cucumber daily during winter months as protective nourishment.
SEA CUCUMBER HARVESTING & MARKET PRICE
Sea cucumbers can be found deep or shallow waters. For centuries, Indigenous peoples and ancient Chinese cultures have harvested them by traditional means. Today, sea cucumber can be farmed or wild-caught, with wild being preferable for both sustainability and quality reasons. One sea cucumber species, Atlantic sea cucumber
page 97 WWW POLOLIFESTYLES COM PART 1 OF THE SECRETS OF AGING WAS PUBLISHED IN JANUARY'S ISSUE
(Cucumaria frondosa), is wild-caught from the deep, ice-cold Atlantic waters where it is slower to develop compared to farmed species from around the globe. This allows the animal to grow more slowly and accumulate nutrients in their body walls, making them the ideal premium supplement ingredient.
Farmed sea cucumber is raised in shallow water, with a less diverse food source which depletes some nutrients. This makes a difference when evaluating the size and quality of the animal at harvest.
Along with its "rich" history, two other factors contribute to the high price tag: slow growth and length of time to reach maturation and difficult means of harvest, making it a premium ingredient rather than a commodity. For these reasons, sea cucumber has preserved its luxury status.
SEA CUCUMBER SUPPLEMENTS
Now, it's savvy shoppers looking for a wellness boost who are eagerly seeking high-quality sea cucumber supplements. What was once reserved for the elite is now available in capsule form for convenient daily intake.
The top reasons for taking a sea cucumber supplement include:
• Strong antioxidant properties for cell repair and support
• Anti-aging properties
• Anti-cancer and anti-tumor activities
• Source of essential amino acids glycine, glutamic acid and arginine
• Energize and boost immune
function
• Anti-viral properties
Concentrated vitamins, minerals, collagen and nutrients
IS SEA CUCUMBER WORTH IT?
Given its longstanding medicinal use, status as a luxury food, and coveted health benefits, sea cucumber's top-tier price tag is not unfounded. Plus, modern scientific research now supports its efficacy. If you're looking for a new way to boost your health, consider adding sea cucumber supplements to your daily routine.
Be sure to look for only the highest quality product, ideally 100% Canadian wild-caught Atlantic sea cucumber. This is essential to ensuring top nutritional benefit.
VOLUME VII / ISSUE III / MARCH 2023 98
PACK YOUR STILETTOS!
CHRISTIAN LOUBOUTIN IS OPENING A HOTEL IN PORTUGAL
AFEW DECADES AGO, CHRISTIAN LOUBOUTIN WAS TOOLING AROUND PORTUGAL, AND BECAME SO SMITTEN WITH THE BEAUTY OF THE SMALL TOWN OF MELIDES THAT HE CRASHED HIS CAR AND STAYED.
He moved his atelier there, then moved there, and in 2019 began working on a hotel. This April, guests can stay in Vermelho, the footwear savant's first stab at a hospitality project, a collaboration with architect Madalena Caiado and operated by Marugal.
Thirteen ornate rooms, each hidden behind custom Baroque doors of handworked American ash with pewter and enamel handles
but otherwise unique in their styling, gather around a garden by landscape designer Louis Benech. Custom tiles and ceramics clad floors and walls in riotous colors, as do extravagant hand-painted murals. After a massage in a suite of Luxor alabaster, lucky guests can repair to a green Indian Giada marble bar with silver paneling courtesy of ecclesiastical Sevillian metalsmiths, then dine on octopus salad and lamb chops
with migas chimichurri at Xtian, the colorful restaurant. Indeed, the interiors boast Louboutin's signature nervy use of color—including, of course, his favored red that gives the hotel its name.
page 101 WWW POLOLIFESTYLES COM BY JESSE
/ SPECIAL TO
LIFESTYLES
DORRIS
POLO
FORGET STILETTOS!
CHRISTIAN LOUBOUTIN IS OPENING A HOTEL IN PORTUGAL
VOLUME VII / ISSUE III / MARCH 2023 102
page 103 WWW POLOLIFESTYLES COM
RIHANNA SHINES
BRIGHTER THAN THE SUN
AFTER SEVEN YEARS LARGELY AWAY FROM THE STAGE, THE SINGER AND MOGUL USED THE HALFTIME SHOW TO PERFORM A DOZEN HITS, NOD TO HER NON-MUSICAL BUSINESS AND ANNOUNCE THAT SHE'S PREGNANT.
RIHANNA SHINES BRIGHTER THAN THE SUN
VOLUME VII / ISSUE III / MARCH 2023 108
SPECIAL TO
BY LISA RESPERS FRANCE /
POLO LIFESTYLES
WHEN RIHANNA REVEALED SHE WAS PREGNANT WITH BABY NUMBER TWO DURING HER SUPER BOWL HALFTIME PERFORMANCE, THERE WAS MUCH TO BE EXCITED ABOUT. FIRST OF ALL, IT WAS QUITE THE PREGNANCY ANNOUNCEMENT— ON ONE OF THE WORLD'S BIGGEST STAGES, WEARING CUSTOM LOEWE AND ALAÏA, ABOUT TO BRING THE HOUSE DOWN.
Of course, it also meant that Rihanna's adorable family with A$AP Rocky was once again growing. But, possibly most enticing of all, it meant we would get another dose of Rihanna maternity style.
During her last pregnancy, the singer proved that no baby bump would keep her from those best dressed lists. We
RIHANNA
shouldn't have expected anything else this time around. On Saturday night, Rihanna stepped out for dinner at Langosteria Bistrot in Milan with Rocky and, of course, she looked stylish as always.
For the occasion, the singer wore a melon-colored, satin halter neck dress from LaPointe spring 2023. Rihanna paired the feminine number with custom strappy snakeskin Manolo Blahnik heels, but this is Ri we're talking about, and she had to add some edge to the look. She did so with the help of a white fur-covered Tom Ford-era Gucci bag featuring two jewel-encrusted dragon heads on the front, and a rusted orange bomber jacket on top from the recently launched Italian-based brand PDF.
HER HALF TIME RETURN TO THE SPOTLIGHT
The queen of nonchalance, Rihanna first appeared during the Super Bowl Half Time on a stage floating above the
50-yard line singing "Bitch Better Have My Money." She was tethered to the platform, limiting her maneuvering, but even when she reached the ground she didn't overemphasize dance, instead holding sturdy court at the center of 100-plus dancers, sharing in their movements but never outdoing them. During "Work," she led them as if she were a tutor calling out moves but not participating in them.
Rihanna's hits are plentiful — she has charted more than 60 times on the Billboard Hot 100 — and they are varied. But there was no true thematic through line to this casual revue of a dozen deeply beloved songs. Mostly, she leaned into the up-tempo side of her catalog — "Where Have You Been," "Only Girl (in the World)" — with nods to her Caribbean heritage on "Work" and "Rude Boy." At the set's end, she emphasized her big-picture, one-word-title smashes, "Umbrella" and "Diamonds," which prioritize melodrama over feeling.
page 109 WWW POLOLIFESTYLES COM
RIHANNA SHINES
BRIGHTER THAN THE SUN
Rihanna is many things — a new mother, a billionaire mogul in fashion and cosmetics, an astonishingly reliable pop star with a deep catalog. But she is not a current hitmaker. And she had not performed a show of this scale since 2016.
OSCAR PERFORMANCE
Coming up next, the 'Umbrella' singer is set to perform in another prestigious
event: the 95th Edition of the Academy Awards. The Academy of Motion Picture Arts and Sciences has announced that Rihanna will be performing the song "Lift Me Up" from the movie Black Panther: Wakanda Forever during the Oscars ceremony on March 12th.
This year's Academy Awards has nominated 'Lift Me Up,' a song from the movie Black Panther: Wakanda Forever,
for Best Original Song. The song was co-written by Rihanna, Tems (Temilade Openiyi), Ludwig Göransson, and the film's director Ryan Coogler. This is Rihanna's first nomination for an Academy Award.
VOLUME VII / ISSUE III / MARCH 2023 112
RESPERS FRANCE / SPECIAL TO POLO LIFESTYLES
BY LISA
Yes, the seven floating stages during Rihanna's Apple Music Super Bowl LVII Halftime Show were theatrical and cool, but they also had a very practical purpose. And it had everything to do with the grass on the field.
That's according to Bruce Rodgers, the halftime show production designer, who spoke to Wired about helping to create the show prior to the performance.
Rodgers explained that when it came to the LED lit stages that elevated off the field for Rihanna and her dancers, it had "never been done before."
"With Katy Perry, we flew her around in a flying device, like a rocket ship," he said. "But this one is a totally different animal."
Rodgers said he came up with the concept and worked with Rihanna's team, which included designer Willo Perron, choreographer Parris Goebel, and production manager Joseph Lloyd, to implement it.
By having the singer and the other performers in the air, it took the stress off of the turf on the field that at State Farm Stadium in Glendale, Arizona, is 100,000 square feet of Tifway 419 hybrid Bermuda grass.
Grass is very important to the National Football League as it can affect how the players are able to function on the field.
And while it may have looked risky for Rihanna, who debuted her new baby bump during her performance, to be suspended on a stage 15-60 feet off the ground, according to the report, the stages had "massive Brunel trusses" that Rodgers assured Rihanna's team are "strong enough to 'carry a freight train.'"
"This will be, in my opinion, the most technically advanced Super Bowl halftime show that's ever been done because of the amount of tech used to move the platforms," Aaron Siebert, the project lead from Tait Towers, which made the platforms, told the publication prior to the show.
page 113 WWW POLOLIFESTYLES COM
FASHION & STYLE
MILAN FASHION WEEK BREAKDOWN:
BURBERRY, DOLCE & GABBANA, FERRAGAMO & GUCCI
page 115 WWW POLOLIFESTYLES COM
BURBERRY SOMETHING BORROWED SOMETHING BLUE
IT SEEMS NOT A SEASON GOES BY WITHOUT A DEBUT OR RESHUFFLE TO GET EXCITED ABOUT. THE INFAMOUS GAME OF FASHION MUSICAL CHAIRS ASIDE, THERE IS SOMETHING TO BE SAID ABOUT ANTICIPATING WHAT KIND OF ENERGY A NEW DESIGNER WILL BRING.
In the case of Daniel Lee, a designer who was instrumental in reinventing the Bottega Veneta brand and creating influencer starter kits in the form of its puddle boots and cassette bags, the anticipation was palpable.
Hosting the final show of the London Fashion Week calendar, the Lee debut was watched on by one of the British
designer's heroes and former Burberry Chief Creative Officer, Christopher Bailey. A man who is also very familiar with the art of revival, being that he also rescued the British heritage brand from its status as an unofficial uniform for football fanatics. Reimagining the trench coat for a generation of upcoming 'It' girls in the early to mid-2000s.
Sharing with The Impression backstage, the designer noted that "I was inspired by an English Rose and not all roses are red". Alluding to a show that was going to upend expectations. The trench coat was supersized, and the ubiquitous house check rethought, with tartan standing in as a possible placeholder, for this season at least. All-over yellows and regal purples seem to be the palette of the season for London, and when the latter was blended with forest green it
BY ANGELA BAIDOO FOR POLO LIFESTYLES
was reminiscent of the thistle flower, an example of all the symbolism that makes up Britishness and what it means to be part of the United Kingdom, which was weaved in and amongst the narrative of the collection.
Lee made a very strong start with the accessories that accompanied the clothes, a fact that should surprise no one, and will be a welcome triumph for the fashion house. After all, many a brand has made a living off its handbag and footwear categories alone. Chunky equestrian-inspired rain boots, squaretoe fur-trimmed sandals, and 'amplified' sneakers, according to show notes will all fly off the shelves come late summer. And Burberry becoming known for its sneakers would definitely solidify its appeal to a younger generation, who were already becoming avid fans due to
VOLUME VII / ISSUE III / MARCH 2023 116
the brands predecessor and his casting of musicians, such as Afrobeats artist Burna Boy, in prominent campaigns.
The fall 2023 collection felt very much like an exercise in reintroducing some of the silhouettes that popularized the house under Bailey's tenure. Drop-waist dresses, statement knits, sharp tailoring, and blanket coats. Could lightning strike twice and this style see the same success as a particular monogrammed iteration from fall 2014, which was worn by a parade of models to close the show, led by Cara Delevigne. Becoming marketing gold as it was spotted on celebrities and tastemakers (this was at a time pre-influential influencer).
Looking closer, the designer is also establishing some interesting plays on construction and detail, as well as a few new silhouettes of his own. A draped asymmetric hem on a white sheath dress printed with an update on the Equestrian Knight Design (EKD), an angled necklace (that will be familiar to those that know and were fans of his previous work), and a boxy buckle collared tunic top. He also took outerwear to a place where it is not just purely functional, but when adorned with an
application of ombré feathers, becomes decadently decorative. It should also be noted that the feathers worked better on the oversized coat over the menswear knitted piece. The elements of punk which popped up in the collection –zip-front pants, graphic T-shirts, and tartan – whether deliberate or not, also happened to make for a fitting nod to the late Dame Vivienne Westwood.
Love it or hate it, this is only Daniel Lee's first outing at a brand with a storied history, not just from its own archives but also from the nation from which it was birthed. So a degree of Burberry and Britishness needs to be baked into each collection, and in completing that task, he succeeded. Further
critique should perhaps be reserved for at least a few seasons, particularly given this a designer with a proven track record (yes it may have been with one brand, but the sales and legacy speak for themselves) and a little 'Lee' way should be given for him to truly decipher whether he can make a home with, and success of, Burberry. And as if sending a subliminal message to any naysayers, those aforementioned graphic T-shirts were printed with the words "Winds of Change," an indication that a change is coming and Lee is ready to weather any future headwinds.
STYLE
page 117 WWW POLOLIFESTYLES COM
CONTENT & PHOTOS COURTESY THE IMPRESSION
VOLUME VII / ISSUE III / MARCH 2023 118
BURBERRY
STYLE
page 119 WWW POLOLIFESTYLES COM
CONTENT & PHOTOS COURTESY THE IMPRESSION
DOLCE & GABBANA A
PUREST PALETTE OF BLACK, WHITE, GOLD, AND LIPSTICK RED MADE FOR AN EASY TO DIGEST COLLECTION IN FOUR PARTS. AN INTIMATES-INSPIRED SECTION IN BLACK, WHICH SEEMED TO REPRESENT THE FEMALE PROWESS ALONGSIDE MASCULINE TAILORING – SHARP AND EXPERTLY CUT.
Dipping into gold brought high-octane disco-style lamés and maximalist embellishment – one corseted maxi number garnered audible appreciative murmurs from the crowd. Winter white was where this season's outerwear options looked renewed, especially in a polar bear faux fur style. And to close, the color that has been sweeping the season, namely red, emerged in a broad range of textures showing off the colors' versatility – think glossy patent leathers, feathers, satin and oversized gemstones.
Even though this is what the duo have always been known for, it is interesting to note that the way the Dolce & Gabbana woman is represented can sometimes err on the side of sex kitten. The second look alone left little to the imagination, being that it was an extremely high cut lace and satin teddy worn with a sheer bra, that seemed like a throwback to an era when Joan Collins was starring in films titled 'The Bitch' and 'The Stud'.
There is as an overall sense of designers moving towards the more sensual (which the pair claim to also be doing, when they explained their inspirations in a social media post "Sensuale [is] a new dimension of sensuality that make women spontaneous and natural"), a hint of something that may lay beneath, or a play on contour that emphasizes the female
VOLUME VII / ISSUE III / MARCH 2023 122
form in a suggestive way, that puts the woman firmly in control. If, in developing the black section of the show, the designers meant for it to be merchandised in and amongst the lingerie category at retail, then in creating a new sensuality for the bedroom alone, they have succeeded. As daring as the younger generation have been known to be, even they may shy away from the sheer maxi dresses or bodycon lace sets as styled on
STYLE
the runway. Instead, the Social Media Managers over at Dolce & Gabbana HQ, are sure to find the brand tagged on Instagram and TikTok in remixed versions of the fall 2023 collection – from the lace tops paired with baggy denim, to the sheer chiffon wide-legs worn covered over with an oversized chunky knit – as both versions will align more with a modern sense of sensuality.
The most successful corners of this collection could be found in the outerwear and tailoring, both of which created a powerful narrative. Longline relaxed tuxedos suits, complete with cummerbund and cropped waistcoat was a smart take on this symbolic style, and a maxi blazer dress worn with a slip pulled off the perfect embodiment of sultry and sensual.
page 123 WWW POLOLIFESTYLES COM
CONTENT & PHOTOS COURTESY THE IMPRESSION
DOLCE & GABBANA
VOLUME VII / ISSUE III / MARCH 2023 124
STYLE
page 125 WWW POLOLIFESTYLES COM
CONTENT & PHOTOS COURTESY THE IMPRESSION
SALVATORE FERRAGAMO FALL WINTER 2023
VOLUME VII / ISSUE III / MARCH 2023 128
STYLE
page 129 WWW POLOLIFESTYLES COM
CONTENT & PHOTOS COURTESY THE IMPRESSION
SALVATORE FERRAGAMO
VOLUME VII / ISSUE III / MARCH 2023 130
STYLE
page 131 WWW POLOLIFESTYLES COM
CONTENT & PHOTOS COURTESY THE IMPRESSION
SALVATORE FERRAGAMO
VOLUME VII / ISSUE III / MARCH 2023 132
STYLE
page 133 WWW POLOLIFESTYLES COM
CONTENT & PHOTOS COURTESY THE IMPRESSION
ALESSANDRO MICHELE'S LAST HURRAH AT GUCCI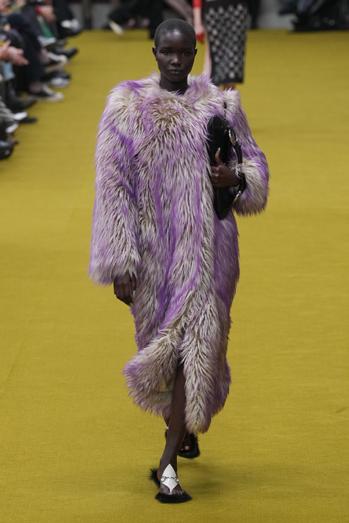 WHETHER IT WILL BE INTERPRETED AS A SWAN SONG OR A TESTAMENT TO THE STRENGTH OF THE TEAMS WHO ARE THE BACKBONE OF THE DESIGN STUDIOS AND ATELIERS, GUCCI'S FALL 2023 FELT LIKE AN ODE TO ALESSANDRO MICHELE'S TENURE, AND ONE LAST HURRAH FOR ALL THOSE FANS AND COLLECTORS WHO WISH TO GET THEIR HANDS ON THE LAST FEW PIECES THAT WILL BEAR A PASSING RESEMBLANCE TO HIS HALLMARK MAXIMALISM THAT SPANNED ACROSS ERAS, CULTURES, GENDERS, AND GENRES.
An energy buzzed throughout the seated crowds and among the many celebrities in attendance, including Chinese singer and actor Xiao Zhan, the Italian rock band who took Eurovision by storm, Maneskin, rapper A$AP Rocky, the new Little Mermaid Halle Bailey, and Dakota Johnson.
A show which is always oversubscribed as a matter of course, there was something different about this one. As with any shift at the top, there are those inside and outside the industry who are invested and simply curious about what the new Gucci will look like aesthetically, after coming out of a period so renowned for its eclecticism and strong handwriting. But detailed show notes, which were sent out to editors prior to the start of the show, put to rest any questioning that may have still been circling around what we were about to witness.
So, what of the collection? Despite the notes speaking to "the lead-up to a new chapter for the House" there was familiar thread running throughout. The styling tricks that have come to be heavily associated with the brand over the last (nearly) ten years, which involved a mash-up of textures and shapes and layers fused to present something new, are now part of Gucci's heritage. Much like how Tom Ford's red velvet suit remains an icon of the archives to be reworked by whoever sits at the helm. There was an acknowledgement of those who had come before and their immense impact, with a recognition that the collection recalled "Tom Ford's sensual and sophisticated Gucci silhouettes from the 1990s and early 2000s" while Alessandro Michele's work was represented through "the electric colors and opulent decorations [from his] mid-2010s to early 2020s [tenure].
VOLUME VII / ISSUE III / MARCH 2023 136
The collection chose to remix different moments in time, in this interim period while we await the arrival of Sabato De Sarno. The slick power suit, colorful monster furs, logoed lingerie of the sheer mesh and crystal embellished barely-there variety, prim and proper pencil skirts, sexy sheers –whether achieved through peek-a-boo cut-outs or all-over lace, and a return of the trapeze-shaped noughties bag complete with horse bit hardware in variations of shearling, quilting, and multiple-colored leathers.
The collection retained the merchandising magic which won Gucci new fans, but without a Creative Director to assert their vision, there was a definite commercial-leaning to many of the looks shown for fall. Which ultimately is what the new Creative Director will have to ensure they are considering, alongside an evolution of what has come before, if they are to create a future for Gucci with them in it.
STYLE
page 137 WWW POLOLIFESTYLES COM
CONTENT & PHOTOS COURTESY THE IMPRESSION
VOLUME VII / ISSUE III / MARCH 2023 138
STYLE
page 139 WWW POLOLIFESTYLES COM
CONTENT & PHOTOS COURTESY THE IMPRESSION
AMAZON HAS NOTHING TO "SMILE" ABOUT
Amazon Will Abandon its Signature Philanthropic Program
WILLIAM SMITH  PHILANTHROPY CONTRIBUTOR  @willismith_2000
PY IS ALL THE RAGE. CONSUMERS INCREASINGLY WANT TO KNOW THAT BUYING THAT CUP OF COFFEE OR THAT SET OF SHEETS SOMEHOW BETTERED THE PLANET, ITS PEOPLE AND ITS COMMUNITIES. THAT IS BECAUSE FOR FAR TOO LONG, NO ONE KNEW OR MUCH CARED WHETHER THEIR COFFEE BEANS WERE "FAIR TRADE" OR WHETHER THOSE COTTON SHEETS WERE THE PRODUCT OF ORGANIC AND RESPONSIBLE GROWING PRACTICES AND FABRICATED BY JUSTLY PAID, ADULT WORKERS.
All of this matters. One study found that 76 percent of consumers wouldn't do business with a company that opposes their own views. And another study found that a majority of American consumers, 55%, believe it is important for companies to proactively take a stand on key social, environmental and political issues.
Beyond consumers, investors in compa-
nies are also looking closely at a company's social responsibility profile. In one study, 73 percent of investors stated that efforts to improve the environment and society are factored into their decision making. There is a clear trend as well that younger investors see corporate responsibility as more of a priority than do their older counterparts.
Finally, companies themselves know it matters. As one example, according to the Harvard Business School, an estimated 90 percent of companies on the S&P 500 index published corporate responsibility reports in 2019, compared to just 20 percent in 2011.
For many consumers, the explicit triggering of philanthropy by buying from a company is also a powerful marketing tool that also betters the planet. I'm reminded, for example, that while Subaru continues to underscore the safety of their vehicles, most of their advertising now heavily focuses on corporate responsibility. Their "Share the Love" program, fueled by each individual sale of a vehicle, has allowed new vehicle owners to direct more than $250 million to national and local charities that address issues like food insecurity and animal welfare. It's a win-win for everyone.
It's all the more puzzling then, that mega-retailer Amazon has abruptly decided to shutter their consumer-facing and -engaging corporate philanthropy program known as AmazonSmile. The program directed one half of a percent of the value of a consumer's purchase to a nonprofit of the consumer's choice that was also registered into the
AmazonSmile program.
Launched in 2013, AmazonSmile directed nearly $450 million USD to charities worldwide since its inception. That's no chump change and turning off the spigot is likely to have significant impacts on the small charities that have educated supporters for years to designate their organizations as beneficiaries of purchases made through Amazon.
NPR reported on a few of these small charities where contributions were critical.
There's the Squirrelwood Equine Sanctuary in New York's Hudson Valley, a safe haven for more than 40 horses and other farm animals, that tweeted that the nearly $9,400 it has received from Amazon Smile «made a huge difference to us.» Or Court Appointed Special Advocates (CASA) of Central Texas, who also saw the program's end as detrimental to their fundraising efforts.
Larger charitable organizations have also benefited immensely. St. Jude's Children's Research Hospital, for example, has received in excess of $15 million USD from the program.
In its announcement shuttering the program, Amazon claimed, "the program has not grown to create the impact that we had originally hoped" and "with so many eligible organizations—more than 1 million globally—our ability to have an impact was often spread too thin."
The problem with that rationale is that the impact of the AmazonSmile pro-
VOLUME VII / ISSUE III / MARCH 2023 142
PHILANTHROPY IN FOCUS
-
CORPORATE PHILAN
THRO -
gram was driven by the customers that utilized it to support charities they chose, not those that Amazon staff itself chose for impact. And no reputable professional engaged in philanthropy – corporate or otherwise – would define a charitable giving program where nearly every charitable organization could join and expect, at the end of the day, that big impact needles were moved. It's utter nonsense.
Of course, Amazon has the right, as a private business, to determine how their own resources are distributed for charitable purposes. And they have underscored that their charitable work will continue.
But in the meantime, they turned nonprofits large and
small and across the globe into engines for customer referrals in return for these small donations that did, indeed, matter to the many nonprofits that received them. It was a brilliant marketing plan for growing Amazon's business in those early years before they became the behemoth they are today. But it was also a contract of goodwill between Amazon, its customers and the nonprofit sector everywhere. That bond has now been broken.
Amazon insists that the timing of closing down AmazonSmile has nothing to do with the waves of layoffs –some 18,000 positions since this past November – that the company has made across its operations. Call me a cynic,
but this is a company where the bottom line is critical in returning value to their shareholders and 0.5 percent of sales is not insignificant in the current economic crunch.
I, myself, have never been a fan of mass retailers like Amazon. I only buy from them when an item can't be found elsewhere in my immediate vicinity. Or I simply go without it. But the company's shuttering of AmazonSmile feels like a profound betrayal. Amazon's business practices have inalterably affected the economic vitality of communities across the globe as smaller retailers could not compete with the convenience and limitless inventory Amazon offers. Goliath has won and now wants his half a
percent back, too.
Whether you utilized AmazonSmile as part of your charitable giving or not, recognize that the retailer's philanthropic footprint has shrunk and the power to direct it has definitively shifted away from its customers, which, sadly, also means away from the smaller mom and pop organizations that might be critical to the communities where you live. Remember those organizations as you contemplate your charitable giving this year. And remember that the economic vibrancy of the communities where we live means that shopping locally should always be the default.
page 143 WWW POLOLIFESTYLES COM
MANSION OF THE MONTH
VOLUME VII / ISSUE III / MARCH 2023 146
1859 BEL AIR ROAD LOS ANGELES $150,000,000
page 147 WWW POLOLIFESTYLES COM
MANSION OF THE MONTH
COPPER BEACH FARM
499 INDIAN FIELD ROAD
GREENWICH, CONNECTICUT, 06830
|
THE LAST GREENWICH GREAT ESTATE: COPPER BEECH FARM
Copper Beech Farm is the largest waterfront parcel in Greenwich. Situated on a private peninsula, the estate spans over 50 acres with almost a mile of frontage. From its vantage point of 40 feet above mean high water, this estate enjoys dazzling views of Long Island Sound. The property encompasses a stately main house with spectacular walled gardens,
a swimming pool, a grass tennis court, apple orchard and two private beaches. Acres of rolling lawn surround the auxiliary buildings including a carriage house, a gatehouse, a pool house and two greenhouses.
Originally built in 1898 and meticulously restored, the 13,519 square foot, 8-bedroom, 8-bathroom main residence evokes the grandeur of New England's most pedigreed seaside estates, built for glorious summering by the water. Approached by a winding 1,800-foot
driveway lined with an allée of trees and cobblestone gutters, the house is defined by two French Renaissance-style stone towers, bringing aristocratic refinement to the Victorian-influenced house. The interiors are highlighted by original museum-quality appointments such as oak paneling, plaster friezes, handsome fireplaces and 12-foot ceilings in the main rooms. Showcasing water views from almost all the rooms, the house is designed to make the most of its spectacular setting.
VOLUME VII / ISSUE III / MARCH 2023 148
PRICE $150,000,000
BEDROOMS 8 | BATHROOMS 8 FULL AND 2 PARTIAL | INTERIOR 13,519 SQ FT. | EXTERIOR 50.6 ACRE(S)
Outside, the 75-foot heated pool and spa is flanked by stone terraces and an octagonal pool house. An inviting pergola overlooks the grass tennis court. The stone carriage house with a clock tower has a one-bedroom garage apartment and ample garage space for cars and farm equipment. It also includes the original milking stalls that hark back to the era when it housed livestock. Perfect for staff housing or guests is the three-bedroom gatehouse.
The crown jewel of the Greenwich coastline, Copper Beech Farm is the pinnacle of the
Greenwich real estate hierarchy. This is a tremendously rare opportunity to own one of the largest, if not the largest, residential waterfront properties close to New York City.
Leslie McElwreath
REAL ESTATE PROFESSIONAL
M: +1 917.539.3654
O: +1 203.618.3165
Leslie.McElwreath@Sothebys.Realty
page 149 WWW POLOLIFESTYLES COM
MANSION OF THE MONTH
499 INDIAN FIELD ROAD GREENWICH
VOLUME VII / ISSUE III / MARCH 2023 150
page 151 WWW POLOLIFESTYLES COM
MANSION OF THE MONTH
499 INDIAN FIELD ROAD GREENWICH
VOLUME VII / ISSUE III / MARCH 2023 152
page 153 WWW POLOLIFESTYLES COM
NANTES
PAYS DE LA LOIRE
44000 FRANCE
PRICE $29,967,206 USD
BEDROOMS 8 / BATHROOMS 2 FULL INTERIOR 10,7639 SQ FT. / EXTERIOR 317.29 ACRES
NANTES, PAYS DE LA LOIRE, 44000 FRANCE
HUS STUD FARM
This exceptional estate comprises not only a historic chateau but also one of France's biggest equestrian facilities with
the capacity to house approximately 400 horses. The castle has been restored and offers 1000 sq. meters of perfectly renovated living space including an indoor pool, a steam room and a gym. The spacious grounds comprise 128 hectares including private access to the River
Erdre, a 30-meter mooring, extensive equestrian training facilities including show jumping and dressage with 200 hectares extra rental. Restored outbuildings, helicopter pad and only 35 kilometers from the international airport. The sale includes 300 horses.
VOLUME VII / ISSUE III / MARCH 2023 156
page 157 WWW POLOLIFESTYLES COM
CASTILLO CARIBE CARIBBEAN LUXURY IN THE CAYMAN ISLANDS
PRICE UPON REQUEST
VOLUME VII / ISSUE III / MARCH 2023 158
NOW YOU CAN HAVE IT ALL: LIFESTYLE, LUXURY, LOCATION AND LIMITED TAX LIABILITY. WITHOUT DOUBT CASTILLO CARIBE IS ONE OF THE FINEST BEACH-FRONT ESTATE HOMES IN THE WORLD OFFERING EVERY LUXURY FOR MODERN DAY LIFE WITH ALL THE LIFESTYLE OPTIONS ONE WOULD EXPECT FROM THE CAYMAN ISLANDS AND THE CARIBBEAN.
Although the Cayman Islands enjoy year-round sunshine and a temperate climate, this benefit is eclipsed in most people's eyes by the Islands' offshore status. The Cayman Islands are well known as a financial center on the world's stage and provide the highest quality of lifestyle available in a tax
neutral environment, making it very appealing to people of high net worth to seek residency here - a position that is actively encouraged by the local government and, as a British Overseas Territory, is a very stable option.
There are a number of destinations in the world that are able to offer offshore status to a greater or lesser degree, but the Cayman Islands have no local taxes whatsoever: no property tax, no income tax, no capital gains tax and no inheritance tax. Castillo Caribe offers a rare opportunity to combine this with privacy, security, luxury and lifestyle all on a pristine white sandy beach overlooking the crystal-clear waters of the Caribbean Sea.
The space afforded here is too limited to provide adequate description of all the properties features and amenities, please request a detailed package by emailing: heather.carrigan@sothebysrealty.com.
page 159 WWW POLOLIFESTYLES COM
In Search of Solace The Mondavi Heritage
ONE-ON-ONE WITH ANGELINA MONDAVI
WILLIAM SMITH @willismith_2000 COPY EDITOR & CONTRIBUTOR
EVERAL THINGS EMERGE FROM TIME WITH
WINEMAKER ANGELINA MONDAVI.
SShe is passionate – deeply so – about three things: family, wine and the wine country of northern California that her family has stewarded for four generations. These things are seamlessly and inextricably intertwined in Angelina's world, factors that have no doubt contributed to her successes.
What one also realizes in tasting her artistry is that she is one hell of a winemaker. More on that shortly.
For Angelina, family runs deep. How could it not? The very name Mondavi is legend, so much so that even among those who may know very little about wine, they know the name. There is a reason for that: family is everything.
Angelina's great-grandparents, Cesare and Rosa Mondavi, emigrated to Virginia, Minn. in 1906, where fellow Italians had landed to work in ore mines. Eventually, Cesare found him-
VOLUME VII / ISSUE III / MARCH 2023 162
self as proprietor of a saloon and Rosa oversaw a boarding house operation for mine workers.
Then, in January of 1920, the ill-conceived era of Prohibition commenced, and with it, the sourcing of grapes in Minnesota's climate for the legally permissible allotment of home wine making was impossible. And so, Cesare traveled west to find grapes he could ship back to Minnesota for his own needs and those of his fellow Italian emigres.
Cesare returned to Minnesota with not just having succeeded in assuring a steady supply of grapes, but a conviction that California held promise for his and his family's future. "Arriving in Lodi, he is reminded of home; the climate is so similar to that of Italy's grape-growing
regions. What's more, the town is ideally located for purchasing and shipping grapes and other fruits. So in 1923, Cesare moves his family to Lodi and the C. Mondavi & Sons wholesale fruit business is born," describes the C. Mondavi and Family wine Web site in recounting the now-historic decision that established the dynasty.
Over the next two decades, the family's journey from the Central Valley to Napa was solidified. In 1933, Prohibition ended, but wine making in the Napa Valley (and everywhere else in the U.S.) was in tatters. Between Prohibition, a phylloxera outbreak at the turn of the century, and the Great Depression, it was an industry in dire need of being rebuilt from the ground up. Seeing the challenges as an opportunity, Cesare invested in
two struggling wineries and ultimately, in 1943, purchased the Charles Krug Winery which to this day, is owned and run by the Mondavis.
Cesare's sons, Robert and Peter, joined in the enterprising wine business at varying times and when Cesare died in 1959, Krug was left to the two brothers. For me, from this point forward, too much has been written about Mondavi family dynamics between the siblings. Every family has its drama, and the Mondavis were no exception. As Angelina shared, "That was two generations ago, and the family has moved on." We all should too. And for those of us who love wine, what ought to matter most is that what emerged from the Mondavi brothers are two lines of the same family whose pioneering wine making has forever
page 163 WWW POLOLIFESTYLES COM
In Search of Solace The Mondavi Heritage
altered the industry and created an incredible diversity of delicious wines accessible at every price point.
Angelina hails from Peter's side of the family. He is her grandfather and helmed Charles Krug and stayed engaged until he passed in 2016 at 101 years old. His sons, Marc and Peter Jr., are now co-proprietors of Krug. Marc is Angelina's father. In addition to Charles Krug, Marc and Peter Jr. oversee the family's 957 acres of Napa Valley vineyard land planted with mostly noble Bordeaux varietals. The family also holds an additional 2,000
acres of land outside of Napa.
C. Mondavi and Family is the latest iteration of Peter Mondavi's legacy, including the legendary Charles Krug label, CK Mondavi and Family wines, and the recently launched Flat Top Hills Wine (see sidebar), among others.
Angelina is part of what the family calls the "G4," the fourth generation of Mondavi wine makers involved in the legacy. All six of them, children of Marc and his wife Janice or Peter Jr. and his wife Katie, serve as shareholders in the company and as Brand
Ambassadors. One hundred years later, family is still at the center of the Mondavi's success. To quote Angelina's mother Janice, "All of this could be gone, but if you have family, you're still whole."
For Angelina, her attachment and love of place is equally prominent when in discussion with her. She lives close to her parents in the Howell Mountain AVA and scanning her social media presence, you can see just how enamored she is with the place. But then you begin discussing Howell Mountain growing with her and she is an endless font of knowledge and reflec-
tions earned through her own hard work tending to vines. She speaks in detail about micro-climates in Howell Mountain, about soil diversity and sun exposure times. "I walk the land and the grapes will tell you how they want to be touched and played with," she said in the midst of our time together.
That Angelina takes the time to share her own thoughts on her family and deep, even spiritual, connection to Napa endears you to her even before you taste her wines. I think of choosing wine much as I do about choosing art for my home. I want to know
VOLUME VII / ISSUE III / MARCH 2023 164
about the artist. What is their energy like? Are they good humans or arrogant narcissists? I can make a subjective determination about a piece of art in terms of whether it appeals to me or not, but having a sense of the artist can make me fall in love with a piece or confidently reject it. Finding a wonderfully drinkable wine in today's world is easy. Finding a bottle whose story has been shared with you can be, well, magic. And so it is with Angelina.
Two of the wines we tasted are exemplative of both the focus on family and creating incredible wines from Howell Mountain. The Mondavi Sisters Collection consists of all four daughters of Marc
and Janice, with Angelina as the winemakers. They produce two labels – Dark Matter Wines and Aloft Wines.
The first, the 2019 Dark Matter Limitless Cabernet Sauvignon is sourced from grapes grown in the Rocky Ridge parcel of Howell Mountain owned by the sister's parents and solely dedicated to Cabernet Sauvignon. 2019 is considered a truly stellar growing season for Napa. A near absence of extreme temperature swings and copious rainfall, it was a long season that allowed extended hang time – perfect for Cab Sauv.
In her own tasting notes for this wine, Angelina pro-
claimed, "This is a big boy." She wasn't lying. An explosive expression of Howell Mountain Cabernet, this is inky and lustrous in the glass with notes of baking spices, cocoa, coffee, and juicy ripe red stone fruits and berries on the nose. On the palette, one gets the strength of this wine in full – layers of dark chocolate cake and chocolate mousse dance alongside ripe raspberries, blackberries, and black currants. One also experiences well-balanced, delicious, and unique tannins imparted by the terroir.
Extensive aging in both new French oak and then again in the bottle, Angelina recommends decanting an hour prior to drinking. I can attest
to the fact that this wine really opens up in bold and exquisite ways.
I can't imagine a better way to enjoy this wine than alongside a thick, marbled and grilled rib eye with charred and caramelized root vegetables and red onions. It's classic pairing for this extraordinary wine.
The second wine we tasted was the just released 2018 Aloft Wines Cabernet Sauvignon, which, if the first wine we tasted is a "big boy," this iteration of Howell Mountain Cabernet is an exquisite and refined lady. It's no wonder the 2017 vintage sold out, this wine is gorgeous.
page 165 WWW POLOLIFESTYLES COM
In Search of Solace The Mondavi Heritage
Benefitting from lots of afternoon sun and the iron rich soils of this parcel atop Howell Mountain, the nose has hints of cinnamon and Bing cherries. On the palette, restrained tannins and ripened blueberries, blackberries, and cherries are dominant, with notes of cocoa and a subtle minerality. This wine is a wonderfully elegant and elevated experience. As a result, it would pair well with a more refined dish such as herb roasted lamb chops and haricots verts amandine.
In addition to Angelina being the winemaker for Mondavi Sisters Collection and serving in numerous roles for labels
within C. Mondavi and Family, she has also developed a strong reputation as a consulting winemaker, including for Brasswood Cellars in St. Helena, Calif. The grounds of Brasswood are gorgeous and the property has added a bar and kitchen, as well as a bakery. It's the kind of place where a superb wine tasting could be followed by a great lunch or dinner, complemented by a favorite Brasswood bottling.
We tasted the 2018 Cabernet Sauvignon with fruit grown entirely at Brasswood's vineyard in the Coombsville AVA of Napa Valley. Aromas of blackberries emerge from the glass and similar bram-
bleberry flavors entice the palette with hints of lavender and mint in the background. Silky tannins create a luscious mouthfeel. Pair this at home with a delicious filet of wagyu or better yet, order a bottle while dining at Brasswood for dinner and savoring their Schmitz Ranch Prime New York Steak with grilled broccolini and potato gratin with a red wine reduction.
Tasting wine with Angelina was a tremendous opportunity to get to know her as a person and as a winemaker. Tasting three Napa Cabernet Sauvignons also felt special because her artistry was on full view as each was de-
licious but so distinct one from the other.
And perhaps that is the Mondavi advantage – when you've lived and breathed this place for as long as the Mondavis have, you've developed a reciprocal relationship with the place that allows for the possibility of incredibly diverse and spectacular winemaking.
Dedication to family. Love and appreciation of wine. A deep respect and sense of stewardship for wine country. It's a generational recipe that Angelina is not only following, but also building upon in forging her own, unique path.
VOLUME VII / ISSUE III / MARCH 2023 166
BRASSWOOD CELLARS
HARROW CELLARS 2020 RUSSIAN RIVER CHARDONNAY
When E.&J. Gallo acquired Ravenswood from Constellation Brands in 2021, a 15-acre parcel northeast of downtown Sonoma was not part of the deal and evolved into Harrow Cellars. Under Angelina's guidance, Harrow Cellars is focused on revitalizing the old vine Zinfandel on the property as well as creating bottlings from other estate grown varietals, including Chardonnay. They also have developed an elegant event venue, The Barn at Harrow Cellars, for weddings and other special occasions.
The 2020 Russian River Valley Chardonnay delivers on the potential of what un-oaked Chardonnay can do in Sonoma. Aged on the lees and in stainless, a luscious and creamy mouthfeel is achieved in spades. Only a slight hint of pale yellow in the glass, light floral notes and honeysuckle emerge and, on the palette, lemon, honeydew, and a crisp minerality with well-balanced acidity, that would make this an ideal accompaniment to a bright and buttery chicken scallopini with haricot verts. www.harrowcellars.com
FLAT TOP HILLS 2021 PINOT NOIR
In early 2019, C. Mondavi & Family launched the Flat Top Hills label with a line-up of approachable (including price point) and food-friendly wines that includes Chardonnay, Sauvignon Blanc, Rosé, Cabernet Sauvignon, and a red blend. In August of 2022, they also launched their first Pinot Noir with grapes sourced from various AVAs throughout northern California, including the 2000 planted acres owned by the Mondavi family in Dunnigan Hills. Angelina serves as Consulting Winemaker, alongside Winemaker Randy Herron, for the Flat Top Hills line.
The 2021 Flat Top Hills Pinot Noir is a fruit-forward wine meant for drinking now. Red stone fruits, fresh raspberries, and herbaceous notes of Italian oregano, thyme, and mint emerge from the glass, where careful attention has also created tamed and even elegant tannins. Enjoy this wine alongside savory, grilled lambchops with rosemary or a well-executed charcuterie board of meats, cheeses, pickled vegetables, and chutneys.
page 167 WWW POLOLIFESTYLES COM ALIGN WITH YOUR
CURE DISEASE AT THE SOURCE? WHAT IF YOU COULD
AND OTHER SPIRITUAL POSSIBILITIES THAT DEFY SCIENCE AMRITLAL
HAT DO YOU DO WHEN YOUR EXPANDING SENSE OF REALITY GETS THE BEST OF YOU? WHO DO YOU CONFIDE IN WHEN STEPPING INTO YOUR TRUE MISSION LEAVES YOU WITH AN OVERWHELMING SENSE OF LONELINESS AND DESPERATION?
Born into a matrix of deception, we realize, through adversity and perseverance, the empowering lessons of self-actualization.
Birthed anew, through the realization of our heart-seeded missions, our souls are resurrected by the driving force of peace that empowers us intuitively in service to the flow of collective harmony.
WA child warrior, a messenger of light, cloaked within the woundedness of trauma, ensnared internally by energies that prevented me from naturally accessing my spiritual abilities, as I healed, my purpose would be revealed. Every step along my path of becoming, a powerful guide was sent to extend the torch of truth in support of my rising. In August 2022, my business partner and fellow Guardian, Dave Rossi, introduced me to wisdom keeper, Judith A. Swack, PhD.
Unbeknownst to Dave, my spiritual senses were becoming unmanageable. Lacking confidence, I was constantly torn between dimensions. Riddled with
doubt and uncertainty, I was a clear target for psychic attacks from dark entities. I was in need of a teacher to guide me in navigating my merging realities; a confidant to anchor my heart within the calm stillness of peace and serenity. Thus, Dr. Swack orbed into my life, remotely; an angel with a degree to provide the training necessary for me to sharpen my inner sword as I reclaimed the reins of my soul's destiny.
As a leader and visionary in the field of Energy Psychology, Dr. Swack is internationally recognized for her work of translating her spiritual mission into a scientifically proven method for unraveling the psyche and energetically activating the cellular matrix to unleash the body's natural healing ability, intuitive guidance, ancestral and past-life memory. Dr. Swack's methodology, known as Healing from the Body Level Up (www.
SPIRITUALITY FAITH QUESTIONS GROWTH · FOCUS
SINGH SPIRITUALITY CONTRIBUTOR @monarch_visionary
All bondage forged is of the most basic intention A mathematician of clear sense dissolves his chains An artist through self-love Dreams the magnificence of his Universe An aware mind of a pure body Turns love inward to never be the fool Compassion clears a foundation For a magnificent fulfilled Self The checks and balances of Nature Never thwarted by childish tools - AMRITLAL SINGH
YOUR PURPOSE
IN SYNC WITH YOUR VIBE
HBLU.org), is growing globally as lightworkers, finding themselves trapped in the throes of awakening, are rising into their path of greatest inter-dimensional impact, marrying scientific practices with their evolving psychic abilities to serve their own ascended form of medicine for the collective awakening.
Dr. Swack was gracious enough to grant me a series of interviews for Polo Lifestyles.
EVOLVING PERCEPTION TO CURE DISEASE AT THE SOURCE OF INFECTION
Amritlal Singh: How did you realize your calling as a spiritual healer? Describe HBLU'S evolution as a scientifically-based, spiritual healing practice?
Judith Swack: I was a promising scientist at the National Cancer Institute studying DNA replication, and I took a self-help workshop called Actualizations to heal my dating life. There, I learned about the unconscious mind, and was led to train in Neuro-Linguistic Programming (NLP) to acquire tools to heal what I've termed "unconscious self-sabotage." I was further inspired to become a Master NLP practitioner and initiated a client-based healing practice that grew exponentially. I was then guided to study ThoughtField Therapy, other Energy Psychology techniques and use muscle-testing, where I test the soul's deepest wisdom through interactions with the body's cellular intelligence, to identify and heal subconscious damage patterns while expanding the patient's awareness.
HBLU has evolved over four decades as I have done original research to find and map damage patterns that interfere with us living our purpose and experiencing the fullness of life. My particular gift is the ability to see the structure of damage patterns, so I have been able to develop rapid and reproducible protocols for clearing these interference patterns from the conscious mind, the unconscious mind, the body, and the soul. To release these patterns, I have accumulated and invented techniques that release the energy at the level where they are stored. HBLU treats patterns that are acquired in this life, past lives and ancestry, patterns in our ego operating system and patterns from outside ourselves, including supernatural entities and cultural, religious and family-system brainwashing.
AS: Please expand upon the resistance you have discovered as a Lightworker. What inspirational guidance do you give to share with the future generations of spiritual revolutionaries?
JS: Lightworkers are those whose soul mission involves uplifting communities and serving as a beacon of light in the darkness, that is, raising consciousness and bringing new and better ways to improve the human condition. As lightworkers bring forth new paradigms, they are bound to meet both internal and external resistance, and have historically been persecuted. As a result, many lightworkers hold past life persecution trauma that psychologically impedes their soul path, which unconsciously leads to a sense of failure, unworthiness, depression and
Definitions:
"Powers that be" – includes a hierarchy of beings, both in human form, non-human species, and across spiritual dimensions, that manipulate humanity's belief and behavioral system through governmental, educational, monetary and other institutions for the purpose of limiting humanity's spiritual evolution and feed from the spiritual energy of the Earth, which includes her children.
RENEWAL COMMUNITY SUPPORT EXPLORATION · ENERGY
CURE DISEASE AT THE SOURCE? WHAT IF YOU COULD
AND OTHER SPIRITUAL POSSIBILITIES THAT DEFY SCIENCE
a disconnection from their sacred oath to serve their community and God.
"The Powers That Be1" have always rejected or resisted new ways, and I believe that the world needs as many lightworkers as possible, so one of my specialties is activating lightworkers for their highest service. The protocol involves a past life regression where we clear the trauma and integrate the healed-soul aspects.
My advice for those being guided as innovators and revolutionaries is to trust in your soul's mission, get creative, persist in bringing what you are intuitively called to bring and ally yourself with like-minded people and organizations because there is power in numbers. Know that assistance is divinely provided, clients are delivered and the collective consciousness shifts and evolves over time. In other words, keep going no matter what.
What has supported the acceptance of my body-centered healing paradigm is that I have measurable, proven results that do not require pharmaceutical or other external substance dependence.
I am proud to say that I have developed a protocol that eliminates the symptoms of PTSD in one to six sessions, and I teach other practitioners how to do this. I hope
that Mind-Body-Soul healing will soon be a foundational therapeutic practice.
AS: How critical is HBLU for those with unhealed trauma, living in high-stress, highly triggering modern societies?
JS: The Fight-Flight-Freeze reflex is the survival reflex that is hard-wired in the body. The senses are in constant awareness for environmental signals of danger. Danger signals are sent to the amygdala, then to the hippocampus, which then stimulates the hypothalamus to activate the pituitary gland to send ACTH down the spinal cord and through the bloodstream. When ACTH fires down the sympathetic nervous system and activates the adrenals that sit above the kidneys, it releases adrenaline, cortisol and endorphins, and the flooding of ACTH into the bloodstream increases the response. Adrenaline stimulates muscle activity including rapid heartbeat, and ACTH stimulates an allergic response to protect the body from possible physical wounding leading to infection by invading pathogens. Cortisol stimulates the release of glucose and fatty acids to give the muscles fuel for fight or flight. Cortisol also suppresses the immune system. Whether it is an emotional shock or a physical shock, the body feels as though it is
under physical threat.
A phobic reaction is a conditioned response of the fightflight-freeze reflex that starts when a person experiences a traumatic shock (physical or emotional). At the time that the flight-fight-freeze reflex fires off, anything that is in the environment is associated with that memory. Later on, these associations can trigger this original reflex reaction, (like a body flashback) resulting in a phobic reaction, even when nothing dangerous or upsetting is occurring in the present moment.
Trauma is a life-conditioning, meaning we all are being triggered to different degrees, based on our overall healed state. Triggered, unhealed past-life traumas are the source of the heightened levels of global anxiety and depression. Trauma also causes soul wounding, a sense of disconnection from their Higher Self. Fortunately, people can intentionally clear the triggers and the phobias and the traumas from their unconscious minds and bodies by using an energy psychology technique like Natural BioDe-stressing, also known as meridian tapping techniques. These techniques activate the calming reflex and clear the phobic reactions by neutralizing the fight-flight-freeze reaction and deactivating the triggering stimuli. To em-
power every human being to regulate their own emotional state, I made a Clear Trauma Now with Natural Bio-Destressing video.
AS: How can HBLU heal trauma patterns within the family unit?
JS: Humans operate in units, from the atomic family structure, outwards. All families have their particular sets of beliefs and behaviors that imprint within the unconscious mind, which I call the Family Trance. Dysfunctional families - where neglect or abuse is experienced - create unconscious patterns are a constant source of suffering and physical, emotional and spiritual stress. HBLU is designed to unravel these patterns for a person's own energetic, physical and psychic protection, ultimately enabling healthier functioning patterns.
Typically, when I work with families to clear Dysfunctional Family System patterns, I will summon the extended family members in spirit to energetically clear the family system pattern through the individual in my office. The goal is to release the client from the pattern and dissolve the expression within their offspring. Occasionally, a family unit will undergo muscle-testing, where holding hands, I can clear them as one family system. The results are
phenomenal.
One family I healed consisted of a mother and her three depressed daughters. They were imprinted with an ancestral death wish pattern that traced back three generations on the maternal side. Guided by the family's collective soul wisdom, I traced the youngest daughter back through a psychic timeline regression where we healed the cellular memory of the great grand-mother's childhood attempted murder trauma that remained activated within her ancestral line and expressed as depression. As a mission of mercy for the collective, I made a "Healing the Deathwish Pattern" video to clear this very common pattern.
AS: Given the sensitivity of incoming higher dimensional souls, the crystal children, how can expecting parents unravel potentially psychic entanglements and conditioning to support child development?
JS: It is critical for parents to clear the child neglect programming, for example the belief that children are meant to be seen and not heard, for children to comfortably express their observations, interests, soul gifts and pursuits. Children should be viewed as a complete, multi-dimensional soul on a mission, and it is our job to nourish them through understanding, direction and support. Parenting skills will be essential for the legions of souls incarnating upon the Earth to have the proper foundation to express themselves freely and completely.
For parenting skills, I recommend that everyone read, Between Parent and Child by Haim Ginott, and Growing Up Again by Jean Illsley
Clarke and Connie Dawson. You can also start clearing family neglect patterns by participating with the group healing on the second part of The Ultimate Weight Loss Solution recording.
I also teach parents to employ the Natural Bio-De-stressing technique with their children to help them consciously dispel invading energies and toxic emotions from the media and other external sources, to avoid long-term integration into the child personality development.
AS: How do you envision the global evolution of HBLU as a foundational baseline for dissolving the layers of collective trauma?
JS: It occurred to me one day, when working with another powerful lightworker with an over-tangle infection, that in order to overcome the demonic networks, which feed off of humanity's traumatic negative emotions and drain our spiritual energy, we must build even stronger Light networks. An over-tangle is a toxic belief system that contaminates the collective unconscious, that is, a demonic network that causes cultural brainwashing and feeds from the lower energetic emotional
frequencies.
A critical advancement in the progress of the collective healing will be higher consciousness within the healer networks to enlighten souls to their spiritual missions: activating them fully in service, teaching them the tools to release their own damage patterns, and promoting robust collaboration to empower us all to create the lives we all deserve.
I have trained about 500 practitioners in Module 1 and roughly 60 up through Module 6, from which I estimate that HBLU has helped over 40,000 people, thus far. My vision is for HBLU to be the standard of care for all healers, therapists and counselors, as well as acupuncturists, chiropractors, naturopaths, nutritionists, and doctors who do mindbody healing as part of their practice.
MOLD YOUR MIND
UNDERSTANDING THE RELATIONSHIP BETWEEN THOUGHTS AND BEHAVIOR
JOEY VELEZ HEALTHY LIFESTYLES CONTRIBUTOR @joeyavelez88
IWANT YOU TO TAKE A MOMENT AND THINK OF TIMES WHERE YOU WERE CAUGHT OFF GUARD OR WERE BLINDSIDED BY A SITUATION.
With these situations in mind, choose one where your thoughts and emotions made the situation worse, and also choose one where your thoughts and emotions made the situation better. After reflecting on these two stories, you may have found that the common denominator was how you were thinking in precise moments.
For example, positive and controlled thoughts may have resulted in a more positive outcome compared to explosive and unreflective emotions that were given full reign and resulted in poorer outcomes. Oftentimes, we tend to blame how we reacted in the moment to what led to a good or bad result. However, we fail to understand the critical role that our thinking played that led to our re-
actions. Thoughts precede action. How you respond cognitively to a situation is going to directly impact how you react to a situation. Therefore, in order to change the outcome of a situation, or at the very least have more productive outcomes, you first must learn to change your thinking.
Albert Ellis, a psychologist during the 1970s, had many clients that described him as being somewhat dismissive, but in a helpful way. What Dr. Ellis would do when speaking with a client is often say "to be honest, I don't care what happened to you. What I care about is how you responded."
He theorized that many things happen to us that are typically out of our control. Whether they were good, bad, or neutral things that happen, all triggered the creation of an initial thought about what just happened. Those thoughts would then drive what you felt emotionally and what you did behaviorally.
So, for him to say he did not care about what happened, just how you responded, makes a lot of sense. While we may not be able to control what happens to us, we can have control over how we respond to those situations.
I remember being in high school and
feeling consistently upset if I had not gotten invited to things. I would tell myself "They must not like me", which would lead to experiencing feelings of sadness and would oftentimes lead me to withdraw from my friends. Present day, I will have a friend not text me back, but will text back in a group text. I often think "Why can't they respond to me?", which would lead to experiencing feelings of annoyance and frustration and would oftentimes lead me to making a petty comment toward that person. Reflecting on these times show that my emotions and reactions were hurting the situation. I failed to recognize that maybe they did not know I was not invited, that maybe this person had something else going on that impacted their ability to respond. Either way, how I responded would take away from the friendship instead of adding to.
To change your thinking, start with practicing active reflection. First, describe a situation that happened to you, sticking to just the facts and being objective as possible. Then, identify and name some of your raw and uncensored initial thoughts about that situation. The more specific you can be, the more accurate you are, which will help increase self-awareness about your thinking patterns. Then, identify what
176
THE POWER OF UNLOCKING YOUR MIND
those thoughts caused you to feel emotionally and do behaviorally in those moments. Lastly, ask yourself "did my emotions and reactions hurt or help the situation?" and then think about why they helped or hurt the situation.
Another way to usher in a change to your thinking is to identify an important event that you have in the
THOUGHTS MATTER
near future where you want to be your best. For example, you have an important work presentation where you are pitching your idea to upper-level management. Identify what emotions and behaviors are going to help you be your best in this moment. Lastly, identify a thought that will lead to these emotions and behaviors. This process may not guarantee
success, but allows you to prepare for that moment and can put you in the right frame of mind so that you can perform your best.
Changing the way you think is not easy. Even having these tools in your toolbox does not guarantee success. However, your thoughts matter because they provide fuel to your actions. Both good and
bad. But you have the ability to determine which route is taken. Therefore, if you want to see improved performances, if you want to build your resilience, and if you want to increase your overall well-being, then it starts with reflecting upon and seeking to master how you think. And from there, remember the old adage that practice makes perfect.
page 177 WWW POLOLIFESTYLES COM