Peter Johnson
E NTERTAINMENTS L IMITED
2022
Welcome to Peter Johnson Entertainments Ltd
still one of the most respected Agencies in the country
Welcome back to Peter Johnson Entertainments Limited - Still one of the most respected Agencies in the Country.
Who would have thought that the Covid Pandemic would still be causing havoc in the World a year on, but yes, it seems that it is! Please note our change of address and phone number, it is different from what you see at the top of each page!
HOWEVER, we are here... we thrive despite this knock back. We are up on our feet and out of the ashes and renewed with enthusiasm and an absolute desire to be back to our passion which is the entertainments industry. There are those who have fallen, and those who have decided to move on, but there are so many who are still
ARENA
Above & Beyond 10
Adam's Axe Men 7
Mr Alexander 30
Jez Avery Stunt Shows 23
BMX Arena Shows 12
Bob Hogg's Sheepdog Show 14
Circus Whiz 8
Clown Bluey's Crazy Fire Engine! 8
Conquest K9 Display 6
Doctor Diablo's Sideshow 18
Dog and Duck Show 21
Eagle Heights Eagle & Vulture Display Team 15
John Evans 29
Fanfare Marching Band 4
Graham Fisher's International "It's A Knockout" 27
Happy's Circus 17
The Hogg Show 13
Hogg's Mobile Farm 23
Imps Motorcycle Display Team 11
Inch Perfect Trials 9
Joseph's Amazing Camels 22
Joseph's Amazing Racing Pig / Pig Agility 22
K9 2000 20
K9 Quackers Sheepdog & Duck Show 18
K&H Falconry 30
Kipperridge Gundog Displays 19
The Lamb National 14
Little Nippers Lurcher & Terrier Show 30
M.A.D. Team 28
The Mighty Smith Show 22
Moto Stunts International 24
Mounted Games Association 28
Gerard Naprous presents
The Devil's Horsemen 7
Paws For Thought Dog Display Team 10
Pedal Power V Parkour 8
Red Devils Army Parachute Display Team 12
Reel Stunts In Action 11
Ridgeside Falconry Display 18
David Seamark Sheepdog Demonstration 16
The Sheep Show 25
Shetland Pony Grand National 24
Jason Smyth Adrenaline Tour 4
Spectacular Knights of the Crusade 16
Squibb Freestyle Motocross Stunt Team 6
here, still needing our support and still wanting to work. So 2022 will be a great year, and with your support we will be making big inroads in our return to normal.
All our quotes are free and without obligation, personnel or equipment may differ from the images in the brochure or on the website but they will not affect the quality of the presentation. Prices include operating times of up to 5 hours and 1 hour set up and break down time.
PLEASE NOTE THERE MAY BE TRAVEL AND ACCOMMODATION COSTS TO ADD TO THE QUOTED FEES ON ALL ARTISTES.
I am so looking forward to hearing from you all very soon! Happy Browsing!
Happy Browsing!
The Stannage International Stunt Show 15
Stuntworld International 20
The Stunt Riders Show 19
Toppers Family Circus 5
Van Buren's Victorian Theatre of Wonders 26 Wildlife Displays 26
CORPORATE
Action Wheels 33
Adrenaline Zone (Extreme Fun) 31
Alpine Ski Blast 44 Assault Course 42
Beat the Balls 36
Boot Camp Challenge 45 Bungee Running 33 Carnival Casinos 45
Catch it Quick 34
Crazy Golf Challenge 35
Derby Hoppers 34
Do or Dare Mega Slide 38
The Dunk Tank 41
EHL –Mini Marquees and Big Top hire 41
Electric Go Karts 44
Football Darts 42
Funfair Rides/Venturer Simulator 37
Giant Helter Skelter Slide 38
Gladiator Joust 39
Gyroscope 40
Handball Classic 39
Hanger 51 Laser Shoot 46
Human Demolition Zone 43
Human Table Football 44
Inflatable Beach Volleyball 38
Inflatable World 42
Laser Clay Pigeon Shooting & Country Sports 35
Last One Standing 34
Lennie the Land Train 36
The Maverick Circus Show 35
Medieval Activity Run 40 Mirror Me 40 Noah's Ark 42 Paddle Boats 38
Pirate Ship 32
Photo Booth 43
Play Trailer 46
Popcorn & Candyfloss Stalls 36
Robert Pound –Magician 33
Rodeo Bull / Sheep / Camel / Reindeer … 36
Roll A Ball Derby 43
Snappy Dragon Slide 32
Snappy Frog 43
Snow Globe 44
Soft Play Area (20 x 20) 38
Steven Garner –Caricaturist 46
Surf Rider 32
Titan The Robot 39
Trampoline Trailer 34
Water Walkers 46
Wild West Adventure Inflatable 32
MIX 'n' MINGLE
Animated Magical Moments 49
Balloonatic 48
Beyond Circus 51
Buccaneers 49
Dinosaur Invasion 50
Fantastiko's Unique Electric Entertainment 47
Follies Face Painting 47
Glitter-Eyz 48
High Falutin's Festivities –Coal or Coin 52
Hodman, Sally & Pongo 53
The Magical Musical Bike 53
PCs Bluey and Konk 50
Professor Crump 48
Rainbow Star the Unicorn 47
Fairytales and Enchanted Seasons 52
Twistina 51
Twistopher 51
Wattle and Daub 53
What A Palaver 50
What The Tortoise Taught Us 52
Zig Zag the Dinosaur 49
MUSIC & DANCE
Caribbean Melody Steel Band 54
Michael Douglas – Neil Diamond Tribute Show 55
London Chinese Acrobats 54
Fanfare Trumpets 54
Rachel Hayward 55
...
2
Testimonials
Dearest Mandy
That is so,so kind of you to be thinking of us artists. I really do appreciate what you are doing as we also have no income down here. I will definitely mention your agency to everyone in the business and try to get some extra bookings for you.....cant wait for the day we all can get back to normal again. You truly are the best agent and have the best agency i have ever worked with.
MAGICAL MUSICAL BIKE
Thanks Mandy for all your help during this difficult time. I really appreciate your support in dealing with the cancellations and rebookings for us, it's made a real difference and helped to safeguard the Adrenaline Tour returning to the show circuit as soon as events are back up and running. Thanks again,
ADRENALINE TOUR
We have worked with Mandy for a number of years. Herproduct knowledge and understanding of our requirements have ensured that our guests have returned to our events year after year. Ipersonally want to thank you for everything. As usual you are AMAZING –we couldn't do this without you! Wecannot wait to see what you pull out of your hat next! 5stars!
GEENA BLADES
It has been a huge pleasure working with Mandy to put together our displays for SuffolkShow. Quick response, easy-to-understand pricing, helpful with all queries, and always friendly. Thank you for everything you have done for us. we certainly look forward to working together again
SUFFOLK SHOW
I am not enquiring about an event but simply to give your company an outstanding review from HMSSultan Summer Show. The service was excellent, the equipment was in excellent condition, and all the staff involved were extremely friendly and professional. Iwill certainly recommend you and already have. Thank you again for your service.
NORTH
3 01580 754 888
–
–
–
–
–ADRIAN
Jason Smyth Adrenaline Tour enalineTour
Featuring the UK's top quad bike stunt riders
the UK's top b
Your audience is sure to be in awe at watching them fly over 30 high and 75 from ramp to ramp, whilst performing breathtaking aerial tricks.
Your audience is sure to be in awe at watchin over 30 higgh and 75 from ramp to ram h whil t st b aeriial l t tr
T consists qu d ad free items of awarding spectato as ever po street s t w ac brought t c the crowd.
The show consists of the spectacular quad freestyle, catching items of memorabilia in mid air and then awarding them to spectators, as well as the ever popular street style stunts where the ac on is brought close to the crowd.
An informa ve and humorous commentary is done byex­World Championship Motocross rider JasonSmyth, through a microphone in his helmet as he performs stunts! He will interact with your audience, even whilst flying 75 through the air, toreally get them involved in theshow.
However, the entertainment doesn't end there, they also have a display unit where the public are encouraged to look at the machines, chat with the team, perhaps get a souvenir or even sit on one of the quad bikes if they wish.
The Adrenaline Tour prides itself on professionalism with an act and equipment immaculately presented to produce a great value premier entertainment package.
Fanfare Marching B Band
Our fantas c marching band is made up of both ex­military musicians and professional freelance musicians from all over the UK, and numbers between 15and 20musicians. They work to keep the Bri sh tradi ons alive with their exci ng drills and super authen c costumes.
This band is perfect for all kinds of different events from ArenaDisplays, Bri sh Themed Events, Carnivals, Fetes, Parades, Product Launches, Opening Ceremonies and Spor ng Events.
We can offer 2 x 30 minute displays with 20musicians or 2/3 x 20 minutes with a 15 piece band provided the displays are withina consecu ve 3 hour period.
Prices from £2,900 which includes an element of travel
ARENA www.peterjohnson.co.uk 4
£2,190
GREAT VALUE
Toppers Family CircusToppers Family Circus
Britain's premier family Circus, entertaining families since 1997
Bring the magic of Toppers Family Circus to your next event. Circus shows, workshops and more. An all human show in the tradi onal circus style, guaranteed to delight young and old alike with laughter, thrills and spills!
• Available throughout the UK
• Up to five hours of circus entertainment each day
• Sea ng for up to 300 in our colourful big top • An all­weather a rac on • Self­contained
• Free use of the Big Top for other ac vi es • Marke ng pack supplied
• Marquee Hire
Need colourful fun tents for your event? Talk to us –we have many tents ranging in capacity from 30 – 600 people. Ideal for bars, cra tents, chill out zones, and more!
offer
offer 4 x 45­minute shows with 30­minute workshops

5 ARENA01580 754 888
We
We
4 x 45­minute shows with 30­minute a er each show Prices from £3,000 + VAT per day
The team have performed all over the world and have been seen live on BBC's TheOne Show and Don'tTellThe Bride, aswell as performing at Formula 1, MotoGP, andthe Isle Of Man TT.
Conquest K9 Display
A superb, lively display based around Security / PoliceDog work with an informa ve and entertaining commentary
A very professional display that keeps everyone watching glued to the spot.
Theteam perform many displays a year ranging from major events to school fetes.
We have a variety of breeds of dogs in our team from GSD's and Labradors to Dachshund and Chihuahua X and they all love showing off to their audience.
Conquest K9 Display is non­stop ac on with lots of agility, fire hoops, criminal work, 6 high jump and more.
You will see the dogs and team members performing to a very high standard and really enjoying everything they do ­ this is infec ous and our audiences always enjoy the show.
All we need is a small collec ng ring for our equipment a ached directly to the arena (10m x 10m is ideal ) and a PA system with aradio mic for commentary and music playing facility.
The minimum size for our display is 40m x 30m but we have a nice display for smaller arenas minimum 25m square ( we need slightly different kit for this one so make sure you let us know in advance ).
ARENA www.peterjohnson.co.uk 6
One day £950 • Two days £1,790
JamiieS e q quuibb –a a threee­ me m Bri sh Mo M tocross Freeessttylle e Ch Chamampion a and hi h s team of eithher onee, twwo o o or three ee riiderers s pe p rfform breeathtaking aerobba a cs s and stuunnts miida d ir r in front of the crowds it is th the ul mat a e aren e a sh s ow and Jamie e saavees s thhe e bi b gg g es e t a annd d besst t triickcks s f for r the e fi final a e! T The m moobiille ramps have e been specific fi allly developed ed to alllow ow for a very fast t ass s embly y and d pack k up in the arena a wh whet e he her r on grarass s or taarmac a . Th T e te t am m haavve e p perfor o me m d al a l ovver thhe w worlld ve beeeen n seeen n on n s The Onne e nd Don'tT l ellTThe he Bridede, as a we w ll l as performi m ng g at t Foormmul u a 1 MototoGP, andtthe h Isl s e f an T Squibbfreestyle M Motocross Arena S Stunt S Show Squibbfreestyle motocross arena stunt show is a surefire crowd pleaser Jamie offers 2 x 30min displays with aminimum arena size of 80x15m surrounded by crowd control barriers £2,500 plus travel
ADAM'S
The Friendly Axemen fromDorset
Adams Axemen are the country's best known lumberjack display team.
Theyare a team of professional showmen who enjoy nothing more than entertaining a crowd.
They were founded in 1966 as the New Forest Axemen, making them the longest running lumberjack display team in Great Britain.
T from Adams Axeme known lumberjac o mo founde Axemen, t displa
Members have co Australia Canada and Eu best known the countr 50shows a
Members have competed around the world, including Australia, New Zealand, America, Canada and Europe. They remain today the best known lumberjack display team in the country, regularly performing at over 50shows ayear.
Five-man team £1,175
Gerard Naprous presents … The Devil's Horsemen
rope's some n, and
Equestrian film ac on brought live to your event withEurope's number one stunt and trick riding team. Performing with some of the world's best known horses from film and television, allowned and trained to perfec on by top Horsemaster and stunt co­ordinator, Gerard Naprous.
The Devil's Horsemen love to perform their breathtaking displays before live audiences. Enthralling both young and old with their skill and daredevil an cs, which makes them Britain's top equestrian stunt team. They offer a choice of shows: Medieval Jous ng, Wild West Spectacular, Roman Chariot Racing and Cossack Trick Riding. Spectacular entertainment and popular themes that can be tailored to your budget and venue (even indoors).
The Devil's Horsemen's work has taken them all around the world, where they have worked on many top films with many top film stars. Recent credits include: LesMiserables with HughJackman and Russell Crowe, The Muppets (2013), AllYou Need Is Kill with Tom Cruise (2013), HBO'sGame of Thrones, Starz Da Vinci Demons, BBCHenryIV PartI andPart II and Henry V with Jeremy Irons and TomHiddleston and Dr Who.
Usual arena presenta ons include six to eight magnificent horses, eight performers, commentator andmusical soundtrack.
Medieval Jous ng –1 x 45 minutes
Wild West Spectacular –2 x 30 minutes
Roman Chariot Racing –2x 25 minutes
Cossack Trick Riding –2x25 minutes
From£3,400 + VAT
7 ARENA01580 754 888
Clown Bluey's Crazy Fire Engine!
Clown Bluey's Clown Car is a Fire Engine –The Biggest Fire Engine In The World! Two acts available
Act 1: CLOWN BLUEY'S CRAZY FIRE ENGINE. With Flossie Fleabag, hairy Fire Dog 3rdClass (Ruff Cru s), together with child audience volunteers, Chief Fire Officer Bluey demonstrates the latest fire­figh ng techniques, using the BIGGEST Fire Engine in the world, his 2 metre (6'6") half­sized 1930's Model T Ford Fire Engine, "FIRE 1"!Children and adults love this 25­minute outside clown arena act, where Flossie Fleabag outwits Fire Chief Bluey at every turn.
Act 2: THE CRACKERS FIRE BRIGADE. Fire Chief Bluey has a new recruit ­ Fire Fighter Conk, who is a very slow learner! Mayham ensues as Conk messes up all Fire Chief Bluey's big public Fire Demonstra on!
Ideally, a circus Big Top­sized 15­20marena is all the space required by these magical and funny performances.
Children and adults just love it! These FUN arena acts, with lots of audience par cipa on, clown slaps ck and water, is ideal for small village green­sized fetes, fayres, school events, corporate and business events and any outside smaller venues.
Clown Bluey & Co are fully covered by £10million P/L insurance.
Bluey and his clown colleagues also give value for money by mixing and mingling prior to and between acts if required.
2 x 25­minute shows ­ £850
Pedal Power VParkour
Pedal Power V Parkour (freerunning) is the only show of it'skind in the country. Thedisplay combines the incredible skill, balance and power of a trials rider and the finesse of a gymnast / parkour athlete. Both athletes will be pu ng it all on the line in an a empt to become the crowds favourite!
Our bespoke rig has been specially made so that both styles of extreme sport can be showcased in an exci ng, heart stopping performance. You can expect both athletes to perform all of the latest tricks you have seen on the internet.
Not only will the parkour athlete be able to jump around on all of thehigh pla orms including the roof of the van but he'll also be able to take advantage of a number of trampolines that are placed around the arena. Some would say this is the most impressive part of the show, the huge double front flips and double backflips are migh ly impressive. He has also been known to frontflip over the trials rider when he's in ac on. We can perform in our own arena or move in and out of a main arena.
Circus Whiz
Con nuous fun for all the family whatever the weather
The very best interac ve circus skills workshop set in a colourful 8m inflatable circus ring with a3m canopy, flags and two entertainers, with enough equipment for over 50par cipants in a dozen skills.
Learn how to juggle balls and clubs, diablos and devil s cks, master Olympic ribbons and cups and balls. Walk on cup or fun s lts and pedal­gos, spin a plate or a rope or hula hoop. Parents and children, grandparents, teens and toddlers, everyone is welcome to come and play.
Up to six hours: £595 + VAT
ARENA www.peterjohnson.co.uk 8
All-inclusive price of £1,250
9 ARENA01580 754 888
Paws F For T Thought Dog D Display T Team
Above and Beyond
Above and Beyond ­ the UK's most experienced and longest established aerial company, offer the widest range of aerial skills, ranging from a single rope to the flying trapeze
An interna onal company performing at venues all over the world, specializing in aerial performance. Ar stes are fully trained in­house to ensure your event presents acts of the highest calibre.
Interna onal performers combine the grace of dance with acroba c agility and circus, to create unique, highly­skilled, spectacular shows, which move from the ground up to 35 in the air, finishing with heart­stopping finales. They have thrilled audiences all over the world.
A performance can be tailored to your specific event, from solo rope, singles or doubles trapeze, cradle, bungee trapeze, cloud swing to flying trapeze. Suitable for any venue from galas, fes vals, nightclubs, fundays, corporate entertainment, team building, have a go days, promo ons, workshops, anywhere requiring the best in aerial entertainment.
Providing 2
oroutdoors,
Paws for Thought Dog Display Team were formed in 1998 and are recognised as one of the top dogdisplay teams within the UK
The team of 12 to 14 dogs and handlers are ever more popular due to their professionalism and desire to entertain all family members whatever their age or group,they are only happy when they manage to get the audience cheering and clapping for the dogs.
The display includes the dogs jumping through hoops of fire, agility racing, ladder walking, trick, obedience rou nes, examples of Police dog work and the now famous back walking dogs.
The display is performed to music accompanied by a commentary which is relaxed and entertaining in style.
The team have appeared regularly at Cru s, Discover Dogs, The Pet Show along with many other pres gious na onal and County shows.
Appearances on Television include ITV, The Alan Titchmarsh show, CBBC, Who Let the Dogs Out & About and BBC Sport Relief's Top Dog.
The team encourages Adult and Child par cipa on and is excellent value for the entertainment provided.

ARENA www.peterjohnson.co.uk 10
x 15/20­minute performances. All performed indoors
on an eye­catching, self­contained rig Duo £1,250 • Trio £1,550
" Visually stunning and breathtaking aerial displays "
£895
Imps Motorcycle Display Team
Imps Motorcycle Display Team
Formed in the early 70s from within a children's summer holiday project, TheHackney Adventure Holiday Project, and now in their 47th year, the Imps from humble beginnings, serving the poorer children of the community of East London, have achieved much from performing at The Royal Edinburgh Military Ta oo 11 mes and have travelled far and wide thrilling audiences with their slick, skillful and o en humorous performances. From Singapore to Bermuda, Switzerland to the USA and many other countries the Imps entertain.
Formed the within holiday project, TheHackney Adventure Holiday Project, and now in their 47th year, the Imps from humble beginnings, serving the poorer children of the community of East London, have achieved much from performing at The Royal Edinburgh Military Ta oo 11 mes and have travelled far and wide thrilling audiences with their slick, skillful and o en humorous performances. From Singapore to Bermuda, Switzerland to the USA and many other countries the Imps entertain.
You do not have to like motorcycles to enjoy their presenta ons; they will have you on the edge of your seats and jumping with joy at their an cs. Aged from five to sixteen years they have true family appeal with their cheeky east end fun and thrills.
You do have motorcycles their presenta they will you on the an cs. from five sixteen family with their cheeky end and thrills.
Many of our former members do very well in life, running their own companies, working in avia on and a whole range of careers and the team members remain friends for life, the current team have a number of members whose parents rode with the team. We hope you enjoy mee ng this smartly turned out disciplined group.
Many of former members running their own companies, working in avia on and a whole range of careers and the team members remain friends for life, the current team have a number of members whose parents rode with the team. We hope you enjoy mee ng this smartly turned out disciplined group.
From £2,200 + VAT
From £2,200 + VAT
STUNTS
Action Stunt Shows &Displays
Prices start from £1,050 + VAT
Watch as a professional stunt team demonstrate how ac on is devised & put together in intense all­ac on chase & escape sequences. Fights; Reac ons; Wire Work; Acroba cs & High Falls are just some of the elements that make up this ac on­packed show, giving you an inside look at the stunt people who risk their necks to make real movie magic.
Requires a flat surface area of 15m / 50 (frontage) x 11m/35 (depth)
*Ac on elements also available as MINISTUNT ACTION DISPLAYS –Prices start from £575 + VAT Require surface area of 25 / 7.5msquare
Fall Guys
Prices start from £875 + VAT
Witness a heart­pounding exhibi on of the movies real fall guys displaying the art of the 'High Fall' as they plunge from over 50 in this demonstra on of unique aerial awareness & control.
Requires a flat surface area of 10m / 50 (frontage) x 13m/42 (depth)
Crash & Fall
Prices start from £850 + VAT
An exci ng exhibi on, that gives a sneak preview into the complex world of stunt work.
Requires a flat surface area of 15m / 50 (frontage) x 10m/33 (depth)
11 ARENA01580 754 888
Let the RSIA stunt team bring their ACTION to your event REEL
BMX ARENA SHOWS
BMX Arena Shows are the only BMX team in the UK thatcan move in and out of an arena. Just like the FMXteams you can expect the riders to fly through the air performing breath taking tricks and stunts.
We use the world's best BMX riders including RedBull athletes to guarantee you see the most impressive tricks possible, including the crowds favourite "thebackflip". Wecan a empt to break the high air WorldRecord at your event!
We can perform in our own arena or in a shared main arena.
Jump Show £1,350 (3-man team)
Full Arena Show £1,700 (4-man team)
BMX public Sessions £650
RED DEVILS ARMY PARACHUTE DISPLAY TEAM
The Red Devils, formed in 1964, are the official parachute display team of the Bri shArmy and The Parachute Regiment
The Red Devils, the world­famous Bri sh Army parachute display team is a non­profit organisa on, that exists to recruit for the Bri sh Army. We also support its chari es by raising funds and profile through awe­inspiring public displays and adrenaline­fuelled tandem parachute jumps across the UK and abroad. The Red Devils is manned with 15 serving soldiers.
As professional skydivers we perform over 60displays each year in the UK and interna onally, into all manner of charity, spor ng, military and social events. Our audience is highly diverse, from those celebra ng the Jubilee celebra ons at the Epsom Derby in front of the Queen, to teenagers and young adults a ending VFes val. We have also made prime me television appearances in the UK (including Top Gear, Eggheads, The One Show, and SurpriseSurprise).
We will be star ng next year's season in January with a tenday contract with the Bahrain Interna onal AirShow where we will be conduc ng three displays aday during the 3­day show.
Aperiod of training in the UnitedStates will follow before the team returns to the UK for the summer display season.
Cost of display £2,115 + VAT
Cost of water display POA
Cost of night display will be on acase by case basis
ARENA www.peterjohnson.co.uk 12
New at Peter Johnson Entertainments for 2020!
Welcome to the UKs only performing pig stage show!
WHY IT HAPPENED
Tom Hogg –yes, that's his name –saw a problem evolving on the show circuit. Having seen no new and exci ng acts and with the thought of the possibility that new crea ons could be lost, he set out to bring something new, exci ng and innova ve to the table. The boys are finally here to deliver that most spectacular show. Tom is no stranger to excellent entertainment and outstanding animal displays having performed to the Royal Family and at venues such as Ascot Racecourse.
THE SHOW
Be educated while you laugh. Tom will introduce the audience to some of the rarest pigs from across the world with names such as Wool­i­Ham and Harry Tro er plus many more…
The Hogg Show is a popular a rac on at many venues across the country, and his successes speak for themselves. He has received only 5* reviews with his humorous commentary and with his talented performing pigs Tom gives us the chance to witness some pig ability and show off the intelligence of these wonderful animals. Let's be honest who doesn't love a Piggy?
doesn t love a a gu g arannteed d to make the shhake an a d have crying with laughter at yo y urshow!
This show is without a doubt guaranteed to make the ground shake and have the public crying
The Hogg Show is fully licensed and insured so sit back relax and enjoy the show.
3 x 30­minute shows
OUR STAGE – The show being based on 600square feet of stage why not consider, a er the day turns into night, using our stage for other performers or bands.
With its own power supply and powerful PA system this can give you the chance to sit back and enjoy your acts while we do the work. Suitable for any event.
HOGG'S PIG AGILITY
Do you fancy something you have never done before for your corporate team building event?
Hogg's Pig Agility is where your teams will get the chance to go head to head against one another, a emp ng to navigate one of our performing pigs around an obstacle course with some other hilarious pig themed games throughout the day. Have your clients and your team members crying with laughter and learning about the countryside.
£600 per day
13 ARENA01580 754 888
£1,500 + travel for
enj £ f OU bas
Bob Hogg's New Sheepdog Show
For many years Bob has travelled around the country with his sheepdog display enjoying taking the world of the shepherd and his dog into countryside arenas, showing the skills these amazing animals have, whilstoffering great entertainment
Bob has had many television appearances including Countryfile, house of ny tearaways working with DrTanya Byron along with many others. Bob has also been invited on many occasions to present his show to the Saudi Royal Family.
However over the last couple of years Bob feels sheepdog displays have almost become tribute acts to the originals with a copy and paste approach all offering and looking the same. So for 2020 he will be aiming to give a completely new feel to the display s ll based on the tradi onal skills adding the entertainment
bound into the arena with their long coats flowing looking slightly clumsy un l they hear Bob's voice and begin to work with such style and grace.
Not only will he be bringing a new show to the arena but will offer two different displays per day one more tradi onal and educa onal whilst the other concentra ng on the fun. Both will be accompanied by a humorous and informa ve commentary.
Please note the pictures in this adver sement are not taken from the new revised show as these will only be available post 2020.
So out with the old and in with the new!! It's always good to see something new on the showcircuit 2 x 30-minutes displays £750 + travel
Please note this can be booked with the Lamb Na onal sheep race for two 1­hour displays incorpora ngg
factor but there will be a new vibrant display eviously unseen omething new for the public but retaining the elements they love
He can use sheep (sheep will require a secure arena, not ropes) geese and ducks depending on the requirements of the individual shows and child par cipa on will be included. Lots of fun being a priority!! There will be special guest appearances withother animals to give variety and the element ofsurprise.

Bob also uses bearded collies in his displays to add a li le more individuality to his display and show the different ways they work. This is always very popular with the audiences as thhey
race two 1 hour 30­minute sheepdogs and 30­minute Lamb Na onal
If booked with the Lamb N Na oa nal sheep race the cost of the aheepdog display reduces to £450 per day
Since the first introduc on to the public in 2012 The Lamb Na
The BBC Countryfile programme also featured this great entertainment spectacle to the amusement of the presenters as they were allocated their own runners and riders. Bob uses the natural hardiness, agility and intelligence of the Herdwick sheep to nego ate the obstacles using one of his sheepdogs to herd them around the course.
A er being paraded in their own colours, they are introduced to the audience and then the fun starts.
An amusing commentary accompanies the race and the display provides an exci ng and comical addi on to add toany show.
Lamb Na
If booked with Bob Hogg's Sheepdog Show sheepdogs are £450
ARENA www.peterjohnson.co.uk 14
NEWfor2020
2 x
onal races  £1,475
per day
onal has become one of the most sought­a er arena acts The Lamb National The posi ve feedback goes on and on … "Funniest thing I have ever seen" "Haven't seen anything this good in years" "Very professional display" "Loved it - we want you back nextyear"
Eagle Heights Eagle & Vulture Display Team
Eagle Heights, Kent's Bird of Prey Centre, now offers what is probably the mostcomprehensive bird of prey display team in the UK
Watch in awe as "Kayla" the Bald Eagle soars above the crowd and chuckle at "Becks" the White­backed Vulture as he gallops across the arena.
Get ready to duck as "Jade", the 120mph Falcon, hurtles across the heads of the crowd. Plus there will be lots of "oohs and aahs" as the li le Barn Owl floats around amongst the crowd. AEuropean Eagle Owl also puts in an appearance inthearena.
When not being flown the birds will be on sta c display for all to see and photograph £675
The Eagle Heights "B" team is also available for that smaller event at a cost of £500
THE STANNAGE
INTERNATIONAL STUNT TEAM
A true family affair. The Stannage Interna onal Stunt Team, Mark, Janine, and Aaron Stannage have worked worldwide as the Stannage Interna onal Stunt Team for over 19years since being established in 2000. They bring excitement to audiences of all ages, with a view of entertaining all at your event.
Team leader Mark Stannage started his professional career in 1984 at the tender age of 14. Now, with over 35years experience specializing in car, motorbike, fire and high fall stunts, performing some of the most spectacular stunts seen on film or TV.
Mark and his family perform their spectacular High Fall Show, Flaming High Fall Show, these include the following:
Highfalls
High Falls on Fire
Motorbike Stunts
Quad Stunts
Ramp Jumping
Car Jumps
Mountain Bike Stunts
Fire Stunts
Wheelies
Riding
Holders of three Guinness World Records
This world record breaking stunt team have performed their shows all over Europe and the Middle East, recently returning from the Muscat Fes val in Oman and the GT fes val in Bahrain.
Mark and his wife Janine will be commenta ng these fantas c shows.
Their son Aaron is following in his
At only 24years old he has 21years experience as a stunt performer! Having performed on various TVshows and newspaper features, and making his first feature film in 2017, he is fast becoming a star in his own right. He is also a Guinness World Record Holder. These shows will generate great excitement and is a great crowd puller so don't miss this opportunity to see one of the UK's top stuntmen. £1,450
15 ARENA01580 754 888 in his father's footsteps. has 21 years experience as a stunt
•
•
•
•
•
•
•
•
•
•
s ls on Fire ke unts mping ps n nts • Explosions s • Trick
Spectacular Knights of the Crusades
On through the Millennium with their 40th fabulous year!
Against a 75 wide medieval castle and podiums, featuring all new medieval banners and costumes with flaming torches, pyrotechnics and mys c smoke. With their own self­contained sound system, presen ng drama c music, fanfares and sound effects, they re­create two totally fantas c 40­minute epic plays of "A Tale of Richard the Lionheart" and "TheLegend of King Arthur". Dressed in period costumes and armour, they delight audiences of all ages with their heroic figh ng and dazzling pageantry, transpor ng them back to a stunning world of Mythical England with amazing realism.
AUDIENCE PARTICIPATION is encouraged; Children are invited to become Squires to the Knights, Village Maidens and a Lady of the Day to become their Maid Marion and within their second show children a empt to pull the Great Sword Excalibur from the Stone!
With many appearances on television and at numerous Round Table, Lions, Council events, Castles, Guernsey Shows and the Isle of Wight Steam Rally. Also voted Best Family Entertainment by the Swale Commi ee.
A magical day's entertainment from one act. Truly unbeatable value
2 x 40-minutes displays £1,495
1
40-minute
David Seamark Sheepdog Demonstration
Corporate/Teambuilding events: An event with a difference – try your hand at working a sheepdog

The dogs will be under your control and it is an amazing experience to actually work one of these fantas c border collies. They help David on the farm with his flock of 500breeding ewes and their lambs and then work for you manoeuvring geese aroundthe obstacles. It really makes you think about the characteris cs of the animals and shows you skill, commitment and thecapability of a working dog.
All special occasions including weddings, anniversaries and birthdays, aswell as company fun days and teambuilding events.
From £500 • £650 for Arena shows
ARENA www.peterjohnson.co.uk 16
x
display £1,100
17 ARENA01580 754 888 Established in 1992 Happy's Circus provides Family Entertainment at Music fes vals, Children's fes vals, County shows, Village shows, both Council & privately organised Family Fun Days, together with a variety of corporate events across the UK ★ Two all­human Circuses ★ Two new show produc ons each year ★ Tradi onal Family Entertainment in a contemporary style with audience par cipa on ★ Up to 600 seat capacity in each colourful all­weather Big Top ★ Fully self­contained with innova ve sound and ligh ng technology ★ Quick to Build Up & Pull Down ★ Minimum size required 50m x 50m ofgrassedarea ★ No ar culated lorries ★ £10m Public Liability Insurance ★ Health & Safety Policy and Risk Assessments ★ Availability to suit you 7 days a week Happy's Circus offers a choice of programmes ★ Up to 4 Circus Shows per day ★ Free use of the Big Top to convert to your branding ★ Big Top available for addi onal evening hire @ £500 + VAT per night Christmas Circus Shows Available – Self Funding with Profits "We are a very well run organisa on, we understand infrastructure & we are easy to work with. We will bring just the right mix of all­weather family fun to your event" Happy's Circus is dedicated to bringing theenchan ng world of circus to communi eseverywhere Prices from £3,500 + VAT per day PROFESSIONAL * RELIABLE * COMPLIANT * TRIED * TESTED Happy's Circus are experts at pu ng together packages for Event Organisers planning Fes vals & Family Fun Days
A retro sideshow spectacular of dangerousstunts and demonstra ons, all with audience par cipa on and a hint of comedy !
Featuring: Fire ea ng and breathing, the Painproof Man, sword walking, the Bed of Nails, escapology, strongman stunts, andmore…
A show for all the family.
The stage set up is 5mwide x 3m deep x 4m high. It comes with barriers for an area around the front of the stage. A show in its own arena. Self­contained with own power and sound system.
Up to 3 x 30­minute shows per day. The only show of its kind in the UK
Fees from £705 per day +expenses
Ridgeside Falconry Display
sta c display of approximately 15­20 different birds of prey from all around the world
di c approximatel f prey from all around the world
Between the flying demonstra ons, which last from 20­30 minutes, the public have the chance to hold and be photographed with one of these magnificent birds £595
Ridgeside Falconry also provide a professional Lurcher Racing Team demonstra on £650
Combined Falconry and Lurcher Racing £895
K9 Quackers Sheepdog & Duck Show
This entertaining sheepdog and duck herding show is fun for all ages. Richard and his sheepdog sidekicks try to steer the Quackers " stunt ducks" through the agility course of tunnels and bridges with amusing results. Children are invited into the ring to take part as the "duck derby" take place and the show is accompanied by an amusing commentary and music.
This duck herding show is duck­u­tainment at its very best and is suitable for a wide variety of shows, carnivals and corporate events. 2 x 30 minute shows • £550
ARENA www.peterjohnson.co.uk 18
This show will entertain your audiencewith a wide range of professionallypreformed stunts, mixed up withcomedy, madness and singing...yep,singing.
From the creators of MSI, bringsa show that is becoming wellestablished around the UK as a truefamily production.
NOW...
19 ARENA01580 754 888 ...Request a Stunt Riders Brochure from Mandy for all the details of a show you will love!
. FIND OUT MORE
uest a Stunt Riders Brochure from Mandy for al you will love! *Price includes travel, LEZ may apply ...Req £1200 per day* for a large variety of entertainment packed into 2 x 45 min shows l the details f From £815 plus expenses
stuntworld international
Stuntworld was formed in 1969 by James Dylan, however in 2019 a er 50 years in the business James decided to hang up his boots and go into re rement. The team is now been revamped and run by Mark Stannage, who had Joined Stuntworld in 1987.
Mark Stannage himself has over 35years' experience as a stunt performer performing his amazing show all over the world.
Star ng his stunt career at the age of 14years old, Mark went on to join Stuntworld in 1987 where he worked for over 15 years performing some of the most amazing stunts ever seen.
In 2002 he set up TheStannage Stunt Team, once again traveling all over the world performing his death­defying stunts.
In 2019 Mark Stannage now presents a new and revamped Stuntworld Interna onal with a brand new show. There's Fire Stunts, Motorbike Stunts, Quad Stunts, Car Stunts and much much more. £1,450
ARENA www.peterjohnson.co.uk 20
Great value from £1,050 plus fuel
Dog a and D Duck S Show
'Learn while you laugh'
By using energy and body language, we show the audience how we control our sheep dogs at different stages of their training, while demonstra ng simple techniques to help with common dog behaviour issues.
The Dog and Duck Show display is divided into three parts … PART ONE: DOG PSYCHOLOGY Helping to understand why our dogs have unwanted dog problems and how to solve them.
As one of the most popular dog displays in the country, with over 100 events each year, the Dog and Duck Show team work extremely hard to educate the public about dog behaviour in a fun and enjoyable way for both the animals and owners
PART TWO: NATURAL INSTINCTS The team uses sheep dogs, atdifferent stages of training, with our Indian Runner ducks, todemonstrate their natural canine ins ncts. The dogs are controlled by using their natural language (energy and body language), and then we show how we train them on to their commands.
PART THREE: DOGS IN ACTION Our Collie dogs put the ducks through their course of tunnels, slides, maltese cross, pool and pen, which always leaves the crowd in awe of our working dogs. The dogs and ducks live happily side by side at our home base. Thiscloseness provides a natural protec on against predators for the ducks, which allows them to be free range 24/7 in their area, as well as desensi zing the animals to each other.
In CORPORATE EVENTS guests work with the trained dogs and ducks in a relaxed and entertaining se ng, with the emphasis on having FUN. This enhances communica on skills and working rela onships, while encouraging all par cipants to think outside the box to overcome new challenges.
FEES FOR 2020 SHOWS: £745 for 1-day show • £1,375 for 2-day show £1,895 for 3-day show All plus Travel and VAT Corporate Events: £500, plus Travel and VAT
21 ARENA01580 754 888
The Mighty Smith Show
Adrian Smith, fi h in World's Strongest Man and three mes Winner of UK's Strongest Man Compe on, presents a show to entertain the whole family with feats ofstength, visual humour andaudience par cipa on.
Wo Man ofstength demo his h
Tearing catalogues in half, bending six­inch nails in his teeth, demonstra ng the atlas stone li , li ing a seated lady on a chair in his teeth, children's tug of war with prizes. These,along with other highlights including a vehicle pull, combine with a £1,000 open challenge (a good feature in adver sing your event). £625
Joseph's Amazing Camels
Make your show outstanding and stand out with Joseph's Amazing Camels!
Weoffer camel racing, camel rides, camels on display and the Three Kings and their Camels for Christmas. These wonderful animals provide the very best in entertainment, mixing the exo c with glamour and novelty value. There are fundraising opportuni es with the camel racing and charging for the rides can help offset the cost.
TheThree Kings and their Camels are the most fabulous way to bring a Na vity to life as well as making your light switch on really light up.
Camels: the way forward for entertainment.
Joseph's Amazing RacingPigs / Pig Agility
The thrills and spills of pig racing using five rare breed pigs – Tamworth top racers, Berkshire bit bitey and the comedy GloucesterOld Spots –bring a fantas c comedy ac on act toyour ring
Audience par cipa on is full on and fun be ng can be organised. Pigs can be sponsored on their number cloths or make up your own pig worthy names for your race card. In or out of the arena pig racing will bring your event – show, corporate, family fun day, wedding, party – alive with the riotous Ham Na onal! £1,175
ARENA www.peterjohnson.co.uk 22
Camel Racing £2,515 +VAT 3 Kings £2,285 +VAT (to include Parade and up to 4 hours display)
Hogg's Mobile Farm
A fully equipped farmfacility available allyear round
The farm includes animals such as sheep, goats, chickens, geese, a shetland pony, and of course, pigs. Full hand washing facili es are also provided.
As this is provided by Tom Hogg there are also educa onal talks and funny bits on the side to go with the farm.
Suitable for any event including birthday par es, shows, and schools. We even have a Christmas­themed mobile farm we can offer with reindeer.
£750 per day when booked with TheHogg Show £1,000 per day when booked separately
Stunt ShowsStunt ShowsJez Avery
Ideal arena size 60m x 40m on firm and level ground. Arena side parking required 14m x 5m; PAsystem with CD player and headmic required.
All health and safety requirements along with £10m PL insurance coversupplied
All pictures by kind permission of Nigel Kirby Photography
thril
Jez Avery's Stunt Shows have thrilled audiences in all parts of the UnitedKingdom and heads into the newseason with new tricks andstunts
Jez offers the display, with four different vehicles! Thebest bits of Jez Avery's 30 years experience on the outdoor events circuit… an amazing show on fourwheels, twowheels, onewheel, and nowheels
bits of Jez 30 y outdoor events circuit… a on andthe ROLLOVER QUAD! The show includes wheelies, stop dri precision driv w keeping the whole fa seats andlaughing along.
The show includes wheelies, stoppies, two­wheel driving, dri ing, doughnuts, precision driving.
Jez performs all his own stunts while delivering his famous commentary keeping the whole family on the edge of their £895 plus travel
30min different displays
23 ARENA01580 754 888
Jez Ave
th J fou
2 x
£8
Avery
The Shetland Pony Grand Na onal is a team of Shetland Ponies and jockeys that race all over thecountry and at the same me raising money for charity
This year's charity is the Bob Champion Cancer Trust and all the money raised will be going to cancer research and the Children's Cancer Ward at the Royal Marsden Hospital.
Bob Champion for those can remember over came cancer and then went on to win the Grand Na onal on the great Aldani in 1981, which was a massive achievement. Shortly a er winning the race Bob formed the Bob Champion Cancer Trust and so far
cancer win the on the great Aldani in 1981, which was a massive achievement. the race Bob formed the Bob Cancer Trust and so far he has raised over 16million pounds and trust has two research laboratories
Last year the Shetland Pony Grand Na onal team raised a record £45,000 for the Bob Champion Cancer Trust
All the jockeys who take part are trying to gain one of the 11places at the world famous Olympia The London Interna onal Horse Show which takes place in December just before Christmas.
All the Children taking part have to be 8 ­ 14 years old and must be less than 5 in and all take Stud Book.
how

5 in height and all the ponies that take part have to be registered with ShetlandPony Racecourse.
The jumps and wings areminiature steeplechase fences similar to the ones on a Na onal Hunt Racecourse
Moto Stunts International
Meet the first stunt team to perform at one of the world's biggest event
The MSI precision stunt show with up to seven people will perform a Car, 4x4, Quad, and Motorcycle arena and circuit display. Focus cars quads perform formation driving, wheelie rollover and two-wheel 4x4s and V6 mini monster truck. Quad and motorcycle tricks, jumps and big fire stunts and street riders on each 40 minute performance. See the team performing live on Sky TV at the London New Year's Day 2020. Show available UK south only.
LONDON'S NEW Arena
We also have a spectacular wheelie car that surprises the crowd, then the quad, that rolls over a complete 360° entertains always pleasing the adrenaline junkies. Building up the crowd tension and excitement as the MSI show moves towards the finale of the 30-minute stunt extravaganza.
YEAR'S
The death-defying Stool Stunt and human ramp followed by some of the best motocross and quad riders jumping spectacularly. Concluding with the riders crashing through a large shed or firewall that is engulfed by a 1200° fire!!!!

MSI have organised stunt spectaculars in Muscat, Jakarta and most recent Bahrain International Circuit also featured on Ladbible, Channel 4, Dave, BBC, and many more.
See one of the biggest UK stunt shows perform a fantastic all action-packed display as a main arena attraction suitable for all ages. Simply a great day out
ARENA www.peterjohnson.co.uk 24 P
Sponsored by
DAY PARADE
From £2,345 per day • Additional days charges upon request
size 90m x 60m Smaller Arenas can be considered. Displays last 30minutes
25 ARENA01580 754 888 The Sheep Show A humorous, educa onal andcap va ng live stage show all about sheep. Edu­tainment at itsbest Nine sheep breeds individually parade on stage, presented in true NZ style. Not to miss the ac onpacked sheep shearing and our amazing "Dancing Sheep". Up to 3 x 30­minute shows per day. Noadded extras as we provide it all. 1 Day £1,950 + VAT 2 Days £3,150 +VAT 3 Days £4,250 +VAT + travel if over 100 miles
Wildlife Displays
Wildlife Displays were formed in 1978 offering natural history lectures to schools and other interested groups.
During recent years demonstra ons of exo c and domes c animals have been given at small family events. Now they have a fully mobile team offering interac ve educa onal displays, presen ng short talks throughout the day on a variety of animals and giving the opportunity of a hands­on experience to show visitors. Their animals are all domes cally bred and completely at ease in a show environment. Their animals vary at shows, but normally consist of snakes, spiders, lizards, scorpions, hissing cockroaches. Giant snails, rabbits, guinea pigs, meerkats, ducks and chickens all displayed in their own a rac ve display areas.
Educa onal
Op on 2:  Mini Zoo and Birds of Prey –feesfrom £820
Area required for 3 x 10 x 10 marquees. AsOp on 1 and including Birds of Prey and allowing for several short handson displays adjacent to the sta c display
Op on 3:  Mini Zoo and Birds of Prey –
fees from £1,1 , 15 Are Ar
Area required for 3 x 10 x 10 marquees
ve ­ Hands­on Lotsof Fun y g onal e and nity to animals are all domes bred ease in a show environmennt. at shows, but co connssiisst kes, spiders, scorpioonnss, cockroaches. Giant sna n illss, , s, meerrkatss, chickens yed in their own wn areas.
Op on 1: Mini Zoofees from Area required for 2 x 10 x10 marquees. Displaying a variety of animals
1: ooom £470 quired 10 marquees. ng a ty of
AS SEEN ON The Generation Game
Van Buren presents a fun and baffling show for all of the family, which not only entertains but also answers many of the ques ons about magic – where did it all begin? Can somebody float in mid­air before your very eyes? and, will VanBuren escape from Houdini'sChallenge?
This show answers all of these ques ons, plus many more!
With mul ple appearances on television, before royalty and tours around the world, this is ano en rebooked, not­to­be­missed show.
Fully self­contained: with own ornate theatre, stage, fencing, sound, changing, power.
Two 30­minute shows, plus a FreeCircus skills Workshop
Fee from £895 plus travel
ARENA www.peterjohnson.co.uk 26 All of the above, plus Birds of Prey sta c display incorporated into the display area, with 2 x 30 min. flying displays presented in an arena designated by yourselves with a full commentary. The display will include audience par cipa on with the opportunity for several show visitors to have a Hawk or Owl fly to their gloved fist
Interac
a requuireeddf d f foor or 3x 3 x 10 x 10 m marq arrq a uee ue s
Graham Fisher's International
"It's A Knockout"
The company has a long associa on with major and established events as well as being engaged at home and abroad by hundreds of chari es raising millions of pounds and awareness for those chari es.
Pu ng FUN into FUNdraising ! Frequently called upon to devise games forboth TVand product launches and always open to discuss what is required from a client's event
established touring "It'sAKnockout", now in their 35thyear, with an unrivalled experience of presen ng every type of event, inevery type of environment. Providing the centrepiece for memorable company fun days & ­ the rfect team building day

A Knockout", 35ttheir 35th year, valled experien typresen in y typ of environmentevery oenvironment. roviding focentrepi emorablem uildingb ildin
Presented by Graham along with professional presenter and a fullme fun­loving arena crew.
The pursuit of excellence through their professionalism is a constant goal. This will be reflected in the enjoyment the Teams & spectators get from the event.
purpose built stage area, as well as a genera ng unit housing a super silent generator making the show selfsufficient for all power needs. Anupto­date Mar n Audio PAsystem incorpora ng UHFradio mics provides games with a musical backing as well as allowing the presenters to provide a amusing and informa ve commentary to the games.
Presenta on ceremony at the conclusion of each show with KOtrophies for top three team members. All equipment is manufactured and tested to the highest Standard. PL is £5000,0000 and full H&S Documenta on will be provided on booking.
An ar c trailer full of highly imagina ve giant colourful inflatables, backdrops, obstacles and props unique to the company provides an impressive back drop to the
27 ARENA01580 754 888
any n with majo d d ngaged abroad b ions of d fo th e N ng n s ent se "It's "
Transport of all equipment, presenters and crew is included in fees (mainland UK) £3,000 + VAT (midweek) Up to 12 teams of 6­10 people Up to 12 teams of 6­10 people Op on to increase team numbers up to o 27 teams s for small increas a e in fee epto27teamsforsmallincreaseinf ontoincreaseteamnumbe pto12teamsof6­10people 600+VATweekend pto12teamsof6­10people 000+VAT(midwee ewisincludedinfees(mainland ansportofallequipment,presentersa dppqsport o all e ui ment resenters and K) , ppUp to 12 teams of 6­10o peopl , po 12 teams of 6­10 peopl p teamsor smancreasor sma ncrease
Mounted Games Association
Fill your arena with speed, ac on, thrills and colour!
Fill arena with ac on, t o
The Mounted Games Associa on of Great Britain provides a top class, all­ ac on display consis ng of teams of riders who compete against each other in a series of relay and obstacle type races.The speed of the ponies and athle c skills of the riders will thrill and amaze your audience and fill your arena!
a top ac o consis of teams of riders each other in a serie obstacle races.The spe c skills ri amaze your audience an su are No two same compe draw in th are w
Speed, agility and superb horsemanship are the keys to the display. No two displays are ever the same and all races are performed at full gallop. The compe ng teams are drawn from coun es in the surrounding area to the show which brings a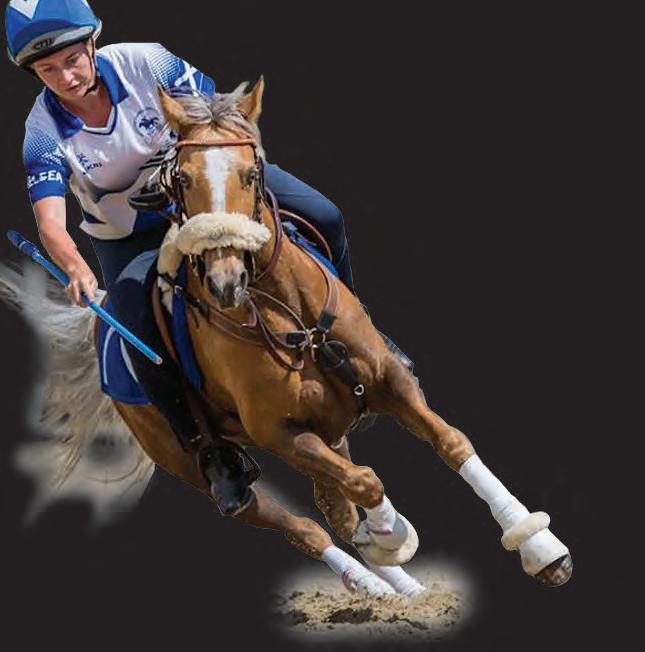 compe ve edge to the excitement as our top­class interna onal commentator will encourage the audience to support their local team!
We can tailor make displays to suitany length of me at anyshow and willensure yourarena will runto me!
the p­class to me at nsu s re o me! 100m x t t
Minimum arena size of 100m x 60m. Fully experienced commentator, arena party and all equipment provided
£2,600 + VAT for 2 days
We perform annually at the Royal Welsh Show, No nghamshireCounty Show and Chatsworth Country Fair
NEW SHOW PACKAGES –BACKFLIPS GUARANTEED!
The M.A.D Team has the UK's top riders including former World and Bri sh Champions, who will amaze your audience with flips, spins, hops, balancing tricks and other MAD stunts, accompanied by their own slick and rather funny professional commentator.
The M.A.D Tea World and Bri audience with a professio
The amazing interac ve performances are suitable for crowds of all ages and go on "Whatever The Weather".
The in crowds of all a All
All equipment is provided by the team, including 1000w P/A, power supply, all stunt equipment and full public liability insurance and risk assessments.
A fantas c addi on to any event whatever the size. Rider TV appearances include Britain's Got Talent, Blue Peter, C4 and TheExtreme Sports Channel.
FREE give away's at every show! The riders are happy to sign autographs and have photos with their fans.
Op on 1: MAD Value ­ 2 x persons, 3xshows per day, equipment andrig  £950
Op on 2: Full MAD ­ 3 x persons, 5 x shows per day, interac ve coaching, equipmentand rig £1,350
Free Coaching available
M.A.D. BMX and M.A.D.Freerunning
The tradi onal MAD show just got MADDER! Include a Backflipping MAD BMX jump rider or a MADFreerunner to your show for no addi onal cost. Either the BMX rider or Freerunner will be part of the3­man team. Both £1,350
The UK's No.1 Mountain Bike Tricks, Stunts and Skills Team are all set and ready for your event. The team has wowed crowds worldwide since 1996 and 2020 is set to be the best year yet!
ARENA www.peterjohnson.co.uk 28
Balancing 12ft tall flag pole on top of his head
• Balancing 10 tyres on top of his head
• Balancing 24 tables on top of his head
• Balancing 300lb dirt go-kart on head and drives 30mph around arena
29 ARENA01580 754 888 THE BALANCE OF POWER 94 WORLD RECORDS Shows 2019/20 Travelling expenses are £1 per mile from Nottingham on top of fee. Fee is £750 2 x 30-minute shows including: •
Guinness World Record certificates John has raised over £250,000 for charity!
K&H F Falconry
Our friendly and professional team travel anywhere throughout the UK entertaining the crowds. We have an amazing arrangement of birds for everyone's taste.
Watch one of our barn owls flying majes cally through the air or catch an eagle owl flying from post to post.
We have the most stunning team of falcons that will have you on the edge of your seat as they swoop into the arena at high speed!
Our team are available for a sta c display or 2 x 20­30 minute main arena flying displays. The choice is yours!
£705
Phill Gibbons and his team from Ridgeside invite you to see their fantas c lurchers and terriers do what comes naturally to them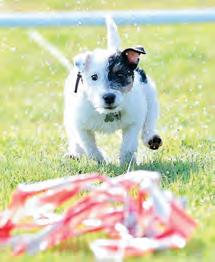 In the arena they will race at full speed chasing the electric lure. They offer a fast, ac on­packed demonstra on with an informa ve and humorous commentary byPhill.
The public will have the chance to "havea go" with their own dogs –whatever their breed!
Falconry Display offering 2x30mins £595 or Combined Falconry / Lurcher / Terrier offering 3 x 30min £895
Mr Alexander has presented his classic family Variety Show for over forty years at the very best events throughout the UK. Magic, juggling, unicycling, balance and illusion all combine in a spectacular and enthralling entertainment for all ages. Set on his unique colourful vintage theatre stage, the show is reminiscent of travelling shows of the 1920s and 30s. Set to vintage jazz, his shows have echoes of Vaudeville and Music Hall, but are also surprisingly sophis cated for a twenty­first century audience.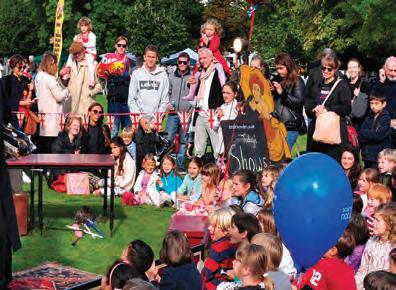 Mr Alexander will present three set shows every day and improvise between shows to keep the space alive.
ARENA www.peterjohnson.co.uk 30
Little Nippers Lurcher and Terrier Show Mr Alexander's Travelling Show
Two day price ONLY£1,800 A tradi onal show of magic, juggling, unicycling, balanceand illusion
Adrenal AineZone drenalineZone
Mobile High Ropes Course
A real crowd pleaser our mobile high ropes course can be enjoyed by all ages (height restric ons apply) and will certainly be the talking point go any event. The course is built up and can accommodate 16 users at anyone me. We can usually output 120 users in an hour. The course comes with fully trained instructors to run and operate.
Opera onal space required: 17m x 17m. Height required: 7.5m. Power required: No £1,815
Bungee Trampolines
Our Trampolines come with fully trained operators and are great for both children and adults. These are trailer mounted however please let us know if your event is indoor as this may s ll be an op on. We can accommodate 50­70 users per hour.
Set up space required: 12m x 12m.
Opera onal space required: 11m x 11m.
Heightrequired: 8m. Power required: Yes £815
Spider Mountain
A new twist on the original climbing walls our spider climb consists of 7 layers of elas cs for users to climb through with obstacles before descending down the rush slide to go again. The spider mountain is trailer mounted and comes with a member of staff to run the tower.
Wecan accommodate 100­120 users per hour.
Set up space required: 10m x 4.5m.
Opera onal space required: 10m x 4.5m.
Heightrequired: 11m. Power required: Yes £700
Climbing Wall
Our wall comes with 4unique climbs for users and can be enjoyed by both children and adults. The wall is trailer mounted and will arrive on the day with 2trained instructors to run and operate the wall. Wecan accommodate 40­60 users per hour.
Opera onal space required: 10m x 4.5m.
Height required: 11m. Fully self­contained £700
31 CORPORATE01580 754 888
Mechanical SurfSimulator
This new and exci ng surf simulator offers you the challenge to ride the imaginary waves just like a real surfer. It is hilarious to see each par cipant's determina on to stay on the sur oard andoutwit the operator.
The Surf Rider comes with variable speed se ngs from very slow to wipeout, but don't worry if you come off, as you will land safely on an inflatable surround which comes in various shapes and sizes.
If you cannot provide a 13amp power supply a generator is required at an addi onal cost of £95+ VAT which includes 5hours running £375 + VAT
Wild West Adventure Inflatable
This colourful inflatable is a huge log cabin, straight out of the Wild West, measuring 65 long x 30 deep
The children will experience a large fun slide and biff and bat cowboys and indians inside. Surrounded by a large inflatable barrier made up of cac , snakes, barrels and s cks of dynamite.
£595 + VAT
CORPORATE www.peterjohnson.co.uk 32
Surf Rider Pirate Ship Ahoy me hear es! This massive inflatable at 75 long and 15 wide is a replica of a sunken pirate galleon with mast, guns, an octopus at each end, and pain ngs of pirates and sea creatures. The children enter this watery world and experience squeeze walls, biff and bash, slide, squeeze rollers and barrels asthey make their way through the inside of the ship. £595 + VAT Snappy Dragon Slide Enter through the dragon's mouth, up the cargo ne ng, before your descent downhistail. 40 x 20 x 25 high £495 + VAT the th, ne ng, escent 5
Bungee Running
Human Strength versus Bungee Rope!
Having put on a body harness with the required number of bungee ropes a ached, depending on the weight and strength of the par cipant, two people run like blazes and place their markers on the marked velcro strip running along the top of the centre wall, before being pulled back by the bungee rope.
This Bungee Run is 35 long and 15 wide, and can be operated indoors or outdoors
Robert Pound - Magician
Robert has been a full­ me professional magician for over 20years performing for numerous blue chip companies worldwide, celebri es and has even performed at a royal wedding a er being requested by name by the groomhimself!
Robert has had the honour to entertain members of the Bri sh armed forces, the royal family, stars of stage and screen as well as working with world­renowned magician Dynamo. He is also an Associate of the Inner Member of the Magic Circle, with Silver Star.
When you book Robert, you are booking someone who is a magician and an entertainer and who knows how to truly cap vate and thrill an audience – whether as a customer­a rac ng corporate magician for an event/tradeshow, a wedding magician for your special day, oras a fun and friendly children's magician. £500
£295 + VAT
Action Wheels
Ac on Wheels is a safe, friendly and exci ng "Have­A­Go" two wheeled feature aimed at children from two years old, toteenagers, and Mums & Dadswecan caterfor everyone!
Our adventure zones are extremely fun and have something for everyone. Ac on Wheels is a brilliant addi on to any event with children and families in a endance, we have a range of bikes and helmets for everyone. Weare en rely selfsufficient, all we need is a space to set up in where we'llcreate smiles.
Balance Bike Adventure Zone or Mountain Bike Adventure Zone – £450 + travel
Balance Bike Adventure Zone and Mountain Bike Adventure Zone – £650 + travel
33 CORPORATE01580 754 888
The idea of the game is for either one or two players to stand underneath the objects (either s cks or bean bags) ready to catch them as they fall from the magne c strip above.
Dimensions: 9 long, 11 wide, 9.5 high

The bean bags (s cks can be used too) are a ached to the bar above your head and drop randomly for the user to catch before they hit the floor.
£325 + VAT
Derby Hoppers
These are fabulous fun and great for fund raising with an age range of 3­14 years.
It comes with six horses and helmets andtwo staff. Line up at the star ng gates and they're off!! Players bounce their way through the star ng gates and up the track and over the finishing line ...
First one across the line wins! £585 + VAT
Space required 45 x 30 x 9 high
Let the "bouncing"
Ever­popular, this 7metre x 7metre trailer­mounted unit incorporates sixtrampoline beds within a fully meshed and foam padded safety surround.
£495 + VAT
CORPORATE www.peterjohnson.co.uk 34 This is an ul mate reac on  game!
Trampoline Trailer
begin!
LAST ONE STANDING This exci ng new inflatable always proves to be fun and a successful item for any event! Suitable for all ages and abili es. Upto 8 players stand on the inflatable bed while the arm swings round, having to jump and balance inorder to be the last one standing! Minimum 35 diameter. £575 + VAT If you cannot provide a 13amp power supply a generator is required at an addi onal cost of £95+ VAT which includes 5hours running
Laser C Clay P Pigeon S Shooting &Country S Sports
Laser Clay Pigeon Shoo ng simulates the conven onal sport of clay pigeon shoo ng where venues are restricted by either size or environment factors. 5 people shoot at once at the same target, crea ng great compe on. It provides the opportunity for everyone to enjoy the thrill and excitement of clay pigeon shoo ng in perfectsafety.
Laser Clay Pigeon Shooting –£525 + VAT and travelexpenses
Minimum space required 50m x 20m
Floodlit Laser Clay Pigeon Shooting –£525 + VAT and travel expenses Minimum space required 50m x 20m
Themed Indoor Laser Target Shooting Gallery –£595 + VAT and travel expenses
Minimum space required 6m x 3m x 3m high
Archery was once a medieval weapon but has developed into a hi­tech sport. With full one to one instruc on guests learn skills needed to hit the tradi onal round targets.
Air Rifles are the shoo ng event for all. Airguns offer the chance to try your shoo ng skills at targets under one to one instruc on and in complete safety.
Crossbow Shoo ng where expert one to one tui on is provided. This is a real test of skill and co­ordina on. Round targets are placed approximately 15 metres from the shooter, who will then have to combine the skills of archery and rifle shoo ng.
2 stands of any combination £595 +VAT and travel expenses
Extra stands £275 + VAT and travel expenses
Prices for up to a 5 hour period. All health and safety requirements and PublicLiability Insurance in place

Crazy Golf Challenge
From toddlers to grandparents, the crazy golf challenge will keep them all entertained
The colourful course consists of nine different obstacles, each with a 12 ‐long base, which can be laid out in a manner to suit your venue. The course can be used at indoor venues as well as outdoors – access permi ng. Comes complete with pu ers, balls, scorecards and operator.
Caters for about 35 people playing at a me. Suitable for all events – family fun days and corporate events. £420 + VAT
Fun for all the family!
35 CORPORATE01580 754 888
Jason Maverick's laughterfilled 30 minute shows have been performed in over 35countries worldwide Bald Head Hoopla; The World's Highest Juggle, SlowMo on mime; Comedy Plate Spinning … and a generous dollop of audiencepar cipa on! A totally self­contained show. 2 x 30­minute shows plus 1xWalkabout session Area Required: Minimum 4m x 2m for stage shows 6m x 3m for ground shows £435 + travel hter hows over dwide e, ow on T C A Area The Maverick Circus Show "Jason Maverick was the highlight of the a ernoon" Sue ­ Organiser, RobertsbridgeCarnival Winner of TheInterna onal Street Theatre Awards (Ro erdam) "Thank you foryour wonderful show" Tarja Halonen, former President ofFinland
Great for all ages!
Popcorn and Candyfloss Stalls
Have a colourful Popcorn or CandyFloss candy striped covered stall at your event
Each stall comes with an operator and an unlimited supply of either popcorn or candy floss for a period of four hours.
Anextra charge for consumables would apply if required for longer periods.
If you cannot provide a 13amp power supply a generator is required at an addi onal cost of £95+ VAT which includes 5hours running
One kart £295 + VAT • Two stalls £450 + VAT
One stall with "two items" and one operator £395 + VAT
Rodeo Bull/Sheep/Camel/ Reindeer/Rugby Ball/ Penguin/Broomstick/Banana
Never has there been such a selec on of ride­on experiences all opera onal from one base. Take your pick from the tradi onal Rodeo Bull, Woolly Sheep, Camel, Rugby Ball, Penguin, Brooms ck, Banana or get in the Christmas Spirit on a Reindeer. Spin, turn and buck at a controlled speed, enabling everyone from a child to a rodeo expert to experience the thrill of the rodeo. Someone is at the controls and ensures a safe ride for everyone. Thewhole area around the ride is surrounded by an 18 x 18 inflatable ma ress to provide a comfortable landing.
If you cannot provide a 13amp power supply a generator is required at an addi onal cost of £95+ VAT which includes 5hours running £375 + VAT (extra body £75 + VAT)
Lennie the Land Train
This fun land train is just what you need to add colour to your event. Lennie pulls two covered carriages with comfortable so seats and can carry between 16­24 people. He has a driver and a guard to look a er you. At 27 long and full of happy people he will make you smile as he drives past.
CORPORATE www.peterjohnson.co.uk 36
Try to cross the four balls without falling off ... which is not as easy as you think! 13 amp electric supply needed or petrol blowers £575 + VAT Beat the Balls
£725 + VAT
Funfair Rides
established as the country's leading owner/supplier of funfair rides equipment you know your event is in safe hands. There are a wide selection of rides to choose from including traditional and modern, family and white knuckle and not forgetting children's. dodgems come in two styles and three sizes including the smaller 14x14m set for venues with limited space and we have two of wheel with the traditional Ferris Wheel and the white knuckle Sky Dancer Wheel. We have both modern and traditional helter skelters as well as all the popular rides such as Miami Trip, Twist, Carousel, Meteor and of course the weatherproof and versatile Venturer Simulator and for the children traditional Mini Carousel, Cups and Saucers, Chair OPlanes and much more.
Possiblepackage discounts are available. Allrides are fully insured and are tested under the ADIPS scheme. Copies of documents and risk assessments are available electronically. Rides can beset up indoors (subject to suitable access) and outdoors on firm level ground, grass or hardstanding
Venturer Simulator
Big Wheel
This impressive ride is 42ft high covering a ground area of 30ft x 30ft. It has 12 cars each holding 2 or 3 people. It is suitable for both adults and children. £2,000 + VAT
Dodgems
ride measuring 60
0
or 75ft x 55ft comes with 14 18 brightly coloured bumper cars, each seating two people. Abig, colourful, lively presentation to have at yourevent. £2,150+ VAT
The Simulator is a modern ride that will never date and always looks impressive at any event and it gives the real wow factor. There are always new experiences coming out for this state of the art machine or you can have one made (for an additional cost) Inside the capsule up to 14 guests watch a large 5ft screen showing the experience and as the film moves so does the capsule giving the feeling you are in that experience. From the moment the doors shut you are enclosed inside the fully air conditioned unit to move as it twists and turns all from the safety of your seat. There is a large choice of experiences from actual footage of Blackpool's famous roller coaster the Pepsi Max, a car rally or footage taken from the cockpit of one of the Red Arrows or the computer generated experiences where you jump from a roller coaster track and cross a canyon in space back on to the track and keep going. For events where there are young children the machine is set to gentle, so that they can experience the excitement as well and we do not have an age limit if they are accompanied by their parents. This really is the most versatile ride for all the family with the bonus of being weatherproof with the unpredictability of the British weather. The experience can easily be changed during the event and lasts just under three minutes per ride.
Celebrate in style with all the fun of the fair on a corporate level
37 CORPORATE01580 754 888
£1,500+VAT es e ,
This
ft x 4
ft
Children's Rides A family event wouldnot be complete without a children's ride Premier Rides can provide a selection of rides for children in their pre and early teens including the Astroglide Slide, Cups and Saucers, Chair O Planes and Traditional Mini Carousel, and of course for the younger children there is the Toyset Roundabout and Swingboats. £435 + VAT or £1,300 + VAT for the Astroglide Slide Well estab and equip selecti Our do types kn t a Carousel £2,700 + VAT Sky Dancer Wheel £1,800 + VAT Miami Trip £1,950 + VAT Traditional Helter Skelter £2,700 +VAT Waltzer £2,150 + VAT
Soft Play Area
Giant Helter
SkelterSlide
The Helter Skelter is the UK
largestversion within the UK
at over 8 5m tall
With its spiral steps and slide it is great for all ages. Its classic red and white colours give a vintage
With its steps and slide it is for all Its classic red and white colours a feel with a modern twist.
It is suitable for all themes and events.
Dimensions: 7m x 6.65m
7m x 6 65m x 8.6m high
A safe env
A safe environment for youngsters aged from babies uptoaround fiveyears
An area 20 x 20 surrounded by an inflatable wall with an arched entrance, in which they can play with so play items, such as wedges, shapes, squares, triangles and a ball pond, with padded mats.
The so play area comes with a supervisor, though the so play area is not a creche.
£395 + VAT
Paddle Boats
Make a big splash at your event with this fantas c new boat ride
A colourful ac vity for children aged between 4­10 years. Fourpaddle boats are provided and an inflatable boa ng lake 20 x 20 x 12in deep. A supervisor and fencing surround is provided. Thelocal fire service or similar water supply will be required (water hose not suitable). £500
If booked with Water Walkers (see page 46) £800 using two pools, or £700 using one pool
Inflatable Beach Volleyball
A new, exci ng par cipa on a rac on This Inflatable Beach Volleyball is a 50 x 25 inflatable with a ne ed surround to contain the ac on, also a net and lightweight ball.
Suitable for 2­6 players a side aged between 5­105 years. This is a great team game
£495 + VAT
CORPORATE www.peterjohnson.co.uk 38
Large Slide £495 + VAT Small Slide £425 + VAT
Handball Classic
A game of dexterity and frustra on as you go hand­to­hand to grab the targetballs
1: The handball Classic can be played with the first player tograb as many target balls, hold and retain OR against theclock.
and retain theclock.
2: Both players deposi ng as many balls in their own score tube within the me limit (4­player game also available)
Can be used as Lo ery draw machine with ping pong balls. Full client branding at cost price.
A choice of nine colour foam balls or ping pong balls.
800 x 800 x 2000mm high. 13amp power supply and 1staff
rs deposi ng as n their own yer game also s Lo draw pong balls. nding at cost ne
£900 + VAT
Get rid of all those pent­up aggressions and rivalries in a funand safe way. A true test of balance, strategy and strength, and a game for all the family to enjoy Two par cipants face each other on opposing pedestals, and with the aid of a so ­ended pole they a empt to topple each other.
Alarge inflatable breaks the inevitablefall. This event comes supervised.
£295 + VAT
that will have the whole family in tears of laughter and talking about it for years to come.
Due to Titan's huge UK following, any event will see an increased foo all, dwell me and higher gate receipts as people will travel miles to bring their family to see this show and come back year a er year.
At big outdoor events Titan canentertain a surprisingly large number of people during thisshow.
expecta ons', and 'totally blown away' are all phrases used by previous clients. To date Titan has performed in over 30countries, appeared alongside celebri es such as Rhianna and Will.i.am, on several TVshows and at pres gious events including the Abu Dhabi F1 Grand Prix and the Russian Winter Olympics. Titan also has special Halloween and Christmas shows that are not to be missed.
The Future of Entertainment –POA
39 CORPORATE01580 754 888 GladiatorJoust
Our largest 27 highslide –not for the faint hearted!
There are steps up the middle to the 27 high pla orm where you can make your choice of le orright, for Dropor Slide.
13 amp electric supply needed or petrol blowers
£575 + VAT
Do or Dare
MegaSlide
Medieval ActivityRun Medieval
A
A great a rac on for any event. Allow yourself to feel weightless as you gravitate on this thrilling ride. Securely harnessed into the seat, with your stomach remaining central at the pivotal point, you experience no mo on sickness.
Manually operated by our staff member, you can request it to be stopped at any me.
This measures 3m x 3m when set
Mirror
A new concept is our 6 mirror. Developed to take full­length body shots of those in the picture therefore you can see the full image of a person or the group to take full length classic and comedy images Whilst images are being taken and between each shot anima ons will appear on the screen, these can be branded and adapted to your event/ company/celebra on.
£395 + VAT
Themirror also has a signing feature where those who are having an image taken can sign their name which will appear on the image and a sound bar – this allows everyone to make a noise. If they are loud enough the mirror will take an image which creates fantas c ac on shots and draws crowds in.
Dimensions: 1 x 1.5 x 1.8m high
£495
CORPORATE www.peterjohnson.co.uk 40
GYROSCOPE
f Alllff l
+ VAT
Me A themed ac vity run 75 x 25 x 25 including crowdcontrol barrier This unit is suitable for children up to the age of 13years and will hold up to 20 children at any one me. This is a mul ­ac vity unit with its entrance tothe le and it's exit to the right. In between the children will experience biff and bash toys, inflatable characters to climb over, different shaped holes to clamber through, tunnels, scramble net and to finish, a slide. It has a cover over its en re length. Drive­on access is required. £595 + VAT
41 CORPORATE01580 754 888 All our colourful striped tents come in blue and yellow to brighten up your events! Great for cra s, storytelling, bars, shows, teatents, chill out area, vip area and more. With capaci es from 30 – 800 we can cater for all your needs. TENT SPECS: 21 foot round – capacity of 30, with a 40'x40' footprint. From £350 36 foot round – capacity of 1000, with a 60'x60' footprint. From £450 48 foot round – capacity of 150, with a 70'x70' footprint. From £750 36 x 58 foot oval – capacity of 200, with a 60'x80' footprint. From £1,500 48 x 70 foot oval – capacity of 300, with a 70'x90' footprint. From £2,000 EHL – Mini Marquees and Big Top hire We can add extra sec ons to make tents from 48x90feet, right up to 48x 150feet. Capaci es range from 350­800. Please enquire for prices 36' x 58' 48' 36' x 58' 21' 36' 36' 21' The Dunk Tank The Dunk Tank is trailer mounted and is great to have at your fun day or fund raiser. It comes with different themed backdrops to suit your event. Space required 2.5mx2.5m and needs to be sited close to an outside water supply £595 + VAT with staff member95 +
Assault Course / Jungle Run
A colourful inflatable which can be used by adults or children alike to test their compe veness. Theinflatable is 45 long and 15 wide with its own power andasupervisor.
Par cipants make their way along an assault course, first entering a tube, through a squeeze wall, under a rope net, through biff and bash, up a scramble net and down a slide at the end, exi ng onto a safetymat.
Inflatable World -
Try bea ng
as an offer. Hire SEVEN inflatables from
with
Noah's Ark
A great addi on for team building events and fun days
A fantas c double­sided inflatable unit. Oneside uses velcro footballs which a ach to the dartboard when kicked. Theother is a more tradi onal penalty shoot. Both can be used simultaneously.
This
A large colourful inflatable Noah's Ark 80 long by 25 wide with animals all over it, such as giraffes, elephants, lions, hippos and monkeys. Inside, the children encounter squeeze rollers, biff and bash toys, tubes, abouncing area and a slide. A safe, supervised ac vity. £595 + VAT
CORPORATE www.peterjohnson.co.uk 42
Football Darts
measures 7m x 7m x 7m high £495 + VAT
£395 + VAT
Special Offer
this
thoselisted below
a 65 inflatable frontage, surroundfencing and two supervisors ADVENTURE RUN 30 x 10 INFLATABLE TUNNEL 24 BIFF & BASH TUBE 10 x 16 FUNSLIDE 20 x 1 x 12 high FUNCASTLE 18 x 18 BALL POND 10 x 10 GIANT FLAT BED 20 x 22 INFLATABLE PODS 16 x 16 inflatable bed with holesto dive into INFLATABLE BASKET BALL 6 x 14 JUNIOR CRAWL­THROUGH MAZE 16 x 16 SMALL PENALTY SHOOTOUT 14 x 8 FOR ONLY £750 + VAT
This fantas c Snappy Frog Slide is always popular and provides fantas c fun for all children. The size is 12m x8m x 6m high £495 + VAT
Snappy Frog
Human Demolition Zone
It's the ul mate High Energy Game. Are you ready to Rumble? Welcome to the "Zone", vibrant and visual with huge impact, this is the ul mate crowd pleaser. A four­person game on this amazing inflatable with its four checker plate pedestals and a massive 1metre diameter wrecking ball, this is perfect for team events, knockout challenges or just for fun, for all age groups.
Team game op ons: How many mes was your team knocked off their pedestals in the allocated me? Oneteam per pedestal, each me a player is knocked off they are replaced by another team member, the last remaining person on represents the winning team. Requires grass area of 30 x 30 £395 + VAT
With unlimited instant
your
Also included is a box of fun props, mul ple green screen op ons and a disk containing all images following the event.
Opera ng area required is 9 x 6 x 7 high £495 + VAT (13 amp power supply required)
For an addi onal £85 + VAT why not add the brand new cu ng edge 3Dso ware offering hundreds of addi onal green screen and imageop ons!
Photo
Photo
43 CORPORATE01580 754 888
Booth A fabulous addi on to your event, thisstate of the art, fully automated Photo Booth provides for hours of
photographs
guests will be able to take their memories home!
Booth for hours of light entertainment w m A f s c fo O 9 £ (13 £ h
This very visual and entertaining game has proved extremely popular. Two teams of five each enter the playing area, attaching themselves to the horizontal poles which slide from side to side. These poles also restrict the players from moving up and down the pitch. The game is usually played over two ten minute halves withthe referee controlling the game, eg sending players off
HumanTableFootball is ideal for any event wanting a competitive theme. measures 50ftx25ft and for best results requires a flat grassed need be, can be played on any hard surface. £425 + VAT
Alpine SkiBlast
An invigora ng simulated ski experience
Ba le the elements as you take on this ul mate alpine challenge. U lizing a Nintendo Wii pla orm with 50"plasma screen this inflatable simulator accommodates 1­4 contestants.
Incorpora ng coloured uplighters and simula ng alpine condi ons, with wind and synthe c snow, this truly is a challenge worth experiencing.
Area required 3m x 5m x 3m high. £695 + VAT

The Snow Globe
Events
These four Electric Karts
on
racing stars
x50
racing
CORPORATE www.peterjohnson.co.uk 44
allow the future
to test their skills
the inflatable
course. 40
area required £550 + VAT Electric Go-Karts Fantas c fun for 3­10 year olds
Human Table Football A fantastic concept in entertainment for all ages
is a great a rac on at all Christmas
giving a great fes ve feel with fake snow / snow balls provided inside. A warm way to play in the snow with your family and friends as this allows up to 4 people at a me. Size: 11 wide x 16 deep x 10.5 high 13 amp electric supply needed or petrol blowers £750 + VAT Snow Globe
Boot Camp Challenge Are you ready to take on the Boot Camp?
With26metres(86 )ofinflatablefuntheBootCampoffers
With 26 metres (86 ) of inflatable fun, the Boot Camp offers something different for your next event.
Contestants have tonego ate their way through different obstacles, from the tyre gauntlet challenge, to swinging across the inflatable ravine – yes a swing incorporated to the inflatable! Itis sure to bring a lot of fun to any occasion and is suitable for both children and adults.
Races can be run, compe ons can be done, all in the inflatable Boot Camp Challenge. £700 + VAT
Fun casino nights with professional croupiers aregreatentertainment for your guests
The choice of games includes American Roule e, Blackjack, Dice and Poker. Your guests will receive "funmoney" to gamble with and the casino manager and croupiers are happy to explain the rules to anyone who has not ventured into a casino before. Most games are quick and easy to learn and Casino Royale will advise you on which games to choose, whether your guests are novices or experienced gamblers!
Carnival Casinos
Atthe end of the night, prizes will be awarded to those who have won the most. Theprizes can be anything from a bo le of champagne to an exo c holiday, depending on your budget.
1 table, £300 + VAT • £200 + VAT per table and staff thereafter
Roll A DerbyBall
Our Roll A Ball Kentucky Derby game is an exci ng and energe c game to hire for up to 4 players
The players race against each other trying to roll as many balls as theycan down the holes at the end of the playing field. For each ball a player gets down the hole their horse moves further along the course.
The first person to get their horse to the end wins!
£825 + VAT
45 CORPORATE01580 754 888
Hangar 51 Laser Games
Have fun with a Laser gun in this 9­pod Inflatable Laser Ship
This fabulous 9­pod laser ship is connected with tubes and incorporates lighting and optional smoke system within the unit.
Measuring 12 metres x 12metres with the additional alien centre pod towering to 6metres, the 10­player fun begins the moment you are handed your laser guns!
A great team and individual activity.
£575 + VAT
Steven Garner – Caricaturist
With over 34 years experience as a full­ me cartoonist Steve has travelled the globe working at par es, dinners, balls, conferences and fun days, etc.
A quick caricature can take 4to 5minutes and is flexible enough to perform either seated or roving around. Previous clients include Ryanair,
Marks & Spencer, Orange, Barclaycard and Virgin Media. £400
Play Trailer
A covered trailer packed with colourful goodies for the youngsters to enjoy
A squeeze roller, rope bridge, biff & bash, push ball, slide and ball pond. Outside is a ma ed area with so play. This area has an inflatable surround and is also covered.
Total size 25 x 20 x 12
+ VAT
Water Walkers
Ever tried walking on water!?
This colourful new experience involves ge ng inside a 2­metre diameter inflatable ball and walking it around a 7m x 10m pool containing approximately 7,000 litres of water.
Four inflatable balls are provided with two members of staff.
£500 + VAT • If booked with the "Paddle Boats" (see page 36) £800 using twopools, or £700 using just one pool
CORPORATE www.peterjohnson.co.uk 46
high   £475
Follies FacePainting
No event is complete
the colour
Follies Face and Body Pain ng experts can provide from one to a whole team of highly skilled painters who will bring to your event a whole host of colourful and original faces, as well as the old favourites.
Established for over 25 years, Follies have won many awards for their face pain ng and have a ended events for many pres gious venues and companies right across theUK.

Face Pain
A new twist on walkabout entertainment
types of body pain ng for numerous press and TV promo ons. (Liz is also a member of the Face Pain ng Associa on).
Young to old, venues large to small, wet or dry, eye­catching and highly interac ve. Glidingaround inside or out Fantas ko's amazing crea ons, with costumed entertainers and in­built sound systems, can cover a lotof ground.
Other work includes all types of crea ve make up, plus UVspecial
crea
Costume Character Meet, Greet & Walkabout
This beau ful brand new, very colourful and unique costume character is perfect for young children, par es, fes vals and all thingsMagical!
This fabulous Unicorn is great forany fairytale themes and links in with the current craze of all things "Unicorn"! 4 or 5 x 30‐minute appearances £400 plus travel
Please remember, Face Pain ng is always popular, so make sure that you book enough!
1. THE SHIP. A13 Electric Galleon that can sail the land and also acts as a stage. Supplied with 2 crew members, there are different show and character op ons. Pirates, sailors,and explorers. Great for parades, roaming entertainment and performances.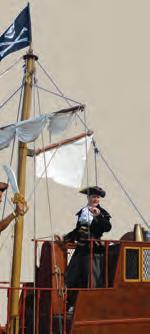 VAT,
2 at £1,600 + VAT
2. THE RIDE­ONS. Horses, Sea horses, Reindeers, Woodland Deer, Rocketsallcome with a character rider of your choiceknights in fullarmour, mermaids, elves, jockeys, fairies.
£390 + VAT, or 2 at £740 + VAT
3. STUNNING STILTS. Bespoke handmade costumes. Union Jack, Jockeys, Knight and Maiden, Classic Cars with racers, Christmas Tree, Snowman, and many more.
£310 + VAT, or 2at £600 + VAT
ack,
47 MIX n MINGLE01580 754 888
cter d g m mances £860 +
or
Fantastiko's Unique ElectricEntertainment S. S er, r T TS. de
nd ars tmas nd T alkabout dry, hly ve e or out crea ons, tainers leon nd pplied with here are d charac 3 1 2
without
and fun of
ng
ve m make up, UV special effectsts, temp emmpporarary ry y ta oos oo , and all you book One Face Painter £225 + VAT Two Face Painters £415 + VAT RRARAIR R
BALLOON SCIENCE SHOW
The Balloon Science Show is full of thrills and spills, pops and bangs it looks at various science experiments using balloons perfect for primary school aged children.
£300
BONKERS BALLOON SHOW
Learn step by step how to create a balloon creature, a great ac vity for events with high foo all.
Children leave with a huge sense of achievement for making their ownballoon.
£600
p (
Music,magic and lots and lots of balloons!
mag and ballo ama me crea
Watch in amazement as audience members are transformed into balloon creatures in front of your very eyes.
front of your This is a uniq you do notw p
This is a unique show you do not want to miss.
£600
IN WORKSHOPS
TEAM BUILDING
Your team will learn how to make two or three simple balloon sculptures.
Yo le
Working together they will also be given the techniques on how to create the most incredible balloon hats, finishing with a wonderful fashionshow.
Watch out –the Professor isabout! Seen frequently in his tradi onal colourful clown outfit or as a Ringmaster, Edwardian Gentleman, Gulliver etc., some mes on his s lts, some mes off (inten onally).
Throughout your event, from start to finish, he will provide amusement and laughter with an unusual array of eccentric props and puppets.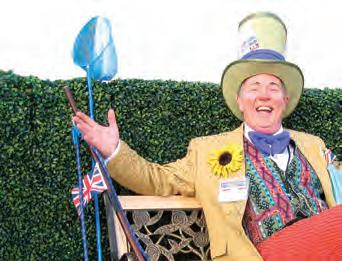 s lts, some mes off onally)
He has performed throughout this country and abroad for many years with numerous repeat performances.
Using a mul tude of cosme c grade gli ers, gems and sparkles, expertly applied by our professional make up team, guaranteed to add a real sparkle and pizazz to your event
Make up looks are themed to suit any occasion; par es, balls, alltypes of event expressing any theme. Including; Summer fes val, Neon Party vibes and Christmas crackers.
Each guest should be allowed approximately 8­10minutes to create anindivdual fabulous look
One artist £275 + VAT
Two artists £495 + VAT
1 performer.
to 35 people NB: all balloons and
will be provided
£300
MIX n MINGLE www.peterjohnson.co.uk 48 He has
1 performer. 2 x 45­minute shows and a balloonbending workshop (approx. 20minutes)
2 performers. 2 x 30­minute shows and a balloonbending workshop (approx. 20 minutes)
2 performers. 3 x1­hour sessions within a 5­hour period
DROP
1­hour session. Up
pumps
M
nt an £315
BuccaneersZig Zag the Dinosaur
Ship ahoy, Matey! Come join the Buccaneers at theircamp
Fun and games for the young and old for pit your skills at Toss The Pot, or be careful not to wake the jailer, and many more. Will you be good enough to win? Prizes for all.
Also mix and mingle, ideal for family fun days, corporate events, product launches and much more.
more.
His biggest treat now is to visit fes vals and events but watch out as he can be very cheeky and o en gets up to lots of mischief, although he will always stop for any photo opportunity.
Fully interactive animatronic characters
Go ahead, let your imagina on run wild. You can recruit from 2 to amaximum of 8crew members 2 pirates from £445
Spread a little happiness. These unique, enchanting, animated characters bring smiles laughter and amazement to adults and children alike as they ride around on their remotely controlled tricycles stopping on their way to chat and play jingles. Ideal for outdoor and indoor events each character comes with 2 human operators working several slots throughout the day.
Excellent value for money as we can bring 2 characters to your event working them alternately.
Rebooked by numerous clients. Fee £485 plus travel
49 MIX n MINGLE01580 754 888 Lots of Dinosaur tails and stories are told as Zig Zag explores the site. Very visual and loved by young and old £350
Sheridan the Sheepdog
Murray the Mini Monster
Captain Beaky the Parrot
Brigadier Braithwaite Pumpkin the Pony
Santa Claus
Brought back from a far away land, Zig Zag the Dinosaur hasse led well into UK life!
Go im Y
PCs Bluey and Konk
Want security at your event?
Book PCs Bluey and Konk, thehilarious fat Policemen They will dis­organise your traffic, handcuff the Mayor and anyother dignitaries and generally create a lot of wonderful visual humour!
"They were truly brilliant and were well received by all age groups around the arena. Amassive hit with all. Highly recommended, nobooking func on would ever be anything other than very impressed by their presence" (Corfe Mullin Carnival Organiser)
What A Palaver
INFLAMEIA – thrills, spills, danger and stupidity
Featuring fire­ea ng, firebreathing, and fire juggling. It's a fire show basically!
WHOOPS WHERE'S MY HEAD? alight­hearted look at execu on featuring a real guillo ne! A wildly historically inaccurate presenta on (although confusingly some of it true). Dare you put your head in the hole?
GRAVITY SCHMAVITY – it's manic, it's wacky, and, cor blimey, it's even zany!!! Proof that 30 years of prac se have been wasted! Clubs, balls and knives flying through theair.
WALKABOUT – crea ng havoc, mayhem and hilarity amongst the crowds
Daredevil feats of s lt walking, juggling and unicycling (although not all three at the same me!)
Miscellaneous entertainment bydesign.
MIX n MINGLE www.peterjohnson.co.uk 50
£335
CIRCUS
Cirque Pyroman c have a wide range of walkaboutacts suitable for all seasons andevents
They will work to your brief to create a package just for you –theyhave a large range of in­house costumes, such as IceQueen, Sleigh, Arabic/Carnival S ltwalkers and Dragonflies
Twistopher can provide all day family entertainment, crea nglaughter and joy
Select one or two op ons from Professor Twistopher's Punch & Judy Show, as seen in ITV's "Downton Abbey", hand turned "barrel" organ with puppets, children's magic or Twistopher's amazing balloon sculptures, as seen on Russell Howard's Good News, andballoon workshops.
The Organ is mobile, therefore suitable for parades and walkabouts.
Punch & Judy Shows approx. 20minutes each, with other chosen entertainment between shows.
3 x 20-minute shows from £325 Together with Twistina £620
BUBBLE LOVE Adora Bubble shares her magic amongst a flurry of bubbles and smiles. Instantly crea ng an aura of wonder and delight , she uses a variety of props to produce a mul tude of bubbles. Aperfect blend of animated charm and effortless grace, Adora Bubble loves to dress up, bringing your theme and event to life. £415
CHAMPAGNE DRESS – Surprise your guests with a beau ful spectacle and a warm welcome. Whether it be a private party, corporate event or wedding, our charming drinks hostesses are dedicated to leaving every guest with a drink in their hand and a smile on their face.
BUTTERFLY LADIES – Vibrant and versa le our bu erfly ladies, are a wonderful spectacle for any summer themed event. An unusual blend of elegance and bright eye catching vision, this act crosses the boundary between family events and a more sophis cated adult audience. Always smiling and graceful, they enchant all whom they encounter.
For a completely unique act, book them gliding on hidden segways, crea ng the illusion of them literally flying in graceful twists and turns. Perfect for interac ng with guests at your event, or bringing a splash of colour to your parade.
ICE QUEEN –Exquisitely a red, thisregal IceQueen can greet your guests or enchant from behind a mask, roving amongst them or placed statuesquely as the crowning jewel of your winter installa on. Mixing the element of fire and ice she commands the stage with her enchan ng fan dancing and fireea ng rou ne.
Many more beau ful costumes available 3 x 30­minutes within a 4­hour period
Designer Balloon Modelling –stunning, sophis cated sculptures created by interna onal award­winning balloon ar stTwis na, as seen on BBC and ITVTelevision
She magically transforms pencil shaped balloons into all manner of animals, cartoon characters, chic or whacky wearables etc. Enthralling and deligh ng both children and adults alike.
Twis
Twis na can also create large sculptures, walkabout balloon costumes, caricatures and design sculptures specifically for yourevent or promo on.
Twis na's partner, Twistopher makes a widerange of Twis na's designs and offersballoon workshops
Price for One Performer £325 Together £620
51 MIX n MINGLE01580 754 888
na c w Twistina the amazing balloon lady Twistina theamazingballoonlady the amazing balloon lady Twistina theamazingballoonlady
High Falutin's Festivities –Coal or Coin
Her Ladyship's boun fulness knows no bounds as she bestows one piece of coal per household to burn in their hearths on Christmas day. But big­hearted Flossy has
otherplans and has rummaged through her Lady's trinkets and pilfered her gold coins… which she hands out to the delighted children instead!
Lady BefuggeredLighfoot and Flossy celebrate the restora on ofChristmas!
What t the T Tortoise Taught U Us
Comicwalkabout with beau ful red and green themed Georgiancostumes –great for Christmas events for all ages.
One s lt character and one floor character – performs 3 x 30mins or 2x45mins
Comicwalka a theme Georgiancos for Chr events for al One s lt cha a and one floo character –x 30 mins s 2 x 45 mins s gold coins s wiit clemen nes o those with m m 2 per
(All gold coins are chocolate with clemen nes on board for those with milk allergies)
3
Life lessons from the wisest creature on the planet! Meet Zelva, the beau ful giant Tortoise. Walkside by side with world's oldest andmost awesome rep le; help to feed her; stroke her enormous shell, and be inspired by a close­up encounter with natureat it's mostincredible!
Learn to how to slow down, take life easy … and never forget to stop and eat the roses!
Zelva can be shy though … willshe come out of her shell? Le uce hope so!
3 x 30­minute performances
A mythical creature with magical powers, can be either an installa on or walkabout act.
The Unicorn can be accompanied by a flau st, playing tradi onal Irish or classical flute to create an act full of authen c charm.
SOLO. Up to 3 x 40 min sets £350 + VAT DUO. Up to 3 x 40 min set £650 + VAT
The Four Seasons, each in a bespoke costume sublimely decorated with flowers, fruits, and creatures that represent their season.
These crea ons are set, and costume combined! The Seasons can be played in many ways.
They were originally created for promenade performances that incorporate physical theatre, circus, music and ali le bit of clowning. But they can easily transform into a musical quartet or theatrical characters to welcome your guests into an immersive world.
3 x 30 minutes £325 + VAT
4 x 30 minutes £350 + VAT
MIX n MINGLE www.peterjohnson.co.uk 52
2 performers £585 3performers £820
3p
er
Fairytales
Wattle and Daub
Hodman, Sally and Pongo
Hodman Dodmanott and Sally Forth
An enchanting interactive puppetry walkabout. Hodman and Sally have lived happily by themselves for hundreds of years, blissfully unaware of the changing world around them. Now they have ventured out in search of fame, fortune and friendship, enjoying a second youth touring the world with their possessions strapped to their backs.
A hilarious medieval comedy double act with a modern twist
If you are looking for a unique, funny, family friendly show to really get your audience laughing, book the Wa le and Daub Comedy Show.
Incorpora ng: comedy, games shows, magic, juggling, storytelling, and a smokebreathing balloon dragon calledBernie…
Your audience will love the quirky characters, and the madcap adventures they get up to.
Two very professional and longserving entertainers, Wa le and Daub are the Number1 choice for all types of events. Perfect for shows, walkabout entertainment and workshops…
Book Wa le and Daub and make sure your event is THE event of the year.
Tailor made themes available £495
The delightfully captivating Hodman Dodmanott and Sally Forth are a wee pair of wonderful wanderers from the proud
country of Oblivia. Despite being completely oblivious (and proud of it) Hodman and Sally will adorably attempt to explain the new and baffling world around them. The effect of meeting this unique and memorable couple is often described as 'spellbinding'- with people of all ages becoming completely captivated by the ingenious illusion and witty personalities of the two characters. A totally heart-warming and magical walkabout performance.
2 x 45-minutes, 3 x 30-minutes or 4 x 20-minutes £760
Pongo The world's only eight-foot baby Obobee bird, isloved by adults and children alike for hischarming personality andstunning appearance.
eccentric
inter-
salesmanwit
Thisplayful hatchling is accompanied by eccentricpetshopowner Bill Oddity, an inter-dimentional travelling salesmanwith a menagerie of the galaxy's most extraordinary creatures andasalestechnique that is out of this world!
Having accidentally been transported to our dimension, Pongo and Bill Oddity must find a way home by any means possible… and if Bill can shift some stock on the way, so much the better. Quantum physics meets animal husbandry. 2 x 45-minutes, 3 x 30-minutes or 4 x 20-minutes £760
The Magical MusicalBike
bySteve Apelt Productions
Prepare to be stunned by the MagicalMusical Bike as it comes around the corner
to b
MagicalMus comes aroun Powered wonderful su aro fantas c tun h in a t ga you to catch Th T e Magica used for ev Eyecatchin n
Powered by ba eries, charged by the wonderful sunlight, Steve will be pedalling around the event site with some fantas c tunes. On any opportunity he will jump off to host silly games; involve young people in a talent contest; do some parachute games; street chalking or just get you to catch as many bubbles as possible !!
The Magical Musical Bike can also be used for event announcements. Quirky. Eyecatching. It's a disco onwheels … andmore!
53 MIX n MINGLE01580 754 888
hi Thi l spl f ayf l ul h hat hl chliing i is a
pet sho
dime
ga ex an tha Hav tr bet 2 x 4
£350
Fanfare T Trumpets
A great choice of stunning costume to suit your event ­ from tradi onal Bri sh with bearskin, red tailcoats, or medieval costumes. Teams of musicians, with or without percussion, from 2–14 people.
Fabulous for awards ceremonies, spor ng events, weddings, banquets – the list is endless.
1 Trumpeter: £325
2-3 Trumpeters: £235 per musician
4-6 Trumpeters: £225 per musician
For more, please ask for prices. Bespoke trumpet banners or music stand banners are also available at the cost of £100 each. Clients may keep the banners a er the event, and may be re­used.
London Chinese Acrobatics
The company presents a beau ful display consis ng of the following acts:
Two­person ­ Lion Dance £585 – 2 x 7min shows.
Three­person Show – Includes Chinese Dance, Lion Dance and Mar al Art £880 – 2 x 25min shows.
Five­person Show – Lion Dance, Chinese Dance, Mar al Art with Acroba c tumbling £1,465 – 2 x 25min shows.
Ten­person Show – Dragon Dance, Lion Dance, Chinese Folk Dance, Mar al Arts with Acroba c tumbling £2,930 –2 x 30min shows.
They are professionally trained in China from as young as 6years of age and have had a minimum of 20years performing experience each. Shows can be tailor made, butthose listed above are themost popular.
You can also book a Chinese Calligrapher, Chinese Music, Origami, Fortune Teller, Caricaturist or Tea Ceremony for any event. Cost from £295to £350
Caribbean M Melody S Steel B Band
The Caribbean Melody Steel Band have been entertaining the public with the fabulous mellow tones of the Steel Pans for many years. Offering Calypso, reggae, classical, modern, jazz and pop they are suited to any occasion.
Great for Private or Corporate Par es. Weddings, Recep ons, and Hotel. Alsogreat for Leisure Parks and Shopping Centres.
This band can be amplified and with vocals and they have entertained widely including Dubai, Cairo, Bahrain, Abu Dhabi, Nigeria and Europe. They also play on the Caribbean Cruise Liners.
Most popular are the trio, four­piece or five­piece band, but can be up to ten players if required.
Trio £560; 4-piece £640; 5-piece £735
five­p player Trio £ 5-pie
MUSIC & DANCE www.peterjohnson.co.uk 54
A really special group for any occasion
With over twenty­five years' experience, RachelHayward delights audiences throughout Britain and Europe with her eclec c mix of calypso, pop, reggae and jazz performed on the only new acous c instrument of the twen eth century – thesteel drum.
A mul ­award­winning soloist, Rachel plays at events large and small: from the Opening Ceremony of the 2012London Olympic Games to in mate dinner par es, weddings, country fairs, Tropical themed events and beachpar es of all types, even wakes and pirate ships!
Rachel performs with her own pre­recorded backing tracks, which are carefully produced and mul ­tracked with kit, keyboard and bass, together with live pans and AfroCaribbean percussion, which gives a lively and authen c full band sound.
This versa le ar ste can tailor her sound to add subtle, in mate exo cism to smaller venues or the pan can be miked up and amplified to bring a vibrant Caribbean flavour to large­scale and outdoor events £300
Rachel Hayward
Michael Douglas "Europe's No. 1 Neil Diamond Tribute"
A highly recommended and entertaining evening
Michael was born in 1954 in the heart of the coalmining industrial coastal town of SouthShields in the North East. At the age of four he was thrust into the limelight in the form of a talent contest, a giant stick of rock and a can of shandy was up for grabs, rich pickings indeed for a four year old who needed to do no more than to look cute with a plastic toy guitar in his hands and strum his favourite chords "Pminor and Z flat" and to accompany his rather dodgy guitar playing by singing an early Cliff Richards rendition, of the subsequent classic "Heartbreak Hotel". The whole experience was to become the catalyst for a lifelong commitment tothe
Michaelhas shown himself to be among that exceptional breed of tribute artistes with his tribute to the greatand thankfully still very much alive, NeilDiamond, whose song writing prowess has resulted in total recordsales well in excess of 115million throughout a career that spanned more than fivedecades.
Michael needs an area ofabout 10x10ft performance area whichhouses his sound system and sound engineer.
He can offer acostume change and 45min performances within a 3-hour period.
"With his costume verging on Las Vegas-era Elvis there is plenty of substance beneath the style and all the classics were performed with energy and vocal punch. In short, this is one Diamond that can really cut It." – The Stage "Michael sounded out of this world and is an outstanding performer, as NeilDiamond tribute words can't describe … just listen to the man! Brilliant!!, thank you Michael. It is easy to see how this vocal powerhouse is an Frank Bako, KOKO, Camden London
"World Class Steel Pan Ar stry … TopDrawer" (Musician magazine)
55 MUSIC & DANCE01580 754 888
£705
Peter Johnson Entertainments Ltd International Booking Agency 6 Udiam Cottage, Unit 1, Junction Rd, Bodiam, East Sussex TN32 5XB Telephone: +44 (0)1580 831939 mandy@peterjohnson.co.uk www.peterjohnson.co.uk © Peter Johnson Entertainments Ltd. No part of this brochure may be reproduced without theprior permission of the copyright owners