ED 1 WINTER 2020/21 YEARS
PRINT! 20
photo
IN
BLACK WHITE & Beautiful
CANADIAN PHOTOGRAPHY
IN A BRAND
LIGHT. GET A FRESH PERSPECTIVE.
NEW
GETTHELATESTISSUEON NEWSSTANDSORSUBSCRIBEONLINE WWW.PHOTOED.CA INPRINT NOW!
WINTER WITH THE NIKON Z 50 HENRYS.COM
CAPTURE
H. MCPHEE Salt Spring Island, BC " Capturing Form in Black and White" 13 PHOTOGRAPHY AS A GIFT By Ruth Bergen Braun 14 RESOURCES WE LOVE 16 ROSALIE FAVELL FACING THE CAMERA 22 MATT WILLIAMS' TWO RIVERS 24 KAMELIA PEZESHKI ATTENTION TO DETAIL 26 FRANCIS A. WILLEY'S "BLINDNESS" By Kerry Manders 32 JESSICA DEEKS GIRLS+ ROCK OTTAWA 39 CHRISTINE FITZGERALD A FIERCE AND ORDINARY REALITY By Brandy Ryan 46 KAROLINA KURAS ROMANCE, FLIGHT, & FLUIDITY By Mark Walton 52 ALLY GONZALO BAKLA! By Michelle Joseph 56 KATE ROY AFFINITY 58 READERS GALLERY Submissions by our readers In this issue: DIAMOND EDITION 60 ISSUE # 20 YEARS PUBLISHING!OF
JUDY
The Z 50 Creator's Kit provides you with everything you need to step up your video game in one amazingly convenient bundle. The Z 50 Creator's Kit is built around the small but mighty Nikon Z 50 and compact NIKKOR Z DX 16-50mm f/3.5-6.3 VR lens. You'll love creating your next show stopper! For more information, visit www.nikon.ca C A P T U R E T OM OR R O W Creator's Kit Z 50 Camera with NIKKOR Z DX 16-50mm f/3.5-6.3 VR Lens RØDE VideoMicro Mic/ WS9 Deluxe Wind Shield Joby® GorillaPod 3K Tripod Travel Kit Bag - Charcoal SmallRig LCN2525 Vlogger Bracket WHAT'S INSIDE TRY IT ALL. DO IT ALL.
A`RNO THE ARTIST
AFZAL HUDA
AIDEN JAMES
ANGEL PAN
ANGELA ZHENG
ASHLEY HIRD
ASHLEY M. BOUTIN
AVA MARGUERITTE
BELINDA MULLER
BOB ST-CYR
BRADLEY JOSEPH
BRENDA LAKEMAN
BRIAN LAVERY
BRIAN WHITESTONE
CALEB BUTLER
In this digital issue
CHRISTIAN LEE
CHRISTINA SHIVCHARAN
DAVID VAN POPPEL
DYLAN GREENHOUGH
E. ROSS BRADLEY
ELSIE NISONEN
GUN ROZE
HANNAH TKATCH
HENRY VANDERSPEK
IVAN RUPES
JEFF SORIANO
JOHN FARAGHER
JORDAN MURRAY
JOSEPH BOLTRUKIEWICZ
JUDY H. MCPHEE
JUNYAN LUO
KATIE ROULIER
KEVIN E. PROULX
KRISTI NICKERSON
KYLE UMBACH
LAURIE MINOR
LORETTA STEPHENS
MADDISON OUCHI
MARIE-LOUISE
MOUTAFCHIEVA
MATHEW SHAWN TURNER
MEGAN FORSYTH
MELINDA STANLEY
MELISSA RICHARD
MIRNA CHACÍN
OLIVIA GALATI
OSCAR BUSTOS
RAINER OKTOVIANUS
RAMONA MUNTEANU
RUBY CAYAGO
SANDRA ST. CLAIR SLADE
SARA GRAWBARGER-KUEFLER
SEAN FETAZ
SIMAL GORMUS
SJ KIM
SONIA BLAYDE
TAIMOOR KHAN
TANYA MURCHIE
TARA NEWHOOK
TASH DAMJANOVIC
TWINKLE BANERJEE
TYLOR KEY-CARR
TYRESHA BAILEY-DAVIS
VICTORIA DOUDOUMIS
WES MAKOWSKI
TYRESHA BAILEY-DAVIS Brampton, ON
THE
GALLERY FEATURES
READERS
PHOTOED MAGAZINE CELEBRATES 20YEARS IN PRINT!
"I love looking at photography that I wouldn't otherwise be exposed to."
- Christine Goodyear, PhotoED reader
"PhotoED Magazine is a beacon for Canadian photographers, lighting a path to learning, and inspiring photography and exciting new work by talented artists from all corners of the country."
- Peppa Martin, Founder + Director of The Commotion
60DIAMONDEDITIONISSUE#
THANK YOU
- Barbara Astman , Artist + Professor OCAD University
"Whenever I pick up a copy of PhotoED Magazine
I
- Shira Gold, Artist + photographer
TO ALL OUR SUBSCRIBERS, CONTRIBUTORS AND SUPPORTERS!
"PhotoED Magazine has always proven to be a great inspirational tool for our students and a great supporter of our students work!"
know that I will learn something new and be inspired."
"Such a great diversity of voices."
- Margit Koivisto, PhotoED reader
"I am so grateful for the print and digital editions that feature people getting professionally published for the first time."
- Karen Ruet, Photographer + Educator, New Brunswick College of Craft and Design
Photo by ADAM BORMAN / adamborman.com
I think it is in that extra second the eye needs to fully read what is happening in a black and white photo, that moment of pause, that compels us to take in and interpret details and ideas brought to us by the photographer we might otherwise gloss over in our busy lives.
In this special issue — issue #60 and a celebration of 20 YEARS of publishing in print! — we're featuring contemporary images and stories best told in black and white.
I encourage photographers at any level to take a moment with our story "Photography as a Gift" by Ruth Bergen Braun. Contemplation and clarity are so often what draw us to photography. Ruth beautifully articulates how we can all think of the medium as a gift.
Monochrome can also unite a visual idea. We love Rosalie Favell's Facing the Camera work. Her project, over the course of 10 years, and across international geographies, is now an impressive collection of over 500 portraits of Indigenous change-makers. Such a diverse collection of subjects, when presented in a beautifully crafted collection, truly comes together as a visual force.
Greyscale can change the way we connect with music and movement, as in Jessica Deeks' Girls+ Rock story and Karolina Kuras' stunning images of dancers. It can even have us take a second look at commonplace subjects, as in Christine Fitzgerald's work, or open our hearts to new visual poetry, as in the case of Francis A. Willey's image "Blindness."
I don't think it's a misstep to declare "We're so over it," with regard to the challenges we have collectively faced in 2020. Our next issue, Spring/Summer 2021, will focus on sharing fun, silly, wacky photography experiments. Let's do something fun! Shake off 2020! If you've got a joyful photography story to share, drop us a line.
Follow us on Instagram, Facebook, and Twitter, and sign up for our e-newsletter to keep up! Your Editor, Rita Godlevskis
rita@photoed.ca WINTER 2020/ 2021 ISSUE #60 ISSN 1708-282X EDITOR/PUBLISHER Rita Godlevskis / rita@photoed.ca ART DIRECTOR Ruth Alves CONTRIBUTING Ruth Bergen Braun Michelle Joseph Kerry Manders Brandy Ryan Mark Walton COPY EDITOR Deborah Cooper COVER IMAGE: Kathryn Hosier by Karolina Kuras WRITERS MAGA ZINE PHOTO ED MAGAZINE IS 100% MADE IN CANADA! THANK YOU FOR YOUR SUPPORT! PhotoED Magazine is published 3x/year, SPRING, FALL, & WINTER See www.photoed.ca for subscription and advertising information. Publications Mail Agreement No. 40634032 PhotoED Magazine 2100 Bloor St. West, Suite 6218 Toronto, ON M6S 5A5 This issue was made possible with the assistance of the Ontario Arts Council. WWW.PHOTOED.CA @photoedmagazine @PhotoEdCANADA @photoedmagazin e "Color is descriptive. Black and white is interpretive." Elliott Erwitt
BASICS THE WORLD IS NOT A BLACK AND WHITE PLACE, BUT SOMEHOW MONOCHROME IMAGES HELP US SEE MORE CLEARLY.
EDITOR ' S NOTE BACK TO
+ FIND OUR DIGITAL EDITIONS ON The first-ever edition of PhotoED Magazine in 2001!
Photo by Ryan Parker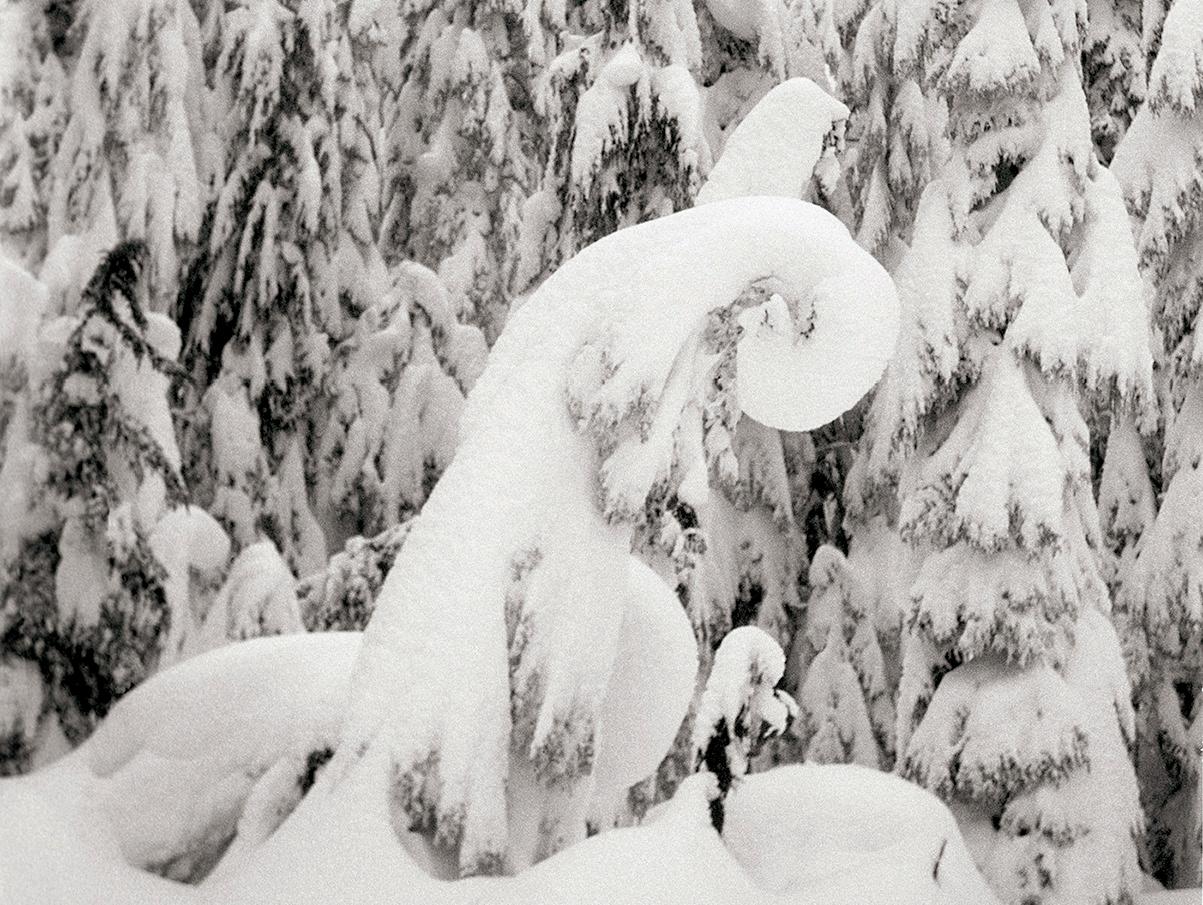 BEAU PHOTO Shares an image by Vancouver photographer: " Winter is a magical time to take a film camera out into the snow. The crisp, almost monochrome world translates into powdery tones on black & white film." Ilford HP5 film from a Nikon FM2 camera. 1401 W 8th Ave #110 Vancouver, BC V6H 1C9 Phone: 604.734.7771 / Toll free: 1.800.994.2328 www.beauphoto.com
89 QUEEN STREET EAST TORONTO, ONTARIO M5C 1S1 Come and Visit our NEW HOME T: 416.363.1749 TF: 1.866.223.1618 email: info@downtowncamera.com web: downtowncamera.com PHOTO | VIDEO | FILM | PHOTOLAB | USED | SERVICE EDUCATIONAL PRICING HOME TO ALL YOUR ANALOGUE NEEDS ORDER ONLINE: PHOTOED.CA/THE-GUIDE The PhotoEd GUIDE to Photography is a 128-page magazine-format learning and teaching resource. The GUIDE provides a quick start to basic tools & techniques, and ideas for new explorations GET THE GUIDE SHIPPING IN CANADA IS FREE!
© Kathy - Beau Photo
PHOTOGRAPHY AS A GIFT
BY RUTH BERGEN BRAUN PHOTOGRAPH BY RYAN JAMES HERMANSON
LANGUAGE SHAPES OUR WORLD, our craft, and our experience. Photographers often describe their process by using surprisingly predatory and aggressive terms. We shoot. We go on shoots. We take shots. We hunt for subjects. We review our images to see what we captured.
Contemplative photography, particularly as described by Howard Zehr in The Little Book of Contemplative Photography, uses different language. The author approaches photography as a collaborative experience. An image is received and we, the photographers, are the beneficiaries. A contemplative photographer invites and receives.
Relationships may be similar. My relationship with Ryan was not pursued but given. Ryan has Down Syndrome. I had supported people with disabilities before and was open to doing so again. Then we met and, through a series of conversations, I became his photography coach/mentor. Our relationship is a gift.
To some, Ryan has a disability. To me, he has different abilities. He approaches life with his eyes wide open. He sees details that I miss. Our time together takes us to different places to explore various genres of photography. Portraits, street photography, landscapes, cityscapes, buildings, action, events, and more.
We experiment with settings and perspectives. Our focus is not to capture but to enjoy our experience together and invite images to materialize, as gifts.
In her book Braiding Sweetgrass, Robin Wall Kimmerer explores the concept of the gift economy. The essence of a gift is reciprocity. A gift gives back, gives forward. A gift creates a set of relationships. As Ryan and I share the images given to us, we create relationships with those who view them. Now, after a few months, others are giving us gifts: ideas of who and where to photograph. Ryan doesn't read and thus did not initially understand
the impact of this image until it was interpreted for him later. Our exploration that day was simply street photography in downtown Calgary. What is this particular image's gift? Could this image be a gift to those in power in our city in that it illuminates what mere words cannot?
What changes in us when we see our photographs not as something we have created out of our sheer skill and brilliance but as a random act of kindness from the world, from our space, to us? What changes in us when we approach our craft and our lives with open hands that receive rather than capture? What changes when we allow those with different abilities to give us their gifts? While there are no definitive answers, I'm contented to keep posing these questions to more photographers and photography appreciators as my own way of paying it forward.
photo ED 13
GET INSPIRED :
GO MONOCHROME
Check out our recommendations for more ways to see the world in glorious greyscale
FEATURED FLICKS
BE NATURAL: THE UNTOLD STORY OF ALICE GUY-BLACHÉ
Filmmaker Pamela B. Green honours one of the world's most talented and brilliant filmmaking pioneers who has been cheated, forgotten, and ignored for nearly a century. This documentary, narrated by Jodie Foster, shares the story and legacy of Alice Guy-Blaché, whose accomplishments of note include her experiments with sync'ed sound, colour-tinting, special effects, and interracial casting.
Catch it on www.tvo.org
ROMA
True cinematic excellence. Every frame in this flick is a stunning composition. Alfonso Cuarón's Roma (2018) engrosses the viewer in a beautifully crafted, deeply moving narrative following a year in the life of a middle-class family maid in Mexico City in the early 1970s. Find it on Netflix
THE ARTIST
This film is one of the most unique, fun, and entertaining black and white films since the talkies were invented. An homage to Old Hollywood, French director Michel Hazanavicius'
The Artist (2011) was nominated for ten Academy Awards and won five, including Best Picture, Best Director, and Best Actor. We love a timeless Hollywood fairytale.
Find it on Amazon Prime, Google Play, or YouTube Movies
VERY NICE, VERY NICE Online + FREE
Arthur Lipsett's seven-minute, 1961 avant-garde flick is a critically acclaimed classic that feels just as relevant now as it did when it was made. Very Nice, Very Nice is an animation of still images edited to be wickedly funny. This terrifying examination of modern life is bananas. www.nfb.ca/film/very_nice_very_nice
14 photo ED
PRAIRIE GOTHIC
Photographs by George Webber, text by Aritha Van Herk Hardcover, 2013, 192 pages, $50
BADLANDS
By Robert Kroetsch, photographs by George Webber
Hardcover, 2015, 360 pages, $40
George Webber's images transport us to the Prairies in a way that will visually haunt you. In Prairie Gothic, the viewer is confronted by the mysterious particulars of life, death, landscape and faith. Intimate portraits and hard facts of prairie life create a body of work that is inspiring, consoling, and sometimes achingly sad.
Badlands is a unique take on the 1975 Kroetsch novel re-imagined. George Webber's photographs accentuate a story that starts in 1916, when scientist William Dawe leads a paleontological expedition into the badlands of Alberta. Fifty years later, his daughter, Anna, enters these same badlands. In her visit to the expedition site, she exposes not only the absurdity of her father's work but also the folly of his male ambition and attitudes.
rmbooks.com
3rd floor, 10215 - 112 Street, Edmonton, AB, CA T5K 1M7 780 426 4180 harcourtinfo@shaw.ca harcourthouse.ab.ca AN OPEN, VIEWER FRIENDLY FORUM FOR THE BEST IN CANADIAN + INTERNATIONAL CONTEMPORARY VISUAL ARTS, ARCHITECTURE, DESIGN + ART EDUCATION Promoting Contemporary Visual Arts since 1988
LEFT: "Amy Malbeuf, Winnipeg, Manitoba, 2017"
RIGHT: "Alex Janvier, Banff, Alberta, 2008"
ROSALIE FAVELL FACING THE CAMERA
ROSALIE FAVELL CREATES photo-based art that draws inspiration from her family history and Métis (Cree and English) heritage. She uses family albums, popular culture, and other sources to present a complex self-portrait of her experiences as a contemporary Aboriginal woman.
Facing the Camera (2008–2018) was a project Rosalie started when she noticed a gap in historical records of Indigenous arts community members. This project now includes over 500 portraits of Indigenous people, paying homage to the courage, strength, and dedication of these creative professionals.
We are excited to share this work and Rosalie's statement on this incredible project.
photo ED 17
Canada's largest body of work documenting the collective catalyst of Indigenous change-makers
TOP ROW, IMAGES FROM LEFT:
"Peshawn Bread, Santa Fe, New Mexico, 2012" "Léuli Eshraghi, Melbourne, Victoria, Australia, 2016" "Alex Nahwegahabow, Ottawa, Ontario, 2014" "Patrick Ross, Winnipeg, Manitoba, 2011"
"Historically Indigenous people have had a problematic relationship with photography and they have quite rightly viewed the medium with suspicion. Nonetheless, I have received enormous support for this project from my fellow Indigenous artists.
The impetus for the series derived from a residency at the Banff Centre in 2008 where I met a number of Indigenous artists who I had previously known only through their work. I realized that a visual document had not been made of individuals who make up the Indigenous arts community (including First Nations, Métis, Inuit, Native American Indian, and Aboriginal peoples). It was my desire to photograph them, and connect with even more people. This sent me down the long journey that resulted in the series Facing the Camera
When I started making these portraits I used a 4×5 format view camera, however, I quickly changed to a 6×7 range finder camera, and later to a digital camera. The concept of black and white photographs with a black border references the signature style of American photographer Richard Avedon. Across the project's life
span, the black border is a consistent element. This convention traditionally indicates that photographers used the entire image within the camera and did not crop the negative. As I moved to digital, all bets were off. I no longer needed to carry a white backdrop to shoot, and I did a lot of post-production on the computer, which included cutting out backgrounds and creating the black film rebate border.
I started by photographing local artists and artists who were visiting Ottawa. I titled each image with the individual's name, the location, and the year that I photographed them. On the one hand, the series reflects my travels and says more about where and when I met these people than details about them. On the other, travels to different cities for art events or residencies allowed me to meet people and photograph them, and in doing so have as much representation of the Indigenous community as possible, as people at these events came from all over the world.
After my residency at the Banff Centre I realized the Santa Fe Suite of this project during a residency in 2012 at the Santa Fe
18 photo ED
BOTTOM ROW, FROM LEFT:
"Stan Williams, Toronto, Ontario, 2016"
photo ED 19
"Shan Goshorn, Santa Fe, New Mexico, 2012"
20 photo ED
BOTTOM ROW, FROM LEFT: "Tom Mehau, Hilo, Hawaii, 2017"
"Julie Tipene O'Toole, Melbourne, Victoria, Australia, 2016"
TOP ROW FROM LEFT:
"Richard Ray Whitman, Santa Fe, New Mexico, 2012"
"Rita Letendre, Toronto, Ontario, 2012"
"Susan Aglukark, Winnipeg, Manitoba, 2017"
"Rondee Graham, Santa Fe, New Mexico, 2012"
Art Institute. I continued this work in Australia in 2016 through an exchange facilitated by the Royal Melbourne Institute of Technology (RMIT) iAIR and the University of Lethbridge. I was able to meet and photograph some members of the Australian Indigenous arts community.
In 2016 I took 38 portraits at the Ontario College of Art and Design University (OCAD U) during my participation in the Nigig Artist-in-Residence program.
In 2017 I travelled to my hometown of Winnipeg where I photographed 100 Indigenous artists that were gathered to receive the Hnatyshyn Foundation REVEAL Indigenous Art Awards to honour and award 150 Indigenous Canadian artists working in all artistic disciplines.
In these images — and in all of my work — I see the photograph as a performance space, where identity is constantly worked and reworked, represented and perhaps even hidden. I use the portrait
convention to acknowledge the agency of the individual in bringing together and expressing, in a conscious and unconscious way, the numerous cultural and personal factors that compose one's sense of self. This applies to those who stand before my camera as well as to my sense of self — as I am the one taking the picture."
Many of these portraits are now in the collections of museums and art galleries. The complete series is in the collection of the Indigenous Art Centre in Ottawa. Michelle LaVallee, the Director of the centre says, "Favell's Facing the Camera series is a monumental portrait and art historical archive; it's Canada's largest body of work documenting the collective catalyst of Indigenous changemakers. Celebrating Indigenous waves of influence, it presents artists, curators, writers, academics, and community advocates, recognizing the diversity and significance of contemporary Indigenous art and cultural production."
rosaliefavell.com wrappedinculture.ca
photo ED 21
RIVERS
22 photo ED
TWO
I.
There are deaths of me all over.
Loping south down an abandoned dirt road, full of canine swagger. Engineered by the faded, golden dust of the place, built out of countless whirlwinds, every one of them spinning, howling at the black and mad thunderclouds rolling across an endless blanket of constellations, swallowing every star, spitting out their lightning bones. A whole body howling, electric as the storm come to try and wash it out.
Swimming through the muddy bloodstreams of flatland rivers, barreling forward, bursting past living fossils and channel cats, as elms dip their branches, cave into the water, disintegrate. Swimming through the wreckage alongside great dragons, scales purple as a black eye, and white as sun-bleached teeth, tongues shining yellow like the full sturgeon moon.
As I swim through the two rivers of dream and memory, these are some of the scenes that blossom endlessly upon their banks. They are heavy with love and fear, desire and sorrow, and I overflow with gratitude for the spirits that inhabit them. Yours, in broken time, Matt Williams
Excerpts from the soon-to-be-published book called Two Rivers by by Matt Williams.
Matt Williams is an emerging artist, born and raised on the Canadian Prairies in Winnipeg, beside the Assiniboine River. His writing and photography has been published in National Geographic, VICE, The FADER , The Globe and Mail, The A.V. Club, NOW Magazine, and numerous other outlets. He now calls Halifax home.
mattgwilliams.com IG:@ koy.ote
photo ED 23
Kamelia Pezeshki
24 photo ED
Recalibrating our attention to detail and time
LEFT PAGE:
Self-portrait series, "no. 44," 2019.
TOP ROW, FROM LEFT: In the garden series, "Azaleas."
Self-portrait series, "no. 7," 2019.
Self-portrait series, "no. 34," 2019.
MIDDLE ROW, FROM LEFT: Platinum prints drying in the darkroom.
Self-portrait series, "no. 40," 2019.
Scattered series, "Lilies."
BOTTOM: Self-portrait series, "no. 48," 2020.
BORN IN Iran in 1963, Kamelia was educated at the University of Utah and, after many moves, she now calls the City of Toronto home. The frenetic chaos of living in Canada's largest city is conspicuously absent from her work, which focuses instead on an introspective painterly sensibility. With quiet persistence, her portraits and still life images employ a visual rhetoric that encourages focus on finding beauty in detail, on reflecting on the idea of time, and on contemplating moments too easily forgotten.
"My self-portraits are inspired by a floral dress I acquired a decade ago. This dress is a representation for my love of flowers and gardens. As if the beauty and simplicity of wearing a flowery patterned dress would reflect my feelings about my diaspora, yet, for me, it allows a focus to shift from complexity into clarity.
I photograph myself as a metaphor for anonymity. My eyes and mouth as emblems of what can be uttered, silenced, or witnessed. By posing for my own camera, this act is also reflective of a fragmented self, confident and positive about the future, with past experiences of cultural influence, discrimination, and fight in hindsight."
kamelia-pezeshki.com
IG: @kameliapezeshkiphotographer
photo ED 25
"I reflect on feeling torn, between cultures, lands, past/present, and a bewildering future."
26 photo ED
FRANCIS A. WILLEY'S
BLINDNESS
THE SURPRISING STORY OF A SINGLE FRAME OF FILM
BY KERRY MANDERS
photo ED 27
THE YEAR WAS 2006.
Dismayed by the ways in which the world was "blind to compassion and love," artist Francis A. Willey wanted to make a portrait of someone who couldn't see. Is this temporary blindness a choice — willful, liberating, and somehow necessary? Or is it imposed, enforced, or inflicted by external forces? Francis knew he needed to collaborate with someone who could hold and convey this complex set of questions.
At the time, Myspace was the largest social media networking site in the world, and DeviantArt was a popular online community for artists and art lovers. In this virtual space, Francis met the "incredible, genderfluid artist with a beautiful soul" who became the subject of "Blindness."
Francis was an early adopter and avid user of digital platforms, although he's widely known for his commitment to traditional, analog photography (his Instagram handle, @neopictorialist, announces those commitments). But talk to Francis for any length of time and you'll see that the both/and nature of his ideas and methods are complementary rather than incongruous.
From the moment he developed his film from the shoot, Francis saw that he had something special in that frame. He describes it as that feeling photographers dream about, that "rush of pleasure, excitement, adrenaline" that happens when the final image exceeds the original vision they had for it.
Francis scanned his film and shared the image (accompanied by his original piano score) online. The rest, as they say, is history. "Blindness," Francis reflects, "blew up in ways that were overwhelming and exciting."
The image was widely shared, commented on, and questioned: What message was Francis trying to convey? Who was the intriguing, androgynous subject?
Francis refused to offer black and white answers to questions that live in shades of grey, hoping "to leave some essential mystery intact." Francis wanted — still wants — "Blindness" to be engaged with and interpreted in various ways.
The old adage applies: Be careful what you wish for.
Francis was offered his first international exhibition in Berlin during Fashion Week 2007. He exhibited 17 pieces, "Blindness" among them, at A-B Projekt Galerie, a sort of art-gallery-cum-fashion-showroomcum-dance-party meant to attract couture houses and famous figures. Francis' show, Vision of the Ghost, attracted a lot of attention, becoming fashionable in its own right. Designer Alexander McQueen became a fan.
And so it began. After Francis returned home to Calgary, Alberta, a woman ventured into that Berlin gallery, claiming to represent "one Francis A. Willey's interests abroad." She left with every single piece from Vision of the Ghost, save "Blindness." She was never seen again. (Francis had loaned "Blindness" to a new colleague in Berlin; later, when Francis inquired about it, that person claimed not to have it.)
The Berlin exhibition is now scattered all over Europe. Currently, Francis knows the locations of nine of the original seventeen pieces. An art collector–dealer bought eight pieces from a Craigslist ad, subsequently reselling four. Francis connected with the person who purchased those four, but the conversation ended abruptly when Francis informed him that the pieces he owns were stolen.
Berlin was a hint, a harbinger, of the story to come. On a 2012 excursion to New York City, friends contacted Francis to congratulate him on "making it" in that epicentre of art and culture. "Blindness" appeared on a magazine cover and was on exhibition in Brooklyn.
28 photo ED
photo ED 29
THERE ARE OVER 800,000 EXAMPLES OF UNLICENSED USES OF "BLINDNESS."
But it wasn't Francis' "Blindness." Iranian artists ICY and SOT, having found Francis' "Blindness" either online or on a poster advertising the Berlin show, had made a graffiti stencil of it and claimed it as their own. (They have subsequently removed it from their website, but not before giving interviews about it and showing their stencil on CNN.)
Versions of this story recurred at an alarming rate. People repeatedly contacted Francis to share sightings of his work in other contexts "by" other artists. Introduced to the reverse image search engine TinEye, Francis says he became a veritable "Internet sleuth, collecting all the different iterations of 'Blindness' that [he] could find." He's become a curator of the thefts, with three galleries on his website — Appropriations, Homages, Memes — showcasing examples from his collection of copies. He is planning a future show and/ or book entitled Stealing Blindness
No one ever contacted Francis to ask permission to use his image; in many cases, he would simply have granted it. No one paid him a licensing fee. And no organization or artist ever credited him as the original artist. While Francis says, "It would be wonderful to make money from 'Blindness,' especially so that I could surprise the person who sat for the photo with a whole handful of cash," he's not bitter, angry, or litigious. His attitude is more bemused incredulity.
"Blindness" has been lifted as is or manipulated (cropped, colourized, contorted) and used for sundry purposes the world over: book covers, album art, movie posters, graffiti art, advertising, and fundraising campaigns. It has been used in virtually every realm: art, commerce, sex, religion, education, medicine, and tourism. KODAKOne, an image rights management
platform with which Francis now works, has detected roughly 800,000 examples of unlicensed uses of "Blindness."
In most cases, Francis doesn't object to how his image is used, although he says, "ethically, morally, I wish they'd have asked my permission, and I wish they'd at least cite me—properly credit me as the artist." When I ask Francis if there are any copies of "Blindness" that he loathes, he's quick to respond, "Yes, the blatantly, grossly misogynist ones. Those I could live without."
Happily for Francis, "Blindness" is more often used to promote something positive. He explains, "All I've ever wanted to do with my art is to help people. If 'Blindness' has helped in some way — helped raise money for blind children, increased the profile of an international diabetes association, inspired someone to sign up for a Women's Studies class — that makes me happy." Ultimately, he wants "Blindness" to be a positive force in the world.
When asked what he thinks makes "Blindness" so popular, so desirable that people want to make it their own, Francis muses, "I think people respond to the combination of strength and fragility embodied here." This robust vulnerability, admirable and immensely difficult to capture on film, leads Francis to share another memory, another turn in the story of "Blindness." In 2011, a devastating house fire claimed almost everything Francis owned. The one item he salvaged from the ashes, unscathed? His single 35mm film negative of "Blindness."
franciswilley.com IG: @neopictorialist
30 photo ED
IS THIS KIND OF TEMPORARY BLINDNESS A CHOICE — WILLFUL, LIBERATING, NECESSARY? OR IS IT IMPOSED, ENFORCED, OR INFLICTED BY ANOTHER?
photo ED 31
Contemporary art from a Prairie perspective. Subscribe today and never miss an issue. blackflash.ca
You've got mail.
BlackFlash Issue 37.1: Em Rooney's innovative photography curriculum, Bard College at Simon's Rock and Maria Hupfield, Resistance on All Fronts, 2007-2018, C-print and industrial felt, 124.5 x 94 cm, excerpts from Partial Accounting of Photography by Sheilah ReStack.
32
ED 32
ED
photo
photo
photo ED 33
DEEKS:
JESSICA
ROCK GIOTTAWA RLS+ A PORTRAIT PROJECT
Since I was a kid I've known that I needed to have a career in something creative and visual. Growing up, I wanted to be a cartoonist or animator, then a graphic designer, but when I discovered photography, I knew I had found the right fit. I first picked up a camera when I was about 15 when my family got my dad a pointand-shoot digital camera for his birthday. I ended up playing around with it and got completely hooked. It sort of became "my" camera from then on. Throughout high school, I would push the limits of that little camera until I was able to take photography classes in grades 11 and 12. Learning to use film cameras, the darkroom, DSLRs, and strobes, and having an encouraging teacher who was a skilled photographer himself, really helped my creative development.
In my final weeks of high school, I decided I wanted to start making money from the new DSLR I had just purchased for my upcoming education in the photography program at Algonquin College. I emailed the two local community newspapers to see if they would be interested in hiring a photographer and, to my surprise, one of them actually responded. Somehow with my limited high school portfolio, and thanks to the young journalist who took a chance on bringing me in for a meeting with the editors, I ended up getting regular freelance work with them for the next three to four years. I shot more than 800 events during that time. The volume and range of assignments, and the freedom to experiment, was so important for my development as a photographer starting out. I learned by doing.
Figuring out how to get the best images from every kind of location and lighting condition, getting out of my comfort zone, approaching strangers, honing my technical skills while on the job, understanding how to shoot each event strategically and provide context-driven imagery… these are all things that helped to prepare me for my career.
SWhile I was freelancing, I began my studies at the Algonquin College photography program. There's a lot of debate about whether a formal education in photography is necessary. For me, the teachers, equipment, studios, camaraderie, and support among students were resources I relished. By trying all kinds of photography, I quickly realized the things I don't particularly like to shoot, which helped me narrow my longterm focus to portraiture.
After Algonquin, I began assisting, which was also an important experience. I learned a lot about how successful portrait photographers operate in Ottawa, from technical shooting decisions to working with subjects and clients. After about a year, I made the decision to go out on my own.
I certainly didn't have instant success but, with a lot of persistence, I began to get regular clients, and my career snowballed from there. Today, I am a full-time commercial and editorial portrait photographer.
I have so much gratitude for the amazing opportunities that have come my way. I photographed Prime Minister Justin Trudeau in his office for Maclean's and conducted shoots for clients such as the Washington Post, Telegraph Magazine, and the Supreme Court of Canada.
In the fall of 2016, I was scanning Facebook and discovered the Ottawa Rock Camp For Girls+ (now known as Girls+ Rock Ottawa). Scrolling through their photos and videos from past camps, I was really excited by what they were doing and thought it would be cool to do a black and white portrait series of these teen rock stars.
It turned out that I knew a few people involved in the organization. I immediately got in touch to propose my idea, offering to do the work for free and to share the images with the organization for its use as well. I got an immediate and enthusiastic yes, and off we went.
The 2019 Girls+ series combined silhouette portraits with images of the same participant performing at the end-of-camp showcase at the National Arts Centre. The concept was a nod to the personal growth each participant went through during their time at the camp. It's quite emotional watching them perform on the final night after watching them evolve over the course of the program.
34 photo ED
The camp is held annually over a single weekend. Since I didn't want to get in the way of camp activities, I made sure to shoot all the participants portraits on the same day. This meant I had only a few minutes for each shot. The kids had so much confidence and energy, it was contagious for everyone involved!
I released that first series on March 8, 2016, for International Women's Day on my website and social media. I have since continued this project for every Girls+ Rock Ottawa camp. I have now photographed four Girls+ camps, and a Women+ camp.
Shooting with a positive, enthusiastic, all-women crew helps to create a fun, safe space. It has been an incredibly fulfilling project, both personally and professionally, and I'm forever grateful to Girls+ Rock Ottawa and all the participants for this collaboration.
It's hard to explain where my vision to create black and white images came from but, when I discovered the camp, I immediately saw that original series in its entirety. I knew exactly what I wanted it to look like. I think part of me was naturally drawn to black and white because I never really get to do that in my professional career, and I wanted to shake things up creatively by doing a portrait project that felt right in that style, and this one did.
When the camp organizers and I decided it would be a great continual project, I wanted to keep the black and white theme for some overall consistency for the longer-term series, but I still wanted to change the style and direction of each shoot to push myself to try new techniques that I felt would suit the project. I've experimented with long exposures, double exposures, close up portraits, and various lighting techniques, with attention to body language and expression as the common thread.
I would advise emerging photographers to follow their natural interests. Don't be afraid to explore whatever you're curious about, whether that is a photographic style, a niche subject matter, or anything really. Try not to get caught up in the competitiveness of the industry, and just think about what's truly important to you and what you're excited about. In my experience, community support and connections with a wide range of people have been essential. If you're starting out, don't be afraid to reach out, even if it's just a simple email introduction. I'd also encourage my fellow established photographers to be welcoming of these connections with emerging photographers. We're all better for it.
ABOVE: The 2017 Girls+ series used long exposures while the participants listened to their favourite songs on wireless headphones, dancing while I photographed. We also had the music playing through a speaker so myself and my assistants could groove along too, making it a fun group experience.
RIGHT: The vision for my 2016 Girls+ camp session was a series of black and white portraits portraying the participants' confidence.
jessicadeeks.com IG: @jessicadeeks
36 photo ED
II THINK PART OF ME WAS NATURALLY DRAWN TO BLACK AND WHITE BECAUSE I NEVER REALLY GET TO DO THAT IN MY PROFESSIONAL CAREER, AND I WANTED TO SHAKE THINGS UP CREATIVELY BY DOING A PORTRAIT PROJECT THAT FELT RIGHT IN THAT STYLE, AND THIS ONE DID.
photo ED 37
38 photo ED Withmostexperiencingthesecondwaveof COVID-19,beingsocialseemsjustthislong ago.ThePhotographicHistoricalSocietyof Canadaremindseveryonetodistanceaswell aswearamask;oncethecoronavirusis beaten,we'llbebacktohostingshowsand fairs.Wanteasyeventupdates?Contactusfor asubscriptiontoourfreenewsletterat www.phsc.ca. Rememberthis? www.phsc.ca
CHRISTINE FITZGERALD
A FIERCE AND ORDINARY REALITY
BY BRANDY RYAN
photo ED 39
"
The figures are at the same time creatures of imagined possibility and creatures of fierce and ordinary reality; the dimensions tangle and require response."
– Donna Haraway, When Species Meet
40 photo ED
PREVIOUS PAGE: From the Threatened series.
LEFT: From the TRAFFICKED series, "Saiga Antelope Horns."
RIGHT: From the TRAFFICKED series, "Bear Gallbladder with Bosc Pears."
What do we think about trafficked animal specimens, threatened birds and reptiles, and captive parrots? According to photographer Christine Fitzgerald, we barely think of them at all. Her deeply methodical photography practice thus invites us into a world of tangled dimensions — and encourages us to respond.
Christine Fitzgerald uses now-antiquated photographic processes, such as wet plate collodion, to achieve a printed tonal range that surpasses contemporary printing methods. The techniques in her laborious process date back to the nineteenth century, when photography was just being introduced to the world. This is precisely the draw for her. "I wanted to go back to the origins of photography, the basics," Christine explains.
After retiring from a career as a health care executive, she enrolled in the School of Photographic Arts: Ottawa. "In the first month, I saw a book of Sally Mann's work and fell in love with one of the images. I did some research on how she did it, and that's how I got into historical processes." Sally Mann's Southern Landscape series transformed Christine's view of photography entirely.
Christine's choice of medium and the richness of the wet collodion process make each image seem like it has come from the nineteenth century. Blurring the line between trompe l'oeil and still life, Christine's TRAFFICKED series takes time for viewers to really take in what they see. Christine was able to get unprecedented access to the facilities of the Canadian Wildlife Enforcement branch to photograph what it confiscates: illegal animal specimens and parts.
In "Bear Gallbladder with Bosc Pears," the desiccated gallbladder is almost indistinguishable from the pears — until you take the time to really look. "People don't quite know what it is. They think it's just a traditional still life of the pears," Fitzgerald notes wryly. "When they realize that it's a bear gallbladder, I have their attention."
Attention is key to the spirit of Christine's work. She carefully crafts arrangements, light, and texture to blur boundaries between the ordinary and the exotic, the quotidian and the taboo. Numerous photographers document our complex relationships with the environs we inhabit and the animals with which we co-habitat; often, we see these cold, hard realities presented as stark documentary or photojournalistic
photo ED 41
42 photo ED
evidence commanding our attention. Christine's fine art approach is more subtle and more emotional. The plumpness of the pears contrasts the withered gallbladder in a complex tangle of exotic animal object and everyday fruit. The ripe pears lean toward the withered gallbladder, as if in sympathy for its plight. Her goal is to make us feel something, to respond somehow
"Saiga Antelope Horns," on the other hand, has the energy of a lively domestic scene: a table with a set of candlesticks, a wine glass, and a bottle of wine. Inviting and arresting, this image draws us close to stop us in our tracks. Those are not wax candles, but the ringed horns of the male saiga antelope, now devastatingly close to extinction because of human hunting and trafficking. So often these illegal objects are trophies, status symbols. But there are those among us as casual about these trafficked parts as we are about the candles we place on our tables. It is our pleasure and our consumption that drives such violence and desire for possession. We rarely encounter it as it so often appears: hidden in plain sight.
The tension between subjects and objects builds in Christine's Threatened series, where animal specimens are chosen by her child subjects. These specimens function both as prop and proper co-subject, a common duality in our engagement with the animal world. The pairing of the symbolic future (children) with the threatened past (specimens of whole or part animals) evokes a meeting of species at the brink in the threatened present. Rather than cutely or coyly posing with a token animal object, the children gaze directly, seriously — even confrontationally — at the camera and their viewers.
That gaze encourages us to reconsider the notion of species as its Latin root, specere : to look at, to observe, to behold. "Setophaga petechia" asks us, stoically, to behold how we impact the future of the American yellow warbler, here figured as eggs in a nest. As the young subject gently holds this nest in her hands, I wonder, at what point do the curious, protective hands of children become the indifferent, mercurial hands of adults? At what point, and why, do we regard the animals around us as other, as disposable? And how might a photographer inspire us to hold them in higher regard, to see them in relation with us?
"Testudines," also from the Threatened series, gives us a way in — or, rather, a way up, outside conventional representation. Given how frequently we look down on the turtle species and its hard, protective shell, Christine's image encourages us to see it from a new angle. We look from below, where the turtle's soft, unprotected belly gives us a fuller sense of the creature's vulnerability, despite its shell. "When you look at it
LEFT:
From the Threatened series, "Leuconotopicus borealis."
RIGHT:
POINT
From the Threatened series, "Testudines."
photo ED 43
AT WHAT
DO THE CURIOUS, PROTECTIVE HANDS OF CHILDREN BECOME THE INDIFFERENT, MERCURIAL HANDS OF ADULTS?
THESE PHOTOGRAPHS ARE AT ONCE ORDINARY AND FIERCE, REALITY AND POSSIBILITY.
from the [underside]," Christine notes, "it's almost as if it has its hands up, saying 'Stop, stop. Stop doing this to me.'" With 61% of all turtle species extinct or threatened, this is less a plea than an imperative.
But we're not just reckless with the trophies of wild animals. We're also wildly irresponsible with the animals we "own" as companions. Christine's CAPTIVE series takes us into the world of endangered parrots purchased as pets and then abandoned — often numerous times. "People buy these birds because they're beautiful and they can mimic human speech, so they're entertaining. But at the end of the day, they're wild. It's in their DNA. People buy them and then they can't take care of them," Christine says. Parrots also often outlive their owners (their life expectancy can surpass 60 years). Many are left, abandoned, or given up. "They call it 'serial relinquishing,'" Christine observes. "They get owner after owner after owner, and they become very distressed."
To create these stunning, intimate parrot portraits, Christine worked with a handler to photograph the birds in a rehab and education centre outside Ottawa. Parrots are unfriendly to strangers, so Christine spent hours with the birds, building trust so they would come out on the perch she had created for them. Although the birds were photographed digitally, Christine used three different historical processes to print the images: gum bichromate, wet collodion, and platinumpalladium.
Each print is created through a laborious process of trial and error, which takes several days and multiple steps. Christine believes that, without the parrots' vibrant colours to distract us, we see into their being. The rich tones of her historical processes also lend the parrots crucial gravitas. Parrots are so often depicted as merely amusing and flamboyant, but through Christine's lens they are subjects in their own right: striking, dignified, and innately wild.
It's tempting to read TRAFFICKED, Threatened , and CAPTIVE as a linear and political trajectory from objectification to subjectivity. We encounter the dead and trafficked objects as still life, the specimen as prop and co-subject in human portraiture, and the rescued parrots as fully realized subjects of their own portraits. But the complex dimensions of these three series hold us even as we behold them, species to species, and the concerns they raise are iterative and imperative. Christine's images are at once ordinary and fierce, reality and possibility. christinefitzgeraldphotography.com
44 photo ED
From the CAPTIVE series, "Cacatua alba," PlatinumPalladium print.
KAROLINA KURAS
46 photo ED 46 photo ED
ROMANCE, FLIGHT, FLUIDITY
BY MARK WALTON
ED 47
photo
SSixty years ago, the canon of photographic images of dancers consisted mainly of posed practitioners, held static by the constraints of the medium in a most unnatural state. And while these photos are beautiful in their own right, as evidenced by Baron de Meyer's photos of Nijinsky and Steichen's shots of Isadora Duncan at the turn of the last century, dance is about movement. It is the freedom to momentarily loose oneself from the bonds of earth to express the most artistic interpretations of romance, flight, and fluidity.
Karolina Kuras had an early start as a dancer, a self-described "bun-head," in her native Poland. She is also an exceptionally talented photographer and has combined these seemingly disparate sensibilities as the primary photographer for the National Ballet of Canada.
Karolina grew up in what she describes as "essentially a hippy, Buddhist commune in the mountains of communist Poland." Many in the community were
artists, her mother a painter, and her father a classical musician. Both dabbled in photography. She started taking ballet for the love of it and found it helped her overcome her shyness.
At age 5, the family moved to Guelph, Ontario. In high school, her teacher encouraged her to try photography. Karolina began working with a local portraitist as a darkroom technician. When that photographer moved her studio to Hamilton, Karolina acquired most of her mentor's Guelph clients. By her late teens, she was already running a serious business.
Her passion for ballet led to Karolina photographing friends still involved with dance in her spare time. These personal projects soon became her primary focus; today all of her photography is dance focused.
Both her love of dance and growing up in a heavily arts-infused space strongly influenced Karolina's aesthetic. She prefers "storybook"
ABOVE: Tanya Howard
RIGHT PAGE: Guillaume Côté. Courtesy of the National Ballet of Canada.
PREVIOUS PAGES, LEFT PAGE: Evan McKie
RIGHT PAGE: Jenna Savella
48 photo ED 48 photo ED
photo ED 49
IT IS THE FREEDOM TO MOMENTARILY LOOSE ONESELF FROM THE BONDS OF EARTH TO EXPRESS THE MOST ARTISTIC INTERPRETATIONS OF ROMANCE, FLIGHT, AND FLUIDITY.
ballets, including Romeo and Juliet, Sleeping Beauty, and, her favourite, Giselle. Edward Weston, Jock Sturges, and Irving Penn are three photographers she cites as having left a mark on her signature style. These ballet productions and visual artists can all (arguably) be described as romantic. As seen in Karolina's work, these photographers have a way of capturing images that render their subjects timeless and somewhat mysterious.
"Growing up there were always cameras around," Karolina says. "My parents developed their own black and white photos in the darkroom.… I grew up with black and white."
Karolina says that while she has seen many photos of cousins and extended family in the eighties that showed their "cool and colorful" clothing, photos of her immediate family look as if they were taken in the fifties: "I think black and white is just a little bit more dreamy and soulful. There's something about it that is other-earthly. Colours are almost too real, where [black and white] feels a little more abstract. Nostalgic." After a moment's reflection she states, "I feel like my soul is black and white."
Indeed, her first love in photography was for black and white film images. She has a collection of older 35mm and medium format cameras, but her prized possession is her Linhof Technika, a gift from her husband. "Everything that comes out of 'him' is magic," Karolina says. She likens the discipline of large format capture to the discipline required for ballet. "It's a very mindful process."
Like most photographers, she uses digital capture for her professional workflow, not only because of the cost differential, but because digital is much more adept at capturing the nuances in the movement of ballet. Her current lineup of tools includes a Canon 5D Mark IV and a Fujifilm X-T3, although she has her sights set on a Canon EOS R5 mirrorless camera.
Her photographic process relies heavily on the muscle memory developed by years of dance. She knows exactly where to be at a precise moment to capture a dancer in perfect form and position. They seem less anchored to the floor than gliding through the frame, capturing the inherent romanticism of the story being told by the movement. Her dance experience also allows her a knowing and easy rapport with her subjects, who permit her to capture them in unguarded moments that other photographers would not be welcome to.
Karolina keeps her setup as simple as possible, preferring natural light in studios with large windows, or single lights with softboxes to emulate that feeling. "I'm always experimenting with my approach to light," she offers. She uses prime lenses almost exclusively for studio shoots and relies uncharacteristically on 85mm glass. "An 85mm lens tends to elongate your subjects a bit, and dancers want to be as long and lean as possible," she says.
COVID-19 is a concern for all photographers. "On the list of essential jobs, mine is close to the bottom (with professional ballet companies)," Karolina says. "There are 85 other people to pay before they pay me." Yet, ever the optimist, she adds, "There is a lot of new opportunity to create new content now." Video is becoming a new focus for her, with new multimedia projects moving forward during the pandemic.
Karolina's work may prove to be a lifeline in a time where professional performing arts struggle to stay relevant. While waiting for dancers to alight once more on the stage, her images keep reminding us of the beauty of ballet and our souls alive in the promise of its return.
archivehouse.com IG: karolinakuras
50 photo ED 50 photo ED
RIGHT: Isabella Walsh
HER PHOTOGRAPHIC PROCESS
RELIES HEAVILY ON THE MUSCLE MEMORY DEVELOPED BY YEARS OF DANCE. SHE KNOWS EXACTLY WHERE TO BE AT A PRECISE MOMENT TO CAPTURE A DANCER IN PERFECT FORM AND POSITION.
photo ED 51
ALLY GONZALO
FINDING PRIDE IN FRONT OF AND BEHIND THE LENS
BY MICHELLE JOSEPH
BAKLA!
52 photo ED
YOU MIGHT THINK that a degree in history and political science would lead to a career in politics or teaching, but for Ally Gonzalo, it led to a career in photography.
While he was a student at the University of the Philippines, Ally attended a field trip with some of his friends. They lent him a camera to capture pictures for the day, and Ally took full advantage and snapped images of everything they saw. At the end of the day, his friends noticed that he had a unique flare for taking pictures and asked if he'd like to be a part of a photography group that they were organizing. He accepted.
When he graduated from the university, he asked his grandmother for a camera as a graduation gift. She obliged, and he continued with his new favourite hobby.
In June 2016, Ally and his family left the Philippines and immigrated to Winnipeg, Manitoba. Since he was starting from scratch in a new place, he felt he needed to figure out what he wanted to do. He could have sought work in radio or social media, as he had some previous experience in both fields, but he chose to pursue photography, as it made him happy and was an outlet for his creativity. Without hesitation, he enrolled at the PrairieView School of Photography.
For a self-directed assignment, Ally chose to challenge himself and take portraits of people. At the time, he was comfortable shooting street photography and landscapes, but he felt intimidated by taking pictures of people. He chose to take portraits so that he could confront his anxiety head on. He initially had a goal of photographing five people but ended up doubling his number of subjects, and graduating at the top of his class.
photo ED 53
Like most people in a new place, Ally felt a little isolated and wanted to make friends and fit in. He thought that one way to meet new people was to join a photography group. Most of the photographers he encountered were white, cisgender, heterosexual men. He felt out of place, as he was the only brown, queer man and immigrant. After several failed attempts at trying to "fit in," he decided to distinguish himself from everyone else and photograph people who he didn't see represented in media.
In 2019, he connected with a video producer from the CBC who was putting together a Filipino Heritage Month video and spoke to Ally about his Filipino background. Fascinated by their conversation, the producer suggested Ally submit a proposal to the CBC Creator Network. Not thinking too
54 photo ED
"KEEP TAKING PICTURES, TRY DIFFERENT THINGS AND, MOST IMPORTANTLY, TAKE PRIDE IN KNOWING THAT YOU ARE DIFFERENT."
much about it, Ally sent in a pitch and to his surprise, the project was green lit. CBC Manitoba and CBC Arts shared his story and behind-the-scenes videos featuring Ally working on his series of portraits of gay, trans, non-binary, and bisexual Filipino Winnipeggers. His project was called Bakla!
"Bakla" (Tagalog) is a term that means people who possess characteristics that are both male and female: an identity that Ally fully embraces. Although the term is meant to be derogatory, Ally has claimed it with pride. The term includes people who identify as trans, non-binary, or bisexual, and who generally don't subscribe to hetero-normative and genderbinary worldviews. While most Bakla are attracted to men, collectively referring to them as "gay" would be inaccurate as some self-identify as women. Similar to indigenous Two-
Spirited people, Bakla are considered to be capable of seeing the world through both female and male eyes.
Ally feels that part of his role as a photographer is to educate people about his community. He looks to use his skills behind the camera to uplift members of the queer community in front of his lens. We're excited to follow this story as Ally has now secured support from the Winnipeg Arts Council to continue this project. He will be moving at at a slower and steadier pace due to the global pandemic disruption, but we're confident he will find a way to share more work and stories from his incredible and unique perspective.
allygonzalo.com IG: @jhapes
photo ED 55
56
ED
photo
TOP: "Ylvie."
LEFT: "AJ."
RIGHT: "Henri."
KATE ROY AFFINITY
I AM REALLY only at the beginning of discovering who I am. After years of trauma, mental and physical abuse, and hiding within myself, I have now come to a point in my life that it is necessary to face the truths of my experiences and finally heal. I'm excited to face this world. I am at a beautiful point of strength and voice and can feel myself shifting spiritually, emotionally, and physically for the better. I look at art and research as one and the same, and I see my creative practice as the same as a field scientist: exploring and investigating, aiming to understand what it is I am observing.
Affinity is a project that was originally developed to help slow down my photography process and connect with my subjects, and possibly myself, on a deeper level. Using an 8x10 view camera, I spent an hour or more speaking to my subjects and delving into some of the most difficult moments in their personal lives. When I felt they had truly opened up, I would snap the shutter with the aim of capturing a part of what I believed to be who they really are.
Shooting with paper negatives gave me the opportunity to bring my subjects into the darkroom with me after taking their portraits to experience the process of my practice. It was exciting to experience the magic of the chemistry, as it would reveal an image, whilst developing a bond between subject and artist.
Kate Roy is an emerging Ottawa-based visual artist who primarily works with historical film processes and experiments with cyanotypes, chemistry, various film formats, painting, sculpture, and woodwork.
kateroyphoto.com
photo ED 57
GALLERY
SUBMISSIONS BY OUR READERS
THE
"
TASH DAMJANOVIC Toronto, ON
I long for a world that is idyllic, one in which grace, vulnerability and strength can coexist. The year I turned fifty, I was introduced to Nataly - a sensual, lifelike, seemingly fragile but virtually indestructible mannequin. "She" made me question my personal definition of beauty, femininity, and how it continues to change. I also became fascinated by the idea of exploring how I too could become unbreakable."
IG: @ tashd.art www.tashd.art
MELISSA RICHARD
Fort McMurray, AB
@melissarichard4
"I use portraiture in visual storytelling to express an emotion, situation, or a story that the viewer can relate to almost immediately."
MELISSA RICHARD
Fort McMurray, AB
@melissarichard4
"I use portraiture in visual storytelling to express an emotion, situation, or a story that the viewer can relate to almost immediately."
AVA MARGUERITTE Ottawa, ON
ROMANTICS
" There are moments we promised we would never forget; Inevitably we do." IG: @ avamargueritte
AIDEN JAMES Calgary, AB
ASHLEY M. BOUTIN
Nelson House, MB
"
Kaylee Linklater is a member of the Nisichawayasihk Cree Nation in northern Manitoba."
"
AFZAL HUDA
Toronto, ON Selections from the series, Love Wins: Palestinian Perseverance Behind Walls.
In the summer of 2011 Afzal Huda was given a map depicting areas in Palestine most affected by the Apartheid Wall. He spent three weeks capturing life in what has now become an "open-air prison," and how Palestinians survive and resist such an existence."
Love Wins: Palestinian Perseverance Behind Walls is a book published by Olive Branch Press. (Available in English, Spanish, French and Chinese editions)
theunapologetictraveler.co IG: @ the.afzal.huda
TANYA MURCHIE
Calgary, AB
" 2020 was my first year experimenting with abstract." IG: @ tanyamurchiephotography tanyamurchiephotography.com
TYLOR KEY-CARR Mississauga, ON
"
The series of images puts a spotlight on people coming together to show support for each other (primarily Black and Indigenous people, whose voices get silenced on a consistent basis). Although this protest took place in June 2019 during the pandemic, I felt it was crucial that I participate. As a black man myself, I aim to use my voice and images to describe my experiences and feelings regarding the way I have been treated. This event allowed our voices to be amplified. It was a very important time for my development and confidence personally."
IG: @tylorkc
BRADLEY JOSEPH Charlottetown, PEI
IG: @br0lls
CHRISTIAN LEE Chilliwack, BC
" When I shoot B&W it comes from a place of adventure, and a desire for the image to be stripped to a minimum. I always think of Ansel Adams and I'm always excited when I see something and know it will be a great black and white shot. This photo is from an ongoing series called Blank Spaces which explores negative space that often comes when shooting without colour."
IG: @ christian.cole.lee christiancolelee.com
Dear Grandpop,
I'm writing to you from a world that you've left, and somehow I know you will hear it. I want to show you a photograph I made – it's in a book I'm dedicating to you. I coloured it in so there's warm, buttery light pooling in your lap. On the day you died, I toasted you with some friends. We imagined you with a rucksack, free of creaking body, on another adventure. I'm not exactly sure how it works where you are, but I'd like you to visit me once in a while.
Blessings – I'll meet you at the end of the loop.
A`RNO THE ARTIST
Shared territories of the Sts'ailes, Cheam, and Seabird Island (Agassiz, BC)
"
In Sunny Days, vibrant rubs of colour spill into black and white images during intercourse between the material and spirit worlds. Pictures converse in a playfully profound, veil-less colouring book of 'thin places'; a nonsensical knot. They sneak in-between worlds, tickle reason, delight in being rogue and unlocatable. Sunny Days asks what happens when matter and spirit knit together into one form; loosen / tighten / fray. Here, nonsense is treated with reverence ~ 'childlike' ways of looking are deep, sacred, and profound. Ghosts are real."
IG: @aflaflafl_
OSCAR
BUSTOS North Vancouver, BC IG: @obustosphotography @geigermx15
ASHLEY HIRD
Ottawa, ON
IG: @stillsnthrills
"A physical representation of what depression feels like."
MARIE-LOUISE MOUTAFCHIEVA
Toronto, ON
" Rhythmic gymnastics, is a difficult and intricate sport. Few make it to reach the international stage. You have to be tough and strong minded. It involves emotional performances, expression of the soul, connection to music and pushing the capabilities of the human body. This sport teaches you persistence, dedication, to take risks, and to lead with your head held high. The only way to achieve something is through hard work. It may not come easy but in the end it is rewarding. Featured here are some of the Canadian National level athletes in training."
IG: @marielouphotography
TARA NEWHOOK
St. John's, NL
"The woman in these photos is one of my friends from high school, her name is Kellie. I've known her for years, she is always ready to help me express whatever thought or ideas I may have floating around in my mind. Unexpectedly, this shoot turned out to be extremely sentimental for the both of us because we both take each other to different lengths when it comes to being creative. She is truly a beautiful being and I think you can see why."
IG: @taranewhook
HENRY VANDERSPEK Toronto, ON IG: @culturesnap Twitter: @culture_snap FB: CultureSnapPhotography
"
TYRESHA BAILEY-DAVIS
Brampton, ON
The story behind this image is about supporting Black lives. This image was taken in downtown Toronto at Graffiti Alley near Black created art."
IG: @capturedlooks @justtyty
"
VICTORIA DOUDOUMIS
Mississauga, ON
There are two stories behind this photo which makes me love it that much more. The first has to do with heart break, the second has to do with power. The first one explains itself - a boy almost broke my heart. The thought of him, or anyone really, being able to do that made me think "wow, this is not okay." Not in the sense that people can't have their hearts broken because that's life, but why was I letting him made me sad. That's where the second story comes in. I wanted this photo to show that there is power in self-reflecting. The splattered spots across the image symbolize blood. Any person who tries to break me can think for as long as they want that they succeeded, but I will never give anyone the power to see me bleed."
IG: @victoriadoudoumis
DAVID VAN POPPEL
Toronto, ON
"A missing frame. The wall shows the clear outline of an artwork, or some sort of piece that used to hang there. What was it, and why was it removed?"
TAIMOOR KHAN Mississauga, ON IG: @tamethelame
RAMO/HCKYGRLPHOTO Toronto, ON
IG: @hckyramo
" I am not a photographer stuck on a certain stylerather I try to illustrate the mood/environment I am in or how I feel at the moment I shoot."
JORDAN MURRAY
Courtice, ON " Some of my first explorations in black and white photography." IG: @jordanxmurray MADDISON Vernon, " I wanted IG: @bbandmphotography
Vernon, BC wanted to capture raw timeless moments."
@bbandmphotography
MADDISON OUCHI
BRIAN WHITESTONE
Perth, ON ICON SERIES
"An icon can be seen as a representative symbol and in more existential terms, as something worthy of veneration. My intent was to add an element of respect or awe to the often overlooked. We have become overly entranced by the technological marvels of this world. As an antidote, changing context allows the mundane to be seen in a new light. Wonder can then re-enter our dialogue."
Toronto, ON
"
My image refers to a past agrarian existence, superseded by an industrialized world now in the digital age. The image suggests structures are claimed by the earth they were once designed to help cultivate. Despite the passage of time, while the structural integrity of some may be challenged, the physical presence of the construction remains. The simplicity of the image offers a stillness, a sense of remoteness, and a quiet that is perhaps even more relevant given the global pandemic that requires us to reconsider physical separation from one another, while forcing some to comprehend what it means to be alone."
IG: @calebbutlerphotography
CALEB BUTLER
IVAN Toronto, "A snapshot sense what as in largely view our also circumstances,
IG:
@ivanrupes
IVAN RUPES
Toronto, ON
snapshot of an ephemeral microstory. We can sense there must be a beginning and an end to what the image has captured—a story, but just in a single frozen frame of a movie, it remains largely obscured to us. Which liberates us to view each of these scenes through the prism of own associations and experience. Which is something that evolves depending on our circumstances, both individual and collective."
JUNYAN LUO
Montreal, QC
LE TEMPS PASSE
"
This day I visited a museum in Quebec City. When I visited, I noticed that a kind old lady has been sitting by the window as if waiting for something. Maybe just like a cultural relic placed in a museum, serene waiting for time to pass."
@ivanrupes
"
LORETTA STEPHENS
Montreal, QC
In 2017, my aunt and I were visiting friends in Melbourne, Florida. We waited out an impending storm. That was Hurricane Irma. Before she arrived we managed a quick trip to the beach. The water seemed fairly calm, but in the distance you could see the clouds pushing slowly ominously towards us. This close to the storm's arrival, it was as if the danger was more a vague thought than an upcoming nightmare."
JOHN FARAGHER
Toronto, ON
A white pine on the shore of Georgian Bay at Killbear Provincial Park.
LAURIE MINOR Ridgeville, ON
Silvery-Cheeked Hornbill (Bycanistes brevis)
MELINDA STANLEY
Halifax, NS
"An urban portrait of Nova Scotia"
Shot with a Mamiya RB67 on Ilford HP5 medium format film.
KATIE ROULIER Barrie , ON Downtown Barrie historic building.
JOSEPH BOLTRUKIEWICZ Vancouver, BC
MIRNA CHACÍN Etobicoke, ON
" SOULS ON HOLD, is an elegy to loss and grief in the times of COVID-19.
Regardless of culture or religion, the ancient rituals that honour the departed and comfort the bereaved have been postponed or abandoned during this global pandemic, to avoid further spreading the virus.
Nevertheless, funeral rites are needed to provide mourners with a time to grieve with closure.
This last contact allows us to realize the real loss and its irreversible and definitive nature. In these pandemic times, death leaves nowhere to grieve. It recalled my grieving crisis due to closer family losses back in my home country and triggered a craving to create this photo series.
My work seeks to lend evocative spaces to grieve, remember and celebrate the lives of our departed loved ones. It also invites to reflect on the natural cycle of life."
IG: @mirloy
"
TWINKLE BANERJEE
Calgary, AB
Looking at how the context around nature has evolved in urban settings, how plants that had purposes and meaningful benefits in the past are only looked at from an ornamental perspective now. I hope with time slowing down, due to the pandemic, people will look at nature around them differently."
IG: @ twinklefilmandothers
"
SIMAL GÖRMÜSŞ Toronto, ON
I tried to discover and capture in film what the word "Roots" mean to me. Being an international student, living with no family for the past 3 years, understanding how my cultural roots are changing and evolving is astonishing to me. With a handful of personal stuff, my father's childhood photo, passport stamps, my Russian grandma's old camera, prayers a family friend wrote for me, and my friend's poem about "Roots.""
"
GUN ROZE
Toronto,
ON
I have been photographing and collaborating with Toronto-based dancer Bryony since 2016. We decided to create our own art at the AGO. B&W seemed like the ideal choice considering the dramatic lighting and graphic environment there."
shot-by-gun.com IG: @gunroze gunroze.tumblr.com
photo ED 105
WES MAKOWSKI
Oakville, ON
"
Three strangers at a party in 2017. This image was inspired by flipping through my older brother's highschool yearbooks. Growing up 9 years apart, I never experienced life with people signing or doodling in your yearbook, instead my generation has cataloged their photos on social media platforms for others to react or comment on."
SJ KIM Toronto, ON
"
I wanted to change the atmosphere of my mind. The pandemic has been a difficult time for me.I wanted to illustrate both loneliness and happiness."
"
ELSIE NISONEN Toronto, ON
I am drawn to saturated states of being. I like to hint at stories and meaning and things just out of reach, as though through fog."
IG: @elsienisonen @DarkroomRedLight
RUBY CAYAGO
TOTS & BELLIES PHOTOGRAPHY
Edmonton, AB
" Motherhood, capturing the essence of a woman."
"
BRENDA LAKEMAN
St. Albert, AB
In the early weeks of the COVID 19 pandemic lockdown we saw Mother Nature start to rejuvenate herself. Without the usual throngs of people, cars, airplanes, and the subsequent pollution the air and water became clearer, plants and trees grew freely and in abundance. It was a special and magical time to witness the earth healing herself. To see that Mother Nature was capable of this cleansing and to imagine what we could achieve if we worked with her instead of against her. If we were partners with Mother Nature what could we achieve? The plants in the image have a feeling of being connected to my body like a limb. Mother Nature is a part of me not apart from me. We are attached and act together. Perhaps even my sword."
IG: @brendalakemanphotography brendalakemanphotography.com
RAINER OKTOVIANUS
Toronto, ON
"A different side of Jakarta, one of the biggest cities in Southeast Asia. The faces of everyday people living in traditional market and slum areas of Indonesia."
www.raineroktovianus.com
IG: @ RainImages
RAINER OKTOVIANUS
Toronto, ON
"A different side of Jakarta, one of the biggest cities in Southeast Asia. The faces of everyday people living in traditional market and slum areas of Indonesia." www.raineroktovianus.com
IG: @RainImages
SARA GRAWBARGER-KUEFLER
GREY HILLS STUDIO Calgary, AB
"
This image was taken at night, my most stimulating time creatively and emotionally, on the Calgary C-train. In 2017, I put out a call for models comfortable with the topic of depression.
At the time, I was riding the train on a regular basis and I became interested in how the reflections of people's faces were distorted by the double paned windows.
As someone that deals with high levels of social anxiety I always found it difficult to quite get comfortable. I would not know what to do with my hands, whether to make eye contact with strangers, which could have unpredictable results considering the variety of folks who use public transit.
For many years I wore a "mask" – one that allowed me to blend in, often so well, that I disappeared entirely. This may sound dramatic or absurd but I would often have experiences where I was introduced to someone who I had met multiple times, or even worked with, and they did not recall me at all.
It was only recently, by meeting another person who described similar mental health symptoms, that I was able to bring the term "disassociation" to my therapist. I discovered that I suffer from this in a much broader sense than some. To me, this image communicates the loneliness I experience in life. The image focuses on the subject, and eliminates any other people. This feels like my reality - what I experience internally - where I feel other or disconnected from the body of people going about their day."
greyhillstudio@gmail.com
IG: @greyhillsstudio
Model: Kristen IG: @ knockout.queen
"
BOB ST-CYR
Abbotsford, BC
Pinhole photography is not constrained by a typical camera viewfinder, batteries or tied to a specific light meter. It is a much more open and fluid form that relies on a photographer's intuitive understanding of framing and the interplay of light upon given subjects.
I've often referred to photography as my mental health therapy and I still stand by that assertion. I find film photography especially satisfying for its varying components from lighting and composition to film processing and darkroom print making. It is through photographs that I hope to convey an emotional expression to bring the panoply of life to a form that enriches our lives and nourishes our minds amidst a challenging world."
stcyrphoto.blogspot.com
ANGEL PAN
Richmond Hill, ON IG: @angelpan_studio
MEGAN FORSYTH Toronto, ON
IG: @ megan.forsyth
"A portrait of my friend hour, the summer before
Toronto, ON
" With just some scrap materials, photographic paper, a light source and chemicals, one-of-akind images came to life."
www.8x10.photography
FORSYTH in my bedroom during golden before I left town for school."
CHRISTINA SHIVCHARAN
MATHEW SHAWN TURNER
Montreal, QC
"A view on life found within the close quartered corridors of a city. Living in a place with high skyscraper walls and dense apartment building street corners, exposes you to the diverse lives led on shared spaces. This photograph bares witness to the characters living within the city."
mathewshawnturner.com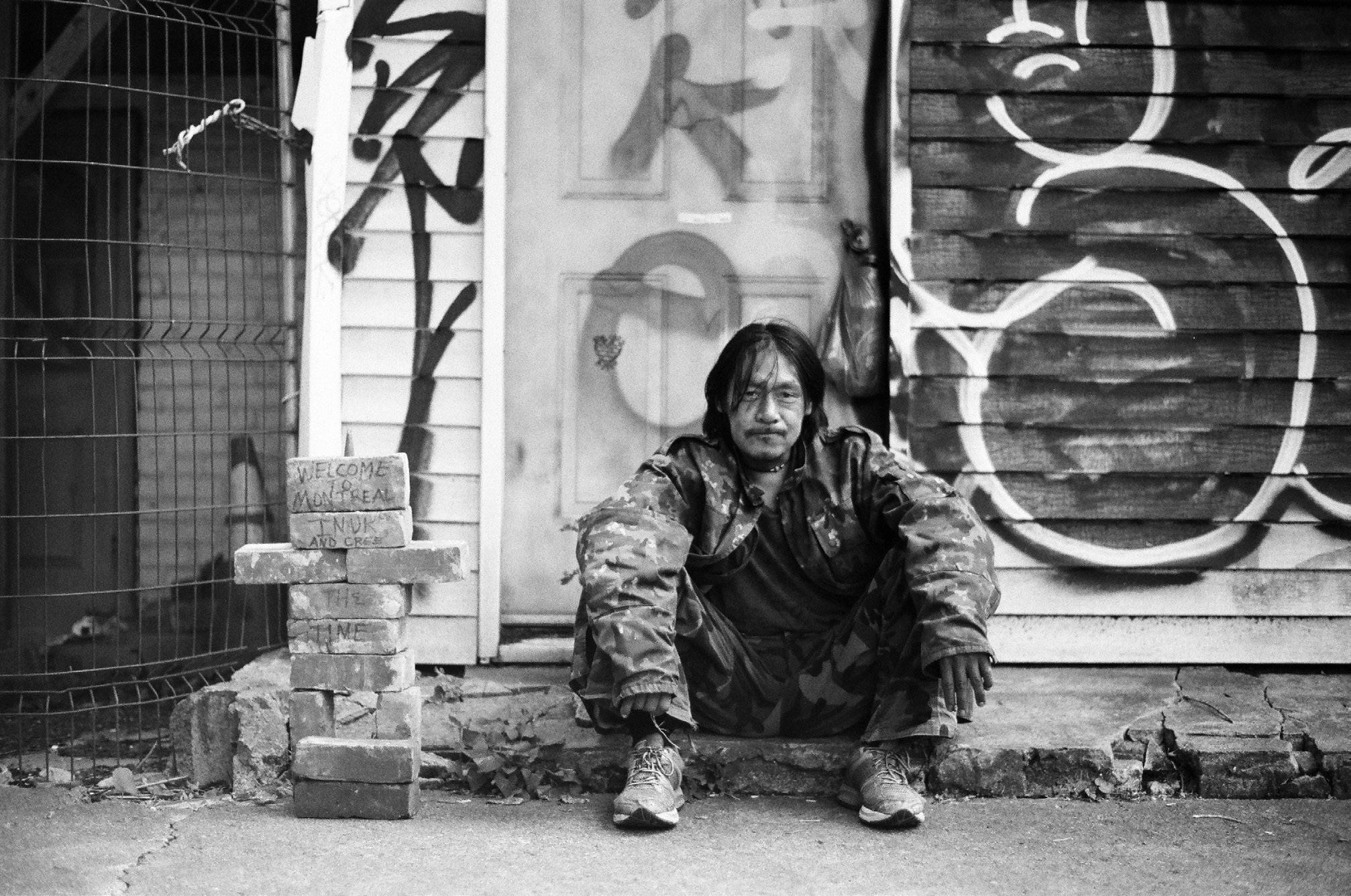 KYLE UMBACH
Edmonton,
"
SANDRA ST. CLAIR PHOTOGRAPHY
(SANDRA ST. CLAIR SLADE)
St. John's, Newfoundland
"A gentleman playing his guitar for change on Water Street in St. John's, Newfoundland. I felt this picture deserved black and white to tell the story. There is no distracting when using black and white. It can be a very powerful tool to a photographer."
AB
People pass by you every day. Do you ever wonder what their story is and where they came from to be present in that very moment? The mystery of the unknown fuelled this project. I spent some time wandering Churchill Square in downtown Edmonton. Photographing people passing through and listening to their stories."
IG: @kruphoto kru-photo.com
KRISTI NICKERSON
Saint John, NB
A MOMENT IN TIME. www.kristinickersonphotography.com
SONIA BLAYDE Toronto, ON
" Dear everyday people, Are you living your best life? I'm sure some days are good, some days are bad and sometimes we just simply exist. I say, life is short, live in the moment and just be."
IG: @soniablaydeproductions
E ROSS BRADLEY
Edmonton, AB
" Working with models we explored the interaction of bodies and the expression of emotions through body language."
www.eross . ca
HANNAH TKATCH
Calgary,
AB
" This past summer I was invited on a zoo trip with my best friend and her family. We went to the buttery gardens and I heard a whisper from behind me saying, "Hannah turn around so slowly..."
I turned around (not sure what to expect) and saw this beautiful creature perched on the tip of her sister's finger. "
"
DYLAN GREENHOUGH Edmonton, AB
STAGES OF GRIEF is a series of self-portraits that explores the volatile feelings experienced during periods of change. Shot while self-isolating, each photograph exhibits an expression that represents one of grief's five stages: denial, anger, bargaining, depression, and acceptance. It is a reflection on the societal grief our world shares as we endure the COVID-19 pandemic."
ANGELA ZHENG
Hamilton, ON
"
The downtown core of my city noticeably emptied during the pandemic. This portfolio documents the forgotten residences, storefronts, and factories in my city."
IG: @insta_angela5 angelazh25.wixsite.com/photos
BELINDA MULLER
Halifax, Nova Scotia
@belindamullerfineart
"An homage to the diverse ruggedness and beauty of the Nova Scotian winter landscape."
OLIVIA GALATI
Toronto, ON
"Getting outside has been a major source of happiness for me during COVID. I was interested to see how shots of nature and natural light would look in black and white film."
SEAN FETAZ
Calgary, AB
"Over the past year I have been working on a photo project that asks the question, how do people stay inspired? What do people do to overcome this and light that creative fire if it goes out?
Earlier this summer I helped my parents move out to the town of Sooke, which is about a 45 minute drive west from Victoria. Jenna who I have not seen since high school, was available for a photo shoot/catch up. While I was there I reached out to her to see if she wanted to walk the beach and fill me in on what's happening in her life. She is currently working in the field of tech in the marketing department; and while that's an incredibly intriguing job to have, it's not what peaked my interest the most. She told me that she was struggling to find ways to keep her life a surprise, and what to do when you don't have the answers. As a creative individual, I was humbled to hear that finding inspiration is not an obstacle that only people in creative fields face.
The global pandemic has given us all pause, and forced us to re-evaluate how we keep our lives interesting and meaningful. Staying inspired is one of the hardest things to do during this time. For me, seeking change is always a way to keep my creative fire burning, and curiosity to keep me moving forward. One portrait at a time."
IG: @ sean.fetaz www.seanfetazphoto.com
KEVIN E. PROULX Toronto, ON McAdam Railway Station, McAdam,
IG: @ kevin.proulx
New Brunswick.
JEFF SORIANO Vancouver, BC
"Crows are amazingly social animals but are, more often than not, spotted individually. This image is an attempt at conveying the feelings of loneliness."
IG: @sorianojeff_
BRIAN LAVERY
Port Alberni, BC
"A while back I printed a black and white photograph on sketching paper. When I added watercolour paint, the image dissolved.
My thoughts turned to gum bichromate and COVID-19 gave me some time to give it a go. With my ink jet printer I made black and white negatives, about eight inches by ten inches. I prepared the paper in the garage, exposed it outside and washed it in the laundry room sink. Most prints have a coloured layer that has to be exposed, washed and dried, followed the next day by a black layer.
It is a difficult process. A discouraging amount of paper landed in the recycle bin. But I got a few keepers. The water colour paper and the water colour paints make the texture and tones quite different from conventional photographs. Each handmade print is unique. Even following my notes carefully, it is impossible to create the exact same image twice."
133 photo ED