SPECIAL EDITION
BOTANICALS
CURATED BY PEPPA MARTIN
WINTER 2022/2023
GET THE STORY IN PRINT. PHOTOED.CA/shop
in PRINT
case you hadn't noticed, you're looking at PhotoED magazine's FREE digital EXTRA edition.
we're sharing some different stuff than what's happening in our print issue or our paid replicas.
we're different
. In
Here,
JULYA HAJNOCZKY
at the last judgement we will all be trees BDes, 2013, Photography, Alberta University of the Arts
"My work is a critical examination of our relationship with the natural world. Using a high-resolution scanner as my camera, I compose intimate portraits of ecosystems, fragmented, speculative near-future landscapes. The images are elegiac, dark, mourning; showing us not the rich world we live in, but the world we are about to lose." obscura-lucida.com
AUArts.ca
A diverse community of critical thinkers driven by curiosity and inspired by imagination
@AlbertaUArts
"
RACHEL NIXON Vancouver, BC
THE GARDEN OF MAGGIE VICTORIA
My ongoing project honours my great-grandmother, who was mostly forgotten after dying at an early age in 1943. The series combines family archives with my own contemporary images to recognize her talent as a gardener. I aim to restore the story of a woman to whom I owe my existence." rachelnixon.com
IN THIS DIGITAL ISSUE
WE LOVE
Bulley
+
FEATURING:
AL SZAJMAN
ALEX NEUMANN
AMANDA DEVISON
ANASTASIA SPIVAK
ANGELINA BARRUCCO
APRIL HICKOX
ASHLEY MARIE SCHOFIELD
ASHLEY SENJA
BOHDAN HRYNYSHYN
BRENDA LAKEMAN
BRIANNA NYKILCHYK
CARL RITTENHOUSE
CAROL HOW
CHARLOTTE BABAD
CHLOE LUKAS
CLARE ROSS
COREY ISENOR
DEEDEE MORRIS
DIANNE BOS
ELA KUROWSKA
HEDY BACH
JEANNE GERMANI
JUDY H. MCPHEE
KARENE-ISABELLE JEAN-BAPTISTE
KATHERINE CHILDS
KATHRYN REILLY
KATRINE CLAASSENS
KIRA TURNER
LAURA JANE PETELKO
LAURA KAY KEELING
LAURIE MINOR
LINDA BRISKIN
LISA ELIN/PHOTOGRAFFISTA
MARIE-LOUISE MOUTAFCHIEVA
ORYSA STEIN
OSHEEN HARRUTHOONYAN
PATRICIA ELLAH
SHAELYNN TREDENICK
SHELLEY WILDEMAN
STEVE KEAN
SUE NURMI
THEODORA MITRAKOS
TOMMY FEILER
TRACY METZ
YASMEEN STRANG
YVETTE CAKPO
8 RESOURCES
By Alan
13 THE BIPOC PHOTO MENTORSHIP PROGRAM By Heather Morton 55 THE GALLERY: Submissions by our readers
CAPTURE WINTER FIND THE BEST ASSORTMENT OF CAMERAS, LENSES, ACCESSORIES AND MORE AT HENRY'S. SHOP IN STORE OR ONLINE AT HENRYS.COM. CONNECT WITH US @HENRYSCAMERA
FROM THE INVENTION OF PHOTOGRAPHY
to today, botanicals have appeared throughout the timeline of the medium. From the early cyanotypes of English botanist Anna Atkins, to the sensuous blooms in dye transfer prints by Robert Mapplethorpe, the long history of art records our fascination with botanicals of all kinds.
It has been exciting and rewarding to review the diverse images submitted for this edition and to see the compelling ways photographers explore the natural world. Many found new voices or sought comfort during the pandemic, such as Jennifer Long and Ryan Van Der Hout. For others, such as artists Danny Custodio, Phyllis Schwartz, and T.M. Glass, botanicals are consistent elements in their lives and work.
Botanicals are an enduring unifier; their beauty entrances all but the incurable.
The contemporary artists selected to appear in this issue have presented unique perspectives and mastery of this evolving medium.
My vision for this special edition was to showcase the selected works as we might experience them in an art gallery. Slowly, with contemplation, and with room to breathe.
I hope you enjoy the outstanding work featured in this latest issue in the same way you might savour viewing an exhibition or photobook. With the onset of winter, may this issue bring warm rays of delight and inspiration.
Your issue curator, Peppa Martin IG: @thecommotion.ca thecommotion.ca
/ rita@photoed.ca ART DIRECTOR Ruth Alves CONTRIBUTING Alan Bulley Kerry Manders brandy ryan Peppa Martin Heather Morton Ali Penko COPY EDITOR Deborah Cooper COVER IMAGE Supernatural 4 by Anna Church WRITERS MAGA ZINE PHOTO ED MAGAZINE IS 100% MADE IN CANADA! THANK YOU FOR YOUR SUPPORT! PhotoED Magazine is published 3x/year, SPRING, FALL, & WINTER See www.photoed.ca for subscription and advertising information. Publications Mail Agreement No. 40634032 PhotoED Magazine 2100 Bloor St. West, Suite 6218 Toronto, ON M6S 5A5 This issue was made possible with the assistance of the Ontario Arts Council, Canada Council for the Arts, and the Government of Canada. WWW.PHOTOED.CA "It is an illusion that photos are made with the camera... they are made with the eye, heart and head." Henri Cartier-Bresson CURATOR ' S NOTE + FIND OUR DIGITAL REPLICA EDITIONS ON ON BOTANICALS If you're a patron or PRINT subscriber, isn't the Ryan Van Der Hout fine art print a divine addition to your copy of this issue? It's been such a pleasure to work with United Contemporary, Akasha Art Projects, Clear Bags, and Hahnemühle paper on this extra-special limited print edition feature. @photoedmagazine @PhotoEdCANADA @photoedmagazine
WINTER 2022/2023 ISSUE #66 ISSN 1708-282X EDITOR/PUBLISHER Rita Godlevskis
SHARE your work with us! We're looking to share unique FOOD photography stories this spring. photoed.ca/ submit-your-work CALL FOR SUBMISSIONS DEADLINE: FEBRUARY 1, 2023 FOOD TAKE NOTE: Winter Berries Explore the winter wonderland with a macro lens and discover a whole new world. Image by Kathy K. 1401 W 8th Ave #110 Vancouver, BC V6H 1C9 Phone: 604.734.7771 / Toll free: 1.800.994.2328 www.beauphoto.com SET YOUR CAMERA TO 'MANUAL', AND YOUR COFFEE TO 'AUTOPILOT'. SUBSCRIBE TO SPARKPLUG COFFEE'S AUTOPILOT CLUB FOR GREAT COFFEE DELIVERED ON YOUR TERMS. SPARKPLUGCOFFEE.COM
Jason Cooper
8x10 Glass Plate VIPs
+
35mm Official Patrons
Ann Piché
Lori Ryerson
Akemi Matsubuchi
120mm Official Patrons
Udle 4×5 Large Format Official VIP Patrons
Cole
Film Inc
Lauder
Media
Studios
THESE AMAZING PEOPLE SUPPORT US AS PATRONS! (AND GET EXTRA PERKS!) THANK YOU JOIN US! SUPPORT INDEPENDENT CANADIAN PUBLISHING. SUBSCRIBE ONLY $35/YEAR FOR HOME DELIVERY OF HOT, FRESH, PRINT PHOTO GOODNESS. WWW.PHOTOED.CA FIND OUT MORE: patreon.com/photoedmagazine + OUR PHOTO COMMUNITY PARTNERS STARTING AT $ 3/MONTH!
Jason Machinski Melanie Scaife Selina Pieczonka Steve Simon Ruth Bergen Braun Thomas Brasch Blork Robert Royer David J. Kenny Ariela Badenas Loretta Meyer Sid Naidu Dan Cooper Michelle Markatos Carey Shaw Vu Hai Nguyen Emma Juliette Sherland Daphne Faye Boxill Wally Rae Leah Murray Micheline Godbout Allan Cameron Kerri-Jo Stewart Tim Rahrer Charlie Rathouin Gurudayal Khalsa Steve Ricketts Lindsey Tran
Gerry Stone E Ross Bradley Anonymous Jeff Baine Katherine Childs hckygrlphoto Susan Kerr Christine Goodyear David Williams Shelagh Howard Laura Jones Raymond Corrin Charles Campbell Jennifer Gilbert Victoria Prevot Ken
Judith
Toni Skokovic Valerie Lancia Ian McKenzie Mark Walton Flic
Alan Bulley April Winter Conan Stark James Carey
Patricia Parsons Haughland
Trish Kozubski AIH
David Brandy
CanaryWharfBikes byJonathanPearce A nityPhotoredefinestheboundariesforprofessionalphotoeditingsoftware. Withameticulousfocusonworkflowito erssophisticatedtoolsforenhancing, editingandretouchingyourimagesinanincrediblyintuitiveinterfacewithall thepowerandperformanceyouneed. AvailableformacOS,WindowsandiPad–subscription-freeat: a nity.serif.com/photo Thefastest,smoothest,mostprecisephotoeditor formacOS,WindowsandiPad
204D carlton street, toronto on m5a 2l1 647.348.0104 www.akashaart.com @akashaart working with creatives since 2009 • custom framing • fine art printing • print order fulfillment how can we elevate the presentation of your photography? contact us Patrons and subscribers received a Ryan Van Der Hout limited edition print "Vanitas with Tulips, Pear and Skull" thanks to...
PICKED FRESH FOR YOU
A few resources to help you cultivate some fresh ideas
BY ALAN BULLEY
FLOWER: EXPLORING THE WORLD IN BLOOM
Phaidon Editors, with an introduction by Anna Pavord
Grey skies getting you down? Open a copy of Flower and step into all the colours of a perpetual summer. The book is a beautiful catalogue of how flowers have been portrayed in historical and contemporary art. Photography is well represented so you'll see Robert Mapplethorpe and Karl Blossfeldt, but you'll also come across work by T.M. Glass, Nobuyoshi Araki, and even Martin Parr. Each page highlights a single work with a brief contextual discussion and draws attention to key features, and is printed at the highest quality. Treat your eyes and inspire your own photography!
Hardcover, 2020, 352 pages $74.95 + shipping Phaidon www.chapters.indigo.ca
THE GARDENER
Director Sébastien Chabot Films Reflektor, 2016
Filmed over the course of four seasons near La-Malbaie in Quebec's Charlevoix region, The Gardener tells the story of the Jardins de QuatreVents (Gardens of the Four Winds). A testament to the vision of Francis Cabot, the gardener in question, the gently paced documentary contemplates the pleasure of designing and enjoying beautiful spaces. The movie is not only a window on the beauty of the evolving gardens, but also gives a glimpse into Cabot's mind as he creates and anticipates his visitors' responses. He claims, "Gardeners are all, I suppose, trying to recreate the Garden of Eden."
88 minutes (full length on Prime) 44 minutes (TV version on CBC Gem) Also available in French as Le jardinier
ALTERNATIVE PHOTOGRAPHY
More and more, plants are not just the subject of photographs but also the substance. As we try to reduce our impact on the planet, it is good to be aware of natural options that are less likely to poison the environment (and ourselves!), particularly in connection with wet darkroom processes. The UK's Alternative Photography website presents information about alternative processes such as how to brew your own chemistry (think coffee, mint leaves, or seaweed), and also gives readers the chance to connect with like-minded artists, and to view and exhibit work. Canadian photographers will get value from the excellent online bookstore, given restrictions on shipping chemicals internationally.
www.alternativephotography.com
GET INSPIRED
12 photo ED
A RETRO CINEMATIC BOUQUET
Not in the mood for a gallery or a book, but still looking for (very loosely) floral themed inspiration!? Hit the remote with your green thumb for some
Garden iTunes, STARZ
retro movie fun! The Secret
Steel Magnolias Netflix, iTunes
Edward Scissorhands Prime, Disney+
The Blue Dahlia iTunes
The Best Exotic Marigold Hotel Prime, Disney+ AN OPEN VIEWER FRIENDLY FORUM FOR THE BEST IN CANADIAN + INTERNATIONAL CONTEMPORARY VISUAL ARTS ARCHITECTURE DESIGN + ART EDUCATION Promoting Contemporary Visual Arts Since 1988 10215 - 112 Street Edmonton, AB, Canada T5K 1M7 www.harcourthouse.ab.ca info@harcourthouse.ab.ca 780 426 4180 CAMERON DEVELOPMENT
Tulip
Fever Netflix, iTunes Driving Miss Daisy Prime, iTunes
ORDER ONLINE: PHOTOED.CA/SPECIAL-OFFERS A BLAST FROM THE PAST THE SUPER BUNDLE SPECIAL OFFER! 15 back issues + 3 ×3D issues (inc glasses) + a FREE copy of the GUIDE! Makes a great classroom resource for only $65. FREE SHIPPING IN CANADA Photo Credit: @curlystreets Retrospective Backpack 15 See the world with the complete line of Think Tank camera bags, travel gear and accessories. www.thinktankphoto.ca VENTURE. OBSERVE. CONNECT.™
ABOVE: "Growth" from the book Amity
The concept of this image is that the earth is growing with the rocks, engulfing it within its core, soon to become one. It represents how friendship grows and is inspired by the saying "you are who you surround yourself with."
BIPOC TALENT IN BLOOM
BY HEATHER MORTON
ONE OF THE MOST DYNAMIC things about the BIPOC Photo Mentorship Program (BPM) is how diverse our mentees are in terms of their interests and the challenges they face as they emerge towards professional practice.
Mentee Natalie Asumeng had long worked with elements of nature and the mentorship program came at an opportune time to help her move her work forward in meaningful ways as she pushed through pandemic and post-post-secondary graduation malaise.
She says, "As I graduated during the height of the pandemic, lots of art grads lost their passion to make work, including myself. I wanted to break out of that mindset, so I applied for the mentorship to see if that would give me the spark of creativity I needed. Joining the BIPOC Photo Mentorship Program was the beginning of a new desire to continue being an artist outside of school."
Pandemic pressures weren't all bad. In fact, Natalie seemed to lean into it: "The absence of institutionalized value systems led to non-traditional spaces such as living rooms becoming used as studios and gallery spaces where individuals felt safe to play with different mediums and forms of creating." She goes on to describe her project A Dimension of Creative Invasion and Identity Confrontation : "This scene (next page) represents a moment of time and the act of deconstructing aspects of one's identity through creative play within an everchanging sanctuary."
Natalie worked with mentor Jessica Thalmann who helped her continue to
Natalie Asumeng and Jessica Thalmann (inset).
photo ED 15
ABOVE: From a collaborative series with Ceramicist Tamara "Solem" Al-Issa for a project called DEALR Project. The name of the series is A Dimension of Creative Invasion and Identity Confrontation. Our project was an attempt to explore the rebirth of post-
modernist play by creating a scene where the imagery is ironic, liminal, and surreal.
BELOW: From the series Candle Holder. This image uses the playful concept of turning food into everyday objects: in this case, candles.
explore her work with natural elements, eventually creating two books and securing a grant through the Ontario Arts Council.
The variety of opportunities on the BPM website meant that Natalie's interests in bookmaking, grant writing, and learning more about artist-run culture were matched with Jessica, who recalls, "Natalie's editorial and fashion work was engaging and unusual, and I was most of all impressed with her uncanny ability to combine text and image in a compelling way. Her design sensibility was fresh and all her work was imbued with a sense of surrealism and intimacy. Her books Sunsum (2021) and Amity (2022) are my favourite works she has made over the course of the pandemic and this mentorship."
Natalie credits her time with the BPM as crucial in getting these books made. She says, "Having sessions with Jessica inspired me to create two books. Sunsum is about reflection for people who might feel overwhelmed by life. Through images and poetry, the book encourages readers to focus on taking a break and absorbing the nature and the environment around them. The photographs are close-ups of locations engulfed in vegetation. This guides the viewer towards the greenery and examining and observing its ordinary yet unique appearance.
"My second book Amity is about the process of friendship. Through an abstract concept, I tell the story of how relationships are formed and how they can fade away. Creating these books with my mentor's guidance helped me kick-start my passion. Within our sessions, we also discussed the gallery industry and my aspiration to pursue different creative careers to better myself as an artist."
Though the mentorship has officially ended, Natalie and Jessica are still in touch. Natalie is still working with botanicals and food and is currently the Educator in Residence at Doris McCarthy Gallery. Jessica's commitment to mentorship has prompted her to join the BPM steering committee while she continues to offer mentorships. She echoes a familiar sentiment among mentors involved in BPM when she says, "Mentoring and teaching is a significant part of my practice that I cherish. Some of the most meaningful moments and best words of wisdom in my career have been shared by watching and assisting other artists and I want to pay that forward to a new generation of photographers."
For more information and to join the program, please visit www.bipocphotomentorship.com and follow us on Instagram: @bipocphotomentorship
16 photo ED
Asthecostofeverythingisontherise,there's onethingyoucancountontostaybehindthe times:admissiontoourfairsandsales.Notto mentionthatadmissiontoourauctionshas alwaysbeenfree!Soifyou'relookingforgreat budget-friendlyphotoequipmentatpre-2022 prices,checkoutthewebsitebelowforour 2023events! CallingthePhotoThrifty! www.phsc.ca
BOTANICALS
Since inception, photography has evolved through three distinct eras: plate, film, and digital.
With the advent of new technologies, each previous method was thought to become outdated, and abandoned in favour of new, exciting developments.
In this special issue, we find this perception to be wholly disproved. Here we discover that photographers continue to embrace the gamut of artistic approaches, from vintage alternative processes through to current applications of augmented reality, generative and digitally manipulated work.
Indeed, botanicals have been a source of inspiration for artists throughout the history of the medium, and continue to be a constant and reliable subject for any desired style, mood, and method.
I'm excited to present this selection of thoughtful work by talented lens-based artists, as both a celebration and a legacy in print.
CURATED BY PEPPA MARTIN
TRACY METZ
Floral Noire Edmonton, AB
IG: @tracymetz67
DIANNE BOS
BioDiversity
Series
Calgary, AB
Using analog pinhole photographic processes, I aim to draw attention to the contrasts and echoes between the worlds of botanical gardens, biodiversity gardens, and the natural environment.
www.diannebos.ca
OSHEEN HARRUTHOONYAN Still Life
New York, USA
From a series of photographs shot on large format black and white film. Inspired by Peter Greenaway's study of decay and human culture in "A Zed and Two Noughts", Dutch Still life paintings. Abstract and painterly effects are created by manipulating the films emulsion.
www.osheenh.com
DEEDEE MORRIS
Shifting Polarities: Portraits of Renewable Abundance Three Fathom Harbour, NS
This project explores fluid spaces within the intersections of gender and our connection with the non-human world (both organic and synthetic) from a masculine-identifying perspective. deedeemorris.com
22 photo ED
ALEX NEUMANN
I See Stars Toronto, ON
The idea I'm working with is the propensity of humans to create symbols and attach meaning and affiliation to them. My photographs are manipulated by software that mirrors portions of the image into 4, 5, 6, 7, and 8 sections, each containing a star. Star-like patterns represent a number of spiritual faiths and cultures. alexneumann.art
photo ED 23
JULIETTE SHERLAND
Mississauga, ON Collision (2019 - present) 2' x 4' prints.
"Collision" explores my experience with suicidal ideation, how disconnected I have felt about my physical existence, and how avoiding this feeling turned my reality into a dream-like-fantasy as a way to cope while moving throughout life.
I have transformed negative experiences into positive ones by assembling or dissecting my artworks to find meaning in my subconscious. Every situation is a learning experience and sharing my artwork with others has helped develop a clearer understanding of my own feelings.
EMMA
https://linktr.ee/juliettetheartist
KATHERINE CHENG
[Dis/Re]Connected: Through the Senses Aurora, ON
In dense urban centres, humans can feel disconnected from nature. By isolating our senses in the wilderness, it can be a meditative experience for healing. In this series, through an immersive recreation of forest bathing practices, I hope people can reflect, re-centre and reconnect with nature.
Left: "Scent," – Wild Man, known as "Yeah Man" in Chinese, gently cradles and smells a turmeric plant that he had grown. Growing and making his own tea and food, Wild Man teaches his way of living inviting people to spend time on his farm.
Right: "Touch" – Amanda Yik, a forest therapy guide, puts her hand over her heart as she feels the breeze and sunlight on her skin. In 2007, she was diagnosed with cancer. It was through gentle nature walks that she found comfort and grounding that nothing else offered.
www.katherinekycheng.com
SHAELYNN TREDENICK Metanoia Ottawa, ON
I feel compelled to scan. I grew up surrounded by my mother's passion in creating an oasis of a garden every year, yet I am still not able to keep a flower alive. Despite my lack of a green thumb, I pour that same emotion into each piece I construct. www.shaelynntredenick.com
SONIA LÉTOURNEAU
The thread Montreal, QC
Withered flowers as a metaphor for the states of human beings and the thread that repairs, connects, consolidates, strengthens, and supports us.
IG: @ sonia.sonia1410
HUAIJUN WEN PLANTILLUSION
Toronto, ON
This self-portrait is a visualization of a fantasized utopia where my house plants and I have dislodged from reality, as we form a bonded union undisturbed by the rest of the world.
www.huaijunwen.com
KIRA TURNER
Botanicals
& other things Cambridge, ON
An examination of the beauty inherent within a dying planet. A portrait of things that have exceeded their best by date. Sitting for weeks, even months, something magical happens - a transformation from first blush to complete collapse.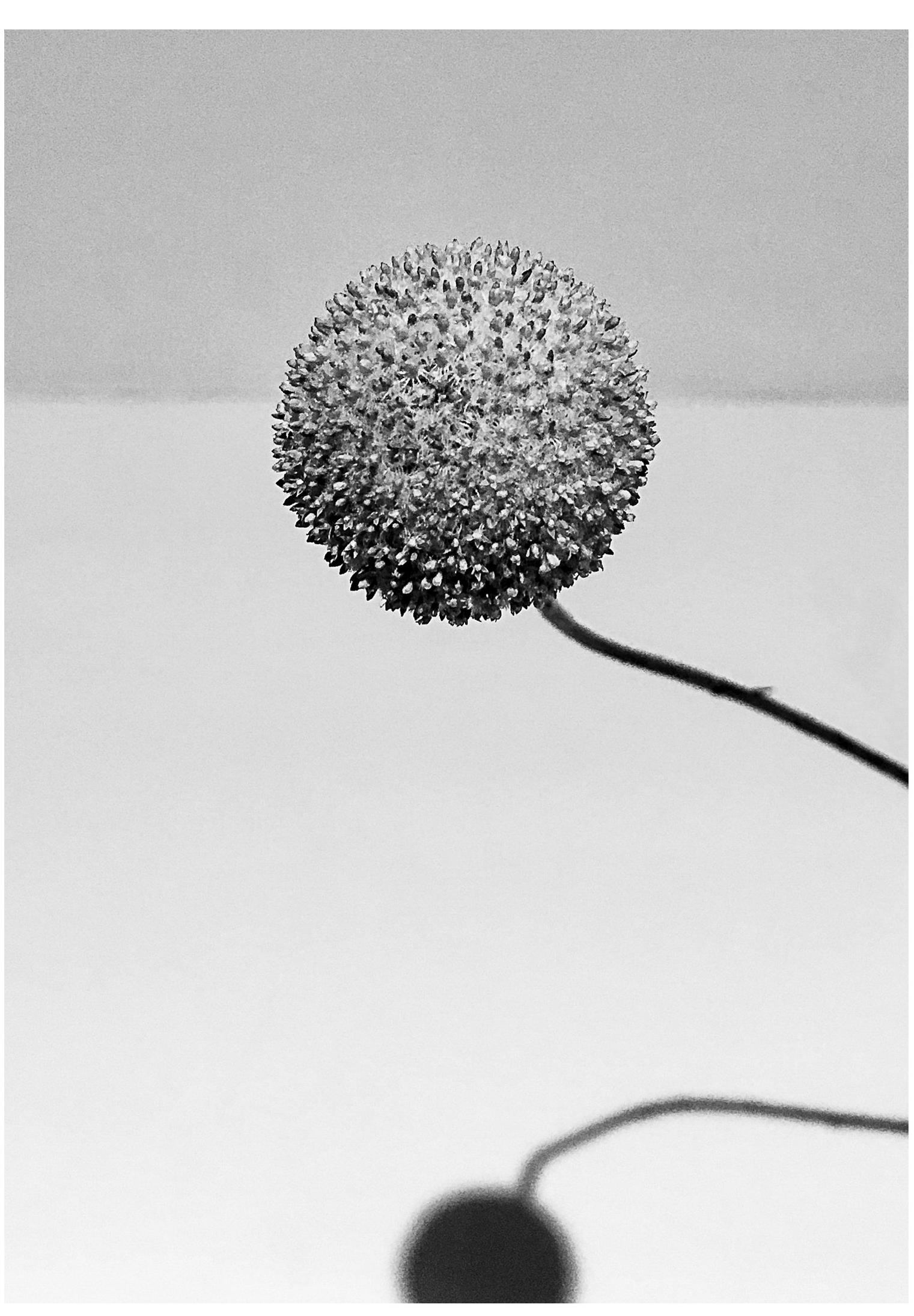 www.kiraturner.ca
ORYSA STEIN
Floral Portraits Winnipeg, MB
This image is from an ongoing series focused on floral details that many may miss. From veins in petals to pollen dust, I am constantly inspired by the unique qualities of flowers.
32 photo ED
IG: @orysasteinphotography
ASHLEY SENJA
Growing Pains
Toronto, ON
This piece is a visual depiction of struggle in tandem with the beauty that is growth. My work is self-portrait based, and choosing to put it out in the world is important for not only my own growth, but to contribute to diversification of bodies we see in photography. ashleysenja.com
photo ED 33
RODERICK CHEN Impermanence Montreal, QC
I explore the beauty within the ordinary, observing the simplicity of nature caught between summer and winter.
IG: @chenfoto
DAVID GRAY
Life on the Pond
Vancouver, BC
Driven to reveal new ways of seeing abstract shapes and patterns in nature, I have always maintained a passion for uncluttered design, rich tonal ranges, and a finely-crafted print. www.davidgrayphotography.ca
JASON NIELSEN
The Spirit of Eden Vancouver, BC
From the oldest surviving tree species, to an ancient flowering plant that evolved before the existence of bees, The Spirit of Eden focuses on the primordial world that surrounds us all. Printed on Japanese paper and layered with gold leaf, this iridescent image aims to penetrate the surface of everyday experience and uncover a deeper reality - one that celebrates the interconnection at the heart of all things.
IG: @ /jnielsen_photo
LAURA JANE PETELKO
Phototropic Toronto, ON
This work is inspired by the idea of "phototropism"; plants and organisms as naturally drawn to find the light. The work born out of a primal instinct to be at one with nature. To submerge into water and charged, fresh, botanical life.
www.laurajanepetelko.com
PATRICIA ELLAH
Untitled Toronto, ON The grace of flowers as they exist in their space.
IG:@patriciaellah
KRIS MOORE
Beach Trash with Floral USA
Trash on the beach is an abomination, especially when it's made of plastic. I pick up what I can, bring it into my studio and pose it in contrast with natural beauty. Sometimes plastic is funny.
www.krishodsonmoore.com
LISA ELIN / PHOTOGRAFFISTA
Femme Fleurs
Pierrefonds, QC
The pandemic restricted access to my usual inspiration from travel. Instead I focused my photography on natural surroundings found closer to home. www.photograffista.com
CAROL HOW Personality Surrey, BC
All botanicals are intrinsic and essential to life. Each plant or blossom contributes to our life. I perceive each one as unique, and attempt to capture in my own abstract way, some essence of that communication.
IG:@carol_how
RICHELLE FORSEY
Content Aware Gardens
Guelph, ON Content Aware Gardens are cultivated green spaces of my lens-based photographs of botanical life made in collaboration with AI. They are reimaginings of the beautiful chaos of forests and gardens, and a digital sanctuary from the current moment.
www.richelleforsey.com
BRIAN LAVERY
Above Below Port Alberni, BC
For my first attempt at underwater photography I went wading in the puddles, ponds and streams of the Alberni Valley on Vancouver Island. This puddle was near Cherry Creek, not far from our house.
www.brianlavery.ca
DAPHNE FAYE BOXILL
Self-portrait with botanicals Toronto, ON
Being alone both behind and in front of the camera allows me to cultivate self-awareness, a feeling of safety and a space for me to be my most authentic self: vulnerable, reflective, curious, but also joyful, sensual and empowered.
dfboxill.com
KARENE-ISABELLE JEAN-BAPTISTE Her Flowers Montreal, QC
During the pandemic my mother would bring us flowers regularly. She felt they brought much needed joy during a difficult time. She happened to come on a day when I was taking portraits of my daughter wearing a very special dress and she suggested we include them. She was right.
IG: @KareneIsabelle
DALE M REID
DIVERSITY
Toronto, ON
My aim is always to present a unique perspective that allows for more than one interpretation. I view this work as a metaphor for diversity that is not always accepted in society. After leaving a corporate environment and changing genders, I have been exploring and developing my creativity.
www.dalemreidphotography.com
STEPHEN BRULE
Botanical Ambrotype Toronto,
ON
160 years ago the photographer was required to be equal parts chemist, technician and artist. Making photographic plates from scratch, the photographer was an Alchemist who possessed the power to conjure images of unmatched reality, using their photographic potions. After becoming disillusioned with the sterile nature of digital photography and its workflow, I fell in love with the wet plate collodion process which was tactile and required me to be hands on at every step. This enchanted process is used to enhance the mystical atmosphere in my images. I strive to create windows for the viewer to momentarily step into alternate versions of our world. www.stephenbrule.com
IG:@stephen_brule
LINDA BRISKIN FLEURS
Toronto, ON www.lindabriskinphotography.com
KATHERINE CHILDS
Finding Poetry Toronto, ON
Last year I had cancer surgery while living with a concurrent autoimmune disease. These medical challenges severely impacted my ability to make art, or engage in any kind of creative or physical activity. I was afraid of death and permanent disability. Friends and family sent me flowers. I used my smartphone to take pictures around the house. Simply holding my phone was painful and the pain was terrifying. But, I was determined to create images. I pushed past the debilitating pain, and processed the possibility of death. The darkness in this series of photographs reflects the complex of emotions I experienced.
IG:@ khchilds
E ROSS BRADLEY
Hythe Garden Edmonton, AB
Northern Alberta has long warm summer nights that encourage gardens to flourish. Transplant a Dutch artist with a passion for flowers and you have the formula for a luxurious field of colour. The challenge for an artist is to try and capture just a little of natures magic.
www.eross.ca
LAURA KAY KEELING
All
My Friends Hamilton, ON
I explore how we form connections with each other and nature. I think about reciprocal care and how one might engage and interact with other humans, plants/animals, and what the relationship of caring for each looks like. I scan, photograph, press and repeat.
www.laurakaykeeling.com
BRIANNA NYKILCHYK
a. failure. to. change. Ottawa, ON
As a queer, nonbinary, neurodivergent interdisciplinary artist, working with textiles, fibre arts, photographic processes' and sculpture, I explore themes of identity, the environment, memory and my perception of the world.
The process of making something physical with my hands is important to my practice.
In this work, I created digital scans of cyanotype prints as a way of referencing ways we continue to destroy the planet with deforestation, natural disasters, and colonialist and capitalist expansion, with only a hazy memory of what remains. IG: @b.nykilchyk
CLARE ROSS
Conversations With Nature
King City, ON
In Conversations with Nature, I work with natural forms that have died and fallen apart and I rebuild these organic structures, with no adhesives, in whatever way they will allow. The back and forth between myself and the organic pieces feels like a negotiation, a conversation. Once I feel we are getting somewhere with a constructed bloom, I light and photograph it. This process can take hours or even days. The progression of each sculpture requires numerous photographs, but it is obvious when the final image has been achieved. The result is a foray into a post apocalyptic world; what can we reconstruct once everything is lost? Of course I can never achieve the perfection that these plants achieved alone in the natural world.
www.clareross.ca/collections-conversations
APRIL HICKOX
Observance
Toronto, ON Observance is an ongoing series of still and video images that explore our relationship to time and personal history in context of our relationships with others and our response to the healing properties of nature. Using a still life as a metaphor for the ephemerality of time, each photograph recalls a person in the artist's life.
Experience the video via THIS LINK.
The video works record her hands removing and reordering the flowers in the vases, acknowledging how memories and loss shift over time. Observance is informed by the history of floral photography and painting, moving beyond traditional still life with repetitive capture and a grid or works. Through this process the arrangements change and plants fade, while the vases remain ready to be filled again with fresh flowers for another day – offering countless possible narratives while echoing past lives.
Observance recalls the AIDS crisis and acknowledges a new cycle of awareness and mourning as people who
have made an impact on the artist's life are also aging and reflecting on their experiences. This meditative work acknowledging how individual memories and the process of healing shift with time while honouring those who have passed and those who remain.
aprilhickox.com
PATRICIA KOZUBSKI Nurture Nature Kamloops, BC
I photograph my son showing me all the flowers he finds, using whatever camera I have on hand. DSLR, film, phone. It's about bringing who you are to the parenting table with your child.
wildrootsart.ca
KERRI-JO STEWART Layered Blossoms Richmond, BC
This image was taken in my backyard during COVID isolation. I wanted to capture what I saw and how I felt about my garden. This a multiple exposure image created in-camera. http://www.KJ.studio
ANGELINA BARRUCCO
The Artificial Botanical Ottawa, ON
Increasingly, in our culture, nature has become an abstract concept. We have become divorced from direct contact with the natural. How is it that we are drawn to representations of nature but move farther from understanding or experiencing it?
www.angelinaphotographs.com
SHELLEY WILDEMAN
Compressed History Toronto, ON
Flowers compressed in a flatbed scanner, and fabric. This work was inspired by and begun during the lockdown days of the pandemic – when, we too were each in our own compressed space.
www.shelleywildeman.com
SHELAGH HOWARD Genus/species Halifax, NS
Genus/species is a body of work that explores the role labeling and language plays in our lives, exploring the human drive to classify self and other. The title of each piece is the taxonomic name of the flower: a refusal to label or make assumptions about the subject themselves.
www.shelaghhoward.art
SUE NURMI
High Key Flower
Nanaimo, BC
A simple flower in monochrome to highlight the delicacy of nature. www.suenurmiphotography.ca
ALLAN CAMERON
Wanning Tulips 2021
Wanning tulips, like fading memories, still beautiful … For the past two years I have been making images of waning tulips. I started this series while looking after my father, who had been diagnosed with dementia. https://abc-photo-album.smugmug.com/Home
KATRINE CLAASSENS
Dark Blooms Montreal, QC
Wild and feral plants collected from the railway tracks, pavements and vacant lots of Montreal bear witness to the diversity and beauty of nature that persists in these unintended, untended patches of life.
IG:@katrineclaassens
MARIE-LOUISE MOUTAFCHIEVA
Iris in the window Toronto, ON
A peaceful still life scene intended to translate a meditative quality just as you would watching the rain trickle down a window glass. www.marielouphoto.com
JUDY MCPHEE
Doubled Exposure Roses Salt Spring Island, BC
For me, photography is a way of life. I explore the world with my camera.
www.mcpheestudiogallery.net
THOMAS BRASCH
Oculus
Toronto, ON The Oculus series captures the beauty found in botanicals. The source image is reworked to enhance textures, fractal patterns and symmetry. Hyper-saturation gives the horticultural elements a vibrancy and secular mysticism.
https://thomasbrasch.com
LAURIE MINOR
Lines and Curves Ridgeville, ON https://laurie-minor.pixels.com
CARL RITTENHOUSE
Calla Lily Jordan Station, ON Natural forms, lines and shapes. https://carlrittenhouse.com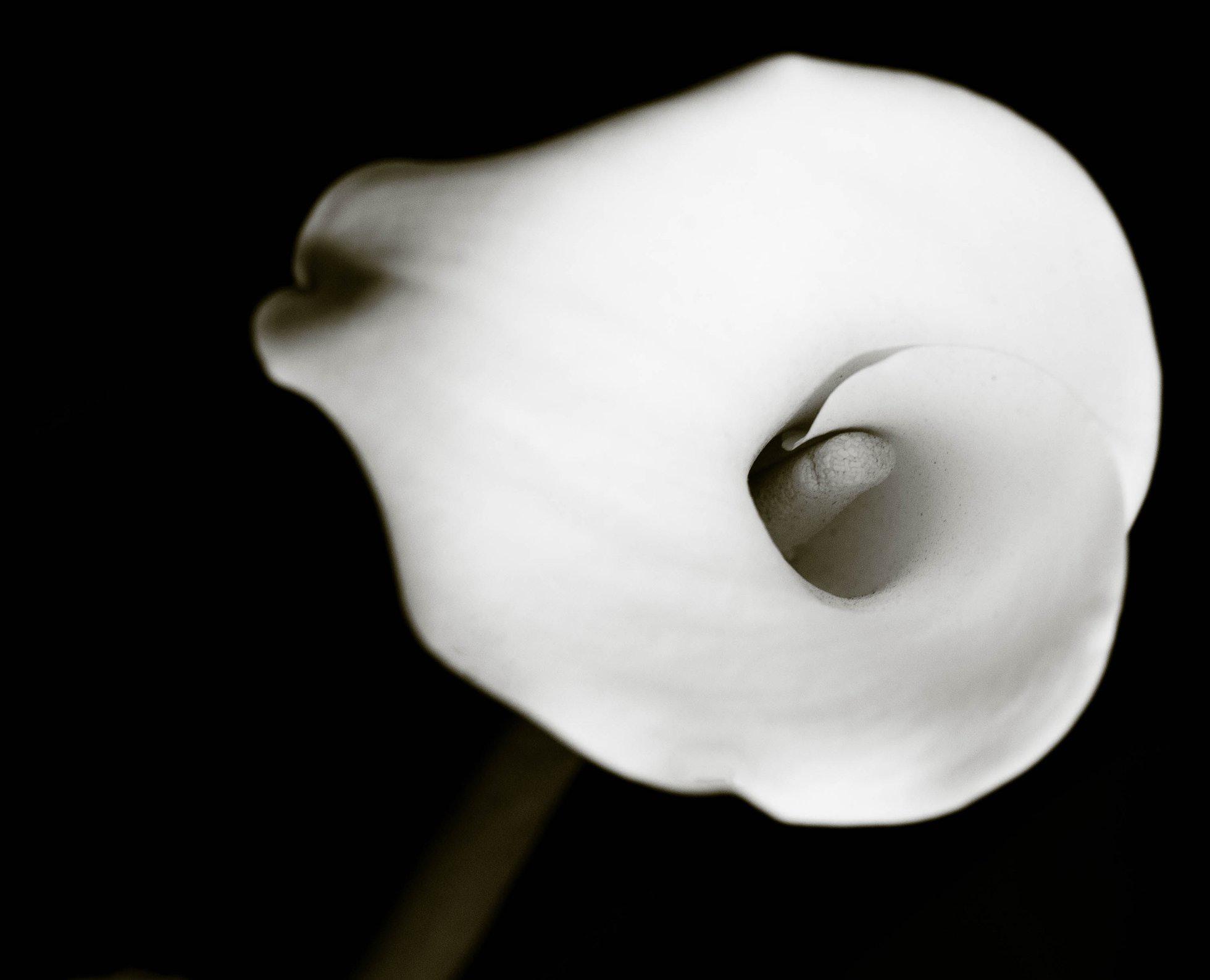 THEODORA MITRAKOS
Morphe: Soft-Focus Floral
Morphe is a series that examines florals from new perspectives using experimental photography techniques. Using reverse lens macro, I concentrate on form, shape, and colour.
theodoramitrakos.com
CHLOE LUKAS
Toronto, ON Preserving the associations that flowers carry through experiences and memories. IG: @chloelukasphotography
ELA KUROWSKA
Strange Blooms
London, ON
In Strange Blooms, I create fantasy botanical forms using translucent organic gels and plant parts. I design and build arrangements from color-tinted photoelastic gels, flower petals, and twigs, and I capture them in the cross-polarized light.
https://lightforms.ca
COREY ISENOR
Luxury of Lupins Halifax, NS
I'm interested in everything the natural world has to offer, and the separation between dominant Western culture and our connections with the natural world; a gap that appears to be continually growing.
My ideas present various sides of these relationships, taking into account the continually changing tourism of 'natural beauty' and the value of the landscape.
coreyjisenor.com
BOHDAN HRYNYSHYN
Mono no Aware: Papaver somniferum Edmonton, AB
My photographs are an exploration in the morphology of the natural environment. Nature is constantly under attack by urban, industrial, and agricultural expansion. This has substantially reduced the opportunities for individuals to experience and enjoy its natural beauty.
YASMEEN STRANG
Apoptosis: Disembodied Vestige Vancouver, BC
At the onset of the pandemic I stumbled across a quotation by the Nobel Prize winning author and activist, Olga Tokarczuk. Her words inspired me to create a series I call, Apoptosis.
She writes, "Reality has grown old and gone senile; after all, it is definitely subject to the same laws as every living organism — it ages. Just like the cells of the body, its tiniest components — the senses, succumb to apoptosis. Apoptosis is natural death, brought about by the tiredness and exhaustion of matter. In Greek this word means 'the dropping of petals.' The world has dropped its petals."
My desire was to create imagery that reflected the world surrounding me at the time — lockdowns, illness, uncertainty, and fear but also the transcendent beauty resulting from the world hitting pause for a while. https://www.yasmeenstrangphoto.com
CHARLOTTE BABAD
Love Me in Bloom Toronto, ON
Working botanicals from a mental health angle, recognizing that the human body is both a work of art and the least fascinating part of a person, a tricky concept for me after years of medication have left their mark. A delicate reminder that there's sometimes beauty in disaster.
lupineimagery.com
JEANNE GERMANI
Unfurl Norris Point, NL
Using ferns from my garden, I aimed to craft an image that held a strong nostalgic quality around the idea of unfurling: a transition to something new. I am intrigued by objects embedded with histories and stories; drawn to natural materials, especially those with imperfections or imbued with the beauty of decay. I work with Polaroid transfers to explore themes of memory, illusion and the ephemeral.
IG: @jeannegermani
STEVE KEAN
Devastating Beauty Toronto, ON
Death comes for every living thing. It's simply a part of the whole. When my stepfather was dying he may not have known it, but he gave me the greatest gift. He showed me the beauty in death. He showed me grace and strength like I had never seen before. I had the privilege to bear witness to his passing from this life to whatever comes next. I know he was afraid. He taught me in those days and hours that it's okay to be afraid of what is to come. More than that, he showed me how to face that fear. In the years that have followed, I seem to have been drawn to death in my photography, and it's only now that I understand why. In dead and dying flowers I see the change from the abject beauty that everyone expects from a flower to the fading bloom. Petals that were once smooth and neatly ordered turn brown and develop wrinkles and curl up and eventually fall to the ground. Thank you, Al. For that one final lesson in life and for showing me what it truly means to live all of it.
www.stevekean.com
AMANDA DEVISON
Solar Powered Riverview, NB
YVETTE CAKPO
Blooming Roses Montreal, QC www.yvettecphotographe.com
ASHLEY MARIE SCHOFIELD
Macro: Pilea peperomia Richmond Hill, ON
This image of a pilea peperomia (Chinese Money Plant) is taken with a DIY macro lens made with old lens elements, a shoe box, and duct tape.
After exploring botany through topics such as naturally occurring geometry, and the qualities of growth and decay, I've wandered into reflections about an "ideal garden." Then followed the question: would aligning ourselves with these laws make us worthy caretakers of this "ideal garden" and orient us towards achieving our most fruitful, highest physical and spiritual potential?
IG:@ashleymarieschofield
KATHRYN REILLY Floribunda Deal, UK
Using original images of exquisite blooms, I create complex digital collages in order to view the blooms in a completely different way – as elements of an organic man-made shape. www.kathrynsavillereilly.com
TOMMY FEILER
DANDELION (UNTITLED-080)
Wellington, ON
Asa Gray, the author of The Pertinacity and Predominance of Weeds, defines weeds as, "a useless or troublesome plants" (165). This "useless" dandelion, however, reveals a beneficial beauty when removed from its natural world, suddenly becoming otherworldly.
Gray, A. "The Pertinacity and Predominance of Weeds." American Journal of Science, vol. s3-18, no. 105, 1879, pp. 161–167., https://doi.org/10.2475/ajs.s3-18.105.161
IG: @ thetommyfeiler www.tommyfeiler.com
BRENDA LAKEMAN Memory St. Albert, AB
Drawing on memories of gardening with my mom, and a love of the dramatic, moody, and symbolic paintings of the 16 & 17th-century Dutch still-life genre, I build and photograph still-life compositions that invite us to reminisce. www.brendalakemanphotography.com
ANASTASIA SPIVAK
A poppy for Ukraine Toronto, ON IG: @theanastasiaspivak
HEDY BACH
flora study Edmonton, AB bachcreative.com
MICHELINE GODBOUT
Dancing with Flowers Burlington, ON
Flowers as they dance in nature express the joy, graciousness and serenity that one seeks when life events, such as the pandemic, can isolate us into darkness. Flowers engage one into a pause of reflection where the seed of hope and resiliency can emerge.
IG: @mrgodbout
AL SZAJMAN
Secret Garden
Vancouver, BC
There is drama in gardens, where light, shadows, darkness and wind dance. Each of the four takes its turn leading and my goal is to capture the ever changing dance. IG: @al_szajman