THE FOOD ISSUE
photo ED 1 SPRING/SUMMER 2023
GET THE STORY IN PRINT. PHOTOED.CA/shop
we're different in PRINT.
In case you hadn't noticed, you're looking at PhotoED magazine's FREE digital EXTRA edition. Here, we're sharing some different stuff than what's happening in our print issue or our paid replicas.
Capture the decisive moment with Tamron.

Tamron lenses deliver a superb fusion of performance and value, enabling today's cameras to perform at their peak, and are designed for remarkable optical performance.
© Jose Mostajo ONLY AVAILABLE AT YOUR AUTHORIZED TAMRON AMERICAS RETAILER www.tamron-americas.com ALL NEW G2 FAST F/2 ULTRA WIDEANGLE STANDARD
[ model A063] 28-75mm F/2.8 Di III VXD G2 ALL-IN-ONE
[
35-150mm F/2-2.8 Di III VXD [
A046]
F/2.8
III RXD
ZOOM LENS for Sony E-Mount
ZOOM LENS for Sony E-Mount
model A058]
model
17-28mm
Di
WIDE-ANGLE ZOOM LENS for Sony E-Mount
ADRIAN DÉNOMMÉ
AMANDA DEVISON
ARIANNE TUBMAN
ARIEL THOMAS
AROSHALINY GODFREY
BLAIR IMMINK
BRENT MYKYTYSHYN
BRIAN GROBERMAN
BRIAN LAVERY
CHRISTINA HAJJAR
COLIN ARTHURS
CRYSTAL DREW
DALE M REID
DANIEL ALVARADO
DENIS CANHASI
ED MCDONOUGH
ELENA GODEFROY
EMMA JULIETTE SHERLAND
ERIC CHENGYANG
ERYN TREVORS
FABIAN OTERO
FATIMA HAIDAR
GARETH JONES
GRACE WANG
GUN ROZE
HEND SHAIKH-NAGI
JACK MCGUIRK
JEROME CLARK
KAMELIA PEZESHKI
KAREN STENTAFORD
KATA ENDRODI
L!N DUPERRON
LORETTA MEYER
MARC SANTOS
MARIE-LOUISE MOUTAFCHIEVA
MARK WANG
MELISSA REMPEL
NATALIE NADEAU
QUEENIE XU
ROB GRAHAM
RODERICK CHEN
SAMANTHA GOH
SARAH WRIGHT
SKIP DEAN
TIM RAHRER
TODD MCLELLAN
TRINA TURL
VITALII SOVHYRA
FABIAN OTERO Fredericton, NB EDIBLE BEAUTY IG: @fabruk 9 RESOURCES WE LOVE By Alan
13 SCARBOROUGH MADE: COMMUNITY CONNECTIONS + CULINARY CULTURE By Sid Naidu 17 ENDLESS POSSIBILITIES: ADAM BORMAN
Bulley
IN THIS EXTRA ISSUE...
+ FEATURING
FOOD FOR THOUGHT
This edition focuses on photographers who share their experiences and experiments with food: food as a necessity, a luxury, an object, a statement, a cultural connector, and so much more.
Photographing food may seem easy since food is a stationary subject, but this genre is far from simple. The same subject bares the weight of interpretation as it develops into a final image. Photographer Brian Lavery, whose work you'll find in our Digital Edition – Extra (an extension of this print edition), candidly describes his process photographing food: "I wanted to photograph an apple but when I brought the apple and camera together, they would not cooperate. As well, the apple is burdened with Old Testament symbolism. I paused to think. Lemons came to mind."
From analog experiments like Anthony Carr's NASA-inspired pepper project, to images made for a digital audience by Gab Bois, what we eat becomes part of a creative process that provides any viewer with a familiar, relatable starting point, regardless of where the conversation may lead. S. Maria Brandt found inspiration to address food waste in the
WWW.PHOTOED.CA
@photoedmagazine
@PhotoEdCANADA
@photoedmagazin e
PhotoED Magazine is published 3x/year, SPRING, FALL, & WINTER
See www.photoed.ca for subscription and advertising information.
Publications Mail Agreement No. 40634032
PhotoED Magazine
2100 Bloor St. West, Suite 6218 Toronto, ON M6S 5A5 This issue was made possible with the assistance of the Ontario Arts Council and the Government of Canada.
back of her fridge, while the work of chef and photographer Ian Kapitan directs us towards a conversation about mental health in the culinary industry.
One of my favourite features in this issue is our FOOD CHAIN project. With only the guideline that food was the theme, images were passed to contributors across Canada in a kind of exquisite corpse photography game. It was fascinating to genuinely not know what to expect from the submissions.
Looking ahead, our 2023 season will focus on back-to-basics themes that aim to engage our readers and challenge them to push their creative thinking around the essentials of life. Look forward to our WATER and LAND themed editions this year.
Follow us on Instagram, Patreon, Facebook, and Twitter, and sign up for our e-newsletter to keep up with all our adventures!
Your editor, Rita Godlevskis
MAGA ZINE
SPRING/SUMMER 2023
ISSUE #67 ISSN 1708-282X
EDITOR/PUBLISHER Rita Godlevskis / rita@photoed.ca
ART DIRECTOR Ruth Alves
CONTRIBUTING Alan Bulley
WRITERS
Bart Gazzola
Sid Naidu
Ali Penko
Corinna vanGerwen
Sun Woo Baik
Lea Zöller
COPY EDITOR Deborah Cooper
COVER IMAGE BY S. Maria Brandt
"One of the very nicest things about life is the way we must regularly stop whatever it is we are doing and devote our attention to eating."
Luciano Pavarotti
EDITOR ' S NOTE
OUR DIGITAL
ON
+ FIND
REPLICA EDITIONS
Photo by Ryan Parker
PHOTO ED MAGAZINE IS 100% MADE IN CANADA! THANK YOU FOR YOUR SUPPORT!
EVERYONE HAS A VERY DIFFERENT RELATIONSHIP TO FOOD.
a j Create with Henry's
LET HENRY'S STUDIO AND LIGHTING EXPERTISE ELEVATE YOUR WORK
CONNECT WITH US ON SOCIAL HENRYS.COM
A nityPhotoredefinestheboundariesforprofessionalphotoeditingsoftware. Withameticulousfocusonworkflowito erssophisticatedtoolsforenhancing, editingandretouchingyourimagesinanincrediblyintuitiveinterfacewithall thepowerandperformanceyouneed. AvailableformacOS,WindowsandiPad–subscription-freeat: a nity.serif.com/photo Thefastest,smoothest,mostprecisephotoeditor formacOS,WindowsandiPad
CanaryWharfBikes byJonathanPearce
THESE AMAZING PEOPLE SUPPORT US AS PATRONS! (AND GET EXTRA PERKS!)
8 ×10 Glass Plate VIPs
Ann Piché + Lori Ryerson
35mm Official Patrons
Jason Cooper
Akemi Matsubuchi
Jason Machinski
Melanie Scaife
Selina Pieczonka
Steve Simon
Ruth Bergen Braun
Blork
Robert Royer
David J. Kenny
Ariela Badenas
Loretta Meyer
Sid Naidu
Dan Cooper
Michelle Markatos
Carey Shaw
Vu Hai Nguyen
Emma Juliette Sherland
Daphne Faye Boxill
Wally Rae
Leah Murray
Micheline Godbout
Allan Cameron
Kerri-Jo Stewart
Tim Rahrer
Gurudayal Khalsa
Steve Ricketts
Lindsey Tran
Todd McLellan
Tracey Halladay
Mandy Klein
Danielle Denis
Megan Belinda Ratliff
Gladys Lou
Mary Kyd
Carol Ellergodt
Lucy Lopez
120mm Official Patrons
Gerry Stone
Anonymous
Jeff Baine
Katherine Childs
hckygrlphoto
Susan Kerr
Christine Goodyear
David Williams
Shelagh Howard
Laura Jones
Charles Campbell
Jennifer Gilbert
Victoria Prevot
Skip Dean
Vitalii Sovhyra
Marc Delledonne
Anaïs Are
Shelly Priest
4×5 Large Format
Official VIP Patrons
Judith Cole
Valerie Lancia
Ian McKenzie
Mark Walton
Alan Bulley
Conan Stark
James Carey Lauder
Patricia Parsons
Haughland Media
Trish Kozubski
AIH Studios
David Brandy
Amanda Devison
Ken Udle
STARTING AT $3/MONTH!
Professional Photographers of Canada Photographes professionnels du Canada
JOIN US!
THANK YOU
patreon.com/photoedmagazine FIND
MORE:
+ OUR PHOTO COMMUNITY PARTNERS
OUT
FREE YOUR EXPRESSION CREATE YOUR BEST IMAGES
The SIGMA Art 50mm F1.4 DG DN
Push your creativity to the next level with the SIGMA Art 50mm F1.4 lens. The perfect combination of performance,high-speed AF and compactness for today's mirrorless systems, at an affordable price. Featuring the large F1.4 aperture and a large beautiful bokeh effect, the new "Art F1.4 50mm," is a lens that is truly all-around capable in terms of expressive performance, maneuverability, and usability, designed to help photographers create their greatest work. Available in Canon, Nikon, Sony E-Mounts and L-Mounts, the Sigma Art 50mm F1.4 is the perfect tool to redefine your artistic side.
Made Japan in Explore the world of SIGMA sigmacanada.ca Discover our artisan stories sigmaartisans.com
SIGMA lenses are distributed in Canada exclusively by Gentec International, one of Canada's Best Managed Companies • gentec-intl.com To find an authorized SIGMA retailer near you, visit sigmacanada.ca/where-to- buy
Photo by: Elliot Aubin - SIGMA 50mm F1.4 DG DN | Art
FOR THE COFFEE TABLE
A few resources we recommend to quench your thirst for more
BY ALAN BULLEY
VISUAL FEAST: CONTEMPORARY FOOD STAGING AND PHOTOGRAPHY
Occupying a space somewhere between art book and how-to guide, Visual Feast's tagline is that it "reveals a world where food is both an art medium and an edible eccentricity." You might think of it as a sourcebook of ideas for contemporary food presentation with texts that provide information on the practice of each artist. It contains some eccentric choices: foods and backgrounds appear in pastel colours, compositions are dynamic, and the text looks like it might have been set on an IBM Selectric (younger readers may need to Google that). And yet, the whole menu comes together.
Hardcover, 2017, 217 pages $74.
Gestalten www.chapters.indigo.ca
FEAST FOR THE EYES: THE STORY OF FOOD IN PHOTOGRAPHY
Susan Bright
Susan Bright's thoughtful overview of food photography is an informed primer that takes in the art of such well-known names as Roger Fenton, Edward Weston, Stephen Shore, Laura Letinsky, Wolfgang Tillmans, Nobuyoshi Araki, and many more. Susan brings a curator's critical eye to the work of each photographer and helps us to navigate the history of food photography, its status as fine art, and its everyday applications in science and media.
Hardcover, 2017, 304 pages $76.
Aperture Books www.chapters.indigo.ca
STILL LIFE: IRVING PENN PHOTOGRAPHS 1938 – 2000
Irving Penn and John Szarkowski
The title of the book is a hint: it's been a while since Irving Penn has been around to make images. So few photographers have come close to matching his work for sheer imagination and technical mastery. His fashion and portrait work has sometimes overshadowed the other parts of his practice but, no matter your skill at photographing food, Irving will always have something to teach you. This volume is out of print and used copies can be prohibitively expensive, so you might want to dust off your library card. You'll be glad you did.
Hardcover, 2001, 144 pages
Bulfinch
photo ED 11 GET INSPIRED
RECIPES FOR INSPIRATION
BY ALAN BULLEY
HOW-TO: IN THREE COURSES
If artfully created images of food give you the taste for making your own photographs, we suggest these three courses.
That Photo Makes Me Hungry by Andrew Scrivani (food photographer for The New York Times) starts with the basics of seeing light and paying attention, and builds up to the business of how you can get paid to shoot food.
Moving to the next course, Joanie Simon's Picture Perfect Food is akin to a cookbook, drawing the reader through some of the same territory as the other books mentioned here, but paying more attention to the how-to aspects of food photography in manageable bites. A feature of her practical approach is the many "challenges" she sprinkles throughout the book and her insistence that learning, not gear, is the primary concern: A great oven doesn't make you a great cook, and a great camera won't make you Irving Penn!
Over dessert, we can turn our attention to setup, composition, and arrangement with Denise Vivaldo and Cindie Flannigan's The Food Stylist's Handbook . The authors have years of experience in film, television, and media, and know exactly how much artifice it takes (like giving steak a spray tan!) to create food images that look so real you can smell them.
BINGE ON NETFLIX
That Photo Makes Me Hungry: Photographing Food for Fun and Profit Andrew Scrivani 2019, 224 pages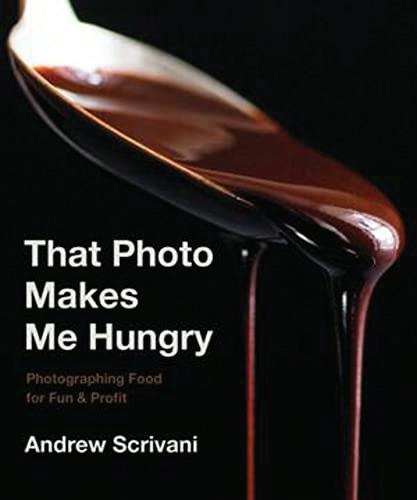 Picture Perfect Food: Master the Art of Food Photography with 52 Bite-Sized Tutorials
Joanie Simon
2021, 152 pages
The Food Stylist's Handbook: Hundreds of Media Styling Tips, Tricks, and Secrets for Chefs, Artists, Bloggers, and Food Lovers
Denise Vivaldo and Cindie Flannigan
2017, 320 pages
Available online www.kobo.com
Sure, there are lots of cooking videos out there, but not all of them make an artful blend of learning, pleasure, and beautiful visuals. Chef's Table is an extended banquet of documentaries on chefs who have achieved mastery in the kitchen and on the plate. Netflix brags that "restaurants headed by 11 of the chefs in this Emmy-nominated series have made the World's 50 Best Restaurants list," and you can see why in loving detail.
Meanwhile, Salt Fat Acid Heat takes a more personal approach by following chef and writer Samin Nosrat as she explores what she considers the four elements of delicious flavour. Samin laughs and cooks her way around visually stunning locations and invites us along for the ride. Bon appétit!
FURTHER RESOURCES
12 photo ED
SHOP LOCAL! WE LOVE PRINT
Clearly we're 200% biased, but we think the freshest food and culture news comes from magazines. We LOVE a visit (in person or online) to check out the unique, hard-to-find, independent magazines from around the world at the Issues magazine shop. Our food-related faves include Serviette, Sandwich, and Cherry Bombe — a magazine that features women within the worlds of food and drink.
Check out the incredible selection at Issues online, or in person at 1489 Dundas St. West in Toronto.
www. issuesmagshop.com
GOOD EGG
Shop owner and publisher Mika describes Good Egg books as a series of homemade books published slowly but surely. Some incredibly talented local authors' recipes and ideas are packaged in small, beautifully designed paper volumes, and are clearly crafted with love.
"We have a special place in out hearts for ingredients that are inexpensive and abundant," says Mika. For your kitchen or as the perfect gift, we highly recommend these thoughtful (and affordable!) books.
#SAVE HARCOURT HOUSE
Corey Mintz Blood
Jennifer McLagan
Amy Rosen
$20 each. Available at the Good Egg in Toronto's Kensington Market and online at www.goodegg.ca
Limes
Tender Herbs
3rd floor, 10215 - 112 Street, Edmonton AB T5K 1M7 harcourthouse.ab.ca info@harcourthouse.ab.ca 780 426 4180 GoFundMe
Photo: Edoardo Ciferri
thinktankphoto.ca
BackLight 36L
SCARBOROUGH MADE: COMMUNITY CONNECTIONS + CULINARY CULTURE
BY SID NAIDU
SCARBOROUGH MADE (SM) IS A SOCIAL IMPACT DOCUMENTARY
organization that champions storytelling through photography and video in Toronto's East. Co-founded by Alex Narvaez and Sid Naidu in 2019, the multifaceted project aims to shift how marginalized neighbourhoods are portrayed in media by documenting local culture and community stories.
We've built this project from our lived experiences as artists growing up in Scarborough to address the representation of underserved neighbourhoods and the lack of creative opportunities present.
SM inspires emerging BIPOC youth artists interested in pursuing visual arts professionally. The project provides mentorship and paid opportunities for youth, allowing them to work with their local community through storytelling and public art.
Connections are made from exchanging positive cultural experiences with one another. Food may be one of the most
valuable cross-cultural connectors to help us explore our shared narrative as a society. Photography is a tool that helps us amplify the importance of communicating connection.
Scarborough is a community where immigrants from all parts of the world contribute to a rich culinary culture. Documenting food in our community is essential in showcasing our diversity. Our local restaurants are cultural institutions that have been important parts of our neighbourhood for decades.
When documenting stories, we always look to strike a connection between people and place. Our youth artists choose the people and topics in the community they want to profile. Youth artist Alyssa Vidal produced a story on Ghadir Meat & Restaurant, a Middle Eastern grocery store and restaurant on Lawrence Avenue East. Owner Ali Dbouk started Ghadir Meat Market when he came to Canada in 1991. In 2016, the store expanded into a restaurant, traditionally grilling their meats on charcoal and opening up
photo ED 15
RIGHT: Portrait of Jennifer Lee, Owner of Hakka Chinese restaurant Federick's by Sid Naidu
BELOW: SM founders Alex Narvaez and Sid Naidu
BELOW LEFT: SM youth artist Alyssa Vidal
INSET: Ferdinand Orlain
THERE'S
THERE'S NO FILTER FOR
Mind-blowing blended seasonings made in small batches with premium-quality spices. And no filler.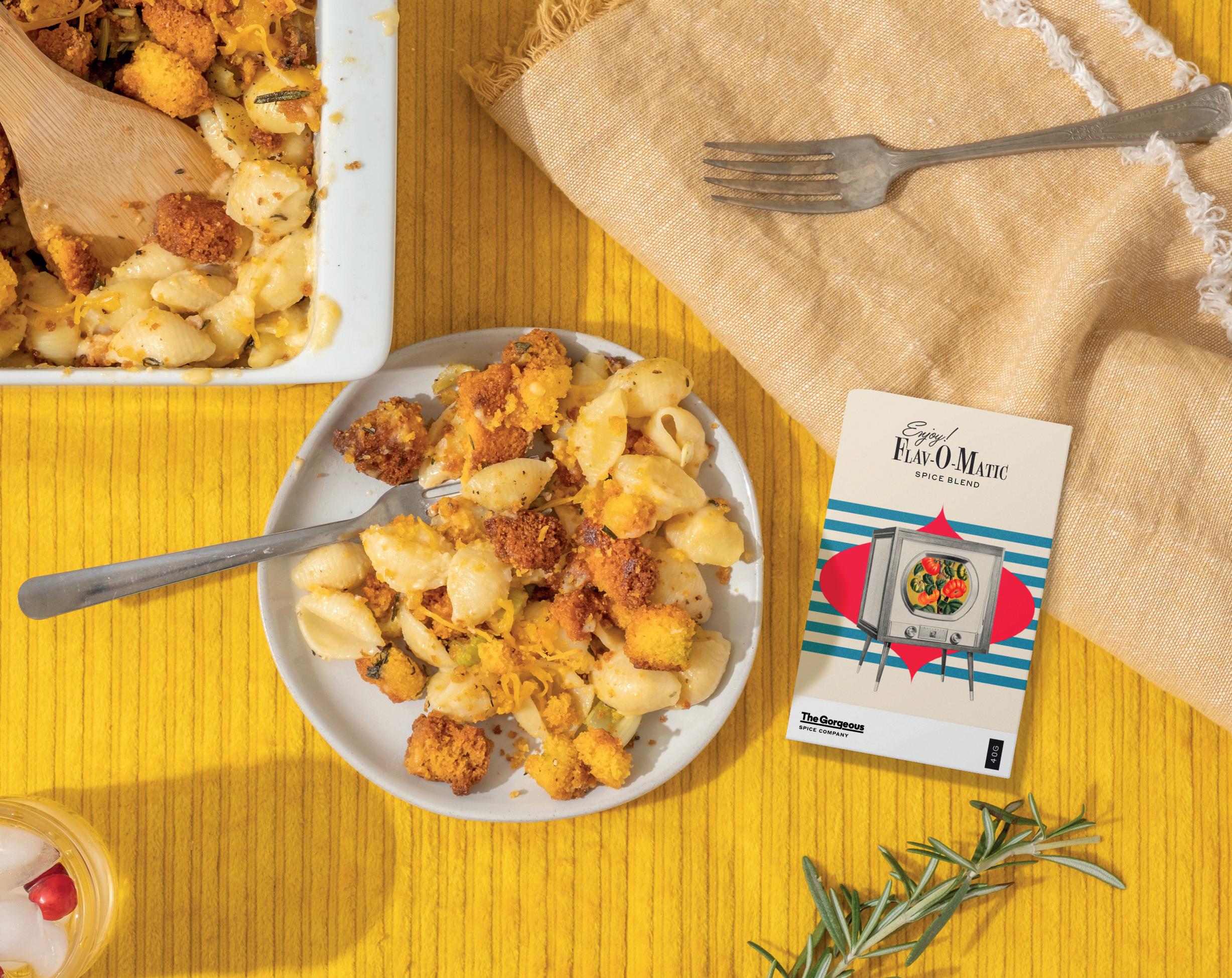 NO FILTER FOR FLAVOUR. THEGORGEOUS.CO
FLAVOUR. SET YOUR CAMERA TO "MANUAL" AND YOUR COFFEE TO "AUTOPILOT" SUBSCRIBE TO SPARKPLUG COFFEE'S AUTOPILOT CLUB FOR GREAT COFFEE DELIVERED ON YOUR TERMS. WWW.SPARKPLUG.COFFEE
another store to serve fresh fish brought in from the Mediterranean. The push to extend the business came as Syrian refugees started coming to Canada and Ali saw the need to help others.
Alyssa says, "I'm Filipino, but I was born in Saudi Arabia. Food is an important part of my culture, and as someone who was born and raised in the Middle East before coming to Canada, I had a connection to Ghadir's because it reminded me of my childhood."
Through SM, Alyssa participated in training to help her develop skills in documentary storytelling through photography and cinematography. SM helped to facilitate and coordinate her photo shoot and equipped Alyssa with professional camera and audio equipment. With the content she captured, she produced a short video, and one of her photographs was featured in a public art installation at a local transit station.
Youth artist Ferdinand Orlain has watched his neighbourhood change firsthand. The Real McCoy Burgers & Pizza, a landmark for Scarborough, was forced to close its doors after 53 years of service due to new condominium developments. Local customers showed their strength in numbers and kept the restaurant packed until the doors closed for the last time. Ferdinand documented the story of the Real McCoy's owner George Mihail through photography and videography to share the legacy behind this local eatery and how it had been the go-to neighbourhood place.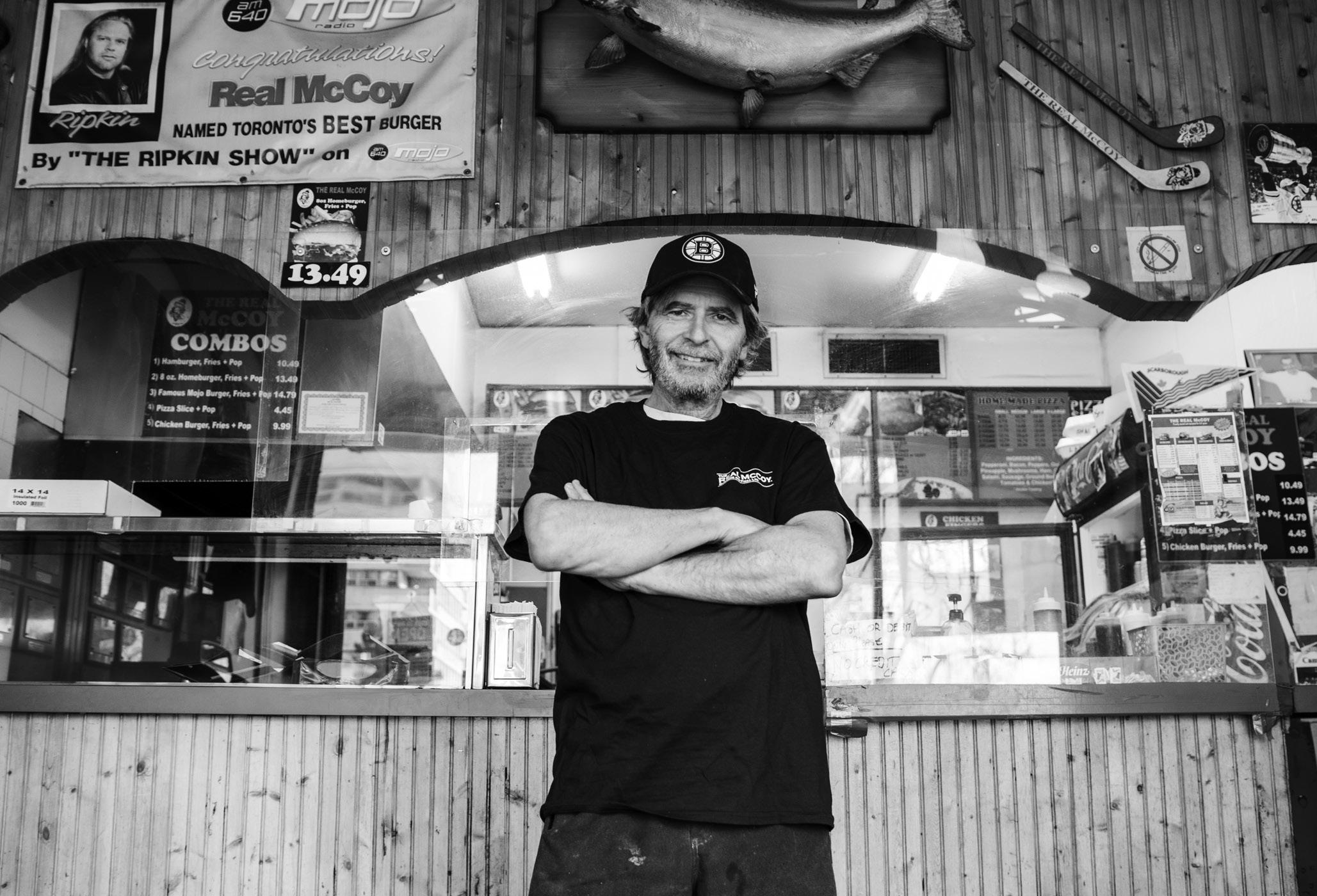 Ferdinand says, "I was born in the building right behind the Real McCoy, and I had a lot of family living in the apartments. The gentrification here has been challenging for the community. It takes away jobs, and it takes a while for restaurants to open up again. You never forget your roots. I was happy to document this story for a community that made me who I am today."
As SM continues to grow and document the Scarborough community, food will always be a topic that brings us to the table to celebrate the diversity and flavours of our home.
For more information about this project, please visit www.scarboroughmade.com IG: @scarboroughmade
photo ED 17
ABOVE: Portrait of George Mihail, owner of The Real McCoy, by Ferdinand Orlain
BELOW: Portrait of Ali Dbouk, owner of Ghadir Meat & Restaurant, by Alyssa Vidal
" Scarborough is a community where immigrants from all parts of the world contribute to a rich culinary culture. Documenting food in our community is essential in showcasing our diversity."
Sneaky Light Pinhole photographs taken with household objects and containers. Exhibition March 21 - May 5 Beau Photo Gallery Space Image taken with Trader Joe's Popcorn can camera. Beau Photo Supplies www.beauphoto.com Vancouver, BC 604.734.7771 Beau Photo @beauphotostore beauphotostore Cameras • Film • Lighting • Digital Rentals • Advice • Community From digital to film, we're here to support your creativity. photoed.ca/submit-your-work CALL FOR SUBMISSIONS DEADLINE: JUNE 1, 2023 WATER TAKE NOTE:
ENDLESS POSSIBILITIES
FROM ART HISTORY TO ZOOM LENSES, WE SPOKE TO PHOTOGRAPHER ADAM BORMAN ABOUT HIS WORK.
I WANTED TO CAPTURE MY SUBJECTS IN A WAY THAT RESEMBLES LANDSCAPES OVER STILL LIFE.
photoED: What is it about photography that you love Adam: I think photography opportunity to create something curated, and manufactured, possibilities in capturing a but then, through various techniques, manipulate what was in front story, are endless. That is really
'Fruit' by Adam Borman shot at 200mm, with the Tamron 70-200mm, at f/11-16.
creating stories through most?
photography offers the unique something authentic, documentary, manufactured, simultaneously. The scene that's in front of you techniques, being able to front of the lens into a different really exciting for me.
photoED: À travers la photographie vous créer des histoire, qu'est-ce qui vous plaît le plus dans cette pratique?
Adam: Je crois que la photographie nous offre l'opportunité de créer simultanément quelque chose d'authentique, documentaire, organisé et manufacturé. Saisir une scène qui est devant nous et ensuite la manipuler à travers diverses techniques offre des possibilités infinies, celles-ci nous permettent de manipuler ce qui est devant l'objectif vers une autre histoire. Ceci m'emballe.
This interview continues on our BLOG in English and in French
www.photoed.ca
33 Gould Street
Toronto, Canada
416.979.5164
Admission is always free. theimagecentre.ca
Edward Burtynsky's iconic images have brought global attention to the impacts of human industry on the natural landscape.
The Edward Burtynsky Collection at The Image Centre (IMC) is the world's largest and most comprehensive institutional collection of work by this celebrated Canadian photographer.
The IMC's collections offer researchers, educators, students, and artists the remarkable opportunity to study firsthand works by photographers of international status.
Edward Burtynsky, Holland Marsh, Ontario, from the series Packing, 1983, chromogenic print © Edward Burtynsky/ Nicholas Metivier Gallery, Toronto. The Edward Burtynsky Collection, The Image Centre, Gift of the artist, 2019
THE GALLERY
KAMELIA PEZESHKI
Toronto, ON
"Untitled," From the Scattered series, 2014
Through a lens, translated into a single frame, even images of inanimate still-life objects such as food or flowers can form emotional connections to significant memories, for both the creator of the image and engaged viewers.
www.kamelia-pezeshki.com
IG:@kameliapezeshkiphotographer
photo ED 23
KATE INCE
Toronto, ON CAUGHT
My approach to creating imagery starts off with inspiration from colour palettes and textures I see in architecture and design. This series was created in collaboration with stylist Nicole Billark as we explored ideas around coastline living and the beauty of what the sea offers us.
www.kateince.ca
EMMA JULIETTE SHERLAND
Mississauga, ON Fresh/Death 2022.
"Fresh/Death" examines food insecurity, and presents the question "what is a sustainable lifestyle?" The contrast of apples, oranges, flowers and used tea bags in states of both ultimate freshness or becoming rotten symbolizes how consumer standards have dwindled. Here, the paring knife and butcher's cleaver represent "cut throat" decision making and the beginning of "cutting costs" for consumers as their liquidity of income has been put into perspective in recent years, and leads to constant questioning of "What food is a necessity?" and "What food is a luxury item?"
linktr.ee/juliettetheartist
IG: @juliettetheartist
TIM RAHRER
Ottawa, ON
Pineapple Dream
Pineapple Dream is the result of a study in classical Dutch still life composition and an update to 17th century painting subjects of exotic fruits that collided digitally with work done in a 19th century 8x10 dry plate process.
photo ED 27
LORETTA MEYER
Kawartha Lakes, ON
Food, Glorious Food!
Food. Its love, its life, its art in itself. I could have gone with fancy beautiful dishes to capture...But I instead chose to focus on ingredients in their truest form before they evolve towards something delicious. Mother Nature is a true artist.
Loretta is a First Nations Indigenous artist who lives with her husband Glen and their rescue dog, Mrs.Kravitz. She is the mother of three, and a grandmother to five. She's had a love of photography since childhood.
IG: @lorettameyer.fineart
www.lorettameyerfineartphotography.ca
lorettameyerphotography.com
photo ED 29
TODD MCLELLAN
Calgary, AB
We Were
The beauty of aged perishables. A reflection of what normally isn't viewed.
toddmclellan.com
TODD MCLELLAN
Calgary, AB
We Were
The beauty of aged perishables. A reflection of what normally isn't viewed.
toddmclellan.com
ELENA GODEFROY
Toulouse, FR
Gustative Redundancy
The idea of a world where everything has reached its peak and where boredom reigns. Our time and consumption intensifes in speed. I imagine the progression of our consumerist system until it it reaches something insane. My practice is somewhere between surrealism and the absurd. Reality does not matter to me. I use the expressive power of my medium to create an irrational and poetic universe.
IG: @elena.24mm
photo ED 35
Windsor, ON FERTILE
What does it mean to be fertile for a time frame that is quickly slides by? The symbolism of an a uncooked cracked egg is handled and toyed with through this pairing of images. Yolk separated from the white. Splat....cracked egg on antique portrait of a middle aged women. My work investigates these barriers and coping mechanisms I observe in everyday life. How does gender identity and politics come into play as a behaviour of control? Why is mundane life saturated in the idea that everything
must be and have an order? Do we become "mundane" when we achieve what we perceive to be perfection? These are questions that bounce around inside my head as I move through daily life and eventually get teased out and become reality in my artistic practice.
www.natalienadeau.com
NATALIE NADEAU
GRACE WANG
Toronto, ON MEXICO, 2022
As the sun sauntered across a scorching veranda, where ice barely held shape and papaya was about all we could eat.
gracewang.format.com
KAMELIA PEZESHKI
Toronto, ON Cake, From the Scattered series, 2018
Through a lens, translated into a single frame, even images of inanimate still-life objects such as food or flowers can form emotional connections to significant memories, for both the creator of the image and engaged viewers.
www.kamelia-pezeshki.com
IG: @kameliapezeshkiphotographer
TRINA TURL
ON Spikey Vegetables
@trinaphoto
Toronto,
www.trinaphoto.com IG:
photo ED 45
KAREN STENTAFORD
Sackville, NB
TEATIME TUESDAY
IG: @kdstentaford stentaford.ca
Ten lumen prints, mark ten Tuesday classes.
Teatime Tuesday evolved from time each week to slow down with my students about work checking in with each other. sharing and listening, free of busyness of class time.
The tea was locally sourced and
Tuesday photography
from the desire to make and have conversations in progress, ideas, and This time was about screens and the usual
and once we had a local
herbalist/farmer come in to talk about her love of making tea, her process, and her connection to the land.
Our teatime conversations echoed our course content – awareness of surroundings, being present, and slow photography.
These lumen prints were a document of our time. Once the tea steeped, the ingredients were placed on a piece of photographic paper and left to expose for
the duration of our time gathering. Exposures ranged based on location, changing light as we moved to shorter days, and the length of our conversations.
The first in the series is blank, as we did not begin making lumen prints until the second week, however it is important to reference the time we shared.
photo ED 47
JENNIFER
Toronto, Lineage Through
The items in these cyanotype prints were found gifts from relatives reserved for special recipes used and replenished. As a child of a first generation traditional foods we kept in our kitchen from strange or frightening. As an adult and an artist, journey of my family through
www.jenniferchin.ca
JENNIFER CHIN
Toronto, ON
Through Food
found in my grandmother's pantry. Many were recipes and occasions while others were regularly generation immigrant family, I once hid the from my friends for fear that they would find it artist, I wish to honour the traditions and the through this body of work.
www.jenniferchin.ca
MELISSA REMPEL
Cambridge, ON IN BALANCE
melissarempel.com
IG: @capturedby.melissa
photo ED 51 DANIEL ALVARADO Toronto, ON danielalvarado.com IG: @dafotographer
JEROME CLARK Toronto, ON Jeromeclark.com IG: @Jerome.Clark
Pepper000ExpC on Ilford MG1M paper, expired Feb 1980
ANTHONY CARR
Victoria, BC
THE HOMEGROWN (PANDEMIC) COLLECTION
The artistic possibilities of homegrown peppers seen through the prisms of lunar study and sustainability.
During the pandemic, I started growing peppers from the seeds of a single shop-bought pepper. I decided that I wanted to make a detailed record of them with an approach inspired by NASA's online Lunar Sample and Photo Catalog, an archive documenting rocks, core samples, pebbles, sand and dust from six Apollo missions.
Edward Weston famously photographed peppers in the 1920's. His experiments involved adapting his view camera to produce ever-smaller apertures, effectively turning it into a psuedo pinhole camera.
I also used a pinhole camera for this series, including one designed with six lenses to capture multiple angles. Almost 100 years after Weston, my lens also gazes towards this unassuming fruit.
Concurrent global climate events have made me think about how my analog photography practice negatively impacts on the environment. I am acutely aware of my own toxic footprint. This has guided many of the decisions made during the development of this work. The most crucial being the formulation of an organic developer used as a replacement for traditional photographic chemistry. Brewed from the leaves and stems of the same pepper plants, this pepper tea developer performs almost as effectively, whilst simultaneously introducing new elements of inconsistency.
Embracing unpredictability and the creative potential for happenstance was emphasized in this series by printing these experiments on expired silver gelatin paper. Both the film soup and vintage paper produce a series of unique, unrepeatable images.
anthonycarr.co.uk
Pepper016CTCF on Ilford Galerie 2.1K paper, expired Nov 1978. This image was made with a six lens (in a cross-like configuration) homemade pinhole camera to capture every side.
photo ED 57
Pepper010ExpC on Ilford Ilfospeed Multigrade MG1M paper, expired Feb 1980.
ARIANNE TUBMAN
To Harvest from the Land Kelowna, BC
A series of documentary photographs I captured during the fall of 2020. Hiking alongside hunters, I captured their experiences both the serene and severe, in their pursuit of harvesting fresh, organic, free-range meat.
ariannetubman.squarespace.com
CRYSTAL DREW
St.John, NB
Food At Home
"This project is a personal reflection of food and dishware from my childhood. I enjoy the busy and over-the-top style of vintage food photography, and observing how the idealized home-cooked meal has evolved."
www.crystaldrew.com
MARIE-LOUISE MOUTAFCHIEVA
Up Close
Woodbridge, ON
We see food on a daily basis and most just see it as a necessity. On a plate, cooked or raw, the aesthetic can be dull, but my view is to see food from an extraordinary perspective.
Marielouphoto.com
MARIE-LOUISE MOUTAFCHIEVA
Caramel
Woodbridge, ON
Creme caramels, Tarte Tatins, and caramel made by me. Exploring the visual splendour of all things caramel.
Marielouphoto.com
FATIMA HAIDAR
Splash photography
Whitby, ON
A food series inspired by motion and splash effects. The colour of the background or food serves as the visual connection between adjacent images, creating an impactful image.
www.fatimahaidarphotos.com
photo ED 67
SUSAN HUBER
Salt Spring Island, BC
"The results from long exposures of the plant life around me take viewers out of time, and into their senses, to venture out on soils of past eons, of stories long since told and and now forgotten."
www.susanhuber.com IG: @susanhuberart
SKIP DEAN
Toronto, ON Homage
Objects are mirrors which reflect our own thoughts.
skipdean.com
RODERICK CHEN
Montreal, QC Food
A visual exploration.
IG: @chenfoto
photo ED 71 ROB GRAHAM Toronto, ON Dressed Fish
@robg_analog
www.robgrahamphotography.com IG:
ERIC CHENGYANG
Study of Equivalent Relations (A Split Peach) Toronto, ON
Fen-tao (lit. divided-peach) is a historic Chinese euphemism for homosexuality. It originated from "Shuinan (The Difficulties of Persuasion)"
written by Han, Feizi circa 3rd Century BC. Inspired by the original text, this photo explores the relation between romance, power, beauty and time.
www.ericchengyang.com
VITALII SOVHYRA
Toronto, ON STILL LIFE IN LARGE FORMAT
As large-format film photography requires a lot of time, so I chose food as my patient subject.
IG: @vitaiisimaging
ED MCDONOUGH
Toronto, ON FOOD; DISCUSS RED CHINA ON A WHITE TABLECLOTH
IG: @edphoto123
ARIEL THOMAS
Halton, ON Enjoy it
My life is slipping away, my kids are growing up, remember it I must. This is a special time. They're so fragile. Do it right. Give it all to them. Forget the past but don't forget that this will be the past, sooner than you think. Don't forget.
IG: @ariel.a.thomas
GARETH JONES
Toronto, ON Strawberries for All
IG:@firstgareth
BRIAN LAVERY
Port Alberni, BC
Lemons
I wanted to photograph an apple but when I brought the apple and camera together, they would not cooperate. As well, the apple is burdened with Old Testament symbolism. I paused to think. Lemons came to mind. www.brianlavery.ca
AROSHALINY GODFREY
Vancouver, BC
Food at Home
A collection of food and produce from my kitchen throughout the seasons of the year.
www.aroshaliny.com
photo ED 79
COLIN ARTHURS
Toronto, ON Food in Macro
Everyday produce found in Ontario markets, featured in a new light. With a macro perspective, the images appear abstract.
Toronto, ON Still Lifes
An exploration of reoccuring elements with odd pairings with the intention for the viewer to question the unusual yet appealing nuance.
Marcsantosphoto.com
MARC SANTOS
AMANDA DEVISON Moncton, NB Acquired Taste
ED 85
photo
MIRIAM TORRES LÓPEZ
Fredericton, NB
Break Fast
We live in a fast-paced world and we are increasingly disconnected. We want everything to be fast, to appear almost by magic. What happened to long family meals where we can chat with each other and make a real connection with people? With this image, I intend for the viewer to reflect on the importance of food as a social element of connection between people.
miriamtorreslopez.myportfolio.com
IG: @miriamtl_photojournal/
Calgary, AB
An ongoing creative series that replaces food with text.
www.brentmphoto.com
IG: @brentmphoto
MYKYTYSHYN
BRENT
L!N DUPERRON
Toronto, ON Sponge Cake
A beautiful Sponge Cake served with blueberry confit, fresh whipped cream and lightly powdered with icing sugar.
linduperron.com
IG: @jackskellingtoniam
BLAIR IMMINK
Toronto, ON A Feast (2020)
With found objects and materials, I transform reality around me into a playful fantasy. After all, life is play.
Grounded in reality but influenced by the fantastical, things are collected, curated, transformed, and combined to create an environment familiar, yet uncanny.
Frivolous story-telling is ignited with a maximalist lens. I describe the work as a 'visual coping mechanism,' as I'm inherently a silly person trying to enjoy the often cruel reality around us.
I hope to dethrone the serious and pretentious attitude of traditional gallery spaces to make them accessible to people of all intersections. My aim is to remind the viewers that art, and play, can be found every day.
blairsstudio.com
DALE M REID Toronto, ON FALLING FOR YOU
Photography opened my eyes to the beauty and fragility of the world around me. After I left the structured corporate environment and changed genders, this practice has allowed me to explore and develop my creativity. A new energy, passion, and excitement has been sparked that continues to grow daily.
Working with black and white film, I eliminate the distraction of colour, focusing on textures, shapes, staging, and the application of light to craft expressive images.
Working with the deep and warm tones in traditional silver gelatin print making, I create images with a sensual feel ranging from the subtle to the overt. I select my subjects based on what speaks to me emotionally, florals, mushrooms, and pear studies. My mission is to present a unique perspective that engages the viewer and tells a story.
photo ED 93
IG: @dalemreidphotography www.dalemreidphotography.com
KATA ENDRODI
Montreal, QC
Kata Endrodi's Captures
Exploring the freshness and IG: @realhungarianeats
and textures of food produce.
photo ED 95
JACK MCGUIRK
Burlington, ON
A Splash of Caffeine
Bold, sophisticated, imperfections with a splash of surrealism.
jackmcguirkstudio.com
photo ED 97
SAMANTHA GOH
Mama's Laok
Toronto, ON
Mama's Laok means mama's contemporary photography I create a collection of images history and culture through samantha-goh.com
mama's dish. This project combines photography with traditional ingredients as images to learn about my family's through food.
photo ED 99
SARAH WRIGHT FOREST DESTRUCTION - FOR HERE OR TO GO? Toronto, ON Created for Canopy Planet and the #PACK4GOOD campaign, highlighting how the use of paper packaging in various industries destroys our forests and animal habitats. www.yes-and.studio
BRIAN GROBERMAN
Seasonal Foods?
Burlington, ON
Local forested urban park visuals incorporated into fruit. The elements combine the woods' fall colours with fresh fruit no longer being aware of seasonality.
BGPhotoAndImaging.ca
QUEENIE XU
uzzi
Toronto, ON
eating cupcakes marked with symbols of home, 'fashion killa' is the inner spirit of a higher self
IG- Queenie000x
GUN ROZE
Street Food
Toronto, ON
As an observant street-based photographer, I often encounter various foods left in different states on surfaces throughout the streets. My ongoing series is titled "Street Food", a literal representation of found food on the street.
www.shot-by-gun.com
HEND SHAIKH-NAGI
Pancake
Hamilton, ON
Food photography takes me to the next level. It is a therapy for me. I enjoy styling and muniplating to create an impactful image.
IG: @photographybyhend
MARK WANG
A Bowl In A Bowl
Toronto, ON
In "A Bowl in A Bowl", the idea of being has been deconstructed and reconstructed. By manipulating and compositing different forms and appearances of bowls, the project presents the liquidity of sensibility.
ERYN TREVORS
Empire Studio 5, Circa 2011
Fredericton, NB
I was inspired by nostalgia for childhood birthday parties I attended in the early 2010's. Especially those in the party rooms of the Empire Studios, movie theatre chain.
IG: @er_yn.t
ADRIAN DÉNOMMÉ
Ciammella
Toronto, ON
This work explores intergenerational knowledge transfer, isolation and mental health amongst elderly populations. Nonna is experiencing early stages of Alzheimer's disease. She is making Ciammella - a type of bread from the region of Frosinone, Italy. This project allowed me to document a special ritual as it too fades away. www.adriandenomme.com
Photos 1 +10 by Nawal Asagher, created in collaboration for this project.
CHRISTINA HAJJAR Illuminations
Winnipeg, MB
Hajjar projects Arab foods (rose tea, rose water, lemons, dates) and jewelry on her body, blend still life and performance, touching on the subject of queer diasporic longing, familial histories, pleasure, loss, love, and femininity.
christinahajjar.com
Stuffyourselffullofdeliciousbargainsatthe SpringCameraFaironSunday,May28,2023at TridentHall,145EvansAvenue,Toronto.It'sa buffetofpre-ownedcameras,lensesand delectablevintagephotoitems.Needinfo? VisitthePHSCwebsite. www.phsc.ca Haveyourcakeandeatittoo.