January - February 2023
Calendar of Events
Date: 14 to 17, February 2023.
Venue: Exhibition Centre Nuremberg, Germany.
Gulfood Manufacturing 2023
Date: 7 to 9, November 2023.
Venue: Dubai World Trade Centre.
GULFOOD 2023
Dates: 20 to 24 February 2023.
Venue: Dubai World Trade Centre, Dubai
Asia Fruit Logistica 2023
Date: 6 to 8 September 2023.
Venue: AsiaWorld-Expo, Hong Kong
IFTECH Pakistan 2023
Date: 7 to 9 September 2023.
Venue: Lahore Expo Centre.
Dates: 19 to 21 November 2023.
Venue: Riyadh International Convention & Exhibition Center, Riyadh, Saudi Arabia
International Green Week
Date: 19 to 28, January 2024.
Venue: Berlin, Germany.
Fruit Logistica 2024
Date: 7 to 9, February 2024.
Venue: Berlin, Germany.
Anuga FoodTec 2024
Dates: 21 to 23 September 2023.
Venue: Philadelphia, PA, USA
Anuga 2023.
Date: 7 to 11, October 2023.
Venue: Berlin, Germany.
Dates: 19 to 22, March 2024
Venue: Cologne, Germany.
EIMA International 2024
Date: 6 to 10, November 2024.
Venue: International Agricultural and Gardening Machinery Exhibition, Bologna, Italy.
Dear readers,
In our January February 2023 edition the editorial board of Pakistan Food Journal is focusing on the current exhibitions related to the food industry that are holding worldwide in the coming months. Among them, Dubai World Trade Centre (DWTC) has announced leading global trade fair, Gulfood, that will take place in February 20-24, 2023. Showcasing new global products, solutions and technologies across the food and beverage value chain. Gulfood 2023 will be the definitive destination leading the future of food production from new ingredients and advanced technologies to integrated supply chain solutions and breakthrough developments driving the industry forward.
The international industry meeting for the processing & packaging sector will take place May 4-10, 2023. Approximately 2,700 key players and newcomers from all over the world will use interpack as a stage to present their premières, and celebrate the long-awaited reunion of the global packaging industry.
The organic trade meets at the organic exhibition in Nuremberg from 14 - 17 February 2023. Organic is more than a label or certification: organic stands for quality and conviction –for the responsible use of nature's resources.
BIOFACH in the Exhibition Centre Nuremberg is the place where people share their passionate interest in organic food, get to know each other and exchange views, and this since 1990. It is the perfect opportunity for visiting professionals to meet organic producers from the organic market and be inspired by the sector's latest trends.
Amina Baqai Editor in Chief
Corporate News
ADM Named a Top Employer 2023 in Europe, China and Singapore . . . . . . .
Bioscience firms Novozymes and Chr. Hansen to
Pakistan Food Journal, January - February 2023 News and Views . . . . . . . . . . . . . . . . . . . . . . . . . . . . . . . . .6 Around the World . . . . . . . . . . . . . . . . . . . . . . . . . . . . . . . .12
Editor's Note Contents
.18
merge in biggest-ever . . . .19 Tate & Lyle wins ingredient category in Super brand's 2023 list . . . . . . . . . . .20 Krones expands its capabilities in the growing pharmaceutical market with the acquisition of US company R+D Custom Automation . . . . . . . . . . . . . . . . . . . .21 PepsiCo partner Northern Bottling Company trusts Sidel to install its highestspeed complete PET line . . . . . . . . . . . . . . . . . . . . . . . . . . . . . . . . . . . . . . . . . . .22 Krones has affirmed its commitment to net zero . . . . . . . . . . . . . . . . . . . . . . . .23
Hony. Editor Dr. Noor Ahmad Memon Shahzad Umer Sama
Layout & Design
Printed at Color Plus, Korangi Karachi. Suite B-4, & B-6, 2nd Floor, 64/21, Miran M. Shah Road, M.A.C.H.S, Karachi - Pakistan. Tel: +92-21-34311674, 34303101 Email: info@foodjournal.pk, Url: foodjournal.pk Available on Gale Factiva and affiliated international databases through Asianet Pakistan. Editor-in-Chief Amina Baqai Managing Editor / Publisher Sohail Aziz Senior Editor / Publisher Nadeem Mazhar Food Briefs National and International . . . . . . . . . . . . . . . . . .4 GULFOOD MANUFACTURING 2022 Gulfood Manufacturing 2022: 2,500 exhibitors happy and future of industry brighter . . . . . . . . . . . . . . . . . . . . . . . . . . . . . . . . . . . . . . . . . . .44 GULFOOD 2023 Gulfood 2023 to be biggest edition ever, with focus on food cost crisis . .48 Pakistani exhibitors at Gulfood 2023 . . . . . . . . . . . . . . . . . . . . . . . . . . . .50 INTERPACK 2023 Interpack 2023: Sustainability is the future to focus . . . . . . . . . . . . . . . .40 Exclusive Articles "MULTIVAC" Sustainable packaging solutions for fruit and vegetables . .24 Tate & Lyle continues transformation journey with launch of new brand .26 Rice export prices can increase with new technology . . . . . . . . . . . . . . .27 Rice: An important staple food in Pakistan . . . . . . . . . . . . . . . . . . . . . . .28 Exclusive Interview ADM: Leader in global nutrition who unlocks the power of nature to envision, create and combine ingredients and flavors for food and beverages . . . . .36 Andrew Truscott; Managing Director ADM Sidel launches its 1SKIN™ bottle, the future of sustainable packaging for sensitive drinks. . . . . . . . . . . . . . . . . . . . . . . . . . . . . . . . . . . . . . . . . . . . .38 Harbinder Kathuria, Sidel's VP Sales, MEA&I FRUIT LOGISTICA 2023 FRUIT LOGISTICA more international and more valuable than ever . . . . .42
Marketing Executive Asim Shamsi
Mazhar Ali
The Food and Agriculture Organisation (FAO) of the United Nations has assured Pakistan that it will continue to play a leading role in transforming the country's agriculture food systems to make them more efficient, inclusive, sustainable and resilient.
Pakistanis in a fix over deepening food price disparities. Higher import and transportation costs, crop availability, the demand and supply gap, hoarding, exchange rate issues, etc have led to massive price disparities in the country.
Experts believe that Kiwifruit, a high-value crop, which was introduced in Pakistan during the last decade has great potential and can help more Pakistani farmers throw off poverty.
A large market exists in China for Pakistani dried fruits. China is also one of the biggest buyers of pine nuts from Pakistan. Pakistan is an incredibly fortunate country with a wide range of abilities in every
The Bangladesh Bank has created a Tk5,000 crore refinance scheme for farmers, aiming to ensure food security by boosting domestic production amid the worsening global food crisis.
As 2022 comes to an end, Protein Industries Canada is celebrating the advancement of Canada's plantbased food and ingredient sector, and the achievement of significant milestones as an organization.
China's capability to sufficiently feed nearly one-fifth of the world's population against all odds and at reasonable prices offers reassurance to a patchy global grain market, they noted, expecting the country to remain a cornerstone of global food security and economic stability.
The frozen food industry in India is still in its infancy but growing fast. A huge market is yet to be explored.
genre. It is especially true for dry fruits. Pakistan produces a lot of different types of dried fruits, and it also exports a lot of them.
PARC Chairman has said that Pakistan had conducive weather conditions with diverse human resources with a potential to grow different crops and fruit of international standards and contribute to the national economy.
Pakistan faces serious challenges of food insecurity and malnutrition, especially among women and children. Nearly one in every five children under five years old and over 20 per cent of women are zinc deficient. Climatic changes, including extreme flooding, have further deteriorated the situation.
Echoing the CPEC's cooperation in agriculture, China Machinery Engineering Corporation and Sichuan Litong Food Group have established a company and carried out a red chili contract farming project in 2021, and one of six
Food Briefs International
And as a result of the growing number of prospective customers, its potential remains strong in the country. The frozen food can be stored indefinitely with the establishment of a good cold chain. According to the Department of Statistics Malaysia (DoSM), Malaysia recorded 26 food items with more than 100% selfsufficiency ratio (SSR) in 2021 slightly better compared to 19 in 2020.
Scientists from NTU Singapore have successfully bioengineered an important protein in plants to increase the yield of oil from their fruits and seeds – a holy grail for the global agri-food industry.
October 2022 marks an all-time high for food inflation in the UK, increasing to 11.6 percent and affecting basic products such as
model farms of the project is in Multan.
China's support helps Pakistan to cut oil seed imports. As Pakistan has been confronted with severe economic challenges especially after massive countryside floods, with the shrinking foreign exchange reserves, the country's various imports are putting additional financial strain
Minister for Planning, Development, and Special Initiatives Ahsan Iqbal said that the new phase of seed cooperation between Pakistan and China was critically important for Pakistan to meet our food security challenge in the future. He said that the South Asian country was in dire need of seed cooperation to meet the climate change challenges. China helped Pakistan take seven herbal seeds to the Chinese space station for space breeding by exposing them to cosmic radiation and microgravity to mutate their genes.
milk. With cost-of-living crisis continuing to affect consumers across the UK, the (BRC) has revealed that food inflation in October 2022 has increased to a record-breaking 11.6 percent.
Three U.S. agencies have forged a partnership to improve global food safety standards. The U.S. Department of Agriculture (USDA), the U.S. Agency for International Development (USAID), and U.S. Food and Drug Administration (FDA) are launching the Food Safety for Food Security Partnership (FS4FS).
As nearly 1 million tonnes of aquaculture wastes are discarded each year across Vietnam, businesses are exploring ways to reclaim the waste to shore up their environmental credentials and revenue streams.
4
Food Briefs National
FAO assures Pakistan of support in agriculture
The Food and Agriculture Organisation (FAO) of the United Nations has assured Pakistan that it will continue to play a leading role in transforming the country's agriculture food systems to make them more efficient, inclusive, sustainable and resilient. This is a challenge that has gained urgency following recent floods that have devastated the country's agriculture sector.
In Pakistan, the FAO will require massive and sustained investments in climate change adaptation and resilience, especially within the agri-food sectors as this is crucial to ensure better production, better nutrition, a better environment, and a better life for all — the '4 Betters' that are at the core of the FAO Strategic Framework for the next decade, FAO Director-General Qu Dongyu said while speaking at the International Conference on Climate Resilient Pakistan, in Geneva.
The FAO hief said the organisation had also been leading preparations for the agriculture, fisheries and livestock section of the Post-Disaster Needs Assessment (PDNA) and has contributed to developing the livelihood component of the UN's Resilient Recovery, Rehabilitation, and Reconstruction Framework (4RF).
Under the 4R framework, at least $4 billion are urgently needed to facilitate the immediate recovery of the agriculture sector, and to lay the foundations for lasting resilience, according to FAO. An estimated 4.4 million acres of farmland — enough to cultivate crops for 14.6 million people — were damaged, and more than 800,000 animals perished in the floods.
In all, more than $9 billion in losses were incurred by the agriculture sector. What's more, over 80 per cent of such losses were absorbed by the crop subsector, which means that food production will be compromised in the immediate future without substantial support.
To date, the FAO has mobilised over $25 million and has provided over 600,000 affected people with seeds and fertilisers. In addition, livestock vaccination campaigns have been completed in the Balochistan province and are being finalised in Sindh, while livestock feed distribution will begin shortly. The FAO's role in Pakistan includes the provision of technical leadership for the Transforming Indus Basin Initiative, funded by Green Climate Fund.
Through this programme, some 1.3 million people in vulnerable areas of the Indus River basin will see improved yields and increased returns of between 30 and 80 per cent in their production. In all, about 16m people will benefit from the
programme, either directly or indirectly, Dongyu explained.
Pakistanis in a fix over deepening food price disparities
Higher import and transportation costs, crop availability, the demand and supply gap, hoarding, exchange rate issues, etc have led to massive price disparities in prices of essential food items in various cities of the country.
According to data released by the Pakistan Bureau of Statistics (PBS), the rate of 20kg flour bag in Karachi has reached a record Rs2,800-3,000 as compared to Rs1,295 in Islamabad, Lahore and Gujranwala, while the same bag is being sold for Rs1,300-2,880 in Larkana, Sukkur and Hyderabad. In Quetta and Peshawar, these flour bags sell for Rs1,295-2,700.
The port city of Karachi does not cultivate wheat and it depends on the arrival of grain, mainly from producing areas in interior Sindh.
In Khuzdar, a live broiler chicken is available at Rs460 per kg as compared to Rs410-450 in Quetta, while in Karachi it is sold at Rs390-420.
The bird costs Rs375 in Peshawar and Rs390-400 in Islamabad. The highest egg rates of Rs275-300 per dozen prevail in
6
News & Views
Karachi, Islamabad, Faisalabad and Quetta, while the lowest egg rates of Rs250-270 are in Multan, Bahawalpur and Sukkur.
Faisalabad has the highest price of Rs295 per kg for masoor as compared to Rs250-280 in Karachi and Rs235-240 in Peshawar. In Quetta, Moong rate hovers between Rs300-310 as compared to Rs210-280 in other cities.
The price of gram pulse holds the peak of Rs280-290 per kg in Quetta as compared to Rs220-260 per kg in Karachi and Rs200-250 in other cities.
Potatoes from the new crop are selling at Rs35-50 per kg in Karachi and some cities of Punjab, consumers of Islamabad are paying Rs60-90 per kg followed by Rs50-70 per kg in Peshawar and Rs60-70 in Quetta.
In Islamabad, onion carries a price of Rs240-280 per kg as against Rs180-220 in other parts of the country. Floods in August devastated Sindh crops and only a few quantities are arriving from some producing areas at higher prices. Even the import of onions from various countries had failed to bring down prices.
Experts eye Kiwifruit potential in Pakistan
Experts believe that Kiwifruit, a highvalue crop, which was introduced in Pakistan during the last decade has great potential and can help more Pakistani farmers throw off poverty.
We imported Kiwi plants and did various locational trials in KPK, Islamabad as well as on the Punjab side. The result from the Mansehra area of KPK was outstanding," said Naveed Ahmed, Scientific Officer of PARC-NTHRI Shinkiari.
Kiwi gets 30 kg to 35 kg of fruits per plant internationally, while Pakistani kiwi gets 40 kg to 45 kg of fruit production on average. Some plants even gave 100 kg of fruits per plant. Naveed gave evidence proving Pakistan's advantages in the Kiwi production industry. Our locally produced fruit is also sweeter. That is the reason that its value is high in markets. Kiwi farmer Ateeq ur Rehman added.
Chairman of PARC Dr. Ghulam
Muhammad Ali encouraged farmers of
Gilgit-Baltistan to focus on the research of Kiwi fruit this year. "We should spread awareness among people and motivate people to grow kiwi fruit, because, by looking at the demand of people for this fruit, this would be the most expensive fruit in the near future. All the people are showing interest in this fruit," Naveed Ahmed said.
Kiwi is native to China, where Kiwi plantation area and output rank first in the world. The Kiwi industry has helped a lot of Chinese counties get out of poverty, Chinese media reported.
With improved planting technology and the use of order agriculture, fruit farmers' income further increased. At present, our county kiwifruit planting area reached 28,800 hectares. The annual per capita net income of farmers also increased, said Yang Yuan, Deputy Secretary of the Party Committee of the Agriculture and Rural Bureau of Zhouzhi County, an agricultural County of China known as the "Kiwi hometown". At present, more than 300,000 people in the county are engaged in Kiwifruit-related industries.
In addition to using Kiwifruit to get farmers out of poverty and boost the country's economy, China is also discovering Kiwi's higher value with its organic farming experience.
They are very interested in the production and industry chain of China's
organic fruit products. We are also the training base of the Shanghai Cooperation Organization (SCO). Pakistan is also a member of SCO. Next, we can go abroad with these safe and high-quality agricultural models. According to the needs of foreign friends, we will help update and improve their agricultural model." Wang Xiaotie said.
Huge market exists in China for Pakistani pine nuts
A large market exists in China for Pakistani dried fruits. China is also one of the biggest buyers of pine nuts from Pakistan. Talking to media, Dr Nurullah, Senior Scientific Officer at the National Agriculture Research Centre (NARC), said
7 News & Views
January - February 2023
Pakistan is an incredibly fortunate country with a wide range of abilities in every genre. It is especially true for dry fruits. Pakistan produces a lot of different types of dried fruits, and it also exports a lot of them.
"Pakistan can generate a huge amount of income if it focuses on pine nuts production on a larger level. They are grown in areas like Waziristan, Zhob, and Chillas. The tree is hard and tall and can endure excessive drought, high winds, and severe cold in winter. The harvesting of pine trees takes place in September or October. Nearly 20% of the Pakistani forests are comprised of chilgoza trees," he said. "In terms of market share, Pakistani pine nuts enjoy a huge amount of popularity in China," he added. The amount of Pakistani pine nuts exported to China from January to September this year has reached a record high figure of $47.691 million, according to the official data published by the General Administration of Customs of the People's Republic of China (GACC).
Dr Nurullah mentioned that more than 42% of China's imports come from Pakistan, making Pakistan the second largest exporter of pine nuts to the neighbouring country. According to the GACC, in the first nine months of 2022, China imported 4,290.642 tons of pine nuts from Pakistan, which are worth nearly $48 million. At the same time, China imported 15,253.90 tons of pine nuts from all over the world, worth roughly $112.98 million during the same period. According to research, China has become the main market of Pakistani pine nuts in the last few years, which is why local growers are pleased that they can make a
good profit from the neighbouring country. Since the Chinese government has played a crucial role in having flexible trade policies with Pakistan, Pakistan has been able to export pine nuts in huge quantities to China even during the pandemic. In the second phase of the ChinaPakistan Free Trade Agreement, Pakistani pine nuts don't have any tariffs on their export to China, so we can sell them at a competitive price. This year's prices may be raised as a result of the floods and fire that destroyed thousands of pine trees, which might result in a shortage of pine nuts. To earn a big income, the government should focus on promoting the production of this fruit, where it can be
grown easily. Also, we lack good storage facilities, as dried fruits are not perishable, thus they can be stored for a long time.
Pakistan is ideal for growing all crops, fruit
Pakistan Agriculture Research Council (PARC) Chairman Dr Ghulam
Muhammad Ali has said that Pakistan had conducive weather conditions with diverse human resources with a potential to grow different crops and fruit of international standards and contribute to the national economy. He was speaking as a chief guest to the participants of the first day of the citrus festival organisd by the University of Haripur.
News & Views
8
He said that the weather conditions of Pakistan were so ideal for growing crops and orchards that farmers could grow every kind of crop and fruit with a little effort. "Our youth needs to be given a platform and direction. They have the talent to grow hybrid seeds, chilghoza and olive," he said.
Dr Ali said that benefiting from the technological advances was the need of the hour for achieving the desired targets of economic wellbeing of farmers and the country as well through capacity building of human resources.
He said that the talent of the young agriculture graduates could be utilised for improved agricultural output with an effort of giving them hands-on training. He added that the PARC was available for capacity building of youths in this regard.
He urged the attaches posted in foreign embassies to explore the market and create space for the Pakistani agro based and agricultural products.
Dr Muhammad Nawaz Khan, Director General Research Punjab Agriculture Department, said that Sargodha's Kino was earning $200 million during the two months exports every year and the Khanpuri orange, which was famous for its taste, could also be exported and the farmers could earn a better living.
He said that the farmers, researchers and industrialists must join hands and utilise their efforts for increasing the per
annum yield by making it an exportable commodity.
Prof Dr Farid said that the dairy and agro based products have the potential to give a turn around to the national economy with a little effort. Vice-Chancellor Prof Dr Shafiqur Rehman said that the faculty members, and students of the University of Haripur would contribute their maximum share in promotion of Khanpuri orange and improving its quality and produce.
Only fortified crops offer sustainable food security, better nutrition in Pakistan: experts
Amid fears of considerable decline in the wheat production due to effects of climate change for the 2022-2023 season, biofortified crops, especially Zincenriched wheat, has the potential to help bring food security to Pakistan and overcome widespread and preventable zinc deficiency in the larger population, food and agriculture experts said recently.
Pakistan faces serious challenges of food insecurity and malnutrition, especially among women and children. Nearly one in every five children under five years old and over 20 per cent of women are zinc deficient. Climatic changes, including extreme flooding, have further deteriorated the situation. Economists believe
that malnutrition costs Pakistan $7.6 billion every year due to lost labour, healthcare expenses, and lower productivity of human capital.
Authorities in Pakistan anticipate considerable climate-related decline in wheat production for the 2022-2023 season, and yet food and agriculture experts are hopeful that production of zinc-enriched biofortified wheat will rapidly increase to approximately 5.4 million metric tonnes (MT) in the wheat cropping season of 2023, up from 3.5 MT in 2022.
The warming climate is a direct nutritional and economic threat to billions of smallholder farmers in Pakistan who rely on staple food crops for much of their diet and income. "Pakistan is leading the way globally when it comes to scaling zinc wheat production," said Jenny Walton, HarvestPlus Head of Commercialization and Scaling, following a recent visit to Pakistan during which she inaugurated zinc wheat flour production at a chakki mill in Faisalabad. "Zinc wheat has commercial benefit for all supply chain players and results in a nutritious product that consumers need and want," she added.
The owner of a chakki mill in Faisalabad, Mahboob Ahmed, echoed this sentiment, "At my mill there is a no difference in the price of the whole grain wheat flour made from zinc-enriched varieties compared to conventional wheat
News & Views January - February 2023 9
varieties. My income has increased as more people are coming to my shop to buy zinc wheat flour."
He added, "I am thankful to HarvestPlus for building my capacity to supply people of my area with zinc wheat flour, which is good for their health and supports their immunity against diseases."
To date, three varieties of biofortified zinc wheat —Zincol 2016, Akbar 2019, and Nawab 2022 — have been developed by the national and provincial wheat programmes with the support of international scientific organisations. These varieties are available for production and consumption in Pakistan.
Pakistan-China red chili project to help uplift
Pakistan's agriculture sector
Launched in 2013, the China-Pakistan Economic Corridor (CPEC) is a corridor linking Pakistan's Gwadar Port with Kashgar in northwest China's Xinjiang Uygur Autonomous Region, which highlights energy, transport and industrial cooperation in the first phase, while in the new phase expands to the fields of agriculture, livelihood, etc.
Echoing the CPEC's cooperation in agriculture, China Machinery Engineering Corporation and Sichuan Litong Food Group have established a company and carried out a red chili contract farming project in 2021, and one of six model farms of the project is in Multan.
Their nursery is among thousands of acres of model farms where the company teamed up with locals for contract farm-
ing of Chinese chili varieties, with an aim to export the crops back to China after harvest and earn foreign exchange revenue for Pakistan.
Talking to media, Muhammad Adnan, executive manager of the company, said that local farmers' interest in cultivating Chinese chili is increasing due to its better yield and strong resistance to diseases.
"Local chili is highly vulnerable to diseases, and farmers are hesitant to grow it, but the Chinese varieties are robust, easy to pick, and are sold at a higher price directly to Chinese companies from the farms, without any involvement of middleman, making it highly popular among local farmers," he added.
Adnan said that in the near future, primary and deep processing units for value-added services of the crop will also be established in Pakistan, adding more value and jobs for locals. The most crucial time for the crop is in January as the
seedling process is underway in tunnels and the plants are easily rotten because of disease or low temperature.
China's support helps Pakistan to cut oil seed imports: experts
As Pakistan has been confronted with severe economic challenges especially after massive countryside floods, with the shrinking foreign exchange reserves, the country's various imports are putting additional financial strain.
Statistics from the State Bank of Pakistan (SBP) show that in FY2021, Pakistan's imports of soya beans, whether or not broken, reached about $1.145 billion, a strong growth of about 50% yearon-year, exhibiting the country's urgent demand for soybeans.
However, in the first quarter of FY2023, Pakistan's soybean imports were
New & Views 10
$269 million, down about 18% year-onyear, which may had been affected by the decline of the country's foreign exchange reserves. Soybean production should be adequately considered by Pakistan because of the country's over dependence on imports of soybeans. Lack of high-quality seeds, high-yielding planting patterns and machinery restricting Pak soybean production "We are dependent on imports. It is very expensive which causes increase in the price of feed, oil etc. day by day. It is our need to plant it in our country," Hafiz Saad Bin Mustafa, Oilseed Scientist, Ayub Agricultural Research Institute said.
According to him, In Pakistan, all crops are non-GMO except cotton. "Most foreign varieties that we import are of mild areas and GMO. They can neither be planted here nor can they survive here. So seeds of local varieties should be multiplied and should be promoted in the potential areas that we have identified by our trials and adoptability studies," Hafiz said.
As he sees it, since soybean is mostly cultivated in such countries as America, Brazil and Argentina where there is mild climate, Pakistan needs to develop its own non-GMO soybean verities that can perform well in high temperatures.
"We do not produce good quality seeds, and the total seed production is twenty percent in different crops. There is a huge gap. At present we are dependent on imported seeds for different crops even for wheat, rice, cotton and vegetables, and the same is with soybeans. We should produce it locally," Dr. Zahir Ahmad, In-charge, Soybean Breading Lab, University of Agriculture Faisalabad (UAF) said.
According to Dr. Zahir Ahmad, farmer needs specific planters, harvesters and threshers. "Mechanization is one of the best approaches by which we can increase soybean production. In this way we need less labor, less time and less storage time," he said. Talking about the latest progress of soybean production in Pakistan, Dr. Zahir Ahmad emphasized that now their focus is intercropping-specific soybean promotion, which is a highyielding technology from China.
Over 92% wheat sowing target achieved
Over 92.08 percent of the set target of wheat sowing in the country has been achieved for season 2022-23, to produce about 28.4 million tons of grains to meet domestic requirements and keep the strategic reserves.
According to the Provincial Crop Reporting Services, by January 2, 2023, the wheat crop was cultivated on over 21.04 million acres as against the set targets of 22.85 million acres.
While talking to APP here on Monday, Food Security Commissioner in the Ministry of National Food Security and Research Imtiaz Ali Gopang said, it was anticipated that crop sowing targets set for the current season would be achieved as the standing water of catastrophic floods and torrential rains receded from the arable areas of Sindh, enabling the farmers to sow the crop.
Besides, he said, in some areas sugarcane crop was not fully harvested and fields were occupied by the matured crop, adding that due to the start of the crushing season of sugarcane, these lands were now ready for sowing.
Gopang said that final wheat sowing data would be compiled by mid of the current month (January) and would depict the actual picture, adding that area under wheat sowing would further go up due to timely rains in rain-fed areas of the country.
Besides all other factors, the government had also provided incentives and
facilitated the growers, particularly farmers of worst flood-hit areas, for ensuring timely sowing of crops and earmarked an amount of Rs 1,819 billion under Prime Minister Kissan Package, he highlighted.
The agriculture loans amounting to Rs 663.9 billion were released during the month of November 2022 and it was expected that the loan disbursement would surpass Rs 800 billion mark by the end of last month, Imtiaz informed. The agriculture loan was the component of Prime Minister Kissan Package of Rs 1,819 billion to revive Pakistan's agriculture sector, particularly restoring the agriculture of areas affected by catastrophic floods during monsoon season.
He said the package comprised 15 main points to restore and revive the agriculture sector in the country to ensure food safety and security in the country, adding that significant progress had been made in all points.
The prime minister on October 31, 2022, he said, had announced the package and the cabinet accorded the approval to this effect on November 17. Prime Minister was taking a keen interest and holding a fortnightly meeting in order to review the progress on the package, he assured.
Besides, the government has also announced to waive off markup for the farmers from the flood-devastated areas, the food security commissioner said, adding that the State Bank of Pakistan (SBP) had also issued a notification to this effect, and a 100 percent markup amounting to Rs10.62 billion would be waived off.
11 January - February 2023 News & Views
BANGLADESH
BB forms Tk5,000cr refinance scheme for farmers to boost food production
The Bangladesh Bank has created a Tk5,000 crore refinance scheme for farmers, aiming to ensure food security by boosting domestic production amid the worsening global food crisis.
Under this scheme, farmers will get loans for cultivating paddy, fish and vegetables at an interest rate of 4% only, which they can repay in 18 months including three months of grace period, according to a central bank notice issued recently.
Besides, banks will be able to borrow from the central bank at an interest of only 0.5% to provide farmers with loans under this scheme. Farmers can avail of the loans till 30 June 2024, which can be extended if necessary, said the central bank.
The notice further stated that a global food crisis has occurred due to disruptions in the international supply chain. Given the situation, the central bank has come up with the decision to finance farmers in order to ensure food security.
Economists see this decision in a positive light as they say that the only way to deal with the global food crisis and to control import costs amid the country's forex reserve crisis is to increase food and agricultural production locally. In particu-
lar, increased production in the rice, pulses, potatoes, fisheries and poultry sectors can keep the country safe from the threat of famine, they add. In view of that, they consider the government's proactive initiative to create a refinancing scheme to provide low-interest loans to farmers very positive.
The government is taking various steps to increase food production out of the fear that the ongoing global food crisis will become more pronounced around the world in 2023. Prime Minister Sheikh Hasina has decided not to reduce agricultural subsidies, and ensure uninterrupted fertiliser and irrigation facilities. In this context, the Bangladesh Bank has formed this fund before Boro season that caters to rice demand for eight months in a year in the country.
CANADA
Canada's plant-based food sector gaining momentum
As 2022 comes to an end, Protein Industries Canada is celebrating the advancement of Canada's plantbased food and ingredient sector, and the achievement of significant milestones as an organization.
"Over the past four years, Protein Industries Canada and our industry partners have made tremendous progress, including investing more than $477 million into Canada's plant-based food, feed and ingredient ecosystem through 55 innovative projects," CEO of Protein Industries Canada Bill Greuel said. "We now have projects that span from British Columbia to Prince Edward Island and beyond. More so, the result of this investment is becoming increasingly tangible, with new ingredients and food products making their way onto grocery shelves and restaurant menus in Canada and beyond."
Plant-based foods present an incredible opportunity for Canada. Driven by a growing global population and an expanding middle class, combined with consumers choosing plant-based foods for health, environmental and animal welfare reasons, it is expected that by 2035 the annual global market will be worth
12 Around the World
upwards of more than $250 billion for Canada, this represents a potential $25 billion in annual sales by 2035, supported by 17,000 jobs.
"I am proud of the progress of Protein Industries Canada and the work we have accomplished; however, I am more pleased to see the growth of the sector and achievements of our partners," Greuel said. "Having recently returned from multiple overseas trips, I can attest that the international ecosystem is paying attention to Canada and our companies. Our approach to collaborative innovation, our natural advantages in crop production, our commitment to sustainability, and our supportive governments are all factors distinguishing Canada from our competitors."
Protein Industries Canada, one of Canada's five Global Innovation Clusters, accelerates innovation in plant-based protein. Working with trailblazing companies, Protein Industries Canada provides a structure that lessens risk and allows for bold initiatives, creating new ingredients and food products, facilitating industry partnerships, and opening doors to investment opportunities. With a current portfolio of nearly half a billion dollars in innovative R&D projects, Protein Industries Canada is working with companies to create solutions to a global food challenge.
"Over the past four years, the Canadian ecosystem has embraced the opportunity presented to us and have collaborated to innovate new processes, ingredients and food products. I am excited to build on the momentum we have and accomplish even more over the next five years," Greuel said.
Protein Industries Canada's first agreement with the federal government comes to end in March 2023 and was recapitalized by the federal government in Budget 2022. Protein Industries Canada will begin a new round of coinvestments in the Spring of 2023.
CHINA
China pulls off new record in grain output, expected to remain cornerstone of global food security
China pulled off a new record in grain output in 2022, official data showed, defying the uncooperative weather at home and the ripples of the Ukraine crisis. The difficult feat attests to the country's targeted and effective response to a conflux of headwinds, as food security is adamantly high on the government's agenda, experts said.
China's capability to sufficiently feed nearly one-fifth of the world's population
against all odds and at reasonable prices offers reassurance to a patchy global grain market, they noted, expecting the country to remain a cornerstone of global food security and economic stability.
China's grain output in 2022 hit 686.53 billion kilograms, an increase of 0.5 percent from the year before, the National Bureau of Statistics (NBS) said recently. The number pointed to a new record high and marked the eighth consecutive year that the country's total grain production has exceeded 650 billion kilograms.
The area of cultivated farmland stood at 1.775 billion mu (118.33 million hectares), up 0.6 percent from last year. Per unit output of grain reached 387 kg per mu, the NBS said.
The bumper harvest comes despite extreme regional weather conditions, including rare autumn flooding in the northern part of the country and extended drought and high temperature in the south, on top of COVID-induced disruptions, Wang Guirong, an NBS official, wrote in a statement dissecting the results.
In addition to extreme weather events that slammed part of the country with floods and some other parts with droughts, a spike in fertilizer prices amid the Ukraine tensions was seen weighing
13 January - February 2023 Around the World
on the domestic grain market. Still, the nation pulled off a good result, Nie Fengying, deputy director of the Agricultural Information Institute of the Chinese Academy of Agricultural Sciences, told the media.
He cited targeted moves at the central and local government levels to fight against droughts and floods such as the allocation of funds from government finances for drought and flood relief, the assignment of agricultural experts to onsite guidance that helped farmers with crop management in accordance with weather swings.
Pumping groundwater to irrigate drought-plagued crops was also among targeted and effective measures that come in handy as the government ratchets up its focus on food security, Jiao remarked. Ensuring food production is a key component of wide-ranging efforts to strengthen food security, he emphasized, pointing to calls to fill Chinese people's rice bowls, mainly with Chinese grain.
INDIA
The frozen food industry booms with each passing day
The global economy is preparing itself to pick up momentum in the post-pandemic era despite economic slowdowns and fluctuations in the economy all around the world. Despite all the odds, the frozen foods industry remains strong and continues to grow.
Consumer behaviour and consumption patterns have witnessed an exponential shift in the post. Pandemic age as consumers have started resorting to convenient and healthier food options for their Palates. Frozen foods are seen to be a go-to option these days, due to three key ancillary factors – value For money, convenience and healthiness.
Currently, the frozen foods industry is experiencing a significant increase in sales with each passing day. According to the results of a recent study conducted by the Research and Markets, India's frozen food market is forecast to grow at a CAGR of 7.7% and reach USD 1,841.28 Million by
2027. The frozen food industry in India is still in its infancy but growing fast. A huge market is yet to be explored. And as a result of the growing number of prospective customers, its potential remains strong in the country. The frozen food can be stored indefinitely with the establishment of a good cold chain.
It can reach every corner and crevice of the country and global interest in Indian frozen food is phenomenal. Moreover, it is pertinent to note that the frozen food industry is growing by leaps and bounds across the globe as well. A recently released Comprehensive
Research Report by Market Research Future (MRFR) stated that the frozen foods market has the ability to capture a spurring growth rate of 5.93% between 2022 and 2030.
It underlined that the market value for this industry by 2030-end could be close to USD 338.5 Billion. These statistics stand testament to the fact that frozen foods are being welcomed with open arms Among modern households, but what is the driving force behind this transition? Well, the secret lies in The health packed benefits of frozen foods now.
14 Around the World
MALAYSIA
Malaysia's food supply unsustainable in the long term, say experts
Access to affordable and nutritious food is becoming more difficult globally, following the Covid-19 pandemic, the Russia-Ukraine conflict and climate change. Consequently, this crisis has propelled Malaysia's food security to the top of national concerns.
Emerging from the pandemic, Malaysia is now ranked 41st on the Global Security Food Index (GSFI), with a heavy reliance on imports for essential food products.
According to the Department of Statistics Malaysia (DoSM), Malaysia recorded 26 food items with more than 100% self-sufficiency ratio (SSR) in 2021 slightly better compared to 19 in 2020.
Economist Dr Nungsari Ahmad Radhi said the country's food security ranking is poor — considering its abundant water, climate and availability of lands — compared to its land-scarce neighbour Singapore, which came in at No 28. "We should be doing much better than this. Our agrifood industry is quite underdeveloped, which is why we import a lot of food," Nungsari told to media.
Last year, a deficit of RM25 billion was recorded as Malaysia's imports of agrofood stood at RM64 billion compared to RM39 billion exports.
For the last 10 years, Malaysia's imports of food accumulated to RM482.8 billion, while exports amounted to RM296 billion, based on DoSM data. The data also shows that Malaysia is highly dependent on imports of mutton (from Australia), mango (Thailand), coconut (India) and beef (Indonesia) to meet domestic demand. Moreover, Malaysia also saw a staggering high import of chillies, ginger and round cabbage.
"We cannot grow or produce all the food we import, but we can certainly aim to be competitive, not just for local consumption but for export markets.
"It only makes sense to go into agrifood if we are competitive enough to export," he noted. To tackle the food supply, he opined that the authorities should offer longer land tenures to encourage farmers to invest in technology.
SINGAPORE
Bioengineering crops to yield more vegetable oils
Scientists from NTU Singapore have successfully bioengineered an important protein in plants to increase the yield of oil from their fruits and seeds – a holy grail for the global agri-food industry.
Their patent-pending method can increase oil content in seeds by 15 to 18 per cent, which is a significant improvement since major oil-producing crops such as soybean, sunflower, rapeseed,
and peanut, already have a high percentage of oil in their seeds.
This innovation can help the world in its quest for sustainability, helping to reduce the amount of arable land needed for oil-yielding crops while increasing the yield to meet the world's growing demand for vegetable oil, especially when facing effects of climate change.
Lead scientists Assoc Prof Gao Yonggui and Asst Prof Ma Wei said their method can also aid the agri-food industry in addressing United Nation's sustainable development goals, since vegetable oil is an essential part of the human diet and used extensively in food processing.
The global market for plant oils is estimated to be worth US$241.4 billion in 2021 and is expected to increase to US$ 324.1 billion by 2027, according to industry estimates. The team expects that their method will have economic impact if adopted by industry players.
Food and Agriculture Organization of the United Nations (FAO) Expert Consultant on novel foods, NTU Michael Fam Chair Professor William Chen, gave his independent views, saying that more advanced technologies to grow more food with higher nutrition value such as this, is required to increase food security and tackle world hunger.
UNITED KINGDOME
UK food inflation continues to break records
October 2022 marks an all-time high for food inflation in the UK, increasing to 11.6 percent and affecting basic products such as milk. With cost-of-living crisis continuing to affect consumers across the UK, the British Retail Consortium (BRC) has revealed that food inflation in October 2022 has increased to a recordbreaking 11.6 percent.
Previously, in September 2022, food inflation reached 10.6 percent, however the additional percentage increase in October has affected basic items such as tea bags, milk and sugar.
Explaining the recording breaking inflation rates, Helen Dickinson OBE, Chief Executive of the BRC said: "Prices
15 January - February 2023
Around the World
were pushed up because of the significant input cost pressures faced by retailers due to rising commodity and energy prices and a tight labour market.
"While some supply chain costs are beginning to fall, this is more than offset by the cost of energy, meaning a difficult time ahead for retailers and households alike."
What's more, shop price annual inflation has also hit an all time high, accelerating to 6.6 percent in October 2022, up from 5.7 percent in September.
Delving deeper, specific food categories were also subject to price increases during October 2022. Fresh food inflation increased to 13.3 percent, up from 12.1 percent in September, marking the highest food inflation rate in the fresh food category on record.
Furthermore, ambient food inflation accelerated to 9.4 percent which was a 0.8 percent increase from the precious month (8.6 percent), achieving the fastest rate of increase in the ambient food category on record.
"With pressure growing on discretionary spend across both non-food and food retail, delivering good value is the table stake in the battle for shopper loyalty over the next eight weeks," said Mike Watkins, Head of Retailer and Business Insight at NielsenIQ.
As the prices of food are continuing to increase, a survey has revealed that consumers may have to make sacrifices when it comes to their weekly shop.
In a survey conducted, a quarter (24.9 percent) of respondents said that they had stopped buying a food or beverage product in the previous three months due to an increase in price. This percentage is significantly higher than the survey results from 10 months previously, where 17.6 percent of shoppers claimed to omit purchases due to steep costs.
USA
U.S. Agencies Partner to Advance Food Safety Standards Globally
Three U.S. agencies have forged a partnership to improve global food safety standards. The U.S. Department of Agriculture (USDA), the U.S. Agency for International Development (USAID), and U.S. Food and Drug Administration (FDA) are launching the Food Safety for Food
Security Partnership (FS4FS). The initiative includes the investment of $15 million over the next five years to support the availability and trade of safe food products to reduce poverty, hunger, and malnutrition in low- and middle-income countries.
During the U.S.–Africa Leaders Summit, many African heads of state reached out to USDA for help in developing science- and risk-based measures and standards to ensure the supply and safety of their countries' food. Through FS4FS will work together with these nations to address their needs, which are vital to ensuring greater access to safe and nutritious food across Africa. The partnership will focus on transforming agrifood systems through food safety delivered through policies and institutions, as well as farmer, consumer, and industry readiness.
16 Around the World
FS4FS will build upon the work of Feed the Future with countries around the world. Led by USAID, Feed the Future brings together partners from across various sectors and the U.S. Government to help countries change the way their food systems work.
To improve trade, and food safety and security, FS4FS aims to support the development of sanitary and phytosanitary systems in Feed the Future countries. Through the partnership, longstanding barriers to participation in the food system will be addressed through capacity-building.
With its capital investment, the partnership will provide technical assistance, knowledge management, and digital tools to strengthen the policy and regulatory environments in participating countries. The collective efforts will help achieve global food security goals by decreasing foodborne illnesses and reducing trade suppression.
VIETNAM Vietnam's seafood producers spot business opportunity in aquaculture waste
As nearly 1 million tonnes of aquaculture wastes are discarded each year across Vietnam, businesses are exploring ways to reclaim the waste to shore up their environmental credentials and revenue streams.
Vinh Hoan Corporation extracts proteins from fish waste for use in cosmetics and pharmaceuticals.
"Our company isolates collagen and gelatine from fish skin, two proteins that are used in cosmetics and pharmaceuticals", said Vinh Hoan's general director Nguyen Ngo Vi Tam. According to reporting in Vietnam+, about 19 percent of the firm's revenues come from aquaculture byproducts and 7 percent is yielded from recovering collagen and gelatine.
Tam explained that her company opened its first gelatine and collagen plant in 2015. The facility – the first of its kind in Vietnam – has an annual capacity of 2,000 tonnes. As of 2021, Vinh Hoan's aquaculture byproducts and collagen/gelatine products yielded over $88.4 million (2.2 trillion VND) in rev-
enues. The collagen and gelatine segment contributed $25.6 million (642 billion VND) to Vinh Hoan's revenues.
Another company, Nam Viet, recently followed suit – opening a plant that can process 780 tonnes of collagen. Market forecasters now estimate that collagen segment could grow by 6 percent annually to reach $8 billion by 2027.
Other firms are profiting from re-utilising shrimp waste. Vietnam Food (VNF) is deriving polymers like chitosan from shrimp heads. According to Phan Thanh Loc, Vietnam Food's CEO, chitosans can be used in anti-obesity and blood clotting medications.
"We process shrimp heads into various products, including chitosan and hydrolysed liquid. Our shrimp-derived hydrolysed liquid is unique," he said. Loc believes that the value of shrimp could quintuple if they could be reclaimed as animal feed. He also estimates that the value could jump twenty times if they were incorporated into functional foods and thirty times if they could be used in pharmaceutical products. However, of the shrimp producers who re-utilise their waste shells, most opt to use them in animal feed as the other segments require investing in high-tech processing equipment.
Vietnam's industry insiders believe that the aquaculture segment generates nearly 1 million tonnes of waste each year – if left as is, this volume of waste comes with significant environmental drawbacks. It also represents and untapped business upsell.
17 January - February 2023 Around the World
ADM Named a Top Employer 2023 in Europe, China and Singapore
ADM, a global leader in nutrition and agricultural origination and processing, has been named Top Employer 2023 in Europe, China and Singapore by the Top Employers Institute, in recognition of the company's dedication and excellence to the improvement of people practices.
Top Employers Institute awards organizations based on the participation and results of their HR Best Practices Survey. This survey covers six HR themes, consisting 20 topics, including People Strategy, Work Environment, Talent Acquisition, Learning, Diversity, Equity & Inclusion, Wellbeing, and more. This award follows ADM's recognition as Top Employer Europe last year, where ADM was certified in Germany, UK, Switzerland, Spain and the Netherlands. ADM was also most recently named a Diversity Leader in Financial Times' ranking of 850 European companies on diversity and inclusion.
"We are honoured to be awarded Top Employer Europe 2023 for the second consecutive year in Europe. ADM's people and great teams are key contributors to the success of our company, where we strive to build a culture of care and continuous learning. We prioritise the wellbeing of employees and focus on building diverse and inclusive teams
where everyone feels they belong and has equal opportunities to excel," said Mayka Van Acht, VP Human Resources, EMEA. "Talent development and leadership will also remain important priorities, and we will strive to ensure positive working conditions as we navigate what lies ahead in a post-pandemic world," she concluded.
"In China, Singapore and the rest of Asia-Pacific, we have introduced a variety of initiatives to support, retain and advance women so this award is a great recognition of all our efforts in promoting diversity, equity and inclusion in the workplace. Our female leadership representation continues to grow each year, and we look forward to strengthening our gender diversity, complementing our ability to innovate and drive growth across the region," said Alyssa Wang, Director, Human Resources, Asia-Pacific.
The recognition from Top Employers Institute is a testament to ADM's efforts in accelerating the impact of its people strategies to enrich the world of work. With a people-first approach, ADM engages its global talents through various initiatives including rolling out companywide engagement studies, launching ADM Career Navigator and LinkedIn Learning for career and personal develop-
ment. ADM is committed to bringing diversity to the workplace and hosts annual global and regional Women's Leadership Summits to inspire and motivate female leaders.
To foster diversity in the team, ADM utilises the Kenexa Diversity Tracker to ensure diverse candidate slates and interview panels for all salaried open positions. The company also adopted a software platform to focus on job-specific competencies and mitigate unconscious human bias in the hiring process. In 2022, ADM achieved a perfect score of 100 on the Human Rights Campaign Equality Index, a benchmarking tool on corporate policies, practices and benefits that relate to LGBTQ+ workplace equality.
"Exceptional times bring out the best in people and organisations. And we have witnessed this in our Top Employers Certification Programme this year: exceptional performance from the certified Top Employers 2023. These employers have always shown that they care for the development and well-being of their people. By doing so, they collectively enrich the world of work," says David Plink, CEO, Top Employers Institute.
18
Bioscience firms Novozymes and Chr. Hansen to merge in biggestever Danish deal
Biotechnology companies Novozymes and Chr. Hansen agreed to combine in what will be the biggest ever merger between two Danish companies.
The merger, announced in a joint statement Monday, will see the dissolution of Chr. Hansen and is expected to complete in the fourth quarter of 2023.
The new group will have annual revenues of approximately 3.5 billion euros ($3.7 billion), the companies said.
Chr. Hansen develops ingredients for the food, pharmaceutical and agricultural industries, while Novozymes describes itself as the world's largest provider of enzyme and microbial technologies.
Novozymes CEO Ester Baiget and CFO Lars Green will continue in their positions in the combined group.
"Novozymes and Chr. Hansen share the strong conviction that our combined scale, know-how, commercial strengths, and innovation excellence will drive value for our shareholders, customers, and society at large by providing the sustainable solutions the world so urgently needs," Baiget said.
Novo Holdings, the largest shareholder in both Novozymes and Chr. Hansen, said the two companies were a "perfect match." It has said it will vote in favor of the merger at upcoming extraordinary general meetings of both Novozymes and Chr. Hansen, set to take place during the first half of 2023.
After completion of the merger, Novozymes free float shareholders will own in aggregate 44% of the total share capital of the combined group, Chr. Hansen free float shareholders will own 34% and Novo Holdings will own 22%.
The companies said they expect the new group to post organic revenue growth of 6-8% until 2025.
"Beyond 2025, ambition is to continue to deliver accelerated sustainable growth from the underlying business coupled with new, and de-risked, innovation and growth opportunities," they added.
Novozymes will pay a 49% premium to Chr. Hansen, a figure that raised eyebrows among some analysts and led Novozymes shares sharply lower on Monday.
"This is a large premium, and appears to be based on high synergy assumptions, 16% of CHR revenues for revenue synergies and 7% of revenues for cost synergy target," Jefferies analysts remarked in a note.
That overall premium shrinks to 38% for Novozymes shareholders, with Novo Holdings transferring its stake at a 1% discount. Baiget told CNBC on Monday that this comes down to 31% if looking at a 60-day average, and voiced confidence that the "cross-fertilization" of both companies' strategic strengths in their respective markets would justify the premium.
"We have ... the support of a longterm shareholder, the main long-term shareholder of both companies, and with that support in place we see also the belief and the reassurance of the potential of value generation for these two companies together, short and long term," she said.
Corporate News 19 January - February 2023
Tate & Lyle wins ingredient category in Superbrand's 2023 list
Tate & Lyle, a world leader in ingredient solutions for healthier food and beverages, has achieved 2023 Business Superbrand UK Status in recognition of its quality products, exceptional service, and commitment to innovation. Tate & Lyle took the top accolade in Superbrands' Food - Agricultural Services, Ingredients, Nutrition and Feeds category.
The annual Consumer Superbrands and Business Superbrands surveys are long running brand studies that identify the UK's strongest consumer and business-to-business brands respectively. The awards are voted for by 2,500 British business professionals with purchasing or managerial responsibilities, and an independent Superbrands Council comprising of leading business and marketing experts.
Helen Bass, Global Head of Marketing & Consumer Insights at Tate & Lyle, said:
"We are thrilled to be recognised by Superbrands alongside many iconic global brands for not only what we do and how we do it, but where we are going as a company. Over 160-years-old, Tate & Lyle has a proud history and, with our
focus on health-driven innovation, an exciting future trajectory placing us at the centre of the future of food. This recognition from Superbrands coincides with the launch of our new brand, which speaks to our commitment to using our deep understanding of the science of food to create cutting-edge ingredient solutions for our customers to help address society's biggest challenges, in line with our purpose."
About Tate & Lyle
Tate & Lyle is a world leader in ingredient solutions for healthier food and
beverages. Supported by our 160-year history of ingredient innovation, we partner with customers to provide consumers with healthier and tastier choices when they eat and drink. We are proud that millions of people around the world consume products containing our ingredients every day. Through our expertise in sweetening, mouthfeel and fortification, we develop solutions which reduce sugar, calories and fat, add fibre and protein, and provide texture and stability in categories including beverages, dairy, bakery, soups, sauces and dressings. We have more than 3,500 employees working in around 60 locations across 39 countries.
Tate & Lyle's purpose is Transforming Lives Through the Science of Food and through our purpose we believe we can successfully grow our business and have a positive impact on society. We live our purpose in three ways, by supporting healthy living, building thriving communities and caring for our planet.
Tate & Lyle is listed on the London Stock Exchange under the symbol TATE.L. American Depositary Receipts trade under TATYY. In the year to 31 March 2022, Tate & Lyle revenue from continuing operations totalled £1.4 billion.
20 Corporate News
Winners in ingredient category in Superbrand's 2023 list
Krones expands its capabilities in the growing pharmaceutical market with the acquisition of US company R+D Custom Automation
Krones, a leading manufacturer of filling and packaging solutions, has acquired 80.5% of R+D Custom Automation LLC (R+D) with effect from 8 November 2022. Based in Wisconsin, USA, R+D supplies machinery and equipment for the production and filling of containers for the pharmaceutical industry. As a full-service system integrator and specialised equipment manufacturer, R+D has been providing custom engineering solutions to the life science industry for over 40 years.
In the 2021 fiscal year, the company generated revenue of some US$43 million with a workforce of more than 60 employees. The purchase price for the stake in R+D is in the mid double-digit millions of US dollars and is met out of available cash funds.
Krones has an option to buy the remaining 19.5% of the shares in R+D,
which remain with the current management.
The acquisition of R+D marks a continuation of Krones' strategy of additional growth outside the beverage industry. It strengthens Krones' activities in the attractive life science and pharmaceutical market, which shows above-average growth. In R+D, Krones also gains a highly experienced team with innovative solutions and good customer relationships with established pharmaceutical groups.
About us Krones
The Krones Group, headquartered in Neutraubling, Germany, plans, develops and manufactures machines and complete lines for the fields of process, filling and packaging technology. Its product portfolio is rounded off by information technology, factory planning and prod-
ucts from Krones' subsidiaries as intralogistics, valve production etc.
Whether made out of glass, PET or aluminum – Krones machines and lines process millions of bottles, cans and specially shaped bottles each day. Our customers mainly comprise breweries, water, soft drink and juice manufacturers, as well as dairies and producers of wine, sparkling wine and spirits or companies from the liquid-food field.
Speaking of solutions – whereas Krones manufactured only labellers back in 1951, the year in which it was founded, its product range now extends far beyond conventional machine and line construction: As a systems supplier, we offer our customers all machines and lines, as well as components, intralogistics and IT solutions, that they need for their production.
21 January - February 2023
Corporate News
Krones expands its capabilities in the pharmaceutical market with the acquisition of R+D Custom Automation.
PepsiCo partner Northern Bottling Company trusts Sidel to install its highest-speed complete PET line
With increasing demand forecast for soft drinks in Pakistan in 2023, PepsiCo partner Northern Bottling Company is relying on Sidel to install a high-volume, high-speed carbonated soft drinks (CSD) line.
Sidel is applying its leading packaging solutions expertise to create the new complete line for Haidri Beverages Group's subsidiary, Northern Bottling Company (NBC), in the city of Peshawar. Northern Bottling Companyis the market leader in beverages for Pakistan's northern region and has been a successful PepsiCo franchise over 25 years.
Offering a capacity of over 45,000 bottles per hour, the line represents a new era of innovative technologies, high efficiency and productivity in Pakistan's beverage industry. The new line will help unlock further capacity for Northern Bottling Company, which itself has seen volume growth of 30% in the year 20212022. It will handle four bottle sizes and five recipes, producing PepsiCo beverages Pepsi, 7up, Mirinda, Pepsi Diet and Sting energy drink, in 300ml, 345ml 500ml and 1500ml formats.
Serving a dynamic market
Sidel is enlarging its local expertise in Pakistan, a dynamic market, where PepsiCo and NBC are playing a significant role. "Sidel's absolute commitment to service, along with their unique ability to optimise layout within a high-speed line equipped with cutting-edge technologies has impressed us. These were the key reasons that we have entrusted Sidel with our new investment," says Ali Navaiz, Group Chief Operating Officer, Haidri Beverages Group. "We are excited by this collaboration," adds Vedat Guler, Sales Director Middle East, Sidel. "We're dedicated to helping NBC achieve its commercial, sustainability and efficiency goals by adding value with our innovative bottle design, and lower energy and resources solutions."
Sustainable production
Sidel's complete line will help NBC save energy and resources. In fact, Sidel's
Combi is able to blow bottles using the lowest possible blowing pressure, and the air is recycled It also offers water savings on bottle base cooling. The line is capable of running recycled PET (r-PET) bottles, and with the Sidel's patent StarLite bottle base, NBC and PepsiCo's future sustainability goals will be met. The innovative StarLite bottle base optimises the quantity of PET per bottle, contributing to sustainability both by reducing the use of material and lowering emissions during transport.
Reduced Total Cost of Ownership
Sidel is confident of meeting NBC's high performance targets and expectations, knowing that its line engineering and technology, innovative solutions, resource efficiency and packaging design improvements, together with its local service and aftersales support, will add value and reduce the Total Cost of Ownership (TCO).
22 Corporate News
Krones has affirmed its commitment to net zero
In 2020, Krones had the effectiveness of its own climate targets confirmed by the Science Based Targets initiative. Krones is now taking its climate strategy to the next stage in targetting net zero emissions by 2050.
The group's climate targets are also given recognition by other independent organisations and publications.
In its climate strategy adopted in 2020, Krones set itself the target of reducing greenhouse gas emissions caused in the company by its own vehicle fleet or production plants, for example, by 80 per cent by 2030. In addition, the group aims to cut emissions attributable to the upstream and downstream value chain by 25 per cent.
This climate strategy was validated by the independent Science Based Targets initiative (SBTi) in 2020 in order to verify the effectiveness of the measures taken. The SBTi confirmed that it will make a contribution towards limiting global warming caused by the greenhouse effect to 1.5 degrees Celsius.
Krones is now taking a further step forward. "In mid-October, we entered into a commitment with the Science Based Targets initiative to setting a net zero emission target within the next few months and having it validated by the SBTi. This target is to be reached by 2050 at the latest and complements the 2030 emission targets we've already specified. We're now busy developing a sciencebased net zero target," explains Martina Birk, Head of Sustainability.
Independent organisations confirm Krones' course of climate action
Independent organisations and publications have already given recognition to Krones' targets and progress in the fields of climate protection and sustainability. The "For Our Planet" sustainability platform and the Focus news magazine used scientific methods and a comprehensive questionnaire to examine the sustainability targets of German companies. Krones is one out of only eleven enterprises in the "Plant and Machinery
Manufacturers" category which have won the Top Climate Commitment Award.
And Krones won the 2022 Industry Excellence Award in the field of sustainability at the Gulfood Manufacturing, the biggest trade fair for food and beverage processing in the Middle East, Africa and South-East Asia region. This award honours companies for their innovative vigour and outstanding contributions to the sector, and for helping their customers pave the way for a sustainable future.
"The independent analyses and accolades confirm our sustainability targets and our future-driven corporate strategy," says Martina Birk. "The overriding goal driving innovation in all our new developments and design enhancements is not only digitalisation but also the requirement for sustainability, which we have systematically integrated into our entire portfolio – including the fields of process technology, filling and packaging technology, and intralogistics."
23 January - February 2023 Corporate News
Chief Sales Officer Thomas Ricker and Amir Ahmed, Krones Middle East Northern Africa, seen accepting the 2022 Industry Excellence Award in the sustainability category at the Gulfood Manufacturing.
"MULTIVAC" Sustainable packaging solutions for fruit and vegetables
France is leading the way, now Germany is following suit: It will in future no longer be possi-ble to retail fruit and vegetables in plastic packs. In the case of more perishable products such as tomatoes, grapes and beans, the law will apply from the middle of 2023, while for products such as sprouts and berries, the law will come in from the middle of 2026.
MULTIVAC is therefore placing particular emphasis on its sustaina-ble packaging concepts at Fruit Logistica, which runs from 8 to 10 February 2023.
MULTIVAC will be presenting sustainable packaging solutions for a wide range of fresh products over more than 250 square metres of exhibition space. The company is expecting a high level of interest from visitors, particularly in regard to the MULTIVAC PaperBoard range, as well as for the company's other packaging concepts, which have a high level of material efficiency and recyclability, while
still providing extended shelf life for the food products.
The exhibits on the trade fair stand will include the T 305 traysealer as well as a complete line, in which the core feature is the high-output TX 710 traysealer. The compact T 305 is the ideal choice as an entry-level model into fully automatic tray packing, as well as for those companies that need to pack smaller batches. The TX 710 on the other hand is de-signed for large batches, and it is very impressive in its innovative ma-chine technology, comprehensive sensor system, intelligent controls and high degree of process reliability. This traysealer sets the bench-mark when it comes to pack quality and consistently high cycle output. The tray made of cellulose is biologically degradable, and this also contributes to the sustainability of the packaging solution. A BASELINE labeller of the L 301 series is also integrated into the line. This cost-ef-fective
labelling solution applies labels with variable data, such as for example a bestbefore date, to the top of the trays. The integration of the labeller controls enables many tasks to be automated, such as for example the loading of a print layout, or the parameter settings of the labeller. This data can be saved directly in the product recipes of the TX traysealer. The L 301 is therefore controlled efficiently and reliably via the control terminal of the traysealer.
The flexible L 310 Top Wrap conveyor belt labeller, which can be seen at Fruit Logistica as a stand-alone model for selected products such as tomatoes and berries, shows how MULTIVAC is meeting the new trend for packs made of paper and cardboard that can be recycled separately. These packs are gradually replacing not only the previous plastic trays, but also the cardboard sleeves, which may be recyclable but are very material-intensive.
24
Exclusive on MULTIVAC
If fruit or vegetables are not packed in modified at-mosphere or airtight in a vacuum pack, the trays can be sealed closed easily and branded attractively using a label.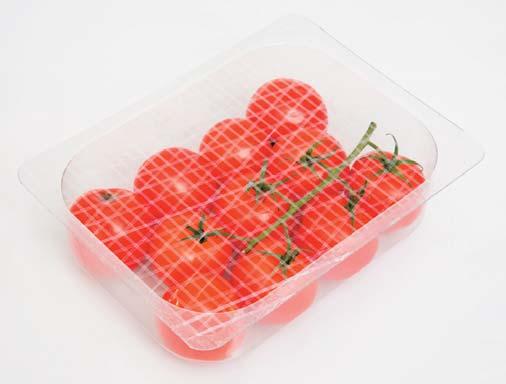 The version of the labeller to be shown in Berlin enables two types of packs to be produced: Top Wrap, where the label is applied to the top and both sides, and Top Close, where the label is applied to just the top of the pack.
The high level of flexibility in terms of the material thickness and shape of the self-adhesive labels offers a wide range of possibilities for product presentation. It is possible for example to have cut-outs in the label, as well as adhesive-free zones, so that contact with the product is prevented. Some of the most important benefits of this conveyor belt label-ler include its automatic and highly efficient labelling, its rapid batch change, and last but not least its attractive packaging and branding concept, which is always well received by consumers.
For those visitors to the trade fair, who prefer to play it safe when it comes to highly automated processes, MULTIVAC is also showing its I 410 visual inspection system, which is a high-output, integrated solu-tion for quality control with its own transport conveyor. The packs are either transferred from an
upstream transport unit or fed in manually.
As an alternative, the packs can be ejected by means of an electric mo-tor, so that no compressed air is required. The system is an intelligent option, when packing leaf salads for example, and checking the seal seam for contamination. The I 410 can be installed for label and print inspection at the end of a traysealer and labelling system.
MULTIVAC will be showing the R 245 in action as an example of pack-ing fresh produce in thermoformed packs. The R 245 is a freely con-figurable thermoforming packaging machine, which offers a compre-hensive range of equipment options, and also allows complex pack shapes to be produced at high output.
MULTIVAC's presence at the trade fair is rounded off with a presenta-tion by Christian Zimmermann (Project Manager, Market Intelligence & Applications) on the Tech Stage from 13.45 to 14.30 on 9 February. Topic: How can sustainable packs contribute to reducing food
wastage? Ronald Helmel, Business Development Manager at MULTIVAC Marking & Inspection, will be alongside him.
About MULTIVAC
MULTIVAC is one of the leading providers worldwide of packaging solutions for food products of all types, life science, and healthcare products, as well as industrial items. The MULTIVAC portfolio covers virtually all re-quirements of processors and producers in terms of pack design, output and resource efficiency.
It comprises a wide range of packaging technol-ogies, as well as automation solutions, labellers, and quality control sys-tems. The product range is rounded off with solutions upstream of the packaging process in the areas of portioning and processing, as well as bakery technology.
Thanks to our extensive expertise in packaging lines, all modules can be integrated into complete solutions. This means that MULTIVAC solutions guarantee a high level of operational and process reliability, as well as efficiency.
The MULTIVAC Group has approximately 6,900 employees worldwide, with some 2,400 based at its headquarters in Wolfertschwenden. With over 80 subsidiaries, the Group is represented on all continents. More than 1,000 sales advisors and service technicians throughout the world use their know-how and experience to the benefit of customers, and they ensure all installed MULTIVAC machines are uti-lized to their maximum.
Exclusive on MULTIVAC Exclusive on MULTIVAC 25
January - February 2023
Tate & Lyle continues transformation journey with launch of new brand
Tate & Lyle, a world leader in ingredient solutions for healthier food and beverages, is pleased to announce the launch of its new brand.
The rebrand of Tate & Lyle is another important milestone in the transformation of its business to become a purpose-led, growth-focused speciality food and beverage solutions business.
At the heart of the brand, is the company's new narrative – Science\ Solutions \ Society, the promise Tate & Lyle makes to its customers and the way in which it will deliver its purpose.
Nick Hampton, Chief Executive, Tate & Lyle, said:
"Our commitment to 'Science, Solutions, Society' was born out of a deep understanding of our purpose 'Transforming Lives through the Science of Food'. After all, everything Tate & Lyle does is rooted in science. It's through R&D and innovation – our understanding of the science of food – that we have the
greatest impact, not only by supporting healthy living through our ingredients and solutions but because, by growing our business, we can also have a wider positive impact on our communities and the planet.
"We are really excited to be able to share our new brand today – it truly reflects who we now are as a business and our ambition for the future, building on over 160 years of innovation."
Helen Bass, Global Head of Marketing & Insights, Tate & Lyle, said:
"As the design work was evolving, we discovered very early on the incredible power of having an 'and' – an ampersand – in our name. It is not just distinctive but communicates that Tate & Lyle can, and does, bring more. It shows a continuous curiosity and restlessness to solve challenges, go the extra mile and exceed its own and others' expectations in the broader world. Therefore the 'power of and' became a key part of the design.
"This rebrand is not just a new logo or colours, it is a beacon of change for our organisation, creating a distinctive new brand, one powerful narrative, that stands out and brings it to life for ourselves and our customers."
David Beare, Executive Creative Director, Bulletproof, said:
"Whilst we started this process by looking at the history and future of Tate & Lyle, the competition, the current brand world and identifying all the things that makes the business unique in the industry, it was most important to us to speak to Tate & Lyle's people.
"This enabled us to identify what is true, credible, and motivating about Tate & Lyle and working at the company. It was invaluable in creating a brand that its people feel reflects them and the pride they have in their work."
The rebrand includes a new logo, typography, new imagery as well as a new narrative and tone of voice.
28
Exclusive on TATE & LYLE
Rice export prices can increase with new technology
Rastgar Group in collaboration with Buhler Group organized a Rice Processing Expert event at its office in Korangi Karachi on February 1st, 2023. The event was attended by major rice exporters, members and senior office bearers of REAP. Heiko Jopke, a renowned Rice Processing Expert from Buhler Group shared his valuable insights on how to improve rice processing yields for Rice Exporters in Pakistan.
Rastgar also displayed Buhler Sortex machine which was the center of attention of participants which showed keen interest in the machine. Fuad Garib who is actually using Buhler Sortex machine for their rice processing ensured Exporter to upgrade to Buhler for better rice processing yields with minimum amount of waste
Imtiaz Rastgar, Chairman, Rastgar Group spoke on the need for REAP to lobby the government of Pakistan on building capacity of Rice Sector through Supervised credit for global supply of value added rice products, with a view to earn better foreign exchange from the same crop size. REAP also needs government support for allowing machinery and spares from India. Imtiaz Rastgar also spoke about need for global collaborations by Pakistani Rice Exporters.
Heiko Jopke, Sales head of Buhler in Pakistan spoke about technical advancement of Buhler rice processing machines and the benefits rice exporters can derive from them. Heiko Jopke also answered questions from attendees regarding Buhler technology.
Leading rice exporters attended the event held at Korangi office of RASTGAR Group and acknowledged the benefits of Buhler machines already functioning at their plants. During the event. The event also featured a networking session, allow-
ing attendees to connect with other rice exporters and industry professionals.
Engr. Naeem Khanani while sharing his thoughts on technology and innovation for food processing specially Rice to worthy members of Rice Exporters Association of Pakistan (REAP) on eve of Buhler & Rastgar jointly organized technical session on high yielding of rice processing through innovative technologies with minimal wastages target ingredients Export markets.
Event was well attended by REAP member companies and endorsed their confidence on Buhler technology. Some of key members who attended the event are Farhan Nadeem, CEO Baba Saraj
Corporation, Irfan Ahsan GM NIRAAV
Pakistan, Mirza Tanveer Baig, Al-Karam Rice, Salar Ghori, Director Matco Foods, Safder Hussain Mehkri, CONWILL
Pakistan, M. Noman Arif, Proprietor AMI Exports and Managing Director, GARIBSONS.
Rastgar Group is committed to supporting the rice industry in Pakistan, and is excited to host such events in the future also to help rice exporters improve their operations and increase their yields.
Exclusive on Rastgar
January - February 2023 27
Imtiaz Rastgar, Chairman, Rastgar Group
Rice: An important staple food in Pakistan
Rice is an important staple food in Pakistan and is considered a crucial part of the country's agriculture and food industry and is widely cultivated in the country. Rice is grown in various regions of Pakistan, such as the Indus Delta, the Punjab, and the Sindh provinces. It is an important source of food for the majority of the population and is also a significant export crop for the country.
The government of Pakistan has implemented various programs to promote the growth and export of rice, including the development of high-yielding varieties, improved irrigation systems, and the establishment of rice research centers.
Despite these efforts, the rice industry in Pakistan faces various challenges, such as inconsistent quality, low productivity, and limited access to modern technology. However, the country continues to play a significant role in the global rice trade and remains a major producer of the crop.
Here are some reasons why rice is important in Pakistan:
Diet: Rice is a staple food for many Pakistanis and is a crucial component of the country's diet. It is consumed by people of all ages and is widely used in a variety of dishes, such as biryani, pulao, and kheer.
Agriculture: Rice is one of the most important crops grown in Pakistan and is an important source of income for farmers. Rice is grown in many areas of the country, particularly in the Indus River delta, and is a major contributor to the country's agricultural sector.
Exports: Pakistan is one of the largest exporters of rice in the world, and the export of rice is an important source of foreign exchange for the country. Rice is exported to many countries in Asia, the Middle East, and Africa, and is an important part of Pakistan's export economy.
Food security: Rice is a key food staple in Pakistan and plays a critical role in ensuring food security for the country's growing population. By growing and consuming rice, Pakistan is able to ensure a stable and reliable source of food for its people.
Overall, rice is an important food crop in Pakistan, and it plays a crucial role in the country's diet, agriculture, exports, and food security.
Nutritious benefits of rice
Rice is a staple food for many people around the world, and it is a nutritious food that provides several important health benefits when consumed in moderation as part of a balanced diet. Here are some of the nutritional benefits of rice:
Heart health: Some types of rice, such as brown rice, are high in fiber, which can help to lower cholesterol levels and reduce the risk of heart disease.
28 Exclusive on Rice
Weight management: Rice is low in fat and calories, making it a good food for weight management. It is also a filling food, which can help to reduce overall calorie intake.
Digestive health: Rice is easy to digest and can help to regulate the digestive system, particularly when consumed as a porridge.
Source of vitamins and minerals: Rice is a good source of essential vitamins and minerals, including thiamin, niacin, and iron.
Energy: Rice is a good source of carbohydrates, which are the body's primary source of energy. It provides the body with the energy it needs to perform physical activities and helps to maintain healthy blood sugar levels.
Fiber: Rice contains a small amount of fiber, which is important for maintaining good digestive health and preventing constipation.
Vitamins and minerals: Rice is a good source of several essential vitamins and minerals, including vitamin B1 (thiamin), vitamin B3 (niacin), and iron.
Low in fat and calories: Rice is a lowfat and low-calorie food, which makes it a healthy option for people who are trying to maintain a healthy weight.
Gluten-free: Rice is naturally glutenfree, making it a suitable food for people with celiac disease or gluten intolerance.
Versatile: Rice is a versatile food that can be used in a variety of dishes, making it a convenient and easy-to-prepare food option.
Overall, rice is a nutritious food that provides the body with energy, fiber, vitamins and minerals, and is low in fat and calories. It is a versatile food that can be used in a variety of dishes and is a healthy option for people of all ages. It is important to note that consuming too much rice can lead to weight gain and other health problems, so it should be consumed in moderation as part of a balanced diet. Additionally, consuming brown rice instead of white rice can provide additional health benefits, as brown rice is a whole grain that retains the bran and germ, which are rich in fiber and nutrients.
Worldwide rice production
Rice is one of the most widely cultivated and consumed staple foods in the world, and the production of rice is a major part of the global agricultural sector. Here are some key points about worldwide rice production:
Major producing countries: Some of the largest rice-producing countries in the world include China, India, Indonesia, Bangladesh, Vietnam, and Thailand. These countries account for the majority of the world's rice production.
Importance of rice production: Rice production is an important part of many countries' agricultural sectors, providing food for their populations and supporting the livelihoods of millions of farmers. Rice production also contributes to national economies through exports, job creation, and rural development.
Technological advances: In recent years, advances in rice cultivation technologies have helped to improve the efficiency and productivity of rice production. These advances include the use of high-yielding rice varieties, improved irrigation systems, and better farm management practices.
Climate impact: Rice production is vulnerable to the impacts of climate change, including increased frequency and severity of natural disasters, changes in precipitation patterns, and rising temperatures. Efforts are underway to develop rice varieties that are more resilient to climate change and to adopt farming practices that are more sustainable and environmentally friendly.
Challenges: Despite its importance, rice production faces many challenges, including declining soil fertility, water scarcity, and the spread of pests and diseases. In addition, many rice-growing regions are facing population pressures and urbanization, which can lead to the conversion of farmland to other uses.
Exclusive on Rice 29 January - February 2023
Overall, rice production is a critical part of the global agricultural sector, providing food and support for millions of people around the world. Efforts are underway to improve the efficiency and sustainability of rice production, while addressing the challenges and impacts of climate change.
Rice exports around the world
Rice is one of the most widely consumed staple foods in the world, and it is also a significant global commodity, with rice exports playing an important role in many countries' economies. Here are some key points about rice exports worldwide:
Major exporters: Some of the major rice-exporting countries in the world include Thailand, Vietnam, India, the United States, Pakistan, and Brazil. These countries collectively account for the majority of the world's rice exports.
Importance of exports: Rice exports are an important source of foreign exchange for many countries, particularly those in Asia and South America. The export of rice provides income for farmers and can help to spur economic development in rural areas.
Global demand: Rice is in high demand around the world, with many countries importing large quantities of rice to meet the needs of their growing populations. The increasing demand for rice in developing countries, particularly in
Asia, has led to an increase in global rice exports.
Competition: Rice exports are a competitive market, with countries competing for market share and trying to maintain their position as major exporters. In recent years, there has been a growing trend towards rice exports being made in the form of value-added products, such as ready-to-eat rice dishes and flavored rice.
Overall, rice exports are a significant and growing part of the global economy, with many countries relying on rice exports as an important source of income and foreign exchange. The increasing demand for rice around the world is expected to continue to drive the growth of the rice export market in the coming years.
Since 2010, the global rice export market was dominated by a few countries, with the top exporters being Thailand, Vietnam, India, and the United States. According to data from the Food and Agriculture Organization (FAO) of the United Nations, these four countries accounted for more than 60% of the total global rice exports in the year 2010.
In particular, Thailand was the largest rice exporter in 2010, with exports of around 10 million metric tons, followed by Vietnam with exports of over 6 million metric tons. India exported approximately 5 million metric tons of rice, while the United States exported slightly less than 2
million metric tons. It's worth noting that these figures are subject to fluctuations from year to year, based on factors such as weather conditions, government policies, and global demand.
Rice exports since 2020
The rice export market in 2020 was greatly impacted by the COVID-19 pandemic, which disrupted supply chains and led to changes in global demand. According to the Food and Agriculture Organization (FAO) of the United Nations, global rice exports in 2020 decreased by about 4% compared to the previous year.
However, some countries were able to maintain or even increase their exports despite the pandemic. Vietnam, for example, became the largest rice exporter in 2020, with exports of over 7 million metric tons, followed by Thailand with exports of around 6 million metric tons. India's rice exports also increased in 2020, to over 7 million metric tons, while the United States' exports decreased slightly to about 1.5 million metric tons.
It's important to note that the exact figures for 2020 are still being compiled and may be subject to revision. The impact of the pandemic on the global rice trade is ongoing, and the situation continues to evolve.
30 Exclusive on Rice
ingredients and flavors for food and beverages
Tell us about the vision and the core strengths of ADM that give it a unique competitive advantage?
ADM has been on a journey since 2014 after we acquired Wild Flavors. This development allowed us to diversify our portfolio away from the traditional business of grain trading and commodities into something that added more value to our customers in the nutrition space. We've continued to build on this over the last decades and expanded our business across all categories that affect human nutrition.
In recent years, we've focused and invested in three main areas: alternative proteins, citrus and the microbiome. Most recently, we acquired SojaProtein and opened an extrusion facility in Serbia, which provides non-GMO soy ingredients and offers an alternative protein source for consumers embracing a vegan, vegetarian or flexitarian lifestyle.
We've also expanded our capabilities in the citrus space with a major acquisition of Florida Chemical Company and the Ziegler Group, which provide natural citrus flavor ingredients and oils.
Specifically, at Gulfood Manufacturing, our senior flavorist has created a halalspecific section to demonstrate our citrus capabilities in various food and beverage concepts that are trending in the region and globally. We are now a major global leader in the citrus flavors space and are excited to show how we can continue to bring value to this space in the future across all categories and in different regions.
We've also invested in the microbiome and gut health category with the acquisition of two companies that provide
36
ADM: Leader in global nutrition who unlocks the power of nature to envision, create and combine
biotic solutions: Biopolis and Deerland Probiotics and Enzymes. Both companies enhance the solutions we can offer that help support the gut microbiome at a time when consumers ae increasingly starting to understand the connection between the microbiome, gut health and how that affects overall and wider aspect of well-being.
As we start to come out of the global pandemic, we recognize that consumer needs and goals are evolving. We are continually learning what drives consumers and what they need. This helps us to develop new solutions and capabilities to support brands in bringing offerings to market that meet the ever-changing needs of consumers.
For instance, we are excited to showcase our new solutions to returning and new customers alike and to demonstrate how ADM can bring value to their business with these capabilities. To do this, we are developing solutions that cater to the region itself. What this means is that we have offerings that are halal-compliant that meet local regulations and are developed locally. As a global company, we are in a unique position to tailor our approach to regional tastes and preferences and adapting what we have to meet consumer need states. You can develop and market a product that may work in Saudi Arabia but may not work as well in Jordan or Kuwait. However, having access to local facilities enables us to quickly adapt and address formulation or product challenges to make sure they fit local consumer tastes, demands and goals.
What key markets are covered by ADM?
What range of solutions does ADM offer to the industry?
ADM is a global company in human and animal nutrition and has offices in North America, LATAM, APAC and EMEA. Within our regional offices, such as those in Dubai and across the Middle East, we are able to bring our market knowledge directly to the customer and have greater customer intimacy to discuss what their goals and needs are as the market evolves. I'm a believer that as a company, we can only have real influence and understanding of our customers if we
are based in the region itself. I support ADM's efforts throughout the Middle East, from Yemen to Lebanon, as well as Iraq and Pakistan.
Tell us about your customers from Pakistan?
I've met many customers from Pakistan, and they all show an appetite for exploration and innovative product development. For instance, one concept we are sharing is our vegan protein shake for health-conscious and active consumers. The protein shake demonstrates many of our capabilities in a convenient, drinkable format and includes ingredients from our protein and alternative protein portfolio, sweetening solutions, as well as incorporates our vanilla capabilities and solutions that help support the gut microbiome, such as our soluble dietary fiber, Fibersol®. When combined, it creates a protein-packed, high-fiber and low-sugar beverage option.
What we try to do when we show solutions to customers is that we have different ingredients and a vast portfolio of ingredients, as well as a deep knowledge to formulate products as a solution.
Nowadays, the world needs all the new concepts and ideas. What new technological developments does ADM offer to customers?
Individualization is important to our customers. Our vast portfolio of ingredients coupled with our years of market knowledge and expertise ensures that we can tailor solutions to fit the exact needs of our customers. We know that customers like the ability to customize the solutions they incorporate into their products. We are constantly asking how we can build that kind of value chain and are investing in new and innovative research, companies and product development to bring this value to market.
It is a huge responsibility to provide quality ingredients that meet different needs. How is ADM successful in addressing this?
Our business and company is successful because we do not compromise on the
quality of the ingredients we source and provide to our customers. We are conscious of consumers' health goals and our customers' needs and are aware of our responsibility to provide them with ingredient solutions that provide exceptional taste, texture and functionality.
In addition to the protein shake, how else do you provide ingredient diversification and add value for your customers?
For the first time at Gulfood Manufacturing, we've brought in an ADM chef to help us showcase all of ADM's capabilities and ingredient portfolios. For example, he's developed protein snack bites that contains ingredients from every portfolio we have to offer. We've thrown everything into one product to demonstrate not only our broad portfolio of ingredients, but also our taste capabilities, colors, flavors and more in one bitesized snack.
This concept includes pea, wheat and soy proteins from our protein and alternative protein portfolio, as well as black bean grits and a vegan caramel preparation. For flavor, we've included coffee from our flavor portfolio, and included masking flavors and flavor modifiers used to enhance the profile while also masking unwanted notes. Additionally, you'll find natural sweeteners from our FruitUp® portfolio and microbiome supporting solutions such as our dietary fiber Fibersol® and our heat-treated BPL1™ (Bifidobacterium animalis subsp. lactis CECT8145).
Exclusive on MULTIVAC
Exclusive Interview January - February 2023 37
Andrew Truscott; Managing Director ADM
1SKIN™, a new packaging innovation, is the lightest plastic bottle. Sidel, the complete line solutions provider, has recently accomplished the installation of its Super Combi high-speed, flexible and digitally empowered packaging line at the Nigerian Bottling Company (NBC). NBC is part of Coca-Cola Hellenic.
Tell us about the vision and the core strengths of Sidel towards sustainability that give it a unique competitive advantage?
Right now, sustainability is at the top of our agenda, and customers are also putting it high on their priorities. You also know the goals that are set by Coca-Cola, Pepsi and other similar brands. We strive to achieve these goals, developing purposes regarding energy footprints and focusing on different sustainability issues. Side by side, we also deliver solutions that aim to reduce carbon dioxide emissions, so we set internal targets on this too. In terms of innovations linked to sustainability, we developed a design with a tethered cap attached to the bottle.
It is very beneficial for us, because when the drink is open, the cap does not detach. What usually happens is that, when you open the bottle, you drink from the bottle and throw away the cap.
This means that the bottle can be recycled but not the cap, as the cap is thrown in the garbage or the sea, which fish and other small animals can swallow. The result is that an EU regulation has been introduced to ensure that a cap does not detach after using a bottle, and we are delivering those solutions in the market. We are doing this with our partners and our equipment. In addition, we're also working on recycled PET (rPET) bottles and have machinery that can work effectively on these issues and process the bottle as per the customer's requirements. Some norms related to recycling see 50% recycled, others recycle 75% and some recycle a total of 100%. We have machines that can recycle according to any regulations. We are also working on a separate agenda regarding food waste.
The aseptic technology with this mechanism is through which we convert perishable fruits into juices or sauces
without preservatives, into aseptic containers with longer shelf life with ambient circulations, so you don't need to put it in the refrigerator if it is at ambient temperature. We are also doing TCO on our machines, making ourselves more sustainable by reducing energy in our production process. We're working on all aspects of
38
Sidel launches its 1SKIN™ bottle, the future of sustainable packaging for sensitive drinks.
Harbinder Kathuria, Sidel's VP Sales, MEA&I
sustainability, such as reducing reuse and recycling. We're also improving the shelf life of a product by trapping the Co2. You can see, as soon as you open a bottle, that the shelf life is reduced once the carbon dioxide is released.
There is also the difference between the shelf life of a glass bottle and a plastic bottle, because glass is not porous, and plastic is. We have the technology to improve the shelf life of plastic bottles. Plastic is made up of carbon and hydrogen, so we use carbon to coat this bottle inside. Today, you make the borders of PET bottles with thick plastic to create a better shelf life, so this is another essential aspect for us to reduce PET consumed because, for better shelf life, you need to think of the walls being plastic. Another sustainability dimension is that you need to heat the bottle less for PET. A 750ml bottle heater can reduce the weight to around 7.5 grams a bottle. That's a great thing because every gram of a bottle will save the use of plastics in millions of bottles.
What areas of activity are covered, and what range of solutions does Sidel offer the industry?
If you look at sustainability directly, people have different interpretations of, and in Europe they are looking at it in terms of the environment. If you are looking at developing nations, your cost competitiveness is significant, so developing economies interpret sustainability in terms of cost-effectiveness. I gave the example of reducing 7 grams of plastic from 27 grams a bottle, which means we are reducing hundreds of tons of plastic and saving thousands of euros in the process. Therefore, developing economies are viewing sustainability in terms of cost savings. Similarly, in this process, the energy bill will reduce by 20%, which can create an interest in working with us.
Sustainability also has some economic sense. It means we can make sustainability commercially viable. If it's not commercially viable, its not the business for anybody.
We all know that business is business, and they all want to save money. Sustainability is saving money for the future. For example, the most expensive utility in the PET packaging line is highpressure compressed air, used to blow the bottle. We can reduce 22 bar pressure to 18 bar pressure, which is a massive achievement because it also provides another level of sustainability, as it consumes less energy and pressure. In return, the financial savings are huge.
Are you interested in having such a relevant story for our readers, primarily focusing on the Pakistani perspective? And how do you see the Pakistani market?
We're very excited about the Pakistani market and see massive potential. There are some challenges in the market, and we are very focused on them. We also took some measures and aligned some set-ups to overcome those challenges. We want to bring all these innovations with sustainability or cost savings. It's a vast market and always receptive and focuses on sustainability goals since they are linked with CocaCola and Pepsi Cola. These are global companies, international companies, when it comes to sustainability. It also makes economic sense.
We are building our resources in the region, and we are being the resources inside Pakistan to facilitate our customers. We are already in a very advanced stage, and many things will be done in future by us. We're very excited to work in Pakistan.
How long have you been associated with Sidel, and where are you based?
Almost 26 years, so it's been a long time. I started as a field engineer, fixing PLCs, and have been on a journey from RSM to VP. I have lived in Dubai for almost ten years.
How is Sidel serving the Pakistani market?
In Dubai, we have a number of Pakistani colleagues working with us, including our account manager and service account manager.
We are working with our partners in Pakistan to enhance our local resources. We learnt during COVID that it takes much work to transport people from one place to another when borders are shut down. Although we have augmented reality options such as video conferencing and other techniques, there is still a great significance to having a physical presence.
Exclusive on MULTIVAC
Exclusive Interview January - February 2023 39
Interpack 2023: Sustainability is the future to focus
The international industry meeting for the processing & packaging sector will take place May 4-10, 2023.
Approximately 2,700 key players and newcomers from all over the world will use interpack as a stage to present their premières, and celebrate the longawaited reunion of the global packaging industry. This year at interpack there will be a focus on sustainability, processing and packaging technology designed to develop production processes that are less resource-intensive.
Sustainable Material Innovations
Much is happening on the market for packaging, packaging material and packaging aids. Visitors can expect many innovations, for example at Metsä Board in Hall 8a. The company specializes in the development of light cardboard and recyclable barrier cardboard.
"With our products and services, we can reduce the carbon footprint of pack-
aging throughout the value chain, from optimal material selection, packaging design, 3D simulation and enhance recyclability and production efficiency. We have a clear roadmap to move to 100% fossil free products and production by the end of 2030," says Marjo Halonen, VP Communications.
At interpack in Hall 10, SCHÜTZ presents, among other things, product innovations such as the Green Layer series, which helps customers minimize their carbon footprint.
"For Schütz, for our global team and for our internationally active customers, interpack is the world's largest and most important platform for communication and information. With our multimedia overall concept, digital animations and of course in personal talks with our international team, at our booth we present new products which are ideal for a circular economy and optimize the supply chain of our customers both economically and
ecologically," says CEO Roland Straßburger and vice president of interpack.
Also in Hall 10 is ProAmpac Flexibles with creative solutions for the area of flexible packaging.
"ProAmpac is thrilled to be back at Interpack as this trade show allows us to meet with a wide range of brands worldwide. We are eager to discuss ProAmpac's approach to sustainable packaging solutions and how we can collaborate with customers on even more innovative flexible packaging solutions," says Ali McNulty, Market Manager Europe.
Starlinger in Hall 8a offers machinery for producing woven plastic sacks, as well as systems for recycling plastics, extruding and refining PET.
"At interpack 2023, we are for the first time presenting our new sack tailoring system alongside our most recent product developments in the area of
40
INTERPACK 2023
woven sacks. Our focus is on circular economy, production that uses resources responsibly, and on energy efficiency," says
Angelika Huemer, Managing partner Starlinger & Co.
Inform, Decorate, Individualize
How to mark products, safely, efficiently and in an intelligent manner, is what visitors can learn, for example, at Bluhm Systeme in Hall 8b. Here and in Hall 8a, the spotlight is on packaging as a medium of information.
"This year, the marking world of interpack is concentrated within one-and-ahalf of all the 18 trade fair Halls. We are already looking forward to many talks with our customers, to the impressive design for our booth and the many new products. 300 m² offer us enough space for a close-up presentation of our highlights," says Andreas Koch, Sales Director at Bluhm Systeme.
"We are delighted that with interpack, the largest leading trade fair is happening again this year – and right on our doorstep," says Matthias Rauen, Sales Director of Langguth GmbH, which is also represented in Hall 8b. "With our labelling machines, we want to meet the modern demands of the production world with regards to more efficient machines, higher degrees of automation as well as the service demands made of production systems, like OEE data recording or predictive maintenance."
Sustainable Technologies
With flexible filling and packaging machines for pharmaceuticals, consumer goods, paper hygiene and medical products, the OPTIMA packaging group supports companies worldwide. At interpack, the focus is on sustainable solutions. CEO Dr Stefan König is looking forward to the trade fair: "interpack is the best of all options worldwide to get up-to-date on the newest developments in technology both quickly and concisely. Our visitors have the chance to experience our fascinating exhibits as well as our technological competence in action. We also present custom service solutions and demonstrate how to turn our customers into game changers regarding sustainability."
Also in Hall 16 is Romaco Holding, for which the sustainability aspect is also a decisive factor in this year's edition of the
trade fair as well: "We use interpack to present our sustainable, innovative machine concepts. They not only help our customers to lower their carbon emissions, they also lower production costs. In addition, we offer laboratories for granulation, pelleting, pellet coating, filling technologies and consulting for sustainable packaging," says CEO Jörg Pieper.
Overall, approximately 2,700 exhibitors will present packaging and processing technology for tomorrow at interpack 2023. Numerous specials, such as the spotlight talk & trends lecture program and trend topics of the industry round out the offerings for visitors. All exhibitors will be presenting packaging and processing technology for the future. Visitors can also experience a lecture program offering insight into industry trends and in the spotlight talks.
Fruit INTERPACKLogistica2023
January - February 2023 41
FRUIT LOGISTICA more international and more valuable than ever
The leading trade show for the global fruit and vegetable business returns to Berlin for its most international edition ever on 8-10 February 2023, with around 2,600 exhibitors from 92 countries and all parts of the fresh produce value chain.
Berlin is ready to welcome the world's most international gathering of fresh produce industry professionals. On 8-10 February 2023, leading trade exhibition FRUIT LOGISTICA opens its doors to buyers and trade visitors from over 140 countries. Across 27 halls, they can connect with 2,610 exhibitors from 92 countries, and discover products and services from every link in the industry's global value chain.
Last year, FRUIT LOGISTICA was postponed to April because of the pandemic. Now, in its 30th anniversary year, it returns to February – an ideal moment for the entire fresh fruit and vegetable industry to meet 'All in One'. The show's motto could not be more relevant, in a world where saving time and money is increasingly important. In 2023, an opportunity for the entire business to meet in one place is all the more valuable.
All inspired
"As FRUIT LOGISTICA, we bring the right people together, provide the indus-
try with the latest information, and offer a platform for the latest innovations," says Kai Mangelberger, the event's director. Fresh produce companies face major difficulties right now – supply chain disruption, cost inflation, high energy prices, and lower consumer spending – and that closeness is an invaluable way to overcome such challenges. "We are the place where the industry not only comes together under one roof, but also moves closer together."
The presence of around 40 country pavilions means the exhibition area at FRUIT LOGISTICA 2023 exceeds even pre-pandemic levels. And Spain underlines its position as a leading exporter, with more companies present than ever: 279 exhibitors cover more than 11,000 square meters in four halls this year, while
several others are located elsewhere as part of themed exhibition segments.
All innovative
On the first two days of the fair, buyers and trade visitors can head to a special area between Halls 20 and 21 to vote for one of ten nominees for the FRUIT LOGISTICA Innovation Award, the industry's most important prize. The Innovation of the Year winner will be announced in the same place at 14:30 on Friday, 10 February 2023.
In Hall 3.1, innovative smart agriculture companies present a range of digital solutions, which include AI-assisted harvester robots, precision sprayer drones, advanced irrigation concepts, and autonomous field vehicles.
42
FRUIT LOGISTICA 2023
Then on 10 February, under the theme Disrupt Agriculture, the FRUIT LOGISTICA Start-up Day transforms Hall 2.1 into the go-to place for breakthrough technologies. There, twenty of the world's most innovative start-ups present their products, projects and ideas in the Start-up Area.
All informed
Five event stages, a hundred top speakers, and every key industry topic covered. This sums up the event programme for FRUIT LOGISTICA 2023. In just three days, trade visitors to the Fresh Produce Forum, the Future Lab, the Logistics Hub, the Tech Stage and the Start-up Stage can gain a new understanding of the industry that will help them throughout the year.
And, with the European Statistics Handbook and the Trend Report, FRUIT LOGISTICA provides two vital documents to help companies in the fresh produce business make informed commercial decisions.
The European Statistics Handbook contains a wealth of detailed data to illustrate statistical trends across different product categories in Europe's various markets.
This year's Trend Report, meanwhile, asks the question: 'What next for fresh
produce? Key trends for the fruit and vegetable business in 2023'. It consists of interviews with experts on crucial topics such as cost inflation, ethical trade, food waste, climate change and new technologies.
About FRUIT LOGISTICA
FRUIT LOGISTICA is the leading trade show for the global fresh produce business, and represents the entire value added chain for the fresh produce industry from producer to point of sale. More than 3,300 exhibitors from 91 countries presented their products, services and technical solutions at FRUIT LOGISTICA 2020. Around 73,000 vendors and trade
visitors from 135 countries took part in the event. The next FRUIT LOGISTICA will be held in Berlin from 8 to 10 February 2023.
About Messe Berlin
Berlin has been a trade fair destination for 200 years, and has been one of the most important such hubs for many decades. Messe Berlin – the state's own trade fair company – conceives, markets and organises hundreds of live events every year. It strives to be an outstanding host for visitors at all events, generate optimal business stimuli, and provide fair conditions for everyone. This concept is reflected in the company slogan: Messe Berlin – Hosting the World.
FRUIT LOGISTICA 2023 January - February 2023 43
Gulfood Manufacturing
Gulfood Manufacturing 2022: 2,500 exhibitors happy and future of industry brighter
The three-day event at DWTC brought together more than 2,500 exhibitors; facilitated hours of discussion and debate; and helped pave the future of the industry by supporting young chefs.
Gulfood Manufacturing is an annual trade event that showcases the latest innovations, trends and solutions in the food and beverage industry. It is the largest food and beverage processing and packaging event in the Middle East, Africa, and South Asia region, attracting exhibitors and visitors from around the world. The event provides a platform for industry leaders to showcase their products, network with potential customers, and exchange ideas and knowledge. The show offers a comprehensive range of products and services, including ingredients, packaging, processing equipment, and food safety and quality management solutions. Gulfood Manufacturing is a key event for the food and beverage industry, providing a unique opportunity for businesses to grow and expand their market presence in the region.
Gulfood on food supply chain
A key session in the final morning focused on the reasons why the International Islamic Food Processing Association(IFPA) is relocating its head office to Dubai and choosing Dubai as its partner, as it seeks to diversify and strengthen the food supply chain to Organisation of Islamic Cooperation (OIC) countries, most of which currently face an underdeveloped food processing sector.
Immediately following the session, an MoU on cooperation in developing sustainable, innovative, and common solutions for industry was signed between the Islamic Organization for Food Security (IOFS) – of which IFPA is a subsidiary –and Food Tech Valley, a UAE-government led initiative designed to address food security locally, regionally, and globally.
GulfHost Foodservice Excellence Summit and YouthX
Meanwhile at Gulfhost's Foodservice Excellence Summit, participants gained a
better understanding of the developments from around the globe that are inspiring changes in the hospitality sector, as well as trends in sustainable design in the F&B sector from some of the world's leading hotel brands.
Meanwhile, in Gulfood YouthX, teams from Burj Al Arab, Sofitel The Obelisk, Jumeirah Al Qasr, and Grosvenor House were in the finals. The team from Sofitel The Obelisk, made up of Yubak Bista, Sidney Mathews, and Sameera Shaw, and mentored by Russell Impiazzi, were named the winners, given AED100,000 worth of prizes, including a cash prize for each chef.
What the show means to the industry
Peggy Li, managing partner at sps;affinity commented from a visitor perspective: "Gulfood Manufacturing is an iconic anchor event of DWTC. Gulfood Manufacturing this year has really shown that Dubai is fully back in business. Plenty of new technologies on food packaging,
44
and food safety storage-related machinery, were the highlight for me. Also seeing the headline chefs at Gulfhost's Top Table truly shows the thriving restaurant scene of Dubai."
Gulfood Manufacturing 2022 is the definitive destination leading the future of food production from new ingredients and advanced technologies to integrated supply chain solutions and breakthrough developments driving the industry forward.
The event brought together the F&B manufacturing industry across sectors in processing, packaging, ingredients, supply chain solutions and control & automation; in a single food ecosystem with an agenda that will shape the future of the manufacturing industry - amplifying the opportunity created by the Fourth Industrial Revolution, and building upon and supporting the transformation of the country's industrial sector into a global manufacturing hub, in line with the UAE's 'Make it in the Emirates' vision.
Over the three days of the event, Gulfood Manufacturing 2022 examined themes of Sustainability, and advanced Technology adoption; Nutrition and Efficiency evolution, and stimulating Innovation, in order to help organisations reduce costs, grow and transform. The biggest challenges in global food production were also addressed, rising food prices principal among them. With food prices having risen by nearly 14% this year in emerging markets and by over 7% in advanced economies, inflation - and the repercussions for the world's poorest – were a key focus area for conversations.
The event aimed to create a more sustainable, resilient, agile and efficient industry for the future, bringing global experts, decision-makers and thought leaders together for insightful and inspir-
ing sessions, to share ideas on the advancement of the industry. A key feature this year included the Food Tech Summit where over 100 of the industry's most dynamic and engaging speakers were convened to discuss an issue-driven agenda ranging from food engineering innovations, factories of the future, web 3.0 applications in food, emerging markets, food safety, circular ecosystems, sustainability-linked finance models, and much more.
Visitors had the chance to hear firsthand from industry leaders, regulatory and policy makers, financial institutions, geo-political and risk advisors, investors and research & development specialists. Dr Aman Puri, Consulate General of India, Dubai; Ahmad Sultan Al Haddad, Chief Operating Officer, Parks and Zones, DP World, UAE Region; Amadou Diallo, Chief Executive Officer Middle East & Africa, DHL Global Forwarding and Kebour Ghenna, Executive Director of the Pan African Chamber of Commerce and Industry were among the names slated to speak at the Food Tech Summit.
Gulfood Manufacturing continues to garner interest from top global food production players, with exhibition stand space having sold out for this year already. From the ingredients sector
alone, 95% of the world's top ingredients brands have confirmed participation for the 2022 edition, including Wilmar (Gulfood Manufacturing 2022 Platinum Sponsor), Givaudan, Cargill, and International Flavors & Fragrances. Furthermore, from the processing and packaging sector, Riekermann, Tetrapak, Siemens, GEA, SIG and Krones will also be participating. This year's edition have seen the biggest representation in recent years from Europe, with countries like Switzerland and Portugal returning to the event in full force.
"Leading our industry in sustainability with our people, products and solutions, we are setting new industry standards in packaging. We are very excited to take part in Gulfood Manufacturing again this year with a stand showcasing our latest innovations and value-added solutions. Gulfood Manufacturing's exhibition is the most important forum where industry leaders come together to discuss the latest trends and developments in the food and beverage industry and what they mean for the sector. We are thrilled to take part in the discussion on what the future of packaging is going to be and how we are shaping it today."
Abdelghany Eladib, President and General Manager, SIG Middle East and Africa.
The event created a platform for the largest companies in the food industry to present their products, services, and solutions to influential buyers from across the globe, creating multiple opportunities to network and do business. This year was no exception as participants have the opportunity to build new professional relationships, strengthen existing ones, and execute high-value deals.
Gulfood Manufacturing 45 January - February 2023
Gulfood Manufacturing 46
47 January - February 2023 Gulfood Manufacturing
Gulfood 2023 to be biggest edition ever, with focus on food cost crisis
Gulfood 2023 adds 30 percent more events space than prior years and tickets are now on sale
Gulfood 2023 adds 30 percent more events space than prior years and tickets are now on sale. One of the most important events in the global F&B calendar –Gulfood – returns from Monday February 20 to Friday February 24. The Dubai World Trade Centre event will be the largest of its kind, using 30 percent more floor space than Gulfood in previous years.
Now in its 28th edition, the food and catering tradeshow will focus on sustainability, food costs and the growing importance of Dubai F&B to the global market.
Gulfood 2023's record scale is due in part to the introduction of Gulfood Plus, a brand-new bespoke hall, where first-time exhibitors will showcase product innovations across 10,000 sq m of added floor space. When it comes to topics up for discussion at the event, inflation and a rise in the cost of consumer goods, food, utilities, and fuel will be top of the agenda.
With the UAE preparing to host COP 28 in 2023, Gulfood will serve as a critical opportunity to convene the global F&B industry and continue the shift towards more sustainable food production and
consumption. "With the ongoing food crisis, combined with climate shocks, and rising costs of food, 2023 will be an important year for turning the corner and getting back on track while elevating healthy and diversified diets that are sustainable for people and the planet," said Trixie LohMirmand, executive vice president, Dubai World Trade Centre.
"Gulfood and the UAE will be at the heart of many of these conversations and have a unique vantage point from which to lead the way." More than 125 country pavilions will set up, including first time
48
Gulfood 2023
participants Armenia, Cambodia and Iraq. Pavilions from South Africa and Australia will return after a break.
Sustainability
Launching in 2023 will be Gulfood Green, a new global sustainability initiative, to ignite and continue conversations within the wider F&B community to create a shift towards more resilient and
sustainable food production and consumption. The objective being to raise visibility and influence key strategic food industry champions for sustainable food systems transformation in the lead up to COP28 and set a precedent for the future.
The Gulfood Green Awards will also take place this year, with submissions open to the industry, in five categories:
Green Foodservice Industry Award, Waste Management Award; Green Food Innovation Award; Sustainability Professional of the Year and Sustainability Company of the Year. The Gulfood Green Awards Celebrate excellence in sustainability and encourage green best practice across the Food & Beverage Industry. There will also be a number of industry expert panels around sustainability.
Experts at Gulfood
The Gulfood Inspire Conference will bring together core themes of: Sustainability, Quality and Access. Ministers, global F&B value chain leaders, entrepreneurs, civil society and industry experts will lead a series of keynotes, panel discussions and showcases, addressing timely topics including: Sustainable Food Production; Food Security and Sovereignty; Agri-Food and Food Tech Investment; Innovations and Web 3 Opportunities; Nutrition Education and Access; Waste Reduction; Securing International Supply Chains; and Food Services Trends, Challenges and Innovations.
Gulfood 2022
January - February 2022 49
Pakistani exhibitors at Gulfood 2023
Pakistan's participation at Gulfood 2023 will have a significant impact on the promotion of Pakistani food products in the UAE. This platform will provide Pakistani exporters and processors with an opportunity to showcase their agricultural products and access new international markets. Pakistan has boosted sales of its traditional agricultural products while simultaneously expanding its reach into new product areas such as processed meat and poultry products, tea, concentrated milk and cream, bakery, certain fruits and vegetables, spices, herbs and confectioneries.
7 Paramounts
7 Paramounts is one of the leading confectionery company in Pakistan. The company specialized in the production of Bubble gums, lollipop, candies, toffees and chews. They have established robust presence more than 40 countries in the world. They also provide to valuable clients and end-users with innovative and best quality products.
The company is crossing the years with great success with its highly qualified technical and business team. They have a source of employees who are passionate towards the task given by the management with the help of well-resourced latest equipment, and techniques and encounter the contemporary challenges which is getting from the customers to increase the demands day by day.
Abdul Rauf Traders
Abdul Rauf Traders rice millers and exporters of all varieties of rice, (irri-6 5pct, 10 pct, 25pct, and 100 pct, pk-386 etc), yellow maize, wheat, wheat bran and other commodities since 1999. They have their own rice mill of 10 m.t. p. Hour situated at maripur road gate no.6 karachi. In 1 acre. Also have ware house at port qasim in 5 acres.
Their rice plant is approved from china plant protecton. They are exporting the goods with good quality and best price successfully around the world, also involve in government tender of state trading corp. Or mauritius and onicor comoros etc.
Ahmed Foods

Ahmed Foods placed its origin with the aim of supporting the trend of healthy food that suits people's expectations and standards of vigorous food consumption. The company believes in setting a passion for diligence, persistence and determination in the entire product line. Over the years Ahmed Foods has already grabbed huge attention on International grounds, which has touched millions of hearts nationally and across the world. Our dedicated workforce places their eternal passion, enthusiasm and love to prepare and deliver the best out of best products to our valuable patrons. The well-balanced ingredients, harmonize preservatives and unique recipes are the core pillars that bound the customers to come and give us the opportunity to serve them again and again.
Al- Hamza Trading Company
AL-Hamza Trading Company was founded in 1963 with over 45 years of business. AL-HAMZA GROUP is a "name to trust" in the corporate world. AlHamza Trading has become a leading miller and exporter of rice, its by-products, and other agricultural products, particularly in the "Private Label Business" world Wide.
Al-Hamza's strengths include stateof-the-art grains processing mills, qualitycertified processes & procedures, flexibility & efficiency, customer service, and execution to the satisfaction of all parties. They also empower customers by
A&Y Food Industries (Pvt) Ltd
A&Y Food Industries (Pvt) Ltd is a food manufacturing company, based in the Free zone of Karachi, Pakistan.
The company is run by a team which is originated with a clear objective to cater to authentic South Asian cuisines around the globe. The International brand "Karachi-Delight" is there to ensure & to provide excellent food products in the different categories of Frozen Ready-to-cook, Heat & Eat, Bake & Eat, Frozen Vegetables, Frozen Fruits, Ready Meals, Spices, Flavored Nuts & Pastes..
providing them with one-window operations of purchasing, logistics, and multilayered marketing services. Strategic investment by Al-Hamza supports the company's core rice export, the Private Label Business. Modern rice processing plants ensure an uninterrupted flow of high-quality products to customers. Being affiliated with reliable shipping companies, freight forwarders, and packagers, are able to offer prompt supplies to all destinations globally.
The customer focus approach has been recognized and appreciated by all major buyers of world-class repute. They are serving over 62 ports across the globe including, the USA, Canada, UK, Chile, Australia, Russia, Eastern & Western
50 Gulfood 2023
Europe, China, Iran, Malaysia, Indonesia, Saudi Arabia, GCC Countries, Jordan, East & West African countries, Sri Lanka and Bangladesh.
AL Wahab Rice Mills Pvt. Ltd.
AL Wahab Rice Mills Pvt. Ltd. is a professionally managed organization that specializes in providing a comprehensive range of Basmati & Non-Basmati Rice. Established in the year 1998, the company is in Kamoke, Distt Gujranwala, Pakistan. Initially, the business was set up in 1990 as Wahab Traders. Since the company has emerged as a key player in the domain of Agricultural Industry.
They have broad experience of farming paddy, because basically come from a farmer's background. They are specialists in organic & conventional farming. They grow paddy on own farms and purchase paddy direct from other farmers. The facilities are IFS, BRC, KOSHER, HALAL, HACCP & ISO-certified. They are also certified for Organic, Fairtrade, SRP. The company drying, husking, processing & parboiling setup with high quality state of the art latest machines imported from Buhler group and SATAKE Corporation. The total processing capacity is 35.5 M. tons per hour at present. They have 4 production and processing units. Company stock capacity is 56000M/Tons of raw Basmati and non-basmati. They take care of entire business partners because believe in having lifetime business relationships with them.
Ali Commercial Corporation
Ali Commercial Corporation is one of the leading Rice Millers and Exporters of Pakistan. The state of the Art Modern Rice Mill is located in heart of Basmati growing area Muridke consisting of most modern Dryers, Steaming Unit, Par Boiling Unit, De Husking Unit and 12 Metric Tons per hour Processing Unit.
Ali Commercial Corporation is retailing its own brand locally at all leading Stores across Pakistan as well as exporting Aromatic Basmati to many countries in the world.
Al-Asad Rice Mills
Asad Rice Mills was established in 1994 by Mr. Mohammad Hussain Khandwala with an aim of exporting processed Rice all over the world. They have been exporting rice to over 35 countries all over the world with more than 100 quality conscious customers.
He has been engaged in this business since 1988 when for the first time, Rice was allowed to be exported by the private sector. Since, then he has gathered prolific experience and combined modern methods for continuous value-addition. The 2nd Generation has added to the experience with all modern techniques of Management.
Al-Asad Rice Mills has installed state of the art modern machinery to clean, polish and pack the rice and continuous improvements have been made timely to remain competitive. The plants have the combined processing capacity of 300 M/tons per day. With the help of latest Colour Sorter machines from Buhler, UK electronic sorting of rice and same is considered the most advance method of rice cleansing in the world.
Their is no compromise in quality control system to maintain and provide a consistent quality to customers worldwide.
They have the storage capacity of 15,000 M/tons of processed and unprocessed rice and maintain a similar quantity of stocks in season with annual export turnover of 50,000 M/tons of both BASMATI and NON-BASMATI rice.
Rice is packed in all types of packaging as desired by customers. They print their brands on different packaging in their languages. Their famous and registered brands are Al-Asad, Motidana, Zamin and Five Star, which are regularly exported.
Ambala Export Trading
"Ambala Bakers and Sweets" is a family-owned business founded in 1981. Their specialty comprises all ASIAN SWEETS and TRADITIONAL BAKERY ITEMS including HALWA, CAKE RUSK, NAN KHATAI, PHENI (FRIED VERMICELLI) and TEA RUSK. Below are some of the key facts & figures which will help in deciding as to why AMBALA BAKERS AND SWEETS is the best supplier.
They prepare all the three main ingredients used in sweets and bakery products in-house ourselves, which are DESI GHEE, BUTTER and KHOYA (MILK FAT). This not only provides assurance that the products are made from utmost quality ingredients but also reinforces the position in meeting demands which otherwise could be an issue with involving third-parties.
They have a network of inter-linked departments, each specialized in their
related fields, for efficient round-theclock operation. A 150+ strong team is dedicated to local and export orders. The facilities comprise of state of the art packaging and manufacturing equipment, so to ensure that every single item maintains the same quality and standards as expected from the brand.
They have a growing number of regular customers, both local and export. This itself speaks volumes about our dedication, determination and commitment towards producing the very best sweets and bakery items.
They feel, the most important thing which would attract us towards Ambala Bakers and Sweets, is the dedication towards meeting stringent quality and an uncompromising behavior for customer service. Their specialty in ASIAN SWEETS and TRADITIONAL BAKERY ITEMS is unmatched and they are confident that the products prepare cannot be supplied from anywhere else.
51 January - February 2023 Gulfood 2023
Ashrafi food Industries
Ashrafi Food Industries is a subsidiary of Abdullah (Pvt.) Ltd., a joint family group involved in flour milling since 1961. The group, based in Karachi-Pakistan, currently comprises of a rice processing mill, four flour mills, three bread manufacturing facilities, spice grinding and packaging facility and over 200,000 square yards of commercial property rented to small and medium enterprises.
Asian Food Industries Limited – Mayfair
Asian Food Industries (AFI) under the brand name Mayfair has brought joy to millions of consumers since 1969. Mayfair with its premium quality confectionery and biscuit brands brings fond memories to young kids and all who have grown up savoring the candies, bubbles, chews, toffees and biscuits. They enjoy the trust of their consumers in Pakistan and in over 25 countries around the world.
Asif Rice Mills
Asif Rice is owned by an agro based family having ancestral routes in the rice sector, from farming to retail distribution since 1962. Our Journey started from Larkana, a city located in Sindh province of Pakistan. This city is known for its highest rice cultivation of many di erent varieties. Asif Rice over the time has established & equipped itself with cuting edge technologies, value added services and well trained human resources throughout its rice growing, milling, processing and exports.
We export variety of Basmati & Non Basmati Pakistani rice, in all forms such as Brown – White – Parboiled and Steam rice to all regions. Our regular clientele is situated in 80 countries.
Atlas Foods
Atlas Foods (Pvt) Ltd is an ISO
22000:2018 certified organization which
emerged as highly professional food group and entered in the market with vision to serve high quality product based on swift services and vowed commitment. Atlas Foods is completely processing units where state of art machinery, professional management, team of dedicated foods scientists and engineers remain engaged in injecting fullest efforts to justify the quality, price and service which our esteemed customers' demands. Our this project is extended on 15 acres of the land and located in very heart of Punjab (Gujranwala), the area well renowned for the production of excellent quality basmati rice.
Barkat Frisian Pasteurized Egg Company Pvt Ltd
Barkat Frisian Pasteurized Egg Company Pvt Ltd is a NetherlandsPakistan Joint Venture company producing all kinds of pasteurized egg products in Karachi, Pakistan. They are Pakistan's largest egg processing factory with a capacity of 25000 MT annually. With superior customer service and quality products have managed to gain a significant share in the local market. Dutch partner, Frisian Egg BV has vast egg processing experience with production facilities in The Netherlands, China, Egypt and Pakistan.
This rich experience helps us to produce best quality products in line with international standards. They have all major food safety certifications enabling us to export products in the region and beyond. Certifications includes ISO 9001, FSSC 22000, HALAL, Dubai Municipality, KraftHeinz, URSA. They offer variety of premium products from whole egg, egg yolk and egg whites. All types of salted, sugared and frozen & chilled products are available. In addition also offer customized recipe for each customer in customized packaging to cater to all your needs. The products are available in 5kg, 10kg, 20kg and 1000kg options.
Barkat Rice Mills (Pvt) Limited
From fertile and rich land of Punjab, they bring their customers
the best variety of Basmati rice known for its aroma, elongation and taste.
Bismillah Sehla Processing Plant (Pvt.) Ltd
Bismillah Sehla
Processing Plant (Pvt.) Ltd., (BSPP) has the pleasure to introduce as one of the leading rice Millers/processors/exporters located in Bucheki, the famous rice district area of Nankana Sahib where all kinds of rice are cultivated. BSP is a visionary establishment of forefathers as were primarily rice growers.
Apart from the up-gradation of Bismillah's existing husking, steaming, parboiling and processing rice plants of a total of about 50 Mtons/hr production capacity, BSP is adding new modern rice mill of latest Satake plant of 8Mtons/hr production capacity. M/S Bismillah Sehla Processing Plant (Pvt) Ltd., has stepped forward in certifying its rice mills according to international food safety standards maintaining good manufacturing practices. BSP EXPORTS are in the middle east and Europe and expanding their network to America and Africa. Bismillah rice's magical export growth of about 10 times in just 4 years crossing 10 Million dollars in 2015-16 and now become top 10 rice exporters of Pakistan taken export trophy in 2016-17 & 2017-18 clearly indicates its dedication to working and commitment in quality.
Chappal Traders
Chappal Group is one the leading Exporter & Miller of Pakistani Rice and other grain products. The company established since 1967 and head office in KarachiPakistan. They have own rice milling facilities at Pipri Karachi, SAKRO Thatta & Muridke Punjab with strong infrastructural facility equipped with the latest infrastructural facilities required for the processing of Rice. They have vast range of products Rice, Wheat, Corn, Dry Red Roses, Round Red Chilli, Spices, Dry Fruits, Herbs, Crude Drugs, Miswak and other products, they have Valuable able customers in worldwide like China, Vietnam, Singapore, Indonesia, Malaysia,
52 Gulfood 2023
Bangladesh, Sri Lanka, U.A.E, Yemen, Turkey, Egypt, Armenia, Kingdom of Saudia Arabia, Dubai, Mauritius, Oman, Bahrain, Kuwait, Iran, United Kingdom, Mauritania, Ethiopia and Mexico.
Continental Biscuits Limited
For more than two decades CBL is engaged in the manufacturing and marketing of the Brand LU. They have an array of products which are pre-eminent in the branded biscuits business both in Pakistan and abroad.
Conwill Pakistan Pvt. Ltd.
Prior establishing Conwill Pakistan Pvt. Ltd., Mr. Safder Mehkri was involved in Grain Handling and Logistics Operations for major International merchants who were trading Wheat, Rice, Corn and Sugar into and from Pakistan. Bernard Patrick Assor was the Senior Rice Trader at GLENCORE and had over 30 years of Experience in Rice trade.
He was also the Incharge for Glencore Pakistan Operations which back than was the single largest Buyer and Exporter of Rice from Pakistan for over 20 years. In late 2001, Glencore closed its Rice Dept. globally.
This lead to the formation of Conwill Pakistan Pvt. Ltd., a new company with an accumulated experience of over 20 years of International Rice Trade and having direct access to an established customer base.
Conwill Pakistan from its inception in March, 2002 secured accumulated experience of quality sourcing direct from origin farms, under its own executions and delivered to destination markets.
Due to dedicated and experienced team of rice traders and execution team the company managed to increase the market share by regaining part of the previous markets.
Additionally, CONWILL added the wheat portfolio representing International Trade Houses, not only as an agent but as a trading counter-party this makes us one of the major importers and exporters of wheat in the Private Sector.
Dairyland Pvt. Ltd.
Dairyland is a progressive and fast-growing dairy company, well known for its high quality dairy products. Started in 2009 with a state of the art dairy farm with premium Australian Holstein breed cows and a modern milk, and yogurt processing and packaging plant next to the dairy farm, have quickly become a major player in the dairy industry in Pakistan. In order to make sure consumers get optimal quality products, Dairyland has developed a comprehensive grass-to-glass value chain system. Its cows are fed and nurtured on high quality fodder grown under the supervision of foreign qualified agronomists. They are kept in an extremely hospitable environment, and are regularly checked and vaccinated by a team of qualified vets. Dairyland's automatic milking parlor makes sure milk is collected using optimal hygienic conditions. No hormonal injections or antibiotics are given to the cows, ensuring pure, fresh and wholesome milk, free from side effects.
Danpak Food Industries (Pvt) Ltd.
Danpak Food Industries, Pakistan is a well-known confectionery company that offers its clients and consumers new, innovative and the best quality products. It was established in 1986 and since then Danpak has been identified for its distinctive range of products including chocolates, bubble gums, candies, toffees, etc.
line with international standards, and continues to upgrade its production technology to deliver exceptional quality and freshness.
Durvesh International Durvesh
International was established in 2001 with the attention of best quality products and services in the field of Herbs, spices, botanicals , plant based raw material such as Dry licorice roots , Dry red rose flower , Dry Alkanet root, Rubia roots, Moringa leaves, Natural Honey ,Solid Perfume , Herbal tea, Herbal oil, Herbal products , Himalayan pink salt , Edible, bath and aroma salt , Foodstuff, Dry fruits , Natural Honey , Incense Bakhoor Natural oral care products etc.
East Rice Company Pvt Ltd.
East Rice Company is the one-stop solution to all your rice import requirements. Our diverse and coherent milling & processing facilities and our expertise in the rice milling sectors are the strongest assets.
East Rice Company is one of the largest and well-organized rice export houses in Pakistan but success does not come overnight, it is the result of decades of hard work and commitment.
Dawn
Frozen Foods Company
Having started with Frozen Dough Products (Parathas), Dawn Foods now offers a wholesome range of Ready-toCook and Ready-to-Eat products with focus on Chicken, Vegetable and Wheat as categories. But to always meet public acclaim, Dawn Foods will keep on expanding its product range according to food standards and ongoing trends. To deliver the best customer satisfaction, Dawn Foods established its production facilities and manufacturing process in
Rice business has been in the family for four generations it all started with Muhammad Din Narang well before the partition of India and Pakistan, with the passage of time East Rice Company has grown into a colossal group in the rice sector.
Eastern Products (Pvt.) Ltd
Eastern Products (Pvt) Limited, is the manufacturers of VITAL Tea, VITAL Pink Salt, VITAL Rice & VITAL Soap.
They have different quality variants in our Black Tea, Green Tea, Pink Salt, Rice & Soap which are liked and admired by customers.
The company is among the top seller of quality Tea products in Pakistan and several other countries across the globe.
53 January - February 2023 Gulfood 2022
2023
Gulfood
English Biscuit Manufacturers Pvt. Ltd.
With a legacy spanning more than 50 years of baking and serving over 75 million biscuits every day, EBM, has recently launched Cake Up -an exciting and high-quality cupcake brand for its loyal consumers. In each bite of any delicious Peek Freans biscuit lies the rich tradition of true grit and hard work that has been so essential to EBM's journey. It has taken many achievements, big and small, for EBM to reach its position as the industry leader today. EBM has followed the legendary Pied Piper to quality and success in Pakistan's branded biscuit business.
Engro Eximp Agri Products (Pvt) Limited
Engro Eximp
Agriproducts Pvt. Ltd. or EEAP is an agriconsumer company with rice brands in Pakistani & International market under the umbrella name 'Onaaj'. EEAP has one of the largest rice processing facilities in Pakistan with an annual production capacity of approx. 70,000 MT of exportable rice. They offer a pvt. labeling as well and currently supplying to on the largest and re-known buyers from European, North American and Middle East countries. In Middle-east they offer a complete range of Basmati rice: Super Basmati White/Brown, 1121 –Raw/White/Steam and Parboiled (Sella –Golden/Creamy), Non-Basmati: PK 386 categories in pvt. Label and Brand. They are actively participating in international food tenders and AID programs as well.
Foodex
Exporters of Halal
Fresh chilled meat and frozen bone-in and boneless meat of Bull, Cow, Buffalo, Goat, Sheep, chicken and Camel. Exporters of frozen meat and ready to cook and ready to eat meat products in the retail pack.
FrieslandCampina Engro Pakistan Ltd
FrieslandCampina Engro Pakistan
Limited is a Pakistani dairy Company and a subsidiary of the Dutch multinational
corporative Royal FrieslandCampina. The Company launched as Engro Foods in 2005 with first production facility in Sukkur, Pakistan and the introduction of flagship UHT milk brand: Olper's. Following successful entries in the teawhitening category with Tarang in 2007, and the ice-cream market with Omore in 2009, entered a strategic partnership with Royal FrieslandCampina of Netherlands in 2016. This partnership allowed us to gain access to more than 145 years of dairy expertise, technology, and R&D. It further advanced efforts towards the Sustainable Development Goals prioritise: environment, gender equality, no poverty and zero hunger. With two production facilities in Sukkur and Sahiwal, a dairy farm in Nara, over 1,300 milk collection centres and a resource network encompassing thousands of individuals, expansive and robust footprint ensures a sustainable, efficient supply chain, knowledgeable farmers and empowered communities.
G.M. Food Industries (Pvt) Ltd
GM food industries
private limited is one of the leading industries of exporters of rice, pulses and other food stuff. They are committed to ethical business practices and customer compliance. They are sourcing the food grains from the most reliable and trusted suppliers whom consider partners for growth. Focused on providing best services with the highest levels of customer satisfaction. They have skilled and qualified workers working in different departments to make sure that the quality must meet your expectations. They are using all the latest machinery and upgraded methods to make the standard of products reliable and beyond satisfaction. As the international market is quality conscious and in order to compete they make sure that the quality is maintained. The whole products are passed through quarantine treatments and the safety of food packing material is also considered.
Garibsons (Pvt) Ltd
Garibsons (Pvt.) Ltd. is a family-owned business and was established in 1976. Their main line of business
includes Rice Reprocessing / Milling / Exporting. Their rice milling capacity is about 100 m.tons per hour.
Golden Harvest Foods Private Limited
They are a familyowned company committed to providing Pakistanis with nutritious and superior quality bread products. Within a decade of their inception, they have grown to capture 35% of the consolidated market share of all bread products in Pakistan, a fact that speaks volumes about how well consumers have connected with their products and the values.
Beginning with the plant in Karachi, commissioned in October 1981, their famous product Dawn Bread built up a reputation for freshness, quality, and taste. Creating nationwide awareness and demand for the bread products, they set up a plant in Islamabad in January 1985.
Guard Agricultural Research & Services (Pvt) Ltd
Guard Agri is part of the financially strong, highly diversified GUARD GROUP of Companies, established in 1948 and with interests in Manufacturing, Auto Parts & Accessories, Automotive Lubricants, Food & Agriculture and Agricultural Research & Development.
Haji Khushi Mohammad & Company
When it comes to Commodity Trade, the name of HKM stands as a Paragon in the Field. Established in 1931, the HKM group has its own Husking and Milling Facilities for Rice. They are now one of the leading rice exporters of Pakistan.
Haji Muhammad Rice & Processing Mill
Haji Muhammad Rice & Processing Mills (HMRM) have the pleasure to introduce ourselves as a leading Exporter, Miller & Processor of Rice located in the Sadhuki, Tehsil Muridke, Dist. Sheikhupura Punjab (Pakistan). HMRM
54 Gulfood 2023
having more than 43 years experience of working nationally and internationally in the field of Rice. They are one of few companies in Pakistan having four different plants under one premises i.e. Paddy Husking Plant, Sela (Parboiled) Rice plant, Steam Rice Plant (manufactured from Stainless Steel G-304), with most modern imported Color Sorters and Reprocessing machines. HMRM is well-equipped & hygienic rice mill with a daily production capacity of 1000 MT per day & 30000 MT per month from 4 automatic production units. The units are equipped with advanced technology machines of processing, quality control, packaging and warehousing units with MODERN STORAGE GRAIN SILOS which work in close coordination to provide the needs of clients. HMRM having excellent storage facilities, which allow us to stock rice in high quantities & under hygienic conditions to help us in the timely delivery of consignments.
Hamdard Laboratories (WAQF) Pakistan
Hamdard is among those successful enterprises in South Asia that have had modest beginnings but, within a short span of time, achieved the status of a renowned name. Hakim Mohammed Said, Founder of Hamdard Pakistan was a physician par excellence, philanthropist and man of vision in real sense of the word. He made Hamdard Pakistan not only a biggest manufacturer of herbal products and medicines, but also branched it out to reach the fields of health, education and social welfare. His legacy of national services goes on in the shape of Hamdard Pakistan, Madinat alHikmah (City of Education, Science, and Culture), and Hamdard Foundation Pakistan. Hamdard is not just a corporate entity. It represents a positive mindset and has been a champion of well-being since its inception. The message of the wellbeing of society is embedded in the core values of Hamdard. Vision: "An institution which uses business to inspire people and take care of everyone's health and well-being" It has over 400 herbal preparations (syrups, semi-solids, and solids)
which are manufactured on the principles of the Greco-Arab system of medicine (also called Unani). Its top-seller is Rooh Afza, a beverage with natural flavours and herbal distillates.
Hasan Rice Corporation (Pvt) Ltd.
Hasan rice corporation pvt ltd. Is top 1st basmati rice exporter from pakistan. They are supplying superior quality of rice to Dubai, Saudi Arabia, Sultanate of Oman, UK, Germany, Neitherland, Sweden, Turkey, USA.
Hashmi Rice Mills
Rice exports from Pakistan were previously dealt by the Rice Export Corporation of Pakistan.
After rice exports were allowed to the private sector, a new body of people emerged in the shape of Rice Exporters Association of Pakistan.
In 1988-89 Rice Exporters Association of Pakistan (REAP) came into existence and started interacting with the Ministry of Commerce and Ministry of Food Agriculture and Livestock and also with the Planning Division of the Government of Pakistan.
In 1992 REAP also played host to the Arabian Gulf Cooperative Council which included government buyers from Saudi Arabia, Kuwait, Oman, U.A.E., Bahrain and Qatar.
For the first time since private sector was allowed rice exports they made a sale of 36000 tons.
Hassan Ali Rice Export Company
Hassan Ali Rice Export Company is an affiliate of Hashwani Group Of Companies, which is one the leading and oldest business houses in Pakistan with interacts in mining commodities, real estate, agriculture, textiles, and industrial mining of chrome ore, iron ore, marble, and onyx.
The Company has been in the Rice business since late 1960's and has remained one of the largest Rice exporter
from the country shipping upto Four hundred and Fifty thousand (450,000) M. Tons annually.
Hemani International (Pvt) Ltd.
Realising the consumers current needs of natural products for healthy living, Hemani has joined hands with Wasim Badami for a range of products carefully chosen from the best that Nature has to offer! "....There's only one way to beautiful, nature's way! They've believed this for years and still do. constantly seek out wonderful natural ingredients from all four corners of the globe, and bring you products bursting with effectiveness to enhance your natural beauty and express your unique personality. And whilst are doing this, always strive to protect this beautiful planet and the people who depend on it. They don't do this because it's fashionable, do it because, to us, it's the only way!" they are proud to be original, authentic and natural.
Hilal Foods Private Limited
Hilal Foods is one of Pakistan's leading confectionery and food manufacturing companies, employing over 600 employees and exporting to more than 30 countries. The success lies in 65-year legacy as constantly strive to upgrade products and systems through research and innovation. They take pride in pioneering centre-filled candies, chewing gums and packaged cakes in Pakistan. Since inception, have been manufacturing high-quality products with a focus on continuous improvement, research and development.
At Hilal, every batch of food production is checked by expert team using modern equipment and superior technology to ensure consistent quality and taste. the research methodology relies on in-depth local and international market surveys. These market surveys help us gauge the response to products, gain insights and find out more about changing market trends. The operative excellence, market knowledge and customer relationships give us a competitive edge. They are continuously pushing limits to
55 January - February 2023 Gulfood 2023
give only the very best to consumers, so they can always have genuine Reasons to Smile.
Himalayan Wellness Company Pvt Ltd
The Himalayan Wellness Company (Pvt.) Ltd was incorporated with a vision to purvey the finest Himalayan Superfoods by traversing this magical and biodiverse land which Rudyard Kipling called " Shangri-La ". Land from which source nature's bounties in Pakistan, "the Land of Pure", is the only place in the world where the Himalayan mountain range has deposits of rock salts. Another unique feature of this range is that while the mountain beds contain salts and a wealth of minerals, the rolling greens and valleys are rich with flora and fauna and dotted with nectar and pollen bearing trees and herbs. They firmly believe in sustainably sourcing our products and in pursuance of this vision started one of the largest apiculture extension initiative, one of its kind, to support the adaption of modern beekeeping practices by beekeepers all across Pakistan. The youngest frontal folds of the Himalayas contain pre Cambrian age deposits of evaporated ancient seas which have been preserved by nature in the form of Himalayan Pink salt. They offer sustainably sourced all Natural Health and wellness products to customers across the world with a vision and a promise that will keep products in their natural state.
Hub-Pak Salt Refinery
They are an SA8000 & CTPAT compliant, and Kosher, Halal, ISO 14001:2015, ISO 9001:2015 + HACCP, BRC, GMP & GMP+B2 certified company. They work on all the available grades of salt, for both industrial and domestic use. In the beginning, the production of salt by Hub-Pak was only one ton per day. The team of Hub-Pak started working on expansion and continuous quality management and 30 years later, they are producing excellent quality salt with an installed capacity of 620 tons per day at Hub. HUB-Plant is located at the industrial estate of Hub
Iftikhar Ahmed and Company
Over six decades, we have grown from a small family-operated firm into one of Pakistan's largest export companies of fruits and vegetables.
We have perfected the art of producing the freshest fruits, vegetables, pulp, concentrates and juices by ensuring the highest standards at every step of the production – from growing our fresh produce such as Kinnow (Mandarin), Mangoes, Onions and Potatoes and also source best quality fruits for processing top-quality value-added ingredients for serving renowned food and beverage industries and offering our fruit beverages in Tetra Pak for the consumer as well..
known as Hub Industrial Trading Estate (H I T E) covering over 50,000 square meters.
Palm Oil from all over the world. Jasons specifically deals in the area of milling/processing and exporting Rice (allvarieties basmati and non-basmati) to mainly Far-east, Middle-east and African Ports.
Ideal Rice Industries Private Limited Pakistan is a leading manufacturer and supplier of Pakistani Basmati Steam, Parboiled, White & Brown rice varieties with a dominant presence throughout the Globe, primarily to USA, Europe, Gulf and New Zealand etc. Located in Shahkot, Punjab, Pakistan mill is one of the finest in Pakistan where the machinery and processing equipment from SATAKE JAPAN is at par with international standards of excellence. Having a one-stop solution for customers by operating complete Paddy to Processed Rice lines. The infrastructure, procurement and quality control is unmatched anywhere in Pakistan. They have a wide-ranging network with accredited labs like Eurofins, AGQ USA and SGS Pakistan to make sure customers have a peace of mind regarding all their shipments. They are proud to say that have all the following certifications:FSSC, HALAL, GMP, HACCP, ISO 9001:2015, ISO 14001:2015, ISO 22000:2005 & FDA
Jasons Commodities
Jasons Commodities based in KarachiPakistan is one the sister-concerned company to its parent company called Jassani Group, that deals in Real-estates, manufacturing of biscuits and Confectionaries in Uganda and also deals in Sugar and
Jazaa Foods Put. Ltd.
Established in the year 2015, Jazaa Foods is built on international standards and carries numerous products under its flagship brand "Jazaa."
Built under the visionary leadership of Late Junaid Jamshed, Jazaa Foods aims to become a leading food company both locally and internationally.
This is achieved by offering a wide variety of ethnic food products that cater to the needs of its consumers both in Pakistan and worldwide.
KK Rice Mills (Pvt.) Ltd.
K.K. Rice Mills Private Limited , an ISO certified company is among the largest rice exporters from Pakistan. K.K. Rice Mills is amongst the pioneers who tapped in country's need to venture into the area of modern milling and value addition to varieties of rice in rice export industry. The company was founded with a clear object to attain and maintain perfection in rice processing industry. The company has grown at a fast pace and has emerged as well-known names in rice exporting industry. K.K. Rice Mills team believes its customers are top priority and meeting their needs is crucial. The company has produced good results under strong com-
Ideal Rice Industries Pvt Ltd.
56 Gulfood 2023
petition paying meticulous attention to its quality, marketing, delivery and price. K.K. Commodities is a strong player in field of commodity trading. The company is engaged in the trading of sesame, corn, wheat, sugar and pulses. The company is a major player in the sesame and corn industry and is proud to be the top sesame exporter from Pakistan. The team ensures superior quality and timely delivery to its clients. The company is equipped with state-of-the-art Sesame Processing Unit with a processing capacity of 150 MT/Day.
K&N's Foods (Pvt) Limited
For over 50 years, K&N's international brand of Purely Different chicken products has remained true to its purpose of providing better nutrition through poultry for the Health and Happiness of people.
Kafi Kitchen (Pvt) Ltd
Since the inception of the company in 1982, KAFI Commodities Pvt Ltd has diversified from commodities business to continue expanding its profile of developing an assorted range of food products under the brand of 'ESSENCE' and 'KAFI KITCHEN'.
Their goal is to provide products and services without compromising quality and hygiene standards, also customer satisfaction is ensured while continuously improving every aspect of facility to product considering international quality standards.
Kas Commodities
KAS Commodities was established in Karachi which is a culturally diverse city and financial hub of Pakistan. The founding stone was laid by now Founder and Chairman Mr. Tariq Kas in the year 1996. Before the establishment of KAS Commodities, the owners with their past 15 years of local rice trading experience , were supplying quality rice to all regional Exporters. After capturing sound market share locally and assessing high demand of Pakistani Rice in the international markets, the management
decided to enter in the Export market and setup a State-of-the-Art Rice processing facility under the name of Kas Commodities. Kas, which once started very modestly, is now growing amongst the modern Rice Processing Mills. Operating from main industrial hub of Karachi (S.I.T.E area), the mill covers a built up area of almost 2 acre in 2 stories facility with onsite storage area. The processing plants have a capacity of 400 metric tons a day.
Kausar Rice & General Mills
With a history spanning over six decades of excellence in the food business, Kausar Group of Companies is a progressive third-generation family business established by (late) Mr. Malik Mubarik Ali in 1951.
From very humble beginnings, they are currently ranked amongst the leading processors of Processed Rice, Cooking Oils, Vegetable Oil Meals and Fats, Banaspati Ghee, Laundry Soap, Poultry Feeds and Broiler Chicken across Pakistan.
Khalid Foods
They are Karachi's favourite bakery providing fresh and hygienic healthy food to our customers! SINCE 1968. KHALID FOODS has been providing high-quality, hygienic and healthy food to its valuable customers for the last 50 years! We offer a wide range of fresh and delicious appetizers, entrées and deserts and are currently operating from three outlets in Karachi, by the name of "KHALID SWEETS N BAKERS"
Khan Rice Mills
Khan Rice Mills is one of the leading Growers, Miller and Exporter of Rice from Pakistan. The company was established in 1958 and has been exporting rice all over the world since 1991. They are now the third generation entered in this rice business.
Kohenoor International
Kohenoor International
Pakistan Established Since 1957 An
Agriculture Exporting Company. Their Product Portfolio is as under.
Spices Food Stuff Oil Seeds Bird Seeds
Dried Nuts Forage Seeds / Dairy Seeds
Sprouting Seeds Vegetable Seeds
Foodstuff ,Herbs , Seeds for Food & Nuts, Rose Petals Dried, Rose Flowers Whole Dried, Rose Water, Rose Powder, Fenugreek Seeds, Cress Seeds (Habul Irshad), Fennel Seeds, Dill Seeds, Cumin Seeds, Black Cumin Seeds (Kalonji), Mung Beans , Pearl Millets, Broomcorn Millets, Oats, Vetch, Barley, Melon Seeds, Watermelon Seeds, Chilli Whole Dried –Dandi Cut Chilli, Chilli Hot Long Dried, Dried Chilli Powder, Basmati Rice, Licorice Roots, (Liqurice Roots), Ephedra Herbs, Alkanet Roots .
Lalqila Restaurant
LalQila "A Theme
Restaurant" is the project of Omerson Group Restaurant Concept and Brand
Personality: LalQila "A Theme
Restaurant" was started in 1998 with a Mughal Traditional Theme. LalQila is not only a restaurant, but is a living chapter from the splendor of rich heritage where magnificence blends with perfection and mysticism. Strong roots of past meets the magic of the present traditions. LalQila Restaurant is a dramatic eye catching, exotic, contemporary restaurant that stands tall to reflect its own unique aura based on traditional social norms with a touch of folk cultural background and impression. LalQila Restaurant design and construction is based on traditional architecture executed with minars, burj, jharoka, traditional geometrical and floral patterns on floors, walls and ceilings, glazed tile mosaic work, kashi work, red brick, marble jail, stone etching with carving and traditional copper cut work lamp shades, lanterns, waterfalls and 'Canal'. All these features are glorious in their own selves and impressive elements giving the elegance and dignity of design restoration and rehabilitation. LalQila Restaurant combines the legendary splendor of Mughal era with culinary eloquence of the modern times having reflection of royal traditional hospitality. It offers a unique, calm, peaceful, pleasant and traditional environment, which helps to turn
57 January - February 2023 Gulfood 2023
a normal dinner into a great royal and rich cultural dining experience.
LOTTE Kolson (Pvt.) Limited
LOTTE Kolson (Pvt.) Limited Lotte Kolson (Pvt.) Limited is a subsidiary of the LOTTE Group. The name is synonymous with dynamic and innovative food products in Pasta, Noodles, Vermicelli, Snacks and Pie categories. Lotte Kolson has been a leading food manufacturing company in Pakistan with a sizeable share of worldwide exports. It has the distinction of being one of the pioneer food processing industries in Pakistan. Some of the Lotte Kolson flagship brands include Kolson Pasta, Noodle Doodle, Kolson Vermicelli, Slanty, Snackers, Potato Sticks, Cheese Balls and Lotte Choco Pie. Philosophy: aim to deliver quality products that delight consumers, build loyalty and trust in brands and organization. Being a food manufacturing company, understand responsibility in providing the best quality products enriched with high quality ingredients and value.
M Raheem Rice Processing Mills
M. RAHEEM RICE
MILLS is amongst few top quality rice producer in Pakistan, having 25 m. Ton per hour paddy to pack facility and 7.5 m. Ton re-processing separate line with total of 600 m.ton per day producing capacity. They have mechanical drying, steaming and parboiling system integrated and customized throughout husking, grading and polishing system under one roof to produce best quality rice for own brands and to pack private label as per worlds class standards.
M. Manzoor & Co Pakistan Pvt Ltd
The company, "A-1 Manzoor", is among the top-notch provider of an extensive selection of food products, including spices, dry fruits, desserts, frozen fruits and vegetables, frozen snacks, and other related items. In addition, they offer private labeling services for leading brands across the globe. The
commitment to delivering only the finest quality products has established us as a leading exporter in the industry. They are excited to present offerings at this exhibition and eagerly anticipate the opportunity to connect with potential partners and clients.
Mahanoor Foods Industries Pvt Ltd
Mahanoor Foods Industries is an entity of Euro Group of Companies. A well-established dynamic business group of Pakistan. Since 2012, have been Exporting quality products under own brand of Maha and offering Private Labelling to renowned brands from all around the world. at Mahanoor Foods Industries have state-of-the-art machinery and are engaged in manufacturing wide range of Ginger Garlic pastes, Desi and Western Sauces, Fried Onions, Vermicelli, Phenni , Wide range of Pickles, Wide range of Pakistani Spices, Juices, Snacks, Honey, Jams, Chocolate Spreads and Cooking Slabs, , Special Pakistani fruit cocktails and Ready-to-Use Canned Foods etc. Food Production facility in Export Processing Zone (Karachi) is ISO9001:2008 certified along with HACCP. All raw material are handled with proper hygiene and tested to ensure complete Halal Standards.
Marhaba Laboratories (Pvt.) Ltd
Marhaba Laboratories
(Pvt.) Ltd. is one of the largest companies engaged in research, development, production and marketing of Food Products, Natural Cosmetics, Herbal Medicines and many other OTC products. Marhaba has a perfect GMP, Quality Assurance and ISO Quality Management System to meet the customer satisfaction, National & International standards. Consistent quality products, continuous high standards of service and affordable prices are playing a major role in the growth of business. They take proactive steps to ensure that products are safe, pure and effective. The products continually meet the rigorous certification requirements of National GMP Standards for quality and purity.
Marhaba has consolidated its image as a "purity and quality" conscious company and has, over the years, demonstrated its firm commitment to quality and strict adherence to international standards. Marhaba takes pride in maintaining a high quality in its products and superior skills and acquiring the latest in advanced technology. Research and development is a passion at Marhaba and for the purpose company is keen to gain expertise and knowledge in the field of herbal sciences and to stay updated with the global trends.
Marvel Agro Commodities
Marvel Agro Commodities is involved in diversified agri businesses which Includes Rice, Yellow Maize, Cotton, wheat, Seasame Seed, Sugar, Edible Oil and other agri products. They are one of the leading rice exporter marching ahead with premium quality products of international standard strict quality control and inspection at every stage has ensured products of a high standard. They value clients and endeavor to not only foresee their demands but also provide world class services alongwith products. They have been exporting Rice mainly to East and West Africa, China, U.A.E and European countries and far east. Carrying the vision to deliver the best of Agri Products to the global market from farm to plate. The mission is to provide the finest quality of agricultural products to the world market under the supervision of quality controlling administrators. To offer the best available price of the commodities. Aiming to build strong customer relation by emphasizing on their requirements and providing quality products.
Mast Qalander Group of Companies
Mast Qalander Group is recognized as an entity of principles, dignity, and professionalism in the international markets of pulses, grains, oilseeds, feed, spices and related products.
Matco Foods Pvt. Ltd.
Matco Foods is an IFC-investee company with over 50 years
58 Gulfood 2023
Gulfood 2023
of experience in the rice industry, and a global portfolio of more than 150 corporate customers.
Mehran Bottlers (Pvt) Ltd
Mehran Spice And Food Industries
Multi Food Industries Multi Food Industries are one of the largest manufacturers and exporter of Halal ethnic frozen food operating in the Karachi export processing zone (KEPZ) since 2004.
Mehran Group of Industries
Since 1975, MSFI proudly maintains the strictest quality and hygiene standards HACCP & ISO 9001 which have enabled us to become the leading food company with a premium brand today in countries such as USA, Canada, Europe, Australia, Asia, Africa, and All GCC Countries. Their diverse range of products tantalizes the taste buds of millions of consumers around the globe with Mehran Brand Spice Recipes, Straight Spices, Arabic Spices, Pickles &Chutneys, Pastes, Desserts, Rice, Ketchup & Sauces.
Meskay & Femtee Trading Company (Private) Limited
Meskay & Femtee Trading Company (Pvt.) Ltd (MFTC) was established in 2006, MFTC is a leading grain trading, milling, and processing company of Pakistan; specializes in the trading and export of rice and wheat among other grains. Since its inception, MFTC has delivered unparalleled quality while upholding the highest standards of business ethics.
Mohammad Hashim Tajir Surma
Hashmi is the official brand of the company
Mohammad Hashim Tajir Surma. It has been dedicatedly providing nature-based solutions for a healthy lifestyle to its customers. Hashmi is one of the oldest and most trusted names in the Industry in
Bixa S.A.
CARDEX is the largest exporter of Cardamom worldwide, after being in the market for more than 35 years. Clients prefer the CARDEX brand as it is recognized for its quality, reliability and trustworthiness.
In addition to Cardamom, CARDEX also exports Allspice, Annatto Seeds, Dried Black Lemon and Essential Oils.
Eyecare, Health care and Personal care products.
Since 1794, Hashmi Group has been recognized for its quality products, customers' trust and socially conscious organization that pushed the boundaries in Pakistan and other global markets. Now, as part of its 225-years legacy of excellence, the company is investing new resources in technology and business model innovation that will provide worldclass value to its business partners and end consumers.
Moon Rise General Trading LLC
Moon Rice Corporation is committed from 1985 to provide its clients with the best available food products from Pakistan.
During the decades they have committed to flourish and prosper in the competitive world market. Today Moon Rice Corporation is proudly supported by its worldwide customers growing every day by the sheer power of experience it holds with a promise to deliver only premium quality food products.
Multi Food Industries
Multi Food Industries is the largest manufacturer And Exporter Of Halal Ethnic Frozen Foods
From Pakistan Operating From Karachi Export Processing Zone Since 2004. They Have Around 50 Varieties Of Frozen Products Including Flat Bread (Parathas), Samosas, Spring Rolls, Tandoori Nan, Sheermal, Samosa Pastry Sheet, Puff Pastry Sheets, Mango Chunks, Frozen Vegetables, Sweet Mithai (All Ready To Cook, Heat & Eat). This Is The Widest Range Exported From Pakistan Under
100% In-House Production. They are ISO 22000 And Halal Certified Exporting Under Prime Harvest Mazedar Brand As Well As Various Private Labels For Multiples, Supermarkets And Chain Stores Like Tesco, Asda, Morrison, Restaurant Depot Etc. They Export To More Than 20 Countries Including USA, Canada, Uk, Australia, Middle East, S.E. Asia, Japan And All Over Europe.
Mutabal Foods
Mutabal Foods is a Food & Beverage company. The Quality of products to the highest standards of Health and Hygiene using only the freshest Quality of Frozen Foods & Dry Foodstuffs. Plant was open in Karachi July, 2020, Having started with Frozen Products, Mutabal Food now offer a wholesome Range in a combination of native & International cuisine in ready to cook & wheat Products.
Naurus (Pvt) Ltd.
Lazzat Foods welcomes you at GULF FOOD 2023 "LAZZAT" means "TASTE" It is an ARABIC origin word which stands across many cultures with different dialects but with similar meanings. At LAZZAT FOODSare proud to offer you "TRUE TASTE" of the wide range of products that process. These include SPICES, BASMATI RICE PICKLES, SAUCES and CHUTNEYS, GINGER GARLIC PASTES, READY TO EAT FOODS, ROASTED VERMICELLI, FRUIT-FULL JAMS, DESSERTS, and much more. LAZZAT is a brand of NAURUS PVT LTD A 55 year old family owned and managed organization now in its third generation. With a leading number of brands under it's umbrella like NAURUS, SUNDIP, AHMED KARACHI HALWA MERCHANT and CHATKHAAR proud
59 January - February 2023
ourselves to be the most innovative food processing company from Pakistan. With HACCP, ISO 22000 and HALAL certification, also offer OEM services to a number of leading international brands. Visit us today to meet that Long Term Strategic Partner you have been looking for.
Niraav foods Pakistan
Niraav Pakistan is a venture of M.Wali Group, a prominent name in the field of human food and animal feed sector. The founding principle behind this venture is to capitalize upon the rich heritage of its parent company combining it with the latest innovations, technological advancements and modern business practices. In a very short span of time Niraav Pakistan diversified its scope of businesses through horizontal and vertical integration.
Pearl Food Industries
Pearl Confectionery (Pvt) Ltd. offering wide range of Candies, Bubble Gum, Chews & Toffees, Sugar Free, Sugar Coated and Deco Products etc. With modern management techniques most advance Quality Control System and Quality Professional.
Popular food industries
The Popular Group welcomes diversity whole-heartedly. Be it venturing into newer industries and products lines, or acquiring and retaining the best talent across functions, and making intellectual and technological advancement in different business categories... they believe in attaining the highest standards of quality in everything do.
Qarshi Industries (Pvt) Ltd.
Qarshi Industries (Pvt.) Ltd. is the largest quality natural products manufacturers in Pakistan. It is a modern and progressive facility that manufactures and markets brands, that have become household names. Qarshi is engaged in promoting healthy living for over five decades. Offering a blend of age-old oriental and Greek herbal preparations.
Quality Flavors Pvt Ltd
Food Flavors, Flavor Emulsions, Flavor Concentrates for beverages, Sugar alternative sweeteners, Chick powder
Quice Food Industries Limited
Quice has been a prominent name in the world of food products for the last 4 decades. They aim and are committed to offering high quality and great tasting products in the category of food and beverages. They are currently operating with three business units consisting of cordials, fruit drink range and carbonated drink range. All three business units have a variety of SKUs to be offered domestically and internationally, emphasizing on fruit drink range they have been producing tetra pack juices in three different SKUs having seven different flavors and now they are under the process of launching PET bottled juices for the international market.
Rad International (Falah Foods)
Falah Foods is a trusted name for quality and taste. They specialize in processing and exporting premium quality food products globally. With years of experience in the industry, are constantly trying to improve traditional kitchen necessities by providing unbeatable quality while making a name in the industry. They are currently exporting to multiple countries and have all the required food-grade quality certifications that are renowned and trusted worldwide: ISO 9001, ISO 22000, HACCP, Halal, FDA (USA), etc. All the products are made using the finest ingredients to ensure premium quality and excellent taste. The products undergo a strict quality check process before they are carefully packaged in the required multi-layer food-grade packaging under expert supervision to preserve freshness and quality. The products are packaged in beautifully designed packaging with branding on it. If required, it can also be provided with customized packaging of the customer's brand.
Rana Rice Mills
Rana Rice Mills, Kalar Belt Narowal, Pakistan since 1988 manufacturing facility Complete 2020 MODEL SATAKE UNIT with the capacity of husking, milling & processing 12 tons of rice paddy per hour mainly for EXPORT. The facility has a proven track record of milling 50,000 tons of rice paddies annually. Certifications ISO 9001 & HACCP EXPORT PERFORMANCE During 2021 - 2022, the company has dispatched 1000 Containers that carried 23,000 Metric Tons of Rice worth US $ 17 Million. Out of this over 18000 Tons is Brown Cargo Rice while the remaining is Pre-steamed Kainat 1121, Par-Boiled 1509, Super Basmati Brown Cargo and Raw Milled White Rice. Destination covers Saudi Arabia, Greece, Italy, Netherlands and the United Kingdom. The operations cover from paddy procurement to rice processing, polishing, grading, color sorting, packing, loading & dispatch of rice. 1- Aromatic Super Basmati Rice 2- Kainat 1121 and 1509
Basmati Rice 3- Chenab Basmati Rice 4PK-386 PROCESSES 1- Raw (Dry Milling) Cargo Brown Rice. 2- Par-Boiled Brown Cargo Rice. 3- Raw (Dry Milling) White Rice. 4- Par-Boiled Processed Rice. 5Steam Processed Rice. Bulk & Consumer Packing Bulk Packing 1 & 25 MT Jumbo Bags, 5,10, 20 & 40 Kg Consumer Packs in Jute, Cotton or Non-Woven Cloth.
Rehmat-E-Shereen Sweets, Bakers & Nimco
Rehmat-e-Shereen is a globally famous sweet and baker's chain in Pakistan and amongst the leading exporter of sweets, ghee, butter, bakery, and Nimco snacks. They have nine outlets in Karachi out of which three on Karachi International Airport and retail distribution coverage in more than 30 cities of Pakistan as well as global distribution network in USA, UK, Europe, Canada, Australia, Hong Kong, UAE, and unlimited households. They have been producing delicious high quality fresh and frozen traditional Pakistani sweets and delights, bakery products like Rusk, Cake rusk, Nan Khatai (sweet biscuits), assorted cookies, etc.
60 Gulfood 2023
Rice Experts Enterprises
Rice Experts Enterprises embarked upon its journey in 1942 since then it has been treating every milestone achieved as a slipping stone to go past another one. Today, in Pakistan and in many countries, consumer's lives have been touched by some of their finest rice brands. At present, the company's offering is preferred by connoisseurs across the globe from the USA, Canada, UK, Europe, Middle East and Southeast Asian countries.
S Amden Group (SAC)
S Amden & Company (SAC) established since 1948 and currently the 3rd Generation of the group is handling the operations of company. Further the company is pioneer in manufacturing of food flavors, extraction of Herbal Oils, Herbal tea, Herbal cosmetics, Herbal toiletries also the vast experience in fragrances world, the main specialty in fragrances Solid Perfumes Amber jamid/Musk Jamid, they produced many types of solid Fragrances in different shapes and exporting all over the world. They introduced different kinds of Bakhoors with oriental and traditional fragrances as per regional or customer demand. Currently exporting to North & west Africa, Middle East, Canada and some other countries now are focusing on USA and Europe markets.
Sana Traders
Established in 2002, Sana Traders is a family owned company specializing in Himalayan Salt Products. They are manufacturers of and exporters of Himalayan Salt health & beauty products, Marble Onyx handicrafts and minerals to 33 countries, currently. They started the business with a warehouse and a packaging unit. Now are operating two factories in Karachi manufacturing rock salt products.
Sana Traders is driven by the vision of delivering quality products at competitive prices. They are ISO 22001: 2005 & HACCP certified manufacturers and exporters of Himalayan Salt products to different parts of the world.
SG1888 (Private) Limited
Saeed Ghani is a nature-inspired beauty brand that has been in the Indian subcontinent since 1888, starting its journey from a small retail store in Delhi, Hindustan. Saeed Ghani has evolved into one of the most reputed & trusted brands in Pakistan, with a range of 200+ SKUs and a nationwide presence. The brand strives to serve its customers with halal, natural & toxic-free food, skin, hair & personal care products, and high-quality fragrances. Brand Highlights:, Retail - A Network of 100+ Retail Stores Across Pakistan., E-Commerce - One of the highest visited e-commerce stores in Pakistan, with 10m+ yearly website visitors., General Trade & Modern Trade - A Network of 15,000+ Stores across Pakistan with 100+ Distribution Partners.
Shafi
Brothers & Co.
Ahmed Foods, established in 1952, is one of the pioneers of ethnic foods in Pakistan, starting off as a dominant player in the region for Pickles, Jams, and Syrups. In time expanding reach to the world with market-specific products. The range of products includes Pickles, Ground spices, Recipe spices, Jams, Crystals Jellies, Cooking Pastes, Ethnic Dessert, and Sauces. Serving homes, as well as hotels & restaurants products, cater to a wide range of customers. Over the years Ahmed Foods has solidified its place in the international market, garnering customers not only from the South East-Asian region but Western as well. One of priced products for the Western audience is Crystal Jellies which are Gluten-Free.
Shakarganj Food Products
Shakarganj Group comprises of several diversified business entities including, Shakarganj Limited (SML), Crescent Steel and Allied Products Limited (CSAP) and Shakarganj Food Products Limited (SFPL).
SFPL is a medium sized (MSC), public limited company (unquoted), set up by the Shakarganj Group in 2006 to diversify
its business activities. SFPL operates a Dairy Division that primarily produces products packed in Tetra Pak packages focusing on the needs of the local consumers. The Juice Division, on the other hand, produces Juice Concentrates targeted to the wholesale export market.
Shangrila Private Limited
Shangrila Private Limited commenced operations in 1988. With its offering of high quality, premium, Halal and innovative products, Shangrila cemented itself as a healthy, great-tasting food brand.
Sharmeen Foods
Sharmeen Group ventured into date's industry in 1988. With humble beginning and dedication have come a long way and achieved international standards such as BRC, ISO and HACCP certifications for processing plant where they have installed dedicated dates processing and packaging lines and state-of-the-art date paste production lines.
Shezan International
Since its inception in 1964, Shezan has evolved into a topnotch, internationally acclaimed food brand that is set apart due to the impeccable quality. With wide range of products made with the freshest fruits and vegetables from orchards, Shezan aims at providing you the diverse flavors of Pakistan.
Sindh Punjab Traders
They are inordinately proud to introduce as leading market Giants in food Commodities, in which their experience sprawls over around 30 years. Established in the early 90s, SPT is a Leading Grain Trading, Milling and Processing Company of Pakistan.
SPT group takes immense pride in owning state of art manufacturing plants, which has the milling capacity of 10,000 metric tonnes/month. The Main
61 January - February 2023 Gulfood 2022
Manufacturing Plant is situated in Port Qasim Industrial Zone Karachi and others in Kotri Industrial zone Sindh.
Soneri Group
Since 1992, Soneri group has specialized in manufacturing and exporting a wide range of bubble gums, lollipops, soft chews, chocolate beans, chocolates, biscuits, cookies, toffees, soft jellies, etc.
Staple Foods
Pvt Ltd
Staple Foods Pvt Ltd is a rice, lentils, and spices processing unit and export house located in the heart of the industrial zone at Port Qasim, KarachiPakistan. With branch offices in DubaiUAE, Mombasa - Kenya & Los Angelesthe U.S.A, the company is ever expanding and has far and wide reached with a loyal customer base & product/brand presence in all continents of the world. From humble beginnings in the year 2000, the company has grown to become one of the leading rice mills in the country with the most modern and state of the art rice processing plant in the region. The factory is ISO-9001-2015 & FSSC22000 certified with an annual milling and export capacity in excess of 200,000 MT.
Talreja International
The company was established in the year 2005 slogan is QUALITY IS POLICY. Thus, always strive to accomplish the task according to the commitment. Qualities maintain the zenith position. In fact, never compromise with less quality. Due to hard work and full dedication, have become one of the most reputed companies in the export arena. They have 15 employees in office and 100 people works at Factory. TALREJA INTERNATIONAL upgrades itself time to time and is capable to meet increasing demand of its buyers worldwide for Basmati and long grain rice. At present they have developed and implemented (Quality Management System) ISO-9001and Food Safety certification to ensure best quality, as customer's satisfaction is the priority. The installation of modern manufacturing
plant with a good capacity ensures Clean, Superior Natural and full Grain Fragrant Basmati Rice& Non-Basmati Rice. They export to different part of the World like China, Indonesia, Malaysia, Madagascar, Kenya, Somalia, Benin, Mozambique, Ghana UAE etc.
Tapal Pvt Ltd
For three generations, Tapal Tea has consistently ensured to offer consumers across Pakistan and around the world the distinct Tapal flavor developed by blending premium tea leaves handpicked from select gardens in the world. Tapal Tea is the market leader of branded tea in Pakistan. They are guided by the values and principles to bring calmness and relaxation in the lives of the consumers through the aromatic and flavorful teas. By keeping a close watch on the likes and preferences of the consumers, they have constantly enhanced the range of tea brands that cater to varying requirements and tastes of the consumers who belong to all ages and live in different regions of the world. The finest blends of Tapal have gathered the world around the cup of tea.
The Trading Track
The Trading Track Company became the part of FMP Group in the year 2010 as the manufacturing and exporting company for FMCG products. The main focus of the company is to offer quality products to the worldwide consumers and penetrate its products range to all over the world. TTT offers wide range of Sugar Confectionery that includes Candies, Toffees, Chews, Bubble Gum, Surprise Novelty Toys, Jellies, Chocolates and Spreads. Moreover, the Company have another major product line of baking products that includes Cookies, Biscuits, Cakes, Muffins, Wafers and Brownies.
Trade Development Authority of Pakistan (TDAP)
The Trade Development Authority of Pakistan (TDAP), which was established on November 8, 2006, under a Presidential Ordinance, shall have the Ministry of
Commerce as its administrative ministry. TDAP is the successor organization to the Export Promotion Bureau (EPB) and is mandated to have a holistic view of global trade development rather than only the 'export promotion' perspective of its predecessor.
United King Foods Pvt Ltd
United King Foods (PVT.) Ltd. manufactures a splendid quality of exquisite sweets that have natural ingredients with a variety having their own distinctive character. The sweets presented in beautifully designed vacuumed packed gift boxes. Among the popular Sweets packed in 500 and 900 gms in attractive tin boxes with easy to open lids are: Gulab Jaman, Kala Jamun, Chum Chum, Bengali Rasgulla, Bengali Chum Chum.
Venus Pakistan Ltd.
Venus Group of Companies commenced operations in the early 80s, as a family business. Starting off with Venus Pakistan, the parent entity in The Venus Group, today the business has evolved from the initial distribution to multi-modal forms of business. The core areas of business include a diversity of areas such as Logistics, Cold Storage, Refrigerated Logistics, Customized Logistics Operations, Manufacturing of Ice Cubes, Manufacturing of Paper Tissues, Clearing & Forwarding, Custom Bonded Warehousing & Carrier, Travel & Leisure, Hospitality, Security, International Representation Manufacture under license Franchises and Distribution. The Venus Group is headquartered in Karachi with Branch Offices located in Lahore and Islamabad.
Volka Food International
Volka Food is a leading manufacturer of confectionery, Biscuits and Pasta in Pakistan, they carry one of the best diverse portfolios to cater to the demands of the local market as well as for international buyers maintaining the world's highest standards of qual-
62 Gulfood 2023
ity and taste for which Volka Food is famous for. The state of the art European plant ensures the finest quality which made Volka Food International a household name in Pakistan and aboard from Australia to Canada.
Waqar Rice Mills
Waqar Rice Mills is a company that specializes in the export of Rice from Pakistan. Since its establishment in the year 1982, it's been a familyrun business and currently, the 3rd Generation is in the business. The company has made a name for itself in the Rice Export globally, are proud of the skilled workforce, the knowledge of the global export market, and the commitment to providing the very best in quality products, ethical practices, and trustworthy service.
White Pearl Group
White Pearl Group is an agro-industrial conglomerate established in the year 1962 by Haji Muhammad Nazir, based in Solgin Kharal, District Hafizabad, Pakistan. Consistent efforts towards excellence have enabled White Pearl Group to own and manage compa-
nies that are industry leaders in their respective sectors including Rice processing Mills, Jute processing mills and Textiles (Madina Sugar Mills) manufacturing. White Pearl Group employees over 3500 people spread across 4 production units and multiple offices.
Young's (Private) Limited
The House of Young's started its operations in 1988 as a small food processing establishment in Karachi, Pakistan. From the beginning, people working at Young's had the vision and passion to raise Young's to new heights with products that meet the daily food needs of the consumers and offer high value of nutrition and convenience.
Z.A. Foods
Z.A. Food Industries is one of the leading manufacturers and exports of Faisalabad, Pakistan since 1996. Z.A. Food Industries providing products and services for Pakistan and all over the world. Z.A. Food Industries has also crossed the milestone
of ISO 9001:2000 certification and directed itself towards advance quality management techniques like TQM with the aim to enhance customer satisfaction in all deliverables.
Zain Enterprises
Shahi, established in 1973 is a recognized and reputable brand offering a variety of snacks, mouth fresheners, frozen food, and namkeens. The Shahi brand endeavors to provide new and innovative products while maintaining the highest standards of quality. Shahi is committed to using the highest quality ingredients, creating a safe and rewarding environment, using state-of-the-art technology and having a well-trained and qualified workforce. Shahi products are exported around the world. USA, UK, UAE, Bangladesh are to name a few. Products such as Shahi Deluxe, Shahi Meva, Ballay Ballay and Shahi Nimco are easily recognized in Pakistan as well as many countries across the globe. Shahi proudly holds highly prestigious ISO, HACCP & Halal certificates for quality system compliance within international standards.
63 January - February 2023 Gulfood 2023