PLATINUM PARTYING
The Diana Foundation marks 70 years of fun and philanthropy
WOMEN in POWER
JULIE MABRY
Pearl Bar's owner is back on solid ground
Jolanda Jones, Alexis Melvin, Shellye Arnold, and more Pg.46
MARCH ' 23 HOUSTON'S LGBTQ MAGAZINE
Pg.34 PLUS
UP TO 60% OFF IN-STOCK FR AMES I ACCESSORIES ENDS MARCH 25/ BOT H STORES/ SEE STORE FOR DET AILS EYEGALLERYHOUSTON.COM 1806 WESTHEIMER RD - RIVER OAKS 1700 POSTOAK BLVD -POSTOAK (NEXT TO WHOLE FOODS) 713.523.1279 713.622.7470
40 COVER STORY
MOTHER OF PEARL
Julie Mabry's Pearl Bar is one of the few remaining lesbian bars in the US
56
RAISING A RAINBOW
Sabrina Tellez and Janell Gurule's blended family reflects the nation's growing diversity
64
VARLA JEAN MERMAN IS 'READY TO BLOW '
The beloved drag queen brings her new comedy act to Houston
46
FIGHTING FOR THE DISABLED
Lesbian lawmaker Jolanda Jones overcame trauma to make a difference for Texans
58 REMAKING MEMORIAL PARK
Shellye Arnold oversees progress on the 10-year master plan
67
SPOTLIGHT ON EMPOWERMENT
Alley Theatre's Cowboy Bob immortalizes strong Texas women
50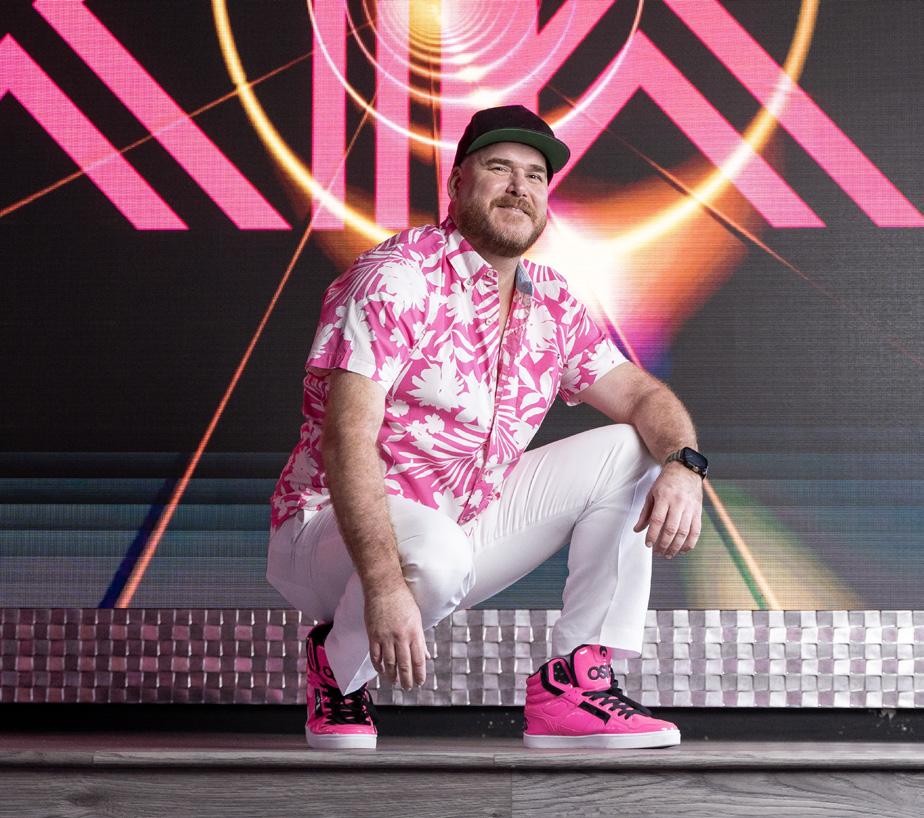 CREATIVE COCKTAILS
Henry Poured offers stress-free bartending services for every occasion
60
HOUSTON BALLET 'S 'SUMMER AND SMOKE '
Tennessee Williams' work is re-envisioned for its 75th anniversary
98 WIGGING OUT
Ryder Moore-Syder rocks a greaser vibe with lover-boy appeal
52 MOVING FORWARD
Alexis Melvin is expanding the Transgender Foundation of America's reach
4 MARCH 2023 | OutSmartMagazine.com MARCH 2023
40 67 46 52 74
FEATURES
34
tIt HoustonBallet Summer &Smoke March9-19 Join us for OutattheBallet night at Summer&Smokeon March 17 at 7:30 PM. Use promo code OUTBALLET to save 25% on orchestra-level seats and enjoy a private reception. including a free drink! Productionunderwriting: AnnTrammellandHallieVancterhicter houstonballet.org 713.227.2787 Methoiist � BANKOFAMERICA'o/ FUNDED IN PAIT BY THE CIT�H£tHOUSTON HOUSTONAITS ALLIANCE
813 Richmond Ave Houston, TX 77006
713-522-2365
MARCH 2023
DEPARTMENTS
NEWS & COMMENT
18 NEWS
24 L EFT OUT
26 MONEY SMART
28 COMMUNITY
Greg Mathis Jr. headlines the Black Queer AF Music Festival; Pet Pics in the Park returns to Buffalo Bayou Dog Park on March 25; T he Diana Foundation celebrates 70 years with a star-studded bash on April 1; C ancer survivors Paula Chambers Raney and Kecia Johnson spread the word about life-saving colorectal cancer screenings (Pg. 71) Christopher Barry's new KIKI bar opens in Montrose (Pg. 74)
OUT
12 CALENDAR
16 SCENE OUT
WOMEN IN POWER: JULIE MAYBRY
Pearl Bar's owner is back on solid ground. Photography by Frank Hernandez @the_creativex (February 22 photo shoot at Pearl Bar.)
6 MARCH 2023 | OutSmartMagazine.com
& ABOUT
78 WEDDING GUIDE
80 OUT THERE
93 BA R GUIDE
OUT
INDEX
96 SIGN
ADVERTISERS
90 ADVERTISERS
MARKETPLACE ON the COVER New Montrose Location:
lti p leloc a tionsth rou gh ou t H ous to n
95 CL ASSIFIEDS
3209 Montrose Blvd, Houston, TX 77006 (281)479-3293 mu
e
Les s th ana 10min ut
wait
BoardCe rti fie d Ph ys ici ans
o r s hin e LGBT Q+ a nd A llies sa fe space erc a re 24. co m
Open 24/ 7/ 36 5, ra in
Voted Best Dentists! Favorite Female Dental Hygienist Hifa SAMUEL A. CARRELL, DDS AUSTIN T. FAULK, DDS 620 West Alabama | Houston, TX 77006 713.529.4364 | MONTROSEDDS.COM GENERAL & COSMETIC DENTISTRY "I LOVED MY DENTIST SO MUCH, I MARRIED HIM!"
Publisher/Editor-in-Chief Greg Jeu
Creative Director Alex Rosa
Copy Editor Howard Maple
Contributing Writers
Olivia Flores Alvarez, Rich Arenschieldt, Bill Arning, Susan Bankston, Connor Behrens, Jenny Block, Sam Byrd, David Clarke, Dick Dace, Blase DiStefano, Andrew Edmonson, Ste7en Foster, Alys Garcia Carrera, Martin Giron, Lillian Hoang, DL Groover, Marene Gustin, Kim Hogstrom, James Hurst, Lisa Keen, Ryan M. Leach, Zachary McKenzie, David Odyssey, Joanna O'Leary, Lilly Roddy, Terri Schlichenmeyer, Gregg Shapiro, Janice Stensrude, Sheryl Taylor, Terrance Turner, Grace S. Yung
Photographers/Illustrators
Edgardo Aguilar, John-Paul Arreaga, Victor  Contreras, Dalton DeHart, Yvonne Feece, Frank Hernandez, Ashkan Roayaee, Alex Rosa
Operations Manager Michael Gurnas
Business Development Manager Aryeh Gruber
Sales and Marketing Dept.
Local Advertising Reps 713.520.7237
Tom Fricke, Aryeh Gruber
Joanna Jackson, Gene Mikulenka
National Advertising Representative Rivendell Media - 212.242.6863
OutSmart Media Company
Publishers of OutSmart Magazine 3406 Audubon Place • Houston, TX 77006 713.520.7237 • 713.522.3275 Fax
Subscriptions: $36/12 Issues, $58/24 Issues
E-mail: editor@outsmartmagazine.com
Website: OutSmartMagazine.com
O ut S mart is published monthly. Estimated readership in Houston and surrounding areas is 60,000. OutSmart Media Company is not responsible for claims and practices of advertisers. The opinions and views expressed herein do not necessarily reflect those of the staff or management of O ut S mart . Inclusion in O ut S mart does not imply sexual orientation. ©2022 by OutSmart Media Company. All rights reserved. Reproduction in whole or part without permission of the publisher is strictly prohibited. Unsolicited material is accepted. No manuscript returned without SASE.
8 | MARCH 2023 | OutSmartMagazine.com RelationshipTherapistRN.com • Virtual Appointments • 713-823-4001 • Individual Personal Development • Relationship / Marriage Issues • Addiction / Recovery • Gender / Transitioning ONE OF THE BEST FEMALE MENTAL HEALTH THERAPISTS OutSmart Reader's Choice Awards 2004–2022 COUNSELING AND PSYCHOTHERAPY DENISE O'DOHERTY LPC, LMFT, MSN, RN Counseling to individuals, couples, and families of varying age, gender, race and sexual orientations.
NOW PUBLISHING IN OUR 29 TH YEAR!
As March rolls in, we celebrate the start of Women's History Month with our Women in Power issue, paying special attention to the LGBTQ women shaping the future of Houston, such as our cover star Julie Mabry, the owner of Pearl Bar—one of the few remaining lesbian bars in the United States. She tells writer Zach McKenzie that she thinks "lesbian bars are always going to be a necessity." With this in mind, she's made Pearl a safe haven for Houston's lesbian community.
We also highlight the accomplishments of State Rep. Jolanda Jones, trans advocate Alexis Melvin, married business owners Mishu and Bren Ventura, soon-to-be-married mothers
Sabrina Tellez and Janell Gurule,
and Memorial Park Conservancy executive Shellye Arnold.
Around Houston, Pet Pics in the Park returns to Buffalo Bayou Park on March 25 to raise funds for Omega House, a nonprofit HIV/ AIDS hospice. Writer Marene Gustin talks to partners Tanner Williams and Christopher Cerda, who founded the event by offering pet owners a photo-op with their furry, scaly, or feathered friends in exchange for donations. And writer Connor Behrens chats with the mastermind behind BUDDY'S, Christopher Barry, whose latest upscale Montrose club KIKI should become a prime location for LGBTQ community events.
The Diana Foundation gears up for its 70th Platinum Jubilee in early April, featuring food, drinks, entertainment by Bianca del Rio (of RuPaul's Drag Race fame), and
more. Founded in 1953, The Diana Foundation is the longest continuously operating gay organization in the country, and focuses on distributing funds to several community nonprofits.
On the artsier side of this issue, we check in with the Houston Ballet as they prepare to present the world premiere of Summer and Smoke, a ballet adaptation of gay playwright Tennessee Williams' drama, which will be showing March 9 through 19. Over at the Alley, the musical Cowboy Bob immortalizes the strength of Texas women like Peggy Jo Tallas, bank robber extraordinaire. We also check in with breakout reality star Greg Mathis Jr., who is heading to H-Town for the Black Queer AF Music Festival. The Normal Anomaly Initiative is sponsoring this annual event in
early May.
Finally, we prepare to move into April and celebrate OutSmart's 30th anniversary as we offer special thanks to our contributors, advertisers, readers, and the entire Houston LGBTQ community for their three decades of support. We can't wait to ring in our April anniversary month, and many more to come, with all of you!
10 MARCH 2023 | OutSmartMagazine.com
EDITOR'S NOTE
Greg Jeu Publisher
P.O. Box 940082 Houston, TX 77094 Live your legacy. In real time. No apologies. No regrets. 713.478.2618 deborah@lawsonlegal.net A STRONG PROBATE ATTORNEY CAN STOP YOUR FINAL WISHES FROM BEING "DRAGGED" OUT ! Best Family Attorney One of the Best Probate Attorneys THANKS FOR VOTING FOR ME . . . SEEING CLIENTS IN-PERSON OR THROUGH HIPAA COMPLIANT CONFERENCING SESSIONS Denis " Woodja" Flanigan, Ph. D. Licensed psychologist 2 2 1 1 No r f olk S t ., S u i t e 2 0 6 , Hou s t o n , T X 7 70 9 8 | 7 1 3 - 5 89-98 0 4 Voted 2 0 1 1 – 2 0 2 2 O u t S m a r t R e ad e r s C hoi c e A w a r d s HEALTH THERAPIST BEST MALE MENTAL Psychotherapy, Career Counseling denisflanigan@houston-psychologist.com Sp ec ia li z ing in individua l s , coup l es , & fa mi l y rel a tiona l issues t o reg a in you r d i rect i on , s e nse of m e a ning , a nd your h app iness . www.Houston-Psychologist.com
LEARN MORE ABOUT HOUSTON'S OLDEST LAW SCHOOL AT STCL.EDU
South Texas College Of Law Houston Celebrates Women's History Month
For a weekly roundup of LGBTQ happenings, visit www.OutSmartMagazine.com