BELLO Style TESSA BROOKS
FEBRUARY 2023
BELLO CONTENTS
LOVE GAME 38
HATS OFF 58
VICTOR 64
DIARA SYLLA 52
TESSA BROOKS 04
NOUVELLE VAGUE 24
February 2023 4 BELLO
Style
www.adibadesigns.com
Tessa Brooks
TESSA BROOKS @tessabrooks
Photography DAMETREUS WARD @meech213
Styling BRANDON NICHOLAS @brvndo
Creative Direction AMBIKA @styledbyambika
Makeup ASHLEY DONOVAN @ashleydonavan Hair LAURA RUGETTI @laurarugetti
Interview ED SOLORZANA @edsolo87
Bts Videographer @gltch.in Assistant @sahilrohira Photo assistant| @francoisjoseph_ Light tech @jwr_photos
Location & Production MAISON PRIVEE X BELLO MEDIA GROUP @maisonpriveepr_la PR @coeurcommunications
February 2023 6 BELLO
Dress MarMar Halim @marmarhalim
Earrings Bracelet Reemat Designs @reemat_
Rings @candyicejewelry @kallatijewelry
Shoes Voyetté @voyettelee
BELLO 7 Volume 01
8 BELLO February 2023
Dress MarMar Halim @marmarhalim
Earrings Bracelet Reemat Designs @reemat_ Rings @candyicejewelry @kallatijewelry
Shoes Voyetté @voyettelee
BELLO 9 Volume 01
Outfit Atelier Ndigo @atelierndigo
Shoes Voyetté @voyettelee
Earrings Mahrukh Akuly @mahrukh.Akuly.jewelry
Ring bracket necklace Tamara Comolli @TamaraComolli
10 BELLO February 2023
BELLO 11 Volume 01
Outfit Atelier Ndigo @atelierndigo
Shoes Voyetté @voyettelee
Earrings Mahrukh Akuly @mahrukh.Akuly.jewelry
Ring bracket necklace Tamara Comolli @TamaraComolli
February 2023 12 BELLO
Volume 01 BELLO 13
14 BELLO February 2023
Dress MarMar Halim @marmarhalim
Shoes Voyetté @voyettelee Earrings Hanut Singh @hanut101 Ring @vhernier
BELLO 15 Volume 01
February 2023 16 BELLO
BELLO 17 Volume 01
Dress HassIdriss @hassidrissofficial
Shoes Willa Phoenix @willa.phoenix
Earrings Hanut Singh @hanut101
Ring Marli New York @Marli
18 BELLO February 2023
BELLO 19 Volume 01
20 BELLO February 2023
Dress Gomez-Gracia @gomezgracialondon
Volume 01 BELLO 21
Earrings Egyptian Arts de Vivre @egyptianArtsDeVivre Bracelet (Necklace) Rings Anabela Chan @AnabelaChan Shoes Barollo Italy @barolloitaly
Just short of 20 million followers on Instagram, Tessa Brooks has lived her life in front of our eyes. With early beginnings in front of the camera on YouTube, to Babylon's premiere event and this year's red carpet at the Grammys, the Fresno, CA native is sure to continue to entertain audiences in many ways possible. For many, she is an entertainer. But for younger audiences with a strive to be famous, I am sure she is what keeps the Hollywood fantasy alive. With enough charisma, talent, and a drive that rivals Beyonce, anyone can pursue a career in entertainment.
I am sure there is so much more we will see from Tessa Brooks in her current Jordan Year. Check out what she has to say.
INTERVIEW Interview
February 2023 22 BELLO
The Golden Age of Hollywood, Revisited with Tessa Brooks
Tell us about your dance history. How old were you when you started dancing?
I was in dance classes since I was 2 because both my mom and grandma taught dancing and my sisters danced as well. I started taking is super seriously around 13/14 and did it professionally til I was 17. Now it's more of just a passion and hobby of mine but it'll always be my first love for sure.
Was dancing always a passion of yours? And how did it pivot into something else? Dancing has definitely always been a huge passion of mine. I've always been someone who wanted to try and do everything. Every sport, every hobby, everything. I started doing acting lessons off and on since I was 12 and always loved preforming so creating content became naturally and is super fun for me as well. I even started taking singing lessons about two years ago just to see if I could do it since I love being on stage and all of that. For now I've decided it's not for me because I think there's other things I excel at more, but the lessons are fun and I think it's important to have those outlets and hobbies.
Besides dancing, what are some of your other passions?
Anything that sparks my mind creatively. I'm more into fashion right now than I ever have been before and it's been a fun way of expressing myself and getting creative again. Acting is something I'd love to start doing more of as well.
When you face adversity/a problem how do you typically handle it?
It depends on the circumstances and if it's out of my control or not.
What is your favorite quote/motto to live by?
Live & let live
What is the best/most memorable experience you've had so far in your life?
Well, I am answering this while extremely hungry, so right now I would have to say the Burrata I had in Italy
Role models can change throughout life. Who was your biggest role model when you started your career? What about now?
This has always been hard question for me to answer because there is not just one person… I admire parts of many different people, and whenever I see something I like in a person, I try to be more like them. If I had to choose one person, I would say I love Ashton Kutcher because I love him not only as an actor, but as a philanthropist. I really admire his philanthropic work.
Give us two truths and a lie, and hopefully, our readers will figure out which is the lie.
I don't like avocado
My first job was working at an ice cream shop I won a surfing competition when I was 12 by doing a headstand on the surfboard
If you could go back in time to your younger self, what piece of advice would you give her?
Be kind to yourself.
Bello is a fashion and lifestyle magazine. If you could choose, what would be your perfect day and how would you describe your fashion style?
My perfect day would be spending time with my closest friends and family, in comfy sweats, maybe watching a movie and eating yummy food together. My fashion style ranges so much depending on my mood. I have two sides: the Ultra Femme — when I feel sexy and sultry. Feminine, flower, soft. And then sometimes I hone in on the masculine side: where I am most comfortable and androgynous. Baggy pants, buttoned up / boxy tops… That's my power suit.
Is
anything exciting coming in 2023?
Tons! This is going to be my "Jordan year" for sure. I'm working with some incredible people, we're refocusing and re-prioritizing some goals and timelines… I have some acting projects in the works, I am exploring my love for fashion, and continuing to curate, create, deliver content daily in many different ways.
Volume 01 BELLO 23
NOUVELLE VAGUE
24 BELLO February 2023
PHOTOGRAPHY ALEKSANDAR TOMOVIC STYLING MICHAEL FUSCO Models Marcus Law & WYATT ENGEMAN Jumpsuit WEISHEN PARIS
Shorts MELI
Model's Own BELLO 25 Volume 01
Boots
26 BELLO February 2023
Full Look MELI BELLO 27 Volume 01
Corset Tank Top & Pants WEISHEN PARIS 28 BELLO February 2023
Coat MELI Pants JOSEPH AUREN
Shoes JEAN BAPTISTE RAUTUREAU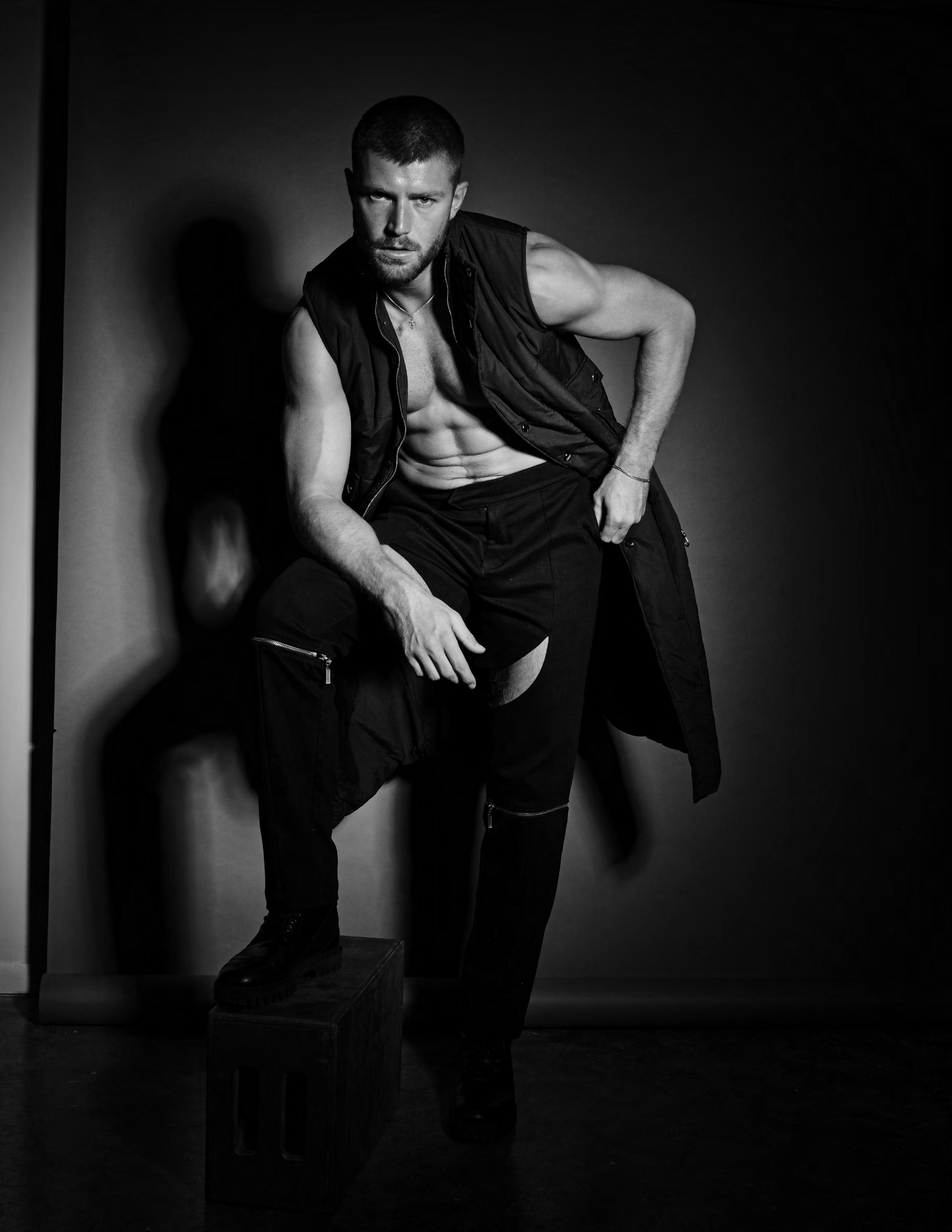 29 Volume 01
BELLO
Full Look MELI February 2023 30 BELLO
Full Look MELI BELLO 31 Volume 01
Full Look WEISHENG PARIS 32 BELLO February 2023
Full Look WEISHENG PARIS Volume 01 BELLO 33
Full Look WEISHENG PARIS 34 BELLO February 2023
Pants MELI BELLO 35 Volume 01
Coat MELI Pants JOSEPH AUREN
36 BELLO February 2023
Pants JOSEPH AUREN
BELLO 37 Volume 01
Shoes JEAN BAPTISTE RAUTUREAU
Love Game
February 2023 38 BELLO
Photography + Styling CARLOS HERNANDEZ @hernandez.empire
Model LARISSA MARCHIORI @larissa.marchiori @theindustryny
Hair DAMIAN MONZILLO @damianmonzillo @distinctartists Using @hairpins__by_damian_monzillo
Makeup J. PATRICK @jpatrickstudio @seemanagement Using @viseart Styling Assistants @saintgermainnyc @justonesillygoose @tessamills7
Location @fdphotostudio_ny
BELLO 39 Volume 01
Ann Demeulemeester Capes
Dress Morphew Collection
40 BELLO February 2023
@morphew_world
Richilene Embroidered JKT @morphew_world Earrings @badaciousnyc@patriciafield
Volume 01 BELLO 41
42 BELLO February 2023
Jacket @studmuffinnyc
@patriciafield
Pants & Hearts @saintgermainnyc
BELLO 43 Volume 01
44 BELLO February 2023
Earrings @badaciousnyc
Green Dress @ssikdesigns Gloves @thesepinklips @patriciafield
BELLO 45 Volume 01
February 2023 46 BELLO
Volume 01 BELLO 47
Jacket Pants Bra @todd.fisher.ny
February 2023 48 BELLO
Full Look @dope_tavio @patriciafield Volume 01 BELLO 49
@CoverYesNYC
Head Piece
50 BELLO February 2023
Shirt Emilio Pucci Vintage
Volume 01 BELLO 51
Dress Valentino Vintage Head Piece @CoverYesNYC
PHOTOGRAPHY ALEKSANDAR TOMOVIC
Location Maison Privée Showroom Los Angeles
Fashion Charles & Ron
FITting FOR A QUEEN Diarra Sylla
52 BELLO February 2023
Singer Diara's fitting session turned into a unique candid moment of natural beauty and style! Ahead of the fashion week and Charles & Ron show, Diara stopped by Maison Privée showroom on Sunset Boulevard to pick her look. Her post gym glow needed no extra glam. Editor in chief and celebrity photographer Aleksandar Tomovic used one light to capture her shine.
BELLO 53 Volume 01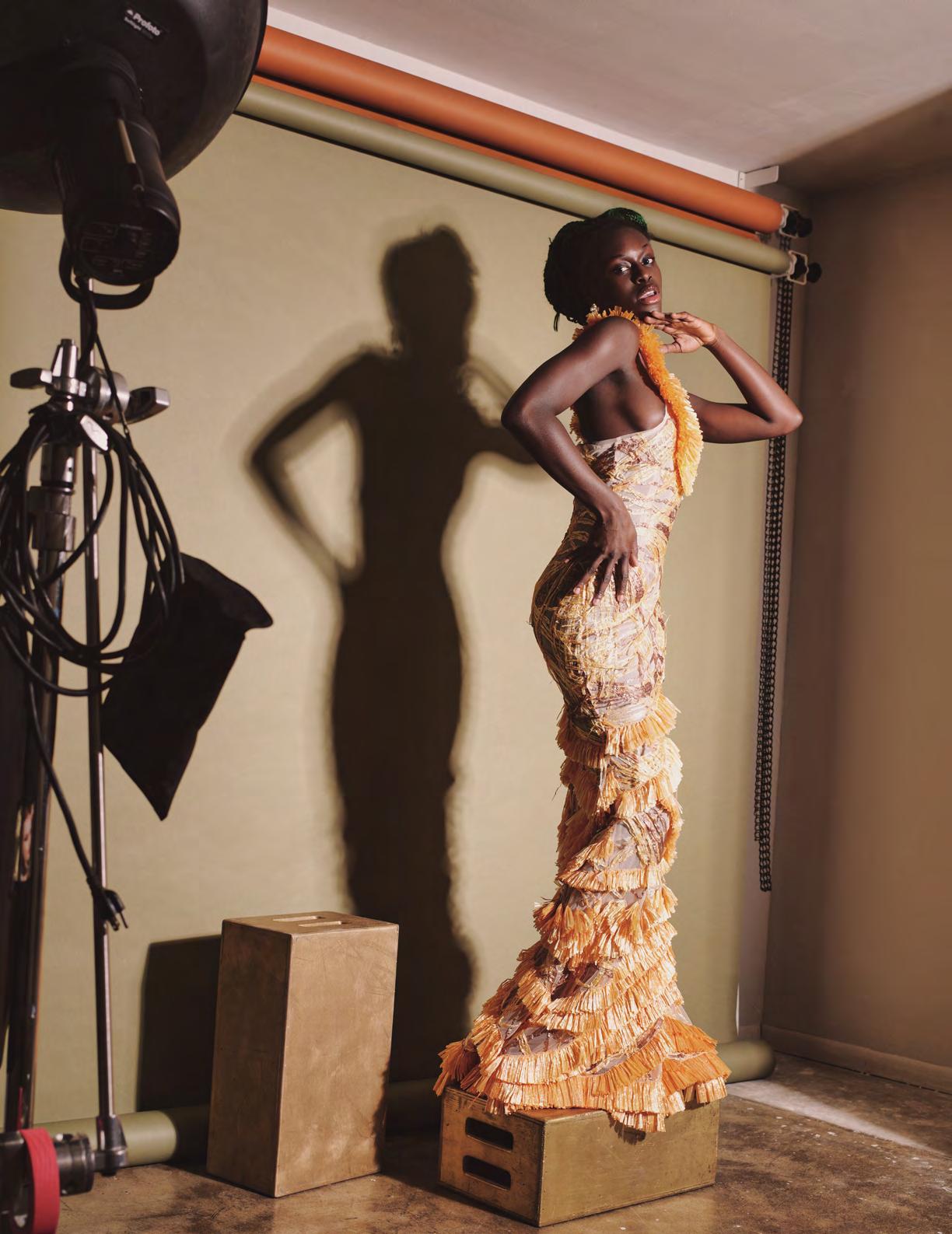 February 2023 54 BELLO
Volume 01 BELLO 55
HATS OFF Photography OMAR GUERRA @omarphoto Styling POSHENKO @posshenko Model ERIC GUILMETTE @etfitnesscoach EVAN CHARIOT @evangeloschaliotis Styling Assistants ORLANDO G. @stylemeorlando Suit Ocean Rebel @OcenRebel Hat @gladystamezmillenary Necklace @mansiondeperle @sandramgranadosf Corset belt Pritch @pritchlondon 56 BELLO February 2023
BELLO 57 Volume 01
February 2023 58 BELLO
Necklace: @mansiondeperle @sandramgranadosf Green jumpsuit @dickies
Suit Ocean Rebel @OcenRebel Hat @gladystamezmillenary Necklace @mansiondeperle @sandramgranadosf Corset belt Pritch @pritchlondon
Volume 01 BELLO 59
February 2023 60 BELLO
Volume 01 BELLO 61
62 BELLO
2023
Pearl Necklace @mansiondeperle @sandramgranadosf Corset belt Pritch @pritchlondon
February
BELLO 63 Volume 01
Victor
Clavelly
Inspired by the universe of gaming, virtual experience and 3D, Victor was used to draw a lot and develop all kinds of stories and universes while being a child. By growing up, he gets impacted by video games such as Dark Souls, Bloodborne, or Sekiro etc and the richness of universes and storytelling that they spread. Creating sculpted fashion garments using the 3D generated idea of deconstructed fashion. For him, each piece is like a spell, which would transform its wearer.
Design @victorclavelly
Models @yolitalitchi @anna_elr @lomeeb @verafatal @so.dono.g @yousnao
Styling @zoeemercier @heloisebcht @famillefarez @fiasco.club
Photography @leopenven @sarahclavelly
CGI + intégration @noambenef
Makeup @zoe.derks Hair @natsumiebiko
Assisted by@louiseeugeniep @lorque_a_nina @so.dono.g
64 BELLO February 2023
BELLO 65 Volume 01
February 2023 66 BELLO
Volume 01 BELLO 67
February 2023 68 BELLO
Volume 01 BELLO 69
February 2023 70 BELLO
Volume 01 BELLO 71
February 2023 72 BELLO
Volume 01 BELLO 73
February 2023 74 BELLO
Volume 01 BELLO 75
February 2023 76 BELLO
Volume 01 BELLO 77
February 2023 78 BELLO
THE POWER OF ATTRACTION
Two irresistible fragrances, a meeting of extraordinary personalities. Discover K&Q by Dolce&Gabbana. Courtesy of Dolce & Gabbana. www.dolcegabbana.com
Volume 01 BELLO 79
www.tellthetruth.shop
BELLO Style
PUBLISHER
@BELLOmediaGroup
8285 Sunset Blvd. Suite #1 / West Hollywood, CA 90046
IMAGE NATION STUDIO L.L.C. California, USA editorial@bellomag.com
BELLO | VULKAN | TILTED
ADVERTISING Collaborations | Advertorials advertising@bellomag.com
ALEKSANDAR TOMOVIC (editor in chief) alek@bellomag.com
STEPHANE MARQUET (creative director + layout) steph@bellomag.com
ALEXANDRA TUIL (contributing editor) alexandra@bellomag.com
PRINT ON DEMAND (available around the world) Order here: www.bellomag.com/print
SUBMISSIONS www.kavyar.com/bello-magazine
WEBSITE www.bellomag.com
+ Digitaly Distributed On www.issuu.com/outnext
Volume 01 BELLO 81
BELLO Style TESSA BROOKS
FEBRUARY 2023