BELLO Style LAURA PURDY
APRIL 2023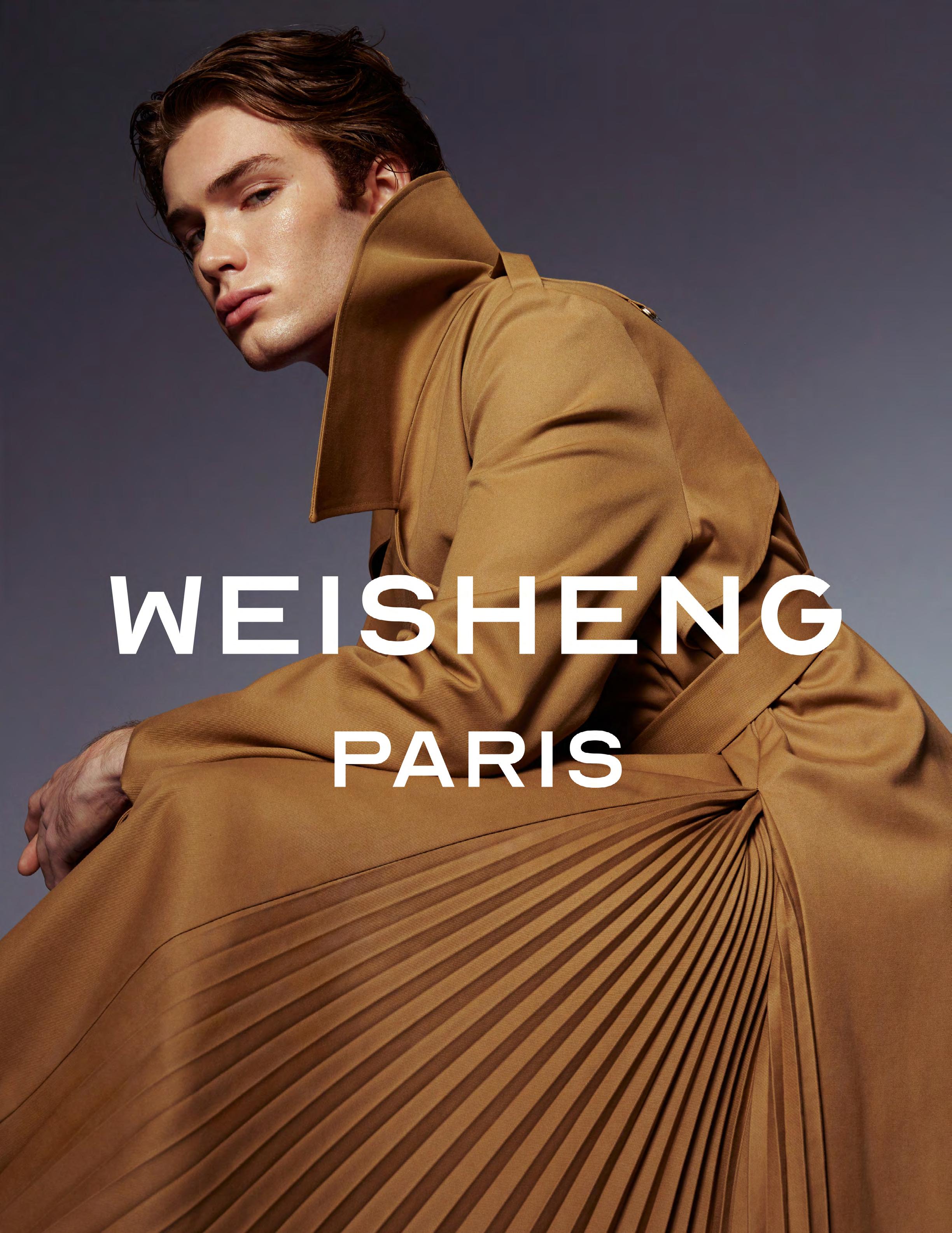 BELLO CONTENTS Style
LAURA PURDY 08
GUCCI NYC 22
THE OTHER NADER GIRL 32
BROKEN TIE 40
MOSCHINO MAN 64
70
PAX&Q 74
TIMELESS VIBE 58
April 2023 4 BELLO
TIFFANY 54
BACCARAT Lucky Butterfly Bloomingdales Exclusivity $190
LIZZIE FORTUNATO Hoops
$150
KYLIE COSMETICS Lavender body oil $18
ZIMMERMANN High Tide Lace Flip Mini Skirt $1850
April 2023 6 BELLO
VEJA Esplar low-top sneakers $145
JOLLYNOVA Jelly Colors quare Sunglasses $14
ROSS SIMONS Drop Earrings with Diamond Accents in Sterling Silver $119
POTTERY BARN Flower Velvet Pillow $50
LUNARES HOME Ice Cream Cup $59
Sweater in 4G jacquard with short sleeves
Style Issue Volume 01 BELLO 7
Laura Purdy
Photography MIKE YI
Styling ELVA WU Assisted by NICO ALVAREZ
Beauty LILIANA PORRAS
Creative Direction NINA VARGAS
Location INDUSTRY CITY, BROOKLYN
Hair Crown: Beryuan
Necklace: Laday Poa
All Other Jewelry: Nakamol Chicago Dress: Dell Scott Collection
Under Garment: Self-Portrait (pinned) Shoes: MAKAR Collection
April 2023 8 BELLO
Jewelry: Nakamol Chicago Dress: Custom / Own Style Issue Volume 01 BELLO 9
April 2023 10 BELLO
Hair Jewelry: TecUnite Dress: Dell Scott Collection Shoes: EGO UK
Style Issue Volume 01 BELLO 11
April 2023 12 BELLO
Dress: LOVEandLEMONADE Jewelry: Nakamol Chicago
Hair Crown: Beryuan
Necklace: Laday Poa
All Other Jewelry: Nakamol Chicago Dress: Dell Scott Collection
Under Garment: Self-Portrait (pinned) Shoes: MAKAR Collection
Style Issue Volume 01 BELLO 13
April 2023 14 BELLO
Dress: LOVEandLEMONADE Jewelry: Nakamol Chicago
Style Issue Volume 01 BELLO 15
Dress: Romagic
Necklace: Nakamol Chicago
2023 16 BELLO
Shoes: MAKAR Collection
April
DressL LOVEandLEMONADE
Style Issue Volume 01 BELLO 17
Jewelry: Nakamol Chicago
April 2023 18 BELLO
Jewelry: Nakamol Chicago Dress: Custom / Own Shoes: MAKAR Collection
Style Issue Volume 01 BELLO 19
Hair Jewelry: TecUnite Dress: Dell Scott Collection Shoes: EGO UK Dress: Romagic Necklace: Nakamol Chicago Shoes: MAKAR Collection
The Secret to Beauty at 40 - and Beyond Laura Purdy
"America's Favorite Doctor" Laura Purdy is Living by Her Own Rules in Life and Fashion
The world of medicine tends to be extremely prescriptive: take this, do that, feel better. Physicians are trained to look at the presenting symptoms and make an educated judgment about what they see. As humans, we do the same with people - categorize or label them based on outward appearance. In today's culture, looks can become an essential asset on the road to success - a road that winds differently depending on your gender. Women, in particular, face a series of complicated pressures regarding modern beauty. "Look good, but don't look like you're trying too hard." Traditionally, bias has existed toward women who don't fit the mold… with shame heaped on women who change their appearance to fit into it.
One look at Dr. Laura Purdy reveals a vibrant woman approaching 40, an unstoppable powerhouse physician who has reached every goal she set out to achieve on a circuitous road toward success that, if you stop to really consider it, makes complete sense. During her military service, she supervised the implementation of the Army's first telehealth systems, overseeing care for hundreds of soldiers who would have otherwise gone without. Upon discharge, she followed her love of music toward a lucrative career as a concert pianist before returning to the field of medicine. A deep passion for creating a positive impact on the greatest number of lives led her to join an elite few physicians licensed in all 50 states (including D.C.) so that she could pioneer the full potential of telehealth to bring more equitable, affordable care to all Americans.
Today, she is known as "America's Favorite Doctor" and the heart of telehealth, providing care to a panel of more than 20,000 patients nationwide while advising dozens of telehealth startups. On every step of her journey to get here, she has never relinquished belief in the influential power of not just what she says, but how she lives. As a mom to four kids under the age of 10, Dr. Purdy aims to set a positive example in word and deed, blazing a trail toward the bright future of improved healthcare while being the change she wants to see in the world - particularly as an educated, passionate, and creative career-focused woman. "This world holds immense possibilities for women, whether they follow a calling to stay home with kids, serve in a career role, or a bit of both! I believe we can be powerfully influential anywhere we go, as long as we stay true to our deepest passions."
As far as American culture has come, there are still those who raise an eyebrow to Dr. Purdy's personal beauty approach. Determined to remain transparent about her anti-aging measures, from a recent breast augmentation to her love of microneedling, she chooses time and again to eschew convention in favor of transparency. "I'm living out my own approach to beauty, because I want my kids and others to feel the same
freedom. Every woman should be able to choose her own aesthetic approach without shame or judgment - to me, this is about supporting good mental health and personal confidence."
After 15 years in the army, Dr. Purdy felt she missed out on the coming-of-age beauty milestones that are an integral part of womanhood - things like learning how to take proper care of her face and body. These days, she is a staunch advocate of daily sunscreen and bi-annual PDO thread lifts to stave off signs of visible aging. She is also a big fan of Botox and famously carries several vials in her purse to administer to friends or acquaintances. A mother of four, she has come to terms with the fact that certain parts of her body will never look the same as they did at 25. Instead, she has invested time and resources into understanding how to honor, respect, and embrace her body for what it is - and dress it accordingly.
One such resource is Intuitive Stylist, Media Personality, and Transformation Expert Ali Levine. Dr. Purdy stands at 5'3", her petite frame well-suited to wide-leg styles, which she prefers to pair with a tailored blazer, power heels, and a bold lip. "How you look isn't everything, but I believe it can reflect how we feel about ourselves on the inside." With Levine's help, Dr. Purdy has developed her own unique approach to fashion that playfully blends high-end and lower-end pieces for a finished look that screams confidence. Some of her favorites: Sam Edelman, VICI DOLLS, REVOLVE, Mac Duggal, and Adrianna Papell. She also dutifully follows Levine's "4 F's" of great style: fit, function, fabric, and fashion. Colors, too, carry their own vibrations, and Dr. Purdy finds herself drawn to bold pinks and cobalt blues.
"The most important thing is to love how you feel in what you're wearing - be YOU." This is the single greatest piece of advice Dr. Purdy gives to her daughters and relies on herself. Whether she is walking the red carpet at a charity event, speaking at a global conference, leading in the boardroom, or spending time with her kids, she strives to be nothing but herself - whether or not she fits into an easily labeled box of what beauty should look like. "Every person carries a special beauty in their heart, body, and mind to offer the world. Rather than trying to live up to everyone else's standards, ask yourself: what can I do to empower myself to look like the most beautiful version of 'me'- one that I can be proud of?" And do it for yourself, because the next generation will live by your example.
Discover more about "America's Favorite Doctor" at DrLauraPurdy.com or on Instagram @americasfavoritedoctor.
April 2023 20 BELLO
Style Issue Volume 01 BELLO 21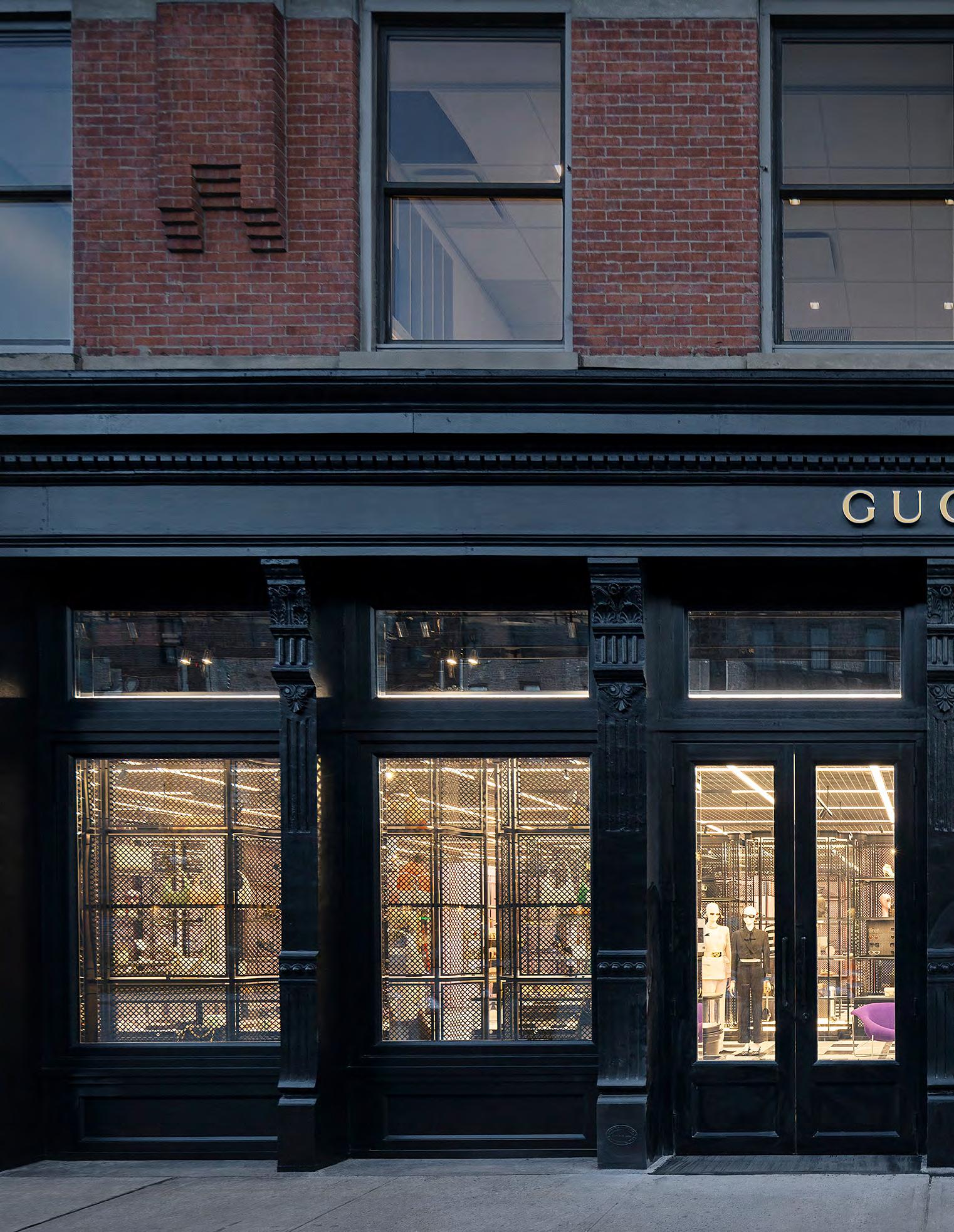 April 2023 22 BELLO
Style Issue Volume 01 BELLO 23
THE NEW GUCCI HORSEBIT 1955 CAMPAIGN STARRING HALLE BAILEY, HANNI, AND JULIA GARNER
Photographers & Directors: Mert & Marcus
Make up: Thomas De Kluyver
Hair: Paul Hanlon
April 2023 24 BELLO
The iconic handbag progresses the narrative of a specific archival code – the double ring and bar that was presented in 1955, two years after the original hardware appeared in the House's collections, becoming an iconic emblem of the brand and furthering its link to the equestrian world.
Gucci has long drawn inspiration from the world of horse riding, which was considered a popular hobby amongst the House's clientele throughout its beginnings. This connection is now immortalized within the 'mythology' of Gucci through the presence of several elements, including the Horsebit, which first appeared on a pair of what would become the House's signature loafers in 1953. Since then, the emblem has been reimagined in diverse forms and variations, defining a range of accessories as well as prints.
As one of the House's signature handbag collections, the Horsebit 1955 bridges eras through the story it tells and the elegant strength of its design—a testament to the exceptional materials and craftsmanship that have always distinguished the brand. The offering includes various silhouettes from the original rectangular top-flap shoulder bag with an adjustable strap to a dome-shaped top-handle silhouette. Progressing the styling possibilities of the bag, the Horsebit 1955 is available in a wide range of sizes, colors, and materials including leather, precious leather, and GG canvas among others.
Style Issue Volume 01 BELLO 25
April 2023 26 BELLO
Style Issue Volume 01 BELLO 27
April 2023 28 BELLO
Style Issue Volume 01 BELLO 29
Gucci is pleased to announce its latest store opening on the corner of W 14th Street and 9th Avenue in New York City's Meatpacking District. Spanning two levels, the boutique counts over 9,000 square feet of retail space. An extensive men's and women's selection of shoes, handbags, luggage, and Gucci Beauty is presented on the ground floor while the top floor is reserved for ready-towear, and an exclusive area dedicated to private appointments.
The store's design is influenced by New York and Florence: two key cities in the House's 102-year history. Grid-patterned metal mesh ceilings evoke the industrial character of the neighborhood and create a geometric counterpoint to the flowing layout punctuated by a curved staircase adorned in shiny mirrored tiles and two inviting, U-shaped booths for displaying select items. Painted cement flooring is drawn from historic Florentine marble motifs while reflective columns echo classical Italianate architecture and the magnetic pace of the city.
The House chose the Meatpacking District for its latest opening because of the area's eclecticism, vibrancy, and creative energy. Imagined as a concept space, the boutique embraces a 1970s-inspired aesthetic, brought to life through a functionalist and modular approach to décor emboldened by pop colors, mirrored surfaces, and vintage mid-century furniture. The walls of the private area upstairs are upholstered in deep, jade-green carpeting in a bold nod to the decade.
Diverse elements of the interior design also speak to the House's ongoing commitment to embed sustainability throughout its retail network. The store's furnishings include restored second-hand pieces while surfaces are decorated with more environmentally friendly fabrics and materials like Demetra. The animal-free textile pioneered by Gucci is upwards of 78% plant-based and made from sustainable, renewable, and bio-based sources. Demetra is featured in pink on the store's downstairs walls and blue on the upstairs walls as well as in the booths. The floors feature Silipol, an innovative cement that is composed of natural elements and is 100% recyclable. Tying the theme together with a heritage gesture, two fitting rooms have been decorated with upcycled archival fabrics from the House's past collections: a maxi white and purple houndstooth pattern for one and a geometric design in rusty orange tones for the other. The location is also LEED-certified and uses 100% renewable energy and LED lighting.
In addition, Gucci Meatpacking will include an exclusive physical presence of Vault's Gucci Continuum - the initiative that perpetuates the life of past Gucci pieces and deadstock fabrics by inviting brands, artists, and makers to incorporate them into their own future designs, thereby reducing waste and encouraging circularity through the harmonious relationship between creativity and conscious production.
April 2023 30 BELLO
Style Issue Volume 01 BELLO 31
The Other Nader Girl
ModelMary Holland Nader @maryhollandnader Photography Ryan Sides @ryancsides
Jumpsuit - The Board of Directors
April 2023 32 BELLO
Hat- Aime Leon Dore
Coveralls- MELKE Style Issue Volume 01 BELLO 33
Coveralls- MELKE
April 2023 34 BELLO
Style Issue Volume 01 BELLO 35
Suit- Aknvas
April 2023 36 BELLO
Knit top- Aknvas
Suit- Aknvas Style Issue Volume 01 BELLO 37
April 2023 38 BELLO
Suit- Aknvas
Style Issue Volume 01 BELLO 39
Jumpsuit- The Board of Directors
April 2023 40 BELLO
BROKEN TIES
Photography ROMA & FATYA @bo_captured
Models Izabella Bogdanova @squisabelle
KURCHAKOVA ALIN @ stancia.nejnost
Styling ALIYA UTYASHEVA @dikiy_look.second
VLADYKINA OLGA @ flora_piona
Beauty MARINA KAIROVA @kairovamari
Style Issue Volume 01 BELLO 41
April 2023 42 BELLO
Style Issue Volume 01 BELLO 43
H&M MANGO Stradivarius
April 2023 44 BELLO
Parfous MANGO Stradivarius Style Issue Volume 01 BELLO 45
April 2023 46 BELLO
Style Issue Volume 01 BELLO 47
April 2023 48 BELLO
vintage Coat H&M Stradivarius
Style Issue Volume 01 BELLO 49
April 2023 50 BELLO
Style Issue Volume 01 BELLO 51
April 2023 52 BELLO
Style Issue Volume 01 BELLO 53
Tiffany Walker
IG @thetiffanywalker Twitter Thelastskywalk TikTok @Thelast.skywalker www.youtube.com/Tiffanywalker
April 2023 54 BELLO
Dress Fashionnova dress Shoes Amina Muaddi
Style Issue Volume 01 BELLO 55
Photography Ernesto Jimenez @im_ernest22 Hair Kherrington Leslie @ kherrington__
RISING STAR
Dress Fashionnova Purse Balenciaga
April 2023 56 BELLO
Photography Frank Vasquez Hair Kherrington Leslie
Style Issue Volume 01 BELLO 57
Sunglasses: Prada @prada
Boots: Koio @koio
Shirt: The Kooples @thekooples Pants: DSquared2 @dsquared2
April 2023 58 BELLO
TIMELESS VIBE
Photography CiNava PHOTOGRAPHY @cinava_photography
Styling KALEI JAY WAY @kaleijay Celestine Agency @celestineagency Lassalle @stylebylassalle
Model JACK JOHNSON @IMG @photogenicsla @jacjohnsn
Retoucher ANNA WOLKANIEC @anna_wolkaniec_retoucher
Grooming DENISE BUGARIN ESCAMILLA @denisebeautyart
Style
01 BELLO 59
Issue Volume
Shirt: DSquared2 @dsquared2
Jeans: Scotch & Soda @scotch_soda
Boots: Vince @vince
Accessories: Vintage
April 2023 60 BELLO
Style Issue Volume 01 BELLO 61
April 2023 62 BELLO
Shirt: The Kooples @thekooples Pants: DSquared2 @dsquared2
Shirt: Barbour @barbour
Black Jeans: Paige @paige
Style Issue Volume 01 BELLO 63
Gold CornHusk Necklace: DH Jewelers @dandhjewelers
MOSCHINO Man
Photography MAZI SHAMS
Model CHRISTOPHER LIMA
Fashion MOSCHINO Resort Wear
April 2023 64 BELLO
Style Issue Volume 01 BELLO 65
April 2023 66 BELLO
Style Issue Volume 01 BELLO 67
April 2023 68 BELLO
Style Issue Volume 01 BELLO 69
Nadja Sayej highlights 10 years of celebrity photography in new book, Paparazzi Bitch
April 2023 70 BELLO
Style Issue Volume 01 BELLO 71
What do celebrities look like backstage? A new collection of behind-the-scenes shots are collected in Paparazzi Bitch, a new photo book featuring over 100 celebrity photographs shot over the past 10 years by Nadja Sayej. From Berlin to New York and Venice, this book is a celebration of celebrities shot from the female gaze in a male-dominated field. But also, when do you ever hear about a female paparazzo?
"I'm not a paparazzi, but I do use the art of spontaneity, high flash and action shots to capture celebs with my Nikon," says Sayej, a culture journalist, writer and photographer based in New York City.
The book features black-and-white photographs of Lady Gaga, Catherine Deneuve, Spike Lee, Karl Lagerfeld, Tilda Swinton, as well as Oliver Stone, Willem Dafoe, Keith Richards, Brooke Shields, Karlie Kloss, Laura Dern, David Lynch, and more. It's hot off the heels of the 100 year anniversary of the red carpet, as the film Robin Hood had it's film premiere at Grauman's Egyptian Theatre in Los Angeles on October 18, 1922. Looking back 100 years later, what has changed on the red carpet? Some of her photos are very classic in their rendition, capturing celebirties in their most genuine moments. Other shots are backstage, or behind-the-scenes, capturing pensive moments. While others, like her shot of Sarah Jessica Parker, are of people in transit, arriving or departing a destination, often, a gala or film festival.
This new photo book features over 100 photos of celebrities, art stars and fashion luminaries, up close and personal (or as close as she can get, dodging every iPhone in sight). It's a backstage pass into the lives who dominate our everyday headlines, up close and personal—or at least, captured candidly, and with soul. "This photo book pays tribute to the legacy of women photographers who have been working in entertainment photography all their lives," she said. "Besides the big names we know in the entertainment business, a lot of women photographers are underpaid, overlooked and brushed aside, even though they are incredibly talented and need to believe in themselves more, to step up and stand out like a brash paparazzi photographer--even if they aren't one."
April 2023 72 BELLO
Style Issue Volume 01 BELLO 73
Digital Artists PAX&Q Discuss the Visuals Behind the Black Star Line Festival
PAX&Q is a visual arts team that creates digital and interactive visuals for various events and performances. They are known for their ability to create vibrant, colorful and impactful visuals that enhance the overall atmosphere and experience any event. The team consists of a duo who have a passion for art and strive to bring their creative vision to life through their work. They aim to bring together different artists and collaborate on projects to create unique and memorable experiences for the audience.
Most Recently PAX&Q were involved in the first ever Black Star Line festival. We had a chance to speak with the duo briefly about their experience. The Black Star Line Festival is a festival that brings people from all over the world together to celebrate black culture, heritage and togetherness. It took place in Accra, Ghana on January 6th 2023 and was a huge success with 52'000 people in attendance. As the festival's visual artists, the duo was responsible for creating and showcasing the visuals displayed on screens throughout the festival.
April 2023 74 BELLO
Photography @brave.creatives
How did you get involved with the festival and who approached you for the collaboration?
PAX&Q: We learned about the festival on Instagram and we knew we wanted to be part of it. It's in Ghana, come on! After seeing posts by Chance and eventually connecting with Rudolph, the Head of Production, we pitched our idea of bringing local artists together to create a collaborative effort for the visuals. Rudolph appreciates our art and was excited about the idea, so we got the process started asap.
How did you come up with a visual concept for the festival?
PAX&Q: The theme of the festival was the Black Star Line, Marcus Garvey's vision & ship line that aimed to bring black people from all around the world back to Africa. So, it was intuitive for us to create visuals that aligned with this theme and our beliefs. We also received artwork from other artists involved in the festival (Marvin, Chris & Pius), and used their pieces to create a flow that showcased everyone's contributions.
Can you describe the atmosphere at the festival and how your visuals contributed to it?
PAX&Q: The atmosphere was lively and energetic, with everyone dancing and having a great time. Our visuals added to this energy by creating a colorful and uplifting environment that elevated the mood even further. When people look at the photos and videos everyone should remember it as a beautiful day.
What was your experience of having Erykah Badu perform with your visuals in the background?
PAX&Q: It was dooooopeee!! It was getting late about 5am and people started to get tired from dancing all day, but then Erykah Badu took the stage and shifted the entire atmosphere again. She formed like an energetic bubble around the whole place! We didn't expect it to happen but created a piece specifically for Erica with digital fashion, her jewelry, and the whole environment. Also Marvin did a piece on Erykah Badu and to him she is one of his most influential artists ever. Just special!
How do you see yourself contributing to the growth and development of the festival in the future?
PAX&Q: By collaborating with more artists and finding new and innovative ways to bring the visuals to life. We believe that the festival has the potential to make a big impact, and we're eager to be a part of that growth and development.
How did working on the Black Star Line festival influence you as visual artists?
PAX&Q: So for us personally, This experience has given us a great deal of creative energy and motivation to explore the possibilities. It's not just about our personal growth, but also about the power of bringing people together on one screen.Everybody that we've talked to has responded really, really well to what they've seen. As we move forward, we are motivated to create even better work that stands out on any stage. So no matter if it's the Black Star Line festival in Ghana or digital art work on the phone, it inspires us to truly create visuals that bring people together.
What do you see as the future direction for PAX&Q's art and design work?
PAX&Q: We definitely see ourselves doing more festivals and more installations, because we truly want people to be able to interact with art as well. And also breaking boundaries when it comes to commercials and advertisements. Always pushing people to think outside the box and to create something that might have not been seen before or they can barely imagine at this point.
How do you plan to continue pushing the boundaries of your visuals?
PAX&Q: Honestly, these computer programs are in depth and we can learn and learn and learn and just keep going for years probably. And that's only the tools that are out yet, but there's a whole future with AR glasses and things that we're really interested in. Tools that will help us make people interact with our art. So with that being said, we're pushing ourselves by making it a point to learn new things every day. The goal is to get whatever vision we have in our head, bring it to real life, and have people have a good time when they interact with it.
Are there any new technologies that you're interested in exploring for future projects?
PAX&Q: Yeah, of course, AR is a technology that we really think that we can utilize to have people interact with our artworks. Especially when the glasses are dropping, it's exciting! Then for sure projection mapping, because that will add a whole other level to their experience. By utilizing trackers and such things, you can have people interact with the artwork as well. And recycling technologies; we want to be more involved in recycling!
How do you envision the role of PAX&Q in shaping the future of visual arts?
PAX&Q: Well, we truly have a passion for teaching. The future of visual arts is us to an extent, but also the future generation. So whatever we can pass on to people will be awesome. We imagine a future where people are not afraid to push themselves beyond the limits and create what's in their mind and figure out a way to get there, even if it takes three programs, four programs, or whatever.. lol
The Black Star Line festival in Ghana was a massive success, with 52,000 attendees remembering it as a day filled with happiness and positivity. PAX&Q collaborated with local and international artists to create a seamless flow of visuals that would appeal to a multicultural audience. The festival aimed to bring black people together to celebrate and uplift each other. Moving forward, PAX&Q hopes to continue their involvement in the growth of the festival. The duo plans to push boundaries by constantly learning new things, utilizing new technologies such as AR & projection mapping while incorporating recycling into their projects. PAX&Q envisions a role for themselves in shaping the future of visual arts by passing on knowledge to the next generation and inspiring others to not be afraid to push themselves beyond their limits and bring their creative visions to life.
Style Issue Volume 01 BELLO 75
www.tellthetruth.shop
BELLO Style
PUBLISHER
@BELLOmediaGroup
8285 Sunset Blvd. Suite #1 / West Hollywood, CA 90046
IMAGE NATION STUDIO L.L.C. California, USA editorial@bellomag.com
BELLO | VULKAN | TILTED
ADVERTISING Collaborations | Advertorials advertising@bellomag.com
ALEKSANDAR TOMOVIC (editor in chief) alek@bellomag.com
STEPHANE MARQUET (creative director + layout) steph@bellomag.com
ALEXANDRA TUIL (contributing editor) alexandra@bellomag.com
PRINT ON DEMAND (available around the world) Order here: www.bellomag.com/print
SUBMISSIONS www.kavyar.com/bello-magazine
WEBSITE www.bellomag.com
+ Digitaly Distributed On www.issuu.com/outnext
Style Issue Volume 01 BELLO 77
BELLO Style
APRIL 2023