5562 East Santa Ana Canyon Rd Anaheim Hills CA 92807 ( 714 ) 685-9222 www. AnaheimHillsJewelry .com FREE Ring Inspection & Cleaning.DAVID RIME ( 714 ) 777-3647 • www. Dogtopia .com/anaheimhills( 714 ) 777-3647 • www. Dogtopia .com/anaheimhills "News for the Neighborhood" Aug Sep 22 Keep connected at: www. CommunityCouncilAnaheimHills.org Woman WinnerBusinessOwnedof2020
Anaheim Hills R EVIEW Find out What's Happening at: Following the period of rapid expansion of Anaheim Hills through the 1990s, the area continued to attract a rush of new residents as the population of the community expanded quickly from approximately 15,000 residents in 1980 to more than 55,000 residents by the time of the 2010 Census. Some of the driving factors for the population spike included the widespread reputation of Anaheim Hills as a safe community with top-tier schools. With the growing population in Anaheim Hills, the City of Anaheim opened more parks to serve the expanding community. The 8-acre
ISTORY
2 Still M aking
THE 3 RD EDITION: August / September 2022 Anaheim Hills REVIEW News For The Neighborhood Jim Cain , Anaheim Hills Community Council 5753-G Santa Ana Canyon Rd / Jim@AnaheimHillsCommunityCouncil.org714-342-5437
Anaheim Hills Review © 2022 Mike Escobedo Design. All rights reserved. The material herein contained cannot be reproduced in whole or in part without the written permission of Mike Escobedo Design. in collaboration with: www. AnaheimHills CommunityCouncil .org From the Publisher As I write this message, I am enjoying summertime weather and activities in Anaheim Hills. Our local community here in the hills offers some of the best Southern California has to offer, including breathtaking views and friendly faces.Itis such a pleasure to meet so many terrific folks throughout this vibrant community as we now publish the third edition of the Anaheim Hills Review In the previous two editions, we featured a lookback at the area's history, as well as got to know community leaders and food purveyors—all dedicated to bettering this place we are fortunate to callWithhome.this edition, we highlight some local restauranteurs and brew masters with whom you may be acquainted. If not, we encourage you to visit these establishments and do your own taste-testing. On page 4, read about Vittorio Severino, proprietor of Baci di Firenze, who treats and feeds his customers like family. Then on page 5, get to know Kyle Naderi and the Daneshpour family, who are dedicated to serving up healthy food and high-quality service at their recently opened Baran Mediterranean Restaurant, named in honor of rain and the many blessings it has brought their family.Our cover subject, Reunion Kitchen + Drink on page 6, has with great enthusiasm over the last decade built a strong connection with the community by providing a modern American cuisine in a warm atmosphere where people regularly unite to enjoy good food amid goodWecompany.lookforward to sharing more heartwarming and inspiring stories in future issues. Please enjoy reading about and frequenting the many businesses that make Anaheim Hills such a special community. Sincerely, Mike Escobedo
H O F T HE H ILLS Sycamore Park opened in 1991 and was named for the trees planted in that park. The 5.5-acre Canyon Rim Park opened in 1992 near the Walnut Canyon Reservoir. Developers donated 103 acres of land for the Deer Canyon Park Preserve to the City in 1993, and the park opened to the public in 1997. The 16-acre Toyon Park opened that same year and was renamed Ronald Reagan Park in 2011 to honor our 40th President. The 2-acre Roosevelt Park opened in 2006, named after our 32nd President. The Olive Hills Dog Park opened in 2016 and features separate areas for large and small Dear Anaheim Hills Neighbors, My City Council colleague, Stephen J. Faessel, is Anaheim's leading historian. If you have ever purchased one of the four Anaheim books from the Images of America series, he is the author. I asked Stephen to help me bring the history of Anaheim Hills to our community in the Review. He handled the first part, I helped him on the second part, and now, I am bringing you the third part: Anaheim Hills in the 1990s and the twenty-first century. We also owe a debt of gratitude to Jane Newell, the Heritage Services Manager at the Anaheim Public Library and de facto Anaheim Archivist, for her valuable assistance in this effort. Trevor O'Neil Mayor Pro Tem of Anaheim / City Councilmember for District 6 (Anaheim Hills)
Second entree must be equal or lesser value. Valid only with coupon. Not valid on weekends or with other offers. Limit one coupon per customer, per table. Expires September 30, 2022
Sales brochure covers for early Anaheim Hills subdivisions offer a snapshot of the burgeoning community in the 1990s. (courtesy of the Anaheim Public Library.)
This concludes our three-part series on the history of Anaheim Hills. I hope you have learned as much as I have and gained a newfound pride in the rich tradition of our community. Looking back at how far we have come only gives me hope that the best times for Anaheim Hills lay ahead. I am so blessed to live here as we take the next steps towards our bright future.
• 3
AnaheimHills CommunityCouncil .org dogs, as well as a bronze statute, Vigilance, to honor the K-9 officers of the Anaheim Police Department. Parks were not the only addition to Anaheim Hills. The East Anaheim Gymnasium opened in January 2007. The Anaheim Public Library opened the East Anaheim branch just a few months later on June 16, 2007, as the second in our community after the Canyon Hills branch, which had opened in 1981.Public educational facilities are provided by the Orange Unified School District and the PlacentiaYorba Linda Unified School District. Today, OUSD's Anaheim Hills students attend Canyon High School, El Rancho Charter School and five elementary schools: Anaheim Hills, Canyon Rim, Crescent, Imperial and Running Springs. PYLUSD's Anaheim Hills students attend Esperanza High School, Bernardo Yorba Middle School and two elementary schools: Glenview and Woodsboro.Newdevelopment was attractive to prospective homeowners and property developers, leading to the Irvine Company's plans to develop 2,500 homes on privatelyowned land (east of the 241 toll road) into housing to accommodate the skyrocketing demand. However, after seven years of delay due to concerns about the impact of the new development on the infrastructure of Anaheim Hills and then the economic impact of the Great Recession, the Irvine Company donated the land to the County of Orange for designation as an open space preserve. That land donation has delivered one of the most momentous (and recent) occasions in Anaheim Hills history. Following years of debate over an Orange County veterans cemetery to be located in Irvine, this donated land in Anaheim Hills was offered as an alternative location, with the strong support of the Anaheim City Council. After the deadlock on the Irvine location, veterans groups expressed support and relief for headway to be made towards construction of the longpromised Orange County veterans cemetery, and the site quickly won the support of every city council in the County and from the Orange County Board of Supervisors. (For more information, see "Our Community Services & Cemetery" on page 13.)
Second entree must be equal or lesser value. Valid only with coupon. Not valid on weekends or with other offers. Limit one coupon per customer, per table. Expires September 30, 2022 K ENO'S R ESTAURANT.com 5750 East LaPalma Ave, Anaheim Hills (714) 777-9511
History in Anaheim Hills
August / September 2022www.
www.
Baci di Firenze Owner Vittorio Severino shares one of his restaurant's authentic Italian dishes. The culinary team sources many of its ingredients directly from Italy, including the different types and shapes of pasta shells present in the most popular menu items. Hills R EVIEW Find out What's Happening at:
Deluxe & Diverse Cuisine
/
Baci di Firenze Since 2008, the Anaheim Hills community has had access to a slice of Italy through Baci di Firenze, an authentic Italian restaurant owned and operated by Vittorio Severino. Baci di Firenze, which translates to "kisses of Florence," isn't Severino's first dive into the restaurant industry. He owns two restaurants in Italy and one in England, but this one holds a special place in his heart. "There weren't many restaurants like ours in the area when we first found this location, so I thought it was the perfect place to call home," he says. "This restaurant is my passion and what I love to do, and the community here is Whileamazing."Bacidi Firenze's menu is filled with classic and familiar Italian dishes like rigatoni bolognese, lasagna and manicotti, the team also specializes in meat and seafood-based dishes, including sautéed scallops, Chilean sea bass andAndveal.if you're craving something not on the menu, Severino says just to ask. The culinary team will do what they can to make it for you. "We even write on our menu that if you don't see your favorite dish on here, please ask, and we'll make it," he says. "Many restaurants have set and final menus, but we like to make our customers feel comfortable and at home."Another specialty of the eatery's cuisine is its food sourcing. The restaurant's chef, Jose Albarado, says he gets the majority of his ingredients straight from Italy. "I get our tortellini from Florence, and our cannoli shells come from Sicily," he says. "We want the best for our guests and to give them highquality, authentic food."
SAME
When it comes to the guest experience, Severino sees his diners as family rather than as customers. In the 14 years Baci di Firenze has been open, the restaurant team has amassed plenty of regulars who come weekly, including some who try a new item every week and some who stick to their favorite dishes year after year. For Severino, this is the best part of owning a restaurant. For him the social aspect is incredible. He treasures the relationships he has made through the business. "We treat and feed customers like our friends and family," he says. "The only difference is we give you a check at the end." di Firenze
K NOW T HE N EIGHBORS by
Anaheim
4
DELIVERIES
S
SmetonaPhoto.comSMETONAKRISTINBYPHOTO Baci
Orange County is known for its fruitful restaurant scene, and Anaheim Hills is no exception. The establishments featured here showcase some of the deluxe and diverse cuisines the community offers, from Italian to Mediterranean to modern American. Get to know the owners of Baci di Firenze, Baran Mediterranean Restaurant & Bar and Reunion Kitchen as they share their restaurant journeys and upcoming goals. Yuki Klotz-Burwell TUNNING F LORALS FOR Y OUR L IFE E VENTS 5753 E. Santa Ana Canyon Rd, Ste D Anaheim Hills 92807 714www.265-7755AnaheimHillsFlorists .com
EVENTS
416 North Lakeview Ave. / 714-282-2220 / www. BaciAnaheim .com
Owner / Designer Carol Dolan @ AnaheimHillsFlorists.com DAY / SYMPATHY / WEDDINGS ALL LIFE
The annual Independence Day celebrations are organized by the Anaheim Hills Community Council, a community non-profit committed to building a strong community in Anaheim Hills. The Anaheim Hills 4th of July celebration creates connections and camaraderie between the thousands of residents and businesses that attend the day's events every year. • Article provided courtesy of www. AnaheimObserver .com. For more information, go to www. AnaheimHillsCommunityCouncil .org
The Anaheim Hills annual 4th of July Celebration was a hit as residents gathered for a day of festivities to mark the 246th anniversary of the signing of the Declaration of Independence. Nearly 1,000 people participated in the Firecracker 5K/10K that kicked off the day, followed by a community pancake breakfast, Yankee Doodle Dog Show and a Patriotic Parade with more than 70 entrants. Celebrations culminated in a spectacular citysponsored fireworks display in Peralta Park.
5August / September 2022www. AnaheimHills CommunityCouncil .org
Restaurant & Bar 5645
This year's festivities were made possible by the Generosity of the following Event Sponsors: The Anaheim Ducks / Veteran Air / The Honda Center OCVibe / Republic Services / Angels Baseball Reunion Kitchen + Drink / Northgate Market Anaheim Hills Auto Body / Tellone Financial Hale Glass / TNT Self Storage Management Reborn Cabinets / Brewery X / GEICO / HotWorx Orange Unified School District / Orange Lutheran Supervisor Don Wagner / Keno's Restaurant Silva Management Insurance Services / 92.7 Air1
Anaheim Hills Community Council's "4th of July Celebration" a Big Success!
LUCIANOJOHNOFCOURTESYPROVIDEDPHOTOS GoodnightAnaheimHills .com
Baran Mediterranean Restaurant business partners Kyle Naderi (left) and Navid Daneshpour showcase a spread of traditional menu offerings found at their eatery. Though the restaurant opened up only a few months ago, the team says they already have regular customers who stop by for their healthy kabobs and Persian dishes.
Unit
SmetonaPhoto.com/SMETONAKRISTINBYPHOTO Baran
www.
The restaurant's interior pays homage to the owners' Persian roots and the importance of rain. The ceiling is decorated with a printed version of a blue Persian rug, combining both modern designs and classical Persian culture. "Persians are known for their rugs, so we wanted to do something that was modern but also touches upon our background," says Elnaz. "If you look at the ceiling, you'll see the same pattern as wallpaper all the way around the restaurant."Navidand Elnaz aim to expand to new diners and keep improving their customer experience as they head into their first few months of serving Anaheim Hills. "My favorite part of this business is meeting with customers. I like to make sure they're getting high-quality service here," says Navid. "I'd love everyone in the community to come out and try our food."
Today, the restaurant is truly a family affair. Aside from owning the restaurant together, Navid and Elnaz named the eatery after their daughter, Baran, a name that translates to "rain" in Persian. "Our daughter is a blessing to us, and the rain has brought me so many blessings," says Elnaz. "It rained on my wedding day and the day my daughter was born. We named this restaurant after rain because it's also a blessing."
This past April, husband-andwife team Navid and Elnaz Daneshpour joined Anaheim Hills as business owners, launching Baran Mediterranean Restaurant & Bar into the community. The pair operate and own the restaurant with their close friend and business partner, Kyle Naderi. At Baran, diners will find the menu stocked with Persian and Mediterranean cuisine options. "Our food is traditionally grilled, so it's fresh and healthy," says Elnaz, who also works as a personal fitness trainer. "We use a lot of vegetables and high-quality ingredients to make our food consistent and give our guests the bestTheexperience."mostpopular dish is the kabob, which guests can order in a variety of options, including shrimp, salmon, chicken and filet mignon.Introducing more people to Persian food has always been a dream of Navid's. His family owns three Persian restaurants in Iran, but this is the first one he's owned and built himself. "Navid worked his way up through the restaurants here, starting by washing the dishes and eventually moving up to be a chef," says Elnaz. "He recently was a general manager of a restaurant in Los Angeles, and then we realized it was time to start our own business." Mediterranean East La Palma Ave., 170 / 714-340-0035 BaranRestaurantOC .com
K NOW T HE N EIGHBORS BaranRestaurantMediterranean&Bar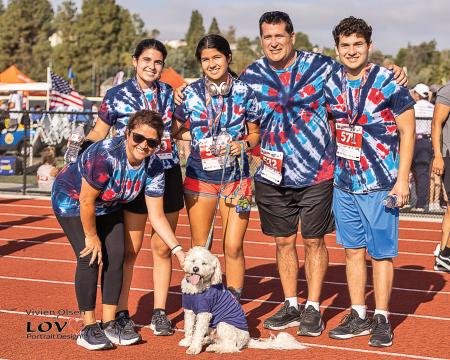 After running Reunion Kitchen in Anaheim Hills for almost a decade, owners and husband-and-wife duo Scott and Rosemary McIntosh are looking forward to continuing to bring modern American cuisine to the community. The pair also founded Reunion Kitchen locations in Santa Barbara and Laguna Beach, but Scott says the Anaheim Hills location is the blueprint for his other eateries. "Out of all the restaurants I've worked on in my career, this one is my favorite," he says. "We're trying to model our other locations off of this one and really emulate what we have."
C OMMUNITY R ESOURCES: C OVER S TORY by Yuki Klot-Burwell
CODE ENFORCEMENT: 24 Hour Graffiti Hotline (311) . . . . . . . . . . . . . . . . . (714) 765-4311 Grocery Cart Removal - FREE (800) 252-4613 Code Violations . . . . . . . . . (714) 765-5158 COMMUNITY SERVICES: General Information . . . . . . (714) 765-5191 Neighborhood Services . . . . (714) 765-4456 Park & Maintenence . . . . . . (714) 765-5155 Anaheim Pubic Libraries . . . (714) 765-1880 DISPOSAL (REPUBLIC SEVICES): Bulky Item Pick-Up - FREE . . (714) 238-2444 Up to 20 items at once, 3 times per year Recycling/Household Hazardous Waste Disposal - FREE . . . . . (714) 834-6752 24-Hour Hotline EAST ANAHEIM COMMUNITY CENTER: (714) 765-3904 MUNICIPAL GOVERNMENT: Anaheim Anytime . . . . . . . . (311) . . . . . . . . . . . . . . . . . (714) 765-4311 Mayor & Council Office . . . . (714) 765-5247 PUBLIC SAFETY: Fire & Rescue (hazards) . . . (714) 765-4040 PoliceEmergenciesDepartment . . . . . . . . (911) Crime in Process . . . . . . (714) 765-1900 Gang Detail . . . . . . . . . (714) 765-GANG CSP Gang Victim Services . . (714) 936-7492 Graffiti, in process . . . . . . . .(911) OC Family Justice Center . . . (714) 765-1645 Cops-4-Kids . . . . . . . . . . . . (714) 533-8255 PUBLIC WORKS: Streets & Sewers - Repair . . (714) 765-6860 Street Signs - Repair . . . . . . (714) 765-6837 Traffic Signal - Repair . . . . . (714) 765-5202 UTILITIES: Customer Service . . . . . . . . (714) 765-3300 Power Failures . . . . . . . . . . (714) 765-3300 Street Lights - Repairs . . . . . (714) 765-3300 Tree Power Program - FREE . (714) 491-8733 Dusk to Dawn Lights - FREE . (714) 939-9020 ADDITIONAL RESOURCES: Adult Protective Services - 24 Hour Hotline If you supsect an adult/senior is being neglected or abused . . . (800) 451-5155 Child Protective Services - 24 Hour Hotline If you suspect a child is being neglected or abused . . . (714) 940-1000 Domestic Violence Program . (714) 935-7556 Fair Housing Foundation . . . .(800) 446-3247 P Hills Anaheim Hills REVIEW IndividualMedicareGroup Silva Management Insurance ServicesF y u H a y I u Ne d800-317-8023 News for the Ne ghborhood p M y 22 Keep connected w Anah imH lsComm Cou o g 8 3 4 D p 47 D Advertise to 22,000 of your Closest Customers ! Mailed to every address in the 92807 & 92808 zip codes Contact: Jim @ AnaheimHillsReview.org (714) 342-5437 Advertise to 22,000 of your Closest Customers ! Mailed to every address in the 92807 & 92808 zip codes Contact: @ AnaheimHillsReview.org (714) 342-5437 Anaheim Hills R EVIEW Find out What's Happening at:6 Pest Control | Wood Repair Local Termite Treatment | Mosquitos Fumigation | Rodent Service ( 714 ) 451-1252 office @ associatedext.com www. AssociatedExt .com 3rd Generation Pest Control Experts Local, Fair & Fully Insured • Reunion Kitchen founders Scott and Rosemary McIntosh gather with many of their Anaheim Hills employees. At a little more than 4,000 square feet, Reunion Kitchen is one of Orange County's busiest restaurants. Over the past decade, the team has nailed down their customer service and continues to feed new and returning diners.
Over the Top Wonderful!
Scott and Rosemary have years in the restaurant industry, and their relationship also stems from the business. They met while working at Claim Jumper, a restaurant enterprise where Scott served as CEO. "We're that crazy couple who is in the business simply because we love it," says Rosemary. Now, they're committed to building out their dining and bar options to be original and attractive to all types of customers. Guests can choose from menu items like classic burgers and sandwiches or dive into a heartier meal with the slow-braised short ribs option or an ahi poke bowl.
SmetonaPhoto.comSMETONAKRISTINBYPHOTO
"The entire success of the restaurant has been based on the warmth customers get when gathering with their friends and family," says Scott. "We'll have two people come in who haven't seen each other in 50 years, and we'll get a party of 20 reuniting in the exact same way." Since the pandemic regulations have eased up and people feel more comfortable dining out, the reunion aspect of the business has never been more vital. The customers are ready to give back and reconnect, and Rosemary says their diners have always supported the restaurant's success.
"Our guests have been amazingly loyal, especially since March 2020," she says. "We had customers ordering takeout and sitting in our parking lot just to supportAlthoughus." the pandemic delayed their plans of opening additional locations, Scott and Rosemary are excited to continue taking what they've built in Anaheim Hills and expanding it to introduce other communities to their food innovations."Theexperience here has been over-the-top wonderful," says Scott. "The community has been supportive during both good and bad times, and we feel such a strong connection to everyone."
"We have a wide appeal on our menu that doesn't just stick to one cuisine," says Scott. "Everything we offer is scratch-made, which we're proud of and enhances our quality." Almost ten years into operating Reunion Kitchen, the McIntoshes specialize in presenting an atmosphere that lives up to its namesake. The restaurant is meant to be a place where people can reunite and come together.
• Reunion Kitchen 5775 East Santa Ana Canyon Rd. / 714-283-1062 www. ReunionKitchen .com 7www. AnaheimHills CommunityCouncil .org August / September 2022
"We're that crazy couple who is in the business simply because we love it." Rosemary McIntosh
Anaheim Hills R EVIEW8 Find out What's Happening at:
9www. AnaheimHills CommunityCouncil .org August / September 2022
• Article & Photos
www.VisitAnaheim.org Find out What's Happening at:
The Bruery, Terreux Tasting Room 1174 North Grove St, Anaheim 92806 (714) 729www.TheBruery.com2300 Golden Road Brewing 2210 East Orangewood Ave, Anaheim 92806 (714) www.GoldenRoad.la912-4015
Radiant Beer Co. 1566 West Lincoln Ave, Anaheim 92801 (714) www.RadiantBeer.com661-5790
All-American Brew Works 5120 East La Palma Ave, Anaheim 92807 (714) www.AllAmericanBrewWorks.com463-4474 Ballast Point 1540 South Disneyland Dr, Anaheim 92802 (714) www.BallastPoint.com687-9813
There's Always Something New Brewing in Anaheim
Following the La Palma Beer Trail California is the home state for the most influential shapers of the craft beer movement. These pioneers proved that beer could be exciting. Built on a German beer heritage, Anaheim now hosts one of the fastest growing and most dynamic craft beer scenes in the country with more breweries than any other city in Orange County. Anaheim breweries are innovating while collaborating to make the local beer scene even better. Many local brewers are connected not just by their passion for suds, but by the La Palma Beer Trail. What was once just a couple of pioneering craft breweries in an industrial section of Anaheim has grown into a bona fide brewing district. Running for about five miles along its namesake street, the La Palma Beer Trail consists of several breweries located in Anaheim and Placentia. There's no universally agreed upon list of "La Palma Beer Trail" breweries. Technically, some of the breweries in this list are not located on La Palma Ave., but they're just a few minutes away, so we've included them.
Bottle Logic Brewing 1072 North Armando St, Anaheim 92806 (714) www.BottleLogic.com660-2537 Brewery X 3191 East La Palma Ave, Anaheim, 92806 (657) www.Brewery-X.com999-1500 Brewheim 1931 East Wright Cir, Anaheim 92806 (714) www.Brewheim.com453-4346
JT Schmid's 2610 East Katella Ave, Anaheim 92806 (714) www.JTShmidsRestaurants.com634-9200 Karl Strauss 2390 East Orangewood Ave, Anaheim 92806 (714) www.KarlStrauss.com940-1772
Modern Times Leisuretown 549 South Anaheim Blvd, Anaheim 92805 (714) www.ModernTimesBeer.com874-4439
Don't Drink & Drive.
Anaheim Hills R EVIEW10 Craft Brew. . . V ISIT A NAHEIM .org
Additional Anaheim Craft Locations For those catching an Angels Baseball® or an Anaheim Ducks® game, JT Schmid's combines the energy of a sports bar with world-class craft beer brewed on the premises. Golden Road Brewing is across the street from Angel Stadium for pre-or post-game revelry. Also near the stadium is KarlBrewheim.StraussBrewing Company is a California classic specializing in German brews with an outpost in Anaheim. Putting the craft in craft beer is Ballast Point Brewing. Located in the Downtown Disney® District, the beers here take on an imaginative twist with brews inspired by everything from sea life to classic cocktails. provided courtesy of
Breweries Worth Visiting While on the Anaheim Beer Trail, don't miss the Bruery Terreux Tasting Room from the Family Rue's Bruery. The Bruery is the godfather of Orange County craft beer, and the Terreux Tasting Room is the best place to try their most experimental and opulent Belgian-style brews, including barrel-aged sour beers. Then there is All-American Brew Works, which you can read all about on page 7, and Brewery X, which appears on page 10. Other breweries on the trail include Asylum Brewing featuring a variety of IPAs. Bottle Logic Brewing Company is known for several award-winning beers in a variety of categories. Then there is Phantom Ales, which has been on the beer trail since 2008. This dual-licensed brewery and winery is the only cider-maker in Orange County. Stereo Brewing carries what they call "hi-fidelity" beer.
August / September 2022 11
The kitchen is open seven days a week serving deli sandwiches and during special events, smash burgers. To inquire about hosting an event at All-American Brew Works, reach out via Instagram @AllAmericanBW or info@AllAmericanBrewers.come-mail:. Brew Works 5120 East La Palma Ave., #103 / 714-463-4474 www. AllAmericanBrewWorks .com
on the Trail CONTINUED ON PAGE 12
All-American Brew Works and Co-Pilot's Deli Eric Miller, active reserve for the Marine Corps, wears a "Remember 9-11" T-shirt as Ryan McHugh, active PD, sits next to him with a well-groomed, handlebar mustache. They are two of the partners running All-American Brew Works and Co-Pilot's Deli. The duo is framed by a merchandise display of brightly colored red, white and blue shirts and signs, along with a variety of military signs and American memorabilia. The atmosphere is cozy and welcoming, especially to first responders and those in military service. "The whole concept of this started with me and my dad, who also served, brewing in our garage," says McHugh. "It grew from there to what this has become. We decided to open an establishment that celebrates the military and America."
K NOW T HE N EIGHBORS by Nathan Carter www. AnaheimHills CommunityCouncil .org
All-American Brew Work's partners (from left) Eric Miller, Melissa Bartholomew (Brewer) and Founder Steve McHugh enjoy beers on tap and a fresh deli sandwich from in-house Co-Pilot's Deli.
The first six beers they brewed dubbed, "The Founding Fathers," are all available on tap, or in a test flight. Their test flight holds six beers, as opposed to the standard practice of four beers in a test flight. One of those Founding Fathers brews, "Liberty or Death," garnered All-American Brew Works a local award. This peanut butter porter was their top selling beer when they first opened. Instead of specializing in a few styles, All-American Brew Works brews multiple styles from fresh and locally sourced ingredients. "One of the things that motivated us when we opened is that if you go to many breweries, there isn't a lot of variety on tap," says McHugh, whose father, Steve McHugh, is also a partner. "One of our goals has been to brew a wide range of beers across a wide range of styles. We have a style of beer for just about any customer."
A large part of the All-American Brew Works staff consists of active first responders, military reserves or retired military. "It's not a theme for us," says Miller. "It's who we are and what we live. Our community supports us, and in turn we support our community."
All-American Brew Works holds various fundraising events throughout the year, including for suicide awareness, Memorial Day, Veteran's Day, Patriotic service dogs, September 11 and Ales for ALS, a research funding group. In addition to having big hearts, the staff consists of genuine beer lovers. "Half our staff is cicerone certified, showing expertise in Level 1 of beer," Miller says. "That refers to being trained in beer serving, managing the cleanliness of the taps, how to tap beer and understanding the basics of beer style and service. There aren't many people who have this certification."
SmetonaPhoto.com/SMETONAKRISTINBYPHOTO All-American
Breweries are often characterized by welcoming atmospheres, good food and tasty brews. Here we feature two breweries located on the famed La Palma Beer Trail, a 5-mile strip that exemplifies the best aspects of the American brewery.
SmetonaPhoto.com/SMETONAKRISTINBYPHOTO
3191
.com K NOW T HE N EIGHBORS . . . on the Trail CONT. FROM PAGE 11 FAMILYDEALMEAL $3199 16" Lg 1-Topping Pizza Lg Dinner Salad Your choice of 2 liter of Soda or regular order of Garlic or Dessert Knots. Select toppings only. Additional toppings extra. One coupon per customer. Not valid with any other coupon. Must present coupon. $4.00 delivery charge. Restrictions apply. Expires 9/30/22 AHR JUMBO SLICES ALL DAY MON-FRI: $3.99 plus tax plus tax 5572 East Santa Ana Canyon Rd (714) 998-2000 Serving Orange County's loyal customers since 1988! Hours: Sun-Thurs 11am-9pm / Fri-Sat 11am-10pm
/
Brewery X Nearly 20 years ago, two college friends came together with a beer goggled vision of saving money on beer by making it themselves. Since its opening in September 2019, that long-ago vision became Brewery X, and it has become world renowned. When Brewery X CEO Clayton Wellbank met Chief Brewing Officer Trevor Walls at San Diego State University, Walls already had some firsthand knowledge of brewing. His father and uncle both made home brews, and he grew up around the process."Like many college campuses, there was plenty of beer involved at San Diego State, but it was expensive," says Walls. "That sent me down the path of brewing my own."While in college, Wellbank and Walls teamed up to make their own brews. This was the genesis of Brewery X. "I think the first beer we made was an amber or porter. We don't make a lot of beer like that here at Brewery X today. Our selections are light and hoppy," Walls says. two indoor rooms and an outdoor patio and dining area for the food trucks on site. This allows for flexibility in environments and accommodation for parties of just about any size. The 'X' in the name represents the cross on paths where people come together and have fun. "We see the brewery as a hub for the community," says Wellbank. In addition to the original Brewery X located on the famous La Palma Beer Trail, Walls and Wellbank have expanded into Angel Stadium and the Honda Center. (As of press time, two more locations are in the works.) Recently, the brand's "Super Slap" won Silver at the World Beer Cup for the most entered category in the world: India Pale Ale"Super(IPA).Slap is a very flavorful but approachable, drinkable IPA," says Walls. "A lot of people say they don't like hops or don't like bitter, but you drink this beer and it has a lot of great pine and tropical fruit aromas like your typical IPA, but ours is bolstered up a bit and it's not overly bitter." "Super Slap" has a sister beer known as "Slap and Tickle" that is also worth checking out. •
A Church Where You Can Be Yourself & Grow Spiritually & Relationally! A place where you can ask tough questions and get honest answers. "Helping people find & follow Jesus."
Brewery X Chief Brewing Officer Trevor Walls (left) and Director of Facilities, Kyle Gianuzzi, serve up an order with specialized beer glasses designed to enhance the experience of different styles of beer.Brewery X has three overarching categories of lagers, ales and seltzers, with 40 taps at the ready at their original location in Anaheim."Webrew what we like to drink, as well as what the community likes to drink," says Wellbank. "We often find that to be light, refreshing lagers, as well as a great assortment of IPAs and seltzers. We make sure we have something for everybody." The facility is massive, with Brewery X East La Palma Ave. 657-999-1500 Brewery-X
Anaheim Hills R EVIEW12 Find out What's Happening at:
/ www.
Anaheim Hills Cemetery East of the 241 Orange County Cemetery District General Manager Tim Deutsch discussed how two of three Orange County government cemeteries (Anaheim and Santa Ana) are out of space and no longer selling cemetery plots. Only the El Toro Memorial Park is still accepting new cemetery plot reservations. Sales have also rapidly accelerated in recent years because people realize space is running out. Located east of the 241 toll road, there was a 2,500-home development that the Irvine Company was planning to build, but ultimately decided not to move forward and donated the land to the County of Orange. The Orange County Board of Supervisors voted to give it to the Orange County Cemetery District, provided that the land be used for cemeteries within 10 years, or else it will revert to the County of Orange. The proposal for the site is to have two adjacent cemeteries: a 100-acre upper pad would be a veterans cemetery run by the California Department of Veterans Affairs and an 80-acre lower pad would be a public cemetery run by the Orange County Cemetery District. Deutsch stated a 100-foot flagpole will be erected by the end of August by the Gypsum Canyon offramp from the 91 freeway to serve as a landmark for the cemeteries. • www.Anaheim.net/6094/Community-Services
Our August / September 2022 13www. AnaheimHills CommunityCouncil .org
Community Services & Cemetery
On June 23, the Anaheim Hills Community Council (AHCC) and City Councilmember Trevor O'Neil hosted an evening town hall meeting for community residents at Crosspointe Church. O'Neil represents Anaheim Hills on the Anaheim City Council and serves as Mayor Pro Tem of Anaheim. Community Programs Anaheim Community Services Director Sjany Larson-Cash told attendees about the various City programs underway and in the planning stages for Anaheim Hills. She announced that the summer weekly concert series at Ronald Reagan Park would begin on Thursdays beginning July 7. Oak Canyon Nature Center's summer programs include day camps for children, wilderness survival camps for teens, archery range programs for youth and adults and nature nights on Wednesdays at twilight with hikes and speakers. Peralta Park has a "Campventure" program for children. Swim lessons have started at the Anaheim Family YMCA at the Canyon High School pool. The East Anaheim Gymnasium has youth basketball camps and clinics, youth volleyball, senior fitness for pickleball and table tennis, adult night for basketball leagues and open gym volleyball. The East Anaheim Community Center has special classes and camps, senior meals every Tuesday at 11 am, preschool programs for Tiny Tots, senior classes for Zumba, needlecraft and cards.
T OWN H ALL M INUTES
Larson-Cash also noted that Mayor Pro Tem O'Neil and the City Council increased the library budget to open several library branches for longer hours effective July 5, for general public usage, as well as more events, activities and senior services programs, including at the East Anaheim Library Branch located at the East Anaheim Community Center.
Larson-Cash discussed a grant for renovations at Oak Canyon Nature Center to add an interactive outdoor exhibit, more interpretative trail signs and increased amphitheater capacity. Mayor Pro Tem O'Neil, Anaheim Community Services, the Angels baseball team and the Orange Unified School District collaborated on renovating the baseball fields at Anaheim Hills Elementary School. New plans are underway at the Anaheim Hills Golf Course to remodel the patio and bar to open it up with an indoor-outdoor feel. The renovations will also modernize and improve views, enhance the menu in partnership with the OC Baking Company and add a craft beer rotation program and wine list. There will also be special programs with chefs, cooking nights and cooking classes.
The East Anaheim Library has summer reading programs, STEAM activities with 3D printers on 3D Thursdays, STEAM Tween club, virtual programs, teen programs, Dungeons & Dragons Club and video game clubs. Renovations and New Projects
Want to know the secret to a continuously thriving garden? I have one word for you—compost. A rich, brown, earthy substance consisting of decomposed organic materials, such as leaves and food scraps, compost feeds the microorganisms in soil. These tiny creatures break down nutrients into microscopic, absorbable food for plants. Did you know that in one tablespoon of soil there are more microorganisms than the entire world population? So very small but so very important.
9 THOSOF EMORY.0101TSOELW s
BL A th 9.L D DRIVE ME our community.atients infulfill the need for p and only volunteer donors can NThe need for blood is constant impfilifetime.lileconds and most of us w unit of blood every 2 to 3sasNationwide, someone need need are d blood in our million new people Event Deeetails the gratifiTheneedratificatiodis constant, on is instant. or 800.GIVE.LIFE-Call Toll Free USE SPONSOR CODE RedCrossBlood.orgVisit 070 3 Easy ways to g W COM Loca mmended to redu HOW TO DONATE Appointments are strongly recommended to reduce wait time. TimDateeways to get started. 1 HALEGLASS Contact Christine EMAIL @HALEGLASS.COM OFFICE 714.572.5070 23 nonalcoholicdonation fluids before the Drink an extra 16 oz. of water or Get a good night's sleep. cerealsandraisins. ied sh, poultry, e that is rich in iro a healthy meal before yo beans, spin entia, CaliforniaPlac Lane910 Estell1 0 PM:30 AM - 2: otherformsofID. redcrossblood.org 800 733-2767800 RED-CROSS Download the Blood Donor App.For more information call or visit the website: WHERETODONATE DONATION TIPPS tion WILLBLOODMOBILESSITEBEONSITE e Friday, Sept. 20 :30AM2: 0PM WHERE TO DONATE Eat your donation, one that is rich in iron, such as red meat, fish, po spinach,raisinsiron-fortified Rememberdonation. to bring your donor card, driver's license or two fID heerThank you fo supporting the A NAHEIM H ILLS C OMMUNITY C OUNCIL
Once it's time to harvest, there will always be some soil loss. This generally occurs when you pull up plants and soil sticks to the roots. This type of soil loss, whether in raised beds, containers or the ground, varies, but the solution is always the same. Before planting your next crop, add some compost. Doing so refreshes the soil and will continue to feed our little microorganism friends. I N T HE G ARDEN by Brian HaleAuthor and master gardener Brian Hale in his extensive backyard garden.
Anaheim Hills R EVIEW Find out What's Happening at:14
SmetonaPhoto.comSMETONAKRISTINBYPHOTO
NNUAL IN
Keep in mind that after a while there will be more substantial soil loss. At that point, you will also want to add some of the peatperlite mix I mentioned last month, which consists of 70 percent peat moss and 30 percent perlite. What about all the other products you see at big box stores and nurseries, you might ask? These are mainly for amending and enriching poor soil. Using the peat-perlite mix along with
Gardening 102
Brian Hale is an Anaheim Hills resident and has been a University of California Cooperative Extension Master Gardener in Orange County since 1999. Over the years, he has been involved with many aspects of the Master Gardener program. Currently, he spends most of his time with the Propagation Team and is a member of the Speakers Bureau. This includes doing presentations for private and public venues. another 10 to 20 percent compost is all you need for most gardens.
August / September 2022 15www. AnaheimHills CommunityCouncil .org
What to Plant in the Garden Now Our SoCal weather allows us to grow year-round here with most fruit and vegetable crops planted in the spring (February to April) or the fall (October to March). There is an overlap as one season winds down and the other kicks off. That is where we are right now. As far as what to plant in August and September, the choices are limited. It's the hottest time of the year, so it's hard to keep seeds moist and small transplants from burning up. However, corn and all types of beans (pole, bush, edible soybeans, lima) can be direct seeded at this time. Sunflowers can also be planted now and are a great addition to the garden. Kids and birds love them. Pay attention to keeping the soil from drying out and seedlings from dying by mulching with shade cloth or a thick layer of straw. It also helps to shade young plants with an umbrella to minimize sun exposure. Once the plants are up and start to mature, shade is no longer necessary. For help with any garden, landscape or pest problem, contact our UC Master Gardener hotline at UCCEOCMGhotline@ucanr.edu and check out our website at www. MGOrange .ucanr.edu for scientifically researched, peerreviewed information. It is a great tool for gardeners at any level. Now go get gardening! • Orange County
16 5753-G Santa Ana Canyon Rd. #456 Anaheim Hills, CA 92807 PRST STD U.S. POSTAGE PAID HUNT BCH, CA PERMIT 438 Anaheim Hills R EVIEW Anaheim Hills REVIEW News For The Neighborhood Since 2022