WATCHES | STYLE | CULTURE ISSUE 85 The Sports Watch Reborn TISSOT PRX The Sports Issue STYLE ICONS, RALLY LEGENDS & THE WATCH WORLD CUP 9.95£
grand-seiko.com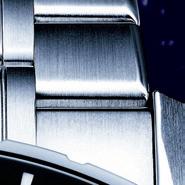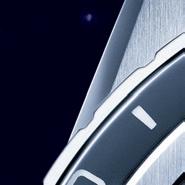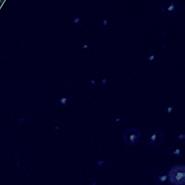 Fortunately for me then, the World Cup is on its way and, us being the watch nerds that we are, we've found an excuse to turn things horological with our own twist on the global competition: the World Cup of Watches. From group stages to the final, it's a competition of epic proportions and minute mechanics. Who won? That would be telling. Find out for yourself on page 59. Their faux sporting performances however might just be the best watches are offering right now, if the latest stats are to be believed. 'Market correction' if you want to call it that has hit hard and, if you bought a steel sports Rolex or a Nautilus in the last few months, you might want to avoid page 45. If you're looking to buy, you'll definitely want to check it out.
At the other extreme, performance is the name of the game when it comes to the now defunct but still legendary Group B Rally. The ultra-high speed, ultra-dangerous racing series still casts a long shadow on the automotive world, tinged with adrenaline and tragedy both, as Nathan Chadwick explores on page 115. There was nothing quite like it – and there still isn't.
Sam Kessler, Editor
Taking a similar cue for our shoot this issue, we focused on the most obvious performance material of them all, carbon fibre and its variations. It's a look that's synonymous with the racing world, and we've paired the most extreme of the moment with an industrial twang and plenty of atmosphere. Check it out on page 90.
While not draped in carbon, our cover star for the issue has been taking podium places in many a watch lover's collection: the Tissot PRX. Since its reintroduction, it's been taking the watch world by storm which, as the brand's CEO, Sylvain Dolla, explains on page 50, came as a bit of a surprise. The latest chronograph version shows that there's plenty of wiggle room in the sports luxe formula, too.
It might surprise our dedicated readers to know that sport isn't really my forte. Shocking, I know. I've played cricket at Lord's and football at the Emirates Stadium, but terribly and to the detriment of my team both times. Otherwise only the World Cup and Wimbledon can entice me into any semblance of actually caring.
WELCOME1 Editor's letter KEEP IN TOUCH: @oracletime | @oracle_time | facebook.com/oracleoftime | oracleoftime.com COVER Photography:CREDITSTom Pettit Watch: Tissot PRX Automatic Chronograph ORACLE TIME #85
For our style section this issue, we took a different approach to normal. As there are just too many sports style icons to talk about, we asked three of our regular writers – Messrs Benedict Brown, Charlie Thomas and Paddy Maddison – to each profile a sportsperson of choice. Take your bets now as to who they picked and turn to page 74 to see if you win. Just don't expect us to pay out. If you want to get in the saddle yourself, we have plenty of cycle-slanted performance gear on offer in The Edit on page 89. Just don't blame us if it doesn't increase your own performance. We can help equip you, but we can't make you fit. I can't even make myself fit. So, make sure you keep us handy between stints at the gym and as ever stay safe, stay sane and enjoy the issue.
Outside of our watch world interviews – which also include RedBar's Adam Craniotes on page 111 – we came face-to-face with a true Hollywood star in Benedict Cumberbatch, to discuss Jaeger-LeCoultre, travel and unexpected freediving. And a six-month-old puppy.
CONTRIBUTORS2 Printed by Stephens & George Ltd using vegetable-based inks onto materials which have been sourced from well-managed sustainable sources WATCHES | STYLE | CULTURE EDITOR Sam Kessler sam.kessler@opulentmedia.co.uk ART DIRECTOR Hicham Kasbi design@opulentmedia.co.uk SUB EDITOR Dan Mobbs danmobbs@hotmail.com JUNIOR COPYWRITER Michael Sonsino michael.sonsino@opulentmedia.co.uk DIGITAL CONTENT MANAGER Michael Pepper michael@opulentmedia.co.uk SOCIAL MEDIA EXECUTIVE & VIDEOGRAPHER Fraser Vincent JUNIOR DIGITAL CONTENT MANAGER Kelly Coombes kelly.coombes@opulentmedia.co.uk PUBLISHER / CO-FOUNDER Mark Edwards mark@opulentmedia.co.uk MANAGING EDITOR / CO-FOUNDER Tom Pettit tom@opulentmedia.co.uk ADVERTISING SENIOR ACCOUNT MANAGER ADVERTISING Oliver Morgan oliver.morgan@opulentmedia.co.uk02085714615 Freddie Bridge Freddie.bridge@opulentmedia.co.uk02080571140 SENIOR ACCOUNT MANAGER Phil Peachey Phil.peachey@opulentmedia.co.uk02039851414 OT MAGAZINE is published monthly by Opulent Media 020 8571 4615 ORACLE TIME #85
Nathan has been in automotive journalism for more than a decade, and despite this persists with an adoration for Italian cars even if he's too tall for most of them. He has worked at Classic Cars magazine in the UK, was a founding member of the Modern Classics magazine team and has also worked for Magneto and Auto Italia , among others.
MaddisonPaddy Paddy Maddison is a freelance menswear journalist with a keen interest in outerwear. When he's not plotting his next comingpurchasebig-coatforthewinter,he can be found at his desk, typing up words for the likes of IndependentThe , Esquire, GQ and Men's Health He's also Style Editor at Ape to Gentleman and a Contributingformer Editor at FashionBeans.
Ken Kessler
Shane C. Kurup Shane is a men's style editor who has worked for a range of leading titles, including The MR PORTER Journal , Men's Health UK , Esquire US , PORT, The Telegraph and Wallpaper*. He's rather partial to a jazzy silk shirt, wide-leg trousers and a gin and Dubonnet (or three).
Benedict Browne Benedict is a London-based journalist, stylist, and brand consultant who champions British brands and artisanal menswear. He splits his time between Head of Content at the menswear and lifestyle agency Studio Graft and lending his services to magazines, both in the UK and internationally. You can follow him on Instagram at @benedict_browne.
Nathan Chadwick
…is unimpressed by the 21st century and enjoys retro, if costly, boys' toys, such as cameras, mechanical watches and fountain pens – of late, he is obsessed with Italian red wine. He has written four books on luxury hi-fi equipment and collects chronographs and film noir DVDs.
ThomasCharlie Charlie Thomas is a UK-based writer and photographer. An eternal pessimist, he has an equal love of both fine food and KFC. His work has appeared in The Independent , The Times , NME, London StandardEvening , Tatler and Esquire.
CONTENTS151OTMAGAZINE/ISSUE8550—WHAT RECESSION? With prices tumbling, is now a good time to buy an investment watch? All the elements came together in an outcome that speaks for itself. I'm very proud of it." Benedict Cumberbatch — p40 18 — AFICIONADO Discover all the latest, greatest and downright coolest things in the world right now 27 — NEWS What's going on in the world of luxury, haute horology and the latest current affairs 37 — INTRODUCING Accessible cool at one end of the spectrum, traditional Japanese craftsmanship at the other 40 — CUMBERBATCHBENEDICT The Sorcerer Supreme on travel, the Marvel Universe and accidentally freediving with Jaeger-LeCoultre ORACLE TIME #85
16 CONTENTS2 72 — MANIFESTOSTYLE Making sure you have all the gear and the right idea 74 — AHEAD OF THE GAME Three distinctive styles from three sporting legends 99 — WATCH REVIEWS OT gets hands-on with Baltic, Gucci and Tool Watch 115 — A TO GROUP B The enduring appeal of the most dangerous rally in automotive history 129 — RESTAURANTS The latest epicurean offerings and seasonal menus from London's fine dining scene 133 — TEEING OFF Fusing great golf and superlative luxury, the Algarve has a lot to offer the discerning golfer 144 — IN FOCUS Deep dives into Knot Designs, Sequent and Robert Loomes 151 CORNERMICROBRAND Introducing the latest and greatest watches from the best small-scale independents 156 INSIGHTS Impulse buys and under-theradar releases any discerning reader should know about 160 – MOVIE WATCH Ryan Gosling vs Chris Evans (and TAG Heuer vs Hamilton) in Netflix's The Gray Man 133 11590 74 The light that burns twice as bright burns half as long Remembering Group B — p99 ORACLE TIME #85 50 — PRX-FACTOR What Tissot's surprise hit means for the brand's accessibly cool sports watch 59 — KICK-OFF Our hypothetical sporting competition where good watchmaking scores goals
18 edited by: SAM aficionadoKESSLER The coolest things in sport right now
rmsothebys.comataficionado
THE FASTEST F40 ON THE ROAD
19
The Ferrari F40 is already a beast of a car, a 1980s classic of insane p erformance. This however is another matter entirely. A 1989 'non-cat, non-adjust' model that's been given multiple upgrades over the years –including a 'Competizione' conversion in 1993 and an upgraded roll case and suspension overhaul in 1995 – this is the fastest road-legal F40 around. That means hitting nearly 1,000hp. Just make sure you keep it road legal. With performance like this, it's easy to feel like speed limits are more like guidelines. Find out more
20 aficionado GLITCH IN THE MATRIX Not content with making every streetinfluenced watch lover's dreams come true with the CasiOak in full steel, impact-proof Casio offshoot G-SHOCK has now taken things digital with the shiny new Glitch series. A futuristic combo of polarised ink print, multi-angle printing and semi-transparent materials, the shifting palette of greens, blues and purples across all three models is painfully cool. Thankfully no déjà vu here. From $140 (approx. g-shock.co.uk£115),
THEBRIGHTFUTURE'S As moody and British as the label's campaign frontman, Coventry-raised rapper Pa Salieu, the pre-fall collection from A-COLD-WALL* offers seasonally appropriate bulky silhouettes, plenty of layering and funky details. There's a lot going on and all of it is painfully cool. Case in point, the Axis Fleece, with its bright yellow colour, asymmetrical construction and translucent details. As the days get darker, you'll definitely still get noticed. £ 400, a-cold-wall.com
21 aficionado
22 aficionado SAINTSURFINGLAURENT
A summer surfing collection from Saint Laurent isn't too big a surprise; the label's innate Riviera chic regularly channels golden sands and coastal cool. Now though you can take that style to the water with this sleek branded sur oard, built in collaboration with competition-level specialist sur oard manufacturer UWL. The resin and polyurethane board is definitely on the pricier side which, let's be honest, is just what you'd expect. Sporty, stylish and ready to hit the surf. Saint Laurent Rive Droite Uwl Surfboard, £6,500, ysl.com
The Ferretti Yachts 860, the latest cruiser from the Italian manufacturer, is a flybridge-equipped combination of sleek Italian design, superlative performance – it can hit 32-knots – and, perhaps most importantly, comfort. Alongside the interior luxury Ferretti is synonymous with, the new design offers a vast sundeck, phenomenal views from all three of its decks, and an innovative glass parapet. It'll be the belle of the ball at the Cannes Yachting Festival this month, in case you wanted to check it out for yourself. From €5,220,000 (excl. VAT). Find out more about the Ferretti Yachts 860 Project at venturaeurope.com
23 aficionado
CRUISINGCOMFORT
GET YOUR KICKS
While we've already had a few glimpses of the long-mooted, yet-to-appear collaborative kicks from Off-White, Future and Nike, rumour has it that these future grails will soon be available – on the late Virgil Abloh's birthday. Incredibly cool in light blue and white or red and dark blue scrawled with text and in the always iconic Dunk Low silhouette, getting hold of either pair will be a serious achievement for any sneakerhead. Abloh himself may have passed, but his legacy is still kicking. The price is yet to be announced but is rumoured to be £130, nike.com
24 aficionado
25 aficionado
IN POLE POSITION
As aerodynamic and sculptural as any actual hypercar, the latest cutting-edge racing simulator from the specialists at Prodrive is in an aesthetic and visual class of its own. The purpose-built bit of kit includes a sweeping curved 49-inch screen, a precision steering wheel and a mechanical pedal box. As refined and impeccably constructed as a fine grand piano (and sharing the same black gloss) compared to the usual, clunky-looking simulators we're used to, this carbon monocoque beauty is breathtaking, whether you're in the seat or not. But then again, the price is pretty breathtaking, too . £39,000, prodrive.com
WEBB TELESCOPE DEEP IMAGEFIELD
What's the toughest feat of endurance in sport? Perhaps the marathon or an endurance rally like the Paris-Dakar where man and machine have to test themselves to the limits. But both pale in comparison to The Great Ocean Race, a sailing competition that takes participants 36,000 miles (31,700 nautical miles) around the globe. Ulysse Nardin has been announced as the official time partner of the event and as supporter of the US-based team, 11th Hour Racing. The race kicks off in 2023 from Spain and ends in Italy, albeit by the scenic route. A very, very long scenic route.
27
The Great Ocean Race is a sailing competition that takes its participants 36,000 miles around the globe
WHAT'S GOING ON IN THE LUXURY NEWSWORLD
EDITED BY SAM
KESSLER
ULYSSE NARDIN X
Ok, yes, we know this piece of news isn't exactly hot off the press, but honestly we just wanted an excuse to print this absolutely gorgeous image. It's the most detailed image of the universe that we have, depicting a mind-boggling number of stars and galaxies. An intriguing aspect of the image is that it shows galaxies that we shouldn't be able to see as they're blocked by other bodies between them and us. However, through a concept called Gravitational Lensing, we are able to capture their light bent around the gravity of other celestial objects, which is why some of the bodies appear smeared around the centre of the image.
THE GREAT OCEAN RACE
Nothing compares to seeing an haute horological watch in the metal
The event will feature 100 rare and classic cars including a Koenigsegg Regera MB&F RETURN TO LONDON WITH NEW BOUTIQUE
Nothing compares to seeing an haute horological watch in the metal – pictures and videos simply can't communicate their complexity to any real degree – which is why boutiques are so important. Unfortunately, one of the major names in haute horology has been absent from the London scene for several years: MB&F. However, the master of the horological machines has now returned to the capital with a brand-new boutique in the Watches of Switzerland Regent Street showroom. It's the only place in the UK where you can buy a watch from MB&F and see their insane take on watchmaking in the flesh. Visit at 155 Regent Street – Burlington Floor, W1B 4AD
MEET THE STIG AT CHARITY CAR COLLECTION SHOWCASE
28 FRONT — world news
In the 230-year history of the Marylebone Cricket Club (MCC) and Lord's Cricket Ground they've never had an official timekeeper, until now. Oris has signed a three-year deal with the club that will see the Swiss brand's name feature on the iconic clock tower with Father Time weather vane, as well as the scoreboard. What's more exciting for the players, however, is that anyone whose name gets onto the prestigious Lord's Honour Boards will be awarded an Oris wristwatch in celebration of their achievements.
On 8 September a charity car collection showcase is taking place in Farnham in support of the Queen Elizabeth Foundation for Disabled People. 'An Evening of Classic Cars and Canapés' is set to feature 100 rare and classic cars including this Koenigsegg Regera, as well as a Gullwing, 500SC and 1903 Georges Richard. Additionally, the event offers the opportunity to meet Perry McCarthy, a former F1 driver and the original Stig on BBC's Top Gear Tickets cost £45, or £10 for children. Book at fundraising.qef.org.uk
ORIS BECOMES OFFICIAL TIMEKEEPER OF LORD'S CRICKET GROUND
Sotheby's Fine Watches auction offers a plethora of high-end watches at multiple international sales. At the start of September the auction will be taking place right here in London before moving to New York later in the month. A great opportunity for local collectors.
LondonWATCHESFINE–NewYork
19-30 SOTHEBY'SSep
Come October Bonhams is heading over the English Channel to Paris, a location renowned for its classic style and high-end luxury businesses. Essentially, the ideal location for a watch sale. We say heading across the Channel because Bonhams is one of the largest British auction houses. Expect a strong lineup . 29 auction watch
BONHAMSOctWATCHESParis
28 ANTIQUORUMSepHONGKONGHongKong-Online
Ineichen will be hosting its online vintage watches and modern watches auctions simultaneously. The vintage side includes an Audemars Piguet Quantieme Perpetual and Rolex Submariner Red, while modern pieces include an AP Royal Oak Offshore and Jaeger-LeCoultre Reverso.
Following Antiquorum's Monaco sale, which reached a total of €17m, the auctioneer is heading to Hong Kong for an online auction. Antiquorum offers one of the most diverse line-ups of any auction house, ranging from important vintage watches to modern classics and even niche brands like Kurono.
Leading Sotheby's Fine Watches auction in Paris is a timepiece so rare it's never come up for sale before – the Cartier Cheich. This legendary gold watch was created in honour of the fifth Paris-Dakar rally and gifted to Gaston Rahier in 1985 after he'd won the event twice in succession. It's expected to fetch upwards of €400,000.
13 Sep BONHAMS WATCHES & WRISTWATCHESLondon
1-17 SOTHEBY'SSep
17-24 Sep INEICHEN VINTAGE + MODERNOnlineWATCHES
WATCHESFINEParis
5
Bonham's next London auction is set to include some exciting wristwatches including a 1967 Omega Seamaster 300, 1975 Rolex GMT Master 'Pepsi' and a 1975 Rolex Explorer II. The estimates sit around the £15,000-£20,000 range, although with hype growing those prices are likely to be bested.
AUCTIONWATCHUPCOMINGSEP-NOV
Christie's Rare Watches auctions in Geneva are some of the most successful on the planet – earlier this year a similar event reached a total of CHF 23,830,700. Expect to see individual watches sell for more than a million pounds due to their exceptional quality, condition and provenance.
7
WATCHESCHRISTIE'SNovONLINEGeneva–Online
Bonham's November Watches & Wristwatches auction in London will feature one of the most exciting sports chronographs of 2022. The limited-edition black ceratanium® IWC Big Pilot's Watch perpetual calendar with moon phase Toto Wolff x Mercedes-AMG team edition, which is being sold for charity and comes with a ten-minute call with Toto Wolff himself.
TIMPORTANTANTIQUORUMNovMODERN&VINTAGEIMEPIECESGENEVAGeneva
Christie's is returning to Dubai for its next major watch auction, with the timepieces set to go on display in the Dubai International Finance Centre prior to being sold online. Given Dubai's reputation for lavish lifestyles it's unsurprising that previous years have seen this event reaching totals of $15m and $12m.
CHISWICKWATCHESAUCTIONSLondon
If you're looking for a more local-style watch auction, Chiswick Auctions will present a range of luxury wristwatches in the heart of London. From Rolex and the Swiss giants to more accessible brands, there will be a watch for collectors of every scale and budget. 30 auction watch
COMPLICATIONS:INEICHENOctSKELETONS&TOURBILLONSZurich
29
ONLINEWATCHESOnline
Artcurial is a leading French auction house specialising in cultural goods, including wristwatches. The house's next watch auction is set to take place online on 7 November, giving collectors across the globe the opportunity to pick up a prime timepiece.
BONHAMS WATCHES & WRISTWATCHESLondon
27 CHRISTIE'SNov
Antiquorum is taking its Important Modern & Vintage Timepieces auction to the traditional home of watchmaking, Geneva. Each watch has been assessed by experts, meaning you an be confident in both authenticity and quality.
At the centre of Geneva watch auction culture is the Four Seasons hotel, where you'll be able to view a selection of big name Swiss watches before they head to Christie's online auction. Names like Rolex, Cartier, Breguet, Vacheron Constantin and Zenith are sure to be a mainstay.
Hong Kong has seen some of the biggest numbers in terms of watch auction totals of late, especially when it comes to private collections like The Champion Collection. Part III of the Champion Collection auction helped reach a total of $38m at a multi-auction event and Part VI is set to follow in its footsteps.
24 Nov
As a specialist in watch auctions, Ineichen has curated a specialist auction focusing on specific complications. Namely, skeletons and tourbillons – arguably the flashiest and most visually spectacular kinds of watches. Models from Breguet, Vacheron Constantin and Daniel Roth will feature in the sale. 6
CHRISTIE'SNovWATCHESRAREGeneva
7 ARTCURIALNov
12-26
15 Nov
1-15
COLLECTIONCHAMPIONTHEPARTVI:THEFINESTWATCHMAKINGHongKong
WATCHESCHRISTIE'SOctONLINEDubai–Online
@timeinscotlandout
Last issue we took to the great outdoors, exploring scenic trails, learning how to survive in the wild and showing off some fantastic, modern timepieces in the Peak District.
Scottish watch photographer and pragmatic self-namer @timeinscotland however should have probably come along; his classically utilitarian Hamilton Field watch would have been a great fit with the more modern peers we opted for. It's one of the iconic field watch designs, especially with the white dial seen here. It helps that the military khaki strap works perfectly with the forest green surrounding the colourful Glashutte Original Seventies that graced the cover of the issue. Thematically and aesthetically, there's a lot to love here.
Want to showcase your own eye for a perfectly composed watch shot? Well, get your hands on this issue, get snapping and don't forget to use #oracletimeout for your chance to nab a page to yourself next month.
For now though, Oracle Time, out.
:OUTTIMEORACLE
32 FRONT — time
35 THERE ARE MANY WAYS to get your Oracle Time fix. Our favourite is of course within these lovely glossy pages to which you can subscribe via our website. An annual subscription containing ten issues of the magazine is only £89.50, more value than a serious microbrand watch. Alternatively, you can come and say hello on one of our many digital channels. Instagram is the perfect place to share your wristshots and thoughts with us – remember to use #OTWristshot. Or you can watch our latest video content on YouTube, listening to the dulcet tones of our editor via our website using the QR code in the top right. SUBSCRIBETOPRINTMAGAZINE VISITYOUTUBEOURCHANNELOURINSTAGRAM
UNDONEAeroWorldtimer
It might be known for incredibly accessible custom watches, but the latest release from UNDONE is potentially more of a winning globe-trotter than Phileas Fogg. Available in three variations, it pairs a retro sector dial with a relatively chunky, unusually 12-hour worldtimer bezel. There's a lot going on, but it's a handsome piece and, perhaps more importantly, you'd be hardpressed to find another automatic worldtimer at this price point.
The pilots' watch we've been waiting for, the IWC Mark XX is here and, while there's some confusion as to why the brand skipped XIX (unlucky for some perhaps?) the new piece is a worthy successor to the Scha ausen-based watchmaker's military aviation heritage. An updated dial paired with a shiny new movement and an updated water resistance make for a safe but long-overdue new take on the legendary Mark XI. stainless steel case with 100m water resistance Seiko calibre TMI NH35A automatic movement with 41-hour power reserve From £339, undone.com stainless steel case with 100m water resistance IWC calibre 32111 automatic movement with 120-hour power reserve £4,850, iwc.com
IN DETAIL • 40mm
Watch
IN DETAIL • 40mm
•
•
37 FRONT — introducing
DUCINGINTRONEWS
Pilots'IWC Mark XX
•
•
It's about damn time. The resin versions of the so-called CasiOak (named after its similarity to the sports luxe icon from Audemars Piguet) were cool, accessible and pure G-SHOCK with all the cutting-edge, shockresistant street cred that entails. Now it's back and in three variations of full steel, be that raw, black or rose gold. Honestly, the clean steel is the one, with its chunky octagonal bezel, incredibly sporty vibe and digi-analogue layout.
THE DETAILS: 49.8mm stainless steel case with 200m water resistance Digitalmovementsolar-chargingwithsevenmonthsofpower From £449, g-shock.co.uk
•
THE DETAILS: 36mm stainless steel case with 150m water resistance Sellita calibre SW200-1 automatic movement with 38-hour power reserve From £635, christopherward.com
•
•
38 CASIO G-SHOCK G-Shock GMB2100 Full Steel
FRONT — introducing
CHRISTOPHER WARD C63 Sealander Automatic 36mm You have to hand it to Christopher Ward, the brand has its finger on the pulse. Sure, you can't get hold of a Rolex OP any time soon (at least in a decent colour) but now we have a bright, accessible alternative in the C63 Sealander 36mm. Available in postbox red, racing green, yellow and a Tiffany-adjacent blue, they bring a bright, summery splash of colour to the self-proclaimed 'everyman's watch'. As ever, what they lack in originality, they nail in pretty much everything else.
•
•
•
•
39
'Tsuki Tenshin' Spring Drive
THE DETAILS:
THE DETAILS: 43mm stainless steel case with 200m water resistance Ronda calibre 715 quartz movement with three-year battery life • £595, limited to 1,000 elliotbrownwatches.compieces,
•
FRONT — introducing
•
ELLIOT BROWN x Land Rover Classic Defender Works Trophy II A collaboration in hardcore British utilitarianism, Elliot Brown has taken its militaristic (and military-issued) Holton Professional and given it a fresh coat of camouflage to match that of the Land Rover Classic Defender Works V8 Trophy II. It's a cool, luminescent nod to the Zebra camo of the 4X4, with a hidden silhouette of the car at 12 o'clock. And no, you don't need to buy the car to get one – although you will get a special 'competitor' edition if you do.
GRAND SEIKO
Taking a break from various colours of textured bark, Grand Seiko is nonetheless consistently proving that it makes some of the finest dials in the world. Its latest, translating to High Moon in English, is designed to represent the light of the moon in the night sky. From most watchmakers that would sound pretentious, but GS can pull it off. It's sleek, dark and downright lovely – and equipped with the ever-fantastic Spring Drive movement.
• 40mm stainless steel case with 100m water resistance Seiko calibre 9R31 Spring Drive movement with 72-hour power reserve • £6,900, limited to 1,500 pieces, grand-seiko.com
"In the first film," Cumberbatch explains, "it was symbolic of the character and his relationship with Christine Palmer. It was very important in the fact that it stopped at the same time as his previous life in the car accident. And he holds on to it. Why does he hold on to it? Because he's the Time Lord? No. It's because he's still."
The water wasn't the only thing that was less than smooth sailing. They may have nailed the watch, but the wardrobe department apparently didn't do quite so well with the second most vital piece of
– a campaign that involved freediving in New Zealand.
"It was extraordinary," he says. "I think there was something slightly off with the communication amusingly, but it worked out very happily. When we were discussing the campaign I said, well, look, this is a dive watch. I love diving, I have a scuba license. But I must have just said diving at the time because a few days before I finally read the small print and realised it was freediving – which I'd never done before in my life." Not that it stopped Cumberbatch from jumping right into things, literally and figuratively. He even brought some of his acting expertise to the exercise.
"Myequipment.wetsuit was huge on me!" says Cumberbatch. "I managed with the belt tightened but it was quite comic. I had to double my weight because it was so big and buoyant on me! But the watches look great and all the elements came together in an outcome that speaks for itself. I'm very proud of it."
"The meditation sequence you see me doing beforehand is me experimenting with the Wim Hof method of breathing before getting into the water. Once I was in it was joyous! The crew were great and there was something mad adventurous about it. The water was a bit more rowdy than we wanted, we were getting slapped against the hull as there was a bit of wind, but that's life, that's the world."
THE BRITISH ACTOR TALKS MARVEL, FREEDIVING AND ACCIDENTALLY MAKING HIS ACTING DREAMS COME TRUE
Outside of campaigns for watch brands or even the Marvel universe, Cumberbatch has plenty of other career highlights to be proud of too. Sherlock Holmes, Alan Turing, he's portrayed more than his fair share of iconic figures both historical and fictional. He also has plenty more on his bucket list to get through – though he's a little cagey about it when asked, for an odd reason.
In Doctor Strange in the Multiverse of Madness , that theme comes full circle in a touching scene at the very end where (minor spoiler alert) the Sorcerer Supreme can be seen finally mending his sentimentally precious piece. Why? "It's closure really," says Cumberbatch. "And to do that, he's setting the timepiece free again. He's making it work so that it can carry on without him. He puts it in the box. He doesn't put it back on his wrist. He's no longer the brokenhearted Stephen Strange, who didn't get the girl. He's a man who's moving on to a new time and new adventure."
Needless to say, the on-screen relationship between Strange and Jaeger-LeCoultre is an important one and, following the first film, one that Cumberbatch imitated in life. Not only did he become an ambassador for the maison, he became the frontman for its latest campaign for the superb Polaris Whether you've seen him cracking the enigma code, hunting Moriarty's cohorts or ranching in the Old West, you've definitely seen Benedict Cumberbatch's work. The British actor's made a name for himself as the thinking man's star, taking on a raft of cerebral roles throughout his career. That includes, of course, the most cerebral – and now best goatee-clad – hero in the Marvel Universe, Doctor Stephen Strange. We're certain most people know what we're talking about. Glowing mandalas of light, eight-armed meditation, time shenanigans and now multiversal jaunts are all part and parcel for the Sorcerer Supreme. For the eagle-eyed watch lover, however, so too is a very particular watch: a Jaeger-LeCoultre Master Ultra Thin Perpetual. It's a beautiful piece and one that has a particular impact on the films. It's also one that Cumberbatch picked out himself. "As far as I was concerned it aligned with the character," he says. "I had final say over the watch and it was the one that spoke to me of the sentiment between Strange and Christine. Rachel [McAdams] would have had some input too as it's her character giving the watch. As a piece it had enough class to work, it had status but wasn't as overbearing as some of the other options on the table."
Of course, anyone that's seen both films – which, given their box office results, is more likely than not – the Jaeger-LeCoultre in question plays
benedict cumberbatch
40 Words: Sam Kessler The CUMBERBATCHBENEDICTInterview:
"There are a few characters out there that I'd like to portray but I have to be careful what I say. It's a weird thing. I've bucket listed characters two times now and both times it's happened. One a much bigger role than you might expect from a film about transdimensional wizards.
41 benedict cumberbatch
42 benedict cumberbatch Benedict Cumberbatch's campaign shoot for Jaeger-LeCoultre's Polaris involved freediving in New Zealand, a first-time experience for the actor
breadth of Cumberbatch's work, there's likely a fair few places that he'd like to go back to at some point. "Well, New Zealand for one," he says. "Before shooting there, I'd heard about it from friends like James McAvoy, who described the landscape as 'Shropshire on steroids'. And he was right. I first experienced it during The Hobbit , which I begged Peter Jackson to do some live action motion capture for and he was like, you don't need to. It's just the voice over. And I said, I really want to do it, you know, but really it was a ruse to get over there and work with him in person rather than down the line. I had a fantastic time running on a carpet and being Smaug for him for four days. I went exploring afterwards, threw myself out of airplanes, did the whole adrenaline junkie experience.
Cumberbatch is keeping quiet about what his next project entails, revealing only that "it's a huge subject, very pertinent to world politics. That's your clue…"
"I went exploring in New Zealand, threw myself out of airplanes, did the whole adrenaline junkie experience"
"Italy I've worked in a couple of times and love; Prague, where we filmed a bit of The Courier . I'd love to go back to South Korea. That was an incredible, incredible country. I'd love to see more of Japan too. Touring there for promotion in Tokyo was very high octane. But I'd love to get lost in the countryside and go to Kyoto. I'm big into surfing so I'd love to do that there as well."
It's worth mentioning that at about this point, our interview was interrupted by a six-week-old puppy bursting into Cumberbatch's office that had to be returned to a slightly more fortified area of the house. It didn't have much bearing on anything, but by god, it was absolutely adorable.
was Hamlet, the other was Patrick Melrose. I mentioned both during a live Reddit thing while I was on tour in Australia and then those two projects both came into being. "To be to be clear, that's the only time I've done it because frankly, I've just been along for the ride and loved it. And you know, we're creating so much work that's already on our slate at Sunny March, my production company. It's just bad voodoo for me to state these thingsUnfortunately,outright."
Back to the conversation at hand and things turn once again to the Marvel universe. Given its roster of talent, any discussion of other actors that Cumberbatch would like to work with ends up there eventually, especially since sharing a franchise in no way means sharing the screen. So who is it that he'd like to read with? "Samuel L. Jackson," he says, without a moment's hesitation. "I'd love to share some screen time with him if he's still in it. I don't know any more. I guess it depends what timeline? I sadly didn't have much screen time with Scarlett [Johansson] and I'd love more with Chris Hemsworth and Tom Hiddleston. The thing is I came very late to the party when Marvel was just celebrating the first decade with that incredible group shot in Endgame . I was just blown away by the people I was surrounded by, and I hardly got to talk to everyone, let alone act with them. That tracking shot at Stark's memorial is pretty intense. That was amazingly charged and I think everyone got a bit giddy that day. But I literally went, "Hello, morning, how are you?" to Michael Douglas and Michelle Pfeiffer. It's just like, what the **** is going on now? How did I get here? This is so bizarre. It was magic." Coming from the Sorcerer Supreme, that means something. Doctor Strange in the Multiverse of Madness is available to stream now on Disney+. For more on JaegerLeCoultre, visit jaeger-lecoultre.com
benedict cumberbatch
"There have been variations portrayed in the past but not this in-depth. It's a huge subject, very pertinent to world politics at the moment. That's your clue, I Asideguess."from getting the opportunity to bring beloved (or otherwise) characters to the screen, one of the biggest perks of being a world famous, headlining actor is of course travelling. Exotic locales across the world are just begging to be brought to life on screen and given the
"I went back later with my family to do Power of the Dog and it was very different. It had profoundly shifted for us, not just because of how delightfully challenging that role was, but also because of staying there during the pandemic. They handled it amazingly well. A friend of ours was playing a jazz gig in Auckland and we went to a bar after. I drank from a beer that wasn't mine and was panicking before realising that there was no Covid there."
Anywhere else?
Cumberbatch has been well trained in not letting too much on and, despite a few apparently substantial clues, we couldn't for the life of us guess what his next project entails. "There is one I'm working towards right now, sort of based on real life character, that's fictional," he reveals.
43
oracle speaks THESPEAKSORACLE The wizardry of the watch world explained Words by THE WATCH NERDHarryPrintsIllustration©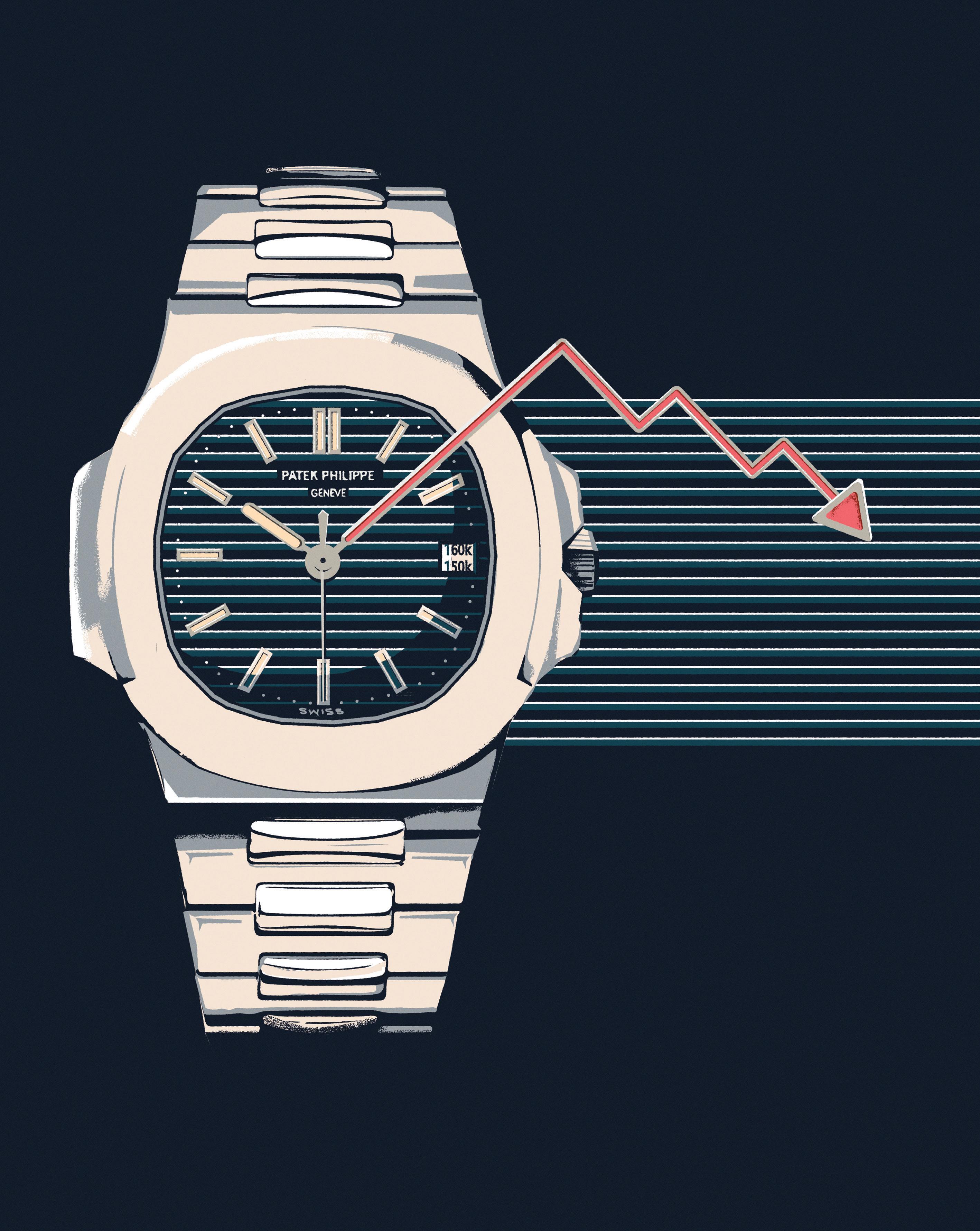 First, let's look at luxury sports watches – your Royal Oaks, Nautili et al. The Nautilus itself has seen a drop of 26.25%. If you were expecting a rise in line with the end of the venerable model's production run, think again. Even its cooler little brother, the Aquanaut, has fallen by 24%, proving that pricey steel just isn't getting the love it previously did. Investing in gold apparently isn't just for stocks.
Watch prices are in a strange place right now. Before Covid, the big-ticket timepieces were considered incredibly safe investments. You get a steel Rolex, you're safe. But throughout lockdown, when you couldn't blow £10k on a trip to the Maldives, many collectors instead pumped that idle cash into their passion. And so, prices inflated beyond what seemed sane, even in the watch world. Not quite MoonSwatch launch day insane, but not too far off.
Let's talk key models. The Daytona Cosmograph has seen an eye-watering 21% drop in the last five months (since 04/04/2022, to be precise). The GMT-Master II Pepsi Cola's not far behind with a drop of just over 20%. The Hulk, one of the hardest-to-get takes on the sub has fallen 17% while the standard Sub is down 13%. It's a harsh fall for some of the most in-demand modern Rolexes in the world.
First, we all lost our social skills – and occasional sense of smell – throughout the two-year lockdown of Covid; then just as that was clearing up Putin decided to take a break from wrestling bears and take on Ukraine instead, flipping over Europe's breadbasket and adding a hefty toll to oil prices. Then there was a crypto crash because of course it did. As if all that weren't enough, 40-degree heat in the UK has been making it hard for even the staunchest climate deniers to tell themselves that everything's ok.
What the Recession Means for Watch Prices
The biggest yard stick for these things is, of course, Rolex. The sure-fire bet that can't go down, the unpoppable bubble with the crown. Well, they've not been having the best time.
In short, it's been an interesting time. And when times get this interesting, the stock market responds, as do the prices of luxury assets – in this case, fine timepieces.
The world is… let's say less than stable right now.
Now that everything's caught up and the stock market's taken a hit though, prices have been dropping for the first time in years. I won't waste too much ink debating whether it's market correction after over-the-top inflation, or a genuine horological recession. The fact is that if you bought a serious investment watch a few months back, you might be in a little bit of a bind. So, let's run the numbers, courtesy of our friends over at Subdial watches.
It's been a much better time for the less soughtafter Rolexes, with the Datejust dropping just 3.79% and the President actually going up by nearly 3%, a serious outlier. Put all together though, it means oracle speaks a drop in average Rolex prices of 11.4%. Now, obviously we haven't run every Rolex reference out there, but given the cross-section we've covered, what we have here is a decent barometer. It's currently pointing to a depression.
But what of the rest of the market?
The Royal Oak hasn't fared much better, with a drop of 21.4% and the harshest of all has been the Vacheron Overseas. Granted it doesn't have the reputation of the others, but it's a personal favourite – and one that with a staggering 36% drop, is much, much more affordable. Put that all together and the big sports luxe contenders as a group have dropped 27%. For the hottest, zeitgeistiest category in watchmaking. It's not all doom and gloom though. Getting back to Patek Philippe, the Annual Calendar 5146J-001 (often considered one of the better-priced Pateks on the market), is actually up a good margin: 12%. It's still a lot of watch for the money at just under £40k and might make for a better, more affordable investment than the steel. Try telling that to someone outside of the watch world.
I mean of course for purely monetary reasons. If you want to a buy a watch simply because you love it (the best reason to buy anything) go for it.
Sentimental value is as, if not more important than money spent and earned. So, if you own a Nautilus, yes, that drop is hard to look at. But if you're looking to get one… well, now might just be your chance to do so. And hey, I'm sure our friends over at Subdial have a solid selection available.
Tudor too are doing solidly. Their take on the Pepsi Cola is up a small but significant 2.5%. Granted it's not much of a monetary increase given the watch's £2,600 price tag, but it still proves Tudor has the right stuff. The Omega Speedmaster Professional has also done ok; it's seen a drop, but a small 1.8% one, meaning the Moon watch is at least holding its value nicely.
Overall though it feels like a bit more than just market correction here. These things always have a bit of an uplift after a fall though so potentially in a few months, once the dust has settled a bit, the watches we've listed here might have evened out a bit more. For now, though – and I can't believe we as a watch magazine are saying this – it might not be a great time to invest in watches.
46
47 oracle speaks
48 oracle speaks
50 tissot
Tissot's PRX had pretty much vanished into the annals of watchmaking history until it made a hugely successful comeback two years ago
51 WORDS: SAM GOLDENTHEKESSLERCHILD A SHORT-TERM RETROSPECTIVE OF THE MOST SUCCESSFUL SPORTS WATCH OF THE PAST TWO YEARS, THE TISSOT PRX tissot
The reissued PRX was an instant success worldwide, so much so that Tissot was initially unable to cope with demand. With supply issues now well under control, it's possible to pick up a PRX pretty easily, and as one of the best value-for-money designs on the market, you're going to want to add one to your collection equivalent to 100m water resistance.
tissot
This was back in 2020, when Tissot needed a marquee watch to rally the brand around. The 1970s resurgence was already in full swing, sports-luxe pieces aplenty were making horological headlines and the PRX had all the right stuff to make a big splash, which it did with the PRX 40 205.
"We used tomography to be true to the original design," explains Dolla, "keeping all the proportions the same just enlarged to 40mm. We started with the quartz because the original one was quartz and immediately went into the automatic. It was the fastest development we've ever done at Tissot."
Tissot hit the nail on the head with the PRX and, to mix metaphors, made the hammer strike twice with the automatic. It was an instant, worldwide success, the kind that you just can't predict. And they very much did not predict it. Indeed, they found themselves in the same position as Rolex and Patek in that they simply couldn't build enough pieces for demand. There were waiting lists stretching into the months, the kind of fervour you'd expect from a collab between Tissot's Swatch Group stablemates.
Fortunately, those issues are just about under control right now. You can get a PRX pretty easily without having to swap it for a kidney, and today it represents one of the best value-for-money watches on the market. Not just in terms of design, but also in terms of its finishing, style and the superb Powermatic 80 movement the automatic versions are equipped with. You can – and probably should – grab one at some point. Unfortunately, though, Tissot just hasn't learnt
52 We completely screwed up with the forecast and had to multiply our initial production by 20. We knew it was going to do well, we just didn't realise exactly how well
The 1970s was a good decade for three things: disco, Star Wars and sports-luxe watches. Sure, John Travolta was the most recognised face in the world, but with that slicked-back hair and disco fever came a taste for slimline watches, integrated bracelets and luxury sports style. Think the Patek Philippe Nautilus, Vacheron Constantin 222 and the seminal Royal Oak that kicked the lot off. But not everyone could stump up the cash for a fine timepiece that was zeitgeisty and pricey in equal measure, and by the tail end of the decade Tissot, a brand known then as it is now for its accessibly cool watches, made a play for the same crowd.
In 1978 the brand released the PRX. It had a flat barrel of a case with sharp facets and a signature bracelet with large, flexible links integrated into the case. Inside was a then-technologically impressive quartz movement, making it not just timely but affordable. It was cool, stylish and, primarily, a sports watch, originally unveiled under the name Seastar. It didn't take long for Tissot to give it its own moniker, standing for 'Precise and Robust' and the Roman numeral for ten, meaning ten atmospheres,
"We completely screwed up with the forecast," Dolla admits. "We had to multiply our initial production by 20. For months it was my nightmare, every market was asking for more! We knew it was going to do well, we had confidence in it, we just didn't realise exactly how well it would go."
Like many quartz pieces from its era, those three little letters, PRX, pretty much vanished into the annals of watchmaking history for most collectors, a lovely looking, quartz conversation piece that was a novelty more than a core piece of your collection. It also vanished into Tissot's own vaults – until the time was ripe for the watch to make a comeback. That time was about one week into the tenure of current Tissot CEO Sylvain Dolla. "During my first week at Tissot I didn't yet have the fervour you need for the job," he says. "Then I went up to our archive, where we have 7,000 beautiful, historical watches all refurbished in drawers. I remember looking through and there was a present in every drawer. And then I arrived at the 1970s, where there was a 35mm original PRX. I said how amazing it was and my product manager told me that they had already studied the construction for a potential relaunch. I said we had to go full speed!"
53 tissot
Tissot used tomography to ensure the new PRX was true to the original design
54 tissot
55 tissot
56 tissot The reissued Tissot PRX goes big on good looks and charm; [right] The new PRX Chronograph may be tricky to get hold of, but it's more than worth the wait…
While it may be a little hard to get your hands on one, there's no doubt that Dolla was right about that. The Chronograph has been almost as successful (if not as surprisingly so) as the 40mm. It's not hard to see why. While it might have a new complication, the PRX Chronograph is as retro as its predecessors, maintaining that angular 1970s aesthetic and phenomenal integrated bracelet.
So, what does all this mean for the PRX collection as a whole? Well, Dolla evidently has plenty of plans for the collection, but not so as to overshadow the rest of Tissot's collections, the impressively specced Seastar and the big-in-Asia Bellissima. Indeed, Tissot as a whole has been streamlining its release slate. According to Dolla, "we cap yearly references now. Previously we had at least 150 a year, now it's 99 at most, we don't want to dilute our offering." So, expect a few riffs on the theme (given current trends maybe a big splash of colour) rather than anything particularly cutting edge. Whatever crops up, it'll be cool, it'll be affordable and, unless Tissot manages to scale up, a bit of a wait to get hold of it. from that one mistake. The 3-hand PRX models might be readily available, but the Chronograph, unfortunately, is not. "I always knew we had to bring out a chrono," says Dolla. "Chronographs are down right now but I believe they're on their way to making a comeback, so I wanted to get ahead of the curve."
57
tissot
At 42mm it feels just a touch larger, though still svelte for a sports watch. More importantly, it's still nice and slim, something that Dolla was insistent on: "If we couldn't keep it slim I didn't want to do it."
It's an interesting angle, especially as the Chronograph was released alongside a smaller, 35mm version of the standard PRX, a nod to the original 1978 version. Where the latter is as faithful as a modern reimagining can be (given that we all prefer an automatic), the Chronograph looks and feels like a vintage 'what if…'. Things have changed on the dial too. Gone is the Genta-adjacent, streamlined finish in favour of a sportier nod to Paul Newman high-contrast subdials. It's a racier look, the sort of no-brainer that comes with a retro chronograph. There are two versions, a black on white with rose gold indexes or the lovely (superior, in our opinion) version gracing the cover this issue, with white on blue. Despite the blue being far darker in the metal than I'd expect, I'm a sucker for the combo. No matter the colourway you prefer, readability is king here.
I'm glad Tissot didn't opt for a tachymeter, despite the automotive tenets of a chronograph. The PRX is all about industrial slanted cool and the fewer numerals you can get away with, the better. And you really, really wouldn't want to upset the balance of slim bezel, faceted case and clean dial that's made the PRX as a collection the flagship it is. That all said, there's one thing that's really helped the PRX find its audience over the last year-and-a-half: price. We've alluded to accessibility aplenty, but what does that actually mean? Well, the PRX automatic 40mm will set you back £565. Nobody can argue with that. The PRX Chronograph is a big jump up to £1,500. The reason isn't just the addition of a chronograph; it's the switching out of the Powermatic 80 in favour of a lovely movement that's a favourite of Dolla's: "I'm a big fan of the Valjoux movement," he says. It's also now visible through a sapphire caseback, which pushes the PRX Chronograph from vogueish bullseye to something a little more horologically refined for the watch nerds looking beyond hopping on a trend.
While it might have a new complication, the PRX Chronograph is as retro as its predecessors, maintaining that angular 1970s aesthetic and phenomenal integrated bracelet
Now, don't take it too seriously, and definitely don't expect these to be predictions for the actual World Cup. It's all fun and games (until all our predictions come true of course). And hey, if you think any of the match-ups would have gone the other way, feel free to let us know.
WORLDTHECUP
WATCHESOF2022
Watchmaking teams from across the world compete for the highest honour in hypothetical sporting crossovers
59 > >
Or not, as the case may be. With this in mind, we decided to take it upon ourselves to create a hypothetical tournament where each country is represented by a watch, be that patriotically home-grown, inspired by the country or a nod to one of the country's most famous citizens.
Words by Sam Kessler
The world cup is almost upon us and, while we all get excited for the one time of year when everyone follows football, we couldn't help but think of all the watch brands that represent the various countries.
GROUP C GROUP A Qatar – Hermès Arceau Qatar Watch Club GROUP B England – Fears Brunswick Champagne IR Iran – Blancpain Fifty Fathoms No Rad USA – Oak & Oscar Humboldt Wales – Clogau Steel Sports Watch Argentina – Tufina Buenos Aires Saudi Arabia – MT1 GTR EVO-2 Saudi Arabia Limited Edition Mexico – Reloj Capitán Drake Poland – Copernicus Mono GROUP D France – Herbelin Newport Heritage Chronograph Australia – Second Hour Giant Stride Denmark – Ole Mathiesen Royal Marine Tunisia - Twelve Watch Tunisia Watch Winner of Group A Runner-upVof Group B Winner of Group B Runner-upVof Group A Winner of Group C Runner-upVof Group D Winner of Group D Runner-upVof Group C Senegal – TW Steel TW975 Coronel Dakar Limited Edition Netherlands – Grönefeld 1941 Decennium Automatic Tourbillon Ecuador – IWC Aquatimer Chronograph Edition 'Galapagos Islands' Quarter-finalSemi-final WORLD CUP OF WATCHES Final Quarter-final 60
First place runner up GROUP E Spain – Atelier de Chronométrie AdC8 Split-Seconds Costa Rica – Ingersoll San José Classic Germany – A. Lange & Söhne Grand Lange 1 Japan – Grand Seiko Sea of Clouds GROUP F Belgium – Ressence Type 8 Canada – Marathon SAR Jumbo Diver Automatic Morocco – Franck Muller Casablanca Croatia – Marnaut Dark Surge GROUP G Brazil – Cartier Santos de Cartier Serbia – HOH Model 1 Switzerland – Rolex GMT Master II Destro Cameroon – Skeleton Concept Samuel Eto'o Gold GROUP H Portugal – Escudo Ocean Seacrest Chocolate Bronze Ghana – Caveman Patriot Uruguay – Watchcraft Full Moon Korea Republic – Minhoon Yoo the Carved Piece Winner of Group E Runner-upVof Group F Winner of Group F Runner-upVof Group E Winner of Group G Runner-upVof Group H Winner of Group H Runner-upVof Group G Semi-finalQuarter-finalQuarter-final 61
KOREA
While the Moroccon side certainly looked like they'd been spending their time in all the gin joints in all the world, the precision and refinement of the German playstyle was unmatchable. They've not changed their tactics much for years, but when you're this good why would you? Especially when it leads to a convincing 2-0 win.
With a huge swelling of fan support and a side ready to take whatever the elements threw at them, the Aussies were a shoe-in against the Polish side. The latter tried to show less is more but in the case of scoring goals, that probably wasn't the best approach as they ended up 1-0
With one team all too happy to take a beating and the other relying on their technical prowess, it could go either way here. Eventually though, the plucky Stateside newcomers couldn't keep up with the elite old guard of the Netherlands. As reliable and casually stylish as the Humboldt is, the accessible beater just can't hold a candle to the work of the brothers Grönefeld. Very different levels, even if the USA did score a cheeky goal near the end of the game thanks to their durability. 3-1.
WINbehind.Australia – Second Hour Giant Stride LOSE Poland – Copernicus
GERMANYCasablancaVMOROCCO
SWITZERLAND
LOSE
Final NetherlandsVAustralia ROUND TWO SwitzerlandGermanyV Semi-final 62
USAHumboldtVNETHERLANDS
WIN Germany – A. Lange & Söhne Grand Lange 1 LOSE Morocco – Franck Muller
WIN Switzerland – Rolex GMT Master II Destro LOSE Korea – Minhoon Yoo the Carved Piece V REPUBLIC
The Koreans burst onto the field with an indie fanfare matched only by their impeccable execution, finishing every play to perfection. But as newcomers to the game, they just didn't quite have the experience to match the domineering Swiss side, who despite plenty of controversy about their left-field formation, still proved why they're the big dogs. 1-0, though next match our money might well be on the newcomer.
POLANDMonoV AUSTRALIA
WIN Netherlands – Grönefeld 1941 Decennium Automatic Tourbillon USA – Oak & Oscar
FRANCE V SAUDI ARABIA
BELGIUM8 V JAPAN Though their team may not be as patriotic as some, Brazil's historical DNA was on full show this game. The Portuguese side were elegant, refined and ready to explore their own playstyle, but how do you tackle a true icon on the game? Unfortunately for the underdogs, they were beaten by sheer pedigree to a resounding 3-0 defeat.
WIN Brazil – Cartier Santos de Cartier
English classicism v Qatari flair by way of the French, the jobbing Middle Eastern team just didn't have their hearts in the game like the Brits. Spurred on by queen and country, the English team showed why home-grown talent is always superior to imports and, despite their competition's style, offered the substance to take home a 2-1 win.
WIN Japan – Grand Seiko Sea of Clouds
LOSE Belgium – Ressence Type
LOSE Portugal – Escudo Ocean Seacrest Chocolate Bronze
Both sides fielded non-expensive players, but while the Saudi side tried to play like the big boys, the French stuck to their strengths and covered the field. By the end of the game, the French side, who had already dominated at home, did so here, too, with a more confident look, stronger patriotic link and mechanics that went for accessibility rather than pretence. 3-0.
ENGLAND V QATAR
LOSE Saudi Arabia – MT1 GTR EVO-2 Saudi Arabia Limited Edition
When one of the most innovative playstyles in the world comes up against the traditional perfectionists of Japan, you're sure to see fireworks. Ressence bring a unique blend of high-concept minimalism; Grand Seiko similarly pared-back but combined with traditional crafts. The difference comes down to the movement; a modified ETA for the Belgian team, a quartz for the Japanese. Not just any quartz though but Grand Seiko's own, utterly superlative Calibre 9F85. 2-1 to the Japanese.
WIN England – Fears Brunswick Champagne
EnglandVFranceJapanVBrazil
LOSE Qatar – Hermès Arceau Qatar Watch Club
WIN France – Herbelin Newport Heritage Chronograph
PORTUGAL V BRAZIL Semi-final 63
LOSETourbillonAustralia – Second Hour Giant Stride NETHERLANDS V AUSTRALIA
While the Netherlands are still on the traditional playbook, they've nonetheless mastered it, with classicism oozing out of every facet. Not only is the 39.5mm case beautifully made, but the machine inside is the kind of pure haute horology that defies gravity. The Aussies offer some serious competition at more accessible leagues, but the Dutch play at only the highest level, and secure a 2-1 victory here.
NetherlandsVGermany
The Aussie side have had plenty of recent successes with similarly rugged, well-practised teams that got the crowd (funding) going. Their latest field is just as exciting, with a solid formation, excellent quality and some interesting details in their kit. The team engine (an SW200) though is nothing special – which is where the Dutch side excels.
LOSE Switzerland – Rolex GMT Master II 'Destro' GERMANY V SWITZERLAND
QUARTER-FINALS
WIN Netherlands – Grönefeld 1941 Decennium Automatic
WIN Germany – A. Lange & Söhne Grand Lange 1
The Germans have kept the same playbook for a while now with only slight changes; while the Swiss could have done the same they decided to try something completely left-field. The result was a huge surge at the beginning of the match before falling behind and being unable to keep up with the confident Saxons. It's not that the Swiss method wasn't good. The Rolex 3285 calibre just kept going with its 70-hour power reserve and the bezel added a new element to the famous formation. Unfortunately, with its new layout, the Swiss side came across as a bit confused. Die-hards still adored it, but for most spectators it felt like too much of a stretch. The Germans on the other hand knew exactly what they were doing, wrapping up their win in a handsome, collector-savvy package. A convincing 2-0 victory.
Final 64
WIN Brazil – Cartier Santos de Cartier
LOSE Japan – Grand Seiko Sea of Clouds JAPAN V BRAZIL 65
The channel crossing match-up of cushion cases and what a game it was. Both offered relatively young, up-and-coming sides and both played at similar levels. On the one hand you have the sporty, coastal Gallic team; on the other the refined, historically Bristolian side. Aesthetically they may have matched up well, with one modern, the other classically elegant. But where the French favoured quantity of shots, the English opted for obsessive attention to detail and, perhaps most importantly, a mechanical movement, the ETA 700. The result was a nail-biting match that just about went in favour of the British in an incredibly close 1-0 win past the 80th minute.
EnglandVBrazil
WIN England – Fears Brunswick Champagne
LOSE France – Herbelin Newport Heritage Chronograph ENGLAND V FRANCE
The Japanese came into the game looking strong, and they were. But they'd played the same game far too many times and, with plenty of previous examples to make their playbook predictable, all the Brazilians needed to do was bring something new to the same. They may not have been as precise (you don't want to go head-to-head with Zaratsu polishing), but their iconic, sportily revamped look won the crowd over, opting for industrial cool over the much more traditional Grand Seiko. The Japanese won on the finishing, but ultimately finished second, with a 2-1 result. Sure, there's some disappointment that the technicalities of the game brought in some French talent, but the scoreboard never lies.
NETHERLANDS V GERMANY 66
The Dutch looked threatening when they brought out the big gun – their tourbillon – but the complication's just not in the form it once was. That and the slight tweaks to the German line-up had them making one too many successful attacks with a defence that was all but impenetrable. A tough 1-0 loss for the Netherlands.
WIN Germany – A. Lange & Sohne Grand Lange 1
SEMI-FINALS
Both offered elite sides but between the finishing on the German movement and the trademark asymmetrical layout of their dial, which was far more nuanced than the Grönefeld brothers' take on a similar grey, the Lange powered through at every turn.
Two paragons of classical play clashing head-to-head, it was the kind of match-up everyone hopes for. And it was close, too. Both offered incredibly talented teams backed by decades of expertise, playing at the highest echelons of the sport.
LOSE Netherlands – Grönefeld 1941 Decennium Automatic Tourbillon
Once again, Brazil's French imports proved their worth as, despite both teams showing up with unconventional formations, the more rigid, defensive South Americans proved too tough to get through.
The English have been riffing on the Brunswick theme for a while now, while the new-look Santos improves on an original classic. It isn't just sportier; it's cooler. The 1847 MC movement inside hammered the difference home even more against the third-party ETA 7001, despite the latter's COSC certification. It was always going to be an underdog match-up, but the English still put on a good showing, and despite a 2-0 loss will likely be back for a rematch. Perhaps on a bracelet next time.
ENGLAND V BRAZIL
WIN Brazil – Cartier Santos de Cartier LOSE England – Fears Brunswick Champagne 67
And here we have it, the final of the horological world cup, the two teams that have fought hard to get here. Admittedly Brazil had a slightly easier route than the Germans, who beat off some of the stiffest competition in the game – and in the end, they showed why.
The Brazilians got an early 1-0 lead thanks to the instantly recognisable style of their riveted, 39.8mm case and their newest player, a striking blue PVD bezel. The Germans on the other hand were predictable with their 41mm gold number. They only really made minor tweaks between teams –a slightly slimmer, resized case and a new colourway – and that, at least initially, came back to bite them. They still looked strong (anthracite grey will do that), but compared to their refreshed and revamped opponents, the Saxons had a tough time getting past. It's hard not to appreciate Cartier's flash of blue, giving their side a sporty, modern vibe. Both have their benefits, and the pair battled to a That'sstandstill.until we really get into the meat of the game and technical prowess starts to shine through. Sure, the 1847 MC is a solid engine, but it's hard to compare to the impeccably German L095.1, which is as impressive as it looks. It's Lange's trump card and scored in a flash that left the Brazilian side reeling to equalize, 1-1. Ultimately, patriotism will out and as the French-born Brazilians started waning near the end of the watch, the homegrown German team stayed strong to rally in the final moments with a final goal to take the match – and the cup – 2-1 as winners of the World Cup of Watches 2022.
FINAL
WIN Germany – A. Lange & Sohne Grand Lange 1 LOSE Brazil – Cartier Santos de Cartier GERMANY V BRAZIL 68
SPORTING71 StyleSTYLE > > From 19th century shooting jackets to breathable, high-tech performance fabrics for a two-wheeled sprint, sports and style have been intertwined since the first caveman strapped on a pair of Air Jordans to outrun a predator. And like any realm of the rarefied, performance style too has had its icons old and new, be they glamorous Italian cyclists, F1 champions that embody laissez faire cool or basketballers that defined the 1990s. So, whether you prefer a racket in your hand out on the court or a riverside drink at the next regatta, we're paying tribute to all things sporting and stylish. Because actually being any good at sports is a distant silver medal to looking like you are. Sep.22—StyleOracle EDITED BY SHANE C. XXXXXXXXKURUP \ 72 / The best of the brands you need to be stepping out into the great outdoors with \ 74 / Dress like a legend by taking some style cues from these three sporting icons \ 105 / Carbon performancecases,cool and plenty of smoke RUNNING FOR YOU, RUNNING FOR THE PLANET > > Good for the planet as much as it is good for your exercise regime, British activewear Boake lives by the mantra, 'performance with a conscience'. The brand's coastal and woodland inspired Active Uniform capsule collection offers all the essentials needed to keep you fit and healthy, all using regenerative and recycled materials. If that weren't enough for a feel-good run in more ways than one, each item Boake sells means one more tree planted. And hey, now that you're getting fitter, you'll be around to see the impact of those trees for even longer.
While most sportsmen and women have switched from the white linen of yesteryear to more technical kit, there's a still an old school, gentlemanly appeal to cricket clobber. Londonbased brand Mettle, which burst onto the style pitch this season, aims to combine the elegance of traditional cricket whites with 21st-century performance – an element that founder Asser Malik felt was lacking after a decade spent working with professional cricket players. The elegant cable-knit sweater vests, classic white polos and trousers combine both style and function, incorporating silver-ion technology for odour management and strategically placed mesh to help you stay cool and collected as you try to bat your next straight drive. mettlecricket.co.uk
> >
For our Sports issue, we're serving up the brands that will have you looking like you've got all the gear and the right idea.
significanttournament'sdepictingintarsiamadetheOpen.celebrateGolfwithaFortongue-in-cheekdistinctlyfashion.SS22,ithasdesignedcapsuleinpartnershiptheRoyal&AncientClubofStAndrewstothe150thBritishEntitled'LongLiveAmateur',theBritish-linecomprisessweatervestssomeofthemostmoments,
Edited by SHANE C. KURUP
Pitch Perfect
Court Dress
The great Nelson Mandela said that sport has the power to inspire and unite people in a way that little else does. God forbid though, should you defy the dress code.
In case you hadn't noticed from the return of capacious trousers and all that mid-century furniture filling snazzy bars, the 1970s are big news. So it stands to reason that American powerhouse Michael Kors and sports giant ellesse have drawn on the decade that popularised platforms for their current tennis collab. Retro-inspired track jackets, monogrammed backpacks and chunky sneakers are all part of the mix, with the capsule playing on the brands' iconic logos and ellesse's signature red and orange colour palette. It's just the sort of bold and bright garb that would give the neon-loving Nadal a run for his money. michaelkors.co.uk and ellesse.com
STYLE — style manifesto
>
72
> >
SportingStripes
a jacket inspired by the original worn by pro-golf legend Sir Henry Cotton for the 1934 Open and a calf-bound score booklet made by luxury leather goods label, Ettinger. Time to tee off, anyone? manorsgolf.com
> Manors takes a singular approach to match play attire, paying homage to its nattiness in a
Greenway Gear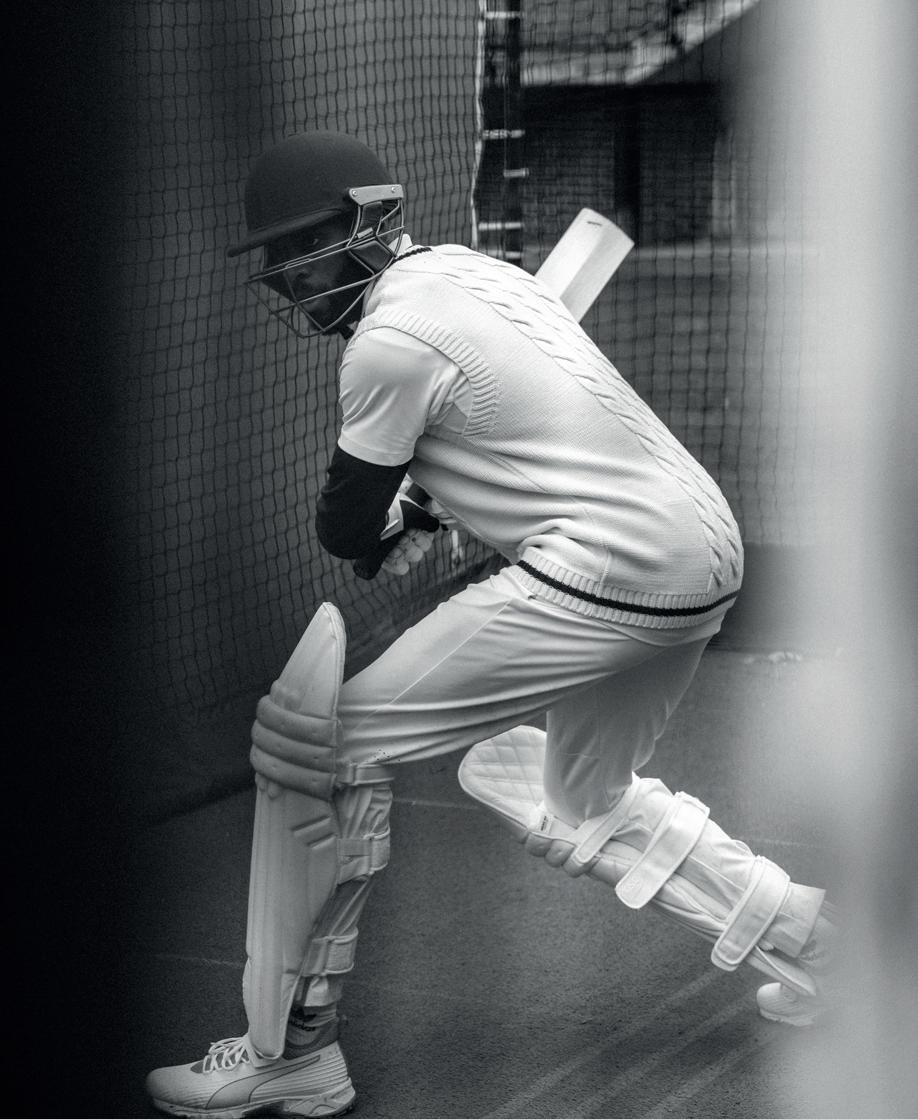 > Umbro needs little introduction as one of the world's sportswear behemoths, dressing everyone from premier footballers to F1 maestros. This season, it lends its athletic prowess to Newcastlebased designer Nigel Cabourn, who for more than four decades has been championing modish utilitarian wear that performs as well as an industrious factory hand. The nine-piece collection draws on vintage British army PT and gymnastic gear, with retro-inspired tracksuits, cosy loopback jersey sweatshirts and a Cabourn reimagining of Umbro's staple popover top that balance vintage elements with modern functionality. This is definitely not your standard-issue PE kit. umbro.co.uk and
>
— style manifesto
House Colours
>
With an aesthetic mélange that draws on Oxbridge style, Japanese Ivy League, streetwear, hip-hop and rugby garb, you'd be forgiven for thinking that stateside label Rowing Blazers was having a sartorial identity crisis. But this quirky blend has earned it a cult following in A-list circles, alongside warrants to dress the US national rowing and rugger teams. Its nostalgic yet fresh offering of seersucker and crested house blazers, collegiate slogan sweats and classic American sports staples will see you through from a Friday night on the town to a Sunday sculling session. Ironically though, it's all far too nice to risk getting wet or muddy. rowingblazers.com
> > Queen's, Wimbledon, the US Open – tennis reaches fever pitch in summer, so it's little surprise that Franco-Swedish leisurewear label, Ron Dorff, should take its creative cues from the game for spring summer '22. The two nations did give us René Lacoste and Bjorn Borg, after all. The sleek line-up of organic cotton and silk-blend tanks, sweatshirts, shorts and track jackets are a stylistic nod to the retro clobber worn at Wimbledon, Roland-Garros and Flushing Meadows of the early 1980s. We can't promise it will help you improve your backhand but you'll at least look like an ace on and off the court. uk.rondorff.com
>
Gentleman Player
cabourn.comSTYLE
73
Gym Bro
74 STYLE — michael jordan Michael Jordan's extra-long jackets and wide-leg trousers defined his suiting style; [right] on the basketball court in his iconic Chicago Bulls jersey
Jordan's casual game wasn't too Michael Jordan owned the power suit but didn' t wear them like the stiff Wall Street bankers of the time he wore them with nonchalant swagger
The Last Dance , which follows Jordan through the 1997-98 season whilst he was playing in his final season with the Chicago Bulls. If there's one part of the wardrobe that he's renowned for, it's his approach to tailoring. Jordan owned the power suit, but he didn't wear them like stiff Wall Street bankers of the same era. Instead, he wore them with profound nonchalant swagger and his sheer size and natural sense of confident self played a key role in this. But, it was also his penchant for bespeaking oversized suits cut from louche and sexy fabrics with extra-long jackets and wide-leg trousers with deep, volume-adding pleats. He often wore them with thinguage mockneck and crewneck sweaters, downplaying the suit's inherent formality. And in terms of finishing touches understood the deft art of matching colours and tones between his pocket squares and vibrant ties with perfectly dainty knots.
The 1990s is revered for being a stylish decade and for good reason. It had it all: oversized tailoring with a healthy amount of sexy drape flowing around; washed-beyond-belief denim jeans; hard-to-replicate tracksuits emblazoned with nostalgic motifs; and accessories that ranged from lavish jewellery to statement sunglasses and cute berets. With regards to style, when looking at any decade and thinking about the men and women that defined it, you can't look beyond sporting legends, and they don't come much bigger – both figuratively and literally – than Michael Jordan. Widely considered to be the greatest athlete of all time having won six NBA championships, five MVPs and 14 All-Star games, Jordan also consistently delivered sartorial slam dunks which is not easy given the size of his frame with him standing at 6ft 5in tall. Thankfully, all of this has been highlighted in the ten-part docuseries
75 STYLE — michael jordan
Words by Benedict Browne From breaking the boundaries of formal wear to making double denim cool, Michael Jordan's impact on fashion is as enduring as his sporting influence
76 STYLE — michael jordan
shabby either. He wasn't afraid to rock a 'Canadian tuxedo', otherwise known as double denim, which he did at the start of the 1993 American League Championship Series. In order to pull off such a look, the shades of denim need to match perfectly and he then topped the whole look off with a pair of tan suede boots. He also had a knack for mixing elements of tailoring with sportswear.
Jordan's style icon status goes beyond what he wore, though. It's what he managed to achieve, too. The NBA changed its legislation that all players had to wear the same sneakers due to his rebellious streaks and he campaigned for basketball shorts to be longer so that he could wear his college shorts beneath (a superstition of his). It should also be noted that back then, athletes and celebrities didn't have personal stylists to carve their identities – Jordan did it all himself. A serial winner both on and off the court, he did everything his own way and with extreme confidence and self-belief.
77 STYLE — michael jordan
Now on-trend, Jordan was doing this 30 years ago, rocking a bespoke, softshouldered camel-hair overcoat with a T-shirt, grey cotton tracksuit bottoms and white basketball sneakers (by Nike, of course). He also knew how to accessorise and somehow pulled off berets and also made snapback caps all the rage. Then, whilst the 1990s was all about bling-bling, in contrast to his teammate Dennis Rodman, Jordan subverted the status quo by subscribing to the notion of 'less is more' with simple gold hoop earrings and relatively subtle gold chains (on and off the court).
Michael Jordan's style icon status goes beyond what he wore. It 's what he managed to achieve, too Michael snapbacksilhouettes,oversizedlooksera-definingJordan's1990sincludedsuits,relaxedandcaps
78 STYLE — fausto coppi
This year's Tour de France saw the unveiling of the second collaborative project from aesthetically minded cycling brand Rapha and edgy London streetwear label Palace. Designed for team EF Education-EasyPost, the collection sold out in seconds, with pieces fetching outrageously inflated prices on the resale market almost immediately. Meanwhile, style-conscious cycling brands like Pas Normal Studios, MAAP and Albion are closing the gap between performance and fashion further still. You might think the link between these two wildly different worlds is a new phenomenon, but the truth is that cycling and style have always shared a connection. In fact, it's something that can be traced all the way back to the sport's first true hero: Il Campionissimo, AKA the late, great Fausto Coppi. Over the course of his career, Coppi revolutionised competitive cycling. Recognised as one of the greatest professional riders of all time, he was an all-round road-racing machine – as masterful a climber as he was a time trialist and sprinter. He won the Tour de France twice, the Giro d'Italia five times, and held the prestigious World Hour record (most distance covered in an hour) between 1942 and 1956. Coppi's racing exuded style and flair, but he had a certain way of carrying himself off the bike too. His immaculately cut wide-lapel jackets, beautifully tailored pants and trademark Persol shades gave off-race Coppi the air of a Hollywood film star as opposed to a sportsman. He was one of sport's first true style icons, and a prime example of what the Italians like to call 'bella figura'. His first major victory came in 1940 when he won his inaugural Giro d'Italia at just 20 years old. He was and still is the youngest person ever to win the esteemed Italian stage race, but celebrations were to be short lived as Italy's declaration of war on the allied powers came just a day later. Five years of Coppi's promising early career were lost to the war. Officers initially supported him in continuing to Words by Paddy Maddison
Regardless of your stance on Lycra, it's becoming harder to ignore the connection between cycling and style
79 STYLE — fausto coppi
Instead of relying solely on strength and power to shake his opponents, Coppi was strategic, meticulously planning which stages he could use to open up a gap, and visiting key points on the course repeatedly to ensure he picked exactly the right moment to attack. It was an approach that saw him become the first cyclist to win the Tour de France and the Giro in the same year – an unimaginable achievement even by today's standards, let alone on a 15kg lump of steel with fewer gears than a sit-on lawnmower. Both on and off the bike, Fausto Coppi was a man of style and class – a sporting superhero, and one of the snappiest dressers cycling has ever seen.
A man of style and class, Fausto Coppi was one of the snappiest dressers cycling has ever seen
80 STYLE — fausto coppi
compete, but that all stopped when he was deployed to North Africa and became a prisoner of war until the end of the conflict. But Coppi's cycling days were far from over. In the years following the war, he dominated the sport, setting records and stealing titles at every available opportunity. Along with the rest of his Bianchi squad, he perfected team racing, setting the template for the competitive cycling we know and love today.
81
STYLE — fausto coppi
Recognised as one of the professionalgreatestcyclists of all time, Fausto Coppi also made his mark on the world of fashion, exuding the style of a Hollywood film star as opposed to a sportsman
82 STYLE — ayrton senna
83 STYLE — ayrton senna
Ayrton Senna had a way with things. Behind the wheel he was a transcendent talent, and one that produced a number of unexplainable moments. There was the way he danced the car around in the wet in Donnington in 1993, ensuring he was seconds a lap quicker than his long-time rival, Alain Prost. Or the way he wrestled around Monaco in 1988, gaining a lead of over 50 seconds before inexplicably crashing out. He also had a way with words.
Words by Charlie Thomas
Uncharacteristically eloquent for a racing driver, Senna always spoke from the heart, unafraid of calling out the political corruption within F1 and society as a whole. He was smart, thoughtful and ruthless in his self-belief. If he thought he was right he would stop at nothing or no-one (including a probing Sir Jackie Stewart during one interview) to prove it. Perhaps less deliberate yet just as impressive was the way he Outsidedressed.ofhis racing overalls and signature blue 'Nacional' cap an iconic look in itself Senna always looked relaxed and at ease with himself. Unlike most drivers today, who are only seen in sponsor's gear, the Brazilian maestro would often stroll through the paddock in a casual pair of mid-wash jeans, a tucked in Oxford shirt, loafers, sunglasses and his signature watch.
Ayrton Senna's signature look was classic and preppy, but the legendary racing driver 's enviable sense of style wasn't just about what he wore it was how he wore it Senna would often stroll through the paddock in a casual pair of mid-wash jeans, a shirt and loafers
84 STYLE — ayrton senna
Like with many of the world's more stylish people, it was the way Senna wore his clothes that stood him apart. In isolation, what he wore wasn't that special. Pastel colour polo shirts, slim-cut T-shirts, regular-fit jeans and running shoes were often combined. He tended to accessorise with leather belts, a necklace, a bracelet and his sunglasses, which ranged from classic aviator designs through to keyhole styles. But again, nothing too remarkable.
85
Both on and off the track, Ayrton Senna was admired for his classic – and effortless – sense of style. The iconic racing driver was often seen wearing his TAG Heuer S/EL chronograph, the result of a collaboration that began in 1988 and continues to this day
It was Senna that made them cool. He had the tan, the wild, wavy hair and the nonchalance that was most prevalent when he spoke. He did what he wanted, said what he wanted and dressed how he wanted and didn't care what anyone else thought. That's what made him so stylish and is, alongside his talent, what made him so great.
The latter, of course, was a TAG Heuer S/EL chronograph fitted on a brown leather strap, the result of a collaboration that began in 1988 and continues to this day. That watch, with its stainless steel and gold coloured case and ivory dial, was seen on his wrist throughout his time at McLaren and perfectly complemented his wardrobe of preppy staples.
Like with many of the world's more stylish people, it was the way Senna wore his clothes that stood him apart
STYLE — ayrton senna
89 STYLE — kit bag 1/ Falke BC Impulse Velocity biking socks, £2, falke.com 2/ Supergoop! PLAY Everyday Sports lotion SPF 50, 162ml, £32, supergoop.com 3/ Trek Madone SLR 9 eTap Gen 7, Satin Quicksilver, £12,700, trekbikes.com 4/ Tissot T-Race Tour de France special edition 2022, £470, tissotwatches.com 5/ Pas Normal Studios x Porter-Yoshida & Co. saddle bag, £88, uk.pasnormalstudios.com 6/ Le Col Pro Air Mountains Alps jersey, £130, lecol.cc 7/ Rapha Pro Team full frame sunglasses, dark navy/ purple green, £130, rapha.cc 8/ Cafe du Cycliste Gravel embroidered ripstop-panelled mesh cycling cap, £34, mrporter.com 9/ SIDI orange Tiger 2 SRS carbon MTB cycling shoes, £420, brownsfashion.com 10/ Balenciaga jersey cycling shorts, £350, matchesfashion.com10174 5 32 8 6 9 Gear up and make the most of the last days of touring season before the seasons shift. Style RevolutionEditedbySHANEC.KURUP
So,
fitting haute horology tributes and
beaters ready for action, these are some of
into
coolest carbon-cased watches around right now. Photography by TOM PETTIT and FRASER VINCENT Girard-Perregaux Laureato Absolute Chronograph Aston Martin F1 Edition • 44mm titanium and carbon case with 100m water resistance • GP03300 calibre automatic movement with 46-hour power reserve • £21,500, limited to 306 girard-perregaux.compieces,
both
90 PERFORMANCESTRONG
car
Sport is all about performance and nothing says performance louder than carbon. The material of choice for world-beating speedsters of road, lightweight carbon has also made its way wholeheartedly the world of watchmaking. It makes sense; it's lighter even a non-organic grain that makes each piece unique features many watchmakers simply can't pass up on. from legendary makers to near weightless the
than titanium and offers
both track and
that
91 STYLE — shoot Zenith DEFY Extreme Carbon • 45mm titanium and carbon case with 200m resistancewater • El Primero calibre automatic movement with 50-hour power reserve • £21,100, zenith-watches.com
92 STYLE — shoot Panerai QuarantaQuattroSubmersibleCarbotech™BluAbisso•44mmCarbotech™casewith300mwaterresistance•P.900calibreautomaticmovementwith72-hourpowerreserve•£15,000,panerai.com
STYLE — shoot Bamford Carbon B347 Navy • 4 1.5mm carbon fibre case with 100m water resistance • S ellita SW510 automatic movement with 62-hour power reserve • £2 ,500, bamfordlondon.com
94 STYLE — shoot Victorinox I.N.O.X Carbon • 43mm carbon case with 200m water resistance • Quartz movement • £820, victorinox.com
95 STYLE — shoot Doxa SUB 300 WhitepearlCarbon • 42.50mm carbon fibre case with 300m water resistance • ETA 2824-2 automatic movement with 38-hour power reserve • £3,790, doxawatches.com
96 STYLE — shoot Hublot Big Bang Unico Golf • 45mm Carbon Fiber and Black Texalium® case with 100m water resistance • HUB1580 UNICO calibre automatic movement with 72-hour power reserve • £26,000, hublot.com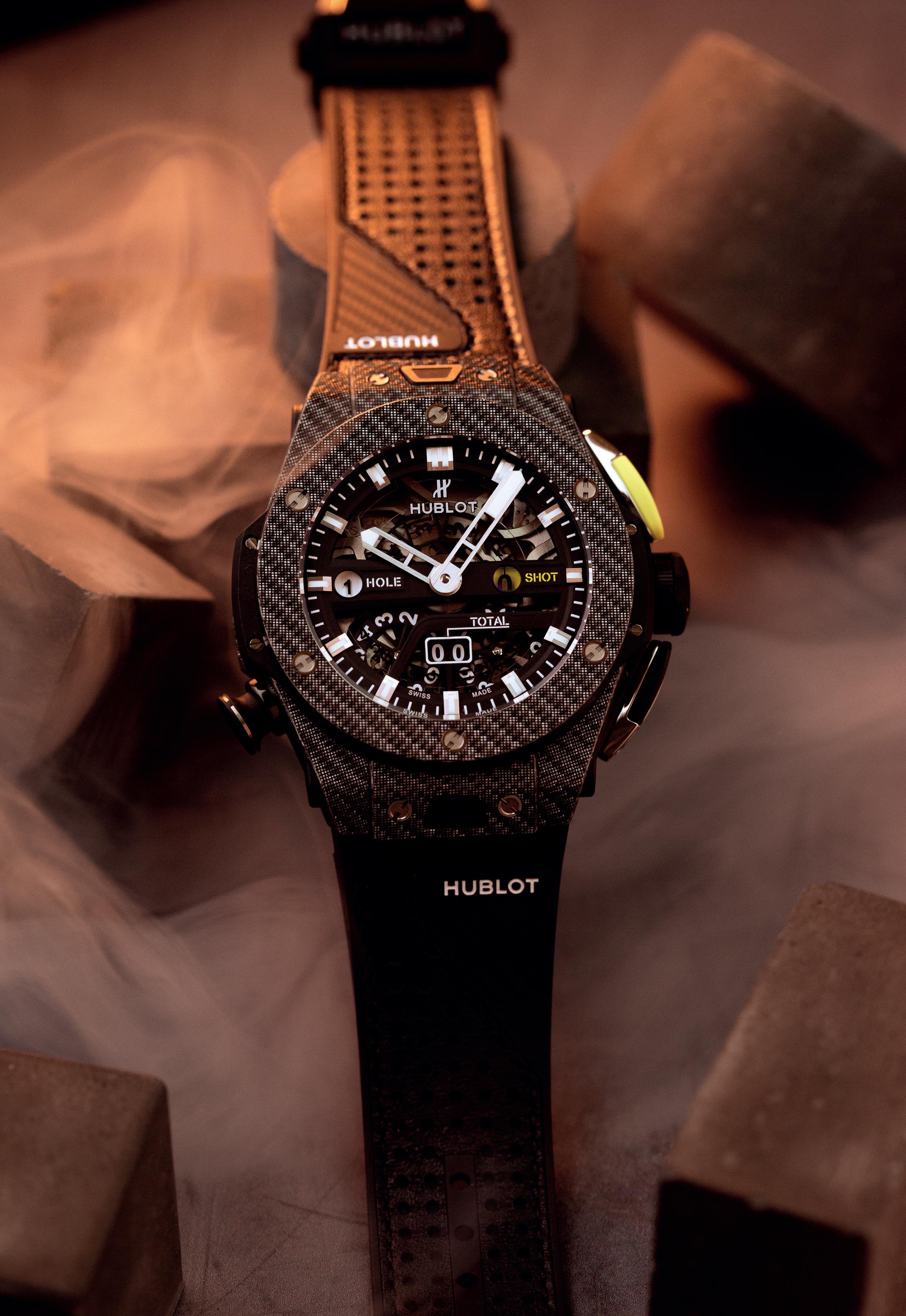 hands-on reviews THE SPECS • 41mm titanium case with 300m water resistance • MIYOTA 9039 calibre automatic movement with 42-hour power reserve • €710, baltic-watches.com AQUASCAPHEBALTICTITANIUM A larger case size, new materials and aesthetic overhauls subtly transform Baltic's flagship dive watch
hands-on
reviews
There are two variations available: a glossy blue dial and bezel with light blue lume-filled indexes and this version, which opts for the more traditional black with green lume. This is one of the very few times we actually prefer the black to the blue; it's more in keeping with the practical matte finish of the metal.
The only thing that's not changed between the Aquascaphe Classic and the Titnaium is its movement, the ever-reliable workhorse that is the Japanese-made Miyota 9039, the Toyota of the watch world. It has a standard 42-hour power reserve, The only thing that's not changed between the Aquascaphe Classic and the Baltic Aquascaphe Titanium is its movement
hands-on reviews
The diver, which draws plenty of vintage inspiration from the golden era of dive watches (think Fifty Fathoms, Cousteauslanted utilitarian elegance) has been the focal point for Baltic since 2018, the brand's bread-and-butter tool timepiece. Throughout the collection so far, we've seen a few different case finishes – steel, PVD, bronze – but titanium is a first. We won't spend too long explaining why titanium makes perfect sense for a dive watch. Suffice to say, it's light, hardwearing and has a cool, grey look that works incredibly well on a tool watch. It's common enough in the watch world now that we even shot a series of cool, titanium pieces for our Tech issue back in July. We actually wanted to get the new Aquascaphe in there, but you know. Brexit. Was it worth the wait? Well, yes. We're huge fans of the Aquascaphe anyway and while we're particularly enamoured with the GMT over the standard diver, it's impossible not to love these retro vibes, especially with the wearability of titanium. But writing it off as just the standard watch in a new material is very much not the case. The case silhouette with that slightly overhanging bezel remains the same, but the size has changed, upping from 38mm to 41mm, essentially shifting from vintage proportions to something more modern. It does feel a bit larger on the wrist, but honestly that's as much to do with the new crown guards as it is the actual diameter increase. The bezel too has been given a slight overhaul. First off, it's now ceramic, a first for the collection. It's also slightly thicker and with 10, 20, 30, 40 and 50 marked off instead of 15, 30, 45. It's a more practical look but a bit less elegant. The same can be said of the dial which has upped the size of the indexes and swapped the sharp triangles at the cardinal points for a shark's tooth at 12 o'clock and pillshaped indexes at three, six and nine. Put together, it's a host of small changes that alter in no insubstantial way the feel of the Aquascaphe. The smaller, more minimal Aquascaphe Classic is retro-elegant as much as it is utilitarian. The Titanium feels more like a proper, rugged tool watch, complete with an increased 300m water resistance that many an actual diver out there will appreciate.
101 everyday levels of accuracy and, perhaps most importantly, doesn't break the bank. That little nugget means that, despite being housed in a much more advanced material, opting for a ceramic bezel, upping the case size and just generally overhauling the Aquascaphe into a bigger, heftier watch, the price hasn't increased too much at all. The Classic will set you back €580 (just under £500), while the Titanium is priced at €710 (approximately £600). Given the current intense competition at the sub-£1,000 realm of microbrands, that's pretty incredible. At the very least, it goes to show Baltic's Only Watch debut didn't go to its head. €710, baltic-watches.com
Baltic is on an ascendancy that few watchmakers can match. Its initial dive watches were met with the kind of success you can't manufacture, and the brand has since made lightning strike more times than a finial in a storm. At this point, calling Baltic a microbrand feels disingenuous – it was even in Only Watch for god's sake. But even something like the incredibly successful Aquascaphe can do with a refresh now and then – which is why we now have the Baltic Aquascaphe Titanium.
hands-on reviews GUCCI COLOURED25HGLASS A stylish 1970s case and Ocean Blue sapphire crystal make for a sleek summer watch a few logos shy of perfect THE SPECS • 38mm stainless steel case with 30m water resistance • Quartz movement • £1,250, gucci.com
hands-on
reviews
The colour is technically called Ocean Blue which says a lot about the audience; the only oceans of that particular hue are generally found in places like the Maldives
The 25H Coloured Glass will set you back £1,250. In our humble opinion, that's a pretty damn good price. That case alone is worth the money. The fact that it's a quirky, colourful piece makes it seem like a summertime bullseye. That said, we're not planning on adding it to our own rainbow collection, for two reasons. First, we already have enough Tiffany-adjacent blue dials to keep us going. Secondly, those Gucci logos. With a cleaner, less branded dial though, we'd be very, very tempted. £1,250, gucci.com
It's no secret that we love colour in a watch. We don't mean a subtle blue dial or a dark, forest green we're talking serious colour. Sky blue, burnt orange, more shades of yellow than a jaundiced banana, ever since the first lockdown we've been packing as much ostentatious colour onto our wrists as taste (grudgingly) allows. So, any new release that feels the same way is ok by us. If it comes in the form of one of last year's most unexpectedly cool watches, then all the better. And when it was released in 2021, the 25H was one hell of a surprise. Fashion brands aplenty have tried their hands at haute horology over the years with only a few – mainly Chanel and Louis Vuitton – sticking the landing. Not only was Gucci's sports-luxe timepiece a zeitgeisty bullseye in terms of design, but it was also impeccably made. Previously however we've only ever got hands-on with the automatics in the collection. That wasn't a conscious choice beyond wanting to see what the new calibre GG727.25 was like, but it does mean that trying out the eye-catching Gucci 25H Coloured Glass is a new experience. So, that colour. It's technically called Ocean Blue which says a lot about the audience; the only oceans of that particular hue are generally found in places like the Maldives. That colouring however isn't actually the dial but rather the sapphire crystal. Along with the usual anti-reflective treatment most decent watches get, it's been given a colour treatment, too. The dial underneath is actually white. So, why this way rather than a standard blue dial? Well, as you're looking through a filter rather than at something that is itself blue, you get more depth of saturated colour. It also means that the indexes and deep grooves in the dial are all consistently coloured, which makes life far easier for the watchmaker. Honestly, we also think part of it is that it's just a bit more fun. Whatever the reason, it looks incredible. What's less incredible however are the interlocking Gs of the Gucci logo around the dial. The automatic versions don't have this and they're all the better for it. Here not only does it interrupt the streamlined look of the watch, but it makes it feel more like a fashion piece rather than a serious watch. Yes, this is quartz and therefore less prestigious than the mechanical, but that shouldn't instantly make it a fashion accessory over a fine timepiece, especially when there are tons of cool, quartz pieces out there these days. Thankfully, it shares the same case as the automatics, which is superb. It's a touch smaller at 38mm compared to 40 and thanks to the quartz movement is considerably slimmer, but the multifaceted, impeccably machined case is proportionally the same. That includes that 1970s, Genta-flavoured bezel and a bracelet we'd happily stack against the AP Royal Oak. Like the automatic, the crown is a bit too small and inset to operate easily – even more so in fact – but at least in this case you won't need to reset the watch often. You definitely won't need to wind it. We're fine with it in this instance as it streamlines the 25H silhouette even further. So, down to price. The baseline automatic comes in at £7,500, which is relatively steep but not unexpected for a sports-luxe timepiece from a name like Gucci. At least you can justify it in the calibre, case and overall 1970s look. How does the colourful quartz compare?
hands-on reviews
105
hands-on reviews TOOL ARCTICWATCHFIELD An ode to colder climes backed by an icy meteorite dial, solid specs and a more-than-tempting price THE SPECS • 38mm titanium case with 200m water resistance • Sellita SW200 automatic movement with 38-hour power reserve • $800 (approx toolwatchco.com£665),
hands-on
reviews
The 38mm case is a cut above most field watches we've come across. Not only is it exceedingly practical with 200m water resistance (the same as some true divers), a bit more thought has gone into it than riffing on the A10 or Dirty Dozens of yesteryear, and the result is a much more interesting silhouette. The curved lugs are lovely and a visual and tactile contrast to the sharply raised bezel. It's an odd combo but one that perhaps has as much a sports-luxe vibe as a purely militaristic one. We love it. Unfortunately, it's also in titanium. Now, we appreciate that titanium is a great material; it's light, strong, everything you want in a watch. The downside for us is that we like our tool watches to have a bit of heft to them. Sure, titanium is practical, but it doesn't give us the sense of surety we want from a watch like this, particularly given the Arctic's svelte dimensions.Thatsaid, the duller (compared to steel) brushed grey of the metal works very well with the dial – and what a dial it is! Meteorite might be getting a touch less rare but it's by no means a common sight, especially when it comes to more affordable pieces. The only other one that immediately springs to mind is the Zenea Ula Diver which, while still very much a tool watch, has a different personality entirely. The meteorite here has been given a deep blue sheen, one that makes the Widmanstatten pattern (the signature meteorite cross-hatching) far less obvious. We actually like the subtlety to it, landing somewhere between your usual bold meteorite look and a subtle sunray finish. It works perfectly with the pared-back dial and indexes shoved right to the periphery. It gets even better in low light, when those indexes show off their blue lume. It's quite a sight. There's a thematic link to the meteorite too. Greenland's Hiawatha Glacier houses the first impact crater ever discovered under the Earth's ice sheets (echoes of The Thing right there) and the Arctic Field is a tribute to that landscape, both in terms of what it's designed for and, thanks to that dial, aesthetics too. The eagle-eyed might have noticed another nod to the arctic on the dial. Along with the practical hour and minute hands – a sword and arrow respectively – the seconds hand imitates a more thematically appropriate hunting weapon, a harpoon. The movement inside is nothing if not practical. The Sellita SW200 might be a little low on power reserve these days at 38 hours, but it's still the quintessential workhorse calibre. Not much is going to stop it from doing its job be that hell, high water or freezing arctic cold. Like the Arctic Field itself, the movement will take anything you throw at it.
With a name that doubles as a statement of intent, it's not hard to imagine the kinds of timepieces the Tool Watch Company specialises in – and of their two faces, the AMA Diver and the Arctic Field, we landed on the latter to take for a test run.
The Arctic Field's curved lugs are a visual and tactile contrast to the sharply raised bezel. It's an odd combo but one that has as much a sports-luxe vibe as a purely materialistic one
hands-on reviews
109 Should you find yourself venturing into sub-zero temperatures, it's good to know that the Arctic Field also comes with a leather alternative to the bracelet, one that won't get frozen to your wrist. In fact, we'd be tempted to wear it on the Saffiano leather more than the titanium bracelet outside of the sweltering weather we've been having. It's comfortable, elegant and, well, we love blue leather. As with any microbrand's offering, there's a lot to like about the Arctic Field but it really comes down to price. Or in this case, seals the deal. $800 seems underpriced for a meteorite dial and a titanium case, even if the design wasn't as well thought-out as this. As things stand – and you have a spare (roughly) £665 burning a hole in your pocket, this is a seriously competitive watch. $800 (approx £665), toolwatchco.com
111 Words: Sam Kessler Men of CRANIOTESADAMInfluence: THE FOUNDER OF COLLECTORS' GROUP REDBAR TALKS WATCHES, WISHLISTS AND THE HOFF men of influence
112 men of influence [Clockwise from left]: MB&E's M.A.D 1 Red was the last mechanical watch Craniotes bought; away from watches, top of his wishlist is a 1986 Mercedes-Benz 560 SEL; Isotope's Hydrium X 'Will Return'
men of influence
The last watch I bought was a limitededition NASA-themed G-Shock. What can I say, I love G-Shock. I think I have around 70 or 80 now. (I should probably count them.)
A recent find/discovery? In terms of watches, I'm quite taken with the small independent British brand, Isotope. Their Hydrium X 'Will Return' is pure, cheeky fun, and like pretty much every other watch in the brand's collection, it offers tremendous quality for the money.
The last mechanical watch I acquired was the MB&F M.A.D. 1 Red.
Do you collect anything outside of watches? Outside of watches I collect knives. As with my watches I have cheap ones and expensive ones, and just as I wear all of my watches, I use all of my knives. No 'safe queens' in my collection.
A book/podcast/album that changed the way you think? Without a doubt Douglas Adams' Hitchhiker's Guide to the Galaxy books have had the greatest influence on me, and in particular my sense of humor.
Who is a celebrity/person of note/intellectual you admire? I love David Hasselhoff. It may seem weird, being that I'm not German (mein Gott, they REALLY love him over there), but I just dig how he has embraced his cheesiness and built a career for himself by simply being, well, himself. Clearly he's having fun, and when you get right down to it, that's what we should all be doing. Also, Knight Rider was/is my favorite television show, so there's that too.
What inspires you? Anyone and anything that is truly original. I'm not interested in the folks who came later and polished the turd I'm here for the actual turd. To this end, watchmakers like MB&F, Urwerk, and Ressence spring to mind. (And no, I don't think that their watches are turds.)
What, other than a watch, is at the top of your wishlist? Other than a watch, I suppose I would like a perfectly restored 1986 MercedesBenz 560 SEL in anthracite/grey leather to match the one I grew up with. My father and I did silly things with that poor car.
What was the last watch you bought?
Craniotes says The Hitchhiker's Guide to the Galaxy books had a big influence on him, and admires David Hasseloff [below] for simply "being himself"
Given that I view a sense of humor as the defining trait of any human being, it goes without saying that Mr Adams has been absolutely vital to my development as a person.
What's your ideal long weekend? My ideal long weekend would be spent at my rapidly deteriorating country house blowing up shit with my kids. (I have a flame thrower and lots of fireworks.)
What would we always find in your fridge? Seltzer. There's always seltzer in my fridge. Basically, it's the only way my wife can ensure that I drink enough water to offset the booze. What's a rule/mantra that you live by? The one mantra I live by is also spelled out on a rubber bracelet that I wear on my left wrist: 'Harden The Fuck Up'. It's a not-so subtle reminder that in life sometimes you've gotta make someone eat shit, and sometimes you've gotta be the one eating the shit. In either scenario, just harden the fuck up and get on with the business of doing what has to be done.
113
Isotope's Hydrium X 'Will Return' is pure, cheeky fun and, like many of the brand's watches, offers tremendous quality for the money
115 WORDS: NATHAN CHADWICK Remembering GROUP B As Group B marks its 40th birthday, we chart the rise and fall of the most extreme rally category in history
The first year of Group B may have seen the driver's title go to Walter Rohrl in a rear-wheel-drive Opel, but the Audi Quattro's sheer pace on loose surfaces couldn't be ignored, and it duly won the manufacturer's title in 1982. It wasn't an easy car to drive – it was big, cumbersome, complex and prone to understeer, necessitating an entirely new driving approach. In 1982 its turbocharged 2.1-litre, five-cylinder engine pumped out 300bhp – but that was merely the start. It may have been quick, but it wasn't as dominant as legend might have it. Audi could have walked away with the manufacturers' title in 1983, but reliability and team errors gifted it to Lancia, though Hannu Mikkola wrapped up the drivers' title.
"The light that burns twice as bright burns half as long," said Dr Eldon Tyrell in the science-fiction masterpiece Blade Runner , which celebrates its 40th birthday this year. That phrase may have been an adaptation of an ancient Chinese proverb, but it could also apply to Group B, which was also introduced in 1982. Like Ridley Scott's neo-noir, the Group B era blends cutting-edge technology, action and tragedy – only with fire-spitting hyper-horsepower rally cars, as opposed to replicants. The rules were simple, and open. All manufacturers needed to do was make sure the cars had the right safety equipment, and build 200 examples of each one. Everything else was pretty much up to the finely tuned minds of the manufacturers' competitions department. Pretty soon everyone from the likes of Porsche to MG were scrambling to build fire-spitting monsters to do battle on stages across the world, using the latest exotic materials to eke out milliseconds of advantage wherever they could. It was a time of mind-bending action and adrenaline that seems barely believable 40 years on.
116
Audi struck back with the lighter, shorter and even faster Sport Quattro, now pumping out 444bhp. It duly dominated the 1984 season, taking the manufacturers' title and driving Stig Blomqvist to the drivers' title. In the face of Peugeot's lighter, nimbler 205 T16, which had stormed to
[Left and top right]: The Audi Quattro wasn't an easy car to drive, but its pace on loose surfaces was impossible to ignore; [bottom right] the supercharged Lancia Delta S4 was one of the most extreme competition cars ever built group b
three victories at the tail end of 1984 and dominated 1985, Audi built the Quattro S1 E2. With more wings than Heathrow Airport, it produced almost as much thrust as a jetliner; at the start of the year, it was nigh-on 500bhp, but within months it was up to 600bhp –twice that of the 1982 car. After the events of Corsica 1986 –which we'll get to shortly – Audi withdrew the Quattro from competition, but it won the Pikes Peak Hillclimb in 1987 courtesy of Walter Röhrl. Lancia 037 + Delta S4 Lancia's 037 was a completely different take on the regulations. Eschewing four-wheel drive for rear-drive only, it was lighter and nimbler. At the time, the manufacturers' title was more prestigious than the drivers' title, and Lancia bet that it could take the battle to the Quattro on the tarmac rallies, much earlier in the season. Despite slightly less power than the Quattro (250bhp280bhp), it was enough to win the 1983 manufacturers' title two rounds early. A revitalised Audi left Lancia reeling in 1984, despite an upgraded 325bhp version of its supercharged four-cylinder engine. An even more dismal 1985 meant the time came for four-wheel drive, and one of the most extreme competition cars ever built – the Delta S4. Not only was it supercharged, but it also had a turbocharger. That made it good for between 480bhp and 600bhp, in a package that weighed less than 900kg. It won first time out at the Lombard RAC Rally in 1985 courtesy of Henri Toivonen, and took the fight to Peugeot in 1986, but both Lancias have tragic legacies. Attilio Bettega died after crashing his 037 into a tree on the Tour de Corse in 1985, while a year later, at the same event, Henri Toivonen and Sergio Cresto's Delta S4 plunged off the road, killing them both. Just a few hours later, the whole Group B category was banned for 1987. The key cars Audi Quattro
117 group b
118 group b Group B cars were designed using the latest technology and materials to enable them to eke out milliseconds of advantage over the competition. Key Group B car designs included [clockwise from above]: the Peugeot 205 T16; Ford RS 200; MG Metro 6R4 and the Porsche 959 (pictured here in all white, and in team colours)
Porsche got involved with a Group B version of the 911, before developing the 959, but again the category was cancelled before the latter had a chance to make its mark; however, all the knowledge gained formed the basis of a successful crack at the Paris Dakar Rally.
Peugeot's take on Group B sought to blend the benefits of Lancia's approach with that of Audi's – a mid-mounted monster powered by a 1.8-litre turbocharged four-cylinder, the iron blocks of which came from a diesel engine for extra strength. Meanwhile a Citroen SM gave up its gearbox, famed coachbuilder Heuliez built the bodyshell – essentially three door with the entire B-post backwards cut off and replaced with a bespoke tubular frame over a four-wheel-drive layout. A winner right from the off, it was the most consistently successful car of the Group B era, wrapping up manufacturers' and drivers' titles in 1985 and 1986, for Timo Salonen and Juha Kankkunen respectively. Power started at 400bhp, but soon grew – as did the bodywork and rear wing – to around 600bhp. After Group B's demise the 205 T16 was lengthened and adapted for a successful crack at the Paris Dakar Rally, and was later developed into the 405 T16 for Ari Vatanen's run up the Pikes Peak Hillclimb. The others Ford and MG came to the party late, with the RS200 and 6R4 respectively. The former was a bespoke turbocharged mid-engined four-wheel drive supercar, while the 6R4 eschewed forced induction for better throttle response.
119 group b
Peugeot 205 T16
Both failed to make much of a mark on the world stage before the category was cancelled, but went on to be mainstays in rallycross for many years to come.
A winner right from the off, Peugeot 's 205 T16 was the most consistently successful car of the entire Group B era
Scandinavian drivers largely dominated the sport at this time, with Stig Blomqvist, Timo Salonen, Hannu Mikkola, Markku Alén and Ari Vatanen fighting over victories and world titles, but the likes of Walter Röhrl and Michele Mouton proved central Europe could put up a fight. All experienced drivers, but the sheer pace of the Group B monsters tested their skills to the limit. They complained of tunnel vision– because the cars were so fast corner to corner there was no way for the eyes to refocus in time. The star in waiting, however, was Henri Toivonen, who'd clinched the European Rally Championship in a Porsche. Widely believed to be the only one to truly tame the wild Lancia Delta S4, he became known for making up huge amounts of time in single stages with full-on commitment. Even he, however, could see the dangers, as his last public statement before his death in Corsica in 1986 shows: "With a modern car like this, it's just impossible to race here. It's physically exhausting and the brains can't keep up with it anymore."
Group B cars were unruly, fromdemandedmachinesunhingedthateverythingtheirdrivers
Group B was already mired in controversy – Bettega's death in 1985, along with a life-threatening horror crash for Ari Vatanen that same year, exemplified the risks to the drivers, but this only added to the adrenaline-fuelled allure for the fanatical supporters that lined the stages, often three-deep. Such was the cult of speed, spectators would stand in the middle of the road until the very last millisecond, with some wanting to touch the cars as they sped past. Indeed, on one rally, the Peugeot rally team found some errant fingers in the back of their car…
The drivers
120 group b
The World Rally Championship had only been in play for ten years, and the manufacturers' title was deemed more prestigious than the drivers' title. However, the white heat of competition pushed the drivers to the forefront of an ever-growing global TV audience.
Not only was the Lancia Delta S4 supercharged, but it also had a turbocharger, making it good for between 480bhp and 600bhp, in a package that weighed less than 900kg
To paraphrase another line from Blade Runner , Group B led to some questionable things, but also some extraordinary things – revel in its time.
The results were predictable, but no less horrific. On the 1986 Portuguese Rally, Joaquim Santos lost control of his Ford RS200 trying to avoid one set of spectators, and crashed into another, killing three and injuring more than 30. Toivonen's death a few months later was the final straw; Audi withdrew from the championship on the spot, and Group B was outlawed for Group A's slower, more production-based cars. While the Group A cars would soon be quicker over the same stages, thanks largely to improvements in tyre technology, the thrill just wasn't there. The B cars were unruly, unhinged machines that demanded everything and more from their drivers and co-drivers, where accelerative thrust could only be matched by the gall of the most determined. Some drivers retired after Group B, as the drug-like adrenaline rush just wasn't there anymore. They may have been closer to death, but they never felt more alive.
Words by Sam Kessler
Five Group B veterans you can buy today Does the thought of taking an adrenaline-fuelled Group B car on the road get your petrol-laced blood pumping? Well, you're in luck. Thanks to the unique rules of the rally, getting your hands on one of these ex-racers for your garage isn't beyond the realms of possibility. In fact, there are a fair few out there that you can claim for yourself, including some of the most iconic models ever to take part in one of the most dangerous race series in the world. >
LANCIA 037 >
When Group B was first announced, the 037 was Lancia's big hope. Due to the rules – that only 200 road-legal versions needed to be built – the manufacturer turned to Abarth, which had recently become part of the same group. The result was a car that, once it was over its initial teething issues, was arguably the best rear-wheel car to race. It was definitely the last to win before all-wheel took over. Made from Kevlar reinforced with fibreglass and offering 205 horsepower, it was a beast. This particular example in an eye-catching glossy blue – a departure from the red it would have left the factory in – is currently priced at £674,950, which is by no means cheap. But it is in fantastic condition and a definitive part of the Group B line-up. joemacari.com
FORD RS200 > >
A thoroughbred with influence from F1 champion Jackie Stewart and F1 designer Tony Southgate, the RS200 was Ford's late-blooming Group B contender. It's a lightweight, mid-engined speedster that had all the makings of a domineering champion – and somehow with the everyday driveability you could actually make use of these days. Alas, while it came in too late in the lifespan of Group B to make as big an impact as it should have, it's still an impressive example of Ford's racing ingenuity. It meant that, despite needing to build 200 to homologate the car fit for racing, they apparently produced fewer than 150. Needless to say, it's a grail of a car and this crisp white example is price on application. girardo.com
123 group b
OPEL MANTA 400 > >
If you're looking for something a little less pricey, look no further than the often overlooked Opel Manta. Granted Opel didn't take Group B as seriously as some (perhaps they knew something nobody else did) but the Manta 400 still made a decent showing. 245 road-going examples were built to homologate the car and every one of them was charming as hell. Case in point, this silver stunner. Beautifully restored inside and out and with the Cosworth 2.4-litre engine running smoothly, it's a lot of car and history for £57,500. It's both a rarity and a novelty and, while we doubt anyone grew up with a picture of the Manta on their bedroom wall, that kind of makes it even cooler. collectingcars.com
Quirky looking and boxy in a way only the 1980s could manage, the 5 Turbo is a special take on the French manufacturer's 5 Alpine, dedicated to Group B. It was one of the earlier entries into the race and as such wasn't quite as advanced as some of the later cars (particularly when it came to its rear-wheeldrive system), but it's definitely one of the most charming. This version in bright blue is all but perfect, a self-explanatory example of why Group B is still one of the most evocative rallies in automotive history. It had better be perfect, too, given its £145,000 price tag. carandclassic.com
RENAULT 5 TURBO > >
124 group b
MITSUBISHI STARION > > This is an odd one. Despite being translated into four-wheel-drive specifically to enter Group B, it was never strictly homologated. That's because just as it entered, the safety conditions through the series ended up cancelling Group B altogether. Still, the rally car looked exactly the same as the road-going version, and as one of the few Japanese manufacturers able to enter, Mitsubishi deserves a place at the table. The bright red version of the Starion was actually part of Mitsubishi's own Heritage Collection, so its credentials are infallible. Throw in more 1980s nostalgia than Stranger Things and you have a winner –especially with a nifty price of £26,995. fairmontsportsandclassics.com
125 group b
A CHANGE OF SPEED… Group B may be full of adrenaline, but sometimes you just want a bit of class – and the classiest marque of them all never took part. We of course mean Aston Martin. If you fancy getting behind the wheel of one of quintessentiallytheirBritish vintage cars, look no further than Nicholas Mee. The specialist in all things Aston Martin, be that classic or modern, has a vast array of models, all impeccably kept so you know you're getting yourself a car that even James Bond would be proud of. nicholasmee.co.uk
The time is ripe for new openings in London as numerous well-known chefs strike out on exciting culinary adventures. Some, such as Alex Dilling at Hotel Café Royal, mark the first step to creating an individual legacy, while others, such as Socca by Claude Bosi, are the latest outing for huge names.
CULTURE — food & drink EDITED
MRIYA Brompton Road, Chelsea, SW5 9JA
RESTAURANT & NEWSBAR >>
If proof were ever needed that oppression will never win, it's Mriya, a recently opened Ukrainian restaurant run by prominent Ukrainian chef and TV presenter Yurii Kovryzhenko. An active effort is being made by the restaurant to hire Ukrainian refugees and to celebrate the country's culture and culinary specialties. To that end the menu will feature borsch, chicken Kyiv and dishes inspired by common Ukrainian vegetables such as zucchini pancakes. Find out more on @mriya_neo_bistroInstagram:
BazuElena© > >> >> >
One thing's for sure — it's enough to get your mouth watering. BY MICHAEL SONSINO
Taking over the Mayfair venue that used to house Richoux, Socca Bistro is a joint venture by chef Claude Bosi and restaurateur Samyukta Nair. Socca promises to bring a slice of southern France to London with a menu centred on dishes from Cannes, Marseille and Nice. Bosi is one of the most renowned chefs operating in the UK currently, having achieved two Michelin stars at three separate restaurants. Find out more at soccabistro.com
ALEX DILLING AT CAFÉ ROYAL 68 Regent Street, Mayfair, W1B 4DY
Opens 1 September, book now at hotelcaferoyal.com
130 CULTURE — food & drink
In a strange twist of fate, Koyn is one of two restaurants featured on these pages operated by chefs who formerly worked at The Greenhouse. Unlike Alex Dilling, however, Rhys Cattermoul's expertise lies in Japanese food. Koyn fully embraces the huge variety of traditional Japanese foods with both a sushi bar and robata grill, and a menu featuring the likes of steamed clams 'nabe' with cordycep mushroom and yuzu sake soy, and red mullet tempura with yuzu kosho tosazu and kombu salt.
Opens 9 September, book now at koynrestaurants.com
SOCCA↑ 41 South Audley Street, Mayfair, W1K 2PS
KOYN← 38 Grosvenor Street, Mayfair, W1K 4AG
↓
LisaTse©
Alex Dilling's new project at Hotel Café Royal is the long awaited next step in the chef's culinary journey. Dilling has worked in some of the most famous establishments in the UK, USA and Europe, including multiple single and double Michelin starred venues such as Adour, Caviar Russe and The Greenhouse. For his first solo restaurant he's bringing all of his European experience to bear with modern takes on French classics. It could also be the first restaurant to really put the Hotel Café Royal on the map of essential visits for foodies.
ST
M CANARY WHARF Newfoundland, Canary Wharf, E14 4BH M Restaurants has described its new establishment in Canary Wharf as a 'gastro-playground'. It's a grandiose sentiment for sure but considering M Canary Wharf includes an 180-cover restaurant, a bar, a wine-tasting room, the Taste of La Petite M café, multiple private dining rooms/members' lounges and a terrace to boot, it's an accurate description. The man behind the food is chef and co-founder Mike Read, who was an apprentice under Michel Roux and Gordon Ramsay. Book now mrestaurants.co.ukat
on Smithfield's St John Street in 1994. Since then, founders Fergus Henderson and Trevor Gulliver have opened further sites throughout the capital, and are soon to add another, with the imminent launch of St John Marylebone. Specific dish details are yet to be released, but what we do know about the new all-day restaurant and wine bar is that whatever they do put on the menu, it's guaranteed to be great. Find out more at stjohnrestaurant.com
> >> >> > Unmissable Dining
X HARVEY NICHOLS Hamilton Place, Park Lane, W1J 7DR
131
MARYLEBONEJOHNMaryleboneLane,Marylebone
St John needs no openeddrinkplacesLondon'sitshavingintroduction,maintainedrepasoneoffinesttoeatandeversinceititsdoors
FOUR SEASONS HOTEL
&
←
M Restaurants' new Canary Wharf site features an 180-cover restaurant, multiple private dining rooms, members' lounges and a bar Experience:
To mark London Fashion Week (16-20 September) Four Seasons Hotel London at Park Lane is hosting a dining and shopping experience in collaboration with Harvey Nichols. Starting at the Amaranto restaurant in the hotel, customers will enjoy champagne and a two-course lunch with a menu including lobster linguine, New Forest venison and a 'fashion-inspired' dessert. Following the meal, it's off to Harvey Nichols for a custom shopping experience and £200 discount.
←
St John has maintained its rep as one of London's finest places to eat ever since it opened in 1994
£175, available from 1 September –31 October, to book concierge.london@fourseasons.comemailCULTURE—food drink
While Europe and the wider world have plenty of excellent courses to choose from, Portugal has far more than its fair share, predominantly centred in the southernmost region, the Algarve. From the number of courses there you'd assume it were more fairway than field and you wouldn't be far off. Golf has been a staple there for most of a century, making the most of both the climate and the landscape.
ABOVE PAR
AlgarveLobodoValeImages:© golf hotels
Words by Sam Kessler
Here then are the places that don't just offer superlative courses (something the Algarve as a whole isn't really lacking) but complement them with luxurious accommodation, epicurean sensibilities and the kind of escape that only the finest resorts can aspire to.
133
Of course, with so many to choose from you can't simply be flying over for a few rounds and a week or two away at the first one you come across. These things require careful consideration and it's not always down to 'just' which has the best golfing. What are a few holes without a fine meal and a sunset cocktail at the end of them?
Football may be the 'beautiful game' but let's be honest it's rare anyone has their breath taken away by a stadium, no matter how impressive. Golf on the other hand is a different matter entirely: rolling fairways, perfectly manicured greens and landscapes as painstakingly perfected as a painting. When it comes to the best courses in Europe, it's not just how many strokes you get off your game that matters, it's simply being there.
Pairing beautiful courses and luxury par excellence along the dramatic Portuguese coastline, these are the finest golf resorts the Algarve has to offer > >
DINING
But for unabashed luxury, poolside cocktails and service worthy of royalty, the Dona Filipa has you covered. Well, it needs to live up to its name, doesn't it?
A dramatic combination of links and parkland golf, Vale do Lobo's two distinctive courses are among the most iconic in the region. That's definitely not because they're easy. You'd best bring extra balls if you're looking to tackle eitherBothone.make use of the cliffs, with the Ocean course rolling gently from the nature reserve down to the beach and the shores of the Atlantic. Combining two Sir Henry Cotton 9-hole courses, it's scenic like few other courses, especially around the 11th and 14th par-4 holes. There's also the challenging 15th, which runs right alongside the beach. Thankfully it's a short par-3, so there's no reason to put sunbathers at risk. The Royal on the other hand plays along the drop. This includes the 16th, a par-three course that's become the most famous in Europe. It's at least one of the most photographed and it's easy to see why: golfers have to get their ball across a massive ravine and safely onto the other side. It's a dangerous shot –but mainly for the beachgoers below. The two championship courses offer quite possibly the best golfing pairing in the Algarve for those brave enough to tackle them. Beginners might want to try somewhere a little less extreme first. Or just avoid the Royal 16th.
134 golf hotels VALE DO LOBO > >
The Ocean course rolls gently from a nature reserve down to the shores of the Atlantic Vale do Lobo combines classic charm with modern touches to create a destinationfirst-ratewhere two incredible golf courses are complemented by fantastic bars, restaurants and grounds
The Dona Filipa also houses the resort's most exclusive eateries, with the Dom Duarte offering a mixed bag of Portuguese and international fine dining. The adjacent bar offers much the same in cocktail format with live music, if you just need to get away from the outside world for a drink or two. Far more romantic however is Sandbanks, Vale do Lobo's rustic, beachside dining destination. Obviously, fish is the fanfare here, with exceptional cataplana and possibly the best seafood rice you'll ever have. You can even order your favourite fish ahead of time. The thing is though, you don't even need to leave the Parque du Golf. Not only is the clubhouse a must-visit destination for its drinks, but the menu at Spikes, run by chef Maurice Belhaj, is among the best in the resort. Think delectable roast meats – duck, lamb et al – and desserts that are worth skipping a starter for. The best part? You can eat, drink and watch other players attempt the demanding courses. Hunger and schadenfreude sated both. Discover more at valedolobo.com
One of the oldest golf courses in the Algarve, Vale do Lobo combines classical Portuguese luxury with nods to British tastes, thanks in part to its history (we'll get to Dona Filipa later), and in part to the number of expats living there. It's been going strong for decades and, the way it's going, will be there for many decades more.
GOLF
If you're heading to Vale do Lobo, you really have two choices. You can rent a villa, as you can on pretty much every golf resort in the region, which offers privacy, luxury and a home-from-home vibe for all the family. Or you can stay at the Dona Filipa. Opened in 1968 on the same day as the wedding of John I of Portugal to Dona Filipa of Lancaster, the hotel is a grand old dame suffused in classical luxury and reigning supreme over the glorious landscapes of Vale do Lobo. If subtlety and minimalism are your idea of great design, head to the villas.
ACCOMMODATION
135 golf hotels AlgarveLobodoValeImages:©
In addition to its stunning nine-hole golf course, Pine Cliffs features a choice of restaurants and bars, a fantastic spa, and a range of contemporary and traditional accommodation
Making the most of the Algarve's coastline, as the name suggests, Pine Cliffs is perched overlooking the Atlantic, surrounded by aromatic pine woodland. A unique location for a unique destination, dramatic barely begins to describe the resort.
DINING
The jewel in Pine Cliff's crown is The Devil's Parlour, a par 3 that on paper doesn't sound too bad. Until you realise the 6th hole is built over a ravine and requires a nearly 200-metre shot to get onto the green. There's a reason this is a championship tee; beginners had best head back to the nearby golf academy.
136 golf hotels
GOLF There's only one nine-hole course at Pine Cliffs, but it's a good one. Like the rest of the resort, it's situated 200ft above the coastline and the golden sand and blue water beneath. It's a striking combination of red stone, green fairways and an absolutely killer view. Designed by architect Martin Hawtree, the nine holes are designed to blend into the surrounding woodland. That means plenty of trees trying to block your shots – and thankfully plenty of shade to keep the Mediterranean sun off.
ACCOMMODATION
Food-wise, the various areas of the resort offer their own options. In the main hotel O Pescador offers daily caught seafood and Piri-Piri has some of the best steaks in the Algarve (don't worry, we're sure they do chicken, too). Both are typically Portuguese, so expect
PINE CLIFFS, PORTUGAL > >
There are a few options available at Pine Cliffs. The hotel has undergone a recent renovation and is the quintessential resort experience. Rooms look over the Atlantic with the eponymous forest all around. An ode to traditional Portuguese design, the country's history is told through murals and hand-painted tiles, indigenous architecture and local flourishes, enough that it feels a great deal more 'Portuguese' than most resorts in the Algarve. If you're after something more modern – and a lot more luxurious –you have a choice between the seafront Ocean Suites or private sanctuary of the Pine Cliffs Residence and its collection of family suites. The former offers a spa – Serenity, the Art of Wellbeing (yes, that's it's actual name) – and both offer a selection of restaurants, which we'll come to Basically,later.ifyou want an indulgent retreat, the Ocean Suites are your best bet. If you're heading out with family and need all the amenities close by, it's all about the Residence.
137 golf hotels 72-par Laranjal, the least prestigious of the three, was voted the country's best back in 2011 and has kept up appearances ever since, with fragrant orange groves bordering the rolling, undulatingWonderfullyfairways.varied between the three courses, golf at Quinta do Lago is like nowhere else in the world. Competitive, stunning and catering to different playstyles, the three work together in a triumvirate of golfing glory. And if you
Nestled deep within the Ria Formosa nature reserve, the 2,000-acre Quinta do Lago is one of the most influential golf resorts not just in the Algarve – or even Portugal – but all of Europe. Launched in the 1970s, it's been at the top of its game for half a century of sun, sea and golf swings, with world-class golf matched by serious old-school luxury.
The fact that the North course is the highlight should speak volumes, as the 18-hole South just so happens to be the eight-time host of the Portuguese Open. That's a strong second fiddle, and that's before you see it. Emphasising its nature reserve backdrop, it's one of the most beautiful courses in the region. Even
GOLF Quinta do Lago is a site of pilgrimage for many golfers. There are three major courses running through the resort: North, South and Laranjal. The North is the showpiece of the three, and back in 2014 was overhauled by Ryder Cup winner Paul McGinley to bring it in line with modern playstyles, with an emphasis on strategy above anything else.
QUINTA DO LAGO > >
Quinta do Lago's Laranjal course is one of three available to play at the prestigious resort. Voted Portugal's best course in 2011, it remains one of the finest places to play in the country
Situated on a hilltop overlooking the Atlantic, Pine Cliffs offers next-level views and a nine-hole course designed to blend into the spectacularit'swoodland.surroundingInshort,aprettyspot…
plenty of meat in simple-but-delicious flavour combinations. The Ocean Suites double down on their spa theme with Zest, situated around the stunning Lemon Square (see what they did there?), which is all about healthy eating: juices, smoothies, light bites and salads. It's a world away from Piri-Piri. Just across the square you'll also find Mimo, which most of the time works as a luxury snack bar, but also offers a chef's table experience and a wine-paired tasting menu. Book ahead for that Finally,one.aside from the bars and breakfast spots dotted around the resort, is Yakuza by Oliver. Think less organised crime and full back tattoos, more traditional Japanese dishes with a touch of Mediterranean flair. It's hard to decide what it's more of a feast for: the palate or the eyes. pinecliffs.com
Nestled deep within a nature reserve, Quinta do Lago is a site of pilgrimage for many golfersPineCliffs is overlookingperched the surroundedAtlantic, by woodland
ACCOMMODATION
As you'd expect from a resort this size, Quinta do Lago's definitely not lacking in fine dining options. The oldest and most venerated establishment is Casa Velha, which made its way into the Michelin guide, in large part for its duck foie gras. If that kind of French cuisine isn't for you though, Bovino Steakhouse goes the other way, with dry-aged beef aplenty and the look and feel of a classic American meat joint. If you're after fresh fish you have two options: the beautiful lakeside Casa do Lago, with its perfect outdoor terrace, or Umami's delicate menu inspired by Japanese fishermen. For lunch, we'd recommend the former, for more nuanced fine dining, the latter. You have pizza and Italian at Koko; famous handmade desserts at Pure, beachside tapas at The Shack and, if you still can't make your mind up, The Magnolia Restaurant's mix of varied international dishes. Good luck choosing. quintadolago.com
138 golf hotels should need a little help making the most of them, there's always the Paul McGinley Academy, where you can definitely get some tips for the North course.
Should you need a little help making the most of Quinta Do Lago's courses, there's always the Paul McGinley Academy where you can get some tips
The centrepiece of Quinta do Lago is The Magnolia Hotel, a boutique stay that could have been ripped straight out of Palm Springs and plonked on Portugal's south coast. While not exactly authentic, The Magnolia is bursting with colour and 1950s nostalgia, right down to the poolside sun loungers. With 74 rooms, three suites and seven cottages though, you'll want to book ahead. If you're after a more private stay, the number of villas available for rental leaves very little to be desired. Most have four or five bedrooms, though there are larger and smaller if necessary. No matter the size, they're all fabulously well-appointed, though the smallest may be lacking their own pool – which in the heat of the Algarve you'll need. Perhaps the ultimate stay, however, is the RESERVA. This collection of apartments is in the midst of the Ria Formosa and offers a separate little community with pools, al fresco dining and 250sqm of floor space.
DINING
Quinta Do Lago's location within the Ria Formosa nature reserve means it's not short on breathtaking views to enjoy while you're playing on one of the resort's three fantastic golf courses. After your 18 holes, it's time to explore one of the many restaurants, including Umami, which serves a menu of Japanese-inspired dishes
141 Words: Ken Kessler UNSUNG VINTAGE HERO: WHAT'S IN A NAME? Daytona? Cosmograph? Pre-Daytona? Ken Kessler looks at the models offered before Hollywood intervened CULTURE — unsung heroes
142
CULTURE — unsung heroes
like Patek Philippe Ref. 1463s as they do classic Oysters. Come the 1950s, however, and the dial layout now familiar to all who covet Paul Newman's watch of choice began to emerge. Leaving aside such anomalies as the 'Jean-Claude Killy', the nickname for the 1950s triple-calendar chronographs such as the Ref. 6036, Rolex chronographs of that decade began as two-subdial models. By the end of the decade and into the early 1960s, Rolex chronographs acquired a third counter located at the 6 o'clock position, in what is known as a tri-compax array. Trivia note: As Universal Genève called some of its models Tri-Compaxes, the legend printed right on their dials, other makers tend not to use that nomenclature.
There were still a few more changes before the chronographs would become, firstly, Cosmographs, and secondly Daytonas (or Cosmograph Daytonas).
Another design feature which would not appear until the Cosmographs and Daytonas were subdials in colours contrasting with the main dial colour, such as Pandas and Reverse Pandas. Whole books are dedicated to the Daytona, of which the most famous is – of course – the 'exotic' model known universally as the 'Paul Newman' References 6239, 6241, 6262, 6263, 6264 and 6265, depending on dial colour combination, case material, etc. In the scheme of things, this was a 'bridge' model between the Pre-Daytonas and the modern Daytonas in that it was manually wound, with the Valjoux movement found in its predecessors. After Zenith developed the automatic El Primero calibre in 1969, Rolex used it in subsequent Daytonas, ultimately releasing their own in-house chronograph movement at the turn of this Dependingcentury.on your level of pedantry, there are numerous models which qualify as Pre-Daytonas. General usage of the label applies primarily to the relatively uncluttered Ref. 6238, but also 6234, 6239, etc. While prices may never match those of models with engraved tachymetres, let alone the exotic dials of the Paul Newmans, values are climbing as the latter become less attainable. A quick look at what is available in 2022 suggests that Ref. 6238s sell for £40,000-£60,000. Alas, I am old enough to remember when they cost four figures. Given the penchant for and plethora of nicknames for Rolexes, with new ones appearing for each fresh colour scheme, a glossary will one day be needed to explain them all. While 'Pepsi' on a GMT-Master is easy to understand, among the more vague is 'Pre-Daytona'. This is the catch-all for Rolex chronographs which came immediately before the ones with 'Cosmograph' on the dial, in 1962, and 'Daytona' in 1964. A pedant, however, could argue that it covers every Rolex chronograph going all the way back to the 1930s, because they, too, are technically Pre-Daytona. Clarity, however, has eliminated such rarities as the mono-pusher Zerograph and Centregraph (both of which are so rare that six figures is the starting bid) from being grouped with the mainstream of Pre-Daytonas, as are the two-subdial models of the 1940s. These were usually Valjoux-powered and dressier than their illustrious grandchildren, looking as much [Top]: A few thousand Ref. 6234s were produced between 1955 and 1961, including some in precious metals; [left] The Ref. 6238 is considered the modern progenitor of the Daytona with its modernised look that dropped the Telemeter scale
In the scheme of things, the Paul Newman Daytona was a model'bridge'between the Pre-Daytona and the Daytonasmodern
The Pre-Daytonas featured plain, smooth bezels, as on Air-Kings and Explorers, and lacked the engraved tachymetre found on all Daytona bezels. Instead, Pre-Daytonas' tachymetre scales were printed on the dials, surrounding the chapter rings.
KuriGustavo© EDITED BY SAM KESSLER IN FOCUS A NEW JAPANESE WATCH BRAND, SEQUENT'S SUPER-SASSY SAMRTWATCH, AND THE WATCHMAKER WHO TRULY ADHERES TO THE WORDS 'MADE IN BRITAIN'
The second watch in the Japan collection is the ATC-40SVPT, created in partnership with gold leaf expert Hakuichi, the PT standing for Platinum. The dial here is made by stretching platinum to knot designs
IN FOCUS —
Knot Designs is one of the latest Japanese brands making waves in the watch world, thanks in part to its myriad customisation options and dedication to using heritage techniques to produce stunning results. But these watches don't just look great – they're also incredibly good value
First, we have the Urushi, which uses a technique we've discussed before on these pages that utilises a mix of lacquer and gold dust. The process behind it is intense, requiring multiple layers of lacquer that's then sprinkled with shavings from a gold nugget, creating a unique depth and texture. Grand Feu eat your heart out. The watch itself is available in steel or black PVD, but the centrepiece of that deep crimson dial is always the same – and rightly so.
KNOT DESIGNS
The brand making custom watches and traditional Japanese craftsmanship affordable, wherever you are in the world It's no secret these days that Japanese watchmaking is in its ascendency. It's had some big players for a while now – predominantly Seiko, Citizen and their various offshoot brands – but now smaller, niche watchmakers are gaining global recognition, from haute horology maestros a la Hajime Asaoka to crisply machined independents like Minase. Maker's Watch Knot – more colloquially known as Knot Designs – is the latest Japanese brand to start making its presence felt on the international watchmaking stage. Yet rather than focusing on black-polished cases or intensely mechanical movements, its raison d'etre is to bring renowned Japanese craftsmanship to the world at large in collaboration with its MUSUBU Partners, masters of their craft enlisted to create specific elements of Knot Designs' watches. Dials, straps, there's a host of intricate, delicate touches incorporated using some of the most ancient of Japanese techniques.
The deep red lacquer of the Urushi will set you back ¥85,000 in its PVD case, which is just over £525. No, we did not miss out a digit. Surely then, the platinum has to be much more expensive, right? Try ¥70,000, just over £430, for the non-chrono version. The chronograph is definitely more expensive, but under £750 isn't exactly breaking the bank. Both offer not just Japanese craftsmanship on the dials, but in the movements too. Granted, there are more prestigious calibres than the Miyota 9015 out there, but when you have an affordable, homegrown workhorse available, why look anywhere else? It's hard to argue with these kinds of results. Find out more at en.knot-designs.com
145 extraordinary thinness – one ten-thousandth of a millimetre, while retaining its luxurious sheen. It's a technique that the craftsmen of the city of Kanazawa have perfected over the last 400 years and layered on a watch dial, there's nothing quite like it.
Both these techniques are far more ancient than watchmaking and, although they crop up here and there, are rarefied in the extreme and tend to be more than a little pricey. At first that might seem at odds with Knot's self-professed mandate to bring Japanese craftsmanship to the world. That is, until you actually look at the prices here.
Don't think that means they have a penchant for over-exclusivity however. Knot Designs is bringing that craftsmanship to the world less with a small number of curated designs and more so by simply letting buyers create the watch they want – and the options are almost daunting. A quartet of differently shaped quartz models, five solar-powered models and a clutch of automatics make for an already well-populated starting point. Indeed, a starting point it is, because for each different shape and layout there's a host of different dial colours and variations to choose from. Knot's collection runs the gamut from brightly coloured field watches (the titanium-cased TS-36) to more elegant, classically inspired open-hearted numbers.
Perhaps the timepieces that best express what drives Knot Designs however are in the aptly named Japan collection. There's less customisation available here in terms of overall design, simply due to the fact that these are true pieces of Japanese craftmanship.
IN FOCUS — sequent
147
There will be 160 Smart-Ass Watches built, all with the latest generation SC 2.2 movement technology that Sequent has been slaving over. Given how prolific Seconde Seconde is though, we're sure we can expect a seconde (sorry) collab sometime soon. Now to get back to avoiding exercise so our own inner monologue gives up and goes away… Find out more at sequentworld.com Thanks to the fact it uses an automatic winding system to generate the electricity required to power it, the Elektron SuperCharger is as close to a true timepiece as a smartwatch can get
THE SMART-ASS WATCH
The idea behind Sequent is one of those quintessential, 'simple in concept, hard in execution' kind of deals. On the surface, it's the coming together of a smart, connected watch and traditional timepiece. There are a few brands that have tried to do similar things in the past to greater or lesser success (usually lesser) but they often tended to be surface level. And we do mean surface – wearables that just happened to have a dial and hands. That's not the case with Sequent. The seminal Elektron SuperCharger sounds like a very Swiss science experiment, but in fact it's as much an automatic watch as a piece of tech. Instead of a battery, it uses a fully fledged automatic winding system, complete with a tungsten rotor, to generate enough electricity to power the watch. It's one of the few smartwatches out there that you won't need to worry about charging and the only true automatic timepiece that can monitor your health. That's not to say you need to wear it every day; the calibre has a 12-month standby time. That's a full year of what, given it's mechanically wound, we're going to call a power reserve. It's also handassembled in Switzerland. In short, the Elektron SuperCharger is as close to a true timepiece as a smartwatch can get. Or as connected as an automatic can get, if you want to look at it the other way. What it hasn't really been of late is fun. It's not Sequent's fault that fun is something innovation is sorely lacking outside of the occasional funky screensaver. But for a brand disrupting two industries at once, that doesn't sit right. They deserve to be a little bit more out-there. Enter, the Sequent Smart-Ass watch. The technology behind the new piece is all Sequent, but the execution is from none other than Seconde Seconde. The Paris-based designer, real name Romaric André, is a force unto himself, creating custom watches with tongue firmly shoved in cheek. In his own words, "I vandalise other people's products only because I failed at building mine." We're talking Minecraft-handed Rolexes and Zenith/ Star Wars mashups. It's like a street artist got really, really into watches. So, what did he do for Sequent? A smartwatch that lets your inner monologue get real bitchy. The centrepiece of the watch is a daily exercise tracker, a visible indication of how far from – or close to – your daily goal you are. In this case however, it comes with a few 'motivational' phrases. Starting at 0, it's 'get your ass moving bitch'. For most of the middle it's 'shup up, push harder' and finally, just when you think you should get some kudos, you have 'don't flatter yourself'. As notes to self go, they're a little harsh. The wording is written on an otherwise stark white dial, crisp and modern, with the Sequent name, exercise indicating hand and crown all in red. Even without the smart-ass wording it would be a cool watch. As it is, it's definitely not dull. Could you imagine the latest Apple Watch telling you to get bent? We can dream…
IN FOCUS — sequent
Combine novel hybrid technology with smart-ass street style and you have Sequent's new breed of smartwatch
A classical watchmaker and restorer living up to the 'made in Britain' tag in style…
While we may not have quite the modern horological heft as Switzerland or, to a lesser extent Germany, the UK does watches well. We have plenty of watch designers, sketching quirky dials, accessible homages and funky colours; we have a few more serious watch brands, using solid movements and aesthetics tuned to collectors' sensibilities. We even have a handful of true watchmakers. But there's only one Robert Loomes. The man himself is the latest in a legacy of British watchmakers dating back to Thomas Loomes in the 17th century, when the UK was still a luminary in cutting-edge timekeeping, before the proverbial fall of Rome. And while there may have been a number of generations in-between, the modern Loomes is very much the heir to those traditional, horological sensibilities.
ROBERT LOOMES
And that pretty much sums up what Robert Loomes and his watches stand for. Modern watchmaking inspired by restored antique horology; homegrown talent both in-house and out; quirky in the most British way. I could be talking about the workshop, the watches, or the man himself. In fact, it's all three. For out more at robertloomes.co.uk
Robert restorationmastersskilledthemselves,makingactivity.BritishisworkshopLoomes'inStamfordahiveoftraditionalwatchmakingAswellaswatchesthehighlyteamareintheartoftoo
149 IN FOCUS — robert loomes
Loomes' cases, for example, are made in Sheffield, with a company that until recently specialised in big quantities of big steel construction materials. But, in a way of thinking that brands like Minase can probably appreciate, if you can make one extraordinarily demanding object from metal, you can likely make another (and probably relish the change of pace). It's a story that's repeated across Loomes' production line, meaning that the watches at the other end of it are made in Britain, not in the technical sense, but in the true letter of the phrase.
Part of that is Loomes' position as the Chairman of the British Horological Institute, the ancient representative of all things watch and clockmaking across the country. But more important is his hands-on work at his workshop in Stamford. Stamford, for those uninitiated, is the painfully pretty little neighbour of Peterborough, Peterborough being just north of London. You don't really need to know where either is, but they're worth a visit if you're vaguely between East Anglia and the West Midlands. What matters is what was once upon a time the Stamford Gaol, a wonderfully mismatched collection of disparate architecture from centuries past. There you'll find a workshop that, aside from a couple nods to modern watchmaking, could have been preserved since the 1800s. This is the castle of Robert Loomes. It's not all strictly watchmaking. Loomes himself cut his teeth in restoration work before taking the plunge into sticking his own name on the dial, and much of his workshop is still devoted to giving old pieces of mechanical timekeeping new life. That includes full restoration of the inner workings and, perhaps even more impressively, the dials. Not to diminish the refurbishment of movements, but there's a lot to be said for being able to find the perfect pigment of enamel to refresh the face of a watch or clock. The dials are also a perfect illustration of how Loomes' expertise in restoration feeds into his own watches. The enamels made by his dial expert in the rafters of the old gaol are used as research, prototyping subtle new colours that are then incorporated into the main collection. Indeed, it's just next door that Loomes' own miniature kiln is heated up to fire his own dials. Granted there's only room for a handful of dials (a week) but that's part of its charm. And like all small-scale enterprises, it means the quality is superlative. Accessed via an old, twisting staircase, the watch restoration workshop is at the very bottom of the building. Here you'll find pieces of all ages (though mostly very early) being disassembled, serviced and where necessary repaired. It's through another door in this warren of a workshop though that the more modern face of Loomes can be seen. Well, modern might be pushing it a bit. The watchmaking workshop, where Loomes' own pieces – such as the Loomes Original and the Robin Collection – are made has a single industrial CAD machine and a very old, very rare machine for making wheels by hand. The dichotomy of the two is delicious. Both do very different jobs and do them well, but with centuries of technology separating them. It's here that every Loomes watch is designed and assembled – and it's worth pointing out that there's not a Swiss component in sight. Sure, this kind of workshop is far too small to cast gold and mill out steel cases, but that doesn't mean you need to resort to importing. Stamford is in the middle of what was once a centre of British industry, and plenty of metalworkers, foundries and old factories are still around.
The first of Hajime Asaoka's accessibly priced, impossibly hard-to-get timepieces with a complete calendar, the Calendrier 'Type 1' pairs a fluted bezel with a bi-compax layout and a lovely green dial, as full of Japanese flair as any of the brand's previous releases. It's beautiful as well as incredibly well-priced for a calendar. That said, Kurono's hotter than the sun right now (which is saying a lot recently), so the problem isn't being able to afford one, it's diving in early enough to get one on your wrist. kuronotokyo.com
151 BACK — microbrand corner THE SPECS: • 38mm stainless steel case with 50m water resistance • Miyota calibre 9122 automatic movement with 40-hour power reserve • ¥243,000 (approx. £1,525), kuronotokyo.com theavant-gardeCORNERMICROBRANDFromaccessiblehorologytodesigns,here'slatestandgreatestfromtheever-creativeworldofmicrobrands.editedby:SAMKESSLER
Kurono Tokyo Calendrier Type 1
BangaloreWatchCompany
Furlan Marri
New Chronographs
• Seiko VK64 mechaquartz movement • CHF 555 (approx. £480), furlanmarri.com
THE SPECS: • 40mm stainless steel case with 100m water resistance
MACH 1 Syncro Dedicated to the Surya Kiran Aerobatics Team – the Indian Air Force's answer to the Red Arrows – the latest from the Bangalore Watch Company is as inimitably culturally Indian as we've come to expect from the brand, this time translated into an eye-catching pilots' watch. The combination of black and red, particularly with the squadron silhouette at nine o'clock, is a clean, legible looker of an aviation timepiece, blacked out for a striking performance feel and underpinned by a solid Sellita movement. bangalorewatchco.in
Whether you know the brand from its eye-wateringly successful Kickstarter campaign or the resulting collection of superbly designed, vintage-inspired chronographs, you've probably come across Furlan Marri by now. Joining the brand's already impressive offering is a trio of new chronograph colourways: the Castagna, the Rosso Grigio and the Nero Sabbia – the last, with its asymmetrical layout, is a new standout, and as ever, all three are accessible to the point of being irresistible. furlanmarri.com
THE SPECS:
• Sellita calibre SW2-00-1 automatic movement with 38-hour power reserve
• 38mm stainless steel case with 50m water resistance
• £1,600, bangalorewatchco.in
152 BACK — microbrand corner
•
Baltic Tricompax Peter Auto Every good motor event needs a watch and those organised by Peter Auto are a reference point deserving of an equally exceptional timepiece. Well, French watchmakers don't get any hotter right now than Baltic – and the Tricompax Baltic x Peter Auto shows why. A trio of black subdials on a white dial might seem relatively safe, but throw in some bright colours taken from vintage, dashboard-mounted racing stopwatches and you have a funky, retro take on a classic racing watch. baltic-watches.com
Studio Underd0g
153 BACK — microbrand corner
THE 38.5mm stainless steel case with 50m water resistance Seagull ST-1901 Manual-wind movement with 50-hour power reserve £575, underd0g.com
THE SPECS: 39.5mm stainless steel case with 50m water resistance Sellita SW510-M manual-wind movement with 63-hour power reserve PRICE TBC, limited to 300 pieces, baltic-watches.com
•
SPECS: •
•
•
Strawberries and Cream Studio Underd0g is back with yet another quirky colourway for its idiosyncratic flagship of a big-eye chronograph. As the name suggests, it pairs strawberry red with cream, a tasty combination underlined with markers in the shape of strawberry seeds. Like the previously released Aubergine, this fruity number started as a joke with tennis and watch journalist Miguel Seabra and just like its purple forebear, it's one we're glad has been taken too far. underd0g.com
•
MINUS-8 – DIVER 2.0 MINUS-8 watch's Diver 2.0 is a titanium diving watch with a diameter of 44mm and a water resistance rating of 300m. Stylistically it eschews smaller brands' tendencies towards retro design in favour of being modern and industrial. To that end it has strong visual elements that are unlike any other watch, such as the chunky, screw down crown at 4 o'clock. The conscious effort to avoid making a 'copy-cat' diver has paid off, giving the Diver 2.0 a strong identity that's entirely its own. $473 (approx. £390), pre-order from minus8watch.com
RECOMMENDSOracleWHAT'SONOURSHOPPINGLISTANDWHY
Wolkov – W22 Neige Wolkov is a brand that first made a name for itself in 2018 with its revolutionary modular, snapping lug design that made it easier than ever to change your watch strap on a whim. Now, the brand is back with its latest project, the W22. The concept behind this watch is to create a striking and unique shape that stands out from competitors, hence the highly original oval case in high gloss stainless steel and the distinctive dial display that has a central hour scale and peripheral minute track. $990 (approx. £820) available from wolkov.design
156 CELEGIN – DRAKEN S
Celegin's Draken S is a pilot's watch inspired by the Swedish air force. It's named after the Draken fighter jet and bears the distinctive silhouette of that plane on its dial above 6 o'clock. The original Celegin Draken was a chronograph, however the brand subsequently released a limited edition time and date model that was incredibly popular. Hence the creation of the Draken S, a non-limited time and date version that means everyone can enjoy its classy Swedish design. 7,400 Swedish Krona (approx. £590), available from celegin.se
watches
HESILI – THE ORIGINAL SERIES ONE VELVET GREEN Hesili is an American watchmaker that aims to capture the romantic vision of vintage New York in its watches, a goal it achieved with the launch of The Original Series One last year. It's a charmingly retro piece, with a railway track minute scale and distinctive typography that evokes the golden era of New York. It has a 40mm stainless steel case and a gorgeous velvet green dial, offset with brass accents and houses the Swiss STP 1-11 automatic movement. $595 (approx. £490), available from hesiliny.com
CHARLIE PARIS –CONCORDIA Charlie Paris' Concordia is a stylish and accessible diver that oozes 1960s retro diving watch charm. Specifically, the highly legible display with oversize round hour markers is inspired by the types of watches developed around the French Riviera in the 1960s and associated with figures like the French explorer, Jacques Cousteau. Which makes sense for a modern French watchmaker like Charlie Paris. Inside, it houses the Soprod calibre P024. €745 (approx. £640), available from charlie-paris.com
On a functional level watch winders are designed to keep your automatic watches wound, however they also serve as a form of display case. Orbit Winders embraces this duality with a gyroscopic structure that emulates a tourbillon. The smooth and silent motion is both visually spectacular and healthier for your watch than a traditional winder. That's because by rotating on multiple axis it causes less wear and strain on the movement compared to being locked into a single plane. There are three versions available: Piano Black, Walnut and Birch, all crafted by hand. £1,300, available from orbitwinder.com
Forstner Bands –Komfit Everyone knows that the Omega Speedmaster is the iconic space watch, but are you familiar with the most iconic space watch strap? The Forstner Komfit is one of the only steel watch bracelets in history to have been approved by NASA for manned space flights and has even been to the moon. It has a two-layered construction and front-facing clasp that make it easy and comfortable to use. Plus it was one of the first bracelets to feature micro-incremental adjustments, allowing it to be sized properly without the need for additional tools.
$125 (approx. £100), available from forstnerbands.com
FinWatchStraps is a Finnish watch strap making company based in Helsinki that specialises in hand-made custom straps. The brand uses only traditional methods of production in its craft, meaning there is absolutely no machinery involved in any part of the strap creation process. Every piece is produced to the exact standards of the customer and all parameters can be customised including size, width, material, colour, stitching and buckles. Pictured here are custom vintage straps from the Crazy Cow collection. Prices from €74 (approx. £62) depending on level of customisation, available from finwatchstraps.com
157 Accessories
ORBIT WINDER CO. –
French watch strap specialist Jean Rousseau brings luxury to straps of all kinds, including those designed for use with Apple Watches. The Calanques alligator double wrap strap, available with shiny or semi-matte finish, is a gentle turquoise colour inspired by the iconic Calanques of Marseille, a beautiful coastal cliff area akin to a Mediterranean ord. The shade of turquoise used here is reminiscent of the incredibly popular Tiffany blue. £470, available from jean-rousseau.com
SCATOLA DEL TEMPO – ROTOR ONE BLACK Keeping your watches in good condition while you travel with them requires careful thought. One solution is a portable watch winder like the Scatola del Tempo Rotor One Black, which is their best selling winder. It's battery powered and has a minimum autonomy of three years, meaning it's easy to relocate and travel with at a moment's notice. It also has a soft to the touch exterior making it a satisfying object to carry. £530, available scatoladeltempo.comfrom
FinWatchStraps –Custom Vintage Straps
Watch
ORBIT WINDER
JEAN ROUSSEAU – CALANQUES ALLIGATOR STRAP
158 Style Oil Can Grooming –Iron Horse Getting men to take care of themselves isn't always easy but UK-based grooming brand Oil Can Grooming embraces the challenge by engaging with the hobbies and activities its customers are passionate about. For example, the Iron Horse beard oil is inspired by motorbikes, with its signature scent derived from those found on the open road while biking: leather and wild raspberry. Oil Can also has its own custom bobber, based on a Yamaha XS650, showcasing an authentic and genuine passion for automotives.
£362, available from oscarmendoza.ca
BOAKE – REGEN ACTIVE TOP Boake believes in active wear with a conscience, which is why for every ReGen Active Top that is purchased a tree is planted thanks to the brand's partners at Ecologi. Not to mention that the packaging used is carbon neutral and biodegradable. The top itself is created from premium recycled materials and has water resistant properties, enabling you to train for longer. It's been designed for both active and casual use with a streamlined look produced in elastane for flexible shape retention.
Inspired by a beautifully aged, vintage waxed canvas hunting jacket, the Weston Field Jacket from &SONS has been designed to bring both style and utility in equal measure. Rather than hunting, the Weston Jacket is based around outdoor photography, featuring enough pockets to carry camera accessories safely and accessibly. In fact, there are more than eight pockets including a 360° poacher's pocket for oversize items. At the same time, it retains classy proportions and the organic waxed cotton canvas looks great. £295, available from andsons.co.uk Use Code Oracle25 for 25% off the &SONS collection
CASTAWAY CLUB CLOTHING –
EARTH HOODIE Castaway Club Clothing is a fun casual and sportswear brand from Chicago which brings a distinctive graphic style to its shirts and hoodies. The brand operates through a series of bi-monthly releases with each new piece only available in limited numbers. Its latest drop is the Earth Hoodie, a sweatshirt that raises awareness for the growing climate crisis with the slogan 'Make the Earth Cool Again'. Although it advocates cooling down, its comfortable and soft design will keep you nice and warm. $86 (approx. £72) available from castawayclubclothing.com
Bringing runway-style clothes to your wardrobe, Oscar Mendoza's latest collection is called Ezoteria. The collection is themed around fantastical animals, which is prominently showcased by this white satin dress shirt featuring an octopod and beast print. It pairs well with hig- waisted tuxedo trousers for an exciting formal look or it can be dressed down with jeans and sandals for a summer/beach-ready style.
£75, available from boakeactivewear.com &SONS –Weston Field Jacket
£26 - 50ml, available from oilcangrooming.com
OSCAR MENDOZA – EZOTERIA OCTOPOD AND BEAST PRINT DRESS SHIRT
159 Tech
CAMPFIRE AUDIO – TRIFECTA
SIMBA HYBRID 3-IN-1 DUVET
Tangram – SmartRope
We're still just about in British summertime, which as we all know means that on Monday we'll be experiencing a heat wave, Tuesday it'll rain and Wednesday could be anything from recordbreaking temperatures to snow, all of which makes sleeping a nightmare. Fortunately, Simba's Hybrid 3-in-1 Duvet can serve as a light summer cover, mid-size autumn blanket or combine together as a winter defender, making it super easy to stay comfortable whatever the weather or temperature. £349, available from simbasleep.com
GRADO – STATEMENT X HEADPHONES
Keeping fit is tough. Especially in the modern world where the emphasis is much more on home workouts and creating home gyms. That's where the Tangram SmartRope comes in, a smart jump rope that can relay your fitness data while you're working it. It achieves this through an innovative LED strip built into the rope itself, the lights trigger in specific sequences that create the image of numbers and information as it travels in front of you, like an animation in real life. All you need is some floor space and you can have structured, informative and effective workouts. $79.95 (approx. £65), available from tangramfactory.com
Bang & Olufsen x Balenciaga – Speaker Bag Taking portable speakers to the next level, Bang & Olufsen has paired up with Balenciaga to create a combined speaker and bag. Its shape is informed by Balenciaga's classic designs while the front panel bears B&O's signature speaker aesthetic, carefully wrought to ensure optimal sound without compromising the integrity of the bag. Currently the Speaker Bag is an extreme limited edition of 20 pieces, but with such a strong concept perhaps we'll see a commercial version in the future. Find out more bang-olufsen.comat
Campfire Audio produces handcrafted earphones for discerning audiophiles. The brand's latest launch is Trifecta, which features earphones made from clear nylon that reveal the three internal, gold-plated, 10mm ADLC diaphragm dynamic drivers. The triangular configuration creates a performanceenhancing acoustically tuned chamber to create a surprisingly rich and massive sound from such a small piece of technology. $3,375 (approx. £2,800), limited to 333 pieces, available from campfireaudio.com
The new GS3000X headphones from Grado's Statement X collection contain the brand's largest and most powerful drivers to date. The new 52mm speakers work in conjunction with the signature wooden design to provide a textural sound. Specifically, the Grado Statement X Headphones are produced in a tropical hardwood from central America called cocobolo, although other models use woods such as mahogany and maple. £1,295, available from grado.co.uk
Just in case you weren't convinced of his squeaky clean morality, he also forms an attachment with a young girl with heart disease and it transpires that the reason he's in prison at the start of the film is because he killed his abusive father in self-defence. While he's not the most rounded character in cinema, it is at least fun to watch him beat up the circus of scenery-chewing bad guys around him without debating which side is in the Flashingright.on his wrist throughout the film is the Tag Heuer Carrera Date 39mm Three Hands with silver dial. Its sporty 39mm diameter Carrera case means it can keep up with the fast-paced action admirably while the refined aesthetic of display pairs well with the classic super spy tailored suit. Admittedly it is slightly incongruous to see the bright dial flash during stealthy, rooftop action sequences, but fortunately the main antagonist of the film also wears a watch, so any tactical disadvantage is shared. That antagonist is the moustachioed Lloyd Hansen played by Chris Evans. He's a direct foil to Six, a racist and sexist sociopath who takes too much pleasure in admitting that he enjoys torturing people and isn't afraid to kill children. Textbook villain material. While he never twirls his moustache, it wouldn't feel out of place. On his wrist is the Hamilton Boulton, an American classic from the 1940s reintroduced in the 1980s as a quartz timepiece. It has a rectangular dial with curved corners that makes it distinct from a Cartier Tank or JLC Reverso. Similar to the Carrera, it rides the line between sporty and elegant with a durable stainless steel case featuring yellow PVD coating, giving the impression of gold. The only downside is that the 30m water resistance means that after taking a substantial soaking during the film's climax, it's probably an ex-wristwatch.Ifyou'relooking for a nail-biting thriller with gripping action, a captivating plot and complex characters, I'd recommend sticking to Bond, Bourne or John Wick. But if you don't have time to watch three multi-film sagas, The Gray Man is a solid approximation of all three at the same time – and it's an easy evening watch on Netflix.
160 MOVIEWATCH — the gray man
He might not be as morally ambiguous as his name suggests, but Ryan Gosling's Gray Man at least has a solid wrist game For a movie called The Gray Man , Netflix's latest star-studded action flick has the most black and white morality of any spy thriller in the last ten years. Ryan Gosling leads the action as the byMOVIEWATCHMICHAELSONSINO titular Gray Man, a secret agent assassin named Six – the name 007 was already taken, as Gosling quips during the film. However, while he has a reputation for being ruthless, his first action in the film is to deny his superiors when they order him to take a shot that could risk injuring nearby innocents.
The Gray Man