JANUARY 20TH, 2023 has one bedroom, reception area, showroom & workroom. Behind is a covered patio which leads to a spacious, private studio with wood floors, clerestory windows, pergola, wooden deck, and a wonderful sense of privacy. On 1/3 acre with 10 parking spaces, beautifully landscaped grounds, walking paths, a secret garden & mature trees, you can let your creative juices flow and make something amazing! $2,250,000 OJAI VALLEY NEWS | SERVING THE OJAI COMMUNITY SINCE 1891 | 805-646-1476 | RE@OJAIVALLEYNEWS.COM Patty Waltcher 805.340.3774 pattywaltcher@mac.com DRE 01176473 LIV Sotheby's International Realty 727 W Ojai Ave, Ojai 410 WEST OJAI AVENUE
Ojai Property Group Inc. 805-202-4149 www.OjaiPropertyGroup.com 1211 Maricopa Hwy, STE 109, Ojai, CA 93023 419 Brakey Road, Ventura | 4 beds, 3 baths | $8,000 /mo. Open Sunday 1-3 | 1458 Foothill Road | 3 beds, 3.5 baths | $4,679,000 AVAILABLE RENTALS FOR SALE Tucked behind a private gate, nestled among the foothill oaks is a single-story 2022 new build with the design features of a Modern/Contemporary home. Private, enchanting & serene, just steps to the Pratt Trail, yet just a jaunt from downtown Ojai. No expense was spared on this 3 bed, 3.5 bath masterpiece. 60 Feliz Drive, Oak View | 3 beds, 2 baths | $3,900 /mo. NEW LISTING 74 VALLEY RIDGE | OPEN SAT. & SUN. 1-4 $789,000 MOVE IN READY! This comfortable 3 bed, 2 bath home is located in a desirable Mira Monte neighborhood, convenient to Ojai Valley Bike and Hiking Trail. The kitchen is spacious with direct access to a private backyard offering mountain views, lush landscaping, patios, garden area and fruit trees. The home is light and bright, well maintained with updates throughout including dual pane windows and tile flooring. There is an attached 2 car garage along with RV access on the side of the house.
© ©2022 Berkshire Hathaway HomeServices California Properties (BHHSCP) is a member of the franchise system of BHH affiliates LLC. BHH Affiliates LLC and BHHSCP do not guarantee accuracy of all data including measurements, conditions, and features of property. Information is obtained from various sources and will not be verified by broker or MLS. Buyer is advised to independently verify the accuracy of that information.
Amanda Stanworth 805.218.8117 DRE: 01262333 AmandaStanworth@bhhscal.com Teresa Rooney 805.340.8928 DRE: 05994439 OjaiRooney@gmail.com
ROSE VALLEY Create an off-grid, country retreat on 40 acres with mountain views, trails, and a natural spring in Rose Valley in the Los Padres National Forest.. $1,200,000 UPPER OJAI 20 Acres with Mountain and Ocean Views, Gated Entry, Avocados, Citrus, Well, Two Water Storage Tanks, House Pad, and Parking Structure. 13382 E. Sulphur Mountain Road $1,000,000 ROCA
RANCH Seven-Bedroom Main House on Approximately 10 Acres with Pool House, Pool, Spa, Outdoor Kitchen, Three-Car Garage, Two-Car Garage, Artist's Loft, Lighted Tennis Court, Family Orchard, and Horse Facilities. 12055 Sulphur Mountain Rd. $4,995,000 RocaVistaRanchOjai.com MOUNTAIN VIEWS Three-bedroom, two-bathroom home near Ojai Valley Trail and Lake Casitas with two-car garage, ceiling fans, breakfast bar, dog run, fruit trees, and mountain views. 150 Monte Via $719,000 IN ESCROW ROYAL OAKS RANCH 5 Bedrooms, Media Room, Wine Cellar, Tasting Room, Gym/Massage Room, Pool & Spa, Indoor and Outdoor Putting Greens, Well, Six-Car Garages, Bocce court, views, and so much more. Price Upon Request RoyalOaksRanchOjai.com Integrity, knowledge and experience you can trust THE DAVIS GROUP 805.207.6177 nora@ojaivalleyestates.com www.ojaivalleyestates.com 727 Ojai Avenue, Ojai CA 93023 Nora Davis DRE 01046067
VISTA
170 Don Antonio Way, Ojai
699 Highland Drive, Ojai
on this half acre lot. OFFERRED at $1,300,000
© 2023 LIV Sotheby's International Realty. All rights reserved. Each Office is Independently Owned and Operated.
OJAI VALLEY REALTOR® DRE#
Anne Williamson OJAI VALLEY REALTOR® DRE#
805.320.3314 LIV Sotheby's International Realty 727 West Ojai Avenue, Ojai CA 93023 805.646.7288 Nothing
SOTHEBYSREALTY.COM The perfect Ojai retreat! This mid-century 3 bedroom 3 bathroom estate has been lovingly restored and updated with great attention to detail. The property is set on approximately an acre located in the East End of Ojai. 1115 McNell Rd, Ojai | Offered for $3,250,000 Two bedroom, two bath mobile home located in Ojai Villa gated 55+ community. Low rent and Views are two of the great features of this home, loved by this Seller for 22 years. Two bed, 2 bath in Mira Valle Mobile Estates with expansive cabinetry, built ins and storage space. Large living room open to dining room, Spacious patio area and yard with mountain views. Lic# 01379424 805-798-3358 HeatherSells805.kw.com NEWLISTING IN ESCROW SENIOR COMMUNITY SENIOR COMMUNITY 1202 LOMA DR., #100 $199,000 950 WOODLAND AVE., #63 $219,000 172 VEGA WAY $210,000 KRISTEN CURRIER Realtor® (805) 798-3757 kcurrier@livsothebysrealty.com OjaibyKristen.com DRE 01314850
Cassandra VanKeulen
01929366 805.798.1272
01448441
Compares
countertops,
air. Low space rent.
$279,000 IN ESCROW
Affordable living in one of Ojai's best adult parks. This 2 bedroom home has been extensively updated. It has beautiful flooring throughout, granite
updated kitchen, central heat and
OFFERED AT
OPEN HOUSE SUNDAY 1-4 kcurrier@livsothebysrealty.com REALTOR® MARIE McTAVISH JOINS KELLER WILLIAMS OJAI OJAI, CALIFORNIA — Keller Williams West Ventura County, part of Keller Williams ('KW'), the world's largest real estate technology franchise by agent count, is pleased to announce that Marie McTavish, Realtor® has joined their firm as Realtor® Associate in the Ojai office effective immediately. BACK IN THE SADDLE AGAIN IN OJAI 805.231.5075 mariemctavish@gmail.com DRE 0163382 Come Giddy Up with me! EACH OFFICE INDEPENDENTLY OWNED AND OPERATED.
Nestled in the Oaks, this 3 bedroom, 2.5 bathroom home makes you feel like you are in nature! Beautiful home that offers a wonderful open floor plan with living room, dining room, kitchen, and office! Great outdoor space with a wrap around deck which is perfect for enjoying the tranquil scenery
RESIDENTIAL/INCOME
Amazing potential exists within this three-story 5 bed, 4 bath home in vibrant Meiners Oaks. Extended family, ADU, or business from home - this home has room for it all. Call for a showing today! $1,250,000 Glenn Kuhr 805-760-0366, Dale Hanson 805-646-7229
Second bedroom has a 3/4 bath with a private entrance to the backyard. Wood flooring in living room, front bed and dining area. 140 N. Encinal | $749,000
Anita Downey 805-646-4911 x107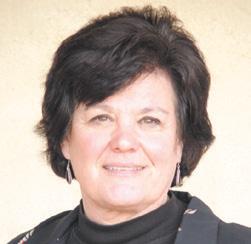 TWO lots FOR the price of ONE. Mid-century steal. Attached dwelling has a kitchen & full bath. Mainhouse has a fireplace, central air/heating, pool, spa, 2 car garage, RV parking, and solar. 165 Ojai Drive, Oak View | $829,000 Jasmin Willimas 805-646-7229 x106
Affordable Opportunity-Located in Ojai Villa senior park. Clubhouse with pool, billiard room, exercise room. Easy access public transportation, shopping center and the Ojai Trail. 111 Don Carlos. $139,000 | Carol Blanton 805-646-4911 x116
Chumash Wilderness Ranch. Two 40-acre parcels. 50 miles north of Downtown Ojai just off HWY 33. Water, Utilities and housing. The property backs up to the Los Padres National Forest. Very private. Farming, livestock, campgrounds or build your private dream home.
$675,000 Ron McCrea 805-646-4911
Beautifully
Holly Humphry Realtor 805-646-4911 x104 CA. Lic# 00875307 Dale Hanson Realtor 805-646-7229 CA. Lic# # 01229522 Carol Blanton Broker 805-798-2246 x110 CA. Lic# # 01013216 Jasmine Williams Realtor 805 646-4911 x 106 CA. Lic# 01985387 Glenn Kuhr Realtor 805-760-0366 x105 CA. Lic# # 01707086 ojaivalleyrealestate.com Sales / Property Management / Notary Service Ojai Valley Real Estate, 221 E Matilija St. Suite J, Ojai, (805) 646-4911 Alexandra Bendorf Realtor (805) 646-4911 x 103 CA. Lic# 01892408 Anita Downey Realtor 805-646-4911 ext.107 CA. Lic# 01930483 OPEN SATURDAY 1-4 FOR SALE FOR SALE
the
Featuring stainless steel appliances and quartz countertops in the upgraded kitchen, vaulted wood beamed ceilings in the living
and an
with access to the single car garage. Water and trash paid. 410
#53
remodeled 1 bed, 1 bath condo in
Hitching Post community.
room,
oasis backyard
Church
$575,000 | Dale Hanson 805-646-7229
2 bath
is
This 2 bed
house
located on a quiet street, close to amenities.
PRICE REDUCED! FOR SALE SATURDAY 1 1-4 . 74 Valley Ridge Street . . . Teresa Rooney . . . $789,000 2 1-4 410 Church Rd , #53 Alexandra Bendorf $575,000 SUNDAY 1 1-4 . 74 Valley Ridge Street . . Teresa Rooney . . . $789,000 3 1-4 699 Highland Drive Kristen Currier $1,300,000 4 12-3 410 Church Road #17 Bob Kemper $745,000 5 12-3 . 63 W Calle El Prado Jeannie Nickerson . . . $839,000 6 12-4 1009 Grandview Avenue Riley Becker $1,339,000 7 12-4 116 S Pueblo Avenue Jeri Becker $1,500,000 8 1-3 . 1458 Foothill Road . . Dave Lynn . . . . $4 679,000 SATURDAY JANUARY 21 SUNDAY JANUARY 22 Alexandra Bendorf (805) 798-4160 Ojai Valley Real Estate Jeannie Nickerson (805) 701-6828 Berkshire Hathaway Kristen Currier (805) 798-3757 LIV Sothebys International Realty Jeri Becker (805) 340-2846 NextHome Pacific Coast Realty Dave Lynn (805) 207-8122 Ojai Propery Group 1 5 6 8 7 2 4 3 MIRA MONTE OAK VIEW CASITAS SPRINGS MEINERS OAKS OJAI EAST END OPEN HOUSES 2 5 3 7 8 Teresa Rooney (805) 340-8928 Berkshire Hathaway Bob Kemper (805) 551-5121 LIV Sothebys International Realty Amanda Stanworth (805) 218-8117 Berkshire Hathaway Riley Becker (805) 758-0755 NextHome Pacific Coast Realty 1 4 1 6 MAP SPONSORED BY DONNA SALLEN 805.798.0516 • www.donnasallen.com • Donna4Remax@aol.com lic. # 01488460
"Stay Strong. Stay Healthy. Stay Connected." 805.798.0516 • www.donnasallen.com • Donna4Remax@aol.com Beautifully remodeled 3 bed, 3 bath condo with a spacious open floor plan complete with Saltillo tiles, vaulted ceilings, two fireplaces, cook's dream kitchen, and an elevator, located just steps from restaurants, farmers market, and shops in downtown Ojai. 239 S. MONTGOMERY STREET CASA DE LA LUNA — With 11 bedrooms and 16 bathrooms spread across 6 residences, this magnificent estate is likely the best value available anywhere in California. Massive outdoor patios and cooking areas, two large fountains, indoor pool with gym and recreation center make this property feel like you are at a grand resort. 975 FAIRVIEW RD — This lovely 4 bed, 3 bath home has vaulted ceilings, a spacious open floor plan & the 7.5 acre property is gated & private. DONNA SALLEN RE/MAX GOLD COAST REALTORS DRE 01488460 NEWLISTING!