NEW FACES: VIBRANCY MEETS DETERMINATION OJAI'S HAVING ITS DAY EXPANDARDS & THE OJAI EFFECT
HACIENDADOWNTOWN FOR SALE $1,971,000 DONNA 805.798.0516SALLEN
ABOUT THE PROPERTY Welcome to this lovely Spanish Style Hacienda home located right down town Ojai and sitting on just shy of half an acre. This home, enlarged in 1997 and fully remodeled in 2007, (including electric and plumbing) has a flexible floor plan allowing for extended family or separate guest quarters — plenty of room for everyone. The cook-centric kitchen, with stainless appliances, granite countertops, wine refrigerator and breakfast bar, is big enough for family gatherings or just a cozy time with your morning coffee. The guest quarters, (1 bedroom, 1 1/2 bathroom) is attached to the main house, (2 bedroom, 2 bathroom) so it can be made part of the house, in-law apartment, or separate space for producing income. Rustic beamed ceilings, Saltillo tiles, 3 fireplaces, and many more.
2 BEDROOMS
PROPERTY DETAIL 2 BATHROOMS GUEST HOUSE www.donnasallen.com donna4remax@aol.com
There's no place like home. Let me find yours.
ABOUT THE PROPERTY Located behind the private gates of Rancho Matilija in Ojai, on over 2 acres, sits a Mediterranean Estate. This 5 bedroom, 5.5 bathroom home has a perfect blend of indoor/outdoor living. Wonderful vaulted ceilings throughout, distressed wood and terrazzo stone flooring, lovely granite countertops and hand-painted tiles. As you enter into the home, you are greeted with an impressive grand foyer, a handsome library/den, formal living room and dining room. The great room is magnificent with beamed ceilings, massive fireplace and open to the cook's dream kitchen. The butler's pantry, wine cellar and wet bar are perfect for entertaining. Each bedroom has its own en suite bathroom. Large guest quarters; per fect for friends, guests, or extended family. There is a refreshing pool, gentleman's orchard, owned solar with Tesla Battery back-up, and large outdoor cabana.
donna4remax@aol.com FOR SALE GATED PROPERTY
MATILIJARANCHO
PROPERTY DETAIL 5 BEDROOMS 5.5 BATHROOMSwww.donnasallen.comHOUSE
GUEST
$3,765,000
4 OQ / FALL 2022 NEW LISTING 2340 Burnham Road Ojai, California 3 BD | 2 BA | 1,292 SQFT OFFERED AT $1,050,000 © 2022 LIV Sotheby's International Realty. All rights reserved. All data, including all measurements and calculations are obtained from various sources and has not and will not be verified by Broker. All information shall be independently reviewed and verified for accuracy. LIV Sotheby's International Realty is independently owned and operated and supports the principles of the Fair Housing Act. Service that's as elevated as your standards. TYLER BROUSSEAU Cal805.760.2213DRE01916136 OjaiForSale.com CLINT HAUGAN Cal805.760.2092DRE02019604 OjaiForSale.com TOP PRODUCING OJAI AGENTS SOLD 9850 Old Creek Road Ventura, California 3 BD | 2 BA | 2,539 SQFT SOLD FOR $1,690,000 Visit OjaiForSale.com NEW LISTING 615 Crestview Drive Ojai, California 3 BD | 2 BA | 2,236 SQFT OFFERED AT $1,595,000 SOLD 33 Resposo Drive Oak View, California 5 BD | 3 BA | 2,262 SQFT SOLD FOR $1,525,000 Tyler Brousseau and Clint Haugan
G A B R I E L A C E S E ÑA THE NEXT LEVEL OF REAL ESTATE SERVICES Realtor | Luxury Specialist Berkshire Hathaway Unwavering commitment to my clients' satisfaction. Driven by passion for the work I do 805.236.3814 | gabrielacesena@bhhscal.com CAL DRE# 01983530 Gabrielacesena.bhhscalifornia.com
206 Topa Topa Drive | Offered at $1,675,000 | Pink Moment Views | Midtown Authentic Spanish Hacienda
Enchanting Authentic Spanish Hacienda in Midtown Ojai, California!
Find your sophisticated haven in this thoughtfully-designed and loving ly maintained Spanish three bedrooms, two baths, just-under 1,800 sq ft. masterpiece infused with romance and beauty at every turn! A wall of floor-to-ceiling French doors opens to a lovely covered porch, creating seamless indoor-outdoor spaces. A spectacular grand room with an in viting fireplace and exposed wooden beams provides warmth and rustic character; a chef's kitchen offers a welcome view of the sunny court yard. Past the living area, down the hall, a cozy office awaits, with its own doorway to the courtyard. The luxurious primary suite, with a patio over looking the Topa Topas, is simply a stunner. Your guests will be spoiled in a lovely, comfortable guest room with French doors opening to a terrasse. A couple of steps down, enjoy gathering with friends or soaking in a hot tub while enjoying views of the famous Pink Moment!
OPEN DAILY 11 - 5:30 | 321 EAST OJAI AVENUE | 805.646.1927 Follow M e O n I nstagra M @ dansk I blue FALL 2022 The Most Unique Store in the Universe "A Must See" The New TimesYork
10 OQ / FALL 2022 Get Away from it all ~ House + Guest House & Pool $1.995M DRE#Team@PeraltaTeam.comILiveInOjai.com@PeraltaTeamOjai01862743 THE TRUSTED NAME IN REAL ESTATE FOR OVER 20 YEARS Something for Everyone in this 5 Bed + Pool & Close to Town $1.849M
OQ / FALL 2022 11 Authentic Spanish Beauty ~ A Piece of Ojai History $3.2M Paula Edmonds TEAM 805.665.7382REALTOR Tonya Peralta BROKER 805.794.7458ASSOCIATE Rachelle Guiliani TEAM 805.746.5188REALTOR Steven Sharp TEAM 805.223.5315REALTOR Brooke Stancil OPERATIONS MANAGER 805.794.7262 Ashley Ramsey TEAM 805.302.4175REALTOR SOLD
12 OQ / FALL 2022 coastalranch.com Kerry Mormann & Associates (805) 682-3242 Office DRE #00598625 info@coastalranch.com ©2022 Berkshire Hathaway HomeServices California Properties (BHHSCP) is a member of the franchise system of BHH Affiliates LLC. BHH Affiliates LLC and BHHSCP do not guarantee accuracy of all data including measurements, conditions, and features of property. Information is obtained from various sources and will not be verified by broker or MLS. Buyer is advised to independently verify the accuracy of that information. THE GOLD STANDARD FOR CENTRAL COAST REAL ESTATE Steeped in a rich foundation of over 40 years-experience, Kerry Mormann & Associates is the Gold Standard for Ranch and Lifestyle properties along the Central Coast of California. Our team encompasses decades of experience in not only real estate, but the highest level of hospitality, community relations, and environmental conservation. VILLA DEL MARE 287±AC | GOLETA | $25,000,000 • 12,000± SqFt Main Residence • Well Appointed Guest Home • Immaculate Pool + Garden Areas • Sweeping Ocean + Island Views THE HACIENDA RANCH 3,100±AC | GOLETA | $45M • Historic Hacienda + 16 Other Homes • 15 Wells, 6 Resesrvoirs, Abundant Water • 25 Underlying Parcels Providing Land Use Flexibility + Potential Tax Benefits LUX EQUESTRIAN ESTATE 9.78AC | SANTA YNEZ | $7,100,000 • 4,000± SqFt | 4 Bed | 4 Bath • 6-Stall Barn, 5 Pastures, 2 Arenas • Home Theater w/ Surround Sound • Guest Home, Solar Panels, + More RANCHO MONTE ALEGRE 2,862±AC | CARPINTERIA | $35M • 8 Buildable Lots • Miles of Trails • Ag & Building Envelopes • Panoramic Ocean/Island Views BIG BEND RANCH 108±AC | LOMPOC | $3.95M • Extensive Roads and Trails • Potential for Diversified Ag • Elevation Range from River to 1,600ft RANCHO CANADA LARGA 6,500AC | VENTURA | $27.65M • Rolling Hills, Streams, Pastures • Current Used for Cattle Grazing • 18 Legal Parcels • Possible Conservation Tax Benefits ListedJustListedJustComingSoonHotListing
a n y m o r e B u t n o w w e d i s c o v e r e d t h e m a g i c a l t o w n o f O j a i a n d t h o u g h t t h a t t h i s w o u l d b e t h e p e r f e c t p l a c e f o r T h e I v y t o r e o p e n O u r w i d e r a n g e o f i t e m s i n c l u d e s a n t i q u e s , n e e s t a t e j e w e l r y, s t e r l i n g s i l v e r, E u r o p e a n p o r c e l a i n s a n d p o t t e r y, l i n e n s , a n d e x c e p t i o n a l a n t i q u e f u r n i t u r e f r o m a r o u n d t h e w o r l d A s a l w a y s a t T h e I v y, t a b l e t o p a c c e s s o r i e s a b o u n d i n n e d i s h w a r e , c r y s t a l , a n d s i l v e r t o n i s h o ff y o u r t a b l e i n s t y l e . C o m e s e e o u r n e w l y e x p a n d e d s h o w r o o m f e a t u r i n g e x c l u s i v e , v e r y m o d e r n , a n d u n u s u a l f u r n i t u r e , a r t , r u g s , a n d a c c e s s o r i e s . I f y o u n e e d t o n d t h e e l u s i v e " p e r f e c t " g i f t , T h e I v y i n O j a i i s t h e o n e s t o p s h o p f o r a l l y o u r n e e d s . C o m e j o i n u s , a f t e r a l l : ' E v e r y o n e s h o p s a t T h e I v y.'
14 OQ / FALL 2022 OJAI QUARTERLY p.38 EXPANDARDS & ALL THAT JAZZ Jorgensen-Koren's Pandemic Project Project Nears Release Story by Abigail Napp p.46 TREE SPEAKS New Book Examines the Interior Life of an Oak Tree Story By Kit Stolz p.90 Mazes & travel The Inward Journey Into The Twisting History of Hedges Story By Jerry Dunn
OQ / FALL 2022 15 FEATURES116ANTELOPESATRISK Elusive Carrizo Plain Dwellers & Their Precarious Existence By Chuck Graham NEW FACES: VIBRANCY MEETS DETERMINATION OJAI'S HAVING ITS DAY EXPANDARDS & THE OJAI EFFECT Cover Ojai's New Faces Photograph by Brandi Crockett, Fancy Free Photography & Story by Robin Gerber p.106 pickleball's ascension Fast-Growing Sport Finds Ojai Enthusiasts Story by Richard Camp
16 OQ / FALL 2022
This sweet Ojai Compound com prises a vintage cottage, yoga/ art studio, large studio with 1/2 bath, and a groovy outdoor enclosed shower--perfect to convert to an ADU. Relax, screen films, or entertain friends in your screened recreation room with a stone fireplace on those cool Ojai nights. Make your appointment to see this unique property today! DOWNTOWN HIDEAWAY Live The Ojai OjaiDream.comDream.805-766-7889 Sharon MaHarry Broker Associate KW Realty Ojai/West Ventura County BRE805.766.7889#01438966Each office is independently owned and operated. OJAI 20-Acre Organic Estate w/4BR home, studio, and cottage $3,899,000
Let us repeat: perfect market timing (which, in reality, even the experts can't implement) doesn't make nearly as much difference as consistency, year over year. One of the easiest ways to be consistent? Dollar-cost averaging.
Despite the wild gyrations of the last several months, the stock market remains the best place to build long-term wealth. Again, it is not a way for the average investor to make a quick profit. Start slowly, but start now, and continue to invest regardless of market conditions. Integrity Wealth Advisors, Inc. is a Registered Investment Adviser. This material is solely for informational purposes. Advisory services are only offered to clients or prospective clients where Integrity Wealth Advisors, Inc. and its representatives are properly licensed or exempt from licensure.iwaplan.com(805) 947-0202
18 OQ / FALL 2022
stocks have outperformed cash over every 20-year period from 1926 to 2019 by a large margin. During these 90-plus years, the average ending wealth for an investor who put $2,000 a year in cash investments for 20 years is approximately $64,500. The average ending wealth for an investor who puts their $2,000 a year in the stock market with perfect timing (always investing at the low) is approximately $175,000. And the most interesting data point of all is that the investor who put their $2,000 in the market on the first day of the year, without any thought for timing, would end up with approximately $162,000. In other words, they made almost as much as the perfect timer and outperformed the procrastinator by a threefold margin.
Consider a hypothetical example. Let's say you invest $100 the first day of every month for six months into a fund whose value fluctuates wildly month to month: from $10 per share to $5, to $6, back to $5, to $8, and then back to $10. With dollar-cost averaging over this six-month period, you invest a total of $600 dollars and purchase just a tad over 89 shares, for an average cost of $6.73/ share and an ending value of about $892. If, instead, you had invested the entire $600 at the beginning of the six months, you'd have only purchased 60 shares, with a much higher average cost of $10/share, that would continue to be worth just $600 at the end of the six Ofmonths.course, the results will vary depending on the real numbers. In our example, if the fund had continued to decline, with dollar-cost averaging, you'd have purchased even more shares over the six months.
By contributing to your 401k with every pay check, you automatically take advantage of an investing strategy called Dollar Cost Averaging. Here's how it works: every two weeks (or at any regular interval), you invest a set amount of money, regardless of how the stock market is performing. The beauty of this approach is that when the markets are down, and prices are low, you are able to purchase more shares for your money. Conversely, when markets are up and prices are high, you buy fewer shares.
OFFICES IN OJAIDOWNTOWN&VENTURA Financial Planning: DOLLAR COST AVERAGING CHRISTOPHER WAGNER Investment Advisor & Financial Planner, CPFA with Integrity Wealth Advisors July 2022
Source: Charles Schwab
When we experience increased market volatility, one of the most asked questions we hear is, "Should I keep contributing to my 401k?" The short answer is yes, but let us explain why.
On the other hand, if the fund had continued to go up every month, you'd have been better off investing all of your money at once instead of spreading it out. While the road can be rocky (particularly over the short term), over longer periods of time the stock market tends to rise. In this way, dollar-cost averaging is not a guarantee of the biggest profit or absolute protection against a loss, but it is a great way to stay the course during a volatile market. A built-in benefit of whoaboutWetoitaveragingdollar-costisthatisanantidotemarkettiming.allhearpeoplewantto find that perfect moment to invest and make a killing, and we wantyouunderstandcompletelywhensayyoudon'ttoinvestjust to see your values go down, but timing the market is pretty much impossible. In fact, the length of time you invest matters much more than entering the market at the best Investmentstime.in
OQ | DEPARTMENTS OJAIEditor'sp.25LIFE:Notep.26Contributorsp.29OjaiNotesp.35 Art & Artists Section p.57 Food & Drink Section p.79 Yesterday & Today Section Healersp.103ofp.110-111Ojai Ojai Day, Electric Bikes CalendarHikingp.112Mapp.125ofEvents p.29 Two Degrees Black Mountain College & Ojai By Bret Bradigan p.55 Artists & Galleries Where Ojai Finds Its Purpose p.72 Food & Drink The Love Social Experiment By Ilonap.37SaariO.J.A.I. Jail Set Free Ojai Day Exhibit Behind Bars By Bret Nocturnalp.142BradiganSubmissionsHidinginBeigeSightatthePsychotherapist'sOfficeBySamiZahringer
What does it mean to be Educated? oakgroveschool.org/open Open House NOVEMBER 5 • 1-4PM
Introducing 4685 Grand Avenue, located in the extremely sought-after East End of Ojai. Privately tucked away sits this beautifully organic mini-estate that offers an amazing chef's kitchen, large 55-foot swimming pool, fully finished detached two-car garage and the finest quality of indoor-outdoor living that Ojai is so known for. The lush and mature garden protects this property from the outside world, while being just a 5-minute drive to downtown. Come see for yourself this truly special home! 4685 Grand Ave Ojai, 93023 $2,950,000
Editor & Publisher Bret Bradigan Sales Manager David Taylor Director of Publications Ross Falvo Creative Director Uta Ritke Social Media Director Elizabeth Spiller Ojai Hub Administrator Jessie Rose Ryan Contributing Editors Mark Lewis Jerry Camarillo Dunn Jr. Jesse Phelps Columnists Chuck SamiIlonaGrahamSaariKitStolzZahringer Circulation Target Media Partners CONTACT US: Editorial & Advertising, David@ojaiquarterly.comeditor@ojaiquarterly.com805.798.0177 The contents of the Ojai Quarterly may not be used, reproduced or transmitted in any form or by any means without the written consent of the publisher. SUBSCRIPTIONS: To subscribe to the OQ, visit ojaiquarterly.com or write to 1129 Maricopa Highway, B186 Ojai, CA 93023. Subscriptions are $24.95 per year. You can also e-mail us Pleaseeditor@ojaiquarterly.com.atrecyclethismagazinewhenyouarefinished. © 2022 Bradigan Group LLC. All rights reserved. FALL 2022OJAI QUARTERLY Living the Ojai Life #OJAI IG #ojai.quarterly Photo by Joe Sohm/Visions of America
OQ / FALL 2022 23
24 OQ / FALL 2022 © Sotheby's International Realty, Inc. All rights reserved. Sotheby's International Realty® is a registered trademark. This material is based upon information which we consider reliable but because it has been supplied by third parties, we cannot represent that it is accurate or complete and it should not be relied upon as such. This offering is subject to errors, omissions, changes including price or withdrawal without notice. If your property is listed with a real estate broker, please disregard. It is not our intention to solicit the offerings of other real estate brokers. We are happy to work with them and cooperate fully. Operated by Sotheby's International Realty, Inc. Real estate agents affiliated with Sotheby's International Realty, Inc. are independent contractor sales associates and are not employees of Sotheby's International Realty, Inc. Equal Housing Opportunity. Rosalie Zabilla 805.455.3183 Rosalie@ZabillaGroup.com DRE: 01493361 UPPER OJAI ES TATE 4BD | 3.5BA | 3,400 sf | 10 acres | $3,055,000 See More at 11400 TopaVista.com Spectacular view property located on approx. 10 acres in Upper Ojai! Modern interior with walls of windows and vaulted ceilings. Great potential for vineyard, equestrian facility, or vacation rental. ZabillaGroup.com
After 30 months of existential dread, the spirit of the town finally feels like we're entering a new normal not so different than the old one. Better, in some ways. Check out the lineup at Libbey Bowl for example, with its steady bookings of well-known musical acts and even acclaimed comedians. It finally feels like that venerable venue is living up to what we were promised with its $6 million rebuild ten years ago.
Our story by Robin Gerber on the two sisters who opened Rory's Place, and who have made Ojai the centerpiece of their lives, is a well-written emblem of the influx of transplants, of pandemic refugees, who are reshaping "the Little Orange." No matter how mixed our feelings about newcomers and tourists, we should remind ourselves that we get to live in such a desirable place. Having lived most my life in small towns, I can assure you that does not hold true for many places. The people who choose to live here are often exactly the kind of people we need to perpetuate the best of Ojai.
It's about connecting to each through our stories, and there are so many that even a talented crew like ours coyld never possibly contain them within these pages. That is a very high-quality problem.
Mark Lewis takes on the story of Ojai Day and its surprising resilience. Kit Stolz interviews Melina Watts, author of "Tree," a profound and magical book about the inner life of an oak, which Ojai artist Jeff Sojka has brought vividly to life. Jerry Dunn's Ojai sensibilities are evident in his witty, informative piece on mazes and the eccentrics who build them. Chuck Graham again reminds us of the naturalist paradise just beyond the horizon on the Carrizo Plain, where roam the remnant and threatened population of pronghorn antelope, the hemisphere's fastest land animal, and once ubiquitous along the San Joaquin Valley. The pandemic-facilitated partnering of Wilco's Mikael Jurgensen and The Kin's Isaac Koren is another example of Ojai's critical mass of creativity, as made clear by Abigail Napp's profile. The whole is often greater than the sum of its parts. Then Richard Camp examines why pickleball has become so prevalent, so quickly. Read his article and you'll know why. Anson Williams, who indelibly etched himself into American culture with his 11 seasons on "Happy Days" explains much about his career and what's next for him, in excerpts from his Ojai podcast interview. Our home team of veterans harvests the fruit of their writings in a way that makes us all proud. Ilona Saari brings to ink the Ojai values lived out loud by Sean and Felicia Mason at L>ve Social Cafe (where the McLuhan-esque typography helps convey the message). Sami Zahringer eavesdrops on absurdity, and as Mark Twain would note, "Nothing can withstand the assault of laughter." As a social experiment, pick up her piece when you find yourself in a dark mood, read it, then report back to me if that mood persists. When I was a kid, we had hunting dogs that would pick up a scent and howl away into the wilderness, getting themselves hopelessly lost. Since dogs are heavily reliant on their sense of smell, my father's clever solution was to place one of his T-shirts near the last place we had seen the dogs. As a hard-working farmer and gravedigger, his scent was guaranteed to carry far, and so it was that the errant hounds would often be waiting patiently when we returned a couple of hours later, as curled up on the shirt as a bird in a nest. I wish for these issues of Ojai Quarterly to be the same, only more redolent of orange and sage than sweat, so that no matter how lost you may feel, if you curl up with this issue, you will find yourself at home in Ojai.
"Nothing is so firmly believed as what we least know." — Michel de Montaigne
OQ | EDITOR'S NOTE
THE NOT-SO-'LITTLE ORANGE'
CROCKETTBRANDI is an Ojai pixie tangerine peelin' native and an editorial and destination wedding photographer. Check out her work at fancyfreephotography.com
ROBIN GERBER is the author of four books and a playwright. Check her out at robingerber.com
ILONA SAARI is a writer who's worked in TV/film, rock'n'roll and political press, and as an op-ed columnist, mystery novelist and consultant for HGTV. She blogs for mydinnerswithrichard.food:blogspot.com.
OQ | CONTRIBUTORS
ZAHRINGERSAMI is an Ojai writer and award-winning breeder of domestic meatShelong-hairedAmericanchildren.hasmoreforced-recipesthanyou.
KIT STOLZ is an award-winning journalist who has written for newspapers, magazines, literary journals, and online sites. He lives in Upper Ojai and blogs achangeinthewind.comat
JESSE PHELPS grew up in Ojai and has written extensively for and about the town. He enjoys freelance projects and throwing things. He can be reached jessephelps@outlook.atcom
CULEMANN-UTARITKE is an independent artist, designer and curator. She is a member of Ojai Studio Artists and utaculemann.design.runs
MARK LEWIS is a writer and editor based in Ojai. He can be contacted at lewis1898@gmail.com.mark
RICHARD CAMP is an Emmy and Writers Guild Award-winning TV writer; theater director, Artistic Director of the Ojai Performing Arts Theater. Wine aficionado and Tenacious Tuesday Trivia richardcamp16@gmail.comcompetitor.
ABIGAIL NAPP is a freelance writer with a fondness for Italian food, passionate people and herjournalism.investigativeFollow@abigailnapponInstagram
GRAHAM'SCHUCK work has appeared in Outdoor Photographer, Canoe & Kayak, Trail Runner, Men's Journal, The Surfer's Journal and Backpacker.
26 OQ / FALL 2022
JERRY DUNN worked with the National Geographic Society for 35 years and has won three Lowell Thomas Awards, the "Oscars" of the field, from the Society of AmericanWriters.Travel
OQ / FALL 2022 27 THEODORE GALL SCULPTURE theodoregall.com
28 OQ / FALL 2022
2 of OJAI BETWEENTWOSEPARATIONDEGREES
OQ / FALL 2022 29
"Desert Tracks" is the aptly titled soonto-be-released memoir from Leslie Clark, founder of the Nomad Foundation. She chronicles her 30 years of travel to northeast Niger to paint and live amid the Taureg and Woodaybe nomads, with harrowing tales of bandits and rebels. Thanks to her work, Ojai residents have helped train midwives in modern sanitation and nutrition, reducing maternal deaths in the region to zero.
The book takes the point of view of a newly arrived teacher, Gabby Davis, who urges her students to put away their devices in favor of handwriting for her Reflective Writing Class. As the students begin to open up to themselves and each other, a shocking twist puts that newfound knowledge to theDavistest. also talks about growing up on the Great Lakes, being a firefighter's wife, and the Montecito mudslides.
BLACK COLLEGEMOUNTAIN&OJAIONE:
"Truth is a Pathless Land" is one of his most important essays., renouncing his role as "World Leader."
Famous alumni included Merce Cunningham, Buckminster Fuller, Robert Rauschenberg and John Cage, representing the school's holistic philosophy to unite all the arts and to place students and educators on the same plane. The school also opened its doors for refugees from Nazi Germany; notably Bauhaus founder Joseph Albers.
TWO: Black Mountain College, during its precarious existence, spawned an energetic artistic spirit in America, as chronicled by Louis Menand in his magisterial book "The Free World." That spirit infected Ojai, where the Ojai Music Festival was founded in 1947, in keeping with Black Mountain College ideals. Originally founded as "Ojai Festivals," it was meant to include dance and theater events.
Black Mountain College only existed for 24 years — from 1933 to 1957 — but its cultural reach and influence would be hard to overstate.
OQ | ojai notes
THE MAKING OF 'DESERT TRACKS'
JEFF MANN ON PENCILS, MONSTERS & SPACESHIPS
Jeff Mann, a member of the Ojai Studio Artists and a veteran of George Lucas' Industrial Light & Magic, comes on to talk about the making of movie monsters, "Star Wars," coming of age in 1960s car culture and years living aboard a boat in Marin County. He also talks about his favorite films.
Black Mountain attendees John Cage and Pierre Boulez were instrumental in establishing the Ojai Music Festival's spirit of artistic adventure.
Much of the origins of New Age spirituality can be traced back to Jiddhu Krishnamurti (1895-1986), who first moved to Ojai in 1922. His famous talks in our oak groves have reached hundreds of thousands of people.
Last year's music directors, the multi-disciplinary American Modern Opera Company, joined the Ojai podcast, "Talk of the Town," to discuss the role of this institution in their own approach to art.
Oak View resident and author Tamara Davis, a Coast Guard veteran and mother of two, puts her experience as a teacher to use in her new book, "Despite the Buzz," available on Amazon and through her website, despitethebuzz.com.
'DESPITE THE BUZZ': AUTHOR DESCRIBES PERILS OF SOCIAL MEDIA AGE IN BRIEF: OJAI TALK OF THE TOWN PODCASTS
Simon Phillips' career as a professional drummer began at age 12, and he has worked steadily since, including 20 years with Toto. He has also played with The Who, Judas Priest, Jeff Beck and Hiromi. Phillips talks about his career not only behind his 17-piece drum kit, but as a sound engineer, writing and performing his Emmy-nominated "Protocol" albums, losing his home and precious gear during the Thomas Fire, rebuilding, and what's next for the legendary rhythm maker.
Clark, a scion of a pioneering Ojai family, talks about her art, travels, anecdotes both funny and frightening, and much more in her podcast talk.
30 OQ / FALL 2022 SMALL BY DESIGN www.besanthill.org 4:1 STUDENT TEACHER RATIO 100% COLLEGE ACCEPTANCE RATE INTEGRATEDEPORTFOLIOSEXPERIENTIAL LEARNING GLOBAL STUDENT BODY ROBUST EXTRACURRICULAR CALENDAR INSTRUCTIONAL SUPPORT PROGRAM BESANT HILL SCHOOL
Williams bought his Ojai home 11 years ago and moved here full-time 4-and-a-half years ago. "People ask why am I here? I'm here for the same reasons you're here. The sense of community, (how) life slows down. Priorities. Smell the roses. "Out of the blue, I got colon cancer. (Then there were) a lot of mishaps at the hospital. I came here to heal. I was a bro ken man. The community embraced me, and nurtured me and brought me back. It was a very hard time. It wakes you up when you're in a hospital looking up at the ceiling every day. Money, celebrity, it means nothing. You're just looking at the tree out side and hoping to climb it.
Now Williams is stepping into a more public role in Ojai, running for Mayor against incumbent Betsy Stix and offering up a platform of ideas, many of which would not have been out of place in a script for "Happy Days."
32 OQ / FALL 2022
There's this huge divide between city council and school board — everything is just standing still while it's going down and down. Water and affordable housing are the big issues. Nothing moves forward. There's got to be compromise, common-sense thinking. Let's figure it out. As an example, the city's "reach code" (to require electric appliances on all new houses) — Hab itat for Humanity is not set up for it. Lot of seniors, kids, aren't going to have a place to stay. There's such small thinking.
ANSON WILLIAMS AS ANSON WILLIAMS
WHY OJAI?
"We need a fair amount of fair housing. There's two problems, yes, I want affordable, and no, it doesn't take too much water. There are so many programs out there that we haven't even looked into … we need to get every grant we can, to get our tax dollars Williamsback."talked about his 2013 project in Malibu to set up offsite classrooms to get the students away from a suspected cancer cluster at the high school. "We created a school in three weeks," he Hesaid. also spoke about plans to "promote this as an eco-town, that there are ways to really organize tourism in a very produc tive way, that keeps cars off the street, to have people come in respecting the city, not overwhelming it.
It's been 38 years since the final episode of "Happy Days" aired. The hugely popular show — one of the highest rated in televi sion history, reaching 68 million people — followed high school (then college) student Richie Cunningham, played by Ron Howard, and his friends, Potsie Weber (Anson Williams) and Ralph Malph (Don Most). The show debuted in 1974 and its 255 episodes are well-steeped in nostalgia. The show itself was an exercise in nostalgia for the America of the 1950s.
INFLUENCES: Garry Marshall, whose childhood was the backdrop for "Happy Days," was always generous with behind-the-camera tips and ANSON WILLIAMS AS "POTSIE WEBER."
WHY RUN FOR MAYOR?
Williams joined the Ojai podcast, "Talk of the Town," to share some of that vision, but mostly to talk about his career in front of and behind the camera. With more than 161 credits on IMDB, including 43 as a director, he had plenty to talk about.
Williams became a devoted glider pilot, flying out of Crystal Air in Rosamond.  "It's as close to being a bird as you possibly can, to be in the thermals with them, going up 1,000 feet a minute. You are one with nature."
The producers tested Robbie Benson, and Don Most was with him doing Potsie. "This wasn't good … screen test for a part I already created? Welcome to Hollywood!" So he and Ron Howard created a bit on the spot for their audition. "Garry Marshall was directing, and he was kind of in favor of us. It was supposed to be 20 minutes (for the audition) and two hours later, these guys (waiting for their audition) were crumbling. We got the parts again, and they loved Donnie so much they created Ralph for him."
"We (the 'Happy Days' cast) were a ball club; Garry is a sports nut. We were all ex-athletes, and we were serious. We played (baseball) in every major stadium in the country as the pregame (event). My favorite moments? It wasn't on set, it was the camaraderie, backing each other up all around the world." One example? "We're in Wurtzberg, Germany, and instead of table water it was wine dispensers, and there we were, singing 'Splish Splash' looking over the Rhine River."
LAST WORDS
HAPPIEST DAYS
As a boy, Williams loved musicals (he kept that secret from some of his friends). He'd perform at talent nights around the area.
Henry Winkler, who played the charismatic character Arthur "Fonzie" Fonzarella, was quick to take time out from fly fishing in Idaho to jump on social media to announce his sup port. Ron Howard, who has proved to be among his generation's most prolific and insightful directors, is a lifelong friend, as is Donny Most, who played Ralph Malph.  Williams was also deeply impressed by Henry Winkler's trans formation into the leather-jacketed motorcyclist Arthur "The Fonz" Fonzarelli, "which is 180 degrees from Henry … Henry totally created that character." He said the role was inspired in part by Sylvester Stallone's Stanley in "Lords of Flatbush," in which Winkler co-starred. "People would ask me "are you jealous of Fonzie?' Of course not, he bought me a house!" Winkler's recent Emmy-winning success on "Barry" was no surprise to Williams either.
"HAPPY DAYS"
INTRO TO SHOW BUSINESS
SAIL PLANES
GROWING UP: Williams, born in 1949, grew up in Burbank, when it was a prototypical small town. "My parents bought for $15,000 a three-bedroom, 1,200 square foot house with one bath … That house today is $1.2 million." His father was a World War II veteran with two Purple Hearts.
OQ / FALL 2022 33 support.
"You've got to be bad before you can be OK," he said. It became a career when, at age 20 while attending community college, he decided to audition for a regional production of Mame. "With equity rules, producers had to see everyone — so there were two lines, one equity, one not. The non-equity auditions were "one bar, you're out! I'd be seeing all these dejected faces coming out. Nothing is scarier than this audition. I get in there, there's an old, cigarette-smoking piano player who is just sick of the day, and four bored people at the table. I start in singing 'You coached the blues right out of the horn, Mame!' And I forgot the words, so I just started making them up, covered in flop sweat. I don't know what I did but I made them laugh — they were crying!" After another comic turn trying to dance, Williams was entered in a summer stock apprentice program in Wichita, Kansas, and got his equity card and $50 a week, "$25 of which went to the hotel. They told me 'you'll be working all the time, helping build sets, building props and you'll be in the show if we need you.' I came back to LA, got my equity card, and that started my career."
"I want Ojai to stay beautiful, to stay in the style of Ojai. (I'm interested) in the people who come here and why they come here. It's just a magical place. You come here for Ojai, not to change Ojai.
After playing many concerned boyfriend parts on shows like Marcus Welby, M.D., ("I'd have a five-page scene with one line per page, "I understand." Just reacting. I was the best reactor on television.") Williams shot two pilots for "Happy Days," the first was a darker show, but then in 1973 George Lucas mined the nostalgia vein with "American Graffiti," and the show was re tooled with a script by Rob Reiner and Phil Mishkin. "I actually screen tested for Ron (Howard's) part in 'American Graffiti,'" Williams said. "It came out, it was a huge hit. That's when the network decided, 'Hey didn't we have a '50s pilot?'"
CHILDHOOD MEMORIES
"Our whole community was in three blocks — I'd have Walt Shiner next door, throwing the football every day. Jeff Schrad er, we met when we were three, and we're still friends. Howie Schurzman. It was a safe, secure world. I'd ride my bike to McCambridge Park, (where they had) so many events going on for kids. You could win a ribbon every day. Every day was filled with friendship and activity, never bored. All paid for by tax dollars. We had a good school system, (our) own fire, own police department. I was very much a lower middle-class community kid who was happy."
O p e n E v e r y D a y 9 : 3 0 - S u n s e t 3 0 2 W . M a t i l i j a S t r e e t | 8 0 5 - 6 4 6 - 3 7 5 5
standards,38expanded Expandards Debut Album Shows Covid Collaboration By Abigail Napp 55 artists & galleries The People, Places That Make Ojai an Arts Destination OQ | ARTS & LITERATURE 46 a tree's view Ojai Artist Helps Brings Popular Book to Life By Kit Stolz 37 o.j.a.i. unlocked Gallerists Bring Artists to Ojai City Jail Exhibit By Bret Bradigan
36 OQ / FALL 2022 TheOjaiTrolleyisaServiceoftheCityofOjai &theCountyofVentura www.Ojaitrolley.com Effective1/1/18 ElserviciodeOjaiTrolleyoperadiariamente,excluyendo lossiguientesdíasferiados:DíadeAñoNuevo,Díade ConmemoracióndelosCaídos,DíadeIndependencia,Día delTrabajador,DíadeAccióndeGracias,yNavidad. (805)272-3883 trolley@ojaitrolley.com WWW.OJAITROLLEY.COM W Trolley A Services Whispering Oaks & East End Transfer Locations/ Punto de transbordar Transfer to and from Gold Coast Transit at this location Trolley B Services Ojai Valley Inn Ojai RouteTrolleyLegend Timed Trolley Stops/ Paradas Mayores trolley Stops/ Paradas We'll get you there!We'll get you there! From and to: Ojai, Meiners Oaks and Mira Monte For Just $1.50! ADA and Medicare Card Holders .75¢, Seniors 65-74 are 1/2-price • Children under 45" tall and Seniors 75 and older ARE FREE (I.D. required for discounts) 408 South Signal Street, Ojai, CA 93024 • Phone: (805) 272-3883 • www.ojaitrolley.com • email transit@ojai.ca.gov The Ojai Trolley Service The Ojai Trolley Service, established in 1989, is owned and operated by the City of Ojai. The Trolley provides daily fixed-route transportation to approximately 9,000 riders per month throughout Ojai, Meiners Oaks, and Mira Monte. The Trolley is a well-known feature in the Ojai Valley, and in addition to the daily fixed-route services, participates in many local community events, fund raising activities, community service, and educational functions. Check out the smartphone app GoVCBus for stop-time arrival predictions. Photo: Michael McFadden SUSTAINABLE FASHION & WARES We carry your favorite designers including Johnny Was, Free People, CP Shades, Denim & supply by Ralph Lauren, Prana, Doen, Mother Jeans, Menswear, and much more. 307 E Matilija Street, Ojai Ca 93023, 805-646-6331 OPEN 11-5 EVERYDAY CLOSED TUESDAYS
Ojai Jail Opens for Public Art Installation
OJAI JAIL, CLOSED IN THE 1970S, WILL BE THE SITE OF A PUBLIC ART INSTALLATION OCTOBER 8 TO 16
If you find the idea of art liberating, you might enjoy the city's latest public art project. The Ojai Jail Arts Initiative will be on display Oct. 8 through the 16th, in time and coordinated with the Ojai Day celebration on Oct. 15.
"The history of the jail is what attracted us in the first place. One of the goals of installing art there is to bring even more attention to its historical importance … what does it mean for a civic structure for jailing people to be right in the middle of downtown? And for a public park to spring up around it over that time,?" Henriksen said. "For many people if they don't know any better, it could simply be a janitorial building or bathroom."
OQ / FALL 2022 37
Artists include Brett Williams Childs, Annette Heully, Vanessa Wallace Gon zales, Gary Lang, Hailey Loman, Sarah Mirk and James Whipple. Despite their professional success and status, Henriksen said they weren't difficult to persuade. "The opportunity to do something different, in a different space and social context in one's own community, is not that common.
Gary especially has been very proactive in his involvement," Henriksen said, even attending a Historic Preservation Com mittee meeting to work out logistics. For his portion of the project, Lang will paint the outside of the jail with the aid of local elementary school students, using letters and phrases. Mirk is creating a 'zine incorporating the colorful quotes, laments and graffiti created by the incar cerated during its five decades of opera tion, from 1929 to the late 1970s. Heully is installing a translucent, woven loom to create colorful shadows on the surround ing space. You can read more about the other artists and their concepts for the jail at Theojaiinitiative.com.exhibitwillbeopen to the public from the second Saturday in October to the Sunday following Ojai Day from 10 a.m. to 6 p.m. For more information, email ojaijailarts@gmail.com.
The show, with original commissions from seven artists, was conceived and curated by Matt Henriksen and Teddy Nava of The Basic Premise gallery, along with Eliza beth Herring. The three met during Her ring's The Basic Premise show, "Ojai City Gift," in 2021 and was partially funded by a grant from the Ojai Arts Commission. Henriksen said, "They seemed very excited for it as a public art action we haven't seen a lot of in Ojai." The grant required a non profit group to receive it, which the three curators don't have. The Carolyn Glasoe Bailey Foundation stepped up, which "was tremendously helpful."
The Ojai Jail itself is key to the concept.
38 OQ / FALL 2022 STORY BY ABIGAIL NAPP, PHOTOS BY STEPHANIE HELGUERA
We meet on a Sunday afternoon. Chickens clucking in the backyard. Wood chopping. The occasional whir of traffic. We are partially masked. Isaac Koren's family has come down with COVID. One fever abated, we proceed at six feet apart. Where are we?," I ask, pretending to dive into an interview, radio-style. "We're at the Expandards' headquarters," says Mikael Jorgensen, not missing a beat. Koren nods and smiles from beneath his double mask.
OQ / FALL 2022 39
ISAAC KOREN AND MIKAEL JORGENSEN
40 OQ / FALL 2022
"And then we did that, and it was great," said Koren.
"When slowing it down, it's like you suspend time a little bit. You're listening to changes in yourself and the other person," said Koren. "It really elongates the Korenmoment."saidplaying with Jorgensen brought him back to his teenage years when he first discovered his voice while listening to the jazz interpretations of Cassandra Wilson.
"She showed me my voice and its beautiful side," he Assaid.Jorgensen explored accompanying harmonies, he also uncovered new approaches to the music and the way he plays with Koren.
"We tease ourselves that the first thing about being
In the white-washed garage behind us, the musicians recorded their first album. After five years of experimental sessions and gigs in Ojai and Los Angeles, the Expandards have found their own sound. The untitled album soon to be released this fall represents something significant for the keyboard-singer duo––something very Ojai –– still yet to be defined. Jorgensen plays in the legendary indie rock band Wilco, and Koren, whose band The Kin once opened for Pink, Coldplay and Rod Stewart, writes and licenses songs, performs as a soloist, and records in Los Angeles. Not long ago, they left behind intense musical careers in New York City in order to spend time with their families in the countryside.  In Ojai, they met at a kids' party, drawn together by a love of jazz.
The duo's shared Scandinavian heritage has also come up.
"I feel like I now know much more about how to make that process fruitful," said Jorgensen, who got his first synthesizer as an eight year old and built his first music studio in his high school bedroom. "Specifically, being simpler. I remember our first sessions, I was like 'all my fancy chords' and weird time signatures... It didn't quite gel at that moment."
"We looked slyly at one another," recalled Jorgensen. "'Do you want to try some standards? With synthesizer textures, and play them really slow to explore a more ambient meditative version?'"
From Jorgensen's studio, they started a new morning routine after dropping off their children at preschool. They worked through the American songbook, playing crooner favorites, like "All of Me," and "Fly me to the Moon" at a crawling pace.
When the lockdown happened in March of 2020, Jorgensen reflected on making an album. In the quiet studio, he listened to recordings from 2018 and 2019. Those musical moments, what both musicians refer to as 'downloads,' were arranged and expanded into songs by Jorgensen, who has worked in various studios throughout his life, including the iconic Soma Studios, where Indie rock took off. Once the tracks were created, Koren began writing the lyrics and recording the vocals.
creates a brilliant balance between the two eras, the
What's achieved in this album is transcendent, loving, and in moments, sorrowful, but still light. Perhaps, it's the Ojai effect.
"We sing these exorbitant, emotionally broken-hearted love songs, standards and even some originals, and yet our faces are calm and furrowed the whole time."
"Show me how to rescue us from this mess…"
"Dark way is the easy way out, someday you'll see…"
Koren's vocals, his drawn-out notes, subtle vibrato and intriguing phrasing are unquestionably gorgeous, too, and full of final ity. With his range and depth, he's right up there with other contemporary greats, like Gregory Porter and Harry Styles.
Scandinavian is that we got these unemotional faces," said Ko ren, who grew up in Australia and moved to the US after college.
"Our faces deceive what's happening inside. We also share a love of that musical Scandinavian cosmology, that darkness, that rich ness, and we've both been influenced. I'm 50 percent Norwegian on my dad's side, and my grandfather was a big influence. He was pretty (laughs) pretty stern and stoic."
Many times, the duo marveled at the positive vibes the music "Wecreated.felt guilty, like 'I can't believe we get to do this?! Do other people have this experience?,'" said Koren, thinking back. "I felt like it was too much. It was dad guilt or something. It was like all of our problems and answers were solved in a 20-30 minute Themoment."album
Note: At the time of this interview, the duo was still working out the details of the album release and the order of the tracks. No doubt, both will be intriguing.
OQ / FALL 2022 41
"Don't know you even though I stare right at your face..."
At times, the smooth crooning phrases become unsettling as he pushes his voice to deeper tonalities. The lyrics linger in the mind. Some sound like the mantras we told ourselves during the nightmarish months in isolation, but they're delivered without edge and retain an insistent hope.
Jorgensen sprinkles in surprising instrumental layers to drive the character of the songs into multiple directions. The keyboards grow in versatility across the album, switching from Satie-esq pi ano clusters to tinny harpsichord, sitar, and cheeky synth. Some may be reminded of Jorgensen's twinkling bars on Wilco albums, but this brings that to the next level.
calmness of the pre-pandemic years and the turbulence later on. From track to track, Jorgensen's creativity explodes. The songs pulse with upbeat rhythms and clipping harmonic transitions.
"It's been a while in the clouds, holding back the rays.."
42 OQ / FALL 2022 Cathy Titus DRE ctitus@livsothebysrealty.com805.798.096001173283 © 2020 LIV Sotheby's International Realty. All rights reserved. All data, including all measurements and calculations are obtained from various sources and has not and will not be verified by Broker. All information shall be independently reviewed and verified for accuracy. LIV Sotheby's International Realty is independently owned and operated and supports the principles of the Fair Housing Act. 309 Fulton Street | $1,549,000 Turn key 1928 California Bungalow in downtown Ojai. Custom free form resort style walk in pool and spa with room to entertain. 3 bedroom, 2 bath with detached finished garage, easy ADU conversion. 1224 Alviria Drive | $950,000 Located in a highly desired neighborhood. Nice 4 bedroom, 2 bath home with large family room on 10,125 sq.ft. lot with family orchard and room for gardening. Close to Land Conservancy trails. PENDING
OQ / FALL 2022 43 Whitman Architectural Design www.whitman-architect.com805.646.8485 Providing the Highest Quality Custom Residential & Commercial Architectural Design and Construction Services. "We shape our buildings; thereafter they shape us." Winston Churchill 805.646.5277 iguanainnsofojai.com Boutique Hotels & Vacation Homes Emerald Escape the Ordinary Two Distinct Hotels One Unique Visionthe theBlue The Essence of Ojai Rooms, suites & Bungalows Continental BReakfast lush gaRdens, Pool & sPa P iCtuResque C ouRtyaRds R ooms , s uites & C ottages i n -R oom s Pa s e R vi C es f i R e P laC es & w ood s toves C lawfoot o R w hi R l P ool t u B s ANSON FOR MAYOR Paid for by the Anson for Mayor 2022 Committee, Lisa Carter, Treasurer

44 Krotona Institute of eosophy Library and Research Center Quest Bookshop School of eosophy 2 Krotona Hill, Ojai 805 www.krotonainstitute.org646-2653 An international center dedicated to understanding, harmony, and peace among all peoples, comparative studies in religion, philosophy and science, altruism and the ideals of a spiritual life. Explore Ojai Valley's History, Art and Culture 130 W. Ojai Ave. 805 OjaiValleyMuseum.org640-1390 rameworks ofF custom picture framingOjai friendlyarchivalqualityservice Hours: Monday ~ Friday 10 - 5 Saturday 11 - 3, or by appointment. (805) 640-3601 236info@frameworksofojai.comw.ojaiave,#203,ojai,ca93023
themudlotus.comthemudlotus ARTISAN MADE CLOTHING & ACCESSORIES. EXCLUSIVE MUD LOTUS DESIGNS ETHICAL, SUSTAINABLE, NATURAL & VINTAGE PHONE: 805 252 5882, 305 E. MATILIJA, SUITE G, INNER ARCADE'S COURTYARD Hand block printed cotton bed quilts Tribal & artist jewelry Unique Ojai Tai Dai
46 OQ / FALL 2022 OQ | OFF THE SHELF
OQ / FALL 2022 47 MELINABOOKWATTS,COVER Melina Watts, a South Coast wildlands manager and the author of an innovative novel dramatizing the inner life of a Coast Live Oak tree, traces her emotional connection with trees and other natural beings back to a despairing moment as a college freshman at UC San Diego. OQ | OFF THE SHELF STORY BY KIT STOLZ • PAINTINGS BY JEFF SOJKA
After failing at her first career choice — medicine ' she felt lost and very alone. With no one to talk to, she went outside to throw herself on the grass.
"I was really, really depressed and suicidal," she said. "You could hear the music coming out into the air and it was one of those perfect
48 OQ / FALL 2022 OQ | OFF THE SHELF
To Tree's amazement, a nonverbal conversation then begins between Tree and the grass, represented by this boldest of all sprouts, who goes by the botanical name of Univervia (also known as Mexican Spanglegrass).
Watts looks back at that moment with wonder but also a hint of reverence, as if the natural world understood her "Thepain. other little grasses next to it picked that up, and it was as if they said, 'We have this human being here and she's an animal that's struggling and needs help,'" she recalled. "So it spread until the entire field of grass was kind of radiating new blood and energy at me. So I wrote this book for that field of grass, because I wanted people to experience the emotional glory of plants, as I have experienced it."
October evenings when the air is just a little bit cool but not cold. And I'm suicidal. I had thought I was going to study medicine, but it turns out I'm terrible at math and you have to be good at math to be a doctor. So I lay down in this grassy field, and as I was laying there, there was an individual blade of grass in front of me, and it somehow picked up on my emotion and for lack of a better word, the grass blade emoted at me. I was so startled but I kind of said back — 'hello.'"
the boldest of these little sprouts greets Tree with a hearty "Good morning!"
"Tree," which was first published in 2016, has been lauded by Aaron Mair, former president of the Sierra Club, as well as the pre-eminent California historian, Kevin Starr, and Andy Lipkis, the founder of the influential Los Angeles group TreePeople. In their back cover blurbs they mention the "magical realism" and the "imagined interior realm" of plants and animals in the novel, in which all beings — even ancient boulders — reach out and, if circumstances are right, and both sides are listening, can commu nicate with each other. Watts points out that the magical realism of "Tree" has a biolog ical reality in the underground miccorhizal connections linking tree roots. She mentions the forest ecologist Suzanne Simard, the first researcher to document the so-called "wood wide web" that connects trees to each other. and points out that for many years scientists did not believe that trees of different species
In her book "Tree" — written to dramatize the consciousness of an oak growing up two hundred years ago in Topanga Canyon — the young tree's consciousness first connects with a field of native grass, and is as surprised in that moment as Watts was herself in her moment of despair. After a long, hard rain followed by a day or two of bright warm sunlight, Watts writes, the Coast Live Oak Tree sensed some thing startling in the ground around her trunk. Green shoots of grass were shooting up from the mud. Her delight at their appearance spills out, "showering affection equally on each of the miniature sprouts. And to tree's surprise, an answering burst came at tree in tiny sparkly shards, tiny as shattered glass, but as shimmering and pretty — the little sprouts were loving tree Nextback."morning
"One of the themes of the book is that the grass is as important as the tree which has a role as important as the Native Ameri cans, who are as important as the rock and as important as the stars," Watts said. "I'm basically working under the premise that all beings are online, and we all kind of need to coexist with one another and love one another somehow."
OQ / FALL 2022 49 OQ | OFF THE SHELF would ever help each other survive, a surprising fact that Simard proved in her research.
life. Tree has to learn that you can't control that and you have to cherish and love what you have while you have it."
Watts herself had to struggle to write the book, while working as a watershed coordinator for 14 years in the Santa Monica Mountains, focused on creek and ecosystem restoration, among other landscape work, in what she calls a "lifelong endeavor" to restore biodiversity in the South Coast. The writing didn't come easily, but she got an encouraging shot in the arm after visiting Ojai one day.
MELINA WATTS JEFF
When the time came to send the book to the press, Watts con tacted Jeff Sojka, the Ojai artist who had painted the image. He readily agreed to allow the use of the painting as her cover, and read the book, and they begin to connect on a new project.
"One of Tree's major life lessons in the book is that it has to learn to coexist with the evanescence of other life," Watts said, contrasting the oak tree, which lives for over 200 years, with the annual growth and dying back of the spanglegrass. "The brevity of the life of grass is contrasted with the tree's extremely long
"I went to a gallery in Ojai and I came around the corner and there's the painting that's now on the cover of the book. It absolutely hit me like a bolt of lightning in my chest and I thought oh my God, that's Tree! That's my tree. I want that tree on the cover of my book."
While Watts stresses that just as we humans have to open our senses to connect with the "emotional glory" of plants, plants too can be slow to hear their neighbors. In her book, after the stillyoung oak first connects with the Mexican spanglegrass, the tree then suffers the pain of its loss, when the grass fades and dies back and goes silent in the heat of the summer.
"His art to me captures this inner luminosity, this vitality inside plants and puts it on the canvas in such a way that when you're standing in front of the painting you feel the enchantment he SOJKA
"I think a lot of people now have a much more emotionally cosmopolitan relationship with plants, and recognize that it's not just trees that are alive, but also the soil itself, and its fungal networks," she said. "But at the same time, many people don't feel that interconnectivity, or hear it themselves. And I think we have to recognize that there were certain cultures, in many cases tribal cultures, where people were living in a relationship with the natural world that demanded that they connect with the landscape. Their cultural values helped them to hear more and be more open than the rest of us. And so I think it behooves us to shut up and listen."
For her part, Melina Watts expresses gratitude and a certaint amazement that the exhibit featuring "Tree" has come together as smoothly as it has. She looks forward to events connected to the exhibit, such as a conversation between herself and the museum director Elena Brokaw, scheduled for the afternoon of September 8, and a closing ceremony on October 2 in con junction with the Ventura Land Trust. This will feature expert speakers and educational opportunities for "OAKtober," among other events to honor Ojai's iconic native tree.
OQ | OFF THE SHELF
"Jeff is collected internationally, and represented internationally in galleries," she said. "He's one of those artists who is not as well-known here as some others, but there are local artists who are stars or superstars in the greater world. All I can say is that we are really honored to be able to show him locally, and it's about time."
Sojka adds that he worries that his art may not always be true to the story of the book, which includes stories of Tree's experience with the Chumash, and the Spanish invaders of California, and other human stories that his plein air landscape painting does not depict "Everybodydirectly.sees something different in their minds [when reading a novel]," he remarks.
Sojka has been working diligently since the agreement was struck to complete a series of new paintings for the "Going Wild" show, but when asked about it, he insists that the intent of his paintings for the show is to support the book. Period.
Elena Brokaw, the director of the Museum of Ventura County, also said that Sojka, although a resident of Ojai and well-known to his fellow artists, was not as prominent in Ventura County as he perhaps should be.
Watts then asked Sojka if he would be interested in a joint show at the Museum of Ventura County, focused on her book and his artworks. He readily agreed to meet with Watts and Elena Brokaw, the museum direc tor, but when they did, he warned them that he was completely sold out of paintings.
50 OQ / FALL 2022 felt when he painted the picture," Watts said. "I"ve never seen a painter who could communicate the essence of California lands the way Jeff can."
As for Watts' own feelings about oaks and our fellow mortals on the land in Southern California, she mentions that she identi fied most closely with the short-lived lupine flower. When her character of Tree felt sorry for the flower and its brief time in the sun, the flower let it be known that it felt no regrets.
"You do not need to remember me," the flower said, with a laugh to Tree. "No one has ever lived as much, thought as much, felt as much as I. I have put more into my six weeks than any creature alive can imagine. When I go, I will go with no regrets. My seeds will be the beginnings of flowers even more beautiful than I. Who could want for anything more?"
"I have to paint new stuff," he said, with a willing shrug, and began the work necessary to paint a series of paintings for an exhibit to be called "Going Wild," which opens on August 26 at the museum in downtown Ventura, which will run for about five weeks, concluding on October 2. Watts speaks of the artist Sojka with a certain awe in her voice.
"He's a much bigger deal in the world of art than I am," she said, stressing how grateful she was that Sojka agreed to work with her on the exhibit.
"I'm sure that there are a lot of times I didn't capture what she intended, but so far she has approved of it, and she never really says anything negative," he said with a smile. "It kind of worries me a little bit, to be honest, because I'm used to a lot harsher critics."
"It's wonderful that the museum is putting this together as a collaboration, and as you can imagine, when people walk in, they're going to visually see the art," Sojka said, "but I have always said that I want to contribute as long as we can promote the book as best we can."
OQ / FALL 2022 51
52 OQ / FALL 2022 OPEN DAILY 11-6 304 N. Montgomery Street, Ojai, CA 2 blocks north of Ojai Avenue & A World Apart! toBuddhasBirthday CrystalsSelectionandtoBumperstickersCardsBeeswaxaHugeof READERSINTUITIVEDAILY Tarot Readers Spiritual AstrologersCounselors Chair Massage & Energy Healing 805.640.1656 • OjaiHouse.com • nutmegs_ojai_ amystical emporium OJAI HOUSE est. 2000 . . . NEW LOCATION! 145 WEST EL ROBLAR - MEINERS OAKS (THE ORIGINAL GREATER GOODS SPACE) 805.640.8884 SOULTONIC@ME.COM modern vintage gypsy rock fashion
OQ / FALL 2022 53 LEARNINGJOYFULofyears75 Pre-K - 3rd Grade • Toddler Program • Summermonicaros.orOjai,783805.646.8184CampMcNellRd.CA93023g Preserving the magic of childhood in Ojai's beautiful East End. Blending academic fundamentals with the richness of the visual arts, drama, and music. monicaros.org
What does it mean to be Educated? oakgroveschool.org/open Open House NOVEMBER 5 • 1-4PM
OQ / FALL 2022 55 Perhaps it was potter and "the Mama of Dada" Beatrice Wood's influence, going back nearly 90 years. Maybe it even goes back further, to the Chumash people's ingenious and astounding artistry with basketry. It's clear that Ojai has long been a haven for artists. The natural beauty framed so well by the long arc and lush light of an east-west valley lends itself to artistic pursuits, as does the leisurely pace of life, the sturdy social fabric of a vibrant community and the abundant affection and respect for artists and their acts of creation. OQ | ARTists & GALLERIES FIRESTICKGALLERY Firestick Pottery provides classes, studio/kiln space and a gallery abundant with fine ceramics. 1804 East Ojai Avenue. Open from 10 am to 6 pm every day. Gallery Open to the Public. FirestickPottery.com 805-272-8760 OVA ARTS 40+ LOCAL artists with a unique selection of contemporary fine arts, jewelry and crafts. 238 East Ojai Daily805-646-5682Ave10am–6pm OjaiValleyArtists.com POPPIES ART & GIFTS You haven't seen Ojai until you visit us! Local art of all types, unusual gifts, Ojai goods! Open daily 11-5. 323 Matilija Street NUTMEG'SHOUSEOJAI Featuring local artists, including William Prosser and 304andAmerican-madeCampos.Tedgiftscards,crystals,andmetaphysicalgoods.NorthMontgomery nutmegsojaihouse.com 805-640-1656 PORCH GALLERY Contemporary Art in a Historic House. 310 East Matilija Avenue PorchGalleryOjai.com 805-620-7589 IG: PorchGalleryOjai DANFINESCHULTZART Plein air landscapes, figures and portraits in oil by 805-317-9634106artist Dan Schultz. nationally-acclaimedNorthSignalStreet| DanSchultzFineArt.com CANVASPAPERAND paintings & drawings 20th century & earlier Thursday – Sunday noon – 5pm 311 MontgomeryNorthStreetcanvasandpaper.org MARC WHITMAN Original Landscape, Figure & Portrait Paintings in Oil. Ojai Design Center Gallery. 111 W Topa Topa marc@whitman-architect.Street.com.Openweekdays8a.m.to5p.m. KARENLEWISK. On a road trip to our new home in 1964, my children kept asking, "Are we there yet?" Our new town was integrating its schools. Reviewing these diverse faces in 2021, I ask myself, "Are we there yet?" KarenKLewis.com HUNTINGTONJOYCE Intuitive, visionary artist, inspired by her dreams and meditations. It is "all about the Light." Her work may be seen at Frameworks of Ojai, 236 West Ojai Ave, where she has her studio. 805-6403601 JoyceHuntingtonArt.com LISAMARSHALLSKYHEART Colorful OjaiStudioArtists.orgVisitwithbotanicalwatercolor+Inkpaintingsbirdsandinsects.herstudioOctober8,9,10.Forinfosee:orSkyheartArt.com HARDCASTLETOM Rich oils and lush pastel paintings from Nationally awarded local 805-895-9642artist.
Escape in a moment and enrich your wellness journey at Spa Ojai. Surrounded by the inspiring Topatopa Mountains, this 31,000-square-foot luxury spa features two pools, a fully equipped gym, Mind & Body classes, Spa Boutique, and Spa Café offering a menu of fresh, healthy indulgences. Explore your creative consciousness, nourish your body, inspire mindful renewal, and challenge your physical endurance amidst an inspired natural setting of oak trees, fresh lavender, and idyllic vistas—all just a short drive away.
ESCAPE IN A MOMENT 855.407.0275 OjaiValleyInn.com
OQ / FALL 2022 57 OQ | WINE & DINE 64 The transplants The Sisters McAuliffe & Their Restaurant By Robin Gerber Chef77Randy The Ojai Grill-It Cookbook 72 taking the love way Love's Got Everything to Do With It By Ilona Saari 80
Offered at $1,250,000 This 22 acre lot on Koenigstein Road presents a rare opportunity to build a fabulous estate or a private mountain getaway. With multiple buildings sites and ample usable land, the lot has unsurpassed, panoramic views of the Topa Topa Bluffs, the Santa Ynez mountains, and the entire Upper Ojai Valley. Graced with three seasonal streams, moss-covered, sculptural native boulders and a variety of majestic oaks, the land has a wild, magical quality that is immediately palpable. There is an existing private well and an additional one-third interest in a shared well. It has a paved driveway, easily accessed from highway 150 halfway between Ojai and Santa Paula, and lies within the Ojai Valley UpperOjai22AcreLot.com
25 years matching people and property in the Ojai Valley
22 ACRE UPPER OJAI LOT
PATTYWALTCHER
Offered at $848,000408FranklinDrOjai.com
This charming 2br/1ba cottage in the heart of downtown Ojai rests on a peaceful cul-de-sac and is an ideal home for a small family. The warm little neighborhood is only a few minutes walk from all of the downtown amenities and the farmer's market. The home has natural wood accents, wood floors, a fireplace and large windows that let in lots of light. The outdoor space has ample room for outdoor dining, relaxing and entertaining. The property includes a separate finished studio that could easily be converted into an ADU. This rare downtown opportunity is move-in ready and would also be a great canvas for new design ideas.
DOWNTOWN BUNGALOW
WALTCHERPATTY (805) pattywaltcher.com340-3774
60 OQ / FALL 2022 Restaurant - Sushi Bar Fresh Fish Market Heated Patios & Full Bar 533805-646-7747E.OjaiAvenue Sea FreSh SeaFood Open Daily at 11 a.m. Breakfast Saturday & Sunday, 9 to 11 a.m. Happy Hour — Monday to Friday, 2 to 5 p.m. 469 E. Ojai Ave. www.OjaiRotie.com "...The feel is fun, energetic & evokes the perfect Ojai picnic..." 805–798–9227
Purely sourced & wildly inventive drinks infused with the cleanest marine collagen on the planet Get Wild: @purewild | purewildco.com From your friends in OJAI
Love is greater than everything. 205 N. Signal Street, Ojai, CA | 805.646.1540 L O V E S O C I A L C A F E C O M F O L L O W U S O N I N S T A G R A M @ L O V E S O C I A L C A F E
OQ / FALL 2022 63 FAMILY COMFORT FO OD IN T HE HEART OF OJAI Offering Gluten Free, Vegan, Vegetarian Food, Paleo Wed-Thu 12-3 and 5-8, Fri 12-3 and 5-9, Sat-Sun 10-3 and orderharvestmoon.com5-9307 E Ojai Ave, Ojai, CA 93023, (805) 633-9232 Adjacent to Libbey Park
64 OQ / FALL RORY2022AND MEAVE MCAULIFFE STORY BY ROBIN GERBER • PHOTOS BY BRANDI CROCKETT
call them transplants, as if Ojai's new young arrivals are a non-native, invasive spe cies. Perhaps, but they're bringing a vibrancy, original ity and determination to town that should make them as be loved as Bermuda Buttercups.
OQ / FALL 2022 65
Rory and Meave McAuliffe arrived from Venice, California via quite a few detours, just before Covid came to town. The blondish, early thirty-something sisters are as serious as any two entrepre neurs in the fraught business of running a restaurant. They're also far too slim to be eating the imaginative delights of Rory's Place, one of Ojai's newer dining spots. And yet, as we chat, Meave the chef jumps up from her patio seat, runs inside and comes out car
rying two individual Boston cream pies. She offers me one, and proceeds to devour hers explaining that she missed lunch. Rory is less talkative than her big sister, and more serious as if the weight of meeting payroll is never far from her mind. She had the idea to start the restaurant after working first for an arts organi zation in New York City and then for a film production company in Los Angeles. She was in her 20s when she started dreaming e
Their dad was an artist with a gallery, but these days he does furniture design. Their mom had a bakery. "We experienced the magic," Rory remembers, "and we loved how fun and active it was, playing with cake toppers, grabbing a cookie, chatting with customers." The sisters smile at each other, and memories of chocolate dance in their blue eyes. Their mom's bakery closed in the 1990s when Starbucks moved in next door.
BUSY
RIGHT: OYSTERS WITH MIGNONETTE BELOW: STAFF
66 OQ / FALL 2022 of a wine bar/pub of her own. She asked Meave to help with a business plan. Both sisters attended Hampshire College, a New England refuge for independent-minded young progressives who want to shape their own course of study. Meave focused on environmental science, but when she graduated in 2008 nonprofit jobs were scarce. She found herself back home in Venice as the pastry chef at Gjelina, a new neighborhood restaurant with unconventional ideas. Gjelina was "produce forward," with pizza dough that fer mented for days and a communal feeling between customers and staff. "Some people in Venice were angry about Gjelina," Meave says. "They said it was 'gentrification,' but Gjelina was opened by locals and locals felt it was great. They employ hundreds of staff." At that time Venice still had its small-town-in-a-city vibe. "It wasn't billboard Venice," Rory explains. "It wasn't just a place for flagship stores to rent space for their signs." The sisters remember the main street, Abbott Kinney, as the center of a "funky little arts town." Rory laughs and says, "We thought of the liquor store as the candy store, because that's where we went to get candy."
Gjelina had helped Meave find her calling. She left to help open Behind the Bookstore, a farm-to-table restaurant on Martha's Vineyard in Cape Cod, Massachusetts. From there, she headed across country to Marin County where an aunt had a cabin in the tiny town of Inverness. With a view over Tomales Bay, the Saltwater restaurant brought Meave in as head chef, offering locally sourced oysters and fine dining to the area. Along the way Meave worked as a private chef, learned to throw pots, and worked on an uncle's Cape Cod oyster farm with her sister. Since she was a little girl, she harbored a dream of opening a Meaverestaurant.did a business plan for Rory's wine bar idea, and when Rory's friend dropped out as a partner, Meave stepped in. But she didn't want to live in L.A. She loved small towns, and had wanted to live in Ojai since visiting with an ex-boyfriend years earlier. Meave remembers, "The idea to work with Rory got me off a small island and away from heartbreak. Everyone was saying Ojai needed a good restaurant, and when we drove in everything was blooming, the air was intoxicating with winter citrus. Coming from the east coast, it was magical." Meave's dream was being realized with her sister, a restaurant where her ceramics would be on the tables and walls, and oysters would be on the menu. From the start, Rory's Place faced one hurdle after another from lack PREPS FOR A SHIFT
Rory's Place opened its doors in February 2022, and was an in stant hit with locals and tourists alike. "This is a gathering place," Meave says. "We built it so it feels like you're eating at someone's house. We're here every day. Our staff is like family. Connections are being made all the time. We set up table 40. That's our com munal table where we sit lots of 'two's.'" Rory laughs, "People are always going home with each other's phone numbers."
"We were on the brink of turning back a lot," Rory adds. But the sisters persisted, delivering gourmet meals during Covid lockdown, building their reputation and connection to local suppliers and the community. Meave says, "Our farmers and fishermen had lost so many of their accounts, so we started a supper club with them during Covid. We felt more tied into the community despite lockdowns." They started crowdfunding the restaurant. "We got small investment chunks," Rory explains, "and they came from our local community. We got over 25 investors." They also worked on growing their list of local food suppliers which includes Earthtrine Farm, Shear Rock Farm, Eric Hodge's Local Catch, Peter Strauss' produce, Churchill Or chards, John Givens Farm, Lily's' Organic Eggs, Friends Ranch, Ojai Roots and Eric Goode for avocados and oranges.
RORY AND MEAVE MCAULIFFE
Rory's place has a staff of almost 35. The sisters pride themselves on paying a livable wage, way above minimum wage. All tips are pooled for all employees. "We believe everyone has an essential role in getting the food from the farm to the plates we serve," Rory says, "so we wanted an equitable pay structure that reflects that." Meave smiles, "We feel incredible about providing jobs for young people here. It's a fun and beautiful thing." Some of Ro ry's crew grew up in Ojai, left and returned. "We want them to have dignity in the work they do here," Rory says, "and maybe be able to move out of home." As with other Ojai businesses, lack of housing is a huge issue as Rory's tries to find and keep staff. The sisters care about issues like local housing, food waste and sustainability. A portion of their T-shirt sales go to Ventura Food Share. The restaurant's food waste is composted in partner ship with local farms, and the fisherman who delivers his catch takes their used fish oil to fire his boat. They also have plans for a sliding scale 'glean' dinner made from the overage and bruised produce at the farmers' market. Meave has a plan for 'pop-ups' for local cooks. "We want to make room on days when we're not open, for others to come in and use the kitchen," Meave explains.
OQ / FALL 2022 67 of money to Covid. "We were relying on funds from private investors but then Covid hit and we didn't hear from some of them," Meave remembers.
When I ask if Ojai is home, Rory jumps in, "Yes, it is home. We put everything we had into here. it's our passion project." Rory also bought a home in Oak View with her partner. They dug their Ojai roots deeper with a backyard wedding earlier this year.
Rory and Meave may be transplants, but they are growing strong and vibrant as part of Ojai's newest generation of entrepreneurs and residents. Their sense of community and environmental awareness can only benefit our town. "How we integrate sustain ability and community is what gives meaning to me in owning a restaurant," Meave says. "Our most important relationships are with the stewards of the land." When I ask if they see themselves raising children here, Rory laughs. "I have a kid. It's Rory's Place."
68 OQ / FALL 2022
70 OQ / FALL 2022
OQ / FALL 2022 71 CRAFTED IN OJAI S P R O U T E D S N A C K S , S P R E A D S & G R A N O L A www.larkellenfarm.com
72 OQ / FALL 2022 OQ | FOOD & DRINK RITKE-CULEMANNUTABYILLUSTRATION
ood fictional characters display a definitive "character arc," whereby characters who begin in one certain emotional or intellectual place grow and change, ending elsewhere. As a character in this coffee/cafe story, I'll share the growth I've had personally with coffee, along with the growth and change of a cafe.
I never "got" coffee, never mind coffee houses/cafes dedicated to drinking it. Bars/saloons, no problem. I know, these "houses" make better coffee. But the coffee is more expensive. Doesn't seem to matter. Sweating joggers drop in for iced Frappuccinos, moms (and dads) stroll in with their babies in strollers to get non-fat cappuccinos and a juice box for their yet-to-be-caffein ated kids. (Tall, Grande, Venti?!?! Really — tall is small!? How many of us succumb to that subliminal piece of marketing?) As a young career woman living in Manhattan where regular and decaf were your only choices, I was sometimes wooed to a coffee house after work to listen to bad poetry recited by bad poets, dressed all in black, sitting on a wooden stool on a small stage in bad lighting in "The Village." And, this was after the Beat
OQ / FALL 2022 73
G
Generation. With no spirits to sustain me in smoke-filled, dark enclosures, I vowed never get addicted to coffee. I moved to Los Angeles around the time Starbucks began mul tiplying like wire hangers in a closet with its zillion coffee selec tions. These houses and other coffee cafes became social watering holes where everyone knew your name … "Cheers" without the booze, but I digress. Chock Full of Nuts was that heavenly cof fee, as that old commercial jingle told us, though I didn't buy it ... but after moving to Ojai's heavenly valley, I met Sean and Felicia Mason who helped change my personal coffee arc.
Both spiritual beings (the mountain — the vortex), Sean and
74 OQ / FALL 2022
LOVE - SEAN LOVE - EXTERIOR
As a toddler, Sean Mason lived at the foot of the mystical Mount Kilimanjaro, where his parents taught elementary school through a U.S. program that was the predecessor of the Peace Corps. It was a time of peace and love and, being a child of the 60s/70s, I got the peace and love thing. Felicia is a child of the Ojai vortex and the daughter of Jenny Newell, the owner of pop ular Bonnie Lu's Country Café, a woman who radiates welcom ing love and inclusion to all her dining customers.
OQ | FOOD & DRINK
SEAN AND FELICIA MASON LOVE: TIMES OF THE SIGN
Don't like coffee? NoSo Vita's menu also offered a large selection of teas and other drinks, along with a selection of breakfast and lunch choic es. As their clientele grew, they decided to spread their wings and opened for dinner — the first step in the arc of this coffee house's journey. But they missed the intimacy provided by their original coffee house and returned to those roots by closing their doors to the dinner crowd, leading to the second step of the café's arc. As NoSo Vita patrons were socializing and creating, while devouring a bagel with cream cheese, a breakfast burrito, or avocado toast with their coffee, or enjoying a BLT or tuna sand wich on Ojai Rotie sourdough or a kale Caesar salad, Sean and Felicia continued to evolve. Sean's middle name officially became "Love." Continuing with that theme, Felicia developed "Love" products to be sold in the restaurant to promote love outside the confines of NoSo Vita. As their customers continued to multiply and share the love and muffins, the cafe received a slight makeover. The Masons added an orange wall where Ojaians and tourists alike could express their thoughts by writing on the wall, spreading the love. Sean and Felicia's message was slowly taking hold and they decided to take another step in the cafe's character arc by renaming NoSo Vita. It's now Lo>e Social Café.
OQ / FALL 2022 75
Felicia formed a loving and spiritual partnership. A marriage made in heavens. Both were living in Santa Barbara when they met and fell in love, but Sean had a dream of opening a coffee house where folks could gather, socialize and create while sipping a great cup of coffee. A single mom, Felicia dreamed of moving back to Ojai with her son and enthusiastically embraced Sean's dream. Using the Landmark Forum philosophy of living life powerfully, Felicia and Sean opened NoSo Vita (translation: — Something from nothing creates life), a funky, fun, comfortable environment where love was on the menu.
"Love is greater than everything," as Sean says. Through Covid shutdowns and re-openings, Lo>e Social contin ued to go with the flow. Both the interior and exterior were revi talized, which greatly enhanced the love vibe. Open mic events in the evening where patrons can work out comedy sketches, play readings, new music, and, yes, poetry readings popped up (a whole lot of self-expression), along with a selection of wine and
A loving and caring couple sharing peace, love, and kindness, not to mention delicious food and, yes, great coffee! What's not to love!
"Messy is Sexy" is Felicia's new site which will have apps and a podcast to empower women to find "radical self-acceptance" as she calls it (that vortex thing, again). Her podcast will include talks, messy and sexy, with women from all walks of life who have something to say — from writers to waitresses, to corporate CEOs to stay-at-home moms and working single moms.
Check out the cafe's website to see the menu and the Lo>e mer chandise sold online, as well as the websites of Felicia and Sean:
OQ | FOOD & DRINK 1. LOVE — TACOS 2. LOVE SOCIAL CAFE — BLT 3. PICNICKING — NOSO VITA — CHICKEN 4. LOVE SOCIAL CAFE — LOVE BURRITO1 423
The love continues to grow beyond the Lo>e Social Café as Fe licia and Sean are each developing new websites. Sean's is geared to spreading love and kindness for men, and Felicia's focuses on empowering women.
76 OQ / FALL 2022 beer, as well as light eats from local restaurants they've partnered with, such as cheese boards, mezze plates and sweet treats. More evening events will be planned for the future with loving arms ready to embrace all who want to participate.
Sean's "Kindman" website will also include a game — its mission, no matter how slight, is to reduce violence and to help peace and love prevail on earth by building a game-winning point system based on individual acts of kindness: a game for men to think about kindness first rather than aggression, with the goal of em powering them to act out of kindness.
OQ / FALL 2022 77 Grown in Birmingham, aged in Ojai, wine producer Nigel Chisholm has always treated the community like family. First, with his celebratory dining and entertainment experiences and now with Feros Ferio Winery; wines so fine they bear the ancient Chisholm motto… "I am fierce with the fierce." ferosferiowine.com 805 669 8707Tasting Room, 310 East Ojai Avenue GOOD WINE IS WINE THAT YOU LIKE LIVE MUSIC THU-SUN 4PM-6PM OPEN EVERYDAY 10AM-6PM
OQ / FALL 2022 79 OQ | YESTERDAY & TODAY Antelopes116 play Pronghorns on the Carrizo Plain By Chuck Graham receptionist's126 confession Eavesdropping For Fun & Profit By Sami Zahringer Events125 Ojai's Busy Fall Schedule By Bret Bradigan 90 ojai's82 day When and Why We Celebrate By Mark Lewis a-mazing90 trips On Labyrinths & Mazes By Jerry Dunn pickleball:106the ascension Leveling the Playing Field By Richard Camp
80 OQ / FALL 2022 ©2019 Closet Factory. All rights reserved. CA Lic. #937353 Call for free design consultation 805-988-7861 the ar t of organization closets | garages | home offices | entertainment centers | wall units | wall beds pantries | craft rooms | laundry rooms | mud rooms | wine rooms 15% Discount Restrictions apply. Not to be used with other offers or discounts. 805-640-1827 • www.greengoddessojai.com HOLISTIC, REGENERATIVE GARDENS Native and Mediterranean garden specialists Organically improving soil water holding capacity and vitality through water catchment systems, applications of active compost, soil injections and foliar spraying compost teas & extracts and mulching
OQ / FALL 2022 81 Now available on three popular Hunter Douglas window fashions, the Duolite® design option seamlessly combines two shades in one It provides softly diffused light when you want it, and room darkening privacy when you need it Ask for det ails today Privacy and Light Diffusion. All in One. VIGNETTE® MODERN ROMAN SHADES WITH DUOLITE® DUETTE® HONEYCOMB SHADES WITH DUOLITE® SILHOUETTE® WINDOWWITHSHADINGSDUOLITE ® ©2022 Hunter Douglas. All rights reserved. All trademarks used herein are the property of Hunter Douglas or their respective owners. 18DUOMAGC2 Chisum's Floor Covering 118 Bryant St Ojai, CA M-F: 10:00 am - 5:00 pm Sat: By Appointment Only Sun: Closed (805) www.chisumsfloor.com646-2440 Contractor Lic. #242944 Ask us about special savings on select Hunter Douglas operating systems.
82 OQ / FALL 2022 STORY BY MARK LEWIS LOOKING EAST DOWN OJAI AVENUE FROM A 1917 POSTCARD. BELOW, THE VIEW TO THE WEST.
LIBBEY 2013 OJAI DAY MANDALA
Ojai Day is back! Well, yes, it was back last year too, after taking a one-year hiatus in 2020 due to the Covid-19 pandemic. But this year it's back with a vengeance, as the community slowly shrugs off its Covid-related inhibitions and re-embraces the joys of communal celebration.
OQ / FALL 2022 83
MRS.
BUT WHAT EXACTLY DOES OJAI DAY CELEBRATE?
Not just Ojai in general, but a specific vision for Ojai, one that can be traced to Edward Drummond Libbey. He was a wealthy manu facturer from Ohio who wintered in Ojai in the years leading up to World War I. Around 1912 he began buying up downtown proper ties with a view to turning the dowdy-looking town of Nordhoff into a spiffy, Spanish-style village, which he proposed to rename Ojai. & MR.
ST. THOMAS AQUINAS CHURCH UNDER CONSTRUCTION IN 1919.
Libbey believed that Ojai's lovely new buildings would inspire its residents to become better citizens, and thus would uplift the community in every way.
The event originally was billed as Libbey Day, to be held in the brand-new Libbey Park. But Edward Libbey would not let them use his name, either for the event or for the venue. He much preferred to celebrate his splendid creation than to focus on his role as the creator. As usual, he got his way. And so, on April 7, 1917, some 2,000 people crowded into the hastily renamed Ojai Park to celebrate Ojai Day.
By the spring of 1917, Libbey had done it. He had created the park that now bears his name; built the Post Office Tower, the Pergola and the Arcade; and persuaded the citizenry to embrace "Ojai" in place of "Nordhoff." Over the next eight years, leading up to his death in 1925, he spearheaded other downtown Span ish-style projects, including The El Roblar Hotel (later known as the Oaks, but now reverting to its original name); the St. Thomas Aquinas Chapel (which now houses the Ojai Valley Museum); the Ojai Valley Country Club (now the Ojai Valley Inn); and the Ojai Valley Library.
Ojai Day was founded to celebrate Libbey's achievement. These days we tend to take that achievement for granted — so much so that the current campaign to ratify Libbey's vision by creating a new Downtown Historic District has run into some resistance. Yet a district would protect and exalt the same thing we celebrate on Ojai Day: Libbey's "City Beautiful" vision of a community where civic virtue draws inspiration from our beau tiful surroundings — not just the natural environment, but the built environment too. And it was Libbey who built it.
Edward Libbey was a rich businessman whose idea of commu nity uplift was neither radical nor especially inclusive. But he believed in the ideals of the City Beautiful Movement, and he put his money where his mouth was. Like many another City Beautiful enthusiast, he tried to use urban planning and archi tecture and landscape design to create a better world, at least in miniature. In Ojai, arguably, he succeeded.
84 OQ / FALL 2022
THE FIRST OJAI DAY
"We are celebrating here today the fulfillment of a conception," Libbey told the crowd. "… There has been too little attention paid to things aesthetic in our communities and in our homes. The time has come when we should encourage in ourselves thoughts of things beautiful, and the higher ideals which art encourages and promotes must awaken in the people the fostering of the love of that which is beautiful and inspiring."
Sherman Day Thacher, founder of the school that still bears his name, accepted the deed to the park from Libbey on behalf of the newly formed Ojai Civic Association.
OJAI DAY POSTER, 2015.
"Ojai-Libbey Day is now a fixed anniversary fully as important as Thanksgiving," Thacher said. The local newspaper, The Ojai, agreed that this was a date that should be celebrated in perpetuity. "Last Saturday a new epoch in the social and industrial life of the rejuvenated and resuscitated ancient Nordhoff, under a new title and new conditions, was ushered in and welcomed with joyous acclaim and much felicitation," the newspaper editorial ized. "It was the most memorable day in the history of the Valley. New life, new ambitions and greater accomplishments will date from April 7, 1917."
From the earliest age to the present time, art has been to the races of men one of the greatest incentives toward progress, refinement and the aesthetic missionary to the peoples of the world. Thus, we are today celebrating, in the expression of this little example of Spanish architecture in Ojai Park, a culmination of an idea and the response to that spark of idealism which de mands from us a resolution to cultivate, encourage and promote those things which go to make the beautiful in life, and bring to all happiness and pleasure."
One hundred and five years later, a case can be made that this prediction came true, and that Libbey's vision had a lot to do with it. Ojai remains beautiful and it exudes civic virtue, just as he hoped it would. The valley teems with an unusual concentra tion of artists and activists, churchgoers and community builders, volunteers and contributors, green-minded conservationists and history-minded preservationists. But alas, Sherman Thacher missed the mark when he predict ed that Ojai Day would join Thanksgiving as a perennial Ojai holiday. The very next year, 1918, the event was canceled due to World War I. It returned in 1919 and was held every year
THE EL ROBLAR HOTEL OPENED IN 1920.
"Art is but visualized idealism," he said, "and is expressed in all sur roundings and conditions of society.
THE ARTIST WAS KENT BUTLER.
OQ / FALL 2022 85
CRAIG WALKER WAS PART OF A GROUP WHO REVIVED OJAI DAY IN 1991 AFTER A 63-YEAR HIATUS. PHOTO BY NATHALIE RAIJMAKERS.
In 1989, state officials declared the Arcade seismically un safe. Retrofitting the iconic structure would cost more than $1 million. At the time, it belonged to the individual shop owners, each of whom owned the piece in front of his or her store. They couldn't afford to fix it, and anti-tax activists objected to having local taxpayers pick up the tab. The structure might have been torn down, except that a new group called Friends of the Arcade sprang up to save it.
The city did rename the park for Libbey in 1971 — an ironic move, given that city officials had just torn down the original Pergola, a prominent part of Libbey's carefully conceived plan for downtown Ojai. Still, putting Libbey's name on the park did imply a lingering appreciation of what he had done for Ojai half a century earlier. Nevertheless, nobody in 1971 seems to have considered bringing back Ojai Day. Hardly anybody even remembered it.
Another 20 years passed, and the former annual celebration sank ever deeper into obscurity — until a new campaign to preserve Libbey's legacy finally led to Ojai Day's revival.
"I turned to Patty Fry's book 'The Ojai Valley: An Illustrated History,' and learned about the original Ojai Day and how it was held to honor Libbey and the completion of the Arcade in 1917," Walker said. "We thought that reviving that celebration would be appropriate."
And so, on Saturday, Oct. 12, 1991, Ojai Day was reborn.
"It was a big hit," Walker said. "Many community groups per formed or had booths. David Mason rode around on a hayride telling stories of Ojai history. A local actor dressed up like Ed ward Libbey and gave Libbey's 1917 speech before Mayor Jim Loebl dedicated the Arcade renovation. It was a lot of work, but it was quite a thrill to see it unfold through the day and to see how happy the crowds were."
"I was part of a small group of Ojai community activists who were trying to win public support, and fundraise for, the renova tion of the Arcade," said Craig Walker, retired teacher and noted Ojai historian. "Our group was led by longtime Ojai activists Winnie Hirsch, Betty McAllister, Robert Rail, myself and Theothers."group successfully rallied the community to support ren ovating the Arcade. Eventually the city took ownership of the structure and worked out a funding plan using state redevelop ment funds and other sources, including a small assessment on the shop owners. As the project was being completed, then City Manager Andy Belknap asked Friends of the Arcade to plan a dedication ceremony.
86 OQ / FALL 2022 through 1928, but it disappeared from the calendar in 1929 and soon was forgotten altogether.
OJAI DAY RETURNS
At first, the idea was to hold the event every other year. Walk er and his wife, Debi, took charge in 1991 and 1993. Then the City of Ojai Recreation Department took it over and hired Jody James to run it, and Ojai Day became an annual event — until 2020, when the Covid-19 pandemic forced its cancellation.
OJAI DAY REIMAGINED
The jail, built in 1928, has a very basic design that nevertheless presents a Mission Revival affect — like most other buildings that went up in downtown Ojai in the years after Libbey's "Spanish village" makeover. Many of those buildings, like the jail itself, are now officially designated landmarks.
Ojai Day returned in 2021, and it will be back again this year on Oct. 15 from 10 a.m. to 4 p.m., but with some changes from pre-Covid times. The colorful Ojai Day Mandala, traditionally painted in the intersection of Ojai Avenue and Signal Street, will again be moved to the Libbey Park Fountain area. The vendors who usually take over Ojai Avenue for the day have been moved inside the park, and the avenue will remain open to car traffic.
The Mandala Mavens — River Sauvageau, Mary Kennedy, Susan Evergreen Herick — and their collaborators this year are celebrating the 30th installment of their annual Ojai Day com munity painting project, which began in 1993 to celebrate Ojai's earliest inhabitants, the Chumash. This year they will create the Mandala on Oct. 6 and 7, the weekend before Ojai Day. To mark the occasion, the Ojai Valley Museum plans a pop-up exhibit about the Ojai Day Mandala for two weekends only, Oct. 14-16 and Oct. 21-23. (The museum also will raffle off a quilt on Ojai Day. Visit the museum's booth in the park to view the quilt and buy tickets.)
THE MANDALA IN ITS NEW LOCATION.
This year's Ojai Day also will feature the new Ojai Jail Arts Initiative, featuring the work of Gary Lang and other noted local and area artists. They will create their works in, on, and around the historic old jail building situated near the bike path south of Libbey Bowl. The exhibit is being curated by Matt Henriksen, Elizabeth Herring and Teddy Nava.
Weston B. Montgomery, the city's interim events and commu nications coordinator, said that this year's event will be "locally infused," with a higher proportion of local vendors than usual. It will mostly take place inside the park, including entertainment in the gazebo and concerts in Libbey Bowl. There will be an open ing ceremony in the morning at the Mandala near the fountain, and some downtown activities will continue into the evening. (Check Ojaiday.com for more details about the schedule as we get closer to the event.)
The Pergola, torn down in 1971, was restored to life in 1999 thanks to yet another a determined campaign by citizen activists. But it seems shortsighted to rely on ad hoc volunteer groups to spring into action every time there's a crisis. The City Council is due to vote on the Downtown Historic District in October — right around Ojai Day, as it happens. Given that the first Ojai Day in 1917 celebrated what Libbey had just built, and that the return of Ojai Day in 1991 featured the dedication of the rescued Arcade, it seems appropriate that this year's Ojai Day conceivably might celebrate a Council vote that would preserve Ojai's architectural essence for all time. Or so says Craig Walker, with his fingers crossed: "Wouldn't it be great if the city approves the historic district in time for Ojai Day 2022? Then we'd really have something special to celebrate this year!"
OQ / FALL 2022 87
Nora Davis BRE License nora@ojaivalleyestates.com805.207.6177#01046067
We know Ojai.
Price Upon Request | RoyalOaksRanchOjai.com
Montana Circle Retreat - 1961 ranch-style home close to town with three bedrooms, two bathrooms, remodeled kitchen, separate art stu dio, covered patio, stone fireplace, and mountain views. $1,695,000
5 gated, private acres close to downtown with wrap-around porch, 5 bedrooms, media room, wine cellar with tasting room, library, gym/massage room, 4 fireplaces, pool and spa, sauna, family orchard, olive tree orchard with approximately 30 trees, Bocce court, putting green, volleyball court, chessboard, gazebos, pasture, private well, 150-year copper roof, copper gutters, RV parking with hookups, six-car garage and workshop, and more.
Twin Palms Cottage - Remodeled, four-bedroom oasis with swimming pool and spa, low-maintenance landscaping, palm trees, two fireplac es, workshop, covered patios, mud room, and laundry room. $1,229,000
The Davis Group ojaivalleyestates.com
We're lifelong residents.
Just a few blocks from downtown, Gabbert Haus is a beautiful example of Streamline Moderne architecture and was thoughtfully remodeled to incorporate modern amenities without losing its original charm. Just some of its features include four bedrooms, wood and travertine floors, and quartz counters, vanities, and fireplace hearth, as well as outdoor kitchen and living areas. $1,995,000 GabbertHaus.com
Enjoy resort-style living at this luxurious, private, 10-acre estate in Upper Ojai boasting gated entries, seven-bedroom main house with two guest wings and three fireplaces, pool house, swimming pool with beach entrance and wading pool, spa, gym, artist's loft, lighted tennis court, horse facilities, outdoor kitchen with pizza oven, patio fireplace, family orchard, three-car garage + two-car garage, and spectacular mountain views. $5,595,000 RocaVistaRanchOjai.com
90 OQ / FALL 2022
STORY BY JERRY CAMARILLO DUNN, JR
"Just nip down to the palace wall, then turn left." A guard dressed in a blue blazer is giving me directions to the famous hedge maze at England's Hampton Court Palace. He surveys all 6 feet 7 inches of me and flashes an amused smile. "You might be able to see over the hedges! But have a lovely visit."
LONGLEAT HEDGE MAZE
"Mummy! Come on! This way!"
OQ / FALL 2022 91
I cross a lawn shaded by ancient trees and hear shouts and giggles float over the maze's perimeter hedge. Inside, children are scampering down hidden pathways. Their mission, and they have chosen to accept it, is to reach the elusive goal at the center of the labyrinth — and then find their way out.
This is England's oldest hedge maze, planted around 1690 by William III at Hampton Court, the Tudor palace where Henry VIII had spent five unpromising honey moons. Millions of people have challenged this topiary
"But we've already been that way, I'm sure of it . . . ."
HEVER CASTLE AND ITS MAZE YEARS
MAZE
(I won't be a spoiler, but there is a secret to solving this type of OF PUZZLEMENTAT HAMPTON COURT PALACE
92 OQ / FALL 2022 puzzle, with its half-mile of paths, wrong turns, and dead ends. They love the mild adrenaline rush that comes from feeling trapped (temporarily, anyway). Then there's the perennial appeal of a mystery: In a maze, everyone is Sherlock Holmes. I step through the gate and head down a corridor of neatly trimmed yew hedges. They're just high enough that I can't peek over the top for clues, so I have to strategize. Maze designers and the public play a kind of chess game, and the first move was made here at Hampton Court. The leafy puzzle is clever, but savvy visitors eventually found the key to unlock its secret:
The maze consists of one continuous hedge, folded and refolded upon itself. So if you keep your hand on the hedge as you walk, you inevitably reach the center — even if you have to go in and out of every blind alley.
For their next move, maze designers grew more devious. In 1820 the owner of palatial Chevening House planted a maze in which keeping a hand on the hedge won't take you to the center but back to the entry gate. That's because the goal lies within a sep arate island of hedge, which "floats" unattached to the perimeter.
OQ / FALL 2022 93 maze, Duringtoo.)amaze craze in Victorian times, these ornamental garden puzzles were planted at stately homes and public parks all over England. I visited a classic example at Hever Castle, the childhood home of Anne Boleyn. In 1903 the castle was purchased by American millionaire William Waldorf Astor, who planted a square maze of veddy British formality with meticu HEVER WATER MAZE HEVER CASTLE MAZE: PERFECT SYMMETRY KIDS SPLASH ALONG PATH
EVENTUALLY, MAZE DESIGNERS ran into a blind alley. No one could figure out how to go beyond the basic game plan devised at Chevening. It took 150 years for them to work out the next move.
In 1978 at Longleat House, designer Greg Bright got the idea of adding bridges to a maze, which means some paths cross over others. His innovation transformed a two-dimensional pattern, like the kind children trace in puzzle books, into a three-dimen sional enigma. A bridge creates a topological frying pan: You can walk around inside endlessly without getting out – until a bridge carries you over the pan's "rim" into the next section. Eventually you'll be swept along and reach the goal.
LOST AND FOUND AT LONGLEAT
lously trimmed hedges. When I arrived, the local village band was seated on chairs alongside the maze, playing a concert of jaunty tunes on their horns, drums, and glockenspiels — a per fectly surreal scene that could have come right out of the British TV series "The Prisoner."
Longleat ranks as one of the longest hedge mazes in the world, with 1.69 miles of paths bordered by 16,000 English yews. A round-trip to the central wooden tower and back takes most people about 90 minutes. On my visit one sunny day, I decided to follow a robin hopping merrily along the hedge top. (This way, guv!) And thanks to careless previous walkers, I also spotted some clues — a gum wrapper here, a lost ticket there — to use as road markers. If I saw them again, I'd know I had trod that path before.
"Avoid Water Obstacles," said a sign. "Get to the Center without Getting Wet."
As I walked, I realized a truth about mazes: You're okay as long as you keep entering new territory. But if you find yourself retracing old paths, you're doing something wrong. Now there's a life lesson for you!
94 OQ / FALL 2022
Of course some people (especially kids) cheat. They push their way right through a hedge to enter the correct path, rather than persevere and find it on their own. (The resulting damage is a nightmare for the groundskeepers.) But what kind of adult would do this? After all, a maze is more than a puzzle; it's a metaphor for the path we take through life. Are you the type of
Pale-faced English children, who hadn't seen sunshine all winter long, were soaked to the skin. Some slabs along the path were rigged as treadles, and stepping on them triggered hidden squirters to drench the unwary. Older kids would lead unsuspecting younger ones along the path – and merrily soak them. Posted nearby was a list of eight rules: "No Boisterous Behavior. No Running. No Dogs," and so on. At least seven of them were being gleefully violated. Children scrambled around the maze and up the central tower like crazed ferrets. I talked with a warden in a bright yellow vest. "It's very wild today!" he remarked, gazing at the scene. Then he looked at me and added drily: "You can go in the maze . . . if you promise not to run, jump, or shove."
Later I spied a sign leading to an unusual new maze that looked like a pond with an island in the center. Pathways made of concrete slabs spiraled across the water on the way to the goal, which was a stone tower draped with greenery and yellow blos soms.
Ha! What a laugh!
OQ / FALL 2022 95 person who would cheat on a spouse or a business partner? One who's always cutting corners? That a maze prompts philosophical musings shouldn't surprise anyone. Its labyrinthine pattern has a profound relationship to human nature. Indeed, the mysterious realm of the unconscious mind is often symbolized by winding pathways and chambers. The maze's circling paths also resemble the whorls of our own fingerprints. Or the convolutions of the human brain — a design that, like a maze, packs a big mystery into a small space.
OLD TURF LABYRINTH AT SAFFRON WALDEN (JEFF SAWARD, LABYRINTHOS)
A LABYRINTH, UNLIKE A MAZE has no walls to confine and confuse you, no dead ends or wrong turns. Simply follow its gently looping path and you'll reach the center. Yet this disarmingly simple pattern has its own mys terious power, for when you walk a labyrinth, you take part in something ancient. In Greek myth, King Minos's labyrinth on the isle of Crete con fined the Minotaur, a beast half man and half bull that regularly devoured a tribute of youths and maidens — that is, until the hero Theseus found his way to the center. He slew the Minotaur
FESTIVAL FOR SAFFRON WALDEN LABYRINTH (JEFF SAWARD/LABYRINTHOS) and retraced his steps out with the help of a golden thread. Was the Cretan labyrinth only a myth? Archaeologists at Knos sos uncovered the ruins of a vast Minoan palace with an intricate network of passageways and rooms. The walls were decorated with images of a double-headed axe called a labrys, from which we derive the English word labyrinth. By the first century B.C., a stylized version of the Cretan laby
96 OQ / FALL 2022 rinth was being minted on coins. The image spread across Europe and was adapted to Christian purposes in 13th-century France at Chartres Cathedral, where a winding pattern with eleven rings circling a central cross was laid into the stone floor. Walking the path served the faithful as a symbolic journey, perhaps a substi tute for making a pilgrimage to the Holy Land or simply a way to contemplate the meandering course of human life. In the 17th century, the pattern was put to use as an enigmatic intaglio cut into the grass of village greens. Only eight of these turf labyrinths survive in England, and I discovered the largest in an old market town, Saffron Walden. Its single path is a full mile long, set inside a circle that is only 88 feet across. As I began walking, the pattern proved as mesmerizing as a hypnotist's whirling disk. At first the track swept inward to ward the central goal, then swiftly away. Keeping my feet on the narrow pathway occupied a part of my mind, while the rest went pleasantly blank. (In my case, a familiar sensation.) The chatter and noise that often clutters our brains — what Buddhists call "monkey mind" — faded away to silence. Without that background static, I had a fresh, direct awareness of everything around me. The village houses bordering the green looked bright and clean, as if newly scrubbed. Rose gardens glowed with pure light. Soon I reached the center goal, a low grass mound. Surrounding me were the seventeen rings of curved path I had just walked. Within them I felt inexplicably protected, as if in a castle ringed by stone ramparts.
LONGLEAT: www.longleat.co.uk/main-square/hedge-maze
A labyrinth, I realized thankfully, creates a separate world, a cos mos ordered from the surrounding chaos. My favorite turf labyrinth, Julian's Bower in Alkborough, overlooks a river plain. After centuries of being trod and recut, its path now lies a foot below the surrounding ground. As I stepped onto it, I remembered the words of Jeff Saward, a leading researcher of British earthworks: "If you perceive a faint magic lurking just beneath turf labyrinths," he says, "you may get some idea of the very subtle principles and symbolism built into the old Onones."that late winter afternoon, a light snow had dusted the track. Snowflakes continued to fall, and the wind swirled them round and round. In my mind, the whirling columns of white began to seem like spirits — the figures of all the men, women, and children who over the past seven hundred years had walked this same path. At its most basic, Julian's Bower was simply a circle on the ground. But somehow it contained the whole world.
SAFFRON WALDEN: www.visitsaffronwalden.gov.uk/2020/02/turf-maze-labyrinth
HAMPTONVISITING:COURT: palace/explore/the-maze
A-MAZING! "When you come to a fork in the road, take it." – Yogi Berra
CHEVENING HOUSE: private residence CASTLE: www.hevercastle.co.uk/hever-attractions/the-maze
HEVER
Julian's Bower: www.historyhit.com/locations/julians-bower
wFINDING:ww.labyrinthos.net and www.labyrinthlocator.com have information and links for mazes and labyr inths worldwid e. Maze designer Adrian Fisher has a site at www.mazemaker.com.
www.hrp.org.uk/hampton-court
SHOP OUR SATMONDAYBooks,SpiritualSmudgingCrystalTumbledANDSELECTIONWIDEOFCRYSTALSHEALINGSTONESStonesSpecimensHerbs&IncenseDecorGifts&More-FRIDAY11-5+SUN11-6thecrystalcornerojai.com thecrystalcorneroja i 805 272 8402, 201 N Ventura St, OjaiJOINCAOUR WEEKLY LIVE CRYSTAL SALES ON INSTAGRAM FROM HOME! crystalcorner_flashsales WE SHIP NATIONWIDE!
98 OQ / FALL 2022 We are excited to announce the big event will again take place under the stars at Ojai Valley School! Dig out your low-back chairs and blankets and join us on the field at OVS for another fantastic year of films and fun! All proceeds will protect & restore the open space, wildlife habitat, watersheds, and views of the Ojai Valley. TICKETS Scan the QR code or visit ovlc.org to learn more and purchase tickets » THIS EVENT IS SPONSORED BY SEPTEMBER 16—17, 2022 A FUNDRAISER FOR THE OJAI VALLEY LAND CONSERVANCY ®
OQ / FALL 2022 99 Save MoneyUse MobileOurAppTake Advantage of Our HomeService!Delivery Store Hours: M - F 10 - 6 pm | Sat. 10 - 1 pm ojai.medicineshoppe.comojaimedshoppe Phone: 805 646 0106 960 E. Ojai Avenue NEW! AFTER-HOURS URGENT CARE Switch Prescriptions* to Our Pharmacy Receive Free Delivery for Life (*Three or More) Scan Here to Start
100 OQ / FALL 2022 once-calmedThemindisvast.-AlanWattsLetushelpyouundotheclutter. Ojai Self StOrage U-Haulwww.ojaiselfstorage.comAuthorizedDealer805-646-5334404BryantCircle Ojai Self Storage 805-646-8742 Large Variety of Free Weights & Machines Cardio OutdoorEquipmentFitnessJungle Gym Zoom Classes and Personal Training Online Custom Weight Loss Fitness Programs Pilates Studio Great HelpfulAtmosphereandKnowledgeable Staff Full Service Workout Facility Contact us today! 805 646 2233 406 Bryant Circle Ste Q, Ojai, @bryantstreetgymCaOPEN DAILY Spa Services Massage Watsu Shanae Kahler Owner
OQ / FALL 2022 101 GENERAL & FAMILY DENTISTRY "We specialize in biomimetic principles. Biomimetic dentistry is the reconstruction of teeth to emulate their esthetic and natural form and function. It is the most conservative approach to treating fractured and decayed teeth — it keeps them strong and seals them from bacterial invasion. By conserving as much tooth structure as possible, we can eliminate the need for many crowns and root canals." DR. DREW EGGEBRATEN, DDS Dr. Andrew Eggebraten, USC Graduate and his family FOR A BETTER SMILE! 110 E PORTAL STREET OAK VIEW, CA 93022 PHONE: 805 649 1137 WWW.DREWEGGEBRATENDDS.COM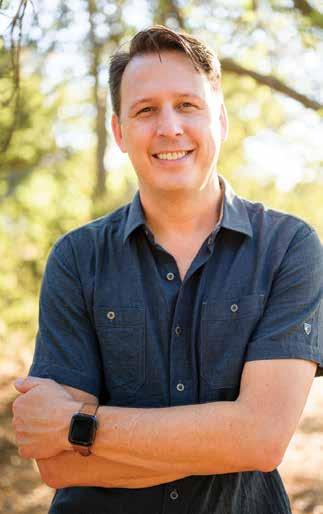 102 OQ / FALL 2022 LazicAndrazbyPhoto editor@ojaiquarterly.com 805-798-0177 ojaihub.com DO YOU HAVE A BOOK IN YOU? LET US HELP YOU GET IT OUT. Full Service Publishing House Award-winning writers & editors We can help you with everything from first draft to first sale (writing coaches • editors • designers • publishing) OQ Books - House Ad 2.indd 2 5/20/20 5:14 PM
Welcome to Somatic Sanctuary — a somatic-based healing and movement arts center. Explore healing treatments, group movement sessions, workshops and community events. 410 W. Ojai 805-633-9230Avenue SomaticSanctuary.com OQ | HEALING ARTS
ALARRA SARESS Master Body worker. Founder of Harmonic Earth — sacred space for healing arts and performance. Call or text. 107 W. Aliso Street HarmonicEarth.org | 720-5303415
JACALYN BOOTH Certified Colon Hydrotherapist Digestive Health more than 30 years of experience in healing Jacalyn brings a deep level of caring to the art of hydrotherapy. Professional, nurturing, experienced. OjaiDigestiveHealth.com SANCTUARY
Ojai
WOODS A graduate of USM's Master's Program in Spiritual Psychology, a Certified SafeSpace trauma facilitator, and certified Theta Healer. Trained in pre-natal support, coaching,parenting,transformationalpleasuremastery,relationshipandintimacychakraclearing,andInquiryMethod. AubrieWoodsCoaching.com
ALAN CHANG,
Gong Meditation and Acutonics Sound Alchemist.
colon
modalities,
LeslieBouche.com | 805-796-1616
AUBRIE
OQ / FALL 2022 103 LAURIE EDGCOMB Lic. Acupuncturist since 1986, voted best in Ojai! Natural medicine including Microcurrent, nutritional and herbal consultation, Facial Rejuvenation. LaurieEdgcomb.com 805-798-4148 JULIESTENSLIETUMAMAITChumash Elder Consultant • Storyteller • Spiritual Advisor • Workshops Weddings & Ceremonies JTumamait@hotmail.com 805-701-6152 NATHANMA,KAEHLER,LAC Nathan Kaehler (Best of Ojai 2014). Licensed Acupuncturist, MA Psychology. Gentle acupuncture, 14 years experience Personalized herb preparations Large onsite herb dispensary OjaiHerbs.com | 805-640-8700 NUTMEG'S OJAI HOUSE Functional Art for Heart & Home - American MadeFair Trade - Psychic Tarot and Astrology Readers, Energy and Crystal Healings daily by appt. Walk-ins welcomed: Open daily 11 a.m. to 6 p.m. 304 N. Montgomery Street OjaiHouse.com | 805-640-1656 DR. JOHN R. GALASKA Dr. John R. Galaska, PsyD, BCN, Cht, university professor of Psychology, Neurofeedback, biofeedback, hypnosis for past troubling experiences and enhancing subjective life experience. BeCalmOfOjai.com facebook.com/BeCalmofOjai805-705-5175 TO HERE:ADVERTISEplEASEcAll OR EmAIl bRET bRADIgAn AT editor@ojaiquarterly.com OR 805-798-0177
L.Ac 2nd generation Acupuncturist who brings 15 years of Meditation, Tai Chi and Kyudo Zen Archery experience to his healing practice of Functional Medicine and TCM. AmaraOjai.com | 805-486-3494
With
805-901-3000 NAN NURTURINGTOLBERTCENTER Pre-birth to 3; pre/post-natal wellbeing; infant/toddler development; parent education/support. BirthResource.org info@birthresource.org805-646-7559 MICHELLE BYRNES Elemental Nutrition Nutrition & Wellness counseling focused on Fornutrition,detoxification,anti-aging,personalized&weightloss.moreinformation,visit elementalnutritioncoach.com 805-218-8550 SOMATIC
LAUREL FELICE, LMT Offers Swedish, deep tissue, reflexology, reiki, cranialsacral and pre and post natal massage with a reverent and joyous balance of hands and laurelfelice54@gmail.comheart.805-886-3674
LESLIE BOUCHÉ, C.HT. Cert. Hypnotherapist Find your calm center. Release negative thinking, emotional reactivity, anxiety, fear and unhelpful behaviors. Improve sleep and comfort. Safe, loving, rapid change. It's time to feel leslie@lesliebouche.combetter!
104 OQ / FALL 2022 VENTURACountyFairgroundsSwapMEET Every Free7amWednesdayto2pmParking$2.00Admission Antiques • Collectibles Farmer's Market Vendor Space Available For Information Call Sue Adams 10 West HARBOR Boulevard www.snaauctions.com818.590.5435
According to best-selling author and TED Talk superstar Brené Brown, "Joy + play = Pickleball."
106 OQ / FALL 2022
Leonardo DiCaprio is obsessed with it, proclaims Vanity Fair. Amal and George Clooney, Matthew Perry, Aman da Peet, Ellen de Generes, along with dozens of other A-listers have also picked up Pickleball fever.
What is this game that engenders such joy? Well, take a cupful of tennis, a glug of ping pong, add a smidgen of badminton, a dollop of fun and you've cooked up what The Economist calls the fastest growing sport in America. It's played by the one-per centers in country clubs from the Hamptons to Beverly Hills, as well as in local YMCAs, mobile home parks, and city rec reation parks across the country. Roughly five million players have picked up the paddle and plunked the polymer ball … the Sports and Fitness Industry Association heralded a 21.3 percent increase in people playing the game from 2019 to 2020, and a movement is afoot to make pickleball an Olympic sport. Local player Carolyn Bennett plays several times a week and loves the game so much she built her own pickleball court at her home in Upper Ojai, and at her second home in Michigan. "It's an easy and convenient way to get some exercise while having tons of fun and laughing out loud!" she
OQ / FALL 2022 107
The pickleball court is 20-feet-by-44 feet, a little over a quarter the size of a tennis court and uses a paddle and a plastic ball with between 26-40 holes. Think wiffle.
The basic rules: Serve is underhand, either with a bounce or from the air below the waist. The no-volley zone in front of the net on each side is called the kitchen. No one knows why, other than if you can't stand the heat get out of it. First team to 11 points wins, and only the serving team can score a point. And one of the most useful shots is called a dink.
Luke Hamann started playing out of college and now, at 23, plays as often as he can. "Age is far less a factor in pickleball," he feels. "It's inspiring to have played with many older people who can ab solutely keep up and even outperform many of the young people."
Thesays.game was created in 1965 on Bainbridge Island, Washing ton by Joel Pritchard and two other dads with bored kids. Joel's wife, Joan, may have named the game "Pickleball" because she likened its mishmash elements to the pickle boat in crew, where a crew team was made from leftover oarsmen from other boats. Or it may have been named after the family dog, Pickles. What ever the history, pickleball, with its distinctive pock pock sound when the paddle hits the ball is here to stay.
Pickleball pluses: Much less running than in tennis… games are over quicker ... it can be played competitively between 60 year olds (and older) and 15-year-olds (and Softwareyounger).marketer
TIM & BRENDA KROUT
Many pickleballers are frustrated because the four courts carved from the single tennis court on Ventura Street are the only places to play in town, unless you happen to belong to the OVAC. "The pickleball courts are the most actively used recreational facility in the city," says Leslie Crane, one of five board members of Ojai
Everyone except a few neighbors who took exception to the noise and filed complaints about that pock pock sound made by every shot. After some negotiating, Tim and Brenda took those complaints into consideration and limited the playing times.
Back in Ojai there was no place to pickle, so he schlepped to Santa Barbara, Port Hueneme, or Rancho Conejo before success fully petitioning the city in 2017 to use tennis courts at Matilija. But, two years later, he was forced to leave that venue, and after failed attempts to repurpose tennis courts in Libbey Park, he found an unused court on Ventura Street, near City Hall.
Hamann grew up playing tennis. "Tennis is a much harder sport to learn," he says. "Most people can pick up a pickleball paddle and have a decent time within the first few hours of play … and pickle ball can be played strategically, athletically or a hybrid of both."
Ojaian Tim Krout is a certified instructor, Ambassador to the U.S. Pickleball Association and President of Ojai Pickleball Club, Inc. While visiting friends in Tahoe in 2014, he was invit ed to play this game he'd never heard of, and was soon hooked.
The city paid for the repaving, while Tim and his wife Brenda bought all the materials, nets, paddles and balls, spending about $7,000 of their own money, and created a non-profit. The courts
Where else can seniors really work on endurance using cross lateral movement (the most sophisticated of movements) and weight shifting in all directions (left/right, forward/back, and diagonals), while hanging out with their friends!?"
officially opened in January 2020 to great success. "We had fun," says Krout. "Everyone was welcoming, everyone helped one another, pitched in to re-work the courts and pitched in to teach the novices how to play the game."
108 OQ / FALL 2022
It's also a great workout, for folks of all ages. Pickleball advocate Leslie Rule says: "A majority of players, although certainly not all, are seniors. Pickleball offers an integrative physical and mental experience unique among senior sports.
The Ojai Valley Athletic Club also offers pickle play. Work began on installing courts in November of 2019 and completed mid-April, 2020.
Strategically means mastering that "dink," which is a soft shot hit on a bounce from the kitchen (non-volley zone). A good dink can often win the point over a slam-bam power shot hit by the "bangers."
"By then we were in the thick of the first wave of the pandemic so there weren't many people around to enjoy the unveiling," says Steve Beckendorf, tennis and Pickleball pro. "A lot of members began asking for Pickleball courts and we decided it was time to take the leap," he continues. "As a bonus, the view from our courts has to be one of the most picturesque anywhere."
OJAI VALLEY
Ojai Pickleball, Inc. has roughly 200 members and two of them, Stacy Potter and Beth Morris, recently won the Gold Medal in women's doubles at the Newport Beach championship tourna ment, which earned them a trip to Indian Wells for the U.S.A. Pickleball National Championship Tournament. With so many players and so few public places to play, the Pickleballers are try ing to solve that problem by seeking other venues, such as one of those lower Libbey tennis courts, or the old paddle tennis courts ATHLETIC COURTS
"I have been playing almost two years," offers Crane. "I went in for a bone density test and my doctor asked me what I was doing differently since I had improved 5 percent since my last test two years ago. The only change I have made is regular pickleball. So now having fun is not the only reason I do it!"
PICKLEBALL AT THE OJAI VALLEY ATHLETIC CLUB Pickleball, Inc. "With our limited hours and no lights, people who work are eliminated from playing and in the summertime our afternoon hours are the hottest times of the day, with no early morning play allowed."
OQ / FALL 2022 109 at Soule Park. Each of these presents a number of logis tical and financial problems, but they are confident that with the help of the city, the county, and the passion of the players, they will find new places to exercise their joyful, infectious love of the game.
"You meet a lot of new people, neighbors I've never met before, people from all walks of life," says Krout. "All of them coming out to play and having fun … That's been my reward."
CLUB PICKLEBALL
Advice for new players? "Do it!" says Bennett. "It's inexpensive, doesn't take all day (like golf), doesn't take up much space (like golf), doesn't use water (like golf), and for some inexplicable reason, can be mastered by people who have never picked up a paddle, racquet, or bat in their lives."
Pickleball: for men, women, boys, girls, the young, the old, the dinkers and the bangers… the game's got everything including the kitchen dink.
CAROLYN BENNETT
"I have not seen anyone who has tried pickleball and not come back to learn more about the game," says Hamann. "Anyone can pick it up and play!"
110 OQ / FALL 2022
OQ / FALL 2022 111 SALES & RENTALS (805) 669-9424, 987 W. Ojai Ave., (@Boku) Ojai, CA Whether you're touring the Ojai Valley or riding the bike trail down to the beach in Ventura, you'll want the best and most comfortable bike available. WITH OJAI ELECTRIC BIKES, you have the comfort, the range, and the guidance to make memories that will last a lifetime. WE PROVIDE THE BEST E-CRUISER ON THE MARKET. PERIOD. BOOK ONLINE ojaielectricbikes.com ojaielectricbikes
ROSE
OQ | HIKING MAP 5 482 396 107 1 SHELF ROAD 3.5mi EASY | Elev. Gain: 200 ft | Overlooks downtown Ojai. PRATT TRAIL 8.8mi STRENUOUS | Elev. Gain: 3,300 ft | Trailhead off North Signal Street. Goes to Nordhoff Peak. Clear day? See forever. COZY DELL 2.2mi MODERATE | Elev. Gain: 740 ft | Trailhead 8 miles north of Ojai on Maricopa Highway. Short, intense hike that also connects to trail network. SISAR CANYON 22mi STRENUOUS | Elev. Gain: 4,800 ft to Topa Topa Bluffs. Trailhead at end of Sisar Road. Only for experienced, fit hikers.
VENTURA PRESERVERIVER|7mi
EASY TO MODERATE | Elev. Gain: 520 ft (Wills-Rice). Trailheads at end of Meyer Road, South Rice Road and Baldwin Road. Great for birding.
HORN CANYON 5.5mi
STRENUOUS | Elev. Gain: 1,600 ft. Trailhead near Thacher School's gymkhana field. Goes to shady stand of 80-foot tall pines. VALLEY 1mi EASY | Elev. Gain: 100 ft Trailhead at Rose Valley Campground. Leads to a spectacular 300-foot, two-tiered fall.
GRIDLEY TRAIL 6-12mi MODERATE | 3 mi to Gridley Springs (Elev. Gain: 1,200 ft) 6 mi to Nordhoff Peak. Trailhead at north end of Gridley Road. MATILIJA CANYON 12mi MODERATE | Elev. Gain: 1,200 ft | Middle Fork. Trailhead at end of Matilija Road. First 1.5 miles of trail well-maintained, the rest a scramble. SULPHUR MTN. 22mi MODERATE | Elev. Gain: 2,300 ft | Trailhead on eastern side of Sulphur Mountain Road. Views are unsurpassed.
OQ / FALL 2022 115 A premiere collection of artisan tiles crafted in Morocco, Spain and Mexico. Authenticity, quality, and hand-crafted artistry drives creation at Tala B Design. TALABDESIGN.COM PHONE: 805-798-9205 HOUZZ.COM: bit.ly/TalaBDesign SCHEDULED APPOINTMENTS AVAILABLE 307 E. OJAI AVE UNIT 102 OJAI 93023 WED-SAT 11:30-5:00, SUN 12:30-4:30
116 OQ / FALL 2022 crept out of the morning shadows of the Carrizo Plain National Monument, leaving the sanctity of a narrow ravine in the rolling foothills of the Caliente Mountains. Lured to a reliable water source, an old cattle trough left over from the grassland's ranch -THEY
OQ / FALL 2022 117
PRONGHORN BUCK WITH THREE FEMALES DURING THE VERY DRY WINTER OF 2006 ing era, six pronghorn antelope tiptoed forward for a sunrise drink. Camped nearby, I slowly peeked my head out of my tent. I could hear their hoofs crunching across low-growing tan grasses that were begging for moisture. My tent was cloaked with a
SMALL HERD FORAGING FOR NUTRITIOUS GRASSES ON THE CARRIZO GRASSLANDS RAINBOW FOLLOWING WINTER RAINS DURING THE "DROUGHT BUSTER" OF FEBRUARY 2017 PRONGHORN COMING IN FOR A DRINK AT AN OLD CATTLE TROUGH
118 OQ / FALL 2022 green rainfly. It was ideal for melding into the landscape, watching and photographing North America's fastest land mammal.
Sauntering in a single file, the thirsty herbivores gradually approached the cattle trough brimming with frigid water. It was late spring, but a winter chill still hovered over the Carrizo Plain with a few sheets of ice floating on the surface of the trough. I was close enough to clearly see their big black eyelashes batting as they enjoyed their morning wa tering hole. I barely moved, not wanting to disturb what I believed to be their daily ritual. After they drank their fill, they browsed for several minutes before wandering southward. Eventually, they were swallowed up into the austere, semi-arid grassland biome, one of the last, best bastions for pronghorn antelope in California
OQ / FALL 2022 119 OPEN SPACE
"Pronghorn are on a downward trend," continued Swanson, who does research in ecology, wildlife biology, and environ mental science. "Captive breeding is super intensive, but a possibility if we want to keep pronghorn on the Carrizo Plain."
Following the ranching era, pronghorn were reintroduced to the Carrizo Plain in 1998, before it was deemed a National Monument in January 2001. About 100 pronghorn antelope were released. Despite decent habitat on the grasslands, wildlife corridors are few, and recruitment is low. Solar and marijuana farms surround the northern fringe of the Carrizo Plain, limit ing pronghorn movements into the National Monument, those grasslands offering the best viable habitat in California's Central Valley.
"There aren't many pronghorn," said Brandon Swanson, an environmental scientist for the California Department of Fish and Wildlife (CDFW). "There are fewer fawns. Habitat is good, but water resources have gone derelict."
In the meantime, there are other solutions on the table. One of those is enhancing reliable water sources across the grasslands.
The few fawns born on the Carrizo Plain are susceptible to pre dation, mainly marauding coyotes. Aerial surveys performed by CDFW are producing less and less pronghorn every year.
Believe it or not, it's been estimated in the 1800s that pronghorn antelope populations in California's San Joaquin Valley once outnumbered the great herds of buffalo on the Great Plains. Unfortunately, like many other iconic species such as grizzly bears and wolves, pronghorn antelope were hunted out of the San Joaquin Valley by the 1920s. Over the decades, their habitat has been absorbed by agriculture and urban sprawl, with only a few pockets of habitat remaining and little or no corridors for a land mammal that needs open space to roam, but also to display that ability to reach speeds up to 55 mph, sustaining that pace longer than a cheetah.
120 OQ / FALL 2022 ALL THESE PHOTOS WERE TAKEN ON THE SAME DAY AND ALL THE PRONGHORNS ARE ALL PART OF THE SAME SMALL HERD. THIS WAS ONE OF MY MOST MEMORABLE MOMENTS WITH THESE FLEET-FOOTED ANIMALS. IT'S THE CONTRAST IN COLORS, THE TAN, BUFFED SHADES OF PRONGHORN FUR AGAINST THE ULTRA-VIBRANT HILLSIDE DAISIES DURING THE SUPER BLOOM OF 2017.
They accelerated with utter aplomb. A steady trot increased into a full-on sprint. A small herd of pronghorn hoofed across the grasslands for what appeared to be just the hell of it. They were not being pursued by a pack of coyotes. They simply just wanted to run. I was sitting in my truck enjoying the sunset sinking west beyond the Carrizo Plain. I spotted the pronghorn in my rearview mirror. The band was trotting to my left, but once they were parallel with my truck, they picked up the pace, and tufts of dry grass kicked up in their wake, hurtling behind them. Once they passed the vantage point of my truck, they turned in front of me, now circling between me and sunset. They were sprinting into a 360-degree arc, as I was thoroughly enthralled with their break neck speed around my truck perpetually encrusted in alkali loam. I was now gazing at them again in my rearview mirror, nostrils flared, and a plume of dust wafting in their wake. A pair of opportunistic ravens took advan tage of the insects, mostly crickets churned up by the pronghorn, nothing wasting away out on the grasslands.
EFFORTLESS
The hillside daisies swept westward from Soda Lake Road almost to Painted Rock. The pronghorn grazed closer to that sandstone cathedral than Soda Lake Road, so I wasn't too confident that the small band of pronghorn would turn and walk toward where I stood hopelessly waiting with my camera on the road honeycombed with potholes. It was dawn on the Carrizo Plain, and as I drove off Simmler Road and onto Soda Lake Road, the grasslands were quiet. I was consumed by the stunning yellow
"Revitalizing old grazing water sourc es," he said. "It's a big undertaking, but pronghorn stick real close to water sources in the summer. There's more dispersal in the Anotherwinter."solution is drilling for more water sources and adding more appropriate animal water troughs. This would not only benefit pronghorn herds, but all wildlife throughout the National Monument. There's also talk of increasing cover for pronghorn, especially for fawns. They are vulnerable as soon as they are born, wob bly on unsure, unstable legs.
"We want to create more plantings to provide cover for fawns," said Swanson. "Saltbush planting structure will provide more habitat for them."
OQ / FALL 2022 121
WADING THROUGH
The sweeping hillside daisies were just one of many California wildflowers splashed across the Carrizo Plain during the Super Bloom of 2017. What made this specific stretch of the grasslands so special was that there were five pronghorn antelope browsing and frolicking in those vibrant, yellow blooms.
ABOVE: PRONGHORNS STICK CLOSE TO WATER SOURCES DURING DRY SUMMERS. BELOW: IN THE REAR-VIEW MIRROR
122 OQ / FALL 2022 native flora to the southwest, and as I always do on the Carrizo Plain, I drove slowly. When I saw the pronghorn in the hillside daisies, I pulled off the road and sat silently, watching them enjoy the fleeting wildflower display. Patience settled in, and so I I'llwaited.never know what it was that engaged the pronghorn to do 180-degree turn, but I sure was grateful when they did. As I wait ed by my truck, the pronghorn walked straight toward me. As they did, the younger pronghorn sort of pranced, high-stepping through the 4-foot-tall daisies. There were also two large bulls in the band of five pronghorn. One of them became playful, dipping its antlers into the throng of tall, spindly stalks of hillside daisies, the blooms flung skyward by the animated pronghorn buck. Before I knew it, a couple of them filled my entire viewfinder. When it comes to wildlife viewing, there's no set agenda. It's their schedule. So, after affording me some time to photograph their natural moment in the wildflowers, the pronghorn veered northwest. Before I knew it, I was watching them through my binoculars again. They were getting smaller, in what was maybe a fleeting, once-in-a-decade phenomenon, one natural wonder consumed by the other.
OQ / FALL 2022 123
124 OQ / FALL 2022 It'snotjustafestival,it'sanexperience. It's not just it's an aexperience. festival, PerformancestoGrowOnPresents... Performances to Grow On Presents... Fun Fun Shopping Shopping Music Music Stories Stories OjaiStoryFest.org OjaiStoryFest.org
OJAI STUDIO ARTISTS
The Ojai Valley Land Conservancy brings back the Telluride Mountain Film on Tour, featuring the finest adventure and outdoor films, live music, food trucks, beer and wine. Friday is the special farm-to-table dinner and screening, Saturday the main event.
OCTOBER 8 Medicinal Plant Workshop With Jim Adams Time: 9 a.m. to 3 p.m. Location: Morning Session, Cluff Vista Park, 304 West Ojai Avenue Professor Emeritus Jim Adams of USC School of Pharmacy will join Lanny Kaufer's Herb Walk for a medicinal tour in Ojai. Dr. Adams has been a frequent and popular contributor to these events for the past nine years. This work shop is based on his ground-breaking pharma cological studies on local native plants and his personal commitment to sharing the traditional medicinal practices he learned from Chumash healer Cecilia Garcia.
OCTOBER 15 Ojai Day Time: 10 a.m. to 4 p.m. Location: Libbey Park Contact: OjaiDay.com Ojai comes together to celebrate itself with events, music, vendors, exhibits, food and more.
"The Great Art Theft Gala" Time: 12 to 4 p.m. Locations: Varies, most in Libbey Bowl. Ojai Art Center Theater 113 South Montgomery Street Contact: OjaiAct.org, 805-640-8797
OCTOBER 27-30 21st Ojai Storytelling Festival Times: Varied.
Sheila Arnold will be the Master of Ceremo nies. There will also be music, shopping and other fun.
NOVEMBER 12 "The Forest Table — A Wild Food Dinner Time: 6 to 9 p.m. Location: St. Andrews Episcopal Church 409 Topa Topa Drive Join local forager, herbalist and chef Jess Star wood for a seven-course wild food dinner, cele brating all that the season offers. Late autumn is the time for acorns and mushrooms, roots, nuts and seeds, spices and flavors of the local environ ment that you'll find nowhere else. Vegetarian. Contact: Herbwalks.com art
|
NOVEMBER 3-7 & 8-20 (virtual) 23rd Ojai Film Festival Times: Venues:Varied.OjaiArt Center Theater 113 South Montgomery Street Libbey Bowl, 210 South Signal Street Contact: OjaiFilmFestival.org The Festival returns with an exciting lineup of original films and in-person events.
OQ / FALL 2022 125 OQ | EVENTS CALENDAR september - october - november
Some of the best practitioners of this art form will converge on Ojai for four days of events.
The annual Great Art Theft is a key fundrais ing event for the Art Center, in which par ticipants purchase $100 tickets to enter into a drawing for original art donated by Ojai artists. Tickets are available now through the date of the gala.
OCTOBER 8-10 Ojai Studio Artists Tour Times: 10 a.m. to 5 p.m. Location: Varied. Contact: ojaistudioartists.org
|
OCTOBER 8-10 | ojaistudioartists.org
The 38th annual tour will feature a rare look at more than 70-plus artists in their natural habi tat. The Museum will host OSA artists in their exhibit "Perception & Persistence." The tour is free, prior online registration requested.
Venues: Varied, includes Ojai Art Center Theater 113 South Montgomery Street and Libbey Bowl, 210 South Signal Street Contact: OjaiStoryFest.org
OJAI FILM FESTIVAL | NOVEMBER 3-7 | OJAI ART CENTER & LIBBEY BOWL festivals events
Contact: Herbwalks.com
SEPTEMBER 25
SEPTEMBER 16-17
"Mountain Film on Tour" Time: Gates open at 5 p.m. Location: Ojai Valley School, 723 El Paseo Road Contact: ovlc.org, 805-649-6852
OJAI STORYTELLING FESTIVAL OCTOBER 27-30 | ojaistoryfest.org
Confessions of A Receptionist in An Anonymous Online Forum. A
126 OQ / FALL 2022
OQ | NOCTURNAL SUBMISSIONS
BY SAMI ZAHRINGER
There's nothing prurient about my snooping. I am just an amateur anthropologist interested in the human condition, is all. Today the patient is Belinda Betimes, mid-40s. Session 1.
Belinda: Well, then I had lunch with my sister. My sister has recently completed a court-ordered anger management course but if anything she's angrier now. How to describe Leonora …? Well firstly, I love her very much, but she is most definitely the angriest, swivel-eyed ball of roiling resentment and conspiracy theories ever to enter a court-ordered anger management class. Her chihuahua, The Binkster, is an influencer with over 50K followers on Instagram and together they are responsible for the conspiracy theory that John Mellencamp wasn't really born in a small town at all. She has short, I-have-a-busy-life hair and, while I do love her very much, I have to concede she does very
Therapist: Well, Belinda. How would you describe your mental health? Belinda: Well, Therapist, I would describe it defensively, for reasons you will soon become aware of. My mental health is unsightly. I left it near some dripping ennui while the rest of me went on a Netflix marathon, and now it's damp and smelly and mushrooms are growing out of it. I tried exposing it to sunlight, eating cruciferous vegetables and attending lively social gath erings full of twinkling amber liquids. I did, for a short, heady while, feel a ballooning optimism belying everything we know to be true and imminent. (Climate catastrophe, economic and social collapse, unexpectedly having to deal with Rod Stewart's new "Tears of Hercules" album on top of every other damn thing.) I was especially buoyed during the bit at the pub. Therapist: Well that sounds very positive! What happened then?
(Or A Study in Beige)
Housewife's Log
My name is, let's say, Marie. I am a receptionist at a psychother apist's office. I am pretty invisible. I sit there looking comfortable in my beige cardigan exactly like the sort of person who irons her dusters. But I — the beige, have problems just like you — the colorful. The point is, nobody looks at me twice and this has allowed my dark secret to flourish. For besides being "Marie" the receptionist, I am also a Peeping Thomasina. Here is my confes Uponsion: securing my position at the therapist's office, my first move was, with cat-like stealth, to drill two small holes in the wall of a screened off part of reception corresponding with the painted eyes of The Duke of Gainsborough print hanging on the other side in the therapist's room. The walls are plasterboard and whenever I turn down the therapy-friendly Panpipe Moods Vol. IX album, I can hear almost everything.
Therapist:: Hmm. Interesting. Now let's look back, a minute. Where do you think it all started to unravel, as it were?
Therapist:: So I think I hear you saying that once the structure in your life disappeared you became unmoored?
Belinda: I'm saying that one of the first things I did when I realized I had the dizzy freedom to not go to bed at all if nobody
OQ / FALL 2022 127 much look like an evil meteorologist from a regional TV station. She is self-entranced, Machiavellian with her affection, and generally gives off a fragrance of unspecified rage. I told her at lunch I'd been having a hard time and she said, "Well, I have a volcanic sense of poorly-directed anger, a crippling mort gage, dimpled thighs, and a cat on thyroid pills. What the hell do you want me to do about it?" From there it pretty much went downhill. Therapist:. Hmm. I see. Belinda (speaking with no question marks I could discern): Do you, though. Do you.
Therapist:. Well, we'll talk about her in a minute. What hap pened then? Belinda: Then, I went home and tested positive for Covid and had to self-isolate for 10 days. For the first couple of days I had fever delirium, like a consumptive Victorian woman gazing bleakly through the window remembering her first glimpse of the sea. Gradually that lifted and a gloomy restlessness set in, so I tried doing all the things that I heard on the radio were supposed to help. I mean, I love NPR but, honestly, everyone on it sounds like they crochet sweaters for owls. Still, I tried. I got closer to nature by crying in the garden instead of the house. NPR also recommended I get to know the living creatures around me so I formed fond (or frond — hahahaha!) relation ships with my plants and named them all. After a while though, I came to resent the plants and increasingly viewed them as my passive aggressive tormentors, especially that bitch fern, Melanie. She was all "Ooh, bring us some more water! Put us nearer the sunlight! If you don't, we'll DIE and how worthless will THAT make you feel?" Pretty soon I was asking them aloud, "Why am I behaving like your forelock-tugging butler?" But there's no point in fighting with houseplants. It's like trying to bite fog. I just passive-aggressived them back. Now my plants, although alive, look like a bunch of hunched, chain-smoking relatives outside the courtroom in a lurid sapling custody trial that's being covered by all the horticultural tabloids. The upshot of it all was that I backslid, and my social life is once again as limp and flaccid as a dispirited factory-farm chicken awaiting her steroid injections. My mental health is back to a porridge-like consistency being held together only by the eggshell thin Bowl of Minimal Societal Expectations.
Belinda:: Well, I think, Therapist, that it all started coming apart for me as soon as I was allowed to choose my own bedtime.
Therapist after some wide-eyed silence and a re-centering cough: "Well, how did your granny react to all this? Belinda: Oh, Granny was marvelous. She still is, even now when I get gloomy about palm oil or the orangutans or my thighs or a particularly painful weekend in Achiltiebuie. (I genuinely did think being an adult would involve more jet-packs and less soci etal collapse.) Granny never pries but she isn't afraid to go there, into Unspokenland. She never seems uncomfortable because she always seems to know the right shoes to wear for the terrain. In my case, it's usually wellies. But I am many miles from home now and she's too deaf for phoning.
Belinda: Oh it's not me particularly. It's everyone, especially The Powers That Be. Genuine and outsized fearfulness has coupled in her with an inflated sense of her own intelligence — hence the conspiracy theories. Once, I gently suggested that perhaps boredom and loneliness can make us crazy and soften us up as an easy mark for crankery, crusades, and conspiracy theories amounting to a toxic combination of fantasy and stupidity, but she said she had no desire to hear every pathetic thought that hobbled through the boarded-up wasteland of my brain, which is fair enough actually, so I never gently suggested that again. At moments like these I am very much the antelope and she the lion gnawing on my carotid vein. She also has a relish for personal persecution which only feeds the furnace. You should see her Yelp reviews. They're what led to the conviction for online harassment. It started out normally enough. She wrote a genuine one-star review about a body-shop whose assistant left a strong aftershave odor in her car. But she saw most of the ratings were 4 stars and felt her experience was being ignored. So she set up a bunch of new emails and invented a slew of online personas. Things escalated. Within hours one of her personas had called the body-shop assistant "a manky, malodorous nobhead with all the IQ of a well-battered golf-ball."
He's 16! She was given a suspended sentence, a chunky fine, and a anger-management classes. They did work in a way but, there again, almost entirely didn't.
OQ | NOCTURNAL SUBMISSIONS
Therapist: "…?"
Belinda: Sheila, the group leader, asked her to keep a diary but Leonora despises diaries as they "carry the whiff of consumptive Victorians in death nighties eating pigeon pies by guttering can dlelight." Then Sheila encouraged her to channel her fury into art and that seemed to go a bit better. For example: We went to Dunkin' Donuts one day but they were out of the glazed ones. I could see Leonora's rage rising. The unfairness of everything came screaming/whining back into sharp focus, but she said to herself, she said "Leonora, use this feeling! Grab it and turn it into art! I'm going right home to paint my feelings "Wonderful!"out!" I thought! " This is real progress!" and I looked at her with the shining admiration of a younger, weaker sibling. The next day she showed me her painting and told me it was a
Therapist: So let's return to your sister, Leonora. Why is she so angry with you?
128 OQ / FALL 2022 was making me, was to indeed not do that for three Sambu ca-fuelled days, then sleep for 24 hours, only to wake and find myself in a spiritual relationship with a 34-year-old-Finnish heavy metal singer whose imminent album-release, "Soul of the Mallard," I had somehow become heavily involved in. I learned later that on Night One he had played me his lyrics, screaming artfully in heavily accented, ice-splintered English "Why? Who? Why do I cry? Who am I? Why am I holding this bloodied knife?" and I had apparently wept and said there was nothing in the world I had ever related to more in my whole life. I was only 14 at this point and so naturally the authorities had to be called, and eventually my granny had to testify at the high court that when I'd said "I'm going out for some Sambucas, I won't be long" before disappearing for three days, she had thought I was going to buy some sort of trendy gym shoes. The 34-year-old Finn was a total gentleman though, I must stress that. He was blameless in the whole episode. He truly did have the soul of a mallard. His album got to #3 on the Finnish thrash metal charts and he went on to become the most successful rein deer antler button-carver in the whole Arctic Circle, spawning a modest dynasty because those are the only sorts of dynasties Finns spawn.
Therapist: One last question to give us a starting point for next week. How do you see your future, Belinda?
Belinda: Oh at this point I'd say a lifetime of behavior has very much become her character. What do you think?
KOLETIC
Belinda: Oh no, she's still absolutely furious about everything but everyone agrees she is much more tolerable when she isn't making art about it.
Therapist: (now hunched in his chair): "Yes. Indeed. Here, as you say, we very much are. Um, we might want to look at extend ing your course of sessions. There's more to unpack here than I thought. Speak to Marie on your way out. Marie, as you might not remember on account of my beigeness, is me, so with all available haste, I unpop my eyes from the Duke of Gainsborough's and, in defiance of portly middle age, leap back into position at my chair. I was quite glad that session ended actually. The more interesting it gets in there the harder I unconsciously press my nose to the wall and sometimes it takes the cartilage a minute to settle back into nose shape. And that's my confession, apart from to additionally confess I don't have any dusters at all. Ironed or otherwise. Don't judge a book, etc.
Lately, she's started a bookclub the members of which cause her no end of annoyance, but she said she had always wanted to be president of a bookclub so she would know what it was like to be truly feared.
Belinda: Mostly alone. Probably missing some teeth due to ap athy-induced periodontal disease. My life is stagnating, it's true, hahaha, but I think it's stagnating in the right direction so that's something isn't it? And yet, I still hope to be loved one day ...
THE END.
(A Well,pause)here we are!
Belinda: There was for a while. A Colin Firthy-looking Bitcoin entrepreneur called Ferris I met at a party in West Hollywood. I was a bit squiffy and doing Sarah Palin impersonations. He sat across from me watching me beclown myself from a wingback chair, running his finger round the rim of a brandy glass, one eyebrow arched like the syphilitic Count of Somewhere, too bored to even tut. Or so I thought. Later he came up behind me and whispered in my ear in a way that gives me goosebumps still when I recall it, that he had to have me imme diately and that his limo was waiting outside. I was drunk and bored and horny and lonely so I did and for a few weeks we had a brief antibiotic-fuelled affair. It turns out the syphilitic part was more accurately gonorrheaic and what I initially thought was a saturnine, brooding Darcy-es que countenance turned out to be common-or-garden-variety sociopathy. Ferris was clearly awful but I did think him very beautiful. Until one day when he was showing off his signed Jor dan Peterson photo to friend; it blew across the lawn and I saw him run in flip-flops. The spell was broken. To be honest, I'm not really looking for love right now. It wouldn't be fair to my future love until I sort my own shit out and right now I'm getting by OK with Tom Hiddleston memes and regular foot massages.
OQ / FALL 2022 129 window into her soul. It was in oils. A still-wet Brian Williams was waist-deep in a sunset-streaked Caribbean offering a KitKat to a dolphin. She was terribly proud of it. Well! What the hell do you do with that? Even you as a therapist would have been struggling. You certainly can't encourage that sort of thing and Sheila, the anger-management teacher agreed, so instead ap pealed to Leonora's sense of vanity. My sister has always insisted that she is almost spookily intuitive about people and claims she is a master of the 100-yard psychological analysis: "I can tell a borderline personality disorder from an Oedipal Complex from two sinks away at the hairdresser." So Sheila asked her to diagnose her own malady, the source of her unquenchable ire. "I guess I am just in mortal and ceaseless combat with my own true nature," she told me brightly, and nobody could argue with her.
Therapist: Well, self-knowledge is powerful tool in recovery. Isn't this progress?
Therapist:: Indeed! Would you say Leonora's predicament is a problem of behavior or character?
Therapist: (breaking as if from a trance); "Ah. Goodness, well that's the hour nearly up already. We'll continue this next week.
PHOTO BY JURICA
Therapist:: Yes, well, I'm afraid I have to agree with you. There doesn't seem to be much hope, does there? But back to you. What about romance? Is there somebody special in your life?
PERSIMMON HILL LUXURY
Offered at $4,050,000 This lovely 5br/4.5ba home in the prestigious Persimmon Hill community is situated on 3.5 acres and surrounded by spectacular mountain views. An over 4,000 square foot main home boasts sprawling great rooms, soaring ceilings, a formal dining room, a temperature controlled wine closet and a massive stone fireplace. The grounds include a spacious guest house and a gorgeous rock pool/spa surrounded by lush gardens and views the mountains. Viking appliances adorn a large, open kitchen, and there are owned solar panels and a water filtration system. This very private property affords the perfect mix of country living and the benefits of town, being mere minutes from all the amenities of Ojai.
PATTYWALTCHER
25 years matching people and property in the Ojai Valley
420SaddleLnOjai.com
FeaturedonBackCover
WALTCHERPATTY (805) pattywaltcher.com340-3774 natural beauty of Ojai. The park-like setting cradles the living space and large windows allow interior and exterior to blend, drawing the gaze outdoors and bringing in the light. The 4br/4ba home includes a formal dining room, a cottage style sunroom and a gym/office. Two primary bedroom suites feature fireplaces and luxurious bathrooms. The large kitchen has granite countertops and stainless steel appliances. Crown molding and floors of wood and tile create warmth and charm. An expansive front porch along with an outdoor BBQ and a stone seating area in back offer many opportunities to entertain while enjoying the beauty and serenity of the lushly landscaped nearly 1 acre lot. Offered at $2,475,0001464FoothillRdOjai.com
Pattypeople25WaltcheryearsofexperiencematchingandpropertyintheOjaiValley (805) 340-3774 ~ pattywaltcher.com I will help you discover the home that brings peace to your mind and heart PERSIMMON HILL LUXURY
420SaddleLnOjai.com
This 5br/4½ba home in the prestigious Persimmon Hill community is situated on 3½ acres and surrounded by spectacular mountain views. An over 4,000 square foot main home boasts sprawling great rooms, soaring ceilings, a formal dining room, a wine closet and a massive stone fireplace. The grounds include a spacious guest house and a gorgeous rock pool/spa. Viking appliances adorn a large, open kitchen, and there are owned solar panels and a water filtration system. This very private property affords the perfect mix of country living while also being mere minutes from all the amenities of downtown Ojai.
Offered at $4,050,000