Le respect de l'environnement est l'un des engagements phares de La Garangeoire. Nous croyons plus que jamais au développement d'un tourisme durable, à l'éco-responsabilité et aux bienfaits de la déconnexion digitale pendant les vacances. Découvrez l'ensemble des actions menées sur notre site internet.
Respect for the environment is one of La Garangeoire's flagship commitments. We believe more than ever in the development of sustainable tourism, in eco-responsibility and in the benefits of digital detox during the holidays. Find out about all our actions on our website. 356
2
emplacements tourisme dont 180 avec chalet ou mobil-home, répartis sur 20 hectares dans une propriété de 200 hectares. 356 pitches of which 180 have chalets or Mobile Homes, covering 20 hectares in an estate of 200 hectares.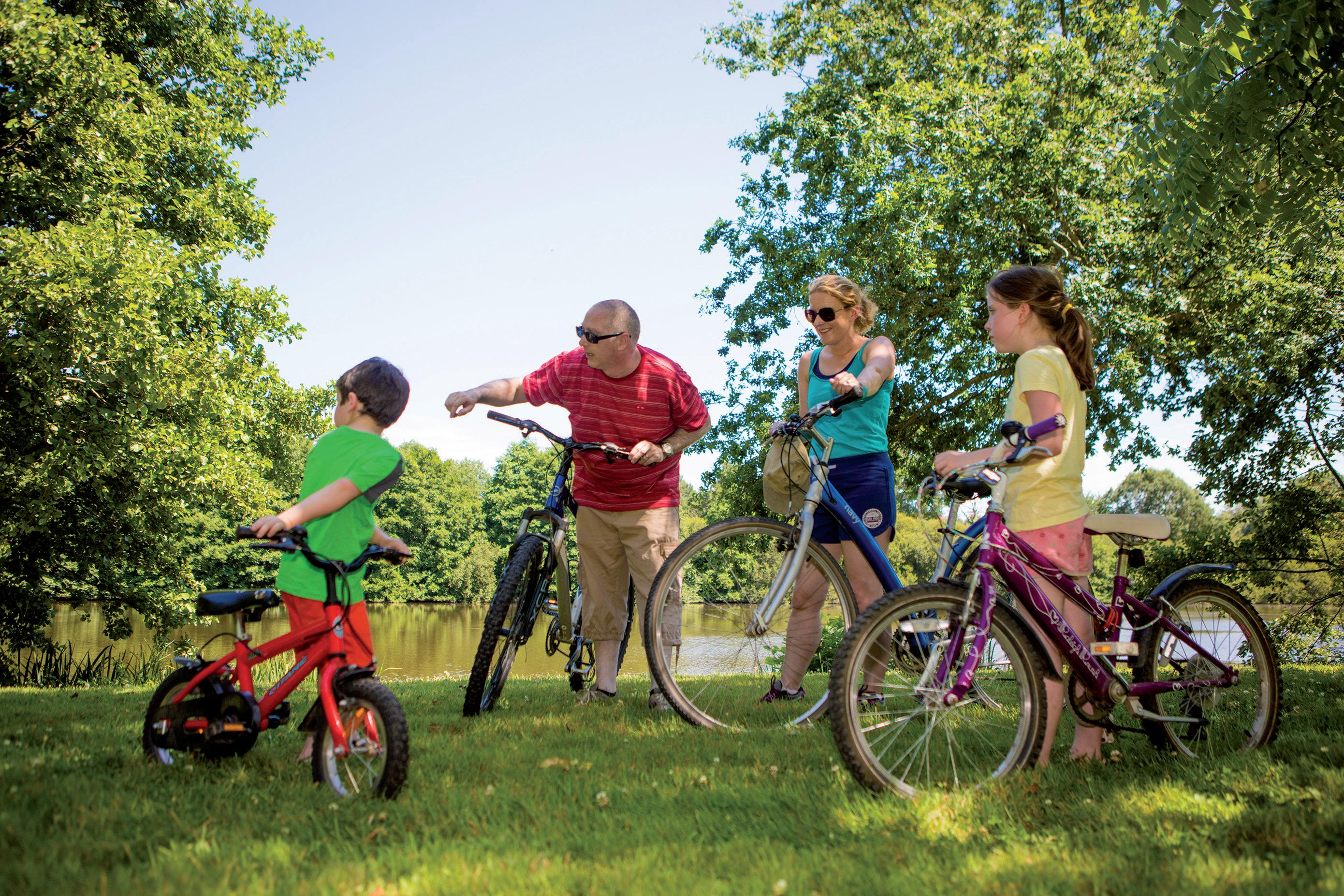 3
Parc aquatique chauffé avec toboggans Pataugeoire pour enfants et pataugeoire pour bébés
Baignade naturelle : lagon de 700 m2 avec 1000 m2 de plage de sable Spa et Sauna (avec supplément) 2 courts de tennis (payant en juillet/août) Centre équestre Terrain de football et terrain multisports Terrain de pétanque Aire de jeux pour enfants incluant un espace sécurisé réservé aux moins de 3 ans Fitness de plein-air, trampolines Tables de ping-pong sous abri Mini-golf Salle de jeux avec baby-foot, flippers, billards, jeux vidéo Location de bicyclettes, VTT et remorques Pêche no-kill gratuite dans les 4 étangs de la propriété Bateaux à pédales, barque et canoës Sentiers pédestres fléchés et parcours de course d'orientation dans le domaine
À l'accueil : mise à disposition de dépliants et informations touristiques ou pratiques sur les environs, service de réservation Puy du Fou®, O'Gliss park, cartes postales, timbres, tabac, jetons pour les machines à laver et sèche-linge, prêt de câbles et adaptateurs, fers à repasser, sèche-cheveux, matelas à langer. Location de coffres de dépôt. Des bornes permettant de recharger simultanément 6 véhicules électriques sont disponibles devant la réception (avec supplément).
Restaurant, avec terrasse, proposant une cuisine imaginative à base de produits frais (fermé le lundi). Plats et pizzas maison à emporter. Supérette : alimentation, droguerie, boissons, jeux et jouets, boulangerie, recharges de gaz, accumulateurs de froid. Bar et salle de télévision. Navette autocar pour la plage (le vendredi en juillet/août): consulter notre site internet pour dates et tarif.
Des vacances déconnectées
Expérimentez les vacances sans accès permanent aux écrans. La plupart de nos hébergements sont loués sans TV ; il n'y a pas de connexion internet sur l'emplacement mais 5 zones de réception Wi-Fi gratuit : bars et leurs terrasses extérieures, cour de l'épicerie, salle de jeux, aire de jeux.
Les grands événements sportifs sont diffusés via 5 téléviseurs grand-écran.
Si malheureusement il vous est impossible de déconnecter du travail pendant vos vacances, nous mettons à votre disposition sur réservation un espace de travail privé, au calme, équipé d'une connexion internet dédiée, d'un bureau avec ordinateur, imprimante et scanner, situé à proximité de la réception.
Réservez votre séjour sur www.camping-la-garangeoire.com ou au +33 (0)2 51 46 65 39
4
Activités et services proposés dès l'ouverture du camping :
Activities & on-site facilities from the opening of the campsite:
Heated swimming pool with water slides
Children and baby pools
Natural bathing: lagoon of 700 m2 with a sandy beach of 1000 m2 Spa & Sauna (with extra charge)
2 tennis courts (with extra charge in July and August)
Horse-riding centre
Football field and multisports ground
Children's playground including toddler-only safe play equipment
Outdoor fitness equipment, trampolines
Boules
Table tennis - covered
Crazy-golf
Games room with table football, pinball, pool and video games
Bicycle, mountain bike and trailer hire
Free No Kill fishing in the 4 lakes of the estate
Pedal boats, rowing boat and canoes
Hiking paths and orienteering courses on site
At reception: brochures and information about the area, ticket service Puy du Fou® and O'Gliss Park, postcards, stamps, cigarettes, tokens for washing machines and dryers, loan of cables, adapters, irons and hair-dryers, changing mat, safety deposit boxes.
Charging stations for up to 6 electric vehicles are available in front of the reception (with extra charge).
Restaurant with outdoor terrace (closed on Monday). Take away meals and home-made pizzas A well stocked grocery shop (with bread, gas refill and ice-pack service.)
Bar and television room. Shuttle-bus to the beach (Friday in July and August), please check our website for dates & prices.
Unplugged vacation
Experience the benefits of a disconnected holiday Accommodation without TV & internet. 5 free Wifi areas: bars and their outdoor terraces, shop & take-away courtyard, games rooms, play area.
Big screen TVs with live satellite broadcast are available in bars and TV room to display all major sports events. If unfortunately it is not possible for you to completely disconnect from work during your holiday, a business desk with dedicated internet connection, printer and scanner is available in a private and quiet workspace located near reception on booking.
5
Animations en juillet/août :
Club enfants (4 à 12 ans) gratuit, en matinée, 6 jours par semaine.
Tournois et animations sportives et familiales tous les jours.
Waterpolo, Aquafitness.
Tir à l'arc et pêche encadrés par des enseignants diplômés (avec supplément).
Kart à pédales sur circuit aménagé (avec supplément).
Animations en soirée : mini-discos, concerts, piscine nocturne, spectacles (grande illusion, danse, clown, folklore vendéen), soirées jeux ou quizz....
Garderie (3 à 10 ans) gratuite, plusieurs soirs par semaine, pour les parents qui souhaitent dîner en tête à tête au restaurant de la Garangeoire.
Animations toute la saison :
Équitation : promenades et leçons
Concours de pétanque
Promenade-découverte de La Garangeoire Sorties vélo
Cani-marche
Dégustation de vins au Château (avec supplément)
En basse saison :
Animations occasionnelles en soirée Ouverture ponctuelle du Club enfants et de la garderie, selon fréquentation
Réservez votre séjour sur www.camping-la-garangeoire.com ou au +33 (0)2 51 46 65 39
6
Organised activities in July and August:
Free children's club (4 to 12 years) in the morning, 6 days a week. Tournaments and all kind of sports and leisure activities, everyday.
Waterpolo, Aqua-fitness Archery, fishing with qualified instructors (with extra charge).
Pedal-karting on-site circuit (with extra charge).
Evening entertainment: mini-discos, concerts, night swimming, shows (illusionists, dance companies, clown, traditional folklore), quizzes…
Free evening child care (3 to 10 years old), several times a week, for parents wishing to have a private dinner in the Garangeoire restaurant.
All season organised activities:
Horse riding: lessons and rides in the forest
Boules tournaments
Guided Garangeoire-discovery walk
Bike rides
Dog group walk
Wine-tasting in the Château (with extra charge)
Low season: Occasional evening entertainment
Children's club and childcare, depends on number of participants
7
Situés dans un cadre de nature exceptionnel, les emplacements sont délimités par des haies d'arbustes et dénommés. Leur surface varie de 120 à 260 m2. En fonction de nos disponibilités, vous avez le choix d'une place ombragée sous futaie de chênes, ensoleillée en prairie ou à l'abri d'une haie.
Nos blocs sanitaires sont répartis dans le camping afin de toujours se situer à distance raisonnable des emplacements. Ils sont tous équipés de laverie, vidoir pour WC chimique, sèche-cheveux, distributeurs de papier, de savon et d'essuie-mains. Vous y trouverez salles de bains individuelles et familiales, baignoires pour enfants, baignoires pour bébés avec tables à langer et cabines accessibles pour personnes à mobilité réduite.
Ranging from 120 to 260 m2, pitches are marked out and individually named, with a choice of situation either in the shade of a group of oak trees, or in the meadow, sheltered by a hedge or unshaded.
Sanitary blocks are all equipped with launderette, chemical disposal, hair-dryers, paper and soap dispensers. Individual and family bathrooms, toddler baths, baby baths with changing tables and specific bathrooms for disabled guests are available.
Réservez votre séjour sur www.camping-la-garangeoire.com ou au +33 (0)2 51 46 65 39
8
Emplacements CASTELS SUITE avec cabine sanitaire
Pour un maximum de confort et d'intimité, nous vous proposons deux gammes d'emplacements équipés d'un sanitaire privatif. Ils accueillent tente, camping-car ou caravane sur de vastes parcelles. Tentez l'expérience pour des vacances en toute sécurité et en toute liberté !
For maximum comfort and privacy, we have two types of pitches with private sanitary facilities. They are suitable for tents, campers or caravans, on spacious pitches. Experience a holiday in safety and freedom!
Emplacements PREMIUM avec équipement
Voyagez léger ! Nos emplacements Castels Premium et Premium pour Tente sauront répondre à vos exigences pour un séjour alliant confort et liberté de la vie au grand air ! Emplacements privilégiés de grande taille, calmes et paysagés, avec équipement et prestations inclus au tarif.
Travel light! Our Castels Premium and Tente Premium pitches match the desire for a holiday that combines comfort with the freedom of living in the outdoors! Privileged large pitches, quiet and nicely landscaped. Equipment and services included in the price.
WC, lavabo, cabine de douche 80 X120, meuble de rangement, évier extérieur abrité.
WC, Washbowl, Shower cabin 80 X 120, storage. Sheltered outdoor sink.
2 cabines adjacentes équipée : WC, douche, lavabo, chauffage, évier sur terrasse. Réfrigérateur 45L. Table de pique-nique couverte.
2 semi-detached sanitary units contains: WC, shower, sink, heating. Dishwashing sink and 45 litres refrigerator on the decking. Covered picnic table.
Emplacements TRADITIONNELS
Les amateurs de camping authentique choisiront l'un de nos emplacements traditionnels : ils sont tous spacieux, enherbés et délimités par des haies naturelles.
Authentic camping enthusiasts will choose one of our traditional pitches: they all are spacious, grassy and delimited by natural hedges providing privacy.
Emplacement 170 à 260 m2 avec équipement : 1 table, 6 chaises, 2 chaises longues, parasol, réfrigérateur, barbecue à gaz.
Pitch – 170 to 260m² equipped with: 1 table, 6 chairs, 2 sun-loungers, parasol, refrigerator, gas barbecue.
Équipement : 1 table, 4 chaises, 2 fauteuils inclinables, parasol, réfrigérateur, barbecue à gaz. (Tente non fournie)
Equipped with: 1 table, 4 chairs, 2 armchairs tilting, parasol, refrigerator, gas barbecue. (Tente not supplied)
Campez de façon originale !
Idéal pour les cyclotouristes ou pour les familles nombreuses, pour qui cet emplacement peut offrir un couchage supplémentaire. Le bivouac, construit en bois et en toile, est perché sur pilotis et peut accueillir 1 ou 2 personnes.
Ideal for additional sleeping accommodation for larger families, or for cycle travellers. Built of wood and canvas on a
CLASSIQUE STABILISÉ
9
pour petit camping-car ou caravane exclusivement for caravans or motor-homes (up to 6 m.) only SIMPLE pour tente, sans électricité For tents, no electrical connection
BIVOUAC En bas : une table de pique-nique + bancs, espace pour ranger les vélos ou moto. À l'étage : matelas gonflable pour 2 personnes Espace disponible pour une petite tente supplémentaire (non fournie) Below: shaded picnic table and benches, storage for bicycles or motorcycle. Upstairs: inflatable mattress for 2 people. Space available for a small additional tent (not supplied) GRAND CONFORT SANITAIRE INDIVIDUEL SANITAIRE PRIVÉ PREMIUM 16A 16A CASTELS PREMIUM TENTE PREMIUM 16A 16A Légende des pictogrammes 16A Branchement électrique Electrical connection Branchement eau Water connection Évacuation Drainage 16A 16A 16A non ombragé no shade 16A
Réservez votre séjour sur www.camping-la-garangeoire.com ou au +33 (0)2 51 46 65 39 10
11
G
Notre gamme économique regroupe des hébergements fonctionnels à des prix attractifs. Ils vous apportent l'essentiel pour des vacances en toute simplicité et flexibilité. Offre davantage de souplesse : les arrivées et départs se font le jour de votre choix toute la saison pour une durée minimale de 2 nuits (3 nuits minimum en août).
Our budget range includes functional accommodation with attractive prices. They give you everything you need to spend holidays in all simplicity. More flexibility: arrivals and departures are on the day of your choice all season for a minimum of 2 nights (3 nights minimum in August).
G G
Découvrez notre gamme confort qui vous propose des hébergements conviviaux, spacieux et équipés qui feront rimer votre séjour avec confort.
Discover our Comfort range which offers pleasant, spacious and equipped accommodation to make your stay as comfortable as possible.
G G G
L'ingéniosité de l'agencement de ces hébergements récents et au look contemporain, vous garantira un séjour agréable. Incluant des services exclusifs, un confort indéniable vous attend pour vous sentir comme à la maison.
These latest accommodation with their contemporary look, will guarantee you a pleasant stay thanks to their features and cleverness. Including complementary services, an undeniable comfort awaits you to feel at home.
G G G G
Amateurs d'hébergement haut de gamme avec prestations hôtelières, vous serez séduits par notre gamme PREMIUM. Choisir cette gamme, c'est aussi bénéficier d'une parcelle privative au cœur d'un quartier privilégié.
If you are looking for some high-end accommodation with hotel services, our PREMIUM range is made just for you! Choosing this range also means enjoying a private plot in a privileged area.
Réservez votre séjour sur www.camping-la-garangeoire.com ou au +33 (0)2 51 46 65 39
12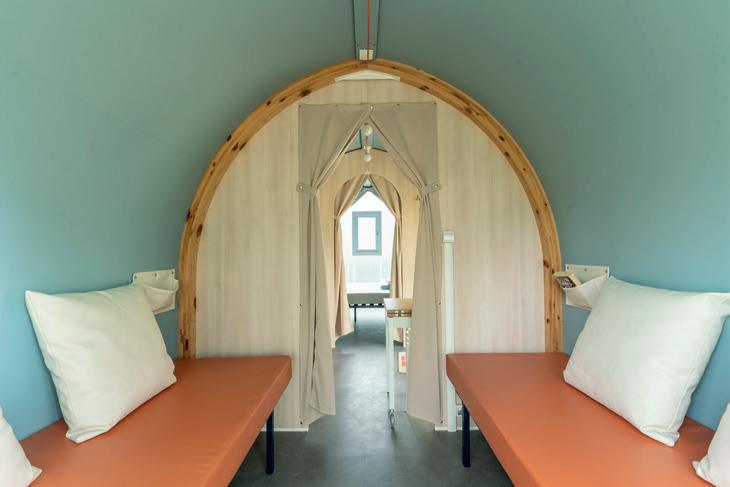 13 Chalet DUO 16m2 G Hébergement COCO SWEET G G Hébergement TENTE TRIBU G sans sanitaires without sanitary G 1 1 2 16m2 1 1 2/4 21m2 2 4 22,9m2 2 1 4 Mobile Home COMPACT G 31m2 2 1 4 Mobile Home SOLEO G 28,7m2 3 1 6 Chalet CLASSIQUE avec TV Cabine sanitaire sur l'emplacement Sanitary cabin on the pitch - Modèle 2016- Modèle 2018, 2020- Modèle 2014 -


Réservez votre séjour sur www.camping-la-garangeoire.com ou au +33 (0)2 51 46 65 39 Mobile Home TITANIA 29,7m2 G Mobile Home LIFE/TV G G Mobile Home SÉLÉNIA G G 2 1 4/5 30,5m2 2 1 4/5 35m2 2 1 4 La GRANDE CABANE G 35m2 2 1 6 Chalet TEMPO + pack famille G 34m2 3 1 6 Hébergement SAFARI LODGE G G 30,3m2 ou 34,2m2 2 1 4/5 G G G G G 14 - Modèle 2014, 2015, 2016Pack Family inclus : lit bébé, chaise bébé, baignoire, matelas à langer, chauffe biberon, poussette Family Pack included: baby cot, High chair, baby bathtub, changing mat, bottle warmer, stroller - Modèle 2019- Modèle 2011 -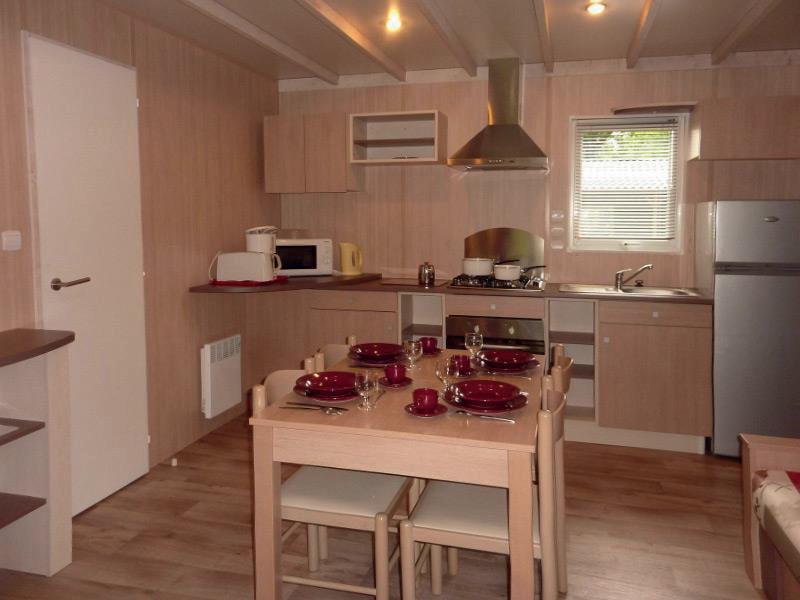 Chalet VANILLE G Mobile Home PERGOLA G G 35m2 3 1 6 37,2m2 4 2 8 Mobile Home QUADRO 36m2 3 2 6 G G G +1 bébé Sèche-cheveux Ventilateur POUR TOUS NOS LOCATIFS Gas barbecue* Covered decking Welcome pack Tea towel and bathmat IN ALL OUR ACCOMMODATION Chez nous, votre compagnon est le bienvenu et accepté dans la plupart de nos locatifs. Pour le bien-être de votre animal et pour des vacances réussies, nous proposons : kit de bienvenue, friandises, cani-douche et caniparc ! Your pet is welcome and accepted in most of our accomodation. For the well-being of your animal and for a successful holiday we offer : welcome kit, treats, a dogwash and a dog park * Sauf les Mobile Homes "Cordelia" équipés d'une table grill et les "Grandes Cabanes", équipées d'une plancha. Except the Mobile Homes "Cordelia", wich are equipped with a grill table and "Grandes Cabanes" equipped with a plancha. : Offre SOLO/DUO -25% Sur un séjour de 7 nuits minimum en Chalet Classique TV pour 1 ou 2 personnes For a minimum stay of 7 nights in a Chalet Classique TV for 1 or 2 people 15 G G GÎTES 6/8 personnes, 7/9 personnes et 11 personnes. Documentation adressée sur demande. Please ask for full information & prices or check our website. - Modèle 2013, 2015- Modèle 2014 -
Réservez votre séjour sur www.camping-la-garangeoire.com ou au +33 (0)2 51 46 65 39 16 Chalet COUNTRY LODGE 4 Chalet COUNTRY LODGE 5 G Mobile Home LOUISA 2 1 4 35m2 2 1 5 32,6m2 3 1 4 Mobile Home CORDELIA 33m2 3 1 6 Mobile Home OCEANIA XXL 40m2 3 1 6 Mobile Home RIVIERA G 35m2 36m2 2 1 5 G G G G G G G G G G G G G G G G G G G - Modèle 2021- Modèle 2015- Modèle 2019- Modèle 2019+1 bébé
Lits faits à l'arrivée, serviettes, tapis de bain et torchons fournis, coffre-fort, tente de jeu pour enfants, connexion wifi. Sur réservation : lit et chaise bébé (sans supplément).
Changement hebdomadaire du linge pour les séjours de 2 semaines et plus.


Beds already made on arrival, supplied towels, bathmat and tea towels, safe, play tent for children, Wi-Fi connection. Cot and high chair on request (no extra charge). Weekly linen change for stays of 2 weeks or more.
17 Mobile Home TAOS PREMIUM 4 Version 3 chambres 38 m2 Version 2 chambres 35 m2 Mobile Home TAOS PREMIUM 6 2 2 4 3 2 6 G G G G
Modèle 2016Mobile Home TAOS PREMIUM G G G G
-
18 Chambres / Bedrooms Personnes / People Lits faits à l'arrivée + fourniture serviettes / Beds made on arrival + Towels supplied Lave-vaisselle ou Machine à laver / Dishwasher or Washing machine Four éléctrique / Electric oven Lit de 160X200 / Bed of 160X200 Espace lit bb chambre parents Baby cot space in parents' room Télévision / WiFi Salles de Bain / Bathroom Lits superposés ou lit en hauteur / Bunk beds or High sleeper Lits escamotables pour espace jeu ou lit bébé / Trundel beds for extra play area or baby bed Banquette convertible / Convertible sofa bed Animal autorisé / Animal allowed Chalet DUO 1 2 1 Hébergement COCO SWEET 1 2/4 1 Hébergement TENTE TRIBU 2 4Mobile-Home COMPACT 2 4 1 Hébergement LA GRANDE CABANE 2 4 1 Chalet CLASSIQUE avec TV 2 4 1 Mobile-Home TAOS 4 2 4 2 Mobile-Home LIFE 2 4/5 1 Mobile-Home TITANIA 2 4/5 1 Mobile-Home SÉLÉNIA 2 4/5 1 Chalet COUNTRY LODGE 4 2 4 1 Chalet COUNTRY LODGE 5 2 5 1 Mobile-Home LOUISA 2 5 1 Hébergement SAFARI LODGE 2 6 1 Mobile-Home SOLEO 3 6 1 Mobile-Home CORDELIA 3 6 1 Mobile-Home RIVIERA 3 6 1 Chalet TEMPO 3 6 1 Mobile-Home PERGOLA 3 6 2 Mobile-Home OCEANIA XXL 3 6 2 Chalet VANILLE 3 6 1 Mobile-Home TAOS 6 3 6 2 Mobile-Home QUADRO 4 8 2
Location en basse saison : 2 nuits minimum. Location GAMME CONFORT+ et PREMIUM : 3 nuits minimum en basse saison. En haute saison : 7 nuits minimum, jours d'arrivée et de départ le mercredi ou le samedi. Remise des clés à 17h au plus tard, enregistrement possible départ avant 10h.
GAMME ÉCO : jours d'arrivée et de départ libres toute la saison. 2 nuits minimum sauf en août, 3 nuits minimum. frais de réservation. Acompte demandé : 25% du prix du séjour. Le solde étant à régler au plus tard 30 jours avant le début du séjour.
Nous vous invitons à souscrire séparément une assurance annulation auprès d'un assureur ou banque de votre choix. de garantie sera demandé avant l'arrivée. La taxe de séjour est due par personne (+ 18 ans) et par nuit durant tout la période.
réservation et en supplément : n Location de draps coton (par lit et par semaine), pack linge de toilette (par personne), lit bébé, chaise bébé. n Animal, visiteur (sans accès piscine), forfait ménage en fin de séjour.
Lits faits à l'arrivée et linge fournis pour les TAOS. n Eau, électricité et gaz compris. Prêt de mini-four/matelas à langer contre caution.
• Une seule voiture par emplacement. Un supplément sera facturé pour la 2ème voiture, qui devra être garée au parking à l'entrée du camping. Circulation interdite dans l'établissement de 22h30 à 7h00.
Low season: 2 nights minimum. GAMME CONFORT+ and PREMIUM: minimum stay of 3 nights during low season.
Peak season: 7 nights with Wednesday or Saturday changeover. Check-in from 2pm, keyhandover from 5pm and depart before 10am.
Accommodation GAMME ÉCO : free arrival and departure days throughout the season. Minimum stay of 2 nights, except in August when there is a minimum stay of 3 nights.
• No booking fee. Deposit of 25% of price. The balance need to be paid at least 30 days before arrival.
• We invite you to subscribe separately a cancellation insurance with the insurer of your choice: bank card, travel insurance.
• A refundable breakage and cleaning deposit is requested before arrival. Local tax will be required per person (+18 years) and per night.
•  Additional services with prior booking : n Bedlinen (per bed per week) and towel pack (per person) rental, baby cot and high chair hire. n Pets, visitors (no access to the pool). n End of stay cleaning option if not done by guests. Guests are responsible for ensuring that the accommodation is left perfectly clean, as verified by an inspection at the time of departure.
•  Beds already made on arrival and towels supplied for TAOS Premium only. n Water, electricity and gas included. Mini-oven/ changing mat against a deposit.
•  Only one car is allowed per pitch. Additional car must be parked on the car park at the entrance of the campsite, with extra cost. Access to and driving on the campsite is prohibited to all vehicles from 10.30pm to 7am.
Moyens de paiement acceptés : CB, virement, chèques-vacances ANCV et connect. Accepted methods of payment: credit card, bank transfer.
Organisation de week-ends ou séjours sur mesure pour groupes d'amis ou réunions familiales : nous consulter. Ideal setting for family or friends reunions, rallys, and other events. Please contact us.
En voiture / by car n De/From RENNES (201 Km) : direction Nantes, par la N137 n De/From NANTES (110 Km) : direction La Roche-sur-Yon par A83 ou/or D937 n De ANGERS ou LA ROCHE-SUR-YON : A87 puis D160 Direction Les Sables-d'Olonne. Sortie au panneau D12/La Mothe-Achard Centre (Les Achards). Suivre La Mothe-Achard (Les Achards) par la D760. A l'arrivée à la Mothe-Achard (Les Achards), suivre les panneaux Saint-Julien-desLandes/Camping La Garangeoire par D12 (8 km).
From ANGERS or LA ROCHE-SUR-YON : A87 then D160 in direction of Les Sables d'Olonne. Exit at signboard D12/La Mothe Achard Centre (Les Achards). Follow La Mothe Achard (Les Achards) via D760. In La Mothe Achard (Les Achards)., follow signs to Saint-Julien des Landes/Camping La Garangeoire via D12 (8 km).
La Garangeoire is located between Saint-Julien-desLandes and La-Chapelle-Hermier (D21).
19
n
km
Aéroport / Airport n NANTES ATLANTIQUE : (1 heure / 1 hour drive) ryanair, volotea, easy jet, air france, klm, iberia n LA ROCHELLE : (1 heure 45 mn / 1 hour 45 mn drive) easy jet, ryanair
Gare / Station n LA MOTHE-ACHARD : 9 km n LA ROCHE-SUR-YON : 31 km
LES SABLES D'OLONNE : 26
GPS / Sat. Nav. n Latitude : 46.663631 n Longitude : -1.71591
How to get to La Garangeoire
La Roche-sur-Yon Les Sables d'Olonne Saint-Gilles Croix-de-Vie Ile de Ré Ile d'Oléron Niort Angers Cholet Ile de Noirmoutier La Baule St-Nazaire Vannes NANTES Le Puy du Fou La Rochelle Saint-Julien-des-Landes,2km LesSablesd'Olonne Moutiers-Les-Mauxfaits Apremont LeGois St-Gilles-Croix-de-Vie Ouverture de la réception / Reception opening hours Basse saison / Low season : 9h à 19h ou 20h Juillet-Août / July-August : 9h à 21h Hiver/ Winter : lundi au vendredi 9h-12h30/14h-17h30 Monday to friday 9am-12.30/2pm-5.30pm Retrouvez-nous sur www.facebook.com/garangeoire Abonnez-vous à @campinglagarangeoire LaCinéscénie OFFSET CINQ Edition02 51 94 79 14 • Crédits photo : Peter Allan/Kura –CRCI Pays de la Loire –Thomas Lambelin –Claudia Laumel –Simon Bourcier –LouisianeLes CastelsXavier Lecointe Coordonnées GPS : Latitude : 46.663631 Longitude : -1.71591 LeGrandParcduPuyduFou La Garangeoire Camping la Garangeoire F - 85150 SAINT-JULIEN-DES-LANDES (Vendée) Tél : 33 (0)2 51 46 65 39 info@garangeoire.com www.camping-la-garangeoire.com LesMachinesdel'Île