BY NEW TIMES STAFF
NOVEMBER 17 - NOVEMBER 24, 2022 • VOL. 37, NO. 18 • WWW.NEWTIMESSLO.COM • SAN LUIS OBISPO COUNTY'S NEWS AND ENTERTAINMENT WEEKLY VISIT US ONLINE @ newtimesslo.com. SIGN UP for E-Newsletter(s) LIKE US on Facebook FOLLOW US on Instagram FOLLOW US on Twitter The Madonna tree, turducken, holiday movies, cookie decorating, turkey trots, and all the events of the season [17]
It's hard to believe that 2022 is in the home stretch, but the holiday season is here, which means food, festivities, friends, family, and fringe benefits—like gifts! As Thanksgiving bears down on us, New Times will get you prepared to tackle the bedecked, glittery world through New Year's Eve. In our annual Holiday Guide, you can find out about the tree of lights that tops Cerro San Luis [18]; what turducken is all about [20]; holiday movies [22]; how to decorate cookies like a pro [24]; where to trot off your turkey [26]; and all the holiday events you can handle [28].
Marisol at the Cliffs in Pismo Beach will offer unique holiday cocktails every Wednesday from 11 a.m. to 9 p.m. from Dec. 7 through 28. To find out more about the weekly specials and other "Cliffsmas" festivities, visit cliffshotelandspa. com/cliffsmas.
Also this week, read about what updated vote counts mean for local elections [4] , a book dedicated to Julia Morgan and her architecture [49] , and the international fare at the Cambria Christmas Market [54]
Camillia Lanham editor
Contents November 17 - November 24, 2022 VOLUME 37, NUMBER 18
Editor's note cover courtesy photo by Brooke Lark cover design by Alex Zuniga Every week news News 4 Strokes 8 opinion Commentary................ 9 Modern World 9 Rhetoric & Reason .....10 Shredder .....................11 events calendar Hot Dates ...................12 art Artifacts .....................49 Split Screen................50 music Strictly Starkey ...........52 the rest Classifieds..................56 Brezsny's Astrology...63 I nformative, accurate, and independent journalism takes time and costs money. Help us keep our community aware and connected by donating today. HELP SUPPORT OUR MISSION SINCE1986 www.newtimesslo.com A new law offers an opportunity to end lifetime duty to register as a sex offender Jeffrey R. Stein is an experienced, effective and successful lawyer for sex offenders seeking to end their registration burden. CALL FOR A NO-COST CASE EVALUATION Jeffrey R. Stein • (805) 748-5243 Jeff@SteinConawayLaw.com Watch this video to learn more about how we can help: steinconawaylaw.com/jeffreyrstein 850 Fair Oaks Avenue • Arroyo Grande www.bauerdentalcenter.com 805-481-6617 FREE consult SCHEDULE YOUR APPOINTMENT BY NOVEMBER 30TH 2 • New Times • November 17 - 24, 2022 • www.newtimesslo.com
THE ICE LIST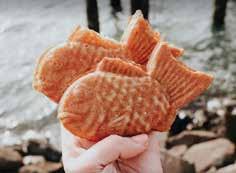 Enjoy Waterfront Dining on the Central Coast! Bayside Café 10 STATE PARK RD • MORRO BAY 805-772-1465 • baysidecafe.com OPEN for lunch daily 11am-3pm • Dinner Thurs-Sun 4-8pm The ONLY Bead & Garden Shop on the Central Coast Open Daily! Explore the Secret Garden! 333 Morro Bay Blvd. • 805-772-3338 MorroBayBeads.com Beads by the Bay Steve Thomas justlookinggallery.com One week of FREE Taiyaki* Treats for the entire family: Coffee, Taiyaki & Boba Tea 630 Embarcadero, Morro Bay OPEN DAILY 11am-7pm @ thesweetreef *Offer expires Wednesday Nov. 23, 2022 @ 5pm *with purchase of your fave Boba Tea (Try our Pumpkin Spice Chai!) CAGE FREE Brown Eggs M–Sat 9–5 · Sun 9–3 avocadoshack.net 2190 Main Street on Hwy 1, Morro Bay F resh L ocaL P roduce Brian's Bread from Atascadero Sliced Sourdough Loaf NOW $3. $ 2.99 A Dozen silvasdetailshop.com 1147 Scott St, Morro Bay · 805-423-0235 SCHEDULE A FREE ESTIMATE HERE: Vegan Café & Juice Bar Fresh Local Produce Natural Remedies Bulk Foods Open 7 days a week 10am-4pm 805.771.8344 Open M-S 9am-7pm · Sun 9am-6pm 805.772.7873 415 MORRO BAY BLVD. IN MORRO BAY 805-225-1440 Open Tues–Sat 10am–7pm DOWNTOWN MORRO BAY 911 MAIN STREET MorroBayButcher.com Preorder* NOW for Thanksgiving by Sat. Nov. 19 DAILY SPECIALS Everything but the turkey: *duck, lamb, prime rib, venison, tenderloin & more! 591 Embarcadero, MB UNIQUE GIFTS & ART Made With Love For the Whole Family OPEN EVERY DAY 10am–6pm .com 805.801.9841 RobboMusic.com ARRANGEMENTS · RECORDINGS MIXING · VOICEOVERS Demos - Singles Albums - Soundtracks Rob Vermeulen is a partner of: GOWESTMUSICGROUP.COM info@robbomusic.com FULL SERVICE RECORDING STUDIO BY THE BAY www.newtimesslo.com • November 17 - 24, 2022 • New Times • 3
FOUNDER
PUBLISHERS
Bob Rucker, Alex Zuniga
EDITOR
Camillia Lanham
CALENDAR EDITOR Caleb Wiseblood
STAFF WRITERS
Bulbul Rajagopal, Shwetha Sundarrajan
STAFF PHOTOGRAPHER
Jayson Mellom
EDITORIAL DESIGNERS
Leni Litonjua, Taylor Saugstad
ASSISTANT
PRODUCTION MANAGER
Eva Lipson
GRAPHIC DESIGNERS
Eva Lipson, Ellen Fukumoto, Ikey Ipekjian, Mary Grace Flaus
SALES MANAGER
Katy Gray
ADVERTISING EXECUTIVES
Kimberly Rosa, Jennifer Herbaugh, Lee Ann Vermeulen, Drew Gilmore, Eva Ryan
BUSINESS DEPARTMENT
Cindy Rucker
ACCOUNTS RECEIVABLE Michael Antonette
OFFICE MANAGER
Patricia Horton
OFFICE ASSISTANTS
Michael Gould, Taylor Gonzales
CONTRIBUTORS
Russell Hodin, Rob Brezsny, Anna Starkey, Andrew Christie, John Donegan, Cherish Whyte, John Ashbaugh
CIRCULATION
Jim Chaney
DISTRIBUTION
Tom Falconer, Dennis Flately, Edward Barnett, John Jiminenz, Bernadette Miller
New Times is published every Thursday for your enjoyment and distributed to more than 100,000 readers in San Luis Obispo County.
New Times is available free of charge, limited to one copy per reader. The contents of New Times are copyrighted by New Times and may not be reproduced without specific written permission from the publishers.
We welcome contributions and suggestions. Accompany any submissions with a self-addressed stamped envelope. We cannot assume responsibility for unsolicited submissions. All letters received become the property of the publishers.
Opinions expressed in byline material are not necessarily those of New Times
New Times is available on microfilm at the SLO City-County Library, and through Proquest Company, 789 E Eisenhower Pkwy., Ann Arbor, MI 48106, as part of the Alternative Press Project. Subscriptions to New Times are $156 per year.
Because a product or service is advertised in New Times does not necessarily mean we endorse its use. We hope readers will use their own good judgment in choosing products most beneficial to their well-being.
Our purpose: to present news and issues of importance to our readers; to reflect honestly the unique spirit of the region; and to be a complete, current, and accurate guide to arts and entertainment on the Central Coast, leading the community in a positive direction consistent with its past. ©2022 New Times
What the county's talking about this week