INTRO
INTRO AD
cover
page
In
page
Los Angeles, California, at the Hollywood Palladium with indie rock band Mother Mother. From (L to R) Ali Siadat on drums, Jasmin Parkin vocals and keyboard, lead by frontman Ryan Guldemond vocals and guitar, Molly Guldemond vocals and keyboard, and Mike Young on bass. Cover photo by Andrea Mead Cross.
INTRO
INTRO AD
FIRST STORY
STORY
SECOND
SECOND STORY
THIRD STORY chef
STORY chef
fourth STORY Alex Fokina
STORY
Fokina
CONTENTS
CHEF GLENN LYMAN
90 76 118 149
CELEBRITY
BEHIND THE SCENES
90 50 30 149 114
PRO TENNIS PLAYER ALEJANDRO FOKINA INDIE ROCK BAND MOTHER MOTHER
CREDITS + COMMENTS
RBAR FOUNDER BRIAN CORNELIUS LISTEN TO YOUR WORLD
AD
AD
AD
AD
story R BAR
story 1 BAR
NowVIZ: Can you tell us how RBar came to life?
Brian: In 2010, I quit college, was bike racing Cat 1, and wanted a really simple snack that didn't leave my stomach upset while training. Back then, I had a favorite energy bar that was my go-to, but they stopped making it just as I had discovered it. So I bought up all I could, and when I ran out, I started making my own! The first flavor was Peanut Butter & Jelly, and this has actually remained our number one best seller! In 2012 I quit competing and was pressing more than 50,000 bars a year by hand - My new favorite hobby!
NowVIZ: Since starting RBar what have been some of the challenges you've faced?
Brian: There isn't enough room to mention them all! Still, one of the most important challenges, I think, has been the sheer size of the market. It is so significant that it's nearly impossible to conceive the amount of ammo necessary to break through the noise generated by the major brands. Essentially, every time you hit a wall at 100mph, you have to just pick yourself back up and do it again all raccoon-eyed the next day!
NowVIZ: The food bar market has spread into many different areas other than sports and fitness. For example, you can now pick up an RBar at the airport - proof that the market has gone mainstream! What do you feel has been the attraction?
Brian: I think the main attraction has been our consistent brand values: Trust, Simplicity, and Pursuit. Every one of our products has an ingredient label you can trust, seven simple ingredients or less, and the never-ending desire to feed the pursuits of our customers. I personally believe in the importance of pursuits in our daily life. It brings meaning to every failure and provides fuel for the fire well beyond every success.
NowVIZ: You have a competitive sports background. Has that experience helped you keep in touch with your market?
Brian: Definitely. Before I left bike racing, I was on every local ride week in and out. Tucson, Arizona, where I lived and trained, is a tight-knit community, and it was super important to stay in touch with it. Gradually work just took over and I had to make a choice. But I have been able to swap the bike for a solid pair of HOKA trail running shoes! I can't get enough!
Now VIZ Q+A
33
While not exactly
NowVIZ: How do you stay healthy and fit these days?
Brian: I'm completely hooked on trail running and on those dark mornings before work, I use a headlamp! I love it and can't get enough of it! Of course, before my runs, I go for a couple cups of coffee and one of our latest RBar Protein Bars (Pomegranate & Acai are best in the a.m.!) And I'll also do my meal prep for the work week. Sometimes I'll make a nice chopped salad; sometimes, it's pizza with a few drinks. Either way, the next day is another full-on pursuit of everything RBar embodies.
exactly one size fits all
Taking a break to run trails in the Tucson mountains.
NowVIZ: A large population is now demanding clean eating, or switching to vegan and vegetarian diets. What makes RBar so attractive to this clientele?
Brian: RBar keeps making products that stay true to our customers' needs. Beyond our original line of energy bars, our latest protein bars are all-natural, plant-based protein. This new line simplifies the ingredients of original protein bars by eliminating foreign sources of protein - No whey, egg, soy, hemp, or pea sources. Instead, we reduce the fat in almonds to increase the protein and keep in place the natural fibers and carbohydrates.
NowVIZ: Where do you see RBar Energy in the future?
Brian: I see RBar creating products beyond bars, branching off into other segments. I've been in the business for 10+ years now and have seen possibilities that could be brought to our customers to enjoy! I love being able to bring new concepts to life from research and development to marketing and sales. It's a unique addiction and not so different from the highs and lows of my competition days.
AD AD? ATHLETE ITS A VIBE---
ATHLETE ACTION VIBE---
AD
@NOWVIZMAG
home
home pic
Tatum is a licensed Arizona Realtor. She is proud to have co-founded Smith Luxury Group with her father, Jeffrey Smith. It is a perfect pairing with the combination of Tatum's vast sports network and his thirty-five years of executive experience. The family business has been responsible for multiple million dollar sales for the past fifteen years. Within her first few weeks of being licensed, she has sold eight million dollars in real estate and took eleven million dollars in listings. With their combined background, Smith Luxury Group has the knowledge and expertise to find you the perfect home.
STORY
STORY 3
ACTION
record, the goal is to honestly represent where I'm at as a songwriter and where the band's at musically, within the given chapter of time the writing and production takes place," said Ryan Guldemond frontman and songwriter for the indie rock band Mother Mother. Based in Vancouver the group is comprised of Molly Guldemond, vocals and synthesizer, Jasmin Parkin, vocals and keyboards, Ali Siadat, drums, Mike Young, bass and Ryan, lead vocals and guitar. Over the past decade the band has been super-hot, while 2022 has been an incredibly successful year. To kick it off they released their eighth album, Inside. Their hugely anticipated single "Hayloft II" reached the Top 10 on Spotify's Global Top Songs Debut chart, and tracks from the new album have been streamed hundreds of millions of times worldwide. Ryan explains, "Being that this album was written in the early part of 2020, just as the pandemic was gaining speed, isolation and insularity were glaring themes in this new reality. I chose to follow that concept, calling the album Inside, which is a word used figuratively to represent the inner landscape of a person seeking healing and truth; the inner journey, so to speak. This theme was, I won't say, easy to tackle, but it felt necessary given the state of the world. Writing about anything else felt neglectful, almost disrespectful."
ACTIONThe band regularly sells out shows in New York, LA, Toronto, London, and across Europe. Currently, they're in the middle of a sold-out string of headline dates in the U.S. and Europe. They've made several recent appearances in Billboard's Emerging Artist Chart and have topped LyricFind Global and LyricFind U.S. search charts. In Canada, Mother Mother has had many top 10 singles on the alternative radio charts, including #1's for weeks on end, resulting in the most airplay of any alternative act on radio.
Along with the band's success, Ryan released a new solo album in early 2022 called, GLDMTH (Gold Mouth). It was something he has been wanting to do for over two decades and the right time finally came around. "It's self-indulgent in that I want it to be entirely driven by creative whimsy, and not beholden to any format, timeframe, genre, or medium. It's a space where I can be myself as an artist and do whatever I want to do, whether that's in music or one of my other interests, those being photography, poetry and videography. Right now, it's centered around my debut self-titled album which is a spacious, experimental, dark folk, singer/songwriter kind of thing," confides Ryan. The album is a pure unadulterated exploration of one's awareness of life. A complex blend of emotional ingredients that aren't afraid to be exposed.
Now after seventeen years, Mother Mother has emerged with an exciting fresh perspective of who they are as a rock band. They've created a fan base worldwide that chants their name to come back on stage and the frontman seems at home with the band he's leading. "We like music that is weird, clever, catchy, dark, eccentric and otherworldly… a little bit barky, with lots of harmonies. These days, all of these references still apply, but we are really digging heavier and aggressive sounds. We feel like we tapped into that a bit with "Hayloft II", and are keen to keep exploring into the dark and industrial, riff-centric landscape," says Ryan. "For us, it's always been about the joy of music, and sharing in this joy with others, so the more the merrier. It doesn't really matter if someone is connecting to an old or new song, songs don't understand the concept of time. They're eternal." It's a bold and seasoned explanation of where the Warner Records band is headed and we can 't wait to hear what's next.
"As with any
NowVIZ: The band is currently on tour in the US! Would you tell us the details and focus of the tour?
MM (Ryan): This tour is very exciting as it is our biggest US tour to date. We've been coming down here for well over a decade, and for most of that, we've felt somewhat stuck in the realm of 250-500 seat venues which, honestly, is more than we could have ever asked for. On this run, however, we're playing anywhere from 1500-4000 cap rooms, so we are beyond thrilled and grateful to see such growth in this market. Technically, we are in the tour cycle of our latest album Inside . But being that our discography is vast, the setlist covers all eras of the band with a special focus on the earlier work as those older songs went viral on TikTok.
NowVIZ: In 2012 Mother Mother was described as, "Pink Floyd meets the B-52s meets the Talking Heads," by Gigcity.ca . The sound is incredibly in-depth yet accessible, so mysterious yet intellectual. Can you talk about the present version of the band and how it's grown over the years?
MM: Presently, we are in a very liberated creative space where anything goes. Our early records were sonically more spacious, but undeniably quirkier and took more risks in their arrangements. Over time, the production got thicker and the writing became a little more succinct. But now, especially in light of our early music finding a brand new audience, we are reminded that there is an appetite for weird and daring songwriting and production in the popular landscape. Once touring wraps up, we will be diving into new album territory, which we're all very excited about. It's early days, but I think this next body of work is going to be really playful, dark, and eccentric, which I believe to be the innate strengths of the band's sound.
Now VIZ Q+A
CONCERT
CONCERT IMAGE
PHOTO CREDIT RICH SMITH
Frontman Ryan Guldemond
58
NowVIZ: The band has changed slightly over its 17 years. There's one band member who started with you in 2005 and is still with you today - your sister, Molly. Would you talk about your relationship with her and how you've made it work as bandmates?
MM: Molly and I started this band in young adulthood so we've "grown up" as adults together, which is a unique experience. We've been through it all, side by side, in kinship, friendship, and business, all the while establishing ourselves as individuals. It hasn't all been easy. In fact, it's been incredibly messy at times, but we've stuck it out and are now doing better than ever. She's my best friend and longestrunning collaborator. I thank my lucky stars that fate brought our lives together in this way. Musically, she's just incredible. Her voice is so otherworldly and unique, and pitch-perfect. As a songwriter, I am blessed to write with her timbre in mind and without it, Mother Mother wouldn't sound like itself at all.
NowVIZ: In late 2022, Mother Mother went viral on TikTok. Early songs in the catalog, specifically "Hayloft," "Arms Tonite," and "Wrecking Ball" from the 2008 album O My Heart, were enthusiastically embraced by various diverse communities sending streams soaring into the stratosphere! Will you talk about this experience and the effect it's had on you and the band?
MM: This turn of events has been truly life and career-changing and was so unexpected. Jumping on TikTok in 2020, having only vaguely heard of the app, to find a mass of young folks all around the world rocking out to Mother Mother in their bedrooms was surreal, to say the least. There is such a special thing that happens when we are young, discovering ourselves through the music we love. To have our songs be a part of that alchemy, especially with the gift of retrospect, is quite moving and an incredible honor. We feel a profound sense of humble gratitude for this good fortune and for the community that represents it. These beautiful young people who have newly embraced our music are fiercely creative and curious, incredibly compassionate, inclusive, and cutting-edge. They aren't afraid to talk about the hard stuff and don't relent in their pursuit of authenticity and personal truth. We learn so much from them and have become better people and a better band by association.
NowVIZ: Your latest album, Inside, was mixed out of The Warehouse Studio in Vancouver. You also reunited with Howard Redekopp, who produced your first couple of albums. Was there a specific approach or focus for this record?
MM: As with any Mother Mother record, the goal is to honestly represent where I'm at as a songwriter and where the band's at musically within the given chapter of time that the writing and production takes place. Being that this album was written in the early part of 2020, just as the pandemic was gaining speed, isolation and insularity were glaring themes in this new reality. I chose to follow that concept, calling the album Inside, which is a word used figuratively to represent the inner landscape of a person seeking healing and truth, the inner journey, so to speak. This theme was, I won't say, easy to tackle, but it felt necessary given the state of the world. Writing about anything else felt neglectful, and almost disrespectful. Musically and as a band, the production was very fragmented. We were never in one room together for the entirety of making this record. This is where Howard Redekopp was crucial as a co-producer. Being that the themes were very human, we wanted the album to sound human too - connected, living, breathing, elastic - all of which was difficult because we were so disconnected as a band during this time. But Howard has a way of treating the sonics and pushing the performances in a very organic and emotional direction, which helped us reach our goal.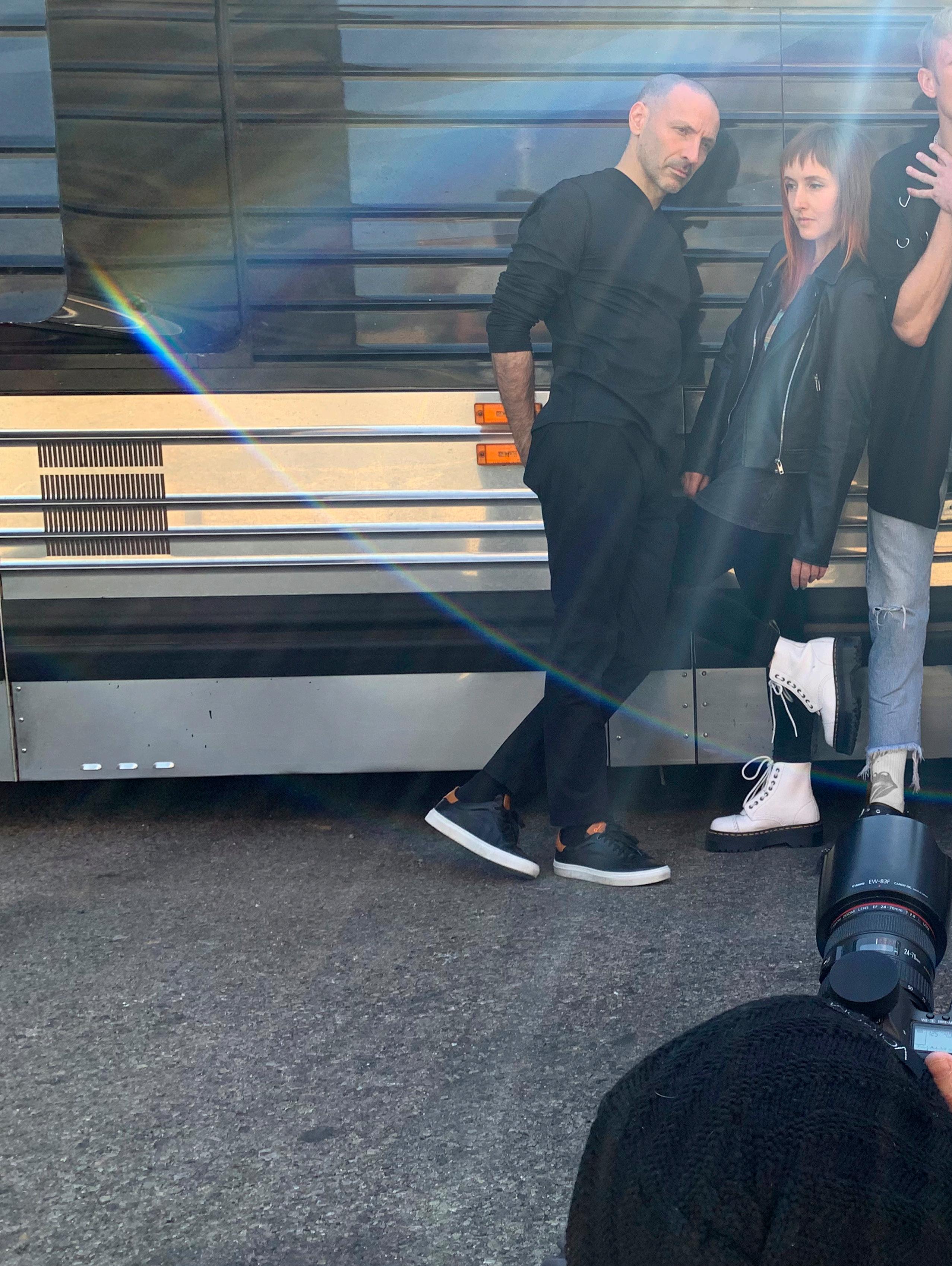 NowVIZ: Ryan, you recently released a new solo album called, GLDMTH (Gold Mouth) It's said to be a multimedia art project that combines music, photography, videography, and poetry. Will you talk about how this project evolved as well as the inspiration and motivation behind it?
MM (Ryan): I've probably wanted to do a solo project for 20 years, but the right time and space didn't open up until now to make it happen, which I'm more than okay with. It's somewhat of a self-indulgent project, and I feel like that's something an artist might have to earn a little bit. It's self-indulgent in that I want it to be entirely driven by creative whimsy, and not beholden to any format, timeframe, genre, or medium. It's a space where I can be myself as an artist and do whatever I want to do, whether that's in music or one of my other interests, those being photography, poetry, and videography. If I want to release a spoken word album, so be it; a poetry book, so be it; music written for a children's choir, or a short film, so be it. It's a very patient project. It's okay if it takes 5, 10, or 20 years to find itself. Maybe it's less about finding itself, and more about just being itself, whatever that is at the time. Right now, it's centered around my debut self-titled album which is a spacious, experimental, dark folk, singer/songwriter kind of thing.
Ryan Guldemond
NowVIZ: Would you discuss how you approach your writing process and the methods you use to create your music?
MM: Most often I write by picking up a guitar, playing some chords, and singing a melody at the same time. The melody takes the form of gibberish, which gives birth to words and themes. I rarely premeditate a writing concept, and I don't write anything down, but I will make lots of voice memos. I have thousands of them. I also find you don't need an instrument to write songs. A lot of songs live in the everyday textures of life - conversations, things I read, soundscapes, etc. To be prolific, I find it's necessary to always be listening and looking through an artful lens, even if what you're looking at and listening to is not innately artistic. A happy by-product of doing this is that the mundanity of life becomes anything but mundane. It becomes playful, magical, and full of possibilities. But it is a practice. Once a song is roughly in place, I take it to the studio and start building the architecture around it in order to find the production vision. I love that part, working with the bones of a promising song, fleshing it out. I get so lost in that and forget the world exists.
NowVIZ: Who has been the biggest influence in your music past and present?
MM: The Pixies are my and Molly's favorite band and has influenced Mother Mother's sound the most. They, along with bands like Violent Femmes, Modest Mouse, and The Beatles appeal to our sonic and lyrical sensibilities. We like music that is weird, clever, catchy, dark, eccentric, and otherworldly… a little bit barky, with lots of harmonies! These days, all of these references still apply, but we are really digging heavier and more aggressive sounds. We feel like we tapped into that a bit with "Hayloft II", and are keen to keep exploring the dark and industrial, riff-centric landscape. Queens Of The Stone Age, Nine Inch Nails, Metallica… I think it would be exciting to inject some of that flavor into the quirky, playfulness of Mother Mother.
CONCERT
CONCERT IMAGE
PHOTO CREDIT RICH SMITH
Ryan Guldemond and Mike Young on bass
NowVIZ: Is there anything on the horizon for Mother Mother you'd like to discuss?
MM: We wrap up 2022 with a European tour, and begin 2023 with our first tour of Australia. After that, it's into the writing hole and studio to find the next album. We are so very blessed to do what we do and feel like we're just getting started, even after all these years. Thank you very much for the interview.
ad2
ad2
QA + WITH NOWVIZ
NowVIZ: What inspired you to begin GCooks, where you provide personal chef services to athletes?
Glenn: Seventeen years ago, I walked away from the corporate world to follow my passion for cooking and food. I grew up playing sports and loved to cook, so I had a strong foundation for healthy eating. My little business was called Home Plate Personal Chef Service. My tagline was "Don't Drive-thru, Drive Home!"
Six months after I set up, I happened to be introduced to LeBron James and got a chance to cook a pre-season, pre-game meal in his first year in the NBA. We hit it off from the start and he asked me to be his full-time chef. I spent the next five years with him every day. They used to call me G-Unit, so GCooks was born and my new mantra became, "Eat Like You Mean It!"
NowVIZ: So, one of your first clients was an NBA rookie in Cleveland turned superstar named LeBron James?! What was your experience like?
Glenn: Incredible! To describe LeBron, let me tell you this story: Once, when I happened to be sitting courtside, LeBron asked me after the game why I never asked him to sign anything. I told him that I'd rather be part of the family. As soon as I said that, he picked up my three-year-old twins, put them up on his shoulders, and walked around the court! No autograph could ever touch that. I also never asked him for a ticket, but there was always a ticket waiting for me for every game.
NowVIZ: Have you ever had to push your cooking game when you didn't expect it?
Glenn: In 2007, I cooked a standard pre-game meal for LeBron. But at half time I found out that Jimmy Kimmel and his whole crew were coming over after the game to film LeBron for the ESPY Awards - and to have dinner! I went into total overdrive! Lol! Fortunately, it turned out to be a great success and a fun time! And I think Kimmel's crew is still talking about that mealHe loves cooking and food, so we got along great!
Now VIZ Q+A
NowVIZ: Have there been any memorable moments with any of your athletes?
Glenn: One of my favorite stories was back in 2007 when LeBron and the Cavs were on their way to the NBA finals. LBJ just had dental work done and had accidentally left his temporary tooth on the dresser. So, unfortunately, he couldn't do his interviews until he got his tooth! I was still cleaning up the kitchen and got the call to bring the tooth over! I put it in my pocket, drove through downtown Cleveland in rush hour traffic, and met the trainer in the parking garage to hand off the tooth! It was all for that $90 million smile and no one ever knew! Lol!
On the roof in LA's Fashion District
District with photographer 81
NowVIZ: How do you approach each athlete and their personal menu?
Glenn: Every athlete is different and each meal is customized down to their bloodwork. In the beginning, I learn about their likes, dislikes, allergies, etc.
I take the food they love to eat or even grew up eating, and make it healthier, all the while keeping it familiar. Instead of fried chicken, we make baked chicken. Instead of sweet potato pie, we create roasted sweet potato wedges. I add vegetables whenever possible and include lean protein, complex carbohydrates, leafy greens, and healthy fats.
From there we get into micronutrients to reel in their blood work numbers or make up for deficiencies, all while making it tasty!
NowVIZ: You've worked with many different types of athletes in a variety of sports such as current client and NFL Panthers running back, Christian McCaffrey, and NASCAR Hall of Famer, Jeff Gordon. Are there differences or needs one may have versus another?
Glenn: Six or seven of my clients are projected to go to the Hall of Fame in five different sports: NASCAR, NBA, NFL, swimming, and the PGA! But we definitely cover different areas of eating for each athlete such as endurance, explosiveness, mental clarity, weight gain, weight maintenance, and or weight loss. For example, Olympic swimmer Ryan Lochte consumes 8-10,000 calories a day just to maintain his training regime!
One commonality is eating for recovery. The quicker athletes can recover, the longer they can train at intense levels before their events. So we incorporate foods that help with inflammation and pain relief. Again, micronutrients play a large role.
NowVIZ: What are some of your most popular dish requests?
Glenn: I rarely take requests since I'm concentrating on a game plan and sticking within nutritional parameters. But the number one request for off days is my baked Honey-Garlic Creole Chicken Wings. Retired NFL player Jon Beason called them "everything" wings. They're a family favorite at the house of Seattle Seahawks tight end, Greg Olsen. I'd put them up against anyone's wings anytime, anywhere! Just hold the blue cheese and ranch!
LA Lakers, LeBron James
NowVIZ: What's a "day in the life" like?
Glenn: Each day of cooking goes to one client. We discuss their eating schedule based on their training and they get my full attention. Some individuals may take 2-3 days a week if there is availability. I plan, grocery shop, cook all the meals in their home, and leave portioned and packaged servings for them in their fridge.
NowVIZ: What motivates you to start cooking on a daily basis?
Glenn: I grew up playing sports, basketball, baseball, football, and swimming. My dad is a retired basketball coach and at 53 I'm as competitive today as I've ever been. For me, every cook day is game day and I can't afford to lose.
I prepare like a true professional knowing that someone's health and livelihood depend on me. I refuse to be the reason they don't succeed.
@NOWVIZMAG
fourth STORY ALEX
ALEX
STORY
Few, however, are as young as two years of age! But that was how old Spanish tennis dynamo, Alejandro Davidovich Fokina was when his father first put a racket into his hands and told him to hit back the ball.
"The racket was almost as big as me," laughs Fokina who, at 23 years old is now 1.83 meters(6ft) tall!
Yet even at that young age, Fokina showed a spark of greatness. Born to a Swedish-Russian father, Eduard Davidovich, and a Russian mother, Tatiana Fokina, just outside the Southern Spanish city of Malaga, Fokina quickly picked up the rudiments of the game playing it with his dad on the local beachfront. By the age of five, he was training at the Calaflores and Serramar tennis clubs with coach Manolo Rubiales. And by 11 years old, under his current coach and mentor, Jorge Aguirre, he was winning competitions and accolades all around him.
Fokina was Spanish Champion at U12, U15 and U18 levels. But while success on the courts came fast and frequently the young achiever readily admits that it wasn't until he was around 16 or 17 years of age that he began to take his future in tennis seriously.
"When I was younger I played tennis just for fun," he says. "I wasn't thinking, 'OK, I want to be number 1. someday' because it's a long process to get to that point. Really, I was just enjoying being with my friends, going to the tournaments, and having fun."
But Fokina's ambitions slowly began to deepen. Between 2016 and 2017 he played in five Junior Slams and in the summer of 2017 in front of a 9,000-strong crowd, he won the boy's singles title at Wimbledon without dropping a set. In doing so, he became the first Spanish Wimbledon junior champion since Manuel Orantes in 1967. With that win, he knew definitively, "Oh, I like this! This is what I want to do; this is what I want to be."
From then on, there was no stopping Fokina. He broke into the Top 100 in 2019, becoming, at the age of 20, the youngest Spanish tennis player to rank in the World's Top 100 since Rafael Nadal in 2003. That same year, he qualified for the Next Gen ATP Finals, an annual year-end exhibition tennis tournament involving the best 21-and-under players of the season.
An aggressive and daring player, Fokina quickly earned a reputation for his masterful drop shots and fearless underarm serves. While he began his training on clay, he cites grass as his favorite surface to play on. Truthfully, he's a shark on all, hurtling himself at every ball, committing to every shot. During the 2022 Rolex Monte-Carlo Masters, Tennis TV quipped on Twitter about life's certainties: "Death, taxes, and @alexdavidovich1 covering himself in clay!"
And while his spectacular diving volleys have become the stuff of tennis legend, his steady rise up the game's ranks has become even more of a reality. In 2021, he reached the last eight of the French Open, beating World No. 3 Casper Ruud in the process. Last year, the determined Spaniard advanced into the Top 30 in the ATP Rankings following an incredible win against World No. 1 Novak Djokovic at the aforementioned Monte Carlo Masters. Beating Djokovic helped propel him into the tournament's finals. And though he lost out to defending champion Stefanos Tsitsipas, the very fact that he played that match means that Fokina became one of only three players to make their first ATP final at Masters 1000 level.
Now, as the ATP Tour Schedule for 2023 swings into action, Fokina is focused on bringing his best yet to the tennis court. He's not the young player playing tennis just for fun anymore. He has big ambitions and high hopes, and the idea of being tennis's no. 1 is suddenly not so unimaginable. He sees it as the path he's on. He knows he's ready for it. "I want to be one of the top 10 players in the world," Fokina now readily admits, and he adds, with the conviction he's become known for on the court, "I have no limits."
BTS
BTS
Fokina trains in Marbella, Spain, and is ready for the upcoming season.
NowVIZ: You have a list of incredible victories over top 10 players, such as David Goffin, Matteo Berrettini, Taylor Fritz, Cameron Norrie, Casper Ruud, Gregor Dimitrov, and recently defeating world No. 1 Novak Djokovic. What does it take to accomplish this?
Alejandro: It is determination and practice but also finding quiet in your mind. So much of what it takes to win each set and go to the next has to do with your mind. I meditate a lot, and I'm always learning to find calm and focus.
When I beat Djokovic, I had not been doing so well before that match so I thought at the time I might stop playing tennis. I told my coach Jorge (Aguirre), and he told me to forget about my training for a few days and sent me to Mallorca (an island off the Spanish coast).
I spent a few days there meditating, reading books, and doing other things, and then I went to Monte Carlo. I had my first practice after not touching the racket for three or four days, and it felt good and I just wanted to play.
I know Novak, and I was just looking forward to playing him. I focused on every ball, and when I saw my opportunity to play my best, I took it. I wasn't worried about how tough the game would be or when I lost a set. And I realized then, more than ever, it's all about your mind.
Now VIZ Q+A
NowVIZ: Describe what type of tennis player you are.
Alejandro: So before, I was a much more aggressive player. But now I train outside the court to be calmer, more patient. When you are angry, it changes how you play; it upsets your focus. It's important to be humble, and now I try for that.
NowVIZ: You have a tattoo on your chest that says "Step by Step." Can you explain what that means to you?
Alejandro: I got that tattoo when I was 17 or 18 years old. I was thinking about my career and the different walls I wanted to break through in my life and tennis. And I thought, I need to take this step by step instead of rushing to do something.
For sure, the little things you do today will help you later, and it's good to remember that. Maybe I don't achieve what I want today, but what I'm doing today could help me achieve what I want tomorrow.
NowVIZ: Every athlete seems to have a mentor or someone behind the scenes they can talk to, get advice from, and who has their back in any situation. Have you had that person in your life?
Alejandro: My coach, Jorge. He's been my coach since I was 11 years old and he's like a father to me. We are together 24 hours a day, and I think he knows me better than I know myself sometimes! There have been moments when I want to make a decision and he helps me see that there is another better decision I could make.
NowVIZ: What's the best advice you've ever received?
Alejandro: Again, it was from Jorge. He told me if you are a better person off the court, you will be a better player on the court.
101
action
action
action
NowVIZ: How do you fuel your body nutritionally throughout the season to perform at your best?
Alejandro: I eat well and I supplement my diet a lot. My medics work out what supplements I might need to give me the extra fuel to play well when I'm competing.
NowVIZ: As one of the top players on tour how do you stay on top of your game physically?
actionAlejandro: To play sets for four to five hours I need to be athletic. Achieving strength is not the aim; being light and flexible is. So, I don't lift heavy weights. Instead, I train for endurance and I do a lot of running. It's like training for a marathon! And, of course, I spend many hours every day in practice on the court.
NowVIZ: How do you mentally prepare yourself for each match as well as stay focused for tournaments lasting one to two weeks?
A lejandro: Meditation is something I do consistently. When I wake up every morning, before my day starts, I meditate for 10 minutes. Then, I might meditate during the day too. I also work with a psychiatrist who gives me the tools to fix any problems happening off the court so that I don't bring them onto the court when I'm competing. This really helps with my focus.
NowVIZ: In 2021 you announced the launch of Adoptas.org, an online platform that connects animal lovers with adoptable pets in Spain. Will you please talk about why you started Adoptas and tell us how it's doing?
Alejandro: Many people bought new pets during the pandemic. But after the quarantine, a lot of those animals were abandoned. Official figures said the number of abandoned pets in Spain increased to 45%, and, in fact, Spain is the country in Europe with the highest number of abandoned dogs and cats every year.
So after I had won a lot of prize money, my agent came to me to suggest I invest in something I love, something I feel passionate about. I didn't have to think about it for one minute. I said I want to help the animals. And so we created Adoptas.org, a platform that acts as a mediator between animal shelters and people who want to adopt cats and dogs. You can also act as a sponsor of a pet, donating to help them until someone gives them a new home.
Establishing it has been a long process and we don't want to accelerate it; we want to do it right. And I think we have done it right so far because we have more than 40 shelters and 700 cats and dogs on the platform, and we've already found good homes for over 200 of them.
I'm proud of what we're doing, but my goal is to help Spain go from being the first country in Europe with the most abandoned animals to being the first country in Europe with the least abandoned animals.
NowVIZ: What motivates and inspires you on a daily basis?
Alejandro: The animals that we're helping motivate me. Every time I win a prize, I think "great!" because I can now donate a percentage towards the Adoptas.org platform.
NowVIZ: And you wear mismatched socks! What's that about?!
Alejandro: I don't know exactly why I started it. I always wore black or white socks. Maybe I forgot one black or white sock one day and then I had to wear odd ones for the match! I don't really know! But since about 2016, I've worn different socks on each foot and now it's become something of a superstition for me: I have to wear odd socks when I compete!
ALEJANDRO DAVIDOVICH FOKINA, PRO TENNIS PLAYER
I'm a Latin guy so I love reggaeton! Nikki Jam, Daddy Yankee, J Balvin, all that. I'm listening to all those guys.
BRIAN CORNELIUS, RBAR FOUNDER
That's just dangerous! I put up no barriers in music and draw so much from it, particularly when writing. I'll take the most offensive to the most mundane and turn it into the motivation I need to move forward. Music has always been a source of energy, and while I'll apply my own filters between the speakers and my brain, I'll soak up every bit of energy those artists intended and turn it into my own work.
LYMAN, CELEBRITY CHEF
"Feathered Indians" by Tyler Childers. I've been following his music for a while. The first day I worked at Christian's (McCaffrey) he had him on the speaker while I was cooking. I was like "ok, this'll work!"
MOLLY GULDEMOND, MOTHER MOTHER vocals + keyboard
Fugazi
JASMIN PARKIN, MOTHER MOTHER vocals + keyboard Rosalia
RYAN GULDEMOND, MOTHER MOTHER vocals + guitar Chelsea Wolfe
ALI SIADAT, MOTHER MOTHER drums
Jon Hopkins
MIKE YOUNG, MOTHER MOTHER bass Sleep Token
GLENN
AD?
AD?
bhs start
RBar founder Brian Cornelius and photographer Andrea Mead Cross
behind the scenes
start
An RBar enthusiast!
bhs
The famed Hollywood Palladium in Los Angeles, California.
behind the scenes
bhs 2b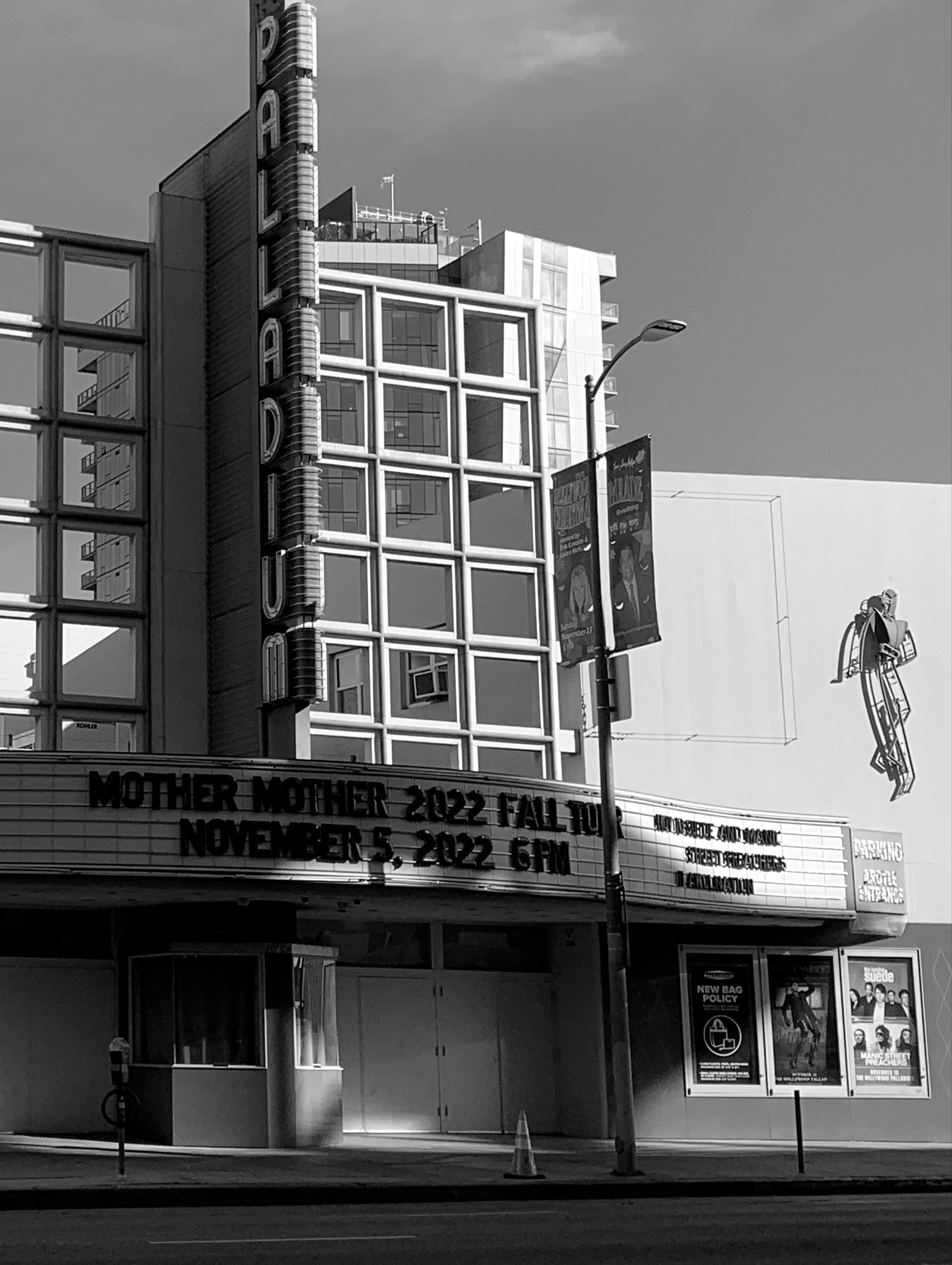 bhs
2
Mother Mother in LA.
MM Crew sets up in LA.
BHS
The band Mother Mother with photographer Andrea Mead Cross.
BHS
PHOTO CREDIT RICH SMITH
Vocals and keyboards for Mother Mother, Jasmin Parkin.
Mother Mother frontman Ryan Guldemond.
ALEJANDRO
BHS
Longtime coach Jorge Aguirre with Fokina during a training session at Lew Hoad Tennis Club Marbella, Spain.
behind the scenes
ALEJANDRO
BHS
BHS
4
Photographpher Andrea Mead Cross working with one of the world's best, Alejandro Davidovich Fokina.
Mediterranean coastline Marbella, Spain
DIADORA + ALEJANDRO DAVIDOVICH FOKINA
Fokina looks to have a great year.
Love the moment.
2023
All inquiries, NowVIZmag@gmail.com 2023 All Rights Reserved NowVIZ magazine and NowVIZ.com COPYRIGHT 2023 No part of this magazine may be reproduced without written permission. This magazine is viewed with the understanding that the information present is from varied sources for which there can be no warranty or respondsibility by NowVIZ.com as to the accuracy or completeness. @ NOWVIZMAG PUBLISHER Studio 25, INC. MANAGING ART DIRECTOR K Skyler VISUAL GRAPHIC EDITORS Emma Stark Beckett Knolls EXECUTIVE EDITOR Siobhan Colgan CONTRIBUTING WRITERS Siobhan Colgan Eric Hayes Chanel Williams Joshua Levy Mark Saffieri Rose Fydler CONTRIBUTING PHOTOGRAPHERS Andrea Mead Cross ONLINE SPECIALIST Jack Miles MOTION SPECIALIST Raf Breuer CONSULTING COLOR TECHNICIAN Wyatt Sullivan LOGISTICS AND RESEARCH Finley Nelson Marc Cohen SOCIAL EDITOR Stella Madison MEDIA RELATIONS Kelley Kwiatkowski MAGAZINE
2022 is a wrap! Traveling through Charles de Gualle airport Paris, France.