NOTRE DAME ACADEMY BULLETIN Alumnae SEPTEMBER, 2022 1972 ALL 1STARS 972 ALL STARS
Sr Corona teaches Math at the NDA Resource Center
TABLE OF CONTENTS 3 - Letter from Provincial 4 - Timeline 8 In Memoriam Alumnae 9 Relatives of Alumnae 11 Alumnae Updates 27 - Associates information 28 - Academy Song 1932 90th anniversary! 1937 85th anniversary! 1942 80th anniversary! 1947 75th anniversary! 1952 70th anniversary! 1957 65th anniversary! 1962 - 60th anniversary! 1967 55th anniversary! 1972 50th anniversary! We will be honoring the class of 1971 for their 50th anniversary! We are proud to honor the following classes this year: Compiled by the NDS Advancement office: Sandra Koch, Sr. Josita Hanus, Molly Mullen, and Anne Medlock Edited by Sr Anita Rolenc
Karen Sobczyk
Class of 1972
Now, in 2022, the world feels as chaotic as it did 50 years ago, but we remain strong and optimistic when we lean on each other, being a strength to our loved ones, and allowing others to be a strength for us.
FROM OUR PROVINCIAL PRESIDENT:
Sincerely, Rita Ostry, Provincial President of the Notre Dame Sisters
Some of the Sisters have traveled this year. Sr. Mary Kay Meagher spent two weeks at the Mexican border to volunteer serving people who had immigrated to the United States Four of us traveled to Europe to meet with the Sisters of the Bavarian, Czech, and Slovak Provinces. We were blessed to gather and plan together for the future in person for the first time in years.
I am happy to celebrate the graduates of Notre Dame Academy this year. Some of you may already know me, as I was a graduate of the NDA class of 1965. I was an educator as well, spending more than two decades on the Pine Ridge Reservation at Our Lady of Lourdes in Porcupine, South Dakota. In July, I was selected by my Sisters to serve as the Provincial President, and look forward to four years of serving the community in this new capacity.
This year we commemorate the 50th anniversary of the class of 1972 graduating from NDA. That was a harrowing year to graduate high school and move into college as an adult. The Watergate scandal shook the nation, anti war protests swelled in cities large and small, and bombings were reported in countries from Ireland to the Philippines. The song "Lean on Me" by Bill Withers topped the charts in 1972, and that is what students were doing, leaning on one another. Your class was able to become civically minded, good hearted, and strong women, with your values rooted in Christ's love
We Sisters remain a support for one another as the years go by. For our Sisters in skilled care living communities, we visit often and make sure they remain a part of our community and never feel isolated. We were able to host our Community Weekend in person for the first time this year and could feel one another's presence For those who could not travel (our Sisters ministering in Colorado and Iowa), they watched the event on live stream and participated via phone calls and text messages. Back in 1972, we could not even conceive of these advances that keep us all close, even when far away.
We continue to reach out to people with unmet needs, to nurture in them a conviction of God's love. We lean on one another to support our ministerial work. We lean on one another for prayer in good times, in uncertain times, and in times of distress We pray, too, for you and your families
NOTRE DAME ACADEMY PAGE 3
We are incredibly grateful for the years we spent together at Notre Dame Academy, as students and teachers. We are blessed for our continued relationships that formed at NDA, and we are always proud of the women you have become. Remember that you can always lean on your fellow graduates, the Sisters, and God in good times and in the challenging ones. Looking forward to seeing all of you at the September Alumnae Reunion.
The German airship Hindenburg burst into flames in Lakehurst, New Jersey
WWII severed communication between Czechoslovakia and U.S. Notre Dame Sisters.
Walt Disney premiered "Snow White and the Seven Dwarves"
"White Christmas" by Bing Crosby is the most popular song of the year.
Sisters staffed Our Lady of Lourdes in Porcupine, South Dakota.
The average yearly salary was $1,880 and a house cost $3,770.
NDA building in the 1930s
What made these years exceptional? TIMELINE
Democrat Franklin D. Roosevelt defeated Republican incumbent Herbert Hoover for president
Amelia Mary Earhart mysteriously disappeared over the Pacific Ocean.
The Manhattan Project commenced Mahatma Ghandi was arrested in India
Hattie Caraway was the first woman elected to Senate where she served for 14 years.
Sisters did not take a full salary to help parishes struggling with finances during the Great Depression.
The Charles Lindbergh Jr. (baby) was kidnapped.
1937 1942
PAGE 4 NOTRE DAME SISTERS
1932
1947
NDA Athletic clubs included the Roller Skating Rinkers and the Sharp Shooters croquet players The Stamp Club was ranked fourth in a national stamp contest
"Friends of Notre Dame" organized to assist the Sisters the first group who worked on fundraising for the Academy. By 1968 they had raised nearly $55,000 for their building and education fund.
A new library offered hundreds of books.
The shrine to St Joseph was built on campus by Rev. James Hannan, SJ.
The minimum wage was $1 an hour with an average annual income of $5,000 A new house cost an average of $12,000 Elvis Presley topped the music charts
1952
1
Alix LeClerc, co founder of the Notre Dame Sisters in France in 1597, was Beatified.
Staff prepared to open a kindergarten at NDA the next year, which ran for four years.
NDA building in the 1940s
NDA Radio Workshop Players presented radio plays to the students.
The local streetcar company bought a yearbook ad
NOTRE DAME ACADEMY PAGE 5 SEPTEMBER, 2022
NDA cafeteria in the 1960s
NDA hosts for the first time Nebraska's Junior Classical League bringing together Latin students for activities.
1967
Some Notre Dame Sisters returned to their baptismal names.
The Communion rail was removed in the chapel.
"American Pie," "Lean on Me," and "Rocket Man" were the most popular songs on the radio.
Pope John XXIII opened the Vatican Council II in Rome. This began a major renewal in religious life including expanding ministries, changing the habits, changing the style of living, and a new constitution.
Minimum wage was $1.60 per hour, gas cost $.36 per gallon, and a new car cost under $4,000.
PAGE 6 NOTRE DAME SISTERS
1962
The first ATM was installed in the US and the first successful heart was transplanted in South Africa.
Students performed the play "Up the Down Staircase" about teaching in an over crowded and under-staffed school.
"Here Comes Charlie" was performed by NDA students.
NDA Latin students tied with Bryan High for second place at Nebraska's Junior Classical League.
1972
1966 Seniors are up burning the midnight oil: Agnes Strenger, Cathie Lee, and Peggy Larkin.
957 graduation
Juniors prepare a radio skit for Sodality meeting 11952
1956 NOTRE DAME ACADEMY PAGE 7
Notre Dame Sisters Memorial Association
Rose Faimon Pianalto, '48 sister of Sr Agatha Faimon CHS, '45
Marcella Simanek Whitley, '49
Helen Sweigard Buglewicz, '62 sister of Marcia Sweigard Hardman, '52 (d)
PAGE 8 NOTRE DAME SISTERS
Please pray for our beloved Alumnae and their relatives who have entered eternal life Those entered in the Memorial Association are remembered in the Sisters' prayers and liturgies. A special Memorial Mass is held each November to remember and celebrate the lives of those who have passed away in this past year. The names in this book were submitted on or before May 31, 2022. We are only able to share names that have been referred to us. When there is a death in your family or that of a fellow Alumna, please inform Sister Josita Hanus in the Advancement Office so we can enter them into the Memorial Association.
Martha Kremlacek Rezac, '50
Rose Marie Osterlink Anderson, '60
Judith Ann LaCourse, '54
Mary Frances Kawa, '64 sister of Toni Kawa Scheibeler, '61
Elena Brewer Dameron, '61
Theresa Mittermeier Kirby, '72
Maureen Bodnar Kessler, '58 sister of Betty Bodnar Johnson, '65 sister of Kathy Bodnar Henningson, '66 sister of Veronica Bodnar Rommelfanger, '67 sister of Ruth Bodnar Wieczorek, '69 sister of Susan Bodnar West, '72 sister of Peggy Bodnar Gibbs, Roncalli, '79
Sr Monica Zmolek OSF, '45 sister of Jean Zmolek, '47 sister of Camille Zmolek Stoeckinger, '53 sister of Carla Zmolek Hanson, '56 sister of Conni Zmolek, '58 sister of Roberta Zmolek Mock, '61 sister of Veronica Zmolek, '63 sister of Michaela Zmolek Thomas, '64
Diane M Hansen, '73 sister of Kathy Hansen Carnahan, '77 Michele McGinn Lee, '73 sister of Mary McGinn Wurgler, '65 sister of Margaret McGinn, '67 sister of Nancy McGinn, '68 sister of Joanie McGinn Wilds, '69 sister of Toni McGinn, '70
Jerelene Gill Rumbaugh, '68
Geraldine Skomal Budny, '59
Theresa Kisicki Dalton, '53 sister of Rita Kisicki Viano, '50
ALUMNAE
Cathy Jo Wilson, Class of '73 sister of Cynthia Wilson, '71 Linda Engelhardt Miller, '74
Frances Schab Harding, '65 sister of Margaret Schab Kubat, '69
Betsy Ruda Whitaker, '65 non grad
Mary Lee Kenworthy, '63 sister of Betty Kenworthy Muntean, '48 sister of Camilla Kenworthy Cox, '51 sister of Lora Kenworthy Pecor, '55 non-grad
Judith Milan Witt, '62
IN MEMORIAM
Mary Ann Galas Swaney, '70
Rosemary Rivera Orin, '58
Marilyn Rose Harms Nemec, '46
Patricia Ann James, '50 daughter of Margaret Ann Nesladek Castle '30 (d)
Mae A Kucera Steffen, '54
Christopher R Gradoville grandson of Rita Ostronic Gradoville, '45 (d) nephew of Janet Gradoville Schultz, '73
Arnold E Pospisil brother of Marcella Pospisil Rohwer, '62 (d)
SEPTEMBER, 2022
John "Preston" Sears son of Barbara Toczek Sears, '61 (d)
David P Schlautman husband of Kathleen Optiz Schlautman, '57
Theodore A Dalberg husband of Mary Roberts Dahlberg, '56
Richard F Gaeta son of Patricia Faur Gaeta, '59 (d)
Barbara Ann Bush sister of Rita Alba Johnson, '60
Rose D Pudil sister of Margaret Sebetka Langr, '50
Irene M Schlautman mother of Lois Schlautman O'Gara, '61
James Finken brother of Linden Finken Shanahan, '62
IN MEMORIAM
Adrian Wielandt Dendinger sister of Patricia Van Overen Barclay, '63 (d)
Terry Lee Walsh husband of Chris Holubar Walsh, '64
Laura Kay Conway daughter of Marlene Smith Connor, '64
David P Schlautman brother of Alyce Schlautman Rizzolo, '51
NOTRE DAME ACADEMY PAGE 9
John E Szarad brother of Dorothy Szarad Shewan '58
RELATIVES OF ALUMNAE
William J Pazderka brother of Louise Pazderka Vayda, '48 brother of Catherine Pazderka Hammer, '60
Dr David L Bolan husband of Judith Cisar Bolan, '62 non grad (d)
Dr L James Drahota brother of Ann Drahota Nordin, '54 brother of Barbara Drahota Sugden, '61 brother of Irma Drahota Farrell, '64
Barbara T Hower sister of Patricia Hower Kafka, '55 non grad
Wilfred Dean Suchy husband of Madonna Sheda Suchy, '54 (d)
John E Lennart husband of Anna Gyhra Lennart, '61
Thomas P Smith brother of Maureen Smith Austin, '64
John A Johnson husband of Mary Claire Lankas Johnson, '64
Thomas E Stevens former husband of Kay Brutsche Stevens, '58
Charles J Vesely brother of Carolyn Vesely Ohnoutka, '62 non grad
Philip J Philipp brother of Faith Philipp Seehawer, '58 brother of Charity Philipp Schneekcloth, '64 brother of Hope Philipp Hugh, '64 non grad
LeRoy I Kobza brother of Joan Kobza Bock, '48 (d) brother of Ramona Kobza Abbott, '50 (d) brother of Carmelita Kobza Malone, '53 (d)
Gerald J Mazur husband of Mary Jo Slizewski Mazur, '58
George E Uphoff husband of Mary Ellen Leary Uphoff, '46 (d)
Frederick A Mock husband of Robert Zmolek Mock, '61 non grad
John A Pazderka
Joseph Jones brother of Colene Jones Talbot, '56
brother of Louise Pazderka Vayda, '48 brother of Catherine Pazderka Hammer, '60
Michael P Fangman husband of Mary Jo Dugan Fangman, '58
Robert W Drelicharz
John K Ficenec brother of Christine Ficenec Jaeger, '67 brother of Leslie Ficenec McManigal, '72
Mark A Hulbert son of Cynthia Wichert Paddock, '72
Robert A Schmitz brother of Nerita Schmitz Schwabauer, '72
Genevieve C Szawicki mother of Karen Szawicki Bell, '73
Garry E Thorpe husband of Barbara Byrne Thorpe, '66 father of Carolyn Thorpe Santos, Roncalli '96 father of Rachel Thorpe Warman, Roncalli, '99
Dolores Marie Woods mother of Cheryl Woods Balwanz, '72
Robert F Vacek brother of Susan Vacek Smith, '69
1967
John L Gerken brother of Michelle Gerken Wilcox, '73
Robert A Blanchard husband of Carol Lohmeier Blanchard, '68
Paul J Stastny father of Barbara Stastny Camden, '72
Wendy Marie Tuttle stepdaughter of Deborah Mitzlaff Koenen, '73
Gary J Frohner brother of Sandra Frohner Park, '67
Rita S Werner mother of Louise Werner Coyle, '68
Matthew T Kucks son of Margaret Cronin Kucks, Roncalli 1975 NDA Production of "The Heiress" Mary Lohmeier
Michael A Nelsen husband of Penelope "Penny" Huebscher Nelsen, '65
Thomas C Tracy father of Mary Tracy, '72
.......brother of Phyllis Drelicharz Christiansen, '65
John J Wrobleski III brother of Joan Wrobleski, '69
John C Lorenz husband of Jean Bender Lorenz, '68
Larry M Worshek husband of Mary Jane Hobza Worshek, '68
Janet C Collins sister of Susan Vacek Smith, '69
Edward E Hale husband of Connie Murphy Hale, '67
Mark S Barna brother of Kathleen Barna Wilson, '69 (d) brother of Marguerite Barna Zart, Class of 1975
Marianna A Zaccone mother of Rosemarie Zaccone Cappellano, '70
Dwight C Swenson husband of Jeanne Angus Paver, '72
Patrick L Hibberd brother of Mary Jo Hibberd Randall, '68 husband of Barbara Beauchamp Hibberd, '70 (d)
Lt Col USAF (Ret) Gerald H Paes husband of Elizabeth Vanek Paes, '66
Thomas R Mendicino father of Deena Mendicino Minyard, Class of 1974
PAGE 10 NOTRE DAME SISTERS
Robert "Bob" Koenen husband of Deborah Mitzlaff Koenen, '73
Mark E Grunberg husband of Rose Marie Headley Grunberg, '66
Randall E Solberg husband of Mary Kay Jaksich Solberg, '65
Martha M Jones mother of Kathleen Jones Stone, '70
Shirley Fay Brown mother of Barbara Brown Krejci, '71
Jeffrey A Conklin son of Toni Heath Conklin, Class of 1974
Michael C Becker brother of Johanna Becker Huey, '66
1956 NOTRE DAME ACADEMY PAGE 11
1953 - Sr. Josita Hanus (Leona), ND
My life continues into the future as I age one day at a time. I keep saying that some day I will be smart enough to retire! Meanwhile, I enjoy and am energized by my ministries as part time chaplain for CHI Hospice and part time working with The Coalition on Human Trafficking especially the Training and Education Committee. I live at Notre Dame Housing among the many other wonderful residents of this facility. It's a great place to live! Actually my apartment is in the classroom where Sr. Emmanuela taught me/us Geometry! If you haven't had a chance to visit Notre Dame Housing, come on over some day to see the transformation and to recall your many memories at Notre Dame Academy
1950 Rita Ann (Kisicki) Viano
Last January 2021, I accidentally broke my left foot and was in the Mitchell Nursing home until March. I am doing well and back to working in my yard, etc. It has been hot and dry here in Western Nebraska. Bye now!
I have been a widow for eight years. I have been busy with my church as hospitality minister, head of our 50+ group, Clean Purificators, a member of our Companions of Mary, a member of our Parish council of Catholic Women, a member of our Ladies Group, and our Quilters
1956 - Sr. Celeste Wobeter (Genevieve), ND
1955 Mary (Allen) Neu
UPDATES 1955 Pat (Mines) Henderson
It is hard to believe 72 years have passed since I last walked up that hill. I have very happy memories of my four years at Notre Dame. When I graduated, I never thought I would be here in California. I have been blessed with good health and do enjoy hiking on weekends and visits with the families. Five of my eight children and seven of my 15 grandchildren live nearby. The holidays are always happy and busy.
I continue to work in our Advancement Office as the Memorial and Prayer Associations Coordinator. My ministry keeps the Sisters connected to families at the time of the death of a member of their family. I also send out prayer cards to people at the time of a prayer need and also on the occasion of a special birthday or anniversary. Keeping in touch with our NDA alumnae is also part of my work and having alumnae keep me posted on updated e mail addresses is appreciated.
I like to start the day with Mass at St. Philip Neri Church almost every morning. Each weekday I volunteer in the Notre Dame Housing kitchen.
1958 – Mary (Macaitis) Hicks
erite (Souchek) Ward pecially to my classmates of 1957. I try to keep the term "getting old" cabulary but that is exactly what I am old in age only :). That is until ten to things around me. Nevertheless, I still prepare our music for Sunday Mass and am still in the choir, which has been together for 0 years.
After being a group leader for the Kids Care program at St. James/Seton School for 11 years, I have decided to retire from that part time job. I celebrated my 60th Jubilee as a Notre Dame Sister in 2021.
Well, I have entered the retirement world and am eager to see what it will hold I have more time for prayer and especially the prayer of gratitude for everyone and everything in my life who nourished me to be who I am and will continue to become in the years ahead. A big part of that was my years at NDA. Thank you.
1959 Frances (Ingram) Ran My husband and I moved to Nebraska, in 2017 We move Platte after living there for 4 was a wonderful town in wh our 4 children In January 20 husband died I have eight w grandchildren My daughter family live in Lincoln. My d Mary Jo and husband and so
PAGE 12 NOTRE DAME SISTERS
family live in Omaha. My son, J.J. and family live in Lenexa, Kansas. I retired from my nursing career in 2010. I enjoy traveling, reading, needlepoint, church activities and spending time with family and friends. Blessings to everyone and their families.
argaret Hickey, ND
1958 Sr. Corona Humpal, ND
I reside in a 28 unit senior apartment in Ashland, Nebraska, where my daughter is the executive director. I keep busy attending daily Mass, delivering senior lunches and tending our flower and vegetable gardens. My daughters include me in their travels which I enjoy. God is good!
d to reading missives from my classmates and other girls May God's showered upon you
Religion class in 1966 with Francine Anzalone, Ginny Bogatz, Sharon Alder, Ruth Hemminson, and Mary Olechoski
1961 Pat Roelle
I live in Scottsdale, Arizona and also have a home in Telluride, Colorado. I have been married to Gary Hoover for 29 years and have four children and seven grandchildren. I love to travel and have been around the world 4 times and have seen all seven continents!
Students call home in 1961
1960 - Donna (Hinkle) Hoover
Unbelievable! Where have the past 60 years gone? I treasure my years at Notre Dame and all the life lessons I learned during those years. After graduating from Creighton University, I spent 30 years as a nurse Then after graduating from College of Saint Mary, I worked in medical transcription and also was a medical coder for about 14 years. I moved back to Columbus, Nebraska for about 7 years to be near my aging parents. I have been back in Omaha since 2000. My retirement has included many projects around the house. I hope all is well with all of the 1961 graduates.
Boarders get ready for the day in 1960 starting with Mass, breakfast, and other odd jobs before class
I married a man from Omaha that I met on a blind date in 1960 He was in the Marines so we lived in California until he was discharged in 1964 We have four children and have lived in California all our lives. We will be married for 59 years in a few days.
NOTRE DAME ACADEMY PAGE 13
1961 Janet (Horinek) Vaughan
T Michael and J Hegarty study Spanish in 1962
PAGE 14 NOTRE DAME SISTERS
Back row: K Petsche, T Michael, M Ethen, D Preisinger, JU Skupa, S Bartman; Second row: M David, J Driml, S Jancik, M Vinton, J. Milan, L. Burgos; Third row: D Hennes, C Matcha, D Harrington; Fourth row: D Render, L Finken, B Burke, C Jirovsky, accompanist
1962 Junior Class officers: M. Vinton, B Janda, D Dworak, and J Schaffart seek ideas for prom
Miss Rozmajzl makes announcements on the new PA system in 1962
JUNE, 2020
L Finken, A Goodwin, D Harrington, M Salstrand, and B Beerman enjoy a journalism pizza party before touring the Omaha World Herald in 1962
NOTRE DAME ACADEMY PAGE 15
I stay involved in pro-life activities and Mary Our Queen Catholic Daughters (Court 2324) where I am their Spiritual Chaplain. All in all, I enjoy good health, walking, staying active, playing my instruments and playing with my three year old great nephew, Walter (Class of '64 Elaine Matcha Birnstihl's grandson).
After graduation from NDA I went on to be a RN. I worked in OB, doctors office, and the last years as a school nurse. I have been married 56 years and have six children and 13 grandchildren. I will always be grateful to the years at NDA and the dear Sisters! They not only taught me wisdom but a enduring love for our Blessed Mother!
For the past nine years I have been working in our church's year round sus vegetable garden. It is a great deal of work yet rewarding. The produce is g the community following the Sunday Spanish Mass. My family is fine. Afte my husband began teaching part time at the UNC School of Dentistry. Ou lives about two hours away and has just completed her Master's Degree wh full time so she is now looking for new employment in line with her new d I will be thinking of you all on the occasion of our reunion. Enjoy!
CLASS OF 1962
1962 - Elaine (Bartek) Davee
1962 Connie (Behounek) Dvorak
Often I look at the class pictures of our '58 NDA graduates and send a prayer, especially for those who have died Thanks to Sr Josita Hanus who informs us by email when a classmate goes HOME to meet Our Lord. Thanks to Sharon Jancik Barta who (for many years) scheduled luncheons throughout the year for us all to get together. I pray that Our Lord will bless you all with His presence forever!
1962 Sr. Stephanie Matcha, ND
My dear Notre Dame classmates and alumnae, I am very sorry that I cannot be with you in September for the 60th anniversary of our class, but I will be with you in spirit. My husband, Warren, and I continue to be in isolation since March 2020 due to the virus pandemic and his poor health. Since our 50th class reunion, I continued serving in several ministries at our local St. Mary's Catholic Church in Bellevue, until 2 1/2 years ago. Warren and I have no children but we stay involved in the lives of my 11 brothers/sisters and their families (25 nieces/nephews and 23 great nieces/nephews)
1962 Aileen (Goodwin) Randall
What great and fun memories I have of being a student and boarder at NDA in 1962! As a boarder, the friends I made were deep and memorable, lasting a lifetime! Sr Barbara was our "mother" and we loved her dearly!
Presently I am living on the Notre Dame Sisters property on 35th and State Street. Although I officially retired in 2019 from the Siena Francis House Shelter, where I worked for over 25 years, I continue to share my time, talents and services with the homeless, mentally ill, addicted and disabled veterans in our city.
went to Constantino Beauty Academy in downtown Omaha. After school, I worked for 62 years in the beauty business doing ctrolysis to hair styling. For the last 20 years of my career, I
Although I am not as involved with Global Outreach as I used to be, I work with the core group and support the host families, students, and schools whenever needed In all of this, the main stance is that of presence wherever God calls each day.
ik) Barta my senior prom date to the reunion, Ray Barta. We have been 8th, 1964. We have two girls, Raeleen Caryn Justice, 56, and wn, 51. They each have one daughter, Rachel Christine and so have two great granddaughters, Lily Rae and Bristol Mae.
I work with Seniors Helping Seniors in my ministry. The other parts of my ministry are the "Keeping On" portion of the with Safe Homes program which helps women and children fleeing domestic violence find new places to stay. "Keeping On" lasts a year after the woman is out the abusive situation and is a supportive program which helps her continue to build her self confidence and new life with personal strength At times this does lead to some of the landlords/landladies also being a support for the woman
PAGE 16 NOTRE DAME SISTERS
CLASS OF 1962
1952 accordion players: (front) Shirley Moravec, Marianne Koukal, Marie Alice Ostry, and Dorothy Slizewski (Back) Diana Truslow, Mary Jane Prochazka, Cathy Pazderka, Joyce Behne, and Donna Hinkle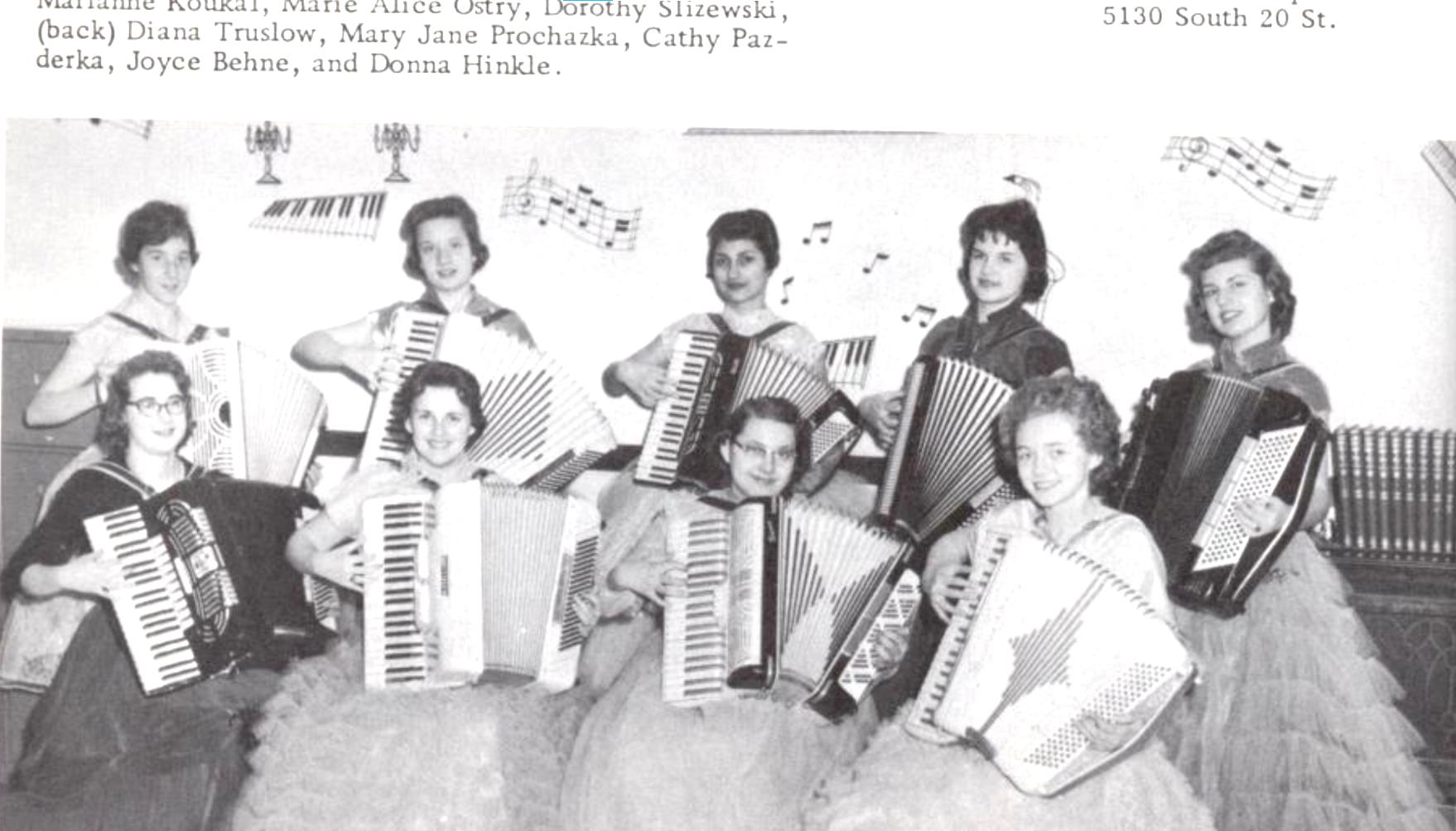 managed the Garbo's Salon at Oak View Mall. I have been retired now for 16 years. We enjoy traveling, both on land & cruising.
I loved my days at Notre Dame. The sisters were wonderful.
1962 - Sr. Marie Alice Ostry, ND
1963 Kaleen (Petsche) Baker
I am doing well. I am still in my home in Arvada, Colorado. I have lived here for 48 years. Taking care of my home and yard keeps me busy…there is always something to do
I have had two major trips this summer: a Viking River cruise on the Danube with a land excursion to see the Passion Play in Oberammergau, Germany and a family gathering in Seattle
NOTRE DAME ACADEMY PAGE 17 SEPTEMBER, 2022
1963 - Shirley (Gredys) Riedmann
I do senior yoga twice a week at a nearby senior recreation center I have made some good friends there which I find is as important as the exercise I also attend the social activities at my church.
CLASS OF 1963
My family took a trip to Disneyland in May We were supposed to go in 2020 for my youngest granddaughter's high school graduation but, as you know, trips didn't happen in 2020 We had a great time reliving memories lots of fun pictures There were 11 of us in all with the center of attention being my 15 month old great grandson, Maverick He and his mama joined us from Montana.
to celebrate my granddaughter's double graduation (high school and community college). It has been a very good summer despite the fact that I got Covid BETWEEN my two trips… God is good!!
1963 Carol (Allen) Ellis
I moved to Menomonie, Wisconsin to be near my son and grandsons six years ago. I am very active in my Parish community, have been a Hospice volunteer for the past 16 years currently with Mayo Health Systems, volunteer at Hope Christian Bargain store and became a professed Oblate of St. Benedict of St. Paul's Monastery, St Paul, MN on June 6, 2021. My husband, Roger, died in 1997 25 years ago this June. My life is full of love, service, family, friends, and God.
1964 - Mary Ann (Pouzar) Harding
He was paying attention to all of the signs that God was sending good crop yields, sustained grain prices, need for machinery due to shortages, and a grand nephew who announced that he would like to be a full time farmer What a blessing! This year, cold temperatures delayed planting in the spring and two hailstorms hit in June, so Jerry was relieved not to make those difficult planting/replanting decisions.
PAGE 18 NOTRE DAME SISTERS
My husband Jerry retired at the end of the 2021 harvest, after 64 years of farming
For the first time in four years, I took another cruise. This time it was in Hawaii with my extended family 14 of us. It was a great time. In May of this year, my oldest granddaughter, RaeAnn, got married. She is a nurse in Tulsa, Oklahoma. Two grandkids are in college, three in high school and one in junior high. Our three children are doing well in their respective positions as a teacher, a Registered Nurse, and a mortgage loan officer at a bank Tom has been gone almost 18 years and is still missed very much
1964 Student Council.
In April, Jerry suffered a minor stroke with no paralysis or speech difficulties, and recovered. With all that has happened, we are taking the time to relax and enjoy the grandkids (Ally 15, Addy and Jack, 3) G d i d if l t li t ! W d ti b b ll es, go to more concerts and s to be accomplished. So,
Juniors read the Omaha World Herald in 1964
Sr M Ruth and Sr M Annunciata in 1964
1964 Marty (Dvorak) Minchow
Lori Buglewicz points to her favorite 1965 summer fashion to Louise Werner and Sharon Donahoe
1966 Susan (Fry) Kloke
NOTRE DAME ACADEMY PAGE 19
1967 graduation
1966 Irene (Kridelbaugh) Ratliff
I am retired six years now We have eight children, 13 grandchildren, two great grandchildren and one due in November. I live in Harvard, Nebraska, and enjoy swimming, making angel gowns, and quilting.
I'm still living in Bothell, Washington. I am constantly busy with church activities. I have been blessed with the means to go on a pilgrimage to the Holy Land in November. My son, his wife, and their daughter moved to the mountains of Eastern Washington and I go to visit them a couple times a year I am surrounded with loving neighbors and fellow parishioners I am truly blessed My siblings are all still living and are in Oklahoma and Wisconsin
UPDATES 1966
Residents burn the midnight oil in 1966 "Smile, you're on candid camera," Irene Kridelbaugh jokes to Agnes Strenger, Cathie Lee, and Peggy Larkin
Sue Fry places a graduation cap on Judy Gutchewsky in 1966
We've moved back to my home town, Blair, and are very happy to be here We have ots of old friends from as far back as kindergarten, plus family here, too I professed s a Third Order Franciscan a few years back, asked my husband if he was ok with hat His reply was, " as long as you don't have to go and live in a convent!" Hope to ee you all soon, it's been way too long.
Life is interesting I am still teaching Religious Ed at St Leo's as well as 2nd grade sacramental prep I still Lector and give out Eucharist as well This summer I will be teaching Vacation Bible School and hopefully going to the YMCA and trying to shed some of the pounds the pandemic put on
PAGE 20 NOTRE DAME SISTERS
Our daughter Stephanie and her husband Craig live in Glenwood, Iowa They have two sons Hank will be 21 in October and works and lives in Omaha Sawyer will be a senior in high school this year He plans on going to culinary school and opening his own coffee and pastry shop in the future
Jim and I went to Las Vegas right after Christmas and stayed on Fremont Street and saw a lot of the sights on the "other side of Vegas." Since neither or us gamble we enjoyed the sights. We spent time with old friends from Omaha and their families as well. We took our annual trip to St. Louis and Branson, and I was able to have a nice evening with 17 friends from the trip to the Holy Land. It was a delightful evening.
1967 - Maryalyce (Petsche) Dotzler
My favorite thing to do is travel. The past two years have been a struggle. My husband Steve and I hoped to celebrate our 50th anniversary in May of 2020 on a river cruise in Europe. Covid changed our plans. We did celebrate with our two children and their families in the summer of 2021. We all went to Arkansas, stayed in a VRBO rental, and had a wonderful time. We just returned from a cruise that went to Norway and Iceland.
My husband Dick and I are blessed with good health and are enjoying retirement. We divide our time between home in Iowa in the summer and our home in Arizona in the winter. Our families are all growing up with 11 grandkids ranging from 7-27 years old. They are all active in many sports and musical events. One will be joining the Iowa Hawkeyes football team this fall so we will be going to as many games as we can! Go Hawks!
Our son Jim and his wife Robyn live in Denver. They have a 10 year old son. They love all that Colorado offers. Jim snowboards and Rex is becoming a great skier. They camp and hike too.
967 Dixie (Harris) Hansen
1967 Lynne (Goracke) Houtz
We go to Arizona for the winter to get away from the cold and snow I call it my "happy place". My heart is still in Omaha though. We have relatives here and long time friends here.
1967 Pat (Holewinski) Sexton
I retain my professional involvement by supervising student teachers for Creighton and other universities, in the Omaha metropolitan area and virtually around the United States. I continue to offer professional development workshops in STEM education, most frequently through Old Dominion University. I enjoy making quilts, kayaking, and spending time with my extended family. Steve and I celebrate our 35th wedding anniversary in August 2022.
1967 - Judy (Allen) Broghammer
After wanting to go to Medjugorje for over 30 years, we finally got our chance. We paid our deposit in February 2020 for a trip in April. Then Covid hit and our trip was postponed so many times we lost count. Finally, two years later, in April of this year we were able to go. But, two days after we got there, we got Covid and were quarantined until after the rest of our tour group left.
NOTRE DAME ACADEMY PAGE 21
1968 Concert 1Choir 968 Concert Choir
It was very disappointing, but the one full day we had before we got sick (very mild) we hiked up Apparition Hill and halfway up, my rosary links turned gold. So, I felt very blessed What a beautiful, peaceful place where many miracles have happened If you ever get a chance to go, I highly recommend it
1968 Barb (Monjaraz) Hemmingson
1968 Mary Mills
1968 1968 UPDATES UPDATES
We all love it here in Maine. My three children and I have lived here for about five years. Life is good! This photo is of my son and I in front of yacht parking.
1968 - Sharon (Swoboda) Swanson
I celebrated my 54th wedding anniversary with my high school sweetheart We have six children All are married but one, and hopefully soon that one will be married as well. I have 18 grandchildren, and one grandson is also soon to be married We still live out north by the North Omaha Airport! I recently recognized it!
1968 - Louise (Werner) Coyle
On January 13, 2022, my mother, Rita Werner, passed away at 93 years old My mom lived in Omaha, but I moved her into Assisted Living three years ago so she could be close She adjusted very well, and we have some treasured memories of her. I still miss her dearly.
We celebrated our 50th wedding anniversary last year July 31, 2021 We celebrated at our daughter's house with our daughters, their husbands, my mom, and Ron's sister
Our oldest daughter, Michelle, teaches kindergarten at the Danbury Catholic School. Her husband, Donny, works for an insurance company as an adjuster. They live on an acreage between Mapleton and Danbury in Iowa. Our youngest daughter, Jennie, works in Dakota Dunes, South Dakota. Her husband works for friends in the farming industry. They live in Onawa, Iowa. Both girls live close to us and we enjoy that.
1968 Jean (Bender) Lorenz
This has been a difficult year John's cancer caught up with him and he is with Jesus since January. This was to have been an epic year. He would have celebrated his 75th birthday in July. We would have celebrated our 50th anniversary in October. And he did not live to meet our first grandchild. She was born in March. But I have been blessed with the many people who have reached out to me with prayers and extended support in myriad other ways. They have all eased this passage, and I thank them!
My boyfriend Scott Anderson from Rummel High School class of '68 had an aortic dissection in December of 2021, and we got married in the hospital on December 26th. We call it our "Bed Wedding". As of this update, all is well and we are back to traveling.
We are grandparents to "grand cats", which is okay, too The cats are so funny, cute, and lovable We enjoy them
PAGE 22 NOTRE DAME SISTERS
For the past 35 or so years, Ron and I have been living in the small town of Danbury, Iowa, and have two daughters.
Ron and I are both retired and enjoy it very much. Ron works part time for the funeral home in Mapleton, Iowa. I haven't worked since I was taking care of my mom until she passed. Now I am thinking about doing some volunteer work, or just staying home and getting things done around the house that were neglected when I was working.
1968 - Nancy McGinn
We have a garden, which isn't doing the best this year, since it has been so dry. Weeds grow faster then the veggies.
At the beginning of the pandemic I first heard of the "Gift of Living in the Divine Will." Jesus and Mary instructed Luisa Piccarreta about it for over 60 years and Jesus asked her to write down what he told her. Her main book is the "Book of Heaven" and two other books that are wonderfully written by her are "The 24 Hours of the Passion" and "Virgin Mary in the Kingdom of the Divine Will". There's a wonderful app that has most of Luisa's writings called "Divine Will Book of Heaven". I will spend the rest of my life spreading this. Jesus is returning to us the ability to live like Adam would have lived if he hadn't sinned.
1968 Barbara (Daley) Freeman
1968 graduation Sr. Pauline, Judge Murphy, Father Schorn, and Father Kenney proceed to the stage
Since retiring I have tried to spread the Divine Mercy Chaplet (St Faustina) which the "Flame of Love of the Immaculate Heart of Mary", (FlameofLove us ) an incredible grace that Jesus has given us for these times Jesus instructed Elizabeth Kindleman, from Hungary, and asked her to make this known to the world
SEPTEMBER, 2022
I just heard about this gift at the beginning of the pandemic and started a Flame of Love/Divine Will rosary group with a few people from St. Wenceslaus. We were going to meet on Zoom once a week and we all loved it so much that we decided to meet the very next night. We've been saying it every night since (over 500 days). It is so miraculous! We now have people from Arizona, North Dakota, and New York praying with us. I tell them that we are Mary's prayer warriors!
Norm and I are celebrating our wedding anniversary this Septe
1968 Joyce (Slizeski) Hanson
We are both retired and enjoy o acreage in Ponca Hills. We are i gardening, canning, camping an spending every moment possib family. We have five children. O
Our oldest son, Aaron, is running for Sheriff of Do County Check him out at Aaronhansonforsheriff c election is November 8, 2022
We have 16 grandchildren that range in age from 2 Being a grandparent is the best gift ever.
The older I get the more I appreciate the education and the re and inspiration I received from the sisters at Notre Dame Aca
sons are Omaha Police officers and our son in law Fireman. Our oldest daughter works for CSG and o youngest daughter is a stay at home mom and off manager for Omaha Stump Guy the business she husband own
NOTRE DAME ACADEMY
May God Bless us and keep us close to his heart! God Bless all of our wonderful Sisters from Notre Dame. Blessed Virgin Mary, please wrap your mantle around all of us and keep us safe!
AD THE FULL HISTORY ARTICLE AT NOTREDAMESISTERS.ORG/NEWS
I really appreciate the four years of education had at NDA. Take care and God bless.
Hello everyone! I have been living in Walnut, I as Iowa's Antique City) since 1990 My husban kids and 14 grandkids Of course we think they and cutest of kids
CLASS OF 1969
My husband Randy and I celebrated our 50th wedding anniversary on August 26. The Lord has blessed us with four daughters and 14 grandchildren (soon to be 15 in September). I have been retired, officially, from teaching for five years (after teaching seven years in public school and homeschooling 19 years, then another 12 years in private school) but still substitute occasionally. I'm enjoying traveling with my hubby, spending time with grandkids and learning to play the cello (I would recommend beginning at a much younger age!)
I am currently living in Ormond Beach, Florida. I am still close friends with Cathy Wieduwelt Coleman '69 and Cindy Pfiefer Anderson '68. I have three great kids and six super fun grandsons. I retired September 21, after 50 years of nursing. Life has been good and my husband and I have been lucky to do a lot of traveling including two weeks in Egypt last year.
PAGE 24 NOTRE DAME SISTERS
Hoping this finds you well and enjoying life!
1969 Ruth (Hemmingson) Blum
Hi. Bill and I have been retired for over six years. We lived in our 5th wheel RV full-time for five years. We took campground hosting jobs for summers in Ukiah, California, Las Vegas, Sunset Beach in Northern California, and Estes Park, Colorado. Our final summer was in Fremont, California. We REALLY enjoyed these fun assignments!
1969 - Linda (Van Housen) Schripsema
It was wonderful to reconnect with about two dozen classmates and some of the Notre Dame Sisters at our 50th reunion in 2019. Times have certainly changed and the Catholic education received throughout my life has kept me grounded, active in our local parish, and growing in a relationship with Jesus My husband Roger and I continue to live within a couple of hours grandchildren (Omaha, Forest City, and LeMa them often. I enjoy reading updates from othe Thank you!
Last October we put a modular home on our lot on Yuma, Arizona Now we are spending winters there and summers in Show Low, Arizona, where the weather is pretty good! We have been on three cruises and traveled to Europe several times
1969 Sue (Hurt) Dentlinger
1969 Marcella (Reed) Meek
1969 - Patty (Dworak) France
1971 Paulette (Mitzlaff) Smith
CLASS OF 1970
I am still teaching piano and voice lessons in Omaha I have been married almost 47 years to Tim We have owned The Tea Smith for 18 years but I don't work in the store anymore. We have five children and five grandkids.
NOTRE DAME ACADEMY SEPTEMBER, 2022
b south of Denver. We are both retired and enjoy friends, family (stepdaughter and three grandkids), our parish, Holy Name, and working in our large yard (lots of perennials). We just celebrated our 25th wedding anniversary in June We still have family in Omaha and surrounding areas and visit occasionally
e Dame, I went on to college d to Ann Arbor, Michigan, ends and worked as a 990, I moved to Colorado ayo.
1970 - Pat (Coyle) Rog Jo Nelle (Nelson) Rob We have been friends amazing 67 years! We recently got together t celebrate our 70th birt Pat splits her time betw New Mexico and Wyo and Jo Nelle lives in Colorado Since our 50 Anniversary Reunion cancelled by COVID, w love to catch up with o alums. Contact Pat at nursedr52@gmail.com Nelle at jormppl@gma
My husband and I are retired. We keep busy with our four grandkids and love traveling. My oldest son Chris and his wife Katie live in Lincoln and have two sons; Connor, 4 and Charlie, 2. My youngest son Josh and his wife Joanie live in Overland Park, Kansas and have 6 year old twin daughters, Ellie and Morgan.
ayne, Indiana, where my three children am blessed to have nine grandchildren
am a Healing Touch for Animals Certified Practitioner, a Certified Animal tor, a Level 2 Healing Touch for People, and a Catechist for 2nd 4th irst Reconciliation and Holy Communion.
ring to the Holy Land. Our trip was put was definitely worth every second of it! ge to be able to walk in the places that crucified. I do love to travel but lately have been just enjoying days up at the lake house to get away I attend church at Saint Vincent de Paul which is the largest Catholic Church in Fort Wayne, Indiana
1972 - Cheryl (Woods) Balwanz
years being at CHI Bergan r, 33 years in Northwest y
CLA PAGE 26 NOTRE DAME SISTERS
ow enjoy helping where I can with my 14 grandchildren, grown so much in my Catholic faith over the years and am e Parish. I am so thankful to God for all the blessings he's given me over the years!
READ THE FULL HISTORY ARTICLE AT NOTREDAMESISTERS.ORG/NEWS
(Setlak) Wells d supervisor in many departments for the San Diego Community College ears) I was formerly a Crisis Interventionist with the San Diego Police
I have been married to my husband, Jon, for 47 years. We have 2 sons and daughters in law, 3 grandchildren, and 2 dogs.
ng at my first job June 12, 1972 at US National Bank, now Wells Fargo, years later on June 12, 2017. I married in 1974 and had three children, six grandchildren. I remarried in 1996 and we celebrated our 25th ersary last December. We enjoy traveling in our camper and watching ur grandchildren are involved in. Sadly, pancreatic cancer took my Mark at age 41 in February. Our family continues to mourn him as we nd why.
1972 Barb (Norris) Steele
READ THE FULL HISTORY ARTICLE AT NOTREDAMESI
1972 Debbie (Gurney) Slattery
Last September my husband and I moved to Knoxville, Tennessee. We love it here...the weather, the mountains, the people...it's really beautiful. Our daughter lives here and plays violin for the Knoxville Symphony, so we get to see her and her performances more often than when we were in South Dakota. Our son lives in Washington, another beautiful state that we enjoy when we visit him. Life is good.
just moved back to Omaha from othing better than hearing your grandchildren say, I love you grandma
on 49 years this September. We have ages from 2 19. I have volunteered the ska Humane Society, Nebraska ndrome and Elkhorn school for 2022 All the proceeds went to onation amount
We sold my husband's veterinary practice and retired in January of 2019 He keeps busy farming our 400 acres, gold prospecting, hunting and training his bird dog, and is recuperating well from heart valve repair surgery last month at Cleveland Clinic I still run barrels and take care of our 12 horses and 4 cats
Wichert) Paddock.
1972 - Deb (Lynch) LeMay
1972 Michelle (Reed) Loseke
I love retirement! I retired from Blue Cross Blue Shield of Nebraska after 30 years, and now my days are filled with things I (mostly) choose and want to do. I volunteer at Saint Wenceslaus and Omaha Performing Arts. My husband John and I spend lots of fun time with our four grandchildren. I love to travel and most recently my three sisters and I took a fabulous bucket list trip to Ireland. My life has been blessed with wonderful family, friends and memories including great memories of NDA!
NOTRE DAME ACADEMY PAGE 27 SEPTEMBER, 2022
My husband Dave and I have been married almost 48 years We are both retired and enjoying life. We travel often. We have 2 great kids and 3 beautiful granddaughters.
1972 Homecoming committee
I currently am living in South Carolina I retired in 2014 and have been as happy as a pig in mud since. My three children live nearby and the 12 grandchildren have begun flapping their wings and moving about. Only one of them is married so far, and I have two great grands! Life and health have been good. I send my well wishes to everybody and if you ever find yourself in my neck of the woods, give me a holler!
1972 Susan (Bleich) Feregrino
READ THE FULL HISTORY ARTICLE AT NO PAGE 28
1972 Barbara (Stastny) Camden
I am married to a wonderful husband, Fred We have two beautiful children and six lively, loving, and adventuresome grandchildren that keep us young We live in Omaha and we are retired I love to golf, travel and enjoy good wine
Cheers to 50 years! Retirement is great I have retired from medical coding/nursing I love spending more time with all of our family Our three children are married (Matt, Katie, Ryan), and we are blessed with five grandsons and one princess granddaughter My sisters and brother are doing well also and we see each other frequently (Gloria '66, Marilyn '68 and Jim '69 Rummel) The memories and friendships I have from my NDA years are a treasure.
1972 Debby (Blessie) Troia
1972 Sharon (Grohmann) Beschorner
1972 Dr. Maxine (Brewer) Fawcett Yeske
I am a Professor of Music and Director of First Year Programs at the United States Air Force Academy in Colorado Springs. I have been married to my husband Bob 38 years.
I have been married 43 years, have four children and 10 grandchildren. I have worked for CHI since 1975 One day I may retire
It is amazing how quickly 50 years have passed. I'm so thankful to have attended Notre Dame My husband Dave and I have been married almost 48 years We have a daughter and son in law as well as a son and daughter in law We also have 3 beautiful granddaughters Our oldest granddaughter Helen will be a freshman at Marian High Our daughter, her mom, is assistant principal at Marian Now that we ' re retired we are enjoying time with family and traveling Our lives are truly blessed
1972 Lois (Preiner) O'Callaghan
My husband Karry and I live in Arizona We travel to see our sons and their families frequently in Denver and Dallas. We have three beautiful granddaughters and one grandson. Our hobbies are traveling, enjoying family and friends.
I retired from my position of HR/Benefit Coordinator with the Sisters of Mercy last fall. Our three daughters are all married and live in the Omaha area. We have seven grandchildren who keep us busy with baseball games and dance
I am semi retired from Harolds Koffee House I am the proud grandmother of 13 Grandchildren I have been married to Bernie for 50 years!
NOTRE DAME ACADEMY PAGE 29 SEPTEMBER, 2022
1972 Nancy (Halstead) Bohnenkamp
I met my husband Bill Adler in 1970 at NDA and have been mar two children and four grandchildren. Our son Jonathan and his and have two children Our daughter Natasha and husband live in Northern California and have two children We live on an acreage in Ponca Hills Omaha
1972 Patty (Mangus) Reed
I am a retired Registered Nurse. Have been married for 44 Years to Reed Grimes. We have three children: Collin, Chad, and Cristin and four grandchildren: Sonya, Paisley, Cooper and Alexander We live in The Woodlands, Texas, when the weather permits as well as Steamboat Springs, Colorado, some of the winter and summer We like to travel, golf, and play games I can't believe it has been 50 years since we graduated in 1972 I remember those times well I am very fortunate that many of the friendships I made at NDA continue to grow I continue to keep in close contact and enjoy adventuring with NDA friends.
more travel time but will miss seeing 4 of my grandsons every day at school.
READ THE FULL HISTORY ARTICLE AT NOTREDAMESISTERS.ORG/NEWS
I just retired (for the second time!) from Fort Calhoun Schools after 30 years. I was working as a para in the high school with Special Ed students. I loved every minute of it! I am looking forward to
1972 Madelaine (Cohen) Adler
I retired in 2019 from American Express global business travel and was able to travel to Europe and Caribbean and had a trip planned to go back to Europe in 2020 which Covid postponed My husband retired from Wells Blue Bunny Dairy I am the owner
1972 Maureen (Lawler) Holbrook
of Cupcakes by Madelaine, the volunteer coordinator for Dundee Memorial Park Rose garden, the chair of the Omaha Rose Society garden walk, and the Rose Show coordinator at Lauritzen Gardens
1972 Mary (Poell) Donahoe
1972 Nerita (Schmitz) Schwabauer
recitals. We're looking forward to spending more time with them and traveling more.
1972 Peggy Collamer Reekie
Thank you, Sisters and friends, of Class 1972 for four years of love, grace and support. Those past years still apply, and continue to guide my life now. The photo is of myself and daughter Maggie.
John and I live a nice quiet life; appreciating the wildlife on our little property. I hope this brief note finds all of my Notre Dame Alumnae happy, well, and continue to receive Blessings from Our Lord.
1972 Sally (Toth) Staley
Now retired, my career has focused on disability services coordinating direct care for the Education Department here in Tasmania. My husband specialized in Horticulture. I enjoy bird watching these days, as John and I strive to complete home improvements that needed finishing for many a year In 2000 while on a visit home, I was able to pay a hello visit to Notre Dame and the Sisters Such smiles and hugs! I am so glad to have stayed in touch with the Sisters, alumnae, and progressive news
1972 Roadrunners Varsity Tteam
Donna Mosley and Cindy Walker find a pattern in 1972
PAGE 30 NOTRE DAME SISTERS
he Class of 1972 spells out "Roadrunner"
I currently live in Henderson, Nevada. My husband Jerry and I retired and moved to Nevada nine years ago. We worked and raised our three sons in Cheyenne, Wyoming, where we spent 23 years. I love visiting my granddaughters who live in Montana. My husband and I love to travel now that we have the time to do so I also enjoy many hobbies and crafts
What a joy! Fifty years of proudly saying, "I graduated from Notre Dame Academy in Omaha Nebraska!" I had always experienced fond memories when noting Notre Dame on job applications and C.V. John and I have been married 41 years, and live in Tasmania, Australia. We are blessed with one daughter, Maggie, and 2 grandchildren.
Sr Mary Hlas teaching science in 1972
Sharon Grohman, Mary Lou Moss, and Debbie Lynch are brought to tears at their 1972 graduation
I have been a sales director and a teacher I am retired, now, but still do occasionally substitute I travel to the St Louis area to see my grandchildren often
I am widowed and therefore, live alone I have two darling dogs, a Miniature Schnauzer and a Toy Maltipoo. I own a lovely townhome and enjoy Omaha very much. My father, Dr. Jack Angus, and all of my siblings are still doing fine. My mother passed away right before Covid hit in January of 2020.
SEPTEMBER, 2022
NOTRE DAME ACADEMY PAGE 31
I don't think I will be able to attend the reunion as I expect to be in St Louis! Have a great time, everyone!
(Swenson) named Dwight Swenson on January 21, 2021. We had On Thanksgiving Day of 2021, he died from cancer. I have and Eric. My oldest is 42, has two children with special nutrition store (O'Fallon Nutrition) in O'Fallon, Missouri. is Master of Public Health degree December 16, 2022, and wn.
The Spirit of the White and Blue, The Spirit of Notre Dame, Is Harm for None and Help for All, Our Patron's Glorious Claim. Inspired by Faith and Loyalty, United in Mary's Name We Pledge Our Hearts in Grateful Love To You Dear Notre Dame! NOTREDAMESISTERS ORG
School Song NOTRE DAME ACADEMY
BLANKSPACEFOR MAILINGINFO