Ross Chanowski '07 is reimagining
crowdfunding—with community in mind. PG 42
Nobles SUMMER 2022 A Nu Approach
CREATIVITY ON CAMPUS Students delve into a variety of artistic endeavors, from jazz and blues performances to dance and sculpture.
MoMents
DAILY MOMENTS OF JOY, IN THE HALLS AND THE CLASSROOM Students share smiles at the James Joyce Ramble, and in the halls of Shattuck.
nobles sUMMeR 2022 1
2 nobles sUMMeR 2022
CASTLE MOUNTAIN Carter Bartel '23 hits a kicker in front of the Castle. The alpine ski team took advantage of nearly two feet of snow from winter storm Kenan to ski down the Castle hill on January 31.
THE OCEAN AS CLASSROOM DURING SPRING BREAK Ryan Sanghavi '22 and Lauren Yoon '24 snorkel above a blue hole during the EXCEL spring break trip to The Island School. Fifteen students and four adults traveled to Eleuthera in the Bahamas for a week of science and sustainability lessons amidst a andbackdropbeautifulofadventureexploration.
CLUBS OF ALL KINDS Derek Jin '25 who recently earned the title of National Master from the United States
theoutdoorslearnedNickclass.Nickerson'scourseonConnorshisonsignificantlywhereduringage—playsinpercentamongmeansFederation—whichChessheranksthetoponeofallplayersthecountryofanyamatchchessclubhestartswithlesstimetheclockthanopponent;Mary'22ziplinesthehighropeswithNickcalculusStudentsofNickersonhaveasmuchasinclassroom.
nobles sUMMeR 2022 5 AAPI CULTURE AND COMMUNITY Culturesfirst-everperformsVithiananthanTulasi'22attheAAPINight.
6 Nobles sUMMeR 2022 Contents A Trio of Legends On Good Grief: On Loving Pets, Here and Hereafter A Long Goodbye A Nu Approach A crowdfunding model that puts community first 4228 Cover ILLUSTrATIoN BY johN S. dYkeS Here's what lifelong learning looks like 36
Nobles sUMMeR 2022 7 CAMPUS DRIVE IN EVERY ISSUE CONNECT WITH US ONLINE WWW.NOBLES.EDU@NOBLEANDGREENOUGH@NOBLEANDGREENOUGH GRADUATEPERSPECTIVEPROFILE A Nobles Voice at American Song Contest Beautiful Chaos Being the Change You Want to See The Only One26488 Head of School Letter 50 Class Notes 73 In Memoriam 76 Looking Back SUMMER 2022 12 Class Act: Middle School Identity Week 13 Meg Jacobs Retires 16 Honor Code 18 Faculty Focus: Nhung Truong-Lustig 20 Nobles Celebrates 156th Graduation 23 Meet the Athlete: Sahr Matturi 24 Blake's Takes: Coach Kate Blake's Fast Five Running Tips
Wiggins believed that Nobles' ability to fulfill its mission was threatened. He did not yet own a car—nor did he have a license. So he got both, and took his Model T Ford out with board president, Richard Saltonstall, to evaluate properties: The Dedham property quickly became the clear choice. The price, Castle included, was $102,000. The need for a schoolhouse became clear, bringing the total for the move to $154,000. This board, like today's board, acted with wisdom and a fiscal responsibility. Nobles took out a mortgage for half and raised the remainder of the funds in what became the school's first capital campaign.
HeatherJohnKimAnneLeahBenJoelMichaelKathleenArnoldDooherDwyerHaskellHeiderLaRicciaMcManusNealSoaresSullivan
SUMMER 2022 Nobles For further information and up-to-the-minute graduate news, visit www.nobles.edu. Letters and comments may be emailed to Heather_Sullivan@nobles.edu. We also welcome old-fashioned mail sent c/o Noble and Greenough School, 10 Campus Drive, Dedham, MA 02026. The office may be reached at 781-320-7268.
"
8 nobles sUMMeR 2022 FRoM tHe HeAD oF sCHool
As we immerse ourselves in strategic planning this year, I believe we should again think both boldly and optimistically. In some ways, our challenges are similar to what Wiggins faced. This time, however, the threats facing our faculty and students are largely external and range from the pressure to specialize to the exorbitant cost of living in the Boston area. Given these complexities, how do we look ahead? First, how do we ensure we have faculty who thrive over a long career at Nobles as teach ers, coaches and advisors? Second, how can we think boldly about accessibility to ensure we enroll students we know will thrive here? Third, how do we deliver on academic excellence and student experience, where smart rigor and student wellness are mutually reinforcing? As we consider these key questions, with a laser focus on mission, we are again poised to choose the boldest options to ensure that Nobles endures and thrives.
PHOTOGRAPHY Dave
Nobles is published three times a year for graduates, past and current parents, guardians and grandparents, students and supporters of Noble and Greenough School. Nobles is a non-sectarian day and five-day boarding school for students in grades seven (Class VI) through 12 (Class I). Noble and Greenough School is a rigorous academic community that strives for excellence in its classroom teaching, intellectual growth in its students and commitment to the arts, athletics and service to others.
© Noble and Greenough School 2022
I am so grateful for the tremendous leadership and support of our board of trustees who maintain the legacy exemplified during Saltonstall's tenure. The strength of governance is a clear difference-maker for us, one that was as true in 1922 as it is in 2022.
THE LAST TWO YEARS have tested all of us, but they have also offered clarity about what it means to fulfill our mission, what might threaten our success, and what we might do about it. This year is the 100th since we moved into the Castle and, as privileged as we are, this iconic building actually represents the grit and humility of Nobles. In 1920, Nobles' third head of school, Charles Wiggins recognized the crisis of dwindling enrollment, which he attributed to inadequate facilities. The status quo was simply not an option for our young school. Very early in his tenure, Wiggins offered the board of trustees three clear options: Make the current building work; put up a new building on the nearby field with an enrollment cap at 100 of students; and a third, bolder option. Wiggins wrote in his first board report, "The third scheme is ambitious and would require considerable financial backing and the procuring of land on the outskirts of Boston, to be arrived at by train, electric car, or motor bus."
EDITOR Heather Sullivan Director of Communications ASSISTANT EDITORS Kim Neal Assistant Director of Communications Ben Heider Digital Video Producer/Writer Anne McManus Writer/Content Manager CREATIvE DIRECTION AND DESIGN 2CommUNIqUé www.2communique.com
100 Years and Counting in Our Castle Home
—LUCY johNSoN '22
nobles sUMMeR 2022 9
offering advice to younger nobles students during her spring ned talk " "sothepresent,havetime.youpeopleAppreciatewhilehavetheAllweistheandpresentisbeautiful.
Campus Drive
CATE MURRAY '22 tests out the go-kart she helped build in Advanced Projects in Physics class with Jake Bollin '22, John Logan '22 and Chris Roposa from Buildings and Grounds.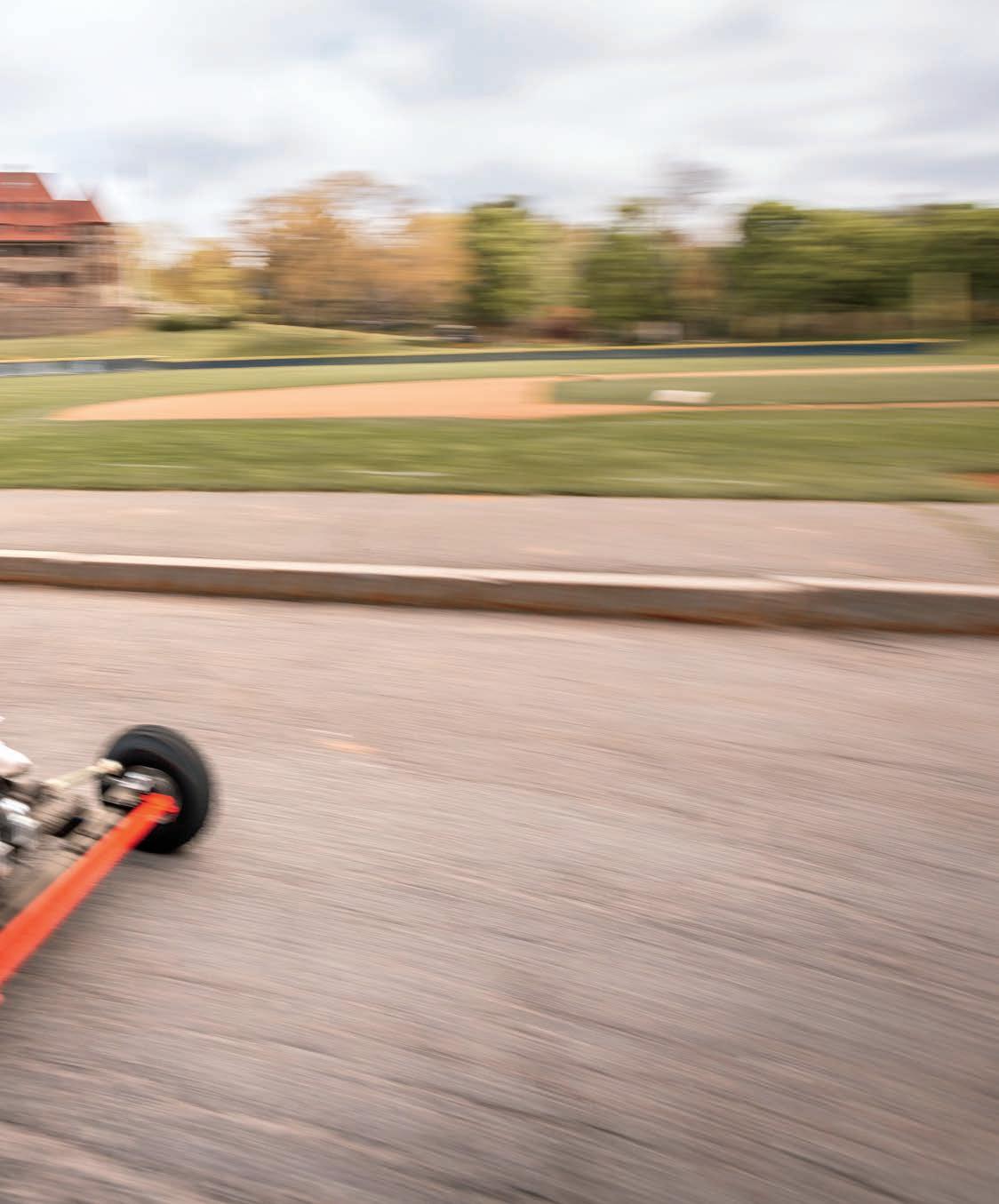 The week before March break, Sixies engaged in an experiential curriculum called "Who We Are" (WWA). Five cohorts explored housing, food, health care, environmental justice and education through an interdisciplinary lens of critical thinking and problem solving. After examining their own identities, teams designed and presented their own utopias, and learned and discussed history and current issues. Students also listened to and interviewed community leaders. With a newfound knowledge of challenges plaguing their sectors, pairs created and cross-presented artifacts to educate and inspire action, so that every cohort learned from the others. Faculty organizers Efe Osifo and Clara Brodie were grateful that students could "make connections between the material they have learned in their academic subjects, their seminars during WWA and their own lives. Their solutions for how to solve the problems of today were truly inspiring." Are:
Middle School Identity Week Looking Back, Looking Forward CLASS ACT CAMpUs DRIVe
Who We
nobles sUMMeR 2022 13 MORGAN GIBSON '25 received a standing ovation for her powerful spoken-word poetry performance of "The Average Black Girl," by Ernestine Johnson.
NO SMALL THING
While the real world continued to reel from Covid-19, the crisis in Ukraine and contentious domestic politics, the Nobles Model United Nations (MUN) forged ahead with several in-person events, supported by facul ty advisor Amadou Seck (pictured, right).
In early April 2022, they attended an Eagle MUNC conference at the Westin Copley Hotel in Boston, hosted by Boston College.
MEG
RETIRES ILLUSTrATIoN BY
EVER
One of Jacobs' passions has been the Nobles organic garden. While the garden is primarily a place for faculty and staff to collaboratively work to grow fresh vegetables and herbs, Jacobs has always tried to get her students involved. Whether it's leading the farm trip to New Hampshire in June, weeding and harvesting with Achieve in the summer, or bringing aromatherapy herbs to her field hockey team in the fall, Jacobs' goal has been "to expose kids to where the food comes from and what it means to grow sustainably." This past spring, she has been running a small afternoon program for students who want to learn what it takes to prepare the garden for planting. "We are going to leave that garden in the best shape possible," she said. While she doesn't have set plans yet for what's next, she is embracing the unknown. "I tell people I feel like I'm stepping off the edge a little bit," she said. "I don't need to know right now. That's very hard for me, because for my whole life since I started going to school, I've always known what the pattern of a year looks like, and now I don't. But I know I want to pursue my interest and my love of gardening, growing food and getting good food—healthy food—to people who need it." GARDEN, GROWING JACOBS drUe wAgNer
Meg Jacobs' life has always followed reliable cycles: the flow of a school year, the revolutions and clockwork of a track meet, the seasons of a garden. But now, as she retires from a 35-year Spanish-teaching career, the cycle is being thrown for a loop, ushering in welcome uncertainty.
TO THE
Jacobs began her teaching career at Westminster School in Connecticut before earning her master's degree and teaching at Stevenson School in California. In her 19 years at Nobles, she has taught all levels of Spanish; coached field hockey, lacrosse, and track and field; and led trips to Wyoming, New Orleans, New Hampshire, France and India. That variety, and the relationships with students, have been the most rewarding. "I just like being around this age group—seeing their talents, but also having the occasional important conversation when they're not doing so well, and seeing their growth—that's what I love."
The Nobles team earned the award for outstanding small delegation with the following accolades: Julia Wong '22, as Djoser in An cient Egypt; Chris Tillen '23 as R. Urdaneta in Congress of Gran Cucuta; and, as outstand ing delegates, Angie Feng '24, representing Kenya in GA Common Wealth of Nations; Arthi Vithiananthan '25, representing Turkey in the World Health Organization; and Will Grimes '23, representing Turkey in Interpol.
Raheem explained that the goal of his recent show at Foster Gal lery, "Varsity Artist," was "to create a space to discuss the position of visual art within the structure and culture of Nobles at large." In late February and early March, Foster Gallery was reimagined by Raheem, who asked that the walls be repainted in a Nobles blue and that wallto-wall turf be laid down as flooring. Raheem hung multiple sculpted faces inspired by his initial piece, "Black Face White Stone," which he created by taking a mask of his own face and transferring it to stone. Since then, Raheem has been creating a collection of plaster castings of faces, and in "Varsity Artist" he displayed these faces at different heights along the blue walls of the gallery. For these, Raheem re moved the noses from the faces and smoothed out the surface.
ELEVATING VISUAL ARTS IN THE AFTERNOON PROGRAM
Noah Brauner '25 revamps the Nobles app As an AP Computer Science student in Dominic Manzo's class this year, Noah Brauner '25 knew he could make a real impact by revamping the Nobles app. "I saw it as an opportunity, but also, it just brings a lot of joy and makes everyone happier in general," he says. During the pandemic, Brauner took a Harvard computer science course and watched "a ton of YouTube." While "other people think of coding like schoolwork," to Brauner, "it's just fun." At assembly, Brauner demonstrated how to access the Castle menu, the directory, schedules, and even Covid-testing barcodes. He got a standing ovation. "I've never had 600 downloads in a day before—that was the best day at Nobles so far. I got emails from people all around the school," he says. Brauner's innovative thinking is making Nobles run more smoothly, while upping the fun and bring ing people together—his way of making the world that much "appier."
Hamzat Raheem '13 took a different path than most of his classmates at Nobles, attending art school at Cooper Union, in New York City, and completing his graduate work in sculpture at Kyoto Seika University, in Japan. "I was confident in the work I had put into forming my identity as an artist at Nobles," said Raheem. "This confidence carried me through my undergraduate and graduate studies. I was honored to be invited back to Nobles for the first solo exhibition of my career and was delighted when the opening reception turned out to be a mini reunion."
14 nobles sUMMeR 2022 CAMPUS DRIVE
CLASS I STUDENTS taking Ms. CarlsonPietraszeck's power elective spoke with impressive knowledge and eloquence about the powers at play in the RussiaUkraine conflict, defining specific levers that are being used to control or influence.
While at Nobles, Raheem always felt that there were options for him on the athletic fields after school, but not in the visual arts. "Varsity Artist" created an opportunity for a conversation about bringing drawing, painting, sculpture, ceramics and photography into the fold. "At the very least," said Raheem, "I hope to have embold ened current student-artists to perceive themselves as 'varsity artists.' At most, I hope to have conveyed to the entire Nobles community that I think a visual arts–focused afternoon program at Nobles would be epic." One student who found himself particularly emboldened and inspired by Raheem's work was Thomas Xue '25, for whom the masks symbolized "culture, family, the history of art, friendship and more." While the logistics around incorporating the visual arts into the afternoon program remain somewhat challenging, Raheem was encouraged by the conversations he had and was touched to see the immediate impact of the show on current students.
"APPIER"NOBLESMAKING
ILLUSTrATIoNS BY drUe wAgNer
—CUrTIS mANN (vISUAL ArTS depArTmeNT memBer ANd phoTogrAphY TeACher), on the first in-person ap art show since 2019, featuring 39 student artists
nobles sUMMeR 2022 15
"This is a culmination of at least three years of work for these students, and what it means to be an artist. We want them to know the importance of their voices. It's a triangulation of their work, their ideas, and a chance to have discussions with the whole community."
CLAIRE MAO '22 gave an ethereal performance of "Telemann's Fantasia no. 3 in B Minor," noting that she chose this particular work because with an unaccompanied flute piece she can take more liberties with the tempo, which feels more freeing. Mao also noted that the piece is "short and sweet, which is good for assembly!"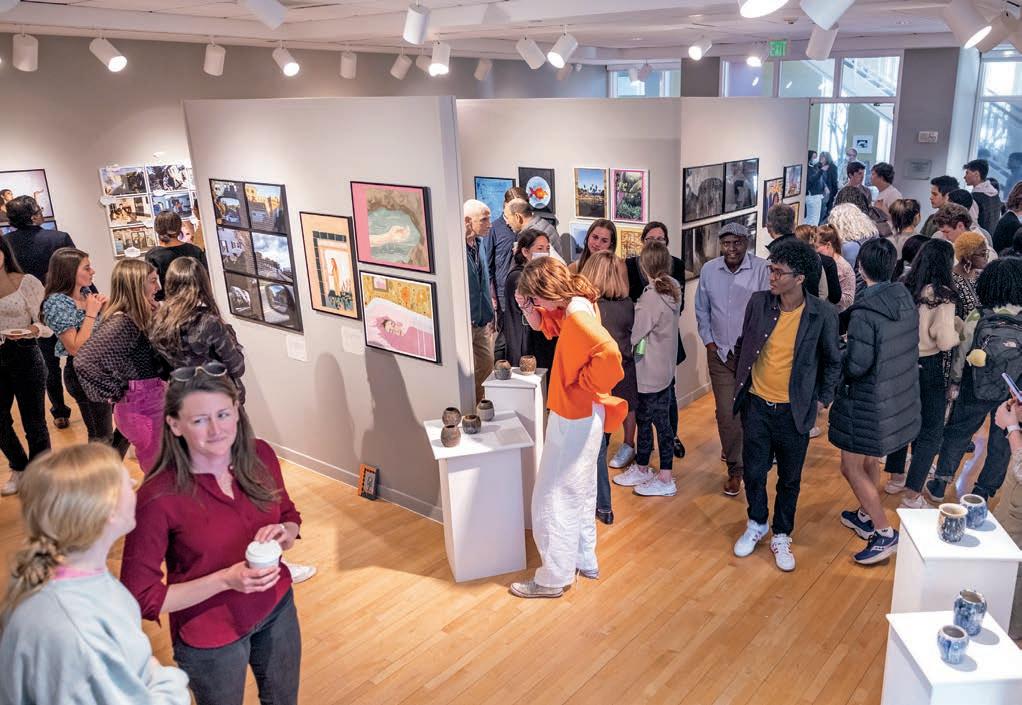 The APCSP course, launched in 2016 to attract nontraditional students to CS, resonated with Scott-Hiser. "Getting more girls into CS has long been my passion, and this course has led to some of my proudest and most fulfilling moments as a Nobles teach er."
16 nobles sUMMeR 2022
Honor Code CAMpUs DRIVe Nobles earns College Board AP Computer Science Female Diversity Award for high female representation in AP Computer Science Principles course
Computer Science faculty member Alycia Scott-Hiser has long championed diversity in tech and infinite careers in STEAM. A media artist and a self-taught techie dedicated to educational equity, she ad vocates for broader representation in computer science, a predomi nantly white, male field. "My current personal and professional focus has been the ethics of technology. Computer science (CS) touches ev ery aspect of our lives, and there's a lot of bias, particularly when you look at emerging technologies and machine learning. I incorporate into my classes the importance of different perspectives," she says.
The College Board reports that computing jobs are the No. 1 source of new wages in the U.S., while a code.org analysis of 2017 Bureau of Labor Statistics data finds women represent only 24 percent of the 5 million people in those professions. Scott-Hiser wants to dispel the unappealing stereotype of the lone program
nobles sUMMeR 2022 17phoTogrAph BY kAThLeeN dooher
CS students at Nobles thrive on coming up with those solutions. Charlotte Hayward '25 says, "I've become really close with the other girls in my APCSP class because we relate to each other and help each other out." Alejandra Mendez '22 says CS "unveils infinite opportunities in so many different fields, like biology, sociology and fashion." In 2021, she leveraged a Nobles project classifying 40-plus native mushrooms into a summer research internship at a metabolomics lab. Katie Cheung '23 credits CS with her attention to detail and analy sis, and during Scott-Hiser's sabbatical, enjoyed working with Ayako Anderson, a female Asian-American teacher in whom she "could see a part of [her]self." Aspiring engineer Delaney Benevides '24 finds debugging, design and problem-solving skills indispensable across disciplines. And Skylar Stadhard '23 encourages underrepresented students, "Know that you are just as smart as everyone else, and that you deserve to be here." Announcing the award in assembly, Head of School Cathy Hall recalled teaching computer classes in the early '90s, before she even owned a computer. The spark she felt when typing "hello, world" to code a web page changed the way she thought—and taught. "It was this powerful moment where creativity matched a love of math and thinking, and I began to dive in on ways that programming can make a difference." Hall is proud of Nobles' expanding CS offerings and grateful for Scott-Hiser's work.
Scott-Hiser tells students, "Understanding the technologies we use and their potential sets you up for success in a variety of fields, many of which are not even yet developed—that's so exciting!"
mer: "In the real world, people work together. With programming, there's never one way to solve a problem; there are multiple ways. That's what we talk about in class: elegant solutions."
WHAT SHE IS THINKING ABOUT: As she starts her leadership role, she plans to observe and learn. But she is already thinking of introducing new content such as music production into the curriculum.
CAMpUs DRIVe
HOMETOWN: West Hartford, Connecticut YEARS AT NOBLES: Six (arrived in 2016)
Meet Nhung Truong-Lustig, Newly Appointed Director of Music A New Beat FACULTY FOCUS
POSITION AT NOBLES: Newly appointed director of music, following in the footsteps of her mentor, Director of Music Michael Turner HER NEW(ISH) HOBBY: Baseball. Also, with the Tanglewood Festival group, she sang the national anthem at a Red Sox playoff game in fall 2021.
WHAT SHE LOVES ABOUT NOBLES: I love the people I work with—they are my family. I've had so much men torship, a lot of support. Making high-quality music is important, and putting on great concerts is important. What I care more about is the relationships that the stu dents build with each other. I try to get them to know and trust one another. It's trusting that the person next to you is going to come in at the right time, and that they are going to breathe and lean into the music—and they will also cover for you while you breathe. phoTogrAph BY BeN heIder (LeFT)
—mINI xUe '23, on her song selection for her fringe fest performance Mini Xue '23 mixed things up at Fringe Fest '22 with a rarelyperformancebeautifulonaninstrumentevenplayedatassembly:theaccordion.
"I chose meaningholdstogether,bringsmovedbeforeofbacktheJianBaikal"perform][to"LakebyLibecausesongbringsmemoriesmychildhoodmyfamilytotheU.S.,myfamilyandaspecialtome."
HOW SHE FOUND HER CALLING: "I was interested in music as early as 5 years old. My sister, who is 10 years older, started taking piano lessons. I would borrow her books, and I taught myself how to play piano and read music. I learned to play Bach's Minuet in G Major. I was 6 or so, and my family went to a local restaurant and I was intrigued by the pianist. My family encour aged me to introduce myself and play. [Years later], my mother was singing in the choir, so I thought I'd give that a shot, and that's what stuck. I fell in love with making music and fell in love with the communities."
Music ensembles again filled the Henderson Arts Center with song, from vocal groups who returned to circle singing and match ing facial expressions with sound, to instrumentalists who practiced sans Covid covers. Eleven instrumental ensembles, directed by Paul Lieberman, Antonio Berdugo, Doc Chanonhouse, Marty Richards and Binney Stone, played Bach to Bruno Mars, and Bob Marley to Mozart. Nobles' eight vocal groups, directed by Michael Turner and Nhung Truong-Lustig, drew from a repertoire that included Stacey Gibbs, Lisa Young, One Republic and Jacob Narverud. While concerts were studded with sparkling solos by this year's seniors, the meaning of ensemble—together—never hit a truer note.
phoTogrAph BY LeAh
Similar in structure, the spring mainstage, Caryl Churchill's Love and Information, gave students an opportunity to perform a thematically connected collage of 22 scenes about hope, pain, work, change and love. Actors and faculty collaborated to deter mine casting, character relationships, locations and staging. Brian Qi '24 composed and produced the music; Dan Halperin directed.
nobles sUMMeR 2022 19
SIXIE KEIRA MORALES '27 confidently strode up to the microphone and belted out a beautiful version of Adele's hit song "Easy on Me," adding to the long list of schoolperformancesjaw-droppingbymiddlestudentsthisyear. LArICCIA; drUe wAgNer
The Lawrence and Vinik stages reverberated this spring as musicians, actors and crew revived live performances and welcomed back elated audiences. In February, the Nobles Theatre Collective (NTC) and director Dan Halperin delivered a hilarious rendition of Something Rotten, by Karey Kirkpatrick and John O'Farrell. The rollicking musical was the NTC's first in Vinik Theatre since the sweeping production of Les Misérables in February 2020. Something Rotten, set in the 16th century, follows brothers Nigel and Nick Bottom as they try to best "The Bard," William Shakespeare, by writing the world's first musical—full of witty winks to Broadway. Forty-two students made up the comical cast, with a crew of 23 and 10 students in the band. The middle school play, Push and Pull, directed by Adaire Robinson, was an original script written and performed by students. A series of poignant vignettes conveyed the joys and aches of children teetering on the brink of adolescence.
ILLUSTrATIoN BY
ENSEMBLE AGAIN
20 nobles sUMMeR 2022 CAMpUs DRIVe
The final assembly for this group was the first since 2019 to include the full on-campus community of seniors, underclassmen, faculty and staff. It was worth the wait. Highlights included a final goodbye to Nick Nickerson, 48-year Nobles veteran and senior master. "How do you say thank you for 48 years? Nobles has become the single greatest influence in my life," he said.
phoTogrAphS BY mIChAeL dwYer ANd kIm NeAL
Nobles Celebrates 156th Graduation
June 3, graduation for the Class of 2022, started with clouds and pattering rain that later turned to gentle sunshine. That pattern was not unlike the experience of the 136 seniors who recently became Nobles graduates: Their experi ence had its share of threatening skies during the time of Covid—but it ended just beautifully, as did June 3, 2022.
Brendan McNamara and Tulasi Vithiananthan were selected by their classmates to speak on the dais. Respec tively, they spoke on the importance of recognizing and appreciating the opportunities facing them and also having courage to take risks, even when your voice is shaking.
The Class of '98 Award, given by the graduating class, was presented to Danielle Frankel by School Life Council Co-Presidents Sid Balu and Mary Connors, who were among those to address the graduation audience. Head of School Cathy Hall also spoke, asking seniors to have courage: "[To] be brave enough to be yourself, to be kind, to be hopeful, to laugh." Before introducing faculty speaker and Provost William Bussey, who retired from Nobles after 34 years, Hall presented the Vernon L. Greene Award for excellence in teaching to Jenny Carlson-Pietraszek, a member of the history faculty since 1997.
Retiring Provost William (Bill) Bussey was invited by the Class of 2022 to speak. His hilarious remarks centered on his college experience and what he learned from them. On his decision to retire, he said, "I was [recently] in the Stop and Shop mulling over the kitty litter. And then it dawned on me that I didn't own a cat. And I thought, maybe it's time to move on."
nobles sUMMeR 2022 21
Head of School Cathy Hall announced Class I awards, including the Head of School's Prize to Jacob Casper and Mary Connors; the Russell B. Stearns Achievement Award to Tope Adetunji, Alejandra Mendez and Sahr Matturi; the Trustees' Prize for Scholarship to John-Henry Lotz-McMillan and Julia Maranhao-Wong; the Bond Prize for Improvement to Marieko Amoah; the Miller Medal to Emerson O'Leary; and the Gleason Award for Academic Excellence to Daniel Wang.
phoTogrAph BY mIChAeL dwYer (Top); ILLUSTrATIoN BY drUe wAgNer
Full, BY jULIA SpIro '05 lake union publishing, 2022
22 nobles sUMMeR 2022
MATH DEPARTMENT FACULTY MEMBERS Nick Nickerson and Sue Kemalian melded math and humor in a skit related to the Purple Comet math contest. Nickerson skipped across the stage wielding a handmade comet with purple streamers only to be interrupted by Kemalian saying, "No, Mr. Nickerson, I told you to take the purple comet, not make a purple comet!" Robert Shapiro H'00
On Wednesday, April 13, 2022, Head of School Cathy Hall hosted more than 150 of Nobles' staunchest supporters in the Castle for the annual Head of School dinner. The event brings together, recognize and, most importantly, thanks the Nobles community for their support and unwavering commitment. In her opening remarks, Hall recognized the challenges of the past two years, and also pointed out silver linings and moments of joy as well. The Nobles community stepped up in times of great uncertainty and need, enabling her to confidently embrace a bold and optimistic vision for the future of the school. The featured speaker of the evening was Robert Shapiro H'00, a former faculty member, former Nobles board member and longtime partner with Ropes & Gray, LLP. He spoke of the power of schools, referring to them as "sacred spaces," and inspired the audience to think imaginatively about learning. "Schools can open up new ways of understanding by turning the imagining power of teachers and students together on the schools themselves and on the world around us," he noted. Shapiro acknowledged and thanked former head of school and longtime English teacher Dick Baker for his guidance when he was a young English teacher at Nobles more than four decades ago. "Colleague, mentor, role model, a friend for me, and for how many zillion others. Thank you, Dick, for 50 continuous years of inspiration, high standards, high energy and the pure joy of learning." As Nobles embarks on developing its next strategic plan, establishing a path for its next chapter in its history, both Hall and Shapiro recognized the importance of this moment—to be curious and remain grounded in community and mission. In doing so, the possibilities are endless. "Just imagine that," said Shapiro.
Head of School Dinner
A FULL LIFE In Julia Spiro's second novel, Full, wellness influencer Ava Maloney's life looks breezy to her mil lion-plus Instagram followers. Her curated California aesthetic offers voyeurs a sunny window into her meals, her workouts…anything her sponsors pay her to plug. But her original intent—to help others by sharing her recovery from bulimia—is eclipsed by the perfectionism that started it. She is far from the bea con of balance she projects. To reset, she absconds from L.A. to a luxe retreat on Martha's Vineyard for yoga, farm-fresh cuisine, meditation, and some hard-hitting therapy. There, she cocoons herself in denial until she's forced to confront her truth. (Descriptions of her bulimic episodes warrant a content warning.)
Full exposes how multibillion-dollar "wellness" industries profit from manipulating millions of people, mainly women, through impossible ideals and ampedup insecurities, doctored images and false narratives. Eating disorders affect 24 million Americans, and thrive on the control so many crave amidst global turmoil. Against this backdrop, Spiro examines what it truly means to be "well," while critiquing the societal expectations of women that prevent them from loving themselves, instead pitting them against each other. Her epiphany about her relationship with food and her own mind and body offers her a future fueled by passion, creativity and self-acceptance—a life that is, in the most real sense, full.
Igniting Curiosity and Imagination
phoTogrAph BY BeN heIder
Sahr Matturi '22 has been a member of the modern Nobles track and field team since its reincarnation in 2019. Despite a canceled sophomore season in 2020 and having no home track facility for practices, he has distanced himself from the competition.
Sahr Matturi MEET THE ATHLETE
Matturi is a sprinter, running Nobles' fastest times in the 100 and 200 meters and running the leadoff leg in the 4x100 meter relay. But jumping is where he excels. Competing in the long jump, he won the ISL Championship with a personal record of 22'2" and qualified for the New Balance Nationals Outdoor Championships in Philadelphia, where he tied for fifth place in the Rising Stars division.
Matturi's form differs from nearly every other jumper in the ISL, taking a full extra stride in the air. "The technique I do is the hitch kick, which makes me feel like I'm going farther," he says. "As you're in the air, you just keep your legs running—almost like you're running on air—before you go into your landing. It feels more natural."
This fall Matturi will be continuing his athletics career on the Tufts University varsity track and field team. With three younger brothers at home, he wanted to stay close to home so he could be a part of their lives, and the Tufts team felt like a great fit.
3. REACH NEW HEIGHTS Head for the hills: The higher the climb, the better the view! Find your "rave runs"—the routes that inspire you.
24 nobles sUMMeR 2022 Campus DRIVE After a run, I always feel stronger, faster, kinder and better able to take on any challenge that comes my way.
FOR JUST THE SECOND TIME in school history, Nobles SoftballVarsitywonthe Big East thegameinandAndover,defeatedweekend,theandSchools,oftournamentdouble-eliminationBigChampionship.TournamentTheEastisatwo-day,madeupeightNewEnglandbothISLnon-league.OvercourseoftheNoblesBB&N,St.Paul's,thenTabor7-5thechampionshiptobringhometrophy.
4. STAY MOTIVATED Mix it up spacewise and pacewise! Run on the roads, hit the trails, hop on the track for an interval workout, cross-train, enter a road race. You'll never run faster or with a lighter heart.
GIRLS AND BOYS JUNIOR VARSITY LACROSSE teams went undefeated.
1. GEAR UP There's no such thing as cold weather, just bad gear. Dress right for the mercurial New England climate. New swag gives you an extra spring in your step!
THE MIDDLE SCHOOL TEAMS got four big wins against Milton, kicking off a 12-3 win for Milton-Nobles weekend.
VARSITY SOFTBALL went undefeated and won the Big East Tournament, and Caitlin Murray was named league MVP.
BOYS VARSITY LACROSSE won the first-ever ISL tournament championship on our home field against Governors in front of more than 1500 spectators.
5. BE INSPIRED Give your running and racing a purpose: a loved one you've lost, a cause you're commit ted to. Make running bigger than yourself. BY phIL wrIggLeSworTh (Top) ANd drUe wAgNer (BoTTom) MATTHEW FRIEDMAN '22 shared his unique and DoubleCometTrapeze,ManBrainPinwheel,Fancytricksperformingyo-yoimpressiveskills,slicksuchastheLady,thetheScrambler,ontheFineHalley'sandtheorNothing.
Student-Athletes end the year strong
Note that due to Nobles Magazine's redesign, data and awards from the winter sports season are not published in this issue, but can be found at nobles.edu/22winter
COACH BLAKE'SKATEFAST FIVE RUNNING TIPS BLAKE'S TAKES SUCCESSSPRING ILLUSTrATIoN
GIRLS VARSITY TENNIS won the ISL title, with Shelly Tang '25 battling back to win her match against the Milton's #1 player in three-and-a-half hours.
GIRLS VARSITY LACROSSE went undefeated, winning both the ISL and the ISL Invitational Tournament.
SIX BOATS medaled at NEIRA (three Bronze for the Boys and three Silver for the Girls) and we had a girls single/ girls double and boys coxed four all placed in the top ten in the Nation.
2. FOCUS ON THE FORM Run tall, look straight ahead, drop your shoul ders, relax your hands, shorten your stride on the uphills, open your stride on the flats.
Abby Roberts '22 showing characteristicher focus and determination as she sets her sights on theBengoal.Clarke '22 and Will Laughlin '23 celebrating mid-air. Thatcher Bernstein '25 after scoring the gamewinning goal.
The second half was intensely back and forth until Grayson McClements '23 tied it up for the first time with 2:01 left on the clock. The bulldogs won the ensuing face-off, and after firing a shot off the facemask of the goalie, Roman Tacelli '22 sprinted after the rebound and dove ahead of the charging Middlesex defender to retain the crucial possession. After a clinic of saves from Middlesex, and with time winding down, McClements passed upfield to Thatcher Bernstein '25, who rocketed the ball under the goalie's crosse from nine yards out to give Nobles its first lead of the night, with 1.8 seconds left.
Saturday Night Lights
Fans predictably rushed the field as time expired, punctuating a memorable first spring season of Saturday Night Lights.
With the sun setting and the turf sideline flooding, Middlesex jumped out to an early 6–1 lead before Nobles started chipping away. Down 7–5 at halftime, a completely confident Tim Carey, who recently celebrated his 80th birthday and continues to practice his passion for photographing Nobles athletics, remarked, "Nobles is going to come back and win this game."
On Saturday, April 30, Nobles hosted spring lacrosse games under the lights for the first time. Girls varsity took on Groton, and after giving up a quick goal, Abby Roberts '22 got the offense going. She scored the first of her four goals off a dish from Tori Balser '24, and they never looked back. The Bulldogs won with a final score of 19–4, propelled by goals from nine different players.
nobles sUMMeR 2022 25
As the Dawg Pound gathered the student section on Wayne Field to lead their "Brave heart" run down to the boys varsity game vs. Middlesex, a suspiciously narrow selection of sprinklers activated along the charge path, which only served to heighten the excitement.
THE ONLY ONE
Following are excerpts of a speech by Abbeygale Anderson '14 at the annual Freeman Legacy Dinner to honor graduating students of color. Anderson established a promising career in finance before starting her own investment firm. Here is the advice she shared with juniors and seniors of color and their families on May 16, 2022.
26 nobles sUMMeR 2022
peRspeCtIVes
When I was accepted to Nobles, my eighth-grade principal told me that I would be a small fish in a big pond and declared that she did not think I would do well at a school like Nobles. I remember her saying, "You will be the only one." But what did she mean by that? Of course, by 2010 I was not going to be the only Black girl (I was one of four in my class). I was not going to be the only person on financial aid; that was just over 20 percent of the school then. She meant that I was going to be the only poor Black girl who had a debilitating speech impediment. So, for me to take the leap, I needed Nobles to promise that I would not be ridiculed for my identity—and, for me, a large part of that was stuttering.
Thankfully, the person who gave me that reassurance was my host student and now one of my best friends, Jaida Judge '13. Jaida was the first person at Nobles who challenged me to move beyond what I thought defined me, and she is the reason I came to Nobles. Being at Nobles wasn't easy, though. Academically, I was a great student who knew that participation was instrumental to getting good grades. But how was I supposed to do this and not stutter in front of my classmates? For the first six months, I would intentionally raise my hand to answer questions that only required one or two words. I stayed away from words starting with "s" and "t" because those were the hardest for me. The worst day I ever had at Nobles was my sophomore history debate. I wrote my introduction avoiding the same letters I knew would trip me up. Unfortunately, I had to answer BY ABBeYgALe ANderSoN '14 | ILLUSTrATIoN BY SImoNe mArTIN-NewBerrY
follow-up questions from my opponent. I had no choice but to speak, and it was bad. However, I won the debate. Not because people felt bad for me, but because my teacher and my classmates chose to focus on what I said instead of how I said it. In this instance, I underestimated myself. What I appreciate about the Freeman Dinner is that we celebrate people of color and all of your accomplishments, and once we are all in the same room we can start to discuss the intersectionalities of our identity and call into question what it means to bring your full self to the room. We each have something we are self-conscious about, and I was fortunate that although I underestimated myself, Nobles did not.
After college I became an investment banker, where I was the only woman and the only Black person on the team. I had to channel the same courage that it took for me to come to Nobles. I worked hard, but it was because of my network and the family I built at Nobles that I left as the highest-ranking an alyst. I was making more money than my family ever dreamed of as a private equity investor, but I kept asking myself, "Why am I doing this?" and "For whom?" I was excited to be an in vestor because it enabled me to have a seat at the table in deci sion-making around innovative ideas. However, the dynamic of many investment platforms tends to result in providing access to those who already have it in some capacity, perpetuating the funding inequality.
To watch the full speech, https://youtu.be/Ir8L-rAdB2Mvisit
My desire to provide financial access to historically underrep resented ideas and founders became increasingly apparent, and I pivoted to focus fully on building my new company, Cross Impact Capital. My biggest obstacle is continually challenging the percep tions of the broader market and validating the need for differenti ated impact investing. In a space where almost 99 percent of assets are managed by white men, I believe that my presence alone is a reflection of my commitment to be the change I wish to see. Juniors and seniors, do not underestimate your ability to thrive being the only one, because by being a part of the Nobles community, you now have the resources and network to help you find a seat at the table or create your own table. Focus on nurturing relationships with people who push you, tell you the truth, and don't underestimate you at the moments when you may be underestimating yourself.
Nobles summer 2022 29
CLIMBING THE MOUNTAIN "He taught me the power of writing, rhetoric and diction," said Armaan Bhojwani '22 of Nick Nickerson, senior master and math teacher since 1974. That's a lot for any teacher to impart. But Nickerson also taught Bhojwani and many others how to climb—even when it was hard.
Nick Nickerson is fresh out of Brown University. Then Head of School Ted Gleason is impressed and hires him. Bill Bussey, then running a British import business, gets a "phone call out of nowhere" (as he remembers) from then head Dick Baker to become Nobles' middle school coordinator. Nickerson revives the Nobles Outing Club, started by former faculty Bill Biddle and the Class of 1961 in the '50s, with an inaugural overnight hike of Mt. Washington and the Northern Presidentials.
HOW CAN A COMMUNITY measure close to 115 years of collective service from three legendary educators? How can we thank these men who have—literally and figuratively—climbed mountains on behalf of students and colleagues? No hyperbole here: Retiring faculty members Nick Nickerson, Ben Snyder and Bill Bussey collectively changed the school and hundreds of students' lives, one moment at a time. So, for a moment, consider the meaning of the 3,595,104,000 (give or take) seconds that these three shared withNickerson,Nobles. Snyder and Bussey taught, advised, coached and shaped Nobles, embodying character, kindness and consistency of purpose for generations. These men brought wildly different gifts to Nobles, ones that will endure. Here, we honor their legacies.
30 Nobles summer 2022 19741975 19 87
"My first few hikes with the Outing Club were some of the hardest things that I had ever done athletically," said Bhojwani, who was also Nickerson's advisee and part of his math competitions. "By pushing myself through those difficult experiences, I learned a lot about how I can persevere. Since then, I've learned to train my mind to think, 'You've done this before, you can do it now!' instead of 'We're only one mile in, and I'm already this tired. I'm never going to make it,' both on the mountain and off it. I'll never forget how satisfying it feels when I reach the summit and can look over the amazing views and look down at the distance that I've climbed."
Nickerson's entire professional career has been at Nobles. He arrived after graduating from Brown University for the first year of coeducation on campus. Hired by the late Rev. Ted Gleason, Nickerson said he had offers from two other New England prep
"Nick has dedicated his professional career to being an educator," said Maura Sullivan, dean of faculty and longtime math department colleague. "The 'classroom' where he conducts his lessons has ranged from Shattuck 124, to the basketball court, to the trails at Blue Hills, but his curriculum has been much more consistent. For decades, Nick has been teaching about life. He has taught us to pay attention to details, to hold ourselves and others to high standards, to know that traditions and history are important, and to remember that we should always balance hard work with a good hike, a paddle down a river, or a good laugh at the lunch table."
Baker taps Ben Snyder to revamp Nobles' admissions, and ultimately doubles applications and grows the number of selfidentifying students of color from 2 percent to 20 percent.
Nobles summer 2022 31 schools, but that Nobles just felt right because of the "warm, insightful, enthusiastic" people he met. Forty-eight years after his arrival, Nickerson is saying goodbye.
Bussey brings Buck O'Neil, a baseball player with the Negro Leagues, to speak at assembly.
19 89
G.K. Bird finalofbeginningretires,thetraditionvisitingacolleague'sclass,which Nickerson continues, firmly establishing it by the late '90s.
Nickerson coached varsity boys cross country for 12 years, winning two New England titles and one ISL title, with two undefeated regular seasons. He coached varsity girls basketball for 21 years, from 1975 to 1997, winning 11 of the first 13 ever league titles with two undefeated regular seasons. He also coached five other teams and has been Nobles' No. 1 fan, watching many teams—over many years—from the sidelines.
In addition to teaching nearly every math course offered by Nobles during his tenure, Nickerson also served as the math department chair in the 1980s, when the department added a statistics course, created an Algebra II textbook, and introduced a system for teachers to visit each other's classrooms.
"Nick has worn pretty much every hat you can imagine," said Head of School Cathy Hall. "He is the epitome of a Nobles educator, seeing no limits on where teaching and learning can take place, and constantly seeking ways to make a difference in the lives of his students."
Former colleague Steve Toubman said, "Nick's experience, perspective and intelligence have allowed him to advise, lead and shape the school.…He has used his analytical mind, moral compass, problem-solving ability and compassion to provide critical direction to Nobles. Nick has served as a tremendously respected 'wisdom-keeper' who has not only reflected the school's history but shaped its destiny as well."
Tilesy Harrington, who joined Nickerson on the math faculty in 1977, remembers Nickerson's excitement about a small computer in the department office. "Keep in mind that computing was new back in the '70s. Nick became somewhat of an expert in 19 95
Snyder and Baker bring the Upward Bound program to Nobles through a partnership with UMass Boston.
19 91 19 89
Nickerson gives his first of 20 speeches as senior master about the origins of spes sibi quisque and sings "This Little Light of Mine."
Bussey ("withbecomesofficiallyprovostthemovost").
hand-writingassembly,names,details,notesandrevisionsinscoresofnotebooks. PHOtOgraPH
For decades, Bussey planned by geNcHO PetKOv/iStOcK (baSKetball) aNd KONStaNtiN vOrONOv/iStOcK (laNterN)
32 Nobles summer 2022
20 01 20 02
At Reunion 2022—the first one in person in three years—Bill Bussey accepted accolades at the assembly for graduates. He offered impromptu thanks, and in true Bussey fashion, said that two moments stood out in his nearly 35 years at Nobles: meeting Nan, former director of financial aid and now the mother of his two children; and bringing to assembly the legendary Regurgitator, who could consume by mouth—and reshare—nearly any object. That's Bill Bussey, putting together the divine and the absurd. But, as an English teacher, advisor and student life leader in his longtime role as provost, there's certainly more.
Nickerson won the Coggeshall Award for teaching, bestowed by the 25th Reunion class this year. He also won the Vernon L. Greene Award for Faculty Excellence in 1995. He will spend time in retirement with his wonderful family: his wife, Betsy; his son, Charlie; and his daughter, Molly.
20 03
"I feel an incredible sense of loyalty to this school, and I am so deeply proud to be associated with the institution and the people and the core values of this place," Nickerson said. "I stayed because I was given many opportunities to grow in this community.… I stayed because I was still in the process of trying to get it right."
ASSEMBLY MASTER AND MORE
The Nickerson Award is created, honoring its namesake for 21 years of coaching girls varsity basketball.
For decades, Bussey nearly singlehandedly orchestrated assembly—mixing the best of quirky entertainment, intellectually challenging lectures, student performance and a lot of je ne sais quoi. In addition to the Regurgitator, who came to Nobles at least once during a typical student's tenure, always amazing students with his ability to consume and (no surprise) regurgitate myriad objects, were guests including the poet Billy Collins. Collins spoke in assembly just weeks after 9/11, connecting with a community that was shocked at the country's and community's loss. "He was funny. He was endearing," Bussey said. "He was accessible. He was human. And it actually helped us begin to move on."
programming—a big deal at the time—and realized that we as a society were just starting to realize the power within. I think in his mind, everything is possible, and he is unafraid to dive in and see where things go. He models this for his students, and they are more willing to take risks."
Historian and best-selling author David McCullough was also among the notable guests who stood in Lawrence Auditorium. McCullough came in 2016, around the same time as the U.S. presidential election. Bussey noted that bringing McCullough was also
"Mr. Bussey is a storyteller like no other. He has seen the world twice over and is able to relay his experiences in such a hilarious way. He's also an authentic person who is unapologetically himself. With Mr. Bussey, what you see is what you get. He taught me to be my authentic self."
Snyder collaborates with Director of Enrollment Jennifer Hines and former Head of School Bob Henderson '76 to bring the Achieve program for underserved Boston middle school students to Nobles. 07
Pat Toomey '13, who taught at Boston Collegiate Charter School, in Dorchester, and who joins the Nobles faculty in fall
Former Dean of Students Erika Guy cited Bussey's "thoughtful, deliberate, pedagogically sound efforts. He taught us all to hear ideas that were opposed to our own, listen to music that wasn't in our genre, laugh at ourselves, and think about things that we had never considered," Guy said. "If he hadn't decided to go into education, Bill would have given the late comedian Robin Williams a run for his money. And of course, to know him is to love him."
Nobles summer 2022 33 to honor the legacy of Bob Henderson '76, former head of school and longtime history teacher. Also on the assembly roster were many activists and Buck O'Neil, a baseball player for the St. Louis Browns of the Negro American League. The late Nobles math teacher Bill Kehlenbeck loved everything baseball, and Bussey recalls that they both had hats signed by O'Neil. Sister Helen Prejean, author of Dead Man Walking, was also among the luminaries brought to campus. "She was breathtaking," Bussey said. Bussey also brought wonders to students through his teaching, which has included courses on noir and Latin American writers such as Gabriel García Márquez. "I don't speak Spanish. I didn't even pretend to understand it all. But I knew it was a hell of a ride. And I could share it with the kids—the magic carpet ride."
20
Nickerson first promotes the Purple toCompetitionCometmathletes. 20 06 2022, said that Bussey inspired him to become a teacher. "Being a working-class kid from Southie made my first year at Nobles tough," Toomey said. "I felt ostracized, especially because of my Boston accent. Mr. Bussey saw a young kid who was struggling and immediately took me under his wing.
Lelias Blake, mother of three Nobles graduates, has a unique perspective on what Bill Bussey has brought to Nobles. He advised her three children Taylor Smith '13, Paula Smith '07 and Randy Smith '03. And, more than a decade after they all graduated, he supported the family when Paula was dying of cancer. "He is the pulse of that school," she said. "He celebrates with you. He mourns with you."
20
English teacher and former head of school Dick Baker has worked with Bussey for more than 30 years. "All groups—of greater and lesser size—demand a centripetal force that holds Snyder, whose DutchGerman mother was a Holocaust refugee, begins teaching the elective "America and Genocide in the 20th Century." 05The class on thedevelopedgenocidefromSnyder'searlierteachingofFacingHistoryandOurselves,acoursefromsynonymousnationalorganization.
FROM NOBLES TO GLOBAL Ben Snyder and his partner, Sarah, are just dusting off their boots after four months traversing Chile and the United States, from Joshua Tree to the Ozarks. He's exhilarated by all he has seen and learned—classic Ben. Traveling, learning, and growing is the trifecta he encourages for his students; it's also the elixir on which he Snyderthrives.haslong blazed a trail for educational equity and access. It's why Dick Baker, former Nobles head, picked him to rethink Nobles' admissions in 1989. It also shaped the EXCEL (Experiential and Community Engaged Learning) program. Snyder's father, who started one of the nation's first Upward Bound programs for underserved high school students, and his mother, a Dutch-German Holocaust refugee, influenced how he saw the world—and how he wanted students to see it: as one in which understanding the past is as important as mapping the future. Public school outreach was central to Snyder's admission strategy, and it increased self-identifying students of color from 2 percent to 20 percent. Director of Enrollment Jen Hines continued that trajectory, with 46 percent in this year's Sixie class. Snyder downplays his contributions but credits collaborations like those with Hines and former head Bob Henderson '76, which brought the Achieve program to Nobles. Snyder is also grateful for the support of trustees, who understood a more diverse Nobles would be stronger. Independent schools need a public purpose, he says— creating equity for the underserved, while helping advantaged students understand their place and how to contribute.
them together as a central community, and that force, centered usually on one individual, is generally an expression of that person's genius," said Baker. "Bill Bussey has been that genius, a character bigger than life, known by all, a talisman, bellwether, the focus of stories, a figure elevated to the status of myth. No one escaped his gravitational field." Bussey himself puts it modestly: "I was a school person," he said. "I came to the right place at the right time."
Bussey organizes Nobles' first FringeFest, a quirky lineup of eclectic performances inspired by the Scottish event of the same name.
Snyder provided those experiences through EXCEL, in the history classroom, and as upper school head and varsity soccer coach for two decades. Travel and service allow students "to fail without fatal consequence"—and grow. William Wang '16 was on Nobles' inaugural trip to Rwanda, one of 17 that Snyder led. "Every chat with Ben feels so natural, like a continuation of a Bussey StevieRegurgitator,introducingassembly-goersastoundsbythea.k.a.Starr. 20 07
20 10
Crew team song mashup at FringeFest 2022
20 14
Among the many hats that Snyder wore so well was that of coach, bringing the same genuine enthusiam that he shared in the classroom and on EXCEL trips to countless practices and games and serving as a role model for Noblescountlessathletes.
The undersoccerboys2002varsityteam,Snyder's leadership is inducted into the Nobles Hall of Fame.
Class I dean, college counselor and former Achieve director Nora Dowley-Liebowitz says, "Ben championed much of what separates Nobles from our peer institutions, that many others would not have fought for." He piloted programs that "transformed the lives of young people in Lawrence and Boston," though they would not directly benefit Nobles students. Dowley-Liebowitz learned from Snyder to "lean into discomfort, to keep pushing, and to always say thank you."
The Class of 1990 honors Bussey's excellence in teaching with the Coggeshall Award at their 25th reunion.
20 15 2021 20 15
Snyder becomes director of the Anderson/Cabot Center for Experiential and Community Engaged Learning (EXCEL), leading 17 different trips with students and two with adults—only one without his partner, former faculty member Sarah Snyder. Some trips include New Orleans (2007), Vietnam/ Cambodia (2003), India (2009) and Rwanda (2016). Bussey and Dick Baker unite for Awards theoutdoorsatypicallyNight,heldduetopandemic.
Nobles summer 2022 35 lifelong conversation," Wang says. "He talks to us without any pretense, admitting his own faults and biases while pushing us to think about inequality around the world and our privilege."
He makes an impression on us by allowing voices from diverse backgrounds to be heard," says Wang. Snyder engages students in meaningful conversations by "asking questions where they feel comfortable enough to say what they really believe"—even when they disagree—to help them find their voices.
French teacher Mark Sheeran is a veteran of 26 school trips. From the Nobles classroom to the global classroom, Sheeran says, "No one has impacted this community more over the past 30 years or so.…Ben believes in understanding the whole, listening with em pathy, and building sustainable relationships." Snyder's vision and purposeful thinking behind EXCEL "should act as a template for all that is good in education and all that is great at Nobles," he says.
Snyder built EXCEL on trust and longstanding relationships with community partners, listening to their challenges and needs. Naturally, he worries about Covid's impact, but is buoyed by the resilience he sees, like during spring 2020, when partner Immigrant Family Services Inc. and Nobles student volunteers pivoted to online programming, perpetuating purpose on both sides of the screen.
Whether introducing U.N. refugees, military veterans or sex trafficking victims, Snyder educates through empathy, "pushing our understanding of the world beyond the borders of campus.
Snyder's greatest joy of his career? "Easy. It's the enjoyment, energy, excitement and optimism from kids. There's so much pessimism about the adult world, and kids always think that they can do better—they probably can." Snyder's teaching sets the bar for relationship before task and follows the same principle he applies to EXCEL—mutual respect, not a savior complex. "We have to create experiences. This is the beauty of service, travel, study away, and really good classroom teaching—to present kids with opportunities that allow them to reflect, experience and grow."
A Brief and a Long Goodbye
Nobles summer 2022 37
The epigraph of E.B. Bartels' debut book, Good Grief: On Loving Pets, Here and Hereafter (HarperCollins, 2022), is from Charles M. Schultz, the man who gave us the immortal and irascible Snoopy: "Absence makes the heart grow fonder, but it sure makes the rest of you lonely."
Hello — BY HeatHer Sullivan | illuStrationS BY JoHn JaY CaBuaY
Bartels' current menagerie includes a tortoise, a pigeon, and a dog, Seymour. In her lifetime, she has had dozens of pets, some of which readers meet in Good Grief. Here, she shares the backstory with Nobles magazine.
You might be shocked to hear that E.B. Bartels '06, known pet lover and researcher, once euthanized a pet Betta, a boy-fish called Wanda, using grain alcohol (kinder than the flushing method, she learned). Wanda was suffering from dropsy. Yet this is just the sort of raw, authentic detail found in Bartels' first book, Good Grief: On Loving Pets, Here and Hereafter, that will make you both laugh and cry. Bartels does not varnish the beautiful and devastating truths about how we love our pets, and then let them go. She writes, "There's a Bhutanese folk expression that says in order to be a happy person, one must contemplate death five times every day. Perhaps we love our pets so much not despite but because they remind us of death. They're a daily embodiment of how short life is, how important it is to be present in any moment."
Q. How does it feel to have given birth to this book? A. It's still just kind of surreal. It's been so long in the making. I wrote my first pet story in grad school as a break from writing a family memoir about intergenerational anxiety and trauma. A friend read one of my essays and said, "It's so interesting because my family did totally different things when our pets died." So it turns out there's no one societally accepted way to say goodbye.
Q. You typically write creative nonfiction. How did you find your way to that?
A. I really felt like every single English teacher I had at Nobles pushed me to be the writer I am now. In class with [former faculty member] Vicky Seelen my senior year, we did a lot of personal writing, and I started to see all the different forms nonfiction can take. And also, there is a pet cemetery next to Nobles, so that played a crucial role [in inspiring my book].
I started doing the research and thought, Oh my God, like this could be a whole book. I wanted to write something to honor the huge range of possibilities of what you can do to mourn and remember your pet. It's hard that there's no single checklist. But it's really exciting and kind of freeing, also, because you can really do whatever you want.
Q. Good Grief is part memoir, part how to honor your pet— with a little travelogue thrown in. A. I did some trips specifically for research. But most of what I did was, anytime I was going somewhere over about five years, I would look up what pet cemeteries were in the area. So, I went to San Francisco to do a reading, and I looked up all the pet cemeteries in the Bay Area. And then when we went to Japan to visit my best friend from Wellesley, [she helped me find them]. I did that in Florida, Connecticut, New York, Vermont. Dog Mountain in St. Johnsbury, Vermont, is unreal—it's a chapel where people leave pet remembrances. In spring 2019, I went on a trip to Paris with [Nobles friends]. There's a very famous pet cemetery that's on the outskirts of Paris. It has a beautiful view of the river, and it's where Rin-Tin-Tin is buried. I have a chapter about the ways that we get attached to and mourn animals that, like Rin-Tin-Tin, don't even belong to us. The thing I love about pet cemeteries is someone chose to have them there, as opposed to, you know, a human cemetery, where you might end up next to your creepy uncle who no one likes. There's no such obligation with an animal, so it feels like it has more pure love and celebration.
38 Nobles summer 2022
" One o f the taxidermists I interviewed will do a nose print of your dog—a little 3D version of your dog's nose—or she can preserve just an ear or the tip of the tail. It's like how in Victorian times people would keep a lock of hair. "
Q. There are stereotypes about the kinds of people who are drawn to certain kinds of creatures. What did you find? A. It's corny, but I found similarities more than differences. I met a woman who had an African gray parrot that died in an accident that the woman caused when she knocked over a chair. The bird was injured and had to be euthanized, and the grief that she felt when she was telling me this story was just as intense [as any other loss]. It doesn't really matter what kind of animal it is.
Q. In the book, you highlight taxidermy as one way that people memorialize their pets.
A. There is actually a long history of people taxidermying their pets; it's not a new trend. I was also interested to learn about all the different approaches—it doesn't have to just be like a whole-body mount. One of the taxidermists I interviewed will do a nose print of your dog—a little 3D version of your dog's nose—or she can preserve just an ear or the tip of the tail. It's like how in Victorian times people would keep a lock of hair. So, some people say, "I don't need the whole body of my dog on display, but I want to have this little bit of, you know, his ear in a box, and I can touch it if I feel really sad, and it will remind me of him." I also interviewed so many artists, but I couldn't include them all in the book—but there are people who make beautiful portraits, and I interviewed an artist who does portraits with encaustic wax, and she layers ashes from your pet, or she uses the ash to draw the portrait. It's very special because it's an image of your pet but made with your pet's ashes.
Nobles summer 2022 39
Q. What reactions do you get when sharing the topic of your book?
Q. What else? A. I interviewed Mariel Novas '06. She told me about how she was actually terrified of dogs. She felt like when she first got to Nobles—because it was a lot of wealthy suburban white families who had Golden Retrievers—she freaked out going to their houses. And only later in life, when her uncle adopted a little dog, did she learn to really love dogs. She had grown up with scary dogs that were chained outside, or guard dogs, like in the Dominican Republic. I realized that almost everyone I had spoken to had been white women who were between the ages of 25 and 65. I think that says something about who can afford to have pets. Who is financially stable enough to grow up with tons of dogs? Because pets are not cheap. [My dog] Seymour had heartworm, and it was expensive to treat it. Not everyone can afford to do that. So, I sought out interviews with people of color and from different income backgrounds and cultures, because I wanted to see a more varied experience of pet ownership.
A. I always have one of two reactions: "Oh, that's interesting." And then they change the subject. And then I'm like, OK, that person has never had a pet. Or, "Oh my God, let me tell you about when I had to take two weeks off from work because I was so depressed when my 19-year-old cat died." And then they want to tell me about their cat and ask me about my research. Then they want to talk forever, right? People are very shy and often embarrassed to talk about the depths of grief, though, because it's such a disenfranchised type of grief: You can miss work because your mom died, but not because your cat died.
A. I sold the book in 2019 on proposal, which meant I then had a year to turn in a full draft. I turned in the full draft in January 2020, which was the ridiculous 150,000-word version. In midMarch 2020, my editor called me and very gently said, "You have a lot of revising to do" and that, because of Covid, my book was being bumped to 2022. Also, Richie and I had to cancel our wedding. My grandmother had just had a stroke….But as the pandem ic went on, I talked to more and more people who had adopted pets, and so I started to think that, in a messed-up way, it was a gift to have this extra year to keep working on my book. And I spoke to some people about their experiences having pets during Covid. And then a Wellesley classmate of mine tragically died of Covid and left behind two dogs. That was something I wrote a bit about in the chapter about animals leaving people. It's a really important moment in our history when people were realizing just how much they rely on their pets for comfort and support.
Q. Any theories about why connections with pets can be so deep?
40 Nobles summer 2022
A. I care about listening to and amplifying other people's stories. And I think it's really easy to dismiss somebody as like, "Oh, she's a crazy cat lady"—but listening to why they care about the things they care about and just realizing that often people just want someone to hear them.
Q. How did Covid affect your writing process?
Q. So why does the person who loves and loses a pet, and is heartbroken, do it again? Something I thought about a lot when I was writing was, Why do we keep doing this? It's not our job. People who love animals, are we just masochists? It's like, "Here, let me open my heart to this really sweet creature and totally fall in love with it, and then it's going to die, and sometimes in a horrific way, or in a way that I'm going to have to decide." In my research, I was searching for clues about what makes it worth it. A book I've referenced a lot is The Unbearable Lightness of Being. The book has a beautiful, heartbreaking storyline: A couple's marriage is falling apart, and they have a dog. It's like the dog has been witness to kind of their whole falling in love and falling out of love. The husband is a doctor, and he's able to euthanize the dog himself. And he says that the greatest thing is that when our pet dies, its death can come in the form of a loved one. You know, all the good things in life are hard, but worth it.
Q. What can we learn from our pets? People put so much of their human baggage on pets, and pets just don't care. It's like when [my dog] Seymour growls at other dogs, I feel really guilty. But he growls at the dog, and then he goes on with his day. You know what I mean? I think there's so much human stuff that we project onto our animals that it's sort of unfair to them. They're so in the moment and living their lives and kind of can let things roll off in a way that a lot of people, myself included, can't. I think there's a lot to learn from them in how they exist in the world. Q. What's something personal that you learned writing this book?
Q. Talk about the title. A. I had been calling the book Dead Pets in my head forever. Then we were brainstorming different titles, and I came up with Good Grief. I like it for a couple of reasons. One was because it's an allusion to one of the most famous human-animal relationships in literature. I've always loved Snoopy and Charlie Brown. And also, I liked the exasperation because it's like, "Good grief, like, why do we keep getting these animals when they just keep dying," you know, like, "Good grief, what is wrong with us?"
Learn more about Bartels' book at harpercollins.com or on her website at www.ebbartels.com. " [Our p ets] can let things roll off in a way that a lot of people, myself included, can't. I think there's a lot to learn from them."
A. A lot of people turn to animals [because] of relationships they are missing with other humans, whether it be that they can't have human children, so they had fur children, or they have a weird, estranged relationship with a parent. So, they have a dog that they talk to all the time. I always think about how you don't ever really know what else someone is going through, right? Like when someone's rude to you at the grocery store, and you're mad about it, but you don't know. They could have just gotten a cancer diagnosis that morning. Similarly, when people are dismissive of people's pets dying, it's like, you don't really understand what that animal meant to that person. You don't really know what they're going through.
And then the last version is that it's a good type of grief—like it's hard and it's grief, but it's worth it, and that's good.
Learning about the stages of grief can really help. As my own dog approached the end of her life, it was helpful to learn that some stages of grief can happen before the animal has actually passed. It helped make the denial, anger, and bargaining that much more normal and easy to process. There is no greater love, in some cases, than the one we share with our animals. Honoring that, grieving that, and respecting the process we all endure around their death is just part of what makes their short time on Earth with us that much sweeter.
Enduring the Loss of a Pet
What you are feeling is normal and okay. So often, the loss of a pet becomes pushed under a rug since they are "just animals."
Nobles summer 2022 41
Keep physical reminders like collars, favorite toys, pieces of fur, and other mementos. This can be hard to see at first, but it is often nice to be able to hold a piece of the animal that you loved so much again and again as you process your grief. Talk with people who get it. There are so many resources now—social workers, Facebook groups, friends and family, veterinarians. We are all here to help because we have all been there ourselves.
1 3 2 4
Advice from veterinary dermatologist Meagan Rock Painter '99 I have spent the last 25 years working with humans and animals. In every single professional capacity, the theme of the deep, enduring human-animal bond applies. Animals provide unconditional, fun, physical love to us that humans often simply cannot. Our time spent with our best animal friends shapes our routines, our heart, and our connections to others. Having the gift of animal companionship makes the heartbreak of the death and dying of a pet akin to close friends and family. In some cases, it is a grief greater than any other we face in our lives. We are often burdened with end-of-life decisions, such as euthanasia, which feels like a burden and a blessing all at the same time. Every situation is unique. Grief is pain. But, understanding how we grieve and why we grieve our pets is such an important place to start.
42 Nobles summer 2022
Read up on the statistics of crowdfunding campaigns like Kickstarter—over 60 percent fail—and it's hard to feel optimistic about following your dream. But now, millions of people from diverse backgrounds are stepping away from the familiar and boldly embarking on something new. The challenge? The dreams still cost money to build, and the statistics around equity and accessibility for funding are daunting. Chanowski is proving that the solution is actually quite simple, and businesses that previously struggled to receive support, such as those run by women or people of color, now represent a large majority of Numarket's successful campaigns. He is seeing the impact that these businesses are having on communities, and he views this as a sign that "people are focusing on value instead of valuation and walking away with a lot of financial and social value."
THE GREAT REIMAGINING Upwards of 4 million people have quit their jobs in 2022—to retire, to seek better compensation and increased flexibility, and, for many, to work for themselves doing what they love. With the perspective of a two-year pandemic behind them, folks are willing to take risks, and social entrepreneurs like Chanowski are simplifying the process for these emboldened dreamers and doers. The key, Chanowski explains, is simple: Invest in the people and things you love, and the value of that contribution will grow in real and unprecedented ways. Anyone who has considered hanging out a shingle knows that lack of funding is among the greatest deterrents for many would-be small-business owners.
44 Nobles summer 2022
After graduating from Nobles, Chanowski attended the Ford School of Public Policy at the University of Michigan, an experience that served as a "direct line" to NuMarket because of the focus on problem-solving through multiple approaches. While there, Chanowski had his first instructive experience with en trepreneurship when he started a program that brought college students to public schools in the Detroit area to tutor students for the ACT. Since the statistics around college enrollment for these children showed a drastic gap in opportunity, providing the basics—the books to prepare the students and role models to guide and instruct them—was a crucial step in narrowing that gap. Chanowski was challenged with addressing the problems, work ing with different organizations, managing budgets, and imple menting creative solutions, all of which made him wonder about the potential for creating social change within the for-profit sector.
BUSINESS AS A PATH TO SOCIAL CHANGE
Nobles summer 2022 45
REMAINING NIMBLE Chanowski went on to work in advertising agencies in Chicago and Boston, where he delved into behavioral science and found himself drawn to the idea of using business "as a tool to create some type of positive change." Eventually, he left advertising and enrolled in a master's program for social entrepreneurship and social change at the London School of Economics.
EAST BOSTON OYSTER COMPANY Alexis Cervasio was running oyster shucking pop-ups in secret loactions on Sundays, the only time she had free as a single mom. Cervasio wanted to make food like oysters and caviar more accessible to people around Boston, and while this early model was not easy, traditional jobs did not offer the flexibility she needed. As a young girl growing up in Boston, Cervasio always had a job, so she knew the value of hard work. Cervasio began hosting soughtafter pop-up oyster events, where she offered unlikely pairings of foods like caviar and potato chips, announcing the mysterious events at the eleventh hour and drawing a large following. When Cervasio heard about NuMarket, she decided to run a campaign to open EBO & Co. Grocery, a small store with everyday items (and oysters, of course) in East Boston, and she set a $30,000 goal. It raised $30,382 in two days. With Cervasio at the helm, oysters and caviar are no longer viewed as the unattainable delicacies they once were—instead, Bostonians are learning how to shuck oysters and are starting to see caviar as the next great condiment. EBO&C pop-ups happen on boats, rooftops and just about anywhere, and as long as you join the mailing list, you will be privy to the secret location 24 hours in advance.
Furthering his research in behavioral science, Chanowski found himself fascinated by coffee, which he describes as "the most ubiquitous product in the world," as well as the most universal, because "everybody understands it in some way. It's something you have every single day." He began to see coffee as not just the joy of a slowly sipped latte on a Saturday morning, but as a way to bring about social change. As he conducted research for his thesis on consumption, he tested his ideas and met with farmers around the world over the course of a year, and was poised to launch his coffee business, "Jungle Brew," in May of 2020. The model, which Chanowski built out of the belief that "there's an opportunity in the for-profit space to create systemic change," was rooted in hand-to-hand and person-to-person relations, mostly in very close spaces—so, in concert with the rest of the world, Chanowski was forced to pause, pivot, and persist. "It was a good experience," reflects Chanowski, with the mughalf-full attitude of an optimistic entrepreneur. "I think when you're trying to build a business, you have to constantly be shifting and nimble and willing and able to adapt and change."
THE NUMARKET MODEL
The idea for NuMarket did not come to Chanowski overnight and was not born out of Covid, but, he says, the pandemic pushed him to "tweak" his existing concepts. He explains that "it was many different experiences in a lot of different cities and countries coming together" that prompted him to arrive at the idea for NuMarket, and when Covid hit, "there was just an impetus to start it—to be a tool and a resource for important, much-needed businesses." The pandemic provided a new lens for entrepreneurs like Chanowski to examine existing ideas and modify them to create solutions for emerging problems, buoying struggling businesses even at the lowest of tides. The NuMarket model thrives on its simplicity: Give to a business whose product you love, and receive—in credits that are sent to you throughout the year—120 percent of the amount that you invest. Through this simple credit-based, mutual-value approach, NuMarket provides investors with the opportunity to support small businesses, who in turn strengthen their communities by catering to locals, in a way that is both profitable and sustainable over time.
BUILT WITH INCLUSIVITY IN MIND
The majority of the businesses funded through NuMarket are owned and led by women and people of color. "If you have a business that people love, you deserve access to financing. And we're allowing those people to be the ones financing the businesses. So, of course, we are going to see a lot of great independent businesses owned by women and people of color, because they are incredible businesses...We really believe in doing the work and making sure that we are constantly focused on designing it for inclusion."
DROPLET Celeste Perez was working multiple jobs and experiencing extreme stress that led to medical challenges, forcing her to reevaluate her life choices. It was then that she discovered the benefits of adaptogens—nontoxic, all-natural herbs and botanicals that help the body regulate its response to stress—and created Droplet, a health and wellness company that creates savory sparkling adaptogen and superfood-infused beverages. Knowing the lack of access to funding for women and people of color—womenowned or minority-owned business enterprises receiving investments get 80 percent less than the median investment in businesses overall, and a mere 1 percent of Black-owned businesses that apply for a loan get approval—Perez, who is Filipino, knew she would need to seek out alternative sources. She discovered AMP, an organization whose mission is "to increase access to entrepreneurship" and to build a world "where anyone can be an entrepreneur," and through them, Chanowski and NuMarket, where she launched a campaign for Droplet, raised $12,283 for retail expansion and product development.
46 Nobles summer 2022
THE MUSHROOM SHOP When businesses swiftly close their doors at the news of an impending pandemic, a 200-pound bag of mushrooms (the regular kind) is sometimes left behind. Tyler Akabane, who was working for a wholesale mushroom delivery company in March 2020, stared at such a funghi-filled sack and thought, I wonder if anyone might enjoy these? "The intrigue and the enchantment with the natural world that comes with hunting mushrooms is really special," says Akabane, who has always had a passion for mushrooms. "So, it's nice to share that with people." Akabane's story is founded on this simple joy—he started #mushroomsformyfriends on Instagram when he began receiving notes from people about the smiles he was delivering along with each bag of mushrooms, and things took off. Akabane considered opening a storefront, discovered NuMarket, and launched a campaign; in two days, he had exceeded his goal of $30,000, raising an impressive $41,476, which enabled him to open a store in Somerville, Massachusetts, in May 2022. NuMarket enabled Akabane to launch his campaign without the added work of delivering physical rewards to investors. "Opening up a store had a lot of moving parts on its own," he says, "and adding any more to that would have been tricky." According to Akabane, if anything complicated ever arose during the campaign process, "Ross and his team were taking care of everything on the back end," touching on what is most unique about NuMarket. "People were actually there to chat with," says Akabane, "and that made a big difference to me."
Chanowski explains that while they do not know of other platforms using their credit-based model, the variety of crowdfunding sources is important because when a small business is not a good fit for NuMarket, they will guide them to more appropriate resources. "All of those platforms, all of those tools, are other puzzle pieces that are needed to create a more inclusive funding opportunity," says Chanowski. "And if more businesses popped up and more people thought that way, I think we would all be better off. It's back to that mutual-value concept—how do we take mutual value and proliferate it? Make it something that's not unique, but that's expected? In the market, in start-ups, in large corporations—for everyone."
Nobles summer 2022 47
to these businesses, providing a crowdfunding option that breaks the confines of traditional equity, rewards, donation and debt models. Which of these businesses will have the best shot at success? "It's a wide variety," says Chanowski, "and we'll always be trying to get a better handle on what works well and what doesn't. The biggest indicator of success is whether the business has a strong connection to its community. That is an indicator for the success of the campaign because it should be the indicator of success for any independent business. Do you have people who love what you're doing? If you do, you deserve access to them and to funding, and they deserve the opportunity to support what you are doing in a meaningful way and benefit from it. That's what we're really proud of—both ends of our platform have this opportunity to get more value back from what they put in."
"When the pandemic hit," reflects Chanowski, "we all learned what it's like to lose some combination of closeness, affection and attention from the people and places we love. At NuMarket, our job—a worthwhile one, is to bring that connection back deeper than ever before. We want to build up communities to be strong through their small businesses. In order to do that, we have to be part of the fiber that creates that strength. That's why, while we may be a tech and web based business, our team and true base is in the personal element with the businesses we support."
For the owner of a small business, seeking funding for the idea they have dreamed of for years, sketched out in their minds and on scraps of paper, saved, planned, and worked for, can be almost as daunting as the fear of being told that vision doesn't have legs. Add in socioeconomic and cultural challenges for business owners from marginalized communities, and the prospect is increasinglyNuMarketdisheartening.bringssomehope
TAFARI WRAPS Imani McFarlane founded House of Tafari Collection, her third fashion/ lifestyle brand, "after leaving her role as an interior decorator for a Boston firm, where she endured steady racism from coworkers and clients." The company celebrates "the vibrancy of her Caribbean culture and the landscape of Africa, and also focuses on home decor, educational arts workshops and timeless wearable art, which began with headwraps." In 2021, Tafari Wraps joined the "NuFamily" as the second business to launch a campaign. McFarlane and Haynes faced some challenges in their goal to raise $20,000, as their immediate community is faced with extreme economic stress and does not serve as their target market. For Tafari Wraps, community emerged as the people who believed deeply in NuMarket's mission and sought to uplift this emerging brand through financial support. Haynes describes inclusivity at NuMarket as both access to "financing for a product that people want more of and a platform for underrepresented brands and brands in need of a little amplification to reach the next step." The mother-daughter pair raised one-third of their campaign goal, enabling them to hire a graphic design team for several marketing projects.
When small businesses reach out to NuMarket, they are not putting their faith in cyberspace; they are having honest conversations with Chanowski well before their campaigns begin and long after they are over and building a partnership in which they are valued, seen and supported. Talk to any of the business owners and they will tell you that above all it was Chanowski's friendship and guidance that made the difference for them.
Graduate News
JL: I'm excited, I'm nervous, I'm hoping I don't forget the words, I'm pumping myself up and reassuring myself that I'm there for a reason and I've earned the right to perform. Also, I'm reminding myself to enjoy it, to feel my feet on the floor, and to be present.
KIM NEAL: Where did your love of music come from? What was playing at home...and were you singing since you could talk?
JL: Honesty and vulnerability are extremely important, and I try to keep those in mind to help stimulate those "keeper ideas." I like changing up my writing environment from time to time, because that often inspires me in different ways—it can be as simple as the color of the lights or a view from the studio.
JL: Those were my first real big stage experiences, so I am incredibly grateful I had that platform and got to make so many of the mistakes that I did, and grow and learn. The night of my senior project, I'd committed a whole semester to preparing a one-hour concert and performed a range of cover songs with some special guests. I'll never forget how many people helped make the night special, or how the whole school showed up and packed the auditorium.
KN: Folks at Nobles still remember your assembly performances. Is there a memory that stands out to you?
JL: Understand it can be an extremely lengthy process and that no one will work for you harder than you will. Constantly try to improve your craft, keep an open mind, and accept that things won't happen in the order you want them to. There will be some beautiful chaos—lean into it.
by Kim Neal | photograph by trae pattoN, NbC From lighting up the assembly stage to captivating national audiences on NBC's American Song Contest (ASC), singer-songwriter and platinum producer Jared Lee '97 is all about revealing what's real.
JARED LEE '97
BEAUTIFUL CHAOS
KN: What advice would you give to young artists?
JL: Passion is key. I was influenced by a lot of different singers and early on just tried to match them in their phrasing and their little vocal nuances. …But over time, I think my own "sound" organically evolved and was a combination of the styles of artists I love and the natural tone and colors of my voice.
KN: You've been a songwriter and producer for some pretty famous artists, from Jordin Sparks to New Kids on the Block. What gives a collab that just-right formula, and who would be your dream partner?
KN: How did you find your sound and style?
There are too many people to list who I'd love to collaborate with, but off the top of my head—Alicia Keys, Ariana [Grande], Usher, Pink, David Guetta, The Weeknd and John Legend.
JL: I truly love collaborations. You get pushed in creative directions that may not always be natural to you, but when the music or lyric hits the right way or gives you all a body buzz or a feeling, you know you are onto something that's working.
KN: How do you prepare yourself each time you take the stage, especially one as big as ASC, and what head space are you in?
JARED LEE: Singing in the car on road trips as a kid and learning how to harmonize. Being exposed to incredible songs and musicians at a young age like James Taylor, Stevie Wonder, the Beatles, Boyz II Men. Playing a variety of instruments and having a piano in the house, and, yes, ha, I think I was singing right around the time I was learning to talk—and loved it.
KN: How do you do your best songwriting? When do your "keeper" ideas come?
■ Please contact us if you'd like to volunteer as class correspondent, to collect and compile news of your classmates to share. Please note: If you do not have a class correspondent listed, you may submit your notes online at edu/community/graduates/submit-a-class-note/www.nobles.
Jean and John Childs remain active, leading various resident committees at North Hill, just closed out curling for the season, but are now organizing our weekly golf group and are generally doing well. Hard to say why we are so lucky. Together with Terry and Dave Horton, we tuned into a Zoom memorial service for Carolyn Cumings, wife of the late Bob Cumings, in late February. It was well attended, and many spoke in memory of a very delightful and supportive person. Finally, fellow residents here Susan and Bob Hoffman, and fellow DREGS member who is at Fox Hill David Thibodeau, raise a glass in a toast to all of you. Stay well.
Graduate Notes Policy: ■ Noble and Greenough School is a non-profit institution with no religious or political affiliation.
February 28: "Back brace off, declining use of walker, 3–4 months of physio left; back on lawn tractor by mid-May."
1951 Class Correspondent Galt Grant 1952 & 1953 Class Correspondent John Childs At this time, we seem to be hanging in there with no classmate losses during the past year or two, and we have the following reports from a select few. Old reliable Lu Hallett confirms that he and Carol are permanently living in Florida now, and both are in relatively good health. A highlight was a recent visit from their "whole blood line," with all of the kids in their 60s, and five grands aged 16 and up. Send a note to Lu at limited1008@gmail.com Ben Taylor keeps pouring in the news from his California retirement community, where at age 87 a broken hip and arthritis have taken away his favorite fishing and golf joys, but have been happily replaced by bocce competitions and discovery of "the power of the pen." I gather he is a terror on the bocce court, but he admits that other players include several ladies in their 90s and two guys over 100. He has also taken leadership in writing suggestions to improve the quality of life at his CCRC, with tangible results. This sparked an unexpected following by other residents with his "power of the pen" and has led to the publishing of several stories about his ancestors' whaling history in Nantucket, plus other experiences, in their local monthly newsletter. On a more personal note, Jack Farlow sent along a message that is very import ant to him. He was impressed to learn about the recently launched Nobles Diversity, Equity and Inclusion (DEI) Resource Endowment Fund and the James M. Ritvo Class of '64 Award, which promotes and encourages those who support DEI at Nobles. He feels this was lacking in our time of development and would have been very useful for him per sonally and perhaps others. Finally, here is a tale of Bo Wakefield twisting a serious physical setback into a 2028 Nobles challenge, where he appears to have an advantage. It began last December 5, when he attempted to sit on a rolling office chair: "The modern world designs these traps for old guys like me." He missed and fractured a vertebra. February 10: End of week 10 and using an Ion brace and walker. "Hope to be back on the volleyball court by July Fourth."
■ Digital photographs must be high-resolution JPEG images (1MB+) to appear in print.
… or volunteer to become the class correspondent by contacting Director of Graduate Affairs Kate Treitman Brown '99 at kbrown99@nobles.edu
■ Send graduate updates and photographs to class correspondents if you have one.
■ Editorial staff reserves the right to edit, format and select all materials for publication, to accommodate eight decades of classes in the magazine.
50 Nobles summer 2022 GRADUATE NEWS
1940 Class Correspondent Percy Nelson 1946 In April, we were lucky enough to have the family of Angus Nicoll visit. George Nicoll and his wife, Nicola, came to the Nobles campus from the United Kingdom after hearing about it in stories from George's father, who sadly passed away in 1994. Angus and his brother, Alasdair, came to Nobles during World War II, while their father was serving in Europe. After graduating from Nobles, Angus served in the British Territorial Army and Royal Artillery. He then trained at Agricultural College and went to Zambia to work for the British government to improve farming practices across the country. He owned and ran a commercial ranch in Mkushi and spent the rest of his life in Zambia.
■ For more information, visit the graduate notes online submission page: graduates/submit-a-class-note/.www.nobles.edu/community/
March 12: "Getting into great shape to meet all starters in the Reunion Circle Race 2028 (Class of '53: 75th). My pushers will be two grandsons, both high school swimmers. God bless you all to reach the starting line in 2028."
1954 Class Correspondent Peter Partridge 1955 Class Correspondent Bob Chellis Tim Horne reports that after spending most winters in Naples, Florida, for the past 45 years, "I purchased a beach home on Sanibel Island last fall. Naples has grown and become somewhat overcrowded, so I sought a more peaceful environment. Sanibel has set aside twothirds of its land for conservation and limits construction to three stories. I am enjoying this new experience. I head back to Rye, New Hampshire, at the end of April." Larry Flood reports on last fall's visit from Suzy and Wally Stimpson, in the midst of Covid. "Sadly, we were unable to get out on the golf course, but we had a great lobster dinner. Wally proclaimed the lobster the hardest shelled ever, requiring many whacks with a great hammer. Our guestbooks confirm that Wally has visited us periodically in Blue Hill over 70-plus years, including camping with his family on our point. in an 1889 building built by Silas Putnam near Boston Harbor. It would be a good excuse to toast ETP on the May Reunion week end. Meanwhile, happy to say, Sandy is doing well in a good memory care cottage on the Fox HillAndcampus.more from Larry Flood In an email focusing on the Ukraine crisis, Larry proposes three cogent moves for the Unit ed States in that disaster: troop dispersal and guerrilla tactics; international city-state status for Kiev; and—my favorite—that we send them some old A10 WartHogs, the most durable and effective ground support plane ever. When you read this, maybe we'll know what happened.
21
2. Second-crew photo taken in front of the boathouse: Angus Nicoll '46 is between Bill Bliss '48 and John Nelson '48. 3. One from the archives: Nobles graduates Harris Poor, Bill Badger and Bo Wakefield (all '53) are mentioned in a newspaper clipping from Middlebury graduation in 1957. Poor recently found the clipping.
Pete Bennett adds that he and Nancy have made it through another winter! "We're looking forward to outdoor living and dining—it must be warm and sunny! We love Virginia and the sunny South! Best wishes to Nobles!"
3
Nobles summer 2022 51
He declined that opportunity this time." Wally and Suzy have left North Hill, as usual, to winter in Naples, Florida. Charlie Nichols says, "Not much to report, except that Linda and I spent a week in Texas with her daughter and family, and San Antonio is a fun city. Otherwise we've been quiet around here—Linda continues to ride, and I continue to vegetate. In March we'll go with family to Eleuthera for a week in the Bahamas and look forward to returning to nice spring weather."
Bob Chellis says, "I'm an RR fan—but I've sold my Lionel trains and my dad's vintage Ives electric trains. And I haven't had a really good train ride for years. So, I'm excited to have booked a bedroom on the Lake Shore Ltd.: South Station, Boston, to Union Station, Chicago. The excellent excuse is a grand daughter's double graduation at Northwestern in June. So, 19 hours each way of great scenery, good reading and the rumbling of the rails. And I'm still looking for the newish Putnam New England Rye Whiskey, distilled
Fox Hill had a dinner for "legacies" last week—children of former residents. Sam Gray's mother was here in the 1990s, as was my mother and Dave Fisher's. Sam was in Montana on business, but Gerry attended, and we chatted over cocktails and dinner. The Grays have an apartment here, near Boston, but are mostly in Wareham or sailing in the summer. And Dave Fisher's sister, Judy Robbins, retired from the Winsor faculty, is here now. She read a poetic tribute. Their Westwood par-
1. George Nicoll and his wife, Nicola, find George's father's class photo on the wall of Shattuck. Angus Nicoll '46 studied at Nobles during World War II and later established a life in agriculture in Zambia.
52 Nobles summer 2022 GRADUATE NEWS ents helped Fox Hill gain zoning and were early move-ins.
I called Sally and John Harrison here in Dedham. John sends greetings to the class, and says he and Sally "are doing pretty well, for old folks."
"My car files and memorabilia have gone to a Ferrari owner. Most were irreplaceable histories on the Ferraris that I restored, plus one car badge made of unobtanium, meaning you can only get one on a car that's been raced by the North American Racing Team. I think of my classmates often, and meanwhile, guys, I'll see ya in the Tofunnies."celebrate his latest "geriatric birthday" (as he refers to it), Tim Leland threw superstition to the wind and took his family on a bike trip to . . . er . . . Death Valley, California. Along for the ride were his wife, Julie; his daughter, London; and his son, Sasha Leland '88, together with spouses. Happily, Tim lived to tell about it. In fact, Julie and he wrote an article about it that ran in the Boston Globe's Sunday travel section in March. In it, they summed up the experience as follows: "Biking in Death Valley is like biking nowhere else—unless, perhaps, you've biked on the surface of Mars.
The roads (there are only a few) stretch ahead on the desert floor as far as the eye can see, pencil-thin and ruler-straight, until they dissolve in a dot on the horizon. When vehicles pass (there are very few of those as well), the drivers invariably pull far out in the other lane, giving the biker a wide berth. For the most part you pedal through this brooding, prehistoric land in silent awe, alone with your thoughts. There are no bird sounds. No motor sounds. No people sounds. Just the faint hum of your tires on the macadam as you make your way through this mysterious, starkly beautiful landscape, shrouded in the stillness of time. . ." They plan to add the article to the book they wrote about their many biking trips—Thirty Years on Two Wheels—which is avail able on Amazon. Rocky Whitman recalls that on December 29, 1958, the day after Baltimore's Colts beat the New York Giants in "The Greatest Game Ever Played," he was sworn in as No. 11354602 in the Regular Army. Eisenhower was president; JFK was a senator. For most of his next three years, two months, 16 days, 22 hours and 10 minutes, he was a medic in the 82nd Airborne Division at Fort Bragg, North Carolina. "At 10 a.m. last March 14," he said, "I marked that it was exactly 60 years since I was discharged from the self-inflicted conse quences of my rash act."
1956 Class Correspondent Gren "Rocky" Whitman "I was hoping to soak up some Florida sunshine after the hol idays at St. Pete Beach," writes John Fritts, "but had an appointment with my cardiologist in January. (I routinely see him once a year. He asks how I feel, I tell him great, and then we talk about the Red Sox and the Celt ics for a half hour.) My doctor classmates will appreciate this. He suggested a cardiac test at Mass General Hospital in Boston, as a precaution. Big surprise— three partially blocked arteries restricting the flow of blood into my heart! Next was triple bypass surgery, seven days at Mass Gen eral, six weeks with no driving, no lifting, no drinking, no fun, but lots of physical therapy. And no trip to Florida! At least I'm on top of the dirt, not under it, and get to see the sun come up every day. Life is good." From Dave Carroll: "I had a real Boston Saint Patrick's Day meal for the first time since the Deluge, corned beef and cabbage with all the trimmings. It reminded me of Durgin-Park, especially the time I sat across from a guy obviously upstairs from his night in the gutter, who ordered a steak dinner. The waitress was dubious; so was I. Even from across the table, his breath clouded my vision. He proved us correct, ate it all, and then declared that, of course, he had no money, couldn't she tell just by looking at him? What could she do? He was in no condition to wash dishes, so I guess D-P had to eat the cost. His pants were torn at the knee, á la Charlie Chaplin.
John Fritts reports that grandchild no. 6, a baby boy named Carter John, was born in April 2022. 1957 Class Correspondent Eliot Putnam Eliot Putnam writes: "Greetings to all classmates, and indeed to all graduates, as we emerge from a truly testing time. These notes are written in March of 2022, two years after the worst March that ever was. Back then, everything shut down. We shopped once a week in a buttoned-down supermarket 7 to 8 a.m. on Sundays set aside especially for senior citizens. March Madness was canceled. Playoffs were canceled. Streets were empty. Worst of all, the Covid death toll climbed precip itously and inexorably to truly dreadful heights. Since then, we (or most of us) have been vaccinated, masks are slowly coming off, and what once passed for reality is making a comeback, albeit with some permanent alterations. One of the most obvious is the fact that many who can work from home (so many of us can't) are choosing that as a permanent condition. But March Madness is here, baseball is back, and graduating students may actually have full-fledged commencements this year, something so many young people were denied. Now, if Vladimir Putin would
Wondering about Bob (Bebo) Gregg, I called Carolyn Grumman, Bob Taylor's widow, at Old Town Farm in Peterborough. Bebo is still at Hillside Village in nearby Keene, New Hampshire, in memory care. He was able to return a call from Harrison last fall, so might like a call. If anyone can visit him, Carolyn generously offers a stay-over at Old Town Farm! The house there has grand views, is surrounded by her amazing gardens, and swarms with birds. And Carolyn is a wonderfully gracious hostess. Have a prime post-pandemic spring/summer!
Robert McElwain writes: "My wife, Mary Lou, and I broke out of the February doldrums this year and ventured down to Cooperstown to finally take in the Baseball Hall of Fame Museum. We had been advised beforehand that wintertime is the best time to go if you want to get seriously immersed in the exhibits and films. There were only about 30 other people there in the two days we attended. It was an awesome experience for both of us. A couple of other things: The hotel we stayed in, The Otesaga Hotel on Lake Otesaga, had special winter rates, and it was only a 15-minute walk to the Hall of Fame Museum."
Nobles summer 2022 53
In March, we got a long update from Lance Grandone: "Greetings from the Florida Sun coast. Karin and I just passed our 61st wedding anniversary that we both had sort of forgotten about. We are both in reason ably good health, although the arthritis can be tough at times. We are still hunkering down at home with limited contact with crowds and the unvacci nated. Florida has a fairly high percentage of anti-vaxxers and anti-maskers, particularly among the young and middle aged. The golden-aged geezers like us have a 90-plus percent immunization and booster shot rate. This coming spring break should be interesting, as new cases of Covid are on a slight uptick. Fortunately, deaths are down, but I have lost a lot of friends due to Covid. Our daughter, Susan, has finally retired from her COO position with the Australian mining consortium she was with for several years and has moved in with us in our Nokomis house. So, we are no longer empty nesters. I don't know what the term is for a child who moves back with their parents, but I'm sure someone has already coined the phrase or acronym. Susan will probably do some consulting work after she decompresses and use our house as home base. We will have both our son and daughter retired and working as independent consultants. This arrangement sure beats 'working for the man.' I'm still heading up our condo association board and trying to keep things on an even Mother Earth Goes to the Palliative Care Clinic by bob baCh '56 What brings you to the clinic Mother Earth? "Physical mental and spiritual abuse I have literally been raped and Theytorturedstick oil drains in all parts of me They strip my forests and leave me naked deserts I'm covered with asphalt and have a persistent fever They contaminated my rivers stream and seas My vision is blurred with smog, I can't breathe My animal friends are hurting as Theywellare hungry, suffering and homeless My spirits are running low, as there is little hope Reverence for life seems only a dream Do you have any type of Thesupport?Wind and the Sun are my lifelong friends
just get the heck out of Ukraine and stop his (and it is his alone) senseless carnage. Affectionate good wishes to everyone."
Loring Conant writes, "With the threat of Putin's Russia using nuclear weapons in Ukraine while we all are emerging from this most dystopian pandemic, human connections are all the more essential. It is always a treat to be in touch with our classmates, some for the first time in decades, like Stew Burchard. It will be an enormous treat to be with as many of our Class of 1957 as possible at our 65th in May. In the meantime, every day is a gift for Louise and me as we benefit from being in a most supportive community, Brookhaven in Lexington. We hold out hope (and fear!) for our three grandchildren (their father is David Conant '85). All three have come East to college. James just graduated from Harvard and is working at Robust Intelli gence, in San Francisco; Sarah is a pre-med sophomore at Bow doin; and Clare is a pre-vet fresh man at UVM. Looking forward to our gathering in May."
The native Indians were my children They sang and they danced In my honor Most don't realize I am dying a slow death Most don't know how much they depend on me We all know there is a way to save you Mother Earth I will call on those that are estranged We will tell them to reconcile with you And avoid taking guilt to their own grave"
Peter Norstrand writes, "Fran and Bob MacPhail and Kathy and I went on a 13-day Azamara Caribbean cruise just before Christmas. Everyone on board had been vaccinated and tested before departure and tested again during the cruise, so we felt pretty safe. Stops in St. Thomas, Barbados, Domi nica and Virgin Gorda, among others. We dined together every evening, so a lot of catching up after two years apart. It was a marvelous time. I am scheduled to become a great-grandfather tomorrow, of the fifth generation having a first-born baby girl." Mike Whitman writes, "Isolating is hardly newsworthy—but not for being sick: It's avoidance of infection, and it's easy out in the country. We do lots of reading, and puzzle swapping is increasing here. Also, cooking and baking, and then trying to work off the results of the eating. Oh, and hauling in the firewood to stoke the stove during a very chilly start of the year."
Tappy Wilder writes, "De lighted to report that I have so far not caught the scourge and hope to continue this unblemished record, even in its current hospitable form. I did get snagged to join the committee planning this year's Yale 60th re union. We started out with 1,000 future leaders of the world. It's now down to some 650 largely retired representatives —with the number dropping daily—of the perfect world we created in our productive lives. Much to celebrate and cry about."
Chris Morss writes: "At the risk of being unduly cautious with Covid, hibernation has been the way of life for some months, but living quietly has virtues. Thanks to Zoom and other technologies, staying in touch with people has remained possible, so life is not lonely. A dearth of appealing TV programs has provided ample time for reading, and happily there is no end of enticing titles."
Bill Danielson writes, "I watched The Tragedy of Macbeth recently. It took me back to Mr. Eaton's grade 10 and 12 English, where we memorized the play's major soliloquies. As the (wonderful!) film progressed, I increasingly annoyed my family by delivering still-remembered fragments in unison with Denzel and Frances. Otherwise, life with wife, daughter and son-in-law under the same roof is harmonious. It warms me to hear now and then from classmates via Facebook, email and even (rarely) in person. I'm taking an online programming course in Python, via MIT, so I can talk to my granddaughters in their preferred language. I also use it to count (and thank) my lucky stars."
SSAFE.org, which stands for Senior Stewards Acting for the Environment. Fortunately, I have not fallen into despair since Puffer and Danielson have come to my aid and keep me safely just this side of the Slough of Despond. Speaking of whom, my spouse, Sharon, and I had a marvelous several days in October with Bill and his family on their tight little island off the coast of Maine. Now, they have done it right! I mean, we still have our place in the North east Kingdom, but dang, it's so far from Puget Sound! Closer to home, though, I also had a refreshing and quite wonderful visit with reformed hippie Mike Whitman in his classy digs just up the road in Lyme. So, now that the Pestilence is seeping away, when do we get to have another reunion? I think I'm about ready to stagger around in circles and drool like the rest of those old codgers. OK. Gotta go do my 80 lengths in the pool. They tell me if you don't get your exercise, you die within another 30 years. Dang."
1958 Class Correspondent Chris Morss Larry Daloz writes, "After 22 ecstatic years on an island in Puget Sound, we are becoming accustomed to life out east, here on the Dark Side of the River Connecticut. And it is good, particularly here at Kendal (a Quaker-inspired CCRC) in Hanover. Those of you who can still remember may recall that I perhaps lacked a bit of the killer instinct that fired up guys like Grant on the gridiron, Bland on the ice, Horton down on sec ond—or even that Slasher Dan ielson on the tennis court. But now that I am a Quaker, I have an excuse. Besides, it turns out that our testosterone level drops about 1 percent per year, so… since 1958…that would website,to10severalinitiativeinsee.committeesrunbusywell.oncehavedidanyweBurdoin,see…percentages…minus…um…be…let'swhereareyounowthatneedyou?Anyway,incaseofyouareworried,Ineverbecomeaballetdancer.Ididayummyaffairwithonethough.…Ah,IrememberitSo,theykeepusmorethanhere.Residentspracticallytheplace,andthereareasfarastheeyecanImanagedtogetinvolvedstartingupaclimatechangethatnownumbershundredmembersacrossKendalaffiliatesfromhereChicago.Takealookatour
1959 Class Correspondents Whit Bond Buzz Gagnebin John Gibson
54 Nobles summer 2022 GRADUATE NEWS keel. With only 24 units, lots of widows, and an average resident age of 85, it's a real chore trying to find board members. Then throw in a few resident disagreements, complaints about pets and covenant violations, and you have an interesting mix that would test the patience of Job. I'll stay with it as long as I am able. Otherwise, things are quite peaceful here, and we are cautiously optimistic about the Covid situation. I'd love to get up to Massachusetts for a reunion of some sort, but I will probably play it by ear. Some how getting on an airplane with a bunch of unmasked, unruly passengers packed in like sar dines just doesn't appeal to me at this stage of my life. I will try to send more frequent updates and wish all surviving members of the class of '57 all the best. I would love to hear from any of you to reminisce about our Nobles days. As our late scribe Johnny V(alentine) always signed off with: Excelsior."
Diane and Tim Russell visited a couple of times.
1964 Class Correspondent Ned Bigelow
One day, after Mr. Eaton praised his description of 'a curb blurred with sand' in a weekend theme, he admitted on the way out of class that this was standard usage among blind people and laughed. His ebullient piano playing included classical music as rock 'n' roll, and vice versa. Dave loved entertaining, but he also educated us all."
1962 Class Correspondent Peter McCombs 1963 Class Correspondent Jim Lehan Dick Harwood writes: "It is with great sadness in our hearts that we tell of the loss of my 22-year-old grandson, Robert Mason Wood, who passed away from cancer this January. He was an incredible young man, and we will miss him dearly. Due to Covid and our own health concerns, we were unable to attend the services. On February 13, we were blessed with the birth of our great-granddaughter Hazel Eli ana Harwood. We hope that our classmates are being safe and doing well. We miss you all."
1960 Class Correspondent Albert Vandam Chip Gray writes: "A note in response to the obituary of David Angney '60 in the winter NoblesDavemagazine.Angney was a won derful classmate and friend. He was courageous, smart and high-spirited. He was determined to participate in every aspect of Nobles life, and he did so with great success. He was funny, often at his own expense.
1961 Class Correspondent Peter Ward Brad Willauer, "The Old Man of the Sea," is still sailing their boat with an all-family crew of nine in the annual Newport Bermuda Race, 635 nautical miles in three to six days during mid-June. Reb Forte is delighted that their son, Will, hosted Saturday Night Live on January 22. Brad Willauer predicted that if Will "is as wild as Reb was, it should be fun!" It was. Will was a cast member on SNL from 2002 to 2010, where he was infamous for his highly energetic, off-the-wall humor. After 25 years in Indianapolis, Chris Schmid retired five years ago to Avon, Maine, where he rows, kayaks, hikes, gardens, cross-country skis, and studies French, his mother's native language. He went to the Dordogne region just west of Bordeaux to practice. Chris is still doing a little work brokering lumber with Boynton Glidden '61. He drove three hours west to check up on Sally and Jim Newell for the first time in 45 years. He reports that Jim's sense of humor is still as good as ever. Sally and Jim Newell went to see their son and his family in Brussels, the Beatles Museum in Liverpool, and Cumbria, England, an old stomping ground during college. One of Jim's grandsons is speaking three languages at age 9, proving that Jim has successfully passed on his genes. Plus, they have three grandchildren living nearby in the Northeast Kingdom of Vermont, enjoying the Riverside School, which Jim helped found and led for many years. Peter Ward is amazed that Chris now lives less than four miles as the crow flies from Jessie Pond, where Peter spent two months each summer from 1956 to 1959 in what was then the Maine wilderness, without electricity or telephone but with a busy beaver, a raccoon, some deer and a woodpecker who enjoyed pecking on the cabin wall at dawn.
Jim Henry and Diane, his wife of four years, have been traveling to Italy, England, Ireland, Scotland, Costa Rica and France. Jim has lived in Jacksonville, Florida, for 33 years and claims he would not want to live anywhere else, even though the Jacksonville Jaguars have been struggling.
Nobles summer 2022 55 Buzz Gagnebin shares a few ideas: "I have found a lot of comfort in our time of isolation by viewing classical violinists on YouTube. Here is my list of ones I love watching/hearing. Just search for them on the YouTube page: Hilary Hahn, Lisa Batiashvili and Maria Nuenas. In spending a lot of time at home, due in part to the pandemic and in part to my continuing slight disability from myelitis nerve damage, I have been induced to move along in music projects that I have been producing for several years. When at Nobles, I never had or displayed any talent in music, and even the little playing I did on my father's tenor banjo was condemned by one of the Nobles teachers back then. I'll bet you can guess who that was. In my first job at MIT after Harvard, I got into playing the piano, and that has continued ever since. In 2000, I acquired my first violin and have been in love with the fiddle ever since, currently having my two favorites made in Switzerland, my ancestral home. I have played the fiddle regularly ever since, and have also produced several projects on interesting subjects by professional fiddlers. I am just a total amateur. Currently I'm working on a video of music played by a professional reflecting the history of the violin backed by relevant images. The two projects I'm working on include the history of the violin on shipboard, not just as entertainment but for synchronizing the activities of the seamen, and the use of the fiddle as an instrument in the horse-drawn carriages in which the Westward Migration took place in the 1800s, there used for dance and comfort on the plains. Good for you, Sweet Betsy from Pike. I grew up in a neighborhood of Piked Hills, where Betsy was the sister of two Nobles students."
43
56 Nobles summer 2022 GRADUATE NEWS
Early last December, on a beautiful sunny Sunday, Robin and Topher Cutler invited classmates to their home in Shrewsbury, Massachusetts. It was great to catch up with everyone—my only complaint, not enough time, but that always seems to be the case. "See photo of the members of the 1st boat at right." Bill Miles reports that his grandson, whom he coached through years of youth hockey and soccer, is now a ninth grader at Middlesex. Don't know who to root for!? Additionally, his wife, Helene (Dartmouth's Rassias Center for World Languages and Culture—prize to anyone who can build an acronym out of that), is running the world languages for a new school in Marlborough: New England Innovation Academy (https://neiacademy.org/). "Our son, Matthew, is their after-school and boarding person. He's a recent grad of John Cabot University, in Rome, where he was an RA for a few years. "Personally, I am doing lots of biking (indoors for now), tennis, golf (soon), paying bills, talking to my dogs, and, oh, coaching soccer again. My older son, Bill Jr., and two partners (one is a for mer Pittsburgh Penguins defen seman) built two small turf fields and an in-line hockey facility, and he also took over the reins of our local soccer organization—a couple of hundred kids! I did hang up the JV hockey coaching job at the onset of Covid; being in a locker room and school bus seemed not a good idea. "Lastly, we are working with a few families of Afghan refugees teaching English, picking 1. Jim Ritvo, Class of 1964 2. 1964 members of the 1st boat: Topher Cutler, David Brooks, Ned Lawson and George Darrell—only missing coxswain Dick Grossman. 3. Jim Sleeper '68 with his wife, Sarah, and their daughter, Vivian, a sophomore at Northeastern 4. Photo by Jim Esten '68 2 up a 5-year-old at day care, getting them haircuts. Five soldiers and a family of six, including newborn twins. The father works for the UN in Istanbul and just arrived on paternity leave. The soldiers are young and quite poor, and all have family in Kabul. Anyway, more to keep me out of trouble—interesting and heartbreaking to hear stories from Kabul, and now Ukraine…ugh."
Alexander Caskey writes: "Here's an update about the Nobles DEI (Diversity, Equity, and Inclusion) program and the Ritvo award named in honor of James Ritvo that our class helped initiate last spring: Alexander Caskey, Mike Wiggins, Rick Farlow, Ned Bigelow and Ned Lawson were able to accompany remotely at last June's graduation award ceremony, together with the Ritvo family, who joined us from Vermont. We followed up by Zoom shortly afterward with the Ritvo clan (Jim Ritvo's beloved Marjorie, son Jesse, daughter Molly, and brother Roger) to get to know one another, and of course to reminisce about Jim. As many of you know, Casey Hassenstein chronicled the history of the joint effort to set the Nobles DEI Resource Endowment fund in motion in the Fall 2021 issue of Nobles magazine, leading with the title "Change Agents: How the Class of 1964 is leading the way." In late December 2021, No bles DEI co-leaders Nahyon Lee and Edgar De Leon '04 offered guidelines for the stewardship of the James M. Ritvo '64 Award. In summary, each year, the recipient(s) will have the oppor tunity to meet via Zoom with the Ritvos and the DEI Fund donors, and we will receive a copy of the award presentation remarks, including background information of the awardees. Links to any live-streamed ver sion of the award ceremony will likewise be shared. Katie Coggeshall '88 has since announced that the fund has received further contributions, with additional gifts expected in the near future. Dr. Hall and the board are
1
Robert Woods writes: "I'm glad to report that our two children are 'replicating'—that may be the wrong term (but I failed biology). The good news is that Shoshi and I are now doting grandparents to twin girls (age 4) and two grandsons (ages 1 and 2, yes, from different parents). Our life here in Rockport, Massachu setts, is quiet, filled with great friendships, including with Mike Sherman and George Record, both in nearby Manchester. My major focus recently has been writing books: Waking Up to Deepening Our Relationships (a memoir, self-published in 2020) and currently another nonfiction book about seven 'visionaries' (in different fields, like Stevie Won der, Lionel Messi and Carl Jung), dedicated to our grandkids, who might learn a trick or two from these seven stories."
finally able to look ahead to the next strategic plan: Financial aid and the school's critically important DEI priorities will be a significant part of the strategic planning considerations.
Nobles summer 2022 57
1967 Class Correspondent Drew Sullivan 1968 Class Correspondent Mike Sherman Dave Robinson says, "Greet ings, my friends! Speaking of music, my wife and I will be hosting Chip Harding '69 and his wife, Madeleine, tomorrow here at home, as they will be stopping by so that I can put harmonica onto two already recorded tracks of theirs. It will be fun to once again be creative. Now that Scott Brown is 'an Outerspace veteran,' he needs to know that the band will be playing at a combined Trinity College reunion in June for the classes of '71 & '72, which will be a hoot. Dana and I hosted both of our nearby granddaugh ters yesterday—Avery (third grade) and her younger sister, Winnie (15 months)—which was wonderful. Mr. Burr, I am very pleased to read that you are developing housing options for dis abled folks—Go, Torch! I retired from Western Massachusetts' Stavros Center for Independent Living, where I worked for 16 years, and now happily serve on their board of directors. Hi to all, and best wishes."
1965 Class Correspondent Jim Summers 1966 Class Correspondent Ned Reece Ned Reece writes: "Mary and I and the two boys have just decided to chase Gigi's band, Horsegirl, around Europe for a few weeks this summer! London, Paris, Berlin—three cities, five gigs, out of the 30plus shows in 27 cities across Europe and North America in June, July and August 2022.
Mike Sherman says, "Enjoying an official sabbatical from Belmont Hill up here in Manchester on the North Shore this year, and I'll be returning for year 51, teaching those same great calculus concepts Bear Horton taught us! Best wishes to my old friends—Sherby."
Including Boston Calling over Memorial Day at the Harvard Athletic Center. Read all about it at Horsegirlmusic.com."
Bob Frazee writes: "We are doing pretty well here in Barnstable—feeling somewhat relieved about the drop in Covid rates all around the state and so many places in the U.S. Very tough news every hour out of Europe, of course, and it's such a throwback to our days as kids. Can't believe our grandkids may need to experience that 'duck and cover' BS too. So, some of us must be sneaking up on 50th college reunions this year, and whether college happened, went well, or didn't, I hope everyone can reconnect with old friends once again in whatever context is most fitting. Certainly this century, more than ever before it, feels like friends and family are what it's all about; and while some nations (perhaps including our own) 'abuse technology,' as wise people have said, the digital age has kept people a lot closer than they could possibly have been back in our day—shouting into a copper wire to be heard long distance. Kindest thoughts and very best wishes to all the Nobles crew."
George Record says, "No matter how ambivalent we may feel about our experience at Nobles—I certainly do— although I am very grateful for that experience and the friendships I made, I often think I might have been better off at Brookline High School. Anyways, I'm now fully retired from medicine, living on the Shore north of Boston (very close to Sherby [Mike Sherman], who
Jim Sleeper writes: "My brother Tommy (Sleeper '74)'s daughter is married to a former NHLer from Vancou ver and a BU graduate who just finished captaining the Chinese Olympic hockey team in Beijing. Go, Huskies!"
Patrick Grant Jr. writes: "Finally got back on skis this past December after 20 months of re hab following a left knee replacement in April 2020. The surgery went well, but 40 seconds into my first run, I caught an edge and fell on the 'new' knee (back to rehab). Three weeks later, I fell in the ski area parking lot on ice (back to rehab), and finally I dislocated the knee for no apparent reason skiing down a trail in February, which ended my 2020/2021 season. It was back to rehab again to get ready for the 2021/2022 season. Good news is that I had a pain-free winter this season with great conditions. What is so special about skiing is that my entire family loves to do it. Both granddaughters are very good, the oldest (13) being a snowboarder and the youngest (11) a skier. Celebrating my 50th college reunion in Cambridge this June, two years later than normal. Getting the '60s and '70s music prepared for a festive evening. Susie and I are both retired, even though I still own a company, Splash Shield Inc., which produces full face shields to protect against pathogenic viruses. It has been a busy two years. Hope to see as many of us as possible at our next Nobles reunion in 2026."
58 Nobles summer 2022 GRADUATE NEWS
Steve Burr writes: "Aloha to all from Maui, where I'm on a short vacation from retirement, accompanied by kids and grandkids. We have visited here over the past 30 years, always amazed at the pristine exotic environment in spite of all us tourists. My usual retirement includes skiing, hiking, gardening, and developing nonprofit housing for disabled folks, as well as raising chickens and helping with grandchildren. Lately I've taken a liking to lichens, perhaps the original life form that moved from water to land in the resilient combination of algae and fungi. Long live Zelensky! (And all of you!)"
Jim Esten says, "Funny, I've long thought I would have done better in a public high school, primarily because it was easier for me to make friends with girls. Karen has had some crummy non-Covid medical issues lately, but otherwise we've managed pretty well for the past two years. Lots of books, hiking, Netflix/Amazon movies. I've watched a lot of sci-fi (favorites: Inception, both Blade Runners, 12 Monkeys, Looper, Ex Machina). I start my days with coffee and Italian study on Duolingo, in part because my son recently bought a house in Abruzzo (free lodging in Italy? Yes, please), and in part because language study promotes brain health. The pros pect of cognitive decline scares the bejeebers outta me. Pho tography has made it easier to get out of the house while still avoiding people. There are always birds who require portraits from me. I love phototours. I went to Big Bend National Park and Alaska's Inside Passage last year, and am headed to Death Valley soon. Meanwhile, Karen makes some wonderful things with knitting needles. Nick Hyde writes: "I think I was still working the last time I wrote anything for the alumni news. After kicking around for 72 years, we all have a lot to be thankful for (as Kim Jones always said, 'a preposition is a bad thing to end a sentence with'). The diversity of our class's occu pations and interests is truly amazing! I was fortunate enough to practice general surgery in Mid-Coast Maine for 33 years. Laparoscopic techniques were in their infancy and not yet taught in surgery residency programs— they were 'too dangerous.' We learned them by going to con ferences where animal labs were provided by the companies who manufactured the specialized instruments required to operate through 5- and 10-mm openings instead of the traditional slash 8–10 inches long. I know a couple of you guys come to the Kennebec River casting for that elusive striper. We are next door on the New Meadows River, just upstream from Cundy's Harbor. There are some big fish up here! (Rick Storer, I still have the card you sent a couple of years ago. Barring catastrophe, you'll hear from me this spring!). So, over the years I've done some skiing out west with Ned Grant, played some guitar and sang with Bob Lasher, met up with Jim Sleeper in California for dinner. I hung up my skates at 65, although if there was an over-70 group I would be tempted. It is abso lutely mind-blowing what even a middle school kid can do with the puck! Covid be damned!"
I have the good fortune to see regularly), and squeezing everything I can out of the few remaining good active years I have left. My twin brother, Frank, is big into reunions, and I'll probably go to our '72 college reunion with him." Ham Clark writes: "After 33 years of leading schools, I will retire in June and then transition to a bit of educational search work and consulting. Ceci and I have a second grandchild on the way, and we are eager to be back in the States to spend more time with friends and family, to catch the elusive big striped bass, and to see if it is possible to play respectable golf. If any of you are traveling through Dubai in the next few months, we would love to see you. Stay well."
Rob Lawrence writes: "Great to hear from all of you and the bits of info that you've shared! It is so good to see some semblance of life returning to normal. My building life goes on as the construction world continues to go crazy in spite of rising costs and ridiculous shortages of materials. I am beginning year 48 in business in just two weeks. Weezie and I are quite fortunate to have our son-in-law now as a partner in our business. Kyle and our daughter, Crosby, with their two boys have been living with us for the last 10 months while they build their new house just a mile from us. Their boys, ages 3 and 5, make us very proud. Of course, there are times when they test our patience (I don my ear protectors when the noise gets out of control), but it really is rewarding having three generations under one roof! At age 94, my mother, Patsy Lawrence, is going strong and sends all of you her best as she remembers our Nobles days very fondly and being with you for our 40th reunion. Thank you all for touching base and giving us a glimpse of your life." John Rivers says, "Inspired by a superhot real estate market on Mount Desert, a steadily di minished ability to do the work necessary to maintain the house due to my Parkinson's, and complaints about our daughter's animal rescue activities by our superwealthy neighbors, we sold our house in Northeast Harbor just over a year ago. We bought a house for our daughter where she is breeding corgis, and Carol and I moved into a retirement community in Blue Hill, called Parker Ridge. We are enjoying living here and are glad we stayed in Maine (although I wish it wasn't so cold). The Blue Hill peninsula is close to Mount Des ert but very different, and it has been great fun to explore. We are the youngsters in the group, but the people are interesting, and it sure is nice to look out in a snowstorm to see the guys with plows, snow throwers, shovels, salt and sand working on our driveway and walks. Emptying the house was eye-opening. It took five or six months of steady work. We found things like my parents' tax returns and bank statements, a huge amount of family history material dating us back to William the Conqueror, and, of course, a collection of our stuff from many years of accumulation. Attics are danger ous. I have been continuing my photography, which is becom ing much more difficult due to
After completing the application process, Petrini became a Big Brother to an 8-year-old third-grader from Dorchester, Massachusetts. He gets together with him two to three times a month to see a movie, go bowling, or even explore the Franklin Park Zoo—all things he loved to do as a kid. Petrini admits he was nervous meeting his 'little' at first, but quickly realized the child was just thrilled to have someone listen to and appreciate him. "Being a 'Big Brother' is such a fun way to give back," said Petrini. "I know it sounds a bit cliché, but it has been just as rewarding for me as my 'little.'"
Andy Lord writes: "As of Jan uary 1, I have been in semi-retire ment. So far that means that the stress of making a weekly pay roll, etc., has disappeared, and it feels great. I no longer have em ployees and all that is wrapped up in that, and I am relaxing for the first time in 50 years. I have continued to work for good old customers as a soloist, and so far am enjoying the work and lack of stress. Steve, Hannah and I were on Maui last November visiting friends and loved it. We have been traveling some and just spent a long weekend on Sabat tus Pond, Maine, celebrating 50 amazing years together." Warner Guild says, "For me, I gratefully reflect about my education and life at Nobles. It was a nurturing and enriching experience, which gave my life fruitful meaning and purpose. There's a lot to be grateful about, aside from this great country, being happily married, having a great family with kids, good health and our dog. I sold my property management business two years ago and am semiretired.
1969 Class Correspondent Peter Pach When writing these notes, spring was approaching, the virus was still lurking, and the world situation was roiling when classmates sent in this news of lives emerging after two years in various stages of arrest. Steve Baker checked in from Florida with the kind of life changes that many of us are facing. He, his two brothers and his sister have decided to sell the family's house in Hyannis Port, which they've owned since 1960. Located near a bend in the road, it looks directly over Hyannis Harbor and
In June 2021, after returning to the Boston area from New York City, Curt Petrini '12 was moved by a story he read in The Boston Globe about Big Brothers Big Sisters of Eastern Massachusetts. "The article described the huge demand there was for Big Brothers, noting that more than 1,500 little boys, or 'littles,' were waiting to be paired with Big Brothers, or 'bigs,'" said Petrini, who serves as vice president of development and construction at Petrini Corporation. "I took this as a sign that it was time for me to get involved."
Thankfully, for some reason, the new owners wanted to keep this old guy around—I actually enjoy working. I've been living in Hopkinton for only a short 40 years. Our 'troll' house is in the woods on Lake Whitehall. Nick, I'm still skating and skiing at Wachusett. Yes, Mr. Horton was subtly funny in his own way. At dinner he'd say, 'Please pass the garden-fresh vegetables.' Of course, they were canned. All the best, Warner."
illUStratioN by graCe helmer
Nipper Harding writes: "I have been on some of Chip Harding's open mics this past year, which has been great fun. I am mostly retired from software consulting and spending more time on music, recording on my own and with a choral group in Bath, England (the other Bath, Nick). Still playing old man's hockey three days a week and enjoying it for as long as I can! Check out some of my recordings on  comhttp://www.nipharding. , where there is also a link to older recordings on Soundcloud. Best to you all, Nipper."
Bond Brothersof
Nobles summer 2022 59 Parkinson's, and working on the family history. It is a fascinating exercise in piecing together the story of our families and their relationships with the places and events in history. It brings history to life in a unique way that makes it much more real. I wish everyone well and am grateful to have had the chance to reconnect."
CURT PETRINI '12
Tom Taylor sent in a field and stream report from his home in Parish, New York. "De scription: ( gifui/v1/icons/mail/images/cleardot.https://ssl.gstatic.com/
) Cold, cold, cold is the best description of the winter here in Upstate New York! Lots of zero and subzero temps since January. Fall salmon and coho run was fair. Not a lot of fish, but some epic ones. Fly-fish ing remains the venue. Spring steelhead is starting, stonefly nymphs are emerging, so warmer days are around the corner."
Tom also reported on his grandchildren: "Grandson Eben is becoming a formidable hockey player, blistering shots from the point as a defenseman. Granddaughter Lyla continues her dressage, riding atop Gemini and winning ribbons. Covid is nonexistent up here.
a short history: "I was only two years out of Nobles, and Mary was a child of 19, when we got hitched. But miracle of miracles, we made it work. And this long, happy and loving marriage, with its resultant family, is my greatest achievement by far. As Mary's favorite animal is the donkey, I gave her a necklace with a gold burro—cementing the decades-old family joke, 'She loves donkeys, so she married an ass.' "To celebrate, we rented a ski condo at Sunday River for Presidents Week and had all 23 of us (children and grandchildren) cram in (bodies somewhat staggered through the week). It was a glorious, raucous time of chasing 6-yearolds down green circle trails on the mountain, industrial-sized dinners and sleeping bags everywhere. Looking forward to the next 50 already."
Peter Gates and his wife, Debbie, visited David Brown in Baltimore. Peter says it was "on their way to their first (and long derided) 'Florida vacation' in Vero Beach during February."
Nantucket Sound and is across the street from the Hyannis Port pier. Steve says it will be a big change for his family and extended clan, which have held reunions at the house over the last couple of decades. His mother was a regular on the links at the Hyannisport Club and won the women's championship four times. Steve wrote, "Mark Haffenreffer will probably remember [the house], since we had a very entertaining sailing adventure on my Sailfish one September way back when. "My mother and I remain in Florida so that I can take care of her. She is not doing well, but of course nobody knows how long someone's decline will take. Sad. I suspect a number of our classmates either are currently taking care of aging parents or recently were taking care of them. My mother is 97.5 years old, so perhaps I am late to this particular kind of party, such as it is. Nonetheless, I'm doing fine, keeping busy on many projects, spending time every day with my mother (thank God for laptops!), and happy that Florida is heating up. "All in all, I think my life is going to be changing in lots of ways over the next year or two. I wonder what I'll be doing when I turn 73 two years from this March? Do any of our classmates have a good idea what their 73rd year will be like? Let's hope it's all good!" Mark Haffenreffer, who left his orthopedics practice last spring, has plunged into another form of helping people stay active. He wrote, "For somebody like me, retirement's best choice is another job. What I saw in my practice was that a lot of our age group didn't exercise, and as a result was getting tighter and weaker with time. That's what fueled me to create a program that stretches and strengthens at the same time and teaches the individual to answer some questions about themselves specifically. "I took my dog-and-pony show to an advertising agency, and they sent me packing as too small a fish. What they did say was they saw the greater good and will advise me on matters of the web, branding and presenta tion pro bono....There is a God. "They tore everything up and made me start over. Keep it simple, have a hook and target those you can help. Pretty simple, right? Let's just say I have a whole new respect for advertising. I won't bore you anymore, but I will say the program is unique and has merit. Forty years in one practice watching people over time allows for observations on the progression of problems and what really needs to be addressed. Frankly, I am too old for this, but I've invested too much time to stop now."
Fuel is the main concern now, as the madman in Russia plays out his hand. Looking forward to spring. Best to all."
Peter reports, "The cat keeps a tidy home, featuring a charming new guesthouse (with hot tub), excellent home cooking and thoughtful, wide-ranging conversation. For the record, the Gateses preferred the weather in Vero Beach." Life here in Middle Haddam has expanded slightly. We've ventured out to more dinners with friends, which after two years undercover feels quite daring and a relief. We even took the train into New York City to stay with friends. I got my first, long-belated look at the Met (who ever said there is no culture west of Dedham). I have begun a project to scrape the paneled wall in our dining room, including intricate molding, but that somehow got inter rupted by an excavation of the cellar, where things have been accumulating for more than 36 years. I've found some artifacts that have been untouched for decades. It turns out I'm not as sentimental as I used to be. I'm doing lots of business with the town dump and donating many items to a local children's arts group for their annual tag sale.
This December, Brad Wilkinson and his wife, Mary, celebrated their 50th wedding anniversary. As far as I know, Brad was the first in our class to get Hemarried.sentin
On a sports note, fans of the University of Connecticut women's basketball team have been cheering on the play of Caroline Ducharme '21, who, as a first-year player, assumed a key role in the team's high-powered lineup. If you've unearthed something worth reporting, visited a far-flung classmate or started something new, let me know. Send me an email or call.
60 Nobles summer 2022 GRADUATE NEWS
Jed DougDawsonFloyd
1976 Class Correspondents Tom Bartlett Rob Piana An unusual, interesting (well, to me at least) factoid about our Class of '76 is that the most prevalent first name is Thomas. I find this interesting, not out of a sense of pride at being one of the four—can you identify us all without looking?—but because the name seems to be quite a bit more rare in other contexts.
1975 Class Correspondents
2. Jamie Peebles '70 bought a tractor and started farming during the pandemic. 1 at the reception to tell stories that could have only come out of the boys' school." Kevin McCarthy says, "I was able to attend the inauguration ceremony of my classmate and friend Harry J. Elam Jr. as the 16th president of Occidental College."
1971 Class Correspondents
Nobles summer 2022 61
1970 Class Correspondent Levy Byrd Jamie Peebles writes: "For me, Covid was an inspiration. While waiting in long lines at Market Basket when Covid emerged, I realized our factory farm system is broken and un healthy. So I bought a tractor and started farming. "I retired from my engi neering career in 2010 after my third cable network startup RLTV. Something was very wrong with my psyche, and over the next five years I awakened to my dysphoria. In 2015 I began my transition from presenting as a man to presenting as the woman I am and always was. I was pretty surprised myself. You can imagine the reaction from my friends and family. "My journey was documented by the talented producer/ filmmaker Roger Sherman, who with Ken Burns co-founded Florentine Films. The feature was entitled The Second Life of Jamie P. It can be streamed online over any of the streaming services. Since my transition, I am very active in social outreach, fundraising and support for all in the LGBTQI+ community, especially other men and women struggling to live their authentic lives as transgender people. "I am so looking forward to seeing my old school chums again. I turned 70 this year, and with the sun clearly over the yardarm, I look forward to revisiting our halcyon days. "See you folx at the reunion!"
Harry Blackman John Dewey Nick Mittell Win Perkins 1974 Class Correspondent Kevin McCarthy Kevin McCarthy writes: "In 2021, I had the privilege of starting my own company, Clinical Consultants of Boston, where I provide clinical su pervision to LCSWs providing therapy and program develop ment for small group practices. I have also become a parttime trainer and consultant for Human in Common Inc., which is engaged in the work of anti-racism and social justice equity training for institutions and organizations in America. "I was saddened by the loss of my classmate Jeff Grogan, but uplifted by the attendance of Nobles graduates at his services. Jeff was a lifelong supporter of Nobles, and the tribute to him at his memo rial service was fitting of a life well lived. It was good to see classmates Paul Ayoub, Tom Sleeper, Geoff Brooks, Ted Wales, Nick Grant, John Howe, Peter Martinez and Seth Tower in attendance. A small group of us got together
2 1. Members of the Class of '74 John Howe, Ted Wales, Geoff Brooks, Kevin McCarthy, Seth Tower and Nick Grant honor C. Jeffrey Grogan, who passed away in November 2021.
1972 What a 50th, and what a huge turnout! This class showed up with incredible energy to just dive in, absorb, and savor every moment of our 50th Reunion: going to assembly, participating in a roundtable with Head of School Cathy Hall, sitting in on some actual classes, having lunch with current students, taking a campus tour, touring the archives, listening to Rob Farnsworth '72 read a Nobles-inspired poem at the graduates' assembly and, of course, catching up with one another and reminiscing at their 50th Reunion dinner in the Castle. As one of our classmates said: "I personally really enjoyed the weekend. I felt the Nobles love. I had a few long conversations with some classmates who I had not spoken to in years, and also with graduates from different generations. I've always had a very positive opinion of Nobles, but this weekend it moved up another level. I hope that others felt the same."
The weekend's blustery weather did not dampen the tremendous enthusiasm felt by all in attendance, who were thrilled to finally meet up with dear friends and beloved faculty members in person after two years of virtual reunion programming.
62 Nobles summer 2022 GRADUATE NEWS
A highlight of the weekend was the 1972 Glee Club singing "Vive L'Amour," and we will never forget Brian Jones singing along. Talk about the power of relational teaching and music! We're ready to join the Noblest!
photographS by joel haSKell
Saturday involved a number of events, including graduate games, a cookout and carnival, and student athletic contests. The day featured a tribute to former faculty member Nick Marinaro, where his former colleagues and students talked about his impact on their lives. Following this was the Nobles Athletic Hall of Fame ceremony to induct Liz Sarles Dias '97, Oliver White '12, the 2002 Girls Hockey Team and Kevin Hayes '11. The afternoon concluded with an assembly of more than 250 graduates in Lawrence Auditorium. Cathy Hall gave an eloquent tribute to retiring faculty members Bill Bussey, Nick Nickerson and Ben Snyder, who served Nobles for a combined 115 years. The Class of 1997 presented Nickerson with the Coggeshall Award for outstanding teaching. Maya Getter '13, chair of the Young Graduates Committee, awarded Max Mankin '07 with this year's Young Graduate Award, and Pam Bowers Notman '80 was honored with the Lawson Service Award. After the student and graduate musical performance, Kate Treitman Brown '99, director of graduate affairs, announced the graduate trustee award winner, Stacy Scott '77. On Saturday evening, graduates celebrated Bussey, Nickerson and Snyder, as well as 100 years of Nobles, in the Castle with a cocktail party. Festivities carried on throughout the evening with reunion class gatherings.
Reunion 2022
Nobles welcomed more than 600 graduates, guests and friends back to campus for Reunion 2022 on Friday, May 6, and Saturday, May 7. The weekend festivities kicked off by welcoming the 50th Reunion class of 1972 on Friday, where they sat in on assembly and classes and held a roundtable discussion with Head of School Cathy Hall. The day ended in the Castle with a celebratory 50th Reunion class dinner, as well as the "Noblest" dinner for classes more than 50 years out of Nobles. The highlight of the evening was undoubtedly the singing of "Happy Birthday" to Percy Nelson '40, Nobles' oldest living graduate, who turned 100 in March.
Members1972 of the Class of 1987 take a break from the reunion activities to pose for the camera.
Nobles summer 2022 63
1987 Elise Gustafson '87 writes: "We enjoyed the tribute to Mr. Marinaro and the all-grad assembly that featured retirement farewells to our beloved Nick Nickerson, as well as Bill Bussey and Ben Snyder. The cocktail reception in the Castle was the highlight of the weekend. All reunion classes joined for a delicious spread (Castle food has improved dramatically since the '80s!), conversation and many laughs."
197719821987
1977 Adam Sholley '77 reports: We approached our 45th Reunion with a bit of trepidation. Who would come? Would we recognize anyone? Would anyone recognize us? But anxiety quickly dissipated, and conversations flowed effortlessly. From flipping through musty yearbooks, to cocktails in the Castle, to dinner in the gleaming new Academic Center, what was reinforced were the deep connections forged through shared experiences at this phenomenal school. The foundation we built together dovetails with who we are today: educators, psychologists, not-for-profit leaders, physicians, real estate developers and entrepreneurs. Reconnecting with our classmates was an affirmation of the lasting impact Nobles had on us individually and collectively. Here's looking ahead to our 50th!
Members of the Class of 1987 gathered on Saturday evening in the Castle. From left to right : Kristen Leary, Joia Scully Kirby, Kathleen Hamill, Elise Gustafson, Nicole Stata, and Sue Cullinane Jeppson Graduates of all ages gathered to play in the annual Men's LacrosseGraduatesgame
64 Nobles summer 2022 GRADUATE NEWS 2002 GIRLS HOCKEY TEAM with coach Tom Resor at the Hall of Fame induction ceremony BILL BUSSEY reconnects with Christina Long Marin '02 (left) and Molly Lawson '02 (right) 2002 199720071992
Nobles summer 2022 65 Liz Sarles Dias '97 with her family at her induction into the Hall of Fame GRADUATES from the Class of theeveningongathered2012SaturdayinCastle MAC PORTER '17 atperformingGraduatesAssembly HALL OF FAME inductees Kevin Hayes '11 (left) and Oliver White '12 (right) 2012 2017 photographS by joel haSKell
It's a more common name in history than at present. Tom Pierpont (OK, there's a second Thomas) and I have shared a few recent emails about Thomases back in time. In Christian history, there was, of course, the famous Doubter, and later the Thomases Aquinas, Becket, Cranmer and Merton. Three of Henry VIII's close Thomas advisers were Wolsey, More and Cromwell. (Did Hank not like the name? He had two of them beheaded.) T.S. Eliot was one of us, as were the au thors Thomas and Tom Wolfe. Another question: Is all of this boring you so much that you're reaching for a Tom Collins? OK, back to the quiz. A third Thomas is Tom Lamb, but the fourth was not known as Thomas nor Tom during his time at Nobles. He had a nickname. Give up? Tad Connelly relates that his father was also a Thom as, and "my mother wanted an everyday name that wouldn't confuse people with my father." Hence the same nickname as Abe Lincoln's youngest son, who was also a Thomas. So…enough figurative beating on a tom-tom on this topic. Do you have a similarly quirky tale or anecdote linked to the Class of '76 in some way? Don't delay; email it to Rob or me, and we'll store it for the next or an upcoming edition. If you can't wait that long for more tomfoolery, I invite you to order a copy of my new short story anthology, Sailing from Plymouth: Thirteen tales of comedy, tragedy, history, and dystopia, spanning the globe from the Berkshires to near Bangkok. All proceeds from sales (approximately $18 per copy, shipping included, converted from pound sterling. Yes, I'm still over here!) will go to the life-changing work of the charity Advantage Africa for their projects in Kenya and Uganda. Try before you buy, and view an excerpt at bit.ly/3txLUvb, and then order a copy or copies at eBay.co.uk/itm/324977480981 Happy sailing, classmates!
66 Nobles summer 2022 GRADUATE NEWS
1978 Class Correspondent Christopher Reynolds Rick Brown's book American Faust will be published this spring and promoted over the summer and fall. The earliest availability will be on the top ebook sites—Amazon, Apple
Former MemberFacultyBillMees
It was a gruff reception that first afternoon on the soccer field at Nobles in the fall of 1972. "Piana, what position do you play?" When it became clear I had never played soccer before, the verdict was swift and decisive: "Piana, get in goal." When you met Bill Mees, you quickly knew where you stood. Bill became a central force helping me and so many other students (Louie Newell, Ev Henderson, Hilly, Kurt Sommerville '75, Dave Joyce '75, Larry Stalvey '75) navigate the highs and lows of Nobles from 1972–1976. He maintained extremely high academic expectations for his students, but he was equally tireless in his effort to motivate, prepare and inspire them. After Nobles, Bill continued this mission for another 34 years at Lawrence Academy and Groton, finally retiring in 2010. Educating was Bill's life, and his curriculum was expansive, in and out of the classroom. He loved languages, literature, writing and history, but he thrived equally on debate, card games, laughter, fine food and wine, travel, art and more art. Bill died at his home in Pepperell, Massachusetts, at age 83 on January 28, 2022.
I had spoken to Bill a few weeks before, as we have done regularly over the past 50 years. His wit, intellectual curiosity and social engagement never wavered. I always wanted him to know how pivotal his influence had been for me in those formative years. Bill's imprint on the Nobles classes of 1975 and 1976, and so many students at Lawrence and Groton, is a legacy that will endure. Bill would be proud!
1977 Hugh Martinez reports, "After 34 years of public service practicing environmental law as an enforce ment attorney for the Environ mental Protection Agency's Region 1 office in New England, I'll be retiring at the end of July 2022. I am looking forward with gratitude and good cheer." Beth Riley says, "I'm loving living in Portsmouth, New Hampshire. I'm thrilled to have a 15-month-old grandson, Asher Rhodes Riley, and a granddaughter arriving in late July. I'm still selling gourmet kitchenware and home decor. I had my best year for sales in 2021. Life just keeps getting better. Congratulations to Nick Nickerson on his retirement. What an incredible history you have had at Nobles and touched so many lives, including mine."
A Tribute to
by tom bartlett '76 aNd robert piaNa '76
1. Front row, left to right: Harvey Thayer, Jay Wallace and Ben Dawson; Back row, left to right: David Cabot, Peter Taylor and Chris Reynolds 2. Benjamin G. Dawson '78 and Christopher H. Reynolds '78 at the MIT rowsWyattpartnercheeringboathouseonBen'sJillDalby'ssonEllison'20whoforDartmouth
tion? Who had a birthday on January 14? And the answer is paper airplanes. And the question? How did Bruce Weber attempt to attract the attention of the lovely Ms. Chase (then known as Palmer, I believe)? And the answer is immature. And the question? How did Ms. Chase describe Mr. Weber's forlornAndattempt?theanswer is an accomplished painter. And the question? Who is Anne Randle? 1980 Class Correspondent Martha Kittredge Rowley Hello, Class of 1980! So nice to hear from a few of you recently. Max Hall continues to teach at Concord Academy, and like many of us he's thinking about what's next now that the nest is almost empty. He saw Kurt Read, Stuart Remensnyder, and Deedee and Caleb Tower for a quick visit at the end of last summer when Kurt came through town. Max said, "It was brief but awesome. What excellent people! And it was really nice to catch up after such a long time! Made me think that maybe I should come up from the basement a little more often, y'know? Talk to other humans? Class of '80 is about as good a start as you could make. Best to all!" Deb Amory is alive and well in Saratoga Springs, New York ("History! Health! Horses!"). Her family (wife Amy, their 15-yearold son, one dog, two cats and a leopard gecko named Glitch) managed to muddle through the pandemic largely unscathed. They escaped to North Haven, Maine, for three months last year with Deb's mom to wait out the worst of the pandemic. By August they realized they want to retire to a small island in Maine, and "all efforts are now being directed toward that lofty goal." In the meantime, she continues to teach and mentor students online at SUNY Empire State College, which she loves. Deb was pleasantly surprised to see the article on the Queer History class in the last Nobles magazine. "Very impressive!" At SUNY ESC, she teaches Intro duction to LGBTQ+ Studies and Queering American Culture, and is now developing a course on LGBTQ+ Youth and Education. Betsy Roehr Lord says hi to all classmates! She and her husband, Mike, are on the coast in Wilmington, North Carolina, where, after meeting and living in the Caribbean for many years, they raised their three kids. They are empty nesters now and are "sneakily enjoying it quite a bit," although they are fortunate to see their kids all the time. Betsy works for a nonprofit hospice part time and mostly remotely now due to Covid. Her husband trades online from home, so they are beginning to get a taste of what retirement will be like. They are contemplating a shake-up of their longtime affinity for the beach life and may move to the mountains of North Caroli na. She hopes everyone is well and healthy.
Nobles summer 2022 67 and Barnes & Noble—on May 3, 2022. Rick's work has received four- and five-star reviews from BookLife and GoodReads, and prominent editors have extolled American Faust as "a perilously delightful read…that lingers in the midst of the mind from start to finish" (Ellen Bitterman). Jonathan Pountney notes Brown's style recalls Thomas Pynchon. Your class agent marvels that Rick's craftsmanship reads like mythology told from the point of view of a crime scene investigation. Rick boldly takes on challenging, ur gent topics, such as the recurring sexism of the ages. His prose lures the reader in through allegory with deft nuances—and then holds up a mirror for moments of reflection that feel like snakebites.
1979 Class Correspondent Dan Rodgers So here it is, January 16, 2022. The Patriots lost badly last night in Buffalo, and I'm watching TB 12 and the Bucs wipe out the Eagles. But enough about me. How about you? My sources are anonymous, but if any of you remember Carnac the Magnificent from The Tonight Show with Johnny Carson, it may help. The first answer is a '73 Chevy Nova. And the question? What was the first car that Ginny Aldous owned? The second answer is affirmative. And the question? How did Bill O'Toole respond to the question of whether one can say yes without saying the word yes? And the answer is Vicki Palmer Chase. And the ques-
21
1982 Class Correspondent Holly Malkasian Staudinger J. Rupert Thompson writes, "I continue to work in unscripted television, although am spending more time these days with family, especially my son, Cassiel, who attends Malvern College in the UK as a junior in high school." Elizabeth Borgwardt re ports, "While Covid prevented us from attending our 40th Re union, life does go on! During the pandemic, our daughter, Eva, graduated from Stanford and has started working for the human rights NGO If Not Now, in Brooklyn. Our son, Jay, will be graduating from the film school at USC and specializes in immersive technologies (such as the van Gogh exhibit). I recently published an edited volume with Oxford University Press called Rethinking Grand Strategy, which has turned out to be kind of timely! I was very touched by Nobles classmates and faculty who wrote to me when my father died last Feb ruary, especially Tim Carey's kind note. Nobles has always got your back, even after all these years."
1985 Class Correspondent Neil Bleicken Neil Bleicken writes: "For the first time in almost two years, I was able to visit my mom and twin brother, David Bleicken,
1984 Class Correspondent Christine Todd Pamela Mansfield Colbert is happily settled on the West Coast and serves her commu nity as a school-based thera pist at Santa Rosa High School. She shares with us: "My Nobles friendships continue to be the most enduring and significant friendships in my life. My beloved mom passed away a year ago, on April 1, 2021, at 91 years old. She was a devoted Nobles faculty wife and parent and was involved in so many Nobles events and activities throughout my fa ther's long tenure and beyond. At her memorial service in November, Russell Berger, Liz Horgan and Whitney Connaughton were there, all Class of '84, as well as some Nobles faculty and staff, past and pres ent. Whitney hosted a lovely dinner where Russ, Liz and I were able to reminisce and, of course, laugh about all our wonderful times together. My mother loved them so much. The Nobles community is extraordinarily special, and the friends I made there are my family. I would like to thank them here for their continued love and support, always. Hi to the Class of '84!" Rod Walkey remains ensconced in New England and never ceases to amaze his fellow classmates! He shares: "I discovered I had a passion for songwriting during Covid. I started writing reggae songs. I ended up connecting with some talented musicians in Jamaica. Stephen Marley joined on one song called 'Stick with Love.' Check it out; it is sure to make you smile!" Rod's youngest of three daughters, Charlotte Walkey '22, is graduating from Nobles in May.
1983 Class Correspondent Nancy Sarkis Corcoran MaryBeth Long attended the Nickerson Classic to watch her niece (a sophomore at Kent) beat Milton: "Such a fun weekend. Nobles looked great, and everyone had a wonderful time."
68 Nobles summer 2022 GRADUATE NEWS
Wendy has enjoyed some fall, winter and spring hikes with Kris Koehler Normandin over the past 15 months. "Can't be lieve 60 years young is here. Still trying to figure out what I want to do when I grow up. Hello to those near and far!" Please keep the news coming. It's great to hear from you!
Wendy Barnes Kelly and her husband, Shaun, live in campus housing at Greenwich Country Day School, where he teaches, but Wendy also enjoys creating gardens and landscaping around their home in Eastham on the Cape. She hopes to return to school at New York Botanical Gardens for her landscaping certificate when all classes are in person. Wendy and Shaun's 30-year-old son, Sam, got married in 2017 after finishing a master's in computer science at Brown, and now lives in Maryland. Max, 27, lives with them full time. In other news, Wendy reported that she spent a good chunk of 2021 caring for a dear friend of 75 who waged a valiant war against pancre atic cancer. "I miss her daily presence, but am so thankful for the wisdom, insights, humor and strong example she set for living life happily on her own terms."
1981 Class Correspondent John Fiske The high seas edition. . . Rich Lincoln reports: "After three months in the Bahamas in 2020, we (Richard, Helene and son Connor) explored the idyllic Exuma Cays (Bahamas) in 2021. First, we spent a winter month in the Berry Islands and experienced cold morning temperatures dropping into the high 50s. It seemed odd to see people wearing puffy warm coats and hats. We spent the next five months in crystal clear waters, snorkeling and beaching with our Shetland sheepdog, Macy, and living a quiet life. "Not all days were dreamy. There was inclement weather, and the inevitable, sometimes dirty, boat projects and maintenance. And after returning to the U.S., we drove to Westport, Massachusetts, where our stay extended into December for Helene's total hip arthroplasty. With 2022 upon us, we are now preparing for another six months enjoying the Bahamas." John Fiske sailed his new sailboat, Titan's Gold, in Channel Islands Harbor, Oxnard, California, on New Year's Eve 2021. The vessel, a Malbec 18 trailer-cruiser, will be delivered to Massachusetts sometime in the winter/spring of 2022.
1. MaryBeth Long '83 with her niece after Kent beat Milton in the Nickerson Classic 2. Rick Johnson '86 coached his son Ryan's ice hockey team this past season, which included Ollie Partridge, son of Zander Partridge '93. Ollie and Ryan played together on a line and had an instant connection (clearly Nobles chemistry at hand).
3. Liz Rosenbaum von Wagner with Joia Scully Kirby, Lucy Nolan Rogan and Katie Hamill (all '87) at Firepit Saturdays at the Bradley Reservation in Canton 1991 Class Correspondent Amy Russell Farber 1992 Class Correspondent Lynne Dumas Davis Martin Bridge continues to serve as the head of the visual arts and technical theatre department at Pioneer Valley Performing Arts, where he has been since leaving Nobles in 2001. He has been homesteading in the hills of western Massachusetts in a straw-bale home built 12 years ago, and recently teamed up with two other area artists to open a studio and gallery space in Brooklyn. 1993 Class Correspondent Sam Jackson 2
Emily Gallagher Byrne Elise Gustafson Liz Rosenbaum von Wagner is very happy to have reconnected with Nobles friends (see photo on page __ of Liz with Joia Scully Kirby, Lucy Nolan Rogan and Katie Hamill at Fire Pit Saturdays at the Bradley Reservation in Canton). She continues to enjoy her work as the cultural affairs officer at the German Consulate in Boston. Her four kids are doing well, with three in college studying business, engineering and nursing, and one still at Brookline High. Happy to meet up with any other local classmates! Kathy Wood Fricke writes, "Team Fricke in Harrisburg, Oregon, is ready for spring and sunshine. We had a nice ski season with a few trips, including Mount Hood. Kiddos are enjoying 11th (Lydia) and 9th (Caroline) grades now being maskless. College planning is the next fun for us. Cheers to everyone for a healthy reunion year! Hope to see you in May. If anyone is visiting Oregon and needs an alpaca hug, come on by!"
13
1986 Class Correspondents
1988 Class Correspondent Sasha Leland 1989 Class Correspondent Rachel Spencer 1990 Class Correspondent Lisa Donahue Rose
Heather Markey Jessica Tyler Eliza Kelly Beaulac 1987 Class Correspondents
Nobles summer 2022 69 who live in Northern Virginia. It was winter break for New Hampshire public schools, so I drove our two boys, Teddy (14) and Tim (10), down for the quick visit. My mom, now 92, is in a comfortable assisted living community, and Dave and his family are thriving. On the way down, we visited Gettysburg National Military Park, which was an excellent experience. In the D.C. area, we stayed with Dave and his family, who joined us to visit Mount Vernon, Arlington National Cemetery, and the Lincoln, Vietnam, and Korean War memorials. Lisa Berarducci Bleicken '94 and I hope to take the boys to Canada this summer, and any suggestions for fun spots to visit in and around Quebec City would be much appreciated. Be well, and we hope you have some fun this summer!"
70 Nobles summer 2022 GRADUATE NEWS 1994 Class Correspondent
Bobbi Oldfield Wegner Jessie Sandell Achterhof Congratulations to Jared Lee, who represented Massachusetts on NBC's American Song Contest this spring. Jared is a "singer, songwriter and platinum-selling producer who has amassed well over 80 million streams online writing and producing for a diverse group of globally renowned artists, including Jason Derulo, Jordin Sparks, TIESTO and Michael Bolton. He has been enlisted by some of the world's top DJs, including Nicky Romero, Markus Schulz and Fedde Le Grand, to write and feature as a lead vocalist on their original music. Jared wrote, produced and performed the theme song 'Don't Wish Your Life Away' for the film Fantasy Island. His most recent collabo rations include 'Those Were the Days' with Midnight Kids (top 10 song on U.S. dance charts), 'Ain't Deep Enough,' with Autograf, and 'Afterglow,' with Nicky Romero and Gattuso." Thanks to everyone who voted! (See story on page 48.)
1997 Class Correspondents
1995 In April, Sam Bigelow released his first album in 15 years, Sizable Soul, which is available for down load on streaming services. Sam has been collaborating for a long time with Kimon Kirk '96, who produced and played and sang on the album as well. 1996 Thank you to Alex Slawsby, who has held the reins for the Class of '96 for many years. If you are interested in becoming the class correspondent, please reach out to Director of Graduate Affairs Kate Treitman Brown '99 at kbrown99@nobles.edu
1. Ted Lawson '99, his wife, Amie, and their three children, Lucy, Scout and Ben. 2. Rachel Nahirny '17 graduated from Middlebury College as a "Feb" by skiing down the Middlebury Snow Bowl. Working the event was Patrick Stevenson '18. 3. Lizzie Ayoub '12 taking a break in Santiago, Chile, while there for work on an Accenture project 2 3 1 1999 Class Correspondent
Gabriela Herman How cool is this? This year, Ted Lawson and his wife, Amie, along with their three children, Scout, Lucy and Ben, are sailing aboard their catamaran, Noonsun. After spending the winter in the Ca ribbean, Noonsun went through the Panama Canal in April and started on the Pacific crossing, 4,000 miles to the Marquesas Islands in the South Pacific. They hope to make it to New Zealand, where they met!
Marni Fox Payne Hi to the Class of 1994. Annie Stephenson wrote in with some exciting career news: "I'd love to report that I've made a huge career shift. After working off and on for 20 years in the corporate retail world, I left my career at Williams Sonoma in June to become a postpartum doula. I am now caring for newborns and their families during those first critical weeks as they adjust to their new lives, and I am so grateful to be doing the work I have always felt called to do. Now that my babies are 9 and 12 years old, there is no better feeling than snuggling up on a newborn and providing compassionate and empathetic care to a new mama going through what I went through all those years ago." Those are some lucky moms! Hope everyone is great!
2000 Class Correspondent
Lisa Marx Corn 2001 Class Correspondent Lauren Kenney Murphy 2002 Class Correspondent William N. Duffey III Katie Coon Hamilton writes, "I recently moved back east from
1998 Class Correspondent Dave Klivans Shauna Ginsberg Supraner and her husband, Jordan Supraner, welcomed Madison Noa Supraner on January 7, 2022.
2003 Class Correspondent
2008 Class Correspondent Michael Polebaum Ellie Hession Shaw and her husband, Max, welcomed Casey Shaw on March 3, 2022. They are so thrilled and enjoying all the newborn cuddles and lots of New York park walks!
2009 Class Correspondent Maria Montes 2010 Class Correspondent Tori Goyette Sarah Kistner writes: "John McCoy and I got married on August 7, 2021, in Woodstock, Vermont, after postponing from 2020. We had a wonderful time celebrating with lots of bulldogs! I am doing well. Still loving living in New York City with our frenchie, Bella."
Nobles summer 2022 71 California with my family and started a new position as library director at Manchester Commu nity College, in New Hampshire. So great to be closer to family and old friends!"
Saul Gorman Lauren Daniels Lampen and her husband, Clark, welcomed Esmé Rose into their family on December 6, 2021.
2011 Class Correspondent Katie Puccio
2006 Class Correspondent E.B. Bartels Roses are red, Violets are blue, Happy spring, '06 classmates, Here are some updates from you: Arthur Levy writes: "I moved from San Francisco to Los Angeles in June 2020 and am absolutely loving the city and the sunshine! I'm entering year three of working for Brex, the corporate credit card and expense management startup for growing companies. We recently raised capital at a $12B valuation, and I continue to run the Partnerships and M&A team. Any entrepreneur ial bulldogs out there, let me know if your business needs a credit card." Noelle Cooper and her husband, David Hannah, wel comed their new baby, Sum mer, in (wait for it)—the fall. Summer Reese Hannah was born on October 14, 2021, and you can find a sweet photo of her alongside her brother, Leo (age 4), and her sister, Sydney (age 3), on page 75. Congrats, Noelle! I bet (grandma and Nobles' assistant to the dean of enrollment management) Thanae Cooper is delighted! Speaking of baby news, Krysten Keches and her husband, Daniel Smilkov, welcomed their daughter, Chiara Noelle Smilkov, in November! Krysten shares: "She's smiling more and more every day, and we're living for her tiny giggles. Greg Keches '07 and Lauren Keches are the best uncle and auntie!" Also, in case you were concerned, all of the Keches family dogs (Ruffles, Phoebe and Olive) have accepted Chiara as part of the pack. Turn to page 75 for a photo! Mariel Novas, our Class MVP, said that she was thrilled to serve as Boston Mayor Michelle Wu's transition director this past fall. Mariel adds: "One of the wildest rides of my life. I definitely had a mini panic attack after she called out of the blue to offer me the opportunity, but I'm so glad I said yes and got to serve my city in this moment of transformational change." Not going to lie, every time I watched local news and saw Mariel standing near Michelle Wu, I yelled, "I know her!" even if no one was there to hear me. And last, I have an update of my own! My narrative nonfiction book, Good Grief: On Loving Pets, Here and Hereafter, is (finally!) coming out this summer, August 2, 2022, from Mariner Books, an imprint of HarperCollins. The book is a deep dive into the ways that we mourn and remember our pets after they pass away, interspersed with my own personal dead pet stories. I researched and wrote about everything from pet cemeteries to taxidermy to cloning to memorial portraits. Nobles-adjacent readers will especially appreciate the many references to Dedham's own Pine Ridge Pet Cemetery. Mariel is also quoted in it! For more about my book, see the story on page 37.
2007 Class Correspondent Kat Sargent Collin McFarlane and his fiancée, Meghan Joyce, welcomed their first daughter, Maya Jade McFarlane, into the world on January 23, 2022! Caitlin Nasema Cassidy is performing in Mona Mansour's The Vagrant Trilogy at the Public Theater in New York. The production resumed rehearsals in March, almost exactly two years to the day it was shut down in 2020. This spring, she will also launch a global climate performance project with the National Theater of Sweden, the Earth Commons, the Lab for Global Performance and Politics, and the Swedish Embassy of Washington, D.C. The project is interested in the ways young folx around the world are experiencing shifts in the fundamental forces of the earth. If you know young artists/activists/organizers engaging deeply with questions of climate crisis/ chaos, let her know! CaitlinNCassidy@gmail.com
Laura Marholin Garcia 2004 Class Correspondent Carolyn Sheehan Wintner 2005 Class Correspondent
WILDA PEREZ '00
72 Nobles summer 2022 GRADUATE NEWS
2012 Class Correspondent Coco Woeltz Lizzie Ayoub recently wrapped up five years at Accenture as a management consultant and de sign thinking specialist in Accen ture's Boston Innovation Hub. In August, she headed to Duke to pursue her MBA at the Fuqua School of Business as a Keller Scholar and Forté Fellow. Lizzie has been busy since graduating Vanderbilt in 2016, serving on the advisory board of Boston's City Awake, mentoring new college graduates through the "Aspire to Her" program and founding "Live Well With Liz" (Instagram: @LiveWellWithLiz), a wellness coaching business and blog. Lizzie is following her continued passion for health and wellness while at Duke, serving on the executive board of the Duke Nutrition Society. She credits the origin of her interest in wellness to Deb Harrison's biology class in ninth grade. Congratulations to Marco Castro, who shared that he "got engaged in Lake Como, Italy, to my lovely fiancée, Torrie Schaefer!" Andrew Doane writes, "I recently moved to Cumberland with my girlfriend, Danielle. I am still playing hockey twice a week. I am currently doing medical device sales for Globus Medical in Providence, Rhode Island."
2014 Class Correspondent Alexandra Charron Ryan Vultaggio and his wife, Melissa, welcomed a son, Anthony Jack Vultaggio, on December 15, 2021.
2015 Class Correspondent Natalie Hession 2016 Class Correspondents Sabrina Rabins Mariana Vega "I love communication and intercultural exchange. I want people to be able to communicate with each other even if they do not speak the same language and help create a sense of intimacy and understanding between them," says Wilda Perez '00, a nationally certified interpreter with Boston Medical Center. Perez, a native Spanish speaker, was drawn to her work after spending years traveling and volunteering abroad. The medical interpretation field allows her to advocate in so many ways for patients who cannot be understood and to ensure equitable care for all. Every day is different for Perez at Boston Medical Center, the largest safety-net hospital in the region. She has seen all kinds of crises, from victims of human trafficking to end-of-life discussions, and yet she stays optimistic. "People's stories keep me positive. They are filled with so much heartbreak, violence and trauma, but also so much resilience," she recalls. "They continue to fight to provide for their families and to have a positive outlook. They really help me to keep perspective and be grateful and purposeful as well."
Advocate for HealthcareEquitable illUStratioN by graCe helmer
Harrison Liftman graduated from Columbia Business School. Ted Steinberg reports, After spending a couple of years working in Washington, D.C., running legislative operations for Congressman Brendan Boyle (D-PA), I am currently attending law school at the University of Michigan."
2013 Class Correspondent Caroline Thayer Shanti Gonzales writes, "After graduating from McGill Universi ty, I decided to stay in Montréal. I worked for years as a professional theatre director, musician and teacher. About two years ago, I switched careers—I taught myself basic programming and now handle communications at the Transit app, a local tech startup that works in 300 cities around the world, including Bos ton. I now speak French fluently, eat croissants regularly, and live with my longtime boyfriend and our cat in a leafy, walkable neigh borhood called Villeray."
2017 Class Correspondent Harry Sherman 2018 Class Correspondent Jill Radley 2019 Class Correspondents Cyan Jean Ally Guerrero 2020 Class Correspondents Drew HaileyBarryBrown 2021 Class Correspondent Hadley Winslow
Ringquist is survived by his brother, Calvin; his sons Nelson and Neal; and three grandchildren.
Throughout his career, Ringquist was active with the Framingham Life Underwriters Association, holding several offices, including president. He was a member of the board of directors of the Massa chusetts Association of the National Association of Life Underwriters and served on the State Legislative Committee.
In 1956, Ringquist married Mary Ann Lafonte, and they subsequently divorced in 1969. In retirement, Ringquist continued his love of service to the community. He served as director of the Alden House Museum and Alden Kindred of America in Duxbury, Massachusetts, where he worked for six years to gain the National Historic Landmark designation for the Alden House Historic Site. He was chair of the Alden Open Golf Tournament, a major fundraising campaign for the Alden Kindred. In addition, he was the director and vice president of Project Gurnet and Bug Lights, vice president of the Friends of the Duxbury Council on Aging, and served the Duxbury Beach Preservation Committee, the Lands Committee of the Duxbury Rural and Historical Society. He also served as the Duxbury town constable, and was honored as the Grand Marshall of the Duxbury Fourth of July Parade twice for his outstanding volunteerism.
Nobles summer 2022 73
After the Army, Ringquist began work in the life insurance busi ness as an agent for John Hancock. In 1980, he became a brokerage manager with Occidental Life in Natick, and then served as director of brokerage for Connecticut Mutual Life in Wellesley, Massachusetts.
In Memoriam ALDEN RINGQUIST '50 Alden Ringquist passed away April 11, 2022. At Nobles, he played football and served as the basketball team manager. He was also a member of the Deutsche Verein and participated in the school play. His Classbook entry noted, "There seems to be no end to the antics of 'Rinq.' Only Ringquist has the guts and imagination to turn the laboratory into a midget auto race track complete with spills and thrills. Only Ringquist can wear what he wears and get away with it. Only Ringquist can save a class from complete boredom by uttering one word."
Ringquist was raised in Needham, Massachusetts and attended Needham Public Schools before coming to Nobles. He then went on to attend Bowdoin College, where he majored in political science and was an Army ROTC graduate and Delta Kappa Epsilon Fraternity member. After college, Ringquist was selected by the Counter Intelligence Corps (Army CIC) and served as a Special Agent Lieutenant in the U.S. Army from August 1954 to August 1956. He graduated from Ft. Hollabird in Baltimore, Maryland, and was stationed in Boston, Massachusetts. He served in the U.S. Army Reserves as an intelligence officer G2 from 1956 to 1966.
1 2 43 5 6
1. Newly engaged Marco Castro '12 with his fiance Torrie Schaefer in Italy. 2. Amarilice Young and Joel Feske '08 with Sim Kumar '05, Nihal Shrinath, Greg & Kylie White, Shivani Kumar, Emily Gates, Sarah Malone, Christina Matulis, Dayna Mudge, Dave Snyder, Liz Johnson, Ana Alvarado, and Kelley Collins (all '08 unless noted) at their wedding in September 2021. 3. Caitlin Fai '10 and Nate Ellis '10 wedding. 4. Jessica Baylor '04 with husband, Jeremy Healey, and Rebecca Loucks Manrique '04 and Jenna Gomez '04. 5. Maria Montes '09 and Alec Sibilia got married in late 2021 on Cape Cod. 6. Sarah Kistner '10 and husband John. Top row, left to right Genie Thorndike '82 P'13, Charlotte Thorndike '13, Hadley Dawson '10, Nike John '10, Rafe Lowell '68, Greg Corrado '10, Emily Wingrove '10, Owen Minott '10 Bottom row, left to right Eliza Goode '10, Dori Rahbar '10, Alexa Zilberfarb '10, Stephen Kistner '70, Sarah Kistner '10, John McCoy, Holly Foster '10, Will Shames '10, Nick Kistner '05, Tim Kistner '03.
Announcements e MarcongagementsCastro '12 got engaged to Torrie Schaefer in Lake Como, Italy. Darcy Banco '10 is engaged to Don Carnicky. m SaraharriagesKistner '10 married John McCoy in August 2021 in Woodstock, Vermont. Amarilice Young and Joel Feske (both '08) were married on September 11, 2021. Matt Antoszyk '10 married Allison Lazarus. Maria Montes '09 married Alec Sibilia. Caitlin Fai '10 and Nate Ellis '10 were married with tons of 2010s and a few other Fais featured. NeWs
GrADuATe
74 Nobles summer 2022
Ellie Hession Shaw '08 and her husband, Max, welcomed Casey Shaw on March 3, 2022. Lauren Daniels Lampen '05 and her husband, Clark, welcomed Esmé Rose into their family on December 6, 2021. Noelle Cooper '06 and her husband, David Hannah, welcomed baby Summer on October 14, 2021. Krysten Keches '06 and her husband, Daniel Smilkov, welcomed their daughter, Chiara Noelle Smilkov, in November.
Megan Bunnell '09 and her husband, Eric, welcomed baby William in July 2021.
7. Madison Noa Supraner, daughter of Shauna Ginsberg Supraner '98 and Jordan Supraner, born January 7, 2022. 8. Megan Bunnell '09 and her husband Eric welcomed baby "William" in July. 9. Anthony Jack Vultaggio, son of Melissa and Ryan Vultaggio '14. 10. Collin McFarlane '07 and Meghan Joyce with their daughter, Maya Jade McFarlane, born on January 23, 2022. 11. Krysten Keches '06 and her husband Daniel Smilkov with their daughter, Chiara Noelle Smilkov, born in November. 12. Noelle Cooper '06 and her husband David Hannah welcomed baby Summer in October. Pictured here with brother Leo (age four) and sister Sydney (age three). 13. Lauren Daniels Lampen '05 and her husband Clark welcomed Esmé Rose into their family on December 6, 2021. 14. Rob Owen '07 and wife Kait welcomed Samuel Stephen Owen on February 6, 2022.
Collin McFarlane '07 and his fiancée, Meghan Joyce, welcomed their daughter, Maya Jade McFarlane, into the world on January 23, 2022.
Rob Owen '07 and wife Kait welcomed son Samuel Stephen Owen on February 6, 2022.
Nobles summer 2022 75
Ryan Vultaggio '14 and his wife, Melissa, welcomed their son, Anthony Jack Vultaggio, on December 15, 2021.
7 9 11 12 13 10 8 14
new a ShaunarrivalsGinsberg Supraner '98 and Jordan Supraner welcomed Madison Noa Supraner on January 7, 2022.
lookiNG bAck TIME GOES BY In 1920, new headmaster Charles Wiggins told the board of trustees about his big idea: the possibility of relocating from Boston to the suburbs. The price of the final destination in Dedham, Castle included, was $102,000. In 2021–22, the school celebrated 100 years in its forever home.
Your support of the Annual Nobles Fund makes this declaration possible — across the campus and around the world. make your gift to the Annual Nobles Fund, visit nobles.edu/giveonline or contact Director of Annual Giving Diane Marangoly at diane_marangoly@nobles.edu
To
LEADERS.BUILDSNOBLES
Noble and Greenough School 10 Campus Drive Dedham, MA 02026-4099 On Good Grief: On loving pets, here and herafter PG 36 Here's what lifelong learning looks like. PG 28LegendsTrioofA A Brief Hello — Long andGoodbyea