Leisure Guide
2023 guide to North Kesteven and the surrounding area
Welcome to the Heart of Lincolnshire
Nestling at the Heart of Lincolnshire, North Kesteven has much to offer; characterised by endless countryside interspersed with bustling and charming towns and villages with a rich tapestry of both attractions and distractions there's plenty to do, whatever the weather.
It's a perfect place for getting out and about and particularly good for saddling up and cycling across an area renowned for its easy access and bike-friendly highways, byways and cyclable routes.
A real highpoint of any visit to the area is its enviable aviation Heritage, with huge heritage interest sites and ample opportunity for active plane spotting during your stay.
Wherever you are in North Kesteven, you're at the heart of it all; only an hour's drive or less from coast, castles, stately homes, sensational scenery, towns, cities and country walks.
This guide – and its website www.heartoflincs.com – will help you experience the very best at the Heart of Lincolnshire.
2
Whilst great care has been taken in compiling the information in this brochure, North Kesteven District Council cannot be held responsible for any errors, omissions or alterations contained within it.
This
is
Kesteven
Visitor Information www.heartoflincs.com NKDC Enquiries: District Council Offices Kesteven Street Sleaford Lincolnshire NG34
Tel:
www.n-kesteven.gov.uk
guide
produced by North
District Council.
7EF
01529 414155
For tourism enquiries or to advertise in the next annual Leisure Guide, please contact the Heart of Lincs team on 01529 308102 or email heartoflincs@n-kesteven.gov.uk
Contents 4 Time Outdoors 8 Cycling 10 History & Heritage 12 Feature: Heckington Windmill 14 Heart of Lincs Venues 18 Shop Local 22 Aviation 24 Family Adventures 28 Arts & Leisure 30 Feature: Hub, Sleaford 32 Key events for 2023 3
Enjoy Nature
4
Time Outdoors
The Heart of Lincolnshire is characterised by big skies and wide-open spaces dotted with small settlements within a beautiful patchwork of natural and historical delights.
From the comfort of a car, the saddle of a bike, the back of a horse or fully absorbed on the ground at walking pace, there is so much to see and sense. A trip around North Kesteven unveils a place of unique beauty and miles upon miles of natural beauty that can be appreciated at any time of the year.
One of the very best ways to immerse yourself in it is by taking in the sights, sounds, smells and splendours of the area on long-distance, short distance, circular and linear waymarked paths that crisscross North Kesteven to give easy access to wide-ranging natural, artistic and historic places of interest.
The cliff villages of Navenby, Harmston, Coleby and Boothby Graffoe provide some stunning views out onto the 'Lincoln Edge', an escarpment which provides stunning views as far as the eye can see, spreading on to neighbouring counties.
This year the 10th Annual NK Walking Festival runs from Saturday 17th June until Sunday 2nd July. The festival includes a programme of led walks throughout the District and rare opportunities to explore areas not normally open to the public. The first day of the festival includes a led walk of the entire Spires and Steeples route, which takes you from Sleaford St Denys' Church to Lincoln Cathedral via some of the most beautiful sights and villages in North Kesteven.
Visitors can explore the communities, heritage and landscape of the District, through various trails, walks and nature reserves; find more details overleaf.
5
Whisby Nature Park Stepping Out Walks
As you would expect, green spaces feature prominently at the Heart of Lincolnshire. Presenting opportunity for adventure and exploration, chief among them is Whisby Nature Park – off the A46 on the outskirts of Lincoln.
Helping you get to the heart of the North Kesteven countryside is a comprehensive network of Stepping Out Walks devised by the District Council to present free, year-round, easy-access, walking routes within distinct landscapes.
With ancient woodlands, public art, World War II airfields and historical locations at their heart and navigating around Roman waterways, deserted Medieval villages, lost priories and spectacular churches, there are almost 20 distinct routes ranging in distance and rigour.
Across vast acres of reclaimed gravel pits there are tranquil lakeside walks teaming with wildlife, rare flora and rich fauna which will really reconnect you with nature and offer endless delights according to the changing seasons.
The park is managed by the Lincolnshire Wildlife Trust and at its heart is the Natural World Centre where the Boardwalk Café, shop and award-winning Little Darters and Otter's Reach play locations allow for adventurous activity indoors and out.
Collectively they add up to more than 140 miles of way-marked, mapped and managed walks, each with handy parking and refreshment stops identified.
Each walk is available through the Hill Holt Wood website, as well as the Alltrails app, available on the App Store and Google Play. You'll find easy-to-use maps, directions and fascinating points of interest, and walks are complemented by informative interpretation boards along the route.
Find out more at:
www.hillholtwood.co.uk
6
Sleaford Trails Ridges & Furrows
The Sleaford Heritage Trail can be picked up at any point in Sleaford and is unique in that the trail is made up of QR codes that can be scanned on phones to find out more about the local area.
Find out more at:
www.sleafordheritage.co.uk
Ridges & Furrows is an arts & heritage trail accompanied by cultural events and arts experiences celebrating the communities, heritage and landscape of the Lincoln Edge in North Kesteven.
Newly instigated as a long-distance footpath, linking The Hub in Sleaford to Whisby Nature Park via the panoramic views along the Lincoln Edge, the Ridges & Furrows Arts & Heritage Trail takes you deep into the culture and countryside of North Kesteven.
Explore local heritage, discover new artworks and uncover hidden stories as the 30-mile trail passes through bustling villages and along quiet byways and scenic field paths.
The When in Sleaford trail takes its inspiration from Sleaford's rich history. Eighteen bronze roundels make up a walking tour of Sleaford leading you to discover historic buildings, fascinating facts, visitor attractions and existing artworks in the town.
The Riverside Heritage Trail will allow you to discover many points of interest about Sleaford's historic riverside. With the easy to use map and directions and intriguing historical facts, this self-guided trail is the ideal way to experience the Sleaford of days gone by.
The new Sleaford Mosaic Trail, produced for the RiverLight Festival 2022, highlights the stunning mosaics throughout the town.
Along the way, stop off at the Terry O'Toole Theatre, Cranwell Aviation Heritage Museum, Knight's Templar Preceptory at Temple Bruer, Welbourn Forge, the Waddington Village Trail and many more points of interest.
Don't forget to look out for inns, farm shops and cafes for rest and refreshment too.
Find out more at:
www.ridgesandfurrowstrail.org
7
Exploring the outdoors by bicycle
Take in the sights and delights of North Kesteven as you leisurely explore the county on two wheels.
Whether you are local to the area looking for a few hours' of staycation exploration on two wheels, or a visitor to our impressive county wanting to take in new experiences, you're sure to find a route to explore that offers a unique view from the saddle, with miles and miles of quiet country lanes, safe, easy-going and dedicated cycle routes.
Ride to the inspirational site of International Bomber Command Centre to take-in stunning views over the city of Lincoln to the Cathedral, Castle and beyond. Pedal leisurely past stunning historic homes like Doddington Hall, perhaps stopping for a bite to eat at the cycle shop and café. Explore unrivalled aviation heritage on a self-guided trail and enjoy routes enlivened with unique sculptures and public art along the way.
No bike? No problem! Take a look at the specialist cycle shops in our area that can offer you rental packages for your stay. Perhaps even upgrade to an e-bike and let battery power take the strain! There are even orange community hire bikes in the north of the area. See www.hirebikelincoln.co.uk
Discover more, explore cycle-friendly places to stay, eat and drink along the way, and plan your active break in Lincolnshire by visiting www.cycle-lincolnshire.com
8
Lincolnshire certainly is a county of contrasts; with the rolling chalk hills of the Lincolnshire Wolds gradually making may to the flatlands of the Fens and Marshes in the south, and with miles of stunning coastline to the east.
Its's a wonderfully diverse county to explore by bike. From the charming cathedral city of Lincoln, with its quaint cobbled streets, boutique shops and vibrant centre, out into the wide-open spaces and vast skies of the surrounding countryside, you'll find countless hidden gems to explore.
Sleaford Spires & Sails Cycle Route
This great ride will take you on a tour of the gently rolling countryside and villages around Sleaford and includes a visit to the famous 8 sail windmill at Heckington.
There are 9 churches to explore, 5 of which are dedicated to St Andrew, with pubs and cafes for you to enjoy, and the site of ancient manor houses which will give you plenty of opportunity to linger a little while longer.
The circular route is mainly on quiet roads and lanes with some off-road cycle paths alongside the busier stretches in and out of Sleaford.
River Witham Cycle Route
The Water Rail Way is the path beside the River Witham that connects Lincoln to Boston. There are markers beside the path so you can tell how far you've travelled.
The path was named in a local competition both for its former life as a railway line but also for the abundant bird life that can be seen in this green corridor. The shy moorhen-like hen has been spotted from this path.
The rides follow a dedicated cycle ways and quiet country roads making for a relaxed easy to follow ride. www.cycle-lincolnshire.com
9
Enjoy History
10
History & Heritage in the Heart of Lincolnshire
Lincolnshire certainly is a county of contrasts; with the rolling chalk hills of the Lincolnshire Wolds gradually making may to the flatlands of the Marshes and the Fens in the south, and with miles of stunning coastline to the east.
Wherever you wander at the Heart of Lincolnshire you'll find yourself walking in historic footsteps. From the Iron Age tribe which minted coins at Sleaford to the Knights Templar who settled locally, via the Romans who built the Ermine Street and dug the Car Dyke, visitors from across the centuries have bequeathed a lasting legacy of historical riches throughout North Kesteven.
Viking, Norman, Saxon, Medieval, Elizabethan and Tudor, kings and countrymen; they've all left their mark, as have more recent generations of prestigious airmen and entrepreneurial industrial pioneers.
North Kesteven boasts the only eightsailed windmill in Europe – if not the world – rare survivors of the Industrial Age, the largest malthouses in England, Britain's only remaining Navigation office, some of the nation's most iconic churches and a unique wealth of aviation assets including the oldest of all RAF bases.
Historical discovery provides the inspiration to most of the District's 20 Stepping Out Walks through which you can actively explore the area's tangible history; all centred on a church, a hall, an airfield or similar.
And when you're ready to explore further afield, there's a rich seam of history to be found around you; most notably in Lincoln with its 1,000-year old castle, cathedral and Magna Carta; Grantham with Belton House; Newark with its Civil War Museum; Boston with its association with the Pilgrim Fathers and east of the district there's Tattershall Castle, Battle of Britain Memorial Flight, East Kirkby's Aviation Heritage Centre and the Lincolnshire Wolds.
11
Enjoy Tradition
12
The world's only eight-sailed Windmill
Standing out against Lincolnshire's big skies, this unique eight-sailed windmill forms the centrepiece of a complex set of historic buildings where visitors can experience how food is produced using natural power.
The site has benefited from a major programme of investment which has restored the Victorian industrial site surrounding the windmill and created a contemporary visitor attraction with things for the whole family to see and do. The on-site 8 Sail Brewery champions award winning craft beer, whilst the Miller's House Tea Room allows you to taste home baked bread and cakes in the shadow of the windmill. Here you can also enjoy traditional Afternoon Tea in the Miller's Parlour, furnished with Edwardian period furniture, photographs and artefacts.
2023 sees the start of an exciting threeyear project to expand and enhance the range of activities across the site. Funded by the National Heritage Lottery Fund, it will include learning experiences, courses, activities and history – there are so many reasons to visit Heckington Windmill! www.heckingtonwindmill.org.uk
13
Cogglesford Watermill
In a picturesque setting by the River Slea, this beautiful historic gem is thought to be the only Sheriff's Watermill still operating in England, and millers have produced flour on this site for over a thousand years.
Cogglesford Watermill is open to the public from Friday through to Monday, and visitors can experience the traditional milling process on the second Sunday of every month. Watch the building come to life as the millstones and machinery turn, and see the stone-ground flour being freshly milled. Flour is available to buy from the gift shop, alongside local produce and souvenirs.
A lovely end to a walk along the River Slea, enjoy an ice cream in the shade of this historic building during the summer months, or a hot drink to the beautiful sound of the trickling river in the chilly winter months.
The team have recently launched their Milling Experiences, great for a unique gift, family outing or team building activity. If you like the idea of operating this historic machinery yourself, contact the mill to book.
Cogglesford Watermill is open weekly from Friday-Monday, 12pm-4pm and milling days are held on the second Sunday of every month.
Website: www.cogglesfordwatermill.co.uk
Email: cogglesfordwatermill@n-kesteven.gov.uk
Social media: @Cogglesford
14
Navigation House
In the shadow of historic St Denys' Church and impressive Hub stands Navigation House - one of the quirky historic gems of Sleaford.
Originally intended to be a shed, Navigation House became a grand display of wealth with a crest above the door designed by Sir Joseph Banks.
A fascinating glimpse of a time when the Sleaford Navigation Company made the town one of the wealthiest and most vibrant in the county - find out more about what happened to Sleaford Castle and why parts of it are still present in buildings of Sleaford, sit at the desk of the canal company clerk, pick up some local leaflets and explore the lovely retail space showcasing handmade gifts from local crafters. With its wonky window frames and friendly feel, this is one building you won't want to miss.
Navigation House is open weekly from Friday-Monday, 10am-2pm.
Website: www.navigationhouse.co.uk
Email: navigationhouse@n-kesteven.gov.uk
Social media: @NavigationHouse
15
Mrs Smith's Cottage
Step into a different era and make yourself at home…
Mrs Smith was well-known and wellloved in Navenby where she lived until she was 102. Her cottage provides a rare insight into the life of a rural Lincolnshire community through an entire century.
The contents and appearance have been preserved from when Hilda Smith last lived there in 1995. She knew all the local history, families and secrets and kept a diary every day.
With events, craft days and exhibitions throughout the year, each day at the Cottage is slightly different. As a guest you can learn how she lived through the seasons and how contentment can be found in simple things. Help yourself to a sweet from the tin and take a seat. Smell the roses in the garden and maybe pull a few weeds. Here you are more than a visitor; you are a helpful guest.
Mrs Smith's Cottage is open weekly from Friday-Monday, 12pm-4pm and special event days are held throughout the year.
Website: www.mrssmithscottage.com
Email: mrssmithscottage@n-kesteven.gov.uk
Social media: @MrsSmithsCottage
16
Cranwell Aviation Heritage Museum
With a rotating programme of fascinating exhibitions at its core, exploring the wealth of remarkable aviation heritage near and far, the museum offers the ideal launchpad to discover the rest of Lincolnshire's airfields and aviation attractions.
Cranwell Aviation Heritage Museum are continuing with their programme of changing exhibitions – planned for April, the next exhibition is 'A Tale of Two Apprentices' which focusses on the careers of Sir Frank Whittle and Herbert Tomlin and their stories of life in the Royal Air Force. Past exhibitions are featured on their website, including 'High Flying Women', 'Gallantry in the Air' and 'Animals at War'.
The museum shop offers a fantastic selection of books and a wide range of gift ideas – the perfect place to buy something unique for an aviation enthusiast!
Located close to the iconic Royal Air Force College, it principally portrays the fascinating story of this most historic and iconic establishment from its early days more than a century ago.
Cranwell Aviation Heritage Museum is open weekly from Friday-Monday, 10am-3pm. The museum is available for private hire and group visits from Tuesday-Thursday.
Website: www.cranwellaviation.co.uk
Email: cranwellaviation@n-kesteven.gov.uk
Social media: @CranwellMuseum
17
Enjoy Shopping
18
Shop Local in the Heart of Lincs
A traditional market town at heart, with a rich array of independent shops jostled alongside recognised national brands, Sleaford enjoys a unique and vibrant mix of shopping opportunities.
With the scenic River Slea flowing through, there is unrivalled access to open space, nature, active leisure, easy relaxation, waymarked walking trails, fine architectural heritage, contemporary culture and creative opportunity at every turn.
The beautiful St Denys' Church overlooks a traditional yet vibrant marketplace: Sleaford is a town with an abundant history.
Sleaford is also a town that looks towards the future. Regeneration projects have brought fresh aspects to the Market Place, to the riverside, to the historic Cogglesford
North Hykeham is ideally located to explore the delights of the historic city of Lincoln, surrounding countryside and catch a glimpse of the world-famous Red Arrows practicing locally. A more modern town with a Roman road at its core, award-winning leisure facilities at ONE NK, a vintage transport museum and Whisby Nature Park in close proximity, North Hykeham is a further leaping off point for some great adventures.
Watermill and to the Hub, with its new waterfront terrace.
19
Shop Local in the Heart of Lincs
One of the striking aspects of life at the Heart of Lincolnshire is the readily availability of passionate independent traders, makers, crafters and producers all working to give you the very best they can offer. From farm gates and county markets to boutiques, country stores and speciality shops, it's all here in abundance.
As the county town, the bustling city of Lincoln unites many of the country's best-loved high street names alongside a rich variety of locally owned specialist shops, the charms of farmers', artists' and vintage markets and lively entertainment. Likewise Newark, Boston and the larger towns are just a short drive away.
But it is market towns which are so distinct within Lincolnshire; Sleaford among them where some of the very best in British contemporary craft can be found at Hub-Sleaford, and weekly markets are held throughout the year in the traditional Market Place.
20
As you journey around the Heart of Lincolnshire you'll be spoilt for choice as you discover farm shops, butchers, bakers, millers and makers offering fairly priced, fresh, delicious and distinct local produce and find comfort in the fact that well over 90% of all food retailers achieve the highest hygiene ratings for quality assurance.
Within the area, Doddington Hall is a growing complex of surprises with highend homewares, cycling, fashion and a farm shop all making for a full day out alongside the historic attraction itself. And look out for other local delights as you travel around.
Discover retailers across North Kesteven
We've made it easy to discover retailers across North Kesteven through our shop local directory. The directory provides a snapshot of all the amazing retailers and businesses operating across the district. You can search based on business type or location and instantly find what you're looking for, or even better discover a hidden gem.
21
Enjoy Aviation
22
Learn about Aviation in North Kesteven
Known as the 'Home of the Royal Air Force', Lincolnshire has a vast aviation heritage –and nowhere more so than North Kesteven.
Airfields were first developed during World War I, with the RAF's first bases and training stations set up here, and in World War II Lincolnshire became the most important home of Bomber Command.
North Kesteven is still home to three operational bases while former airfields, museums and memorials are testament to the bravery of those who served here.
Cranwell Aviation Heritage Museum and the International Bomber Command Centre are at the heart of the story, with more to be found throughout the North Kesteven Airfield Trail. Download a guide map of the trail at www.heartoflincs.com
Metheringham Airfield Visitor Centre, nestled halfway between Lincoln and Sleaford is a volunteer run museum housed in original wartime buildings on the domestic area of the former RAF Metheringham. Their stimulating displays and knowledgeable volunteers share the story of the base and those who served with 106 Squadron of Bomber Command. www.metheringhamairfield.co.uk
The historic RAF Digby Lima Sector Operations Room is a restored former WWII operations room bunker. The museum offers an insight into the feel of a 1940's wartime station and is open every Sunday from May to the first Sunday in October. Follow on Facebook - search:
LimaSectorOps
Newark Air Museum in nearby Winthorpe is also a must for aviation enthusiasts, with a diverse collection of aircraft from all over the world. 76 aircraft are on display either on the open grounds of the museum or in one of the four hangars, including the iconic Avro Vulcan – a true symbol of Lincolnshire's aviation heritage. www.newarkairmuseum.org
23
Enjoy Family
24
Family Adventures
There are plenty of family friendly attractions awaiting your visit to North Kesteven, providing an unforgettable experience for any age. Rain or shine, there's always plenty of fun to be had in North Kesteven.
Whisby Animal Park and Play Barn is a great day out near Lincoln and is open seven days a week; part of the Whisby Garden Centre complex, the venue includes a soft play area and café and boasts a large outdoor play area and a selection of animals including deer, chickens, goats and parrots. Visit www.whisbygardencentre.com for more details and admission fees.
Other great soft play areas in the District include Fun Farm in North Hykeham (booking is advised during the busy summer months) as well as Crazee Bongos and All Aboard in Sleaford. The ideal place for the little ones to run off some steam, each venue has an area for the under-5s and hot and cold food is available.
25
At Skellingthorpe just outside the city of Lincoln you'll find Daisy Made Farm. Not just your average ice cream parlour, there's lots of entertainment too! Here you'll find a nine-hole crazy golf course, a children's play area and lots of farm animals to meet. The café serves drinks and light bites, but if you are on-the-go you can get one of their delicious fresh ice creams from one of the drive-thru hatches. www.daisymadefarm.co.uk
For a real trip back in time, head to Woodhall Spa's iconic Kinema in the Woods. Nestled among the woodland, the cinema boasts its own famous organist who plays during the intermission. There aren't many cinemas left like this in the UK! The Kinema is open seven days a week and screens all the latest blockbusters alongside family films.
Bookings can be made online at www.kinemainthewoods.co.uk.
26
Nearby you'll find Jubilee Park, an open-air swimming pool located in this picturesque village. There's a large poolside area to relax and lots of facilities nearby. The pool is open seven days a week during the summer, but booking is essential.
Visit www.jubileeparkwoodhallspa.co.uk.
If you're after fun and adventure, Ancaster Leisure has it all. Whether you fancy Go-Karting, Paintball, Ten-Pin Bowling, Archery or Laser Tag, you can do it all here! Just outside the village of Ancaster, fifteen minutes from Sleaford, Ancaster Leisure is a must for thrill seekers visiting the Heart of Lincs.
Add to the above working watermills to amazing aviation, they all add even more fun to your holiday or day out, and you'll find something every member of the family will enjoy!
27
Enjoy Attractions
28
Arts & Leisure
There are plenty of delightful attractions awaiting your visit to North Kesteven, providing an unforgettable experience. From award-winning leisure centres featuring exclusive, interactive watery fun to museums packed with historical fascination and creative exploration on an epic-scale, there's a wealth of things to do whatever the weather.
ONE NK in North Hykeham and Sleaford Leisure Centre provide a modern, enjoyable leisure and fitness experience for all the family. Both venues have Splash Zones for the little ones, as well as a swimming pool and full gym facilities. ONE NK is also home to an interactive water slide that plays music and will take a photo of you on the way down!
If you have an interest in arts and crafts, then a trip to The Hub, a national centre for craft and design in Sleaford is a must. The centre is home to several exhibition spaces that are occupied all-year-round with many different displays and installations. More information about the centre can be found overleaf and up-to-date information about exhibitions can be found at www.hub-sleaford.org.uk.
North Hykeham is home to the Terry O'Toole Theatre, an intimate 200 seater theatre which provides an entertaining programme of music, comedy, theatre and dance throughout the year.
The Playhouse in Sleaford was originally built in 1825 and is one of the only squared auditorium playhouses left in the country. Since its reopening in 2000, the Playhouse has been host to theatre, comedy and music.
29
Rain or shine, there's always plenty of fun to be had in North Kesteven.
The Hub
The Hub delivers an inspiring programme of contemporary craft, design, dance, and creative arts experiences, in Sleaford, across North Kesteven and beyond.
Home to a national centre for craft and design, the celebrated exhibitions showcase contemporary artists and makers from around the world. Our shop stocks an everchanging collection of handmade craft objects and design gifts, and our CaféBar is a great place to enjoy locally sourced speciality food and drink.
The Hub offers a dynamic learning programme of workshops, talks, classes, competitions, special events and performances for all people, ages, and abilities. We deliver creative activities in schools, community & care settings and online; and we work with our communities & partners to coordinate participatory arts projects, events, festivals, celebrations, and public commissions.
30
A major, £1.2 million refurbishment of the Hub was completed in May 2021. This investment sees the centre now provide a multi-arts offer that incorporates a strong dance programme at the Hub and in the community of North Kesteven. The refurbishment saw us completely reshape and re-purpose the centre with new studio, workshop and gallery spaces on the ground floor, alongside an improved shop and cafe bar that now incorporates a stunning jetty seating area overlooking the River Slea.
The Hub is an Arts Council England National Portfolio Organisation (NPO), owned and supported by North Kesteven District Council.
In November 2022 the Hub had its NPO status renewed for a further three years through to 2026.
www.hub-sleaford.org.uk
31
Key Events for 2023
There are great events in the Heart of Lincs throughout the year. Here we've given you a few of the headline dates, but check the events calendar on our website for more details and timings: www.heartoflincs.com/events
Month Event
February Love Sleaford Valentines event
March Discover Lincolnshire Weekend (25th & 26th)
Bee Safer Cycling Event, Mrs Smith's Cottage (25th)
April Classic's Day, Daisy Made Farm (23rd)
May
Coronation Events
(Bank Holiday Weekend, 6th - 8th)
National Mills Weekend, Cogglesford Watermill (13th & 14th)
A Tale of Two Apprentices Exhibition, Cranwell Aviation Heritage Museum
June NK Walking Festival (17th June-2nd July)
Lincolnshire Show (21st & 22nd)
Swaton Egg Throwing Championship (25th)
July Heckington Show (29th & 30th)
Doddington Sculpture exhibition
August Lost Village Festival
Salute to the 1940s Weekend, IBCC (12th & 13th)
September Sleaford Classic Car Show (2nd)
October Halloween events throughout Lincolnshire
Sleaford Riverlight Festival (21st)
December Sleaford Christmas Market (3rd)
Christmas events across Lincolnshire
32
A national centre for craft & design — delivering an inspiring programme of contemporary craft, design, dance and creative arts experiences, in Sleaford, across Lincolnshire and beyond.
FREE ENTRY
Open 10am–5pm & Sun 10am–4pm Sleaford, NG34 7TW
info@hub-sleaford.org.uk 01529 308710
hub-sleaford.co.uk
Galleries Workshop Studio CaféBar Shop at the
33
Open Friday, Saturday & Sunday, and extra days in the Summer Also available for private hire and family events 01529 461919 Heckington, Near Sleaford, South Lincolnshire www.heckingtonwindmill.org.uk car & bike meets dressing up exploring history special events family days out delicious food local beer family gatherings Heckington Windmill the perfect venue for . . . . .
THE MEMORIAL SPIRE & WALLS
At the heart of the IBCC are the Memorial Spire and Walls and Names. Surrounded by spectacular views across the City.
THE BOMBER COMMAND STORY
The three exhibition galleries tell the story of Bomber Command using immersive and interactive displays and exhibits.
THE PEACE GARDENS
Set across 10 acres of landscaped grounds. Offering quiet, contemplative spaces.
THE IBCC PROVIDES A WORLD-CLASS FACILITY ACKNOWLEDGING THE EFFORTS, SACRIFICES AND COMMITMENT OF THE MEN AND WOMEN, FROM 62 DIFFERENT NATIONS, WHO CAME TOGETHER IN BOMBER COMMAND DURING WWII.
SHOP & HUB CAFÉ
Find a wide range of gifts and merchandise. Then take a break with locally sourced tempting treats and wholesome options
EVENTS
Find out more about our wide varitey of events at internationalbcc.co.uk/events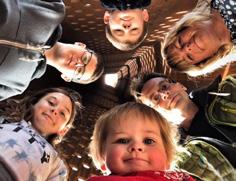 ACCESS TO THE PEACE GARDENS AND MEMORIAL IS FREE OF CHARGE. FOR EXHIBITION ADMISSION CHARGES AND EVENTS VISIT
WWW.INTERNATIONALBCC.CO.UK
OPEN 6 DAYS A WEEK - 9.30AM TO 5PM CLOSED MONDAYS EXCEPT BANK HOLIDAYS | LAST EXHIBITION ENTRY 4PM 01522 514755 | INFO@INTERNATIONALBCC.CO.UK INTERNATIONAL BOMBER COMMAND CENTRE, CANWICK HILL, LINCOLN, LN4 2HQ
Natural World Centre
Moor Lane, Thorpe on the Hill, Lincoln, LN6 9BW
Situated within Whisby Nature Park, The Natural World Centre is just 5 miles from Lincoln City centre. You'll find a great selection in the bistro as well as a wellstocked shop featuring local makers from across Lincolnshire. Our Little Darter's Wildlife Adventure is packed full of exciting tunnels and exploration towers. Older kids can try their hand at the mini assault course which features a ramp and rope ascent, balance rope traverse and climbing net. Stay and play whatever the weather in Otter's Reach Indoor Adventure, an educational resource for younger visitors up to 1.3m. Experience the park's history through the gravel plant with hands on features, bulrush stilt posts, spider's web climb, raptors' nest and more!.
Tel: 01522 688868
Email: naturalworld@lincsinspire.com
Website: www.naturalworldcentre.org
Opening times: Every day, 9:30am-4:30pm (toilets open 9am-5pm)
Elms Farm Cottages
Hubbert's Bridge, Boston, PE20 3QP
Award-winning holiday cottages. Relax and enjoy the peaceful Lincolnshire countryside with a stay in one of the ten self-catering cottages. Set around a pretty courtyard garden, all cottages are fully equipped and furnished to a high standard. Level access throughout. Some cottages have wood burners, en-suite bathrooms and shower rooms suitable for wheelchair users. Two private nature lakes set in over 18 acres of grassland. Walk to the local pub and golf course close to RSPB Frampton Marsh, two miles from Boston. EV Car Charging point available.
Tel: 01205 290840
Email: carol@elmsfarmcottages.co.uk
Website: www.elmsfarmcottages.co.uk
Opening times: all year
Rates: £750 to £950 per week
WWW.NATURALWORLDCENTRE.ORG WWW.ELMSFARMCOTTAGES.CO.UK 36
SOFT PLAY & PARTY CENTRE FANTASTIC MINI BOWLING laser Battle zonetag QUAD BIKES We recommend booking online at Weekends and School Holidays to guarantee your entry 9 MASSIVE SLIDES STEPHENSON ROAD, NORTH HYKEHAM, LINCOLN. LN6 3QU CALL US ON: 01522 695553 • email: lincoln@funfarm.co.uk www.funfarmlincoln.co.uk TERM TIME WEEKDAYS Mon 10am - 2pm • Tues - Fri 10am - 6pm WEEKENDS AND SCHOOL HOLIDAYS Mon 9:30am - 3pm • Tues - Sun 9:30am - 6pm
Hilltop Farm Holidays
Welbourn, Lincoln, LN5 0QH
This idyllic self catering barn and surrounds gives you fantastic vistas across the valley and field views in all directions; a very special location,where you can feel really relaxed in your own private estate.
Tel: 01400 273323
Email: bookings@hilltopfarmholidays.co.uk
Web: www.hilltopfarmholidays.co.uk
Opening times: all year
Manor House Stables
Manor House, Timberland Road, Martin, Lincs. LN4 3QS
Warm, cosy accommodation in award-winning stables, beautifully restored using eco-friendly materials.
The perfect retreat all year round with wood-burning stoves, generous hampers, amazing baths and a very warm welcome – your dog is welcome too!
Tel: 07979 750760
Email: sherry@manorhousestables.co.uk
Web: www.manorhousestables.co.uk
Opening times: all year WWW.MANORHOUSESTABLES.CO.UK
Pillar Box Farm
Mabel's Cottage, 9 Main Street, Kirkby Green, Lincoln. LN4 3PE
Luxurious one bedroomed holiday cottage with a hot tub, all amenities, a log burning stove and feature bathroom.
Tel: 01526 322297 / 07742 068936
Email: angies1960@icloud.com
Web: www.pillarboxcottages.co.uk
Opening times: all year
If you would like to advertise in the next Leisure Guide and on the Heart of Lincs website please contact the team via phone or email:
Tel: 01529 308102
Email: heartoflincs@n-kesteven.gov.uk
Eighth page: £60
Quarter page: £80
Half page: £140
Full page: £230
Prices exclude VAT - registered charities qualify for zero rating.
WWW.HILLTOPFARMHOLIDAYS.CO.UK
WWW.HEARTOFLINCS.COM Why not advertise here next year! 38
WWW.PILLARBOXCOTTAGES.CO.UK
Mayfield Vineyard, located in
vision of Fraser Mayfield Key, 4th generation owner of the family farm.
Fraser studied Viticulture in the early 80s at the Ecole Viticulture de Dijon (now the Institut Universitaire de la Vigne et du Vin)and after years of research into suitable vines for the Lincolnshire soil and climate, Fraser took the plunge and planted Phoenix, Villaris, Bolero and Regent vines, thus creating the Mayfield Vineyard in 2011. Unnatural interventions are avoided during growing and the grapes are all handpicked to ensure the highest quality pressings. The first successful harvest was in 2017 and from June 2018 'the Owl Collection' became a commercial reality.
Lincolnshire, is
We have a number of Holiday let cottages on the farm that can be booked for small and large groups through our website, with Glamping in the Vineyard coming on stream during 2023.
We are open for direct sales of our wine through our web store or direct from the Vineyard if called in advance with the order.
'The Owl Collection' was thus named in celebration of this conservation work, which has resulted in increasing numbers of a variety of native owls that are now often seen flying gracefully through the vineyard and the surrounding fields. Having successfully grown rhubarb commercially for the past 20 years, Fraser's drive for innovation and desire to produce something unique saw him hone his craft and create a Champenoise-inspired sparkling wine with a contemporary twist. Rhubarb Fizz is a perfect quintessentially English alternative to Champagne.
Join us for a wine tasting experience (min 6 people) – learn about our story and environmental work while pairing our wines with nibbles.
Come along and join in the grape harvest – meet new people, pick grapes and earn wine points for you hard work! (Mid-Sept to mid-Nov)
Tel: 07976 912883 / 07399 410997
Email: fraser@mayfieldvineyard.co.uk
Website: www.mayfieldvineyard.co.uk
Open: all year
the heart of rural
the
Glebe Farm, Burton Pedwardine, Sleaford, NG34 0BX
contact the Heart of Lincs team on 01529 308102 or email heartoflincs@n-kesteven.gov.uk 221201-JA1 A1 A1 133 A17 A1500 B1398 A607 A607 A15 A15 A52 B1189 B1190 B1188 B1191 A607 B1429 A153 B1202 B1202 B1190 B1190 B1202 B1395 B1188 15 A52 B1191 B1191 B6403 B1192 178 A153 B1190 B1202 East Heckington Haddington
For more information please