2 New Mexico Kids! January/February 2023
January/February 2023 New Mexico Kids! 3 Students are admitted of any race, color, and national or ethnic origin. December 1, 2022 Financial Aid applications open February 2, 2023 Early Application Deadline HCSNM.org PreK - 12th Albuquerque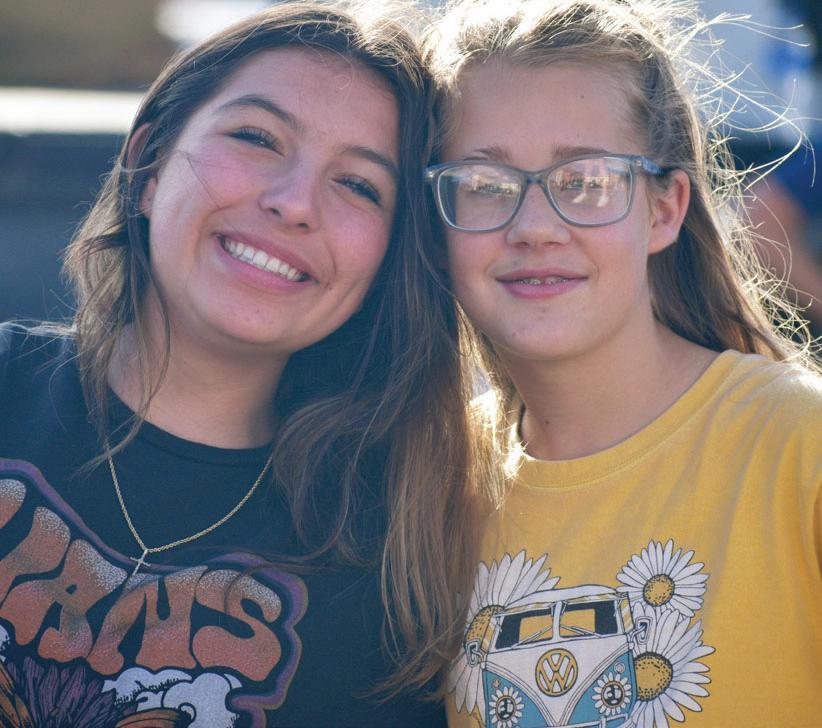 4 New Mexico Kids! January/February 2023
Albuquerque
January/February 2023 New Mexico Kids! 5
6 New Mexico Kids! January/February 2023
Lottery runs Dec. 1 through Feb. 17, 2023
Albuquerque/Santa
Fe
Our
Albuquerque
Hello, my name is Audrey Livingston. I am 12 years old, and I currently attend Escuela Del Sol Montessori School in Albuquerque. In my free time, I draw, read books and play Minecraft. The idea for these birds (I call them the Little Friend family) is based on a game that my friend and I invented at camp in which one person suggests to another what the birds could do in a drawing. (For example: "Little friend wants to play fetch.") I have always loved drawing birds and cute animals!
If you would like to submit art to be considered for a New Mexico Kids! cover, please email a copy to kids@newmexico-kids.com or send a snapshot of the work to New Mexico Kids!, 9100 Galaxia Way NE, Alb. NM 87111. Don't forget to include your phone number!
SUBSCRIPTIONS to New Mexico Kids! are $24 a year for 6 issues prepaid by credit card, check or money order.
DEADLINES for the March/April 2023 issue are Jan. 20 for Editorial, Feb. 10 for the Summer Fun! Activities Directory and Feb. 15 for ads, classifieds and calendar.
Editor: Nancy Plevin, kids@newmexico-kids.com, 505-797-2708
Assistant Publisher: Josh Plevin, 505-800-3309, 505-797-2708
Ad Sales: Paula Vanderhee, 505-797-2708, 505-514-7340
Calendar Editor: Francine Hopper, nmkidscal@gmail.com
Proofreader: Deborah Begel, begel@windstream.net
Design: Pat Carr of Carr Imaging, 505-880-8124 Printed by The Santa Fe New Mexican with soy-based recyclable
New Mexico Kids! is published bimonthly by Plevin Kids Inc., 9100 Galaxia Way NE, Albuquerque, NM 87111. Phone 505-797-2708. Email kids@newmexico-kids.com. Copyright 2023/2024 by Plevin Kids Inc. All rights reserved. Reproduction in whole or in part without written permission is prohibited. Paid advertisements are not an endorsement by New Mexico Kids! About 30,000 copies are distributed in New Mexico at about 380 locations.
January/February
2023 New Mexico Kids! 7
STORIES & SPECIAL FEATURES Rattlesnake Museum pg 8 Old Town Museum Exhibits Live Snakes and Other Creepy Crawly Creatures Volunteer Kids! pg 12 How Young People Can Lend a Hand in Santa Fe and Albuquerque in 2023 Bilingüitos! pg 16 New Mexico Mom Starts Bilingual Play Group Based on National Model Directory of Schools & Academic Support Programs pg 34 What's in this issue for you! January/February 2023 Vol. 32 No. 1
FEATURES The Calendars pg 19 Let's Read pg 26 Young Scientist pg 28 Kids' Crossword pg 29 Let's Draw pg 33 Cover Story
Cover
inks
REGULAR