By Julie Cart/CalMatters
Humboldt County, CA | FREE Thursday, Dec. 8, 2022 Vol. XXXIII Issue 49 northcoastjournal.com 11 Hospital capacity stretched 29 Shelving the elf California's Mild 2022 Wildfire Season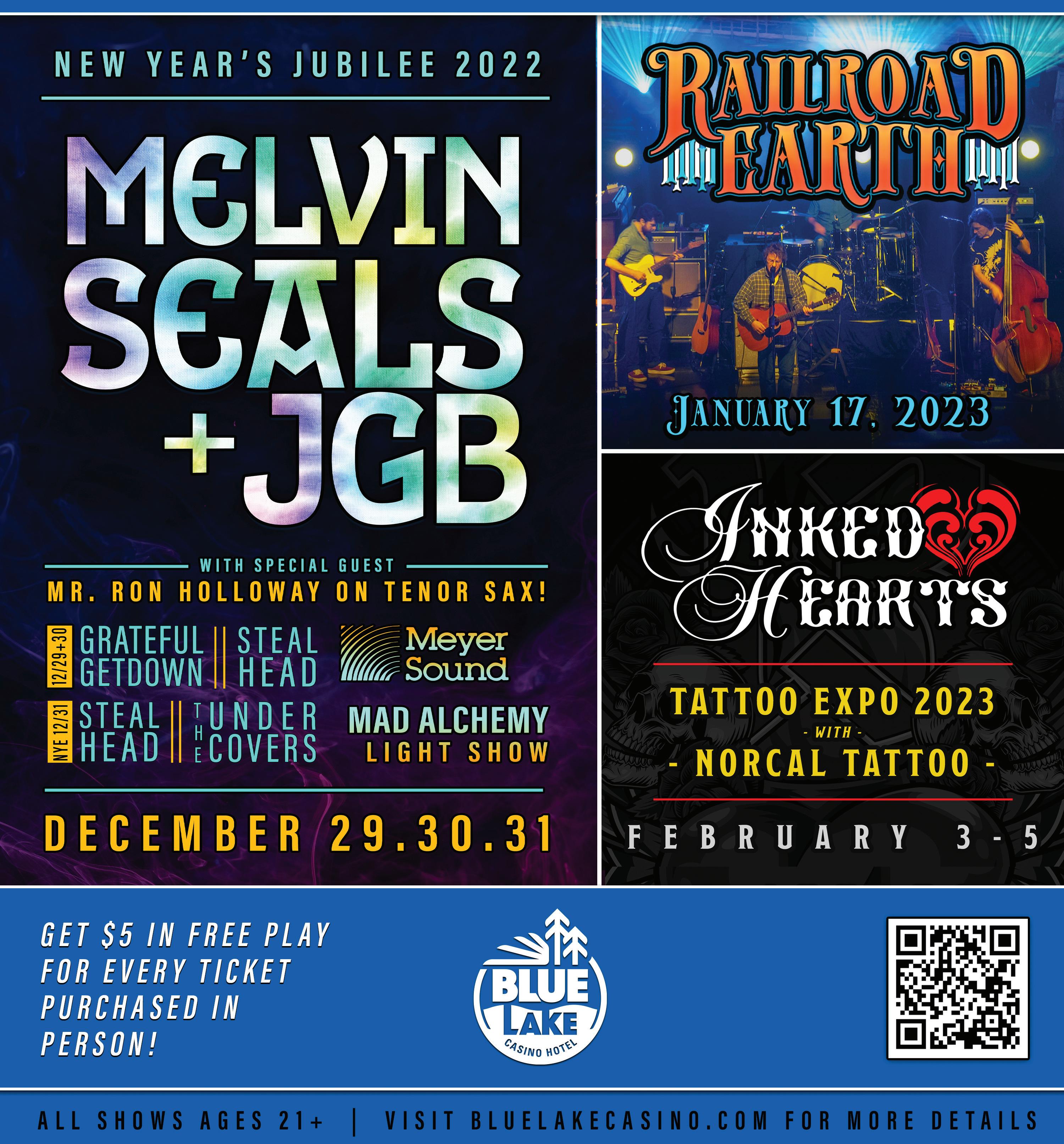 2 NORTH COAST JOURNAL • Thursday, Dec. 8, 2022 • northcoastjournal.com
PUBLISHER
Melissa Sanderson melissa@northcoastjournal.com
NEWS EDITOR
Thadeus Greenson thad@northcoastjournal.com

ARTS & FEATURES EDITOR
Jennifer Fumiko Cahill jennifer@northcoastjournal.com
DIGITAL EDITOR
Kimberly Wear kim@northcoastjournal.com
STAFF WRITERS
Iridian Casarez iridian@northcoastjournal.com Linda Stansberry linda@northcoastjournal.com
CALENDAR EDITOR
Kali Cozyris calendar@northcoastjournal.com
CONTRIBUTING WRITERS
John J. Bennett, Simona Carini, Wendy Chan, Barry Evans, Mike Kelly, Kenny Priest
PRODUCTION MANAGER
Holly Harvey holly@northcoastjournal.com
GRAPHIC DESIGN/PRODUCTION
Heidi Bazán Beltrán, Dave Brown, Rory Hubbard, Renée Thompson ncjads@northcoastjournal.com
ADVERTISING MANAGER
Kyle Windham kyle@northcoastjournal.com
SENIOR ADVERTISING REPRESENTATIVE
Bryan Walker bryan@northcoastjournal.com
ADVERTISING REPRESENTATIVE
Heather Luther heather@northcoastjournal.com
CLASSIFIED ADVERTISING
Mark Boyd classified@northcoastjournal.com
INSIDE SALES REPRESENTATIVE
Trevor Lee trevor@northcoasjtournal.com
BOOKKEEPER
Deborah Henry billing@northcoastjournal.com
OFFICE MANAGER/DISTRIBUTION
Michelle Dickinson michelle@northcoastjournal.com
Dec. 8, 2022 • Volume XXXIII Issue 49 North Coast Journal Inc. www.northcoastjournal.com ISSN 1099-7571 © Copyright 2022 5 Editorial Accountable 6 News Harvard Announces Return of Native Hair Samples 11 NCJ Daily Online 14 On The Cover By the Numbers: California's Mild 2022 Wildfire Season 19 On the Table Buddha's Fists in Chicken Coops 21 Fishing the Nor th Coast Storms and Steelhead in the Forecast 22 Get Out! The Walmart Picnic Table Effect 23 Front Row Ferndale to Whoville Last Minute Gift Guide Special Pull-out Section 26 The Setlist Alive and Kicking 28 Home & Garden Service Directory 28 Ar ts Night Arts! Arcata 29 Seriously The Elf on the Shelf is Begging You Not to Put Him Out This Year 30 Calendar 31 Humboldt Made Special Advertising Section 35 Screens Badass Santa 37 Sudoku & Crossword 38 Workshops & Classes 42 Classifieds On the Cover A helicopter lands near Willow Creek. Photo by Mark McKenna A prairie warbler seen hanging out at the mall. Read more on page 22. Photo by Sarah Hobart. The North Coast Journal is a weekly newspaper serving Humboldt County. Circulation: 18,000 copies distributed FREE at more than 450 locations. Mail subscriptions: $39 / 52 issues. Single back issues mailed $2 .50. Entire contents of the North Coast Journal are copyrighted. No article may be reprinted without publisher's written permission. Printed on recycled paper with soy-based ink. CIRCULATION COUNCIL VERIFICATION
310 F St.,
CA
707 442-1400 FAX: 707 442-1401 www.northcoastjournal.com
Releases newsroom@northcoastjournal.com
to the Editor letters@northcoastjournal.com
CONTENTS
MAIL/OFFICE
Eureka,
95501
Press
Letters
Events/A&E calendar@northcoastjournal.com Music music@northcoastjournal.com Classified/Workshops classified@northcoastjournal.com
WEDNESDAY & THURSDAY NIGHTS Prime Beef Tri Tip Burger$16 Prime Beef Tri Tip Burger$16 Steel head $18 Steel head $18 Fried Chicken$17 Fried Chicken$17 FRIDAY, DECEMBER 9th • 1 PM Come out and support Watch Party funattheheights.com | 1-800-684-2464 northcoastjournal.com • Thursday, Dec. 8, 2022 • NORTH COAST JOURNAL 3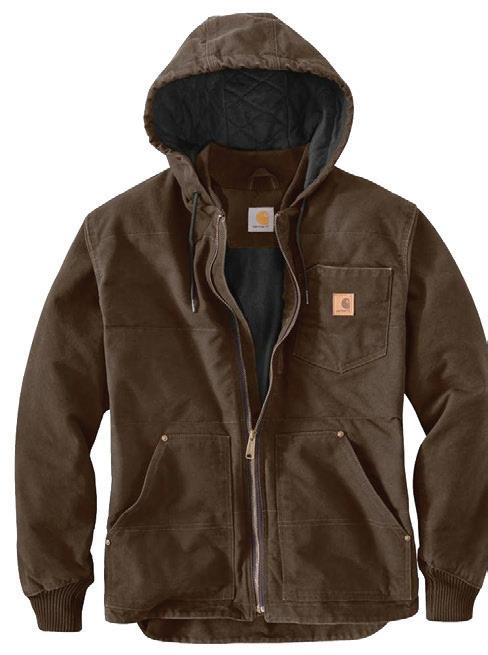 4 NORTH COAST JOURNAL • Thursday, Dec. 8, 2022 • northcoastjournal.com BRING YOUR HOLIDAY GIFT LIST! GIFTS for EVERYONE In All 3 Stores OUR BEST SELLER $10 OFF GEORGIA BOOT "ROMEO" Styles #GR262, #GR270, #GR274 Men's & Women's Apparel from Columbia 25% OFF 6th & E Sts. Eureka • 444-9201 Mon–Sat: 9:30 - 6:00 • Sunday: 11:00 - 4:00 Price Good Through 12/14/22 • Limited to Stock on Hand Men's & Women's Apparel 10% OFF "We Fit Humboldt" GIFT CARDS AVAILABLE 41 Years As Humboldt's Work & Outdoor Out tters Men's & Women's & MORE! ALL BOOTS & SHOES ON SALE FOOTWEAR 10% OFF 25% OFF Men's & Women's & Jackets, Coats, Vests & Hoodies ALL MEDICAL SCRUBS 20% OFF $5 OFF from Carhartt, Dickies, Wrangler Riggs WORK PANTS 20% OFF ALL KNIVES FLANNEL SHIRTS 25% O FF OFF 10% OFF Women's Dovetail Work Pants PENDLETON Men's & Women's Apparel 25% OFF and Blankets & Towels
By Jennifer Fumiko Cahill, Thadeus Greenson and Kimberly Wear editor@northcoastjournal.com
In the Nov. 17, 2022 issue, we ran a cartoon depicting Shlomo Rechnitz with a laundry list of his specific o enses as owner of Brius Healthcare, the skilled nursing corporation through which he has funneled tens of millions of dollars to other companies he owns, while providing patients with substandard care. Specifically, the cartoon points out that, amid a time period when Rechnitz was redirecting $31 million from his four Humboldt County facilities to his other companies ("Profit and Pain," Nov. 17), state inspectors found his local facilities were grossly understa ed, resulting in everything from residents going weeks without a bath to developing pressure sores because sta couldn't keep up with their care regimen. The cartoon was aimed at pointing out the man responsible for their su ering.
But readers have reached out to tell us the image reminded them of anti-Semitic propaganda from Nazi Germany and elsewhere, in which artists caricatured the physical features and dress of Jewish men to spread hateful tropes. These tropes were part of a propaganda e ort to scapegoat and dehumanize Jewish people, justifying their mistreatment. Readers shared their concern that the Journal — at a time when anti-Semitism is surging according to a number of organizations that track it — was promoting similarly awful ideas.
We apologize to all those who felt that shock of recognition looking at the cartoon, particularly in a climate where anti-Semitism has once again been on parade. But rather than shy away from the conversation, we'd like to talk about why we ran the cartoon and feel it is not anti-Semitic. Unlike those anti-Jewish cartoons, Terry Torgeson's drawing of Rechnitz is not a grotesque caricature, but a fairly realistic cartoon rendering of his profile without exaggerating his features. He is, as the name written on his coat indicates, only himself, an individual and not a stand-in for a group, not a symbol. He wears his customary attire, the black suit and hat in which he makes public appearances. Beside him are the particular o enses of which Rechnitz and his facilities have been accused, not racist tropes about Jewish people or their perceived
character. If we'd believed the cartoon to be anything but a comment on the actions of one man, we would not have hesitated to discard it.
That we formed our decision based on a set of editorial standards we believe in does not mean we are without regret. In hindsight, we recognize that while there was no anti-Semitic intent behind the illustration or our printing it, its publication has caused harm. The truth is that the traditional Jewish hat and suit in the image have been used to malign those who wear them so many times, they may not read as neutral, no matter what the artist or their editors think. Our national climate, particularly the recent resurgence of anti-Jewish conspiracy theories, Holocaust-denying lies, harassment, vandalism and violence, asks more of us in the fight against anti-Semitism than to simply watch our intentions. The long, ugly history of Jews being targeted with hateful propaganda demands hyper vigilance and sensitivity, and we'll endeavor to be more attuned to what this moment demands of us moving forward.
We absolutely believe Rechnitz needs to be held accountable by the law and by our government, and we will continue to push our leaders to address the harm he has done. But we don't want those who would falsely and opportunistically draw a line connecting his Orthodox Jewish identity to his misdeeds to imagine any agreement or encouragement from us.
After all, Judaism teaches that we are all created to do what's just and merciful, each deserving to be treated with dignity and respect. That's a message that should be embraced everywhere, from inside our newsroom to Rechnitz's facilities, and everywhere between. ●
Jennifer Fumiko Cahill (she/her) is the Journal's arts and features editor.
Reach her at (707) 442-1400, extension 320, or jennifer@northcoastjournal. com. Thadeus Greenson (he/him) is the Journal's news editor. Reach him at (707)442-1400, extension 321, or thad@ northcoastjournal.com. Kimberly Wear (she/her) is the Journal's digital editor.
Reach her at (707) 442-1400, extension 323, or kim@northcoastjournal.com.
TRANSITIONAL KINDERGARTEN (TK) IS EXPANDING!
northcoastjournal.com • Thursday, Dec. 8, 2022 • NORTH COAST JOURNAL 5
Accountable
EDITORIAL REGISTER NOW! TK-12TH District Office | 2100 J Street, Eureka | 441-3383 www.eurekacityschools.org Starting 12/1/22 To register your child please bring: •Birth Certificate •Immunization History •Proof of Eureka Residency Priority placement at your school of choice is not on a "first come, first served" basis. During this enrollment period, all applications for transfer will be considered equally. Registration packets are available from all school sites and the District Office, or download the forms from www.eurekacityschools.org. Small classes of 24 or less in K-3 with less than 20 students in TK. ELEMENTARY SCHOOLS (TK through 5th grades) Alice Birney •Grant Lafayette • Washington SECONDARY SCHOOLS Winship (6th-8th grades) Zane (6th-8th grades) Eureka High School
is now open to students who turn 5 on or between
2024. Highly qualified teachers • Academic excellence • Safe learning environment Parent involvement is welcomed and encouraged
TK
Sept. 2, 2023 - April. 2,