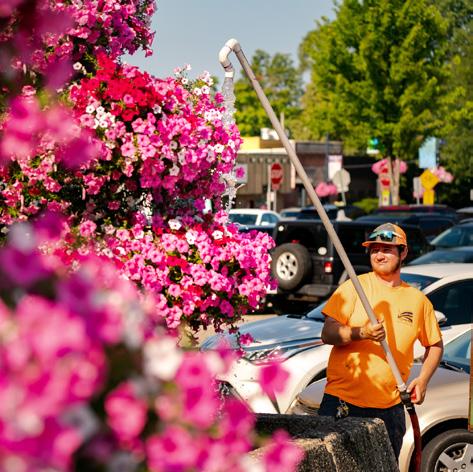 Annual Report 2022
A message from City Manager
For the City of Mt. Pleasant, 2022 can be summarized by the great success in the areas of economic development and infrastructure. The City welcomed a number of new businesses in 2022. To highlight the efforts made in encouraging economic growth, the City launched a video campaign featuring three multidecade businesses, and why they chose to do business in Mt. Pleasant.
To address unfunded and aging infrastructure, the City is investing more than $20 million in improvements to the Water Resource Recovery Facility. This massive undertaking will take place in two phases over the next several years. Phase I, which began in 2022, is an $8.5 million investment to upgrade vital components of our wastewater treatment process. The City also continues to maintain our roads and improve our storm sewer system. Details on those projects can be found in the following pages.
Public safety is arguably one of the most important services that local government provides. The City is proud to report on the continued partnership with Recovery Independence Safety and Empowerment (R.I.S.E.) which provides crisis and trauma response clinician services. The Division of Public Safety also conducts a variety of outreach programs to foster relationships with the City's youth.
In an effort by the State of Michigan to support affordable childcare, the Partners Empowering All Kids (PEAK) program received $1.3 million in state grant funding. This financial support enables the City to maintain tuition rates, and offer a number of valuable enrichment opportunities and field trips, despite increased costs.
The City is in a good position to carry this positive momentum into 2023. We will continue to focus on economic and community development, improving and maintaining infrastructure, and providing excellent parks and recreational offerings. I always want to take the opportunity to thank our residents for your trust and support. A special thank you to the City Commission for their hard work in guiding the City. Lastly, a big thank you to the City staff and volunteers who work hard to make Mt. Pleasant a special home for us all.
Aaron Desentz
1