Dean's Message
I
t is hard to believe that this is my last Dividends message. After 12 incredible years as Dean of the College of Business, I am retiring from MSU and academia on June 30, 2023. I have been in the academic world for nearly 36 years, and while this College will always be in my heart, it is time for someone new to lead it into the next frontier.
While these years have flown by, I am proud of the faculty and staff for all that we have accomplished. The College of Business has grown from 2,500 during my first year at MSU to more than 3,600 students today. We celebrated the 100th anniversary of the College in 2015 through a week-long series of events. We successfully navigated through three reaccreditations. We opened the Strategic Finance Laboratory, the Center for Entrepreneurship & Outreach (E-Center) and the Market Innovation Laboratory and Observatory (MILO). We added the Supply Chain Logistics major, the only one in the state of Mississippi. We introduced a dual major with Industrial and Systems Engineering, allowing students to receive two degrees in four and a half years, as well as two concentrations under the University's new BS in Data Science. We also added an online Bachelor of Business Administration program and two online master's programs in accounting (MPA and MTX). The College now offers outreach to small and family businesses throughout the region. We are serving our veterans population through two outstanding centers/programs. We launched the Whitmire Accelerating Students into the Accounting Profession Camp, a summer camp for aspiring accounting students. Through a joint venture with Human Sciences, we opened the Idea Shop (makerspace) and launched the iCreate summer camp for middle and high schoolers interested in entrepreneurship. And I am excited to announce that thanks to federal funding, we just opened a satellite E-Center in Vicksburg and will be overseeing co-working space in downtown Starkville.
When the world was shutting down due to a pandemic, this College thrived and grew. To say that I have had the privilege of working with some of the most talented, hardworking people I have ever known is an understatement. I am fortunate to have outstanding center directors, department heads, assistant deans and associate deans. The faculty are excelling in the classroom and in their research. The E-Center and outreach efforts are at an all-time high. And the staff are the unsung heroes of this College. They work hard and never complain.
When I arrived in 2011, I knew very few people who were alums of MSU and even fewer faculty. But everyone was welcoming and made me a part of the family. I cannot thank you all enough for the friendship, support and trust that you have shown me. Many of you have welcomed me into your homes and families, and I know we will never lose touch.
It is the outpouring of love and concern that is so unique to this College and our alumni that made this an incredibly difficult decision. When Dr. Danny Holt – a former colleague and dear friend to so many of us – passed away unexpectedly this summer, this College rallied together to dedicate a tree in his memory. That is what we Bulldogs do.
In closing, I want to recognize first the most incredible Dean's Office staff that anyone could have. I have been blessed throughout my time with people who are not afraid of hard work and enjoy working together. There are not enough words to express my love and appreciation for all of them. I also want to recognize and thank Dr. Kevin Rogers. The first decision I made as Dean was to hire an Associate Dean, and it was the best decision I have ever made. Kevin has been my calming influence and my daily voice of reason. I am thankful to him for 12 phenomenal years.
I may be leaving MSU at the end of June, but I will always be a Bulldog, and the COB will always hold a very special place in my heart. In many ways, you all have made me a better person. Thank you!
Sharon L. Oswald, Dean
Executive Advisory Board
Boyce Adams, Sr.
Richard C. Adkerson (Emeritus)
Stephen Buehler
James A. Coggin
Cynthia Cooper
Helen Currie
Thomas F. Darnell (Emeritus)
Haley R. Fisackerly
Larry Galloway
Jan L. Gwin
John M. Hairston
John F. Hill
Shawn Hunter
Joe Iupe, Jr.
Paul J. Karre
Lewis F. Mallory, Jr. (Emeritus)
Don Mason
Mike McIlwain
Frank H. McWhorter, Jr.
Lee Miller
Mickey Milligan (Emeritus)
Roderick A. Moore
Benji Nelson
Shirley Olson
Richard Puckett, Sr. (Emeritus)
Joe G. Rice, Jr.
Ken B. Robinson
James "Jim" Rouse (Emeritus)
Kathy St. John
William A. "Lex" Taylor, III
Cyndi A. Tucker
Jimmy L. Walden
M. L. Waters (Emeritus)
Dividends is published by Tellōs, LLC.
www.telloscreative.com
2
Mission Accomplished
Gilroy Chow's successes range from the Apollo space missions to his Delta roots.
6
Sharing Stories with Impact
TV Center Director David Garraway and team are telling the stories of MSU and Mississippi
10 TJ's Animation Workshop
Terrence Green has built a business on explainer videos - one that gives back to the community.
14
A Students' Champion
As Dean Sharon Oswald approaches retirement, we revisit a few hallmarks of her 12-year tenure.
18 Covering the State
Commissioner Mike Chaney sees insurance as the key to unlocking the state's economic growth. 22 Running with the Big Dogs
Two business students talk about their internship experiences at e-commerce giant Chewy.
26
An Expanded View
An MSU accounting education opened doors for Don Whitmire, and he now creates similar opportunities for others 30 Building Ethical Leaders
Soon all MSU business majors will graduate with a certificate in ethical leadership. 34 A Novel Approach
Marketing alumna Gabriella Saab has found success with her first book, The Last Checkmate. 38
Leadership Through Uncertainty
Assistant Professor Dr. Brian Blank offers perspective on business and leadership in today's economic climate. 42 An Inspiring Tribute Walt "Duke" Olson was passionate about finance, MSU baseball and especially Shirley – his true love, college sweetheart and wife of 50 years. 48 Passing It On
Dr. Sandra Orozco-Aleman is eager that her work benefit her students, the marketplace and national policy. 52 The Right Direction Engineering and MBA alumnus Hines Brannan has been an energetic leader in MSU's strategic planning. 56
Biometric Lab Offers Market Insights
The COB is now home to one of the largest biometric marketing and human behavior research labs in the Southeast. 58 Madison 101
COVER: Featured in this issue are alumni Gilroy Chow (p.2), who worked on the Apollo missions, and MSU TV Center director David Garraway (p.6), whose team produced an awardwinning documentary on the Apollo 13 mission.
The College's new recruiter introduces herself. 62 Mr. Golf Mississippi and MSU golf legend Ben Nelson has had an impact on countless members of the golfing community. 66 Adding Access for Entrepreneurs
Three new projects will expand MSU's support for growing businesses in Mississippi. 70 News Briefs
Dividends is a publication of the College of Business at Mississippi State University | 2022
contents 14 34 10
Mission Accomplished
By Carolanne Roberts
Gilroy Chow's series of successes started in the Mississippi Delta and much later looped back there again. The decades in between contain the stuff of a Hollywood blockbuster – triumph, drama, colorful locales, achievement, an ongoing reverence for roots and, notably, playing a key part in history.
Chow's vibrant memories are the fodder for many a good conversation.
"We would sit on the stoop, looking up at the stars, getting ready for our Boy Scout astronomy badges," says the 1965 Mississippi State graduate, whose parents left the Delta for New York, NY, when Chow, their middle son, was six years old. "I had no idea that I would be answering President Kennedy's mandate to send men to the moon."
Nor did he have any inkling of a space-related future during his years at State as an industrial management major, a program which at the time was housed in the School of Business before later being moved to engineering. Chow embraced his classes, balancing them with the occasional game of bridge and gatherings with MSU's 13 other Chinese-American students from the Delta.
The program, he says, "taught me vocational, technical and, best of all, life skills" that readied him to answer an ad in The New York Times. It landed him at Grumman Aircraft Engineering Corporation after graduation.
Even then, space seemed as far away as… space. As a student at State, Chow had heard U.S. President John F. Kennedy refer to space exploration as "one of the great adventures of all time." The notion didn't feel real until he had the opportunity to take the next step in his career with Grumman – a move to Florida, where the Kennedy Space Center was just starting to take shape. When he arrived, he saw launch pads under construction and an empty Manned Spacecraft Operations Building, its high bays awaiting the future.
"Our job was to get all the equipment for the Saturn 5 Lunar Module onto the site and to test it out," he recalls. "Hundreds of pieces of equipment had to be made."
That was 1966.
"I worked all of Apollo," Chow says of his seven-year NASA stint. "For one thing, I helped train the astronauts in the simulators. There are a lot of big names in sports and music, but consider that only 12 men walked on the moon – and I spent some time with eight of those 12. My grandson Jack met one of them at an Apollo reunion. I looked over, and he was talking to Harrison Schmitt, who later became a U.S. Senator from New Mexico."
But back in the early years, the atmosphere was less about stardom and more about deeply focused hard work. The most storied efforts came in 1970 with the Apollo 13 mission, when an oxygen tank explosion stranded astronauts Jim Lovell, Fred Haise and Jack Swigert in space for several days and vented the contents of both of the service module's oxygen tanks into space. Chow was one of the team of engineers on the ground who tag-teamed in 12-hour shifts to refit a carbon dioxide filter to eliminate deadly gas in the lunar module to which the crew had retreated.
COLLEGE OF BUSINESS | MISSISSIPPI STATE UNIVERSITY FALL 2022 | DIVIDENDS 3
Photo courtesy of MSU Films
"The atmosphere was intense around me, but you know your training, and in an urgent situation, you do not panic," he recalls. "We knew there was a way to get the astronauts back, but a time constraint was there for sure. There were other elements that were equally important, and every one of them had to happen." *
Of course, we know the positive outcome – a solution was successfully improvised, and the crew splashed down safely while tens of millions watched on television.
When the Apollo space program ended in 1973, Chow was led in a different direction.
"I looked at opportunities in Singapore, at Vandenburg Air Force Base in California, in Iran and New York – or I could've stayed in Florida," shares Chow.
His ultimate choice: Clarksdale – as in the Mississippi Delta, his birthplace, haven of family members. It brought with it a career shift. First, he worked in the family grocery business, then for 40 years as a plant engineer.
All around him, the Chinese culture provided a warm welcome and enriched his life. Chow and his wife Sally, who also grew up in the Delta, have two adult children and three grandchildren who carry on traditions, especially cooking the family's trademark fried rice in a 26-inch heirloom wok, a wedding gift 52 years ago.
"Sally and I have pieced together this recipe through the years," says Chow, who, ever the engineer, adds, "The secret is to get the temperature right for each separate ingredient – and get the proportions right."
MISSISSIPPI STATE UNIVERSITY | COLLEGE OF BUSINESS 4 DIVIDENDS | FALL 2022 4
Chow worked on all of the Apollo missions.
Photo by Kirsten Shaw
A YouTube video features the Chows cooking with exquisite ease and precision, a ballet of culinary choreography. Hanging on a nearby wall is a treasured story from Southern Living celebrating the family grocery and that divine rice. His pride in them rivals that of the space sagas.
Sally and Gilroy Chow are also involved with establishing and supporting the Mississippi Delta Chinese Heritage Museum on the campus of Delta State University. His collection of official Apollo flight crew patches is on loan to the Mississippi Children's Museum in Meridian, which he also supports. The couple travels to such events as an invitation-only Smithsonian workshop in California –and food events scattered throughout the country. The Chows were among roughly 30 Asian American chefs featured a few years ago in Sour, Sweet, Bitter, Spicy: Stories of Chinese Food and Identity in America, a nearly year-long exhibition at New York's Museum of Chinese in America.
Gilroy and Sally Chow have been involved with establishing and supporting the Mississippi Delta Chinese Heritage Museum, and they are also widely recognized for preserving their culture through their cooking.
Living in the Delta, far from Chow's childhood days of delivering Chinese food by bicycle in New York, means being nearer his alma mater. He's an MSU Bulldog Club member and season ticket holder for all sports. (The Chow men cheered the Bulldogs at all three championship College World Series games in Omaha in 2021.)
"Maroon and white are still my favorite colors," he boasts.
Looking back, Chow realizes he hardly paused to appreciate his contributions in their own time. In fact, 20 years after Apollo, his young daughter showed him her American history book, displaying photos of Neil Armstrong, Apollo 11 and the era.
"That's when it hit me, seeing us in the history books," he says. "It represents people working together, furthering knowledge and meeting challenges. This really was the achievement of the century.
"In retrospect, I'm so proud of those days and so happy that I got to be part of them."
* See the article on David Garraway on p.6 to read about the MSU Films documentary XIII, in which Chow recounts his part in that Apollo mission.
COLLEGE OF BUSINESS | MISSISSIPPI STATE UNIVERSITY FALL 2022 | DIVIDENDS 5
Photo by Kirsten Shaw
Sharing Stories with Impact
By Carolanne Roberts
To set the stage: When you print out the list of awards attached to David Garraway's name, you almost run out of ink. The Excel document, with very small type and lots of lines, runs six pages. And that's only the accolades since 2020.
These recognitions detail the journey of Mississippi State's University Television Center where Garraway, a 2015 MBA graduate, serves as Director. Just this calendar year, the Center has earned seven Mississippi Association of Broadcasters awards; eight regional Emmy Awards (from 15 nominations); a regional Edward R. Murrow Award for News Documentary and a James Beard Foundation nomination for Documentary/Docuseries (the only university nominated).
Garraway isn't resting on these laurels, seeing the attention as a means to move the program upward and enable more production.
"Those awards are selling our style for us, showing our approach," he says. "We are attracting paying projects both inside and outside the university system. We go out and pitch and find funding for projects that serve the University's mission."
For instance, through the Center's MSU Films arm, there's XIII, a beautifully shot, sensitively rendered film centering on Gilroy Chow* and Ed Smylie, two Bulldog alumni in the space industry on opposite coasts. Each man was involved in solving the engineering problems that threatened the lives of Apollo 13's three astronauts in 1970 when an oxygen tank failed. Viewing the film, you feel the tension and perceive the immediacy of the critical equipment failure while seeing and hearing the men as they look back down the years to that mission.
"Mississippi State graduates were inextricably involved in the plans and procedures that got those astronauts home," remarks Garraway. "The film needs to scream, 'Look what Mississippi State alumni have done,' but our approach is sneaky. We let you get involved by telling it through those two people themselves."
That approach of storytelling is an extension of Mississippi's own fertile word-spinning heritage, and it creates magic.
"This is our style," says Garraway. "We tell the story and let you get involved. Our focus is to find stories that serve the University's interests and tell them in a way people will want to watch them. It doesn't matter what we do if people don't watch."
For certain, people are watching. They learn about Mississippi's severe food insecurity in The Hungriest State, the series which attracted the James Beard award nomination. Once again, the story is told through those with the experience; the plight and gnawing need is explained by Mississippians suffering hunger. Viewers also watch with mixed sadness and compassion the film Old Main, the story of the crippling fire that overtook and destroyed one of State's most iconic dormitories in 1959. Alumnus Travis Clark, who survived the tragedy, tells the tale so vividly that you almost smell the smoke and feel the rising panic.
COLLEGE OF BUSINESS | MISSISSIPPI STATE UNIVERSITY FALL 2022 | DIVIDENDS 7
Photo by Grace Cockrell
In other projects, the University Television Center's staff of 10 addresses even such contemporary topics as land conservation and farm stress through the storytelling approach. Garraway's leadership involves setting story direction, building a client base, overseeing the business side of the equation and, many times, problem solving.
"I love the process," he states, recounting the day a producer requested he find an Apollo Command Module for XIII (he did, north of Atlanta). It was Garraway, too, who located Old Main survivor Travis Clark.
"If you look at Mississippi's literary heavyweights, the storytelling aspect is natural – but it didn't happen by my call," he shares.
Garraway enthusiastically credits the talents of the Television Center's James Parker, alumnus and Senior Documentary and Special Projects Producer, who introduced the concept and wraps important messages with just the right thoughts, quotes, scene-setting locations, voices and faces.
"It is through James that I learned the potential and power of much more in-depth creative storytelling," he says.
Garraway, son of two educators in Hattiesburg, says his MBA has fueled his work at the University Television Center.
"I'm a firm believer in the power of education," he states. "I had experience on the management development side but saw the MBA program as an opportunity to apply formal educational concepts to the informal self-taught – sometimes painful – education I'd given myself. The online program enabled me to take the courses around my schedule.
"Without a doubt, the MBA has given me confidence as I continue to grow the Center to maximize the efficiency of the University resources and [develop] our ability to go out and capture revenue external to the University to bring in dollars to support the facility."
At the heart of it, Garraway is living his dream.
"I'm so incredibly fortunate because I've known what I wanted to do for as long as I remember," he comments.
And he had tools to get started at a young age. Thanks to his computer science professor father, their family had a computer in the 1980s. Garraway also recalls pulling old tube-style video cameras and a VCR on his Radio Flyer wagon, shooting with the camera. By high school, he had bought his own professional equipment with money earned by filming weddings and dance recitals.
MISSISSIPPI STATE UNIVERSITY | COLLEGE OF BUSINESS 8 DIVIDENDS | FALL 2022
8
The MSU University Television Center team, with Garraway second from left, at the regional Emmy Awards
Photo courtesy of David Garraway
"And here I am 26 years after that first experience, still doing the thing I love!"
There's more to come. Future projects include another round of The Hungriest State, set for 2023, plus an additional set of farm stress pieces. There is an "I was there"-style production called 9/20, which takes a look back at the 2001 MSU at South Carolina face-off, the first football game played following 9/11, at the request of the White House. A tough but important series on youth suicide and a piercing look at the failing oyster industry in Escambia Bay, FL – again, told by those involved and affected – are both in the plans.
"We have gotten aggressive now about finding great opportunities," says Garraway. "We're about to do a half-hour documentary about the Vietnamese population along the Mississippi Gulf Coast, where people were relocated after the conflict in the '70s. The community is at risk of fading out as the new generations move away."
To watch the University Television Center productions, visit films.msstate.edu. The Center also broadcasts on MSTV, the University's own cable channel, carried on C Spire TV Channel 80 statewide. Some productions also appear on Mississippi Public Broadcasting, which reaches 2.5 million viewers.
"Sometimes I wonder how we do what we do," marvels Garraway. "We just never pull back; we're always working through the next hurdle. But I can assure you – watch everything we do. It's all good."
* To read more about Gilroy Chow, see p.2.
COLLEGE OF BUSINESS | MISSISSIPPI STATE UNIVERSITY FALL 2022 | DIVIDENDS 9
Photo by Grace Cockrell
TJ's Animation Workshop
By Emily Daniels
Have you ever tried to describe a complicated concept or idea to someone, and the more explanation you gave, the more confusion it created? It can be downright frustrating at times when the message you are trying to convey is not understood. In some situations, it is easier to show – not tell. Studies have revealed that visual aids can improve comprehension by up to 400 percent because the brain absorbs and synthesizes visual information 60,000 times faster than by text. Mississippi State University alumnus TJ Green is here to help you communicate successfully with your audience.
Terrence "TJ" Green, Jr. is a 2020 College of Business graduate and founder of TJ's Animation Workshop, a company he started while he was a student. He went down a few paths to get here, but with the guidance of the Center for Entrepreneurship and Outreach (E-Center), he found his true calling – visual storytelling.
"I came to Mississippi State as a 17-year-old, with aspirations of playing college basketball," says Green. "I really wanted to be in the NBA, but my fallback plan at the time was to become a coach. I had gotten recruited by several junior colleges, but I wanted to go to an NCAA Division I school. I wanted to go to a school where I could be happy even if basketball didn't work out for me, so I chose MSU."
With basketball on the brain, Green initially chose to major in kinesiology, but after learning he would be ineligible to walk onto the team, he ultimately switched to business administration.
"I was sad that my plans were changing, but it was actually a blessing because I still didn't feel like I was fulfilling my life's purpose," he shares. "Throughout my life, I feel like I have had a business 'sense' – just small entrepreneurship things like selling snacks or making t-shirts. I knew I wanted to work for myself one day. Before changing my major, a friend suggested that I visit the E-Center and ask to talk to this guy named Eric Hill [Director of the E-Center]. I wasn't sure what to talk to him about, but my friend said, 'Just go to him, and he will help you figure it all out.' I mentioned to Eric that I had been playing around with an idea for a social media app – The Spot –where students can find out about different events. For example, if you were a freshman and didn't know anyone, then you could find different networking events. He helped guide that idea and hooked me up with resources and another student, Calvin Waddy, who had a similar idea."
After learning the business process and going over different ways to test the market, Green met with Waddy to brainstorm exactly what the app would and would not do.
"Calvin ended up working on another project [Rocketing Systems, whose Buzzbassador platform's gross merchandise value just reached $11 million], but he and Hill helped me through the foundational steps of a business and how to take all of your ideas and group them into a way that makes sense," says Green. "I perfected my marketing pitch by going all over McCool Hall asking students what they thought about the idea, which was 100 percent 'yes.' And that was when I made the decision to switch to business, so I could learn more in depth about what I was doing while I was doing it. Schoolwork could help me with my business, and my business could help me with my schoolwork. Win-win."
COLLEGE OF BUSINESS | MISSISSIPPI STATE UNIVERSITY FALL 2022 | DIVIDENDS 11
Photo by Grace Cockrell
To build the app, Green knew he would need to enlist the help of engineering or computer science students since it required coding, so he asked the faculty to send out a mass e-mail to see if any students were interested.
"We got lots of interest from computer science students," he shares. "The student who helped build the app was Jamie Borah. We became very close friends, and he introduced me to all the engineering stuff and was able to tell me when my ideas were or were not possible."
Green learned from his marketing classes that if he wanted The Spot to be successful, he would really need to promote it. But since just two people were working on it, there was no way they could garner interest just by word of mouth.
"I thought, 'If I just had a video to send out to explain it for me, that would be so much easier,'" says Green. "I couldn't afford to have someone else make it or hire actors to be in it, so I decided I would try to make an animated video myself."
It wasn't his first experience working with animation. He remembered a class project he had had in high school. The teacher gave an assignment about William Shakespeare in which students could either reenact one of his plays or pretend to be a reporter interviewing the playwright.
"I ended up asking my teacher if I could make an animated video instead," he recalls. "I don't think that my video really had anything to do with the qualifications, but I made an A+. The teacher said the video was so entertaining and creative that she had to give me a good grade!"
After making his animated video introducing The Spot, he garnered much praise from the viewers, who found it both entertaining and informative. That is when Green realized that this could lead somewhere. If people loved his video so much, maybe he could make animated videos for other start-ups and small businesses.
MISSISSIPPI STATE UNIVERSITY | COLLEGE OF BUSINESS 12 DIVIDENDS | FALL 2022
12
The City of Memphis named Green its 2022 Young Entrepreneur of the Year. Photo courtesy of Terrence Green
"After I started making videos, I was running three businesses (two apps) plus being a student," he says. "It was almost summer, and I was using student engineers to help with coding for The Spot. They were about to go to different cities for internships, so we didn't make much progress. Jeffrey Rupp [Director of Outreach] in the E-Center always told me not to bite off more than I could chew. To be successful in business, you should find one great thing and really excel in it. So, I chose animation."
Fast forward to present day. In the past six months alone, TJ's Animation Workshop has taught animation workshops at two different Boys and Girls Clubs (Starkville and Covington, TN) and taught a digital marketing workshop at the 2nd Annual Blacks in Nonprofits Conference in Atlanta (where Green won Humanitarian of the Year in 2021). He partnered with the City of Memphis to teach a Digital Marketing workshop for small business owners and was invited to host three workshops at the San Antonio Film Festival. He is also the Vice President of the Downtown Business Networking International Group. Most recently, Green was named 2022 Young Entrepreneur of the Year by the city of Memphis.
He still finds time to create animated videos for clients, though.
"On average, I probably make about seven videos a week," he says. "We do a lot of series videos. When I first started animation videos, I looked at them as marketing tools to attract people, but they're really more of a communication tool. With our videos, audiences can understand and retain the information in just two minutes. Explain, educate and entertain an audience – those are absolutely an animator's superpowers."
COLLEGE OF BUSINESS | MISSISSIPPI STATE UNIVERSITY FALL 2022 | DIVIDENDS 13
With their animated videos, Green and his team aim to explain, educate and entertain.
Photo by Grace Cockrell
A Students' Champion
By Carolanne Roberts
To grasp the scope of Dean Sharon Oswald, consider four between-semesters trips undertaken by this woman who loves to push boundaries and travel far. Pre-COVID days saw her trekking more than 100 miles on the challenging Portuguese Camino and on the Camino de Santiago in Spain. Then there's her ascent up Machu Picchu in Peru or, just last June, hardy hikes in both Zion and Bryce Canyon National Parks.
In other words, our Dean is a person with energy, endurance and drive, the same qualities she has brought to her leadership of the College of Business for the past 12 years. There's everything positive, nothing tentative, about Oswald, who is scheduled to retire June 30, 2023. As she prepares to pass the torch, it's worth walking back in time to visit the major mile markers of her tenure in Starkville – and a few "who knew" facts along the way, too.
First comes her favorite: the MSU Center for Entrepreneurship & Outreach, known as the E-Center.
"The idea was in my head when I got here," she says regarding the much smaller program that then operated under a separate branch of the University. "I envisioned it being part of the College of Business yet serving every college, not just business – which is what happened once we raised the funds and built the state of the art facility in the center of campus."
Today, the Dean points to companies incubated and enabled through the E-Center. "There are viable businesses valued in excess of $30 million [combined], and without the Center, they would not have existed," she remarks.
She applauds E-Center Director Eric Hill, COB Director of Outreach Jeffrey Rupp and the news that the E-Center will soon expand to Vicksburg. She also points to the offshoot Idea Shop, where E-Center companies prototype their concepts, and the Market Innovation Lab & Observatory, which enables behavioral research for concepts.
"We can stand up against anybody in the entrepreneurship field," she states. "We have students who are as good as any in the country."
Oswald also takes pride in the growth of the Supply Chain Logistics major which continues to expand, both adding faculty and swelling student engagement, and in the MBA Venture Pathway program that offers business building blocks to students who are primarily majoring in the STEM areas.
"I personally think everyone needs a business background," she explains of the latter. "So we prepare them with MBA prerequisites or simply the tools needed to go forward in their chosen fields."
Notable, too, is the growth and reach of online degree offerings – among them the online MBA, BBA and accounting programs.
This Dean is a true champion of the student, having operated from day one with an opendoor policy, making herself available for discussion, encouragement and patient listening.
Photo by Emily Daniels
COLLEGE OF BUSINESS | MISSISSIPPI STATE UNIVERSITY FALL 2022 | DIVIDENDS 15
Near her office, a closet of clothes – men's and women's – stands ready to help out business students by appropriately outfitting those heading to job interviews.
Had Oswald followed early instincts toward pharmacy or architecture, her appointment at State might never have happened. Had she not aspired to a PhD largely because her accomplished brother had earned one, she might not have found the passions that led her to State. Those fortuitous steps, along with her 24 years on the business faculty and as Head of the Department of Management at Auburn University, plus her tenure at MSU, sum up a noble career of service and leadership.
Entrepreneurship and outreach have expanded tremendously under Oswald's leadership. Here, Oswald (sixth from right) takes part in the ribbon cutting for the Idea Shop in downtown Starkville.
Much of her motivation derives from her father, who modeled the ethics of leadership.
"It was something he instilled in us as children," she notes. "He spent much of his career in upper management but never forgot his humble beginnings and his family. He believed in giving back in terms of his time."
Likewise, Oswald spent years on the international board of the Academy of Health Care Management based in Prague, Czech Republic (linking to her research areas in that field) and currently serves as President of the Southern Business Administration Association, which includes 150 business school leaders from across the southern United States and as far away as Hawaii.
While at Mississippi State, Oswald has reached into her heart and her purse to endow a client consultation room and a client waiting room at the MSU Animal Health Center in memory of her late Shih Tzu, Quinn. The College of Veterinary Medicine bestowed upon her its Vice President's Pegasus Award for her contribution to that field.
"I receive so many emails and texts from people who have waited in the Quinn Room with their ill pets," she says. "I never imagined how Quinn's story would impact and comfort people every day."
She has also established a scholarship in the College of Business to enable students to travel internationally.
"I was an exchange student in Germany, and my father was first generation American," she says. "Because my father gave me the opportunity to study abroad as a high school student, kindling my love of travel, I created the scholarship in his name."
There may soon be more time for travel – and for tennis, painting and perhaps even the game of golf as a beginner. But she also looks at other possibilities, like teaching in a study-abroad program or helping with an online consulting class.
MISSISSIPPI STATE UNIVERSITY | COLLEGE OF BUSINESS 16 DIVIDENDS | FALL 2022 16
Photo by Beth Wynn
"I know I'm not going to sit still," she says, meaning every syllable.
The time will come, too, to reflect on the journey. On how she arrived in Starkville a dozen years ago knowing almost no one; how she has forged professional and personal friendships in the Bulldog world; how she has seen students enter and graduate, fulfilled, educated and ready for their futures and how glad she is that she listened to a mentor who advised the very rooted Auburn professor that, "Sometimes people, like plants, need to be repotted."
In retrospect, she says, "Coming to State was the best decision I ever made."
But this isn't goodbye. Oswald cares too much to shut the door.
"I think the College is in a good place, and it's time for someone else to take the reins," she says. "I won't interfere, but I'll always want to know about the good things happening. And there will always be good things happening because the folks here are such good people. They're going to make me proud forever."
And on that note, the Dean, who has one more promising semester ahead, returns to her favorite life quote from Thoreau: "To make one person's life a little better, this is to succeed."
And in this role, at this University, for its many students and faculty, Sharon Oswald has indeed succeeded.
COLLEGE OF BUSINESS | MISSISSIPPI STATE UNIVERSITY FALL 2022 | DIVIDENDS 17
Oswald oversaw the College's yearlong centennial celebration in 2015, which included sponsoring the Alabama football game.
Photo by Kelly Price
Oswald's canine companions (from left) Czesky, Cocoa and Tucker – and other animals – are dear to her heart. She has endowed a client consultation room and a client waiting room at the MSU Animal Health Center..
Photo by Emily Daniels
Covering the State
By Kirsten Shaw
Hanging on the wall of Mississippi's Insurance Commissioner is a word-art image, a gift from his daughter. The image is composed of dozens of nouns and adjectives, each offering insight into Mike Chaney. Many relate to his faith, family and career. MSU is there in big, bold type. Some references are a bit obscure, like "long short cut," and one imagines there might be good stories behind them.
But there is another telling factor: the shape that's formed by this collection of words. The image that emerges is that of home, of the place he's devoted much of his life to serving – the state of Mississippi.
Tupelo native Mike Chaney graduated from Mississippi State in 1966 with a degree in banking and finance. He began his career with Humble Oil and Refining Company, a period interrupted by a tour of duty in Vietnam with his Army Reserve unit. By 1972, Chaney struck out on his own, starting an oil distribution business in Vicksburg. About seven years later, he and a partner built a topping plant – essentially a small refinery. In 1991, he moved into the wood preservation business, producing telephone and power poles treated with preservatives to withstand the elements. Chaney was also involved in real estate development, even partnering in that business with Kirk Fordice, Mississippi's governor through most of the 1990s.
The '90s also saw a start to Chaney's career as an elected official. He served in the state's House of Representatives from 1993 to 1999, then was elected to the Senate in 2000. In the Senate, he chaired the Education Committee, but another assignment would lay the groundwork for his future calling. Chaney was tapped as a member of the Senate Insurance Committee because his oil company in particular had required significant coverage and he owned interest in an insurance company, which he later sold.
"I served on the insurance committee because during the days of my oil business we would ship barge loads of crude oil and finished petroleum products," he notes. "So I knew a whole lot about insurance – and how expensive it was!"
He expanded his knowledge and understanding of the insurance industry, and in 2007, he was elected to the statewide office of Commissioner of Insurance, seeing it as a new role in which he might serve the state and make a difference for its people. He's been doing so ever since, having been elected and re-elected four times.
"I truly love my job," he states. "It's fascinating because you deal with every aspect that touches someone's life, from before a child is born until a person dies. I'm talking about prenatal care with health insurance then burial insurance on the other end, plus life insurance and everything in between – homeowners insurance, automobile insurance, long term care – protecting people when they ride on an elevator or buy a propane bottle, fire protection…. All these things that cost money."
The scope of the Mississippi Insurance Department is vast. Its brief, in part, includes oversight of all insurance companies operating in Mississippi; licensing for insurance companies, agents and adjusters, as well as bail agents; educating consumers on every type of insurance and preparedness for planned and unplanned life events; handling consumer complaints and fighting fraud. Chaney also serves as State Fire Marshal, which takes in oversight of fire investigations, firefighter training and enforcement of fire codes – plus less-expected areas like oversight of factory-built homes and elevator and escalator inspections.
COLLEGE OF BUSINESS | MISSISSIPPI STATE UNIVERSITY FALL 2022 | DIVIDENDS 19
Insurance Commissioner Mike Chaney and Chaney Scholarship recipient Imani Campbell at 2022 MSU Insurance Day Photo courtesy of MSU Risk Management and Insurance Program
The Department's stated aim, in short, is to create the highest degree of economic security, quality of life, public safety and fire protection for the state's citizens at the lowest possible cost.
"I want insurance to be available, affordable and accountable – the 'Three As,' as I call them," Chaney says. "The statute I live by says that I will be certain that companies are solvent with enough surplus to pay claims and that I will protect the consumer. And the statute doesn't say this, but if in doubt, I'll take care of the consumer first."
Chaney and his team also work to foster a statewide environment for economic growth, benefiting Mississippians at large.
"A bank's not going to finance your project unless you can insure it," he observes. "And if you don't finance it, you have no economic development, no jobs created. So insurance is really the key that unlocks economic growth within the states.
"A prime example is the recovery of the Gulf Coast [after Hurricane Katrina]. As a state senator, I helped write the recovery bill and shortly thereafter found myself administering that program. It's been successful. We've been able to keep rates competitive on the Gulf Coast. We found insurance for the citizens living in the lower six counties, which enabled them to stay on the Coast to rebuild. And during that time we passed building codes – codes that enable buyers to get cheaper insurance rates and have homes that are still there after a hurricane. Resiliency is what we call it."
One of the biggest areas of change since Chaney became Commissioner is healthcare. What initially took about one percent of his time, he now estimates takes more than 50 percent. Longterm care insurance has become a focus, and the Department has also worked to protect patients from "surprise medical billing" – unexpected charges for services by out-of-network providers at innetwork facilities. Healthcare reforms and changes have led the Department to develop MIDhelps.org, a website to aid consumers in understanding their health insurance and provide information on legal rights and protections.
The responsibilities of the Commissioner constitute a big, complicated job, one that isn't done single-handedly. As he talks about various projects and areas, Chaney frequently mentions involved staff members by name. It's clear he recognizes their skills and is grateful for what they accomplish.
"I've got a great staff supporting our efforts," he says. "We've got people who work. And we get it done.
MISSISSIPPI STATE UNIVERSITY | COLLEGE OF BUSINESS 20 DIVIDENDS | FALL 2022 20
Insurance Commissioner Mike Chaney and his team work to create a high degree of economic security, quality of life, public safety and fire protection for Mississippians.
Photo by Beth Reiss, MS Insurance Department
"One of the things I'm really proud of is that we've been able to take care of consumer complaints. We handle about 13,000 phone calls a year in inquiries. We deal with a lot of issues related to healthcare, roofs and automobile damage. We've also been very successful in helping people find family members' life insurance policies."
Chaney's impact on the insurance industry extends to the national level via the National Association of Insurance Commissioners (NAIC). Through the NAIC, state insurance regulators establish standards and best practices, conduct peer reviews and coordinate regulatory oversight. Chaney chairs its Property & Casualty Committee and serves on the Financial Condition Committee.
Mississippi State and the College of Business benefit from his involvement as well. Chaney is a fixture at MSU Insurance Day (I-Day), the annual continuing education program organized by the College and its Risk Management and Insurance (RMI) Program. Each year, he invites several of his NAIC peers to join him on an I-Day panel. He enjoys hosting them at MSU, showing off the campus and the RMI program and taking them to the I-Day baseball game reception.
"I'm really proud of Mississippi State," he says. "They have done so much for the state of Mississippi."
Chaney takes a keen interest in his alma mater's students.
"He's always engaging and interacting with them," observes Seth Pounds, Director of the RMI Program. "When he meets a student who's interested in a career in insurance, he goes out of his way to stop and talk."
The Commissioner has established the Mike Chaney Risk Management & Insurance Endowed Scholarship, a need-based scholarship for Mississippi students in the RMI program. He also recruits students to join the Mississippi Insurance Department, sending representatives to campus for career fairs and encouraging them personally.
"We tell them if they'll work for us for a couple of years, they'll be able to write their ticket," he says, noting that the experience gleaned at the agency puts his young employees in demand when it's time for their next career moves.
With the demands of his job, it's hard to imagine Chaney's schedule allows for anything but work, but family is very important to him. With photo in hand, he proudly talks about each one – their personalities, where they live, what they do. He shares anecdotes like how he's used binoculars for "keeping an eye" on some of the younger generations during games in Davis-Wade Stadium (they don't seem to mind).
When he wants relaxation, a break from facts, figures, regulations and negotiations, he finds it in woodworking, tennis and painting. Though artistic talent seems to run in the family, his works are only seen by family and friends, because painting is simply something he enjoys doing for himself.
Mike Chaney could have retired years ago, after serving in the Senate, but it's clear the role he's held for over 14 years is almost a mission, one that energizes and fulfills.
"I truly enjoy the job, because I get up every day thinking I can help someone and make a difference for my fellow citizens. That's all we're called on to do, leave the world better than we found it."
COLLEGE OF BUSINESS | MISSISSIPPI STATE UNIVERSITY FALL 2022 | DIVIDENDS 21
Running with the Big Dogs
By Emily Daniels
Last year, Dividends featured a College of Business student who shared her experiences working as a summer intern for e-commerce and global conglomerate Amazon, which is currently the world's leading online retailer. This year, two of our COB students had the opportunity to work for another e-commerce giant – Chewy, Inc., an American online retail company specializing in pet food and other pet-related products. Founded in 2011, the online retail giant made its debut among Fortune 500 companies and has become a huge success despite the existence of online heavy hitters like Amazon and Walmart.com, which also sell pet products.
So what is Chewy's key to success? They are offering a shopping experience that the others are not: 24/7 customer service in which consumers can speak to actual pet loving agents who are well versed in the products sold for a wide variety of animals and can assist customers in making the right choices for their pets' specific needs. Additionally, Chewy offers prescription foods and medications that can be mailed or auto-shipped after sending an approval request to a pet's veterinarian.
Millennials and Gen Z-ers have also contributed to Chewy's success. According to a study by Wakefield Research, 76 percent of millennials said that they were more likely to splurge on a luxury item – such as gourmet treats or a custom bed – for their pets than for themselves. This is because many pet owners humanize their furry friends, treating them like first-born children.
The company itself has become an attractive place to work for the younger workforce –especially pet lovers. Chewy was named a "Top 10 Employer Brand" in Boston in both 2019 and 2020. According to Comparably.com, "Chewy's Employer Brand is comprised of an A+ rating for Retention, an A+ rating for Office Culture and an A+ rating for Happiness."
We recently sat down with students Jack Camilleri and Gabe Blaylock, who worked as interns for Chewy over the summer, to hear about their experiences working with the company. It was Gabe's first internship with the company and Jack's second.
n How did you find out about the internship?
Jack: I found out about Chewy through a former member of the College of Business Ambassadors, Shea Flanagan, who now works for the company. She had interned there a year before and spoke very highly of her experience. I was really interested to see what it was like to work in an e-commerce environment, and I've always loved animals. Chewy naturally seemed like the perfect fit for me, and I was right! After landing the internship, I immediately fell in love with the culture and atmosphere.
Gabe: This was my first year working for Chewy. Last year, Jack told me about all the internship opportunities offered at Chewy and how much he loved working there. As a supply chain logistics (SCL) major, I had been looking for internships that would help me gain experience in that field prior to graduation. I did some more research on Chewy and learned what a hugely successful corporation it is and decided to apply, and I'm so glad I did!
COLLEGE OF BUSINESS | MISSISSIPPI STATE UNIVERSITY FALL 2022 | DIVIDENDS 23
n What was your greatest strength in your intern role?
Jack: My greatest strength in my role was being able to see problems from a different perspective. Since I am a finance and marketing major, I was able to think outside the box and attack projects in creative ways. Using things I learned from my classes in the workplace was extremely fulfilling and helped me become a productive business analyst.
Gabe: I was able to put the skills learned in my SCL classes to the test there, since we had to have a full knowledge of software systems such as Excel, Tableau, TMI and Körber One tracking and analytics systems, as well as the skills necessary to manage an 80- to 100-man crew in a single shift.
n How would you describe a typical day as a Chewy intern?
Jack: This past summer was my second year as an intern for Chewy. The first year I was part of the Customer Service team, and this year I joined the Employer Branding & Talent Acquisition for Fulfillment Centers team at the corporate headquarters in Fort Lauderdale, FL. I would go to the office and have a quick meeting with my team to determine the top priorities for the day. My work consisted of conducting data analysis for the 13 fulfillment centers, managing expenses, updating the careers site and implementing new features. I also worked with third party vendors to create new marketing tactics. It wasn't just all work though. I got to meet and play with new pets every day since all employees are allowed to bring their dogs to work!
Gabe: I served as an Outbound Operations Manager intern at Chewy's first fully automated fulfillment center in Jessup, PA, where I was responsible for line flow, data analytics, employee management and safety, communication, shipping and product fulfillment. A typical day for me was to meet with our 350-man team at 6:30 a.m. to go over the target goals of the day and tasks to improve on. Next, we would run analytics on the shift from time goals to package movements and blockages to find ways to expedite the shift's production output. Following that, we would do all mandatory shift interactions, including employee improvement trainings and manager recommendations. Then, we would run the full shift with a goal of hitting roughly 80,000 units a day and, at the end of the shift, run final analytics of the entire shift with the Head of Operations Managers.
MISSISSIPPI STATE UNIVERSITY | COLLEGE OF BUSINESS 24 DIVIDENDS | FALL 2022 24
Gabe Blaylock, left, shown with fellow Chewy intern Robert Gentile of Rutgers University, appreciated the opportunity to develop a network of peers from across the country.
Photo courtesy of Gabe Blaylock
n What is the most valuable thing you learned through this experience?
Jack: The most valuable thing I learned was how to build and lead an effective team. I had an amazing manager who mentored me throughout my entire internship. I learned that regardless of how hard one individual works, nothing can be accomplished without a team. Getting real world experience is the best.
Gabe: I learned so many things throughout the internship process, but one of the most important to me was learning the value of networking. Because of the network that Mississippi State University and the College of Business provided for me, I was able to obtain an interview with Chewy. During the internship, I built so many relationships with people I worked with from all over the country who had similar career aspirations as me. Having a strong professional network is essential to your success, no matter what you do in life.
n What advice would you give to other students seeking internship opportunities?
Gabe: My advice to other interns seeking an internship is to reach out to as many recruiters as possible and take every opportunity that comes your way. Even if an internship does not interest you initially, take a chance. You should do your research on every company you apply to and build up your skillset to match as many requirements as you can. I took a risk moving to Pennsylvania and was very nervous going into it, but it ended up being a great opportunity for me as well as a very rewarding experience.
Jack: APPLY, APPLY, APPLY! The worst thing you can do is to not try. Getting real world experience while you're in school is the best thing you can get out of an internship. You get to see how you can apply what you have studied in the classroom to real business situations. Internships can also help you decide what you want – and what you don't want – to be!
COLLEGE OF BUSINESS | MISSISSIPPI STATE UNIVERSITY FALL 2022 | DIVIDENDS 25
In his second summer internship with Chewy, Jack Camilleri joined the Employer Branding & Talent Acquisition for Fulfillment Centers team at corporate headquarters in Fort Lauderdale.
Photo courtesy of Jack Camilleri
An Expanded View
By Carolanne Roberts
Don Whitmire, the 2022 Alumnus of the Year for the College of Business, is currently settling into his new home and new life in Nashville – but oh, the places he's been. And the differences he's made.
Looking ahead to graduation and a degree from Mississippi State's School of Accountancy in 1978, Don Whitmire thought he knew exactly what he was going to do: get a job with an accounting firm's Jackson office, live at home in south Jackson with his parents for a year, save enough money to marry his love Peggy and "forever after have season tickets to Mississippi State football and go there every Saturday."
Here's what happened instead. His first job, with the Arthur Andersen accounting firm, took him to Houston for 11 years. Then he, Peggy and their three sons moved to New Orleans so he could join Freeport-McMoRan, now the world's largest publicly traded copper company, at its New Orleans headquarters for four years. Next came another four fascinating years on assignment for the enterprise in Indonesia, nearly 10,000 miles from home. After a return to Louisiana, the Whitmires moved to Phoenix when company headquarters were relocated there. He retired from Freeport-McMoRan as Vice President and Controller and Principal Accounting Officer this past June, after 33 total years' service.
Along the way are tales of sulphur mines, oil and gas transactions, the discovery of a huge copper resource speckled with gold deposits and a renewed involvement with his alma mater, including a very benevolent gift that helps fuel what is now the Richard C. Adkerson School of Accountancy.
Rewind to a sunny autumn day when Whitmire and his buddies, high schoolers keen on a football weekend, got themselves into the stands in Starkville. The numbers man remembers the score – and the mood.
"Campus was alive, students were happy and State beat up on Vanderbilt 52-21," he recalls. "By the time we left on Sunday, I knew I could see myself going there. I think the persona of State is that of good everyday Mississippi people getting together, a lot of them from small towns and possibly the first in their families to go to college."
Shortly thereafter, Whitmire found himself an MSU student studying accounting and became the first in his family to earn a college degree – one with honors, at that.
"I still say today that accounting is the language of business," he remarks. "The orderliness of math has always appealed to me, and I'd had a course in bookkeeping in high school, which was unusual at that time. At State, I still remember the cohort of accounting professors who had been active in the profession and brought their different life experiences to our classes. I'm grateful that my life and time intersected with those professors. They showed us how accounting related to the real world."
Don and Peggy Whitmire
Photo by Megan Bean
COLLEGE OF BUSINESS | MISSISSIPPI STATE UNIVERSITY FALL 2022 | DIVIDENDS 27
It seems that real world was populated by MSU alumni who offered connections and opportunities. H.D. "Von" Graham, whom Whitmire calls "the epitome of a Southern gentleman," recruited Whitmire and other students for his team at Arthur Andersen. Richard Adkerson, namesake of the School of Accountancy, then led Whitmire from Andersen into a robust career at Freeport-McMoRan.
"I'd say a large majority of us currently on the Adkerson School of Accountancy Advisory Council started our careers at Arthur Andersen, and that's a testimony to the quality of instruction we got at Mississippi State," observes Whitmire, who recently chaired the Council.
Whitmire was recognized as the 2010 COB Alumni Fellow and named to the list of Top 100 COB Alumni during the College of Business' Centennial Celebration in 2015.
Whitmire's accounting side was balanced during college days with his participation in the Stephen D. Lee Honors Program, within which he served as President of the Student Honors Council.
"You took subjects like English, history and communications – mostly arts and sciences-related classes that made you think," he says. "This was an optional program, run by a small group of dedicated professors, and a precursor to the full-fledged Shackouls Honors College of today."
He also currently sits on the Advisory Board of the Honors College.
That well-roundedness came in handy in the career that followed. The Arthur Andersen years included work in the energy audit and energy regulations areas. Early work at Freeport-McMoRan included sulphur mining and oil and gas operations, which led to the biggest adventure – the posting to Indonesia, where the company had discovered a rich copper reserve.
"Here's this guy from South Jackson, who had only been to Italy in high school and to Spain a couple of times for Freeport, suddenly moving to Indonesia," he marvels. "When people talk about an assignment overseas, they usually are living in a major city, but we were at the mine itself in West Papua, a place that was very remote even to Indonesians."
MISSISSIPPI STATE UNIVERSITY | COLLEGE OF BUSINESS 28 DIVIDENDS | FALL 2022
Whitmire receives the 2022 COB Alumnus of the Year Award from MSU President Mark Keenum.
28
Photo by Megan Bean
This meant landing at the company airstrip at 50 feet above sea level then crunching along company-installed gravel roads more than 70 miles to an elevation of up to 10,000 feet. This was obviously no place like home, yet Whitmire, Peggy and their sons (who were in kindergarten, second and fourth grades) thrived. She joined clubs with other expatriate wives, and the kids attended a school with an American curriculum.
"They had more computer equipment than schools back in the States and amazing field trips, as you can imagine," Whitmire says, adding that the family's own expansive travels ranged from LegoLand in Denmark to Dachau in Germany (the latter to due to Whitmire's deep interest in World War II).
Throughout the years – with the possible exception of those spent in Indonesia – the Whitmires have been a frequent presence on campus. All three sons hold MSU degrees. Don returns for sporting events and advisory board meetings. And their second home is not on a mountain or a lake. It's in Starkville.
The Whitmires have graciously endowed student scholarships and the Don & Peggy Whitmire Fellowship, as well as the Whitmire Accelerating Students into the Accounting Profession Camp program at Mississippi State. This opportunity annually invites high school students to spend a few days on campus, living in dorms, experiencing the college atmosphere and learning about the possibilities offered by an accounting degree.
"Maybe it's their first time away from home," says Whitmire. "They have activities during the day with an emphasis on the world of accounting. For instance, they learn what a financial statement is and why it's important, tax structures and their relevance and so on. If we do our job right, they come out interested in accounting at Mississippi State. Peggy and I are thankful to have the ability to supply consistent and steady funding for the program.
"I have been blessed," he continues. "I have always had a deep appreciation for Mississippi State in general and the School of Accountancy in particular, for preparing and encouraging this young guy from South Jackson who didn't have a very expansive view of what you could do in the world. I'll always be grateful for that."
COLLEGE OF BUSINESS | MISSISSIPPI STATE UNIVERSITY FALL 2022 | DIVIDENDS 29
While the Whitmire family, shown here in 2014, has traveled the world, their roads often lead back to Starkville. Photo by Rachel Curry Photography
Building Ethical Leaders
By Kirsten Shaw
For most college students today, the major business scandals of the early 2000s are part of history, something to be studied in class. But for those only a little older, who lived through Enron and WorldCom, they're active memories that must not be repeated.
These pervasive scandals affected more than those who lost money or were employed by the companies involved. They impacted all consumers, investors and businesses – including the many enterprises that were doing things by the book. They damaged the American public's trust in business in general.
In the wake of such accounting scandals, the National Association of State Boards of Accountancy (NASBA) established the NASBA Center for the Public Trust (CPT). The CPT works to advance ethical practices not only in the accounting profession but in corporate America at large. Its goal of linking ethical theory to practical professional activities is pursued through seminars and conferences on topics like public trust, leadership, integrity and ethical decision-making.
A few years ago, the CPT introduced a new tool to help prepare future business professionals for the dilemmas they may face even early in their careers: an Ethical Leadership Certification program for college students.
"I have found that college students tend to tune out when their professors talk about ethics," says Alfonzo Alexander, President of the CPT and Chief Ethics and Diversity Officer for NASBA. "They think 'only senior managers deal with that,' and 'I'll know what to do when I'm a senior manager.' But they are wrong – studies show that 83 percent of employees face some kind of ethical dilemma within their first five years on the job. They have to be prepared for that by thinking about how they'll handle those situations now."
The College of Business has made the decision to require all its undergraduates to participate in the CPT's Ethical Leadership Certification program (ELCP), placing MSU among the first universities to adopt it. Dean Sharon Oswald felt strongly about adding the program to the curriculum.
"Graduating tomorrow's business leaders with high ethical standards is something that is at the core of what we strive to do," she states. "The ethical leadership certificate gives students the opportunity to experience ethical dilemmas and learn how to best handle the situations. Among future employers, this certification will also provide our students with a competitive advantage in the hiring process."
The advent of the program at MSU was heralded by Alfonzo Alexander himself, who came to campus in August through the Leo W. Seal, Jr. Distinguished Speaker Series. In addition to the university-wide Seal lecture, he met with management and accounting faculty and spoke to students in one of the classes engaged in the certification program.
COLLEGE OF BUSINESS | MISSISSIPPI STATE UNIVERSITY FALL 2022 | DIVIDENDS 31
The Leo W. Seal, Jr. Distinguished Speaker Series brought Alfonzo Alexander, CPT President and Chief Ethics and Diversity Officer for NASBA, to campus.
Photo by Grace Cockrell
"The ELCP program teaches students the importance of deciding at the beginning of their careers what ethical boundaries they have and what lines they will not cross," remarks Alexander, who was involved in creating the program's content with Auburn University professors Dr. Linda Ferrell and Dr. O.C. Ferrell. "It's harder to define those boundaries when you are under pressure and facing a difficult situation. The ELCP program also teaches students the importance of developing a network of mentors both inside and outside their organizations so they are prepared with advisors who can help them navigate difficult ethical dilemmas and come up with solutions that don't necessarily require quitting."
The ELCP program has been embedded in the Management 3213 course Organizational Communications, which is a requirement for all MSU business majors. Dr. Emily Marett led the pilot classes this past fall, and it will be added in the spring by the other faculty who teach the course.
"I am so thankful to Emily Marett for taking the lead on this project," says Oswald. "She has such great passion for wanting our students to graduate with this certificate."
"Ethics is something our College has been committed to for a long time, and every major integrates it a little differently," shares Marett, an Instructor of Management. "Adding the Center for Public Trust's program offers consistency across all majors and enables every Mississippi State business student to acquire a certificate via a nationally recognized, respected organization, assuring employers our graduates have training and skills in ethical leadership.
"The ELCP program dovetails well with the communications course, which focuses on subjects like how to lead teams and how the power of the leader can influence groupthink," she observes.
The ethical leadership program is provided through online modules by the CPT that involve lectures and interactive components, and each includes a quiz that must be passed before moving to a new section. Students in the Organizational Communications course complete each module as an assignment outside of class, and after each, they participate in ethical decision making activities in the classroom.
MISSISSIPPI STATE UNIVERSITY | COLLEGE OF BUSINESS 32 DIVIDENDS | FALL 2022 3232
Alexander met with Dr. Emily Marett, along with other COB faculty and students, to discuss the Ethical Leadership Certificate program.
Photo by Grace Cockrell
Topics include an overview of ethical leadership, ethical decision making, organizational support of ethical leadership, the role of leadership in managing and preventing conflicts and ethical risks, the role of communication in ethical leadership and "Ethics Dash," a scenario-based activity. The program concludes with an independently administered comprehensive exam.
"Some of the things students learn are how to facilitate conversations as a manager, how small things can set a tone and create expectations for behavior and how to create a culture in which employees are confident they have permission and support for whistleblowing," says Marett.
"I'm glad we are doing this certification because it makes you look at the business world from a different perspective," says junior Gracie Hammons. "It makes you realize what is ethical and what is not and has opened my eyes to different pressures and reasons why people end up committing unethical acts."
Adds junior Serena Rozsa, "I like that it gives examples of ethical situations and asks what I would do. That helps me think about the ethical dilemmas I will most likely have to face in my career."
For accounting students in particular, theirs is a profession where ethics will be a career-long emphasis. Some state boards of accountancy require ethics courses or an ethics exam prior to licensure, and some – like Mississippi – require continuing professional education (CPE) credits to maintain licensure. The ELCP program will establish a strong foundation from the outset.
"Although nothing can fully prepare you for being in an unethical position," shares accounting senior Alison Watson, "I feel more prepared for whatever situations will arise."
"I am excited to see the program being made available to all our students, but especially our accounting students," says Angela Pannell, Instructor of Accountancy. "Ethical challenges will arise as our students move forward in their careers. With the introduction of the training as part of the undergraduate degree, accounting students can begin to think about how they will address various ethical challenges when they arise, so they do not have ethics violations that might result in a case being brought before their state boards."
Pannell is well acquainted with the value of ethical accounting and the expectations of the profession. She serves on the American Institute of CPAs' (AICPA) State Board Committee, a subcommittee of the AICPA Board of Examiners, and has served on the Mississippi State Board of Public Accountancy, the NASBA Education Committee and the NASBA CPE Committee, among others. It is here where the standards of accountancy are defined and upheld.
Students who start out their careers having learned to detect and deter ethical pitfalls and having defined their ethical boundaries are more likely to grow into ethical leaders. As they progress into positions of increasing responsibility, they will set the standard for their businesses and those who work for them.
It is this active, intentional pursuit of ethical leadership that will help keep the specter of business scandal where it belongs – as a part of history.
COLLEGE OF BUSINESS | MISSISSIPPI STATE UNIVERSITY FALL 2022 | DIVIDENDS 33
A Novel Approach
By Emily Daniels
It is often said that college is a time to truly discover who you are and who you want to be in life. "What do you want to be when you grow up?" is a common question you've probably heard from the time you were five years old. With so many possibilities, there can be a lot of pressure on young college students to decide on the career paths they want to take prior to graduation. In fact, approximately 80 percent of college students end up changing their major at least once, according to the National Center for Education Statistics.
Then there's Gabriella Saab. A 2016 College of Business graduate, Saab always knew exactly what she wanted to be, and she was determined to get there. Originally from Madison, Saab and her family moved to Mobile, AL, when she was a young girl. It was around that time that she discovered her dream job.
"As a kid, I was a voracious reader," Saab recalls. "When I was about five or six, I picked up a Nancy Drew book for the first time and loved it so much that I wrote my own Nancy Drew-inspired short story for fun. I really liked being able to imagine these different worlds and characters and put them down on paper. If I was reading Nancy Drew, I was writing mysteries. If it was Little Women, it was family stories. I decided I wanted to be an author right then and there."
So what made an aspiring novelist choose a degree in marketing?
"I really liked marketing because it reminded me of writing in a sense. It allows you to tap into that creative side of your brain," she says. "If I was going to be a writer, I would need to learn how to learn how to pitch a story to a publisher, how to assess my target audience and how to tell if the market would even be receptive to my ideas. I knew of the prowess you gain from a business background, and I was confident that a solid foundation would help me no matter where my career took me."
The idea for her first novel, The Last Checkmate, came to Saab while she was still in college. She knew that she wanted to write historical fiction, and she always found the World War II era especially interesting, thanks in part to her late grandfather, "Poppy," to whom the book is dedicated.
"I think what really fascinated me about that time period is that it was such a devastating time – for everyone," says Saab. "Obviously, the people who fought the battles were extraordinary in their own rights, but then you think of all the women at home who went to work and joined resistance movements and the people in occupied territories. Everyone really banded together and fought with everything they had to help those being oppressed and to overthrow the oppressors. It was a really important time in history, one that we should not forget, so I felt compelled to write about it."
COLLEGE OF BUSINESS | MISSISSIPPI STATE UNIVERSITY FALL 2022 | DIVIDENDS 35
Saab has been busy with book signings and promotional tours.
Photo courtesy of Gabriella Saab
After graduation from Mississippi State, Saab initially thought about going to graduate school for publishing and maybe also putting her undergraduate degree to use working in the marketing department at a publishing house, while trying to get her writing career off the ground. But writing historical fiction can be a fulltime job in itself, requiring extensive research before the writing can even begin. Saab decided she would work part time in Mobile to have time to devote to her book – one that would later make it on POPSUGAR.com's list of The Best Books of 2021.
The story follows heroine Maria Florkowska, a teenage Polish girl who, along with her family, aids the resistance in Nazi-occupied Warsaw during World War II. While on one of her missions, she is caught by the Gestapo, and the girl and her family are sentenced to Auschwitz – a concentration camp in its early days, where those imprisoned were exclusively male. Women, children and those deemed unfit for labor were killed immediately.
Upon arrival at the camp, Maria gets separated from her family among the hundreds of newly sentenced prisoners when a Nazi officer sees her clutching a chess piece her father had made for her. He decides to move her from the execution line to the men's labor camp, for his personal amusement. After finding out she is a chess novice, he forces her to play against him and other guards in exchange for her life. But the analytical skills learned through a game of chess would play a central role in her fight to survive. Through a series of twists and turns – and fellow prisoners she befriends along the way – she carefully devises a plan to escape. But her first order of business is bringing the Nazi officer who has killed her family to justice.
While Maria's character in The Last Checkmate is fictional, many others – including resistance organizer Mother Matylda Getter of the Fransciscan Sisters of the Family of Mary, political prisoner Father Maksymilian Kolbe and sadistic camp deputy Karl Fritzsch – were real historical figures.
MISSISSIPPI STATE UNIVERSITY | COLLEGE OF BUSINESS 36 DIVIDENDS | FALL 2022 36
Saab's first novel has received praise from the book industry and readers alike.
Photo courtesy of Gabriella Saab
"Growing up Catholic, one of my favorite saints had always been Maksymilian Kolbe, who ultimately died a martyr in the starvation bunker at Auschwitz," says Saab. "I had this idea about him being in his cell when a young female prisoner that he had previously bonded with comes in to comfort him. He was always going to be a side character, though. I knew I wanted the main character to be a girl, because I can write about that experience better – so that's how Maria Florkowska was born."
Saab knew the importance of doing the research on such a difficult subject matter, so she read as many books as she could about Poland, the Nazi Resistance Movement and Auschwitz I and Auschwitz II-Birkenau concentration camps. But she felt to truly capture the setting, she would need to see everything in person.
"My family has always been supportive, but my grandfather was particularly passionate about it and was instrumental in making my research trip happen," she says. "So in 2018 I went to Warsaw, Poland. I took a tour of Auschwitz, walking the routes where I knew I wanted my characters to be. I even got to interview the Franciscan Sisters about Mother Matylda and the convent's help with transporting Jewish children to non-Jewish families to protect them during the war."
Saab pitched her book to several agents at a writing conference in 2019 before signing with her current agent in January 2020. They submitted the novel to many publishing houses right as COVID was sweeping the country, so it was a slow process. By that time, Saab was already working on her next historical novel, Daughters of Victory (with a launch date of January 2023 – mark your calendar!). They had almost decided to shelve The Last Checkmate when a funny thing happened.
"In October of that year, The Queen's Gambit had just come out on Netflix and caused a big interest in chess," Saab says. "Not long after that, I heard back from my favorite editor, who was with William Morrow, my favorite publisher, and she loved my book! I got an offer and signed two or three days before Christmas."
Since 2021, Saab has been very busy promoting not one but two novels. Her first has received much praise from the book industry and readers alike. The acclaimed paperback has now been translated in several languages and is also available as an audiobook. While book signing and promotional tours have kept her busy, Saab still finds time to spend with family and at her alma mater. In fact, she is slated to be the keynote speaker for the Spring 2023 Beta Gamma Sigma Honor Society induction ceremony in the College of Business.
When asked if she has advice for anyone with aspirations in writing or other creative fields, Saab is quick to reply.
"Learn your craft, and read everything you can about it," she states. "Think about different things that could help you in your chosen field or support you during your pursuit – whether that's a job in that business or a job doing something else – because any job is going to help you in the long run. It's going to teach you things that will help you grow both personally and professionally. I have developed so many skills that I learned in previous jobs, and even my business classes, that I never thought I would have needed but have helped me tremendously along the way. So pursue that passion, but also bear in mind that there are a lot of different paths you can take to make a dream come true."
COLLEGE OF BUSINESS | MISSISSIPPI STATE UNIVERSITY FALL 2022 | DIVIDENDS 37
Leadership Through Uncertainty
By Brian Blank
Today, so much of what is going on in our world is unprecedented. Businesses are evolving in ways seeming unimaginable just years ago, whether recovering from a pandemic, navigating remote workforces or managing labor shortages from aging demographics. As companies analyze the path forward, employees may look to the top to make sense of and navigate this uncertain environment. How can corporate leaders evaluate current circumstances, take calculated risks, outshine competitors and avoid bankruptcy?
What should businesses make of the current economic environment?
The economic environment is particularly complex, with both businesses and consumers watching the Federal Open Market Committee. The Federal Reserve's policymaking arm is contemplating to what endpoint to raise its benchmark interest rate, as well as the pace, over the coming months and years. This fight with inflation has high stakes for the economy, which has been strong over the past year. As the Fed works to slow inflation without causing a major downturn, economic growth is also slowing.
Unfortunately, the economic deceleration has some experts believing a recession is not only likely but imminent. While the labor market is still growing rapidly, gross domestic product has slowly declined for a second consecutive quarter, which has many alarmed, as some parts of the economy slow, like housing and construction. Still, GDP appears to be growing again, and the National Bureau of Economic Research, which typically identifies recessions in retrospect, focuses on employment and income, both of which continue to grow.
Despite warnings related to high interest rates and expensive real estate loans for businesses and individuals, signs of a downturn are not present in key economic datapoints. In addition to the hot labor market, several large capital expenditures have yet to decline. For example, past recessions typically followed sharp declines in residential investment, indicating individuals spent less on new homes and improvements. However, residential investment has remained steady at an historically precedented percentage of GDP, while large expenditures like heavy truck sales continue to be strong. Coupled with the lowest unemployment rate in decades and rapid job growth, these indicators suggest a recession may still be further away.
While debate as to whether the economy is entering a recession continues, individuals and businesses are grappling with trends not seen in a generation. Elevated inflation and a slowing economy have many looking back at periods of stagflation, where the economy stops growing –stagnates – amidst inflation, searching for clues on what the future may entail.
Staring down economic challenges, companies seek to adjust to the new landscape, and firms must identify the best person to lead through uncertainty. Should businesses hire an experienced veteran or seek out the next up and coming star?
Executives adapt to economic challenges
One challenge CEOs often find themselves managing is an economic downturn, which is why in a recent study my co-author, Brandy Hadley of Appalachian State University, and I investigated how executives change their decision-making during economic downturns. When we examined how CEOs manage firms through challenging economies, we found some executives learn and develop expertise to strategically shift risks and add seven percent more value during downturns.
COLLEGE OF BUSINESS | MISSISSIPPI STATE UNIVERSITY FALL 2022 | DIVIDENDS 39
Amidst uncertainty, experience becomes increasingly valuable for leaders. CEOs who previously led a firm through a downturn ("Recession CEOs"), regardless of the outcome, learned from experience. In fact, CEOs at firms that have had negative experience demonstrate more learning, which results in bigger shifts in policy for the next downturn.
The secret we learn from studying Recession CEOs is that the key to their success in the next downturn does not begin when the economy deteriorates. Instead, Recession CEOs plan for challenging economic environments during expansion and growth. They use conservative financing during the boom, which provides more flexibility and less bankruptcy risk amidst the downturn. By being cautious when the economy is growing, executives ensure their businesses have more cash in critical moments. As a result, the market views the firm as less risky and is willing to lend additional capital to fuel higher growth through capital expenditures and acquisitions.
The more experience CEOs have in prior downturns, the better they perform in the next, especially after surviving severe downturns. Not surprisingly, these skills are especially valuable at firms impacted more by economic cycles. Cyclical industries that produce and sell luxury goods or specialize in travel benefit more from hiring Recession CEOs than firms in the insurance or beverage industries. Overall, recession-experienced executives add value to firms during subsequent downturns. Knowing that experience can be valuable, how should companies identify the next leader?
A game of thrones
Not all firms plan for future leadership until the need arises, but regulators and consultants urge companies to plan for CEO succession, due to the importance future CEOs have on businesses. Researching CEO succession with Brandy Hadley as well as Kristi Minnick of Bentley University and Mia Rivolta of Xavier University, we investigate the value of CEO selection methods for firms.
Research indicates companies typically hire CEOs through one of two approaches: competitions or grooming heirs. Unfortunately, competitive selections are detrimental for firm performance, even when winners are just as qualified as heirs. For example, winners of CEO competitions are 36 percent more likely to depart the firm quickly in pursuit of better opportunities. Moreover, firms led by competitively selected executives have six percent lower operating performance. While firms know the importance of identifying the right CEO, competitions induce conflict, executive turnover and inferior performance, which are costly.
MISSISSIPPI STATE UNIVERSITY | COLLEGE OF BUSINESS 40 DIVIDENDS | FALL 2022
40
Still, over 40 percent of large public companies in the S&P 1500 index continue to utilize competitive selection instead of grooming an heir. As a result, businesses must compensate and entice executive stability after identifying the best CEO to lead through challenging environments in order to avoid executives departing for greener pastures. As hiring executives becomes more challenging, rewarding innovation and developing cultures of stability become increasingly important. How can firms ensure steady leadership and motivate leaders to innovate?
Do incentives work?
Businesses are often criticized for risk-taking, but investors also desire large returns on corporate investments through sound financial decisions and innovative activities. Since calculated risks can result in higher performance for business owners and employees, incentivizing leaders to identify appropriate ventures and business risks is central to steady leadership and the success of the company. Firms can benefit from encouraging executives to invest in the research and development of new products. Unfortunately, innovation is often a slow and risky process, so executives frequently avoid these risks.
One way firms encourage innovation is by rewarding executives for successful inventions in the long run. Companies manage risk-taking by carefully designing executive compensation that appreciates when innovation increases firm value. Therefore, businesses align the incentives of owners and decision-makers by paying executives with ownership in the company, which grows with the firm.
Unfortunately, instead of designing compensation aimed at optimizing corporate decisions, firms often prefer low-cost pay. For example, when accounting regulations allowed companies to expense stock options at cost, firms awarded more stock options, which were thought to make executives increase risk taking due to the payout structure.
In research with Lee Biggerstaff and Brad Goldie of Miami University, we investigate whether firms awarding option compensation incentivize corporate innovation and resulting patents. While prior theories considered option compensation the best way to encourage innovation, our work shows company ownership through restricted stock grants effectively motivates leaders in a similar fashion.
If shareholders and executives both benefit from the endeavors, equity ownership can motivate CEOs to take the appropriate amount of risk and invest in the future of the company. Managing calculated risk-taking through equity compensation is one way that businesses can avoid being left behind by competitors or bankruptcy while navigating the economic environment and labor market challenges. If businesses select and incentivize the best executives to learn from prior experiences, they can conquer the changing financial environment, overcome economic challenges and lead through uncertainty.
Brian Blank
Dr. Brian Blank is an Assistant Professor of Finance in the MSU College of Business. He received his doctoral degree from the University of Tennessee's Haslam College of Business, where he developed expertise researching corporate finance. He has published in journals like the Journal of Corporate Finance. He received his undergraduate education at the University of Alabama, where he also earned Master of Science degrees in Finance and Applied Statistics. Afterward, he began his career as a Consultant with Accounting, Economics & Appraisal Group, where he assisted companies facing critical challenges including fraud, bankruptcy and litigation. His projects included advising a financial institution victim of a $500 million Ponzi scheme; consulting for one of the 10 largest U.S.-based financial institutions; performing due diligence for an international healthcare acquisition and valuing a business interrupted by the costliest disaster in the history of the United States.
COLLEGE OF BUSINESS | MISSISSIPPI STATE UNIVERSITY FALL 2022 | DIVIDENDS 41
An Inspiring Tribute
By Sharon Oswald
Over my years at MSU, I spent many hours with Shirley and Duke Olson. We bonded early on over a mutual friend – a former colleague and friend of mine who was closely linked with Duke as a member of Coach Paul Gregory's baseball team. Duke was one of the greatest story tellers I have ever known. I could listen to him for hours. Those hours passed quickly when he was "holding court," generally with his much beloved cat, Angel (his buddy for 19 years and in his heart forever), in his lap. It was an honor that Shirley wanted me to take part in writing this story. Duke and I had a mutual love and respect for one another, and I am a much better person for having been able to call him my friend.
– Dean Sharon Oswald
Theirs was a story of love, devotion and constant companionship that lasted 50 years. Walt "Duke" and Shirley Olson met in Richard Haas' speech class at Mississippi State University and, as Shirley recalls, there was no turning back. She had met the most handsome man she had ever seen, the man she would go on to marry. And so, on a Friday the 13th in 1969 in a ceremony at the Chapel of Memories, on the only date they could book the chapel, Shirley and Duke tied the knot.
While Shirley was his true love, Duke also had a passion for the world of finance and all things MSU – especially baseball. When Shirley wanted a special way to honor her beloved husband who passed away at the age of 77 in 2019, she looked to the Department of Finance and Economics where Duke served on the advisory board for several years.
"Duke Olson had a brilliant mind," says Sharon Oswald, Dean of the College of Business. "His passion for the financial world and MSU makes this tribute to him so fitting. Knowing him, he would be very humbled to have the suite named in his honor. But I can picture him right now smiling down from heaven, wearing his MSU baseball cap!"
Born in San Francisco, his father's hometown, with an Australian-born mother and grandmother and a New Zealand-born grandfather, Duke might well be described as a man of the world. He attended elementary school in Japan, where he cultivated his love of baseball, and high school in Verdun, France, where he was a superstar on the basketball team. Shirley admits that it was on a trip back to Verdun, on the edge of the Black Forest, when she fully understood the true significance of the city both in history and in his decision to enter the military. Verdun was the site of the longestlasting and one of the bloodiest army battles of World War I.
"Part of Verdun was still wired off because of the live ammunition that could still be found there," she recalls.
Verdun was also important in Duke's life because it was there that he met Colonel John Weir Thames, who would go on to play a pivotal role in his college decision.
It was only fitting that upon high school graduation Duke decided to serve his country. He enlisted in the U.S. Army, where he served as a paratrooper in the 101st Airborne Division – the storied "Band of Brothers" unit – during the Vietnam era. As his unit was preparing to depart for Vietnam, his commanding officer Colonel Walter Ross wanted to speak to him. Ross had a different plan for the young soldier. He told him rather than re-enlist and go to Vietnam he wanted him to go to college, after which he could return if he chose as an officer. Ross was responsible for charting the next chapter in his soldier's life, and Duke never forgot him – trying on several occasions later in life to find him. Shirley recalls a very emotional trip to the Vietnam Memorial in Washington, DC.
COLLEGE OF BUSINESS | MISSISSIPPI STATE UNIVERSITY FALL 2022 | DIVIDENDS 43
Shirley and Walt "Duke" Olson
Photo by Russ Houston
"We were reading the names at the beginning of the alphabet, and Duke told me he would be right back," she says. "He was down by the 'Rs,' and when he didn't find Ross's name, he dropped to his knees and said, 'Thank you, God, my Colonel made it out.'"
So many in his unit were killed in Vietnam.
With Colonel Ross's blessing, Duke was college bound. His old friend from Verdun, Colonel Thames, was by then retired and stateside, serving as the ROTC Director at MSU. MSU was known in those days for having a large, prestigious ROTC program. Duke knew very little about the state of Mississippi, and his previous experience wasn't necessarily positive. His unit had been called to the state on several occasions to deal with the racial upheavals of the 1960s. But knowing that Colonel Thames would never steer him wrong, Duke took off from Fort Campbell, KY, home of the 101st, with only enough money for gas and one meal, ready to begin his college career. One of Shirley's favorite stories is Duke's first introduction to grits.
"On his drive from Kentucky he stopped in West Point, MS, for gas and breakfast," she recalls. "He didn't know what the white stuff was on his plate, and he didn't want to draw attention to himself, so he just ate them. Grits were something he ended up really liking!"
Colonel Thames helped Duke enroll in MSU and gave him a job in charge of the ROTC's armory.
Shirley adds, "On ROTC drill days all the women – me included – stood around the Drill Field because it was the best view of every guy on campus!"
Colonel Thames remained a constant in Duke's life throughout his college career. He and his wife even held the Olsons' wedding reception at their home.
Always looking for an opportunity, Duke didn't take long to scout out another job – one that in his eyes couldn't be beat – manager of the baseball team under Coach Paul Gregory, a man he held in high regard. Gregory knew the young man didn't have a lot of money and arranged for him to live on a cot in the equipment room under the football stadium.
"I asked him once, 'Was it heated and cooled?'" recalls Shirley. "He said, 'I don't remember. I just know it wasn't raining on me, and nobody was shooting at me.'"
MISSISSIPPI STATE UNIVERSITY | COLLEGE OF BUSINESS 44 DIVIDENDS | FALL 2022
44
Duke was a great admirer of President Ronald Reagan and British Prime Minister Margaret Thatcher and was able to meet them on separate occasions.
Photos courtesy of Shirley Olson
He was referring, of course, to his living conditions in the military.
During Duke's time with the baseball team, Gregory would take MSU to new heights. Also, during his time, the planning was underway for what would become MSU's national landmark, Dudy Noble Field. Duke was involved in the process, suggesting that the school's turf management experts be consulted, which had a significant impact on how the field looks even today. His commanding presence, quick wit and winning personality led Duke to forge some deep friendships on the baseball field. He demonstrated a gift for spotting talent, often even giving Coach Gregory advice on players. His love of baseball and devotion to Coach Gregory remained with him throughout his life.
Duke enjoyed college life, eventually upgrading from his cot in the football stadium to a house trailer at Hogan's Trailer Park he rented with buddies Doug Shanks and Barry Male. Shanks went on to become a Jackson city commissioner for four years, with Duke handling the financial aspects of his campaign, and later Mississippi Valley State Head Baseball Coach. Male became a principal and school administrator. Often the three would head for the Crossroads to Len-Lou's where Duke, a.k.a. the "pinball wizard," would play for cash, on a usually successful mission to make enough to buy them dinner.
"Eventually, the proprietor banned him from playing because he always won!" laughs Shirley. "He was always looking for another opportunity. At one point he even had a job delivering newspapers to the athletic dorms."
Because money was always in short supply, Duke would hitchhike his way across the country when he wanted to visit his family in California. He always believed that the reason he got rides was because of his MSU suitcase, which Shirley has to this day.
Duke's life was changed for good in the summer of 1967. He had enrolled in a finance class at another university but after a few weeks found it to be substandard. He dropped the class, losing all his tuition money, and came begging to MSU College of Business Dean W.W. Littlejohn to allow him late entry into summer school. And, as Shirley recalls, it was very late entry. Littlejohn agreed on one condition – he had to take a speech class that Duke had adamantly vowed previously he would not take. It was that class where, according to his friend Doug Shanks, he met a woman that was not quite like anybody he had ever met – a woman who was more mature than others and spoke her mind. Duke had met his match in Shirley! Duke and Shirley, both first generation college students with strong work ethics, credit their grandmothers Dar (Duke's) and Mama Sadie (Shirley's) as positive, influential people who helped shape their moral character and incredible work ethics.
After college, Duke and Shirley found great successes in their careers. With a business degree under his belt, in 1968 Duke started his career as a stockbroker with Merrill Lynch in Jackson, becoming the first broker the company had ever hired straight out of college. He ultimately found his way to Southern Farm Bureau Life Insurance Company, where he became Vice President and Chief Investment Officer. Known for nurturing those
COLLEGE OF BUSINESS | MISSISSIPPI STATE UNIVERSITY FALL 2022 | DIVIDENDS 45
Duke Olson had a keen mind for monetary policy and finance.
Photo courtesy of Shirley Olson
who worked for him, he encouraged his employees to add to their professional financial designations or pursue master's degrees. His hiring decisions tended to prioritize work ethic and reputation ahead of financial expertise.
"Duke often said finance could be learned, but ethics and character – you either had those or you didn't," recalls Shirley.
Duke's financial knowledge was unmatched.
"Walt could have served any financial center in the country," comments Forbes Watson, Chief Executive Officer of Legacy Wealth Management, LLC, and Walt's close colleague for decades. "Whether his geographical home or alma mater, he instead chose his beloved State over the pretentiousness of Gotham. A hidden gem, Walt served the financial community both professionally and personally with the rare ability to merge intellect with wisdom. Certainly, regarding monetary policy, there was no mind who could match him. In fact, no one could predict interest rates with any effectiveness, unless your name was Walter Olson."
While working for Southern Farm Bureau Life Insurance, Duke was invited to a luncheon at the Peabody Hotel in Memphis where President Ronald Reagan was speaking. A great admirer of Reagan, he jumped at the chance to go, where he had the opportunity to talk to and be photographed with the President. On another occasion also at the Peabody, Duke was invited to hear British Prime Minister Margaret Thatcher speak. He had great admiration for Thatcher for the way she ran her country and her keen knowledge of the financial world. Duke was thrilled to be selected as her luncheon companion, where their conversation revolved around finance.
Shirley left MSU with a BBA in management in 1969, only to return for a Doctorate in Business Administration (DBA), graduating in 1978. Her career included teaching at Millsaps College, serving 15 years as the Chief Operating Officer of a family construction business and later founding her own management consulting firm, Olson Consulting Group. Pursuing a DBA meant Shirley would have to live in Starkville for two years while her husband remained in Jackson. Knowing that Shirley wanted to teach at the college level, Duke was very supportive of this decision and encouraged her every step of the way.
Their life together was built on a strong foundation that they received at MSU, and above all they never forgot their Bulldog roots. Even when they had very little money, Duke would send a $20 check to MSU.
MISSISSIPPI STATE UNIVERSITY | COLLEGE OF BUSINESS 46 DIVIDENDS | FALL 2022
46
Work on the Walter J. "Duke" Olson, III Finance and Economics Suite is underway.
Photo by Emily Daniels
Duke's high school years were spent in Verdun, France. Photo courtesy of Shirley Olson
"That was very painful for me. I could think of all kinds of things that $20 could be used for," Shirley admits. "Now I know what he said was true: 'Don't ever forget where you came from.'"
Those early gifts formed a lifetime habit of supporting their alma mater.
One of the most touching gifts Duke ever gave his wife was an endowed scholarship in the College of Business in her name.
"I am not an emotional person, so when I teared up as I unwrapped the gift, he thought something was wrong," says Shirley.
Shirley reciprocated a few years later with the establishment of the Walter J. "Duke" Olson, III Endowed Scholarship. Both scholarships are designated to go to hard-working, first-generation students in business, just like the Olsons so many years before.
Another gift of their generosity was for the Walt and Shirley Olson MBA Classroom, selected in part because it boasts a window with a view across the Drill Field to the building where they first met. The pair has also given of their time to their beloved university – Duke serving on the Finance and Economics Advisory Board and Shirley serving on both the College's Executive Advisory Board and the MSU Foundation Board. They have also both shared their stories with students as frequent speakers in classes. And both were honored in 2015 as two of the Top 100 Alumni in 100 Years during the COB's centennial celebrations.
"That recognition meant a lot – it was important to us," says Shirley, who credits so much of their success to MSU.
After Walt's passing, it was an article in Dividends that prompted her to call Stephen Lack, the college's Development Director. The article was about a campaign to modernize McCool Hall, a meaningful place for the Olsons, who attended the 1972 McCool groundbreaking. After mulling over some ideas, Shirley landed on something that would have been very meaningful to her partner of 50 years. McCool Hall will soon be home to the Walter J. "Duke" Olson, III Finance and Economics Suite. This completely modernized, beautiful facility will serve to memorialize Duke and further cement his legacy at MSU. The dedication is planned for January 2023.
From the day he graduated, Duke Olson never forgot where he came from, giving back to his alma mater every year. He passionately advocated to fellow alumni to show their gratitude for MSU as well, no matter the size of their gifts. Shirley shares her beloved husband's passion for giving.
"I hope reading his story will inspire others to give," she says. "It is never too early to begin giving back – no gift is too small."
Those $20 checks so many years ago were the foundation for a lifetime of giving for Shirley and Duke Olson. Duke is truly smiling in heaven – he knows he and Shirley have made a difference.
COLLEGE OF BUSINESS | MISSISSIPPI STATE UNIVERSITY FALL 2022 | DIVIDENDS 47
The Olsons began a lifetime of giving back to Mississippi State the year Duke graduated.
Photo by Russ Houston
MENTORSHIP RESEARCH OPPORTUNITY
Passing It On Dr. Sandra Orozco-Aleman's Commitment to Sharing What She Has Learned
By Kathy Kenne
Dr. Sandra Orozco-Aleman's energy is infectious. She loves to talk about her research and her students. The heart of her character is that of an encourager. In her research, she wants to provide accurate information to policy makers to help them make the best decisions for our country. With her students, she wants them to seize new opportunities and goes out of her way to provide those to them.
Orozco-Aleman is an Associate Professor of Economics in the College of Business. The graduate of the Instituto Tecnológico Autónomo de México and the University of Pittsburgh, where she received her PhD, knew she found her calling at 7 a.m. on the first day of her first economics class in college.
"When I took that class, I said, 'This is my place,'" she recalls. "It came very naturally to me, and I enjoyed it."
Little did she know where that spark of interest would take her in the future. Her research focuses on how different labor policies affect the marketplace and immigration.
"It is crucial to study the characteristics of migrants and the effect of immigration policies on them," she says. "They are an important part of the U.S. labor force, and their characteristics determine their contribution to the U.S. labor market."
In her research, Orozco-Aleman studies the labor market impact of immigration, unauthorized immigration and American immigration policies. In a recent project, she analyzed new trends in return migration and the selectivity of Mexican immigrants. While most of her research focuses on studying immigrants entering the United States, she has found that a sizable number of documented and undocumented migrants return voluntarily to their home countries every year, and their characteristics have changed significantly over the last decade.
Not only has Orozco-Aleman's research garnered national attention, but her service has as well. She currently holds the title of President of the American Society of Hispanic Economists (ASHE). In that role, she has become increasingly involved in working to increase minority representation within the field of economics, not only among Hispanics but from African Americans and women as well.
"Dr. Orozco-Aleman has been an excellent president during ASHE's 20th anniversary," states Dr. Jose Fernandez, Past President of ASHE. "Under her leadership, ASHE has launched a mid-career mentoring program, a virtual research seminar series and a nationally recognized publication in the Hispanic Economic Outlook. For the first time, ASHE has received attention from other national Hispanic organizations and government officials. ASHE has also reached its largest membership over its 20-year history. It has been a privilege and honor to serve with her as President."
COLLEGE OF BUSINESS | MISSISSIPPI STATE UNIVERSITY FALL 2022 | DIVIDENDS 49
As mentioned by Fernandez, a theme that Orozco-Aleman comes back to often is that of mentorship.
"I've received mentoring from many people and have valued it," she says. "Professors, classmates and colleagues along the way have given me knowledge, friendship and encouragement that have helped me grow. I appreciate it and believe I can do something to pass it on. If that helps increase the participation of minorities in the profession, that's great!"
Orozco-Aleman is now using her knowledge and experience to invest into others' lives, particularly MSU students.
For instance, she and Dr. Heriberto Gonzalez serve as co-advisors of the Economics Club in the College of Business, which is open to any student on campus. The club focuses on mentoring, learning opportunities, internships and job opportunities.
"During my first year in the Economics Club, Dr. Orozco-Aleman organized a trip to the Federal Reserve Bank in Atlanta," shares Jalen Sparkman, a senior finance major who will be joining J.P. Morgan in New York City upon graduation. "This was my first experience with the backbone of the financial service industry (the Federal Reserve). She accompanied us on our tours and shared different facts. She also organized a speaker to come teach us more about the Fed and exposed us to working opportunities as well. She gives advice when asked and puts people in positions to accomplish their goals.
"I've been involved in the Economics Club because I wanted to be surrounded by people with an interest in business and the global economy, just like me," he continues. "I have gained friendships and exposure to different industries that have an impact on the economy."
Prior to COVID, Orozco-Aleman not only organized the trip to the Fed, but she also took students to visit International Paper. She's hoping to begin making those trips again soon.
"There are several recent MSU graduates who work or have done internships at the Fed and at International Paper," she shares. "I asked them to tell students what they wish they had learned in college that they know now. Both institutions were surprised by our students' inquisitiveness and encouraged us to come again."
Always thinking of new ways to involve students in learning, Orozco-Aleman and several colleagues host seminars to discuss immigration, often taking a holistic approach to the subject by involving representatives from other disciplines and institutions. The Economics Club has also sponsored guest speakers and has organized several social activities where students can meet and spend time with other economics majors.
Orozco-Aleman finds joy in her role at MSU.
"I'm very happy with what I do," she says with a smile. "I enjoy working with my datasets, and I enjoy being in the classroom contributing to students' development."
MISSISSIPPI STATE UNIVERSITY | COLLEGE OF BUSINESS 50 DIVIDENDS | FALL 2022
50
Dr. Sandra Orozco-Aleman Photo courtesy of MSU Office of Public Affairs
She is grateful for the resources and support she has received from the College of Business.
"The College of Business has provided an environment where my colleagues and I can share ideas and collaborate," she notes. "Dean Oswald and my Department Head, Kathleen Thomas, have always shown an interest in my research. They've encouraged me to set goals and go for them! They make me feel that what I'm doing is important and valuable."
Given her investment in their lives and learning, there are no doubt many students who would say the same thing about her. She has truly lived up to the commitment she made to herself to "pass it along," and there are many bright young minds graduating from Mississippi State University who have been the beneficiaries.
"Dr. Orozco-Aleman has been my favorite teacher here at MSU," reflects Sparkman. "She incorporates real life examples to relate the material we learn to the current world. She is also patient and extremely approachable, which helps everyone in class fully grasp concepts and enjoy the learning process. She's dedicated to improving the knowledge and skills of all her students. She not only focuses on our academics, but she ensures we are prepared for life after college. I appreciate having someone like that in my life."
COLLEGE OF BUSINESS | MISSISSIPPI STATE UNIVERSITY FALL 2022 | DIVIDENDS 51
Economics Club students show off Christmas gifts from Orozco-Aleman – MSU keychains.
Photo by Dr. Sandra Orozco-Aleman
Economics Club students visit International Paper. Jalen Sparkman is fifth from the left.
Photo by Dr. Sandra Orozco-Aleman
The Right Direction
By Carolanne Roberts
Some people retire. Others re-direct. D. Hines Brannan, MBA '71, is definitely one of the redirectors, a never-stop, achieving thinker and doer who decided to leave his business career when young enough to pursue other things – equally important things, or, some may say, even more important things (especially at his alma mater).
Taking the "life is about choices" approach, the valedictorian of a 39-student high school in Woodville, MS, was the first in his family to finish college, much less earn an advanced degree.
"I worked on my father's farm," shares Brannan. "I liked that you could see what you accomplished. I didn't mind baling the hay, but 13 to 14 hours on a tractor or spreading fertilizer from a Jeep kind of pushed me to think maybe there was something else."
That something else might have been discovered at Ole Miss, whose football team was his favorite at the time; or at LSU, where he and other Boy Scouts ushered during games. But, encouraged by his parents and influenced by his agricultural background, he ultimately chose Mississippi State. He arrived with no clue as to what he wanted to study.
"I was good in math, so I started with the aerospace engineering program then switched to industrial engineering, but I didn't resonate with the engineering opportunities available to me at the time," he recalls.
So after earning his industrial engineering degree in 1970, Brannan looked toward an MBA, which seemed a good path. It proved to be just that.
"It all clicked for me in the MBA program," he says.
As he considered how his career would begin, there was the promise of working with executives early in his career, the allure of being trained in Fortune 100/200 companies – or the one man with the purple shirt and wild tie he met on interview day. He was an employee of Andersen Consulting, a management consulting group that had recently been started by accounting firm Arthur Andersen.
"Everyone else had short hair and basic white shirts except for this guy, so I asked him why," says Brannan, who wondered how a professional could get away with such attire. "He said, 'because I'm really good at what I do.' That stuck with me. If you're confident and know what you want to do, you can write your own ticket."
The conversation influenced Brannan's decision to take the job when one was later offered by Andersen Consulting. He would wear his own signature look – bow ties – throughout his long career there, rising steadily through the ranks. After 18 years in Houston, he moved to Charlotte to run the Andersen Consulting offices in the Carolinas, then made a final stop in Atlanta to run the firm's practice there. His trademark, beyond the bow ties, was strong, inclusive leadership for the billion-dollar organization. He served on the board of Andersen Consulting that took the company public, rebranded as Accenture.
Photo by Logan Kirkland
COLLEGE OF BUSINESS | MISSISSIPPI STATE UNIVERSITY FALL 2022 | DIVIDENDS 53
When he left Accenture in 2003, the idea was family time and new directions. But energy needs its outlets.
"I started investing in start-up technology companies out of Georgia Tech, realizing entrepreneurs need help and input," he begins. "I also co-founded a little private equity firm which I've had fun with."
Also in the fun column, he added the joys of golf, hunting and fly fishing, discovered in the wake of the 24/7 schedule of those 33 hardcore years at Andersen.
This re-direction also returned Hines Brannan to Mississippi State. He came back to Starkville, driven with purpose and promise.
"I knew that education at Mississippi State is as good as any other school if you apply yourself," he says. "But I was concerned about how people outside Mississippi regard us, the way we appear to others who think we're only a 'cow college.'"
This wasn't casual concern; it was fuel for change, a willingness to help cultivate new thinking from within and without. First stop: the new Advisory Council of the Bagley College of Engineering under Dean Wayne Bennett, who also recruited Brannan as the College's first Executive in Residence, with the aim of helping the College to operate like a business.
"I spent one week a month in Starkville over nine months, working on collaboration among the deans and strategic planning and marketing," he notes.
His next step was joining the Mississippi State University Foundation Board, where, ultimately, he served as Chairman. At each level, Brannan sought to enhance communication and perception of the MSU mission.
"We realized that we needed to tell the Mississippi State story outside our own state," he says. "When you win a National Championship [the 2021 College World Series] it really helps as well. We have expanded fundraising to showcase the University nationally and bring awareness to our many offerings."
MISSISSIPPI STATE UNIVERSITY | COLLEGE OF BUSINESS 54 DIVIDENDS | FALL 2022
54
The Brannans enjoy spending time together. The family includes (front, from left) Lettie and Davis Brannan, Sawyer and Jake Stewart, (back, from left) Sarah and Davis Brannan, Linda and Hines Brannan and Kara Stewart.
Photo Courtesy of Hines Brannan
One aspect Brannan likes to tout is the profile of a Mississippi State student, past and present.
"It's about being real," he says. "There's a certain humbleness about people who study here, a certain work ethic and sense of collaboration. We provide opportunities to gain experience beyond lectures and book learning. Look at the MSU Center for Entrepreneurship & Outreach as one example."
Now, the graduate who formerly only returned for the occasional football game through the years is a frequent presence on campus. While he didn't walk for his undergraduate degree or his MBA graduation, Brannan proudly donned cap and gown in 2021 when the University awarded him the honorary Doctor of Public Service degree.
"From a retirement standpoint, MSU has been a big part of my life," he states.
And he's not done.
"We have created a Plan for Transformational Change to ensure Mississippi State stays relevant and thrives in this ever-changing world of higher education," he says. "We've got to tell the world what's happening at Mississippi State University."
He continues, "What you're going to see is something very different coming out of Mississippi. All over the world, you'll be reading about the great things. People are going to see us a lot more clearly and accurately.
"I hope to stay involved as we move forward and take care of what matters in Mississippi and the world."
COLLEGE OF BUSINESS | MISSISSIPPI STATE UNIVERSITY FALL 2022 | DIVIDENDS 55
In 2021, Hines Brannan (left) received an honorary Doctor of Public Service degree from MSU President Mark Keenum for his leadership in MSU strategic planning and for promoting the advancement of higher education.
Photo by Beth Wynn
Biometric Lab Offers Market Insights
By Emily Daniels
This past March, Mississippi State University's College of Business opened its doors to the brand new Market Innovation Laboratory and Observatory (MILO) with a ribbon cutting ceremony and open house. COB faculty and staff along with members of the Executive and Marketing, Quantitative Analysis & Business Law (MAB) advisory boards, joined CEO and founder of iMotions Peter Hartzbech and his team to celebrate the grand opening of the newly renovated space in McCool Hall.
MILO is one of the largest biometric marketing and human behavior research labs in the southeastern United States. Using equipment developed by international company iMotions, MILO began in 2014 with one computer station. This new lab has grown to house 12 stations that are fully equipped with hardware and software used for eye tracking, galvanic skin response, facial expression recognition and EEG equipment – which shows what areas of the brain "light up" in reaction to a focused-on item or message. Each of these technologies adds a new layer of understanding.
The facility affords students from every discipline the opportunity for hands-on experience using the equipment to conduct market research in the classroom – an attractive skill set that will give them an upper hand in the workforce. MILO is helping Mississippi State maintain its top-tier research university status by providing doctoral and faculty researchers in the College of Business and across campus with another tool in their suite of research techniques to conduct even more compelling and innovative studies. Access to MILO will not be limited to those on campus – the lab also presents an opportunity for area businesses to take their marketing to the next level by getting incredibly detailed feedback on how consumers perceive their messaging.
"This new lab puts our students at the forefront of the marketing industry, further increasing their job prospects as companies look for marketing and business leaders who can better understand the people whom every business is built around," states College of Business Dean Sharon Oswald. "MILO would not be possible without the generous financial contributions from members of our College of Business and MAB advisory boards, as well as project support from Marketing, Quantitative Analysis and Business Law Department Head Melissa Moore, Associate Professor of Marketing Mike Breazeale and marketing alumna and Chair of the College's advisory board Kathy St. John. With their help, we were able to make this transformative project a reality."
She concludes, "We are excited about the valuable opportunities that the new lab represents, not only for our students and researchers, but also the local communities, the state of Mississippi and beyond."
A ribbon cutting was held for the Market Innovation Laboratory and Observatory, which is now in use by students, faculty and Mississippi businesses.
COLLEGE OF BUSINESS | MISSISSIPPI STATE UNIVERSITY FALL 2022 | DIVIDENDS 57
Photos by Megan Bean
Madison 101
The COB's New Recruiter Introduces Herself
By Madison Crimm
Madison 101 is to know I love Diet Coke and a good book. Both of those things I attribute to spending childhood summers with my grandparents at their second home, a condo in Ocean Springs. Days were long and hot and always spent together – usually playing a rowdy game of Phase 10, walking along the beach or reminiscing about my grandmother's childhood growing up on the Gulf Coast. Affectionately known as "Mimi" and "Deda" (pronounced "Dee-dah") to me and seven other grandchildren, Jo Ann (an avid reader) and Harlon (a Diet Coke connoisseur) are two of my very best friends and biggest influences. A native Georgian, I grew up about four minutes from where my grandparents lived, so most of my afternoons were spent at their house.
So, when Mimi and Deda debated moving full-time to Ocean Springs, it made sense to me to explore the idea of attending college in Mississippi. My spring break as a high school junior was spent in the back of our family Yukon traveling from state to state and from college to college as I searched to find where I would spend the next four years. By the time we had reached Southern Miss, although it was Deda's alma mater, I was exhausted and told my dad I did not even want to stop there. I was eager to make it to the warm gumbo I knew was waiting for us in Ocean Springs. Despite my glum teenage outlook, we finished our travels with a tour of the University of Southern Mississippi.
From the minute I stepped on campus, we were cheerily welcomed by everyone – from the woman staffing the visitor's booth and handing out parking passes to our tour guide, Alicia, who answered each of my parents' many questions with the biggest smile on her face. I felt the Mississippi charm, hospitality, grit and possibility as I toured and met more folks on campus. Never had I better appreciated William Faulkner's sentiment, "To understand the world, you must first understand a place like Mississippi." In the fall, I applied for admission, received an incredible scholarship to fund my education and, at first chance, registered for orientation. Mimi and Deda's standing offer for weekend escapes including Diet Cokes and beach walks only sweetened the deal. And though they were now an entire Taylor Swift album away instead of just four minutes, the afternoons spent with them were back.
My transition to college was harder than I anticipated, as the thrill of moving six hours away from home became a reality filled with loneliness and stress. However, becoming involved in a plethora of student organizations brought me community and belonging and made Southern Miss and Mississippi feel like home. I became a leader in my sorority, Alpha Delta Pi, and a part of the Student Government Association. I shared my love for the Golden Eagles as a member of the Southern Style Orientation and Ambassador team and of Eagle Connection, the campus tour guide group. I majored in Communication Studies and found the curriculum immediately applicable. On occasion, I stole away to Ocean Springs for a weekend with my grandparents. During college, Mimi and Deda also became adoptive grandparents to friends I introduced to my haven along the way.
Hulbert
COLLEGE OF BUSINESS | MISSISSIPPI STATE UNIVERSITY FALL 2022 | DIVIDENDS 59
Photo by Mary
I finished my undergraduate degree in the spring of 2020. Amidst the chaos of the COVID pandemic was no way to close a chapter that felt transformative and had really marked me. So, I didn't. I was hired as an Admissions Counselor that summer and joined the recruiting team at Southern Miss. The whirlwinds of my first two travel seasons provided significant lessons about higher education as a profession, about service to students and institutional constituents and about myself. I'm thankful for the foundation it laid for my career and the passion it brought me for keeping Mississippi students in the state and showing out of state students all the unique opportunities that the state has to offer.
As much as I enjoyed my time in Hattiesburg, I felt ready to spread my wings (no pun intended) and explore new opportunities while staying in the state I had grown to love.
In the spring of 2022, I found the perfect place as I joined the staff of the College of Business at Mississippi State University. The Assistant Director of Recruiting and Events position combines so many things I love professionally and positioned me to achieve a personal goal – the completion of my MBA. (Yep, I'm a Business Bulldog, too!)
Working in this capacity allows me to use my recruiting and event planning skills – those I learned as an undergraduate student and as a professional – to further enrollment in the College of Business. Helping students discover the opportunities that exist here, both inside and outside the classroom, almost makes me a little envious that they are at the beginning of their higher education journeys.
As the advisor to the College of Business Ambassadors, I support current students, develop them as leaders and learn about their experiences as Business Bulldogs. I am better suited to speak to the COB experience because of their willingness to share with me. I am proud of the ways they choose to serve the College and am glad they are willing to keep me up to date on everything from campus happenings to TikTok trends.
MISSISSIPPI STATE UNIVERSITY | COLLEGE OF BUSINESS 60 DIVIDENDS | FALL 2022
60
Madison with her grandparents, Drs. Harlon and Jo Ann Crimm, sources of life lessons and Diet Coke. Photo courtesy of Madison Crimm
My duties also afford me the opportunity to interact with our alumni, who remain passionate about Mississippi State and the College of Business. Their stories of success after graduation and their dedication to serving MSU are examples of the benefits of receiving a quality education and how to show appreciation for that education. I am grateful to witness such care for an institution and to know that I am now a part of its story.
Thankfully, Mimi and Deda are in full support of my new gig and are glad Starkville is only a little farther away from Ocean Springs. I may have even taken a cowbell to them last time I visited for a weekend. (Whether it's been rung yet is anyone's guess….) Over Diet Cokes, I have told them all about my work and how it's a culmination of things they instilled in me that we talked about on our many beach walks – caring for others and inspiring future leaders and guiding them to seek out new horizons. And always, always being available for a long chat.
COLLEGE OF BUSINESS | MISSISSIPPI STATE UNIVERSITY FALL 2022 | DIVIDENDS 61
Photo by Mary Hulbert
Mr. Golf
By Sharon Oswald
In the state of Mississippi, there is only one man who could hold the title of Mr. Golf. That man is Ben Nelson. And if one family personifies the world of golf at MSU, it is the Nelson family.
Ben Nelson's career in the golfing world is legendary. He was a member of the Mississippi State golf team and later became one of three former Golf Dawgs inducted into the MSU Sports Hall of Fame. After graduating in 1966, he first became an assistant golf professional then a golf professional at the Vicksburg Country Club. He served on the PGA tour from 1987 to 2010 as a rules official, presiding over major golf championships including the Masters, the U.S. Open, the PGA Championship and the Ryder Cup. Branching out from the tour circuit, he founded Ben Nelson Golf & Outdoor, headquartered in Madison, a dealership for golf carts, utility vehicles, power equipment and trailers.
Nelson instilled the love of golf in his immediate family, with both son Benji and grandson Benjamin following in his footsteps as members of the Mississippi State men's golf team. Benji played in one of three NCAA championship appearances in 1991. Benjamin recently graduated from MSU with his MBA and is now an assistant golf coach at Augusta State University.
But the senior Nelson's "family" stretches far beyond the traditional lineage. More than 750 graduates of the PGA Golf Management (PGM) Program in the MSU College of Business further cultivated their love for the game in large part due to Nelson's vision. In 1985, MSU became the second school in the nation to have a PGA sanctioned professional golf management program offered at the collegiate level. It was Nelson who saw the need for a program in the South, where students could golf most months of the year.
"Mr. Nelson was an incredibly important part of the PGA Golf Management Program's start at Mississippi State," says Adam Scott, PGM Director. "Along with some prominent leaders in golf and at Mississippi State, Mr. Nelson was able to orchestrate meetings and conversations that helped establish our storied program."
Nelson took his idea to MSU landscape architecture professor Bob Callaway and Dr. Luther Epting, Director of MSU's Cooperative Education Program, connecting them with representatives of the PGA of America. As the team worked through the details of a curriculum to satisfy PGA standards, the program eventually found its way to the College of Business and the late Dean Harvey Lewis. In the end, the PGA Golf Management Program became a concentration in the marketing curriculum under the direction of marketing professor and avid golfer Dr. Roland Jones. Jones remained at the helm until his passing in 1998. Today the program, in its 37th year of existence, is fully accredited by the PGA of America and has risen to a position of prominence among the 17 golf management programs in the United States, boasting graduates from 48 U.S. states and three foreign countries. MSU PGM graduates can be found at golf courses and golfrelated businesses throughout the world.
The Ben Nelson PGM Suite has been modernized with new flooring, furniture and lighting, brighter colors and a trophy case.
Ben Nelson PGM Suite photos by Grace Cockrell
COLLEGE OF BUSINESS | MISSISSIPPI STATE UNIVERSITY FALL 2022 | DIVIDENDS 63
Over the years, Nelson has lent his knowledge and leadership toward making the program better. All involved credit Nelson with helping to make it the premier program that it is today.
"Without Ben Nelson's hard work, perseverance and influence, Mississippi State likely would not have been awarded the secondever Professional Golf Management Program by the PGA of America," explains Joe Assell, a PGM graduate and the President and CEO of GOLFTEC. "Ben is a legend in golf, and MSU should be forever grateful for his longtime support."
Nelson's contributions to the golf industry are still felt within the walls of the PGM suite in McCool Hall, locally at the MSU Golf Course and globally through the PGA of America. In 2021, the Nelson family, PGA professionals and PGA Golf Management Program graduates from all over the country had the idea to honor "Big Ben."
"When I became the Director of the PGA Golf Management Program, it was clear we needed to make some improvements to our existing space," says Adam Scott. "The program has always called McCool Hall home, and it had been almost 30 years since the last renovation."
With that, Scott began some discussions with various leaders in the golf industry in Mississippi, and all discussions led to one name: Ben Nelson.
After these discussions, it was clear the golf community wanted to tip its cap to Nelson by renaming the PGM office suite after him. Now known as the Ben Nelson PGM Suite, the facility has been renovated and has a welcoming atmosphere. With his name on the office, students and alumni for years to come will associate Nelson with the gentlemanly qualities and professionalism that all future PGA members should embody.
MISSISSIPPI STATE UNIVERSITY | COLLEGE OF BUSINESS 64 DIVIDENDS | FALL 2022
64
Ben Nelson, third from left, and family pose for a photo at the Ben Nelson PGM Suite announcement event.
Photo by Autumn Welborn
"You know, my dad really cares about this program and the PGA of America," says Benji. "What better way to honor him than to have his name on something he helped establish? We have friends all over the country because of this program and are lucky to be a part of it."
The office space was modernized with new flooring, furniture and lighting. The brighter colors and added trophy case for all PGM golf tournament awards have been welcomed on the third floor of McCool, as many of the faculty and staff have commented about how much more inviting it is.
"The office space allows us to look forward while also remembering the individuals who helped lay the foundation for the program," allows Scott. "As we continue to educate and attract new students, the office is a crucial part of our being able to put forward a professional and inviting atmosphere."
To hundreds of PGM graduates over the past 37 years, Ben Nelson IS golf. The Ben Nelson PGA Golf Management Suite will keep Nelson's influence burning bright for a new generation of golfers.
COLLEGE OF BUSINESS | MISSISSIPPI STATE UNIVERSITY FALL 2022 | DIVIDENDS 65
Students and alumni entering the suite will associate it with Nelson and his gentlemanly qualities and professionalism, which all future PGA members should embody.
Photo by Grace Cockrell
Adding Access for Entrepreneurs
By Sharon Oswald
Mississippi State University's Center for Entrepreneurship and Outreach (E-Center) is spreading its wings! Three E-Center projects are underway, all with a common purpose – to enhance access.
The College of Business is receiving $650,000 over two years to establish a new satellite E-Center in Vicksburg. Funding for this project came in response to a call by the U.S. House Appropriations Committee inviting members of Congress to request funding to meet urgent needs in their communities – dubbed "Community Funded Projects." The E-Center proposed the Vicksburg project, which was brought to the attention of the Mississippi congressional contingency. U.S. Senator Cindy Hyde-Smith saw the importance of the project for the state and championed it through Congress.
"We are very thankful for Senator Hyde-Smith's support of entrepreneurship in the state and, in particular, for seeing the benefits that this project could bring to the state of Mississippi," notes Eric Hill, Director of the E-Center.
Why Vicksburg? Vicksburg is home to the U.S. Army Engineer Research and Development Center (ERDC). The ERDC brings over $1 billion in funded research to Mississippi each year. While that sounds like an astonishing number, at any given time about half of that research flows right back out of the state through sub-contracting awards. In other words, there is currently no infrastructure in the state to spearhead the conversion of this technology into commercial businesses. This is where the E-Center can help.
"ERDC is a premier research and development center that is working to solve very challenging problems," says Jeff Holland, Warren County Supervisor. "We are very appreciative of this opportunity to partner with the MSU E-Center. The E-Center staff knows the process of converting a concept into a viable business. Much of the research being done at ERDC is synergistic with MSU research. Working together, we can benefit the state and its citizens."
Taking the helm of the Vicksburg project is two-time MSU graduate Ryan Gilbrech, a biomedical engineer with an MBA. Gilbrech knows what it takes to champion a start-up all the way to firstround investment. Serving as Senior Project Manager, he is a serial entrepreneur and founder of investment-backed MetaGames.
"My job is to partner the incredible technologies coming out of ERDC with anyone interested in pursuing an entrepreneurial venture," explains Gilbrech. "On a broad scope, this office is positioned to be a resource for entrepreneurship in the city, region and even the state."
Renderings for three new E-Center projects: (from top) Starkville Innovation Hub, MSU campus expansion and Vicksburg Images courtesy of PryorMorrow (Starkville and MSU) and Van Meter Williams Pollack (Vicksburg)
COLLEGE OF BUSINESS | MISSISSIPPI STATE UNIVERSITY FALL 2022 | DIVIDENDS 67
67
Hill adds, "If you total the funding behind all technologies coming out of ERDC with all Institute of Higher Learning (IHL) schools in the state, it comes to nearly $2 billion. Ryan should have plenty of work to keep him busy!"
The new center will primarily support start-ups around research emerging from the ERDC as well as IHL institutions but will also be available for businesses based on technologies from other sources. It will be housed in the Mississippi Center for Innovation Technology (MCITy). Currently Gilbrech is working in the MCITy building in a space on the third floor until the new center is completed, which is slotted for some time after the first of the year. The Vicksburg E-Center will be about 2,000 square feet and will include a training room, working space for entrepreneurs, Gilbrech's office and another office for a to-be-named program coordinator.
Back in Starkville, another Hyde-Smith supported Community Funded Project proposed by the E-Center is underway. The project, financed at $1.5 million over four years, will provide working space in Starkville's Downtown Innovation Hub, including eight private offices and 14 open workspaces.
"We currently have four companies waiting to occupy space in the new area," shares Hill. "We have had an increasing need for affordable workspace in the Starkville area for several years. The pandemic changed the way we think of a traditional office, making remote working more acceptable and prevalent."
For those occasions when centralized physical working and meeting space is needed, the Innovation Hub will fit the bill.
MISSISSIPPI STATE UNIVERSITY | COLLEGE OF BUSINESS 68 DIVIDENDS | FALL 2022
68
The campus E-Center expansion will include private "think tanks" with soundproof oneto-two person spaces equipped for video conferencing. Image courtesy of PryorMorrow
Hill further notes that he hopes the space will entice more software developers to stay in Starkville.
"Many companies in the area need software developers on a part-time basis," he remarks. "Providing adequate workspace might attract a critical mass of developers."
The co-working space should be ready for occupation within the first quarter of 2023.
Speaking about both projects, Hyde-Smith states, "These are important investments in Starkville and Vicksburg to facilitate entrepreneurship and empower the talented up-and-coming minds who will be key to making a strong and better place to live and work. We must create more places for them to thrive if we expect them to stay."
Finally, the E-Center has one more expansion in the works, to be funded primarily through private donations. Plans are underway to double the size of the current center in McCool Hall, encompassing part of the hallway in front of Rogers Auditorium and expanding into space between the current center and the Atrium. When completed, the E-Center will have an entrance and exhibition space off the Atrium and will provide more student workspace, soundproof booths and two additional offices. The current combined valuations of E-Center companies are over $33 million.
The connectivity of these projects is truly access. Vicksburg provides access to a new population of entrepreneurs. The Hub project provides greater access to a community of fellow founders. And the McCool Hall project provides increased access to a state-of-the-art, inspiring workplace in which to imagine and build a business. Echoing Senator Hyde-Smith, all three projects are geared to both empower and support talented individuals.
COLLEGE OF BUSINESS | MISSISSIPPI STATE UNIVERSITY FALL 2022 | DIVIDENDS 69
Starkville's Downtown Innovation Hub will include eight private offices and 14 open workspaces. Image courtesy of PryorMorrow
briefs news
COB Alumnus of the Year
C. Donald "Don" Whitmire, Jr. is the 2022 Alumnus of the Year for the College of Business. Whitmire is the Vice President, Controller and Financial Reporting and Principal Accounting Officer of Freeport-McMoRan, Inc., the world's largest publicly traded copper company. Prior to joining Freeport-McMoRan in 1989, he worked in the energy audit practice of Arthur Andersen, specializing in the oil and gas industry and serving on the firmwide Oil & Gas Industry Team. He formerly served McMoRan Exploration Co. and currently serves Stratus Properties, Inc. as Vice President and Controller. A 1978 accounting alumnus, Whitmire served as President of the Student Honors Council and graduated with special distinction. He serves on the Adkerson School of Accountancy Advisory Council, was the 2010 COB Alumni Fellow and was named among the Top 100 COB Alumni during the College's 2015 Centennial Celebration. Don and Peggy Whitmire endowed the Whitmire Accelerating Students into the Accounting Profession Camp last summer, providing all high schoolers interested in pursuing a degree in accounting with the opportunity to attend.
COB Alumni Fellow
Cynthia Cooper was named the 2022 College of Business Alumni Fellow. Cooper, a 1986 accounting alumna, is an internationally recognized speaker, consultant, bestselling author and advocate. She was the Chief Audit Executive and Vice President of Internal Audit at WorldCom and in 2002 was named among TIME's Persons of the Year for her role in uncovering and reporting fraud there – at that time the largest case in U.S. history. Cooper went on to serve for over two years as Vice President of Internal Audit with MCI, WorldCom's successor, helping the company move forward and successfully emerge from bankruptcy. She was the first woman inducted into the American Institute of Certified Public Accountants' Business Hall of Fame and was an inaugural inductee of the Institute of Internal Auditors' American Hall of Distinguished Audit Practitioners. She currently serves as CEO of CooperGroup, LLC. At MSU, she is on the College of Business Executive Advisory Board and has been instrumental in helping the College add the NASBA Center for Public Trust Certificate in Ethical Leadership to the curriculum.
MSU NABA Chapter Chartered
This past year, the charter application for the National Association of Black Accountants (NABA) chapter at Mississippi State was officially approved by the NABA Southern Region. NABA, Inc. is a nonprofit membership association dedicated to bridging the opportunity gap for black professionals in the accounting, finance and related business professions. Representing more than 200,000 black professionals in these fields, NABA advances people, careers and the mission by providing education, resources and meaningful career connections to both professional and student members, fulfilling the principle of its motto: Lifting As We Climb.
MISSISSIPPI STATE UNIVERSITY | COLLEGE OF BUSINESS 70 DIVIDENDS | FALL 2022
70
Breazeale Earns Top Teaching Award
The COB's Dr. Mike Breazeale, Associate Professor of Marketing, was named a 2022 John Grisham Master Teacher. Mississippi State recognized three faculty members this year with its highest academic teaching award – Breazeale (second from right), Dr. Deb Mlsna of the Department of Chemistry and Jacob Tschume of the Department of Mathematics and Statistics. First presented in 1993, the Grisham Master Teacher honor is a tribute to classroom and instruction excellence and is named for the MSU accounting alumnus and internationally recognized best-selling author who provided funds to endow the award.
Business Football Dawgs Excel
For the second consecutive year, marketing major and MSU quarterback Will Rogers was named one of 11 finalists for the Manning Award. The award has been presented annually since 2004 to the best collegiate American quarterback in the United States, as judged by the Allstate Sugar Bowl Committee. It is the only quarterback award that includes each candidate's postseason bowl performance in its balloting. The winner of the Manning Award is announced in January.
Business student and wide receiver/kick returner Lideatrick "Tulu" Griffin was one of three MSU football players named to the Associated Press All-Southeastern Conference teams.
COB student and wide receiver Austin Williams was named the SEC Football Scholar Athlete of the Year by a vote of the league's head coaches. A two-time first team Academic All-American, Williams was also selected as a member of the National Football Foundation's National Scholar Athlete Class and a finalist for its William V. Campbell Trophy, college football's premier scholarathlete award. Earlier this year, he was named the 202122 SEC H. Boyd McWhorter Scholar-Athlete of the Year, the highest honor an SEC athlete can earn in any sport. Williams earned his undergraduate degree in finance and a master's degree in business administration.
Young Alumni Honored
College of Business alumni Shelby Baldwin, JoJo Dodd, Michael Ferril and Crystal Vincent were among the inaugural recipients, shown here, of the MSU Alumni Association's Reveille 25 Awards. The Reveille 25 program is designed to highlight the remarkable accomplishments of Mississippi State's growing number of younger alumni who are "answering the call" of the University's mission for educational excellence and inspiring others through the positive impact they are making in their communities and professions. Shelby Baldwin, 2019 marketing graduate, is co-founder and COO of Rocketing Systems, Inc.; JoJo Dodd, 2016 economics graduate, is a medical student and Chairman and COO of the Jackson Free Clinic; Michael Ferril, 2016 business administration graduate, is CEO of Rosy Rings, Inc. and Crystal Vincent, 2005 marketing graduate, is President and CEO of both K Kaz Transport, Inc. and Prestige Quality Consulting, LLC as well as Product Success Manager for ServiceNow.
COLLEGE OF BUSINESS | MISSISSIPPI STATE UNIVERSITY FALL 2022 | DIVIDENDS 7171
New 2022 Faculty and Staff
MISSISSIPPI STATE UNIVERSITY | COLLEGE OF BUSINESS 72 DIVIDENDS | FALL 2022 72
briefs news
Madison Crimm Assistant Director, Recruiting & Events College of Business Dean's Office
Shelby Dudgeon Instructor of Quantitative Analysis Department of Marketing, Quantitative Analysis & Business Law
Ryan Gilbrech Senior Program Manager Center for Entrepreneurship & Outreach
Kiana Holmes Academic Records Assistant College of Business Academic Advising Center
Steven Kofford, PhD Assistant Professor of Management Department of Management & Information Systems
R'Najee "RJ" Matthews
Academic Coordinator College of Business Academic Advising Center
Xiaoxiao Bai, PhD Assistant Professor of Economics Department of Finance & Economics
Anwar Bou Mosleh, PhD Assistant Clinical Professor of Finance, Department of Finance & Economics
Margaret-Mary Coker Administrative Assistant I College of Business Dean's Office
Katie Ruth
Administrative Assistant I Department of Management & Information Systems
Chinju Paul, PhD Assistant Professor of Information Systems, Department of Management & Information Systems
Jason Shin Instructor of Supply Chain Management, Department of Marketing, Quantitative Analysis & Business Law
Welcome to the College of Business!
COB Students Score in Case Competition
This year, six students were selected to participate in the 3rd Annual Raytheon Technologies Invitational Business Case Competition: Tyler Fore, Lindsey Horn, Kirsten Johnston, Dylan Porter, Ernest Tche and Amanda Vaughn. Each was assigned to a team of students from other participating universities, and the teams had 14 hours to evaluate a business case developed by Raytheon Technologies and present their results to a panel of judges composed of managers from Raytheon.
For the first time, MSU students were part of all three winning teams. They were Dylan Porter, first place, sharing a $10,000 prize; Amanda Vaughn, second place, sharing a $7,500 prize and Ernest Tche, third place, sharing a $3,500 prize. This was the first case competition experience for each of the students, and all did an extraordinary job representing MSU.
Dividends Wins
Gold
The 2021 edition of our College of Business magazine, Dividends, won the GOLD Award at the Advertising and Marketing Professionals (AMP) Golden Triangle Region Awards for the third consecutive year! Congratulations to Publisher Emily Daniels, Editor Kirsten Shaw and Designer David Doleac.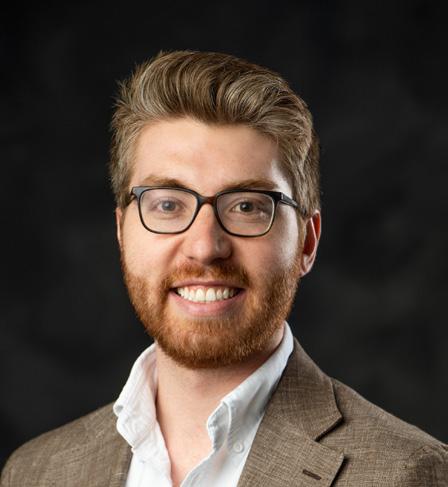 COLLEGE OF BUSINESS | MISSISSIPPI STATE UNIVERSITY FALL 2022 | DIVIDENDS 73
Qin Wang, PhD Assistant Professor of Marketing Department of Marketing, Quantitative Analysis & Business Law
Taylor Watson Academic Coordinator College of Business Academic Advising Center
Bonner Whittington Administrative Assistant I Graduate Studies in Business
Eric Xu Instructor of Quantitative Analysis Department of Marketing, Quantitative Analysis & Business Law
Kyle Smith, PhD Assistant Professor of Accountancy Adkerson School of Accountancy
Marlexis Tate Academic Records Assistant College of Business Academic Advising Center
Manuela Villegas Administrative Assistant I Department of Marketing, Quantitative Analysis & Business Law
briefs news
Accreditation Extended for Five Years
Mississippi State University's College of Business is proud to announce that our AACSB accreditation has been extended for the next five years. Founded in 1916, AACSB International is the longest-serving global accrediting body for business schools that offer undergraduate, master's and doctoral degrees in business and accounting. AACSB accreditation is the hallmark of excellence in business education and has been earned by less than five percent of the world's business schools.
Glo Among "Most Fundable"
MSU Nets Third in Banking Competition
For the third consecutive year, MSU students have placed in the top five in an intense nationwide banking competition for undergraduate students. This year's team of four finance majors placed third overall in the 2022 Conference of State Bank Supervisors' Community Bank Case Study Competition. Team members were Von Churchwell, Annabelle Peck, Peyton Randazzo and Eric Sudduth. The annual competition provides valuable first-hand insight, as teams partner with local community banks to examine how these banks have navigated changes over the past decade, as well as what they can expect in the next decade. Assistant Clinical Professor of Finance Dr. Matthew Whitledge advised MSU's team, which partnered with the Bank of CommerceGreenwood. The team's paper will be published in the Journal of Community Bank Case Studies and is available at www.csbs.org/bankcasestudy.
Glo® was recognized as one of the Pepperdine University Graziadio Business School's Most Fundable Companies® of 2022. Glo is one of 16 winning teams selected from more than 4,000 startups across all 50 states and the first Mississippibased company to receive the award. MSU alumni Hagan Walker and Anna Barker landed on an idea in our Center for Entrepreneurship and Outreach that they leveraged into the startup Glo. The Starkvillebased company produces liquid-activated light-up products including sensory toys for children and drink cubes. Glo was also chosen by Oktibbeha County Economic Development Authority as Industry of the Year; Walker and Barker, 4th and 5th from left, are shown accepting that award.
Retirements
Two members of our College of Business family retired this year, and we extend a heartfelt "thank you" for the positive impact they have made on students and colleagues alike during their years of service. Best wishes for a long and happy retirement!
Noel D. Addy, Jr., CPA, PhD Associate Professor of Accountancy Adkerson School of Accountancy
Robert F. "Bob" Otondo, II, PhD
Professor of Information Systems
Department of Management & Information Systems
MISSISSIPPI STATE UNIVERSITY | COLLEGE OF BUSINESS 74 DIVIDENDS | FALL 2022 74
Velasquez Named White House Fellow
Alumna Vanessa Velasquez was selected as a 2022-23 White House Fellow – one of only 15 in the nation. Velasquez is a 2017 cum laude International Business graduate who received MSU's Spirit of State award while on campus. She has extensive project management experience, most recently at Apple, Inc. as a Global Supply Manager. She also worked at Amazon, where she started in a fulfillment center running operations and was promoted to corporate headquarters to focus on the company's engagement with Hispanic businesses. Her portfolios generated more than $20 million in revenue, as she led projects valued at over $100 million. Velasquez mentors Hispanic Scholarship Fund scholars and previously served as inaugural Director of Fulfillment Center and Community Engagement at Amazon's LGBTQ+ employee resource group.
PGA Honors Alumnus Joe Assell
PGA Golf Management alumnus Joe Assell was named the 2021 PGA Golf Executive of the Year. This honor recognizes outstanding service in an executive management position, as well as leadership, vision, courage, moral character and a substantial record of service to the association and the game. The President & CEO of GOLFTEC, Assell co-founded his company in 1995 with a mission to help people play better golf by equipping PGA Teaching Professionals with emerging technology designed to deliver better lessons. The company has given more than 12 million golf lessons, including more than 1.5 million lessons in the last year across 220 locations in six countries. With more than 600 PGA Professionals on staff today, the company is one of the largest employers of PGA members. Assell's commitment to philanthropy led him to create GOLFTEC Cares, the company's community outreach program, which contributes more than $2 million annually to golf-focused community initiatives.
Business and Engineering Degree Program
Introduced
In the fall, MSU began offering students the opportunity to earn dual, collaborative degrees – a Bachelor of Business Administration and a Bachelor of Science in Industrial Engineering. The new Engineering Leadership Excellence (ELE) program, a joint effort between the College of Business and the Bagley College of Engineering, enables students to combine technical and industrial engineering skills with business expertise and earn two MSU degrees that will put them ahead in today's competitive job market. Requiring only one additional semester of coursework, the ELE curriculum includes such engineering courses as LEAN work systems, mechanics, statistics, industrial ergonomics and systems simulation, while business classes encompass financial accounting, international logistics, international supply chain management and the legal environment of business.
COLLEGE OF BUSINESS | MISSISSIPPI STATE UNIVERSITY FALL 2022 | DIVIDENDS 75
briefs news
In Memoriam
Robert Bell (March 29, 2022)
Robert Bell was one of two MSU football players to break the team color barrier in 1970. A native of Meridian, he graduated in 1973 with a degree in business administration. In 2017, he was honored with fellow trailblazer Frank Dowsing, Jr. with the dedication of the Dowsing-Bell Plaza at the north end of Davis Wade Stadium. In 2018, MSU's M-Club created the Dowsing-Bell Award, honoring the most deserving male athlete who demonstrates determination and perseverance in overcoming obstacles academically, athletically or personally.
Dr. Brian Todd Carver (September 19, 2022)
Dr. Brian Carver was Assistant Professor of Accountancy in the Adkerson School of Accountancy from 2010 to 2014, then moved to Clemson University and served there until his passing. He is survived by his wife Dede, four children, parents, brother, father-in-law and step-mother-in-law.
Dr. Daniel T. "Danny" Holt, Lt Colonel Ret. USAF (June 14, 2022)
Dr. Daniel "Danny" Holt was Associate Professor of Management at MSU from 2010 to 2019. He then served at Louisiana State University from 2019 to 2021 before returning to his alma mater, the University of Louisville, as Associate Professor and Director of Entrepreneurship Graduate Programs, Management & Entrepreneurship. Holt served for 21 years in the U.S. Air Force as an active duty officer, where he earned a Bronze Star and taught at the Air Force Institute of Technology prior to his civilian teaching career. He is survived by his wife Kelly, three sisters and eight nephews.
Harry Thomas "Tom" McWilliams (March 11, 2022)
Harry Thomas "Tom" McWilliams was a graduate of Starkville High School and was active in Boy Scout Troop 45, earning the rank of Eagle Scout and membership in the Order of the Arrow. McWilliams was a member of Lambda Chi Alpha at MSU and graduated in 1978 with a BS in marketing. He began his career with McRae's department store before transitioning into banking in Macon and Meridian. During a 40-year career with the Mississippi Credit Union, he became a Senior Vice President and was selected as National Credit Union Hero of the Year in 2018.
Howard L. Miskelly (July 16, 2022)
Howard L. Miskelly graduated from Faulkner High School as Class President prior to serving his country in World War II, where he earned the rank of Staff Sergeant in the U.S. Army and was awarded two Bronze Stars. Upon returning, he attended Union University on a basketball scholarship before transferring to MSU, where he served as President of Alpha Tau Omega fraternity and Cadet Colonel of the MSU ROTC. He met wife Letha "Ann," with whom he spent 74 years of marriage. They opened and operated Howard's Department Store in Okolona for 40 years, providing the inspiration for his children to found Miskelly Furniture, which today is one of the largest independent furniture retailers in the country. Miskelly is survived by his five children and many grandchildren and great-grandchildren.
Mitzie Ann Metts Taylor (September 26, 2022)
Mitzie Taylor was the wife of the late W.A. "Bill" Taylor, Jr. and mother of COB Executive Advisory Board member William A. "Lex" Taylor, III. She met her husband Bill while working as a secretary at Taylor Machine Works in Louisville, MS. During their 53-year union, they were blessed with three children, seven grandchildren, two great-grandsons, one great-granddaughter, four step grandchildren and nine step great-grandchildren. For over six decades she was actively involved in growing their family business into an international company, and she served on the board of Taylor Machine Works for years until her death.
MISSISSIPPI STATE UNIVERSITY | COLLEGE OF BUSINESS 76 DIVIDENDS | FALL 2022
76
n Dr. Frank Adams was named this year's recipient of the Journal of Business Logistics' Outstanding Senior Editor award. The annual award is bestowed on team members who go above and beyond in their service to the journal and their commitment to its peer review process.
n MSU's Beta Alpha Psi (BAP) chapter and its advisor Dr. Alan Stancill once again earned "Superior" status from the national organization for their achievements during the 2021-22 school year. This is the fifth consecutive year the chapter received this recognition, distinguishing itself as one that excels in the areas of academics, professionalism and leadership. BAP is an international honorary organization for students and professionals in accounting, finance and information systems.
n Alumnus Bobby Brown retired as Corporate Vice President-Tax for FedEx Corporation after more than 31 years of service to the company. Brown is a five-time recipient of the FedEx Five Star Award. He also serves on the board of directors for The Tax Council and the advisory board for The Tax Foundation. Brown volunteers his time in the Memphis community, including serving on the leadership committee for the FedExFamilyHouse Gala where he has helped lead efforts to raise millions for this worthy cause.
n Finance graduate Ralph Brown, Vice President and Regional Director of Commercial Lending for the State of Mississippi at Liberty Bank & Trust Co. in Jackson, was named to the 2022 Top 40 Under 40 list compiled by the Mississippi Business Journal.
n Assistant Professor of Accountancy Dr. Casey Camors was recognized as Outstanding Faculty Researcher for 2022 by the Adkerson School of Accountancy.
n Three professors in the Department of Management & Information Systems have made Stanford University's list representing the top two percent of the most-cited scientists in various disciplines. Dr. Jim Chrisman, Dr. Mel Fugate and Dr. Merrill Warkentin were included in the 2021 list.
n Dr. Jim Chrisman, the Julia Bennett Rouse Endowed Professor in Management, was also named to the "Highly Cited Researchers" list in Clarivate Analytics' 2022 Web of Science citation index. This places him among scientists and social scientists around the world whose papers rank in the top one percent of citations for a field and publication year, indicating significant and broad influence.
n Accounting alumnus Wil Crawford was named a partner at FORVIS, LLP. FORVIS officially launched on June 1, following the merger of BKD, LLP and Dixon Hughes Goodman, LLP. Crawford joined BKD's Jackson office in 2006.
n Reese Dunne, a senior mechanical engineering major and Shackouls Honors College student and a candidate of the College of Business MBA Venture Pathway program, was named a Rhodes Scholar finalist. He is MSU's sixth finalist in 11 years.
n Daniel Haas, marketing graduate and Director of Marketing at Mossy Oak, was named among the 2022 Top 40 Under 40 by Mississippi Business Journal.
n Marketing PhD student Haley Hardman was the recipient of the Southeast Marketing Symposium's William O. Bearden Doctoral Student Research Award.
n Marketing and management double-major Sophia Hoffmann was named the COB Marketing Advisory Board's 2022 Marketing Student of the Year.
n Rob Jay, an accounting alumnus, has been named Chief Executive Officer of ScionHealth. Headquartered in Louisville, KY, the health care system has 79 hospitals in 25 states. Jay previously served as Executive Vice President of Integrated Operations for LifePoint Health in Tennessee.
n Alumnus Drew Kenna was elected President of the Mississippi Young Bankers, a section of the Mississippi Bankers Association (MBA). In addition to his role as President, he will serve as a Trustee for the Mississippi School of Banking and a board member for the MBA Education Foundation. Kenna serves as President and Chief Operations Officer of the Bank of Forest. He is also on the board of directors for the bank's holding company, First Forest Corp.
n Alumnus Ed Maxwell was named the 2022 Rising Star by the Mississippi Society of CPAs (MSCPA). Maxwell, a 2009 BPA and 2010 MTX graduate, is a partner in the Oxford office of Watkins, Ward and Stafford, PLLC. He has served the MSCPA on its Young CPA Network Board and the Awards, Education and Scholarships Committee and is currently the Millennial Chair of the Firm Administration and Development Committee. Maxwell also represents the Northwest Chapter on the MSCPA Board of Governors.
n Assistant Professor of Accountancy Dr. Lauren Milbach was named the recipient of the 2022 Adkerson School of Accountancy Outstanding Faculty Teaching Award.
n Steven Miller, a BBA and MBA alumnus, has been promoted to CFO of the Internal Medicine Clinic in Meridian.
n Mark Scott, Director of and Program Manager for the Mississippi State University Veterans Business Outreach Center, was recognized as the Veterans Small Business Champion in the U.S. Small Business Administration Mississippi 2022 Small Business Awards. These awards recognize the achievements of SBA-assisted small businesses and those committed to their advancement for the contributions that they have made to their communities and our nation's economy.
n During the spring semester faculty meeting, the College of Business recognized students for excellence in teaching and research. Management PhD student Vitaliy Skorodziyevskiy was named Outstanding Researcher and COB 2022 Graduate Student Hall of Fame Scholar. Haley Hardman, marketing PhD student, was recognized as Outstanding Doctoral Student Teacher.
n William M. Washington, III, a finance alumnus, has been appointed CFO for leading global law firm Baker McKenzie. Washington previously served as CFO (Americas) for Hogan Lovells.
n Marketing alumna Emily Wooten, Communications and Projects Manager for the Mississippi Economic Council and owner of Sweet Southern Occasion, LLC, is one of the Mississippi Business Journal's 2022 Top 40 Under 40.
COLLEGE OF BUSINESS | MISSISSIPPI STATE UNIVERSITY FALL 2022 | DIVIDENDS 77 ASSETS
Mississippi State University College of Business P.O. Box 5288, Mississippi State, MS 39762
Mississippi State University is an equal opportunity institution. Discrimination in university employment, programs or activities based on race, color, ethnicity, sex, pregnancy, religion, national origin, disability, age, sexual orientation, gender identity, genetic information, status as a U.S. veteran, or any other status protected by applicable law is prohibited. Questions about equal opportunity programs or compliance should be directed to the Office of Civil Rights Compliance, 231 Famous Maroon Band Street, P.O. 6044, Mississippi State, MS 39762, (662) 325-5839.
Follow #ModernizeMcCool on our social media to learn of exciting new plans for the home of MSU Business – and how you can make an impact for the next half-century! @MSUBusiness @MSUBusiness @MSUBusiness MSU Business business.msstate.edu