1 HOME MOUNTAIN Pennsylvania & the New York Finger Lakes The Iconic Mr. Hilfiger Brings the Business of Fashion to Elmira College By David O'Reilly SEPTEMBER 2022 Tommy Comes Home A Rye Sense of Hunger in Elmira Ladies' Tresses in the Woods Tioga County's Troutful Future FREE asthewind
RESIDENTIAL | MULTI-FAMILY | LOTS LAND | FARMS |COMMERCIAL | LEASE Real Estate Professionals Sharing Our Knowledge and Experience of the Northern Mountains of Pennsylvania and New York. "We love what we do" Communication | Transparency | Integrity 174 Water Tower Road, Suite 3 | Lawrenceville, PA 16929 COWANESQUELAKEREALTY.COM570.944.0101 Karen Hackett BROKER | 570.418.1661OWNER Brandon Hackett CO-OWNER | 570.295.2697REALTOR Sara Saxbury PA/NY 607.368.1217REALTOR Alexis Knapp PA/NY 570.418.0835REALTOR Derik Lisi PA/NY 607.438.8849REALTOR
18 The Orchid Hunters
20 Mansfield University Cops to Being the Best
3 Volume 17 Issue 9
By Don Knaus Thunder Ridge in Middlebury Center takes aim at substance abuse.
Cover illustration by Al Baseer Holly, courtesy Tommy Hilfiger Archives; cover design by Gwen Button; (top) Tommy Hilfiger, courtesy Tommy Hilfiger; (middle) by Jessica Sandstrom;(bottom) courtesy Rye Bar and Restaurant.
24 Doctors in the House
Tommy Comes Home By David O ' Reilly The iconic designer brings the business of fashion to Elmira College.
By Mark Simonis Smithsonian conservationists join Tioga County's floral detective.
28 Coming to the Rye By Maggie Barnes Elmira's Rye Bar is the taste of the town.
12 Mother Earth By Gayle Morrow Shading trout with 10,000 trees.
16 Clays for Kids
34 Back of the Mountain
By Lilace Mellin Guignard Public Safety Training Institute is virtually unmatched.
MOUNTAIN HOME
By Nigel P. Kent Framing summer.
By Karey Solomon Lake Erie College of Osteopathic Medicine sets up shop in Elmira.
6
www.mountainhomemag.com
Get a $400* bonus. Open a new C&N checking account online and make an initial deposit of $1,000. Then, use ClickSwitch to easily move your automatic deposits (like your paycheck) to C&N and have $5,000 direct-deposited into your account over the next three months. After that, just keep your account open for at least six months— and it's all yours. Learn more today. cnbankpa.com/400-Big-Ones *Must be new money. Receive $300 Bonus when you open a consumer checking account with a minimum opening deposit of $1,000 and receive an additional $100 Bonus when you open the account online. Use promo code 400BONUS. Offer valid through September 30, 2022 for consumer checking account products only (C&N Everyday Checking, C&N Relationship Checking and C&N Merit Checking) and limited to one per primary account owner age 18 or older. C&N Merit Checking is a variable rate tiered interest-bearing account
ABOUT US: Mountain Home is the award-winning regional magazine of PA and NY with more than 100,000 readers. The magazine has been published monthly, since 2005, by Beagle Media, LLC, 39 Water Street, Wellsboro, Pennsylvania, 16901, and online at www.mountainhomemag.com. Copyright © 2022 Beagle Media, LLC. All rights reserved. E-mail story ideas to editorial@mountainhomemag. com, or call (570) 724-3838.
AWARDS: Mountain Home has won over 100 international and statewide journal ism awards from the International Regional Magazine Association and the Pennsylvania NewsMedia Association for excellence in writing, photography, and design.
in NY.
Bernadette Chiaramonte, Diane Cobourn, Mary Harvey, Michael Johnston, Nigel P. Kent, Linda Stager, Sherri Stager, Curt Sweely, Sarah Wagaman d istribution t EAM Brian Button, Grapevine Distribution, Linda Roller t h E b EA gl E Nano Cosmo (1996-2014) • Yogi (2004-2018)
SUBSCRIPTIONS: For a one-year able to Beagle Media LLC, 39 Water Street, Wellsboro, PA 16901 mountainhomemag.com.
TO ADVERTISE: E-mail info@mountainhomemag.com, or call us at (570) 724-3838.
an Annual Percentage Yield (APY) of 0.35% for qualifying accounts with collected balances of $.01 to $30,000, .10% APY for qualifying accounts with collected balances over $30,000 and .05% APY for non-qualifying accounts (refer to the Truth In Savings Disclosure for qualifying criteria). APYs accurate as of July 1, 2022. Fees may reduce earnings. Direct deposits totaling $5,000 over consecutive 3-month period required to receive Bonus. Account must remain open for six months from opening date. Payout will occur within 45 days of six-month anniversary of account opening. Payouts valid through May 31, 2023. Offer may be withdrawn at any time. CNB-0317_MountainHome-4.9x4.84_v2.indd 1 7/20/22 1:35 PM
E ditors & P ublish E rs
400 ONESBIGUS with
Teresa Banik Capuzzo Michael Capuzzo A ssoci A t E P ublish E rs Lilace Mellin Guignard George Bochetto, Esq. d ir E ctor of o PE r A tions Gwen Button M A n A ging E ditor Gayle Morrow s A l E s r EP r E s E nt A tiv E Shelly Moore c ircul A tion d ir E ctor Michael Banik A ccounting Amy Packard c ov E r d E sign Gwen Button c ontributing W rit E rs
DISTRIBUTION: Mountain Home is available "Free as the Wind" at hundreds of locations in Tioga, Potter, Bradford, Lycoming, Union, and Clinton counties in PA and Steuben, Chemung, Schuyler, Yates, Seneca, Tioga, and Ontario counties
Maggie Barnes, Carrie Hagen, Roger Kingsley, Don Knaus, Dave Milano, Brendan O'Meara, David O'Reilly, Linda Roller, Mark Simonis, Karey Solomon c ontributing P hotogr AP h E rs
or visit www.
subscription (12 issues), send $24.95, pay
5 GAFFERHAMMONDSPORTDISTRICT All the Hand Knitting & Crochet Supplies you could ever want. 91 E. Market Street, Corning, NY 14830 woolyminded.com | 607.973.2885 Donal InventionsFoxTrio October 29 2022-2023 SUBSCRIPTION SERIES ALL CONCERTS - 7:30PM CORNING MUSEUM OF GLASS SUBSCRIPTIONS ON SALE NOW CORNINGCIVICMUSIC.ORG BrubeckQuartetBrothers November 12 SowetoChoirGospel December 12 Raul Midón February 25 Canadian Brass March 10 Sirius Quartet w/ Richie Beirach May 6 Chanticleer April 21 Add-On Concert: Rescheduled from 2022 Exhibition of photographs on view September 24 through January 22 FRIDA NICKOLASKAHLOMURAY THETHROUGHLENSOF Get tickets 111RockwellMuseum.orgtoday:CEDARSTREET,CORNING, NY | 607.937.5386
ArchivesHilfigerTommyCourtesy
Vintage Tommy: The first People's Place opened in downtown Elmira in 1969 and the second (shown here) in 1974.
His cellphone signal from the Riviera is breaking up, but he stays on the line to make this point: "A lot of fashion schools teach fashion design and focus more on the creative. But in reality, the thing they're missing is the business of fashion. So, I thought it appropriate to set up a program that focuses on the marketing and merchandising of fashion."
7
Its name is Flag, after the slender, red-white-andblue rectangle that's been the Tommy Hilfiger brand logo since 1985. Yes, Tommy "escaped" Elmira all right. Yet for all it seemed to a teenager like a "suffocating" small
"I'm very grateful to have grown up in such a friendly, all-American community," he says in a phone call from Flag. And he never turned his back on the city.
Hometown Connections
In 2019, Tommy's sister, Betsy, and brother, Andy, pitched the idea of a fashion program to Alison Wolfe, chair of Elmira College's Business and Economics division and now director of the Tommy Hilfiger Fashion Business School. She "loved it" and quickly brought it to Charles "Chuck" Lindsay, the college's president."Iwas immediately intrigued," says Chuck. "It
By David O'Reilly
Even from Elmira's highest hilltops you can't see the mega-yachts anchored off the French Riviera, with their swimming pools and helipads and beautiful, suntanned millionaires. No, it's a world away. You can't glimpse the sunlit mansions of Palm Beach, either—or Mick Jagger's Caribbean villa, or the ski slopes of Aspen. But if you're a working-class boy, small for your age, flunking school, with an unpredictably angry father and embarrassed to be seen in his rusted '51 Pontiac, you can always dream about such places.
Tommy Comes Home
"I was always planning my escape," the legendary fashion designer, now seventy-one, would recall years later. Elmira was a mighty manufacturing city, but it felt "provincial" in his youth, the antithesis of all that was stylish and glamorous and what he aspired to be.
Why? Because it was in 1969 downtown Elmira that eighteen-year-old Tommy and two friends opened what fashion history records as his very first store—and later made some painful mistakes that tumbled their company into bankruptcy. He doesn't want any young fashion entrepreneur to repeat them.
Alas, "there was nothing I was good at," he supposed as a teen, unaware he was severely dyslexic. He feltFivetrapped.decades later his name is an iconic brand sold around the world. Global retail sales of Tommy Hilfiger products reached $9.3 billion in 2021, and his life— well, it's a classic American success story. He's pals with Jagger, his next-door neighbor on the private island of Mustique. Home is a Palm Beach waterfront mansion. In March he sold his ski chalet in Aspen for $50 million. And that 205-foot yacht anchored last month off St. Tropez? It's his.
The Iconic Mr. Hilfiger Brings the Business of Fashion to Elmira College
town, the Queen City on the Chemung River served as launchpad to his skyrocket of a career.
See Hilfiger on page 8
This month, as part of its growing emphasis on career preparation, Elmira College will formally begin its new Tommy Hilfiger Fashion Business School program. Funded in part with a $100,000 donation from Tommy, the program will introduce aspiring fashionistas to the business side of the fashion industry: marketing and merchandising.
And if you're the ambitious, talented Tommy Hilfiger, you're going to make those dreams come true.
Dazzled by the vast selection of bell bottom jeans at a boutique on Aurora Street, the boys implored its manager to open a store in Elmira. "It's a wasteland," Larry told him. "There's nothing to wear!" The guy shook his head. "You guys should open it," he told them. They laughed. They were still in high school! But the next day Larry got serious. "Why don't we open up a store?" he asked Tommy and their friend, Jonathan Allen. The others were dubious, but Larry knew of an empty basement at the Midtown Plaza shopping center, next door to his dad's shoe store.
wasn't just his [Tommy's] name…I knew he had his roots in Elmira and served on our board. So, this was a way of deepening his connection to theFoundedcollege."in 1855 as a first-of-its-kind school for women, Elmira College went co-ed in 1969. Like many small, liberal arts colleges once heavy into English, history, and philosophy, it now focuses on career preparation in specialized fields like actuarial science, sustainability, and health care. And now comes their Tommy Hilfiger Fashion Business School program. It offers minors or concentrations in fashion marketing or merchandising as part of a bachelor's degree in business administration."Whenwe met with Tommy," Alison recalls, "he told us: 'I want this to be a three-year baccalaureate so they can jump quickly into the industry or go on to grad school.'" A three-year track "makes us very competitive," Alison continues, and the "hands-on" curriculum will include guest lectures, internships, semester-abroad opportunities, and field trips to manufacturing companies and the Fashion Institute of Technology (FIT) in Manhattan.
"I think it was once a Montgomery Ward store," Tommy recalls, and "massive" at 5,000 square feet. "It hadn't been painted or swept in a decade," and the only access was from a parking lot in the rear of the mall. But rent was $50 a month, and the landlord didn't even want a securityTommydeposit.put up the $150 he'd earned pumping gas at a Hess station. The boys enclosed part of the cavernous space with burlap bags, painted the walls black, and called it People's Place. Tommy even From one of nine to one-of-akind: Taken in 1967, Tommy and Betsy are top center in this family photo hung in the gallery (top); Betsy Hilfiger shows Elmira College students (l to r) Jazmine Elliot '26, Linda Avery '25, and Nicholas Drake '26 around the Tommy Hilfiger Gallery on campus; (Bottom) Betsy and Linda Avery in the gallery.CollegeElmiraof'21KempfJanieCourtesy(2)CourtesyTommyHilfigerArchives
Hilfiger continued from page 7
Word of the program immediately interested twenty-two-yearold Nicholas Drake, a transfer student. "I was working at the Tommy Hilfiger store in Corning last year," when Betsy Hilfiger stopped in and shared this breaking news. Self-described as "fashion conscious even as a kid," Nick, of Horseheads, hopes to "start my own clothing line someday. But I don't want to jump right off the bat into design. I first want to learn the marketing side of the business—where the numbers comeSufficefrom." it to say, Nick's approach is a wee more calculated than Tommy's was. • The now fabled career began one day in October, 1969, when Tommy and his best friend, Larry Stemerman, skipped classes at Elmira Free Academy to tour the cool clothing shops of Ithaca. "It was the hippest town in New York State," Larry says in a recent conversation.
Naming a program for a fashion superstar isn't just window dressing, says Chuck. "We already have a good reputation for business education, so the pieces seemed to fit together. We saw that this would improve our arsenal."
Then it all collapsed. "It was a matter of being inexperienced and not really understanding the importance of keeping control of the business," Tommy explains. Part of the problem was that "we opened too many stores." And when the bellbottoms, sandals, and beads look of the early seventies became passé, they bought heavily into the "glam rock" look then hot in New York City: silver motorcycle pants, platform boots, and frilly blouses. "All glitter and shine," he called it in his 2016 autobiography, American Dreamer.
Our hipster entrepreneurs were soon paying cash for Porsches and MercedesBenzes, doing drugs, hanging out at Manhattan's ultra-exclusive Studio 54—even flying to rock concerts in chartered planes.
"I was itching to see the world," Tommy See Hilfiger
"mid seven-figure" menswear line called TailorByrd. "I did the buying and Tommy did most of the merchandising. He was on one hundred percent of the time: always creative and inventive, asking himself 'How can we improve our business visually?'"
On June 22, 1972, with Hurricane Agnes pushing into the region, Tommy and Larry drove to the top of Harris Hill for a better look. To their horror they saw the Chemung was cresting its banks and would soon overflow at Elmira. "Tommy!" cried Larry. "This is going to wipe out the whole town." They rushed back to warn shopkeepers, but even Larry's father shrugged. The boys and friends and family spent the night frantically loading their inventory into the mall's only elevator and dumped everything onto the fourth-floor offices of an architect. People's Place was saved, but "by seven in the morning," says Tommy, "the whole town was under water."
Alas, "glam" was just too glitzy for the young people of upstate New York. People's Place's inventory mounted but didn't move, and in 1976 the guys were forced to declare Chapter 11 bankruptcy. "It was a shocker, because it was something I didn't expect," says Tommy. Still, it allowed the guys to restructure their debt, eventually close or sell off the stores, and move on. Today they're still friends. "We email, talk on the phone," says Larry, whose home is in Connecticut. And has he ever been on Tommy's yacht? "Nah," he says. "I don't go in for that stuff."
oh, my God," Larry recalls with a laugh. "We had all the prettiest young ladies in the world. We didn't have to think about getting a date. It was incredible. And everybody wanted to work for us."
A Wonderful Selection for 'Guys and 'Chicks, boasted their early newspaper advertising. BELL BOTTOMS. Leather Goods.Every Body wants to get into OUR PANTS, read another. A reporter for the Elmira Star-Gazette soon marveled at the rapid success of these "long-haired, mod-dressed youth" who insisted they had neither "joined 'the establishment,' nor are they fighting it." They were hipsters, all right, but entrepreneurs at heart."We both had this work ethic," recalls Larry, now owner and CEO of a prosperous
on page 10
9 hung jeans from the ceiling. They opened the doors on December 1 and sold all their inventory by the end of the day. The take was $200.By Christmas, People's Place was the go-to boutique and head shop for wannabe hipsters across the Twin Tiers, averaging $500"And,daily.
At times, they even seemed blessed.
By then he'd developed an eagle's eye for fabric, stitching, color, and style. He'd met with a lot of designers and manufacturers, too, "and I knew I could do it better."
10 recalls now. "I wanted to conquer something, but I knew I could never conquer it in Elmira. I wanted to become a global brand and compete with the best of the best."
Some 2,000 Tommy Hilfiger stores now dot the globe. But with none in Elmira, let's pay a visit to Elmira College's century-old Hamilton Hall, once the school's library. Tug at the door and a tall, slender woman greets you with a smile. "Hi," she says. "I'm Betsy."
It's a boat time: Tommy spends as much time as he can conducting business and pleasure from Flag, his 205-foot yacht named for his logo.
The company lost market share, and in 2006 Tommy and his partners sold it to Apax Partners, a private equity investment group, for $1.6 billion. Four years later, apparel giant Philips-Van Heusen bought it from Apax for $3.1 billion. Today the revived line features numerous collections, including Tommy Jeans, men's and women's sportswear, kidswear, licensed lines of footwear, watches, jewelry, fragrances, and Tommy Hilfiger Collection. He wears the title of "founder" and still serves as the line's principal designer. "I give my design team the big picture of an idea and they execute it," he explains.
"Ugly," she says with a laugh. She then strolls me over to the handcrank cash register from the Elmira store that replaced the original cigar box. "I've had that for more than forty years, stored in my attic," she says, laughing again. "I took it wherever I went.Here," too, are burgundy corduroys lined in paisley, a rugby-striped sports jacket, a denim jacket, and a tailored black leather motorcycle jacket. "It's hard to say what decade they're from," she muses. "A lot of this stuff was in Mom'sBetsyattic."brightens as we get to the mementos of Tommy's philanthropy, Hilfiger continued from page 9
Ocleppo).Thefull
See Hilfiger on page 32
But the new millennium proved rockier.
HilfigerTommyCourtesy
Snoop Tommy Dogg Tommy and his girlfriend, Susie Cirona—she worked at the Ithaca store, where they met—moved to Manhattan in 1979. They married, had four kids, divorced in 2000, and he later remarried (Dee history of his five-decade career won't fit in these pages, but the short version goes something like this: after designing for several international clothing firms, he launched the Tommy Hilfiger company in 1985. The look was crisp and posh—what he calls "preppy with a twist"—and featured fine details like contrasting stitching and corduroy or chambray (pale denim) collar and shirt cuff linings. The look was a hit, sales took off, and fashion icons Ralph Lauren and Calvin Klein were soon gnashing their teeth over this upstart rival. In 1992 the Tommy Hilfiger Corporation went public and enjoyed double-digit growth through the decade, fueled in part by a tidal wave of popularity after rapper Snoop Dogg wore an oversized rugby shirt reading TOMMY on Saturday Night Live. The shirt sold out worldwide in a day, the brand grew red hot, the company's stock split twice, and in 1995 New York Magazine reported he was earning $6 million a year.
"I was just in Amsterdam where we have hundreds of team members working under me." He does a lot by Zoom, he says, "so I can workEvenanywhere."onthefantail of a yacht. Back to the Future
As in Tommy's younger sister, here to guide me around the college's Tommy Hilfiger Gallery. It opened in October to serve as an inspiration to students in the fashion business program. Call it a museum. Call it a shrine. Beneath its high, vaulted ceiling—where a portrait of Tommy by Al Baseer Holly gazes down (see it on the cover)—the former reading room brims with memorabilia from you-know-who's long career.But Betsy, sixty-eight, wants to acquaint me first with the down-to-earth side of being a Hilfiger, and escorts me to framed family photos in the foyer. Here's their father, Richard, a watchmaker and jeweler, and their mother, Virginia, "the world's best mom," she says, who was a critical care nurse at the local hospital. "People still come up to me and tell me how she comforted them" as a loved one was dying, she says. Devout Roman Catholics, Richard and Virginia raised nine kids in a turreted, clapboard Victorian on W. Clinton Street. Their washing machine had a hand-operated ringer. Thomas Jacob, their second child and first boy, was born March 24, 1951.Then it's out into the collection: a kaleidoscopic display of colors and shapes from across the fifty-plus years of Tommy's career. Here are patterned bell-bottoms from the first years of People's Place, a pair of faux snakeskin pants, and a gray, fake-fur jacket reminiscent of their disastrous "glam" period. Betsy fingers the fur.
Famous Brands began in 1983, 14891
Open Mon-Sat 9am-8pm • Sun 10am-8pm *Subject to change based on NYS regulations. www.famousbrandsoutlet.com 607-535-4952 3600 State Route 419 WatkinS Glen, nY 607-535-201414891 Visit us at www.senecalodge.com Want to experience a relaxing and fun atmosphere?  Come join the sounds, sights, and tastes of SENECA LODGE. Craft brews made on site, can be enjoyed in our world famous, fully stocked "Tavern Room" bar offering 6 of our craft brews on tap. To-go craft brew available in Growlers and 6-packs! Enjoy local favorites like Prime Rib and London Broil in the Spacious Dining Room. Check our website for breakfast and dinner hours. Lodging is also available. Come stay in one of our many cabins or motel rooms at a reasonable price. welcome to WATKINS GLEN Hours: Sunday-Wednesday 11-9 Thursday-Saturday 11-10 107 11th Street • Watkins Glen, NY (607) WWW.KOOKALAROCS.COM210-6080 Fresh-never-frozen seafood! Inside or Outside Dining Events • Catering • Merchandise
offering "famous brand" clothing and footwear at below retail prices.
Famous Brands began in 1983, Since 14891
that humble beginning in a tiny storefront, we have grown to 30,000 sq. ft. covering 3 floors and half a city block, becoming a destination store for 412 N. Franklin St. • Watkins Glen, NY
11
Open Year 'round www.famousbrandsoutlet.com 607-535-4952
offering "famous brand" clothing and footwear at below retail prices. Since that humble beginning in a tiny storefront, we have grown to 30,000 sq. ft. covering 3 floors and half a city block, becoming a destination store for millions of visitors and locals alike. 412 N. Franklin St. • Watkins Glen, NY
By Gayle Morrow
Mother Earth
Around 2015, there was an "awareness," Jim says, of the expansion into the northern counties of an aphid-like, non-native invasive insect known as the woolly adelgid. These little creeps feed on the hemlocks' sap, sometimes for years, interfering with their abilities to use nutrients. The end result is needle drop, branch die-back, and tree death.
12
Those include, but are in no way been limited to: the importance of good Scotch, laminitis, holistic resource management (that one's worth looking up), carbon sequestration, the evils of impermeable surfaces, and the inestimable value of shade for brook trout— sometimes called the hemlock trout. So when I knew our next conversation would be about planting 10,000 trees, trees that would eventually provide shade for said trout, I had a couple of pens and a lot of paper at the ready.
Old Chinese Proverb (Seriously, have you ever known a Chinese proverb to be anything but old?): The best time to plant a tree is twenty years ago; the second-best time is today.
Jim, an aquatic biologist by training, has been a county planner, a farrier, a volunteer on numerous boards, including the Tioga County Conservation District's and the Pine Creek Watershed Council's, and can wax eloquent (and at length) on a diverse range of subjects.
Pennsylvania's state tree is the eastern hemlock. It is valuable, environmentally and otherwise, not just because it offers erosion control in dodgy places where other trees don't thrive, and not just because it provides a cool, dark, and sheltered environment for a variety of plant and animal species (at least 400 species of living things need the hemlock to complete their life cycle, Jim says) but because it is. If you're a tree lover, a tree hugger, no further explanation needed.
Tree planters extraordinaire: (From left) Greg Hornsby, Brian Kamin, Jim Weaver, and Jim Highland, district forester for Tioga State Forest at work.
The first sitings of the bugs in the lower Pine Creek Valley in Lycoming County had been around 2010; they were clearly on the move north from their Japan-to-Virginia origins in the 1950s, and the Bureau of Forestry subsequently "realized we would lose our hemlocks." Ergo, the trout? A distinct possibility.Tree experts theorized initially that our winters would kill the insects. But, in case you haven't noticed, things aren't what they used to be in the great outdoors. Our winter weather has been different these past few decades, definitely not colder (attribute that to whatever lets you sleep at night—it's probably nothing you or anyone you know has done or is doing), and the woolly adelgids have been uncooperative—i.e. they're not dying. So, the Bureau of Forestry put together a plan, a "decent plan," actually, that included strategies for managing the insect itself as well as for planting conifers that could act as hemlockBeingsurrogates.abureau, there was, of course, some bureaucracy, the bottom line being that the most appropriate hemlock surrogate, the Norway spruce, a tree native to north, central, and eastern Europe, one that has enjoyed a long and blameless tenure in this country, was deemed inappropriate to plant on Bureau of Forestry land because it is not a species native to Pennsylvania. Not that other conifers wouldn't be good or helpful, and of course those will be planted, but, with what some considered the best tree out of the running, there was consternation and, perhaps, a few expletives deleted. Then somebody—a fish warden, actually—came up with the idea of planting the Norway spruce on private land, along private stream banks. Yes! With support from the Pine Creek Watershed Council, Trout Unlimited, the Tioga and Potter
I've been having eclectic conversations with my buddy Jim Weaver for well over thirty years. Three-plus decades! Who'd 'a thunk it?
See Tree on page 14 ThurgoodJohn
Shading Trout with 10,000 Trees
13 104 Main St., Wellsboro, PA 16901 (570) www.deanecenter.com724-6220 THE DEANE CENTER FOR THE PERFORMING ARTS 10CelebratingYearsofprovidingavenueforprogramsandclassesandofferingexceptionalartsandentertainmentthatnurturethediverseinterestsofTiogaCountyandthesurroundingregion. welcome to WELLSBORO Emerge Healing Arts & Spa 129 Main Street, Wellsboro, PA • (570) 360-8180 emergehealingarts.comFollow Our emerge_spaJourney SKIN THERAPY customized for your skin care needs! Holistic Botanical Facials Chemical Peels • Fresh,PureAdvancedMicrodermabrasionMicro-channelingDermaplaningSpotTreatmentsMineralMakeup&MoreOrganic,WildCraftersSkinCare 477 Tioga Wellsboro,StreetPA Office: 570-723-8484 Fax: 570-723-8604 Licensed in PA & NY LISTED AT HAVE YOU EVER SEEN WELLSBORO AND THOUGHT HOW PERFECT IT WOULD BE FOR A HOLIDAY MOVIE? Well this 3 bedroom/3 bath home is the stuff holiday movies are made of! Gorgeous views, immaculate care and detail, a pond and your very own (former) Christmas tree farm! Just minutes from downtown Wellsboro, Hills Creek State Park and thousands of acres of state land. Additional acreage available for purchase! MLS Number: 31713547 $ www.mvrwellsboro.com549,900 Enlighten your mind. Heal your spirit Nourish your body. Transform your soul • Functional Health Coaching • Healthy Lifestyle Classes • Cancer Prevention/Recovery Coaching • Aromatherapy & Herbal Classes/ Consults/Products: Featuring "The Scentual Soul" - Fine Aromatherapy EOs and Product Line Sheryl Henkin-Kealey, BS.Ed, CMA, Certified Holistic Cancer Coach Board Certified Health Coach TheSycamore ' s Spirit Wellness Edu c ationCenter (570) 634-3777 • sycamorespirit@gmail.com Visit www.TheSycamoreSpirit.com for class Facebook.com/TheSycamoresSpiritWellnessEducationCenterschedules! New Location: 55 East Avenue, Wellsboro
14 welcome to WELLSBORO Tree continued from page 12
15 Come home to the beauty and warmth of Fireplace Xtrordinair and Lopi Stoves. Greenfield by Lopi High Quality Fireplaces and Stoves provided by and 864 TV 40K by NARTVISIDUSTRIES NATURAL GAS • PROPANE • WOOD • PELLET The Area's ONLY NFI-Certified Installers • Free Quotes • Financing Available (570) 724-6100 www . wellsboroequipment . com Wellsboro's Iconic Department Store There's Something about Dunham's 45 Main Street, Wellsboro, PA www.dunhamswellsboro.com570-724-1905 welcome to WELLSBORO (570) 724-2111 www.pennwells.com PennHistoric HotelWells 62 Main Street, Wellsboro, PA Open for Dinner and Drinks Wednesday - Sunday at 4 p.m.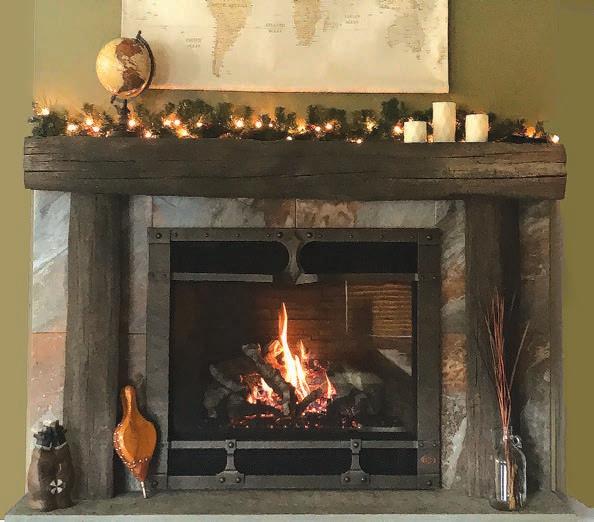 SandstromJessica
Sporting clays is a unique way to shoot clay pigeons. Some shotgunning wags have described the sport as "golf with a shotgun" because a course can present from ten to fifteen different shooting stations laid out over natural terrain. Unlike trap, where the clay target flies from the same spot, sporting clays mimics the random flights and runs of live game. The course offers a mind-numbing number of flights full of differing arcs, curves, and courses. Many shooters chuckle at a miss. The response might be, "Next time I'm at this station, I'll be ready." Except, what had been a clay pigeon imitating a high quartering pheasant suddenly becomes a ground-bounding bunny.Sounds like a blast, right? So, mark your calendar to participate in the fifth annual Clays for Kids fundraiser on September 24 at Thunder Ridge Sporting Clays and Game Farm, 619 Leon Brown Road in Middlebury Center. This fun and challenging event is designed to send dollars to programs that help combat the drug use, addiction, and poverty our local kids can experience. Clays for Kids is a great way to get outdoors, test your aim, and help a variety of youth-oriented organizations, with proceeds going to local non-profit organizations pledging to help nurture young people and to help shape their futures in positive ways. So how did Clays for Kids get its start here? Several years ago, local citizens and a few public officials attended the beginnings of an initiative to get young people off drugs. A family who had faced the devastating loss of a son to a drug overdose wanted to do something to help keep other young people from the same fate. Pam and (the late) Gary Jenkins founded Recovery Revolution as a memorial to their son, Cody. Tioga County Commissioner Mark Hamilton had attended the meeting and wanted to help in some way. As he was walking out, Mark recalls racking his brain for a way to help. He had heard of the successful Clays for Kids program in northeastern Pennsylvania's Susquehanna and Wyoming counties. He mentioned the program to Crystal Smith, then Mansfield's borough manager. Her enthusiastic reply: "Let's do it." And the Tioga County Clays for Kids program was born; the first recipient of proceeds was Recovery Revolution. That first event didn't just happen, though—there was a lot of work involved. Organizers initially turned to the Mill Cove board of directors for help. Then others
16
Clays for Kids
Thunder Ridge in Middlebury Center Takes Aim at Substance Abuse By Don Knaus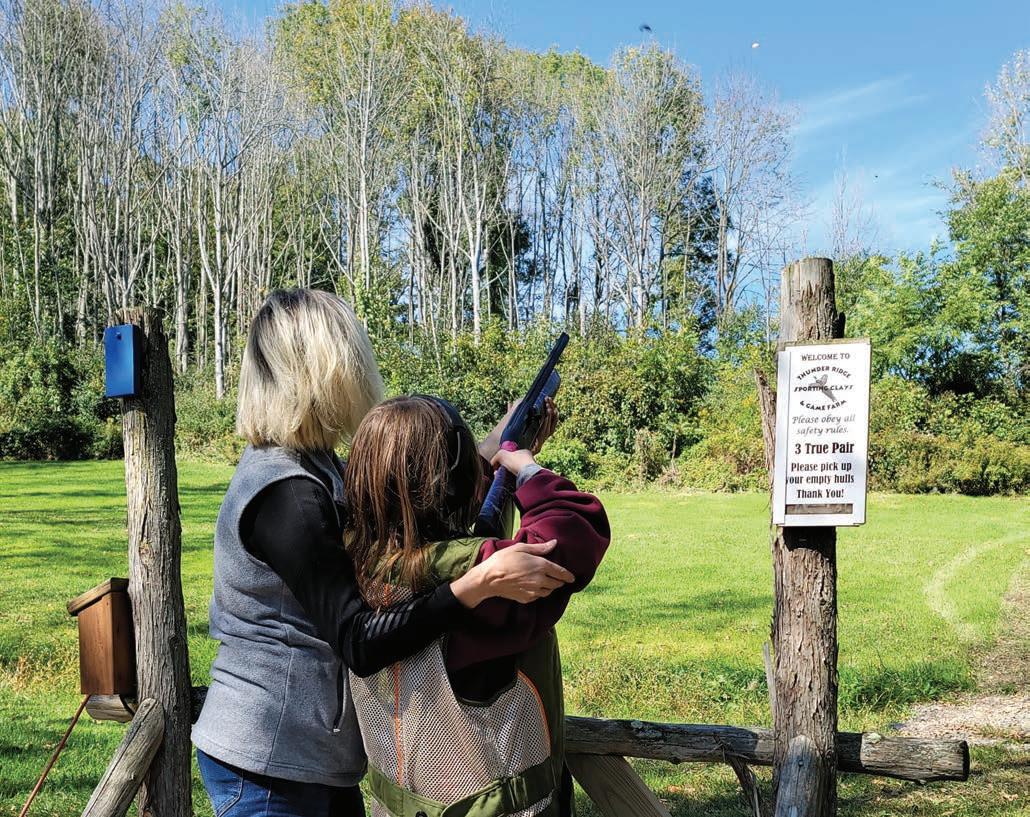 The most recent event in 2021 raised more than $25,000 for the YMCA in Mansfield and the Mill Cove Environmental Center outside of Mansfield. This year, funds are earmarked for three groups: This Is My Quest, providing conservation education and outdoor programs for youth; Grandsavers are Lifesavers, supporting grandparents raising their grandchildren; and the Valley Youth Initiative, promoting the physical, emotional, and social well-being of Cowanesque Valley youth. Members of Valley Youth Initiative had heard that drugs were being sold at a decaying band shell, got permission to raze the structure, and raised funds to build a basketball court on site. They have locations where kids can find shoes and clothing and also operate a summer food program.
If you enjoy swinging a shotgun at speeding clay pigeons, sign up to shoot at Clays for Kids. Shoot leaders say they could use more adult participants. Shooters—just bring your scatter gun. Thunder Ridge supplies the clays and the shot shells. Your entry fee covers a barbeque lunch prepared by Family Traditions Catering under the watchful eye of chef Penny Whipple. If you simply want to enjoy the day and add your support, you are welcome to come and watch the shots, enjoy the camaraderie, wolf down a fine lunch, or volunteer. Once on site, be sure to purchase a raffle ticket, and plan to stick around for the auction. Local folks and businesses have donated an assortment of cool stuff for both. Since the shoot is for the kids, this year the organizers decided to have kids try the course after lunch. Each young shooter will have a mentor for teaching and for safety's sake. Rose Moore, owner and operator of Moore's Sports Center in Wellsboro, has helped in the past and has donated crossbows for the auction/ raffle. This year she is lining up a corps of mentors. Since the youth shoot is new, Rose says she really needs more kids. If you would be willing to teach a child, or, if you're a kid who wants to learn and participate in shooting clays, call Rose at (570) 439-8024.
Over five years, a number of individuals and businesses have helped make it a success, but the backbone of the event is Mark Hamilton. This year's co-chair is Gary Wilson; Jess Sandstrom is secretary. Contact any of the three to enter. Gary is at (570) 337-8699; Mark's phone is (570) 772-1299; or jingle Jess at (570) 404-4529. Information and entry forms can be picked up at local sporting goods stores or found online at claysforkidstiogacounty. com. Contact Thunder Ridge at (570) 376-2414 or at thunderridgesporting.com.Astheshootleaderssay,
17 of a similar mindset—that is, helping steer kids away from drug use—stepped up as organizers began talking about their ideas and proposals. The next hurdle was to find a site for the proposed shoot. An agenda, additional activities, food, raffle items, advertising, and more had to be planned and manned. Organizers ultimately approached Thunder Ridge owners Bill and Irene Appel, who offered their facility at a discounted rate. Their sole charge would be for the thousands of clay targets and thousands of rounds of ammo to be used by the shooters.
"The best defense is a good offense," so let's all help the kids in our communities raise a strong offense against drug abuse. Lifelong sportsman Don Knaus is an award-winning outdoor writer and author of several books about outdoor sports. He has served as president of the PA Outdoor Writers and has hosted the group's state conventions.
Canyon Country Fabrics For All Your Quilting Needs! HOURS: Tues, Wed. & Fri. 9-4; Thurs. 9-7; Sat. 9-3; CLOSED Sun. & Mon. 664 KELSEY ST., WELLSBORO, PA 16901 • 570-724-4163 • 108" Wide Backing • Batting • Fleece & Flannel • Crafts & Gifts • Lg. Selection of Cotton • NEW HomeNOWDécorINSTOCK! YARD SALE, CHICKEN BBQ & 10% DISCOUNT JUNE 4, 2022 • 8:00 AM-3:00 PM Created by David Grapes & Todd Olson Arr by Vince di Mura Jean is sleepwalking through her life until she answers a dead man's cell phone. It turns out to be a wake-up call that helps Jean re-connect to her own spirit and learn that life is for the living. Dr. Donna & Ken Mettler and Eugene Seelye Dead Cell Man's Phoneby Sarah Ruhl See what else is onstage at www.hamiltongibson.org or hgp.booktix.com 2022 Season Sponsor: Order your tickets online and then add a table rental to your cart for floor seating! September 16-17 & 23-24 • 7:30 pm September 18 • 2:30 pm Coolidge Theatre • Cash Bar Available Show Sponsors are UPMC and UPMC Health Plan
You may be wondering why are there so many orchids growing in Tioga County. It's in part due to the well-preserved natural lands of the area, right at the terminus of the Late Wisconsin Glacier. The establishment of state forests and game lands has helped maintain and protect our forests and the diverse plants and animals that inhabit them—including our beautiful native orchids. Moreover, Tioga County's relatively unexplored, remote location is far from large population centers and the fast-paced chaos of urban life, making it a peaceful and safe haven for all forms of wildlife and plants.
My motivation to continue exploring the forests of Tioga County each day comes from wanting to protect the orchids. While the southern slender ladies' tresses are secure in their conservation status, nearly half of the over 200 orchid species in North America are threatened or endangered somewhere in their range. The beauty and desirability of orchids leads to poaching and habitat disturbance. They are also very sensitive to environmental changes such as temperature, drought, and damage from herbivores such as deer. Another special characteristic of orchids is their interaction with other species. Orchids rely on fungi and pollinators to survive and reproduce. Their need for a specialized habitat with the right conditions and other species make orchids great indicators of a healthy environment.
An exciting twist to my orchid explorations happened in 2020 when ecologist Melissa McCormick, PhD, with The Orchid Hunters
Smithsonian Conservationists Join Tioga County's Floral Detective By Mark Simonis
18 When orchids are mentioned in conversation, most people think of the typical and familiar greenhouse orchids, many of which were originally found by explorers in what were then the most exotic and unknown parts of our planet. But did you know that there are orchids that grow in North America—and even closer to home, right here in the wilds of Tioga County? The large purple fringed orchid is just one example, and it rivals the beauty of even the world's most precious and strikingOrchidsorchids. belong to the family Orchidaceae, and it is one of the two largest families of flowering plants. There are an estimated 17,000 to 35,000 different species. The enchanting nature and broad diversity of orchids have attracted many explorers interested in finding and protecting these treasures. I am one of those explorers. Since my 2014 retirement from the U.S. Army Corps of Engineers, I have thoroughly enjoyed the orchid treasure hunt, and our unique geological location is ideal for orchid exploring. When I started my quest, there were a mere fifteen species of orchids recorded in Tioga County. My exploration has contributed an additional nine species to that list. One of the newer and more striking finds has been the southern slender ladies' tresses orchid (above center), which blooms in August and through early September.
SimonisMark(3)
Melissa McCormick, PhD, Anai Morales, and Josephine Basch contributed to this story.
Mark Simonis has worked and played (raising a family) in Tioga County for the last fifty-five years. His favorite hobby (besides grandchildren) is botanizing our beautiful public lands.
Moreover, NAOCC has created a network of collaborators across the United States and Canada—including many volunteers— who send in collection samples of rare and endangered orchids. Through these projects, and by supporting current research on orchid ecology and conservation, NAOCC hopes to serve as a centralized facilitator to promote and support a better understanding of the conditions orchids need for survival and restoration.In2021 and 2022, I guided Melissa and a few of her research colleagues to our local orchids. While we initially focused on the large purple fringed orchid, Platanthera grandiflora (pictured previous page on right and left), I recently led Melissa to thirteen of the other species. For ongoing research projects at the Smithsonian Environmental Research Center, they collected soil and root samples from each individual species, being very careful to avoid digging up or uprooting the delicate plants, which in most cases kills them. Their research will inform future orchid conservation efforts throughout all of North America, so that our great-great-grandchildren may see these breathtaking flowers, too. The next time you are out in the wilds of Tioga County, many of you may explore and find some hidden treasures just as I have done. If so, remember that this leaves all of us a responsibility to protect our forests and native orchids by admiring them from a distance and not disturbing them. By respecting our lands, we hope to have beautiful hidden blooms and flourishing flora for years to come.
19 the Smithsonian Environmental Research Center, contacted me about some of the orchids I had found. Melissa is an orchid explorer herself, and one of the co-founders of the North American Orchid Conservation Center. Given that over half of the orchid species in the United States and Canada are listed as threatened or endangered, NAOCC's primary initiative is to ensure the survival of these native orchids for future generations. To that end, it has established projects to collect and create archives of orchid seeds and mycorrhizal fungi—fungi that live within the soil—which the orchids need to survive.
welcome to WILLIAMSPORT
on page 22
Can this mannequin be saved: Cadets Colie Stone (left) and Zachary Hatch hustle to control the bleeding, while fellow cadets (l to r) Jesus Aguilar, Shayna Ragan, Xavier Becker, Rebekkah Clark, and Christopher Baker look on.
Public Safety Training Institute Is Virtually Unmatched
The full-size male in front of the two cadets may be a dummy, but its pleas get their hearts racing as they remove clothing to find the wound. While working to stop the bleeding of a bullet hole in the thigh, the dummy's breath starts gurgling. One cadet splits off to find the cause.   "It's one thing to practice first aid," says Nancy Clemens, an instructor at the Mansfield University Municipal Police Academy. "It's another thing to do it when you're being yelled at, kneeling in slippery [simulated] body fluids, wrestling a 180-pound non-compliant victim."  She has paused her class today so the cadets can get a demonstration of this new technology. They're warned the victim could show up anywhere—in the shower, on the obstacle course, in the dining hall.
GuignardMellingLilace
"Help me! I'm bleeding bad. It hurts, aaah, it hurts a lot. I don't want to die, man."
Mansfield University Cops to Being the Best
20
By Lilace Mellin Guignard Cops
See
The day in the life of a cadet is a mix between basic training and college. There might be physical training in the morning, followed by four hours learning criminal code, then lunch, then defensive training. Part of the MU Public Safety Training Institute, the police academy is a twenty-six-week course, May through November, required to become a municipal police officer in the Commonwealth of Pennsylvania. There are ten to twenty in each class. The 919 required training hours are augmented by additional certifications such as taser use, sobriety testing, community policing, and autism spectrum training.This year, on-campus housing became free—cadets stay in suite-style, airconditioned residence halls. Not only is it the least-expensive academy in the state, but its graduates also score ten to fifteen points higher on the exam than the state average and have over a 95 percent placement rate.  So, how did such an exceptional program end up in northcentral Pennsylvania? WhileMansfield has had a police academy since 1977, MUPSTI, established in 2018, owes its existence to three men who envisioned something bigger—an institute providing innovative continuing education for criminal justice practitioners and emergency responders, while giving police academy students greater training opportunities. At that time, Dr. Josh Battin, Marine veteran, was interim associate dean of faculty after teaching in MU's Criminal Justice Administration program, and Scott Henry was director of MU Police Services and Safety."Tome that's what it's all about," says Scott, "having these relationships and partnerships." That's why the placement rate is so high. Forces [law enforcement and emergency responder] that come here to train—and they come from all over the state and beyond—meet the cadets. "They like our grads because of our extras," Scott explains. "They tell us when there are openings."Eric Porterfield, an award-winning workforce education media producer who has worked extensively with high-liability
21 YourLocalTrustedPoolPros SwimmingPools & Accessories Sewing Center 3 SHOPS...1 LOCATION! 1802 Green Avenue • Williamsport 570-322-6302 • www.thewarmupshop.com Mon. Tue. Thur. 9-5 • Fri. 9-6 • Sat. 9-1 • Closed Wed. and Sun. warmup@comcast.net bernina4you@gmail.com CreativityUnleashYour Longarm Quilting, SewingMachineMachines,Repair,Fabric,Classes&NotionsfromYouKeepingWarmHeadtoToe Stoves Fireplaces&STOPIN OUR SHOWROOM TO SEE OUR STOVE AND SEWING MACHINE DISPLAYS! BBQ WITH A VIEW! at RTS. 11 & 15 Split SHAMOKIN DAM, skeetersBBQ.com570.743.2727PA welcome to WILLIAMSPORT
Other scenarios involve firearms. Sergeant Steve Smith, police academy training coordinator who instructs firearm use, praises this approach. "VR is a great way to first train candidates who have no firearms experience. It's cheaper and safer." The next step is using simunitions—non-lethal training ammunition— when doing active shooter drills. Students ultimately train with real firearms and vehicles. There's always something new at MUPSTI, like a mobile VR unit and plans for a large indoor range. Chris Wheeler is the director of MUPSTI now and Scott has become president of ERTCA. What hasn't changed is how people come to Tioga County from across the country to receive national certifications that are also available to the cadets accepted into the police academy. For more information, check out mansfield.edu/MUPSTI or call (570) 662-4974.
22 industries, is the third visionary who helped build the relationships between MUPSTI and the tech industry that result in making its content and scale so different from what's offered elsewhere. In 2019 he established the Emergency Response Training and Certification Association, a nonprofit that works with groups to transform law enforcement education, training, and innovation to produce more reliable data and reduce overall risks to public safety. ERTCA recently gave $259,000 to MU's training institute to provide the free on-campus housing and a minimum guaranteed $2,500 scholarship for cadets. Graduates now have the choice to stay for another five weeks to complete the emergency medical technician course at no extra charge. These three men represent the triad between the university, law enforcement, and the tech industry. Their alliance creates multiple feedback loops that wouldn't happen as fast or efficiently otherwise. Companies such as Compliant Technology test products at MUPSTI and use the resulting feedback to refine the product. One example is their taser replacement known as The G.L.O.V.E. It's worn on the hand, and upon contact with a person's skin, an external electric stimulus is given. The charge does not go inside and disrupt bodily functions like a taser does. The recovery is easier, and it doesn't look like a gun.
Cops continued from page 20 COMMERCIAL + RESIDENTIAL ARCHITECTURAL SERVICES RUSTICDOOR@UPWARDMAIL.COM6120NittanyValleyDrive,MillHall814-280-8104• Rough Textured Kiln Dried • 1x10 Eastern White Pine n Englemann Spruce Siding • 1x8 Tongue & Groove • 1x6 Tongue & Groove • Standard Grade • Western Red Cedar • 1x4 Flat Trim • Dutch Doors • Pre Hung Doors • Interior n Exterior • Pine Doors We specialize in: 849 EAGLE VALLEY ROAD BEECH CREEK, PA 570-263-204816822dreambuildingsllc.comFollowUsOn Dream Building Solutions LLC Serving all of PA and Surrounding States! SPECIALIZING IN-CABINS - CABIN ADDITIONS - POLE BUILDINGS - ALL TYPES OF ROOFING
"The institute and ERTCA have two main purposes," Josh explains. "To provide training for the region in multiple areas and levels of public safety, but then also to collect and work with companies with emerging technologies to form effective publicprivate partnerships. This is the key to higher education in the future." The team also receives grant funding to make sure the most up-to-date trainings are available nationally. "Affordability and free flow of technology and training is key," he adds.
Policing changes over time—the risks and the methods. Josh, as a former criminology professor, and Scott, who retired after twenty-one years with the state police as a patrol trooper, criminal investigator, and community services officer, recognized the lack of pedagogical standards in law enforcement training. MUPSTI was first in the state to incorporate virtual reality, which bridges the gap between the classroom and the field. Many simulations train cadets in decision making and de-escalation, such as finding a young woman who's ready to jump off a bridge. These are not canned programs; the instructor adjusts the responses.
23 (800) 326-9486 | myFCCB.com 15 S. Main St. Mansfield 1 Pearl St. Wellsboro 300 Main St. Blossburg APPLY TODAY! SCAN HERE TO APPLY and start your career today! WHY YOU SHOULD JOIN THE TEAM: 1. Clean, safe environment 2. Stable company – has been in Wellsboro for 35+ years 3. 11 paid holidays 4. Up to 4 weeks paid vacation 5. 5 planned personal days 6. Medical, dental and vision and life/disability insurance 7. 401k with contributions matched by the company 8. Employee involvement 9. Growth and advancement opportunities a. Skilled positions (warehouse, mechanics, maintenance) b. Group lead and supervision 10. Competitive pay with (5) step increases at 3 and 4 month intervals 11. Weekly performance-based incentive bonus program a. If your performance is 110%, your pay is 110% 12. Annual corporate incentive bonus plan *referring candidates to HR for more information on eligibility. Truck-Lite Co., LLC, a division of Clarience Technologies, operates US facilities in Coudersport, McElhattan and Wellsboro, Pennsylvania, and international facilities in Harlow, England and Puebla, Mexico. Founded in 1955 with the invention of the world's first sealed marker lamp, Truck-Lite has taken the spirit of leadership and innovation to many segments of the transportation industry in the United States and across the globe. Truck-Lite is a leading producer of forward and safety lighting, wiring harnesses, turn signal switches and safety accessories for the medium- and heavy-duty truck, trailer, off-road and commercial vehicle industries. Sale starts September 12th ends November 12th PICK UP A FREE COPY IN-STORE TODAY Sale starts September 12th ends November 12th PICK UP A FREE COPY IN-STORE TODAY Sale starts September 12th ends November 12th PICK UP A FREE COPY IN-STORE TODAY
SolomonKarey
Prescription for doctor shortages: LECOM students (from left) Brandon Weissman, Chloe Den Haese, Zainab Alam, and Abbas Al Hassam are first year students.
Tried to make a doctor's appointment lately?
The 120 new medical students who arrived here this summer—the class of 2026—are the third class to take to these halls. Bright, idealistic, energetic, they speak optimistically about their hopes of making positive change in the world while making medical care accessible to all. Their backgrounds are varied. A few in this year's class already have medical degrees as nurses and physician's assistants. A few are engineers. Their average age is twenty-five. Several have master's degrees in related medical specialties that didn't even exist when your doctor was training.
Two years ago, the small city of Elmira got a figurative shot in the arm with the opening of a new satellite campus of the Lake Erie College of Osteopathic Medicine. This 52,000 square foot facility at 250 West Clinton Street, just off College Avenue and adjacent to Elmira College, houses labs, classrooms, and a medical library. It was constructed with the assistance of an economic development grant and officially opened its doors to the first class in July 2020. It still looks brand new, its gray terrazzo-type floors un-scuffed. But the school, whose motto is "The community is our campus," is already making a difference. The class of 2024— upon their arrival two years ago— began volunteering in the community, helping to administer covid tests, and, when vaccinations became available, helping with vaccine clinics.
"We want students with a broad variety of experience, well-rounded, with a humanistic outlook, good communication skills, and good undergraduate performance in the sciences as well as strong scores on the MCAT [Medical College Admission Test]," says Associate Dean of Academic Affairs Dr. Richard Terry. Many students are from the central New York area and northeastern
By Karey Solomon See Doctors on page 26
24
Between the pandemic and retirements, the local shortage of medical professionals makes getting seen for anything short of a life-threatening emergency a waiting game. Nationally the shortage of doctors, particularly in primary care, numbers 100,000. In this region, though, things are changing—for the better.
Doctors in the House
Lake Erie College of Osteopathic Medicine Sets Up Shop in Elmira
At full strength—next year when the class of 2027 enters its halls—the LECOM campus will host just under 500 students who will live, work, eat, and play in Elmira and its environs, plus faculty and support staff affiliated with the college. Qualifying Elmira College students enjoy reserved, early acceptance spots in LECOM's medical, pharmacy, and dentistry programs.
25 Open 7 days a week 10 AM—5PM 8231 Pleasant Valley Rd. Hammondsport, NY 14840 Follow us for Pat II Launch information! www.flbm.org info@flbm.org(607) 569-2222 Tastings And Sales Daily • Tours By Appointment Mon-Sat 10am-5pm & Sunday noon - 5pm LAKEWOODVINEYARDS.COM 1710 NY-414, Watkins Glen, NY 14891 Resort Camping Done Right! Call Now to Reserve 800-562-7430 Luxury Camping and Amazing Recreation in the Heart of the Finger Lakes! RV & TENT Sewer/Water/ElectricFingerWatkinsAREALODGINGSITESATTRACTIONS:GlenStateParkLakesNationalForestFingerLakesBeerTrailandMore!CAMPINGAMENITIES:120MaxLengthSites20,30,50AmpSitesCableTVBroadbandWiFiPropane($)AvailableCAMPGROUNDRECREATIONOn-siteFoodServiceIndoorPool/SpaOutdoorPool35'PlungeWaterSlideJumpingPadandPillowPirateShipPlaygroundBasketballCourtGagaBallPitMiniGolfTheatreintheWoodsPlannedActivitiesandMore!Liberty book Shop 1 East Park St., Avis, PA 17721 • 570-753-5201 • www.TheLibertyBookShop.com Used, Rare and Out-of-Print Books. Your source for unusual books on any subject. Browse our in-stock selection of over 40,000 hardcover books paperbacks.and Free National Search Service for books not in print. Worldwide shipping! HOURS: Thurs & Fri 10-6; Sat 10-3 (or by appointment, feel free to just call) Open daily 7am to 570-662-29729pm! 2103 S. Main St., Mansfield, PA Homemade Specials Daily! Open daily 7am to 570-662-29729pm 2103 S. Main St., Mansfield, PA Specialties include Hot Roast Beef Sandwiches, Chicken & Biscuits, and Homemade Pies!
The popular notion of med school being four years of nonstop study may not be far off base. Students take classes, prepare for exams, complete off-campus observational rotations, shadow physicians in offices and in fourteen New York and Pennsylvania hospitals. Their schedules are equally busy even as their goals and experiences differ.
Zainab Alam, from Plano, Texas, also has a master's degree. Hers is in clinical research and information technology. After training as an emergency medical technician, and handling a stint at a homeless shelter in Capetown, South Africa, she realized, "I'm passionate about access to medical help." She says, "I want to help all populations."
"It led me to keeping my options open," he says. He came to LECOM after earning an MBA in health care administration.
Doctors continued from page 24 chestra TOSHIYUKI SHIMADA Music Director & Conductor OF THE SOUTHERN FINGER LAKES OSFL programs are made possible in part by the New York State Council on the Arts with the support of the Office of the Governor and the New York State Legislature. BUY TICKETS NOW Get the Best Price with a Season Subscription! OSFL.org | 607-936-2873 Come soak in the symphonic spa of a weekend.awineorleafconcertbeautifulafterpeepinghittingthetrailsonlongautumn Autumn Concert Saturday, October 8 • 7 PM Christ Episcopal Church, Corning Emily Dobmeier, clarinet Mozart Clarinet Concerto Beethoven SymphonyNo.2 BalMasque by Amy Beach Tickets: $40/$10 FREE Under 18 The FoundationAnderson GAFFERHAMMONDSPORTDISTRICT
Pennsylvania. "We're recruiting local students with the aspiration to stay in the area to practice," he adds.
Abbas Al Hassam, from Dearborn, Michigan, says he's always had an affinity for medicine and caregiving. He might later specialize in anesthesia, he says, and mentions the effectiveness of medical and non-medical instrumentation—like Apple watches—in gathering statistical information, allowing a doctor to focus more on the patient.
She cites language as a barrier to care for some people, which may be one reason why students will also have classes in medical Spanish to better communicate with some of their patients. This comes late in the coursework, after students have covered anatomy, histology, problem-based learning, biostatistics, microbiology, pharmacology, differential diagnosis, osteopathic principles, how to take a patient history, and how to manage a physicalCouldexamination.thecommunity be your campus? Find out more at lecom.edu.
Karey Solomon is a freelance writer and needlework designer who teaches internationally.
Brandon Weissman, also from Buffalo, says his father is a gynecologist, but he notes that will probably not be his own specialty. While still in high school, he did a research internship on glioblastoma, a variety of brain tumor.
26
The path to becoming a doctor of osteopathic medicine (DO) is virtually identical to that of becoming a doctor of medicine (MD), with the addition of instruction in holistic medicine, musculoskeletal manipulation, and therapeutic touch, which is a hands-on mind/body approach used to not only diagnose but to alleviate pain, Richard says. About seventy-five percent of LECOM graduates become primary care physicians, often working in underserved areas like ours. LECOM does differ from other medical schools in one significant way. Tuition is lower, and this year may be further reduced by scholarships, helping graduates to enter the workplace with less academic debt.
Chloe Den Haese, from Buffalo, already knows she's leaning toward emergency medicine because she likes to focus on a patient's immediate needs. Having volunteered as an undergraduate at a free medical clinic, she says, "I like the organized chaos of the ER." She's also drawn to working with Doctors Without Borders.
Saturday October 8 7:30 PM PRISM Concert $ (Homecoming Weekend) Sunday October 9 2:30 PM PRISM Concert $ Sunday October 16 2:30 PM Choral Collage Friday October 21 ALL DAY Young Men's Choral Festival Saturday October 29 4:00 PM Octoboefest! Thursday November 3 7:30 PM Percussion Ensemble & Brass Band Concert Sunday November 6 2:30 PM Orchestra Concert Friday November 11 7:30 PM The Gondoliers at Straughn Auditorium Saturday November 12 7:30 PM The Gondoliers at Straughn Auditorium Sunday November 13 2:30 PM The Gondoliers at Straughn Auditorium Sunday November 20 2:30 PM Concert Wind Ensemble Concert Saturday December 3 7:30 PM Holiday Concert Sunday December 4 2:30 PM Holiday Concert DATES TO REMEMBER Monday, October 10, 2022 Spend-a-Day Saturday, November 12, 2022 Audition Day 2022 FALL EVENTS Like Us! Audition information available at music.mansfield.edu/auditions Saturday, January 21, 2023 Audition Day Monday, February 20, 2023 Audition Day
page
28
Where Charlie Hunter knows your name: From wings to whiskey, from small plates to steak frites, enjoy the food and friends at the new neighborhood bar on Davis Street.
Spices are used to perfection, enhancing the food without assaulting the senses. The menu truly stands out among Chemung County eateries, both for the dishes themselves and for the prices.
Coming to the Rye
BarnesMaggie(4)
By Maggie Barnes
"We are a little more expensive than a lot of the places around here," Charlie acknowledges. "But everything is made fresh to order. We source as much as we can locally. And we ask diners to be patient. It should be a leisurely dining experience."
"Stage one was the restaurant. We opened in November of 2019, six months before the pandemic," Charlie recalls. "I still remember the day in March of '20 when the corned beef was delivered for St. Patrick's Day. That was in the morning. At noon, Governor Cuomo shut the state down." Charlie smiles after saying this. With wavy gray hair, a matching beard, and the congenial manner of a natural host, he did not let a virus, or the fact that he had never run a restaurant before, slow him down. An Elmira native, Charlie had been a waiter for decades in big cities all over the country. He watched and learned from a variety of chefs. Then he came home and put that accumulated knowledge to work on Rye's"Charliemenu.came up with all the recipes," says Mike Burke, Rye's chef. "He invented some wonderful flavor combinations."
See Rye on 30
That word neatly sums up Charlie Hunter's philosophy of life at Rye, his bar and restaurant in Elmira.
"Approachable."
Elmira's Rye Bar Is the Taste of the Town
Rye is the former Horigan's, which was a staple in this Davis Street residential neighborhood for generations. When Charlie bought the place in 2019, there was a lot he wanted to keep, like the feeling of a true neighborhood bar, and some things he wanted to change. Charlie acknowledges he didn't know enough to be afraid when he launched this enterprise. "I didn't know what I didn't know," he laughs. "It was a dream then. Now that I'm in it, now it's scary!" But, working with designer Todd Yoggy, Charlie broke the project into stages. The back bar was always handsome, but now an arched top seems to add a finish that was missing. New colors and flooring, art deco-type lighting, and several large, glass-mounted photographs—all Charlie's camera work—meld into a look that satisfies the eye before you even enjoy a cocktail or eat anything.
The food does invite you to linger. Appetizers like smoked bluefish paté, mussels Provençal, and an eye-pleasing mezza platter of Greek goodness are meant to be savored and enjoyed with a glass of Finger Lakes wine or the drink of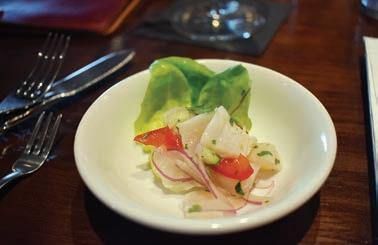 29 754 Canton Street, Troy PA • 570-297-7770 HOURS: Monday-Saturday hooverclothingstore.com8am-5pm Kids Apparel Sponsored by the FireVolunteerCantonDepartmentAdmission is a donation at the gate that goes back into the community through various outreach programs. DISTINCTIVE CRAFT VENDORS • FESTIVAL FOOD DAILY LIVE ENTERTAINMENT • WINE TASTING Saturday, October 1, 2022 10:00am–5:00pm Sunday, October 2, 2022 10:00am–4:00pm CantonFairgroundsFireman's Route 14 South • Springbrook Road • Canton, PA 17724 FB: Canton Fire Department's Pumpkin Festival PumpkinFestival 19th Annual welcome to BRADFORD CO. Canton Lions Club & Pennsylvania Trials Riders PRESENTS TO BENEFIT CANTON LIONS CLUB & LOCAL CHARITIES www.tourarmeniapa.org 570-250-0174 3RD ANNUAL FALL FOLIAGE TOUR OF THE MOUNTAINS ADVENTURE MOTORCYCLE RIDE 2022 SATURDAY, OCTOBER 1ST 10 am Start 75 Mile Morning Ride & 50 Mile Afternoon Ride SUNDAY, OCTOBER 2ND Sign-up & Start of 60 mile ride • 10 am A mix of paved & dirt roads through the scenic Endless Mountains, starting inCanton,downtownPA! Free theservedLunchSat.&DinnerbyCantonLionsClub Free Camping • Sat. Night Band @ Campground Funded in part by the Bradford County Tourism and Promotion Agency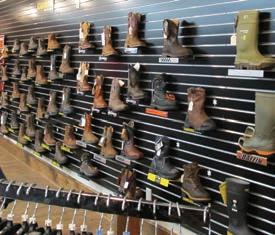 30 Market Open with Early Apples • Zestar & Redfree U-Pick Season starts Sept. 10 with Gala & McIntosh Apples WE ALSO HAVE: CORTLAND, EMPIRE, MACOUN, JONAGOLD, JONATHAN, FUJI, RED DELICIOUS, GOLDEN DELICIOUS, IDARED AND STAYMAN WINESAP. Honey Crisp Apples available in the market (end of September)! Fall Brook Festival Sept. 17-18, 24-25, Oct. 1-2, & 8-9 Horse-Drawn Wagon Rides U-Pick Weekends 11a-4p (WEATHER PERMITTING) Cider • Jams • Maple Syrup • Honey • Apple Butter Fallbrook Road • Troy, PA • 570-297-8904 Hours: Mon-Sat 9a-5p; Sun 11a-4p Gardiner's Orchard LLC the day. When you are ready for dinner, you'll have to decide between duck breast with wild rice, kurobuta (a specific grade of Berkshire hog) center cut pork chops, and shepherd's pie— made the traditional way with lamb and dizzying heights of mashed potatoes. For more tradition, there are several burgers on the menu, and a recent Thursday visit found fried chicken the nightly special. Just be sure you are hungry. Everything seems to come out of the kitchen in what could be described as "mounds." In a unique touch, each table has its own water bottle—staff have developed the habit of filling glasses from it as they pass. Rye attracts all ages of customer, and many seem to know each other. There is a surprising amount of hugging going on. A guest at the bar is trying to do magic tricks. They aren't very good, but his massive grin is enough to celebrate. Four bartenders keep the fun flowing for tables in the front and more sedate dining in an adjoining room. Thursday night means jazz, and a trio over by the windows is providing background music you can actually talk over. Fridays are the busiest night, thanks in large part to the fish"Somefry. nights the vibe in here is so good. The music, the people, the energy…it all comes together," Charlie says with pride.Back to the phases and stages. Phase two is above Rye, where three Airbnb units are available. Todd handled the elegant decorations, right down to the slim designer refrigerators you've probably never seen before. The units share a small porch area and would be the ideal base camp for families doing a Finger Lakes vacation. The first floor doors are marked clearly "Cook," "Eat," and "Sleep" so you know where to go.
While labor shortages rage on, Charlie seems to have found the secret sauce that results in abundant servers and bartenders, all of whom seem genuinely happy to be here. Oh, and why Rye for a name? "I like rye whiskey," Charlie says. "Especially in a Manhattan. It's a little bolder, a little edgier, greatJusttaste."like his restaurant. Rye has its own parking lot next to the building, and street parking abounds. Find it at 365 Davis Street in Elmira, and on Facebook, or call (607) 732-6625. Rye is open Wednesday from 4 p.m. to 9 p.m., Thursday from 4 p.m. to 9:30 p.m., Friday and Saturday 4 p.m. to 11 p.m., and Sunday brunch is 10 a.m. to 3 p.m.
We invite everyone from everywhere to come "Experience Bradford County!" www.visitbradfordcounty.com • 570.265•TOUR Follow us on Kayaking&Hiking FestivalsFairsAdventureAwaits&&HistoryHeritagePostcard-LikeStreets
"I've burned some pizzas in that already," Charlie admits. "Still getting the hang of it." You can easily imagine the atmosphere of a block party in the space. There's also another stage that he won't reveal, but the smart money says it's about the building on the opposite corner from Rye.
Maggie Barnes has won several IRMAs and Keystone Press Awards. She lives in Waverly, New York. Rye continued from page 28
Charlie's pending plans even extend to outside of the building. The current phase (three?) underway will result in an outdoor dining area—a more casual, food truck sort of experience. The building next door already has a brick pizza oven installed and space for tables.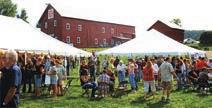 31 Power Mobility - Oxygen Home Medical Equipment Custom Braces - Diabetic Shoes • Hospital Beds • Oxygen • CPAP/Bipap Machines and Supplies • Incontinence Supplies • Power Mobility • Compression Hosiery • Braces - Knee, Ankle, Arm • Mobility Equipment • Ostomy Supplies • Bathroom and Home Safety Equipment • Wound Care Supplies how do you build your walls? When you build your walls you should expect to get more out of a building product. Buildings today demand reliable, energy efficient building envelopes that provide superior performance benefits to minimize energy costs, reduce carbon emissions, and maximize property value. NUDURA structures offer greater strength, sound, and fire resistance and are why developers and contractors across the world continue to choose NUDURA's Integrated Building Technology as a proven alternative to traditional building methods. With NUDURA's 6-in-1 building step, you can build faster and more efficiently, while offering your clients an eco-friendly structure with substantial benefits that contribute to long-term energy savings. Change the way you build your walls. Hoover Hardware 570-297-3445 • 800-251-2156 816 CANTON STREET, TROY, PA MON-SAT 7AM- 5PM HOOVER INDUSTRIAL SUPPLY nudura.com 866.468.6299 SMALLWWW.TROYVETCLINIC.COMAllUnderOneRoof...OneRoof...ANIMAL•LARGEANIMAL Healthy Wellness Exams Exams for Sick Pets Laser Surgical Procedures Portable Digital AcupunctureRadiology In-House Bovine Pregnancy Testing Customer Pet Portal • Online Store House Calls Available Pet Cremation Services Fully Stocked Pharmacies Pet Suplies: Flea & Tick Medication Food, Toys & Treats SERVICES OFFERED: welcome to BRADFORD CO. Open Daily for Lunch & Dinner Daily Specials • Catering Available Jimmy's Park Hotel127 Troy Street • Canton PA 570-673-8777 GoWarriors! After-The-Game Special2 Slices of Pizza and 6 Wings...only $1000 Dine, Stay or Just Get Away 35 RestaurantRoomsandTavern (Traditional American family style) Catering Great Rates, GreatFood, Great Attractions Wyalusing Hotel 54 Main Street, Wyalusing, PA www.wyalusinghotel.com570-746-1204

Hilfiger continued from page 10 including the gold shovel he used to break ground for creation of the Martin Luther King, Jr. memorial in Washington. (The Tommy Hilfiger Corporate Foundation donated $5 million, second only to General Motors.) Those crystal dumbbells are remembrances of his contributions to the fight against multiple sclerosis, which claimed their oldest sister, Susie, along with plaques recognizing his donations to the fights against autism, Lyme disease, diabetes, and brain cancer, all of which have affected family members. He's made these causes his philanthropic recipients for many years.
It's a lot to take in. But for Elmira College student and recent visitor Linda Avery, of Tioga, Pennsylvania, the gallery offers a magical mystery tour of the industry she hopes one day to enter—by way of the Tommy Hilfiger Fashion Business School.
"I always liked clothes as a kid," explains Linda, twenty-two. "I loved to do dress up and put styles together and draw ideas I had in my head," and as a teenager she would dress the mannequins at the Goodwill store in Wellsboro.
32
Now, as a student in the Tommy Hilfiger Fashion Business School program, she dreams of beginning her own business as a fashion advisor to clients or designing her own line.
"But if I only have design under my belt, it's not going to help me," she says. "You also need to understand marketing, and what financing you'llAskedneed."what advice he would give now to young Tommy as he was starting his career, Tommy pauses a moment. There's faint static on the cell signal—or is it the Mediterranean crashing on a distant beach?
But the collection is far from solemn. Here's a replica of the TOMMY rugby Snoop Dogg wore on SNL, and photos of Tommy with Mick Jagger and Andy Warhol. Here are boots he designed for singer Lenny Kravitz, denim cutoffs made for Maria Carey, and T-shirts from the Rolling Stones 1999 No Security tour.
Award-winning journalist David O'Reilly was a writer and editor for thirty-five years at The Philadelphia Inquirer, where he covered religion for two decades—davidcoreilly@gmail.com.
CLASSICAL• JAZZ BLUES • PIANO BRASS • POPS JULY 21 - AUGUST 6, 2023 WELLSBOROwww.endlessmountain.net570-787-7800 H MANSFIELD H TIOGA H KNOXVILLE CHERRY SPRINGS STATE PARK H CORNING H ELMIRA Please Join Us in 202 3! OPEN DAILY 9:00 AM TO 7:00 P.M. 1543 MAPLE AVENUE, ELMIRA, NY FLOWERS • VEGETABLES • FALL PUMPKINS • SQUASH APPLES • STOLTZFUS DAIRY PRODUCTS • 150 CRAFT SODAS RETRO CANDY • STRAW • CANNING SUPPLIES • AND MORE! BRADLEYFARMSELMIRA.COM Be Sure to Check Out... 200 YEARCORNSOUTHPORTMAZE PHRIGHTNIGHTSPHANTOM BEAST BLAST TENNIS BALL CANNONS CREDITACCEPTEDCARDS Something for Every Season!
"I might have sold my People's Place interest earlier and moved to New York," he says. "But I don't regret anything. I've been very fortunate, and I enjoy working hard because success is not just about luck, it's about having a goal. And I've reached a lot of my goals."
33 www.popscultureshoppe.comTHANKYOUtoMountainHomeandallwhojoinedusforour1stAnnual25MainSt.Wellsboro,PA570-723-4263SEEYOUNEXTYEAR! You could promote your business here! (570)724-3838Call today! You could promote your business here! (570)724-3838Calltoday! 222 Butler Road, Wellsboro, PA 16901 570-724-3333 North End of Rail Trail JF Martin Meats • Subs • Salads • BBQ's Hershey's Ice Cream • Bulk Foods Soft Custard • PA Produce In Season Open Mon-Sat. 10am-8pm; Sun. 10am-7pm B I Buildings of All Kinds Since 1971 BUILDINGS, INC. Business Route 15, Covington, PA (570) 659-5103 • (800) 839-7438 WeWWW.BUILDINGSINCPA.COMLARGE...orSmallDoItAll! • Diamonds & Quality Jewelry • Bulova & Seiko Watches and Clocks • Fenton, Charms, Trophies and Engraving "We do watch batteries!" Hauber's Jewelry Mountain Home SERVICE DIRECTORY Open 7 days a week! 7 Main Wellsboro,StreetPA570-724-4556 BEST EXCAVATING Driveways • Basements • Septic Systems Retaining Walls • Patios Stone • Gravel 814-367-5682 Westfield WWW.BESTEXCAVATING.COMPa Antiques • Collectibles • Vintage • Primitives • Oddities & More 50 W. Wellsboro St., Mansfield, PA • 570-605-0172 Tues-Sat.HOURS10-5Sun.10-3ClosedMon. Shelly Moore Account Executive Mobile (570) shelly@mountainhomemag.com263-2693 Proud publisher of: Mountain Home •• #ExploreCorning Explore Wellsboro Experience Bradford County The Unofficial Route 6 Guide You could promote your business here! Give me a call today.
34
Framing Summer
BACK OF THE MOUNTAIN
By Nigel P. Kent I've photographed the historic Canandaigua boathouses at the City Pier often over the years. When I saw these late summer sunflowers lined up perfectly with them it brought a smile to my face.
WellsboroLewisburgWilliamsport
MontoursvilleMuncyCoudersportLockHaven
36
Surrounded by expert primary care. Welcoming new patients. With more than 25 convenient locations across north central Pa., it's never been easier to find a primary care provider. Our experts offer wellness services and treatment for medical conditions that range from common to complex. Your wellness journey begins now. To find a doctor or schedule an appointment, visit UPMC.com/PrimaryCareNCPA.